If you've never dyed your hair before, highlights are the ideal way to take your first step into this colorful new world. Blonde highlights can brighten natural blonde hair or bring a dramatic change to dark tresses, as seamlessly or as in-your-face as you prefer.
Here's all you need to know about getting highlights, along with a selection of 60 inspo pics that will get you to make that appointment right now.
What Are Highlights?
Highlights are a hair coloring technique used to lighten, add dimension and color hair. A skilled colorist can create dynamic effects that stay close to your base color or transform it completely while looking natural and more sun-kissed than dyed.
Strands of hair are lightened, usually using bleach, then toned or dyed with semi-permanent hair dye, creating contrast and depth. Your colorist will paint your hair using one or multiple types of highlights to produce the results you want.
Check out this video showing a transformation created with highlights.
Types Of Highlights
Your colorist might use a combination of highlighting techniques to achieve the look you want, so when you get to the salon, a picture is your best tool in getting what you want.
Still, knowing what different types of highlights are out there, you'll be able to talk to your stylist without any misunderstandings.
1. Highlights
Your stylist will apply bleach or color to thin strands of hair and most likely use aluminum foil, which is why they are also often called foils. This is the traditional way of applying highlights and can create many looks, from streaks to uniform color.
2. Babylights
Very fine highlights that try to simulate bright highlights that we often have as children.
3. Chunky highlights
On the other side of the spectrum are thick, obvious pieces that look like streaks or bands of color.
4. Lowlights
While highlights lighten your hair, lowlights darken it. They're often used in combination with highlights to create dimension and depth.
5. Balayage
Balayage is a way to create blended, natural looks by freehand painting highlights onto the hair. This is a low-maintenance way to brighten your hair, as it usually blends highlights with your base color and doesn't touch the roots.
Here are some looks to inspire you before your next salon appointment.
1. Curly Hair With Platinum Blonde Highlights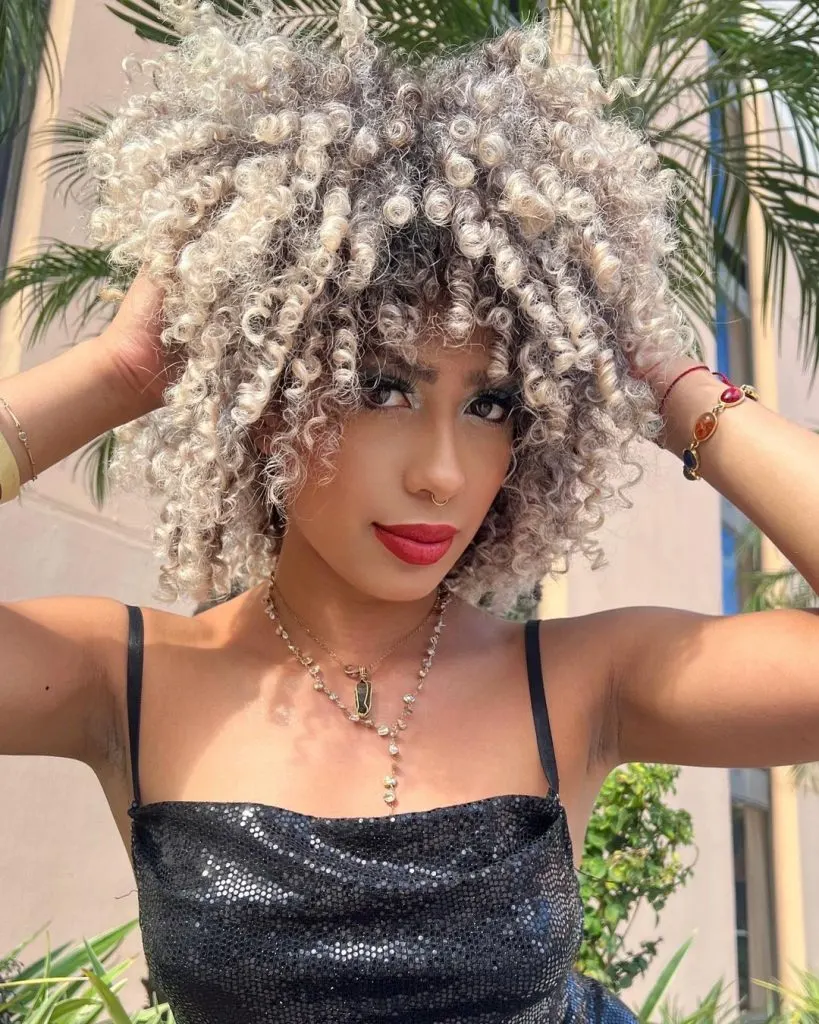 Curly hair tends to be naturally dry, so moisturizing products are a must even when it's unprocessed— doubly so when you decide to bleach it.
2. Pale Vanilla Blonde Highlights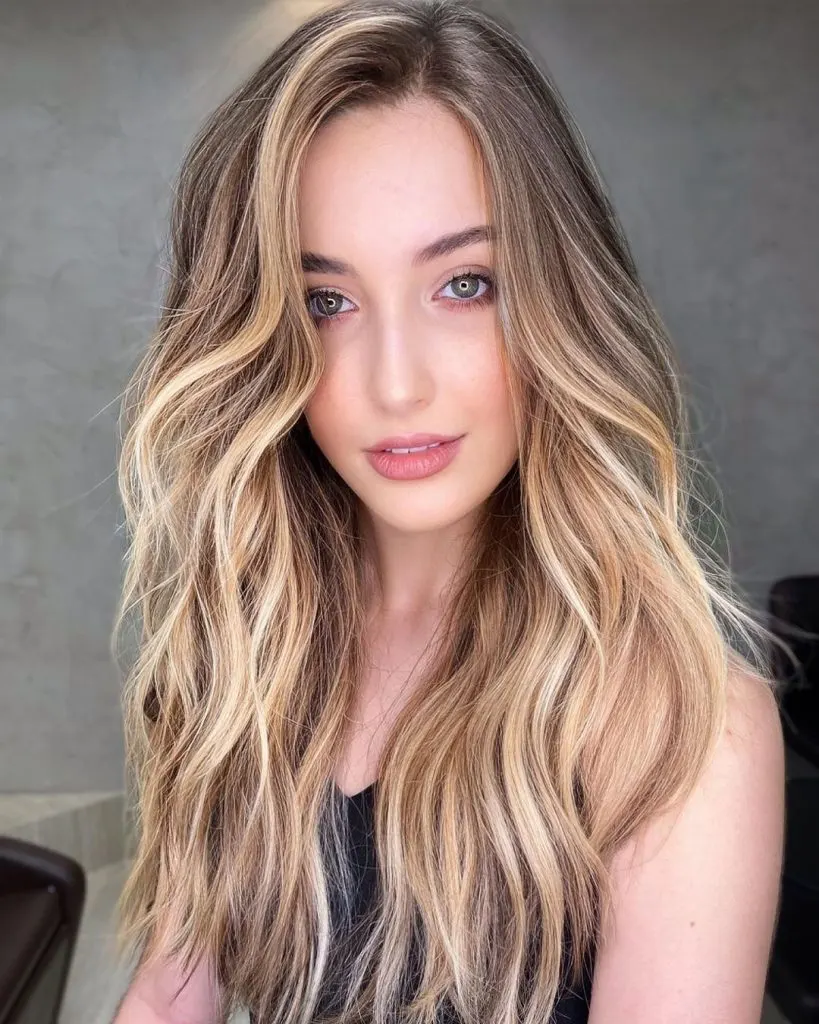 Lighter strands near the face are key to brightening your features and making your complexion glow.
3. Ash Blonde Highlights On Black Hair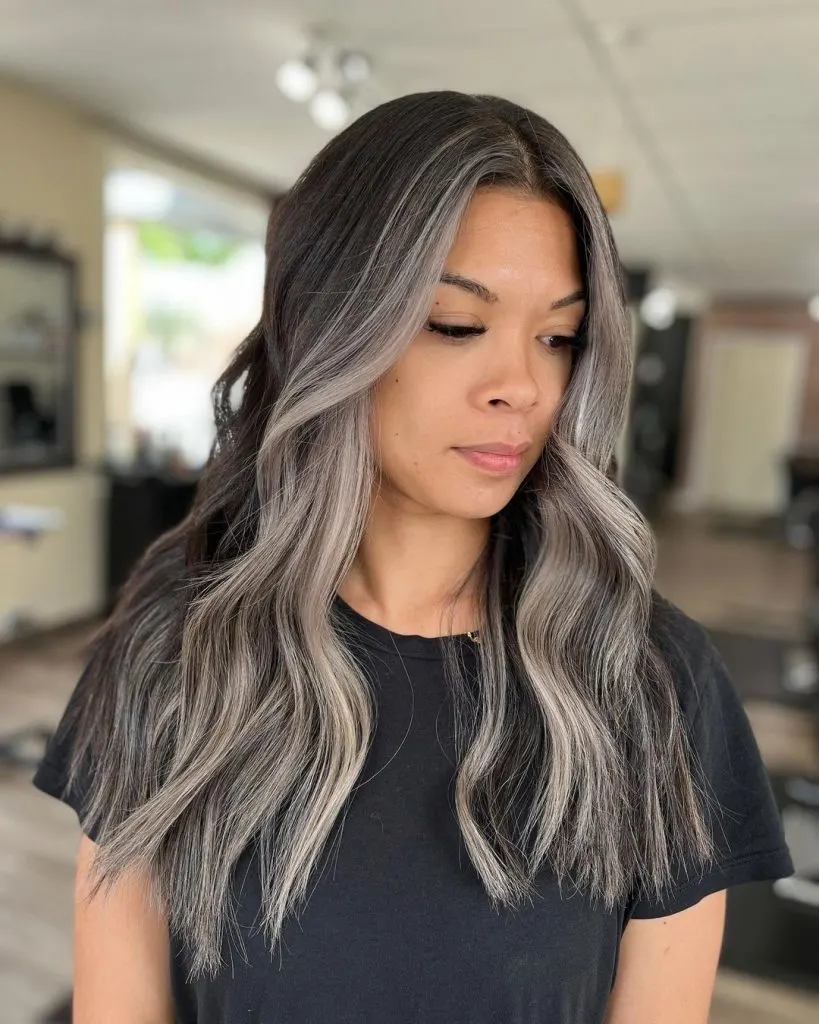 Keeping the color temperature of the blonde highlights the same as your natural hair will give you a harmonious and cohesive look. Here, both the base and the highlights are cool-toned.
4. Blonde Ribbon Highlights On Brown Hair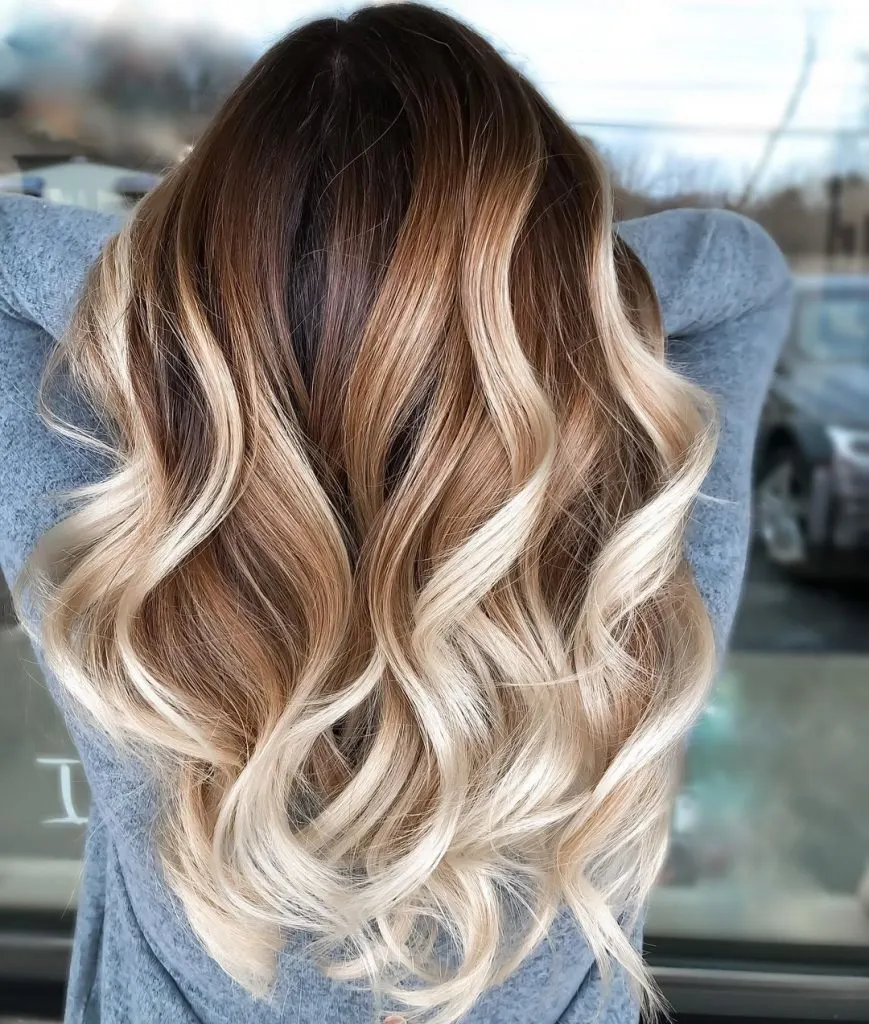 Ribbon highlights are a high-impact look that can look edgy or soft, depending on how much contrast there is between them and the base color.
5. Golden Blonde Balayage With Money Piece Highlights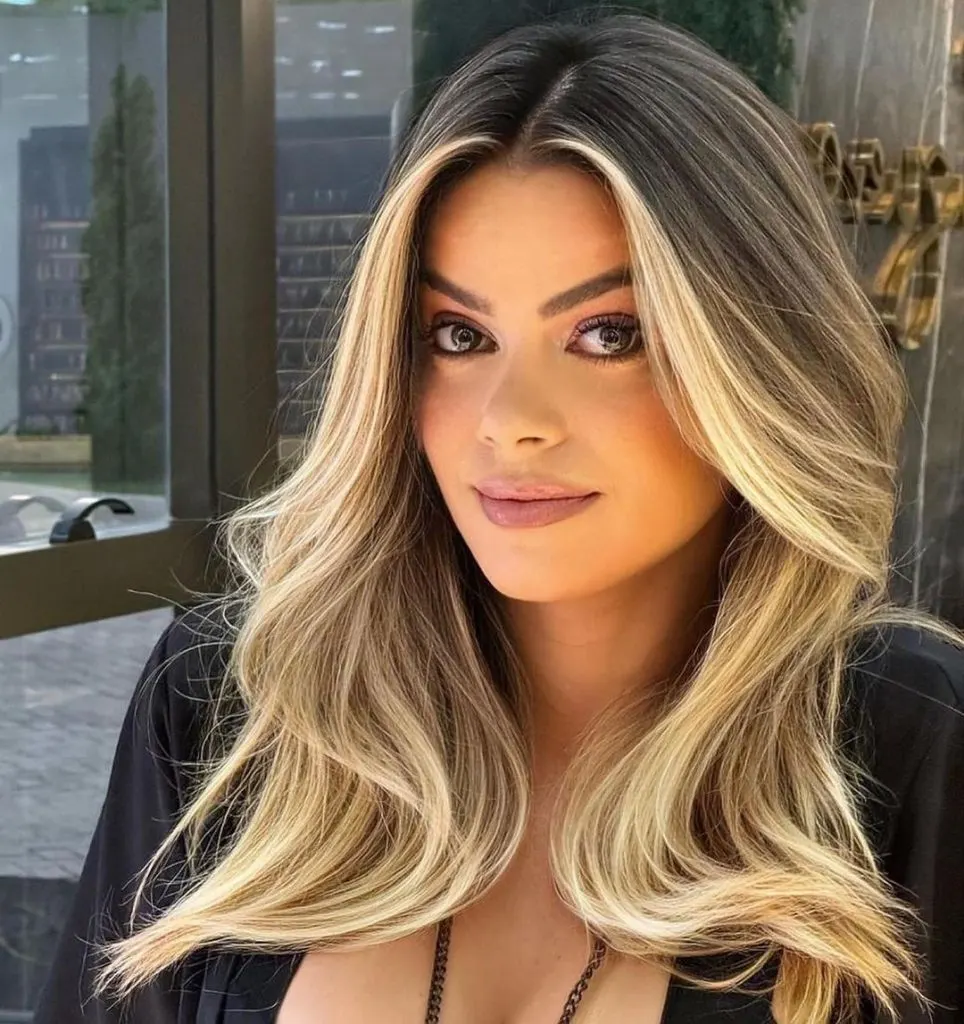 Highlights don't have to be done using the same technique throughout the hair. For example, a combination of babylights, balayage and foils can be used to create a personalized look.
6. Wavy Dark Brown Hair With Blonde Highlights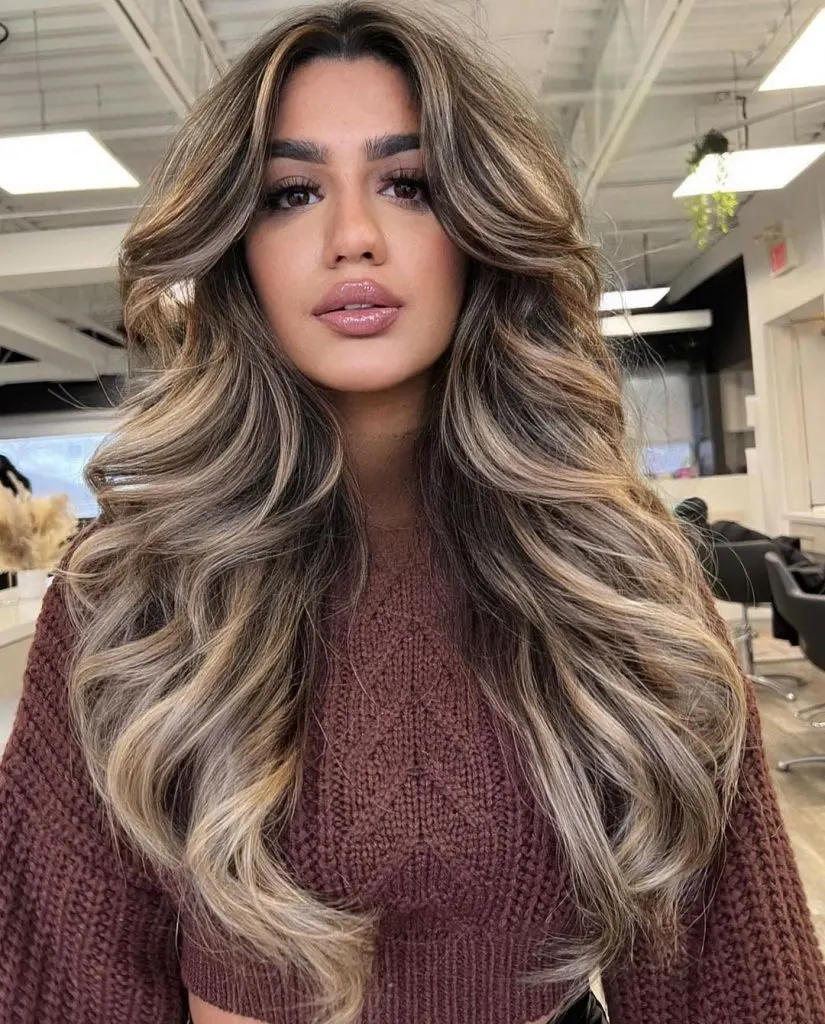 Low-contrast highlights create a natural and soft look, but this doesn't mean you can only go a few shades lighter than your base. If you want to go light but not bright, your colorist will also lighten the base, but less so than the highlights.
7. Caramel Dark Brown Hair With Dark Blonde Highlights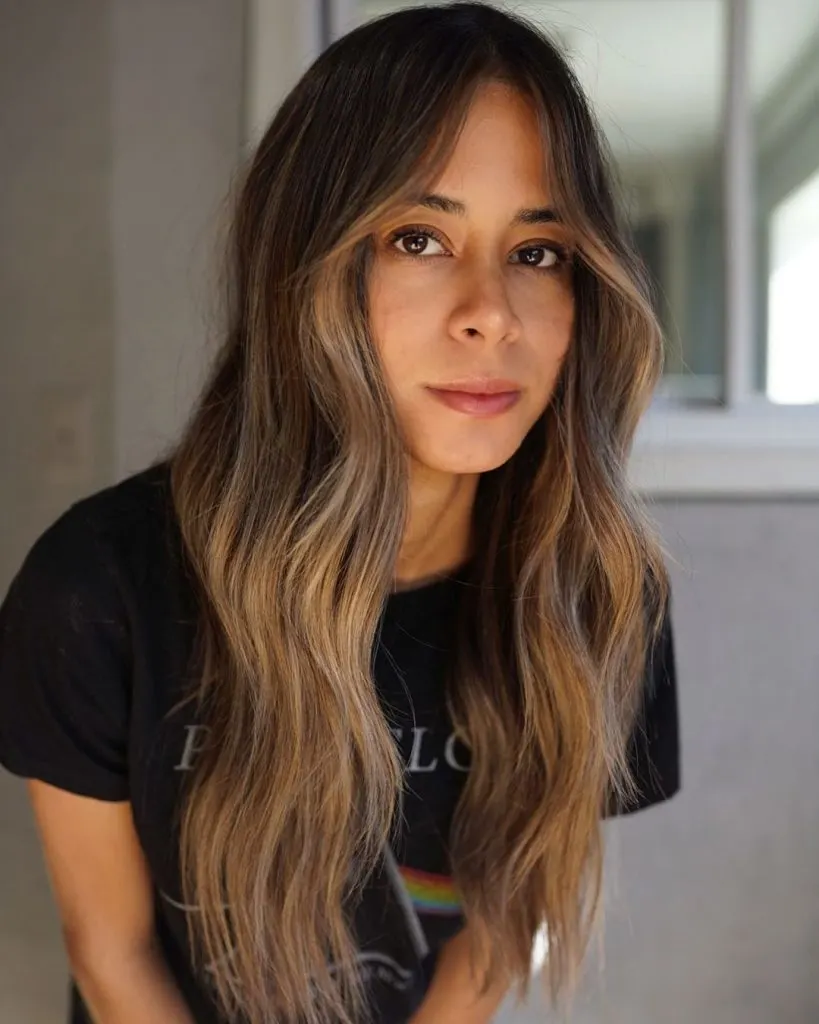 Blonde highlights don't only mean shiny gold or bright platinum. Muted dark blonde highlights are a great low-maintenance look if you have a warm skin tone that doesn't like a lot of contrast.
8. Cool Blonde Highlights On Black Hair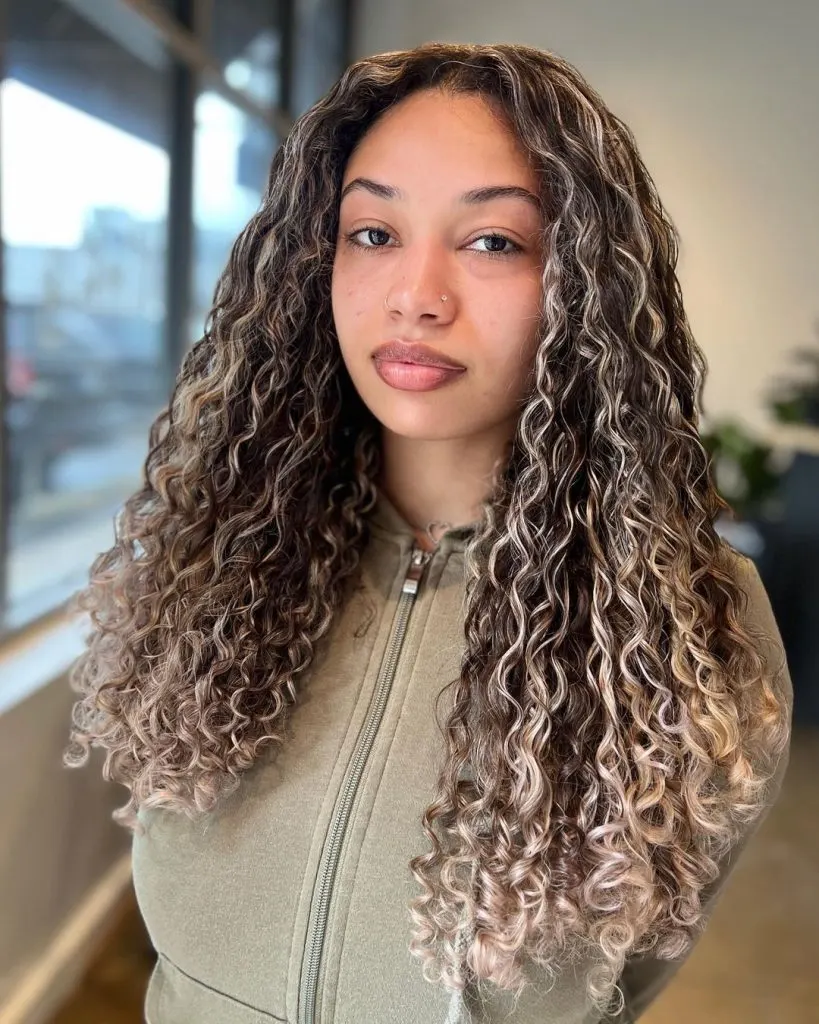 Bold highlights make a statement and accentuate the curls, making your whole appearance brighter and edgier.
9. Natural Blonde Highlights With Money Pieces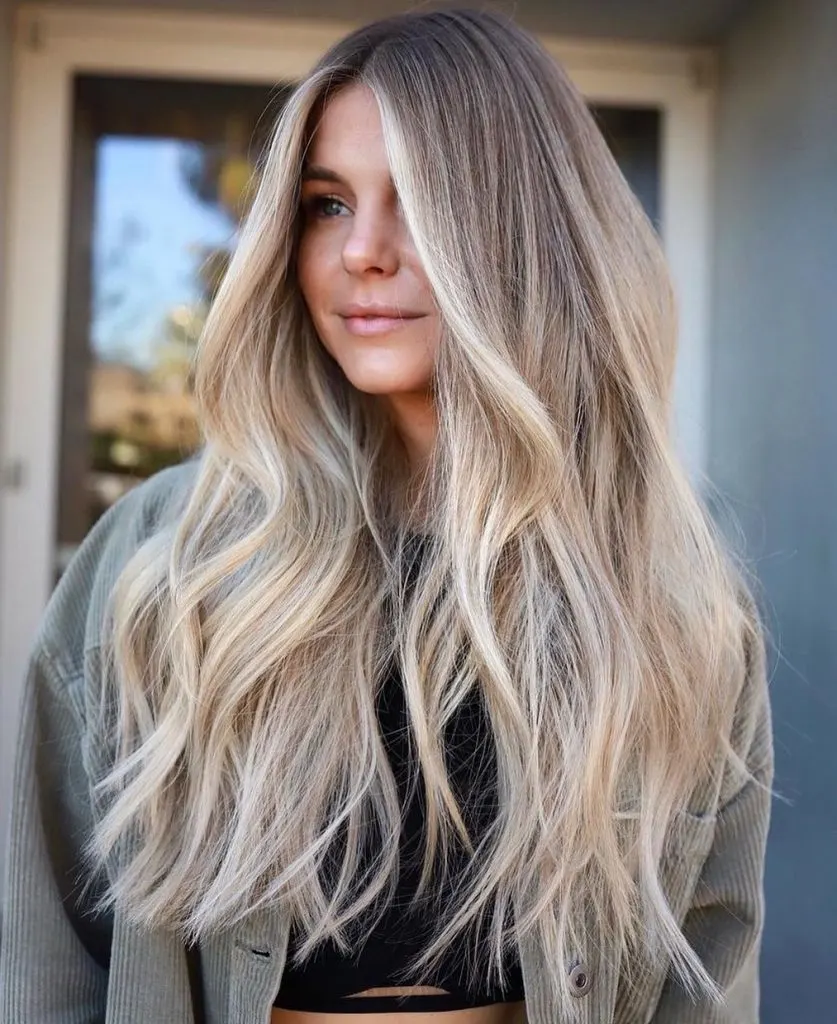 Focusing on the ends and the face-framing pieces is enough to transform your look while keeping it low maintenance.
10. Dark Blonde Hair With Golden Blonde Highlights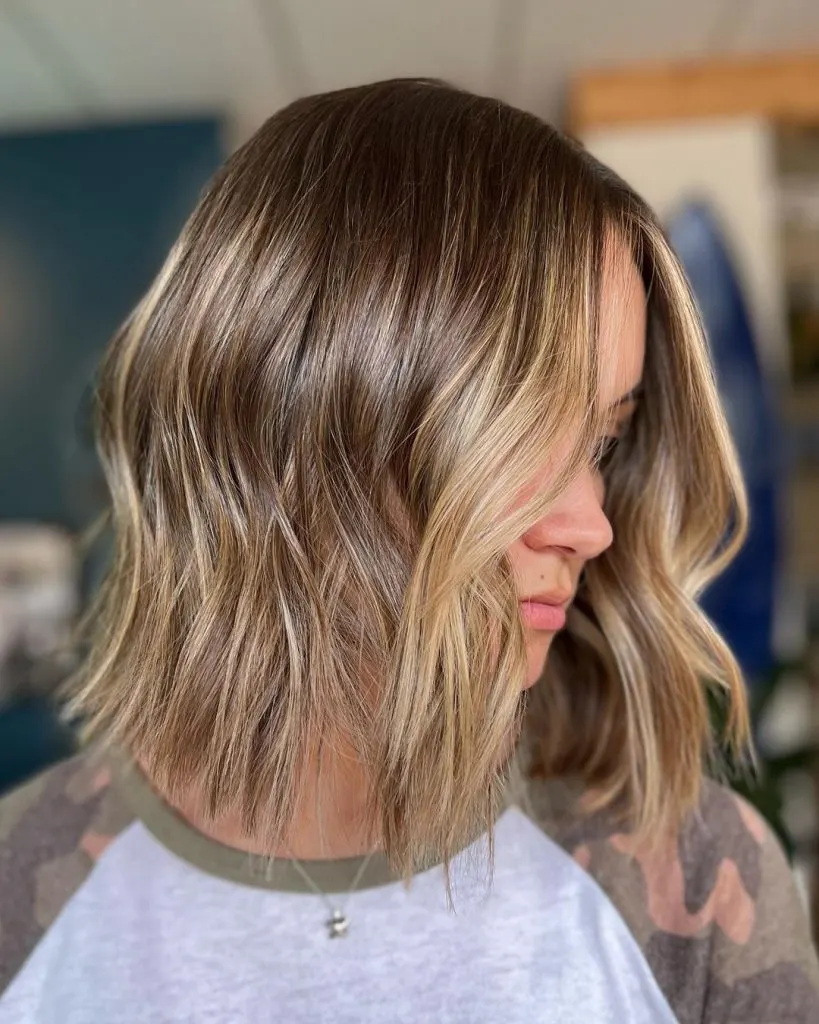 If you have natural blonde hair, but you want to give it a golden shine and make it pop, this combo of thick streaks in the front and babylights throughout should do the trick.
11. Streaked Blonde Highlights On Dark Brown Hair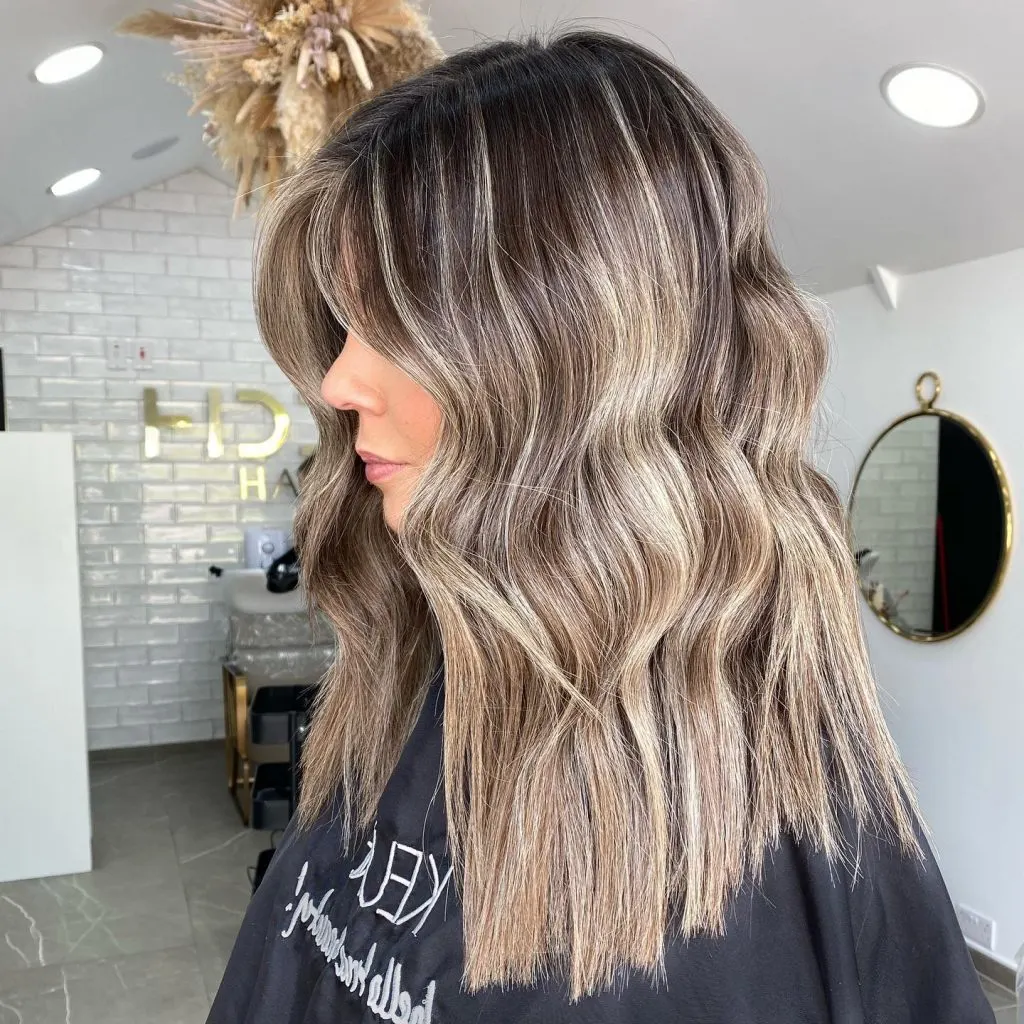 A combination of chunky highlights, babylights and lowlights creates a natural and refreshing look.
12. Caramel Blonde Highlights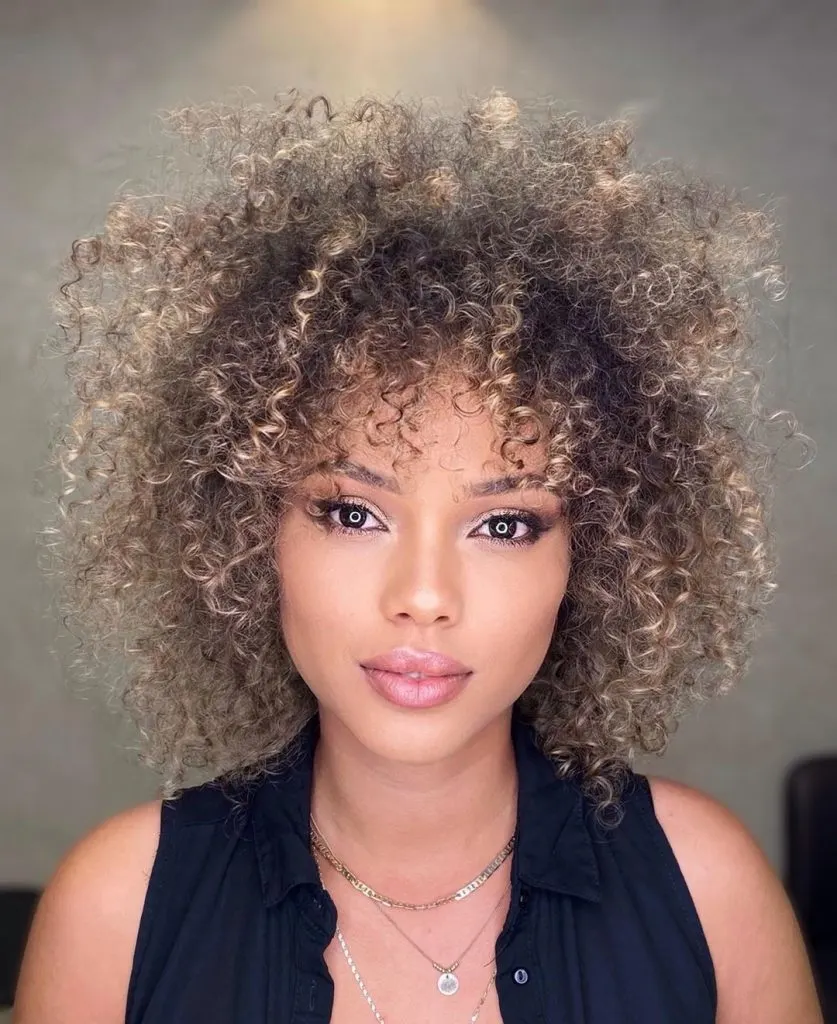 This soft blonde balayage blends with the base color creating a soft vibe and making the curls look like a glowing halo.
13. Long Brown Hair With Blonde Highlights And Lowlights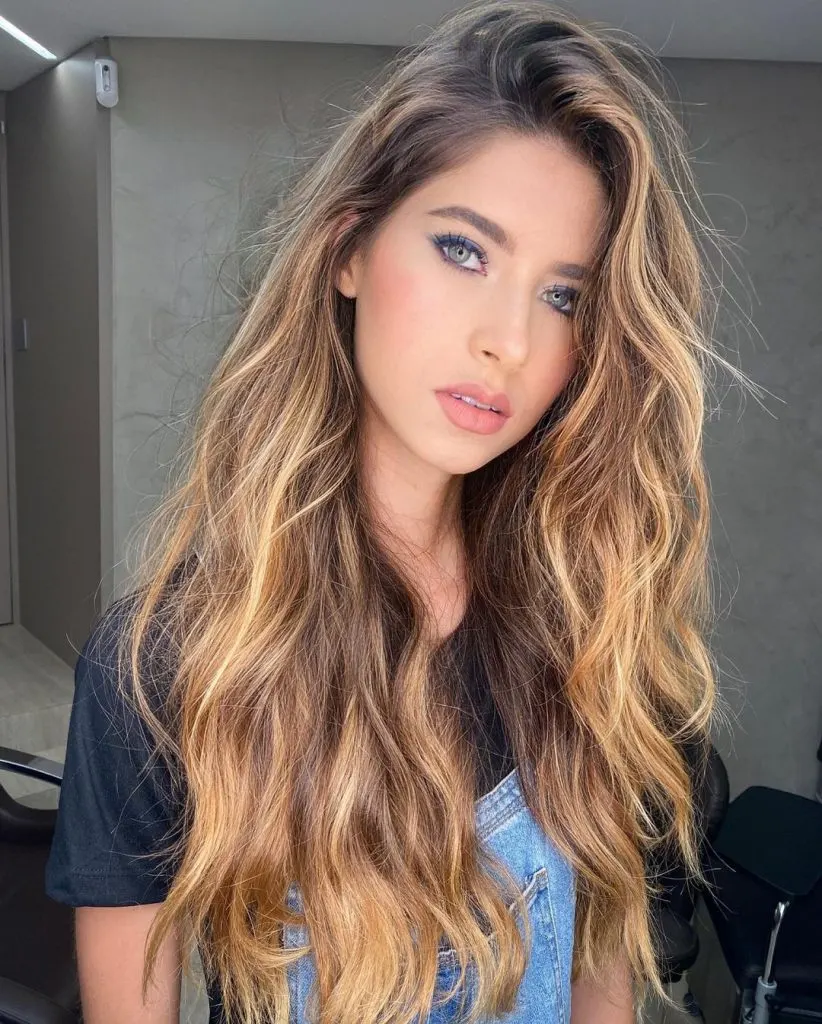 Bring warmth to your complexion with a combination of caramel and gold highlights and lowlights.
14. Streaked Blonde Highlights On Brown Hair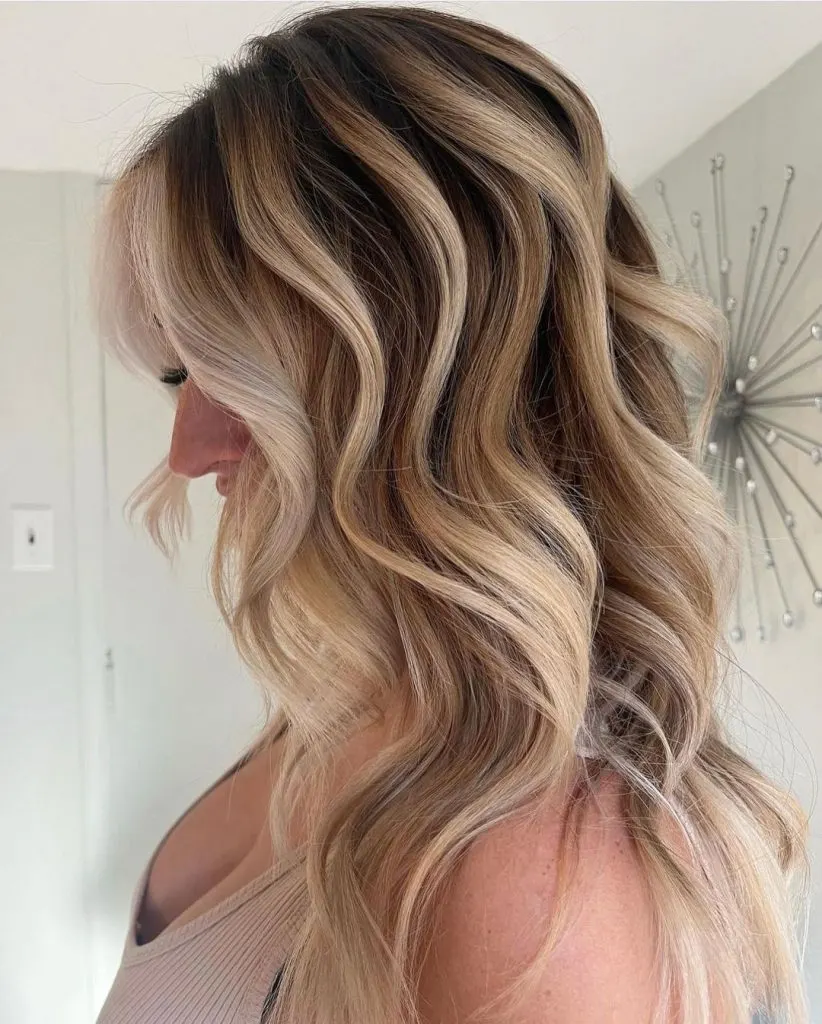 This is a gorgeous example how blending ribbon highlights and lowlights can create a multidimensional look.
15. Light Blonde Highlights With Money Pieces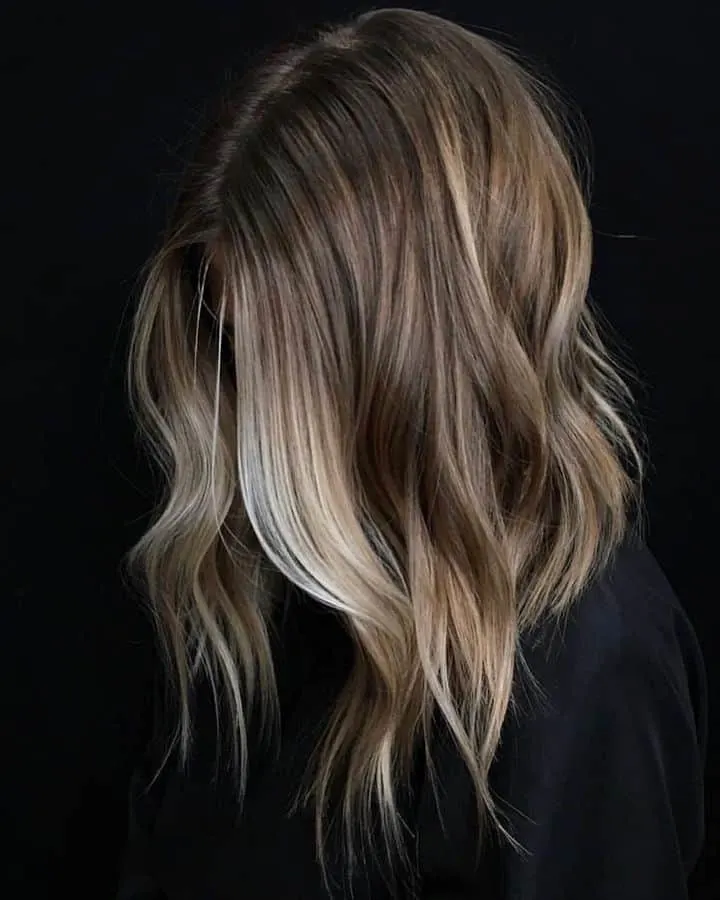 Dramatic light money pieces can stand alone or you can include a few highlights throughout the base that tie the whole look together.
16. Long Hair With Natural Blonde Highlights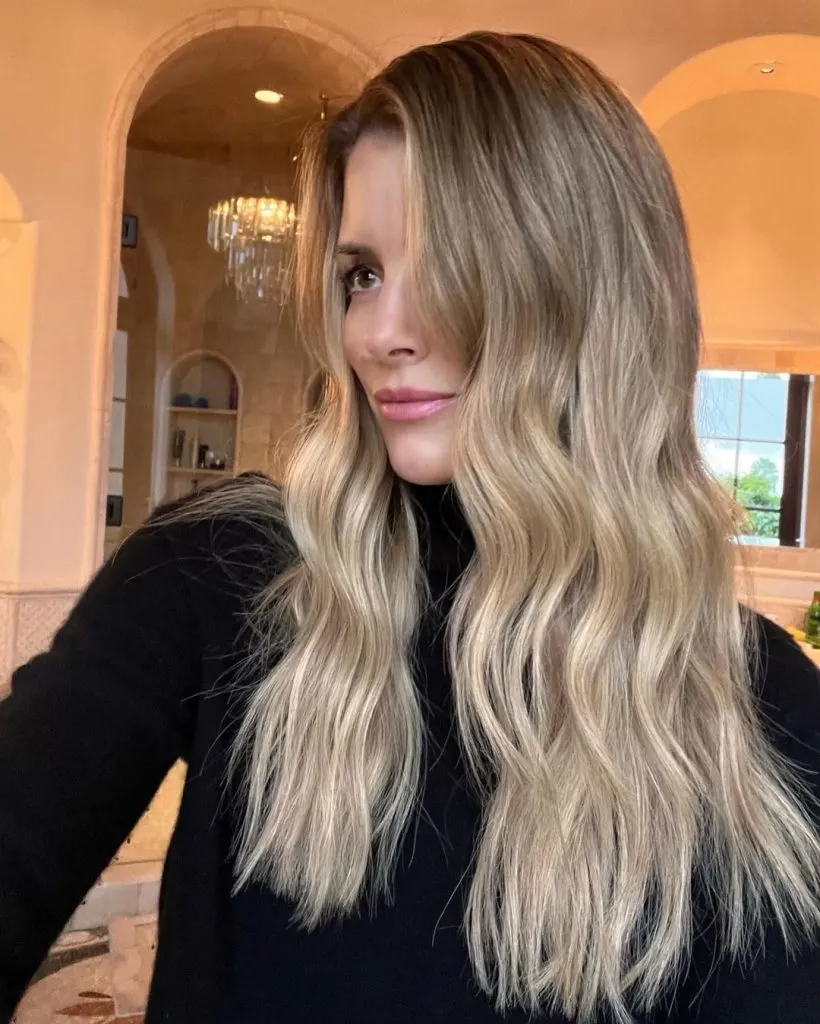 If your hair is already blonde but tends to look a little dull, you can brighten it with highlights that leave the roots natural.
17. Shiny Golden Blonde Balayage On Dark Brown Hair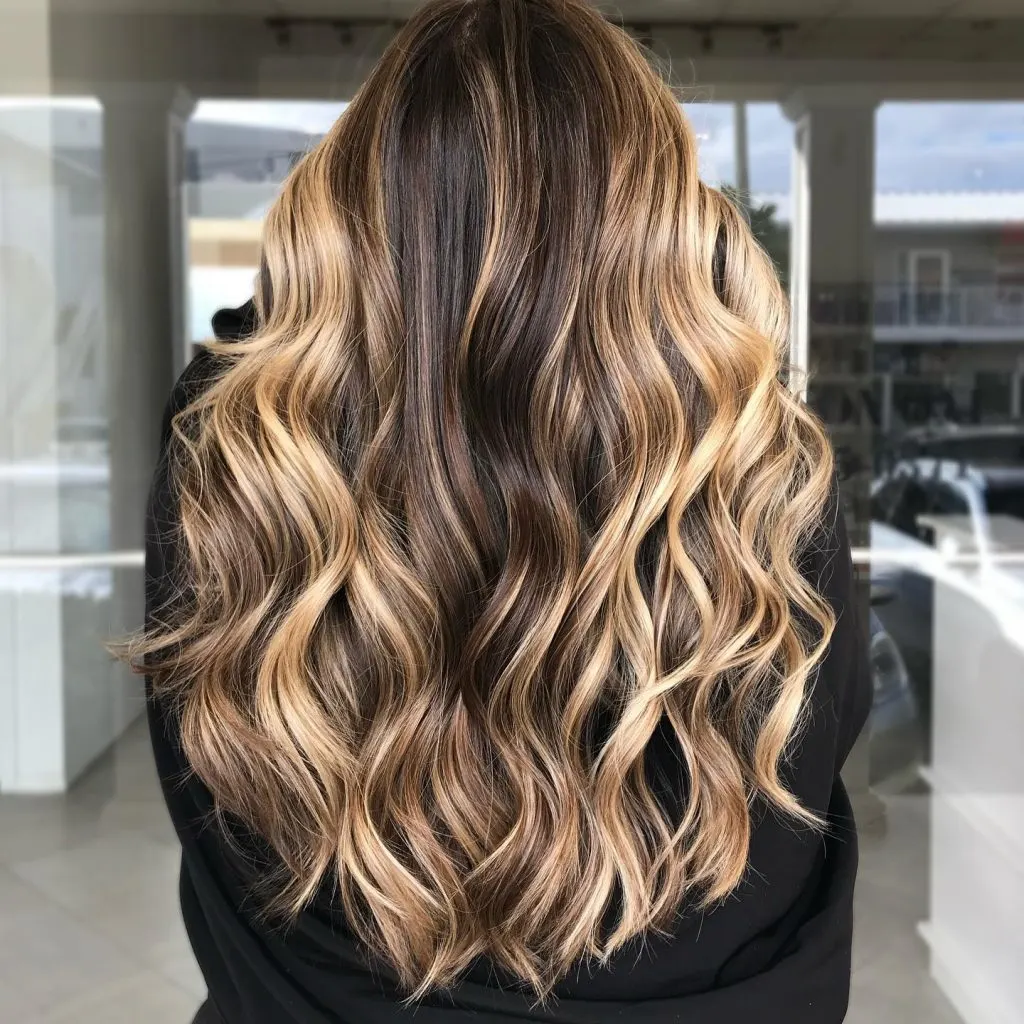 This balayage looks natural and easy because it's focused on the ends and the strands near the face, and only adds a few connecting highlights in the back of the head.
18. Cool-Toned Blonde Highlights With Root Melt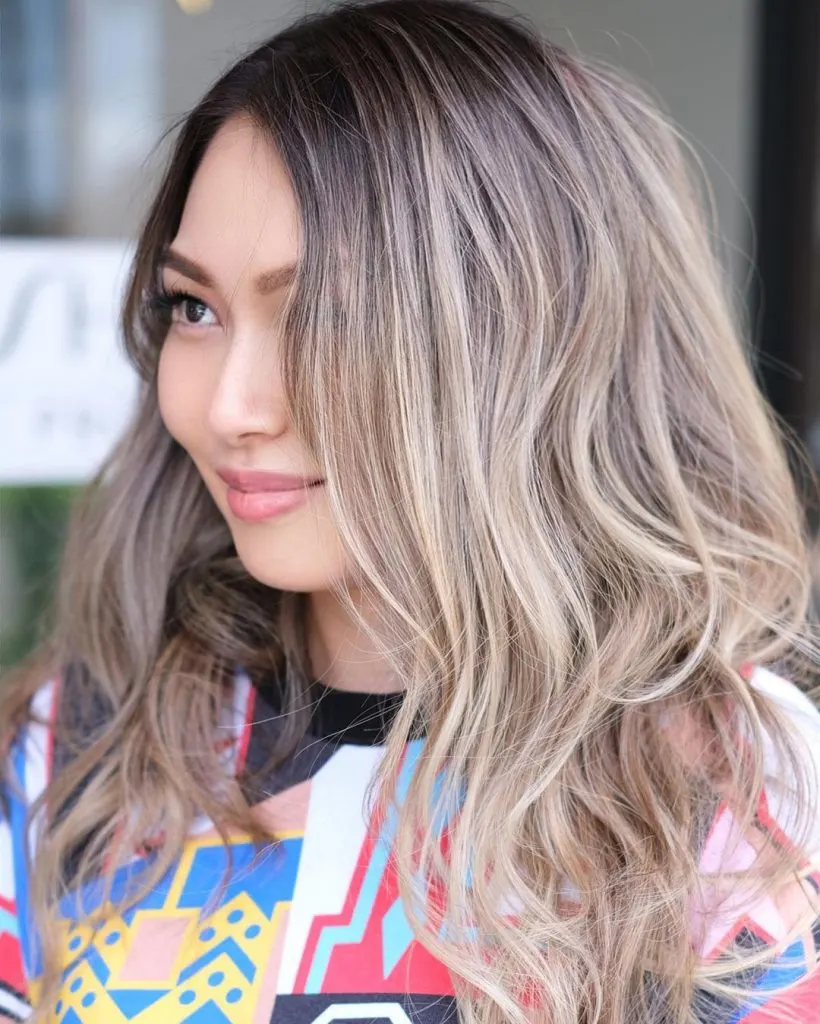 Seamless blending between the roots and the highlights ensures a low-maintenance color that won't need to be touched up for a long time.
19. Natural Blonde Hair With Blonde Highlights And Lowlights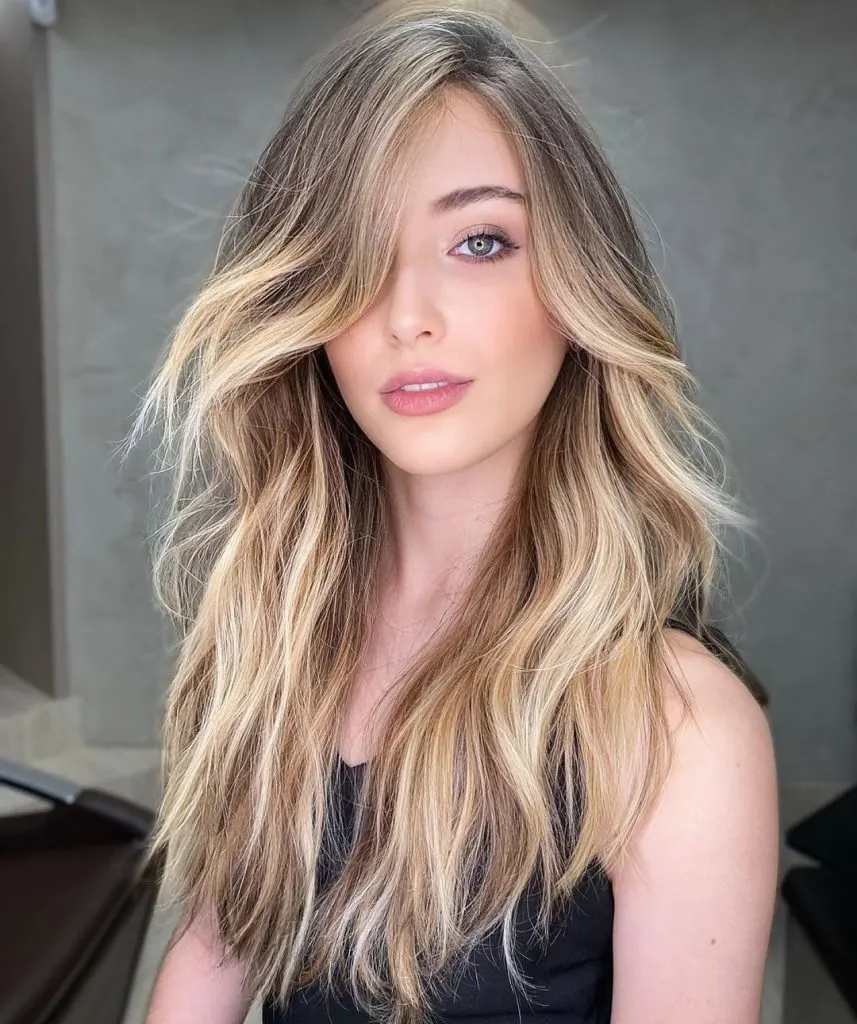 If you want a harmonious look, the color of your highlights should match your complexion—if you have a warm skin tone, go for golds and caramels, and if you have a cool skin tone, ash and pale vanilla will suit you better.
20. Face-Framing Light Blonde Highlights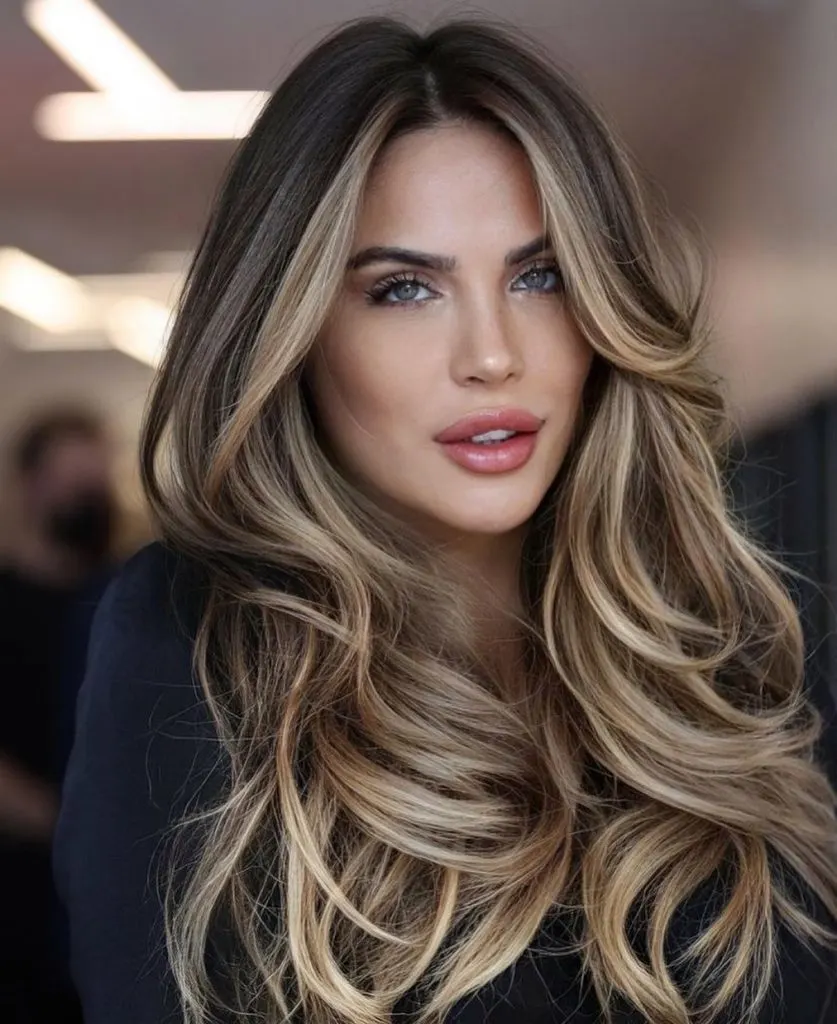 Highlights accentuate the soft curls and help the curtain bangs with framing the face by brightening it.
21. Natural Blonde Highlights On Wavy Hair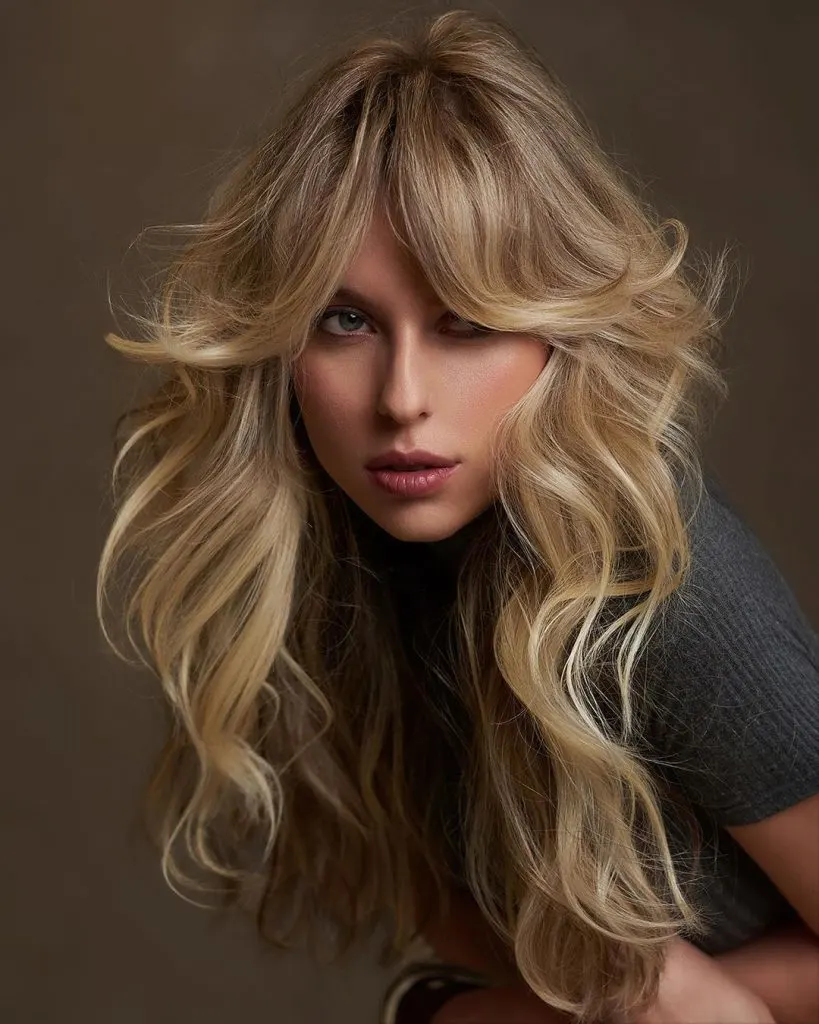 Highlights and layers are a dream team—they work together to bring movement and dimension to the hair.
22. Pale Ash Light Blonde Highlights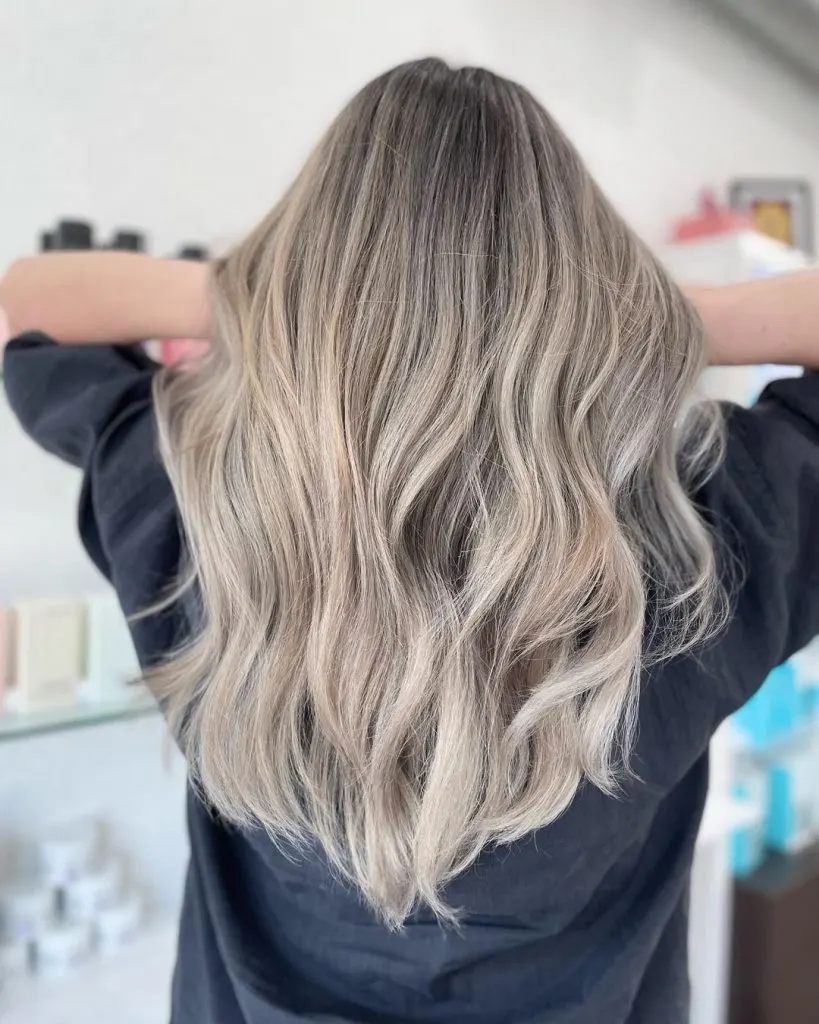 These gorgeous pale ash blonde highlights work best on cool and neutral skin tones. If your complexion is warm and you still want them, the trick is in placing the color further away from the face, such as going for ombre instead of face framing.
23. Light Brown Hair With Blonde Highlights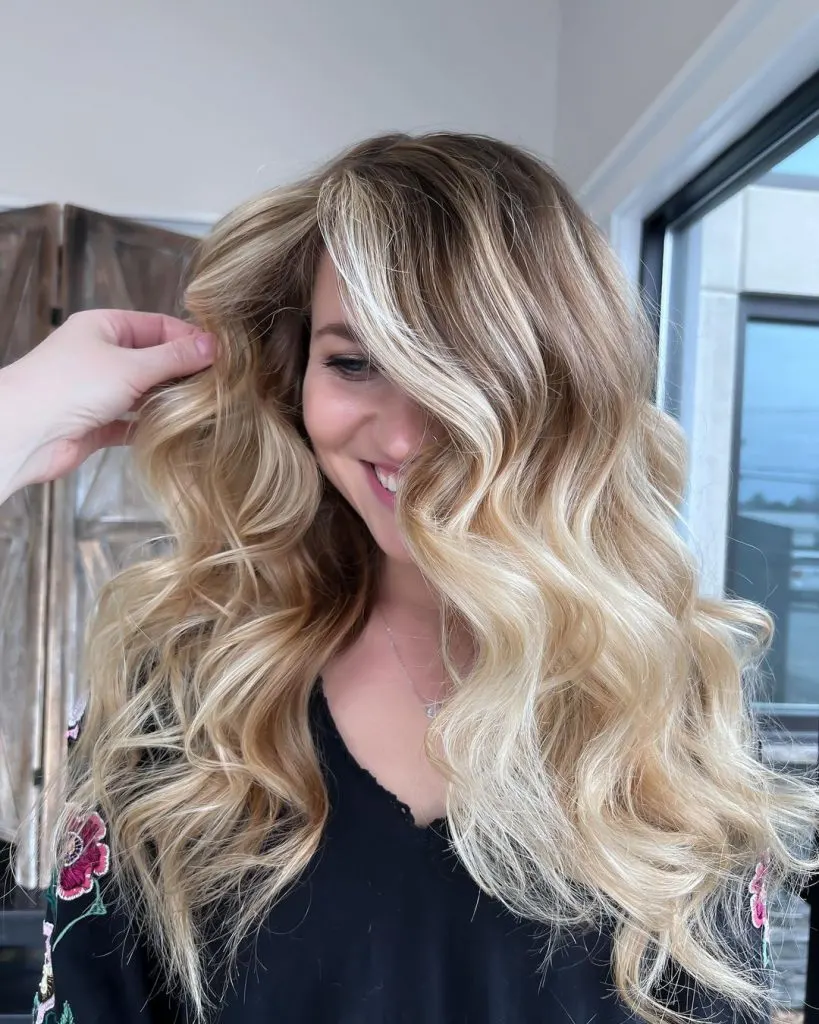 Blonde bombshell curls and hair cascading over one eye—a sexy and gorgeous look.
24. Medium Length Brown Hair With Blonde Highlights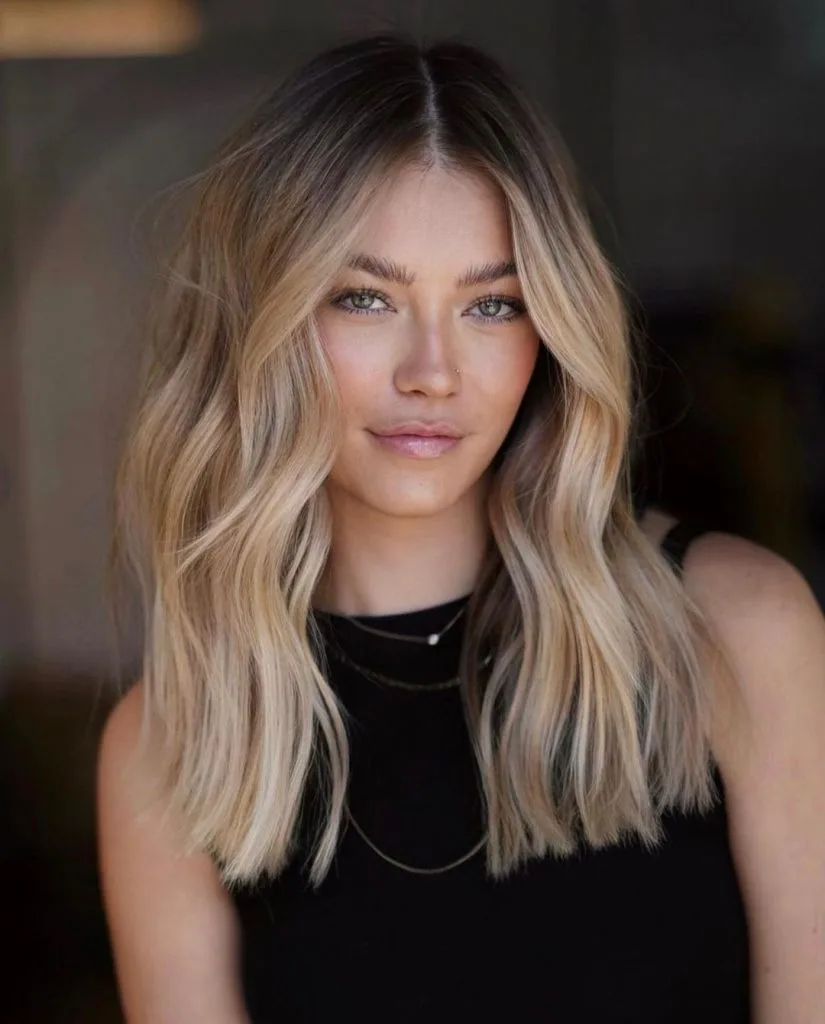 The easiest, most low-maintenance way to lighten brown hair is with blonde highlights and a root melt. This way, you get all the glow of blonde hair without needing frequent touch-ups.
25. Platinum Blonde Highlights On Dark Brown Hair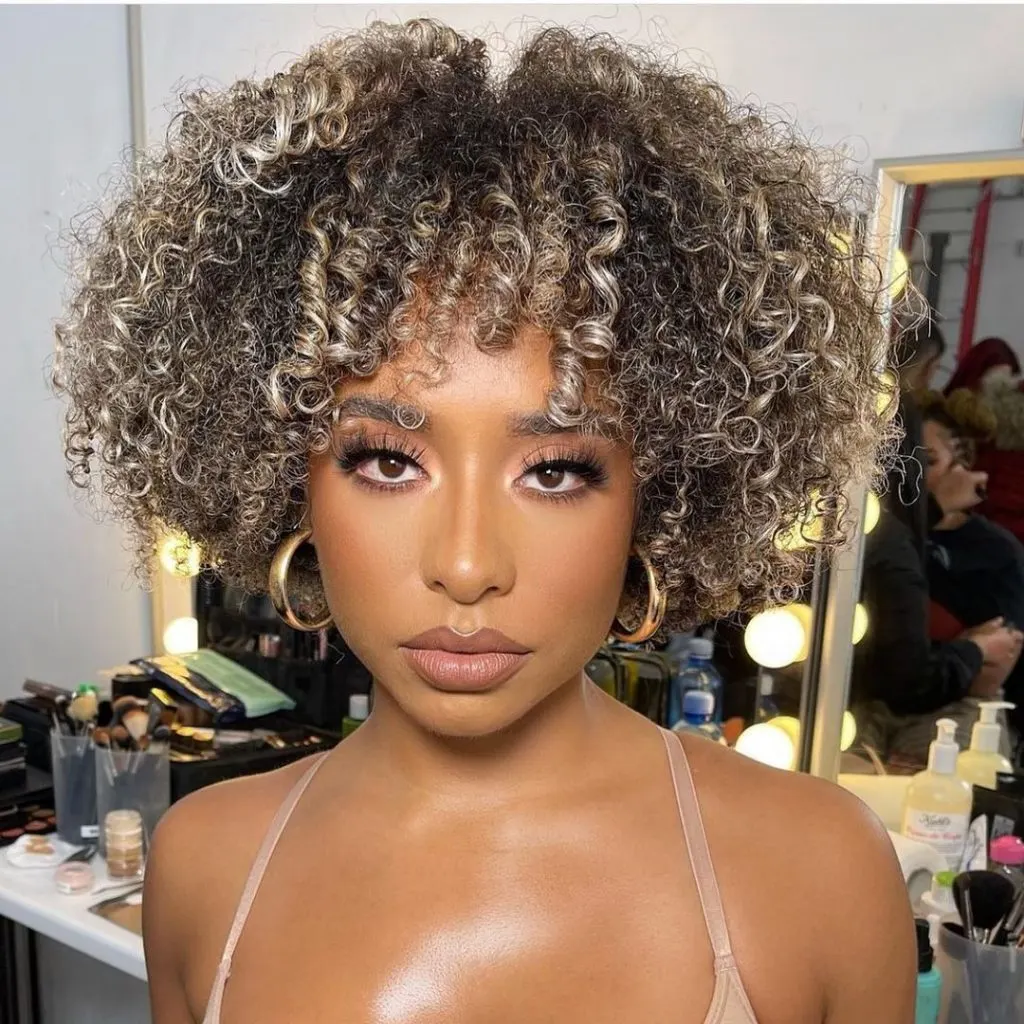 Even if you have dark brown or black hair, you can go as light as platinum with your highlights, as long as you're careful and go slow to avoid frying your hair.
26. Vanilla Blonde Highlights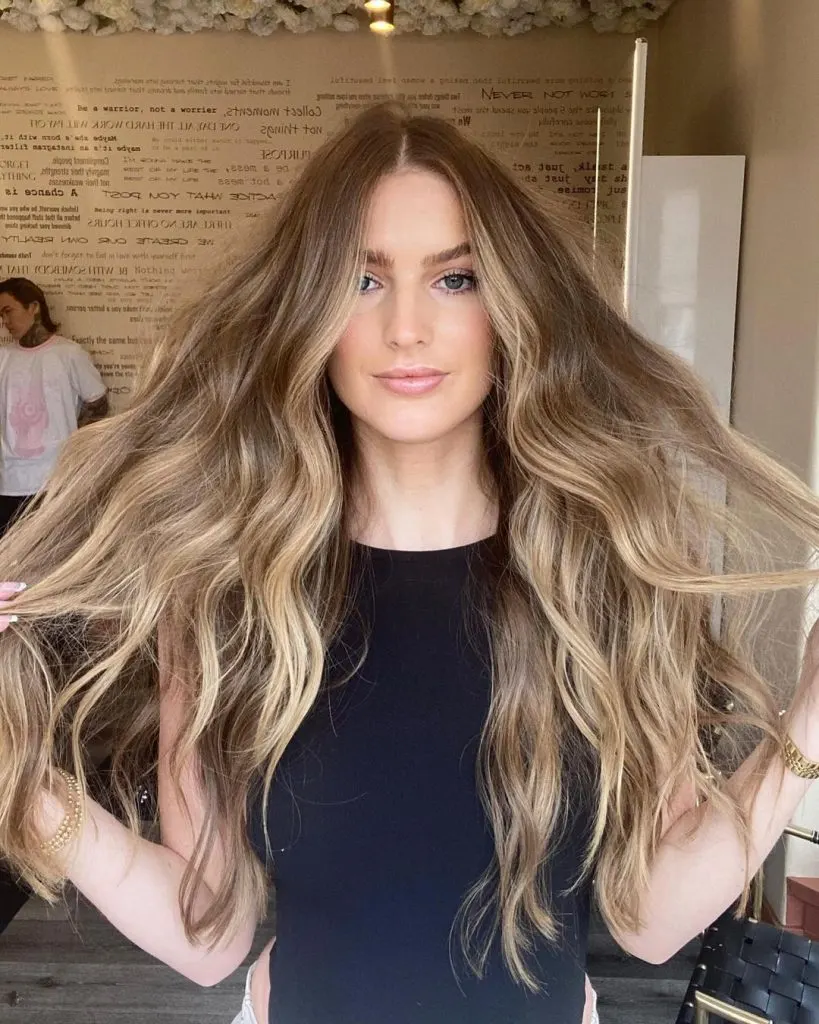 Elevate your natural blonde hair with highlights, going from mousey to sun-kissed.
27. Natural Blonde With Blonde Highlights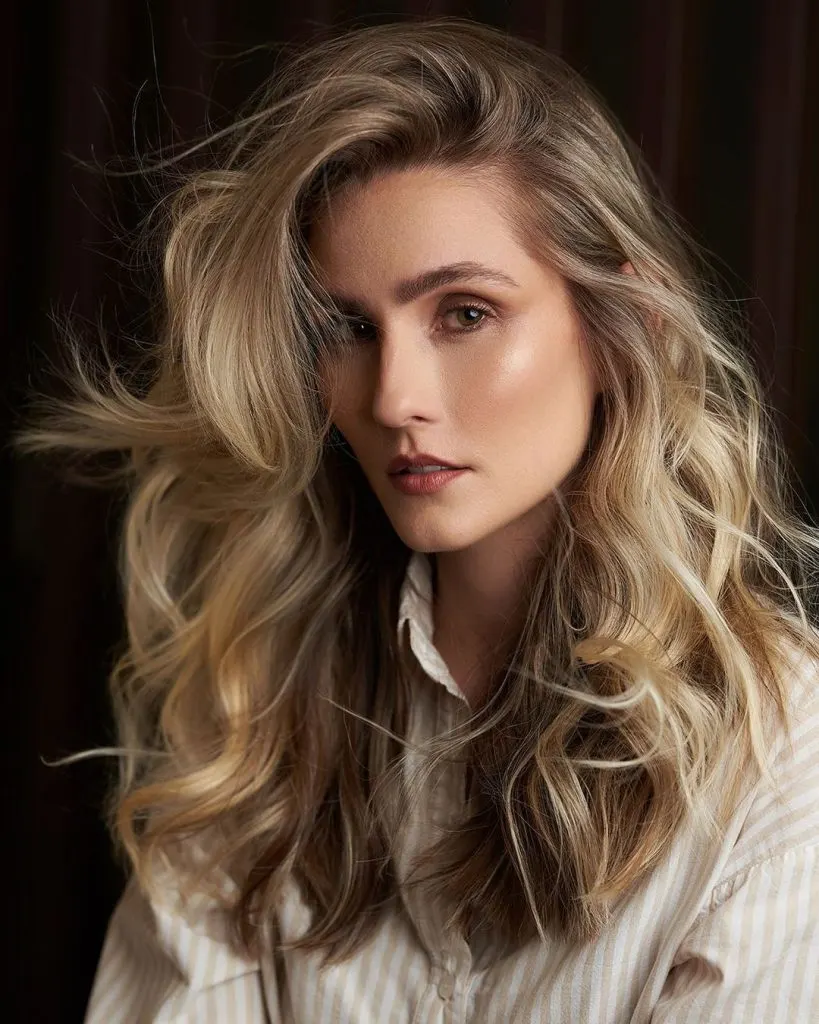 Highlights and lowlights are the most effective method of getting dimension, especially if your base color is pale and flat.
28. Curly Hair With Caramel Blonde Highlights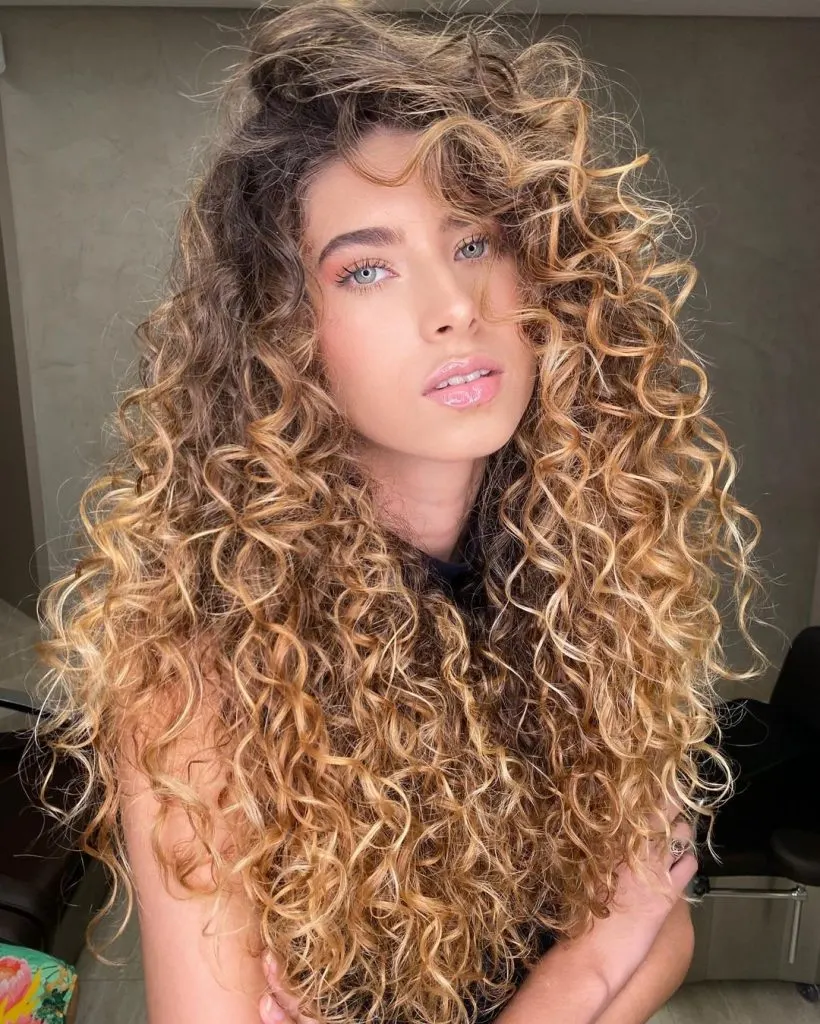 Highlights will accentuate your curls by drawing attention to the curl pattern against a darker background.
29. Medium Length Blonde Hair With Highlights And Lowlights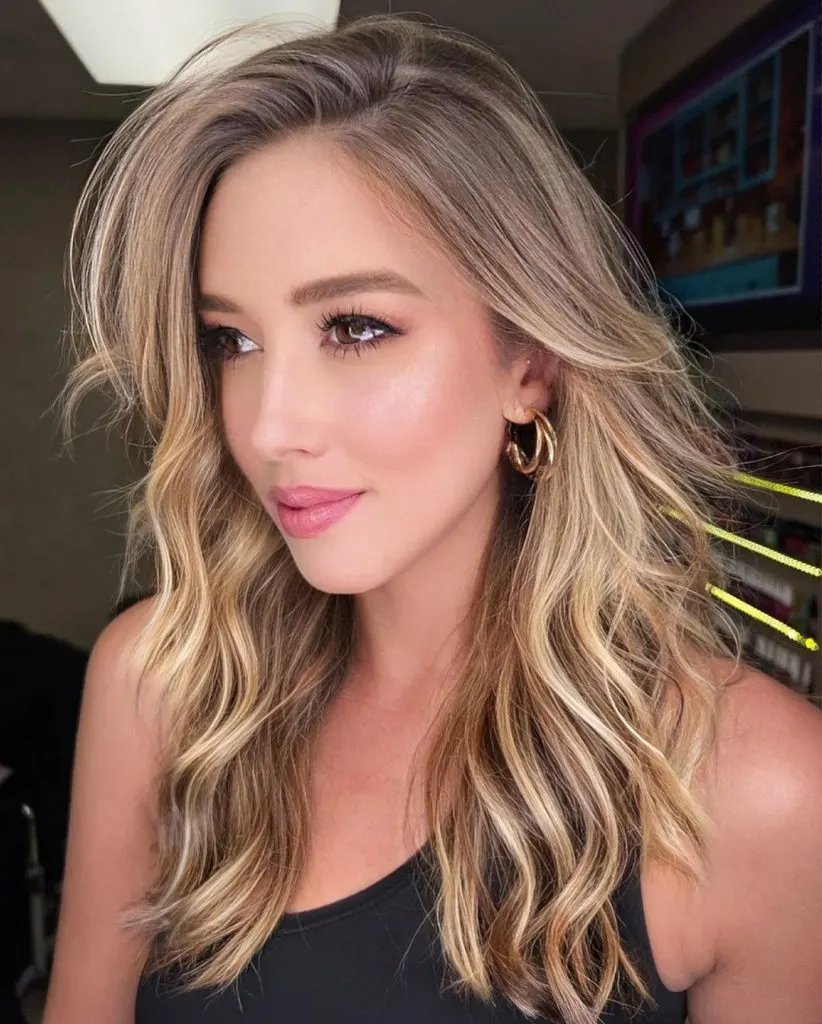 This soft balayage blends highlights and lowlights into the base color, creating a no-fuss, yet pretty look.
30. Face-Framing Blonde Highlights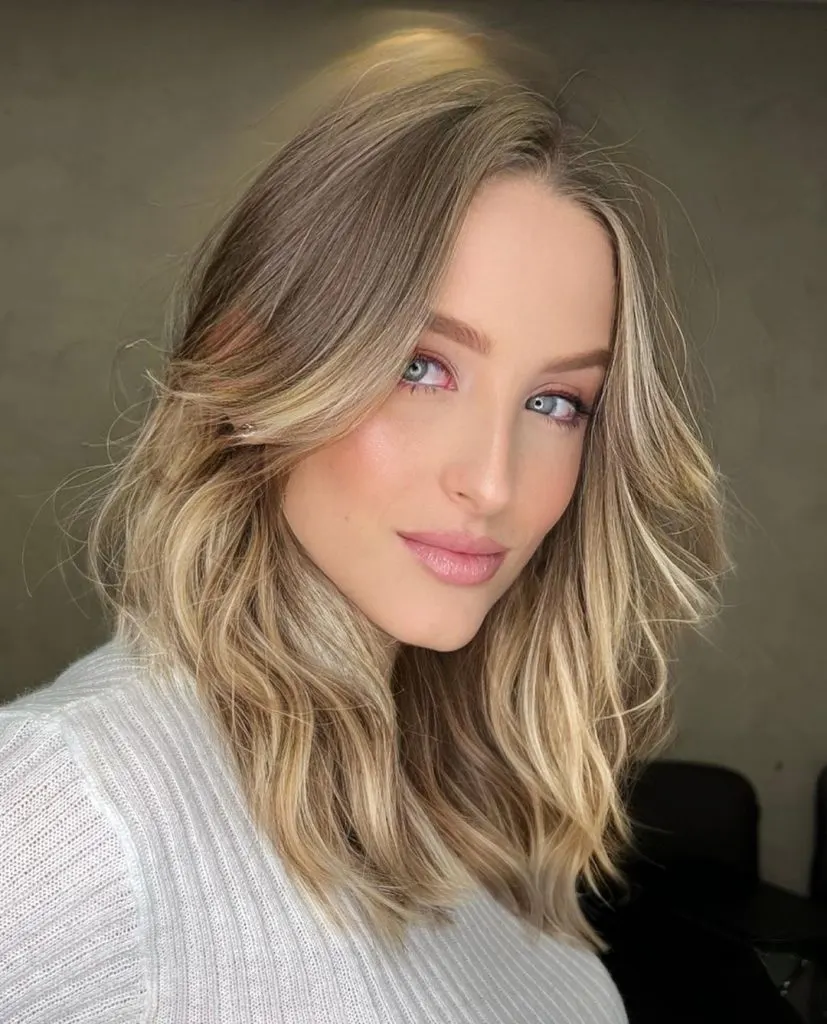 It doesn't take much to upgrade your natural color—brightening the ends and the face-framing pieces is a winning combination.
31. Blonde Ombre Highlights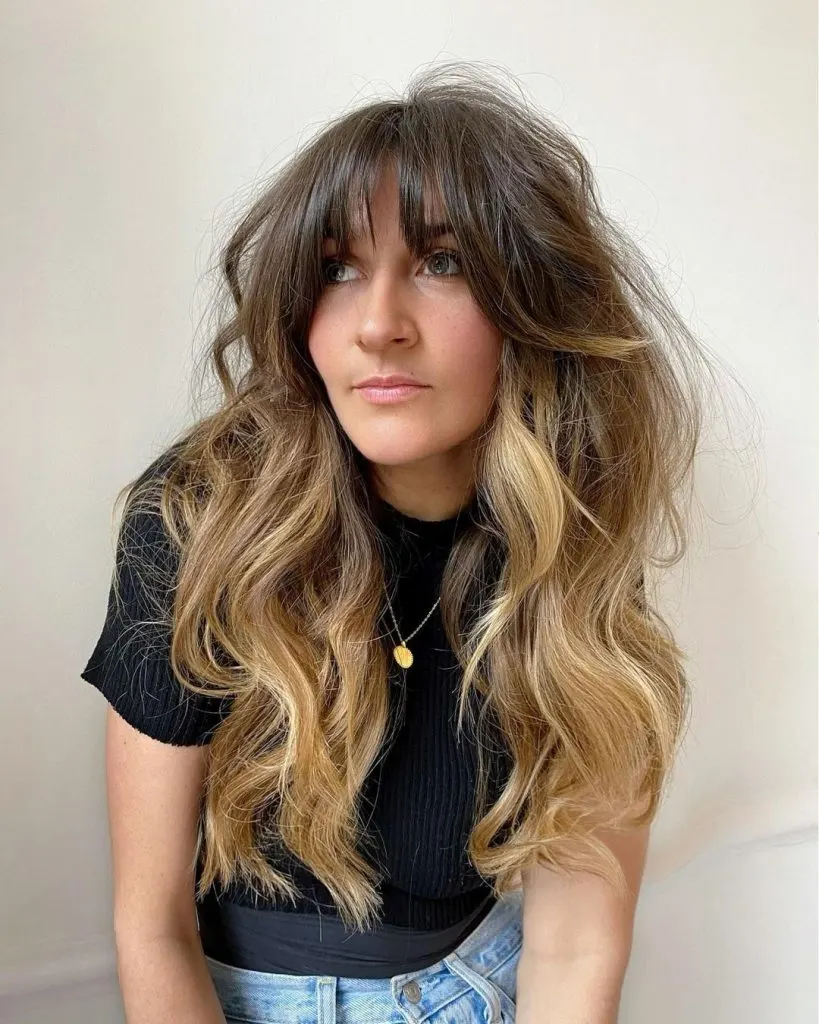 Ombre is super low-maintenance, but it also has another benefit: it gives you a chance to wear a color that isn't as flattering but still looks good. This is easy if you keep a color that works for your skin near the face and use the other color on the lower half.
32. Light Blonde Highlights On Natural Blonde Hair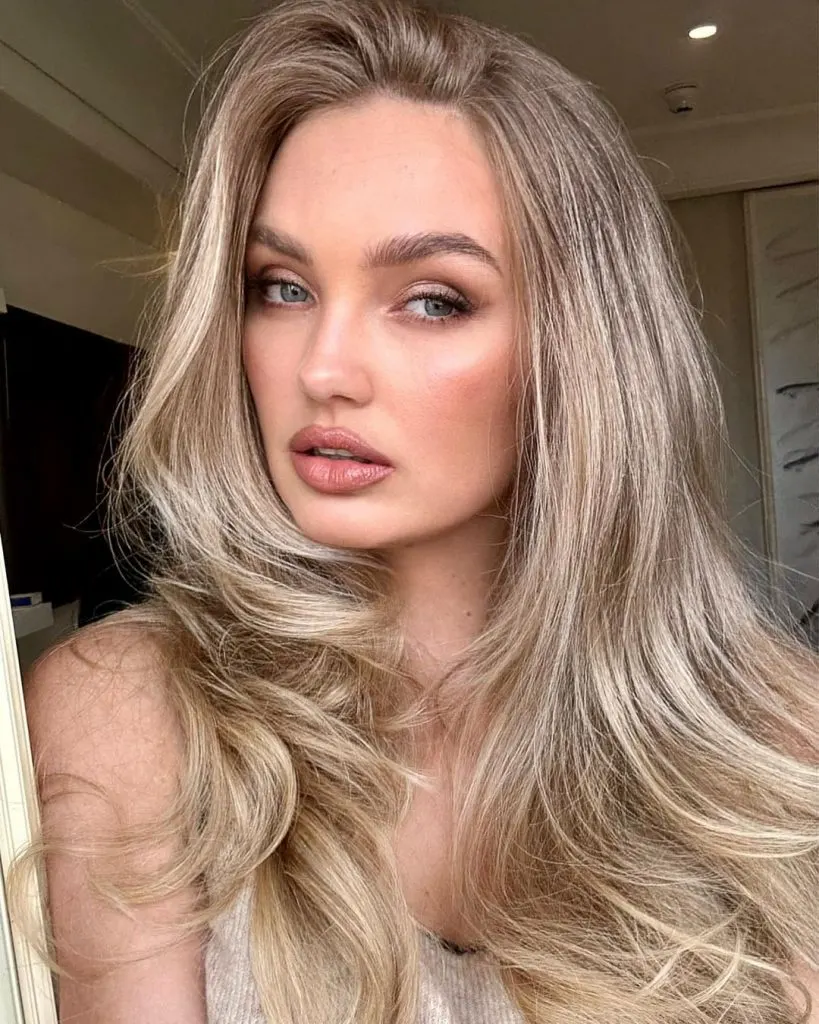 Dense highlights can almost look like fully dyed hair, but they will have a dimension that can't be achieved with just one color.
33. Brown Hair With Honey Blonde Highlights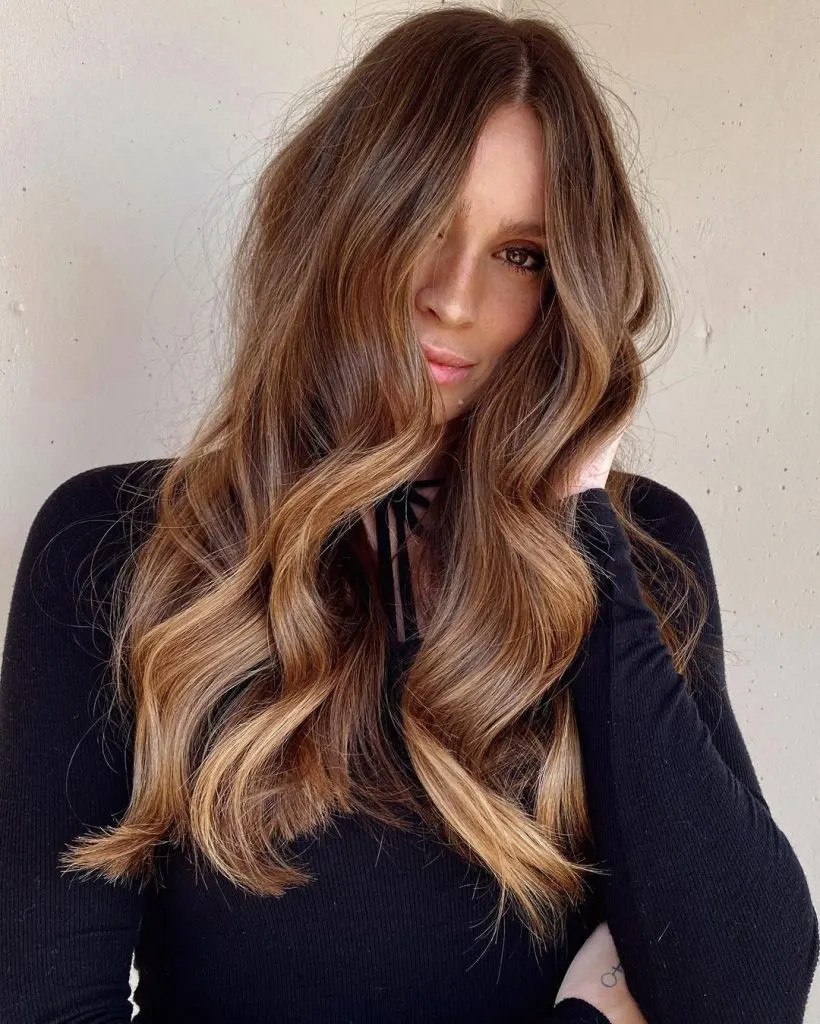 Highlights that gradually get lighter from roots to tips will create a natural and flattering look, no matter your base color.
34. Beige Blonde Highlights On Curly Hair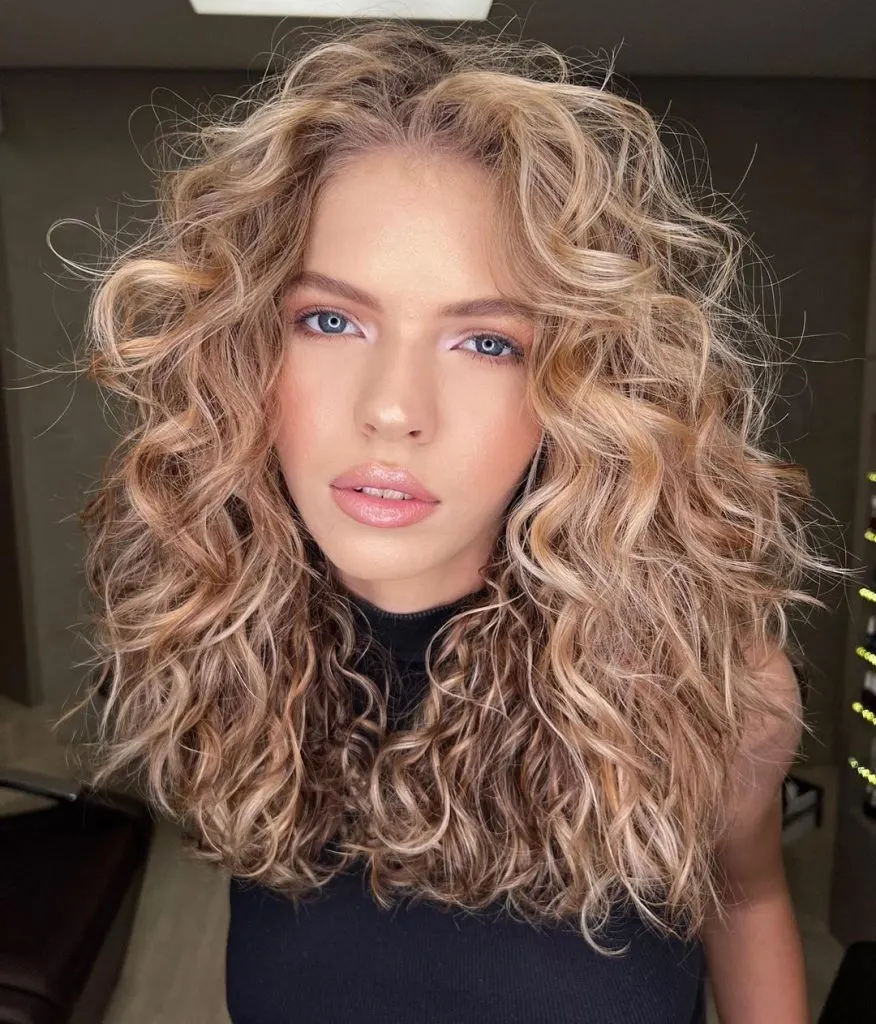 Beige tones look best on neutral skin tones. A quick way to tell you might have neutral skin if you look equally good in silver and gold jewelry.
35. Long Wavy Hair With Blonde Highlights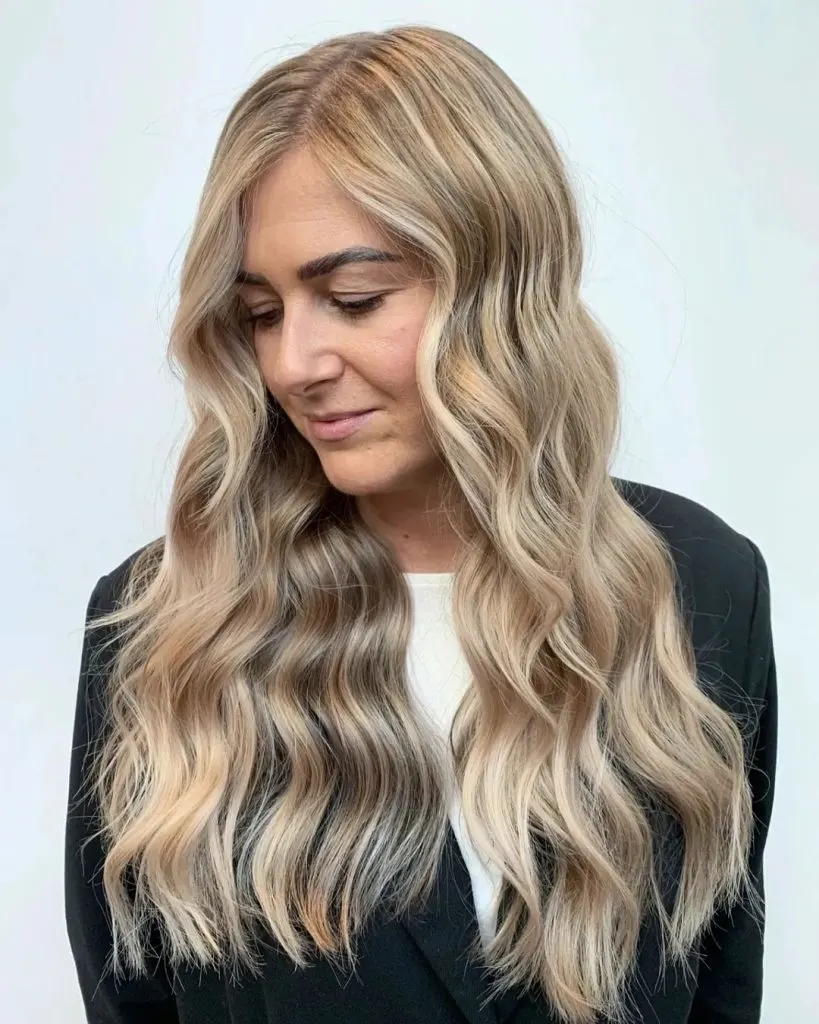 This seemingly simple color is a combination of highlights, lowlights and babylights used to create a soft, natural look.
36. Dark Blonde Highlights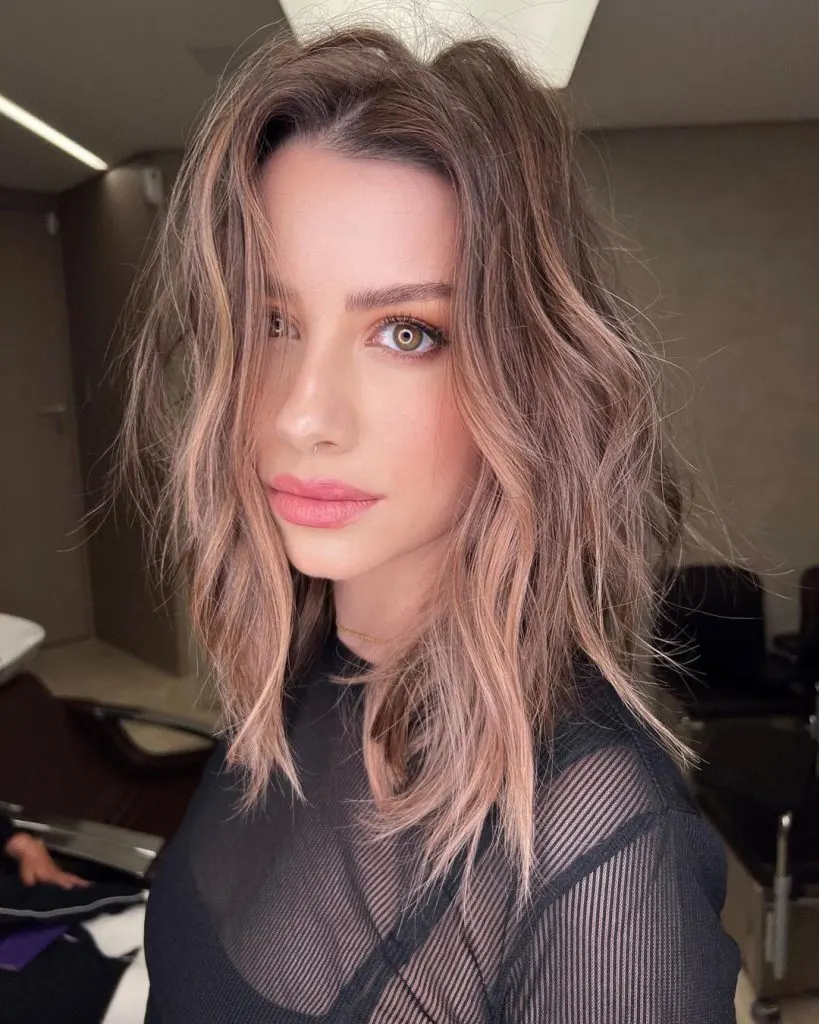 Lightening your hair from level 1 or 2 to level 10 in one session can be done by a skilled professional, but giving your hair some time before you bleach it again will minimize the inevitable damage. In the meantime, you can use a dark blonde toner and create a gorgeous look like this.
37. Caramel Dark Brown Hair With Blonde Highlights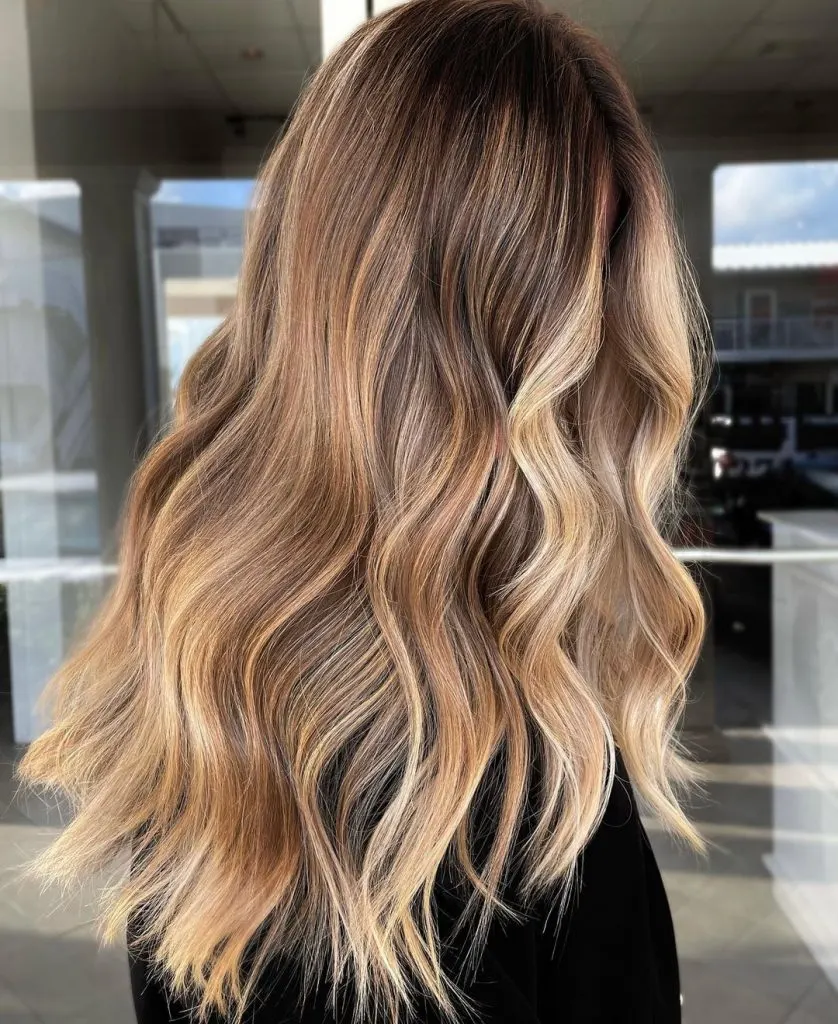 This colorful medley of blonde highlights looks sun-kissed and warm while remaining low-maintenance thanks to the root melt.
38. Platinum Blonde Highlights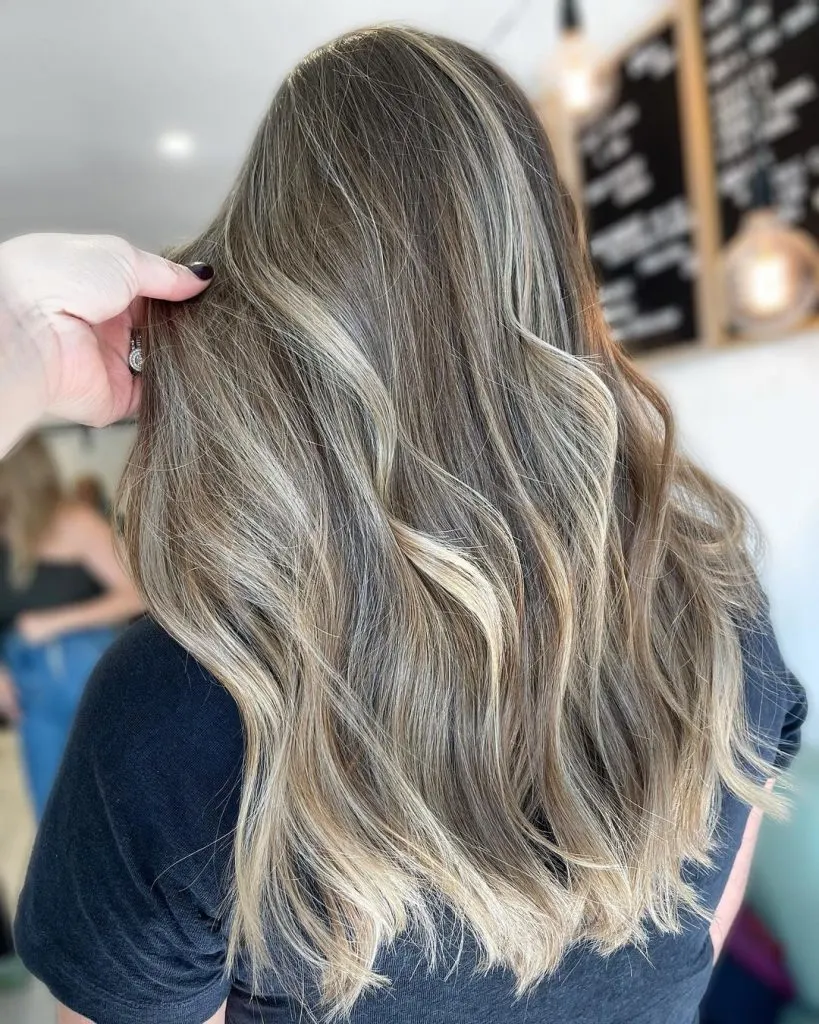 Tiny platinum babylights and a few thicker ribbons transform this dark blonde hair from one-dimensional to dynamic.
39. Natural Blonde Highlights On Wavy Hair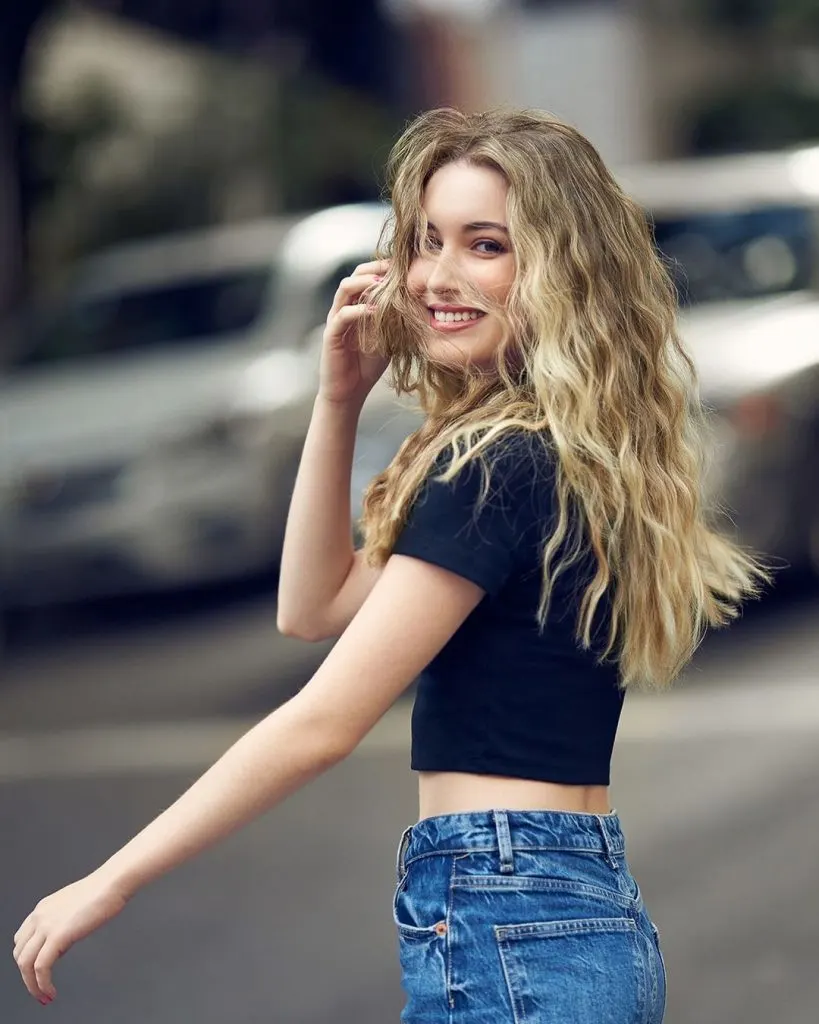 Blonde highlights make curls and waves pop—the brightness draws the eye to the shape and makes them look softer and more defined.
40. Brown Hair With Blonde Highlights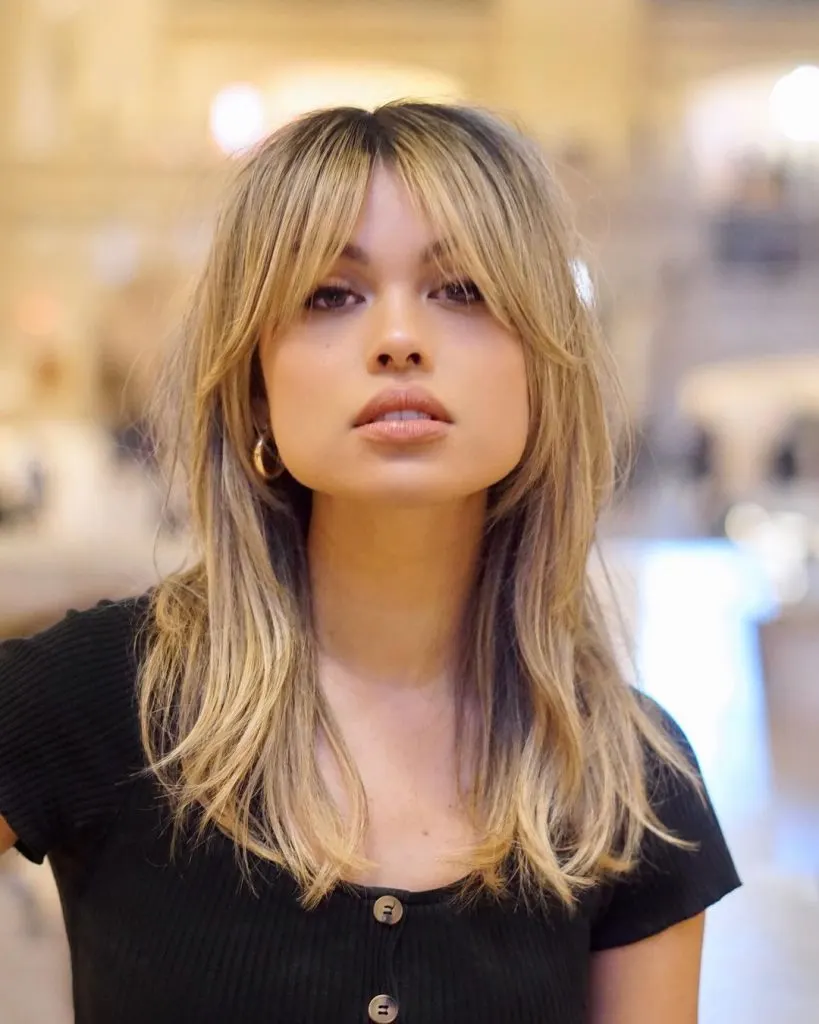 This golden blonde would look amazing if you have a warm skin tone, illuminating your features.
41. Blonde Highlights On Straight Hair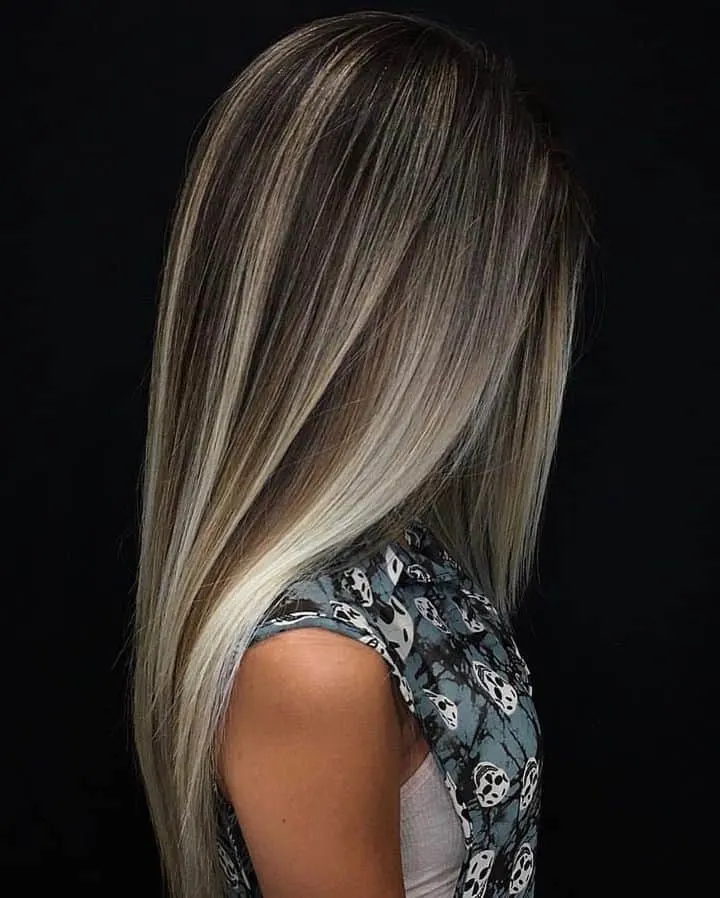 Chunky streaks look more cohesive with the base color when a few smaller highlights are added. Of course, you can skip them if you like the more dramatic look.
42. Streaked Blonde Highlights On Dark Blonde Hair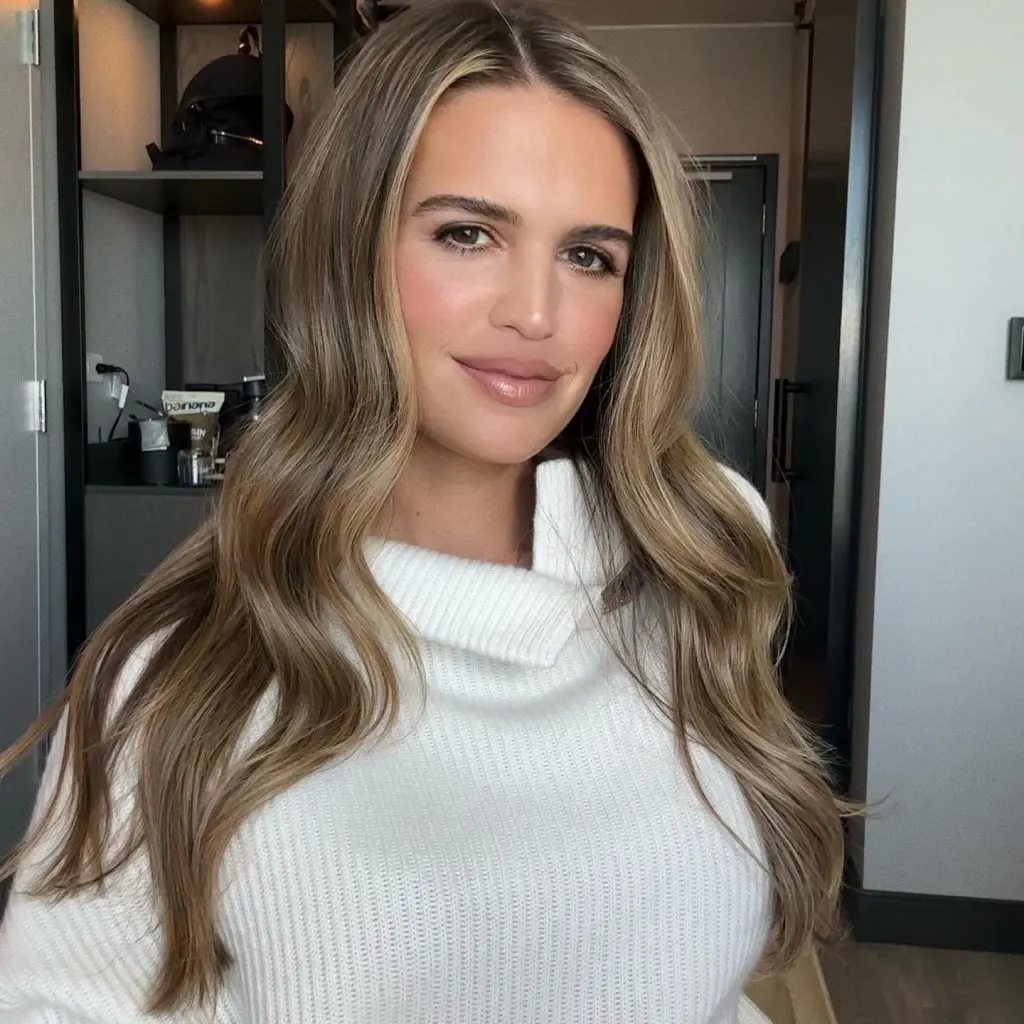 These highlights are incredibly subtle and used more to add dimension than to change the color.
43. Blonde Balayage On Dark Brown Hair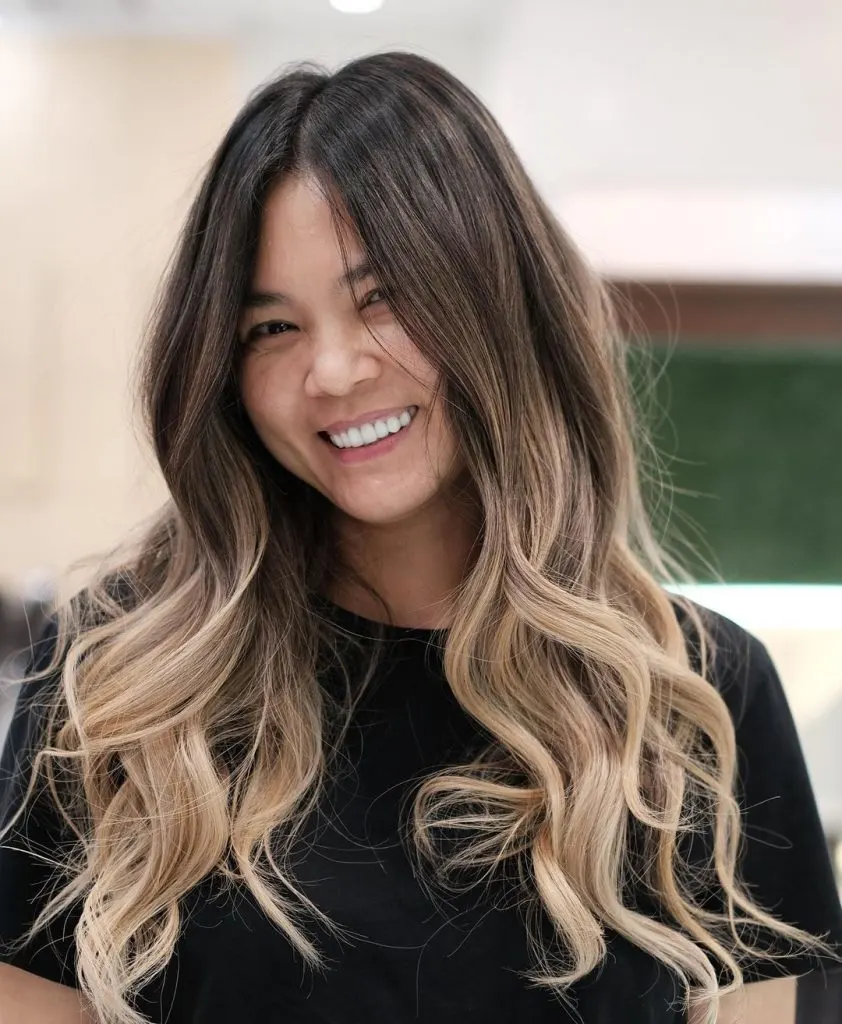 Dark brown seamlessly blending with soft beige is a gorgeous way to play with an ombre look.
44. Ash Light Blonde Highlights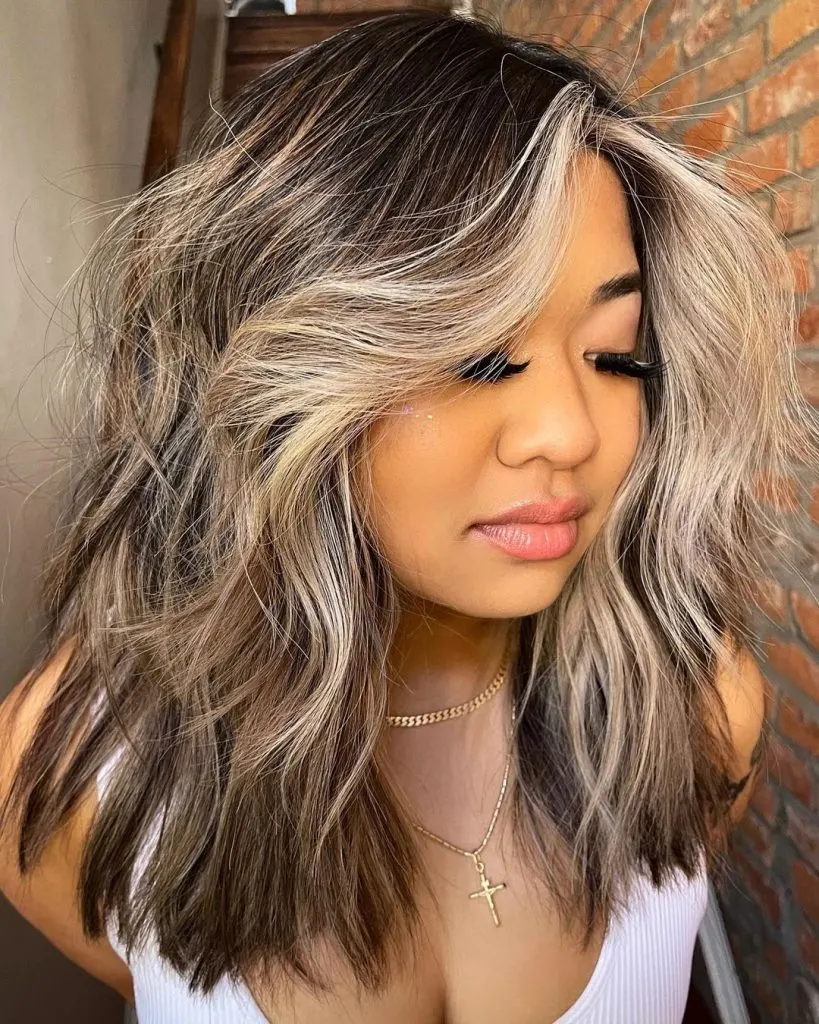 Thick money pieces and small highlights throughout the base color look cohesive but dramatic.
45. Golden Highlights On Curly Hair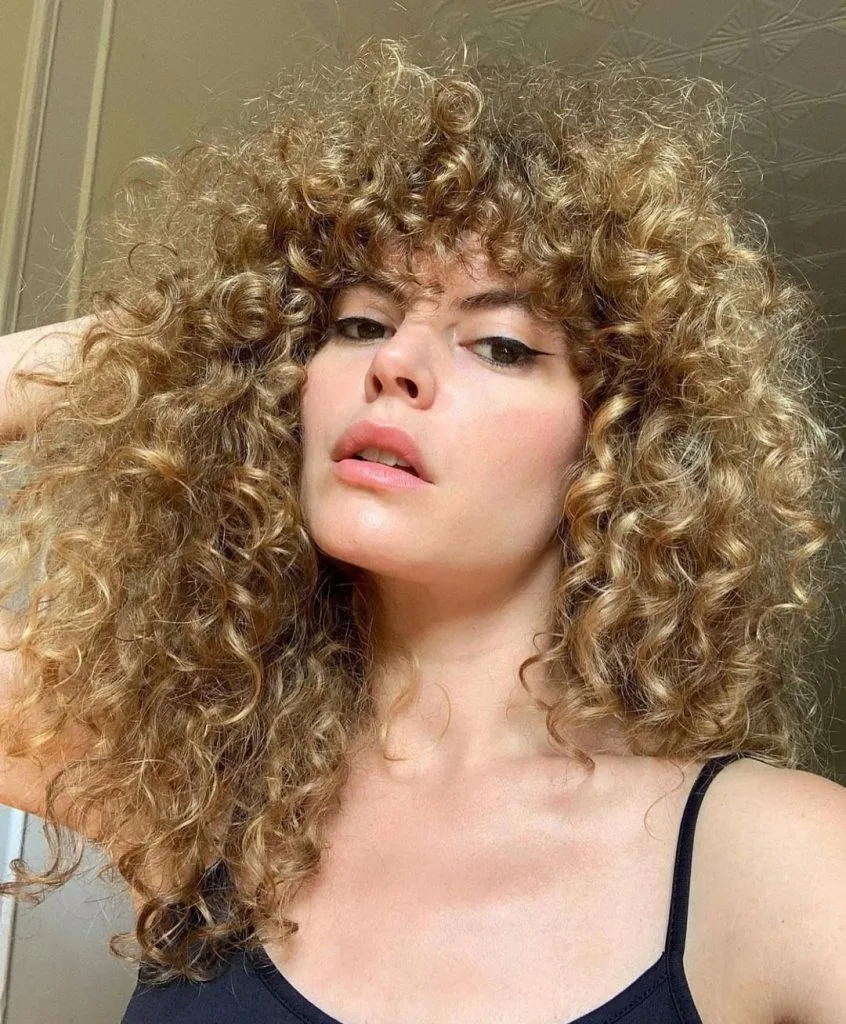 Dense blonde highlights are an alternative to dying all your hair one color that looks more natural and is easier to maintain.
46. Dark Brown Hair With Blonde Highlights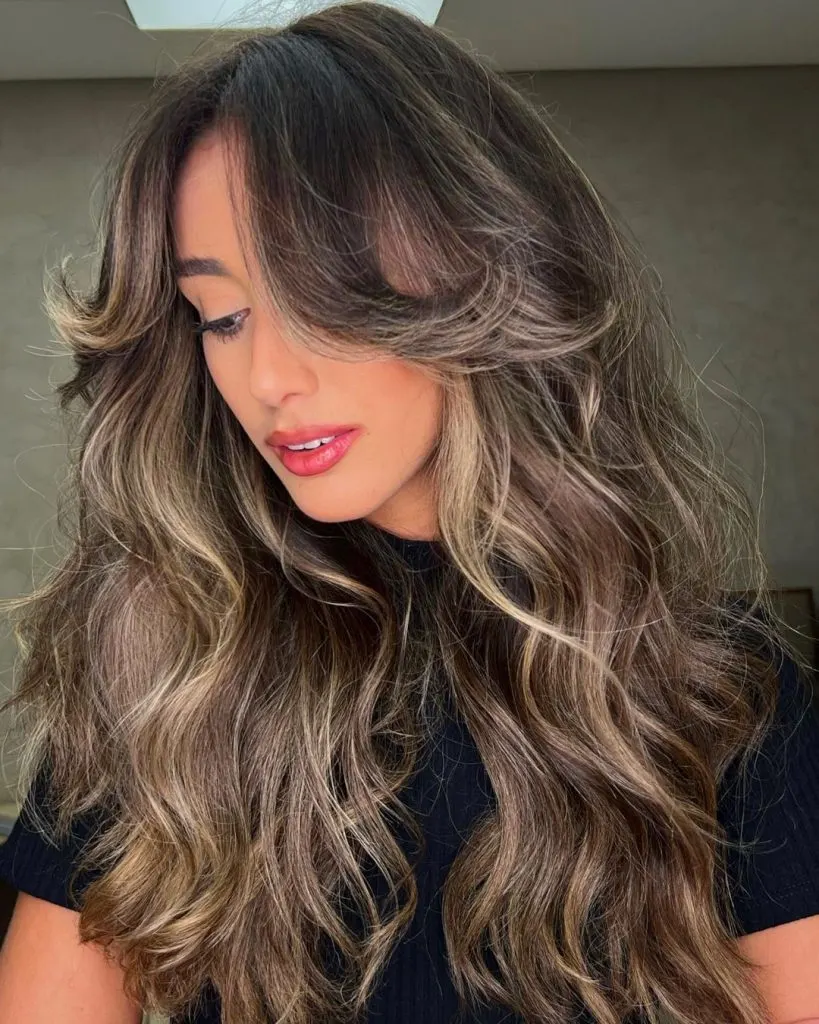 Cool blonde highlights on dark hair create a modern ashy look that looks best if you have a cool skin tone.
47. Natural Blonde Highlights And Lowlights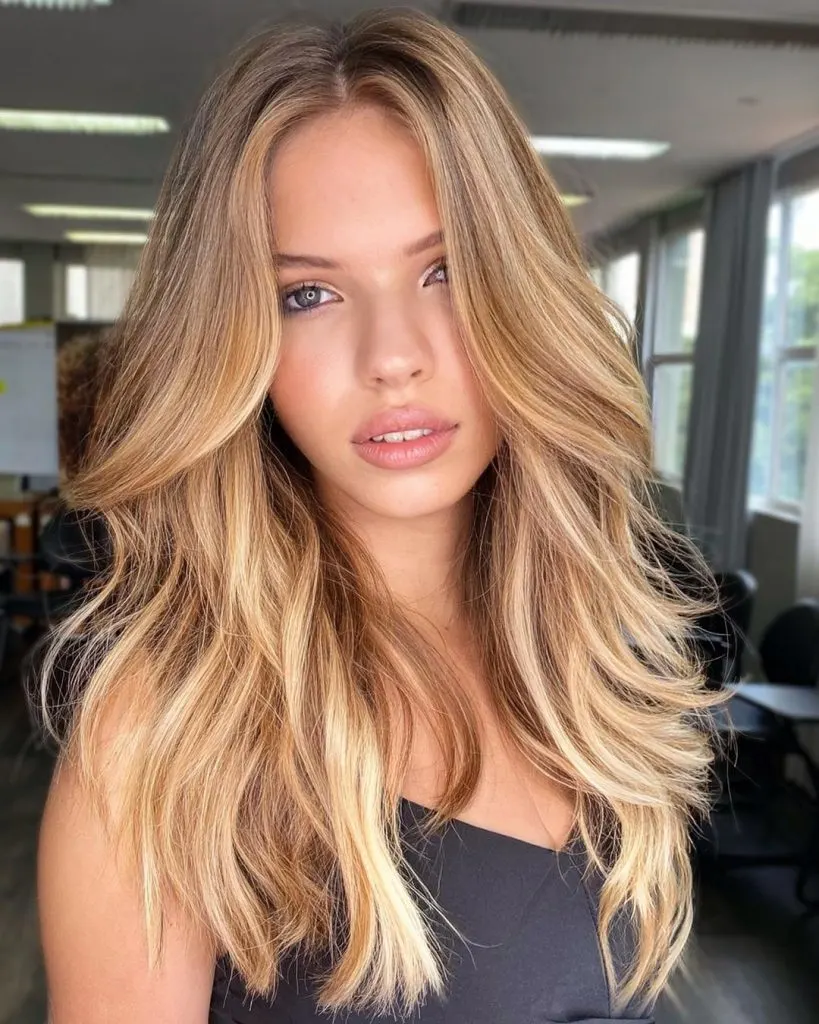 This sparkling look is flattering and pretty—choosing the right brightness and temperature of your highlights will make your face glow.
48. Platinum Blonde Highlights With Money Pieces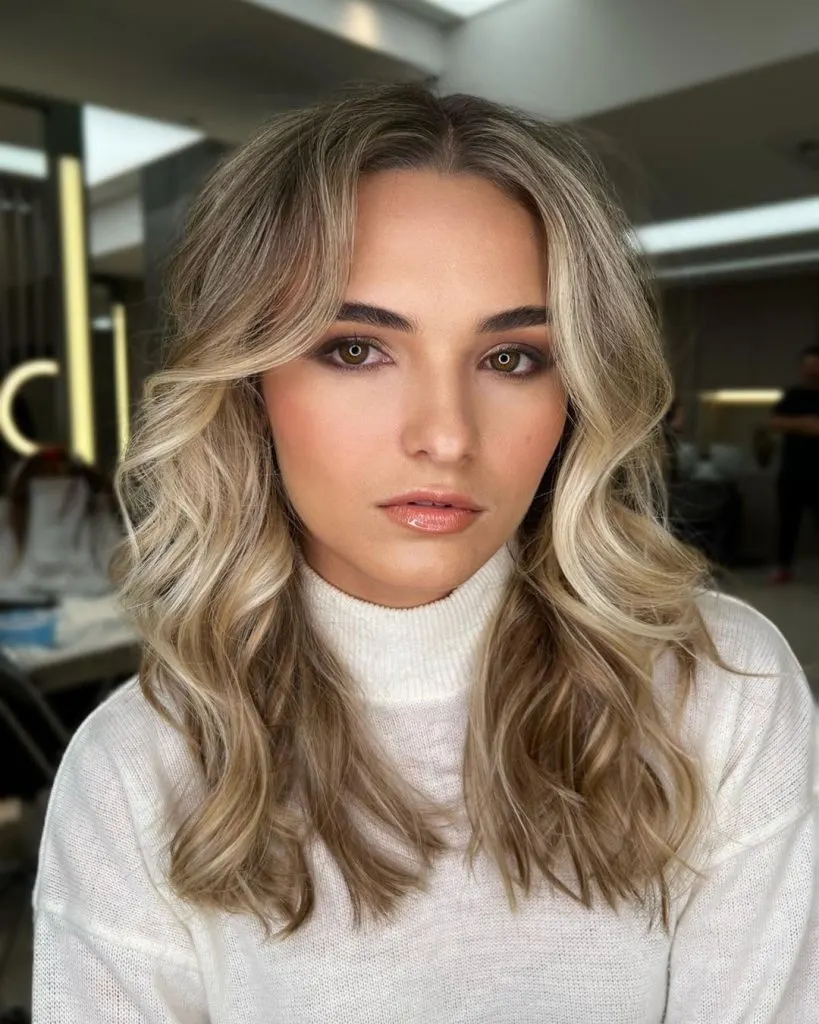 Icy platinum highlights are the perfect complement to cool natural blonde hair—they'll make your hair more exciting and sophisticated.
49. Natural Blonde Balayage On Dark Hair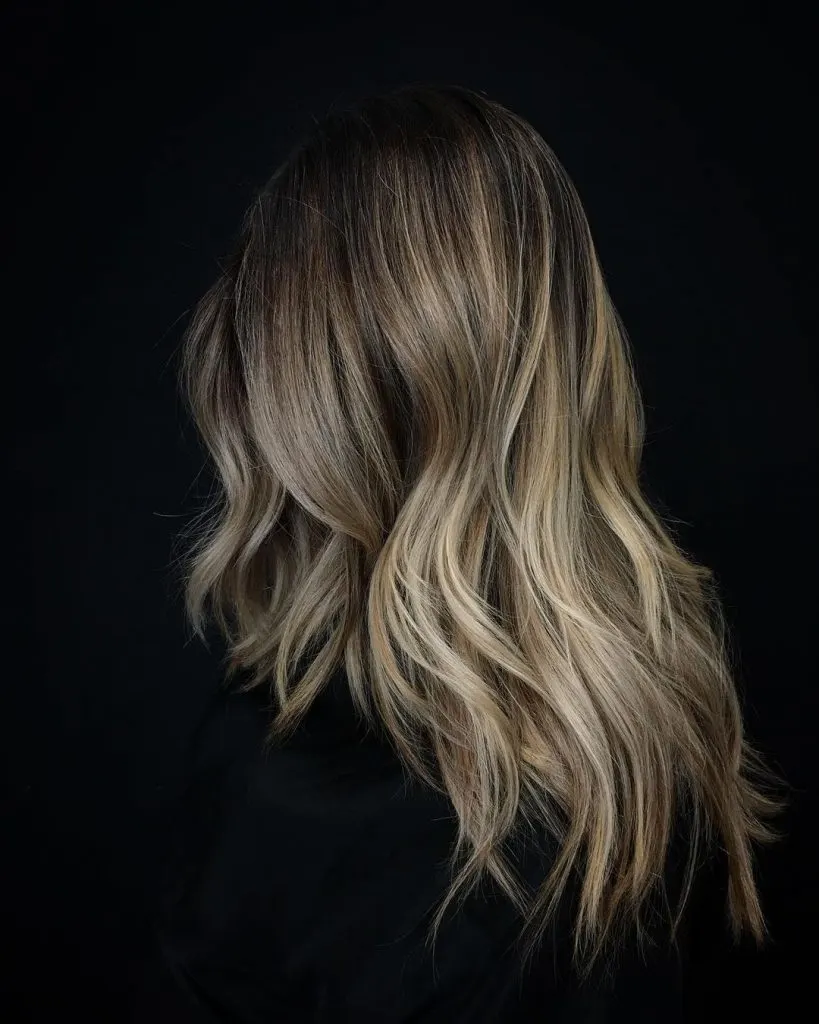 When all your hair is the same color it might look flat and lifeless—adding varying shades of highlights will make it more bouncy and lively.
50. Brown Hair With Blonde Highlights And Lowlights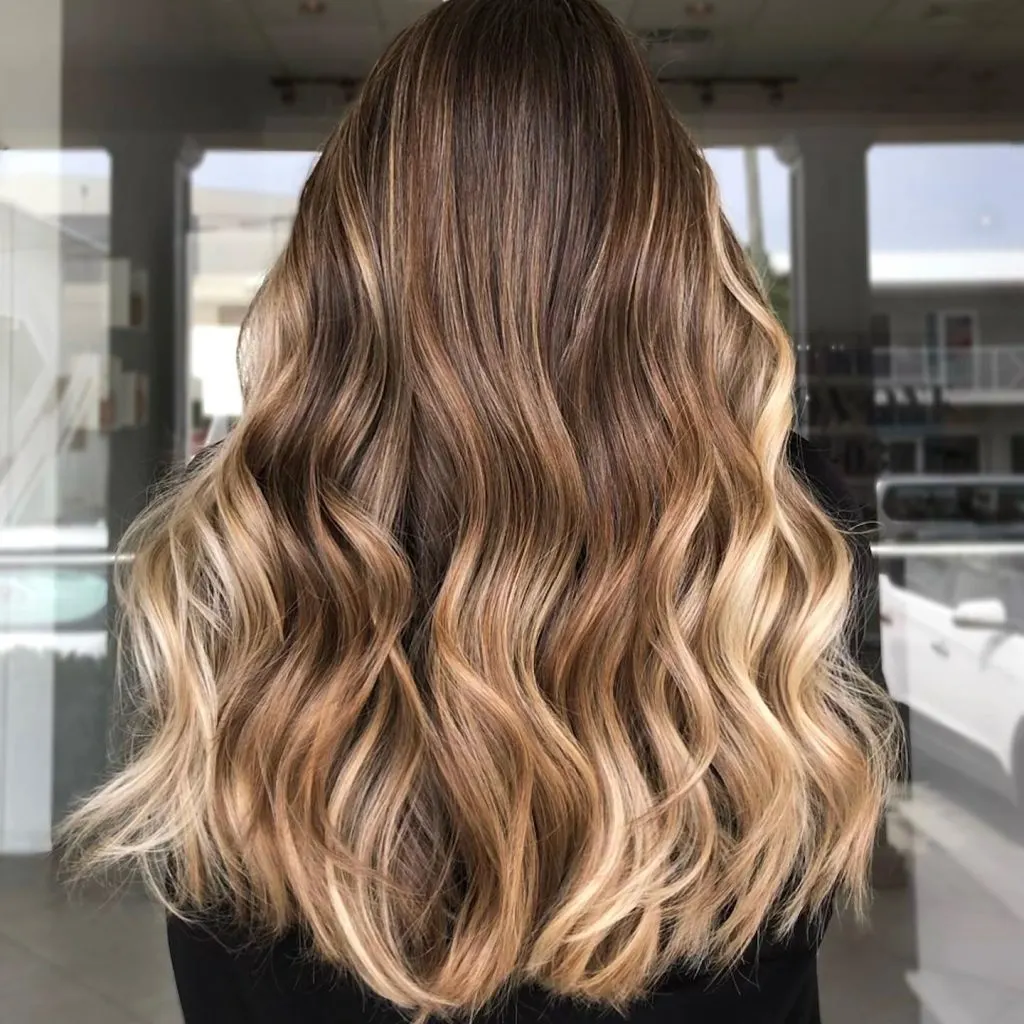 This rich color and glamorous waves are as versatile as they're beautiful—this hairstyle wouldn't look out of place on the red carpet or on the beach.
51. Blonde Highlights On Black Hair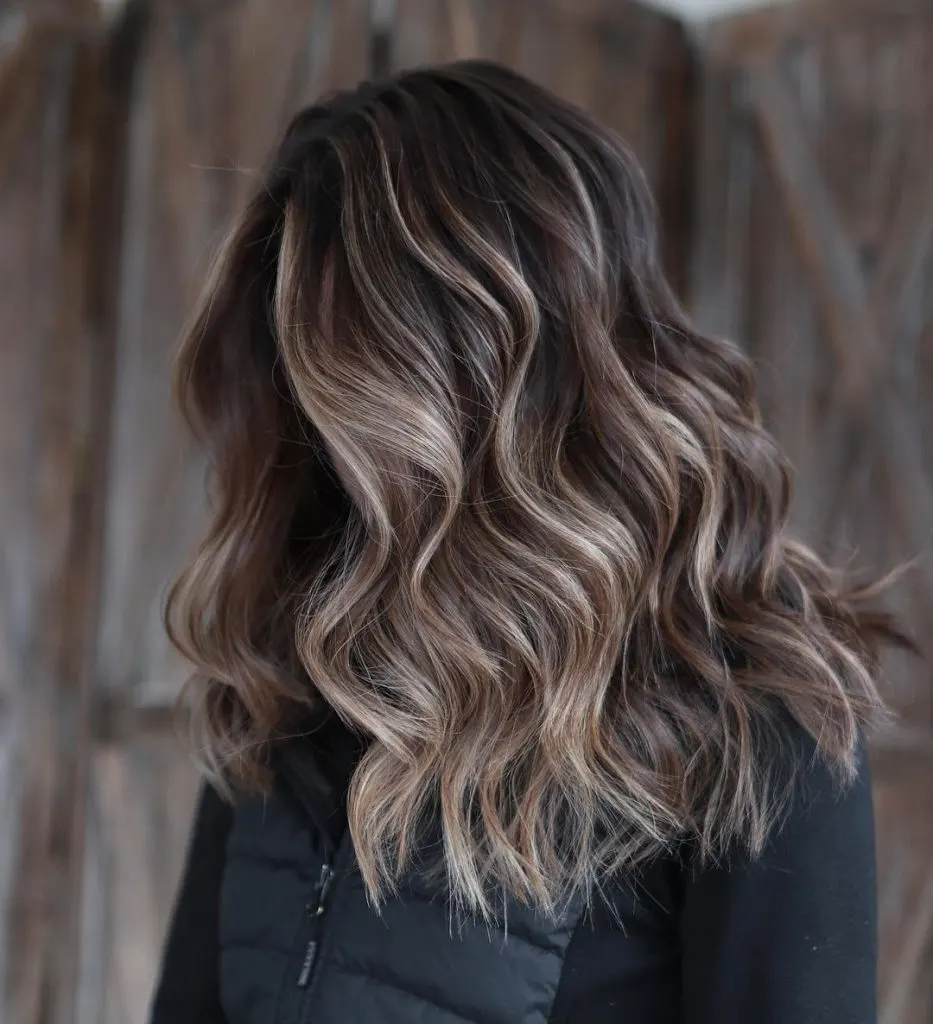 Varying shades of blonde highlights have been used to create this fashionable and dramatic look on black hair.
52. Natural Blonde Highlights On Ash Blonde Hair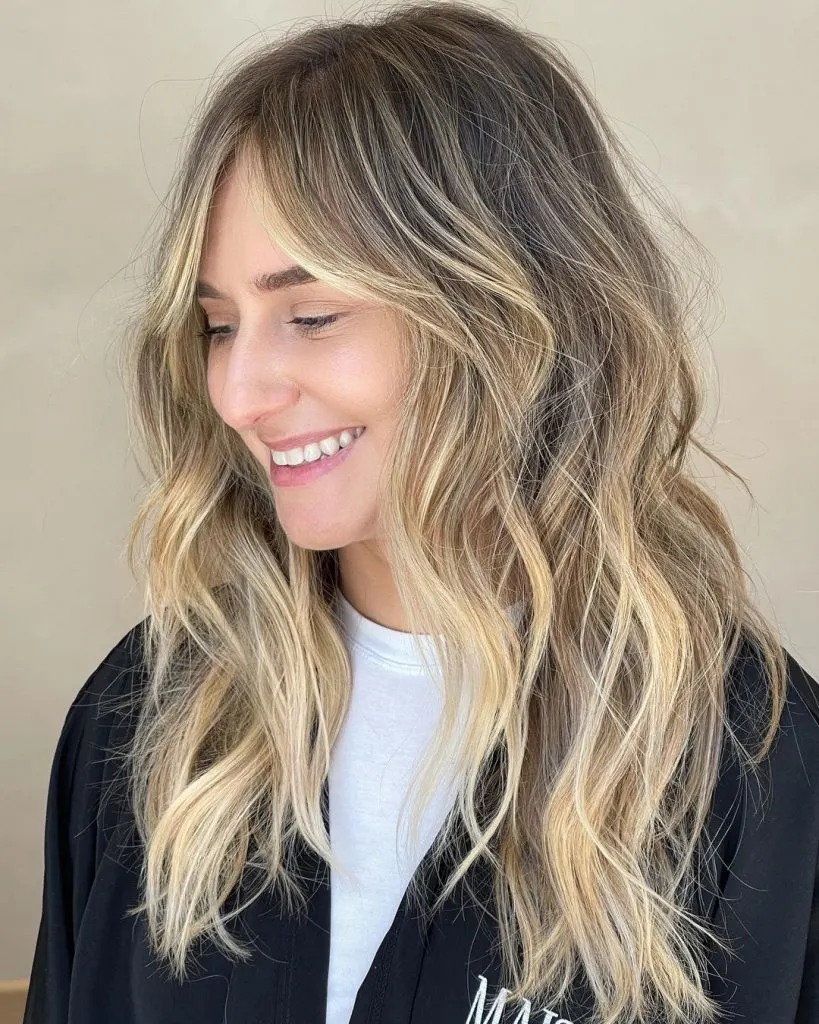 Light blonde highlights on natural dark blonde base will never go out of style, and the beauty of this look shows why that is.
53. Platinum Blonde Highlights On Blonde Hair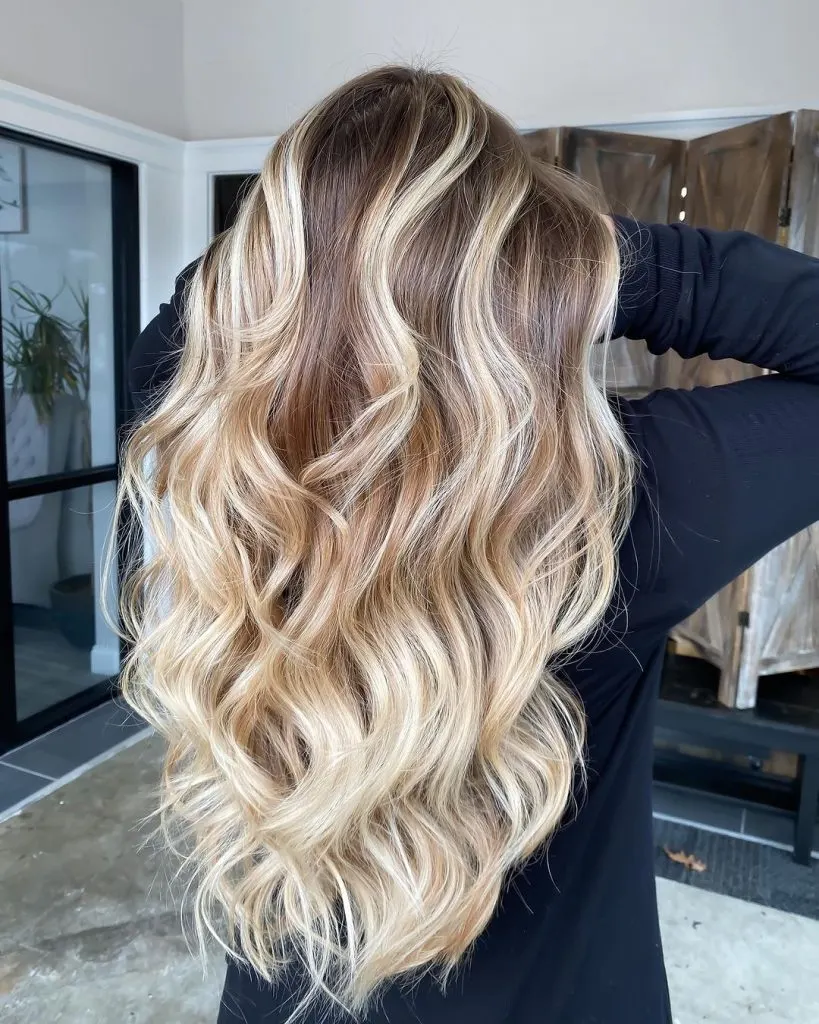 This blonde look is a rich and glamorous combination of large diva curls and striking platinum blonde highlights.
54. Caramel Blonde Balayage On Dark Hair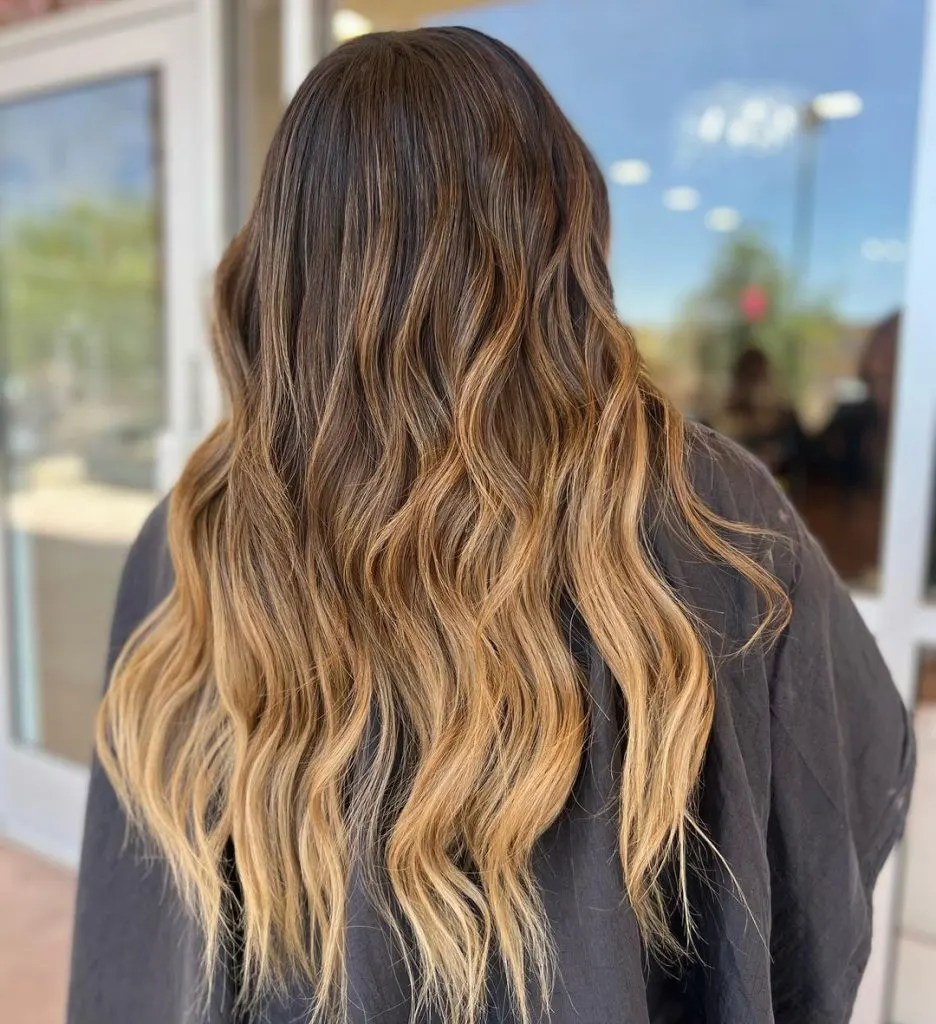 Caramel ombre is a great way to bring some warmth and intensity to your dark hair without having to worry about keeping regular salon appointments.
55. Dark Blonde Highlights On Black Hair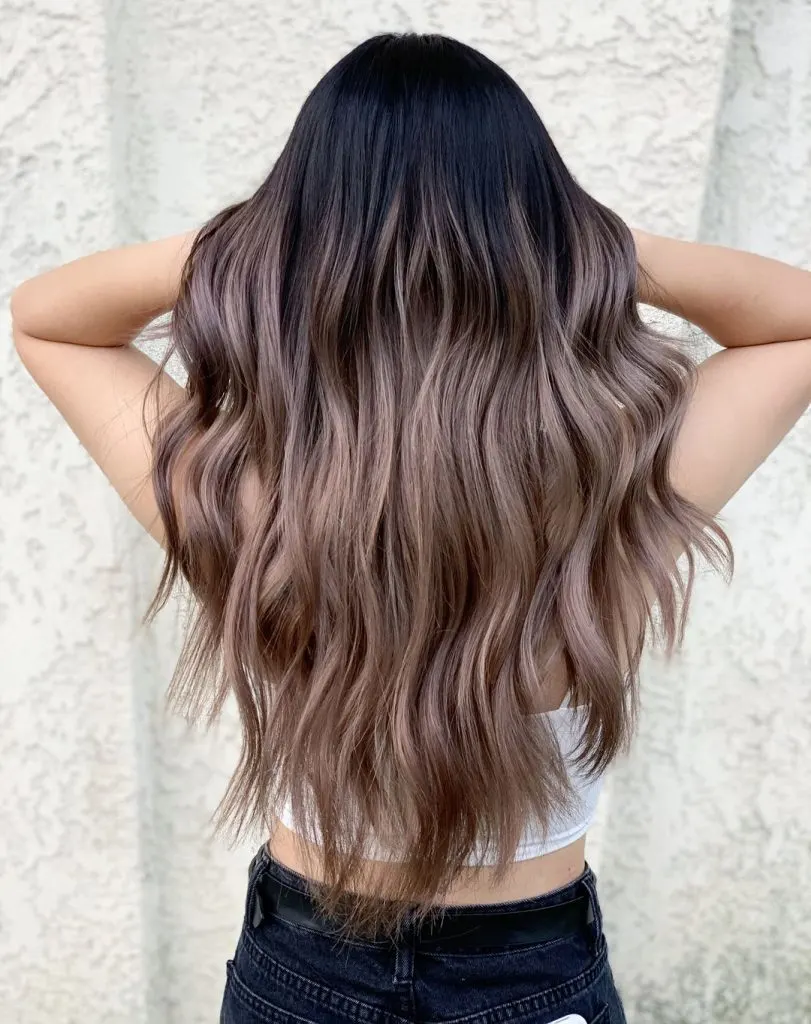 Dark blonde highlights on black hair result in a cool, modern look that's bright but not so much that it's difficult to maintain.
56. Coily Hair With Blonde Highlights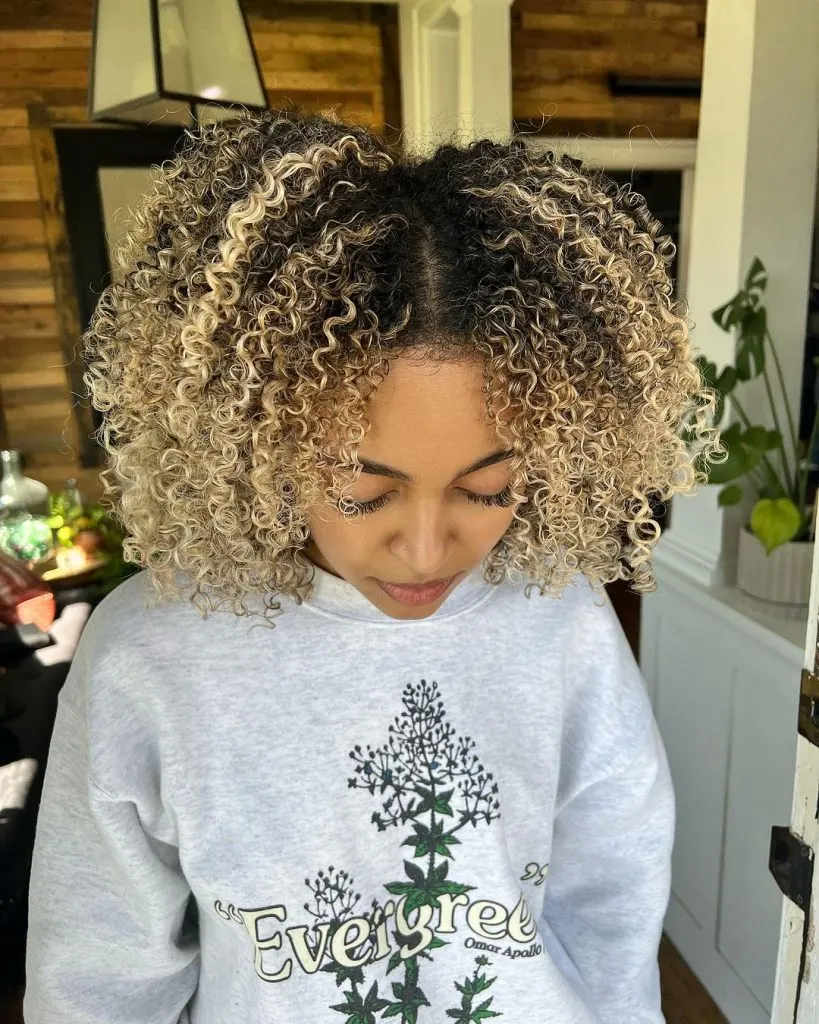 Go for a balayage and leave your roots natural if you want a bright, shiny blonde look but don't want too frequent touch-ups.
57. Straight Bob With Golden Highlights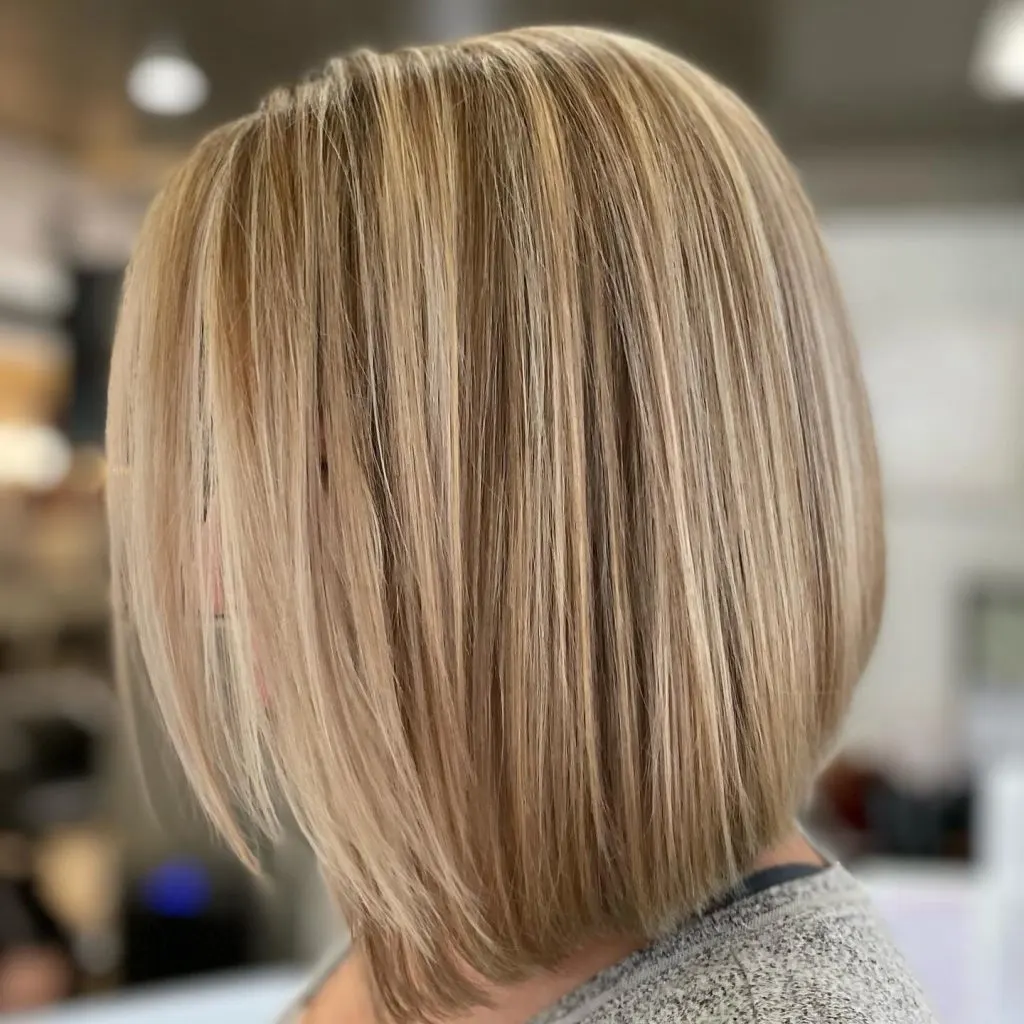 These super-neat highlights create an impressive natural and sophisticated look with lots of dimension and depth.
58. Natural Warm Blonde Highlights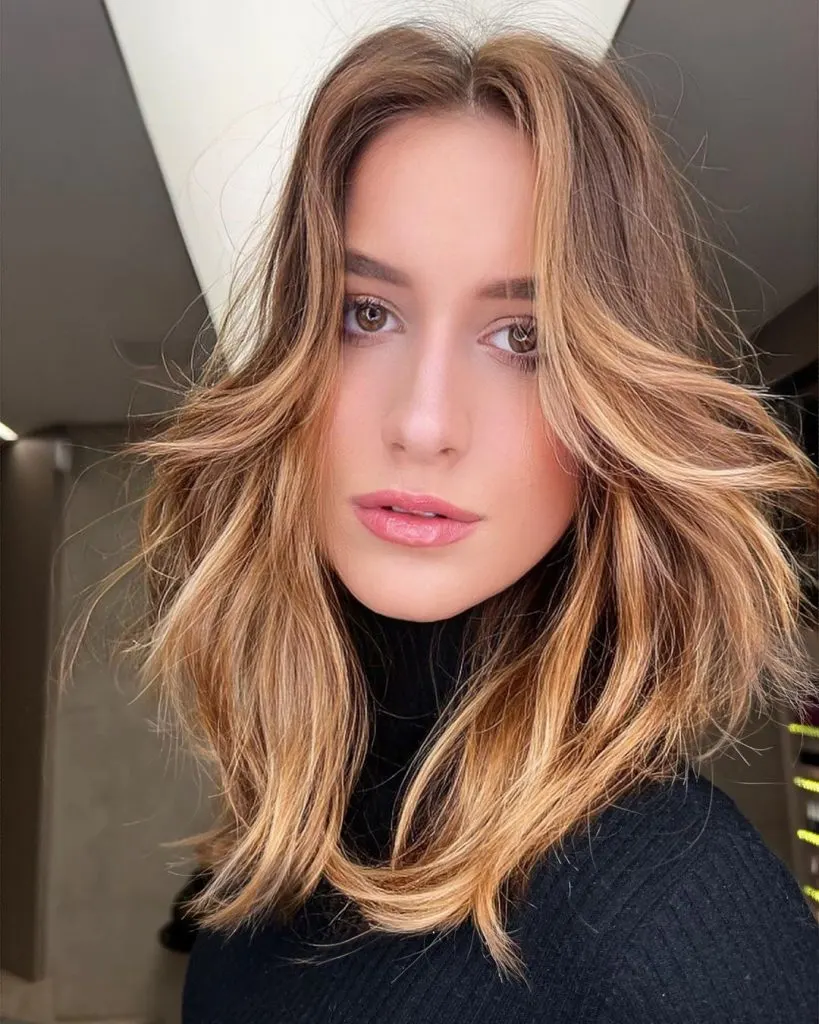 Lighter strands near the face look particularly good if you have bangs and face-framing layers.
59. Dark Blonde Hair With Blonde Highlights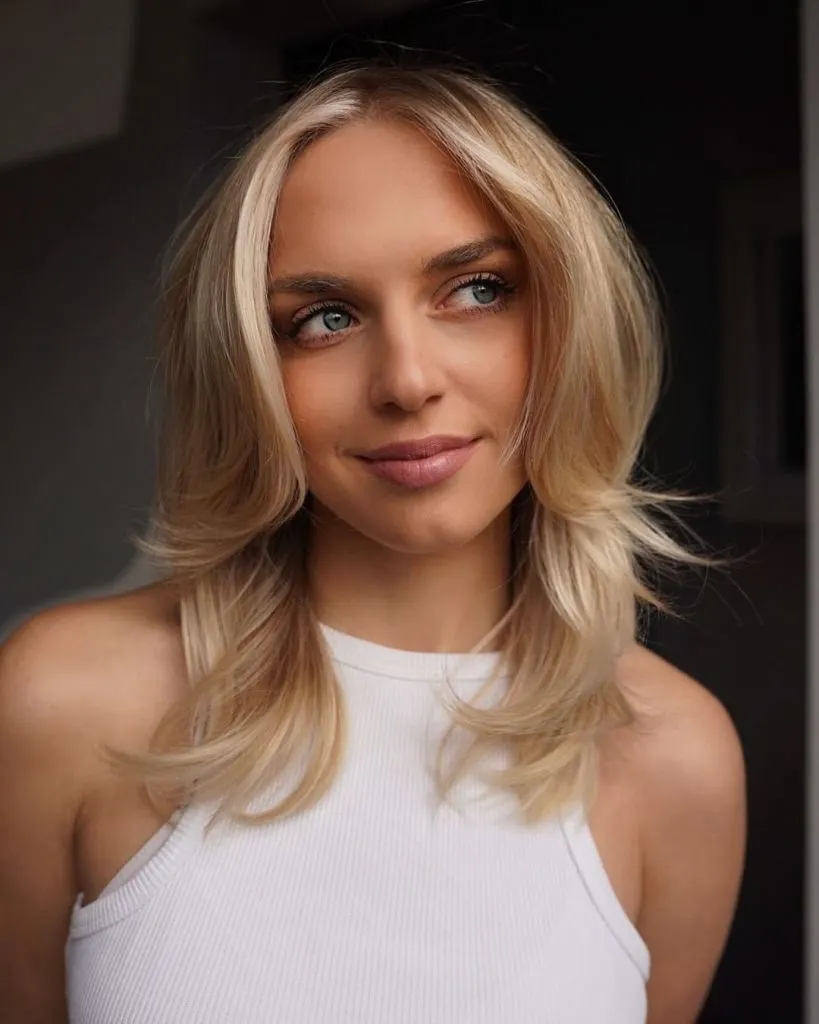 When you pick a hair color that really works for you, you'll know immediately: your face will glow and your whole look will be harmonious.
60. Medium Brown Hair With Blonde Highlights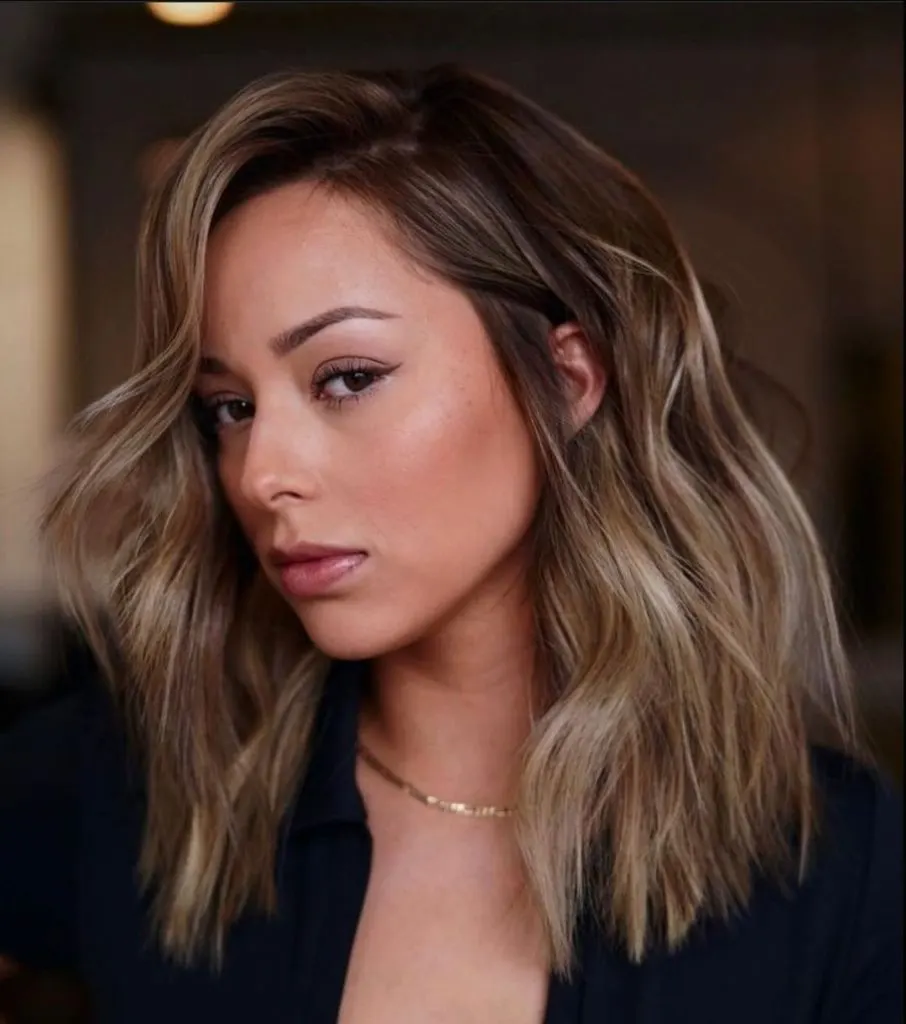 Platinums and golds aren't the only options for blonde highlights—if you have dark hair, dark blonde highlights will look bright and natural.