Some women prefer an edgy look, some of us want to look badass and confident, and some like to style their hair casually or elegantly… We are all different and that is completely fine.
However, there is something every one of us longs for and that is to look adorable. That is why I decided to gather these cute hairstyles for medium hair into this amazing collection and your only task is to find inspiration for your next, sweetest look!
1. The Barbie Half-Up
Barbie and everything about it is at the very top of the trending list everywhere. The same thing is with this, Barbie-inspired hairstyle. These soft waves and half-ponytail also make this look elegant, which means it can be worn on special occasions.
2. Cute Prom Hairstyle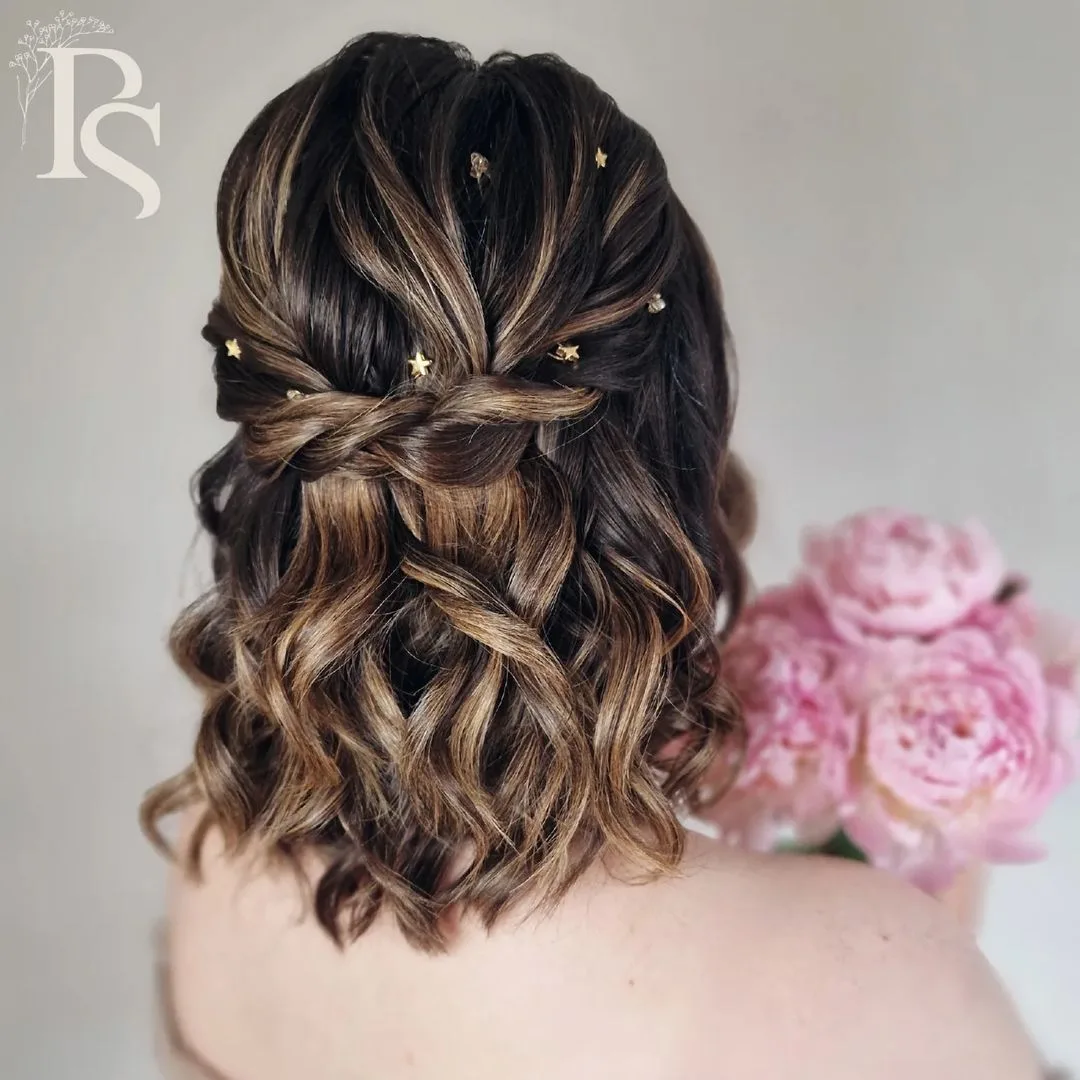 Who wouldn't want this prom hairstyle? Beachy waves and these adorable celestial accessories will elevate your look and capture everyone's attention.
3. Glam Waves And Hair Gems
Do you see how a few gems can upgrade your look and transform a classy hairstyle into a formal and elegant one? She looks stunning and with this hairstyle, she is ready to shine through the whole event.
4. Pastel Pink Face Frame
Pastel pink is such a gentle and romantic hue. If you decide to do it this way, in these money-piece vibes, you should know it will make your facial features stand out.
5. Space Buns And Rainbow Waves
Did you ever see a more adorable balayage than this rainbow one? No? Neither did I! This sweet hairstyle will make you get noticed wherever you go, that is for sure.
6. Twisted Boho Half-Up
It's a perfect hairstyle for bridesmaids or even prom night. The boho vibes this hairstyle gives are too obvious and it's one of the reasons this look is so pretty.
7. Bow Updo
I have been doing this job for so long and this is still the most simple but also elegant hairstyle and I doubt any other hairstyle will ever change my mind.
8. Passion Twists And Space Buns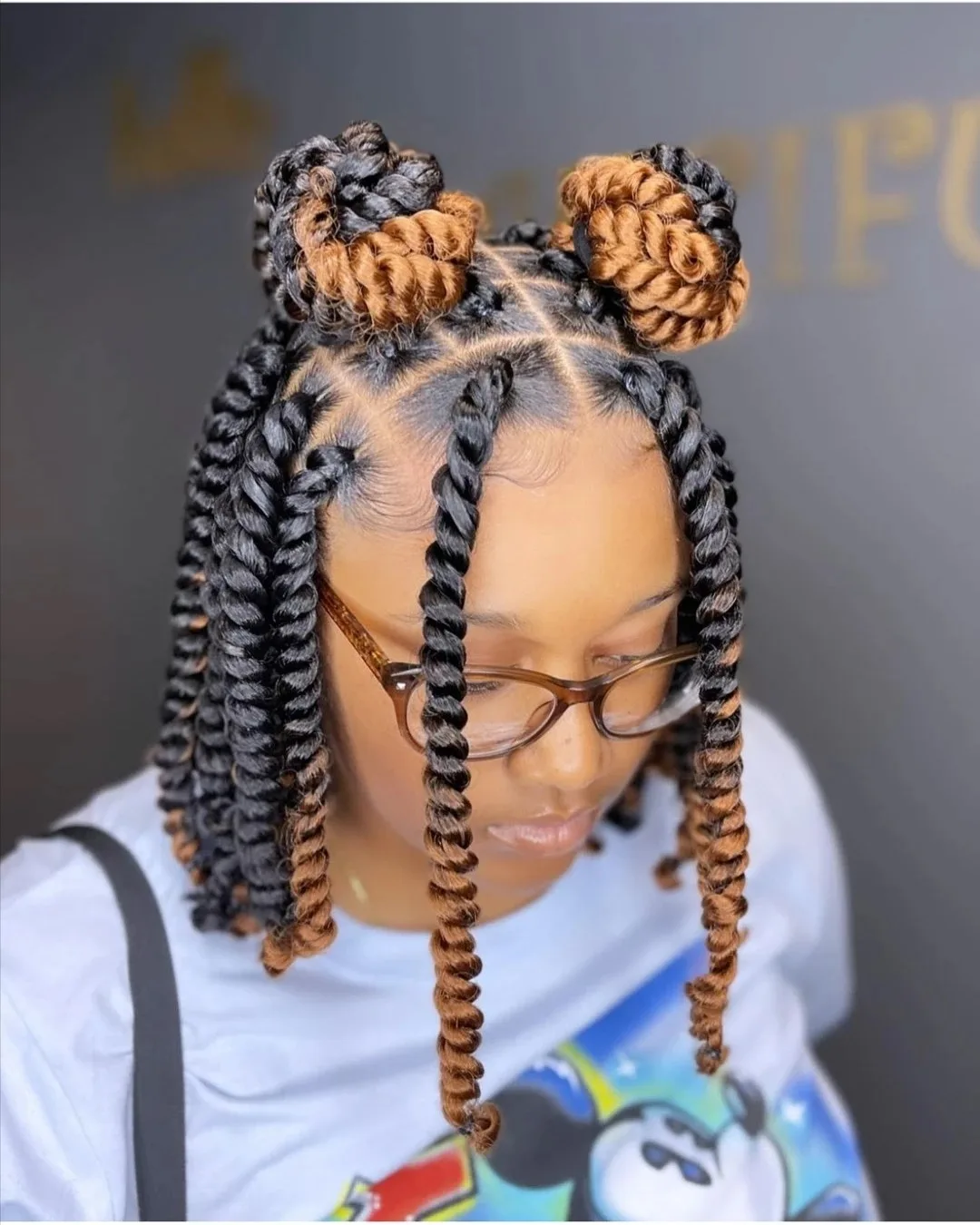 Passion twists work for type 2 and 3 curly hair or, in other words, looser curl patterns. Otherwise, the twist may be puffier and won't last too long. You'll get an effortless, easy-to-maintain hairstyle.
If you get bored with your twists' casual look, you can spice them up with space buns or a half-bun. Or, if you want to achieve that pizzazz look, add a cool braid accessory to your twists.
9. Fishtail Braids And Waves
Whenever you don't have too much time to do your hair, you should make a fishtail braid and you'll get the cutest look in just a few moments. You don't even have to worry if they don't turn out neat because they always look better if they're a bit messy.
10. Simple Low Ponytail With A Bow
If you aren't that handy with styling your hair, you should buy these few saying bows. Every time you aren't up for a hairstyle or simply don't know what to do with your hair, just make a few soft curls or a ponytail and put the bow around it.
11. Two Face-Framing Tendrils
The two face-framing tendrils left in the front were a huge trend in the 2000s and I'm so glad they found their way back to the fashion again. They soften the face and hit your best facial features bringing them to the spotlight.
12. Retro Hollywood Style
These retro feather hats are so cool, I swear I would wear them every day if I could match them with my everyday outfits. It gives those feminine but also royalty vibes, and looks lovely.
13. Flipped Pigtails
I'm sure some of you considered pigtails childish or thought they weren't appropriate for adults but I also hope this picture has changed your mind. The flipped ends give this look some sassy but elegant vibes and make this hairstyle suitable for the red carpet and such special events.
14. Bubble Braids
The fact is, most braids don't suit everyone but these bubble braids complement every single woman. They're loose and unlike French or some other braids, they keep the hair volume and allow more movement to the hair.
15. Simple Accessorized Half-Up
I have a handy hack for you whenever you find yourself in a hair-styling blockade. Just make a twisted half updo or braid knot and decorate it with an adorable hair accessory. You'll get a hairstyle that is fit for every occasion.
16. Pink Curled Hair With Half Updo Bow
What is there not to like about this hairstyle? Curls, bow, pink color… Sooo pretty! I'm sure it is a dream hairstyle for most girls.
17. Boho Crown Braid
The crown braid looks a bit challenging to make but it's quite simple. You start by splitting the hair in the middle. The next step is to start braiding Dutch or reverse French braids. You continue across the head until you come to the top of your head and then you start braiding the second braid.
The process is the same, only this time you start at the top, not from the bottom. In the end, you try to form a crown and voila, you turn into a real princess with your royal hairstyle.
18. Dutch Braids
Dutch braids are a casual everyday hairstyle but they are also too cute. Unlike French braids or cornrows, these braids are looser which makes them also more voluminous.
19. Wavy Hair With Satin Bow
Store this picture in your brain memory and remember it every time you need a sweet but almost effortless look. The best thing about it is that you can wear it everywhere and it'll never be too much or too simple, no matter the occasion.
20. Braided Buns With A Jeweled Part
The twisted braids that merge into low buns are so elegant but this added jewelry is the true icing on the cake. You won't need to think about your outfit too much because no matter what you decide to wear, everyone will only be looking and admiring your hair.