Let's silence all those who ever had snarky comments about long hairstyles for men. Take a sneak peek into these heart-stopping looks and take a moment to appreciate these amazing men embracing long hairstyles, daring to defy norms and inspire.
1. Full Man Bun
Full bun may not be the obvious choice for many men, but take a look at how amazing it looks. It uncovers the facial features and gives that tidy yet rebellious look. This style is practical because it keeps the hair away from the face, which can be useful during exercise or hot weather.
2. Long Shiny Curls
At first glance, you might be fooled into thinking this look is effortless. Although the curls might be natural, there was some grooming involved for sure. Men usually use hair serums or oils to get their hair to look as shiny and appealing as this one.
3. Fishtail Braid and Loose Waves Combo
One of the most eye-catching hairstyles for men dates back to Greek and African times. Talk about timeless beauty! This casual yet elegant style easily transitions from a daytime to an evening look.
4. Dreadlock Tie-Back
This bohemian hairstyle screams artistic vibes and hints at a free-spirited personality. Dreadlocks have a carefree appearance, while a ponytail keeps them neat and stylish. This is an edgy and marvelous look for sure.
5. Timeless Straight Long Hair
This can be a wash-and-go kind of hairstyle if you have well-nourished, naturally straight hair. Otherwise, you'll have to be handy with the brush and blow dryer or flat iron. This look is classic, and depending on your outfit, it will effortlessly transform into formal or casual.
6. Long Wavy Hair
There is something dreamy about long, wavy hair on a man. It makes him look romantic, yet manly and powerful. What a perfect combination.
7. Men's Ponytail Hairstyle
Simple, clean, and elegant, this look is perfect for men of all ages. It's classic, and depending on your outfit, it will effortlessly transition from formal to casual.
8. Half-and-Half Elegance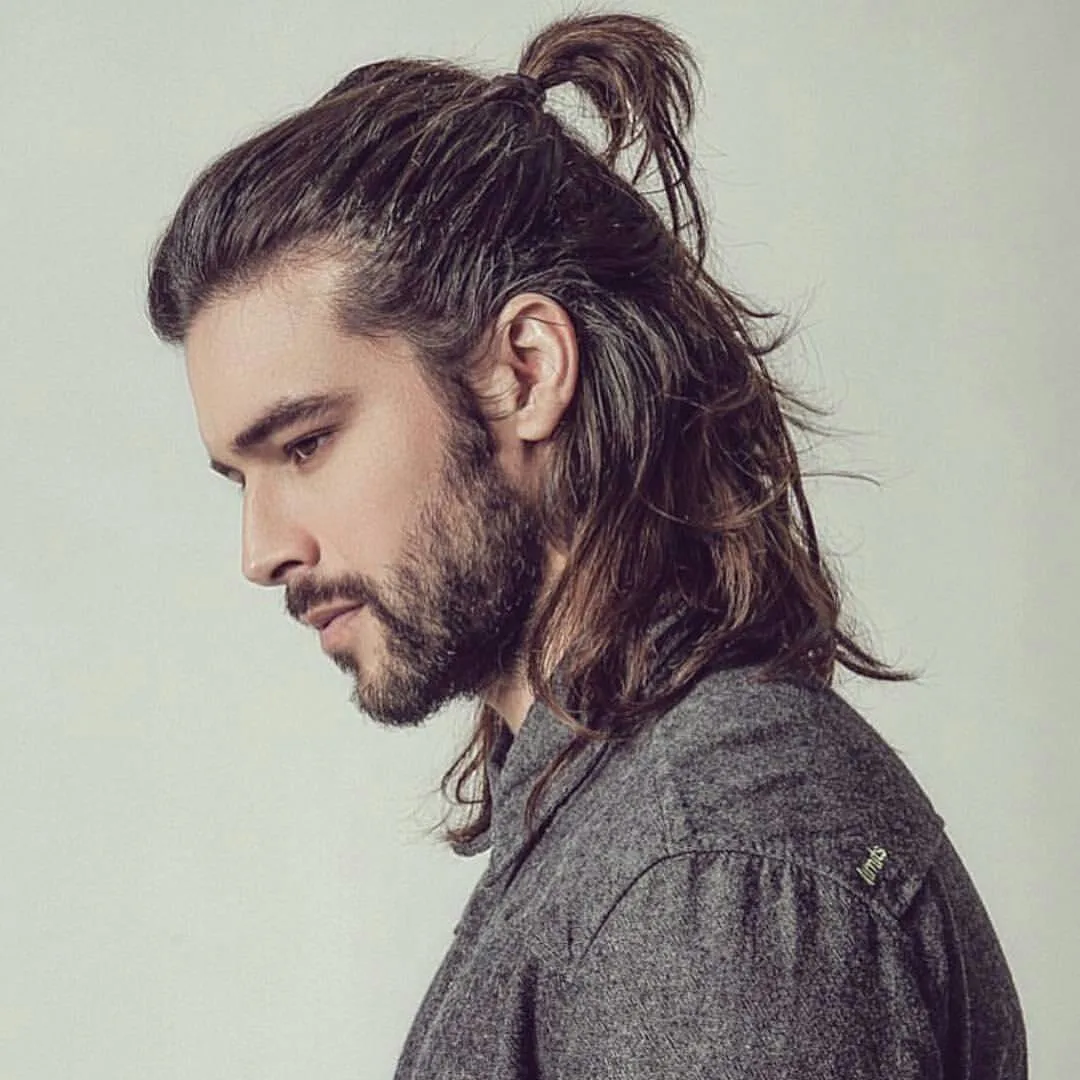 This classic updo showcases the simplicity and elegance of straight hair, perfect for a man who wants to be fashionable and on-trend.
9. Half-Up, Half Braids
Out of all men's long hair updos, this one is by far the most extravagant. This hairstyle is not for everyone; it's created for those willing to make a fashion statement and stand out.
10. Classic Viking Vibes
For a manly appearance, go with simple loose hair and a longer beard. This Viking look dates back to ancient times and it exudes a sense of security and fearlessness that many people admire.
11. Full Bun Viking Style
Who would have known that an ordinary full bun complemented with muscles and tattoos can look so good? This whole style gives off that testosterone-filled Viking flair that few can resist.
12. Unusual Viking Style
Shaved on the sides with a long braid in the middle is obviously a movie-worthy kind of hairstyle. Still, there are people who can easily pull this off in day-to-day life and look masculine and extraordinary.
13. Messy Half-Up Casual Bun
Long hair, don't care mood. An effortless man bun in a half-up, half-down style is an everyday look that looks good on all hair colors, but on this long raven hair, it simply looks stunning.
14. Crown Bun
A high bun atop the crown is both urban and trendy. It's a practical choice for men with long hair who need to keep their hair away from the face.
15. Legolas Long Hair
For all the Legolas fans (the character from "The Lord of the Rings"), this might be the perfect hair option. It captures that magical essence of mythical creatures, which is really something unique.
16. Shades Of Grey
Long grey hair of many shades might be an unusual choice, but it's bound to make a man stand out in a crowd. This is a very modern appearance, often associated with artists.
17. Timeless Fishbone
A fishtail braid that begins at the crown and falls down the back is a recipe for a neat and forever trendy style. The braid is a great choice for both indoor and outdoor activities, and if you are a sound sleeper, you can wear it for a few days.
18. Locks Of Envy
A hairstyle that every woman would envy. The hair is not only thick, long and curly but also shiny and well-nourished that it takes your breath away.
19. Braided Bun
There is something about men with braids that makes them extremely appealing. These fishtail braids that end neatly tied into a bun are gorgeous.
20. Octopus Braids
When you want to step up the braid game, find an excellent hairdresser to braid you an octopus fishtail braid. Four braids divided by little braids in the middle look so complicated to make and so eye-catching to wear.
21. Four Barrel Twists
A clean and crisp style that demands a high level of skill and artistic focus to pull off these almost geometric shapes. It's a fresh, modern take on classic braids.
22. RopeTwists
Free-flowing dreadlocks starting on top and forming a web, awesome, right? This look screams confidence and a laid-back style.