Platinum is the lightest shade of blonde and without a doubt, always a statement color. It's edgy, cool and daring— it shows that you mean business. While it's not an easy (or affordable) color to maintain, the payoff is worth it. Best of all, everyone can pull it off.
Read on for info on what you can expect once you take the leap and tips on choosing your shade of platinum blonde. Take a look at the huge selection of gorgeous inspo pics and learn how to care for your hair while avoiding common issues.
1. Icy Platinum Blonde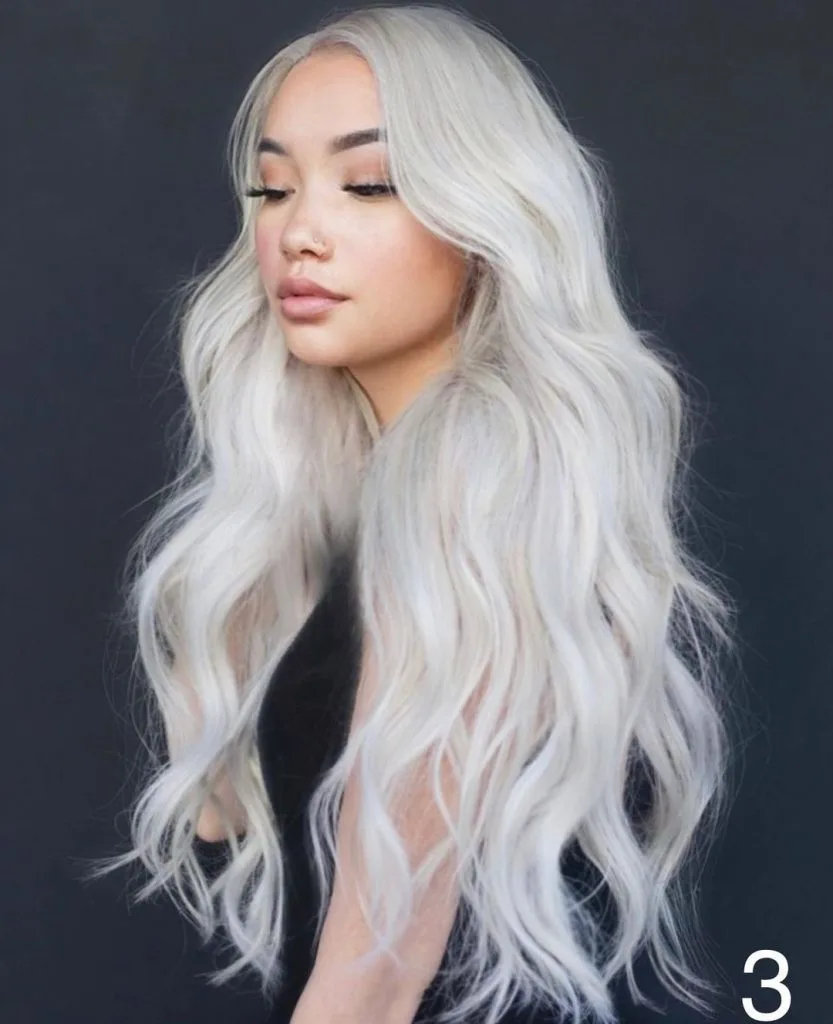 If your hair is naturally dark and decide to go platinum, you have two options when it comes to your eyebrows. You can go classic—choose to lighten the brows as well and fake being a natural blonde—or edgy and embrace a more modern look by leaving them dark.
2. Platinum Blonde Finger Waves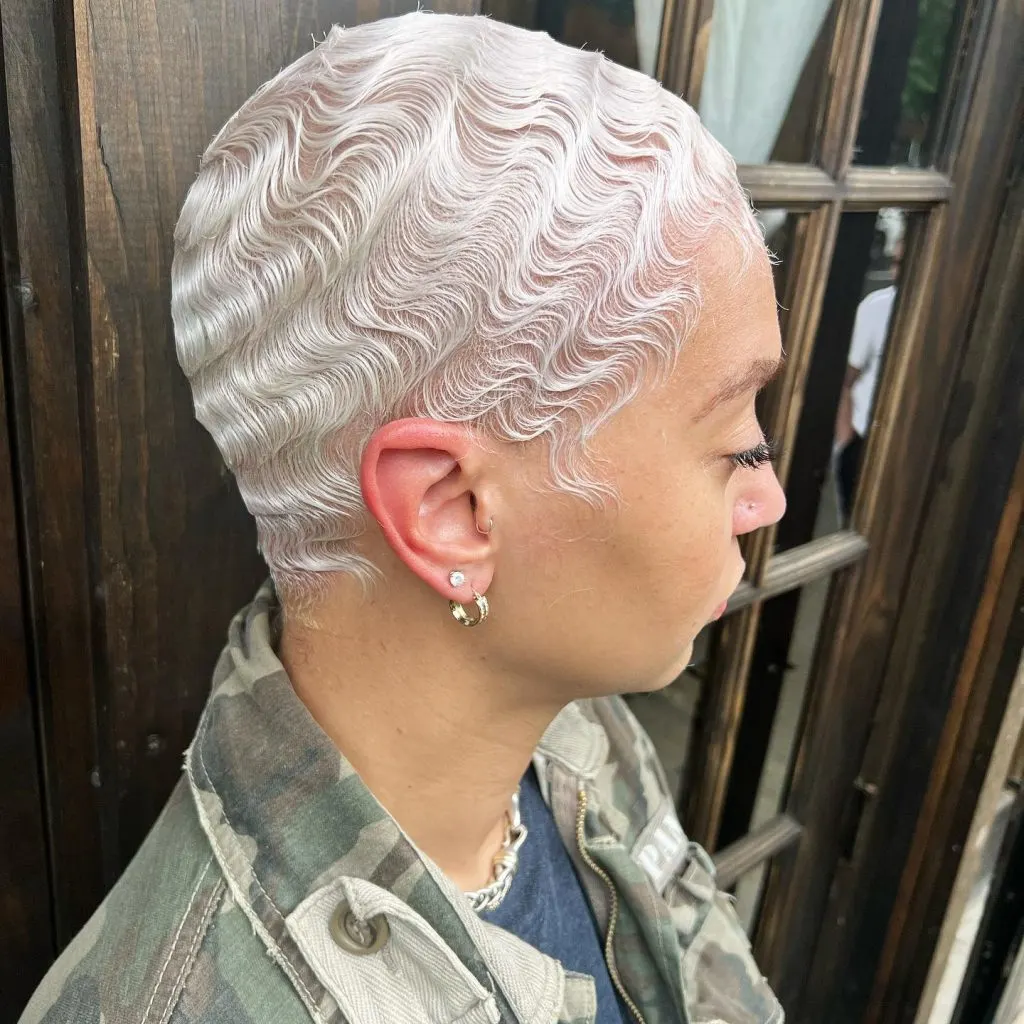 Coloring very short hair can be tricky, which makes this flawless dye job even more impressive. Paired with the gorgeous finger waves, this hairstyle is appropriate for any occasion.
3. Ash Blonde Root Smudge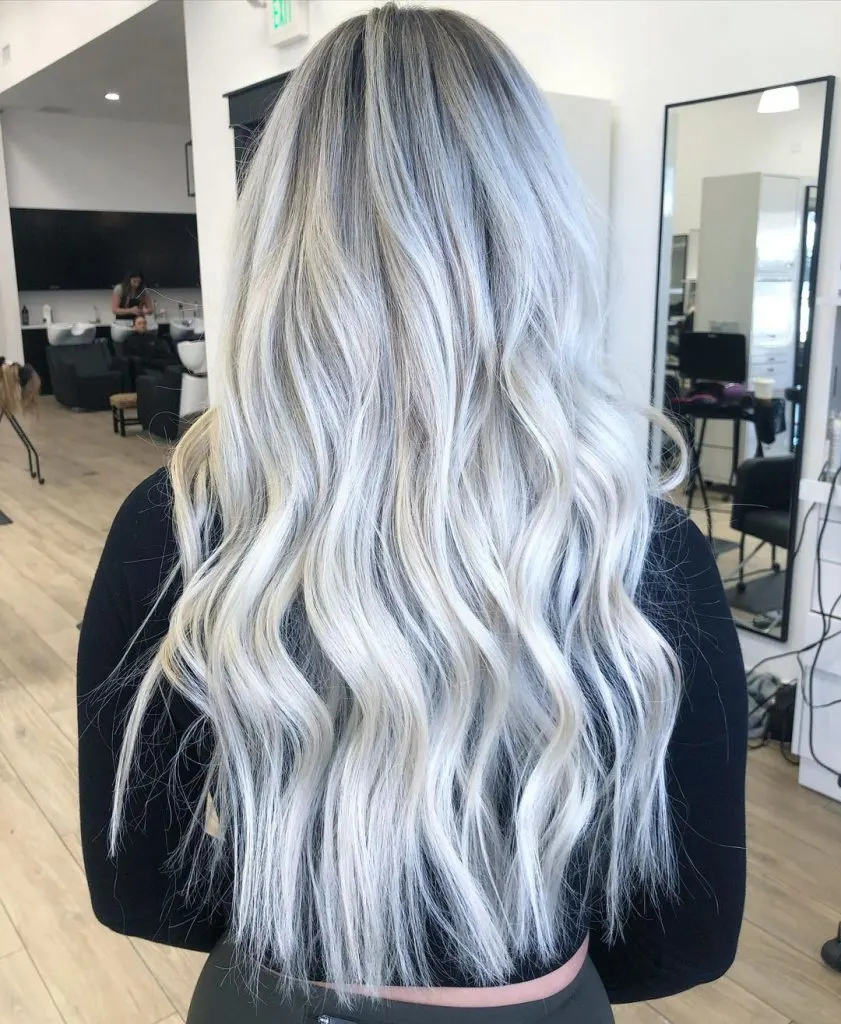 Dark, cool-toned roots look super intense with nearly white platinum. The contrast is giving drama—but also makes the color a little less high maintenance.
4. Choppy Platinum Blonde Lob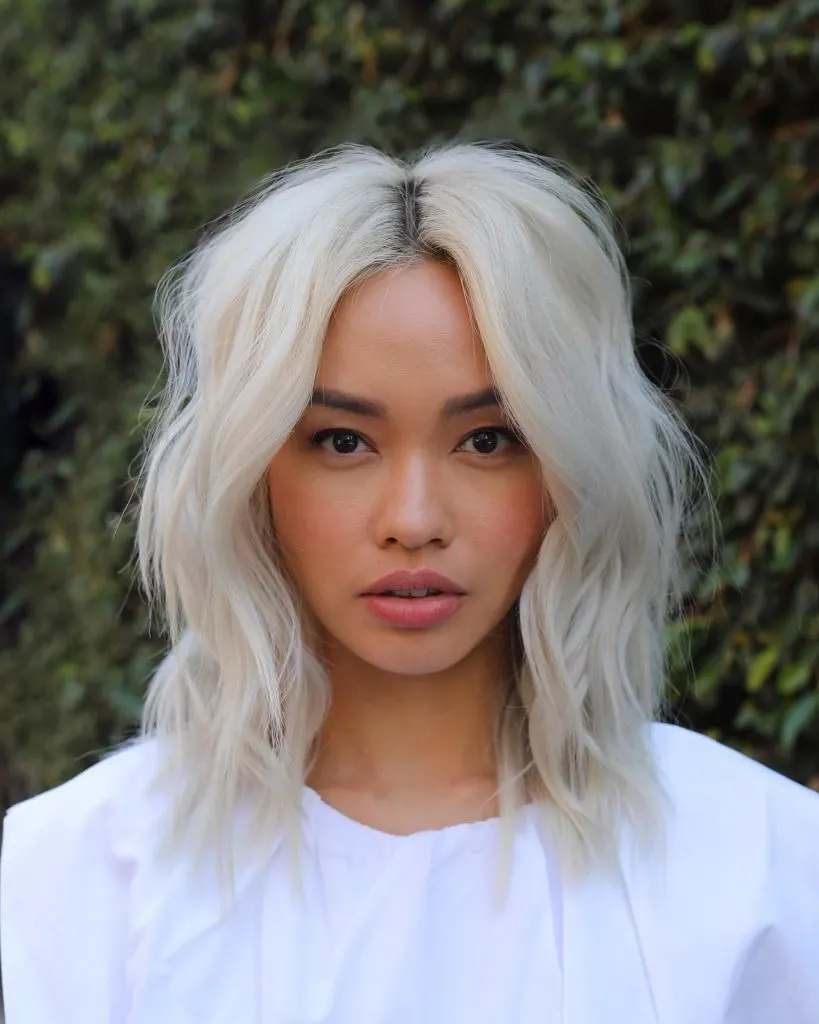 If you want a trendy, versatile haircut, you can't go wrong with a choppy lob. It's long enough to let you play with it and, because it needs frequent trims so the ends are kept healthy, it's also a good fit if you're bleaching your hair.
5. Warm Platinum Blonde Blunt Bob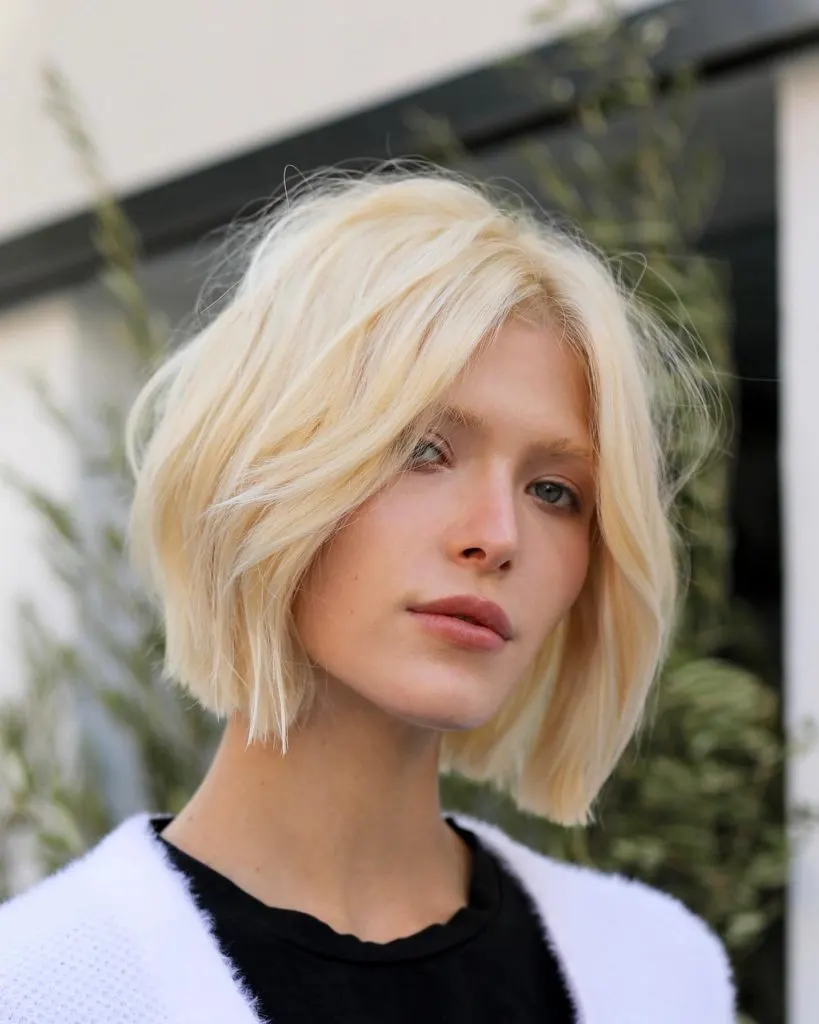 When choosing the perfect shade of platinum, you need to take into account your skin tone, but also the condition of your hair. Lightening your hair with bleach means stripping it of color, so if your hair is already fragile, you risk damaging it if you go too light too fast.
6. Platinum Blonde Highlights On Coily Hair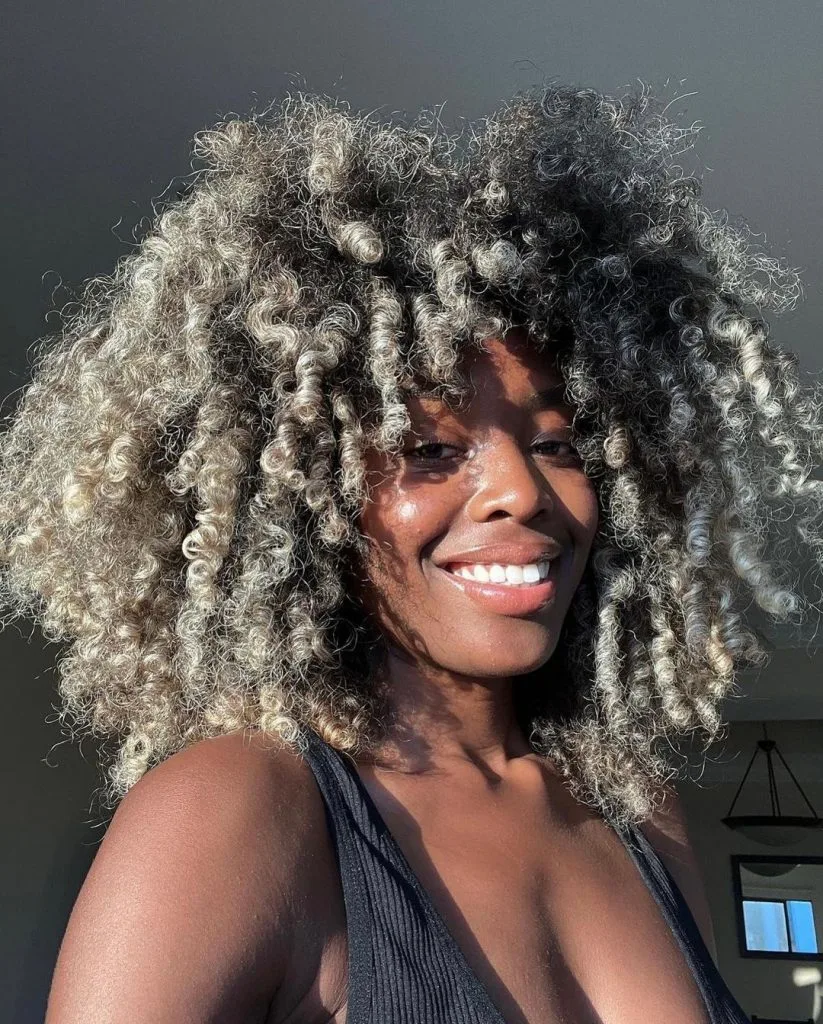 Highlights are a more low-maintenance option to consider if you're not ready to go all in—they don't need as frequent touch-ups.
7. Super Long Platinum Blonde Hair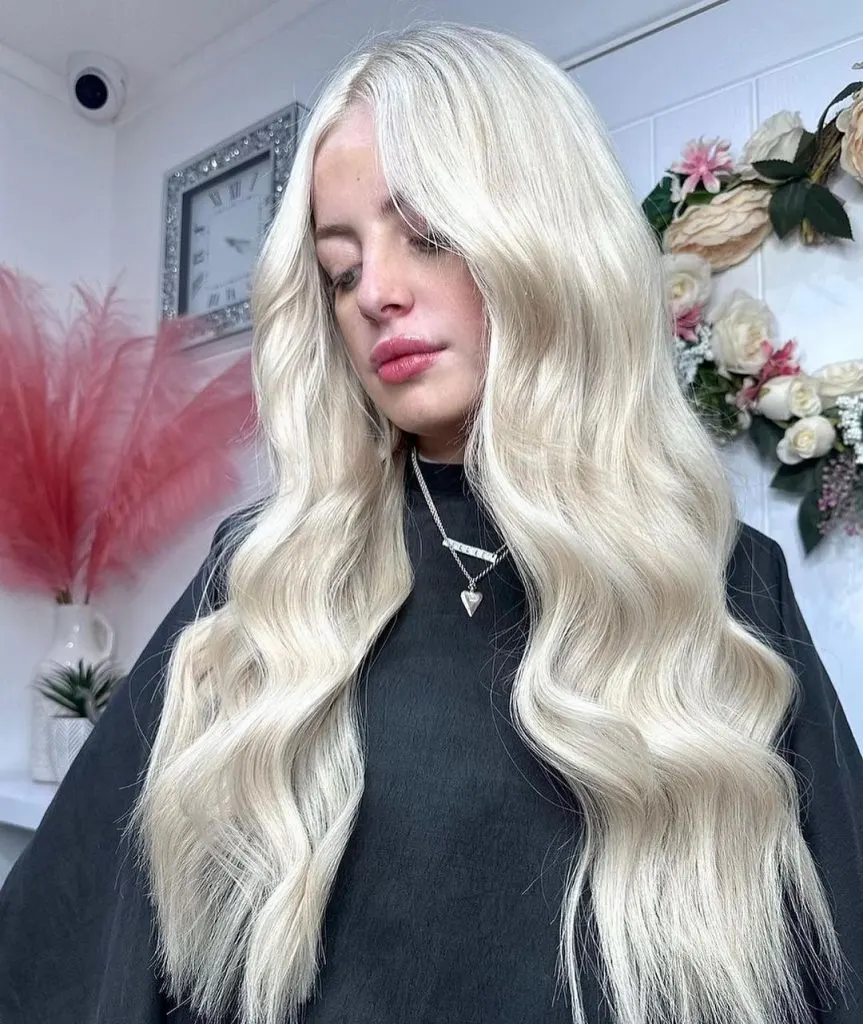 How to keep your long hair healthy when going platinum? Find a skilled colorist—someone who knows how to assess your hair, process it appropriately and care for it. Look for reviews, go through the salon's social media and get informed before you let anyone near your hair.
8. Light Ash Blonde Bob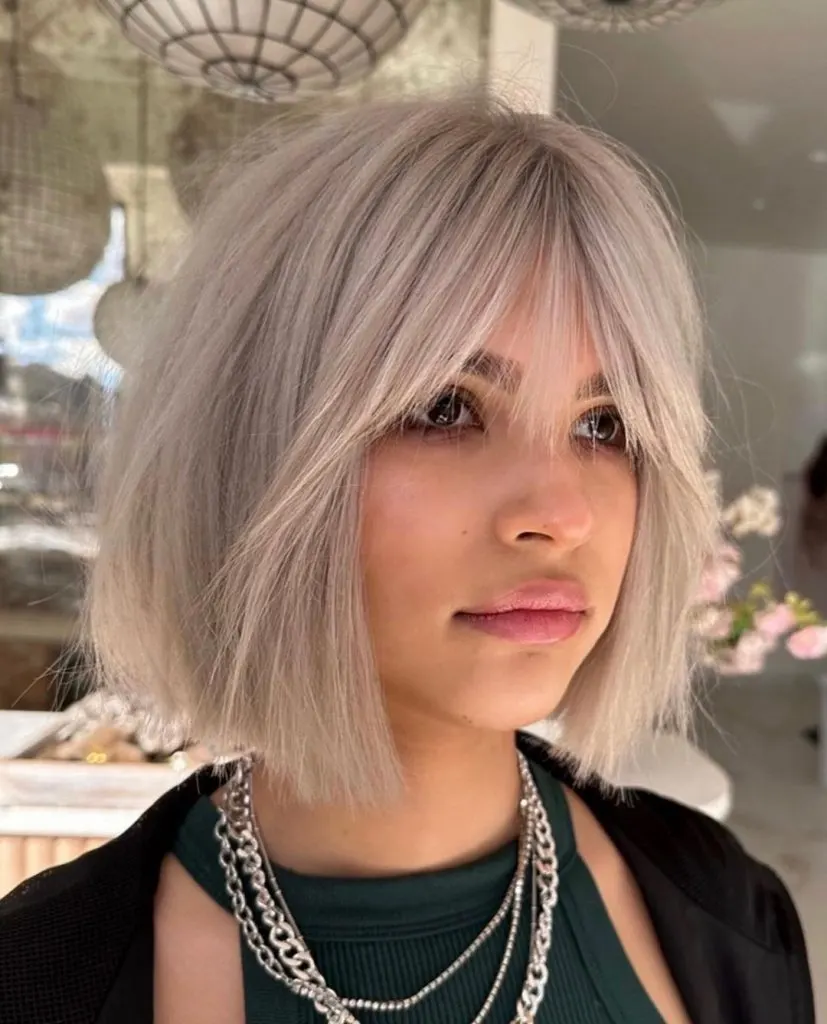 Sometimes your hair is too fragile to go super light, but you can still get an approximate shade without turning your hair into straw. This light ash blonde is nearly there—not quite, but close enough if your hair is at risk of damage.
9. White Platinum Blonde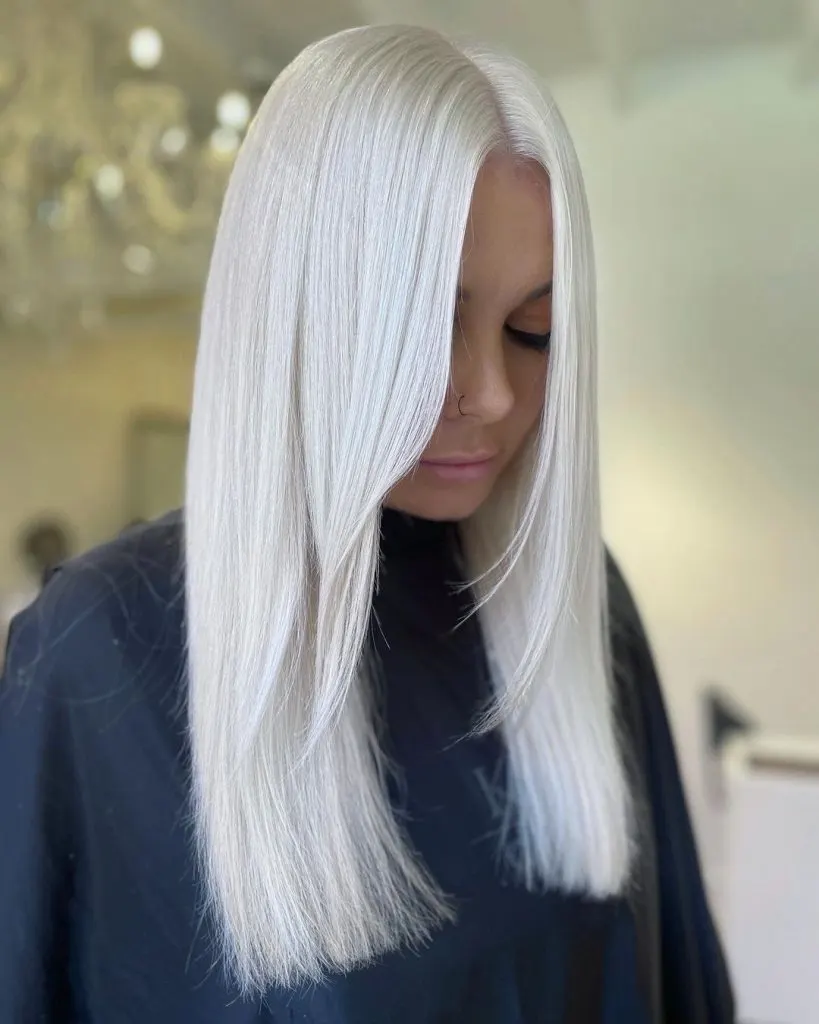 Platinum isn't a low-maintenance color. Bleached hair eventually turns yellow, so you'll need touch-ups every 6-8 weeks if you want to avoid it.
10. Platinum Blonde Mermaid Waves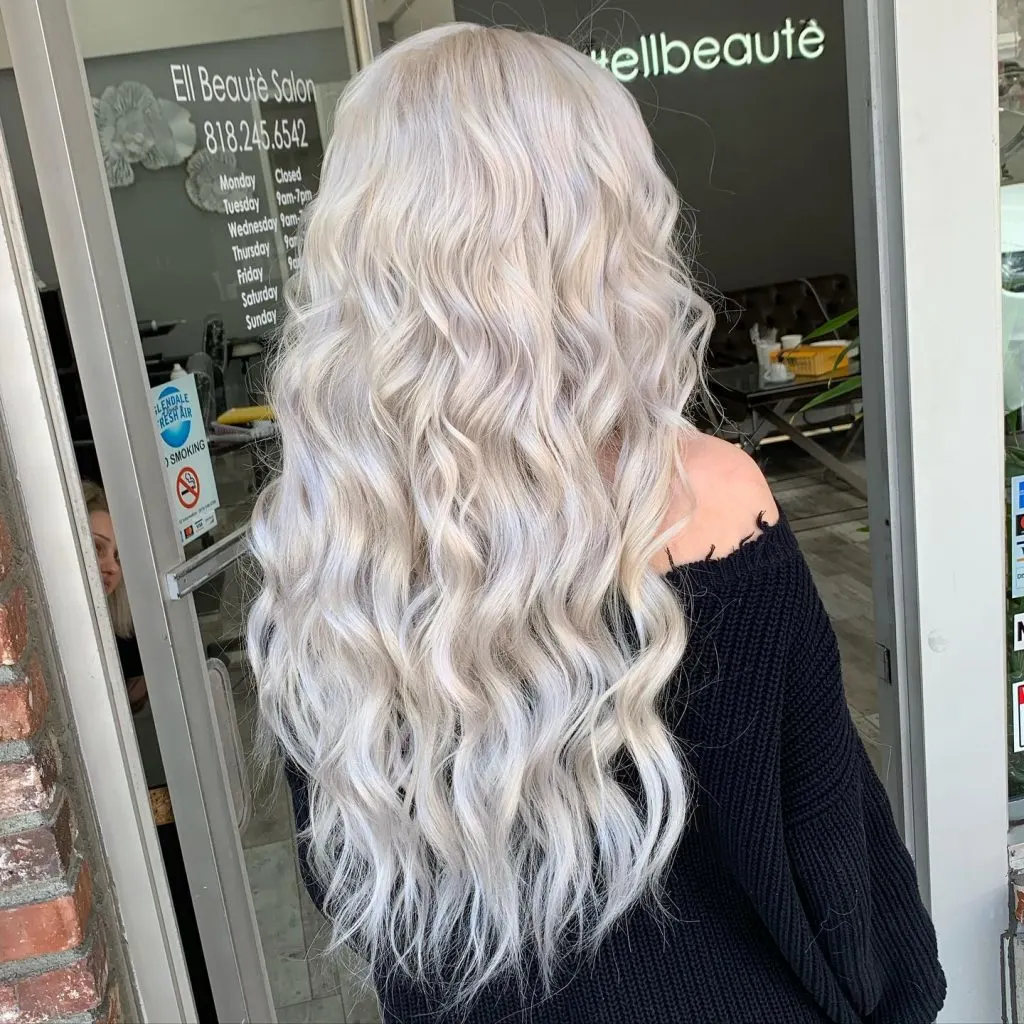 For best results, prepare before your bleaching appointment. Don't shampoo a day or two beforehand to avoid stripping the natural oils which protect your scalp from irritation; avoid heat styling for at least a week; moisturize with a deep conditioning treatment to nourish the hair.
11. Root Smudge Platinum Blonde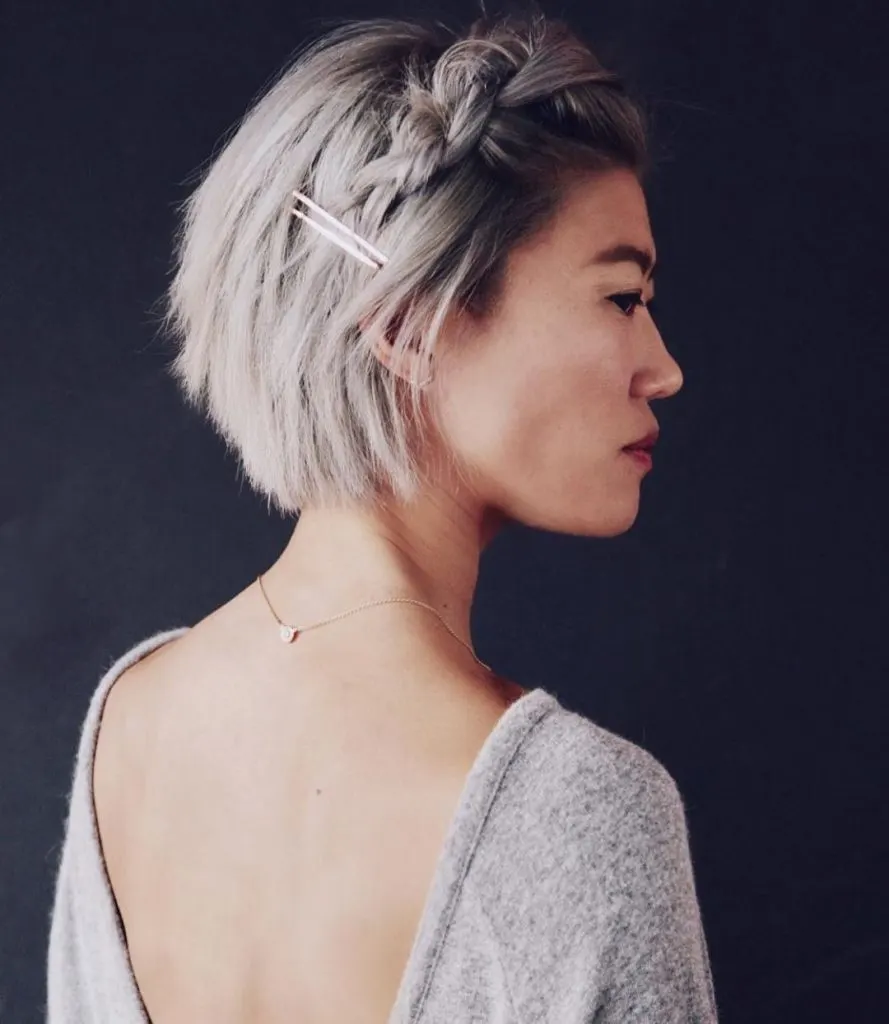 Root smudge is a coloring technique in which a color darker than the strands and lighter than the base is applied to the roots, creating a seamless transition and a cool rooty blonde look.
12. Soft Root Melt Platinum Blonde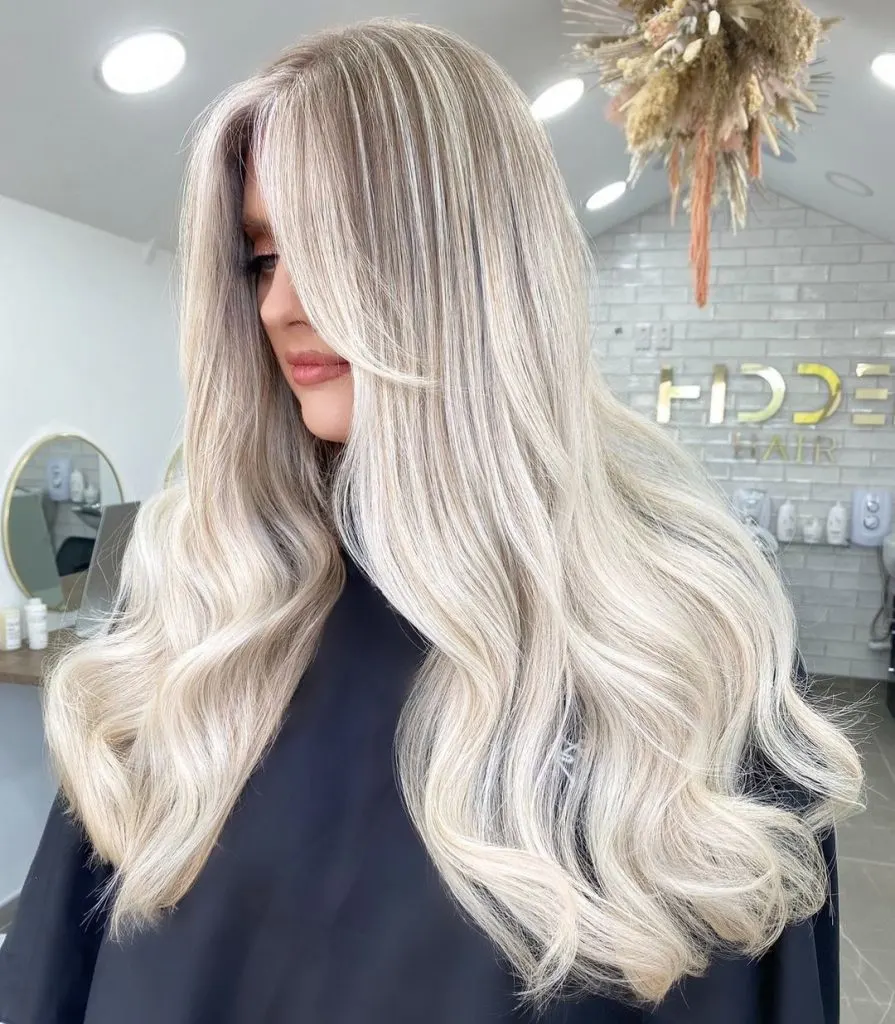 A soft root melt creates a natural, lived-in look while simultaneously making your hair color easier to maintain.
13. Dramatic Platinum Finger Waves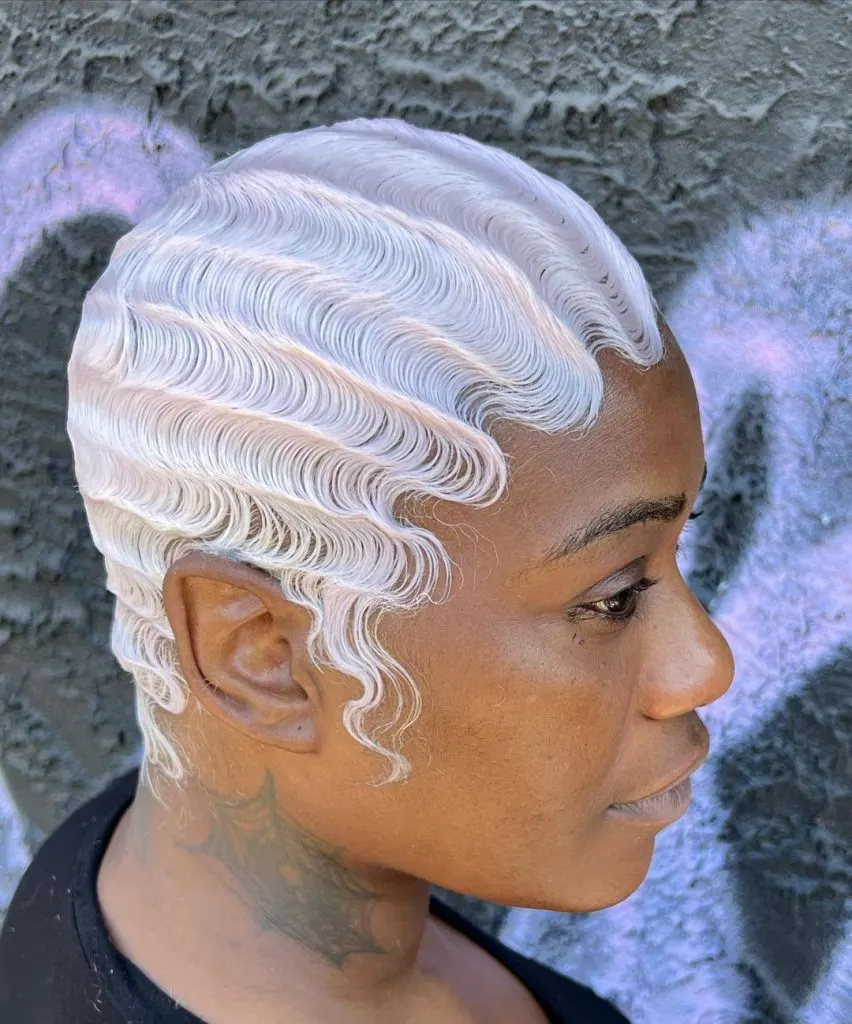 To achieve a platinum blonde, bleached hair needs to be tinted with a toner to eliminate brassiness. You have the option of going pure platinum, or choosing a slightest icy tint if you want to make things more interesting, like this barely-there pink.
14. Balayage Platinum Blonde Ombre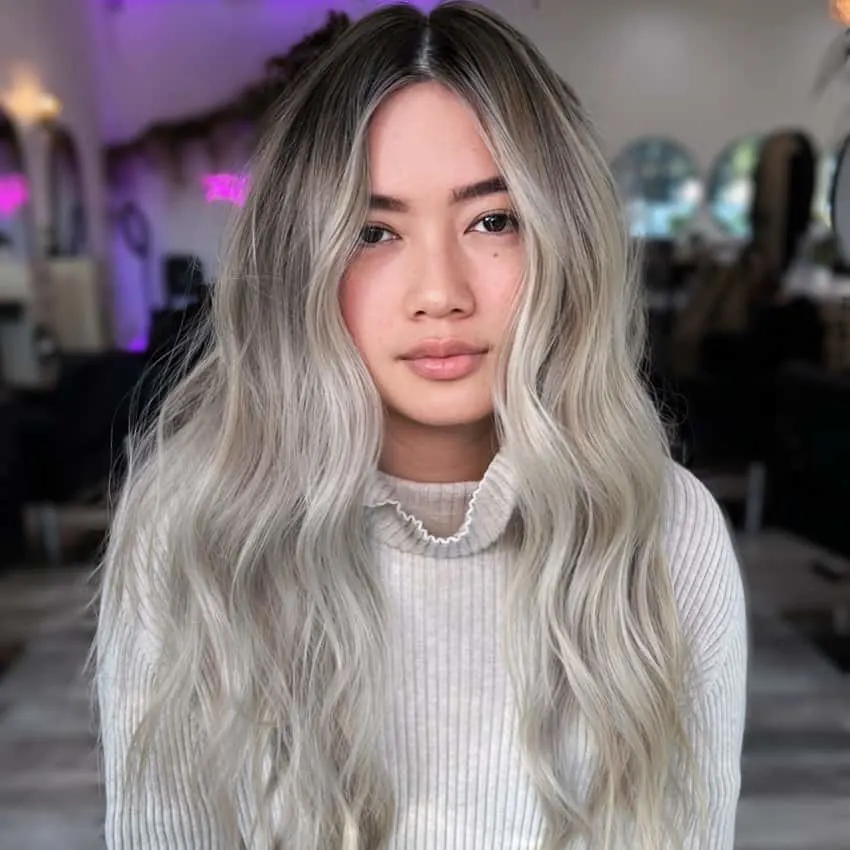 Once you go platinum, you have to commit. If you want your hair to look good, you need to go back to the salon for root touchups and toning every six to eight weeks. To make things a little easier—although still not low-maintenance—try a rooted option like balayage or ombre.
15. Pale Platinum Straight Bob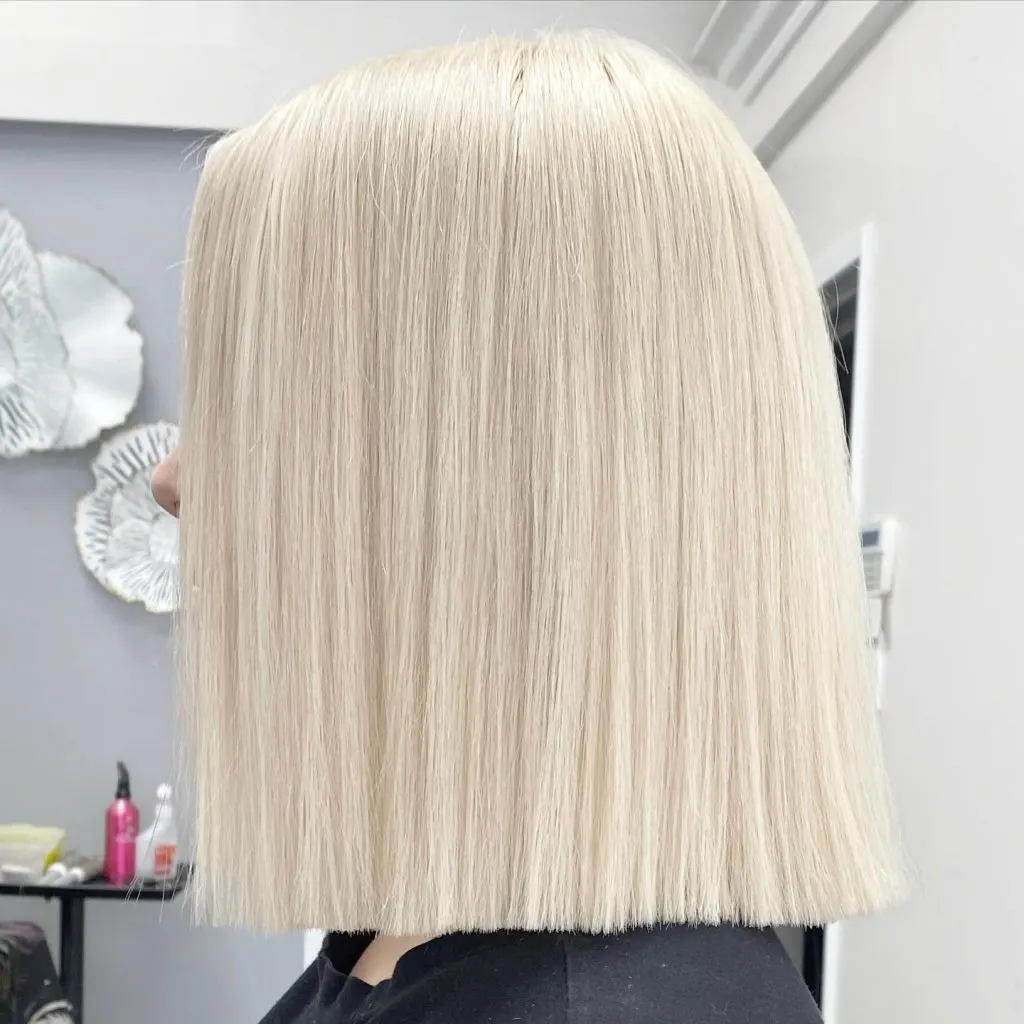 You've gone through all the trouble of getting your hair to be the perfect platinum blonde, so why not make your spectacular color the focus of your hairstyle by wearing it sleek, straight and smooth.
16. Medium Platinum Hair With Choppy Bangs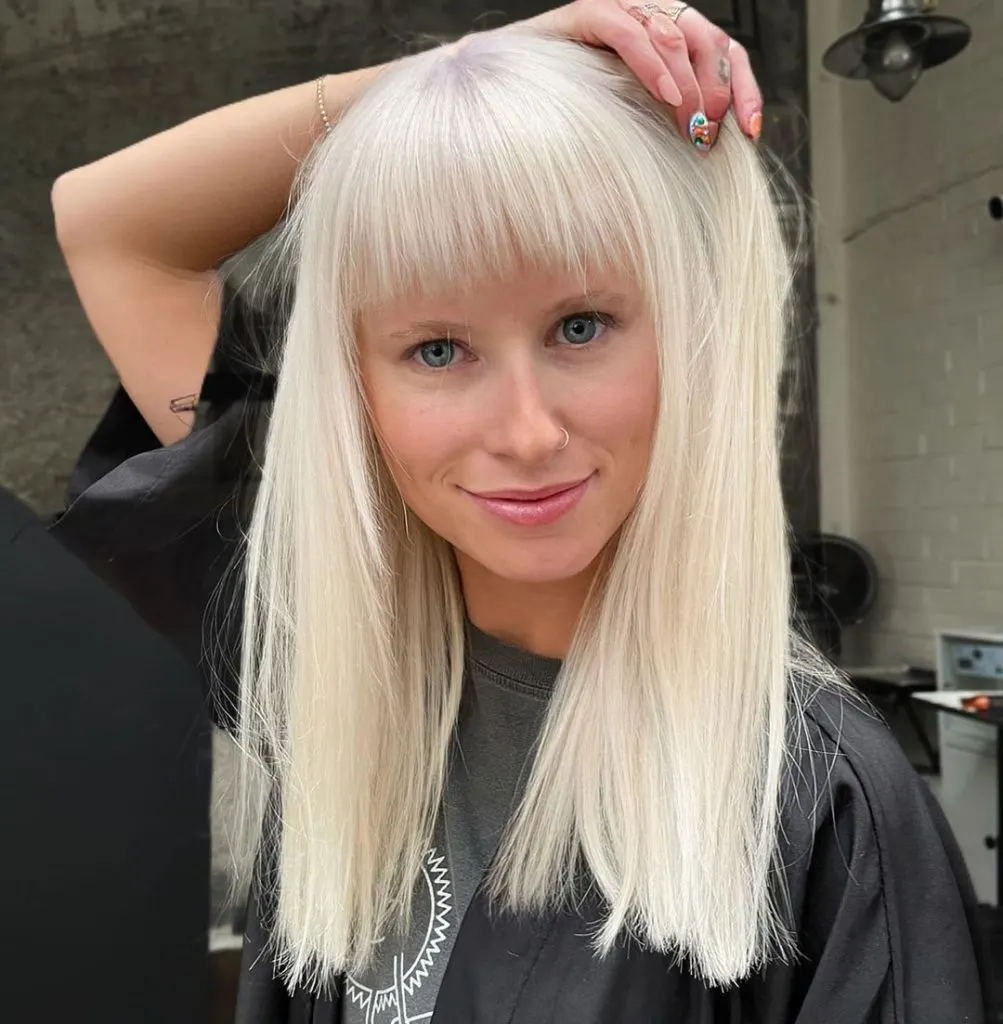 Uniform platinum blonde like this is difficult to maintain if you're not prepared to give your hair a lot of attention.
17. Long Straight Platinum Blonde Hair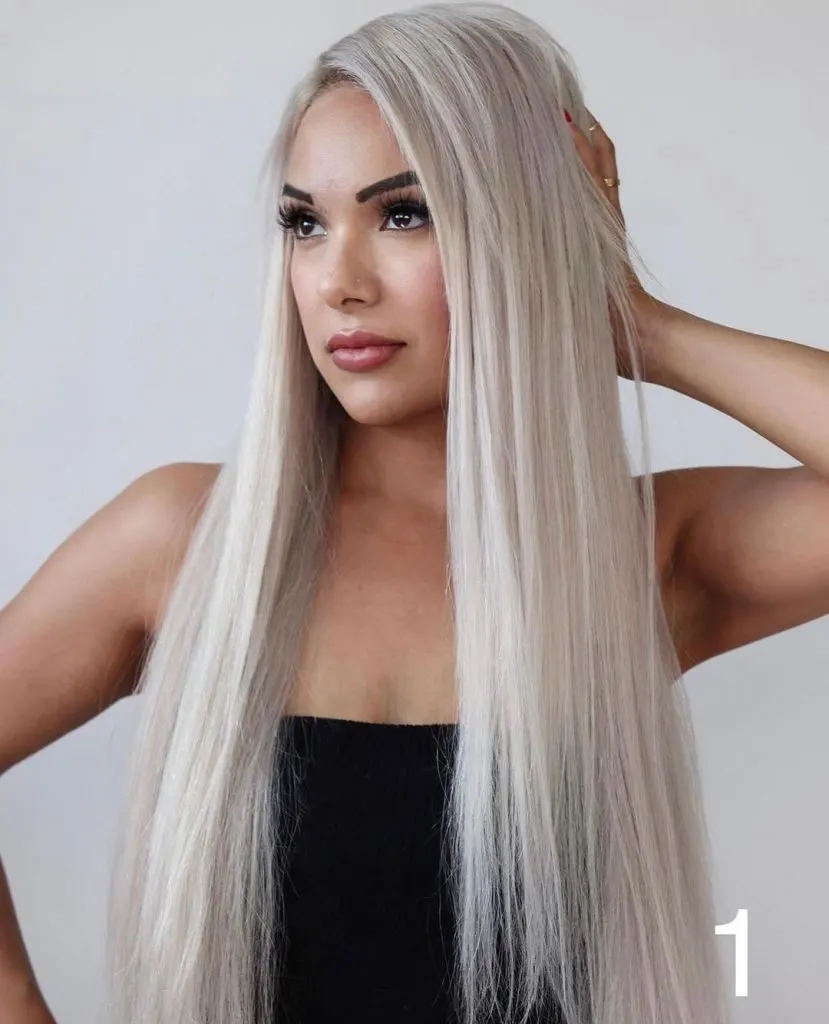 If you have experience with bleaching, you might be aware of the dreaded hot roots, the brassy band of color that can appear after bleaching regrowth. Why does it happen?
18. Platinum Blonde Lob With Side Bangs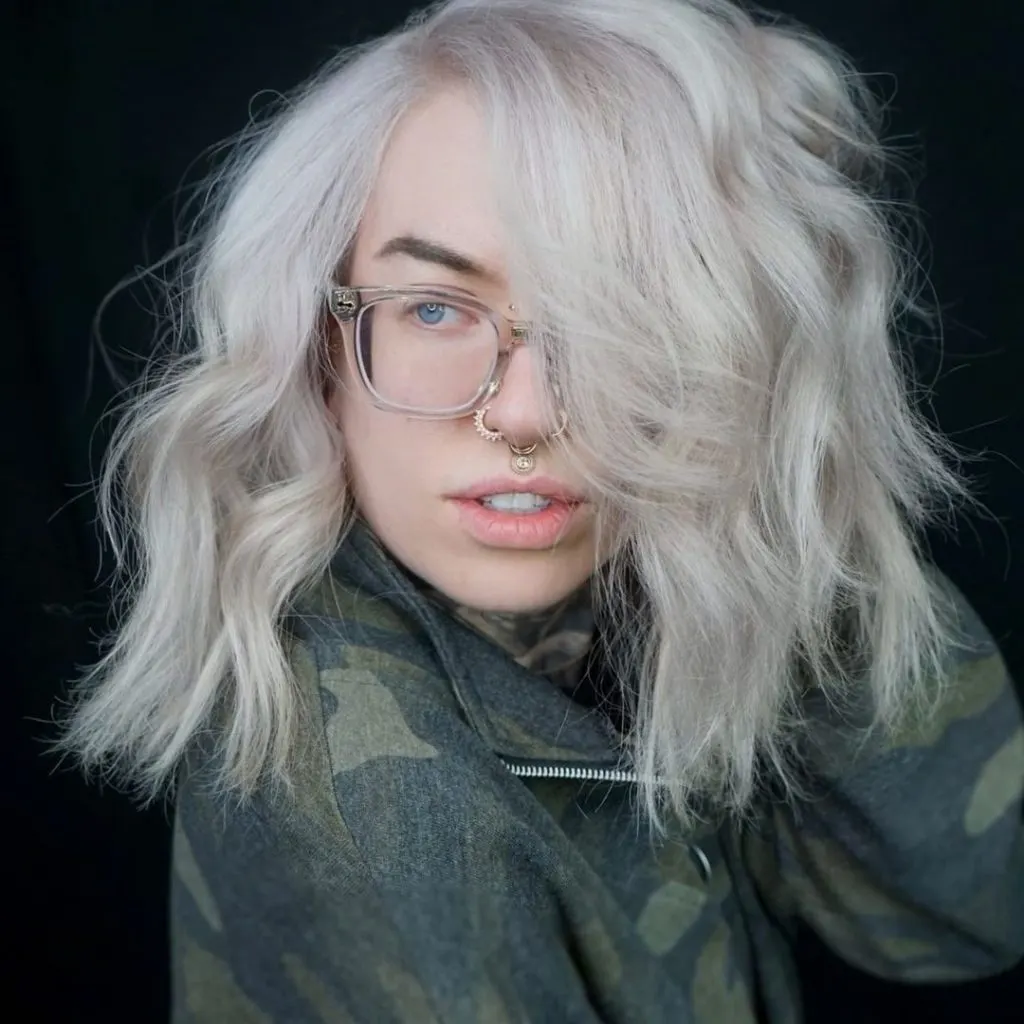 Hot roots happen because the heat of the scalp causes the hair closest to the roots to process quicker than further down if you have too much regrowth.
19. Lived-In Platinum Blonde Beachy Waves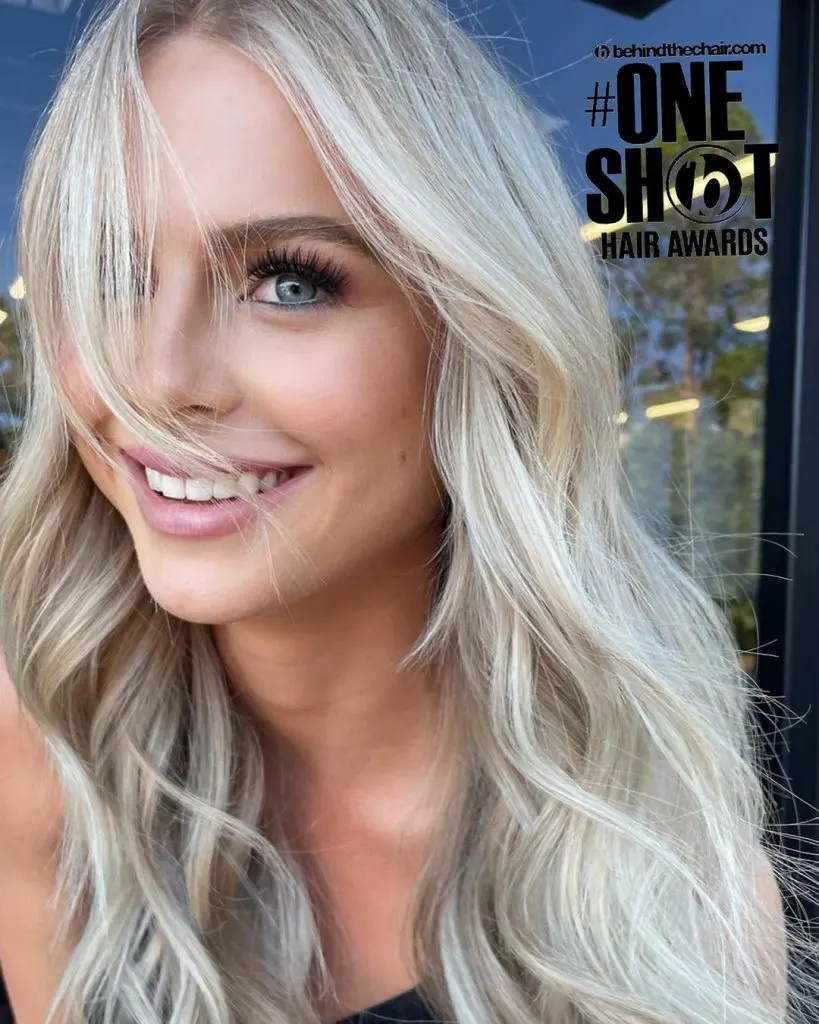 The way to avoid banding? Timely touch-ups. If you skip your appointment and get hot roots, color correction can cause lots of damage to the hair.
20. Glamorous Platinum Blonde Medium Hair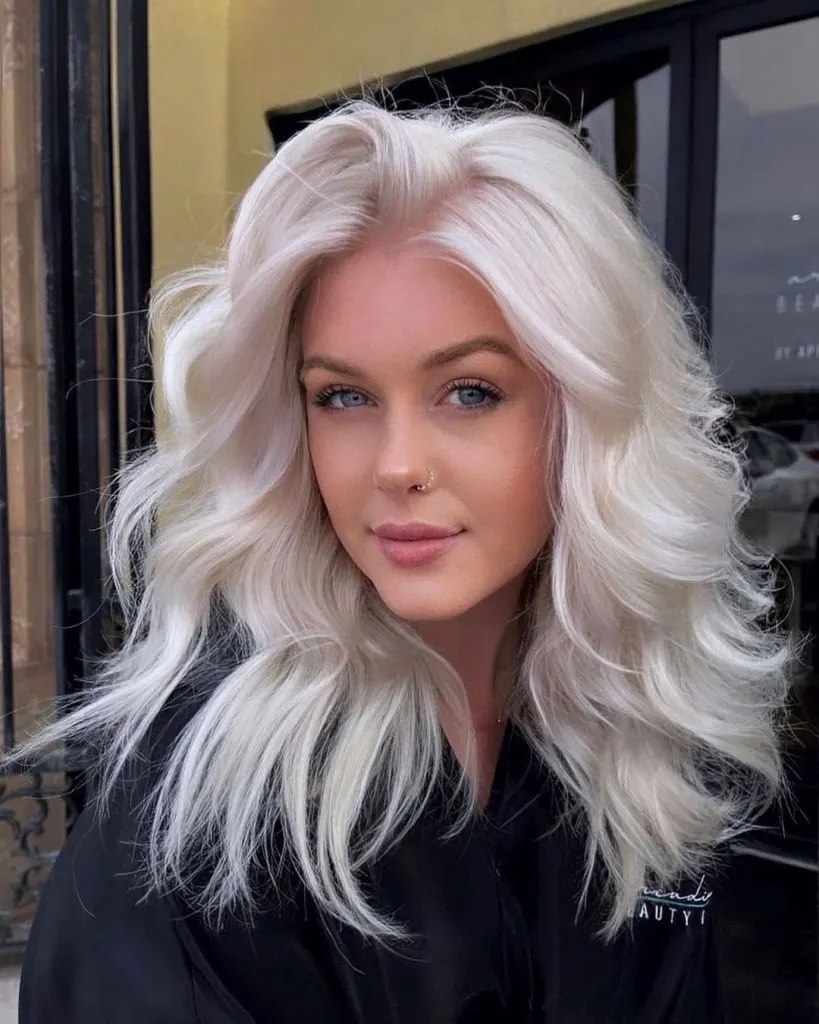 It's possible for you to go platinum blonde with minimum damage if your hair is healthy and hasn't been recently dyed. If it has been dyed, there's a higher chance your hair might get damaged as the color is stripped.
21. White Platinum Blonde Long Hair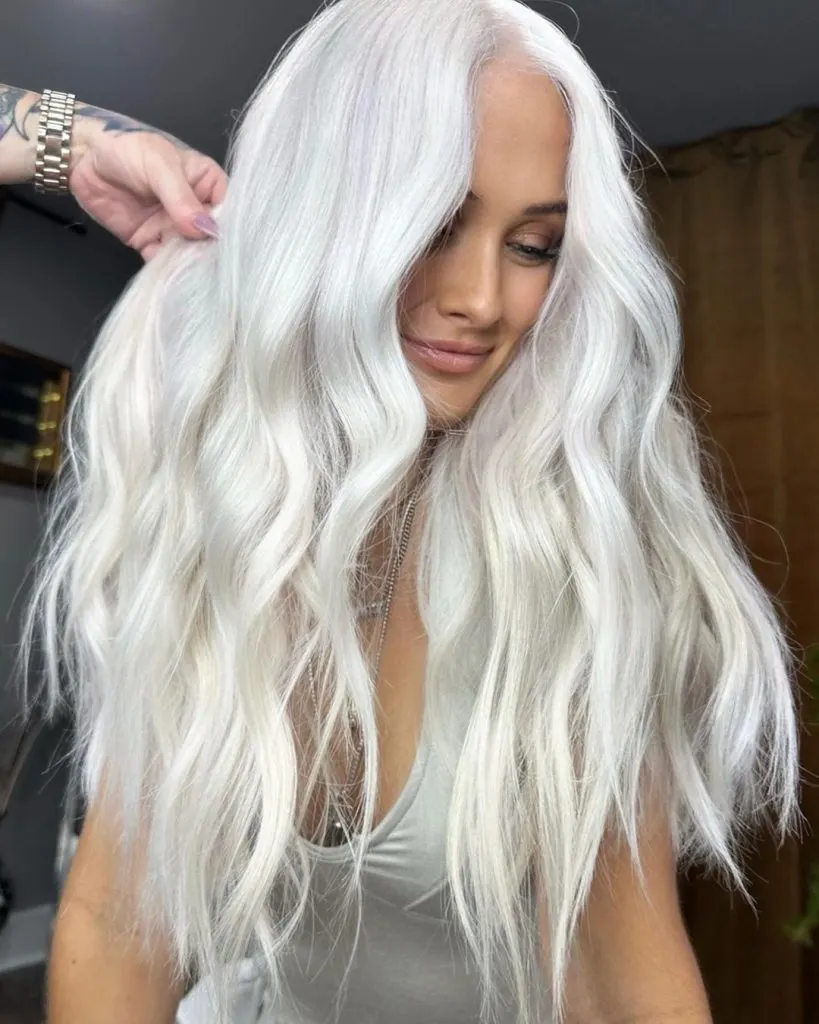 The lighter your natural color, the easier the bleaching process will be because it requires less lifting. You can achieve a bright platinum color even with dark hair, but it will take more sessions and special care.
22. Platinum Blonde Highlights With Shadow Root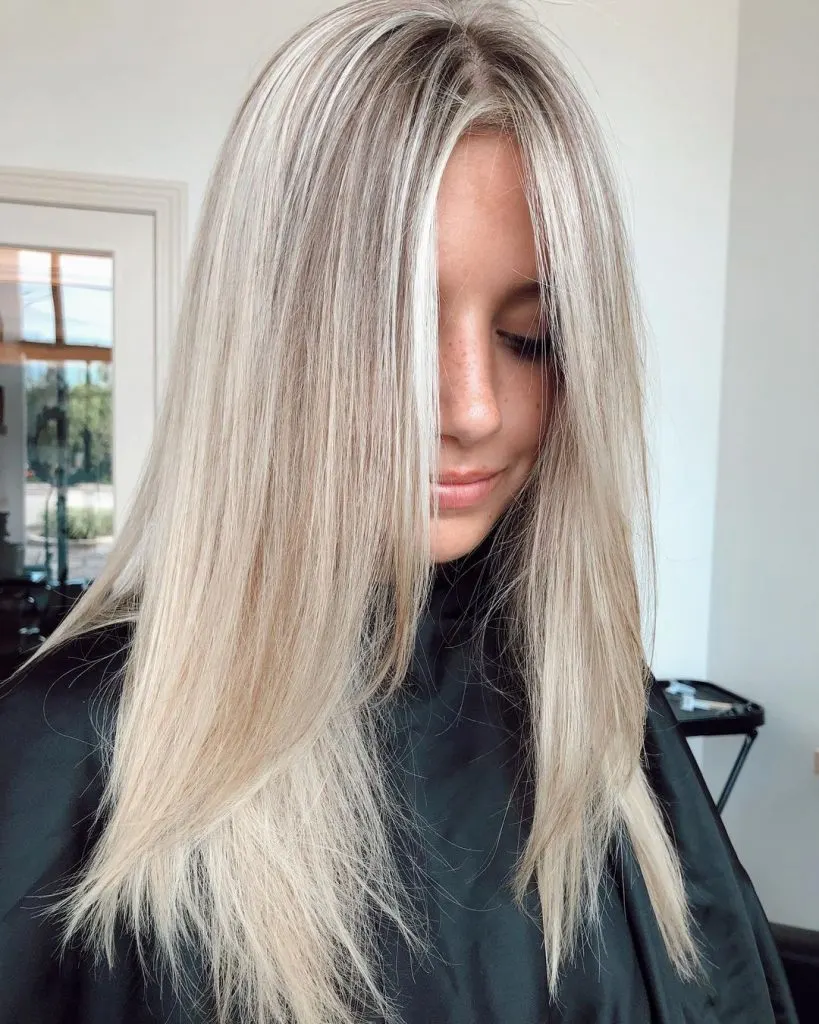 If your hair has already been dyed, especially a dark color, achieving your desired shade might be difficult and time-consuming. It's likely that you won't be able to go from hair dyed a dark color to platinum in one session.
23. Short Platinum Blonde Curls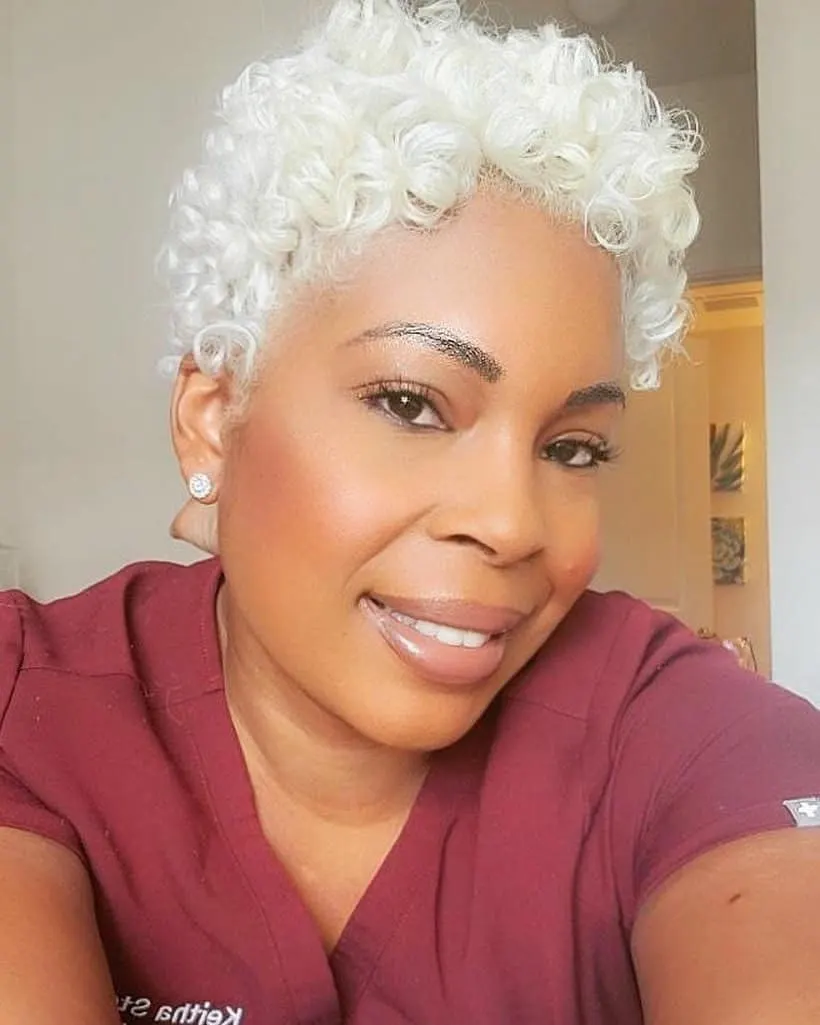 Dyed hair and hair that's fragile or already damaged might not be able to handle going platinum in a day. If your colorist determines that your hair is too damaged to handle it, you might have to wait a while, then repeat the bleaching procedure.
24. Matte Platinum Blonde With Root Melt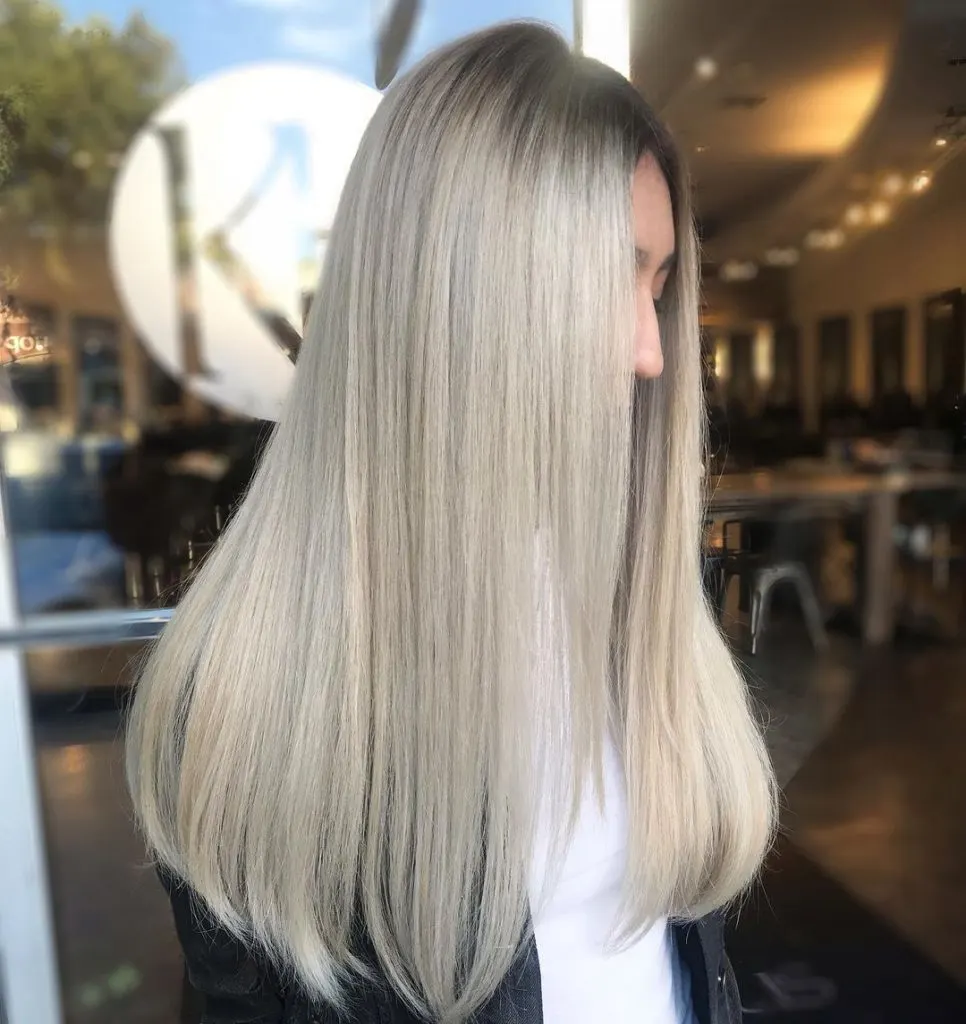 Maintaining your platinum mane will end up quite expensive. During the first session, your hair will have to be bleached once or multiple times, which can really hike up the price.
25. Platinum Blonde Lob With Middle Part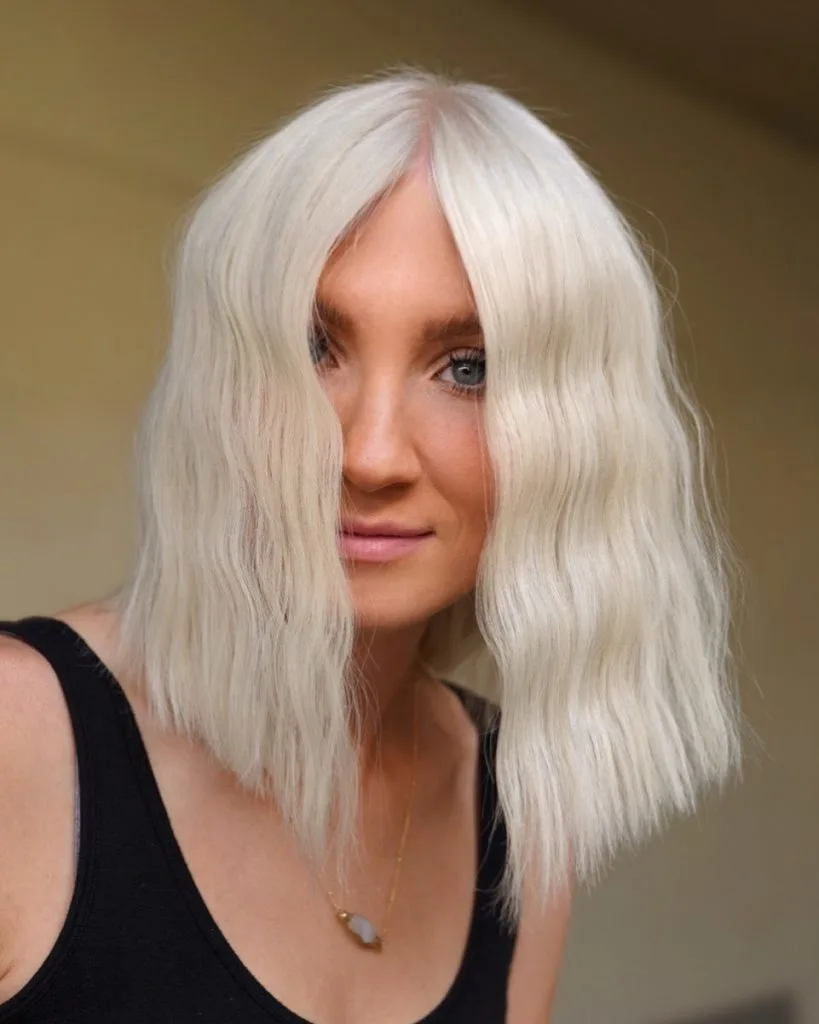 It's not just the bleaching procedure—if your colorist is also using a bonding treatment to prevent damage, you can expect to pay up to $500 or even more.
26. Soft Root Smudge Platinum Blonde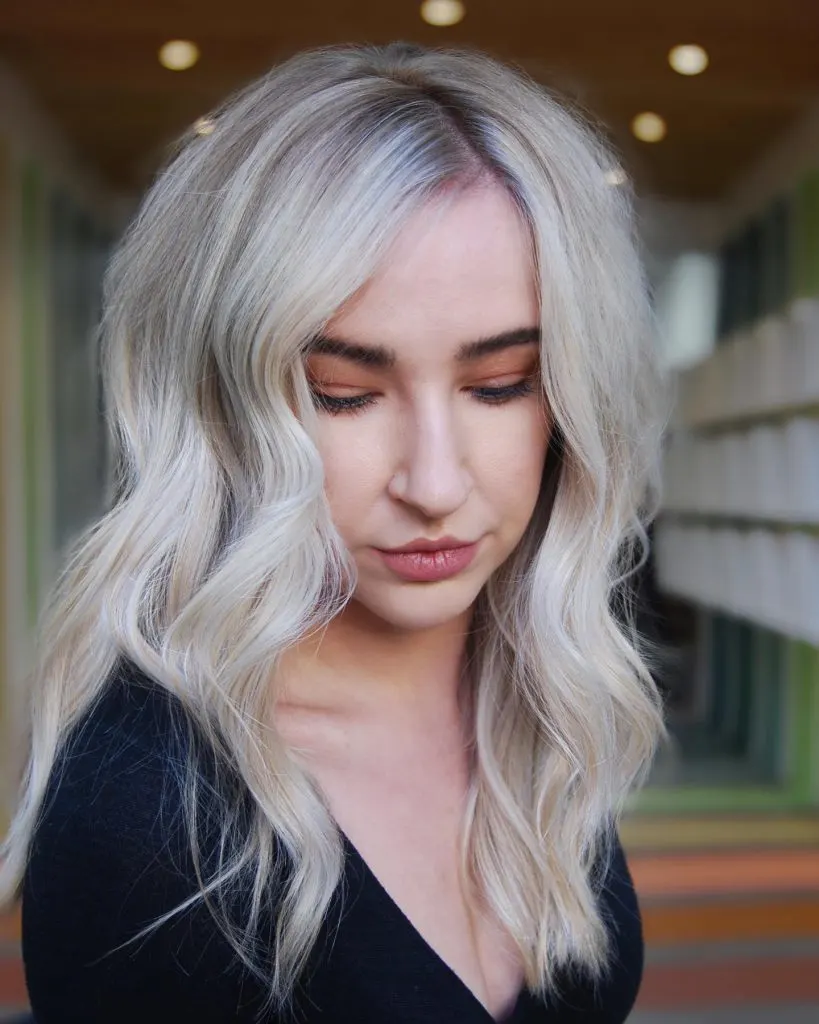 Going platinum blonde can be quite costly. In addition to the cost of the initial appointment when going platinum blonde, you'll also have the cost of touch-ups, which can go up to $100.
27. Edgy Platinum Blonde Mullet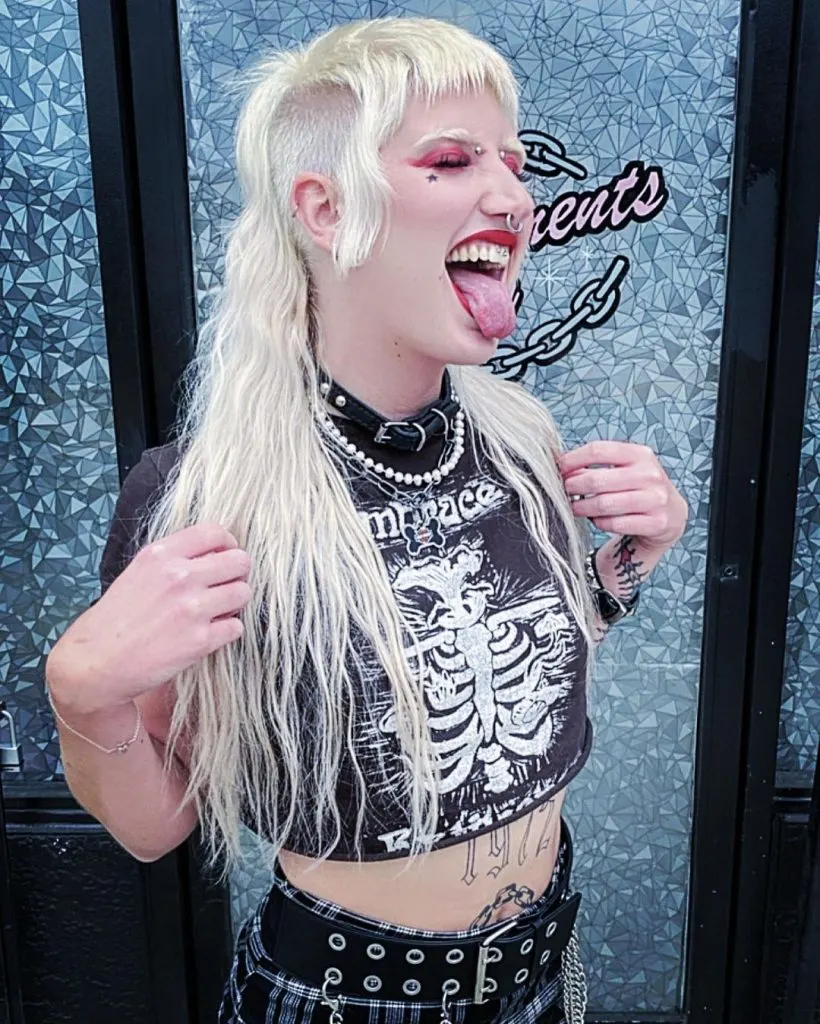 After going platinum, don't expect the same hair as you had beforehand. Your hair will become more fragile and need lots of TLC.
28. Icy Platinum Blonde With Shadow Root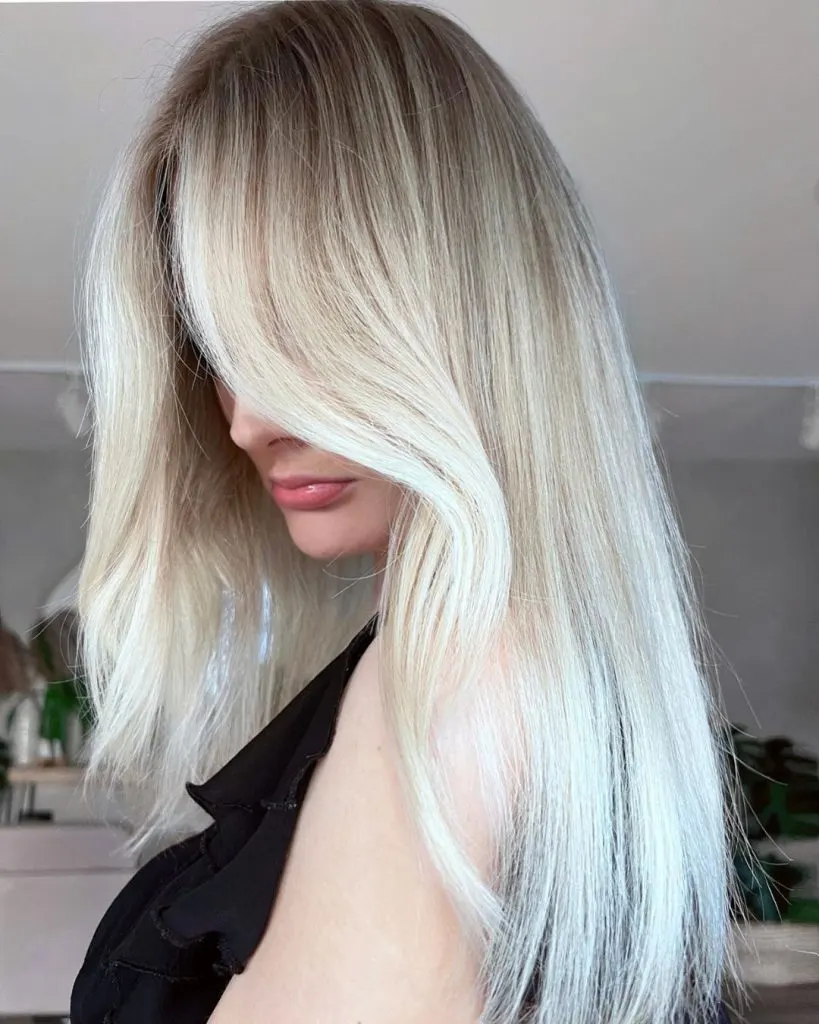 To care for your platinum hair, focus on helping it retain all the moisture possible and avoid damaging it further. This will help with dry ends and frizz.
29. Platinum Blonde With Pink Tips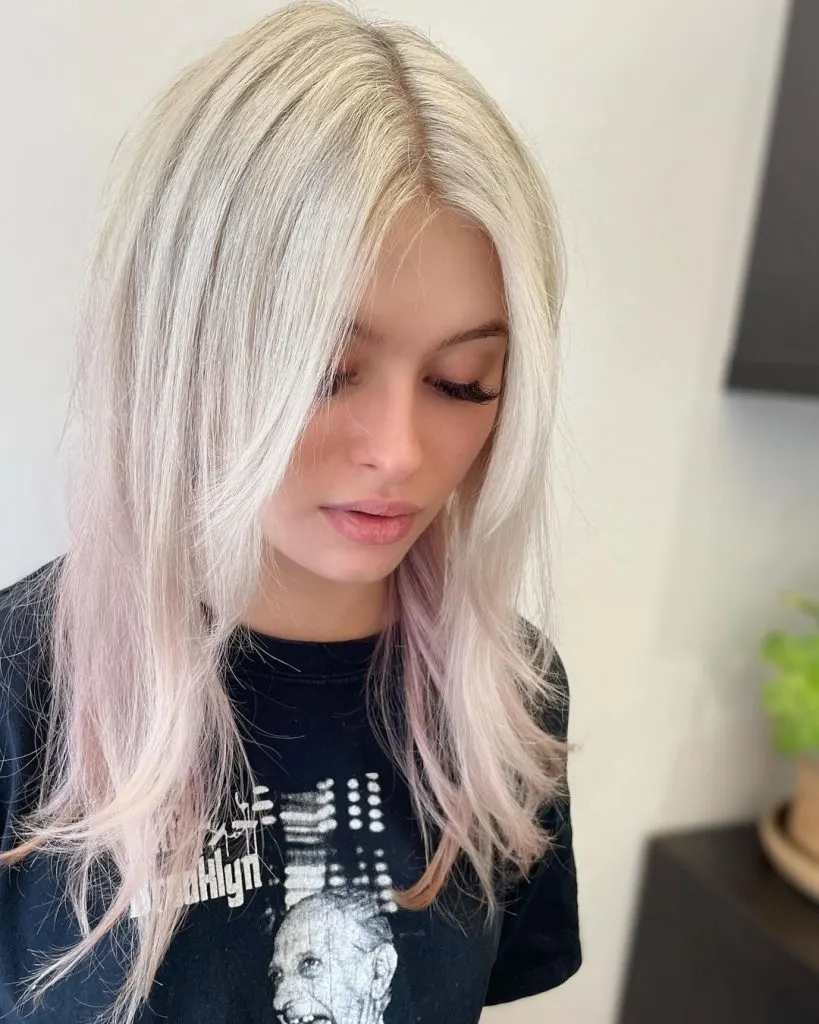 Some tips for taking care of platinum blonde hair:
switch to sulfate-free hydrating shampoo and protein shampoo
shampoo your hair less often
deep condition more often than you think you should
use hot tools as sparingly as possible
30. Platinum Blonde Medium Hair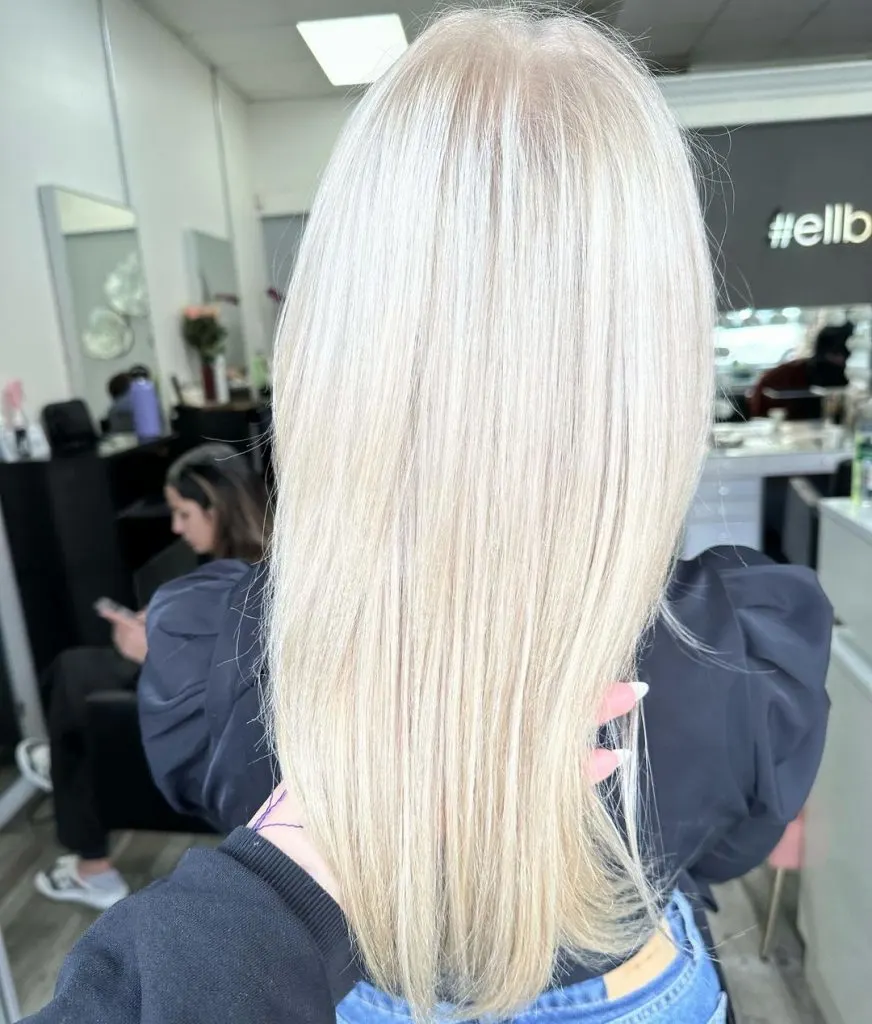 Even if you have naturally blonde hair, all the advice still applies. You'll have it a bit easier than someone who started from black hair, but you should still make sure to choose the right colorist, don't skip appointments and care for your hair.
31. Black And Platinum Blonde Ombre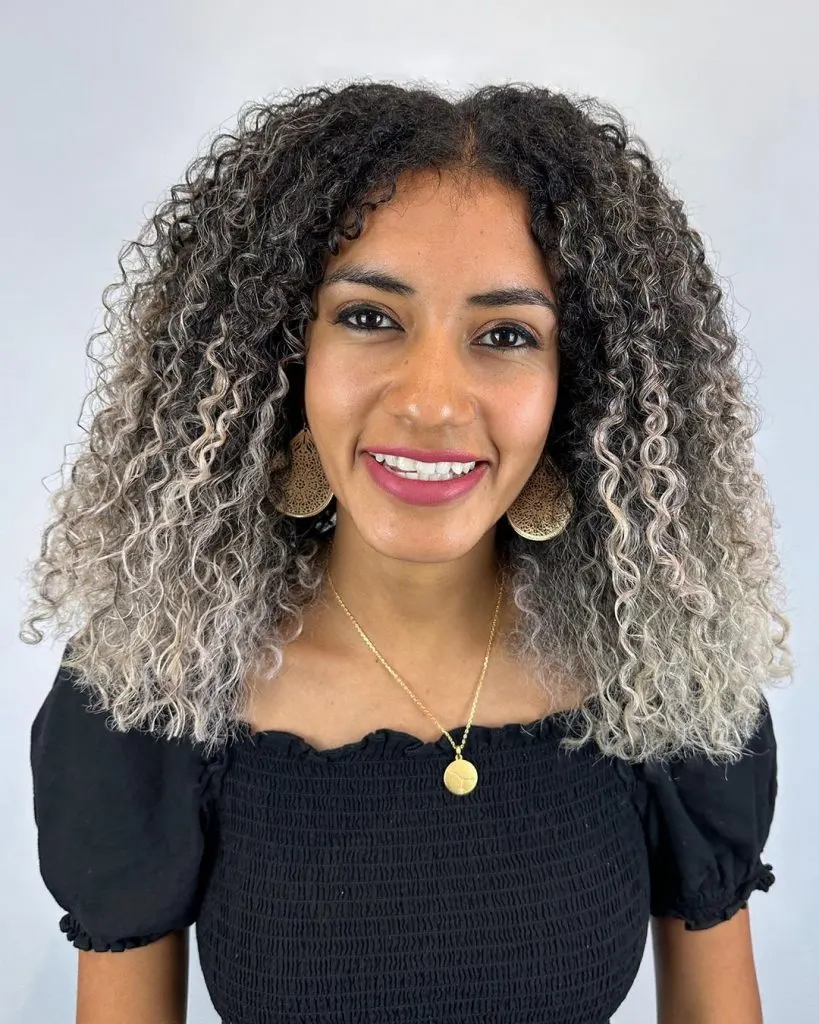 Platinum is a rarity—it suits all skin tones because in essence, platinum is the absence of color. The bleaching procedure strips your hair of color by breaking up the melanin in the hair, and a toning product is used to neutralize the resulting hue.
32. Platinum Blonde Layered Hair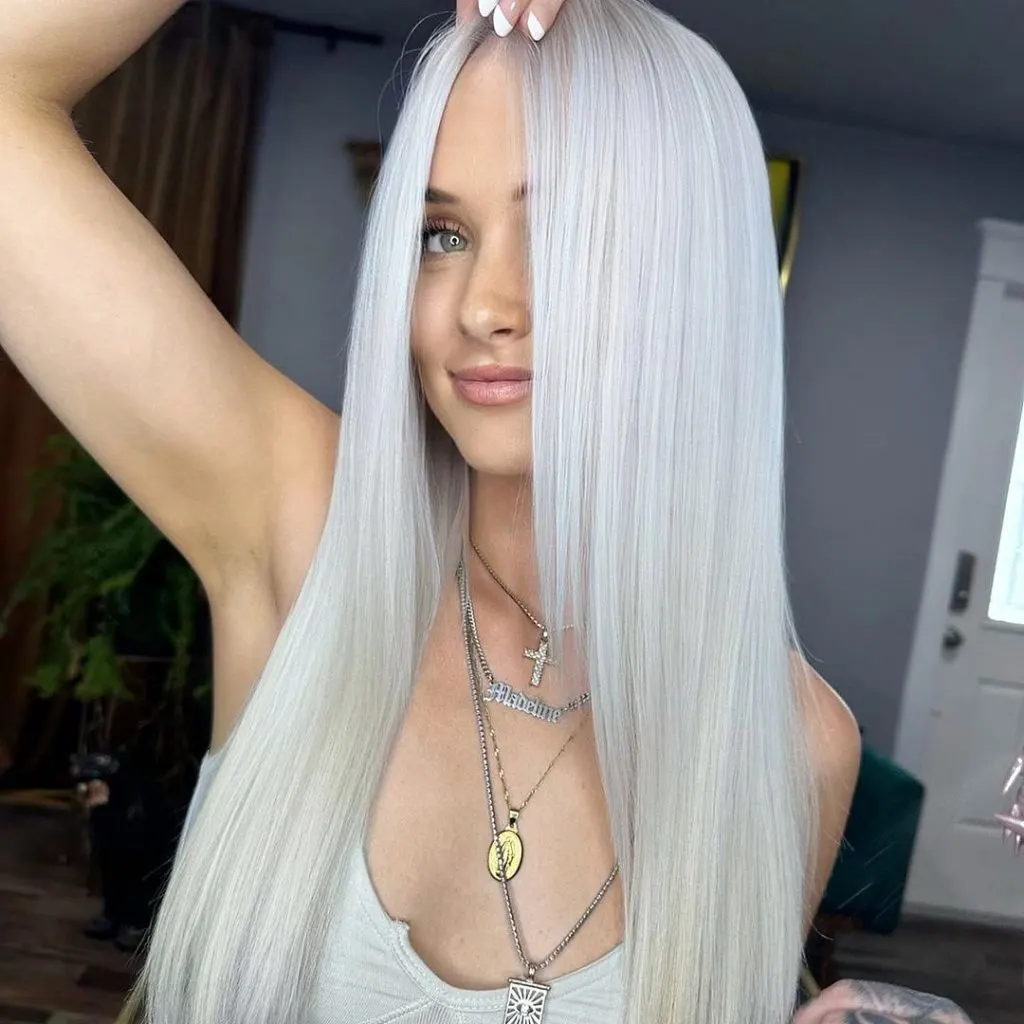 The lighter your natural hair color, the easier it is to get to platinum. Hair colors come in levels of dark to light, 1 being black and 10 being light blonde—with platinum going beyond level 10.
33. Sleek Platinum Blonde Hair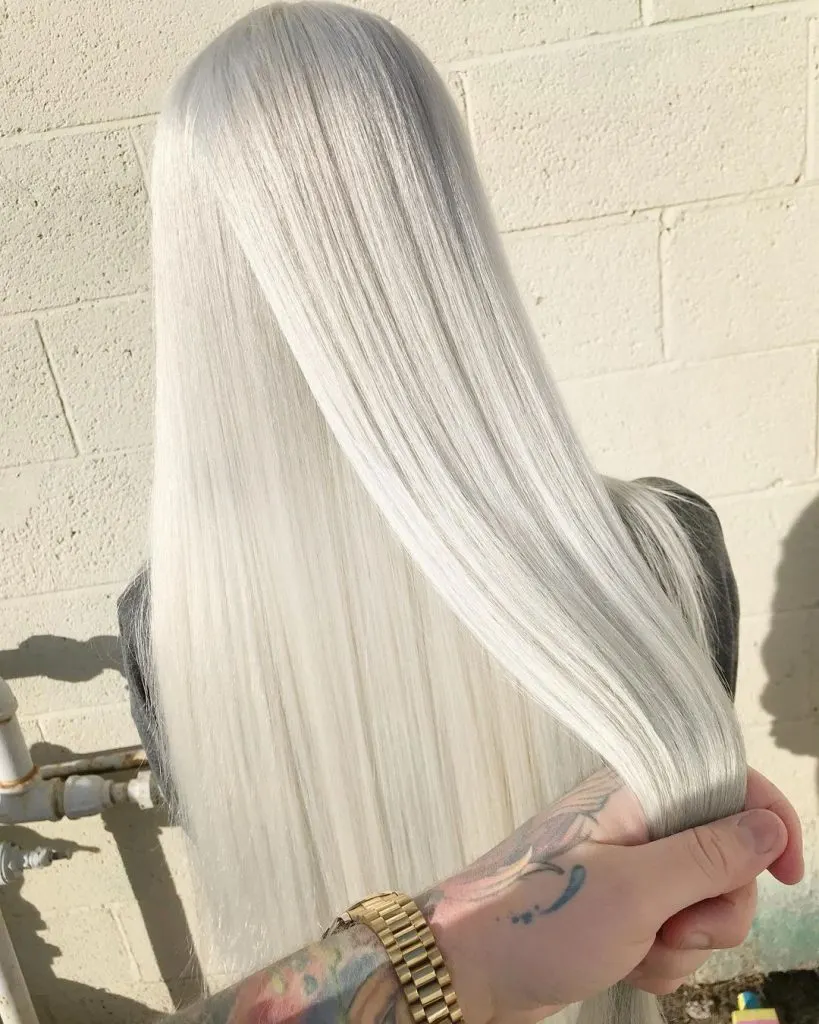 The closer your base color is to level 10, the less levels of color you need to lift from the strands to achieve a platinum blonde.
34. Platinum Blonde With Dark Blonde Lowlights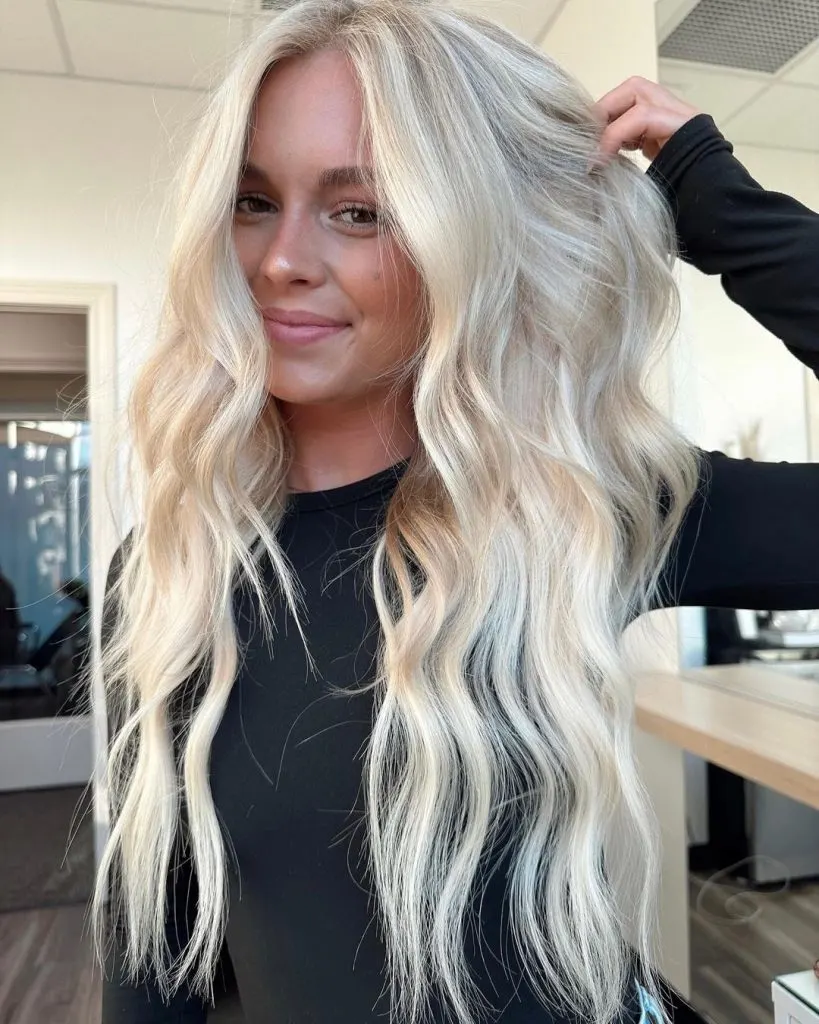 Most bleaching products can lift up to eight levels, so darkest shades might need to be bleached over several sessions.
35. Platinum Blonde With Root Tap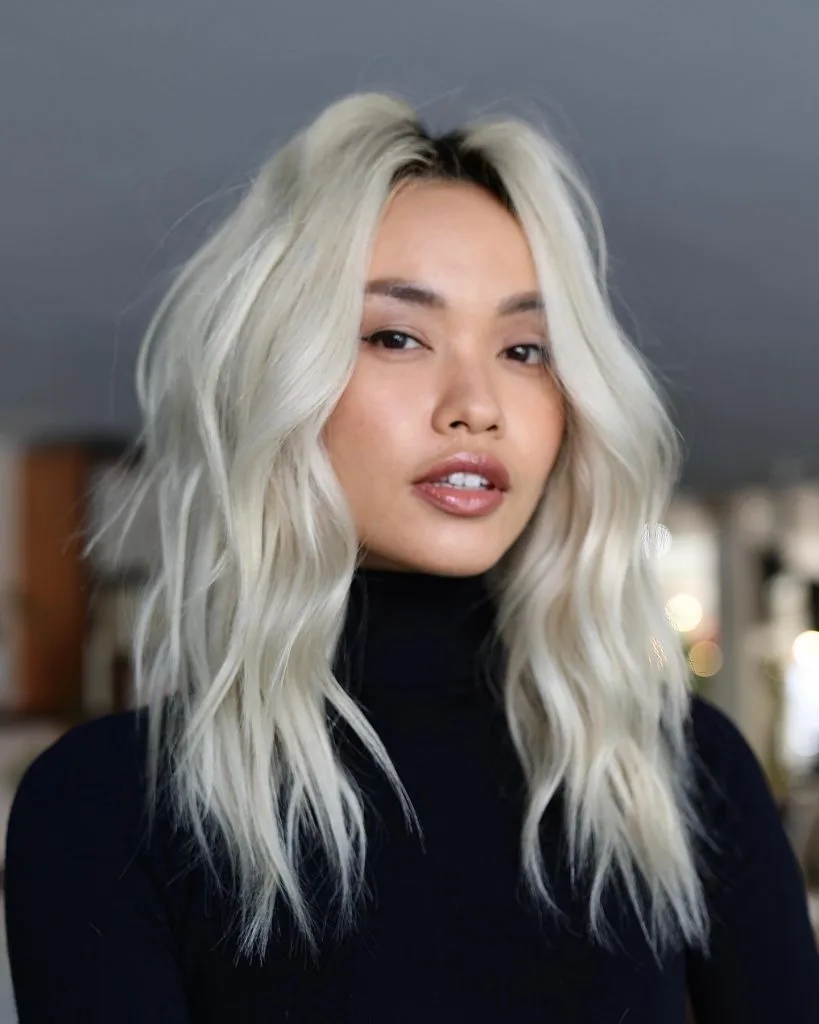 The bleaching procedure also depends on your hair texture. Fine, coily and curly hair will need less processing time than coarse, thick strands.
36. Platinum Blonde Wolf Cut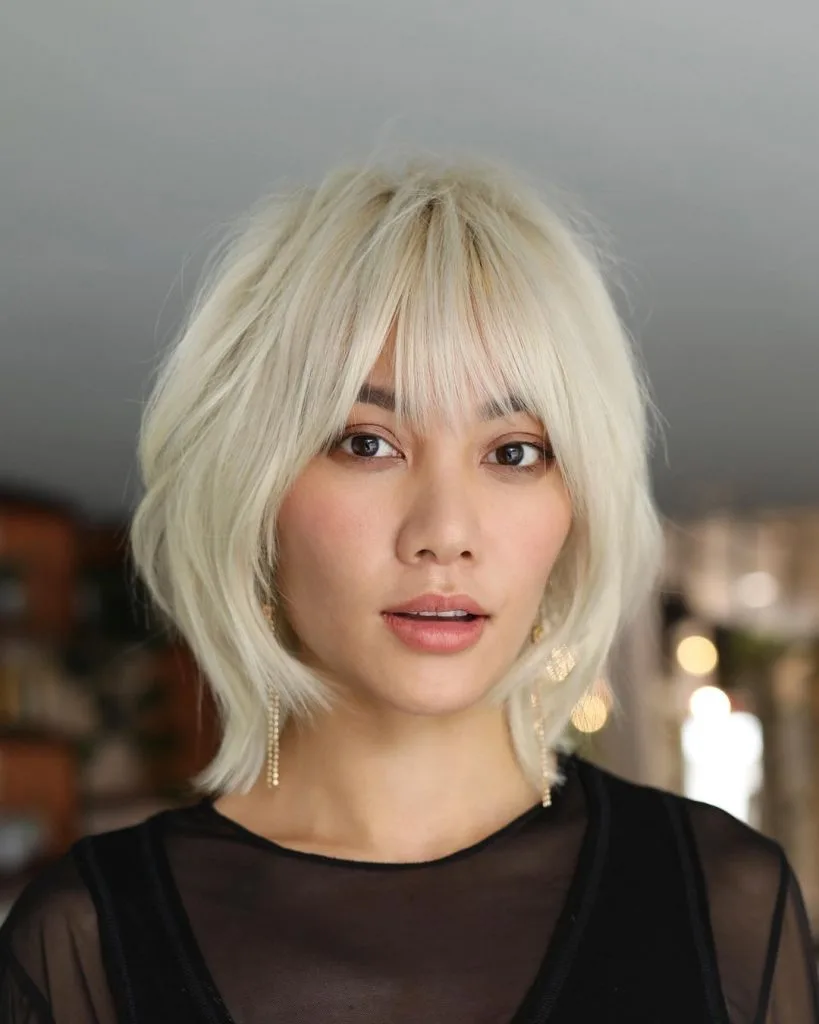 Platinum blonde is an intense statement color, and it's definitely a look. If you prefer something delicate and natural, consider light blondes that still have some warmer tones instead.
37. Shoulder Length Platinum Blonde Hair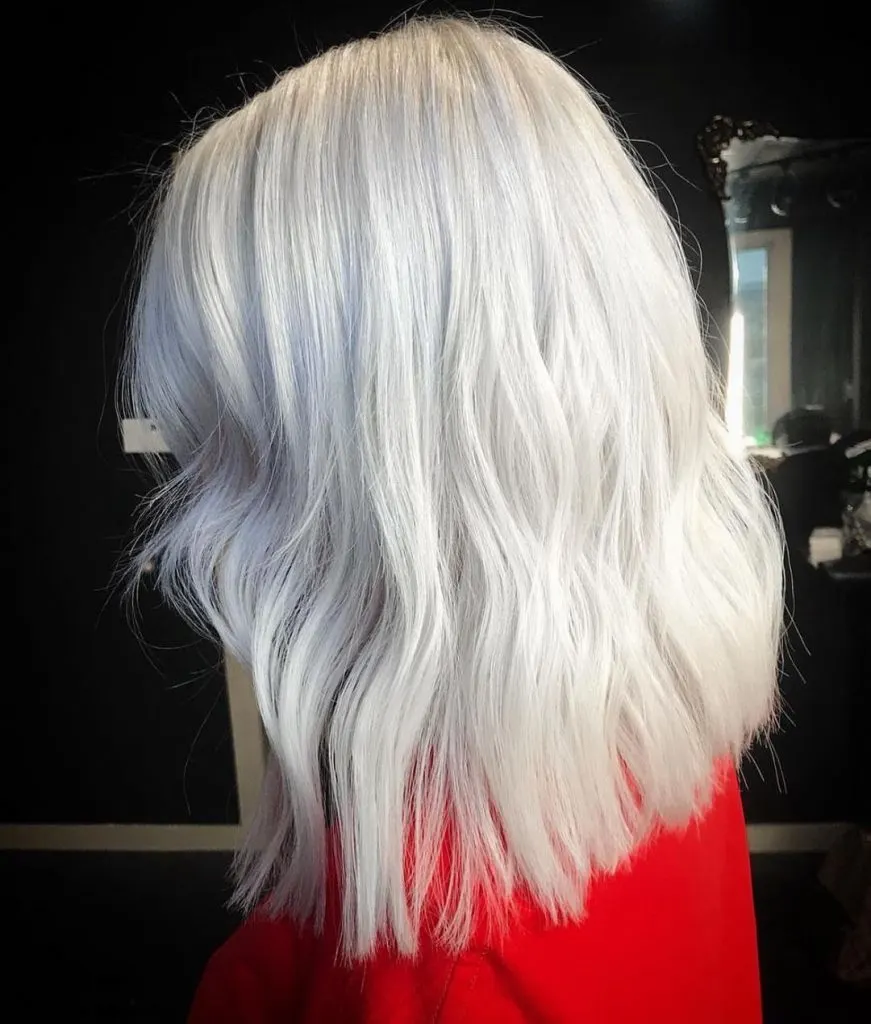 When you decide to go platinum, be ready to work with a whole new overall look, especially if the change was drastic and you started off as a brunette.
38. Short Root Smudge Platinum Blonde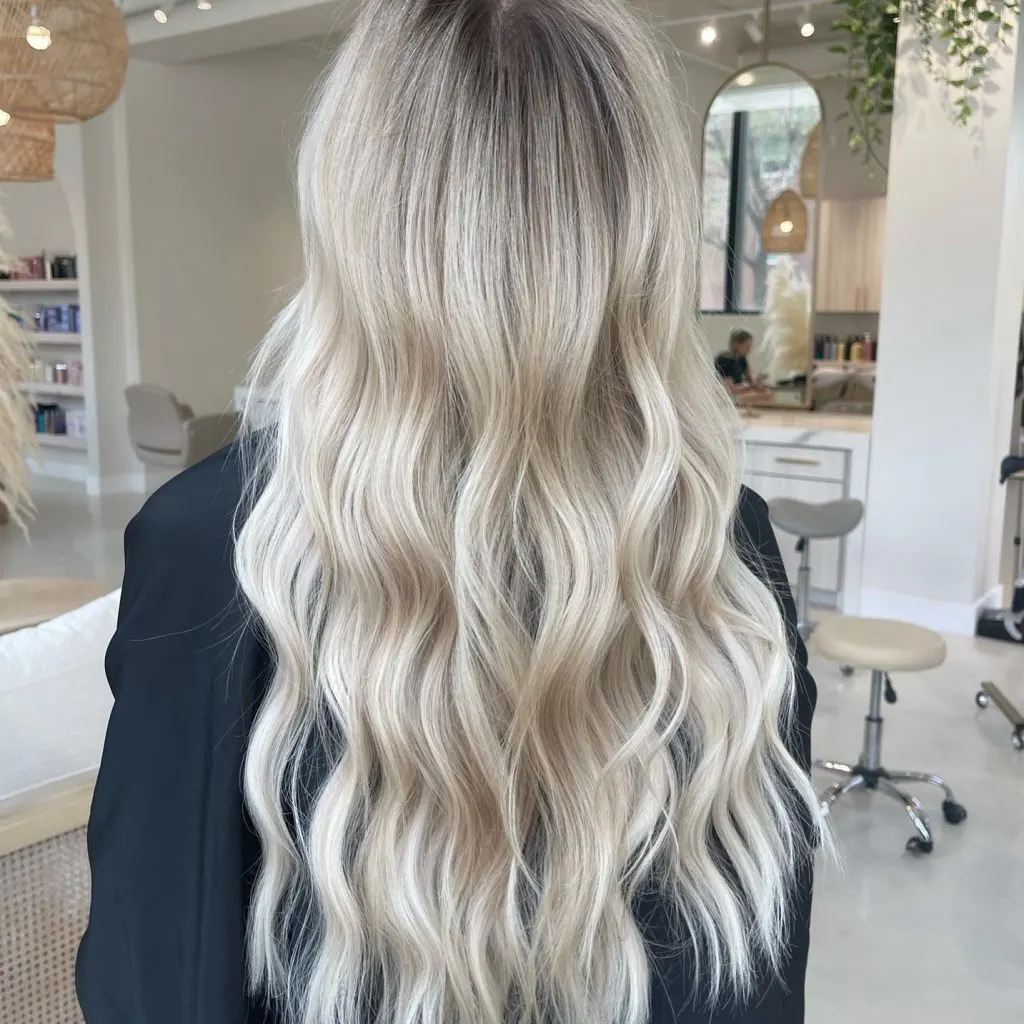 Platinum hair is essentially colorless, so infuse some color into your look to balance your new shade. For example, go for a a red lipstick or a bolder eyeshadow to take your look to the next level.
39. Warm Platinum Blonde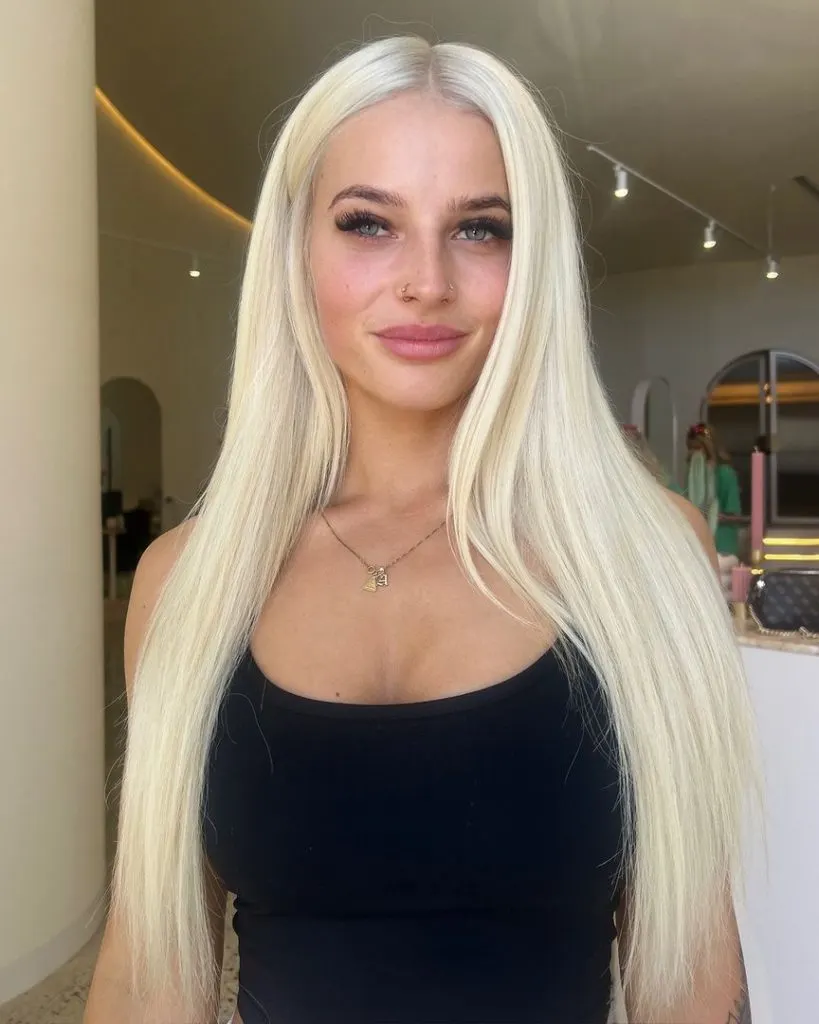 If you select the right colorist, you can avoid damage and have long platinum hair. They will make sure to tailor the procedure to your hair without unnecessarily over-processing it.
40. Platinum Blonde Balayage On Dark Blonde Hair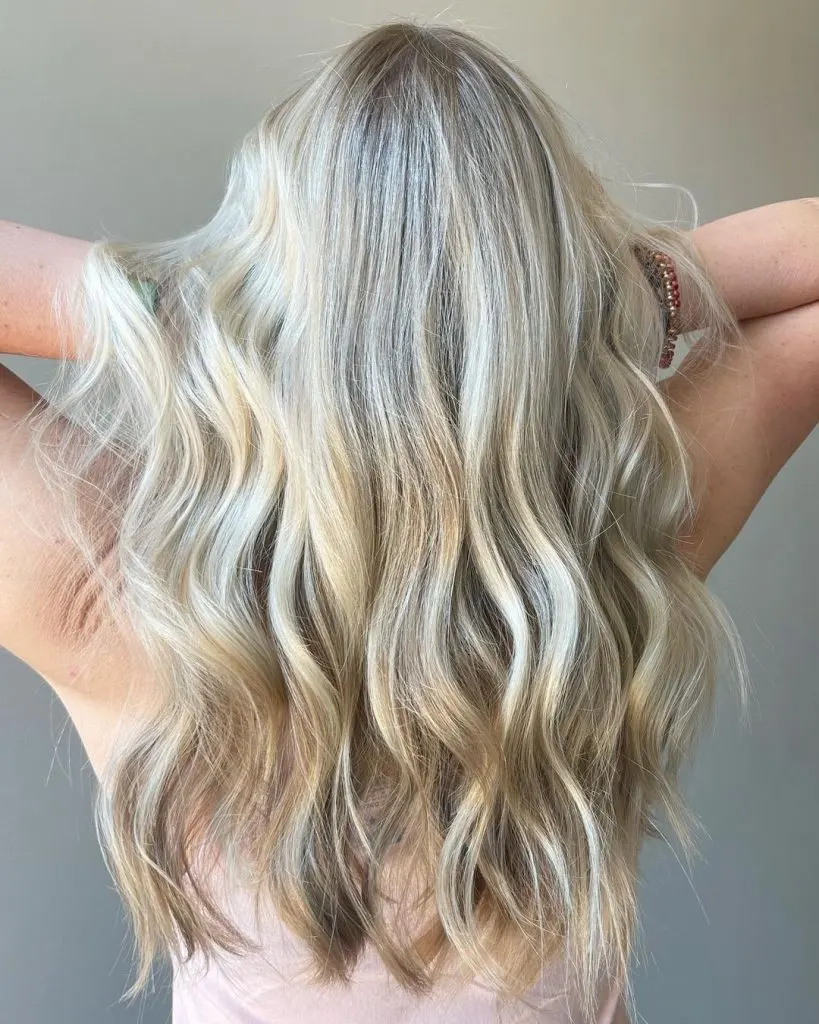 Your platinum hair doesn't have to be one-dimensional—adding some lowlights and a root tap can create a dynamic and more natural look.
41. Long Wavy Platinum Blonde Hair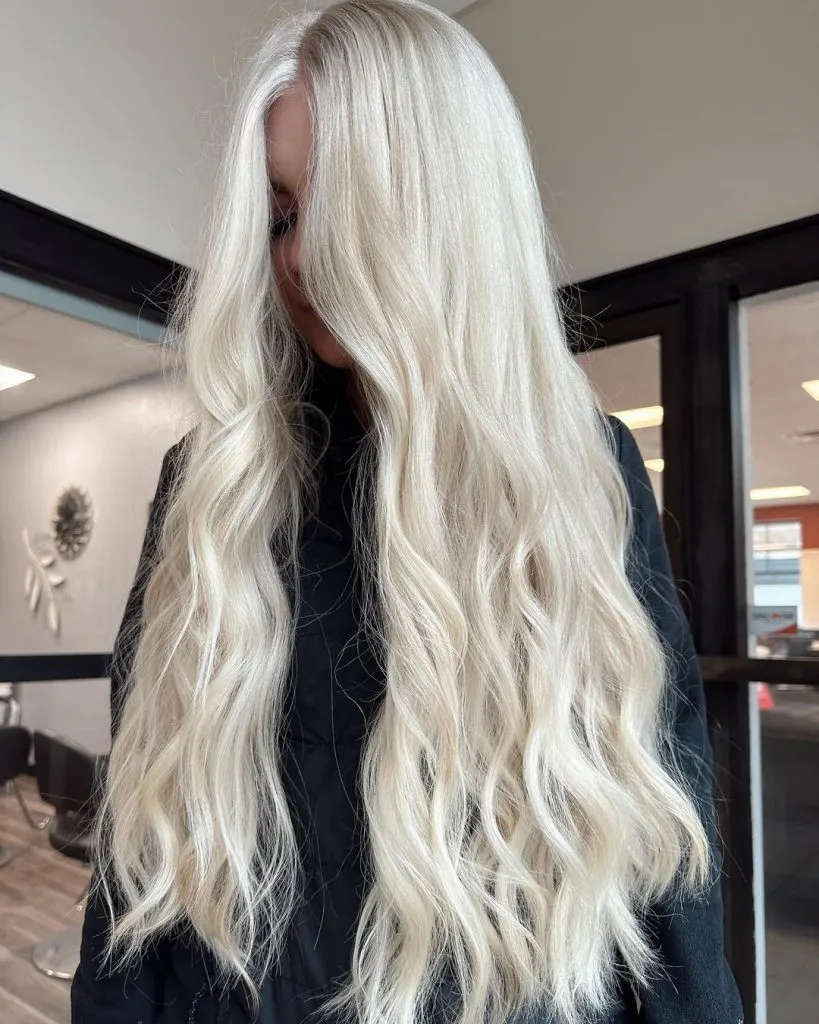 After the bleaching process, your hair might look yellow or orange, and generally not very platinum. To neutralize these unwanted hues, your colorist will use a toner.
42. Icy Platinum Blonde Waves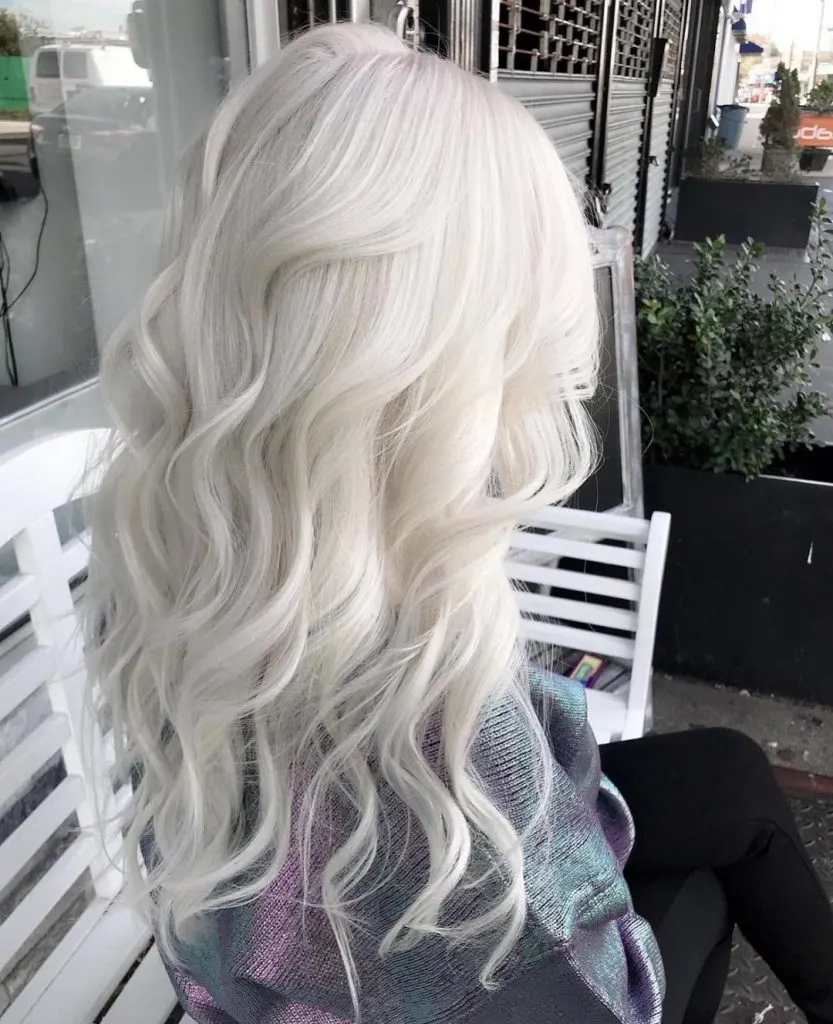 Toners are products used to color-correct bleached hair. Using purple, blue or green pigments, they cancel out orange or yellow tones in bleached hair to make it more neutral.
43. Cool Platinum Blonde Blunt-Cut Hair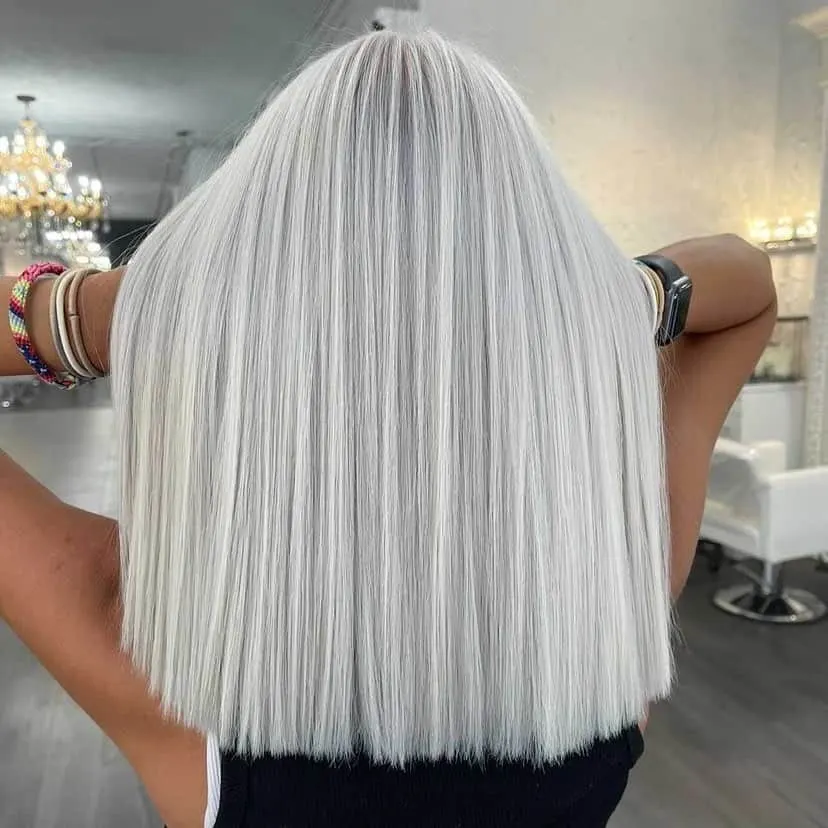 When your hair is almost platinum, but not there yet, your colorist will use a purple toner to eliminate brassiness. Toners with other pigments are used for lower levels.
44. Root Melt Platinum Blonde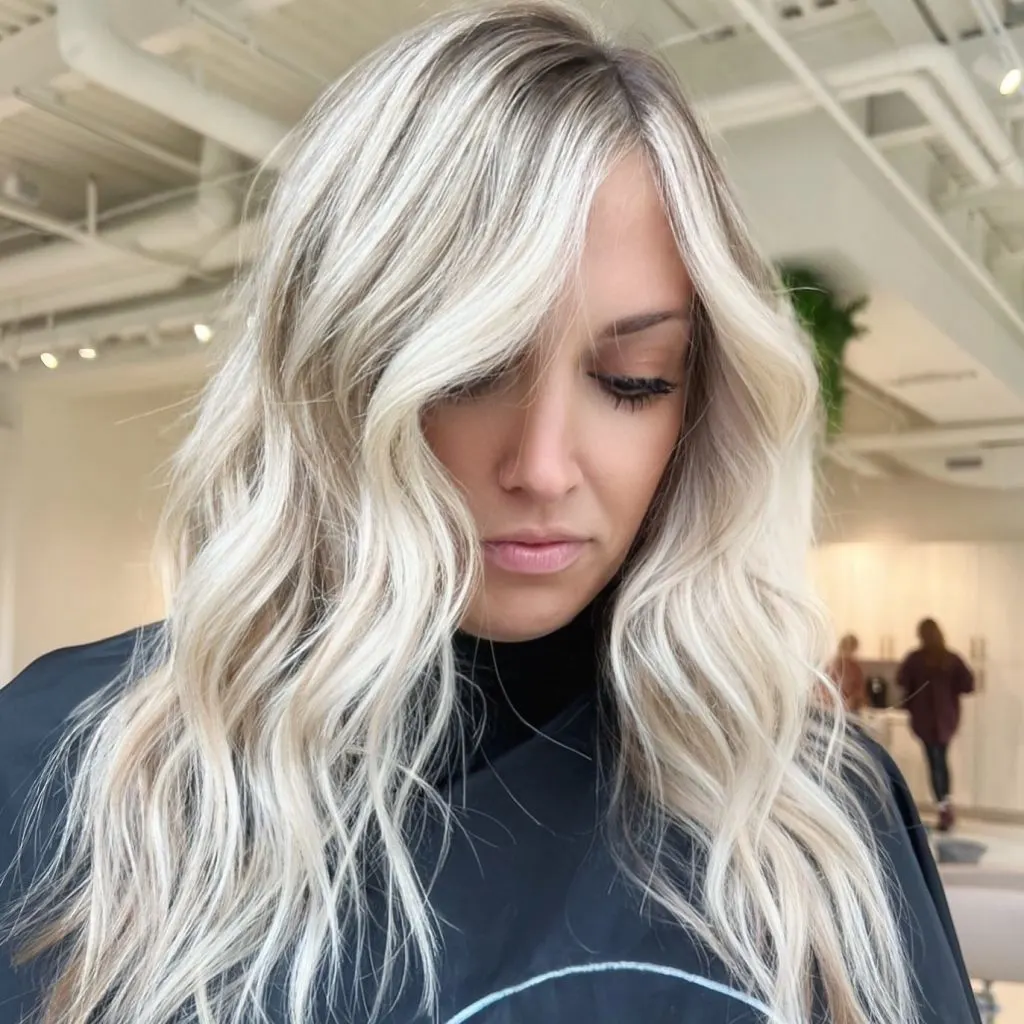 To protect your hair from damage, your colorist might stop the bleaching when your hair hasn't reached level 10 just yet and choose a lifting toner to take your hair that extra step.
45. Platinum Blonde Pixie Cut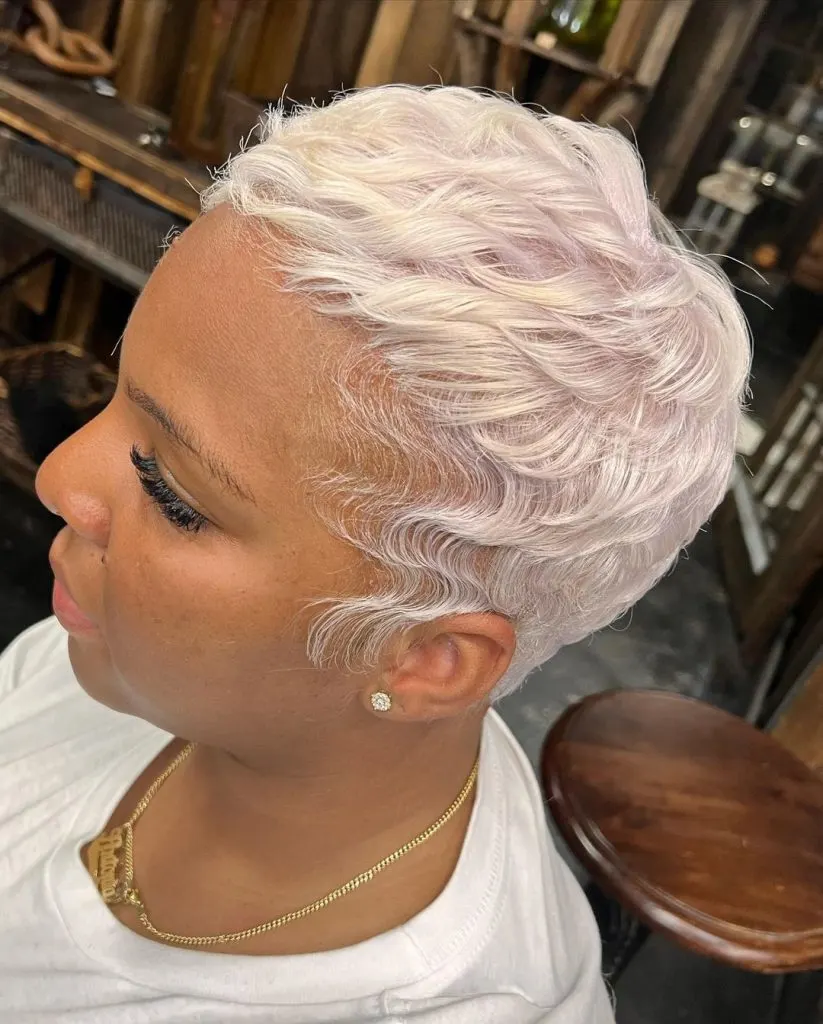 There are cooler and warmer toners that still create a platinum shade. Opt for a pearl tone if your skin is warm, and choose a silver one if you have a cool skin tone.
46. Sombre Root Smudge Platinum Blonde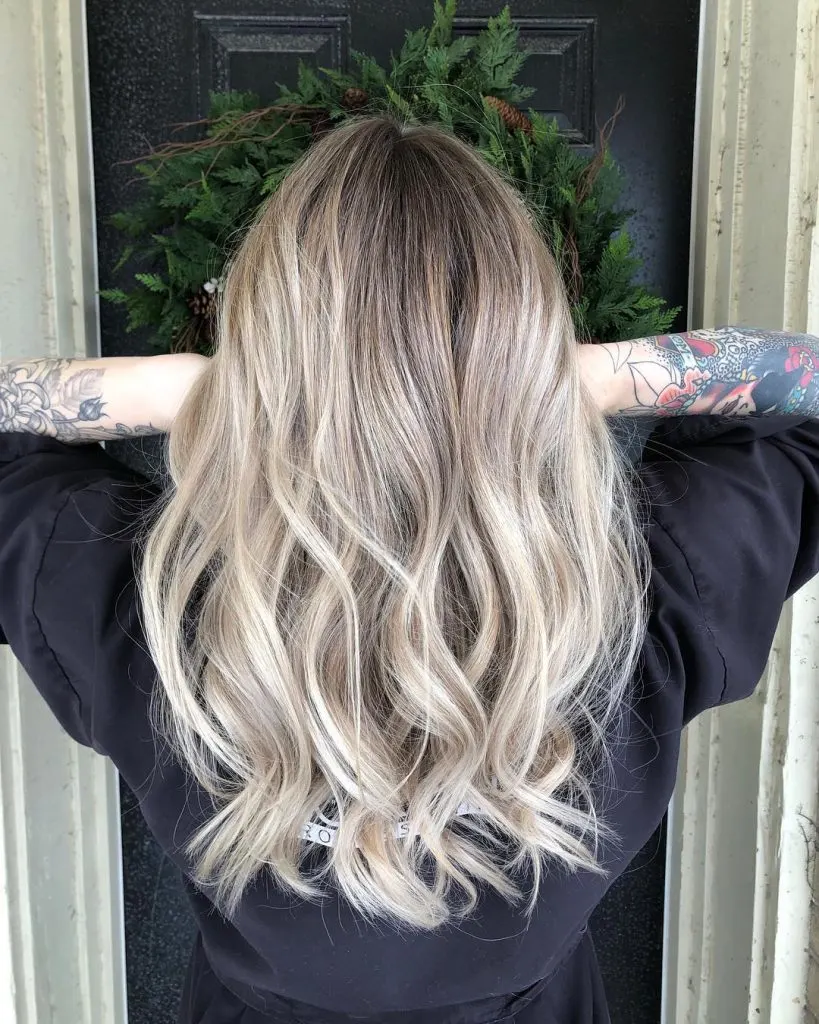 Balayage looks with darker roots will let you go longer between touch-ups, but the platinum might turn brassy after a while. You can go back for a toner application or use an at-home toner on your own, although it's not recommended.
47. Blunt Platinum Blonde Lob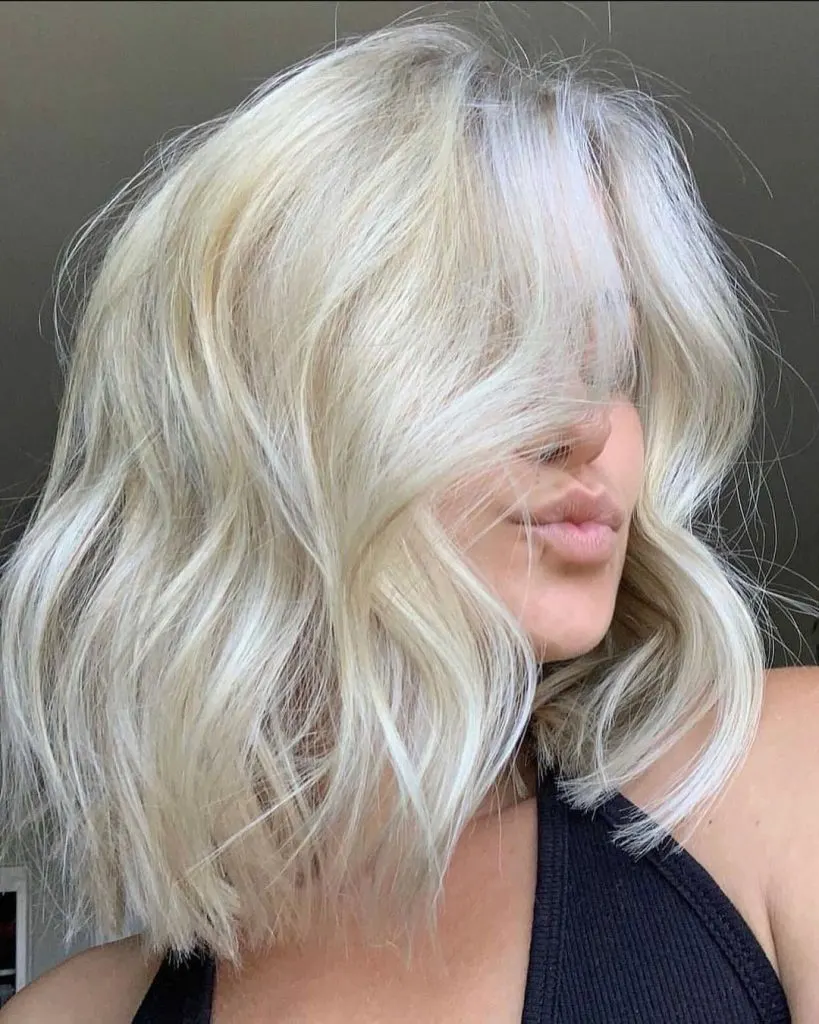 Combining platinum and a warmer blonde will create a fun and unusual look, that's still very subtle and softer than all-over platinum.
48. Platinum Blonde Choppy Bob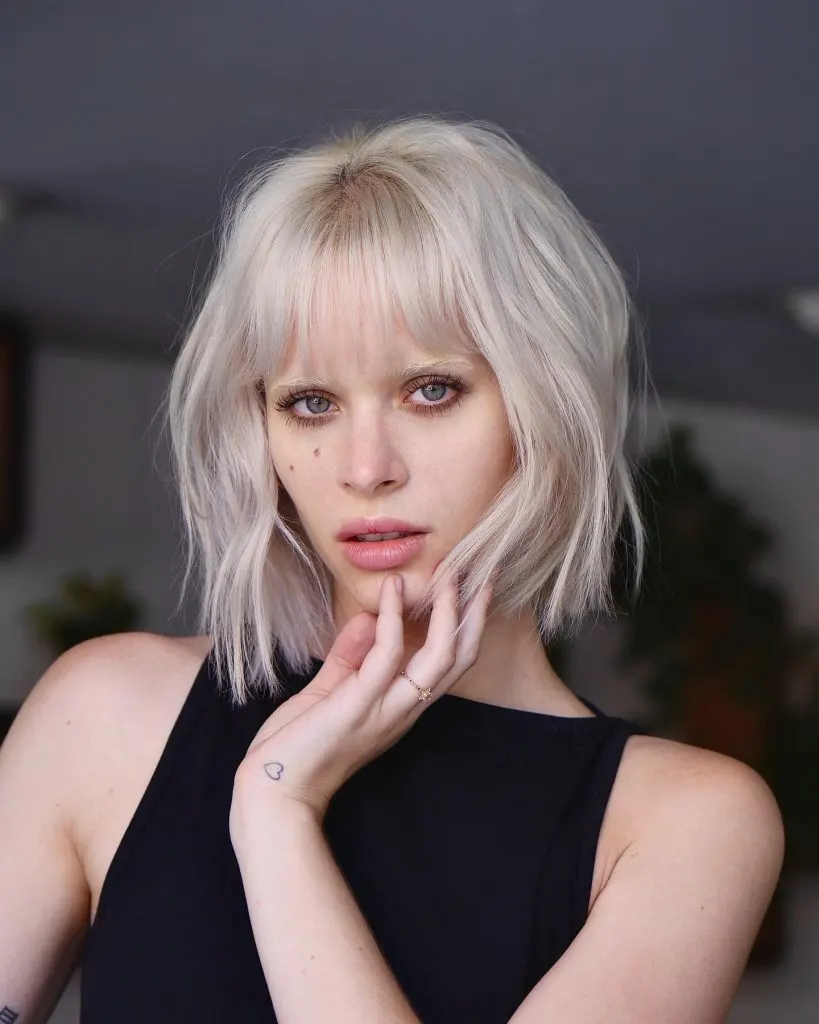 Purple shampoo is a staple in platinum hair care routine, but it's not without its drawbacks—it removes brassiness, but it dries out your hair. If you're using it, make sure your hair care routine is focused on conditioning and hydration.
49. Icy Platinum Blonde Medium Hair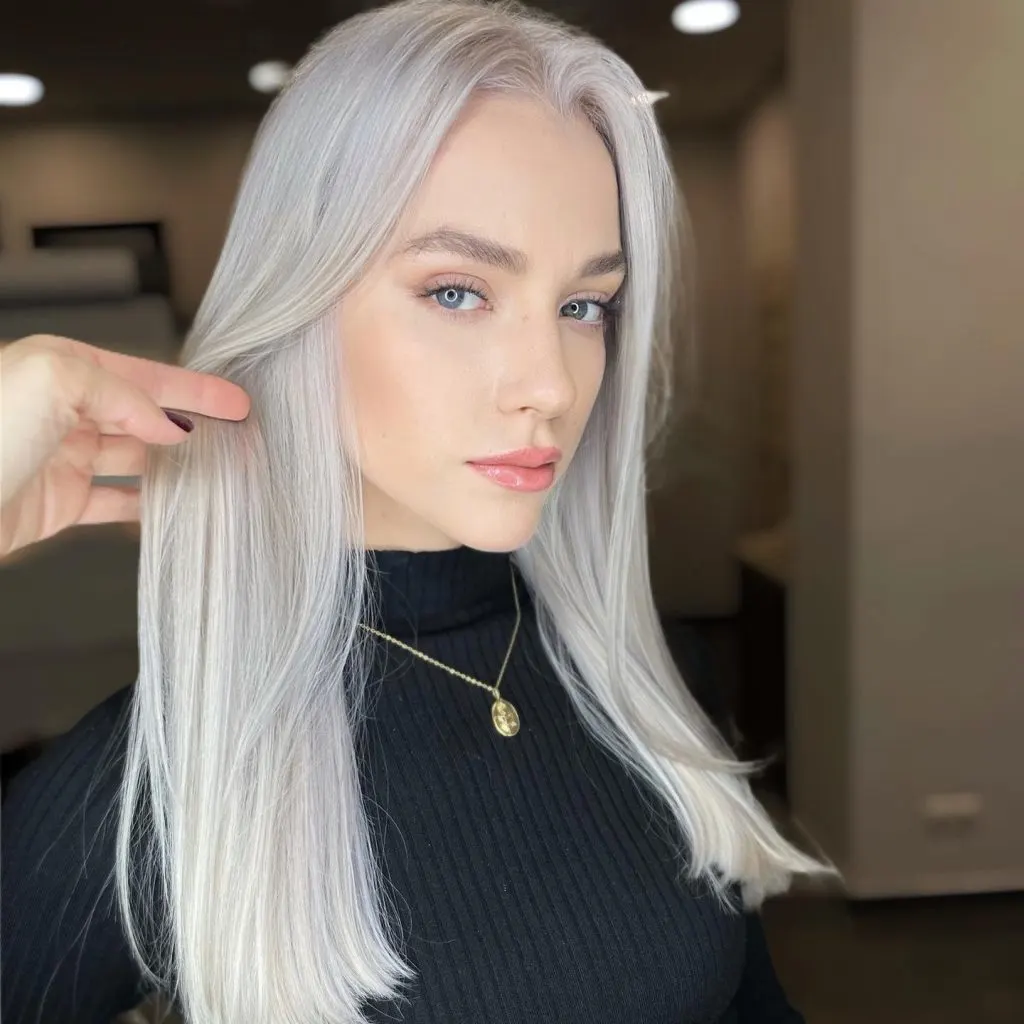 In addition to moisture, bleached hair also needs protein, so incorporating protein hair care products is another necessary component of caring for platinum hair.
50. Choppy Platinum Blonde Lob With Bangs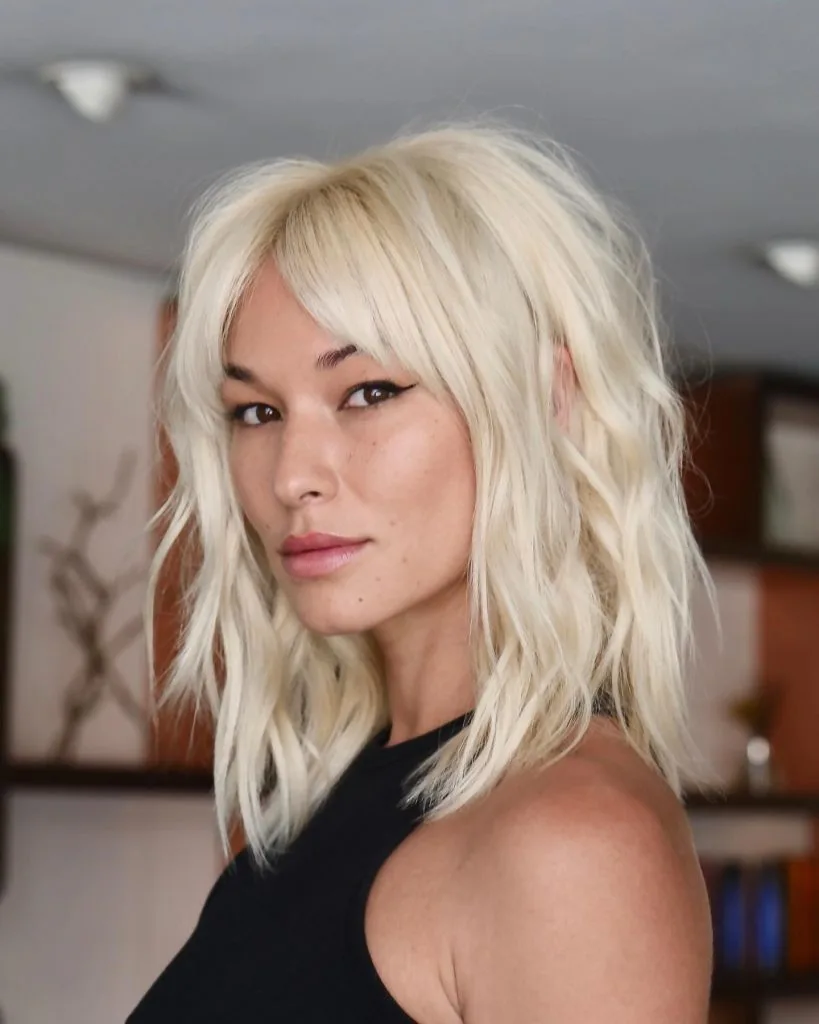 If your hair is stringy and limp, it lacks protein. Using protein products will rebuild the hair strands and make your hair strong and bouncy.
51. Beachy Waves Platinum Blonde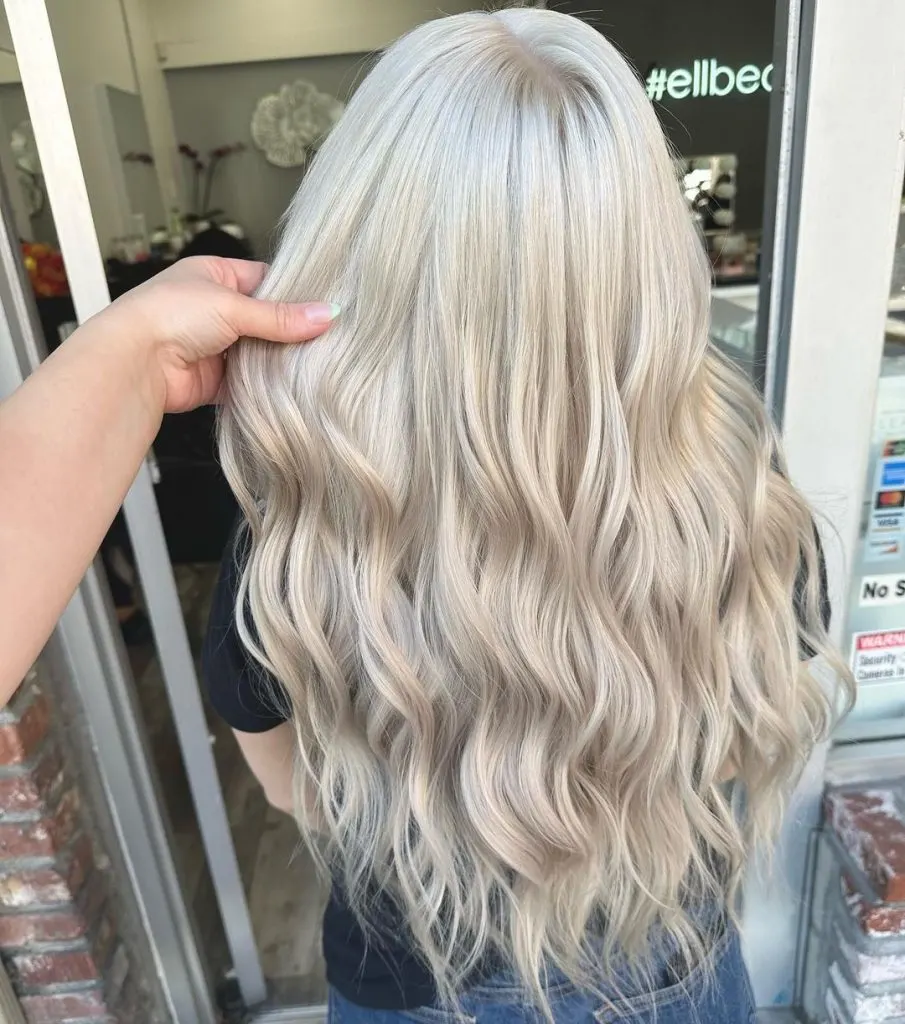 Alternate between moisturizing and protein shampoo for best results—you'll avoid a situation where your hair has too much or not enough of either.
52. Short Platinum Blonde Bob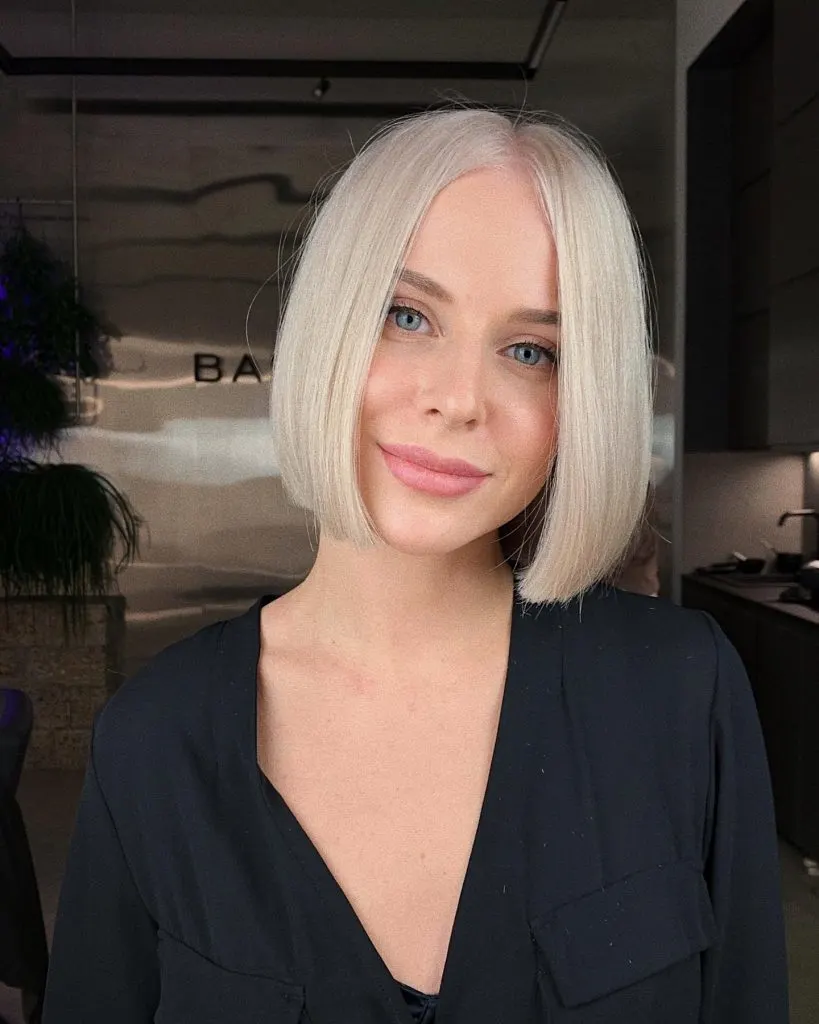 Where does purple shampoo fit in? It shouldn't be used too often—every few washes is enough to neutralize brassiness without affecting your hair negatively.
53. Root Melt Icy Platinum Blonde Hair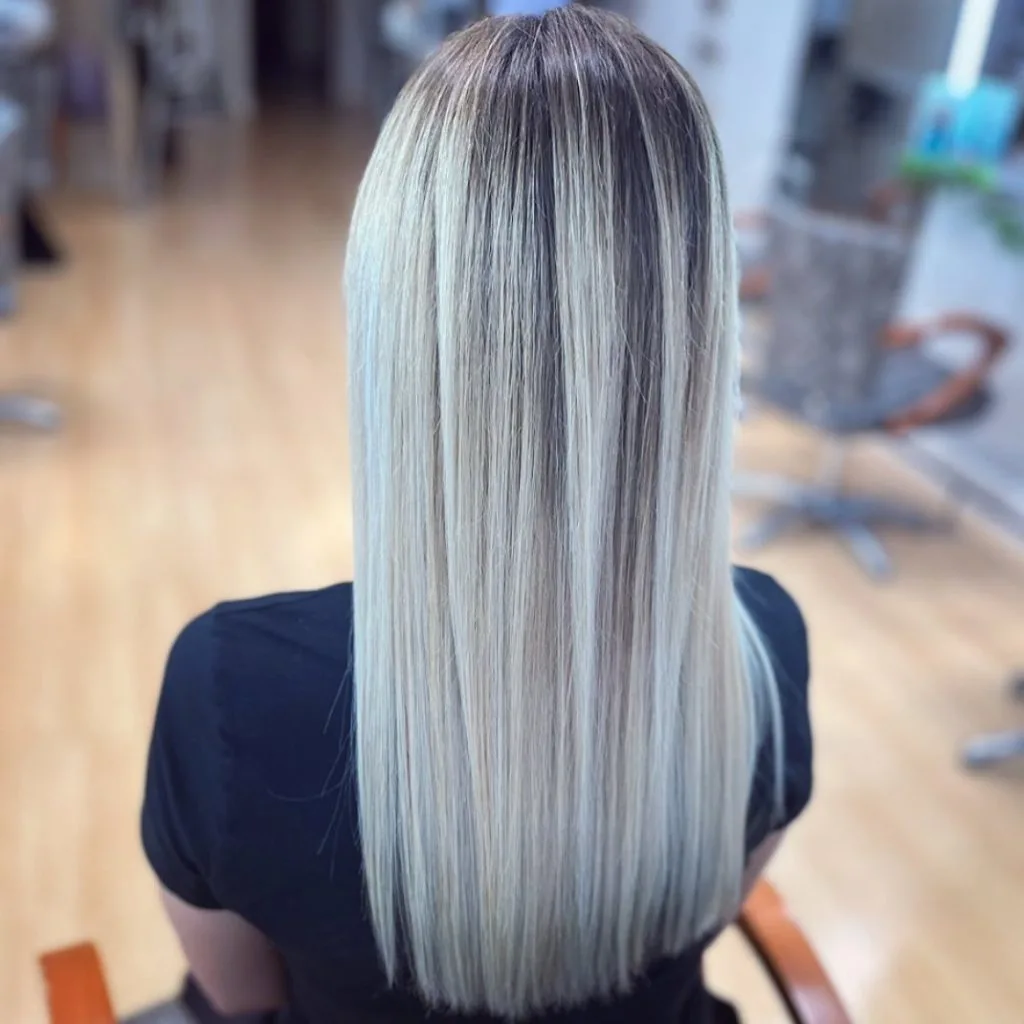 In addition to moisturizing and protein shampoos, you should also include moisturizing and protein hair masks that you let work for 20-30 minutes.
54. Platinum Blonde Long Hair With Middle Part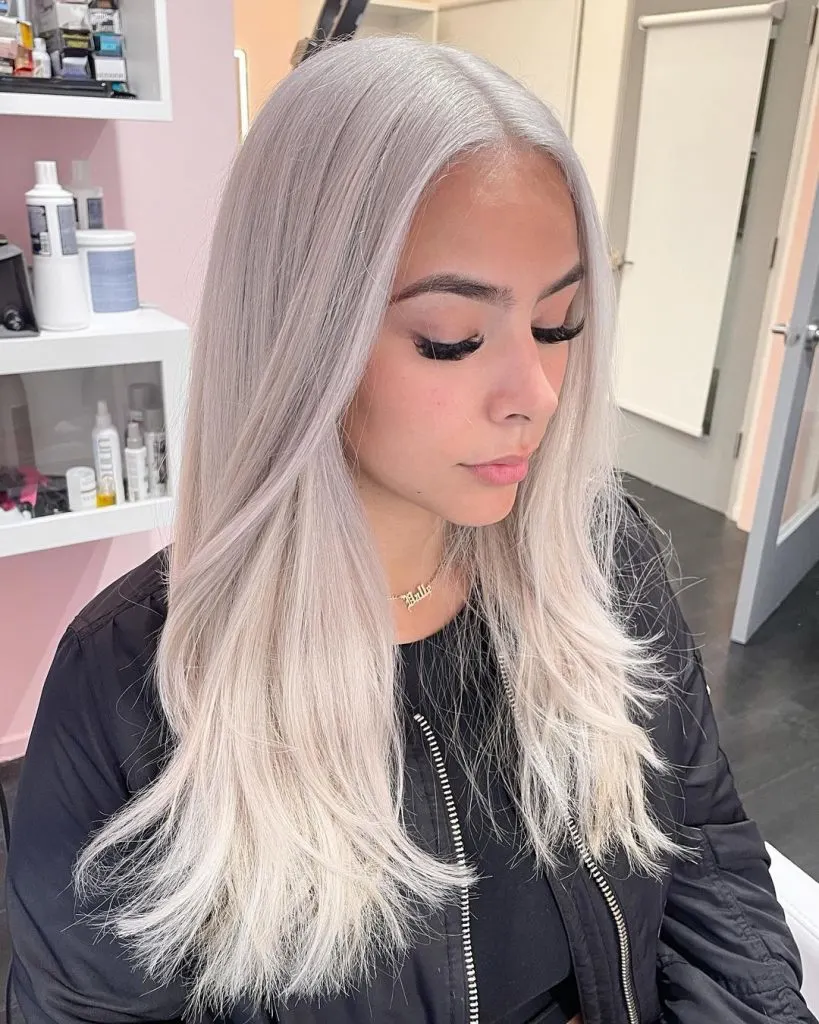 Adding hair oil treatments to your hair care arsenal will help nourish and regenerate bleached hair. Tip: choose a clear oil to avoid coloring your platinum strands.
55. Root Smudge Blonde Balayage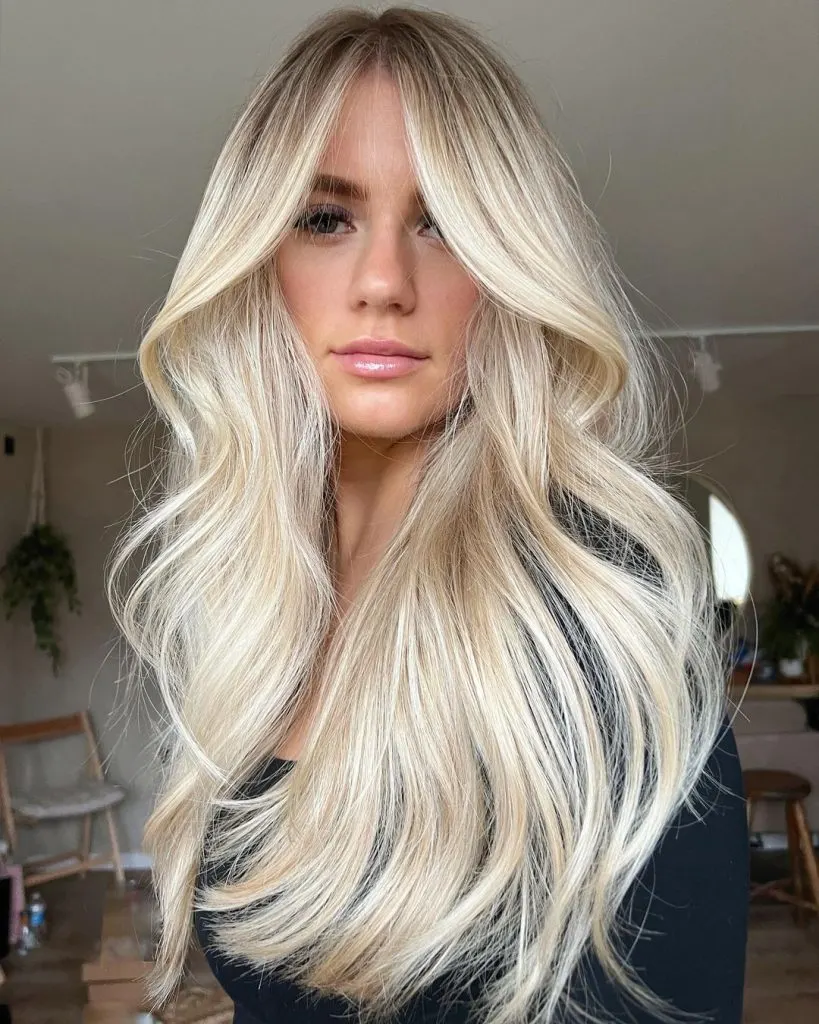 Haircare after getting your hair bleached might be time consuming, but if you want to keep your platinum hair looking good, it's necessary.
56. Choppy Platinum Blonde Pixie Cut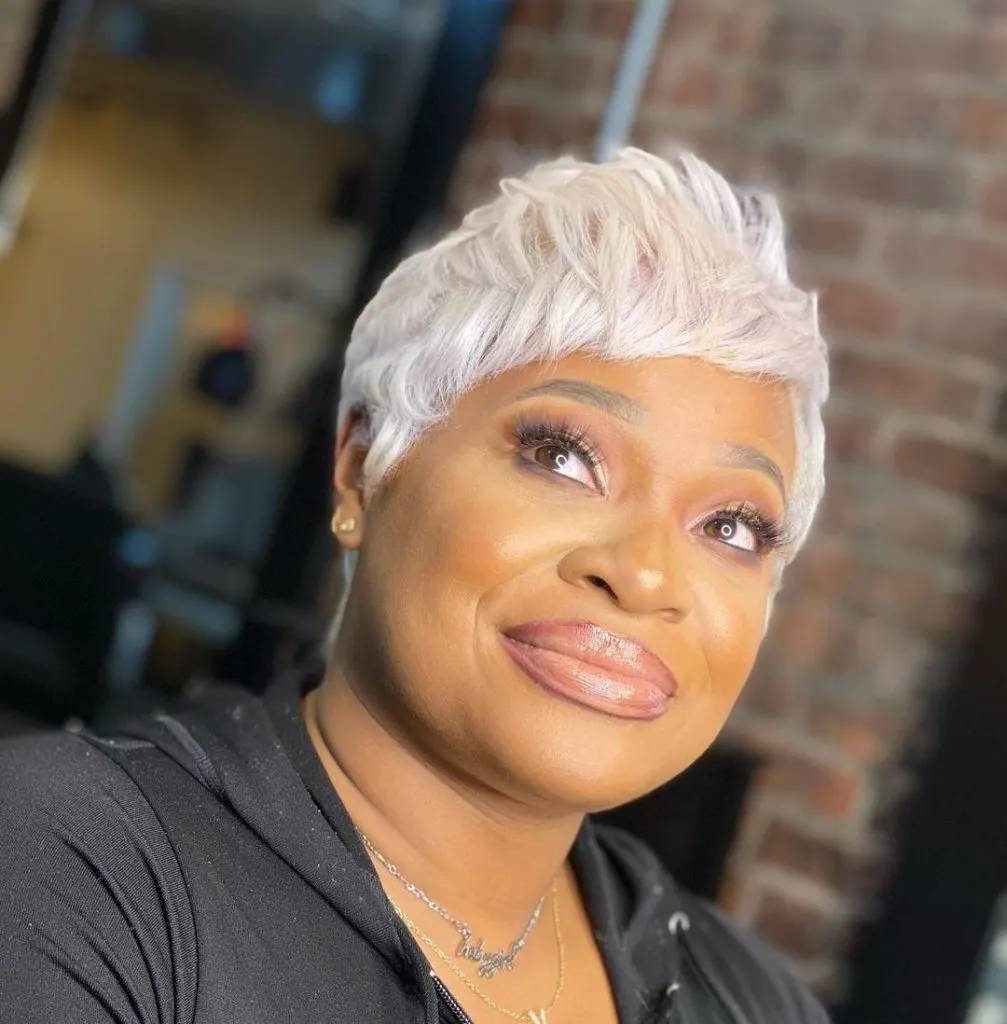 Not everyone's hair grows at the same rate, so how do you know when it's time for a touch-up? Going back to the salon when your regrowth is around an inch should keep you safe from banding.
57. Very Long Platinum Blonde Hair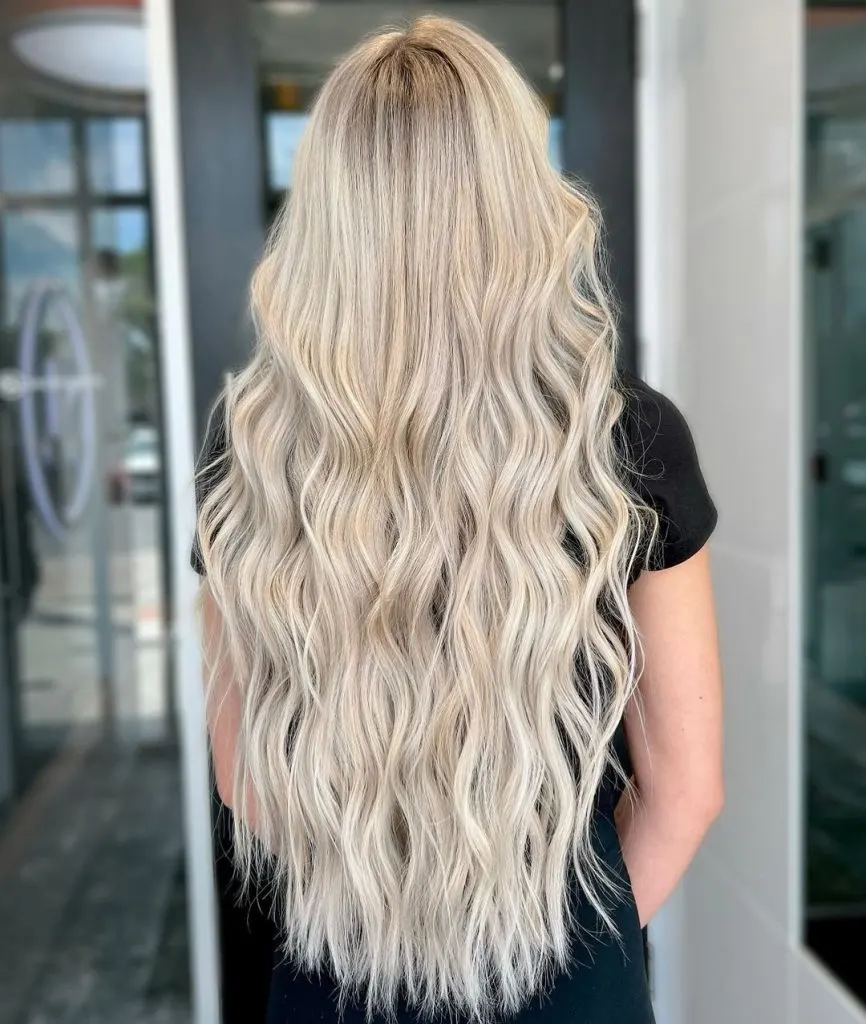 Whenever you visit the salon for a root touch-up, get a trim. Don't skip them, even if your goal is to grow your hair longer—damage doesn't stop at the ends and it spreads.
58. Straight Medium Length Platinum Blonde Hair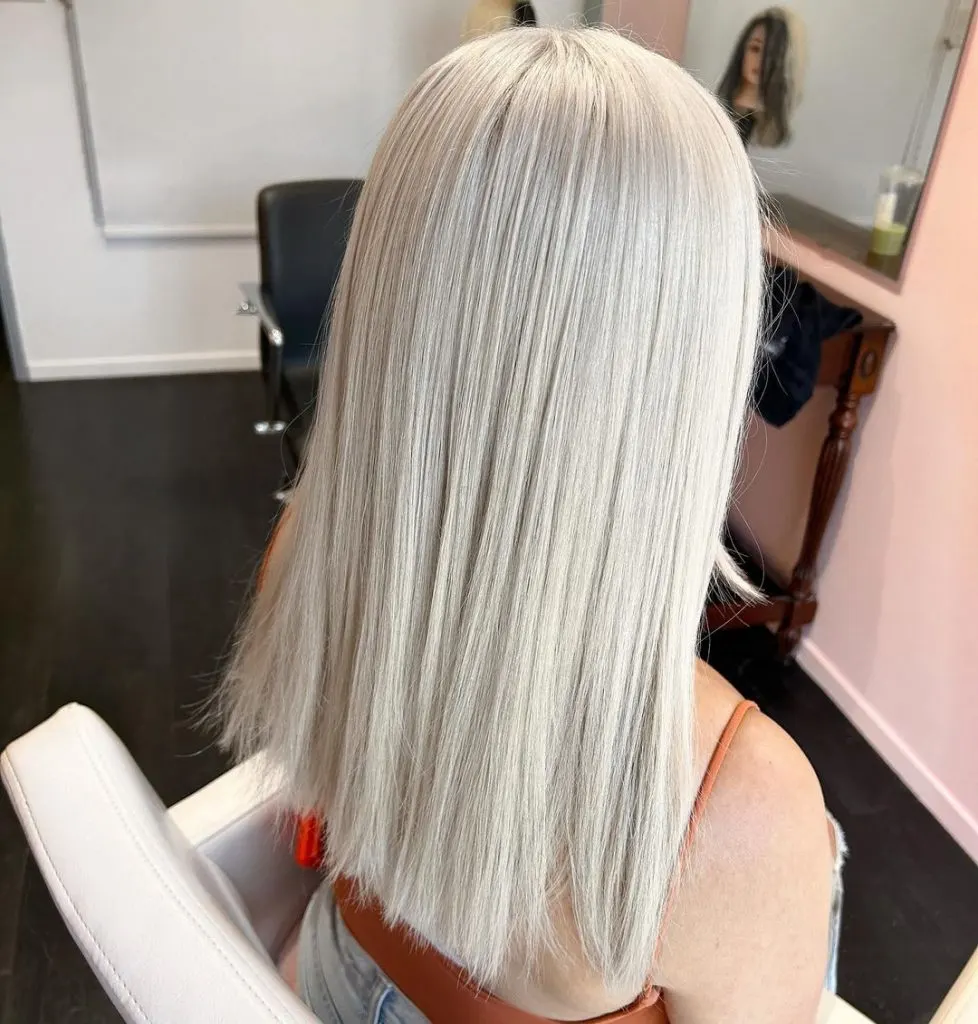 After bleaching, your hair becomes more fragile and prone to breakage and needs to be handled with care. Avoid heat styling, tight ponytails and anything else harsh.
59. Wavy Platinum Blonde Hair With Curtain Bangs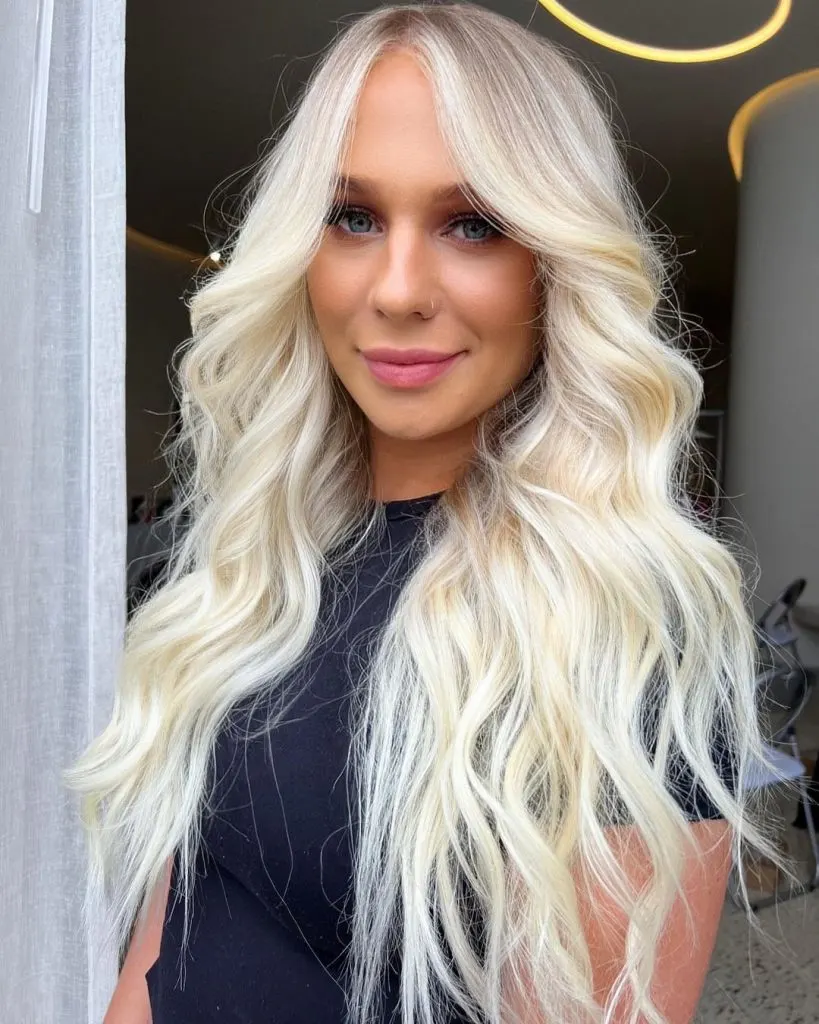 A microfiber towel and a silk pillowcase will help protect your hair from breakage and additional damage.
60. Smudge Icy Blonde Shadow Root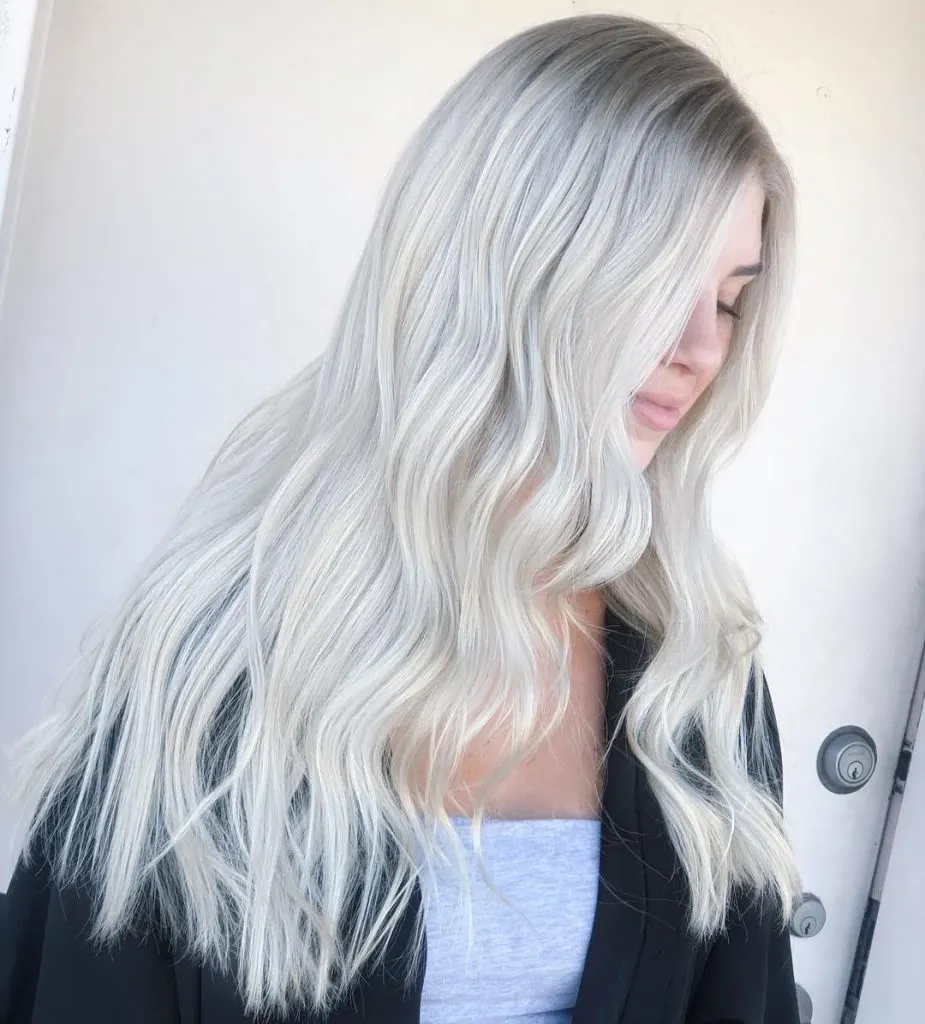 Platinum hair is a lot of work. Getting there takes patience and maintenance is hard, but the results are glorious.