A stacked bob is a classic haircut. It has layers in the back, stacked on top of each other to create fabulous volume, with strands cascading forward to create flattering face-framing pieces. But when you add a twist to it with an undercut—a shaved side or nape—it changes into something fun and edgy.
Here are 25 playful and exciting examples of a stacked bob with undercut to inspire you to spice up your look for the summer.
1. Wavy Bob With Shaved Side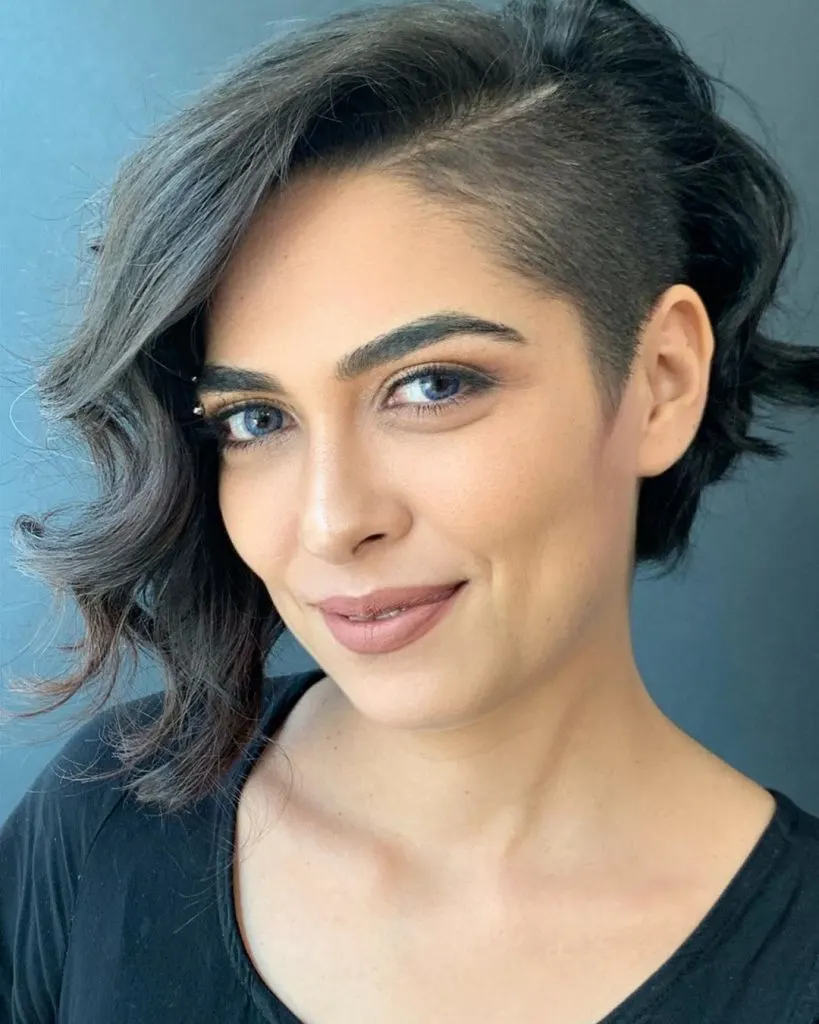 A stacked bob works with all hair textures—straight, wavy or curly. This lovely wavy version has one side shaved, making it at the same time romantic and edgy.
2. Stacked Bob With Stripes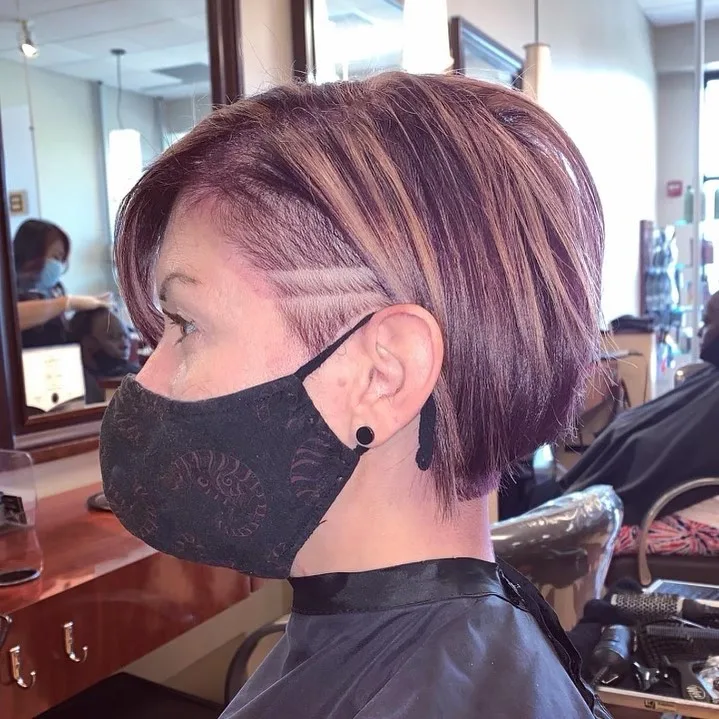 Shaving the sides will make your undercut much more obvious than the nape. If you want to make it extra special, try playing with decorations, even if it's just with a simple line.
3. Short Stacked Undercut Bob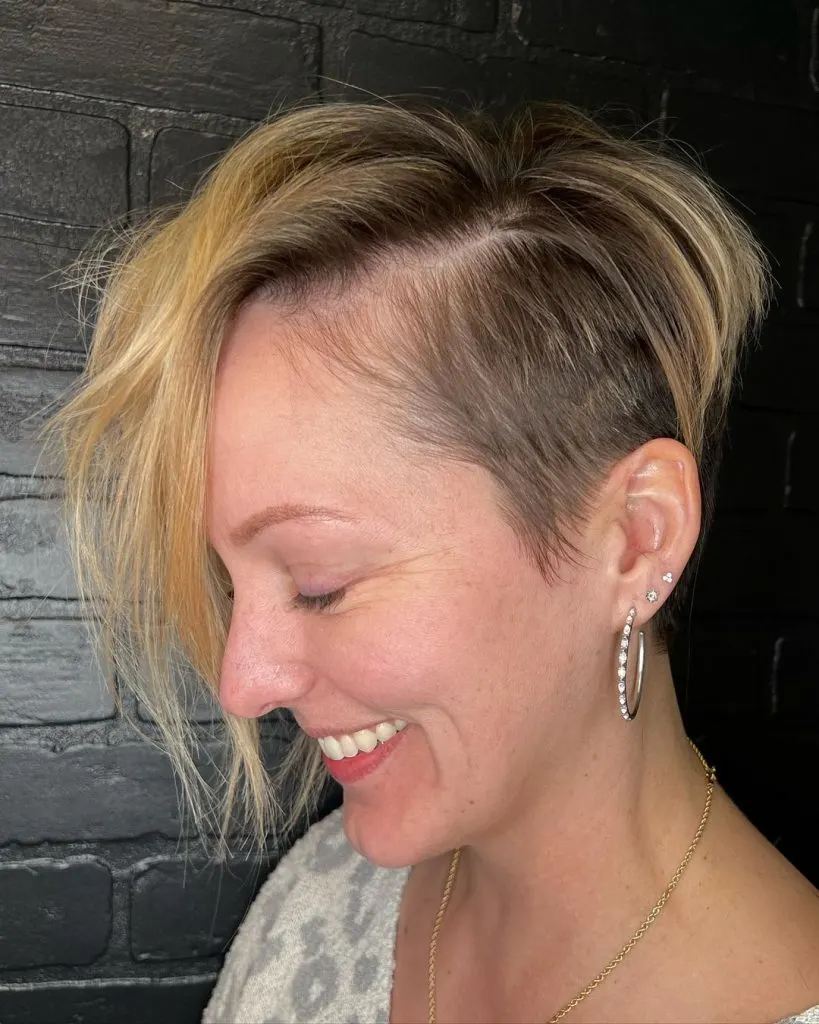 This undercut bob is more versatile than it seems—parting your hair in the middle will cover up the undercut and make you look more polished, while a side part turns your look edgy.
4. Hidden Undercut Stacked Bob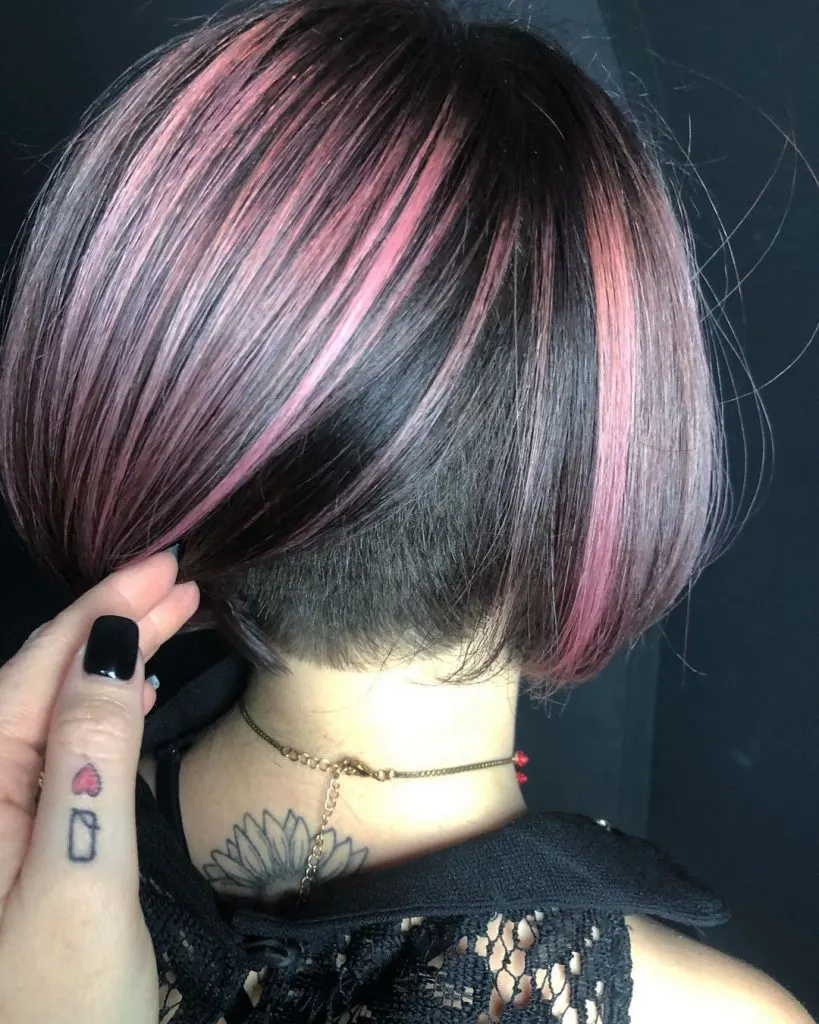 A hidden undercut can be your private secret, but it's also a great way to take off the weight from the back of the head. If you have thick hair, a nape undercut can make your hair much more manageable and light.
5. Asymmetrical Stacked Bob With Undercut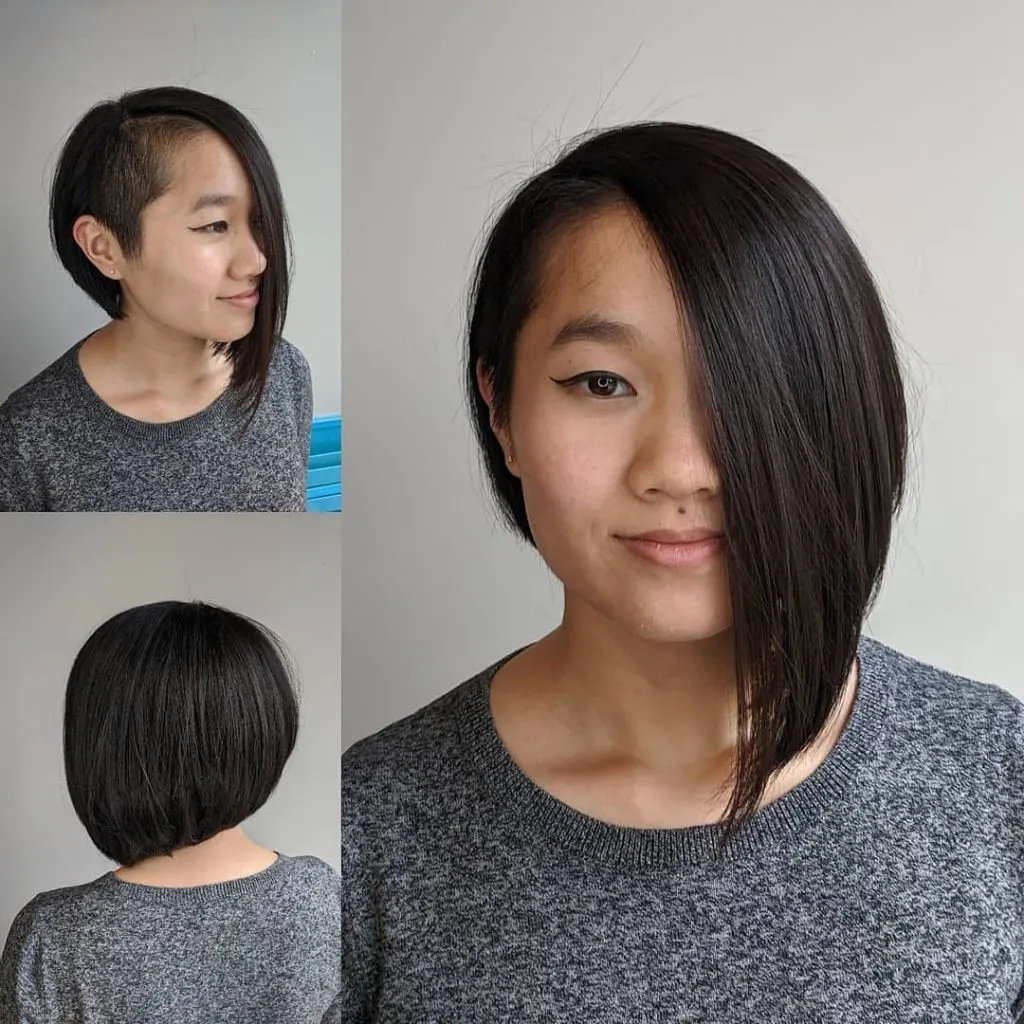 If you want to really call attention to your undercut, an asymmetrical bob will provide the most contrast. With one side shaved and the other skimming the collarbone, this dramatic haircut won't leave you unnoticed.
6. Soft Nape Undercut Bob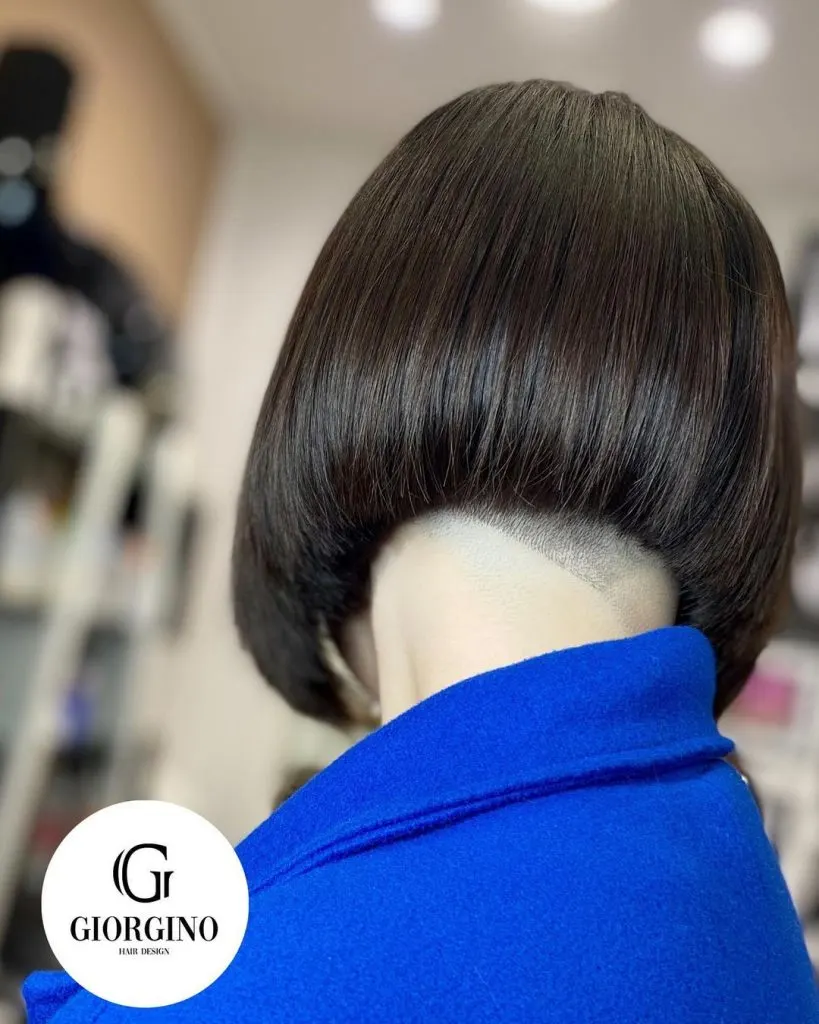 A stacked bob with undercut can go high in the back, or be more understated. You can get half of your head shaved, or add only a tiny undercut to create interest. This subtle shape is a cute addition to a softly rounded bob that reveals that things aren't quite what they seem.
7. Stacked Bob With Shaved Swirls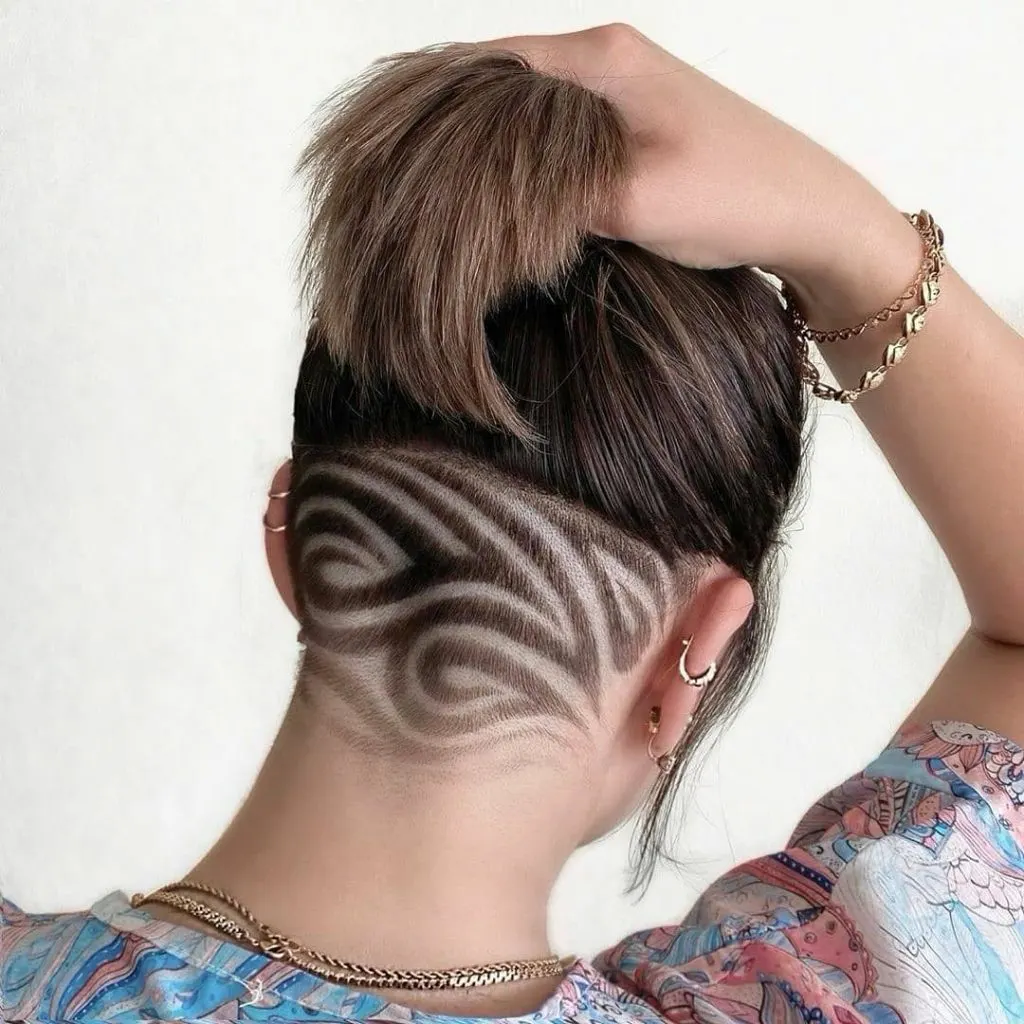 Getting an undercut with a design will definitely make you want to wear your hair up to show it off—luckily, the layers of a stacked bob are enough to create a cute little ponytail that won't obstruct the view.
8. Voluminous Stacked Bob With Undercut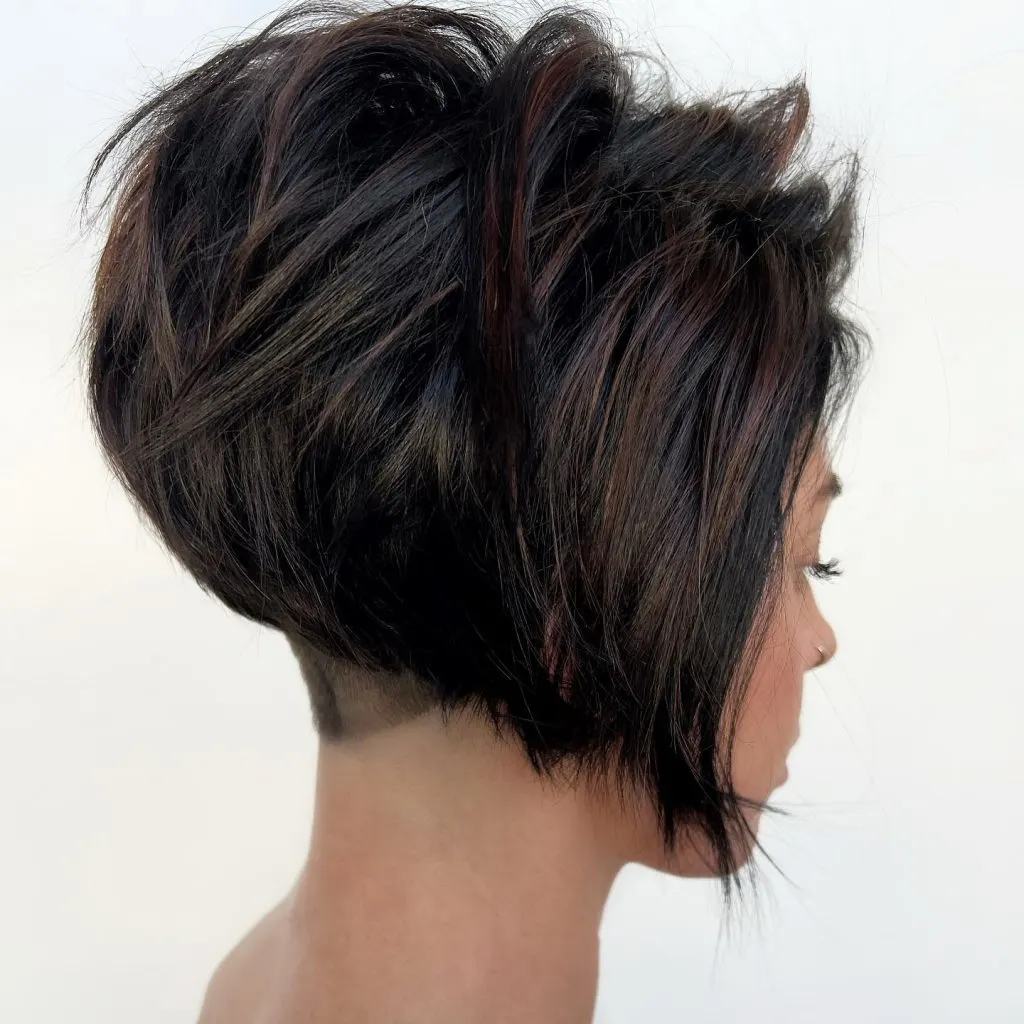 This haircut is an example of how much volume can be achieved with a stacked bob. Through careful placement of layers your hair will become capable of body and bounce that you didn't think possible.
9. Short Stacked Bob With Shaved Side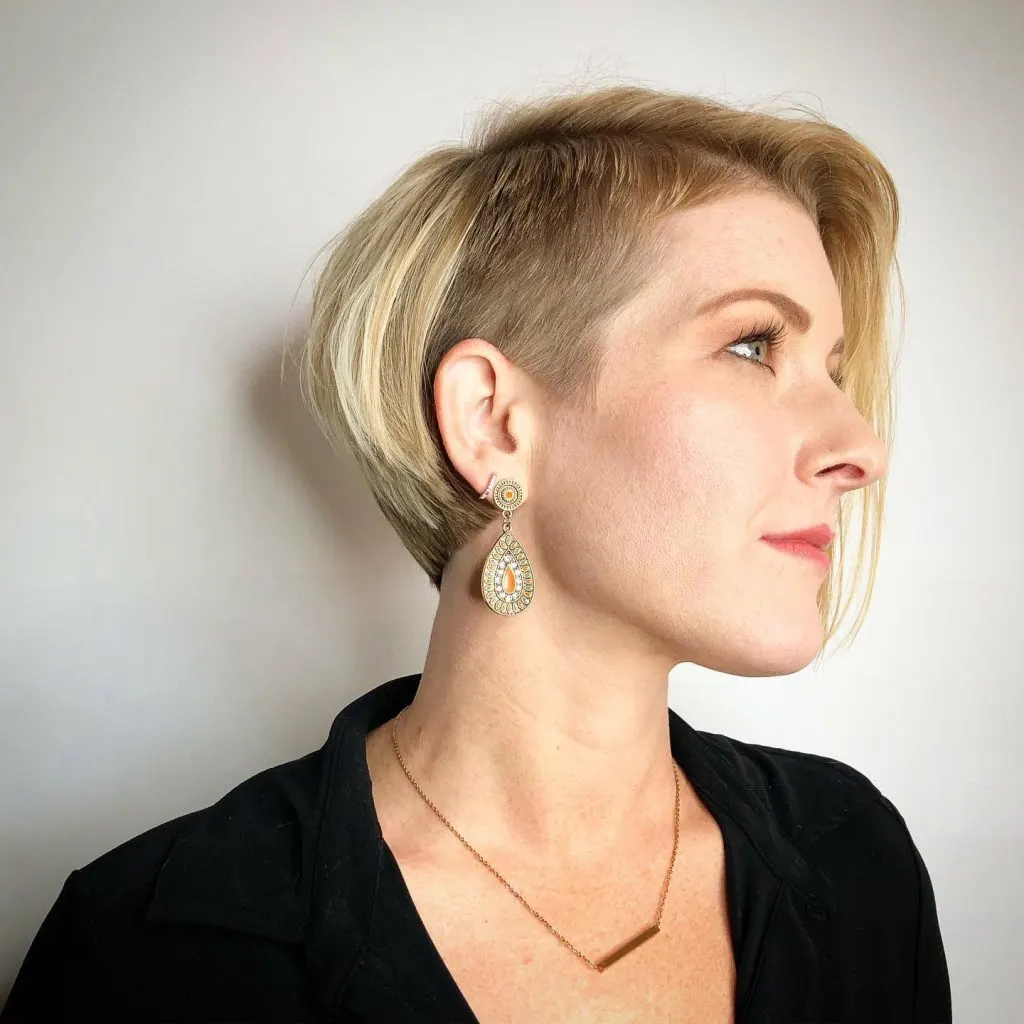 If you want volume in the front, part your hair to the side. Here, the shaved side emphasizes the difference in lift even more, creating a flattering frame.
10. Hidden Pattern Undercut Bob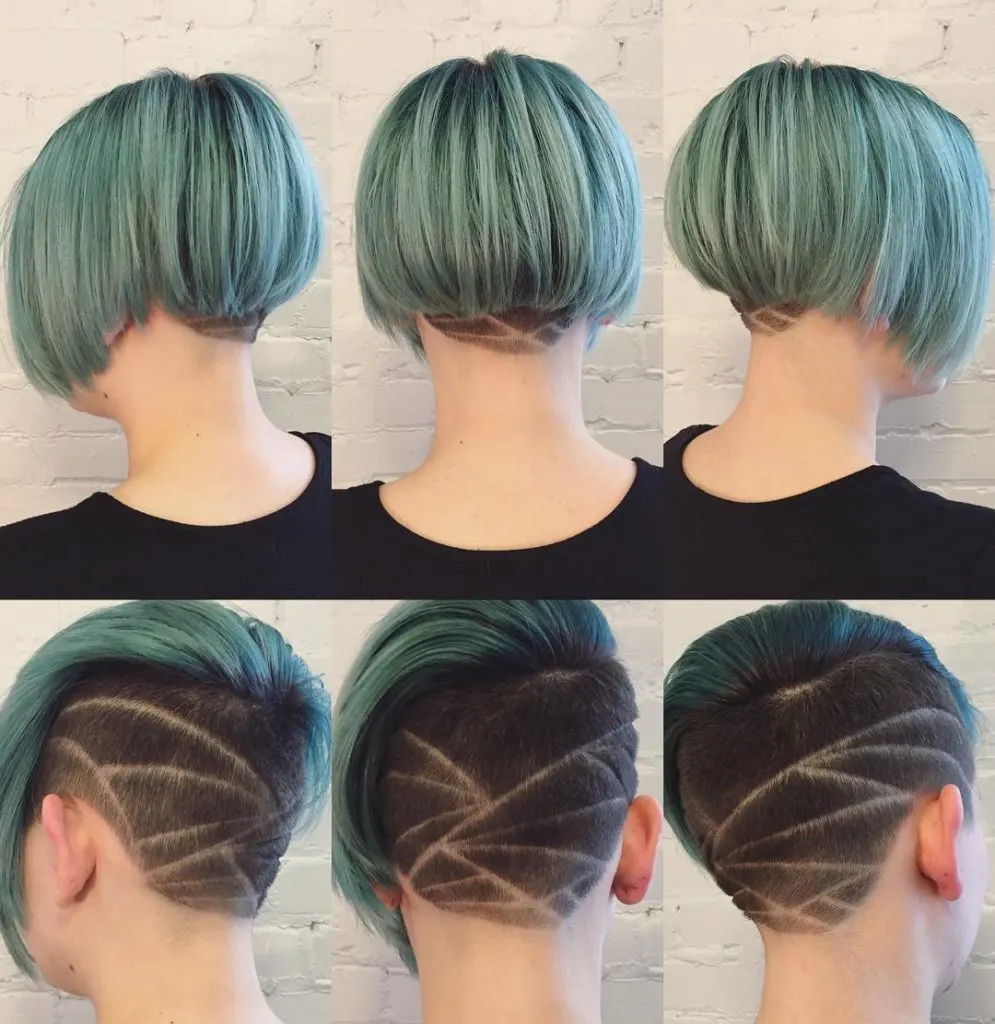 If you have thick hair, you can go for the more extreme undercuts without having your hair look thin. A hint of the undercut design peeking out at the nape would be dramatic enough, but the whole thing is a total statement piece.
11. Long Wavy Undercut Bob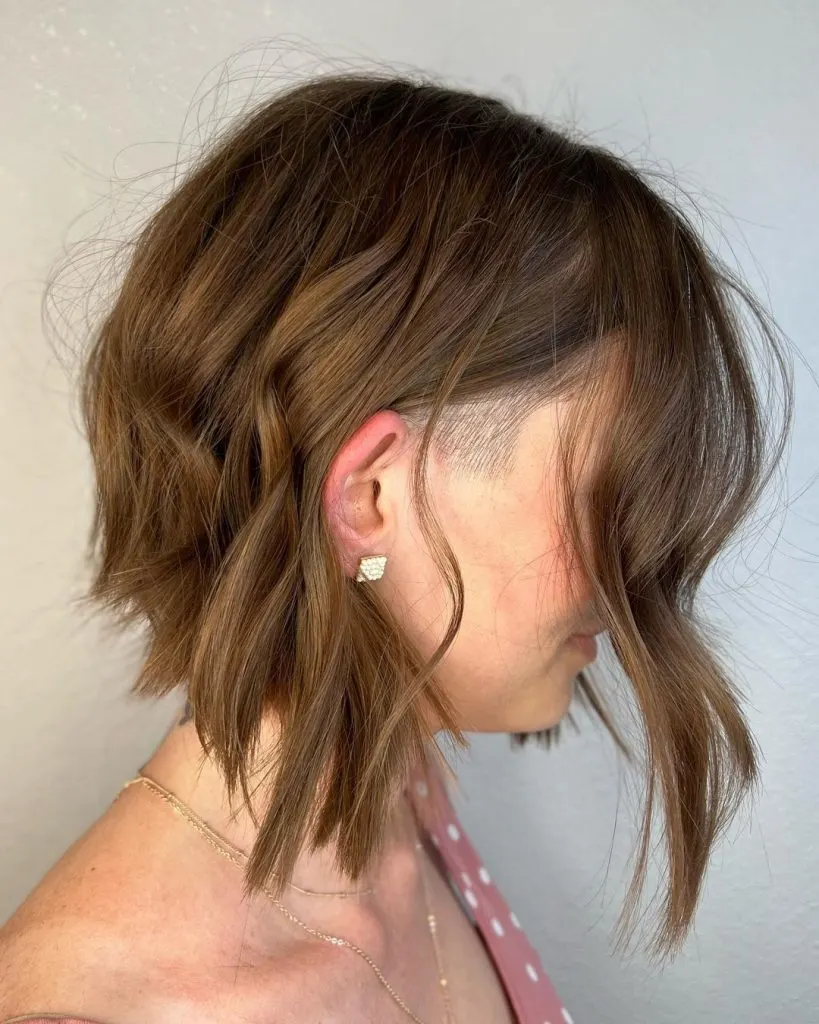 This cute inverted stacked bob hides a little surprise: shaved sides, which add a touch of edge to an otherwise soft hairstyle.
12. Undercut Bob With Heart Pattern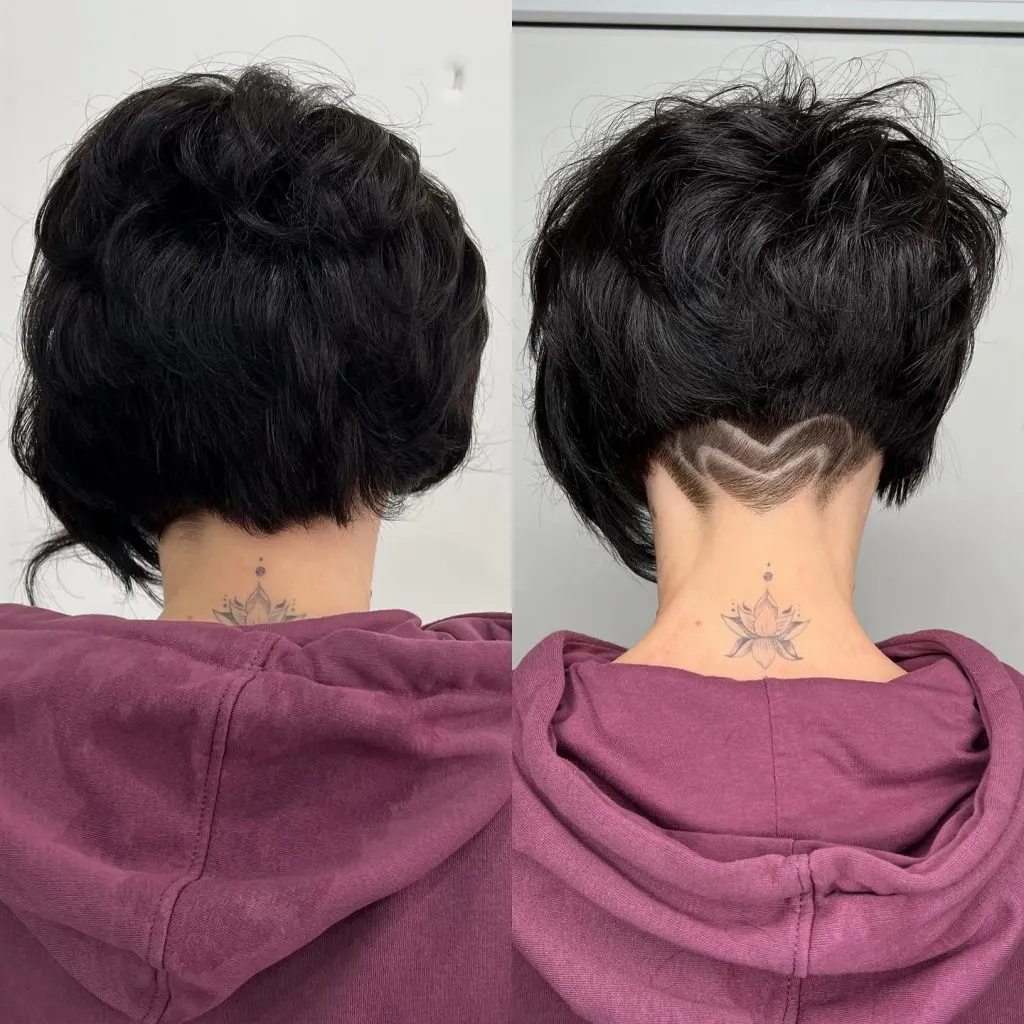 Undercuts with patterns don't last for long—a few weeks at the most—but that's a good thing: you get plenty of opportunities to experiment with fun designs.
13. Stacked Bob With Peek-A-Boo Color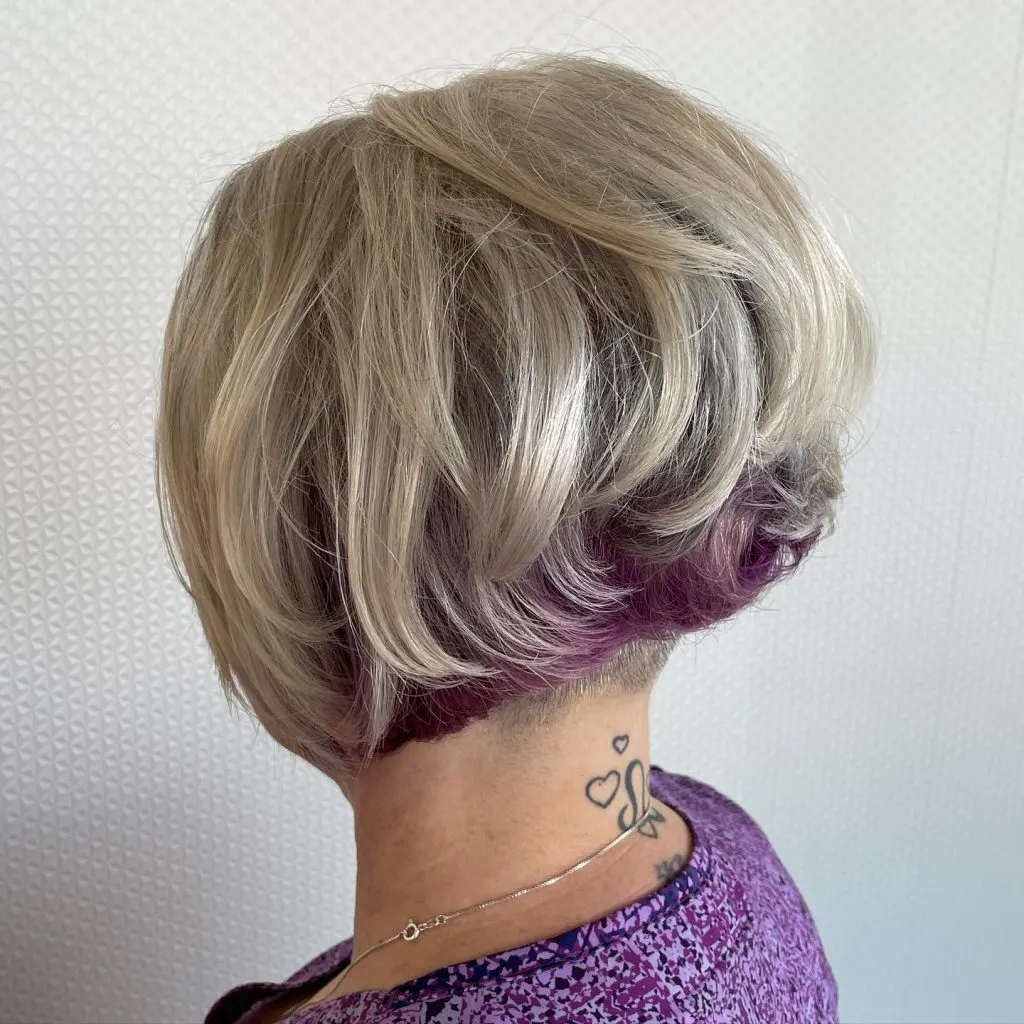 Thanks to the way the layers lay in a stacked bob, it lets you play with color in unexpected ways—this one includes peek-a-boo purple strands, with a little undercut beneath.
14. Short Asymmetrical Stacked Bob With Undercut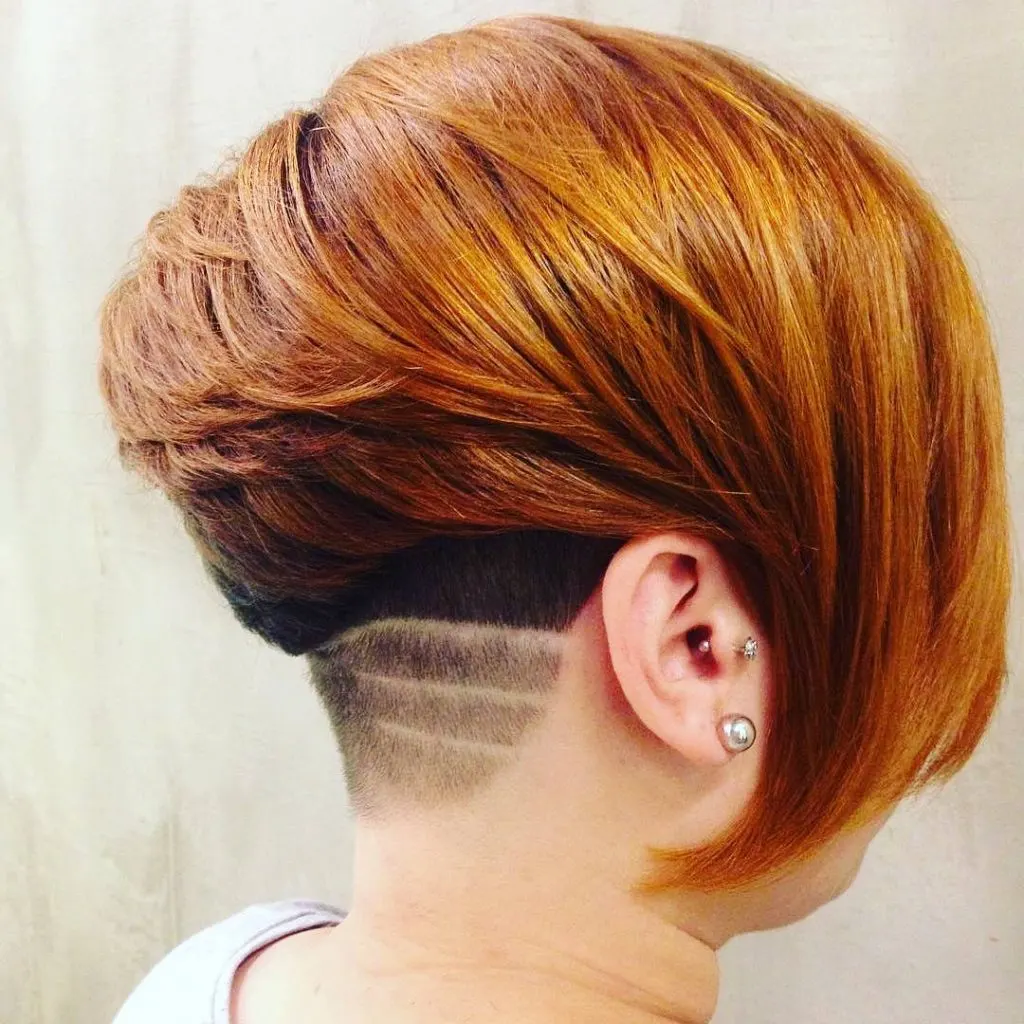 If you have thick hair and hate bulky hair at the nape in the summer, an undercut can solve all your problems. You might have to get it touched up often if your hair grows quickly, but you'll be comfortable between appointments.
15. Graduated Bob With Undercut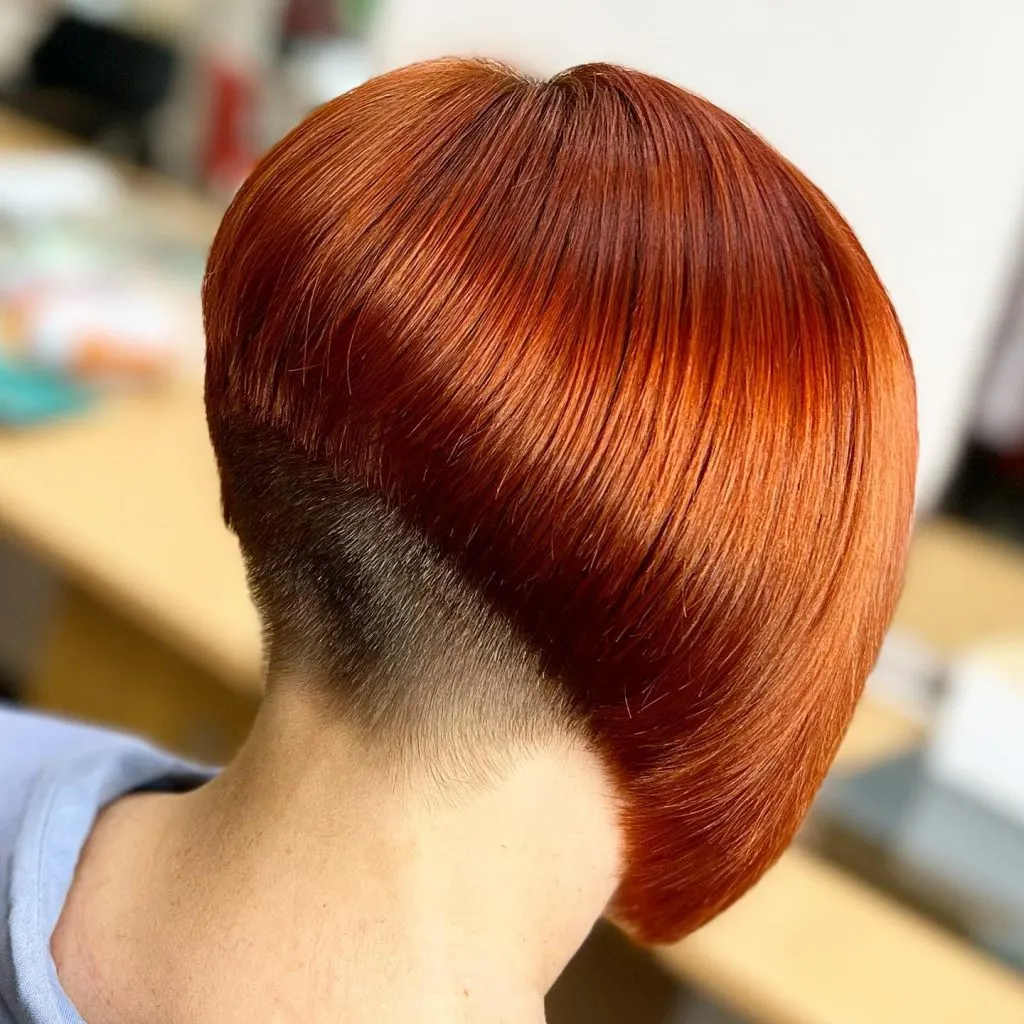 It's usually recommended to avoid undercuts if you have thin hair, but you can go for it if you combine it with a stacked bob. Thanks to the volumizing layers, your hair will seem much thicker and having a part of it shaved won't look unflattering.
16. Stacked Bixie With An Undercut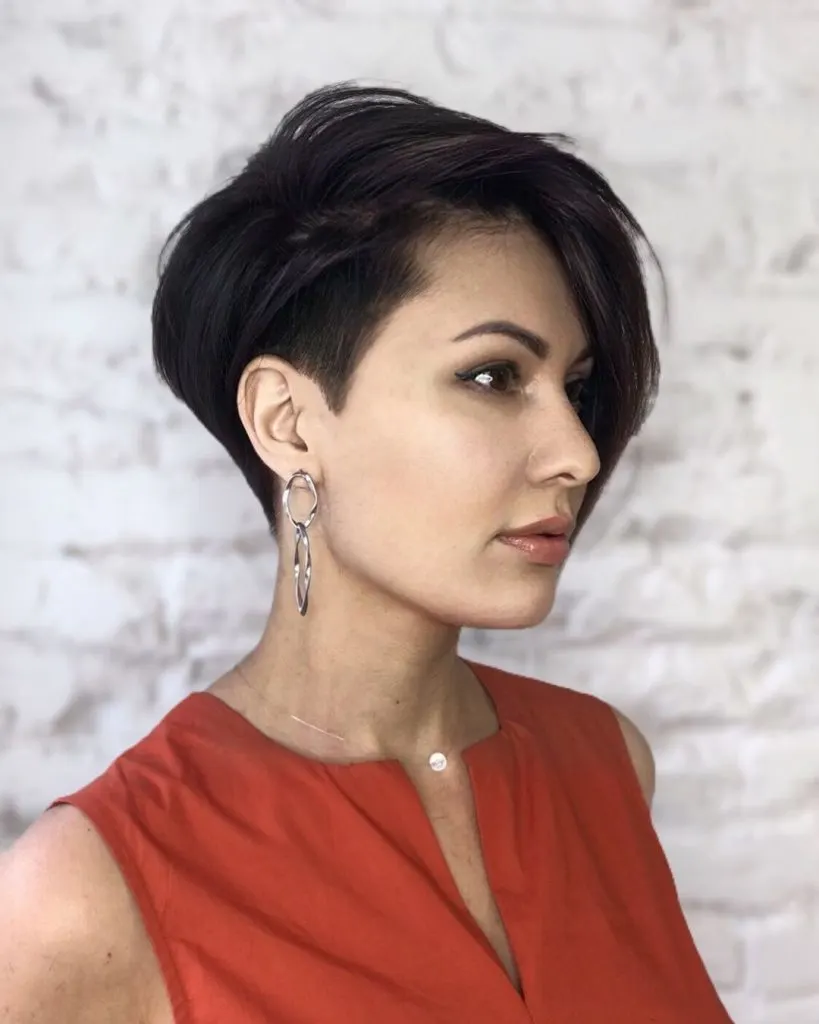 A stacked bob/pixie combination haircut has fullness, face-framing and it's super-manageable. With the added undercut, it's also edgy and cool. The style of the summer.
17. Hidden Undercut Pattern Bob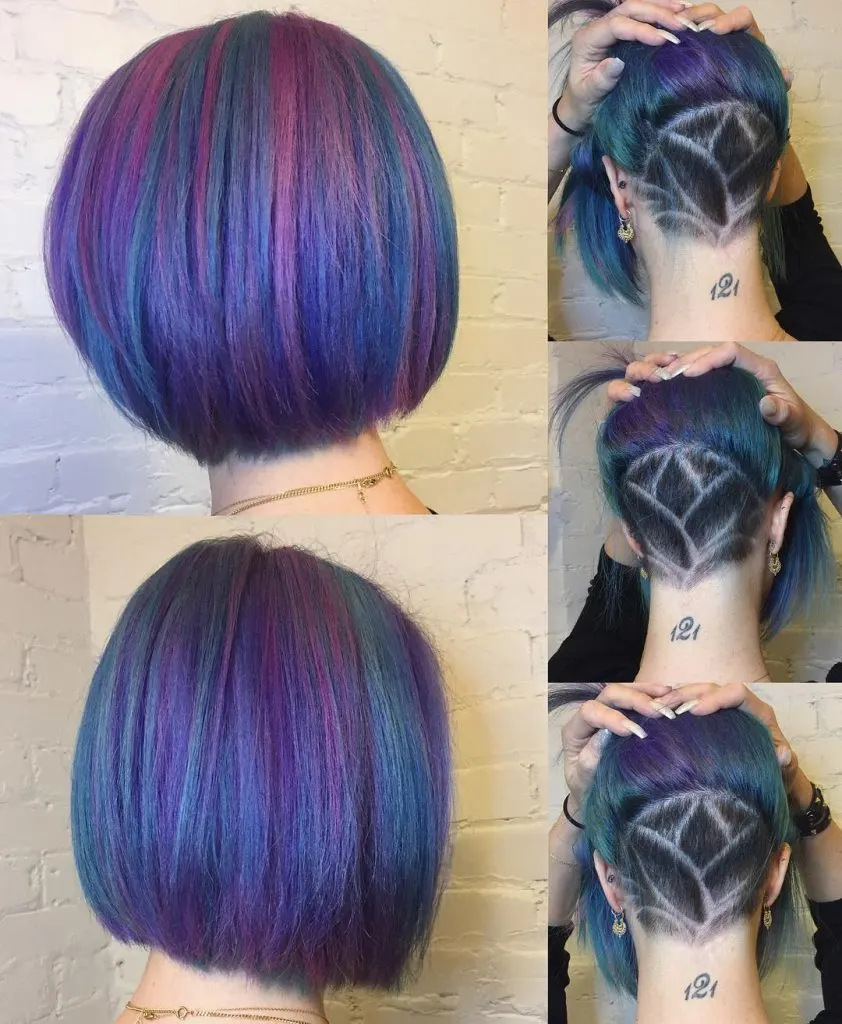 A hidden undercut gives you the option to have a more dramatic or a more subdued look. Covering it up with a long stacked bob won't let anyone suspect what's going on underneath until you reveal it.
18. Short Stacked Pixie Bob With Undercut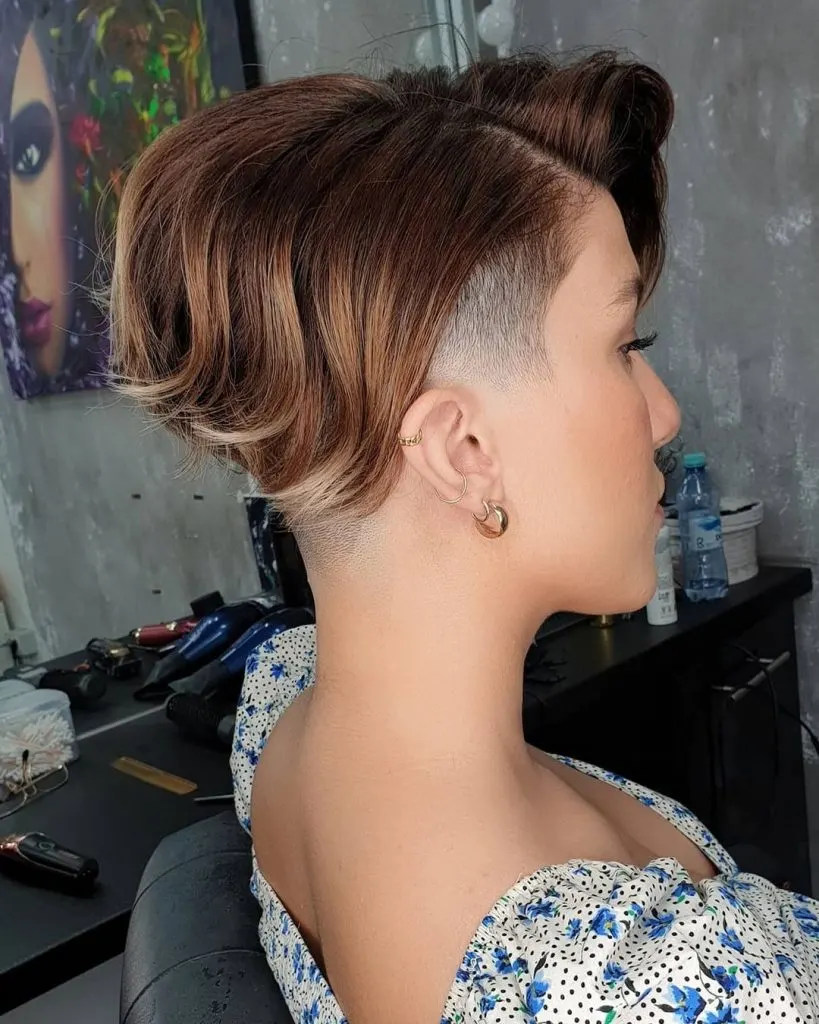 Tousled waves, anyone? This short pixie bob proves that you can rock waves at any length—even if half of your hair is shaved.
19. Bob With Undercut And Bangs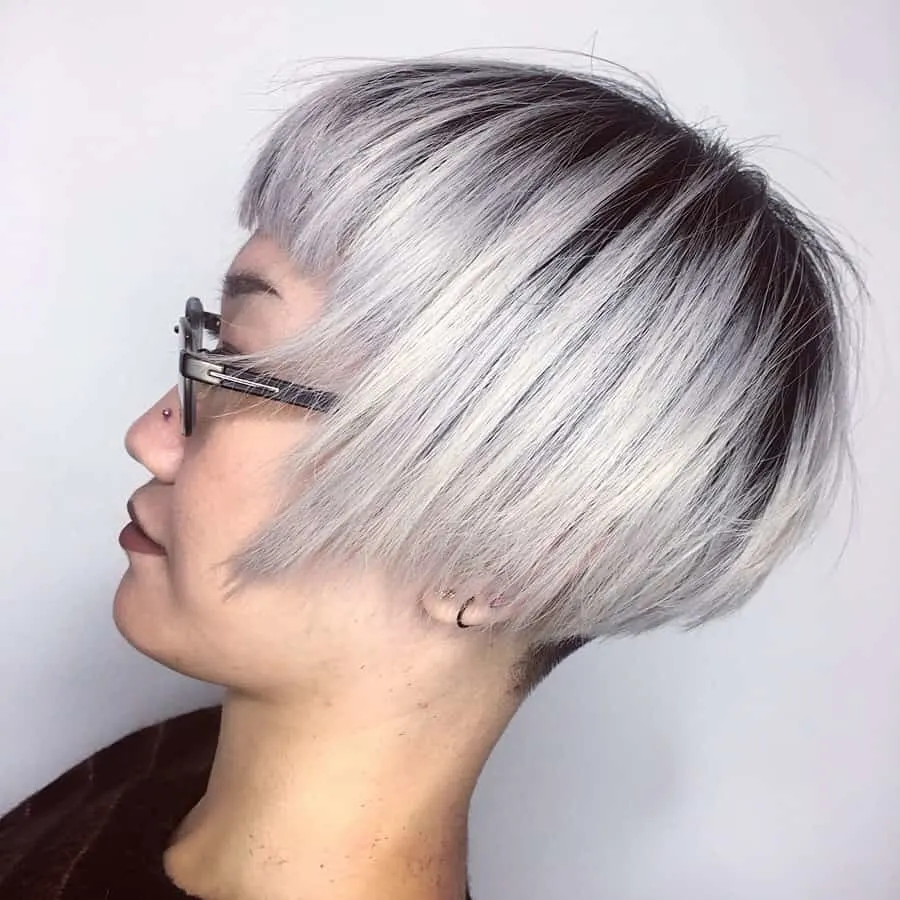 A classic stacked bob with bangs has gotten an upgrade—the shaved nape brings a touch of playfulness to an otherwise structured haircut.
20. Asymmetrical Bob With Undercut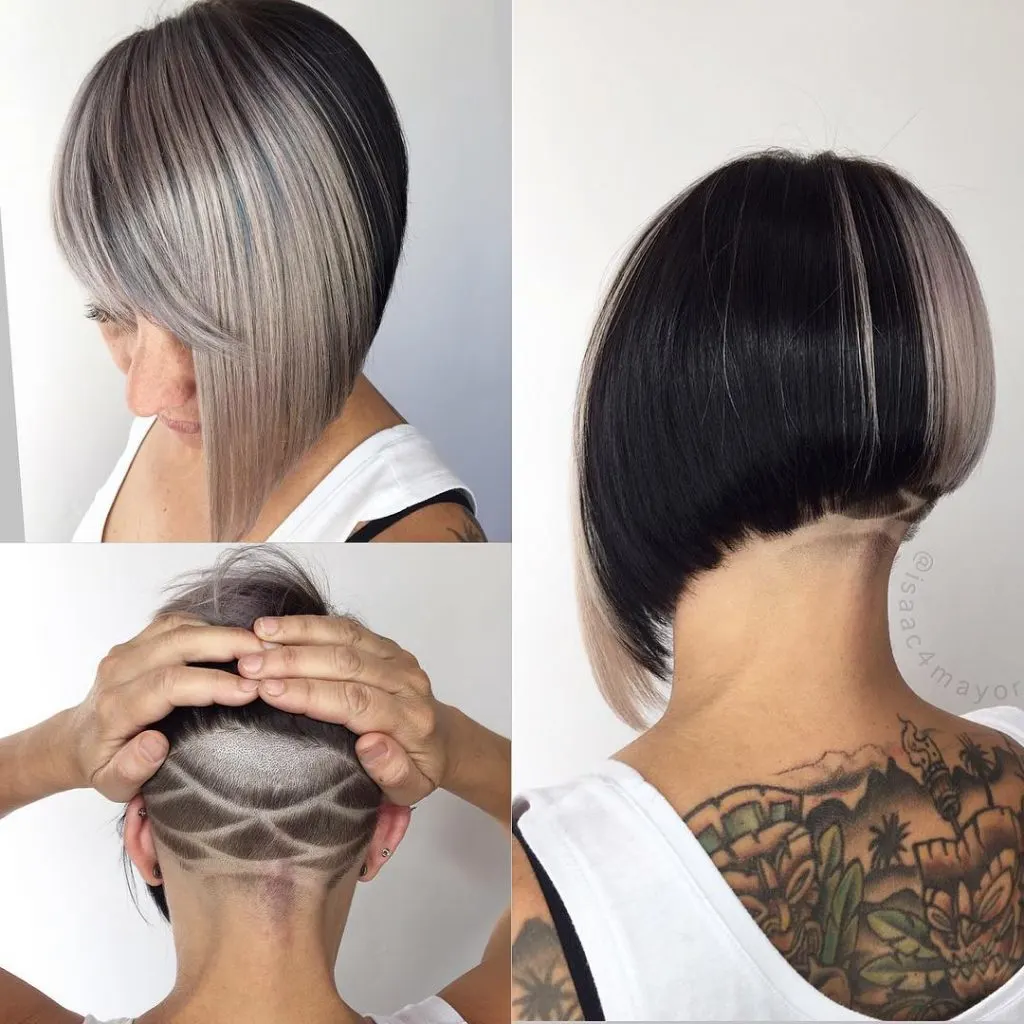 This style has so many features that it might be too complicated for some, but if you're more experimental, it shows you how it's possible to combine many elements and still have a cohesive style.
21. Curly Bob With Undercut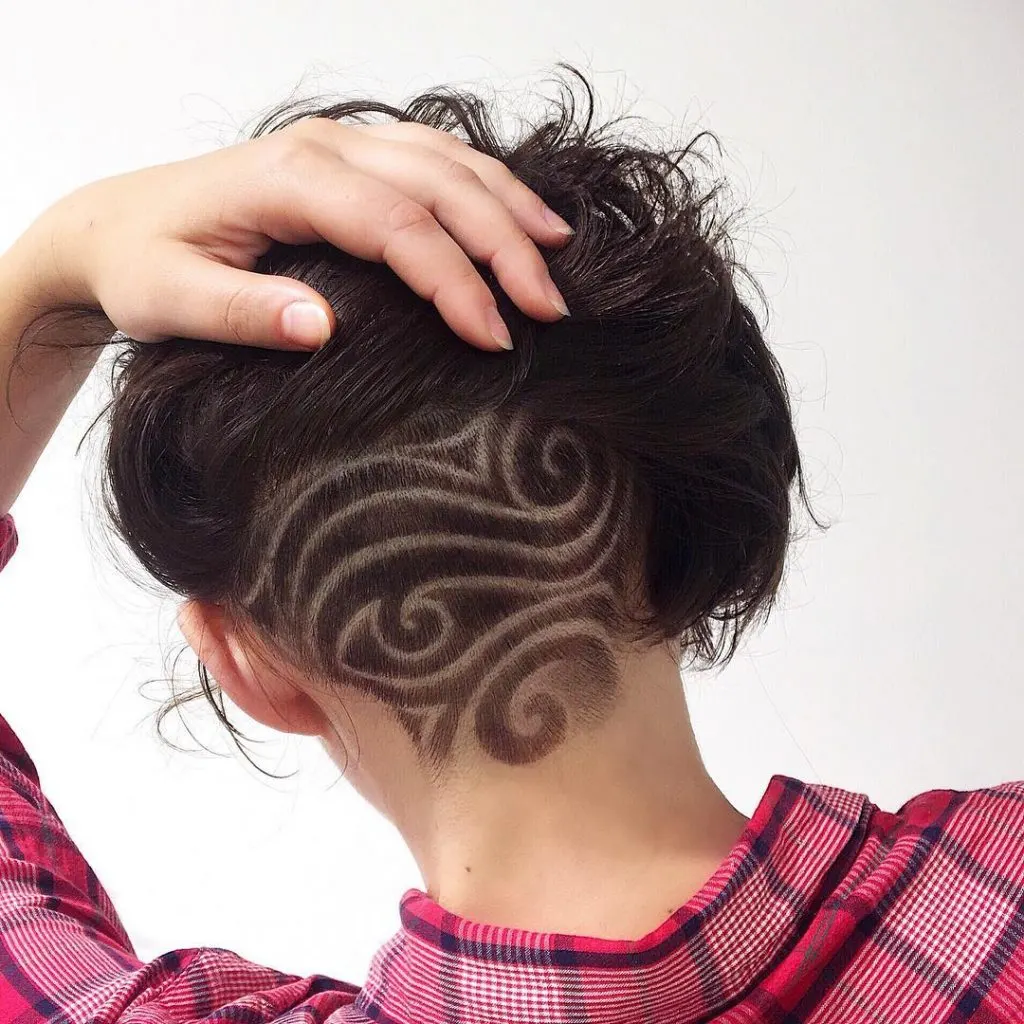 An undercut design will level up your style, and the possibilities are endless. This tribal pattern flatters curly hair, but you can also opt for a contrasting look.
22. Bob With Undercut Nape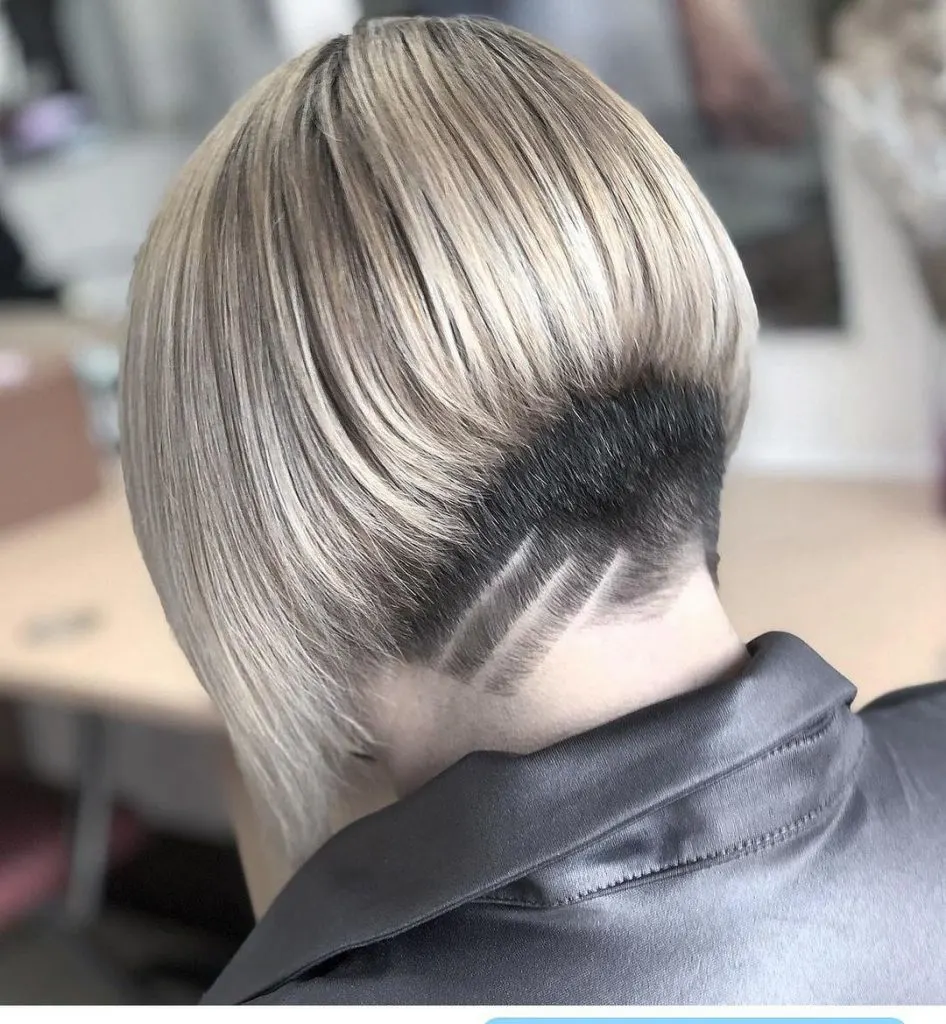 The color, the cut and the undercut design work together to create a minimalist look that is simple, yet exceptional.
23. Long Bob With Undercut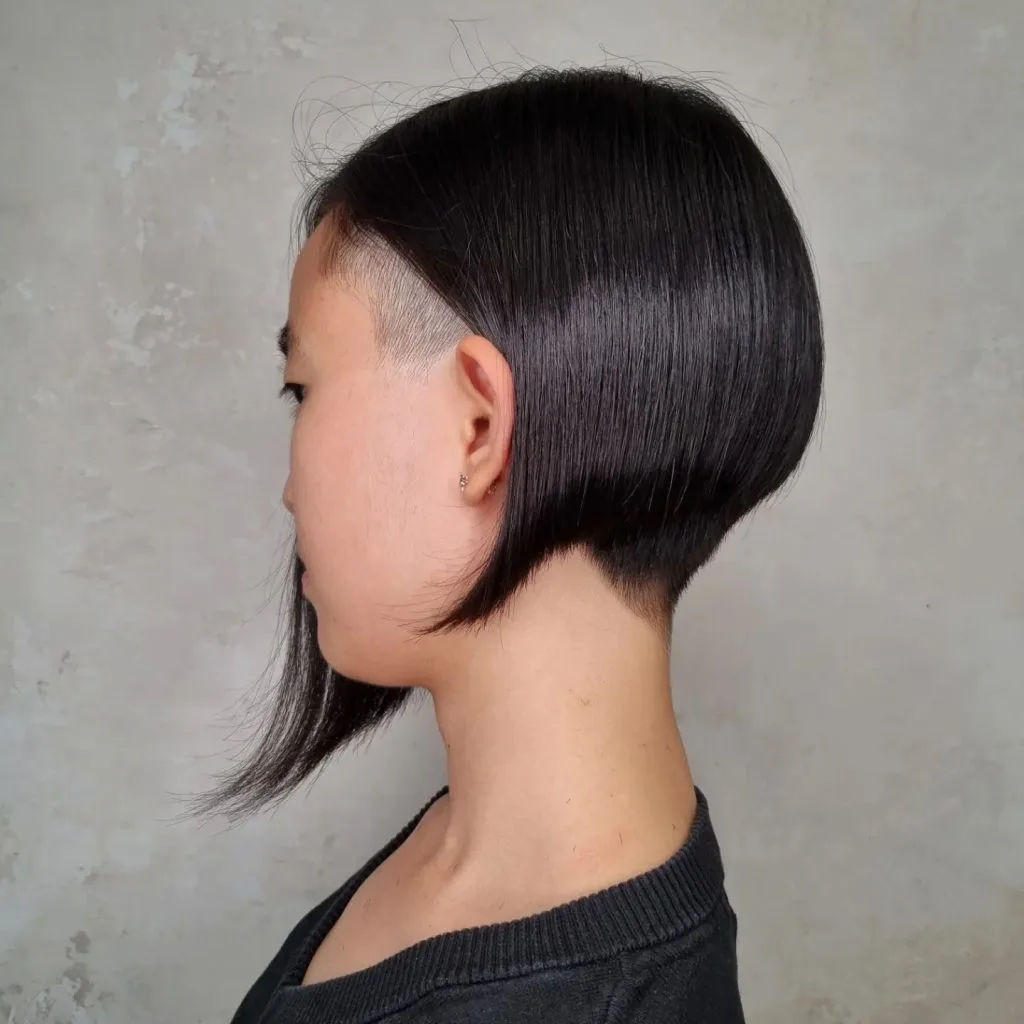 This sleek angled bob is polished and bold. Adding an undercut to an otherwise classic look will completely change the image you present.
24. Soft Undercut Bob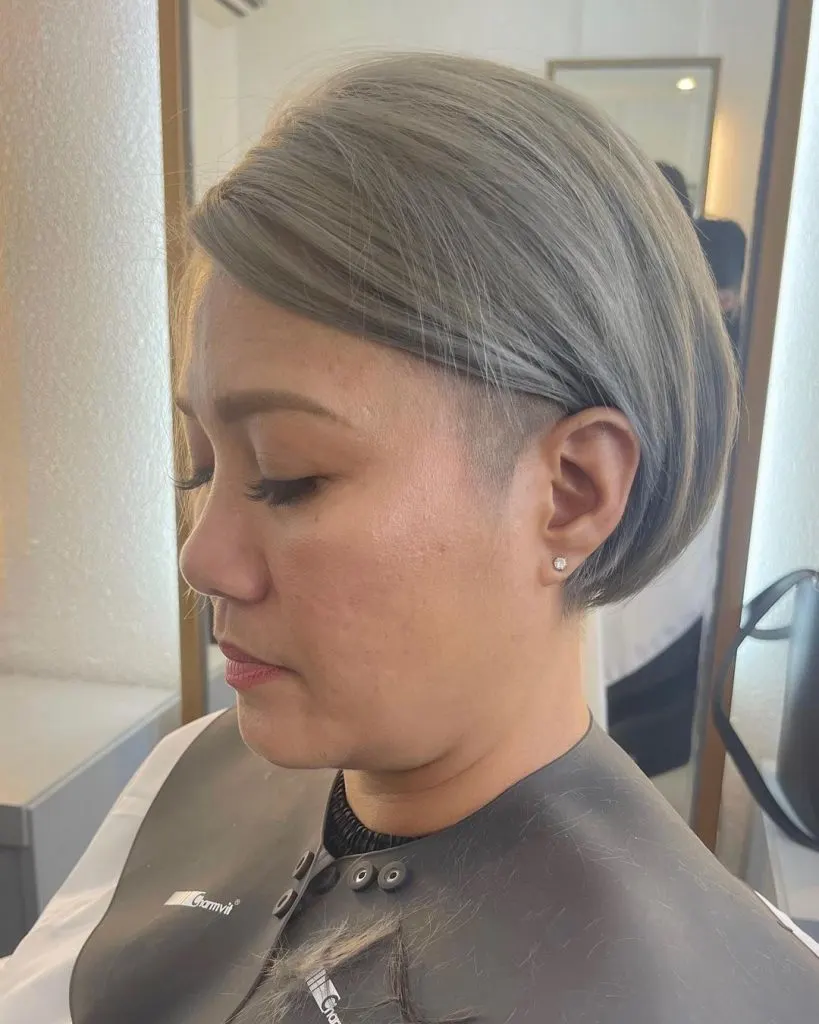 If you're undercut-curious but don't want anything that's too noticeable, try something like this low-key shave. It's subtle enough to hide and sharp enough to give you an edge.
25. Short Bob With Undercut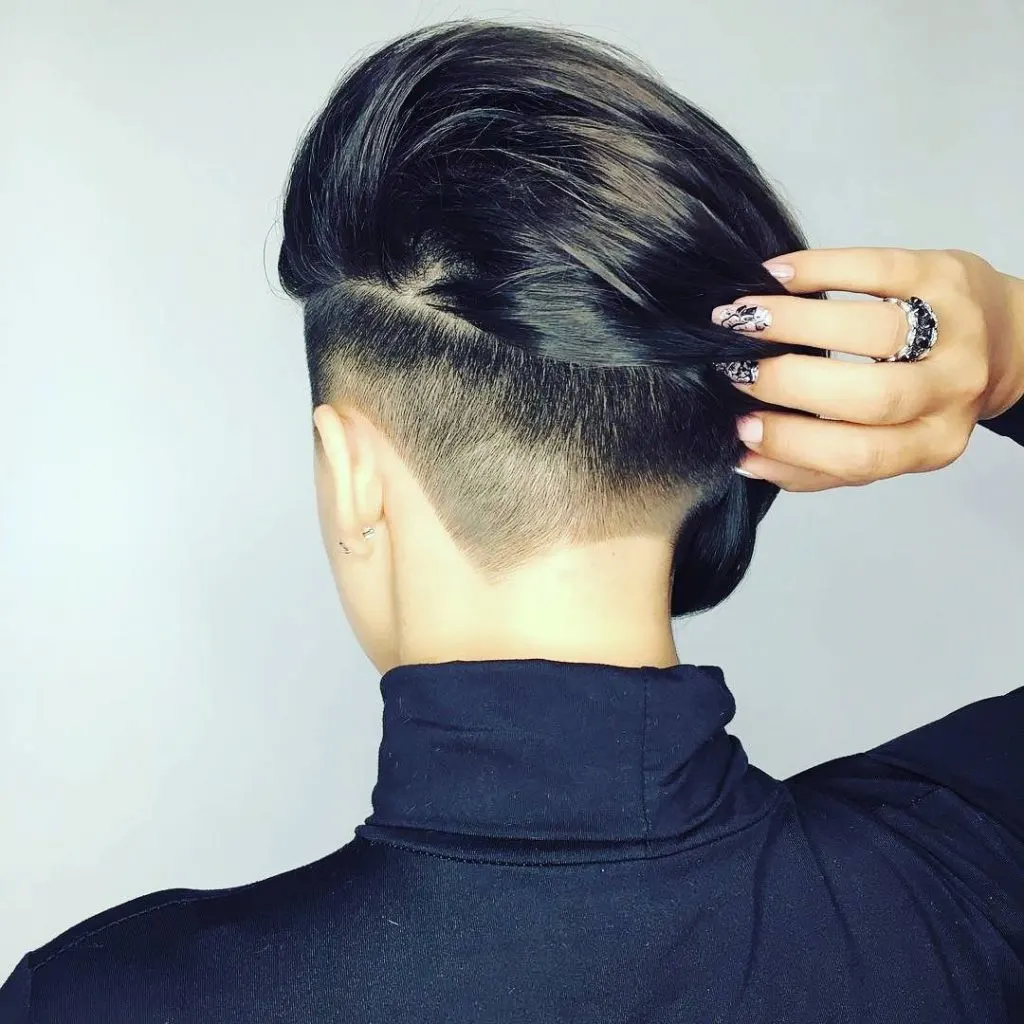 Shaving both the sides and the nape and leaving the hair long on top flatters those with thick hair—this haircut will speed up your styling time and make your hair easier to maintain.