Medium-long hair is the perfect mix of versatility and simplicity. If you like having styling options but don't want to spend an hour doing your hair, mid-length has the balance you need.
Medium hair falls around the shoulders—or a little above or below—which makes it long enough to pull off most hairstyles and short enough to be manageable and low-maintenance. Add bangs to your mid-length cut of choice and it becomes even more flattering, adding the face-framing tailored to complement your face shape and your features.
Here are 50 haircuts that combine bangs with medium hair to inspire you.
1. Medium Hair With Layered Bangs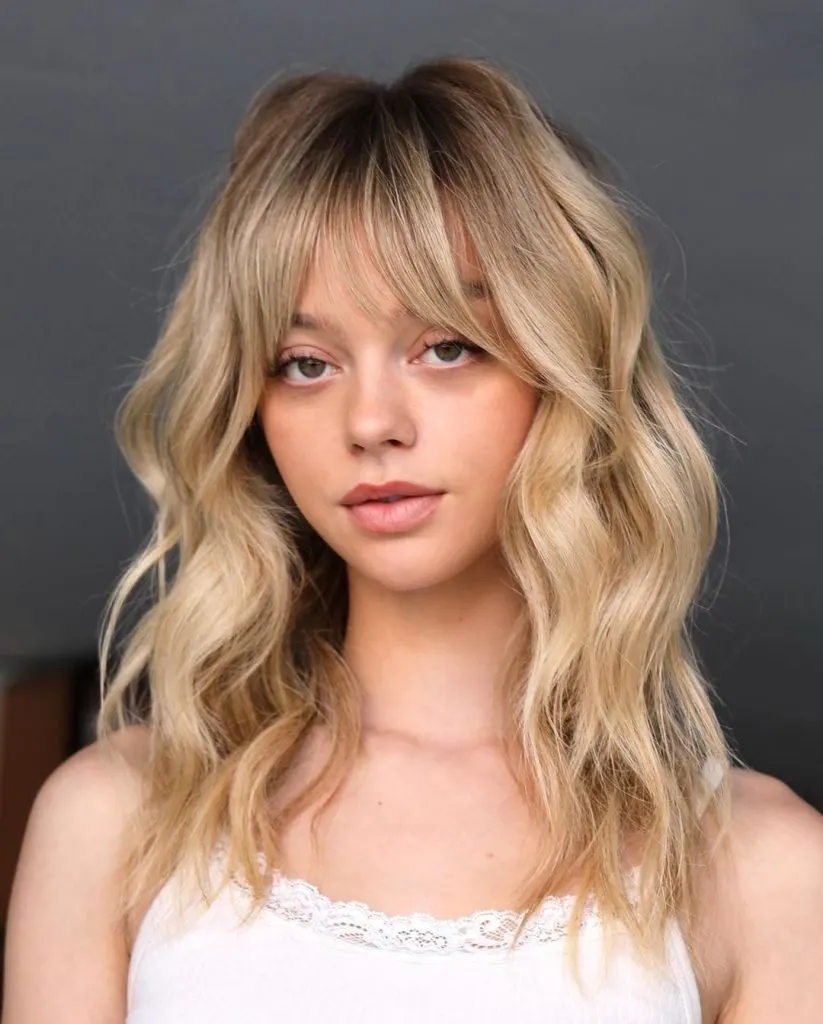 Curtain bangs work for all face shapes because they can be customized to fit you perfectly. Choose the length and the exact shape depending on what you want to highlight and what you want to downplay.
2. Layered Hair With Choppy Bangs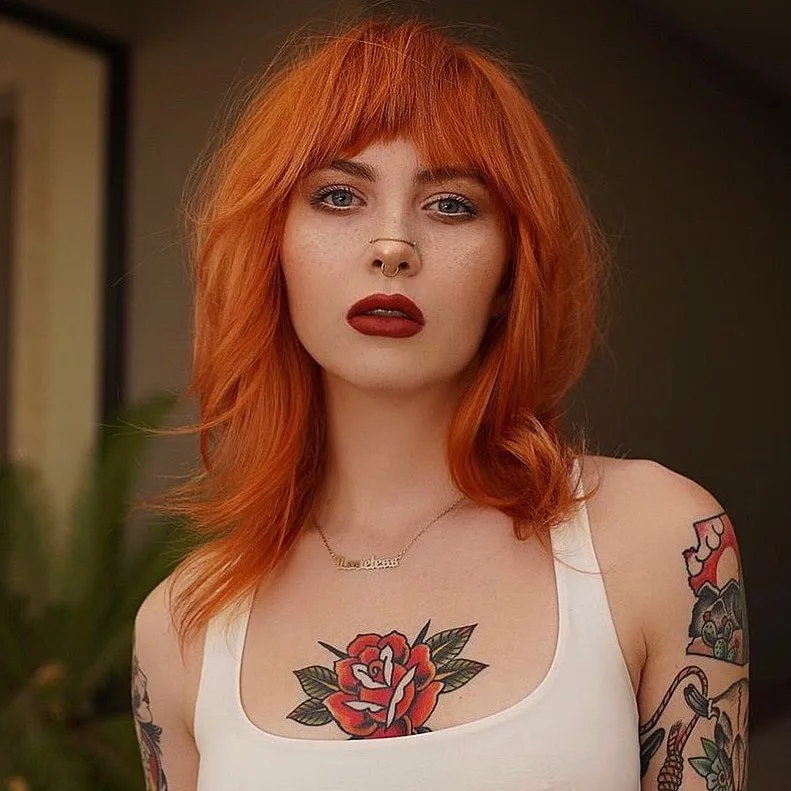 Layers create dimension and make your hair more bouncy and full. Paired with the vivid red color and the choppy bangs, this hairstyle is both flattering and edgy.
3. Straight Hair With Long Bangs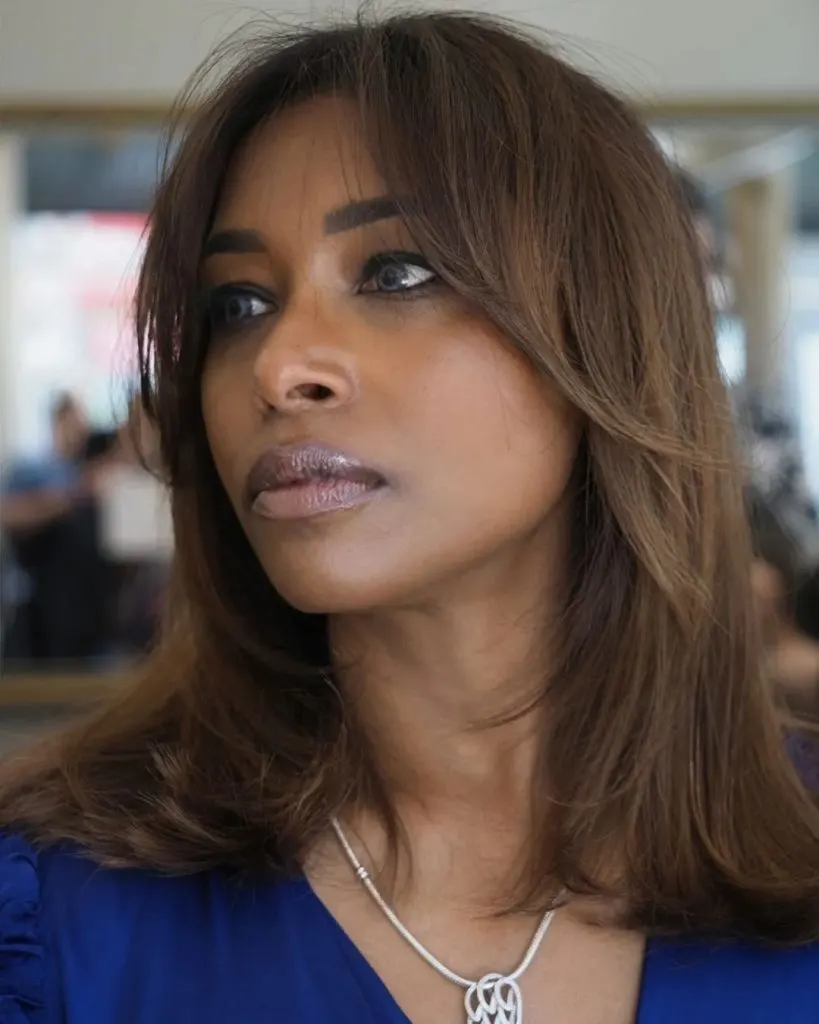 If you can't commit to bangs just yet, go for something long and thin that still adds a lot of movement and interest.
4. Shag With Off-Center Fringe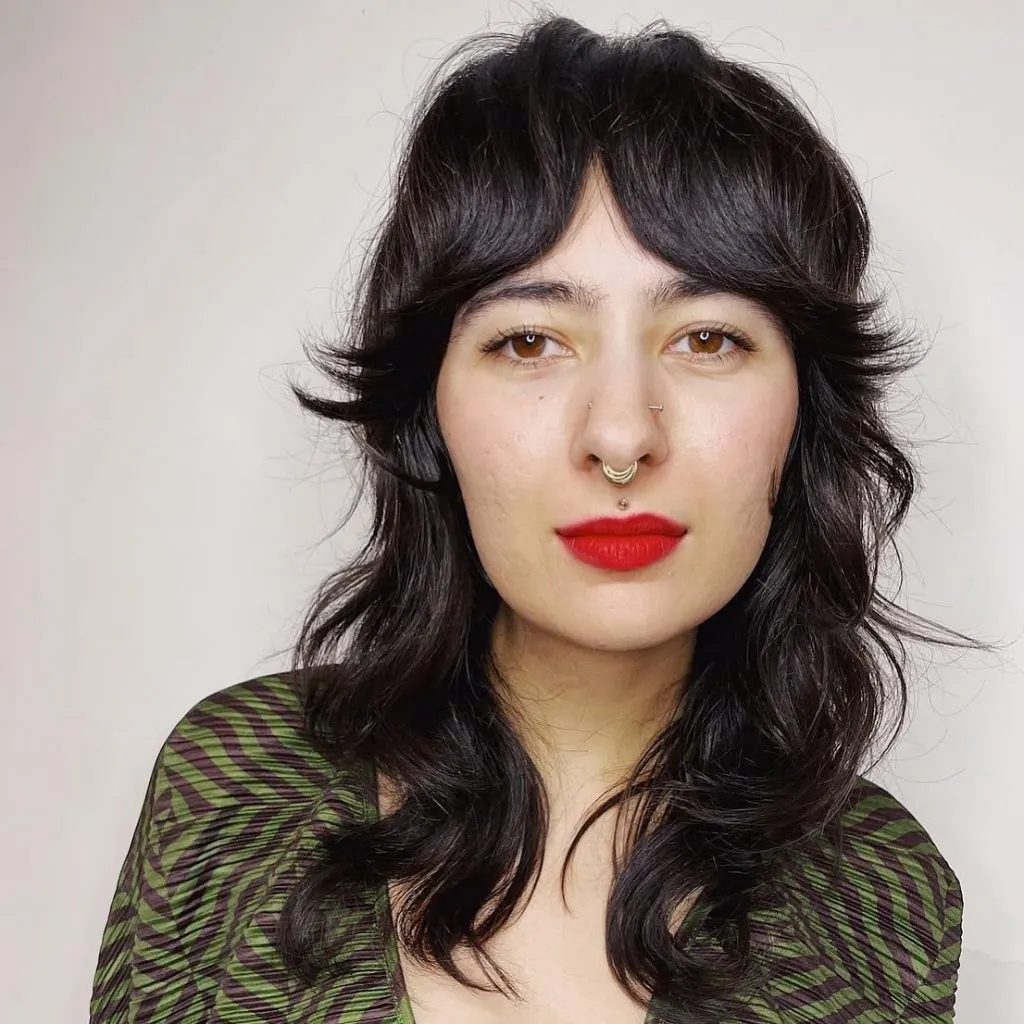 This gorgeous shag is super easy to style thanks to the layers that work with the natural texture of the hair. All it takes after washing is some moisturizing cream, than air dry or speed things up with a diffuser.
5. Two-Tone Hair With Short Bangs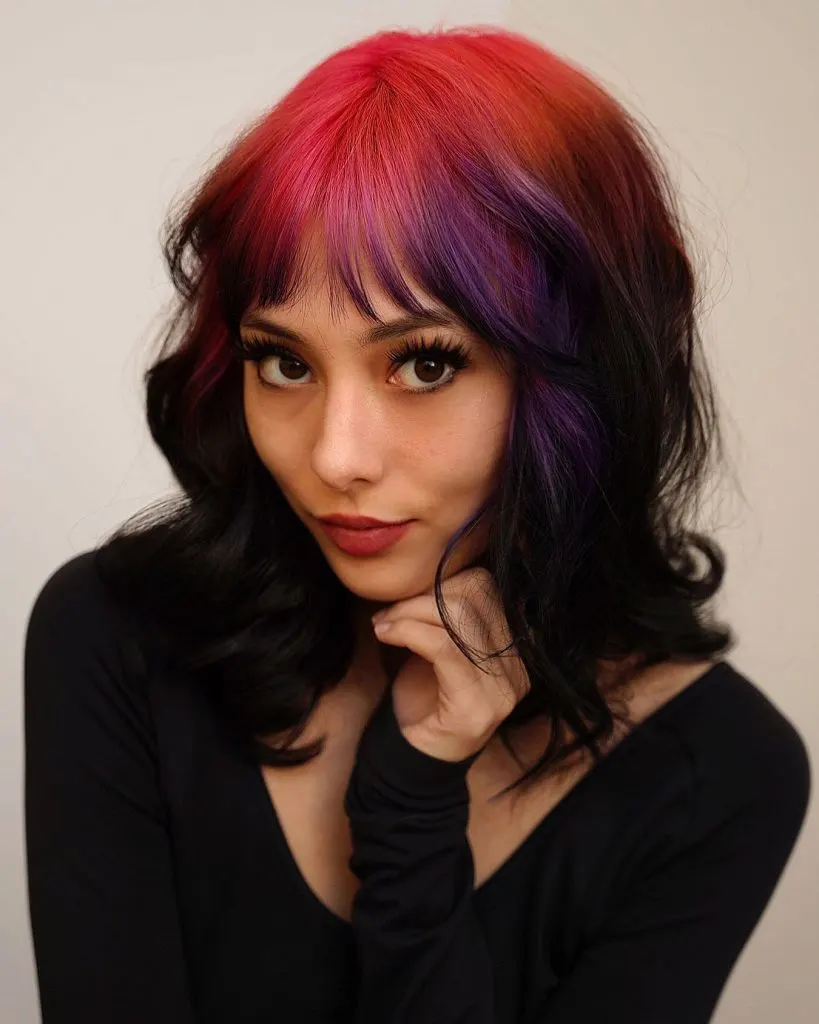 The play of the cut and the color creates a fun and trendy look that also brightens the face. If you like the reverse ombre but these aren't your colors, you can do it with something that's more your style.
6. Mid Length Hairstyle With Fringe And Layers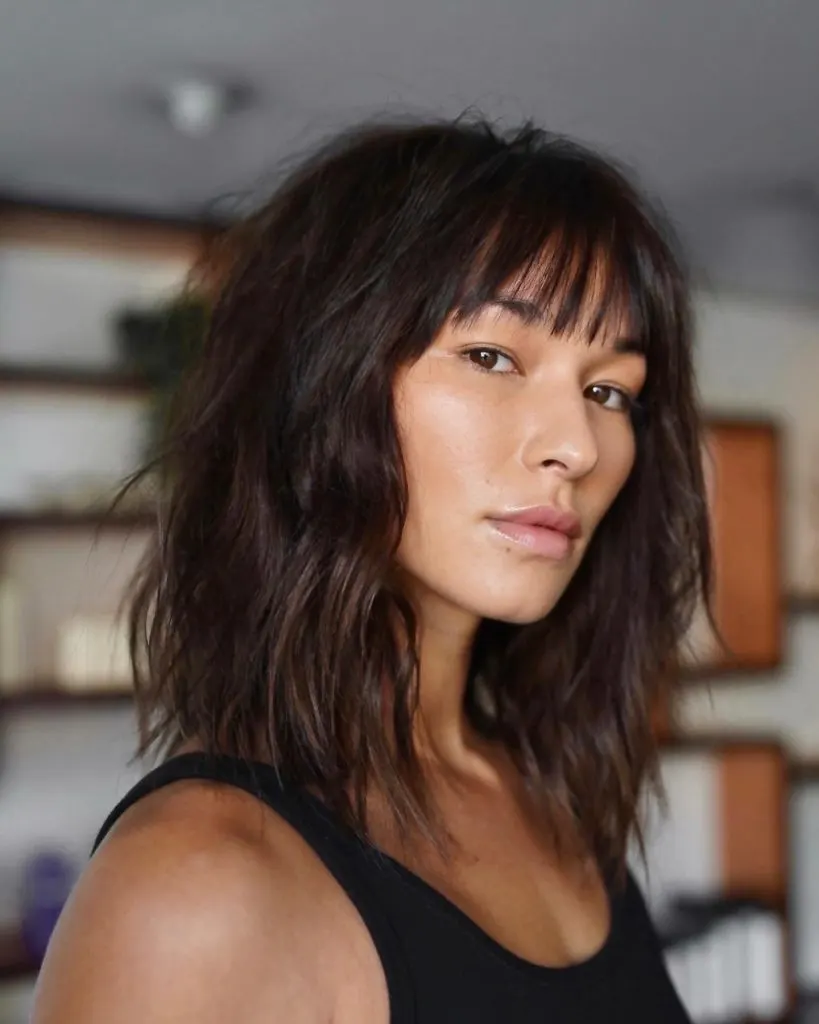 To minimize the time needed to style a choppy haircut, make sure your hair is well hydrated. Dry hair gets frizzy and tangled, so a moisturizing routine is the first step to no-fuss hair.
7. Choppy Hair With Bangs For Thick Hair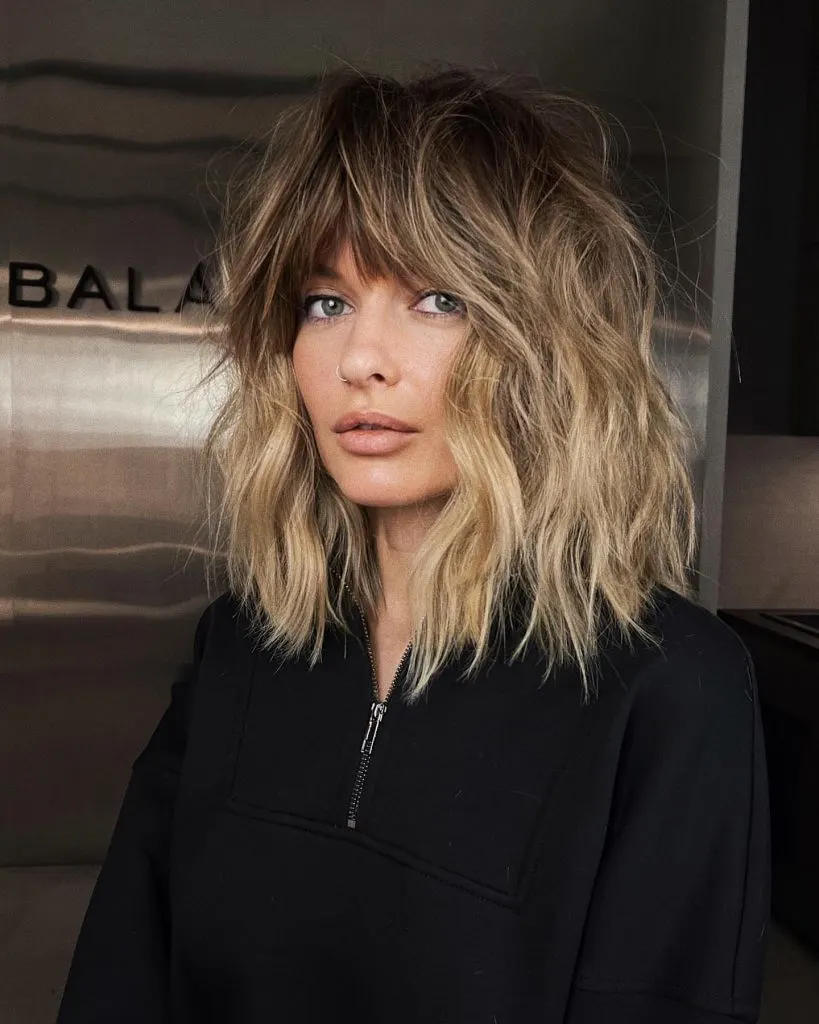 This look is all about texture, which can be enhanced if you already have it or faked if your hair is fine with texturizing products. If you don't have any at hand, dry shampoo can do in a pinch.
8. Voluminous Shag With Curtain Bangs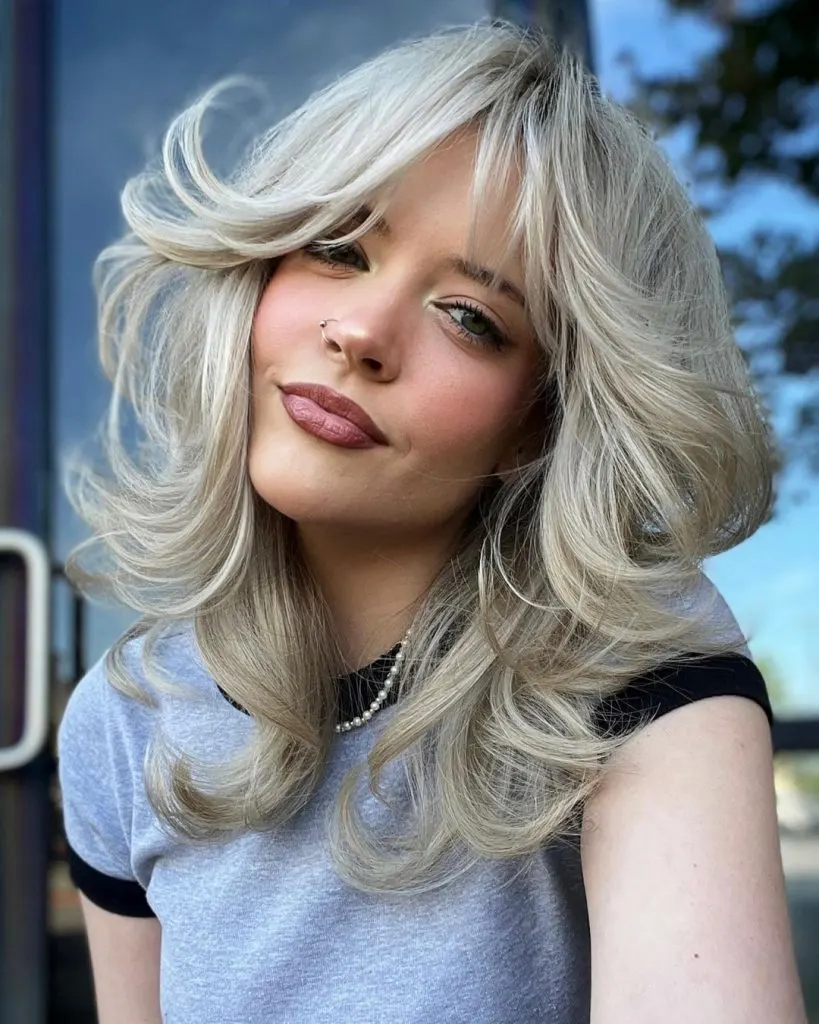 The best thing about medium hair is how many styling options you have. This retro look requires a blowout and large hair rollers, but this layered haircut can also be super casual if you style it to look more choppy.
9. Curly Medium Hair With Bangs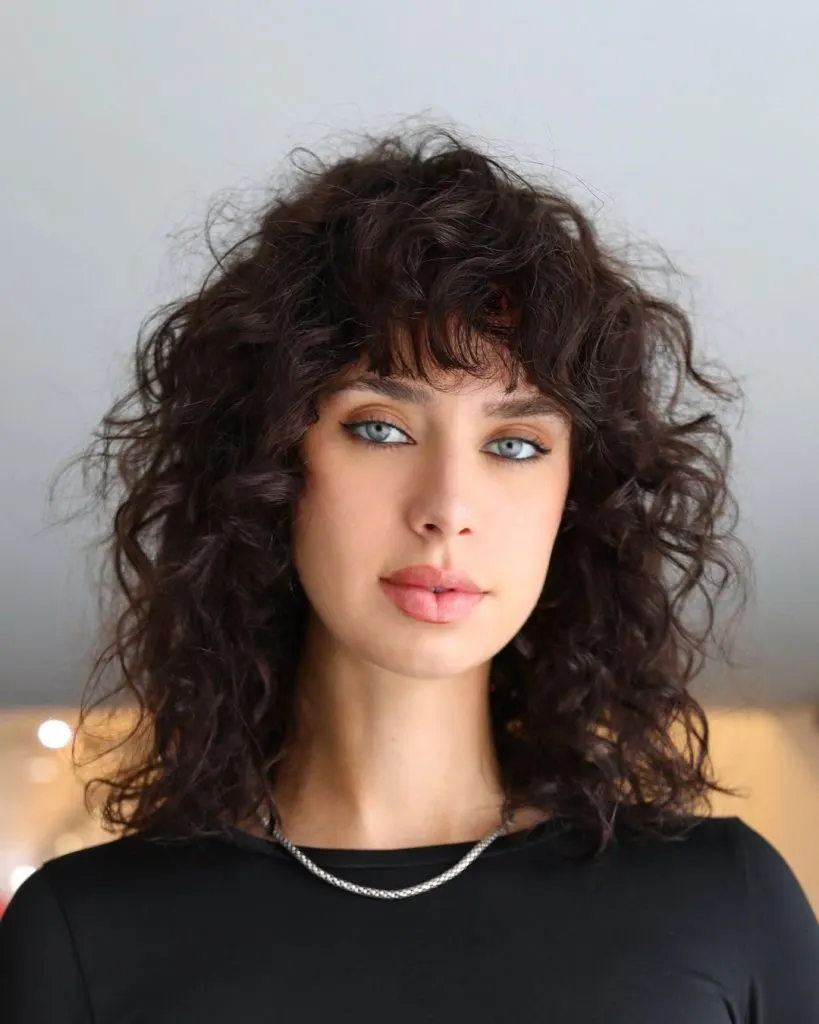 Layers enhance curls and prevent them from falling flat, especially in 3B/3C hair, and make curly hair easier to style.
10. Shoulder-Length Hair With Long Bangs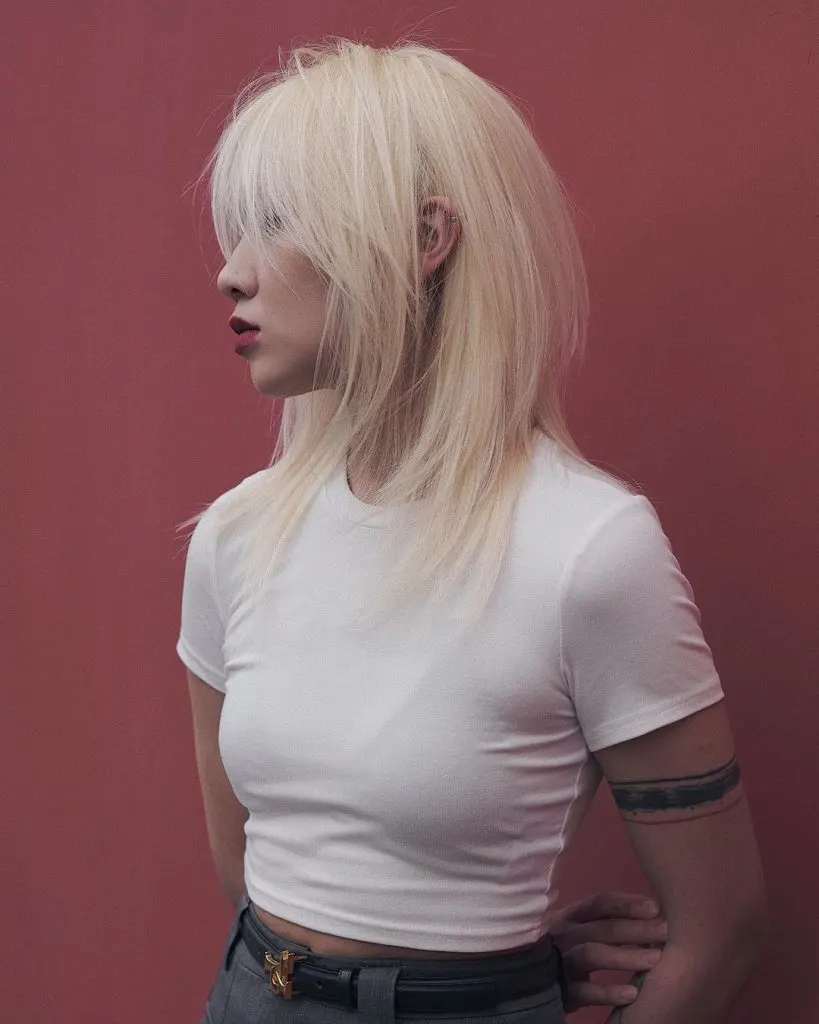 This shoulder-length wolf cut is a dream! Flowy, wispy and casually framing the face, it will make you look ten times cooler.
11. Shag With Full Bangs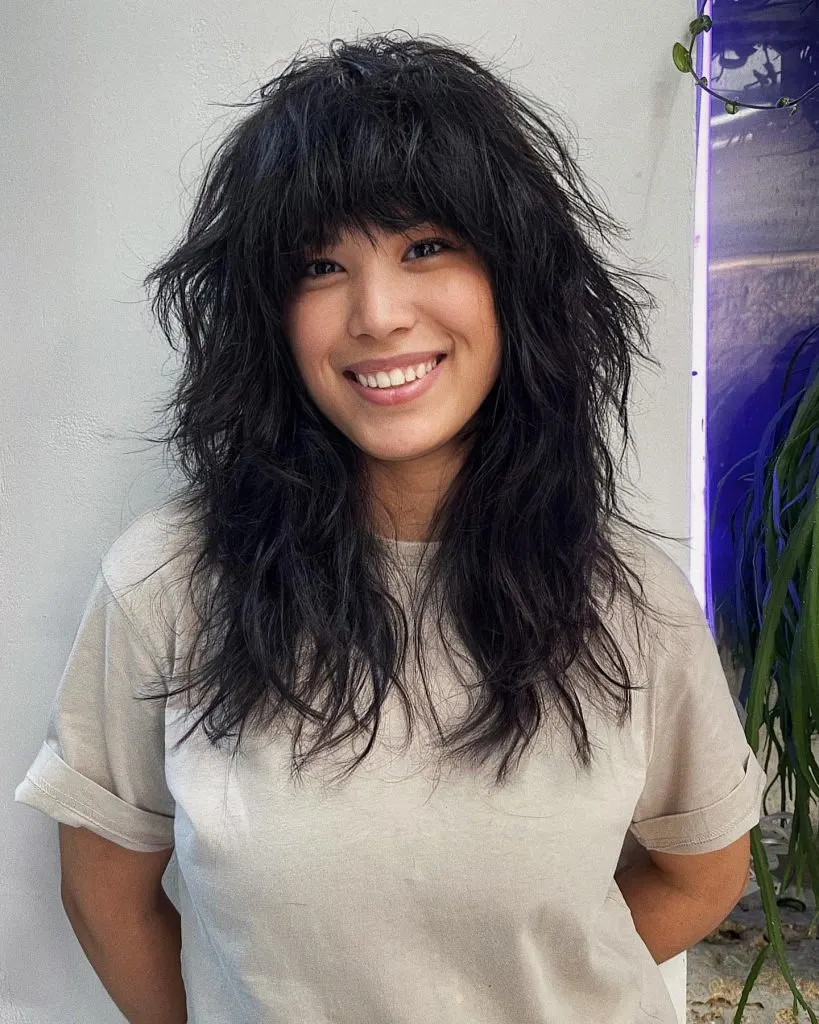 You don't have to "tame" your thick hair, just learn how to work with it. This voluminous shag takes off just enough bulk to make the hair manageable but it's still a rich, voluptuous mane.
12. Shoulder-Length Hair With Soft Fringe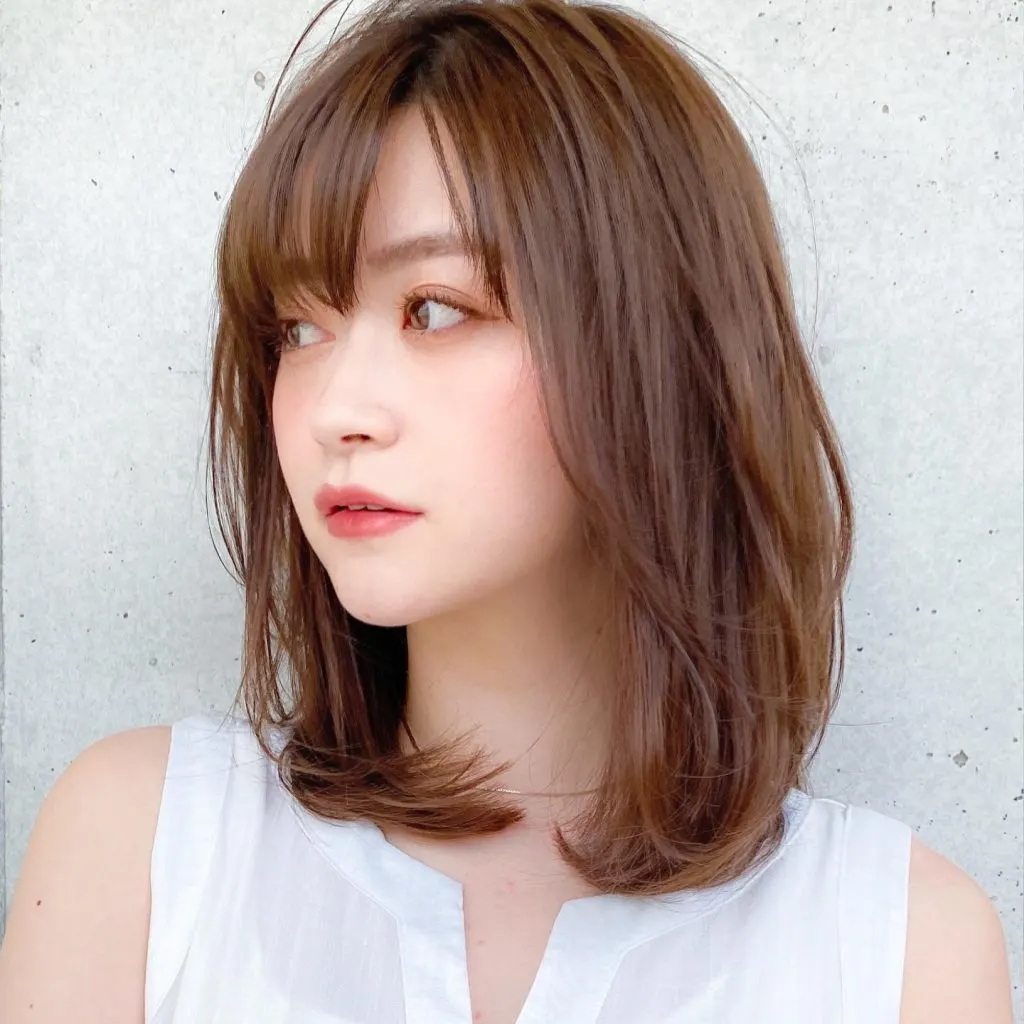 Soft, long layers and thin bangs complement fine hair that tends to fall flat by creating movement and bounce.
13. Long Mullet With Choppy Bangs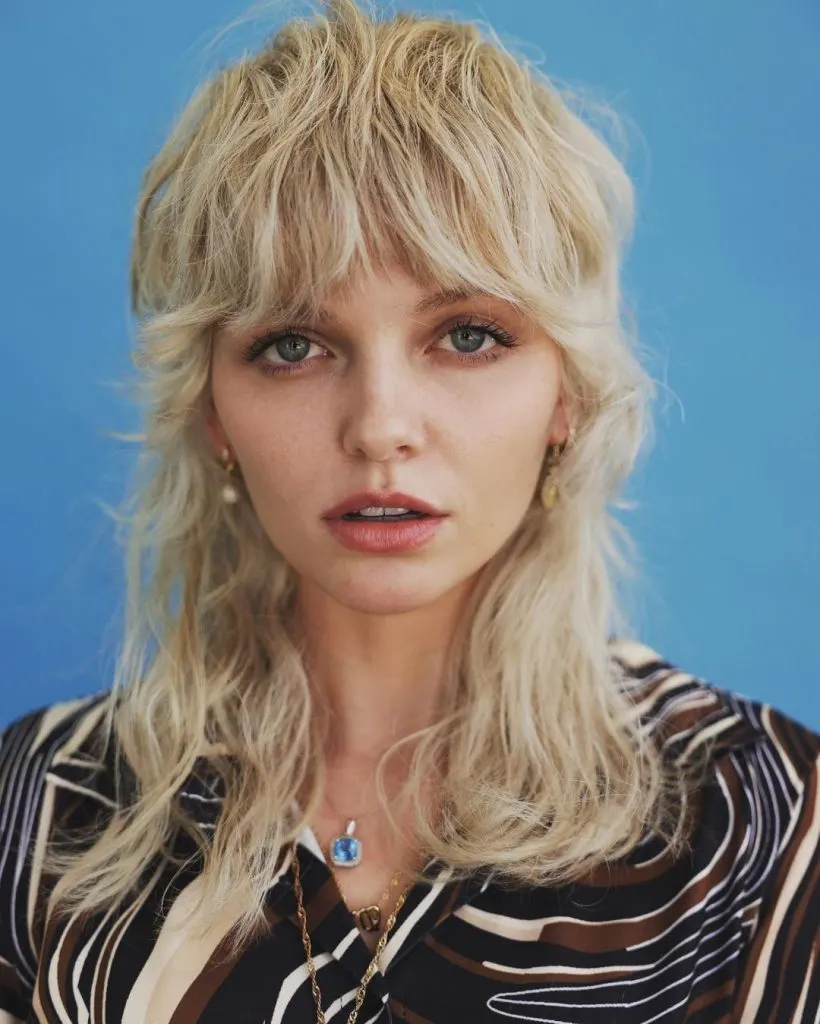 Mullets are back and cooler than ever, and this one shows you why. There's nothing cheesy about this haircut—it's all face-framing and trendy choppy layers.
14. Voluminous Curls With Bouncy Bangs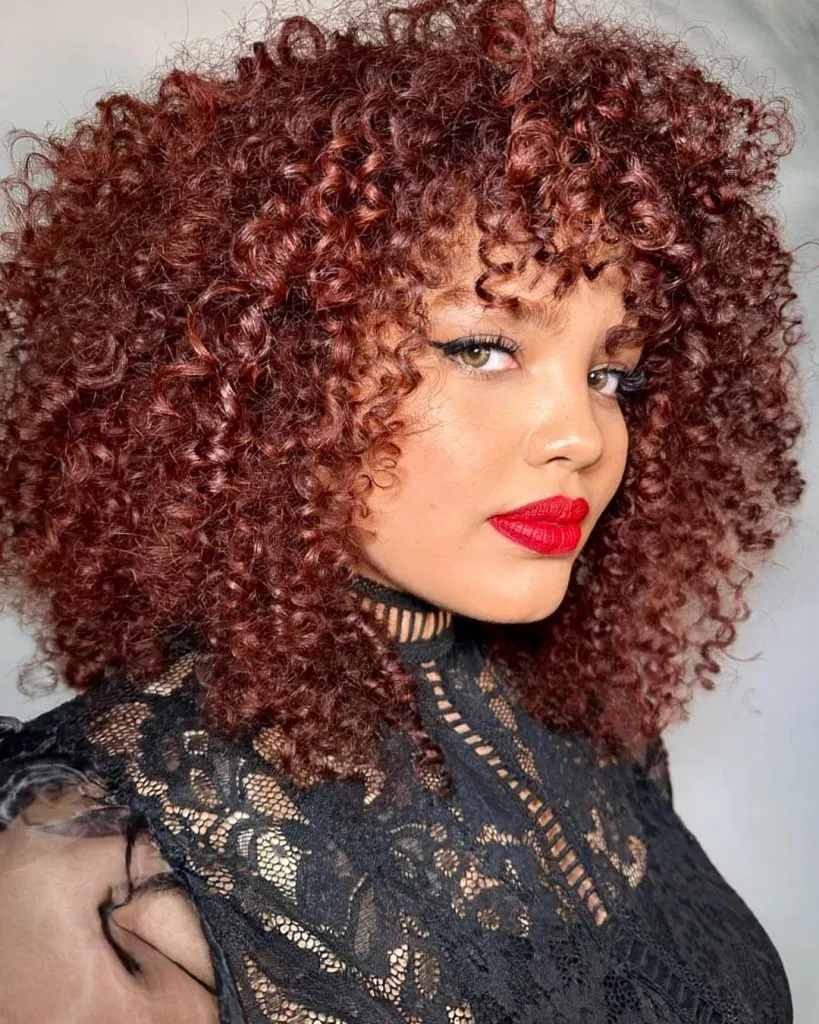 This medium curly haircut was already all bounce and volume, but the cute bangs have completed the look.
15. Wolf Cut With Short Bangs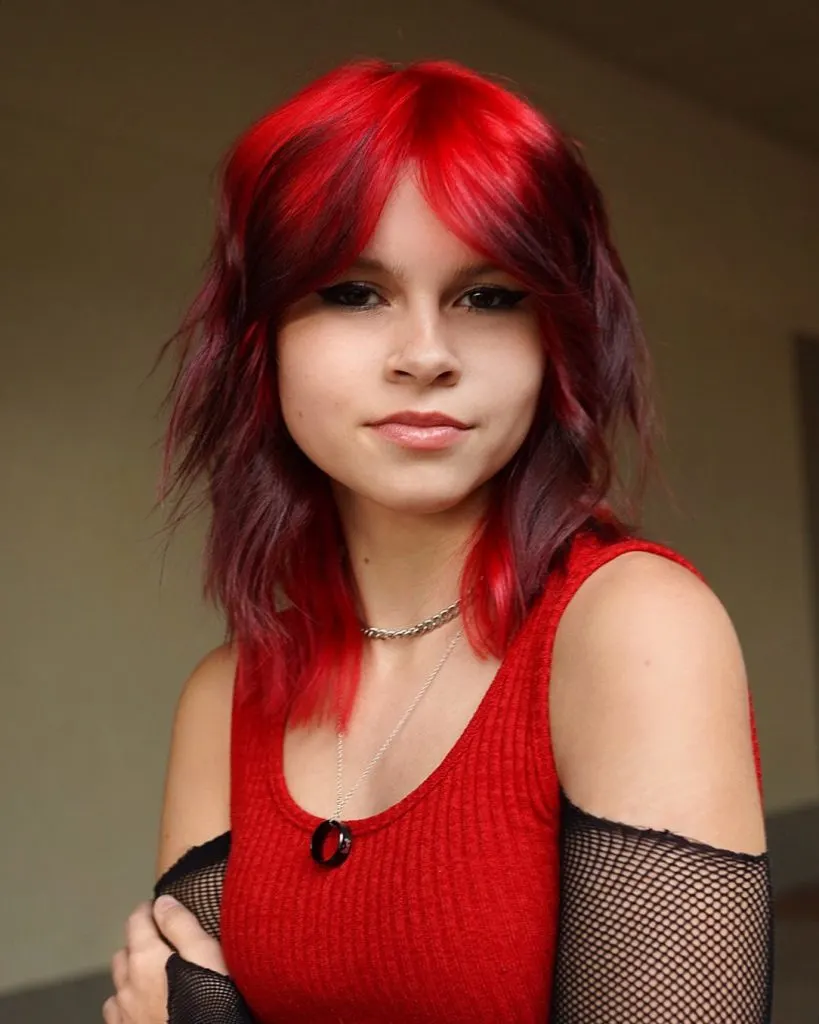 A mid-length wolf cut is super manageable, and if you're not a fan of shorter bangs that usually accompany it, here's what it looks like with curtain bangs.
16. Choppy Hair With Layered Bangs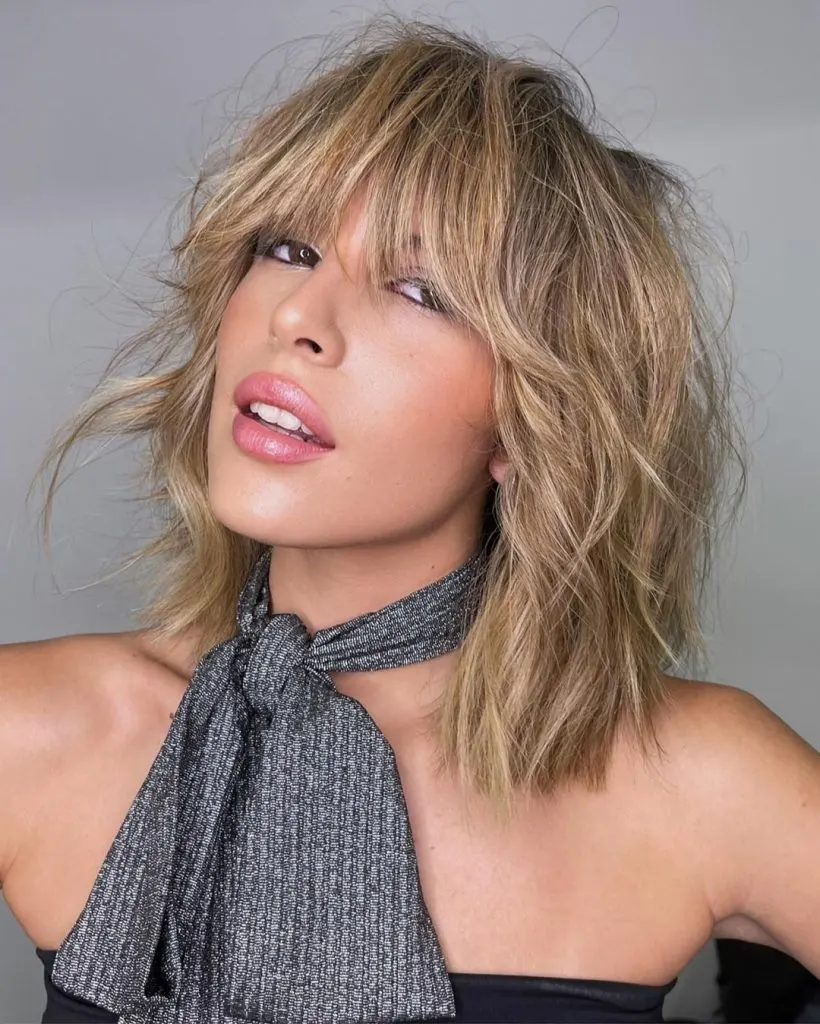 Blunt and choppy is an ultra-modern combination that really plays up the texture of the hair. If your hair starts to lose volume during the day, wet your hands and scrunch to refresh your hairdo.
17. Medium Shag With Fringe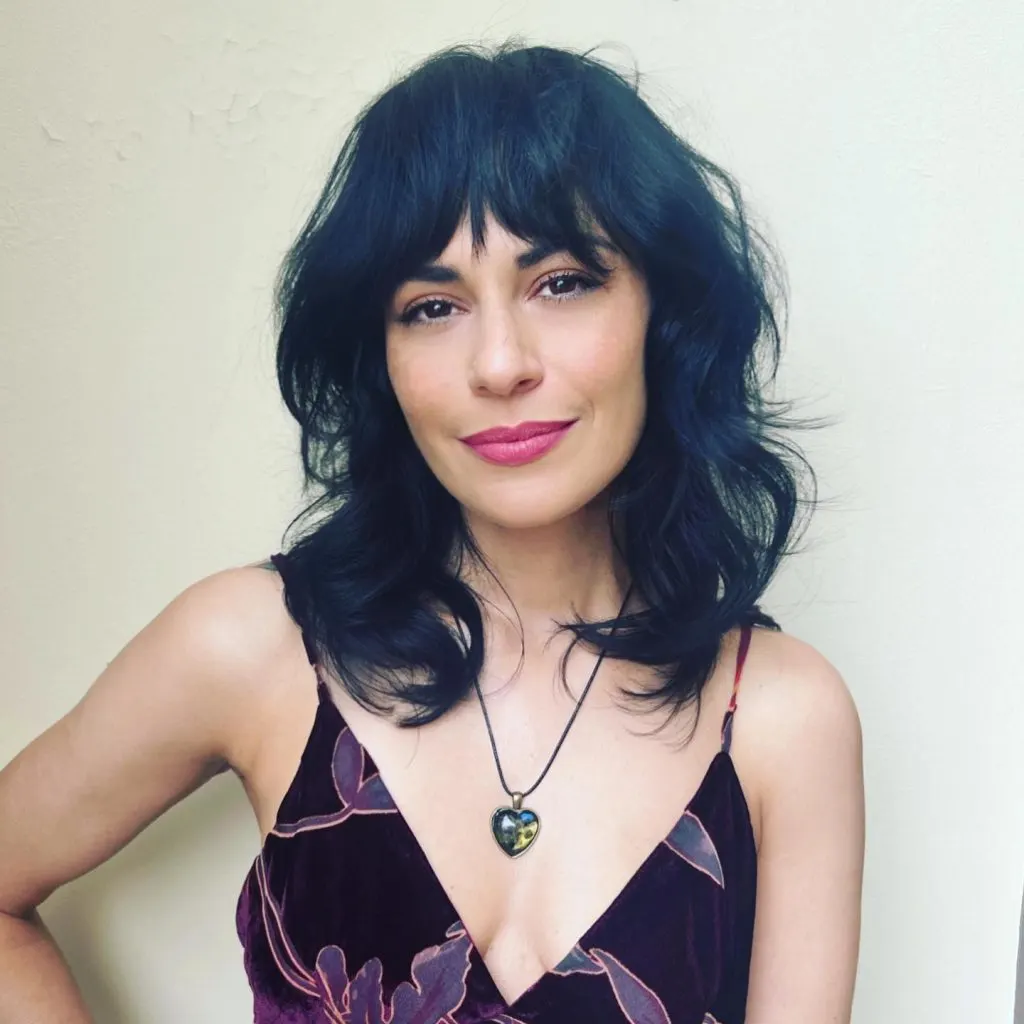 Shags can have choppy or tapered layers, depending on what look you prefer, and this soft one creates a dreamy and soft effect.
18. Medium Hair With Bardot Bangs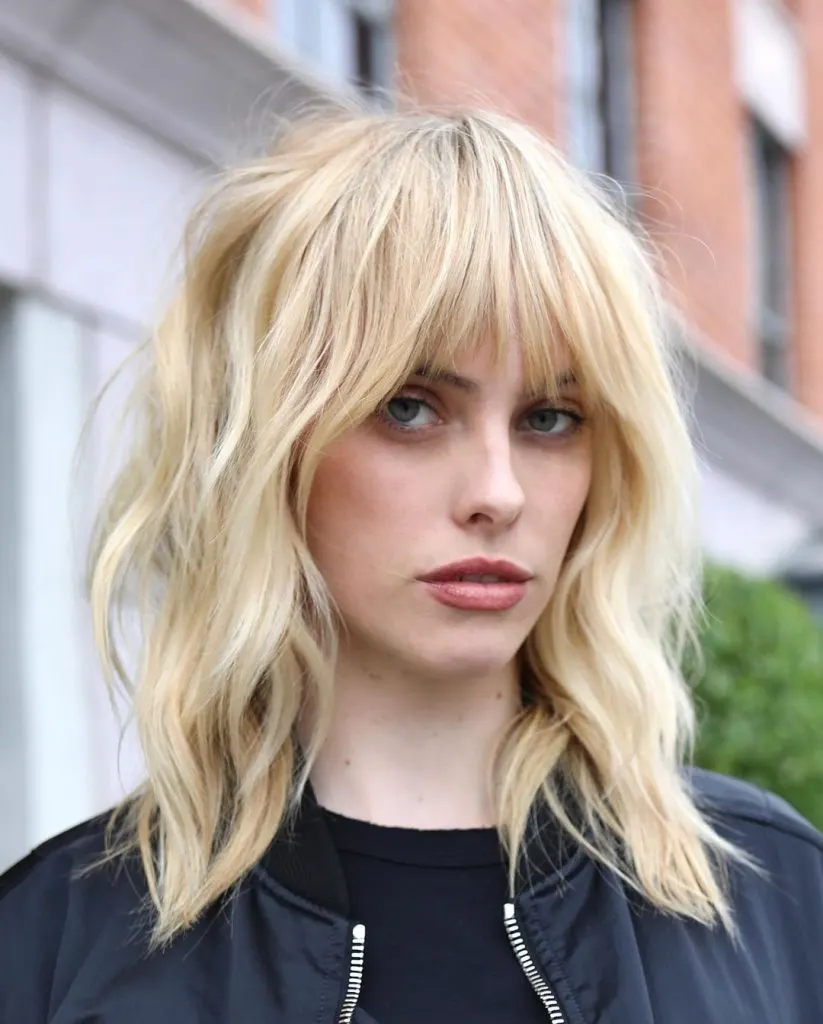 Bardot bangs are similar to curtain bangs when it comes to face framing, only the middle part is cut short and choppy. It gives you more of a bangs look without too much hassle.
19. Curly Hair With Wispy Bangs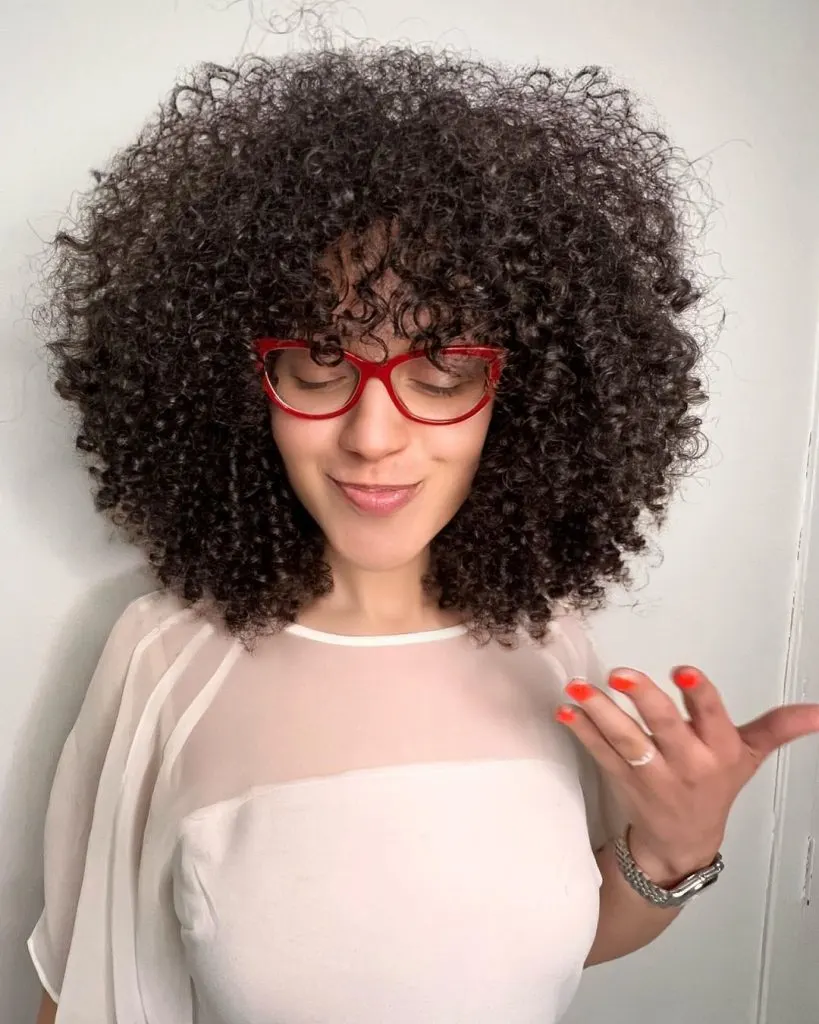 Bangs transform your hairstyle, and this goes for all hair textures. Curly hair needs to be cut dry to achieve the desired shape, but many bangs styles are possible.
20. Medium-Length Hair With Full Fringe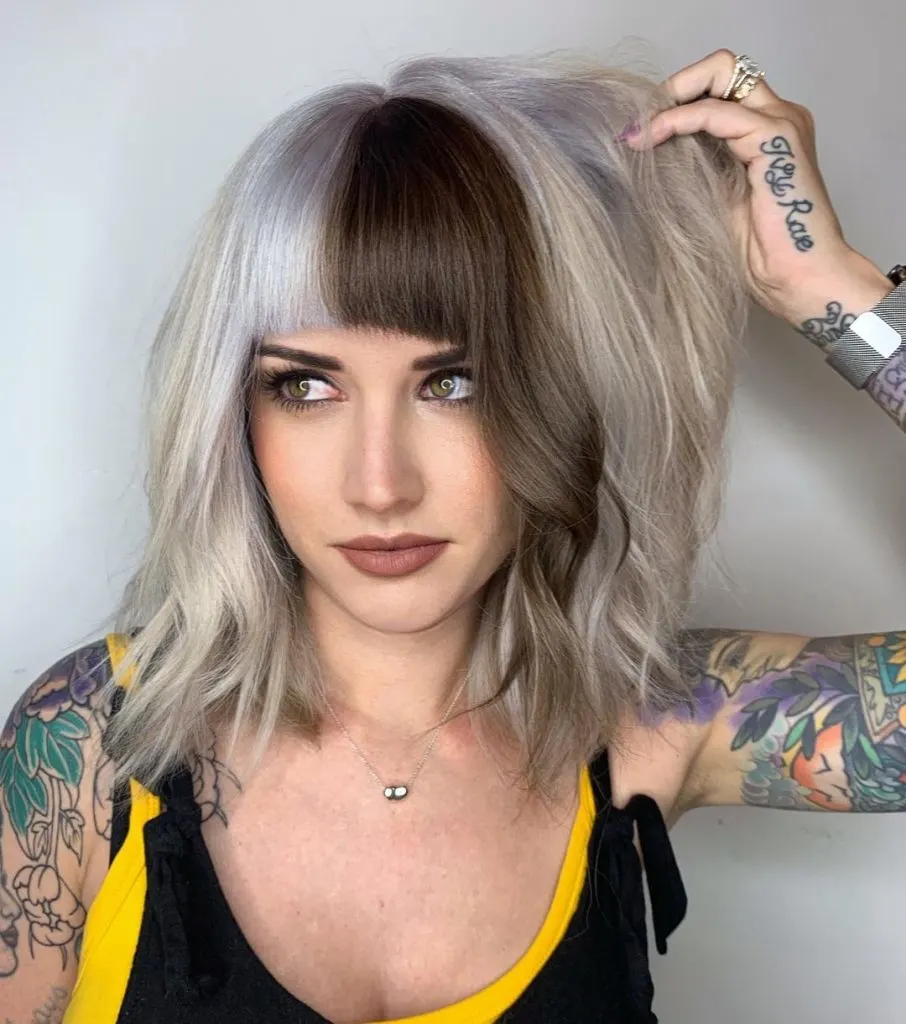 Thick, crescent-shaped fringe will frame your eyes and draw attention to them. Play with the length to achieve different vibes.
21. Choppy Medium Hair With Bangs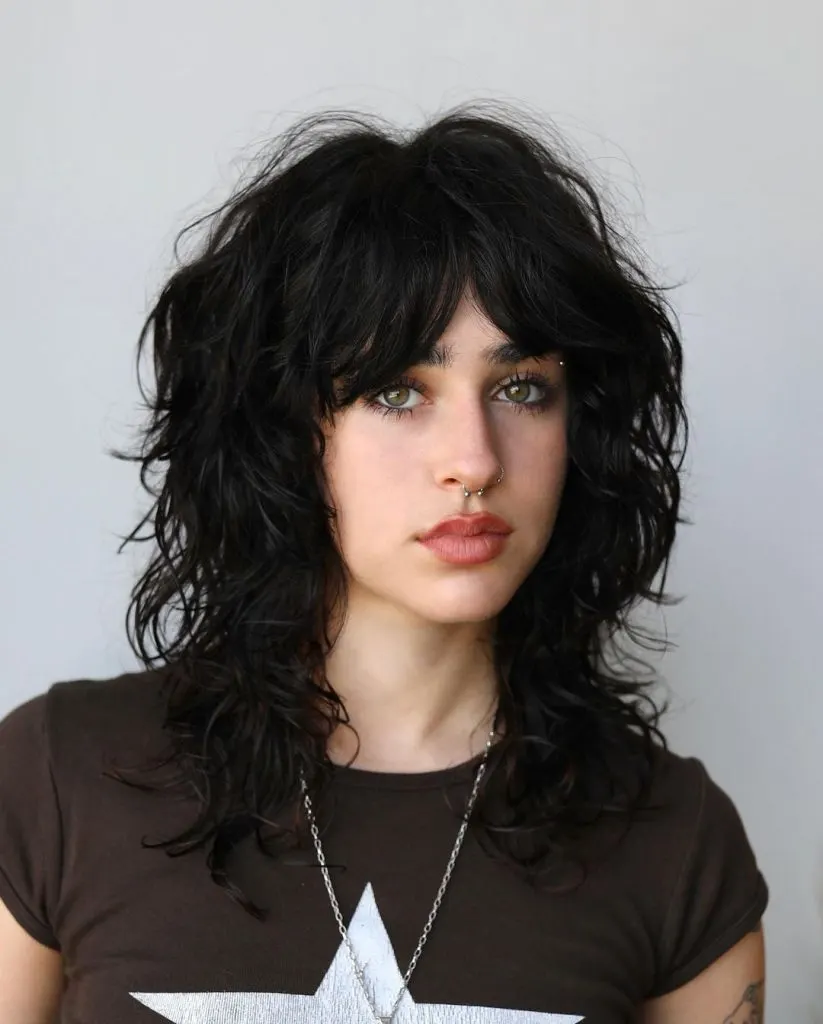 This choppy, wavy hairstyle with cute shag bangs is completely effortless when it comes to styling, just dry and go. Of course, you can add some volume and shape if you want, but it will look good even if you don't mess with it at all.
22. Curtain Bangs For Thin Hair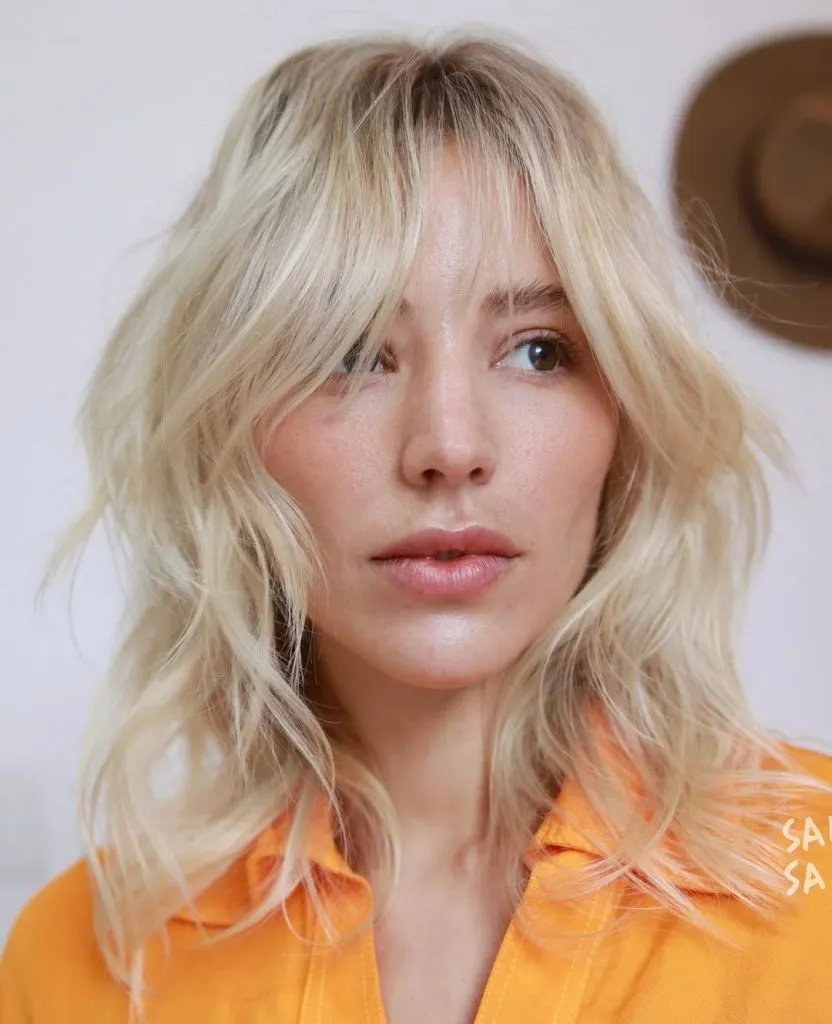 Don't avoid layers and bangs if you have thin hair—they won't make it look even thinner. Fine, wispy curtain bangs will create fullness and a more interesting hairstyle regardless of your hair type.
23. Wavy Medium Shag With Bangs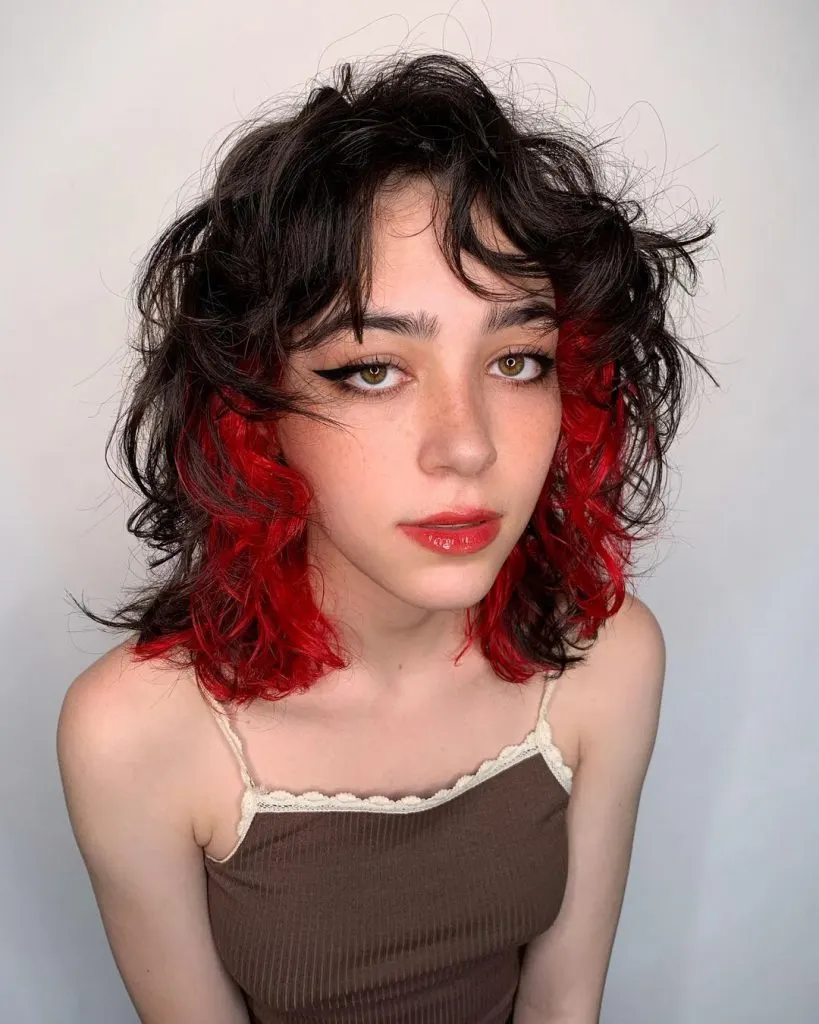 Hair that skims the shoulders gives you the fresh look of a bob and the styling options of longer hair—and it's easy to take in either direction if you get bored with it.
24. Curly Mid-Length Hair With Baby Bangs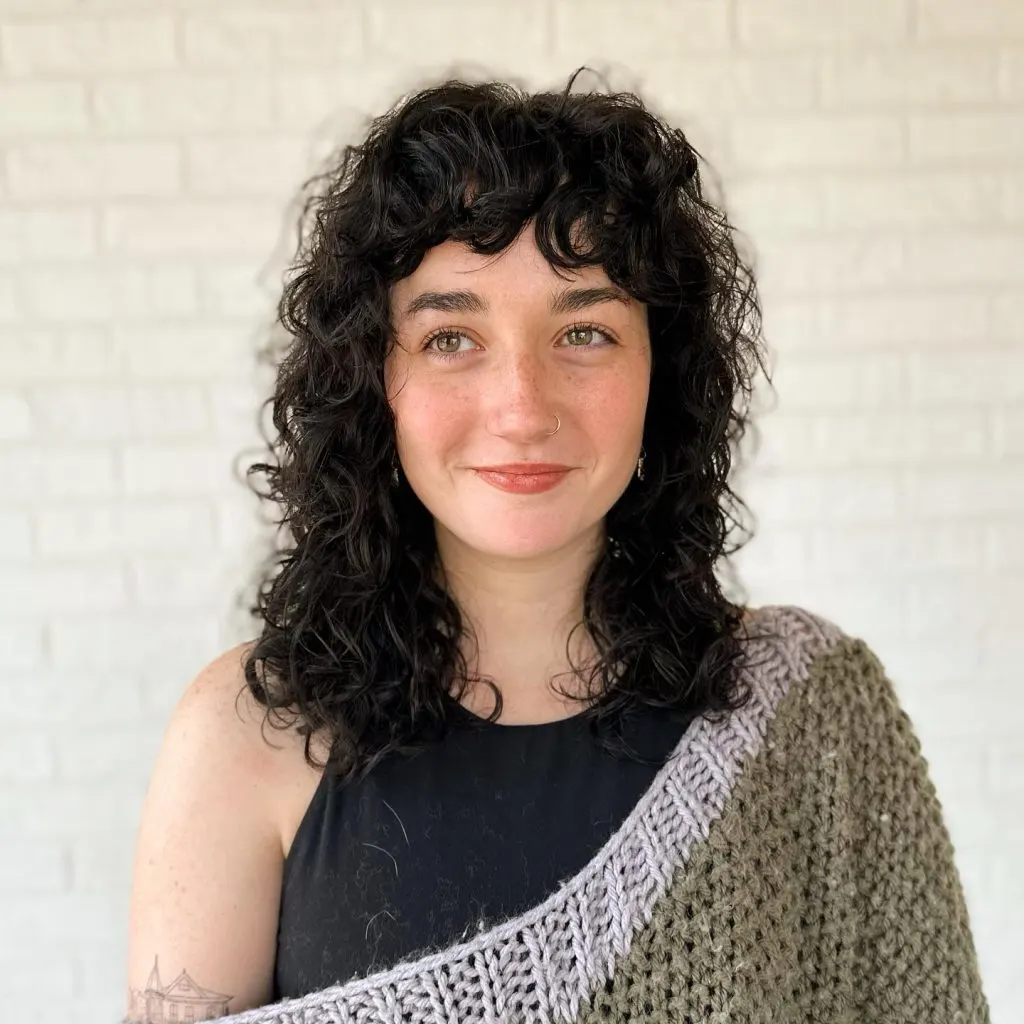 If you don't want to spend a lot of time blow-drying and straightening your hair, the most important thing when choosing bangs is to consider how they might work with your hair texture. The good news is that you have multiple options—these large curls work both with short and long styles of bangs, as long as they're cut to preserve their shape.
25. Curtain Bangs With Medium Hair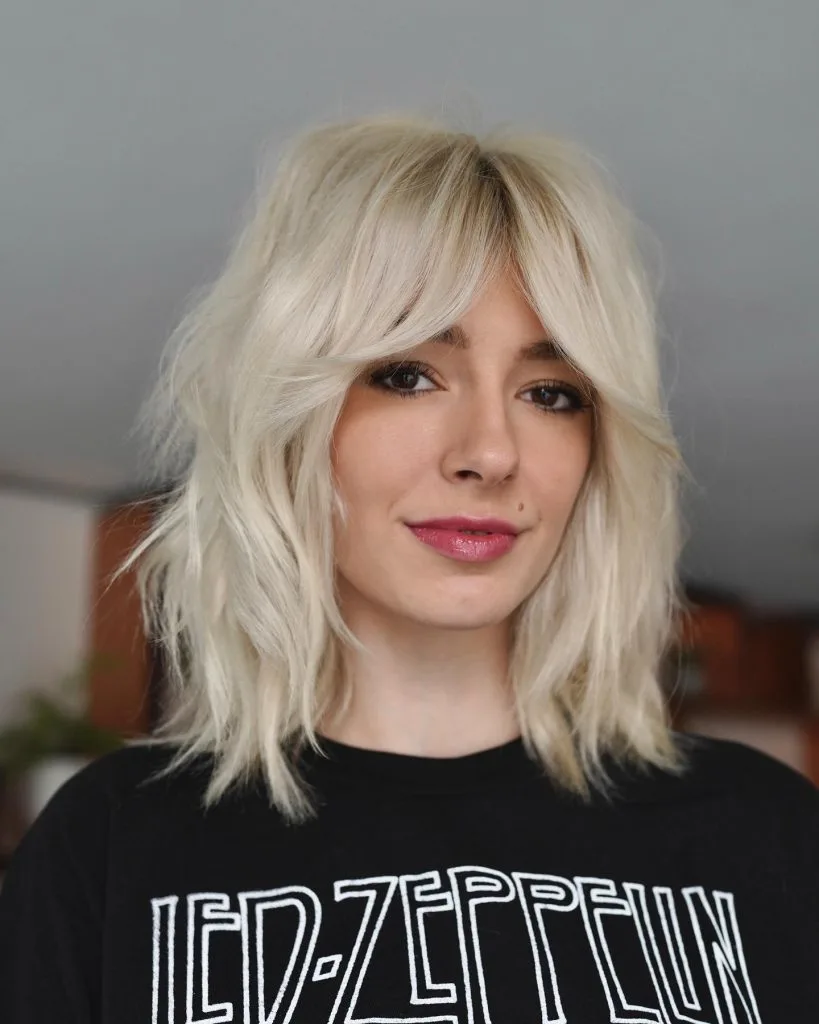 A modern take on the lob with curtain bangs is something more choppier and shaggier than in the previous years.
26. Curly Bangs Wolf Cut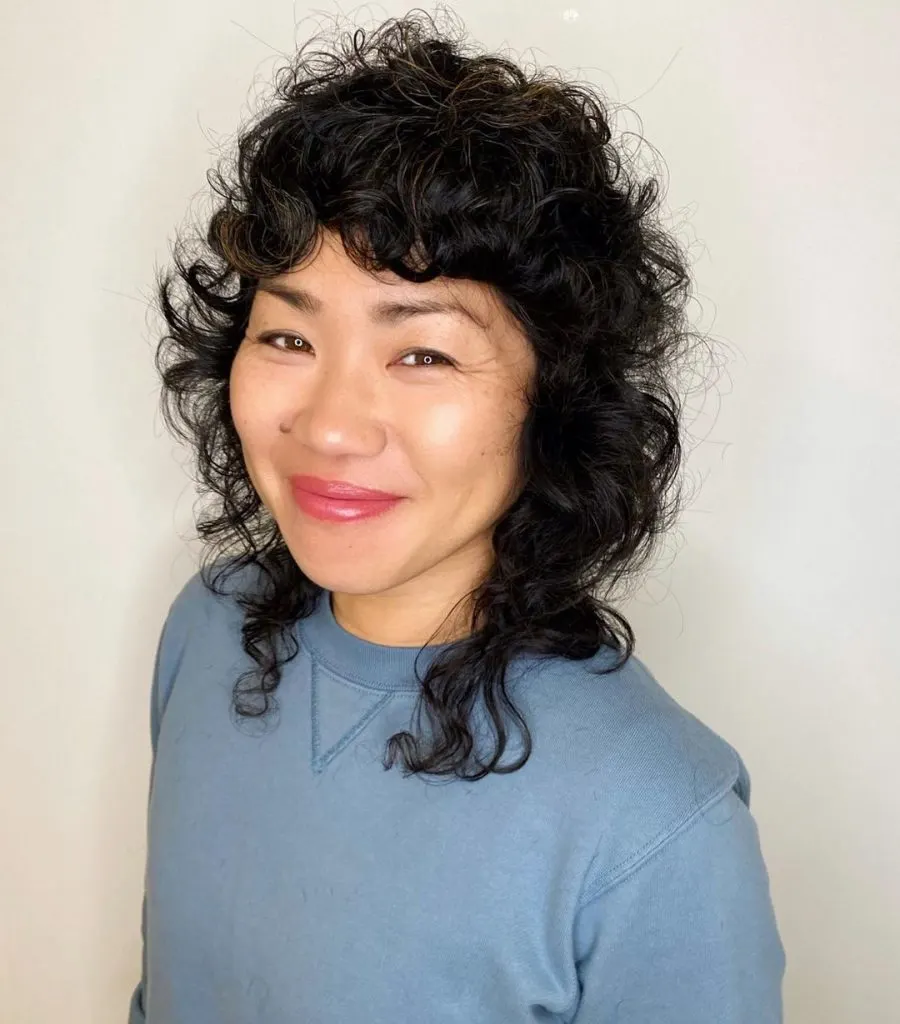 Layered styles, including the wolf cut, work amazingly well with curly hair. Just make sure your stylist knows how to handle your texture.
27. Shoulder-Length Hair With Short Fringe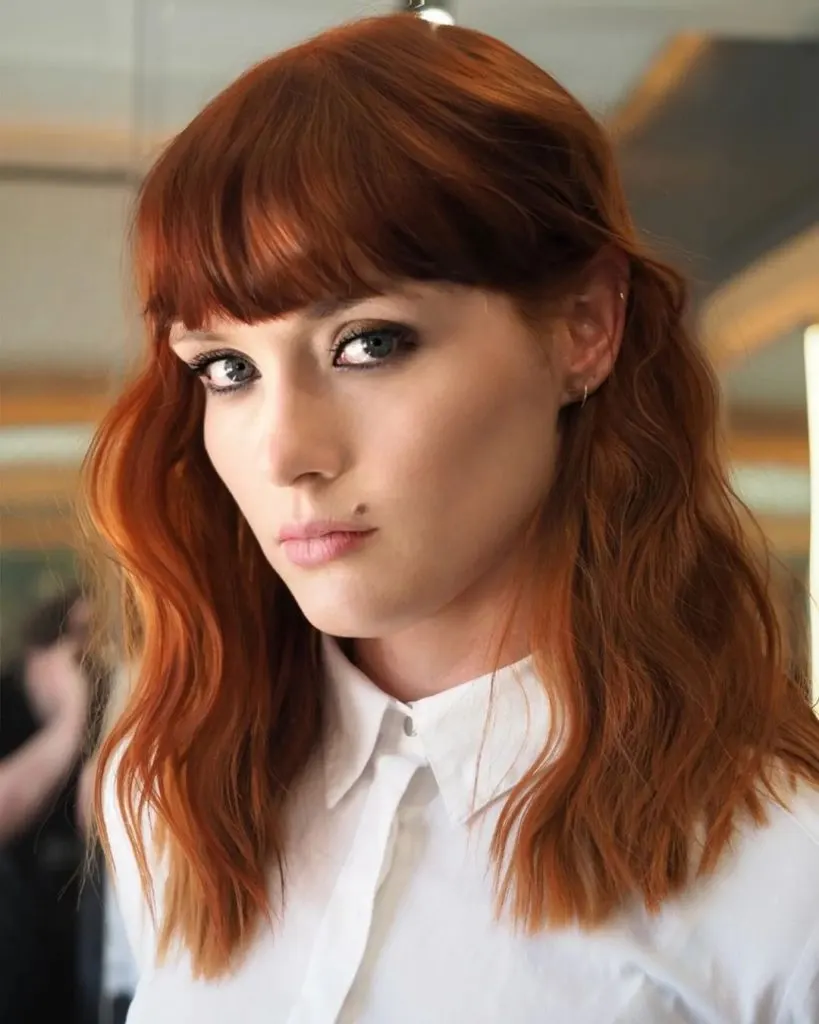 Bangs can be used to emphasize or conceal, to just create a certain vibe, or both. Classic short fringe calls attention to the eyes, but also gives a sophisticated impression.
28. Medium Hair With Micro Bangs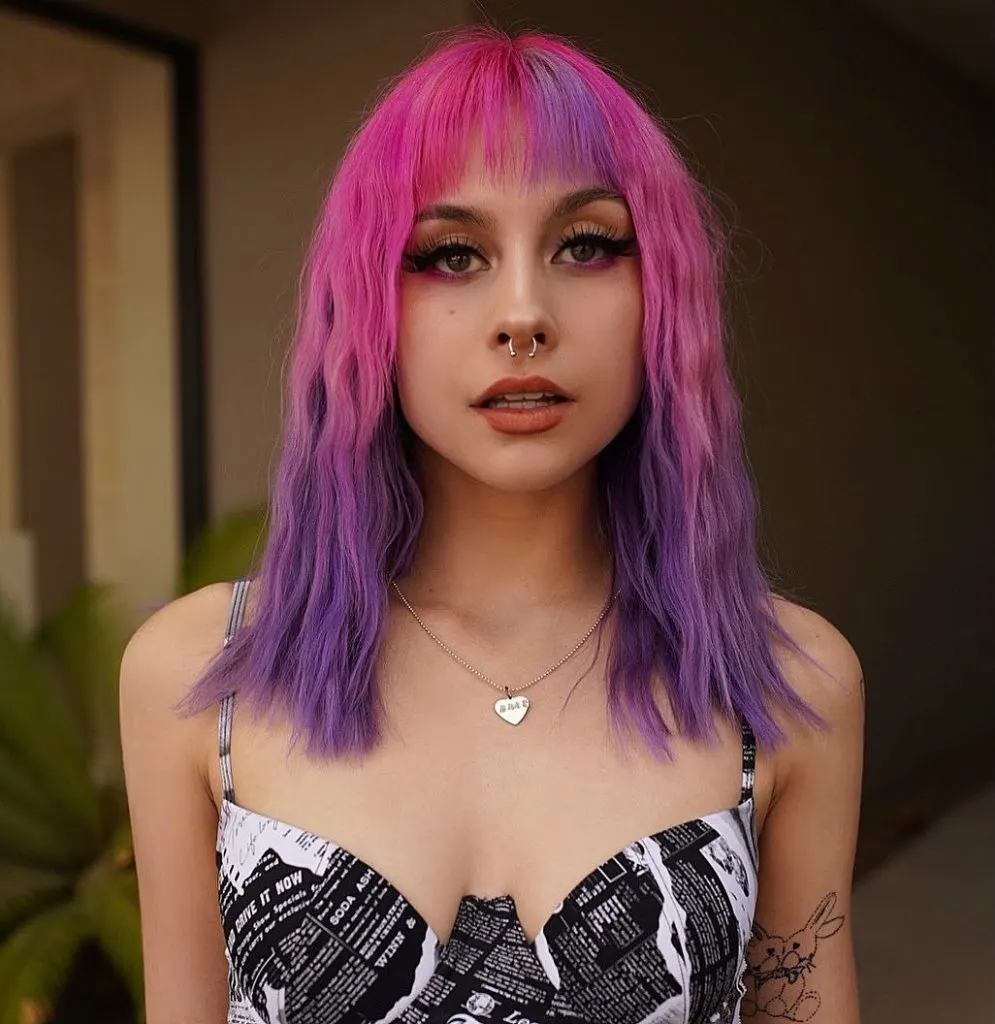 Bangs that don't reach the eyebrows can be too harsh on a soft face, but that can be easily fixed by making them choppy to soften the line.
29. Layered Medium Hair With Fringe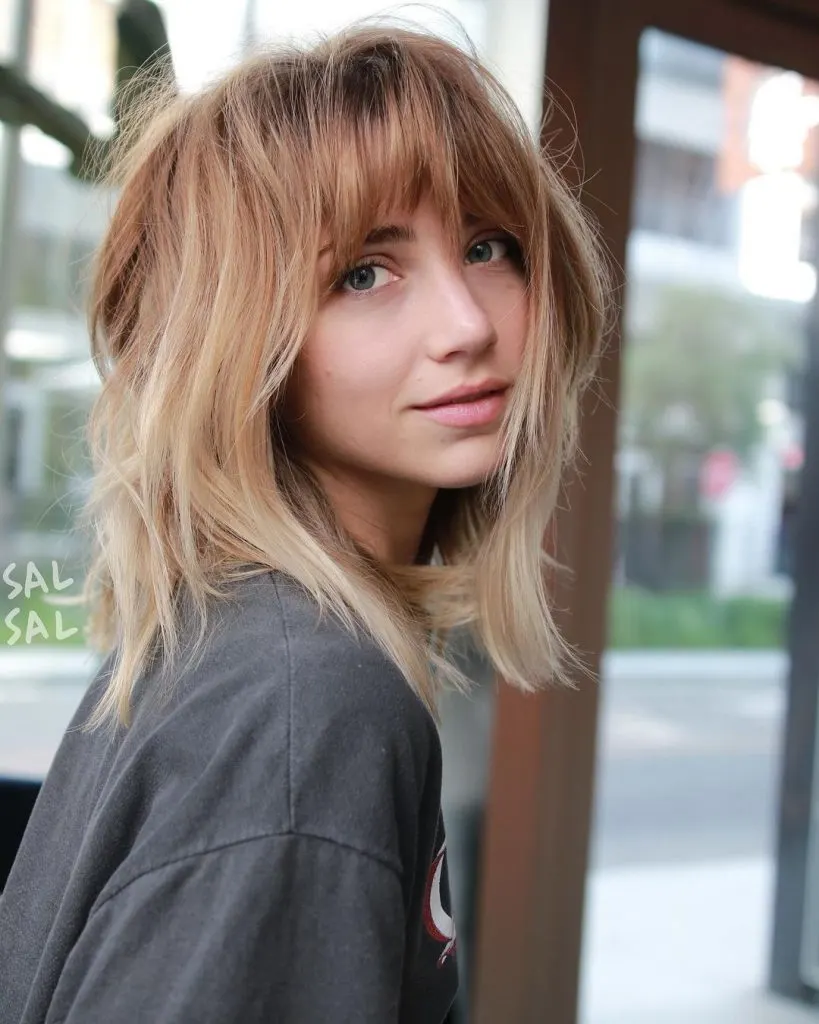 This haircut is heavy on top and has tapered ends, which creates a dramatic look that pairs well with a full fringe.
30. Medium Curly Hair With Bangs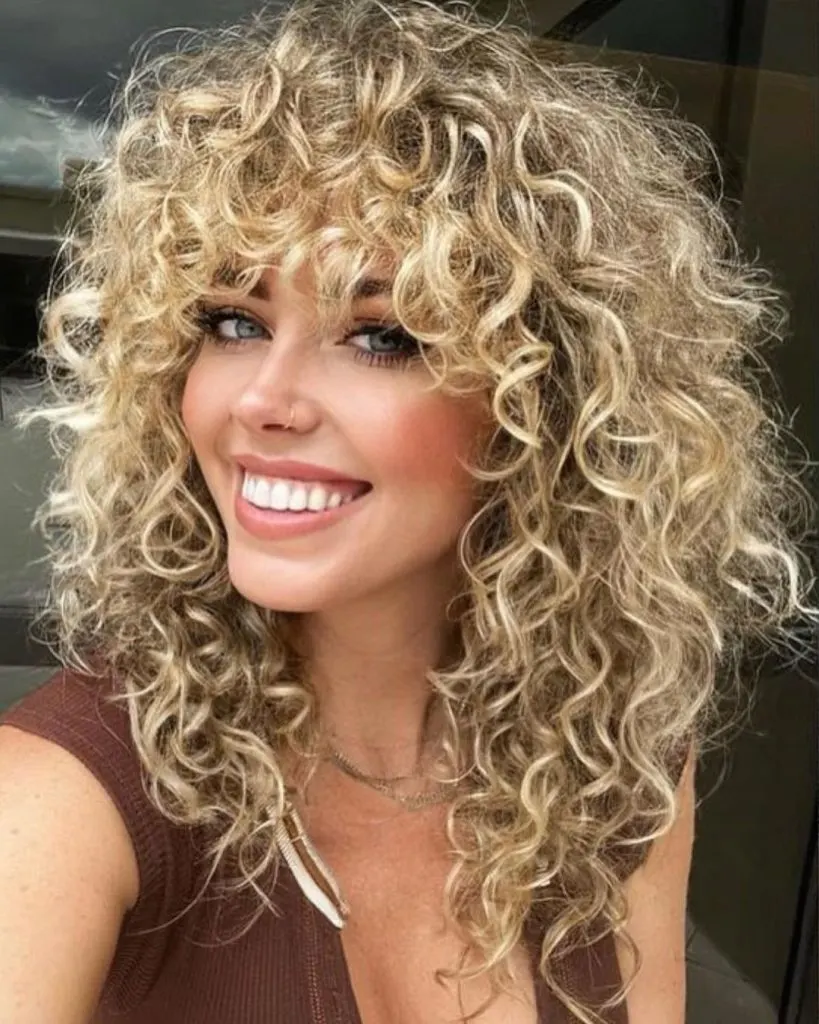 Pamper your curls to help them look defined and bouncy. Avoid anything that dries out your hair and make sure you deep condition once a week.
31. Straight Hair Wolf Cut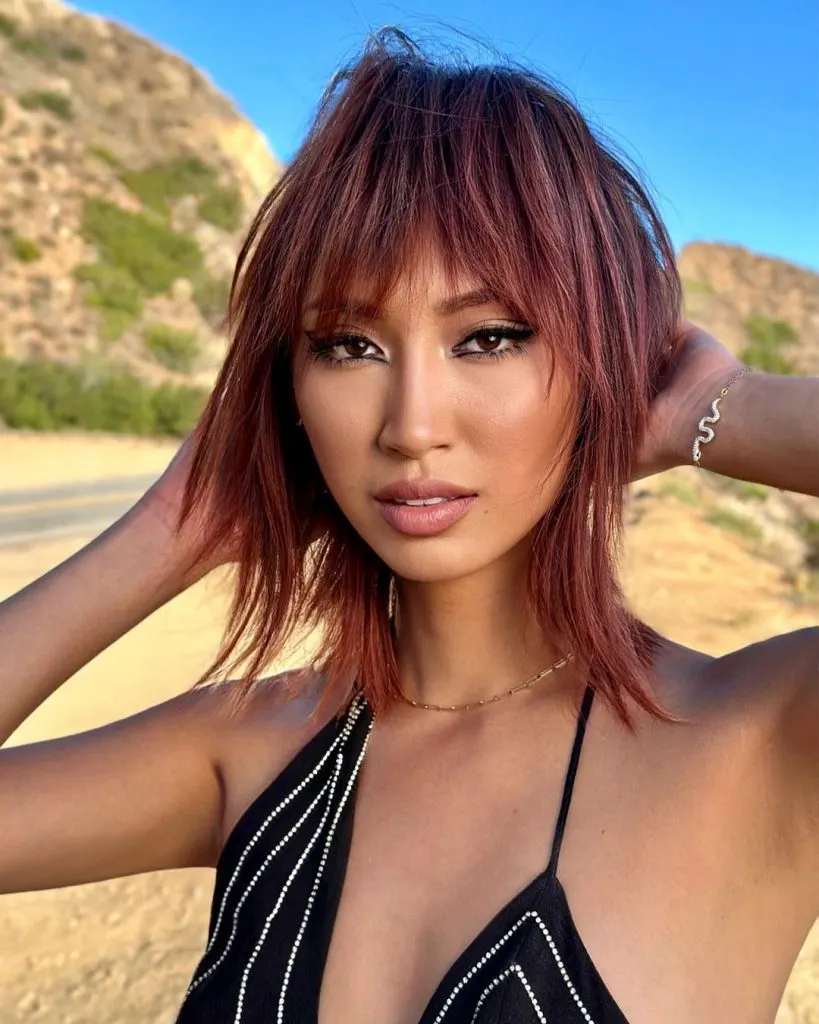 This super-choppy wolf cut has a lot of lift at the crown, making it perfect to visually elongate a round face.
32. Short Medium Layered Haircut With Fringe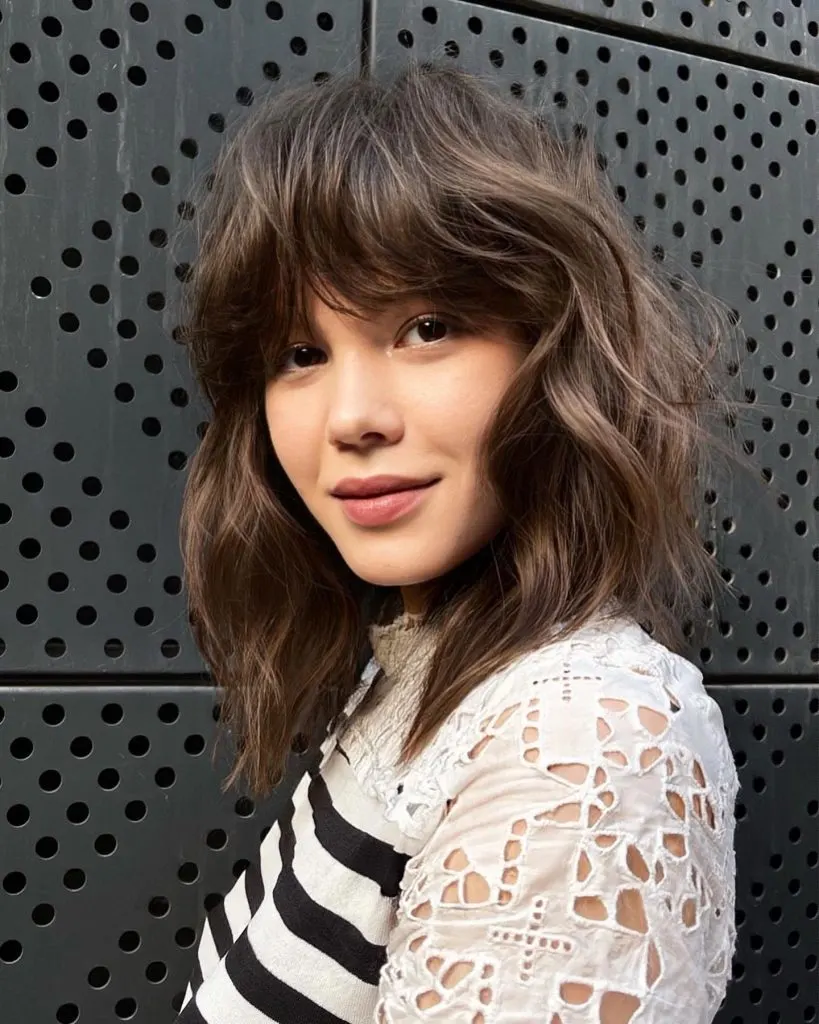 Refresh your thick hair with a few well-placed layers and bangs that suit your face shape.
33. Shoulder-Length Straight Hair With Bangs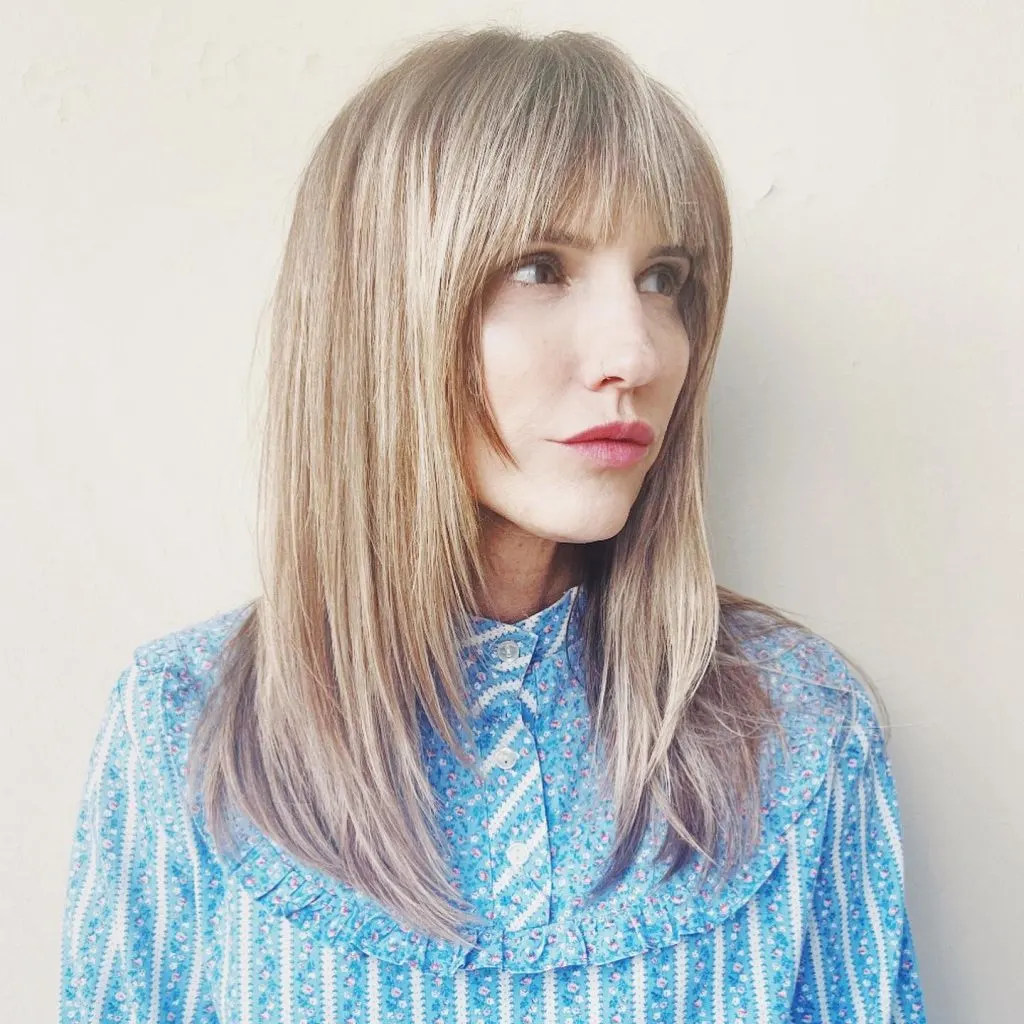 A classic layered cut with bangs is more versatile than it seems—it can look professional or edgy depending on how you style it.
34. Blunt Lob With Long Curtain Bangs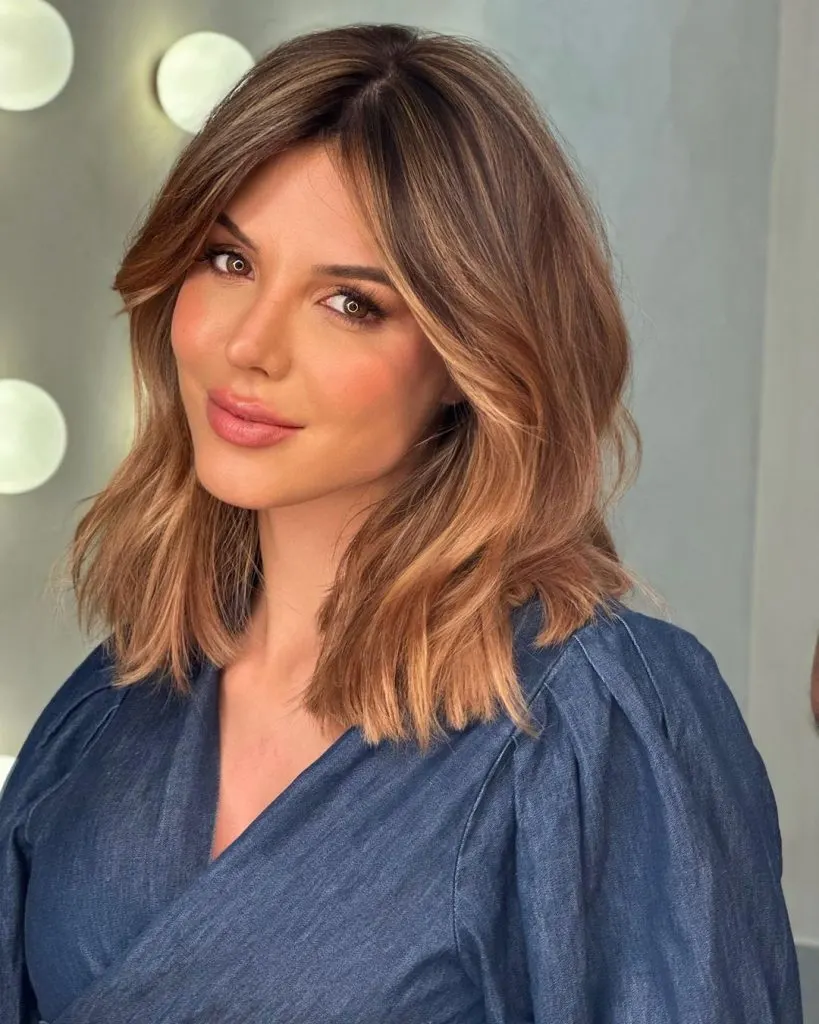 Even the slightest bangs can make your whole style pop, especially when paired with color. Here, the highlights in the long bangs brighten the face and make it glow.
35. Medium Hair With Wispy Bangs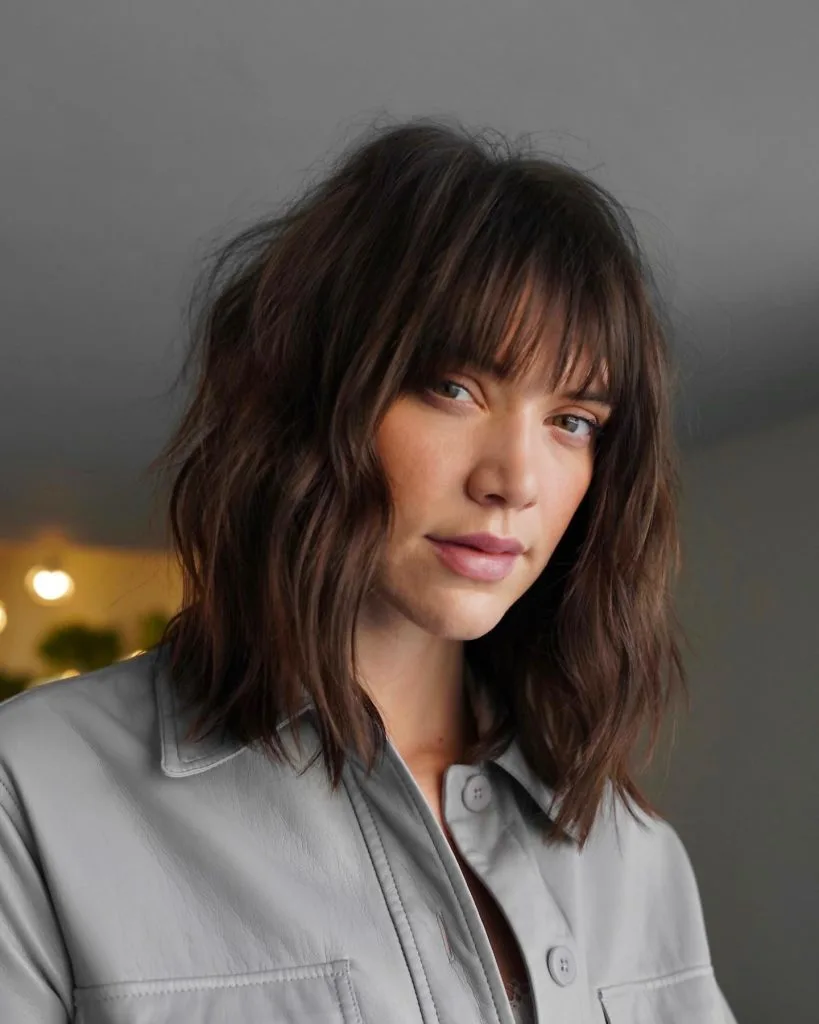 The wispy short bangs give a personal touch to this haircut by making it fit the face perfectly.
36. Shoulder-Length Lob With Fringe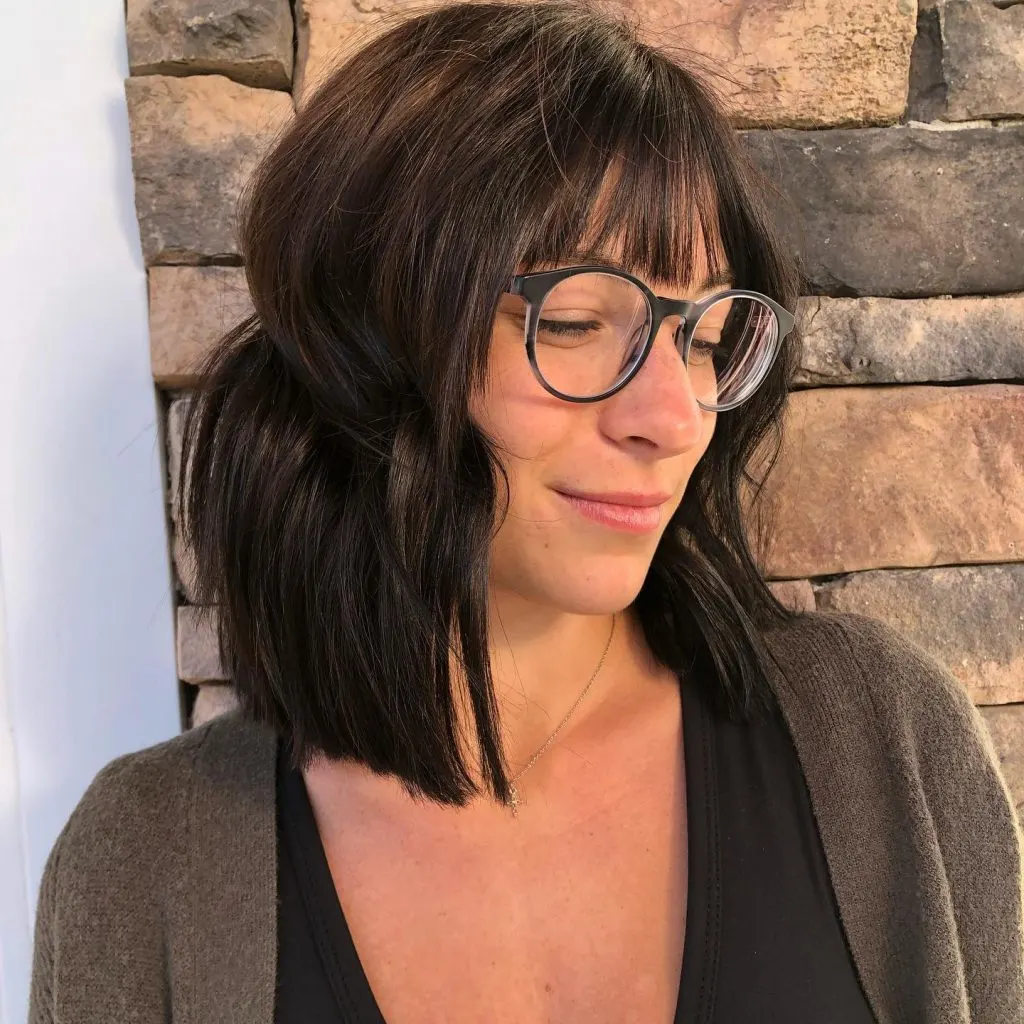 Thin bangs are easy to grow out if you change your mind, so take the leap if you're bang-curious.
37. Medium Hair With Fringe And Face Framing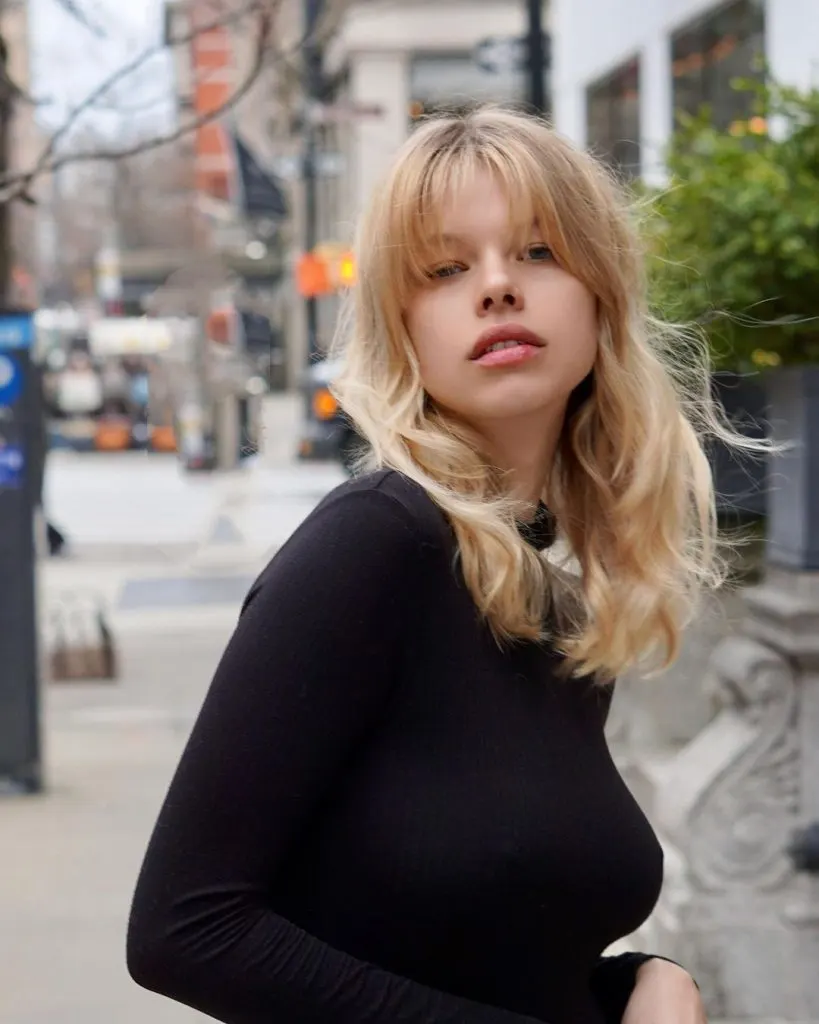 Just a few shorter strands added to the center of the forehead transform the classic curtain bangs into something much more playful.
38. Medium Hair With Side Bangs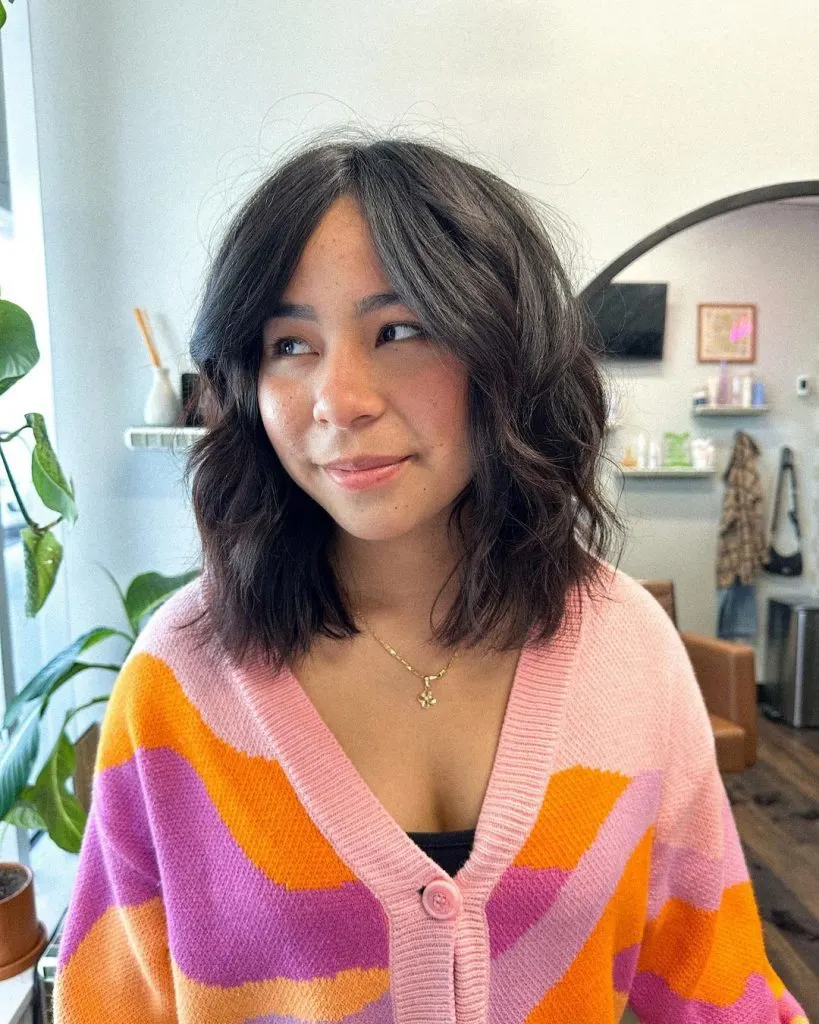 Parting your bangs off-center has a similar look to a middle part, but it helps divert attention away from any asymmetry in the face, which most of us have.
39. One-Length Haircut With Bangs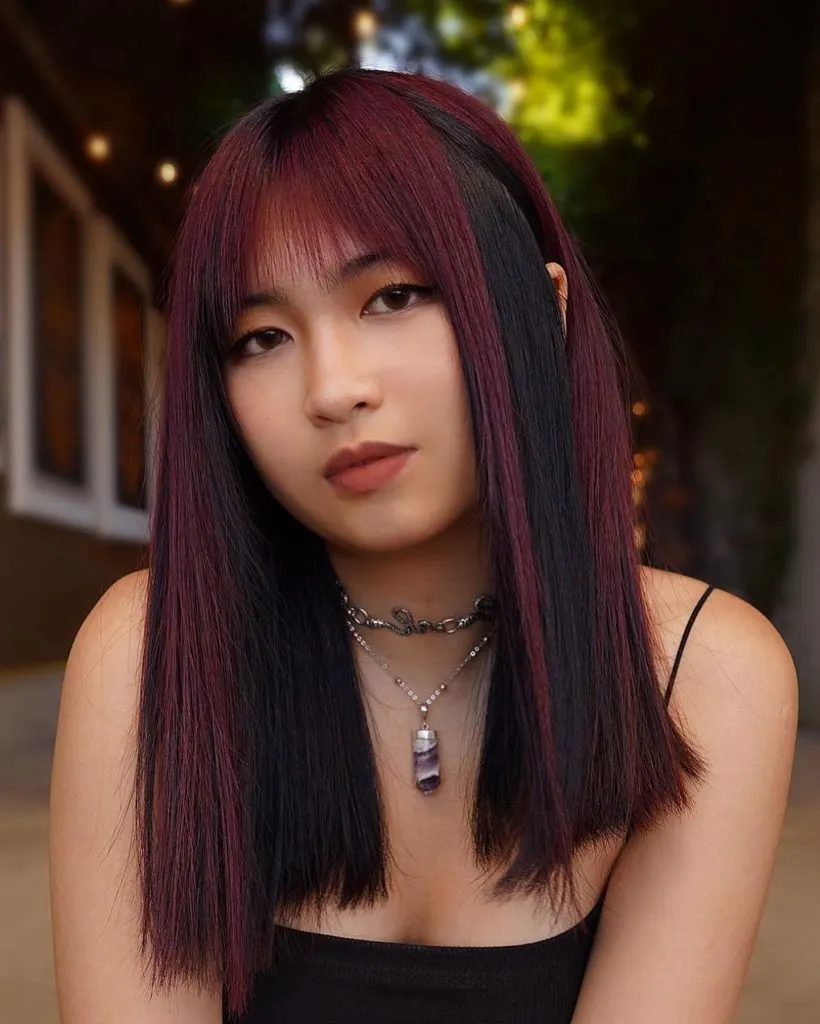 When in doubt, go wispy and choppy. Thick, short, blunt bangs are difficult to make work, and this is a much more manageable fringe that still looks dramatic.
40. Medium Hair With Face Framing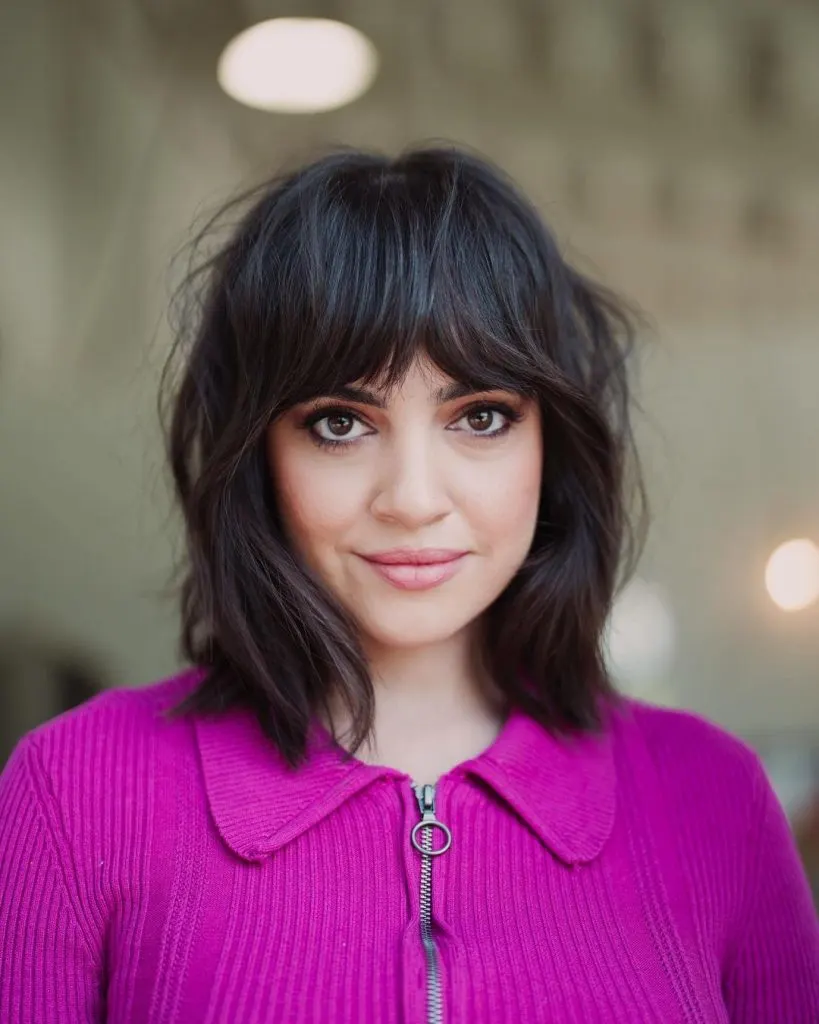 Short curtain bangs that barely split down the middle are super flattering and can conceal both a too high and a too short forehead, making your face look more balanced.
41. Two-Tone Medium Hair With Bangs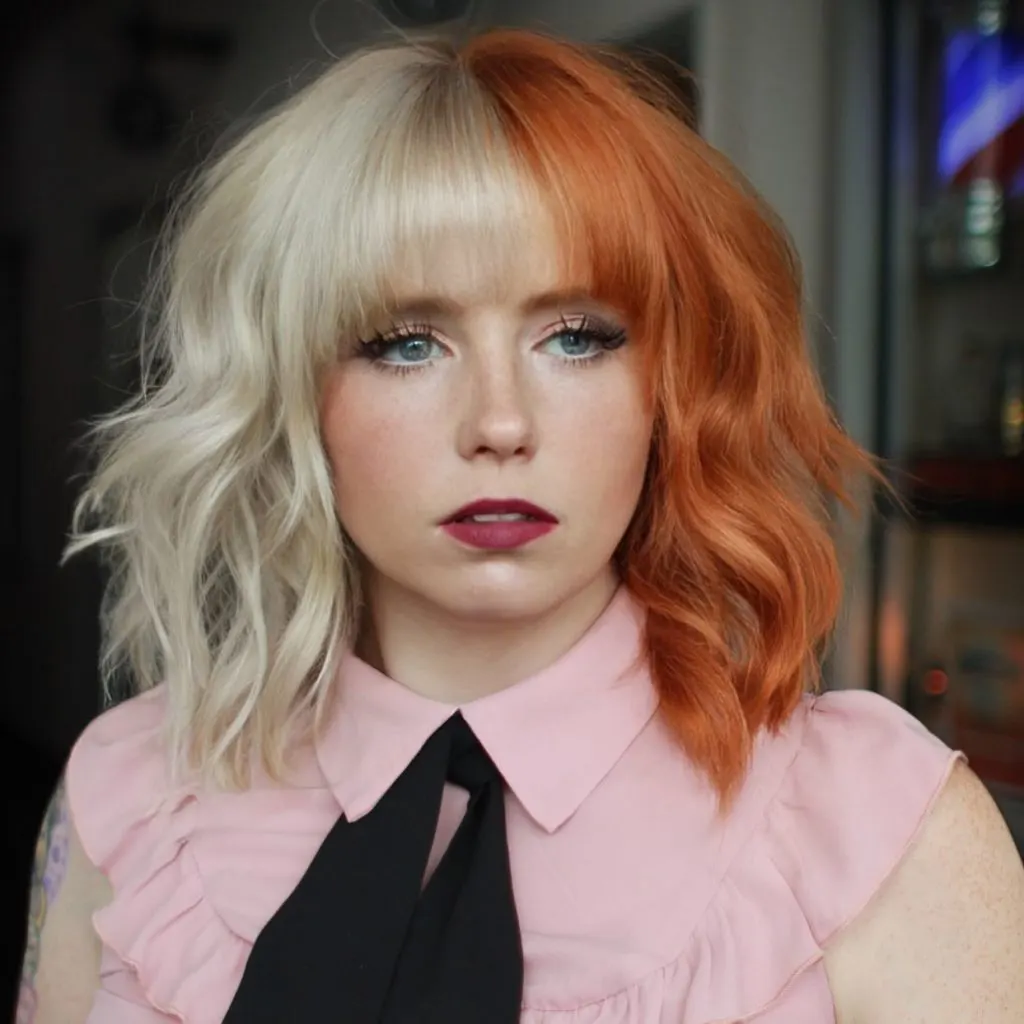 The contrast of straight fringe and wavy hair creates a fun and edgy look.
42. Mid-Length Hair With Blunt Bangs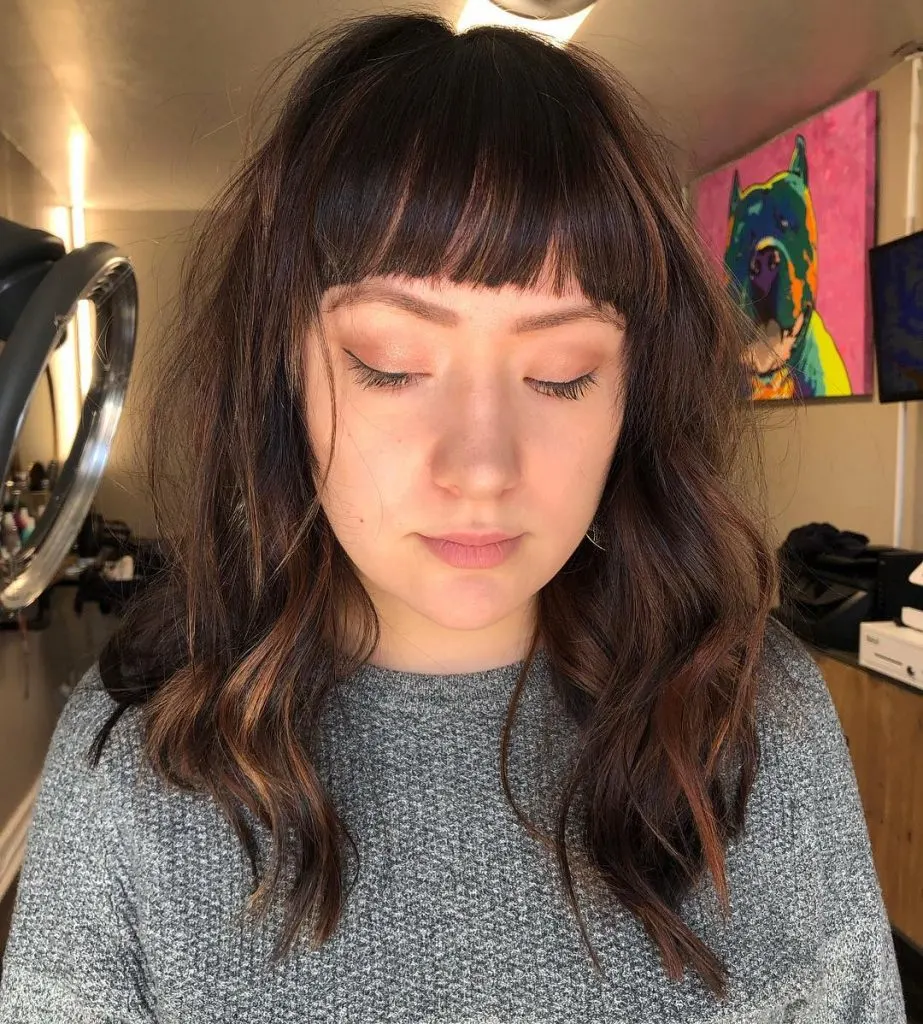 Blunt bangs work best on oval and oblong faces. If your face is round, make them choppier, while an angular face works much better with something that doesn't cover the forehead completely.
43. Choppy Layered Medium Hair With Bangs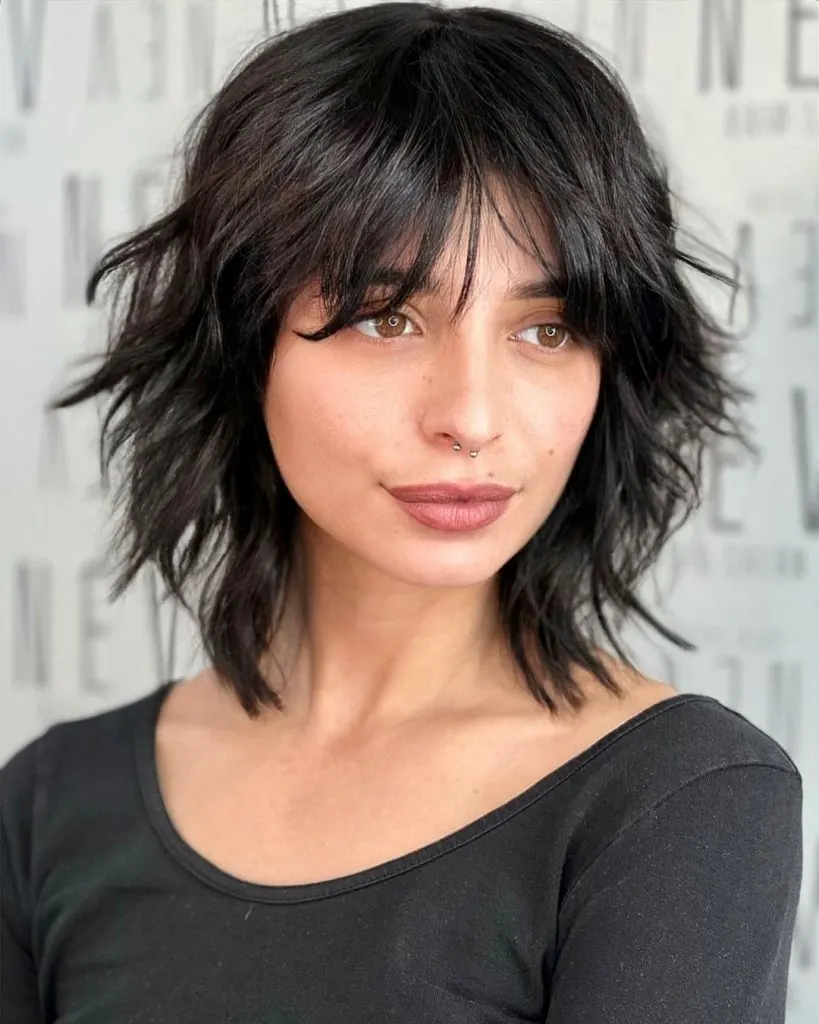 A longer shag can be fussy, but a short shag is one of the easiest styles to care for and doesn't require much styling at all.
44. Shoulder-Length Hair With Full Fringe
This haircut with breezy layers and messy bangs looks cool and effortless, and it doesn't need much maintenance—it looks good even when it grows out a bit.
45. Medium Hair With Long Curtain Bangs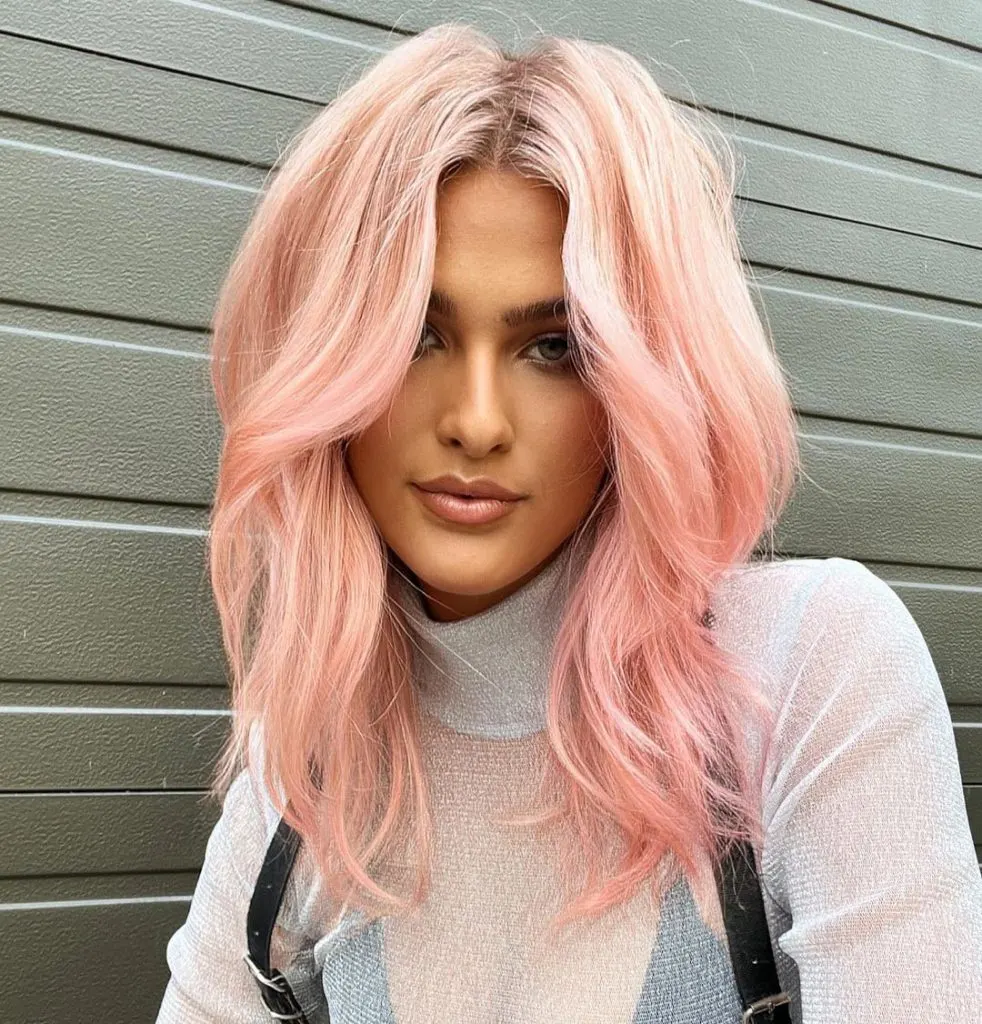 If you want the face framing, but don't want visible bangs, go for something long—the trick is to choose the length that hits just at the height that will flatter your face the most.
46. Shoulder-Length Hair With Curtain Bangs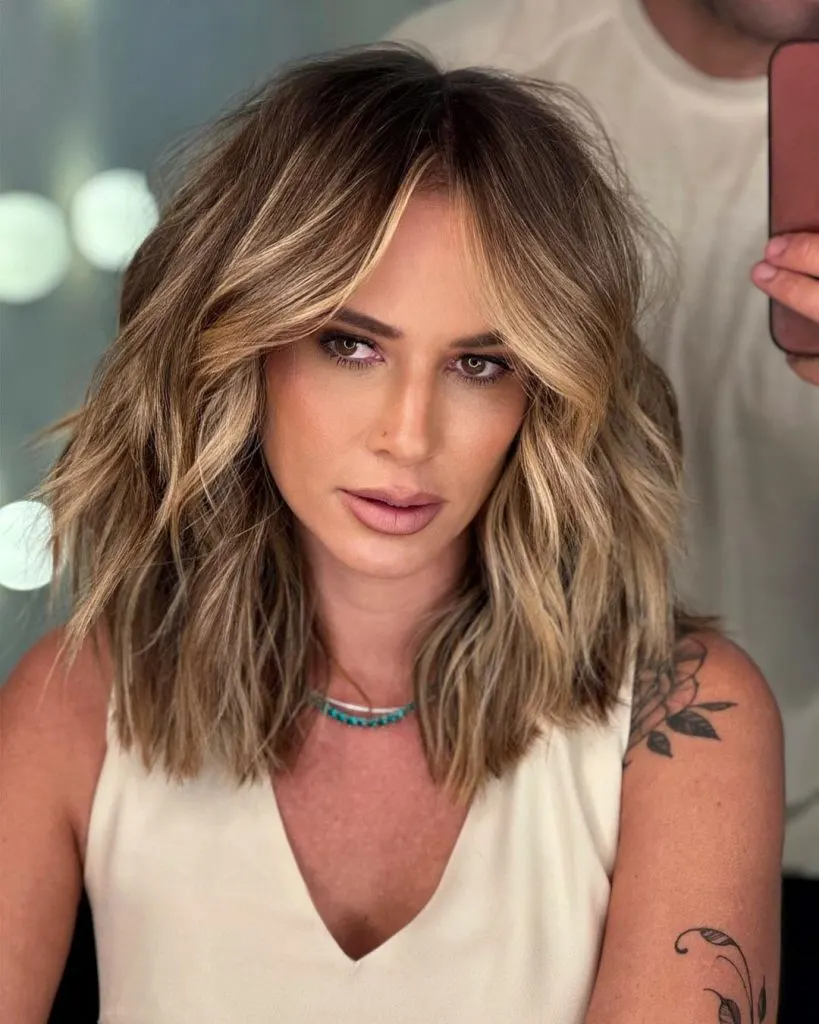 Shaggy layers and curtain bangs have been popular for a while now and it's not hard to see why—with all the face framing and volume, this hairstyle is flattering and sexy.
47. Medium Hair With Long Bangs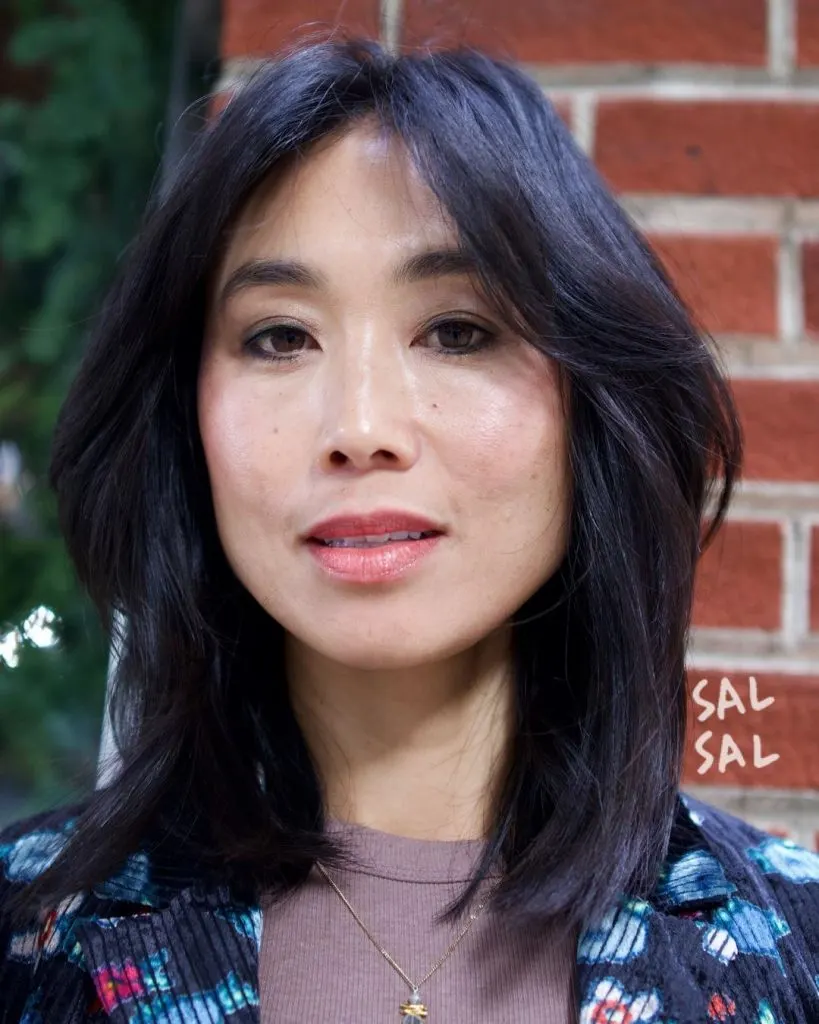 Swept-back long bangs are super manageable and give the hair lots of movement.
48. Curly Shag With Thick Bangs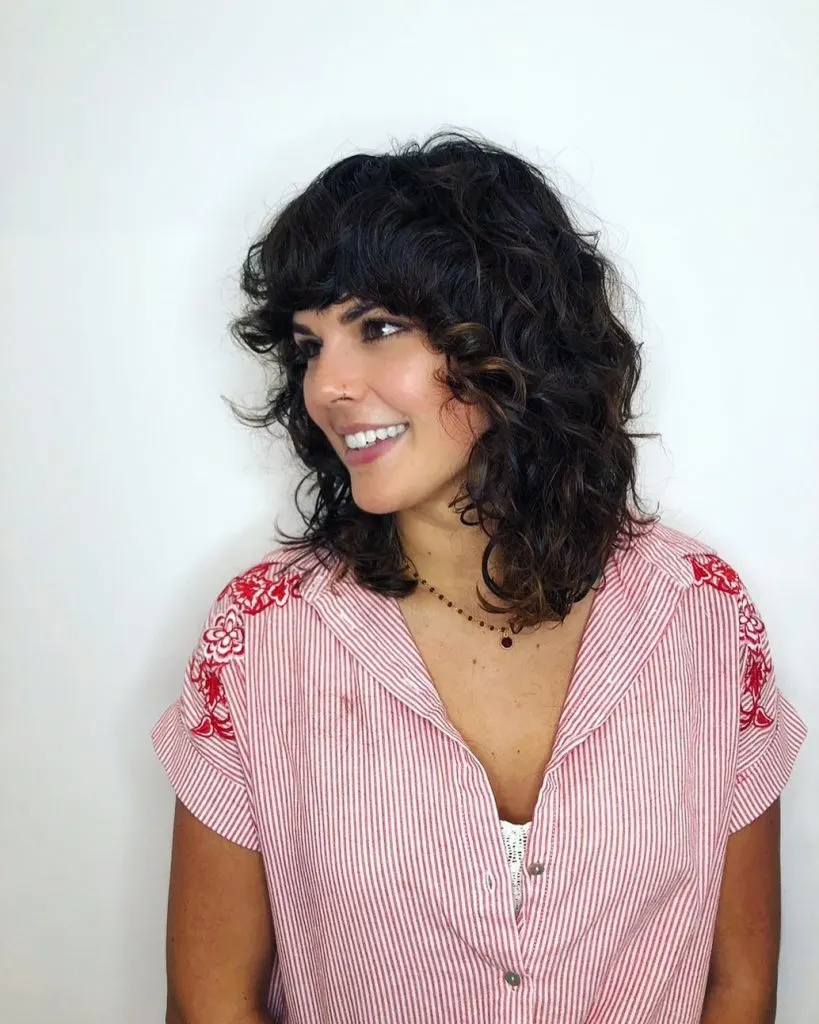 Bangs are not only for straight hair—curly hair works with fine, wispy bangs or something thick and full.
49. Medium Hair With Center-Parted Bangs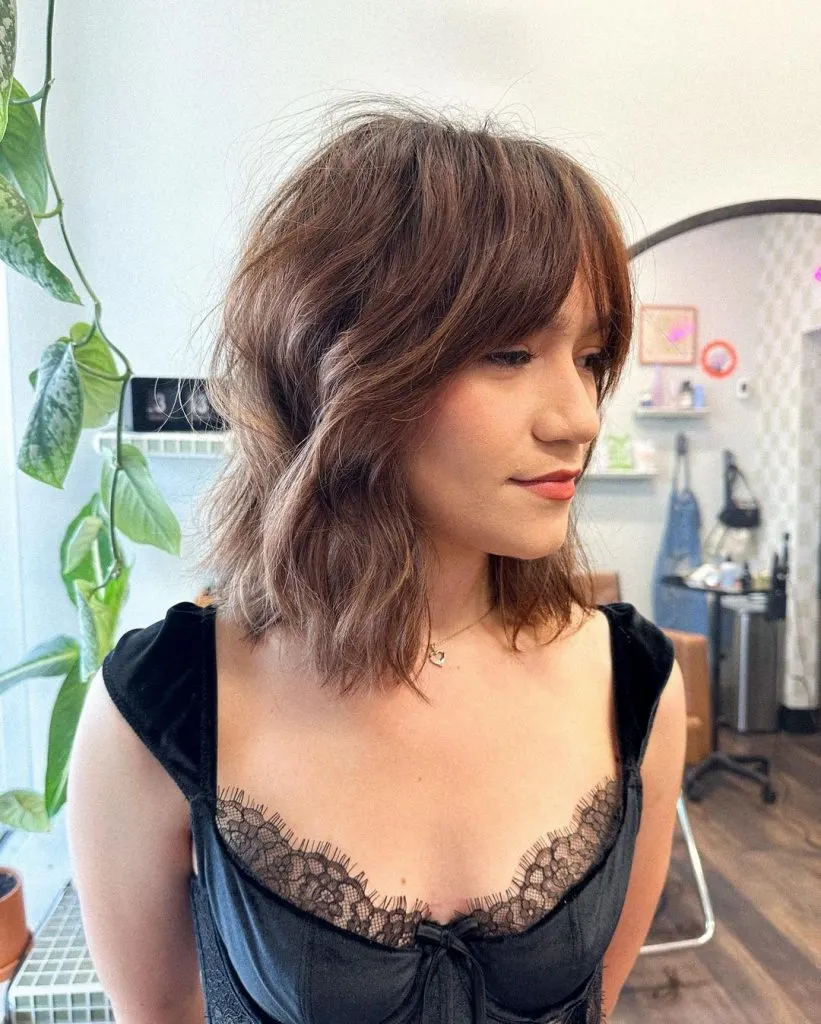 Medium-length hair and medium-length curtain bangs are an easy choice if you're looking for a haircut that you can style quickly and still look put together.
50. Mid-Length Hair With Full Fringe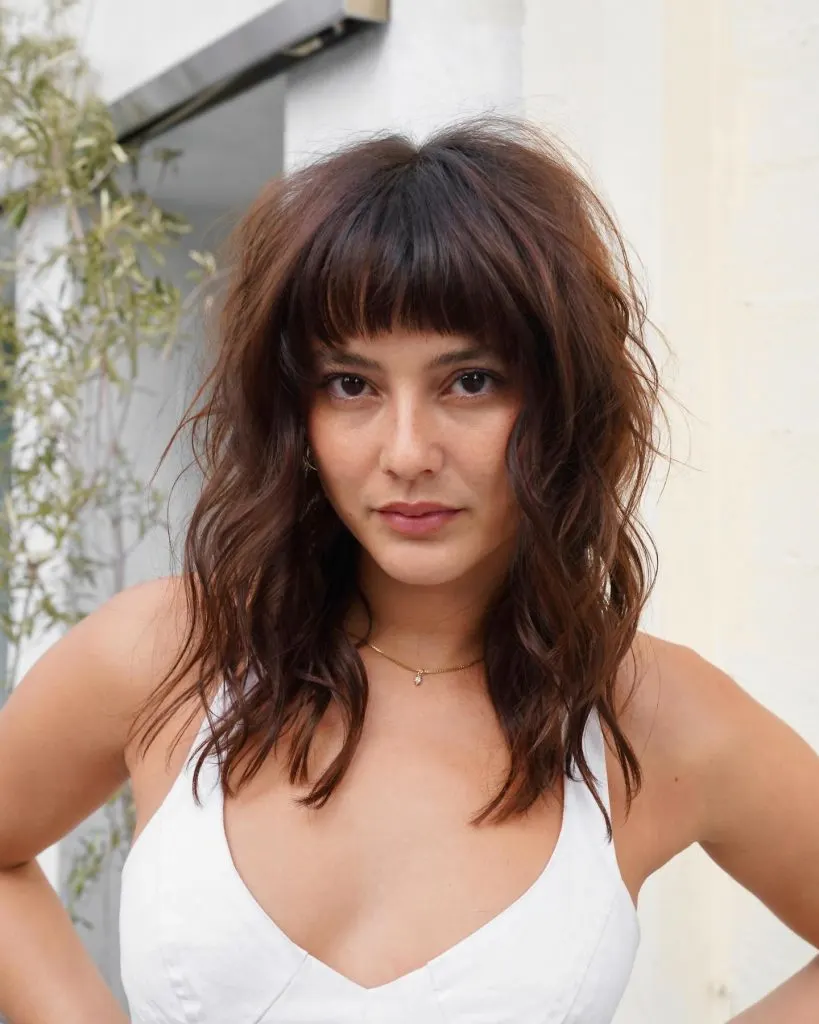 Bangs are high-maintenance, so you'll have to go back to your hairdresser every few weeks. If you decide to go short with your bangs, it's best to learn how to trim them yourself.