Clip clip!!! The Bang is back. Long hair with bangs is entering a new era, and it is super charming, elegant, and face-flattering. If you're on the fence about getting bangs and can't quite decide, just take a look through this guide. I bet by the end of it, you'll be saying 'YES, definitely yes' to bangs!
1. Curtain Bangs On Straight Hair
Charming curtain bangs paired with sleek hair are a dream combo. It's a look you can rock day and night and still look incredible. Sometimes, simplicity is truly key!
2. Peach Curtain Bangs With Layers
When in doubt, go for orange and throw in some layered curtain bangs to look fabulous. This warm look is perfect for those considering a style change. Just gorgeously peachy!
3. Blunt Bangs & Butterfly Cut
An awesome combo indeed! Sharp and fluid blunt bangs mixed with the softness of the butterfly cut – two opposites that definitely attract.
4. Bottleneck Bangs
This hairstyle is kind of like the neck of a bottle. It starts off short and slim near the middle, gets a bit longer around the eyes, and then it's the longest along the cheekbone line.So beautiful!
5. Side Swept Bangs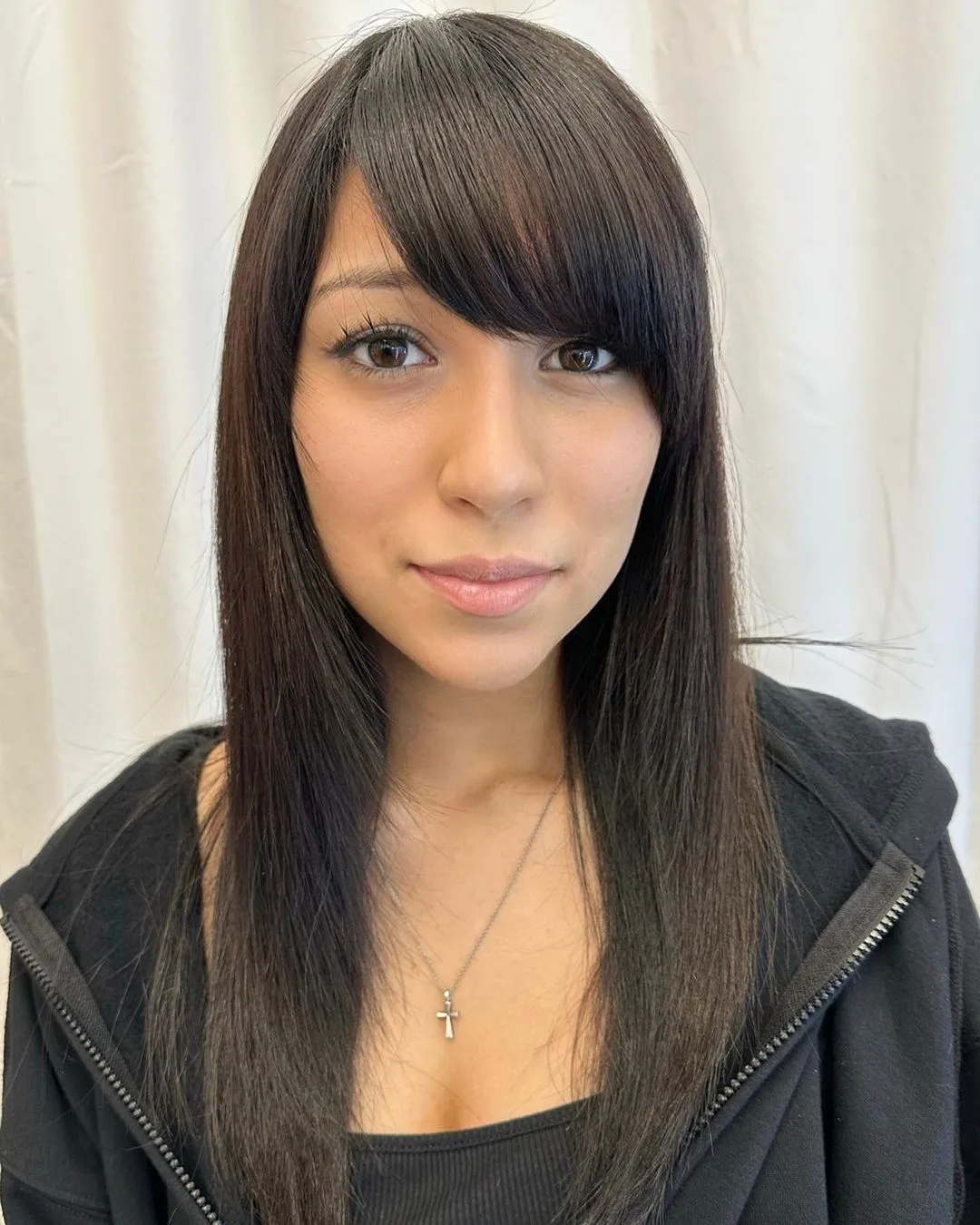 There's something about side fringes that really make your eyes stand out. This look is making a serious comeback and we're absolutely loving it.
6. Long Bangs
Bangs that reach just below the eyebrows are known as long bangs or eyebrow-skimming bangs. They add that mysterious look you never knew you needed.
7. Arched Bangs
The cut of these bangs is arch-shaped and follows the curve of the face, hence the name arch bangs. These ones are truly a thing of beauty!
8. Shaggy Bangs On Long Hair
Are the 70's making a comeback? Apparently so. We are loving every shaggy haircut of them. A style that perfectly frames the face and gives that extra volume.
9. Choppy Bangs
An awesome combo of long and short strands comes together to form a dynamic and edgy blend. Bangs are a cool addition to an already cool color and hairstyle.
10. Long Razor Cut & Soft Bangs
It's all about versatile, soft bangs that can be both cute and stylish, making the grow-out process a breeze. These bangs are a natural beauty enhancer if there ever was one.
11. Wispy Bangs
So soft and feathery, the wispy fringes are a go-to option when you want to make a hairstyle change for a new season. How pretty is this?!
12. Full Curtain Bangs
Thicker curtain bangs for a richer look. To add extra richness, ensure your hair is as healthy and shiny as this photo model's, and you'll look stunning.
13. longish full bangs
The iconic hair of Zooey Deschanel is something every woman with finer hair aspires to. Layers mixed with these long, full bangs give a lot of volume and a vintage vibe. Literal perfection!
14. Purple Hair & Ash Blond Bangs
These color-contrasted bangs are truly a work of art. It's a choice that suggests confidence and a willingness to stand out. A bold fashion statement that is stunning.
15. Curved Bangs
Grey blending shag and curtain bangs create a silver luxury hairstyle that anyone would want to pull off. This just goes to show that you can achieve versatile styles with curtain bangs and look stunning.
16. Curly Bangs
Whoever said that bangs and curly hair don't go together, bite your tongue right now. This is a match made in heaven, and it looks breathtaking.
17. Bottleneck Bangs
Why are bottleneck bangs on everyone's radar these days? Well, they have a shape that can easily adapt to various face shapes. They are an ideal choice of bangs for long hair because they quickly blend into the long layers.
18. Moon Bangs
Also called crescent bangs because their shape resembles a crescent moon. Combined with this long, wavy shag, they are so retro and fine. They really do add a unique touch.
19. Butterfly Bangs
To be exact, these are curtain bangs, but when accompanied by a butterfly haircut, they are also known as butterfly bangs. Thanks to TikTok, this has become one of the most popular haircuts recently.
20. Baby Bangs
Classic baby bangs have evolved, combining pixie-like charm with modern textures. Definitely a look for fashion-forward individuals. Vintage chic!
21. Choppy Bangs In Pastel Pink
When you add pastel pink to choppy bangs and messy long hair, you get that playful yet feminine look. A style that captures the hearts of all trendsetters.
22. Blunt Bangs On Copper Hair
Blunt bangs paired with long copper hair can either mellow down an edgy aesthetic or infuse a touch of punk-inspired rebellion, highlighting one's individuality.
23. Messy Side Swept Bangs
Messy side-swept bangs bring a carefree elegance to any hairstyle, offering a relaxed yet chic look that's effortlessly stylish and ideal for a laid-back vibe.