The textured lob embodies effortless style—it's cool and flattering, yet wearable and low maintenance. Invisible internal layers are used to create a haircut that's free from bulk and easy to style.
Here are some of the coolest textured lobs around, along with the styling tips you'll need if you decide to get the chop.
1. Wavy Textured Lob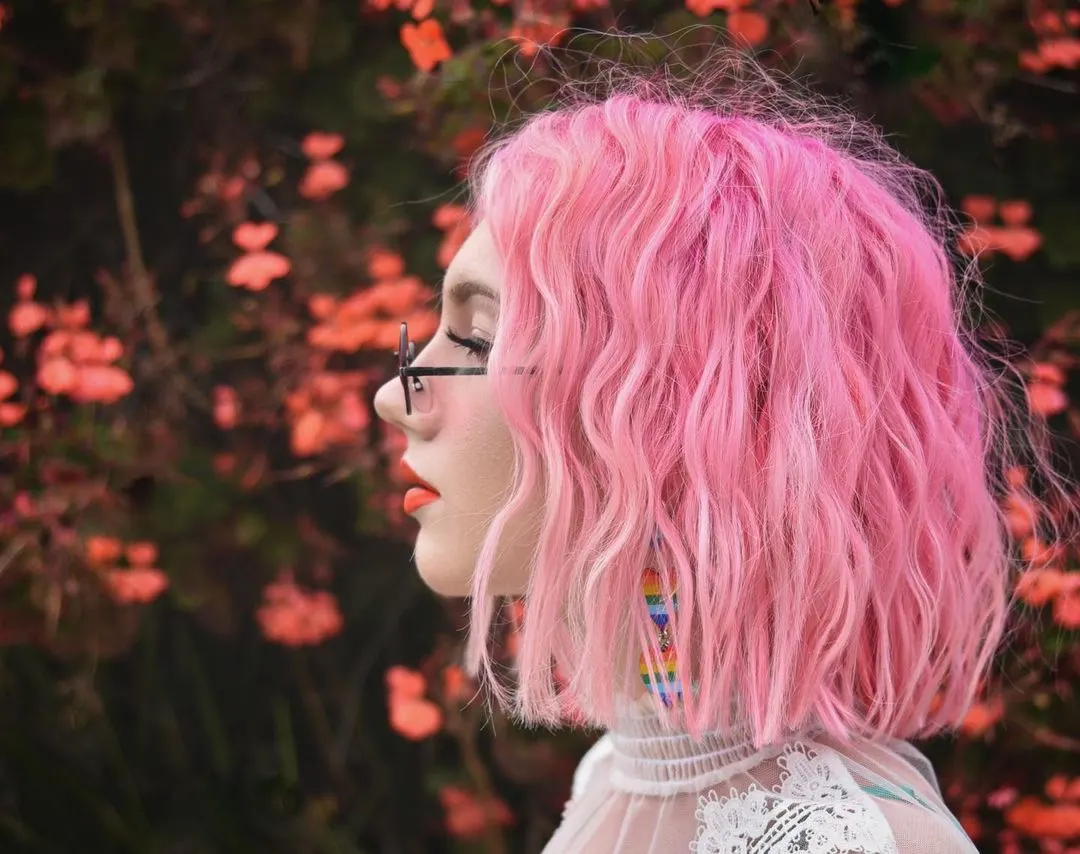 Texture is what makes a lob look effortless instead of overly done. This doesn't mean you don't have to do anything at all with your hair, but it looks chic even with minimum styling.
2. Long Choppy Bob For Thick Hair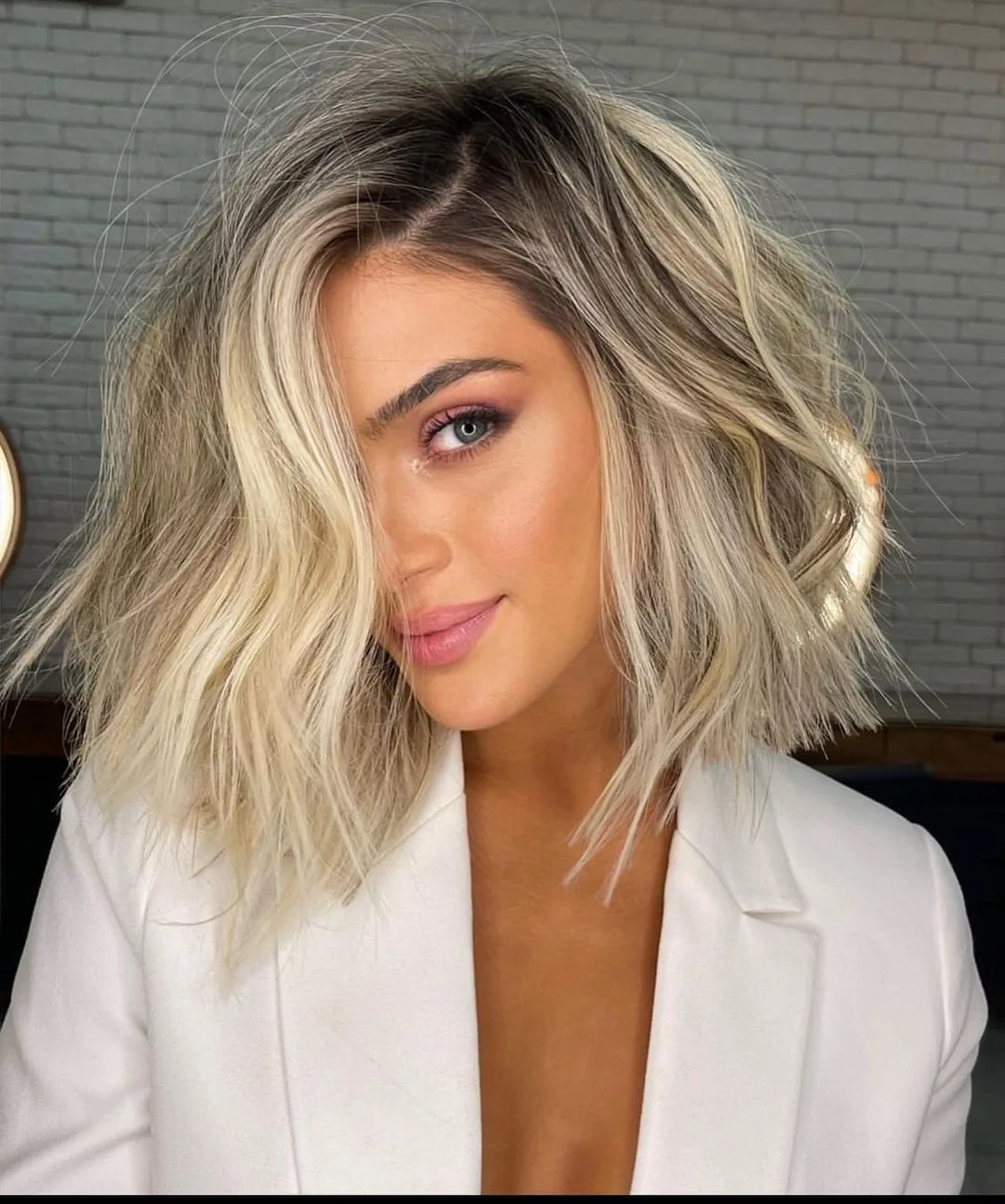 A blunt cut gives you a look of thick hair whatever your hair type. If your hair is fine, this might be what you're after, but what if your hair isn't thin? Since texturizing removes bulk, even already thick hair won't look boxy in a textured lob, only luscious and sexy.
3. Textured Long Bob Haircut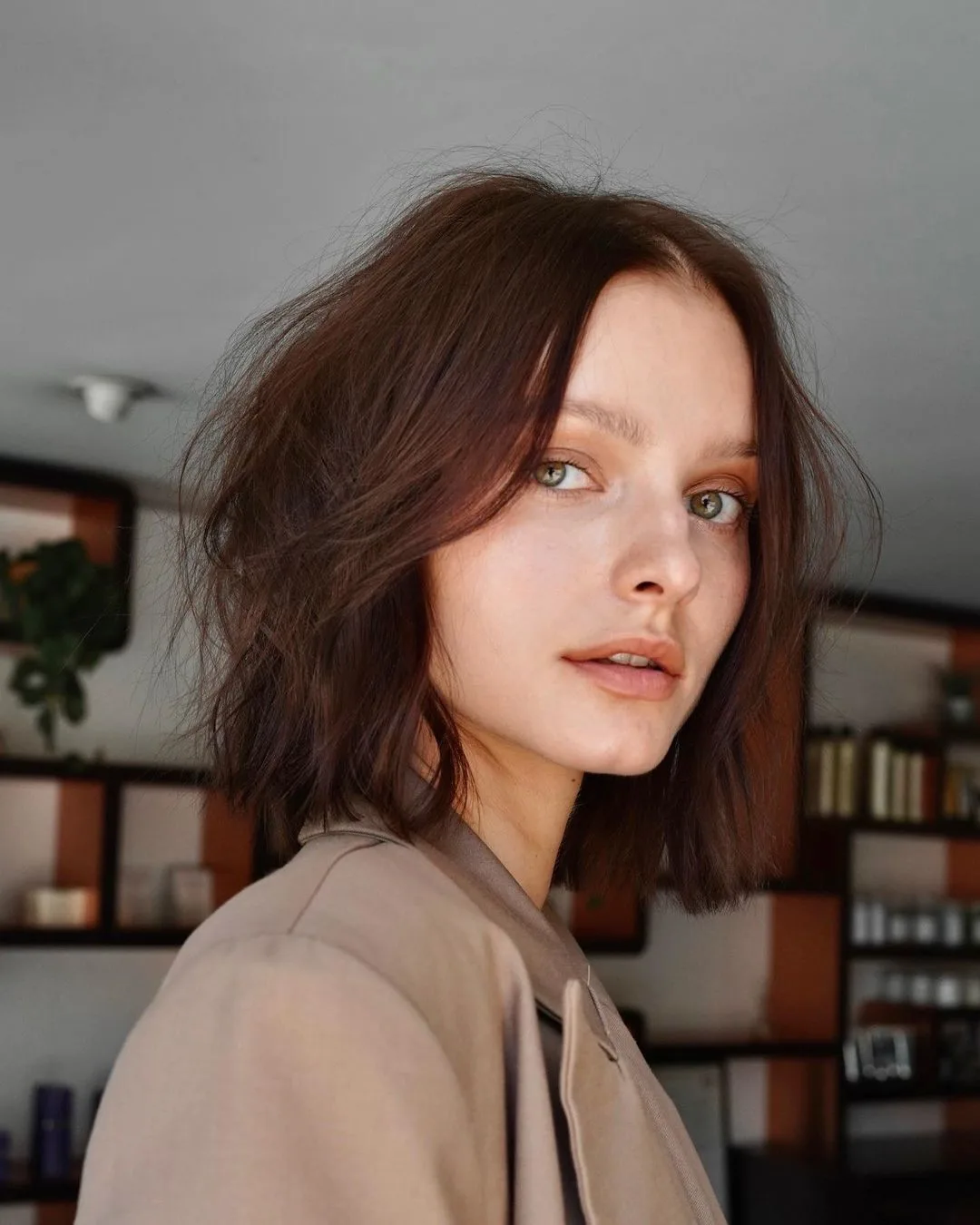 A textured lob looks best when it's imperfect: fluffy flyaways give it the popular lived-in look. To keep your lob looking soft, apply moisturizing cream to damp hair and let it air-dry.
4. Fine Hair Lob Haircut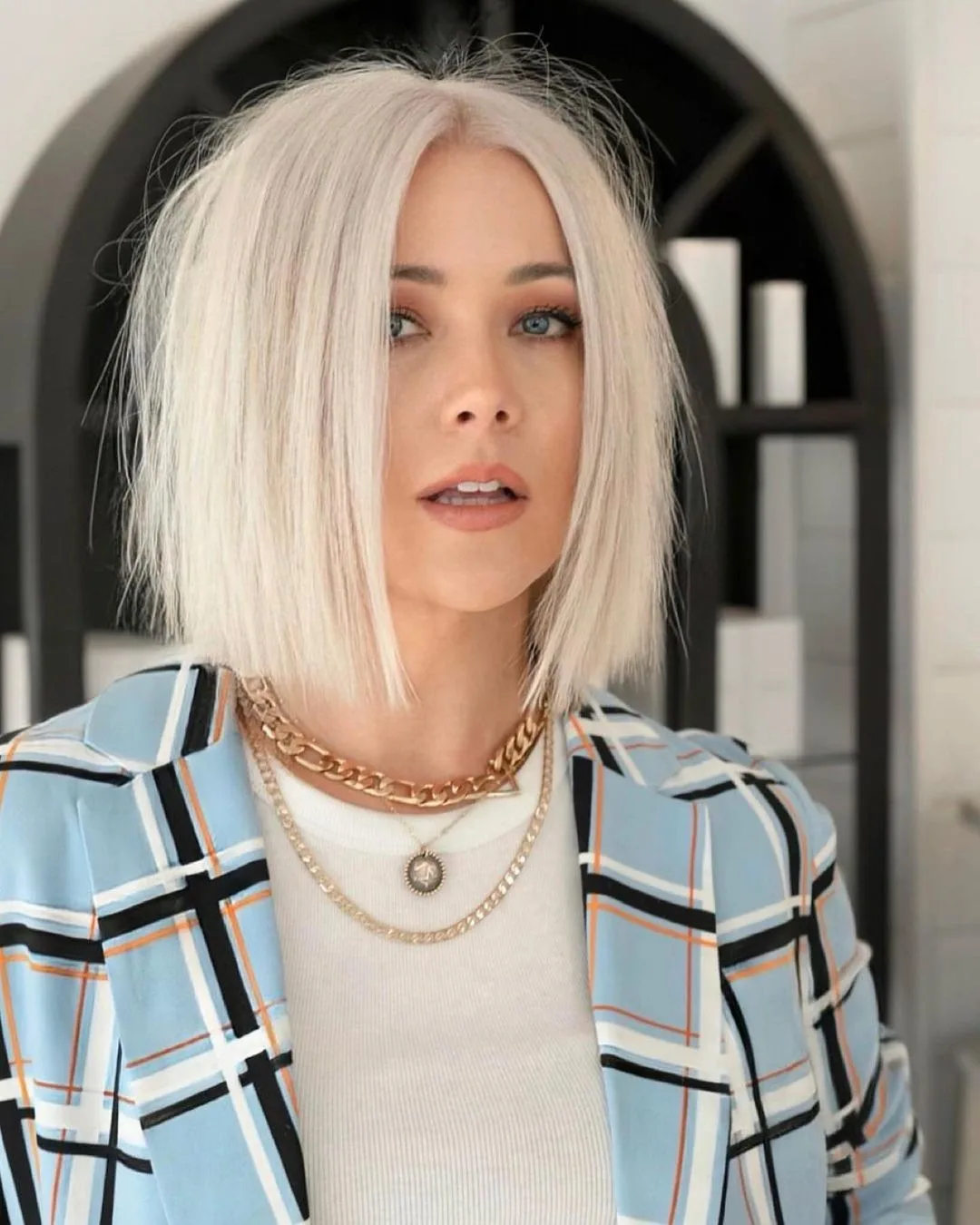 Fine hair is tricky—even when you have a lot of it, because the individual strands are so soft, it often lacks volume and gets tangled easily. This is why a textured lob (or bob, if you prefer your hair shorter) is the ideal hairstyle for fine hair.
5. Long Bob With Curtain Bangs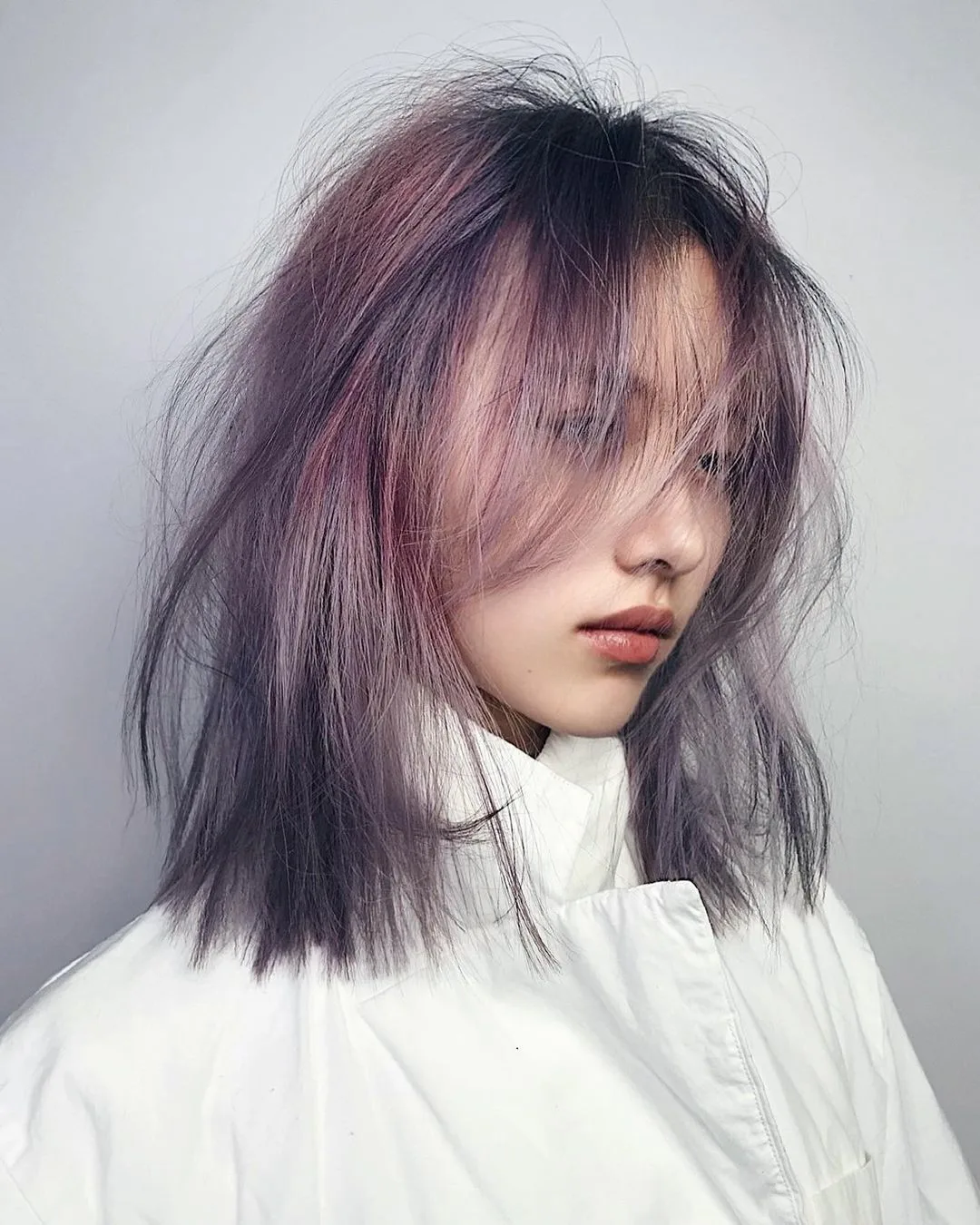 Before lobs became a thing, mid-length—or more accurately, growing-your-hair-out length—was the stage of in-between hair everyone used to dread. Nowadays, this is the hair length you ask for at the salon while getting your gorgeous new textured lob.
6. Shoulder Length Long Bob Haircut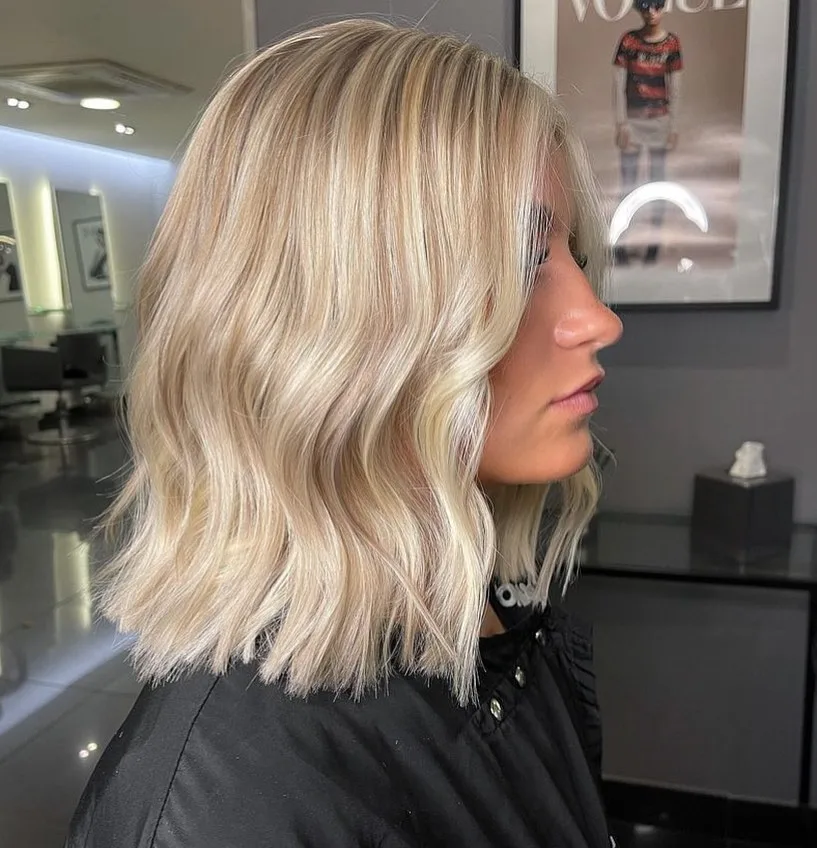 To achieve a modern undone look, keep the ends straight while adding some curl to the length. This is easily done using a curling wand without wrapping the ends around it.
7. Long Bob Haircut With Bangs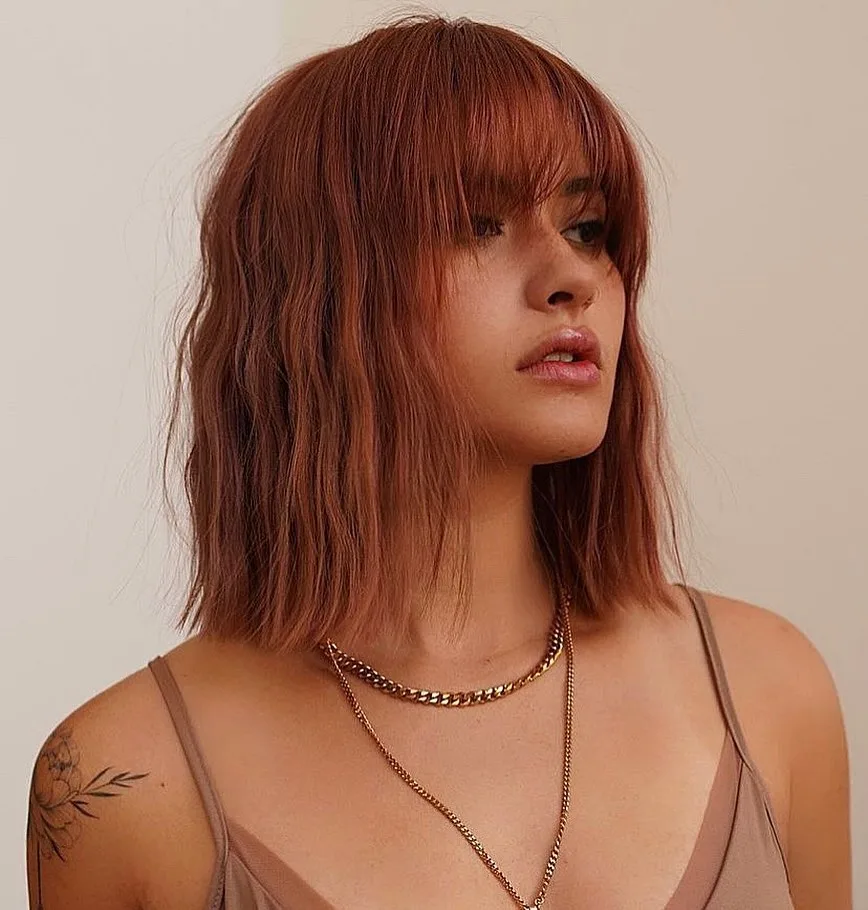 If you have a bit of natural texture, styling your lob should be a breeze. Apply anti-frizz product to damp hair, scrunch-dry, and you're done!
8. Long Angled Bob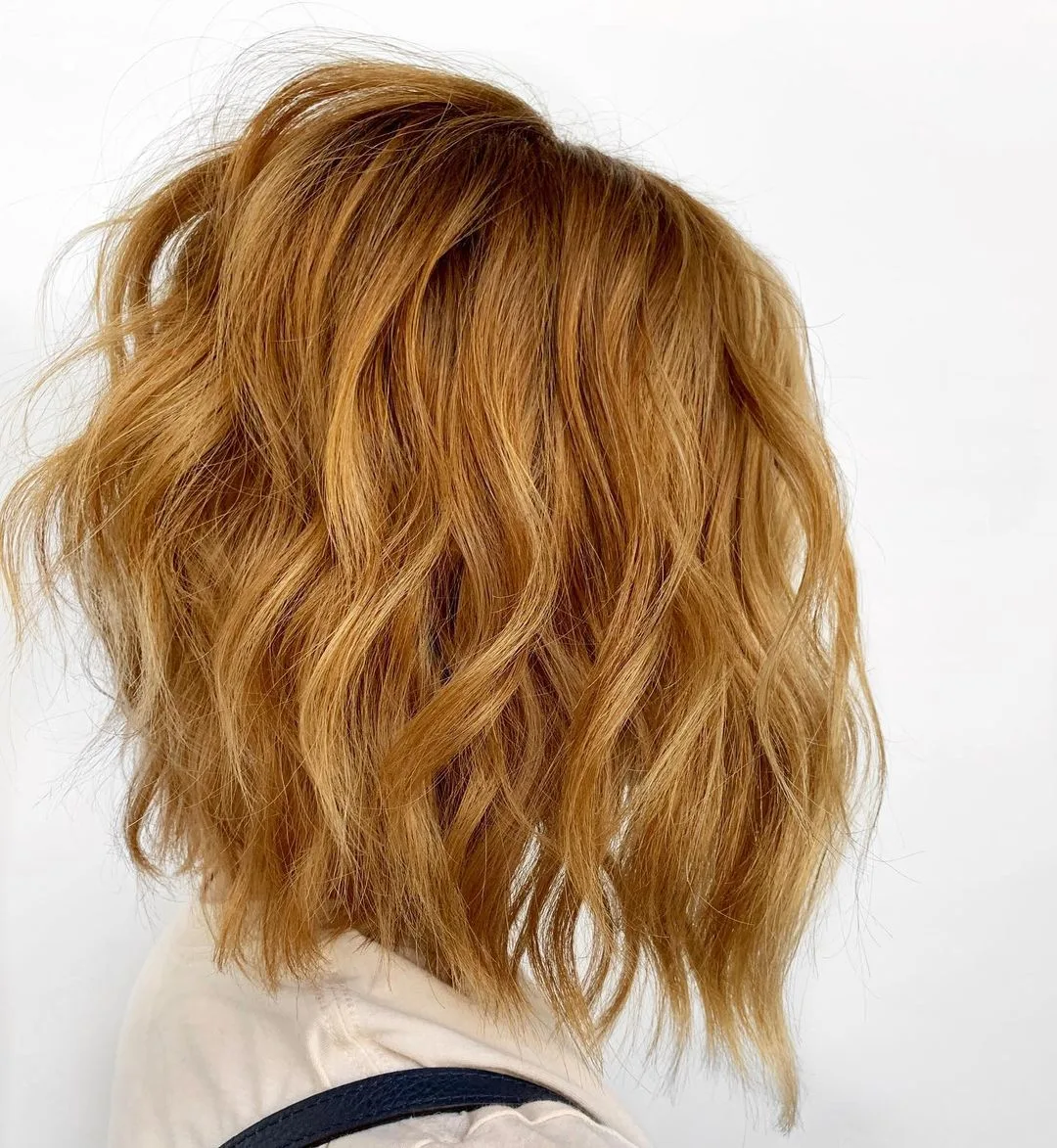 If you want a serious lift at the crown, ask your hairdresser for an A-line textured lob. Shorter layers in the back and texturizing layers throughout will give you a hairstyle that will never go flat.
9. Colorful Textured Lob Hairstyle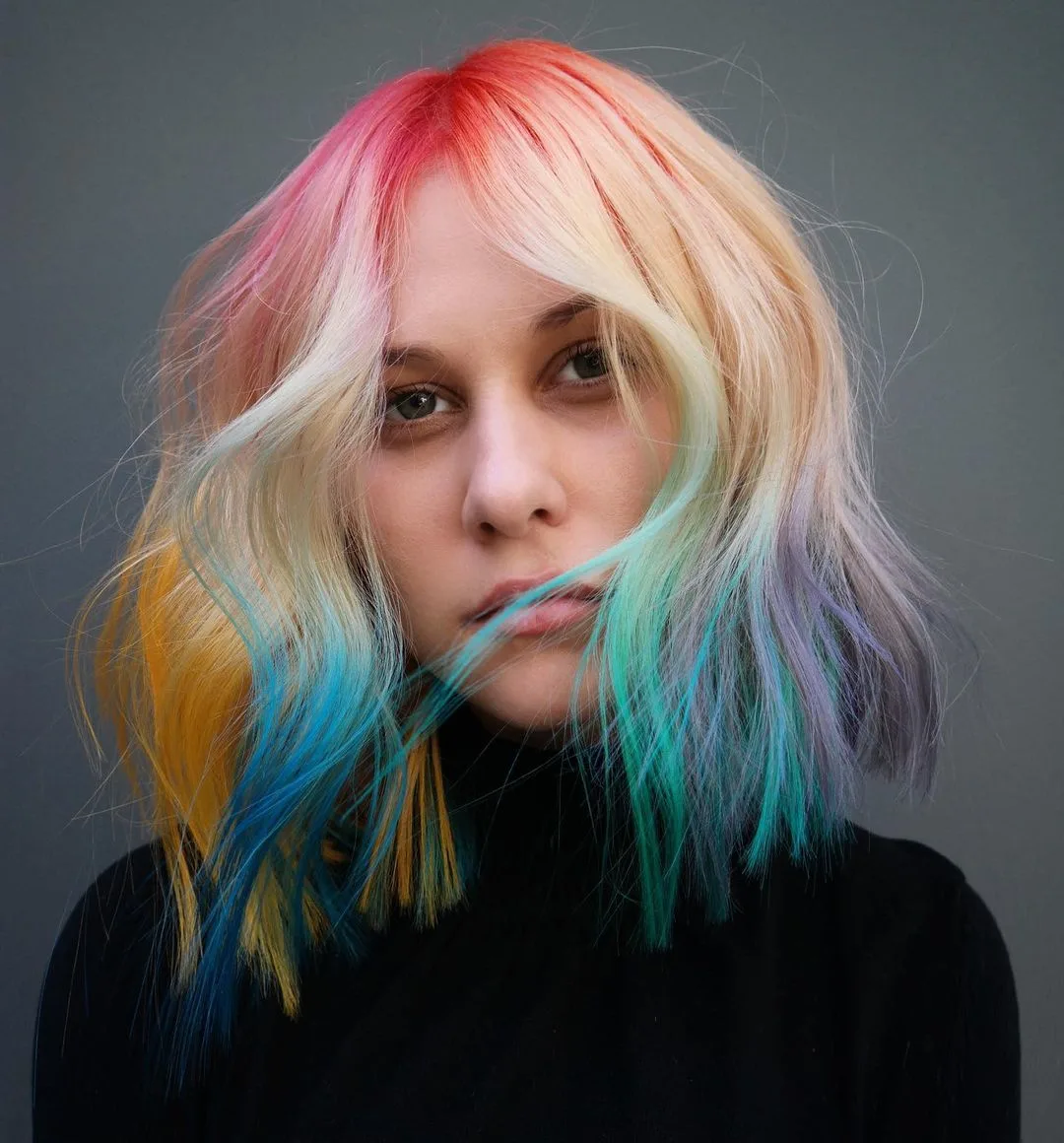 A textured lob is as modern as it gets, which goes hand-in-hand with fun colors. Vivid and unnatural hues are available at most salons, so if you like to experiment, why not pick one (or more) to go with your new bob?
10. Textured Lob Haircut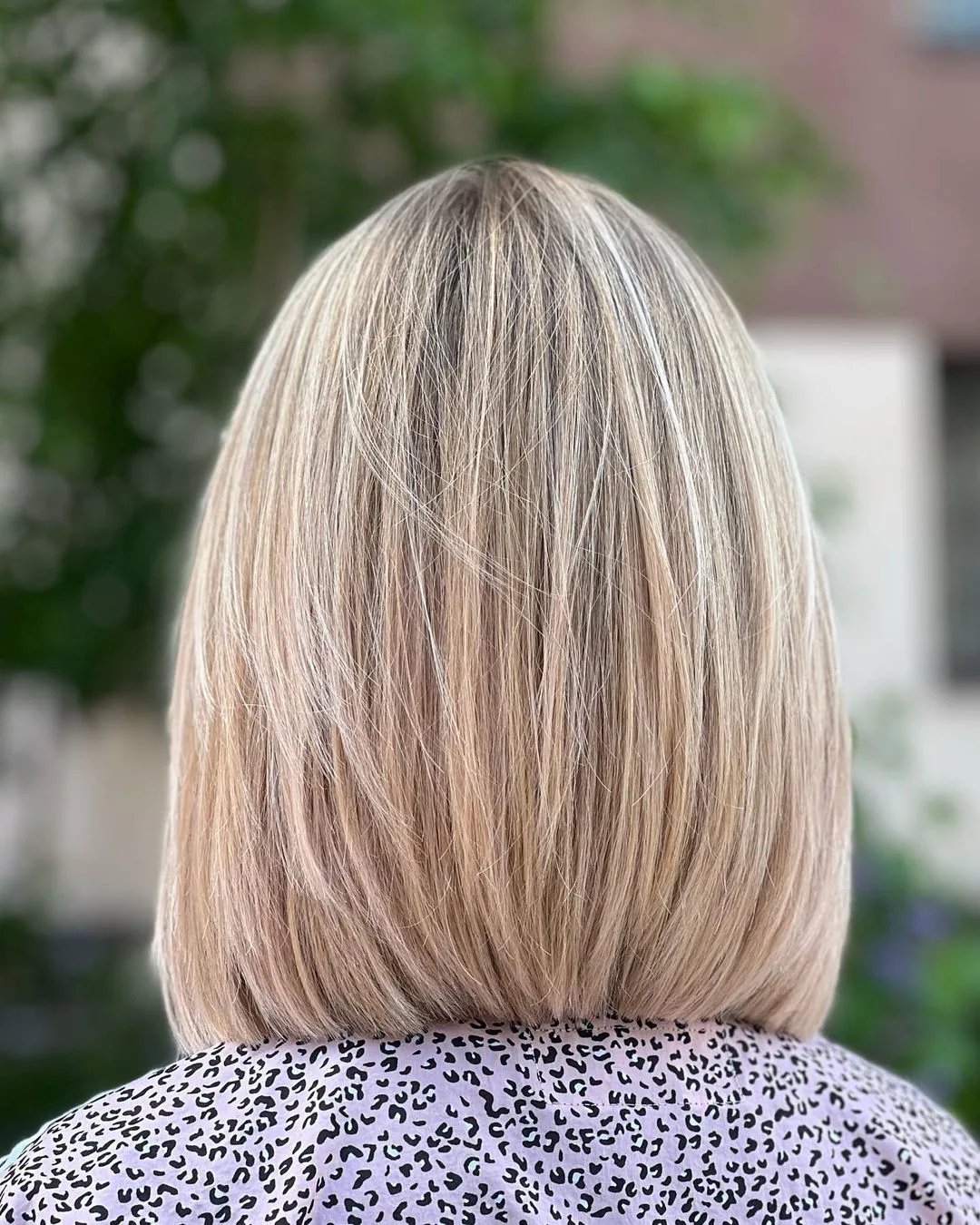 A textured lob doesn't always have to be wavy or undone—it can look just as attractive worn straight, and it will still be as interesting.
11. Angled Long Bob Cut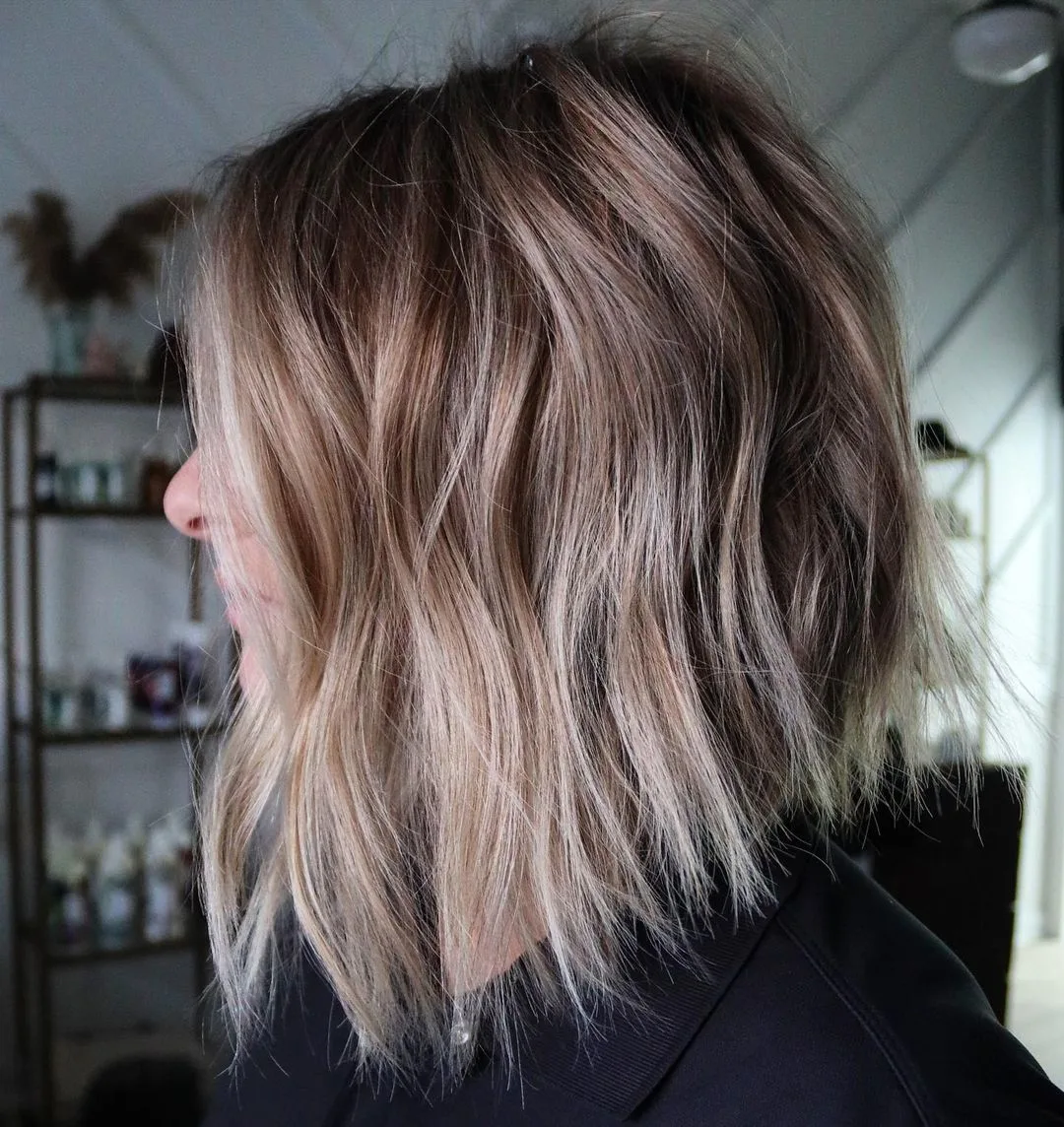 Strategically placed highlights really add to the already-present dimension in this lob. Texture and root melt color work together to create a lived-in look.
12. Choppy Long Lob Haircut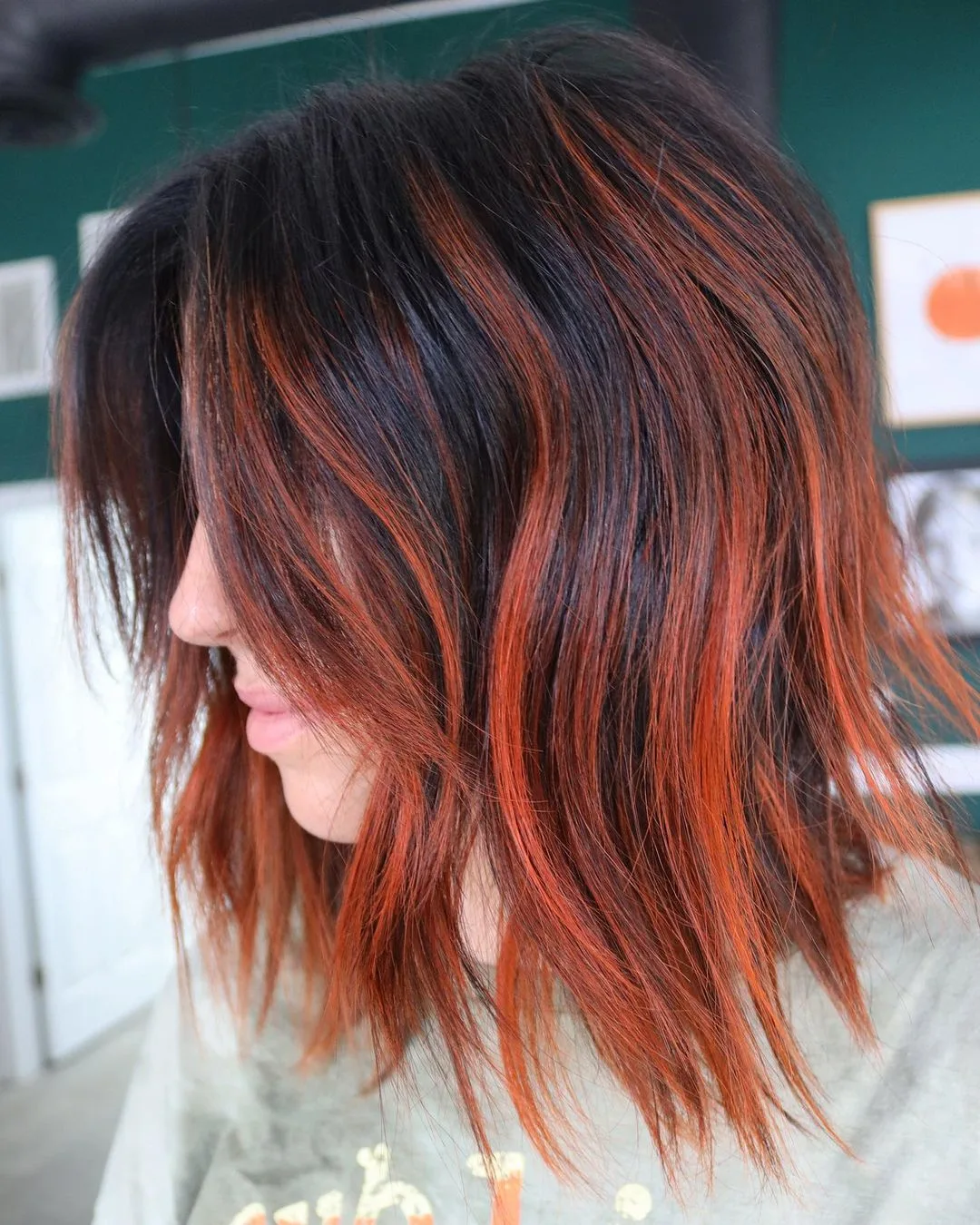 The texturizing layers give this cut movement, and the vibrant highlights are just the thing this lob needed to really pop!
13. Textured Lob Cut For Thick Hair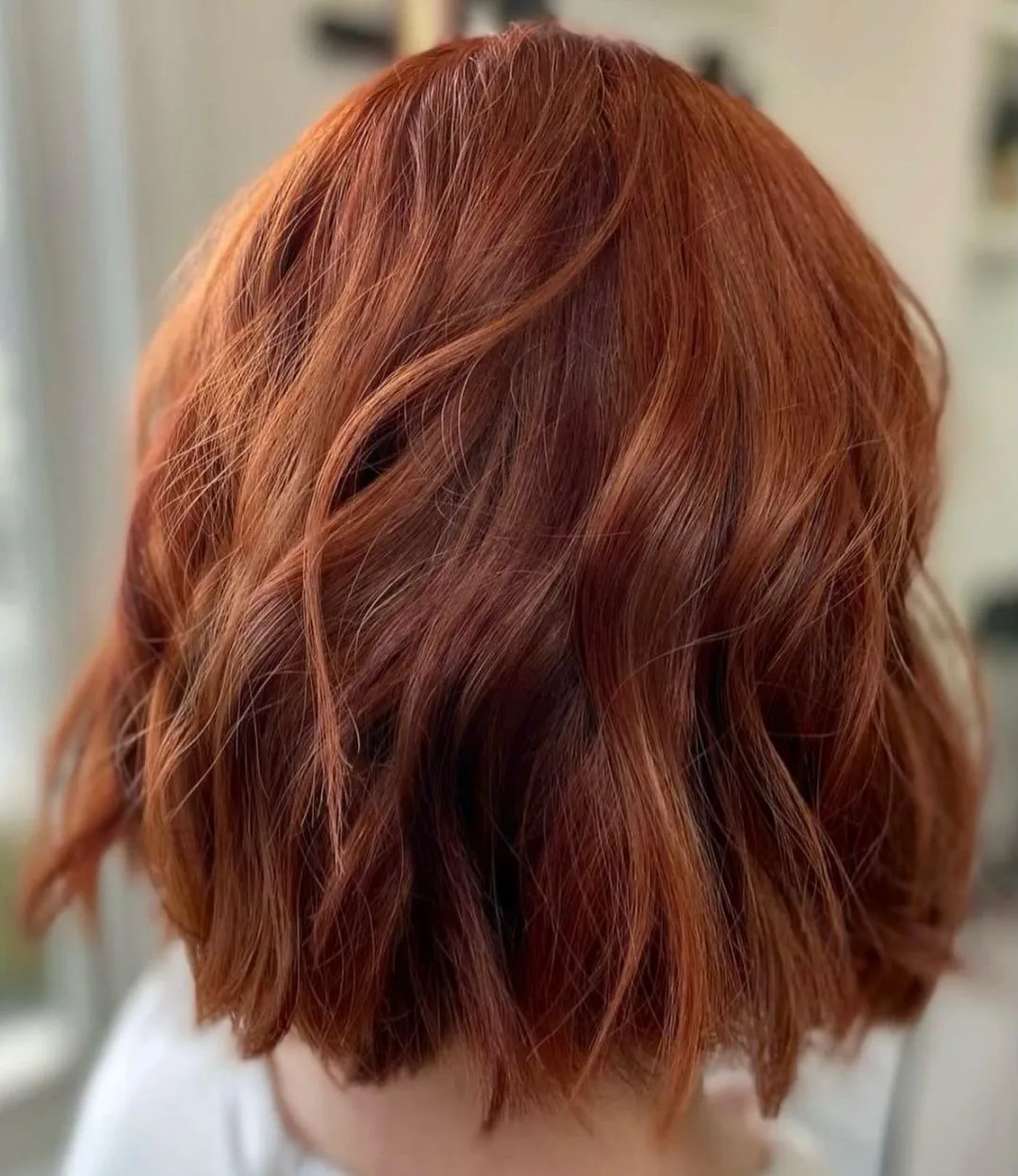 This soft and voluptuous lob wouldn't be possible without texturizing. If it were simply layered, it wouldn't look as tousled, and if it had no layers, it would be bulky.
14. Low Maintenance Long Bob Haircut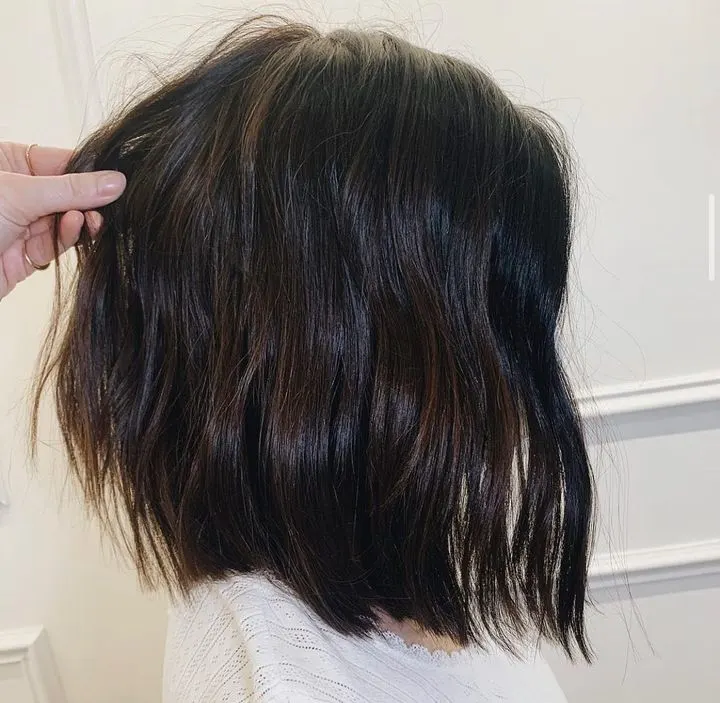 How to style a textured lob? Unless you've got a natural wave, you'll need hot tools. The easiest way to add a bit of edge to your style is to use a flat iron to add a bit of a crimp to your hair. Even doing only a few sections around the face and in the back can really make your hairstyle come together.
15. Shoulder Length Lob Haircut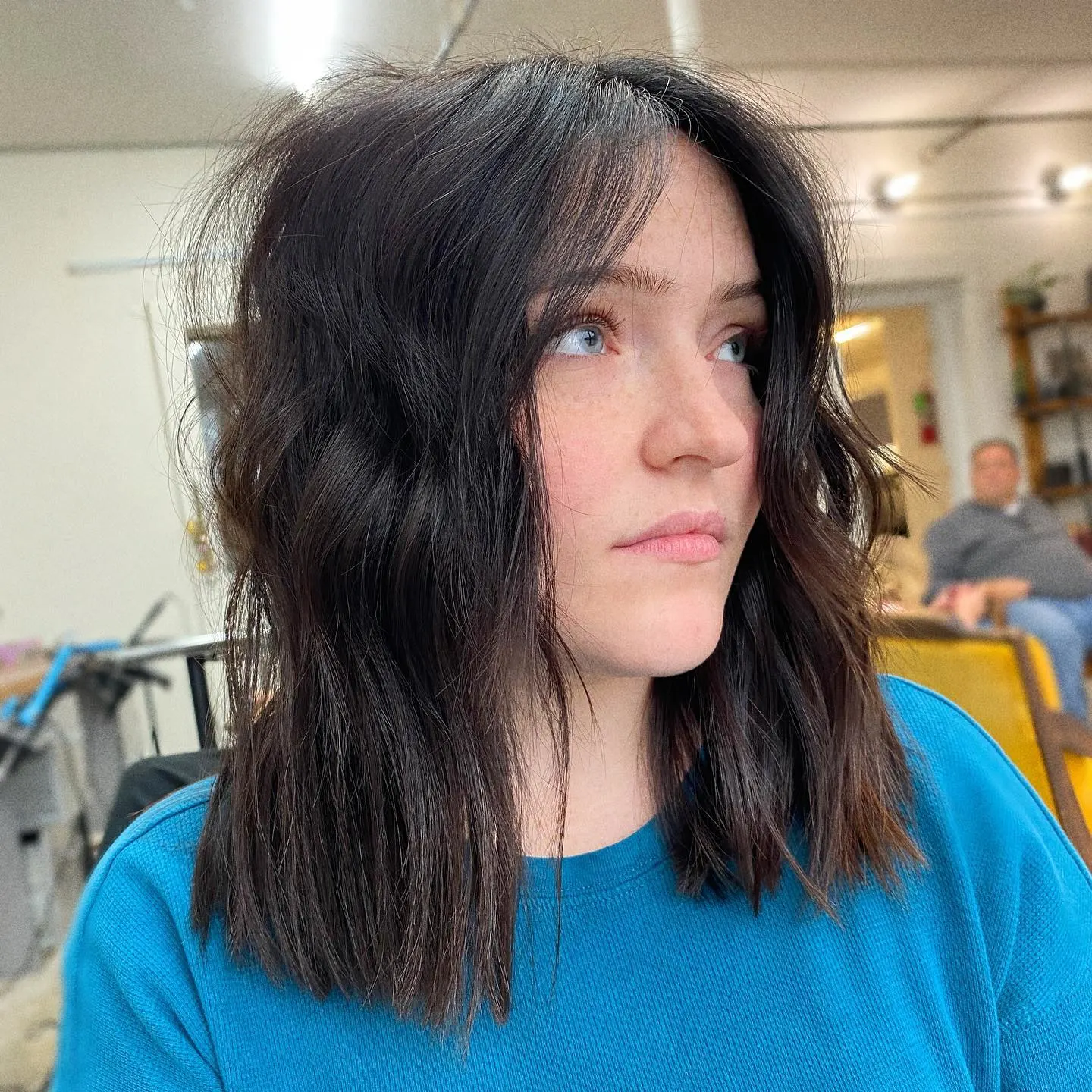 The blunt ends place this haircut into the lob category, instead of just medium-long hair. They give your style the freshness of a bob, no matter how long you wear it.
16. Textured Lob With Curtain Bangs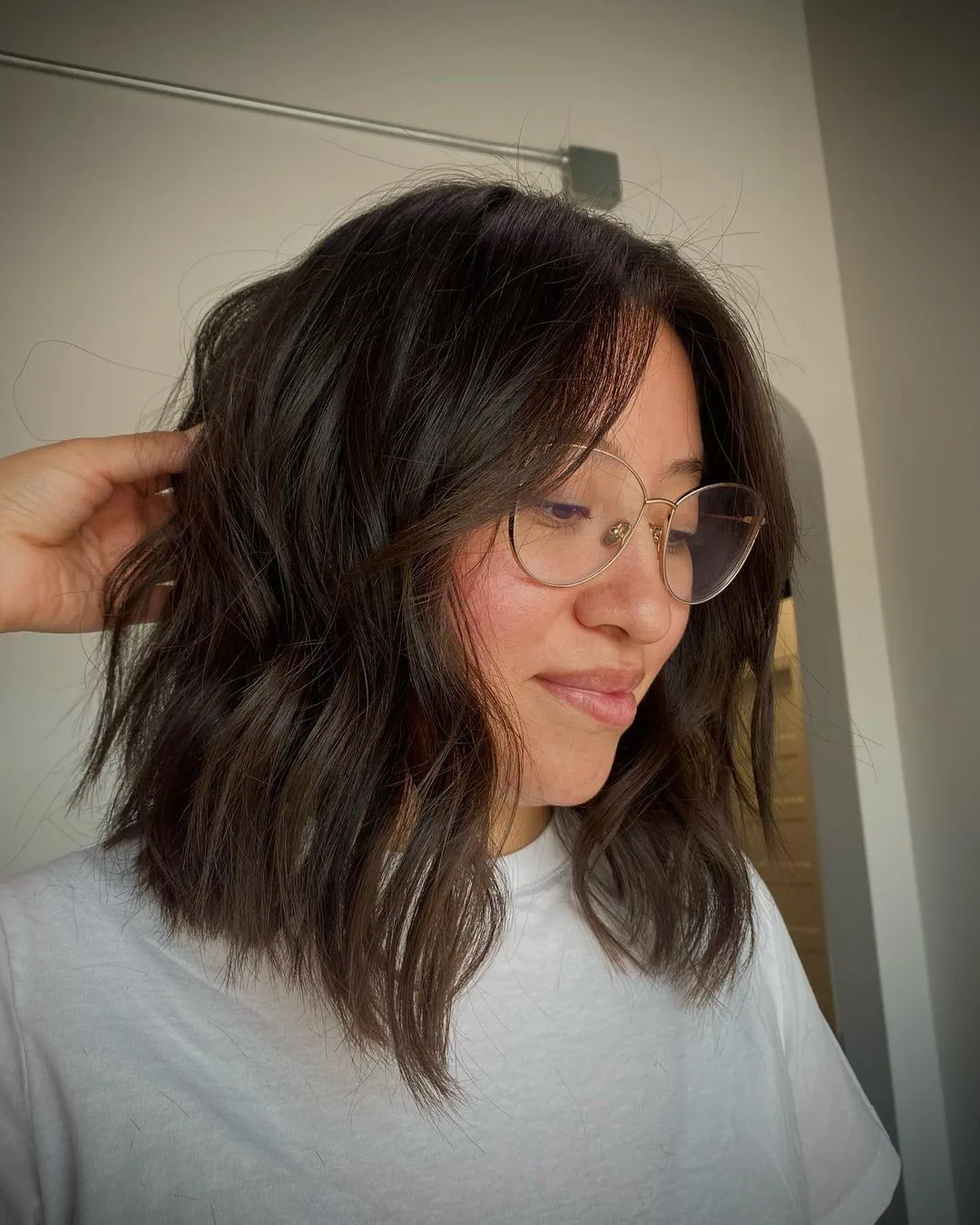 Curtain bangs are the best way to frame the face—and easiest to customize. Depending on what you want to emphasize, you can go baby-bangs short, or just get a few barely-there layers around the face.
17. Long A-Line Haircut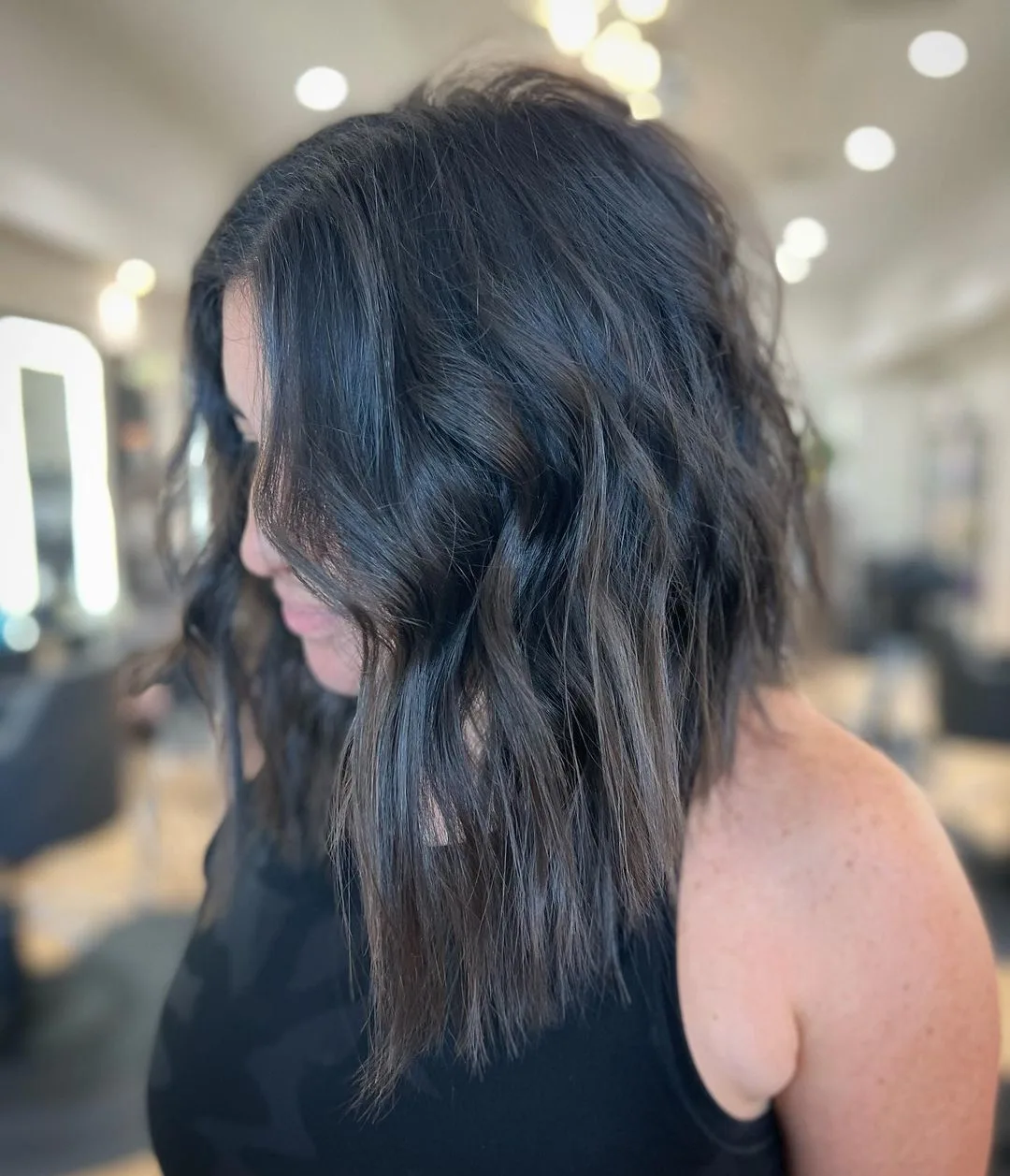 An asymmetrical lob is a great way to add an edge to your style and play with length. Bonus: if you like to tie your hair back, the front strands are long enough to stay put!
18. Textured Angled Lob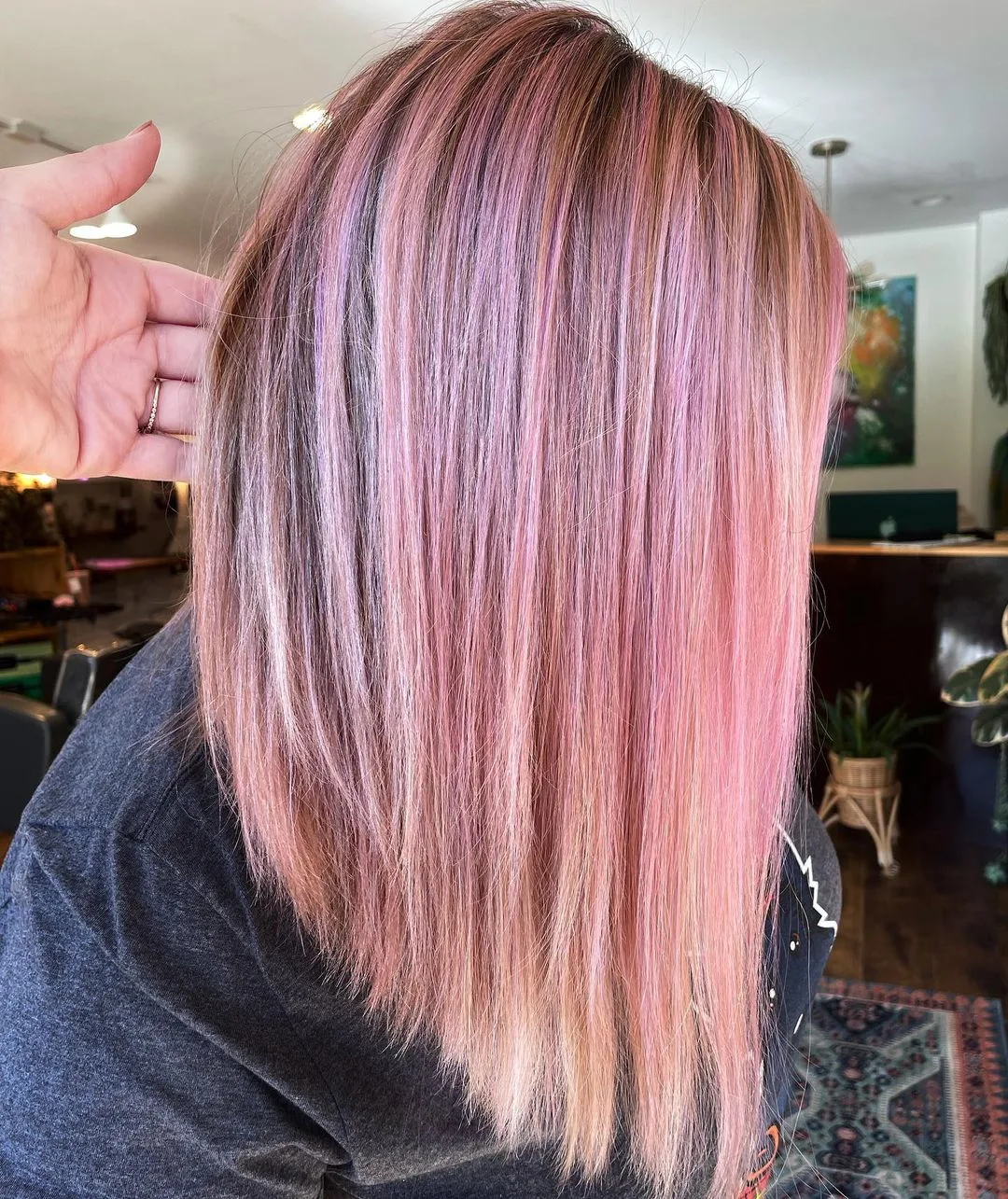 Tousled and wavy is the most popular look for a textured bob, and it starts with blow-drying your hair. But why not stop after that step, ditch your curling wand from time to time and go for a straight style? It's a great way to occasionally change up your look.
19. Caramel Choppy Lob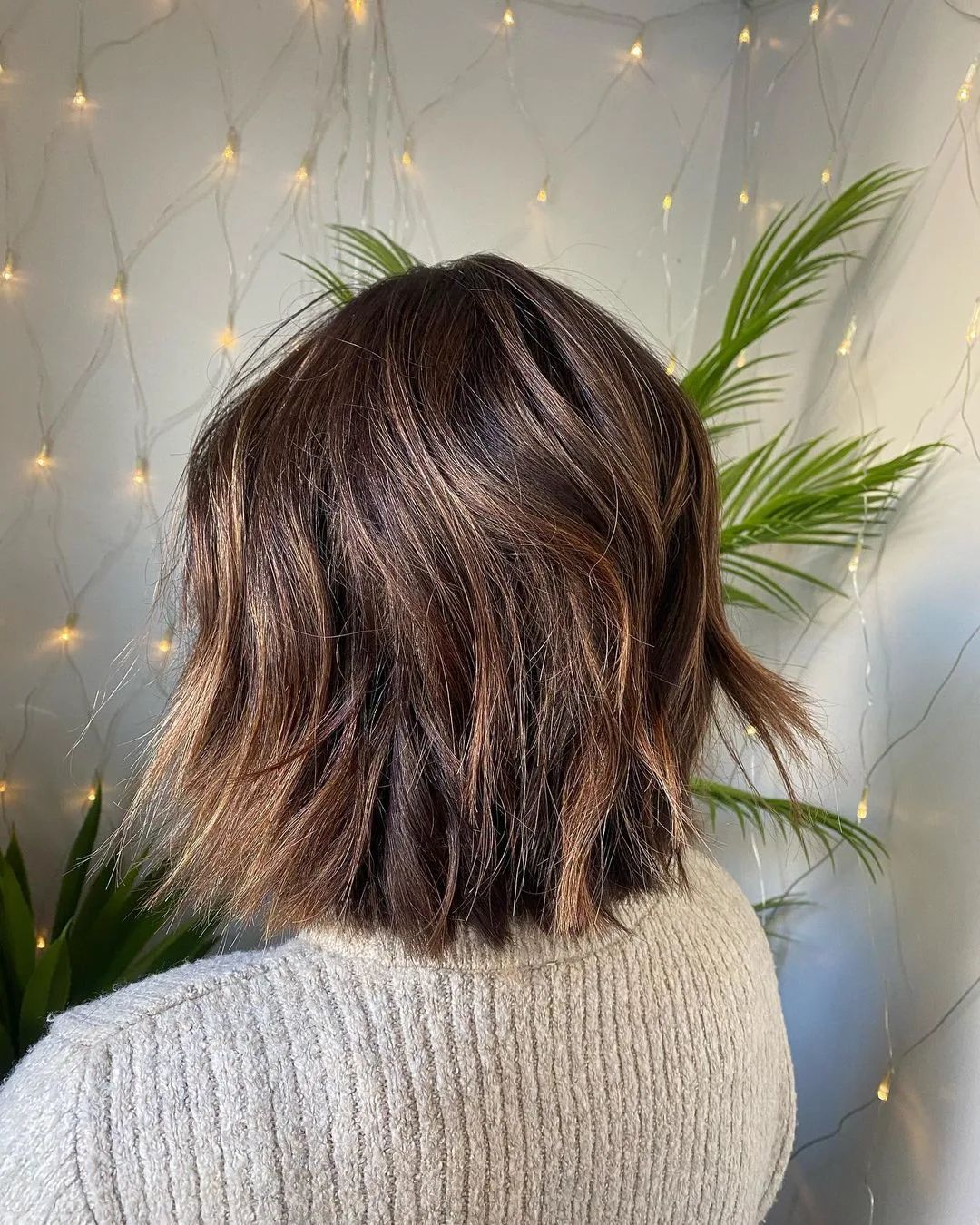 Textured ends give this lob its messy, undone feel. To get this look, make sure the ends don't fall together by using a separating product, such as a dry texturizing spray.
20. Long Textured Bob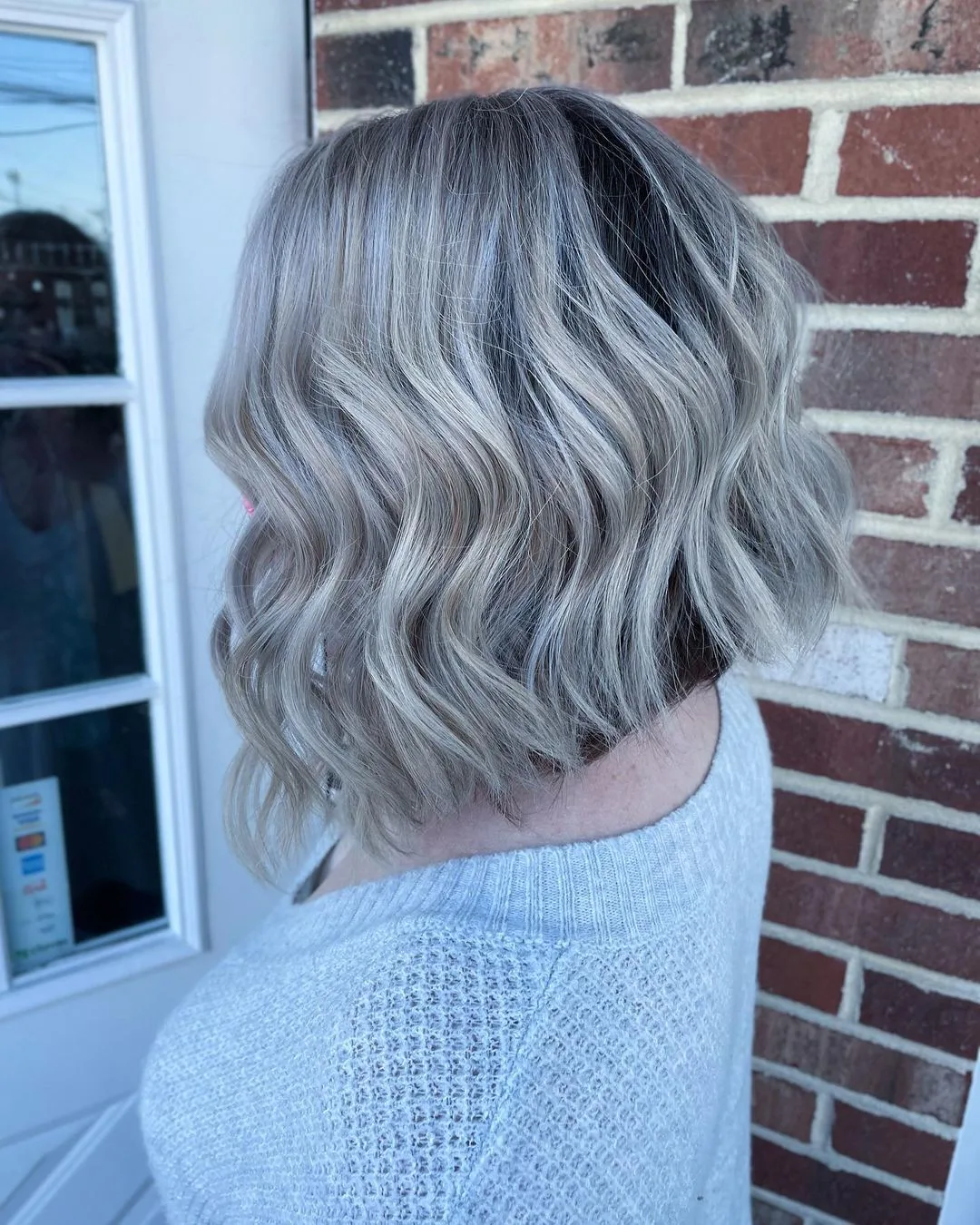 When styling your lob, you only need to focus on the front part of the head. Curl the strands around the face and the ears, alternating the direction of the curls. When you get to the back of the head, do only the topmost layer, leaving anything underneath as it is.
21. Textured Blunt Lob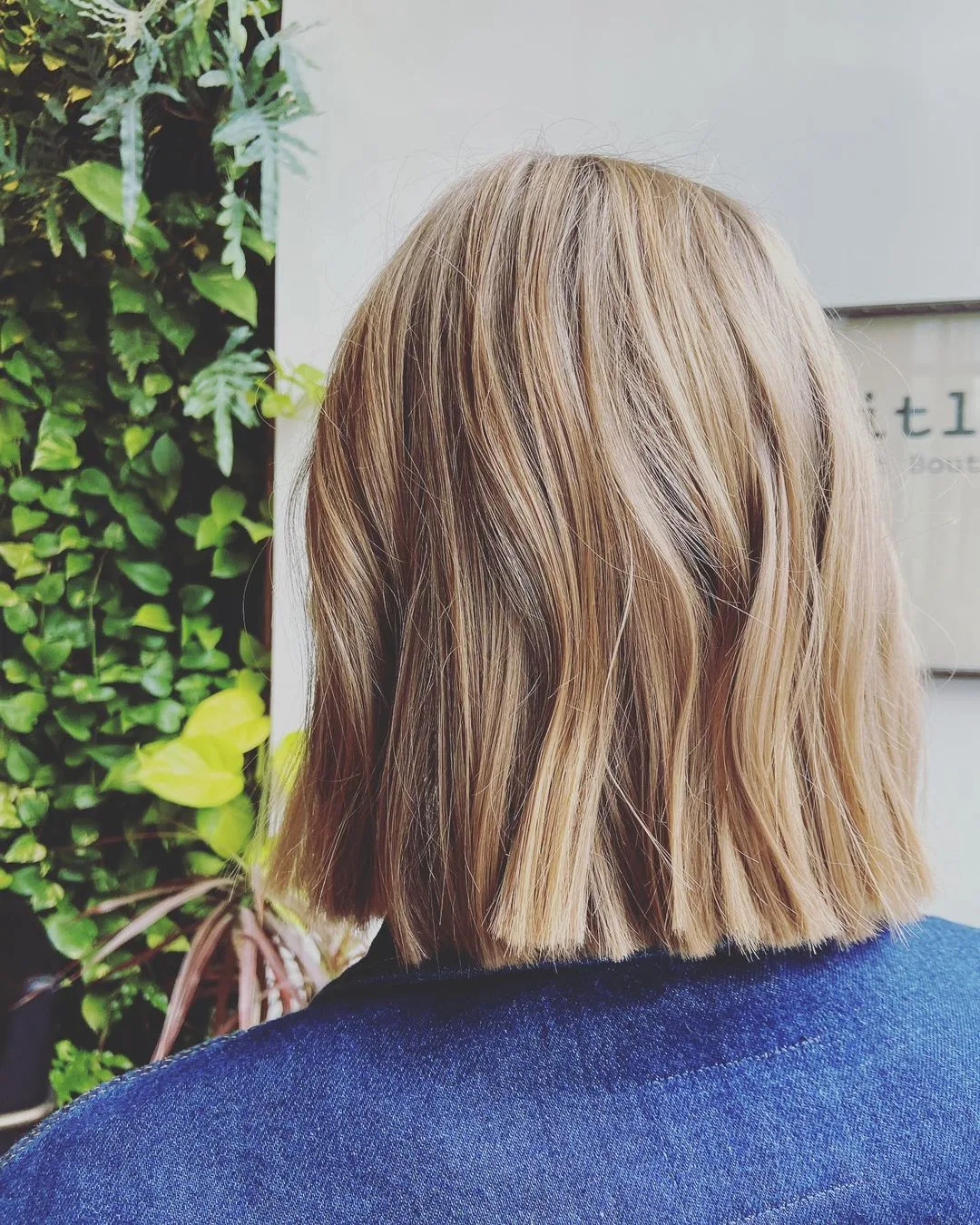 Blow-drying your hair while paying attention not to curl the tips in- or outwards can be a challenge, but this style is easier than it seems—the blunt-cut ends do half the work. The best way to get this style is using a flat iron; straighten everything, then only add a bend at ear-level to the strands around the face and the outer layer in the back.
22. Textured Lob Haircut With Bangs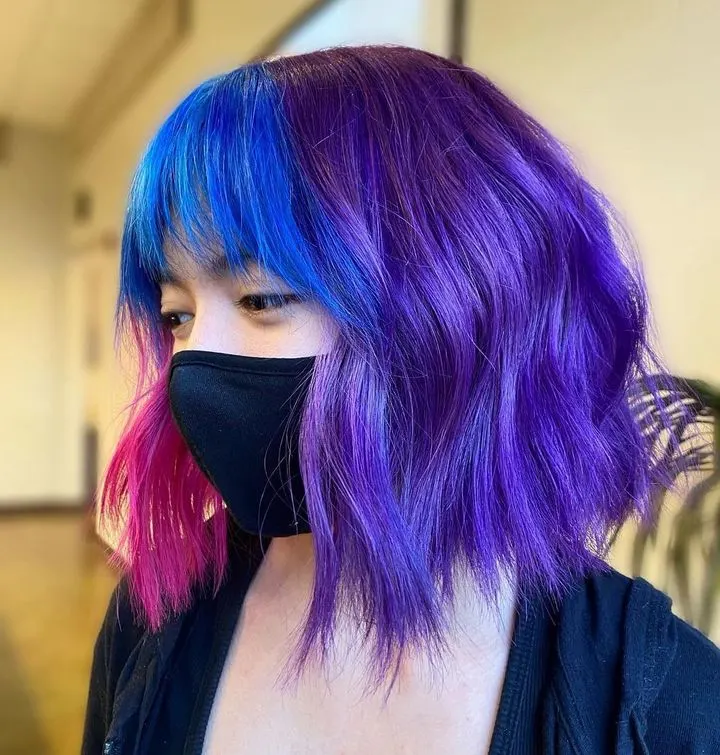 Take your textured lob a step further: the choppy ends and bangs already create an edgy look, but this style shines thanks to the vivid colors.
23. Shoulder Length Bob Cut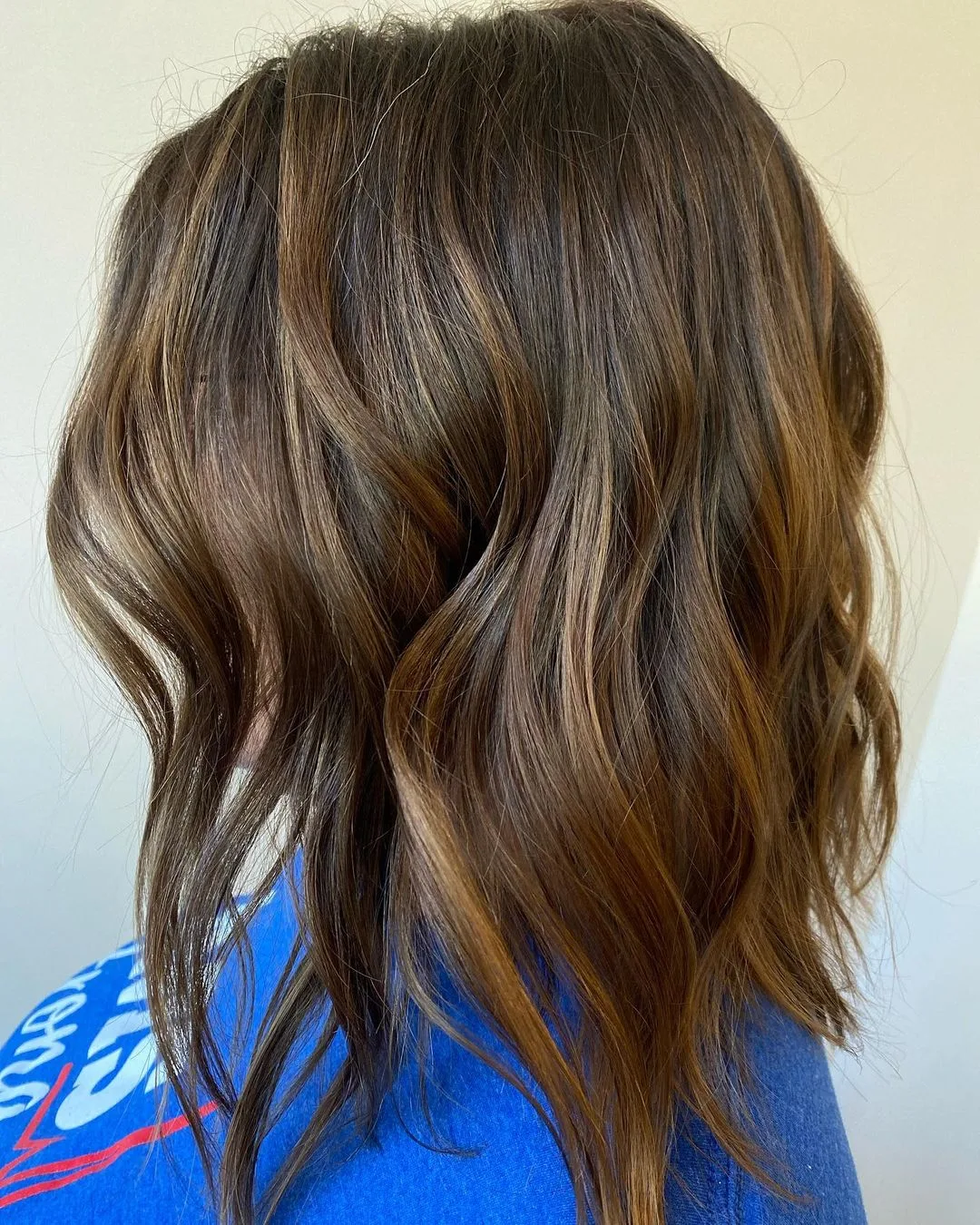 The best thing about a textured lob? It looks gorgeous when it's carefully styled, but it's as amazing when it's a little messy. The perfect style if you don't like to spend a lot of time doing your hair.
24. Textured Wavy Lob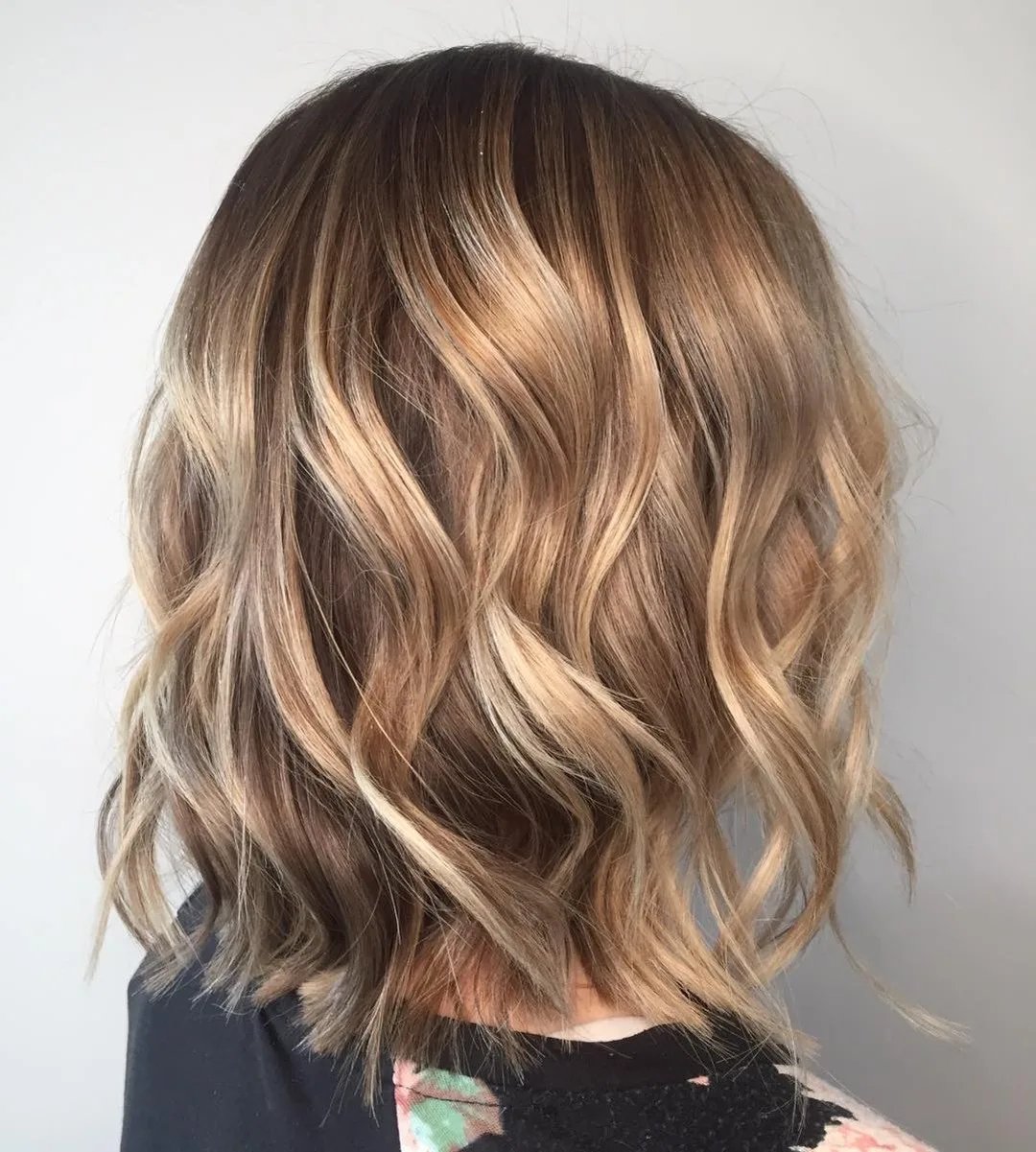 A wavy textured lob with an undone finish has been the most sought-after look for years, and it's easy to see why: it's the definition of effortlessly cool.
25. Textured Long Bob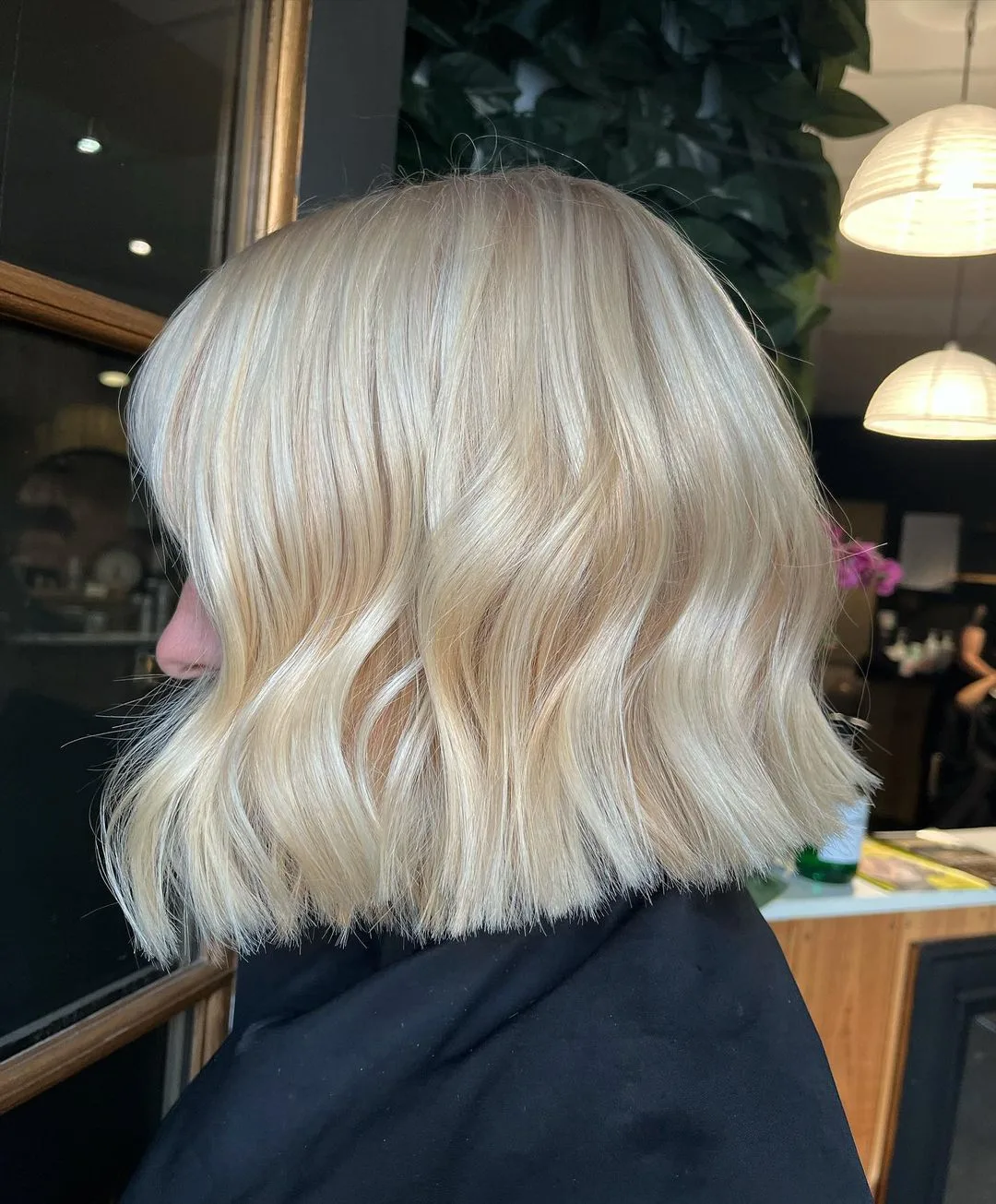 When styling your hair, alternate the direction of the curls—start by curling your hair away from the face, switch direction towards the face with the next strand, and repeat. This will result in bouncy, loose waves and prevent them from slotting together.
26. Fine Hair Textured Lob Haircut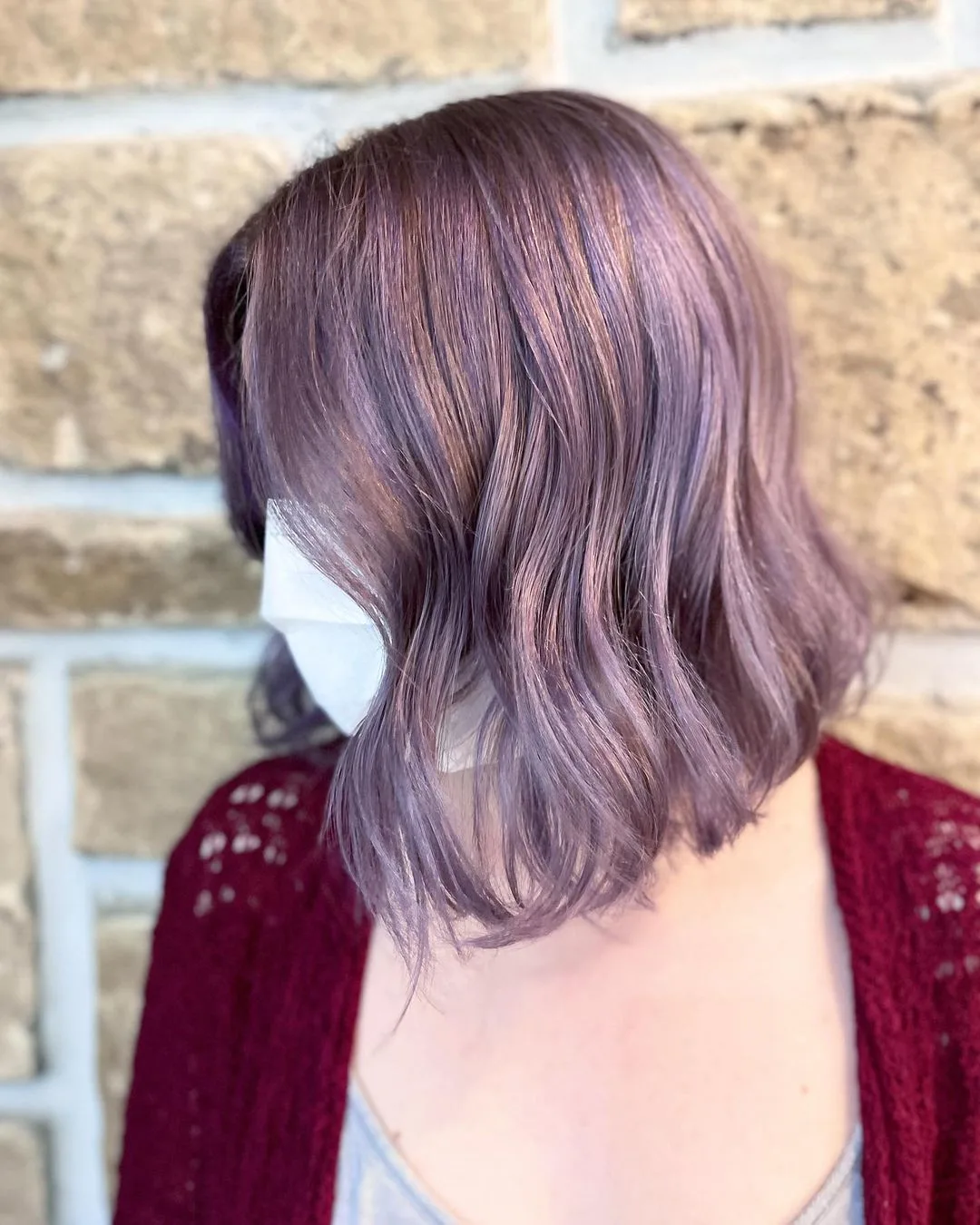 Instead of keeping the ends straight, curling them inwards makes a textured lob look less edgy and more romantic. A cute option when you want a change!
27. Textured Angled Long Lob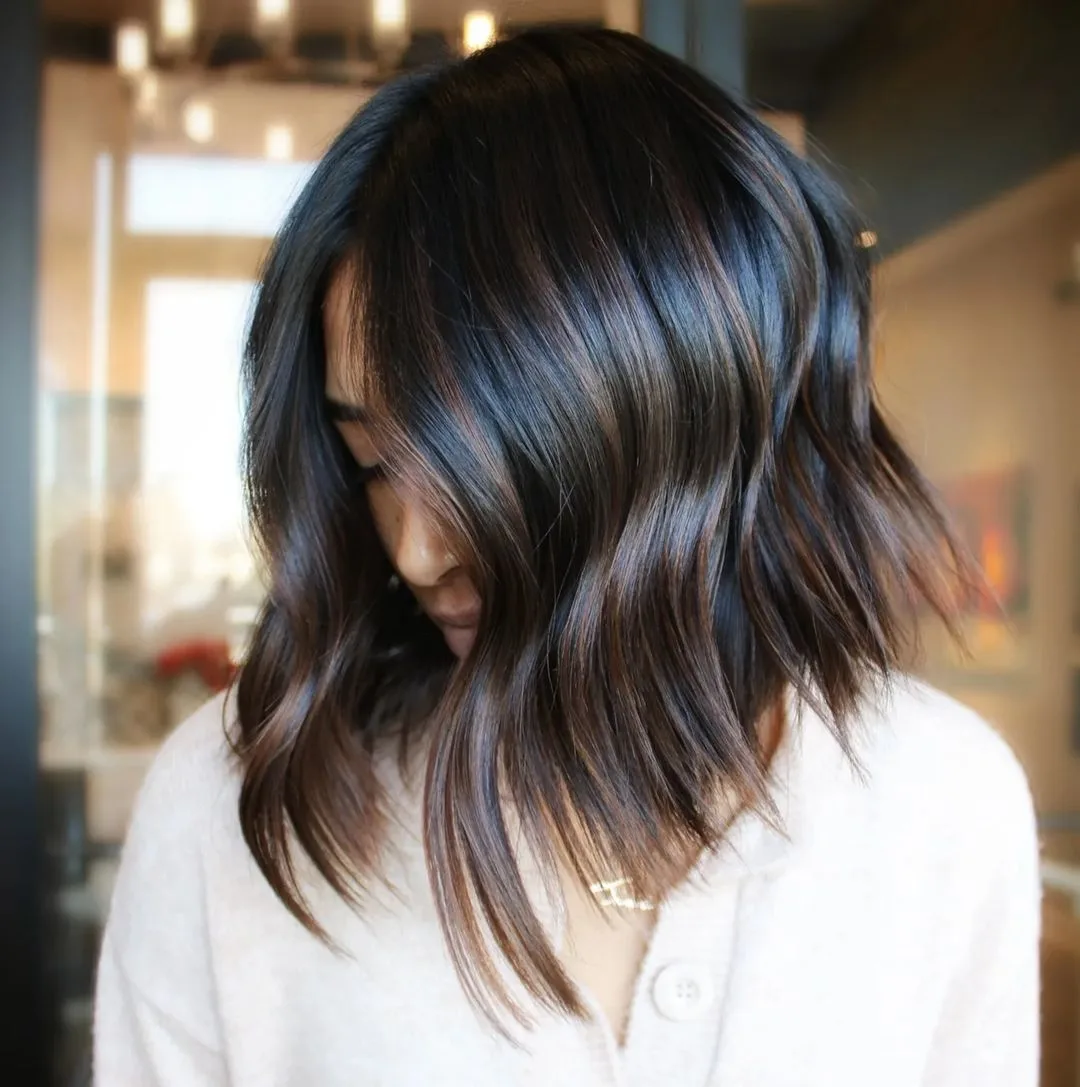 Hand-painted layers look natural and give dimension to any style, but they really pop on a wavy textured lob.
28. Thick Hair Textured Lob Haircut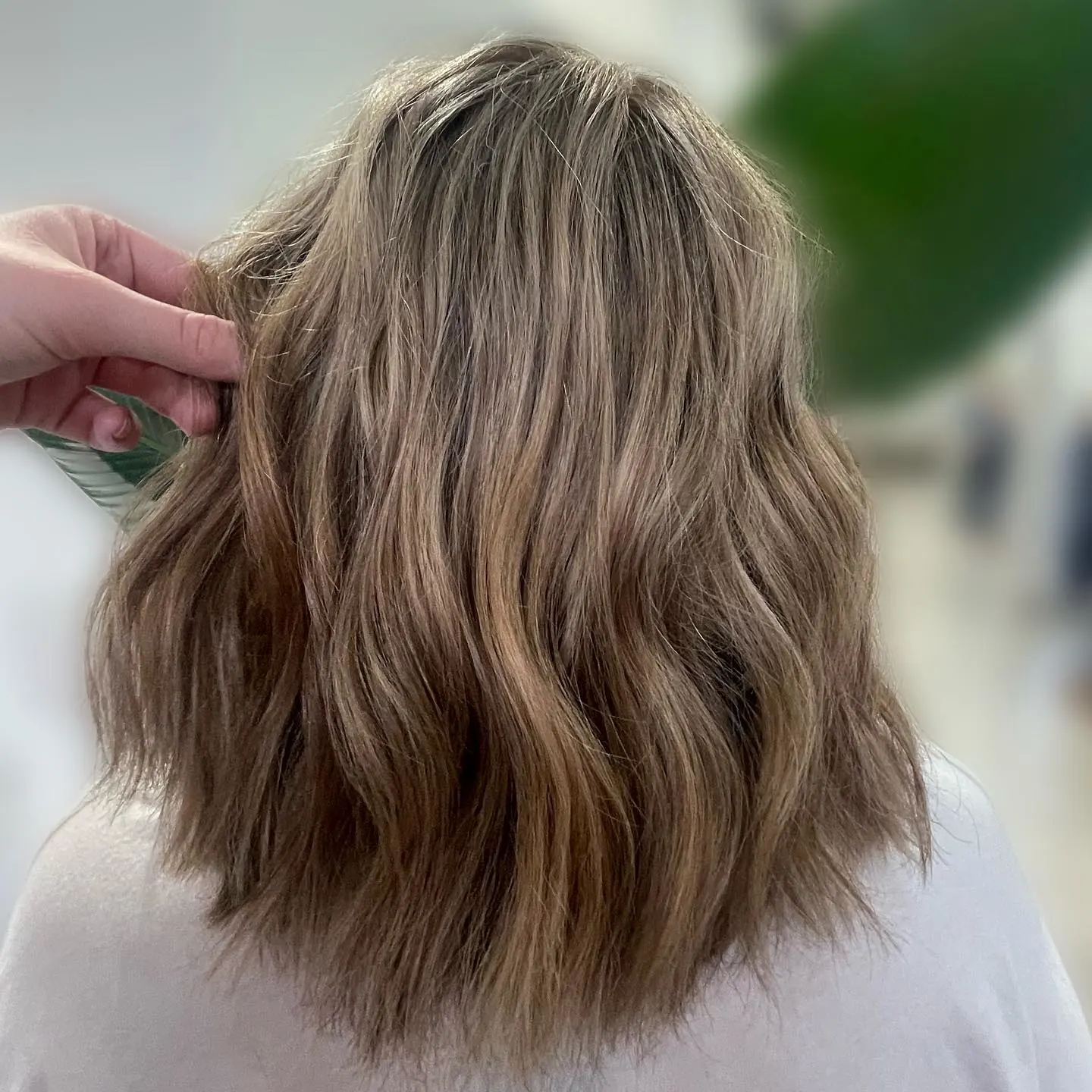 Use texturizing layers to control your thick hair. You won't lose any of the volume, but the heft at the bottom won't be a problem any more.
29. Straight Textured Lob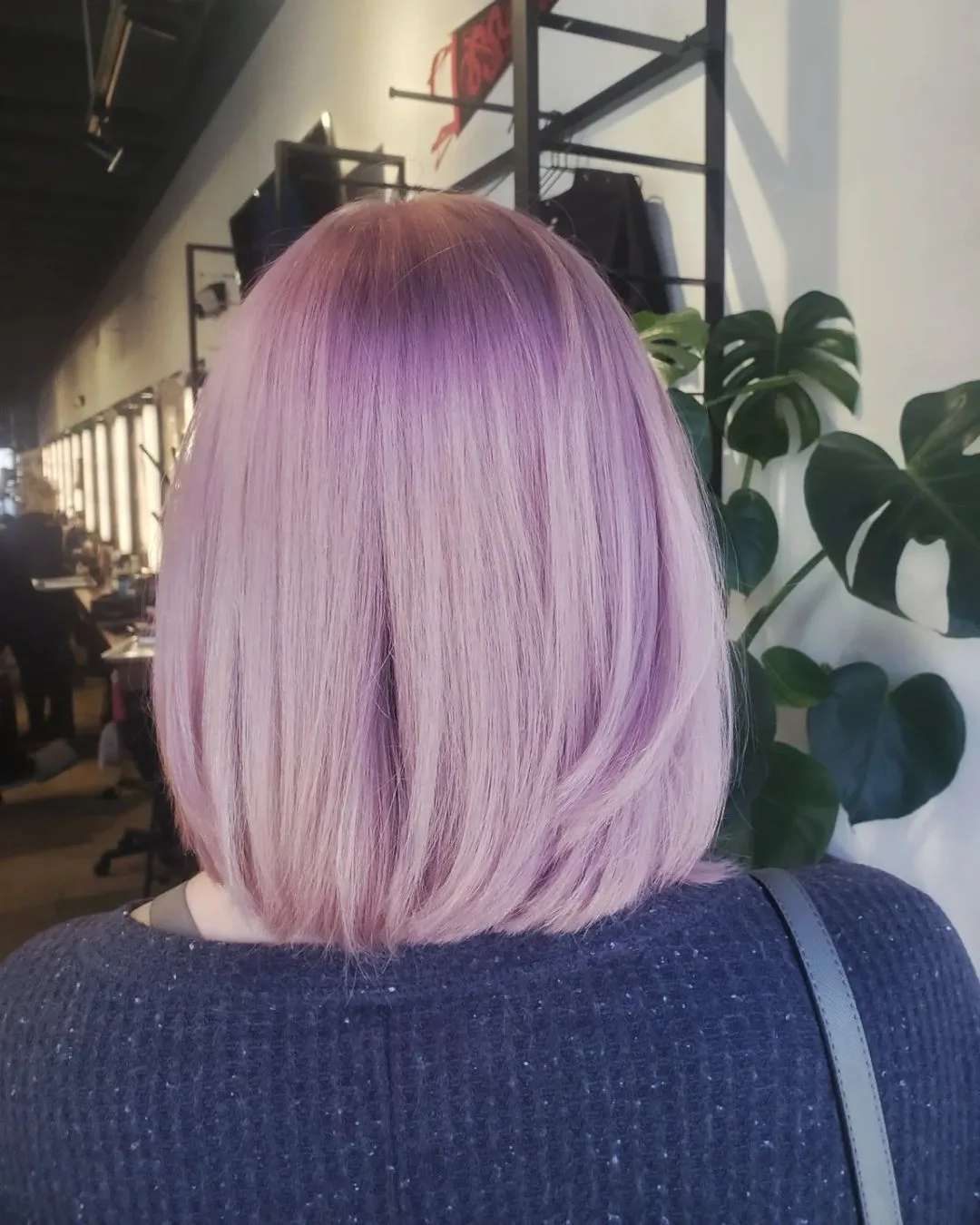 The beauty of a textured lob is that it looks as good styled into waves, blown-dry straight or worn to show your natural texture. One thing all of these options have in common is that a textured lob always looks modern and cool.
30. Textured Middle Part Lob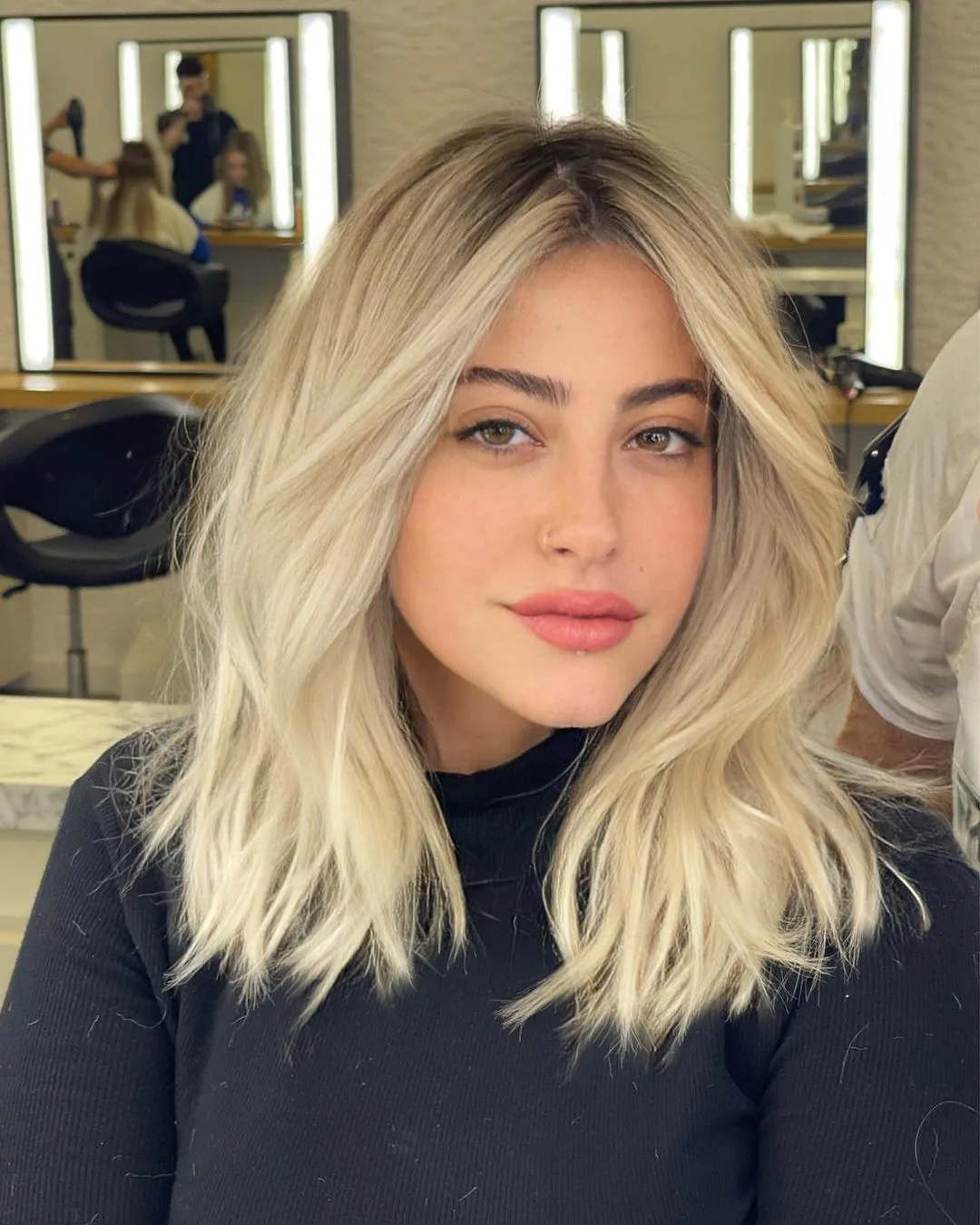 Frame your face with long curtain bangs to make your lob even more voluminous. Apply texturizing spray to the ends only, keeping the strands around the face softer and more flattering.
31. Textured Shoulder Length Bob
You don't have to keep your color impeccable at all times—the undone nature of a textured lob is a great match for edgy roots.
32. Shaggy Lob With Side Bangs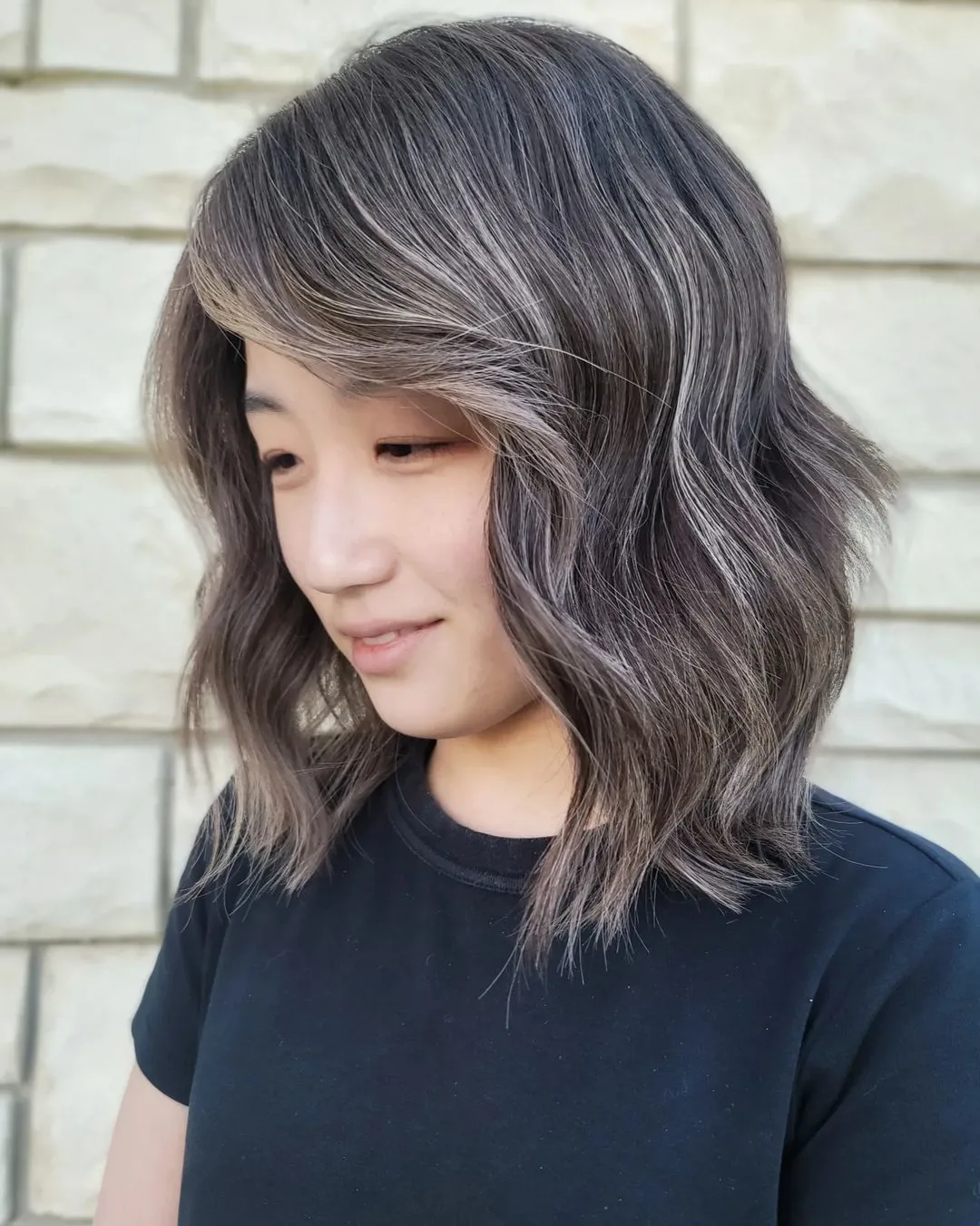 Shaggy looks are all the rage at the moment, but if you're still not ready for a wolf cut, this layered, textured lob is a great variation to try out.
33. Lob With Curtain Bangs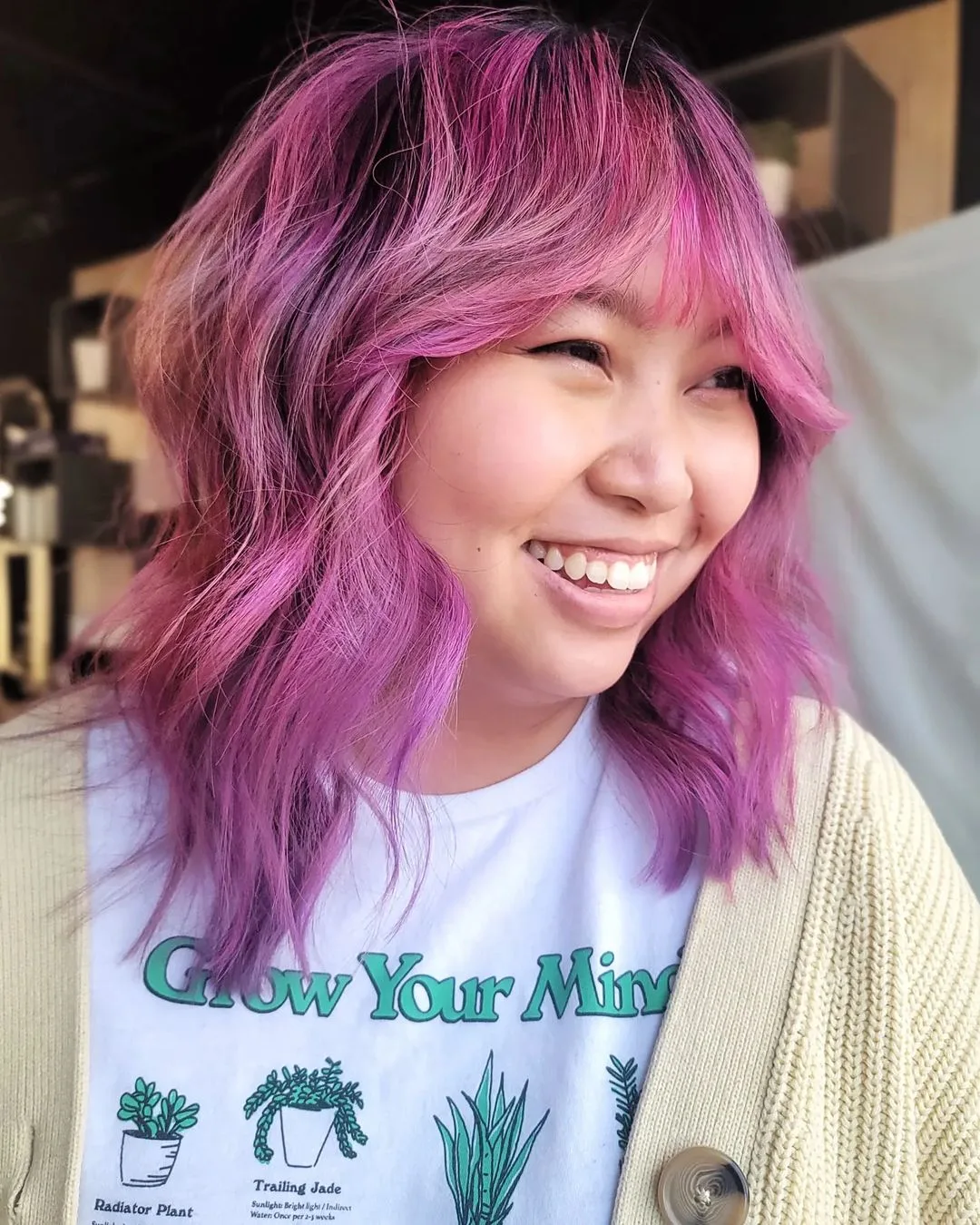 Short curtain bangs—or baby curtain bangs—are cute, casual and chic, and a great way to spice up your style.
34. Shoulder Length Textured Long Bob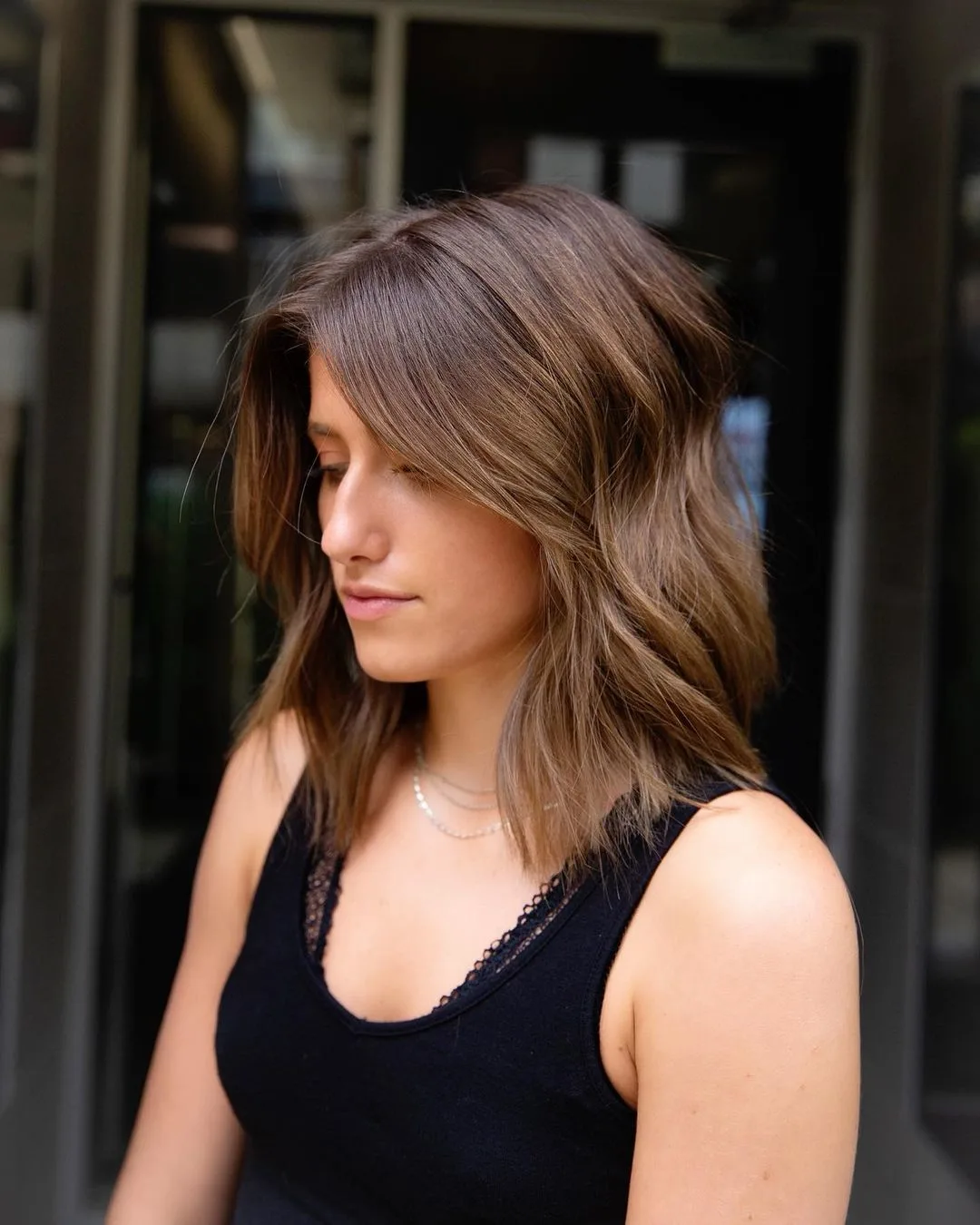 The classic medium-length hair has had a contemporary makeover: blunt ends and texture take this already timeless style to the next level.
35. Choppy Wavy Lob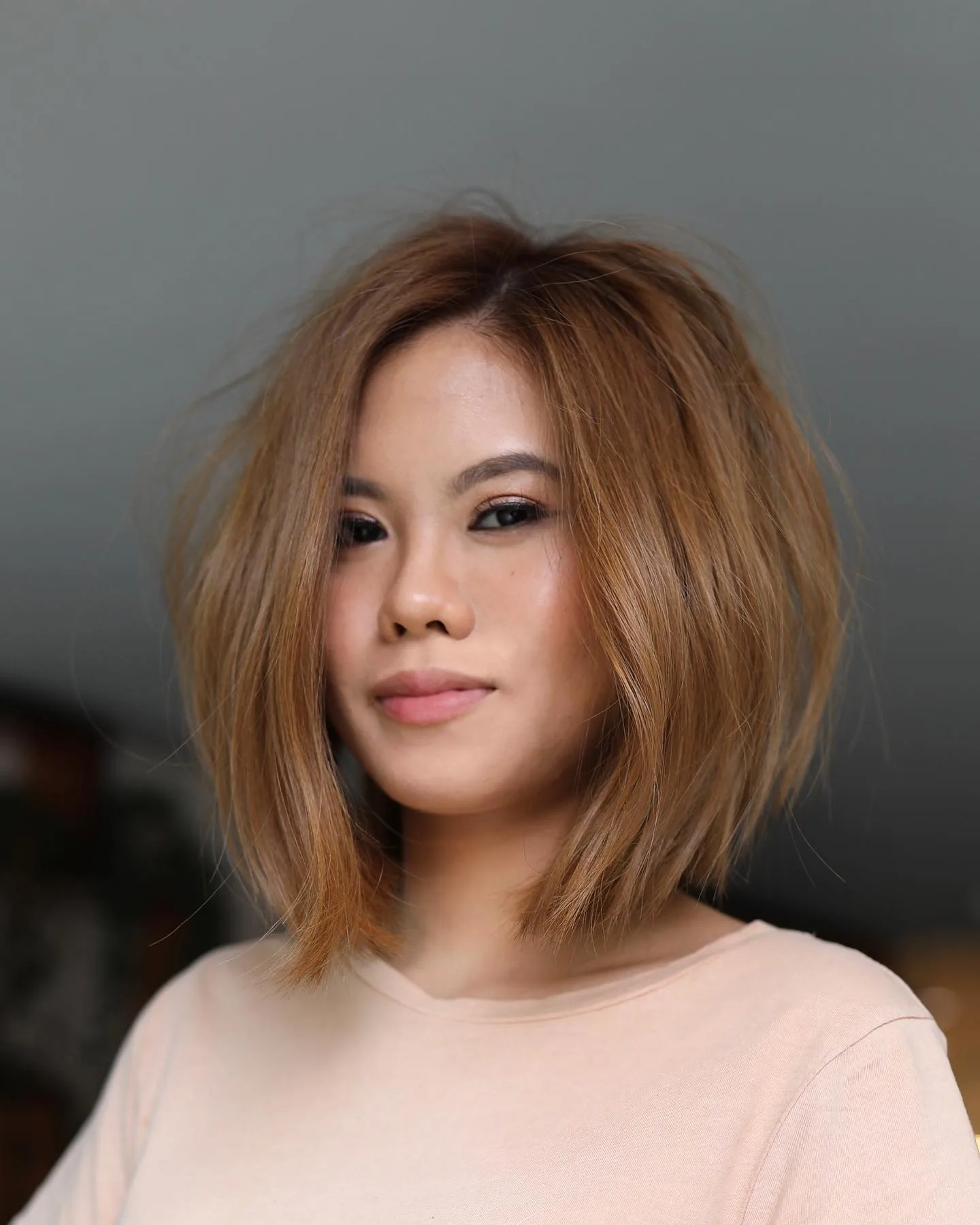 The flyaways give a soft, imperfect look to this otherwise carefully styled textured lob—and a ton of charm!
36. Voluminous Textured Lob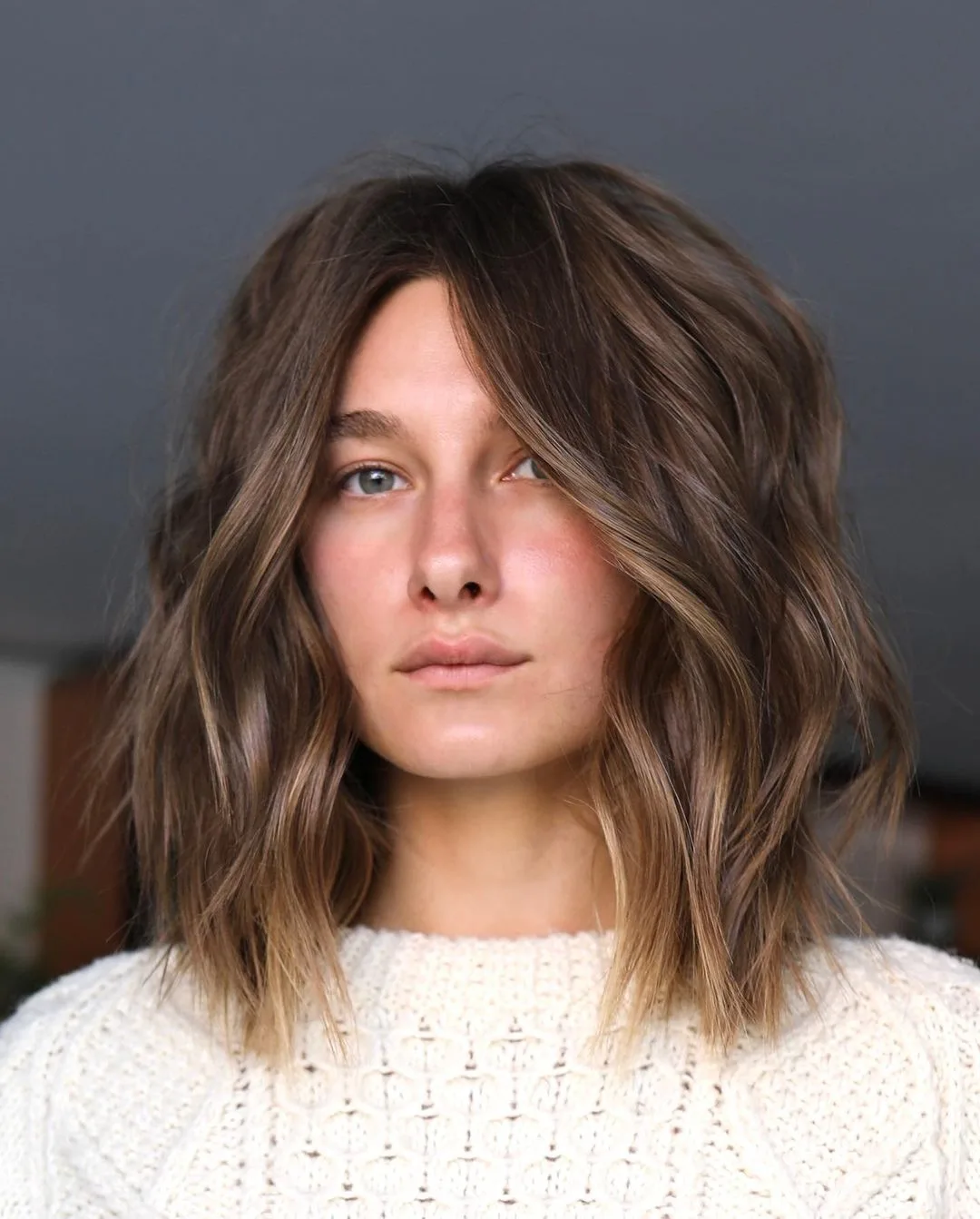 This flirty, voluminous style is ultra-flattering thanks to the clever layering that creates a ton of lift at the crown and around the face.
37. Choppy Long Bob With Bangs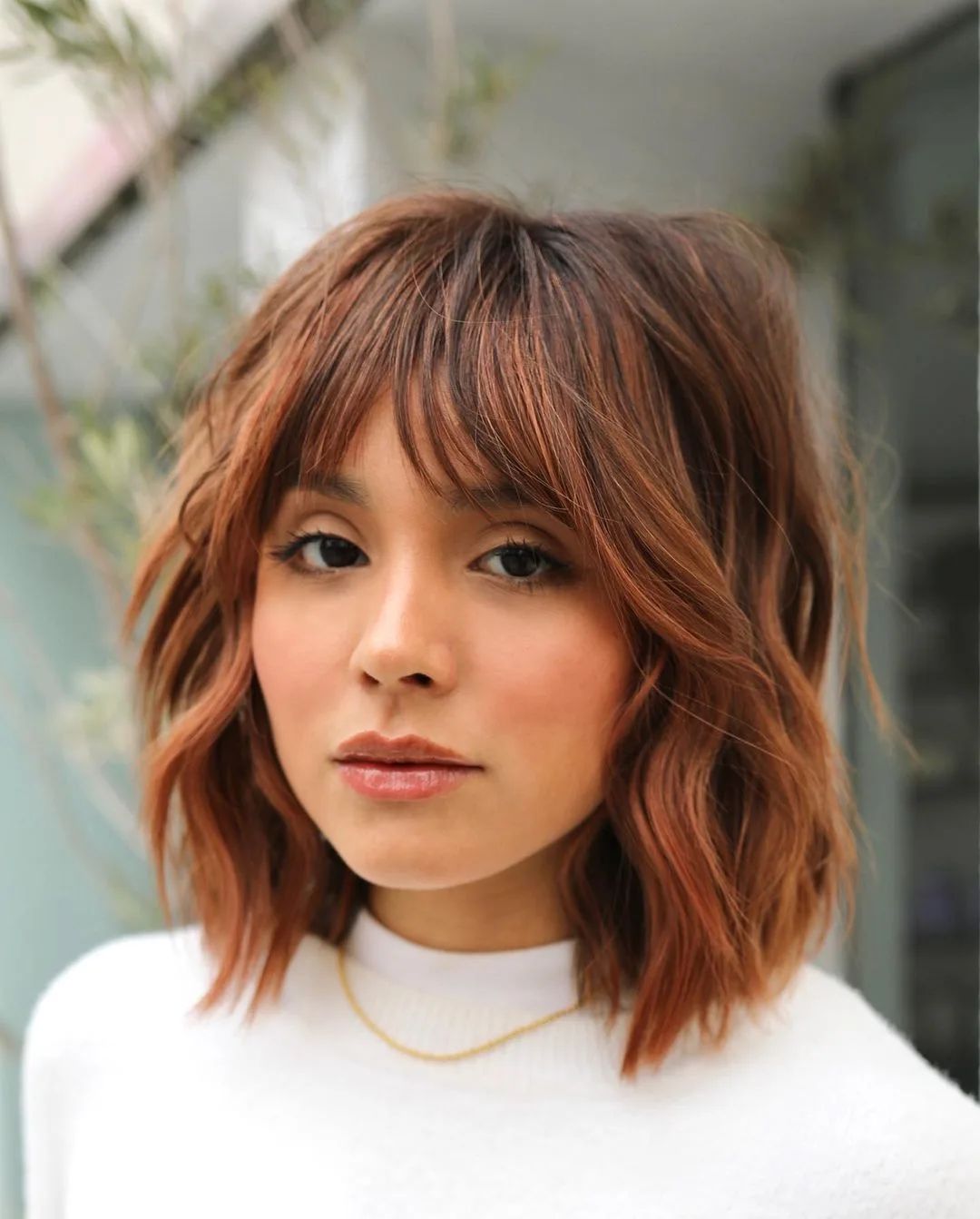 Choppy, textured layers and perfectly balanced bangs create the perfect frame to emphasize the features.
38. Soft Textured Lob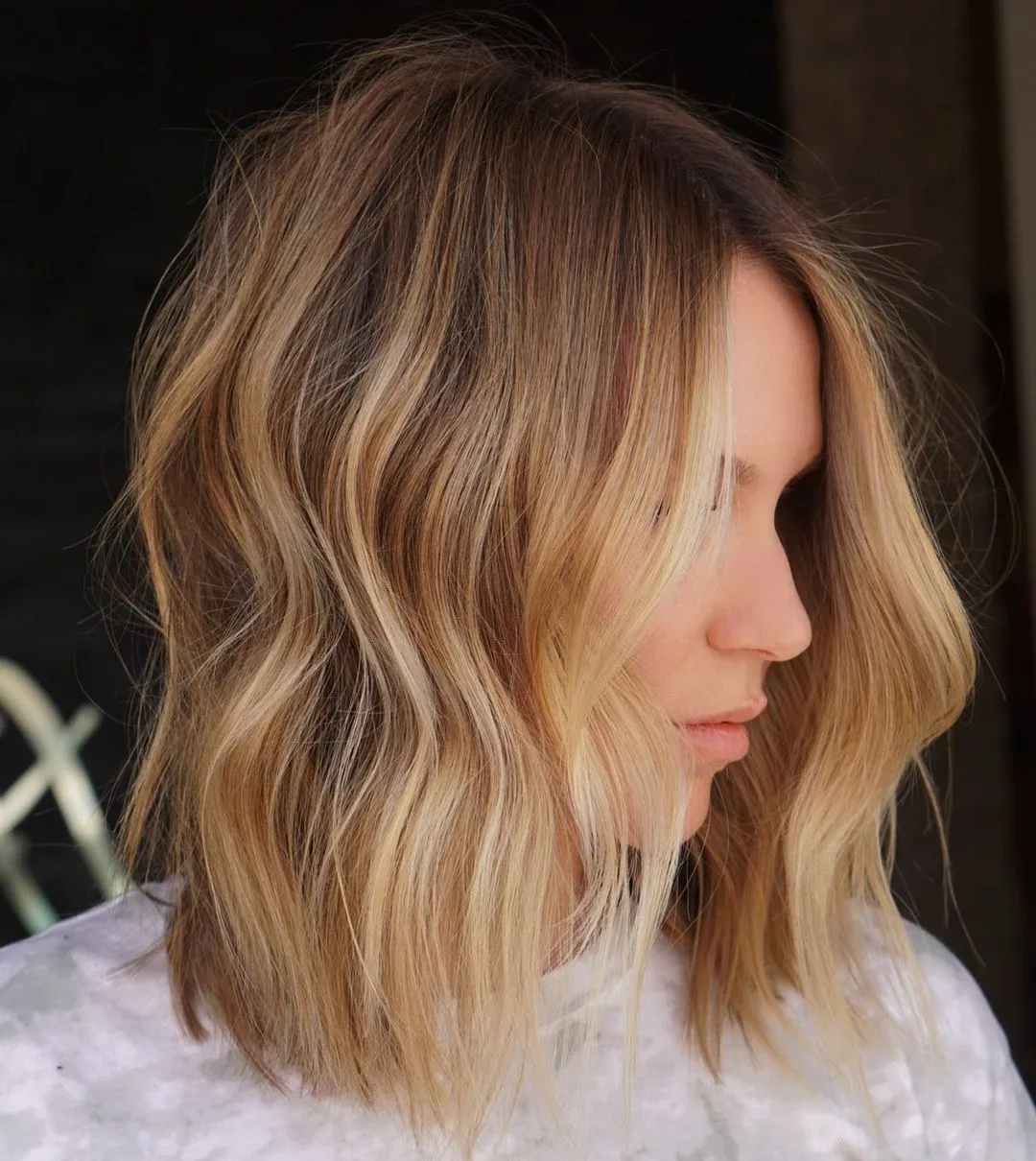 If you have thin hair and want more body, a textured lob creates tons of volume. Opt for wavy styling for maximum fullness.
39. Textured Lob With Side Part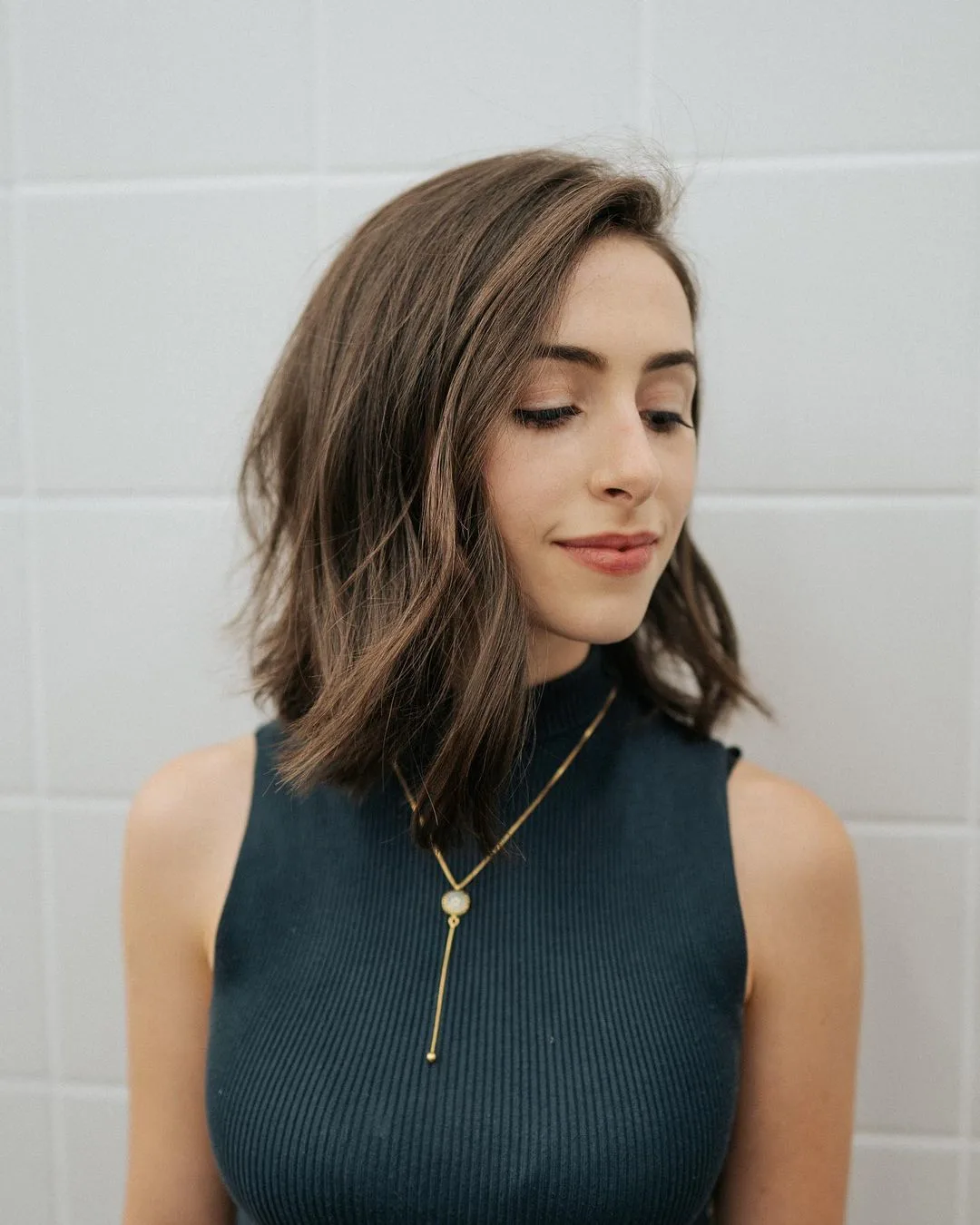 A different way to wear your lob: with a deep side part, styled quickly with a flat iron. Easy and chic!
40. Textured Blunt Lob With Long Bangs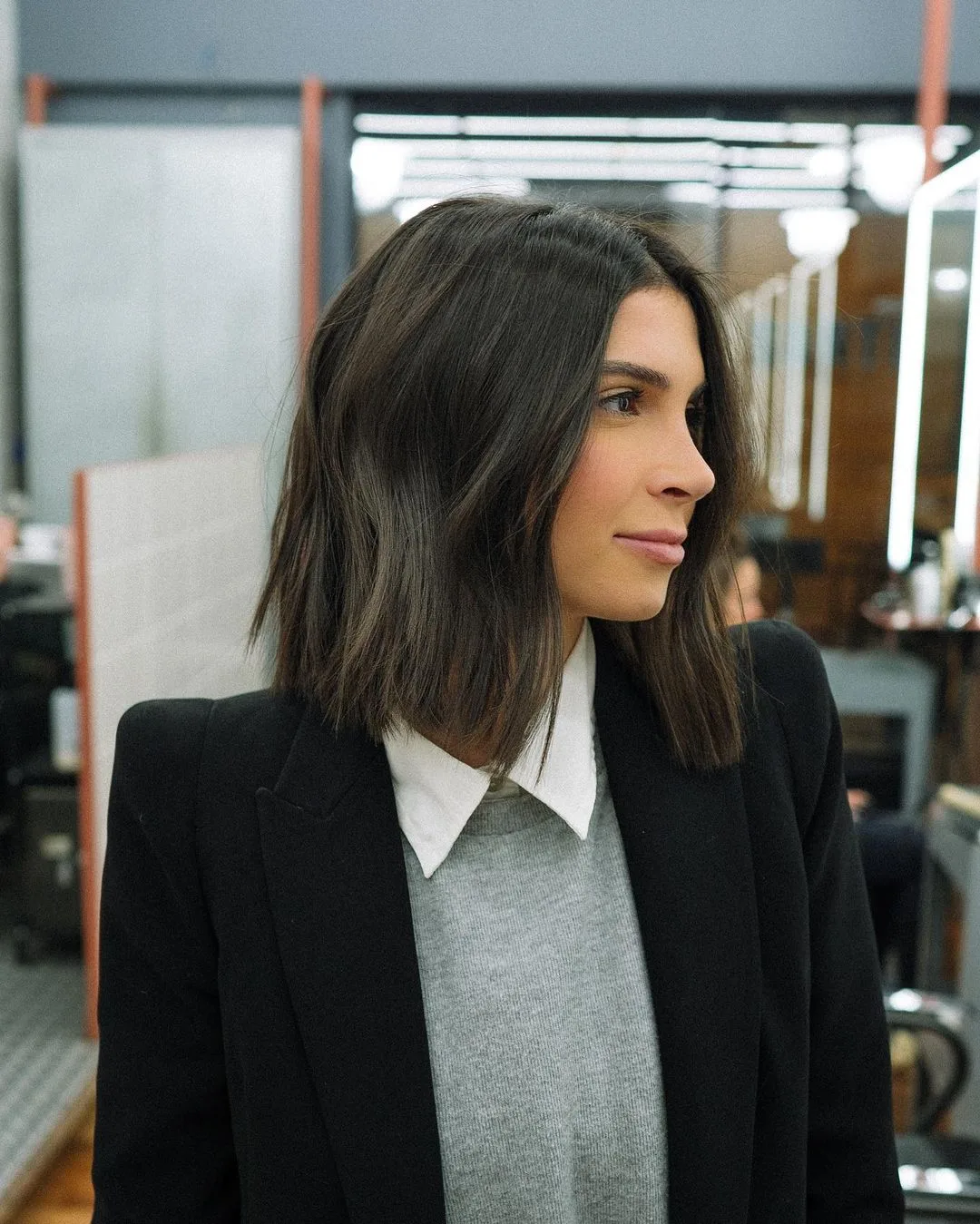 For a lived-in yet elegant look, use a flat iron to add a single bend at cheekbone level to your hair.
41. Smooth Textured Lob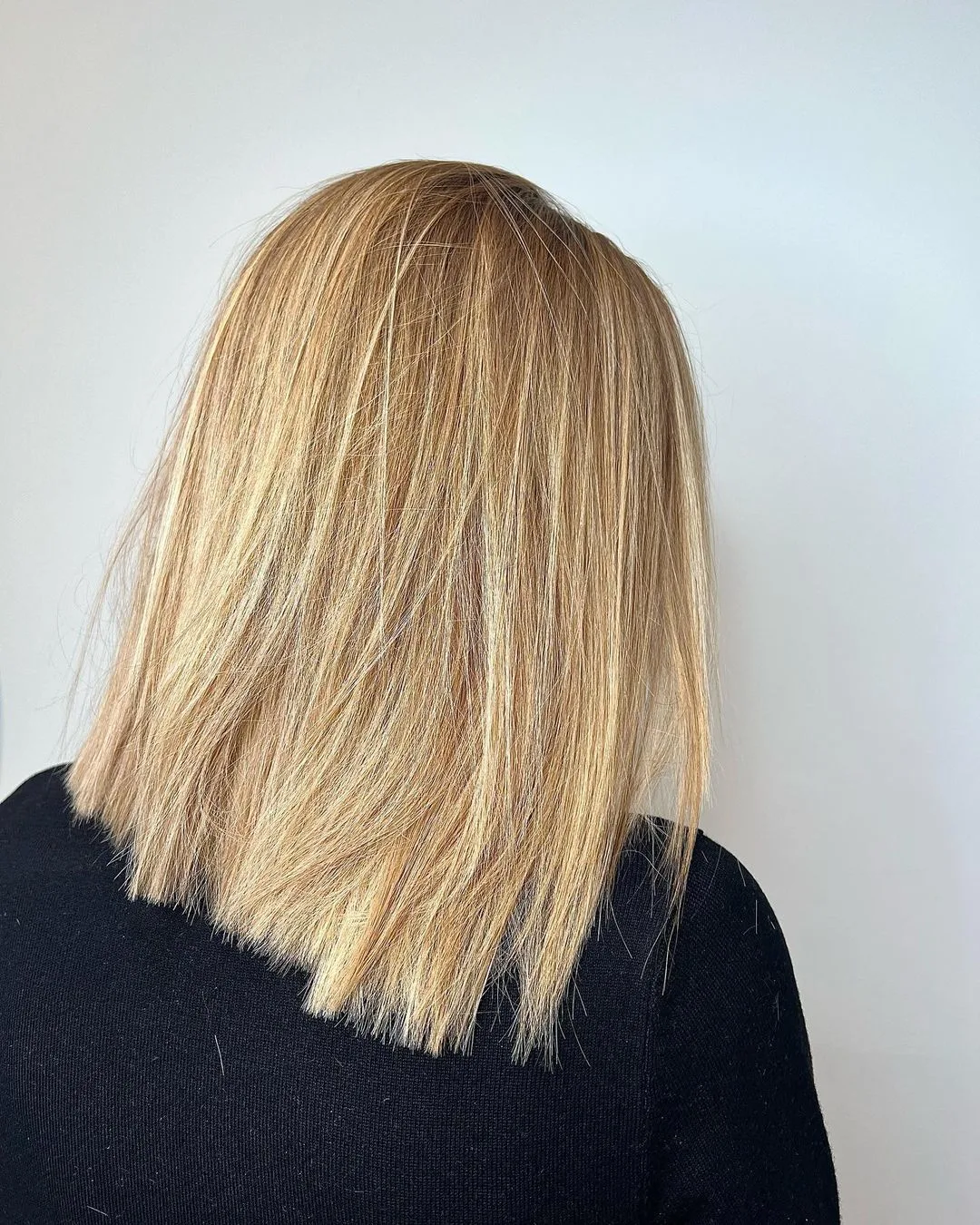 When you want a more polished look, a textured bob can be worn sleek. It's even easier to style than wavy—simply straighten using a flat iron and your favorite straightening product.
42. Thick Hair Shoulder Length Lob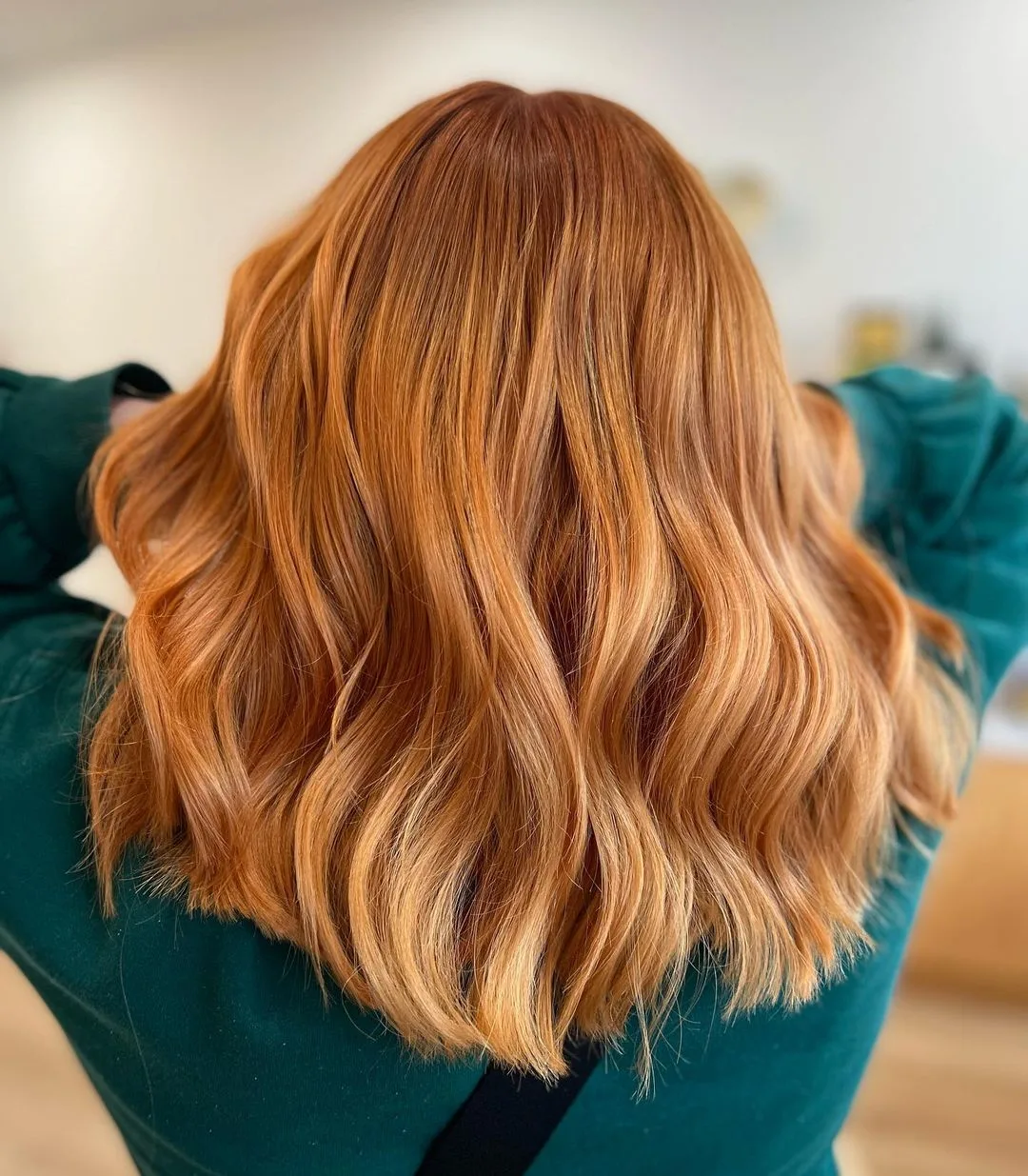 If you prefer more structured waves, invest in a quality curling wand. The size of the barrel will depend on how tight you want your curls to be—the smaller the barrel, the tighter the curls.
43. Wavy Blunt Textured Lob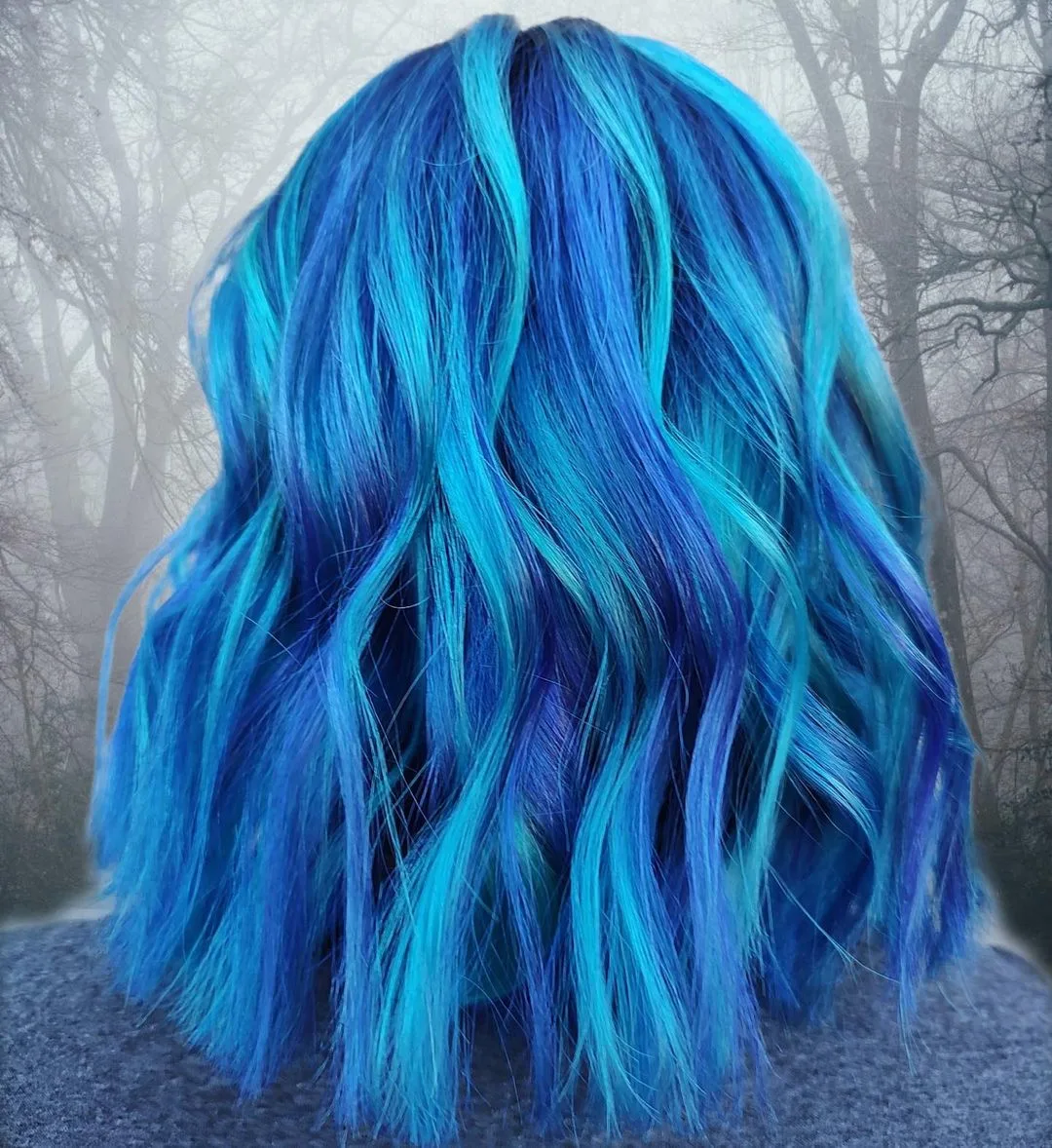 Use a product that creates separation and gives your hair structure if you want a piece-y look.
44. Fine Hair Shoulder Length Bob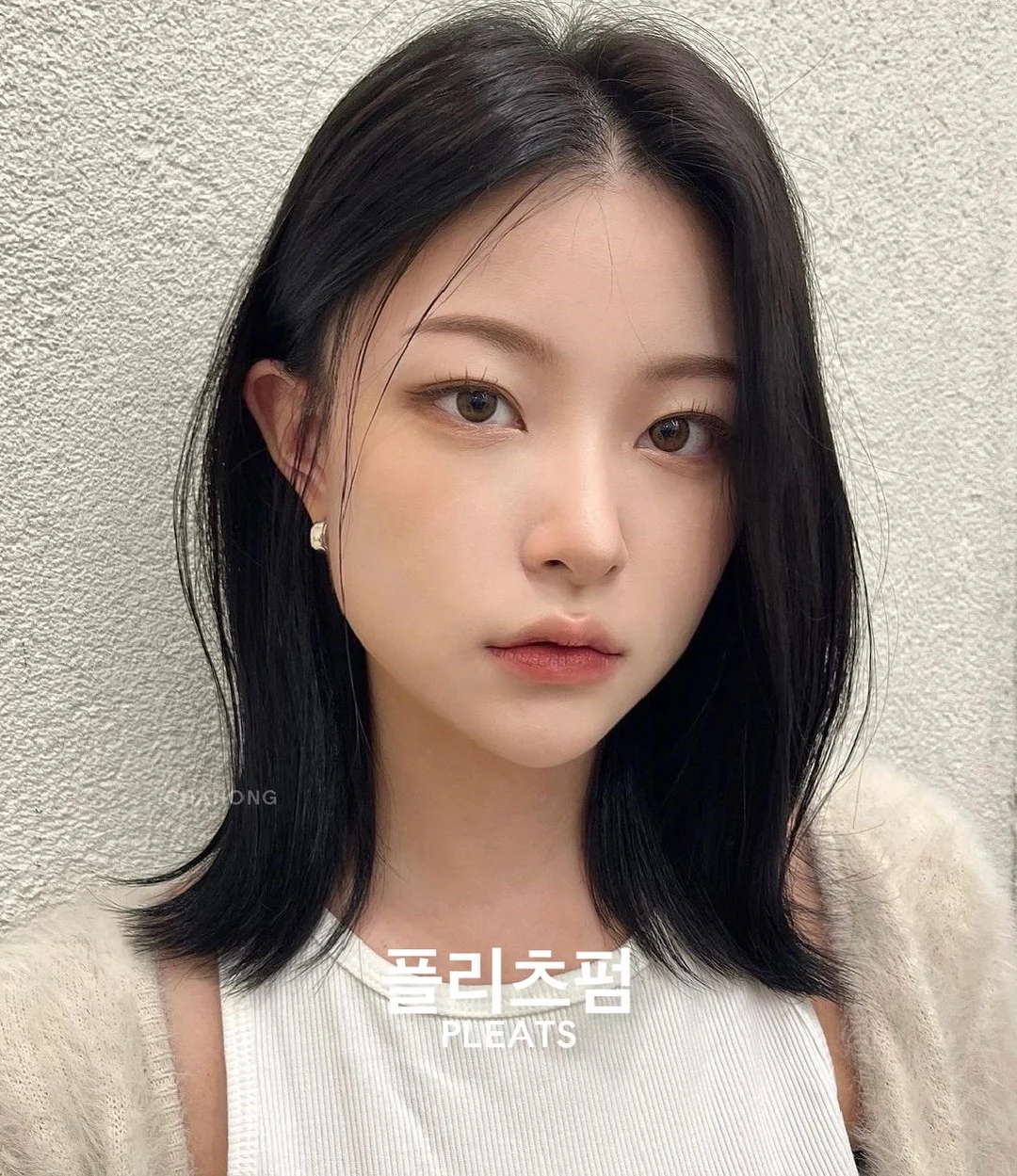 A smooth yet soft style like this one requires a blowout, but it doesn't have to be salon-perfect to look good.
45. Angled Long Bob Hairstyle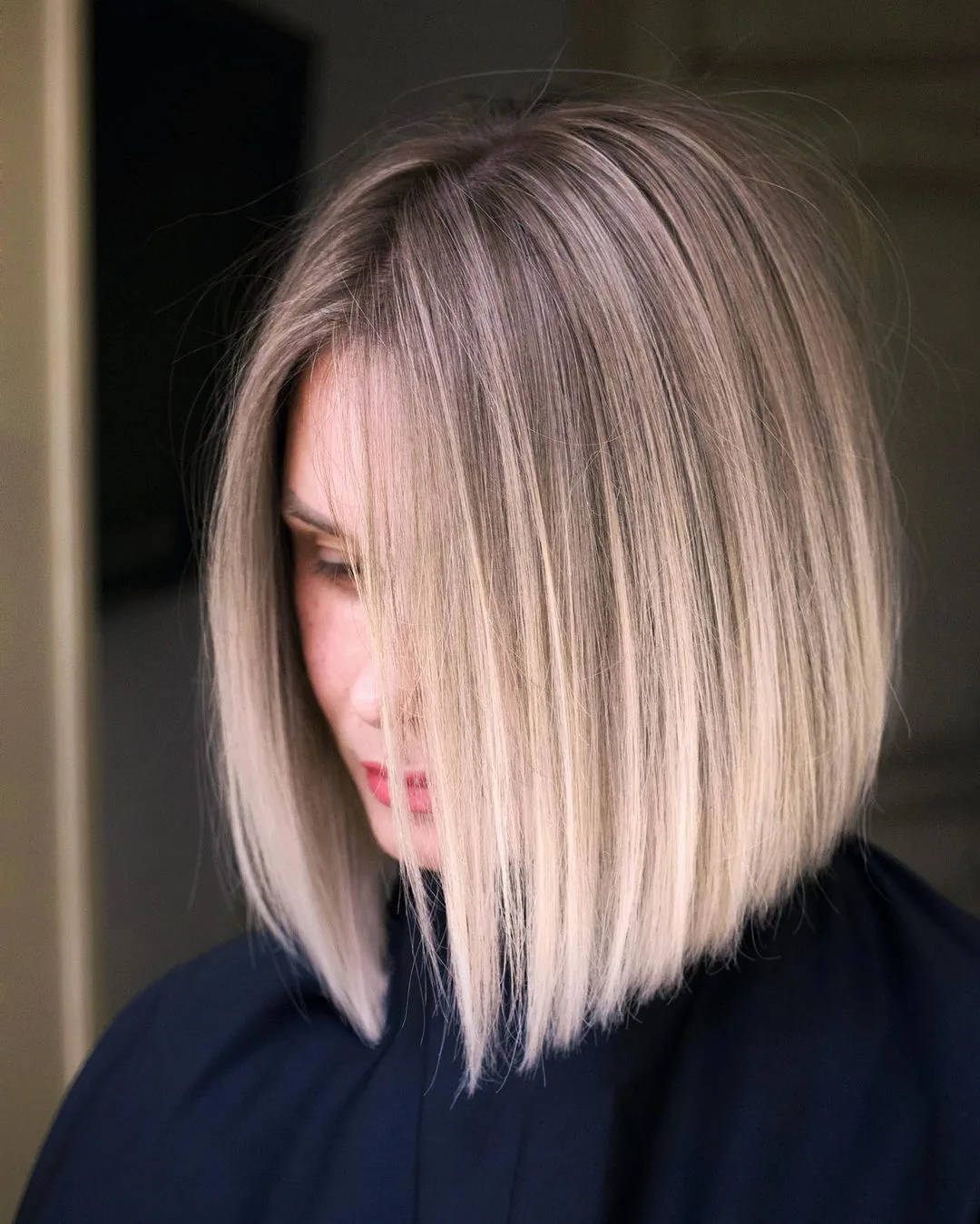 Texturizing layers keep a straight lob from looking bulky and thick. Instead, it looks elegant and lightweight.