A blunt bob with bangs is an easy, adaptable haircut that can be worn in many ways. The classic version of this haircut—straight with full fringe—will never go out of fashion, but there are plenty of other striking options to try if that's not exactly your style.
Take a look at the many possible combos to find the one that will fit your face shape, hair texture and personal style.
1. Blunt Bob With Blunt Bangs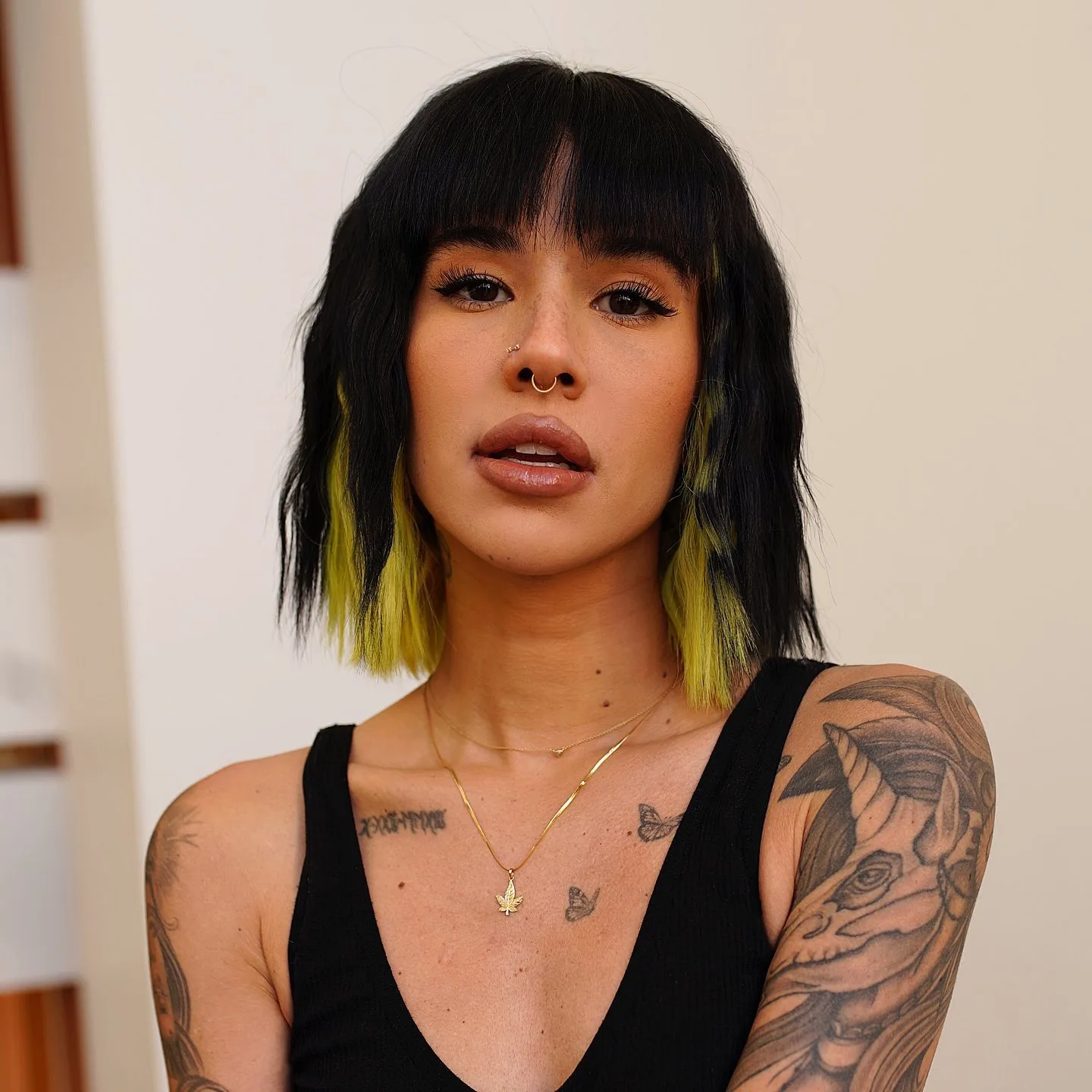 The iconic straight blunt bob with bangs can be easily updated—make your classic cut fresh through addition of interesting color and styling. Here, ultra-modern crimped waves and fluorescent yellow hue turn a classic haircut into a contemporary style.
2. Shoulder Length Blunt Cut With Bangs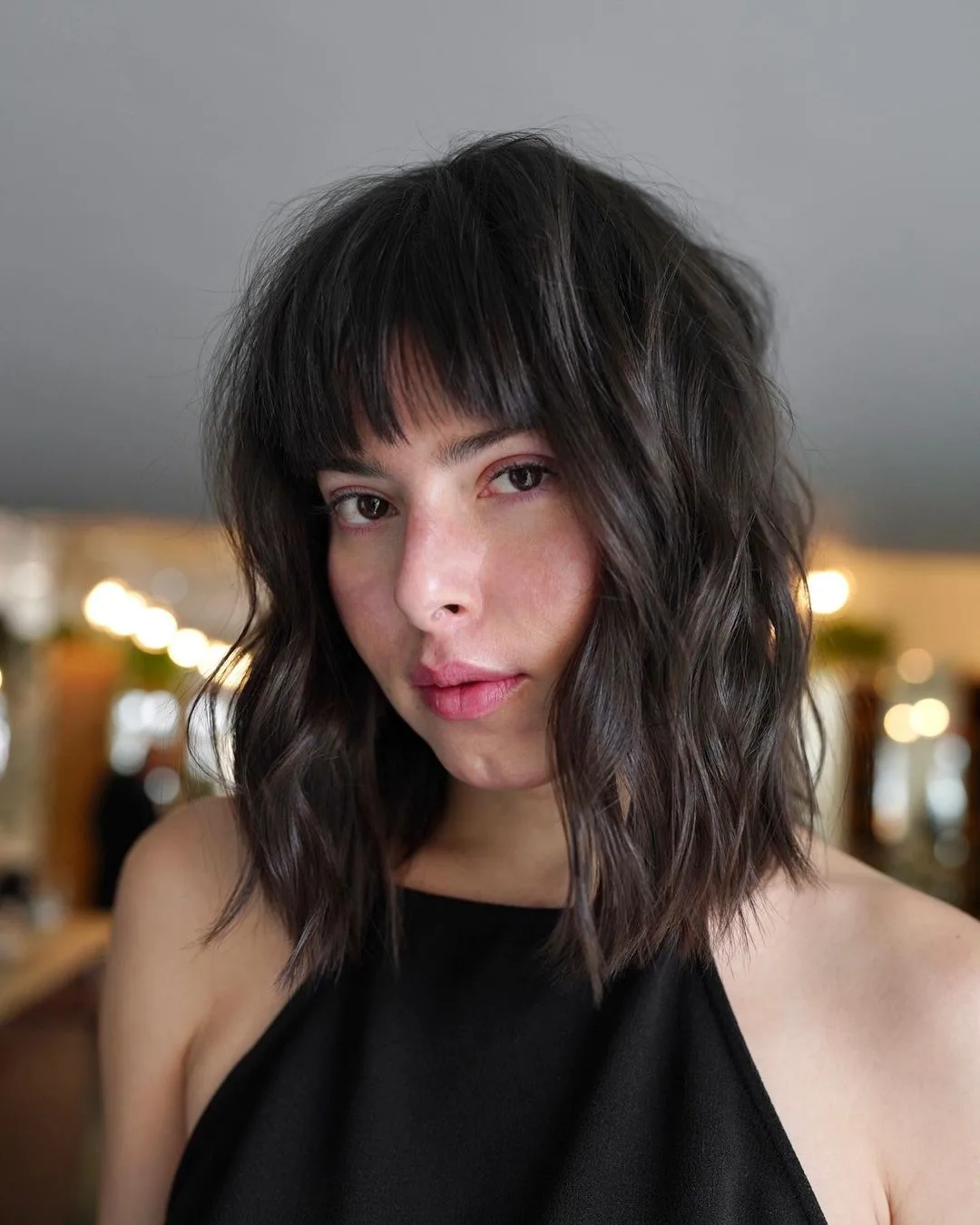 A blunt-cut wavy lob has been one of the most popular haircuts for the past few years, so it might seem like everyone has one. If you love yours but want to stand out a little bit, bangs are the perfect solution.
3. Neck Length Blunt Bob With Curtain Bangs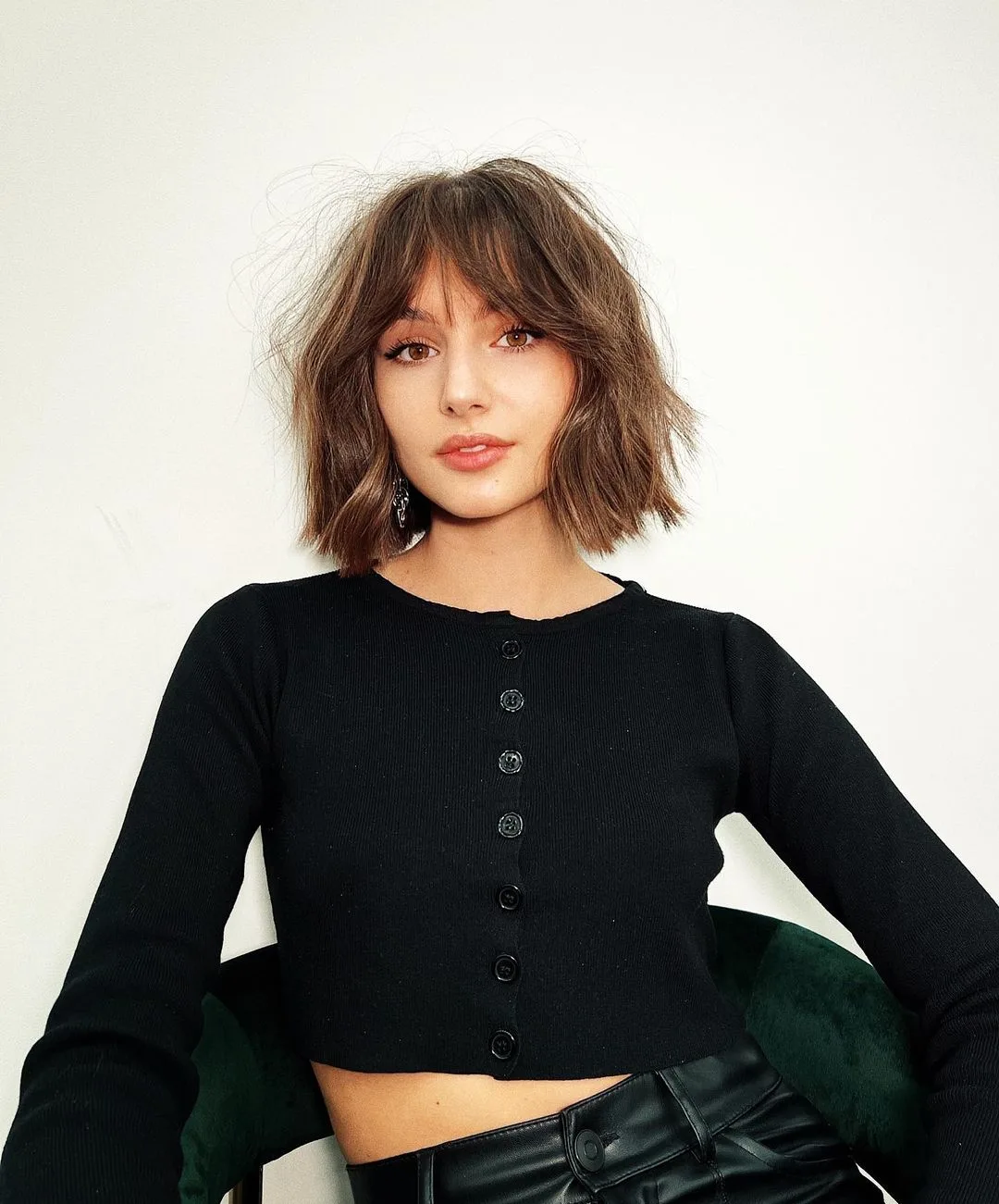 There are many varieties of curtain bangs, so they're highly customizable. They work on nearly everyone because they can be adapted to fit your specific features and hair type. So when you're ready to commit, talk to your stylist and figure out jthe right one for you.
4. Bob Haircut With Bangs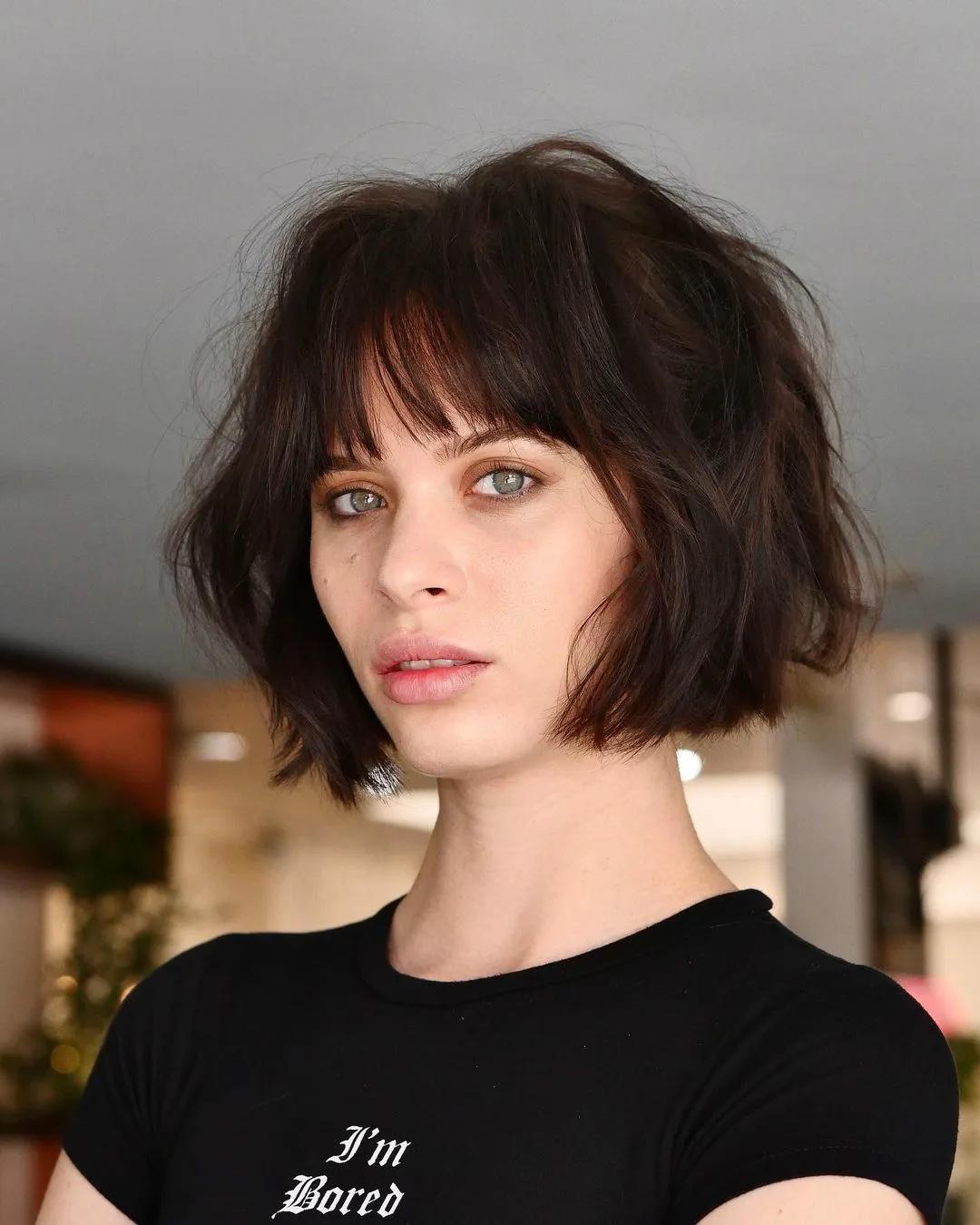 Bangs can completely transform a look, even if they're wispy or thin. If you don't want thick, straight bangs, you have plenty of other options: simply adding a few shorter strands around the face can change your appearance, and they can be easily tucked away when you want to hide them.
5. Straight Bob With Bangs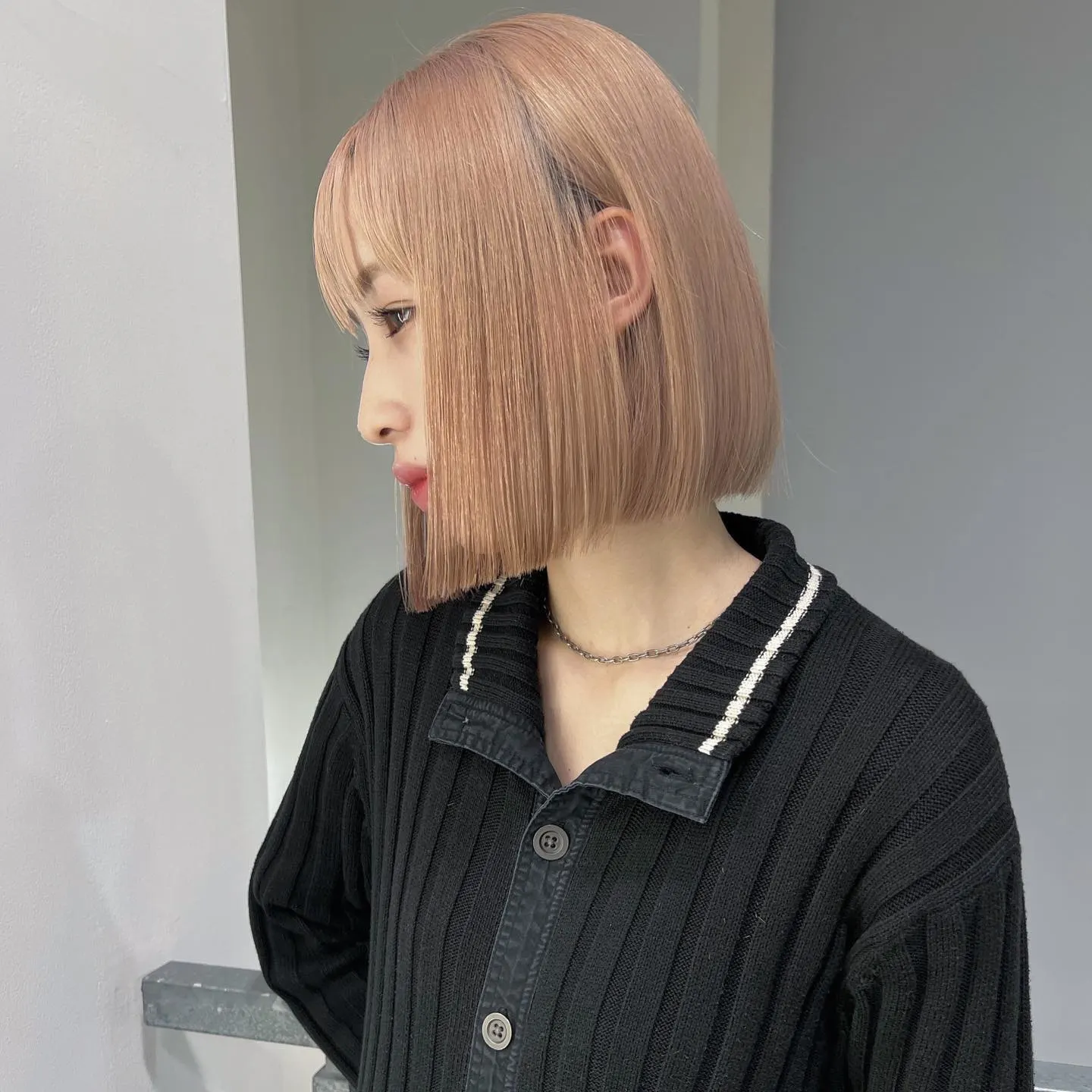 A blunt bob with bangs is a versatile style easy to adapt for different occasions, and best of all, it can be done in minutes. For a sleek, elegant short straight hair with bangs, you'll need a flat iron and ten minutes. Just don't skip a heat-protecting product beforehand to keep your hair healthy.
6. Textured Bob Haircut With Long Bangs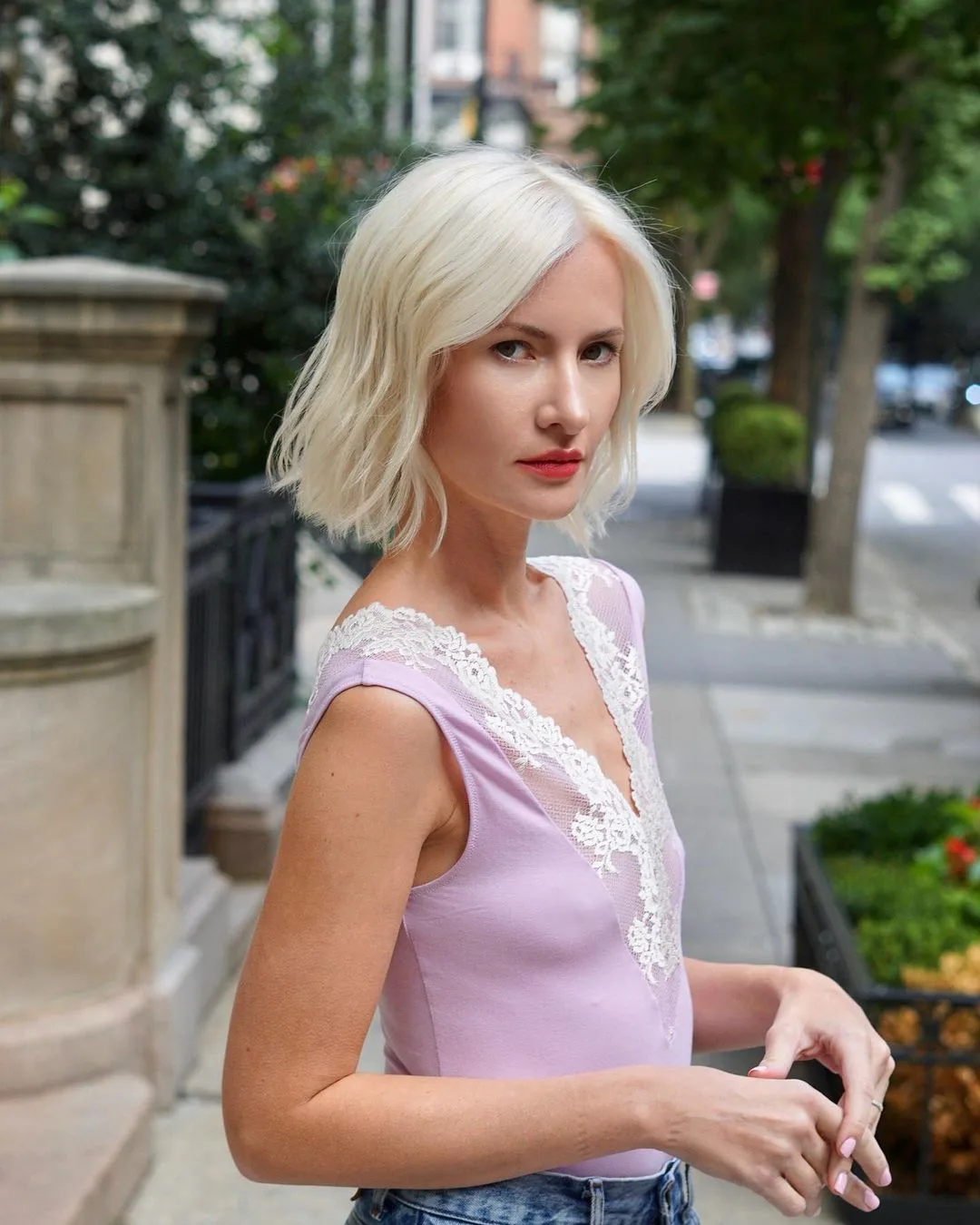 Long bangs with a middle part give this blunt bob tons of softness, making it look romantic and breezy. The combination of a textured cut and delicate bangs creates a contemporary and interesting style.
7. French Bob With Fringe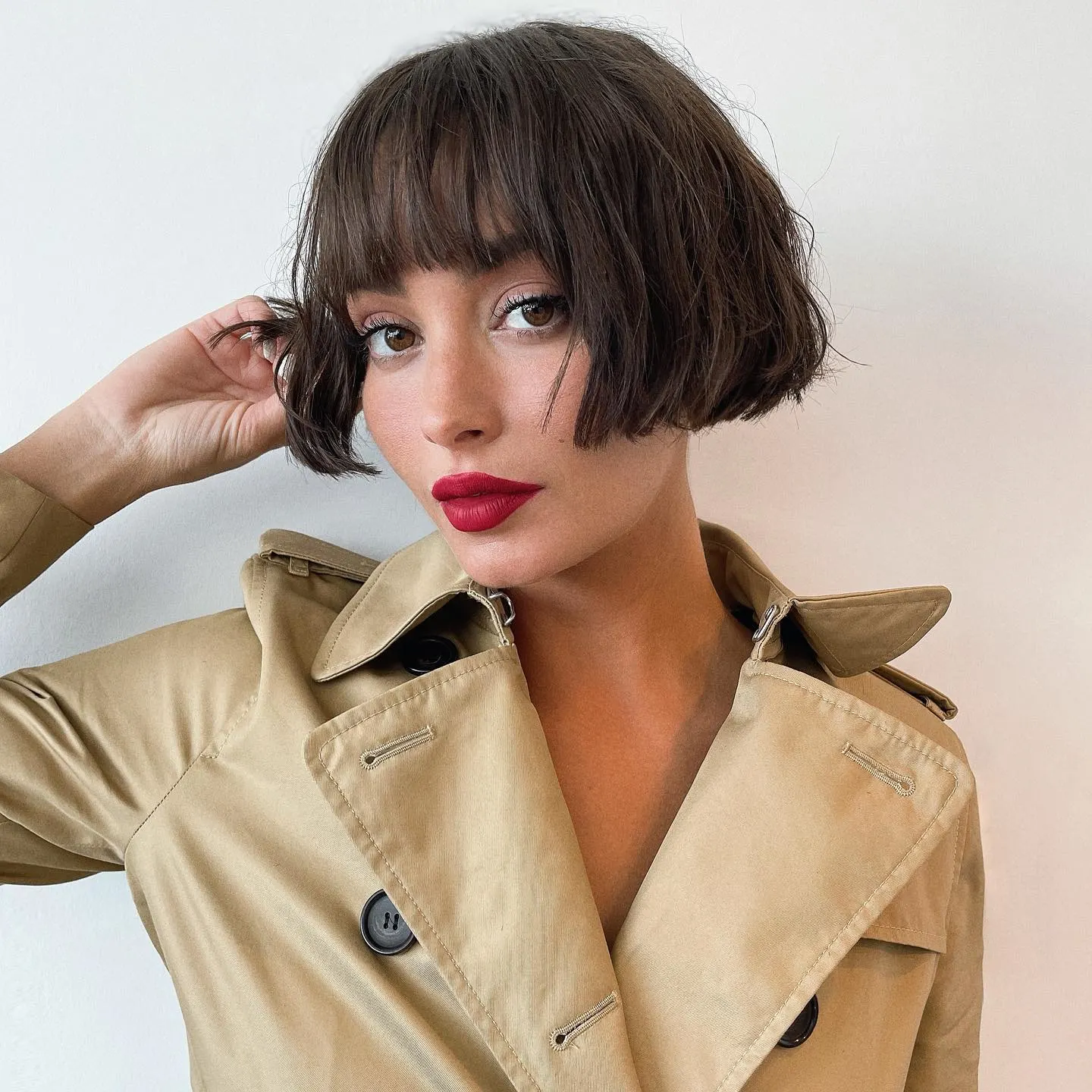 What's more chic than a French bob? Cut short and blunt, usually with fringe above the eyebrows, this timeless style can also be adjusted to suit your face. The secret to the effortless look is in the styling: use an anti-frizz product and skip a blowout—this cut looks best with your natural texture intact.
8. Long Blunt Cut Bob With Curtain Bangs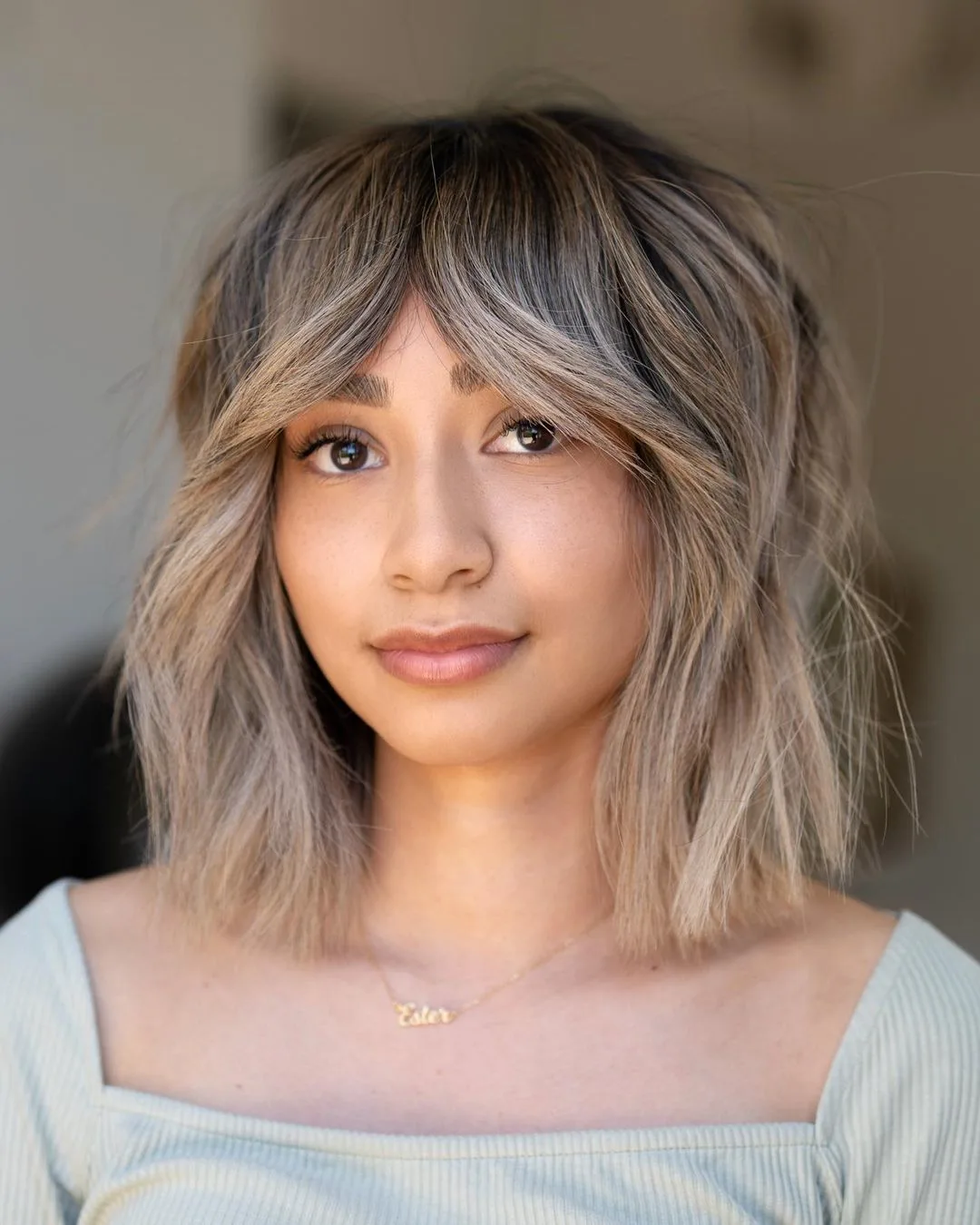 Curtain bangs are thick like the classic fringe, but because they're worn parted, you end up with a much more casual look. When it comes to styling, less is more, so make sure only to give them shape and not curl them too much.
9. Curly Bob Hairstyle With Bangs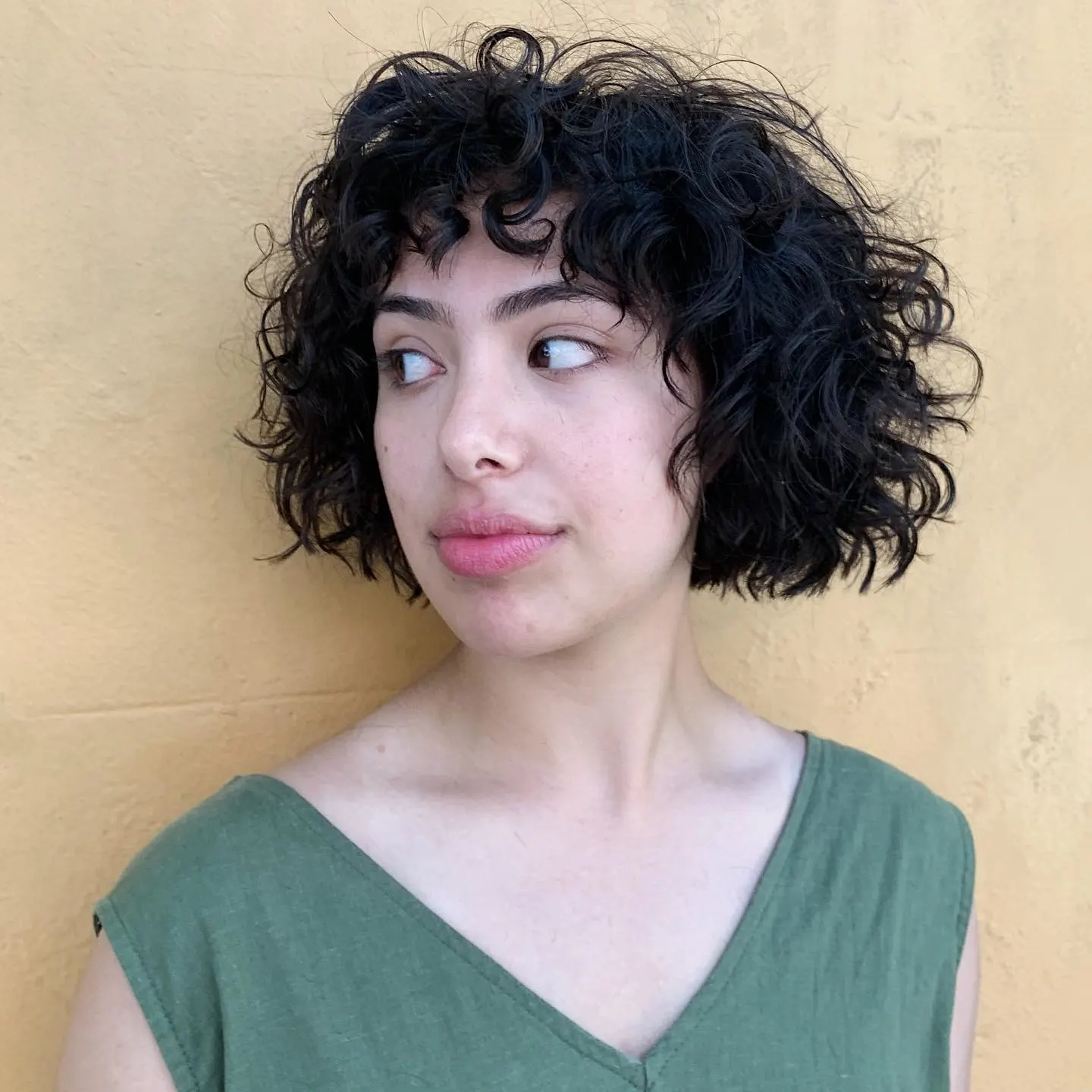 Adding bangs to short curly hair can breathe a new life into your style. Instead of having your hair lie flat or wondering what to do with it, refresh your cut with cute bangs. If you do it yourself, always cut them while your hair is dry to avoid too going short.
10. Blunt Cut Choppy Bob With Long Bangs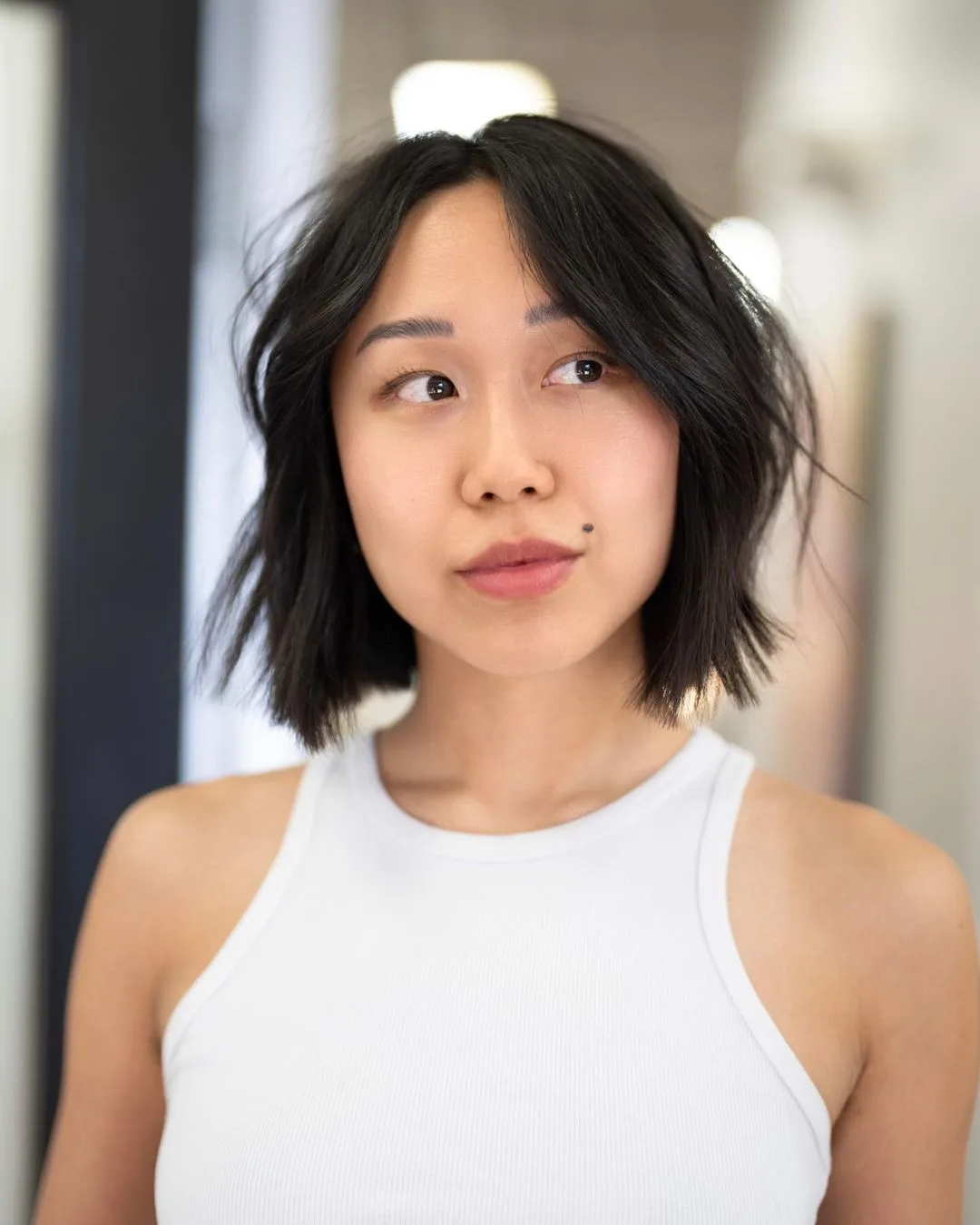 Long bangs are perfect if you prefer a short choppy haircut to a completely one-length look, yet don't want to go for anything too shaggy. They instantly add movement and a relaxed touch.
11. Medium Bob With Bangs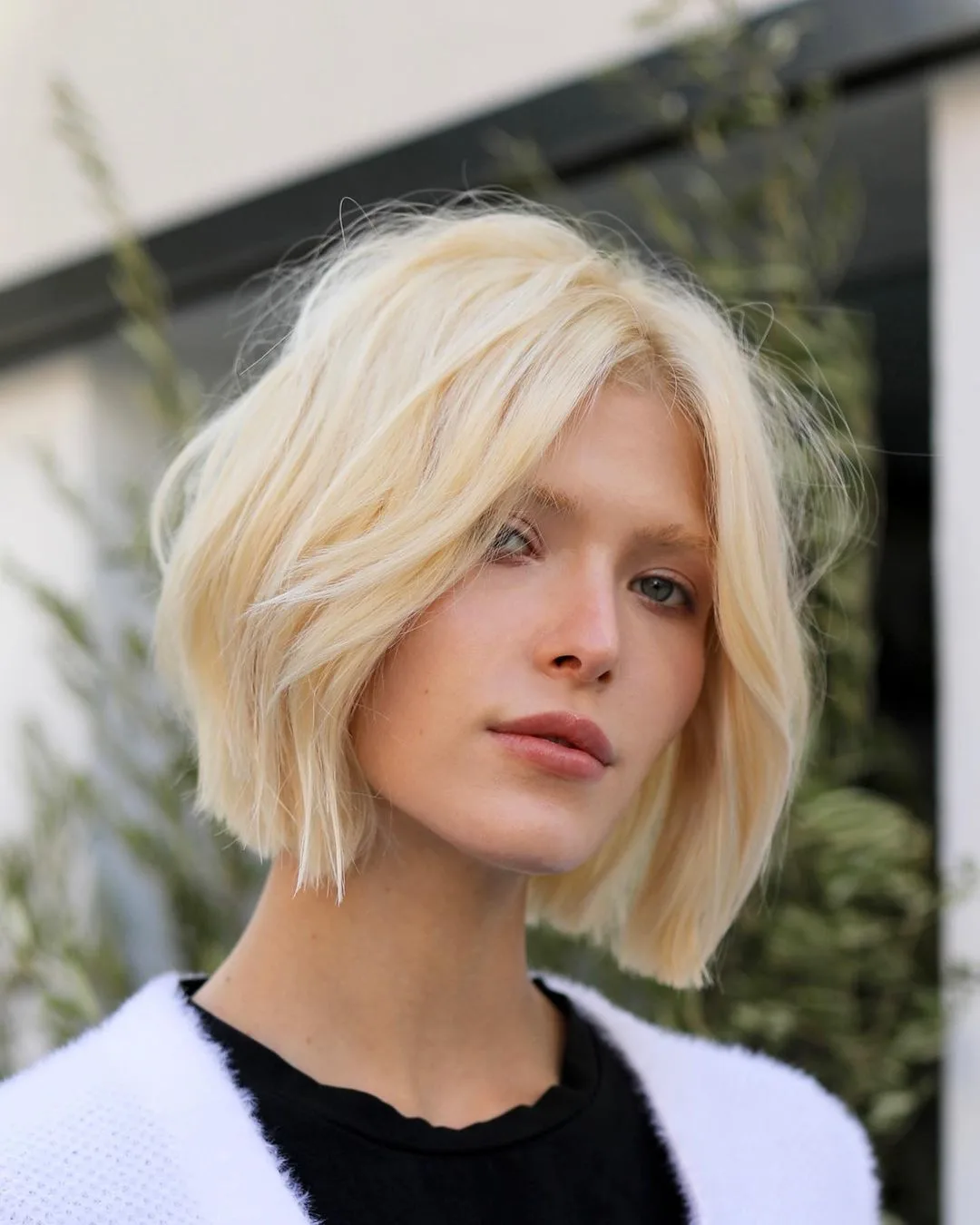 Just a few shorter strands around the face were enough to soften this short blonde bob, and create a flirty, casual look. Works great for heart-shaped faces when you want to downplay your cheekbones a bit.
12. Wispy Long Bangs Bob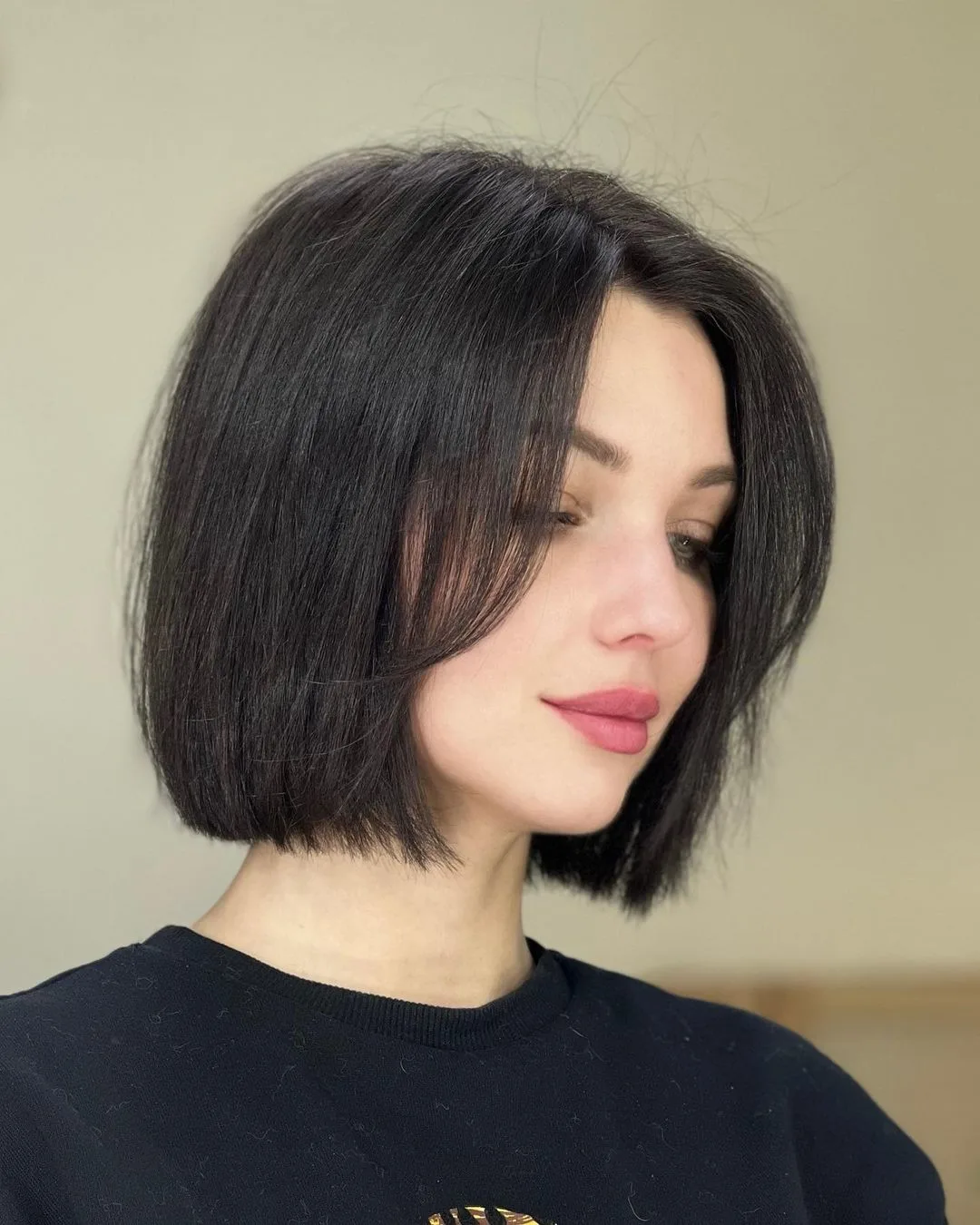 Add movement to your one-length blunt bob with thin side-parted long bangs. It's a low-commitment bang style that makes an impact even though it's not as dramatic as a full fringe.
13. Blunt Bob Cut With Wispy Bangs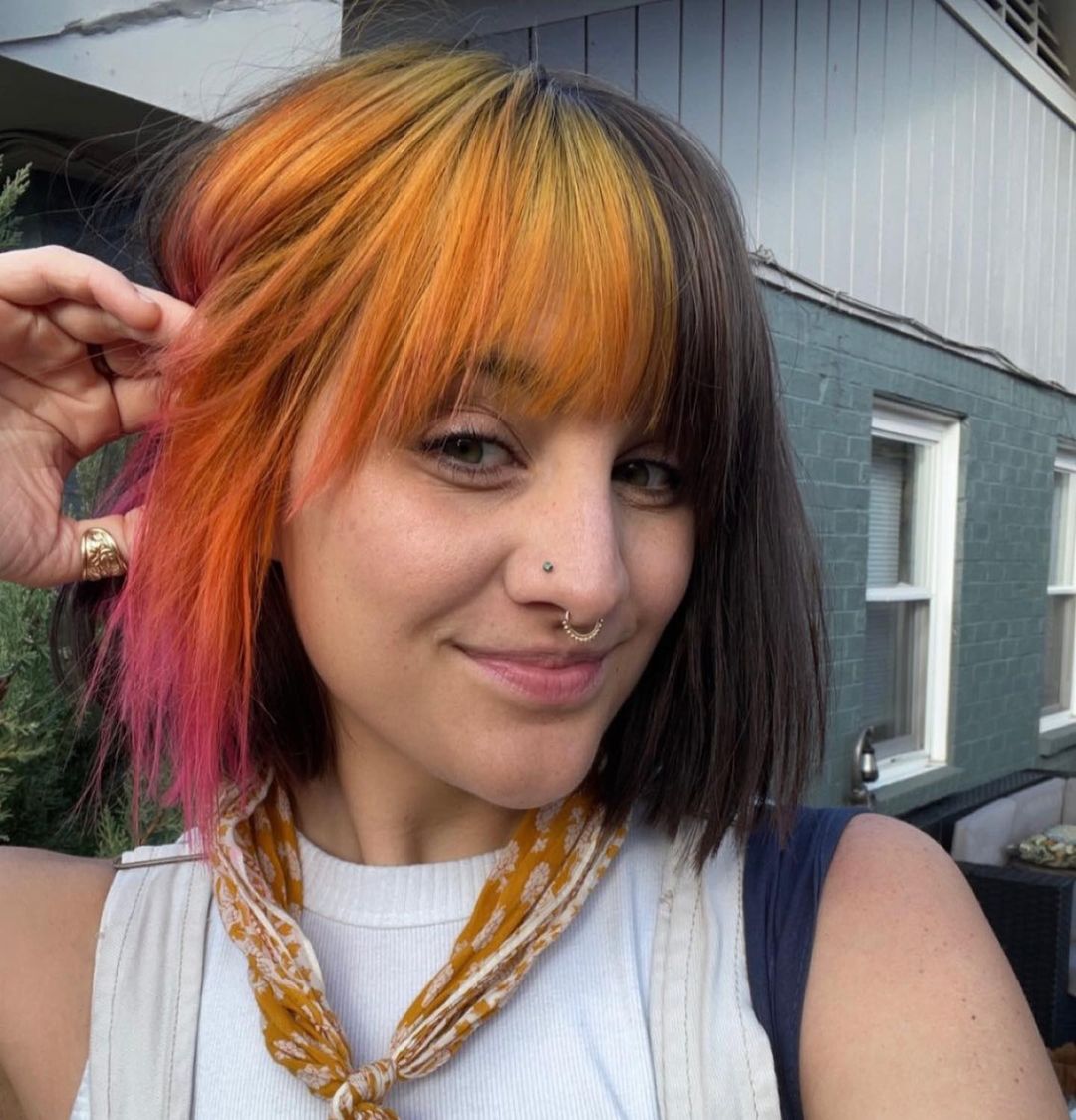 Bangs can be used to highlight the features you like and draw attention away from those that aren't quite your favorite. If you want to make your face look smaller, go for full bangs that cover your eyebrows.
14. Short Bob Cut With Straight Across Bangs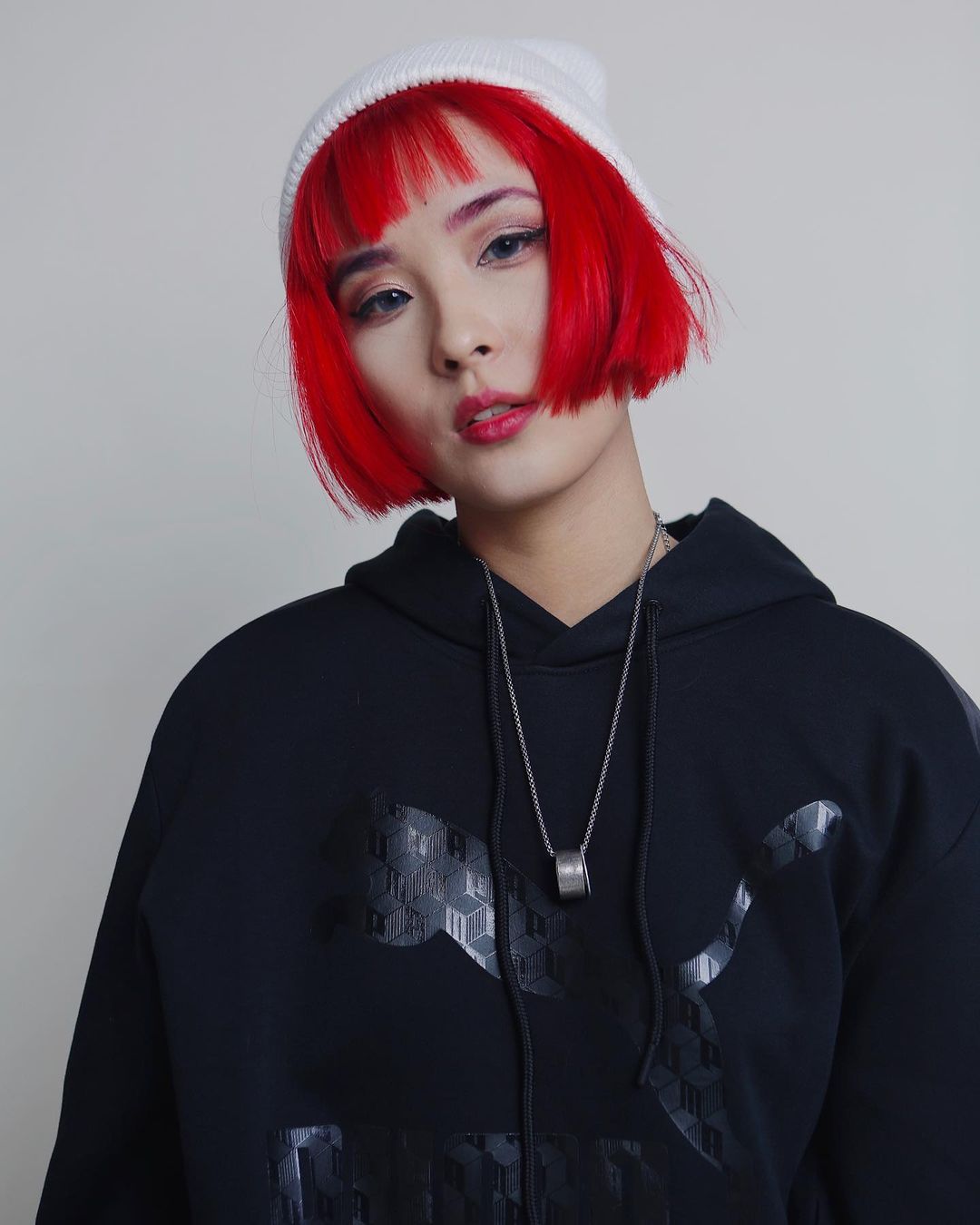 Baby bangs are always edgy, but when you pair them with a vivid unnatural color, you're making a statement.
15. One Length Bob With Side Bangs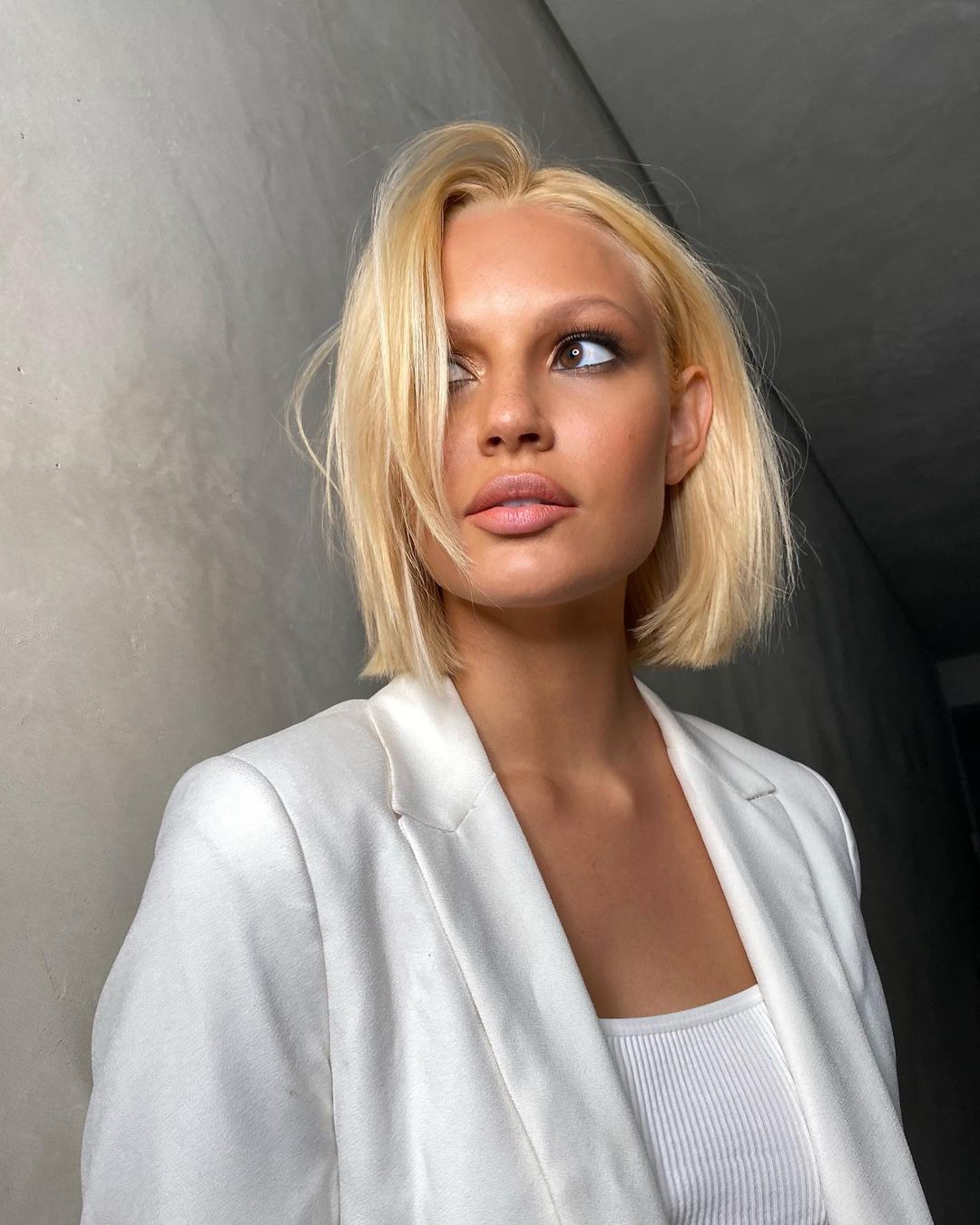 Keep your one-length bob fresh by adding long bangs. You can wear them casual or easily create a ton of drama. Here, the bangs have been teased high to achieve a glam look.
16. Curly Ear Length Bob With Bangs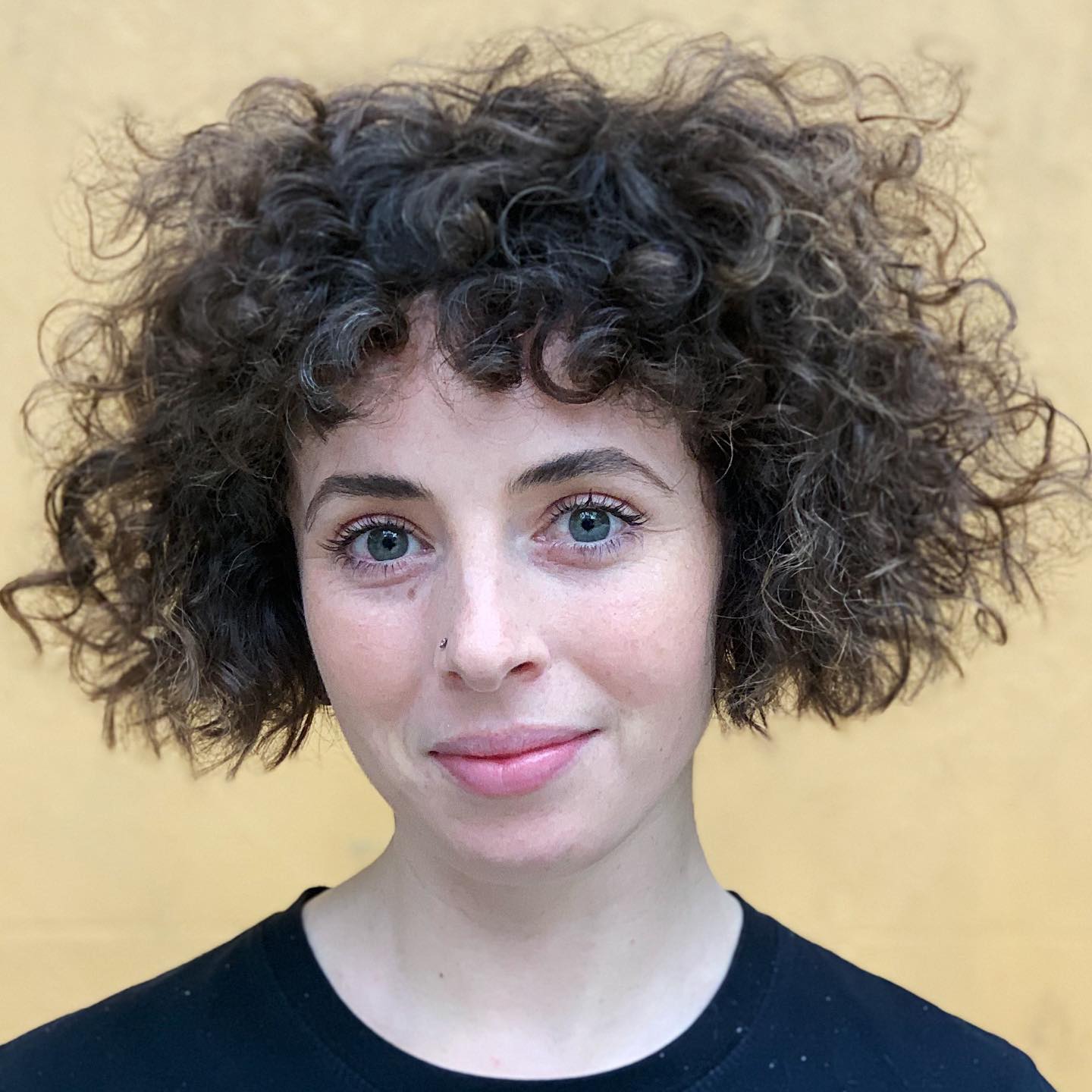 Cutting technique is different when adding bangs to curly hair than to straight hair. Because every curl shrinks to different height, they shouldn't be cut to the same length, but every strand has to be done individually.
17. Short Blunt Bob With Bangs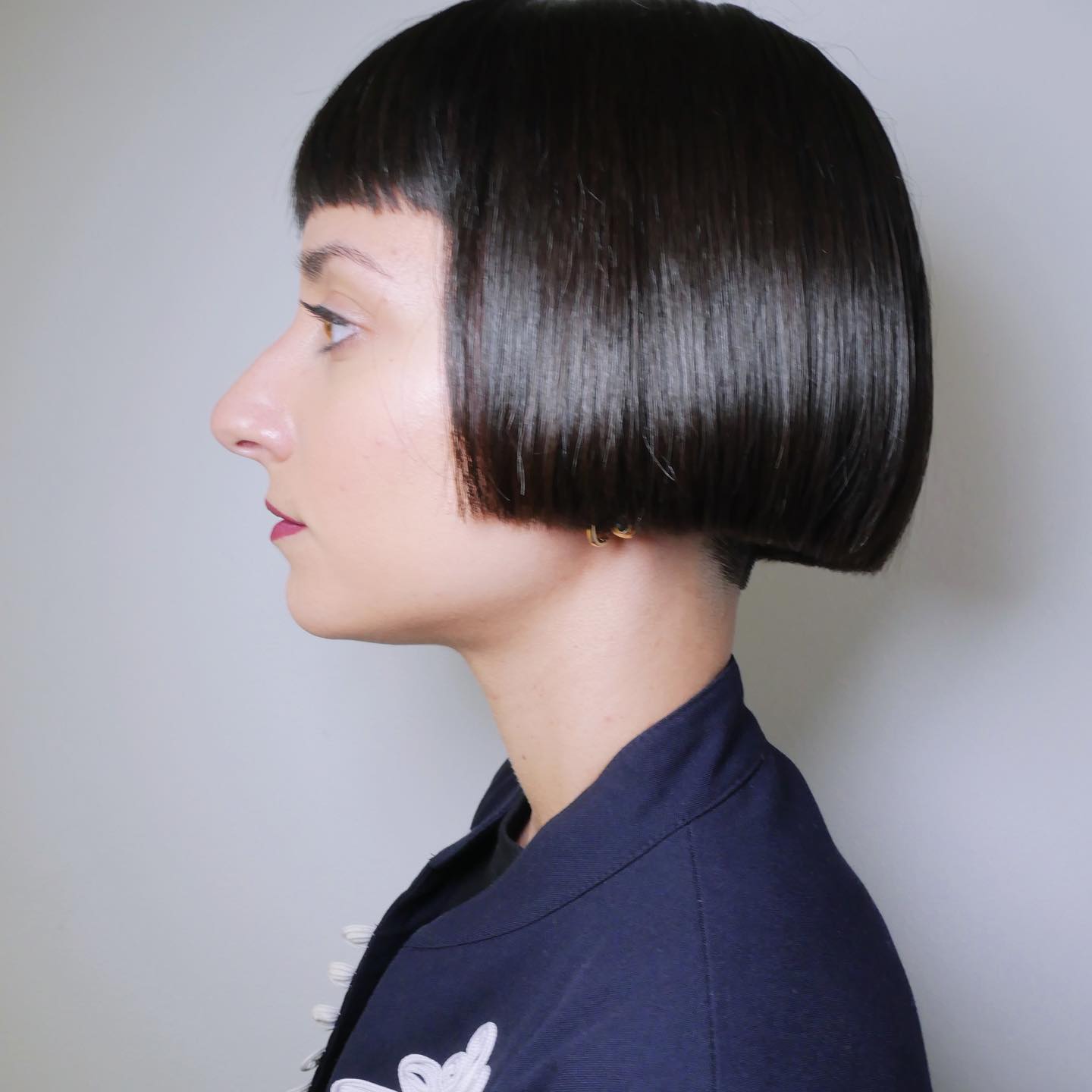 Straight super-short bob with bangs is not a style that everyone can pull off. Because it's quite flat, it works best on smaller heads and smaller faces. If yours isn't exactly petite, opt for something more voluminous.
18. Chin Length Bob With Bangs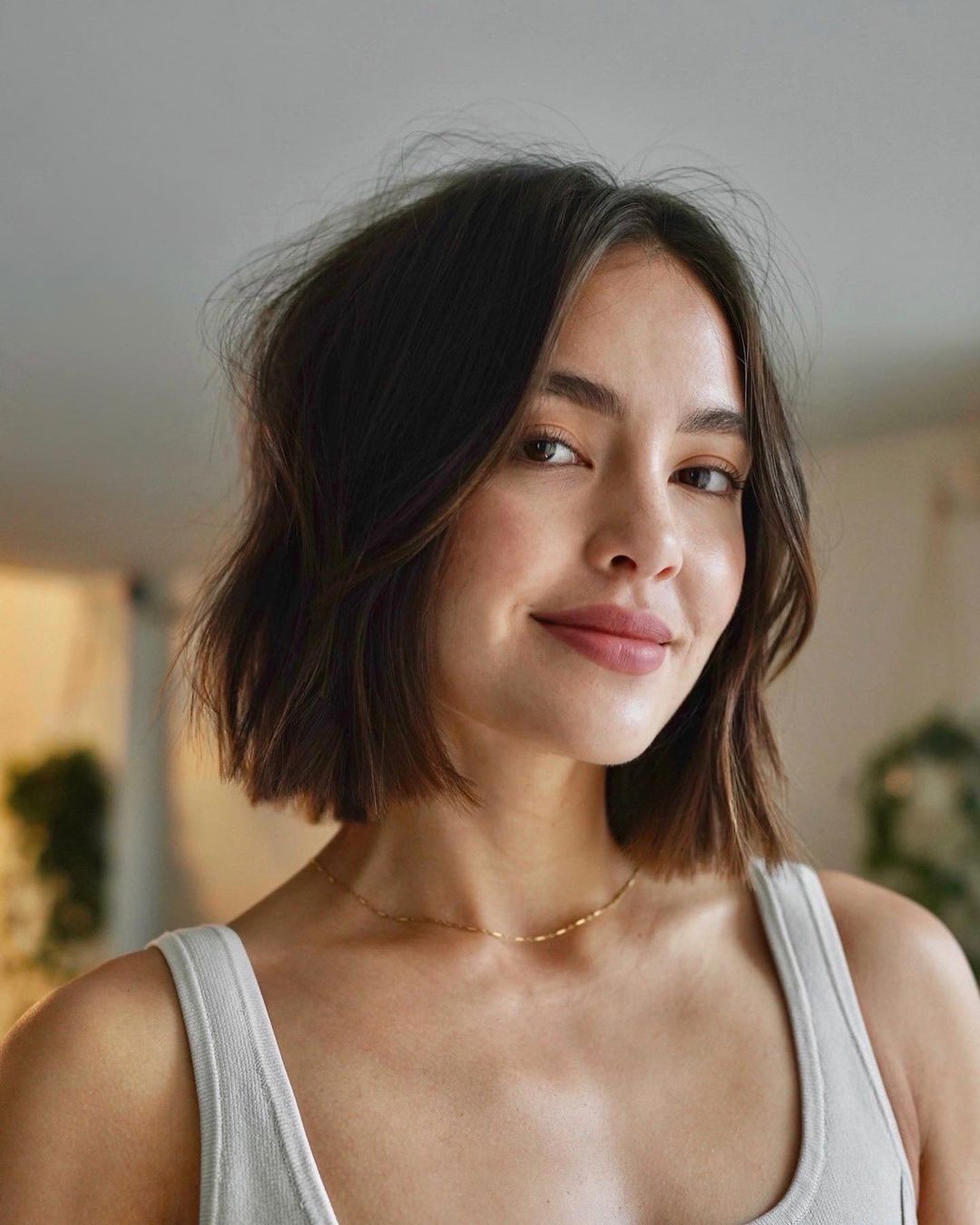 Spruce up your ultra-flattering neck-length blunt bob with your favorite style of bangs. For a hint of softness, go for wispy long bangs, try curtain bangs to frame your face or opt for full and straight fringe for a more classic look.
19. Choppy Blunt Cut Bob With Side Bangs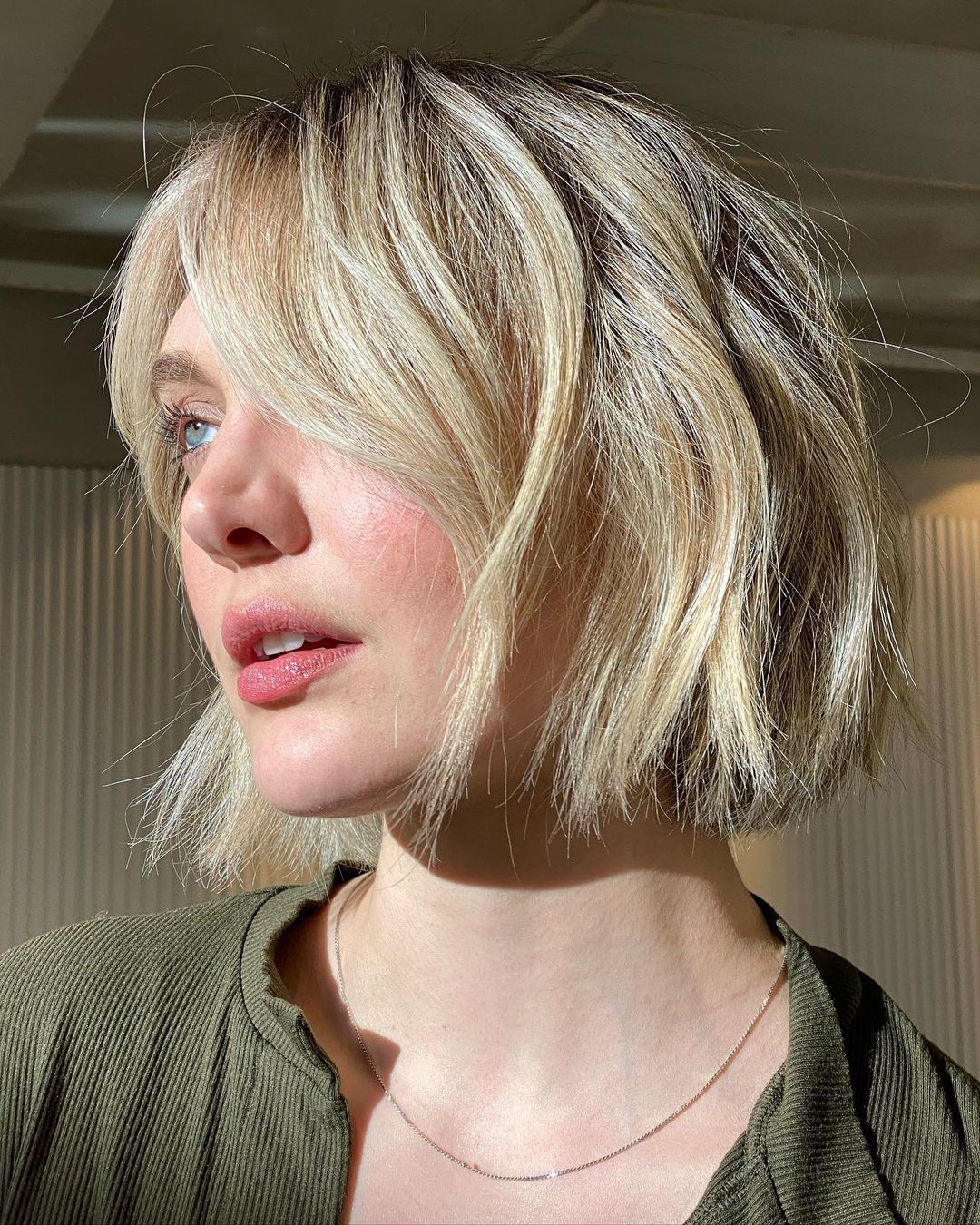 Tapered side bangs will give your choppy bob a flirty vibe—soft strands covering one eye are the best way to add some mystique to your look.
20. Blunt Cut Bob With Bangs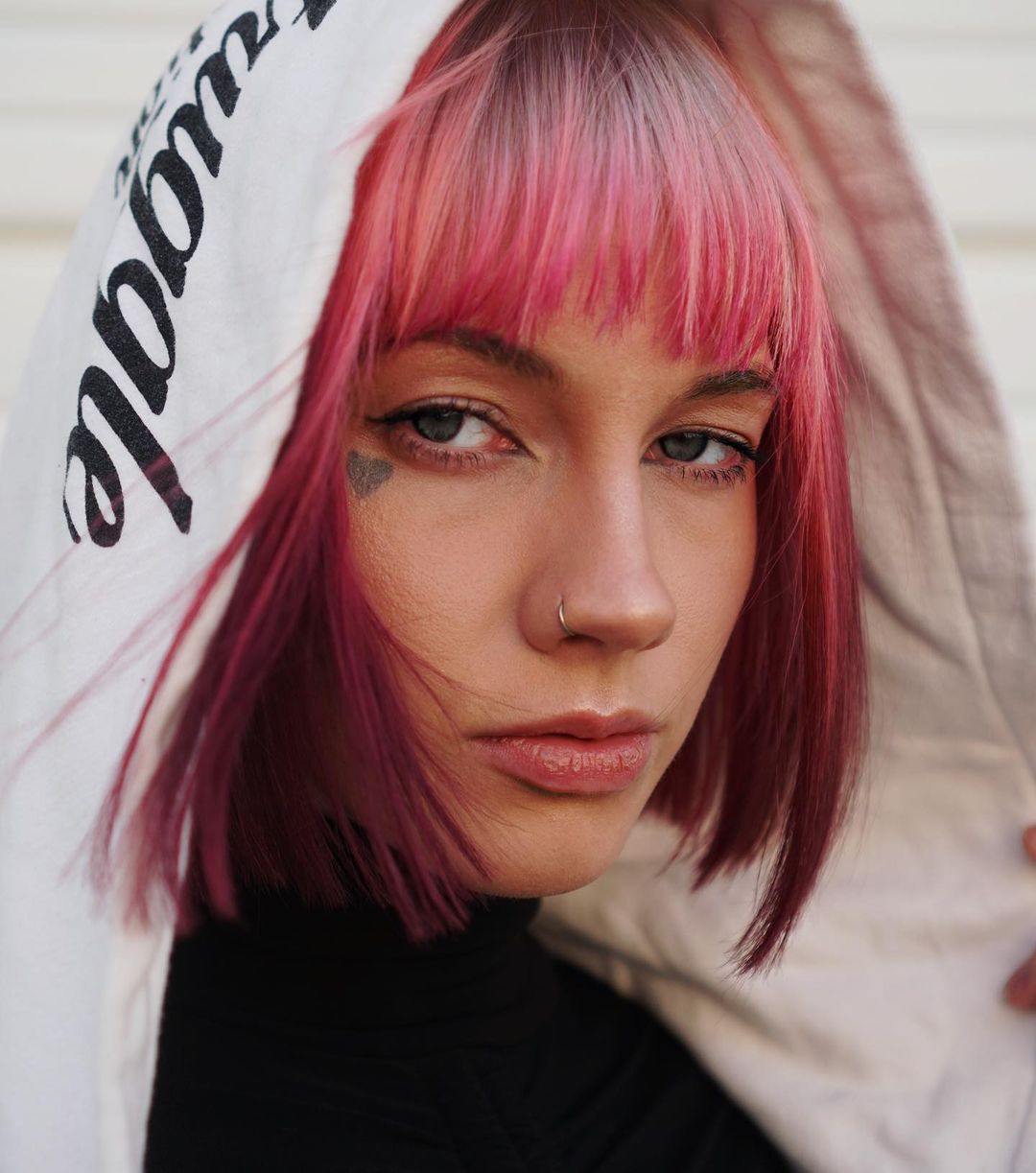 Blunt bob and straight bangs are the perfect style if you want to make your look all about the color. It's a classic, neutral look that's nonetheless edgy and cool, so playing with different shades won't make your whole hairstyle look too overwhelming.
21. Blunt Cut Bob With Curtain Bangs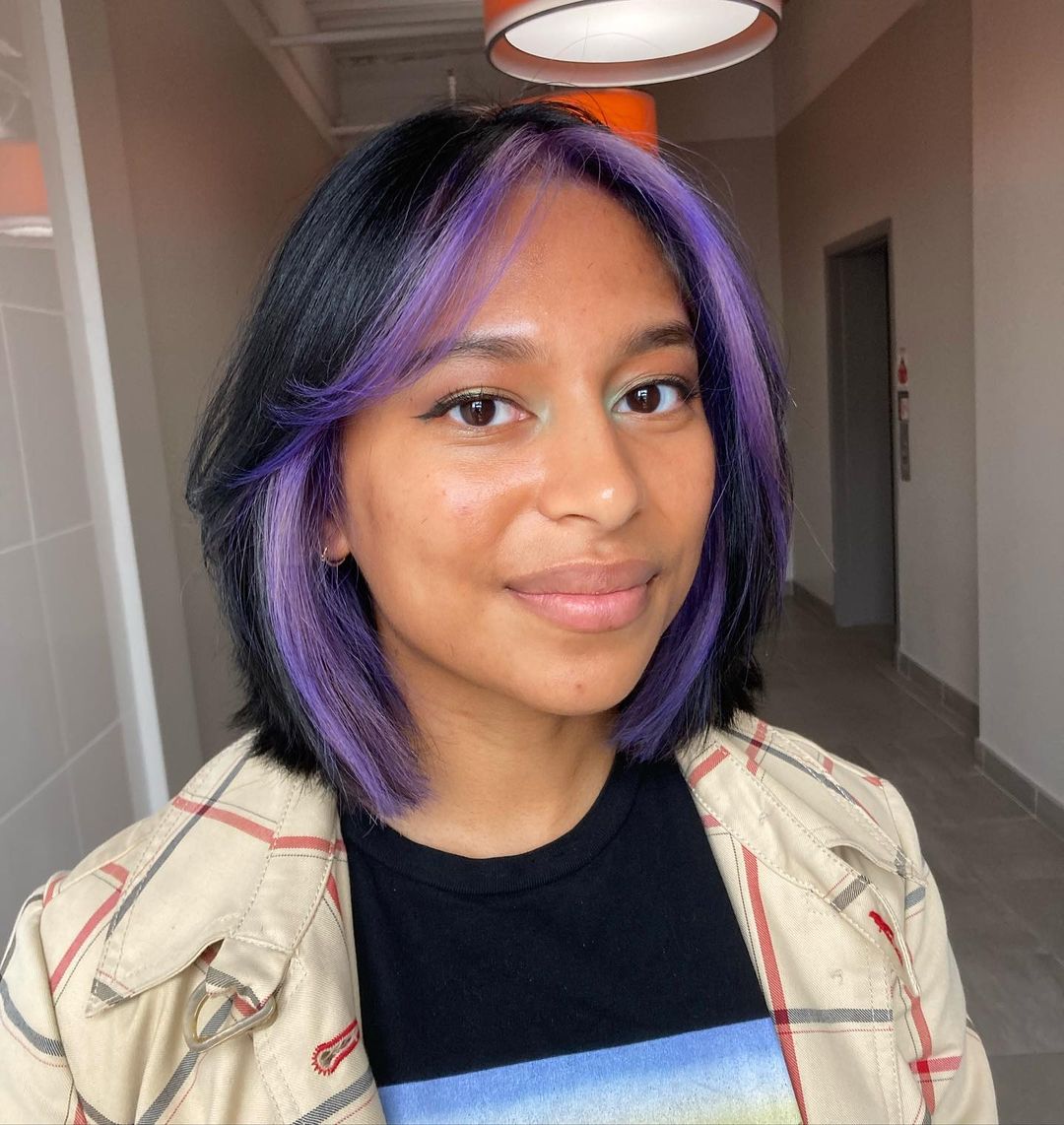 The coloring choice makes this bob with curtain bangs edgy and flattering—by dying both the long bangs and the strands near the face the same color, they both frame the face and give it a lovely glow.
22. Jaw Length Blunt Bob With Bangs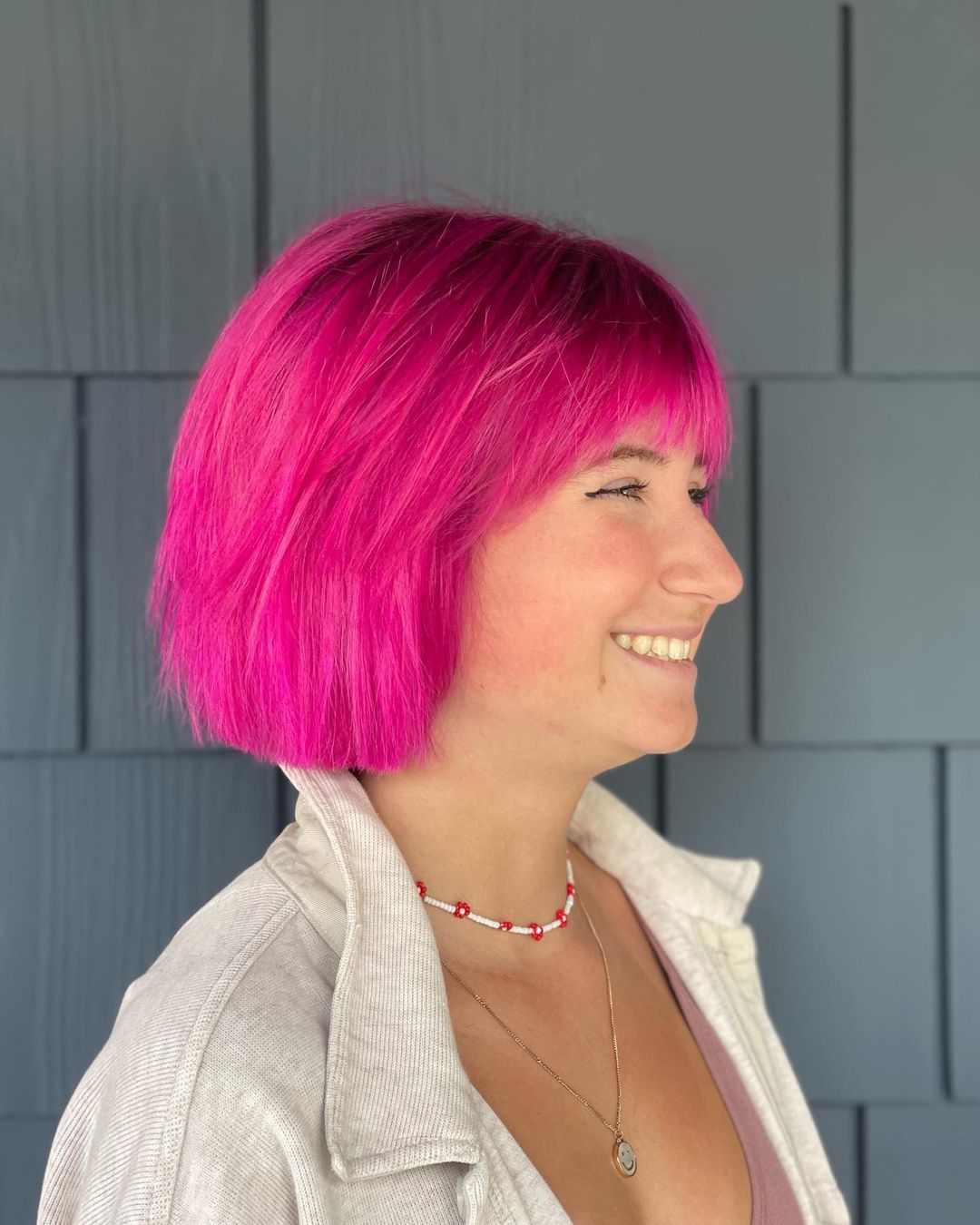 When your hair is thick, blunt haircuts can look too heavy or bulky. If you don't want layers, choose a textured bob to get rid of the weight at the bottom.
23. Fringe Bob Haircut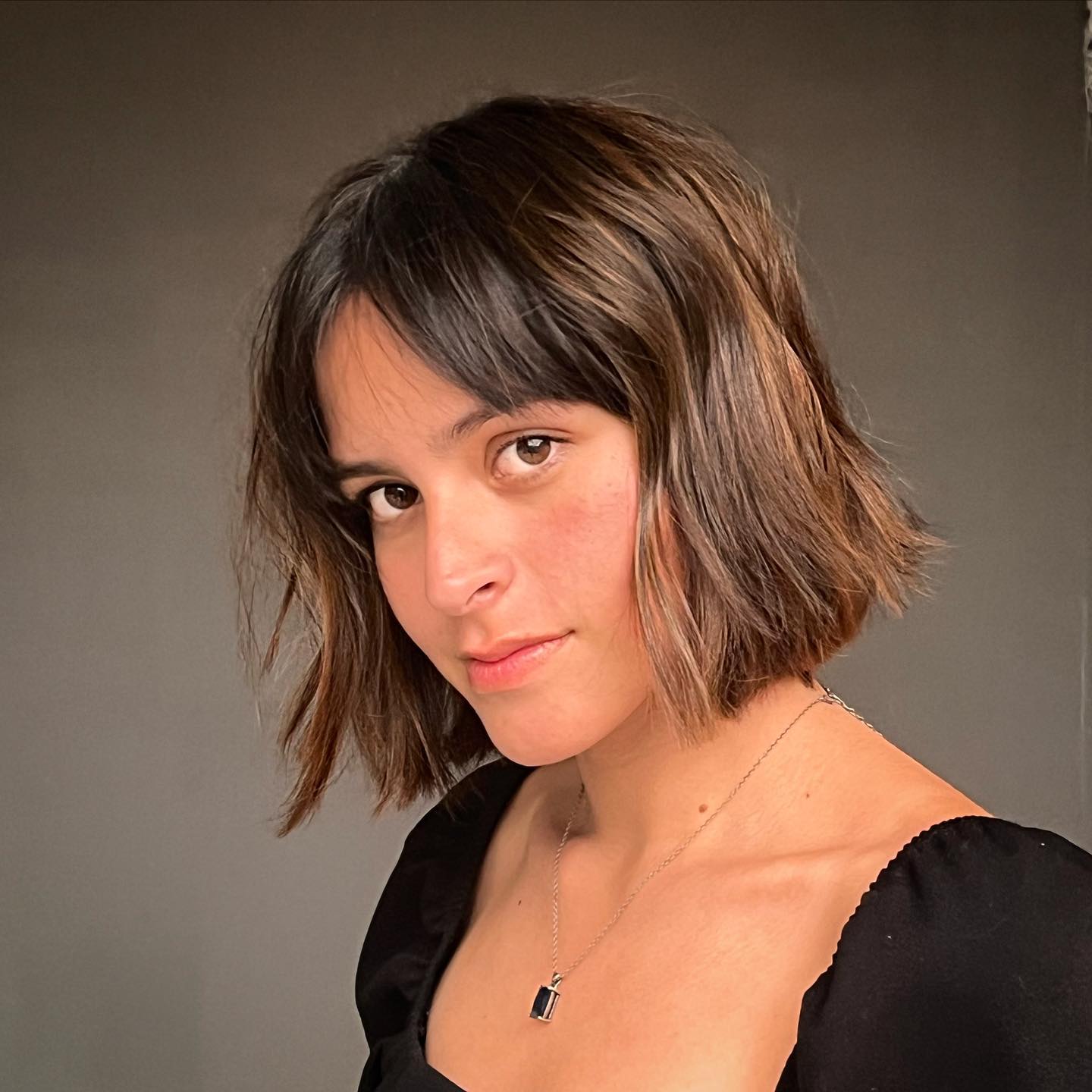 Natural texture makes this jaw-length blunt bob very casual and versatile, and baby curtain bangs make it cute. Together, they create the always popular girl-next-door look.
24. Long Blunt Bob With Bangs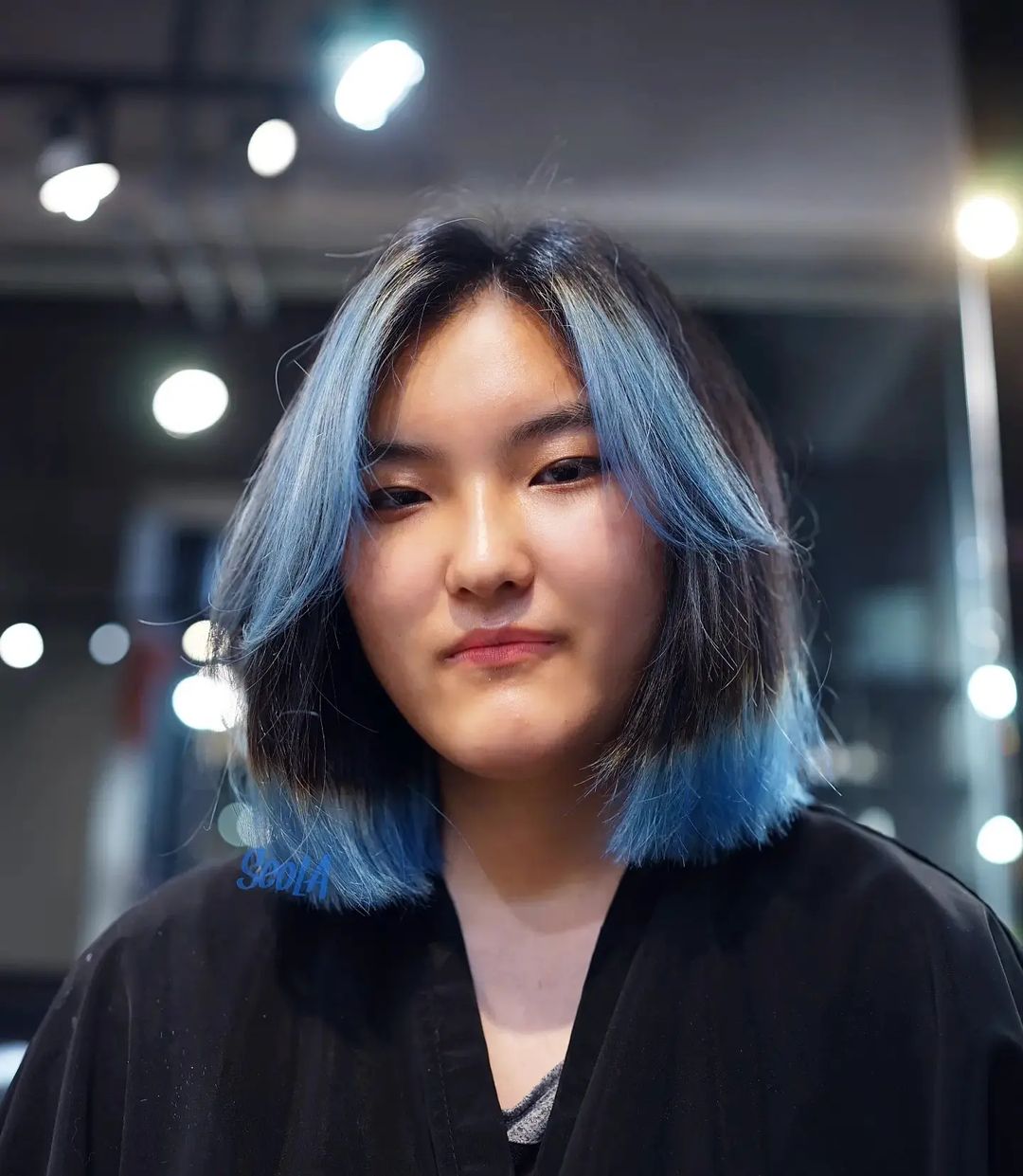 Dying just the tips of the hair and the bangs the same color creates a cohesive style, making it look intentional and modern.
25. Blunt Haircut With Bangs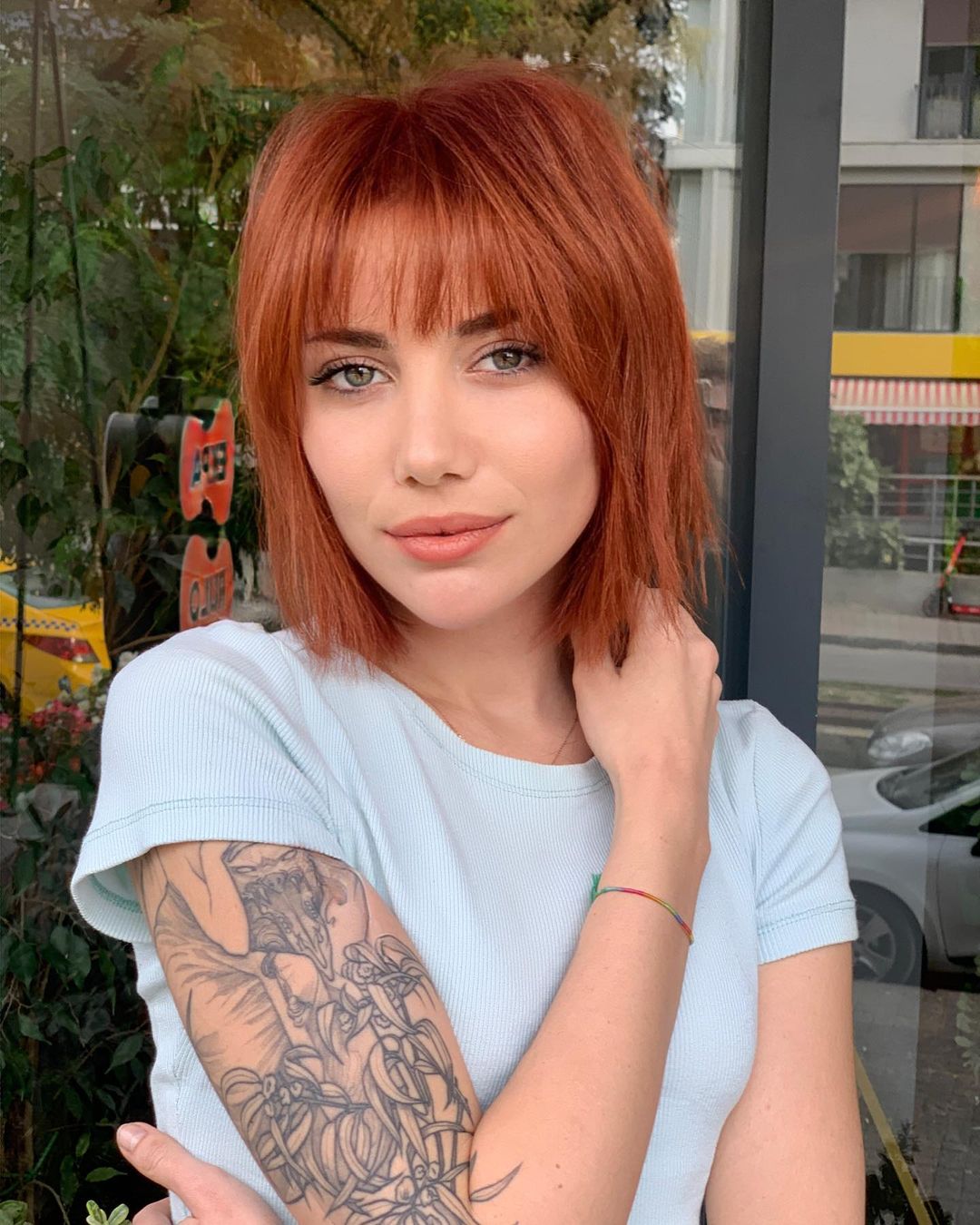 Add volume to your blunt bob with a few shorter layers on top, then tie it all together with thin, see-through bangs and you get an ultra-modern shaggy bob haircut.
26. Textured Blunt Bob With Bangs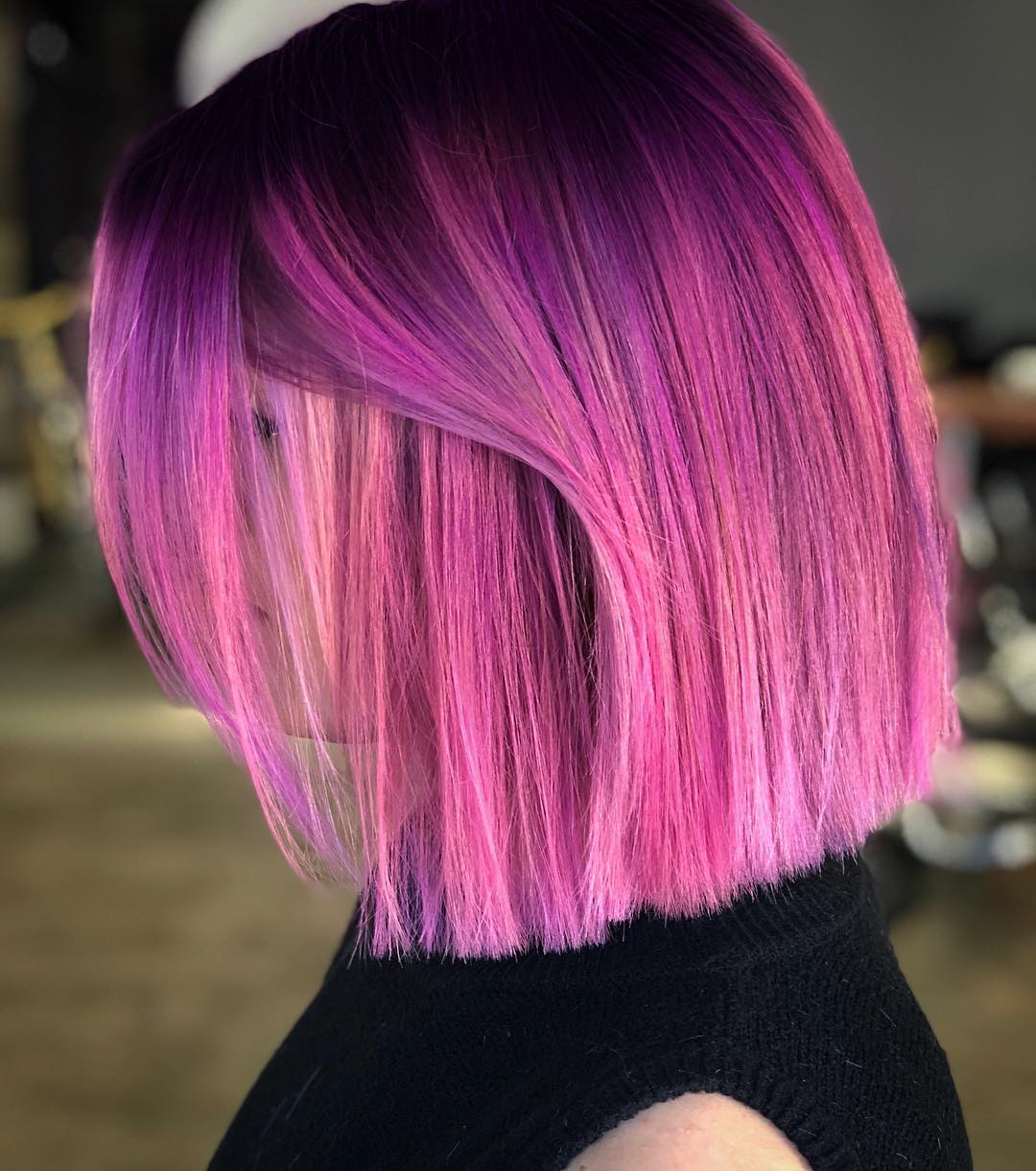 You can wear your blunt bob straight if you want to really showcase your hair color, or go wavy to create a whole new dimension.
27. Short Blunt Bob With Baby Curtain Bangs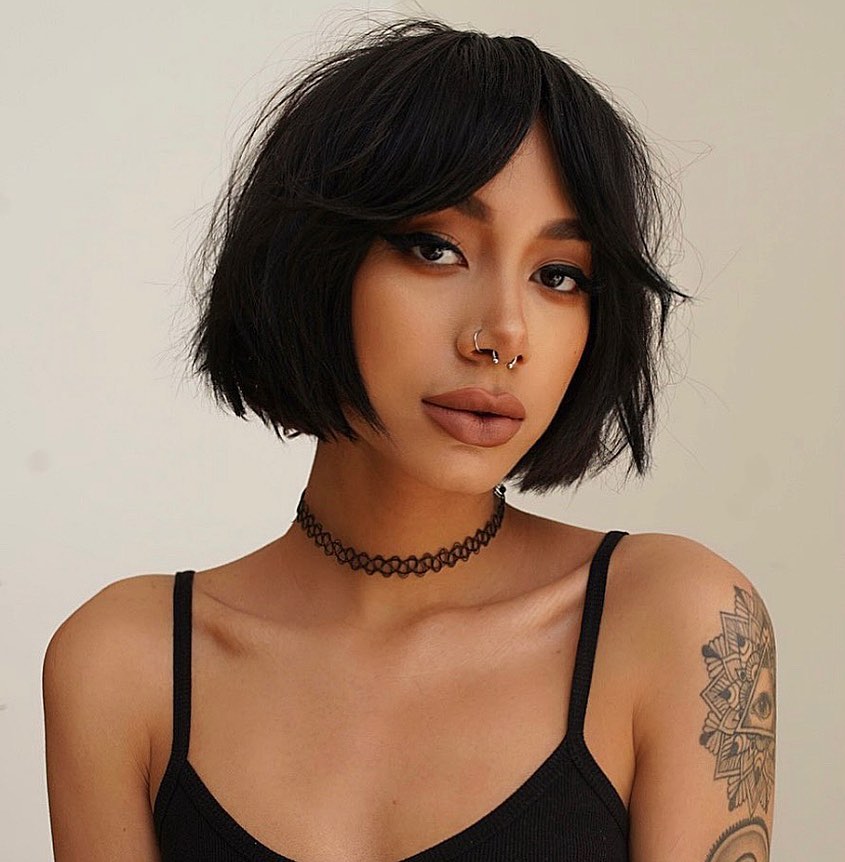 If you want to grow out your fringe—or simply love short curtain bangs—this is a style you can't go wrong with. Baby curtain bangs, as the name states, is a shorter version of the more common version. Not any less flattering, but definitely cuter!
28. Chin Length Bob Cut With Bangs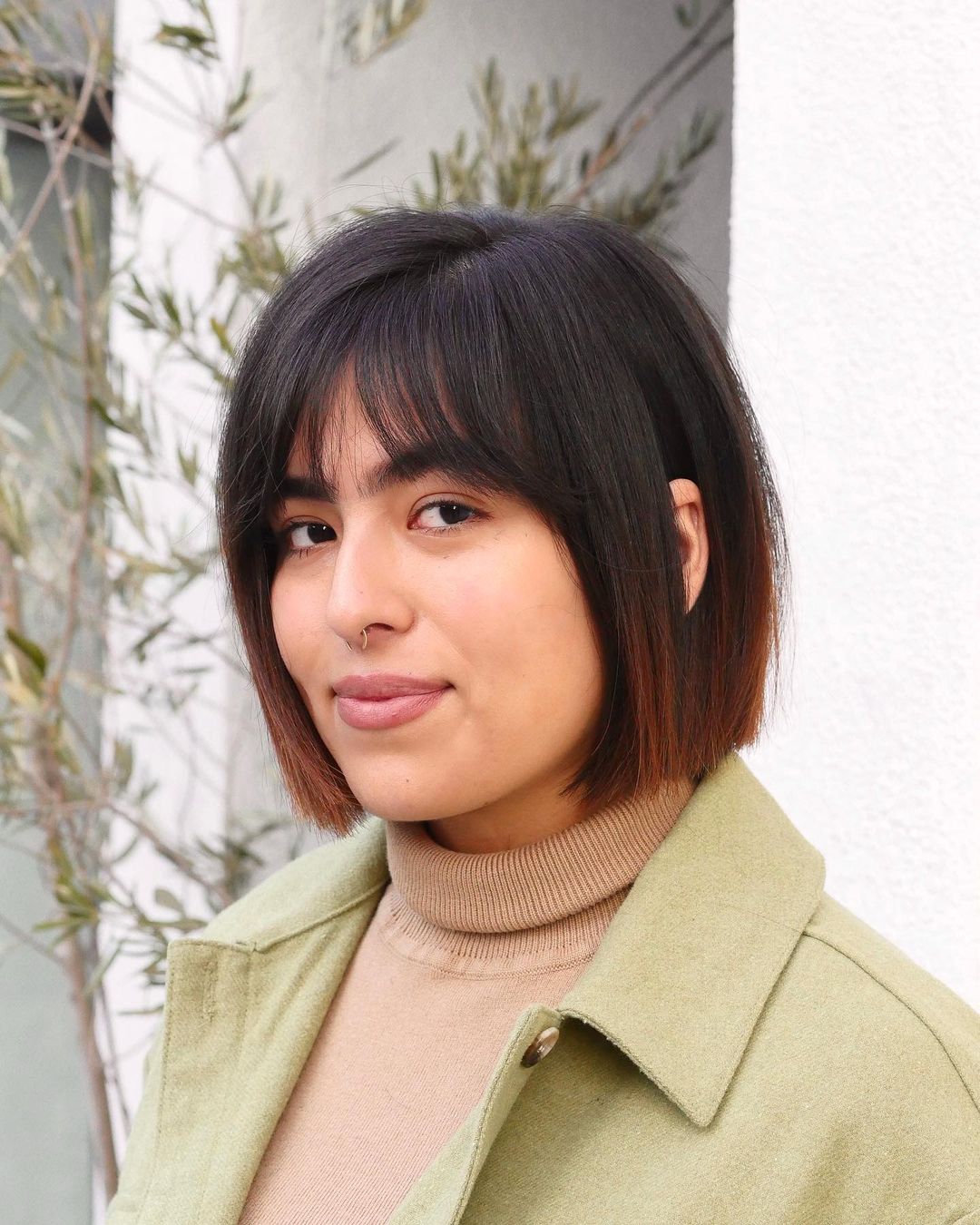 Short, thin bangs give a lot of elegance to a blunt bob. They make the whole look more put-together and polished.
29. Short Blunt Bob With Bangs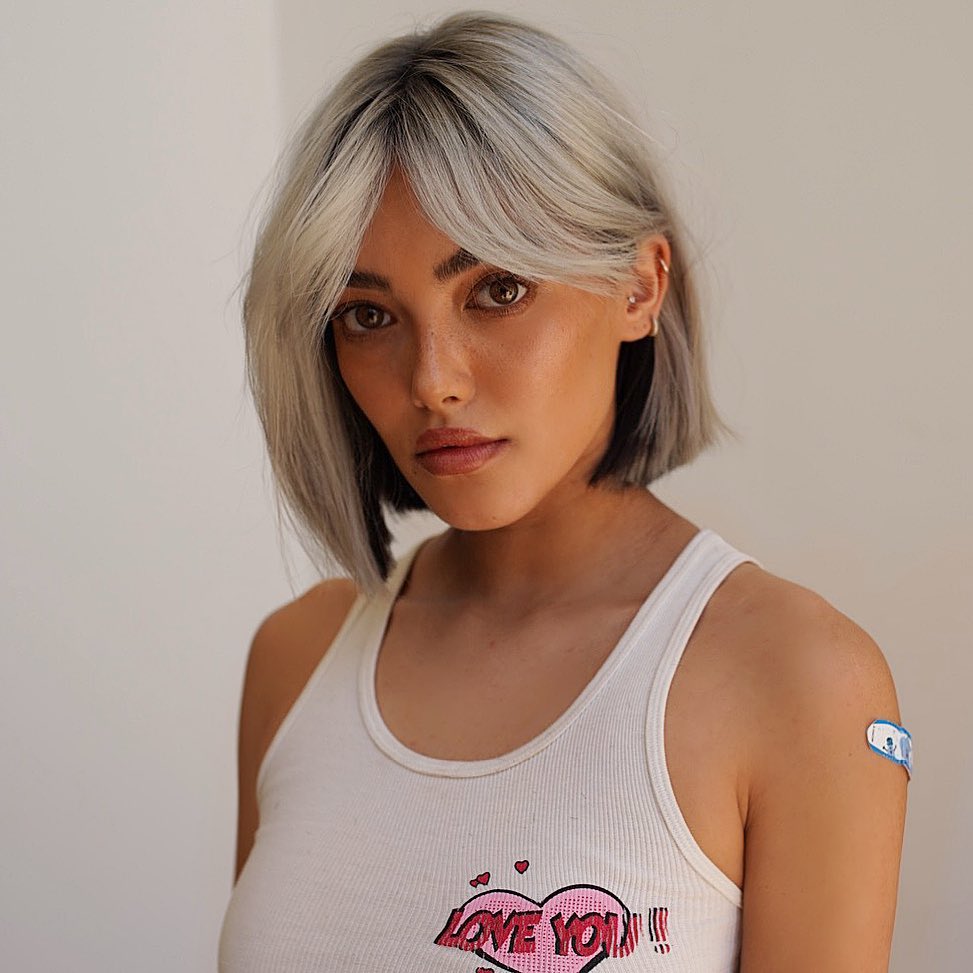 If your eyes are your best feature and you want to draw attention to them, frame them with bangs. It doesn't matter what style you choose as long as they're kept near the eyes and not completely on the sides of the face.
30. Curly Bob With Curtain Bangs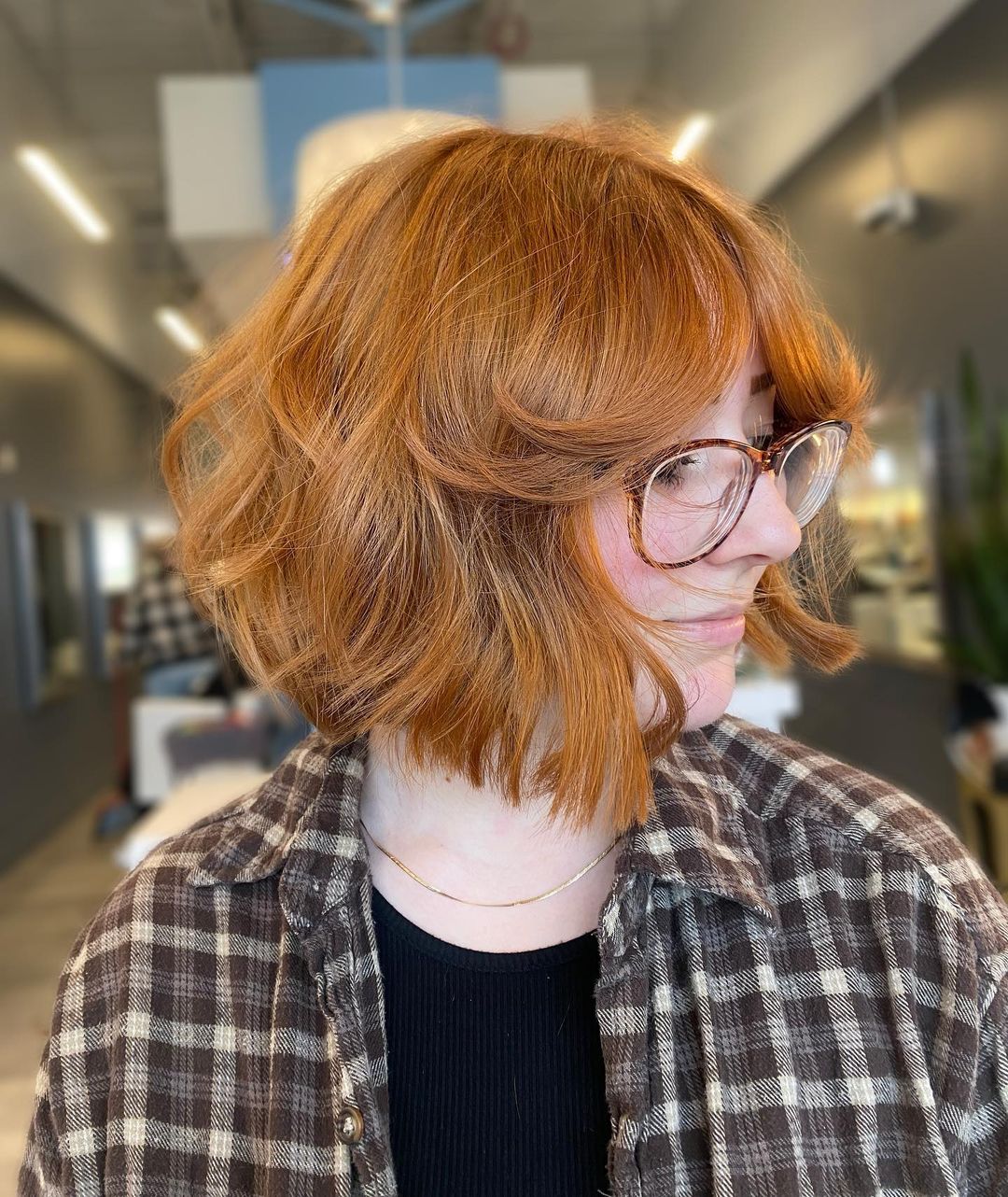 There's more than one way to style your curtain bangs, such as this unusual bouncy version. The important part is that the way you choose to wear them fits your hair texture if you want to avoid spending too much time styling them.
31. Straight Bob With Full Fringe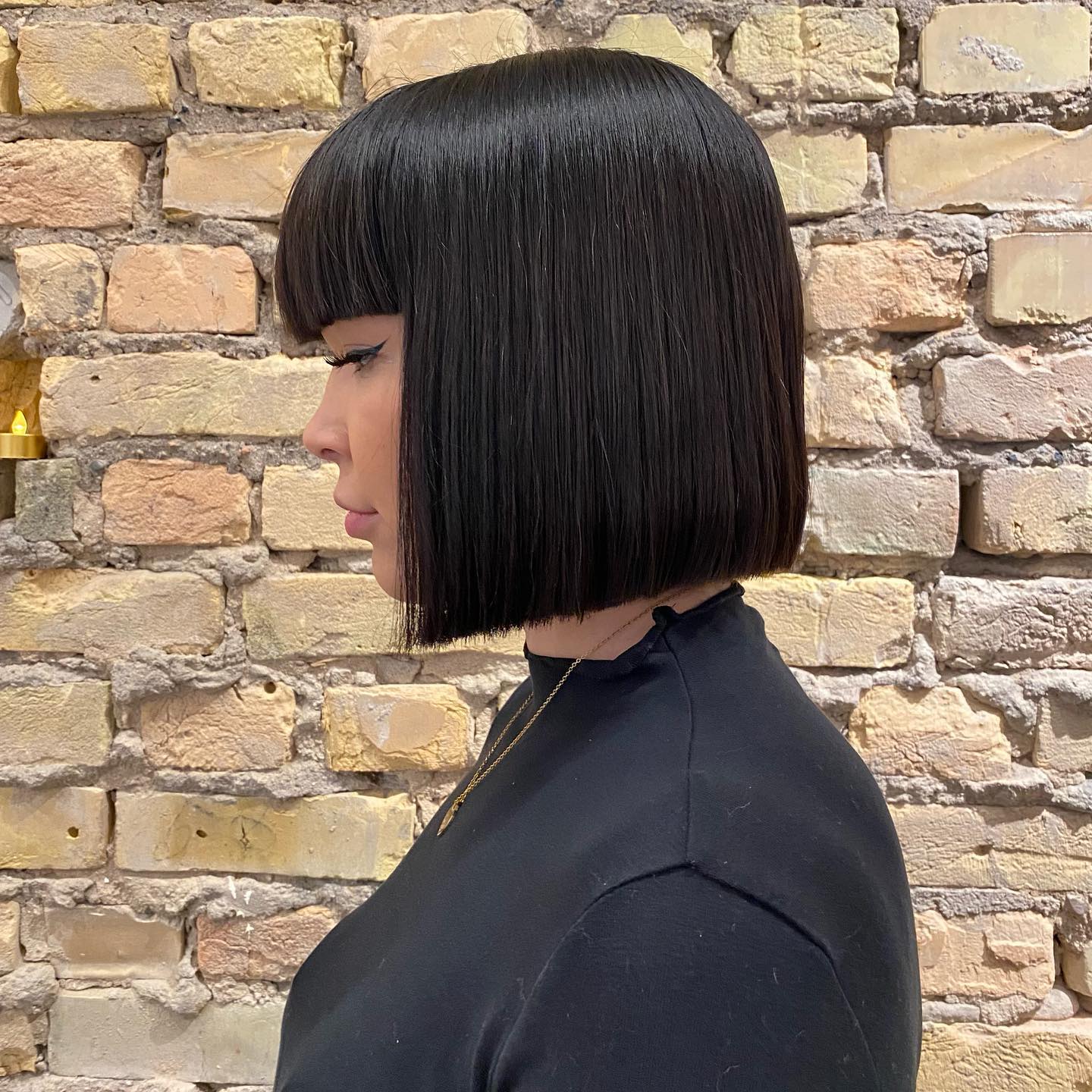 If you want short straight hair with matching bangs, it's important to pick the right length—going too short will make your face stand out too much and your features can get lost if it's too long.
32. Textured Straight Bob With Bangs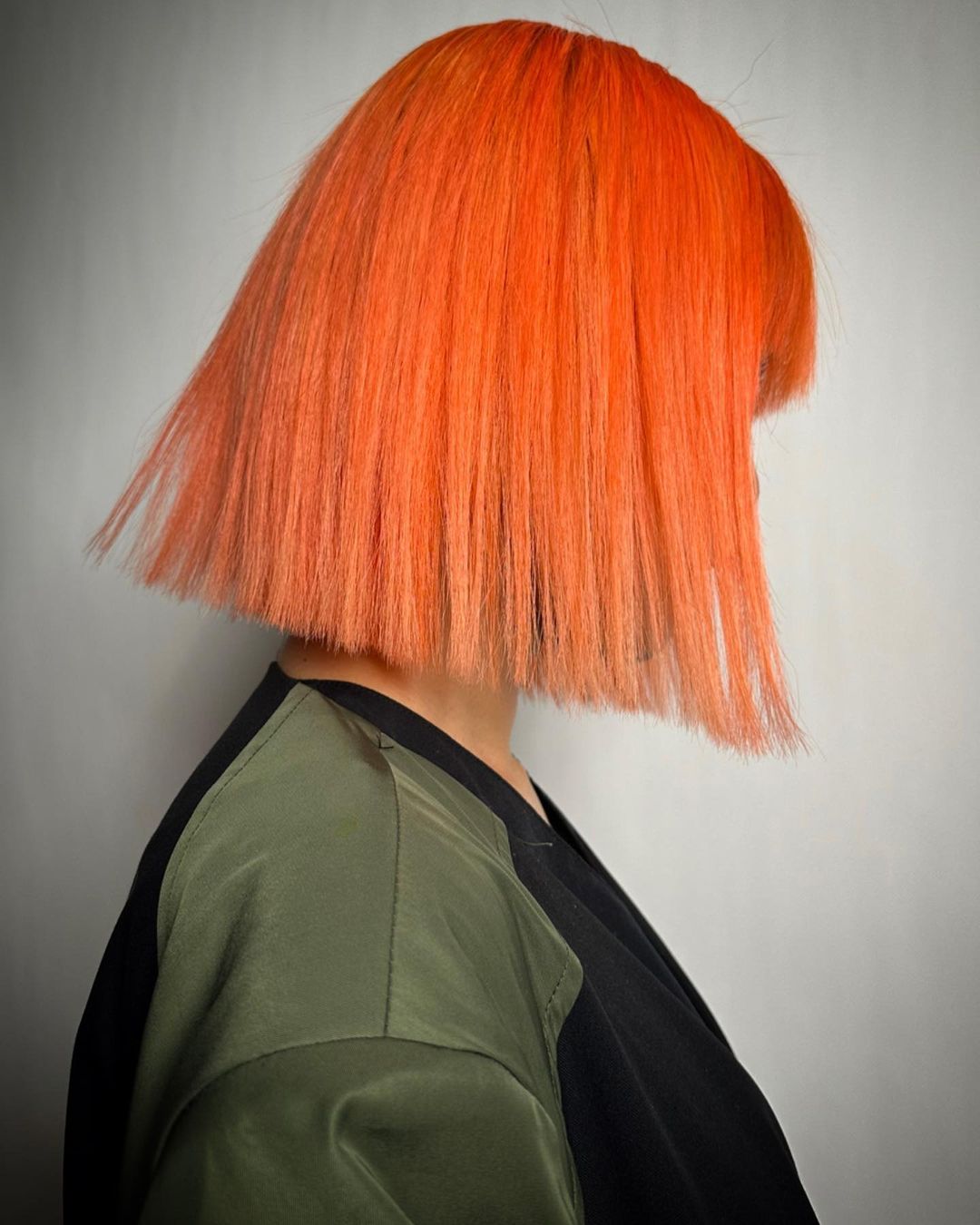 A textured bob has movement and dimension, which is a great addition to any blunt cut bob. Texturizing takes off the weight while keeping the straight line, so it will make your haircut much easier to handle, especially if you have thick hair.
33. Textured Long Bob With Bangs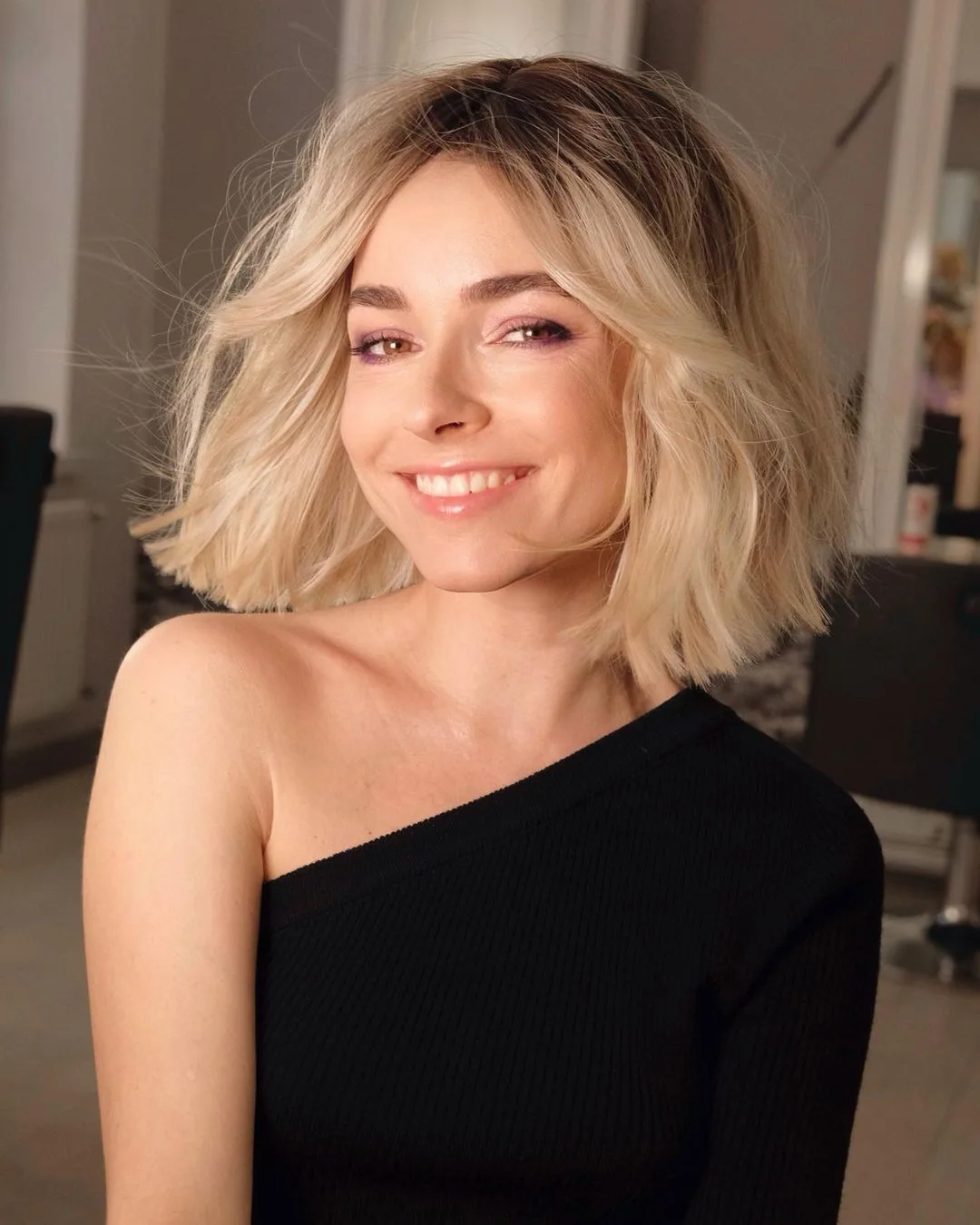 With the addition of long bangs, a blunt lob can look dynamic and soft, which is usually reserved for more layered styles.
34. Blunt Lob With Bangs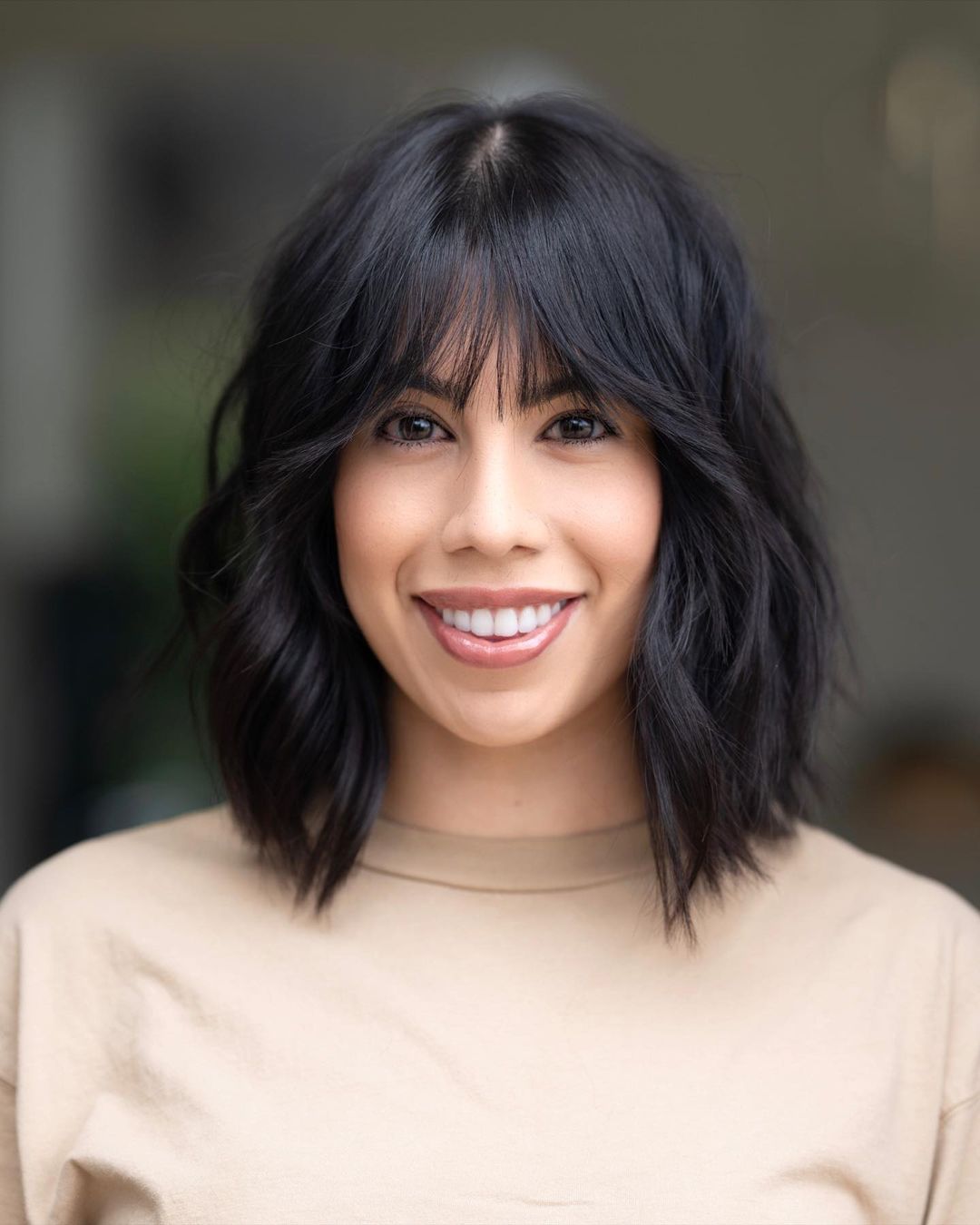 Cutting just a tiny section short and tapering the rest of your bangs creates a youthful style that will flatter any face shape, especially when paired with a textured lob.
35. Curly Blunt Bob With Side Bangs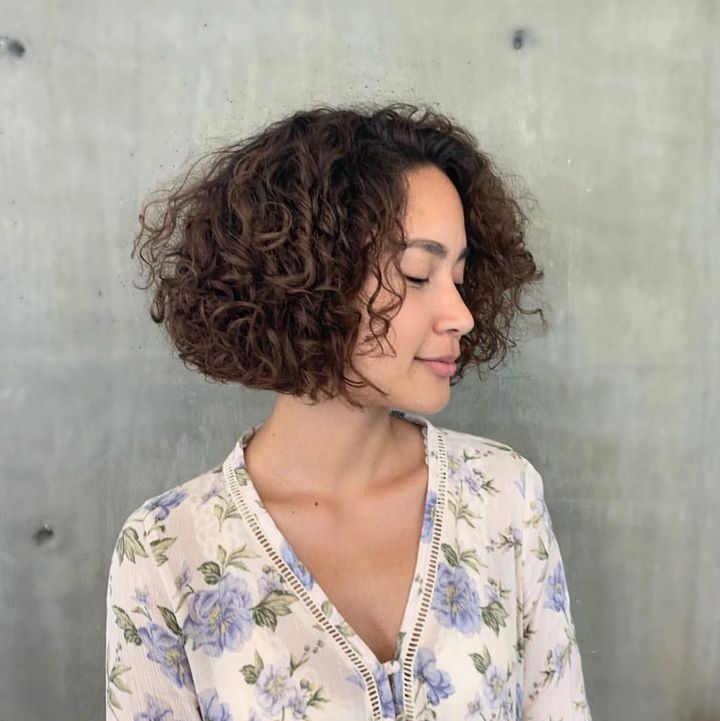 If you don't know what to do with the hair around the face, a couple of shorter strands will breathe a new life to your style. A bob with side bangs looks especially good on heart and diamond-shaped faces.
36. Wavy Blunt Cut With Side Bangs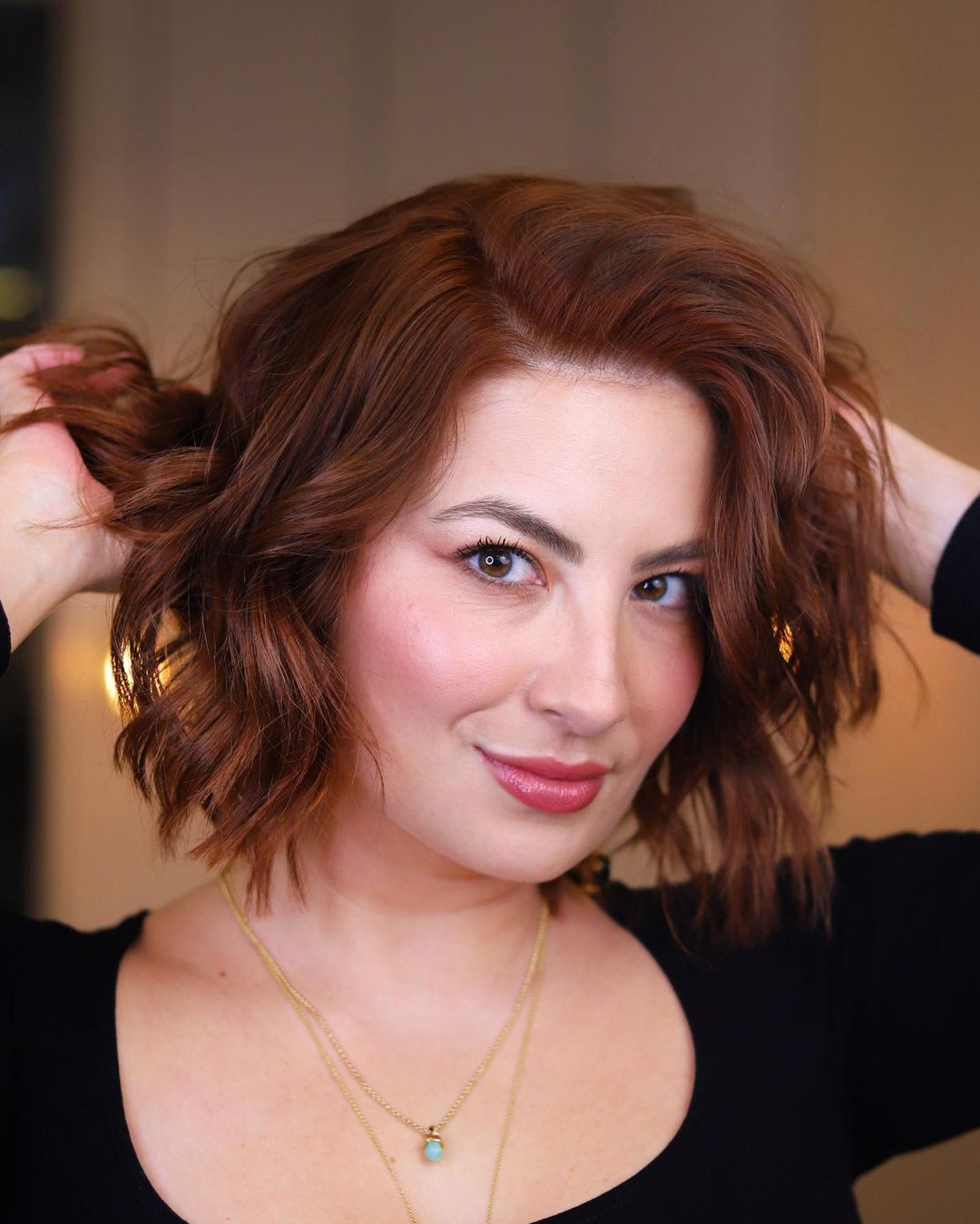 Long bangs look amazing when they're worn in a deep side part. It's an attractive and laid back style that's both sexy and casual.
37. Curly Blunt Bob With Baby Bangs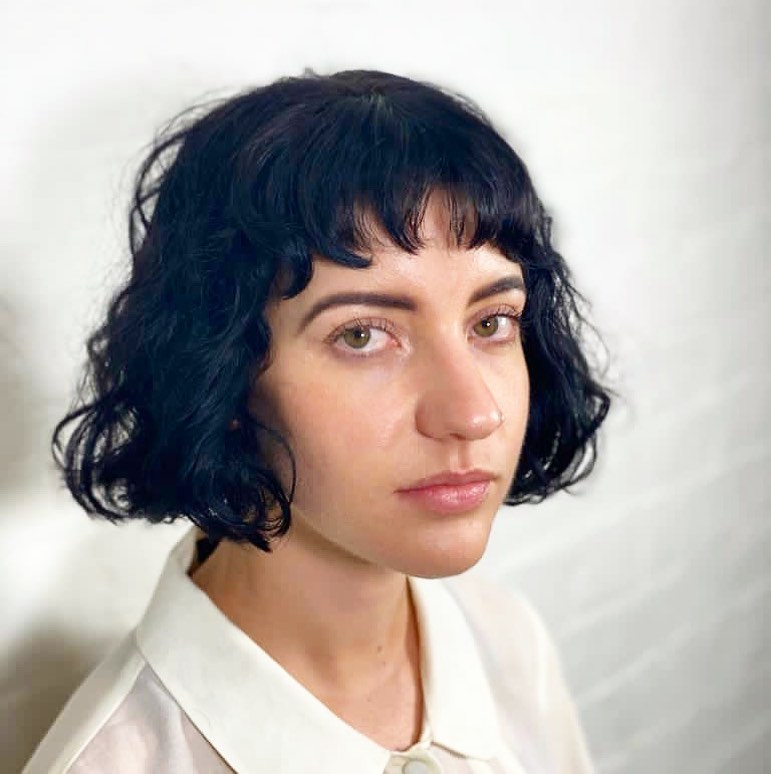 If your hair is curly and you want something unusual, cutting your bangs is best left to your stylist. This interesting type of bangs takes a bit of effort, but the result is worth it.
38. Blunt Bob With Baby Curtain Bangs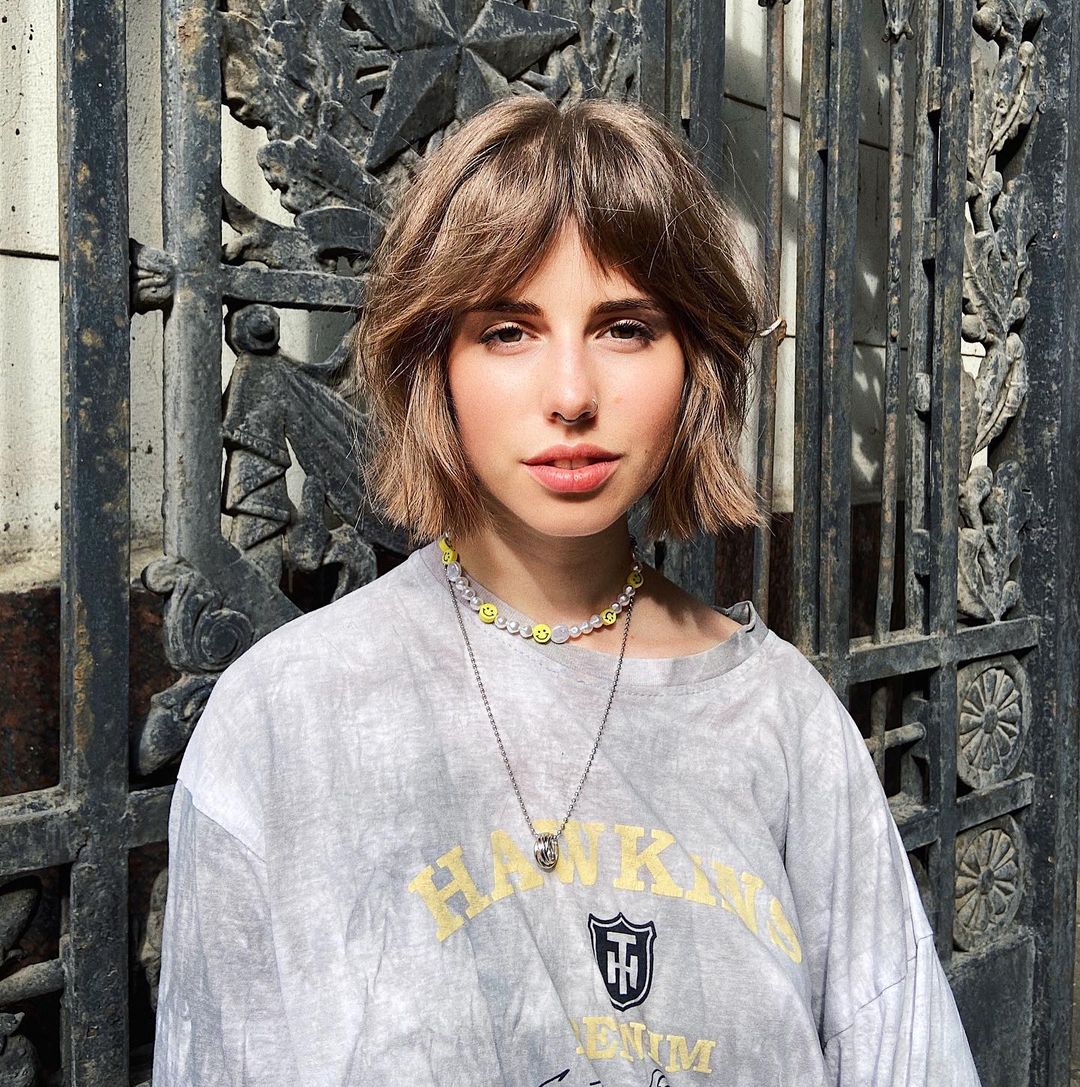 Spice up your short brown hair with thick curtain bangs. They're are a great alternative to straight-across bangs if you want volume on top.
39. Choppy Blunt Haircut With Curtain Bangs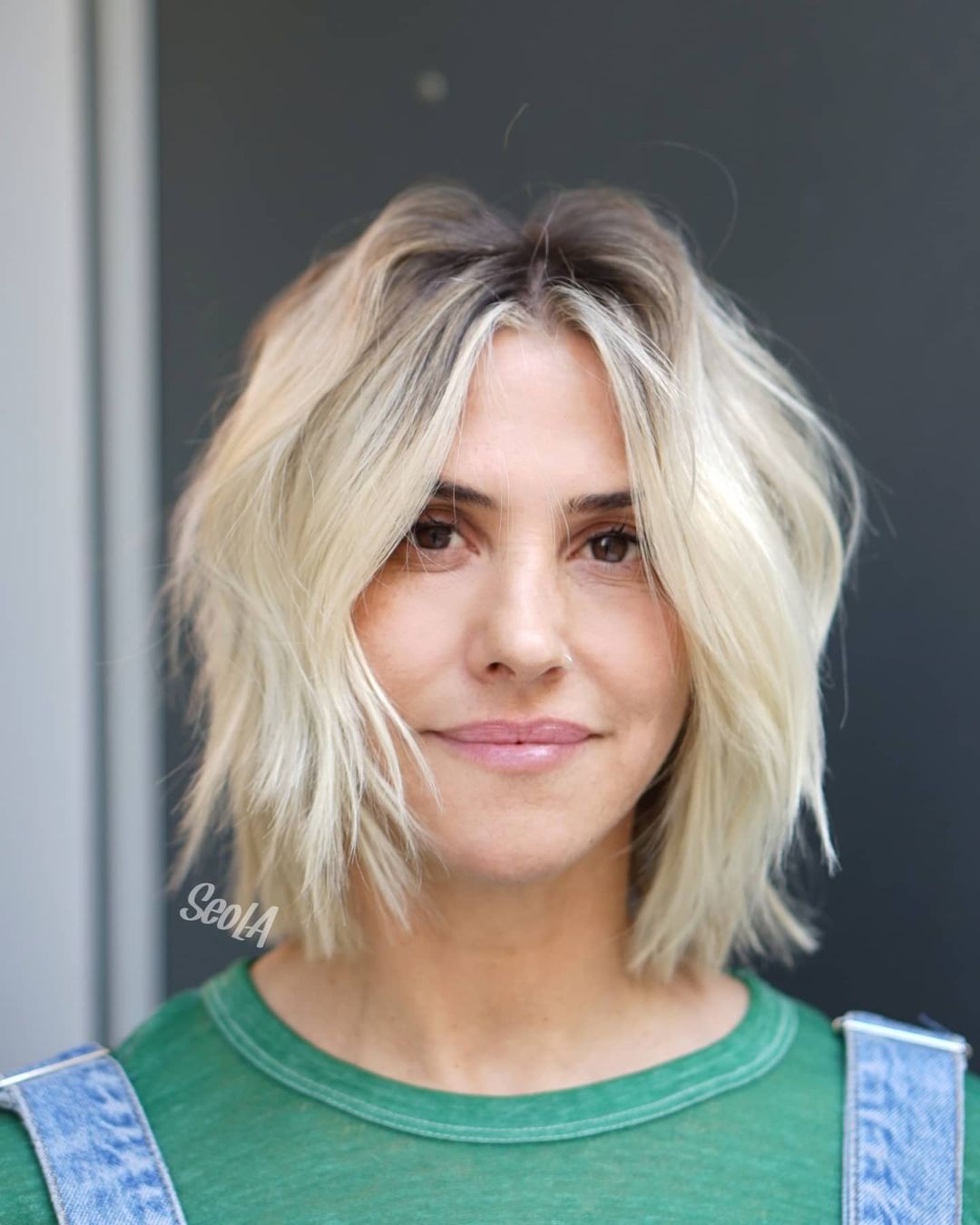 Layers combined with curtain bangs will give volume to thin hair, and you don't have to sacrifice the blunt ends. In fact, this will make your hair look even thicker, so it's the best combination if you need a boost.
40. Blunt Cut Bob With Side Bangs For Thick Hair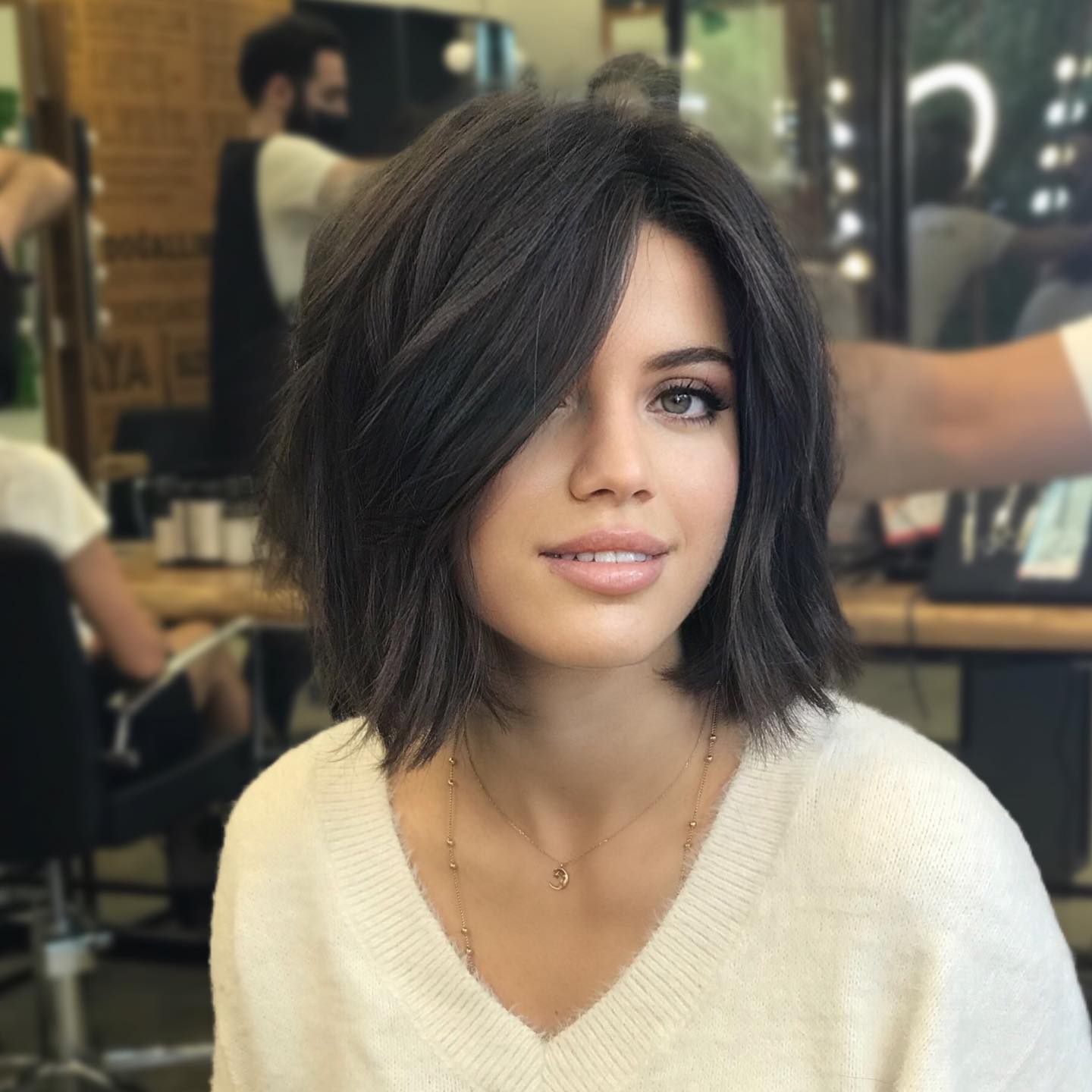 This voluminous and sensual style is proof that you don't need long hair to have a sexy style.