Long hair is the default and everyone wants it, but it takes a lot of work to make it look good. Even when your hair care routine is on point, long hair can sometimes feel heavy or fall flat, or you can run out of inspiration on how to style it.
That's where bangs come in—they can help create balance, provide a sense of proportion and make long hair more interesting and versatile. Bangs will frame your face and draw attention to your features and make your haircut sit just right, transforming your boring old 'do into something fresh and youthful.
Get inspired by some of these 50 ways to wear bangs with long hair.
1. Choppy Hair With A-Shaped Bangs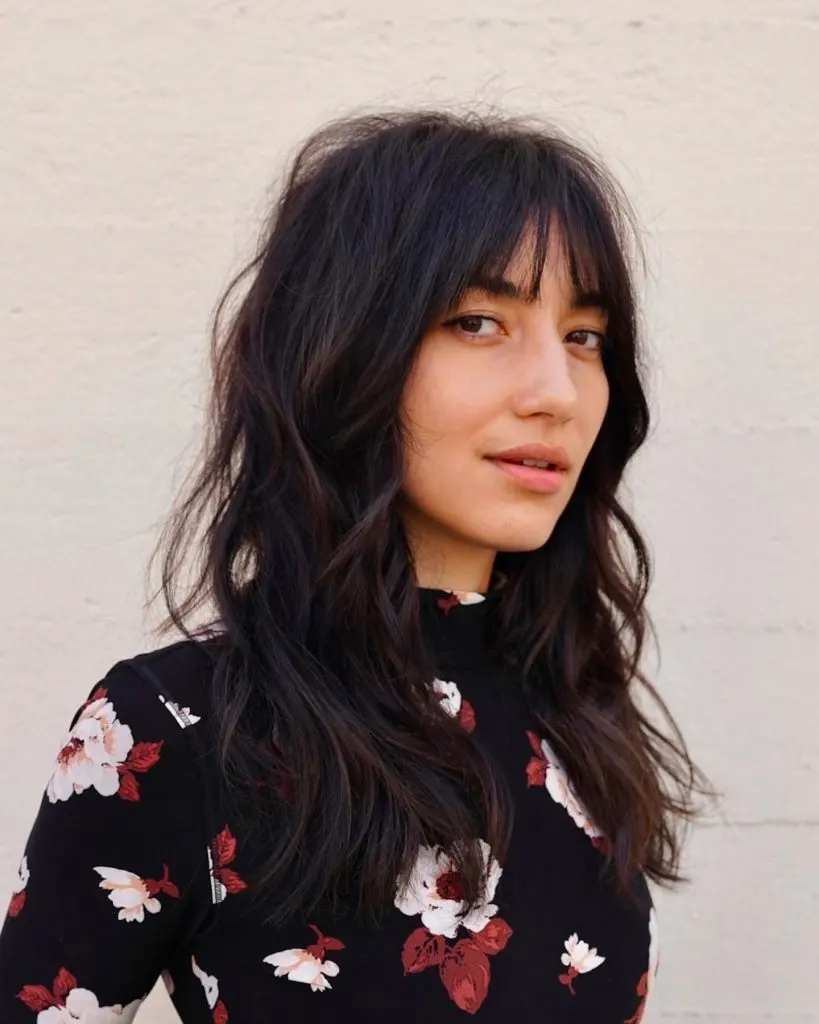 Short wispy bangs are the perfect complement to any haircut, and this long hair with choppy layers is no exception. They provide various styling options—you can wear them straight across, side-swept or curl them to change up your look.
2. Tapered Layers With Straight Fringe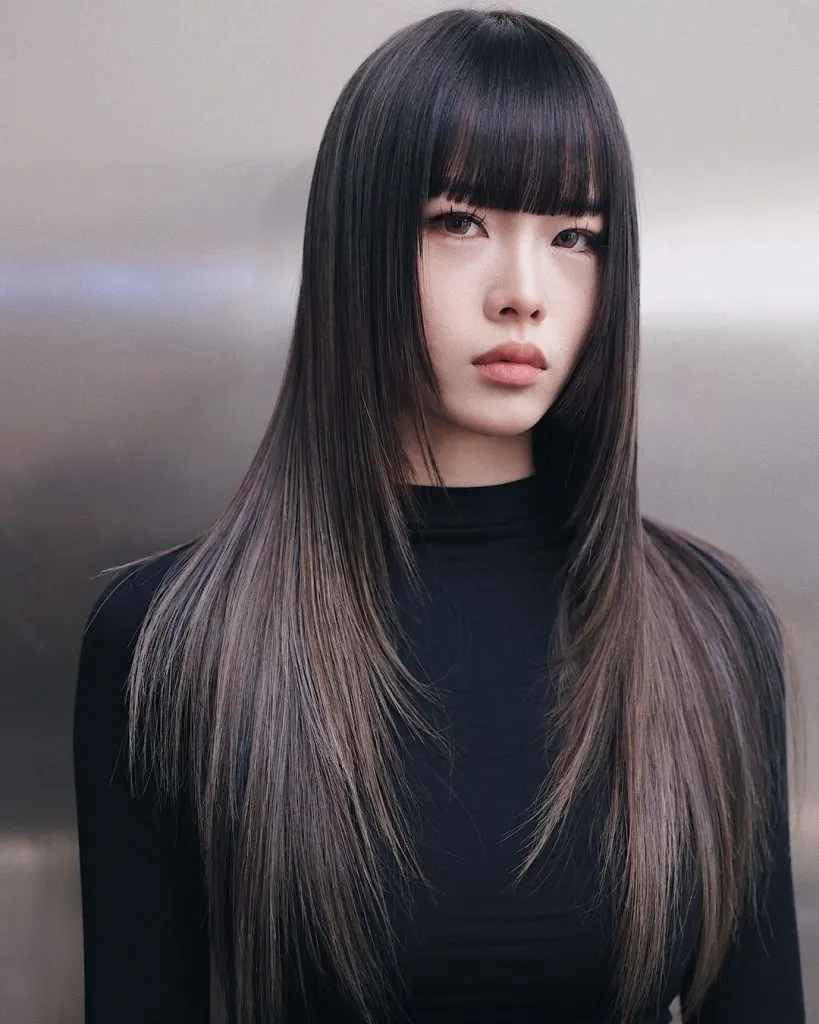 The classic straight fringe can be tricky to pull off for some face shapes, but there are several ways to solve this. Here, layers are used to frame the face so the bangs don't stand out so much.
3. Shag With Short Curly Bangs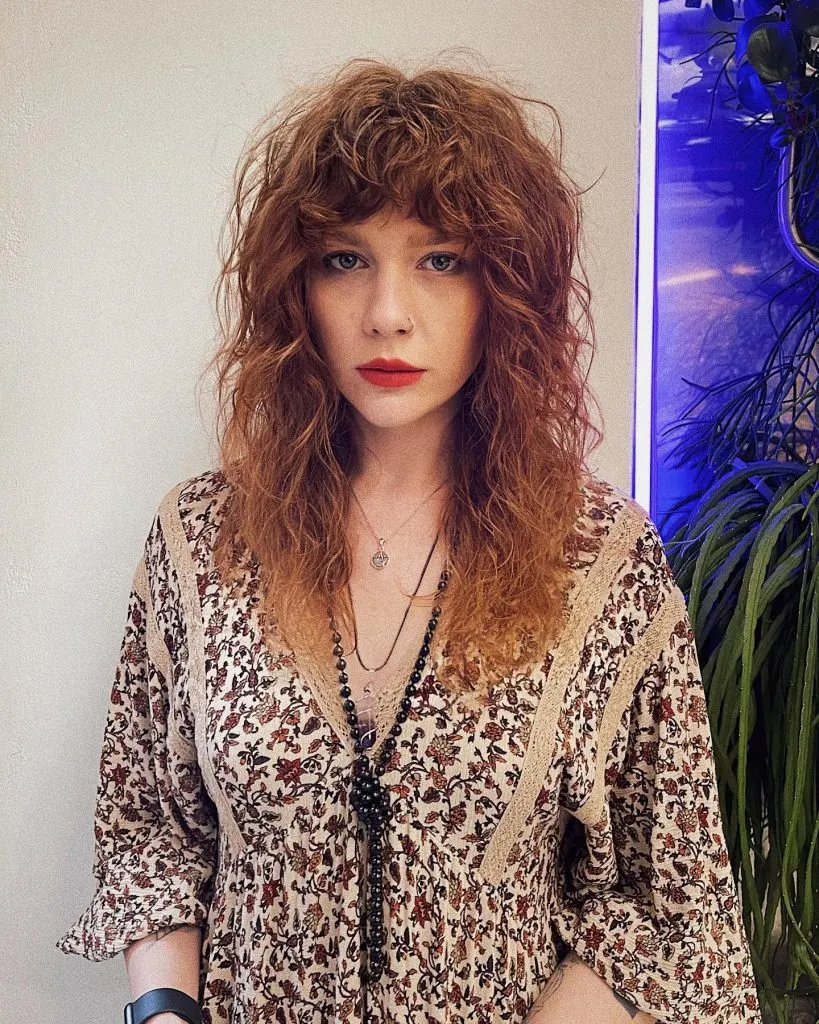 The most low-maintenance haircuts are those that work with your hair texture. Shags are a great choice if you have wavy hair because the choppy layers prevent your wavs from being weighed down and straightening. Thick bangs complete the look.
4. Wavy Hair With Side Bangs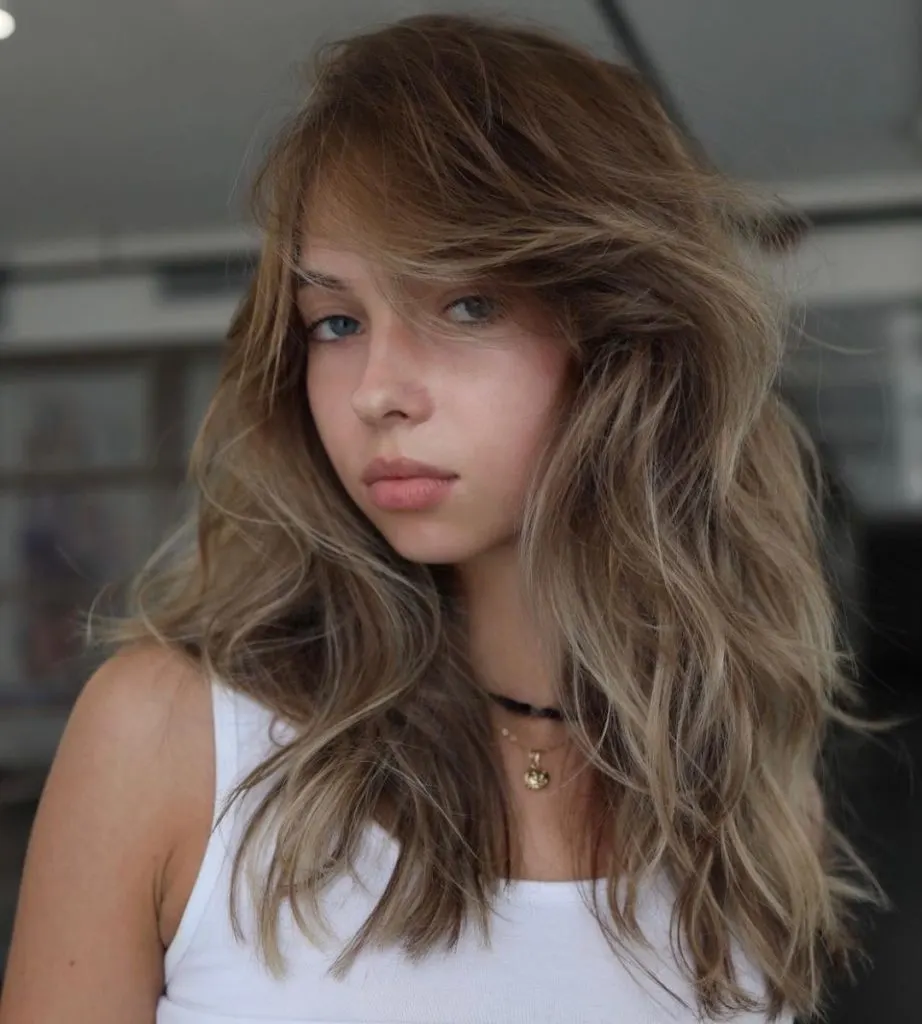 Upgrade your beachy waves with long bangs that you can use to highlight your features and soften your face shape.
5. Curtain Bangs With Long Hair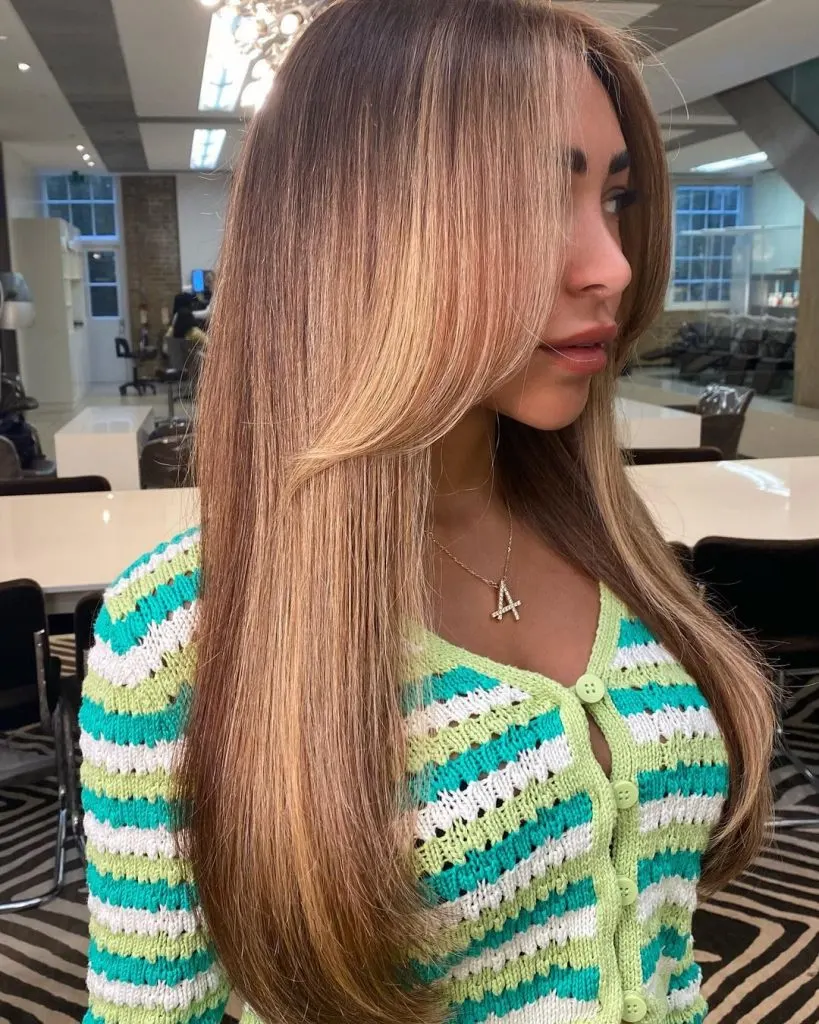 Long straight hair is great in theory, but it can easily fall flat and look limp. With curtain bangs you can make sure that there's always volume around your face.
6. Long Flippy Bangs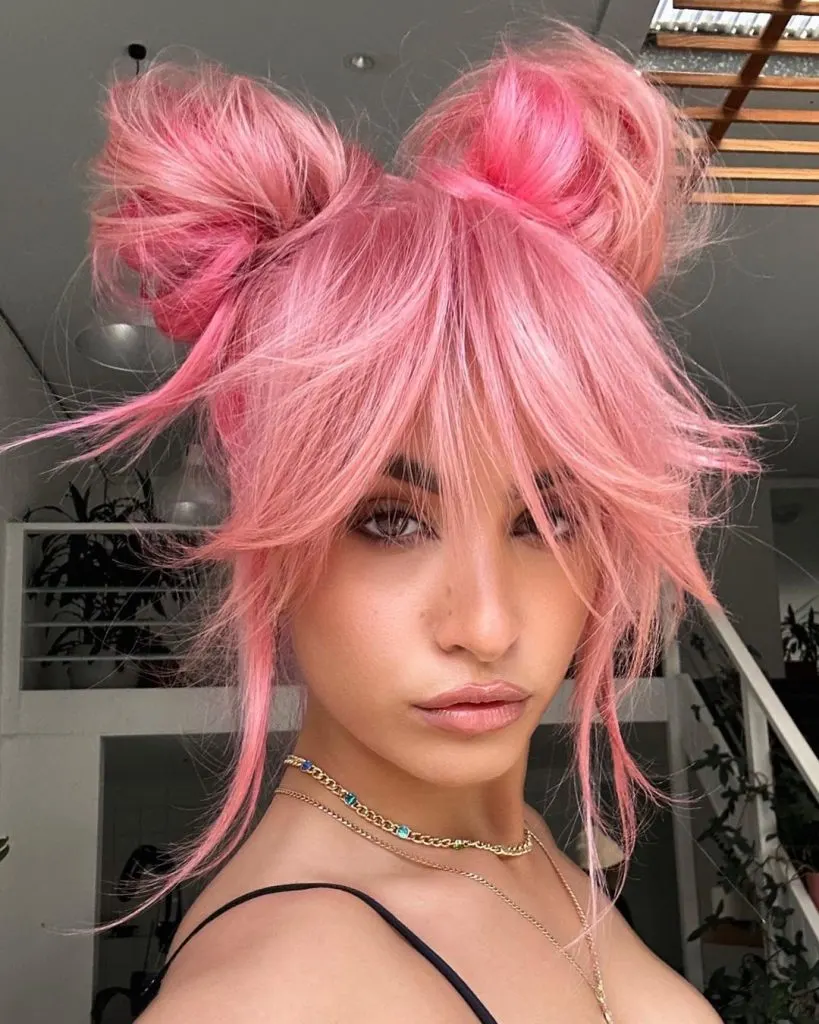 If you love wearing your hair up but don't like the slicked-back look, bangs are a must. These thick choppy bangs are cool, flattering and will level up any updo.
7. Fine Long Side Bangs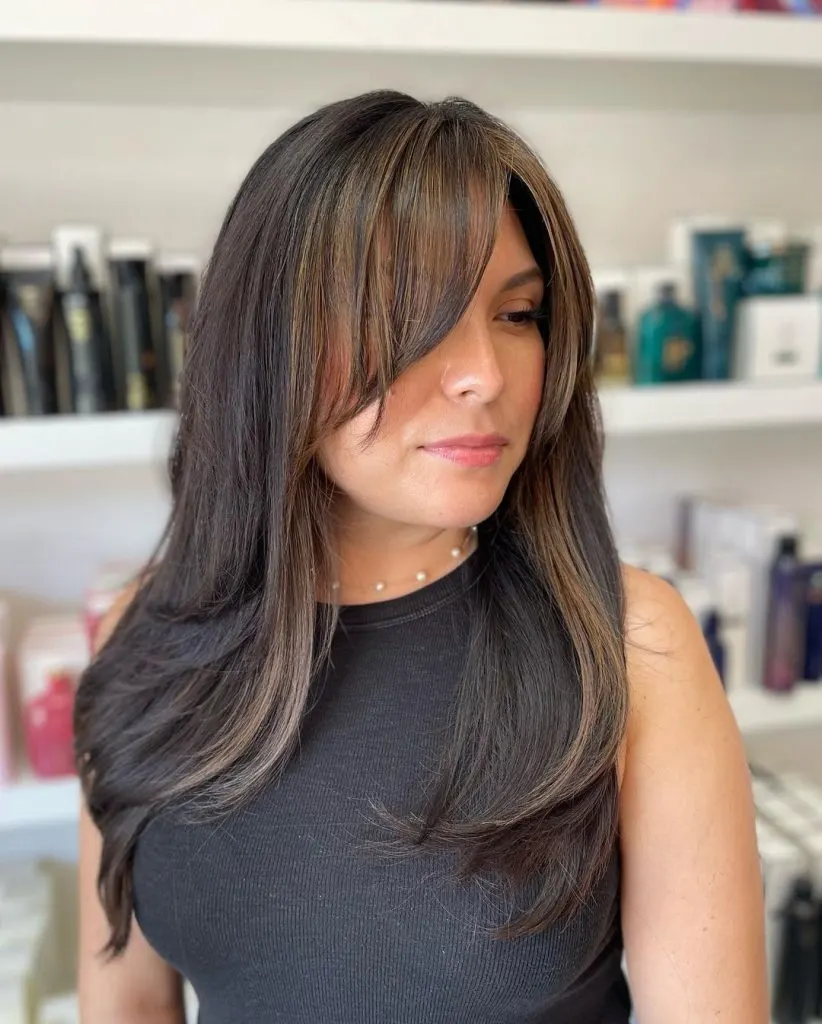 Lip-length bangs are perfect if you like to run your hands through your hair—they fall in a different spot every time you flip them.
8. Thick Curtain Bangs With Long Hair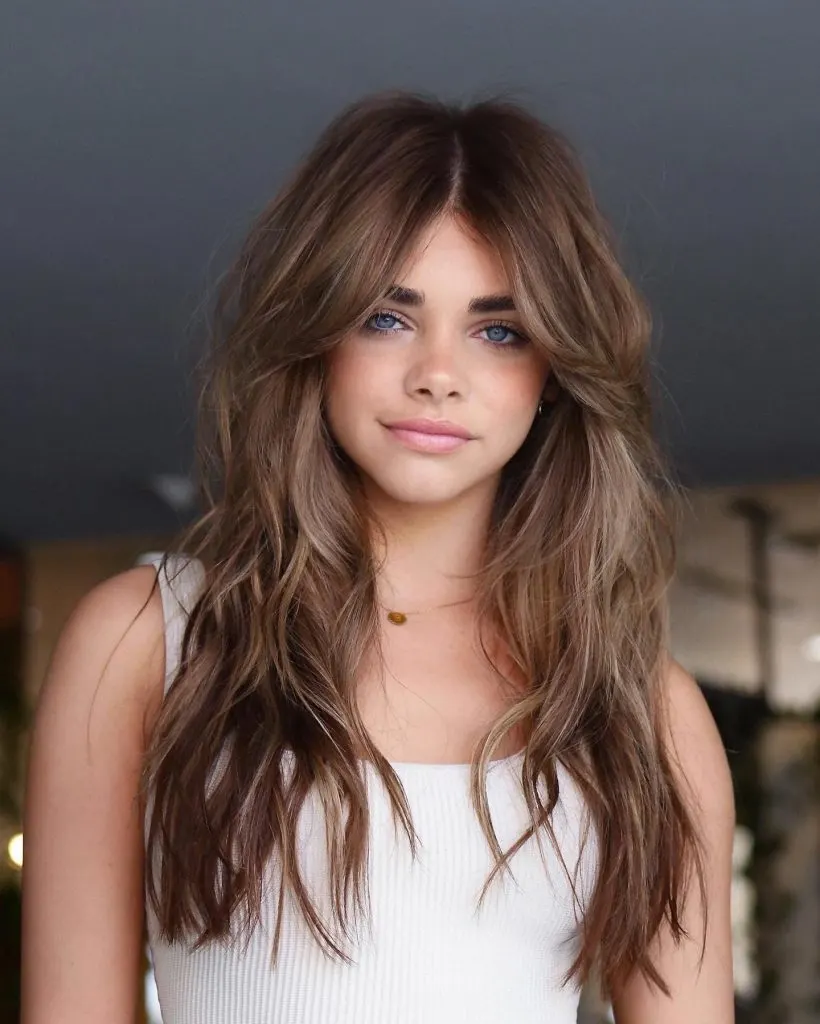 This gorgeous layered cut incorporates long curtain bangs perfectly, blending them into the layers to create the perfect frame for the face.
9. Choppy Long Hair With Baby Bangs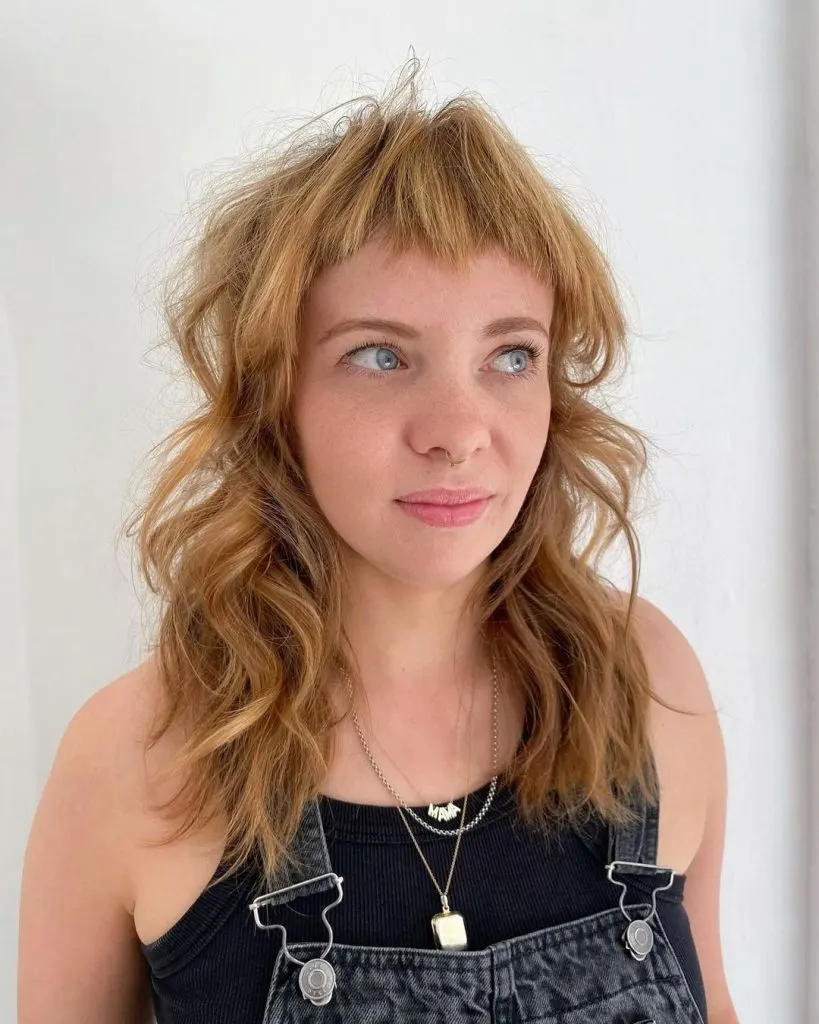 If you're bold enough for ultra-short micro bangs, don't worry if you can pull them off—there's a style that works with each face shape. Generally it's best to avoid straight-across micro fringe and opt for choppier styles.
10. Classic Curtain Bangs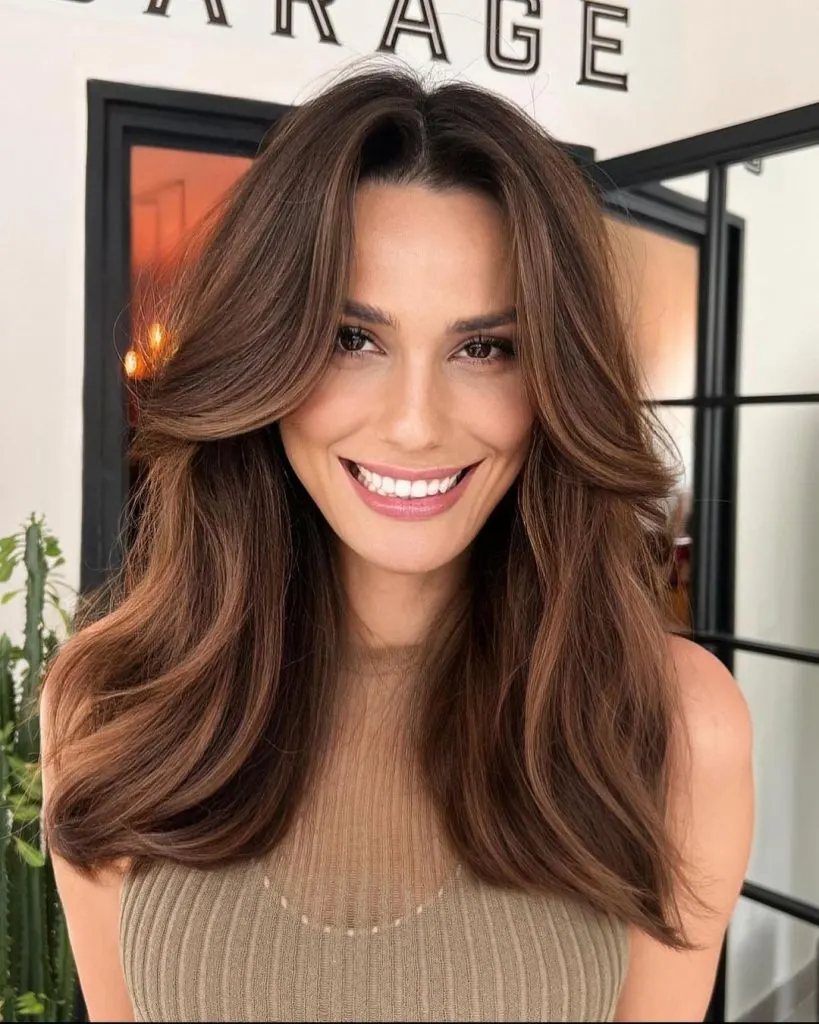 These long curtain bangs elevate the shoulder-length hair, and along with the gorgeously blended highlights, creating a truly stunning hairstyle with bangs.
11. Parted Bangs With Long Hair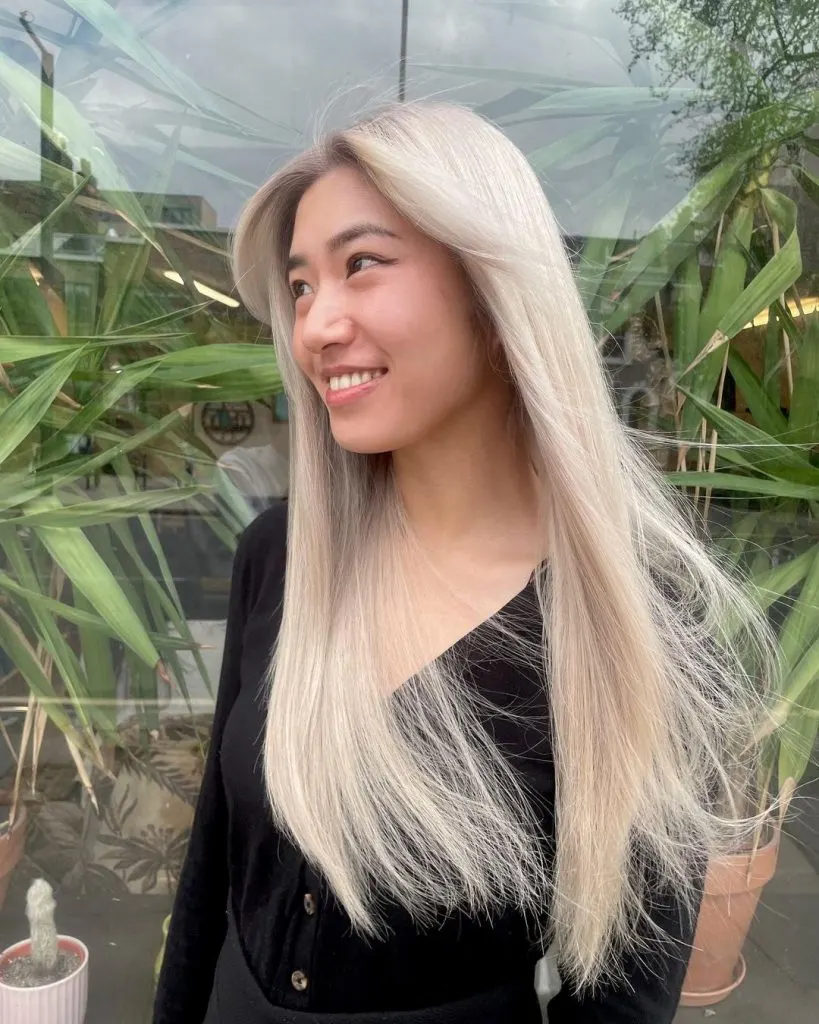 Wearing your bangs parted will give you a completely different look than wearing them down, no matter if they're short or long. Experiment with partings to find looks that work for you.
12. Choppy Hair With Short Wispy Bangs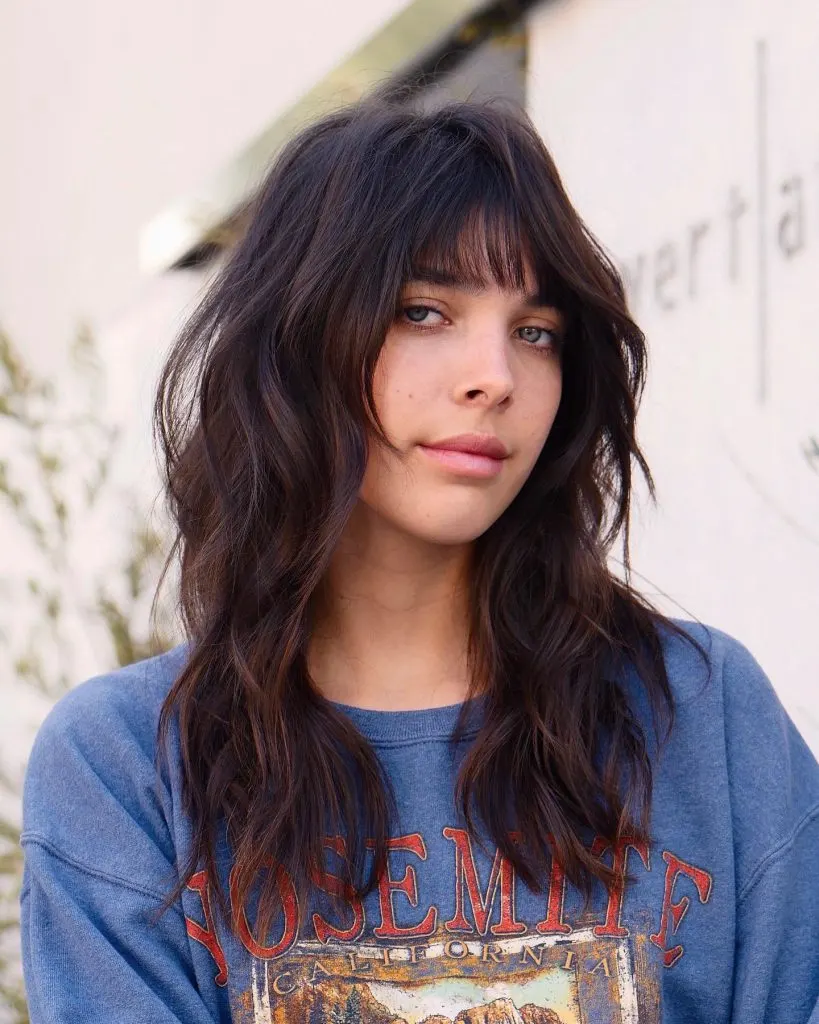 Choppy shags, wolf cuts and mullets have been some of the most popular hairstyles for the past several years, and they're hard to imagine without bangs. The best part? They work with several styles of bangs, so pick your favorite.
13. Long Side-Swept Bangs With Long Hair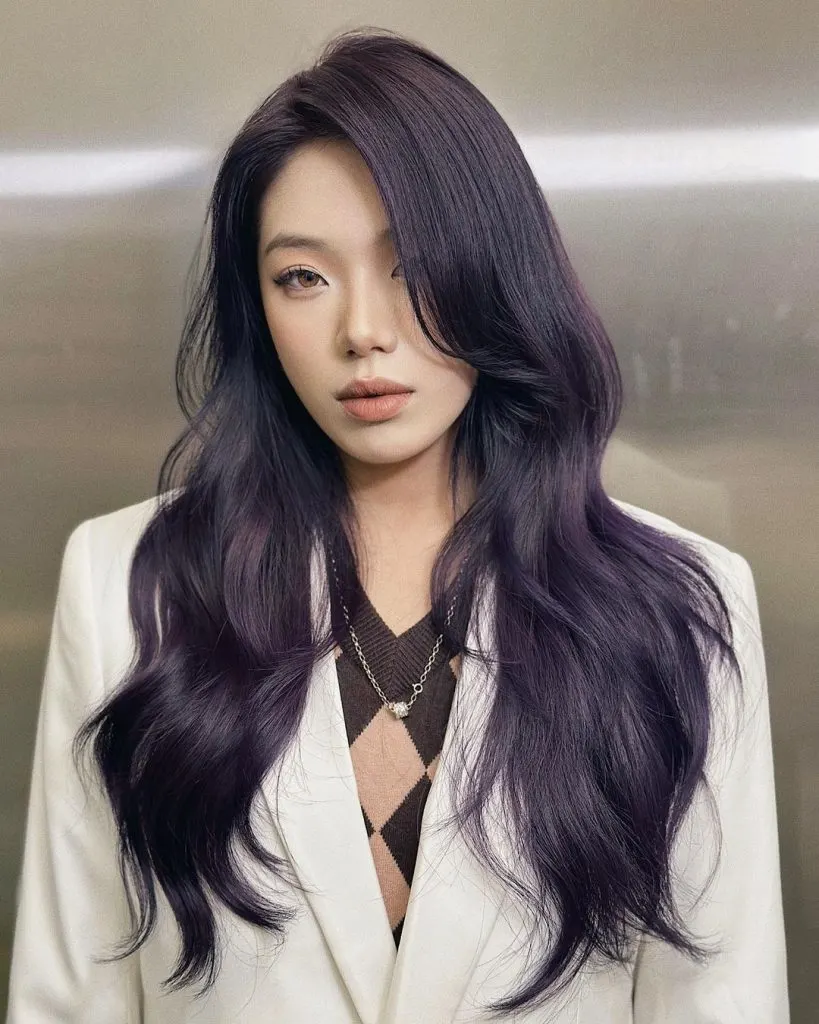 Long bangs give you face framing without requiring much maintenance, so they're a good choice if that's what you're looking for.
14. Long Hair With Bardot Bangs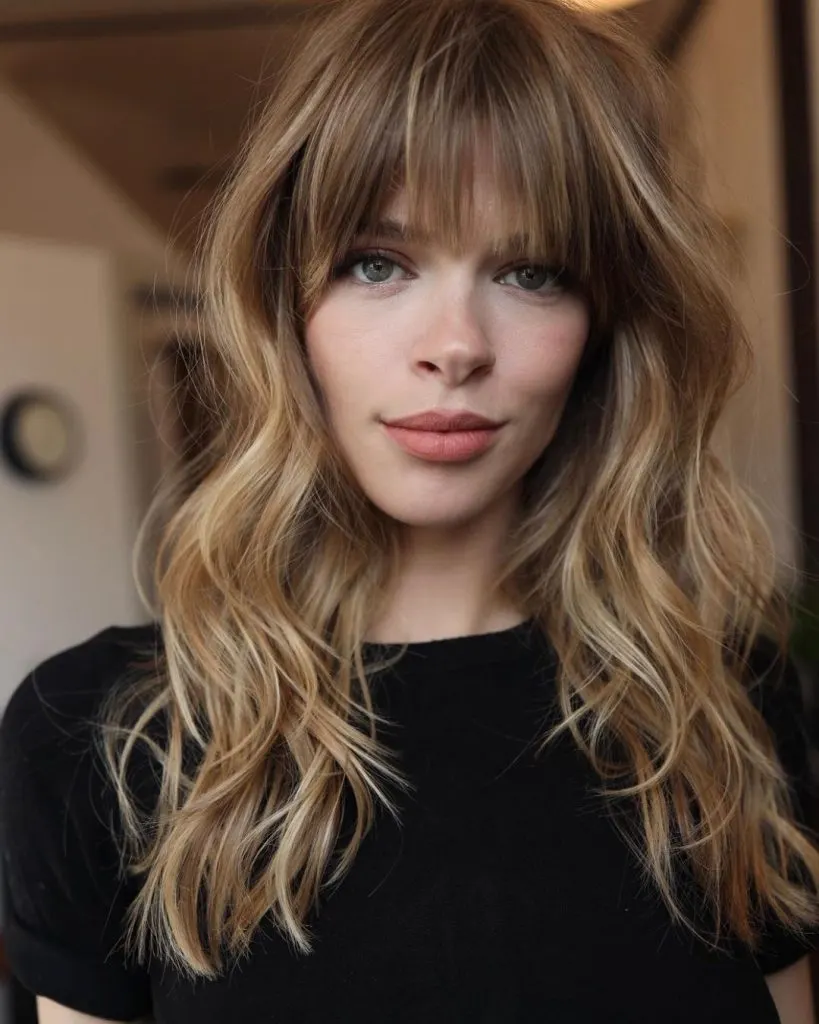 Bardot bangs are slowly replacing curtain bangs as the most popular style of fringe. The difference between the two is that Bardot bangs have a short section in the middle cut at eye level that blends into the sides, making them much more of a statement.
15. Choppy Layers With Full Shag Fringe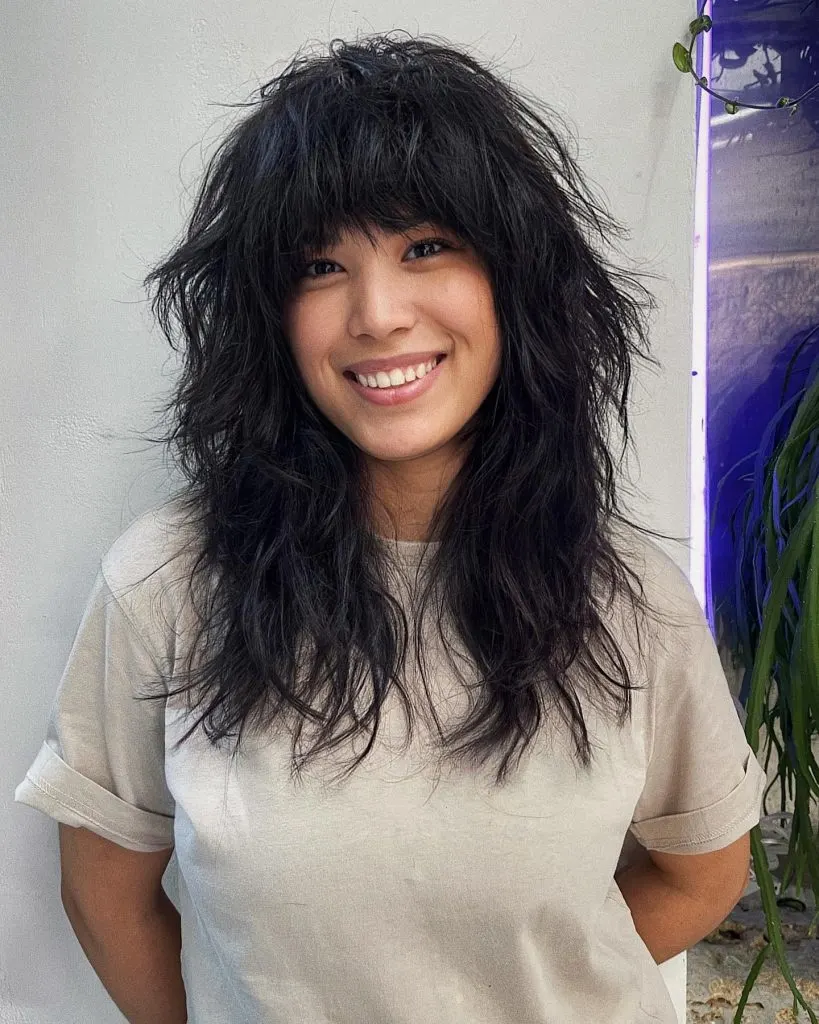 Thick, full bangs are an essential part of this shaggy cut, and since they're choppy and not blunt, they work for a variety of face shapes.
16. Blunt Long Hair With Curtain Bangs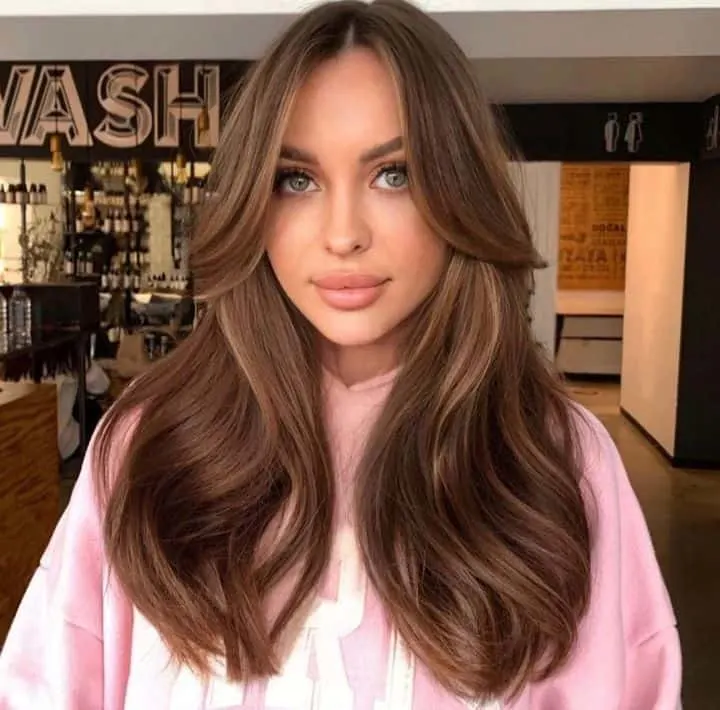 Long curtain bangs look just as good perfectly styled or tousled, and make your hair style more flattering either way.
17. Retro Feathered Long Hair With Curtain Bangs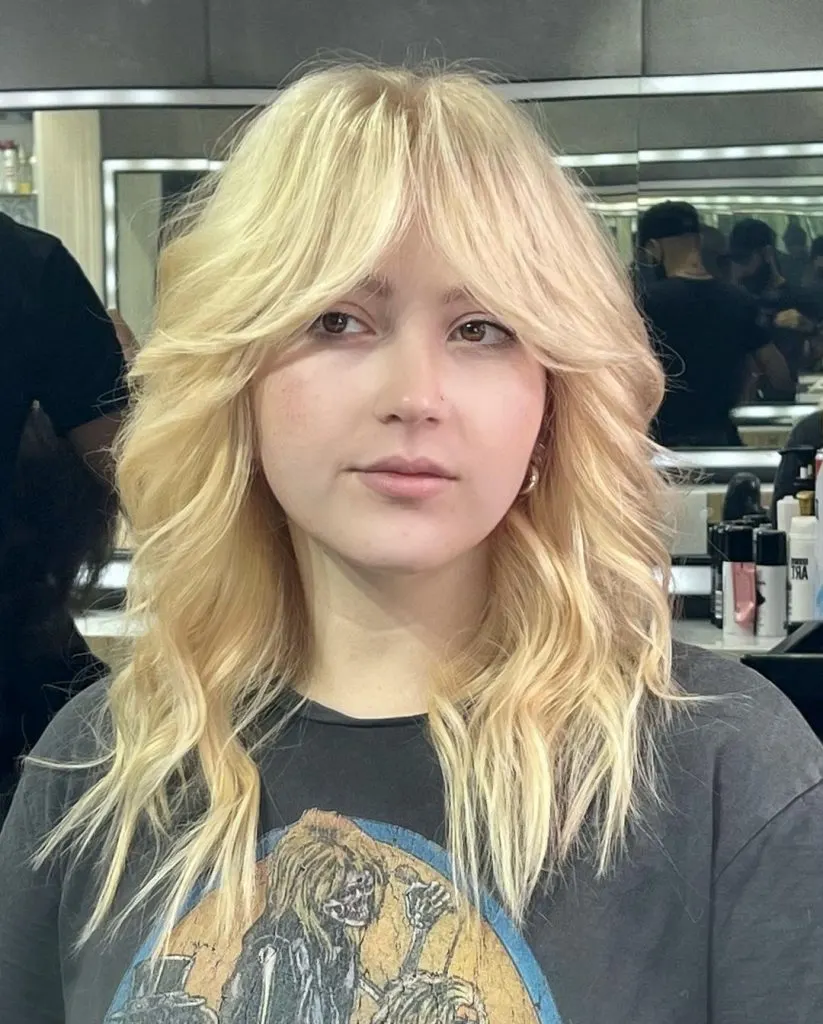 The '70s-style shag sported by many celebrities looks retro and modern at the same time. To style your curtain bangs like this, blow dry from above while flipping the ends up using a flat brush.
18. Layered Hair With Long See-Through Bangs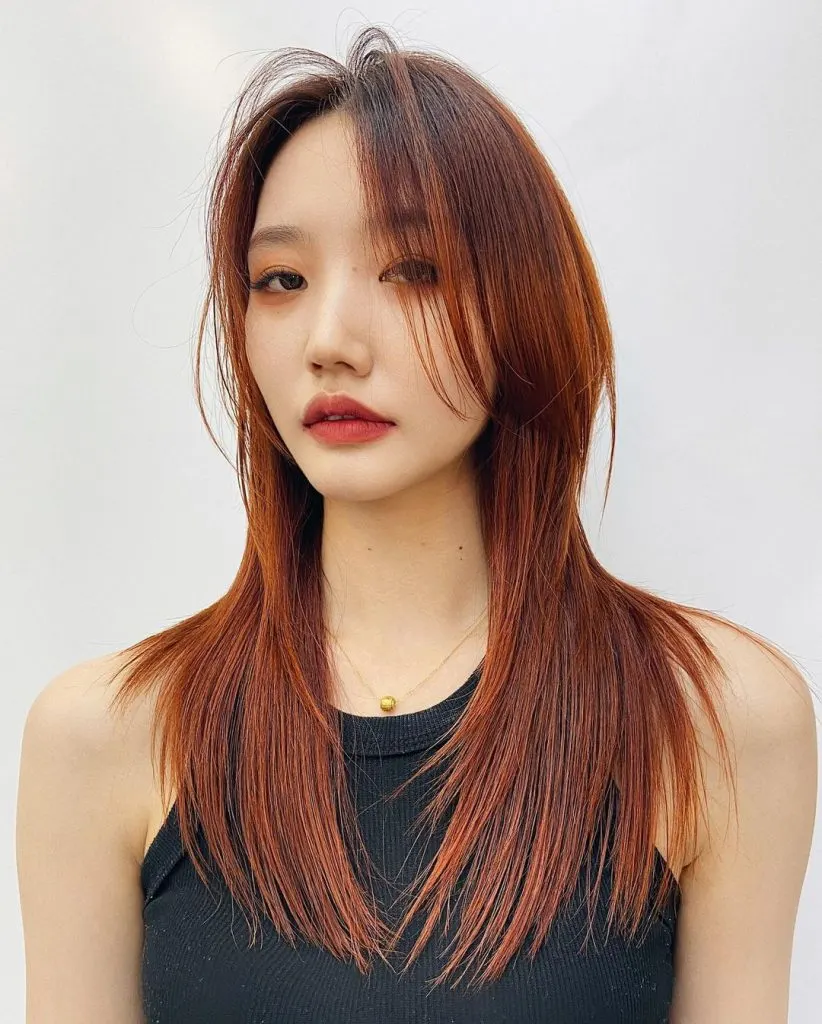 Long bangs can be used to break up flat hair and create movement, creating interest around the face.
19. Wavy Hair With Micro Bangs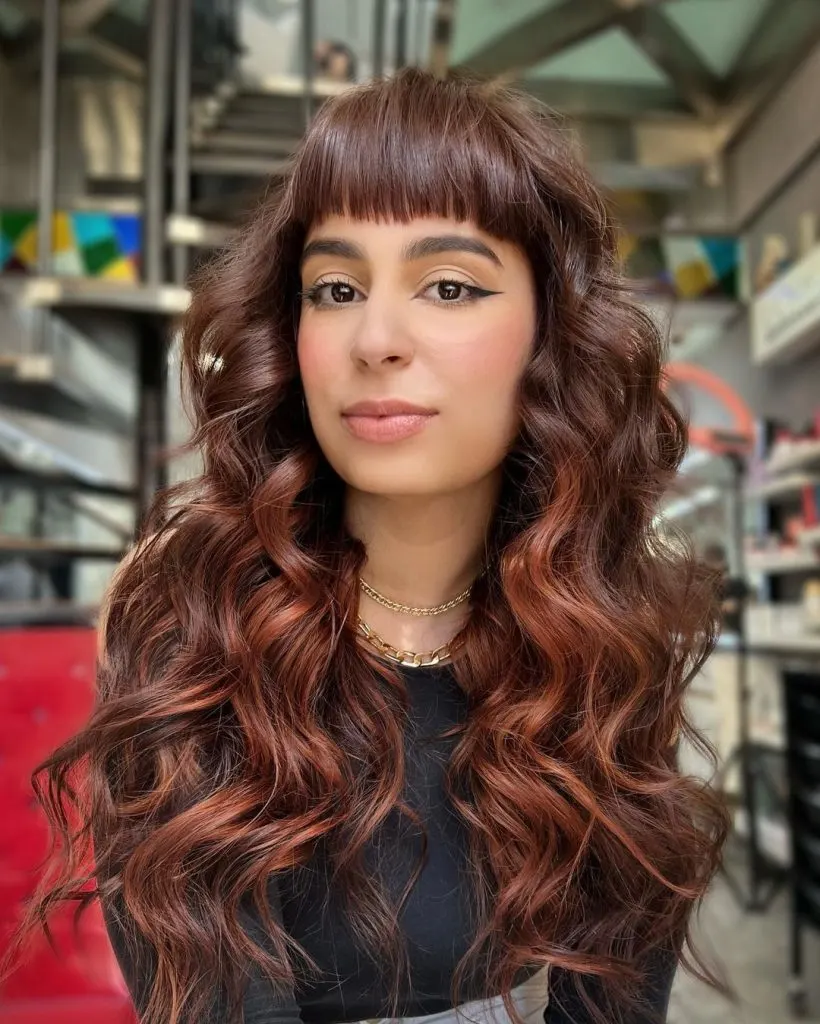 Contrasting texture between the bangs and the hair creates a fun, edgy look. Straight-across bangs cut above the eyebrows work best with an oval or oblong face.
20. Long Hair With Bardot Bangs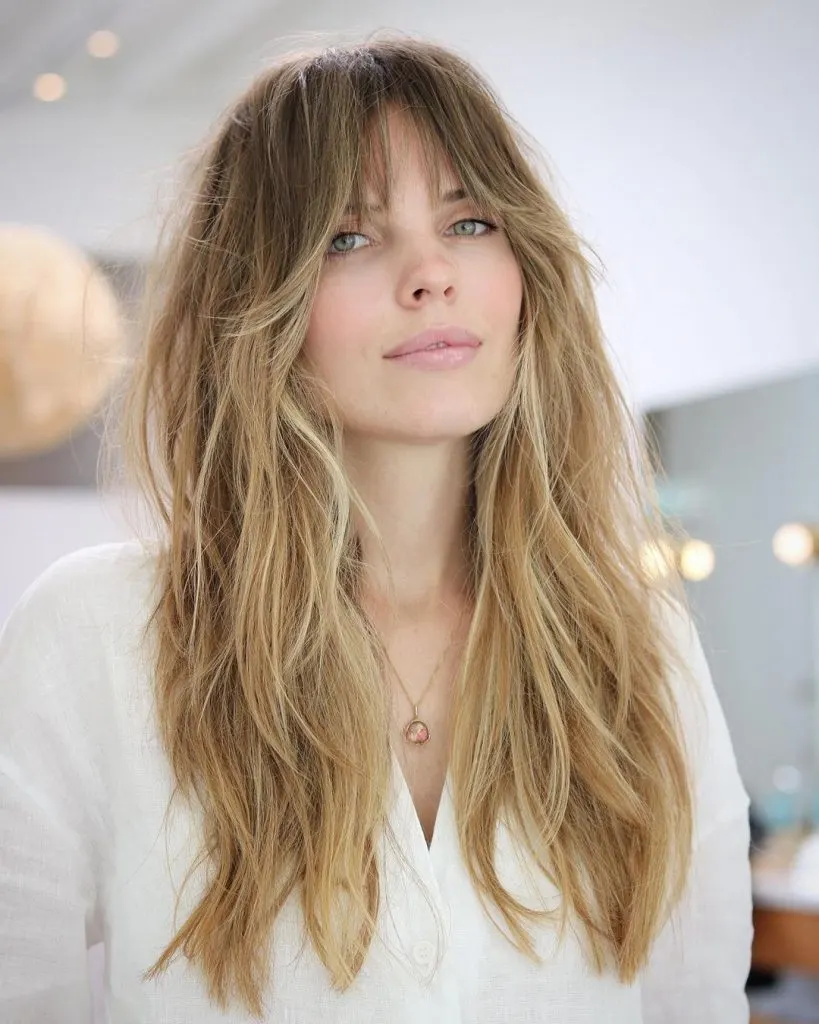 If you prefer air-drying your hair, style your bangs by laying them where you want them to stay and shake out a couple of times as they dry.
21. Long Parted Bangs With Long Hair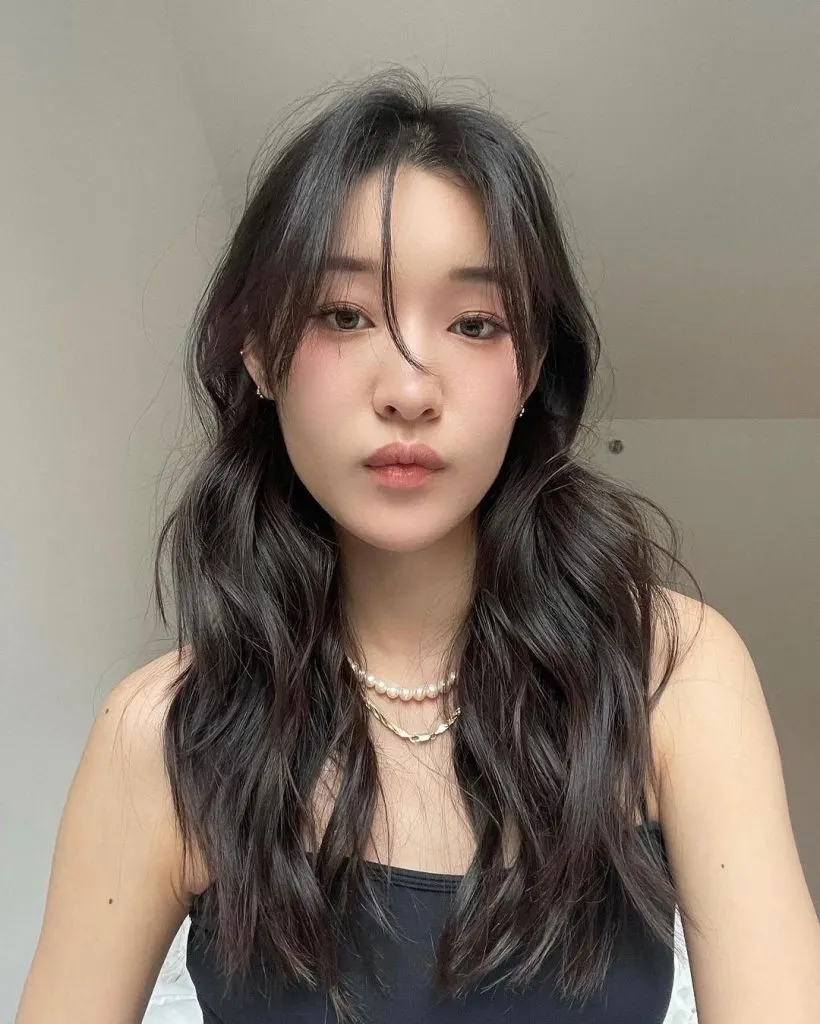 Wispy long bangs are low-maintenance and easy, but they still make a big difference. By creating movement around the face they effortlessly create a flattering, interesting look.
22. Large Curls With Curtain Bangs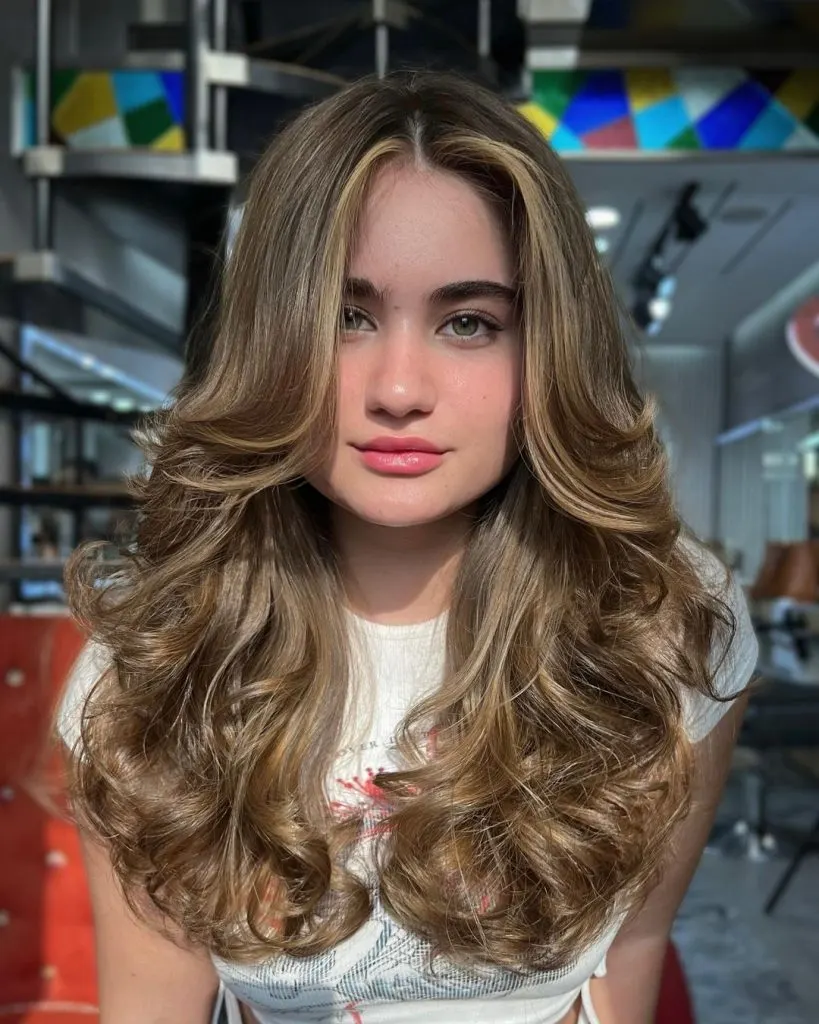 Super-long curtain bangs that blend into the layers are glam and flirty, and create lots of volume and dimension.
23. Long Hair With Blunt Bangs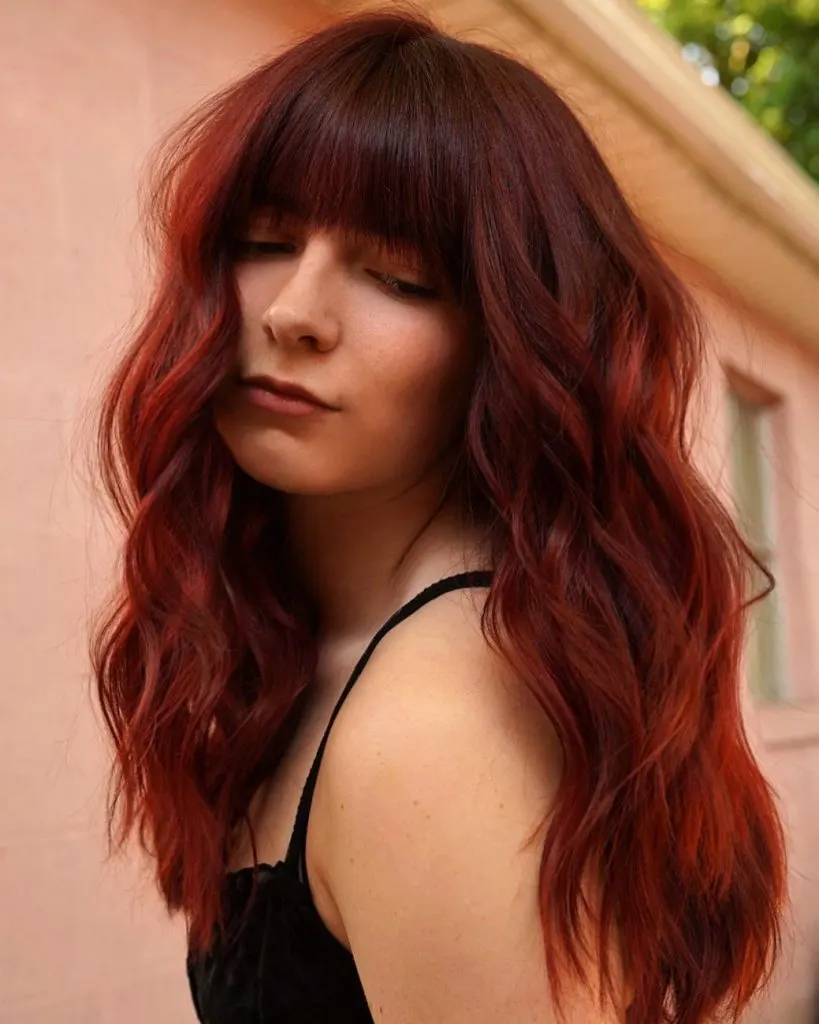 Full, thick bangs are a classic, but you should know that they require styling and maintenance. They need frequent trims, and you'll have to carefully style them to lay where you want, which can be especially challenging if you have cowlicks.
24. Long Shag With A-Shaped Bangs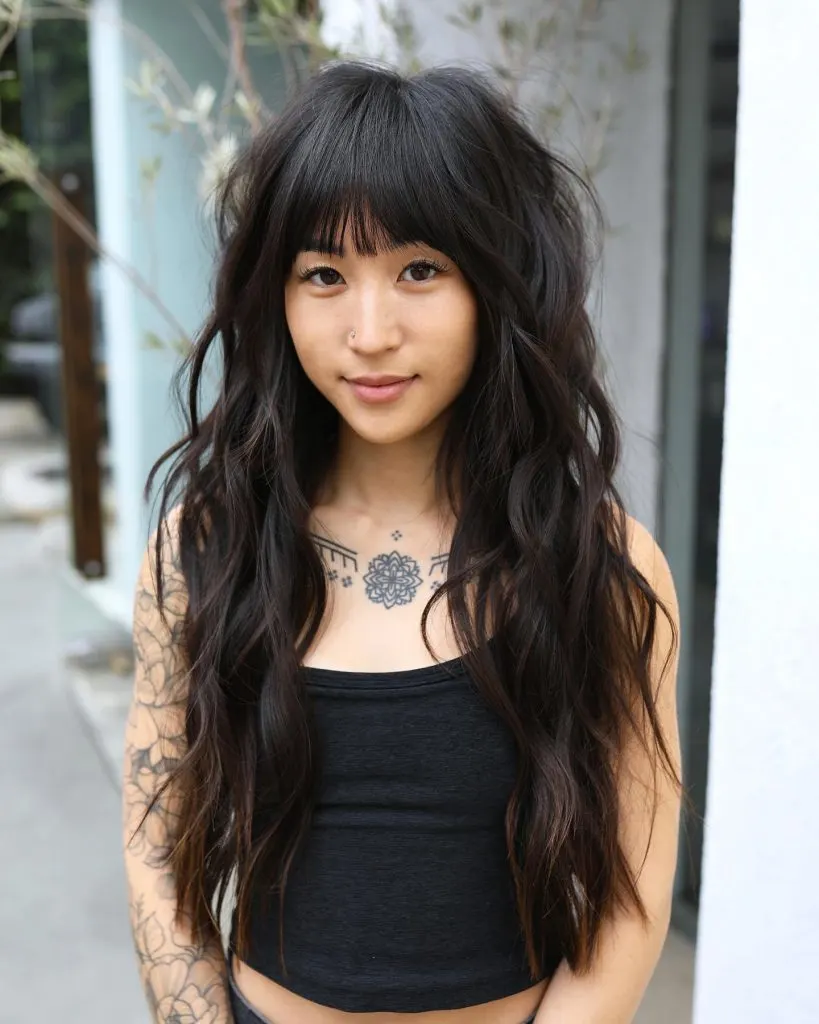 A-shaped bangs that blend into the hair on the side are a cute and easy way to spice up your look. Just be careful not to go too wide—it's best to stay around the arch of your eyebrows or narrower.
25. Choppy Hair With Wispy Bangs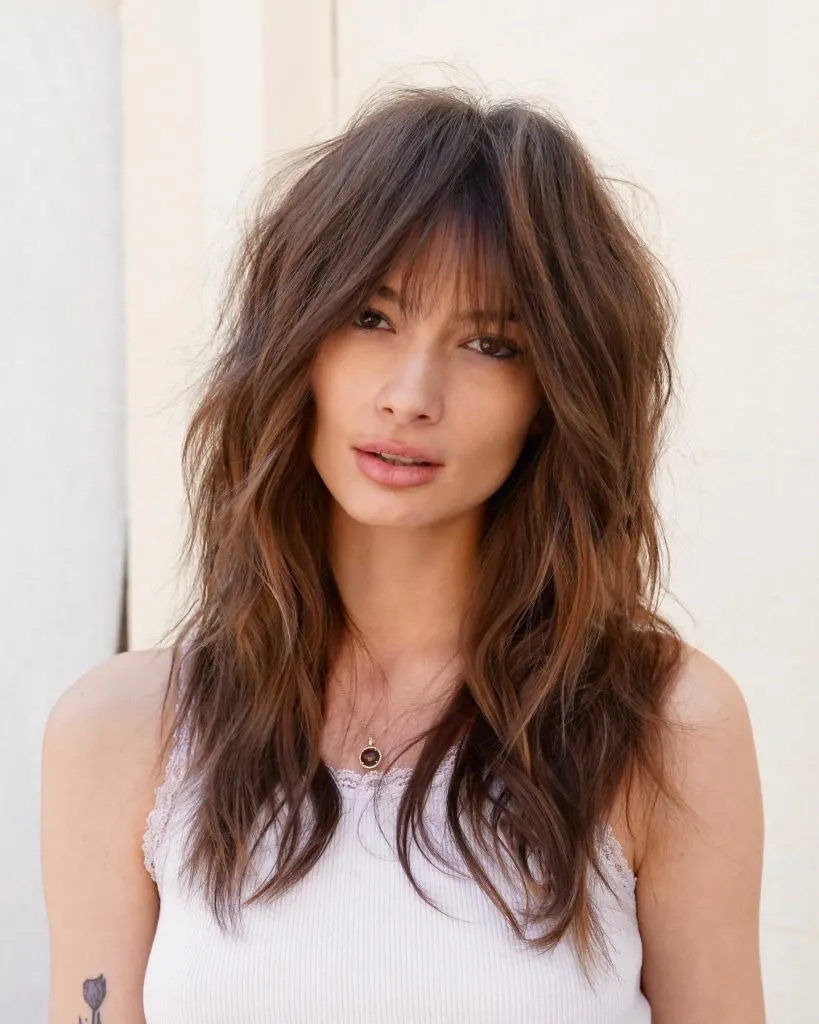 Wispy bangs are one of the most low-risk ways to try out bangs because they're easily hidden if you change your mind.
26. Layered Hair With Long Wispy Bangs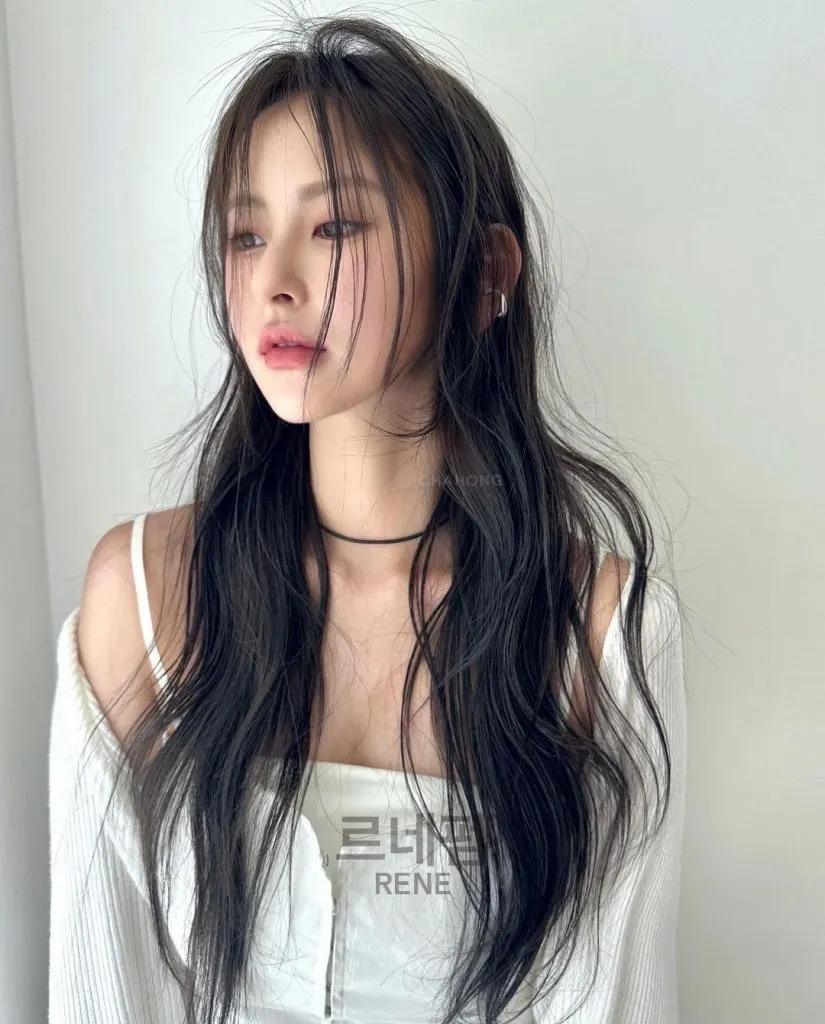 Long and wispy, these face-framing pieces are dreamy and gorgeous. They're heavily styled for the picture, of course, but they look amazing even in real life.
27. Long Hair With Choppy Crescent Bangs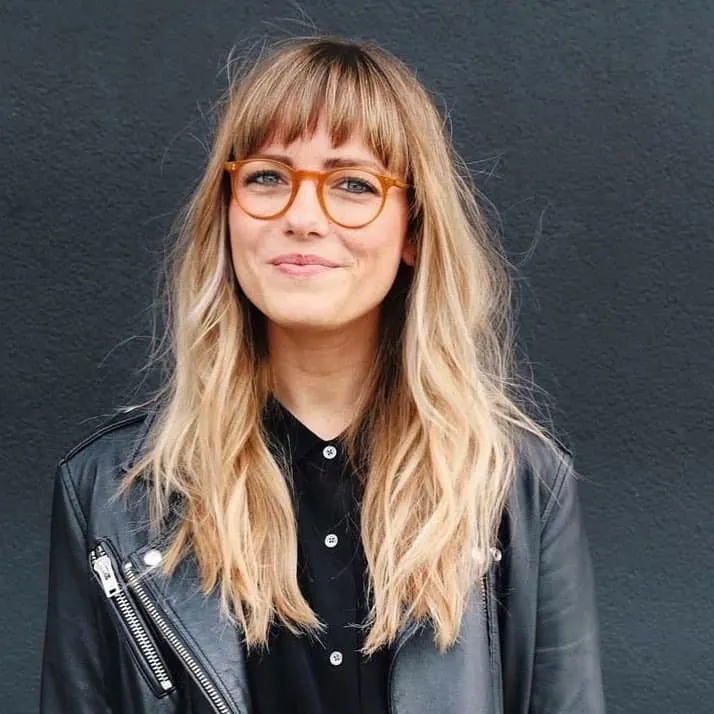 If you opt for thick, short bangs, consider making them choppy if you want a more flattering look—a straight line is often much too harsh.
28. Wavy Hair With Thick Short Curtain Bangs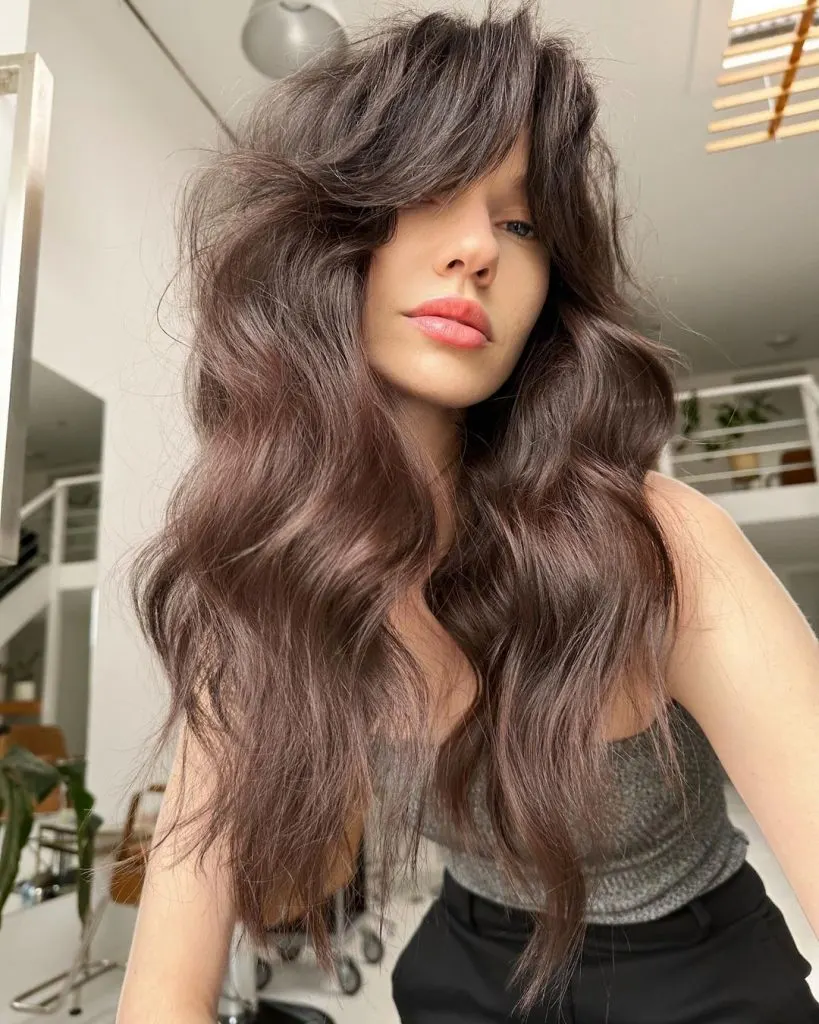 Long hair doesn't have to be one-dimensional—this hairstyle is all about large waves and long bangs that seamlessly blend into the hair.
29. Wispy Crescent Bangs With Long Hair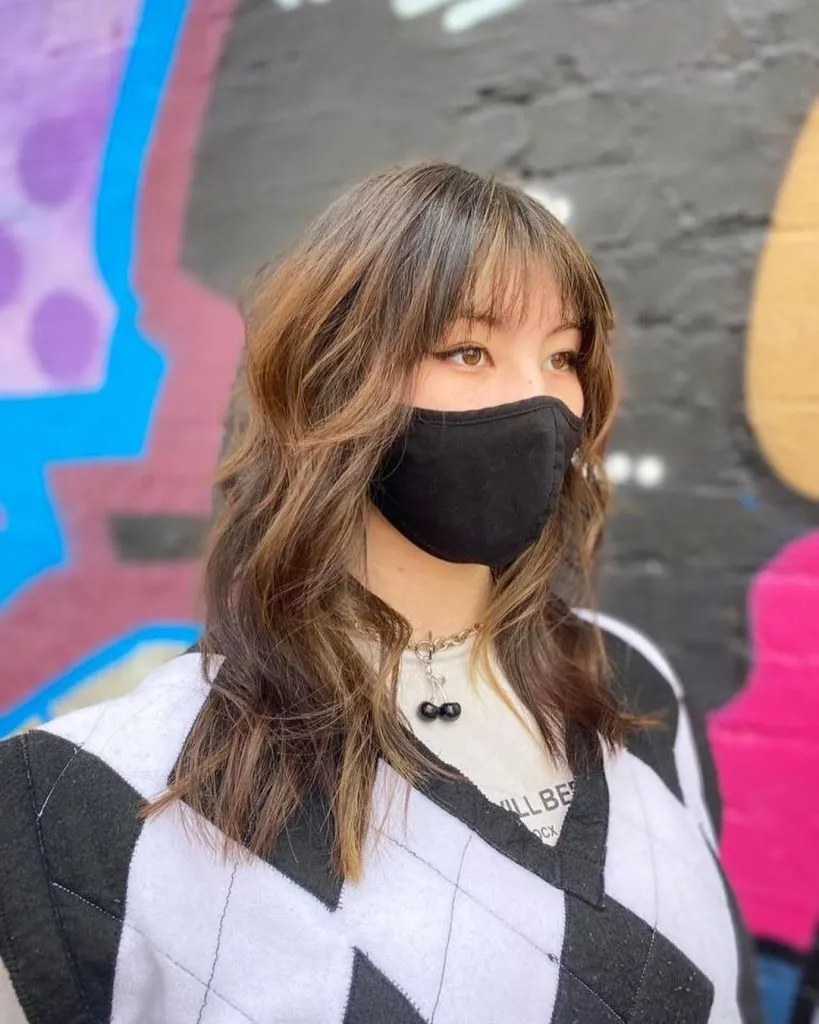 Rounded bangs work for rounded face shapes—these fine crescent bangs would look amazing on an oval or a round face.
30. Blunt Ends With Shag Bangs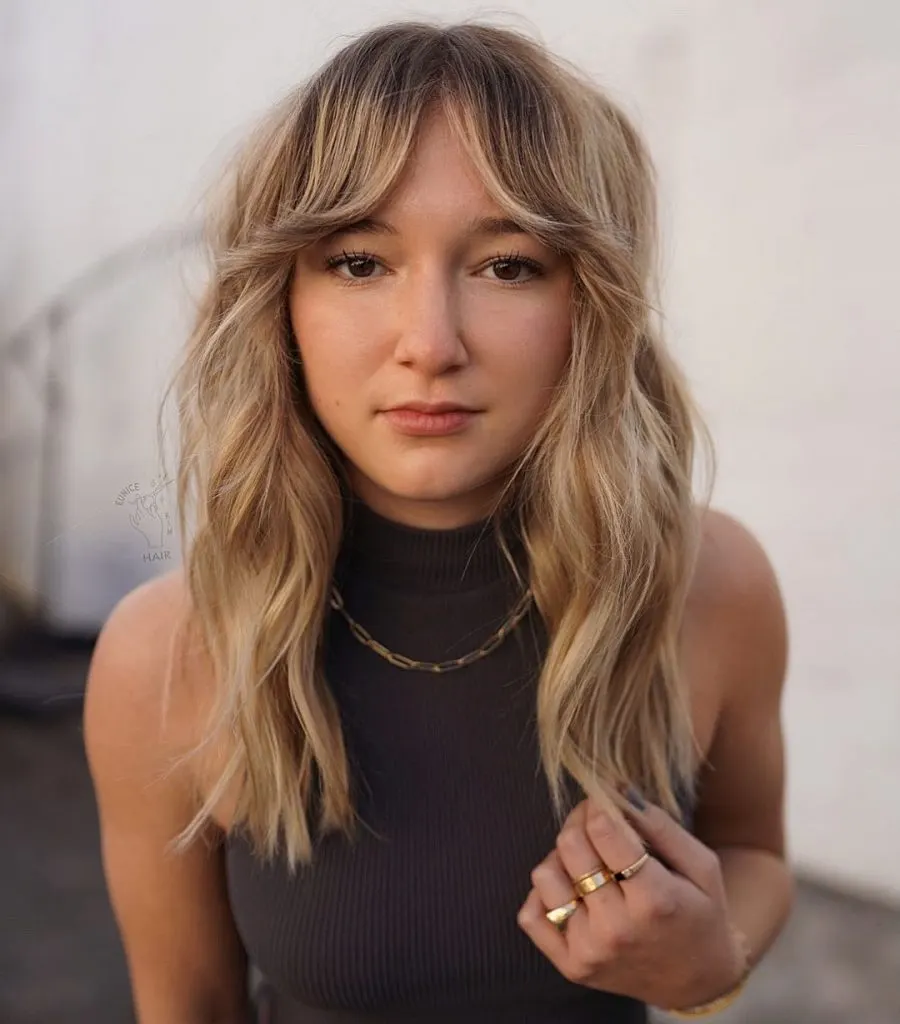 Flippy shag bangs are easier to style than they seem—blow dry from above while you flip the ends upward using a flat brush.
31. Wavy Hair With Wispy Curtain Bangs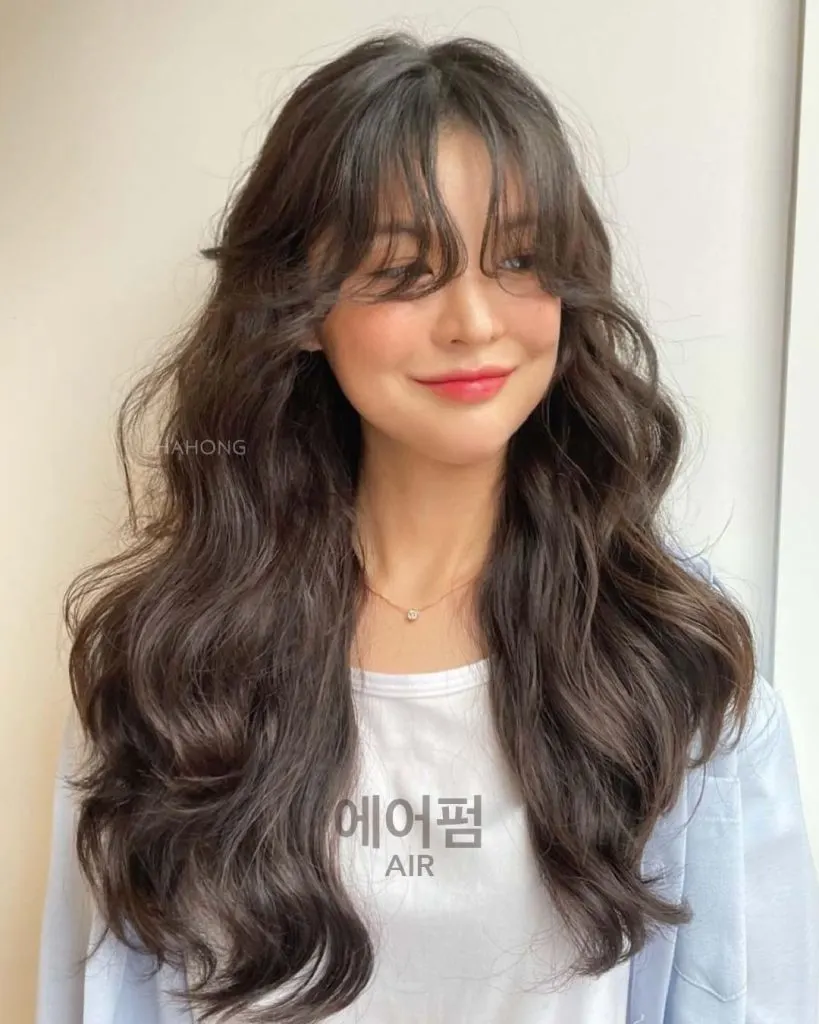 To create these voluminous waves, use a curling iron with a clamp and curl the whole strand around it, as opposed to the way you'd create beachy waves which leave the ends straight.
32. Choppy Hair With Textured Bangs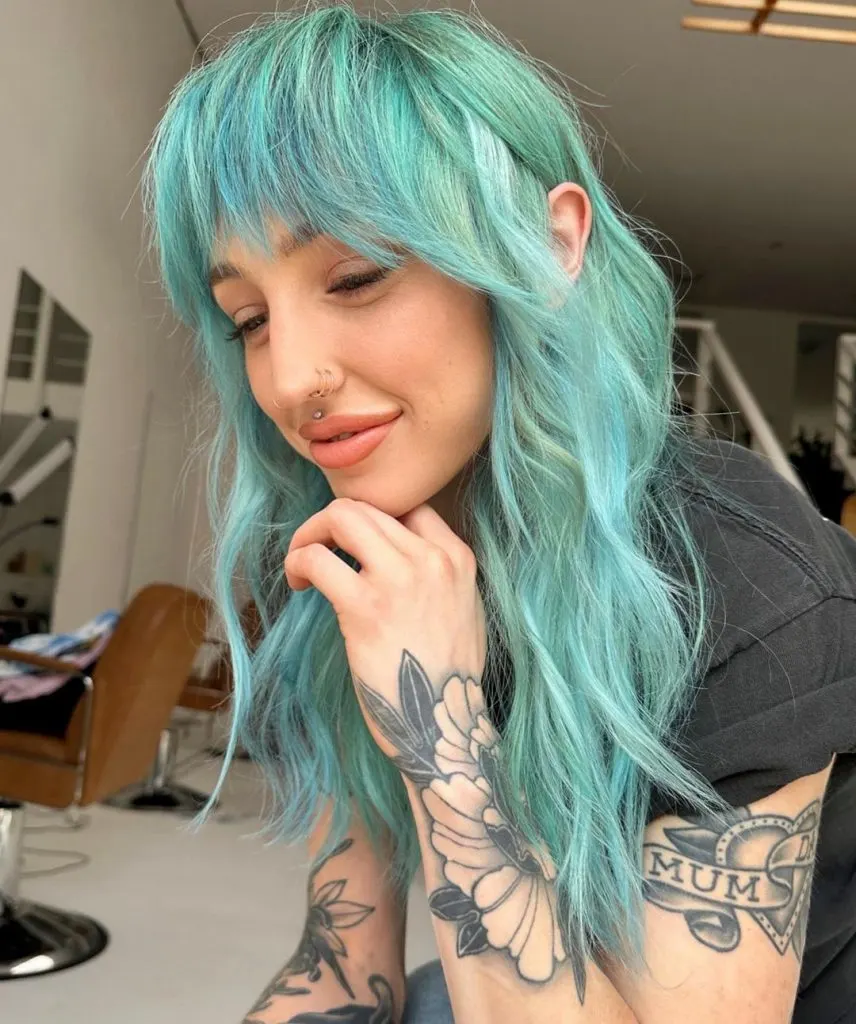 This long, choppy wolf cut will get you noticed wherever you go, and not only because of the color.
33. Layered Curly Hair With Bangs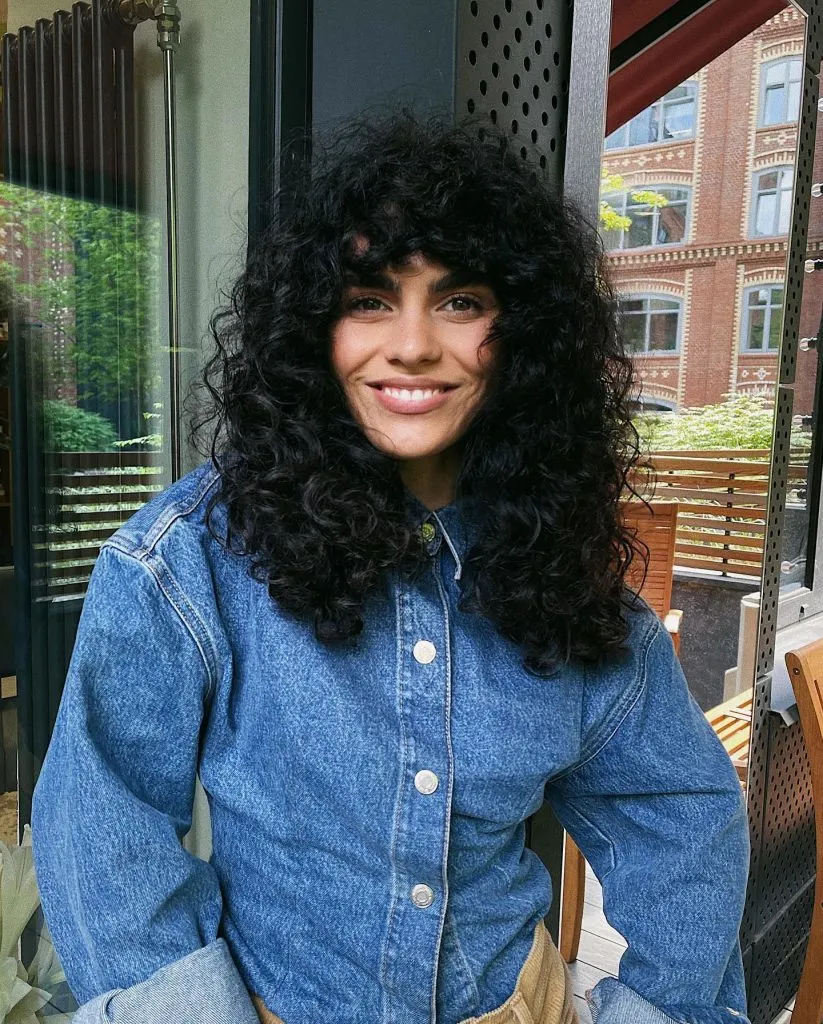 Keep your curly hair and bangs hydrated for perfectly defined curls. Start with a moisturizing shampoo and conditioner, and don't skip the leave-in.
34. Bangs With Long Hair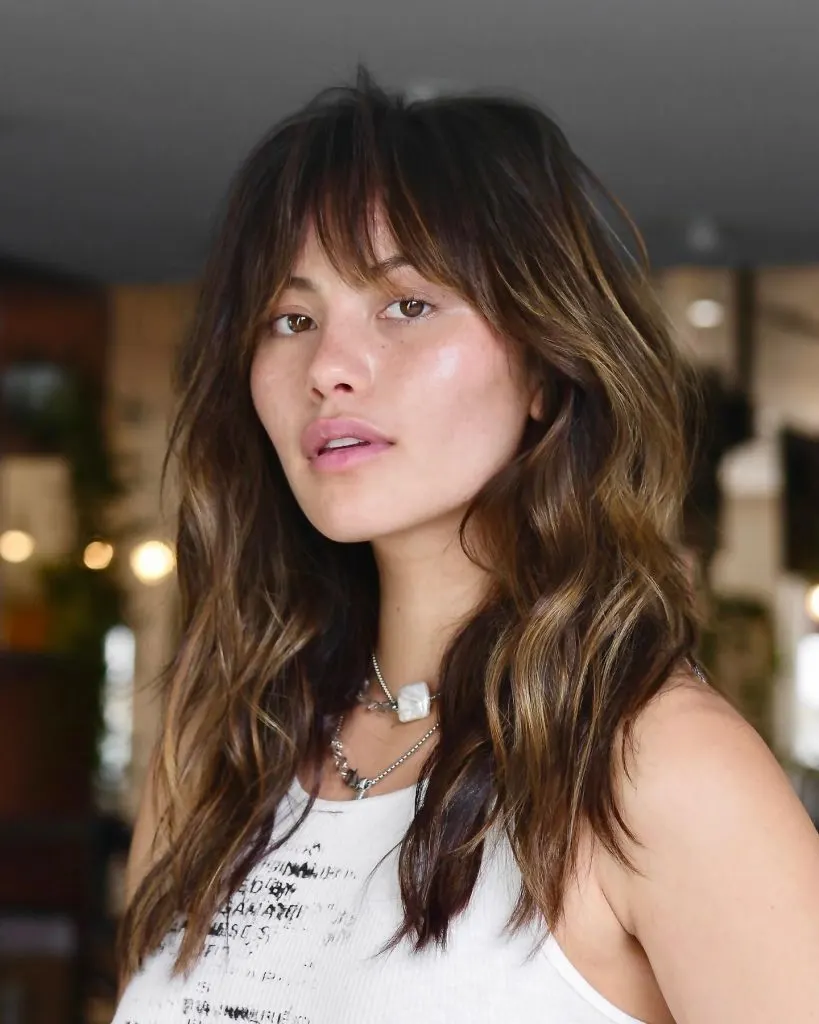 Short choppy strands in the middle of the forehead look edgy and pretty—and they're also super trendy.
35. Long Hair With Bangs And Layers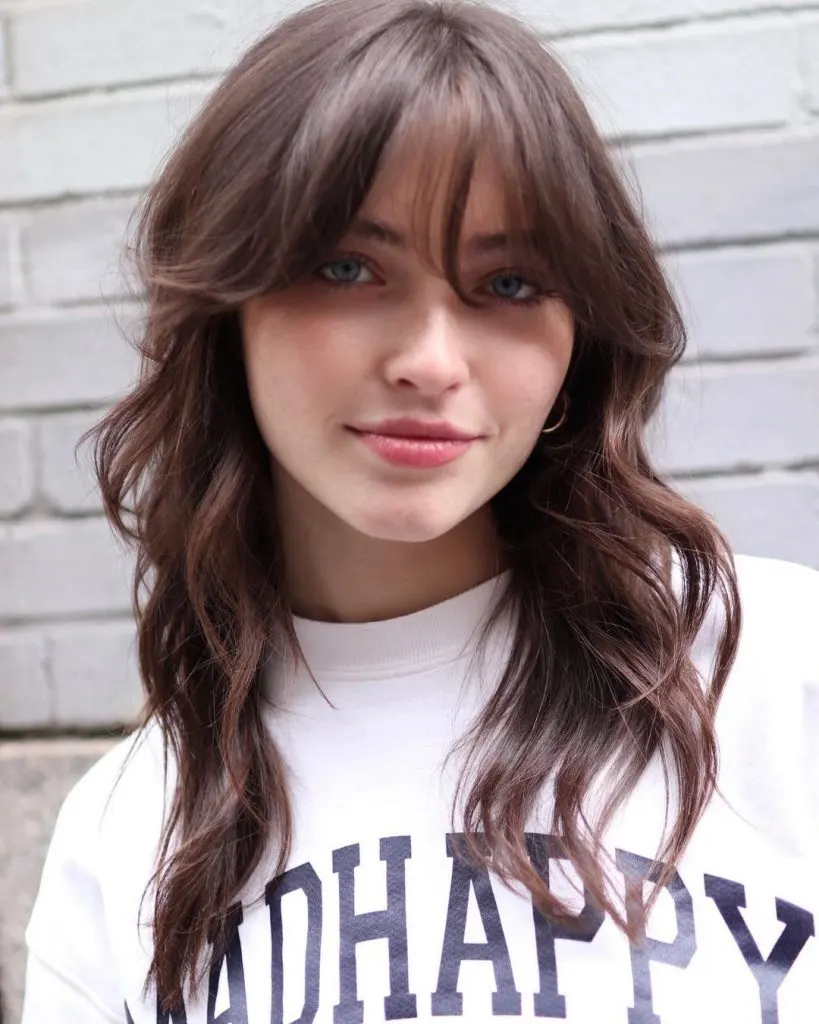 Soft, large curls and layers are the perfect recipe for a dreamy vibe. With thin, soft bangs, the look is complete.
36. Long Hair With Bangs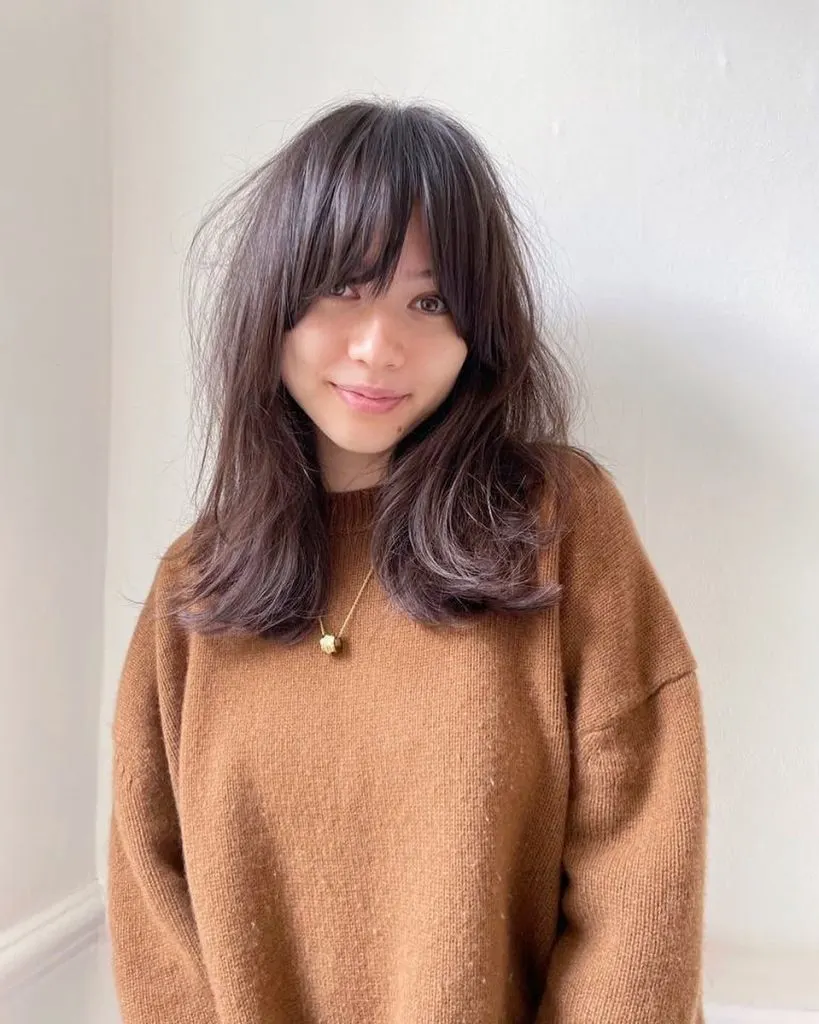 There are several ways how bangs make a hairstyle more flattering: they frame the face, cover a tall or short forehead, and add volume.
37. Long Hair With Short Wispy Bangs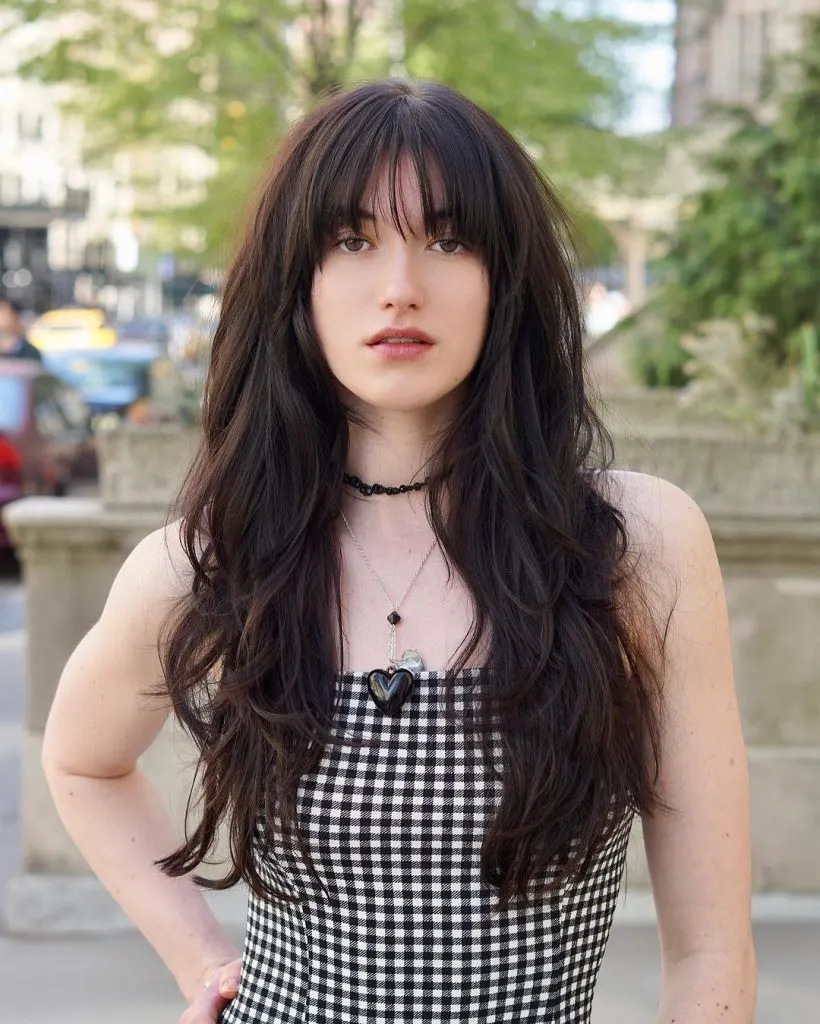 There's a style of bangs that works for everyone, so don't get discouraged if classic fringe doesn't suit you. For instance, these wispy, piece-y strands are much more flattering on various face shapes.
38. Layers And Bottleneck Bangs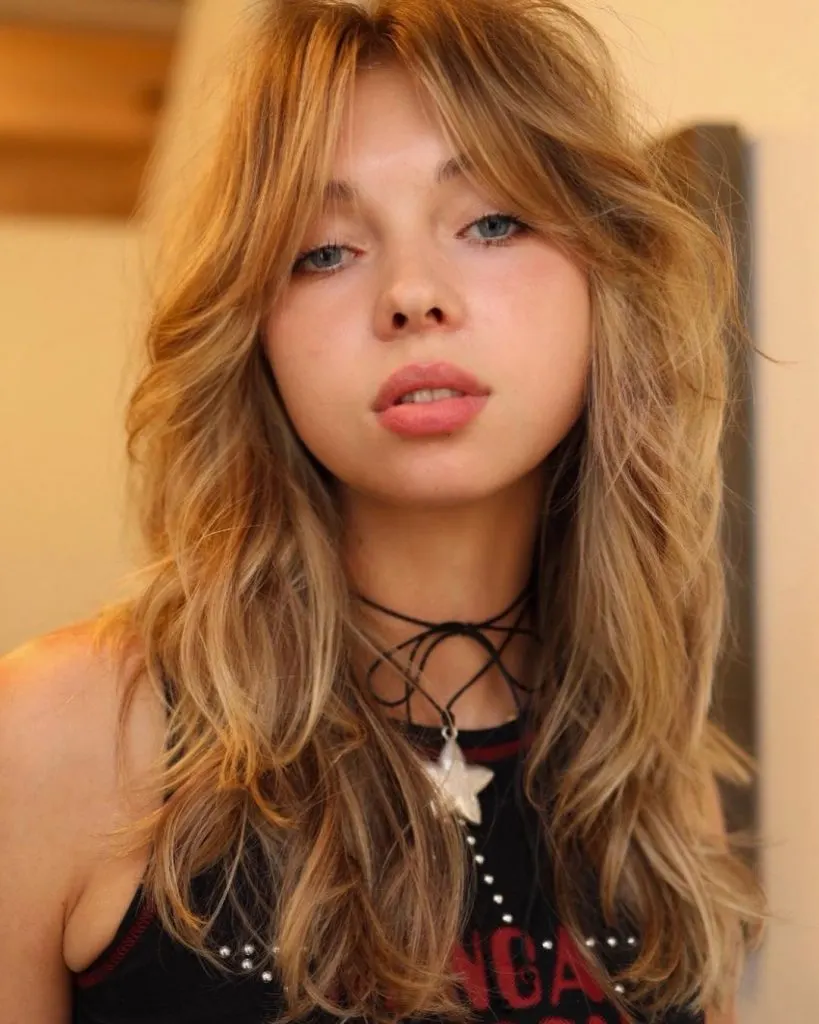 Soften sharp cheekbones with bangs that curve at the sides of the face. This type of bangs pairs well with any layered hairstyle.
39. Curtain Bangs With Long Layered Hair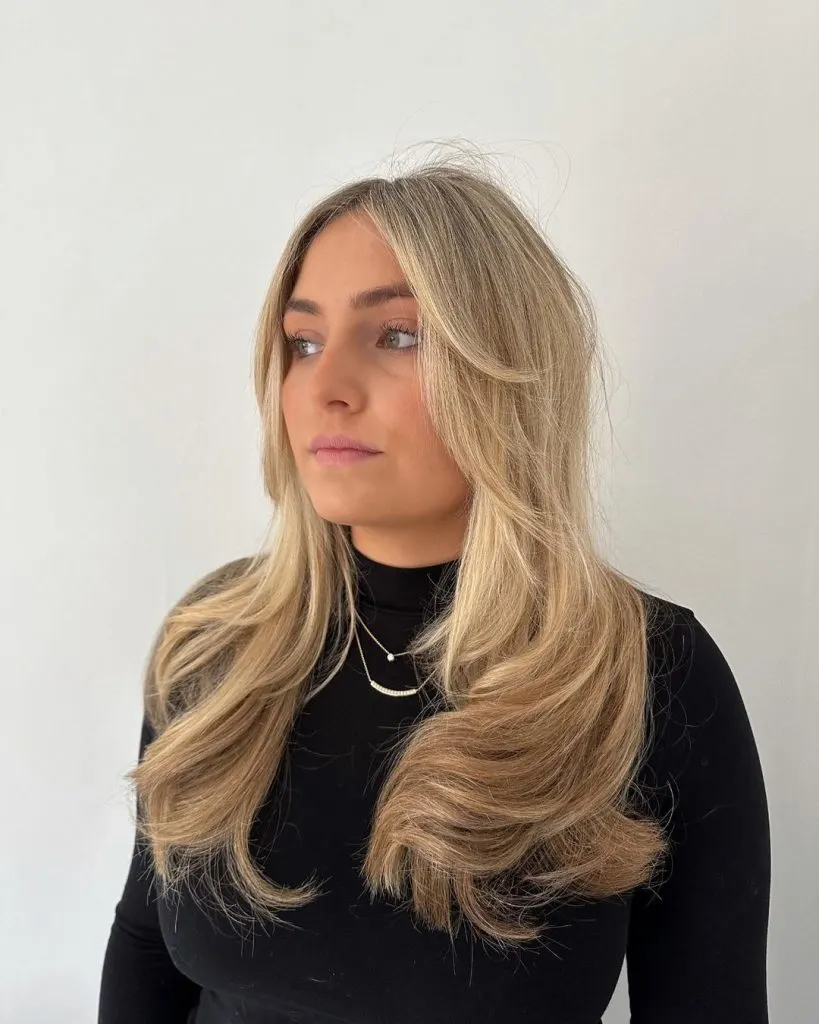 If you have thick hair, long layers will take off the weight while keeping your hair voluminous.
40. Long Hair With Choppy Bangs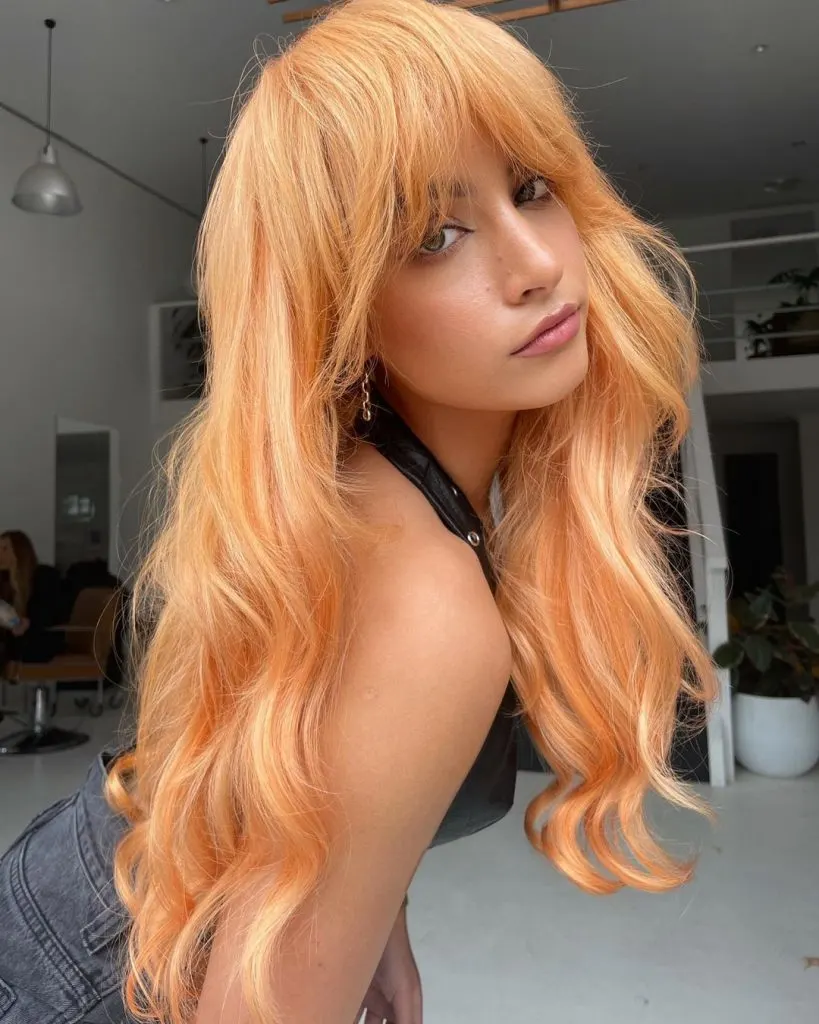 Thick bangs look best when they're choppy because they're not as heavy as when they're straight.
41. Tousled Hair With Long Bangs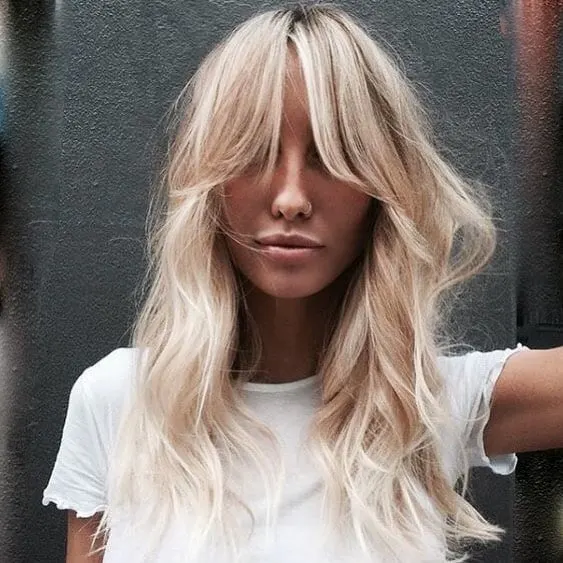 These grown-out bangs look edgy and fierce instead of unflattering because they're tapered and blend into the sides.
42. Long Layers With Curtain Bangs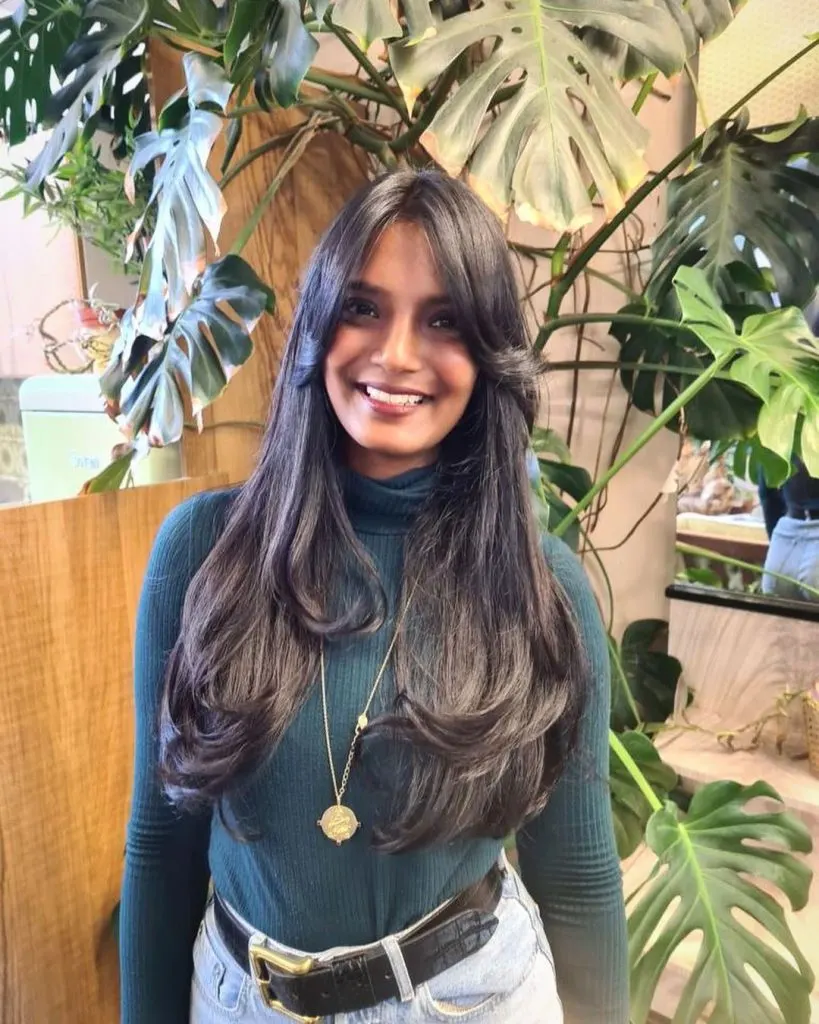 You need some layers in long hair to prevent it from falling flat. The curtain bangs complement these layers with bouncy c-curls perfectly.
43. Long Hair With Layers And Bangs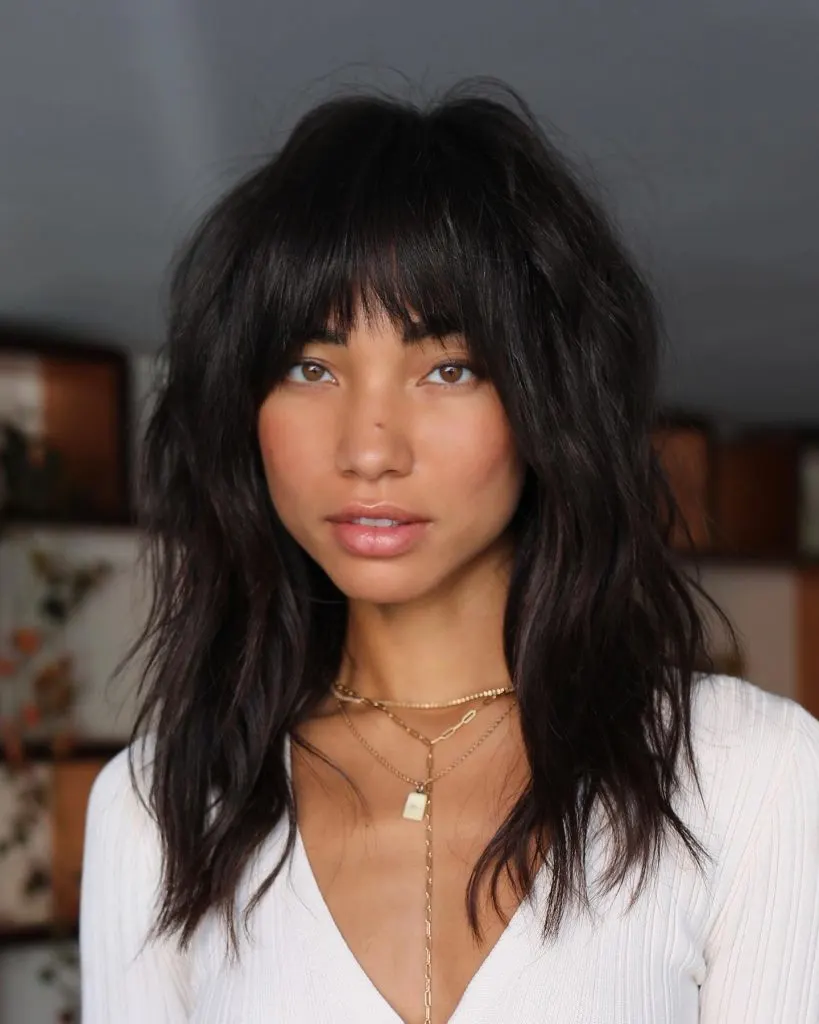 If you have thick hair, the popular shaggy haircuts are easy, but what if your hair is fine or thin? Ask for choppy layers, which play up the texture anyway and don't skip a volumizing product in your styling routine.
44. Long Hair With Side Swept Bangs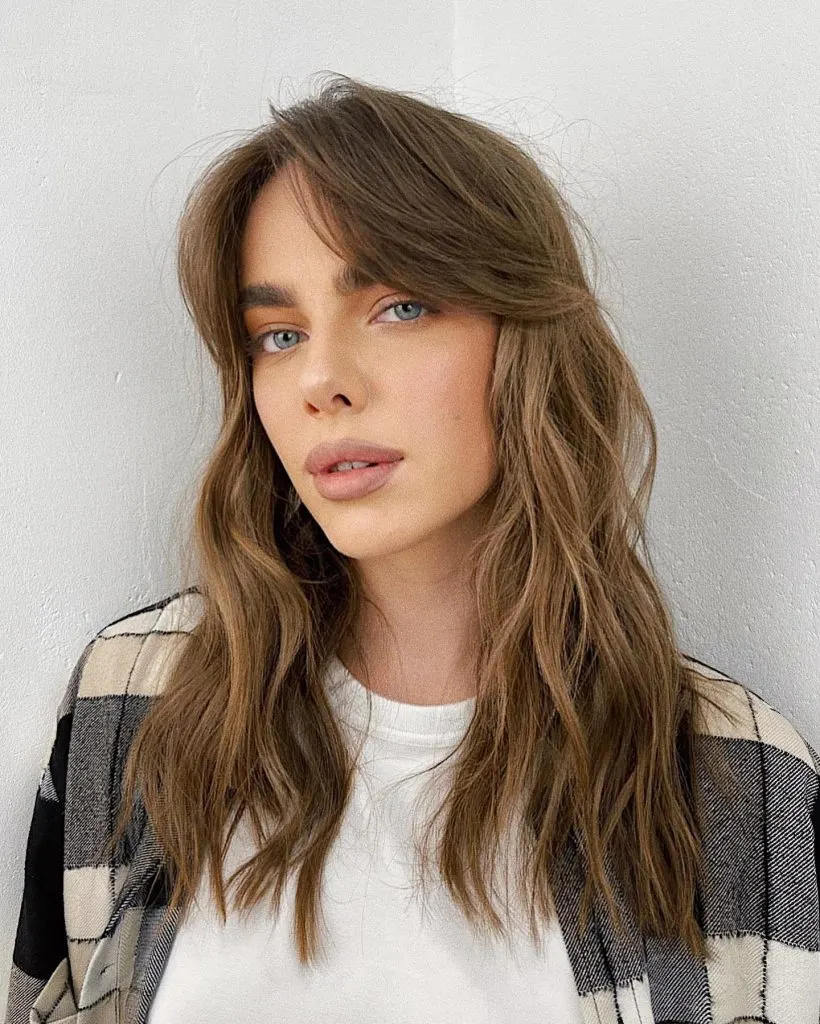 These long, swept-back bangs create tons of volume and flatter the face even without being near it.
45. Straight Hair With Blunt Bangs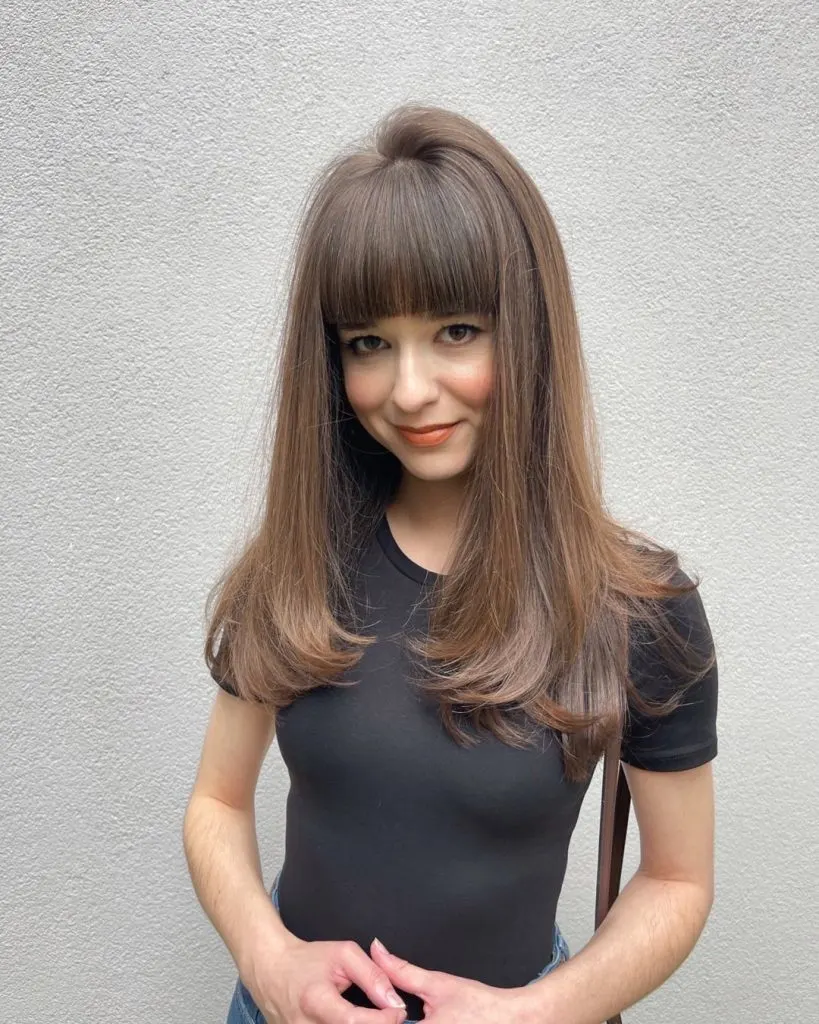 Long blunt bangs require frequent styling, so there's nothing low maintenance about them, but the final look is worth it.
46. Long Layered Hair With Shag Bangs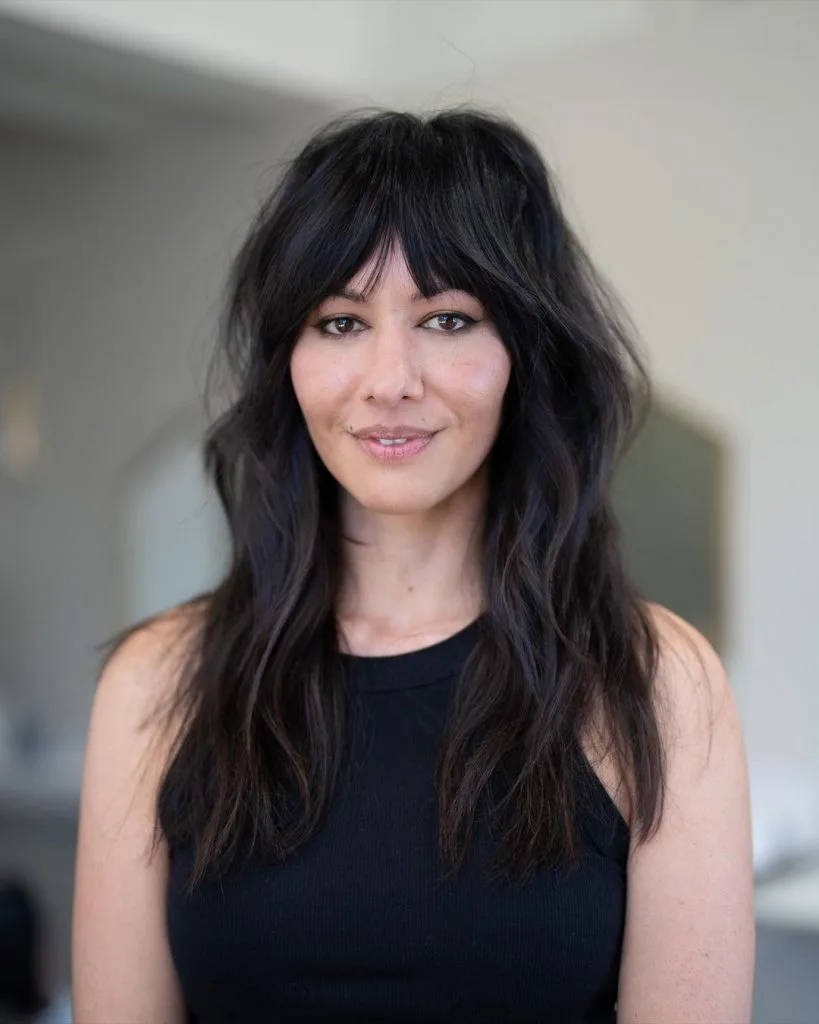 To get a modern piece-y look, make sure you always have a texturizing spray at hand. In a pinch, you can wet your hair and scrunch it, but you'll get better results with the right product.
47. Wispy Short Bangs With Long Hair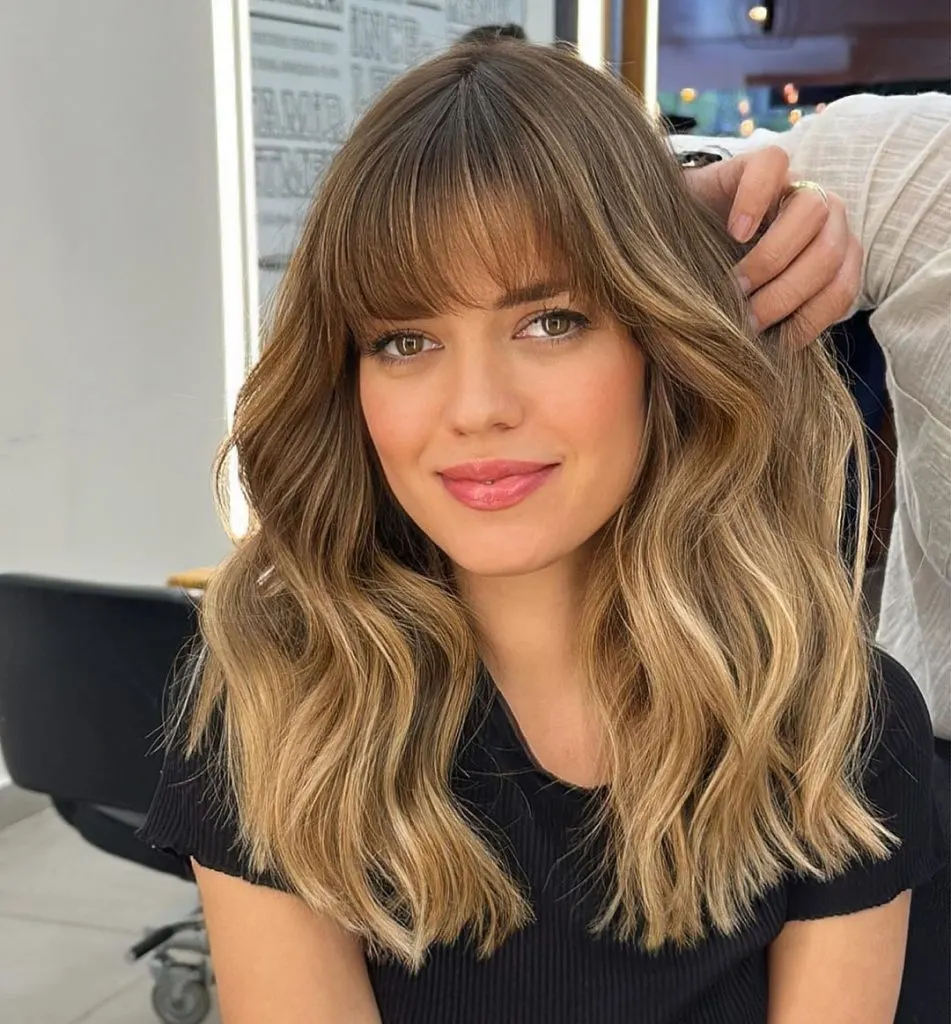 Bangs are often used to conceal a tall forehead, but they can also elongate a short one if you strategically choose the starting point of your bangs.
48. Long Layered Hair With Curtain Bangs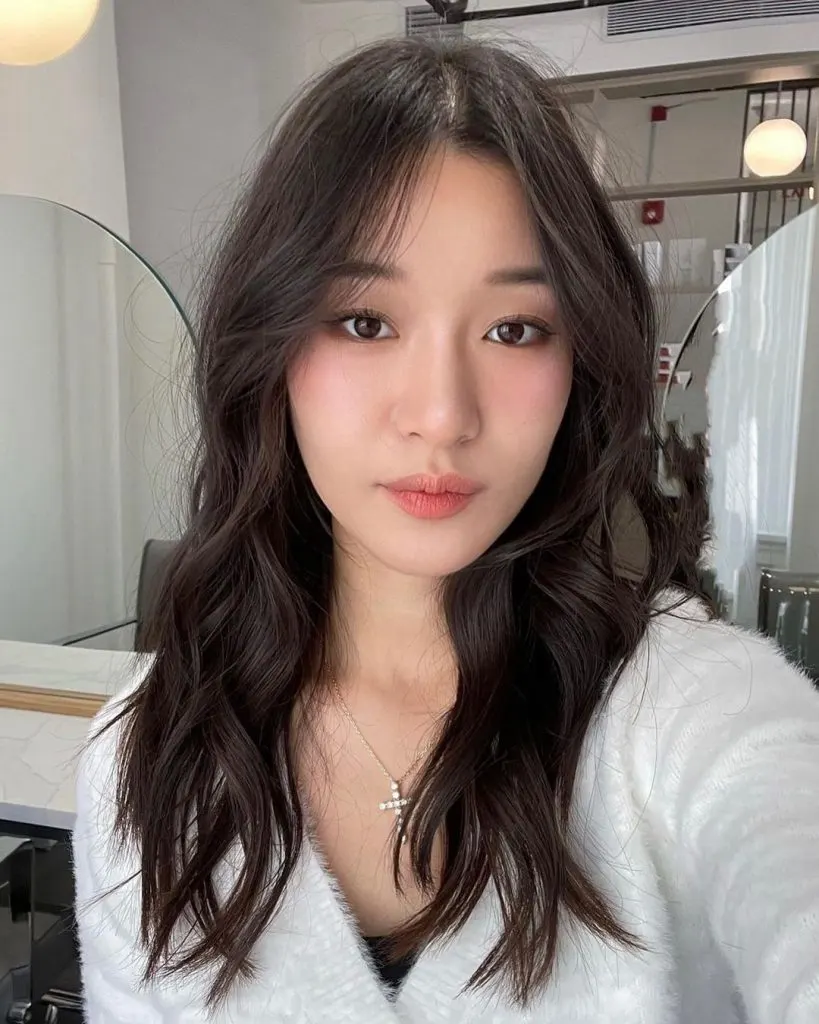 Long and wispy might just be the easiest way to wear bangs—they're invisible when pushed aside, but still behave like bangs when you let them loose.
49. Wavy Long Hair With Curtain Bangs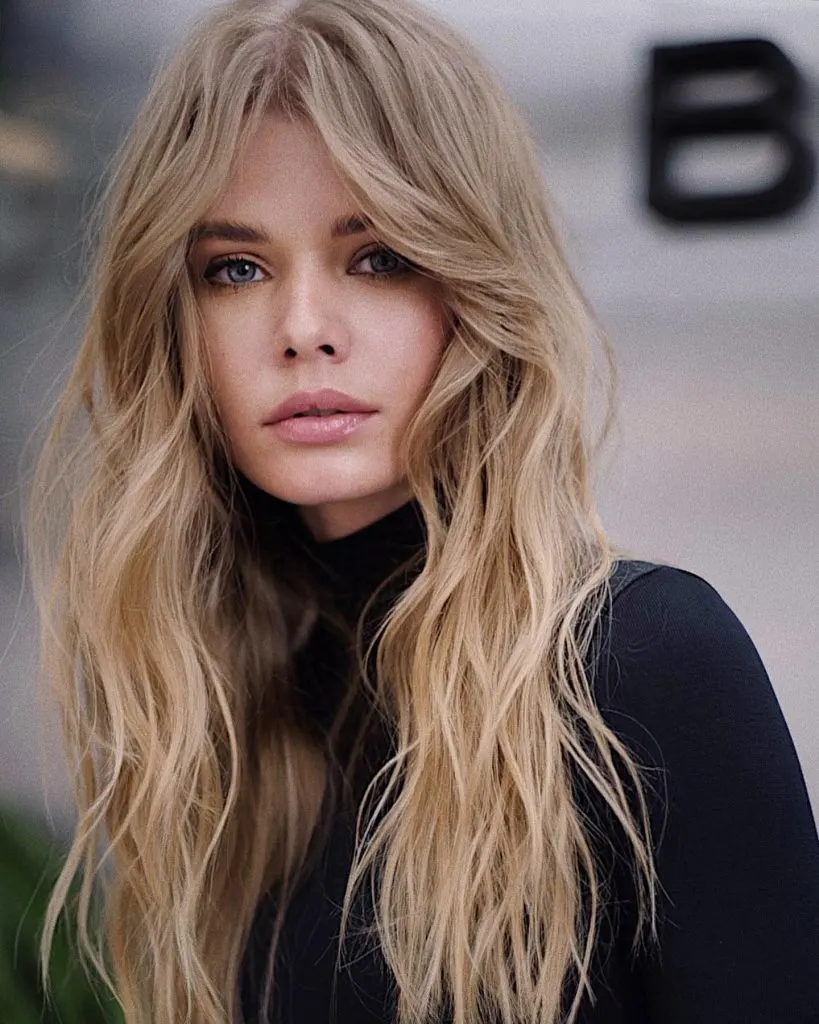 Ask your stylist to thin out your bangs if you like a full style so they would look thick yet not bulky.
50. Long Wavy Hair With Bangs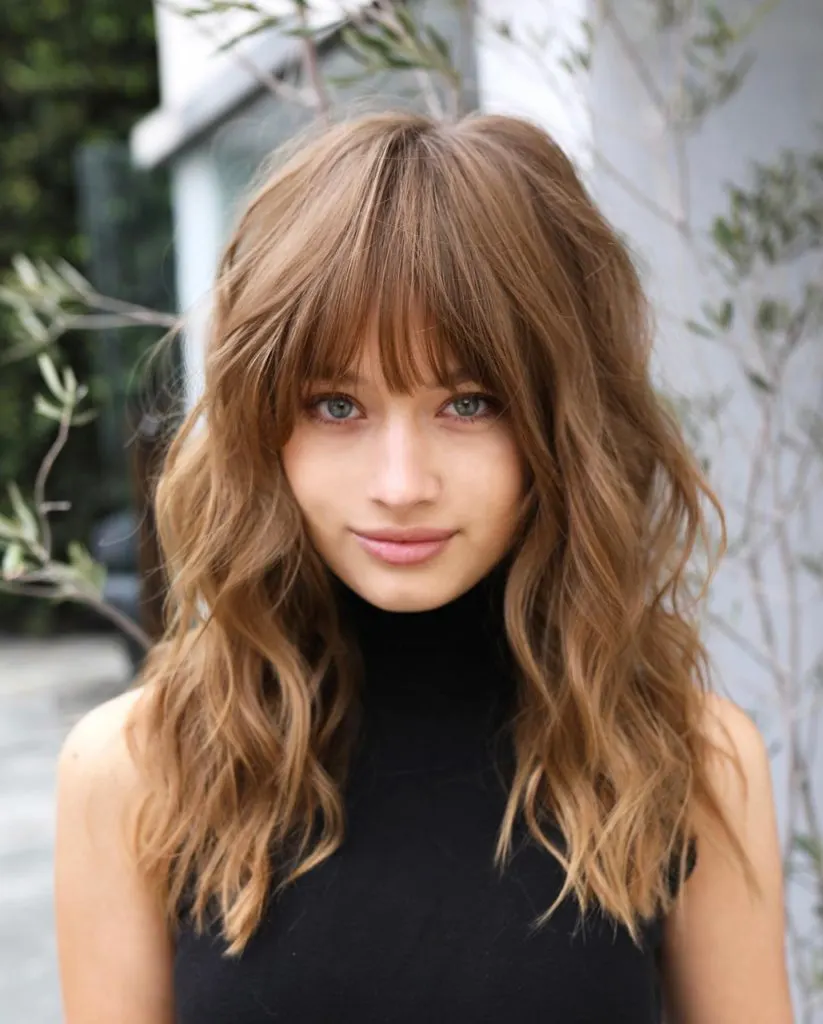 You don't have to worry about which parting suits you if you have bangs, but you still have the option of wearing them parted any way you prefer.