Can a haircut be all that: stylish, versatile and easy to manage? Sure—you can have it all with the medium length bob.
It's short enough to look fresh and long enough to give you that swish; it can be adapted to all face shapes; become classic or ultra-modern with a few tweaks.
See how by checking out these inspo pics.
1. Medium Length Blunt Cut Bob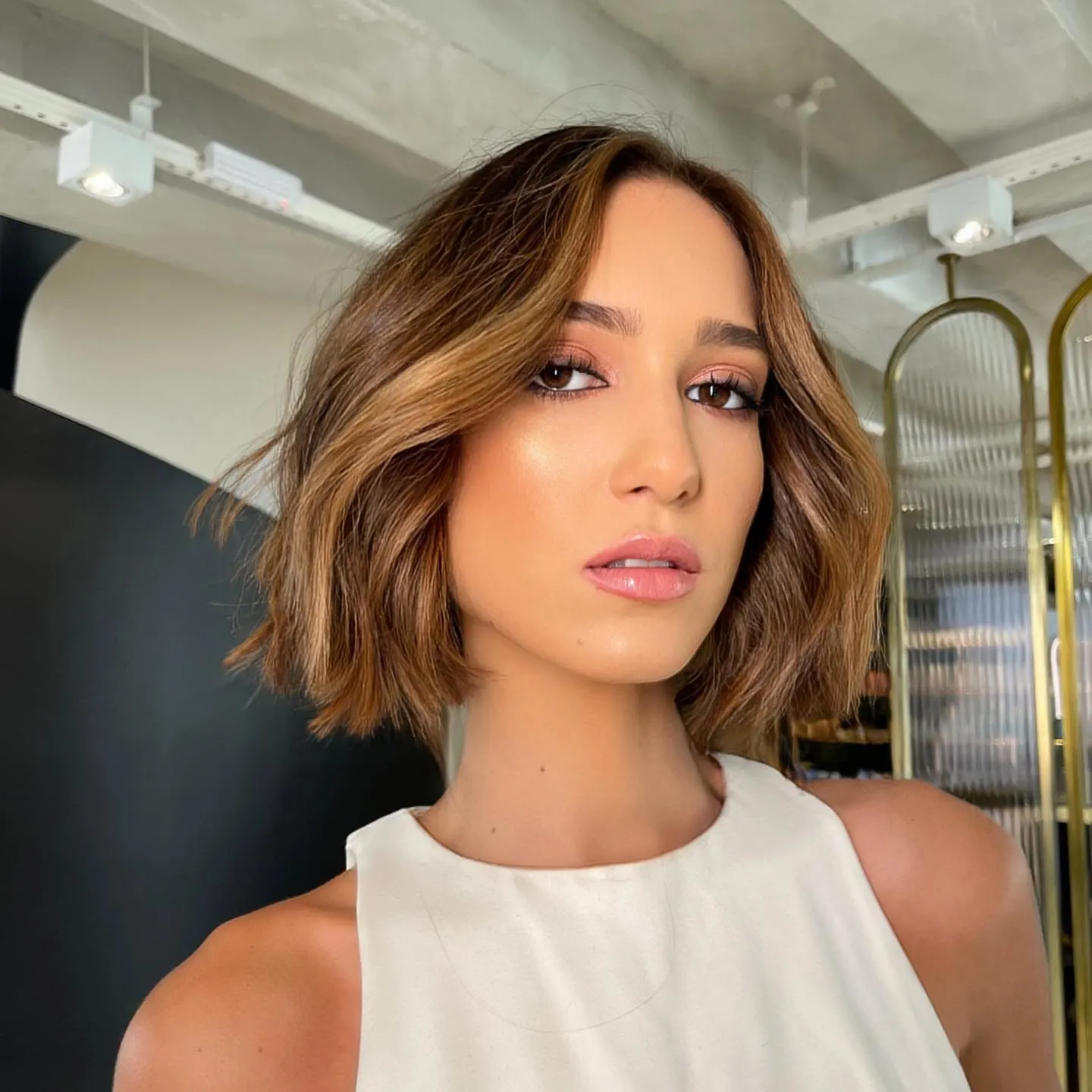 Are you looking for a long-lasting signature look? The medium length blunt cut bob is one of the essential options to consider. It's a timeless classic—nothing about it exaggerated or trendy, so it will never look dated or go out of style.
2. Blunt Bob For Thick Hair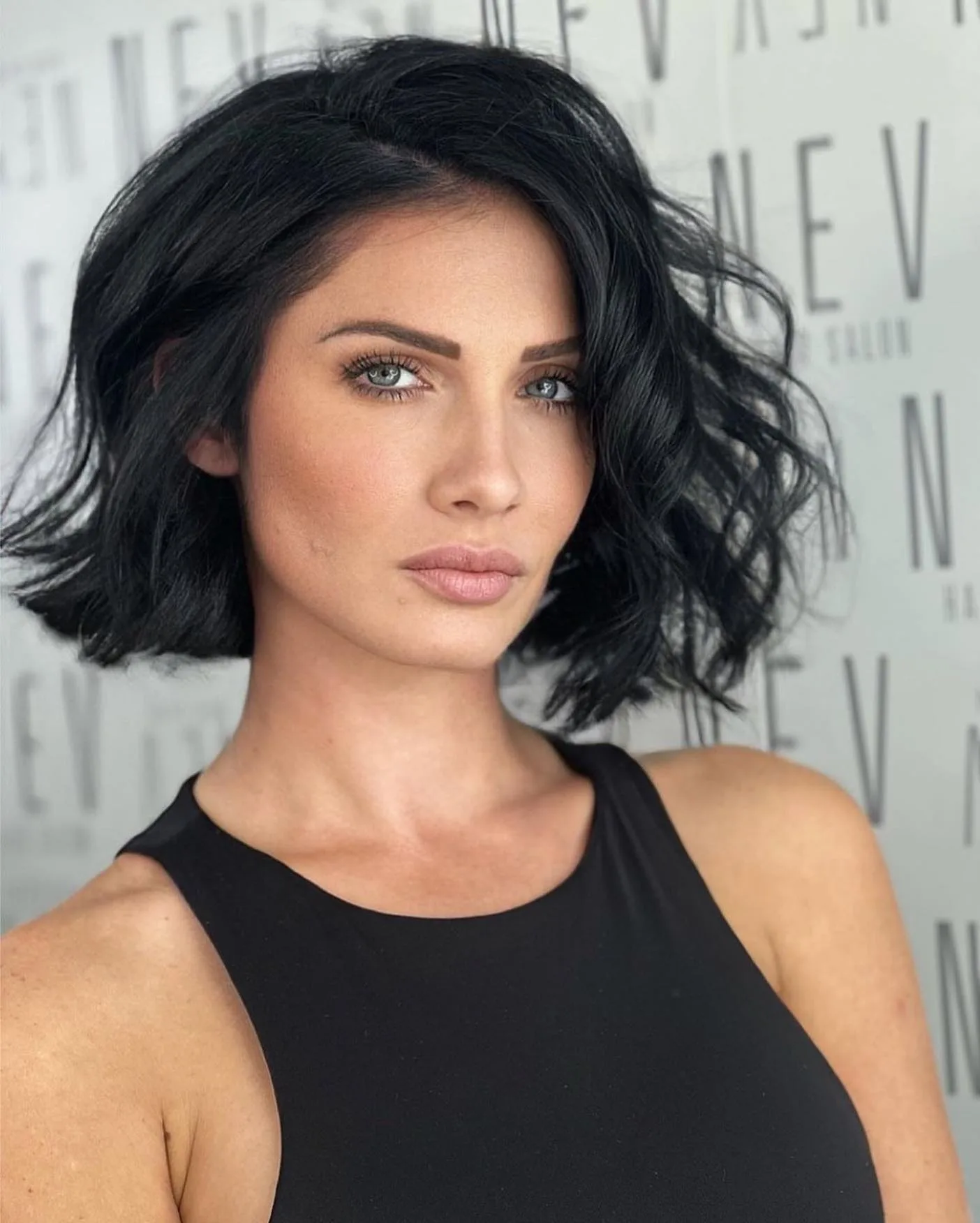 If you have thick hair and want structure and manageability without sacrificing your natural volume, try a blunt bob. Ask your stylist for a straight-across cut with some internal layering to reduce bulk.
3. Medium Length Inverted Bob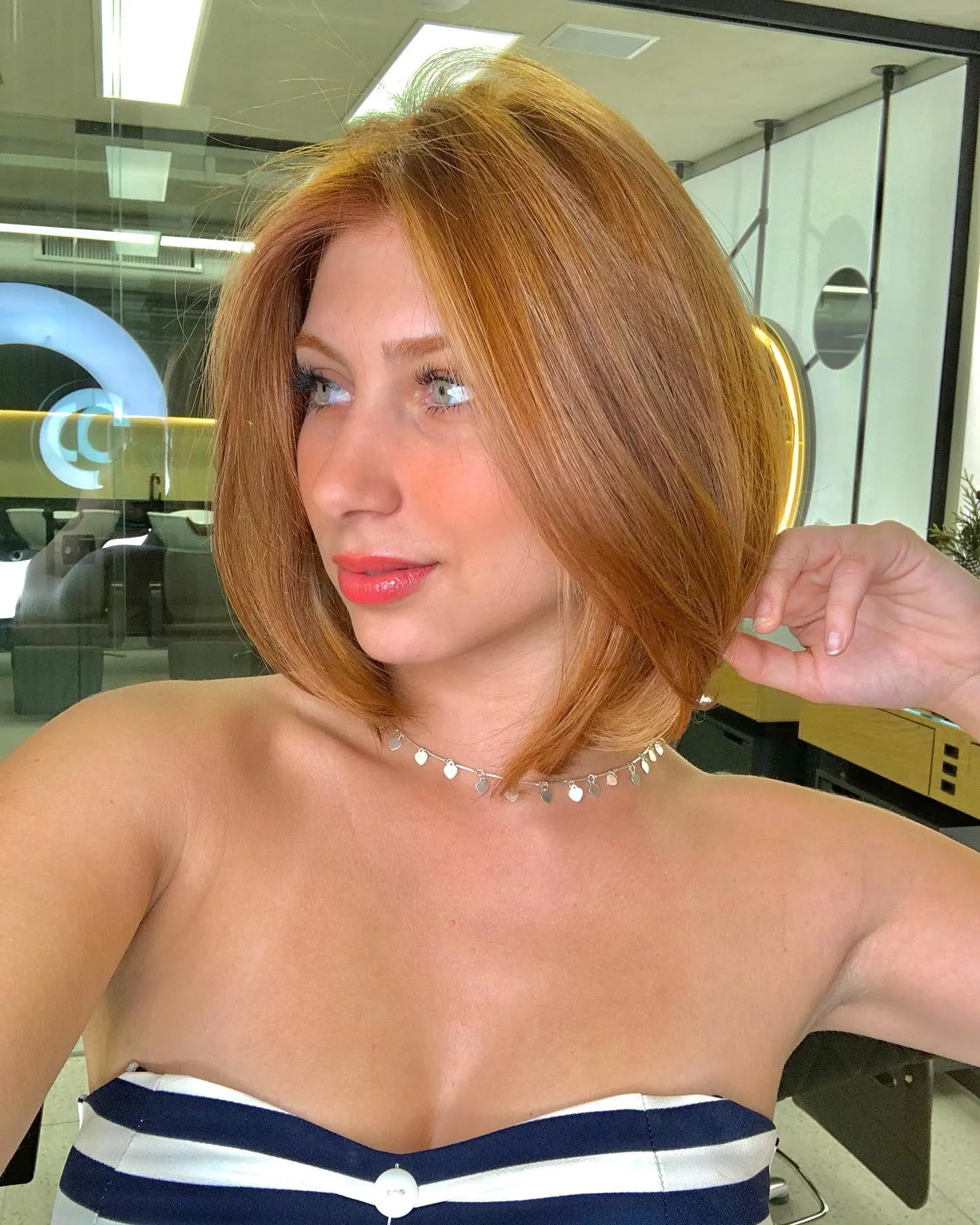 The medium-length inverted bob features shorter back layers that gradually lengthen towards the front. It's a statement haircut that makes it easy to create a dramatic or an edgy effect: when done neat, it's elegant, and cool when tousled.
4. Medium Length Middle Part Bob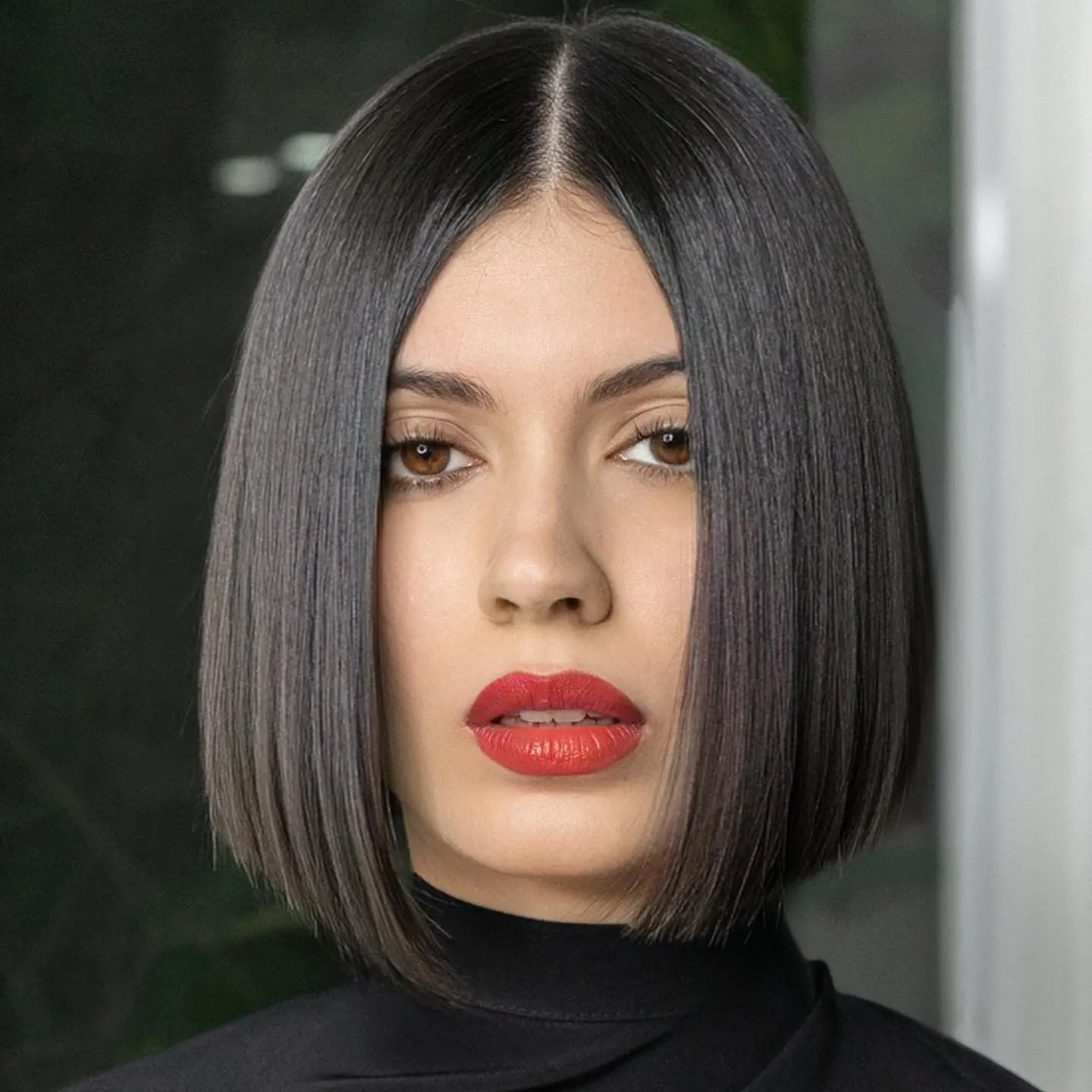 The middle part bob is always chic and sophisticated. This style complements round or oval face shapes and can be worn straight or with gentle waves for a balanced look.
5. Curly Medium Length Bob With Bangs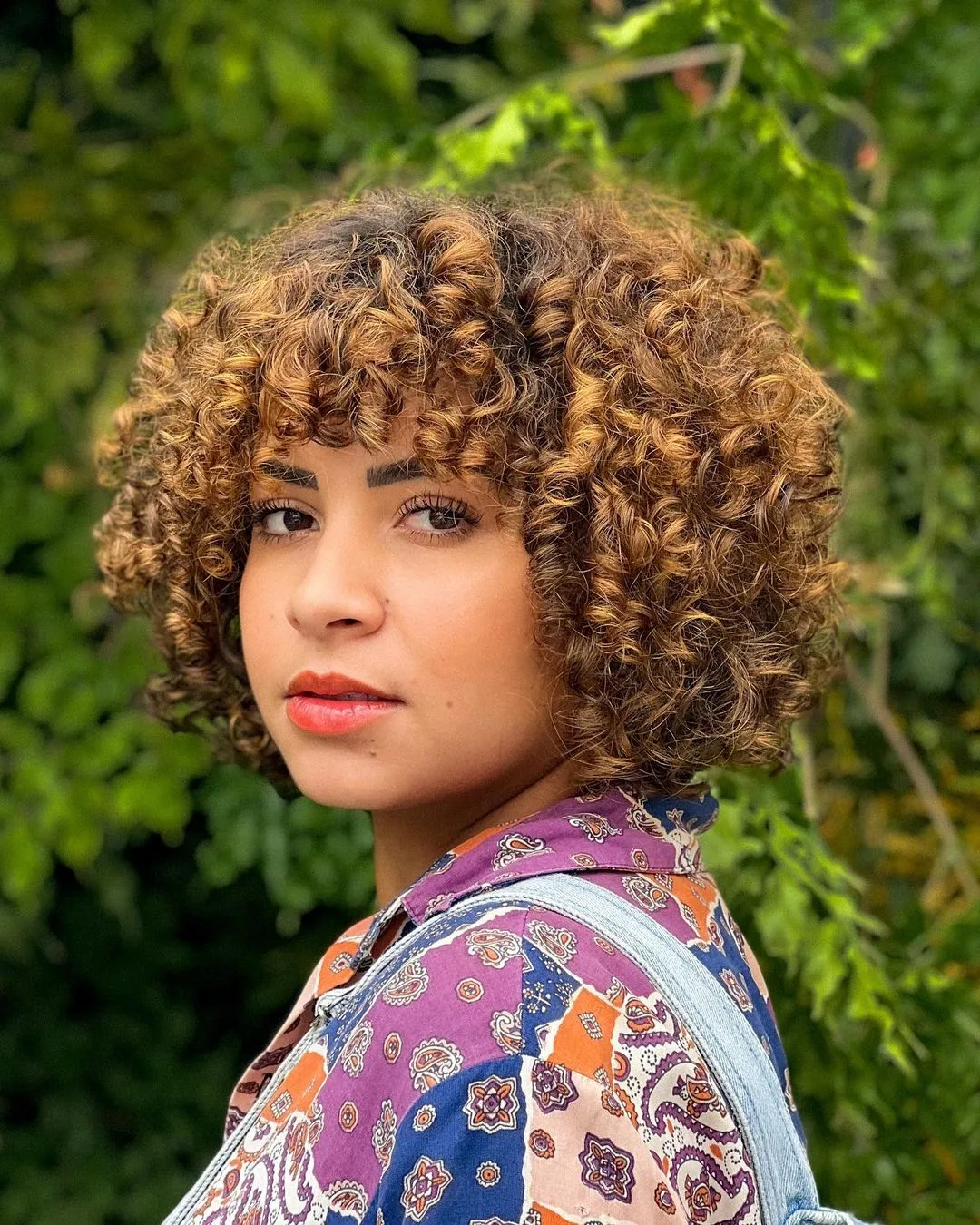 A medium length bob with bangs can be a lovely and low-maintenance choice if you have naturally curly hair. Use a diffuser when blow-drying to shape your curls and add styling products to define them.
6. Sleek Medium Length Bob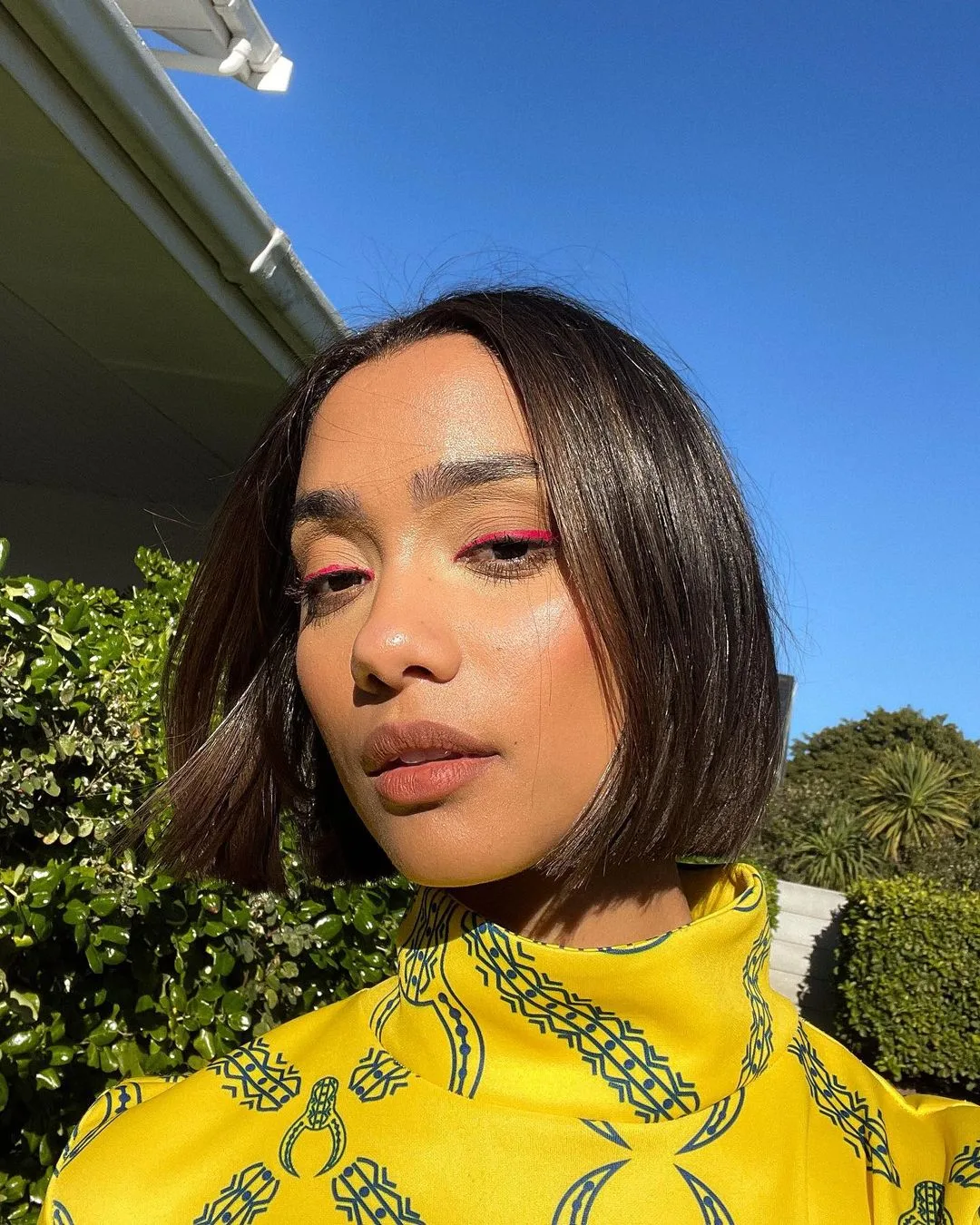 Versatility is one of the biggest strengths of a bob haircut. Here are some ideas:
Use a flat iron and shine-enhancing products for a sleek finish.
Add some waves for extra volume and texture.
Part it in different ways for an instant transformation.
7. Medium Length Bob For Fine Hair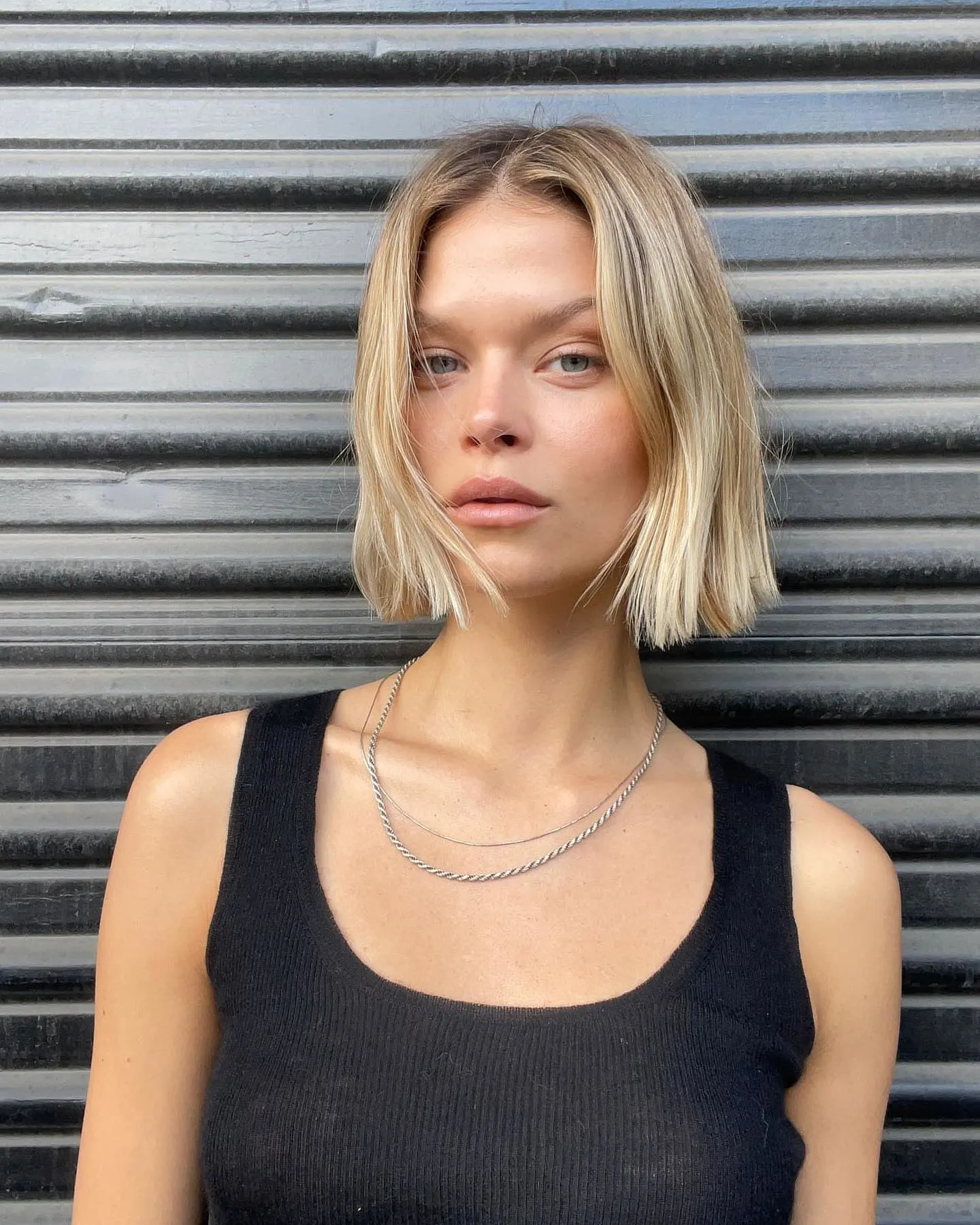 A medium length bob with blunt ends is one of the best haircuts for someone with fine hair looking to make their hair look fuller. This cut adds volume and texture and can create the illusion of thicker hair.
8. Medium Length Bob With Layers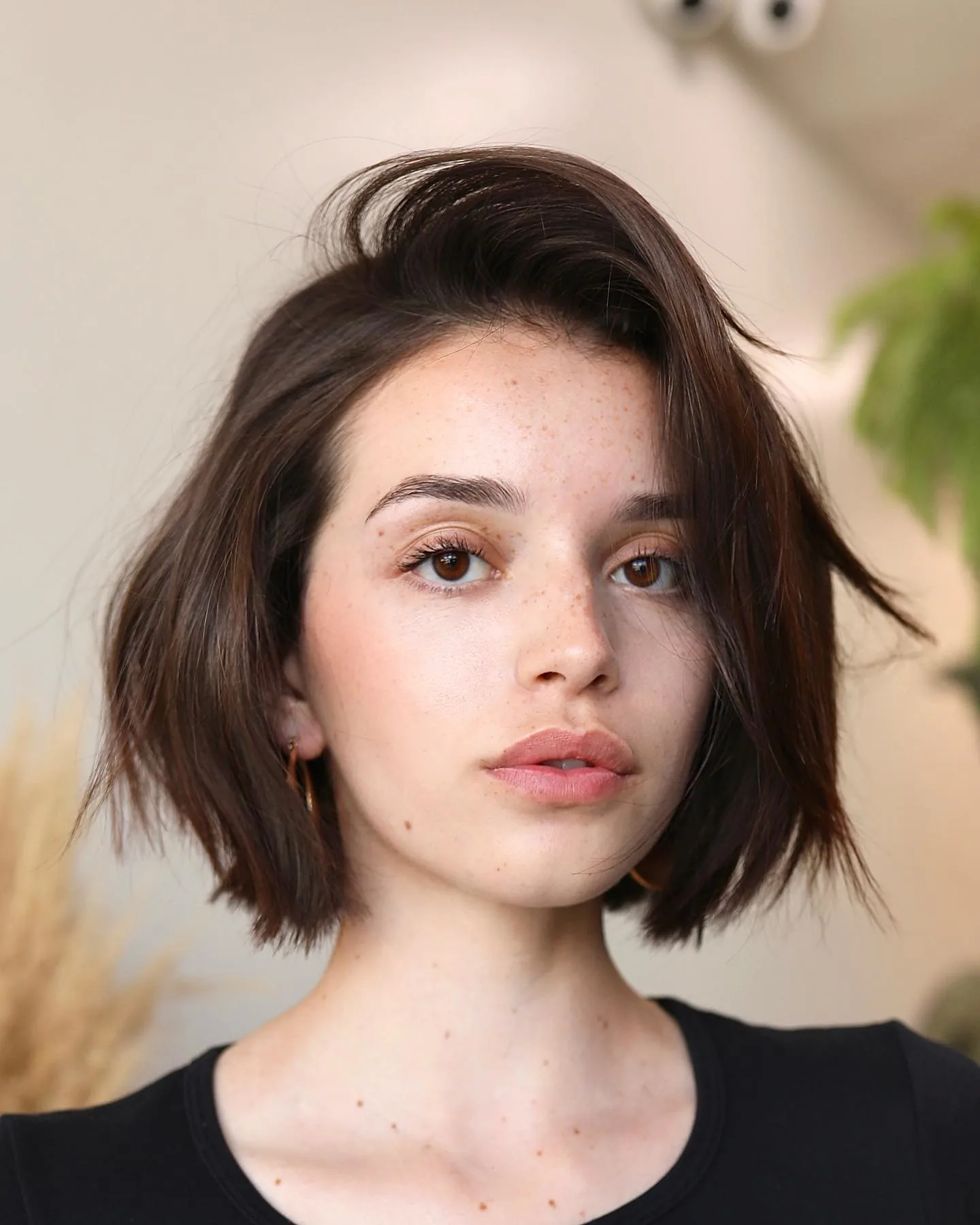 A medium length bob with layers has all the movement and texture you could wish for. When the strands look lively and dynamic, they create a gorgeous frame for the face, so this cut is nearly universally flattering.
9. Blunt Medium Length Bob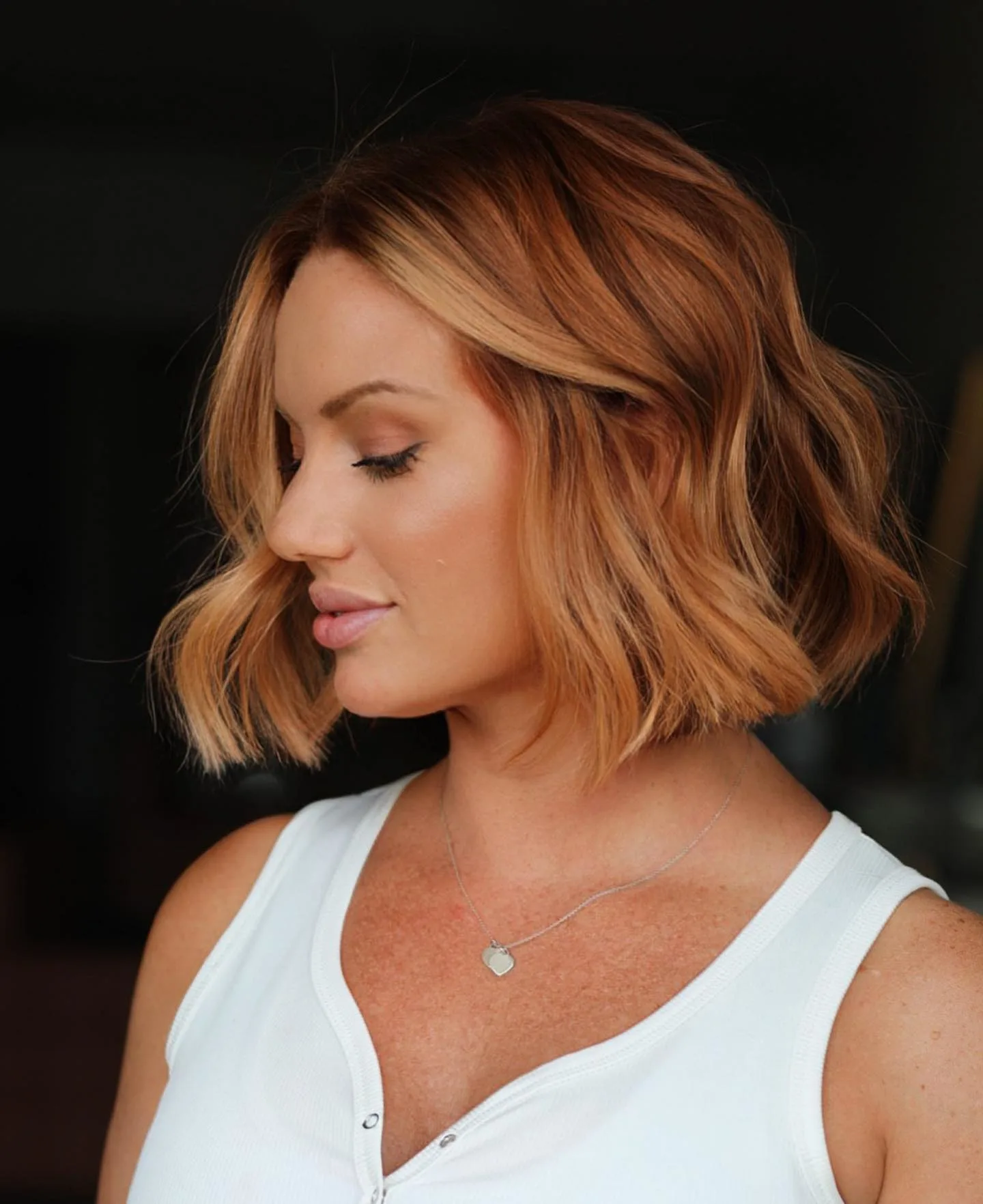 The clean, straight lines of a blunt medium-length bob creates a look that's both contemporary and classic. Lean into either direction by choosing how you style it: sleek for a timeless vibe or wavy for a more modern twist.
10. Rounded Curly Bob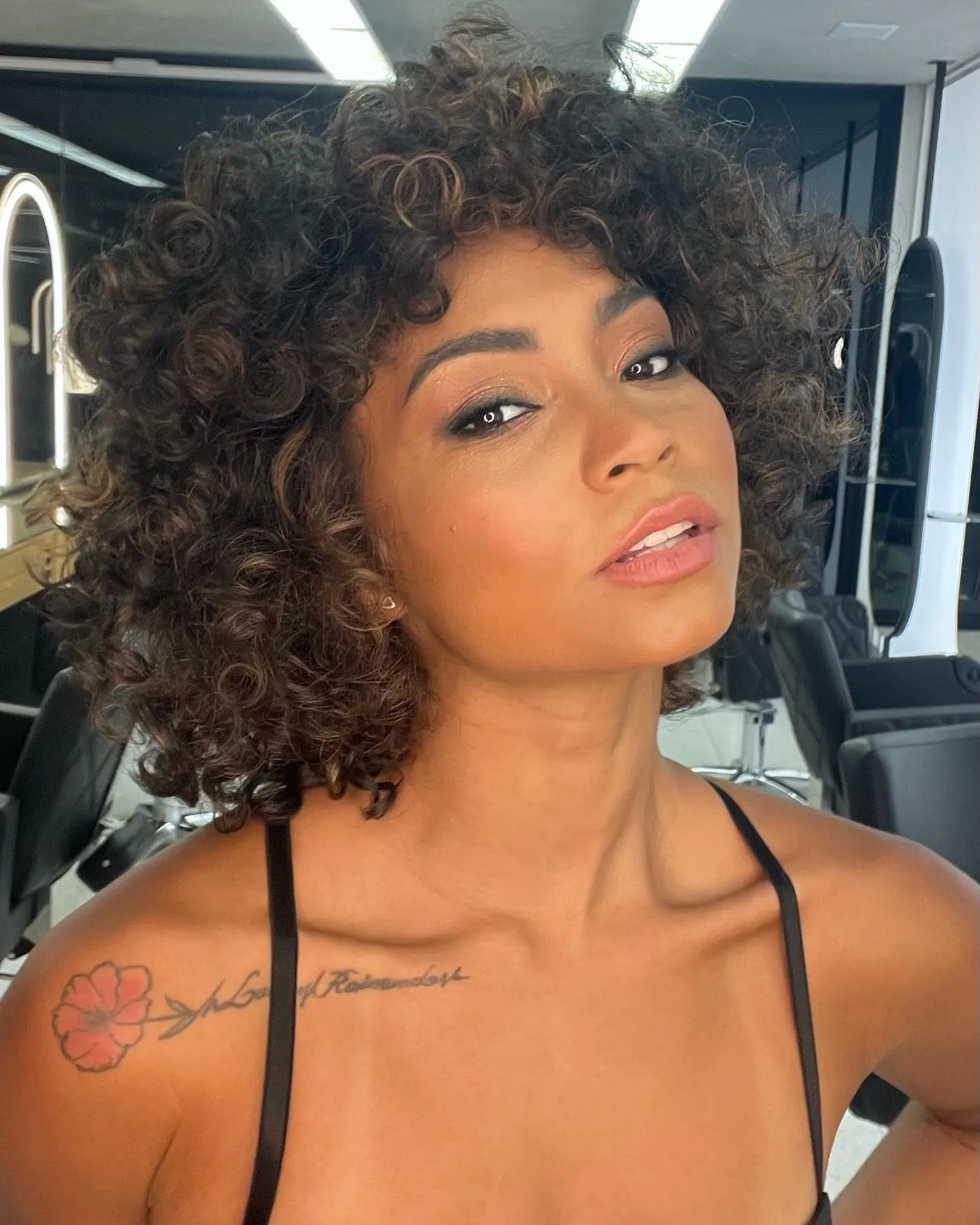 Layers are a must for curls if you're looking to have control over the shape of your hair. The rounded curly bob is achieved by adding layers while the hair is dry. It's an excellent haircut for those who love their natural curls and want to show off their texture.
11. Medium Length Bob With Curtain Bangs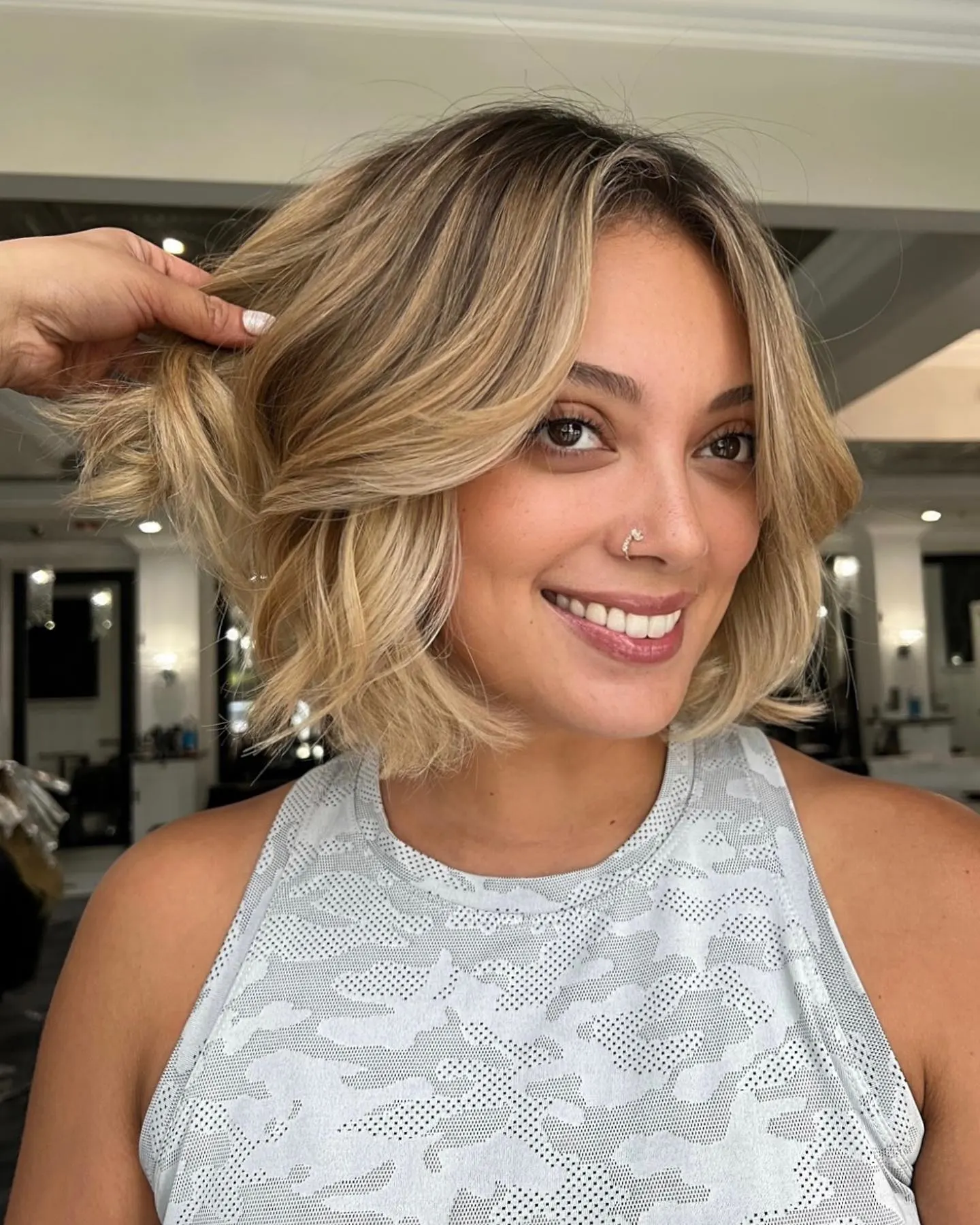 When in doubt, get curtain bangs. They're a flattering and chic addition to any haircut, including the classic medium length bob. They frame the face and add a touch of softness to the look.
12. Medium Length Layered Bob With Bangs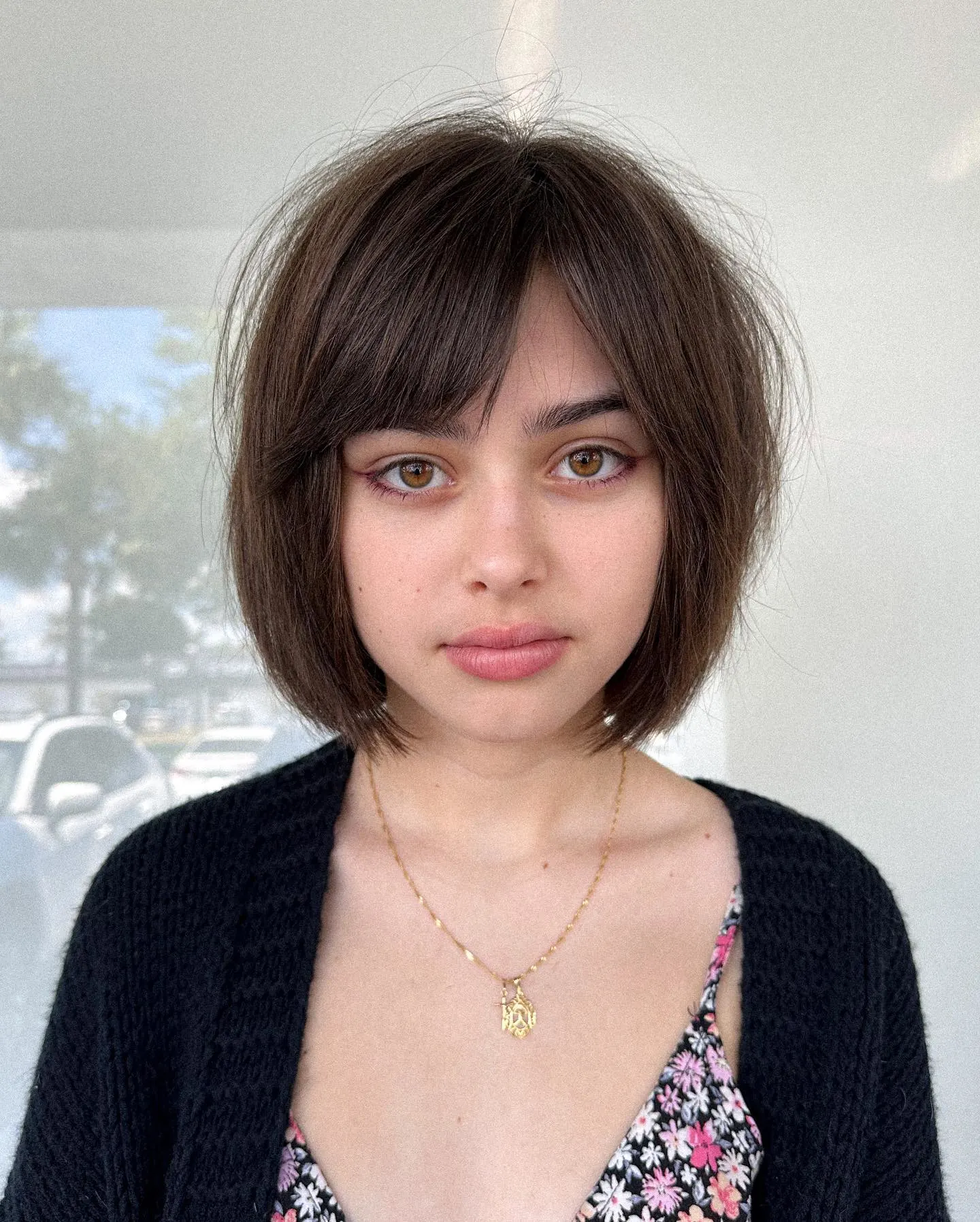 Subtle layers plus bangs that complement your face shape equal a charming little bob that makes your look youthful and fun.
13. Shaggy Medium Length Bob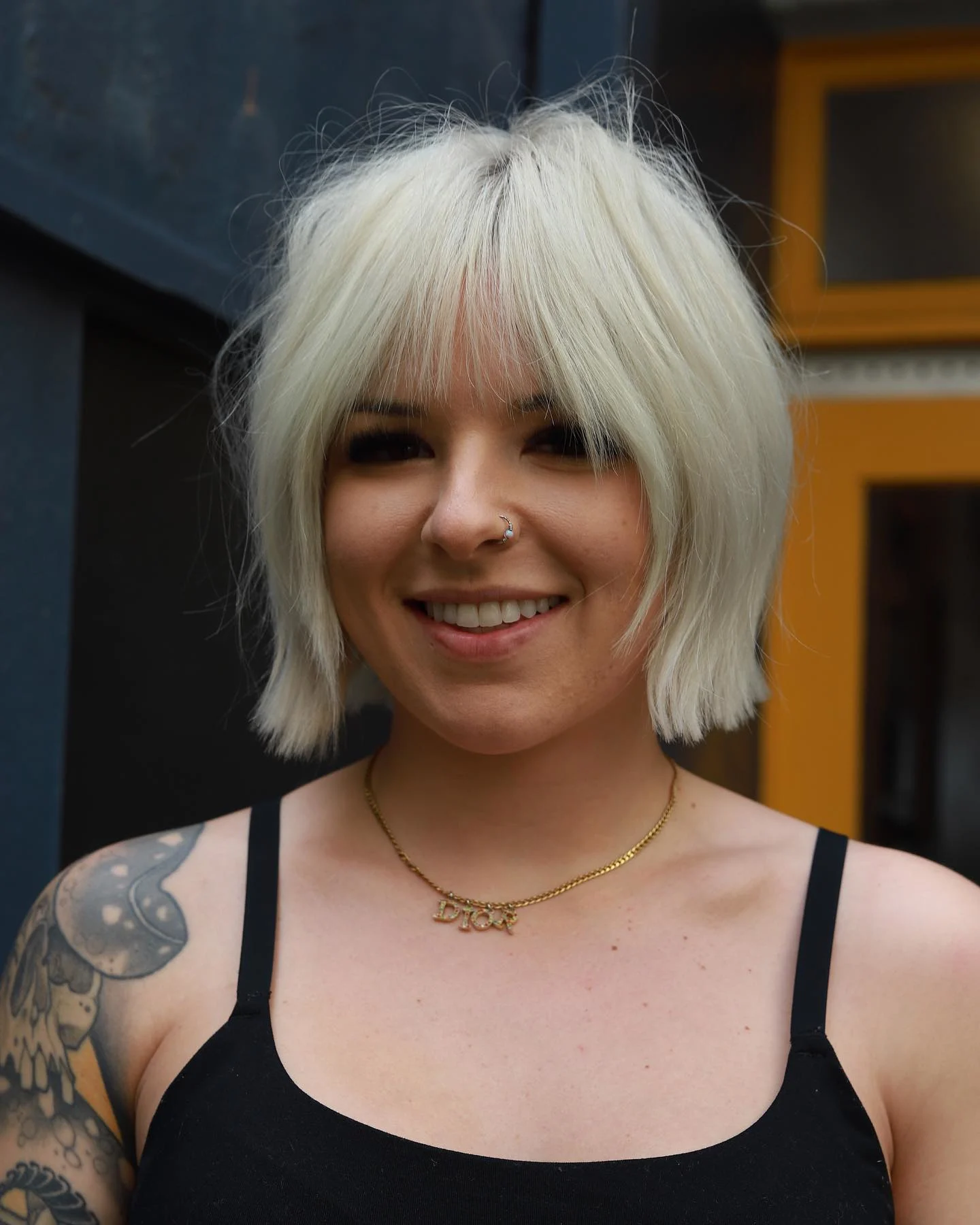 You want a trendy haircut that's actually easy to style? Try a shaggy medium length bob. Blow-dry it straight or style with a texturizing spray for an effortlessly tousled look: it looks awesome either way.
14. Medium Length Wavy Bob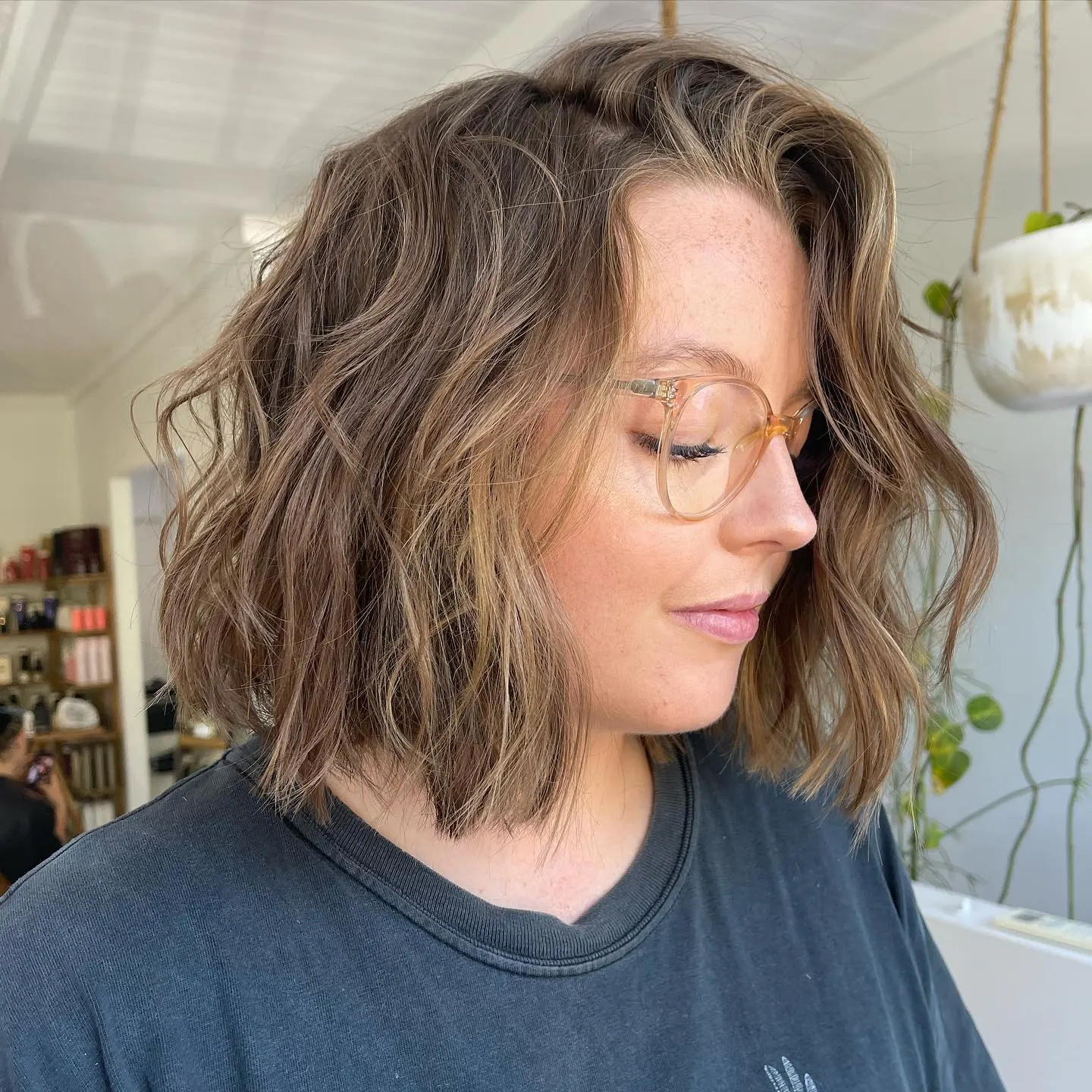 If you have type 2 hair and a medium length bob, getting natural beachy waves is easy. Ditch the flat iron and start scrunching—you'll just need is some curl cream to quickly emphasize your waves.
15. Medium Length Angled Bob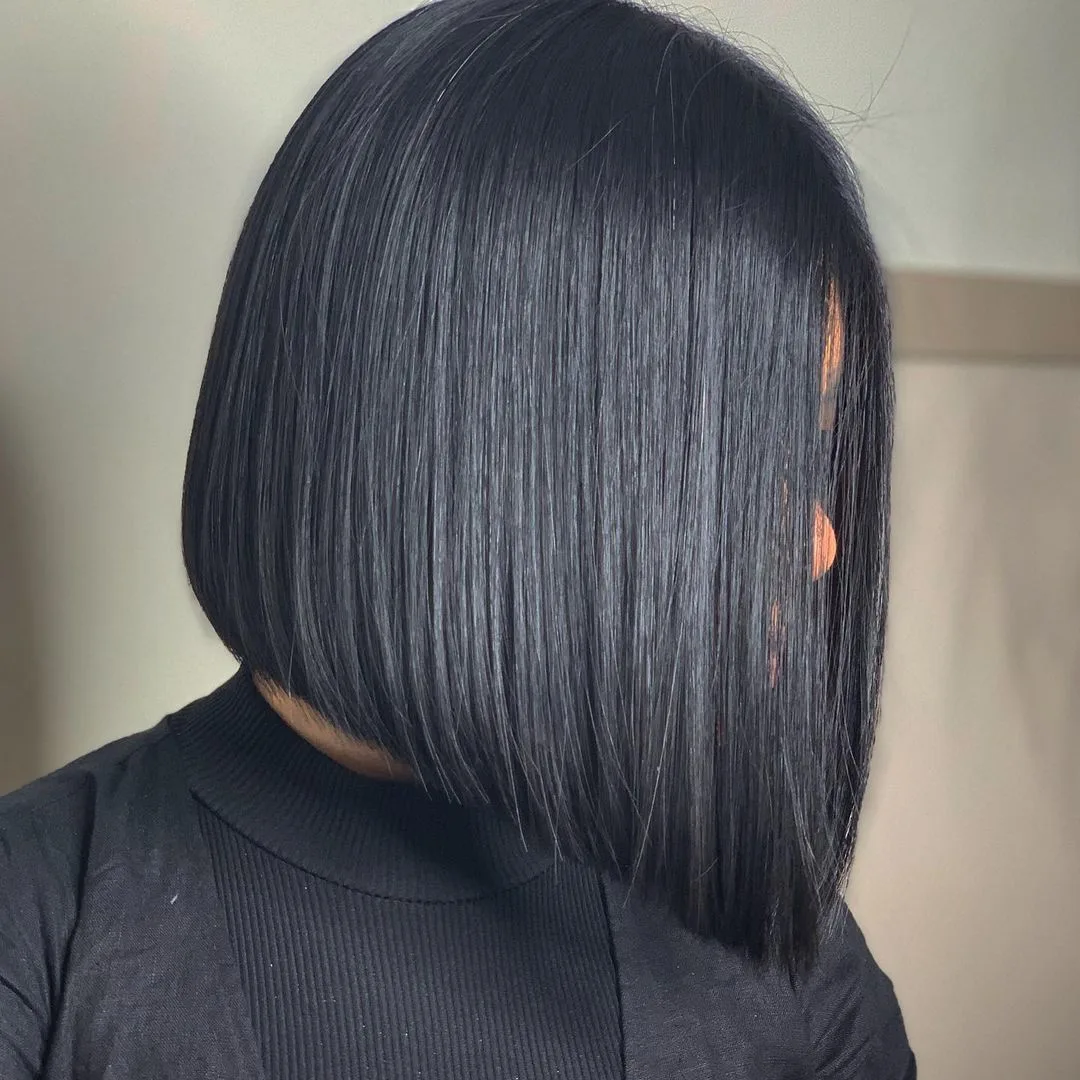 This sleek medium length angled bob is all about polished, straight lines. The angular lines look fierce and cool, especially when paired with a strong color like black, platinum or an intense, vivid unnatural shade.
16. Medium Length Bob With Side Swept Bangs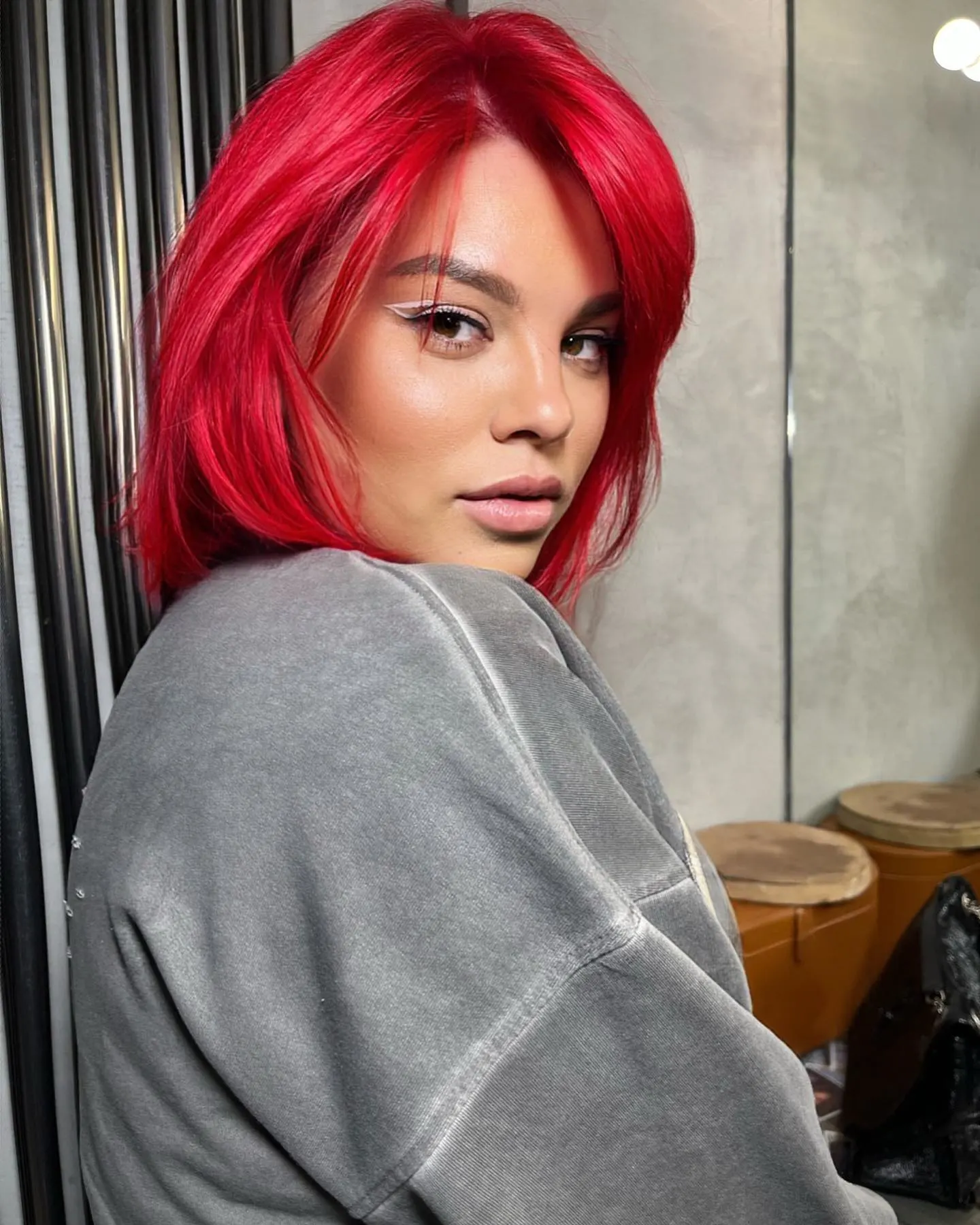 Side-swept bangs soften any style and can take your look from meh to stunning by framing the face and making your haircut more flattering.
17. Medium Length Shaggy Bob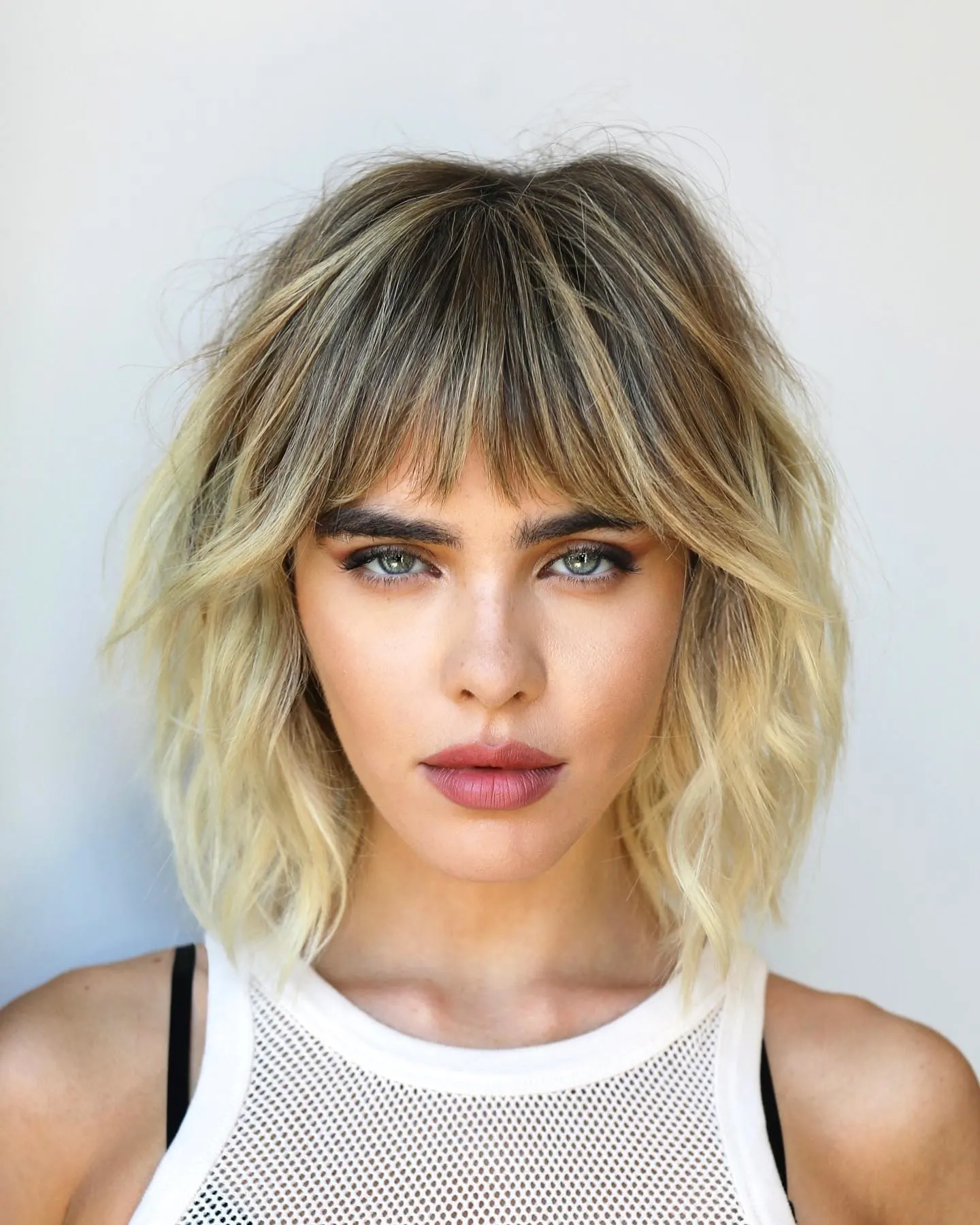 The shaggy bob is full of personality and suits all hair types. Ask for textured layers throughout the bob for a trendy, lived-in look.
18. Medium Length Bob With Side Part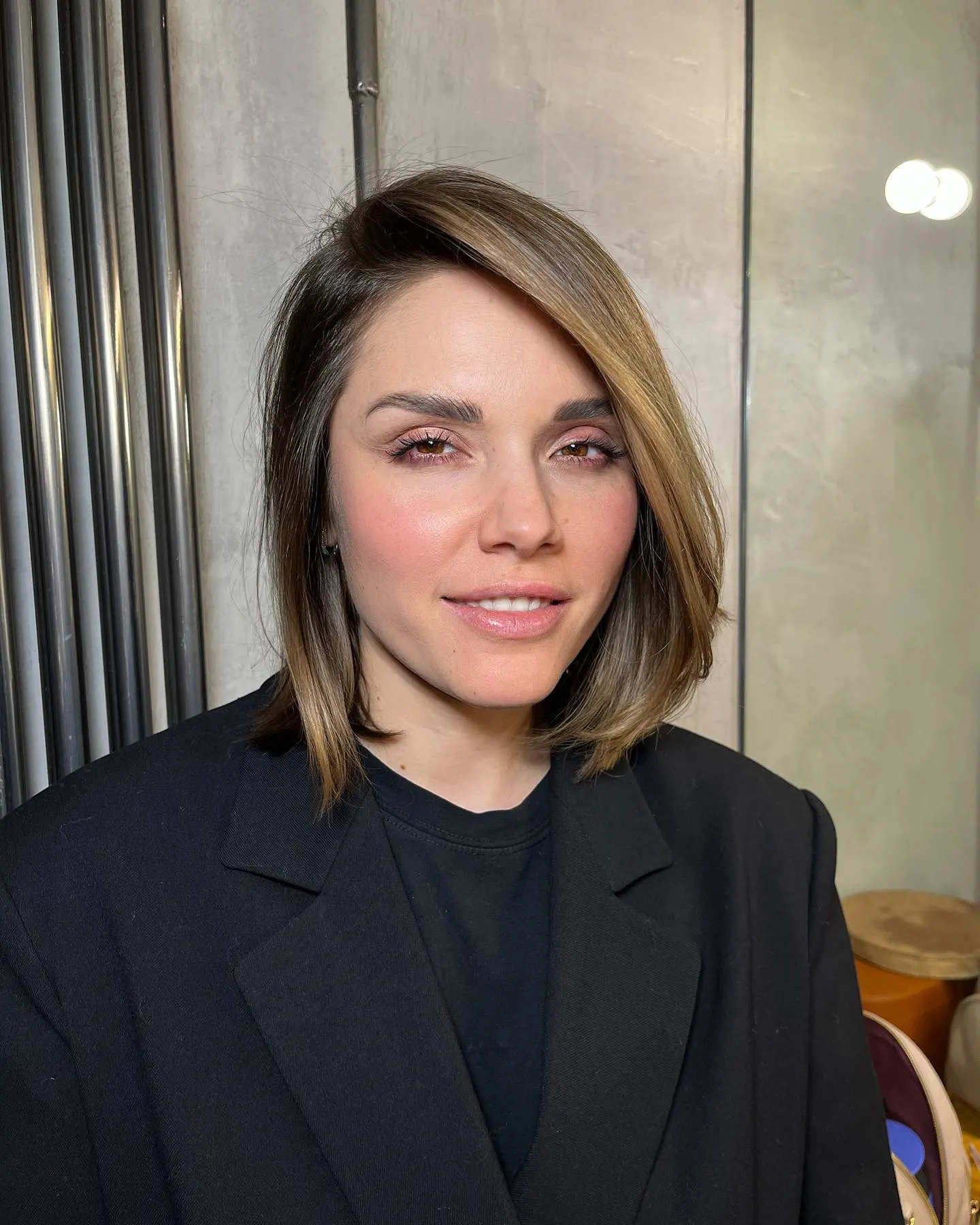 Middle part or side part? The answer is, whatever suits your face better. A side part draws attention from any asymmetry in your features, while a middle part emphasizes it. If your face is balanced, however, either will look good.
19. Layered Bob With Bangs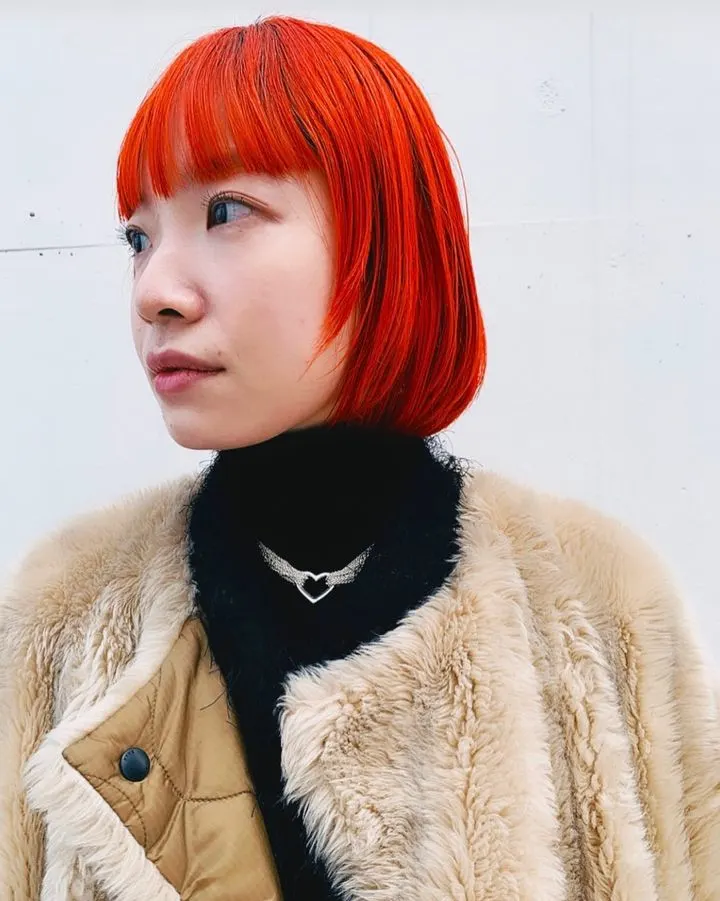 Layers add movement, and bangs frame the face. Together, they can make any haircut more flattering. This layered bob with bangs is a great example of their synergy.
20. Blunt Bob With Curtain Bangs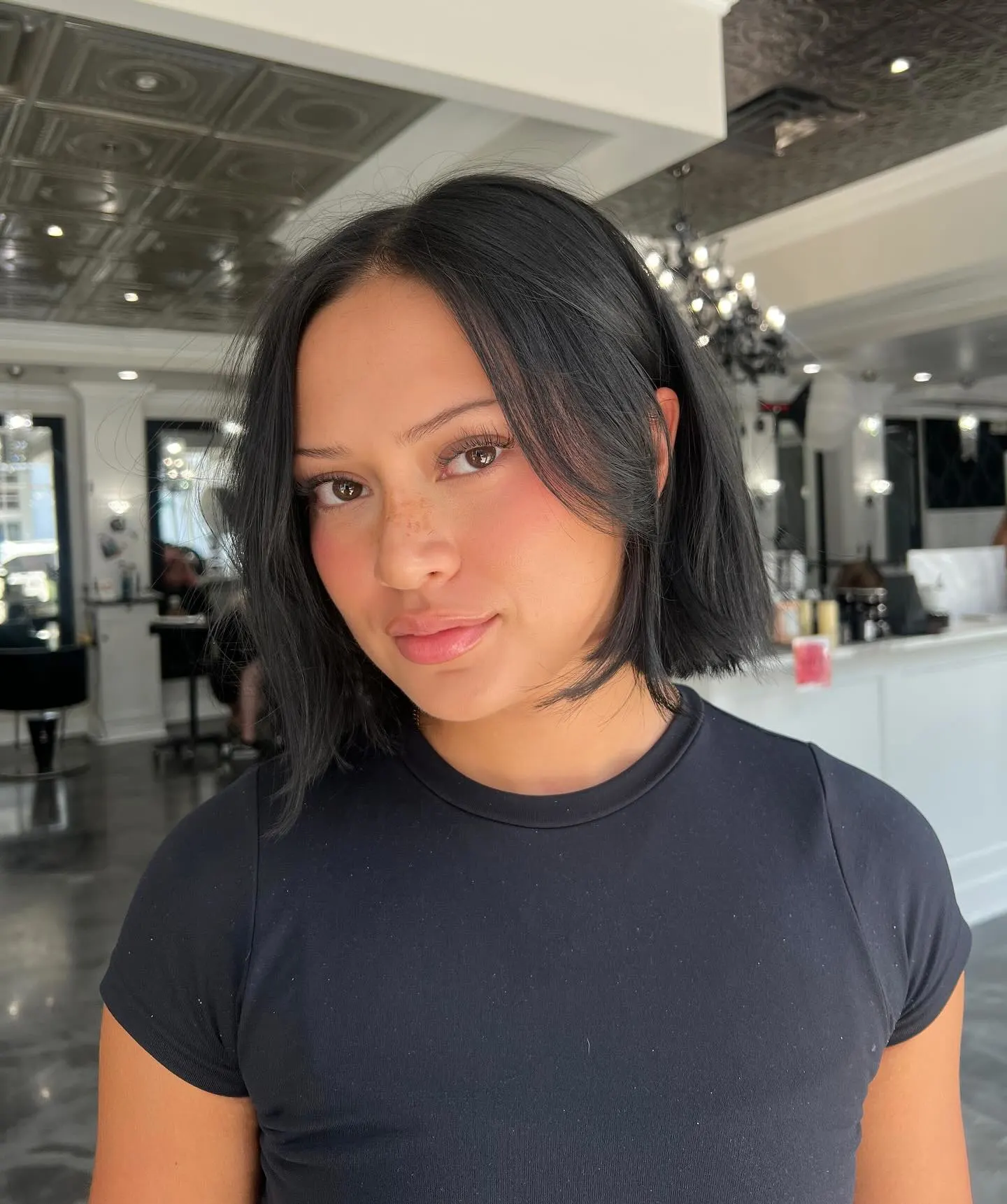 A blunt bob can be too sharp or too harsh, but bangs can soften it. If you're not sure what type of bangs suits you, you can't go wrong with curtain bangs—they suit everyone.
21. Angled Bob For Thick Hair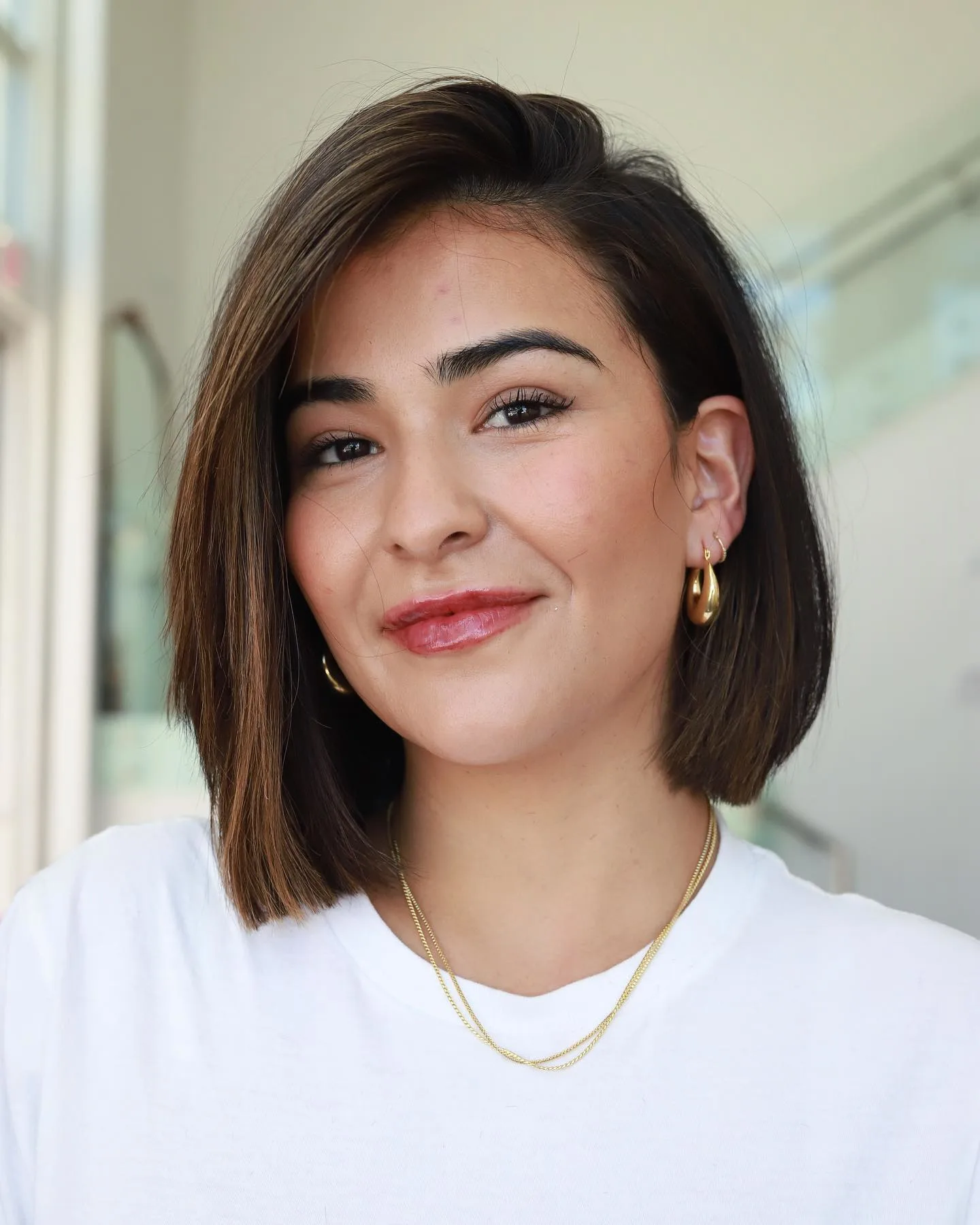 The angled cut creates a dynamic edge and adds movement to thick hair. Ask for texturizing layers throughout to create even more movement.
22. Classic Medium Length Bob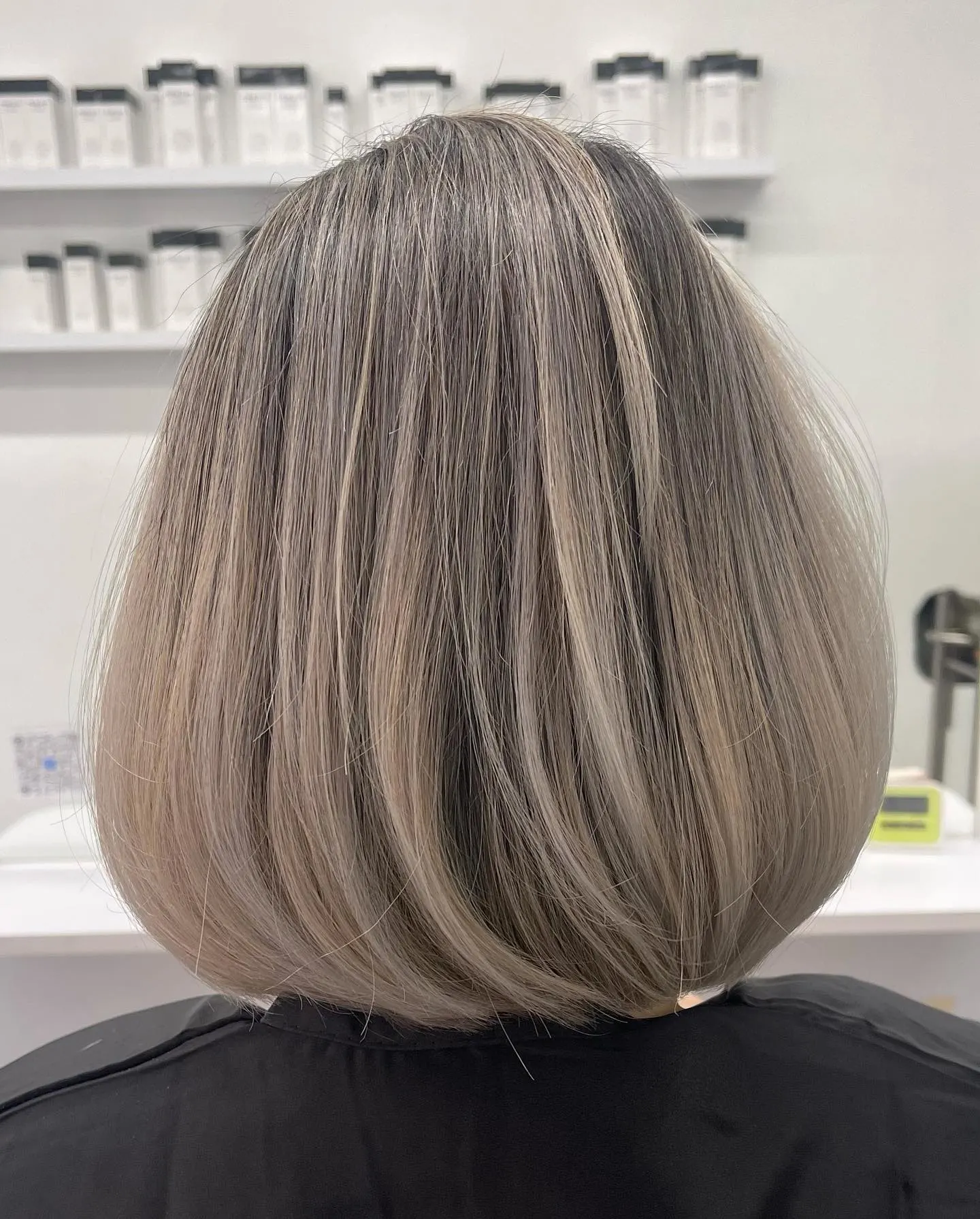 Versatile? Check. Sophisticated? Check. Timeless? Check. The classic medium-length bob is really that haircut. What's even more amazing, it suits everyone.
23. Bob With Bangs For Fine Hair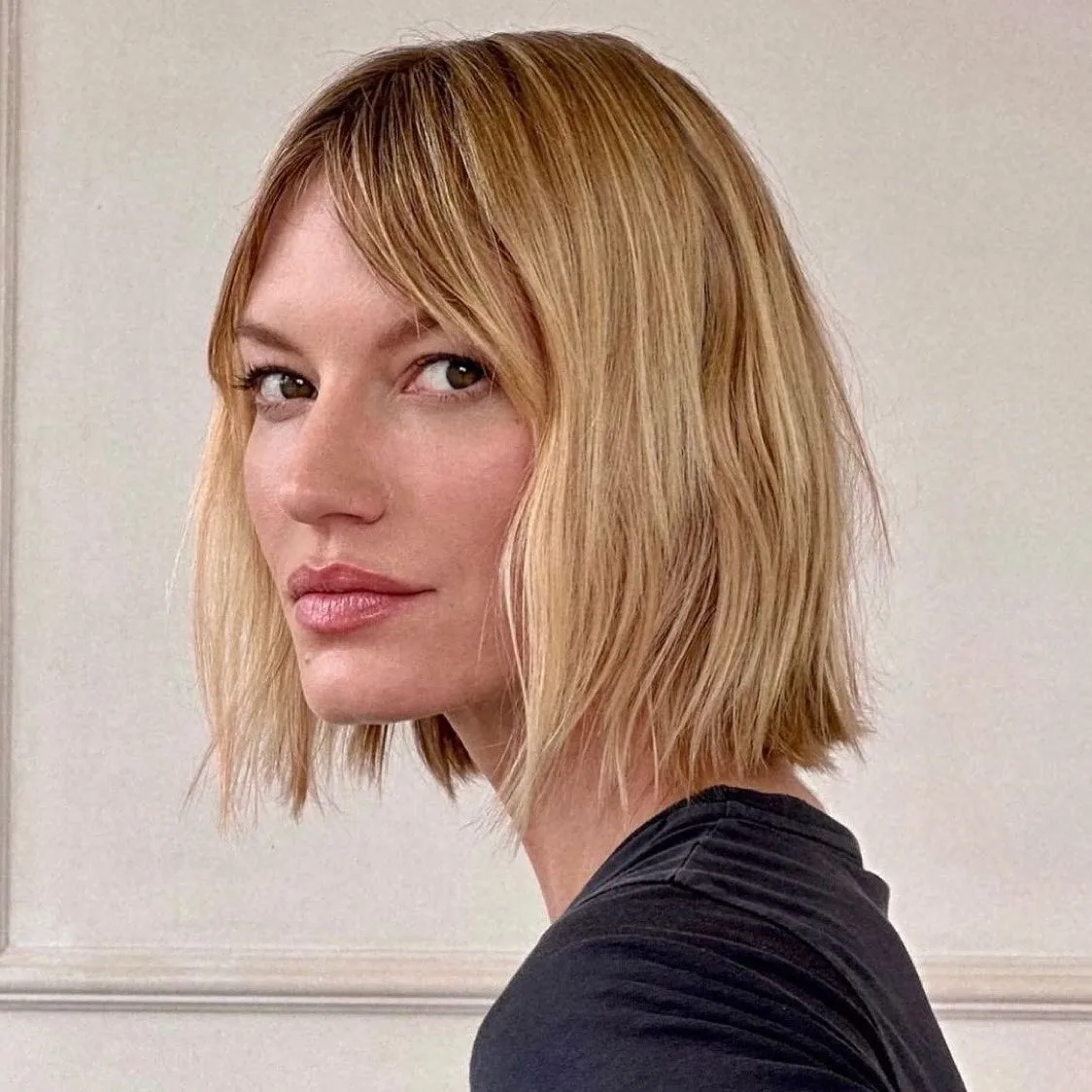 Ask your stylist for bangs that suit your face shape and some light layers to add texture and volume to fine hair. To style, use a volumizing mousse and add some waves to make your hair appear fuller.
24. French Bob With Parted Bangs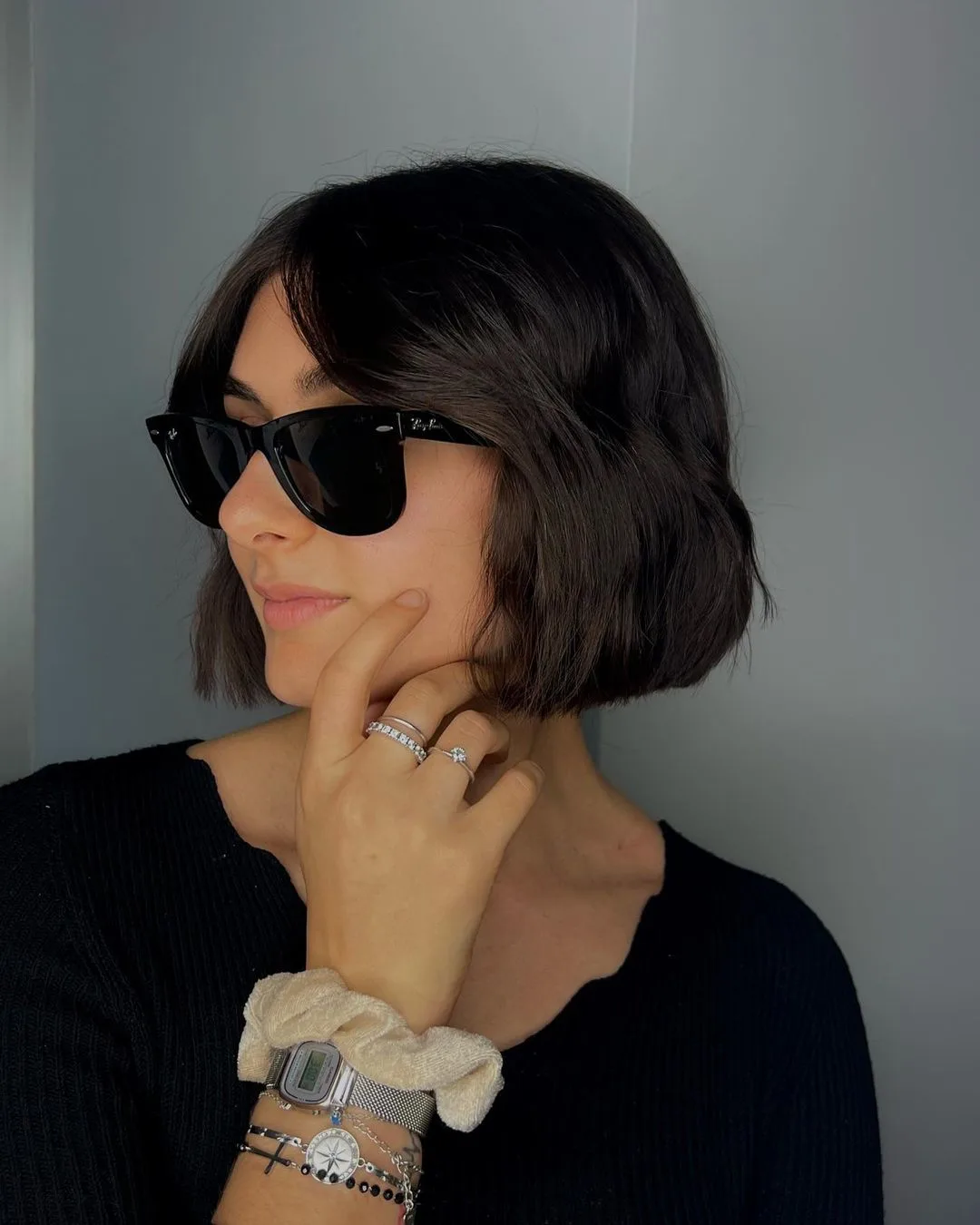 The French bob is the epitome of chic. If you've always hesitated because straight-across fringe isn't for you, changing the type of bangs is key to making it work.
25. Sleek Bob With Middle Part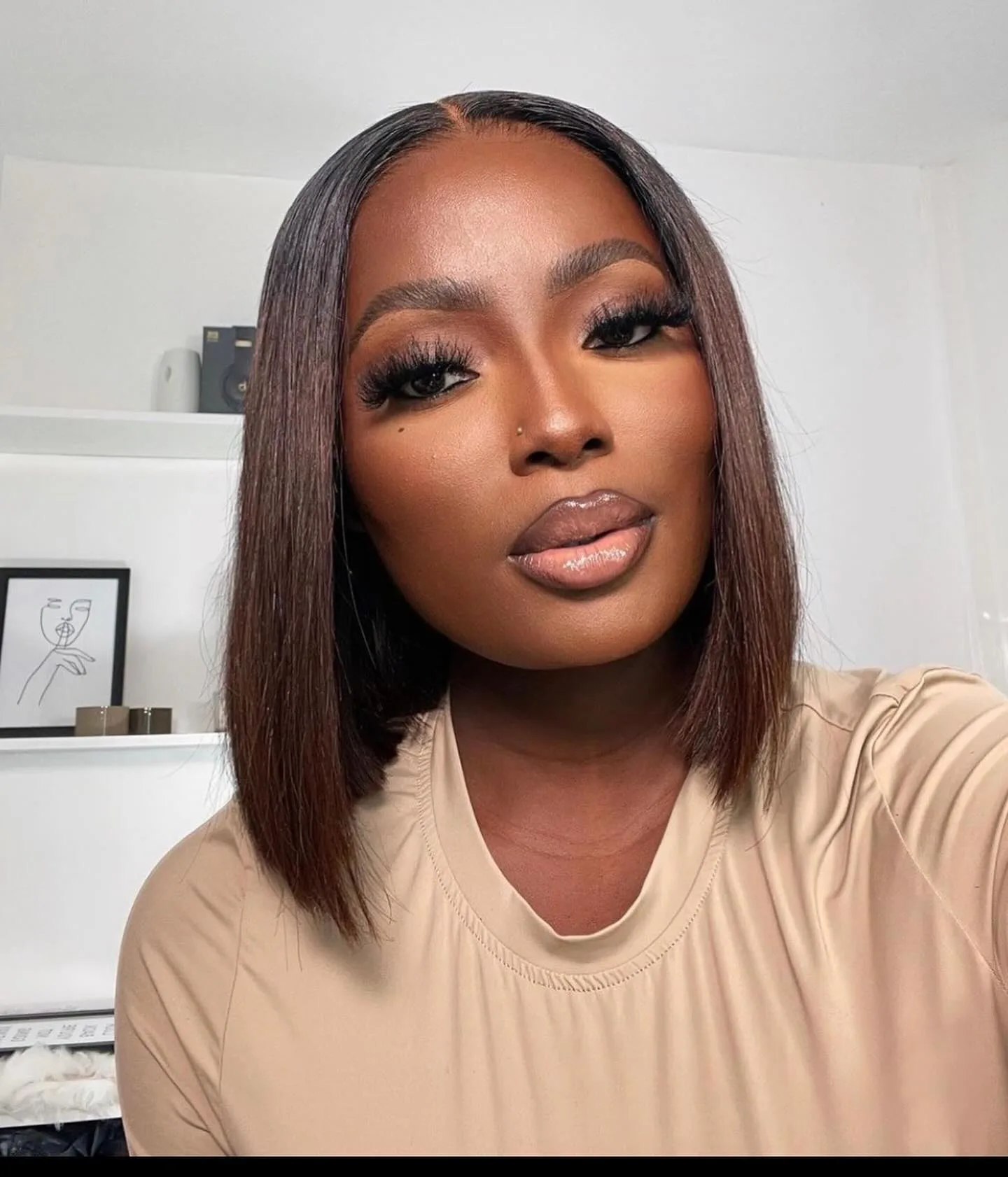 To get your bob to be this sleek, you'll have to use a flat iron. To avoid heat damage as much as possible, prep your hair beforehand: make sure your hair is completely dry and use a heat protectant.
26. Medium Length Bob With Long Bangs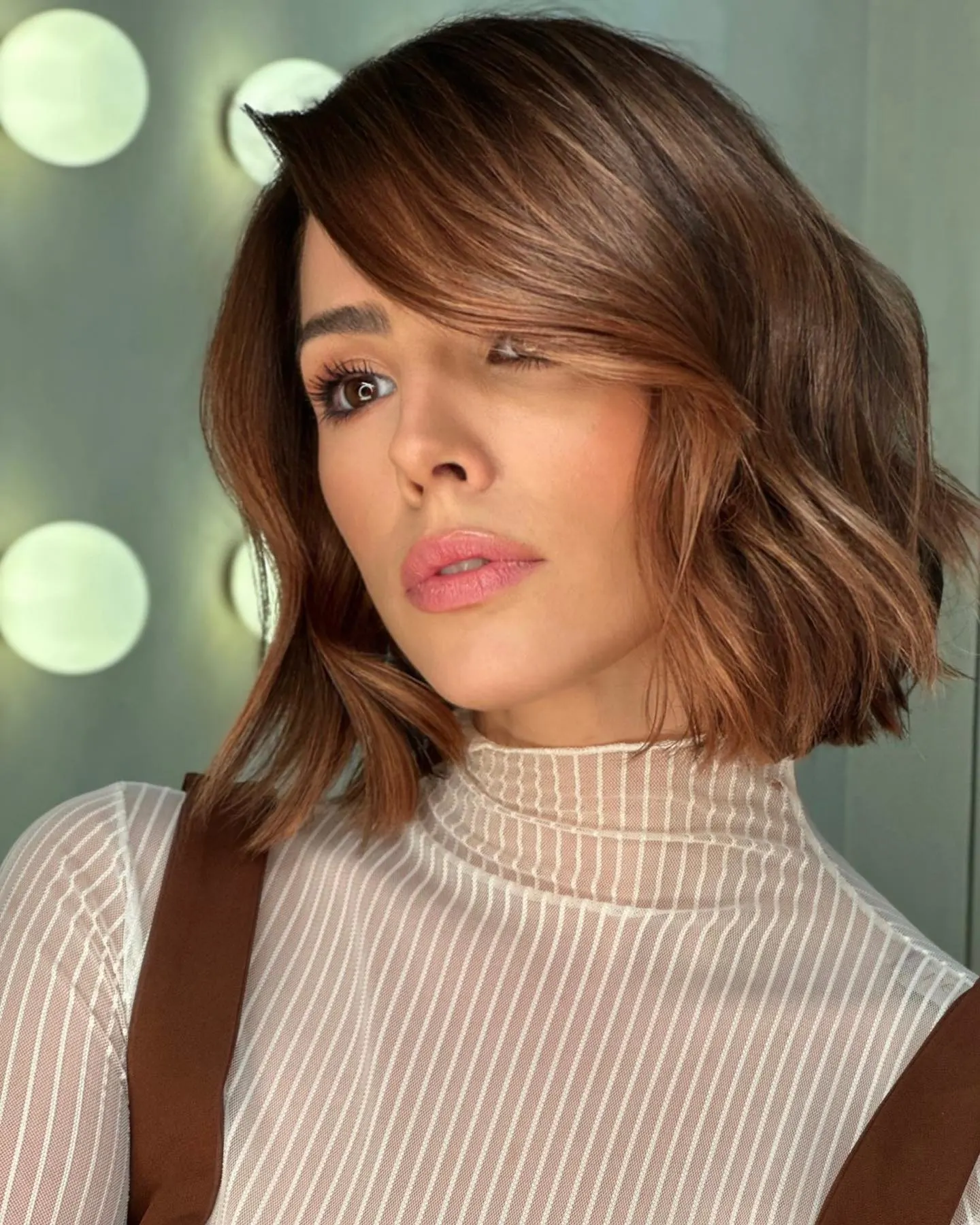 Loose waves and tousled long bangs soften a blunt bob and make it more manageable. Long bangs also add a touch of drama as they fall across one eye—a simple but flirty look.
27. Tousled Medium Length Bob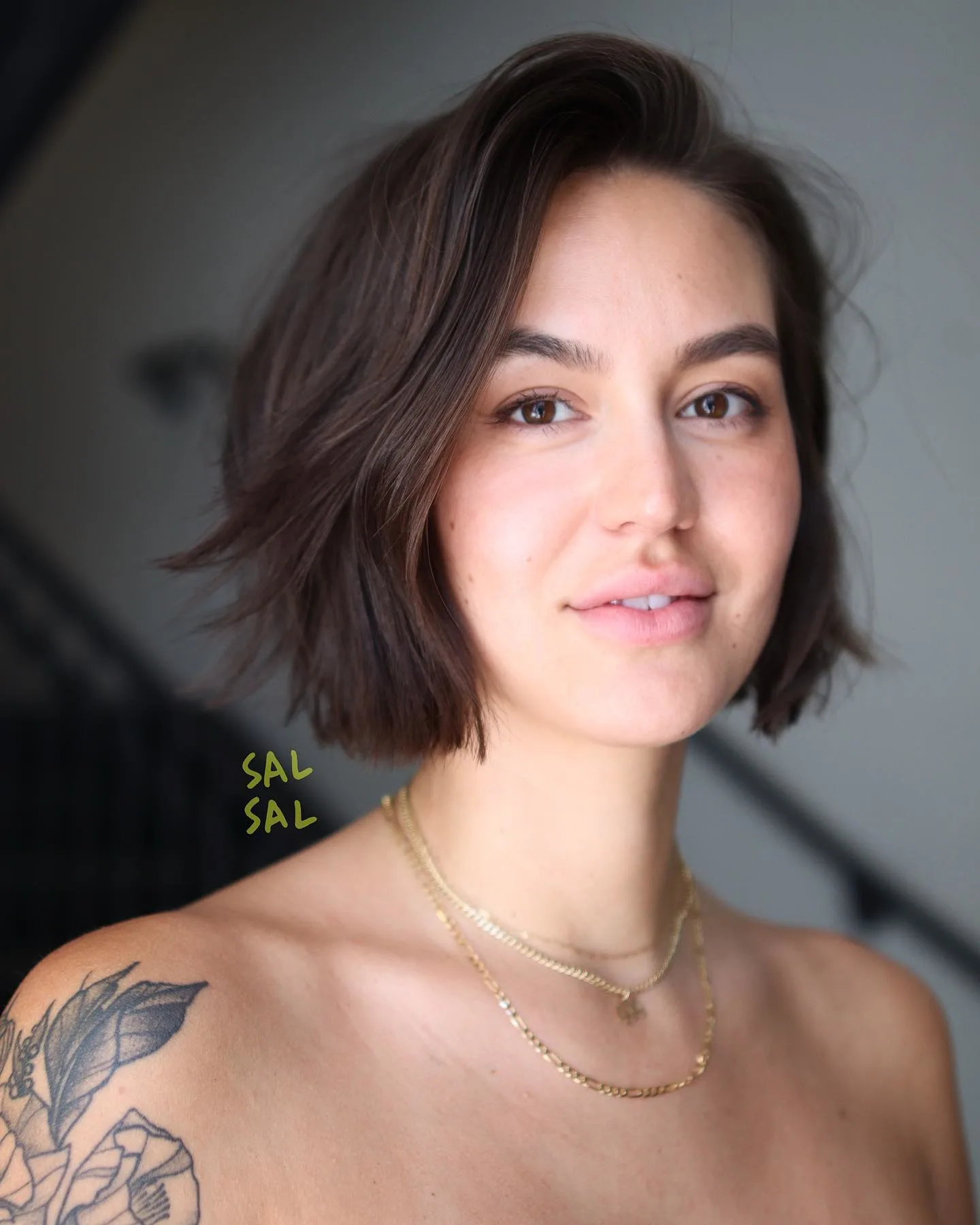 The tousled bob is perfect for someone who wants to give off a relaxed, carefree vibe. Ask for layers and textured ends for added movement and use styling products that enhance texture.
28. Bob With Bottleneck Bangs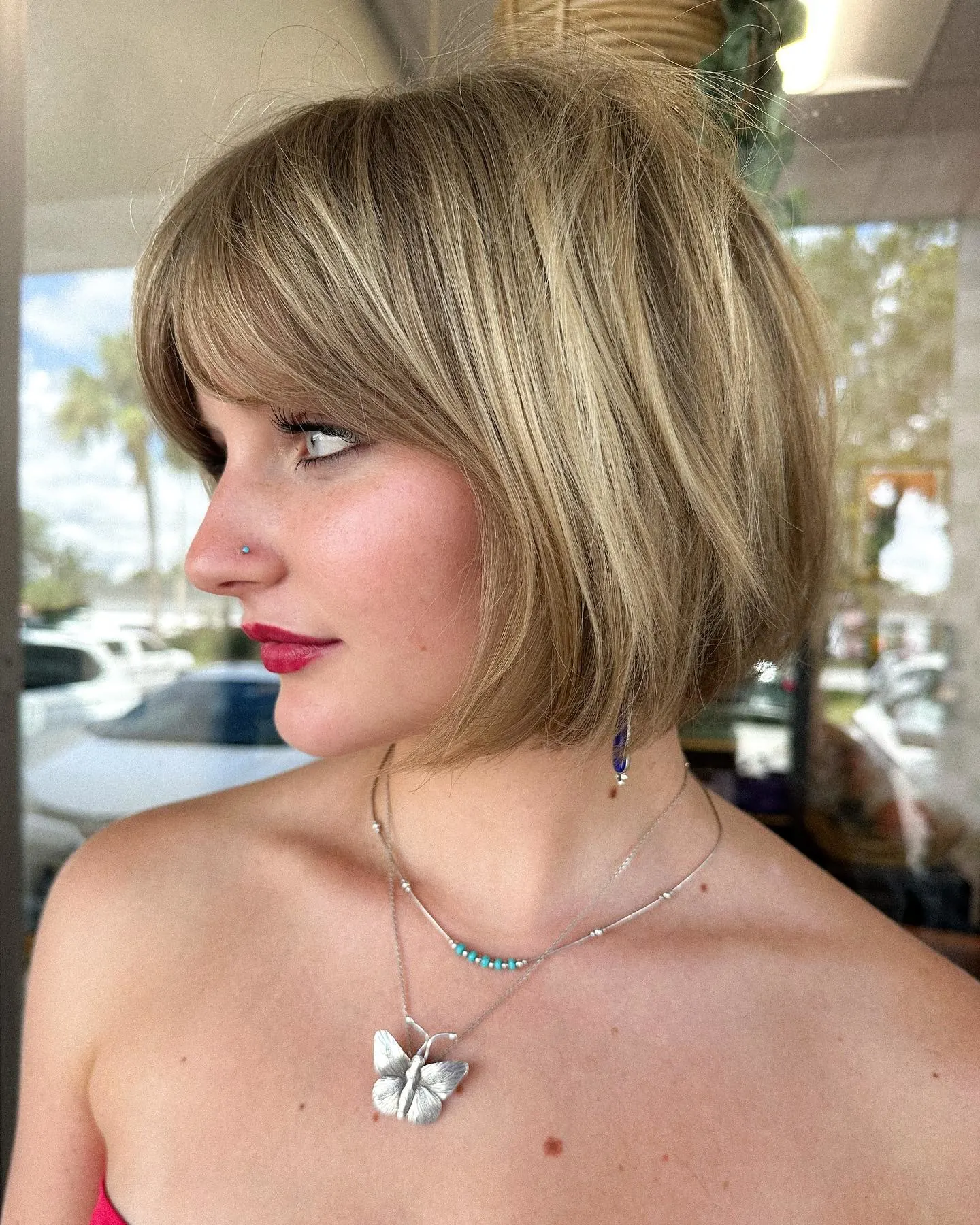 Bottleneck bangs create a lovely frame for the face, resulting in a cute retro look when worn with a bob—think cool 2020s daughter of the 1970s bowl cut.
29. Wavy Medium Length Bob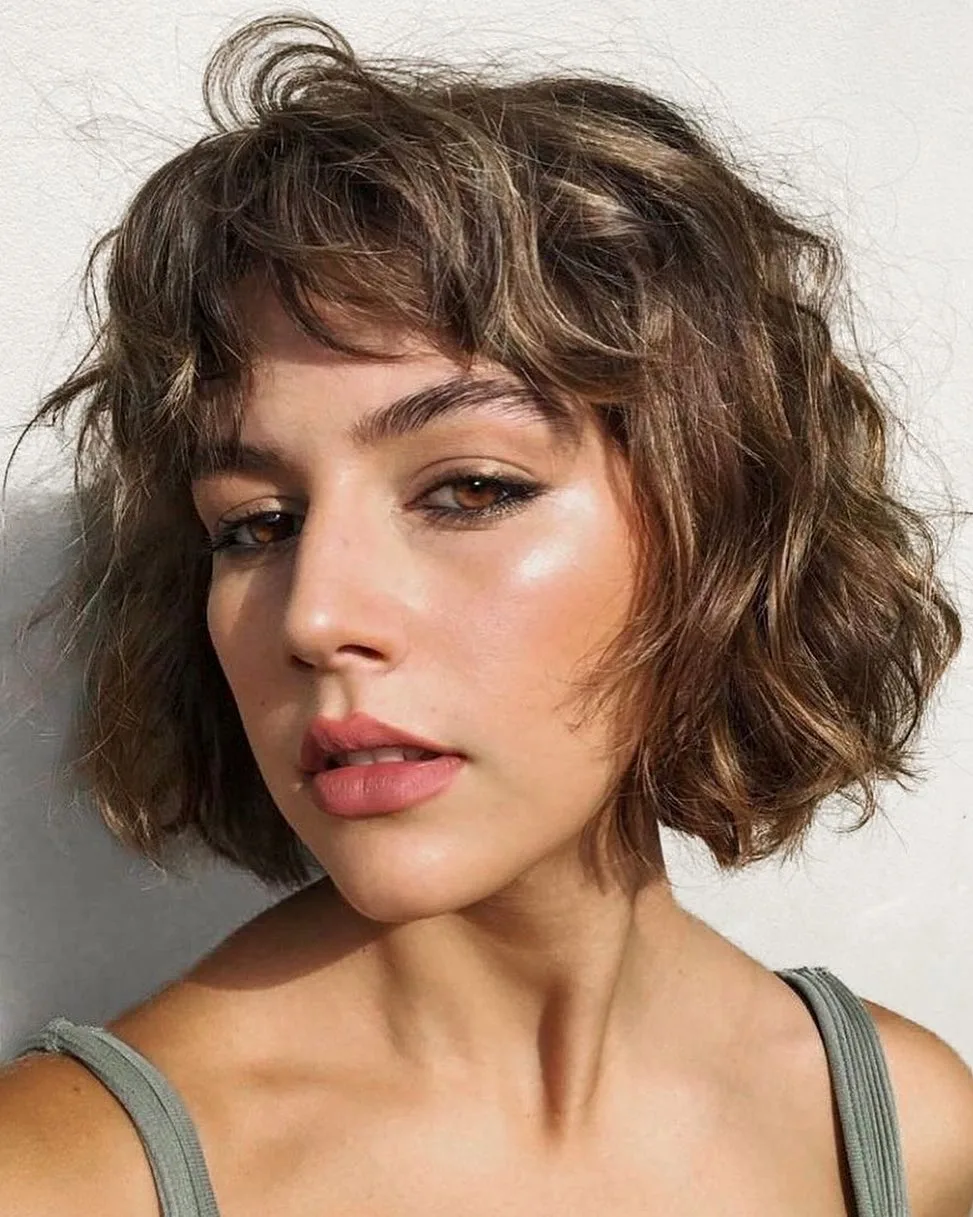 A wavy medium length bob is a relaxed, beachy style. Use a texturizing spray to enhance the waves and create a laid-back look.
30. Bob With Wispy Curtain Bangs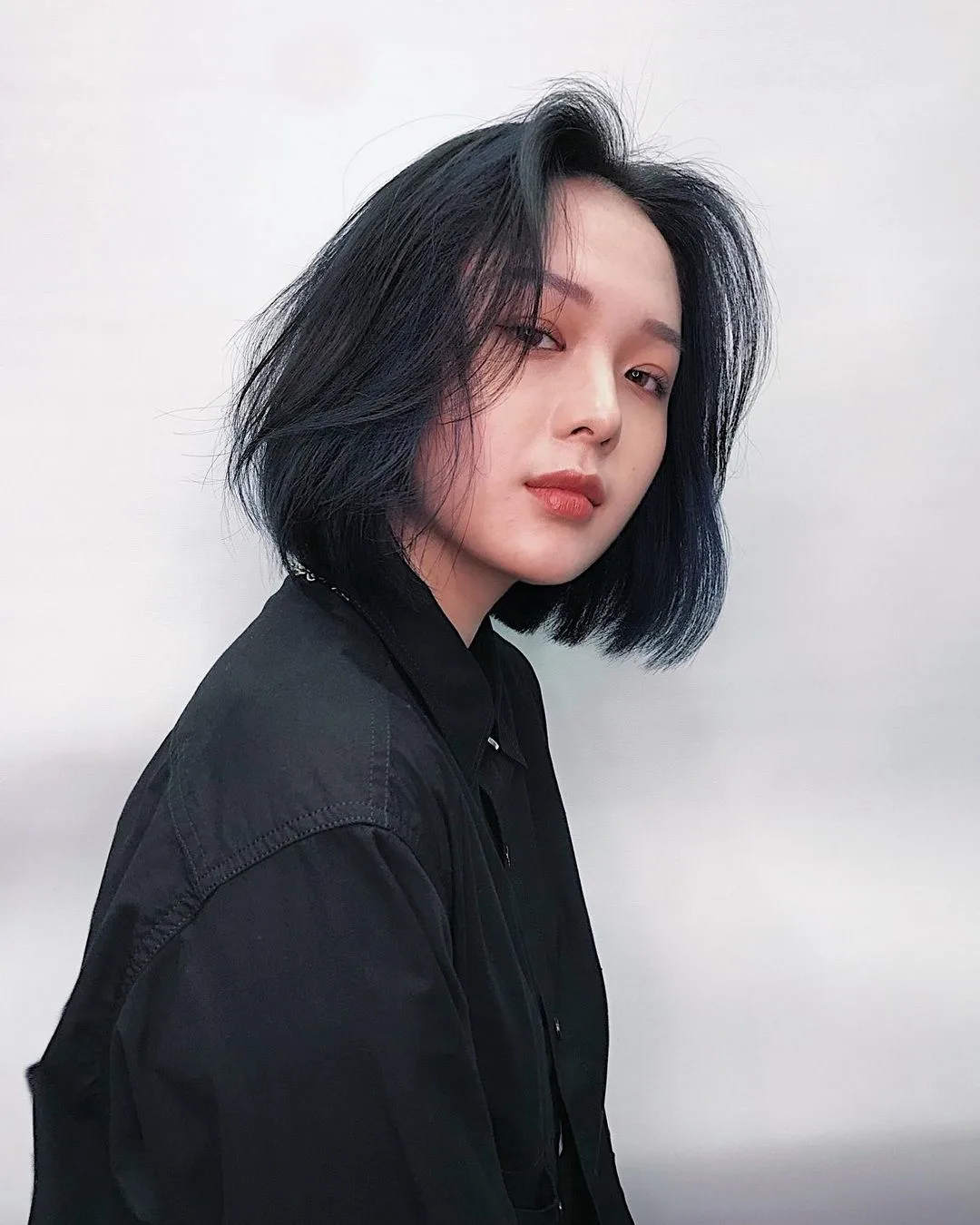 Should you get bangs? Sure! Or maybe you shouldn't. But what if— When you can't decide, go wispy and long, because you can always conceal them if you change your mind.
31. Medium Length Choppy Bob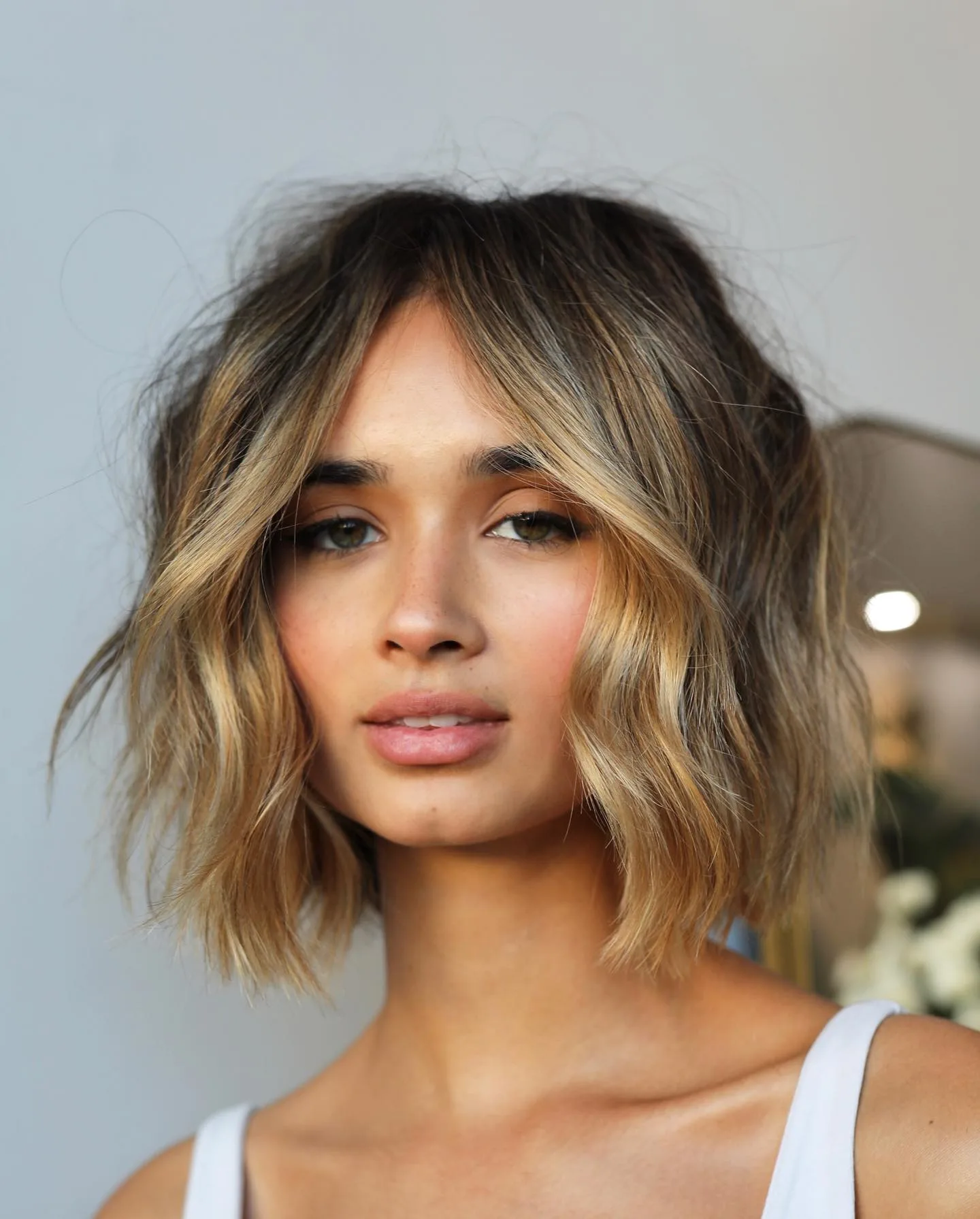 Lived-in and with plenty of texture, the choppy bob is edgy and full of attitude. The best way to style is to air-dry it after applying a texturizing spray for a lively, tousled look.
32. Blunt Chin Length Bob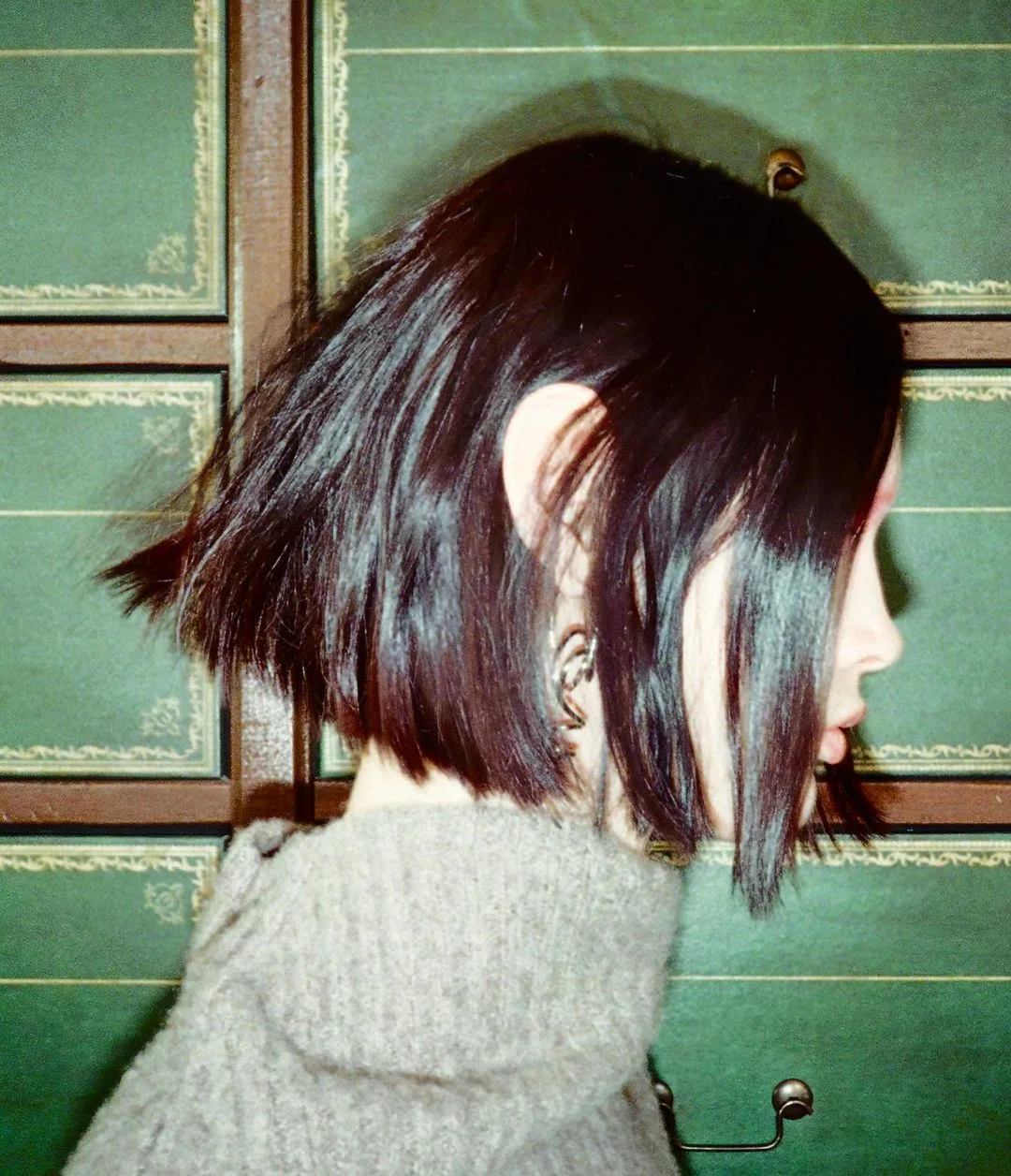 To get this sharp and dramatic angle, ask for a straight-across cut that falls just below your chin. Wear it imperfectly straight for a dramatic, cool look.
33. Blunt Textured Bob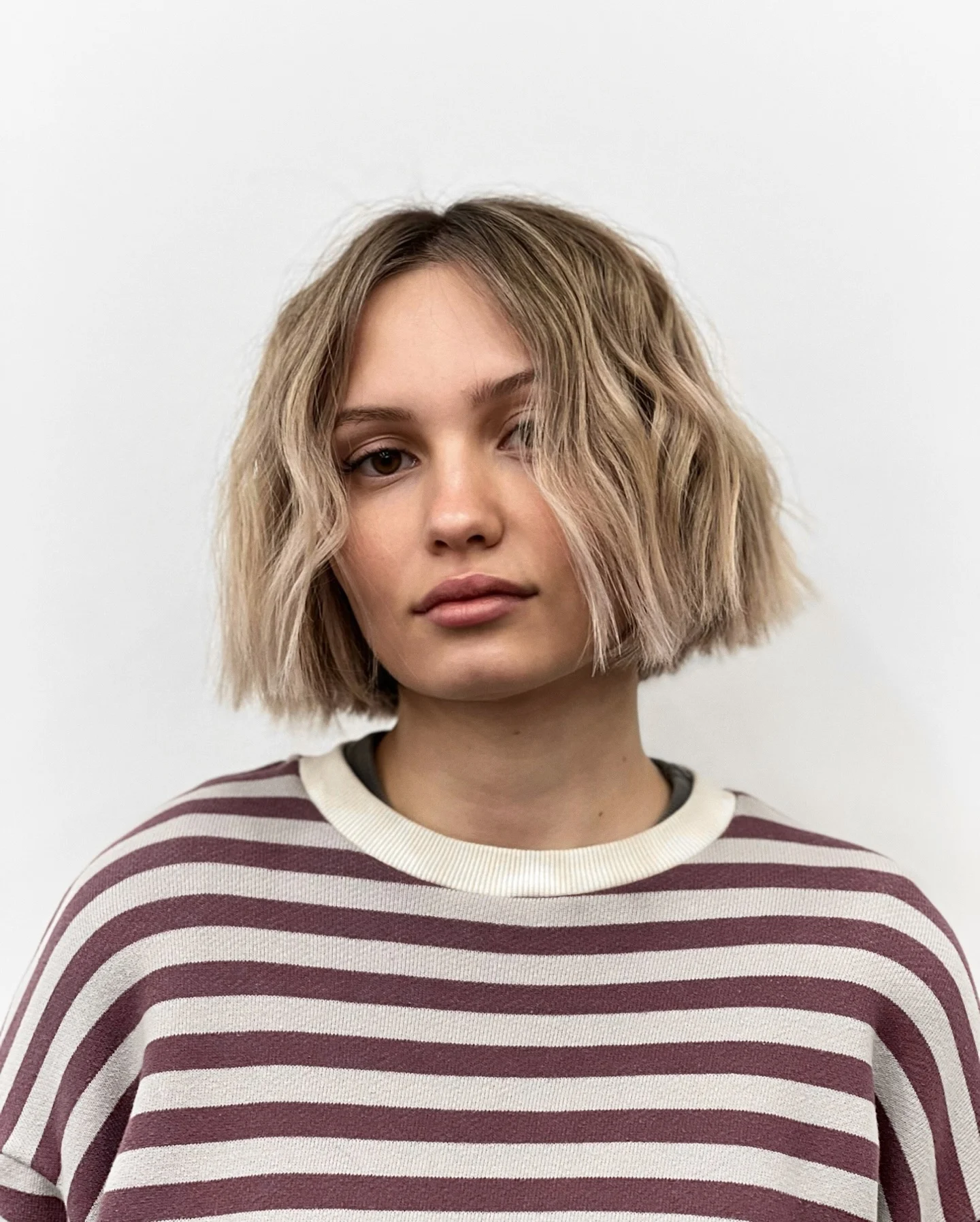 A blunt textured bob is trendy, but it can be unflattering if it's not cut just right for your face shape. To avoid a too-triangular shape, request internal texturing that removes the bulk at the bottom.
34. Curly Bob With Baby Bangs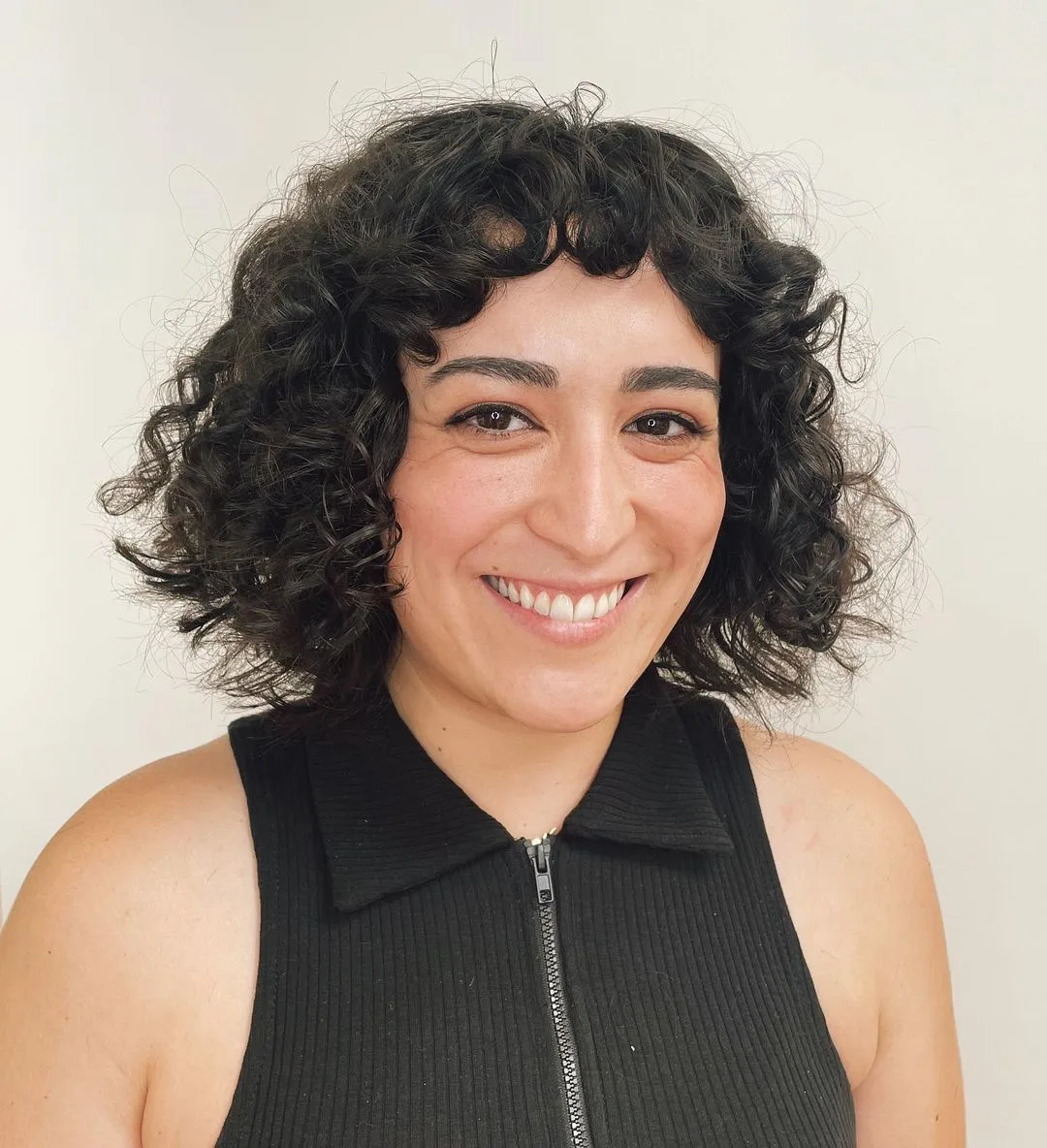 Curls are cute. Baby bangs are cute. When you put them together, the cuteness is off the charts.
35. Medium Length Stacked Bob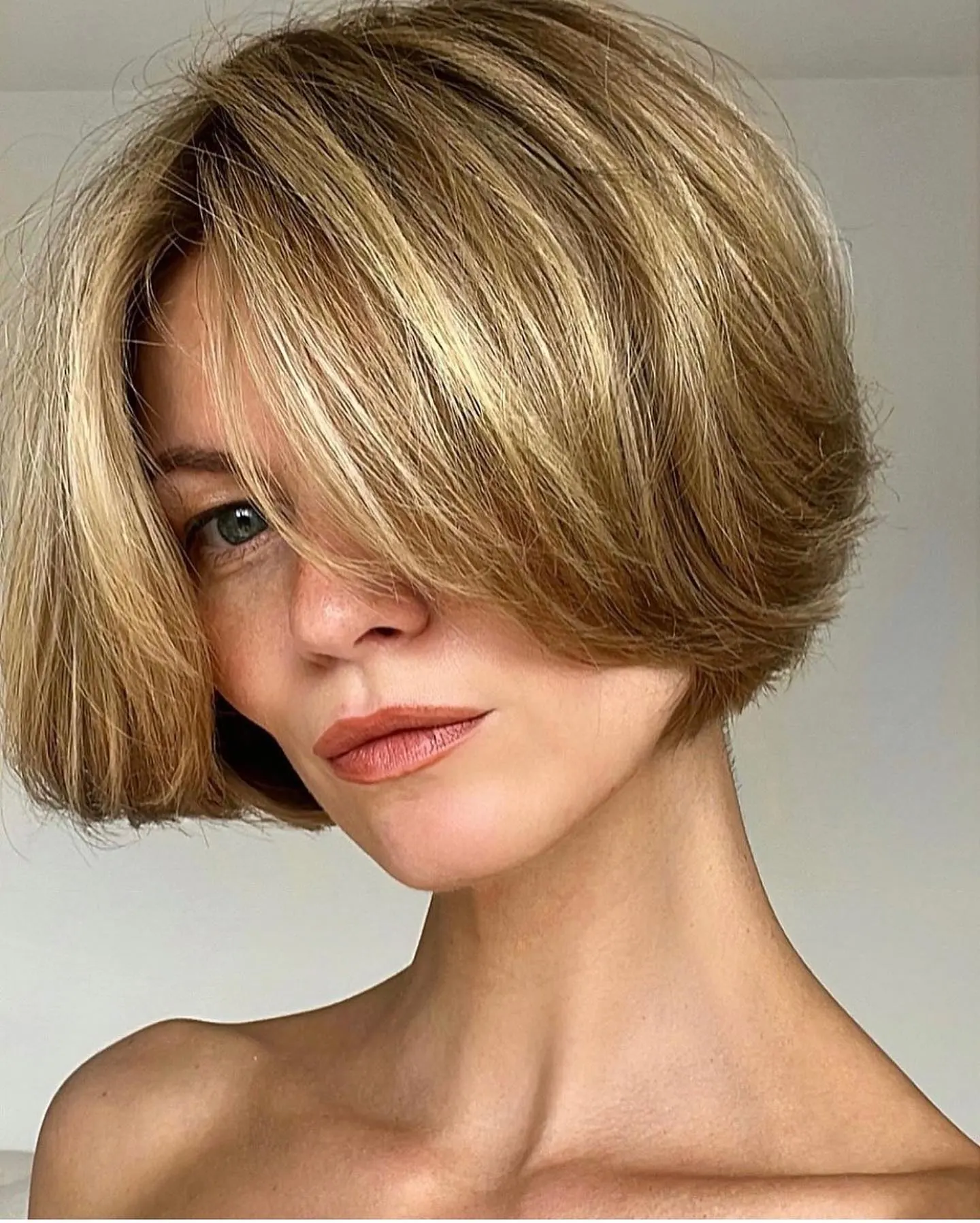 Stacked layers adds lift and volume, so this bob is an excellent choice if you want fuller hair. To keep the look contemporary, don't go too short with the layers and keep your locks bouncy instead of stiff.
36. Wavy Stacked Bob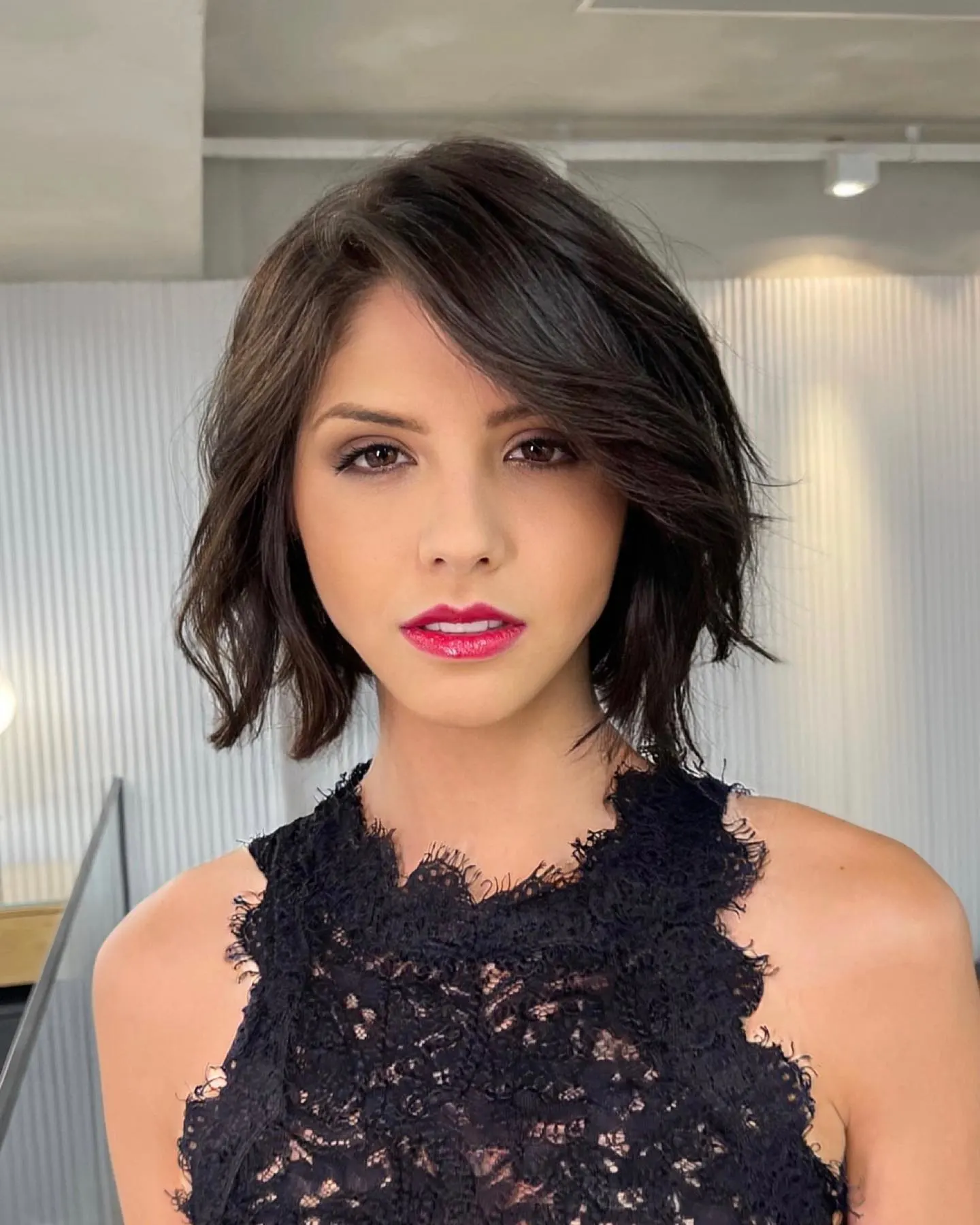 This wavy stacked bob has a playful and bouncy look. To enhance your waves, use a curling iron or a flat iron to add some oomph to a few strands.
37. Blunt Bob For Thin Hair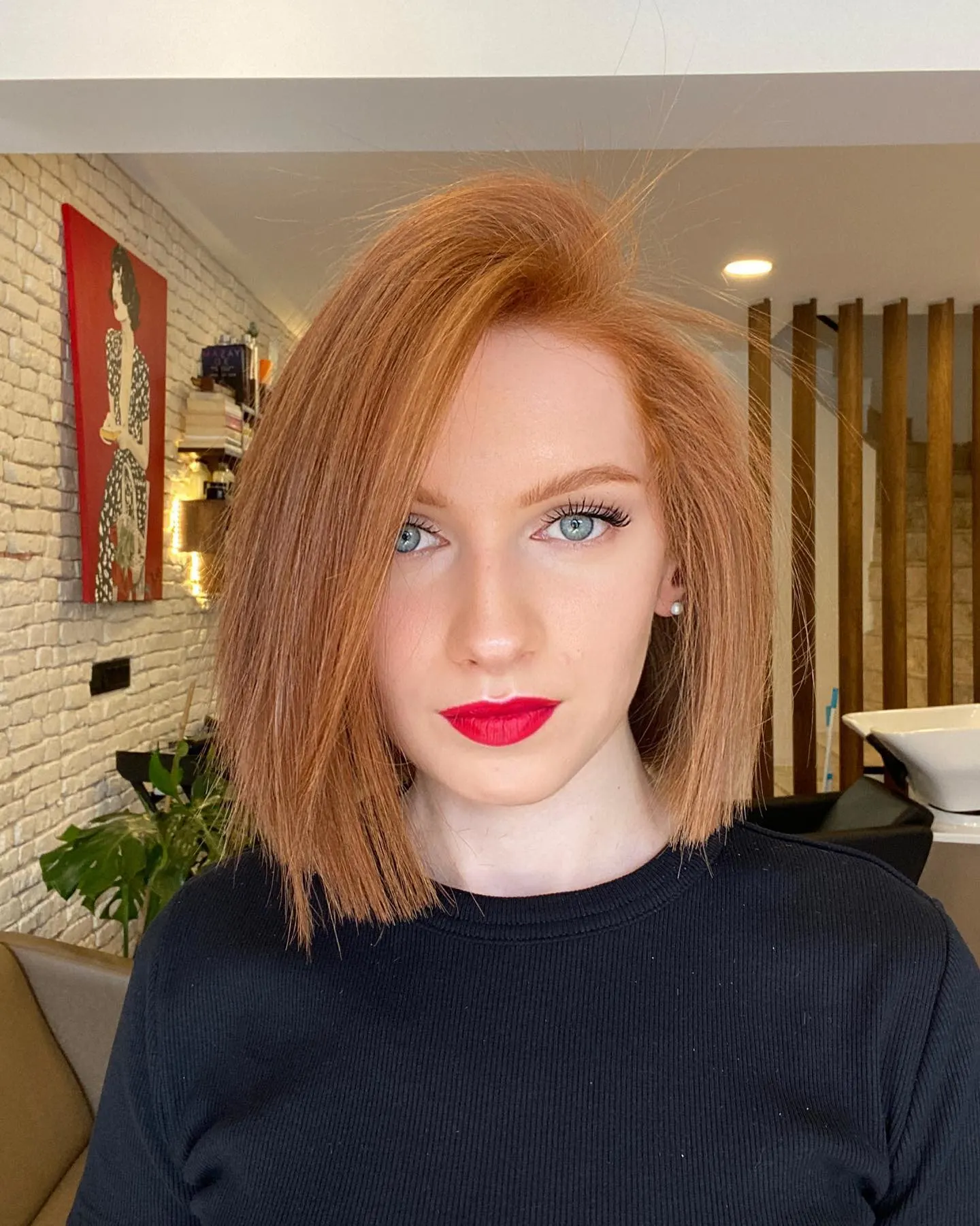 A blunt bob adds structure and makes the hair look fuller. Use smoothing products for a sleek finish or texturizing products for added volume.
38. Swept Back Medium Length Bob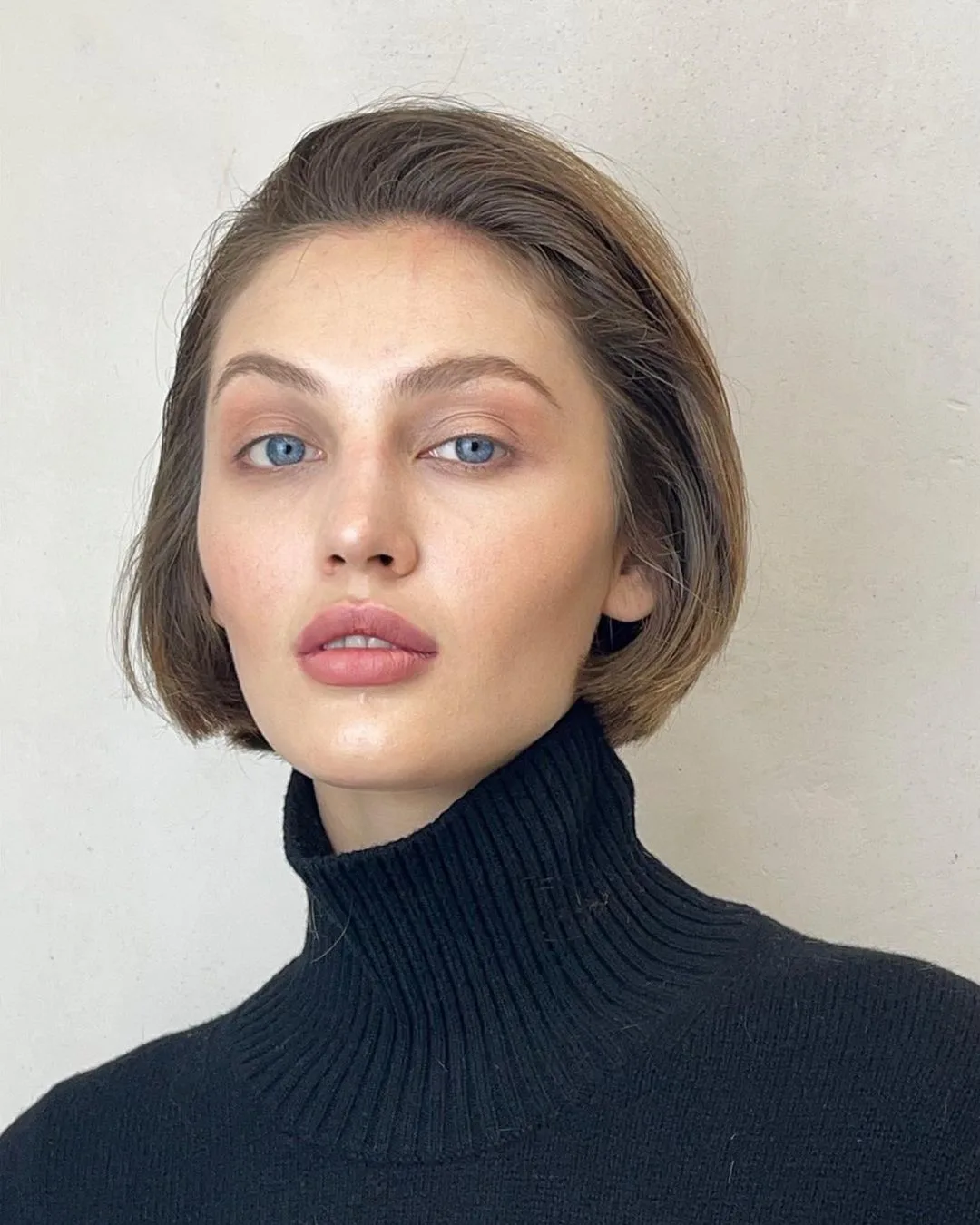 Elegant and polished, the swept-back bob is a special occasion hairstyle that can also elevate an everyday look. Style it by sweeping the hair back with a strong-hold gel or pomade.
39. Medium Length A-Line Bob With Bangs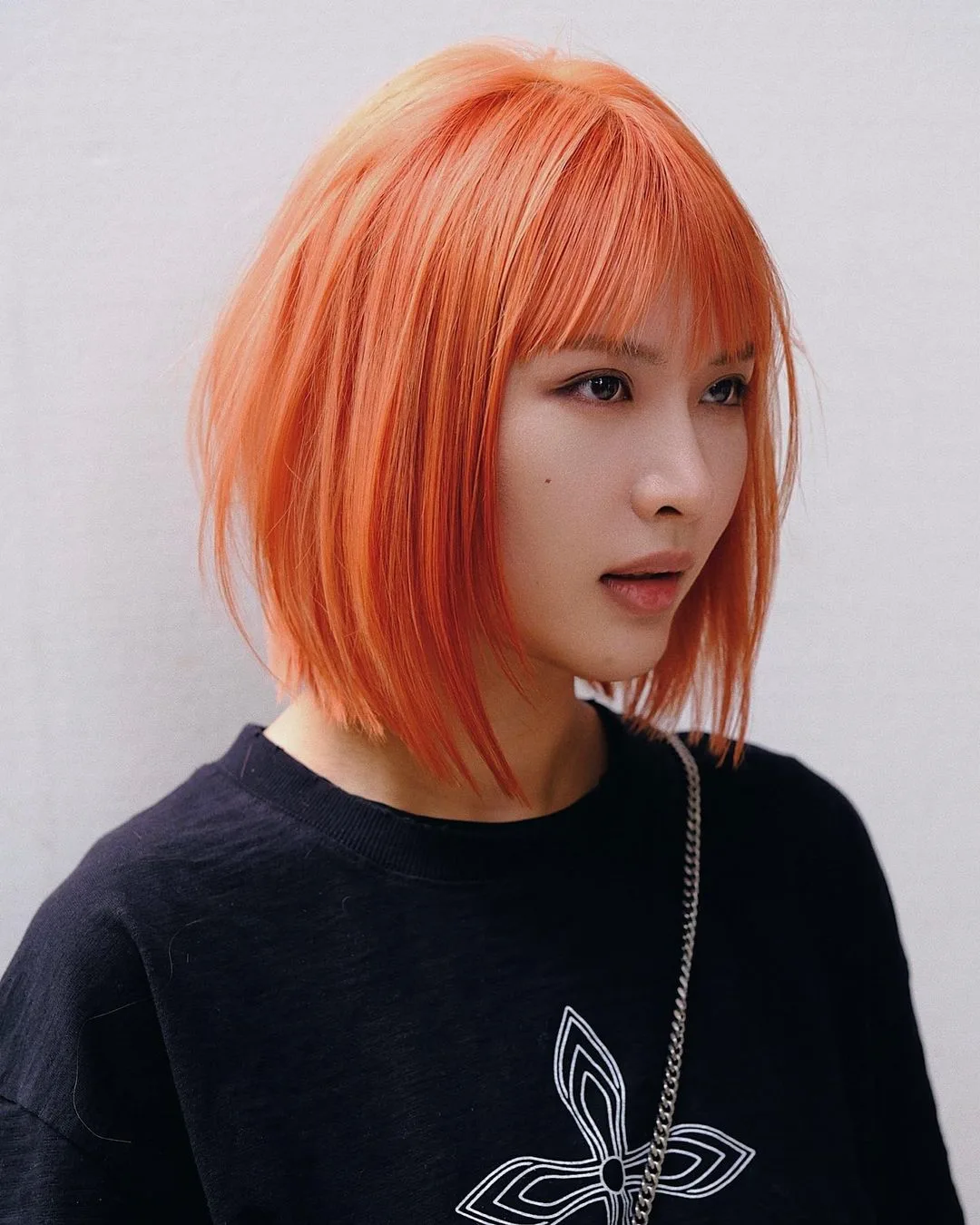 The choppy ends and the dramatic angles combined with the vibrant color have an almost futuristic appearance. Are you daring enough for this bold and edgy look?
40. Wavy A-Line Bob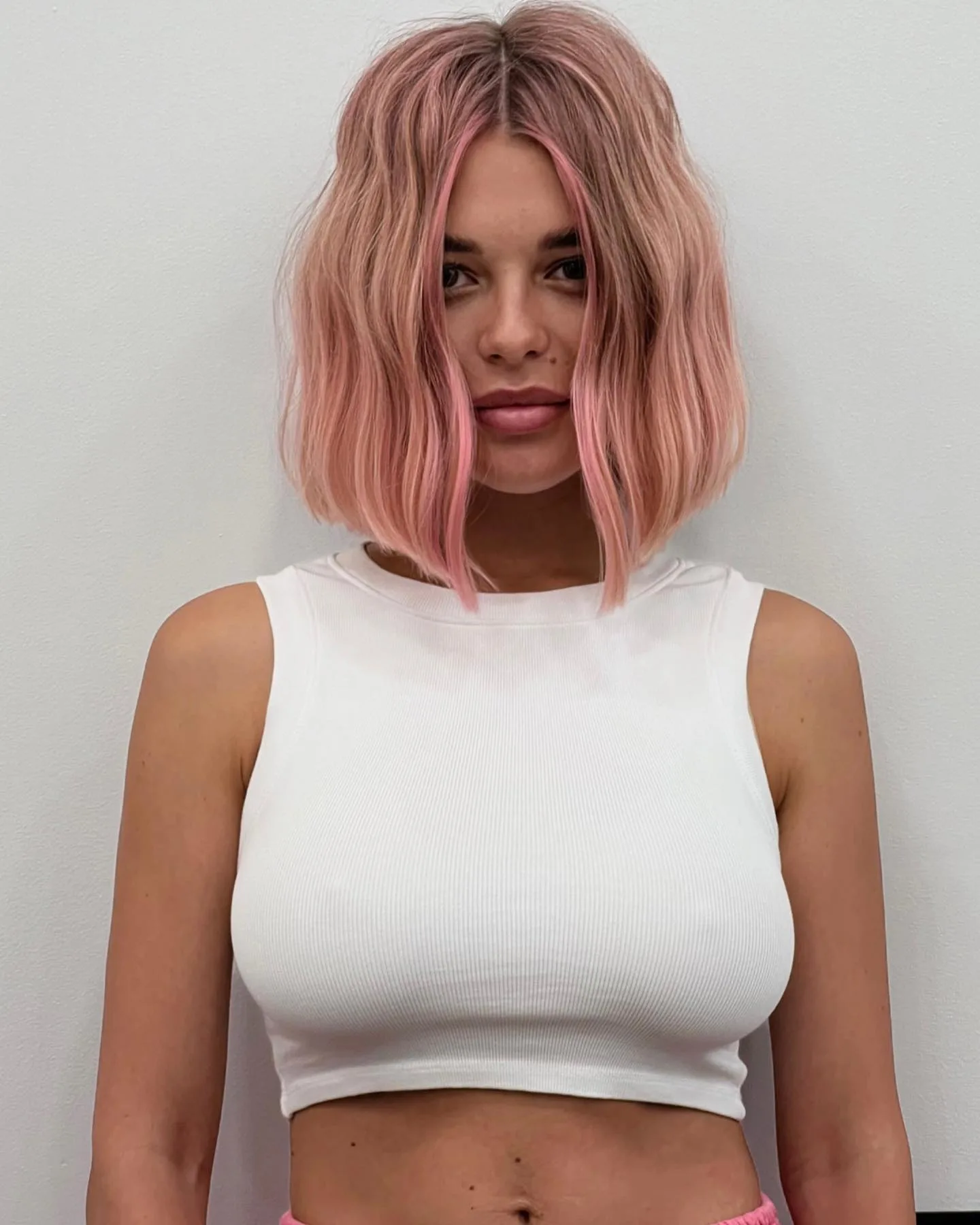 Add a relaxed and beachy vibe to the A-line bob with a light bend in the mid lengths. Create waves with a curling iron or a flat iron or use texturizing products if you already have a natural wave.
41. Inverted Medium Length Bob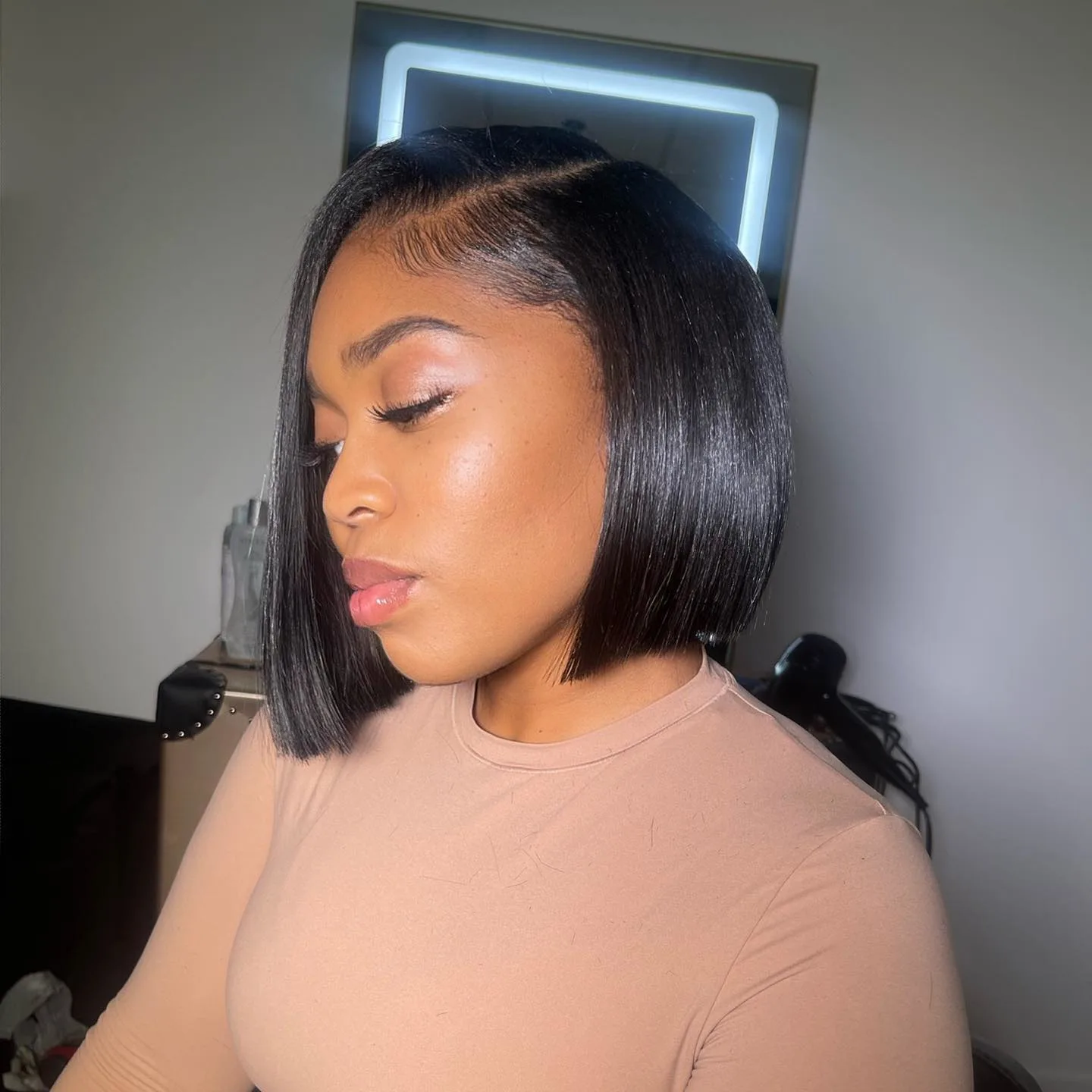 This glossy and sleek inverted bob is so versatile that it can seamlessly take you from the most casual to the most formal occasions.
42. Curly Inverted Bob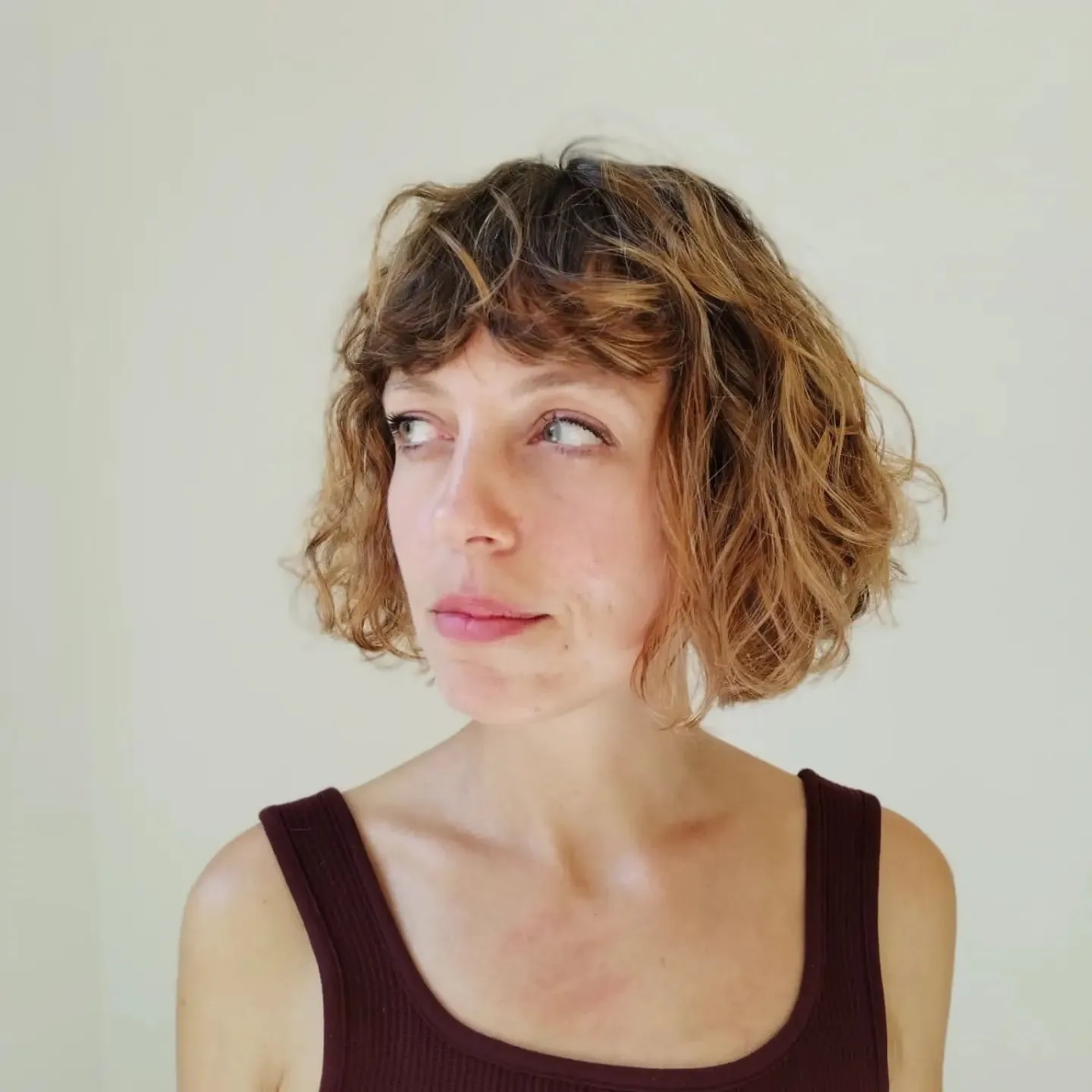 This playful curly inverted bob is youthful and playful. Choose bangs that work for your face shape to personalize it.
43. Wavy Blunt Bob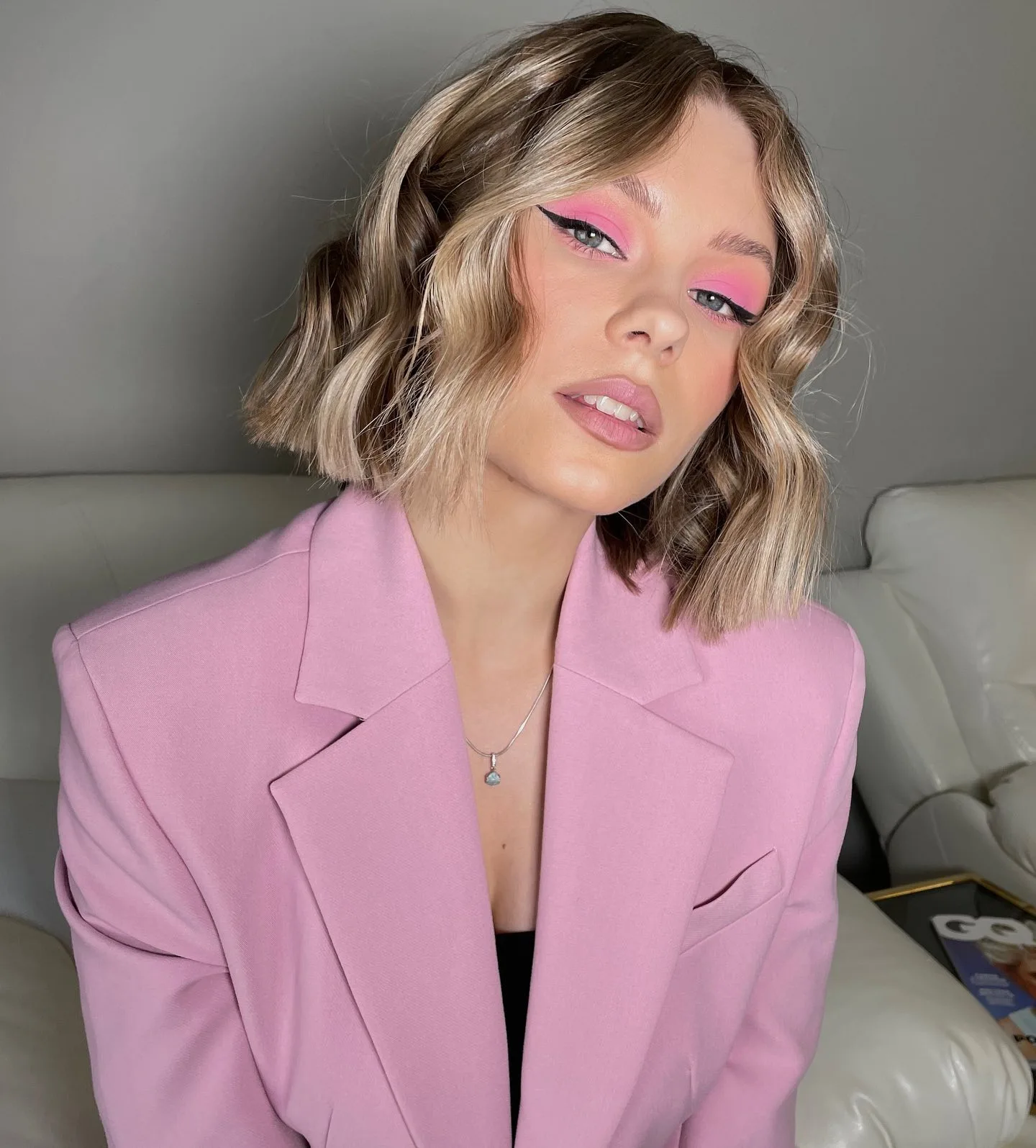 A wavy blunt bob is dynamic and interesting thanks to the contrast between the sharp ends and the soft waves.
44. Medium Length Blunt Bob With Bangs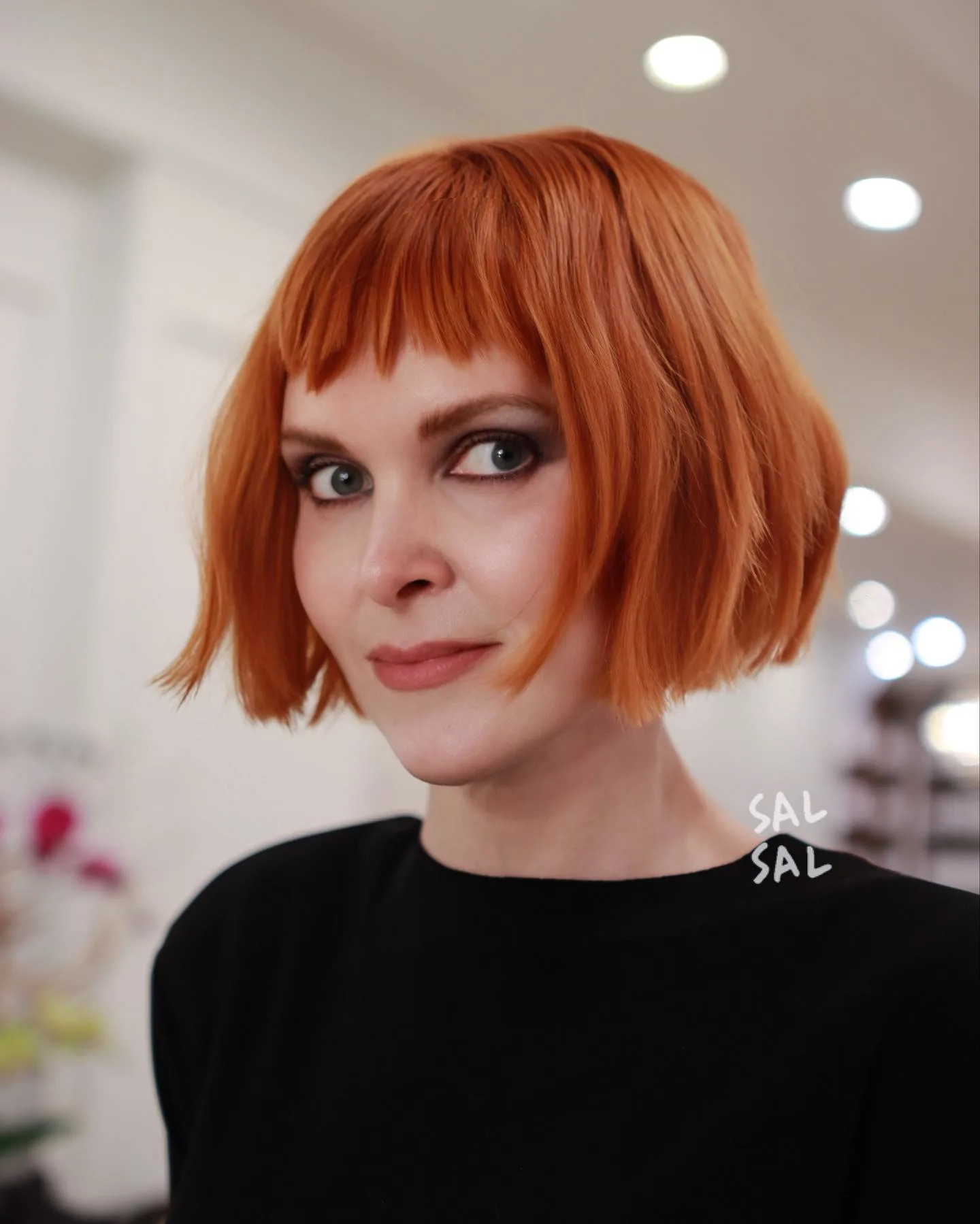 Bangs can make or break your haircut. How to make them work for you? Choose the right type for your face shape. Tip: choppy or tapered looks more flattering than blunt on most faces.
45. Choppy Shaggy Bob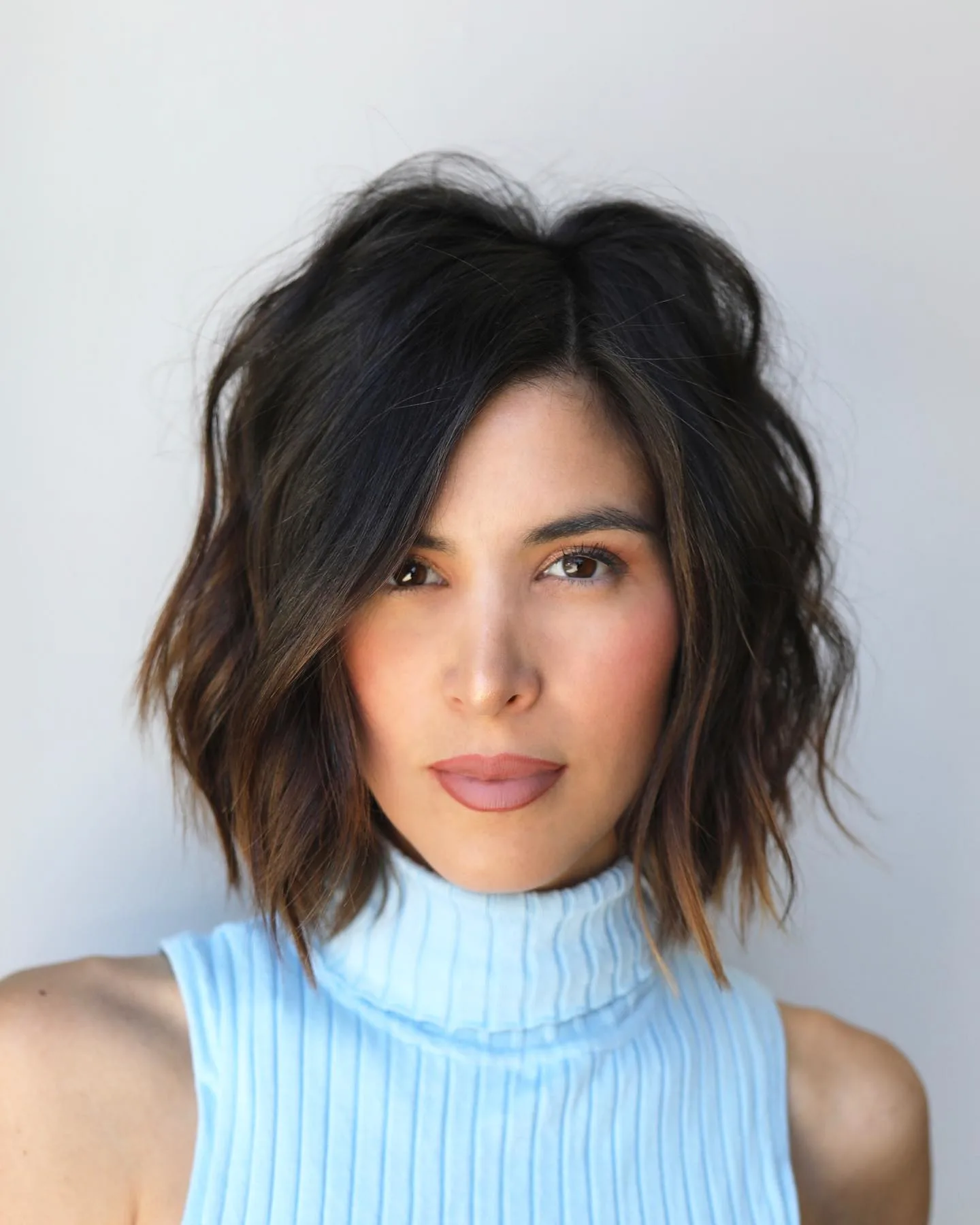 Thanks to the choppy ends, this bob has a lived-in, messy appearance. The layers throughout add texture and movement.
46. Medium Length Asymmetrical Bob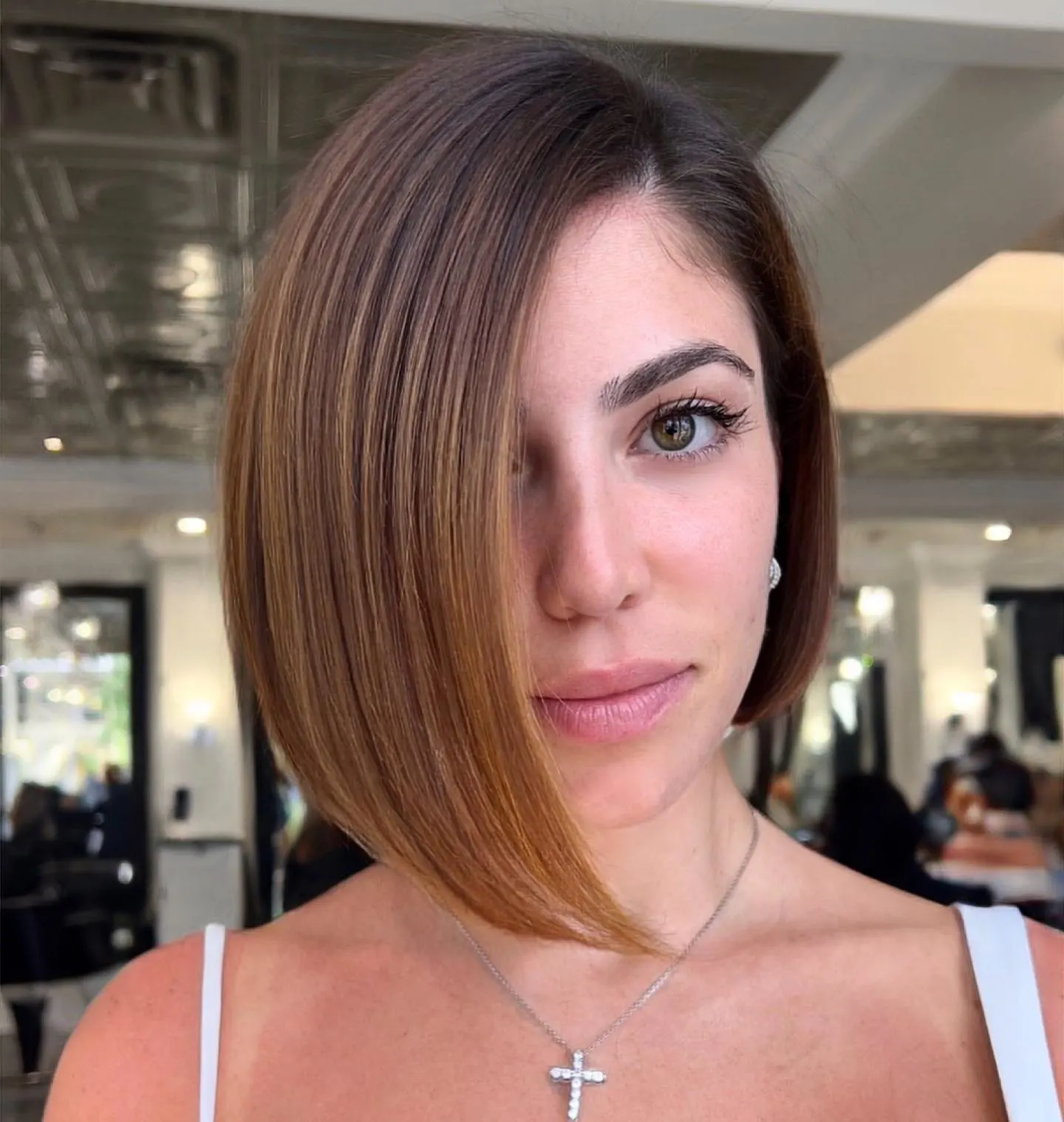 This asymmetrical bob is all about drama! To live out your sexy villain fantasy, ask for a diagonal perimeter and style your bob sleek and straight.
47. Medium Length Bob With Side Bangs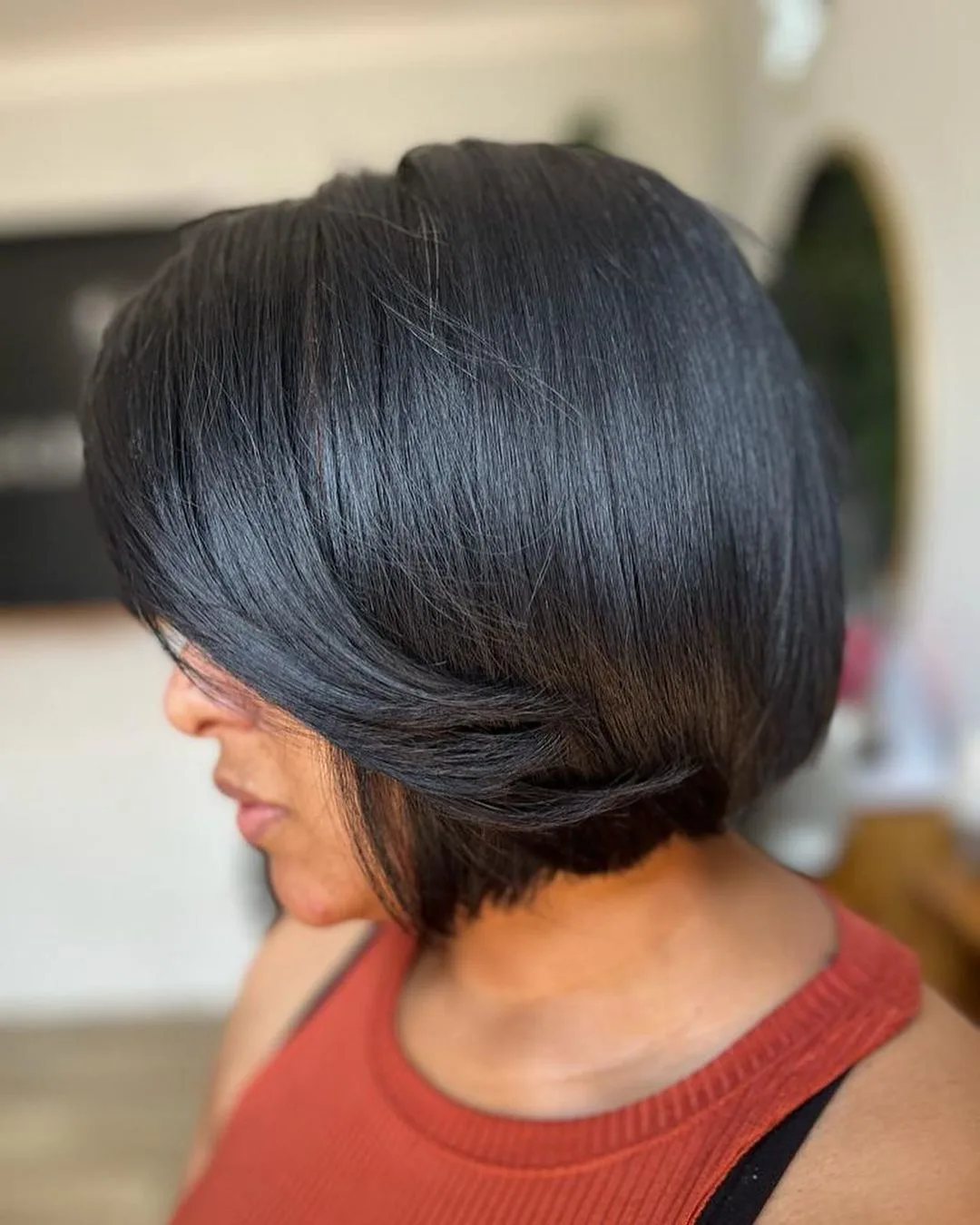 Side bangs frame the face beautifully and add sophistication to this bob. Style it sleek and straight for a striking look or air-dry for something more laid-back.
48. Straight Blunt Bob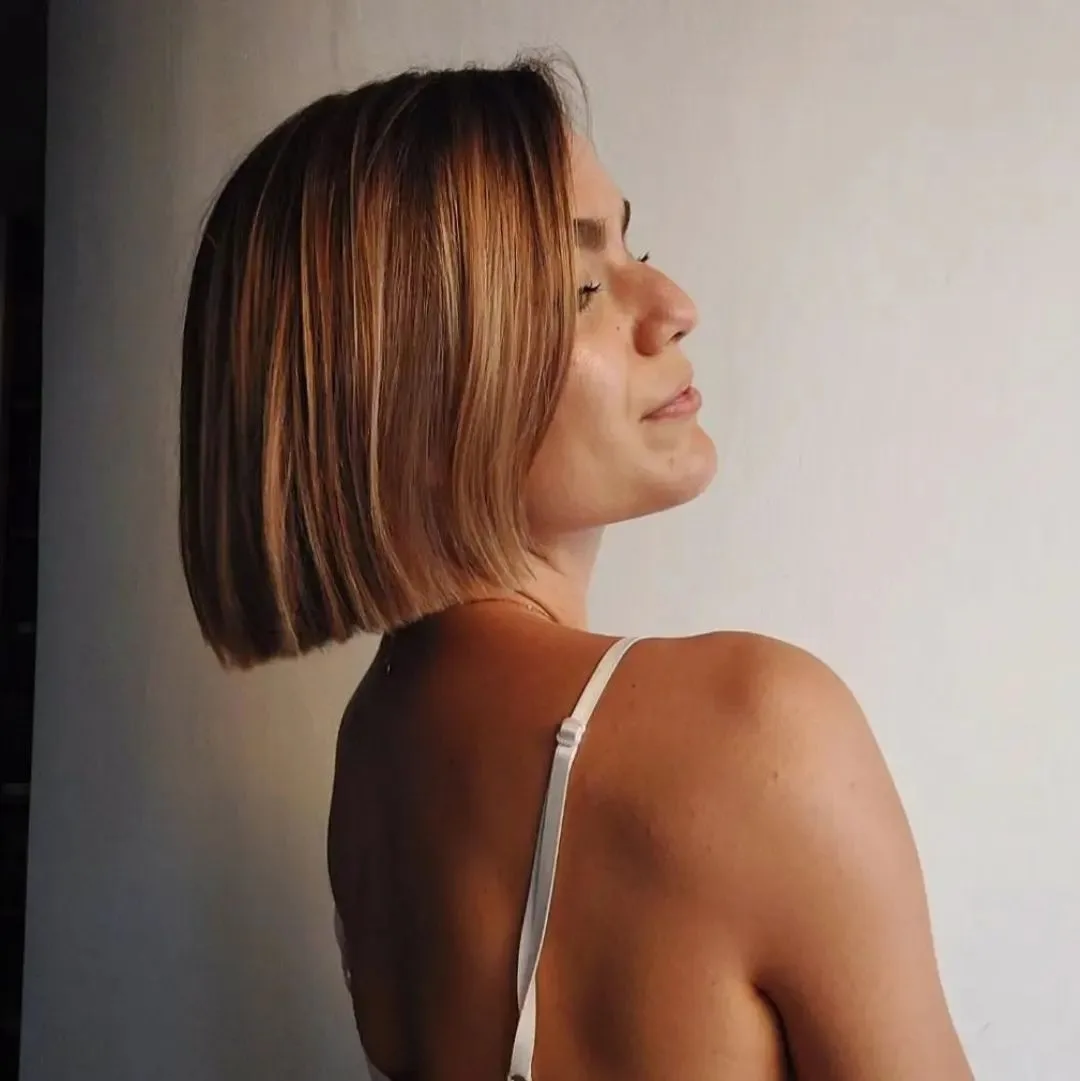 This straight blunt bob is just about the most low-maintenance haircut you could get. Perfect if you're busy and want a polished look you don't have to fuss around with.
49. Curly French Bob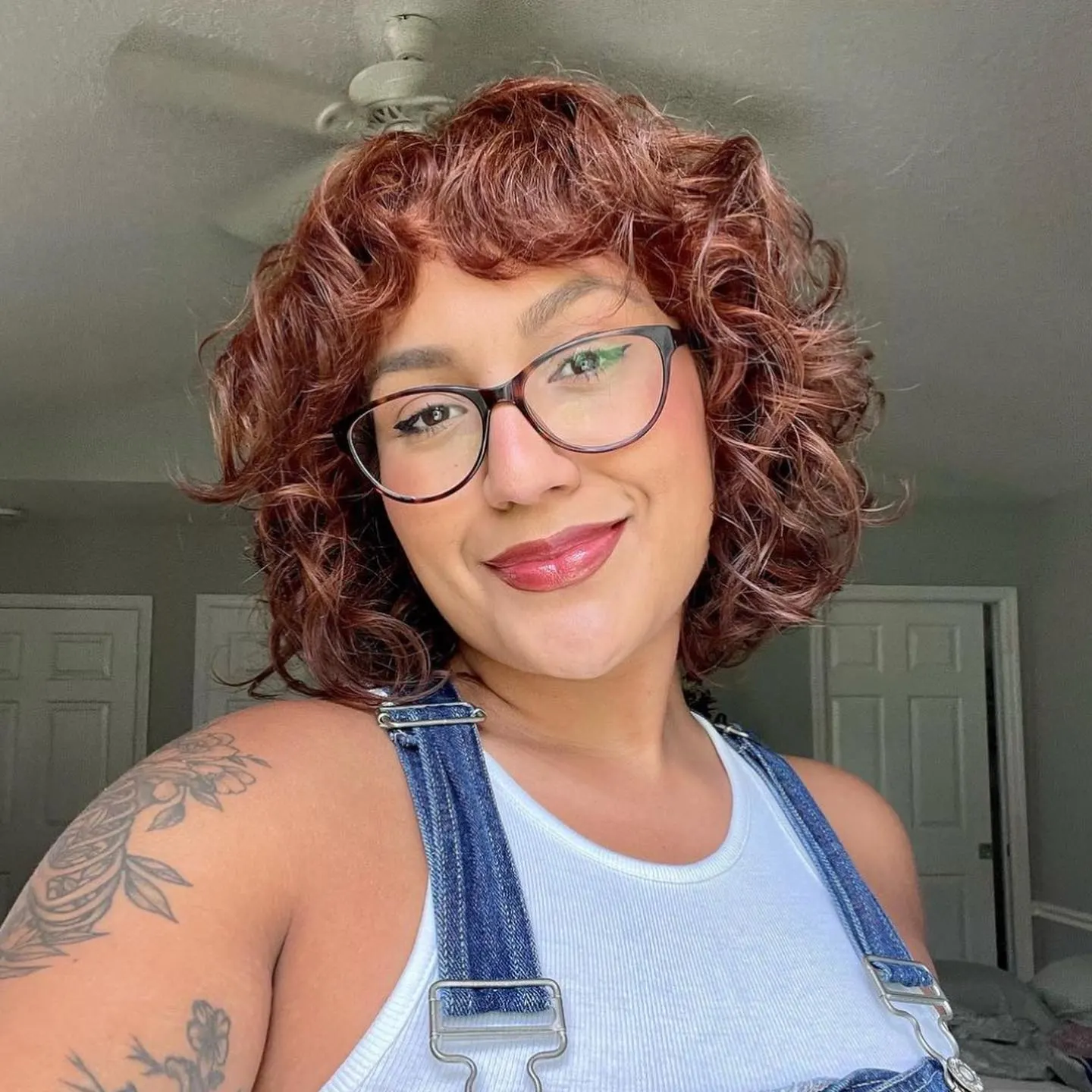 A chic and elegant variation of the French bob for curly hair. Keep your hair hydrated to keep your curls defined and enhance their shape with curl-defining products.
50. Medium Length French Bob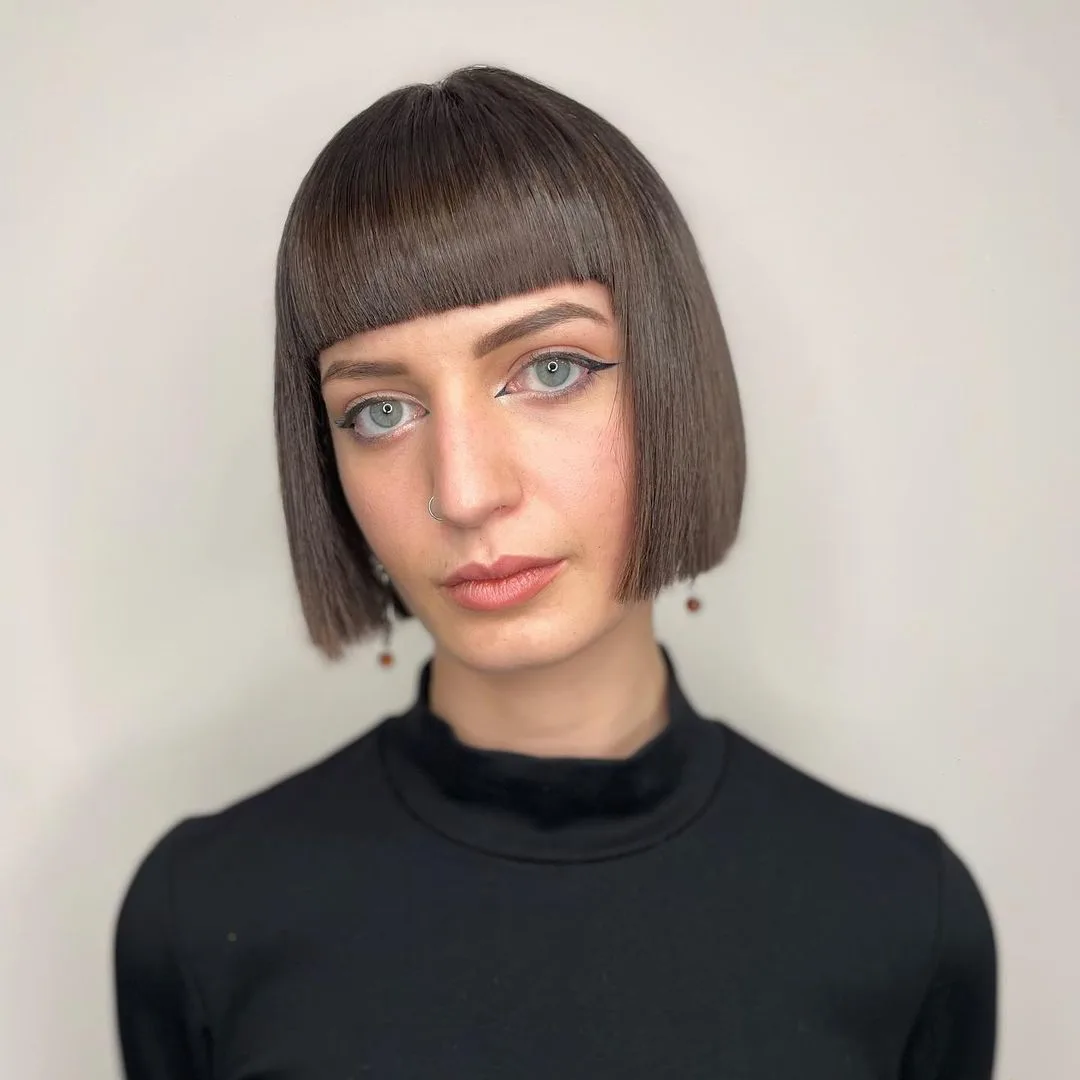 Sleek and sharp, this medium length French bob is as classic as it gets: polished and sophisticated with clean lines.
51. Medium Length Textured Lob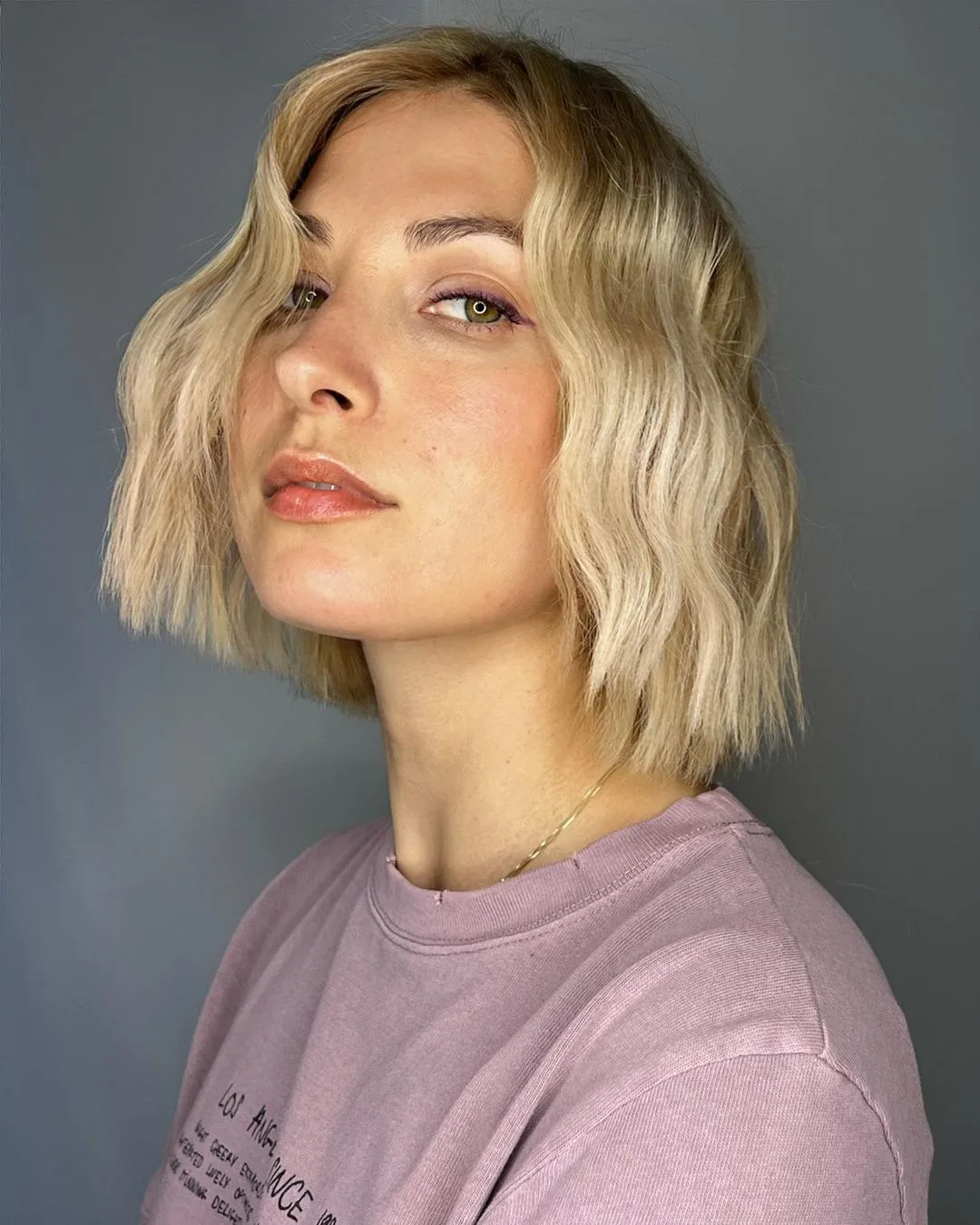 If you want a blunt cut guaranteed to look good, ask for texturizing layers—they make a haircut more flattering. Blunt ends can be too heavy and need movement and softness to look more relaxed.
52. Medium Length Curly Bob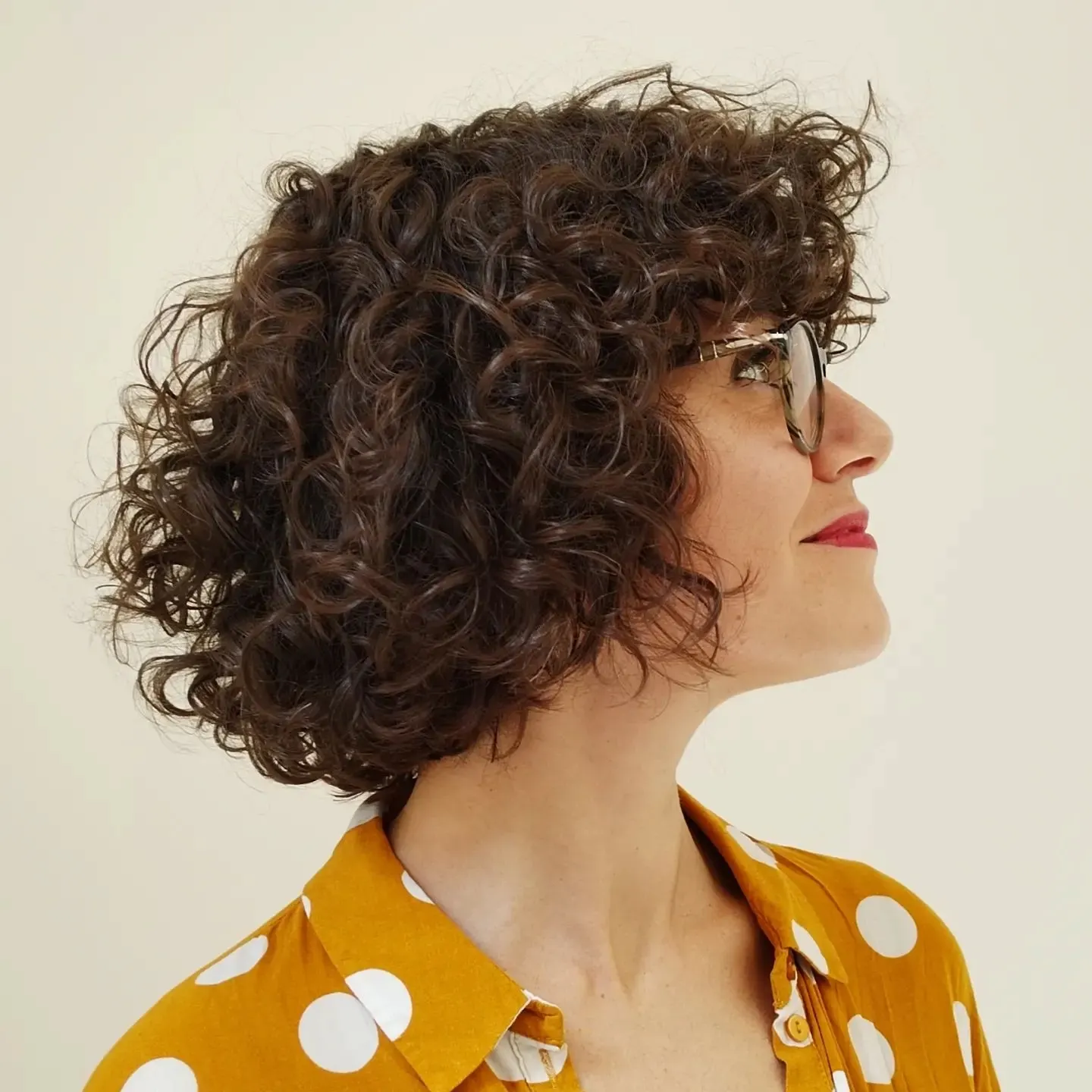 To style your curly bob, apply your hydrating and curl-defining products, use an old t-shirt to plop, then let your hair air-dry. Speed things up with a blow dryer and diffuser.
53. Textured Bob With Wispy Bangs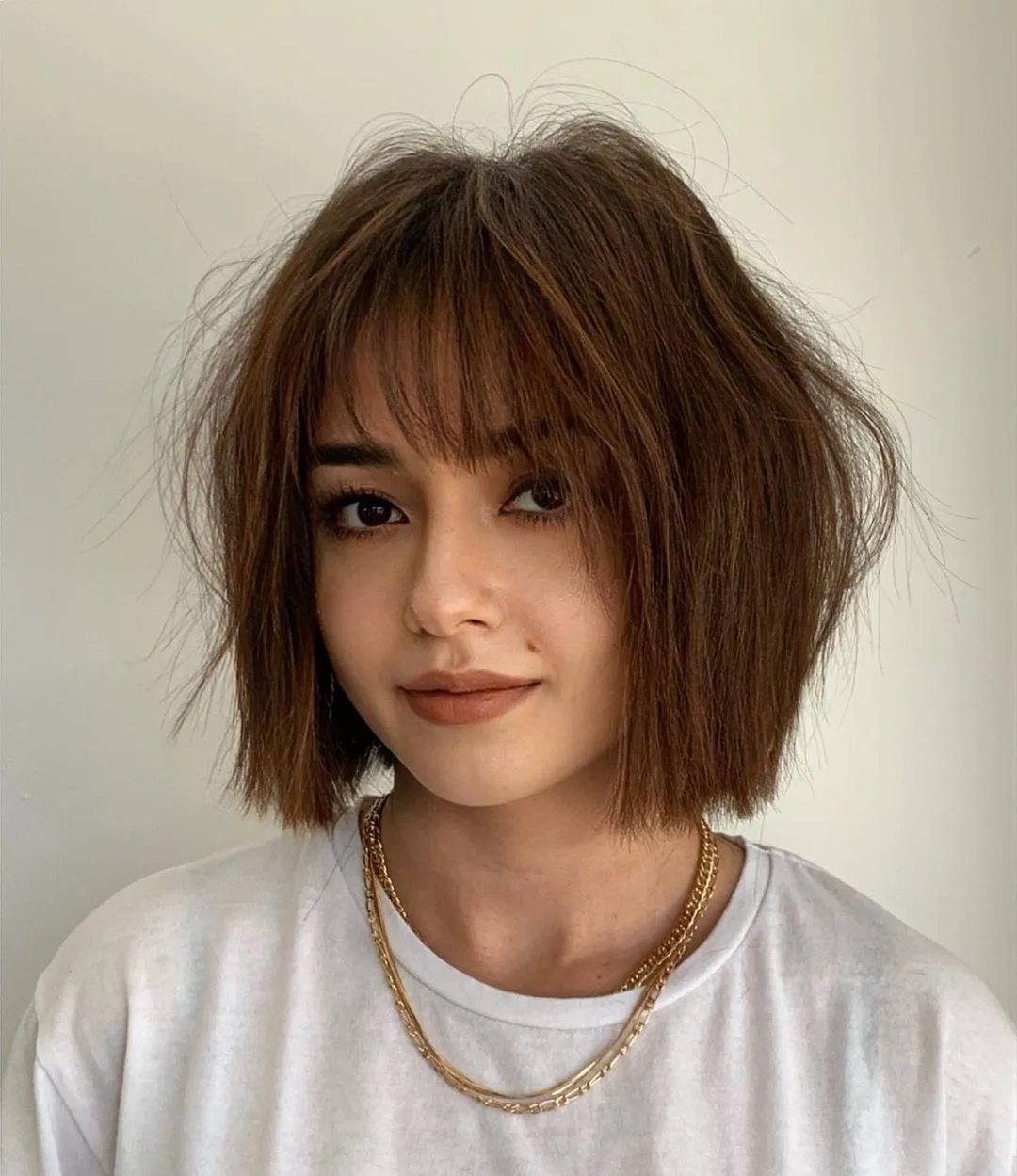 Even the tiniest wispy bangs will change up your look. Here, they add a soft and youthful touch to the textured bob.
54. Medium Length '90s Bob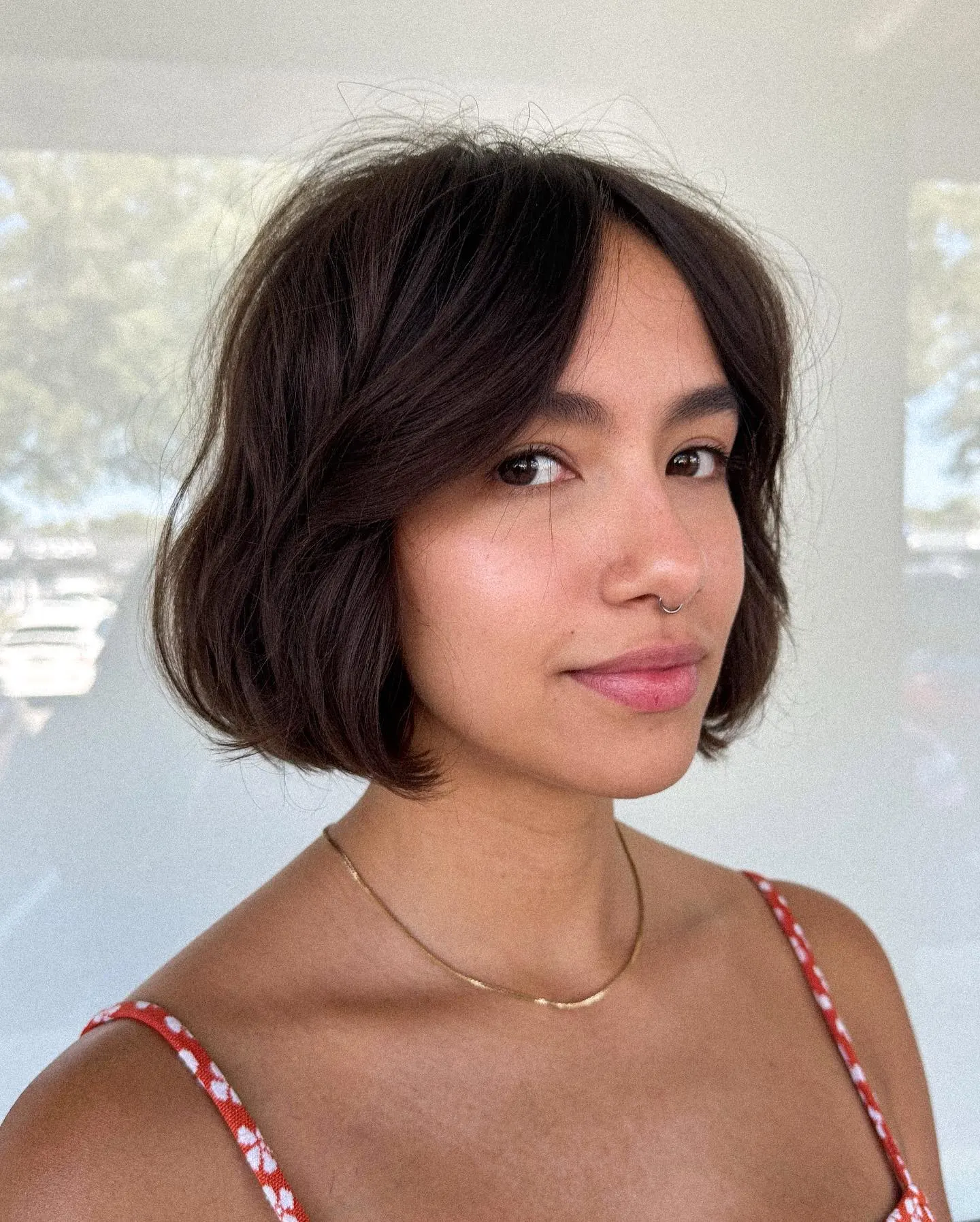 The '90s bob has been trending, and for a good reason: it's easy to style and makes your hair look full and luscious.
55. Medium Length Inverted Bob With Bangs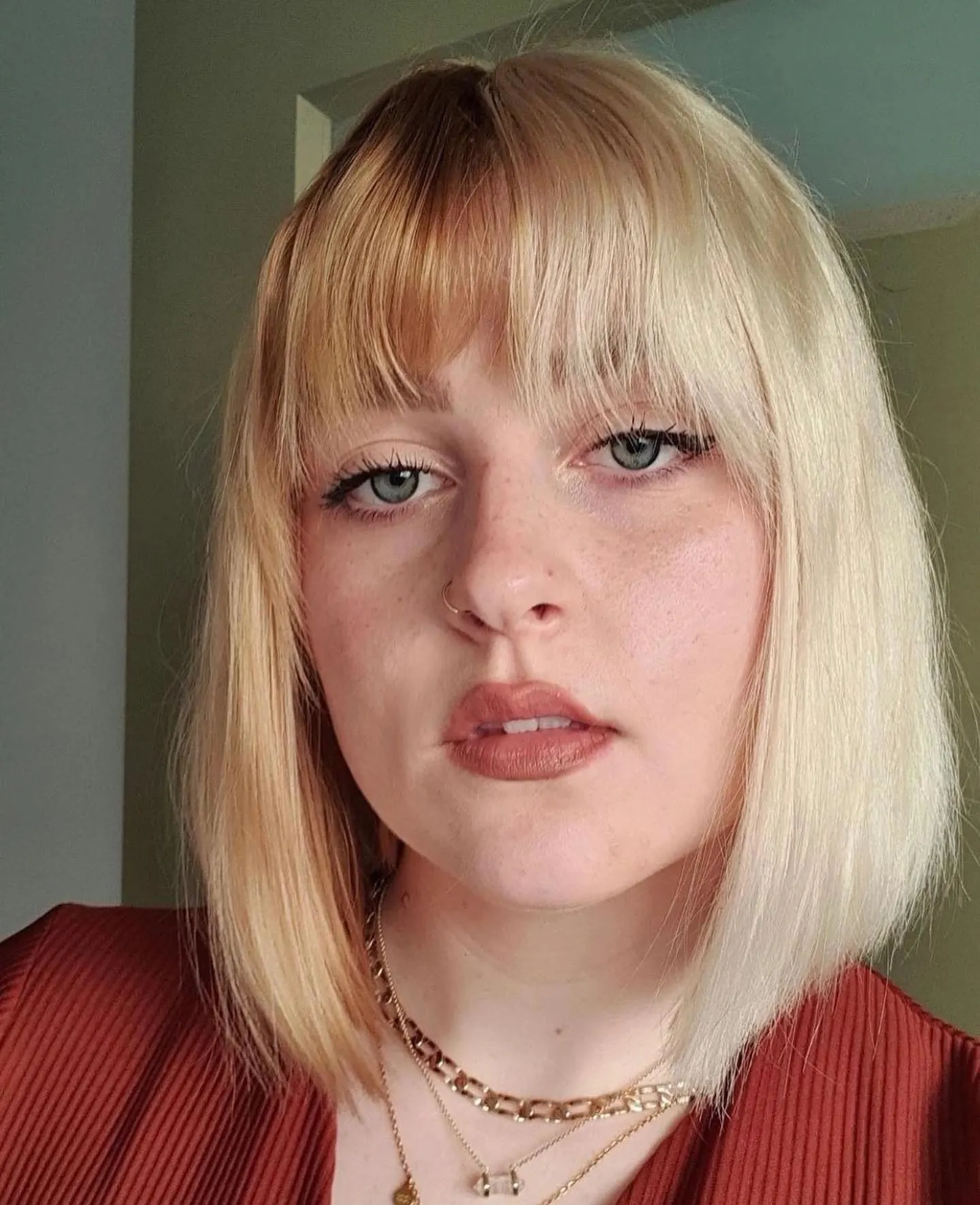 Nape-length in the back and collarbone-grazing in the front, this bob is perfect for those who can't make their mind up when it comes to length of their hair.