Aren't layers just fabulous? They can range from blended layers to shag layers, which makes them one of the best haircuts for long hair. Long layered haircuts are perfect face framers, adding tons of volume, and they are super easy to style. Straighten it, curl it, or leave it natural! Well-done layered haircuts will look great no matter how you choose to style them.
1. Toned Layers
Loose waves on a long layered cut add volume and movement throughout the hair. The tones are stunning cool-toned mauve. This hairstyle is simply iconic.
2. Rich Honeyed Layers
This brunette balayage with honey highlights enhances the gorgeousness of the layered cut. The plus side of this look is that the grow-out will be barely visible.
3. The Magic of Seamless Layers
These layers have been cut to perfection. The way these healthy and shiny curls fall into place is just gorgeous. The hair looks otherworldly.
4. Long Layers With Short Faceframing
Oh, just look at that — pure silk! The way those long layers fall so effortlessly is just striking. Subtle face-framing pieces add a unique touch of softness to the look.
5. Stunning Blonde Textured Hair
Well, this is a full-bodied look, and the long layered waves are to die for. Total Blake Lively vibes and major hair envy.
6. Long, Silky & Layered
A set of stunning layers that enhance volume and give that extra bounce. This style looks like it came straight out of a haircare ad.
7. Straight Thick Blonde Hair With Layers
Smooth and straight with a shiny, healthy glow. Need I say more? This leveled haircut is every thick-haired blonde's dream.
8. Butterfly Haircut
Multiple layers cut in various lengths create movement and resemble the wings of a butterfly. It's a great cut for thick hair as it removes weight and adds shape. Genius, right?
9. Feathered Layer Cut
The ends of the hair are snipped into V-shapes to make the hair look fluffy, kind of like a bird's feathers. That's actually where it gets its name from.
10. Smooth Long Hair With Bangs
If you want to refresh your style but wouldn't change your length, go with a layered cut and new bangs. It's a definite win.
11. Golden Brown Textured Effect
Nothing enhances cut and volume like great highlights. The shades of blonde and brown give that honey shine effect that gives a glamorous and textured look.
12. Color Hidden Under the Layers
For a more special appearance, subtly incorporate a different color beneath the top layers of hair. Now watch everyone go wow.
13. Wispy Shag Layers
This unique cut makes layers blend seamlessly into the rest of the hair, creating a subtle shape. It's a great choice for fine hair because it adds dimension.
14. Long Spiky Hair
Are you in for the mix of traditional long hair and edgy spikes? Of course, you are! See how jaw-droppingly sophisticated it looks.
15. Brunette Textured Hair
This incredible look is runway-worthy. The long cut layers add more volume and flair to already thick hair. This look just might be every brunette's dream.
16. Soft Layers Haircut
Want a hairstyle that is warm but still gives that empowering vibe? Look no further! Beige blonde highlights add more power and richness to straight hair.
17. Chic Layers
Sharp, rich, layered haircut with a special ultra-modern flair that adjusts the look to what is currently at the peak of fashion.
18. Color & Volume
Playful and vibrant, these attention-grabbing orange tones make the style pure magic, giving the illusion of volume in thinner hair.
19. Glossy Dark Falls
Luxurious dark hair cut into long layers is the ultimate hair goal. It can be worn sleek and straight or with waves, as shown, making it fit for any occasion.
20. Bouncy Long Layers
If you're after a cut that gives you layers full of body and a lively bounce, especially after a blow-dry, this is definitely the hairstyle you'll want to go for.
21. Sleek & Chic Layers
Smooth long hair with just the right amount of layering at the ends to keep it playful. It frames the face beautifully, doesn't it?
22. Retro Vibes
Choppy ends and varying lengths create a messy, textured look that gives a fuller appearance to the hair. A 70's style with a modern twist — totally epic!
23. Creamy Lux Levels
Oh, creamy blonde? A mix of cool ice and warm butter, all in one! The long, textured layers toss around as if there's always a gentle breeze in the room. Totally lush and oh-so-captivating!
24. Messy Beach Tiers
Want sunshine throughout the whole year? Go for blonde, long, textured hair with messy beach waves, for that endless summer feel!
25. Copper Structured Hair
The structure in the cut brings out the hair's natural movement, while the copper color adds a vibrant, energetic vibe. It's a total head-turner!
26. Layers In A Preachy Bronze Tone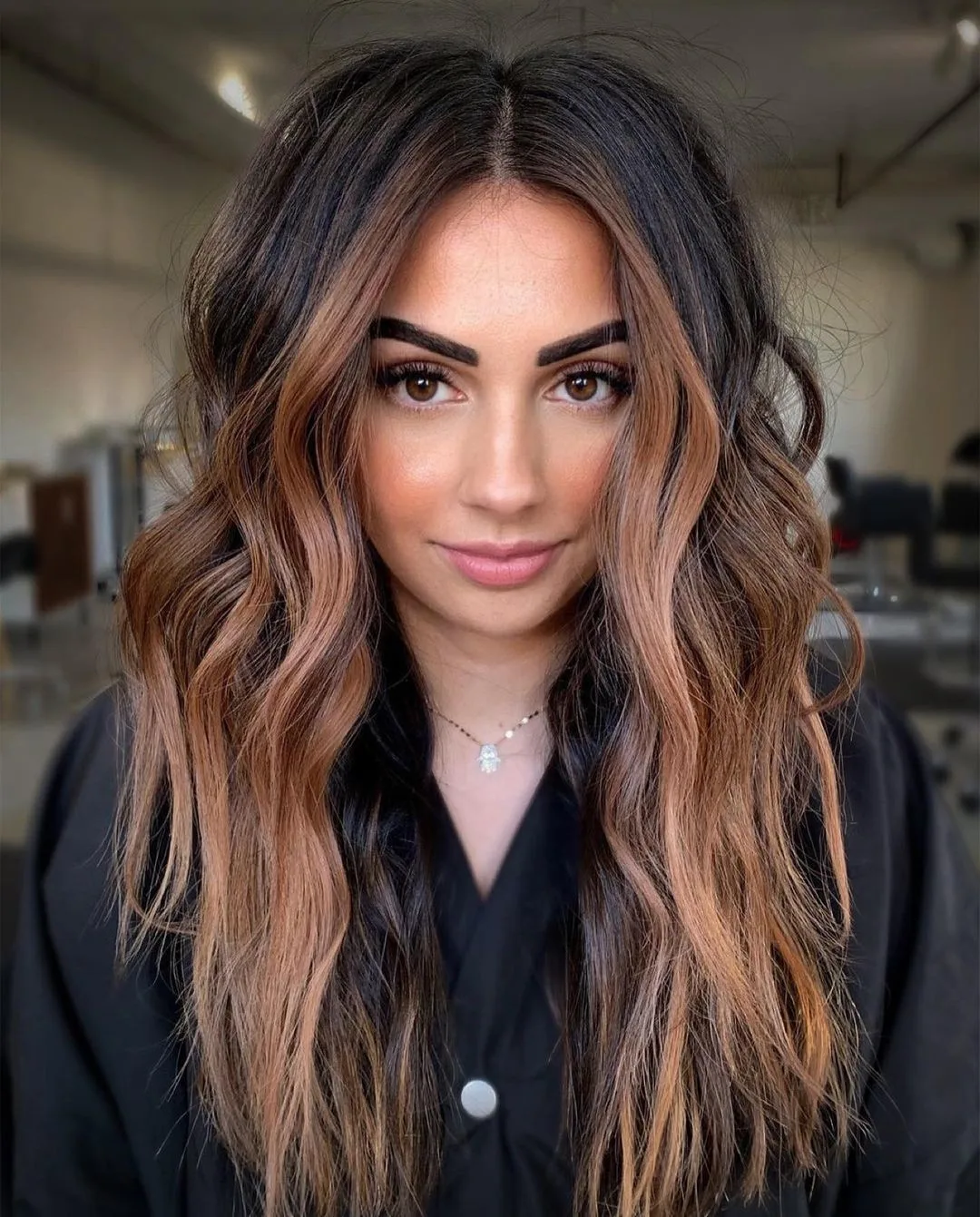 Just wow! Perfectly layered balayage in a peachy bronze tone leaves you breathless, with each strand showcasing a radiant color that's both messy and stunning.