Got long, wavy hair and need some inspiration? You've struck gold! We've got 30 killer styles lined up, ready to roll. From classic looks that never fade to fresh, modern twists, there's a bit of everything. After something bold or just a quick update? We've totally got you covered. Let's jump in and find your next amazing look!
1. Classic U-Cut
This style is a gem for wavy strands, complementing the hair's natural rhythm and allowing the waves to flow with grace. Thinking of a makeover? Choose this cut; it not only enhances volume but also accentuates those waves to perfection.
2. Layered Shag
The Layered Shag is a game-changer for those with wavy hair, adding depth and a fun, playful texture. If you're looking to capture this vibe, give the shag a try. It's edgy yet easy to manage. Ready to rock and roll?
3. Textured Layers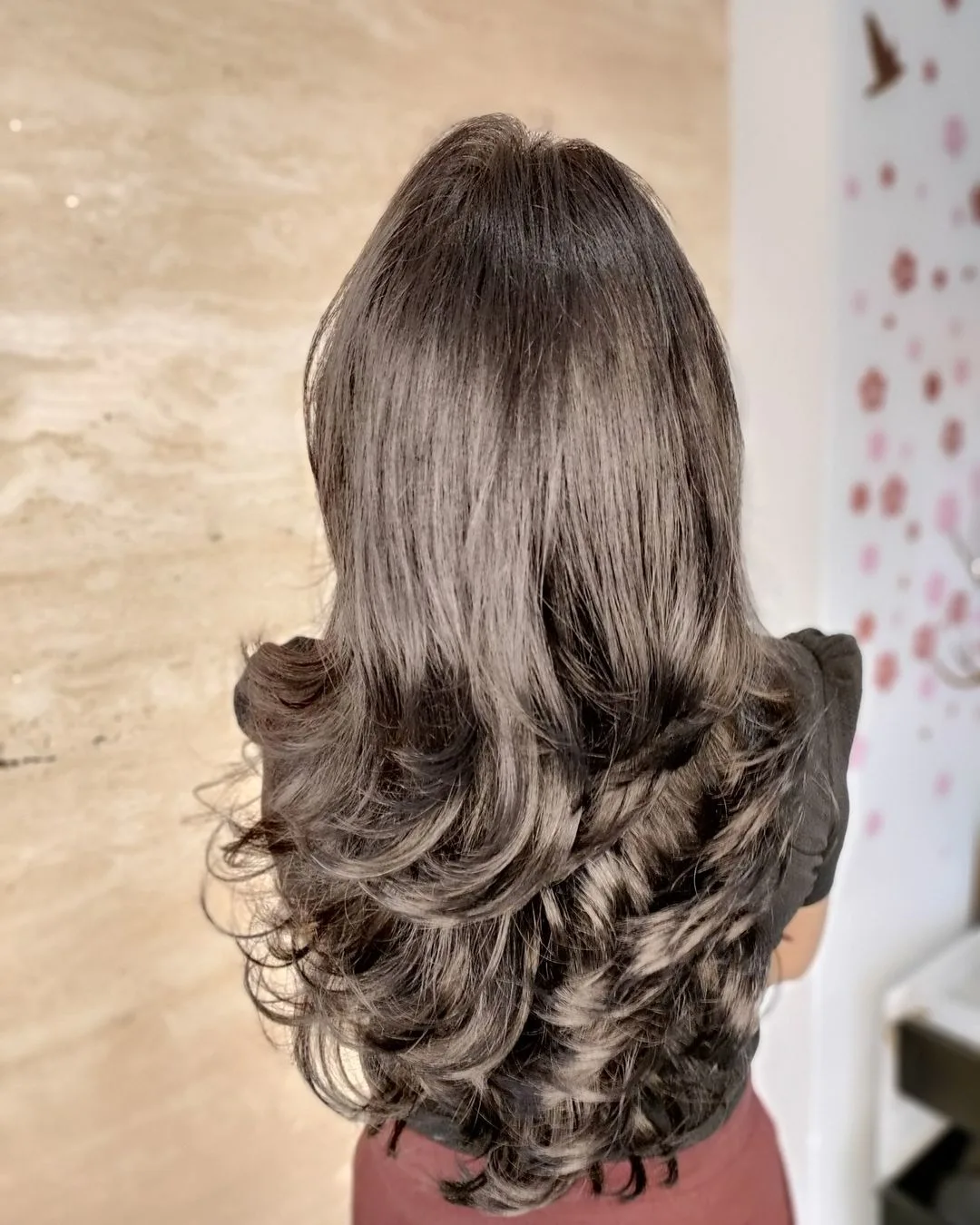 Textured layers truly bring out the best in wavy strands, offering depth and that sought-after lived-in vibe. If your waves need a touch of oomph, this cut is the way to go. It's not only stylish but also low-maintenance. Sounds like pure hair magic, doesn't it?
4. Feathered Layers
Pure breezy elegance. These layers frame the face, adding volume and movement, merging timeless style with a contemporary touch. It's the ultimate choice for effortless flair.
5. Straight Across Cut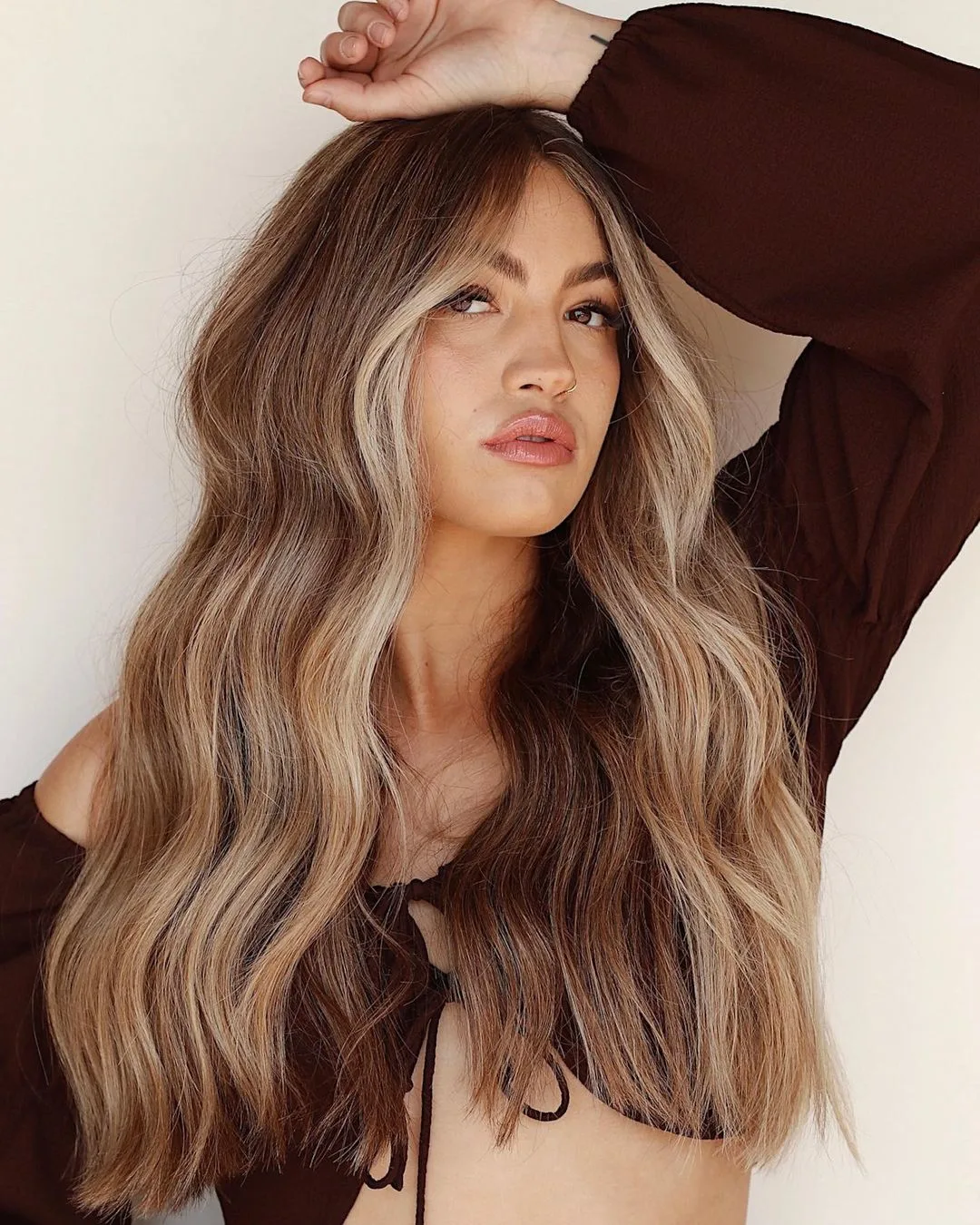 Want to stand out? While most opt for layers with their wavy haircuts, choose the straight-across cut. It offers a modern, stylish look while amplifying volume. Be bold from the inside out.
6. V-Cut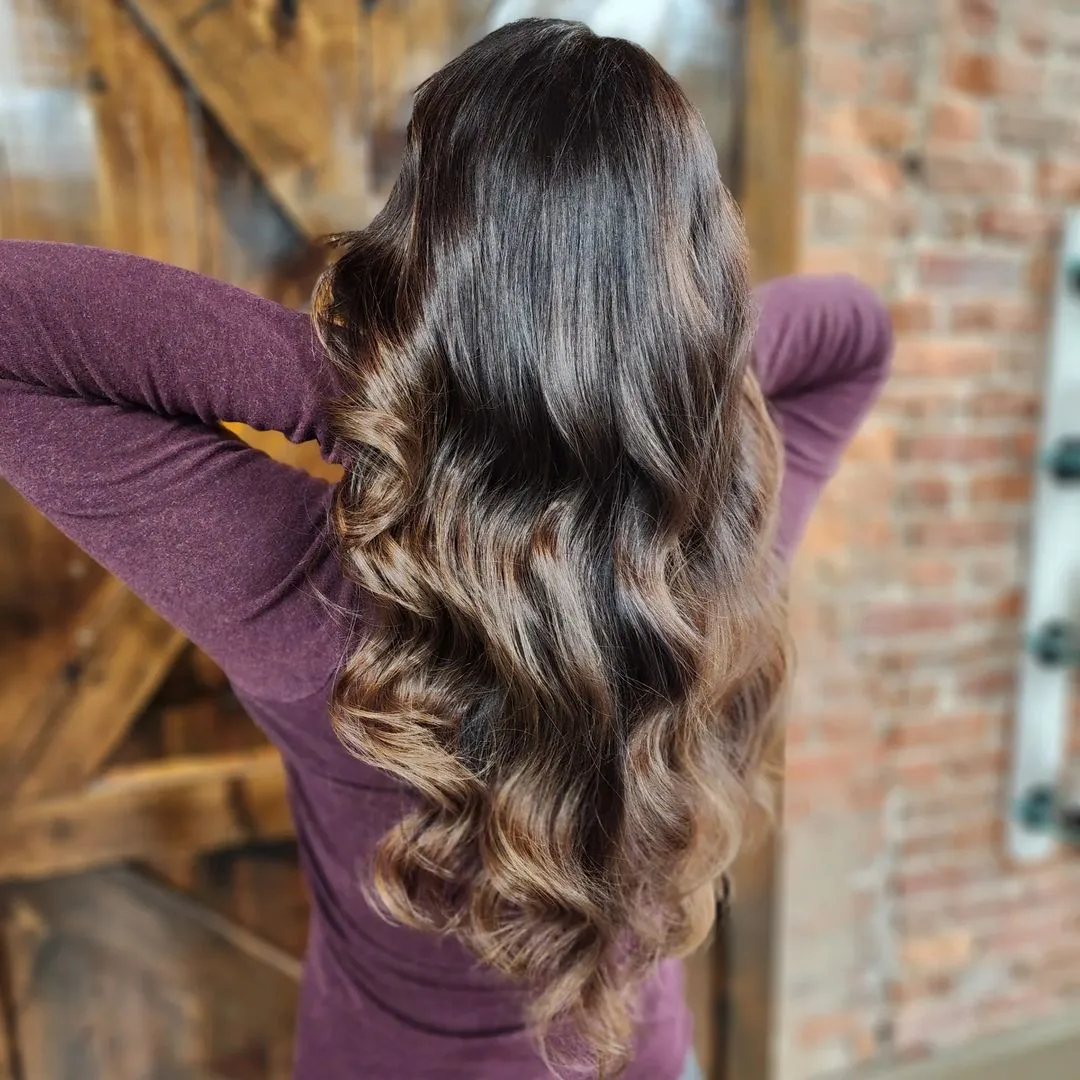 V-Cut on long wavy hair is like a magic trick. It gives you that cool waterfall vibe, keeps the length, and spreads out the volume just right. And talk about styling! Whether you're feeling beachy waves or a sleek look, it's got you covered. Got super thick hair? The V-Cut's a lifesaver, making it way more manageable. Cool, right?
7. Waterfall Layers
Waterfall layers provide a gentle lift to long wavy hair, making it easy to style, and are especially perfect for dense hair types, as they lighten the load while maintaining precious volume.
8. Face-Framing Layers
These layers begin around the face to elongate and soften features, blending seamlessly with your wavy hair for added movement and dimension. This style enhances your natural beauty, providing a versatile and flattering look for any occasion. Whether you're going casual or dressing up, face-framing long waves are a timeless, chic choice.
9. Long Curtain Bangs and Wavy Hair
Ever thought about curtain bangs for your long wavy hair? They've got this soft, sweeping vibe that's a total game-changer. Seriously, give them a try and see how they frame your face in the most gorgeous way.
10. Hollywood Waves
This red carpet look is glamorous and smooth, perfect for a fancy event. The hair is usually set to one side, all shiny and polished. Achieve its look by using a large-barrel curling iron and a shine serum.
11. Long Natural Wavy Hair
The woman in the photo rocks her long, natural waves – pure nature's magic right there! If you're aiming for that look, stick to light products that don't flatten those curls but keep them in place all day. Seriously, it's all about finding that balance!
12. Smoky Hair and Bold Waves
Ever seen smoky hair color on wavy locks? It's like a mystical haze dancing through your hair. And with those intense waves added? It's an absolute win! If you're considering it, definitely go for it. But just a heads-up: maintaining its freshness takes some effort. Trust me, though—you'll be catching glances left and right, making it entirely worth the effort!
13.Pastel Dyed Hair And Waterfall Layers
Pastel pink, blue, and green hues merging seamlessly on long wavy hair? The epitome of dreaminess! Combine that with waterfall layers, and you've got next-level hair art. However, bear in mind that maintaining such a hair color can be demanding, not to mention expensive. Regular upkeep is essential to keep it looking its best.
14. Wavy Locks in Cotton Candy Tones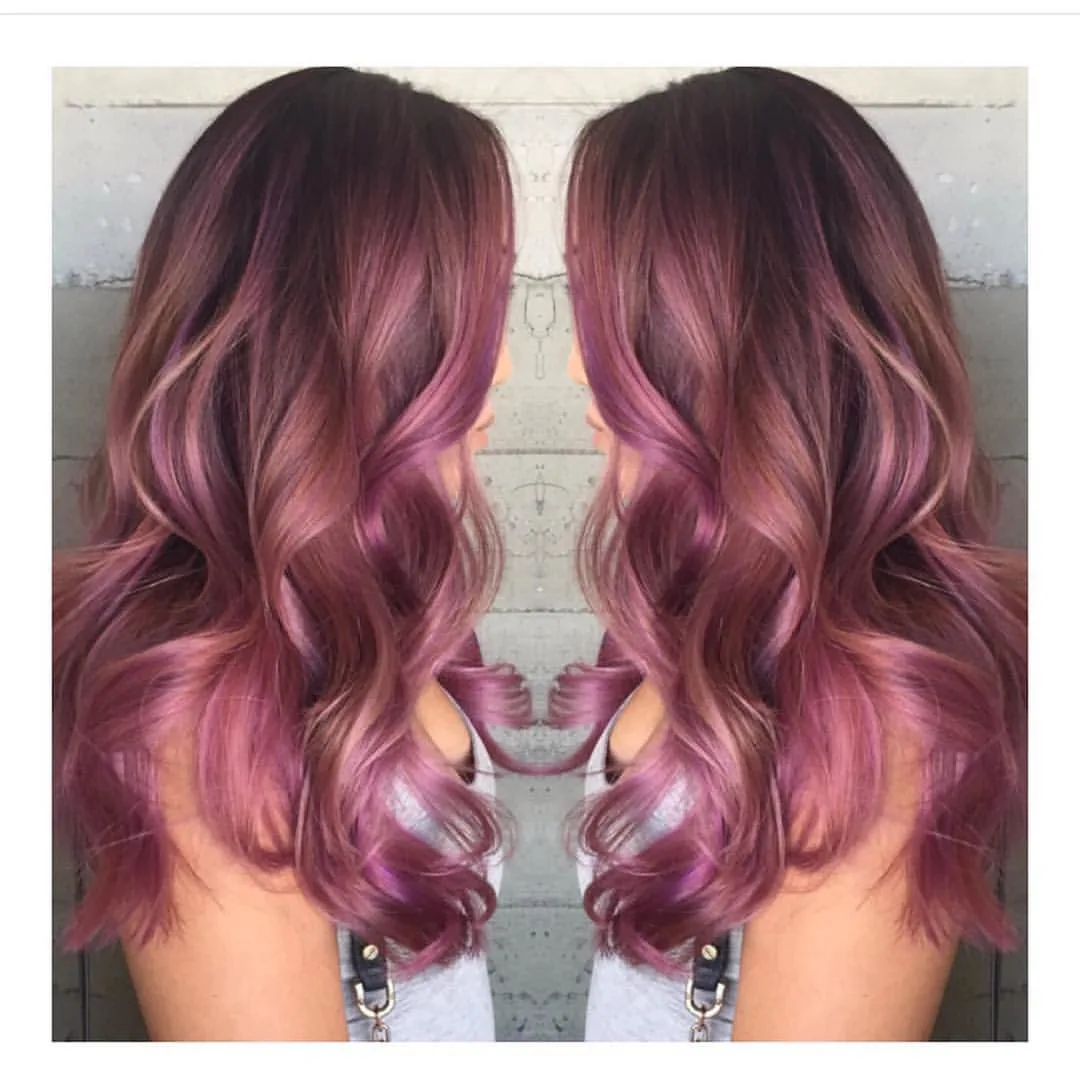 This multi-toned look combined with loose waves might be just the thing for you. Observing these soft shades of pink, lavender, and red not only provides a dreamy vibe but also reflects your playful nature.
15. Wavy Rainbow Hair
This defines a fresh look: a Pravana-enhanced hairstyle. Radiant with deep purple and sprinkled with rainbow hues, it captures the magic of mermaids, unicorns, and fall's rich tones. Coupled with long, playful waves, it sets the trend for the season. Prepare to dazzle!
16. Purple Allure
The bewitching style is adorned with rich purple hues masterfully painted onto the hair. Imagine long, elegant waves unfurling in classic Hollywood fashion. The deep shadow root contributes depth, harmonizing seamlessly with the cascading waves. This look is both timeless and utterly captivating, an ideal choice for those looking to make a statement
17. Caramel Balayage Thick Waves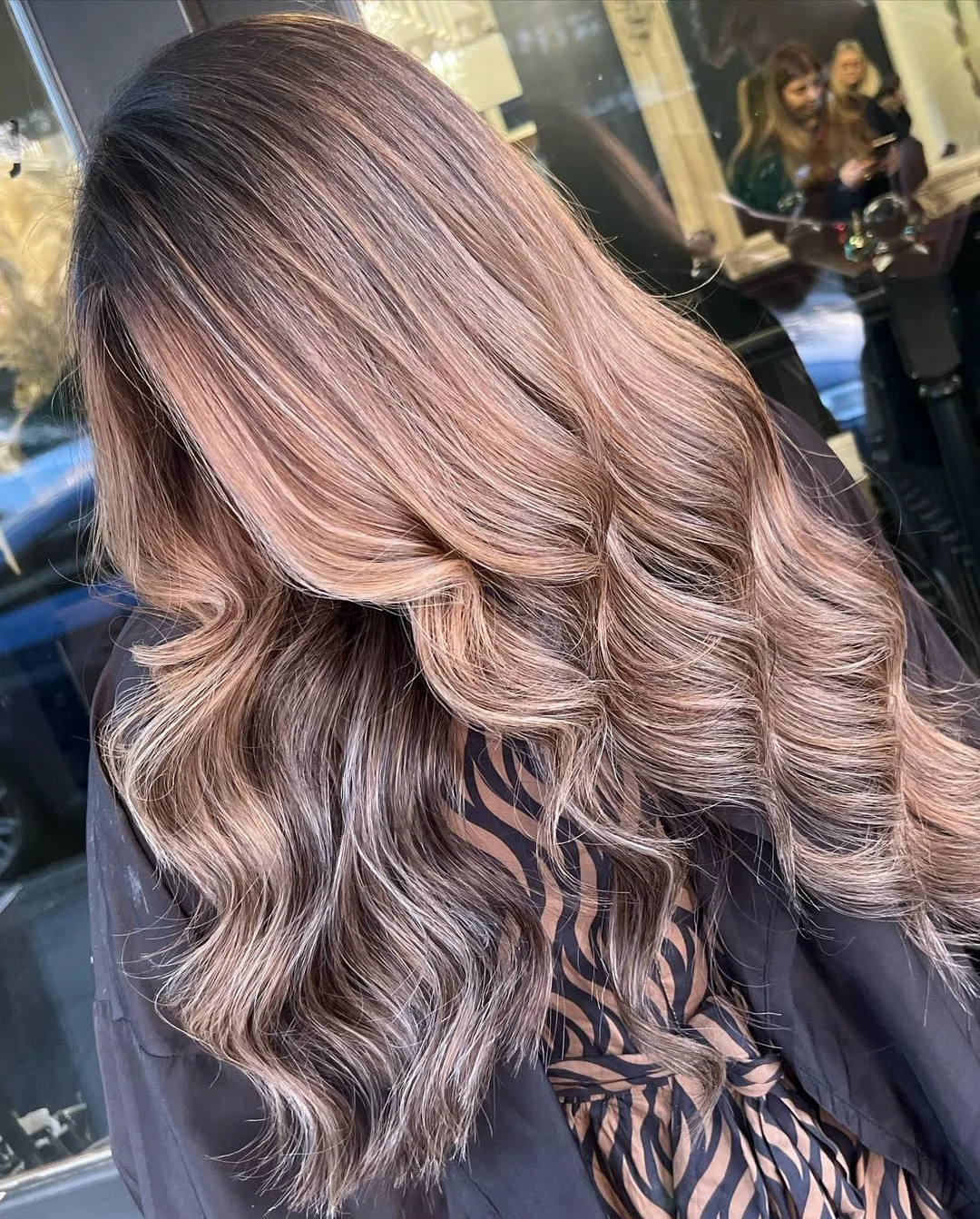 This look boasts versatility, suiting every season with ease. The luxurious thick waves bring unparalleled dimension, enriching the hair's appearance. Diverging from prior color choices, this style promises minimal upkeep. The adept coloring technique seamlessly merges the hues, effectively camouflaging any potential regrowth.
18. Beach Waves On Thin Hair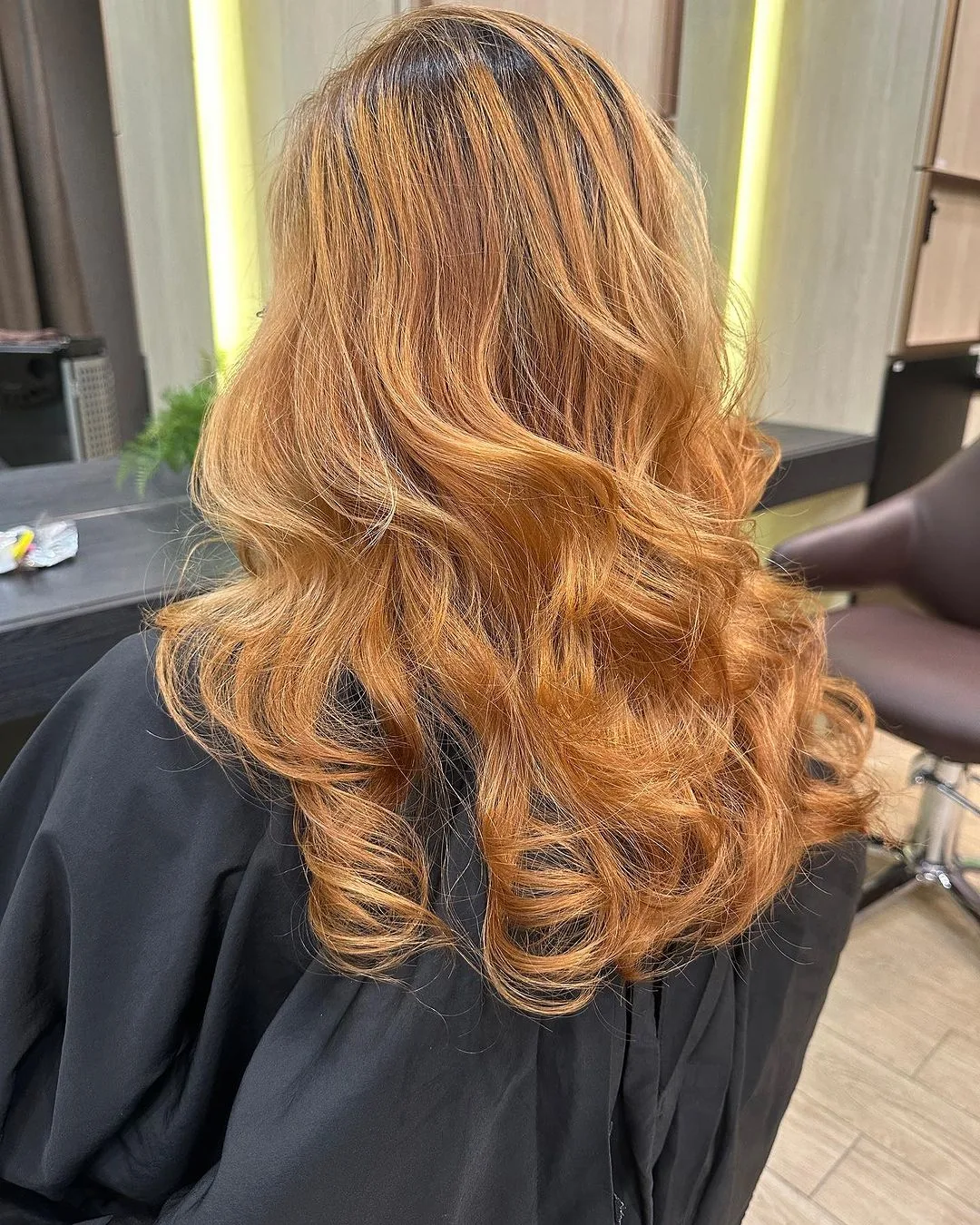 If you're aiming for a fuller hair appearance, this hairstyle is an ideal option. It works wonders for ladies with finer or less dense locks, creating an illusion of volume. Additionally, this perm lends a laid-back feel to your look while contouring your face, creating a more petite facial appearance.
19. Bronde Balayage on Long Wavy Hair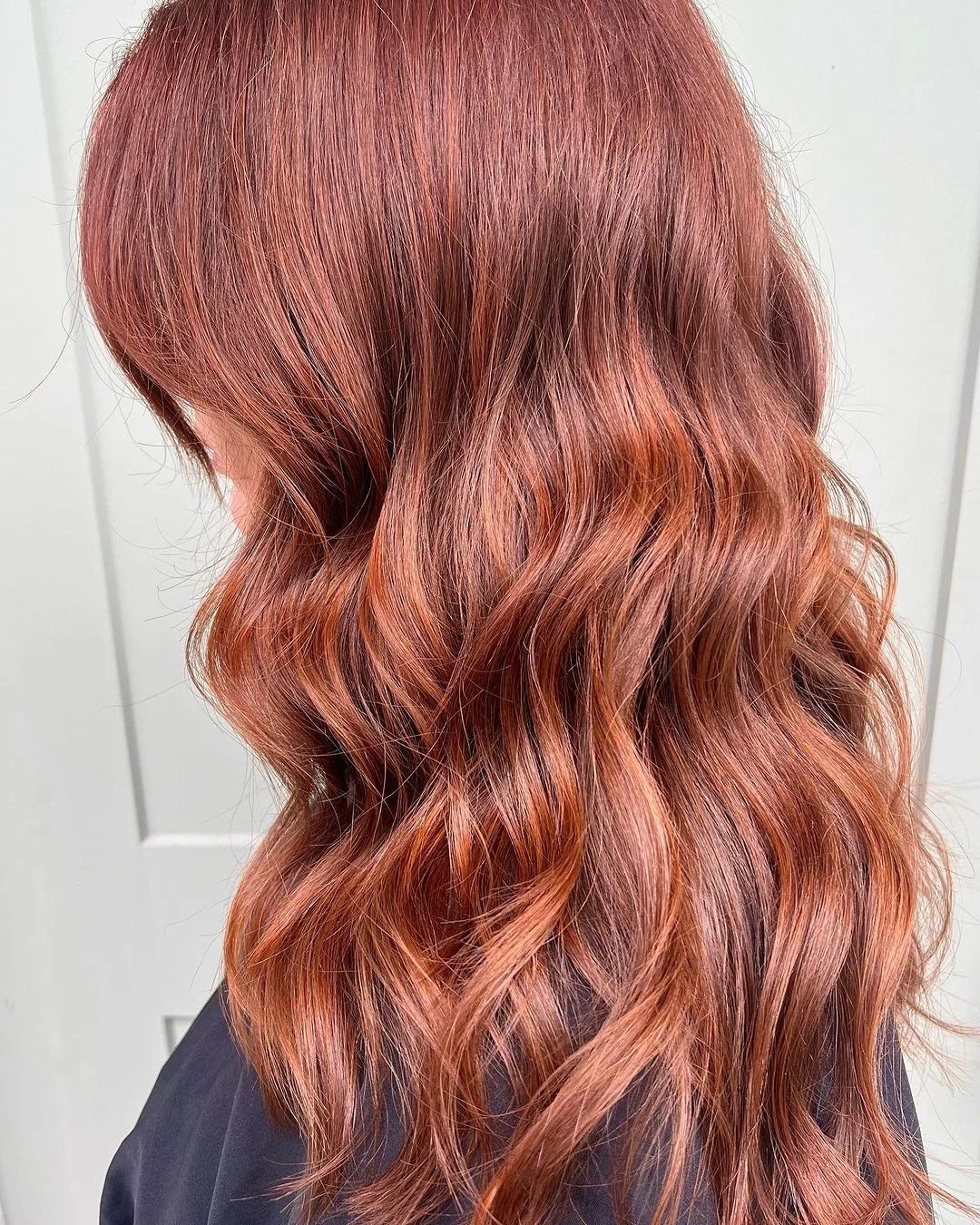 A stunning bronde balayage, flawlessly blending brown and blonde hues through the long, wavy locks. The coloring adds captivating depth and dimension, playing up the waves to create a multi-dimensional effect. It's a low-maintenance look but gives an effortlessly chic vibe, making you stand out in any crowd.
20. Hair Extensions For Luxurious Wavy Look
Another lifesaver for thinner hair is hair extensions, which can elevate any look. Blonde highlights help define the waves, making them more prominent and adding extra dimension to the hair. This look will give you a touch of glamour and shine you never knew you needed.
21. Half-Up, Half-Down Bridal Waves
Embrace the chic simplicity of a half-up, half-down hairstyle on your wedding day, suitable for any hair type. It creates a polished look while letting your long tresses flow freely, ensuring a romantic and photogenic appearance from every angle. Add a personal touch with a veil or glittering pins to amplify the bridal glow.
22. Half-Up, Half-Down Enhanced With a Braid
Elevate the classic half-up, half-down style with an added braid for a look that's gorgeous, elegant, and dreamy. The combination of intricate braids and lush waves creates an irresistibly romantic aura.
23. Effortlessly Chic Long Waves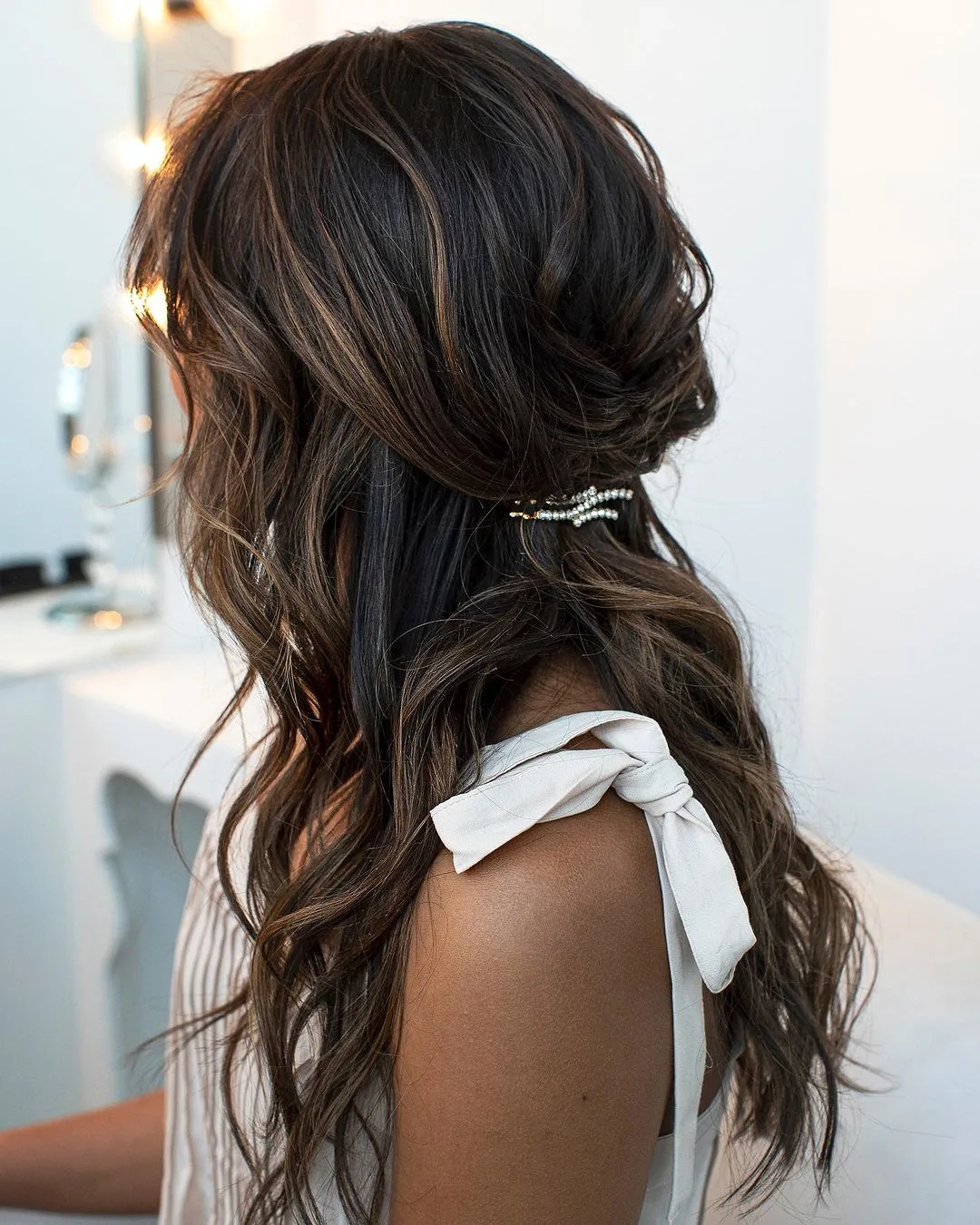 Timeless and classic hairstyle, perfect for any occasion. This amazing hairstyle enhances your natural beauty and adds a flattering, voluminous touch to your look.
24. The Statement Ponytail
Many hairdressers would agree that sometimes pulling off a great ponytail feels harder than just throwing your hair up in a fancy updo. On long, wavy hair, a ponytail can really make a statement, capturing a look that's both effortlessly chic and powerfully stylish.
25. Bohemian Rhapsody Waves
Embrace the rebellious allure of this layered, long wavy hairstyle, enriched with a balayage effect. The unpredictable waves, infused with gradational hues, create a spontaneous yet refined look. This artful disarray celebrates texture and dimension, ensuring a trendy, laid-back vibe.
26. Easy Breezy Waves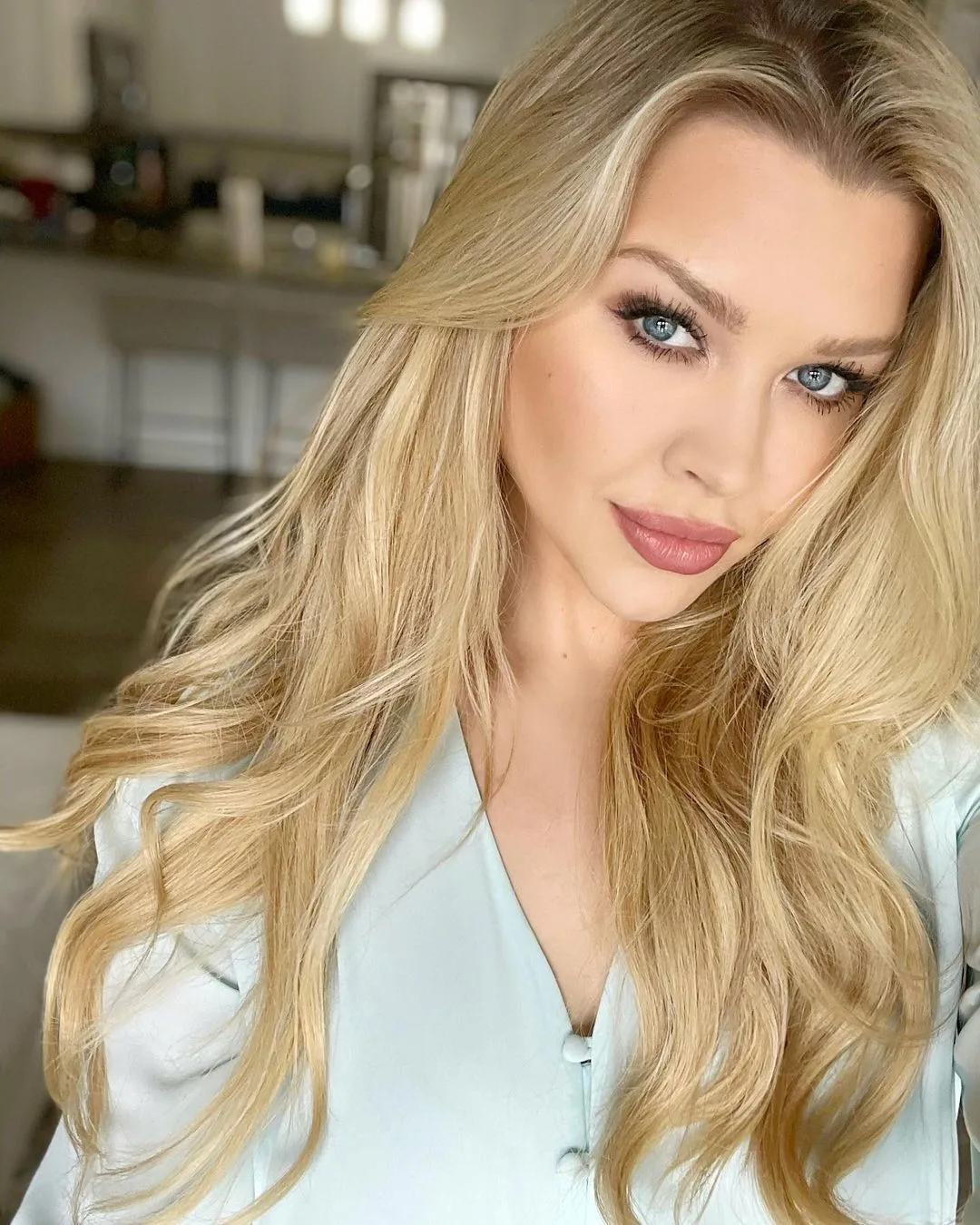 This casual, tousled wave is a real lifesaver for the daily hustle. It's breezy, quick to style, and works with any outfit, giving you a cool, unstudied vibe without much fuss — perfect for running around while still looking fabulous
27. Modern Auburn Elegance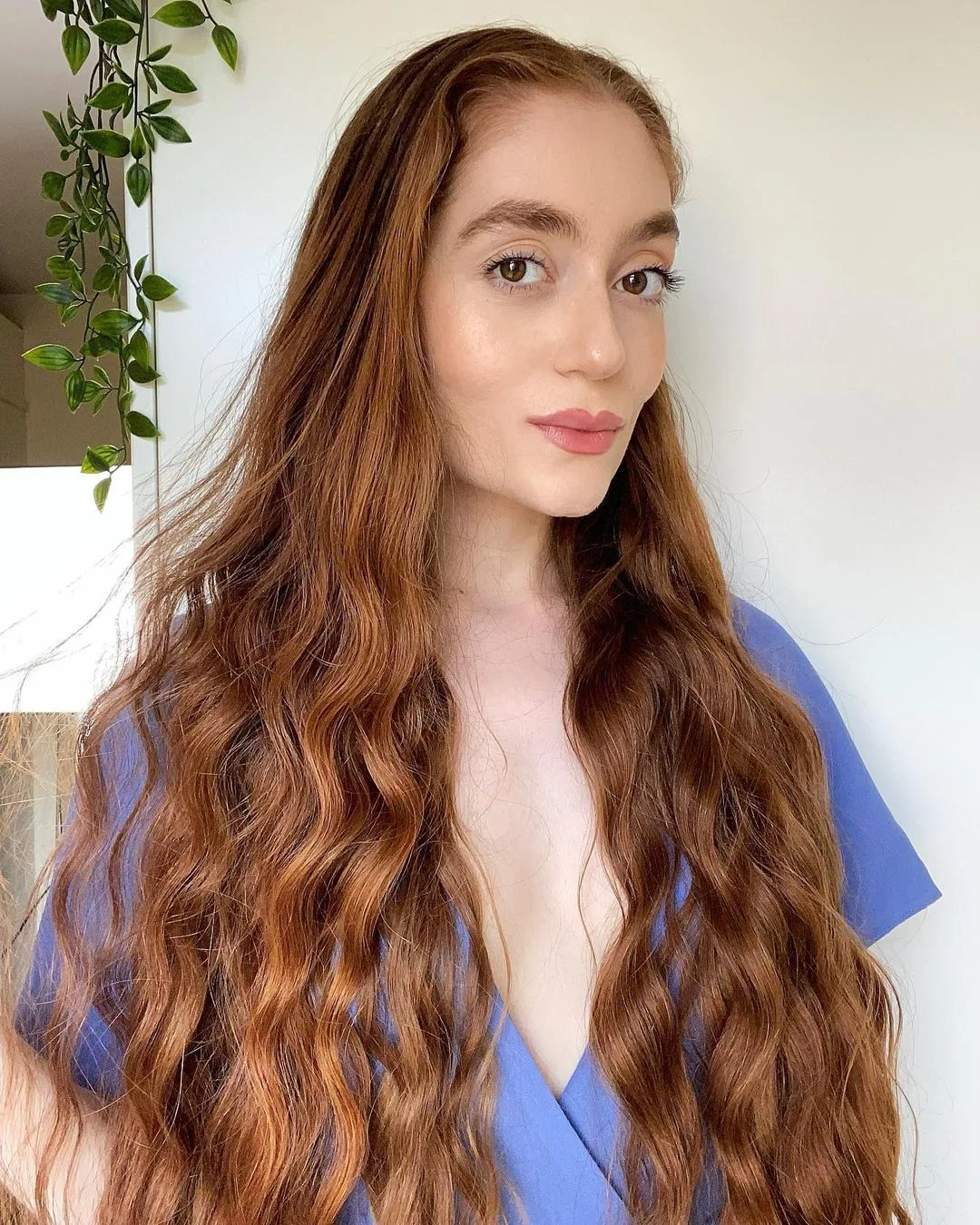 Her auburn waves are simply stunning, falling naturally and effortlessly. She's totally giving a redhead Rapunzel vibe, but in a cool, modern way. What a fabulous example of how gorgeous natural, long hair can be when you just let it do its thing!
28. Glamorous Lavender Waves
This look is out of this world, but it's something everyone would dream of wearing. So, if you're thinking about experimenting with color, this is your cue. Iced violet and extensions create a stunning pastel melt at the ends, making these waves just perfect.
29. Baby Ponytail and a Quick Wave
This unique hairstyle features a cute baby ponytail at the crown, seamlessly blending into a cascade of long, quick waves for a playful yet elegant look. It's a refreshing departure from the ordinary, sure to turn heads and spark interest.
30. Metallic Obsession
Indulge in the elegance of this short, shadow-rooted hairstyle that effortlessly transitions into a stunning blue ombre. The long, wavy locks are highlighted with shades of metallic blue and platinum, creating a bold yet graceful look. Perfect for making a statement, this hairstyle is a captivating choice.