If you want to level up your hairstyle, check out these up-dos for long hair. The carefully picked selection includes hairstyles ranging from elegant evening styles to casual looks that you can wear in the middle of the day. Get ready to discover your next go-to hairstyle and look stunning.
1. Luxury Ponytail
Gorgeous is another name for this ponytail. Long, wavy, pulled-back hair with a silver accessory is a thing of magic. And the rose gold color really adds to the luxury of this style.
2. Glam Barbie Up-Do
The Barbie-inspired high bun exudes elegance and sophistication. The bun is not only stylish but also practical, keeping hair neatly out of the face. The definition of refined glamour!
3. Casual Low Twist
Timeless low bun makes a versatile choice that can be dressed up for formal events or given a casual twist for everyday wear. A thing of beauty.
4. High Ponytail
A generational hairstyle that will never fail you. A style that is both casual and sophisticated, fit for any occasion. You can't go wrong with a good ponytail!
5. The Loop
Simply pull your hair back into a low ponytail and then loop the ponytail back through to create a soft, rounded shape at the nape of the neck. Simple and classy.
6. Mohawk Long Hair Up-Do
Want to stand out from the crowd? Go for a bold yet elegant Mohawk Up-Do. This style takes a lot of effort, but it's totally worth it.So glamorous and fun!
7. Curl Swirls
Probably the most romantic hairstyle of all. This up-do is particularly flattering for curly long hair, showcasing the hair's natural volume and texture. A touch of vintage glamour!
8. Low Bun And Side Braid
Classic elegance that combines a fishtail braid and a smooth low bun. If you are skilled with braids, you can easily recreate this yourself. Truly a sophisticated and playful look!
9. Low Twisted Bun
For an effortlessly chic look, go with a low twisted bun. It's easy to recreate, even if you're not a skillful hairstylist. Pro tip: it holds better in hair that's not freshly washed.
10. Messy High Bun
The ruler among up-dos, great if you want to make your face appear longer. Often seen on runways and in fashion blogs as a symbol of laid-back elegance. An up-do worthy of a queen!
11. Braided High Ponytail
The beauty lies in simplicity. This effortless and chic choice works for any occasion. To elevate it further, tie a few daring bows and you're guaranteed to look amazing.
12. Top Knot & Clip
Are big clips making a huge comeback? It seems so, as we can see them everywhere nowadays. A great, effortless everyday look that some will adore and others may pass on.
13. Braided Up-Do With Top Bun
From meetings to the dance floor, this versatile hairstyle keeps you looking stunning and ready for anything. It's the perfect style when you want to stand out without looking like you're trying too hard.
14. Dutch Braid Around The Head
This style really reminds one of a crown of braids with a twist – the Dutch braid gets thicker on one side, giving this up-do an asymmetrical and edgy look. Literal perfection!
15. Barbie Glam High Ponytail
Channel your inner Barbie with this chic and sleek high ponytail. A hairdo that's as simple as it is fabulous. If you're looking for a style transformation, make this your first choice.
16. Side-Accented Braid & Low Ponytail
It's a loosely pinned up-do that, aside from the ponytail and braid, features wisps of hair cascading along the sides, adding to the soft elegance of the hairstyle. Pure romance in one hairstyle!
17. Elegant Low Bun
Definitely a sophisticated hairstyle that looks polished, despite a few twists and wavy wisps of hair here and there. A classic look that never goes out of fashion.
18. Trending Textured Up-Do
Big hair deserves a big hairdo. That's why layers and elegant twists mixed with wisps of hair are perfect for adding a touch of glamour to any occasion.
19. Boho Braid Perfection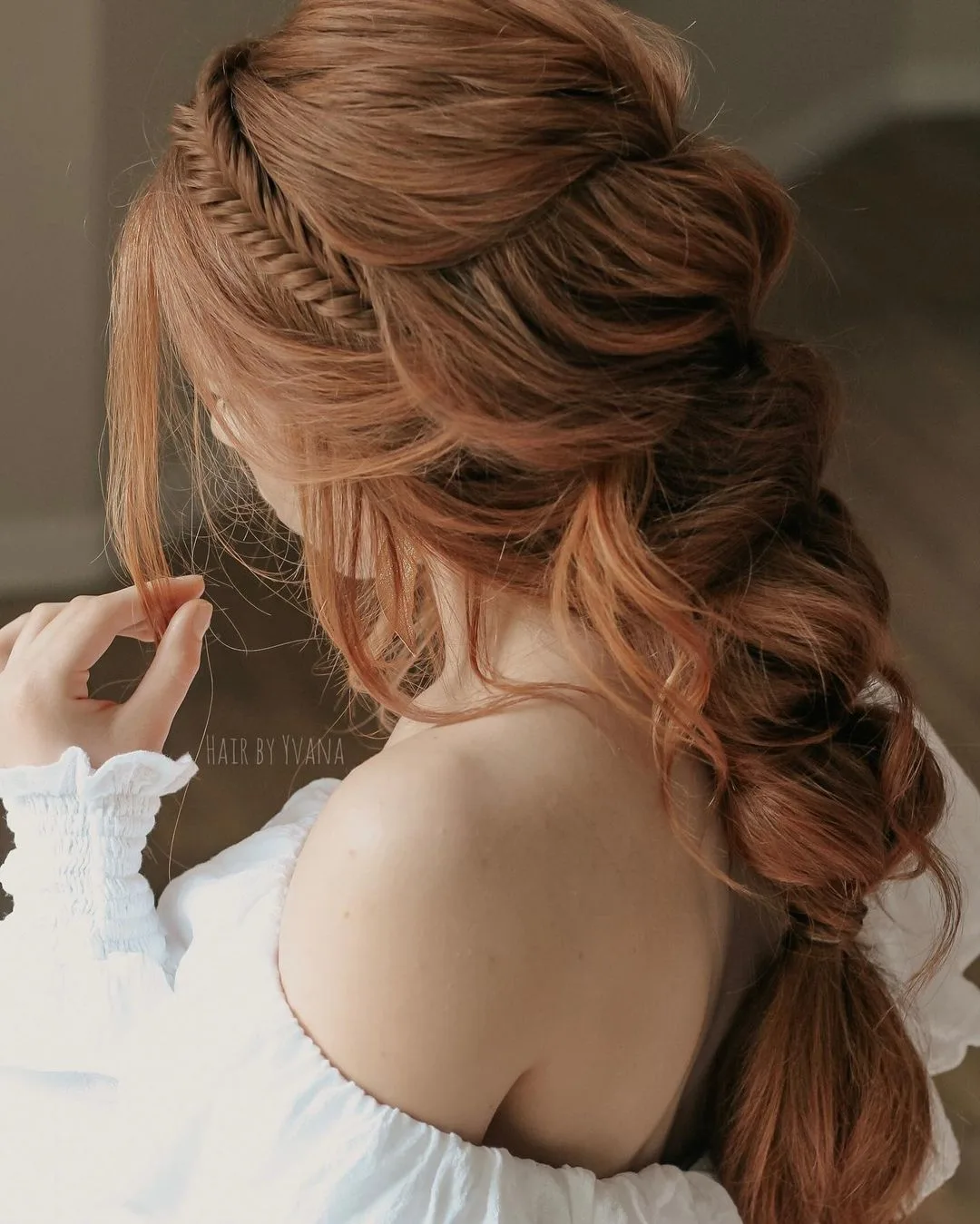 A style for all the long hair braid lovers out there. It's a hairstyle not everyone would dare to do themselves, but if you do, add a bit of volume powder and then gently tug at them to get that perfect, lived-in look!
20. Bling Bun
With super long hair, whipping up a bun is the quickest and easiest hairstyle. It's the ultimate solution to never having a bad hair day. Accessorize with some chic hair jewelry, and the look is golden!
21. Effortless Top Knot
For a business meeting or a coffee date, opt for a high top knot with bangs. This look won't fail you. You'll look extra classy in a matter of minutes.
22. Textured Low Bun
Oh, the special occasion style that is indeed special. The bun, designed with loops and twists that give it depth and dimension, looks so luxurious. So beautiful and glamorous!
23. Bun & Bow
To add more class to an already elegant low bun, just accessorize it with a bow and you're ready. Refined details often give a hairdo the edge it needs for special occasions.
24. Scarf-Woven Fishtail Braid
If we want to elevate a simple fishtail braid, it's enough to find a small scarf and weave it in with the braid. Hair accessories are always a good idea.
25. Twist Hair Casual Up-Do
Twisted and pronounced in the middle, polished on the sides with a loose ponytail, this is a casual hairdo that's easy to create. For a bonus appeal, go with colorful highlights and look awesome.