If you're a brunette looking to switch up your look, you don't have to go far. Instead of completely changing your hair color, a brunette balayage might be just the boost you need—it's highly customizable, low-maintenance and doesn't damage your hair.
Feeling intrigued? Take a look at these striking examples of a timeless look.
1. Hazelnut Brunette Balayage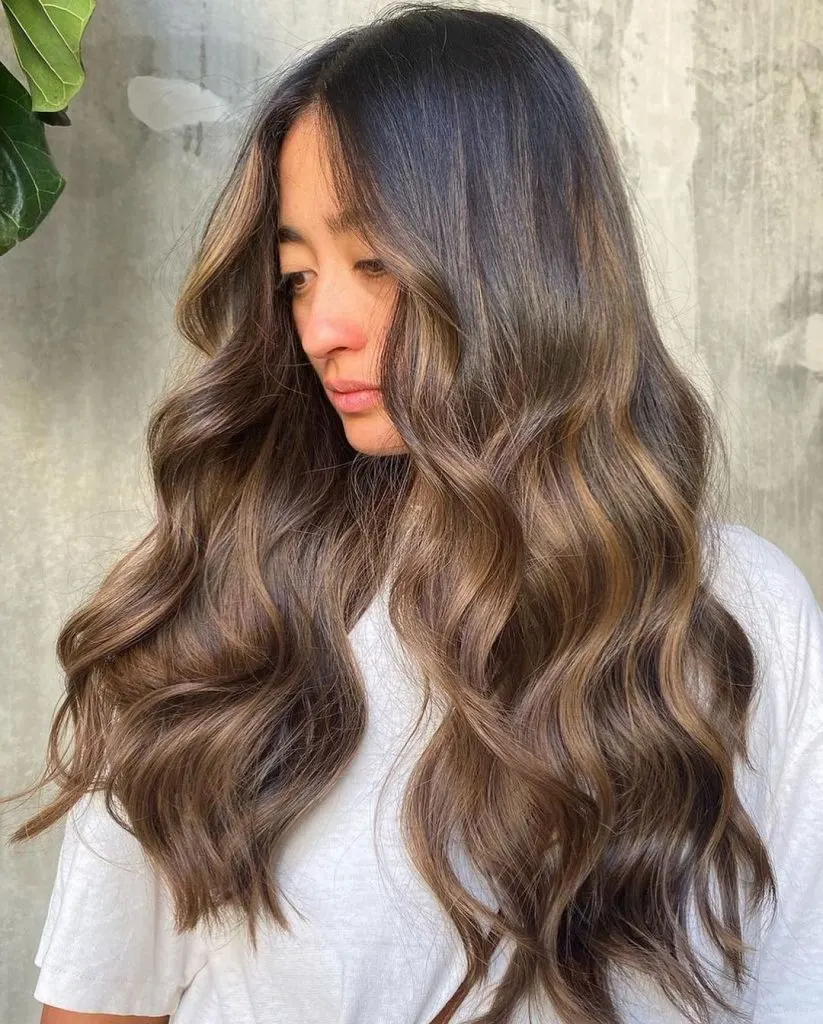 Delicate and dreamy: the soft hazelnut highlights give these thick dark brown waves warmth and brightness, creating a pretty and romantic look.
2. Ash Brunette Balayage Hair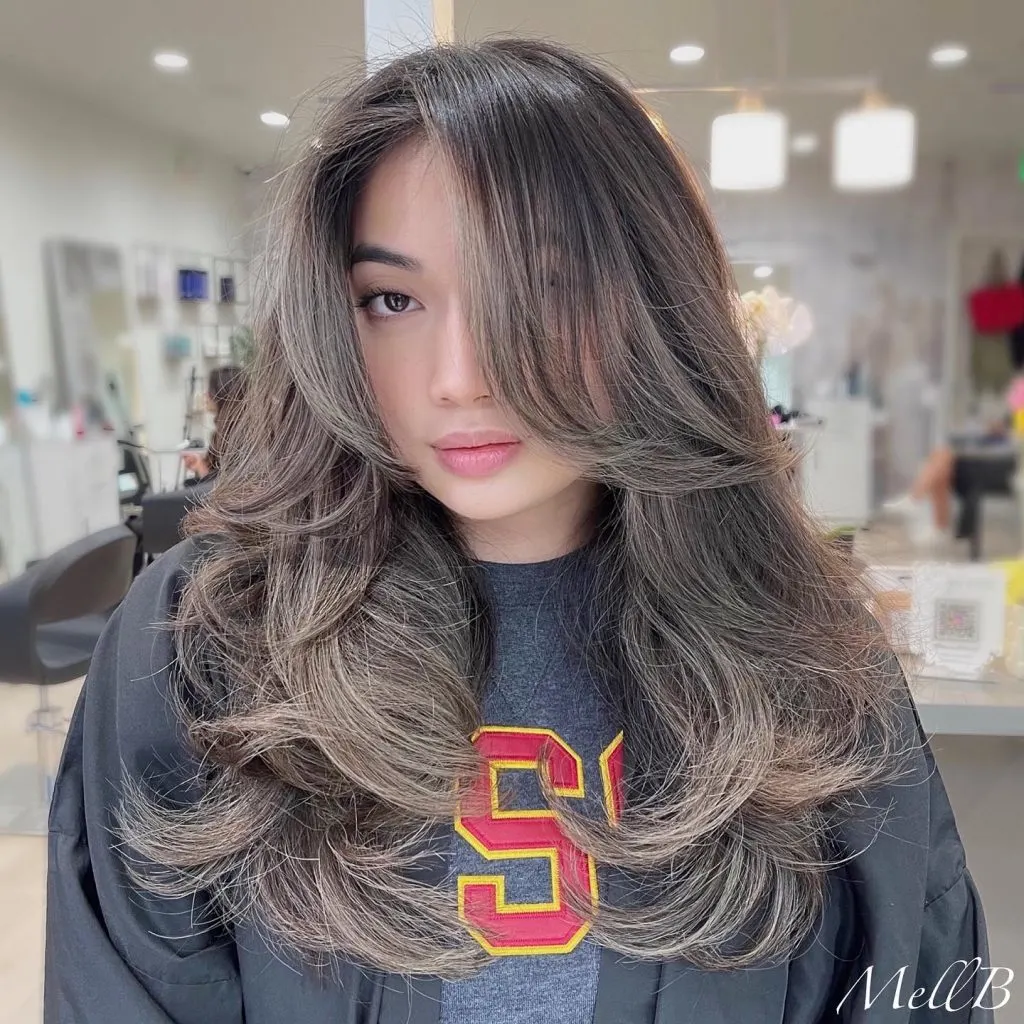 This trendy light ash brown melts into the cool-toned dark base perfectly, resulting in a look that's much lighter but in complete harmony with the natural roots.
3. Chestnut Brunette Balayage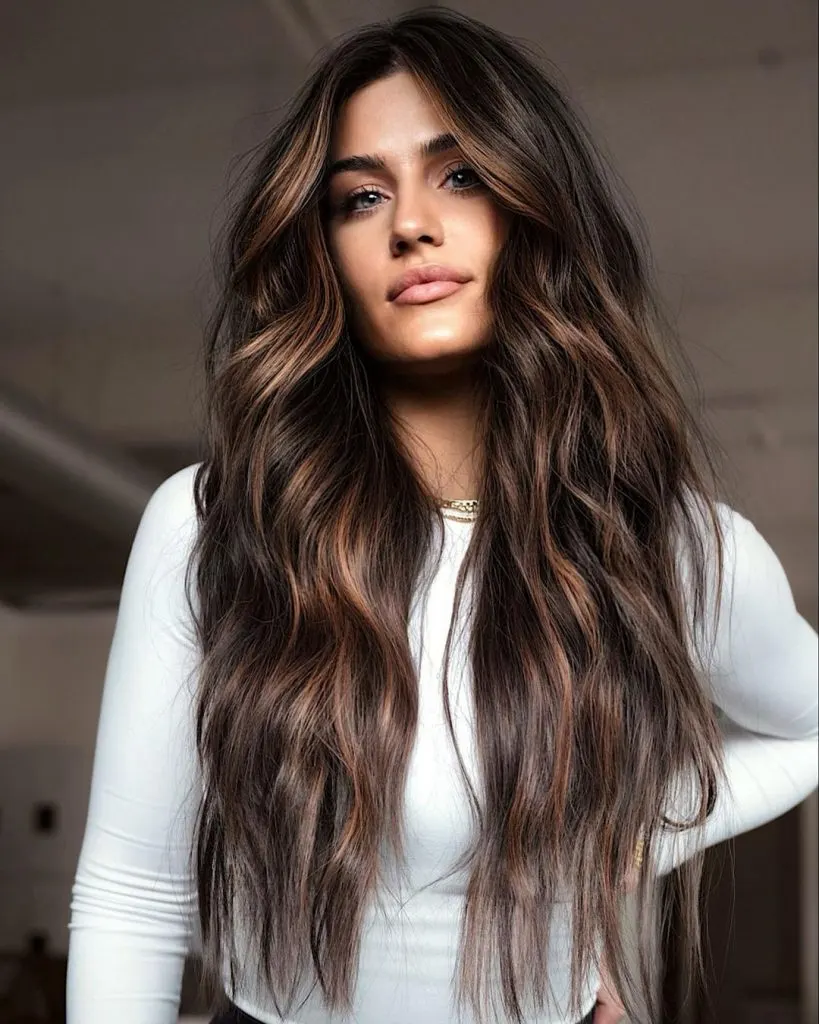 Chestnut and caramel combo doesn't only sound delicious, this flawless balayage also look yummy. A gorgeous warm brunette look for the fall.
4. Subtle Natural Brunette Balayage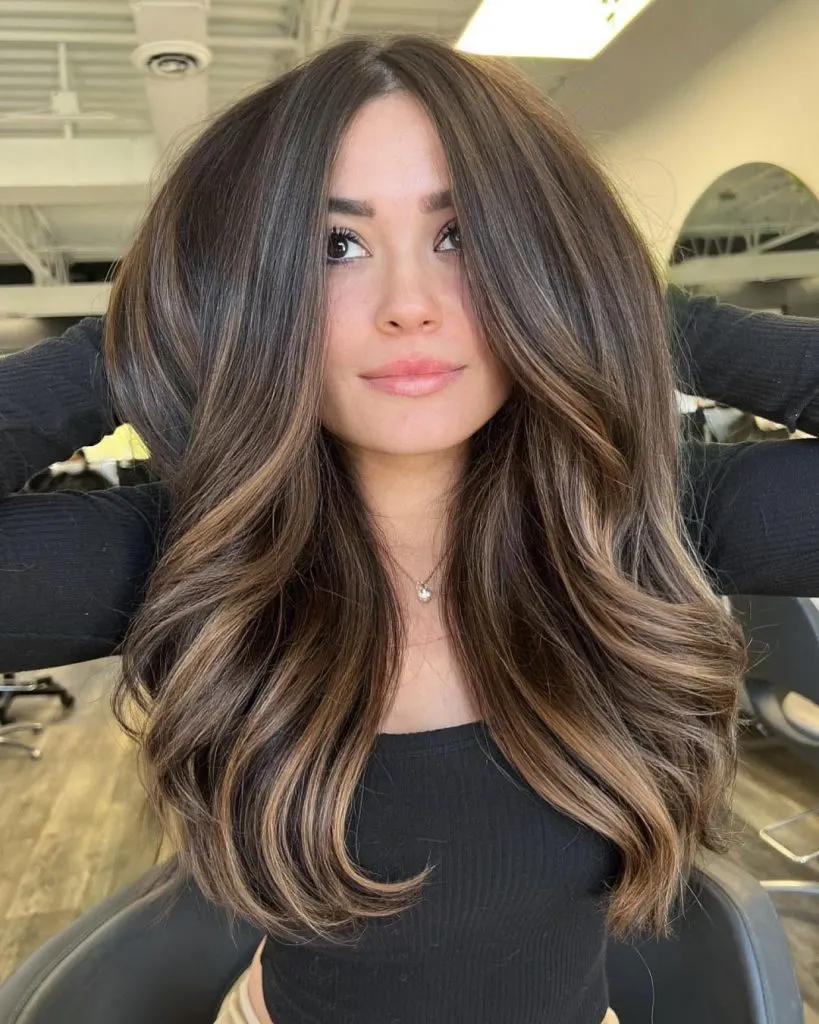 Subtle balayage only a couple of levels lighter than the base color is the understated way to achieve a vibrant and lively look.
5. Beachy Bronde Balayage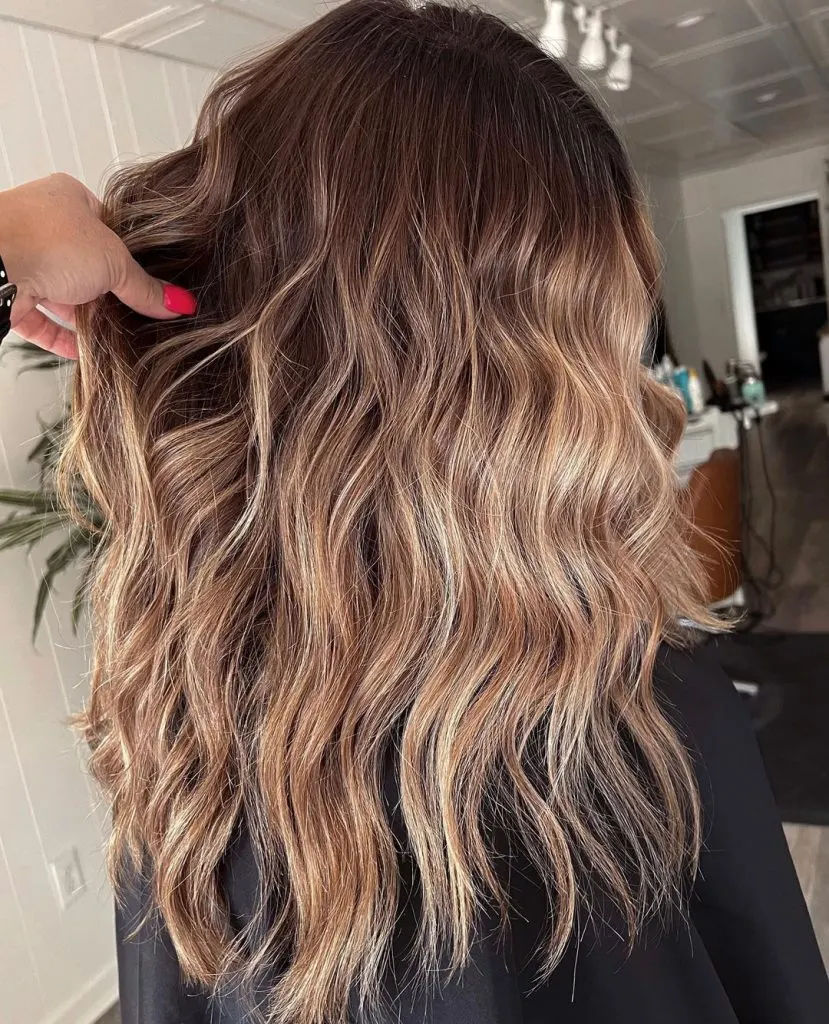 You love your natural hair color but you want a change? Low balayage—cheekbone height or lower—will preserve just enough of your base while still giving you a dramatic transformation.
6. Dark Vanilla Brunette Balayage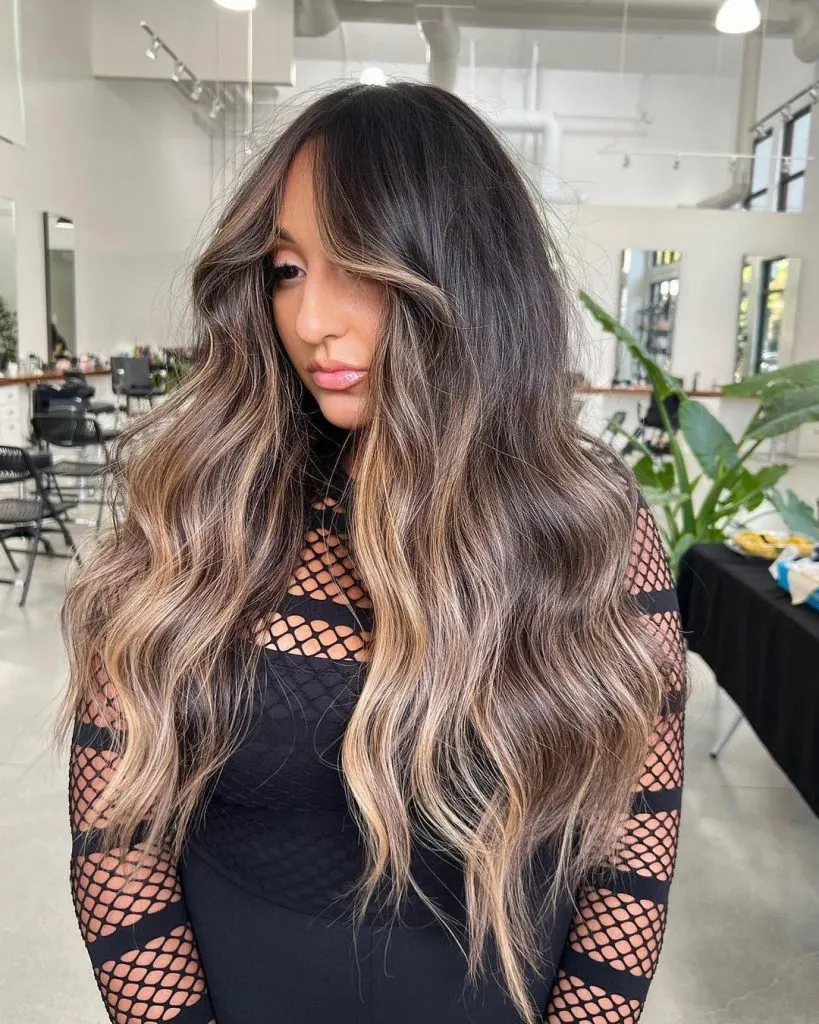 Low-effort lighter hair isn't out of reach—this simple balayage that combines thick streaks in the front and sparse, wispy babylights throughout creates a stunning effect with minimum lightening.
7. Honey Brunette Balayage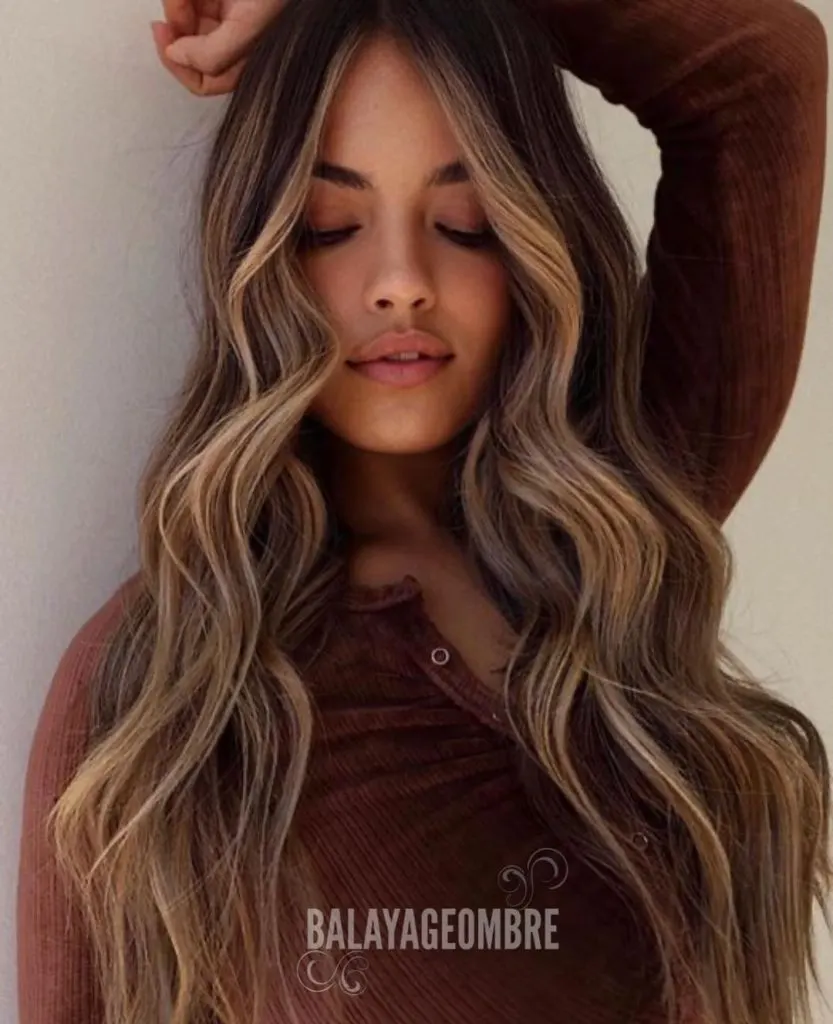 You have two options when getting money pieces: edgy high contrast with no connecting strands or a natural look like this choco-honey blend—it's all down to your personal preferences.
8. Mushroom Brunette Balayage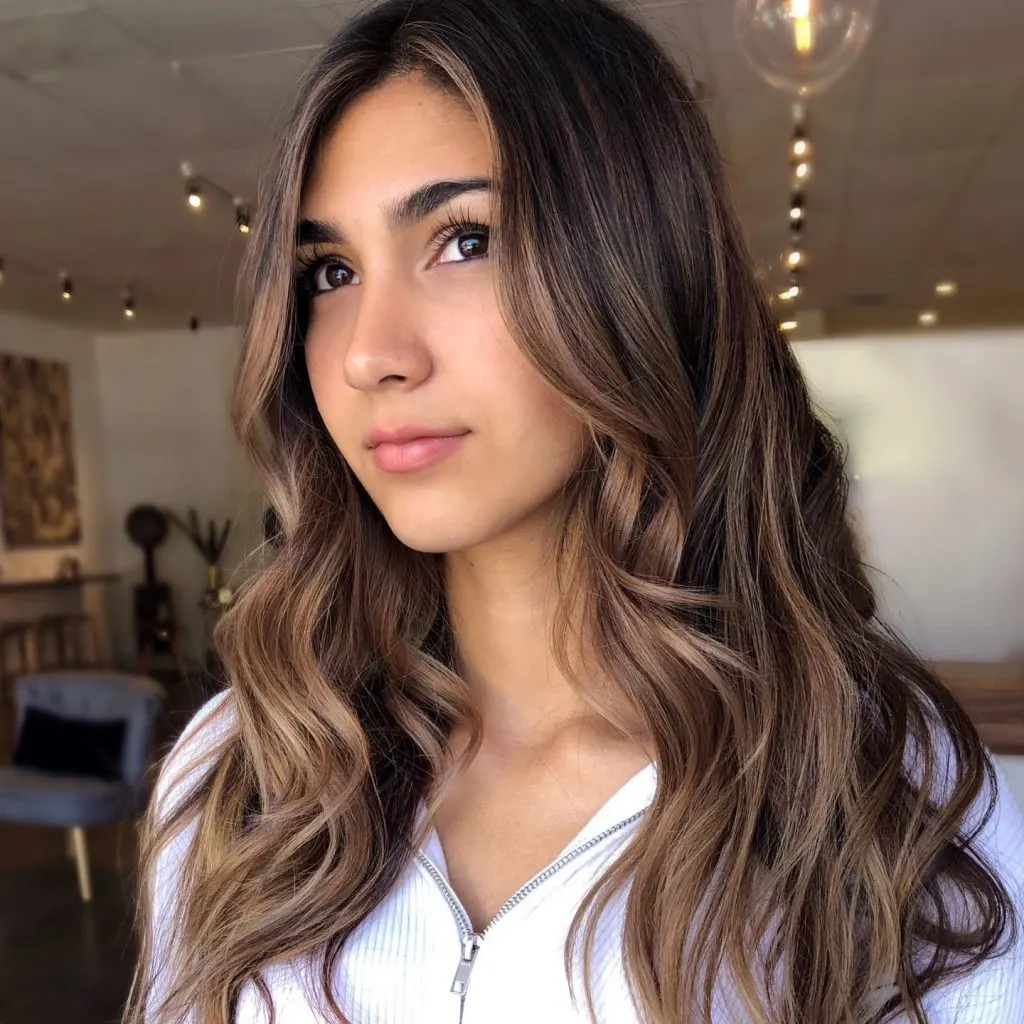 This mushroom brown balayage is so seamless that it's nearly invisible—you can't tell what exactly is going on, but you can see that something has been done to make the color come alive.
9. Blonde Streaks On Brown Hair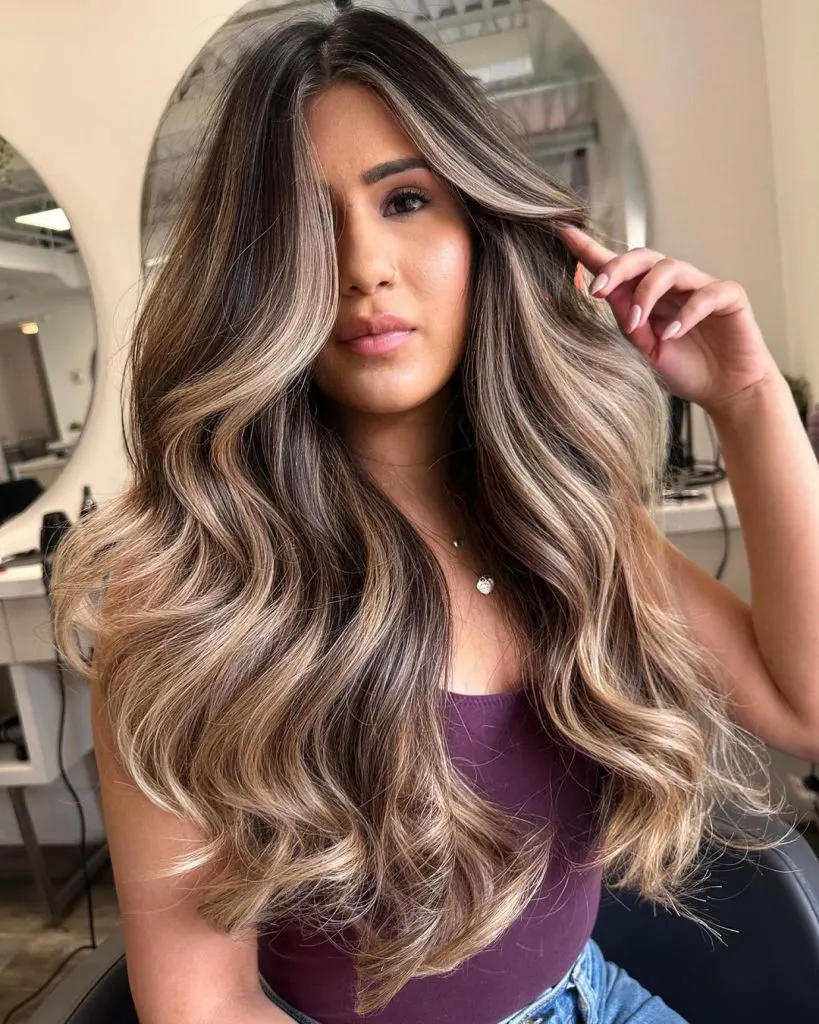 Dark blonde balayage on brunette hair is a low-key way to have the brightness of blonde hair without going all out. It also requires far less upkeep than going full blonde, saving you time and money.
10. Bronde Highlights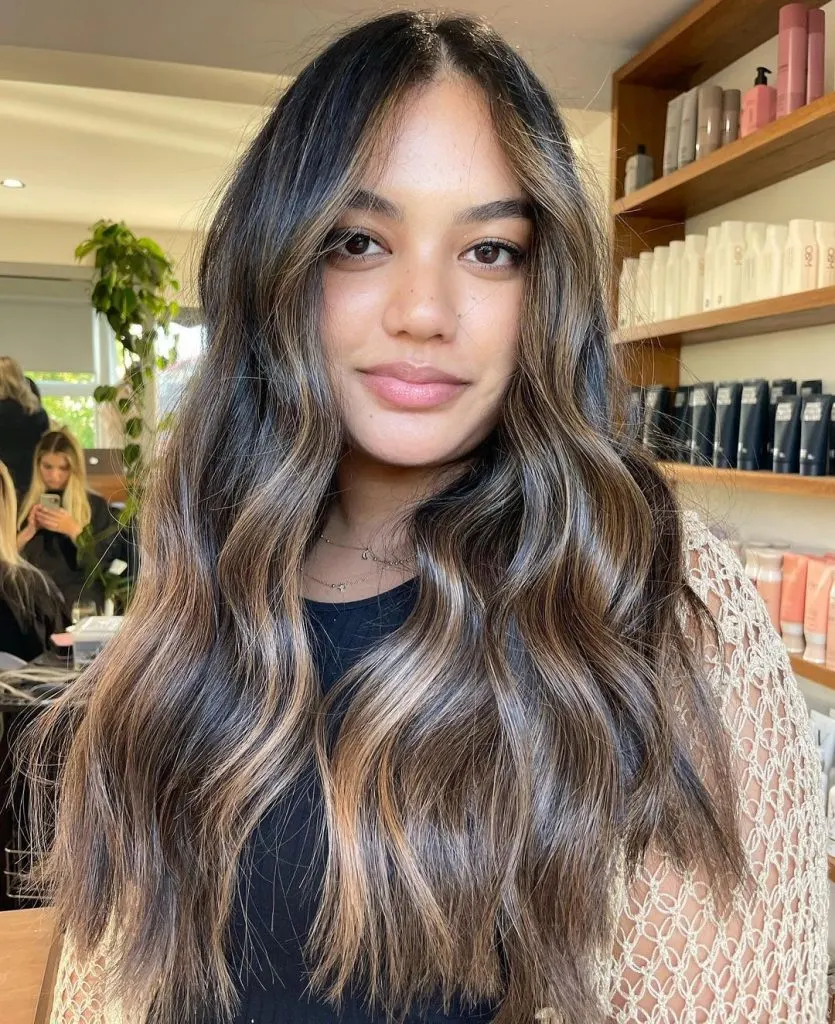 Bronde isn't just for the indecisive, it's an attractive shade in its own right—these warm, casual bronde highlights naturally complement dark brown hair.
11. Soft Ash Brown Brunette Balayage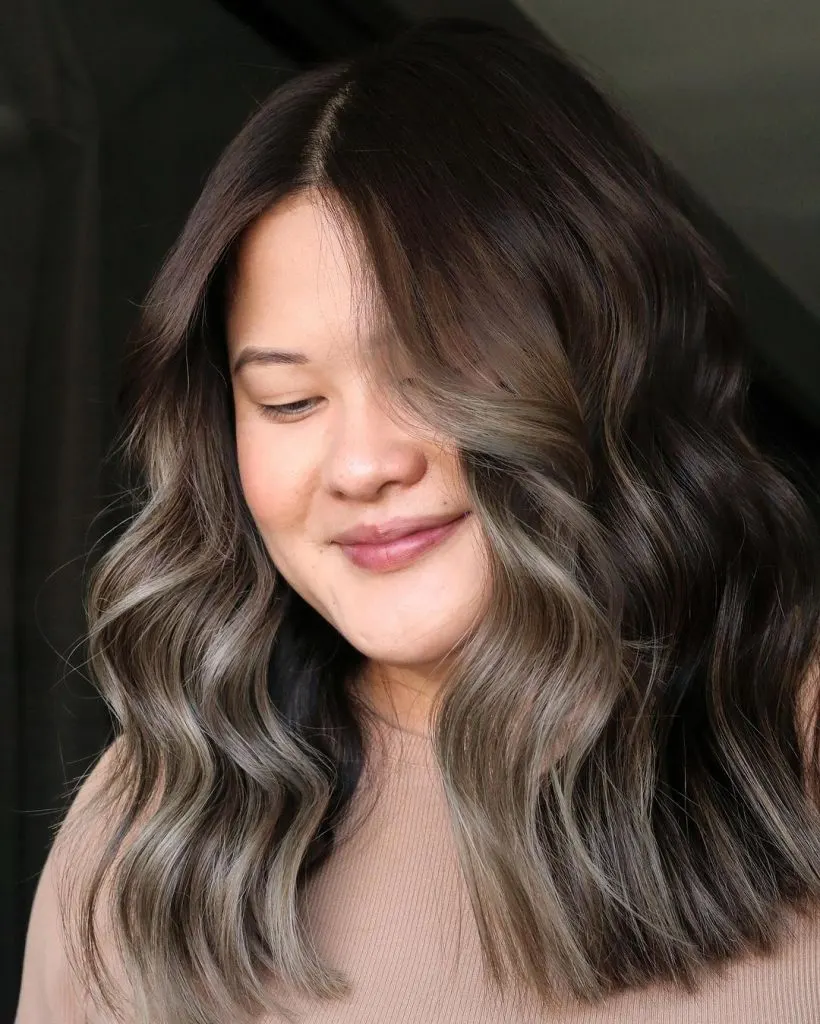 Natural roots combined with sweeps of bright color framing the face will give you a glow without making your hair color a full-time job.
12. Light Brunette Balayage Hair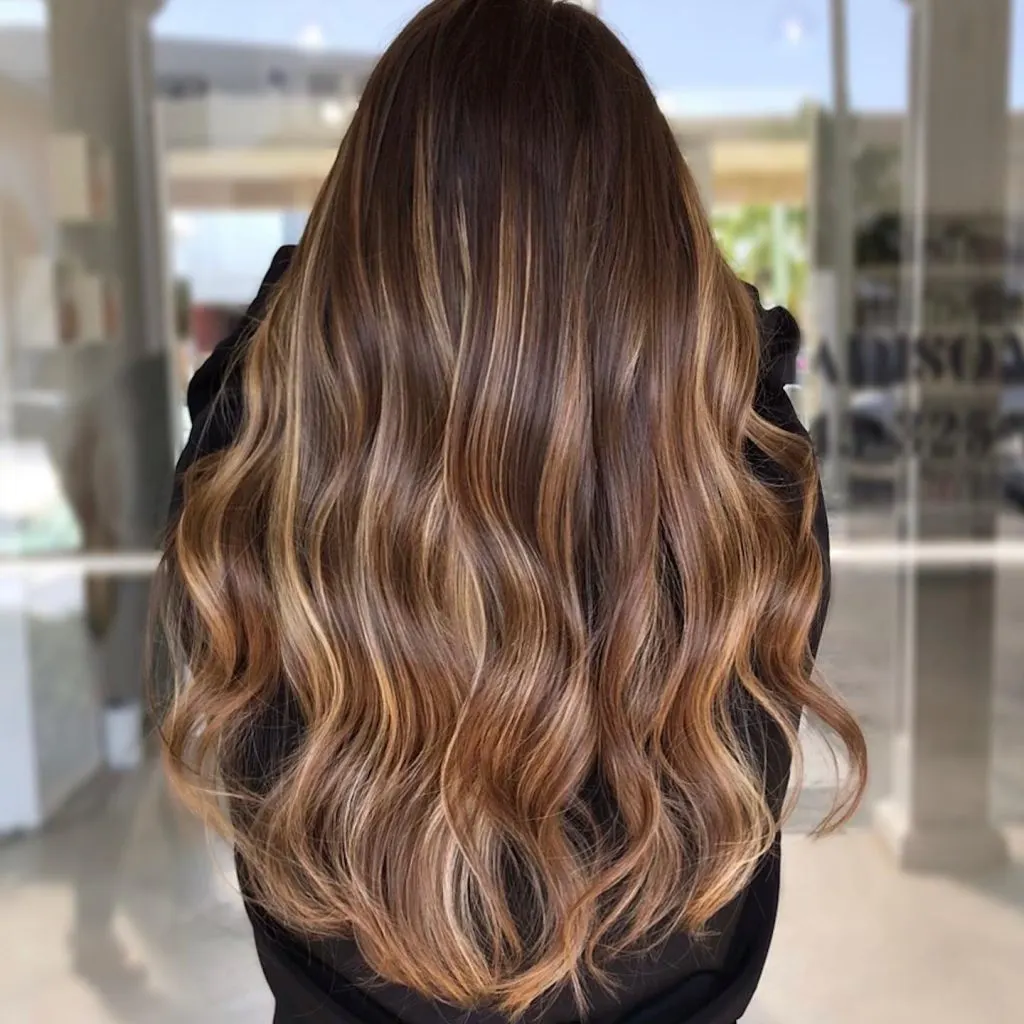 Balayage incorporates a variety of shades to achieve a rich and complex color that enhances each strand and makes your hair your crowning glory.
13. Face-Framing Brunette Balayage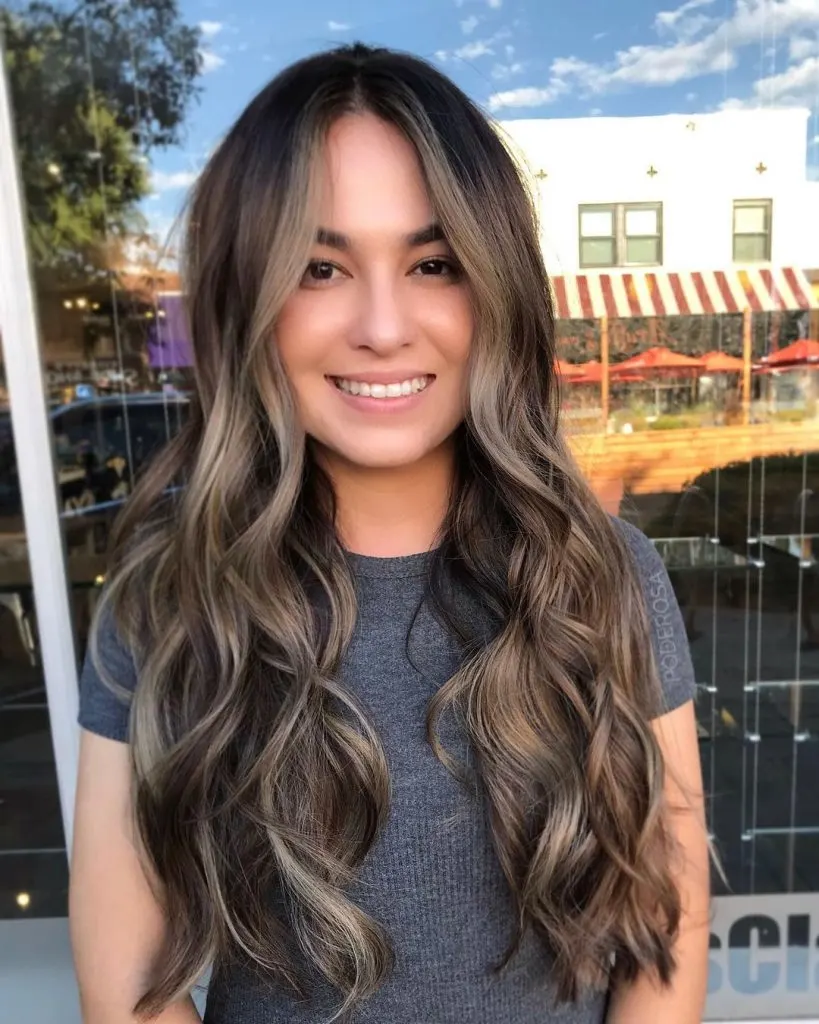 One of the reasons why balayage is so popular is because it can be tailored to your hair, coloring, and taste to give you a look that you'll love.
14. High-Contrast Brunette Balayage Hair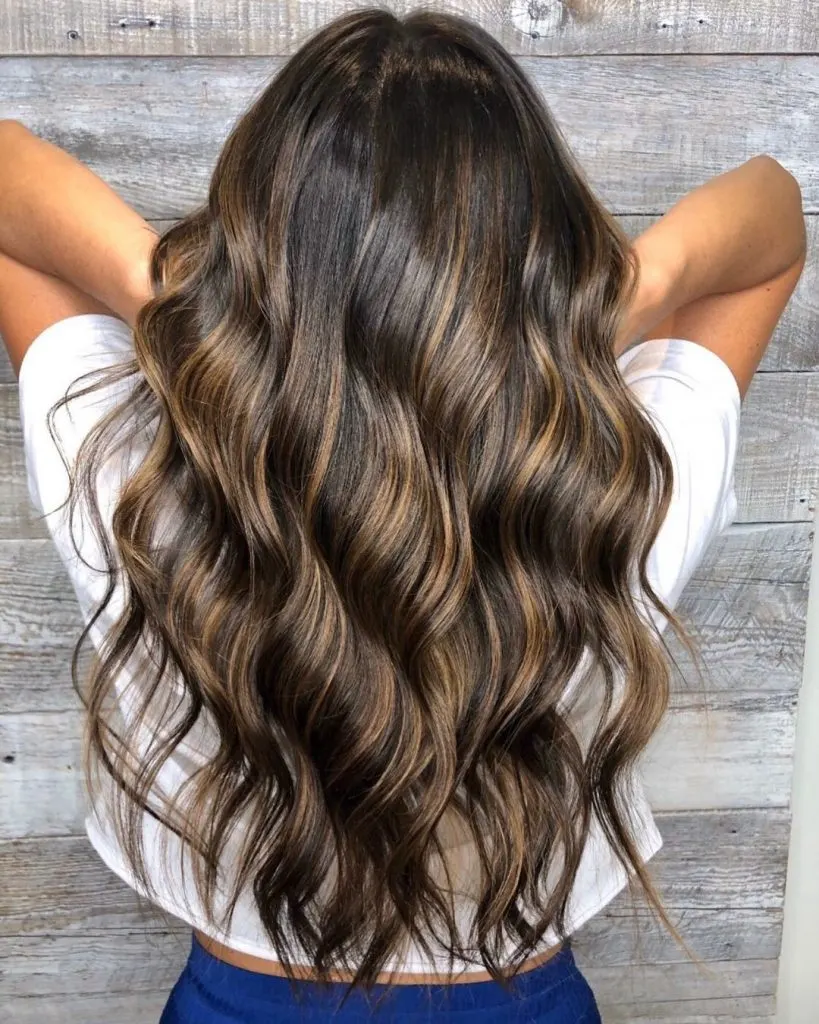 Seamless balayage is a common way to get a pop of color in dark brown hair, but it's not the only way—this high-contrast balayage really packs a punch.
15. Rooted Blonde Balayage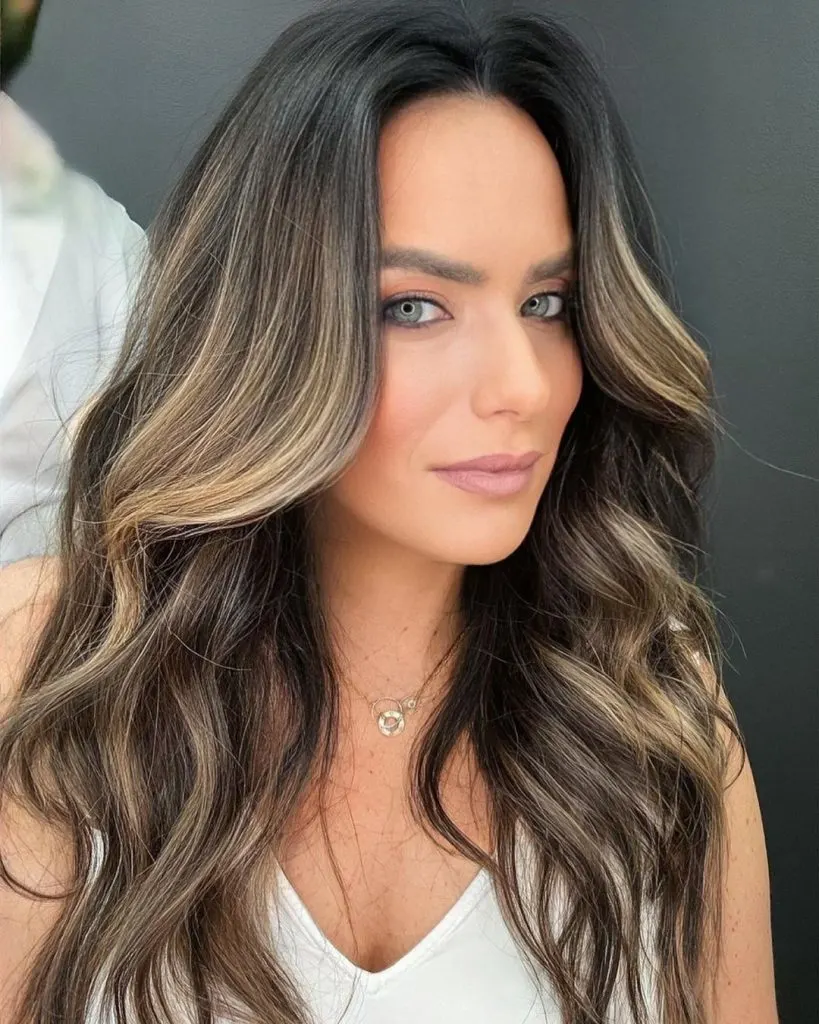 A few sweeps of blonde in brown hair is enough to create a bright overall vibe that's far easier to achieve and wear than a full head of blonde.
16. Soft Brunette Balayage Hair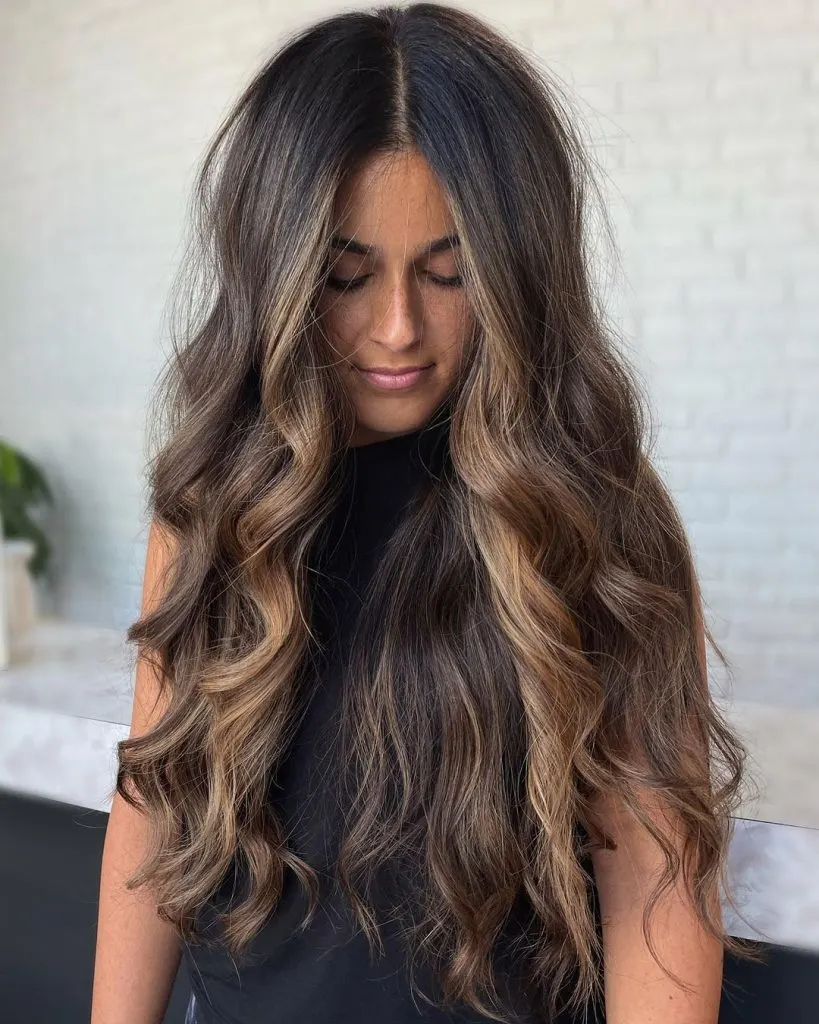 Balayage blends brighter strands into a darker base in a way that allows your hair to look just as good as it grows out, so you don't have to commit to frequent appointments.
17. Caramel Highlights On Medium Brown Hair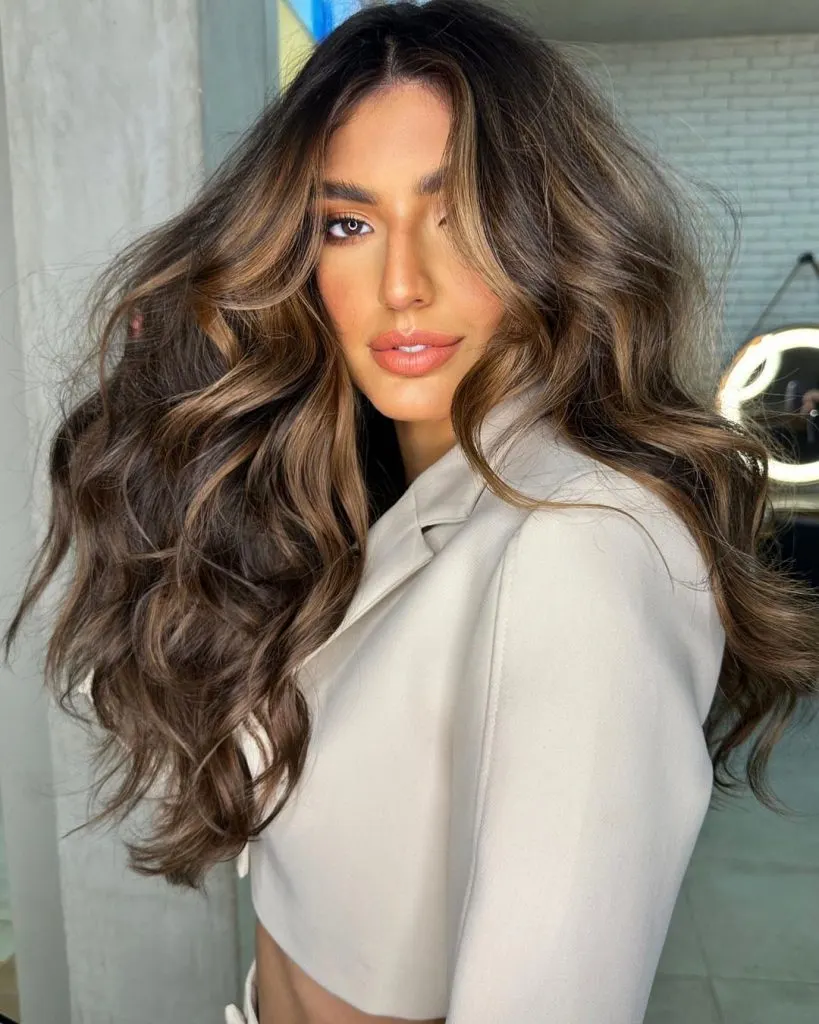 This beautiful blend of chocolate and caramel looks amazing on long hair and large curls, giving 2000s Victoria's Secret model.
18. Medium Blonde Highlights On Brown Hair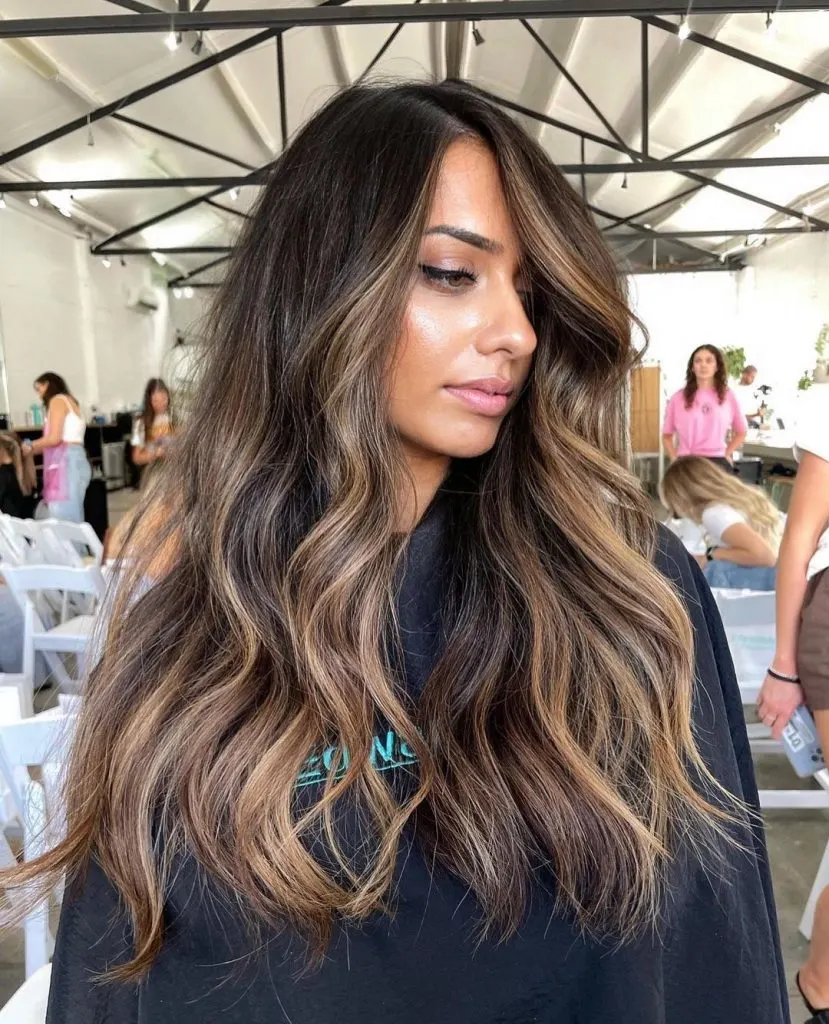 This glorious sun-kissed balayage is a huge transformation, compared to the base color—it's bright, glossy and vibrant.
19. Chunky Highlights On Ash Brown Hair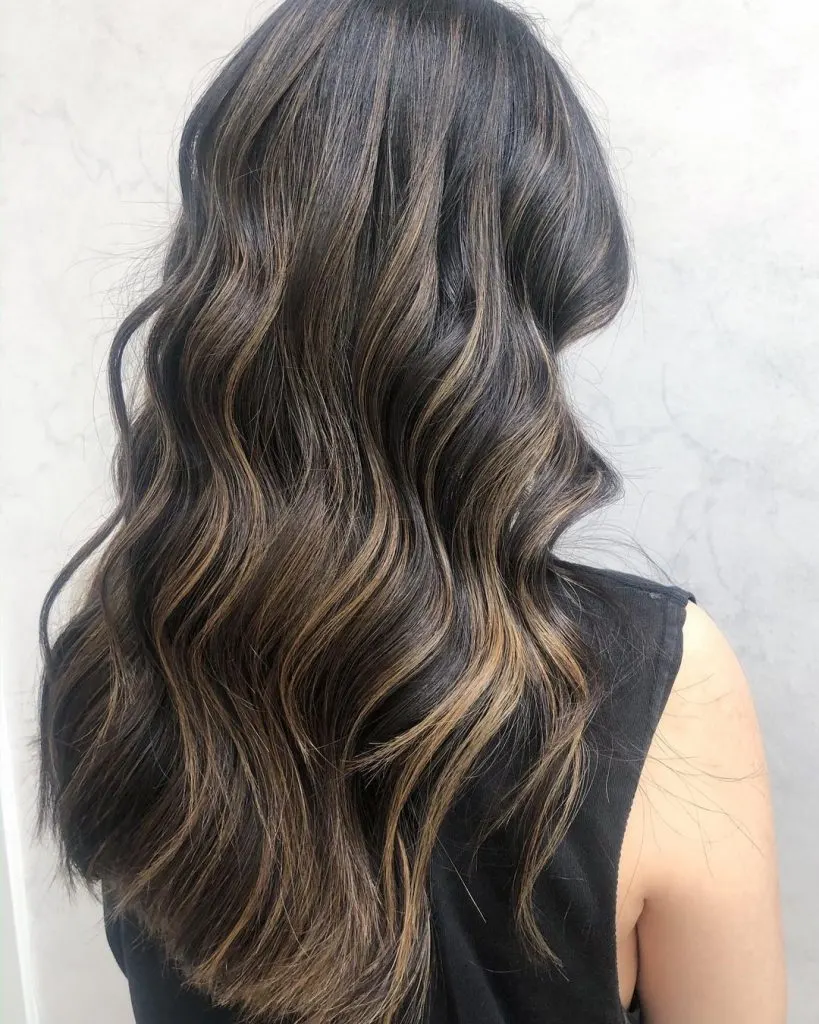 If you have thin or fine hair, balayage can create an impression of fullness—because the hair has more dimension, it also looks move voluminous.
20. Dark Brunette Balayage Hair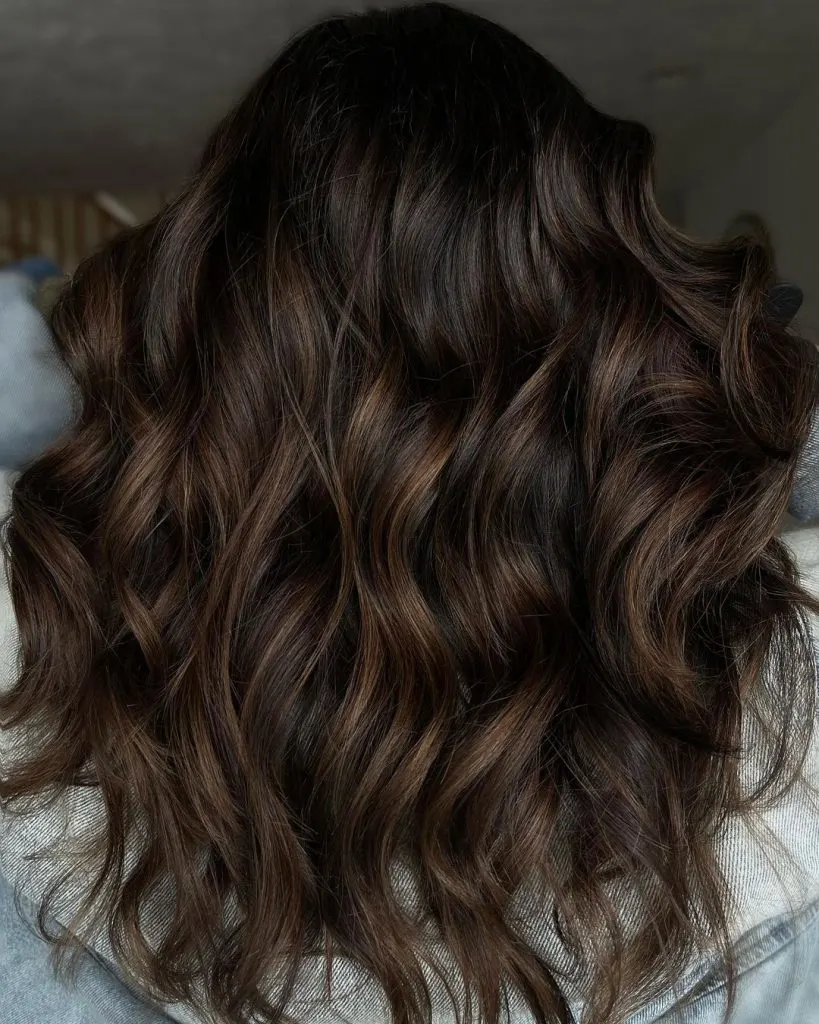 Getting highlights one shade lighter than your base might seem useless until you see how amazing very subtle balayage can look.
21. Face-Framing Golden Highlights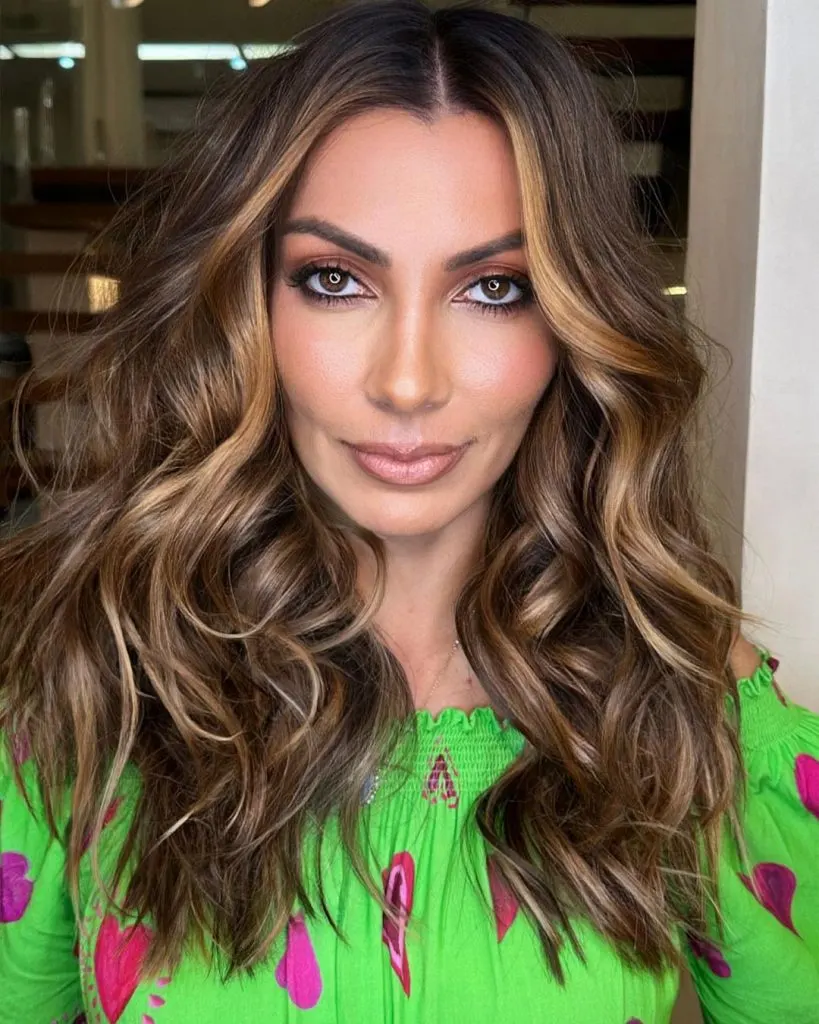 Balayage that focuses on face-framing pieces is a low-maintenance way to freshen up your look. Pops of color will liven up your brunette hair, making your entire look more vibrant and flattering.
22. Natural Light Brown Balayage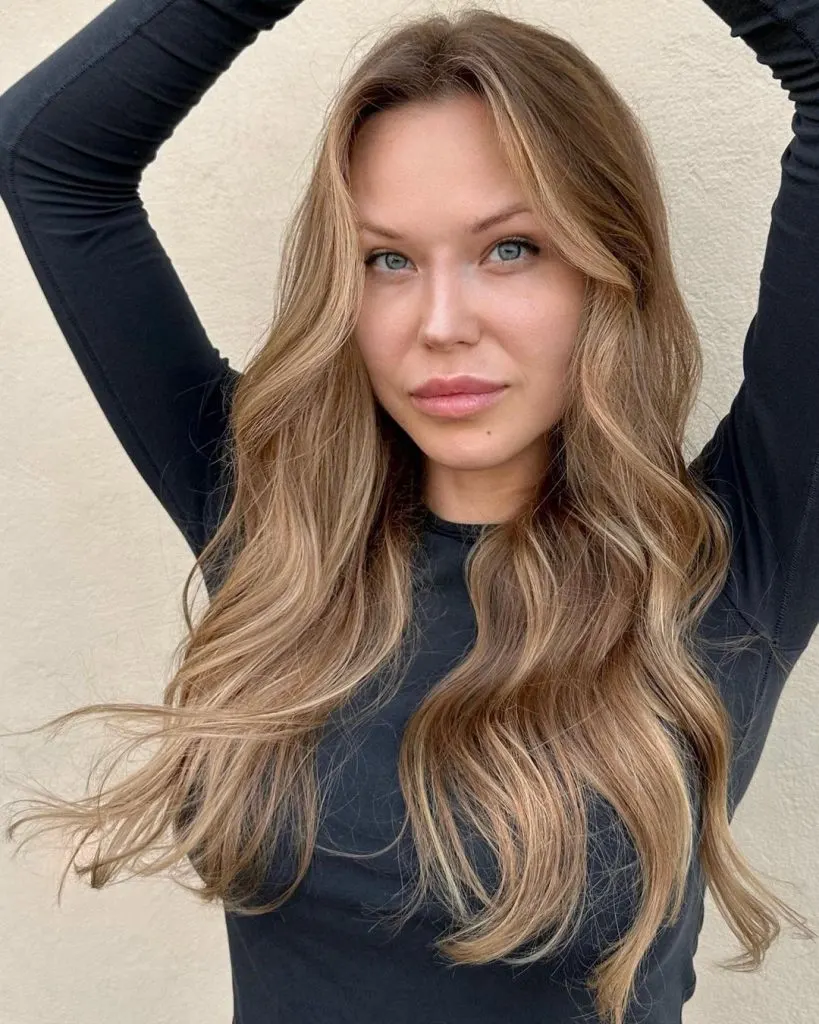 Light brown is bronde's next door neighbor—lifting even a couple of levels can make you quite light, and you can also easily go blonde.
23. Beige Ombre Balayage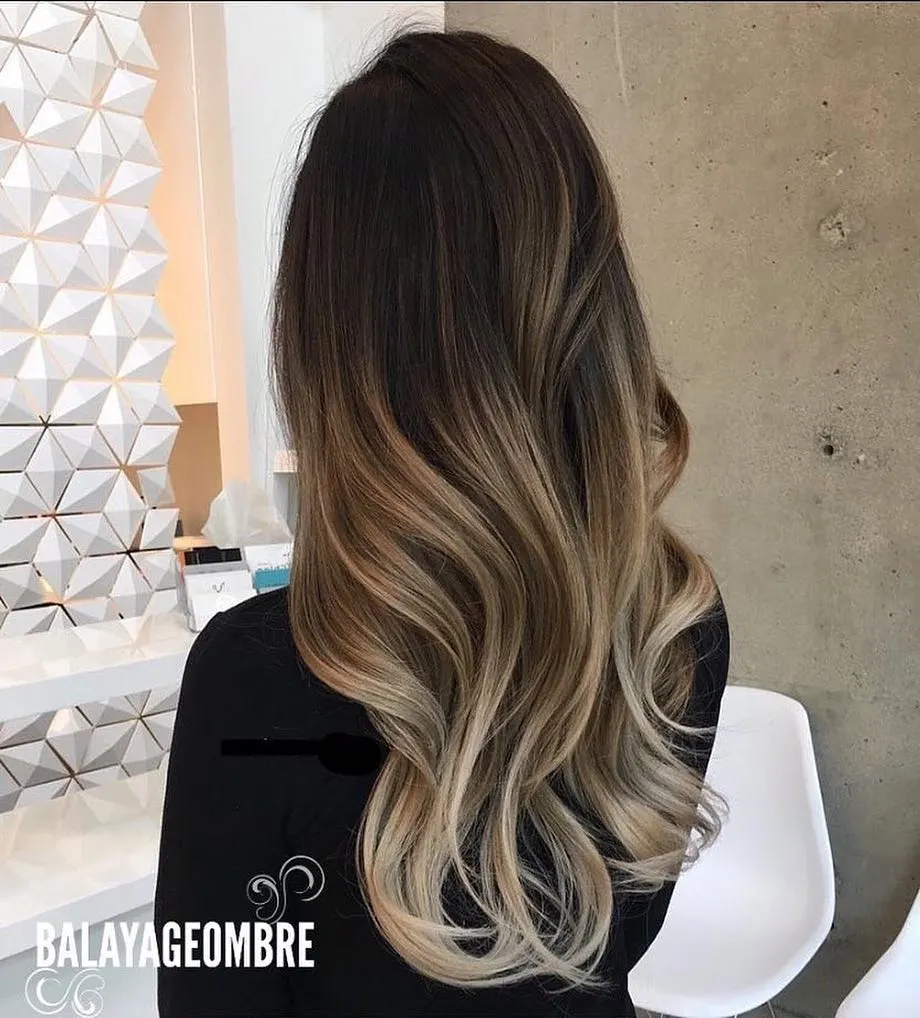 The smooth gradient of this ombre balayage creates an exceptionally appealing look, but it's also a style that can last for months, since it looks just as good as it grows out.
24. Beige Blonde Brunette Balayage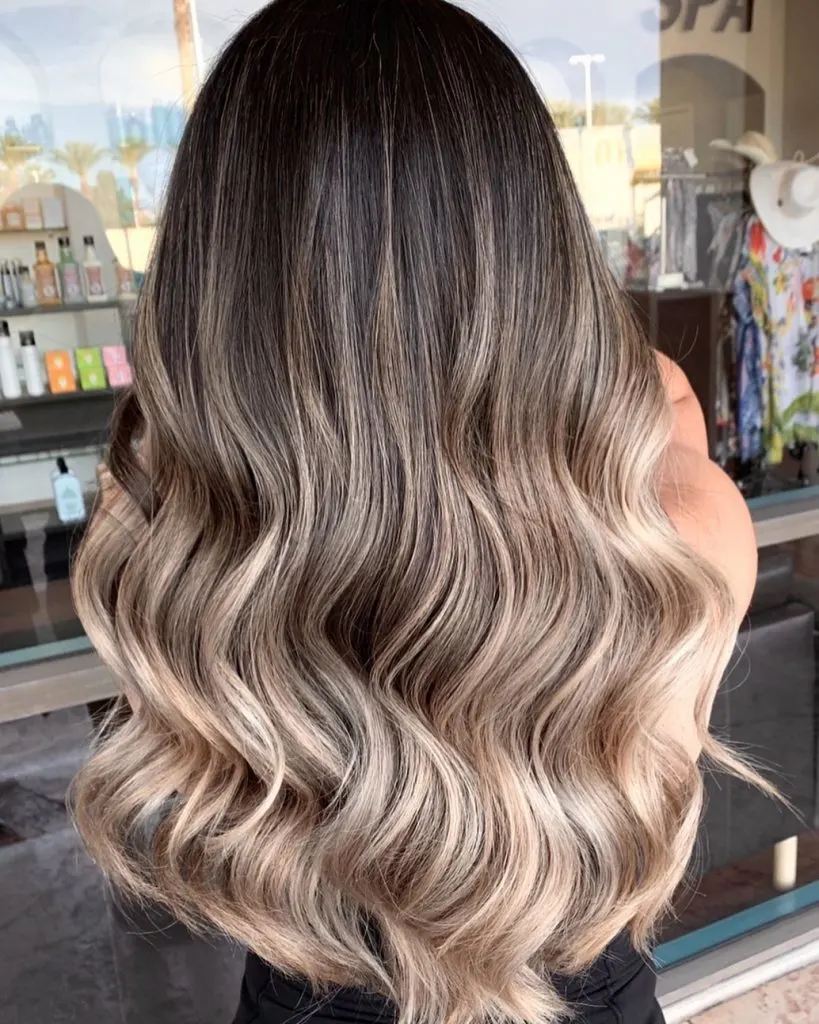 If you opt for a light blonde balayage on brunette hair, be prepared for a bit more upkeep than you would need if you chose something darker. The roots won't be a problem, but you'll have to pay attention to brassiness that shows up in blonde hair after a while.
25. Natural Brunette Balayage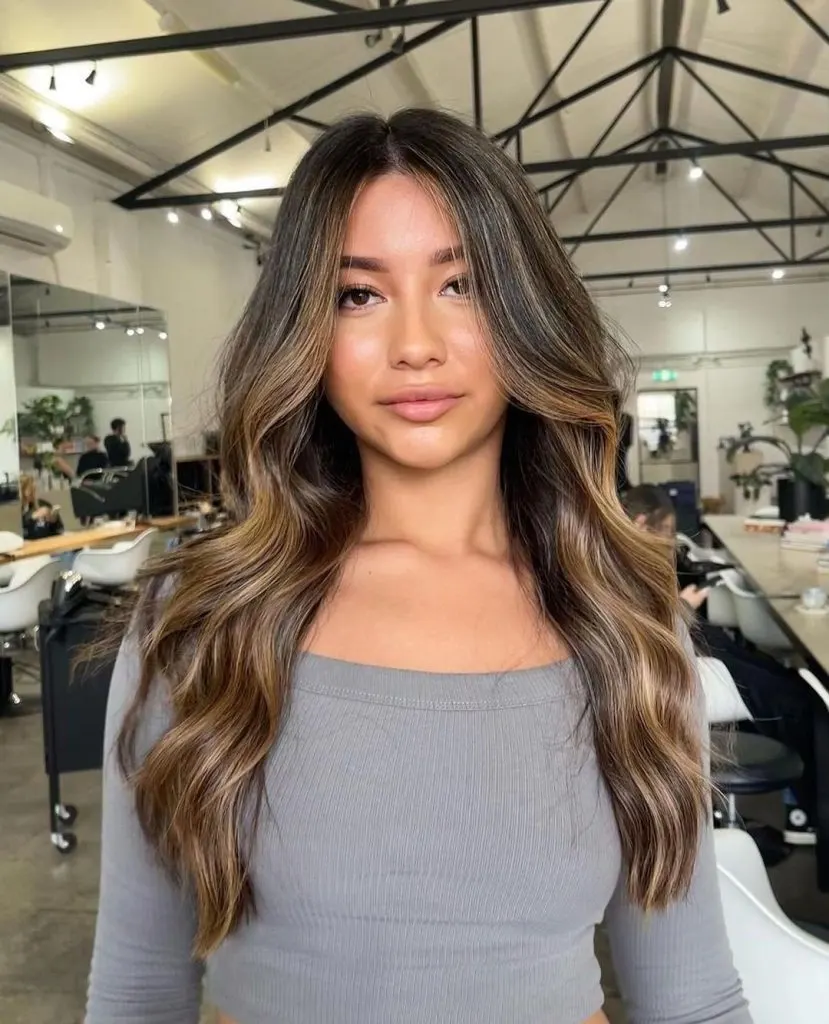 Balayage looks so effortless because it softly blends a dark base with lighter ends, resulting in a color that looks like it was lightened by the sun instead of bleach.
26. Subtle Warm Brown Balayage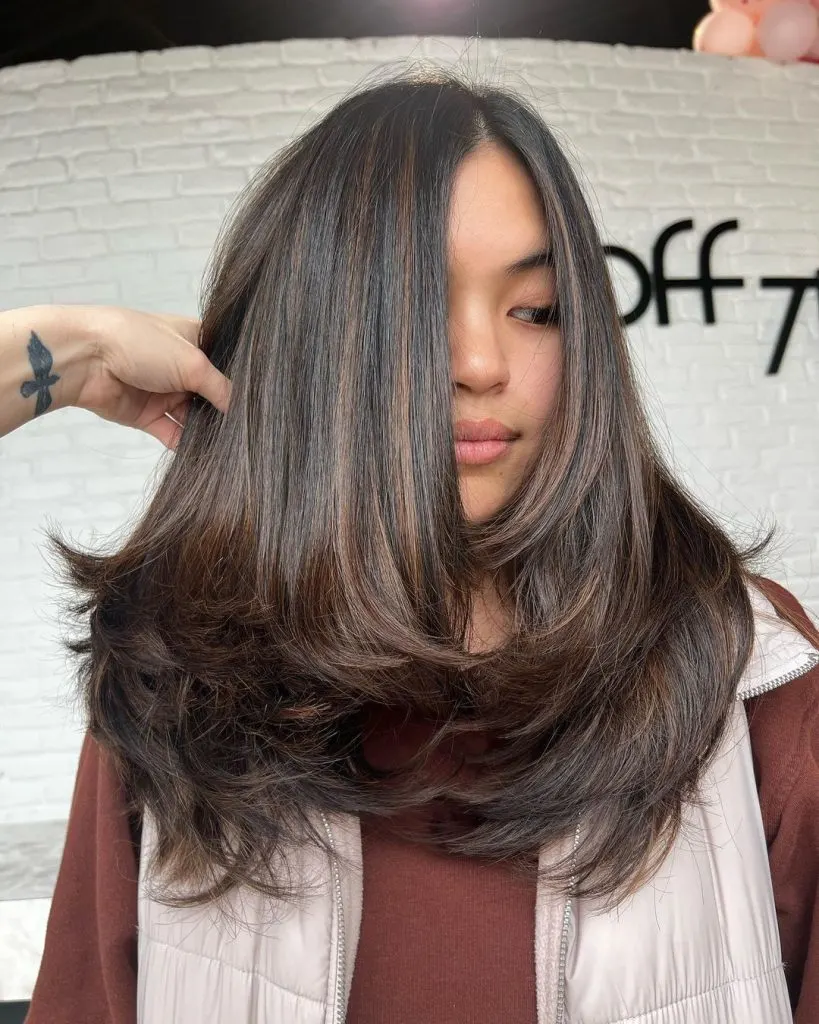 To add some warmth and brightness to a dark brown base without a radical change, ask for subtle highlights—they create a fake natural color that discretely elevates your look.
27. Vanilla-Honey Brunette Balayage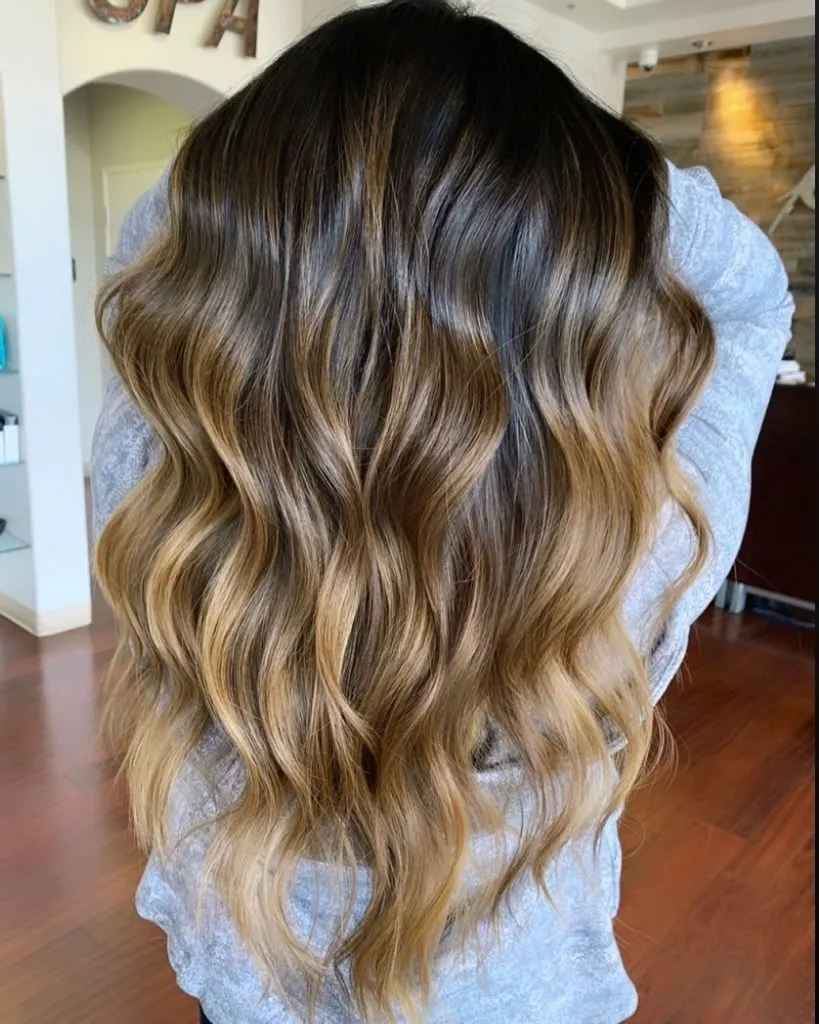 Going from dark brown to blonde is a long and intense process which then leaves you with a commitment. If you're not necessarily looking to be blonde and just want some brightness, getting a brunette balayage is far easier and less demanding.
28. Expensive Brunette Balayage Hair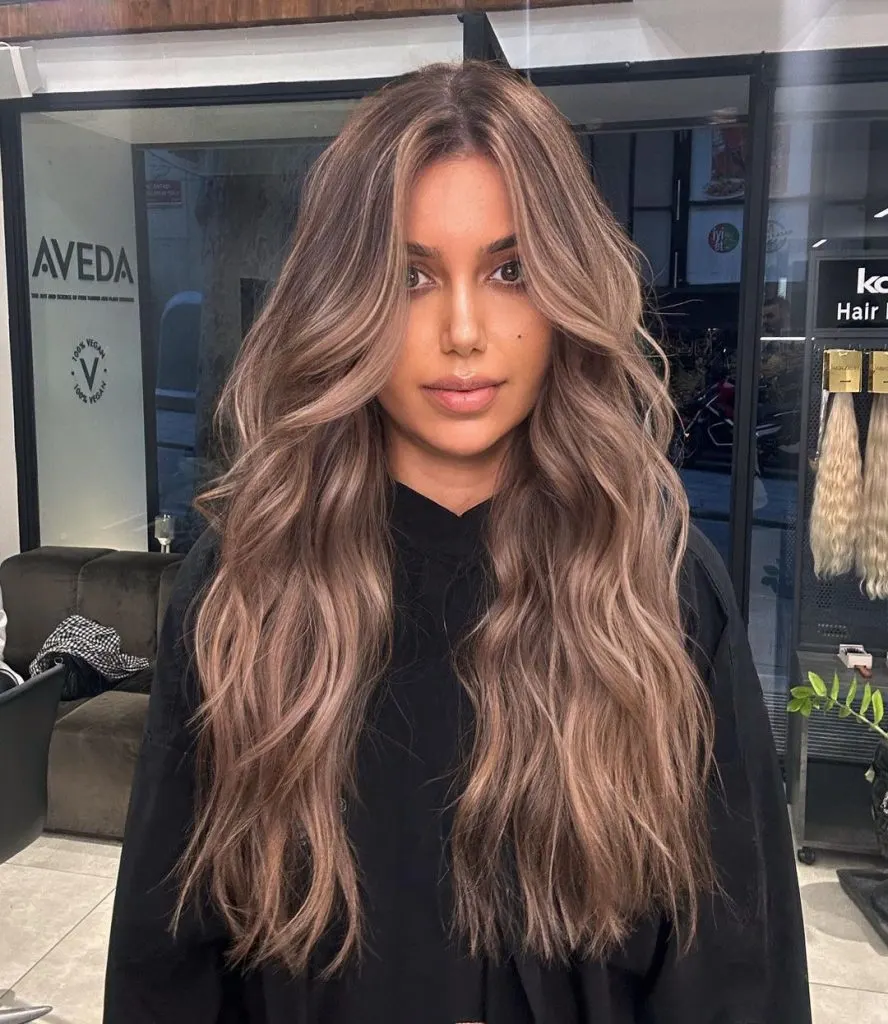 Dimensional brunette tones are so on-trend right now—expensive brunette is an elevated natural brown with lots of dimension and depth.
29. Whispy Brunette Balayage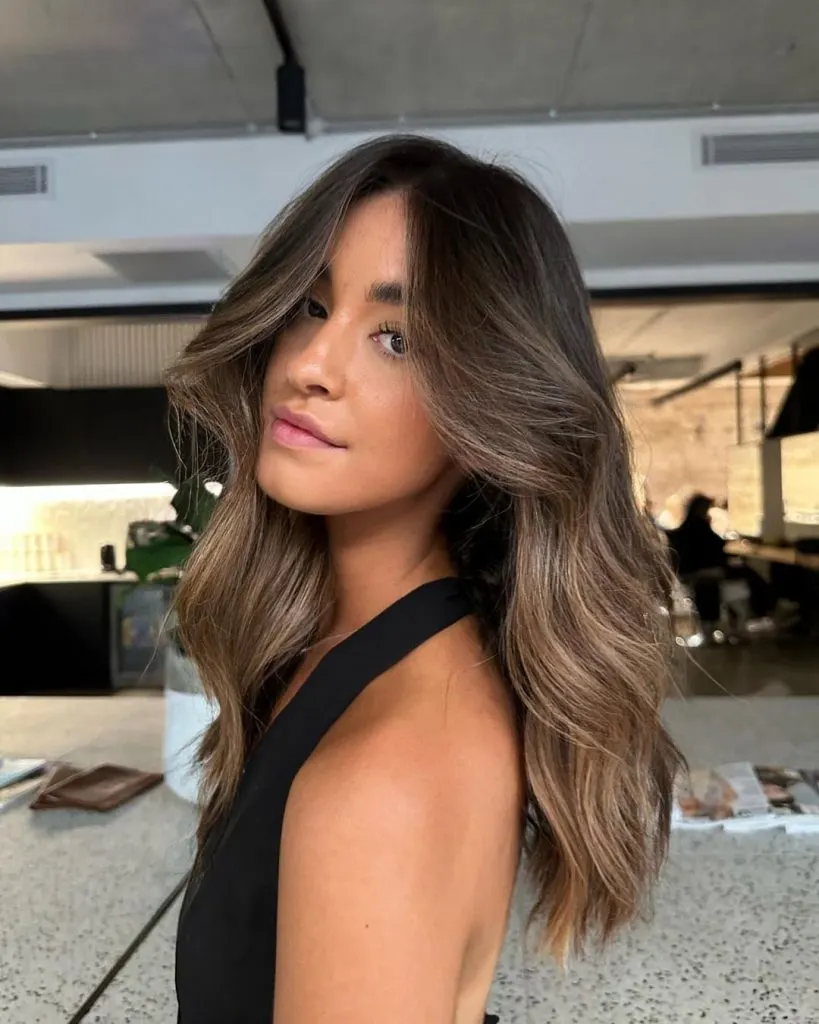 Brunette balayage can be obvious and intense, or subtle and used to just add tone or movement to your strands.
30. Bronde Streaks On Brown Hair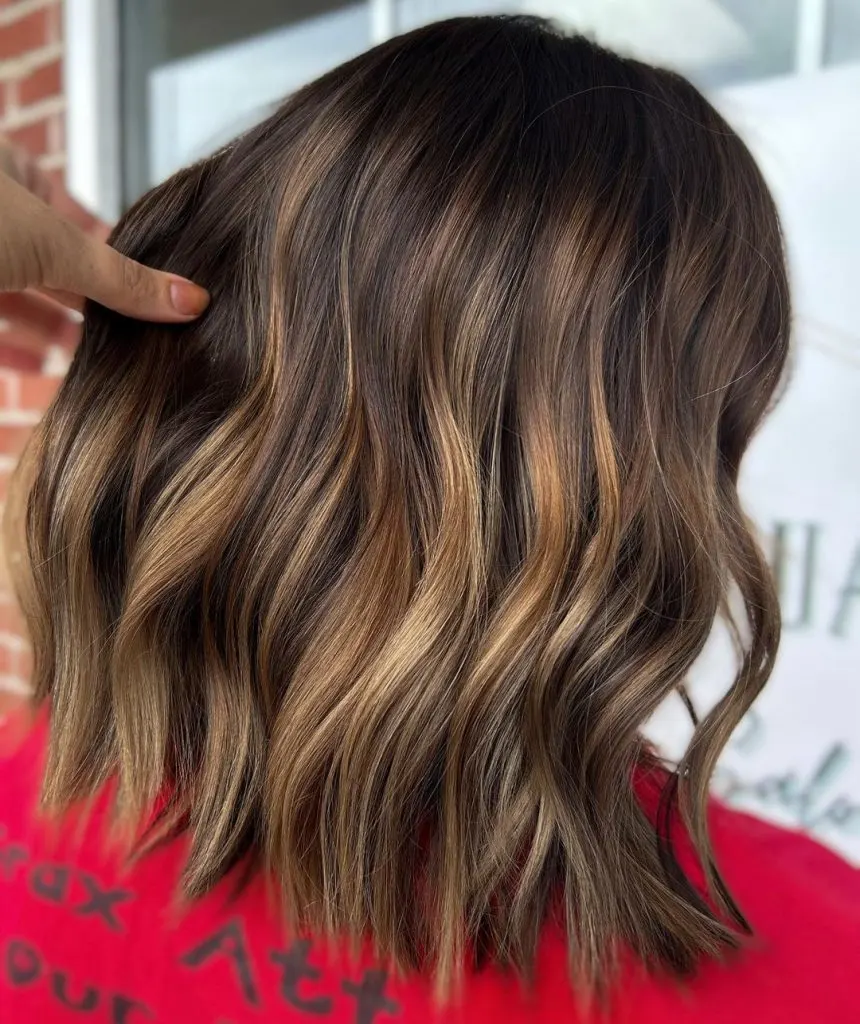 Is a brunette balayage for you? Absolutely. This technique can create various looks and combine various tones to achieve a color that works just right for your personal style.
31. Balayage With Face Framing Streaks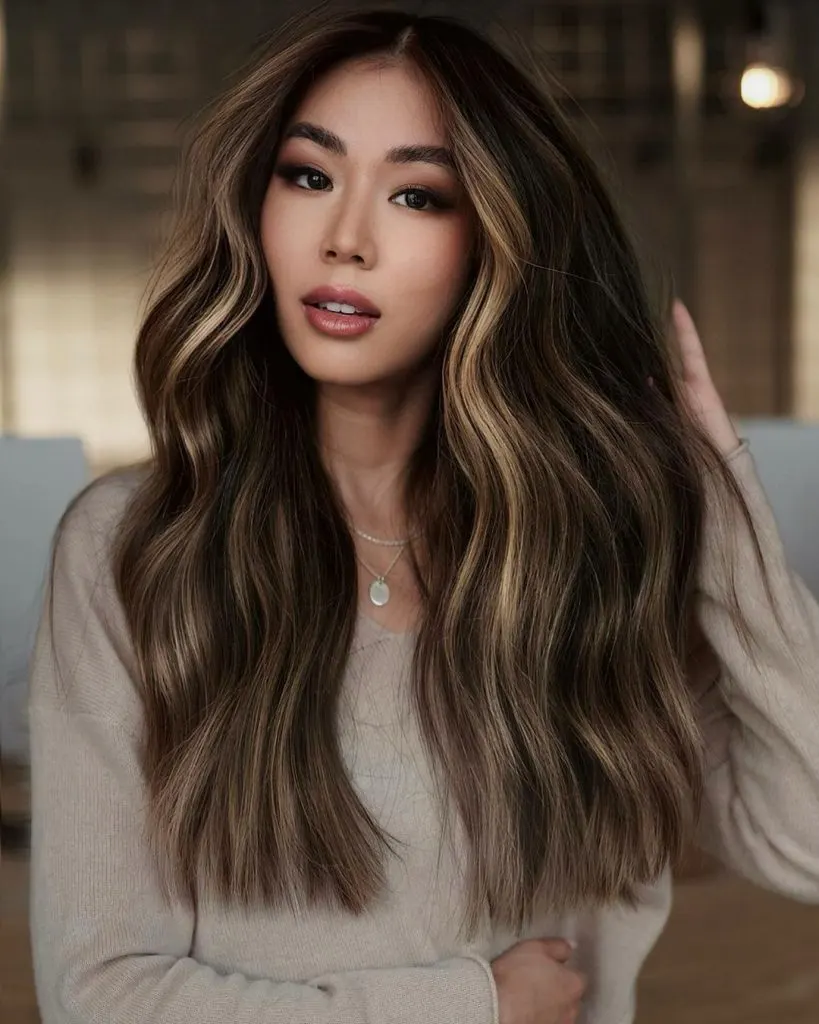 Freshen up your look with a few simple money pieces—even if it doesn't seem like they can change much, they're surprisingly effective.
32. Dense Almond Highlights On Brown Hair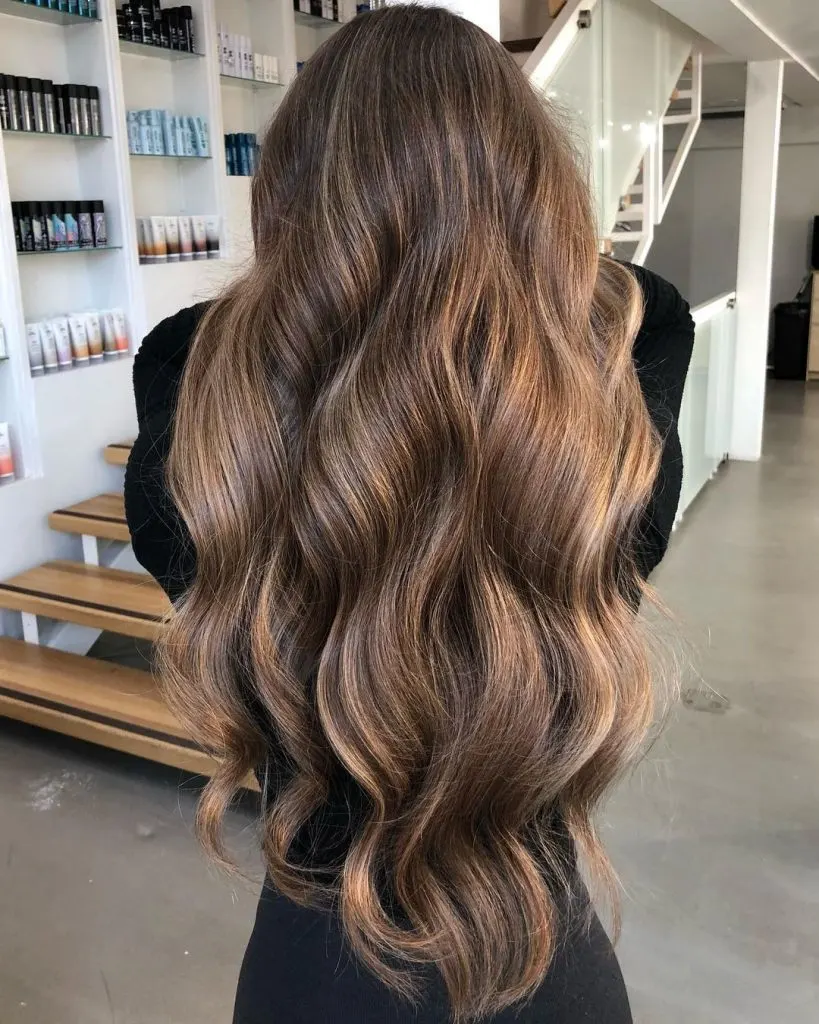 Balayage is a much better choice than blonding if you want to brighten long hair. Going very light is almost guaranteed to leave your hair damaged, and if you're growing it out, you probably want to keep it healthy to avoid too many trims.
33. Beige Brunette Balayage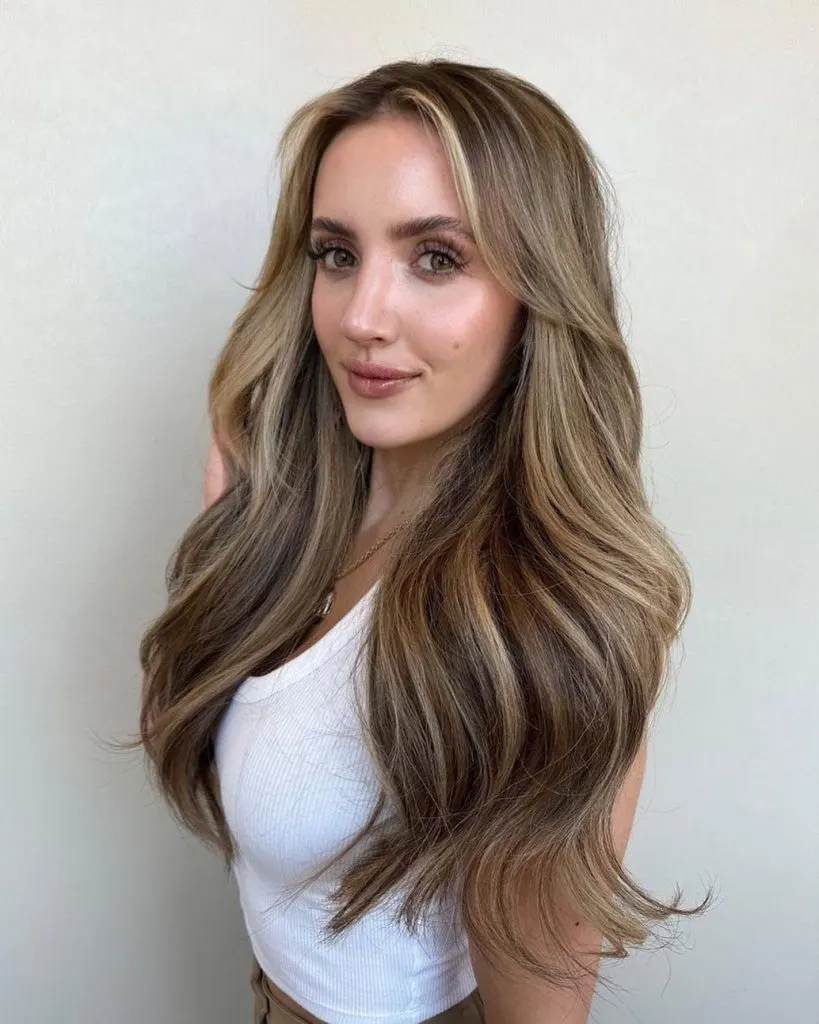 To create depth and add movement to your hair, use balayage to brighten individual strands and draw attention to your features.
34. Soft Babylights On Brunette Hair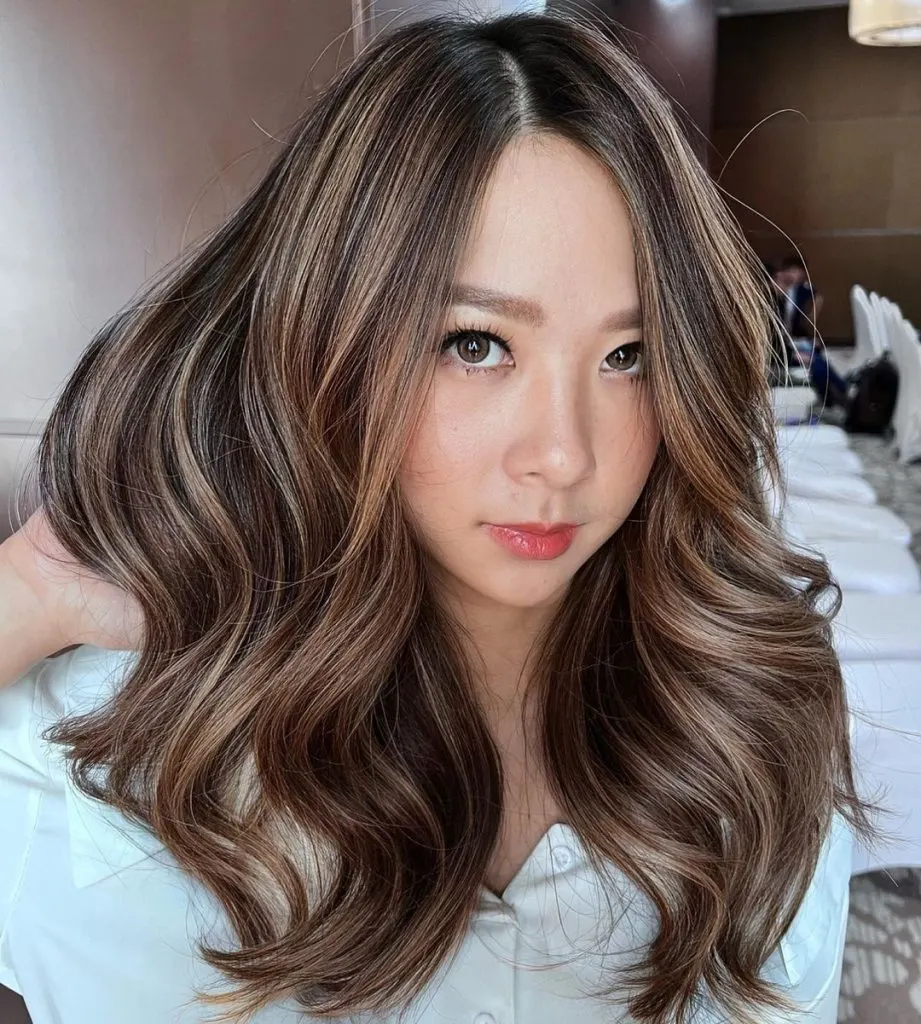 One of the reasons for the popularity of balayage is that it won't trap you in a hair salon for constant touch-ups. These highlights start high up and don't create harsh lines as they grow out.
35. Brunette-Dark Blonde Balayage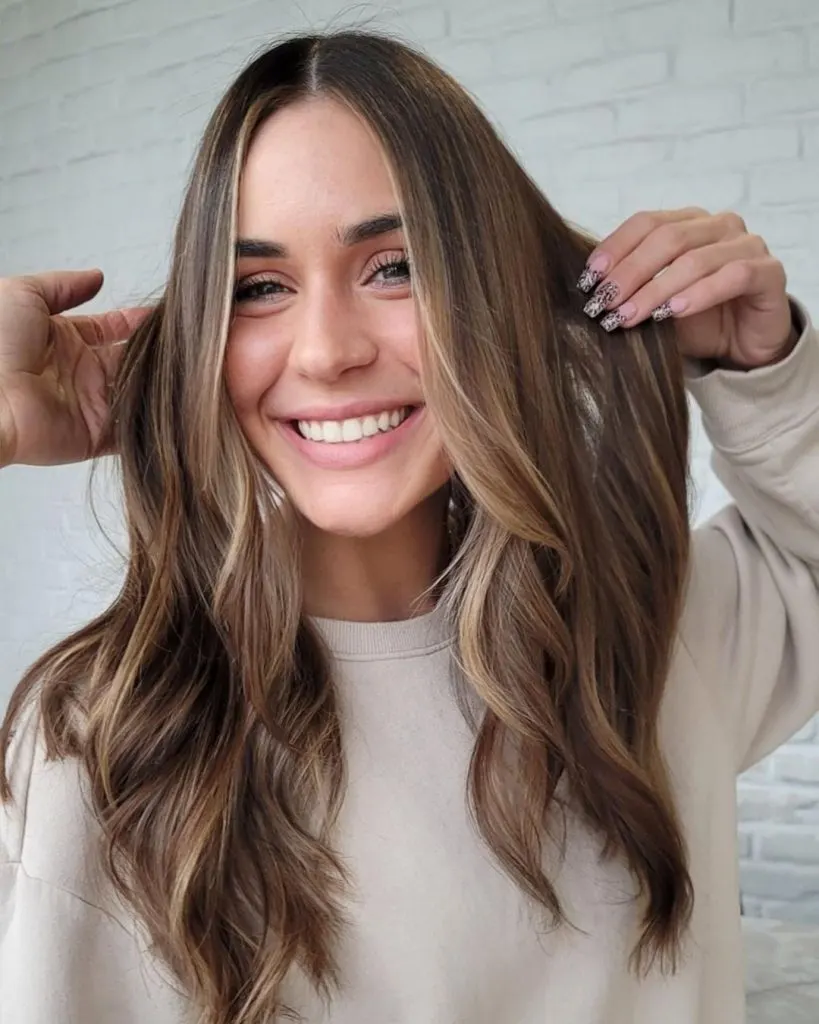 Soft and seamless is key if you want to elevate your look without making it obvious. Dark blonde highlights complement light brown hair beautifully, creating brightness and glow.
36. Caramel Balayage On Brown Hair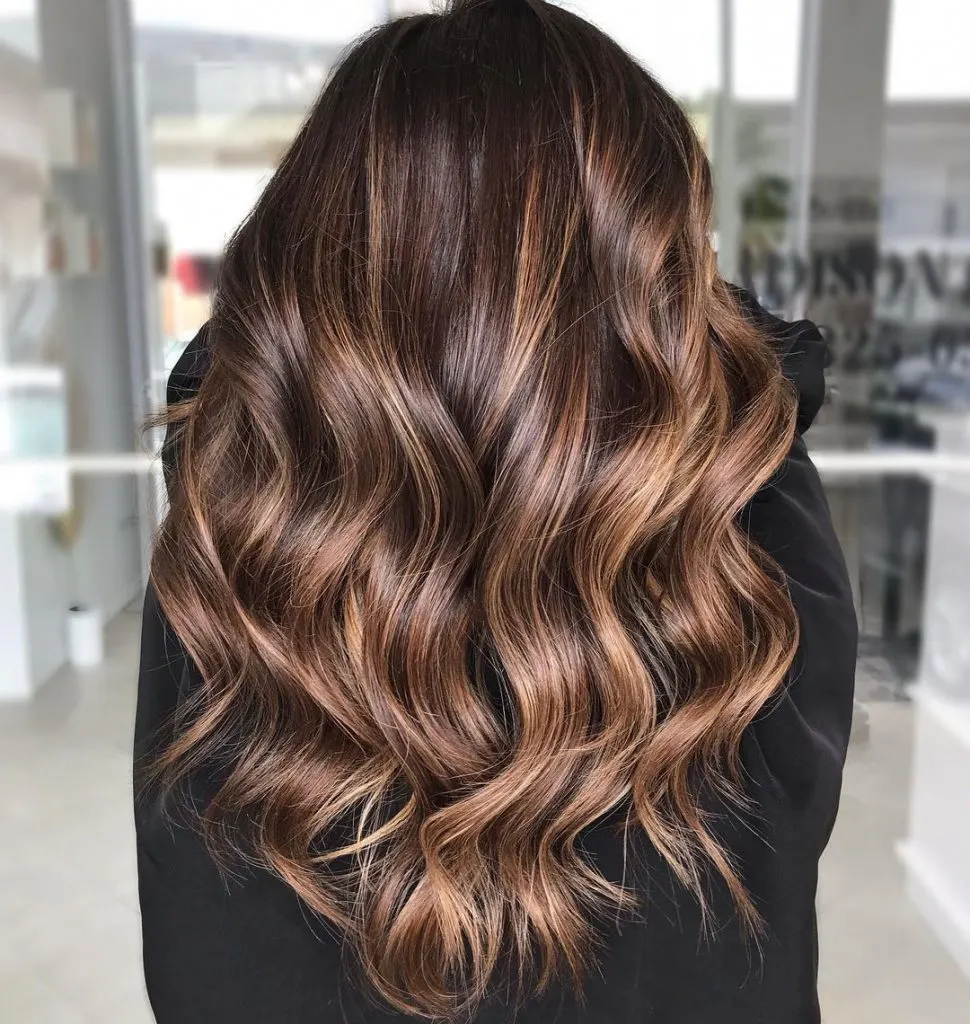 This caramel balayage on dark brown hair is what brunette dreams are made of—warm, rich and natural.
37. Luxurious Bronde Highlights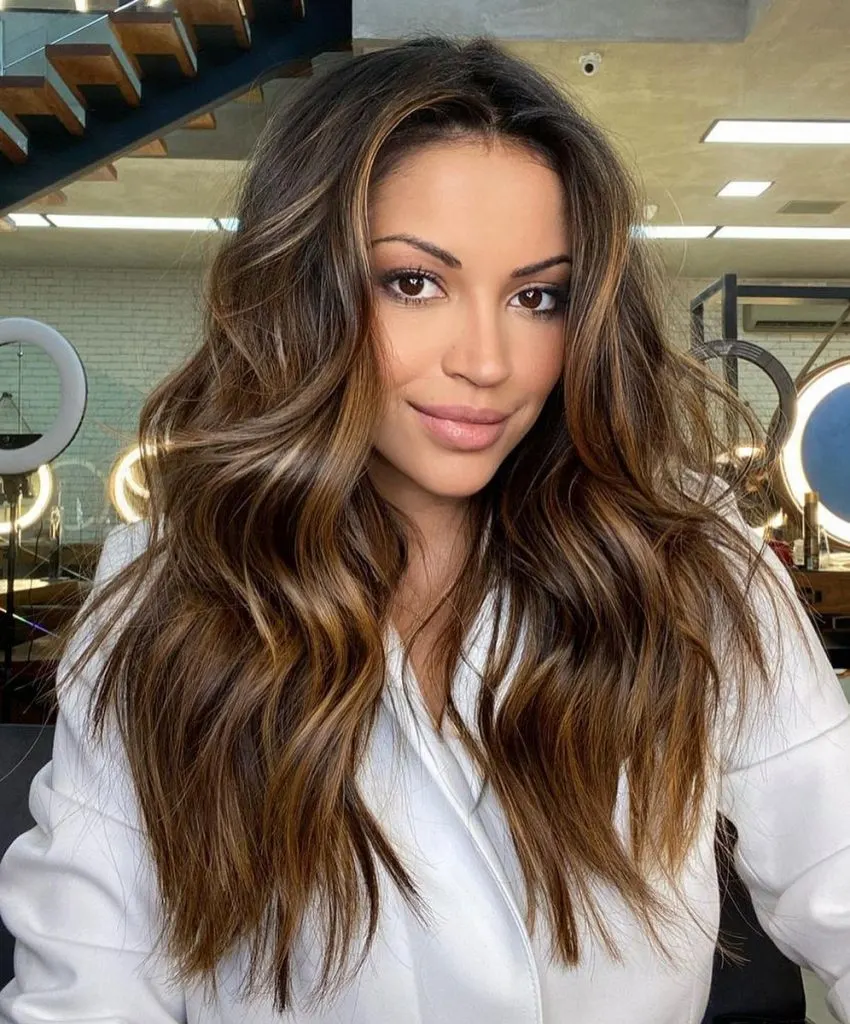 Balayage is the ideal option if you're looking to elevate your look and create a vibe that's equal parts sexy and elegant.
38. Warm Bronde Balayage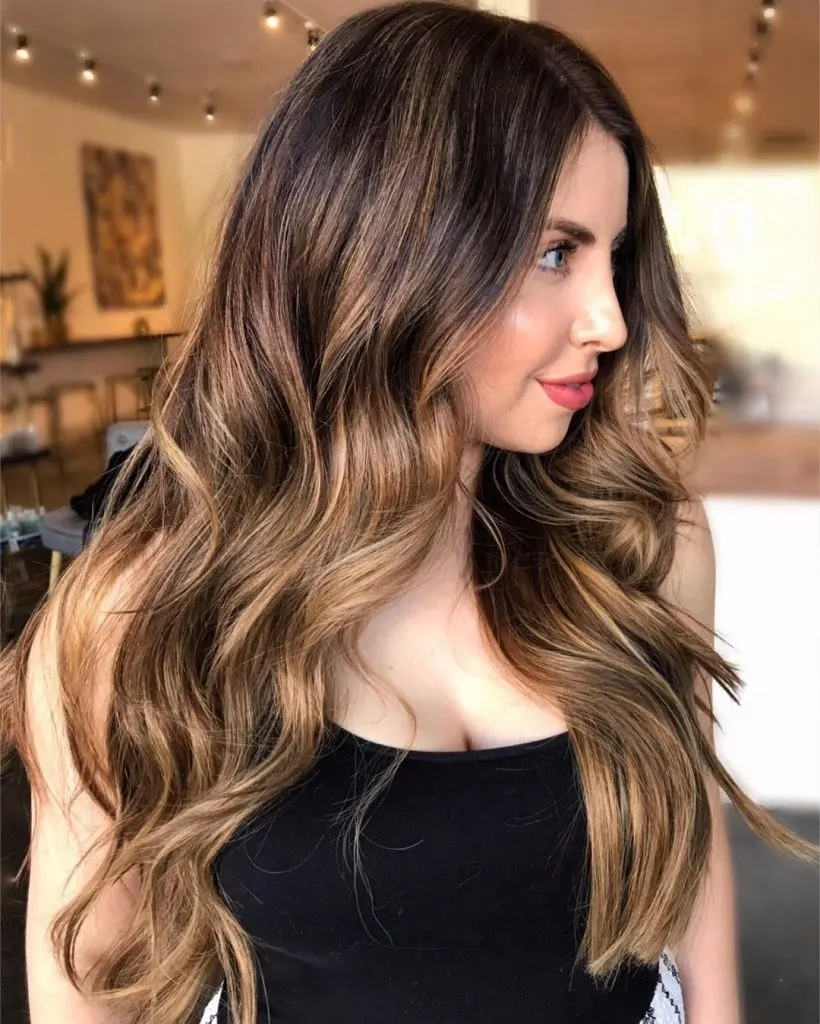 How to look like you're always bathed in sunshine? Try a perfectly seamless transition from brunette to bronde that will make your hair and your face glow.
39. Brunette Balayage With Bright Highlights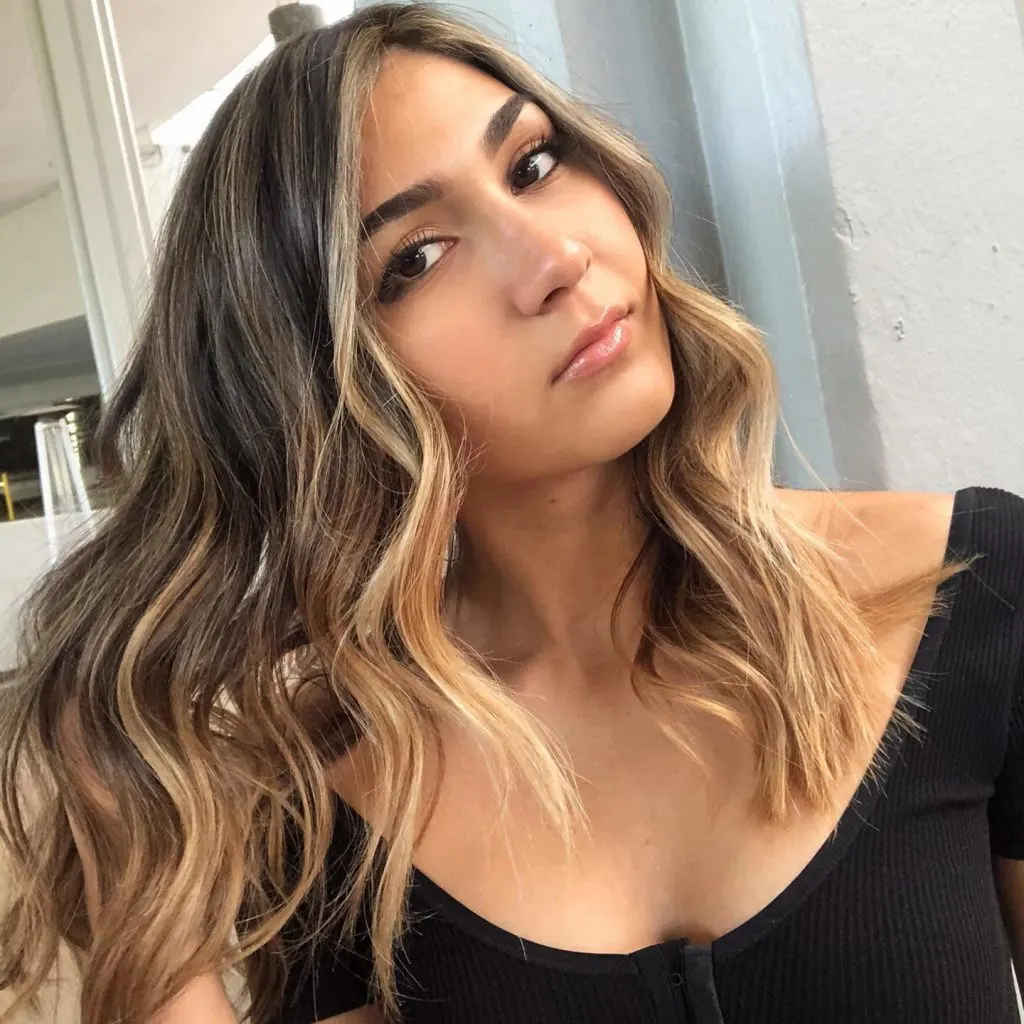 The reason why balayage gradient effect looks organic is that it resembles the way your hair becomes lighter by spending time in the sun. The lower half and the strands near the face become very bright, so this looks the most natural.
40. Ombre Brunette Balayage Hair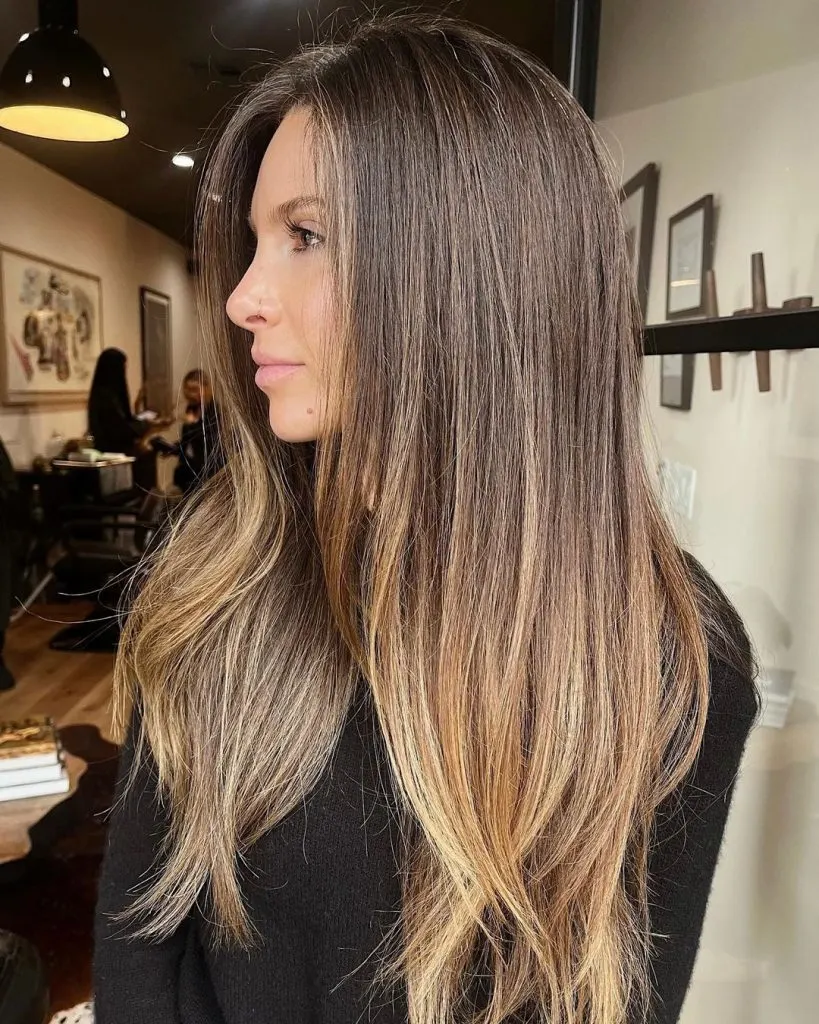 Guess what? Ombre is back—but this time, it's subtle and low-key. To make it super trendy, ask your colorist to lighten your hair only below the jawline.
41. Quiet Luxury Brunette Balayage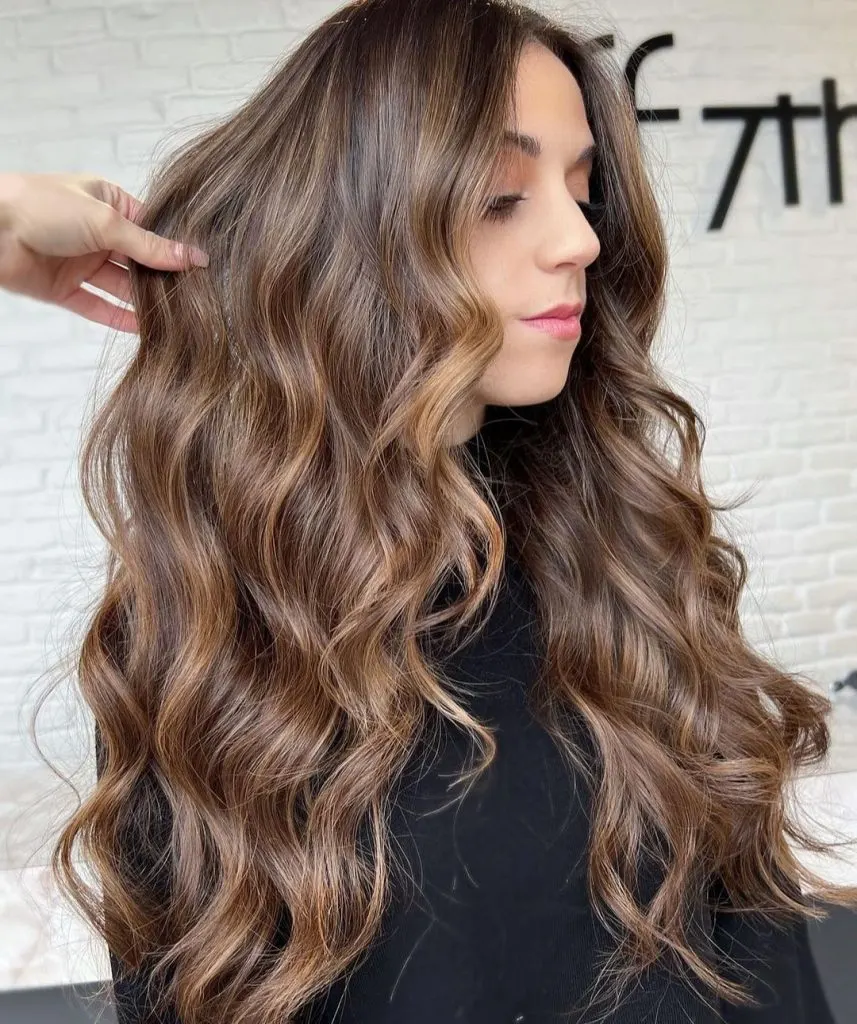 Here's how to interpret the quiet luxury trend for hair: a natural, seamless brunette balayage with no harsh lines but with plenty of shine and volume.
42. Neutral Mushroom Brown Hair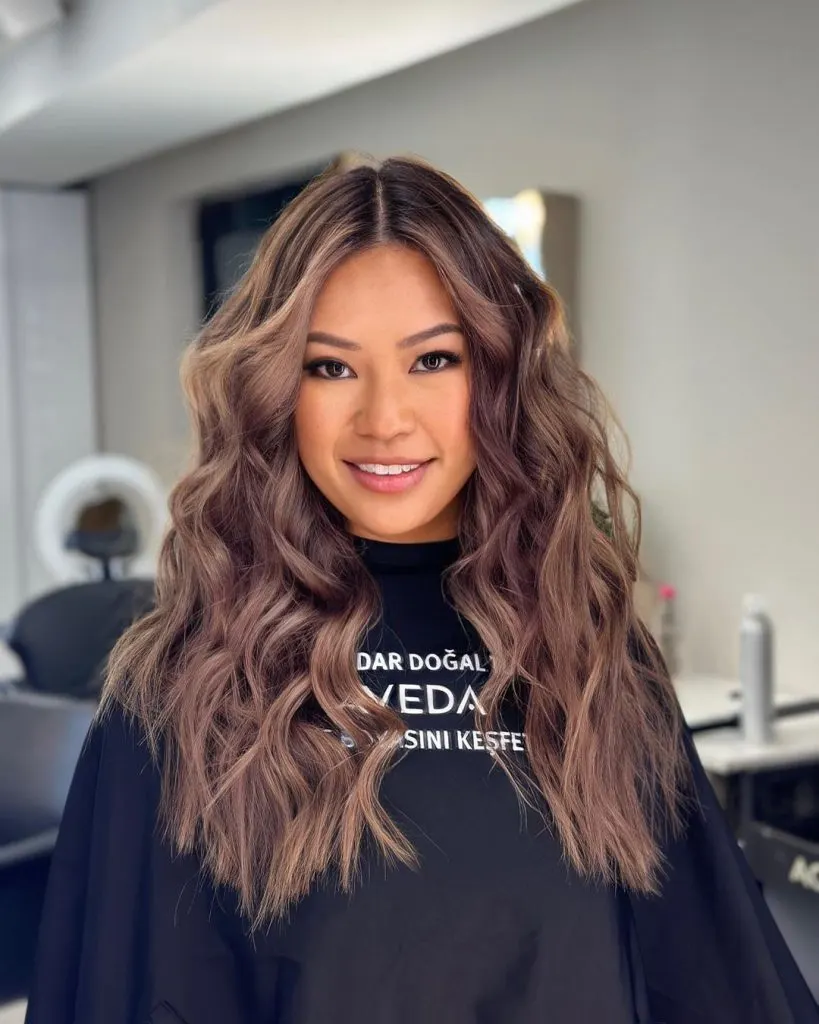 Neutral-toned brunette shades will work on cool, warm and neutral skin tones, but each of them will look different. Here, a neutral mushroom brown makes a warm skin tone look even warmer.
43. Warm Dark Brown Balayage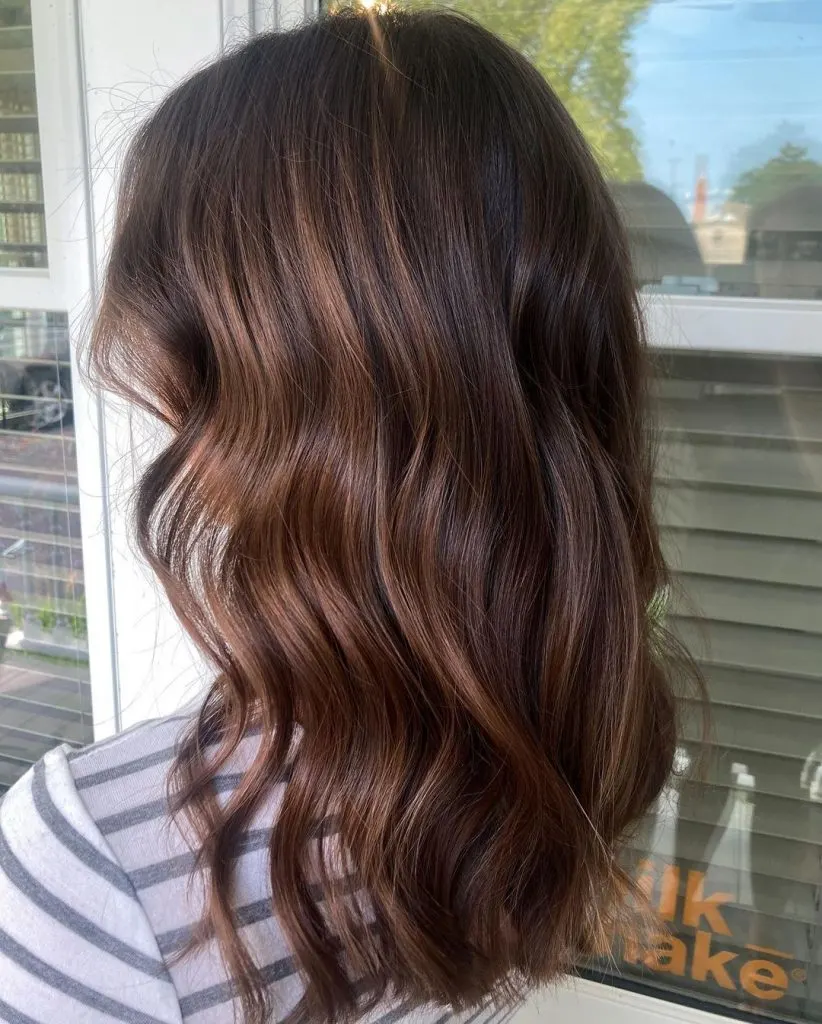 This classic brunette balayage is timeless—it's just your natural hair color, but better. A gorgeous and low-maintenance look.
44. Chestnut And Caramel Brunette Balayage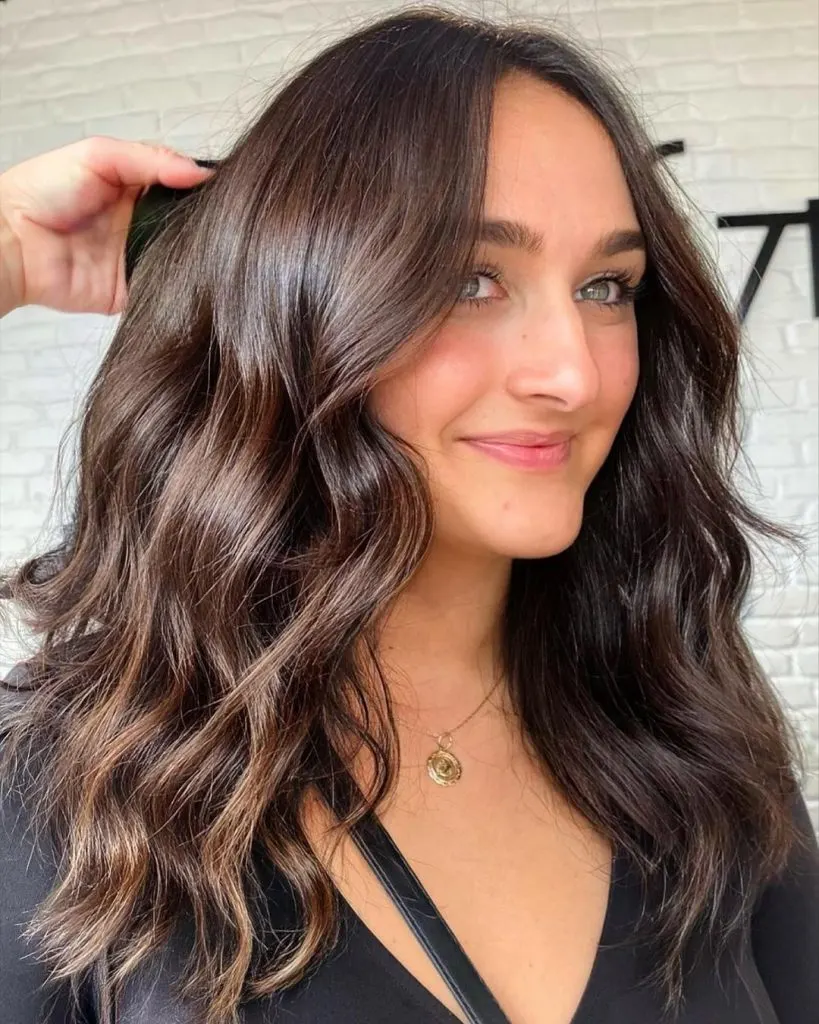 Hair colors that sound like dessert are rightfully the most delicious. This caramel and chestnut balayage is simply yummy!
45. High-Contrast Caramel Highlights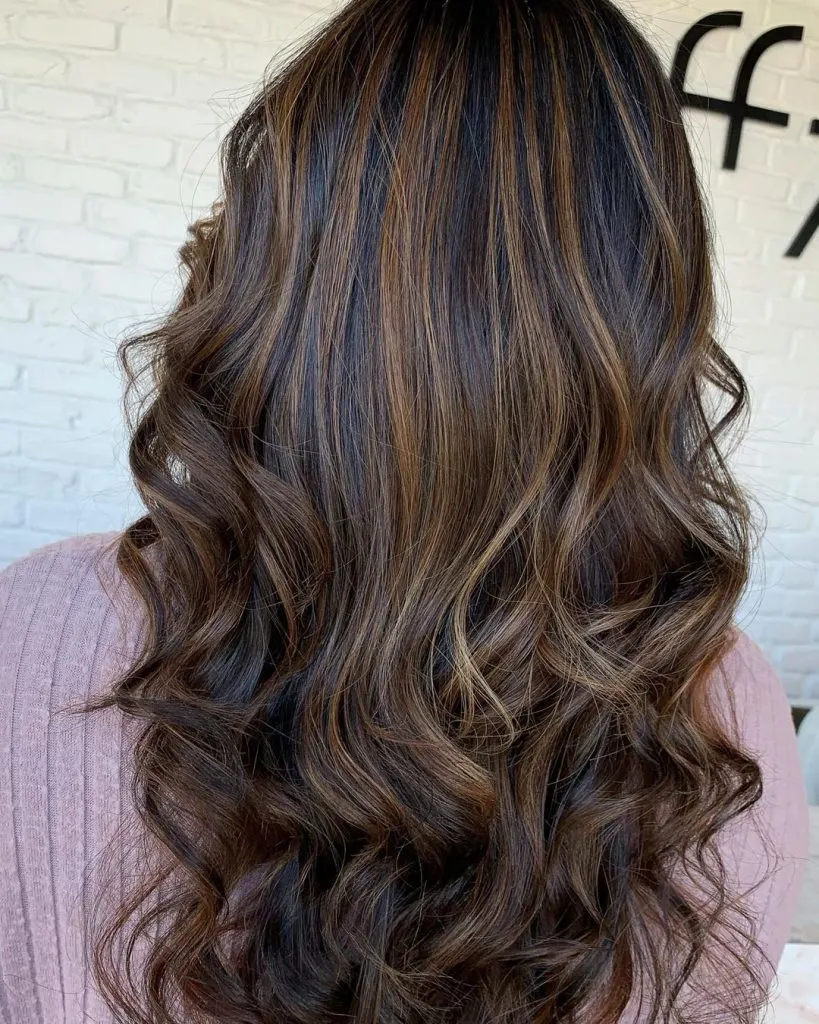 There are no rules, just preferences: this look takes the opposite approach than the one you can most often see and places the brightest highlights at the crown and the back of the head.
46. Vivid Honey Brown Balayage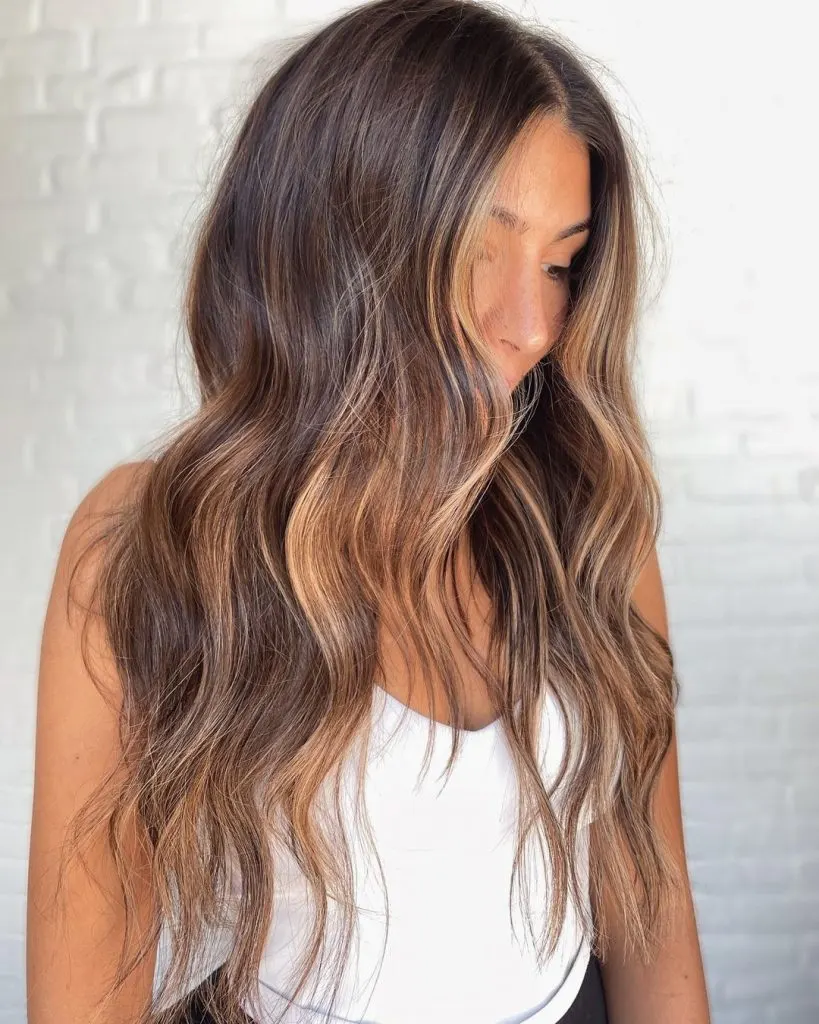 Are you just back from a beach vacation or the hair salon? When you have sun-kissed, beachy waves like these, the answer could be either.
47. Almond Highlights On Dark Brown Hair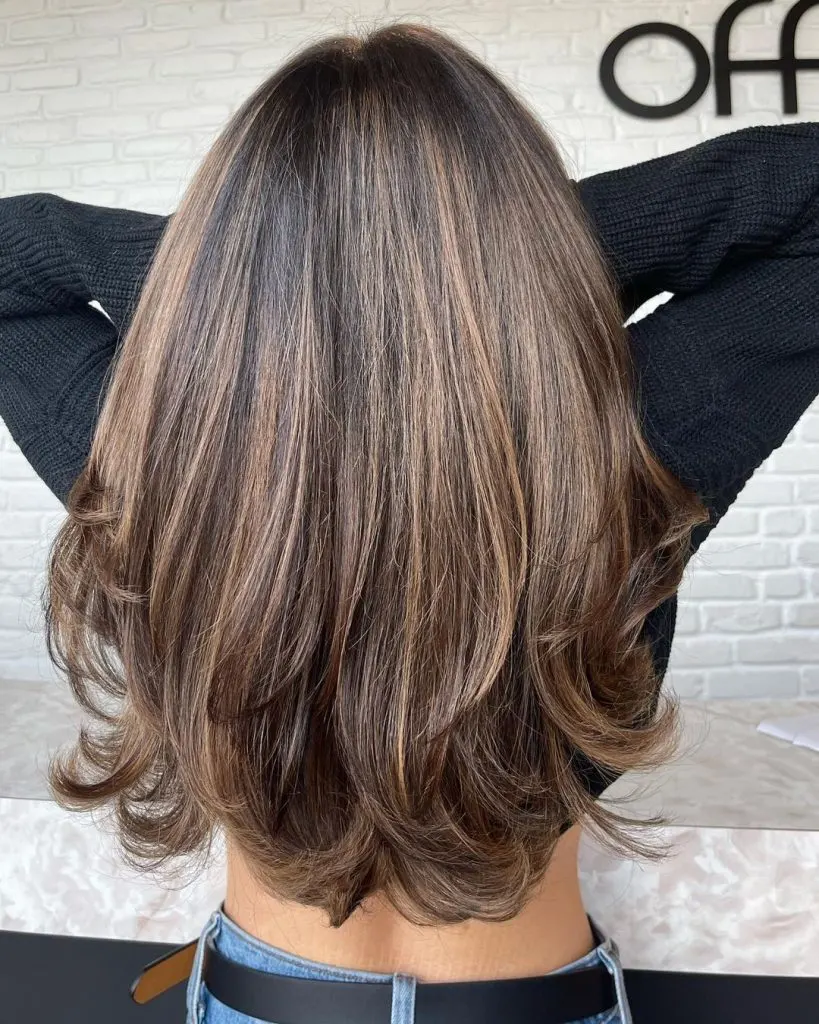 Dense highlights of your desired shade are a gorgeous and easy way to transition from dark to light brunette without a dramatic contrast.
48. Blonde Balayage On Brunette Hair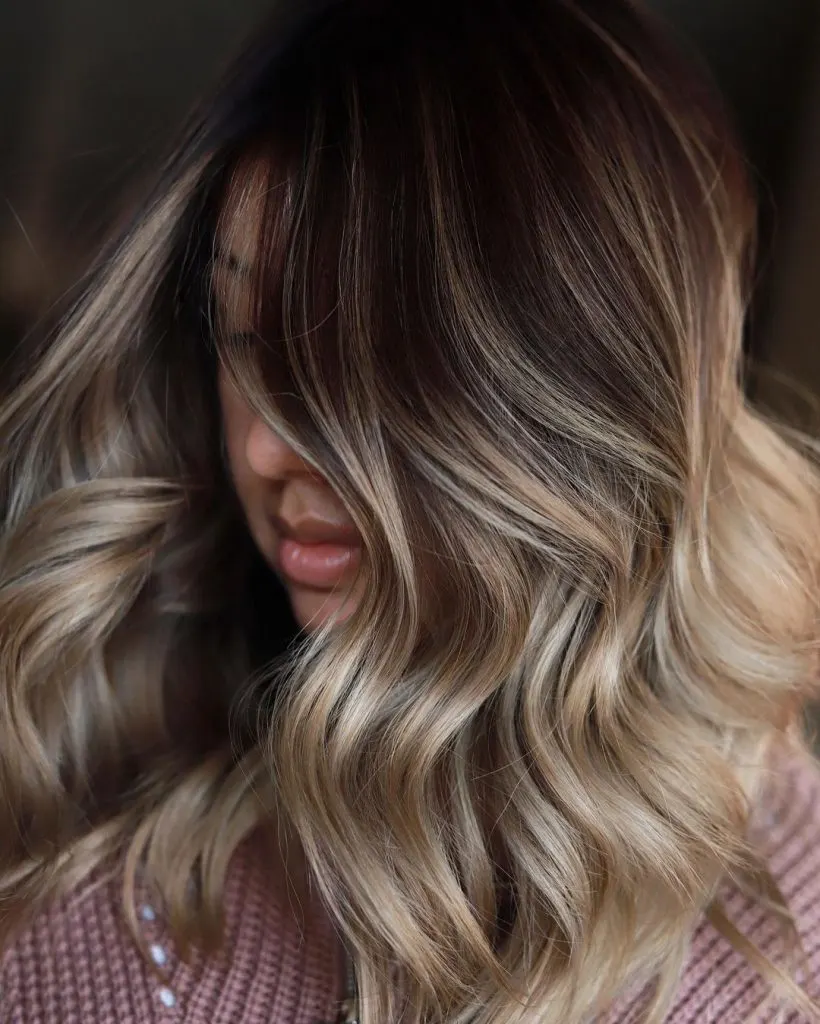 If you want to simplify your hair coloring routine but you're not ready to let go of blonde, blonde on brown balayage can reduce the time you spend on your hair by half because you'll need less root touch-ups.
49. Sandy Brunette Balayage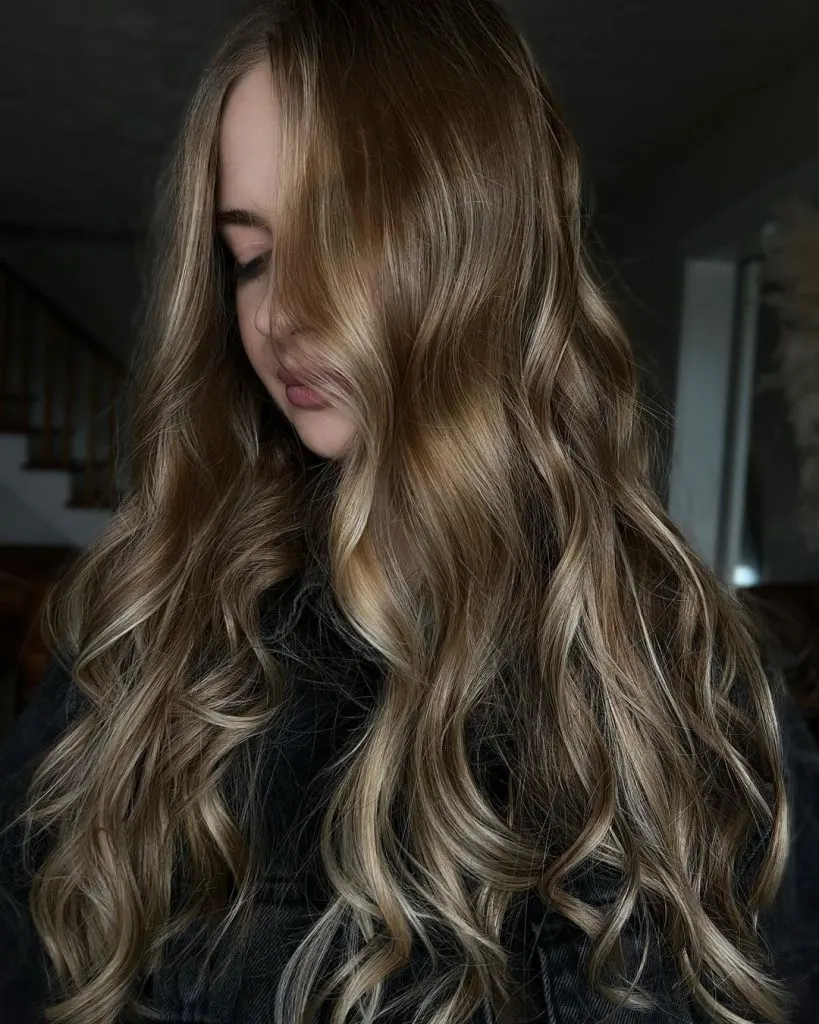 The gorgeous sandy base and the pale beige balayage take some time to create, but the final result is a seamless blend of shades that complement each other.
50. Blonde Brunette Balayage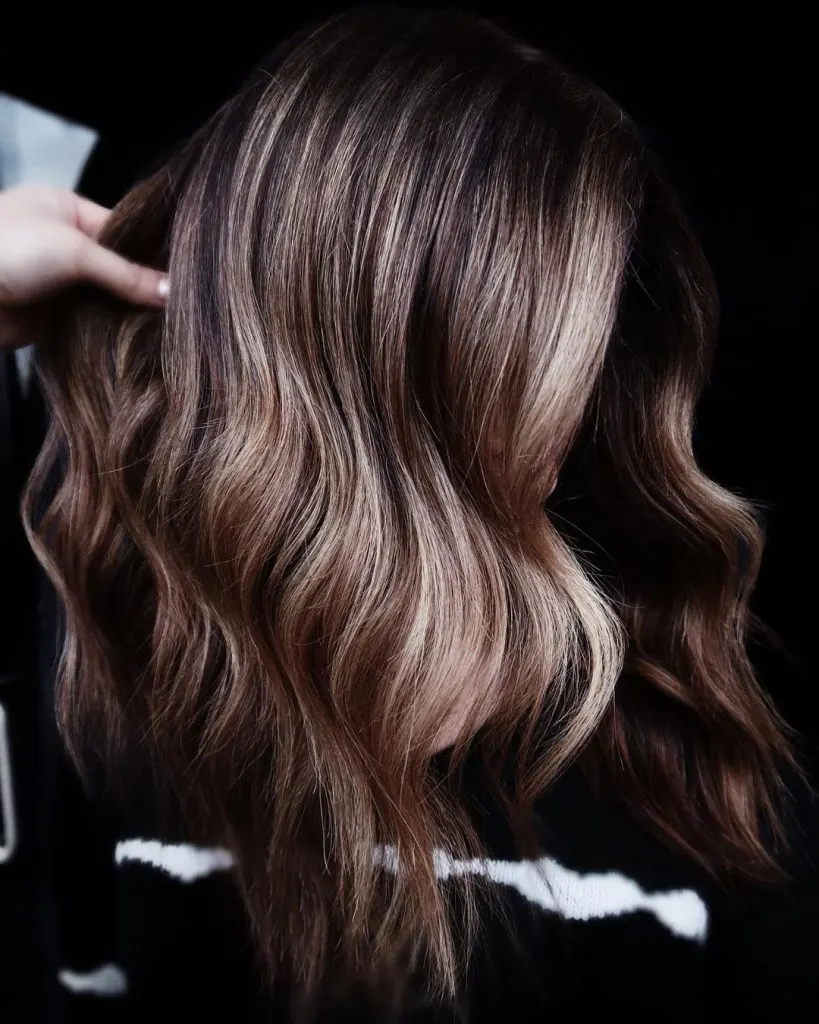 To achieve an edgy vibe, opt for a high-contrast balayage. The effect is much different from the softer looks which are more natural, but it's just as low-maintenance.
51. Caramel Highlights On Dark Brown Hair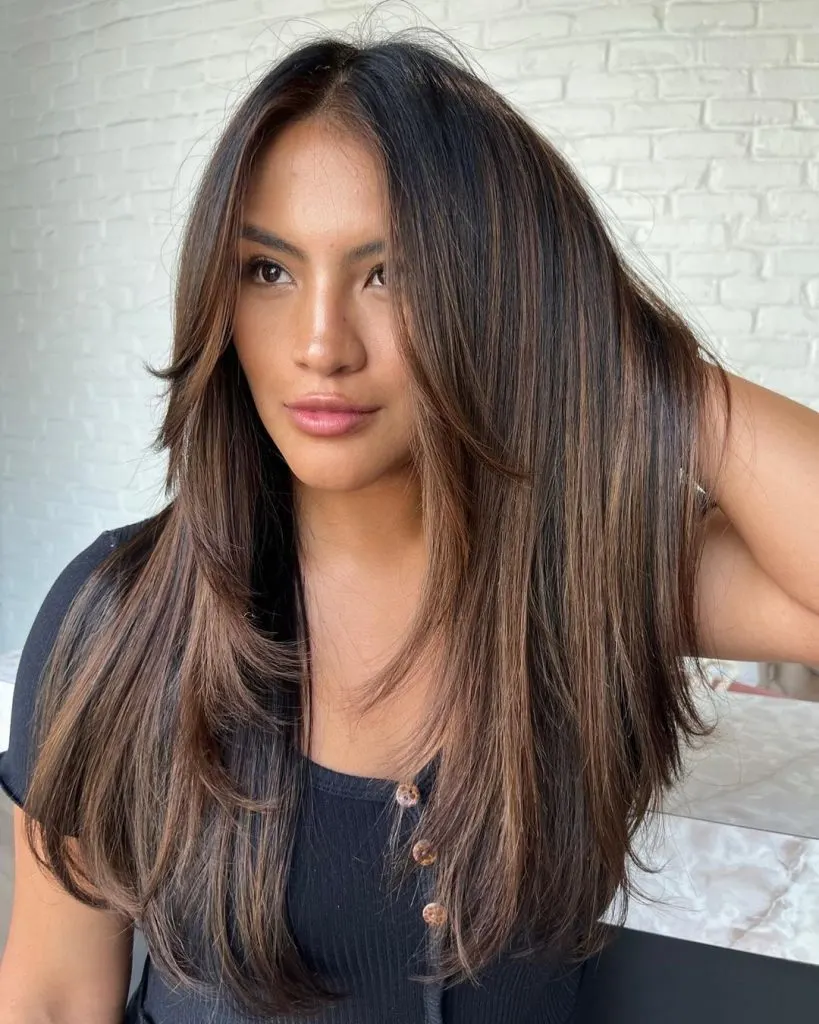 This warm balayage is the perfect look for the summer because it looks sun-kissed, but it can easily transition to fall because it's still very warm and cozy.
52. Ashy Ombre Balayage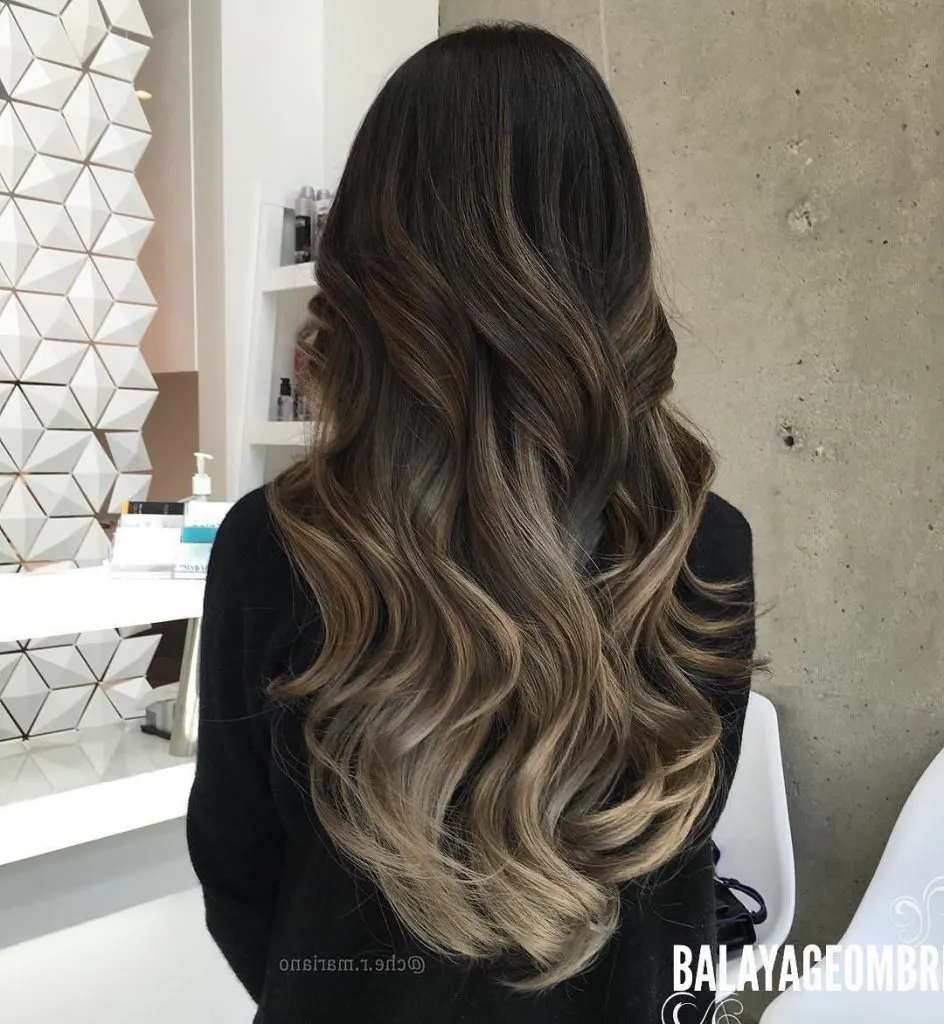 So you have a warm skin tone but want a cool-toned, ashy hue in your hair? It's possible to have a flattering color even if it clashes with your complexion: just place it further away from the face. Ombre balayage is one of the solutions that works great.
53. Golden Face-Framing Brunette Balayage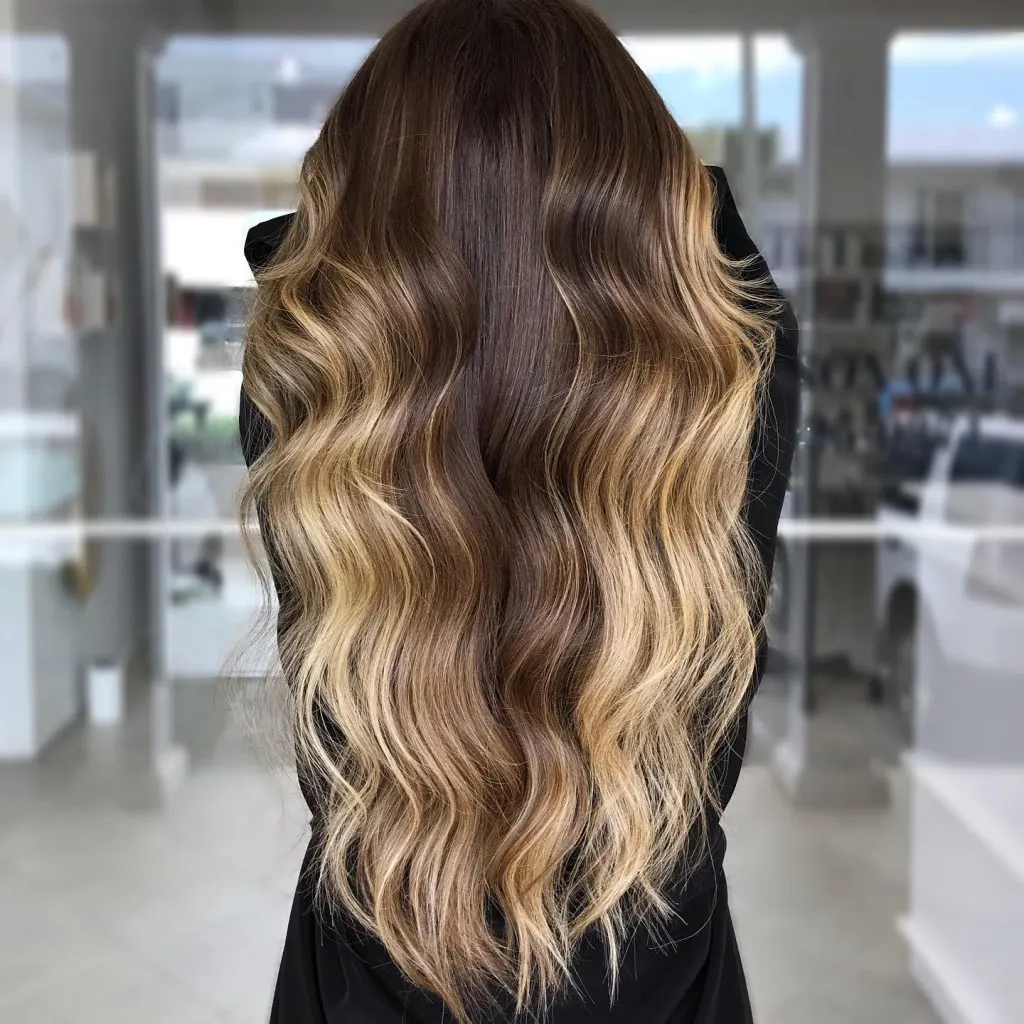 A halo of light blonde will bring a glow to your features and look even brighter when contrasted with the darker natural base.
54. Nutty Brunette Balayage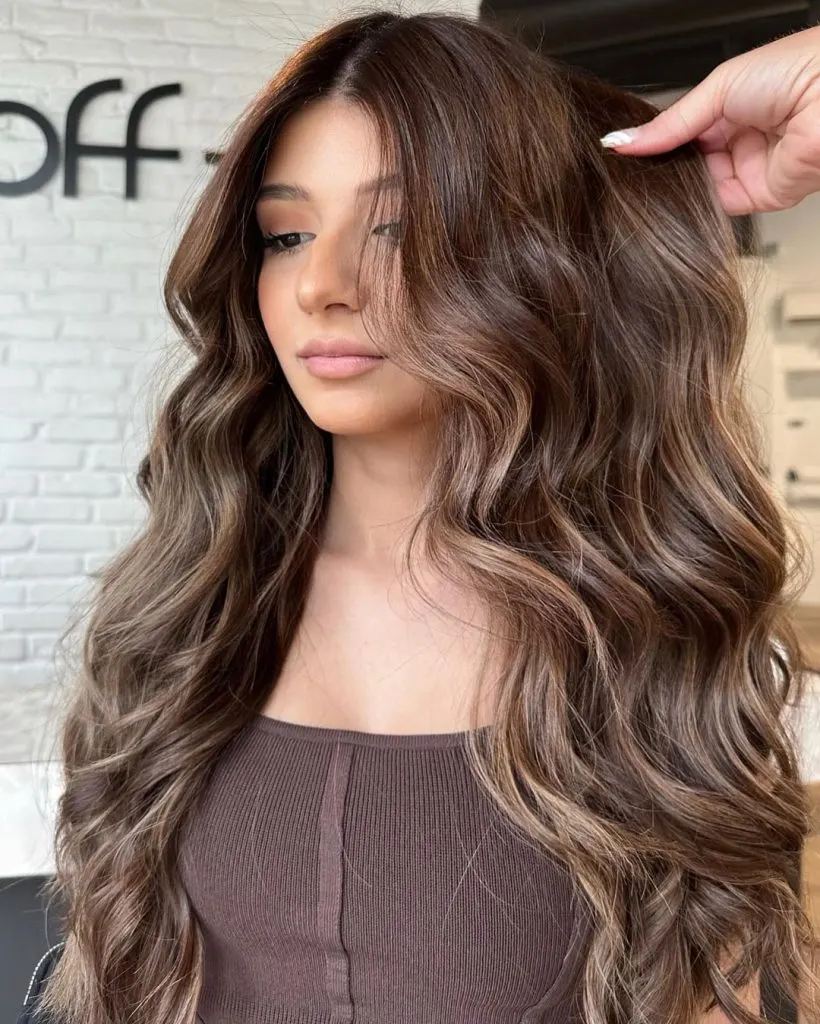 Effortless and expensive—this look is the ultimate achievement in low-key brunette balayage.
55. Chestnut Balayage On Dark Brown Hair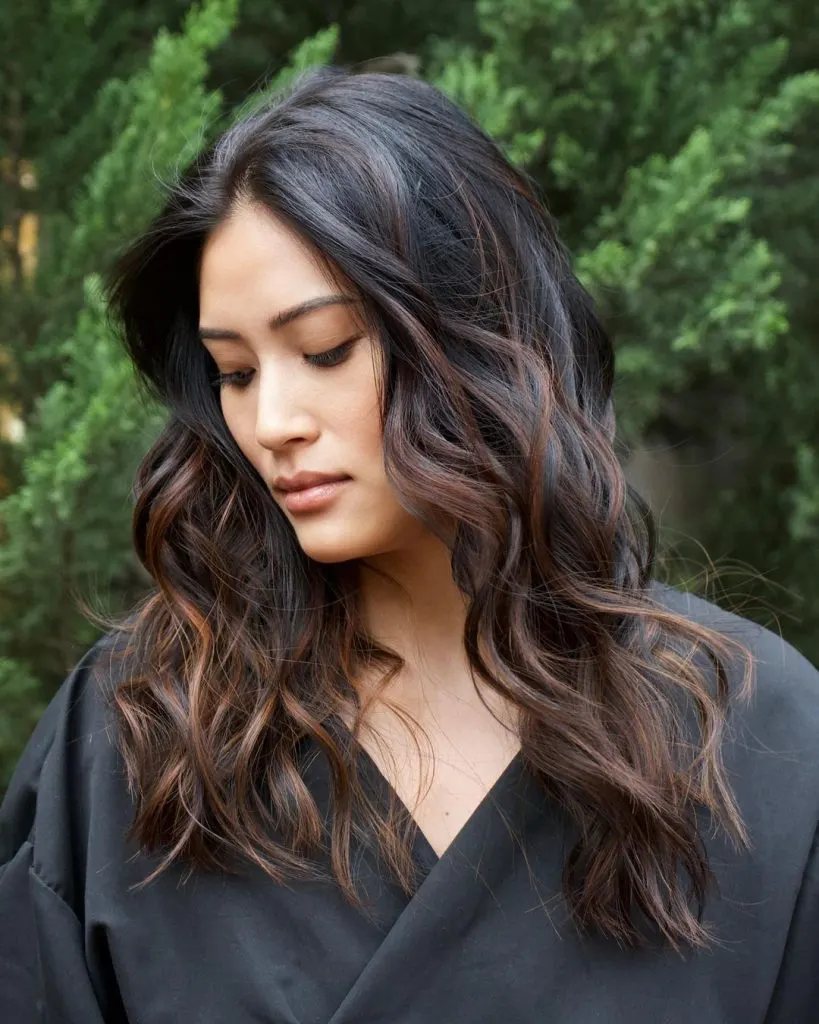 One of the common issues with dark hair is that it can appear flat. Enhance your dark tresses with chestnut brown balayage to give it dimension and bounce.
56. Glamorous Brown Balayage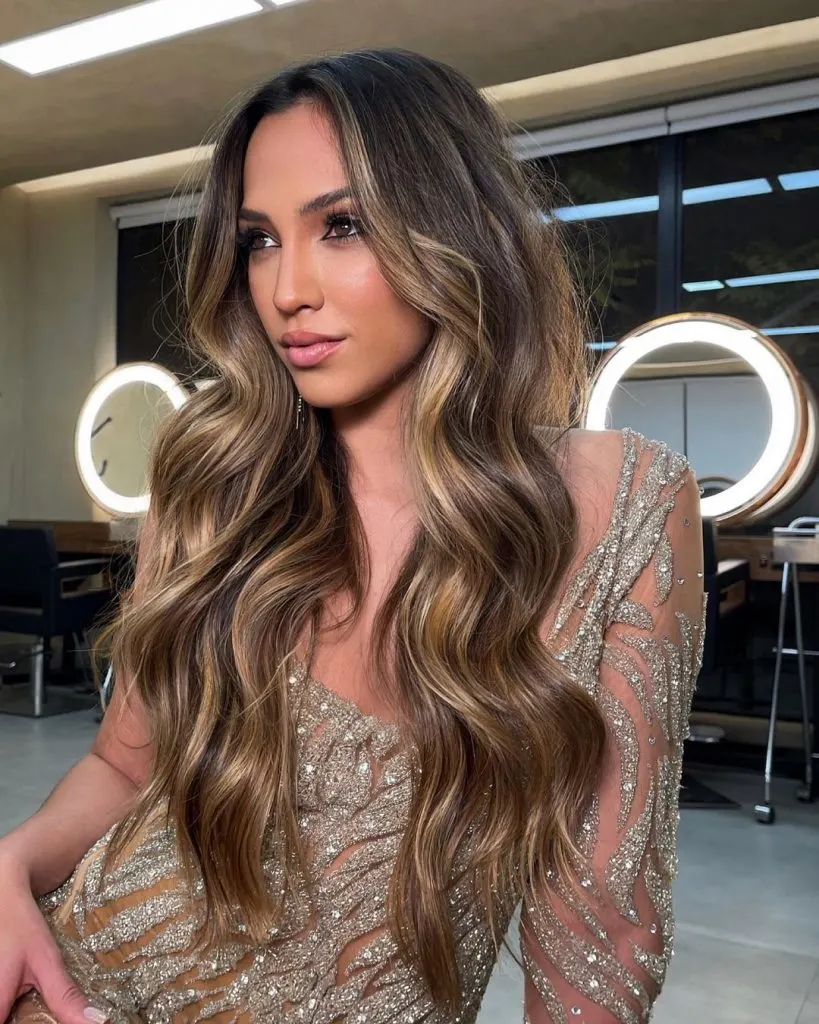 This beautiful balayage strikes the perfect balance between glam and low maintenance. To keep it shiny and in top shape, you can use at-home glossing products that you simply apply as conditioning treatment after shampooing.
57. Intense Bronde Balayage Ombre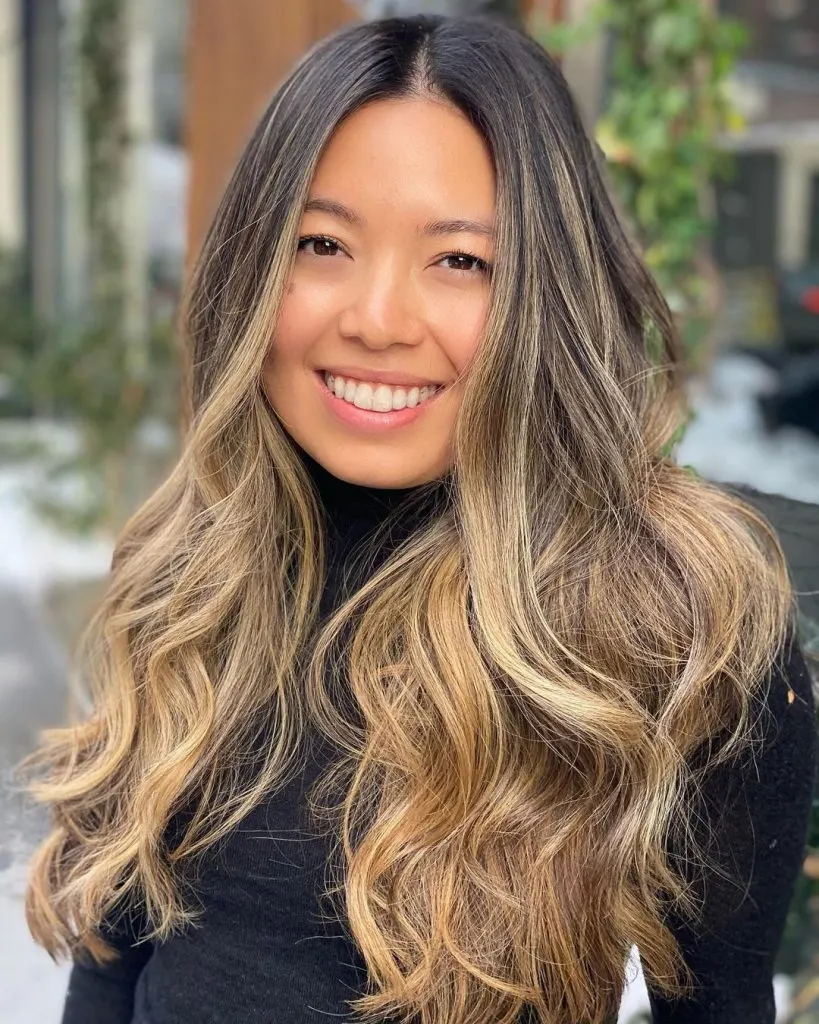 This balayage focuses on lightening the strands near the face to achieve a brightening effect while allowing you to keep your salon appointments few and far between.
58. Brunette Balayage With Blonde Money Pieces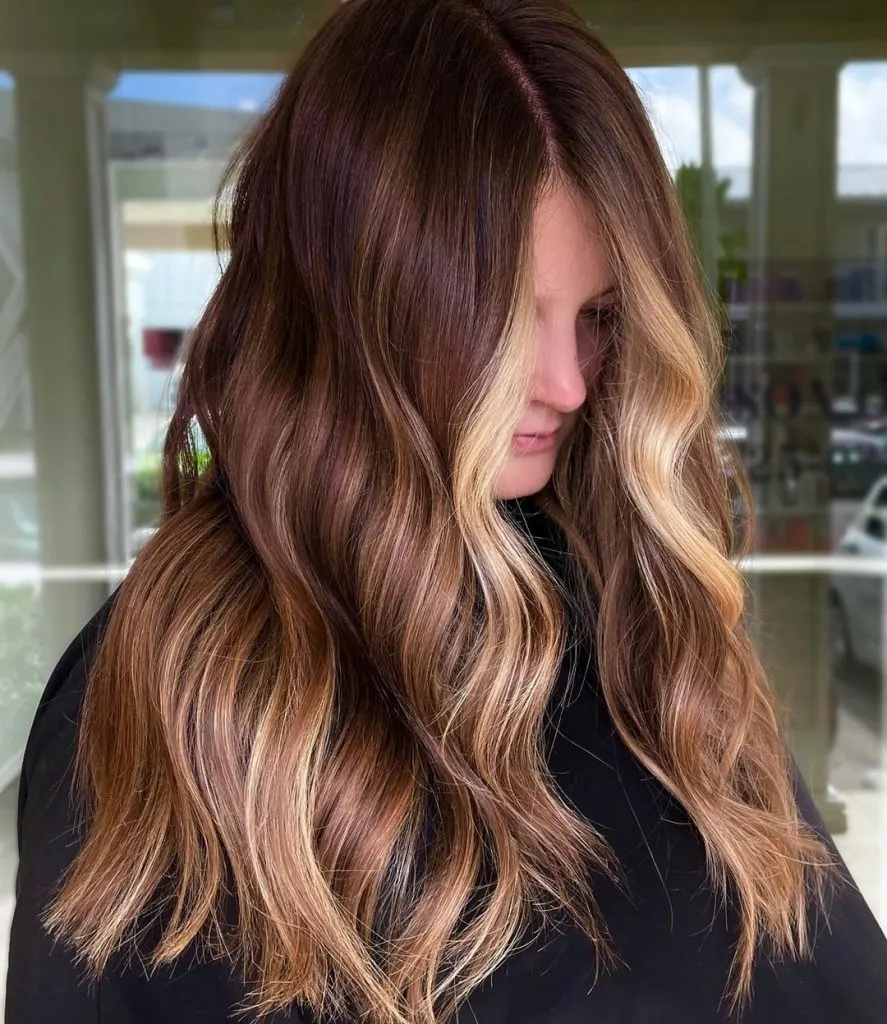 A dark reddish brunette with chunky money pieces gives a trendy Y2K vibe while also creating a glowing frame for the face.
59. Caramel Highlights On Brown Hair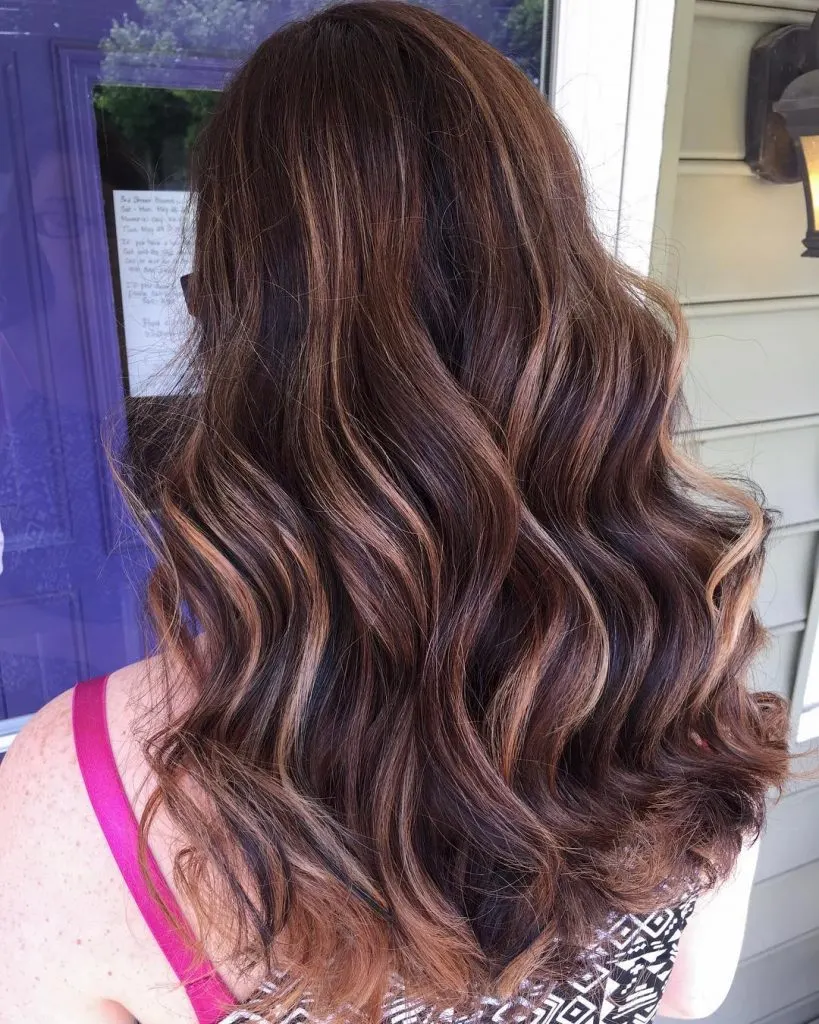 Another item in the pro balayage column: the play of dark and light strands creates movement and makes your hair look more voluminous.
60. Brightening Brunette Balayage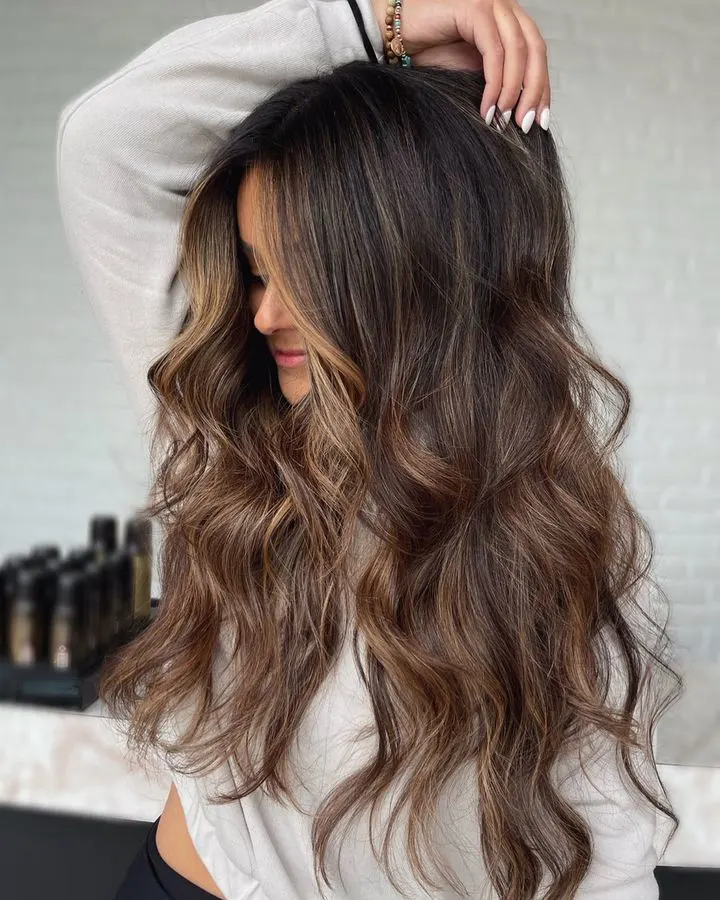 Babylights paired with face framing money pieces will transform your look more that such a simple job seems to be capable of—here's a gorgeous example.