It's time for a daring change of your looks! If you want to be an original, in a world full of copies, choose one of these funky-colored pixie cut hairstyles!
1. Buzz Cut Colored On Sidepart
If you're looking for a brave haircut to make a statement, it looks like you've found one! The key is to dye your side part in a funky color; everything else about this hairstyle is optional!
2. Fiery Red Pixie With Undercut
Fiery red hair color is not for everyone! If you pair it with this daring undercut and a trendy pixie, you get a one-of-the-kind hairstyle.
3. Blonde And Black Curly Pixie Cut
At a first glance, blonde and black are pretty basic hair colors. But when you combine them together and dye your curly pixie in these two contrasting shades, you get a mesmerizing result.
4. Purple Pixie Cut
The best way to describe this funky-colored pixie is magic. There are different shades of purple out there, but this one definitely beats them all.
5. Pastel Pink Pixie Cut With Long Curly Bangs
Pastel pink is really on trend right now. It produces a dynamic effect for your gorgeous hair, while long curly bangs make the style utterly romantic.
6. Purple Pixie Cut With Blue Highlights
I bet you'd never try this combination of colors if you hadn't seen this picture. However, now you know how good purple and blue go together and I'm sure you'll try this look the first chance you get.
7. Funky Colored Pixie Cut For Older Ladies
Funky-colored pixie ideas are not reserved for young and reckless only. Older ladies can pull this look, as well, and here is living proof of that!
8. Mermaid Blue Pixie Cut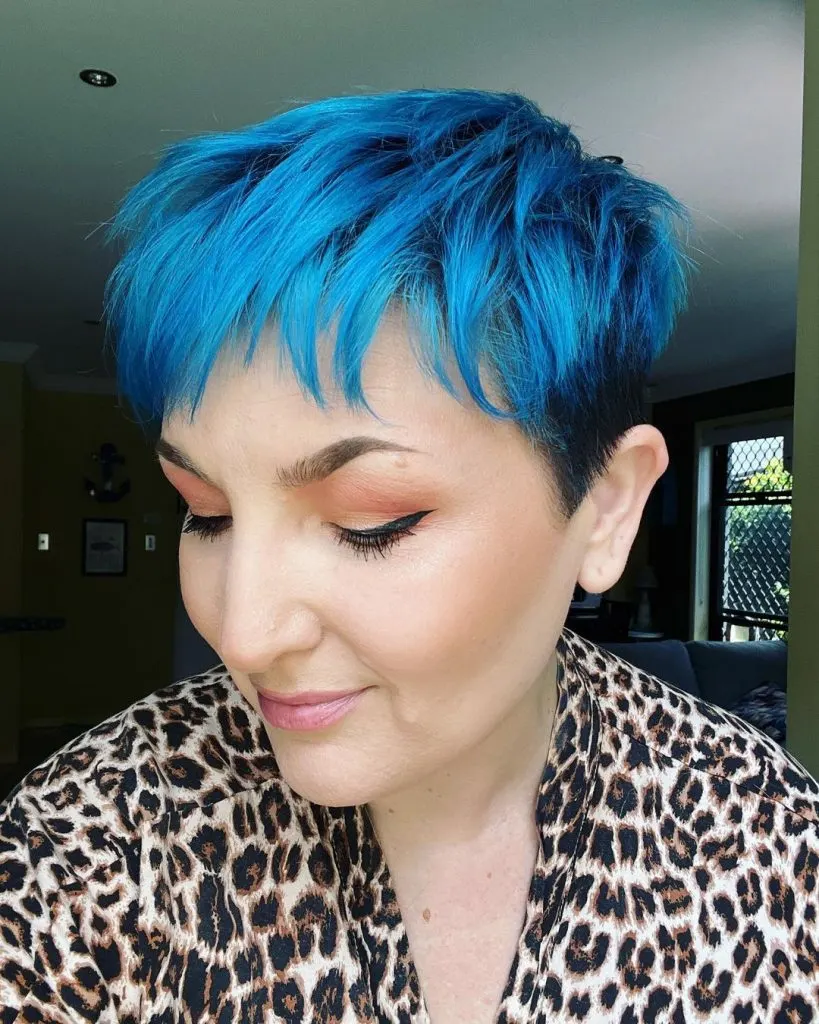 If you're looking for a fantasy hair color, congratulations, you've found one. This shade of blue pixie will turn you into a trendsetter in a matter of moments.
9. Short Pink Pixie Cut
I won't lie to you: you'll have to maintain this color on a regular basis. However, as far as the cut is concerned, this is, without a doubt, a low-maintenance hairstyle.
10. Ultra Short Violed Pixie With Gray Undercut
If your gray hair is starting to show, why wouldn't you spice things up a bit and dye the crown in a funky color? Here's a great example of how awesome this mixture looks!
11. Tomboy Blue Pixie Cut
This artistic color will transform your image and it will announce your extrovert personality wherever you show up.
12. Green And Black Pixie Cut
Here's another daring and shocking idea for a funky-colored pixie. It's everything but natural, which makes it impossible to ignore.
13. Fiery Red Pixie With Undercut And Fade
As if this spiky pixie cut paired with fiery red hair color wasn't enough, we suggest you add an undercut and a fade to complete the entire look.
14. Blue And Black Pixie Cut
The best thing about this stylish funky colored pixie cut is how the blue blends into the black and vice versa. There is no sharp edges between these two colors, which makes this hairstyle even more stunning.
15. Funky Colored Pixie Cut For Short Hair
Here's another amazing vibrant, multicolor idea. If you're not scared of being the center of attention, show your colorist this picture!
16. Holographic Long Pixie Cut
With holographic hair, you get the impression that your hair color changes right in front of your eyes. This is due to high-gloss multidimensional highlights.
17. Pastel Purple Pixie Cut
Pastel purple is gentle, and yet daring and it will upgrade your pixie cut, for sure. It gives your hair the eye-catching effect you want to achieve!
18. Pixie Cut With Green Highlights And Shaved Sides
If you want to have a funky-colored pixie cut, but are not ready for a full-time commitment, why wouldn't you choose funky-colored highlights only? Spice things up with an undercut and you're good to go!
19. Barbie Pink Pixie Cut
I bet that you wanted to be a Barbie when you were a little girl. Well, now, it's time for these dreams to come true. But you won't be a typical, blonde Barbie. Instead, there is a better hairdo that will make you feel and look like a real-life Barbie: a pastel pink pixie cut.
20. Rainbow Sherbet Pixie Cut
The name says it all: this funky-colored pixie cut resembles the rainbow sherbet ice cream, the flavor we all love. There are pink, orange, peachy, and blue colored strands, which all blend in together to form this unique hairstyle.
21. Ultra Short Fierce Copper Pixie Cut
Fiery red is coming in hot this season! Show the world that you really are a confident woman by pairing it with this ultra-short pixie cut.
22. Green And Blue Pixie Cut With Fades
These green and blue shades will make you feel connected with Mother Nature. If you're not afraid to be extra brave, take it up a notch with this edgy haircut.
23. Gray Pixie Cut With Blue Highlights
Spice your typical gray pixie up with a couple of blue highlights in the bangs section. The best part about this awesome hairdo is that it's flattering for ladies of all ages.
24. Bright Red Pixie With Finger Waves
Instead of wearing boring, typical curls, give these finger waves a try. They're the best option for fine hair. Don't forget to use hair spray for your waves to last longer!
25. Dark Pink Pixie Cut
It's no wonder the entire world has gone crazy for this dark shade of pink. It's funky, edgy, but also sophisticated at the same time.
26. Dirty Blonde Pixie With Funky Colored Bangs
You're not ready to go all the way in and dye your entire hair in a funky shade? In that case, colored bangs are the thing for you!
27. Blonde Pixie Cut With Blue Fades
When you take a glance at these blue-colored fades, you'll understand why it's one of the most attractive short hairstyles for women. Dare to try it out!
28. Deep Blue Pixie Cut
Look sharp and edgy with this deep blue pixie cut. It will make you look a lot more confident and it will give you the attention you want.
29. Red Mohawk With Shaved Sides
I'll be honest: this one is not for everyone. However, if you're a bold, courageous woman who isn't afraid to step out of her comfort zone, this is an ideal hairstyle for you.
30. Electric Purple Pixie Cut
Electric purple is a magical blend of violet and purple hair color. This type of pixie cut will give your hair dimension it needs.
31. Neon Yellow Pixie Cut
For those of you who want to go extra funky, here is a neon light pixie cut paired with white strands on top of the crown.
32. Orange And Black Pixie Cut
This orange and black pixie cut is living proof that short hair can be feminine and help you feel like a true lady. Mix it with some statement earrings and you'll capture everyone's attention!
33. Emerald Green Pixie Cut
Are you looking for a bold, yet wearable hair color? In that case, emerald green should be your top pick!
34. Livid Pixie Cut
As you can see, livid is somewhere in between gray, green, and blue. Choosing this funky-colored pixie cut is an excellent way to stand out!
35. Gray-Green Pixie Cut
If you're looking for a sophisticated yet funky-colored pixie cut, I guess you've just found one. You can wear this look to the office, while still keeping your individuality intact.
36. Funky Colored Pixie Cut With Rainbow Patchwork
One thing is for sure: this patchwork-colored pixie cut is one of a kind hairstyle and you'll definitely feel unique with it. The only trick is to find a colorist who mastered this technique.
37. Pixie Cut With Funky Colored Bangs
If you're still not sure about dying your entire hair in a funky color, leave most of it in your natural color. Instead, just dye your bangs pink— you will still leave a wow effect.
38. Blue And Red Pixie Cut
Who would have known that blue and red go this great together? It's definitely not a low-maintenance pixie cut, but trust me when I tell you that it's worth it.
39. Rainbow Spiky Pixie Cut
Here's the best example of an androgynous funky colored pixie cut. Seeing all these colors blend together flawlessly will make you love it even more.
40. Multicolored Pixie Cut With Long Bangs
A bit of orange, a bit of copper, and different shades of violet. Put it all together, pair it with a pixie cut with long bangs, and you'll get a stunning, unique hairstyle.
41. Neon Pixie With Undercut
One thing is for sure: nobody will stay indifferent when they see this neon pixie. It's not just the coloring— it's also about these special patterns on the back of the head.
42. 4D Colored Pixie Cut
4d coloring is all about depth which creates beautiful color contrasts. It's a new hair trend to try, especially when mixed with funky colors.
43. Two Shades Red Pixie Cut
Only brave women can wear red hair. But only the boldest can pull off a two-shade red pixie cut!
44. Pastel Rainbow Long Pixie Cut
Even though the pastel rainbow pixie cut is one of the most appealing hairstyles out there, you have to be ready to visit your colorist on a regular basis. It's likely for pastel hair to fade in less than three weeks since it's already lighter.
45. Rainbow Pixie With Gray Undercut
Are you ready for a wild, punk haircut? Forget about your age or any social limitations— this is the sign to get a rainbow pixie cut with a gray undercut.
46. Shades Of Purple Pixie Cut
You can't decide between different shades of purple? Worry not, there is a solution for that: combine them all together in this edgy pixie cut.
47. Vibrant Mohawk Pixie Cut
Funky-colored hair and mohawks are two of our favorite hair trends this season. Instead of picking just one, pair them to get this magnificent hairstyle.
48. Rainbow Colored Pixie For Ladies With Glasses
For this hairstyle, your colorist will leave most of your hair in your natural colors, while dying the crown in rainbow colors. If you have eyewear, pick simple glasses frames.
49. Yellow Mohawk Pixie Cut With Fade
A mohawk, neon yellow hair color, an undercut, a fade— it's all there. All you need is confidence to pull this edgy hairstyle off.
50. Green And Orange Pixie With Fade
This pixie cut and colors are a real head-turner. The modern cut adds angles and definition to your hair, while it works perfectly with orange and green.
51. Orange Curly Pixie Cut
Let your curls go wild and pair them with this vivid orange hair color. It's a powerful and feminine hairstyle you don't want to miss!
52. Dark Blonde Pixie Cut With Red Bangs
If you want to give more playful vibes to your boring, dark blonde pixie cut, try dying your bangs red. It's a stylish, messy look that will make you look and feel youthful.