You know how they say: blondes have more fun. Well, just imagine how much fun you'd have with a blonde pixie cut. Well, we're here to help you sparkle your imagination and give you the list of blonde pixie cut hairstyles you simply must try!
1. Platinum Blonde Pixie Cut
This neat platinum blonde pixie cut will take your hair to the next level and it will help you feel brand new. It's an elegant and sophisticated look that looks amazing on women with round or oval faces.
2. Blonde Pixie Cut On Dark Skin
Haven't you heard about the new trend: blonde pixie cut on dark skin? One thing is for sure: this combination creates a unique image and you'll absolutely love your new look.
3. Edgy Blonde Pixie Cut
Are you brave enough to add colorful bangs to a traditional pixie cut? If the answer is yes, choose this combination of blue and green colors. Even if you don't like the outcome, your hair will grow and you'll get rid of it soon.
4. Blonde Pixie Cut On Black Girl
Here's another extraordinary example of how amazing a blonde pixie cut can look on dark skin. This interesting haircut will arrest everyone's eyes for sure!
5. Honey Blonde Pixie Cut Black Girl
If you're still not ready to go all the way in, instead of platinum blonde, go for more natural shades, such as light brown, caramel, or honey blonde. These shades are less likely to damage your hair.
6. Long Blonde Pixie Cut
Somewhere between a pixie and a bob, there is a so-called lixie, or a long pixie cut. This side-combed pixie is a classic, but a sexy option that looks great on women of all ages.
7. Ash Blonde Pixie Cut
Ash blonde hair color and a pixie cut are a match made in heaven. This is a winning hairstyle for all the ladies who feel good in their own skin.
8. Dark Brown Pixie Cut With Blonde Highlights
Why wouldn't you take inspiration from prior decades when looking for a perfect hairstyle? I bet we all remember how popular dark brown pixie with blonde highlights once was. Well, it looks like this style is coming back!
9. Low Maintenance Blonde Pixie Cut
Who says that blonde hair needs a lot of time, patience, and effort? This low-maintenance blonde pixie cut requires no styling, besides dying your hair on a regular basis.
10. Black And Blonde Pixie Cut
If you find a one-toned blonde pixie cut boring, here's a more exciting solution for you. And you know what the best part is? The fact that you won't have to worry about dark roots ever again!
11. Platinum Blonde Pixie On Dark Skin
Here you have one bold hairstyle, not every woman can pull off. Just know that going from black to blonde is a multistep process, so don't expect your colorist to make miracles, unless you want to end up with damaged hair.
12. Two-Tone Ash Blonde Pixie Cut
Is your hair going naturally gray? Or did you dye it this way? Nobody can know! But what everyone can see is that you have a stunning, trendy hairstyle!
13. Blonde Pixie Cut With Bangs
One thing is for sure: bangs will enhance the beauty of your pixie cut. They will frame your face and, if necessary, hide a bigger forehead.
14. Dirty Blonde Pixie Cut
Some call it dirty blonde, some dark blonde. Either way, this hair color is one of the trendiest shades of blonde this season. And the best part is that it goes amazingly well with pixie cuts.
15. Bleach Pixie Cut
Bleaching your hair is damaging— there is no doubt about that. However, the key to keeping it healthy is to use a low-volume bleach developer, and applying masks, and conditioning hair treatments on the regular basis.
16. Pixie Short Blonde Hair With Lowlights
Instead of going for the typical highlights, choose lowlights, which are typically one or two shades darker than your base color. This kind of coloring will add dimension to your blonde pixie cut.
17. White Blonde Pixie With Undercut
An undercut is not edgy enough for you? Why don't you try bleaching the crown of your hair, while dying the undercut in a darker shade (or just leaving your natural hair color)?
18. Pepper And Salt Pixie Cut
Is your white hair stubbornly growing out? Well, instead of dying it all, embrace your grays and give your hair an interesting salt and pepper mixture. Pair it all up with a trendy pixie cut and you're good to go.
19. Ultra Short Blonde Pixie Cut
Even an ultra short pixie cut can give you a feminine and chic look— if you know how to wear it right. It's no wonder that this low-maintenance haircut is getting more and more popular among women of different age groups.
20. Curly Mohawk Blonde Pixie Cut
No, a mohawk is not reserved for tomboys only, especially not if you curl it. With this hairstyle, you get an illusion of volume and thickness, and let's not forget a modern hairstyle.
21. Blonde Pixie Cut For Oval Face
When you have an oval face shape, you want to emphasize your eyes and cheekbones. And that's exactly what this haircut does for you— it accentuates your beautiful facial features.
22. Blonde Pixie Cut For Women Over 50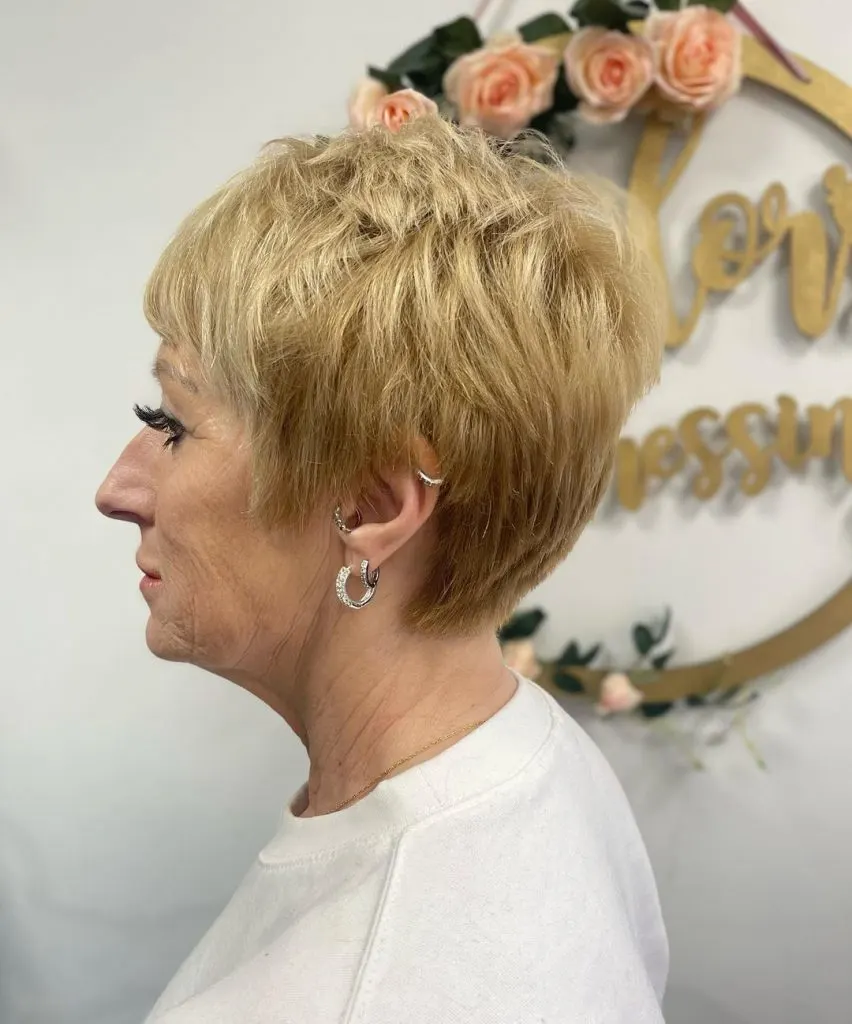 If you want to look your best in your 50s, a blonde pixie cut is the way to go. It's a stunning haircut you won't waste of lot time styling and maintaining.
23. Strawberry Blonde Pixie Cut
Even though technically, strawberry blonde is a shade of red hair color, it looks amazingly good on blondes, as well. It's a trendy, warm hue you should definitely give a chance to.
24. Blonde Pixie Cut With Baby Bangs
The boldest trend of this year is, without a doubt, baby, or choppy bangs. They look especially good on short hair, so if you're going for an authentic look, they should be your top pick.
25. Blonde Pixie Cut With Shaved Sides
If you want to play into the undercut trend but still look professional, a pixie cut with shaved sides is the right solution! This look will help you express your individuality and will capture everyone's attention.
26. Blonde Pixie With Faux Hawk With Shaved Sides
The contrast of shaved sides and a long faux hawk will make heads turn. If you're brave enough to pull off this look, just go for it, no questions asked.
27. Blonde Pixie Cut For Gray Hair
Going blonde is the best solution for all of you with gray hair. It offers great coverage, and won't have to dye your hair so often.
28. Dark Blonde Pixie Cut With Side Bangs
The traditional long pixie cut completed with side bangs creates a super-stylish look. These side bangs will cover your wrinkles and slim down your face.
29. Brown-Blonde Pixie Cut
Can't decide between keeping your natural brown hair color or dying it blonde? Why don't you take the best of both worlds and
30. Beige Blonde Pixie Cut
A beige shade of blonde transforms this seemingly dull haircut into a romantic hairstyle suitable for all ages. One thing is for sure: this trendy hairdo will make you shine, no matter the occasion.
31. Blonde Balayage Pixie Cut
Here's another soft and romantic hairstyle: a blonde balayage pixie cut. You can split the bangs in the middle or just go with the side-parted hairstyle.
32. Edgy Blonde Pixie Mohawk With Bangs
This hairdo gives you everything: blonde hair, bangs, shaved sides, and a mohawk. If this is not bold and edgy, I don't know what is!
33. Blonde Pixie Cut With Straight Bangs
If you're looking for a short haircut with bangs that suit most face shapes, you should go for straight bangs. They will soften your face and create a chic look.
34. Bowled Blonde Pixie Cut
A bowl cut looks particularly great if you have thick hair. Your hairdresser will cut the front of your hair with a straight fringe while leaving the rest a bit longer. Just like that, you get a trendy haircut that is easy to maintain.
35. Blonde Pixie Cut With Long Side Bangs
These long-side bangs will totally transform your traditional blonde pixie cut. Here's a pro tip: dry the bangs with a round brush to add some extra volume.
36. Long Wavy Blonde Pixie Cut
How do you get spotless beach waves? It's actually quite simple: when curling your hair, just leave a few inches of the end, and just like that, you'll get a perfect hairstyle.
37. Edgy Curly Blonde Pixie With Shaved Sides
If you have naturally curly hair, why wouldn't you try going bold on the sides? I know it might sound too edgy, but hey, your hair will grow back in a blink of an eye. And for now, you'll have an eye-catching hairstyle.
38. Honey Blonde Curly Pixie Cut
Honey blonde does an excellent job of mixing elegance with warmth. This is a sun-kissed look that softens your face and gives you a romantic look.
39. Long Curly Blonde Pixie With Dark Lowlights
No doubt, blonde curly pixie cuts are here to stay. It's a trendy, yet simple hairstyle which adds volume to your hair and grace to your entire appearance.
40. Long Messy Wavy Blonde Pixie Cut
A long messy blonde pixie cut gives brightness, dimension, and the illusion of thickness to your hair. It's sophisticated and feminine, but at the same time careless and effortless.
41. Blonde Pixie Cut With Spiral Curls
It doesn't matter if you just want to direct everyone's attention to the most prominent features of your face or just balance your bone structure— a blonde pixie cut with spiral curls is the right choice!
42. Blonde Pixie Cut With Curly Bangs
The best thing about this hairstyle is that you don't need to have naturally curly hair to pull it off. Just create a side part, spray the section with a hair protection spray and use a curling iron to get the desired results on your bangs.
43. Dark Curly Pixie Cut With Blonde Bangs
For this style, you're free to leave most of your hair dark. Just ask your hair colorist to add a few blonde highlights on the top of your bangs and you'll get a unique, trendy look.
44. Platinum Blonde Pixie Cut For Older Women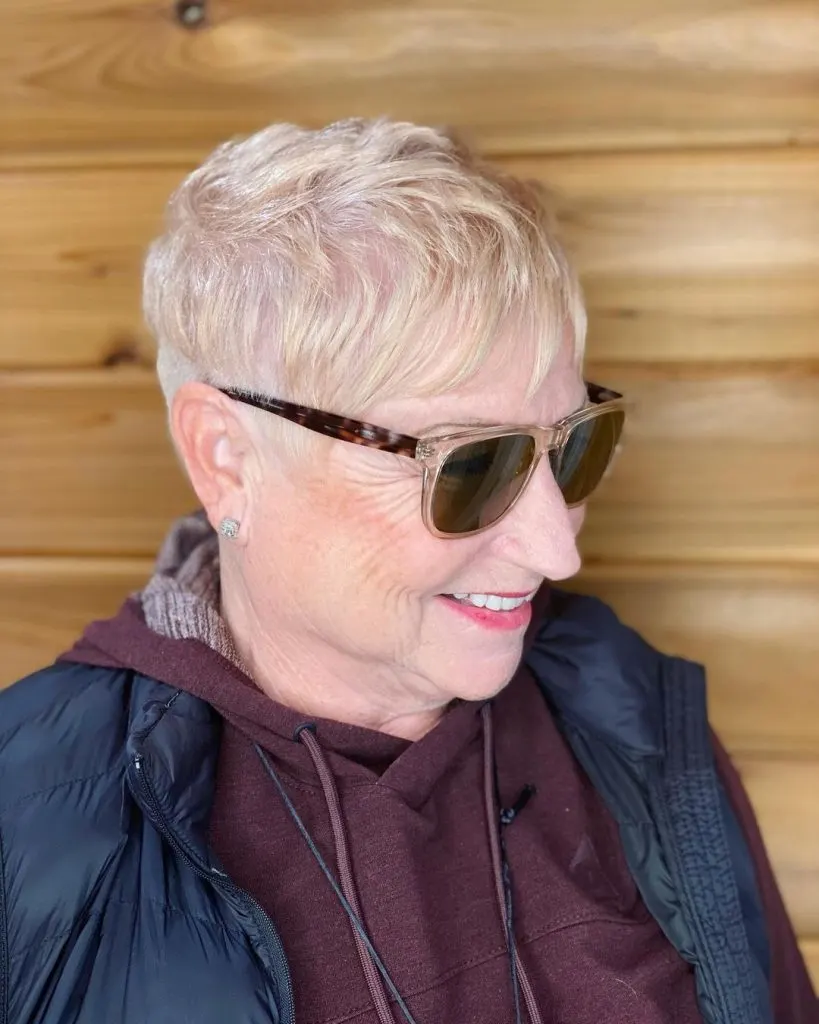 A platinum blonde goes great on naturally gray hair since gray evolves beautifully into this amazing shade. Paired up with a pixie cut, you get a chic hairstyle appropriate for all age groups.
45. Tomboy Blonde Pixie Cut
If you have a thing for boyish fashion, a tomboy blonde pixie cut should be your number one choice. When you see it on yourself, you'll see it really is worth the hype.
46. Dark Brown Pixie With Honey Blonde Highlights
The key to this fashionable hairstyle is in styling chunks of hair in defined slices. The subtle layers on the back and the medium ones around the face will make the hair bounce and give you an astonishing look.
47. Pink Blonde Pixie Cut
Blonde pink hair sounds like a childhood dream turned into reality. It's delicate, funky, and sophisticated at the same time. Trust me, you'll feel like a modern-day barbie with this hairstyle.
48. Side Part Blonde Pixie Cut
This side-part blonde pixie cut requires a good quality pomade for women. Here's a pro trick: apply it to towel-dried hair and use a significant amount of product.
49. Bob Pixie Cut With Blonde Highlights
A bob pixie cut is just what you need for a change if you don't want to cut all of your lengths. It's easy and fun to maintain and it offers numerous styling options.
50. Ultra Short Bleach Pixie Cut
Only the bravest women who are in touch with their feminine side can pull off this ultra-short blonde pixie cut. In just a few steps, you can get a fantastic look you'll adore!
51. White Blonde Short Pixie With Long Bangs
If there's one hairstyle destined to last forever and never go out of fashion, this is it. A white short blonde pixie with long bangs has a 90s retro vibe, and it will give you a chic look you'll never want to change.
52. Platinum Blonde Curly Pixie Cut For Women Over 70
When you reach a certain age, you start looking for a hairstyle that is attractive but at the same time, easy to maintain. Finally, you've found one: a platinum blonde curly pixie cut!
53. Blonde Pixie Cut With Eye Covering Bangs
Nothing screams mystery more than eye-covering bangs. This is a style sure to turn heads while delivering strong romantic vibes.
54. Blonde Pixie Cut With Black Lowlights
Black lowlights will add a trendy accent to your blonde pixie cut. This mind-blowing hairstyle won't leave anyone indifferent.
55. Blonde Pixie Cut With Shaggy Bangs
There's something that screams rock'n'roll about shaggy bangs. This blonde pixie cut will draw attention to your eyes, and it will make you look cool and youthful.
56. Effortless Elegant Blonde Pixie Cut
On the other hand, if you want to look like a true lady, you should go for this elegant blonde pixie cut. It's glamorous and fabulous and it goes well with all face shapes.
57. Bowled Two-Toned Blonde Pixie Cut
If you can't decide which shade of blonde goes the best with your skin tone, go for the two-tone blonde pixie. Pair it up with a bowled cut to leave an impression wherever you show up!
58. Medium Length Blonde Pixie Cut
Not ready to chop off most of your hair just yet? In that case, here's something for the transitional period: a middle-length blonde pixie cut.
59. Blonde Pixie Cut With Sideburns
Sideburns slim down your face, while the crown on the top visually adds more volume to your hair. Just like that, you'll get a blonde pixie cut you'll adore.
60. Retro Blonde Pixie Cut
This retro blonde pixie cut is a real game-changer. It doesn't only allow you to build volume; it also shows all of your facial features to the best advantage.
61. Blonde Pixie Cut For Oval Chubby Face
If you have an oval chubby face, it's time to stop hiding those cute cheeks of yours. Instead, put a spotlight on your facial features with this blonde pixie.
62. Sleek Blonde Pixie Cut
Nothing says cool and chich like a slicked hairstyle. A haircut like this won't keep the focus of your makeup and outfit, and it will look fashionable at the same time.
63. Shaggy Blonde Pixie Cut
The best way to describe this trendy hairstyle is a creative mess. It's a versatile haircut that gives you a ton of options and the one you'll enjoy wearing for a long time.
64. Strawberry Blonde Pixie With Black Undercut
I bet you never thought of pairing strawberry blonde and black hair. Well, it's time to change your mind because these two contrasting colors look amazing on a pixie cut.
65. Spiky Blonde Pixie Cut
If you're looking for a style sure to turn heads, congratulations because you've found one. It's cozy and sophisticated, all in one.
66. Funky Blonde Pixie With Shaved Sides
Want to upgrade your everyday look? This nasty, edgy, and funky blonde pixie cut is the way to do it.
67. Baby Mullet Blonde Pixie Cut
A baby mullet is much more sophisticated and gentler than a typical mullet. Paired with this beautiful shade of blonde, it's a hairstyle you'd be crazy to miss.
68. Asymmetrical Long Blonde Curly Pixie Cut
An asymmetrical long blonde pixie cut gives out a punchy, rock-star vibe. If the cut itself doesn't have enough attitude for you, try the combination of dark and blonde and you'll leave an impression.
69. Layered Blonde Pixie Cut
When going for this haircut, your stylist will keep some dimension to give you a fuller look. This blonde pixie cut is suitable for straight and wavy hair types.
70. Blonde Pixie Cut With Choppy Layers
One thing is for sure: layers add volume and dimension to every haircut. This choppy layered blonde pixie is not an exception!
71. Wet Style Ash Blonde Curly Pixie Cut
If you want this look, you'll need to apply styling products to your hair while it's still wet. Don't forget to choose the right hair gel and a glossing spray.
72. Icy Blonde Pixie With Deep Side Part
An icy blonde pixie with a deep side part will make your facial features stand out. Here's a pro tip: use inventive and bold makeup to complete this look.
73. Sleek Icy Blonde Pixie With Buzzed Sides
This blonde pixie cut gets its sassiness from both the bangs and the shaved sides. These two features mixed together create a confident look you'll absolutely love!
74. Short Blonde Pixie With Sideburns And Choppy Bangs
This voluminous, piece-y style is everything but boring. If you're looking for a short, funky style, you've found one!
75. Blonde Pixie Cut For Thin Hair
Thin hair has never looked more beautiful! This blonde pixie cut is effortless and it sends out a carefree vibe.
76. Blonde Pixie Cut For Thick Hair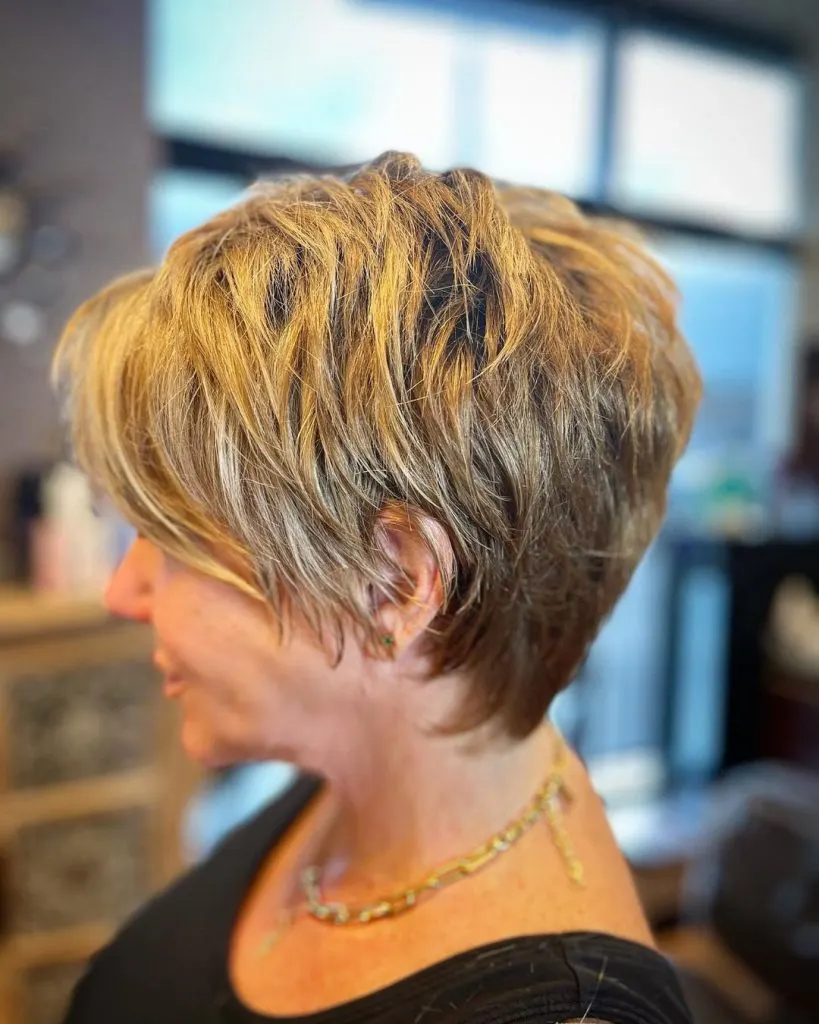 It seems that some hair types are made for pixie cuts. Thick hair is one of those types! With this shade of blonde, it's enough to go for a classic pixie and you'll still catch everyone's attention.
77. Blonde Pixie Cut For Round Face
These asymmetrical bangs will make your round face look a lot thinner, while the mixture of a pixie cut and this platinum blonde will make you look and feel like a real lady.
78. Blonde Pixie Cut With Big Curls
Blonde big curls are so retro and chic! Give them a temporary touch with this undercut and you'll have a hairstyle that never goes out of fashion.
79. Tousled Blonde Pixie Cut
A blonde tousled pixie is an effortless haircut that brings tons of layers and texture. It's the best choice for thin hair since it gives it a body.
80. Quiff Blonde Pixie Cut
A quiff pixie cut is a perfect styling option for women who want to look funky and bold. All you need is some strong-hold hair spray to maintain the volume and the structure.