Pixie cut doesn't have a poetical name only— it looks like a fairytale hairstyle, as well. It's really a wonder what 1 to 3 inches of hair can do but trust me when I tell you that getting a pixie cut won't transform your looks only; it will do the same with your life.
I know that chopping off your long hair and getting a pixie cut sounds daring but when will you do it if not now?
Types of Pixie Cuts And How To Wear One In 2023
When you go looking for pixie cuts, you end up even more confused. You have trouble picking the right haircut for you, especially since you get bombarded by all those different variations of pixie cuts. Or you saw the hairstyle you like but have no idea what to call it?
Worry not because I am here to your rescue. Read on to find everything there is to know about types of pixie cuts.
1. Pixie cut with bangs
If you want a pixie cut to frame your face, and accentuate your chin, and jawline while making you look feminine, a pixie cut with bangs is your perfect match. Bangs work like magic here: they have the power to transform your face shape completely. Here's a pro tip: if you're looking for a haircut to slim down your face, a pixie cut with bangs should be your top pick.
Of course, there are different variants of this magnificent hairstyle, and they all depend on the type of bangs. That's why you have a pixie with side bangs, a pixie with baby bangs, a pixie with curtain bangs, a pixie with long bangs, a pixie with curly bangs…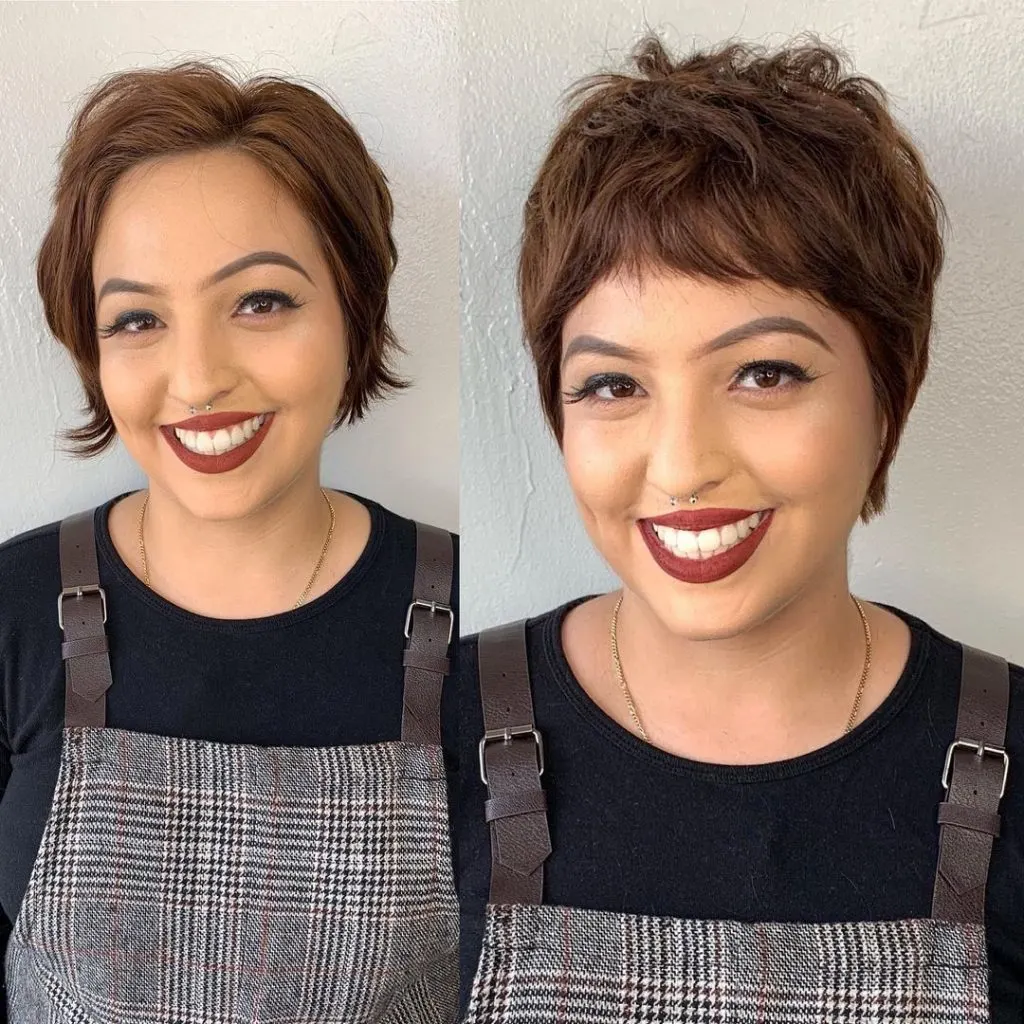 2. Short pixie cut
Are you ready for the biggest change in your appearance? If the answer is yes, it means that you finally have the courage to cut your long hair and get a short pixie cut. It's the hairstyle your should aim at if you want a complete makeover and if you want to repair your hair's health.
The best part about a short pixie cut is that it is flattering for all hair types and all age groups. On the other hand, the disadvantage is the fact that it doesn't offer much versatility.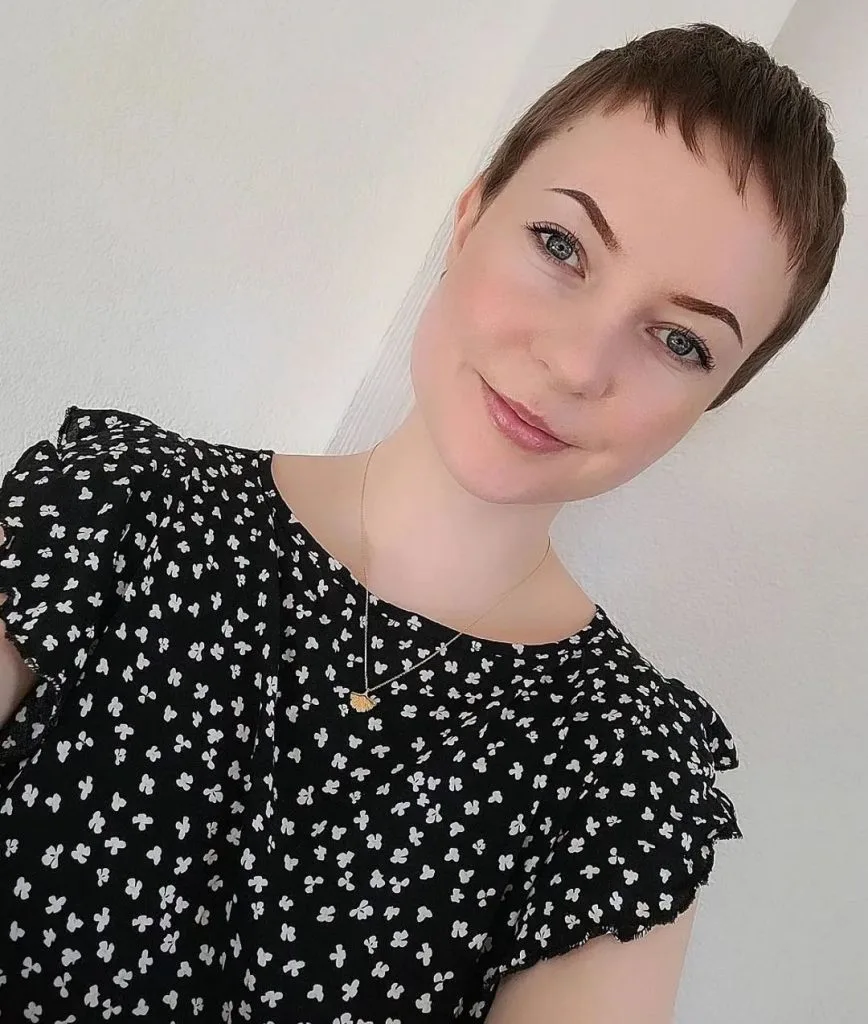 3. Lixie Cut
I know the struggle: you want to cut your hair short, but you don't want it to be too short. Well, I've got you covered. What you need is a long pixie cut, or as the hair industry calls it, a lixie cut. This way, you'll get a new look, while keeping some of your length. Many ladies see a lixie cut as a transitional hairstyle from long hair to a "real" pixie.
The best thing about a long pixie cut is the numerous styling options it has to offer. Usually, your hair will be cut shorter in the back, while your stylist will leave you longer bangs. You can choose between a curly lixie, a side-parted lixie, an asymmetrical lixie…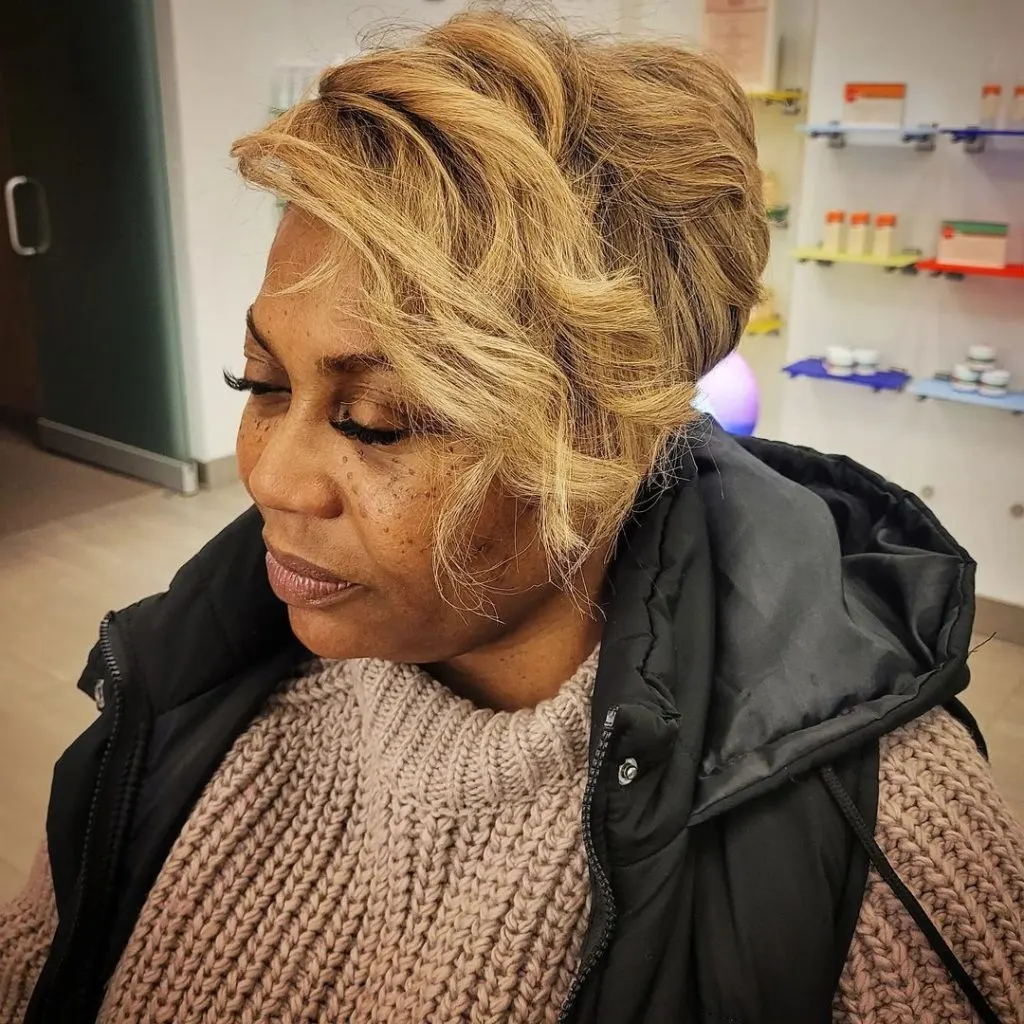 4. Bixie cut
Here's the dilemma all ladies face when they decide to cut their hair shorter: Should I get a pixie cut or a bob cut? But who said that you have to choose? Why wouldn't you take the best out of both worlds? I am talking about a bob pixie cut or popularly called, a bixie cut.
A bixie cut gives you more versatility, more room to manipulate the shape of your haircut, and it saves you a lot of your hair length. It sounds like a win-win situation for me. It doesn't matter if you have curly, wavy, or straight hair: you'll find exactly what your hair needs in different variations of a bixie cut.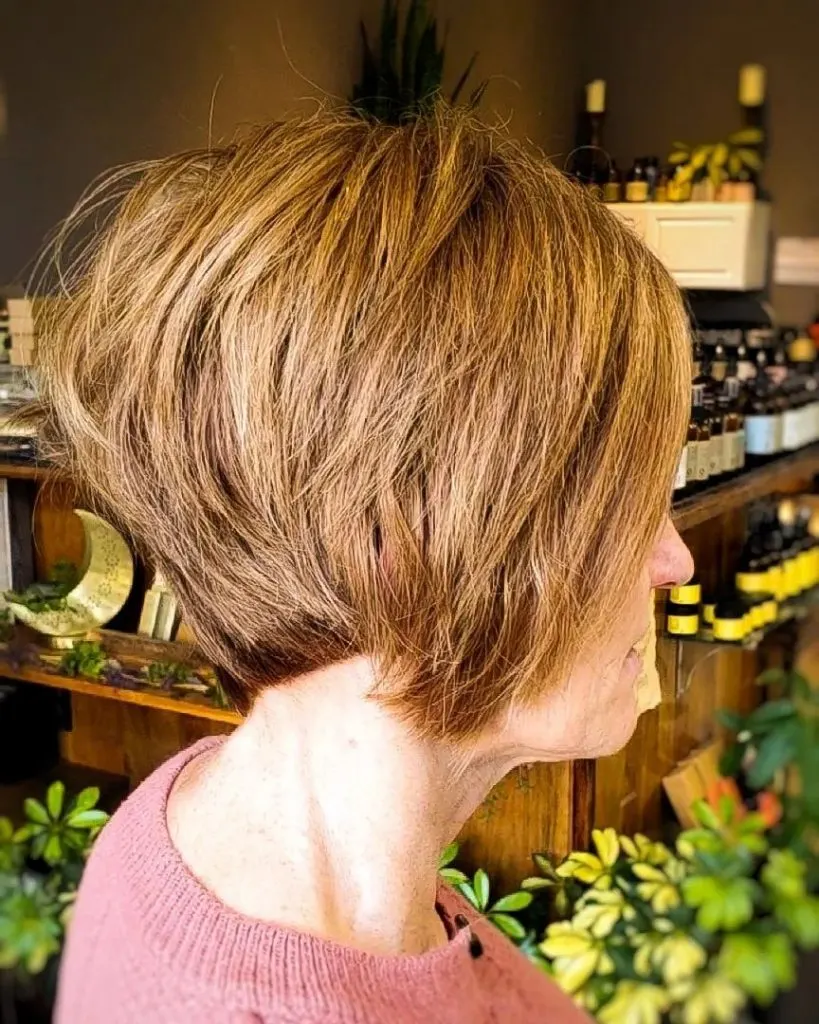 5. Funky colored pixie cut
Here's a warning: a funky-colored pixie cut is for the boldest ladies only. One thing is for sure: this chop will put you under the spotlight. It doesn't matter if you get a pink pixie, a rainbow pixie cut, or a fiery red one… each of these hairstyles is a real head-turner.
Be aware of one thing: you'll have to pay regular visits to your colorist if you want to keep the color fresh. But, a vivid hairstyle like this is worth all the time, money, and effort.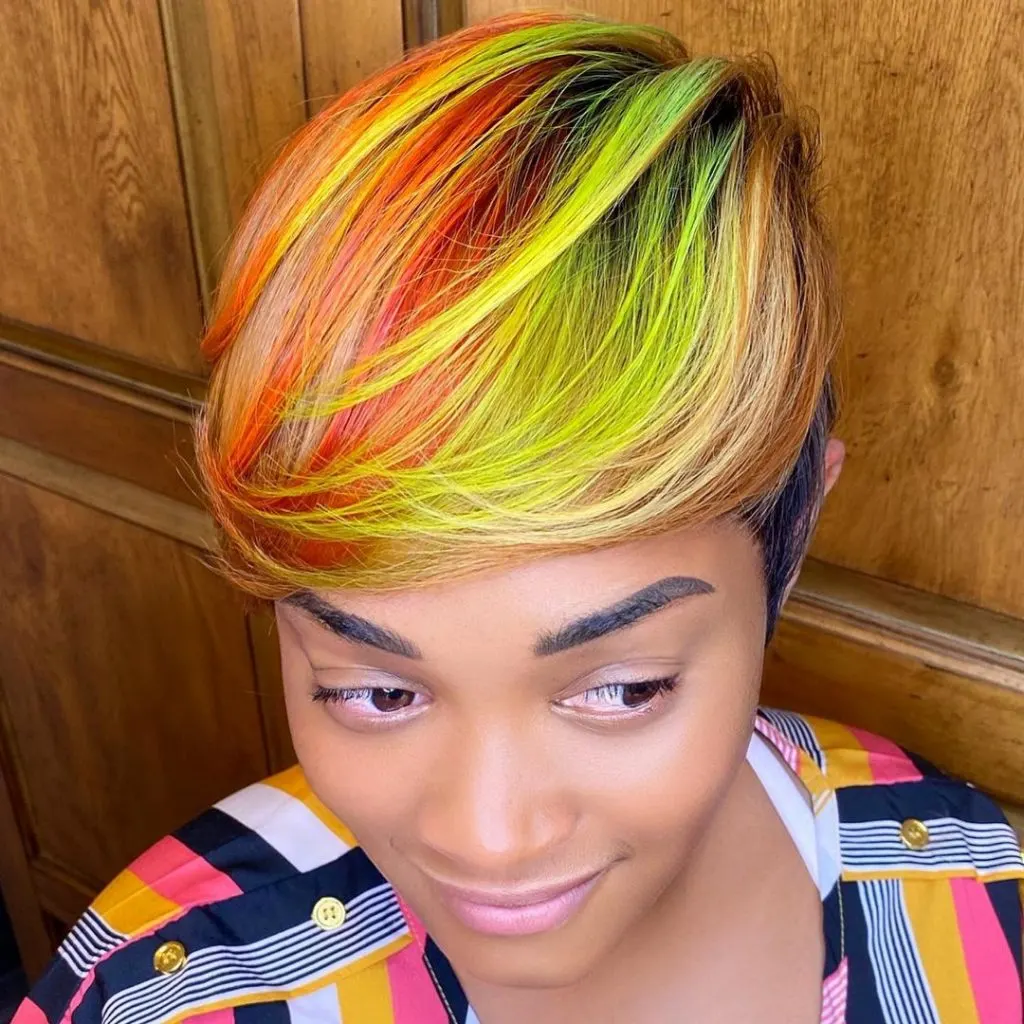 6. Asymmetrical pixie cut
An asymmetrical pixie cut is a great choice for ladies of all ages and hair textures. Probably the best thing about it is that you get to have both long and short hair, all in one hairstyle.
Another advantage of this hairdo is its versatility. It gives you a chance to experiment, and to play with your hair, depending on the occasion or your mood. If you're feeling extra brave, you can go all the way short on one side and get an undercut.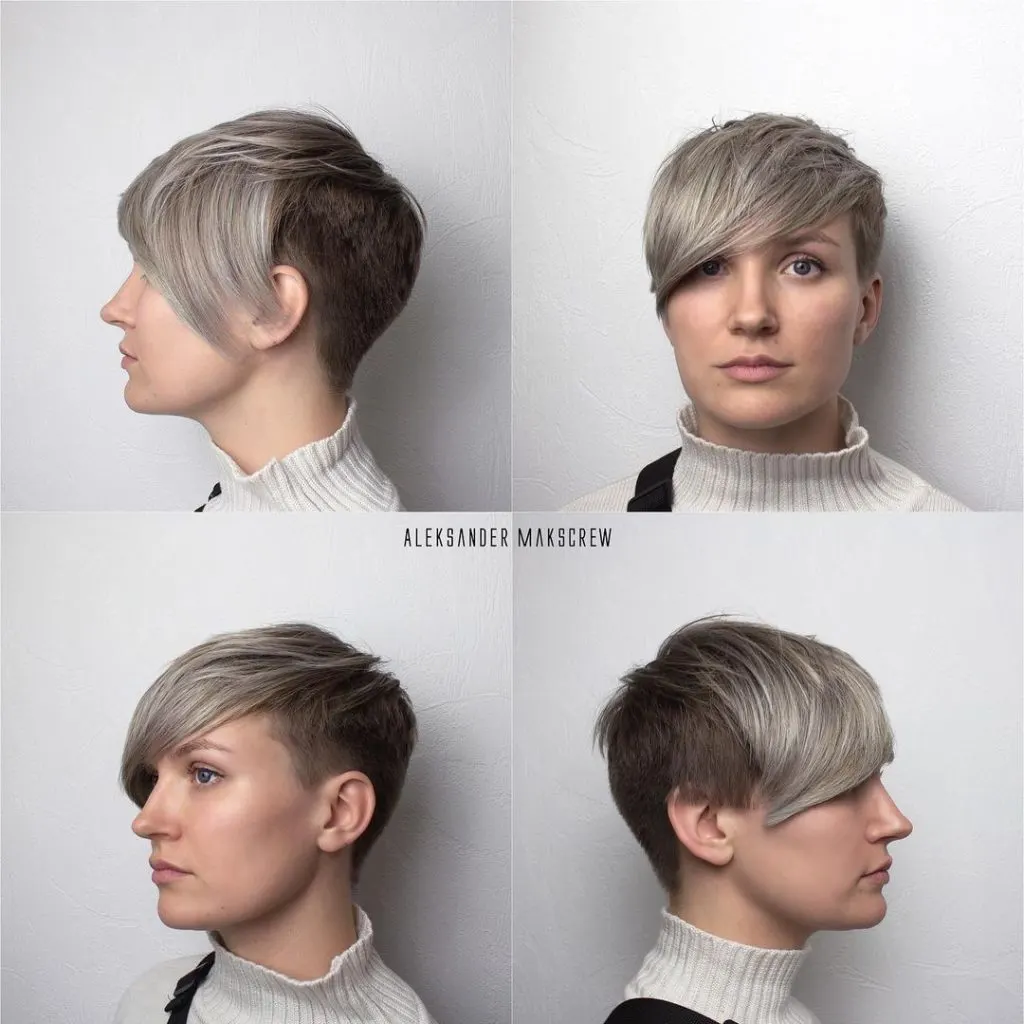 7. Choppy pixie cut
A choppy pixie cut pairs two fun styles: jagged ends and textured layers. These two combined result in a trendy haircut you'll absolutely love. What's even better about a choppy pixie is that it makes thin hair look thicker since it gives it depth and dimension. However, it also works wonders on thick hair since it removes some of the unnecessary weight.
A skilled hairstylist knows that the way to an ideal choppy haircut are uneven and asymmetrical but defined cuts. If your hair is chopped the right way, you'll get a low-maintenance hairstyle that looks good under any conditions.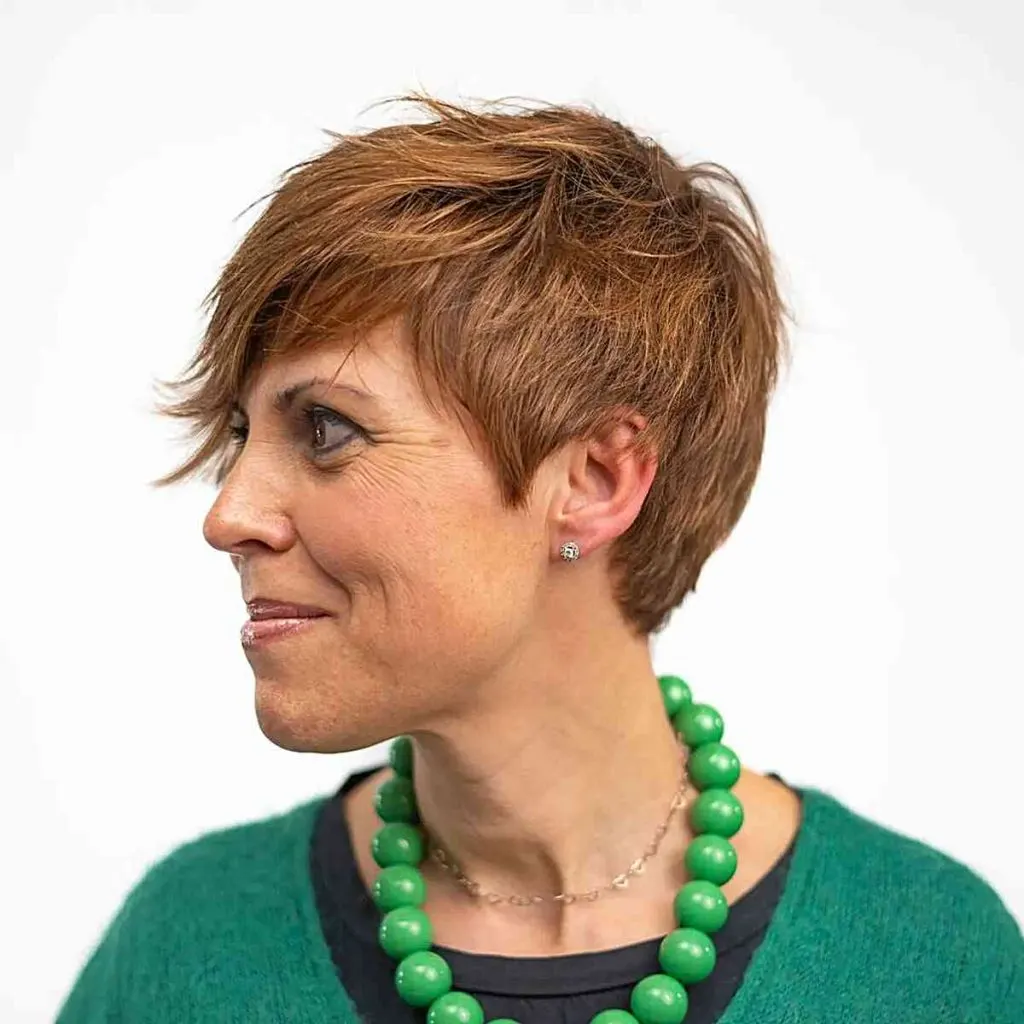 8. Edgy pixie cut
Guess what: you don't have to be a punk rock star to pull off an edgy pixie cut. In fact, it doesn't even matter how old are you. If this is something you like, just go for it and don't look back. After all, it's your hair and your chance to express yourself.
Don't worry, you can still look professional with an edgy short haircut. Just don't go all the way over the cliff. Instead, choose one edgy style only: a subtle undercut, baby bangs or a bold asymmetry.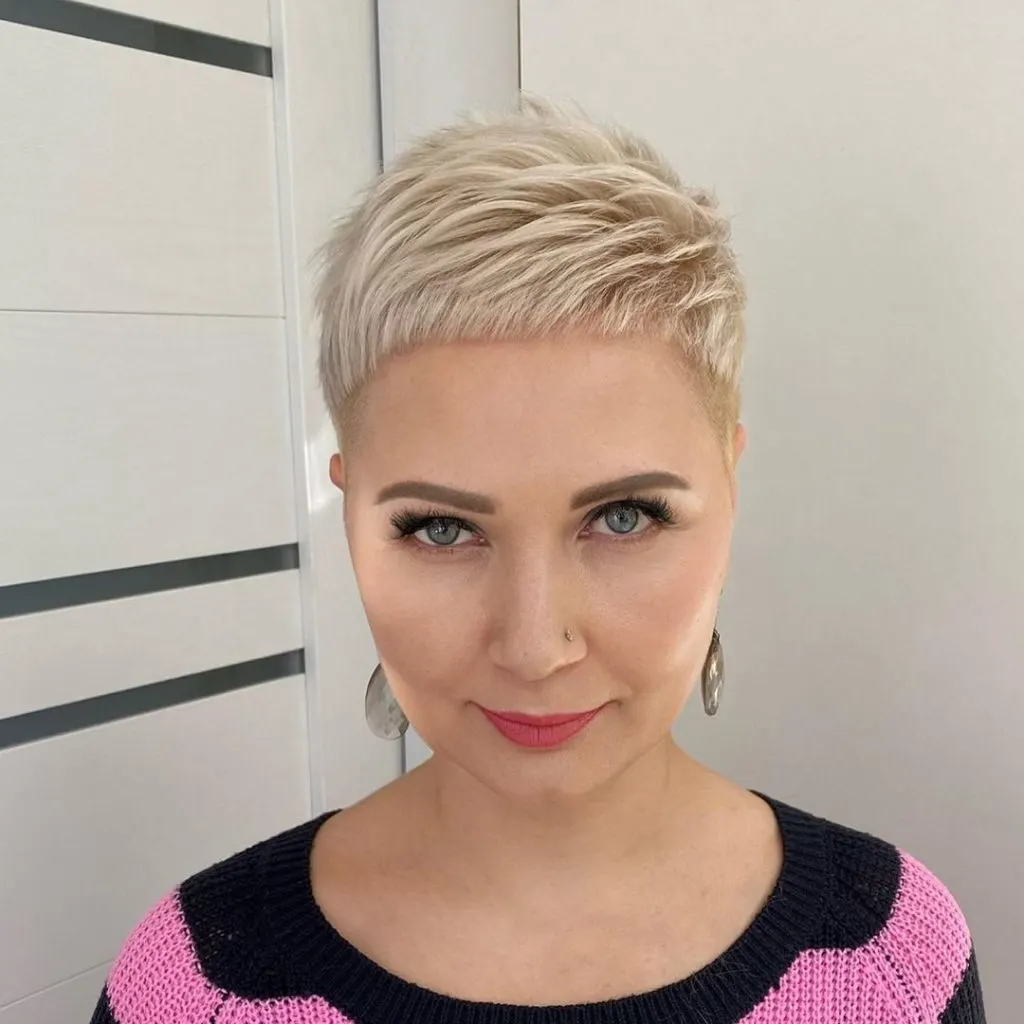 9. Low-maintenance pixie cut
You've spent all of your life taking care of your hair. And I am not talking about keeping it healthy only here. I am talking about styling it and maintaining that style every single day.
And it's not just about the time or effort you've invested. It's also about all the money you wasted on brushes, blow-dryers, flat irons, curlers. And don't even get me started on the fortune you left at the hair salons.
But now, you've had enough. You want a haircut that can be air dried, and only brushed in the morning. Well, you've found one: a low-maintenance pixie cut. It doesn't matter if you have thick or thin hair, it's a style that looks good either way. The same goes for straight or curly hair.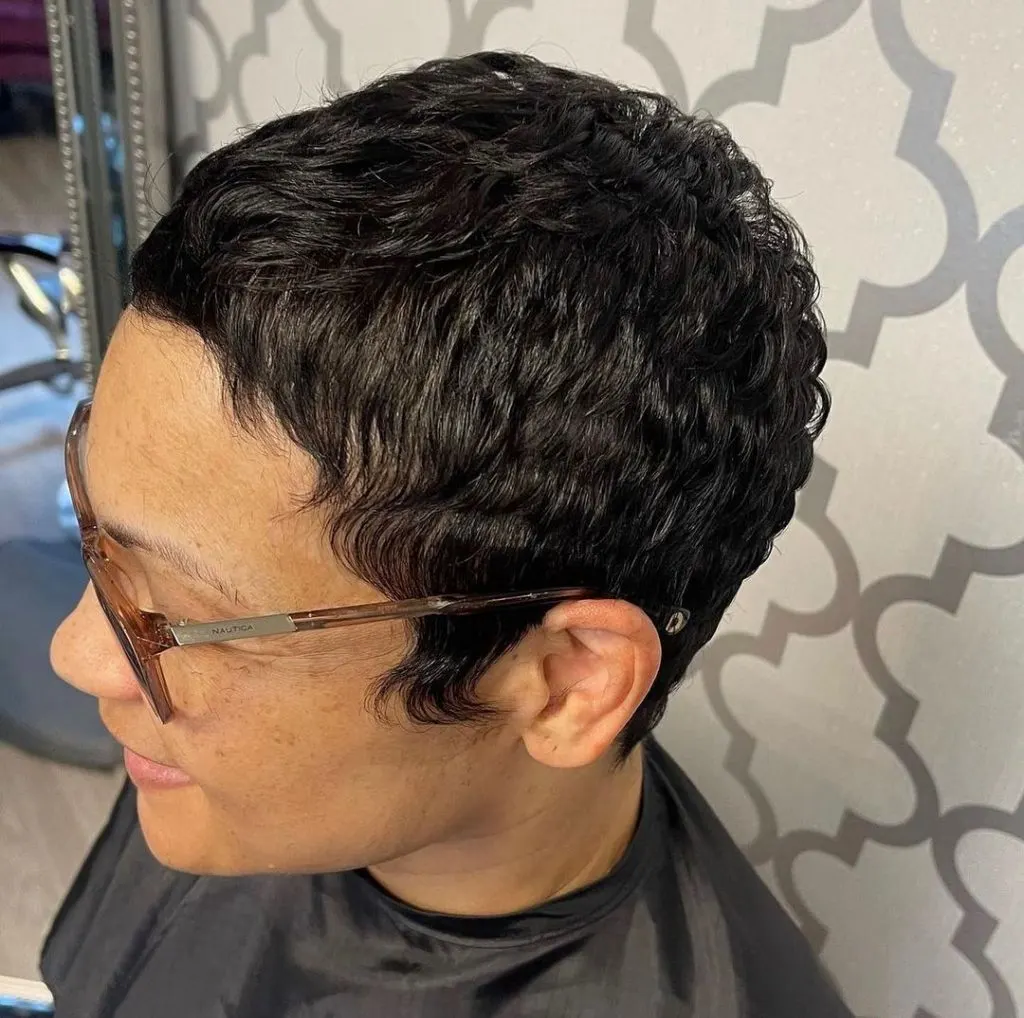 10. Layered pixie cut
Haven't you noticed: layers are coming back in fashion! This is your chance to hop on that trend before anyone else.
However, this is not the only reason why a layered pixie cut. Besides shaping your face beautifully, it also gives your hair the illusion of depth, as well as the movement. Even though you can get a layered pixie cut in any age, it's a proven fact that it suits best women in their 40s or 50s since it gives them a dash of grace and elegance.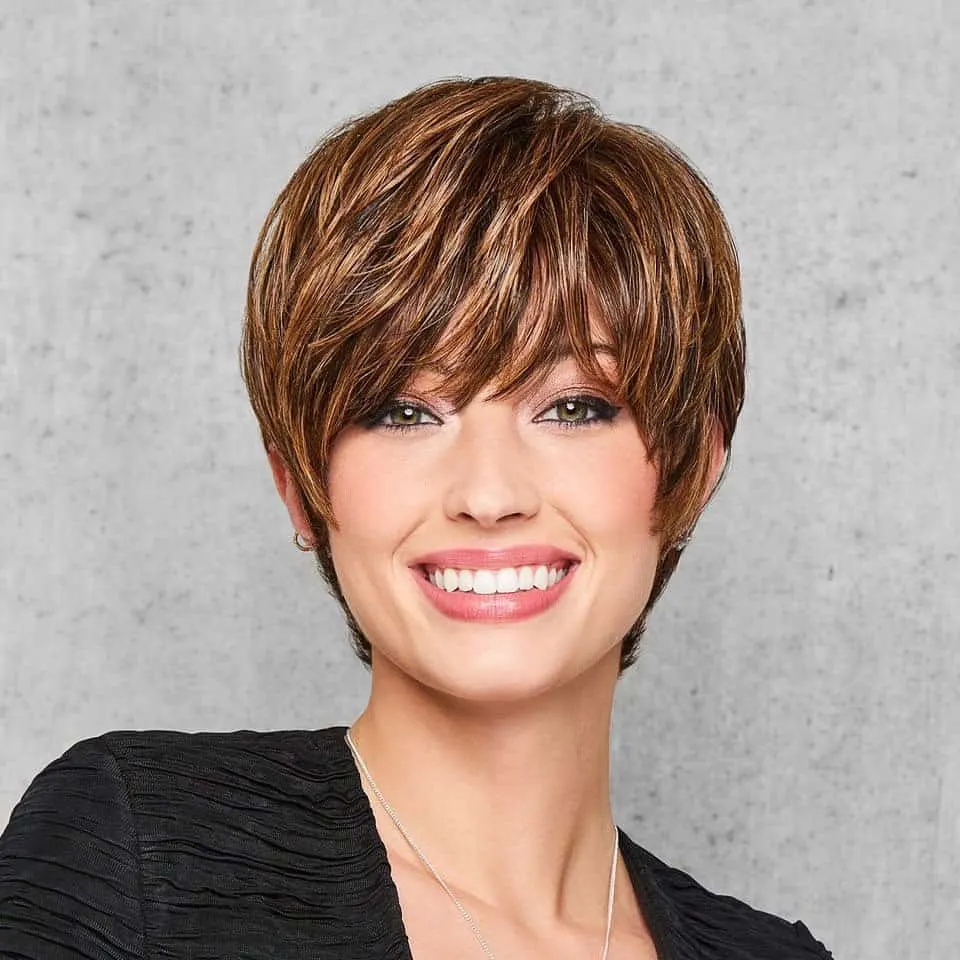 Best Pixie Cut Hairstyles For Different Face Shapes
How to choose the best pixie cut? Well, for starters, you have to know what your face shape is.
Oval face
Is your face longer than wider? In that case, you have one of the most attractive face shapes: an oval face shape. The best thing about it is that you can pull of an ultra short, low maintenance pixie cut with this shape since there is nothing to cover. You need a pixie cut which will show off your natural beauty.
Many women with oval face have a bit larger forehead. If this is something you can relate to, it's a good idea to pair bangs with your pixie.
Square face
Here is another popular face shape: a square face. If the space between your eyes is quite broad, while your jaw is wide, you have a square-shaped face, which is great news if you want a pixie cut.
But what kind of pixie cut suits you the best? The trick is to stay away from long pixies that accentuate your jawline. Instead, choose a shorter chop or an asymmetrical one. Also, be careful with bangs; you don't want them to be too short.
Round face
What about round-shaped faces? Are pixie cuts flattering for them too? Absolutely yes! You just need to know how to pick the right one.
In this case, you need a haircut that will visually elongate your face, especially if it's particularly chubby. You need something to make your face look slimmer and that is where longer bangs come to the picture. An asymmetrical pixie with long bangs on one side should be your top pick.
Heart-shaped face
If your cheekbones are the widest part of your face, while your chin is smaller and pointy, there is no doubt about it: you have a heart-shaped face. Instead of hiding your cheekbones, your haircut should help you accentuate it. This is why you should avoid long bangs or lixies. Instead, shorter pixie cuts are the right thing for you.
At the same time, you want to cover your forehead, which means that bangs would serve you good. So, just get shorter bangs and you're good to go.
Diamond-shaped face
Here's one face shape similar to heart-shaped one. A diamond face also has a narrow chin and high cheekbones. However, unlike a heart-shaped face, it has a narrower hairline.
But at the end of the day, these two face shapes look the best with similar types of pixie cuts. You're allowed to go as short as possible, and with a diamond shape, you don't even need bangs to look your best.
Long face
You have a pointy chin and your face has a narrow width. That's right, I'm talking about a long-shaped face. Among all face shapes, this one goes the best with short hair. Why? Well, isn't it obvious? The longer your hair is, the longer your face will look like, and that's not what we want.
What you need is movement in your pixie cut. You need a volumized crown, bangs, or asymmetry to balance the length of your face. Avoid blunt cuts and instead choose layered pixies.
Best Pixie Cuts For Different Age Groups
When choosing the right haircut, you should also consider how old you are. What's the best pixie cut for you? It all depends on your age.
Kids/Teenagers
If your toddler or a teenager wants a pixie cut, make sure they pick a playful, cheerful and effortless one. You don't want layers you'll have to help them blow-dry every couple of days or an elegant pixie cut that's not appropriate for their age. Instead, advise them to get a low-maintenance hairstyle.
20s-30s
This is the age when you're allowed to experiment. You're looking for yourself and searching for your signature pixie cut. Choose something more edgy or even add a funky color to your short hairstyle. What is there to lose?
Over 40
You want to look professional but youthful and adventurous at the same time. Worry not, pixie cut is here for your rescue. You can pick an asymmetrical pixie cut which gives you ton of versatility. To spice things up, dye your hair in a pastel funky color or just add a couple of vivid highlights.
Over 50
You're sick and tired of taking care of your hair as if it were another family member. So if you're looking for a sign to chop off your long locks, this is it. Don't worry, nobody is telling you to get a boyish short hairstyle. Remember: you can still look like a lady even with a pixie cut.
Over 60
Who told you to dye your hair? Don't get me wrong, there is nothing wrong with it, if that is your personal wish. But if you're hiding your grays under social pressure. you're making a mistake. Why wouldn't you let them free and show the world that you are embracing your age? And what's a better way to do it than to get a pixie cut?
Over 70
Is your hair getting thinner with time? Worry not, you're not alone. In fact, most women your age encounter the same problem. That is exactly why you should chop off your hair. You'll lose less tresses, it will be easier for you to maintain it, and it will look more voluminous.
Best Pixie Cuts For Different Hair Types
Do you have straight, curly, coily hair, or something in between? Whatever the answer is, there is a perfect pixie cut for you.
Straight Hair
The most important thing about your hair type is not to get a lifeless pixie cut. Your hair lacks movement so that's exactly what you should give it. If you have straight hair, try choosing a layered or a choppy pixie— it is what will make your style more youthful and attractive.
Curly Hair
When you have curly hair, you must find a skilled hairdresser who'll know how to cut off your locks. You can go with an extra short pixie cut that requires zero maintenance. An undercut is also a good idea since it removes the weight off your tresses.
Wavy Hair
Wavy hair is quite similar to curly hair— it just usually needs more maintenance. The worst mistake you can make is to use a flat iron or a curler to try and change your hair type. Trust me, you'll just end up with damaged locks.
Instead, get a layered pixie cut with bangs. With this hairstyle, you'll have no trouble maintaining your tresses.
Coily Hair
What about coily hair? What is the best option for your zig-zag curls? Well, let me tell you that you can pull off whatever pixie cut you want. The styling options are endless: from ultra short pixie to a quiff and shaved sides— it all depends on your taste and preferences.
Best Pixie Cuts For Different Hair Textures
Hair texture is as important as hair type. Before choosing of these inspo pics, you have to know whether you have thin, thick, fine, or fine hair.
Thin Hair
If you have thin hair, you simply must add some texture to it. Wearing your locks long will make your hair look even thinner and lifeless. On the other hand, a pixie cut is here to give it the impression of thickness and fulness.
Whatever you do, don't forget about layers. A choppy pixie cut is a good idea due to the movement it creates.
Thick Hair
On the other hand, if you have thick hair, you want something to remove the weight off your chest. An undercut or shaved sides might be the best choice for you. While a short pixie cut might not be a good idea for you, a lixie or an asymmetrical pixie will work wonders on your tresses.
Fine Hair
What about fine hair? Well, things are quite simple to the situation with thin hair here. What you need is a pixie cut that gives you volume, and dimension. However, that doesn't mean that you can't pull off a short pixie cut.
Why You Should Get A Pixie Cut?
A pixie cut is one of the most popular short hairstyles of all times. But why is that so? There has to exist a valid reason for this haircut to never leave fashion. Well, what would you say if I told you there is more than one reason you should get a pixie cut.
1. Healthier hair
Let's forget about beauty for just a moment. Instead, let's talk about health of your hair. I know you've been trying to save your long locks for quite some time. But sadly, they have to go. Trust me, nobody admires the length of your hair when you show them your damaged ends.
This means that the best way to recover and heal your hair is to chop it all off. Start a new hair journey!
2. You want a change
If you're finally ready to escape your comfort zone, this is the way to start doing it. Of course, there are probably more important things you should change about your life. However, let's face it: getting another job or moving across the country isn't as easy as cutting your hair.
Chopping off your long tresses and switching to a pixie cut will help you look and feel different. It's a sign that your life is under your own control!
3. Different styling options
Here's one of the biggest misconceptions about pixie cuts: they are difficult to style. Well, let me tell you that this is far from the truth. In fact, most pixie cuts offer you ton of versatility. And if you're not creative enough, just put on a cute hair accessory and you'll have a stunning hairstyle in a blink of an eye.
4. Less styling products
One thing is for sure: you can finally say goodbye to all the hair brushes, curlers, flat irons, or even blow-dryers. There is no more need to spend hundreds of dollars on different styling products because most of pixie cuts can be combed with your fingers and air dried.
And don't forget how long your shampoo, conditioner or hair gel will last from now on. Besides money, you'll save ton of time as well.
5. It never goes out of style
A pixie cut really is timeless. Some things change with years, and some modifications have been made. However, it's still the same haircut women over the world are crazy about. Basically, you can't go wrong with it. Instead, you are always in trend!