You keep seeing edgy pixie cut hairstyles on TV, in fashion magazines, and on the runways. But even though you're fascinated by these cuts, you're too scared to try one on. Well, this is your sign to go for it without any further ado.
1. Edgy Messy Short Pixie Cut
The messy bangs pushed to one side are to thank for this sexy take on this hairstyle. It takes some confidence to rock this style, but I know you have it in you.
2. Edgy Rocker Pixie Cut
It's time for that rocker girl trapped inside of you to finally appear on the surface. This edgy pixie cut will make you look and feel more self-assured than ever.
3. Undercut Edgy Pixie Cut
It's not just the cut that it's edgy; it's also the funky color that makes this hairstyle so bold. If you choose this hairstyle, don't forget to ask your hairdresser about the right products to use.
4. Edgy Purple Pixie Cut
Get yourself a traditional short pixie cut, pair it with a trendy purple hair color and before you know it, you have an edgy pixie cut. Don't forget to complete your look with appropriate make up.
5. Edgy Funky Pixie Cut
It doesn't matter what shade of pink hair color you choose for this bold pixie cut. Either way, all eyes will be on you.
6. Tapered Undercut Edgy Pixie Cut
There is a tapered neckline, an undercut, and a funky hair color. All of it combined gives you one of the best edgy pixie cuts out there.
7. Edgy Super Short Pixie Cut
You don't have to add long bangs, curls, or wild hair color to get a bold pixie cut. This super short edgy chop is living proof of that.
8. Edgy Punk Pixie Cut
No, the mohawk isn't the only hairstyle associated with punk culture. This pixie cut shows your edge, it's eccentric and makes you stand out of the crowd.
9. Edgy Platinum Pixie Cut
Before your next hair appointment, please take this bold platinum pixie into account. It will show off your twisted style and tell the world how strong of a woman you are.
10. Edgy Grey Pixie Cut
Who says that gray pixie cuts are for women over 60 only? An edgy pixie like this is appropriate for ladies of all ages.
11. Edgy Dark Pixie Cut With Highlights
Dark base paired with light highlights. It's a contrast nobody will stay indifferent to.
12. Edgy Tomboy Pixie Cut
Here's something for all of you tomboys out there. The best part about this pixie cut is that it's low maintenance and edgy at the same time.
13. Edgy Silver Pixie Cut
Women of age are not sentenced to have boring hair. Instead of constantly dyeing your grays, embrace your beautiful locks and get this awesome chop.
14. Edgy Colored Pixie Cut
This cut would be bold enough in any hair color. But if you really want to spice things up, dye your hair this shade of orange.
15. Edgy Pixie Cut For Oval Face
You're looking at the best possible pick for an oval face since this cut mimics the shape of your head. At the same time, the asymmetry will give you the edgy look you've been searching for.
16. Edgy Pixie Cut For Long Face
When choosing the best haircut for a long face, go for the one which will give your hair the most volume. Here, the curly bangs balance out your face and give your hair the illusion of thickness.
17. Edgy Pixie Cut For Round Face
If you want to slim down your round face, go for the longer bangs. But this still leaves you with another side of your hair, and that's the part you can play with.
18. Edgy Rocker Low Maintenance Pixie Cut
I'll be honest with you: this rocker pixie cut requires regular visits to the hair salon if you want to keep the length. However, it is still low-maintenance since you don't have to do pretty much anything to keep it styled at home.
19. Edgy Pixie Cut For Thick Hair
Pixie is, without a doubt, the best choice for thick-haired ladies. It makes the hair more manageable and it gives you a lot of options to style it.
20. Curly Messy Edgy Pixie Cut
If you want to level up your style, this curly messy edgy pixie cut is the way to do it. Make sure to use a volumizing product for the best possible look.
21. Edgy Goth Pixie Cut
If you want to jazz up your look, this is the best way to do it. Bring your dark side to the surface!
22. Edgy Emo Pixie Cut
No, you don't have to end your emo phase together with your teen years. You're allowed to express your individual style, no matter your age, and your hair might be the best way to do it.
23. Edgy Anime Girl Pixie Cut
I bet you've always wanted to look like your favorite anime TV star. Well, with this edgy pixie cut, you finally can.
24. Edgy Pixie Cut With Short Bangs
I can't decide what's edgier and more beautiful about this hairstyle. Is it the ultra-short bangs or the asymmetrical chop?
25. Edgy Long Pixie Cut
If you're still not ready to say farewell to your length, but want to spice things up a little, this edgy long pixie should be your number-one choice.
26. Edgy Tapered Pixie Cut
This chop is an ideal example that the right hairdo can be edgy and elegant at the same time. You're looking at a pixie cut suitable for all occasions since it allows you to be professional.
27. Edgy Spiky Pixie Cut
Spikes are always in fashion. Here's a pro tip for maintaining this hairstyle: use a small amount of hair mousse. Run it through your spikes in an upward motion and you're good to go!
28. Edgy Pixie Cut With Long Bangs
The best thing about this hairstyle is the versatility it offers. Will you curl your bangs? Will you tuck them behind your ear? Will you straighten the entire hair? The choice is all yours.
29. Edgy Pixie Cut Braids
Guess what: braids aren't reserved for long hair only. Check out this amazing edgy pixie cut and see it for yourself!
30. Blue And Green Pixie With An Undercut
Even if you choose just one segment of this hairdo, you'll still get an edgy style. However, if you're brave enough, you'll combine it all together and wear this spectacular haircut with pride.
31. Blue And Red Pixie Cut
I bet you had no idea that blue and red go this great together. Well, they do, and it's about time you rock this combo.
32. Elegant Blue Pixie Cut With Gray Tapered Area
If you're looking for inspo pics for elegant but edgy pixie cuts, it seems that you've found your perfect match.
33. Gray Pixie Razor Cut
Be careful about the hair artist you choose for this hairdo. Even though it might look pretty simple, have in mind that only skilled hairstylists know how to use the razor-cutting technique properly.
34. Lavender Short Pixie Cut
You want a funky hair color and an edgy cut? But at the same time, you want to keep your professional look intact? A lavender pixie is just the right choice for you.
35. Bowl Pixie With An Undercut
No, a bowl pixie cut is not nerdy. In fact, styled like this, it never looked sexier.
36. Green Pixie With Yellow Patchwork
Hair patchwork is the new "it" trend in the fashion industry. If you're into edgy hairstyles, it would be a real shame to miss it.
37. Orange Pixie With An Undercut
The most amazing thing about this edgy pixie cut is two different shades of orange. The hair is darker on the undercut and lighter on the crown.
38. Purple Shaggy Mullet
There is no doubt about one thing: a purple shaggy mullet will get you under the spotlight. Even though you'll have to renew your color every couple of weeks, the cut itself doesn't requite that much maintenance.
39. Curly Pink Buzz Cut For African American Hair
If you pick this edgy buzz cut, it will become your source of inspiration and empowerment. And the bonus part is that it will leave everyone wowed.
40. Black And Blonde Curly Pixie Cut
Traditional hair colors like black and blonde make wonders when paired together. Combine the style with spiral curls and a bold fade for maximum effect.
41. Asymmetrical Edgy Undercut Pixie
Extra long bangs on one side contrasted with a shaved other side and all of it paired with this beautiful shade of violet hair color? It sounds like a perfect example of an edgy pixie cut.
42. Edgy Pixie Cut For Fine Hair
Fine hair can be chopped to form an ideal edgy pixie cut, as well. You just need to find a perfect hairstylist to do it.
43. Edgy Pixie Cut For African American Hair
This bold cut screams glam and elegance. It's sassy and classy at the same time, which makes it a top pick among the ladies.
44. Two Colored Asymmetrical Pixie Cut
This two-colored pixie with asymmetrical bangs isn't for everyone. But if this combination of colors is too much for you, choose subtler colors.
45. Edgy Pixie With Faux Hawk And Shaved Sides
Styling and maintaining this edgy pixie cut requires frequent visits to the hair salon, and also some time spent in front of the mirror every morning before leaving the house. However, if it all results in such an awesome hairstyle, it's definitely worth it.
46. Edgy Blonde Mohawk With Bangs
The most proper way to describe this edgy pixie cut is unconventional. But if you choose it, it will transform you both on the outside and on the inside.
47. Curly Blonde Pixie Cut With Shaved Sides
If you have naturally curly hair, this style is incredibly easy to maintain, which makes it effortlessly chic and edgy.
48. Edgy Choppy Pixie Cut
This length of pixie looks good on every face shape, but you'll need thicker hair to get the desired look. It's a style that stands out!
49. Hawk Pixie Cut
A hawk pixie cut is a great way to give yourself a youthful look. No matter how old you are, this is the chance to reinvent yourself.
50. Vivid Colored Edgy Pixie Cut
Everything about this vivid color pixie is edgy, starting from the cut and ending with a combination of colors. Choose this style if you want to make a statement.
51. Pixie Cut With A Rat Tail And Patterned Undercut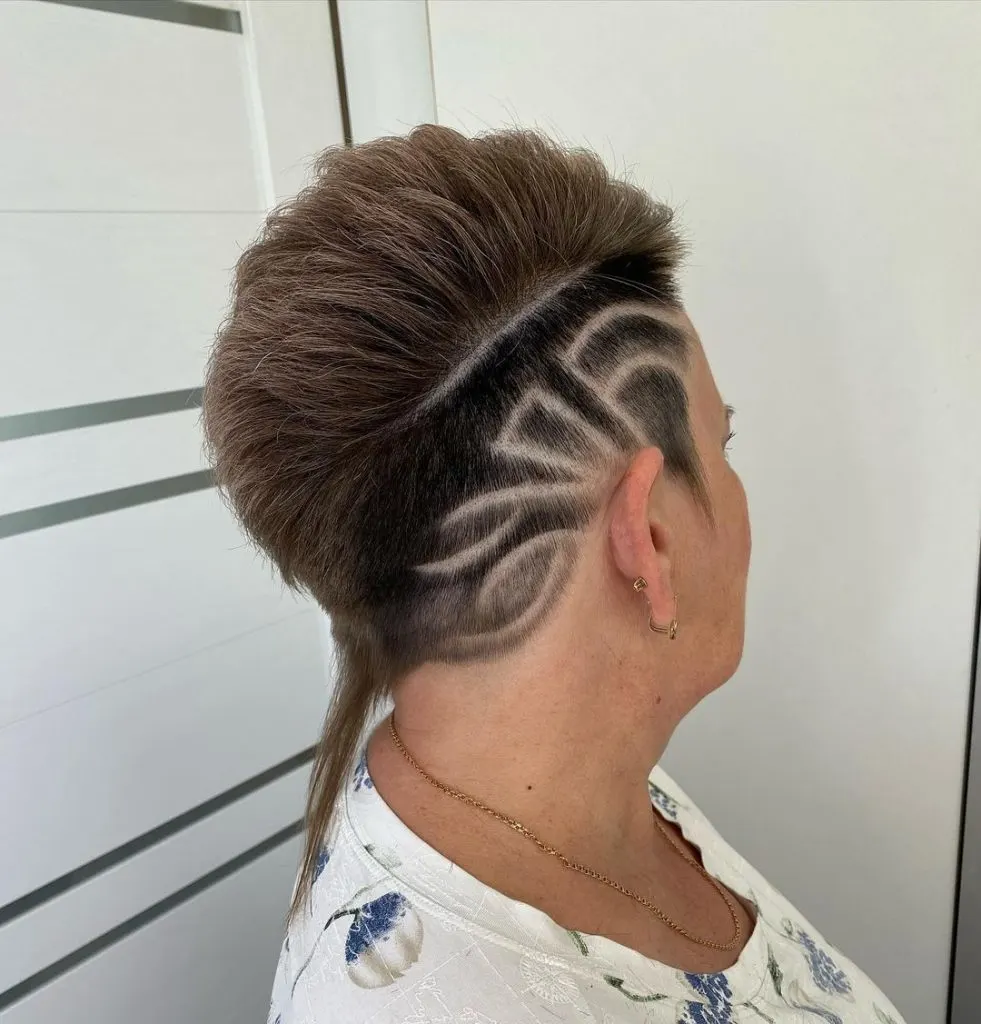 Who says that rat tails are left in the 80s. Give this edgy look a try, and if you don't like it, just chop the tail off.
52. Pixie Cut With An Edgy Curly Mohawk
It screams rock and punk and it's a hairstyle for brave girls only. You can wear the crown spikey, flat, or curled.
53. Pixie Cut With Volumized Crown
Volumized hair is back in fashion and it's time you hop on that trend. Look and feel like a real lady with this edgy pixie cut.
54. Red And Black Edgy Pixie Cut
It's the cut around the ears and the neck that make this hairstyle so bold and unique. But if that's not enough for you, feel free to spice things up with this amazing color combination.
55. Short Pixie Cut With Shaved Sides
A short pixie cut with shaved sides is low-maintenance, trendy, and stylish at the same time. What more could a woman ask for?
56. Edgy Bowl Pixie Cut
Here's another style that's making its big comeback: a bowl cut. This is an updated, contemporary version of the haircut we all despised as children.
57. Curly Blonde Pixie With An Undercut
A curly blonde pixie with an undercut is a great way to keep thick hair tame. If you use the right products, you'll encourage the texture and you won't end up with puffy hair.
58. Long Red Pixie Cut With Shaved Side
A long red pixie cut with shaved side is an awesome way to level up your style. It's a cool, fashion-forward cut that will get you all the attention you want.
59. Gray And Black Chopped Pixie Cut
Gray highlights on long bangs steal the show on this short black haircut. Gray and black are contrasting colors that complement each other more than you would think.
60. Shaggy Mullet Pixie Cut
Layered texture of this shaggy mullet pixie makes it a perfect cut for thick-haired ladies who want to make a big change. Let this haircut help you stand out from the crowd.
61. Spiky Pixie Cut With Baby Bangs
If you want to make a statement with your hair, this edgy pixie cut with baby bangs fits the bill. It's a versatile look without too much effort.
62. Pixie Cut With Shaved Lines On The Back
When you look at this hairdo from the front, it's a typical asymmetrical pixie cut. But when you turn around, everyone can see how edgy it actually is.
63. Edgy Pixie Cut With Tattooed Sides
The tattooed sides make this cut as edgy as it gets. It's brave, bold, unique, and glamorous.
64. Long Vintage Edgy Pixie Cut
If you want to keep this hairstyle in place, you'll need some maintaining to do. Blow dry your hair backward with a big brush and you're good to go.
65. Edgy Curly Pixie Cut With Shaved Sides
Give extra bounce and add height to your hair with this curly pixie cut with shaved sides. The mohawk will give just the right vibe to your entire appearance.
66. Ice Blonde Edgy Lixie
A long pixie is usually not an edgy haircut. But if you pair it with these beach waves and an icy-blonde color, you get a bold hairstyle nobody can stay indifferent to.
67. Edgy Curly Pixie Cut For African American Hair
I guarantee you that you'll fall in love with this haircut at the first sight. It is especially flattering for African American hair, or for naturally curly hair in general.
68. Glamorous Edgy Pixie Cut
It's safe to say that you'll be the star of every formal event with this glamorous but edgy pixie cut. Besides being elegant, it also adds a super cool vibe to your entire style.
69. Edgy Pixie Cut For Thin Hair
All of your troubles with having to style thin hair are now over. Choose this eye-catching edgy pixie cut to impress yourself and your surroundings.
70. Edgy Pixie Cut For Chubby Face
Instead of using your hair to try and hide your chubby cheeks, let your cut make a statement and show the world that you're a confident woman who can wear whatever she wants.
71. Funky Colored Pixie Cut With Fades
A funky-colored pixie cut with fades shouts attitude. If you're brave enough to rock this super trendy hairstyle, what exactly are you waiting for?