A good hairstyle should accentuate your beautiful facial features but also camouflage the things you want to hide.
Being aware of your imperfections doesn't mean that you lack self-love. It's natural that you want to look your best, which sometimes means covering the things you are not crazy about on your face. In this case, we're talking about a broader forehead that takes the focus away from other appealing things on your face. Well, to prevent that from happening, you need a hairstyle to help you hide your big forehead. And that is exactly what you're about to get.
Things To Keep In Mind:
Picking a hairstyle that fits you doesn't equal choosing the inspo pic you like the most. There are some important things you have to consider before making this decision.
Hair texture
Is your hair straight, wavy, curly, or coily? You have to answer this crucial question before choosing the right hairstyle to hide your broad forehead. Of course, even if you have naturally curly hair, you can still have a blunt bob, but that means that you're sentencing yourself to straighten your locks every day. That is why you should go for a style that flatters your natural hair texture.
Hair type
The same goes for hair type. Let's say that you want blunt heavy bangs. But sadly, you have thin hair that doesn't allow that hairstyle.
Face shape
Not all hairstyles look flattering on all face shapes. If you have a round or chubby face, you should pick a cut that will slim it down. On the other hand, if you have a square-shaped face, you are to avoid cuts that hit your jawline.
20 Trendy Hairstyles To Hide Big Foreheads
Let's check out the trendiest hairstyles that go amazingly well with big foreheads.
1. Side-bun
If you want your low side bun to be extra fancy, add some braids to it. However, you can wear it as an everyday style, as well. What matters is that it complements your big forehead.
2. Ponytail with strands in front
Here's some good news: you can wear your ponytail however you like: a side ponytail, a high ponytail, a low ponytail… the choice is all yours. The only thing that matters is that you leave a couple of hair strands in the front. This way, your forehead will be out of the picture.
3. Side-part ponytail
But what if you want a sleek hairstyle? Just wear a side-parted ponytail. All you have to do is part your hair on one side, tie the ponytail, and use a fine-toothed comb to smooth down your locks. In the end, apply some texturizing spray to keep your hair in one place.
4. Layered haircut
You're looking at a contemporary version of a feathered haircut: a layered hairstyle. The layers will not only give your hair volume and the illusion of thickness, but they will also camouflage your forehead.
5. Long wolf cut
Guess what: you don't have to cut your hair shorter to rock a wolf cut. A modern version of this edgy chop allows you to have longer strands. This hairstyle is especially flattering for square, round, and oval faces.
6. Curtain bangs
One thing is for sure: curtain bangs will never be out of fashion. They work well with diamond and heart-shaped faces. And the best part is that they give balance and softness to your big forehead.
7. Blunt bob with blunt bangs
If you have a long face shape with a big forehead, what you need is a blunt bob cut with blunt bangs. It will create the illusion of width. The only "disadvantage" of this chop is the fact that it requires regular chops.
8. Money-piece
The 90s are back and they brought money-piece hairstyles along. I bet nobody told you how flattering this style looks on big foreheads. The color contrast on the tresses frames your face beautifully and puts the focus away from your forehead.
9. Messy bun with bangs
You can pull off a high messy bun with fringe on any face shape, except on a longer one. It opens up your face and accentuates the cheekbones, which is exactly what you need for a perfect look.
10. Bottleneck bangs
The great thing about bottleneck bangs is their versatility. They can transform in trendy curtain bangs in just a few finger moves.
11. Pin up hairstyle
You don't have to cut your bangs for this hairstyle. Instead, you'll just section your hair from the crown, and then roll the strands with the help of hair rollers.
12. Side-swept bangs
Side-swept bangs are probably one of the best yet effortless ways to camouflage a bigger forehead. They should be your number one choice if you have a round face.
13. Deep side-part
A deep-side part doesn't only hide your forehead, but it also reshapes your entire face. This hairstyle accentuates your cheekbones and jawline. Here's a pro tip: don't forget to apply blush higher on the cheekbones with this style.
14. Asymmetrical pixie cut
An asymmetrical pixie cut is here to lengthen and slim down your face. It's a fun, but yet professional haircut flattering for all hair textures and types.
15. French bob cut
Will the fringe sit on the eyebrow level or higher? The choice is all yours. What matters is that this cut should be shorter than chin-length. It's a hairstyle that looks charming on wavy hair.
16. Faux fringe

An effortless yet elegant hairstyle donut bun can be flattering for women with big foreheads, as well. You just need to flip a section of your hair over your forehead to make faux fringe.
17. Natural coils
It's about time you stop damaging your hair by flattening it all the time. Instead, embrace your stunning natural texture and let your coils do all the work for you. They will frame your face and make your forehead look smaller in the process.
18. Edgy baby bangs
Everything about this haircut is bold: the edgy cut, the combination of colors, and the piece-y shape of the bangs. All of it combined results in you looking like a confident rock star.
19. Full bangs
If you have thick hair and a big forehead, you should consider full bangs. All you need to maintain this hair do is a small round brush and a strong blow-dryer. Trust me, it will take you just a couple of minutes to style your bangs every day.
20. Natural edges
You'd be surprised at what natural edges can do to your look and how they can transform your entire hairstyle. Here's a pro tip: pair them with a side-parted hairstyle for maximum results.
Hairstyles To Avoid With Big Forehead
What are the hairdos you shouldn't even think of wearing unless you want to put all the focus on your big forehead?
1. High ponytail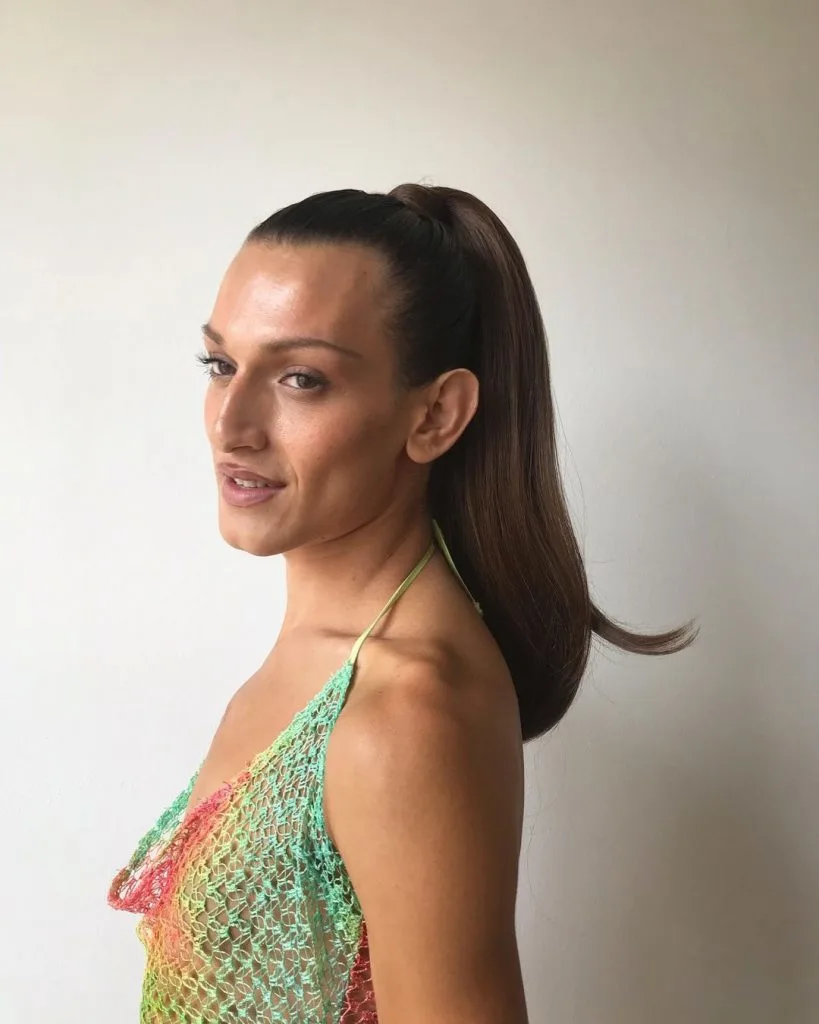 A sleek, high ponytail is a big no for girls with bigger foreheads. But that doesn't mean that you should say goodbye to this style forever. As I already mentioned, just pull out a few hair strands to frame your face and you're good to go.
2. Middle part hairstyle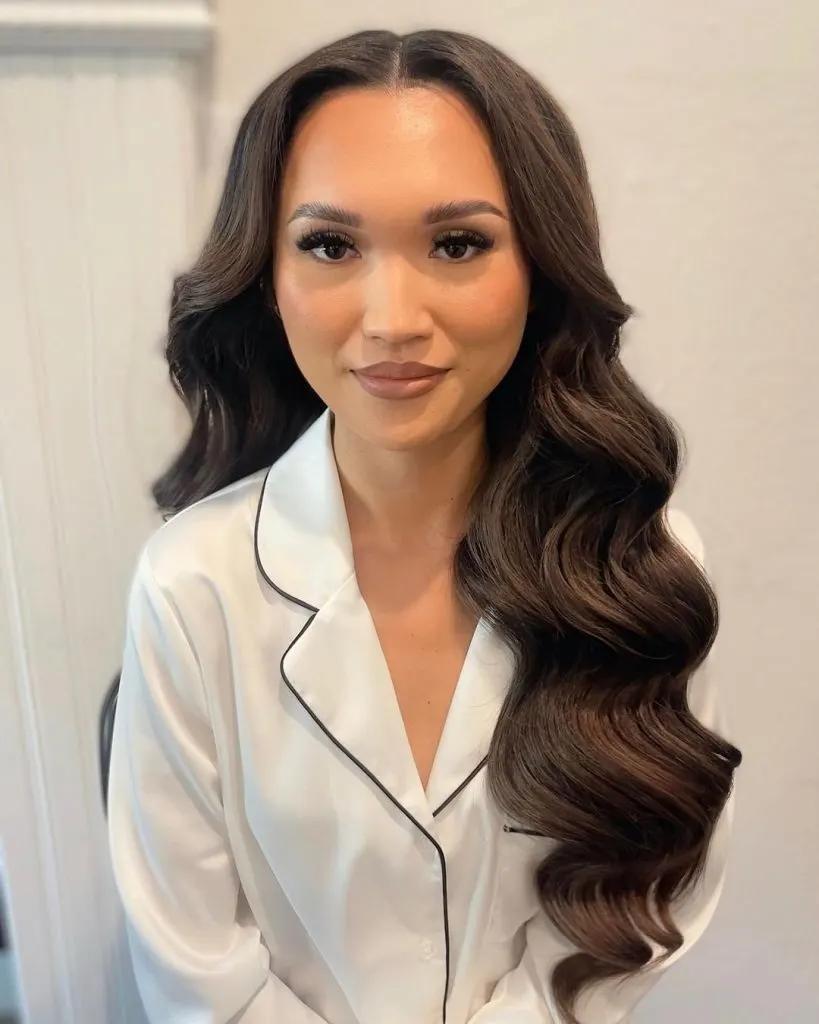 All middle-part hairstyles have one thing in common: they make your forehead look much wider than it actually is. Instead, women with big foreheads should always choose a side-parted style.
3. Long, straight hairstyle
Another style you should avoid at all costs is long, straight hair. It's not just dall; it also draws all the attention to your forehead since it doesn't accentuate any of your other facial features. If you don't believe me, just look at the difference between these two cuts.
4. Boxer braids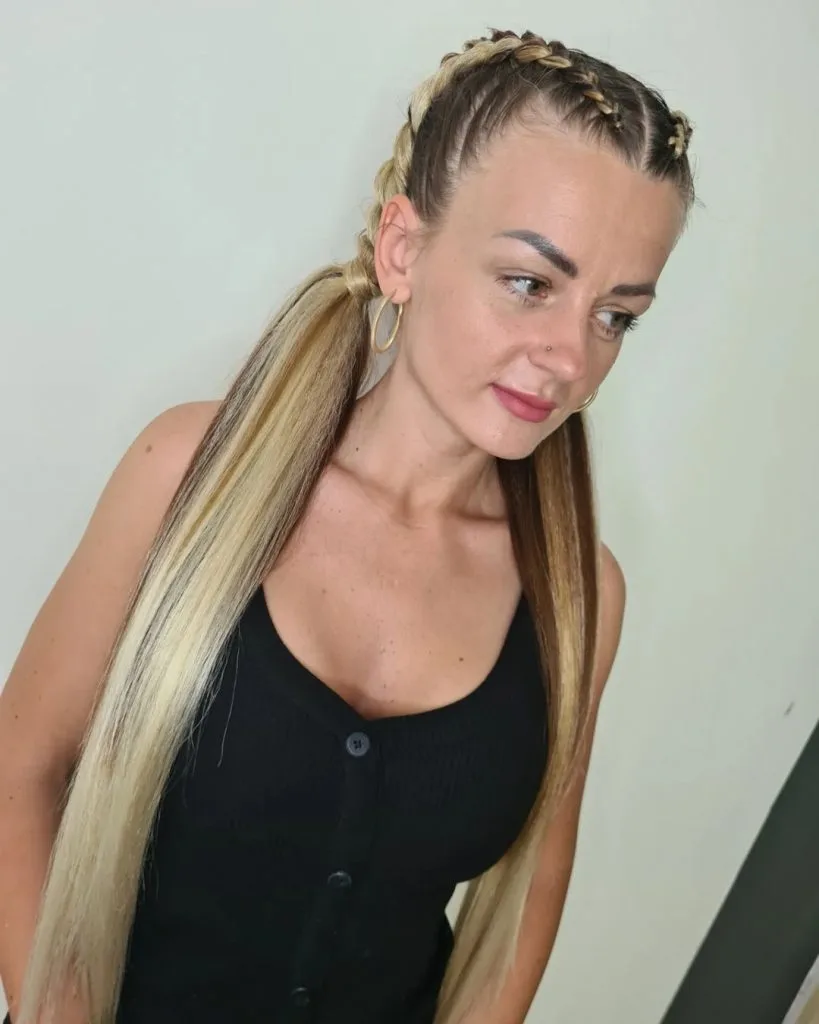 Classic boxer braids leave your face "empty" which means that your big forehead becomes the first thing people notice. But there is a solution for that too. Ask your stylist to pull out a couple of hair strands in the front and braid them too. These front braids will frame your face marvelously.
5. Slicked-back hairstyle
I'm sorry but you'll have to forget about slicked-back hairstyles if you want to camouflage your forehead. But if you're really crazy about this hairdo, contour your face in a flattering way. In your case, that means putting a darker shade of bronzer along the hairline.