The blunt cut bob is a modern take on the classic hairstyle we all adore. It's fresh, sharp and looks best when it's a touch messy. Blunt ends make your hairstyle look cool and up-to-date, but is it right for you?
If you're not sure you can pull it off, check out these gorgeous hairstyles that prove a blunt bob can work on all hair types, textures and face shapes.
1. Wavy Blunt Bob Cut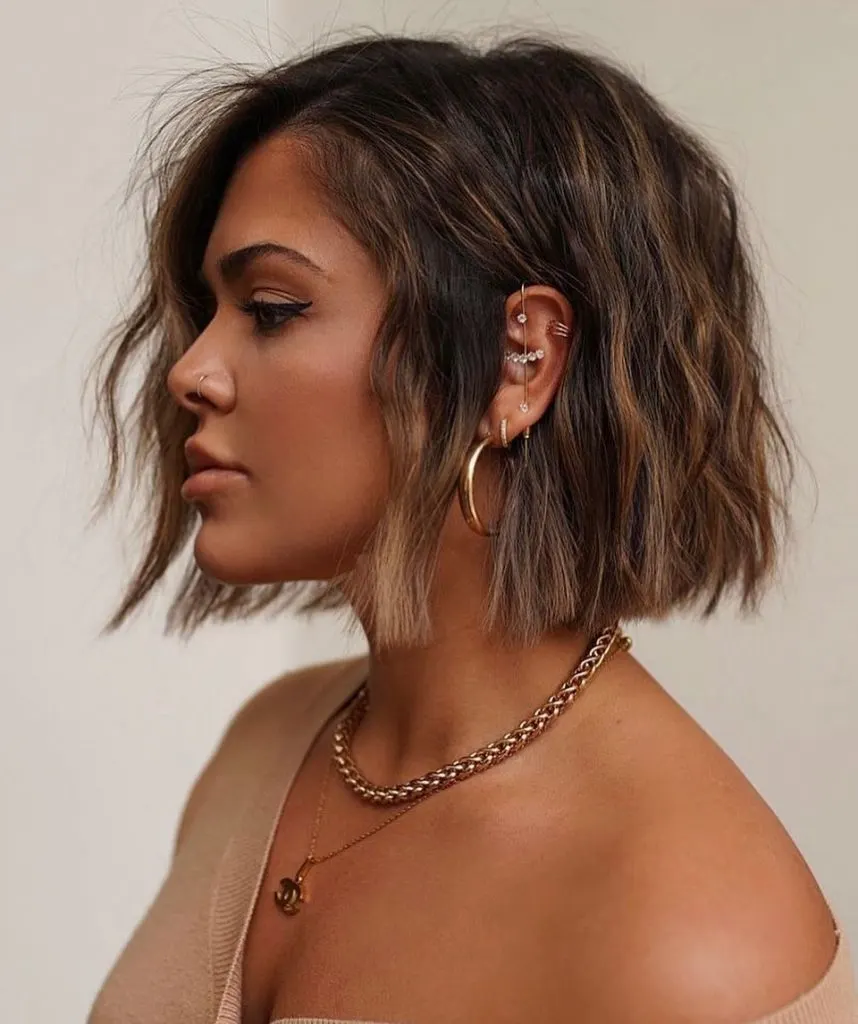 There's something irresistible about the way the golden highlights add dimension and play up the texture of this gorgeous blunt bob. The cut and the color are used together a to create an effortless, modern look.
2. Long Blunt Cut Bob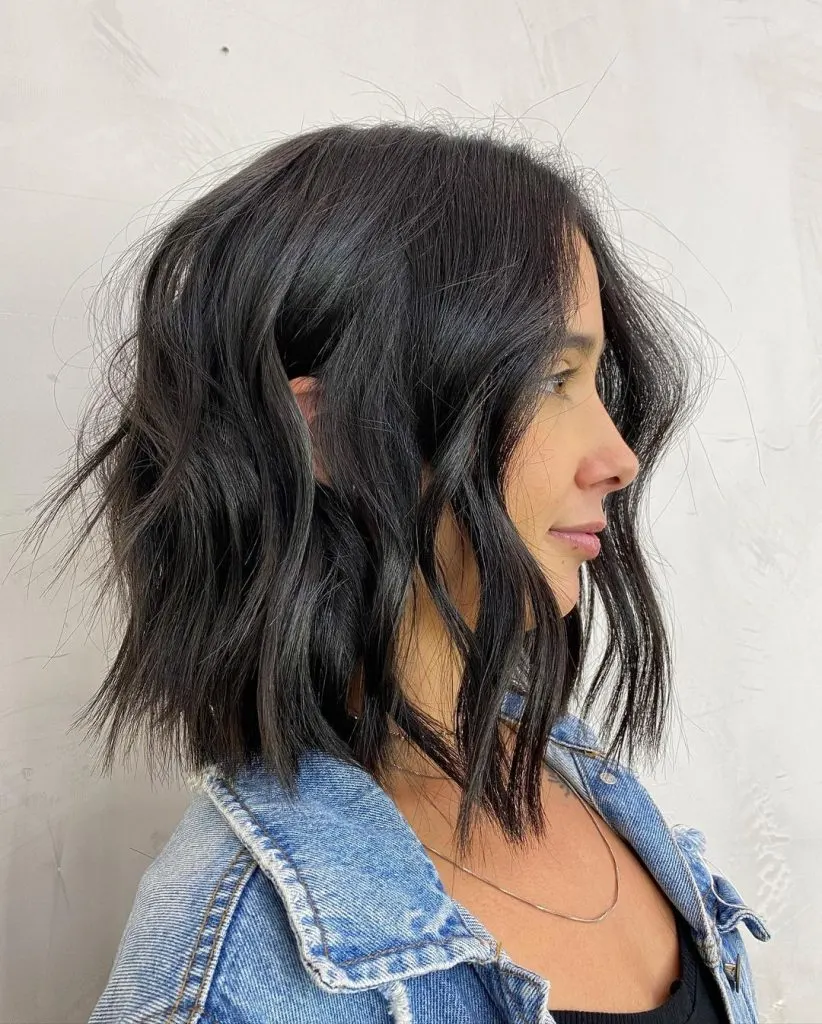 To achieve the most contemporary look, wear your new blunt bob wavy. You can use heat to create the perfect waves, or go for one of the various popular heatless methods, such as using fabric strips, bobby pins or braiding your hair overnight.
3. Blunt Cut Middle Part Bob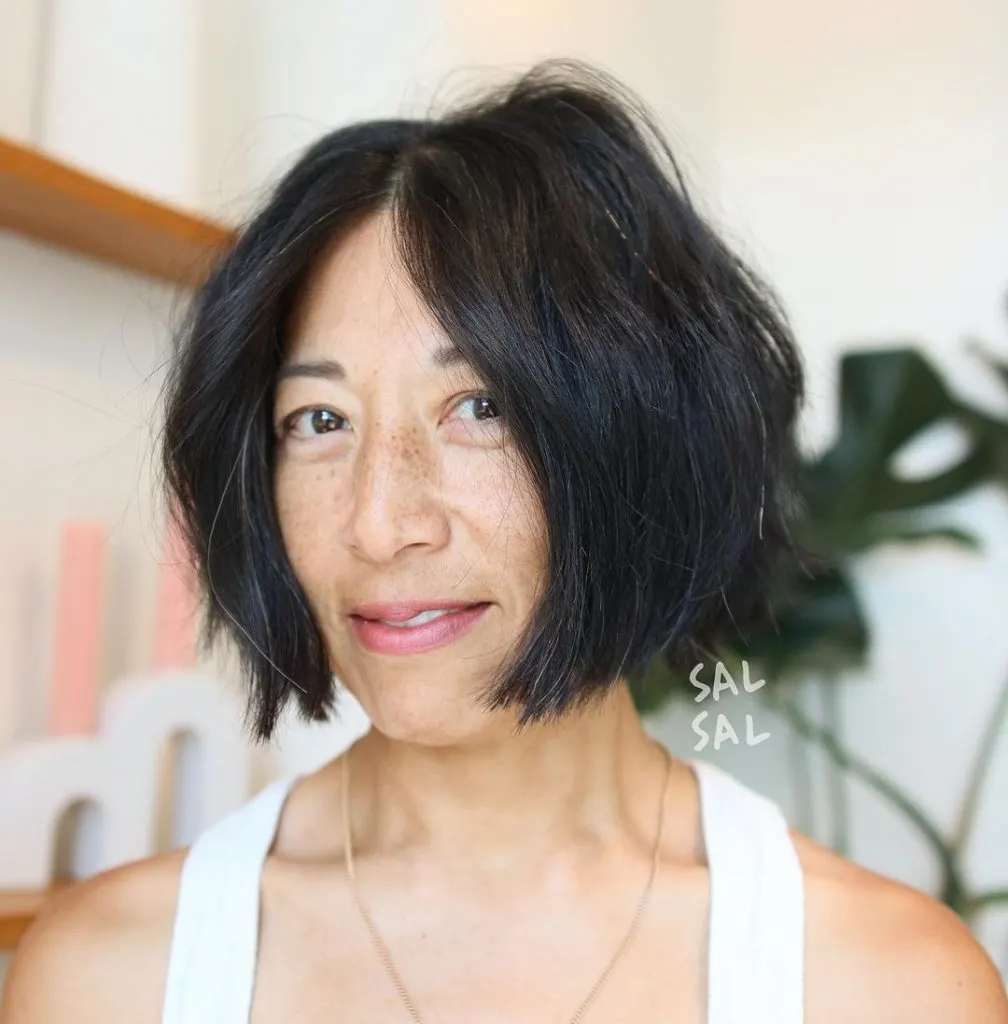 A chin-length blunt bob is as short as you can go before you cross over into actually-short, pixie territory. This fresh cut still has enough length to frame the face and leaves you plenty of styling options.
4. Neck Length Blunt Bob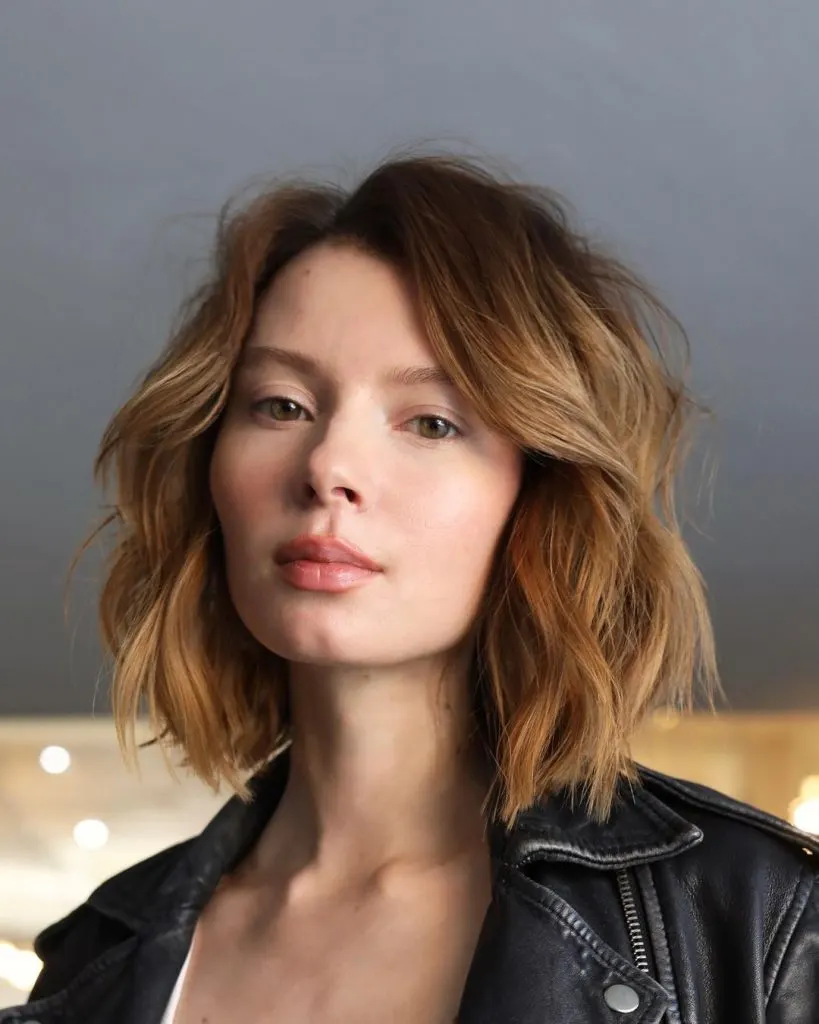 If you're pining for a bob but can't part with your long hair just yet, the answer is clear: get a lob. You can have the best of both worlds if you don't go very short—the fresh, blunt ends of a bob and the luscious movement of long hair are both available to you with a long bob.
5. Middle Part Blunt Cut Bob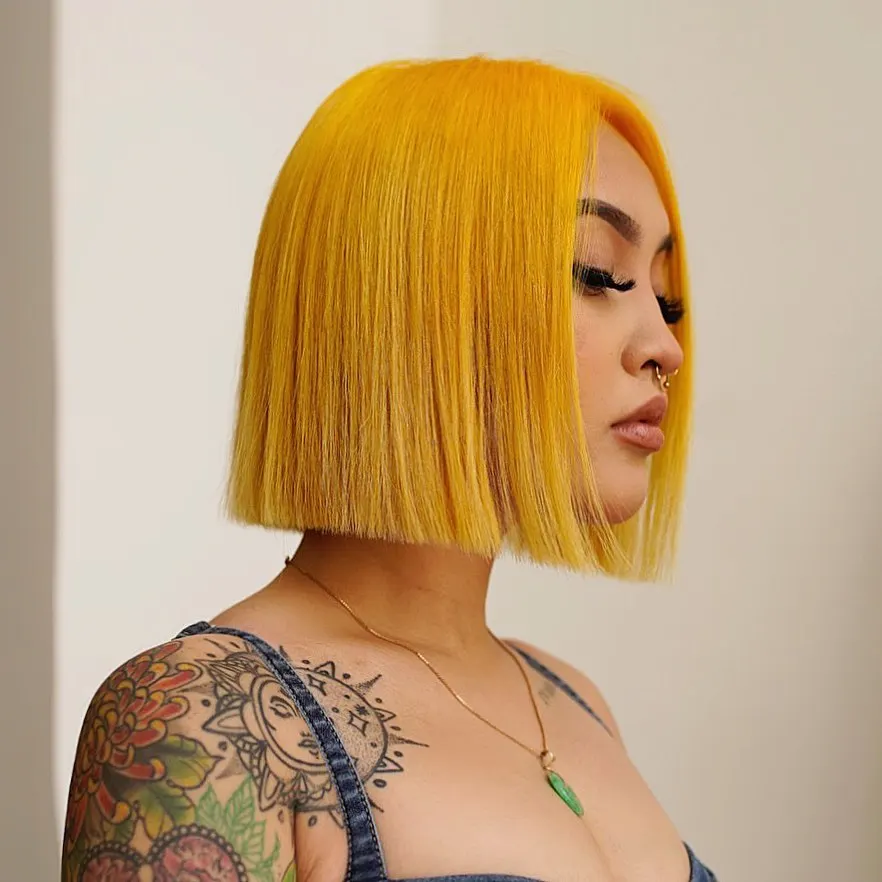 A short, straight hairstyle with a middle part looks refined and stylish, and you can really spice it up if you go for a vivid and intense color.
6. Jaw Length Blunt Bob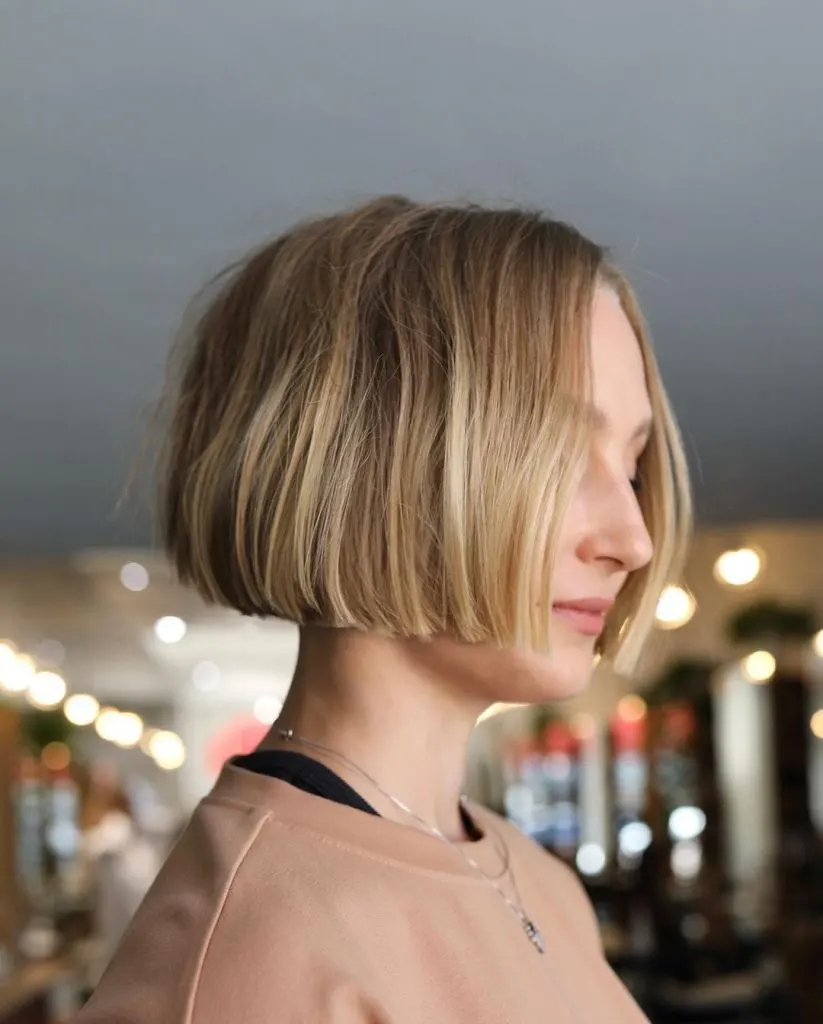 A jaw-length blunt bob elongates the neck and sharpens the jawline. It's a fresh and natural look that doesn't look like you tried to hard and doesn't take ages to style.
7. Side Part Blunt Cut Bob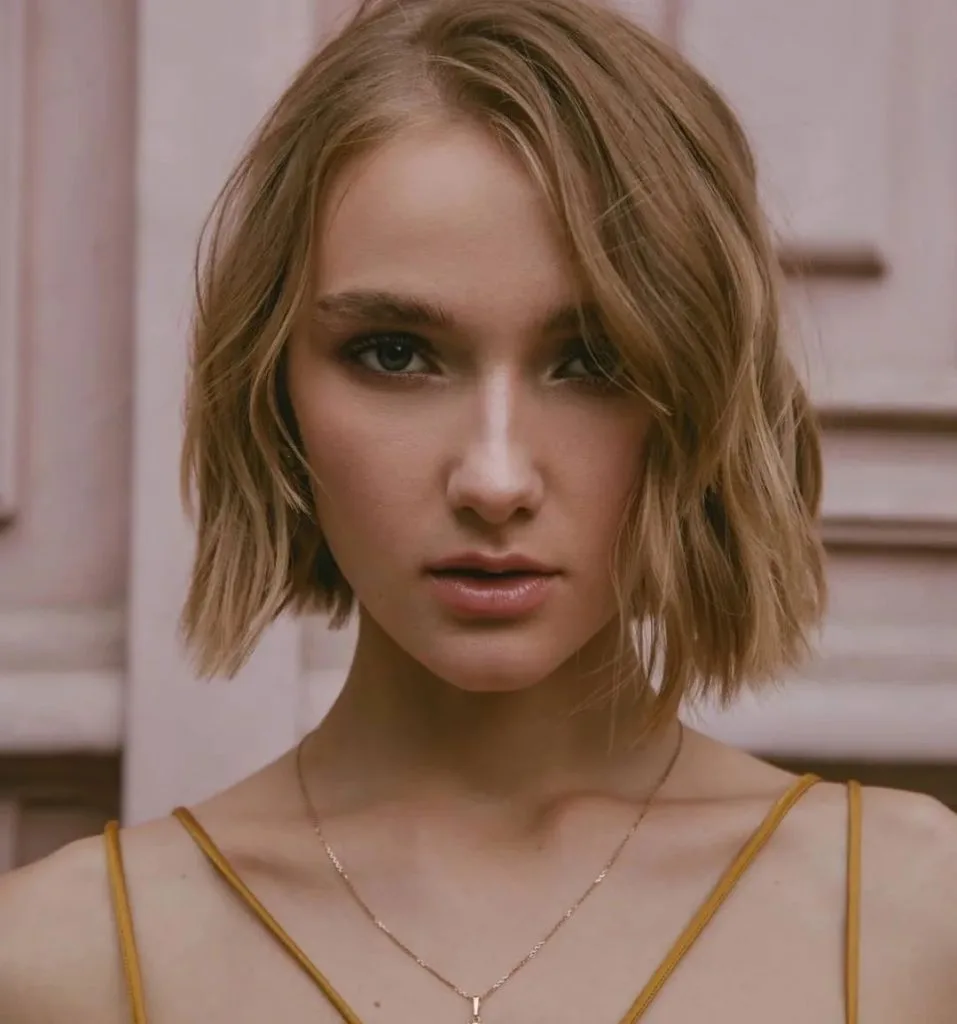 Vampy long bangs and a side part is a great way to bring attention to your face. This sexy style looks best when it's a little messy instead of perfectly put together.
8. Blunt Lob With Bangs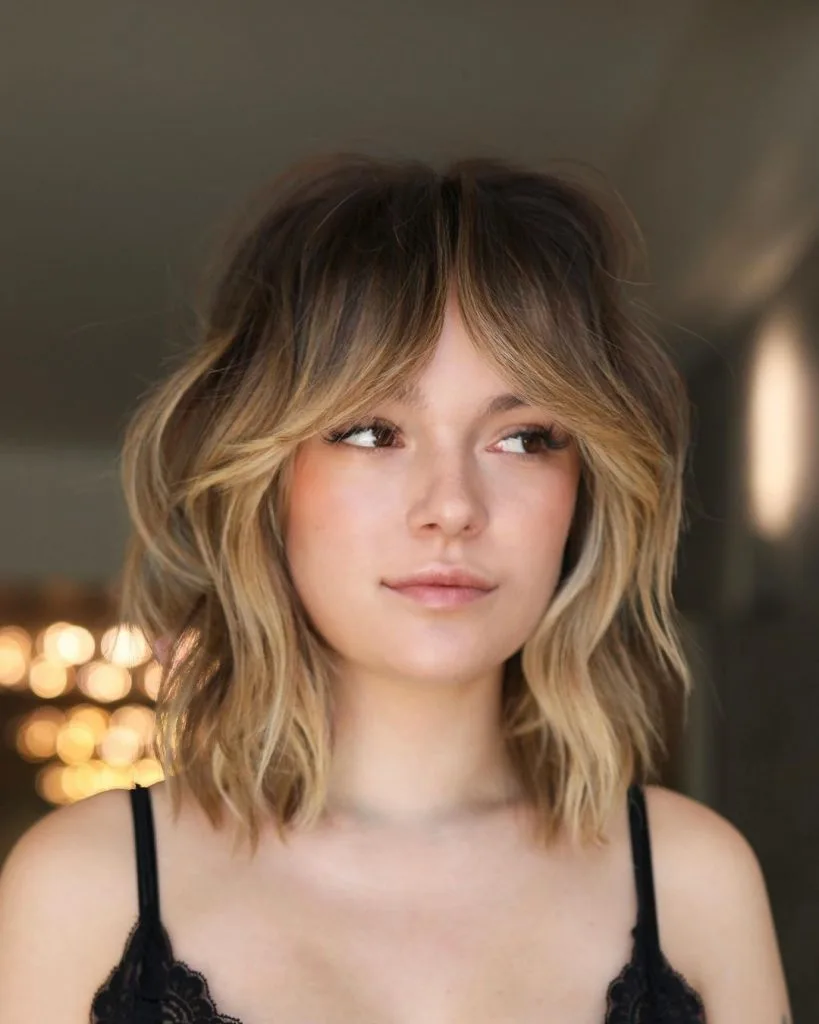 Short curtain bangs and a wavy tousled lob are the perfect match. Both can be customized to frame your face in the most flattering way. Go for a natural—or natural-seeming—color to keep your long bob with bangs extra laid-back.
9. Short Blunt Cut Bob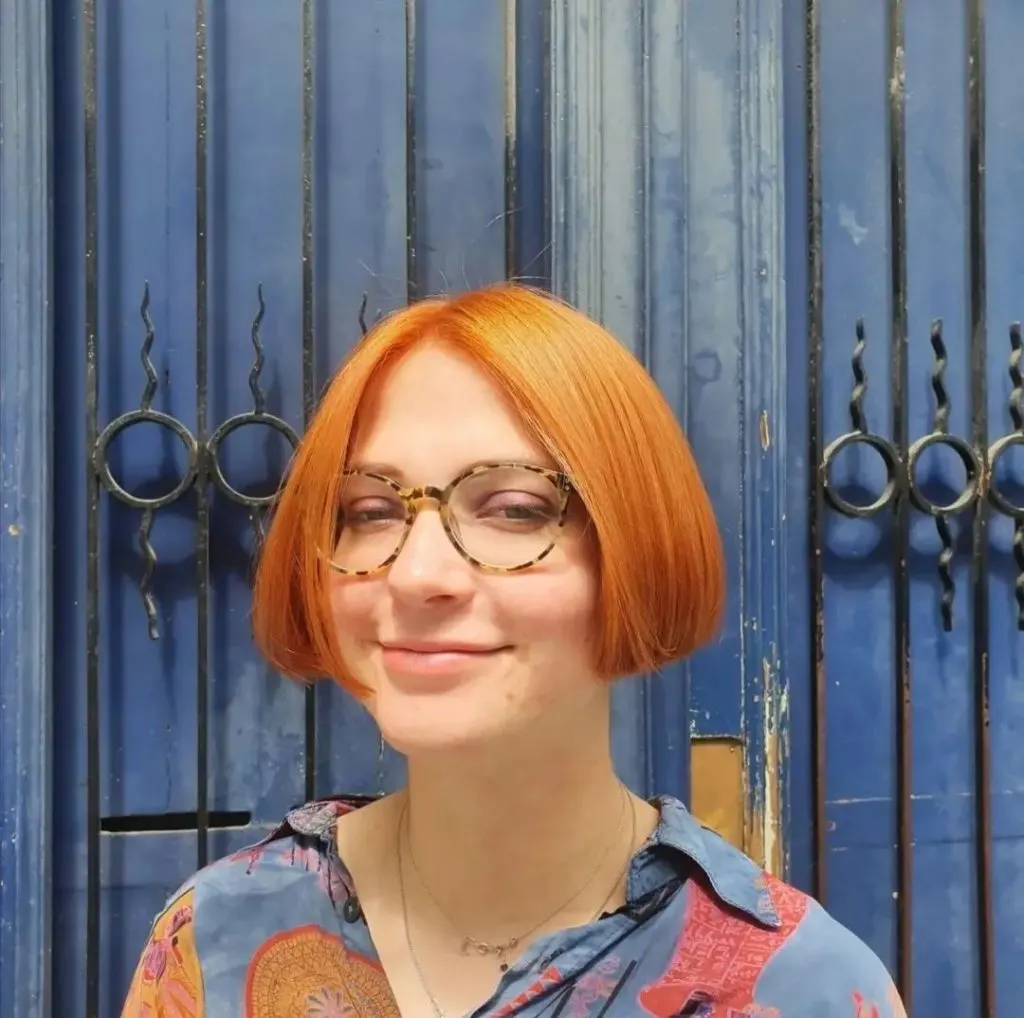 If you like to play with color, a super-short bob will make sure your hair is always healthy. Regular trims needed to keep your cut fresh will get rid of all the damage that might creep up if you like dramatic color changes.
10. Curly Blunt Cut Side Part Bob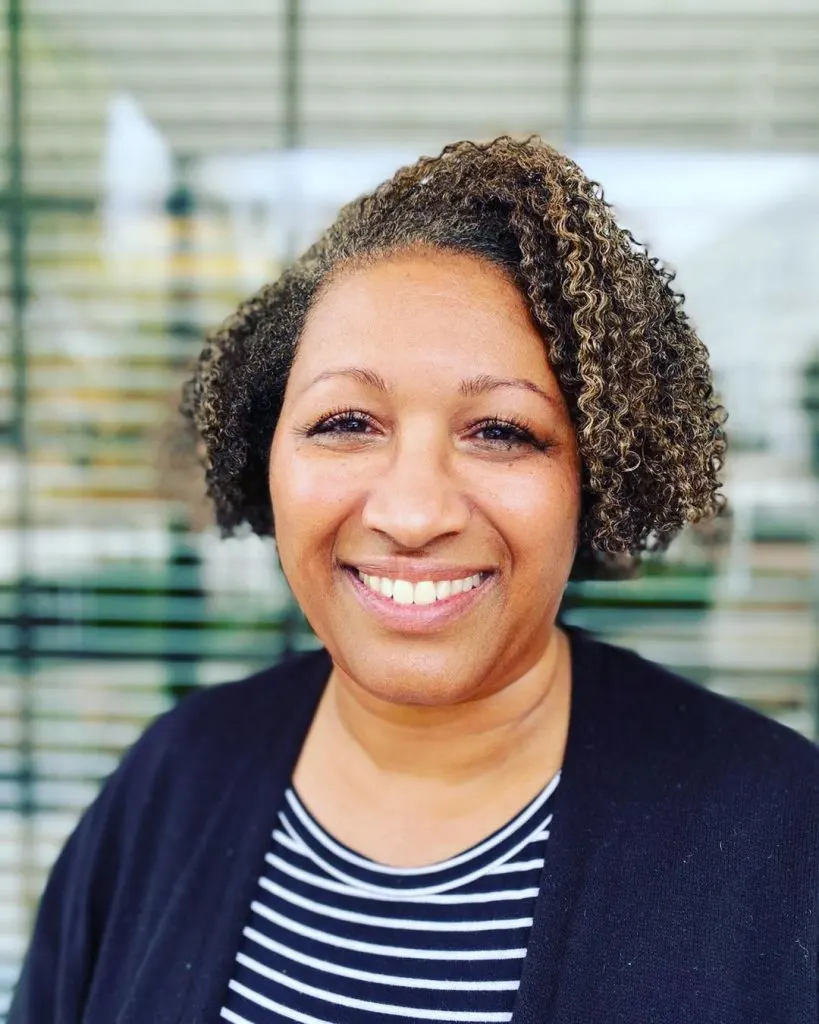 When it comes to curly hair, layers are usually unavoidable, but here's an example of how adorable tight spiral curls can look when cut short with blunt ends.
11. Shoulder Length Blunt Cut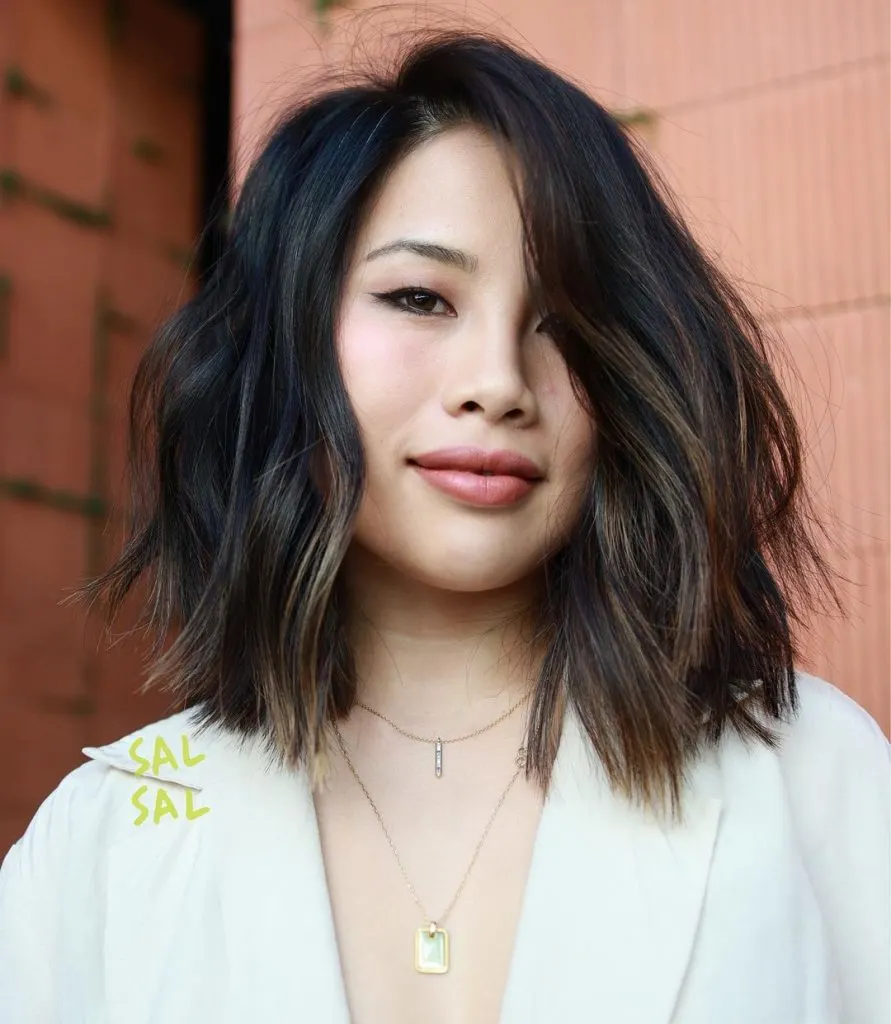 If you fear going shorter will make your hair seem less luscious, think again. This choppy lob looks thick, but not too thick—and with just the right amount of texture.
12. Blunt Bob With Bangs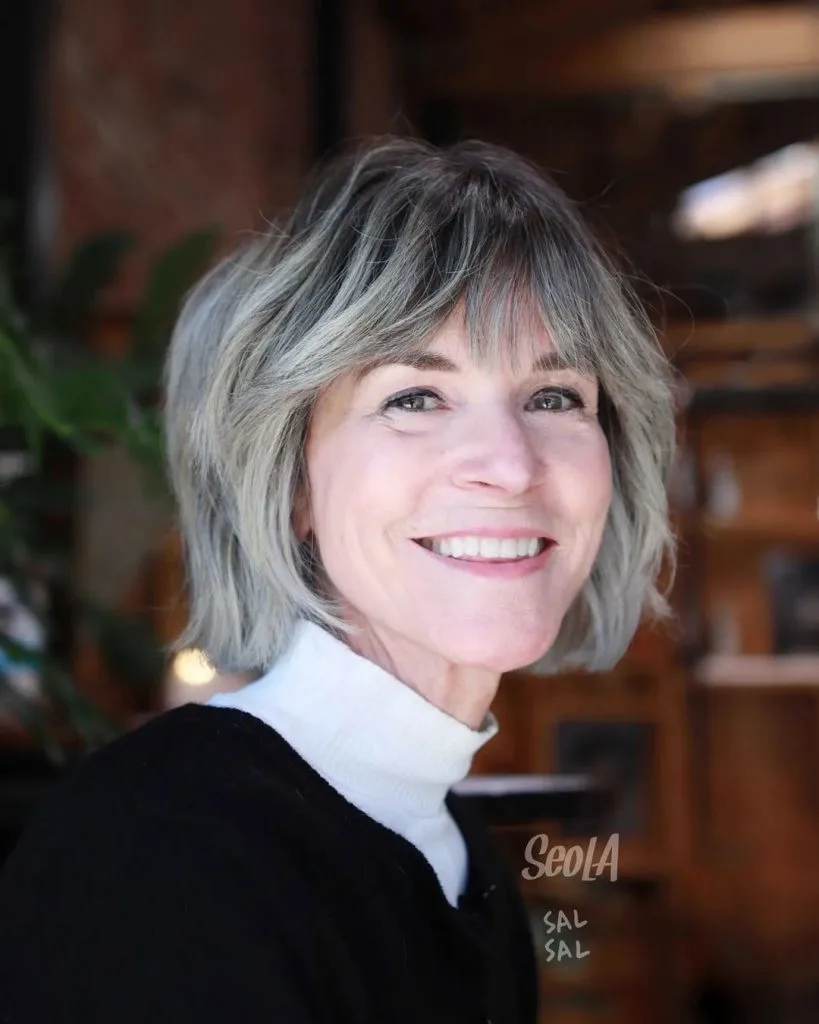 If you want a style that's sharp but still provides lots of face-framing, consider a blunt bob with bangs. This French bob with baby curtain bangs is the style to go for if you want a chic yet effortless look.
13. Short Blunt Bob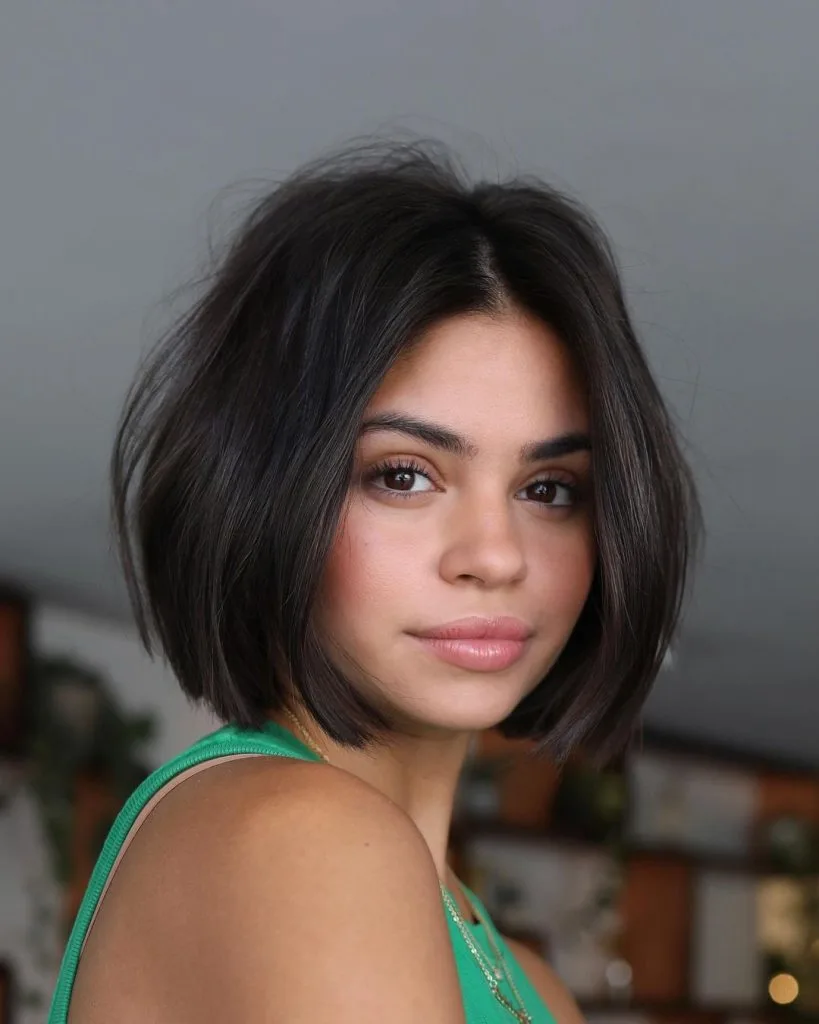 Flat hair? No such thing with a blunt cut bob. Getting that flattering volume on top is easy because your hair isn't getting weighed down. Try this method: using a comb, push a section of hair at the crown up and heat it up with your blow dryer. Let cool before releasing.
14. Textured Blunt Cut Bob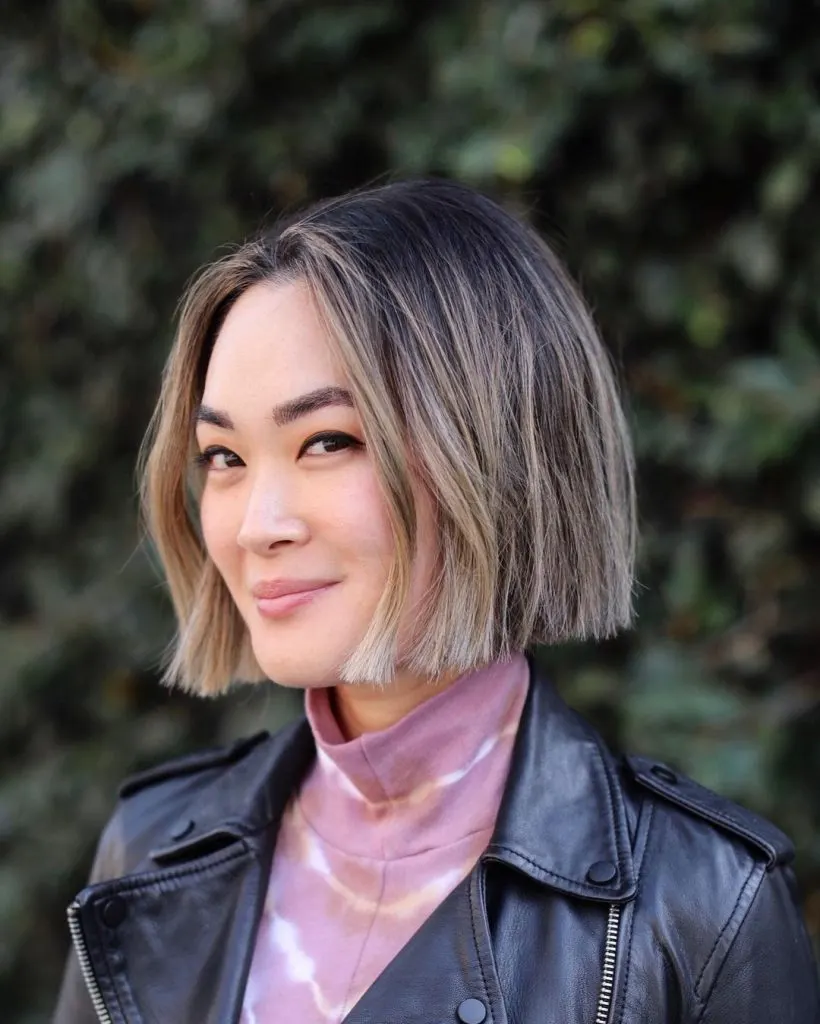 Straight doesn't always have to be sleek to look good—here, it's all about the texture. A couple of waves around the face make this style extra relaxed.
15. Voluminous Blunt Bob Haircut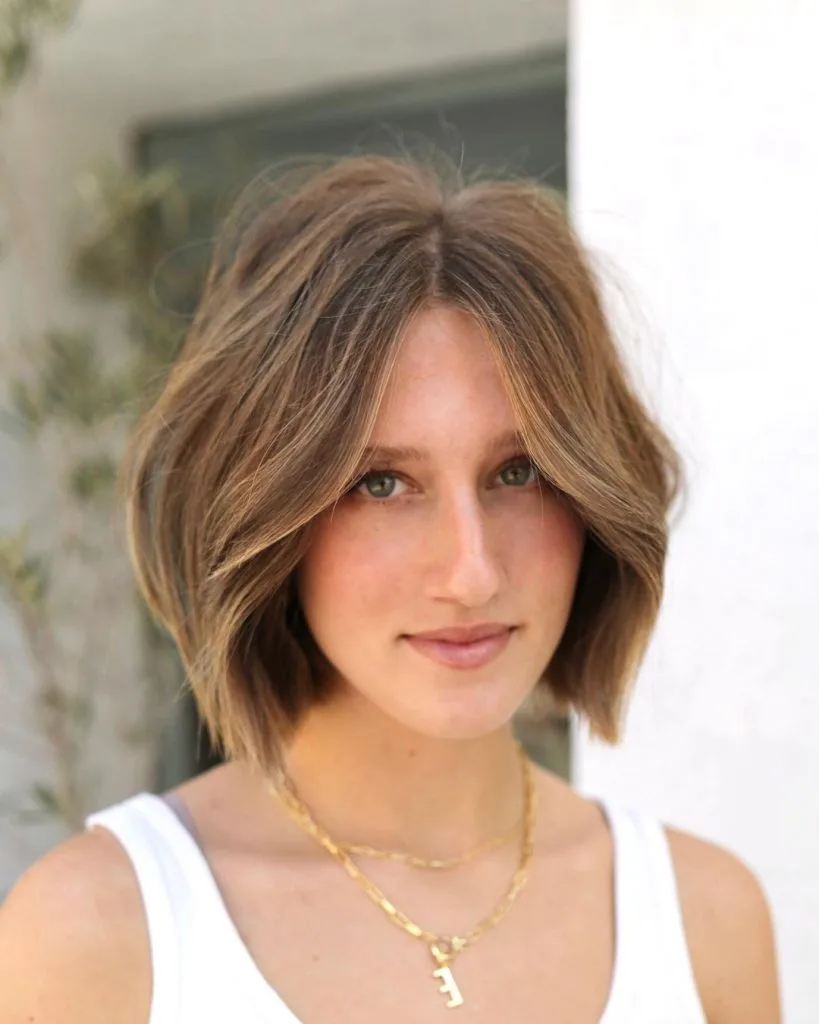 The lift at the crown and the curtain bangs make sure your hair is the perfect frame for your face, so this is the kind of bob to get if you want to draw attention to your features.
16. Shoulder Length Blunt Bob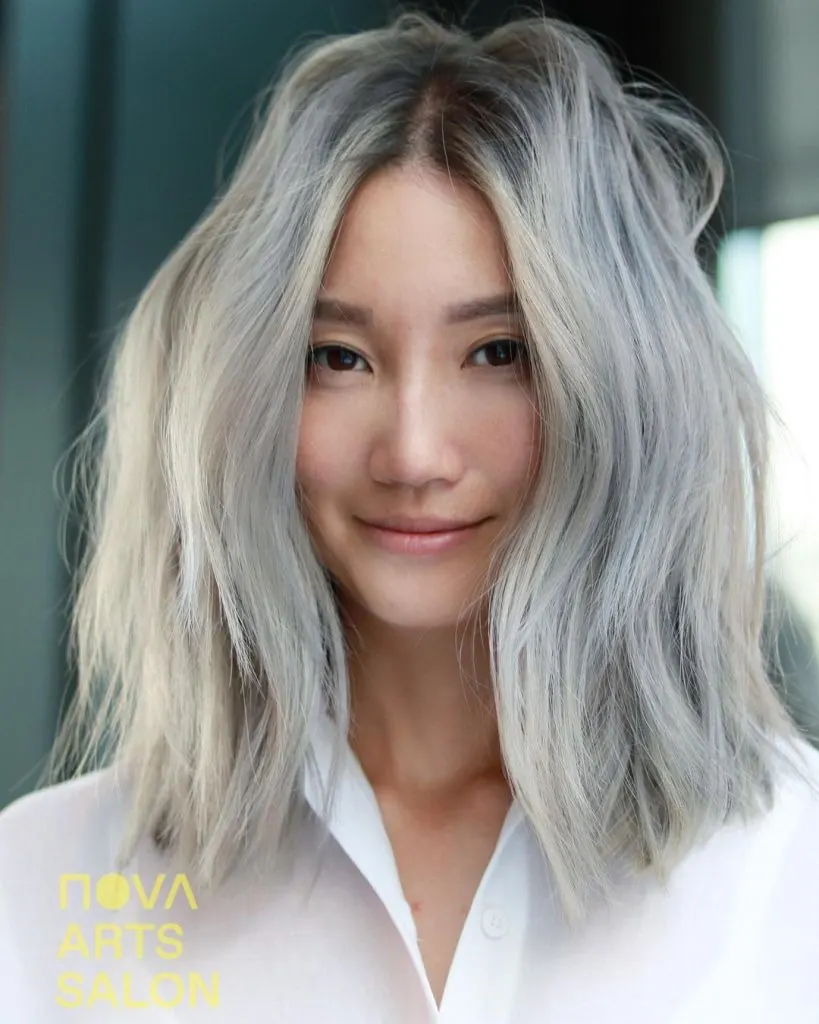 Super-long lobs sit on the edge between medium-long hair and bobs, and they're the way to go if you're still not quite ready to get the chop.
17. Jaw Length Edgy Choppy Bob With Bangs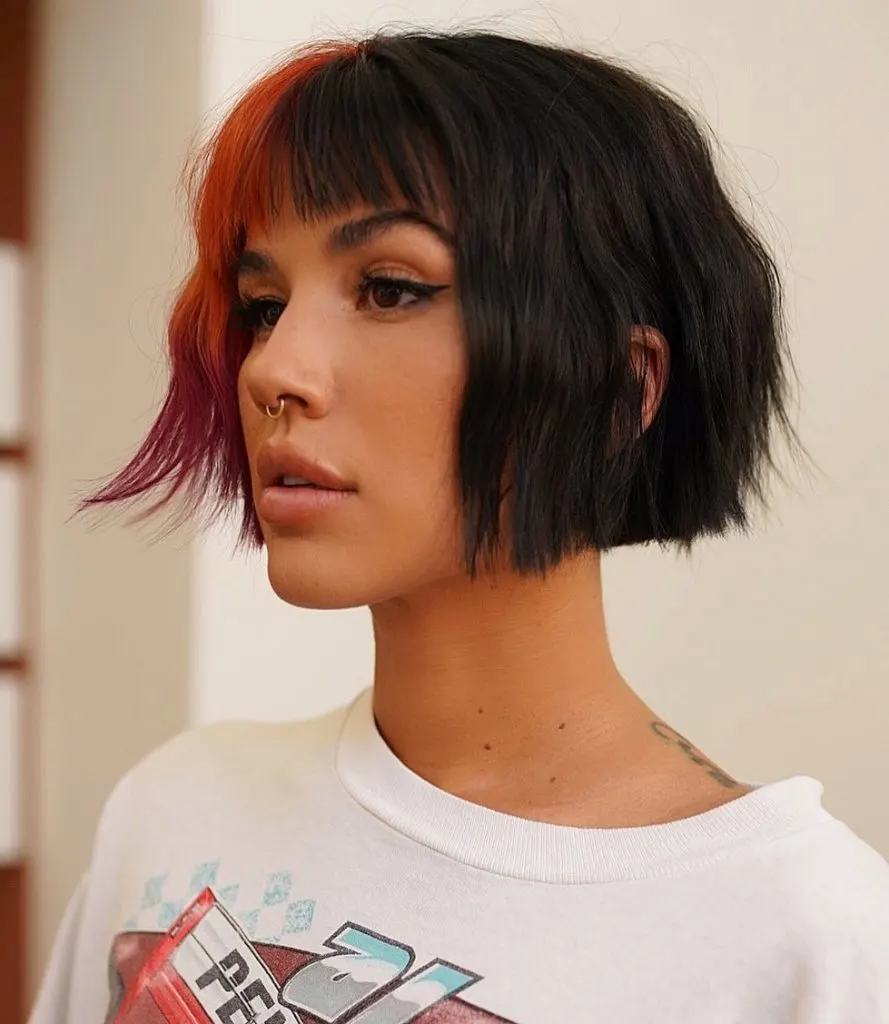 The choppy layers and the gemini coloring give a unique flair to this edgy choppy bob. Baby bangs are the perfect choice to go with it if you want something more around the face.
18. Blunt Haircut With Bangs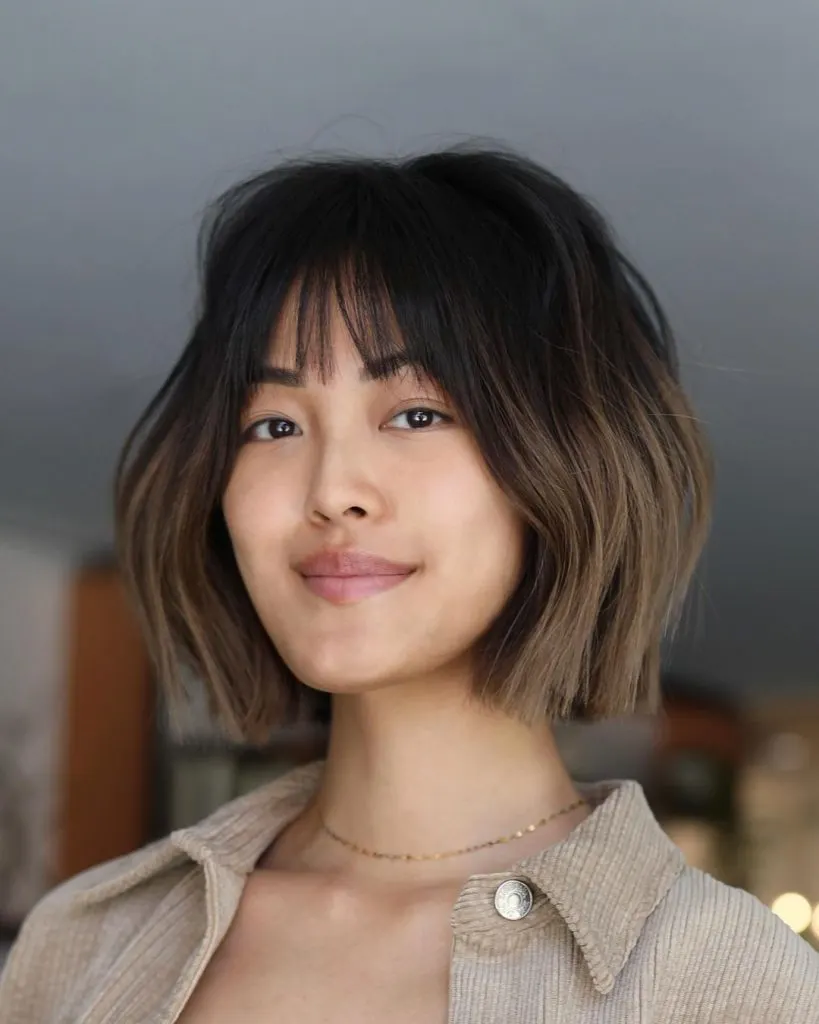 The tiniest wispy bangs add softness to this bob and tie in the color at the roots and the ends.
19. Sleek Side Part Bob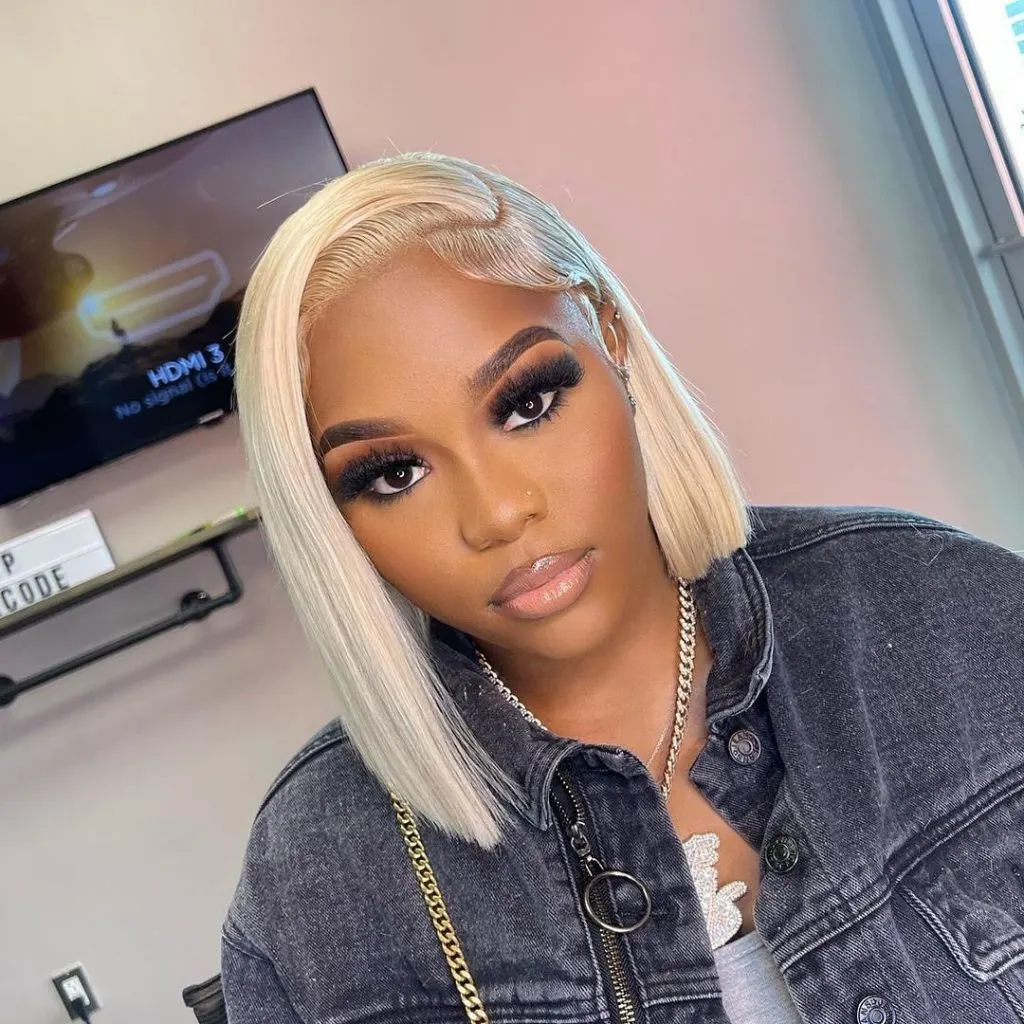 Should you add a cute touch to your pin-straight cut with soft, flawless edges or make a statement with dramatic color? The answer is do both, like this platinum blonde sleek blunt bob.
20. Bob With Blunt Bangs
Blunt ends paired with a blunt fringe create a sharp look, especially when combined with cool-toned colors.
21. Angled Blunt Cut Bob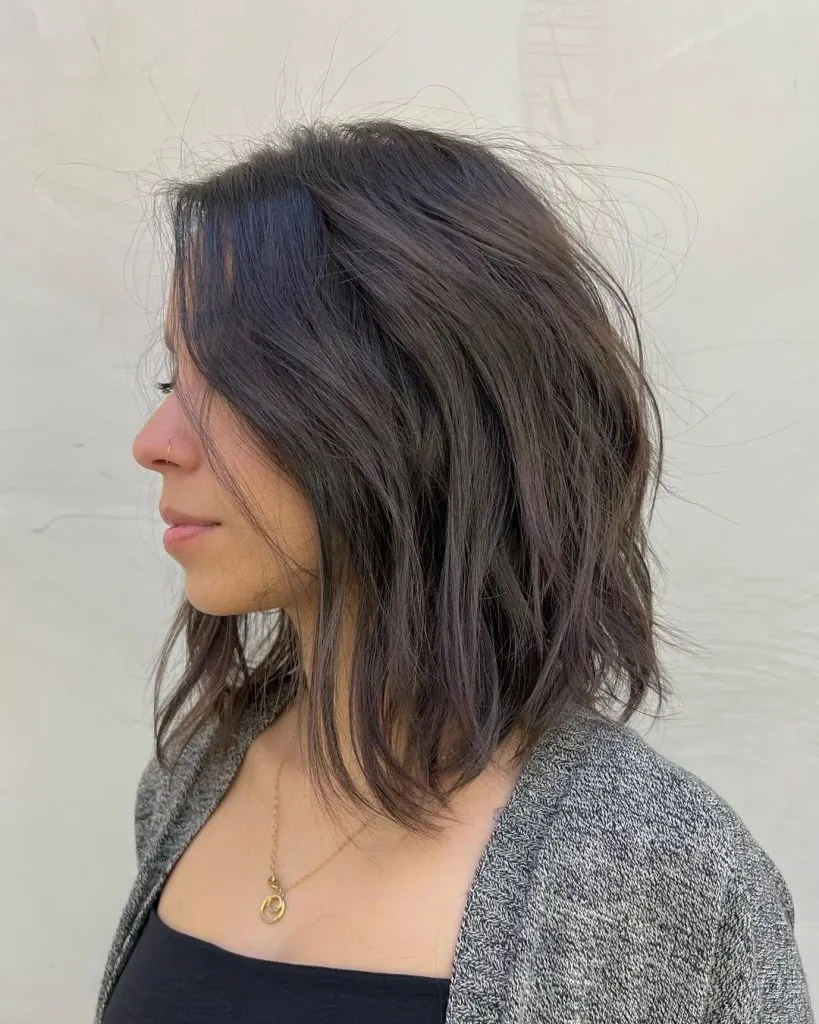 Use a curling iron to add texture and a hint of waves to your angled bob haircut for a cool, effortless style you'll love to flaunt.
22. Long Blunt Cut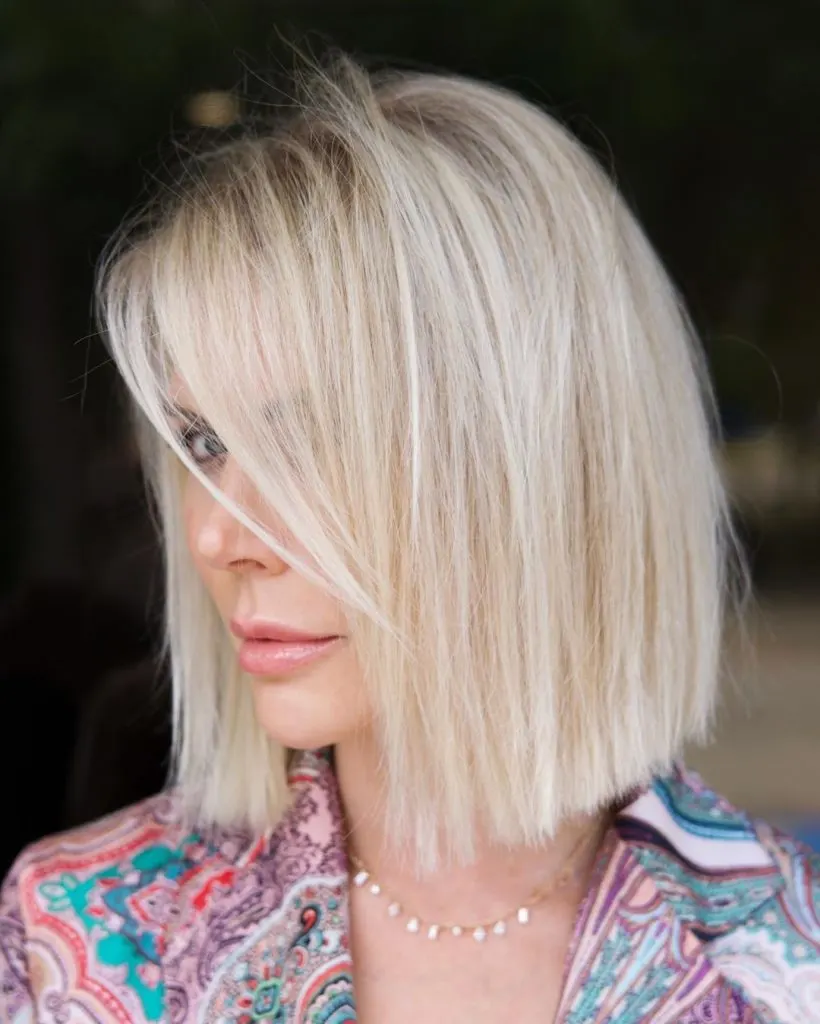 Soften your straight blunt lob by adding a few soft strands around the face. They can be easily camouflaged whenever you want to go back to sleek and edgy.
23. Blunt Short Hair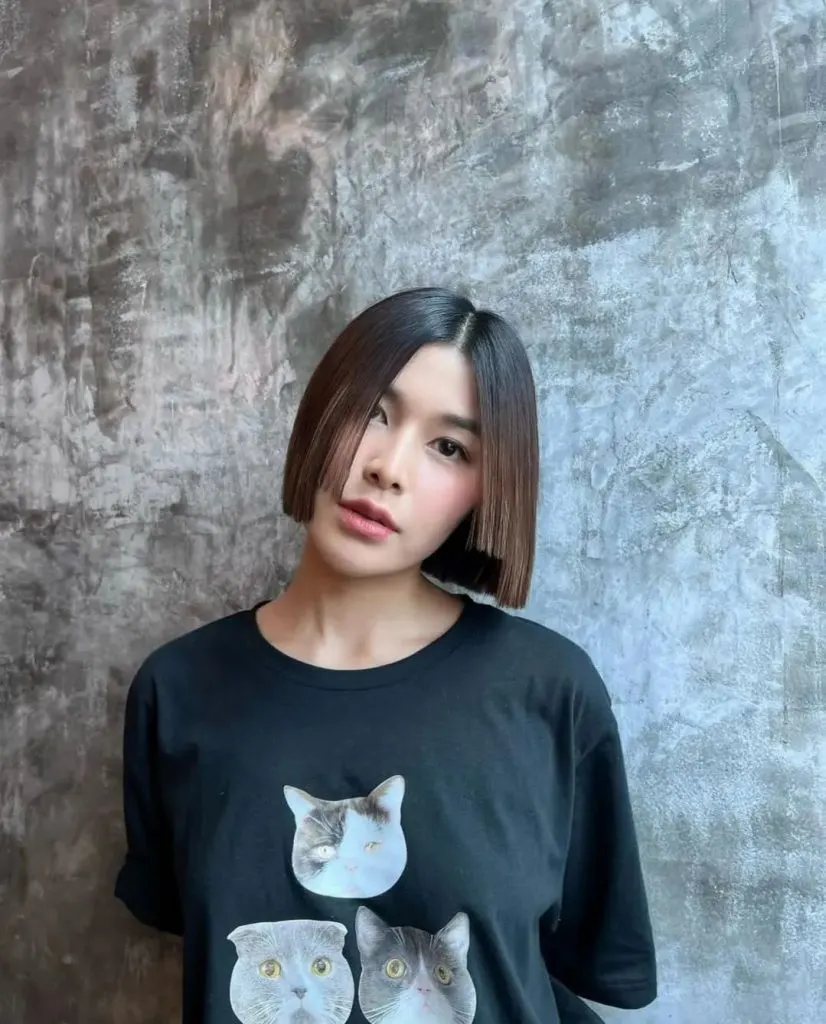 You don't see long blunt-cut fringe every day—tapered bangs that frame the face are the common choice, but this unusual style complements the blunt bob and creates a deliberate look.
24. Sleek Blunt Cut Bob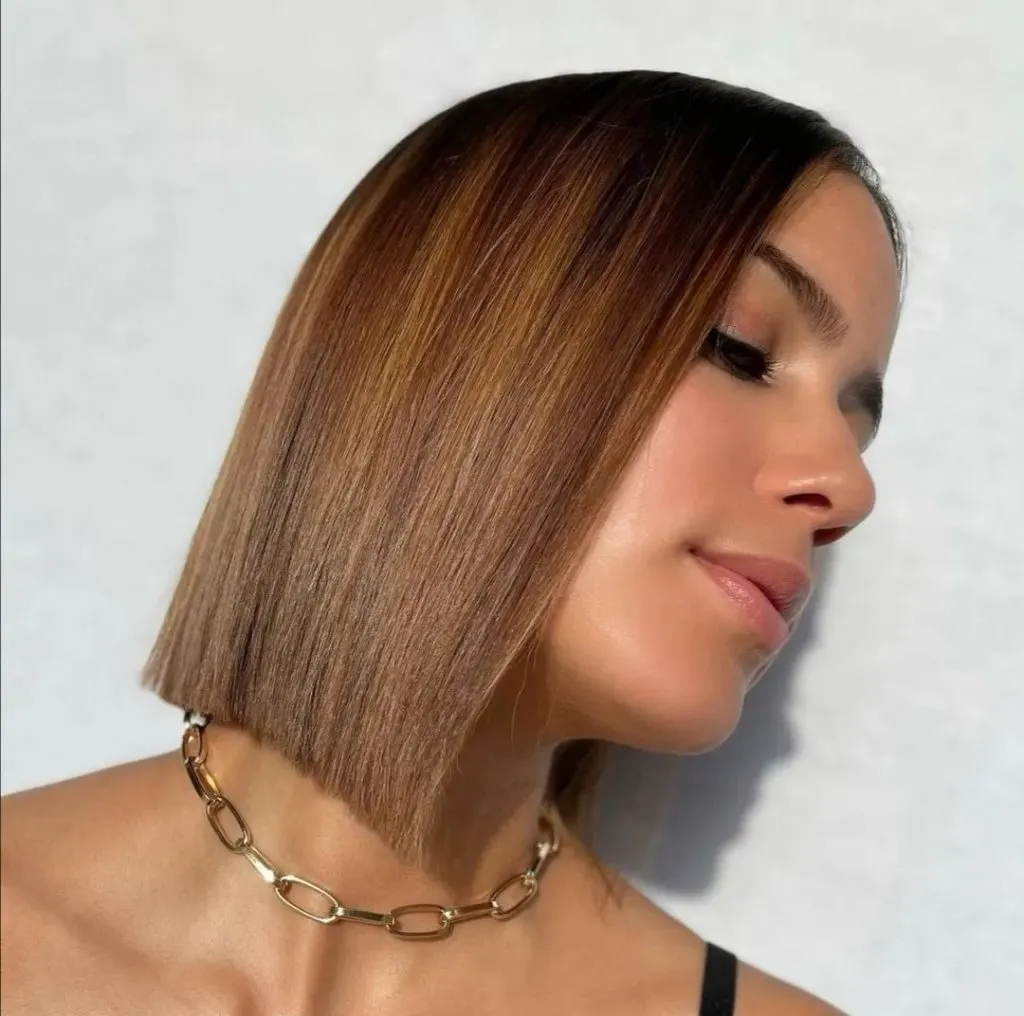 If you want a blunt cut bob, but dislike boxy ends, ask your stylist to subtly thin them out while still keeping the straight line at the bottom.
25. Blunt Cut Bob With Baby Bangs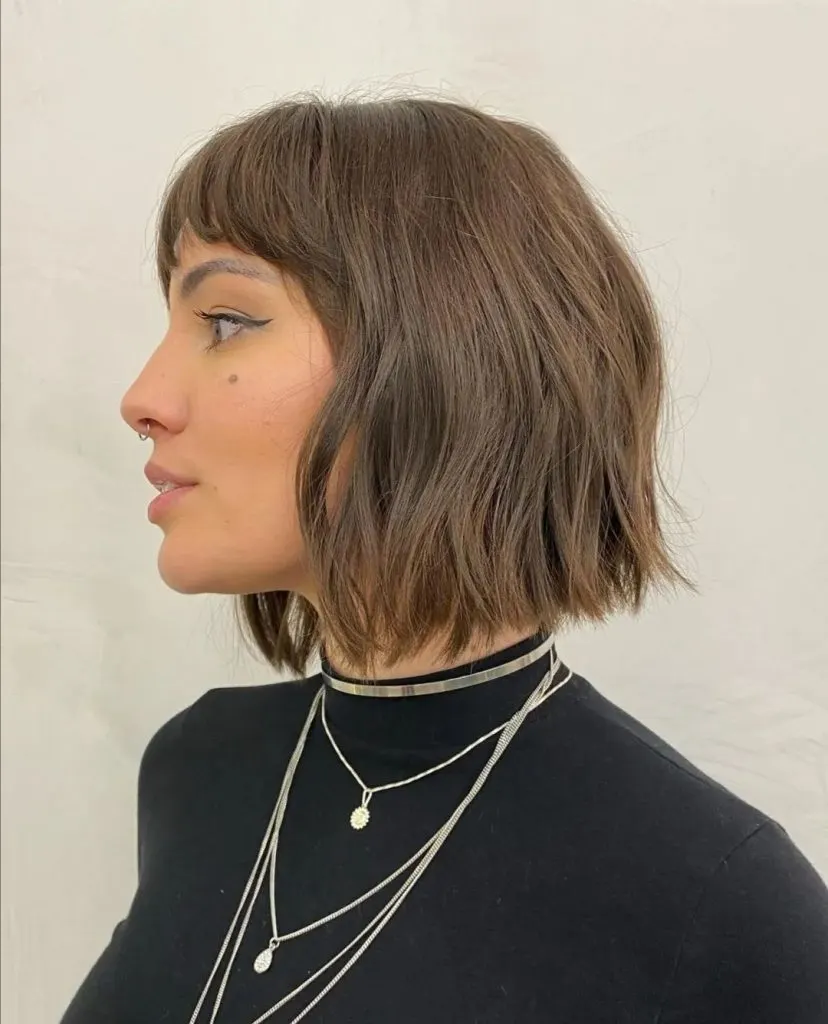 Your bob will be ideal for your face if your hairdresser cuts it in a way that works with your natural hair texture. This will also make styling a breeze because you won't have to struggle against your hair.
26. Chin-Length Middle Part Bob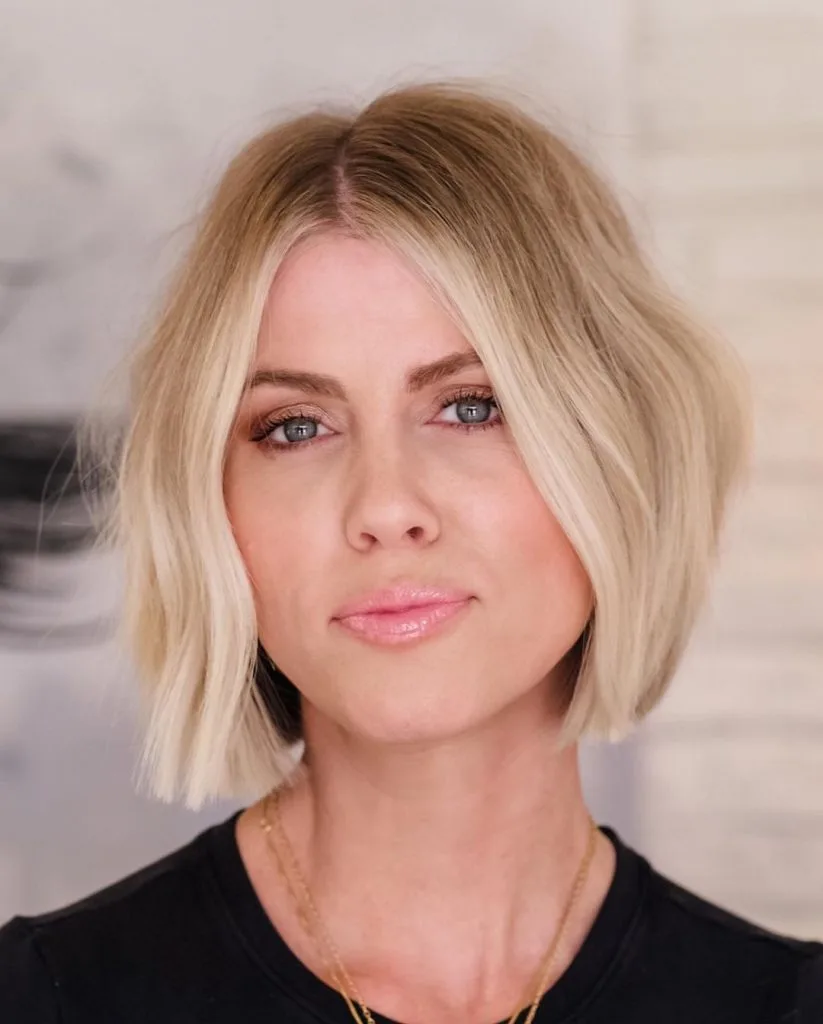 Your everyday hairstyle will always look different than what you leave the salon with, so always consider your habits when telling your stylist what you want. This blunt bob cut will look just as cute if you run your fingers through your hair as it does freshly styled.
27. Neck-Length Bob With Bangs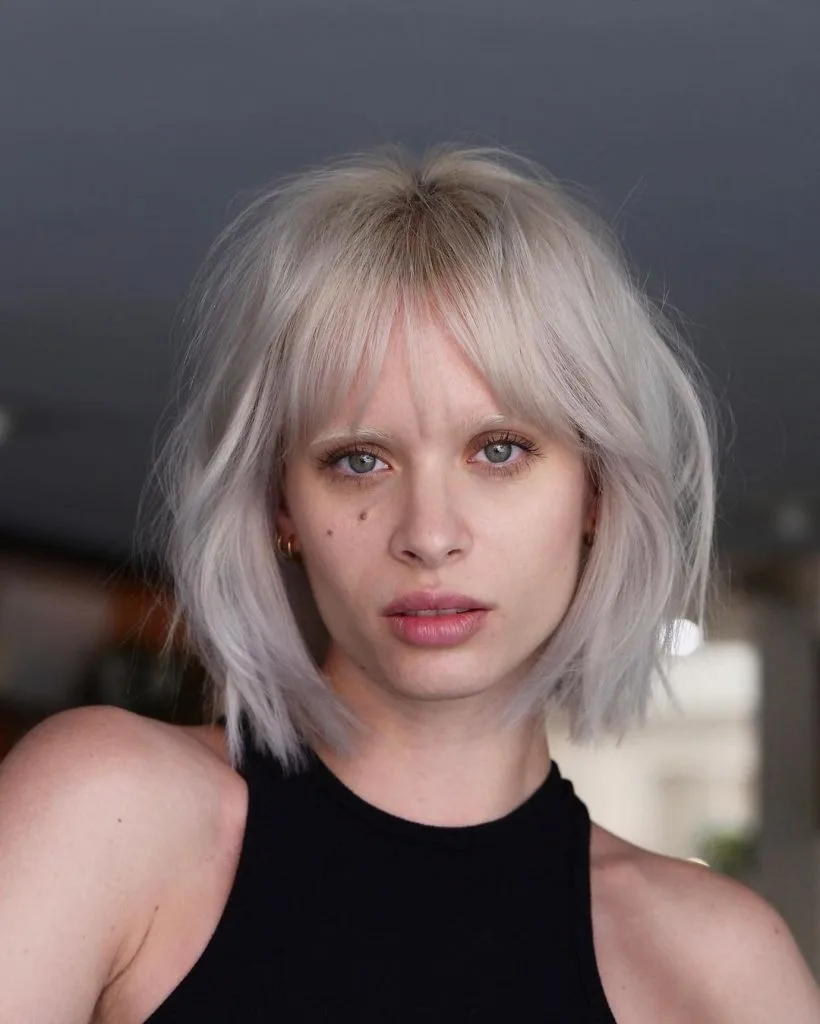 Intentional frizz, baby curtain bangs and a nearly-white hue create a dreamy halo around the face. Ethereal!
28. Textured Long Layered Bob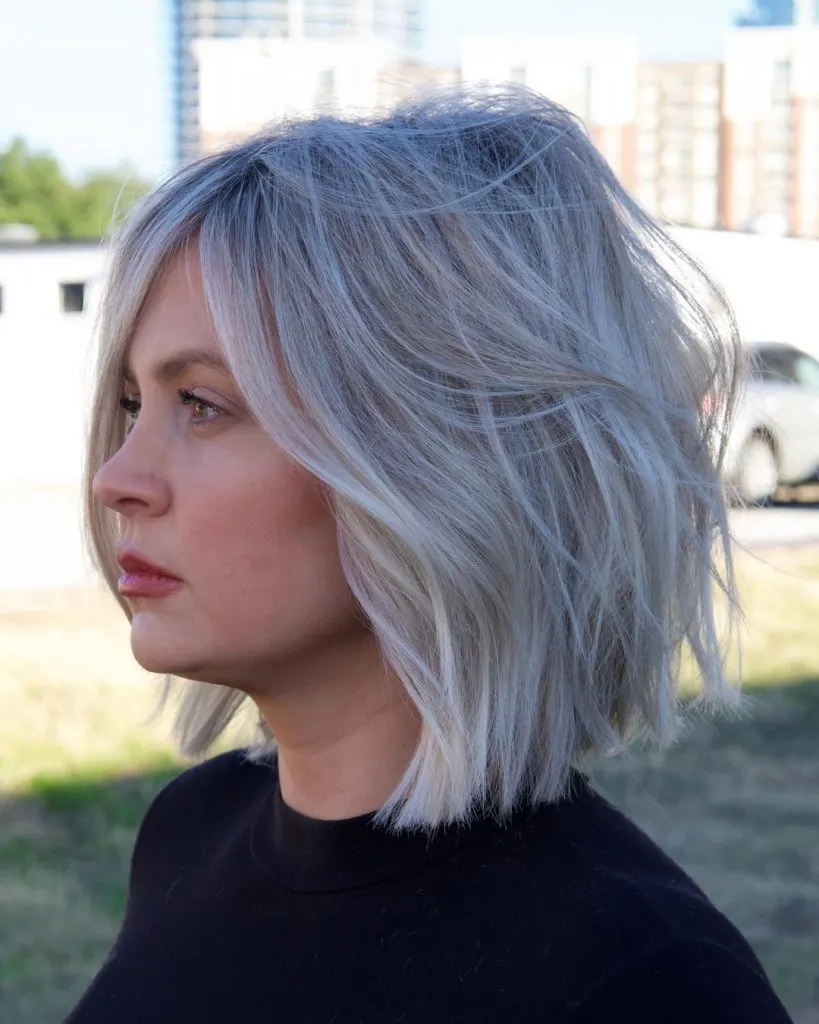 Adding texture hasn't overwhelmed this long layered bob—it's still as blunt as can be, but it has also been customized to be perfectly flattering.
29. Short Wavy Blunt Cut Bob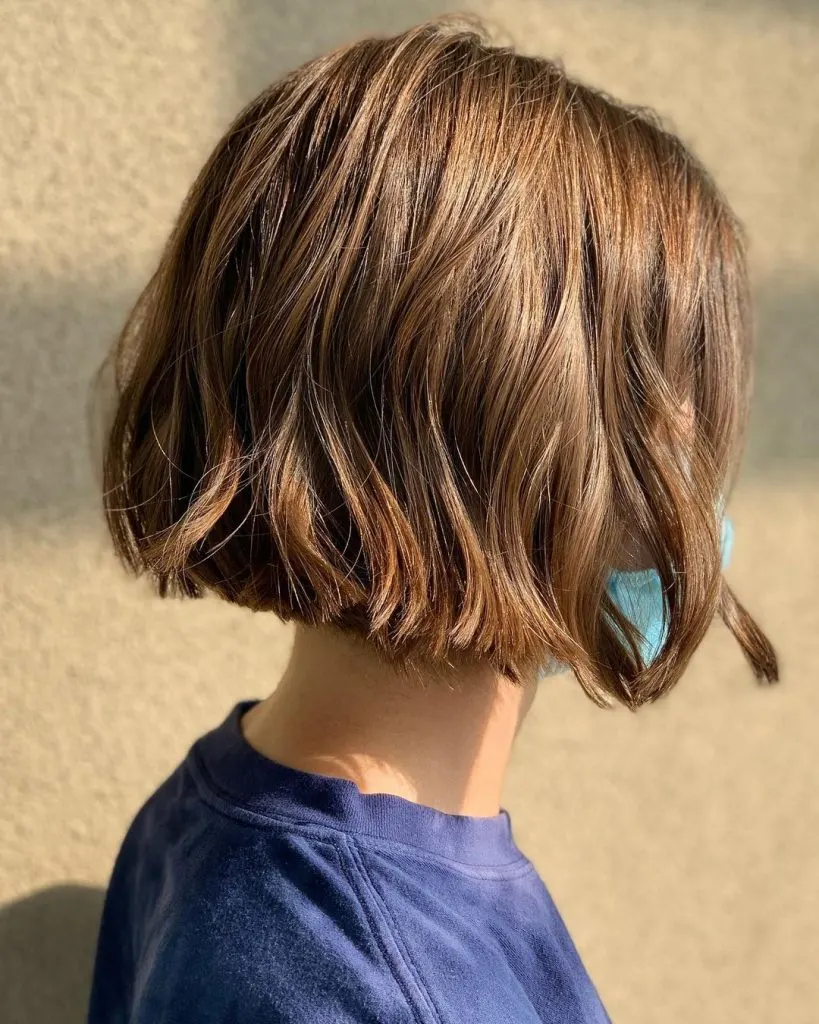 A French bob without bangs needs to be just a bit longer around the face. A slight angle will prevent it from looking shorter in the front to have it stay blunt.
30. Sleek Lob With Long Bangs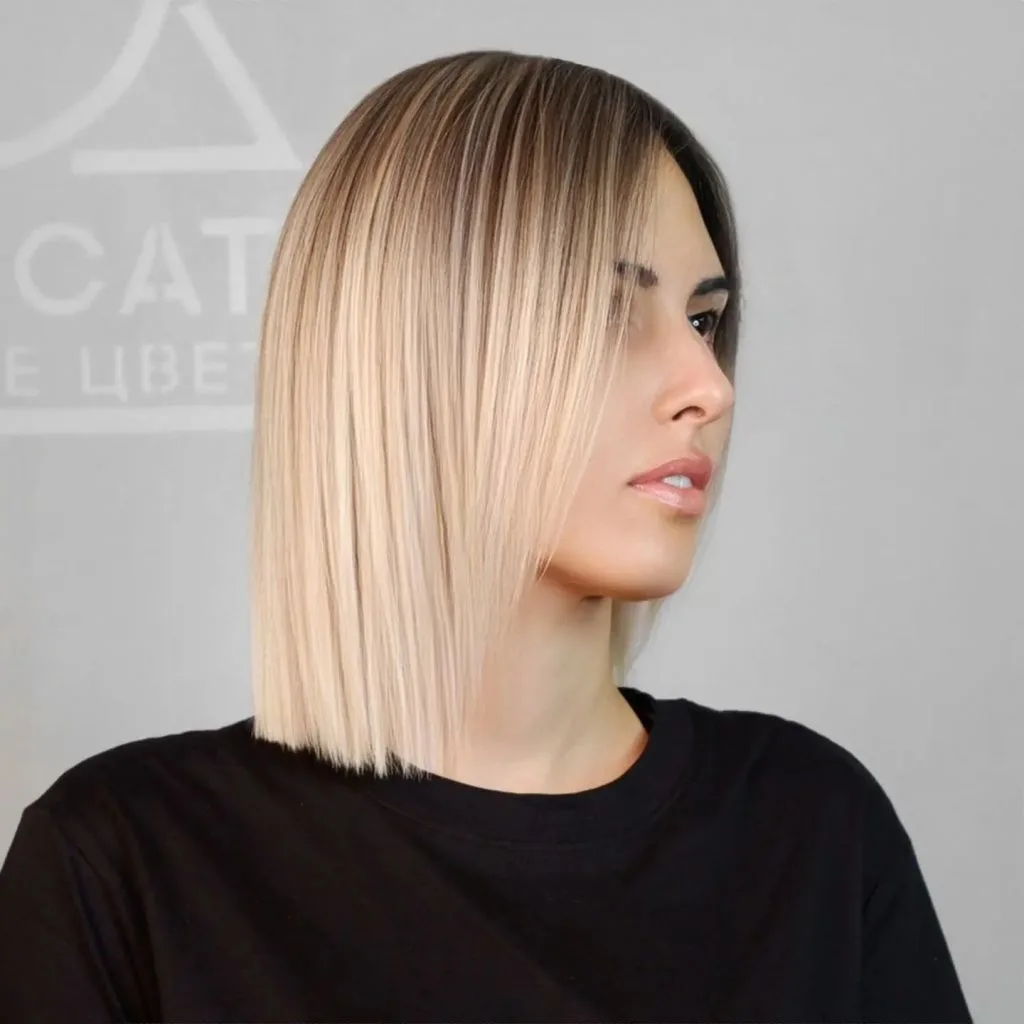 Long, tapered bangs emphasize the features and add a romantic touch to this otherwise serious style.
31. Vibrant Middle Part Bob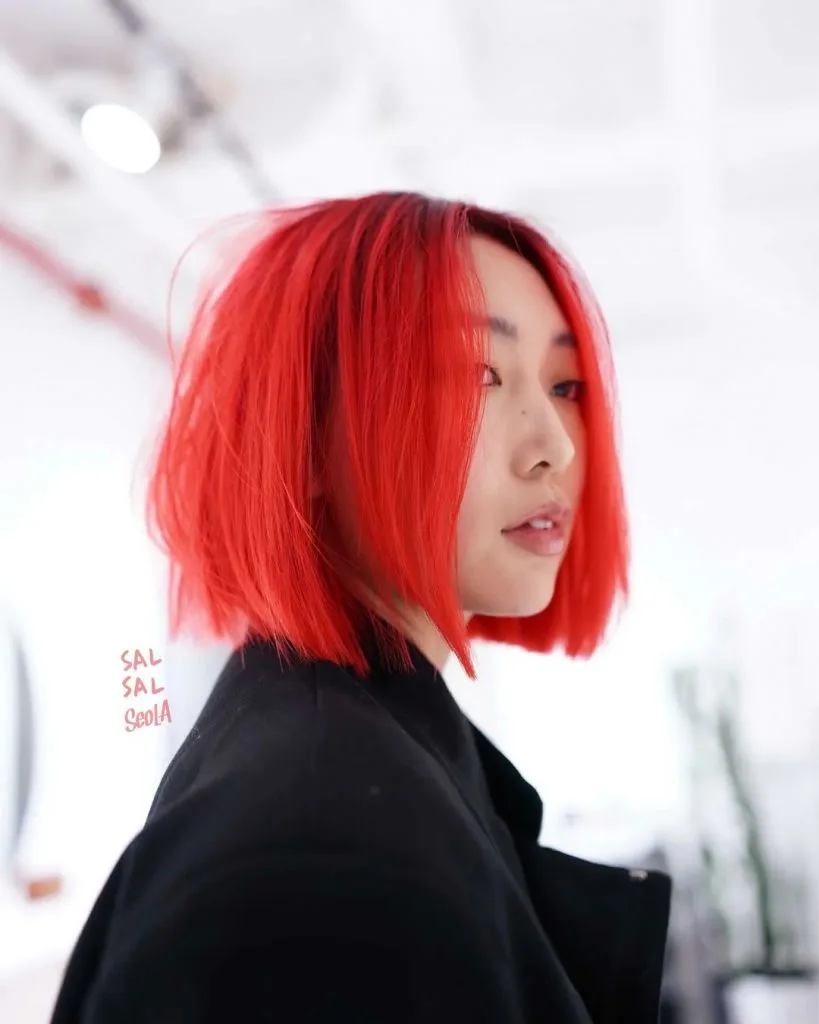 For that "just-rolled-out-of-bed" look that looks like you didn't try but still looks good, apply styling cream to minimize the frizz while your hair is wet, then let air-dry, scrunching it with your hands until it takes shape. The end result will depend on your hair texture.
32. Straight Blunt Middle Part Bob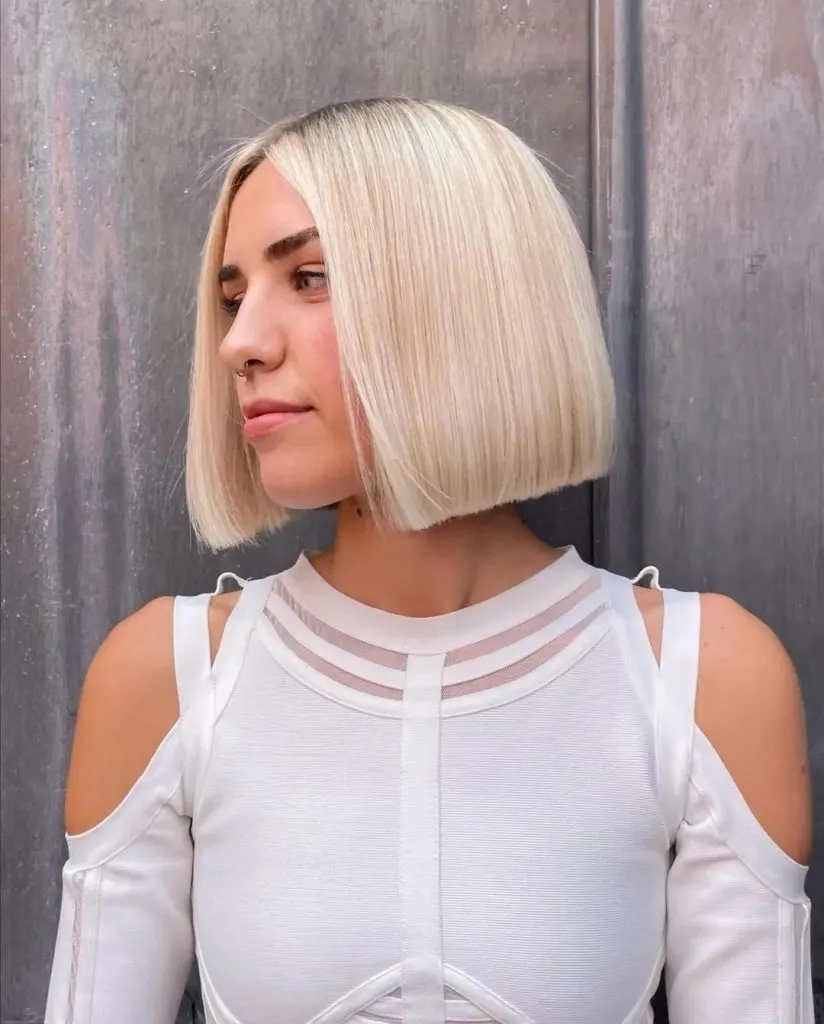 This short blonde bob is a flawless style hard to achieve without a flat iron, so if you're all about the smooth and sleek, make sure you don't skip heat protectant.
33. Chin-Length Middle Part Bob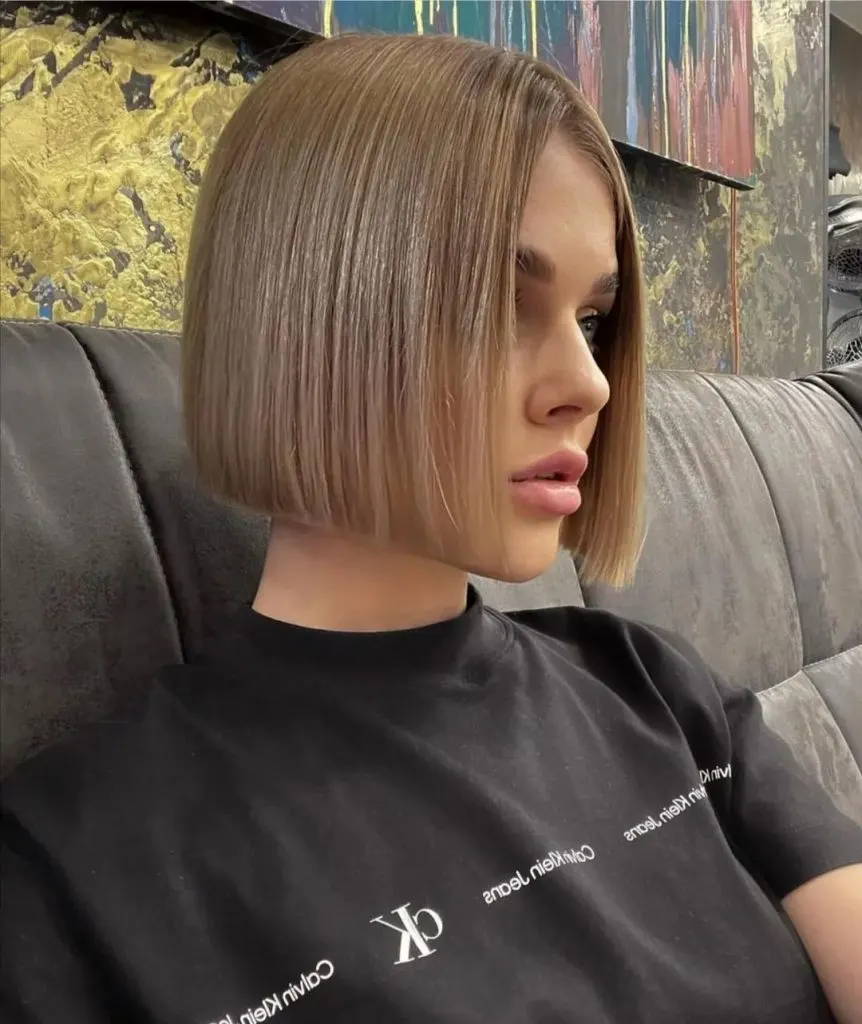 A chin-length crop is a throwback 90s style that's been gaining popularity for the past few years, but it looks fresh even though it's retro.
34. Side Part Blunt Cut Lob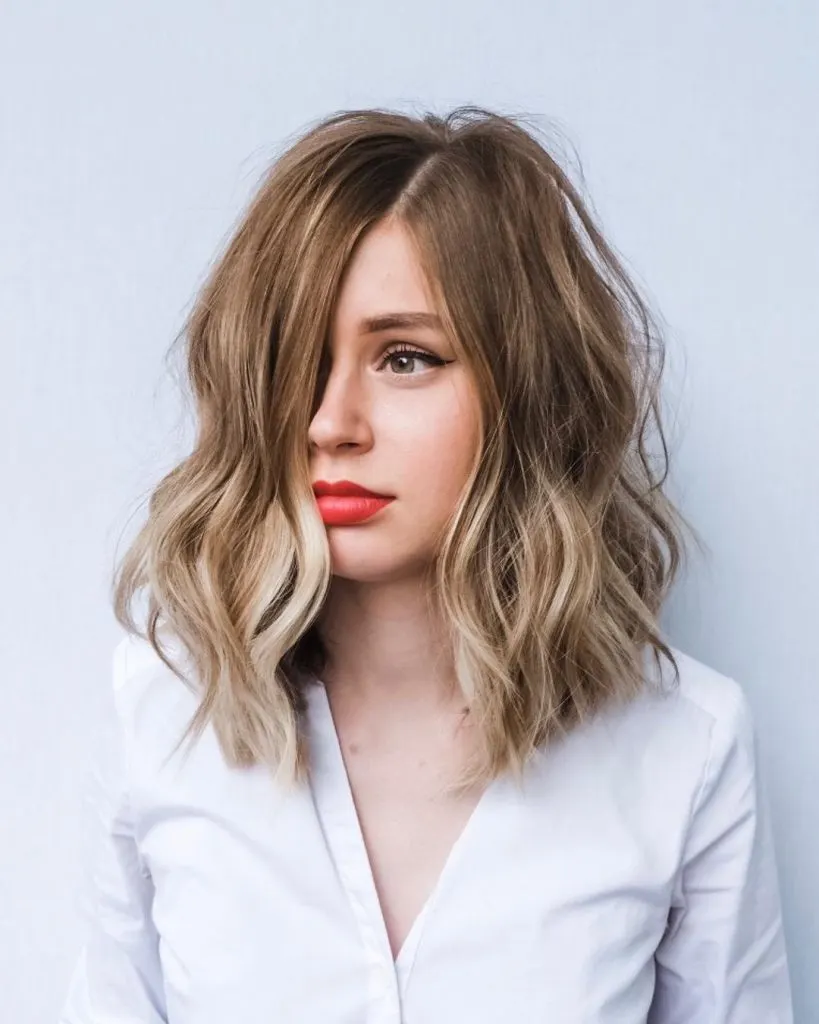 Go for the bombshell vibe with this long textured bob with blunt ends—the soft waves and the hair swooping across one eye create a pretty and sexy look.
35. Straight Blunt Cut Bob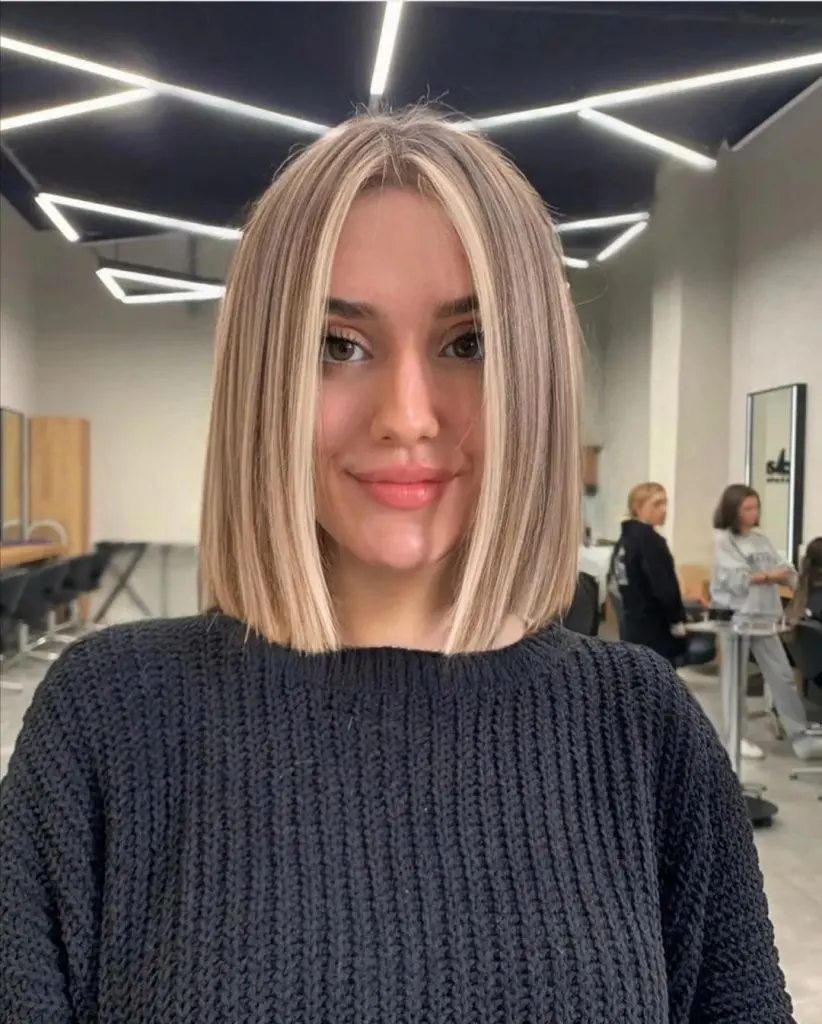 A simple style like a straight, center-parted bob can use an extra step to really pop—highlights near the face will make your features stand out and create dimension in your tresses.
36. Wavy Blunt Cut Bob For Fine Hair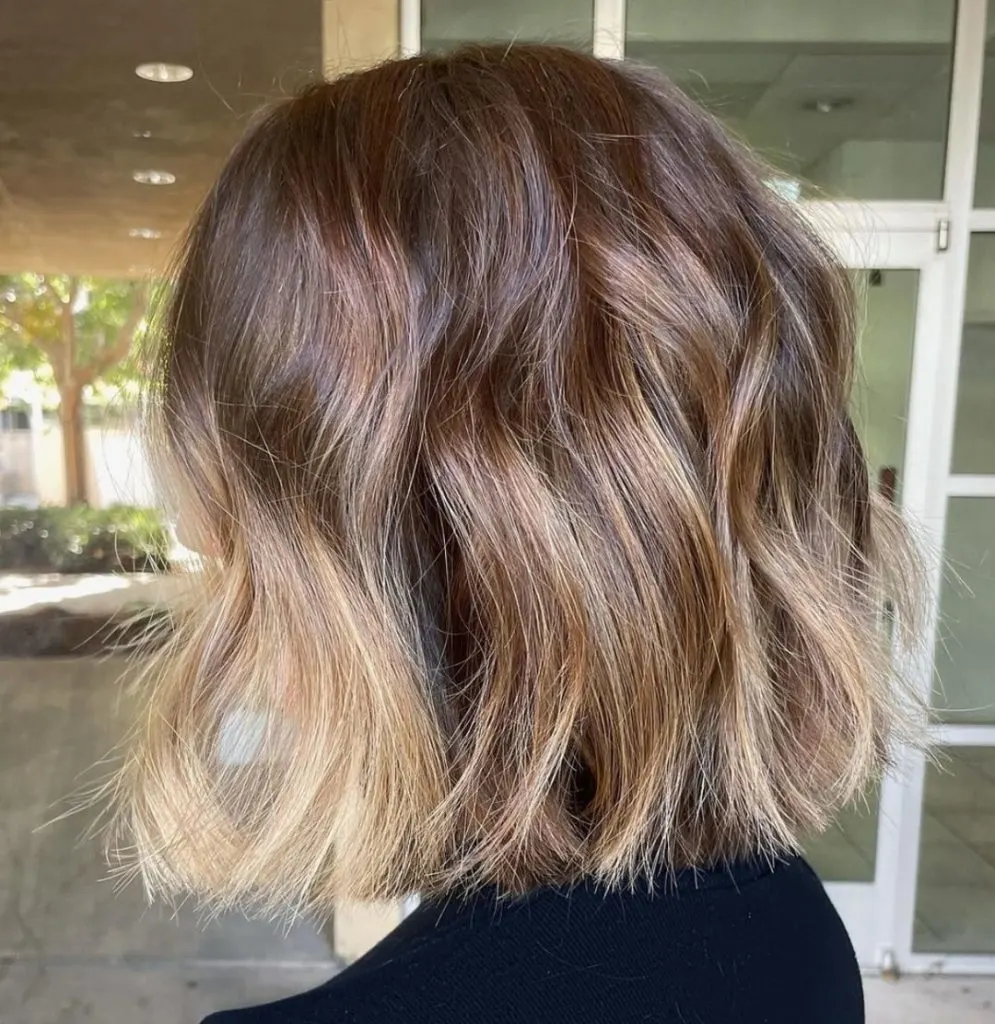 A blunt-cut lob with tousled waves has been incredibly popular for years now because it works for almost everyone.
37. Platinum Blunt Cut Bob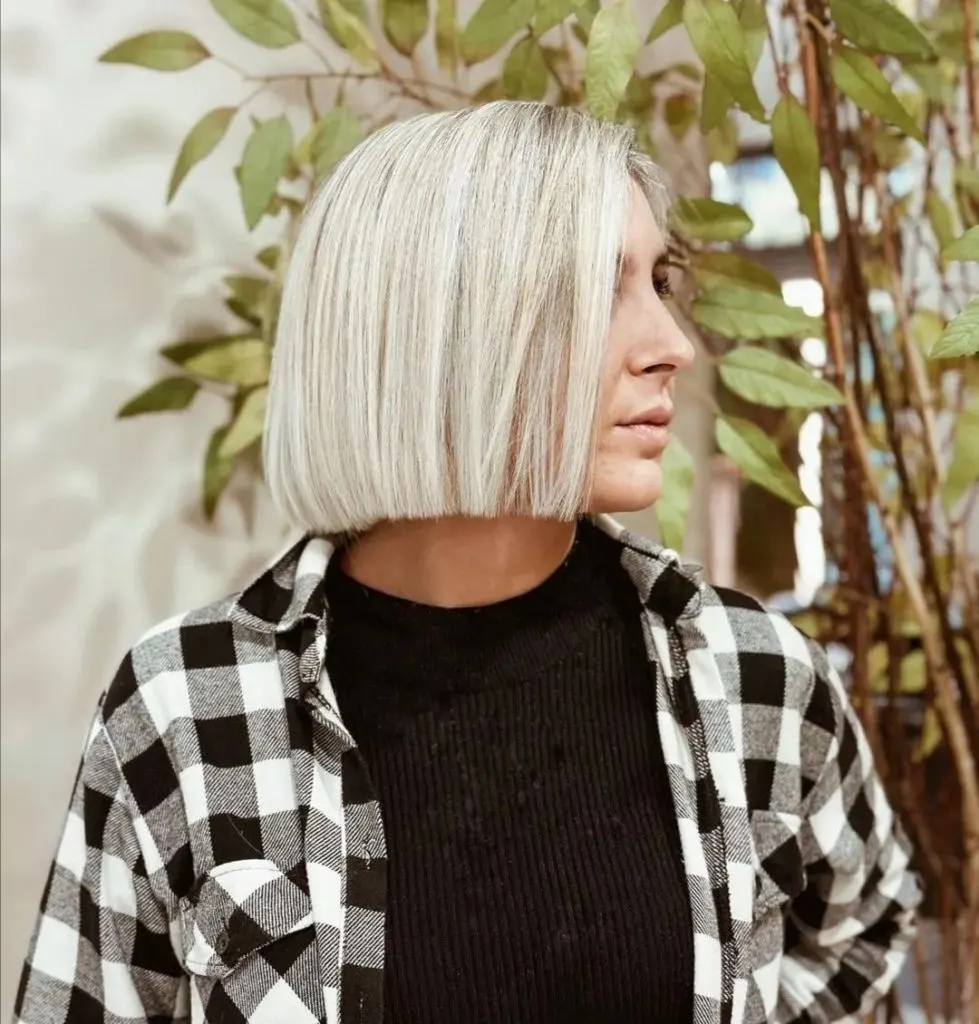 Tuck one side behind the ear to bring attention to your face and create a playful look.
38. Short Wavy Blunt Bob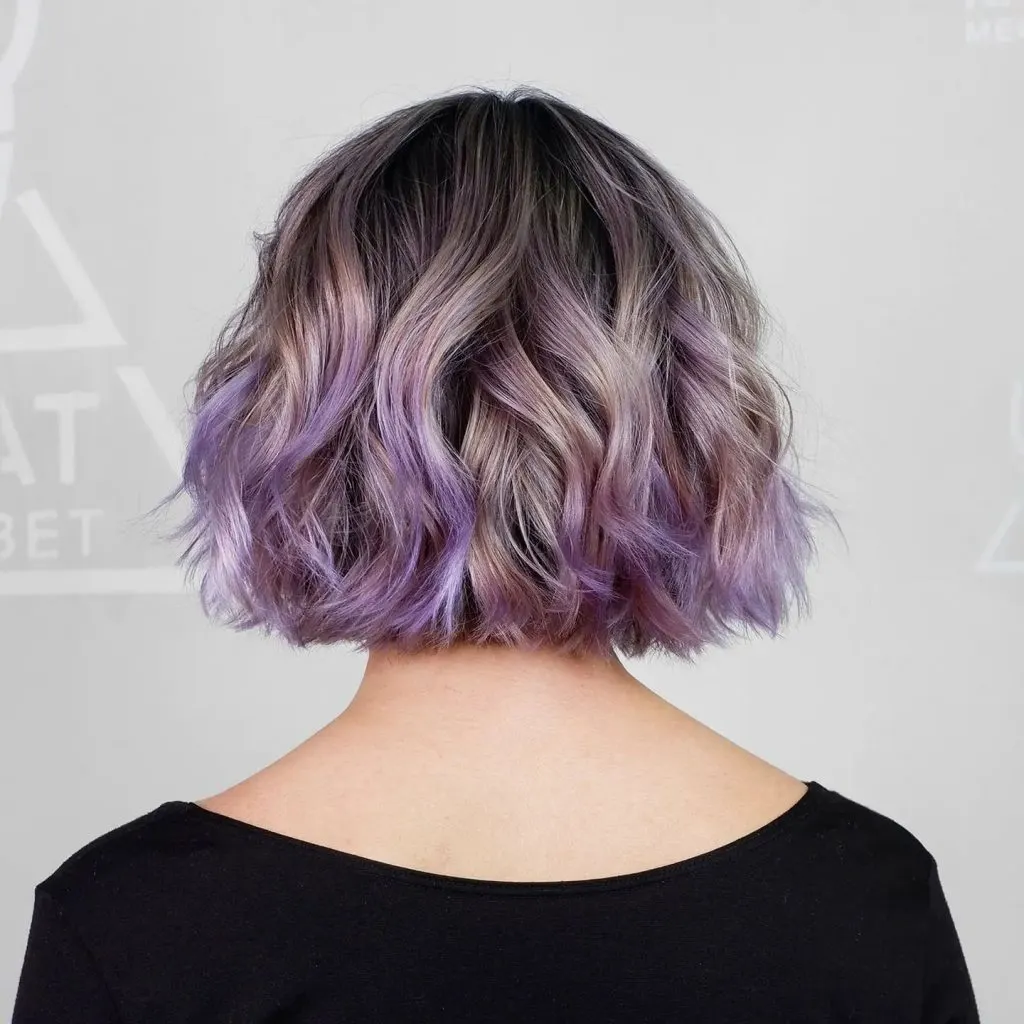 Beachy waves and mermaid color—a perfect match! Here's your proof that you don't need long hair to look like you just arrived from under the sea.
39. Thick Hair Blunt Cut Bob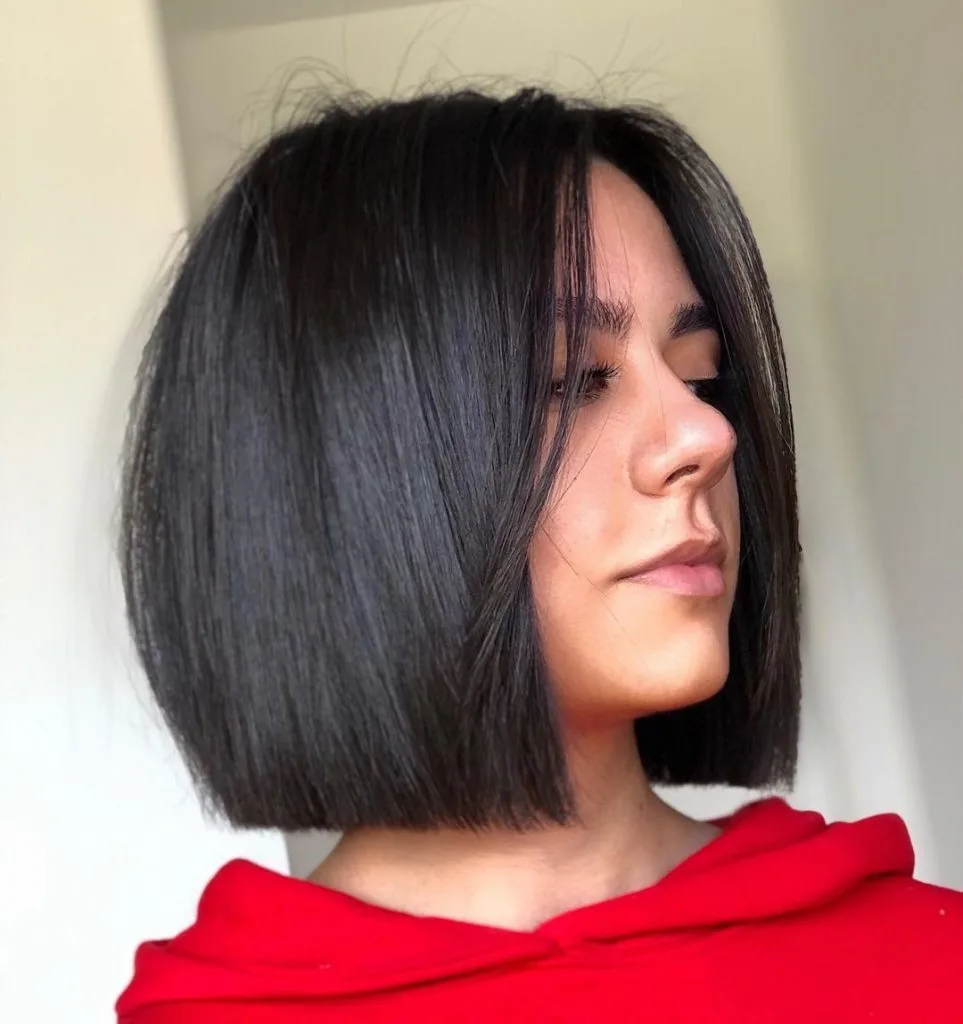 Thick hair can be worn in a blunt bob without looking bulky—ask your stylist to thin out the ends without creating layers.
40. Blunt Cut Bob With Curtain Bangs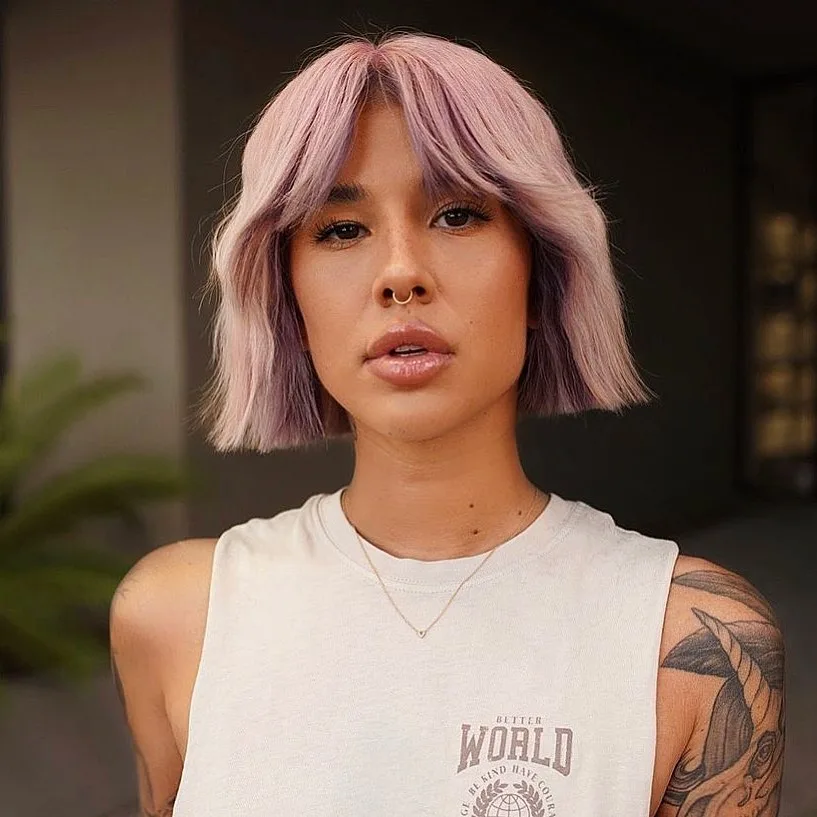 A contrasting style of bangs is a great choice if you want to add visual interest. This blunt bob with curtain bangs is modern and eye-catching.
41. Textured Neck-Length Blunt Cut Bob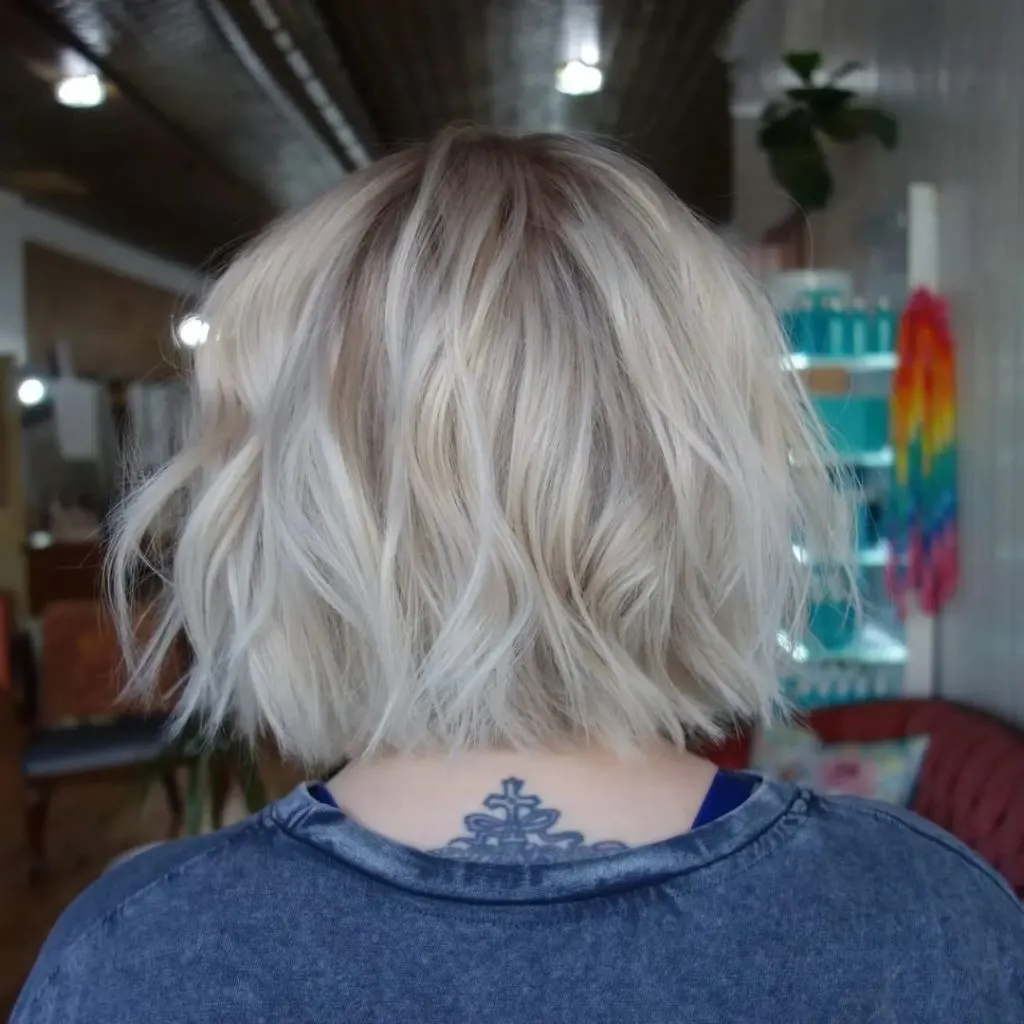 Blunt and textured, yet pretty and touchable. Shadowed roots make the platinum shade look less intense and the fluffy finish adds softness.
42. Short Voluminous Blunt Cut Bob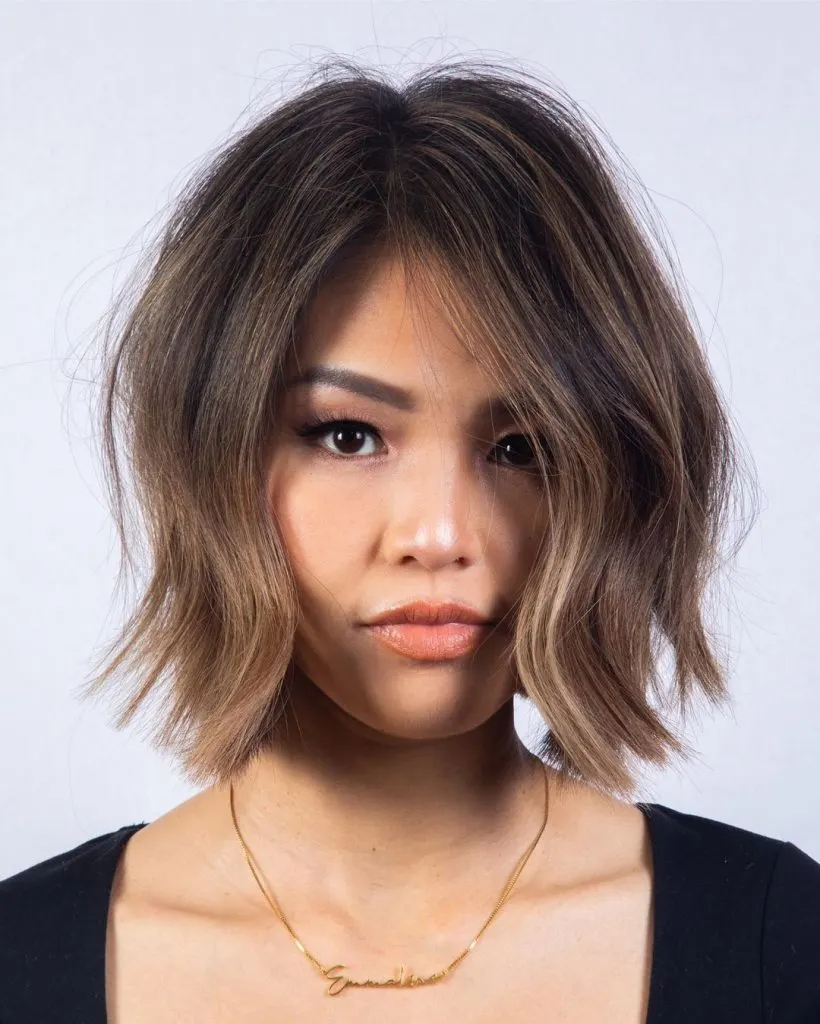 Flipped-out ends and a ton of volume at the crown create a style appropriate for any occasion.
43. Short Choppy Blunt Cut Bob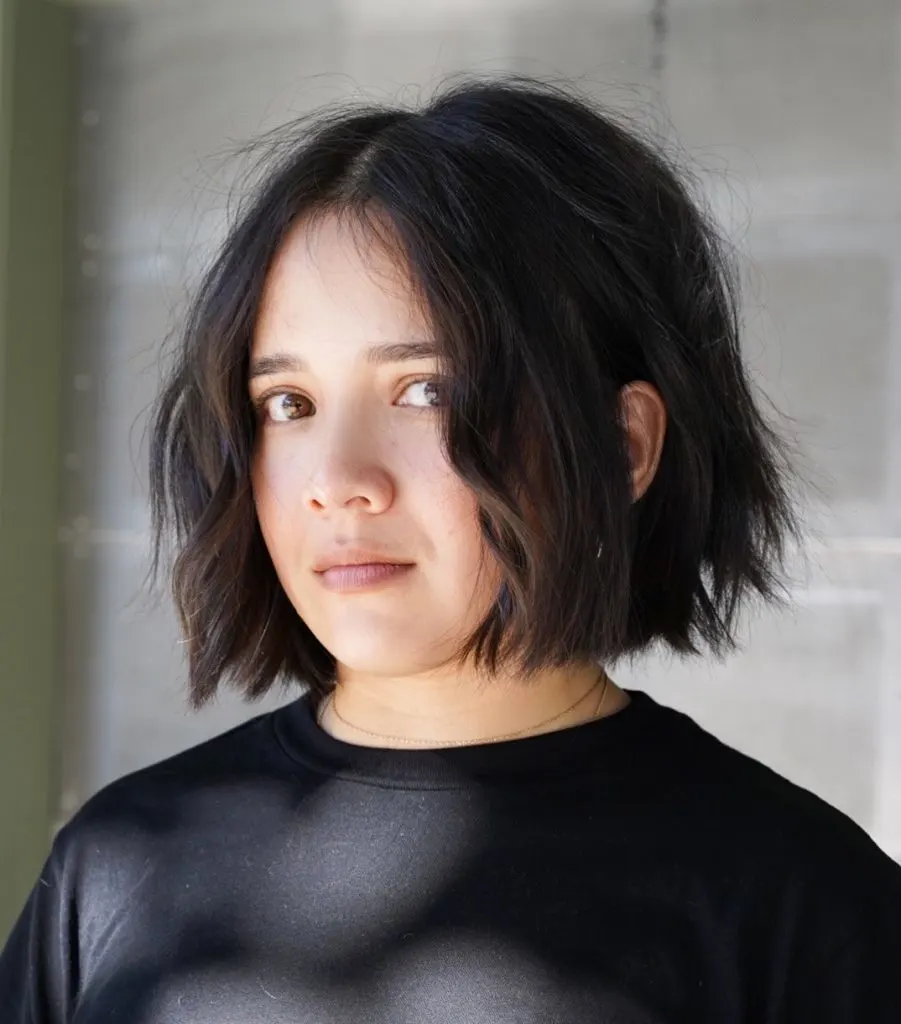 Short choppy haircuts are all about effortless style— this cute bob looks best disheveled and tousled. The epitome of laid-back!
44. Straight Blunt Cut Bob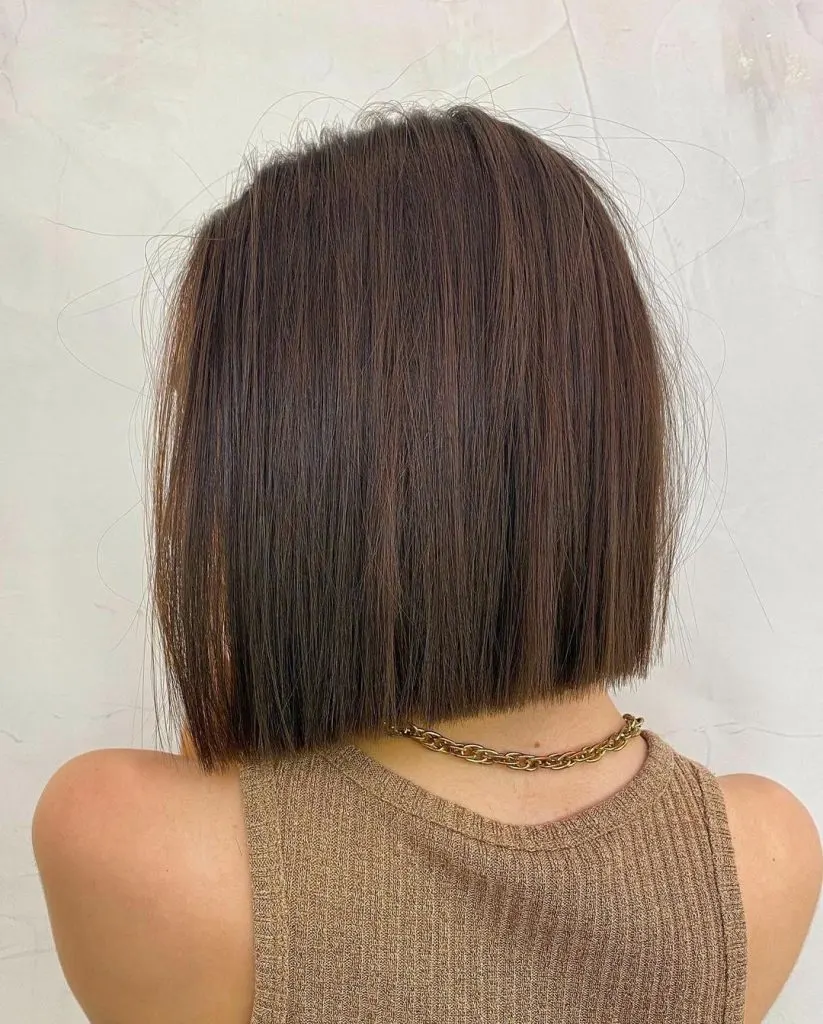 Short brown hair gets a bad rep as being too simple, but here less is more—this smooth texture is everything. Get your straightening equipment ready!
45. Lob With Curtain Bangs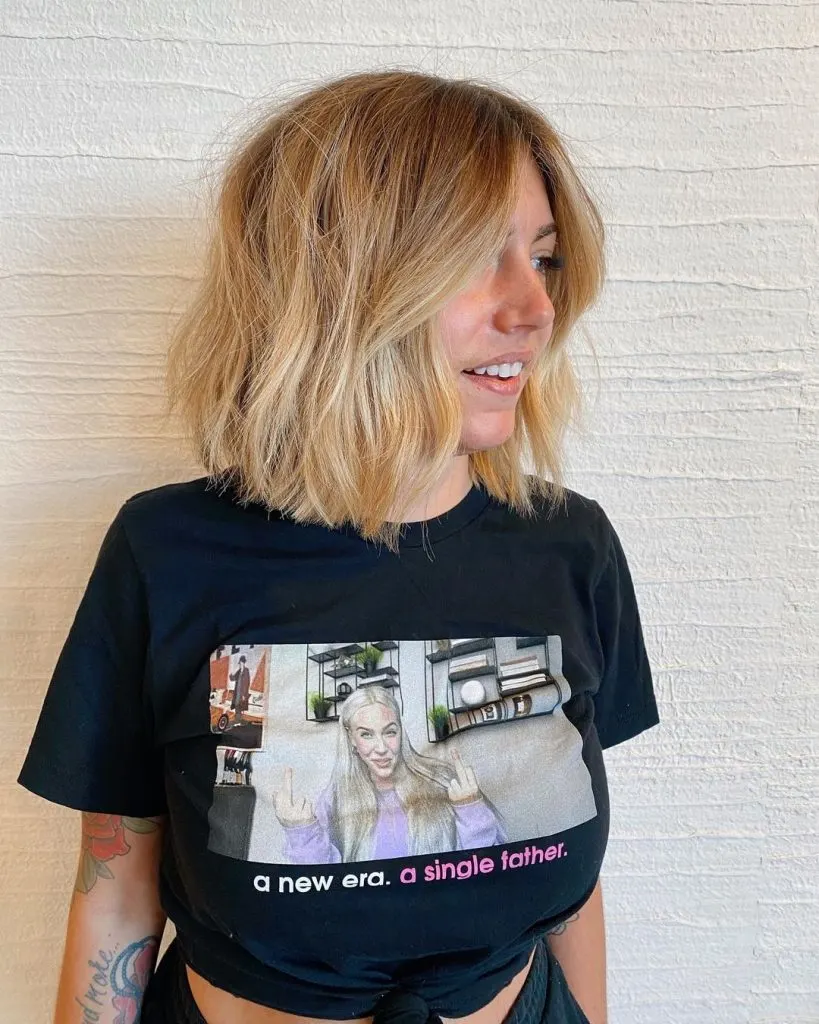 One thing that a blunt cut guarantees is volume. If you want your hair to look extra-thick, this is the way to go.
46. Edgy Sleek Blunt Cut Bob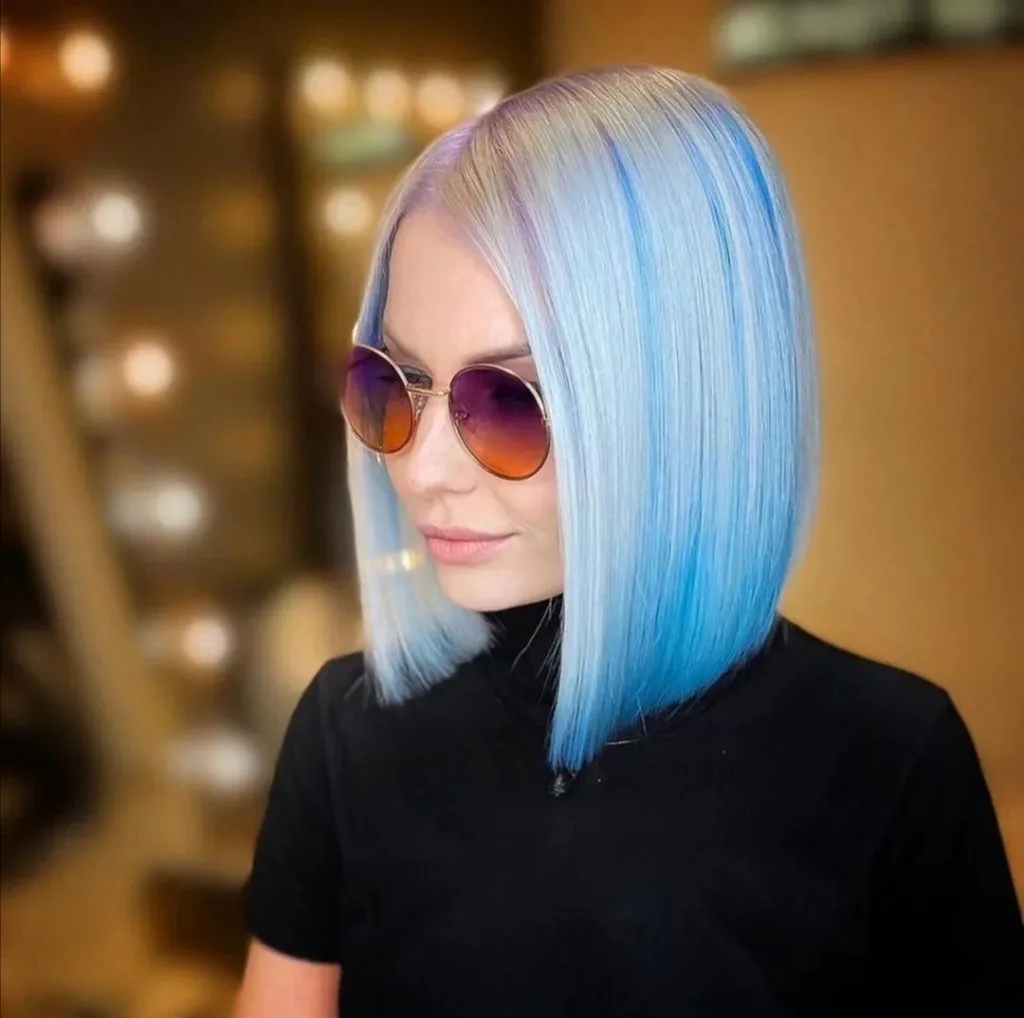 A straight bob is an excellent style if you want to play with different shades of hair. The simplicity of the style places emphasis on the color instead of the cut.
47. Textured Short Blunt Bob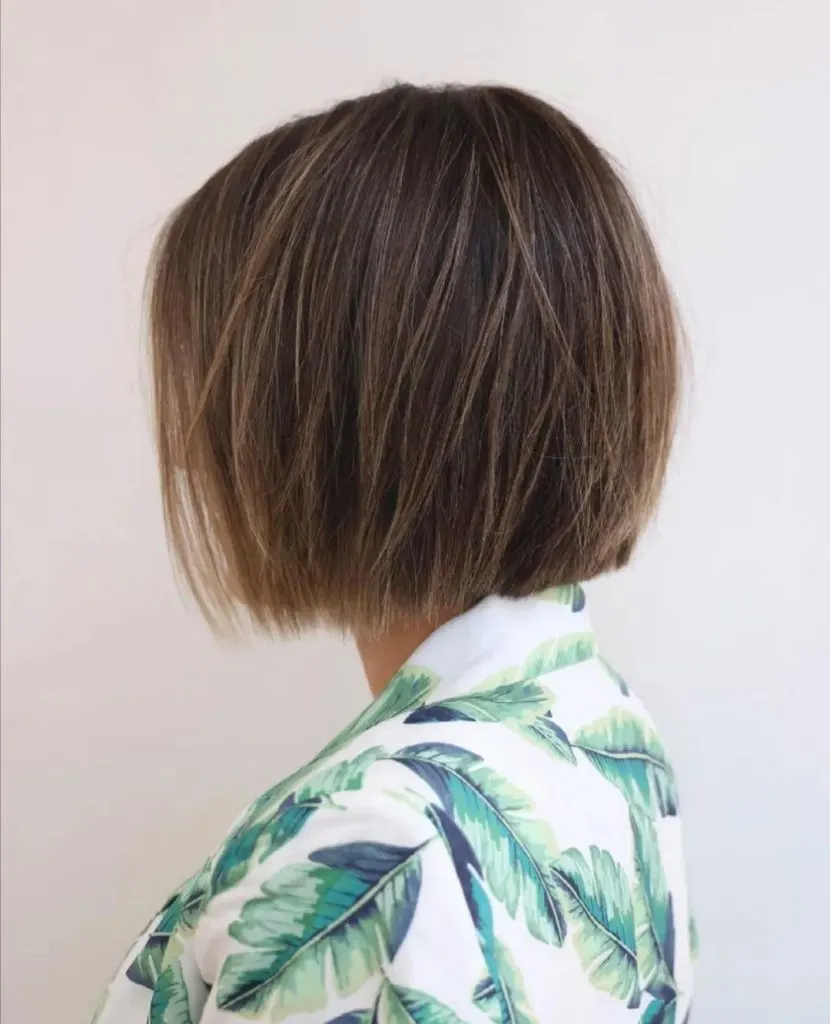 While the ends have been left blunt, thin texturizing layers have been added to create a less bulky finish. A great choice if you like one-length outline but want a little more body.
48. Choppy Long Razored Bob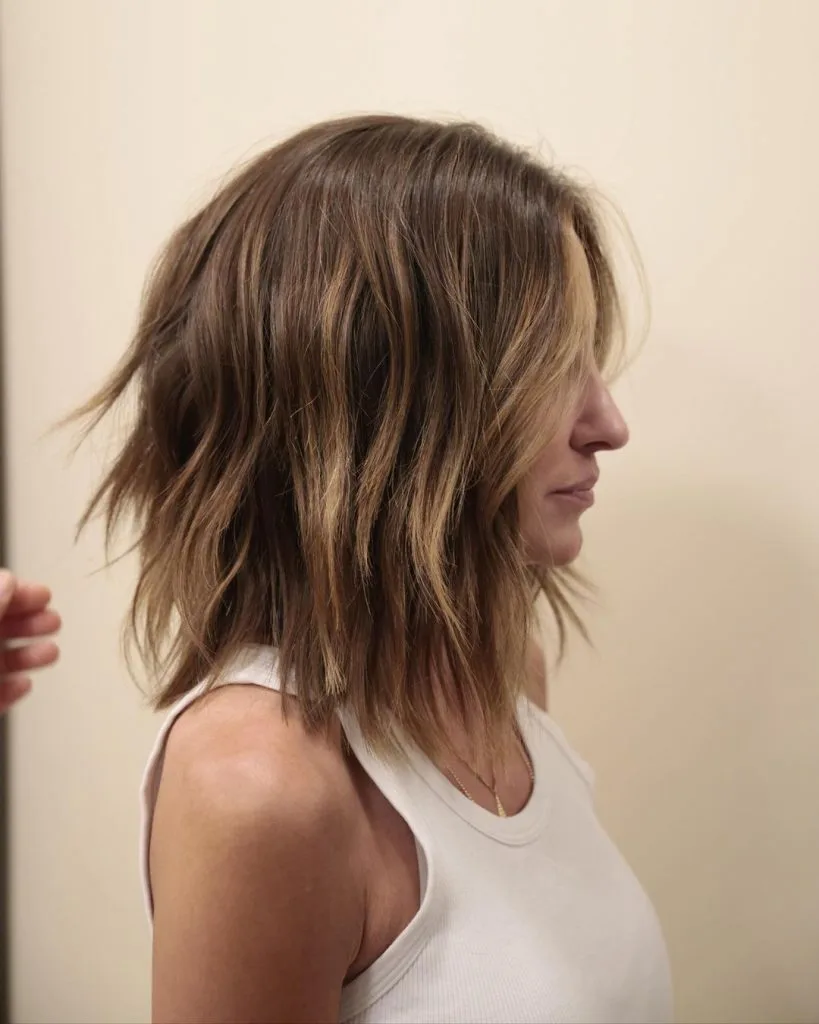 Choppy, razored finish gives a rock-chick vibe to this blunt lob.
49. Straight Middle Part Blunt Bob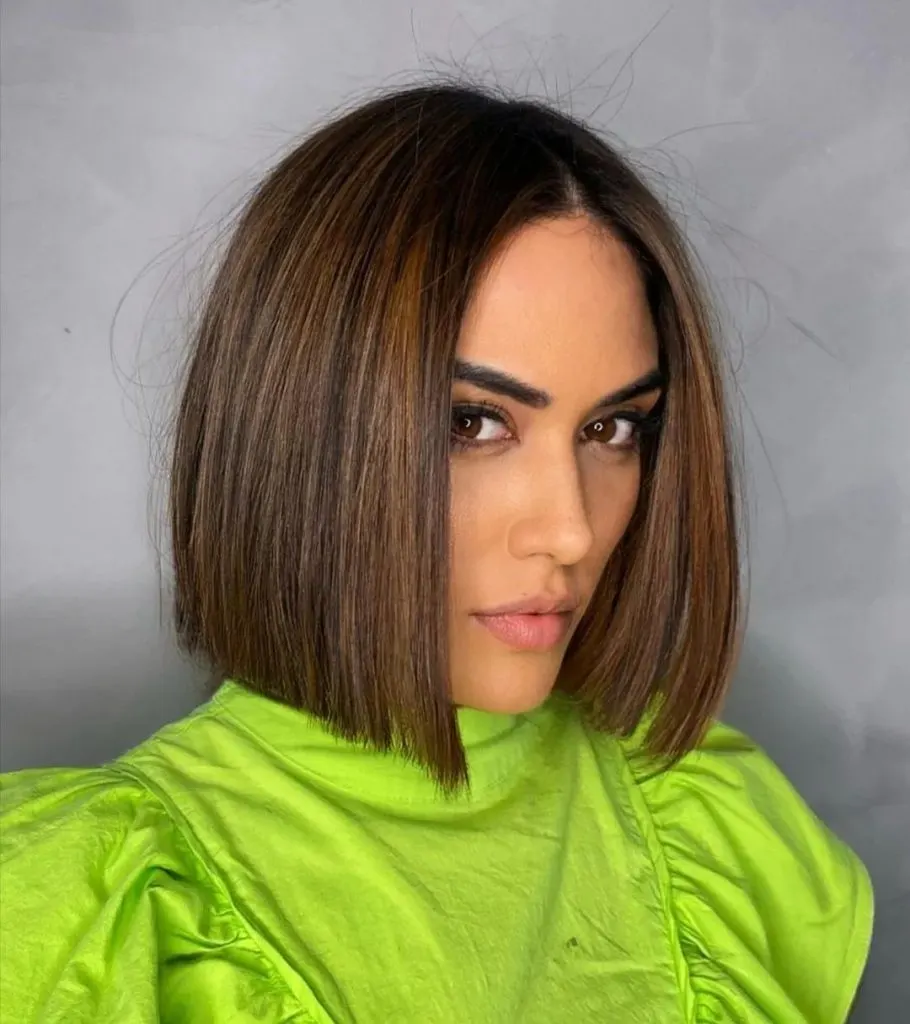 You can easily achieve a vintage 90s look with a blunt bob if you make the ends rounded instead of straight when you style them.
50. Burgundy Lob With Shadow Roots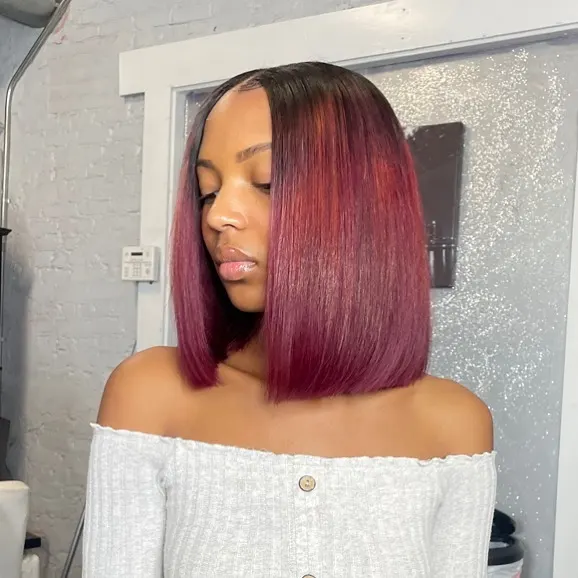 What better way to show off a pretty color than on a straight, blunt bob?
51. Curly Angled Blunt Bob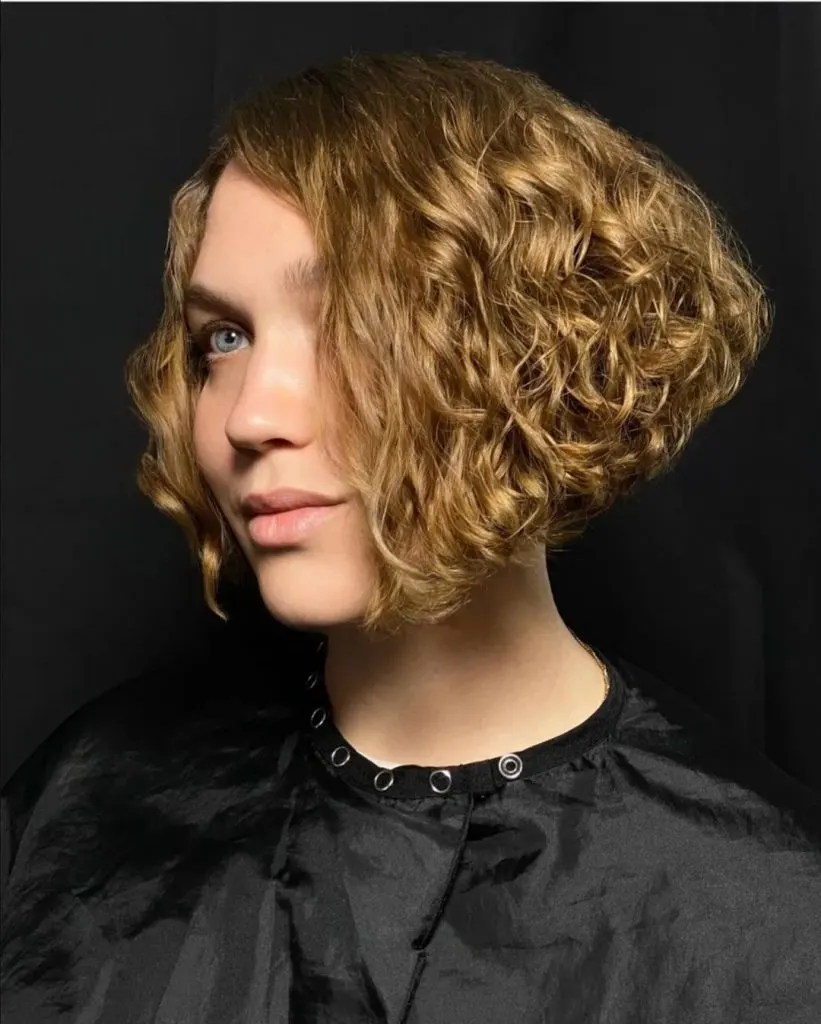 A blunt bob cut will highlight your natural curls. Forego the layers for a natural and unique shape.
52. Chin-Length Blunt Bob With Wispy Bangs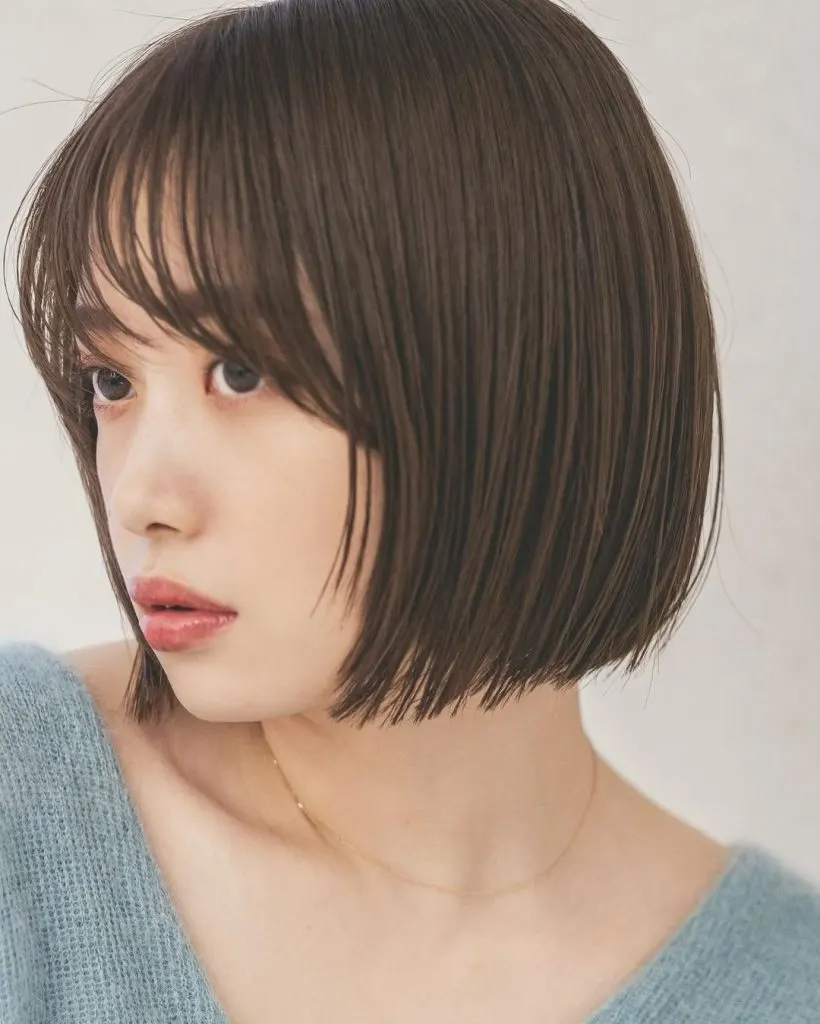 See-through bangs give an airy look to this delicate blunt bob. A great choice for fine hair!
53. Sleek Neck-Length Blunt Bob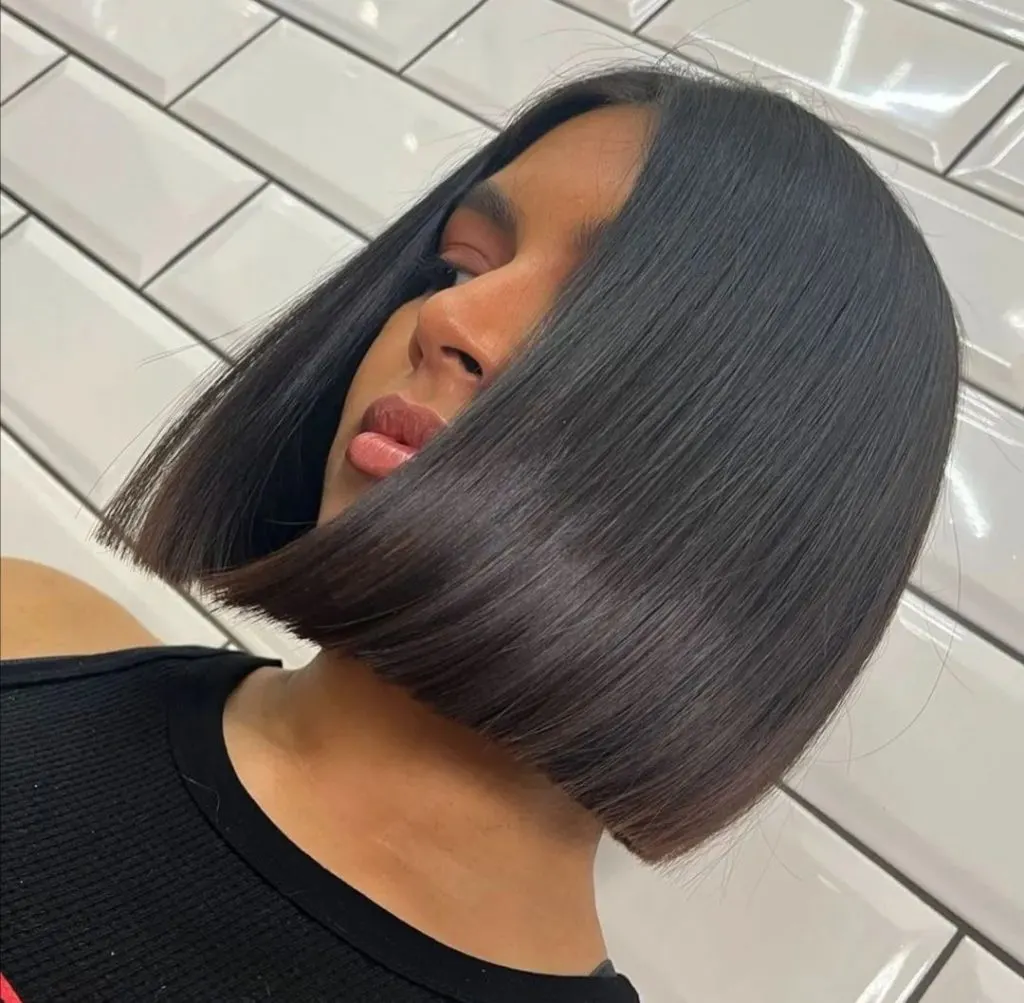 Subtly rounded ends look modern when cut completely straight, but they wouldn't look dated on a more layered bob hairstyle either.
54. Middle Part Neck Length Blunt Cut Bob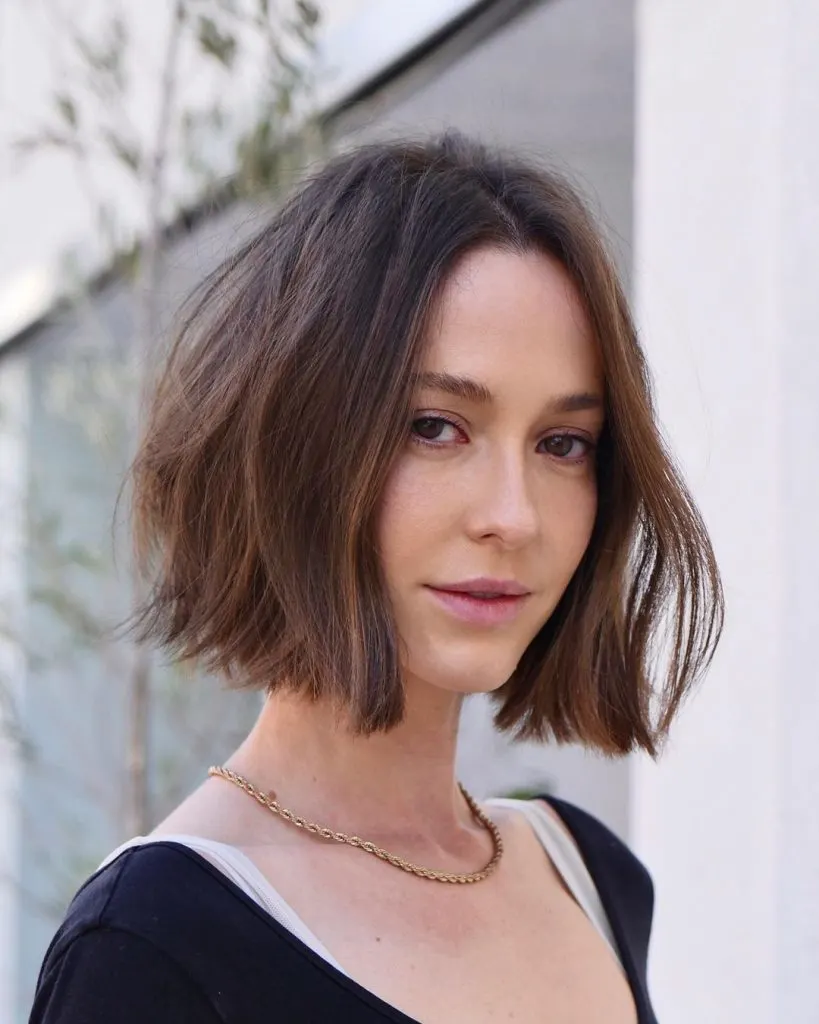 Go for a tousled look if you don't like your hair to look like you just stepped out of a salon, but you still want it to be flattering and stylish.
55. Short Straight French Bob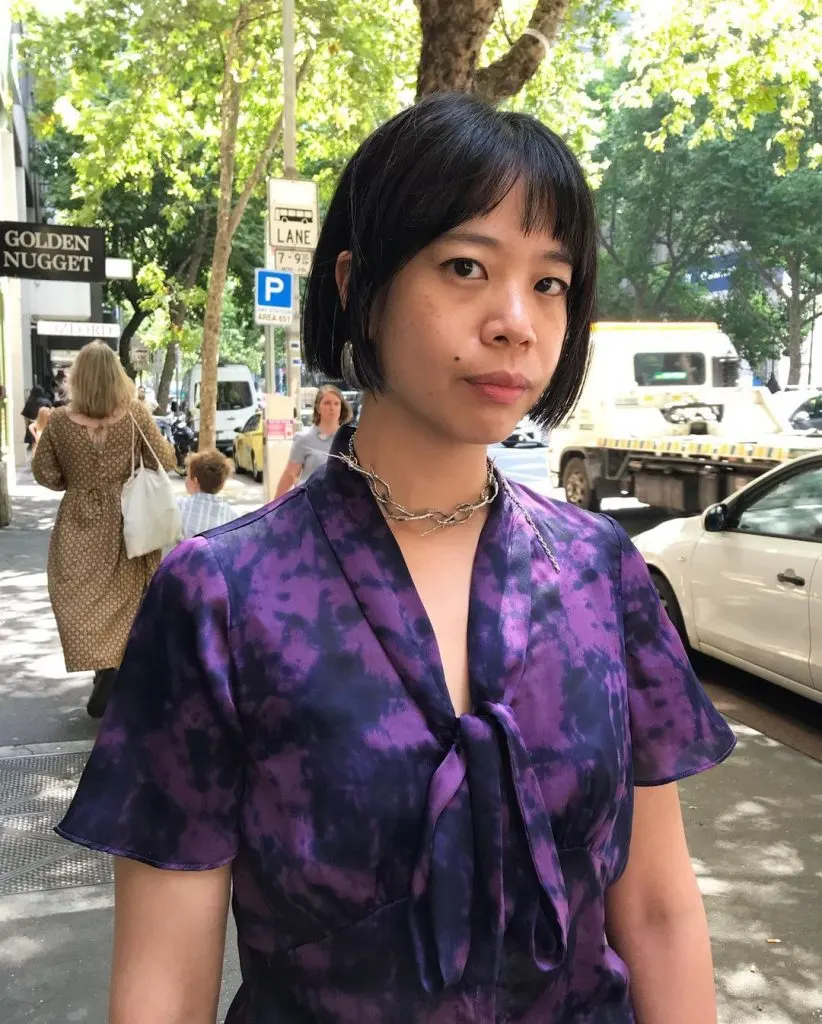 Ask for blunt ends to make your thin hair look thicker. To keep things simple and chic, a French bob is a timeless and gorgeous choice!