Searching for a low maintenance curly pixie cut? Look no more! Here is the best collection of effortless short hairstyles for every hair type and face shape.
1. Naturally Curly Low Maintenance Pixie Cut Curly Hair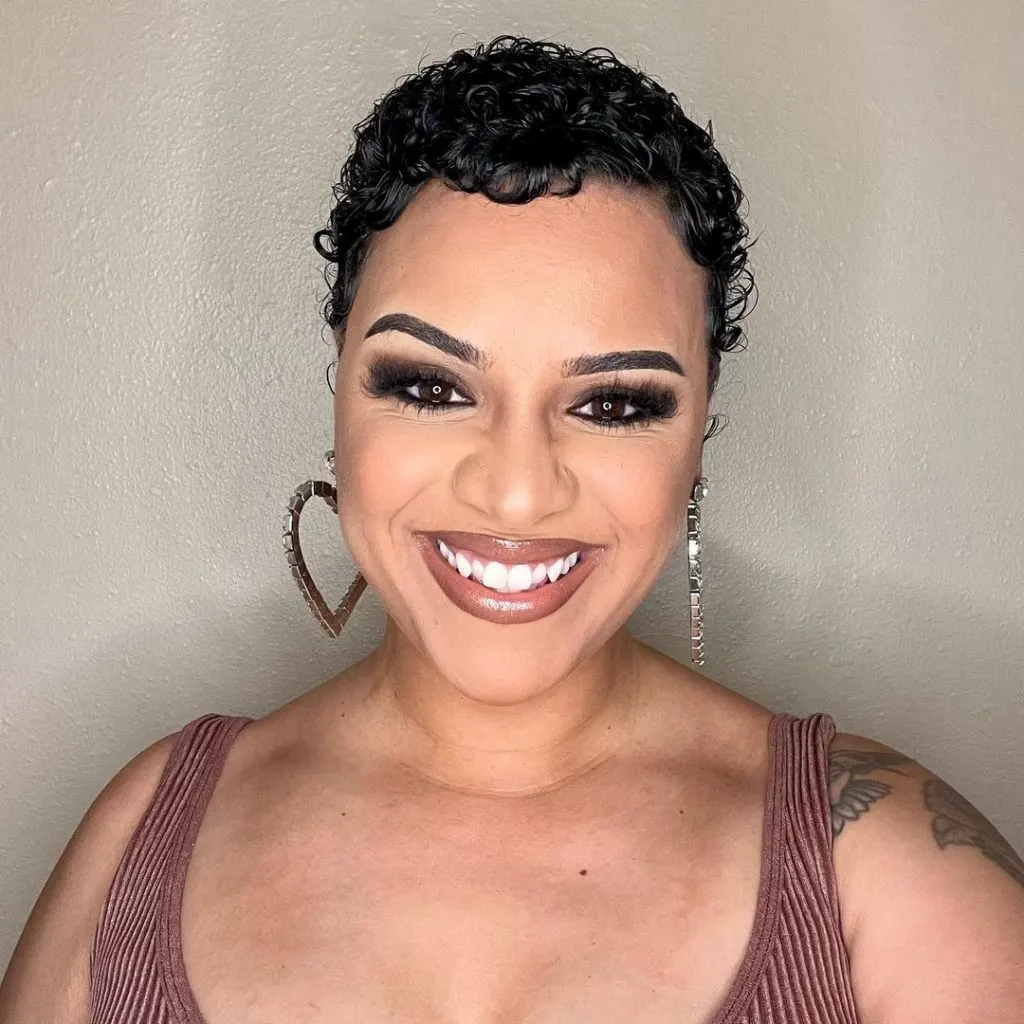 If you have naturally curly hair, there is no better hairstyle for you than a pixie cut. It's easy to style at the saloon, and it's even easier to maintain.
2. Thick Hair Low Maintenance Pixie Cut Curly Hair
Chopping your thick hair into a pixie significantly reduces the amount of upkeep, allowing it more time in between salon visits.
3. Round Face Low Maintenance Curly Pixie Cut
Yes, short hair can look great on round faces, as well. This low maintenance curly pixie cut is living proof of that.
4. Low Maintenance Feminine Curly Pixie Cut
Who says that pixie cuts are for tomboys only? It all depends on how you style this cut. In fact, it can be one of the most feminine hairstyles out there.
5. Low Maintenance Curly Pixie Cut With Micro Bangs
Try a versatile style with these micro bangs that will add a bit of fun to your low maintenance curly pixie cut. It will give you just the right amount of body around your face; and, most importantly, just where you need it.
6. Short Pixie Cut With Big Curls
Nothing is more eye-catching than big, retro curls. With this cut, your styling options are endless.
7. Curly Pixie Cut With Low Maintenance Bangs
If you don't choose the right type of bangs, styling your hair can easily turn into a real-life nightmare. But if you show your hairdresser this photo, you'll get low maintenance bangs that will frame your face perfectly.
8. Curly Pixie Cut For Women Over 50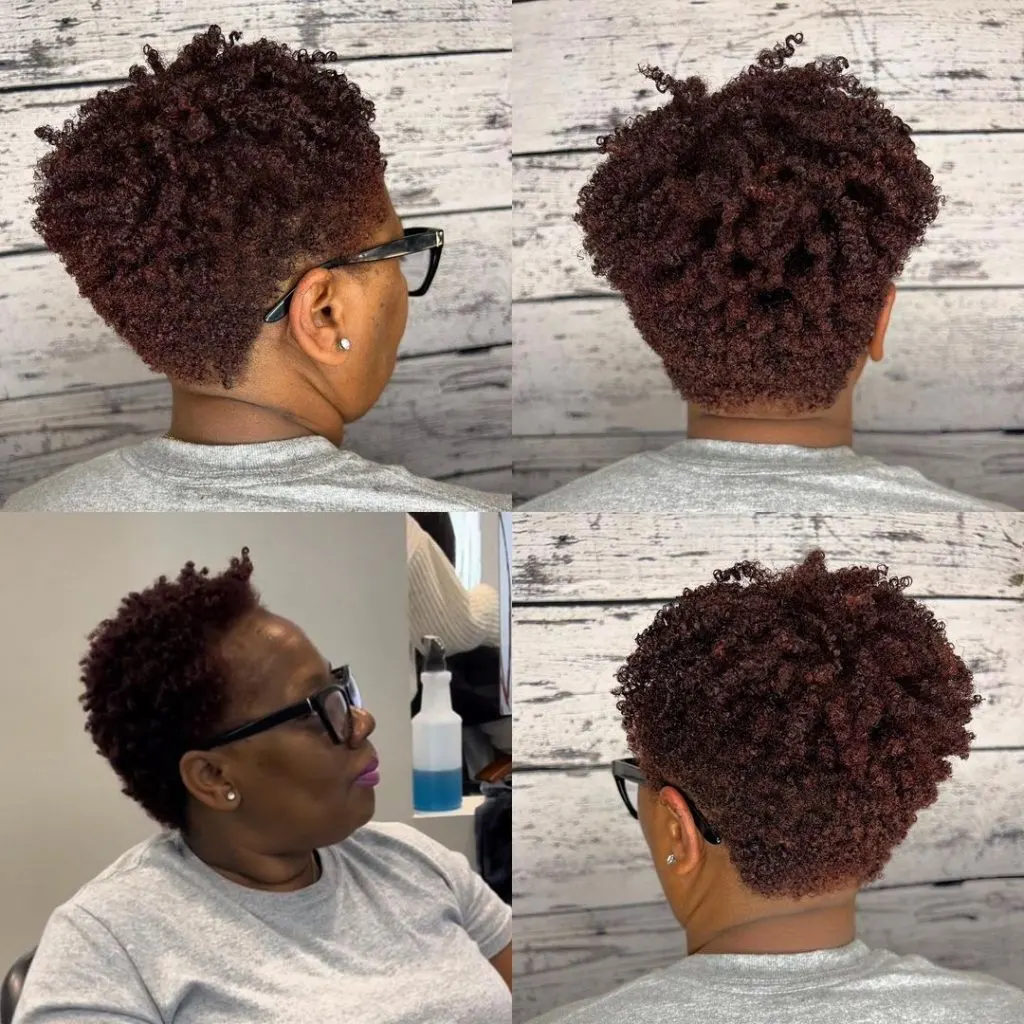 Sick and tired of spending hours at every salon appointment? Here's an ideal haircut for women over 50: a curly pixie cut.
9. Short Curly Pixie Cut For Red Hair
I'll be honest with you: you'll probably have to dye your hair on a regular basis since most red dyes wash up pretty quickly. But on the bright side, that's the only maintenance your hair will need.
10. Easy Maintenance Curly Pixie Cut For Gray Hair
If you're a self-confident woman in her 60s, you don't mind your gray hair. In fact, you wear it with pride. Well, here's a pro tip: combine your magnificent natural hair color with a pixie cut.
11. Elegant Low Maintenance Curly Pixie Cut
Your natural curls are beautiful, and you don't need to do anything much to make them look amazing. Just use a bit of conditioner, and you'll get yourself an elegant curly pixie cut.
12. Low Maintenance Curly Pixie Cut With Short Sides
Short sides on a curly pixie cut will give your face the lift it needs. For your hairstyle to look awesome, it's enough to air-dry your hair.
13. Low Maintenance Curly Pixie Cut With Fade
Want to add a touch of individuality to your low maintenance curly pixie cut? In that case, a fade is the best possible choice for you. Even when it grows out, nobody will know it was there in the first place.
14. Easy Maintenance Curly Pixie Cut With No Bangs
If you want to keep all that hair off your face, a low maintenance curly pixie cut with no bangs is an ideal pick for you. It shows off your beautiful skin, and it puts an accent on your mesmerizing eyes.
15. Extra Short Curly Pixie Cut
I promise you one thing: it doesn't get any easier than this. When you get an extra short pixie cut, you don't even need a hairdryer or a hairbrush, let alone something else.
16. Over-The-Ears Curly Pixie Cut
This is a must-try hairstyle for all the girls who are not the biggest fans of their ears. But this is not the only advantage of this curly pixie; it also frames your face incredibly.
17. Curly Pixie Cut With Gray Roots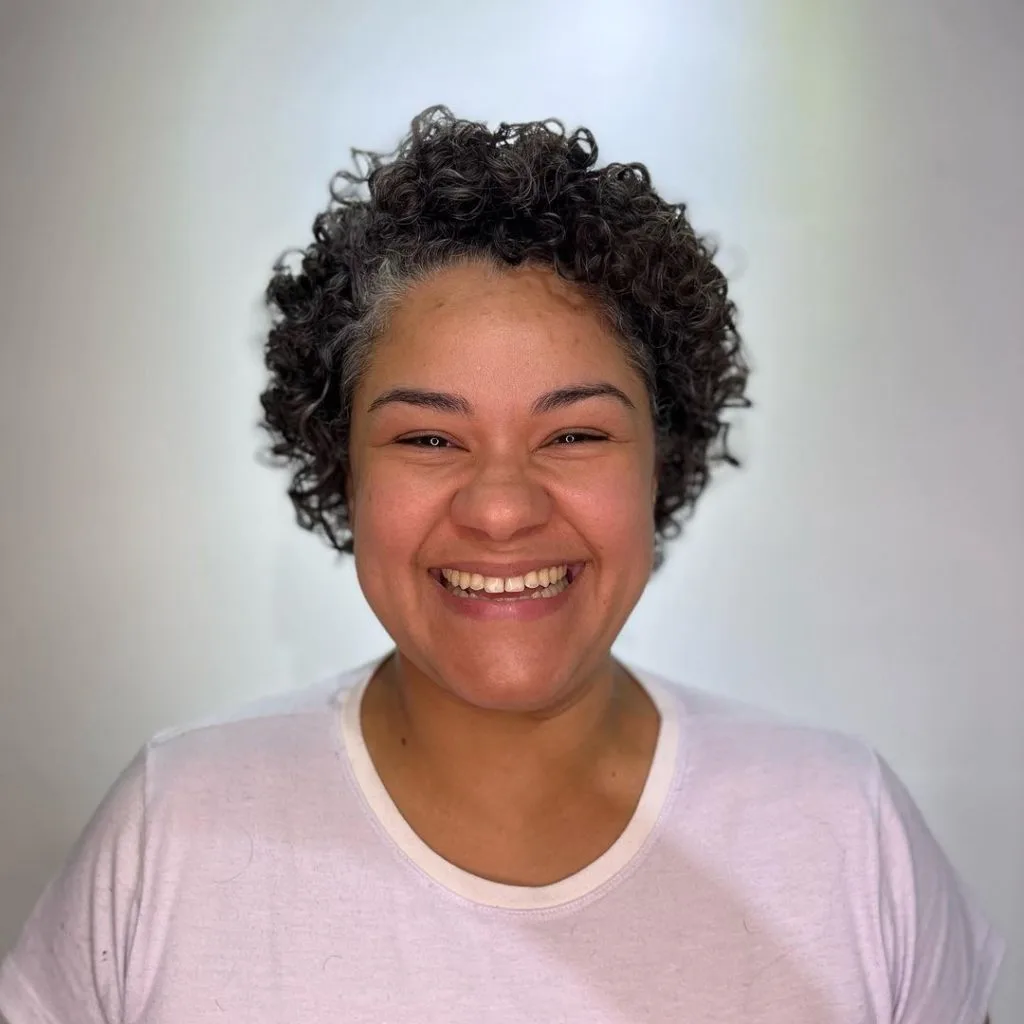 If you're sick and tired of dying your gray roots every couple of weeks, this is your sign to stop bothering with it. Let your natural hair loose!
19. Long Curly Pixie Cut
You are still not ready to chop off your hair all the way? No problem, it only means that you want a long curly pixie cut.
19. Low Maintenance Pixie Cut With Twisted Curls
All you need to style a pixie cut with twisted curls is a metal afro comb. Besides being incredibly easy to use, this tool gives you both volume and definition.
20. Low Maintenance Lixie For Curly Hair
Here's an extra long curly pixie cut, or as the experts like to call it, a lixie. If you want more bounce in your curls, use a diffuser.
21. Blonde Asymmetrical Pixie Cut For Curly Hair
Are you looking for a low maintenance haircut but find a traditional pixie cut a bit boring? An asymmetrical curly pixie cut is your must-try hairstyle!
22. Textured Curly Pixie Cut
You know what's the best part about low maintenance curly pixie cuts? It's the fact that each curly hair has a different wave pattern, which means that you'll always have a unique hairdo.
23. Messy Curly Pixie Cut
Curly hair can be messy without being frizzy! The only thing you need to use when styling this hairdo is a curl amplifier to reduce frizziness.
24. Untamed Curly Pixie Cut
Is there anything more attractive than wild, untamed, curly hair? I don't think so. If there is a lioness hidden deep inside of you, this is the right hairstyle for you!
25. Bowled Long Curly Pixie Cut
Does a bowled curly pixie need a lot of effort? Absolutely not! Just use a leave-in conditioner and a diffuser, so you don't disturb your curl pattern.
26. Low Maintenance Bixie Cut
If you can't decide between a bob and a pixie haircut, we highly recommend this low maintenance bixie! It keeps a lot of your hair length but reduces your time spent in the salon to a minimum.
27. Curly Pixie Cut With Highlights
Having highlights on curls will give the illusion of more volumized and bigger locks. And the best part is that you don't have to dye it all the time— you can just let them grow out.
28. Curly Pixie Cut With Asymmetrical Bangs
Asymmetrical bangs will add a dash of individuality to your traditional curl pixie cut. And leaving silver roots will make this hairstyle, even more fun and attractive.
29. Curly Pixie For Dark Hair With Blonde Highlights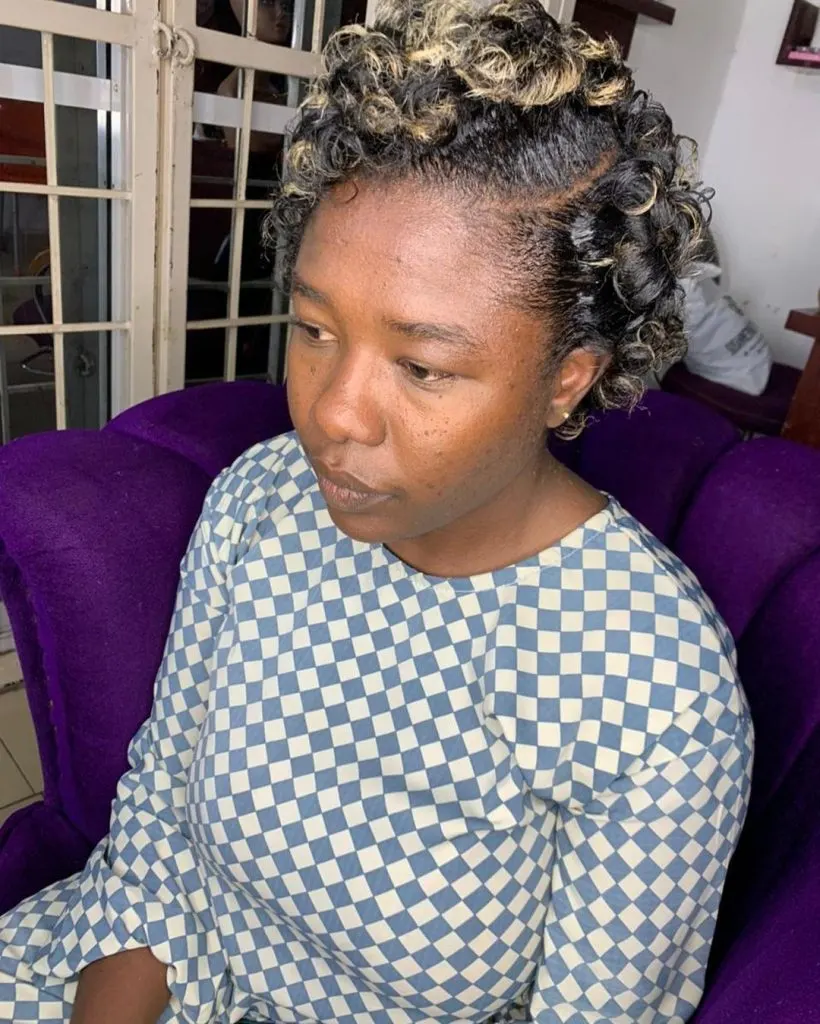 Dark hair with blonde highlights? It's no wonder this is one of the most preferred colors combined. And if you pair it with a curly pixie cut, you've got yourself an ideal hairstyle.
30. Two-Toned Low Maintenance Curly Pixie Cut
Have you heard about one of the most popular styling directions in the contemporary fashion world? That's right, we're talking about mixing two tones. And the best part is that it looks incredible on a curly pixie cut.
31. Ultra Short Curly Pixie Cut
It's time to say goodbye to your long hair and embrace an ultra-short chop instead. It's incredibly easy to wash, even easier to dry, and you don't even have to style it.
32. Retro Layered Curly Pixie Cut
If you're wondering how to give your curls life and body, cutting them into layers is the way to go. This retro haircut will help you achieve exactly that!
33. Curly Pixie With Undercut
This trendy curly pixie with undercut is edgy from color to cut. Besides being low maintenance, it will give you a more youthful look as well.
34. Efortless Wavy Pixie Cut
What if you have naturally wavy hair and you've decided it's time to stop curling or straightening it? Well, just get yourself a wavy pixie cut and your hair will start repairing immediately.
35. Mullet Long Curly Pixie Cut
With this haircut, your intense curls will spread across your entire hair. It suits the best a round or an oval face shape.
36. Short Pixie Cut With Long Curly Bangs
Can't decide between long and short hair? Why don't you take the best of both worlds? This low maintenance short curly pixie with long bangs will give you exactly that.
37. Curly Pixie Cut For Long Face
If you're looking for an ideal haircut for a long face, you've just found one. The trick is to leave some body on the sides, which makes this hairstyle a perfect choice.
38. Effortless Medium Length Curly Pixie Cut
Not all low maintenance curly pixie cuts require you to chop off all of your hair. This medium length looks flattering on almost all face shapes.
39. Pixie Cut With Soft Curls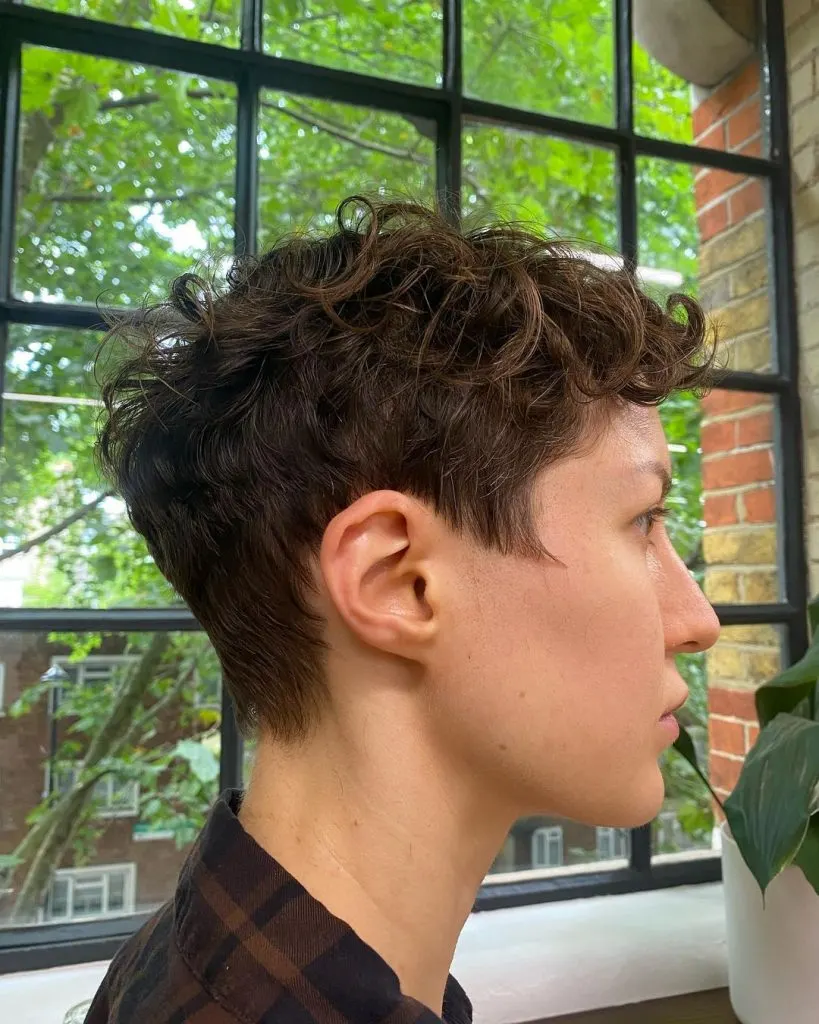 Soft curls are an absolute must-have this season! They go best with fine curls or waves.
40. Blonde Curly Pixie With Undercut
A blonde curly pixie with an undercut will inject a dose of coolness and chic into your look. This bold hairstyle screams glam, trendy and low-maintenance.
To Wrap Up:
Choose between easy maintenance short curly pixie cuts, pixie cuts with bangs, long pixie cuts, curly pixie cuts for round or long face… Your only job is to find the most flattering look for you. And, of course, to get the courage to chop off your long hair!