If you're after a rich, elegant look that also captivates and turns heads, this is the one. It impossible to have brown hair with caramel highlights without looking expensive and sultry.
Don't believe me? I've rounded up all these gorgeous examples as proof, so don't take my word for it—look for yourself.
1. Caramel Highlights On Brown Curly Hair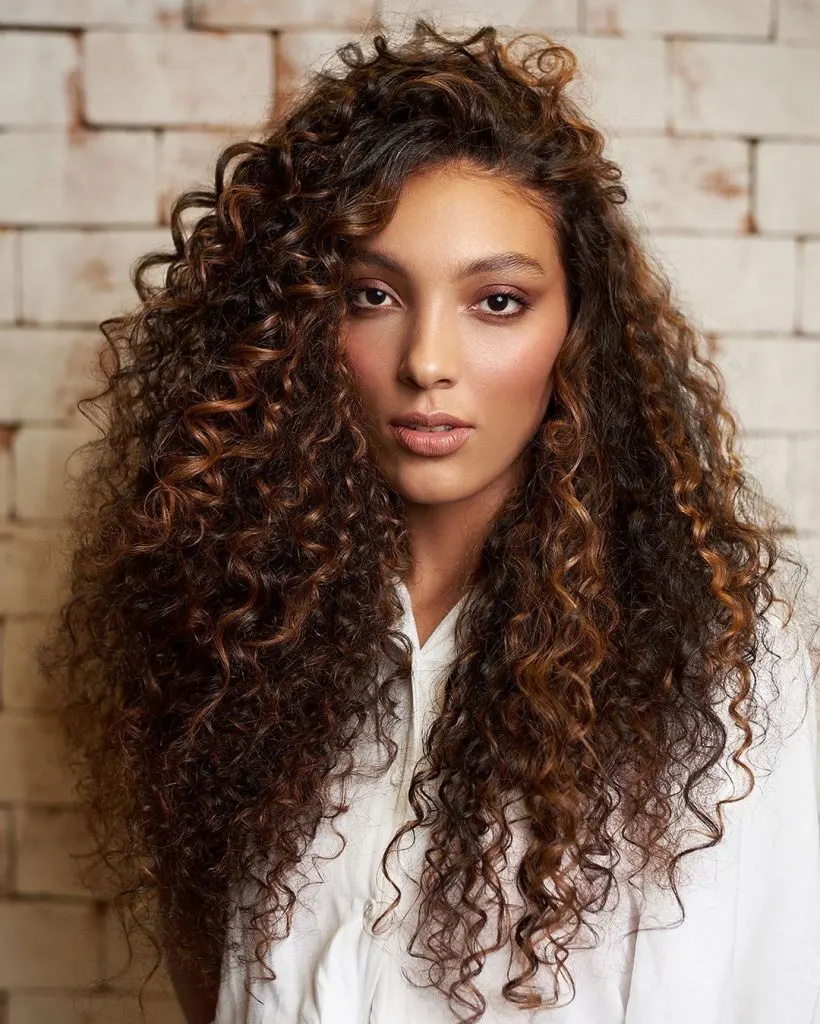 Highlights can be a breath of fresh air for your curls: light and dark tones accentuate the curl pattern and enhance the natural texture. The perfect way to flaunt the beauty of curly hair.
2. Walnut Brown With Light Caramel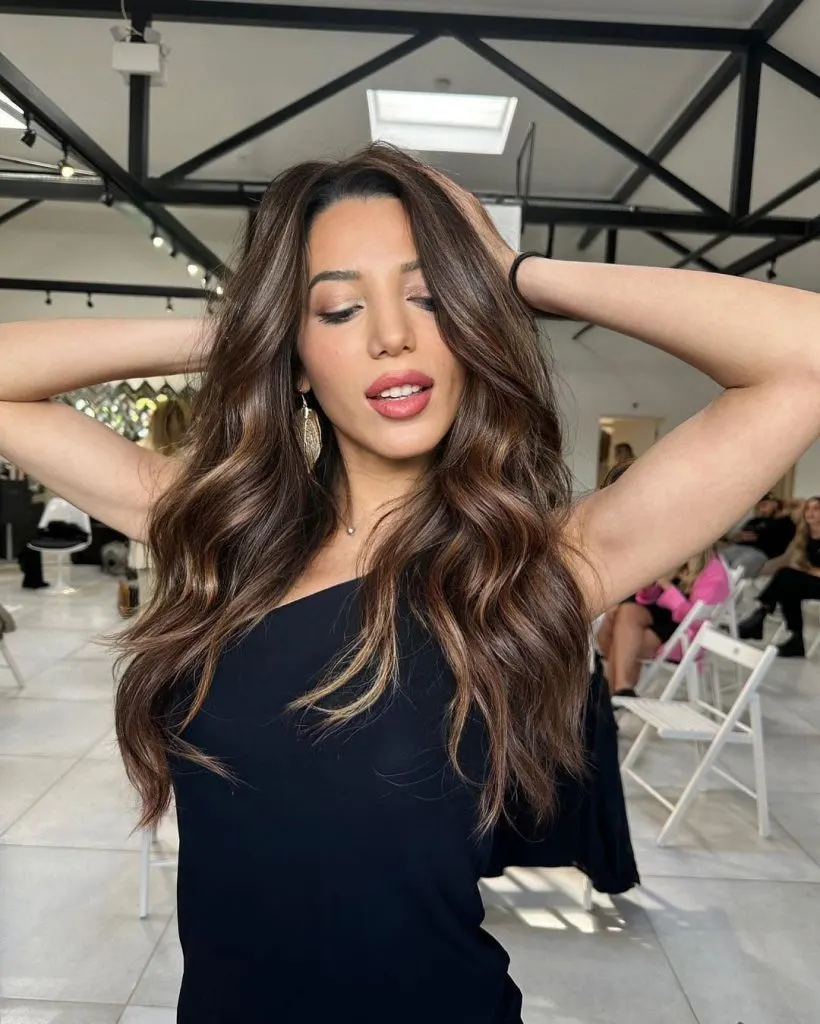 Caramel is a warm shade of brown, so to make it work for a cool skin tone, select a shade that leans towards the cooler tones. These subdued caramel highlights still give warmth to the overall look without making the skin look washed out.
3. Medium Brown Hair With Caramel Highlights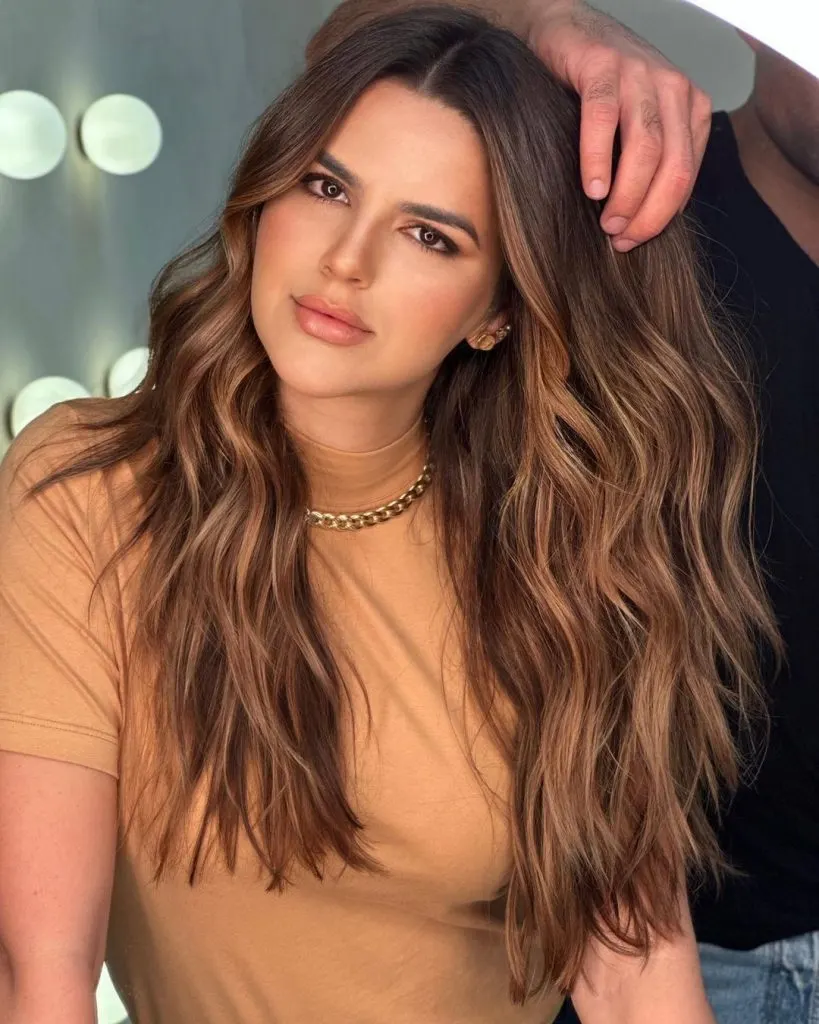 The beauty of warm hair colors is how rich and vibrant they look, but these features need to be maintained. Switch to color care hair products to make your caramel brown highlights look fresh longer.
4. Auburn Brown Hair With Caramel Highlights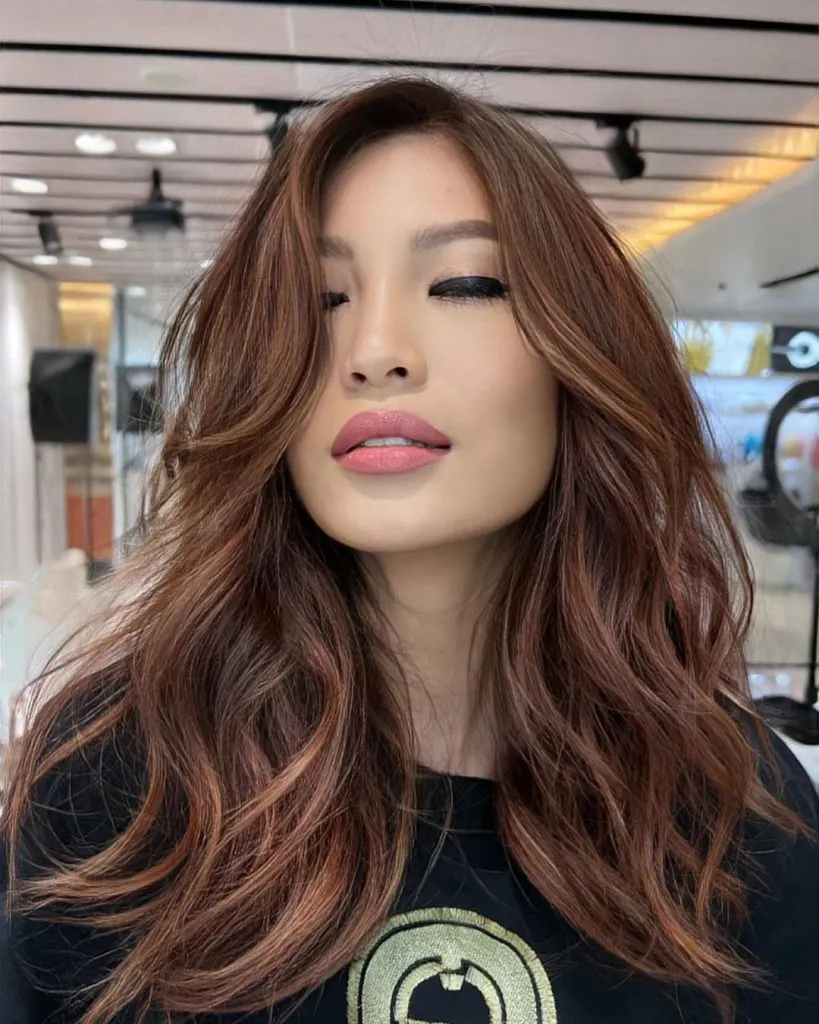 Auburn brown is an intense blend of brown and red that provides a sensational base for caramel highlights. Isn't this just stunning?
5. Curly Brown Hair With Caramel Highlights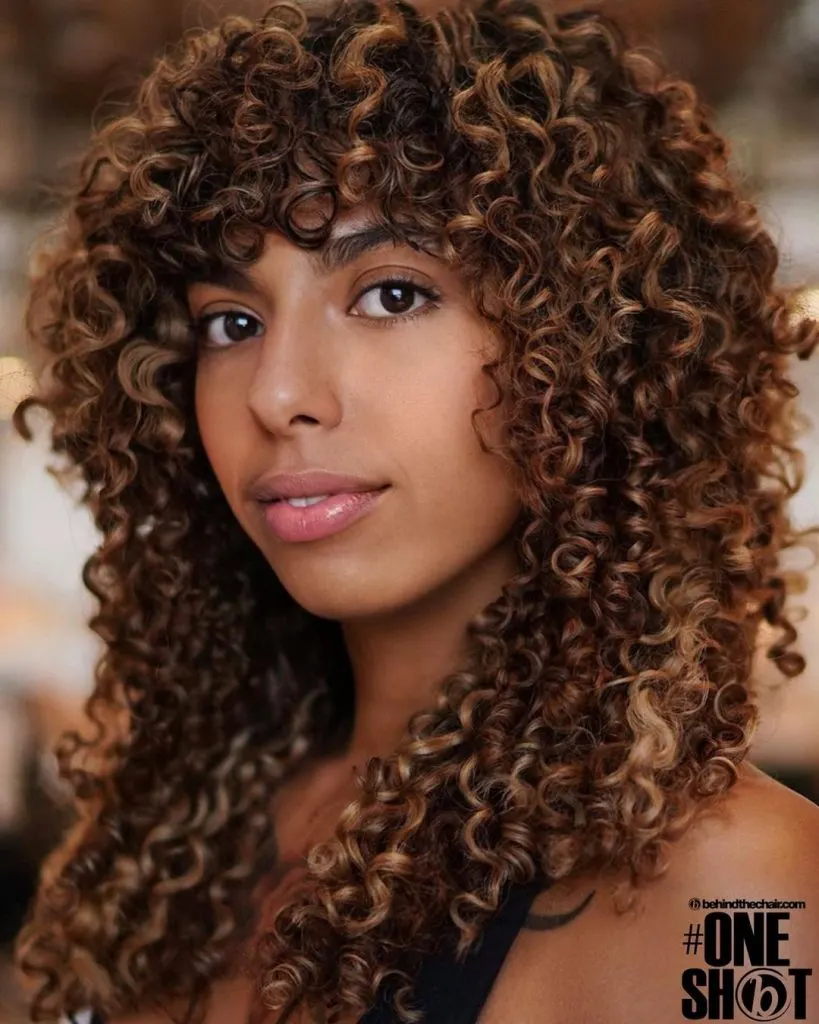 This striking look could be an ad for caramel highlights: they draw attention to individual curls and make them stand out, emphasizing their beauty in a warm and lively way.
6. Barely There Caramel Highlights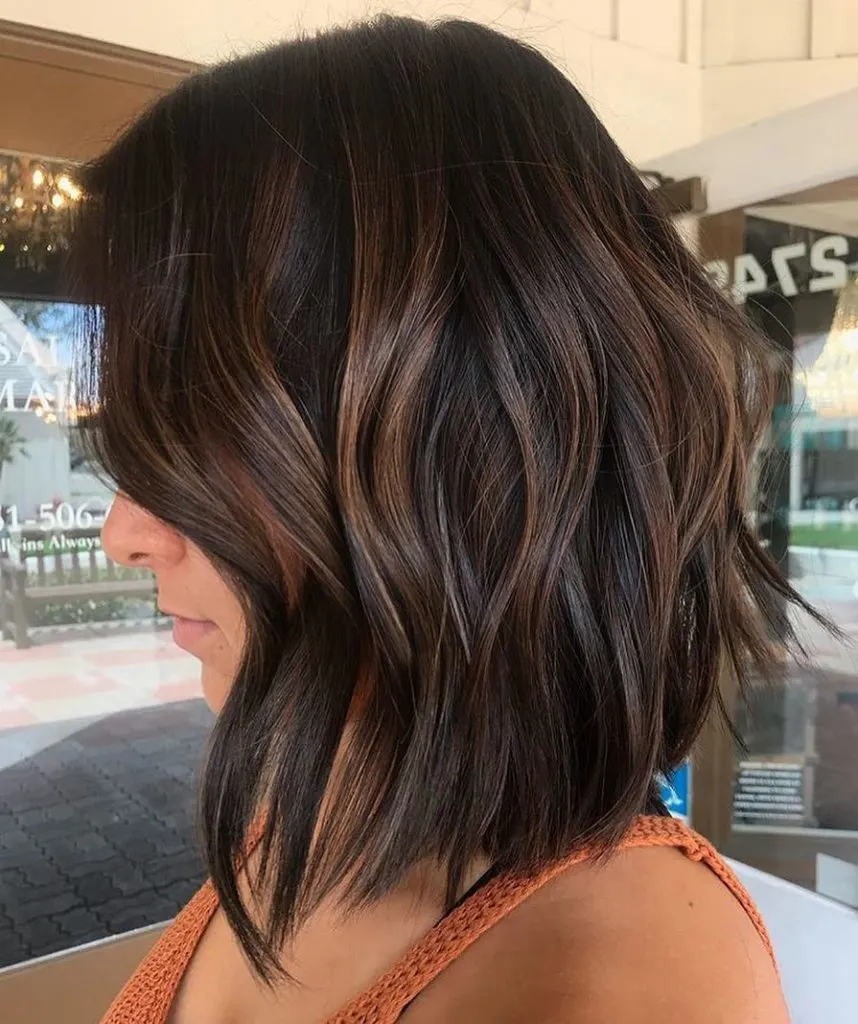 The caramel highlights seem to catch the light, giving these dark tresses movement and making them look shiny.
7. Chocolate Brown Hair With Caramel Highlights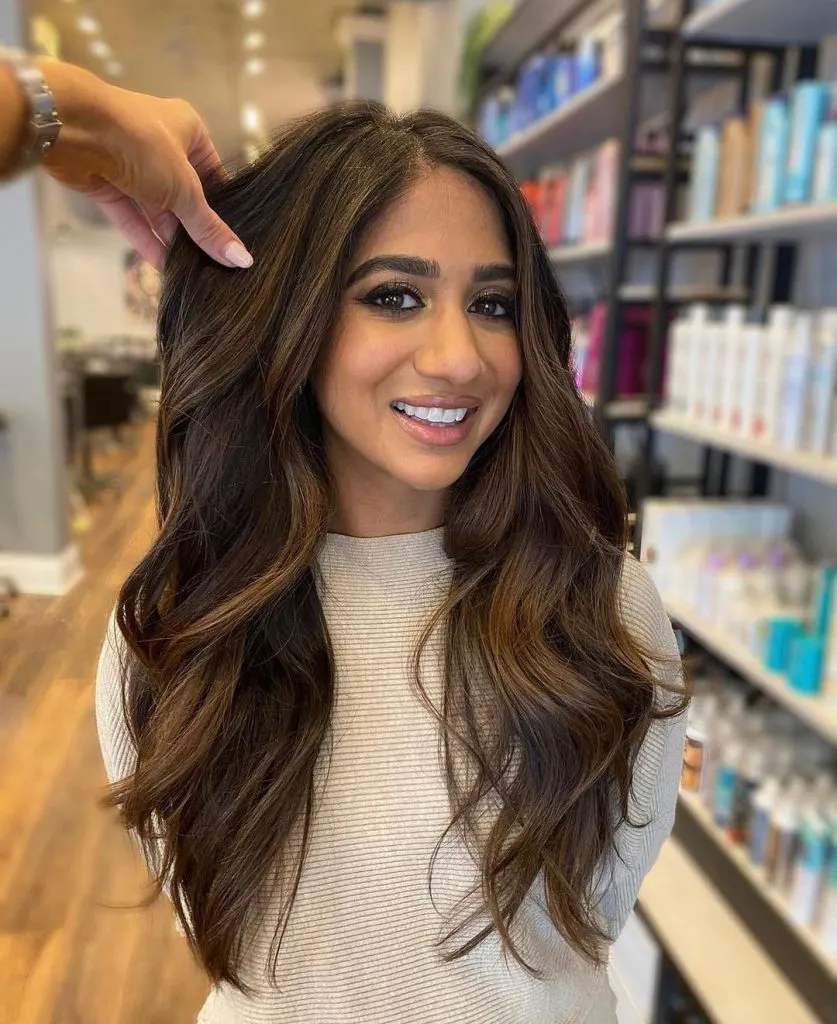 Enhance the natural tones of your brown hair with highlights that complement it—his lovely combination of chocolate base and caramel highlights is a perfect match.
8. Medium Brown Hair With Light Caramel Highlights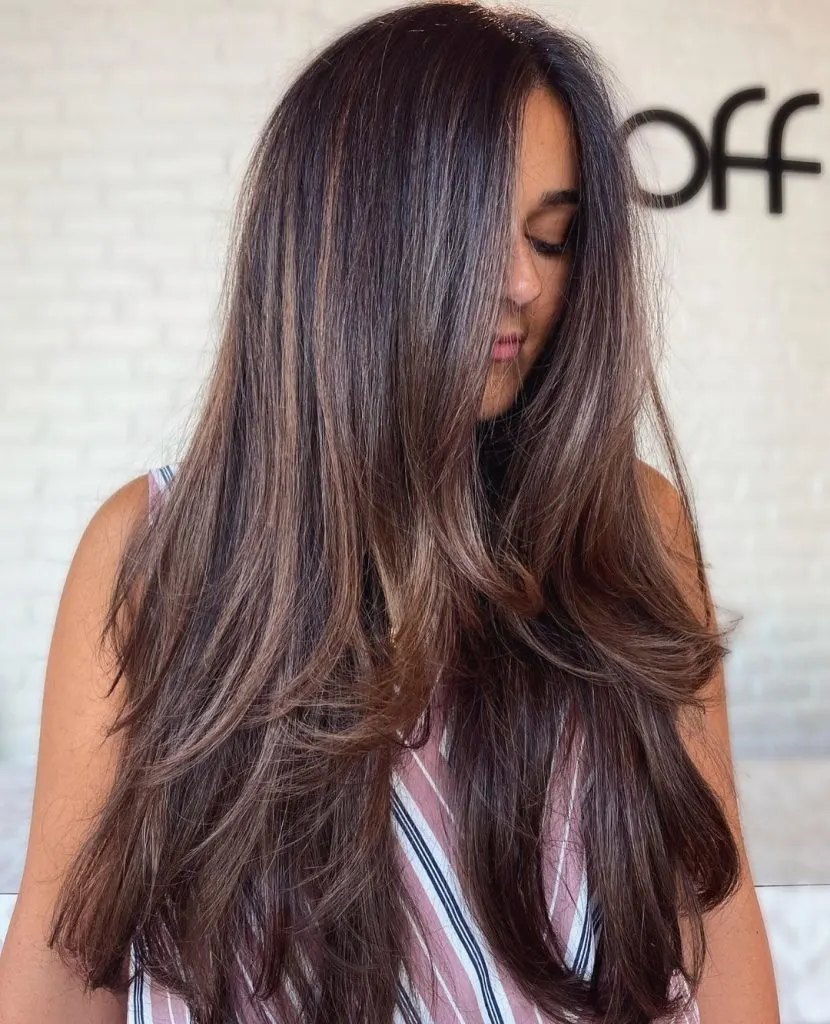 If you wear your hair mostly straight, highlights are a great way to make it look more dynamic—instead of looking limp, your hair will have depth and fluidity.
9. Espresso Brown With Caramel Highlights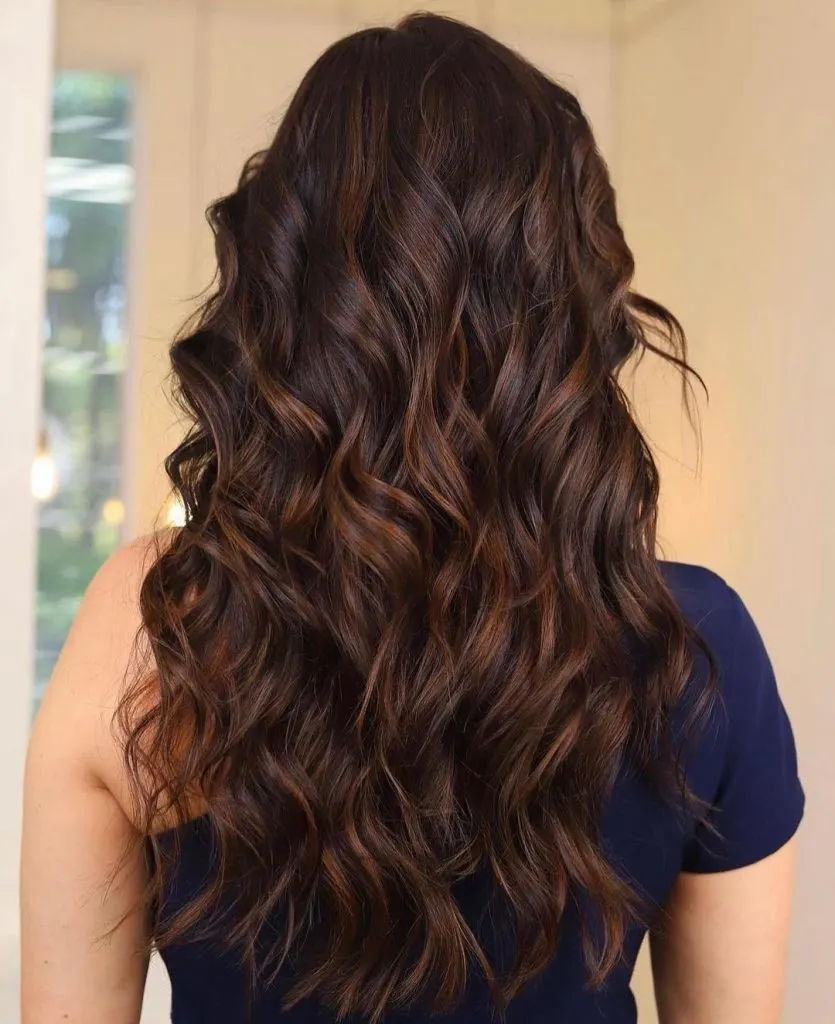 Darker brunette tones are gorgeous but one shade hair color can look a flat. The solution? Highlights, like these caramel brown strands infusing the espresso brown base with dimension and light.
10. Brunette Curls With Caramel Highlights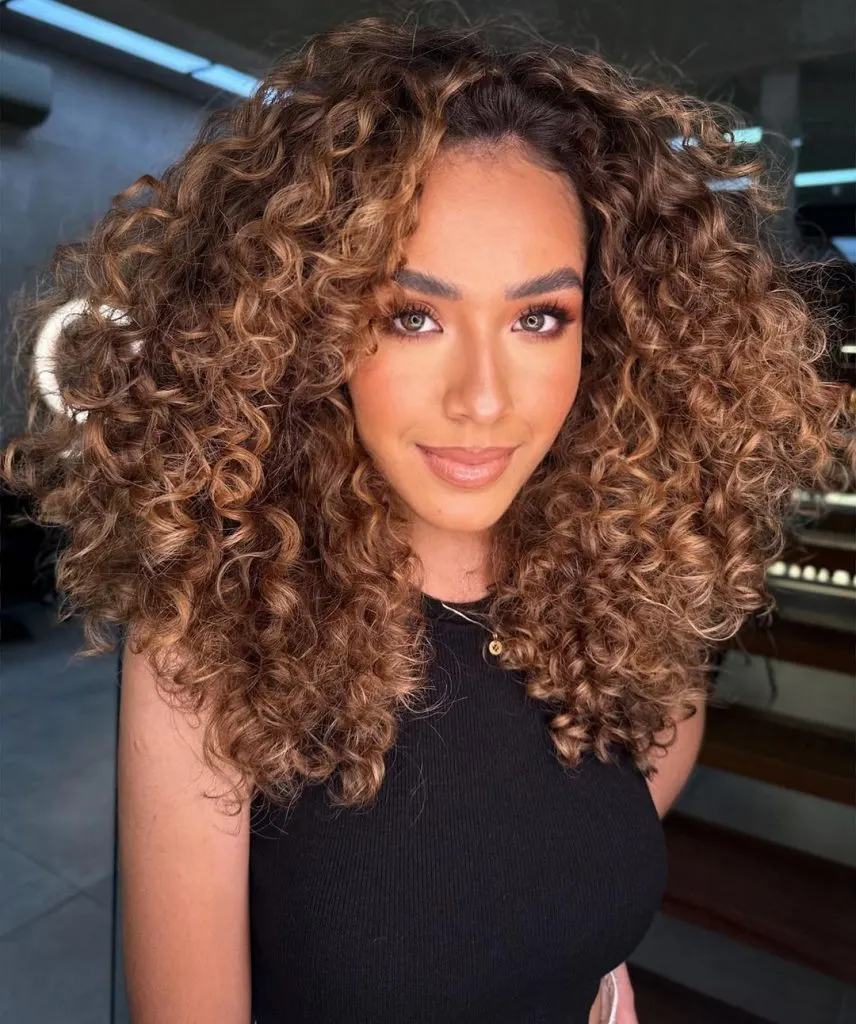 The placement and the thickness of the highlights plays a huge part in the final look. Here, caramel highlights are used primarily to lighten the hair rather than enhance the curls, so the end result is overall brightness and glow.
11. Caramel Brunette Balayage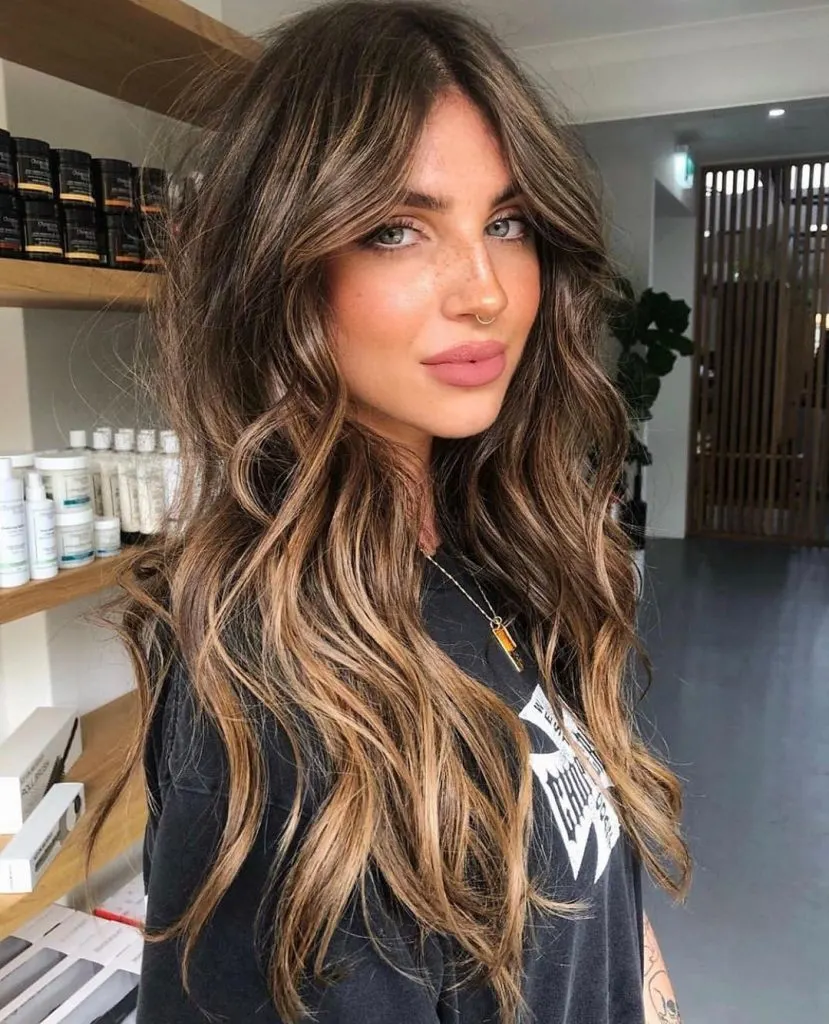 Highlights don't always have to be a special feature: this light caramel brunette balayage creates a sun-kissed look and a very natural vibe.
12. Cool Toned Caramel Highlights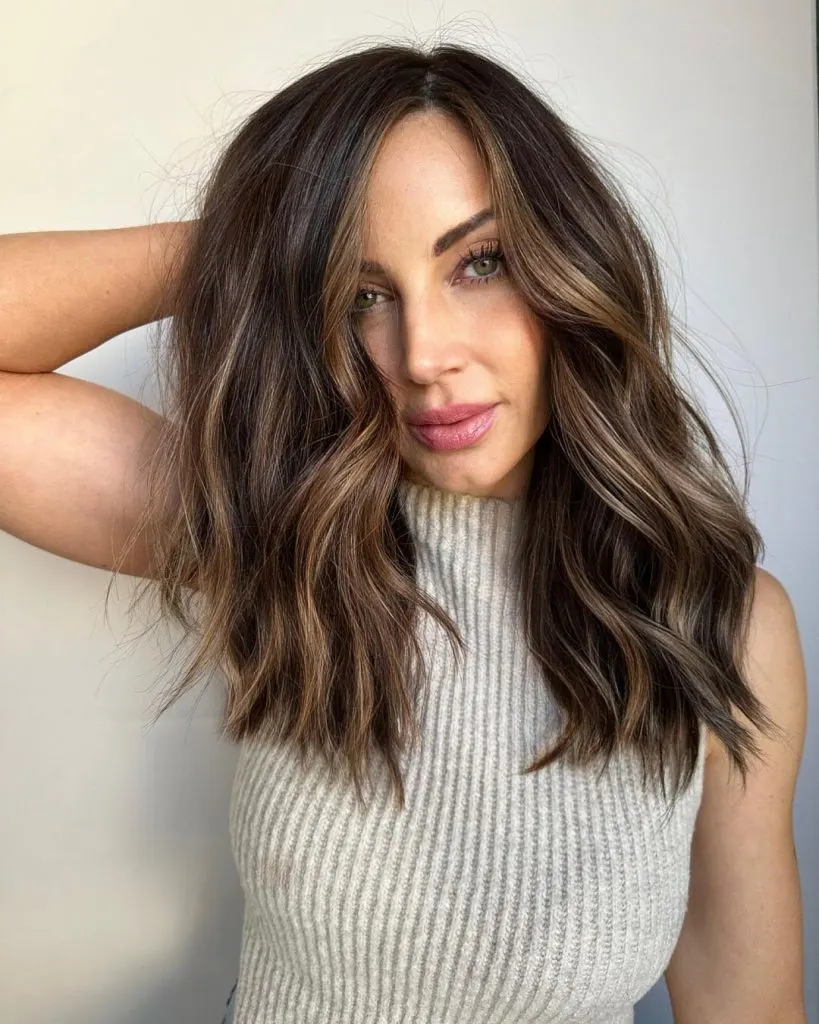 Over time, even brown highlights can develop a brassy look. Avoid this by including a blue shampoo in your routine, but since it can dry out the hair, don't use it more than once a week.
13. Caramel Highlights On Chocolate Brown Hair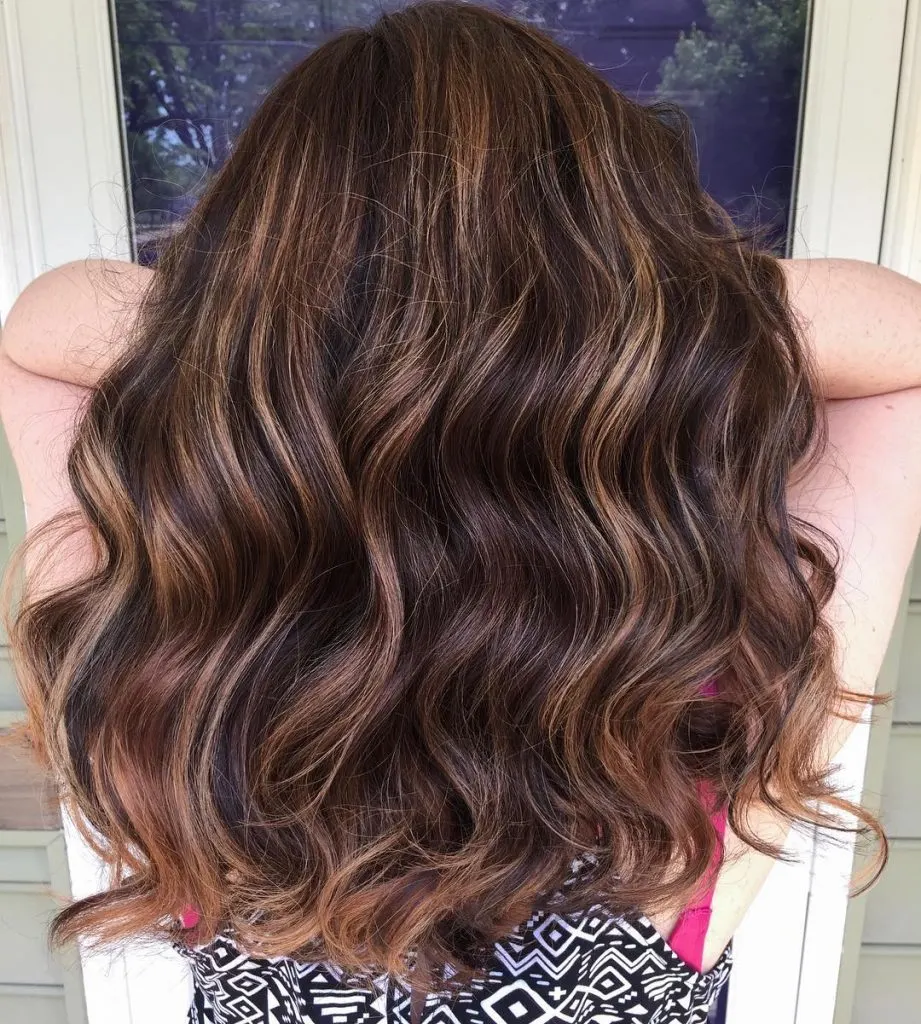 If you're looking to add visual interest to your brown hair, a combination of highlights and lowlights can make your hair come alive.
14. Dark Brown And Caramel Ombre With Wine Red Tips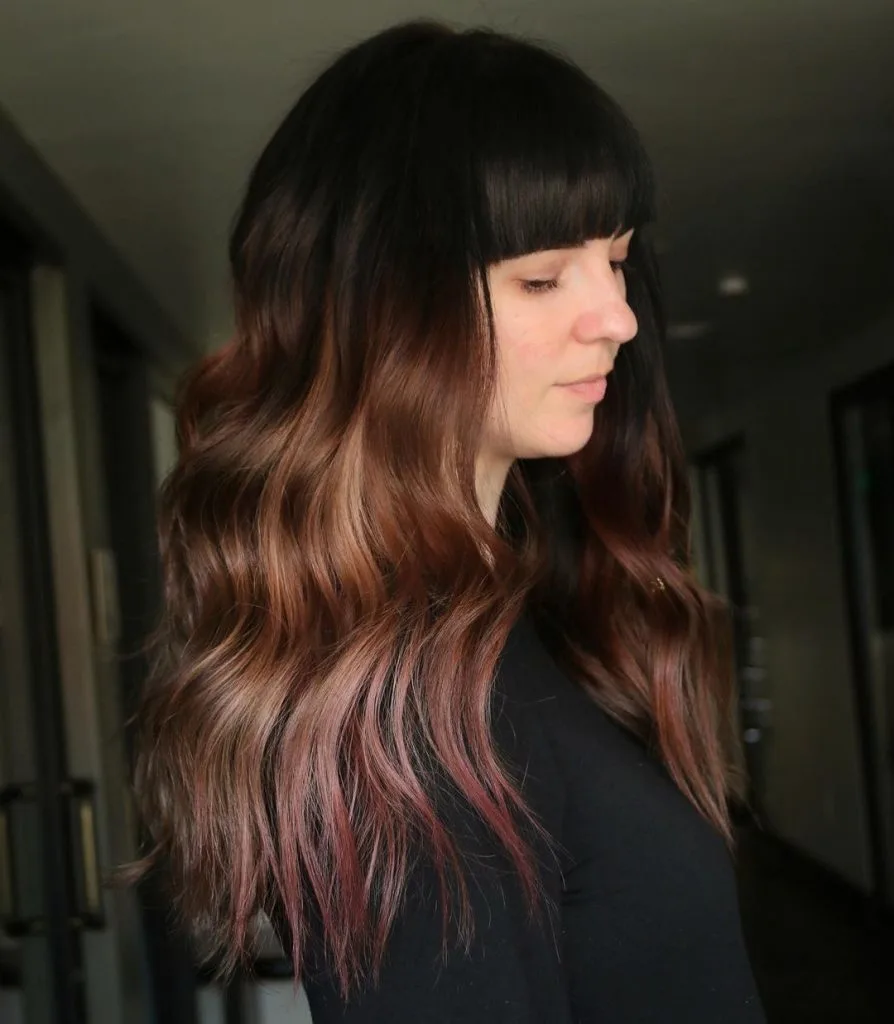 While not quite the super-trendy color blocking technique, this ombre look is fun and unique. When you play with colors, you can make any look work for you if you place the shade that suits you best near the face.
15. Blended Caramel And Bronze Highlights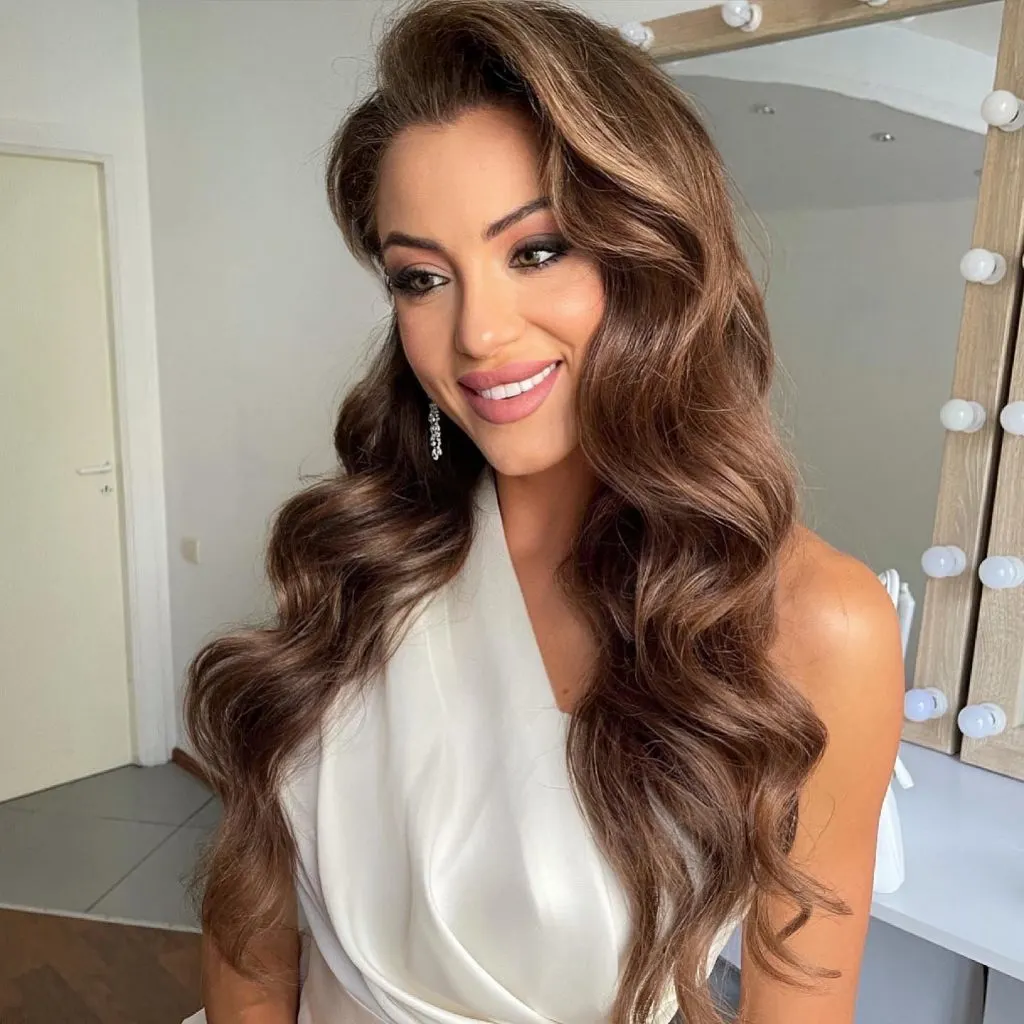 Caramel and bronze highlights have been blended to create a warm and soft color that looks luxurious and sophisticated.
16. Light Brown Caramel Highlights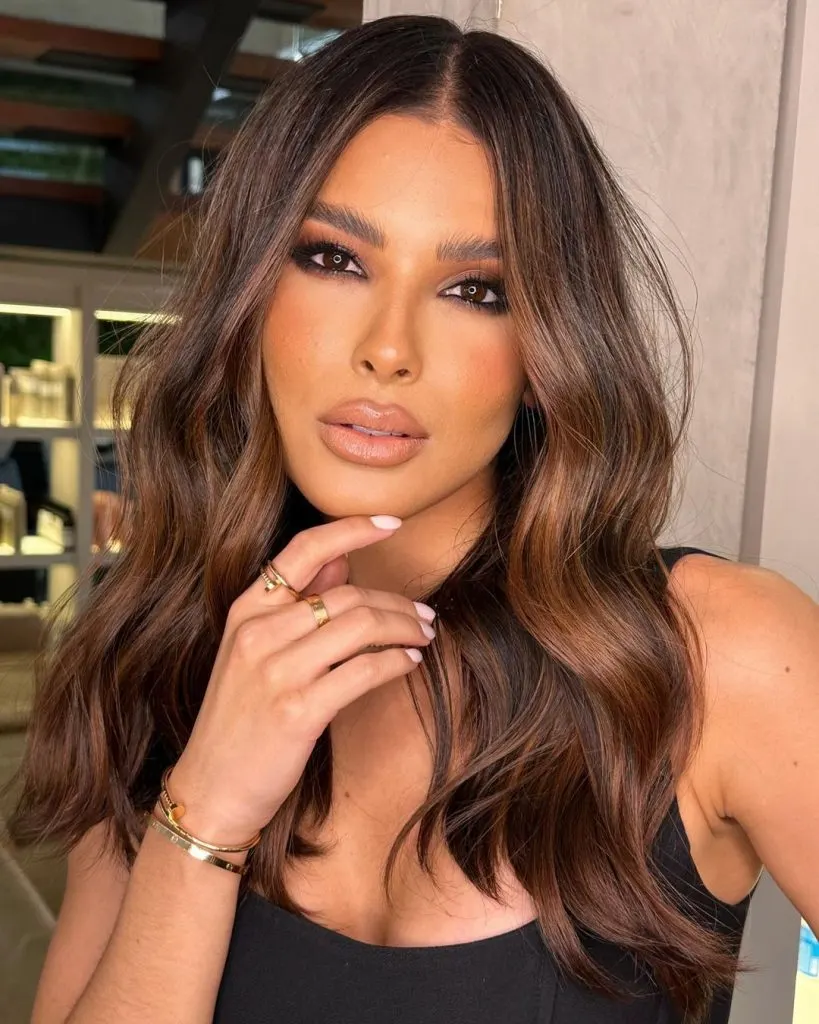 This vibrant color is elegant and sexy, but brown hair can quickly loose its intensity. Make a brunette booster shampoo and conditioner your best friend to make your color last longer.
17. Dark Brown Hair With Caramel Highlights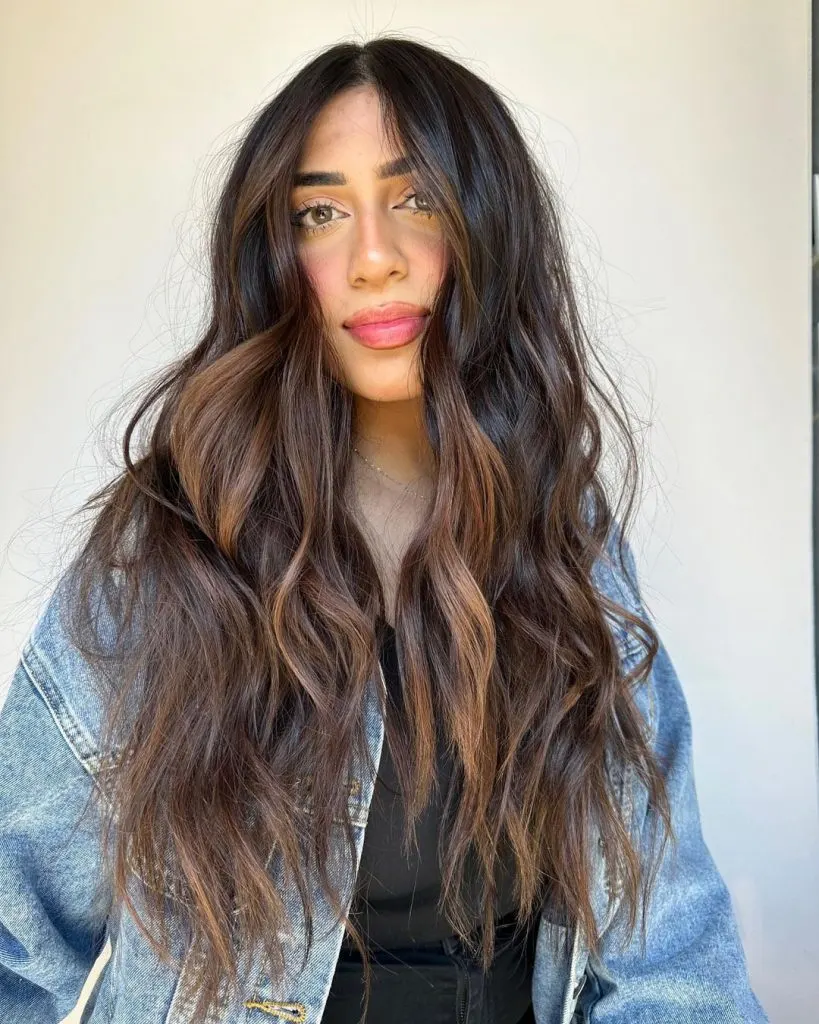 You don't need all over highlights to transform your look. Face-framing highlights will, at the same time, conceal the features you might not like and accentuate those that you do.
18. Long Bob With Caramel Highlights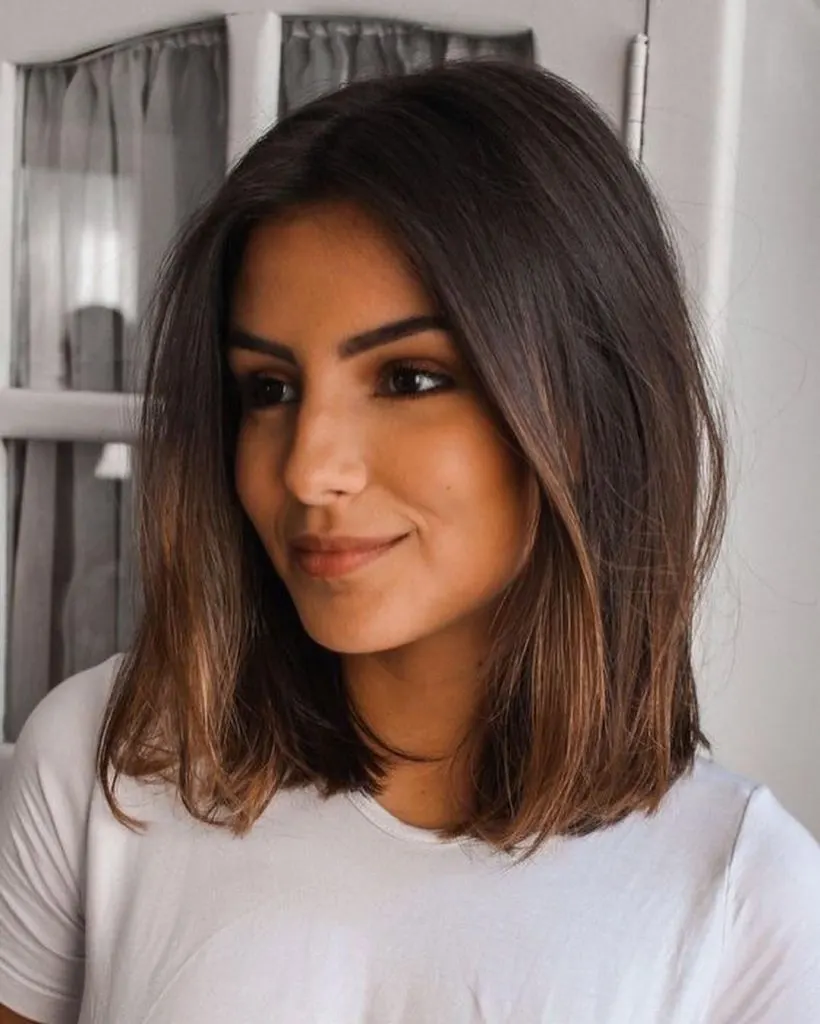 This subtle balayage is about enhancing rather than changing the hair color: the lovely caramel strands make this long layered bob look warmer and more inviting.
19. Long Chocolate Hair With Caramel Highlights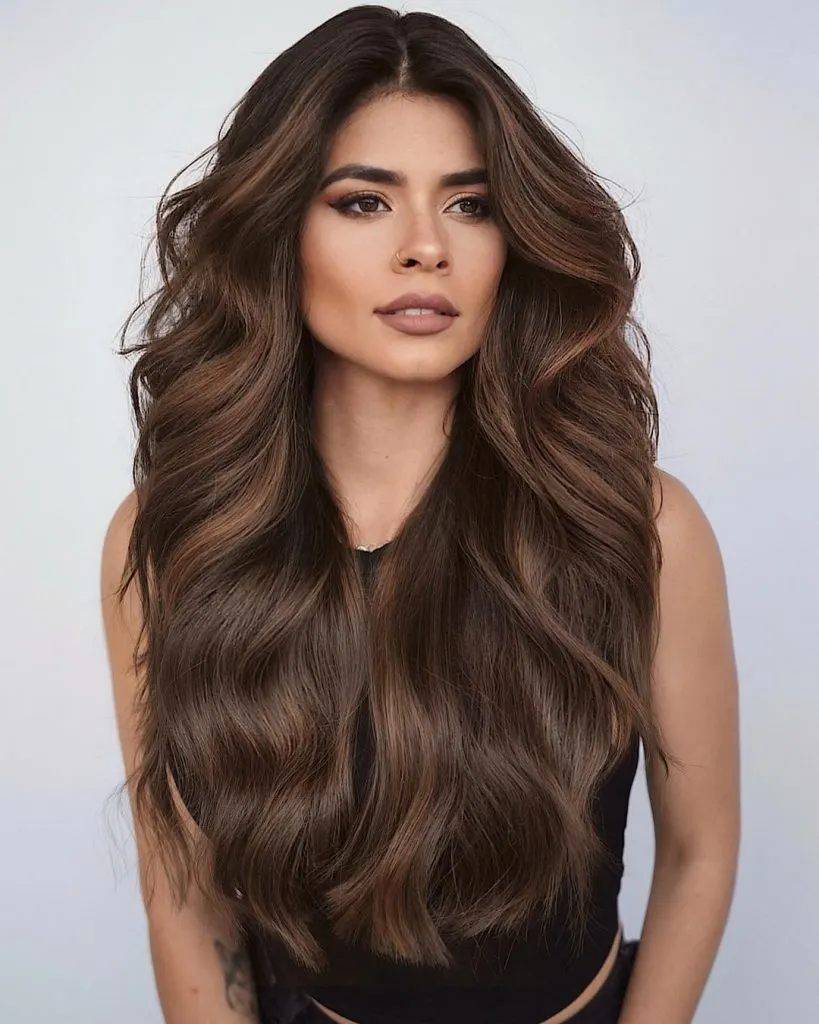 Regular salon maintenance is essential if you want to keep your brunette locks looking vivid and shiny—a glaze or a gloss will refresh your color between appointments.
20. Glossy Caramel Waves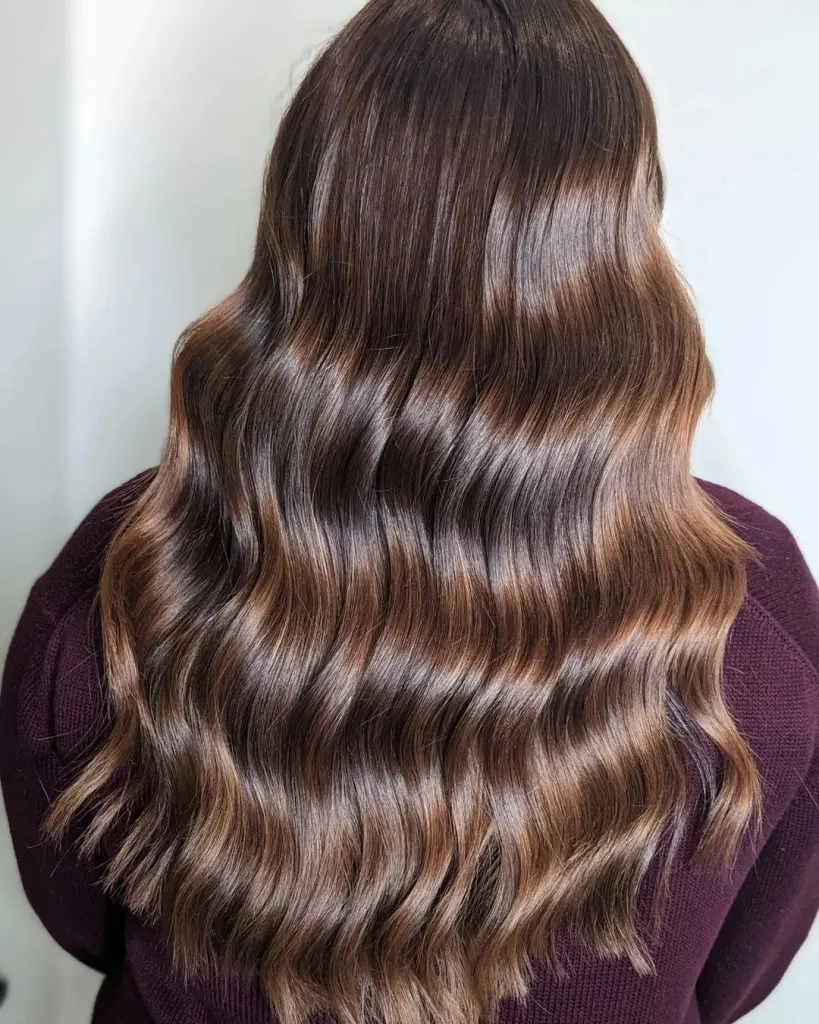 These glossy waves seem to be illuminated from within, thanks to the way the caramel highlights reflect the light.
21. Brown Hair With Subtle Caramel Highlights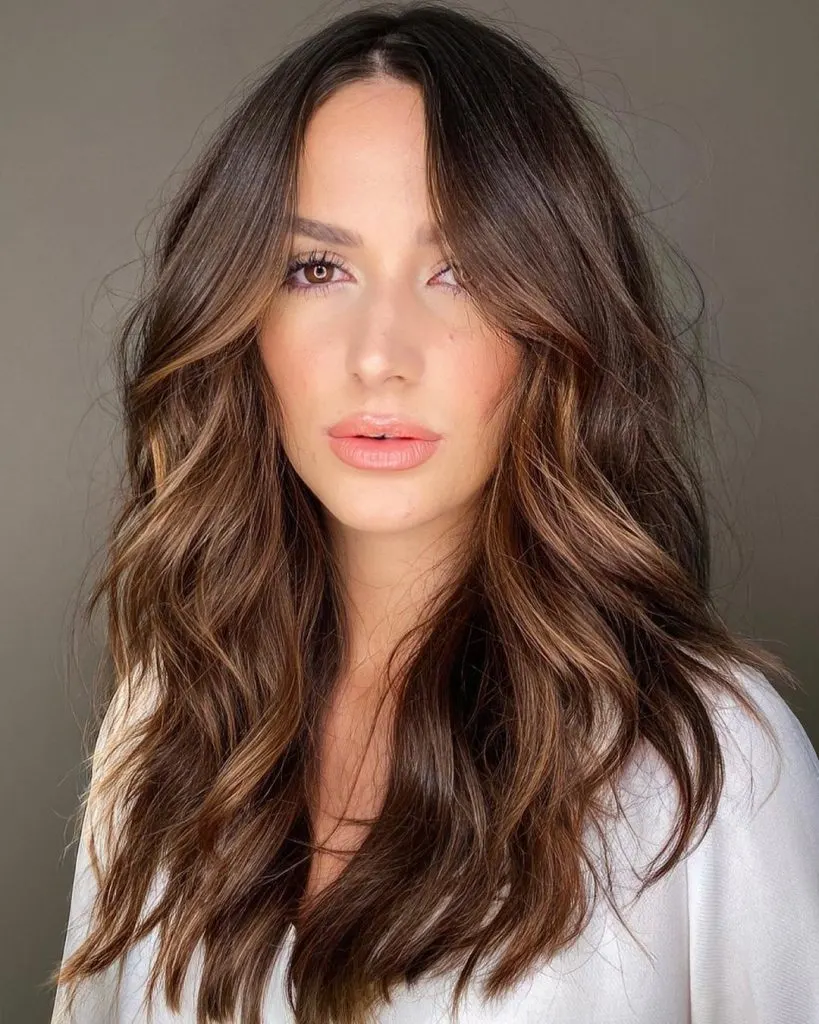 Highlights can be used to make your hair color brighten your complexion by balancing warmer and cooler undertones.
22. Brown Hair With Caramel And Copper Highlights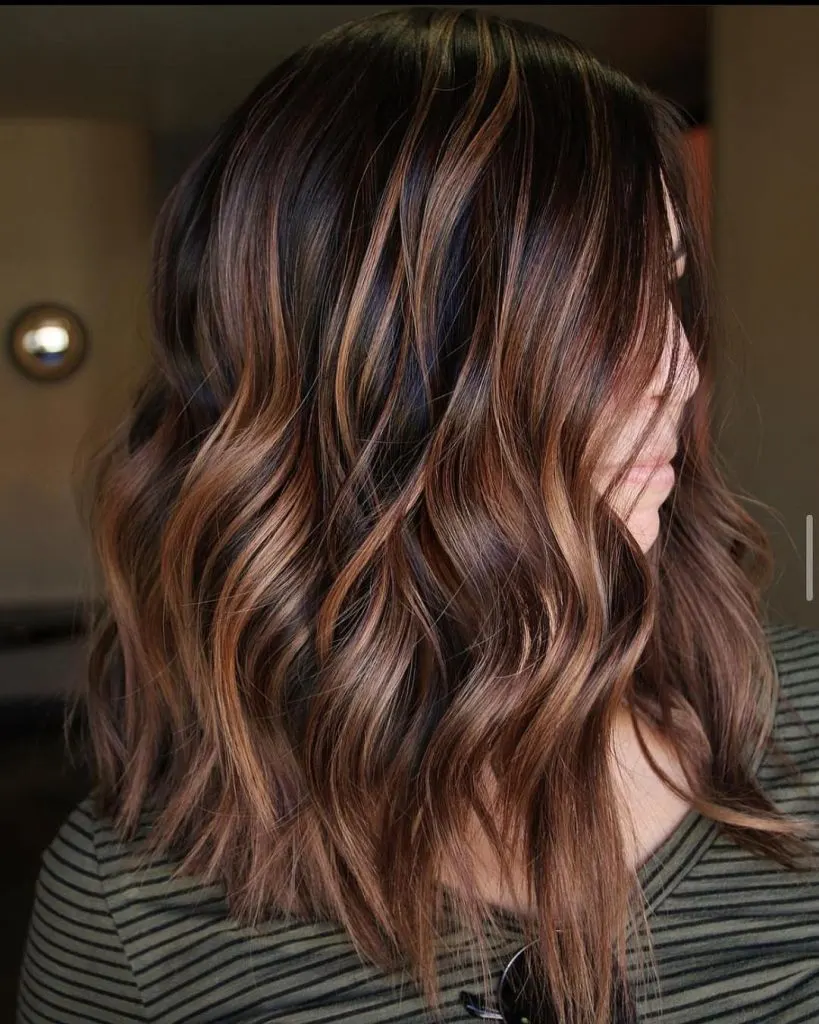 Caramel and copper complement the dark base without looking out of place. This is a dramatic look full of personality.
23. Copper-Caramel Face-Framing Highlights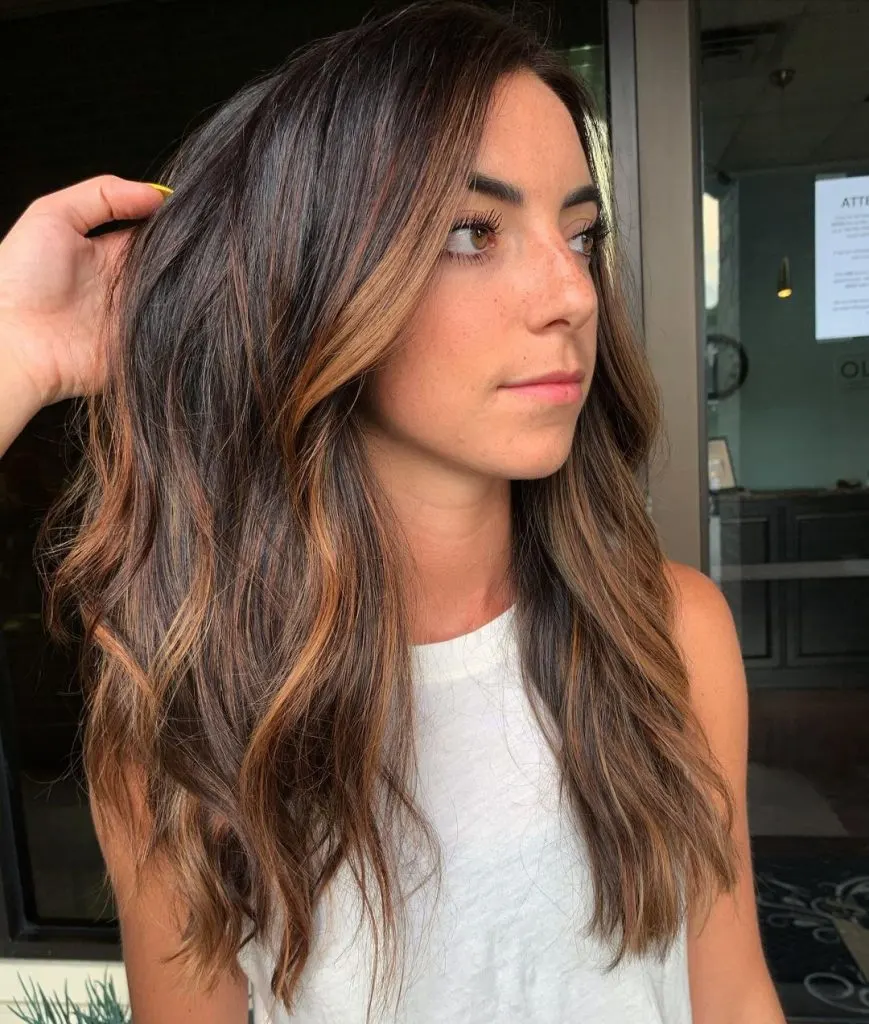 So warm they're nearly copper, these caramel highlights frame the face to draw attention to the features and give it a glow.
24. Rich Auburn Caramel Balayage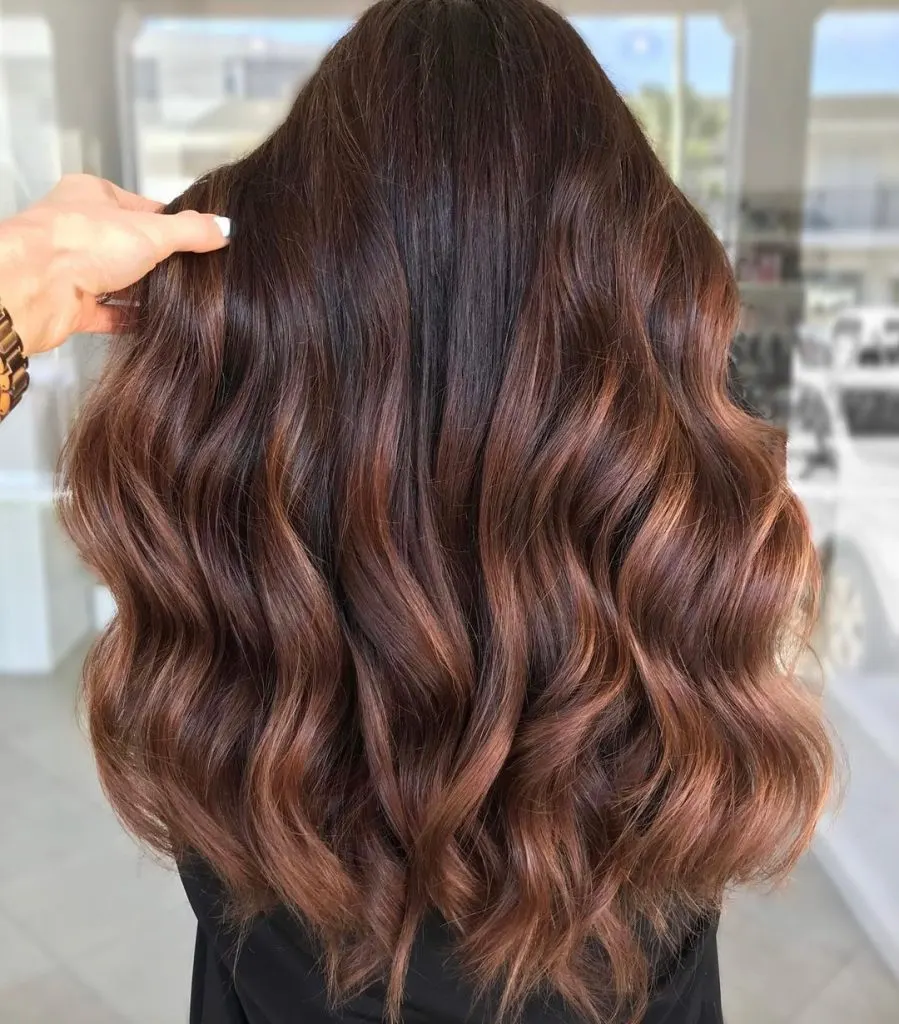 Before you book an appointment with your colorist, make sure you know the color you want and the overall appearance of your highlgihts. Don't worry about knowing the exact name of every single shade and technique—just bring enough inspo pics.
25. Dark Chocolate Brown Hair With Caramel Highlights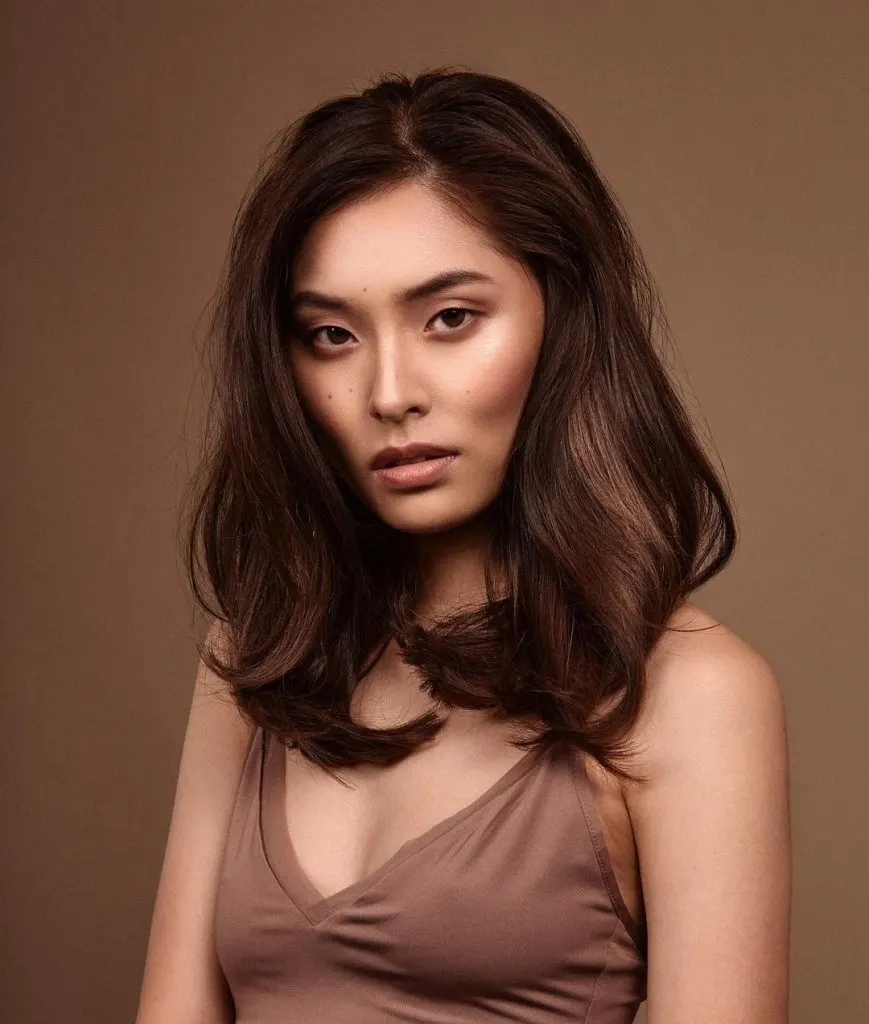 Dark chocolate brown is sophisticated and elegant hair color. Here, deep caramel highlights give it depth without standing out too much.
26. Warm Caramel Highlights On Brown Hair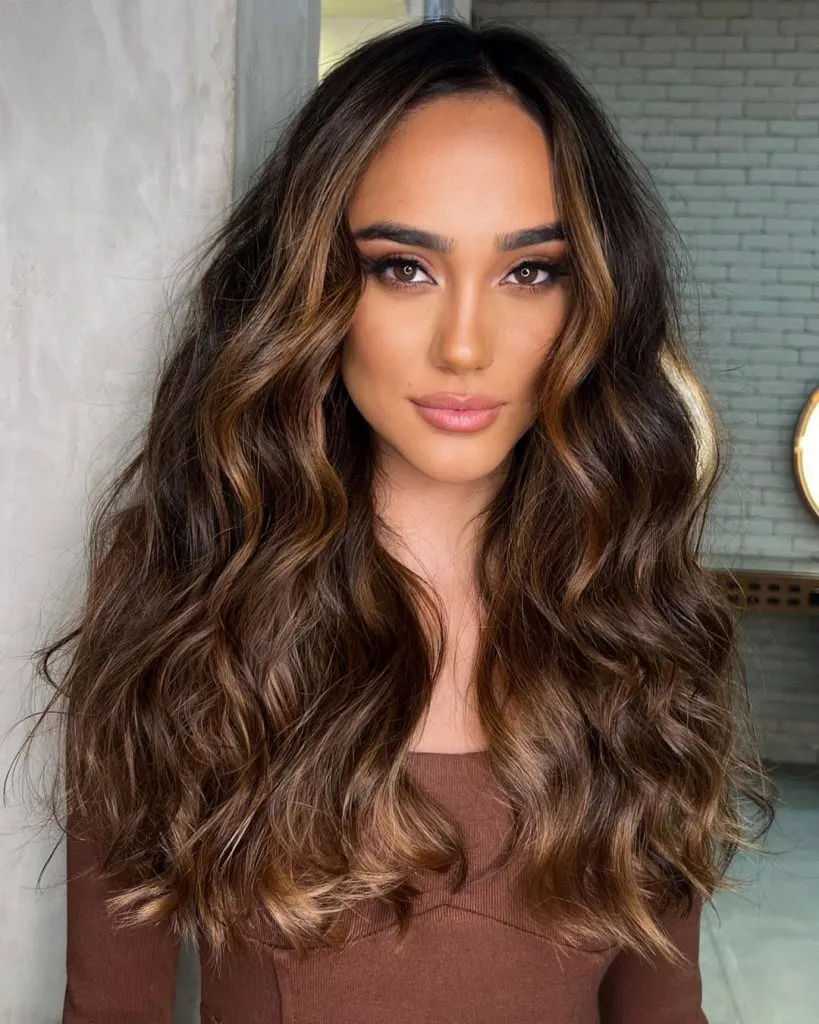 When deciding on a look, one of the first things to consider should be your lifestyle. Ask your colorist how much upkeep your color will require, then consider if it fits your time, effort and budget.
27. Brunette Hair With Caramel Babylights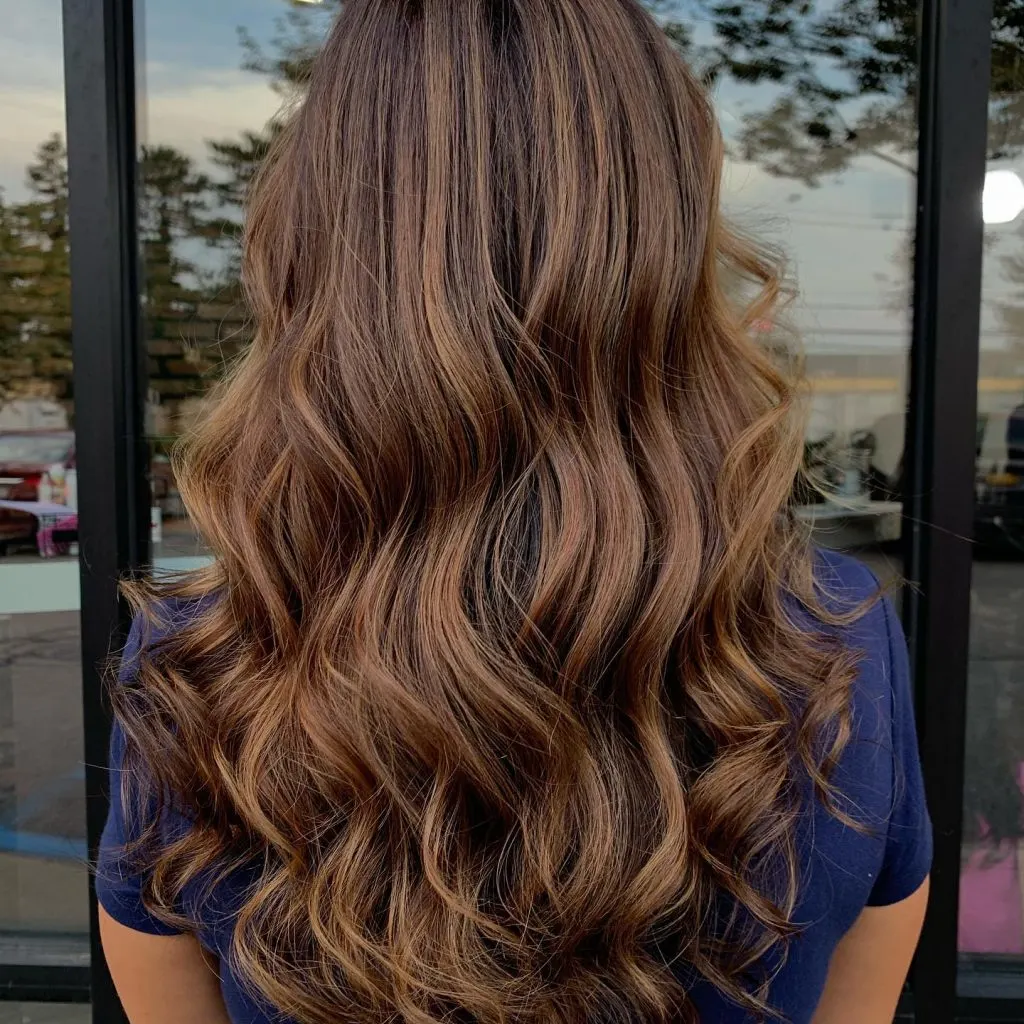 Brown hair can be enhanced with highlights in many ways. These dense highlights transform dark brunette tresses into a toffee caramel treat.
28. Brown Lob With Caramel Highlights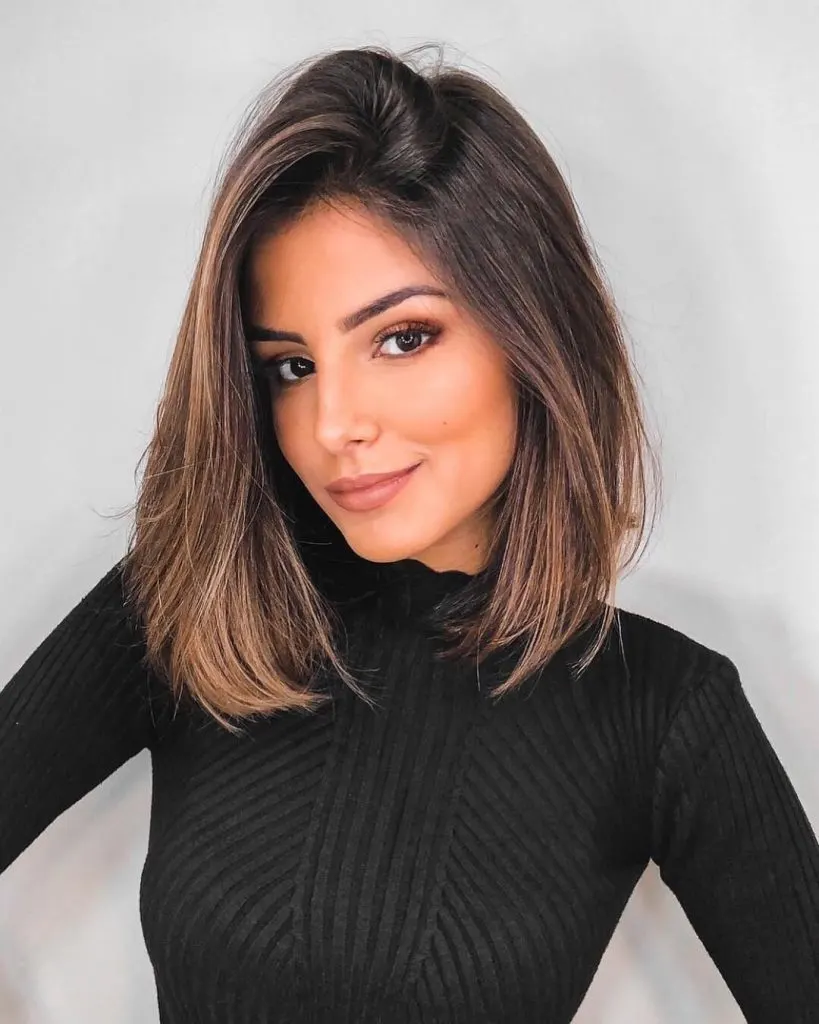 Caramel highlights won't look the same paired with every base color. Important things to consider are whether you're starting from cool or warm and how much contrast you want.
29. Honey Caramel Highlights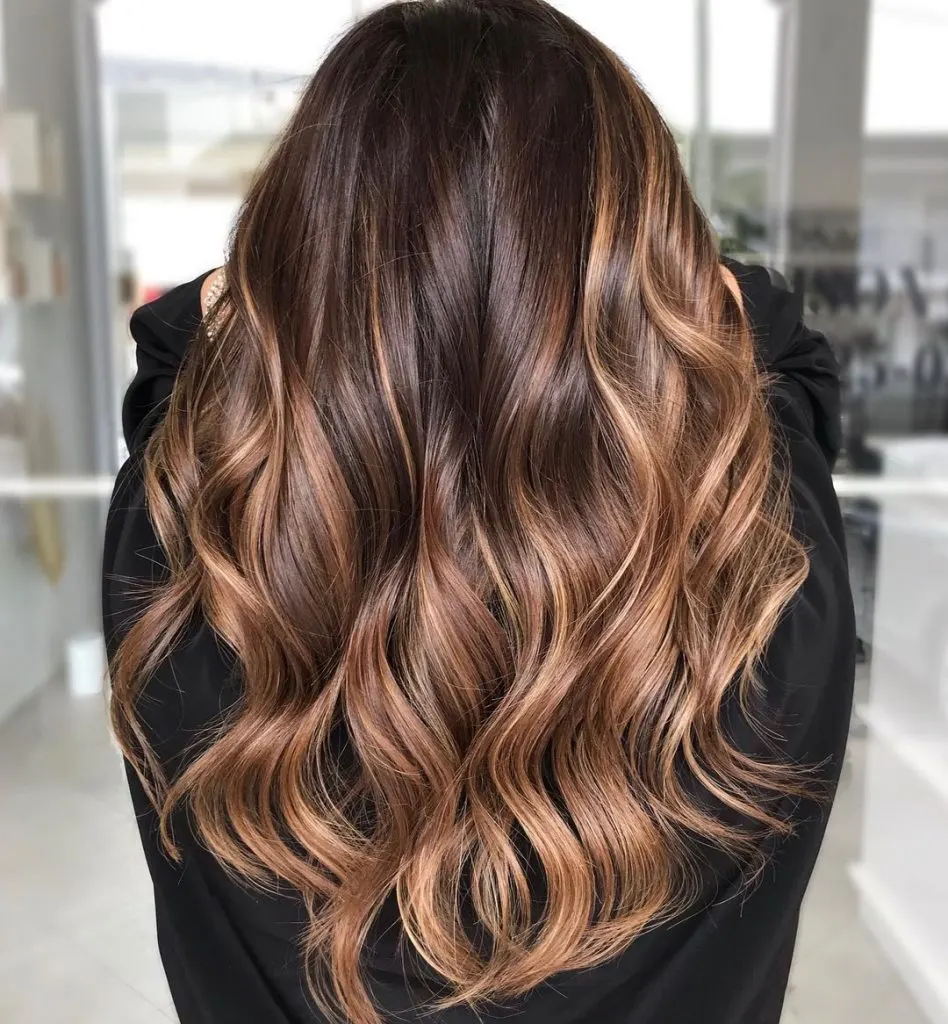 If your brunette locks seem to be losing their luster, a glossing treatment might be just the boost that you need—refresh the color and get rid of brassiness in one appointment.
30. Muted Caramel Highlights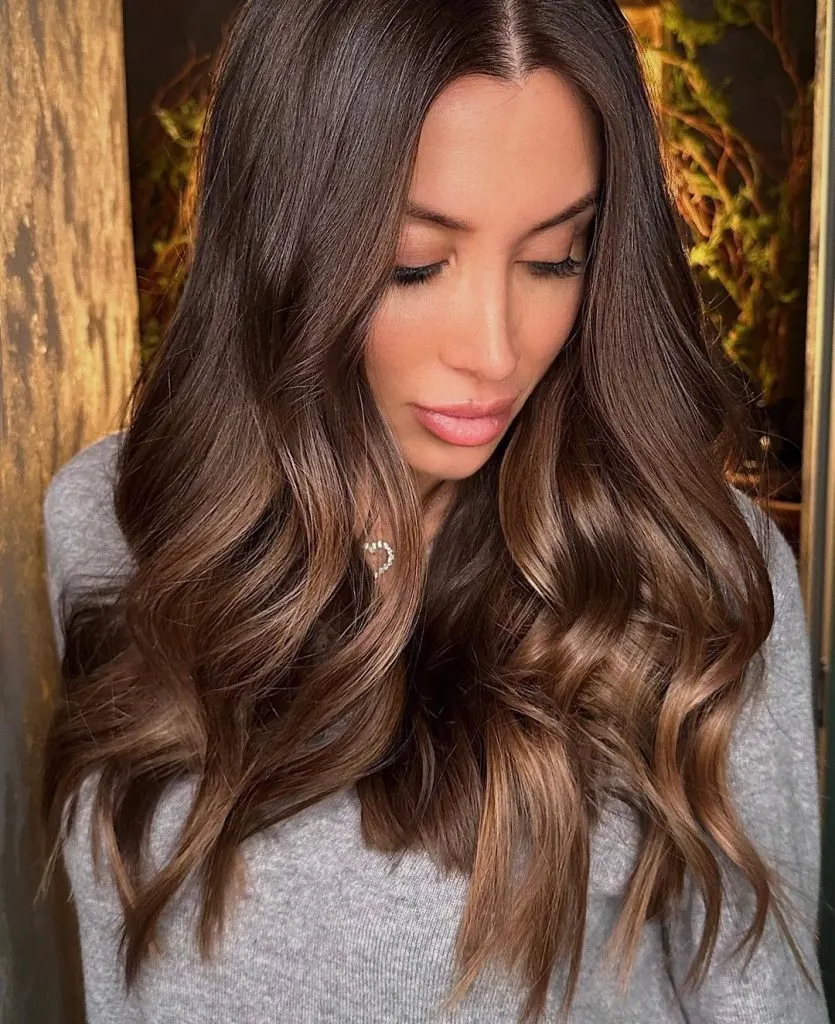 Subtle caramel highlights are elegant and sophisticated—the perfect way to wear your hair if you like the quiet luxury aesthetic.
31. Caramel Highlights On Long Brown Hair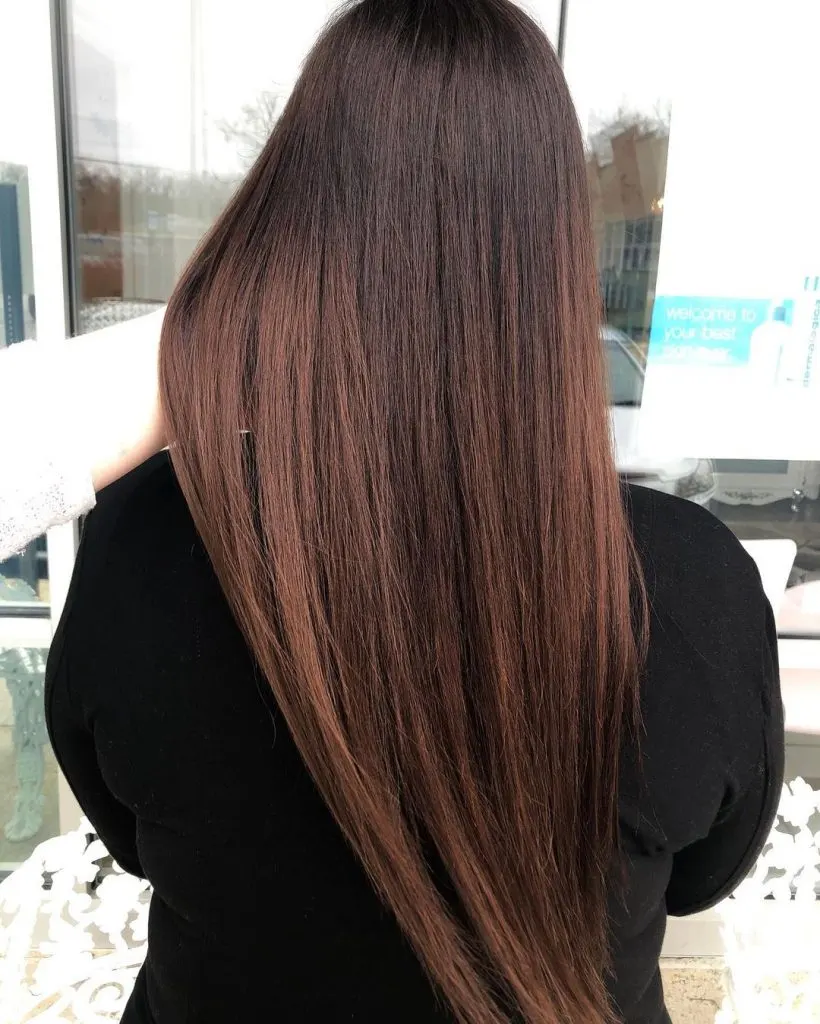 Very long hair tends to look limp and lifeless when it lacks dimension—adding highlights will give your long locks depth and movement.
32. Wavy Brunette Hair With Caramel Balayage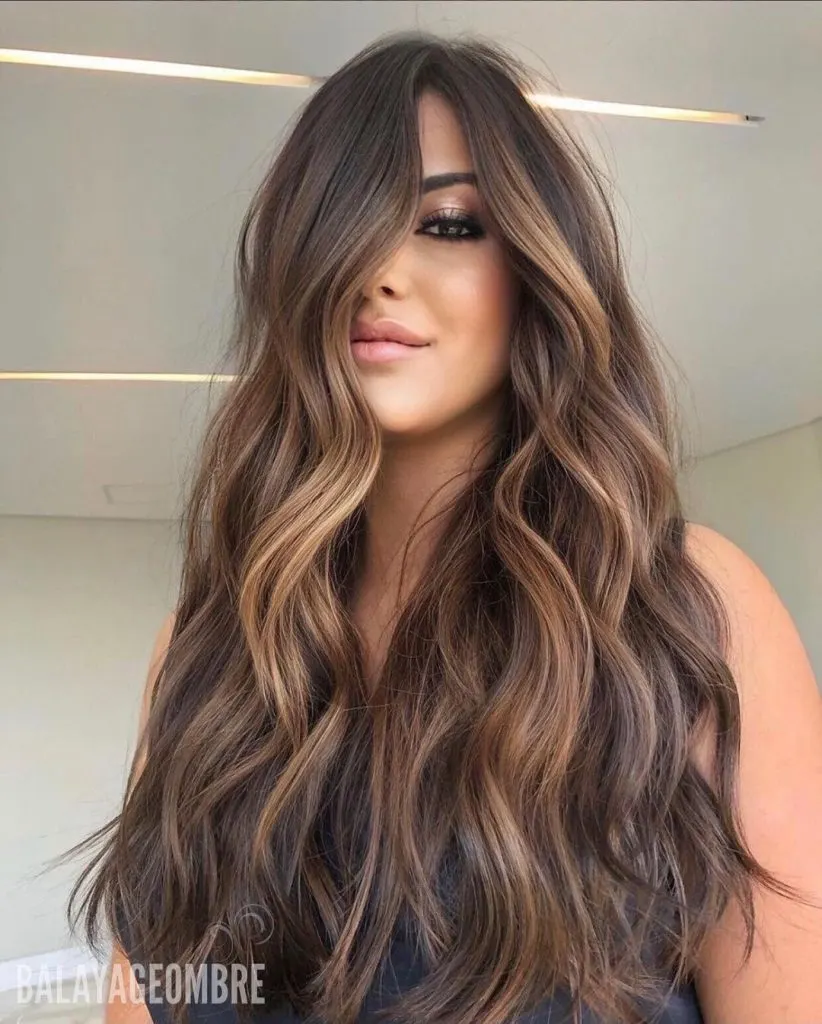 Balayage is as much about placement as it's about color when you want to achieve a certain effect. But no matter how you choose to wear your highlights, it's a good idea to always include bright face-framing strands to make your skin glow.
33. Caramel Highlights For Dark Brown Hair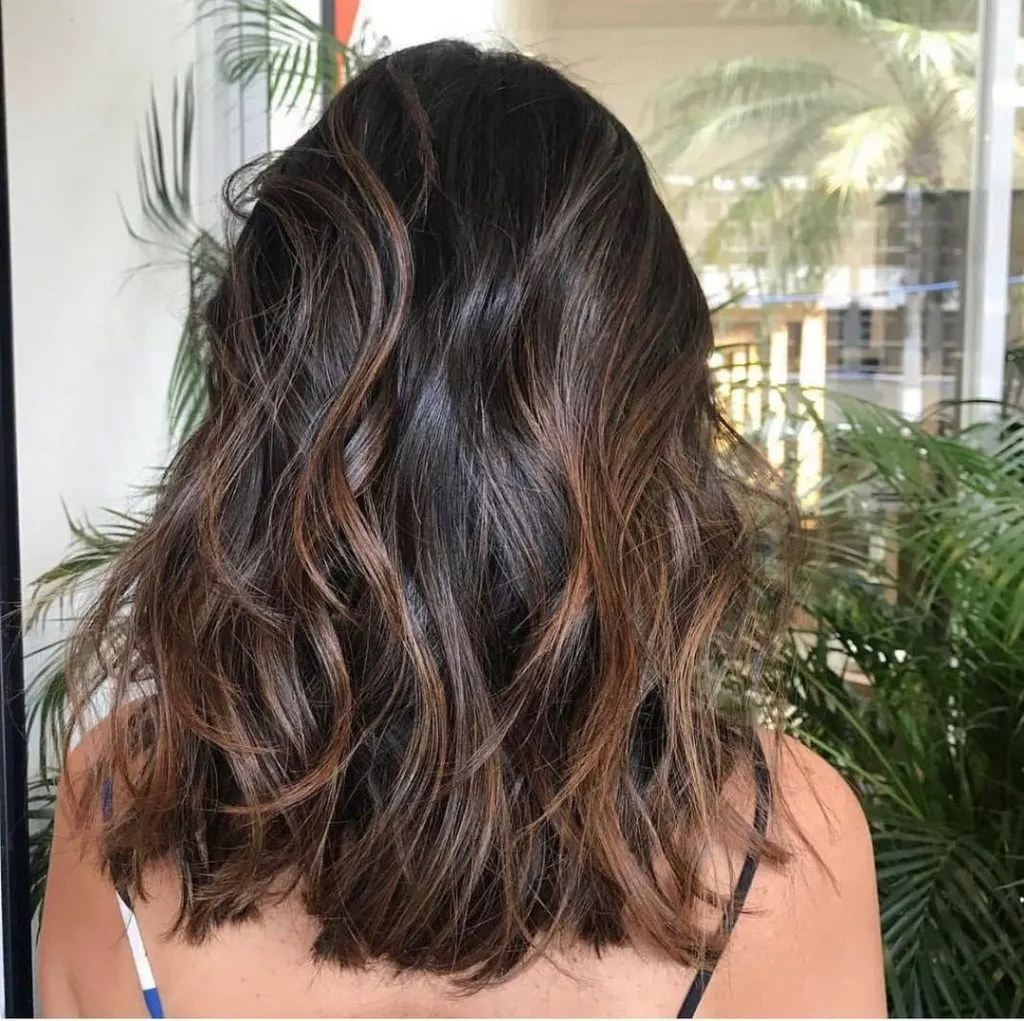 Make your brown hair instantly look shinier: warm caramel highlights will contrast the dark base color and draw the light, creating a vibrant look.
34. Medium Brown Hair With Cool Caramel Highlights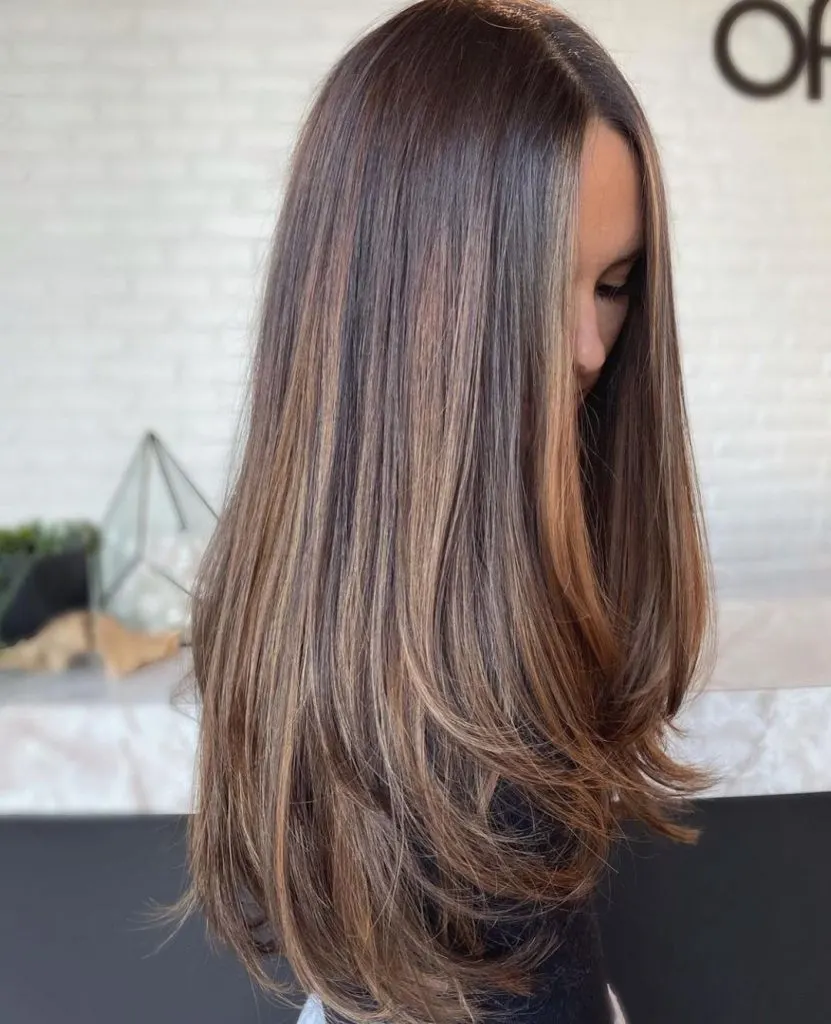 Highlights can enhance your natural hair color and give it dimension. Thick streaks a level or two lighter than the base color will achieve a blended, natural look.
35. Sun-Kissed Brown Hair With Caramel Highlights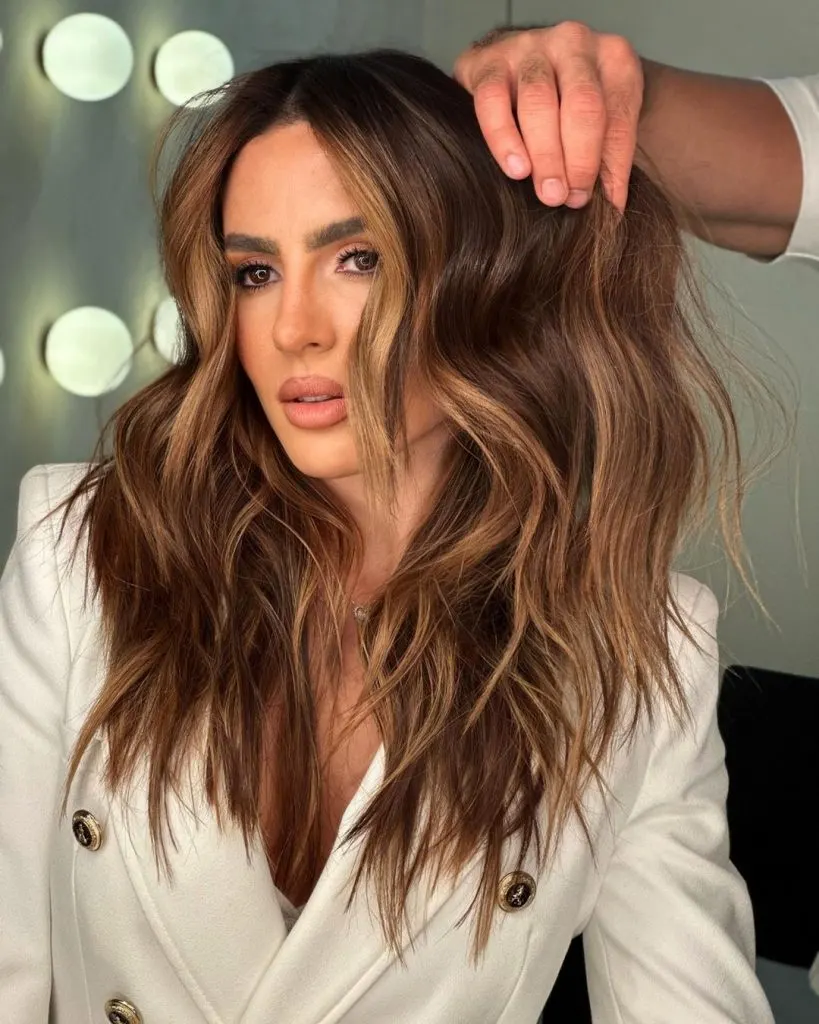 The embodiment of the perfect warm brunette: a golden glow on sun-kissed tresses created by caramel highlights.
36. Golden Caramel Curls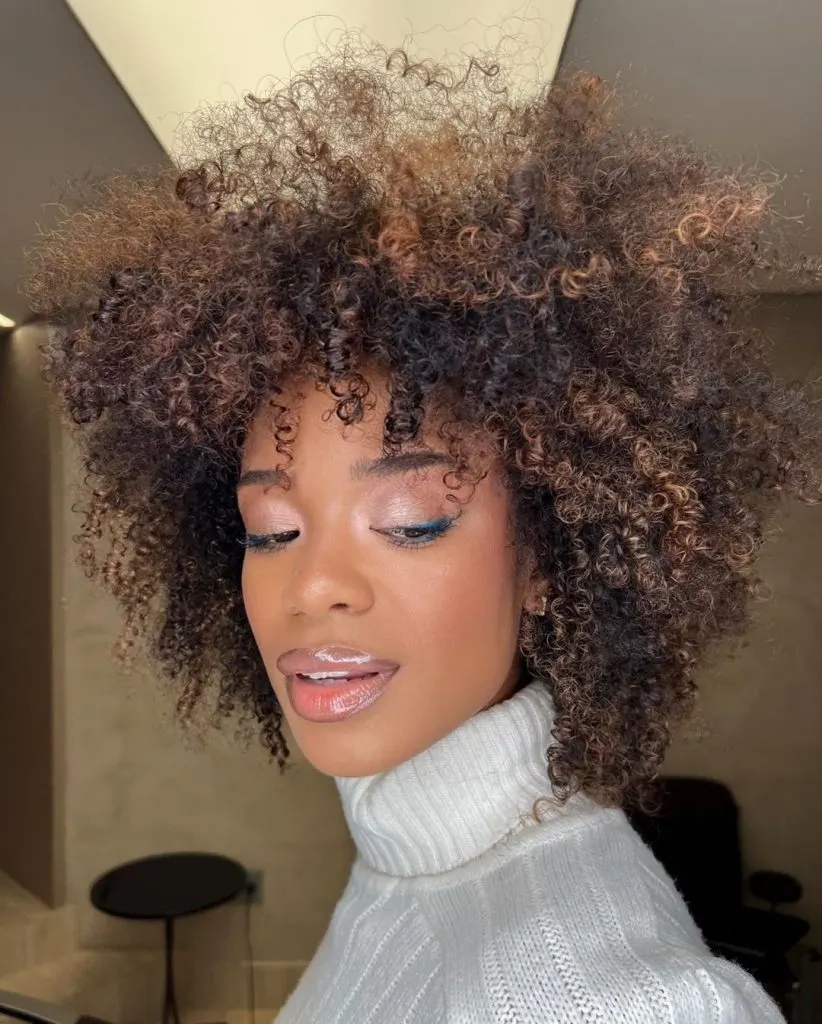 Caramel and gold highlights elevate the fine coils, accentuating the natural texture and showcasing the curl pattern.
37. Subtle Caramel Highlights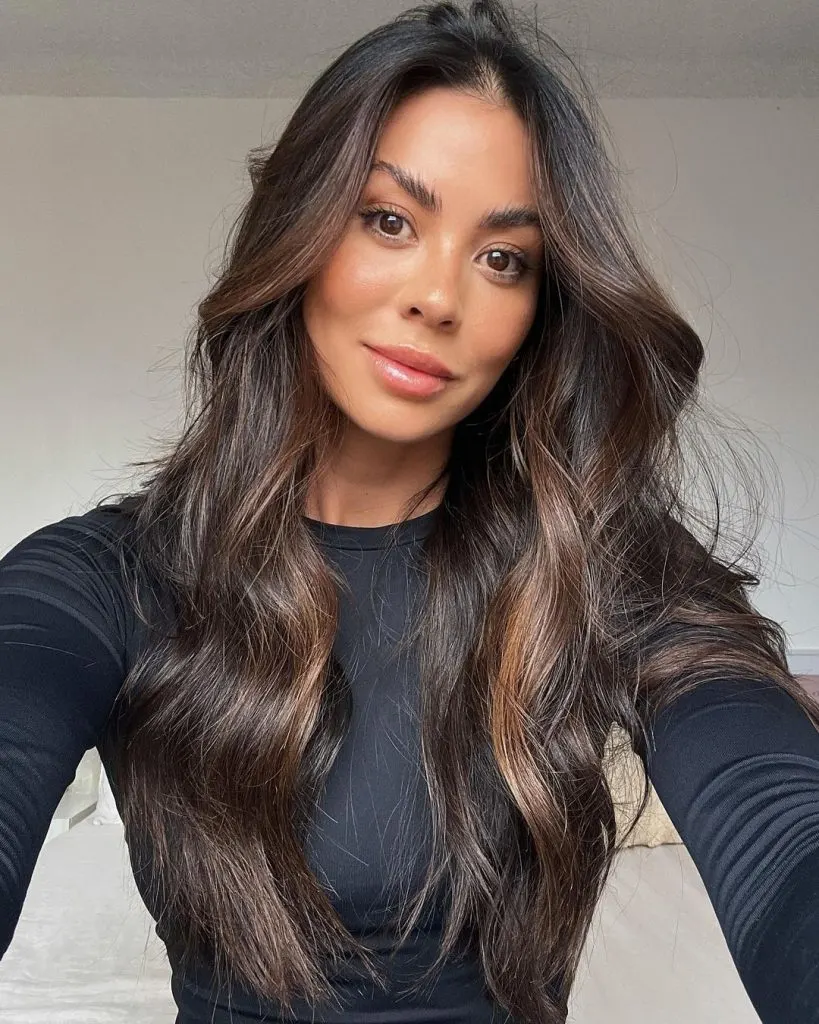 Even if you have a cool skin tone, you don't have to give up on warm caramel highlights if you place them further away from the face.
38. Cinnamon Caramel Highlights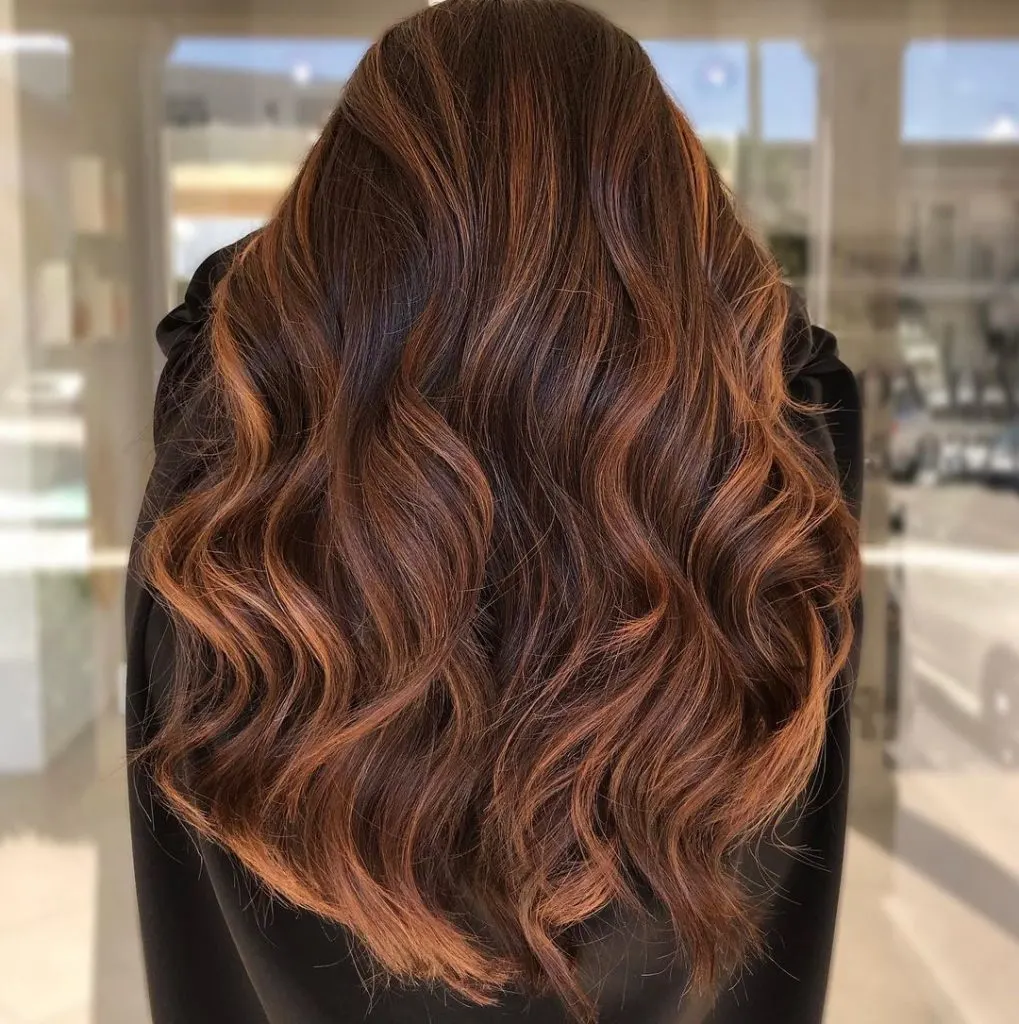 Your hair color will fade over time, but you can help it stay vibrant longer by caring for it. One of the factors that contributes to your warm brunette losing its dazzling glow is heat damage. Use heat protectants to combat fading caused by damage.
39. Face-Framing Caramel Highlights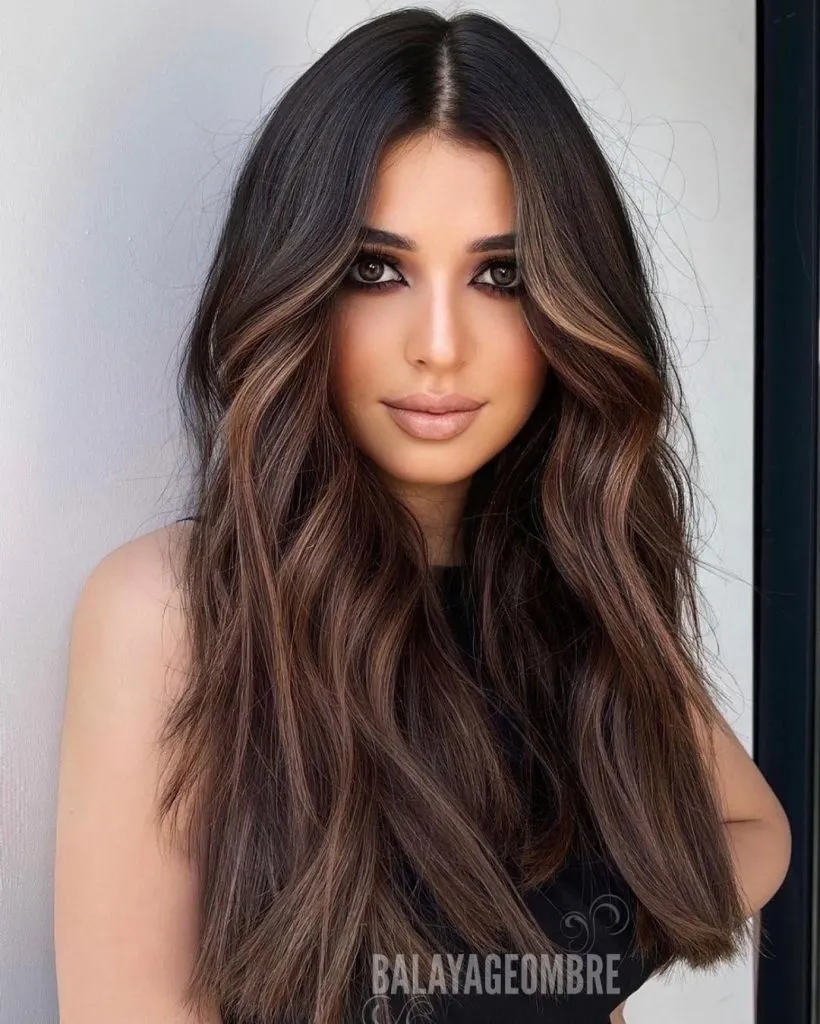 The right hair care products are also helpful in extending the vibrancy of your caramel highlights. Slow down color fading by using gentle shampoos and conditioners mild enough to use with colored hair.
40. Warm Caramel Highlights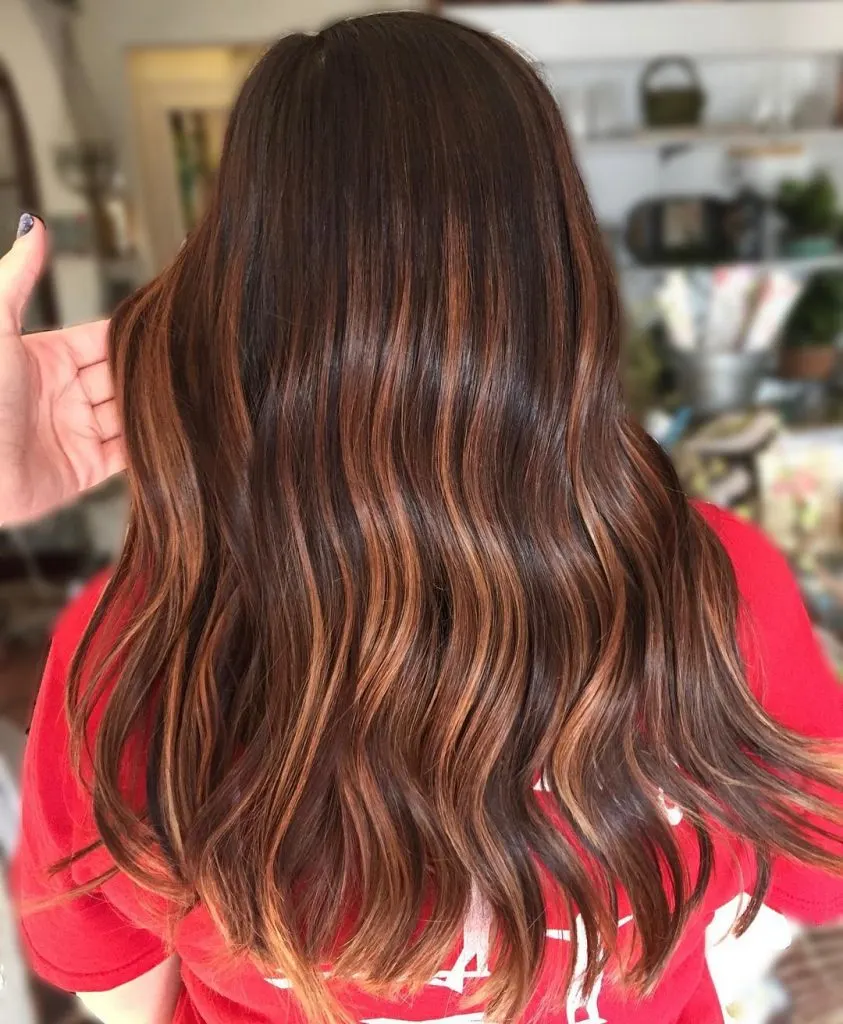 To maintain your color, another option you have is using products specifically formulated for brown hair. They contain pigments that refresh the color, so your brunette locks will stay vivid for longer.
41. Caramel Accents On Dark Brown Hair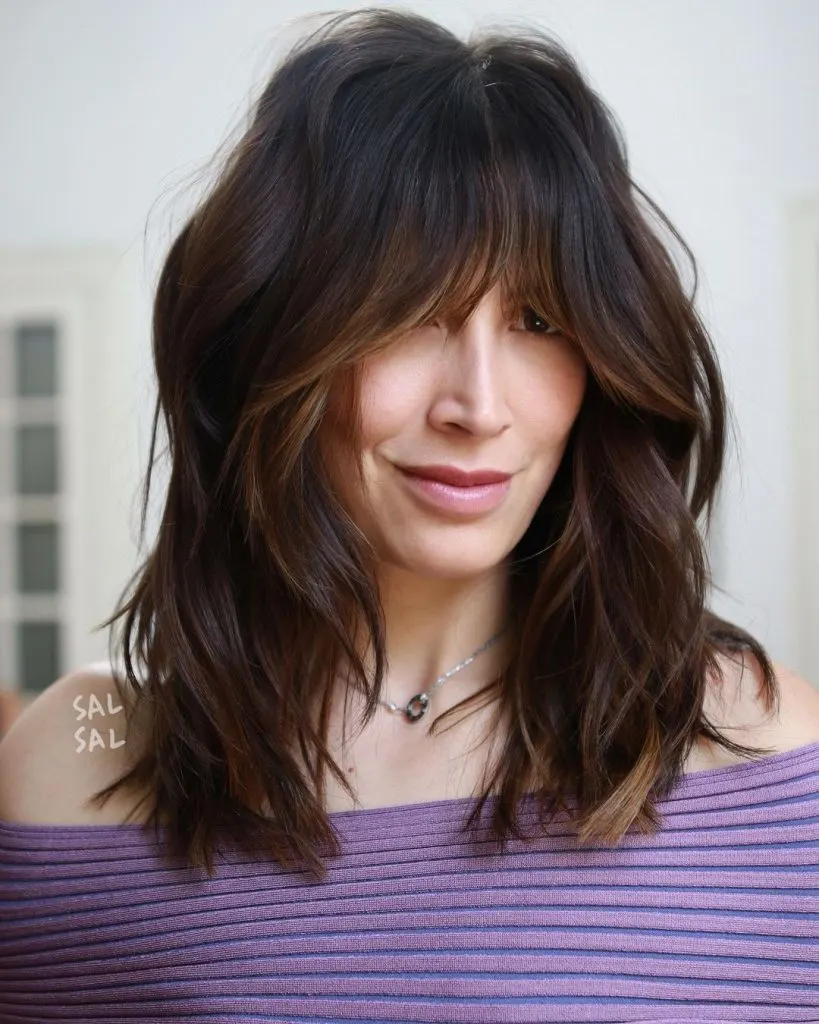 Subtle accents are enough to freshen up your look, especially if they're placed near the face.
42. Dimensional Caramel Higlights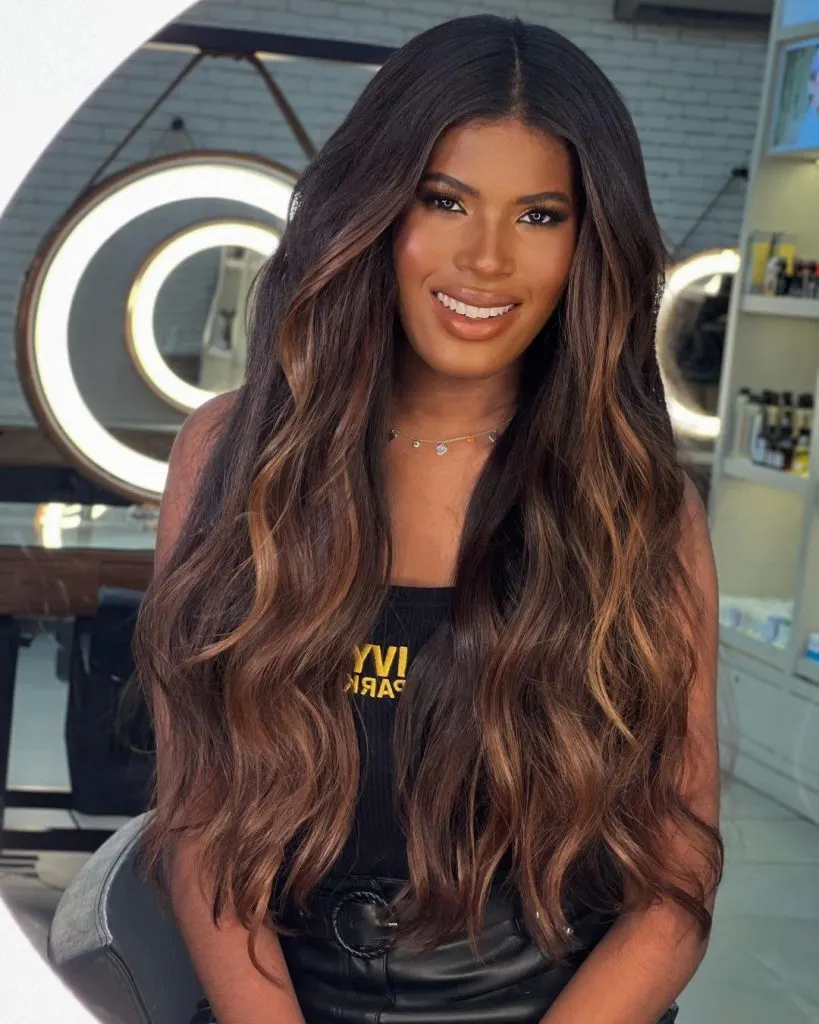 Caramel highlights give the hair brightness and sun-kissed warmth that won't fail to make your face glow.
43. Sun-Kissed Caramel Balayage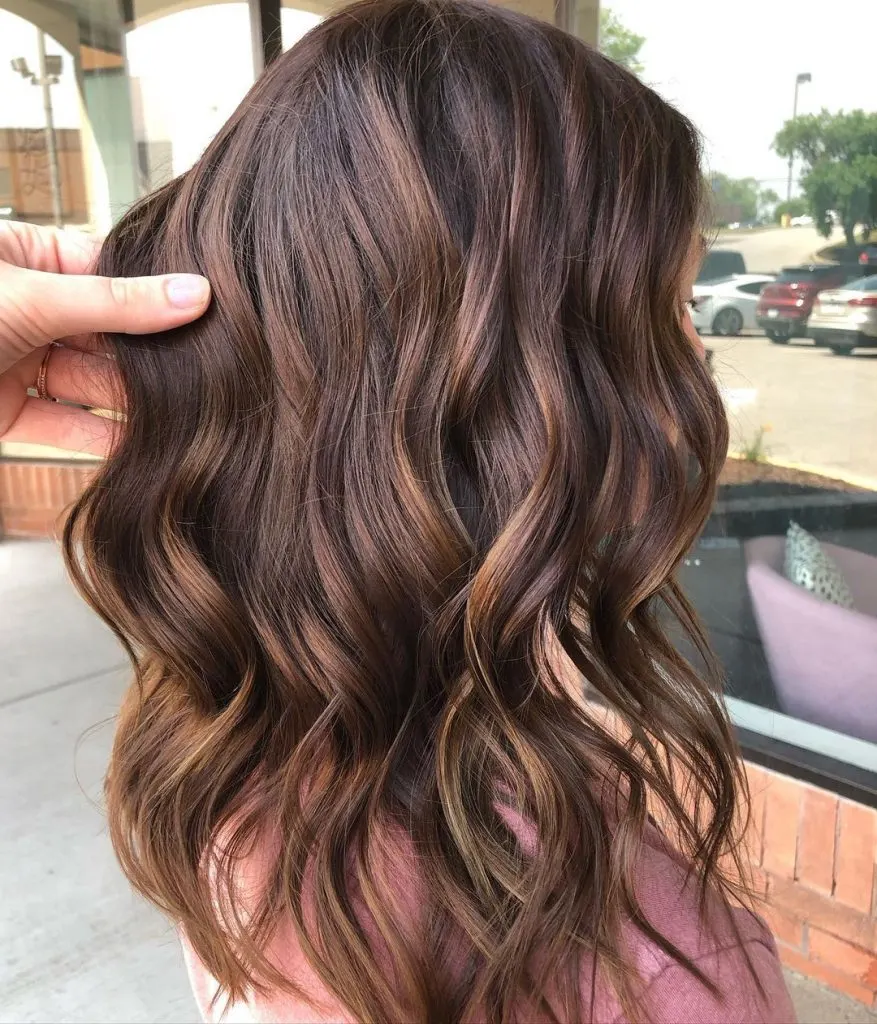 The placement of the caramel highlights makes this smooth balayage low-maintenance—the transition from the roots to the highlights is seamless, so you won't need touch-ups all the time.
44. Subtle Sun-Kissed Golden Caramel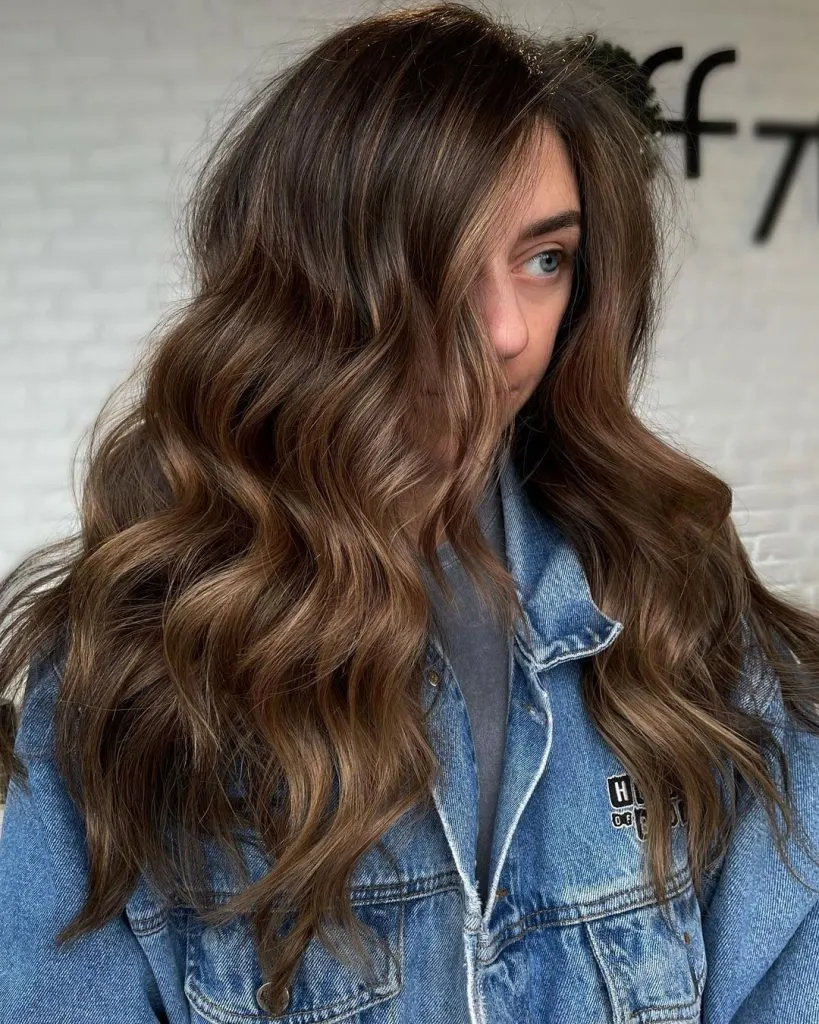 Picking just the right shade of caramel highlights to create harmony with your base color can be tricky, so consult your colorist rather than insisting on a spacific shade. Here you can see what it looks like when you succeed: sun-kissed instead of salon-done.
45. Brown Lob With Caramel Balayage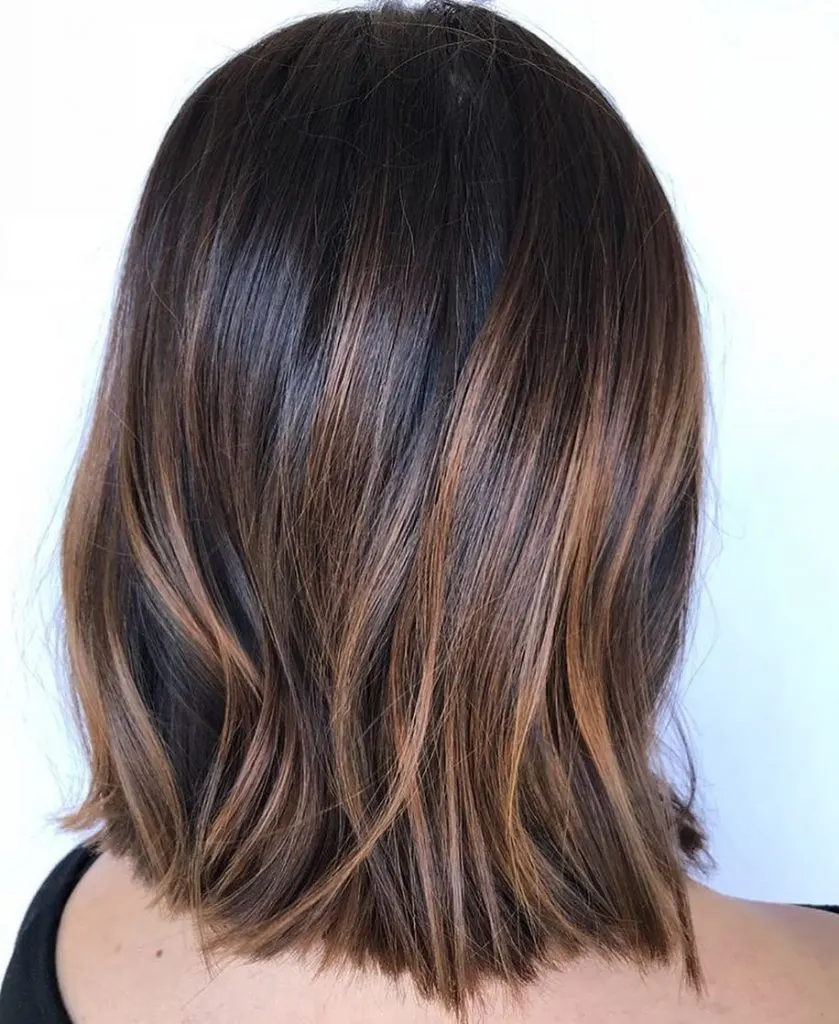 Caramel highlights are the most gorgeous way to add warmth to your locks. This pretty balayage brightens and warms up the dark base, creating a chic, inviting look.
46. Tawny Brown Hair With Highlights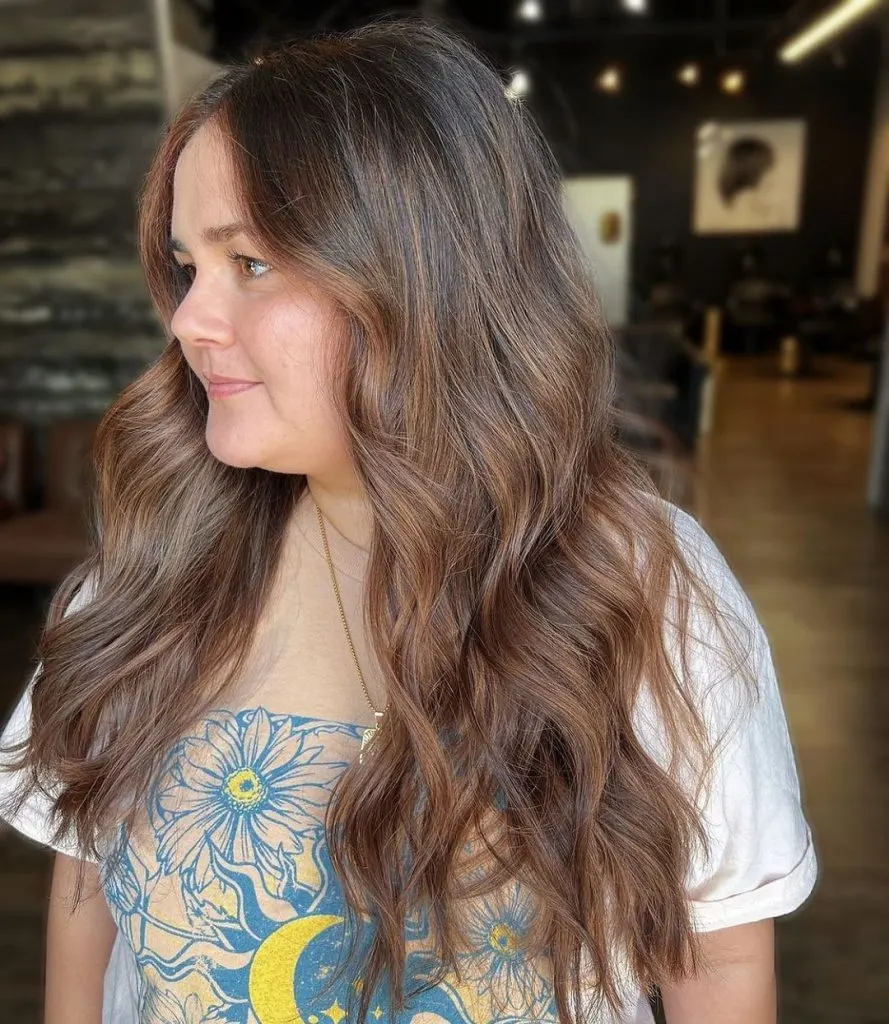 Keeping your hair healthy is even more important if you like wearing it long, so avoid over-processing and opt for subtle highlights to keep it damage-free.
47. Amber Caramel Balayage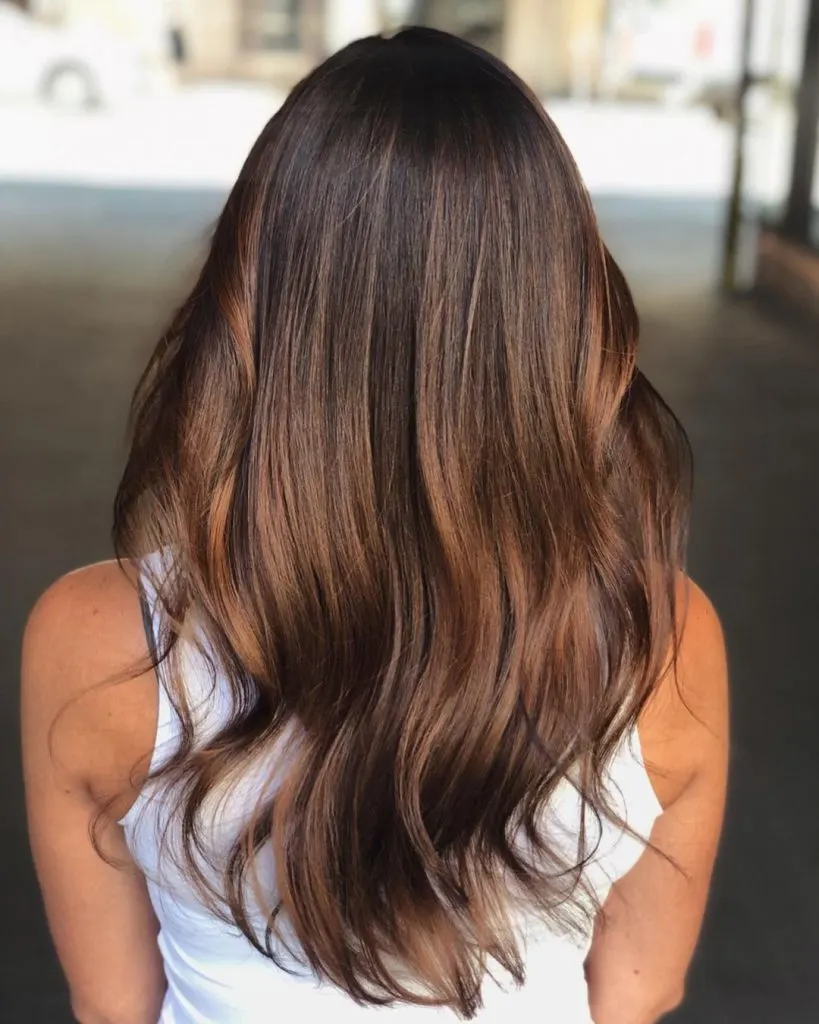 This unique shade is somewhere between sultry amber and delectable caramel. It's just one of the many cool-toned options for brunette highlights out there that shows you can get lots of warmth even in cool hair.
48. Caramel Highlights And Face-Framing Balayage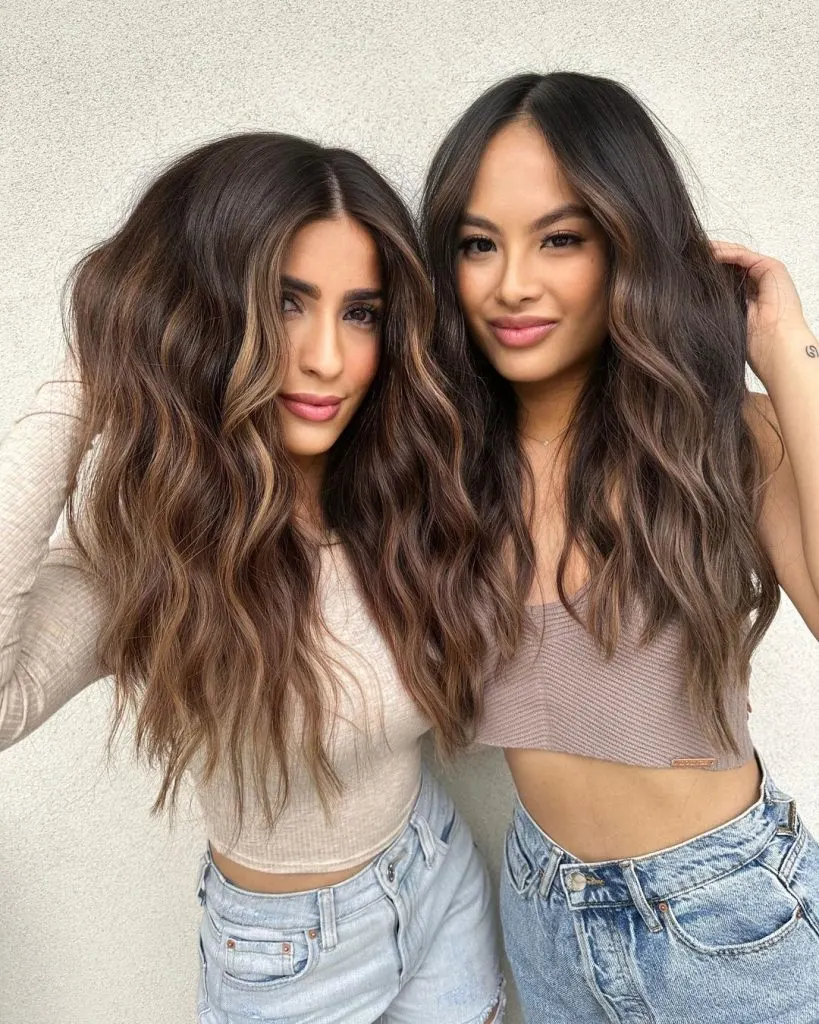 Two types of caramel highlights: more obvious and more subtle, both gorgeous. The version on the left adds brightness and the one on the right depth. What's your style?
49. Brown Hair With Caramel Babylights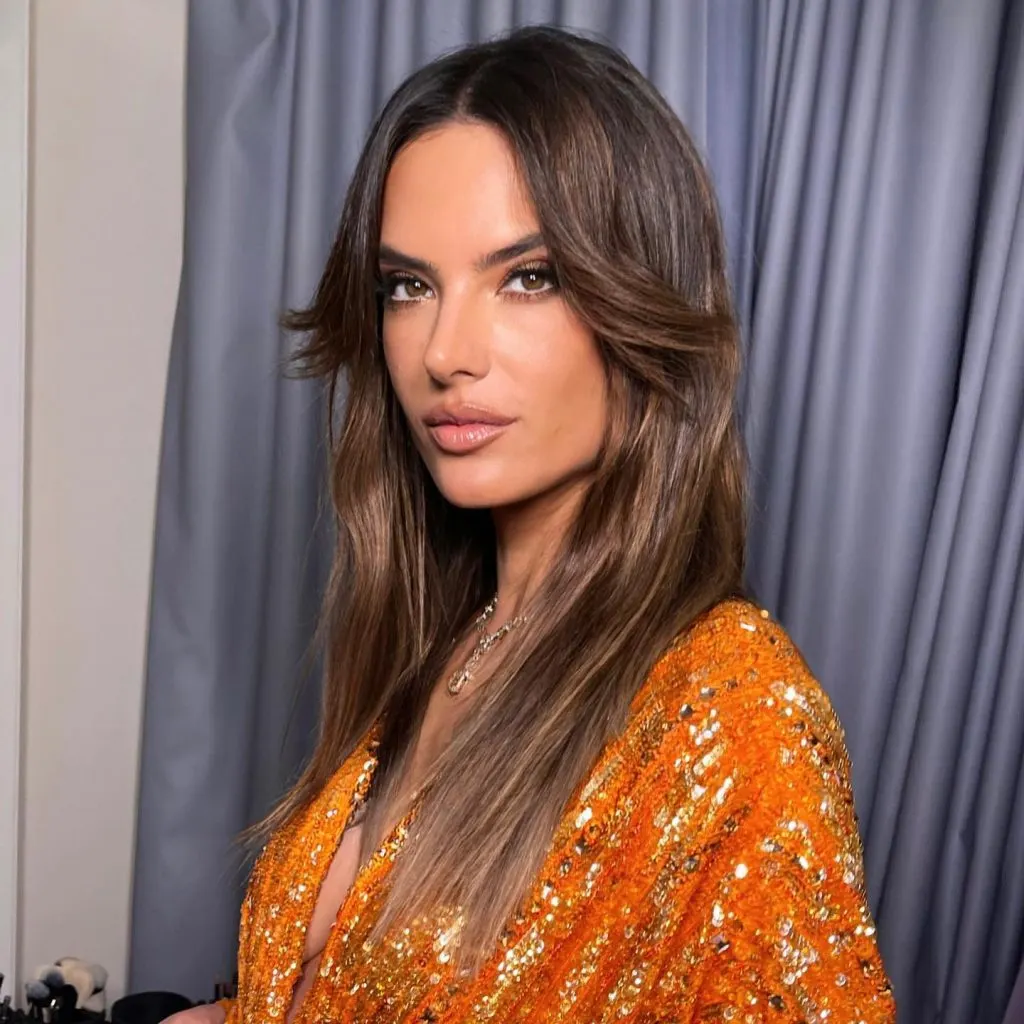 Adjusting the intensity and the thickness of the highlights can create dramatically different looks. Fine caramel babylights create a subtle effect, natural-looking and fresh.
50. Chocolate Balayage With Caramel Highlights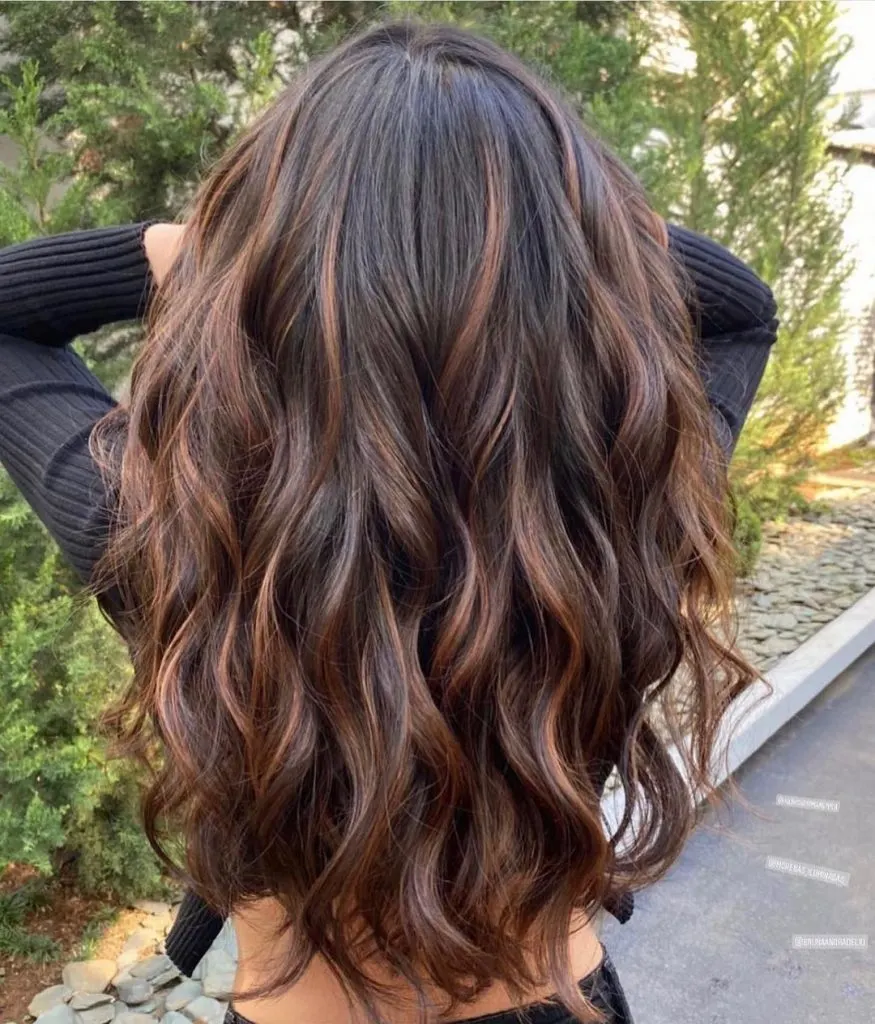 Caramel highlight on wavy hair? Yes, please. These deep caramel streaks are warm, cozy and give the deep chocolate base a glow—a perfect fall hair color.
51. Light Caramel Highlights On Brown Hair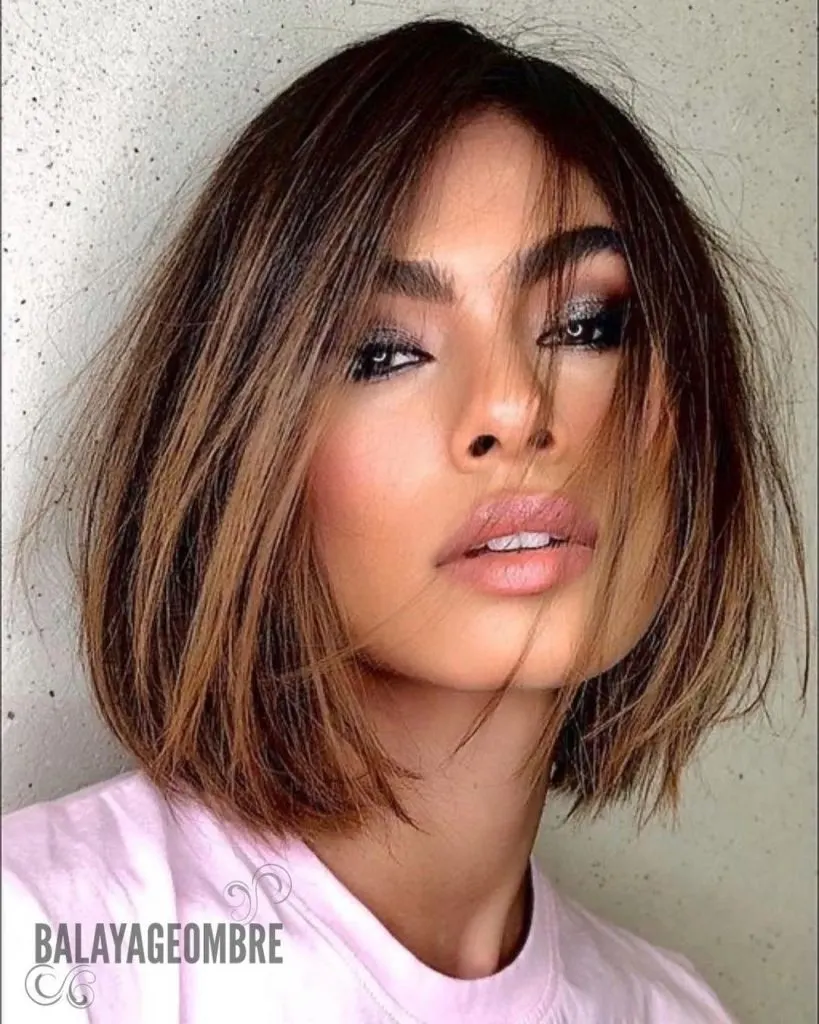 This look combines light caramel highlights with a dark base in a polished and elegant way. The classic long bob completes the look and ties it together.
52. Caramel Cinnamon Balayage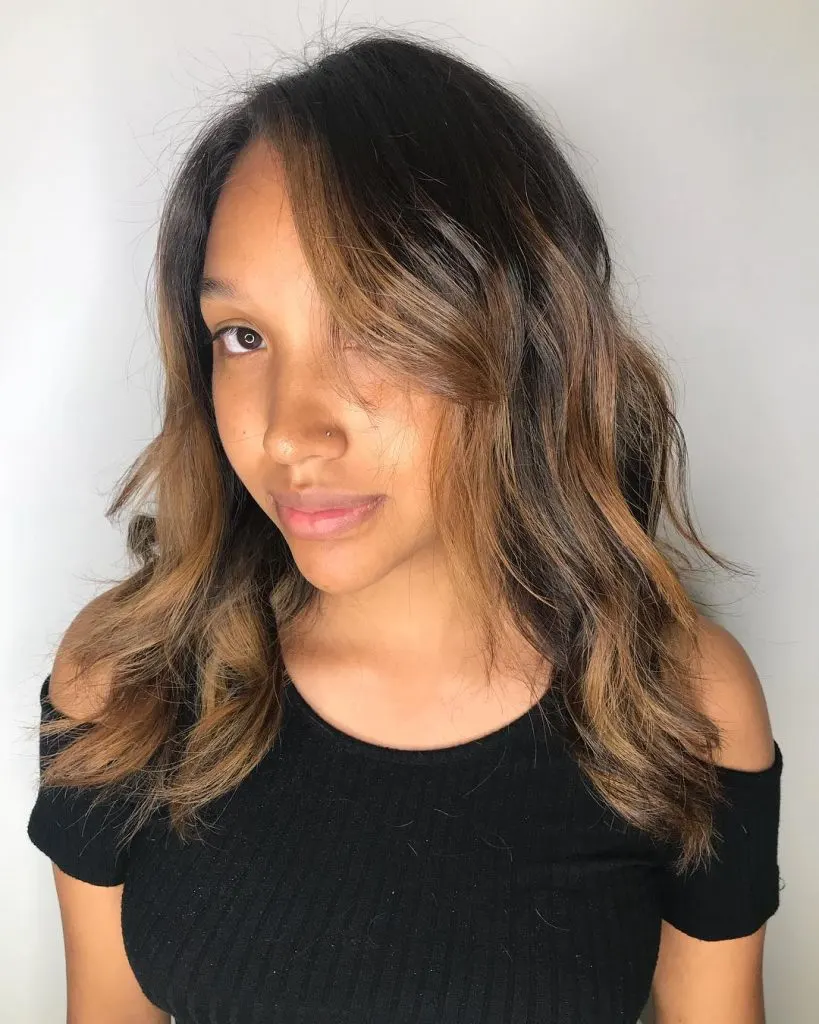 Make your complexion glow with the right color. This sweet caramel brown is a great choice for warm medium deep skin tones.
53. Honey Caramel Highlights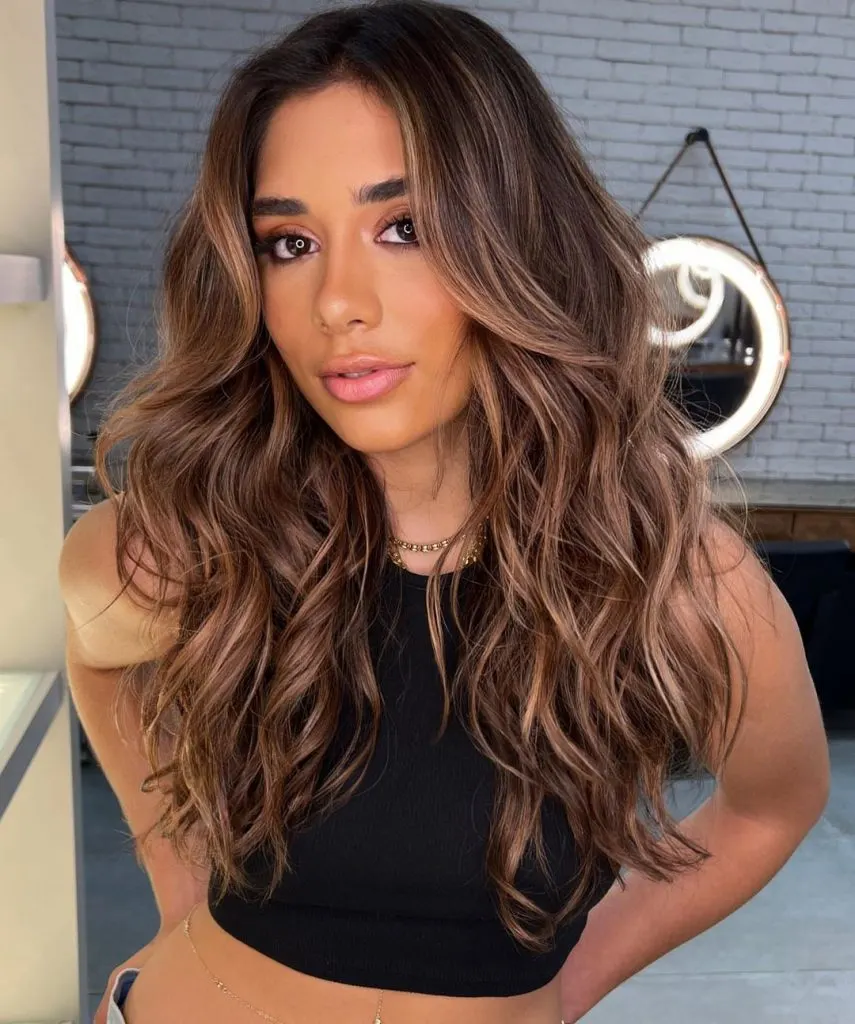 You already know the importance of considering your skin tone when choosing a hair color that will suit you, but did you know your eye color will also stand out when you pick a perfect shade?
Caramel brown looks best with warm-toned eye colors, such as deep cocoa brown, bright hazel or sparkling amber.
54. Brown Hair With Pale Caramel Highlights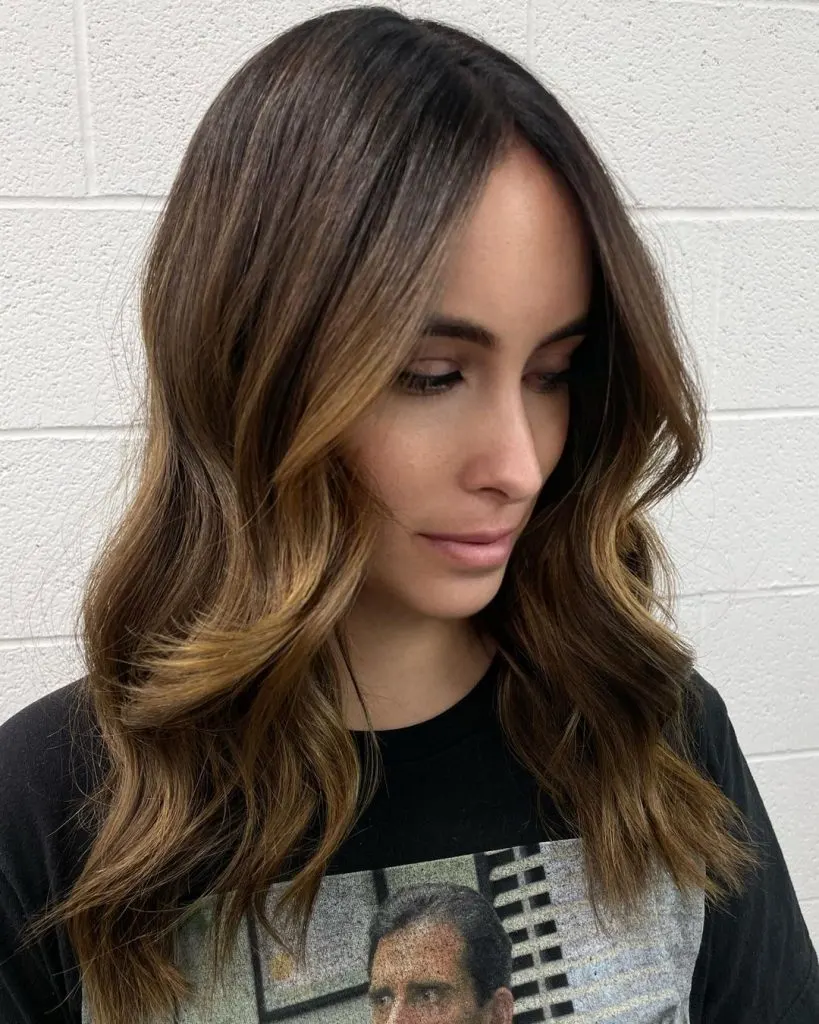 If you have fine hair, highlights can make it appear fuller even when they're subtle.
55. Golden Caramel Face-Framing Highlights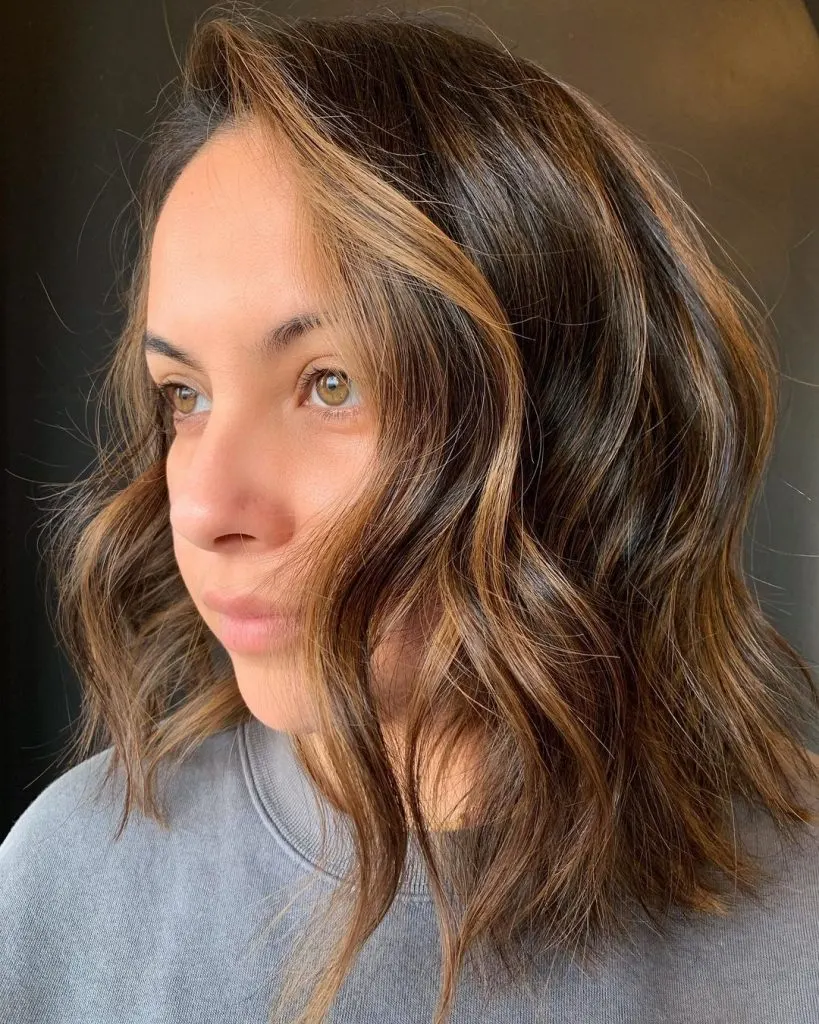 These golden caramel highlights upgrade the brunette base by creating a play of color and adding shine to the hair.
56. Sun-Kissed Espresso Brown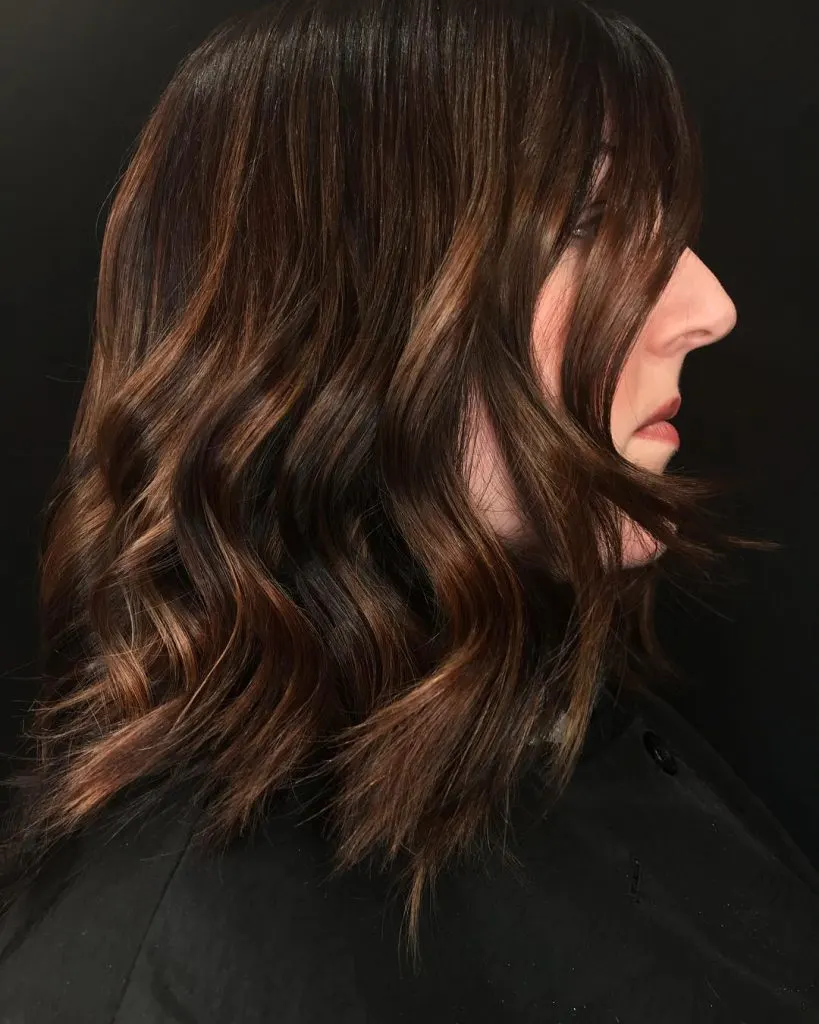 You don't have to lighten your dark hair to get a new look. Here, soft caramel creates a rich, radiant glow without changing the essence of the deep espresso base color.
57. Deep Burgundy And Caramel Highlights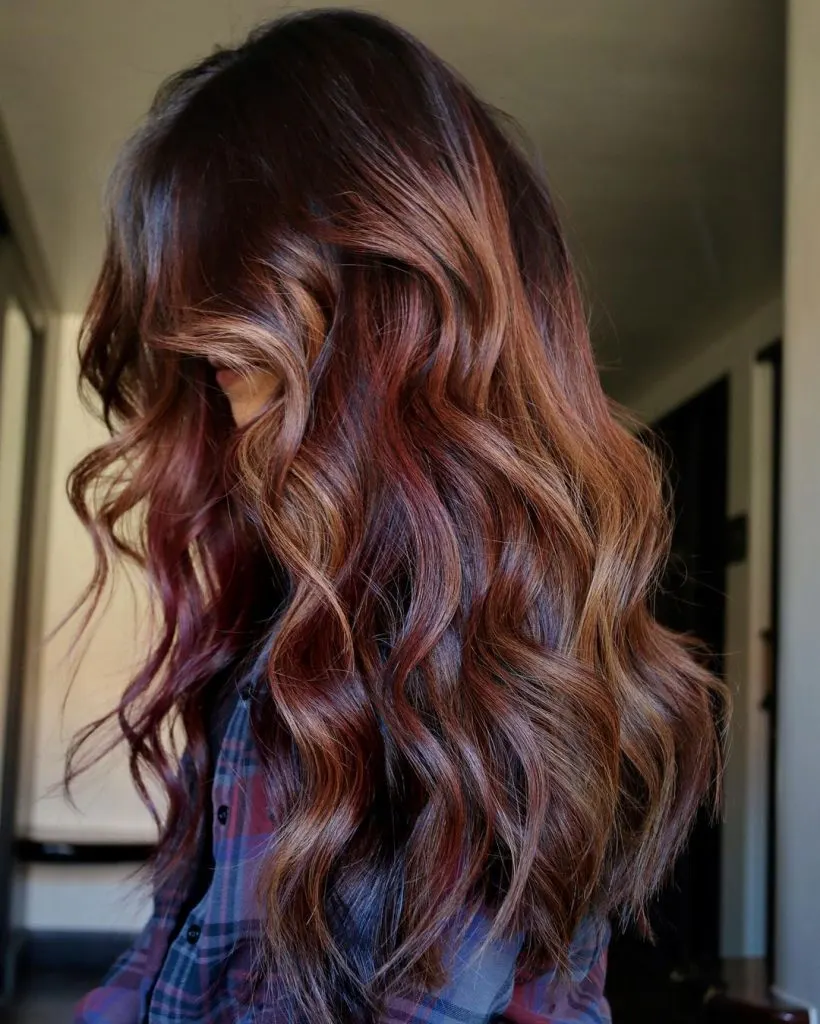 The bold mix of cool and warm tones is unexpected, but that's what makes is special. When your hair color fits your personal style, it can't be wrong for you.
58. Luxurious Caramel And Cinnamon Highlights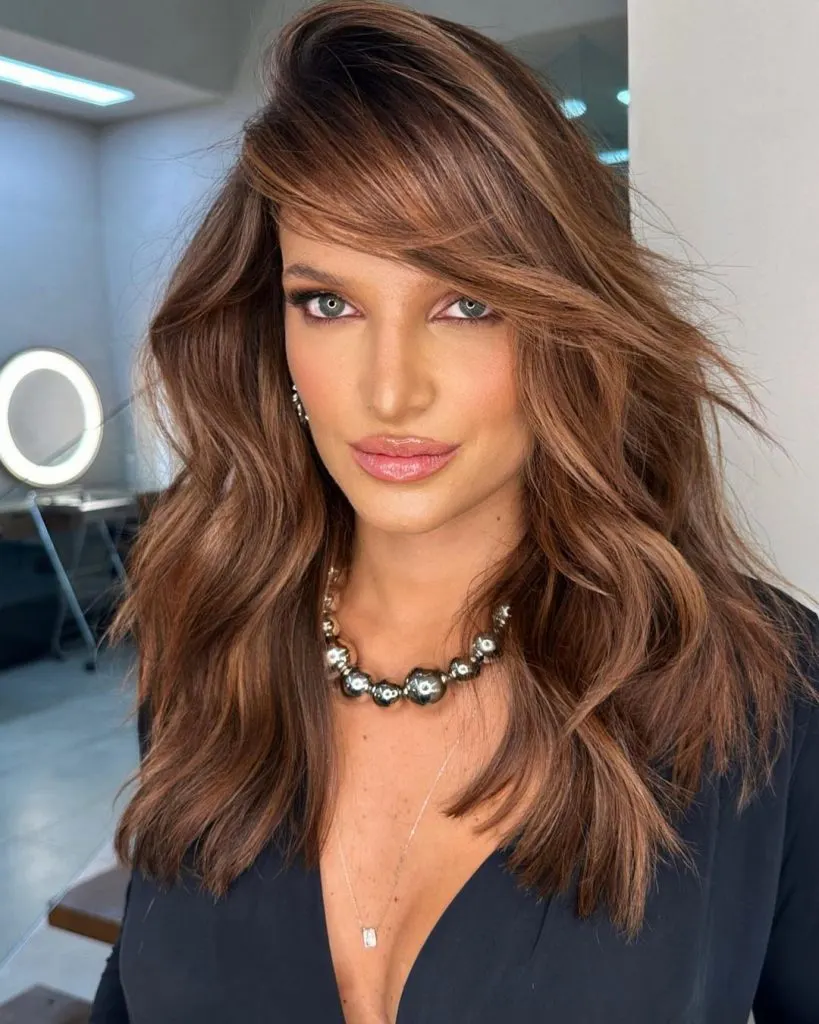 This combo of caramel and cinnamon is a sweet and spicy delight. A super vibrant and rich color.
59. Subtle Chocolate And Caramel Highlights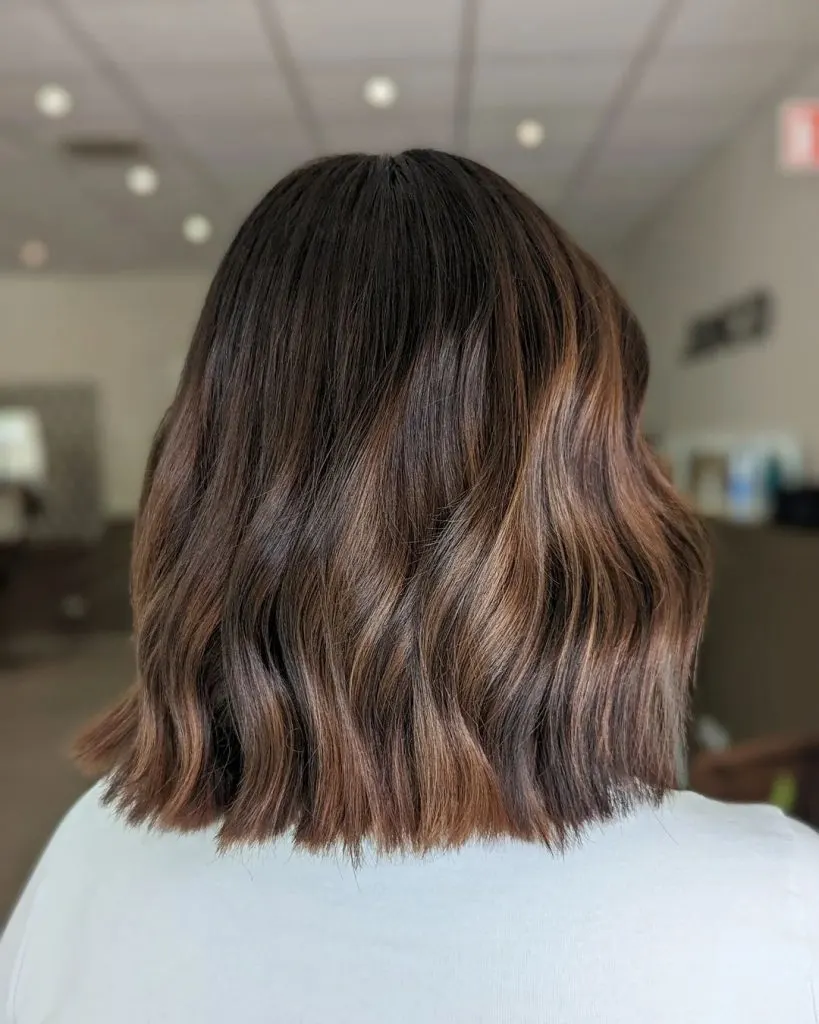 Expensive brunette is trending right now, and it's this: dimensional, elevated brown hair that looks natural and sophisticated.
60. Sun-Kissed Pale Caramel Balayage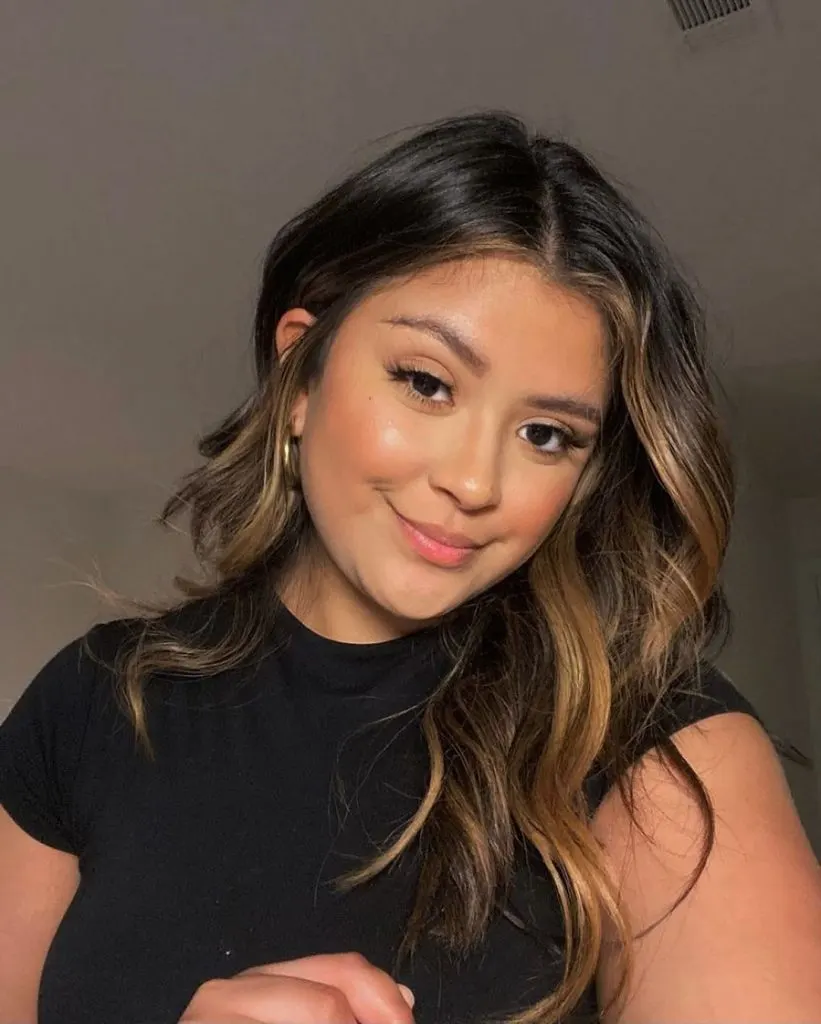 Keeping your sun-kissed balayage fresh includes protecting it from the actual sun. Sun damage can fade your color, so wear a hat when you know you'll be spending a long period of time in the sunlight.
61. Dark Chestnut To Caramel Ombre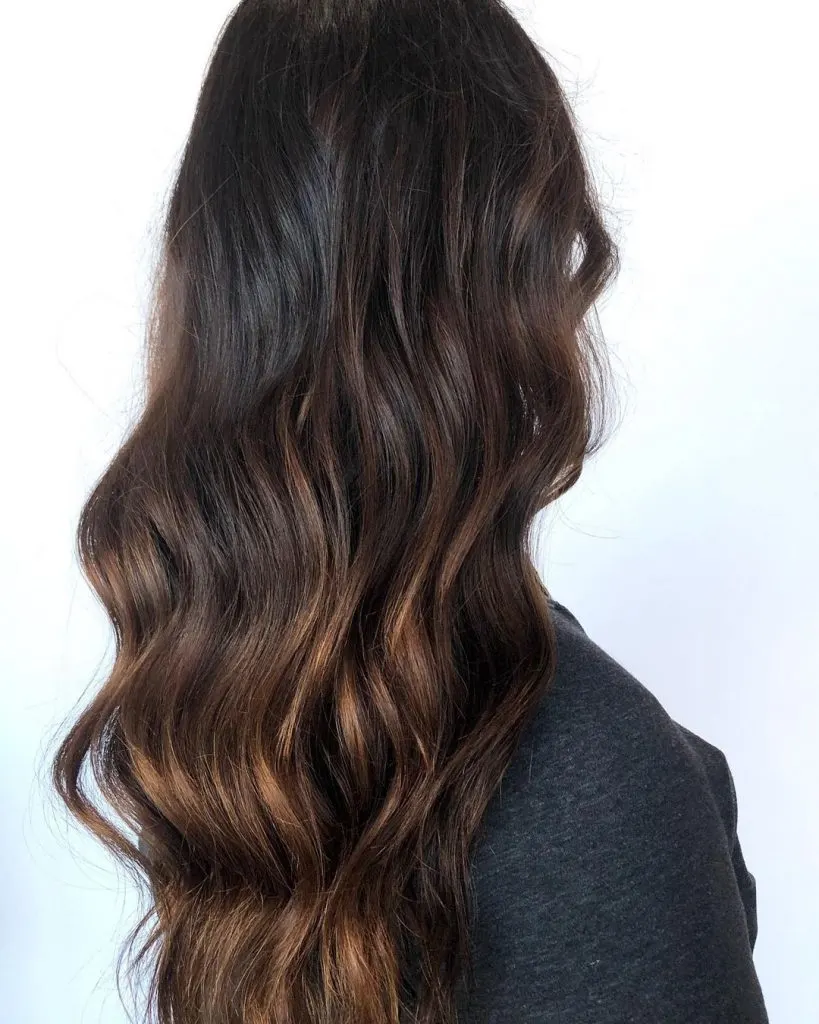 Enhance the depth of chestnut brunette tresses with a subtle, natural-looking ombre. Also, this look is very on-trend right now.
62. Soft Caramel Brown Hair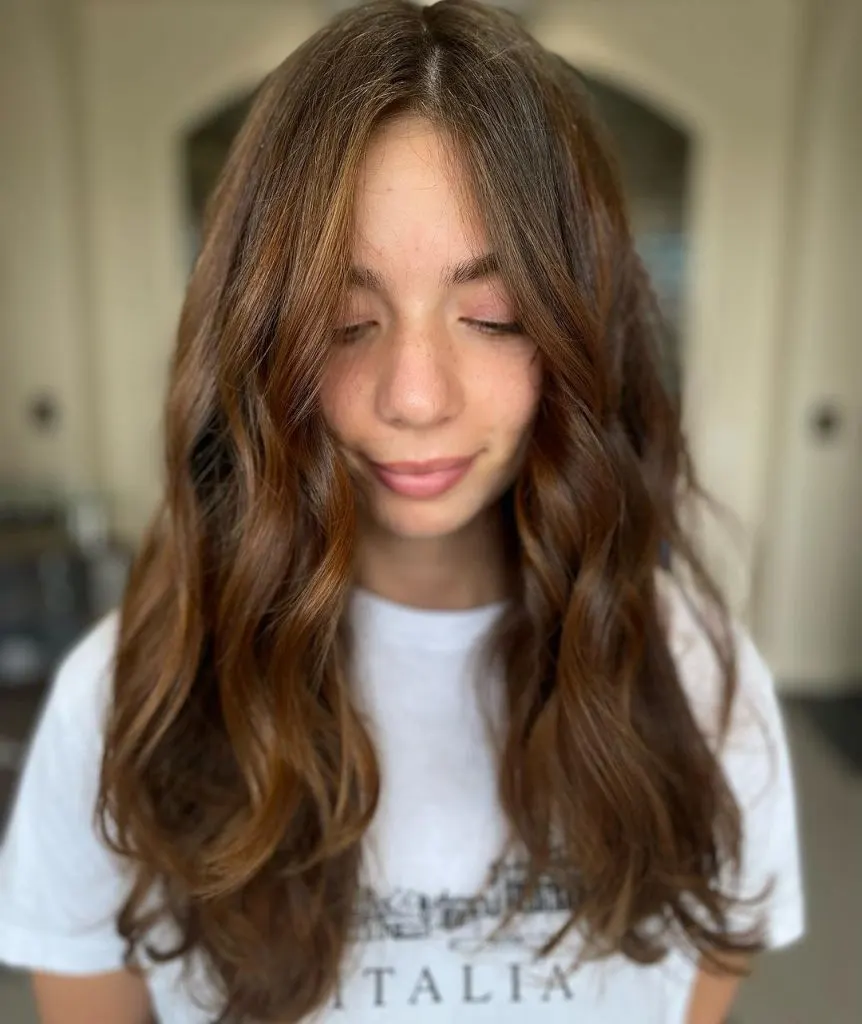 Highlights are usually distinctly visible, but they can also be used to create a bigger color change but with more dimension than one-tone color.
63. Rosy Caramel Balayage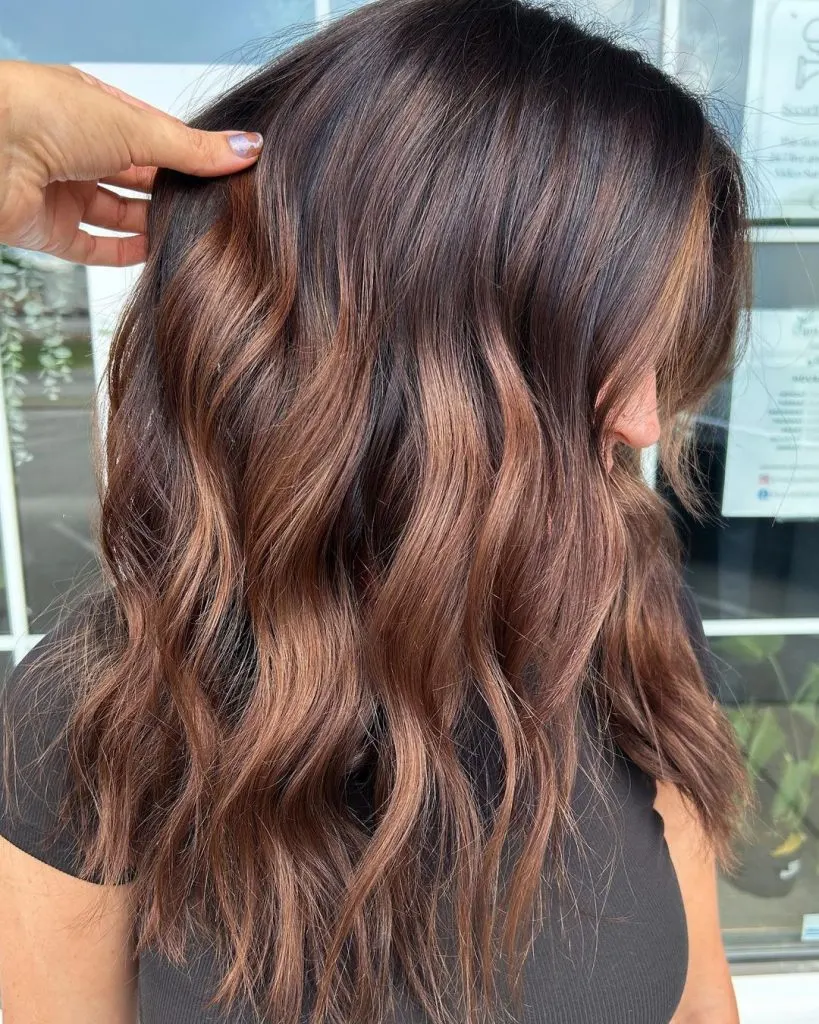 Even the most low-maintenance balayage needs periodic touch-ups. The more vibrant the shade, the more frequently you'll need to visit the salon to freshen up the color.
64. Spicy Caramel Highlights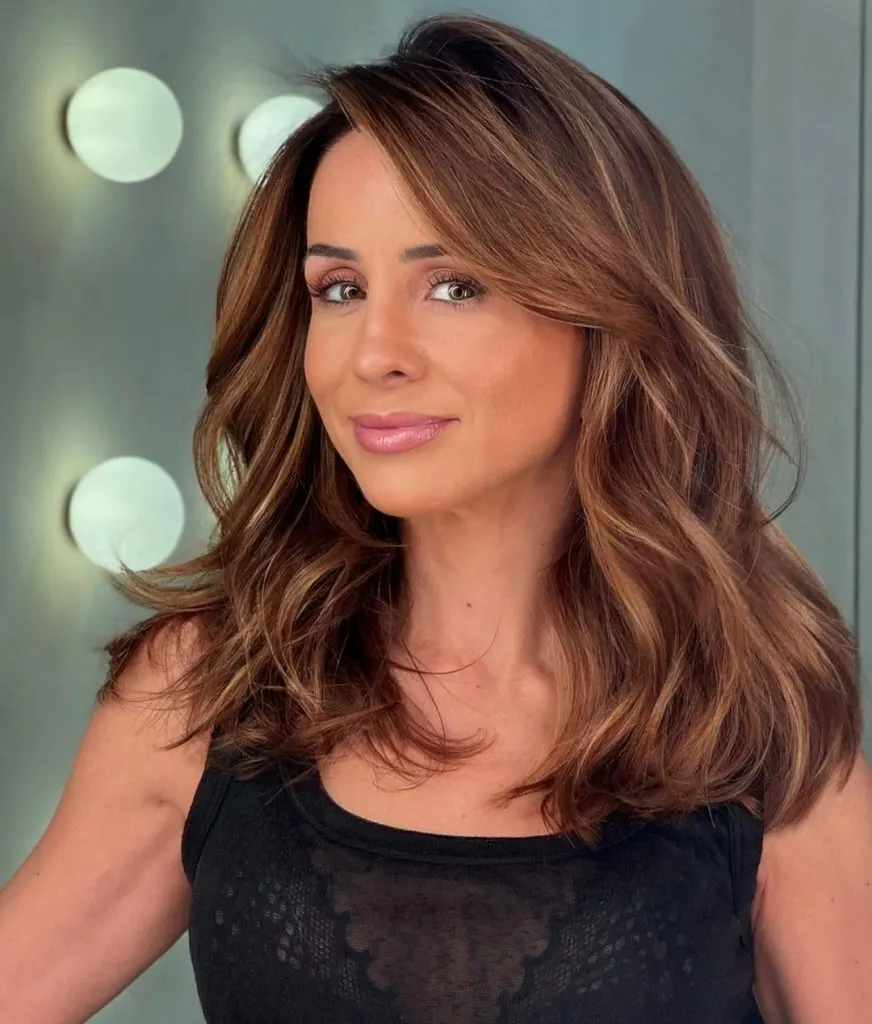 The hair color that perfectly suits your skin tone will make your face radiate a healthy glow. Getting there will take some trial and error but learning if you have warm or cool undertones is a good start.
65. Dark Chocolate Hair With Warm Caramel Babylights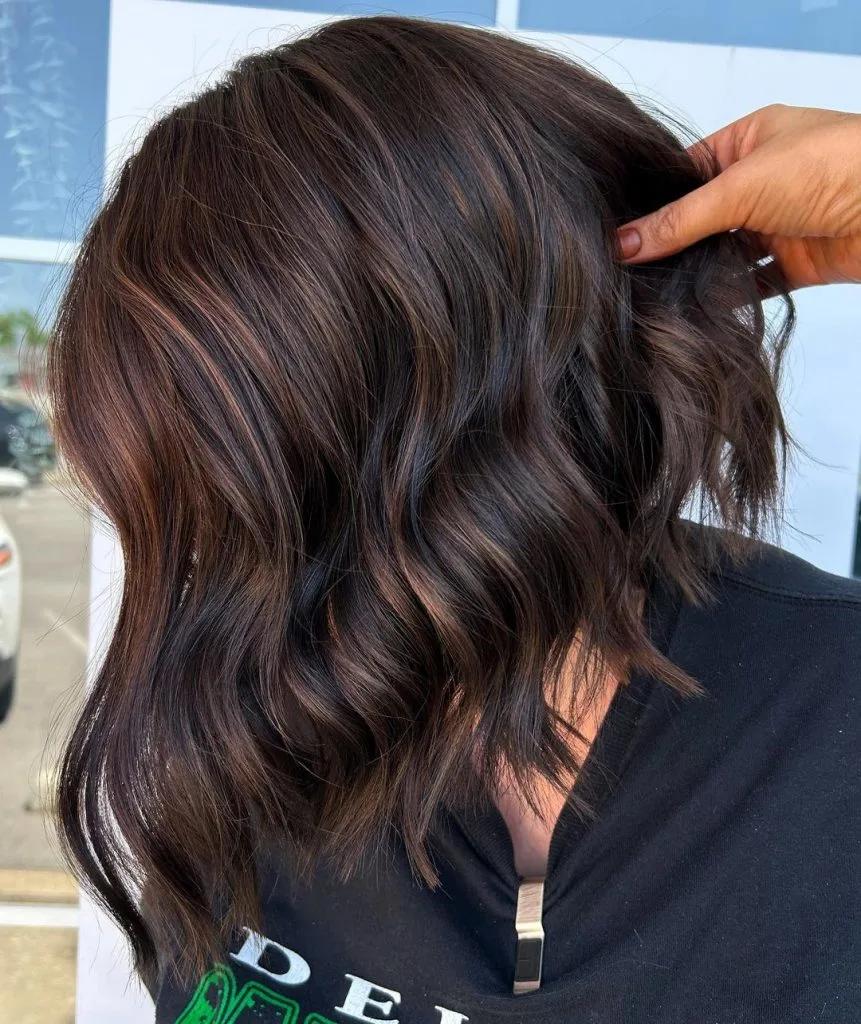 Delicate babylights serve to illuminate dark chocolate tresses, making them look much more rich and elegant.