You've got a special event or occasion and don't want your hair to look flat and dull? You've hit the jackpot coming here!
I've collected the most flattering curled hairstyles for medium hair and I'm sure you'll find the one that will make you slay at your event.
1. Easy Curled Hairstyle For Medium Hair
You don't have time to go to the salon? Don't worry. You can get this easy curled hairstyle even if you aren't that handy with a curling iron.
2. Mid-Length Wavy Retro Hairstyle
I'm sure these retro waves will never go out of fashion. To be honest, they deserve to be a never-ending trend because they look so fabulous!
3. Half-Up Half-Down Curled Hairstyle For Medium Hair
These are the most beautiful curls I have ever seen. The braid at the crown makes the entire look more youthful and elegant.
4. Elegant Curled Hairstyle For Medium Hair
Tell me the truth… Did you get the urge to call your hairdresser the moment you saw this picture? I know, it happened to me too. This gorgeous blonde balayage makes the whole look even more beautiful.
5. Loose Curled Hairstyle For Medium Hair
The best thing about loose curls is that you can get them without a curling iron. You can simply roll your hair into a heatless curling headband, go to bed, and wake up with this amazing loose-curled hairstyle.
6. Bouncy Curls On Mid-Length Hair
These bouncy curls should be celebrated by all of us who have square face shapes. Trust me, nothing makes your face look thinner than this hairstyle.
7. Medium Length Curled Ponytail
Whether it's prom night or your big day, this curled ponytail will make you look stunning. And just look how adding a tiny hair accessory can take the entire look to a whole new level.
8. Wet Balayage & Loose Waves For Medium Hair
I'm a huge fan of wet balayage and this picture proves it's so much better than dry balayage. It adds brightness to the color and stops the hair ends from becoming dull.
9. Elegant Curled Updo For Medium Hair
So simple, yet flawless!
If it were up to me, I would do this wonderful look on every bride because this curled updo suits absolutely everyone.
10. Curled Wedding Hairstyle For Medium Hair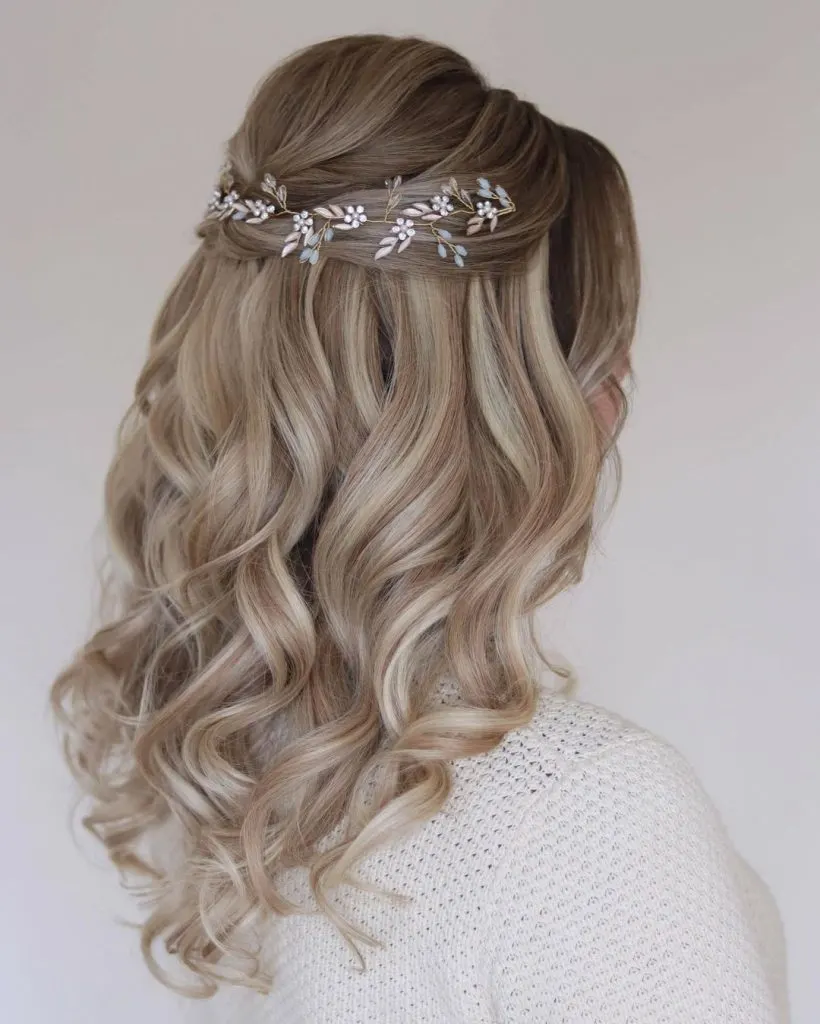 However, it's their special day, and only the brides get to decide which kind of hairstyle they want for it.
If you don't like wearing your hair up, this non-updo wedding hairstyle is a great option, too. You should only spice it up with a bridal hair comb or another accessory.
11. Wavy Medium Lob
Are you afraid to get a bob haircut because you don't want to cut your locks that short? Don't worry, just try with a lob first and after some time, maybe you'll get the courage to commit to a full-on bob.
12. Extra Voluminous Bouncy Blowout For Medium Hair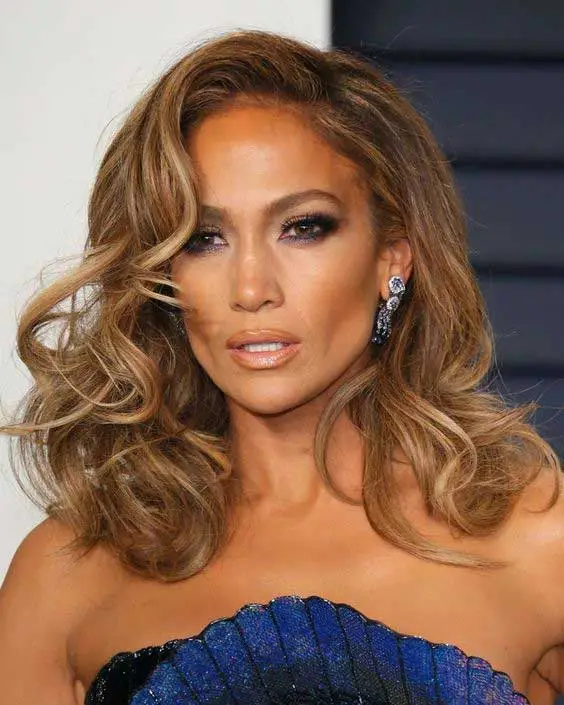 When it comes to your hair, there can never be too much volume. This kind of rich texture can hide and conceal all those imperfections you don't particularly like on your face.
13. Homecoming Hairstyle For Curled Medium Hair
If your homecoming is around the corner and you still haven't found the perfect hairstyle, look no further! All eyes will be on you once you enter the room with this half-up half-down hairstyle, especially if you add a sweet detail like these flower hair pins.
14. Formal Curled Updo With Wispy Bangs
If you have an oval or heart-shaped face and need a good hairstyle that would highlight your best facial features, check out this lovely updo because that's what you need.
15. 1940s Curled Mid-Length Hairstyle
Is there a woman who didn't wish to try the famous Marilyn Monroe-inspired curls at least once in her life? No? Great, because you all should try these tight tousled curls and feel like a true DIVA.
16. Curled Blowout For Medium Hair
With these subtle blowout curls, you'll get an elegant look for every occasion. This hairstyle will add volume to your hair and instantly make your face look slimmer.
17. Glam 'Red Carpet' Waves
I think you'll agree with me that this look says HOLLYWOOD! A stunning hairstyle like this one can really give you an immediate confidence boost.
18. Space Buns On Loose Curled Medium Hair
This sweet space buns hairstyle says that it doesn't matter how old you are, but how you feel about it. Let your inner child out and you'll see how beautiful life truly is.
19. Wavy Blonde Hair With Highlights
If you don't like drastic changes but want to refresh your hairstyle, just go with these beachy waves-blonde highlights combo. Nothing enhances your facial features like natural-looking highlights.
20. Shaggy Curled Hair With Curtain Bangs
Most women like shaggy styles because they're so effortless and they suit literally everyone. Besides, they highlight the natural texture of hair.
21. Messy Curls On Mid-Length Hair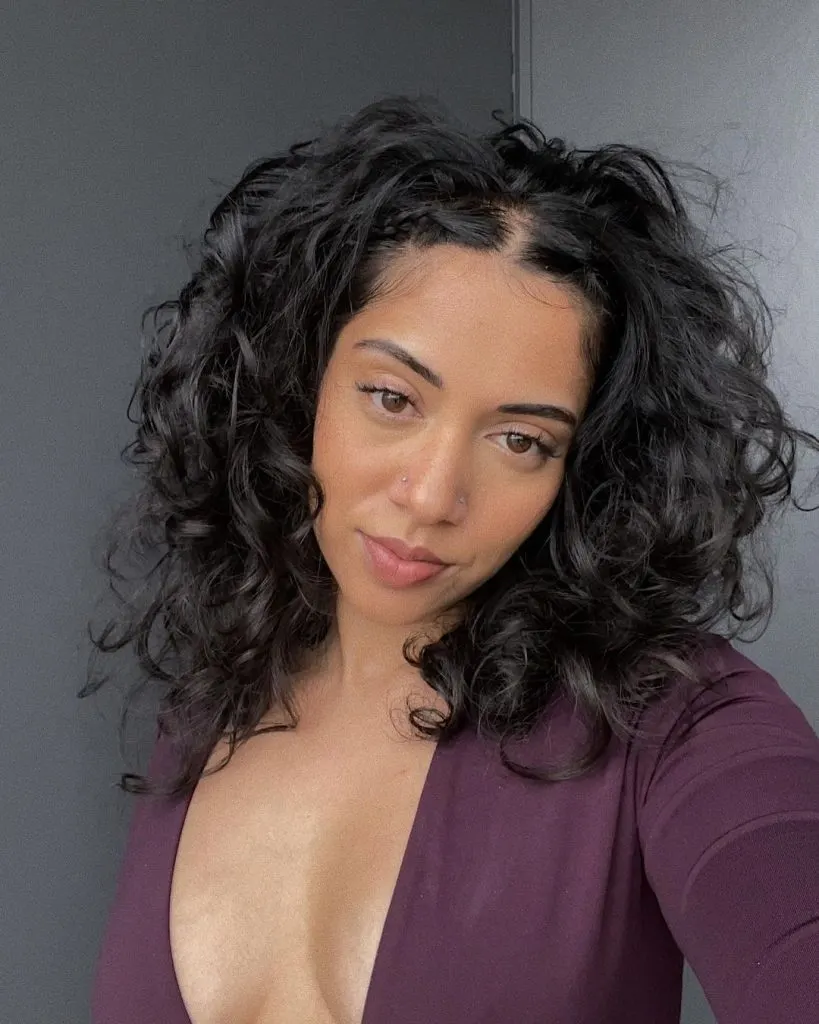 This messy hairstyle with two mini bang braids is a look you'll fall in love with immediately. Even if the curls are messy, the braids will still make you look sweet and gentle.
22. Loose Waves Oreo Money Piece Hairstyle
Oreo high-contrast highlights are one of the latest hair trends that I'm sure will stay here for a while, if not forever.
23. Layered Medium Hair With Bangs
Halle Berry is living proof that bangs can make a woman look younger. The layered bangs frame her beautiful dark eyes and the layers soften the rest of her facial features.
24. Boho Knots For Mid-Length Hair
Boho hairstyles are always in! These 'two doves kissing' knots make the entire hairstyle look way too cute.
25. Curled Layered Medium Hair
If you want to create natural-looking curls like these, you'll only need a hair mousse. Rub it in your hands and scrunch each section of your hair up to the roots.
26. Cornrows On Curled Mid-Length Hair
Can you choose which is more beautiful, these cornrows or the spring twist curls? Neither can I. Now that we have agreed on that I think we can also agree that this is a perfect hairstyle for any occasion.
27. Messy Wolf Hairstyle For Medium Hair
Here is a hairstyle for all women with medium-length hair who prefer an effortless hair routine. These layers will add volume to your hair and make it look fuller.
28. Wavy Hair With A Cute Headband
Headbands are the best hair accessory without a doubt! Loosely curl your hair, choose a headband you like and you'll be ready to rock this sweet, spring look.
29. Curled Mullet Cut For Mid-Length Hair
First of all, I need to say how crazy in love I am with this platinum blonde hair color and I'm sure most of you are, too.
Oh, let's speak about the mullet now. No matter your age or face shape, you'll look fabulous with this hairstyle because mullets suit everyone perfectly.
30. Undercut On Curled Medium Length Hair
For all of you who like to experiment with undercuts, here is a cool hairstyle idea. It will be impossible not to notice you with this unique look.