What is it about the bob that makes us bookmark every celebrity chop that gets posted?
It's short enough to be fresh yet long enough to show off the beauty of your tresses. It's versatile, easy to style and never looks outdated. A bob can be casual or coiffed, edgy or elegant, make a statement or be subtle.
Learn how to find your ideal bob hairstyle: one that suits your hair type, flatters your texture and draws attention to your favorite features.
Types of Bobs And How To Wear One Right Now
If it seems like there's a new bob hairstyle to obsess over every time you refresh your feed, you're right. But here's a secret for you: it all comes down to a few features.
Length, angle, layers, texture and bangs—every bob trend tweaks some of these to create a new look.
Skip to the head of the line: find out what's out there and learn how to ask for it or go a step further and create a customized bob of your own.
1. Classic bob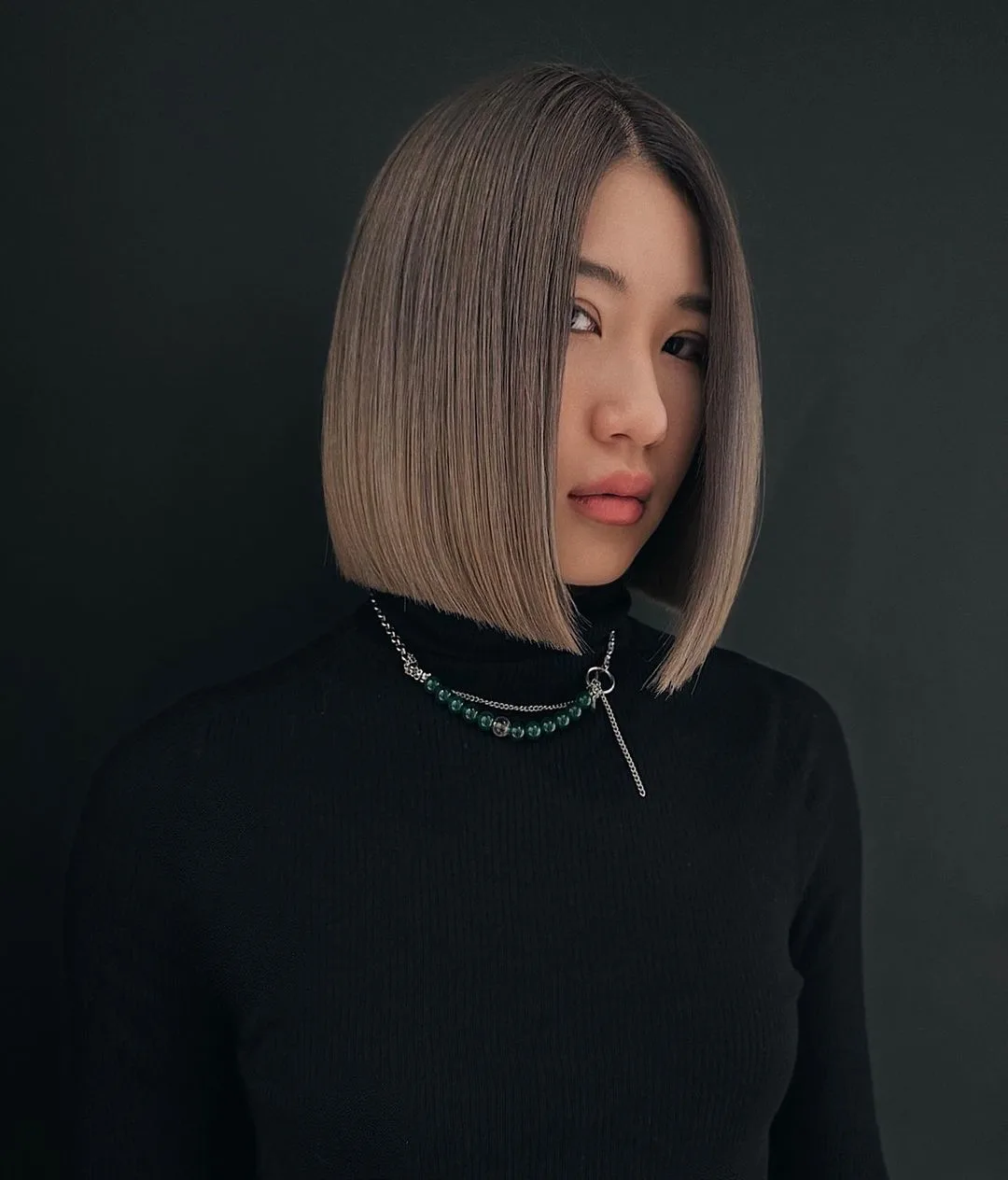 Chin-length or neck-grazing, the classic bob is typically cut straight, with no layers. The OG bob is truly timeless: always chic, effortless and cool. The most versatile hairstyle there is. The classic bob works well with any hair texture. Worn natural, it looks laid back, and glam if you go with a blowout.
Variants include other one length bob styles: the French bob, which is somewhat shorter and usually includes straight-across fringe; the Italian bob, heavy and glamorous; or the '90s bob, with a strong outline and tousled.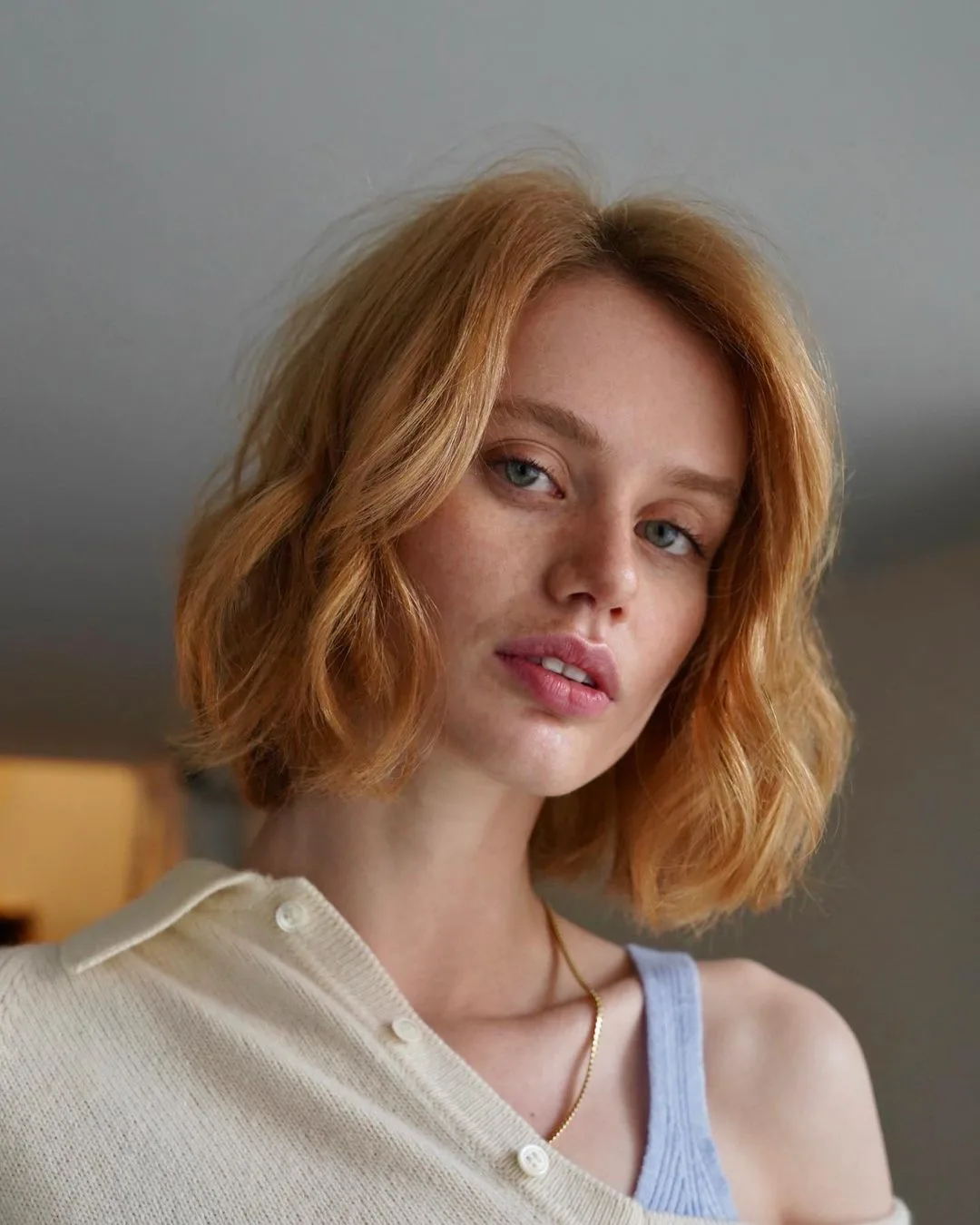 2. Layered bob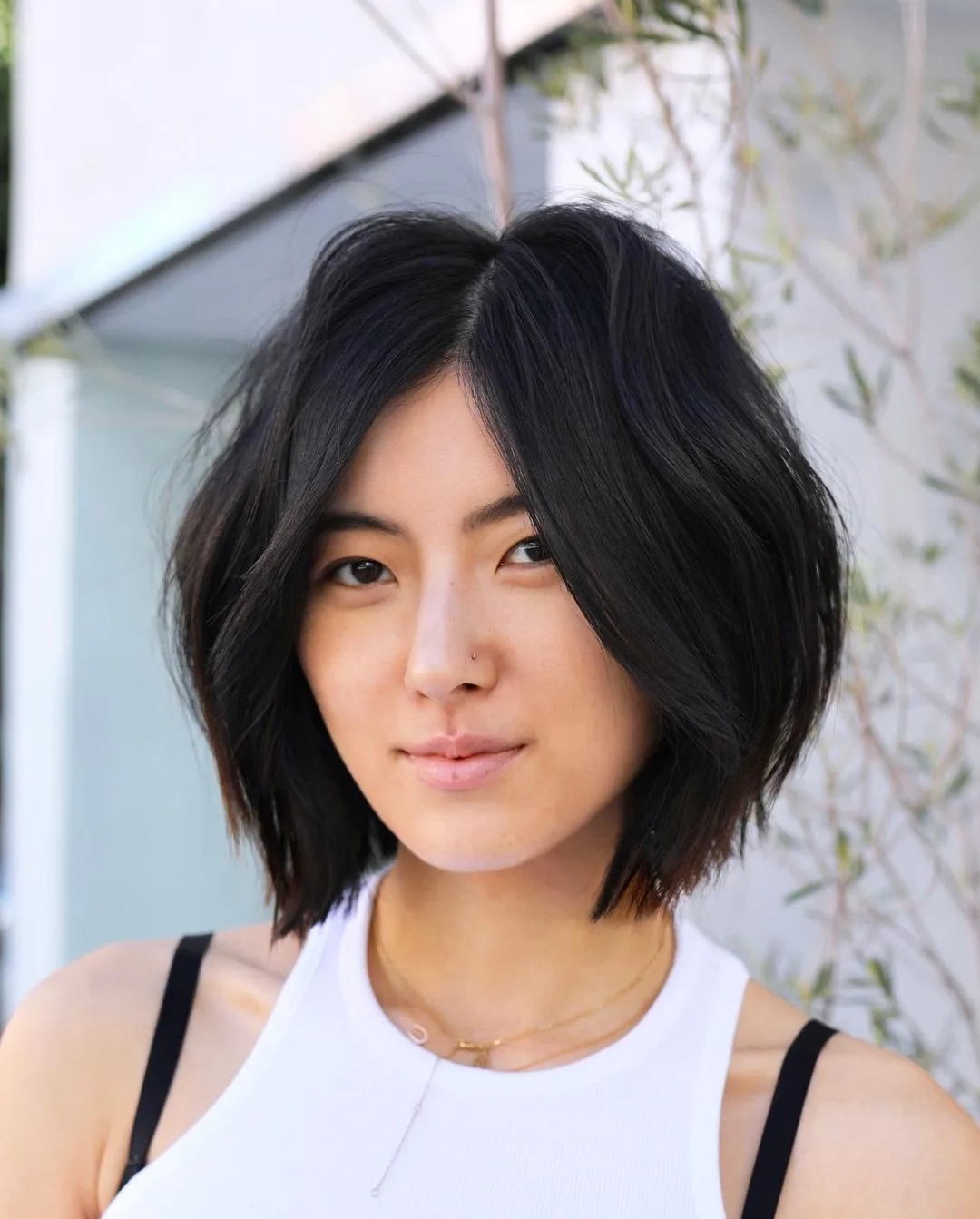 If the classic bob is sharp and cool, the layered bob is soft and flowing.
Layers are used to add movement and volume, and to manipulate the shape of the haircut. They can be of different lengths and added to different parts of the hair, so if you want something specific, showing your hairdresser an inspo pic is the easiest way to get what you want.
Here are some suggestions: a trendy short layered bob style like the bubble bob, rounded and bouncy; a long layered bob, such as the airy bob; or a gorgeous layered curly bob. Get maximum face framing with a layered bob with bangs.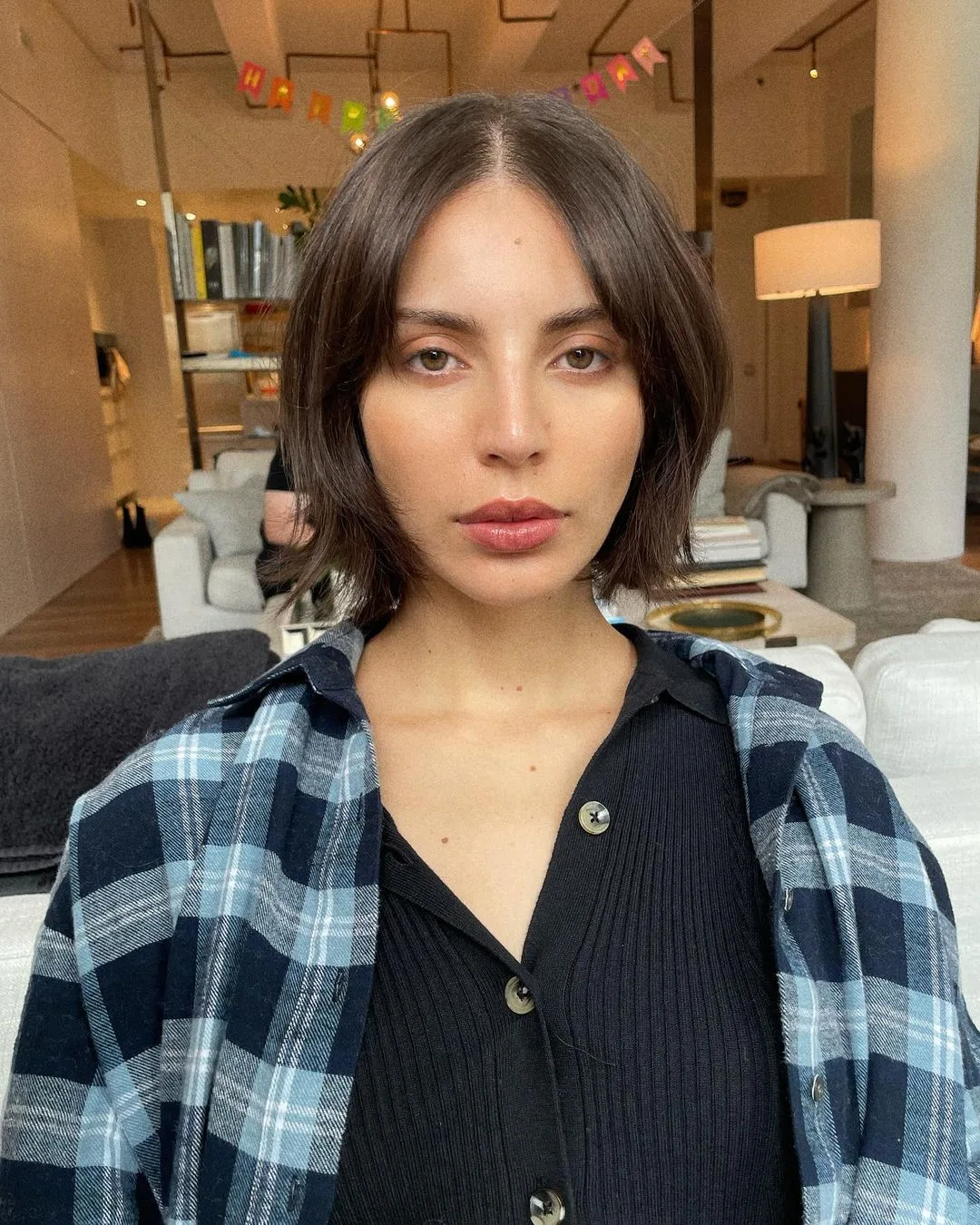 3. Textured bob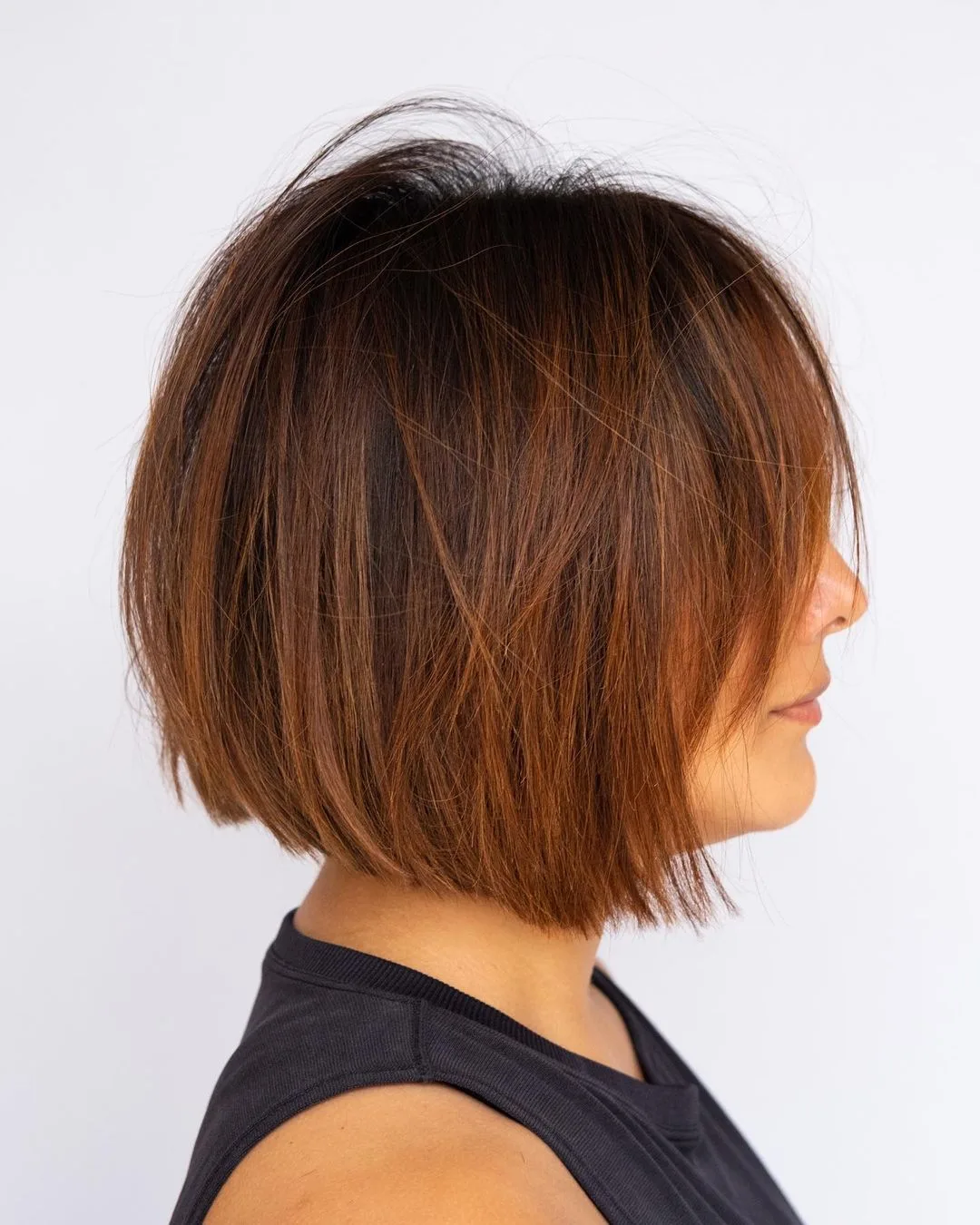 Texturizing is a haircutting technique that adds—you guessed it—texture. But what does this mean?
Even though texturizing layers are called layers, they don't sit on the outside; instead, subtle layers of varying lengths are added throughout the strands to remove bulk and add dimension and movement. The textured bob looks voluminous and defined, but still appears to be one length.
Texturizing is often combined with blunt or choppy ends, and this combination is a great option for fine and thin hair, making it look fuller and thicker. The most famous example is the textured lob with beachy waves that everyone has had at some point, while a shorter version has recently become popular.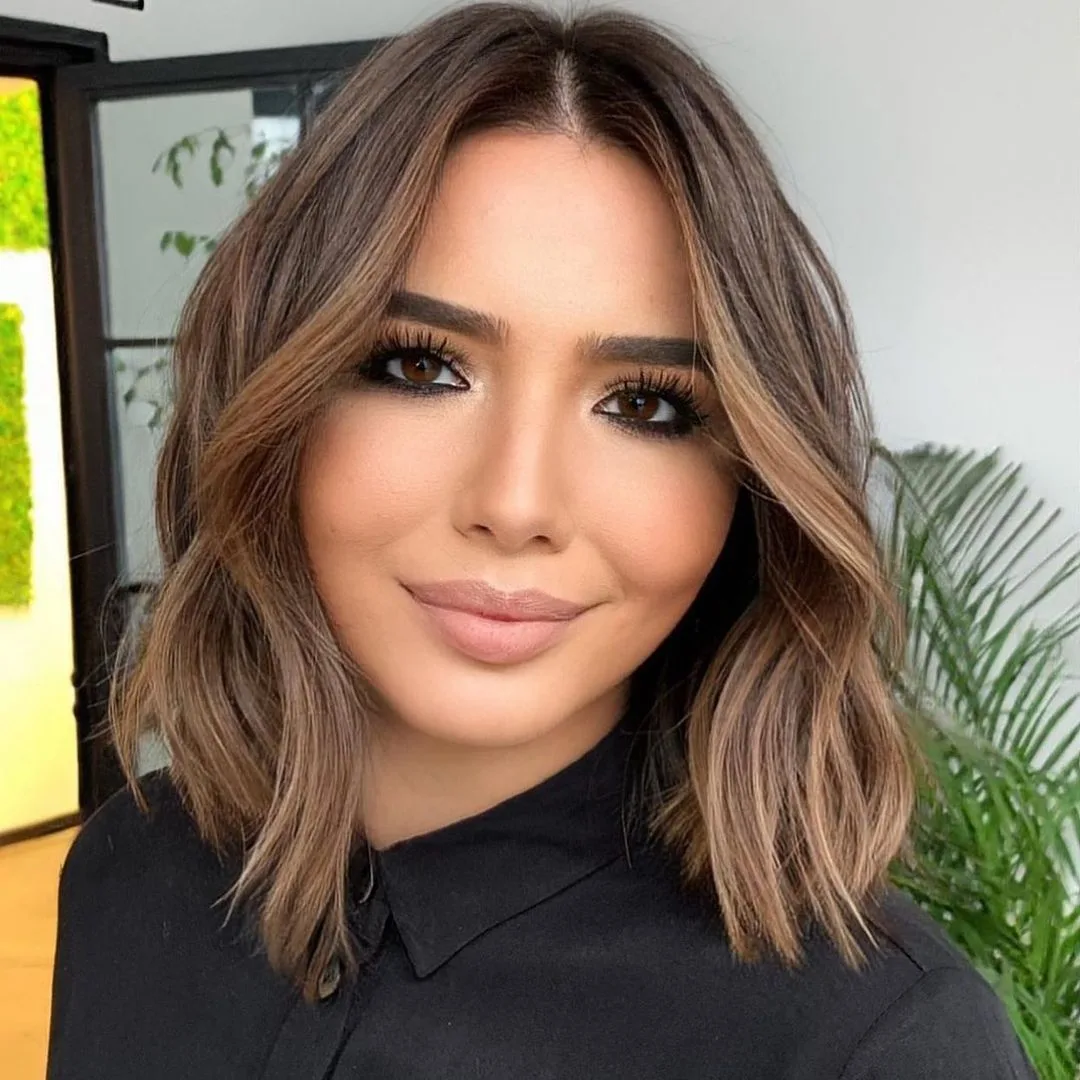 4. Choppy bob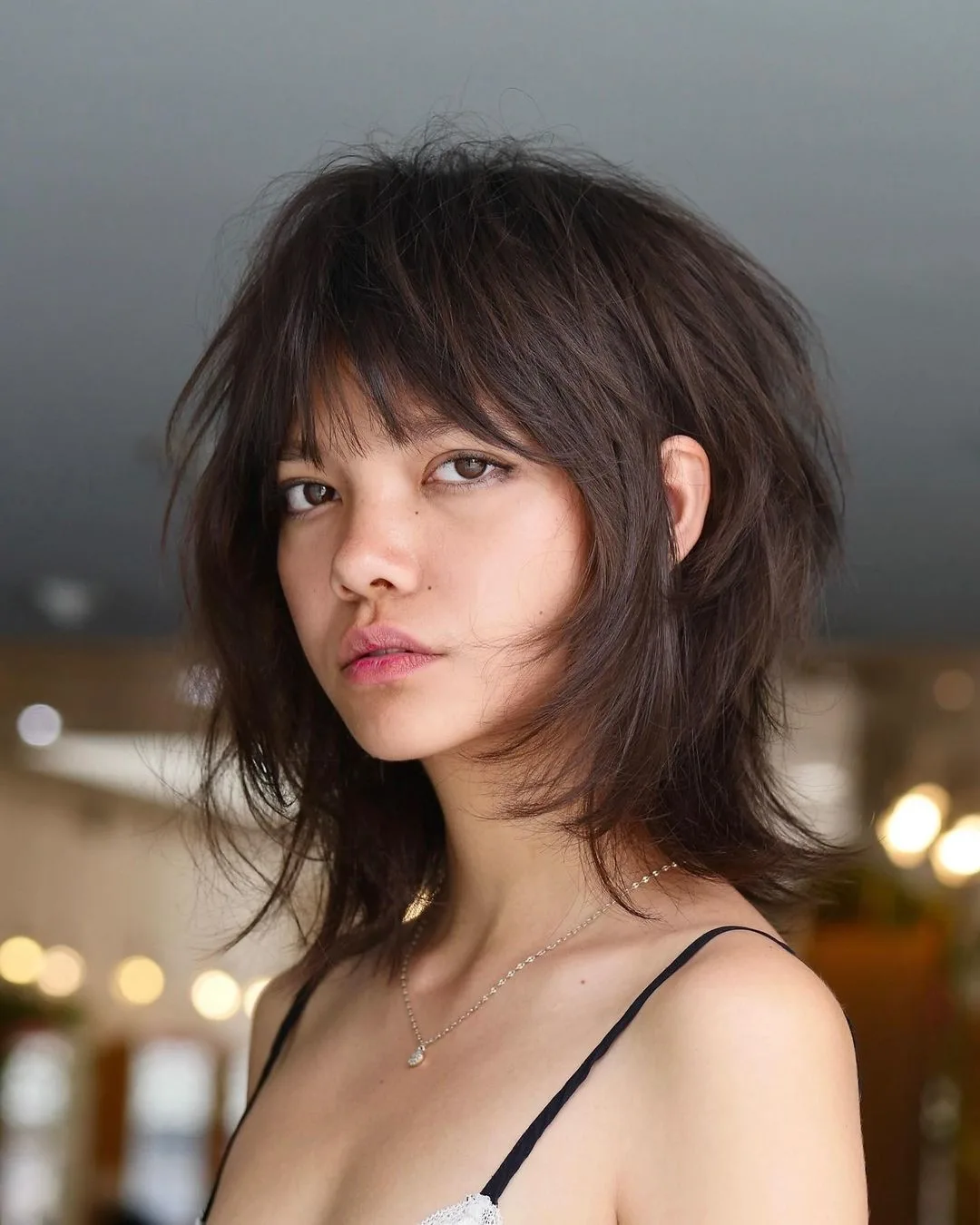 Alongside the bob, choppy haircuts like the wolf cut and the shag have been dominating the trends these past few years. Melding the two was the logical next step, culminating in the choppy bob and it's been popping up everywhere, from the red carpet to everyone's "for you" page.
Chunky layers, plenty of texture, and intentionally messy appearance makes the shaggy bob haircut the coolest style to flaunt, and it's one of the easiest to style. It looks amazing with all hair textures, so you can ditch your curler and straightener and wear your hair natural.
No matter which option you go for—the face-framing bottleneck bob, the rockstar-worthy edgy choppy bob, or the wolf cut's little sibling the cub cut—you get a a low-maintenance, stylish hairstyle you're going to love.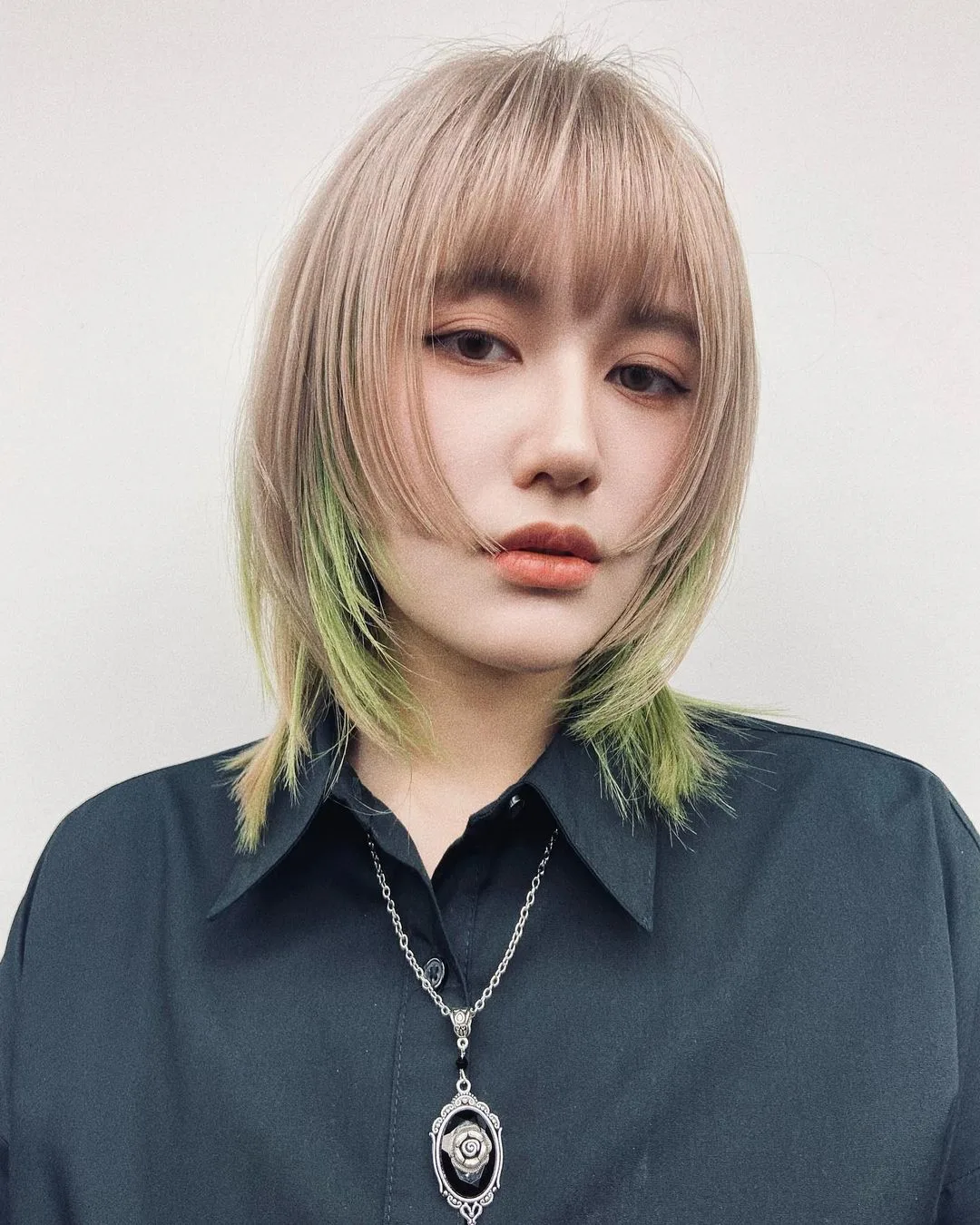 5. Lob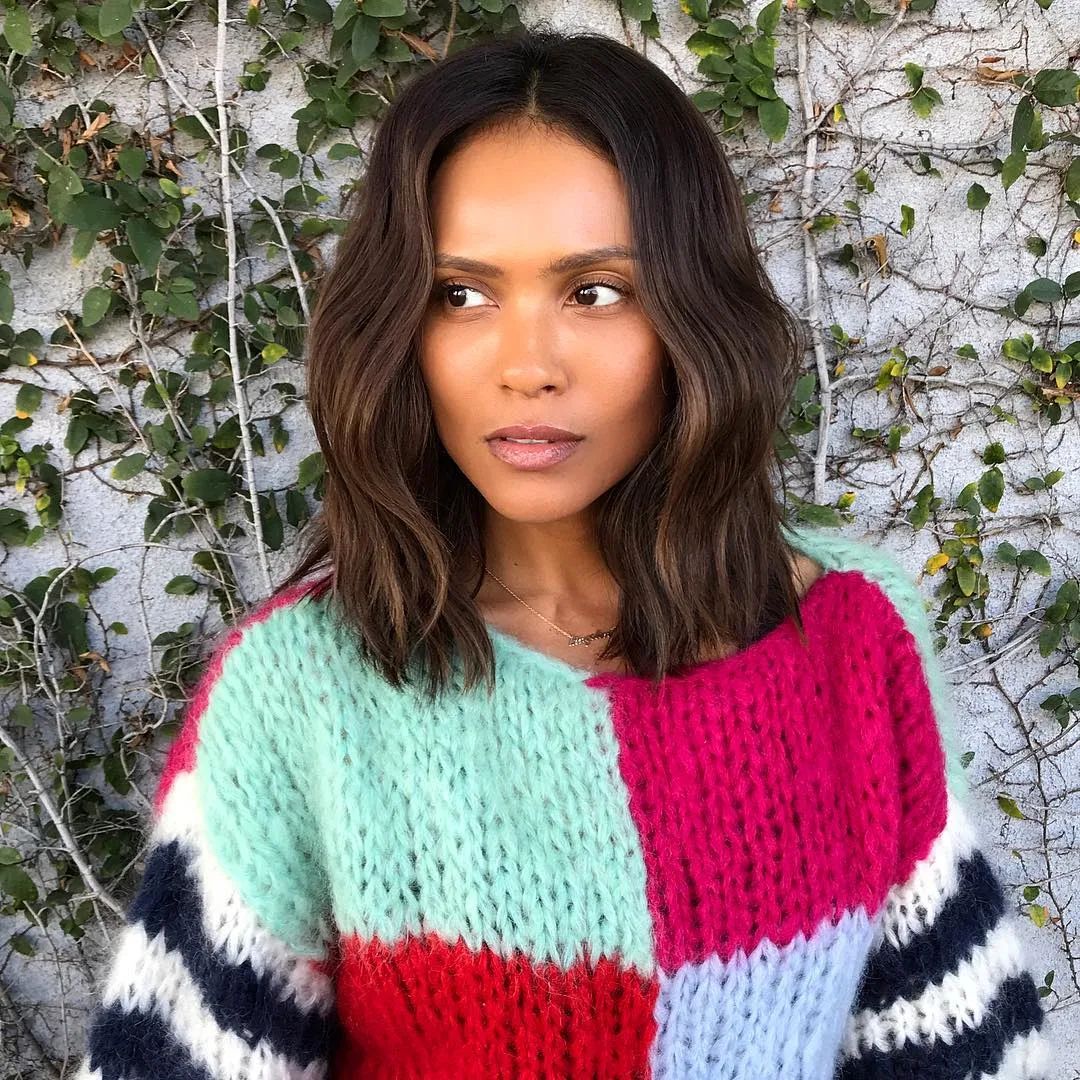 The lob, short for the long bob, does not quite qualify as short hair, but it hasn't really gone so far to be long. It's a hairstyle that's neither here nor there, yet it gives you the best of both worlds. With tresses falling somewhere between the collarbone and the shoulder, you can enjoy the fresh quality of a bob and the versatility of medium-length hair.
Wear it blunt, layered or with bangs. Go for a lob when you're growing out your hair or make it your signature style. Choose a long curly bob to show off your beautiful texture and skip all the fuss of styling long hair.
The lob is versatile and low-maintenance, and best of all, it lets you be indecisive and have hair that's somehow both long and short.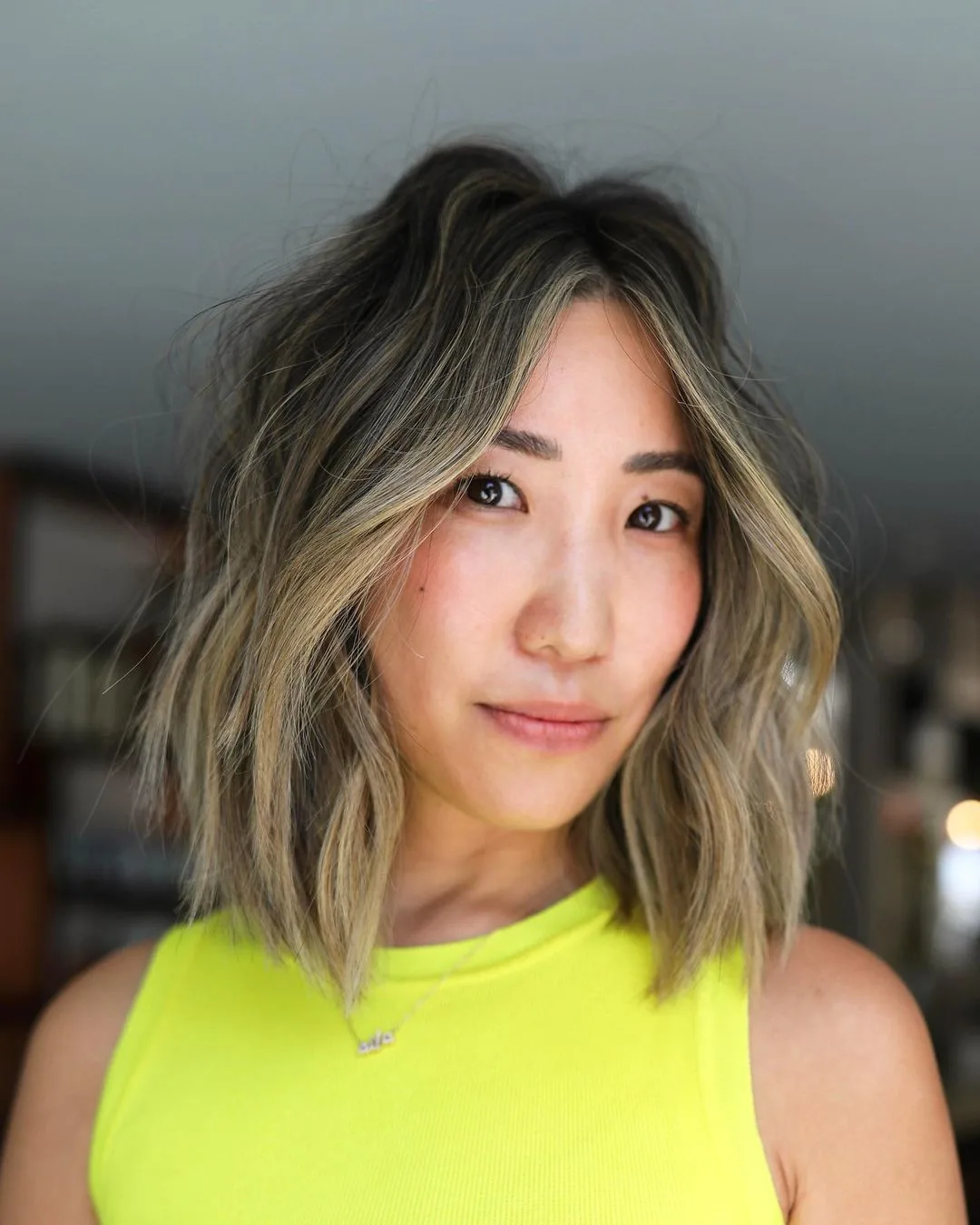 6. A-line bob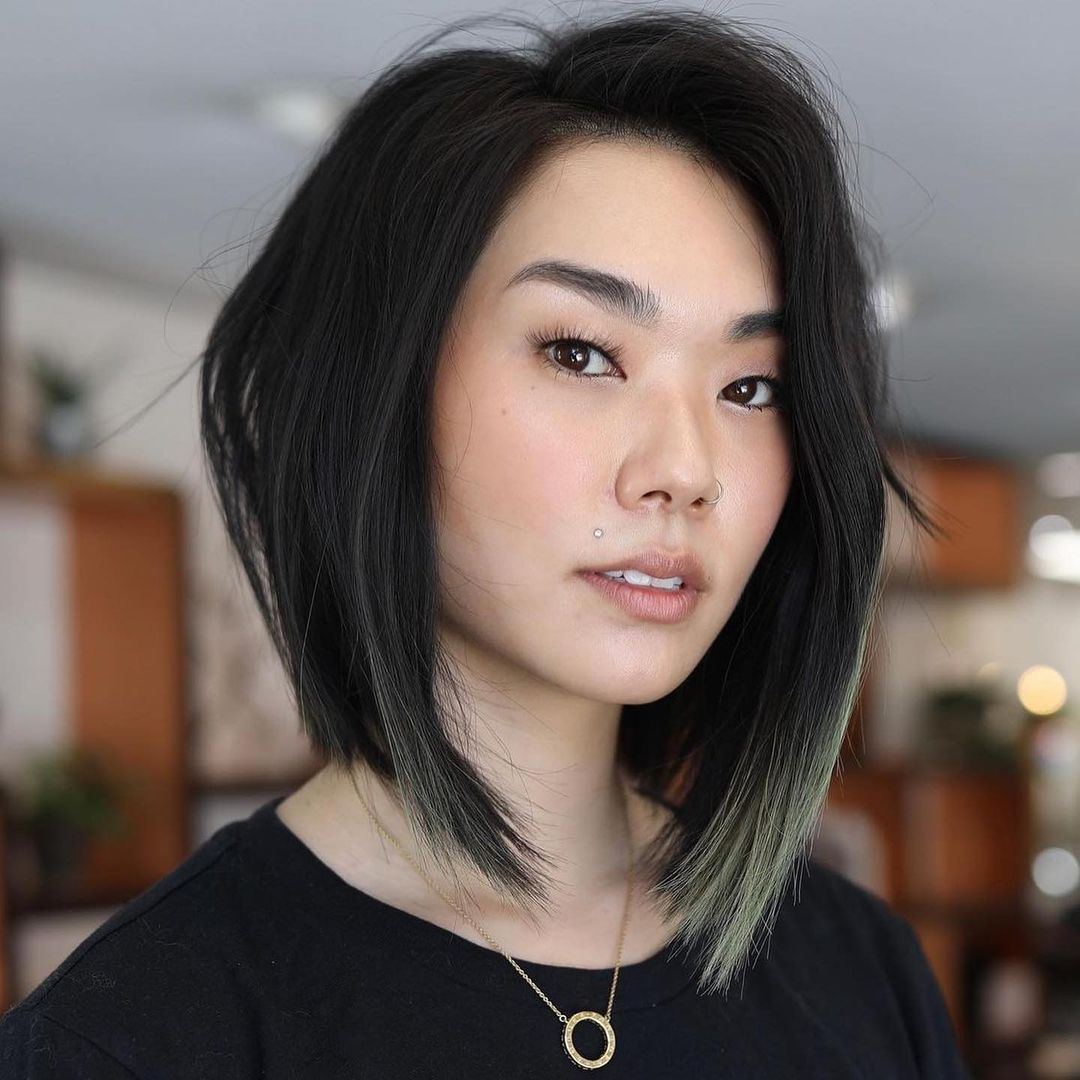 While the outline of the classic bob is straight, the A-line bob is an angled bob haircut. It's cut shorter at the nape and gradually gets longer towards the face, creating an "A" shape. It's sometimes also called the inverted bob. This style of bob can be very bold and dramatic, but also relaxed and laid-back, depending on how you like it.
It comes with blunt ends or a bevel; the tips in the front can be very pointy or almost rounded; it can be shoulder-skimming or just an inch longer than the length at the nape. If your face shape needs a different kind of framing than long strands below chin level, there's always an inverted bob with bangs to try.
Be warned that the more extreme angles are somewhat outdated, especially when combined with a blowout. The way to wear a super-angled bob and stay on-trend is to avoid over-styling it and instead go messy and tousled.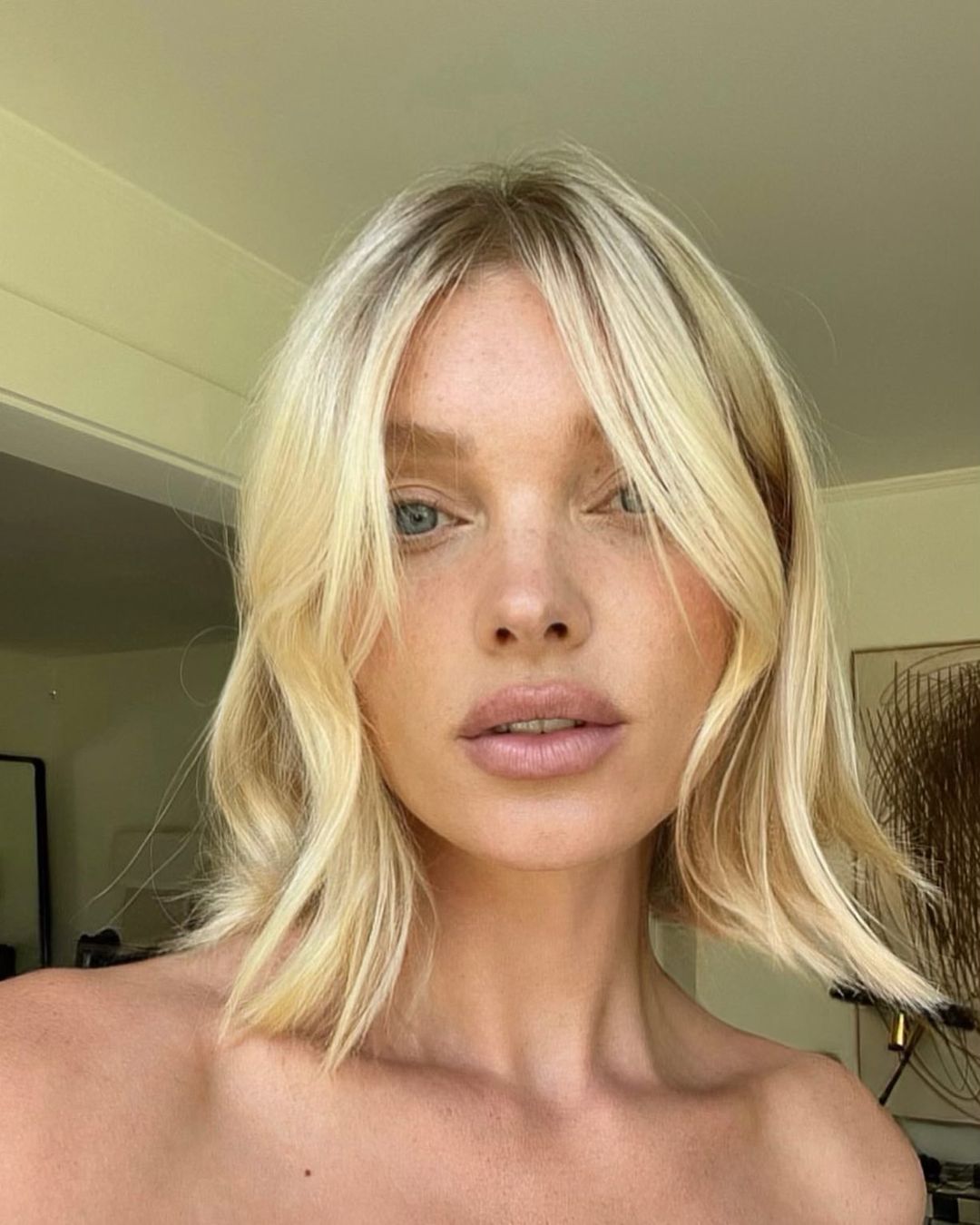 7. Stacked bob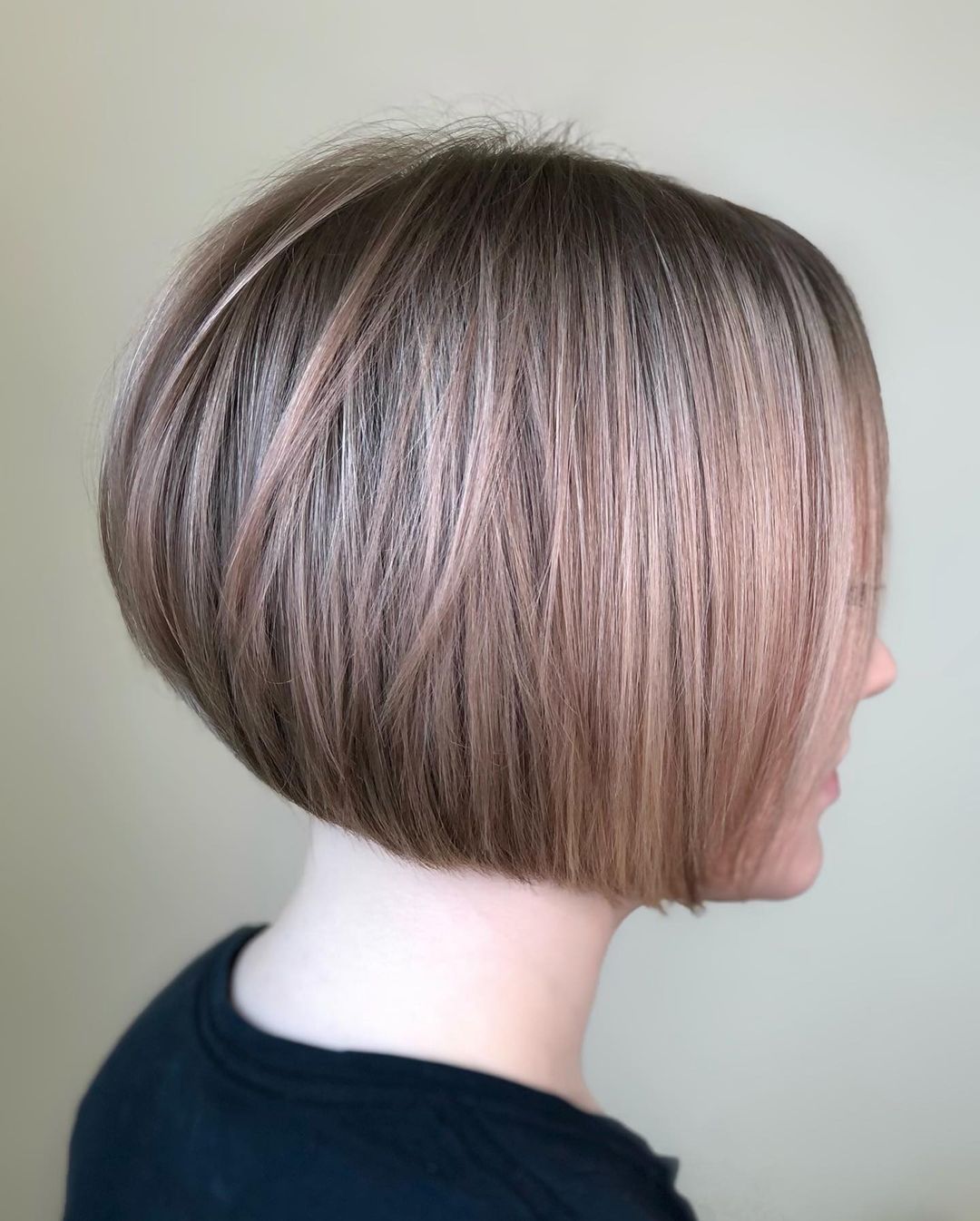 The stacked bob, also known as the graduated bob, is another angled style, but instead of the outline being angled, the shape is created with layers. It's shorter in the back and longer in the front, using layers cut at an angle to create stacking.
The main draw of this bob style is that it creates lots of volume at the crown, so it's flattering on various face shapes—as long as you don't go too short on top and come out on the other side.
In many cases, the stacked bob is a very coiffed style—meaning that it looks best heavily styled to be worn in a certain way—but it can also be worn in a much more laid-back way.
Stacked layers also allow for many interesting coloring options that aren't possible otherwise.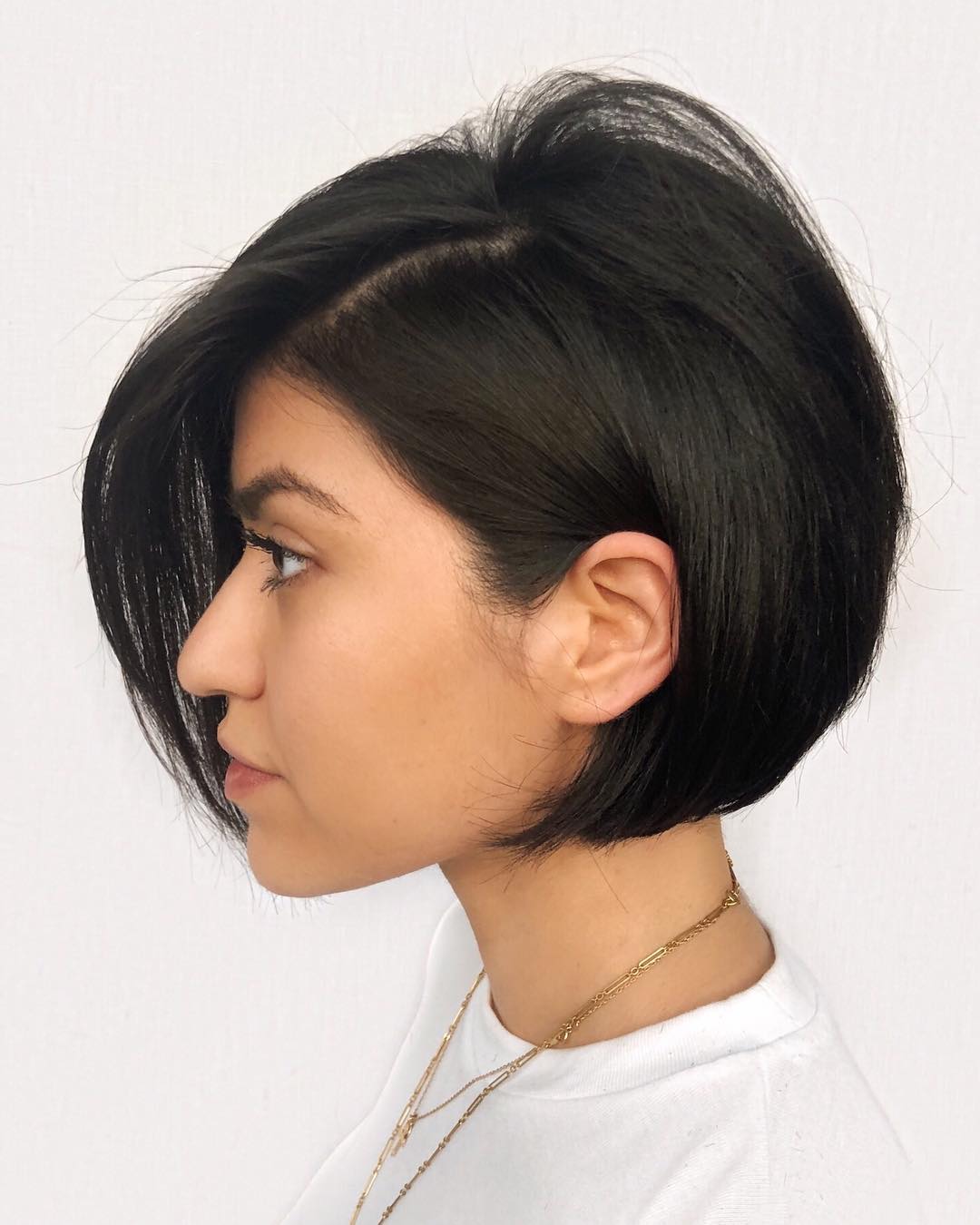 8. Blunt bob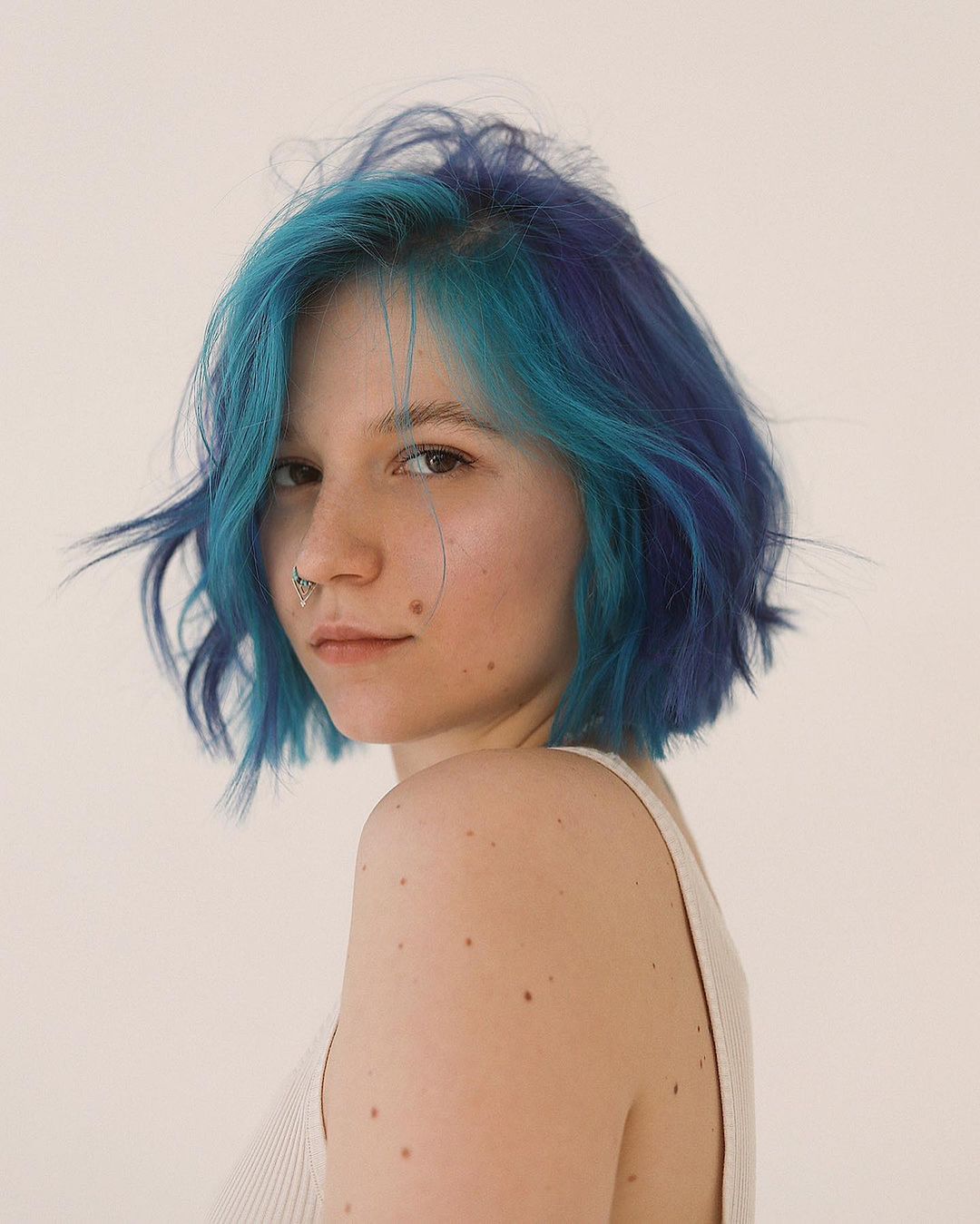 The blunt cut bob has a distinctly modern edge. While the classic bob is either chunky, has a bevel or a flick at the ends, the blunt bob is cut straight at the ends, with no layers. This creates a clean and sharp look that can be spiced up with styling choices.
Until recently, the most popular way to wear a blunt bob was long and wavy, but these days, it's all about the super-shiny jaw-length blunt bob cuts with natural texture or the ultra-healthy and moisturized collarbone-grazing box bob. To really make a statement, try a blunt bob with bangs.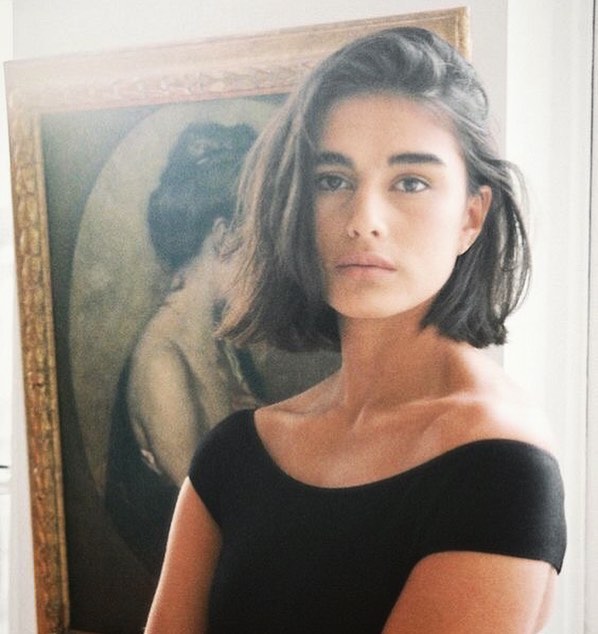 9. Asymmetrical bob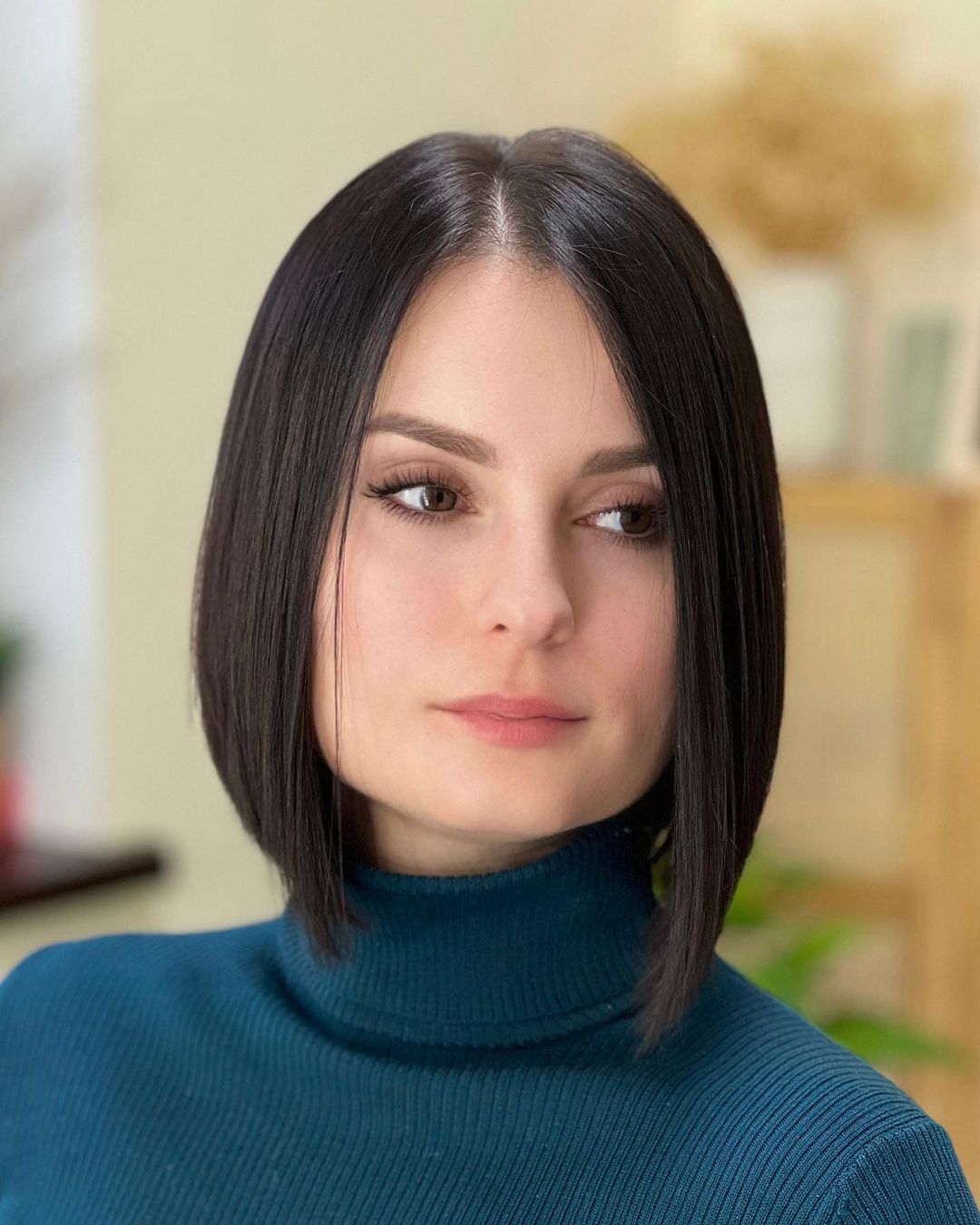 Any variation of the bob that has an uneven outline is an asymmetrical bob, usually cut shorter on one side of the head and longer on the other. This bob style can vary from subtle to an undercut bob with a whole side of the head shaved.
Asymmetry is a feature that can be combined with other bob cuts to add visual interest, either to spice up a classic style or to take an already edgy style to the next level.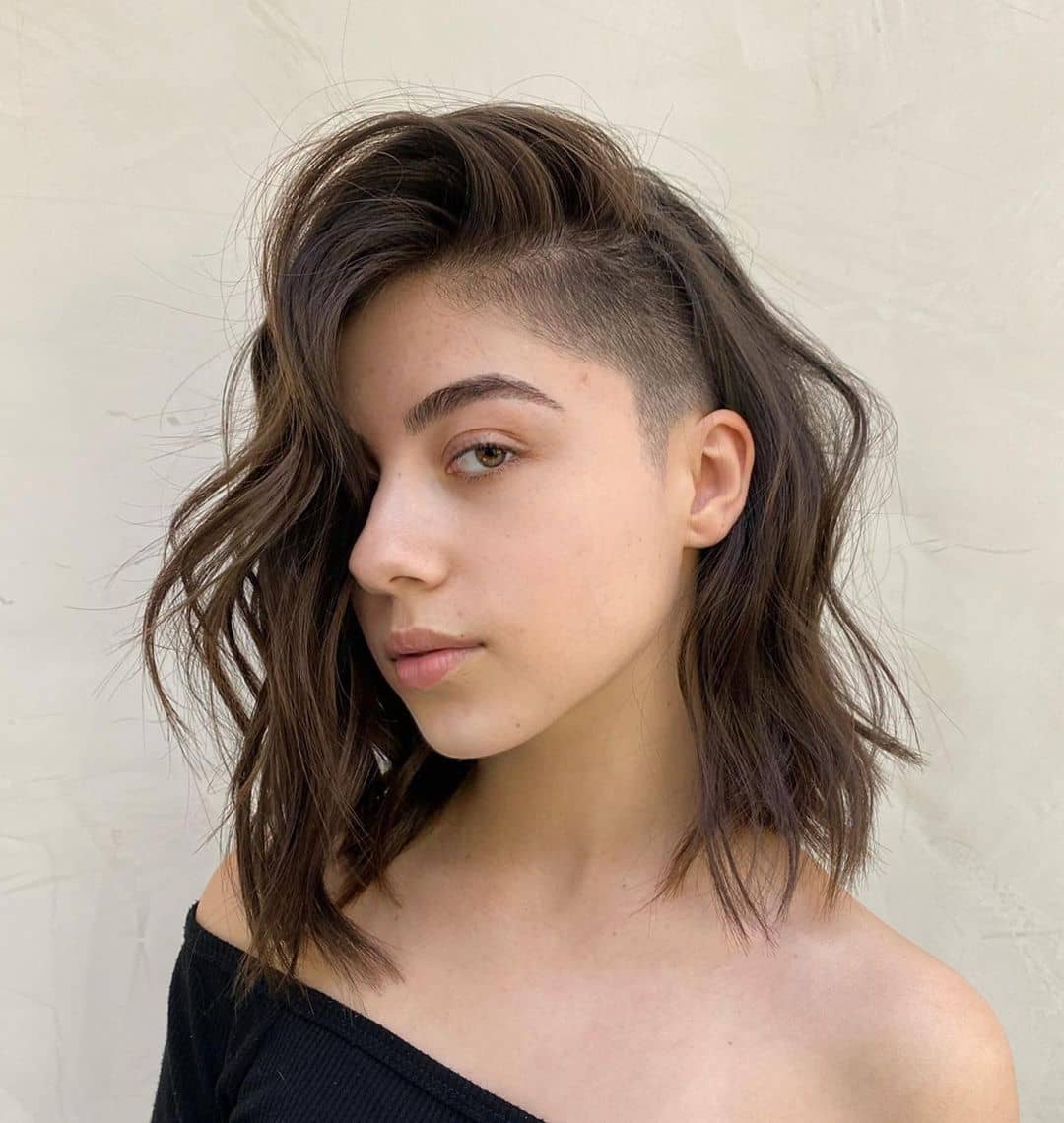 10. Bob with bangs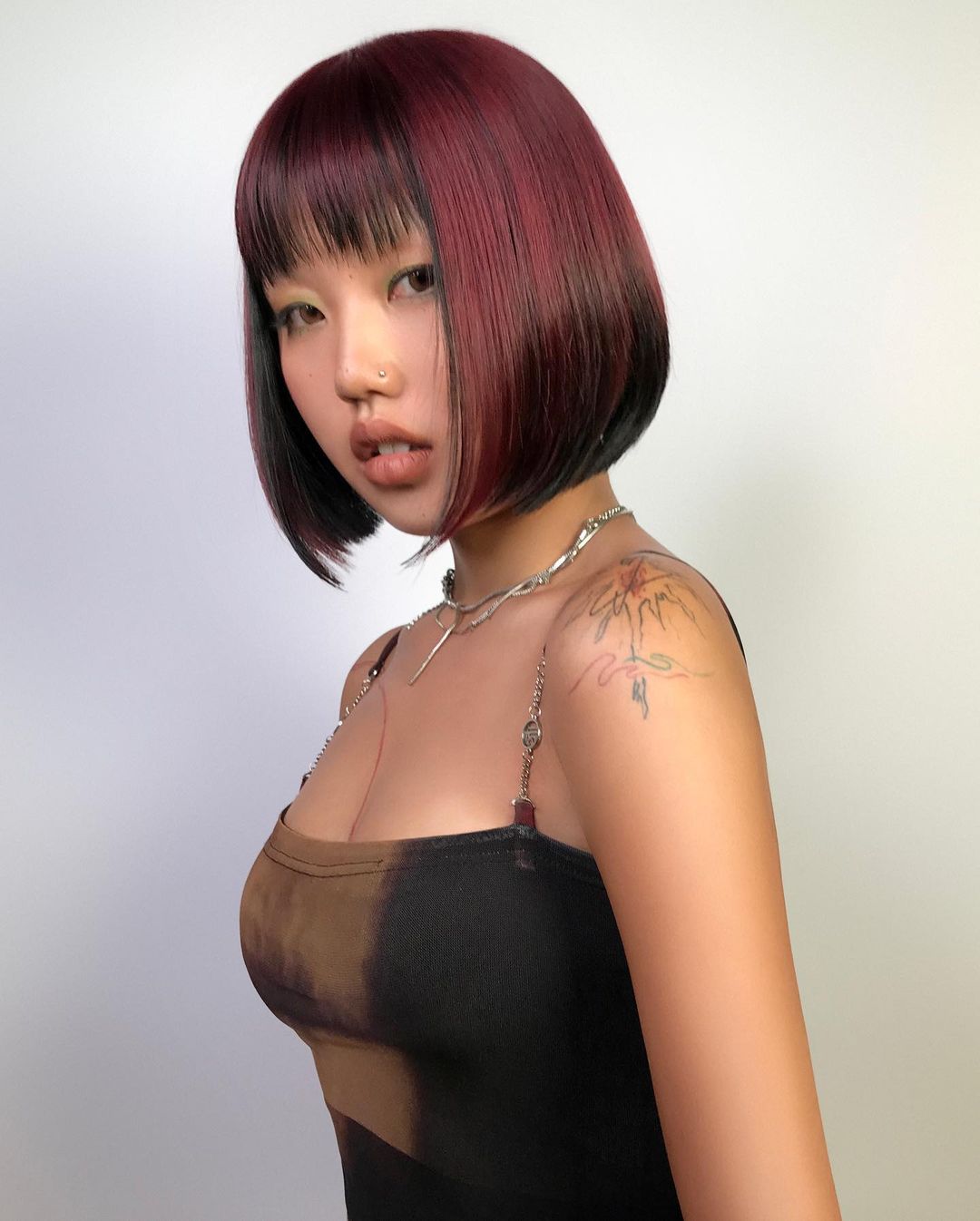 Let's talk bangs. Bobs and bangs are inseparable because they can be combined in so many ways. A blunt bob with side bangs and a blunt bob with curtain bangs are two distinctly different hairstyles—finding your perfect style of fringe is as fun as finding your perfect bob.
There are lots of myths about who can and can't wear bangs, but rest assured that there are bangs for everyone. When choosing bangs, the most flattering styles are those that highlight your features. Read more about face shapes and styles in the next section.
Another important thing to consider is your own aesthetic: a straight short bob with bangs might suit you but not be your thing if you're more of a wavy lob with curtain bangs type. In this case, small adjustments can make all the difference, such as making full bangs textured or going wispy instead of thick.

Best Bob Hairstyles For Different Face Shapes
Knowing your exact face shape is less important than you might think. Every face is different and unique, so trying too hard to fit into a category can be unnecessarily frustrating—instead, think of the concept of face shapes as finding balance.
Use the following tips as guidelines and not as rules to highlight or draw attention away from your features as you see fit.
Oval face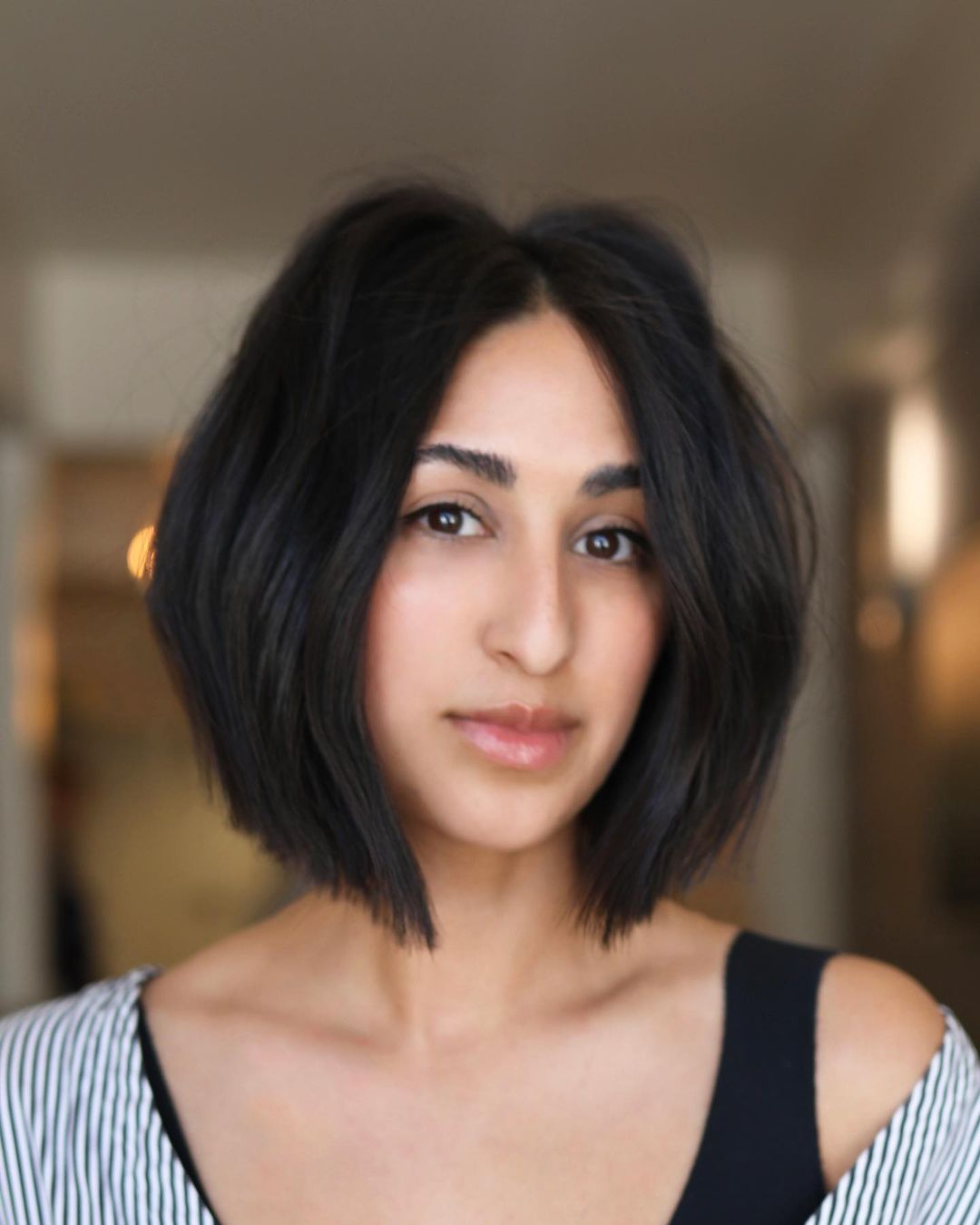 Oval faces are thought of as the the most balanced. They're usually longer than they are wide, they're the widest at the cheekbones and they feature a rounded chin and forehead.
Because of its balanced shape, the oval face can famously pull off any hairstyle, so it's easy to experiment and try out different hairstyles. There are lots of tips on using hair to call attention to different features in other sections which can inspire you to play around.
Square face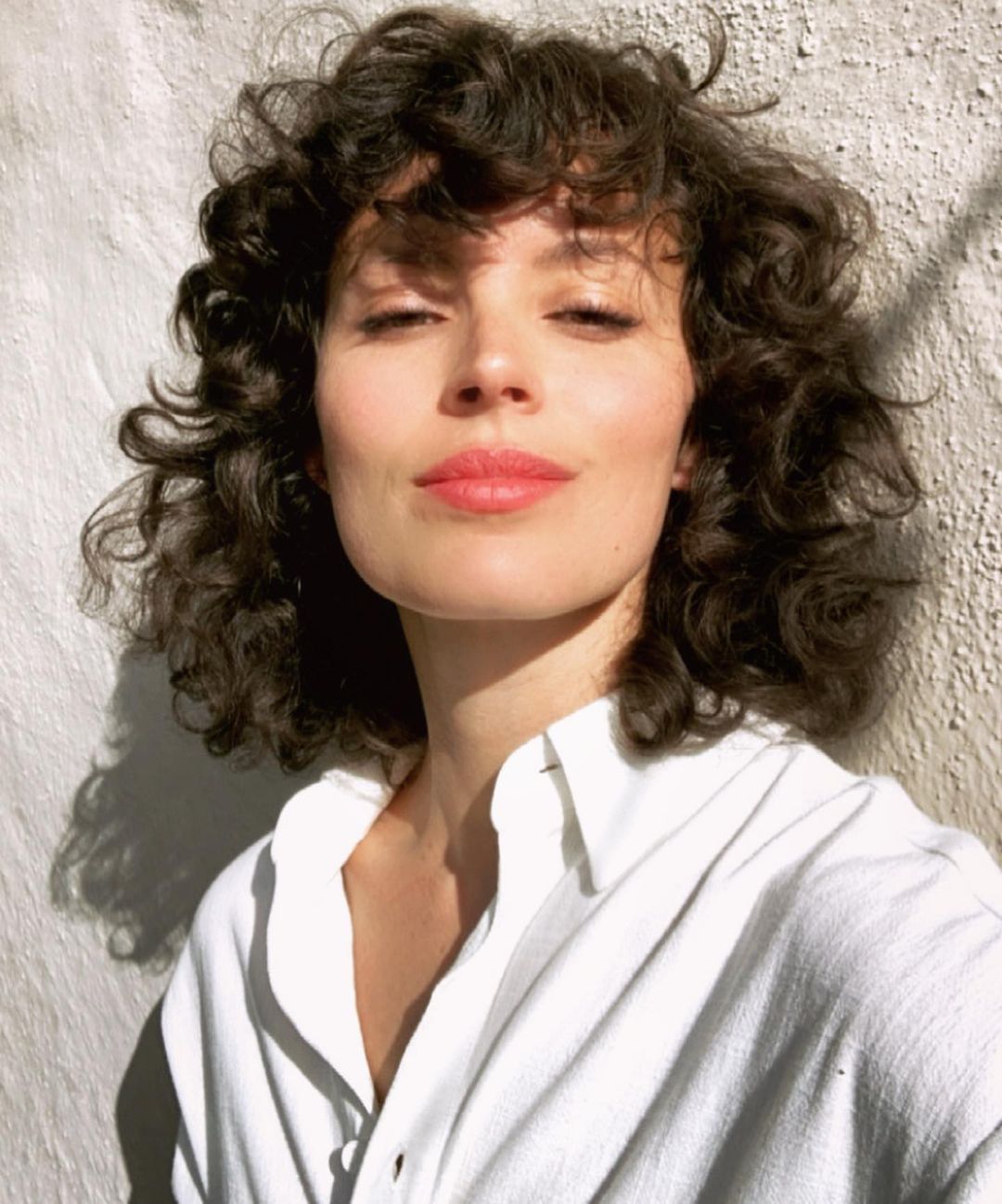 The square face is about as long as it is wide, and the sides are following a straight line—the forehead, the cheekbones, and the jawline are around the same width. The forehead is wide and squared and the jawline is strong. If you have a square face, you might want to soften the angles, and you have several options to achieve this.
Layered styles are super-flattering, as are soft feathered ends. If soft is not your thing, and you prefer a blunt cut, go for texture and movement. Waves and curls offset the angular lines and create a softer overall impression, as do styles with lots of movement.
In terms of length, go either longer or shorter than the jawline to avoid making it look wider. Avoid straight bangs—instead go side-swept or center-parted, soft and wispy.
Round face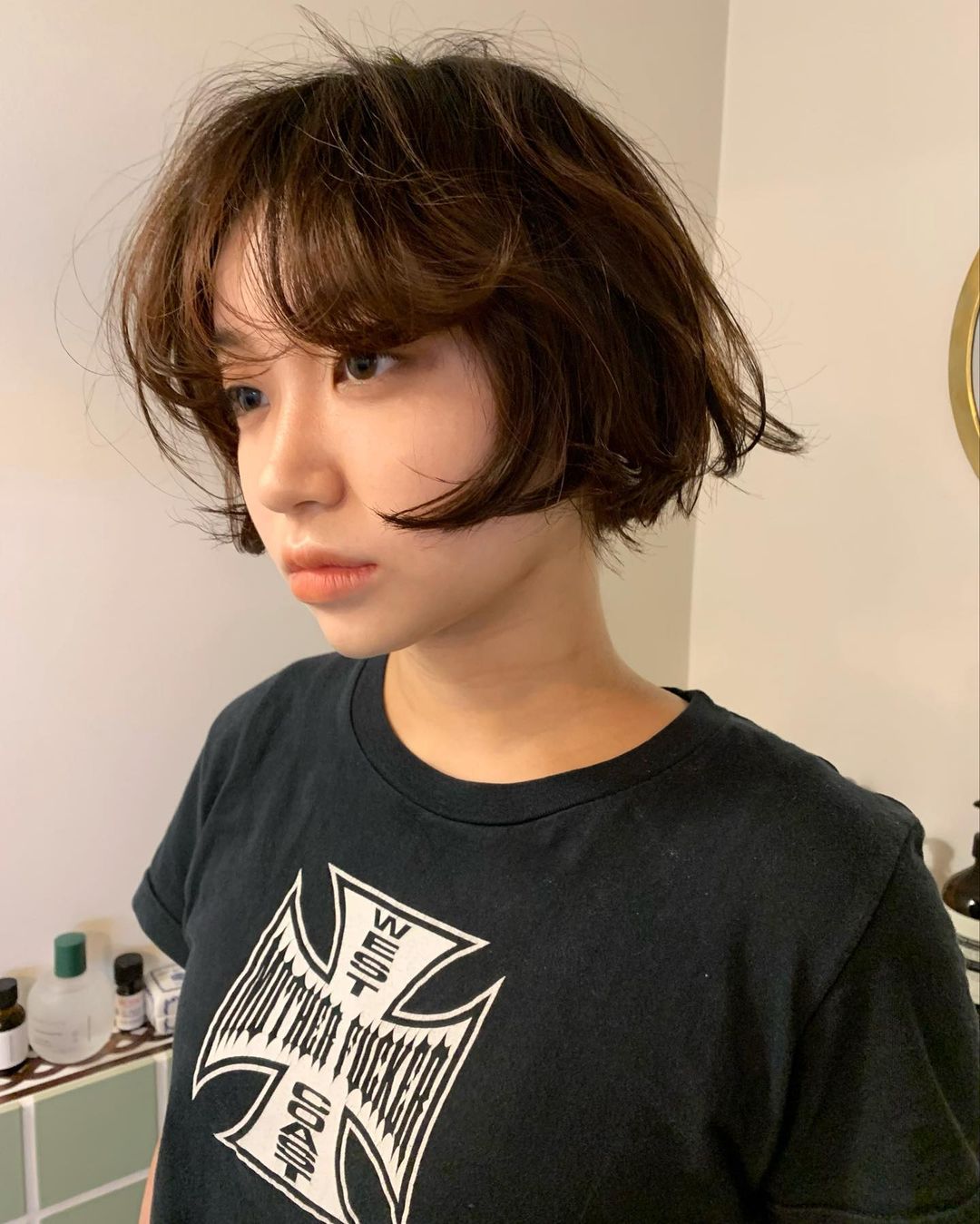 Round faces have the same width and length, with a broad, rounded forehead, a rounded jawline and wide cheekbones. A round face needs angles and length to create balance.
Angled bob styles will give you both, even if the angle you go for is subtle. A sleek, straight lob is another good choice, as it will elongate the face and make it slimmer.
If you want bangs, avoid short straight-across bangs even if they're angular because they'll make your face seem shorter. Instead, go for thick and choppy bangs or side-swept at a sharp angle to elongate the face.
Heart-shaped face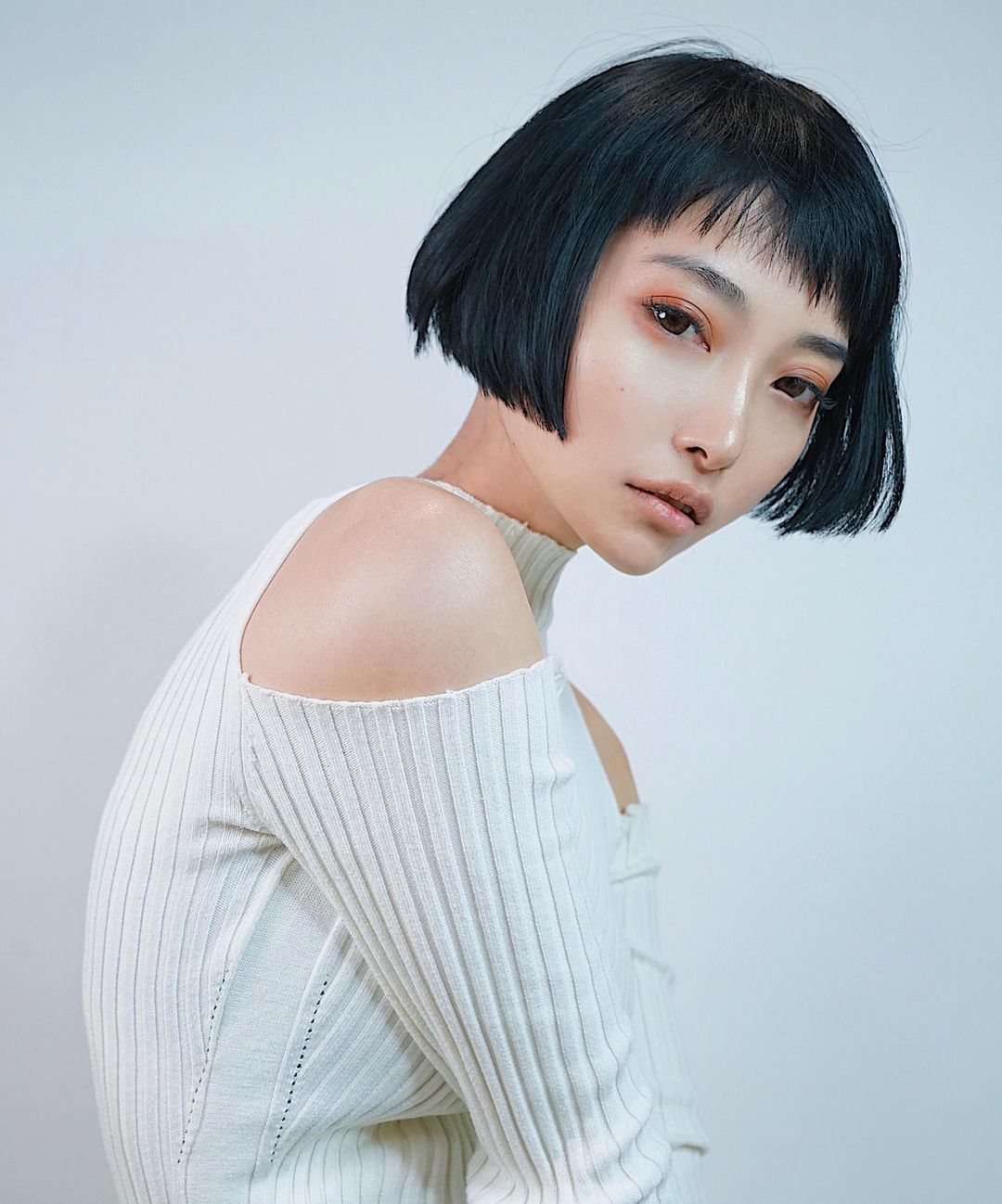 Heart-shaped faces are longer than they are wide, and they have a narrow jawline and pointy chin, with a wide forehead and cheekbones. A heart-shaped face needs volume around the jawline to give it some width.
A chunky lob or a classic bob with layers and texture around the jawline will add volume where you want it. If you prefer something shorter, make sure the ends are blunt and textured. Face-framing layers and curtain bangs are super flattering.
Avoid rounded haircuts that emphasize the cheekbones and forehead and make the upper part of the face seem fuller.
Diamond-shaped face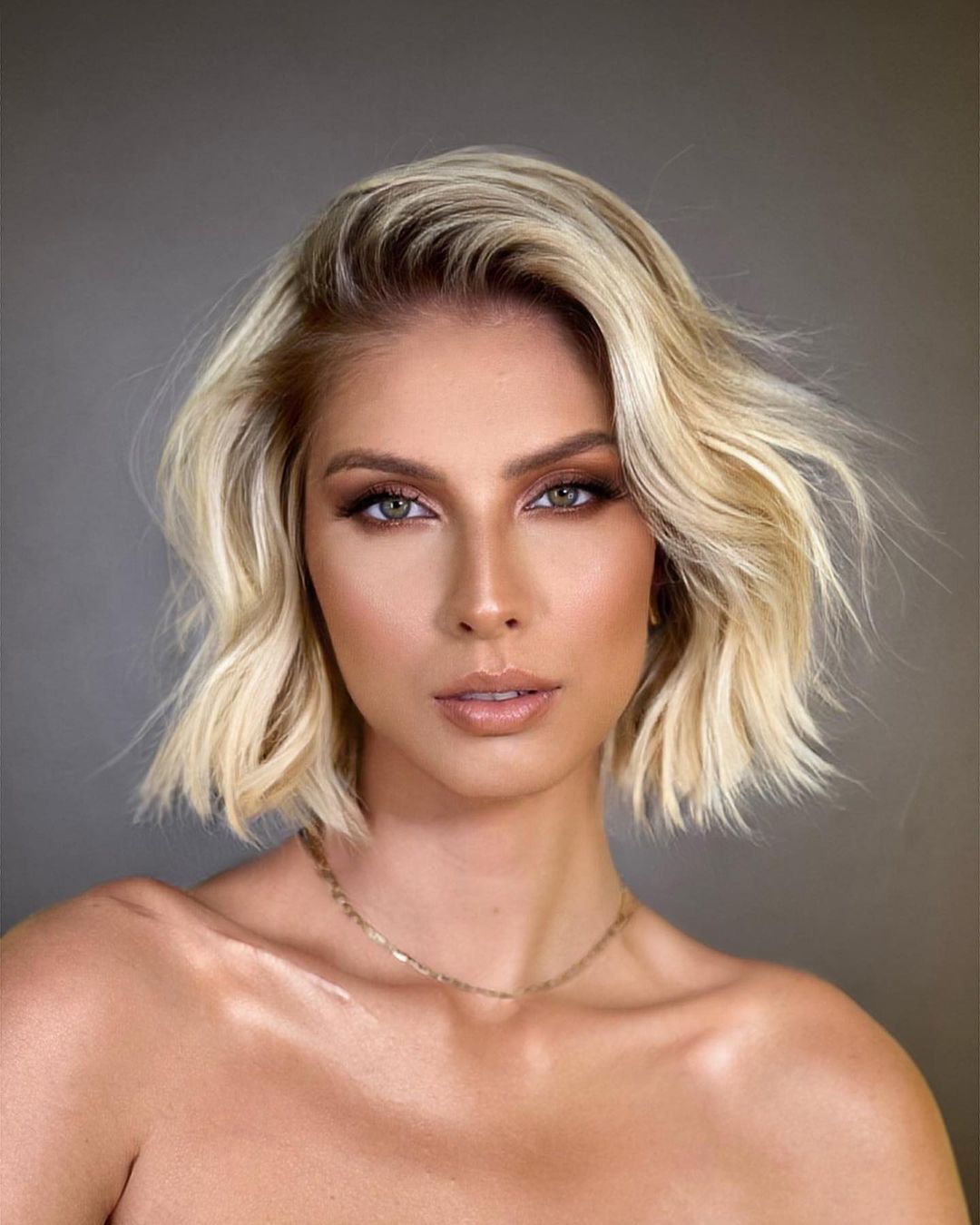 A diamond-shaped face is about as wide as it's long or slightly longer, widest at the cheekbones which are high and broad. It features a narrow forehead and a narrow jawline with a pointy chin. Diamond-shaped faces are angular, so to achieve balance, soften the angles—especially the cheekbones.
Most tips for heart-shaped faces apply for diamonds as well, with the main focus being on avoiding extra volume near the cheeks. Instead, you want to create volume under the chin. Pick chunky and blunt outline and avoid rounded layered styles.
You don't have to take the attention off the cheekbones, but you don't want to make them wider—a short, blunt bob tucked behind the ears will show them off while giving you volume at the jawline.
Why You Should Get A Bob
There's something magical about the bob and unless you're really attached to long hair, you won't regret getting the chop. In fact, when you get a bob after having long hair, you'll wonder why you haven't gone for it sooner. Here's why.
1. It's refreshing, but still leaves you with some length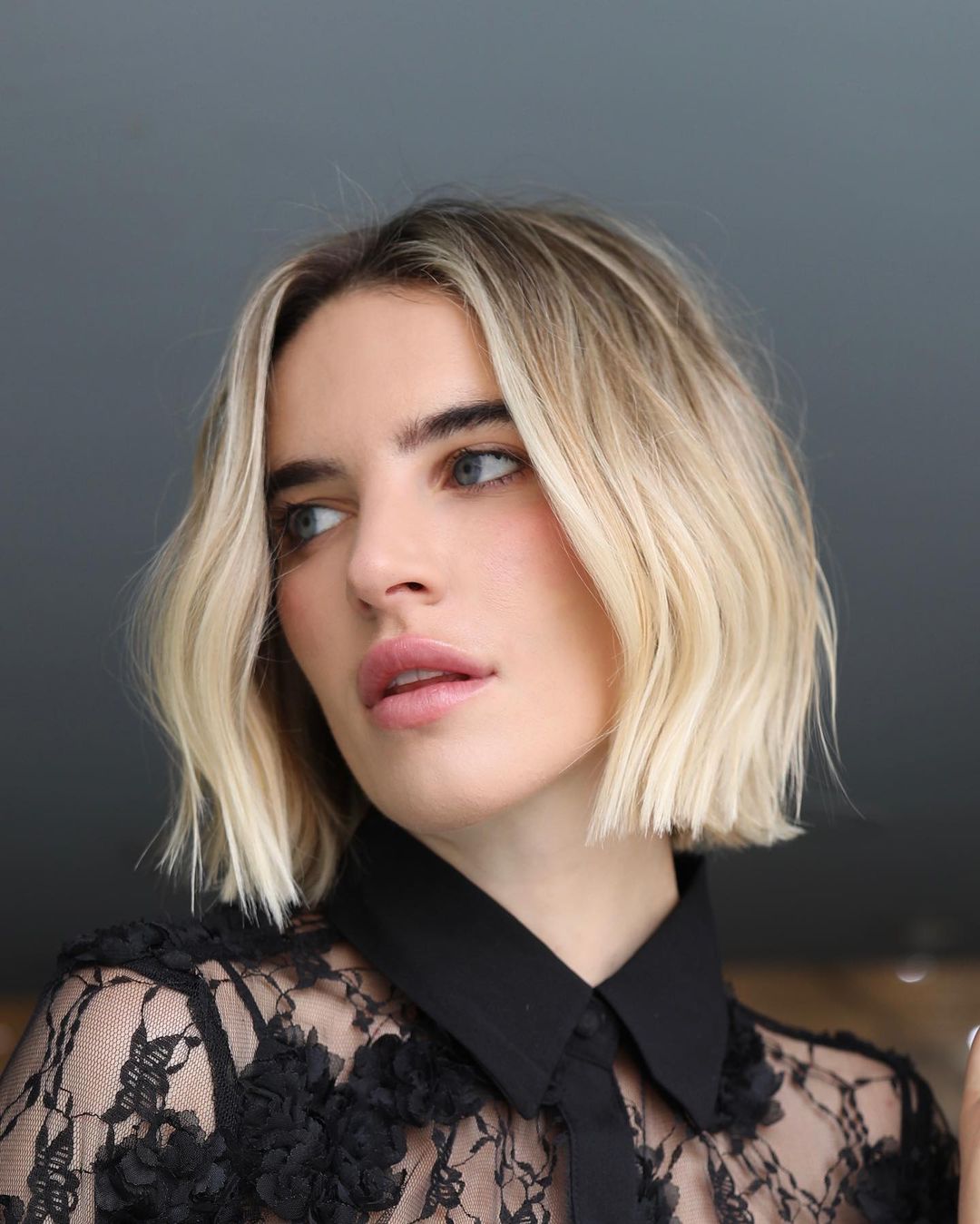 Short hair is edgy. Fresh. Bold. It draws all the attention to the face, placing the spotlight on your features. But long hair has movement. It has endless styling options. Many people consider it more sensual or simply can't picture themselves with short hair.
The bob can give you both. It's airy yet flirty. It shows off your face, but also your hair. It's short enough to be crisp and liberating, yet it's long enough to flip, toss and make pretty. In other words, it's the best haircut ever.
2. The hair looks fuller and healthier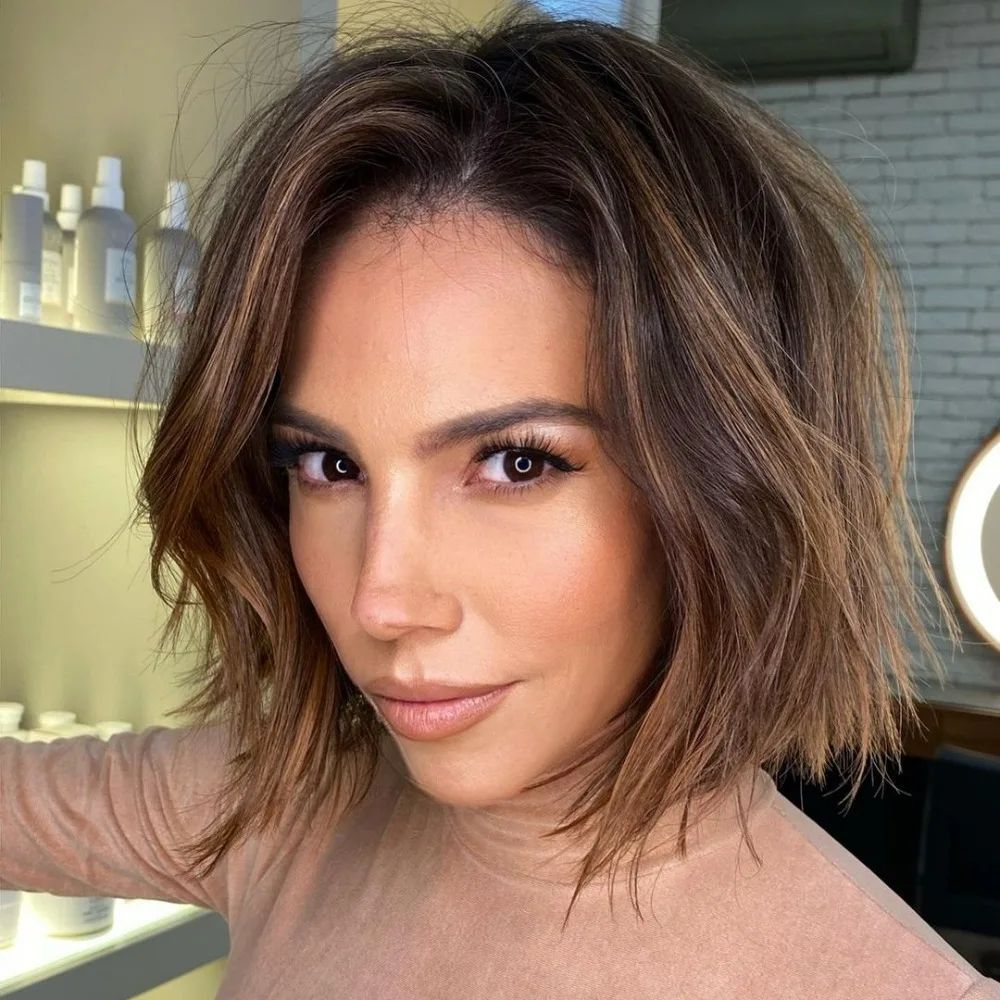 Once you get a chop and get rid of the bulk, your hair will undergo a full transformation.
Gone are the limp stringy strands and listless scraggly ends—your new bobbed hair will look richer and thicker. With nothing to drag them down, your tresses become more voluminous and bouncy. If you go for a blunt bob, even the thinnest hair will appear thick and nourished. Give your hair the makeover it needs.
3. The face-framing and the short length are flattering on everyone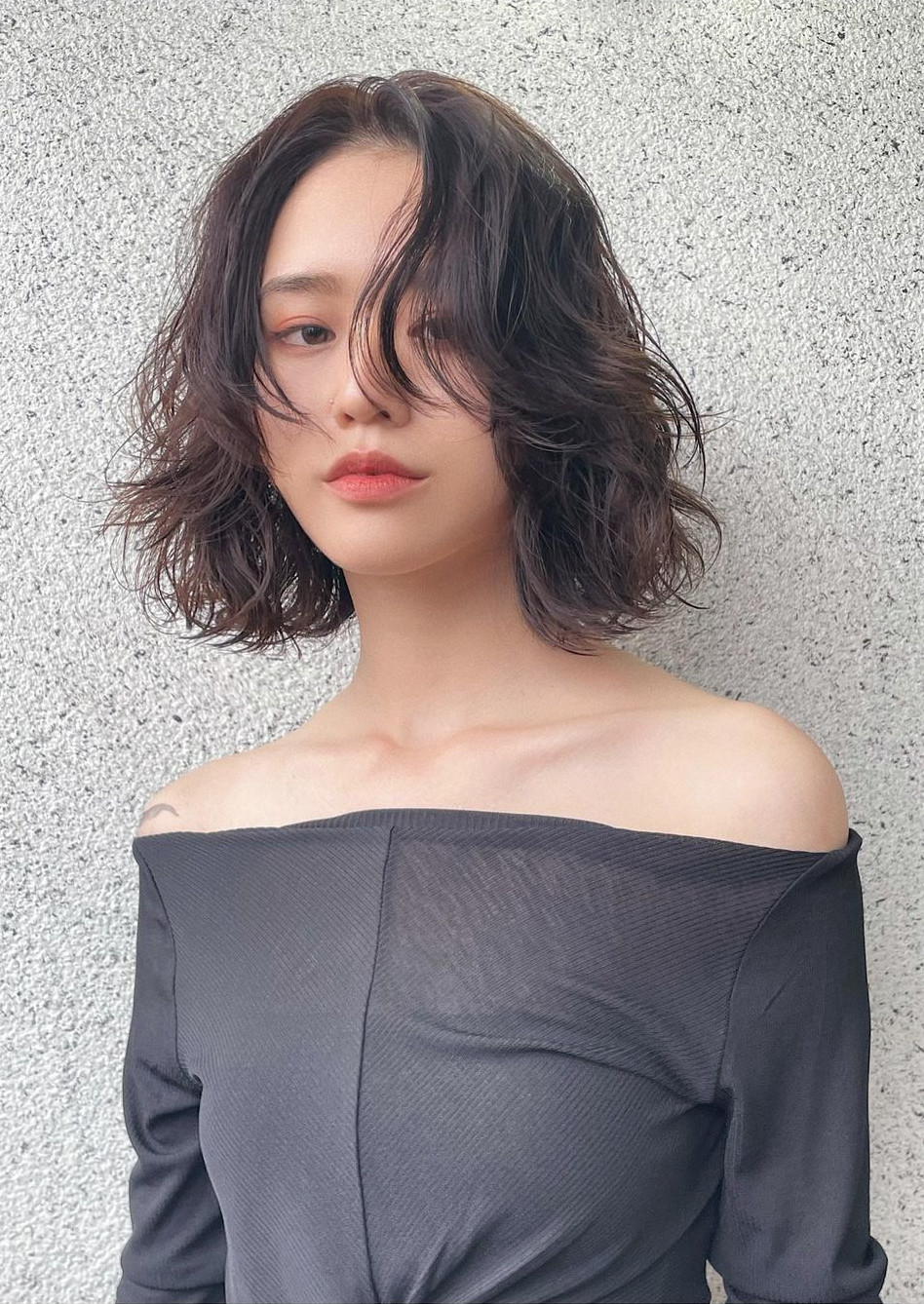 When it comes to making you look good, a bob haircut is a game changer. It's a one-step glow-up. A bob draws attention to the cheekbones and lips and brings your eyes into focus. It elongates the neck and makes your face look sharper. A long bob with bangs can be as sexy as ultra-long goddess curls.
With so many kinds of bob haircuts, you can create any look you like and if you add bangs, you can fine-tune the effect you want to achieve.
4. It's super low-maintenance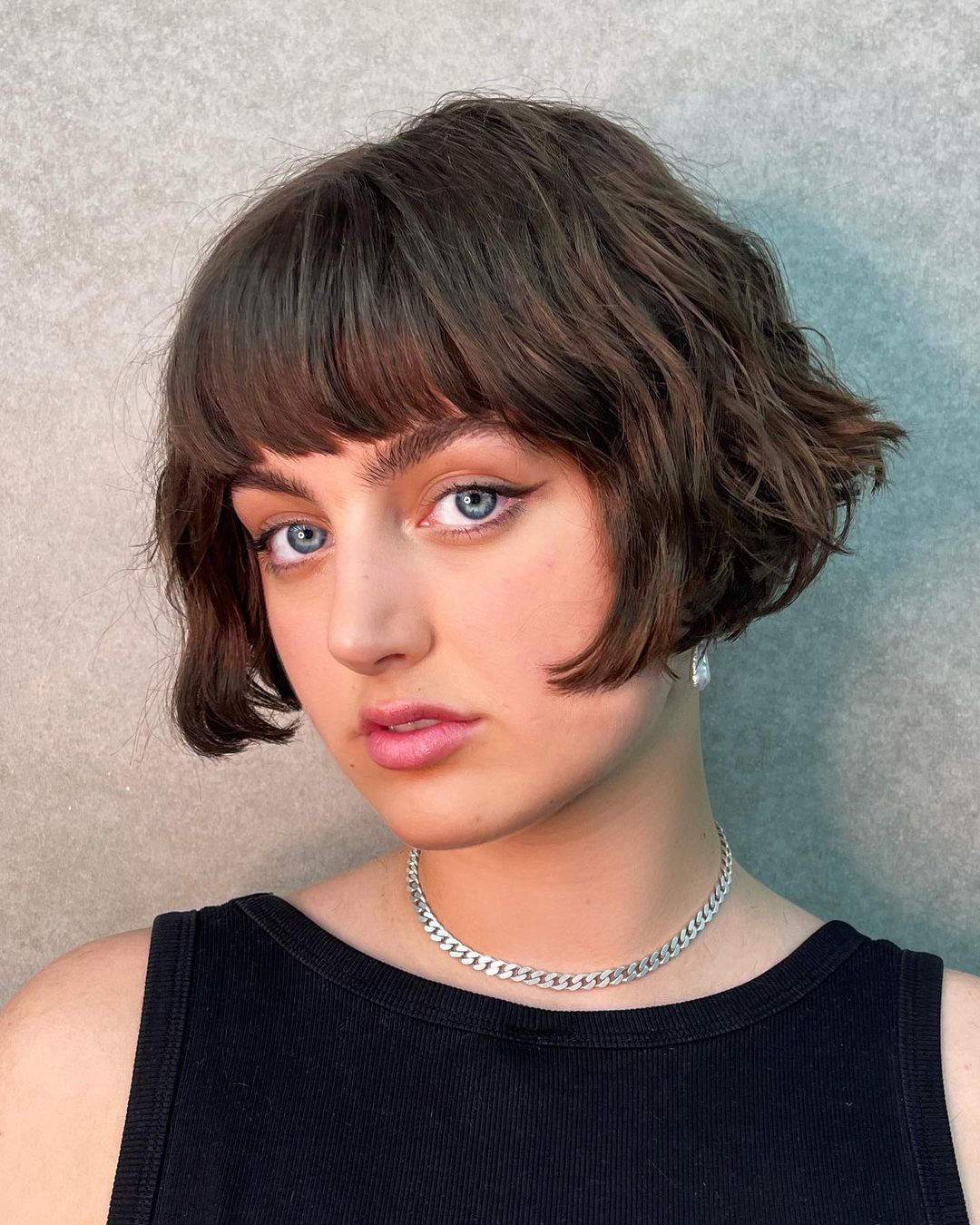 In an ideal world, long hair would always be voluminous, touchable and shiny, but in reality, it spends a lot of time scraggly, flat or in a ponytail. Long hair requires lots of time and effort to look good, and those are hard to come by.
A bob takes half the time and looks twice as good. The bouncy, lustrous tresses you're after? A bob delivers. Instead of spending two hours blow-drying your hair to perfection, you can be done in half an hour and have the perfect sleek look.
Even better, go for a super chic undone bob you can diffuse for 15 minutes or let air dry while you get ready.
5. Most bob styles work great with natural hair texture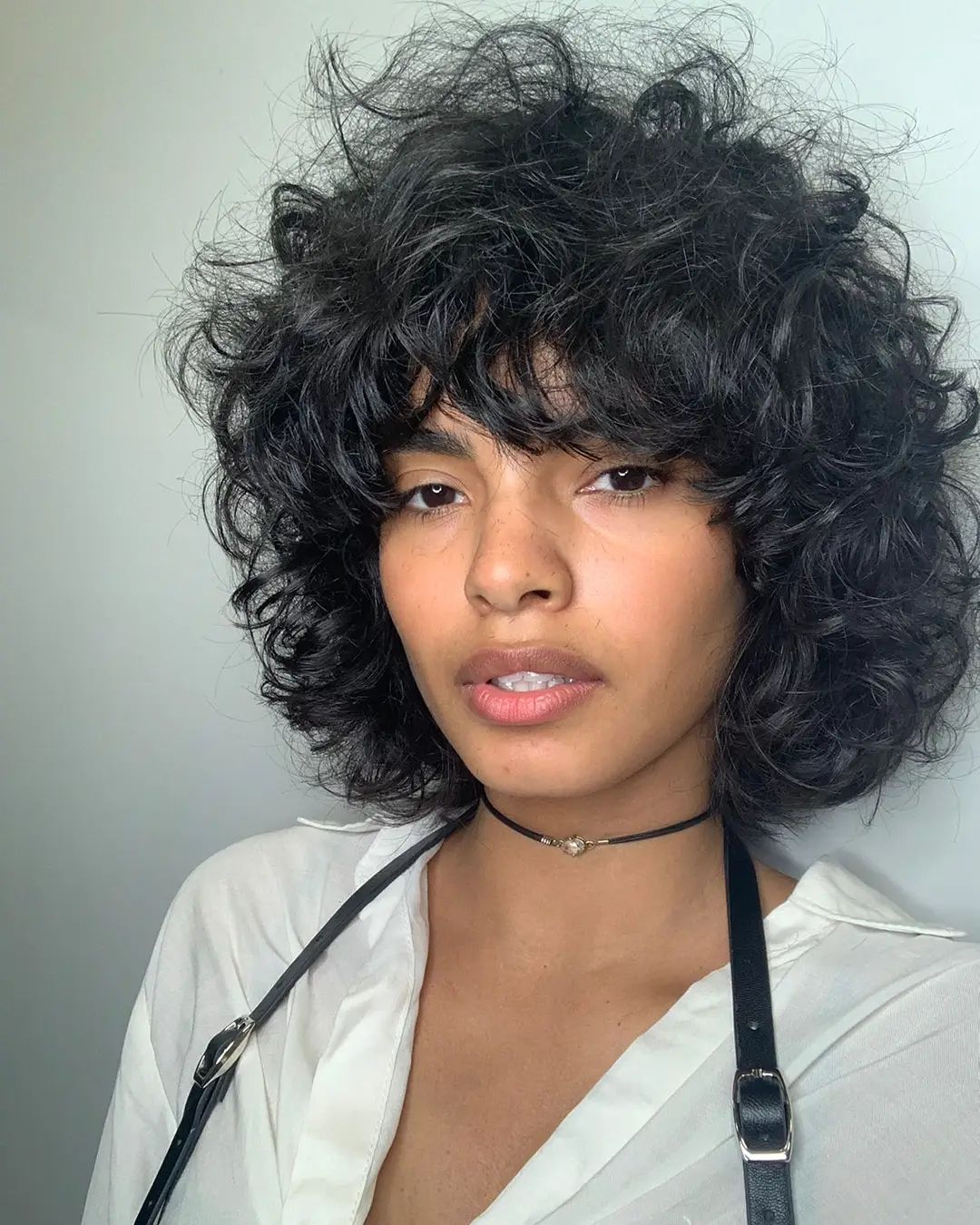 The main reason why bobs are so easy is that with the exception of some precise, structural varieties, most bob hairstyles work with your hair's natural texture. A well-cut bob will make you want to embrace your hair as it is instead of continuing to force it to be something else.
Modern textured bobs with a strong outline are especially gorgeous when worn natural. Invest in a lightweight leave-in conditioner whatever your exact hair type, then add more moisture as needed.
5. It's versatile and works for every occasion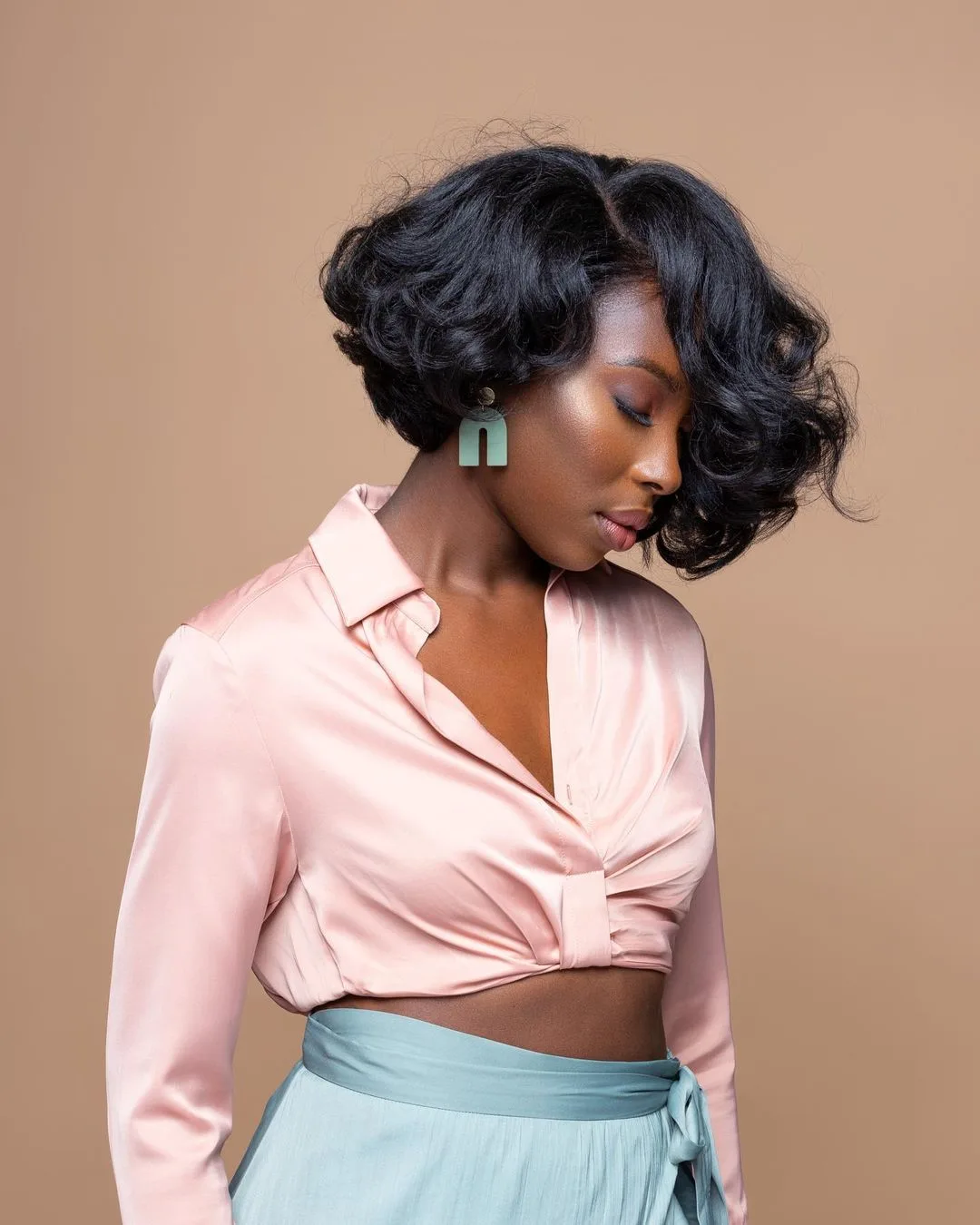 After you get a bob, you'll be shocked by how much you can do with it. With a little styling, a plain bob can easily be transformed from edgy to elegant, from casual to classy, from sleek to shaggy.
Additionally, with so many bob hairstyles to choose from, you can completely change your hairstyle every few months. Add layers or bangs, go for an angled or a choppy style—if you don't like it, in half a year it's going to grow out and you can start over.
7. It's timeless and doesn't go out of style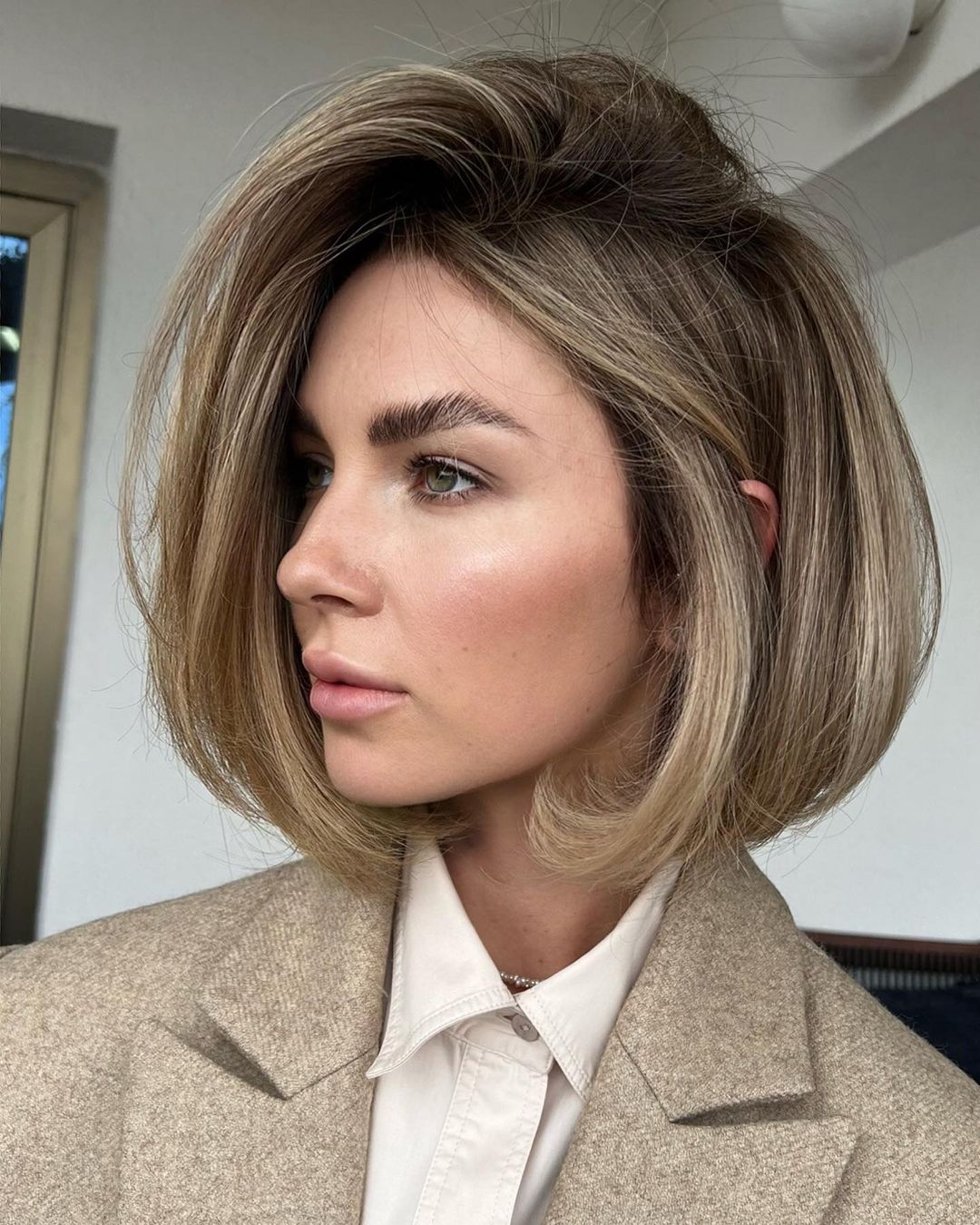 If you get a classic bob, you won't cringe looking at your pics in ten years. In fact, you could commit to never changing your hairstyle again and always look contemporary if you have a bob.
Admittedly, certain types of bob are somewhat period-typical if you really push them to extremes, so if you want to stay stylish long-term, don't pick anything extreme, such as very sharp angles or short layers. The more classic style you choose, the less dated it will seem in the future.
And if you like change, just get a different bob every time you get a haircut, and guess what? That one won't go out of style either.