You are tired of waking up with unmanageable hair that needs to be styled every single morning? Sit and relax because your savior is here. I'm about to introduce you to an insanely low-maintenance haircut.
Medium-length shag haircuts give that 'woke up like this' look. It will cut your styling time, there are plenty of types to choose from and your hair will look healthy, shaped, and full of movement.
1. Shag On Straight Hair
Some may say that it's impossible to have a straight shag haircut but this picture proves the opposite. These shaggy layers and curtain bangs are definitely a match made in heaven because look how nicely they frame the face.
2. Curly Layered Shag
If you have type 2 or 3 curly hair, you should get the shag haircut. You will get a wash-and-go hairstyle that will save you time and make your life easier.
3. Platinum Blonde Shag
Platinum is a very modern blonde hue, however, I would say that this shade gets its full glory when it's done on shaggy hair.
4. Soft Shag For Fine Hair
If you're on the hunt for the perfect hairstyle that will make your flat hair thicker, then the shag haircut should be somewhere on the top of your list, if not at the very top. Razor-cut layers will add volume to your hair and make it look fuller.
5. Fancy Feathered Shag
The reason I love feathered shags is because they give the illusion of a longer hair. Besides, it creates a more elegant look that is suitable for some special occasions.
6. Sunflower Shag
Well, it's obvious how this cute shag got its name. It's the combination of cool-toned blonde highlights and a dark base, but you can also combine it with red or orange.
7. Dark Shag For Women Over 50
Here is the most perfect look for all my ladies over 50 who are transitioning to gray hair but aren't quite ready to embrace it. Dark color will hide those grays and these shaggy layers will make you look younger and stylish.
8. Tousled Shag With Face-Framing Highlights
It's an obvious fact that these face-framing highlights give flair to the simple shag haircut, but they're also a great way to enhance some of your facial features like jawline or eyes.
9. Loose Spiral Perm Shag
Medium-length shag haircuts are one of the best bases for perm hair. That's mostly because it gives the perm curls that bouncy, natural flow.
10. Blended Blonde Shag
We all know that blonde doesn't suit everyone. However, we can't say the same when it comes to the blended blonde. The combination of perfectly blended various blonde shades gives that natural look that flatters every woman.
11. Cowboy Copper Shag
For all of you who are thinking about opening a new chapter of your hair called 'the redhead journey', copper shag should be your first step. This shade of red suits all skin colors and creates a more lively look.
12. Wispy Shag Haircut
One of the many advantages of wispy shag is that it removes so much weight from thick hair, adds movement, and makes it look softer and lighter.
13. Wavy Shag With Parted Bangs
Shag can work with pretty much all types of bangs but the curtain and parted fringes are the best matches for this haircut. It's obviously because they make that framing effect together that highlights the finest facial features of a person.
14. Romantic Rose Gold Shag
Everything about this hairstyle is romantic and chic… The blowout, the rose gold color, and these wispy-blunt bangs. The way this shag makes her face look softer is so amazing.
15. Wet Look Shag
Unlike most other shag hairstyles, you don't need any heat styling tool for this look. You just need to apply hair gel to your hair, comb it carefully, and define your curls/waves with your hand.
16. Ultra-Violet Shag
I honestly can't understand why most women turn away from these hair colors. I agree that they aren't that easy to maintain but the way they can enhance your entire look is absolutely worth it.
17. Shag For Round Face
I hope this picture makes it obvious why shag should be your number one haircut if you have a round face shape. The area around the jawlines is hidden with layers which makes the face look longer.
18. Modern Classic Blowout Shag
Want to make your shag haircut look more elegant and formal? No problem, rough-dry your hair and then grab a round hair brush. Blow-dry straight over the face and once you get to the endings, just flip them out.
19. Pastel Yellow Shag
I hope there are pastel-color lovers among you. Just look how this pastel shade brightens up the entire face and brings warmth to the complexion, too.
20. Curly Shag With Bangs
I know some of you curly girls out there are desperate for new, HEALTHY ways to tame your voluminous curls without damaging them. The layered shag will make that happen in no time. Also, cutting your bangs will help with removing the weight excess.
21. Two-Toned Balayage Shag
Pairing baby with curtain bangs can bring warmth to your face and make you look younger. And this two-toned balayage can be a true refreshment to your hair and overall look.
22. Retro Rock Shag
This rock-shaggy look was one of the most popular in the 1980s but is still trending even today. It's perfect for those who like messy, effortless but still stylish looks.
23. Softly Layered Shag
Even when they're done this soft, layers will still have the same effect on your hair when it comes to adding volume and movement. However, doing them this way will create a more sophisticated look.
24. Feathery Fluffy Shag
Most of us have a love-hate relationship with fluffy hair but this shag look will make you push that 'hate' part out.
25. Green Shag With Baby Curtain Bangs
Green is a wonderful hair color indeed. Unfortunately, not many women can pull it off. It suits the best women with dark features.
26. Playful Space Buns Shag
This 90s trend is one of the most popular and dominant trends of the year. The space buns make the shag haircut look more gentle and playful.
27. Dreamy 70s Shag
If that 1970s nostalgia has hit you, let's put you back in the groovy mood with this shag. The type 2 texture and flipped layers make this shag suitable for every face shape.
28. Shag-Wolf Cut
Are you thinking about getting a wolf cut but want those layers to look more soft and flowing? The shag-wolf combo will satisfy your desires!
29. Copper-Dark Split Shag
If you're looking for ways to elevate your look, the copper-dark wavy shag is a hairstyle you can never go wrong with!
30. Messy Shag For Thick Hair
Styling thick hair with an irregular texture can sometimes be a true challenge. Luckily for you, there is always the shag haircut to save you and fix those issues. Just do this messy shag that will follow your complex hair texture and all your hair styling worries will disappear.
31. Shattered Shag
The shattered layers will give your shag that fuller look and make your hair feel more airy. It's the ultimate haircut for women with fine hair because of the texture and volume the shattered layers provide.
32. Simple Shoulder-Length Shag
If you still aren't sure whether this haircut is the right choice for you or if it will work for your face shape and hair type, start with this simple shag and I'm sure it will give you the confidence to experiment with different types of shag.
33. Peekaboo Shag
Choose this shag with peekaboo highlights and make a statement with your hair! Of course, you don't have to use this dark pink hue, you can choose whatever color you like or think will suit your base color.
34. Chunky Highlights Shag
If you want to make this 2000s trend a bit more modern, just do the dimensional chunky highlights. It'll still have the same contouring effect on your hair.
35. Mick Jagger-Inspired Shag
You will hear some hairdressers refer to a shag as the 'Mick Jagger of hairstyles' and that's fully justified because shags have labeled the whole rock and roll era. Mick loved his casual, mussy shag and I'm sure you'll fall in love with it, too.
36. Silver Shag With Baby Bangs
This shag is full of messy layers that add volume and fullness to the hair. And baby bangs sit right there on the forehead to highlight those beautiful hazel eyes.
37. Neon Unicorn Shag
Come on, who doesn't like unicorns? It's a demanding hair color but having that mystical, flair look is worth all the effort.
38. Choppy Shag
Choppy layered shags are so flirty and natural-looking hairstyles. It's easy to achieve and even easier to maintain them.
39. Razored Wavy Shag
This hairdresser made the right choice by pairing these micro-wispy bangs with the shaggy haircut because of the rich volume and texture they create together. The razored layers of this shag contribute to this playful, youthful look.
40. Half Money Piece Shag
Both half and full-money-piece bangs are a great way to make your face and complexion a bit brighter. Besides, they look fabulous and refreshing.
41. Bouncy Split Dye Shag
These split-dye shags are definitely for women who like deep contrasts. They're highly versatile because there are hundreds of combinations you can use.
42. Shag With Wispy, Baby Bangs
The baby bangs simply flow effortlessly into these wispy bangs and together they provide that face-framing effect most women long for.
43. Real Autumn Shag
To celebrate this beautiful season, here is a shag inspired by true fall colors. There are three levels of different hues and each of those colors blends so wonderfully into the other.
44. Shattered Soft Shag
The proof that shattered shag haircut is versatile and can be styled into various hairstyles. This soft-shattered-straight shag provides a more elegant look which makes it suitable for some special occasions.
45. Textured Parisian Shag
Parisian is the modern, playful, and stylish version of a classic shag haircut. It's so versatile and suits all face shapes, hair types, and skin tones.
46. Honey Blonde Shag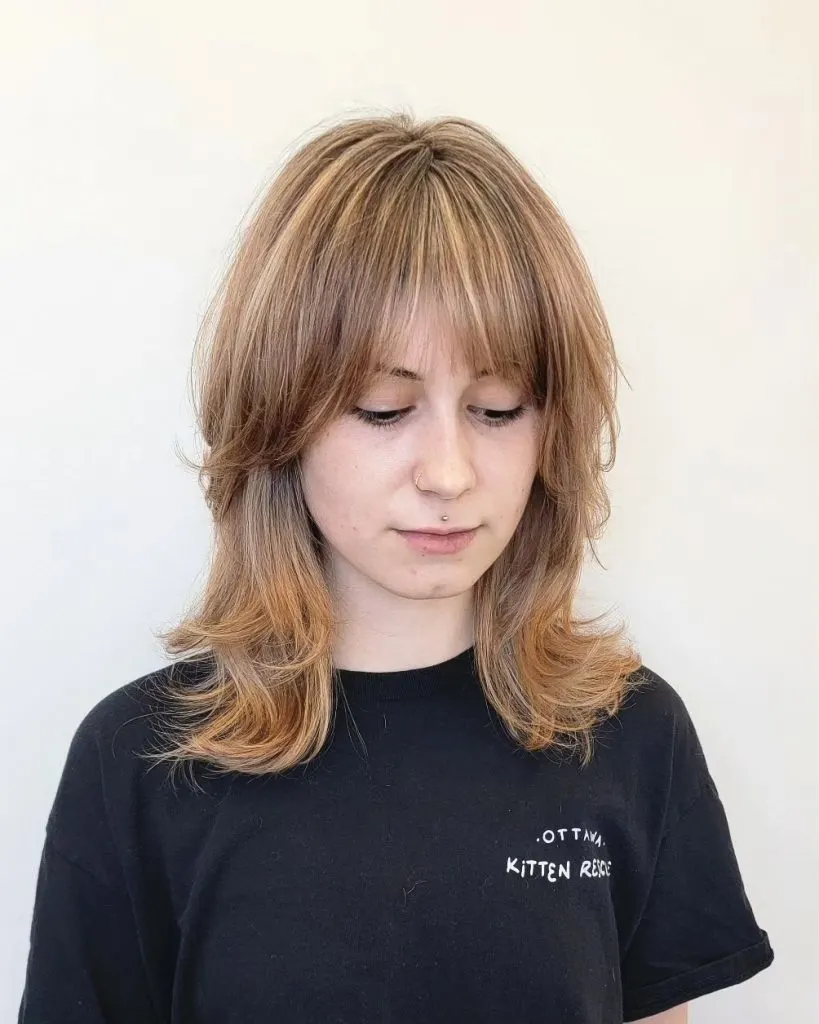 Do you prefer bright or dark-colored shags? If your heart belongs to the bright ones, you'll immediately fall in love with this honey-blonde shag.
47. The 70s Wolf Shag
These 70s shaggy hair vibes are everything. Cut in layers to equate the hair volume and paired with the curtain bangs to frame the face elegantly… Absolutely stunning.
48. Messy Shag With Side Bangs
Here is the perfect example of how side bangs compliment messy textured shags. This particular hairstyle flatters women with round face shapes because it adds angular length to the face and gives it a more slender shape.
49. Effortless Mid-Shag
For every woman who has tousled hair texture, here is the perfect shag cut that doesn't demand any effort at all.
50. Pink Face-Framing Shag
Pink and similar badass colors are made for bold women and girls who have their own style. Every woman can rock this shag hairstyle, however, the question now is how really brave are you?
51. Bubbly Shag Of The 90s
This hairstyle is a modern take on the iconic "Rachel" shag that was huge in the 90s. The way the ends fall inside enhances the hair with more volume and the face-framing layers accentuate the best facial features.
52. French Shag
French shag is a funky, a lot more choppy version of a classic shag. The combo of long bangs and face-framing layers gives that tousled look and draws attention to the middle part of the face.
53. Bohemian Shag
Bohemian shag is created for all brunettes who want to revive their hair. This shag features golden highlights, face-framing bits, and layers at the crown.
54. Fringed Out Shag
It's not a classic shag, but it's the one that will grab attention. That's why this rocker fringed-out styled shag is not for everyone, only a few badass, rocker females will be able to pull it off.
55. Gothic Fairy Shag
Goth girls, here is a shag you will love! Dark color, baby bangs, and wavy and messy texture are all characteristics of true Gothic hair.
56. Teased Shag
Women have fallen head over heels for this chic, sleek, shaggy look. Adding volume to the hair by backcombing at the crown creates the illusion of a longer face which is perfect for women with a round face shape or small head.
57. Afro Shag
Even though some of you may think that it's impossible to tame natural afro hair, shag is here to prove you wrong. The layers will move some weight and provide movement to the hair which will make the curls bounce a bit lighter.
58. Razor + Shear Cut Shag
Both razor and shear hair cutting follow the hair's natural flow and give it texture, the only difference is that the shear cut leaves these blunt ends. That makes it perfect for fine hair because this cutting technique makes the hair look thicker.
59. Chaotic Shag
The chaotic, messy texture makes this shag look so effortless and natural. The micro wispy bangs are a great addition because they draw attention to the face and make the entire look a bit softer.
60. Shullet With Micro Bangs
This look has most of the shag's characteristics, it's layered and it has both the texture and volume of a shag. However, the short layers in the front make it a shullet cut. Those choppy front layers make it a perfect choice for women with the square and oval face shape.