You kind of want bangs, but you're worried you might regret it? Get wispy bangs.
This cute style of fringe is the easy way to test if bangs are for you—you get the full effect of a bangs hairstyle, but they're easy to blend and hide as they grow out if you decide they're not for you. Oh, and they're also super flattering and versatile.
Here are 50 fun, low-maintenance hairstyles with wispy bangs that might make you go for it.
1. Barely-There Wispy Bangs
Even if your bangs are nothing thicker than a few pieces skimming your forehead, they'll completely change your look—you can go for edgy or soft, depending on how you choose to style them.
2. Fluffy Wispy Bangs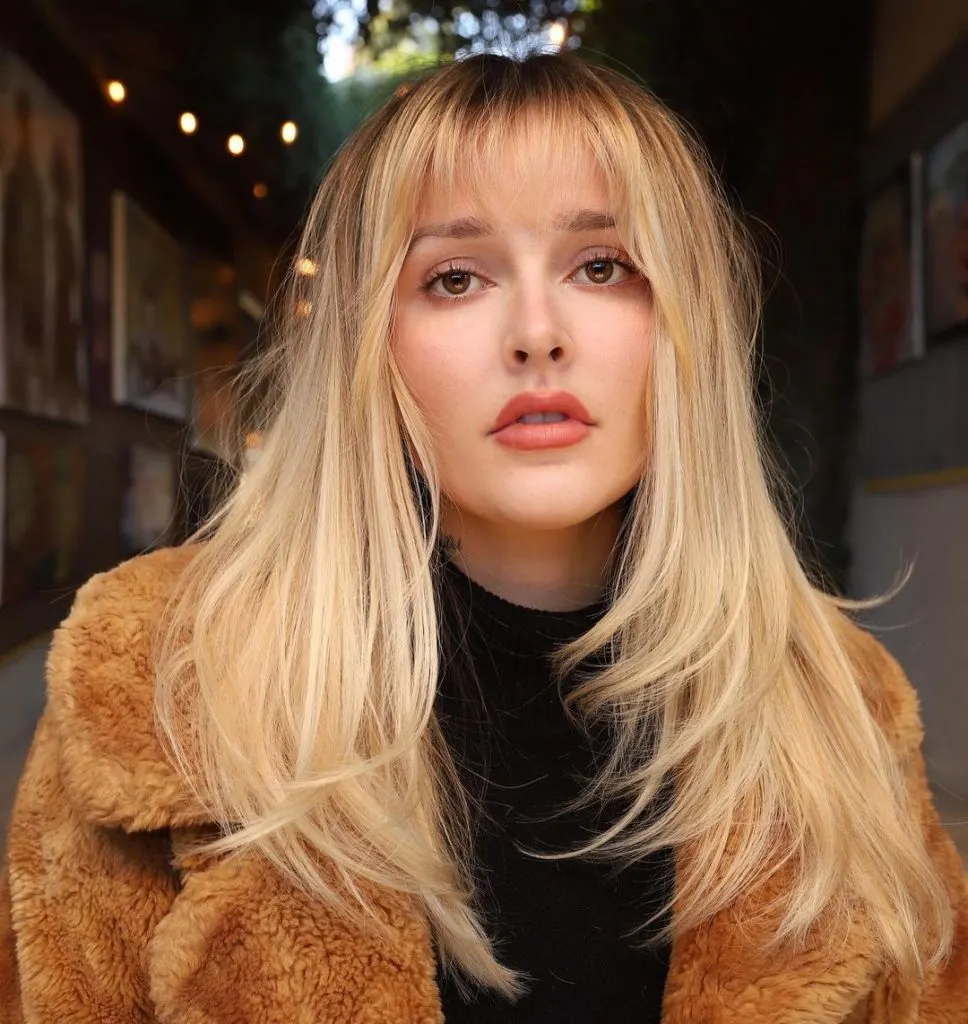 There are lots of ways to style wispy bangs—this fluffy, '90s look creates a soft, romantic look that goes really well with layered hair and ends curled inwards.
3. Straight And Colorful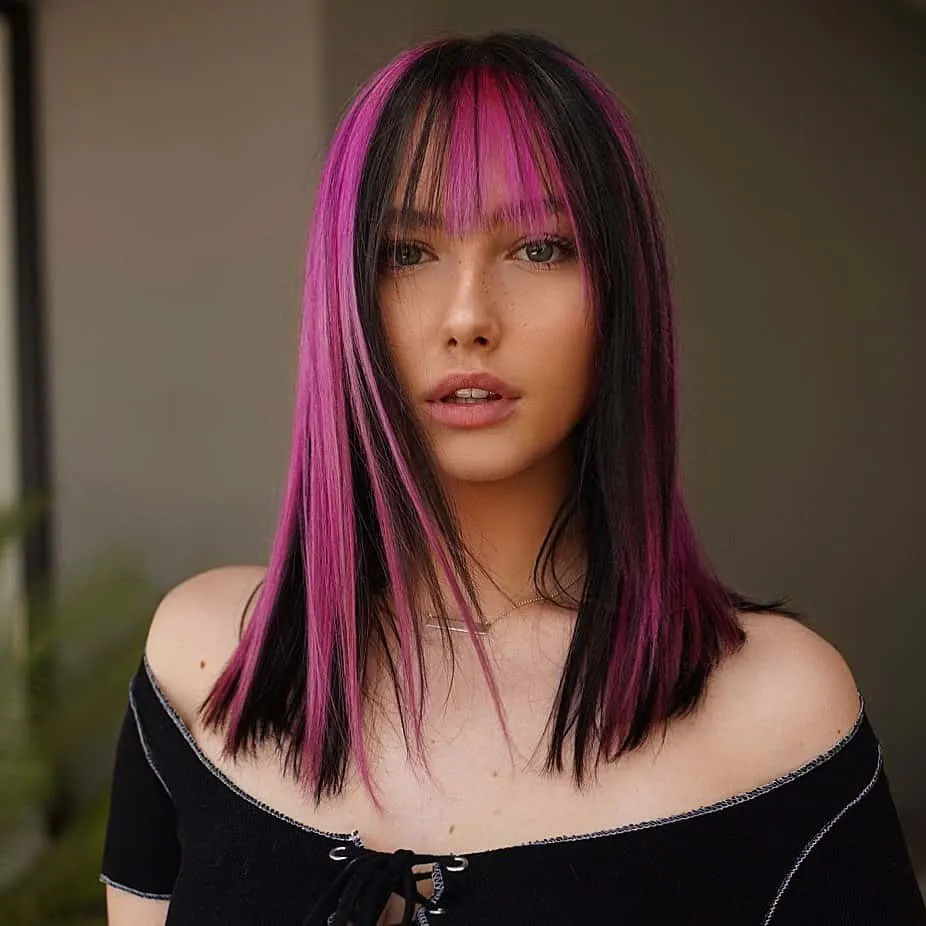 Wispy bangs are soft, but they can also look sharp and cool if you wear them straightened and smooth. As always, don't skip the heat-protectant when using a flat iron.
4. Fine And Eye-Grazing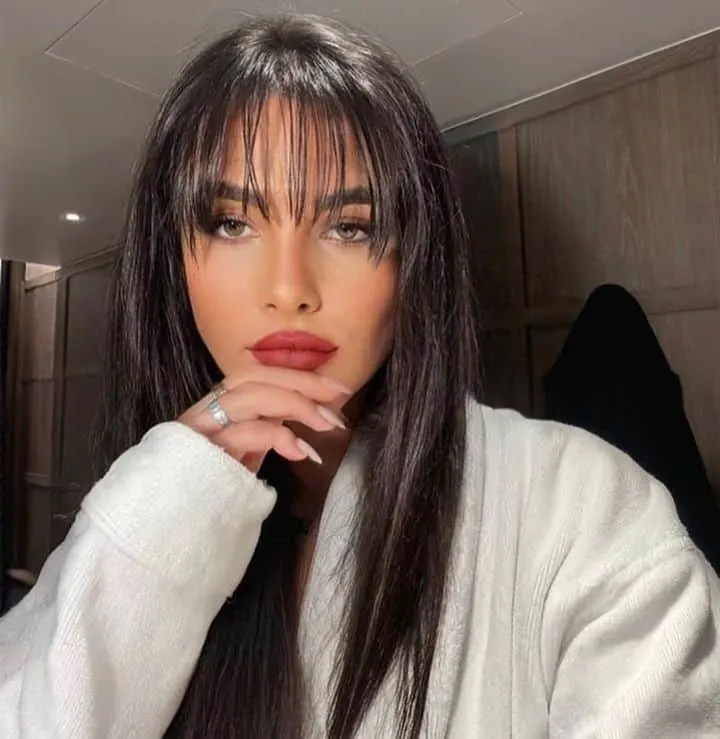 When cutting wispy bangs, avoid going too deep so that they don't end up too thick. Find the starting point by placing a comb on the crown of your head and the place where your head starts to curve toward the forehead is the sweet spot for perfect bangs.
5. Straight Wispy Bangs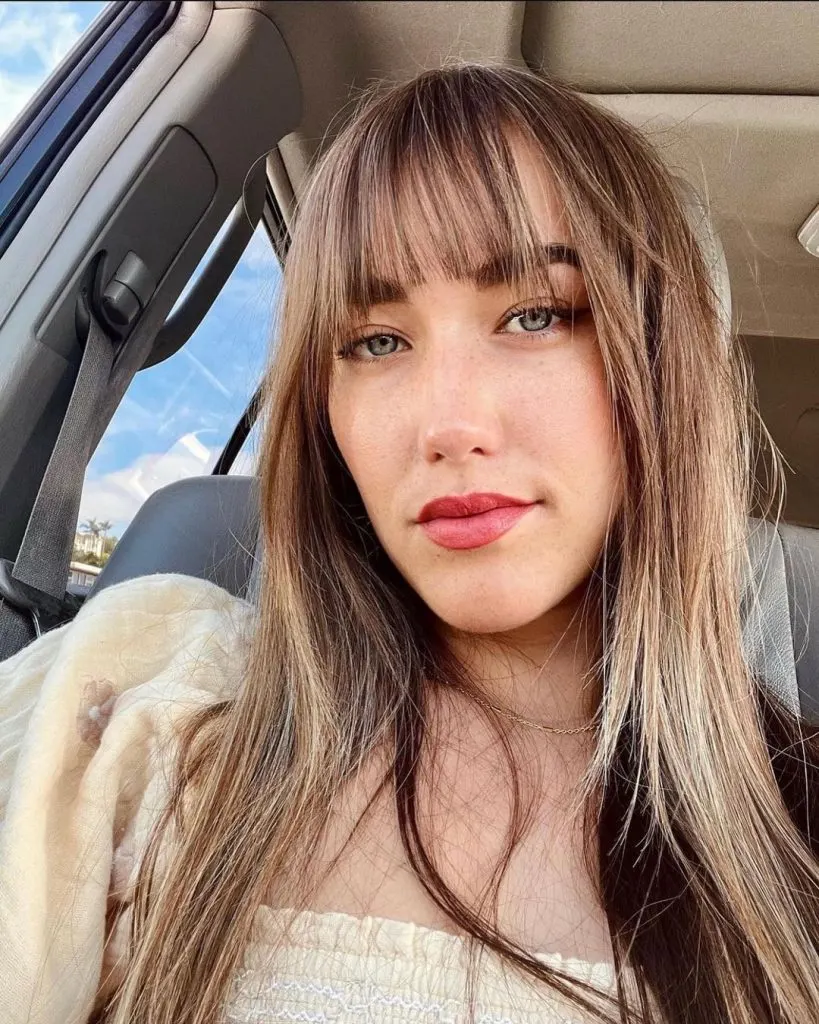 You also don't want to cut your bangs too wide on the forehead if you want them to be wispy: the arch of the eyebrows should be the furthest from the center you go.
6. Long And Face-Framing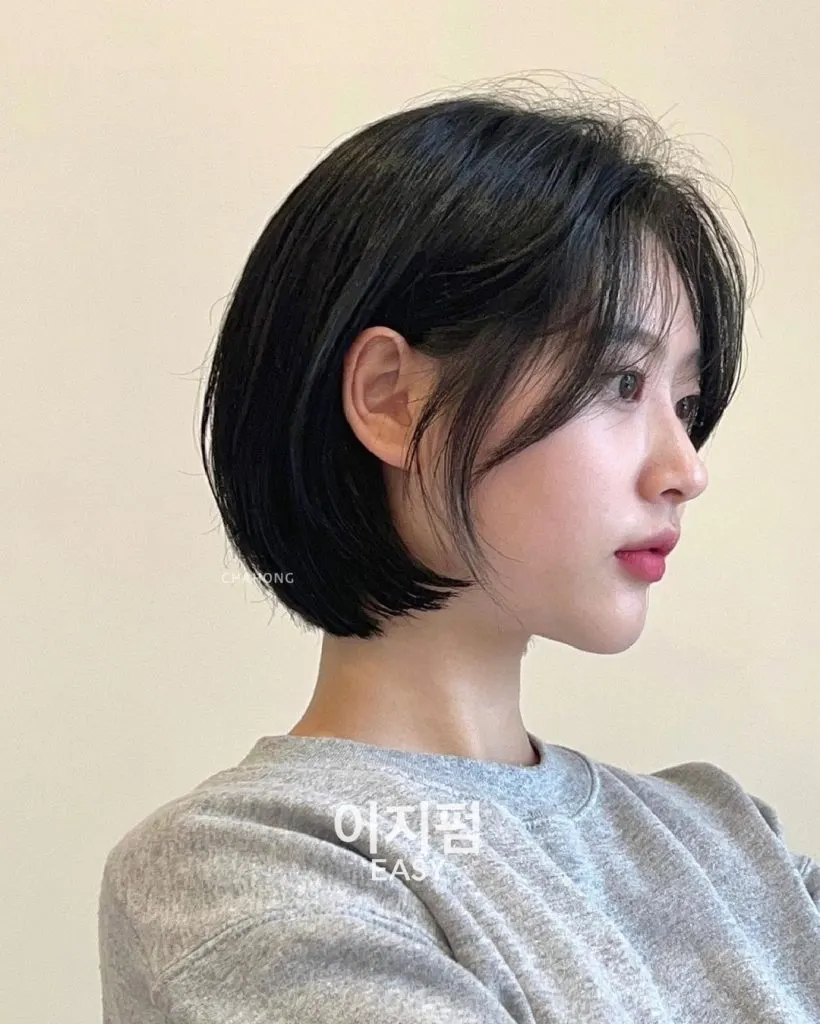 If you still have doubts about getting bangs but you'd like some of that yummy face framing, long wispy bangs are easy to wear and to style and you can just push them back if you change your mind.
7. Middle Parted Wispy Bangs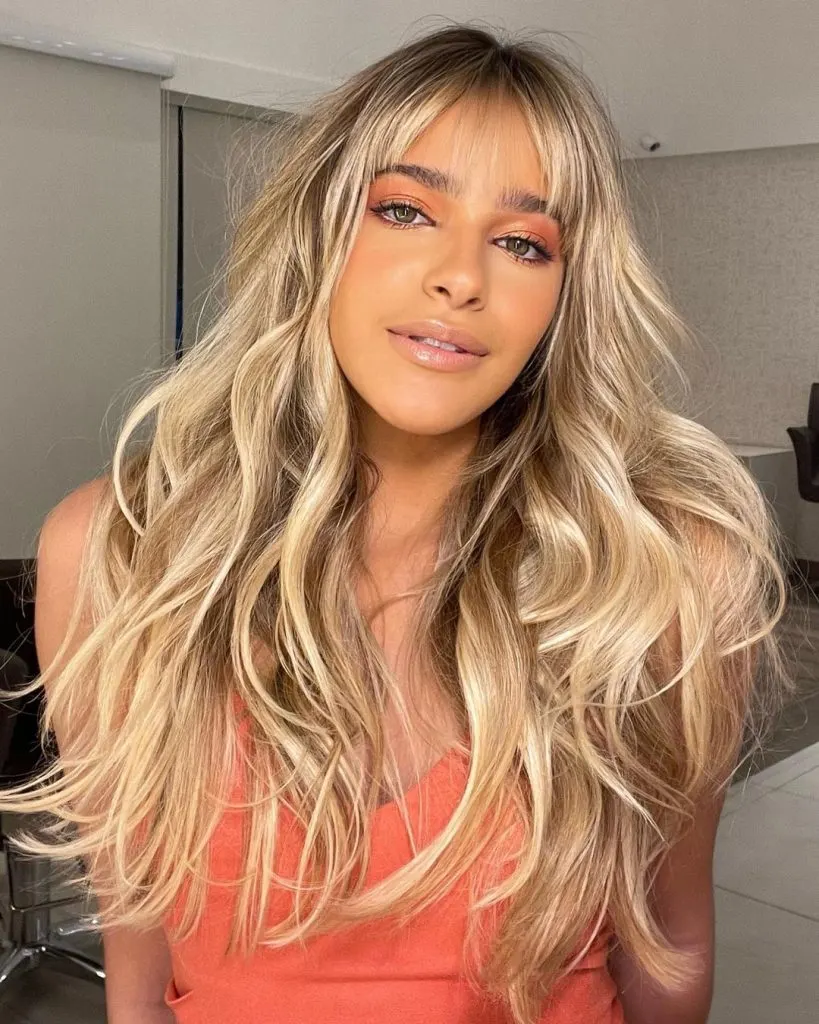 These adorable wispy bangs give any hairstyle a more delicate and romantic look. The best part? You can pull them off whatever your face shape.
8. Refreshing Wispy Bangs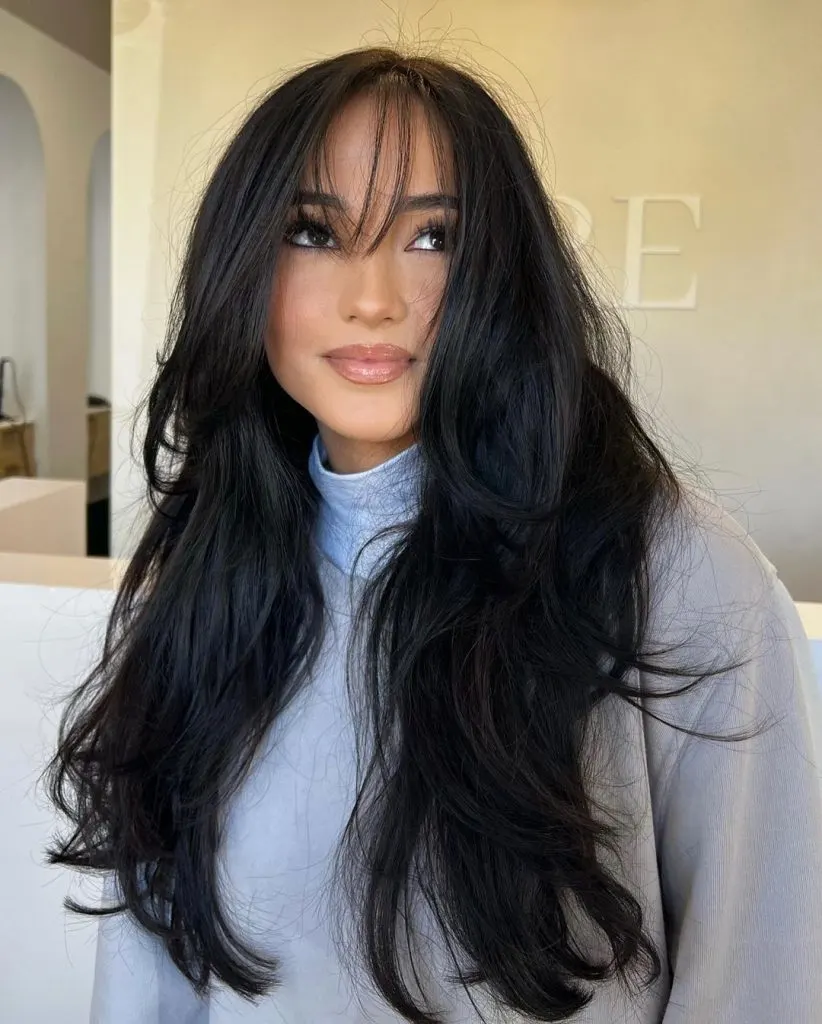 A couple of wispy strands will make your hairstyle more playful and fun, and they're also a low-commitment way to disguise a tall forehead.
9. Wispy Bangs And Wavy Bob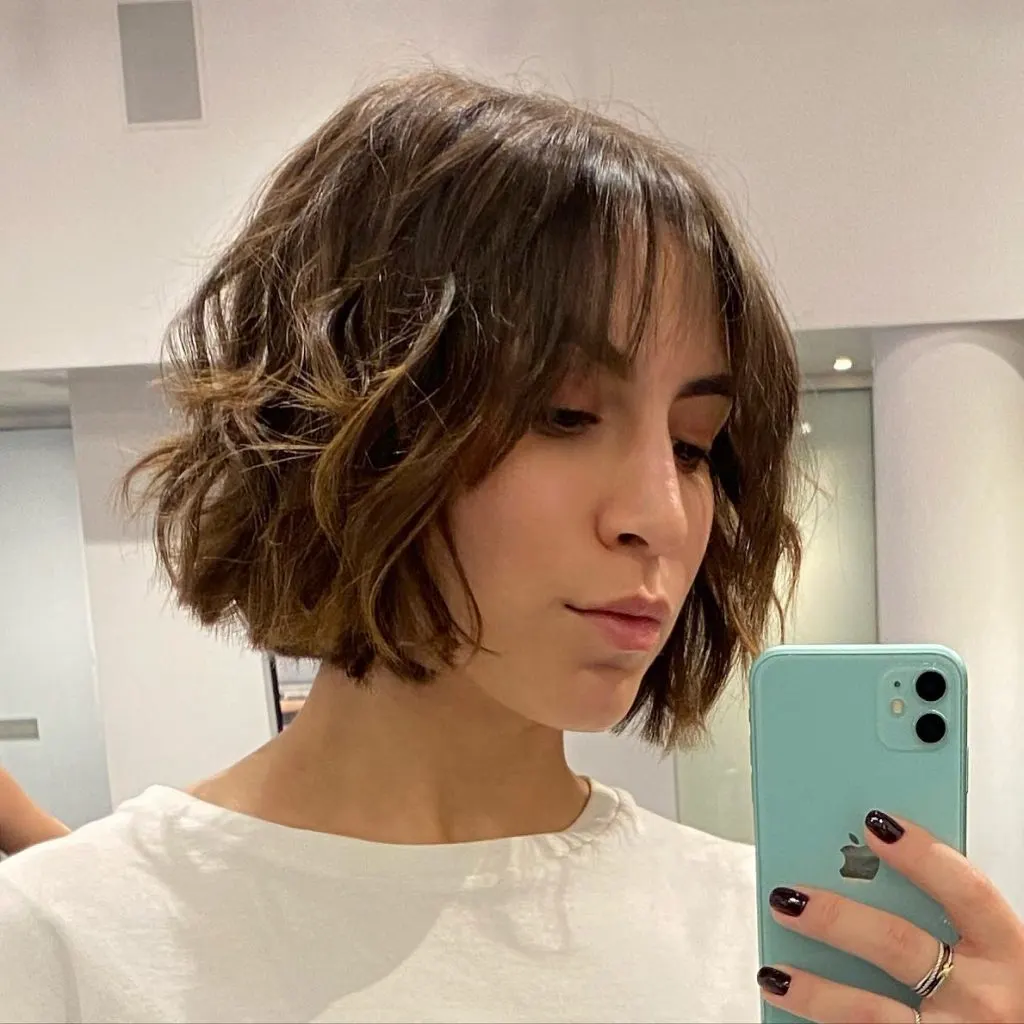 Wispy bangs are versatile and can fit different hairstyles. This wavy bob looks lighter and airier thanks to the ultra-thin short curtain bangs.
10. Short Bangs With Highlights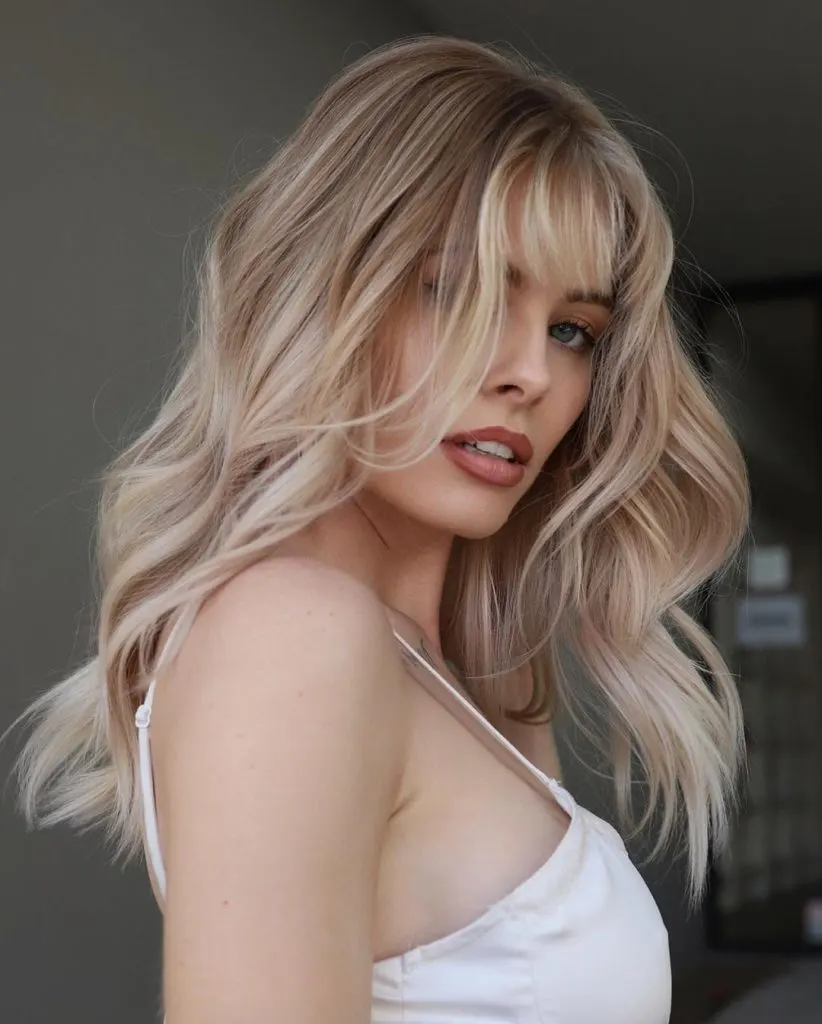 Barely-there bangs worn around the eyebrows soften these vampy locks, making the whole style look more charming, but they can be easily concealed when you want to play up the flirtiness.
11. Ultra-Fine Wispy Bangs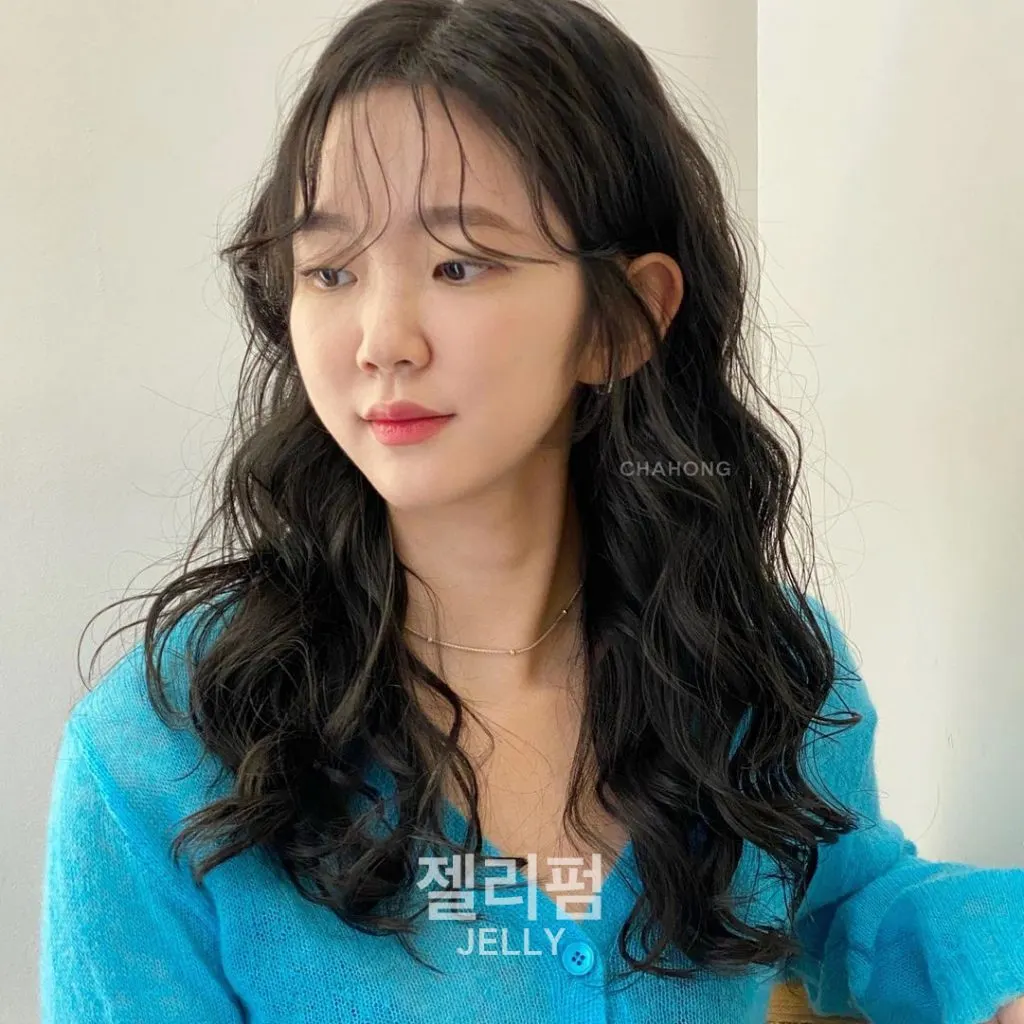 Using hair gel, separate your bangs into tiniest wisps to create a fairy-like ethereal look. To be able to achieve this, you only need bangs that are around one inch wide.
12. Wispy Curtain Bangs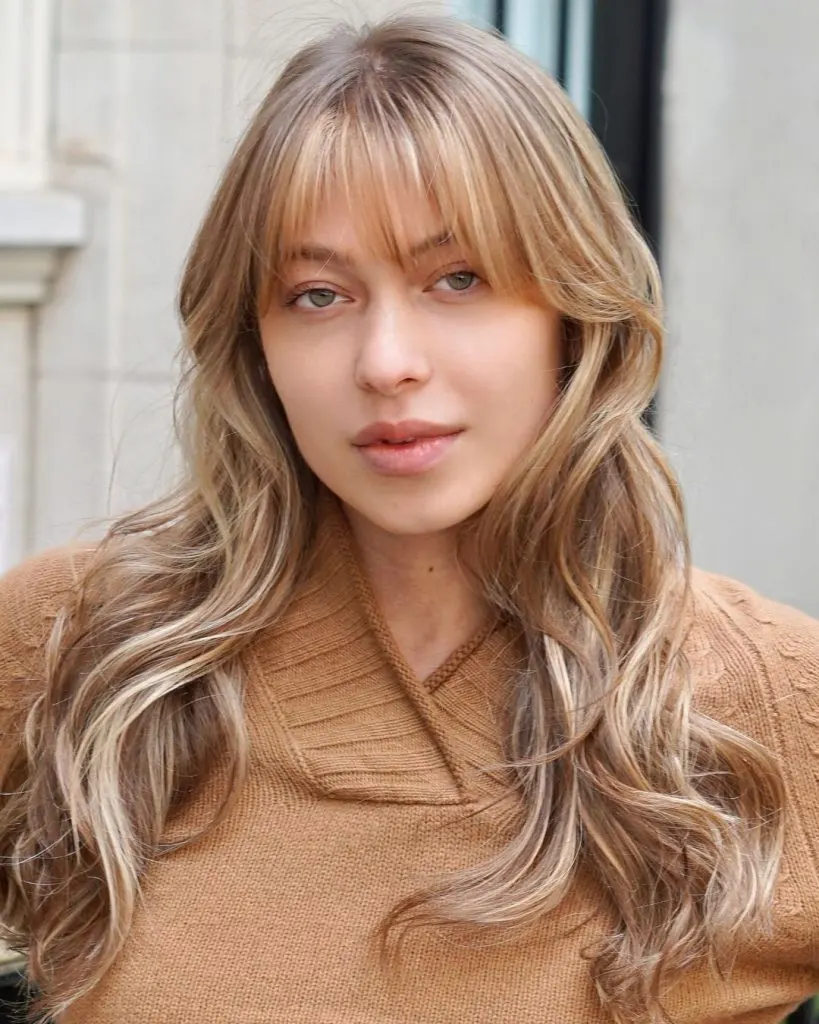 Wispy bangs can give fine hair an illusion of fullness. Using a medium-sized velcro roller, wrap your bangs towards the face, blast with hot air then let cool for instant volume boost.
13. Long, Fine And Silky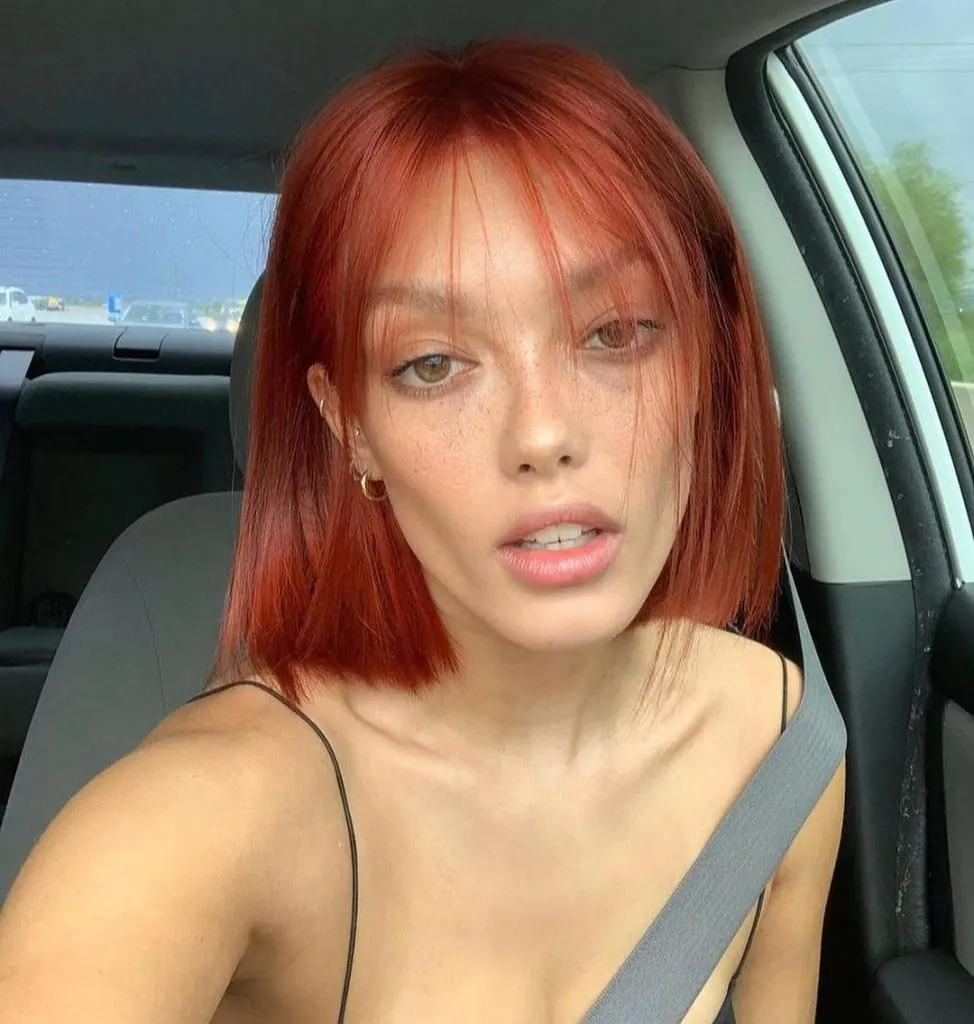 You don't need to be too diligent about regular trims when it comes to wispy bangs—overgrown, they don't look messy but stylish.
14. Choppy Wispy Bangs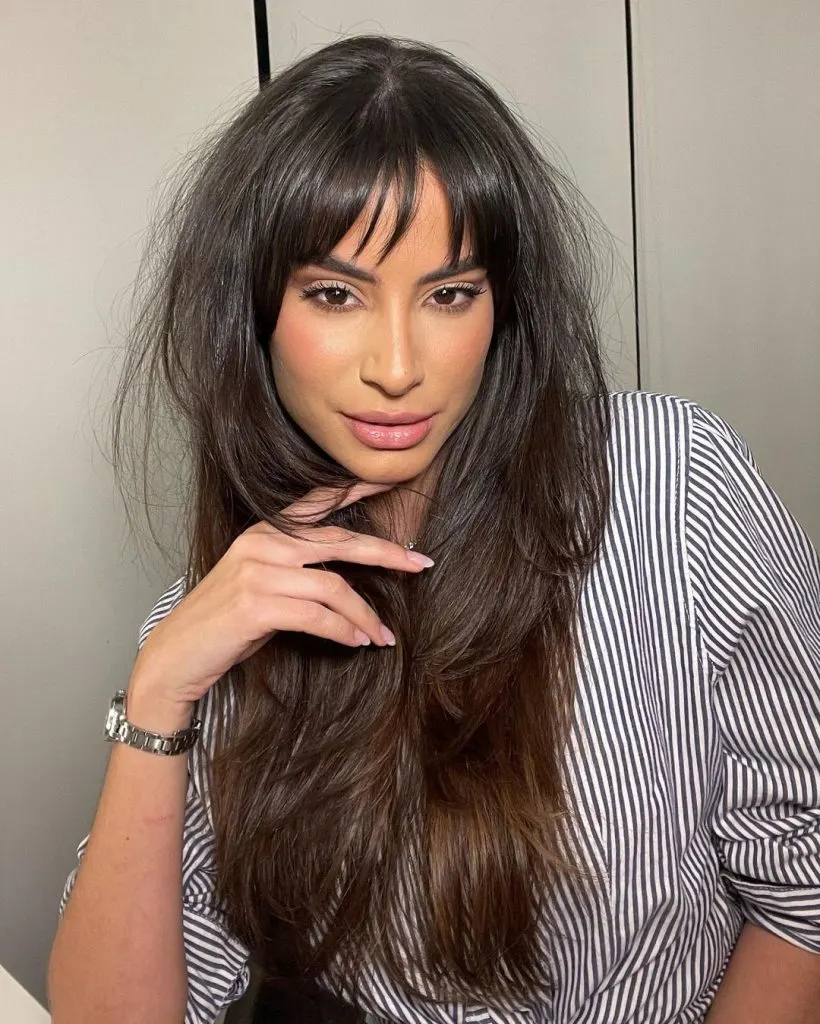 Subtly choppy ends create a softly rebellious look that still looks professional and elegant. This is one of the most flattering styles of bangs for round faces.
15. Long Straight Wispy Bangs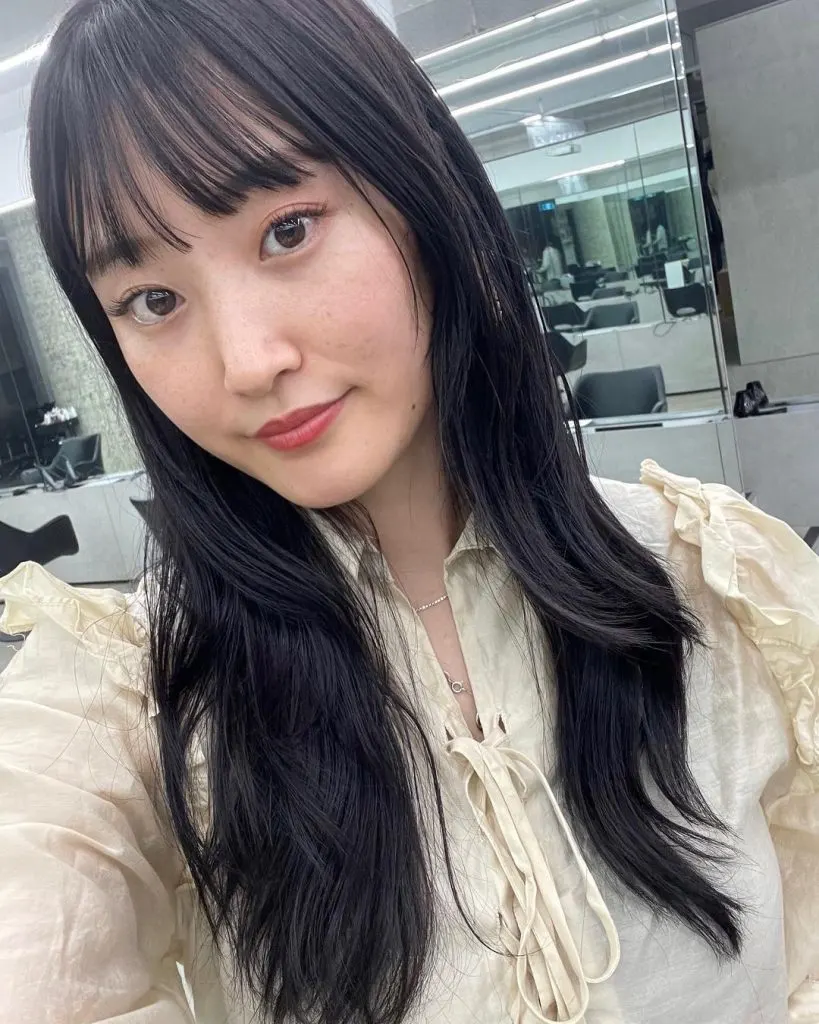 Neat and pretty, these wispy bangs are the ideal solution if you want to minimize a tall forehead.
16. Short And Choppy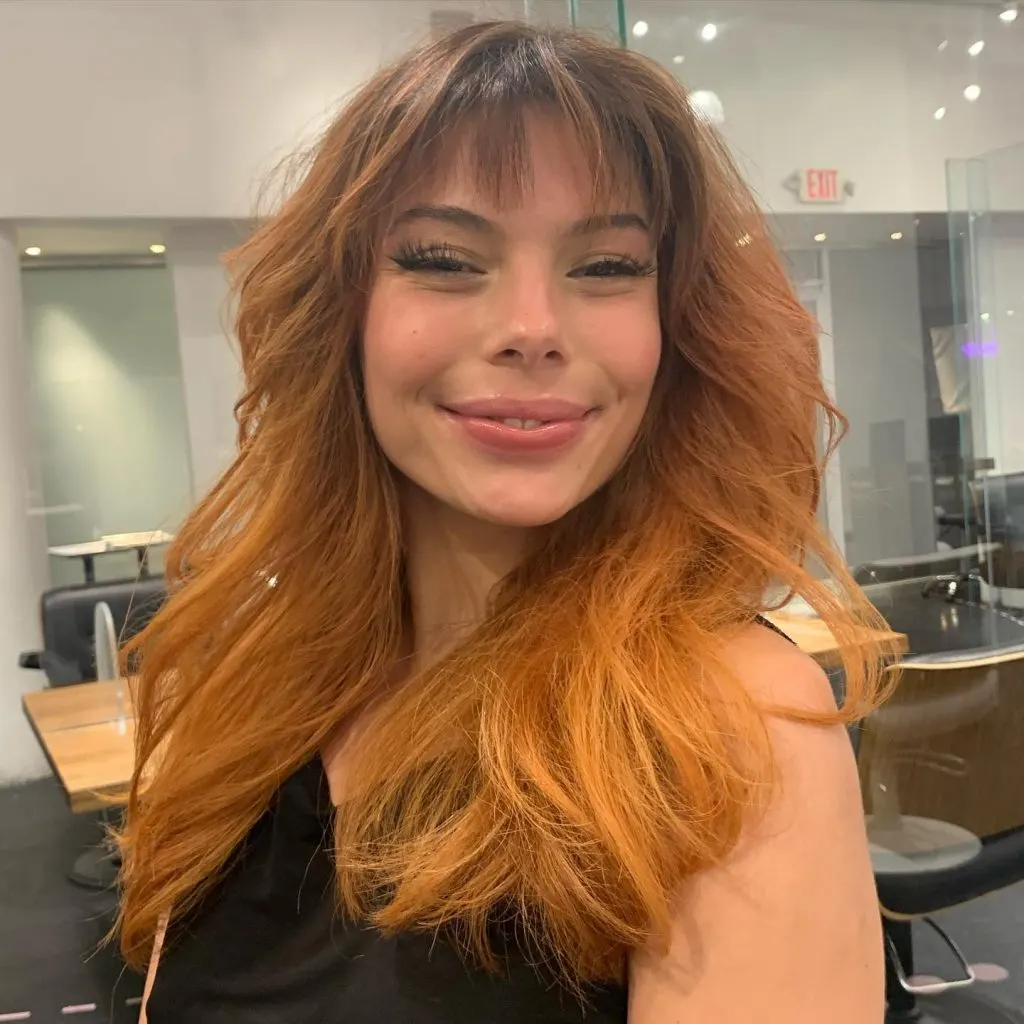 Upgrade your look with short, choppy bangs that are both fun and flattering. To maintain this cute length, you'll need to cut them at least once a month, and maybe even more often.
17. Soft And Rounded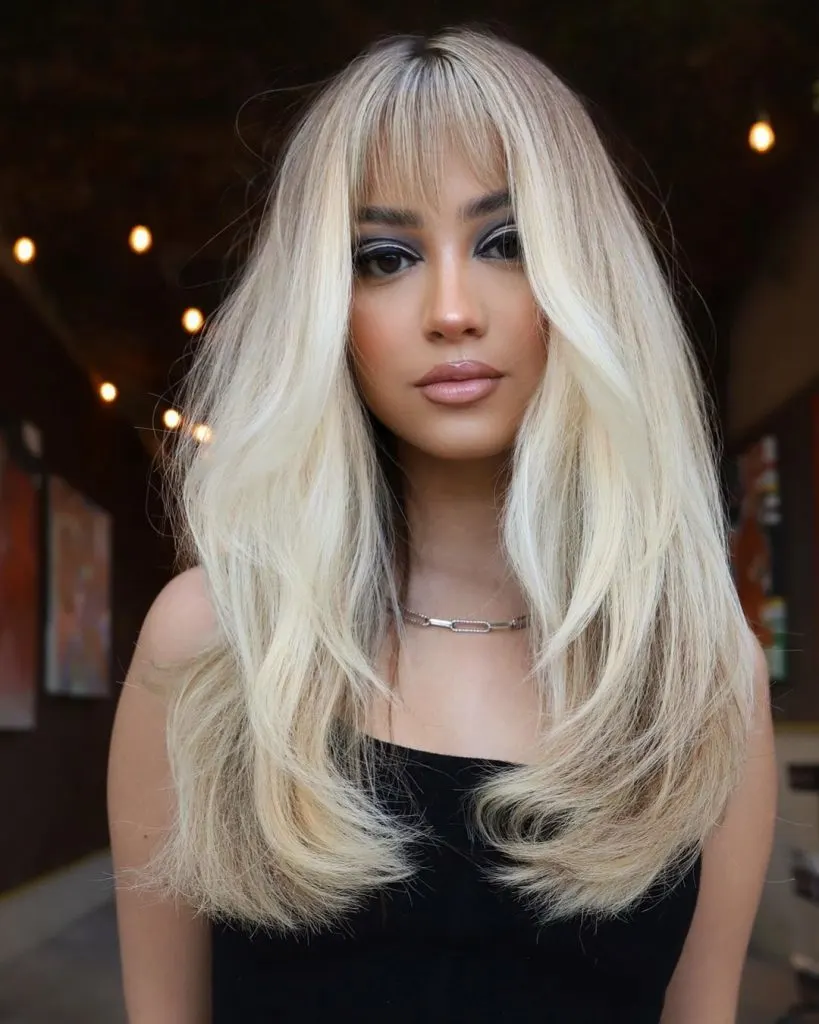 This pretty look would be incomplete without the bangs, which goes to show how much impact such a small change has.
18. Jagged Wispy Bangs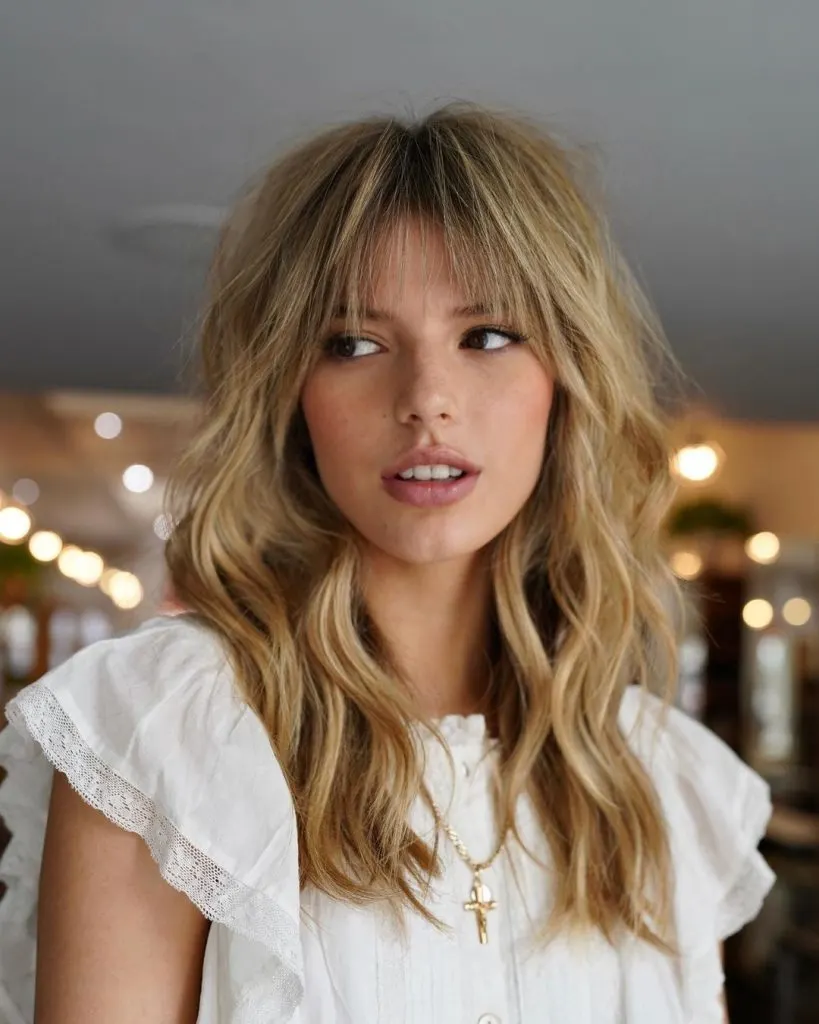 Super choppy curtain bangs are a natural complement to this trendy shag, making the whole look more cohesive and edgy.
19. Fine And Piece-y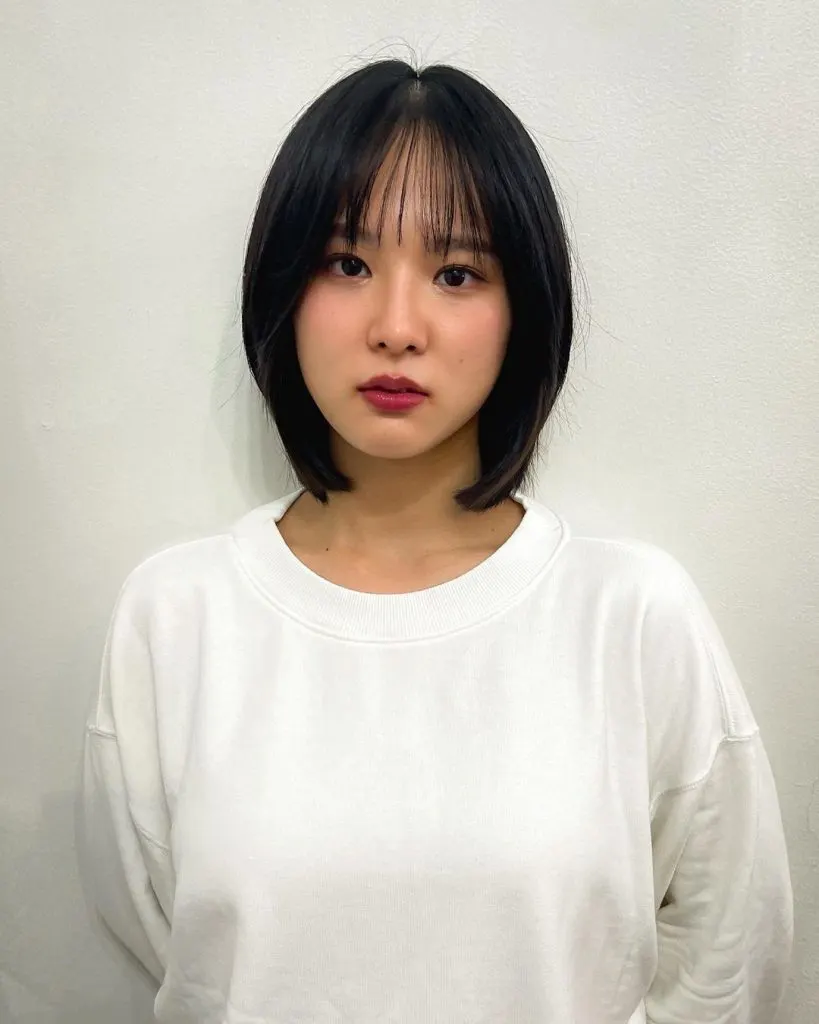 This soft, layered bob has been taken up a notch with these longish wispy bangs. And If you have thin hair, they're the ideal choice since they don't take more than one inch of width at the forehead.
20. Face-Framing Wispy Bangs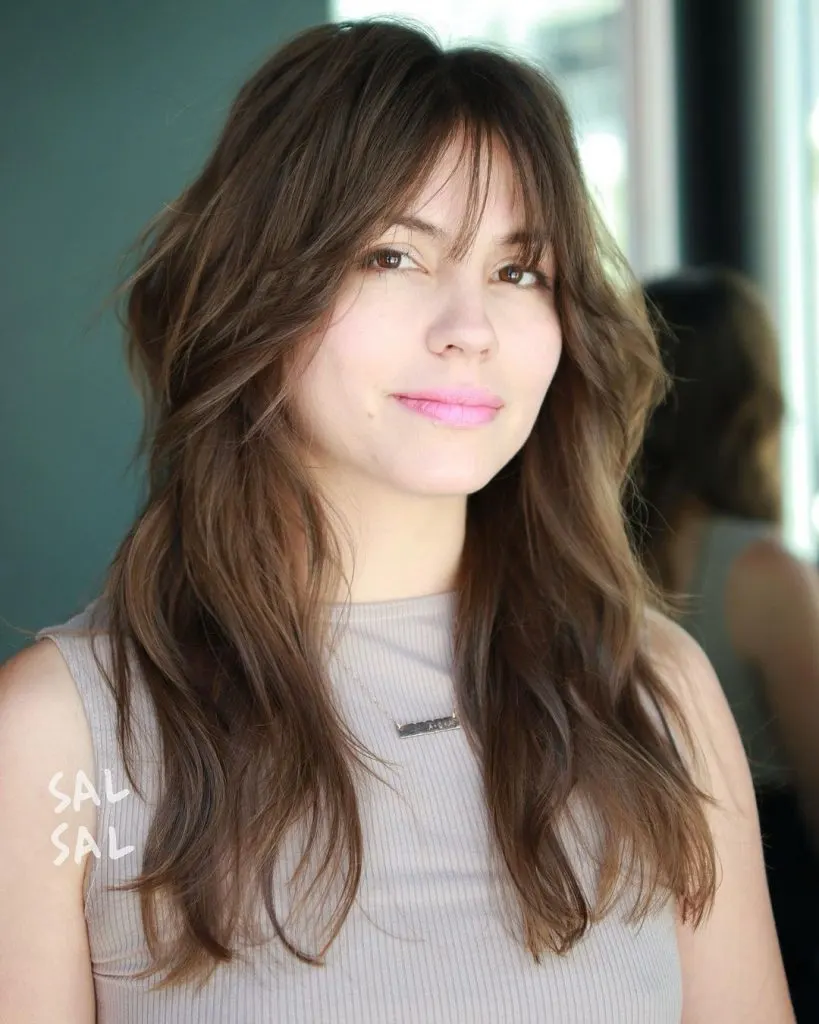 A subtle shag is as versatile as it's flattering, and going short in the center is just the icing on the cake.
21. Short Retro Wispy Bangs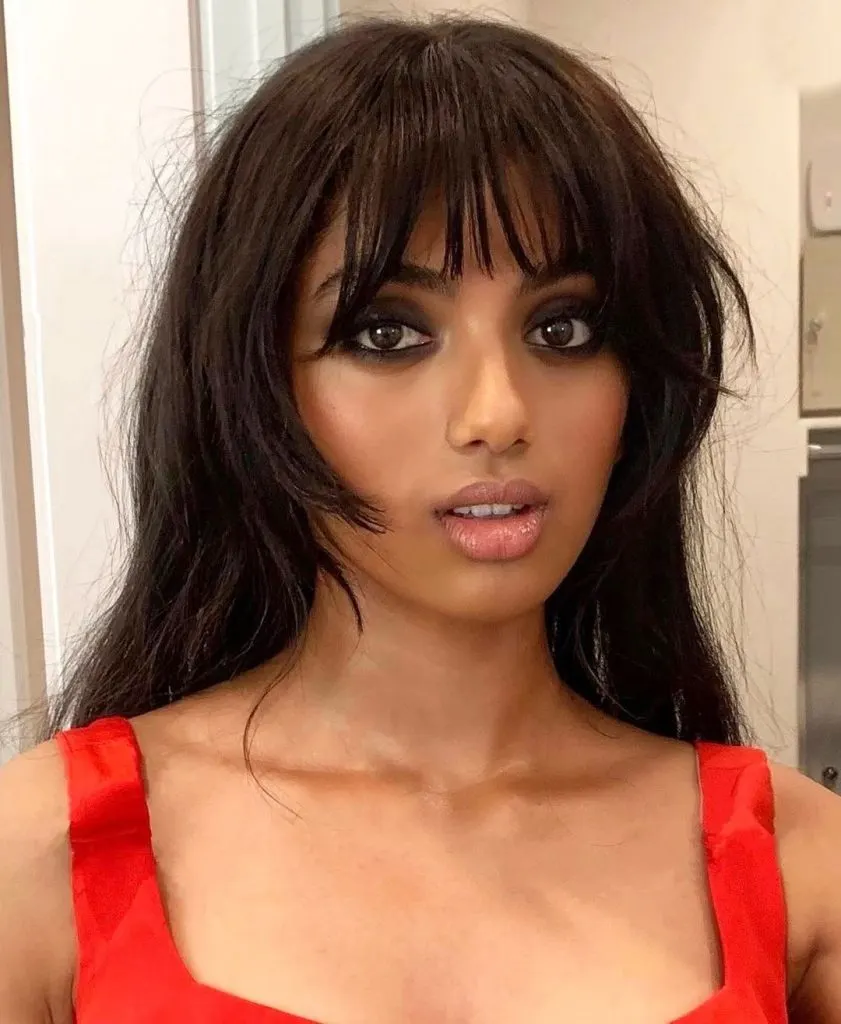 This hairstyle is all about using your hair to call attention to the features—the wispy bangs and the shorter pieces on the side highlight the eyes and the lips.
22. Curly Wispy Bangs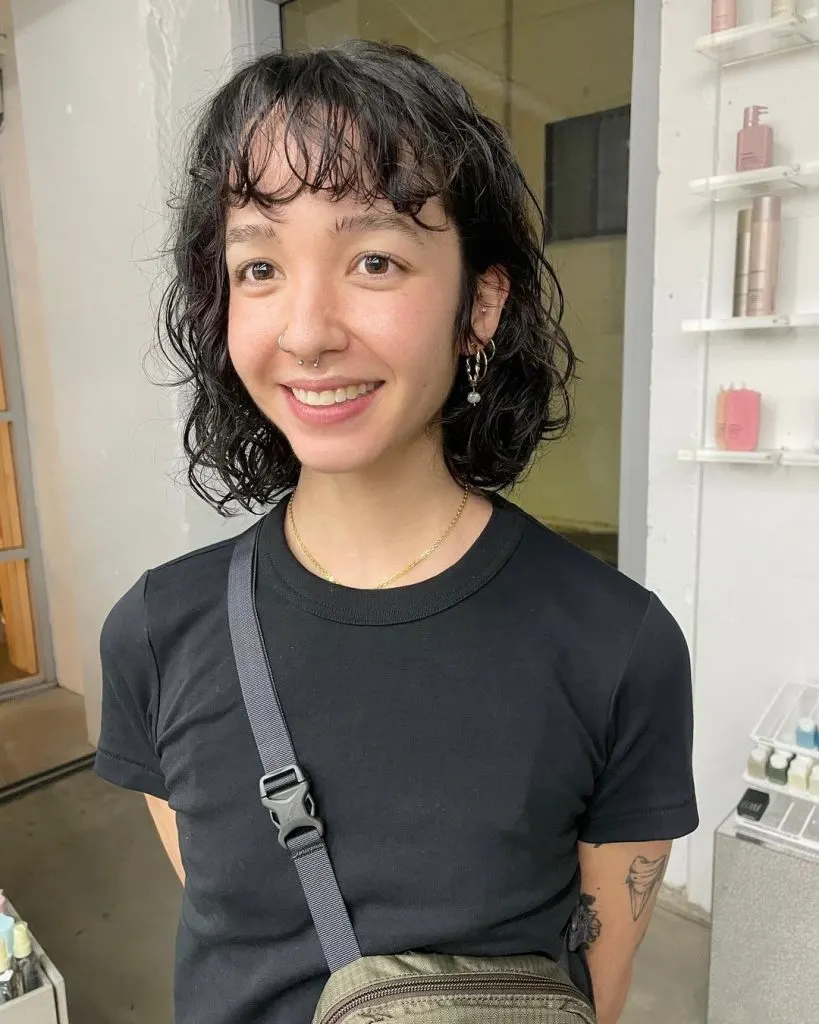 Curly wispy bangs are cute and cool, and to make sure they stay that way, keep your curls hydrated using a moisturizing products.
23. Long And Choppy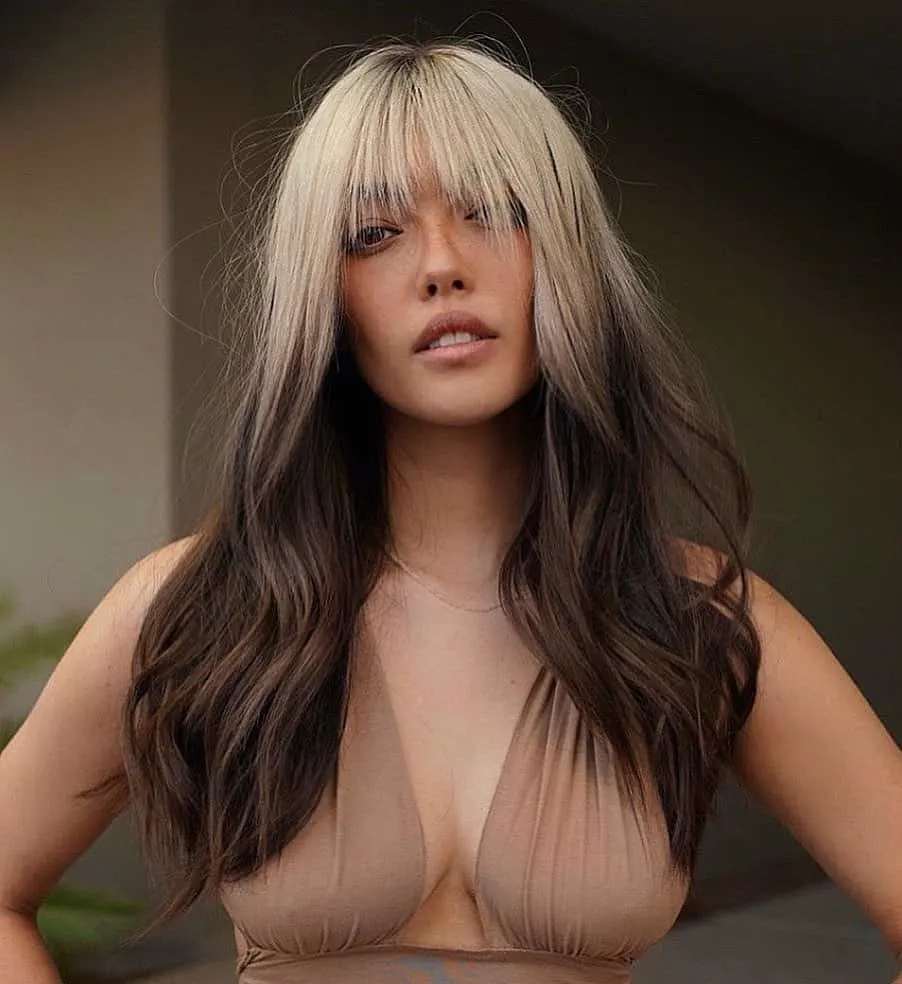 These choppy bangs that cover the eyes look dramatic and editorial, but with softer styling, they're a perfect everyday look.
24. Fine And Long Wispy Bangs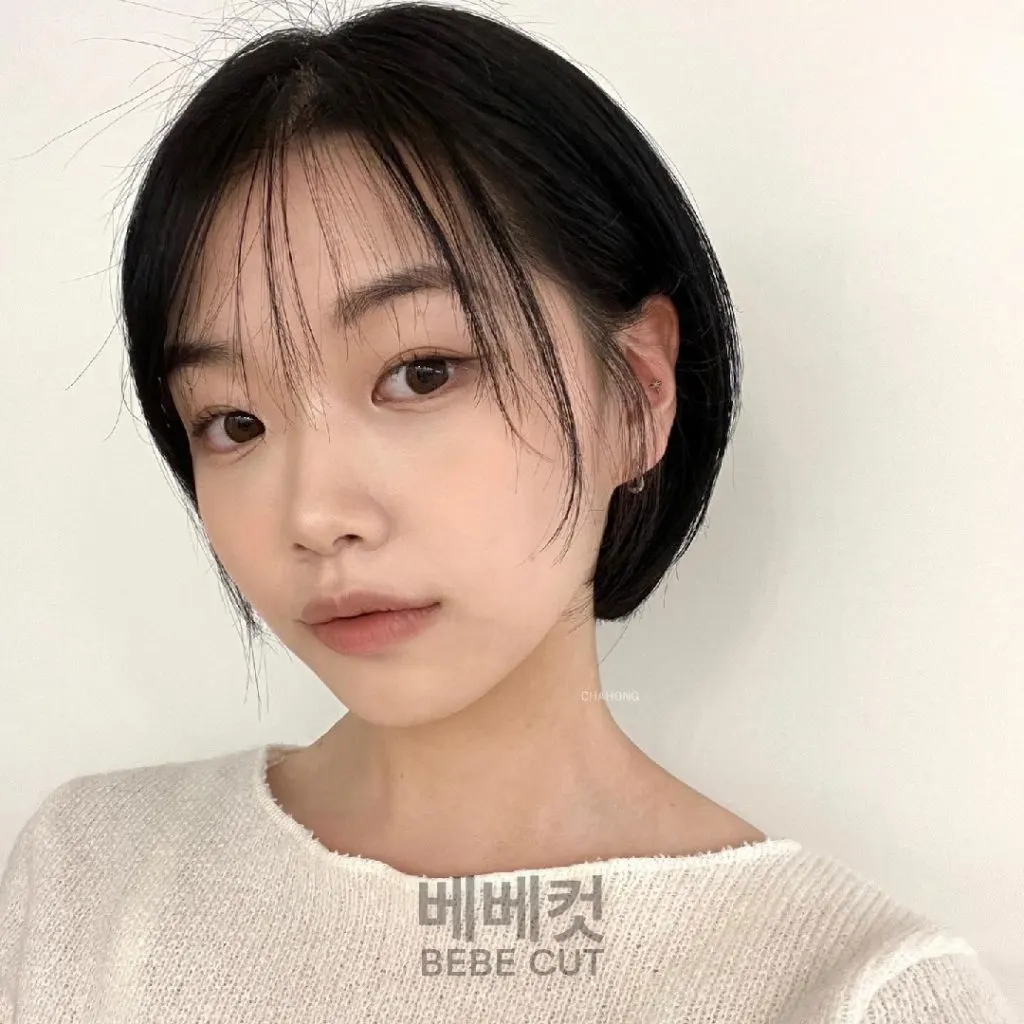 To help loose pieces like these stay where you want them, use a hairspray with a light hold, or go without if you prefer a more tousled look.
25. Wispy Shag Bangs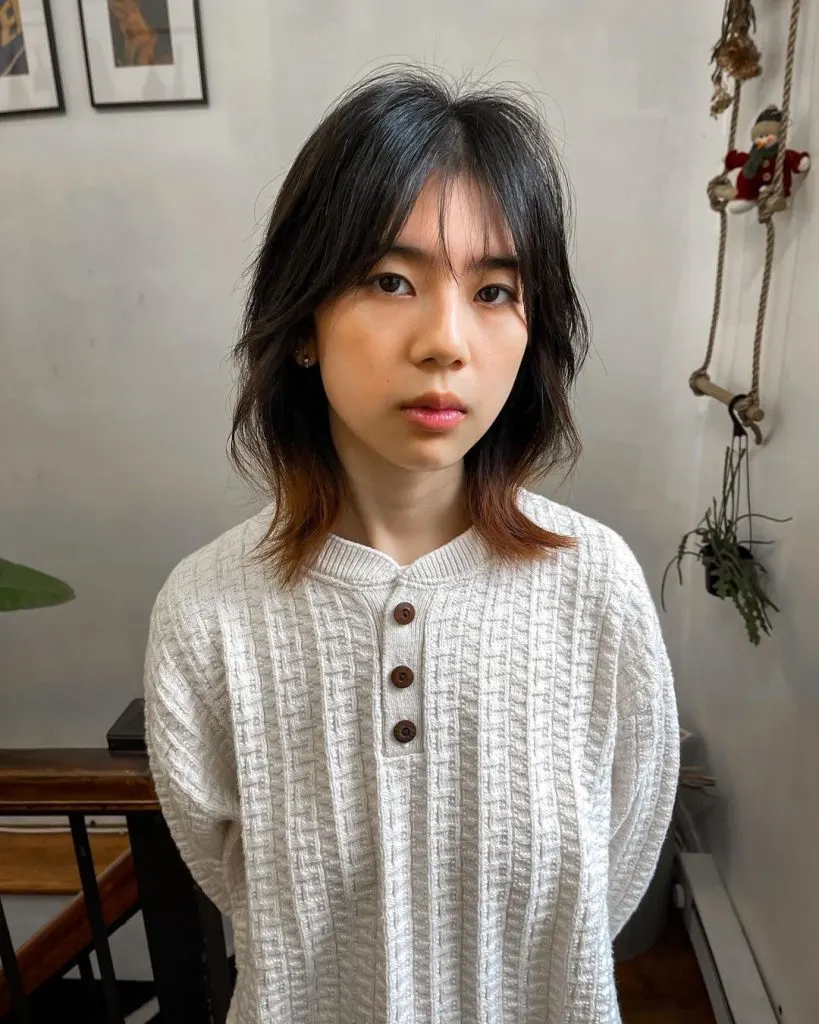 This short wolf cut would still look amazing even if the short strand at the center of the forehead wasn't there, but that single wispy piece makes it so much more laid-back.
26. Baby Wispy Bangs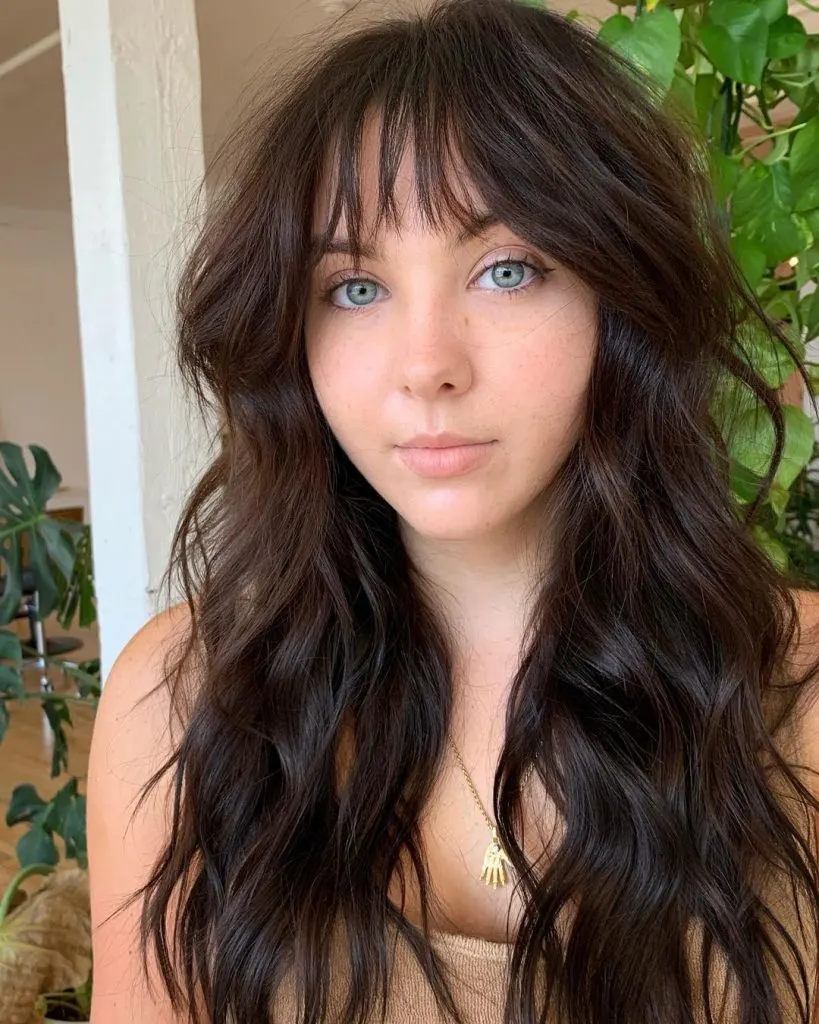 To achieve a softer choppy look, wispy bangs are cut with a razor. Uneven ends make it much easier to style them in a relaxed, tousled way.
27. Delicate Wispy Bangs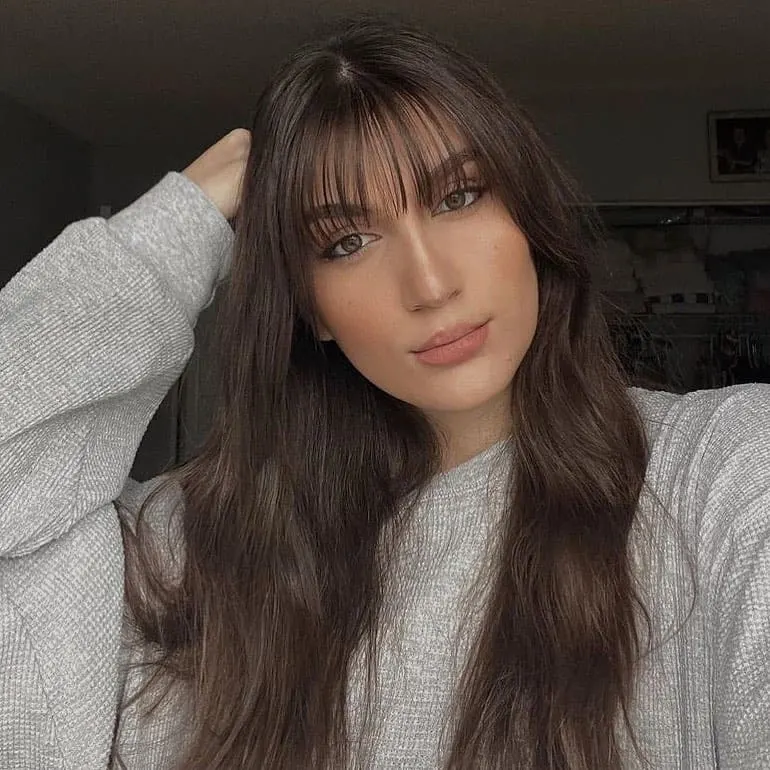 This long hair with bangs looks adorably retro and pretty, and the bangs draw attention to the eyes. Blow dry them using a round brush, then use a pomade to smooth into piece-y wisps.
28. Wispy Long Curtain Bangs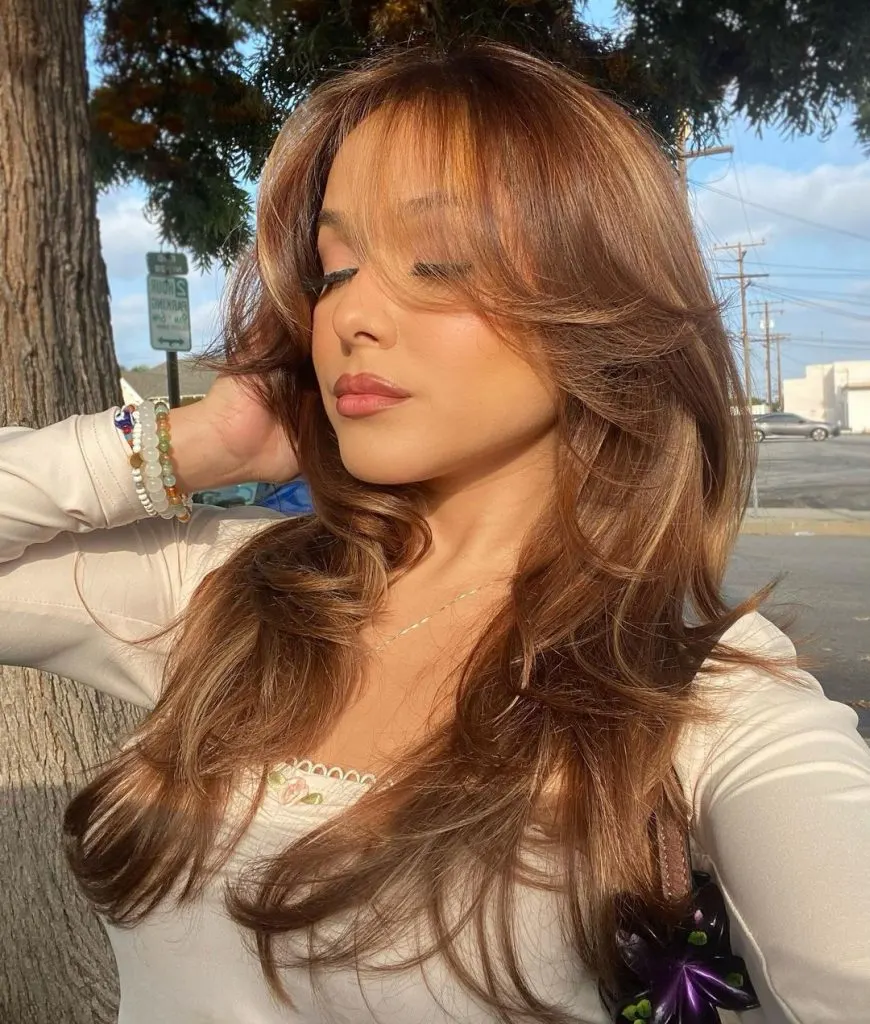 Curtain bangs don't have to be the focus of your hairstyle—this wispy version is just as flattering as a thicker style and creates a dreamy look.
29. Blunt Bob With Wispy Bangs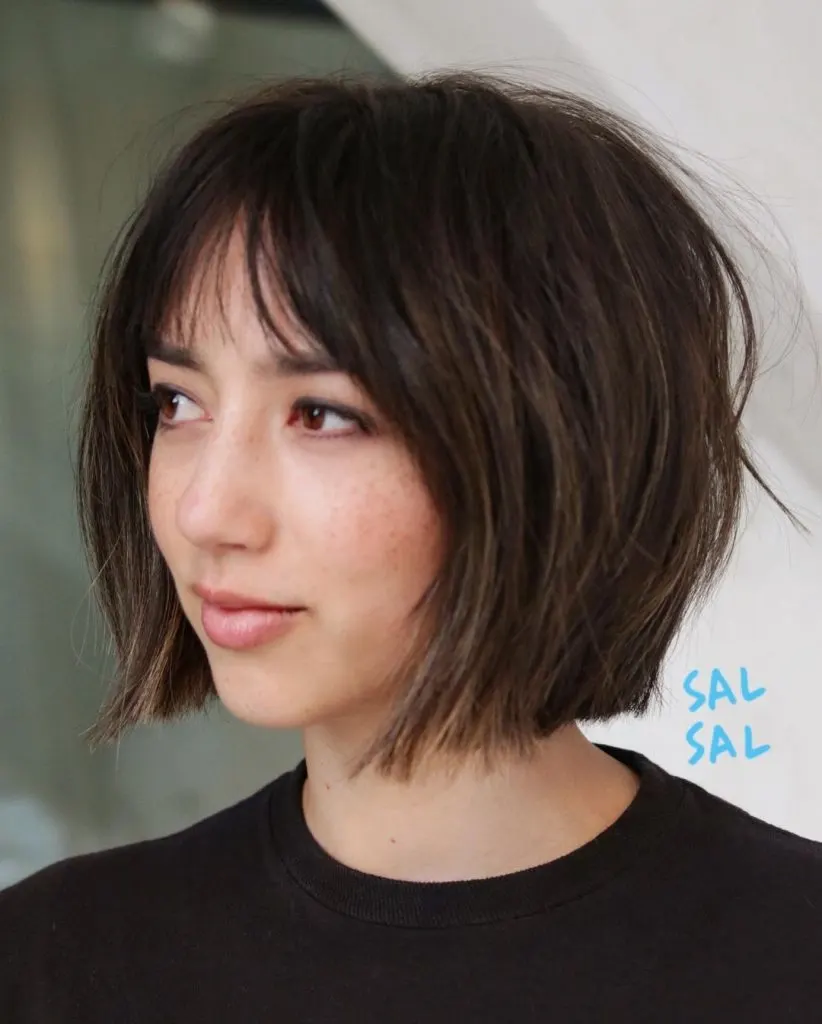 These eyebrow-grazing bangs tie this whole look together, and it's up to you if you want to trim them regularly or wear them as-is as they grow out—they look amazing either way.
30. Pointy Wispy Bangs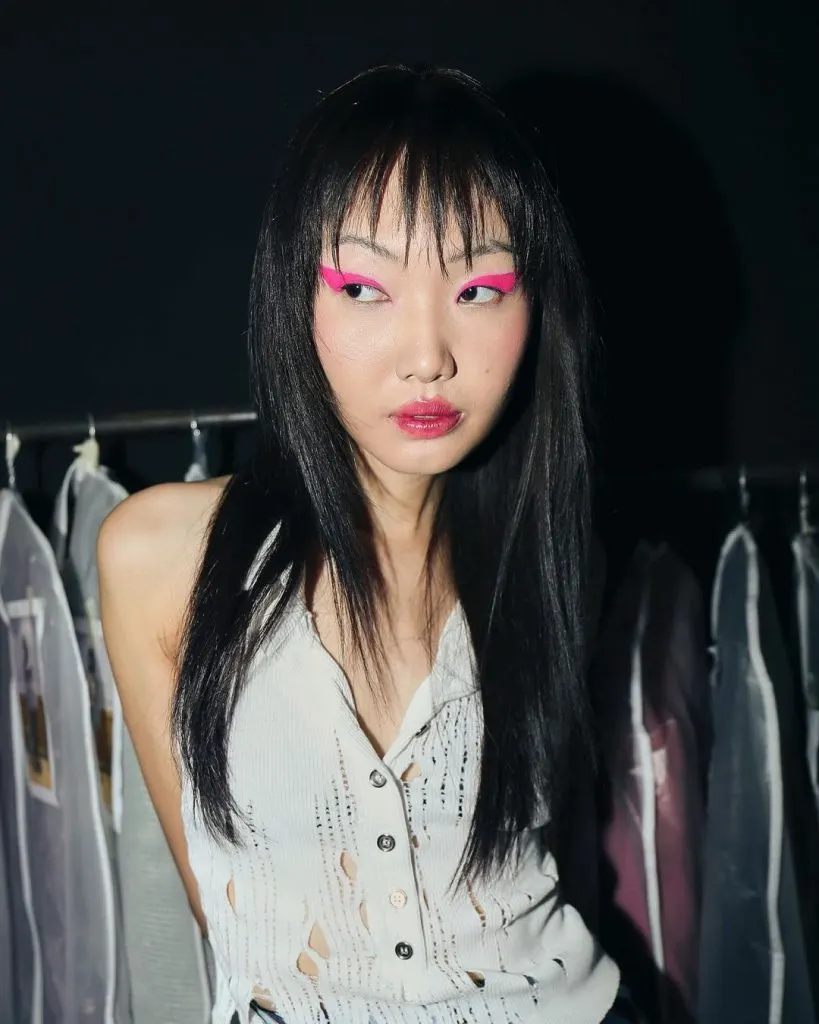 These choppy, pointy bangs pair perfectly with the long layers and the sleek finish, giving it even more edge.
31. Layered Wispy Curtain Bangs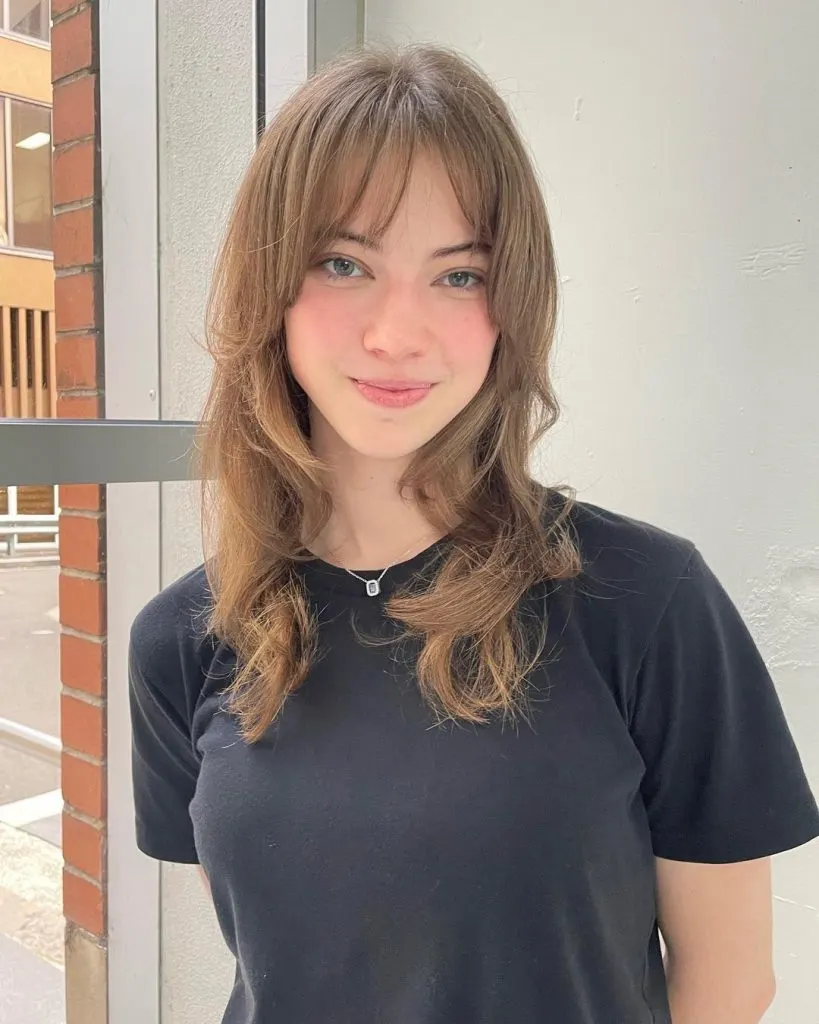 Medium hair with soft layers and even softer bangs gives texture to fine hair without creating a sharp look. It's an easy way to add volume without struggling against your texture.
32. Bob With Wispy Bangs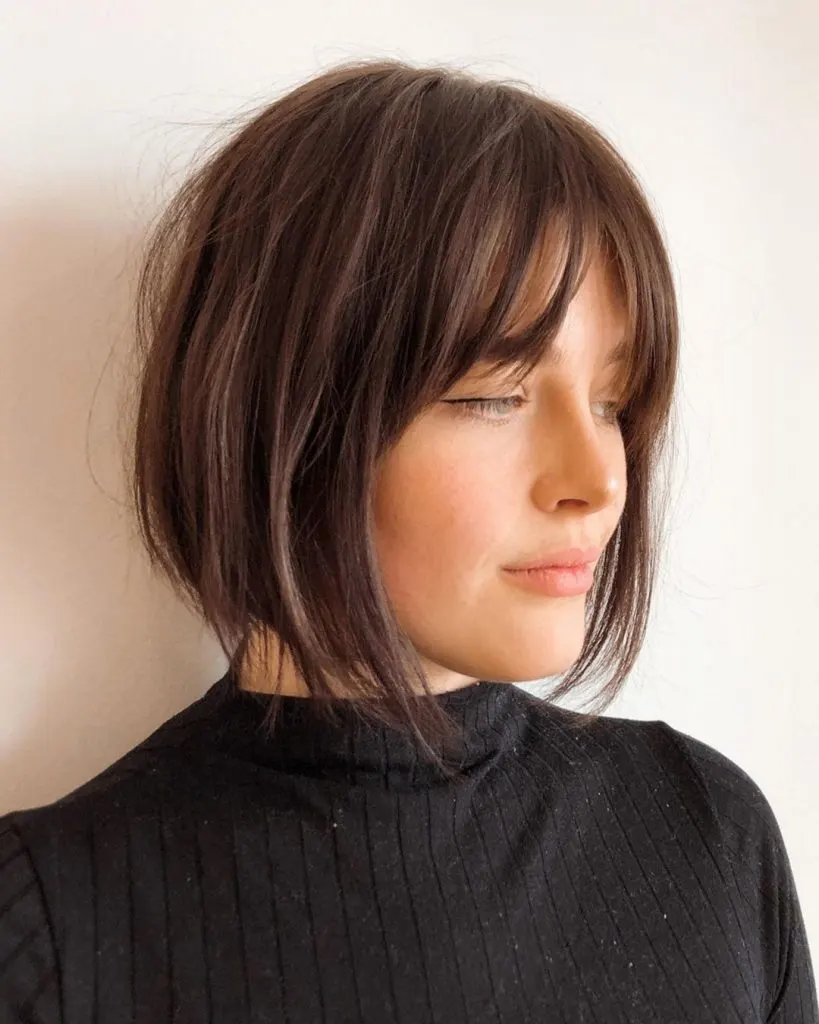 An angled bob is normally a sharp and dramatic style, but adding wispy bangs softens it and makes the whole look more approachable and casual.
33. Narrow Wispy Bangs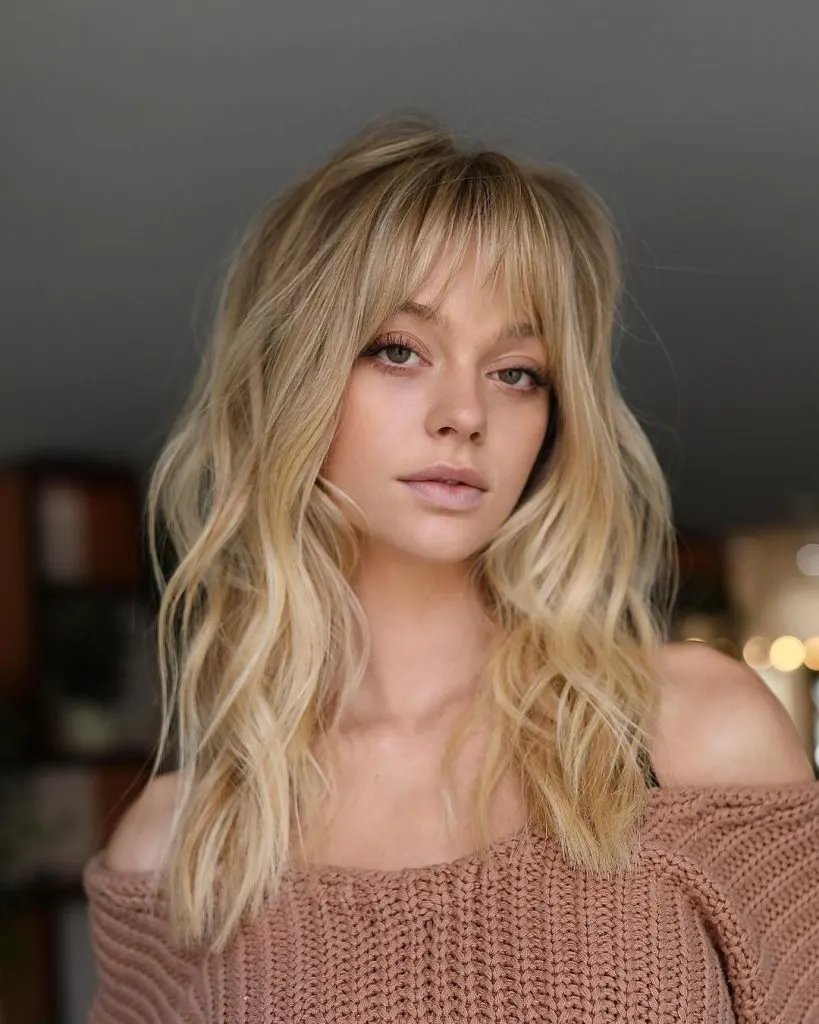 Wispy bangs are universally flattering and work with any hair type. The light strands that frame the face look good with the hair down and they will also upgrade any updo.
34. Classic Wispy Bangs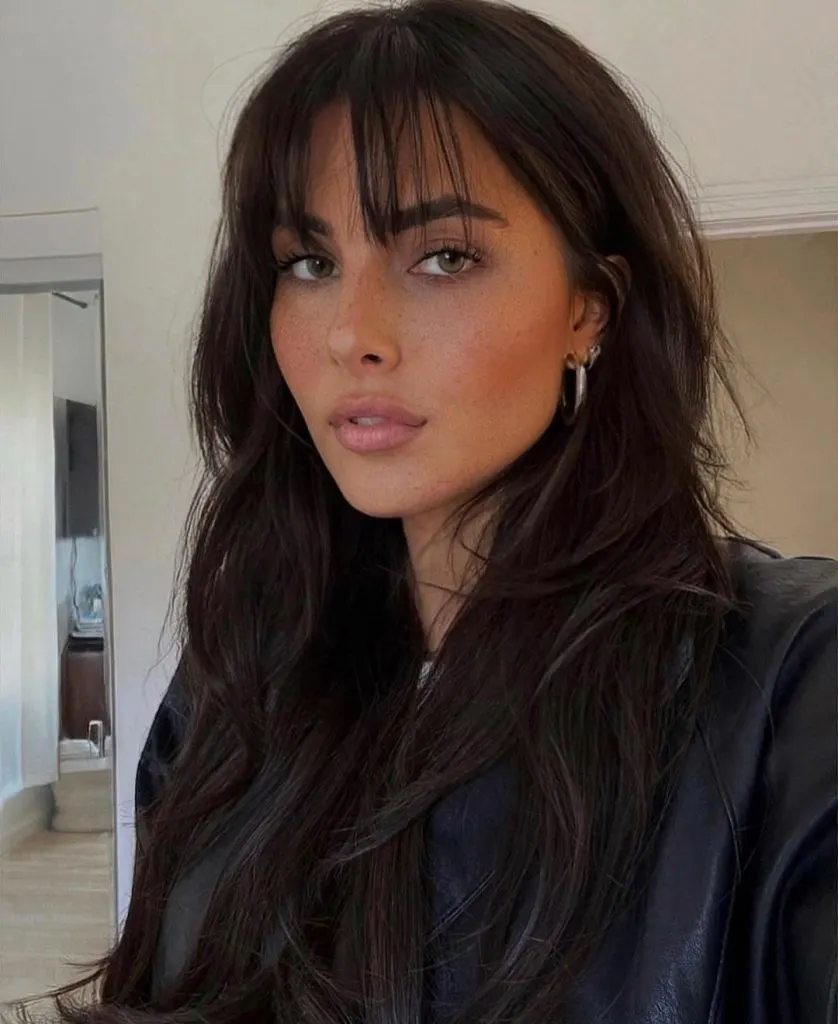 Short and thin bangs can turn into a stringy mess if you sweat or get face products on them. You can prevent this by keeping them away when you apply skin care and using a dry shampoo if you're prone to an oily forehead.
35. Layered Long Hair With Wispy Bangs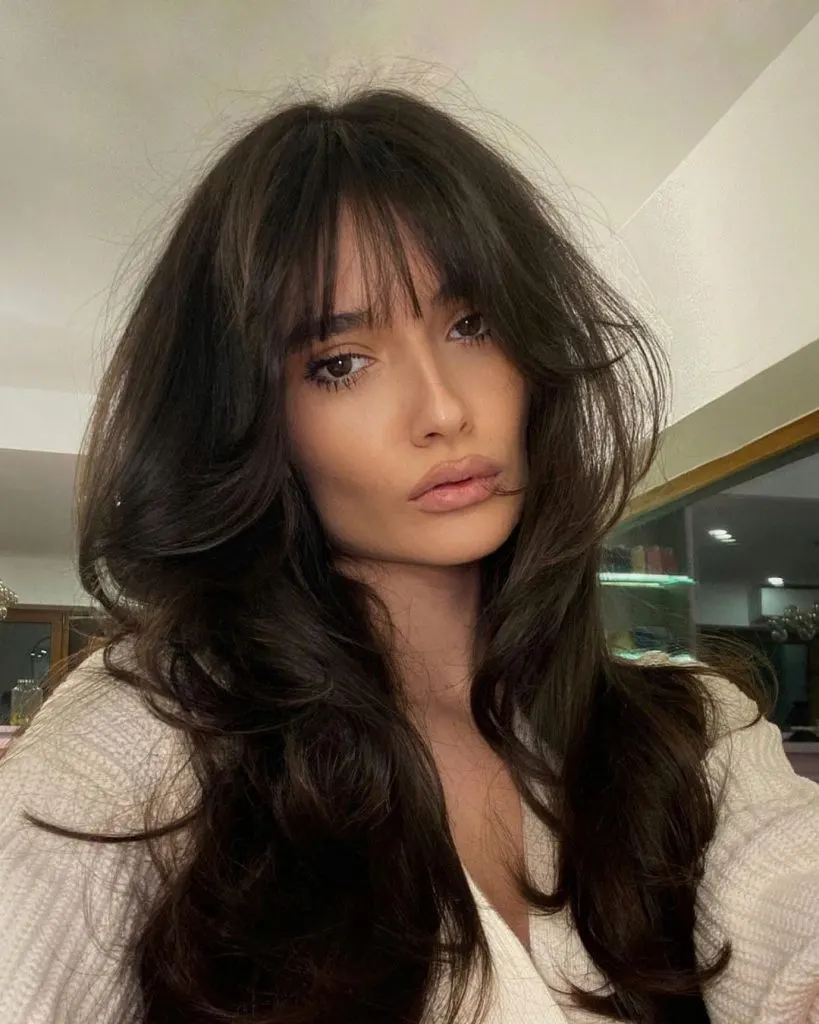 Even though they're fine and wispy, these bangs are a statement look—the contrasting sharp texture and a much shorter length than the rest of the hair draws attention and highlights the features.
36. Choppy Bob With Wispy Bangs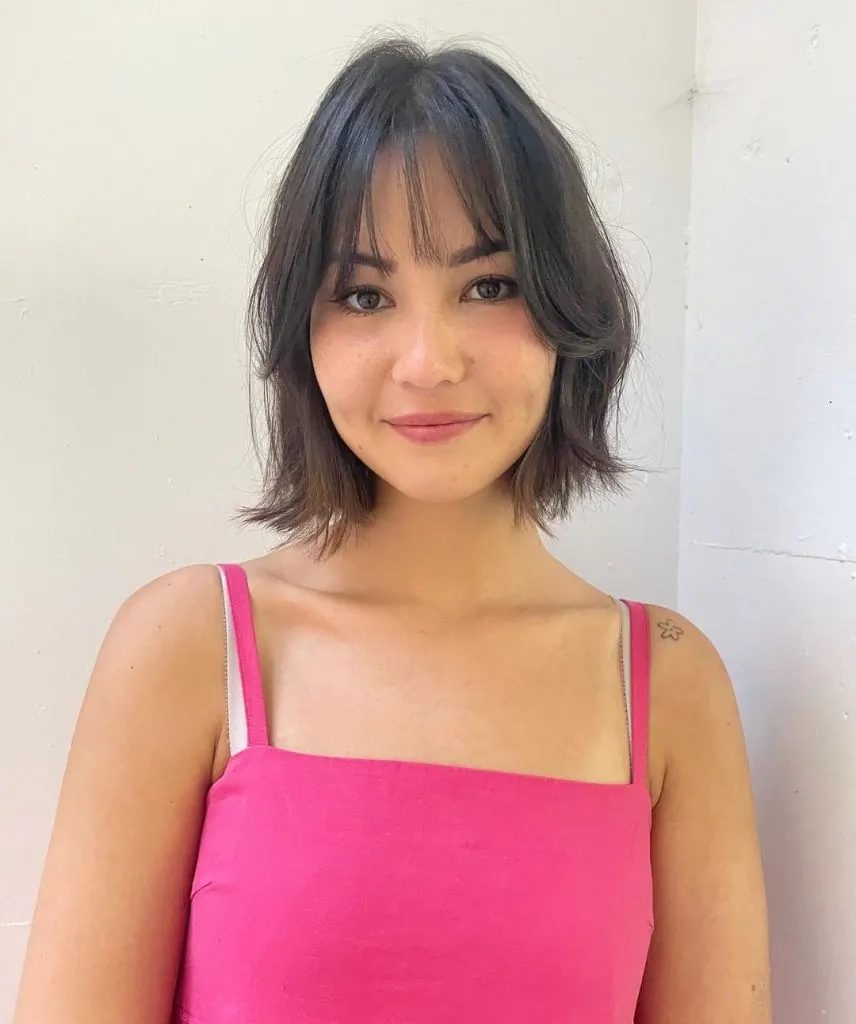 These lightweight bangs are a great complement to a choppy bob. Long, wispy curtain bangs are an excellent choice for a heart-shaped face.
37. Layered Cut With Wispy Bangs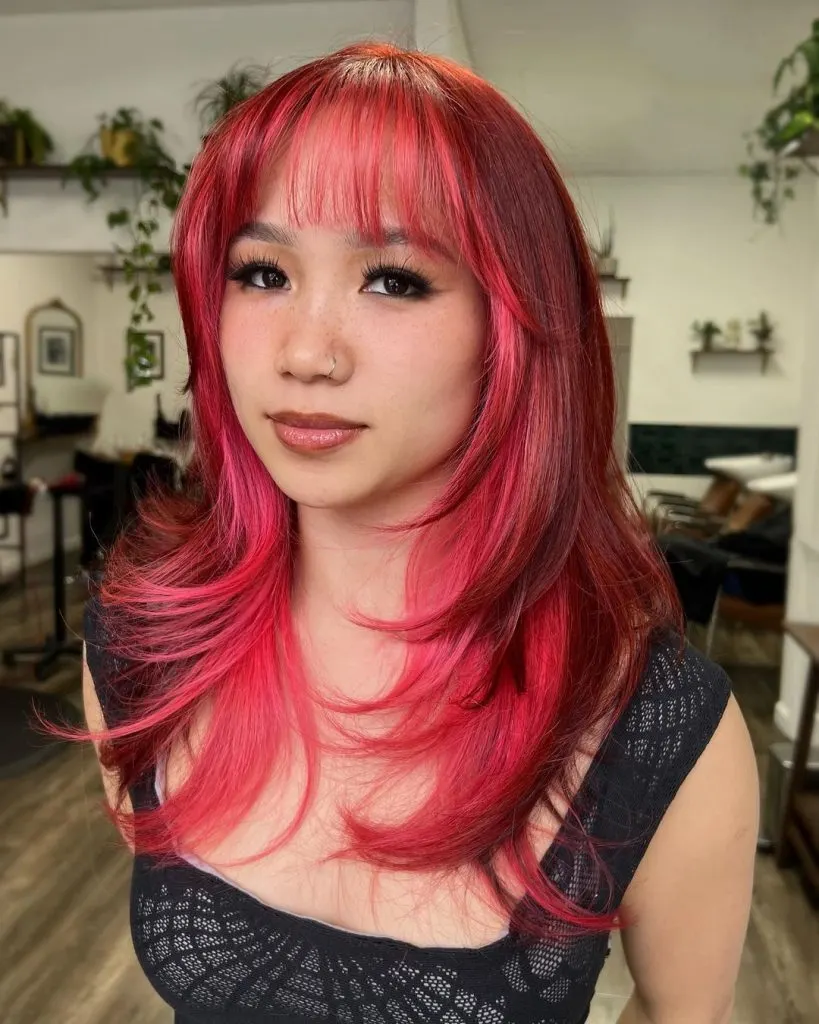 These soft rounded bangs are a great addition to retro layered hair while they also effortlessly frame the face.
38. Medium Hair With Choppy Bangs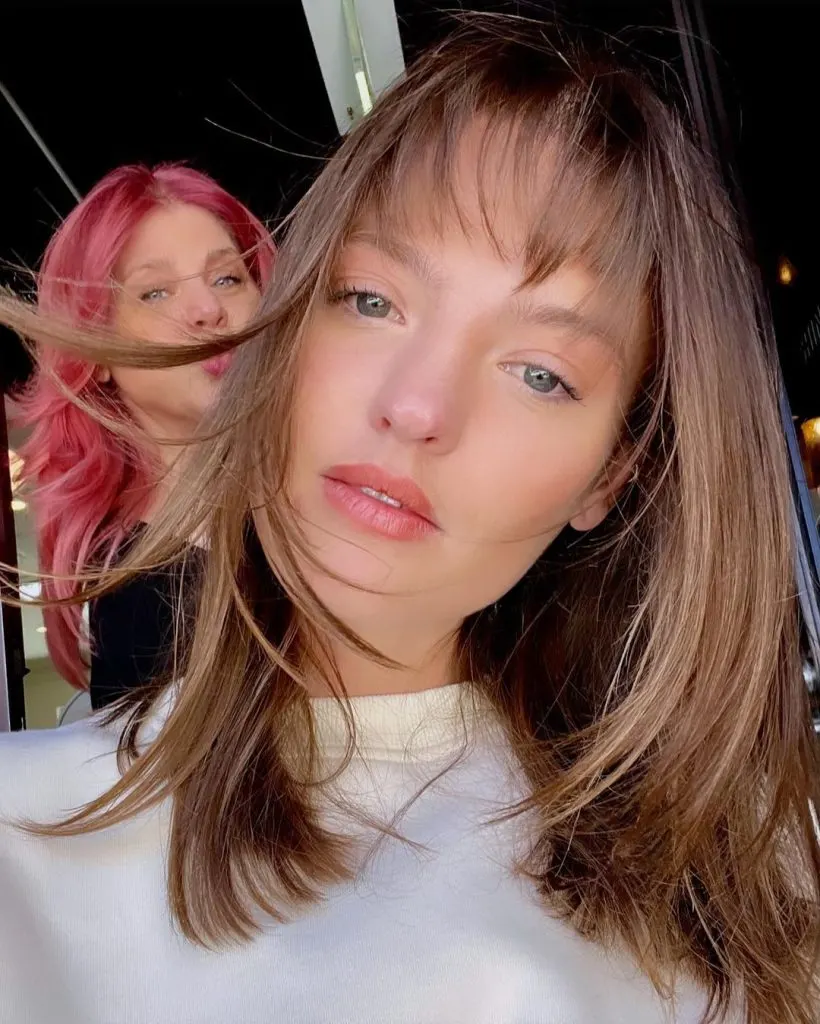 These wispy textured bangs add a playful note to mid-length hair and bring a lot of volume around the face.
39. Face-Framing Layered Hair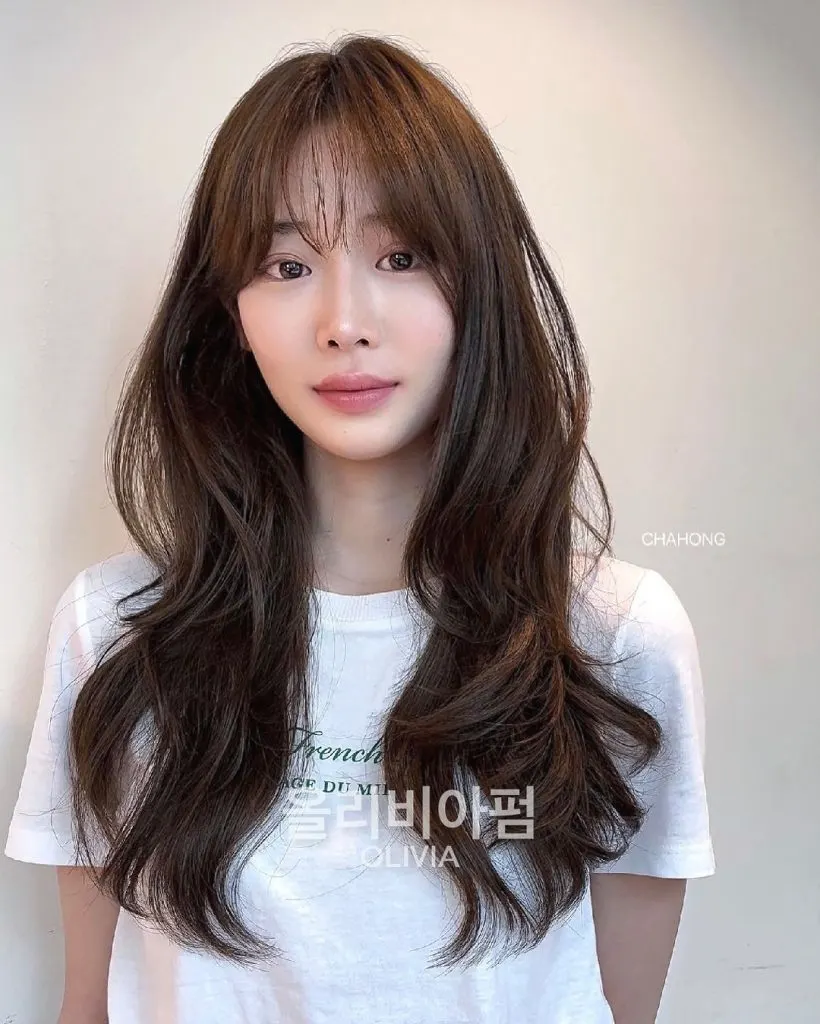 Tapered Korean-style bangs and the ultra-flattering layers are #hairgoals because they create volume, frame the face and show off your hair—the whole nine yards.
40. Super-Thin Wispy Bangs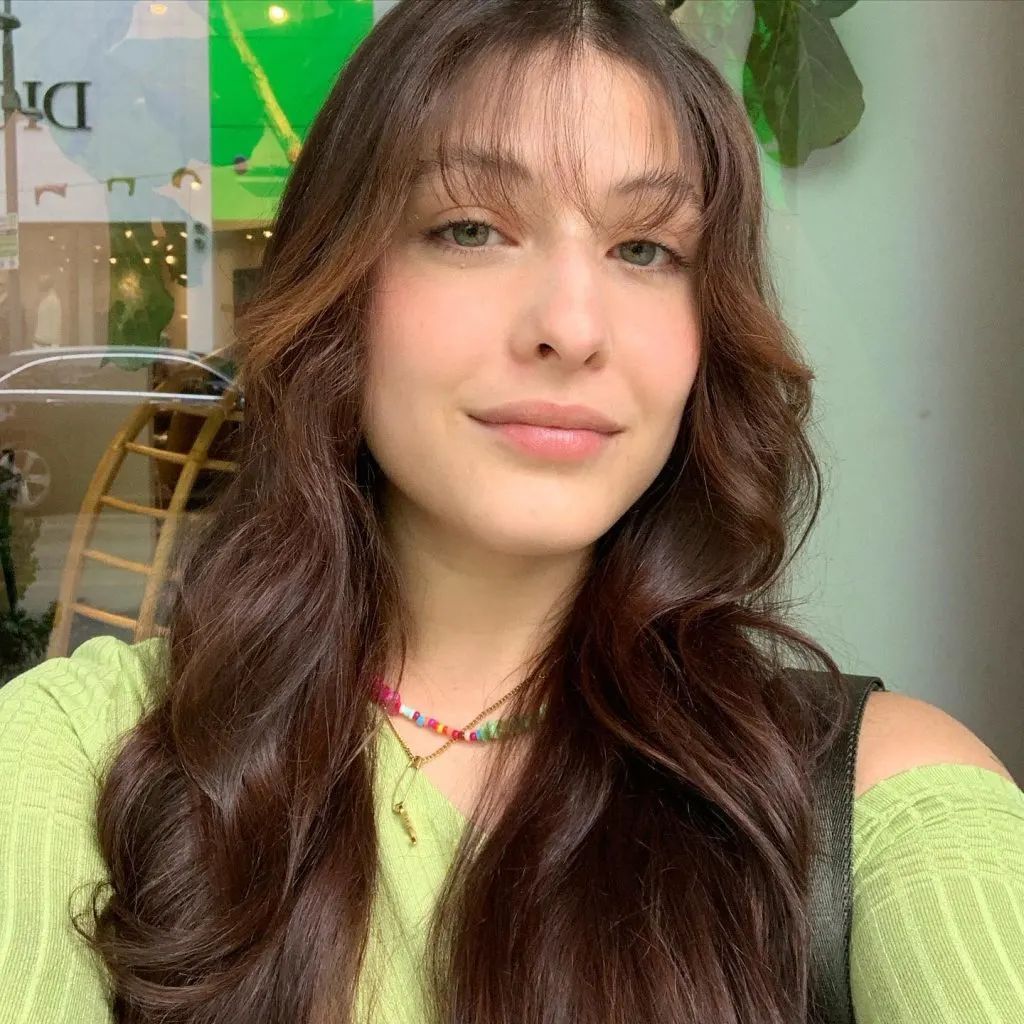 This is a rare type of bangs that you can cut yourself with no regrets, because even if you make a mistake, they're so fine it won't matter. Place your thumb on top of your forehead and take only the hair covered by your fingernail (if you have short nails, that is) and cut them longer than you think you should–no shorter than the bridge of the nose. Let go and voila! Wispy bangs.
41. Wolf Cut With Wispy Bangs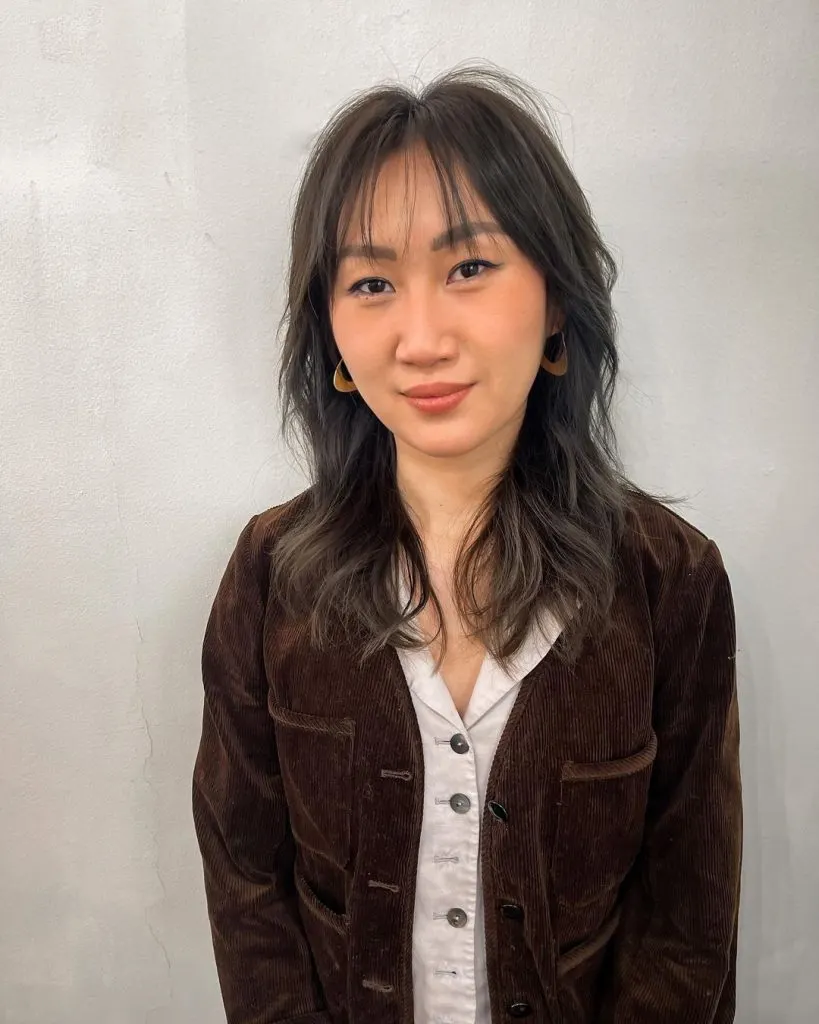 Long and wispy is a great way to go if you want to break up the length and create some interest. They also improve your look if you wear your hair up.
42. Piece-y Rounded Wispy Bangs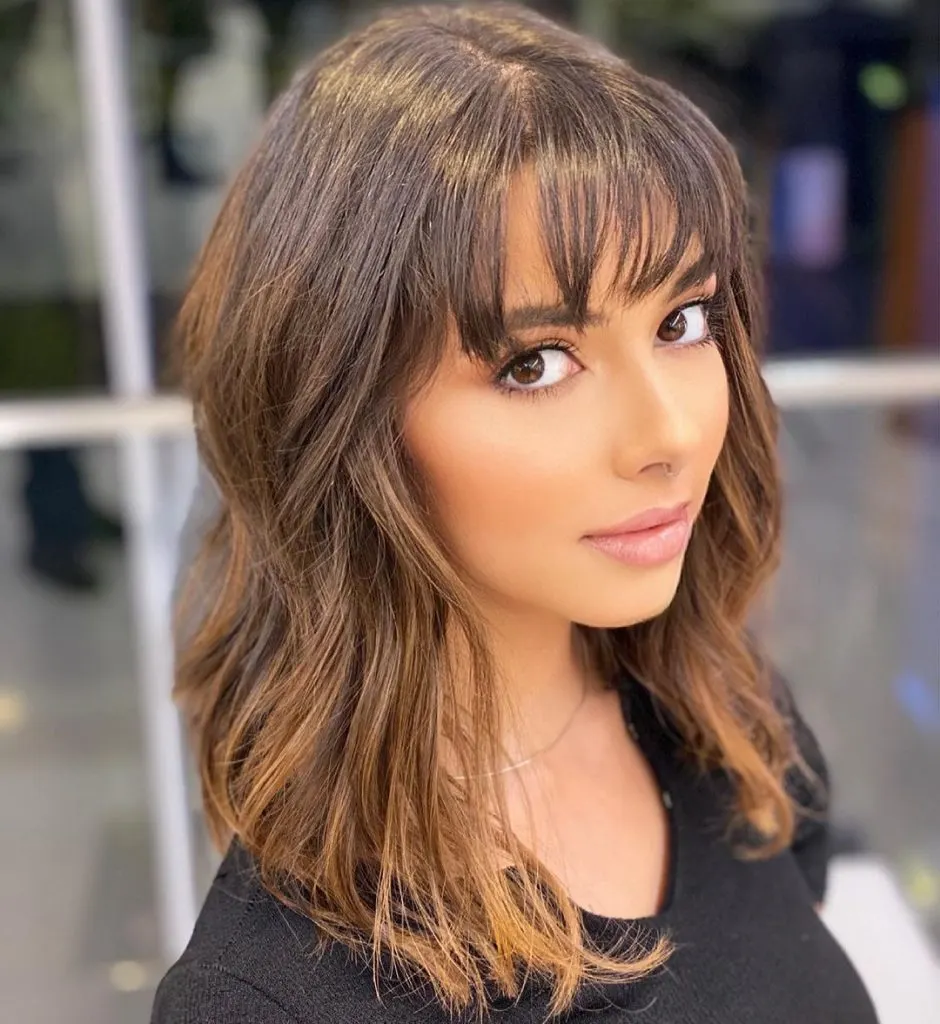 These bangs are a bit fuller but still wispy, but look great however you style them because they're not actually thick.
43. Thin Wispy Bangs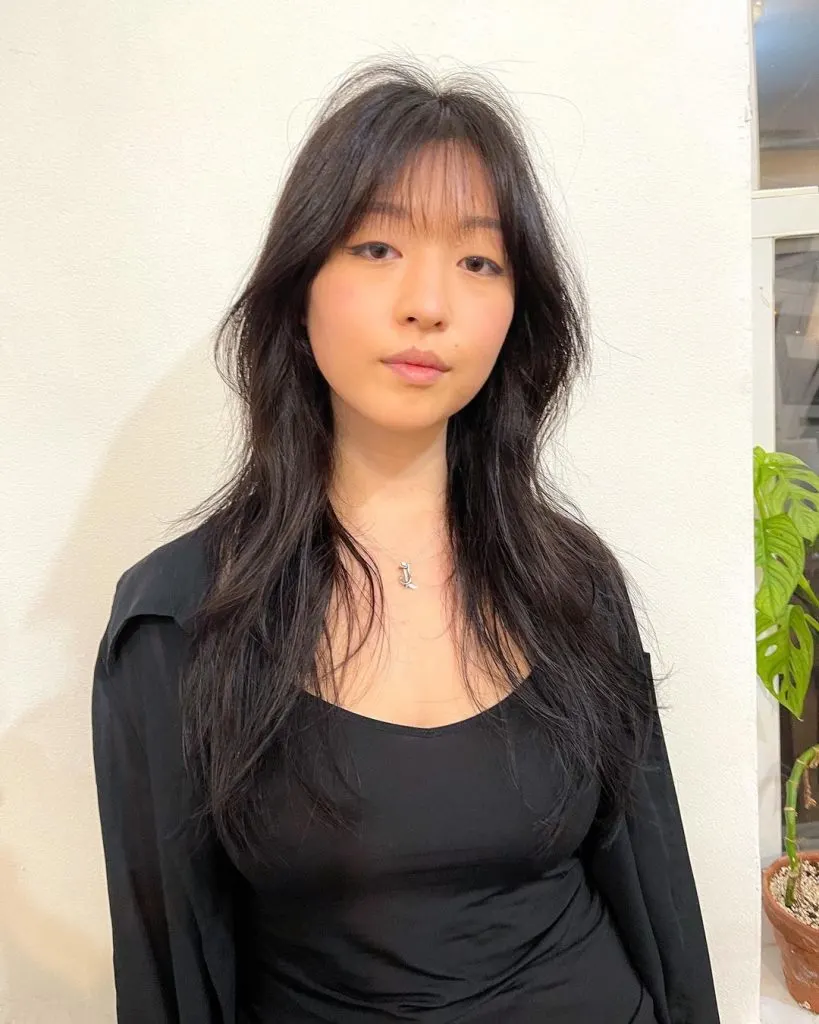 You can have bangs and not have bangs at the same time if you go for something as fine as these—they can be seamlessly blended into the hair.
44. Bob With Short Wispy Bangs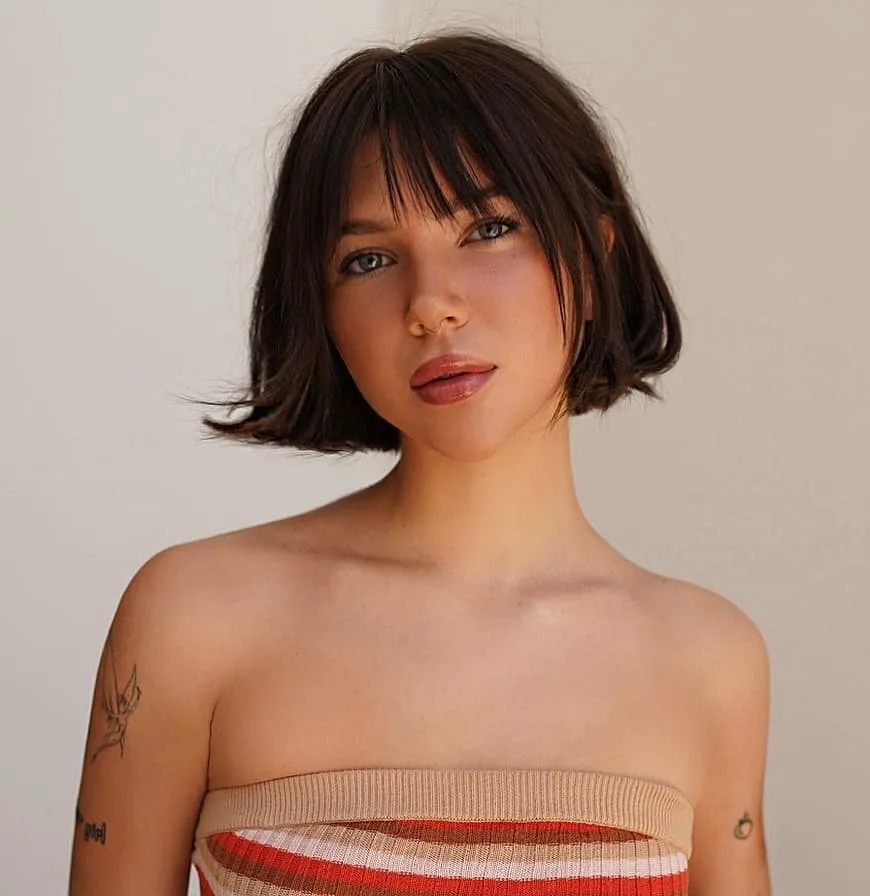 A blunt-cut bob isn't ideal for many face shapes, but adding bangs deals with this problem by framing the face where you need it to look balanced.
45. Long Hair With Long Wispy Bangs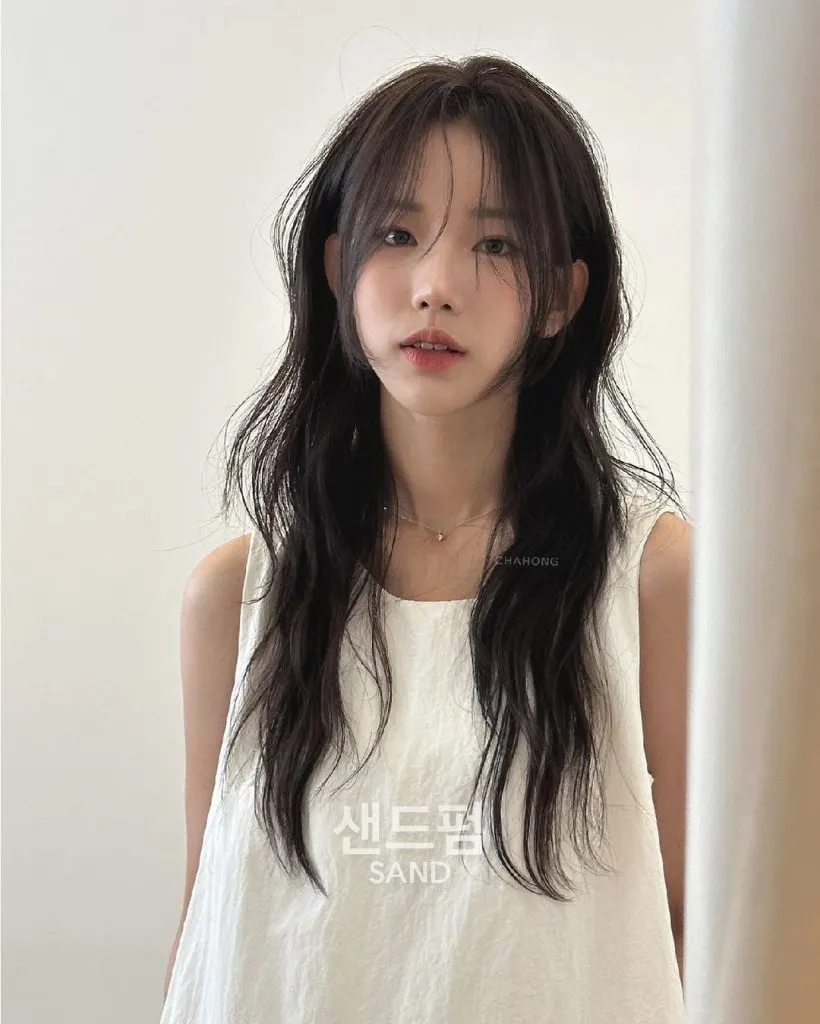 This long, messy look wouldn't be complete without the equally long, messy bangs.
46. Wispy Bangs On Thick Hair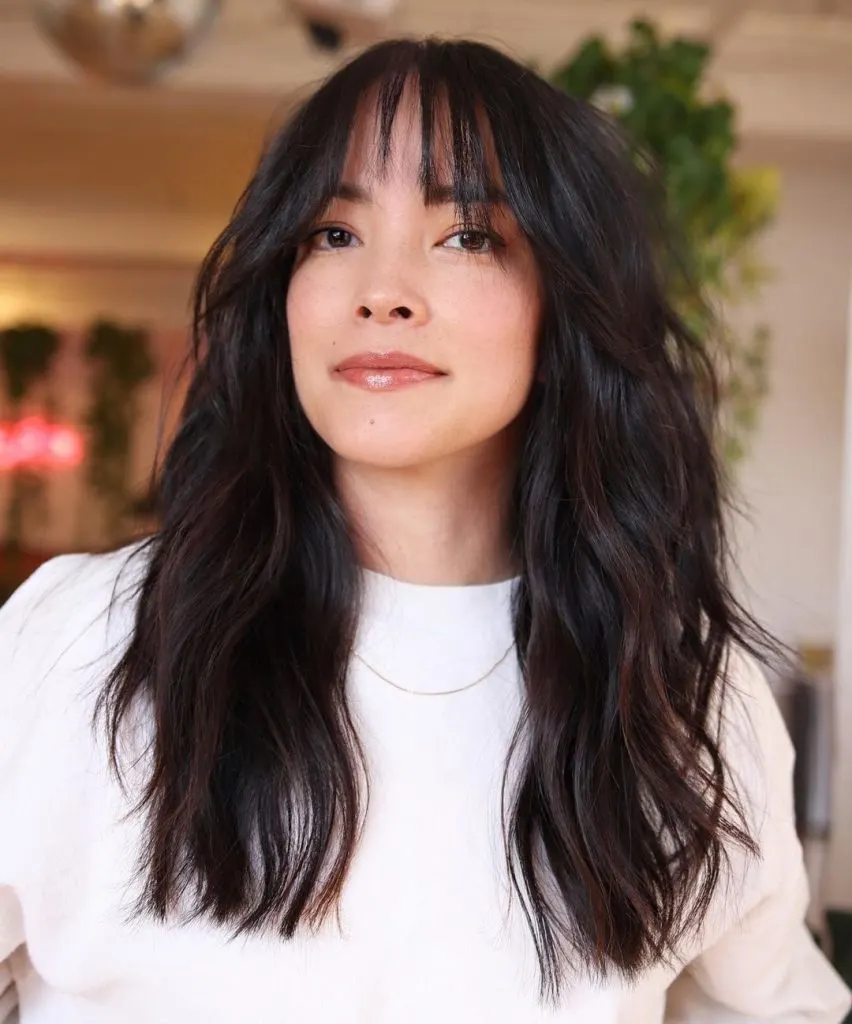 The short, choppy bangs blend into the longer pieces at the sides for a seamless look.
47. Fine Wispy Bangs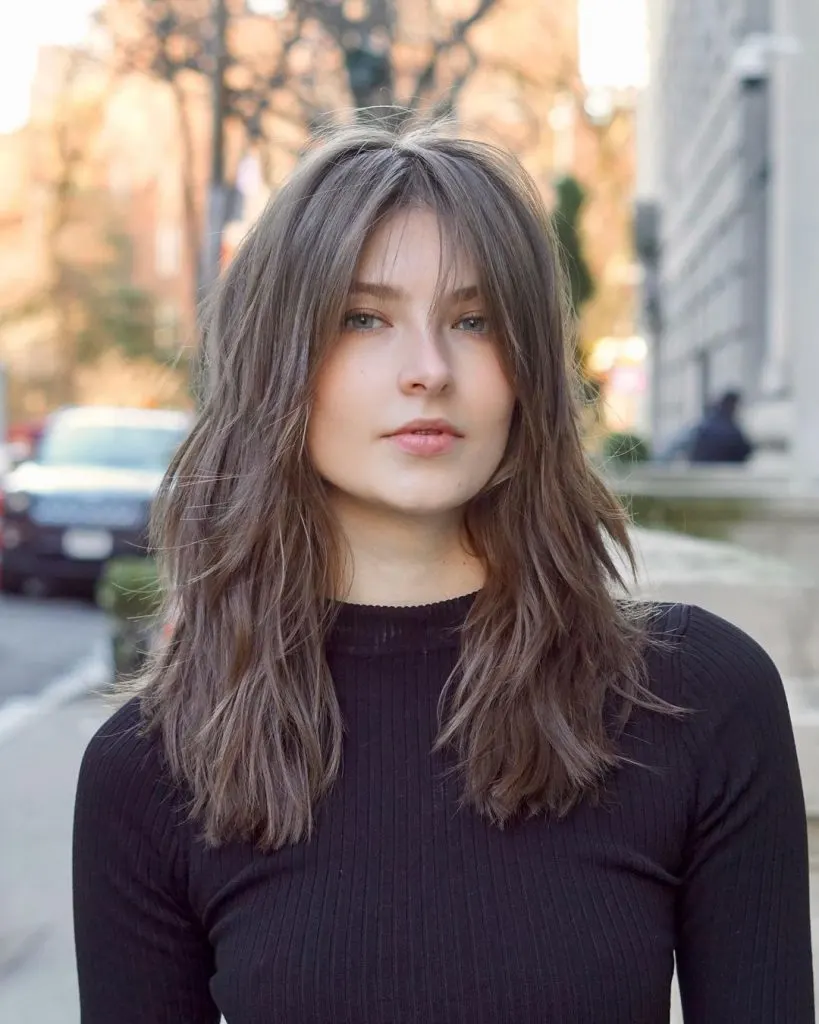 If bangs really aren't your thing but you like the idea of the playfulness they bring, even something like these super-wispy bangs will give you what you want at a minimal price.
48. Long Tapered Wispy Bangs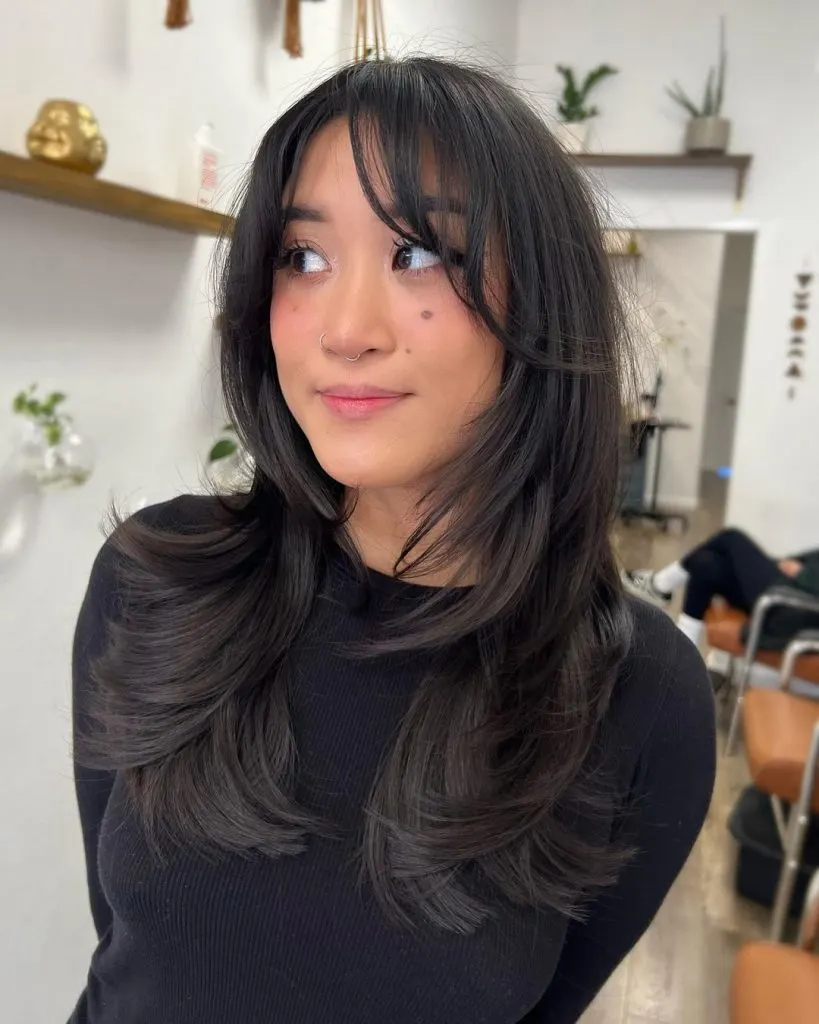 This luscious layered look is the perfect candidate for voluminous blowouts and glam styling. The wispy bangs add even more charm and softness.
49. Shag With Wispy Bangs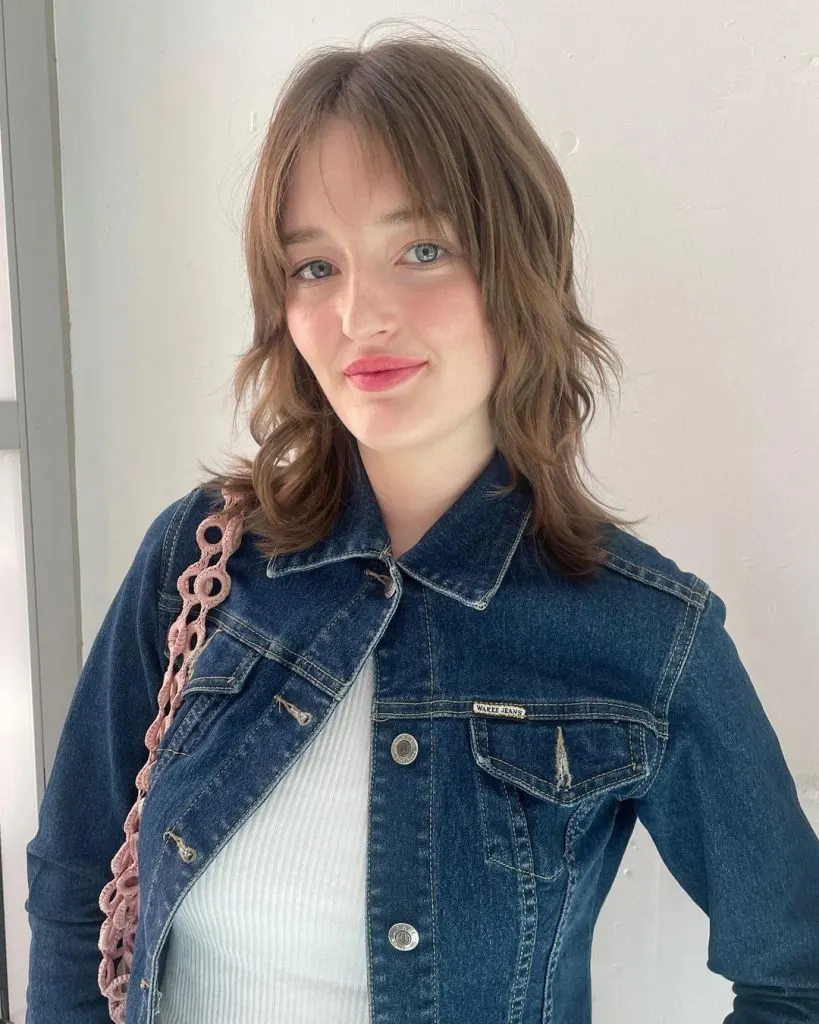 A shag without bangs just doesn't look right. Luckily, even the wispiest will do to complete the look.
50. Hime Cut With Wispy Bangs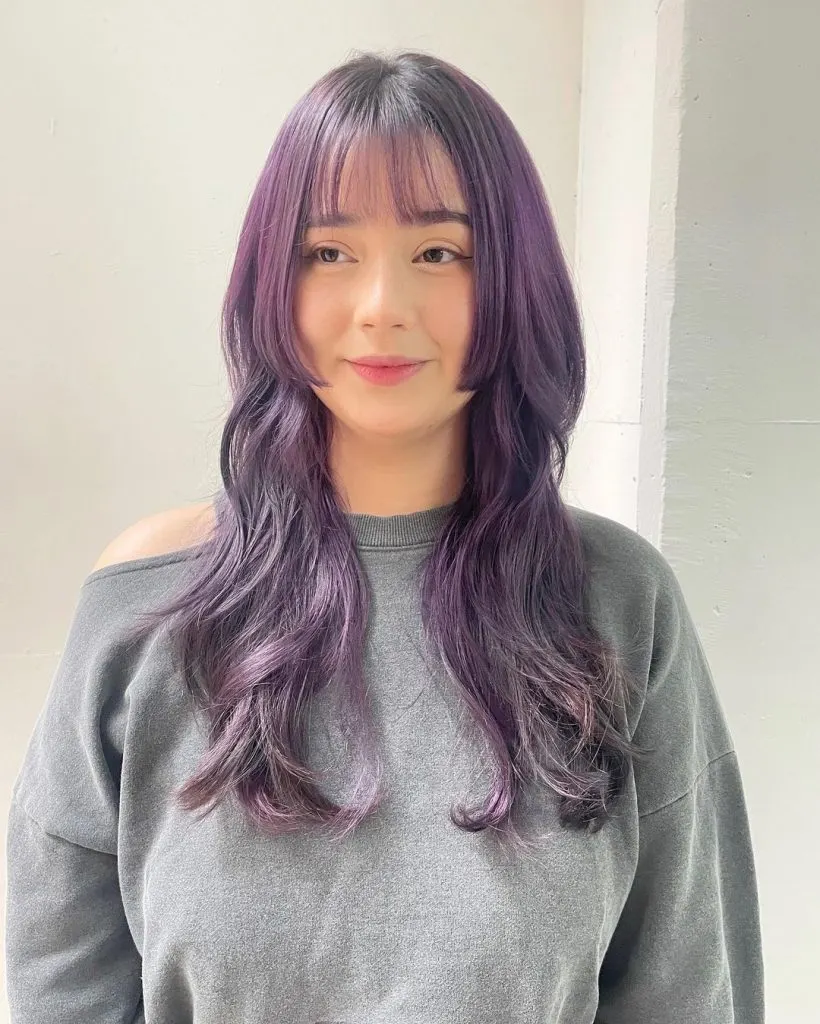 The popular hime cut—long with cheek-length pieces on the side—is often accompanied by full, straight across bangs, but these wispy ones work just as well.