A-line, stacked, blunt, inverted, or classic with a twist—there are many types of angled bob haircuts, and they all have one thing in common: they instantly give you a cool and chic look.
If you're still not sure which kind of angled bob is right for you, here are 65 gorgeous and trendy examples to show you what's possible and spark your imagination.
1. Long Angled Bob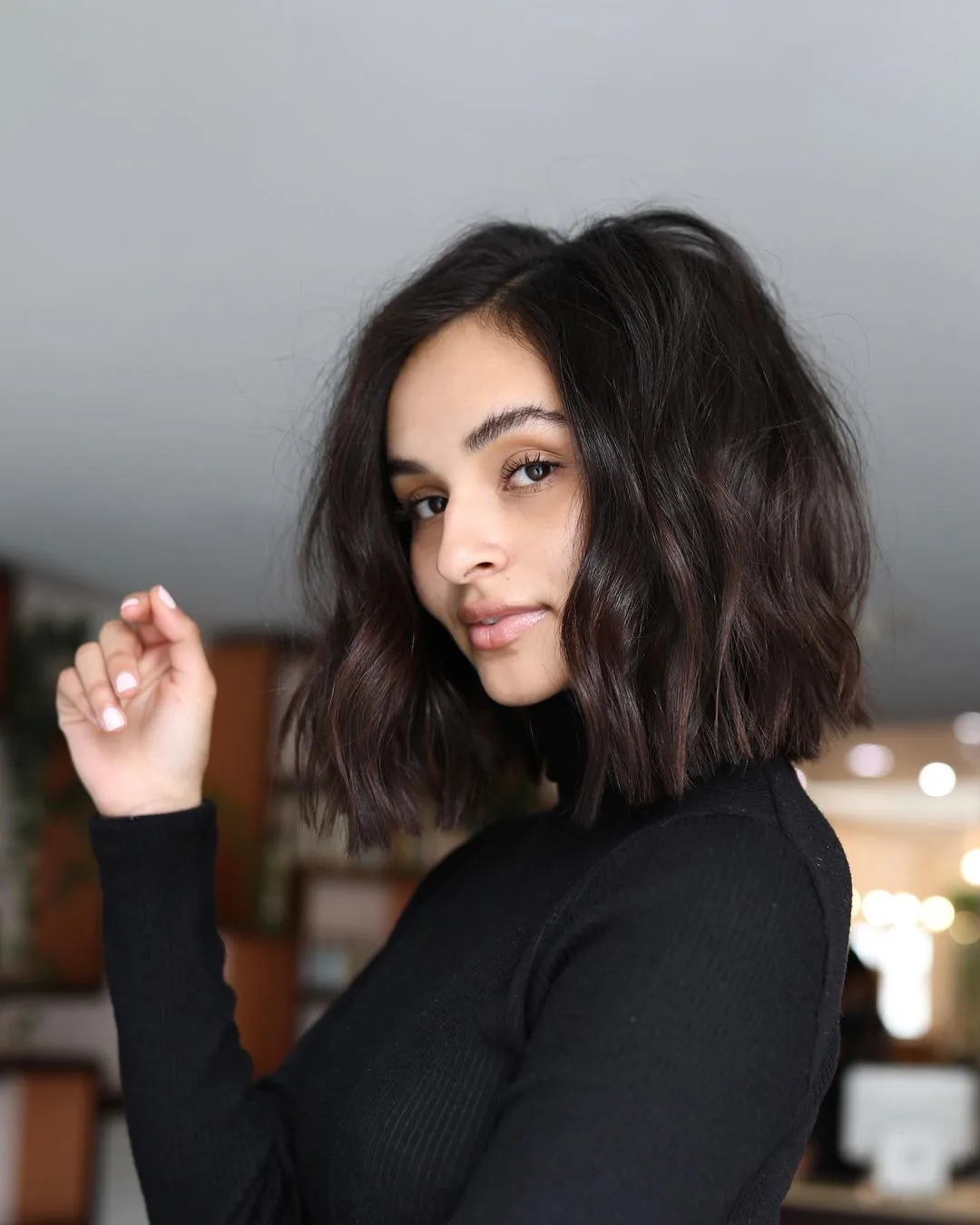 The soft, romantic waves of this bob halfway between the chin and the shoulders are offset by the blunt ends, creating a modern and versatile look. Moreover, it's universally flattering, and suits all face shapes.
2. Blunt Short Angled Bob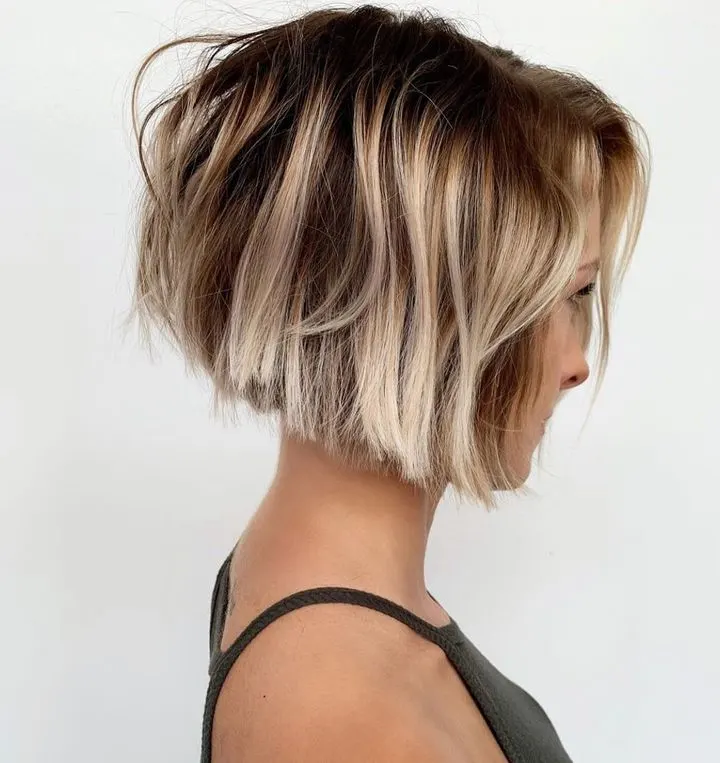 A short blunt angled bob is a popular haircut that works well with every color, but it's especially striking when paired with balayage or shadowed roots—it's a great way to add extra dimension to your style.
3. Angled Bob With Long Bangs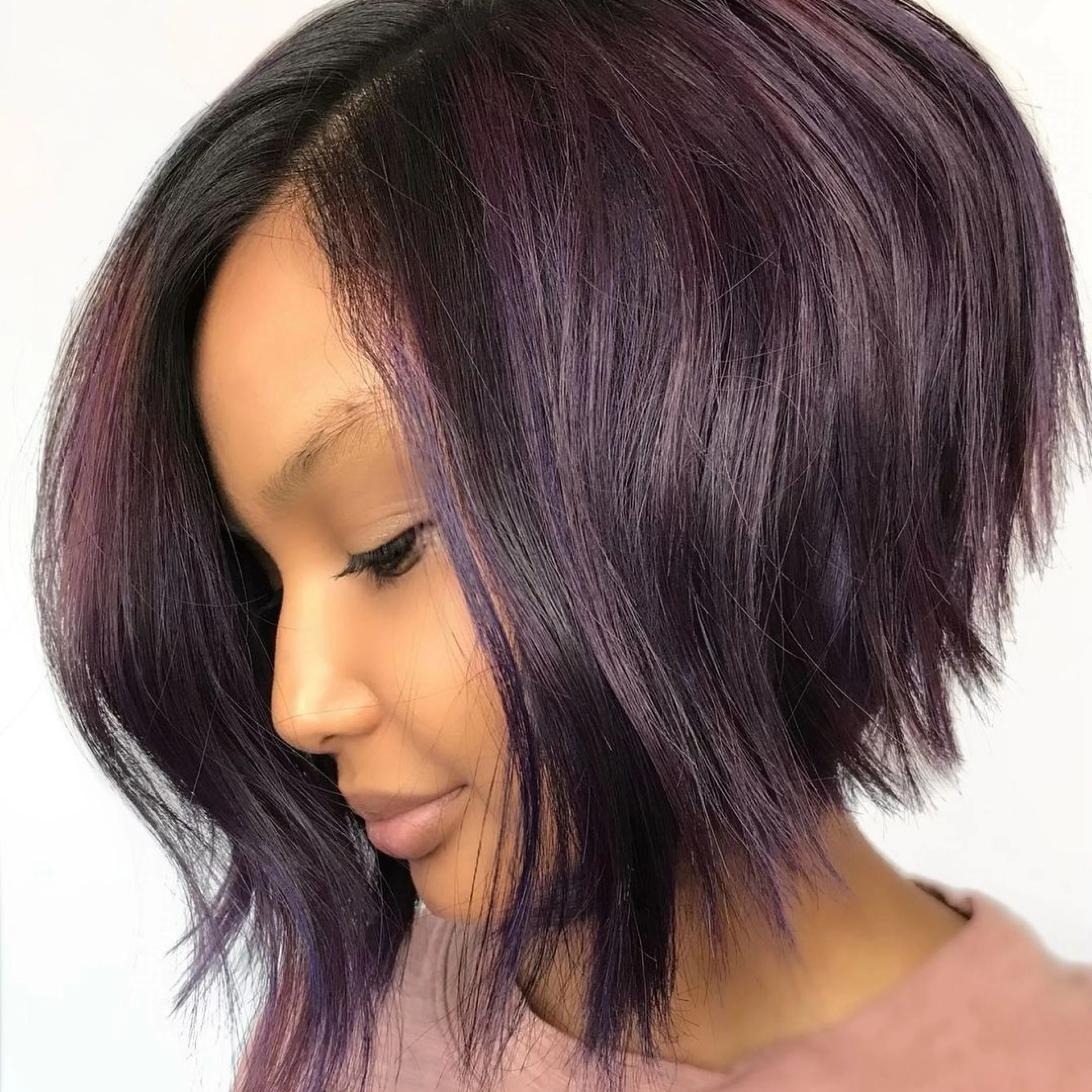 If you want to soften any style, long bangs are the way to go. For an angled bob, bangs slightly shorter than the longest strands will frame your face and give your style a laid-back look.
4. Shoulder Length Angled Bob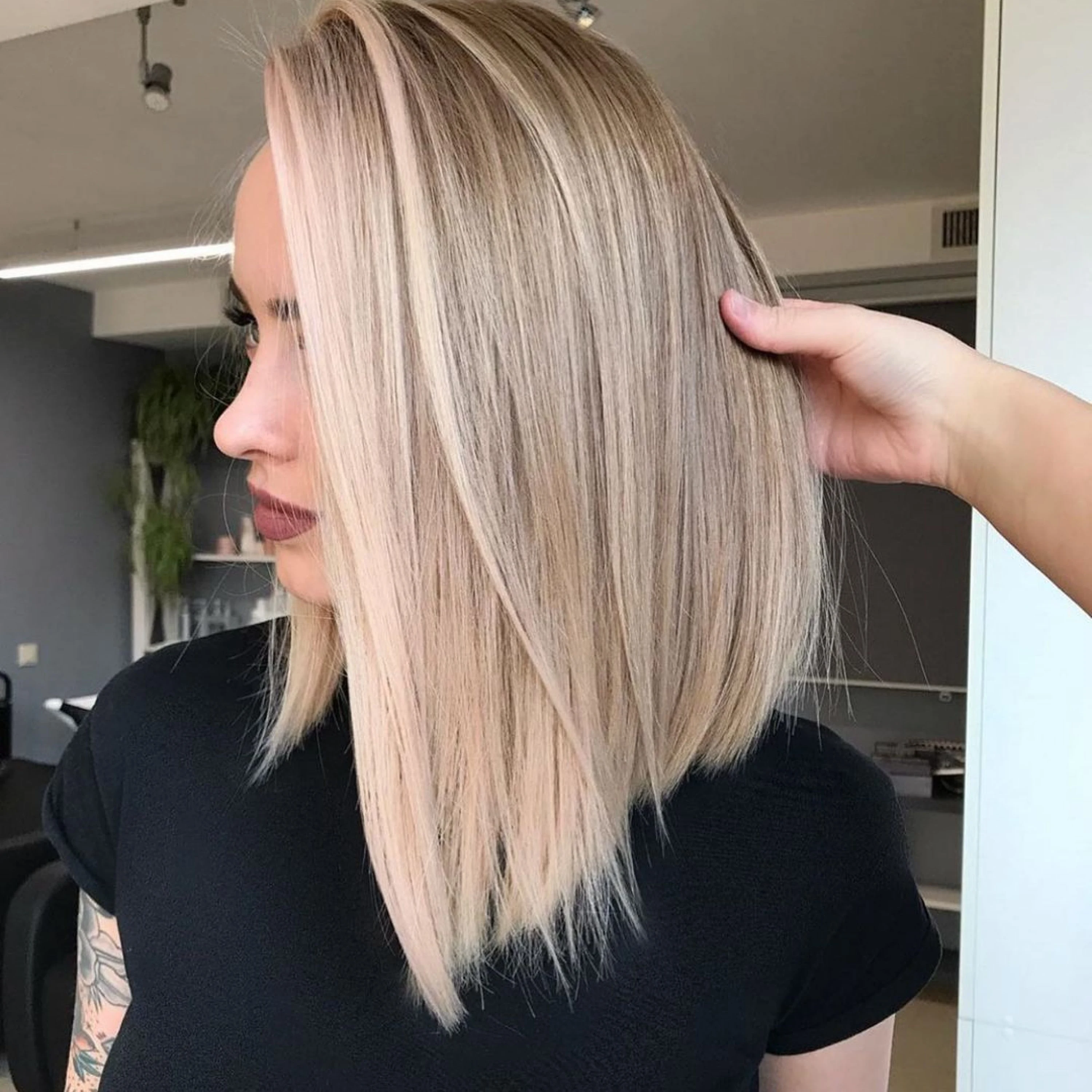 A shoulder-length angled bob is the perfect haircut if you have a round face and want to elongate it, particularly worn straight. Dry your hair thoroughly, apply heat protectant, then straighten sleek using a flat iron.
5. Short Layered Bob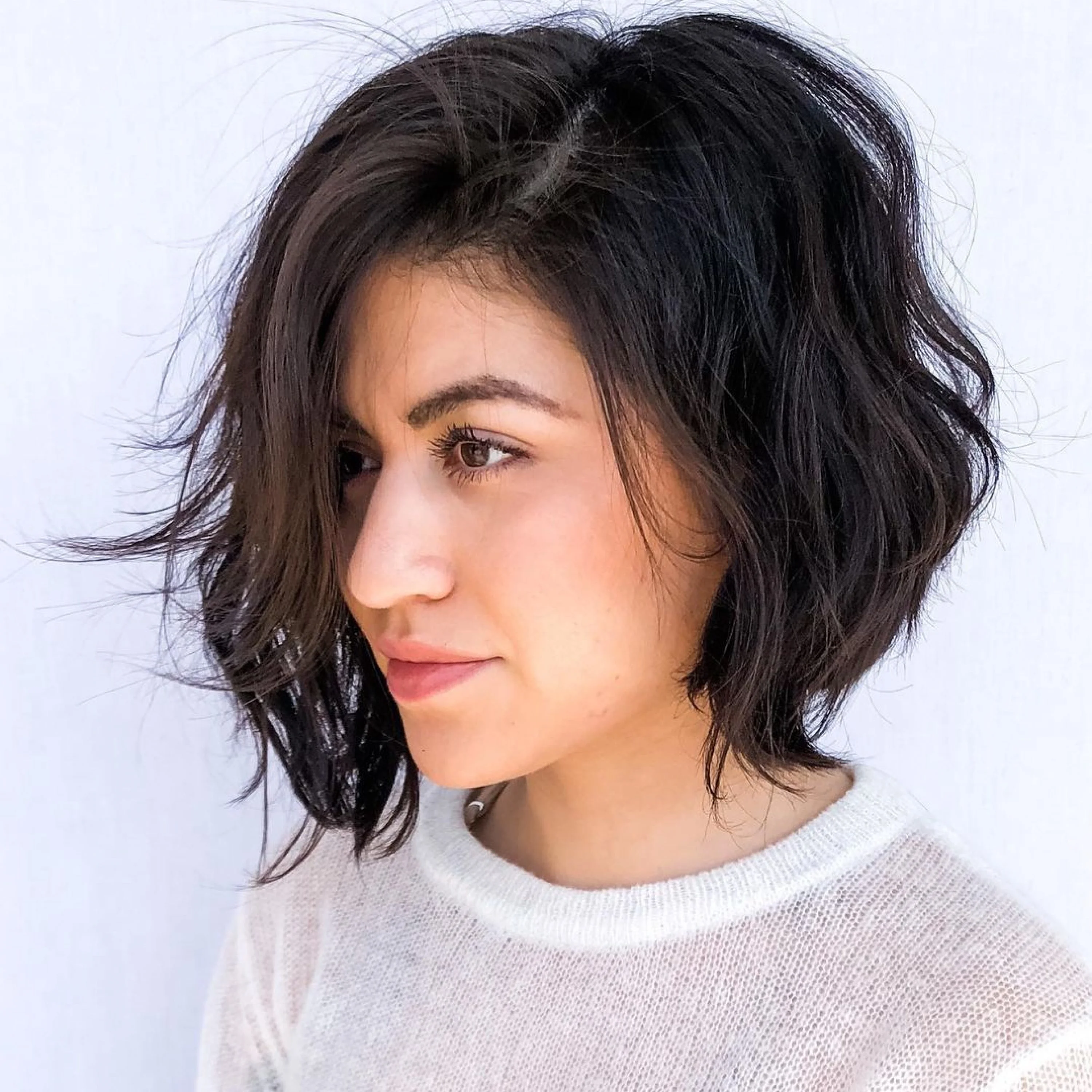 Refined layers and beachy waves add a lot of texture to this neck-length angled bob, while a diagonal side part creates volume. Together they result in an effortlessly cool disheveled style.
6. Coily Hair Angled Haircut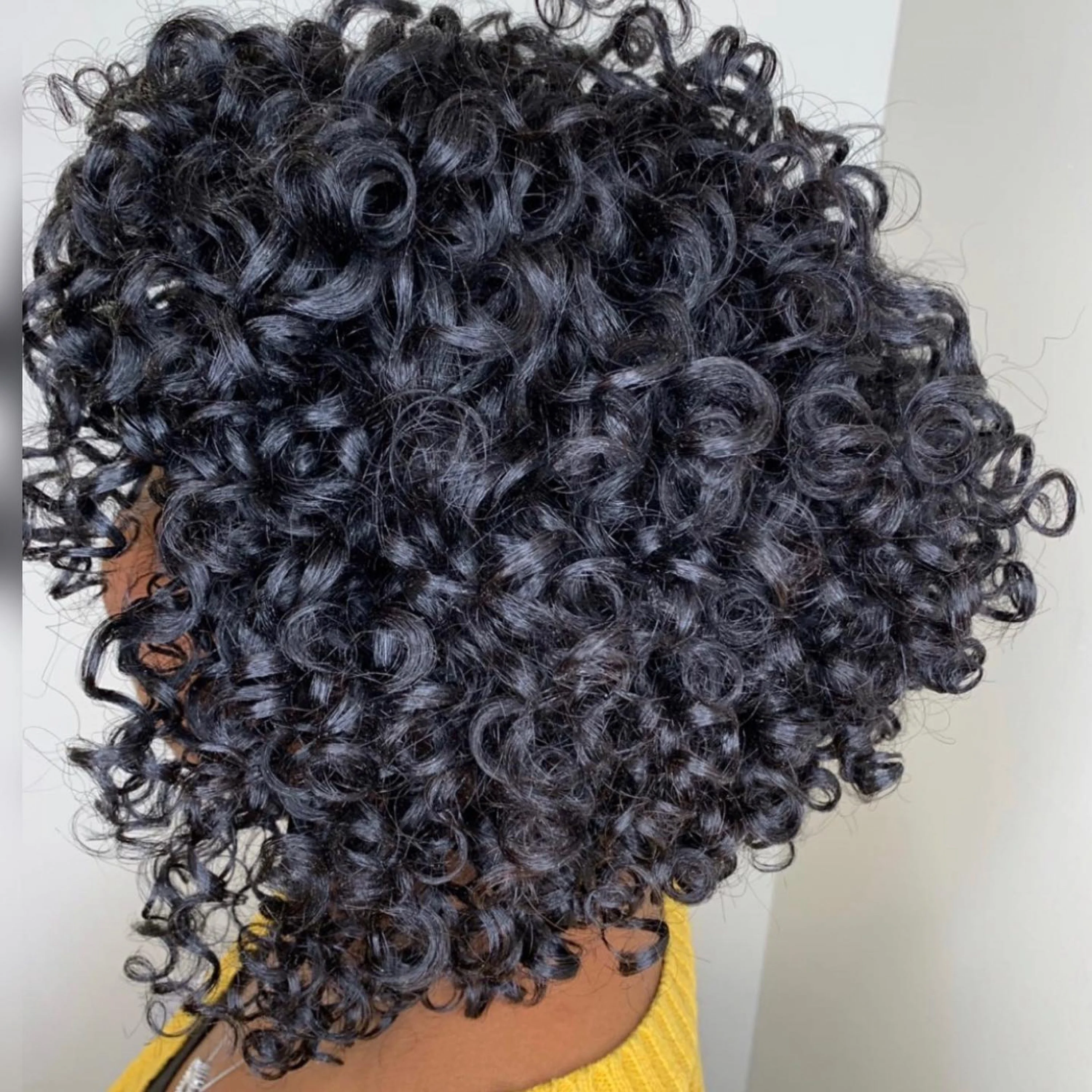 Angled bobs work on all hair types, but when it comes to coily and curly hair, layers are essential. When done right, this haircut shows off your curl pattern.
7. Medium Length Asymmetrical Bob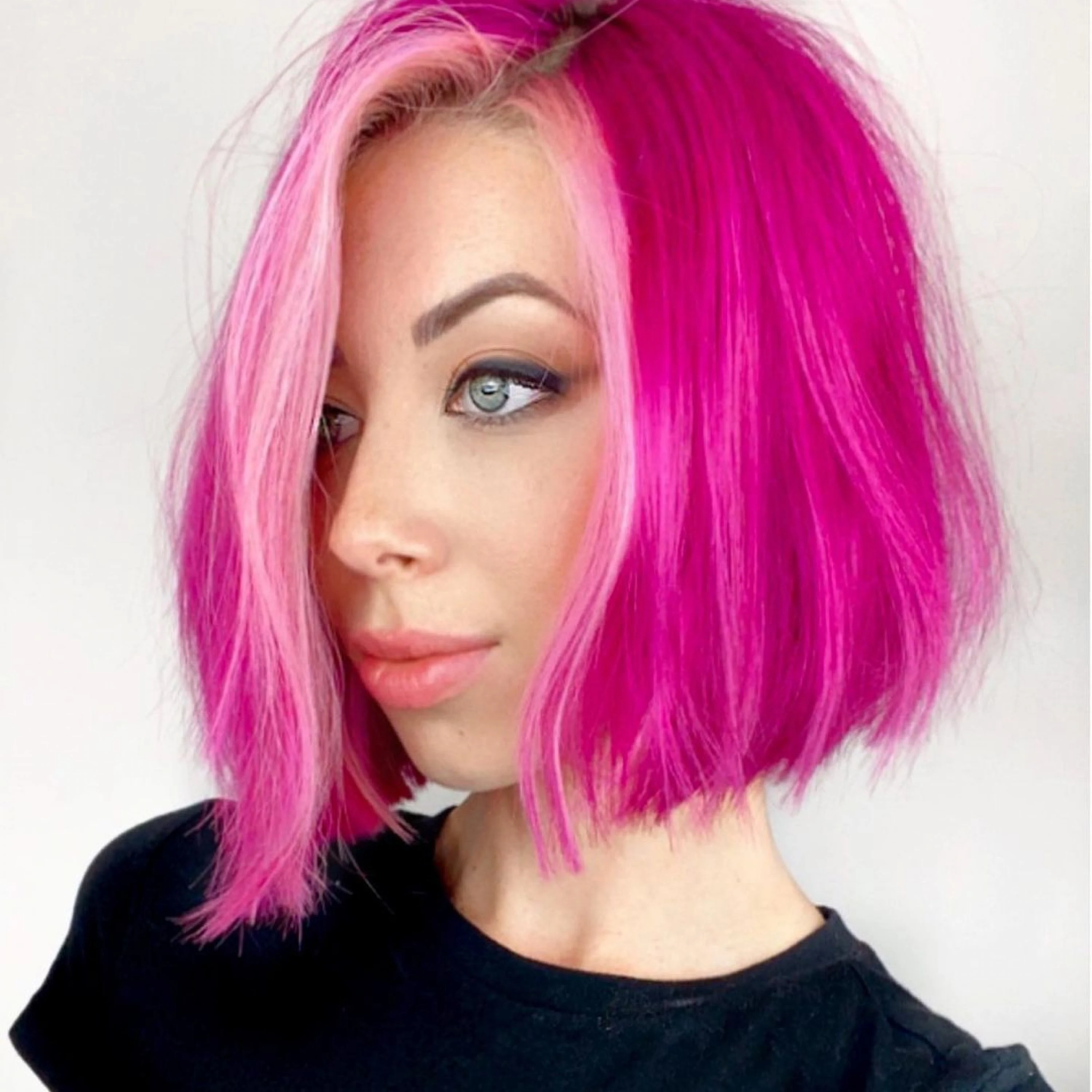 This style looks effortless and natural thanks to the very loose wave and slight frizz, but the disheveled look are on purpose. An understated flip at the ends of the strands framing the face is the final touch you shouldn't skip.
8. Asymmetrical Slanted Bob Haircut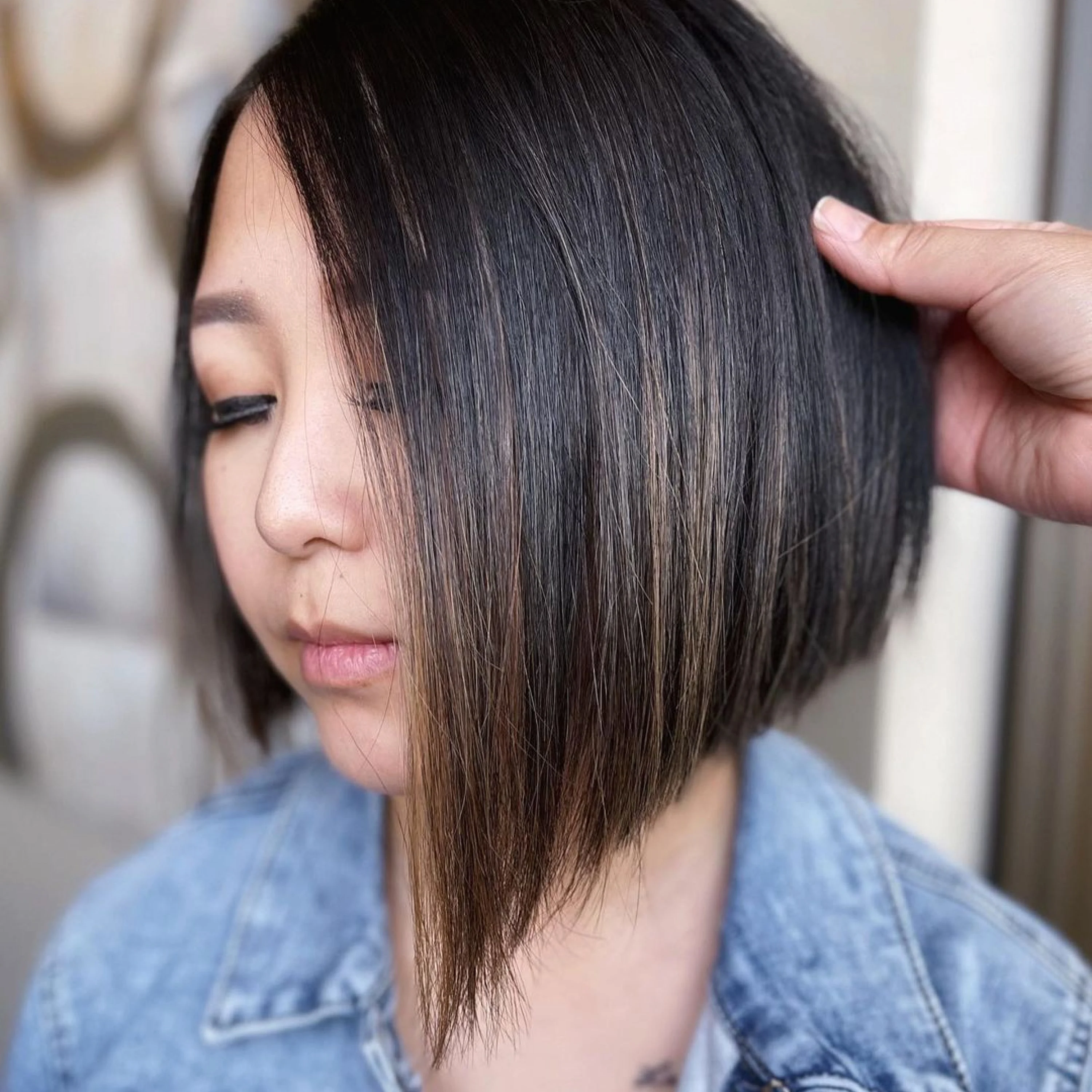 A sharp, asymmetrical bob is undeniably daring, but it suits most face shapes. If you're looking for a flattering edgy look, this is the one to go for.
9. Inverted Bob Haircut With Highlights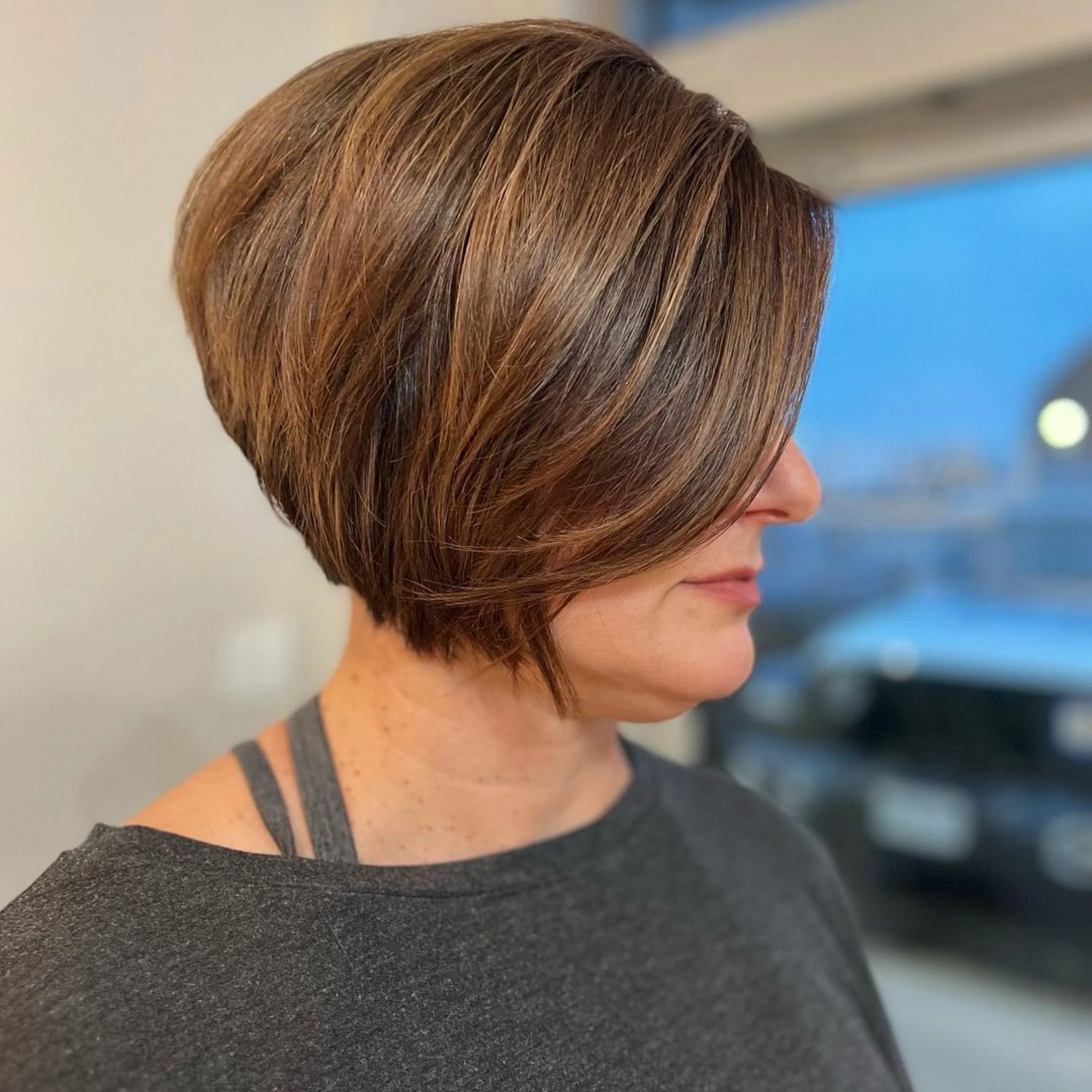 An inverted bob needs regular trims, so be aware that you'll need to visit a salon once a month to maintain it. On the other hand, once you learn your way around this hairstyle, you'll always look put together.
10. Choppy Angled Lob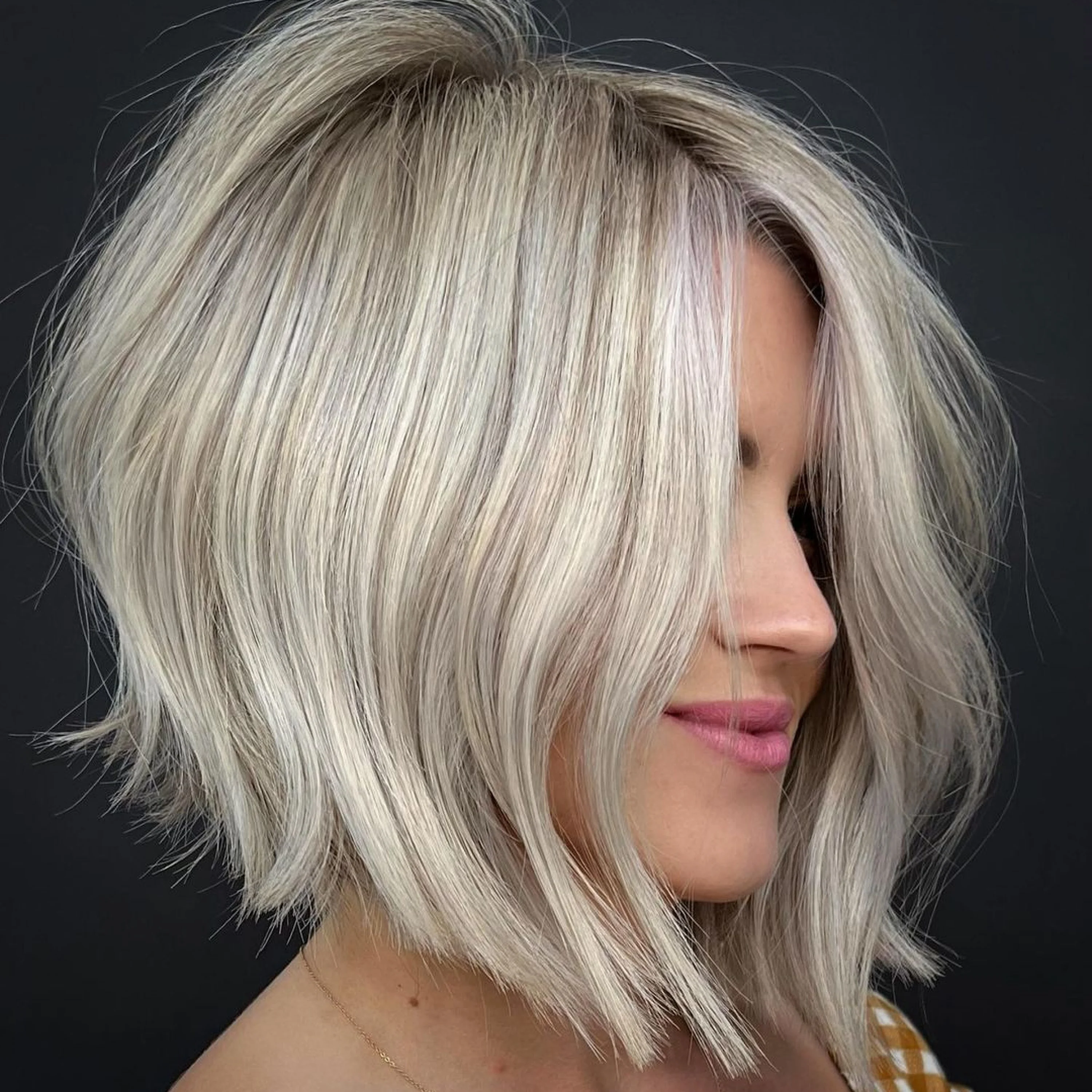 A longer bob means you can still have fun with it in almost all the ways you can with long hair. Beachy waves look just as alluring but it takes much less time to style them. A win-win!
11. Angled Blunt Bob Cut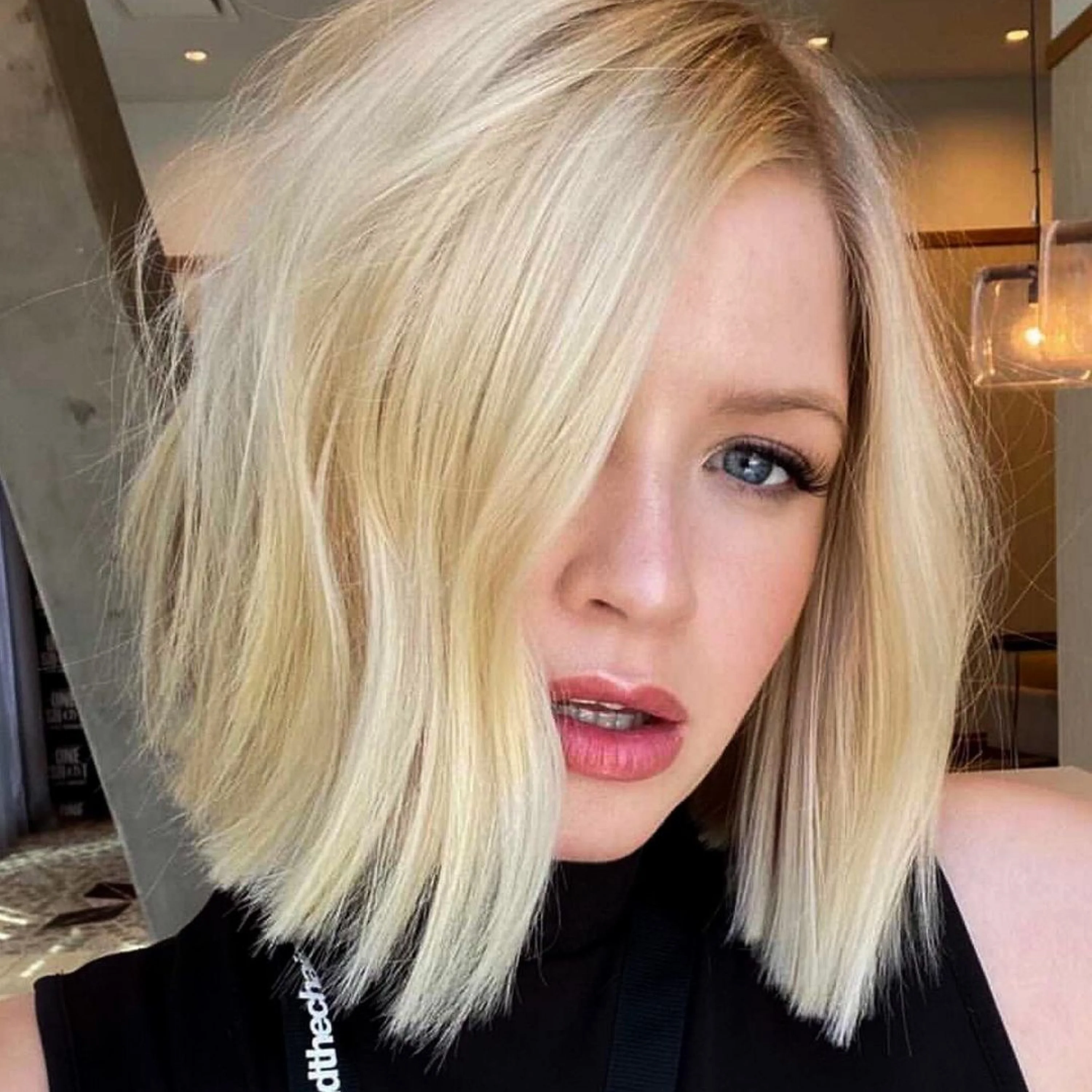 Shorter haircuts make it easy to play around with color, and even go for something you've never thought of trying. If you've always wanted to go blonde, why not try a short blonde bob to get you started?
12. Shoulder Length Blunt Bob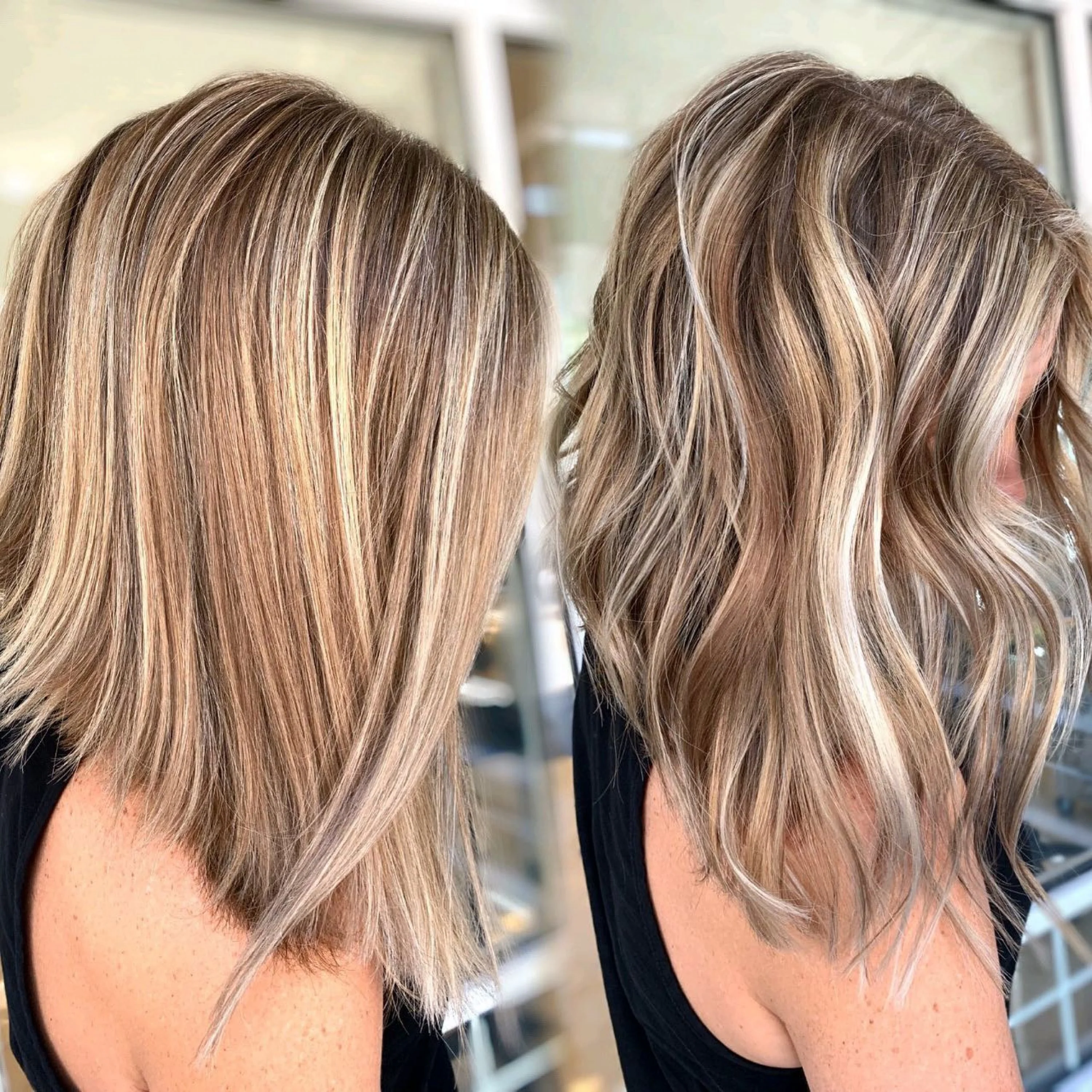 If you can't part with long hair but you really want the coolness of a bob style, you can have your cake and eat it too: try a shoulder-length lob. It can be a gateway to one of the shorter variants of the bob or the style on its own—whatever works for you.
13. Colorful Asymmetrical Bob Haircut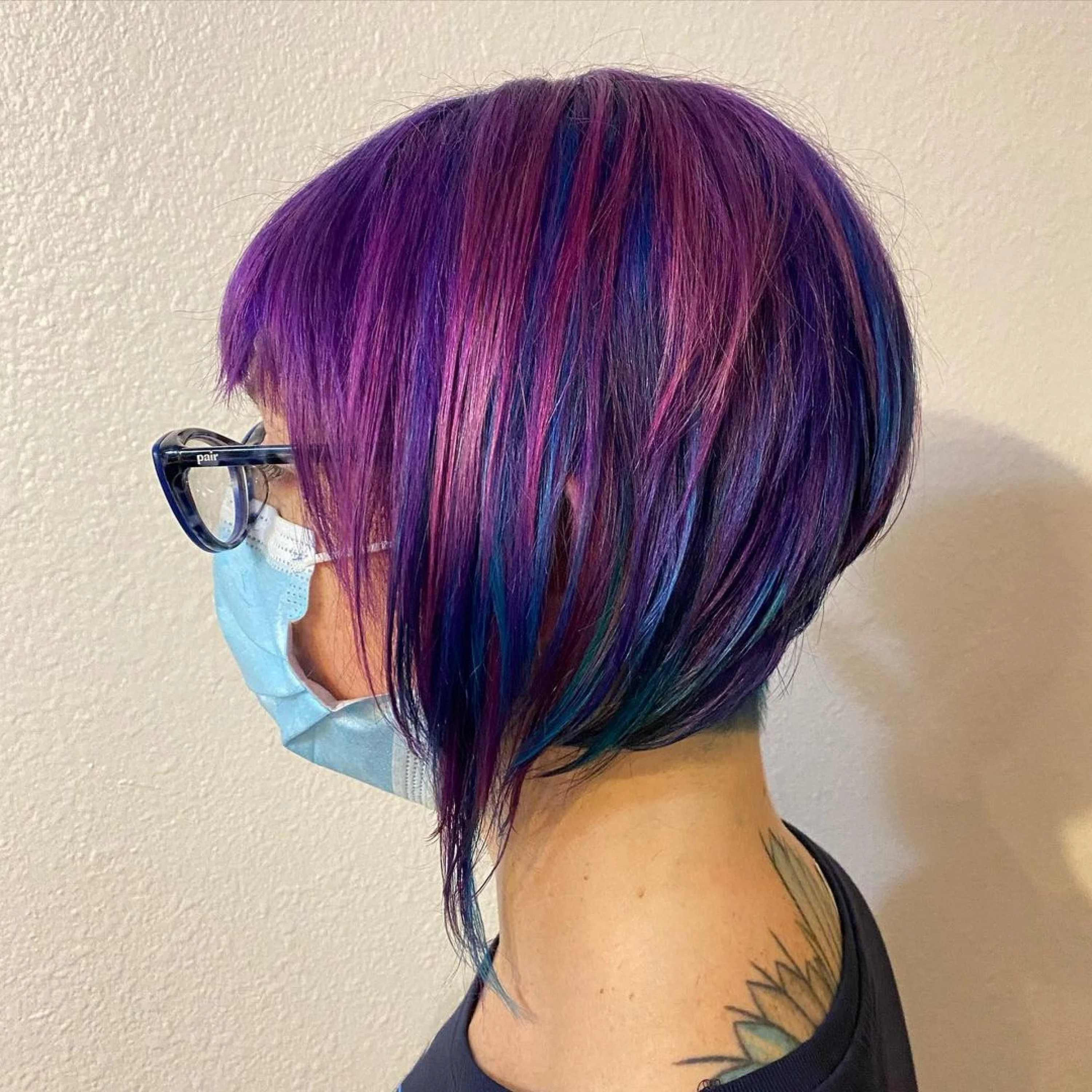 This style of asymmetrical bob ends in a taper so extreme that the longest part looks like one super-long pointy strand. Clearly, it's only for those who like to experiment with their hair, so if you're feeling brave, go for it—along with a vibrant color to round out the look.
14. Inverted Bob Hairstyle With Side Bangs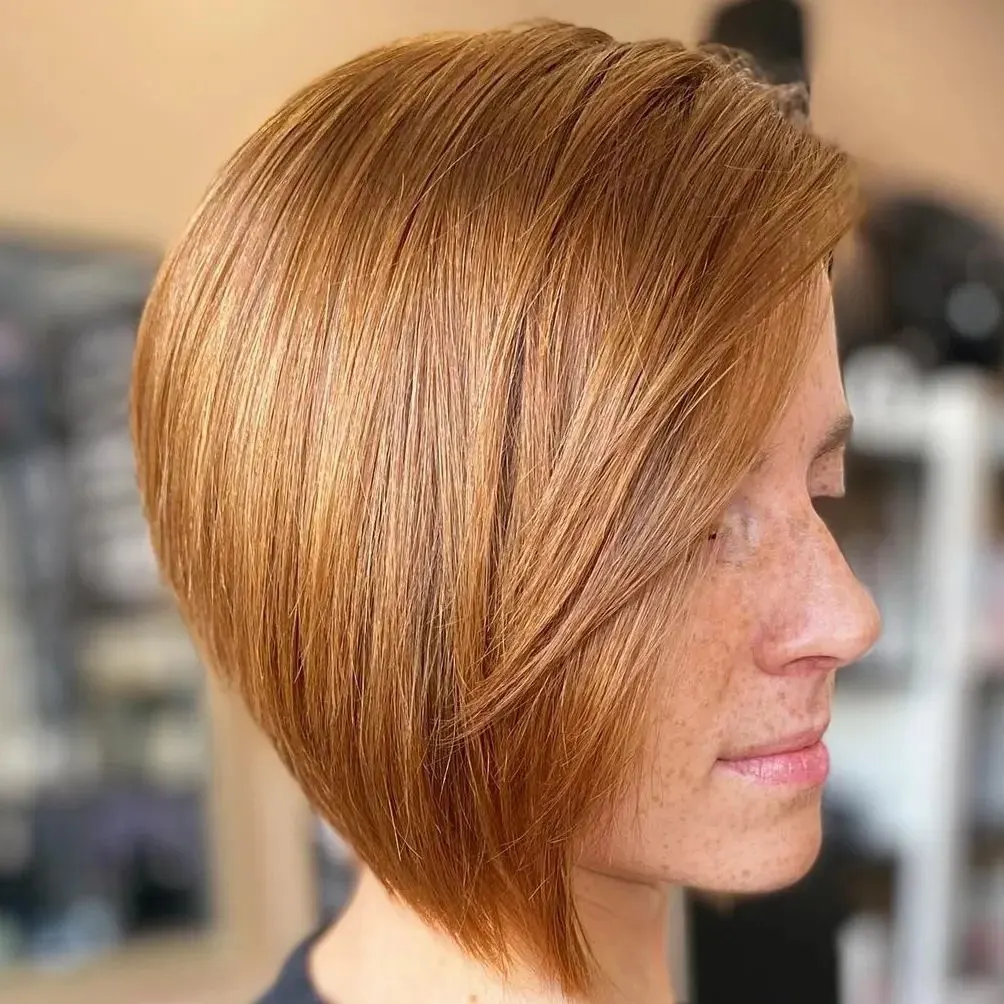 When you can't decide between classic and edgy, this is the style to go for. The sharp angle takes care of the cool factor, while the side bangs take it down a notch for a softer look.
15. Angled Long Inverted Bob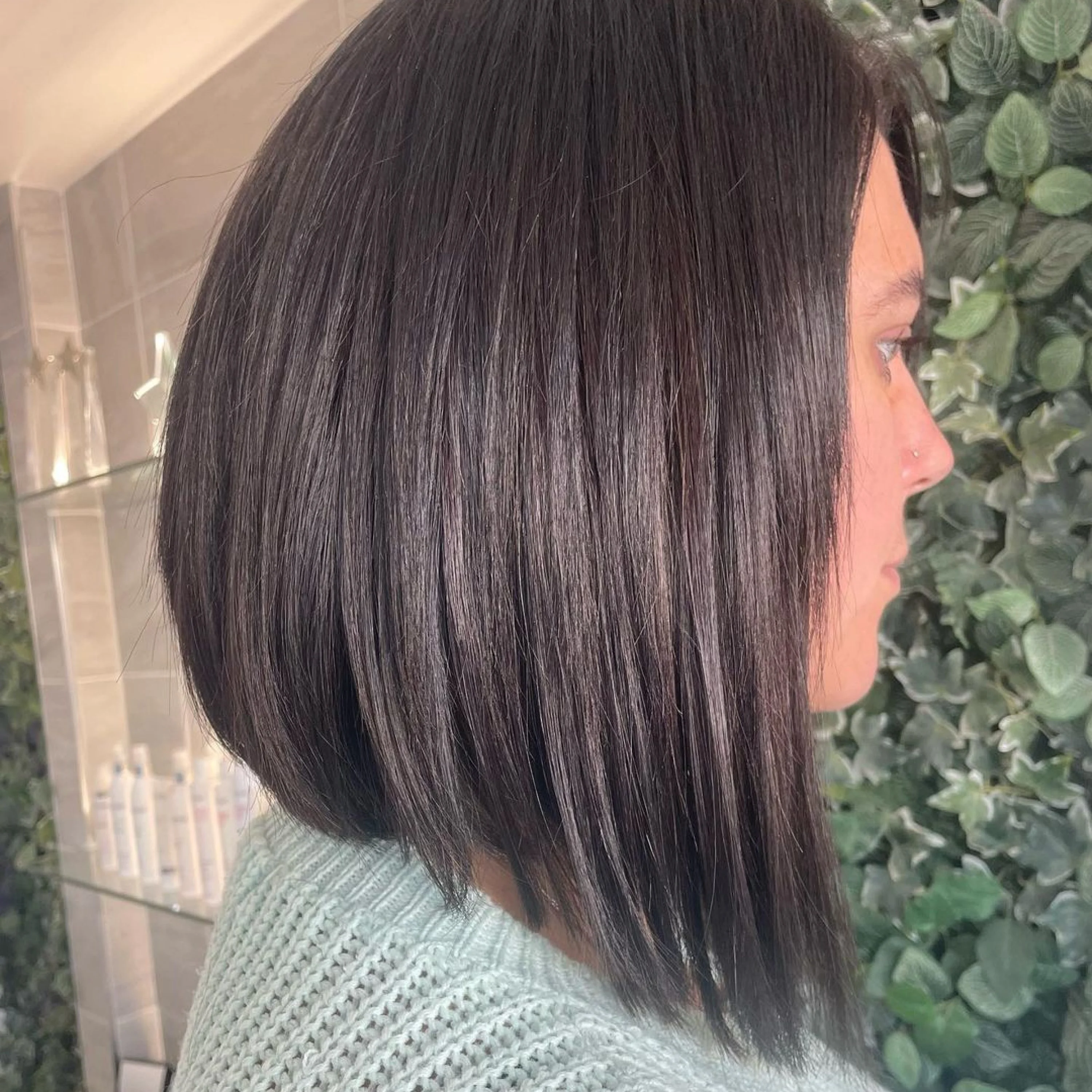 Wearing an angled bob straight requires your hair to be well-maintained and the ends to be in perfect shape. It doesn't matter if you're rocking a long or a short bob, make sure to keep your hair healthy and cared for to look impeccable.
16. Shoulder Length Long Inverted Bob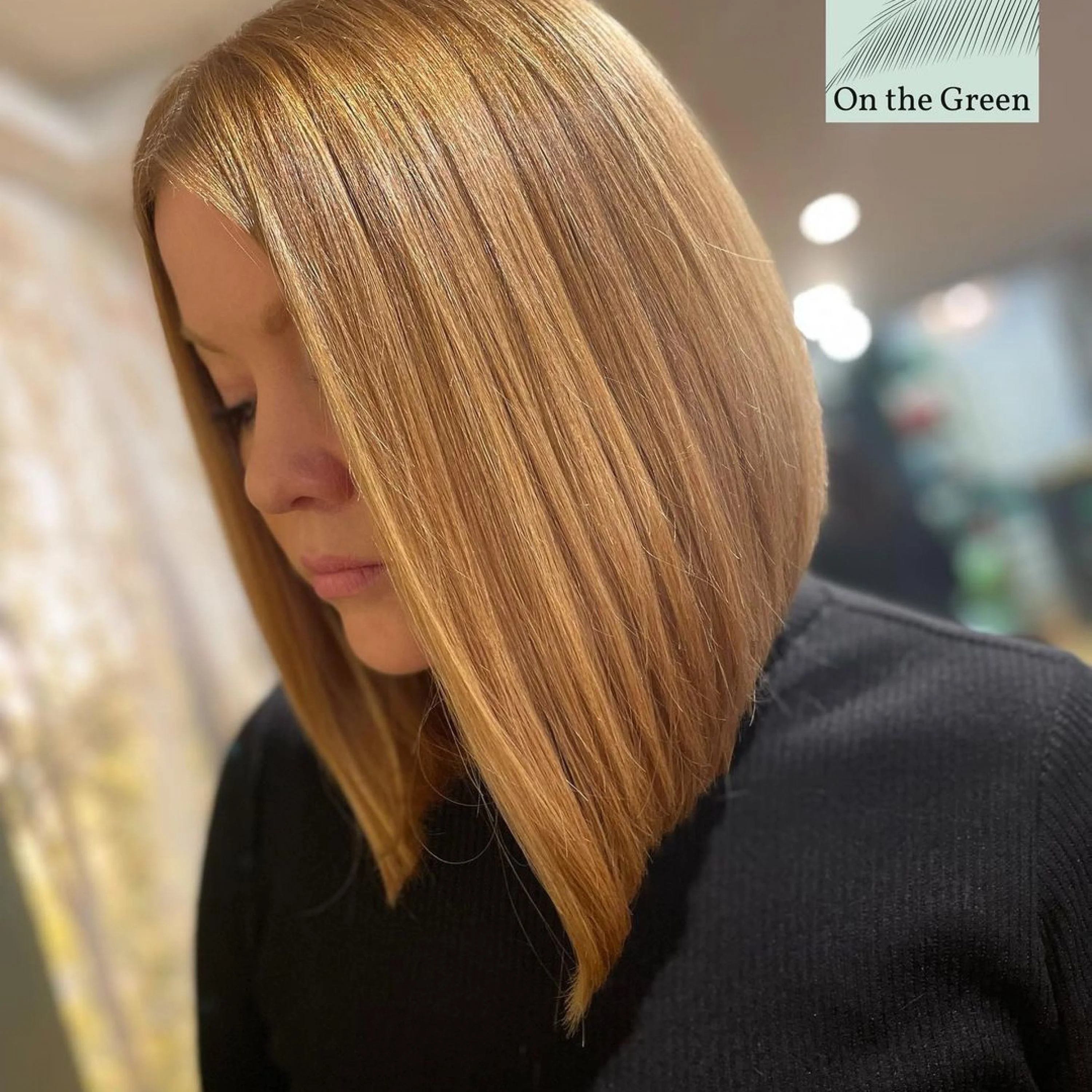 A style as simple as a straight bob allows for a lot of freedom when it comes to color, and it's only up to you to choose what you want to achieve. A soft golden blonde leaves a much different impression than a cool ashy shade, and a warm chestnut brown does not have the same effect as a shiny black.
17. Long Asymmetrical Bob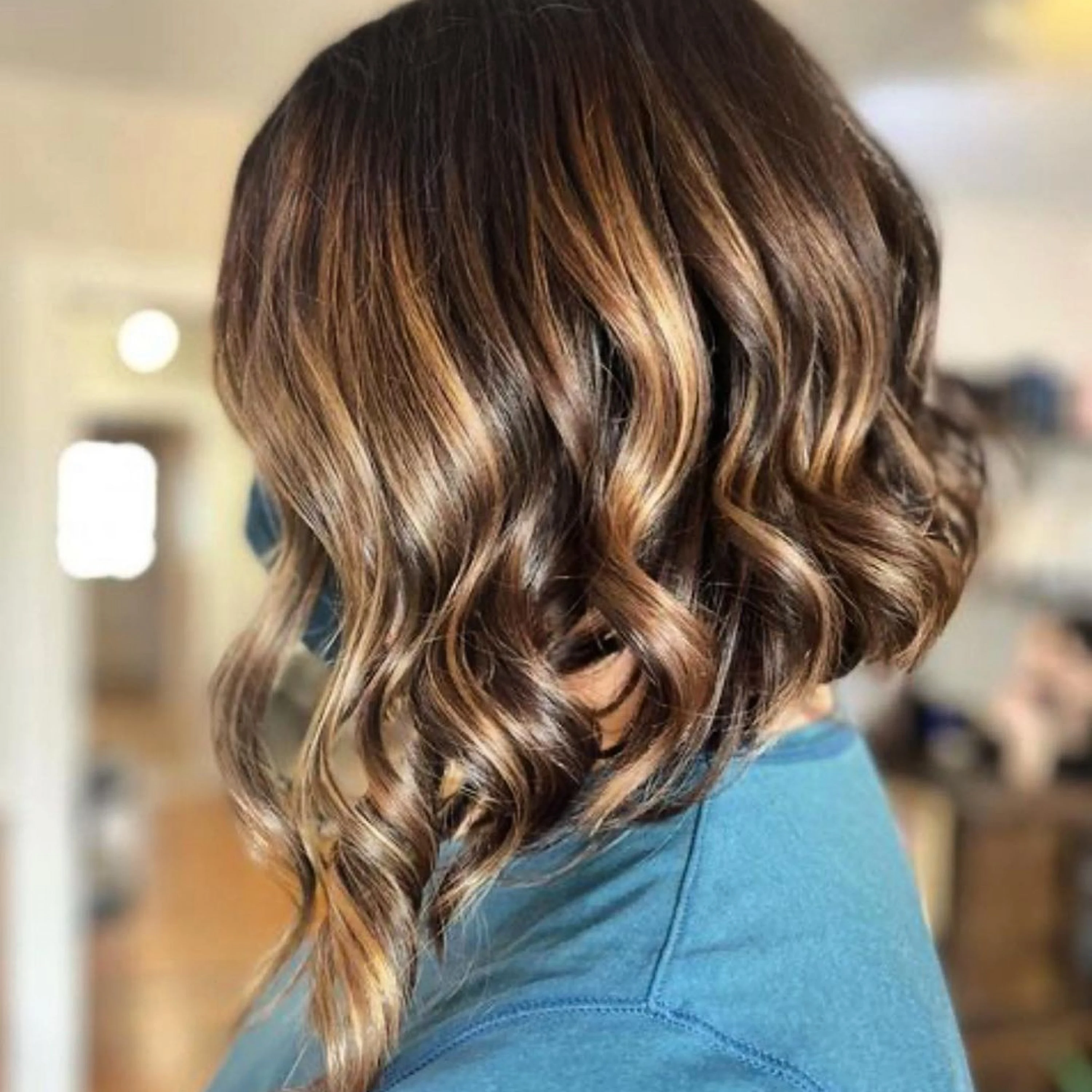 Asymmetrical bobs can work with all lengths, even when that means that the longest part is well below the shoulders, which is normally considered the boundary between the bob and long hair.
18. Medium Inverted Bob Haircut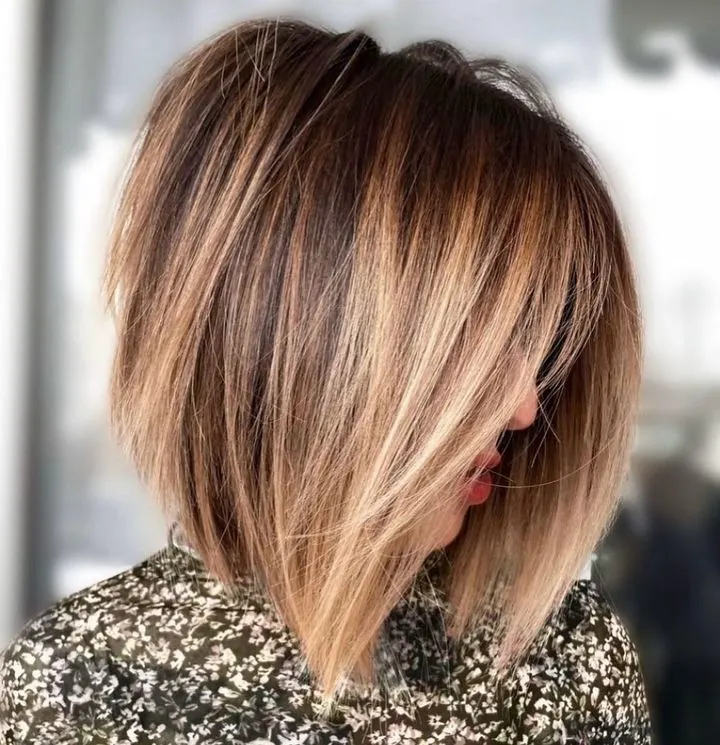 This medium-length inverted bob uses layers to achieve marvelous volume and a chic contemporary style. The coloring technique creates a look that's at the same time nonchalant and very flattering.
19. Angled Blunt Lob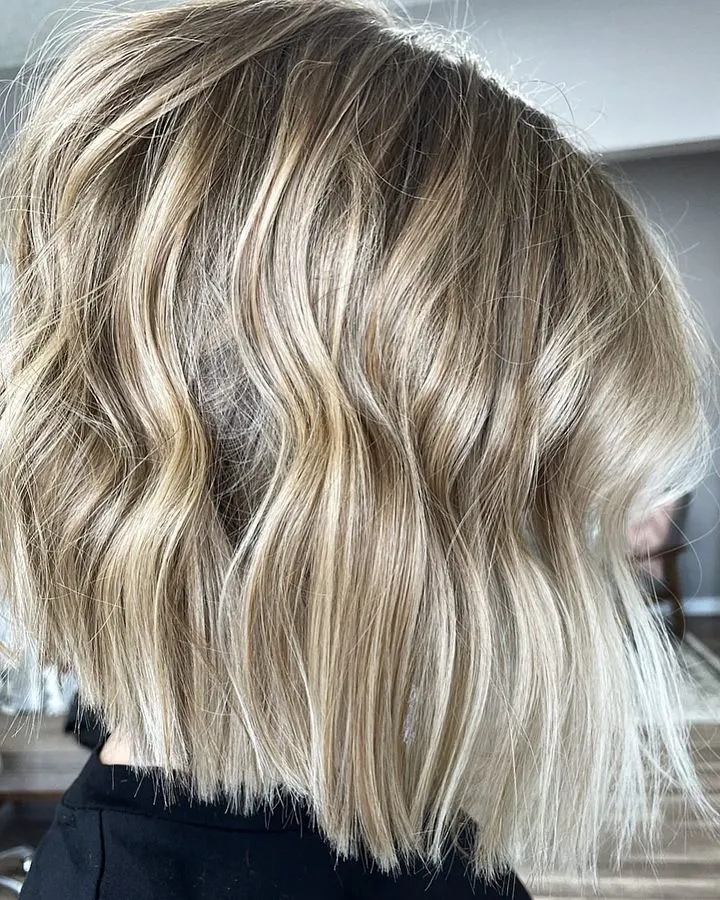 Highlights add dimension to any hair length, but they look particularly interesting in a textured blunt lob. The hair is long enough to show off the intricacies of the color and not so long that it diverts attention to other features of the style.
20. Choppy Layered Inverted Bob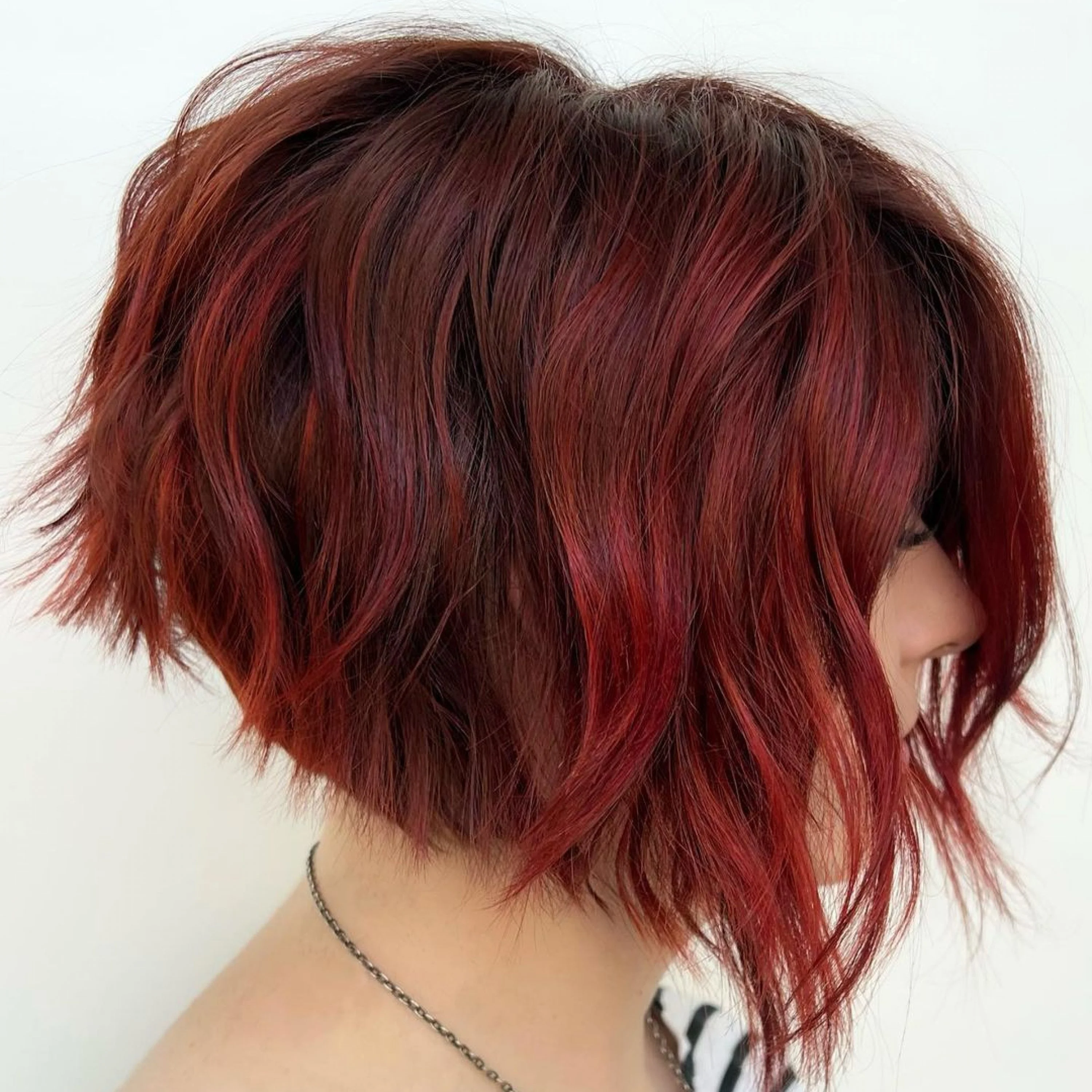 Inverted bobs are a great choice if you want a lot of volume. The short layers at the crown create lift and give the hair bounce, while the face-framing longer strands are prominent without being bulky.
21. Undercut Stacked Bob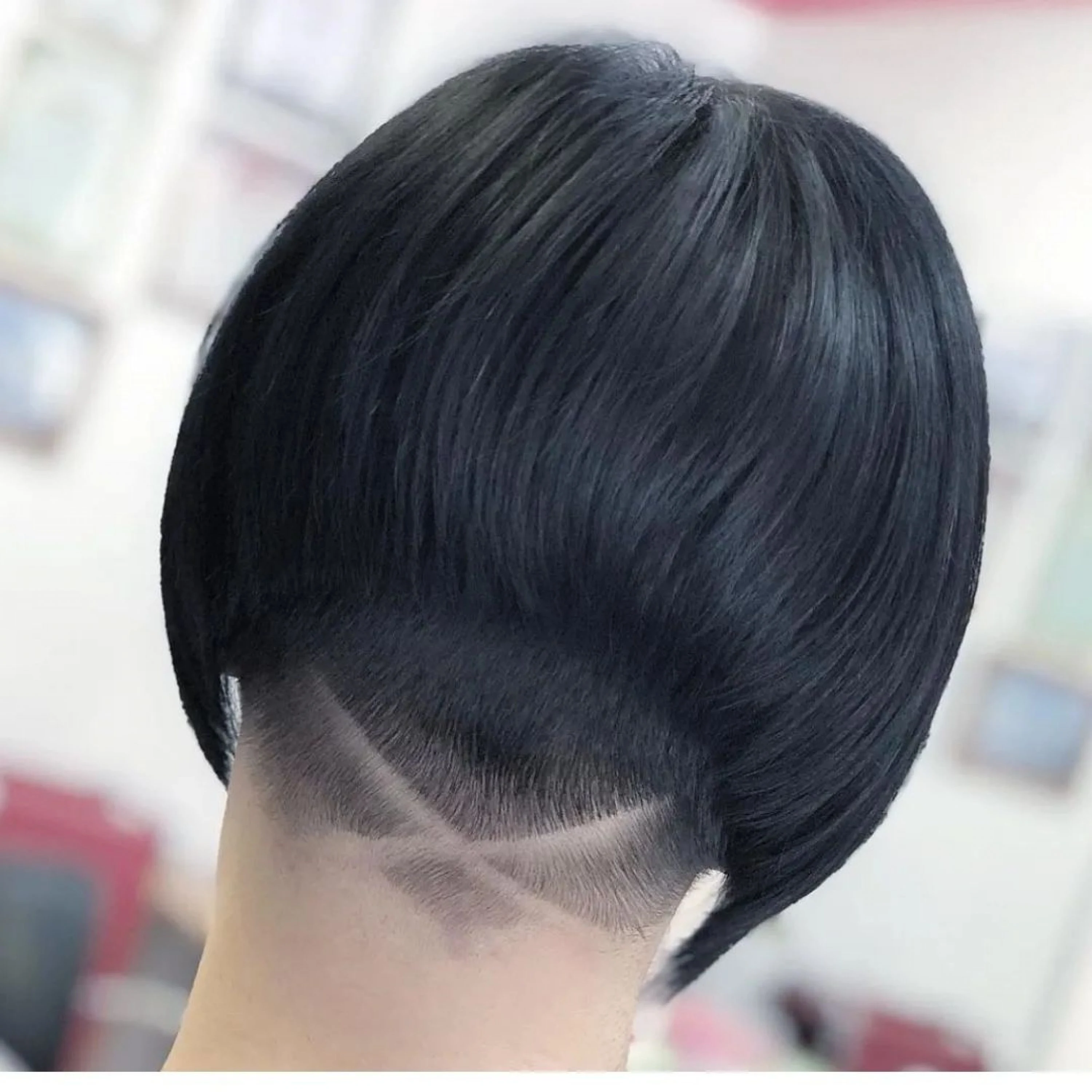 With a stacked bob, there are no rules: go as short in the back as you want—the perfect chance to try out an undercut bob. Shaving just the nape still leaves a lot of hair available, even if you can't spare much but you'd still like to try this edgy style. Take things up a notch by adding lines in a pattern as a fun detail to show off.
22. Curly Stacked Bob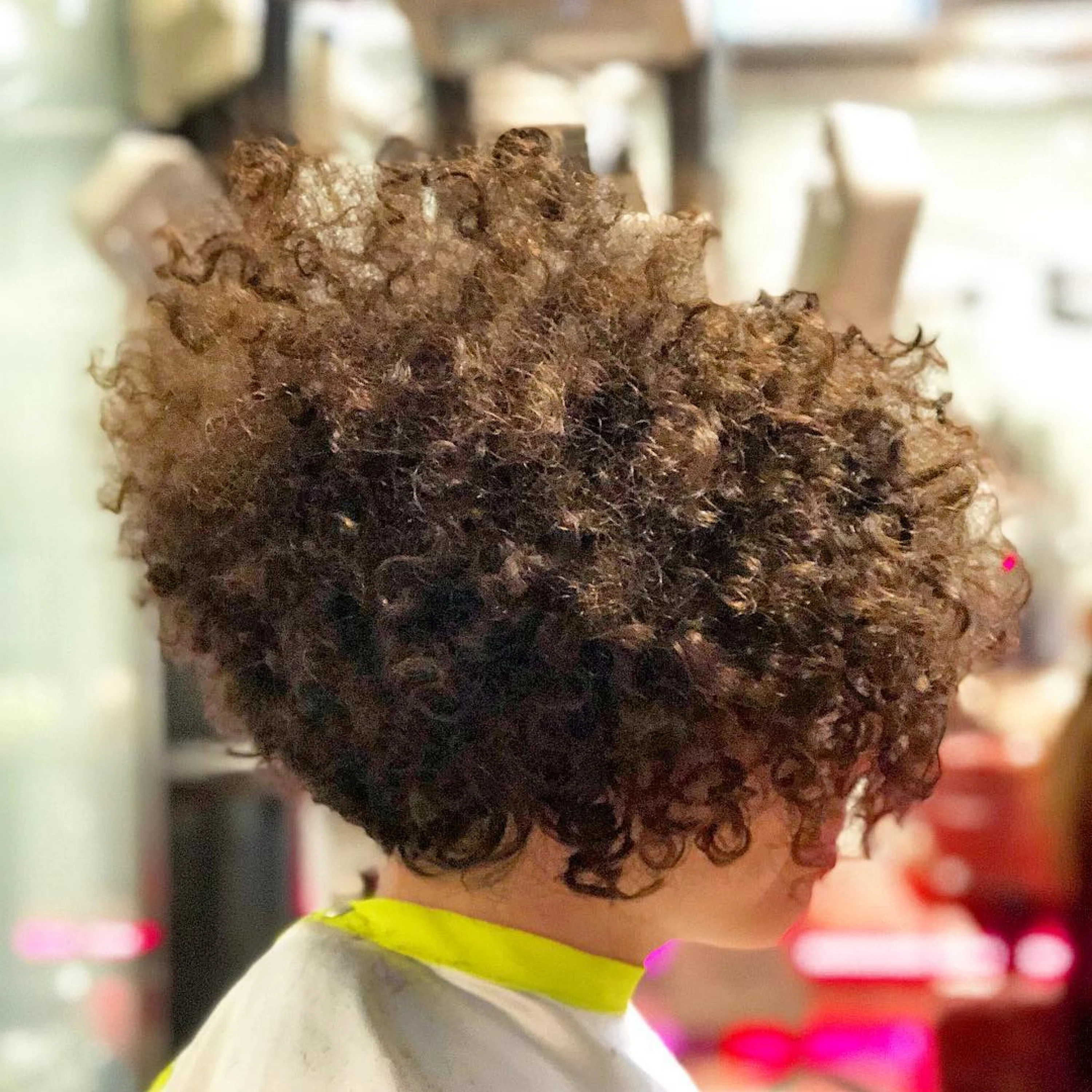 Curls add a lot of weight, so graduated layers are used to create incredible volume and a modern shape in this cute curly stacked bob.
23. Short Inverted Bob With Bangs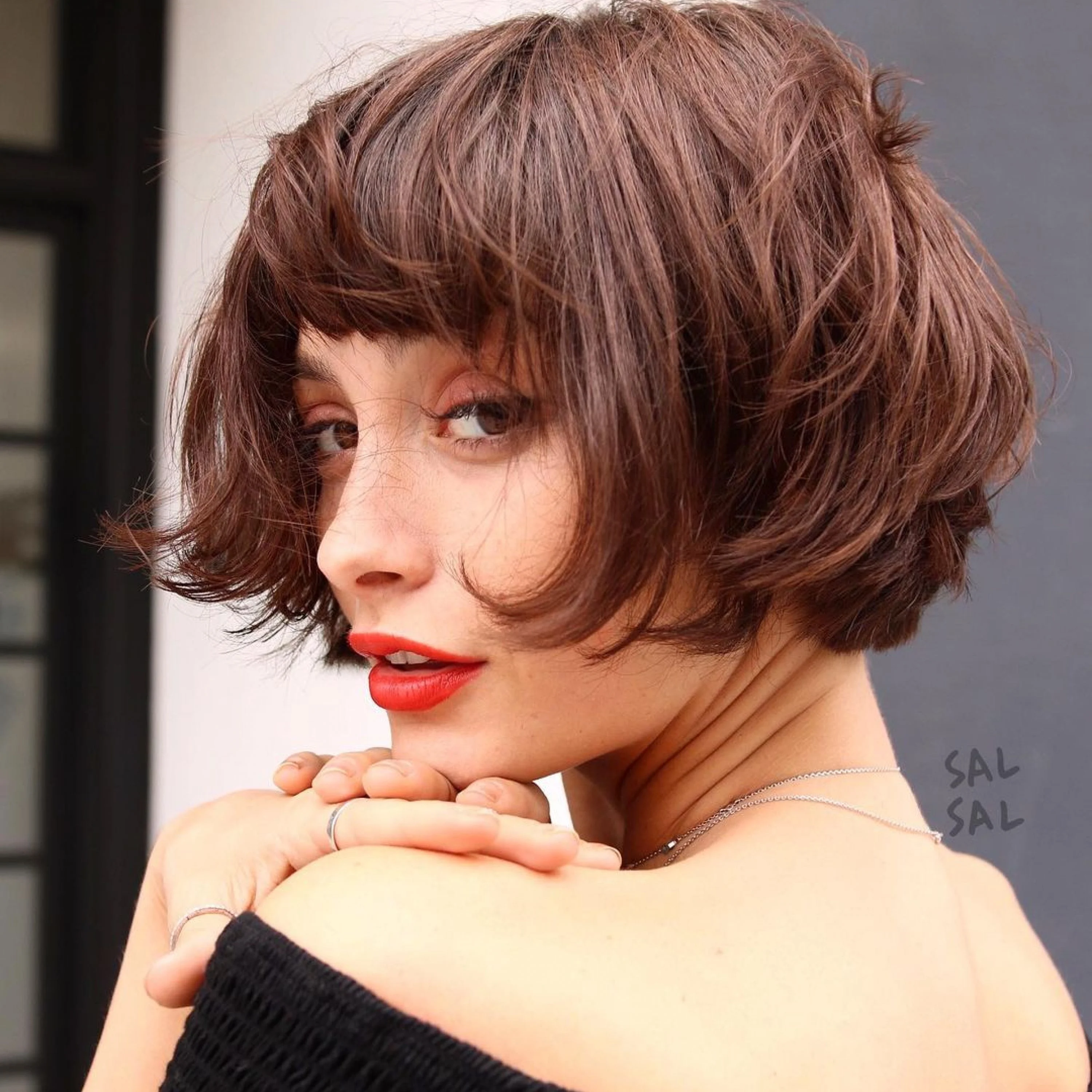 A classic French bob can be spiced up by adding a slight angle and leaving the strands near the face slightly longer. The bangs sitting at the brow line shorten a high forehead, but you can also wear them side-swept if that's not the effect you want to achieve.
24. Layered Lob Haircut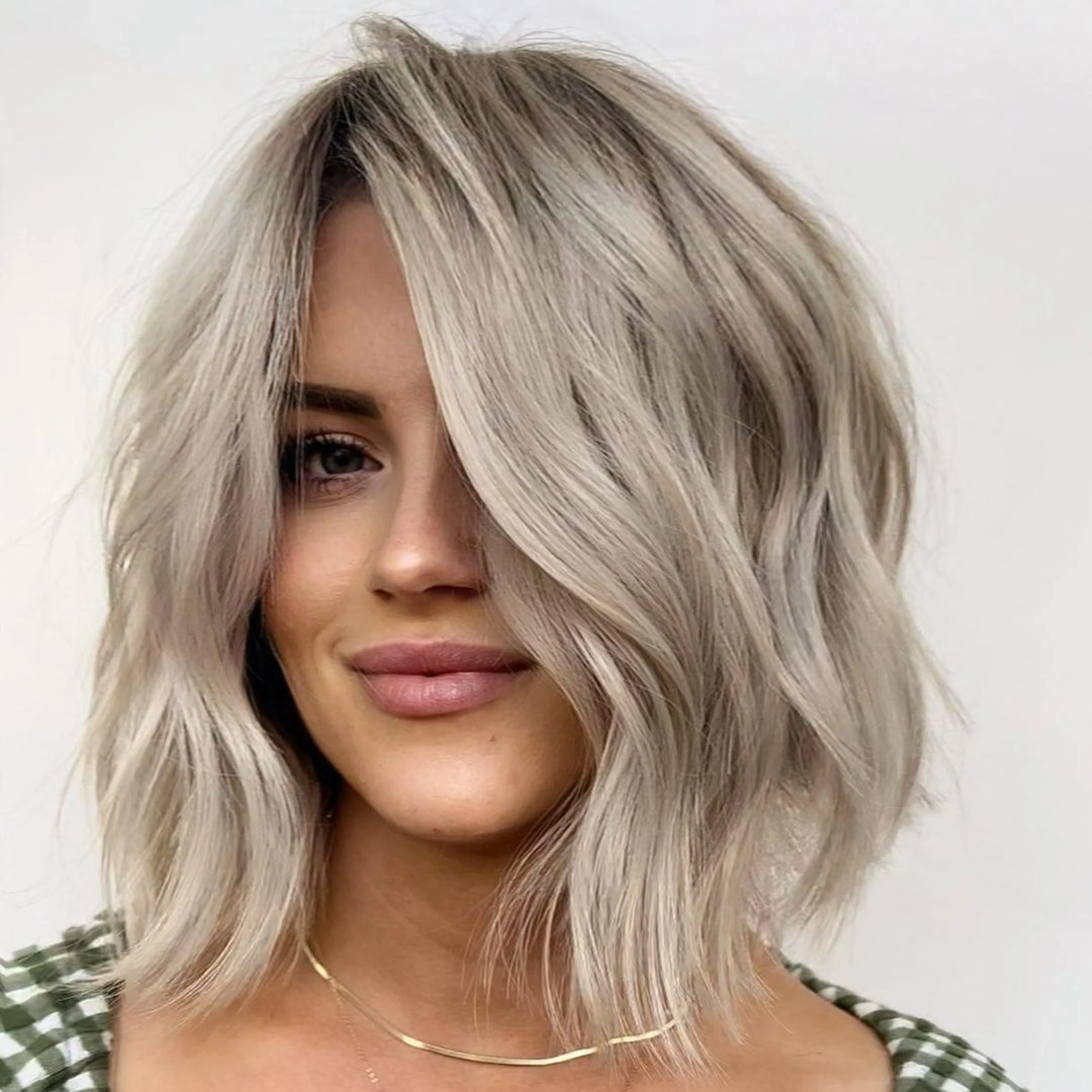 Texture, volume, and long peek-a-bangs attractively slipping over one eye—what's not to love? A long layered bob is a timeless hairstyle that always looks good.
25. Hidden Undercut Bob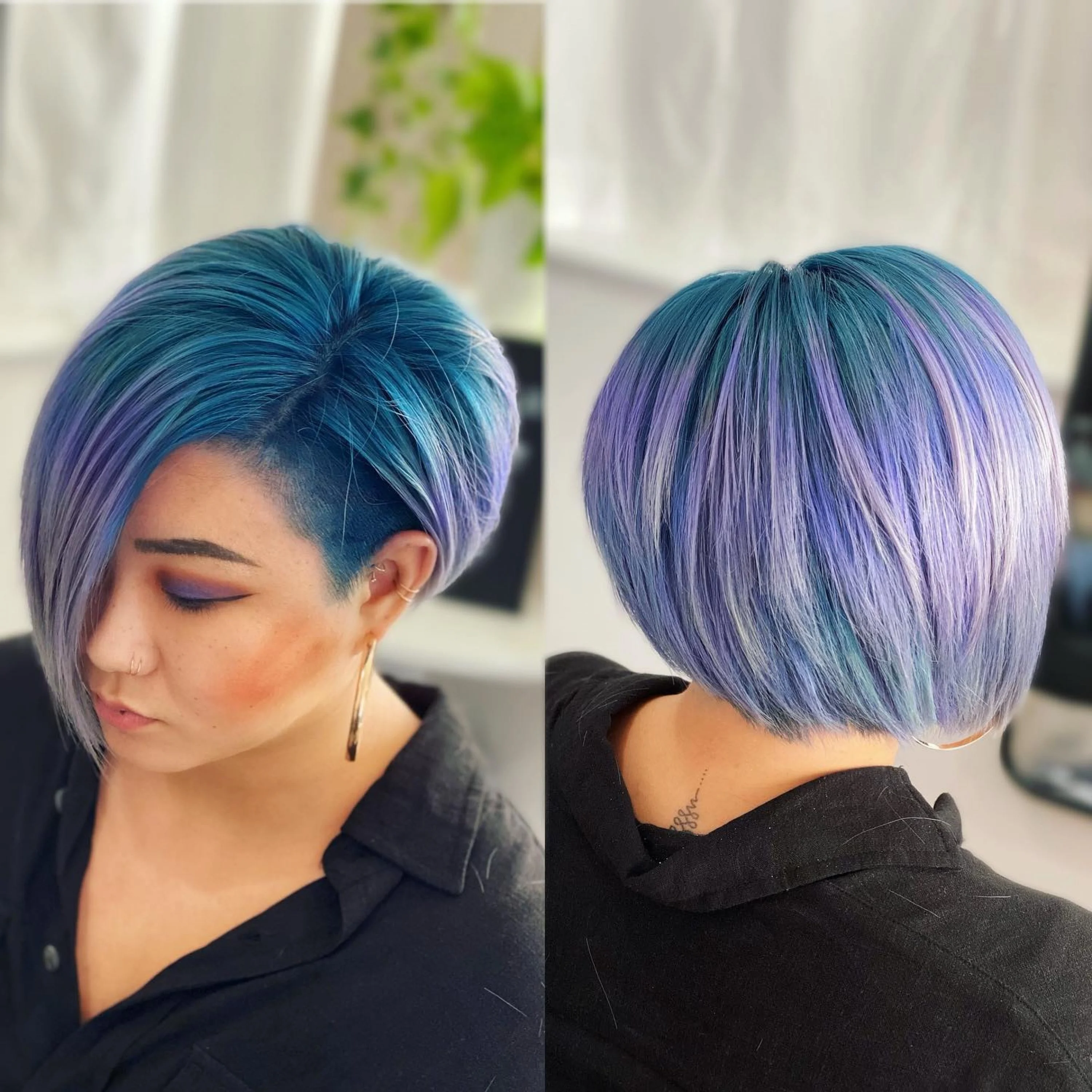 Undercutting is a great way to remove a lot of bulk where you need it while giving you a bold, trendy style. A hidden undercut bob can be worn in multiple ways: part your hair on the side to create asymmetry and uncover your undercut, or in the middle to conceal it and create a more understated look.
26. Rounded Asymmetrical Bob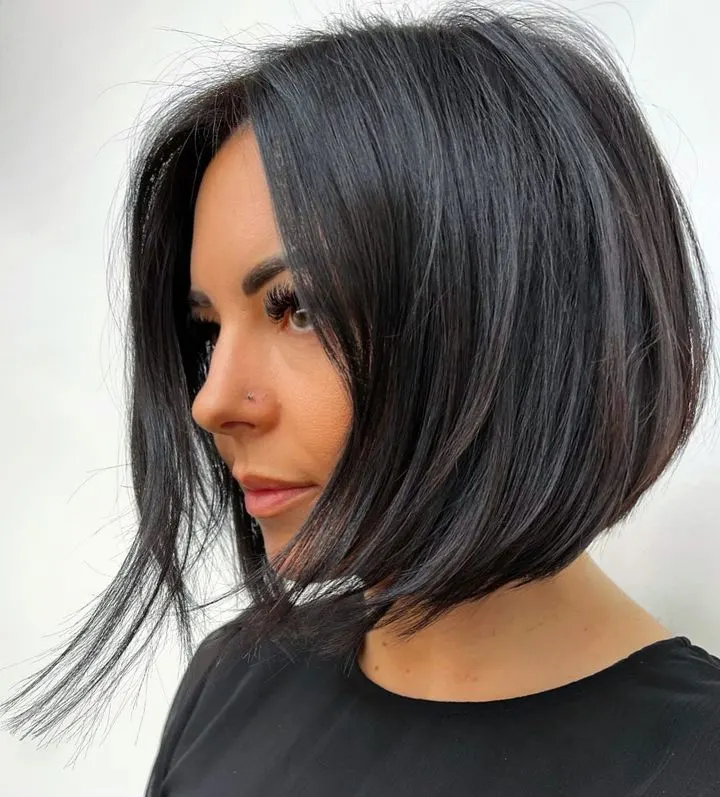 At first glance, this bob looks pretty classic with its subtle layers and soft shape, but it unexpectedly gets longer in the front to create a striking effect.
27. Box Braids A-line Bob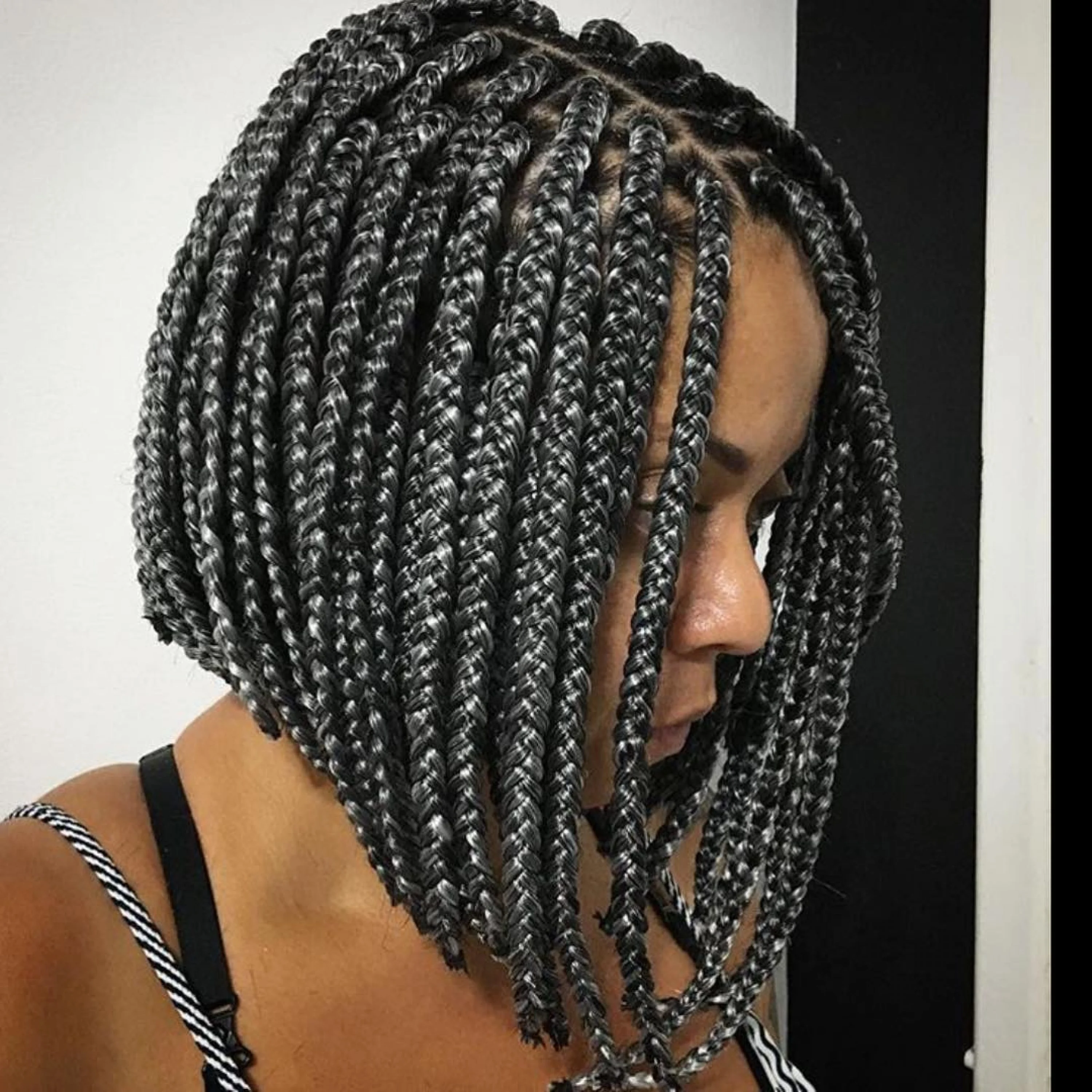 Bob box braids are a protective style that's versatile and easy to maintain. Go for a center part for an elegant vibe, or choose a side part for a more playful look.
28. Angled Side Part Bob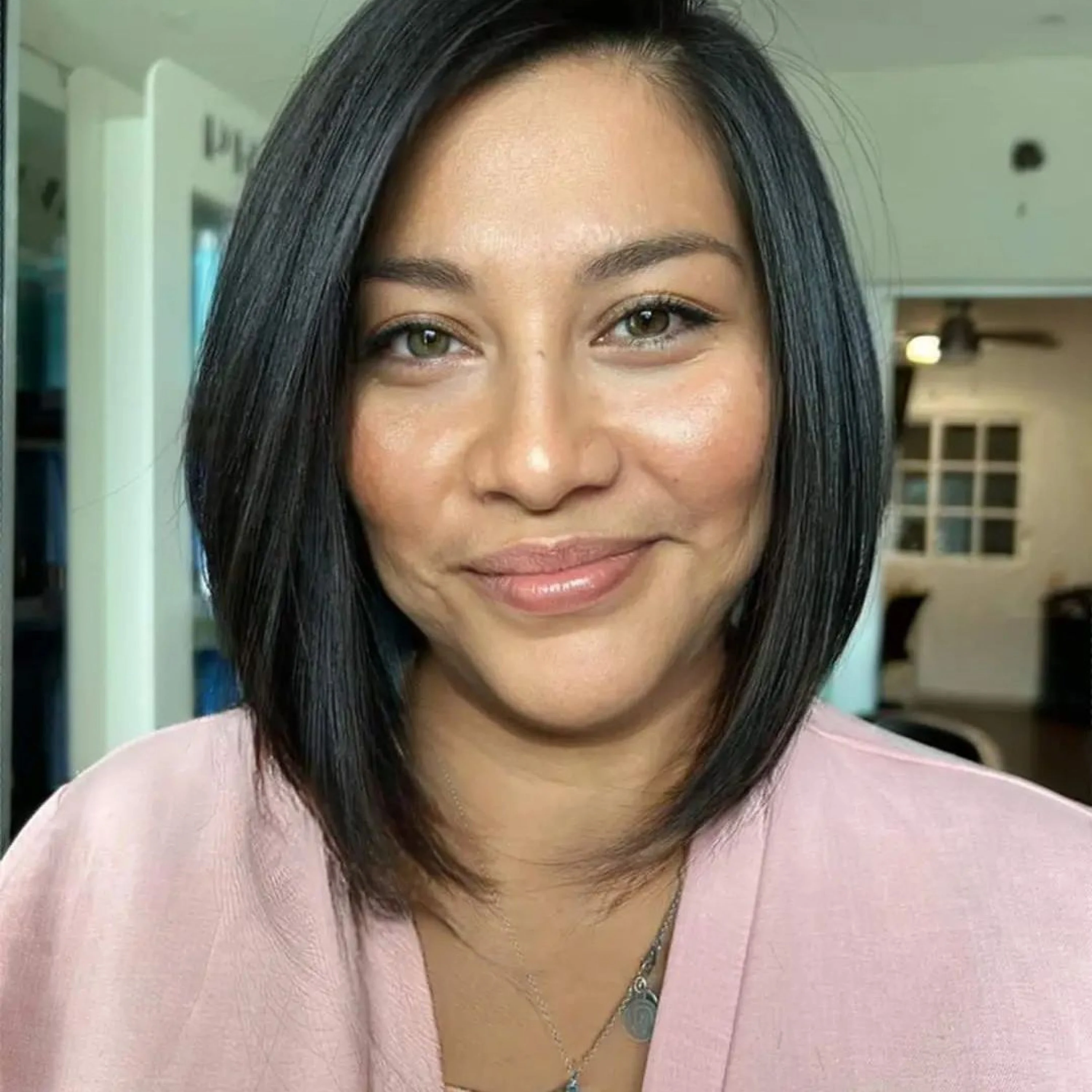 This incredibly flattering medium-length bob can be adapted to any face shape by shortening or elongating the strands framing the face. Play around with the way you part it to make it fit you just right.
29. Inverted Bob With Bangs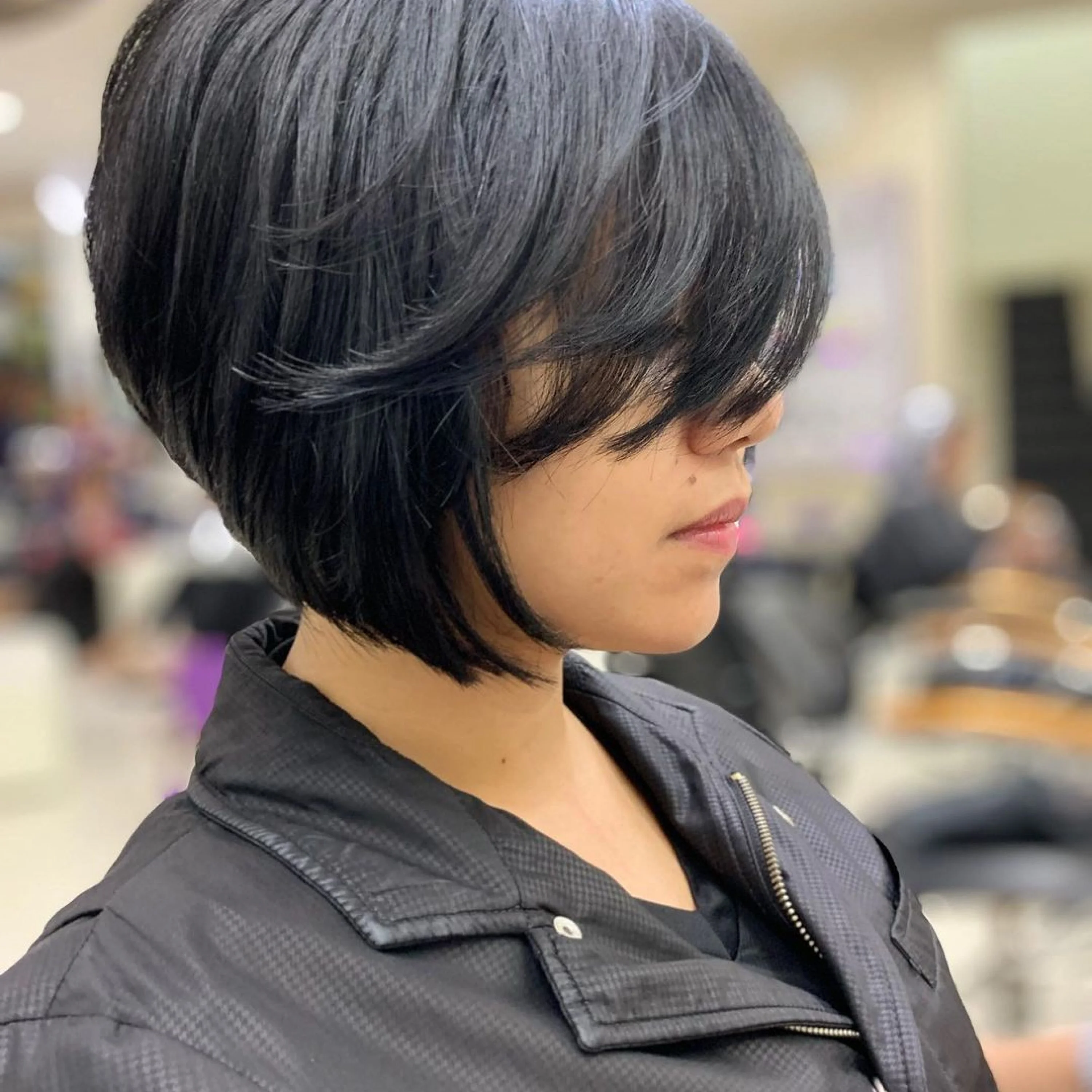 An inverted bob with side bangs is a brilliant choice if you like to have volume in the back and on top and an interest point in the front. Side-swept medium length bangs add a casual and trendy vibe to this polished style.
30. Funky Inverted Bob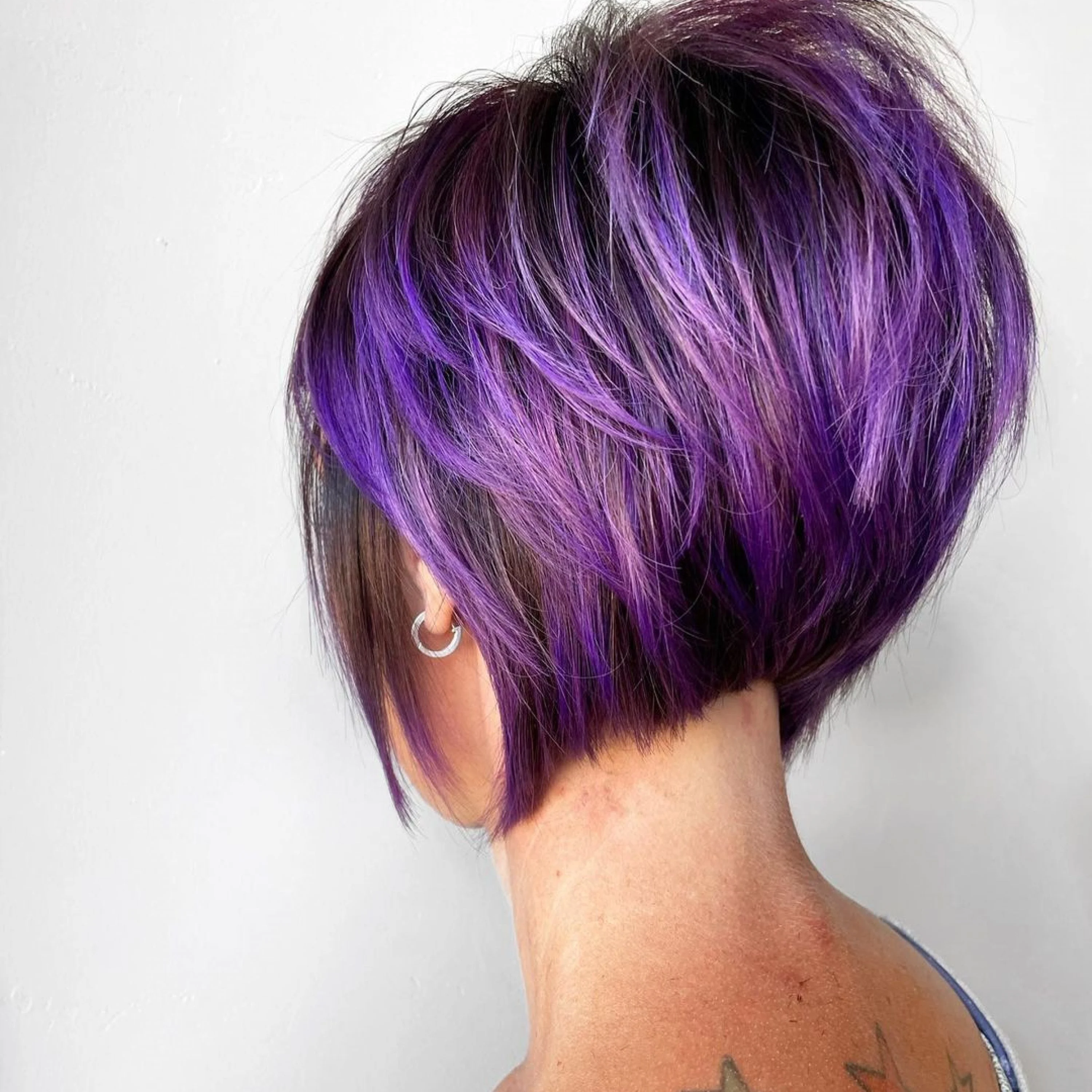 This inverted bob is very short on top, which allows for maximum volume and creates a shaggy look. With the addition of vibrant purple highlights, this funky hairstyle really packs a punch.
31. Wavy Angled Medium Bob Haircut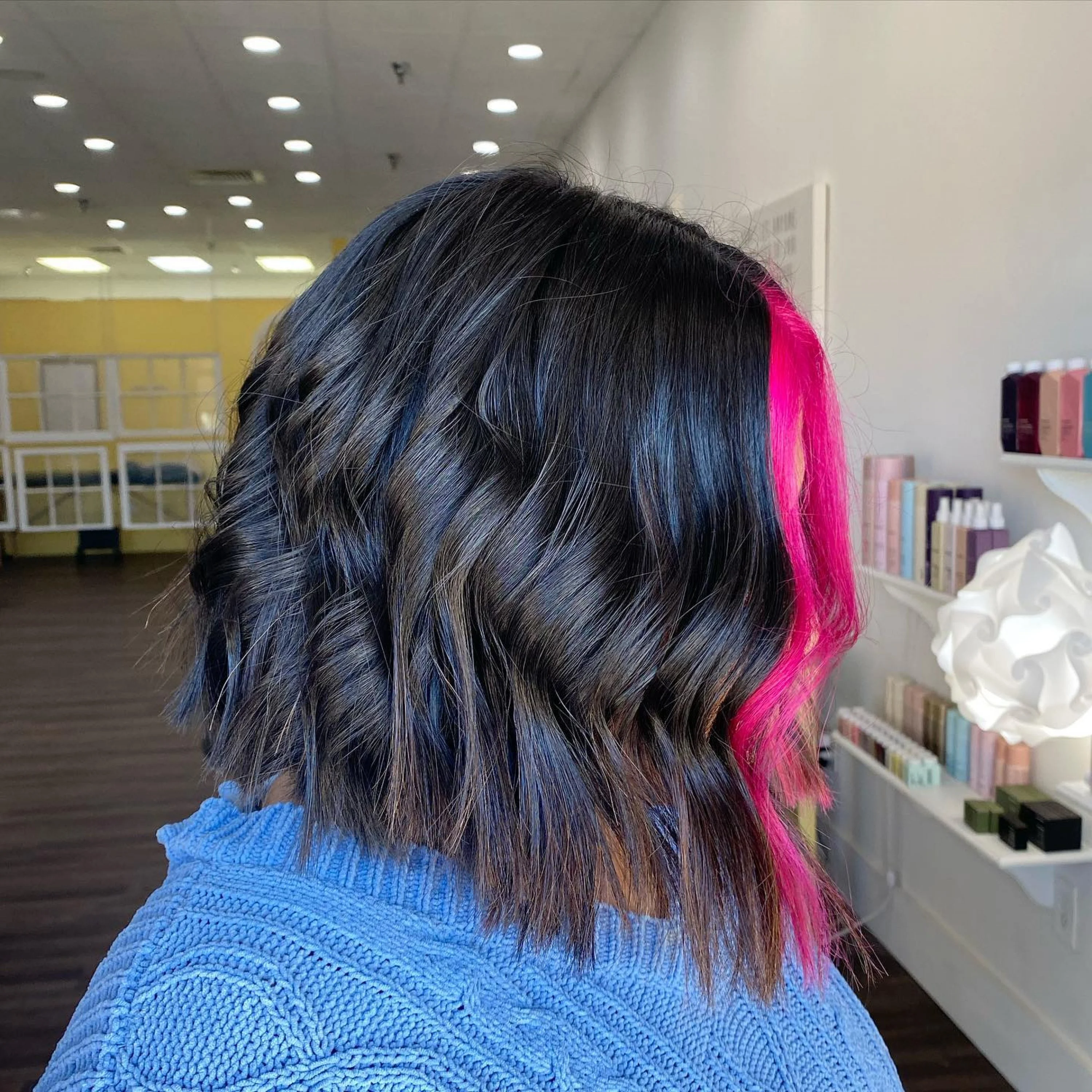 Thick pink strands in the front create a fierce impression in this blunt angled bob, but this cut would look much softer with a less edgy coloring choice. This is why it's important to always take both the cut and the color into account when you want to achieve a certain look.
32. A-line Haircut With Bangs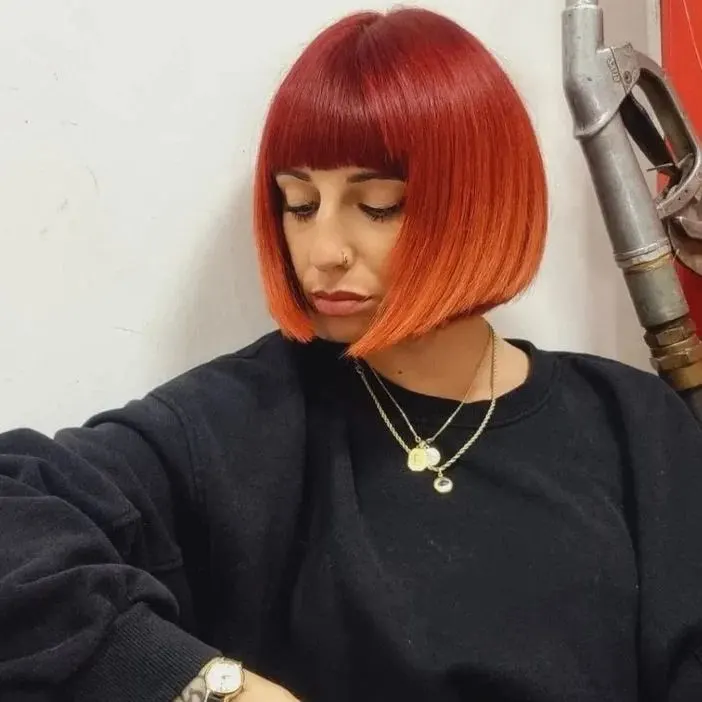 Classic yet contemporary. This short A-line bob with bangs would look natural in any past era, but it's modern and relevant right now. The intense color gives it a chic twist.
33. Curly Asymmetrical Bob Haircut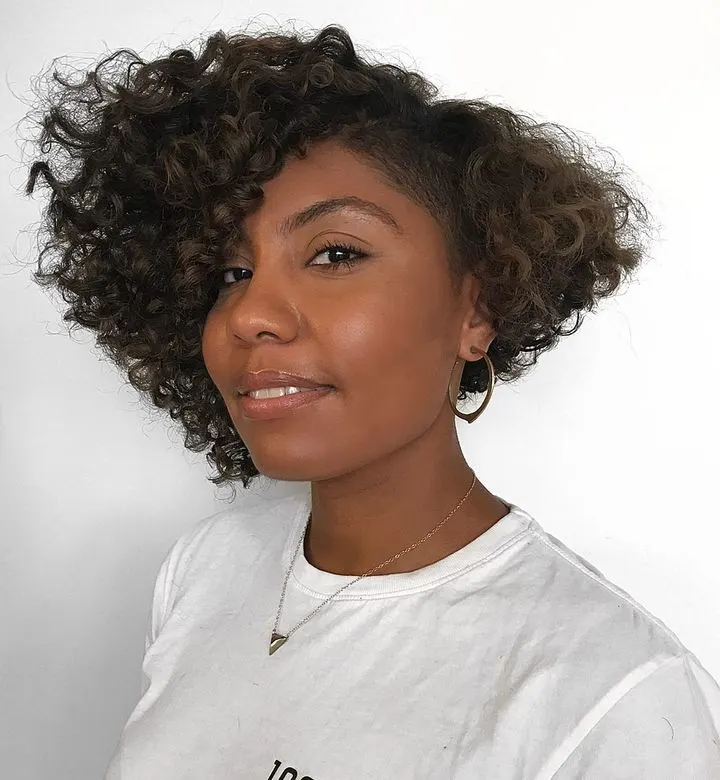 Shorter curly styles are all about shape. With well-placed layers you can create a cut that flatters the shape of the face while curating your own personal style.
34. Rounded Graduated Bob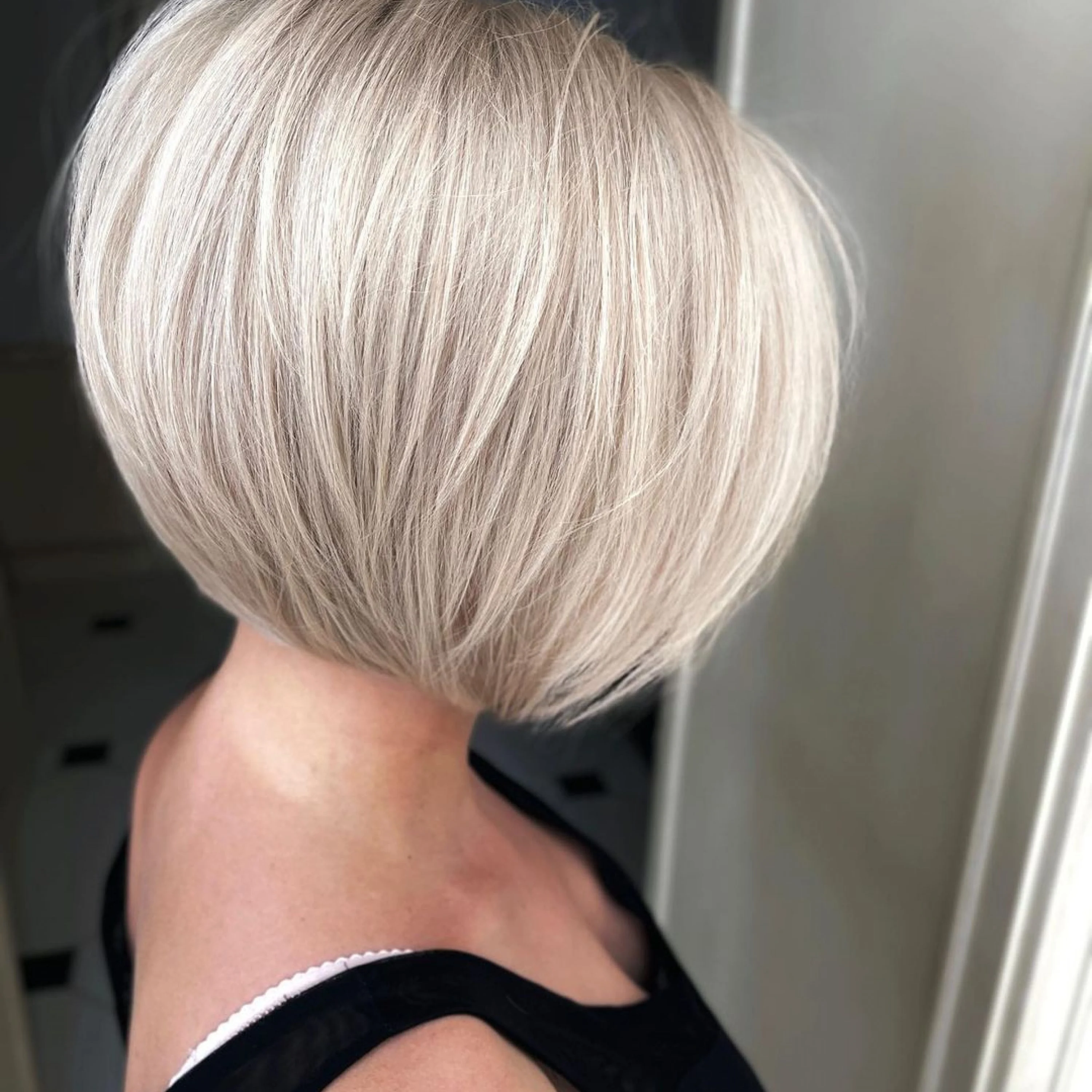 A sophisticated combination of impactful hair color and a rounded bob with subtle layers is the right choice if you want to look polished and put together.
35. Medium Length Inverted Bob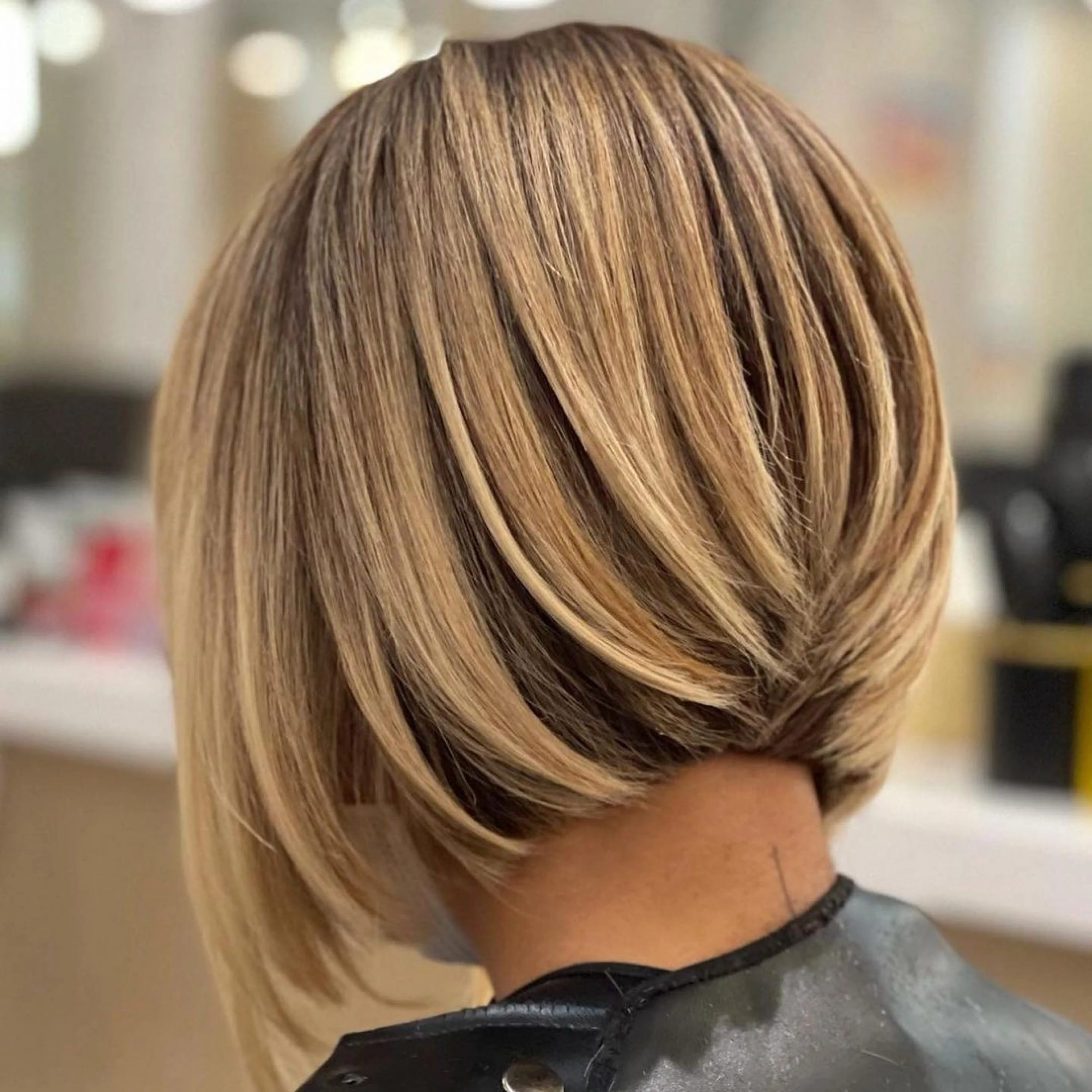 A bob with the shortest part right at your hairline at the nape and the longest part under your chin looks neat and elegant. If the hairline at the back of the neck is fuzzy, it might need to be cleaned up regularly.
36. Stacked Bob With Bangs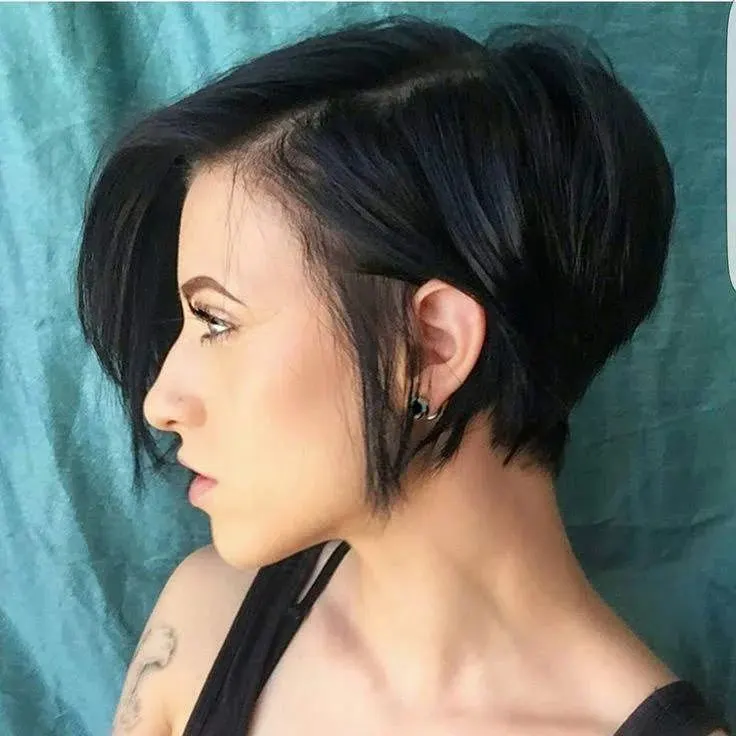 Tucking the hair behind one ear instantly creates asymmetry and ups the cool factor of your angled bob. Shorter layers in the back ensure that your style won't fall flat.
37. Very Short Inverted Bob With Fringe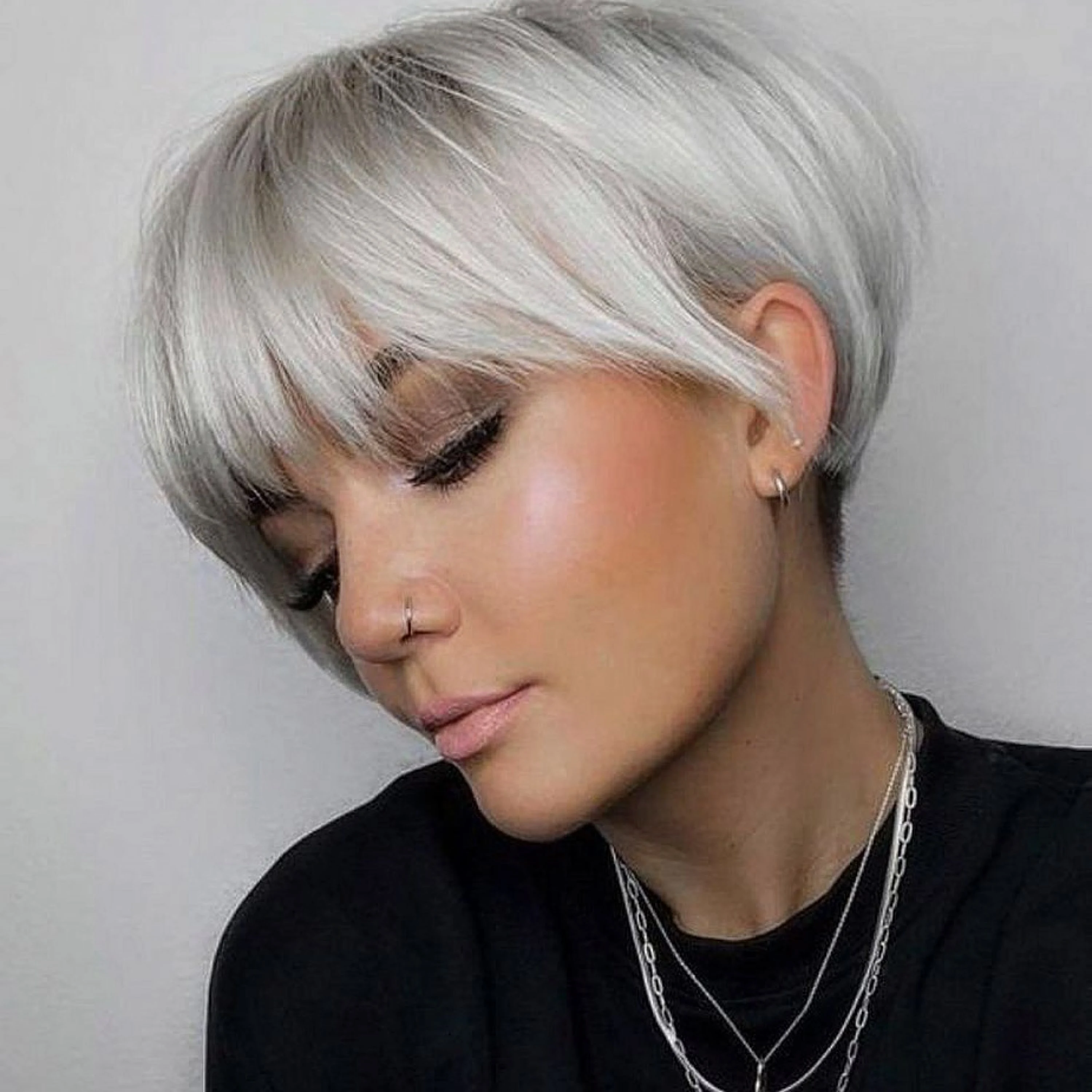 Halfway between a pixie and a bob, this inverted bob with bangs is a cute way to make growing out a pixie fun instead of annoying.
38. Long Bob Hairstyle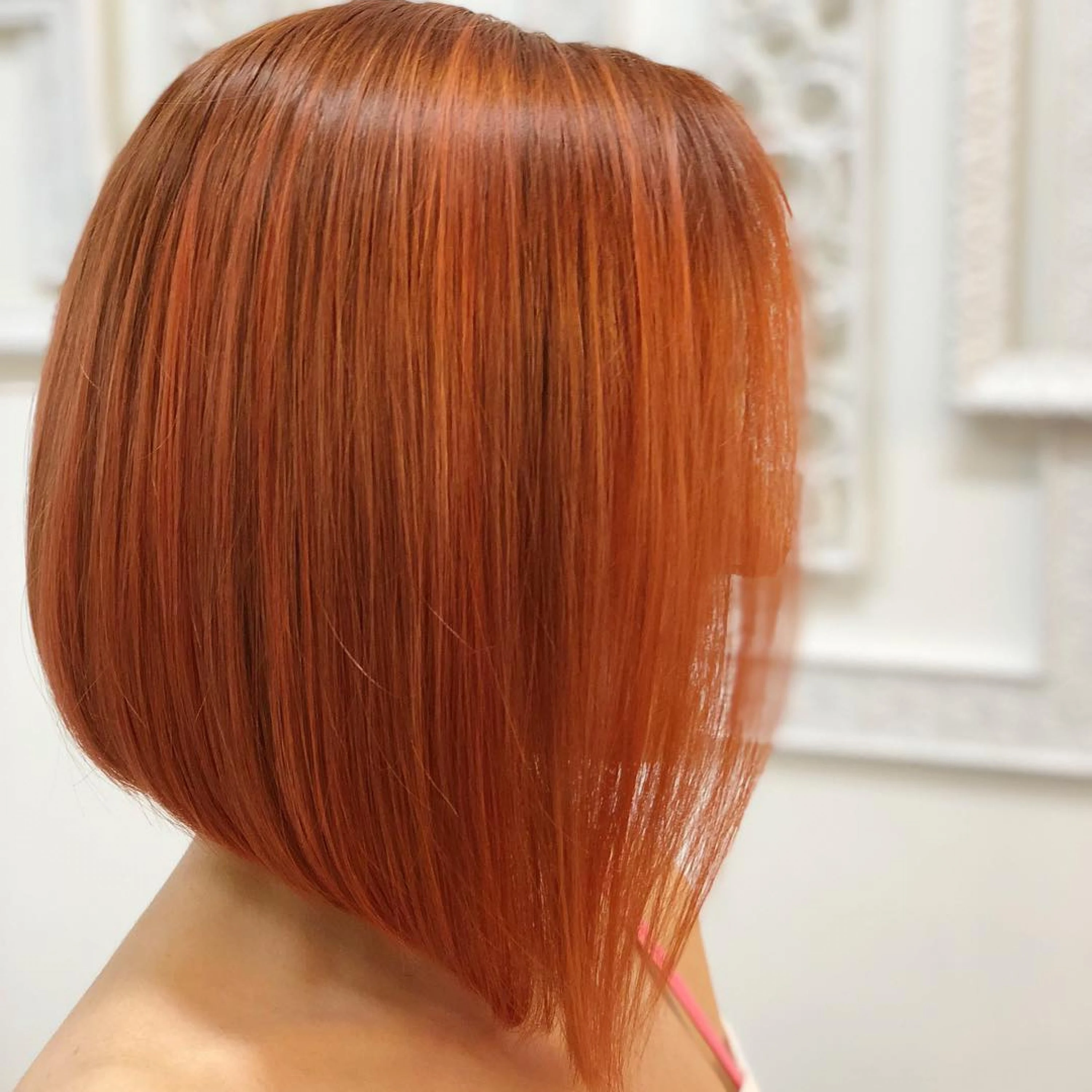 A long bob with no layers still needs to be slightly thinned out at the bottom—otherwise, it could look bulky and create a triangular shape.
39. A-line Bob Haircut With Bangs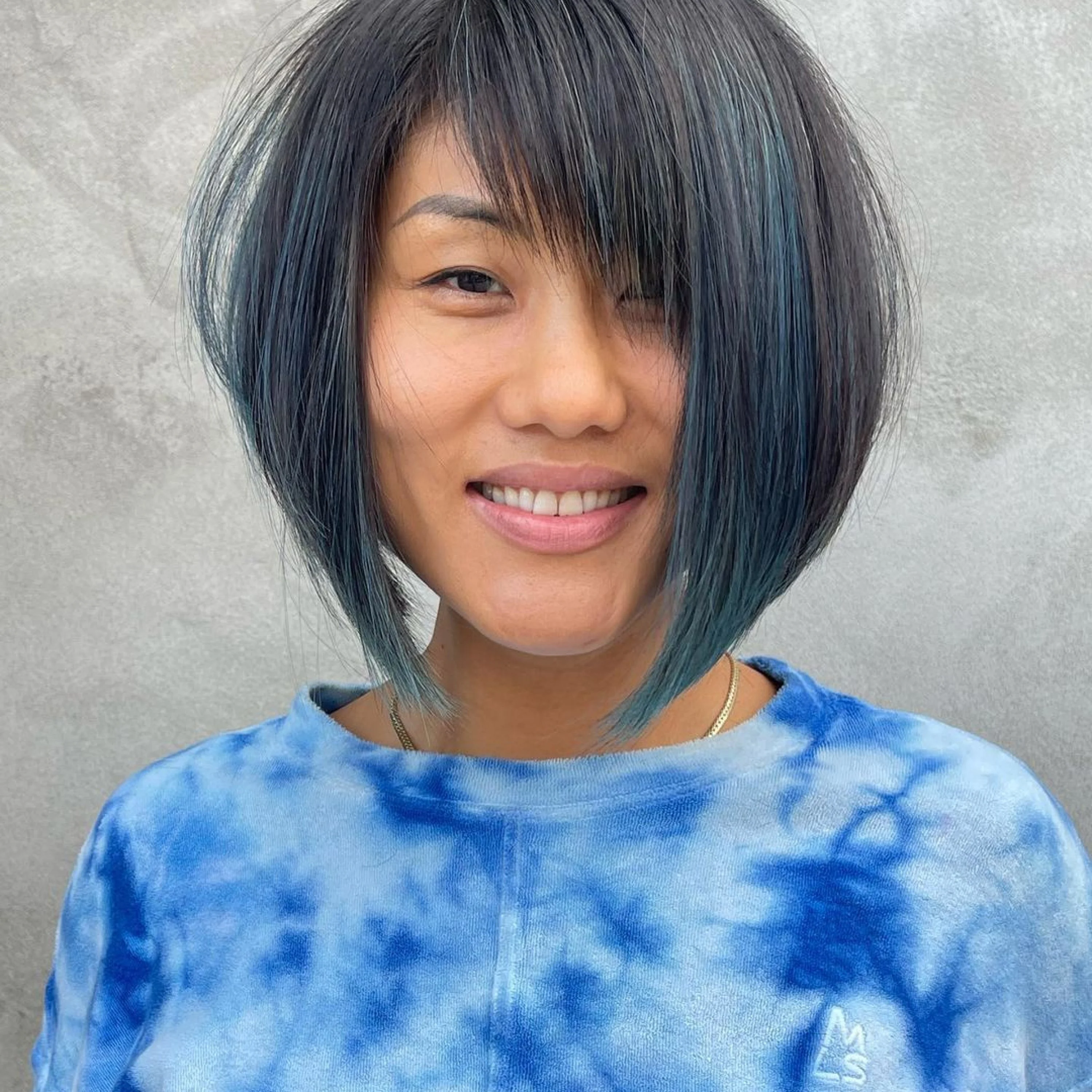 Pointy ends and sharply cut bangs make this style a perfect fit for the quirky blue strands. It's an edgy but cute look that suits a lot of face shapes.
40. Short Stacked Inverted Bob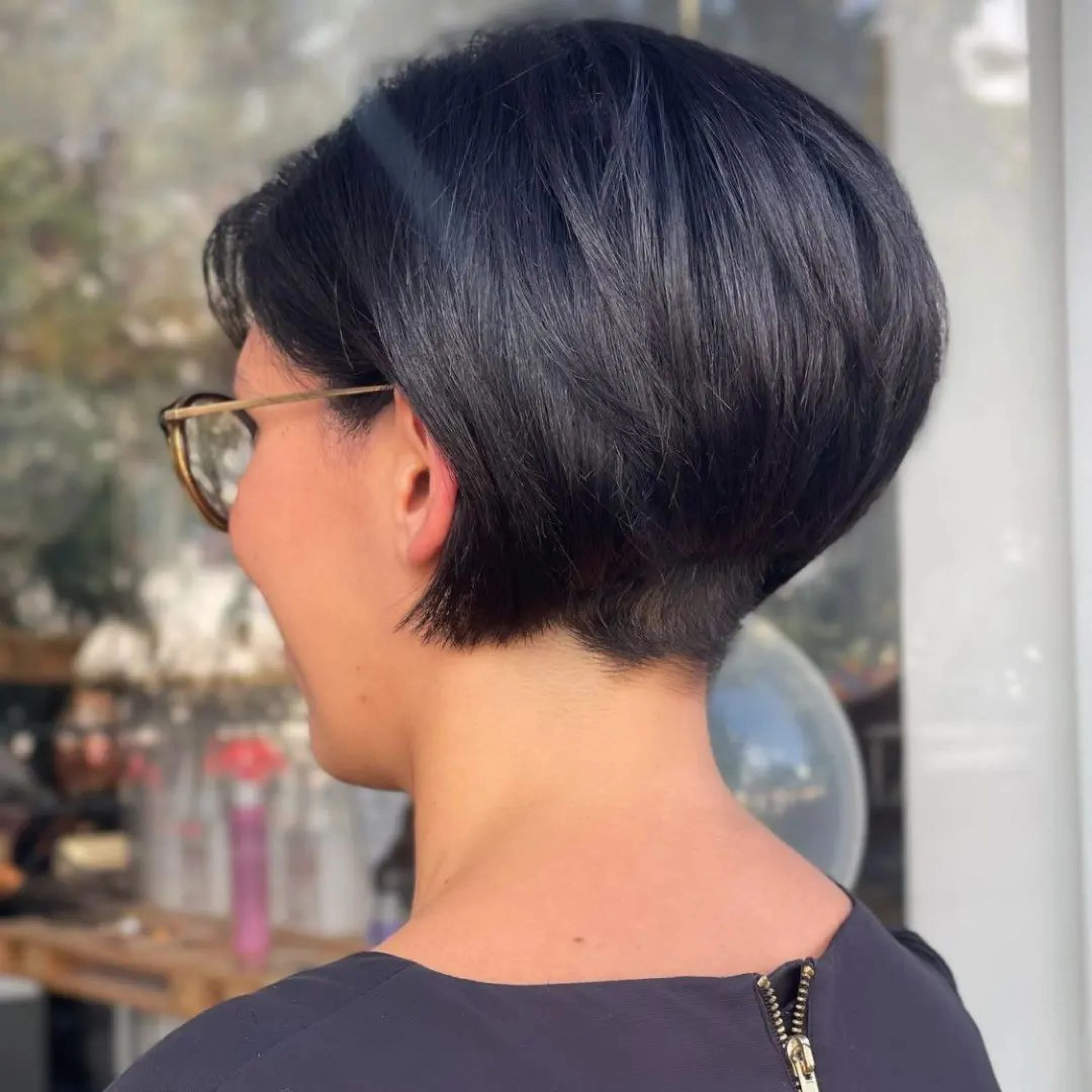 When cut well, a short stacked bob haircut looks polished when you leave the salon, and after a few weeks have passed, it doesn't look unkempt but intentionally messy. But if you want to maintain a neat look, then frequent trims are a must!
41. Long Angled Bob With Side Part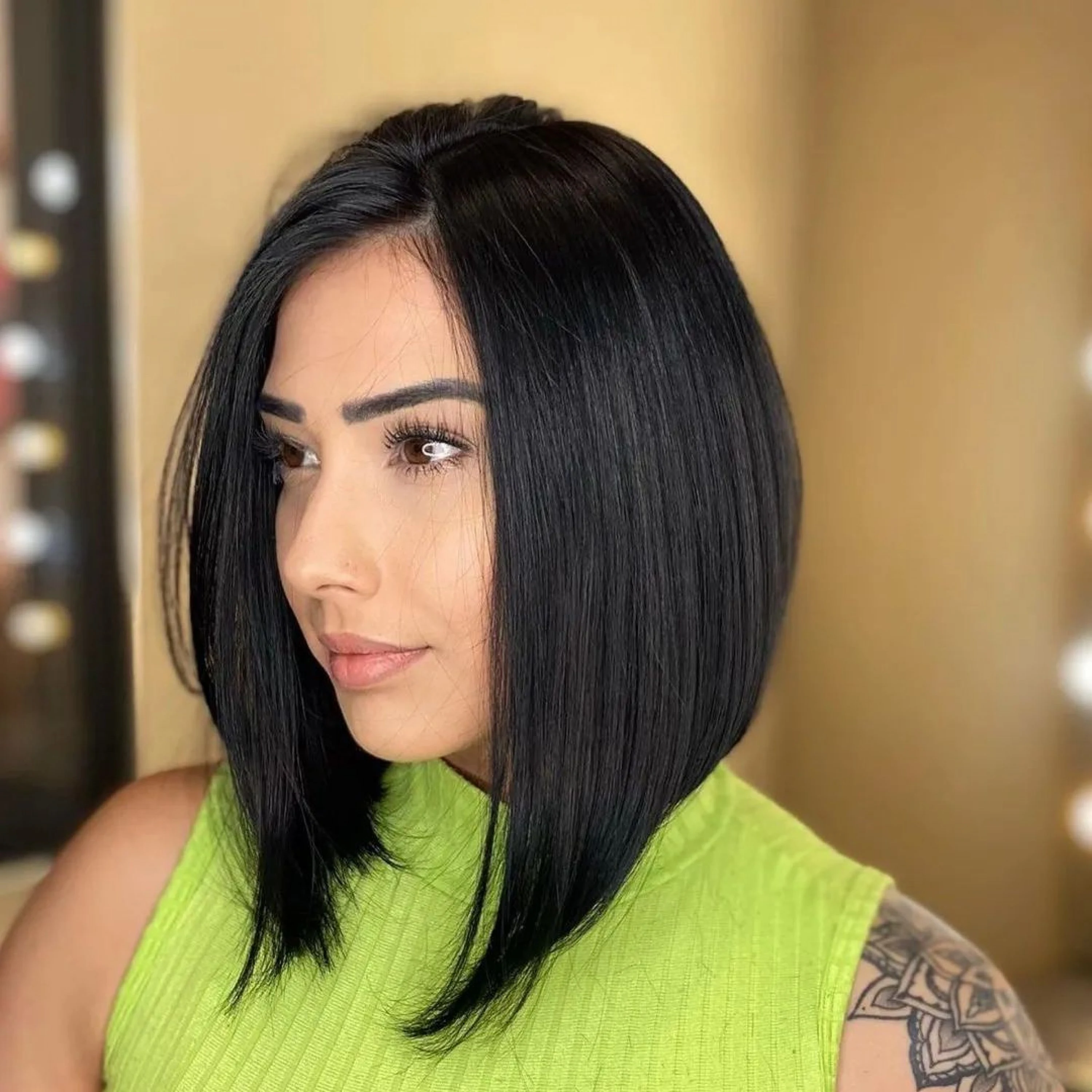 Long, sleek, glossy—this black angled lob is glamorous and attractive. To keep it looking smooth, you'll need to make frequent use of a flat iron, so a heat protectant product should be a staple in your hair care arsenal.
42. Inverted Medium Length Asymmetrical Bob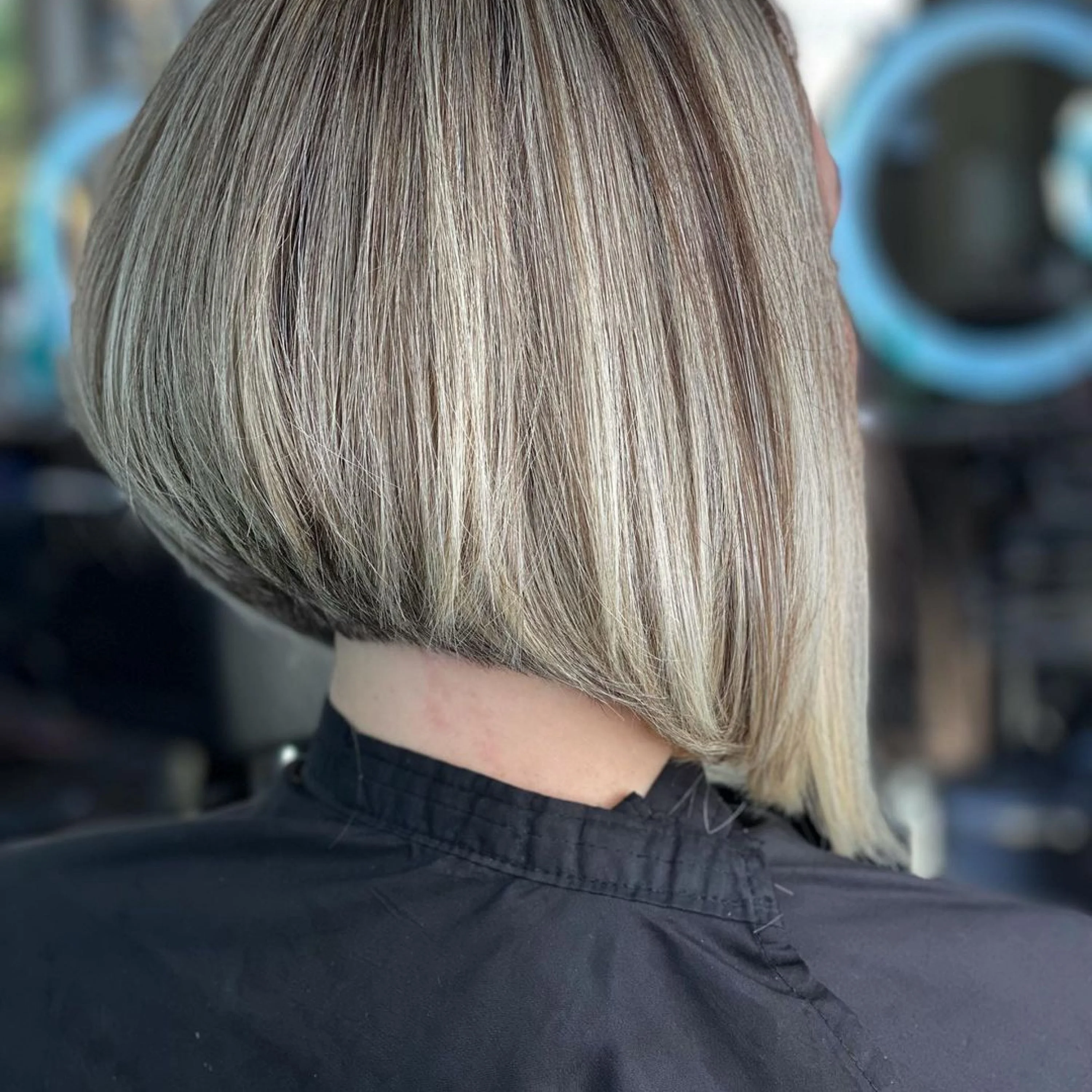 If you want to go for a bob but can't commit to short hair, a dramatically longer front part is a bold choice that gives you both.
43. Angled Neck Length Blunt Bob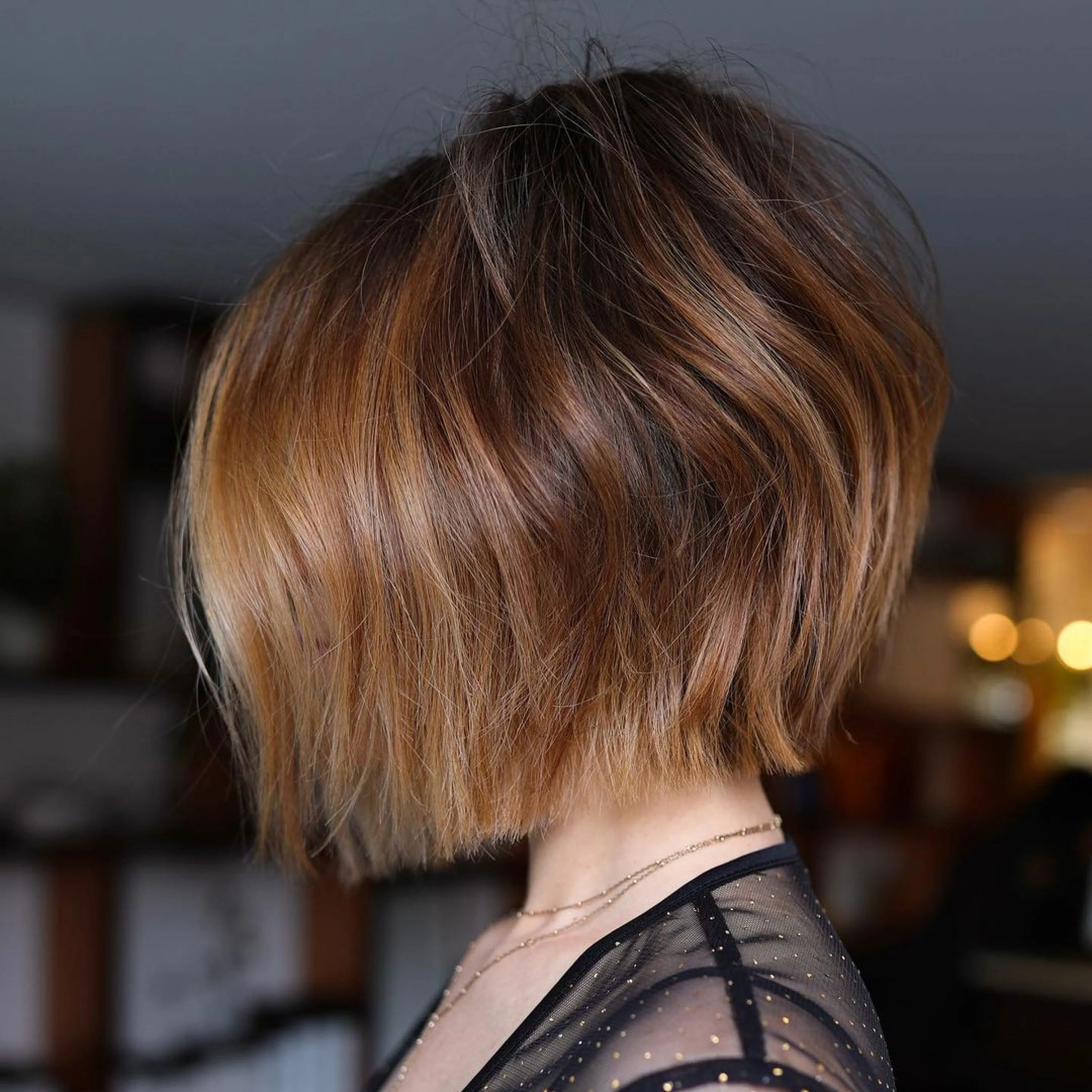 This stylish jawline-grazing bob is a terrific way to showcase color—this warm combination of soft reddish-brown shades really becomes a focus of the style.
44. Asymmetrical Blunt Bob Cut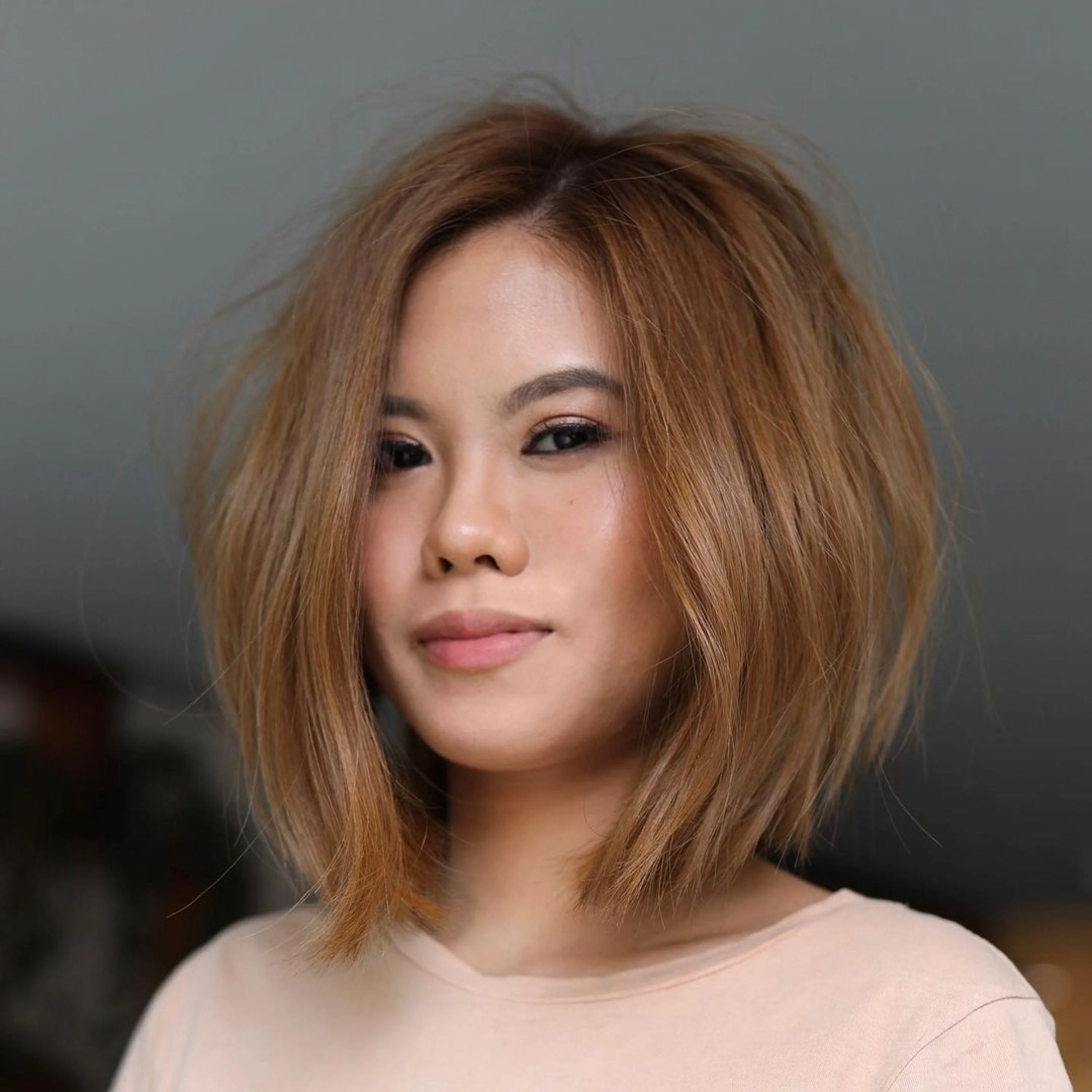 A fluffy lob with tons of volume created by thin layers makes your hair look luxurious but not bulky. It works with thick and thin hair, as well as with fine and coarse hair textures, so it's a great choice if you want a new style but can't quite decide.
45. Curly Angled Bob Haircut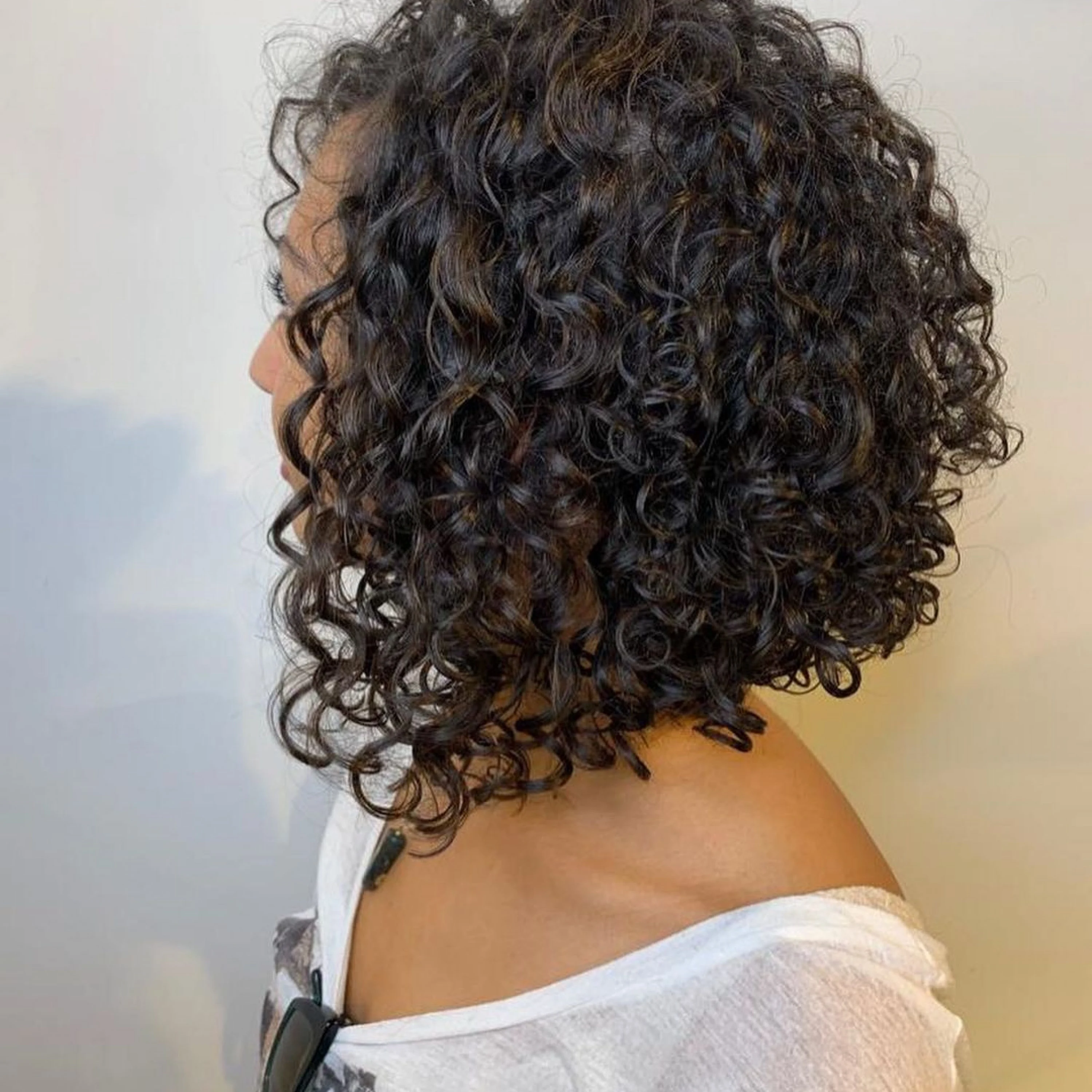 Soft layers are added to an A-line bob to give the hair movement and prevent it from falling flat. Everyone with curly hair already knows it takes effort to get your curls to retain shape, but the right haircut can be a great help.
46. Choppy Inverted Bob Haircut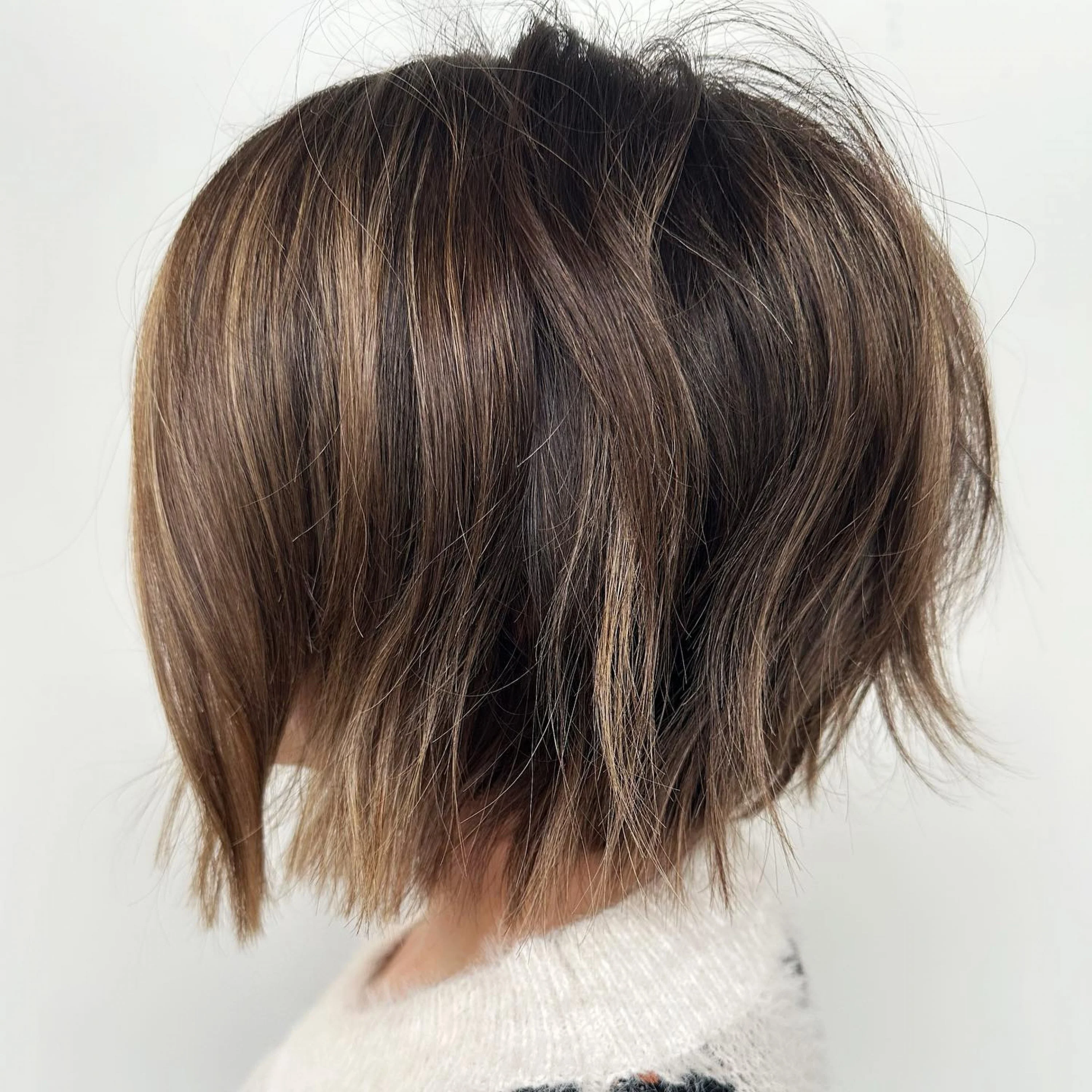 Effortless choppy bob hairstyles are popular because they're short and manageable but still have a lot of movement and visual appeal.
47. Classic A-line Haircut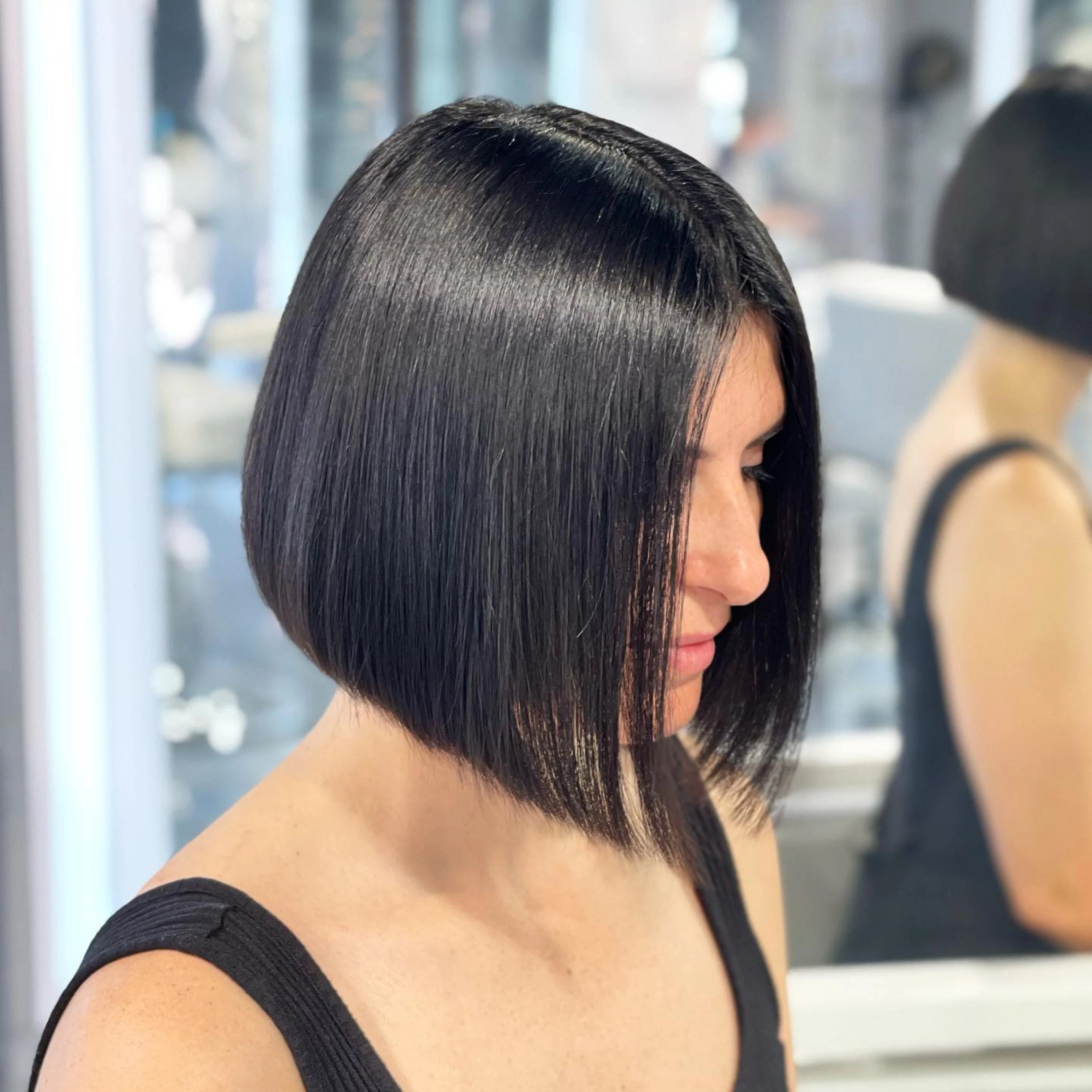 A classic angled bob never goes out of style because it's elegant and polished but also because it looks flattering on almost everyone.
48. Stacked Inverted Bob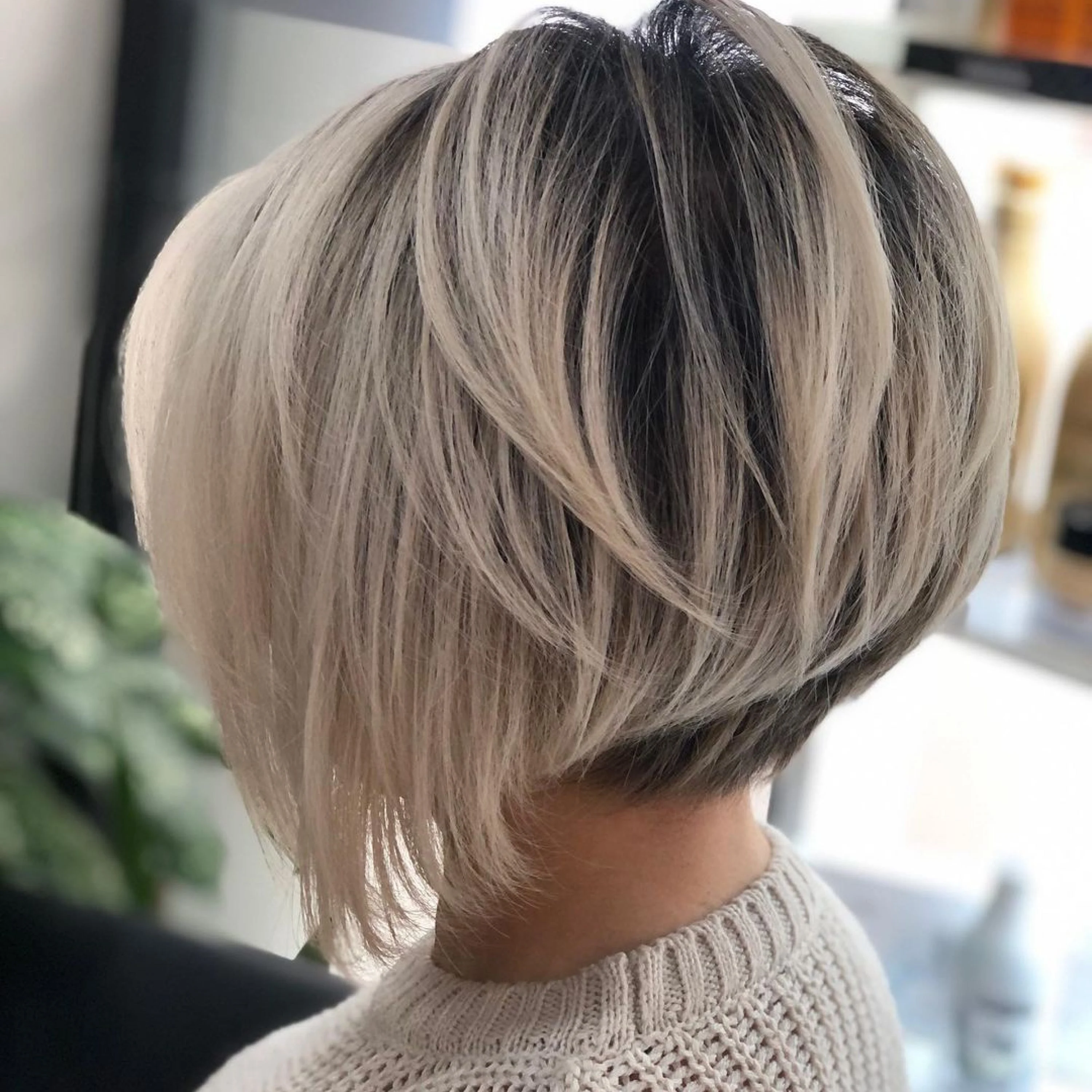 Keeping an icy blonde stacked bob looking fresh is a lot of work, but shadow roots will make it need less maintenance and create an attractive look.
49. Undercut Angled Asymmetrical Bob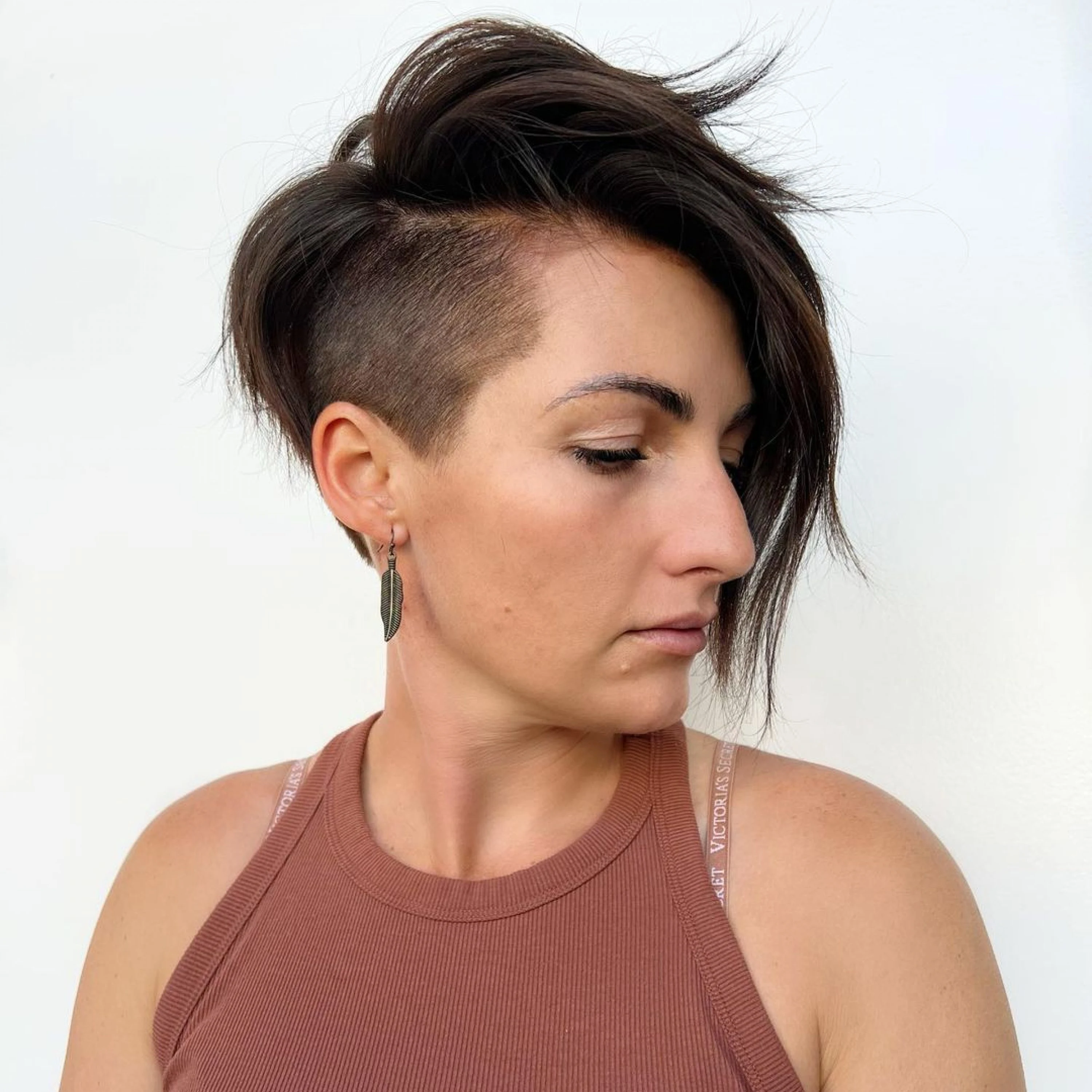 A dramatic undercut like this is only for the boldest, but it's certainly an attention-grabbing hairstyle. If you dare to go for it, you'll definitely make a statement.
50. Subtly Angled Bob Haircut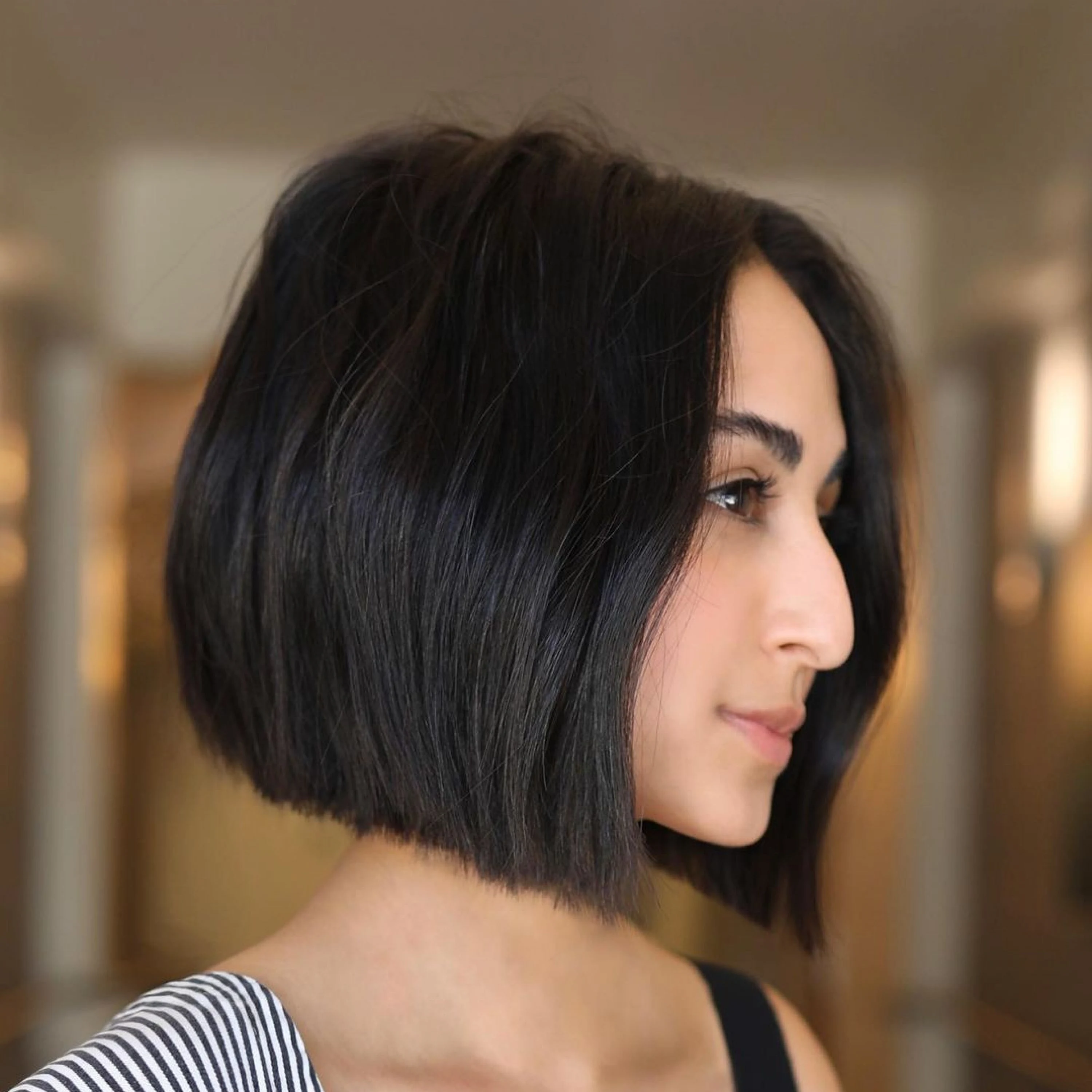 Slight angle and natural-looking texture create a casual style that's nonetheless flattering and pretty.
51. Inverted Bob With Layers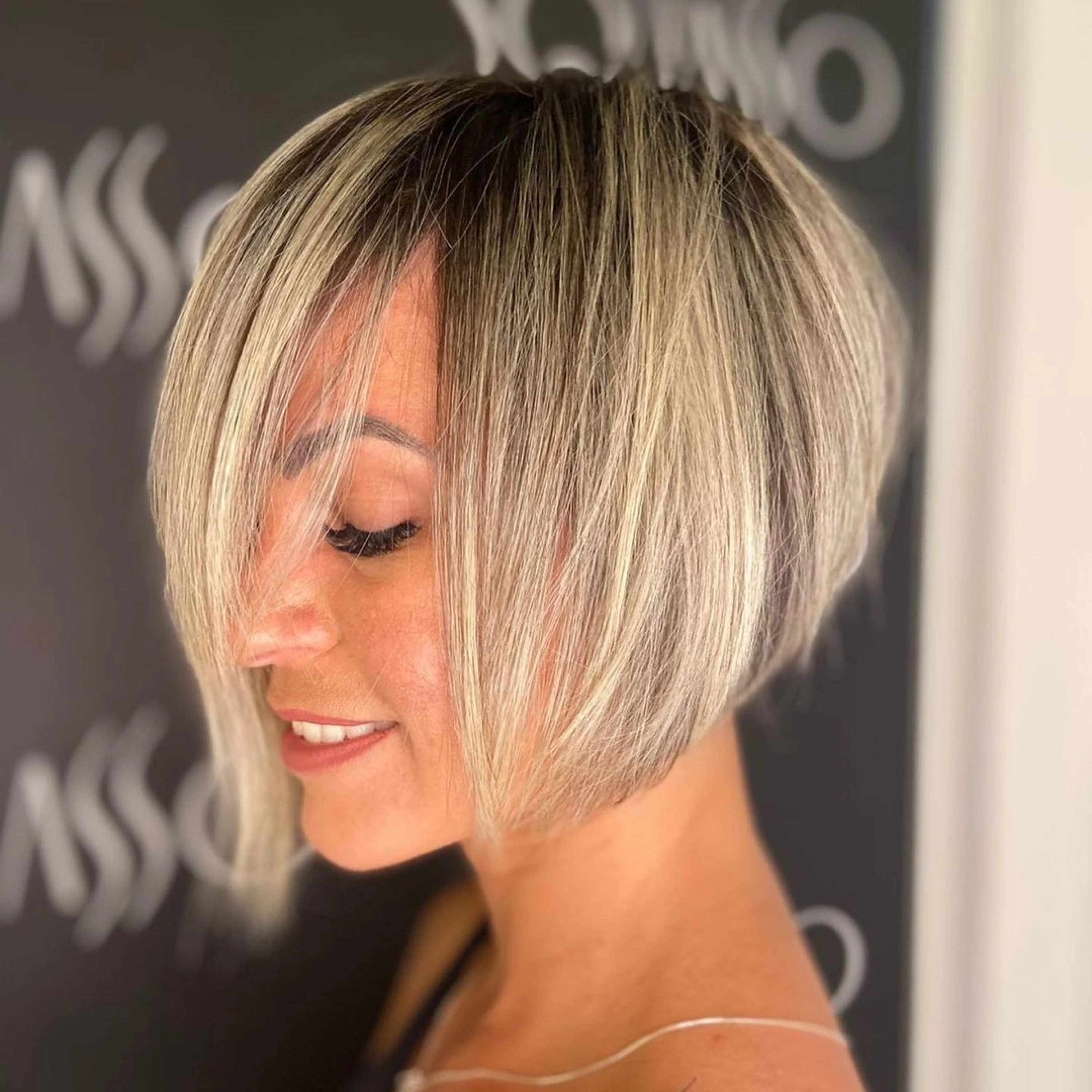 An inverted bob with fine layers can make your hair seem more dense by creating lift at the crown and adding movement to the strands.
52. Straight Long Lob Haircut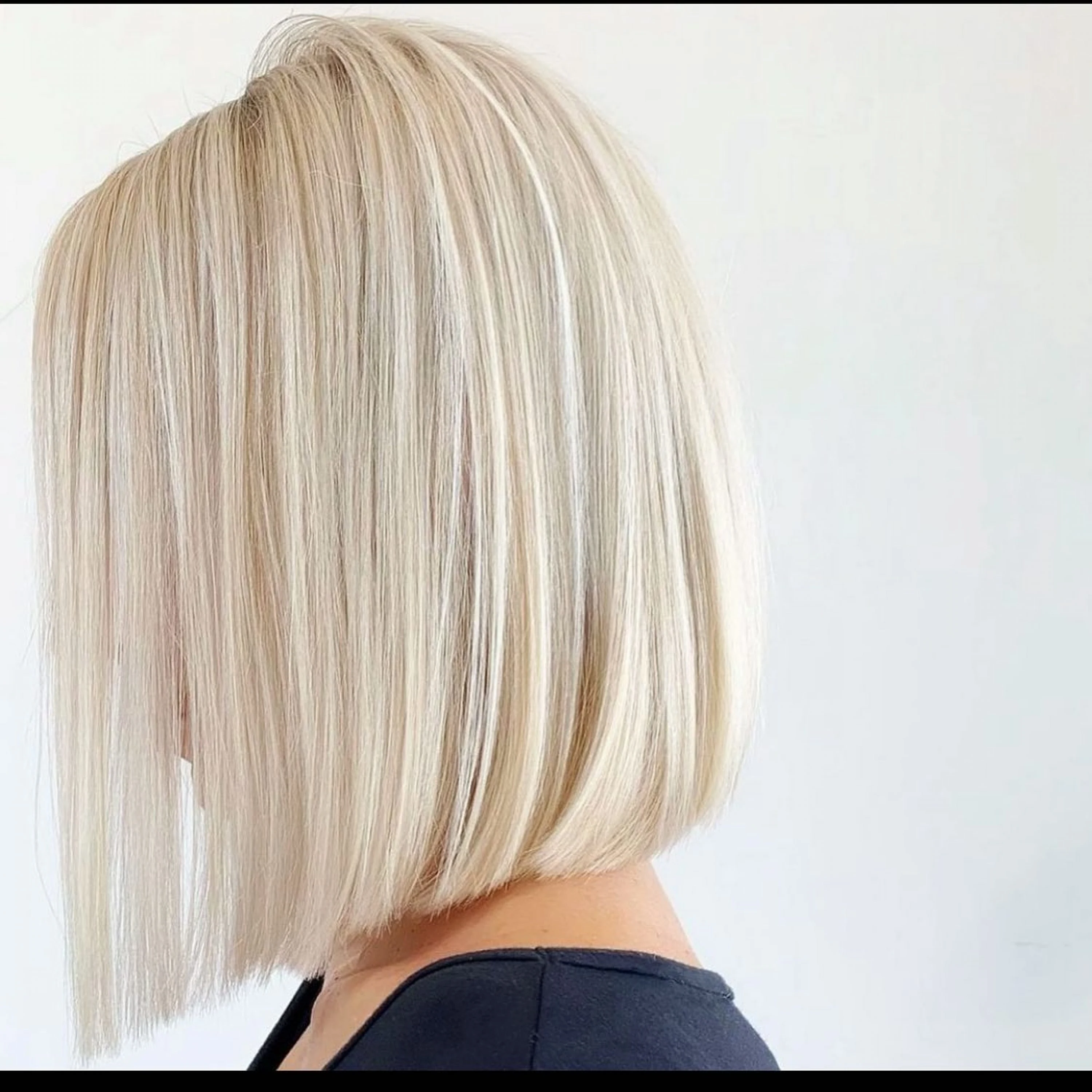 A straight lob can easily fall flat, so make sure to use a volumizing product and blow-dry your hair in the opposite direction of your part to promote volume before you straighten it with a flat iron.
53. Medium Inverted Bob Haircut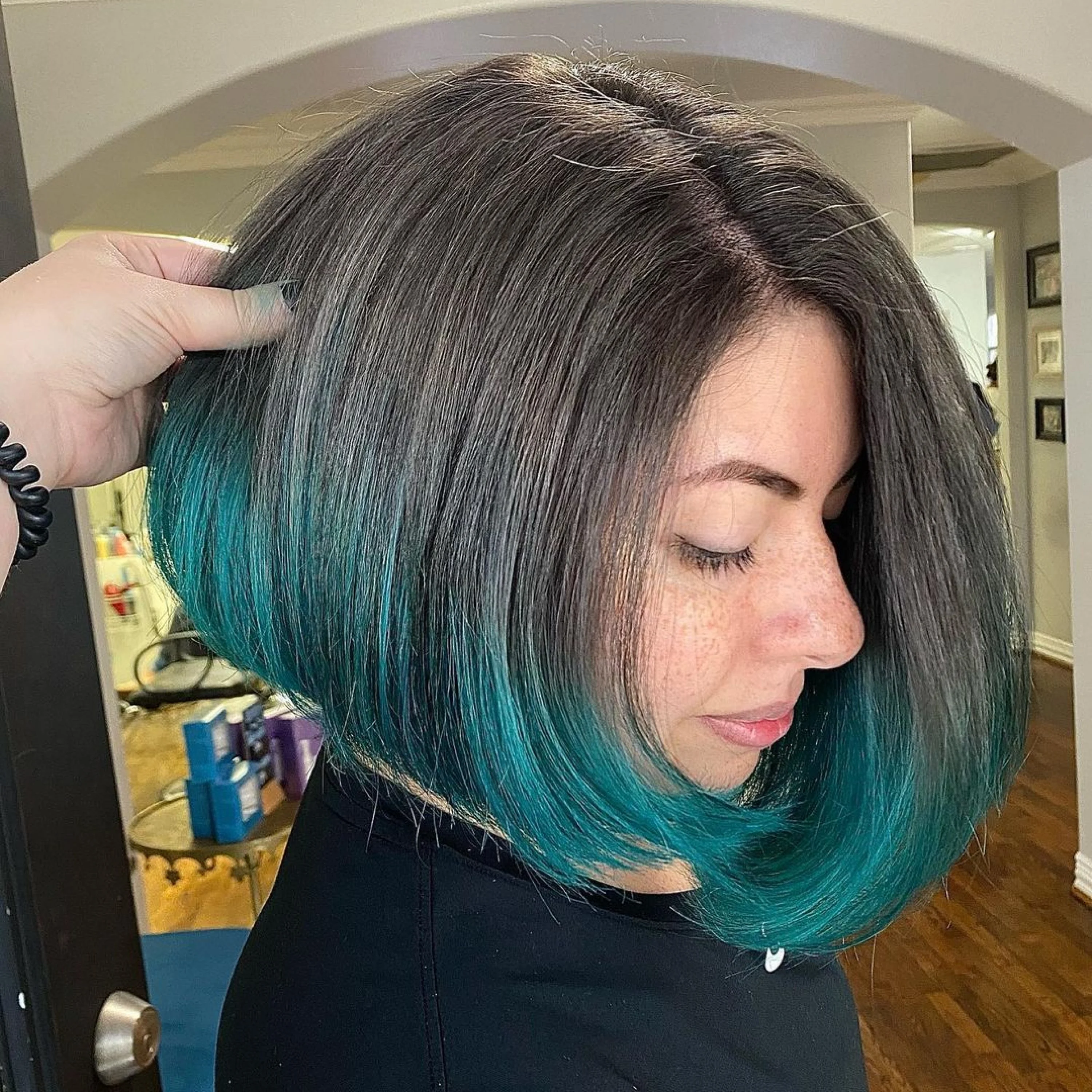 You don't always need layers to reign in your locks. If you want to keep your hair thick on the bottom, just the smallest amount of thinning out at the ends will create shape and still keep your hair the same length.
54. Angled French Bob With Bangs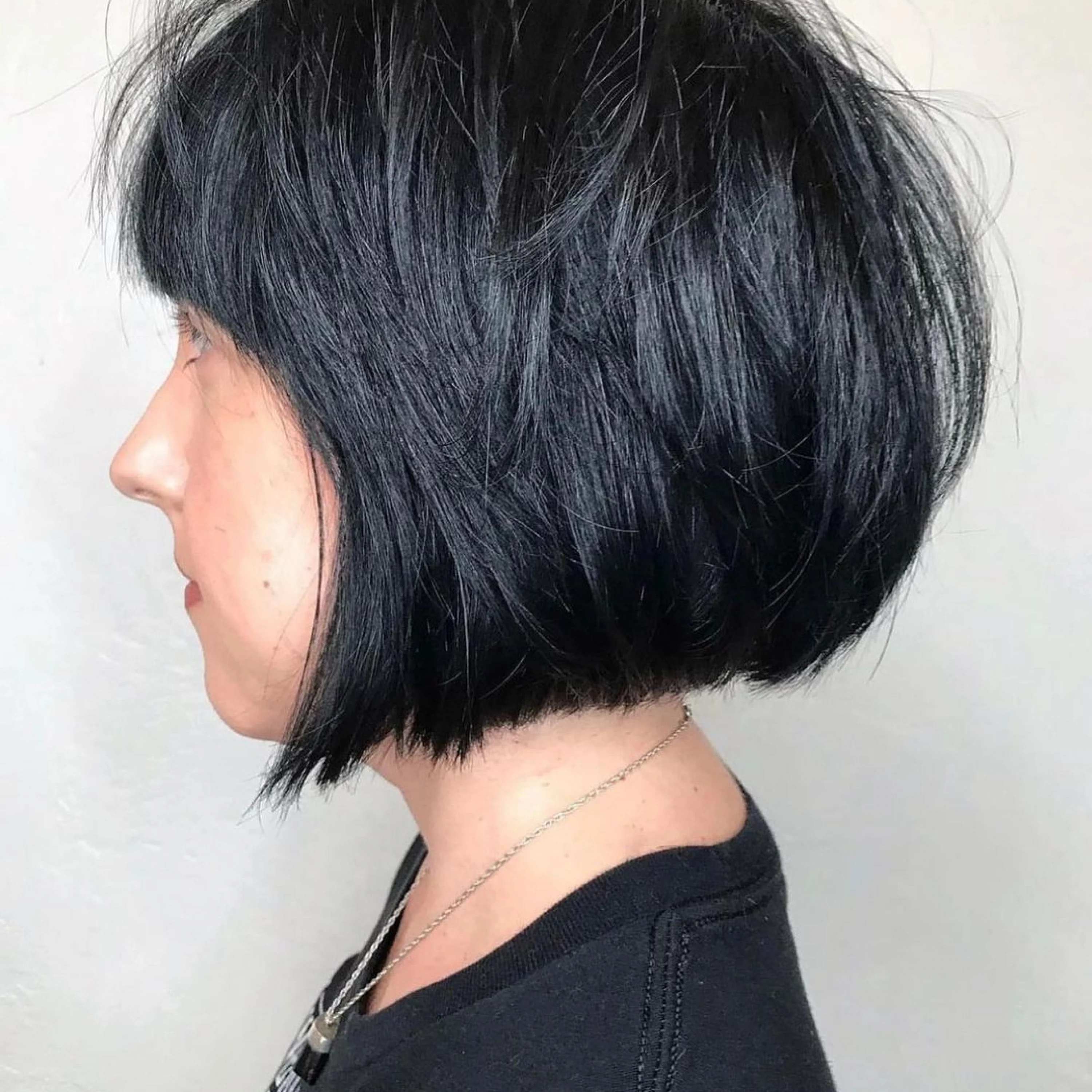 The role of the slight angle in this French bob is to balance the rounded shape created by the fringe and the layers, preventing the style from looking too round.
55. Wavy Long Inverted Bob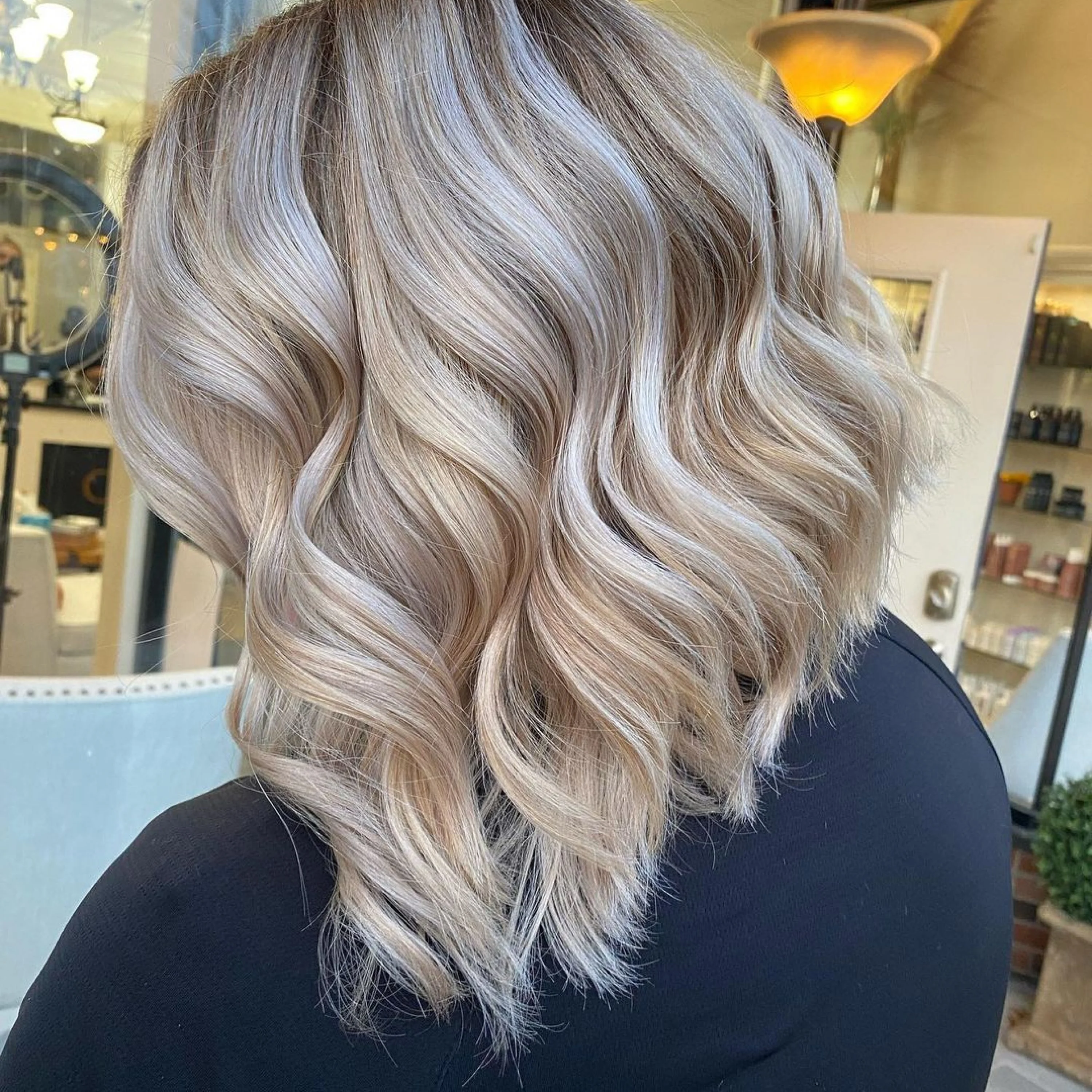 The length of this inverted bob gives you enough to work with if you want to create serious layers, and the gorgeous coloring adds dimension to the whole look.
56. Reverse Bob Haircut With Layers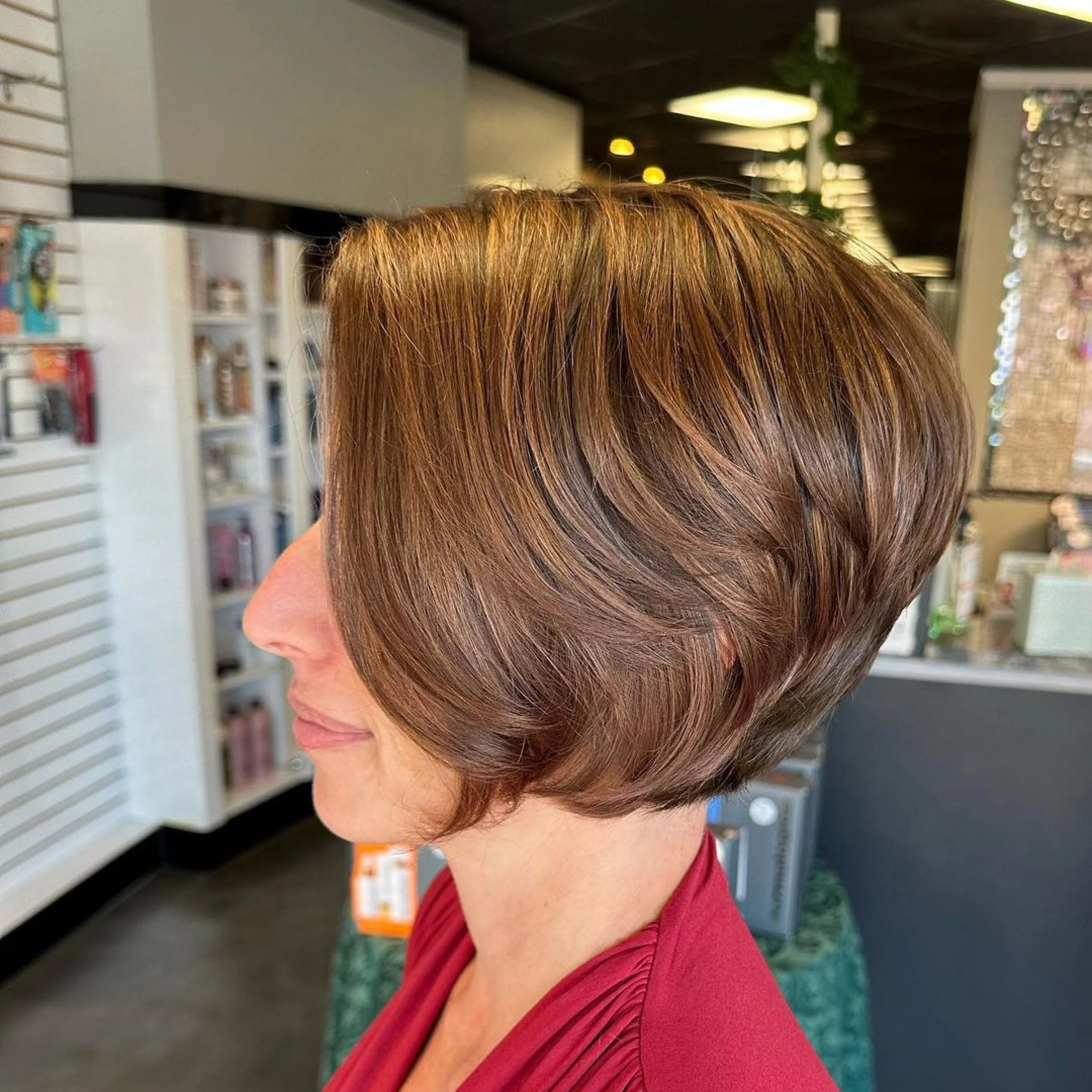 Keeping your reverse bob looking flawless and achieving the same quality blowout as the one you leave the salon is easier than you might think. Apply a volumizing product, then blow-dry your hair away from the face using a large rounded brush. Let your hair cool down, then run your fingers through to make it fall into place.
57. Angled Bob Haircut For Fine Hair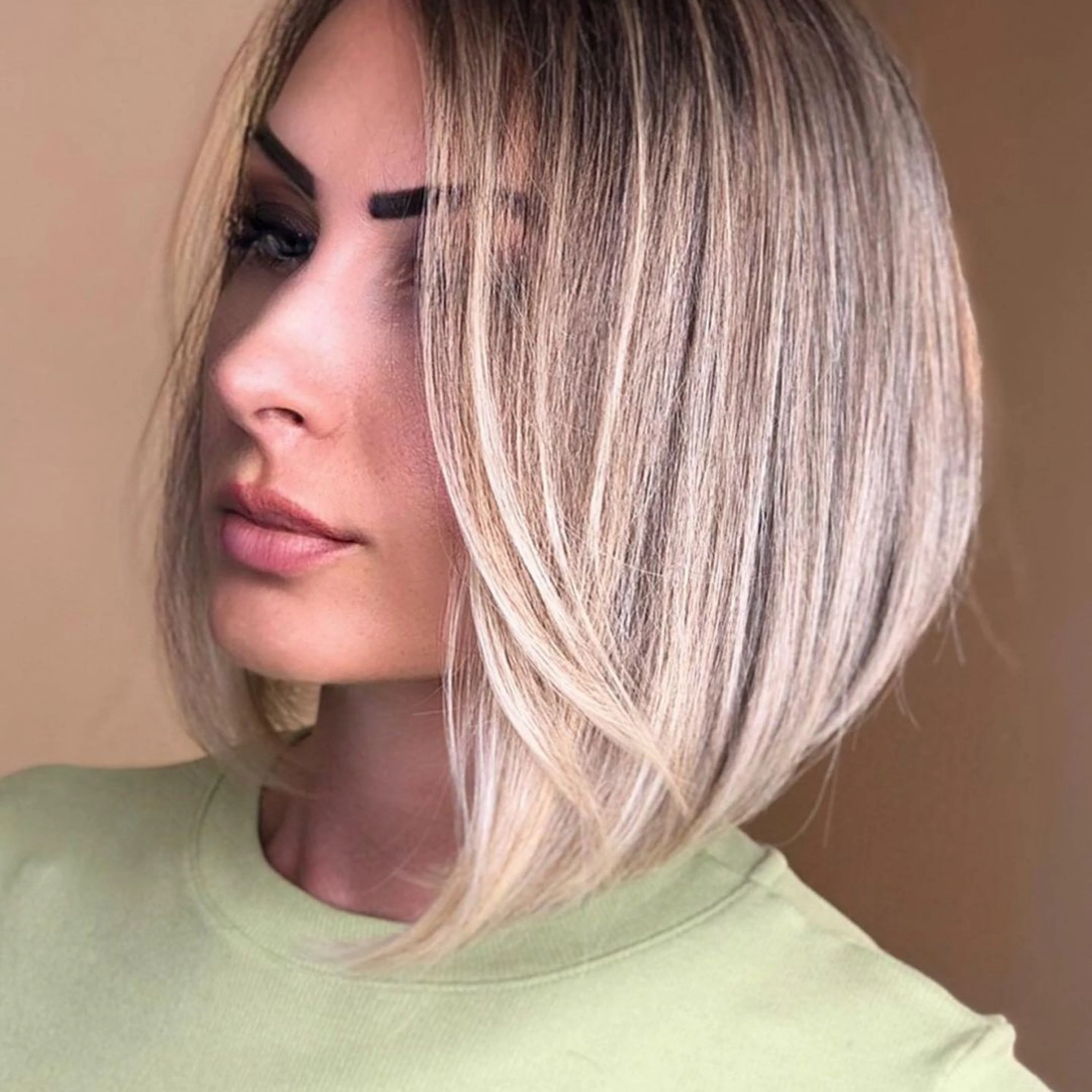 This elegant bob hairstyle gives dimension to fine hair. It looks flowy thanks to the shorter layers in the front which keep it from looking severe and create movement.
58. Choppy Angled Long Bob Cut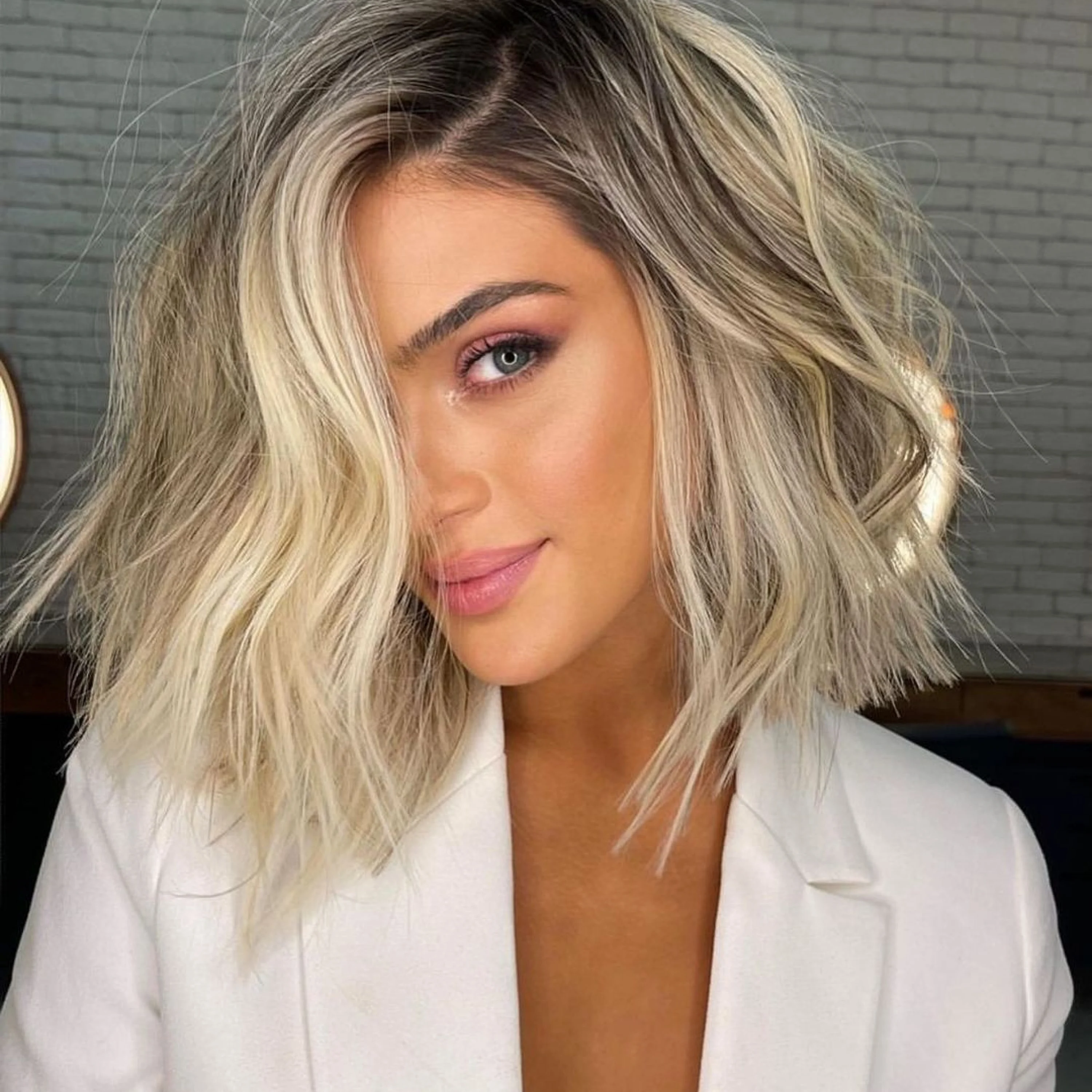 Instead of stacking in the back, the angle in this A-line bob is achieved using textured layers and blunt edges to create a modern look.
59. Soft Layered Angled Bob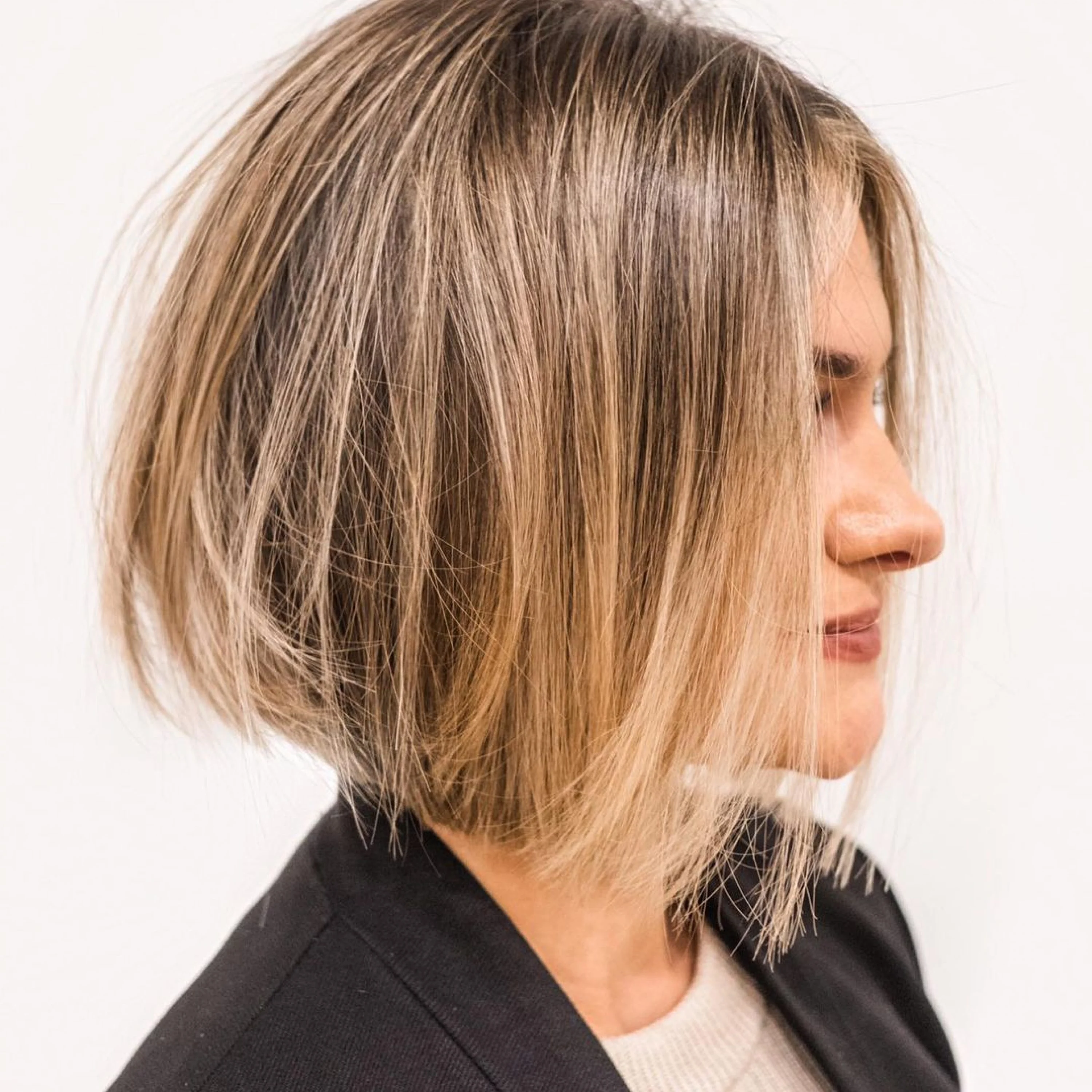 A plain bob that could have ended up looking boring has been completely transformed with a few adjustments. Soft layers create a dreamy, airy texture in what's otherwise a very classic look, and highlights infuse it with a fun and playful vibe.
60. Sleek Angled Bob Haircut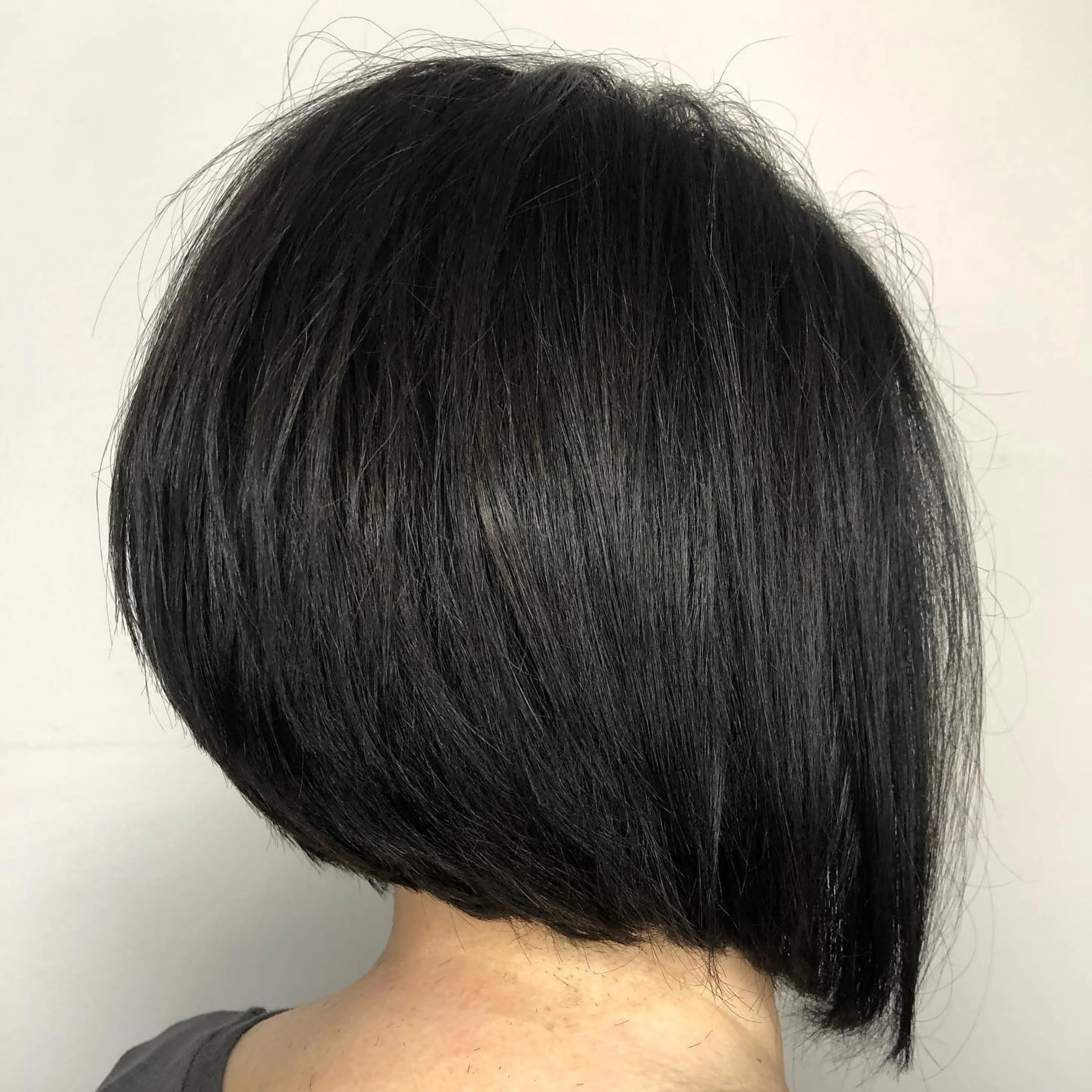 Depending on your hair texture, short layers can be a game-changer. If your hair is not too prone to frizz, they do wonders in making it look voluminous and bouncy with not much effort necessary.
61. Rounded Layered A-Line Bob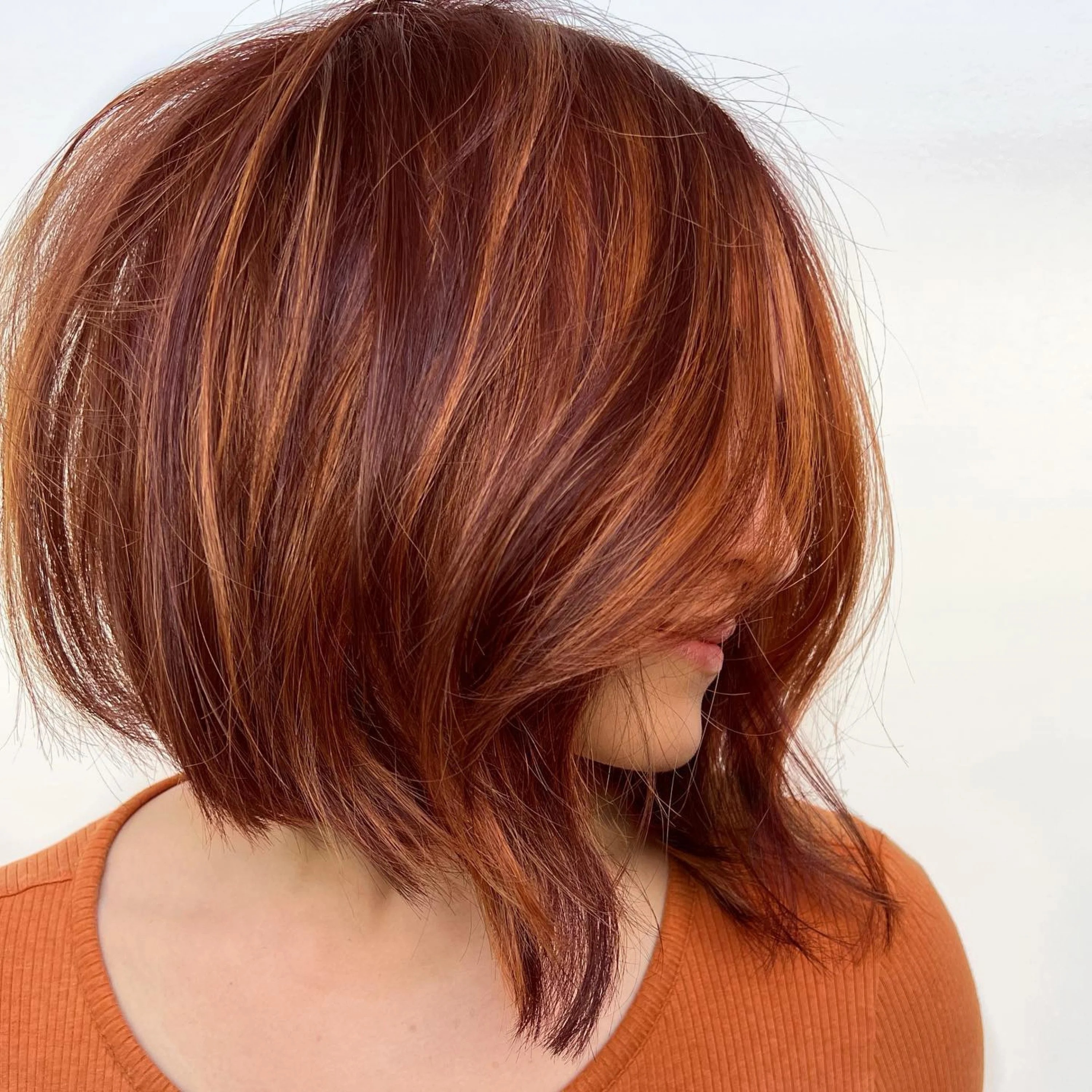 The vibrant copper color compliments this soft looking rounded bob with a dramatically long front part.
62. Sleek Angled Bob With Side Part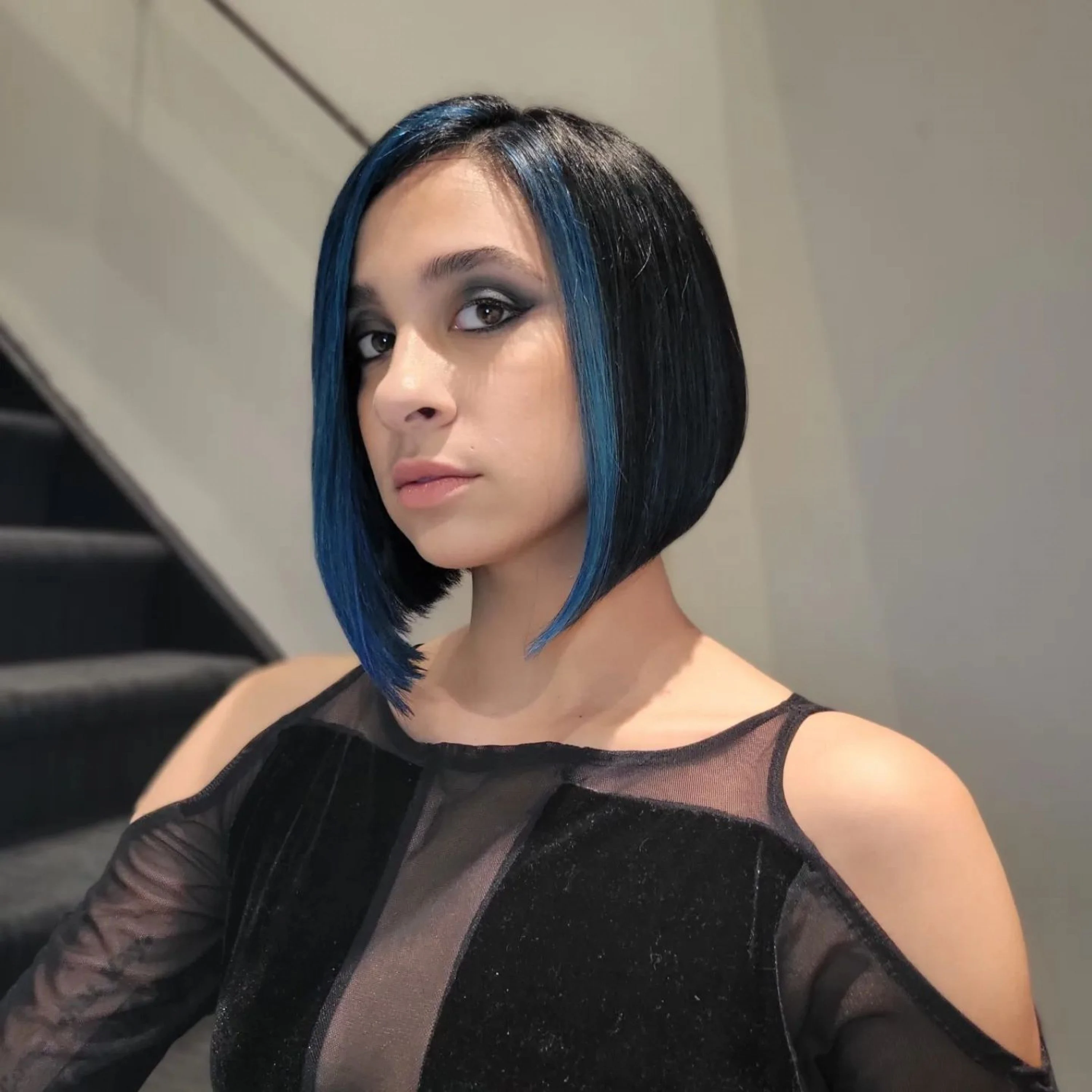 A sleek chin-length angled bob is one of those short straight hairstyles that always look cool, but the combination of black and blue makes it especially futuristic and edgy.
63. Chin-length Angled Bob Haircut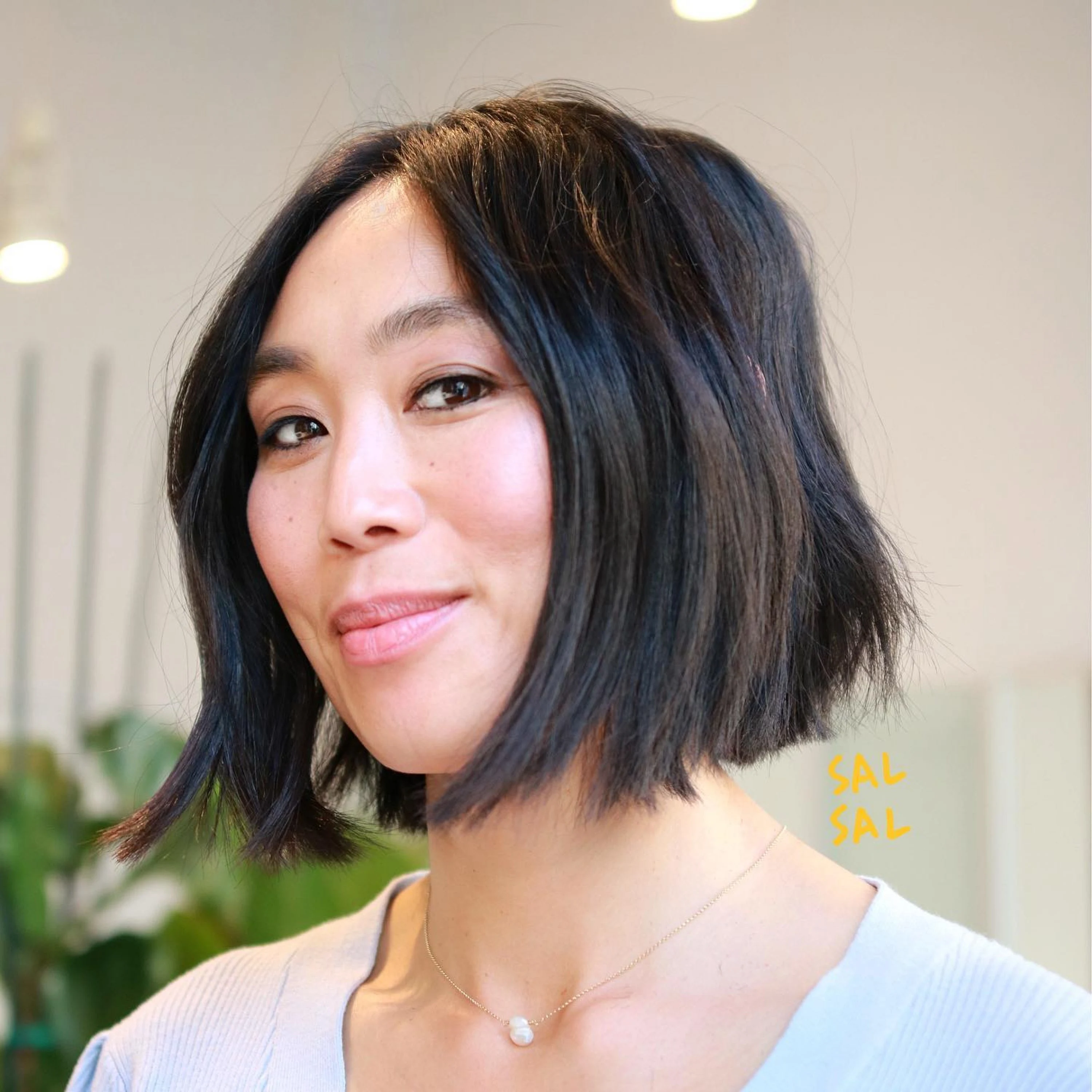 The slightest wave creates a much more approachable look than if your hair is kept completely straight. Highlights just a shade or two lighter than the base color make this look even softer and prettier.
64. Choppy Wavy Stacked Bob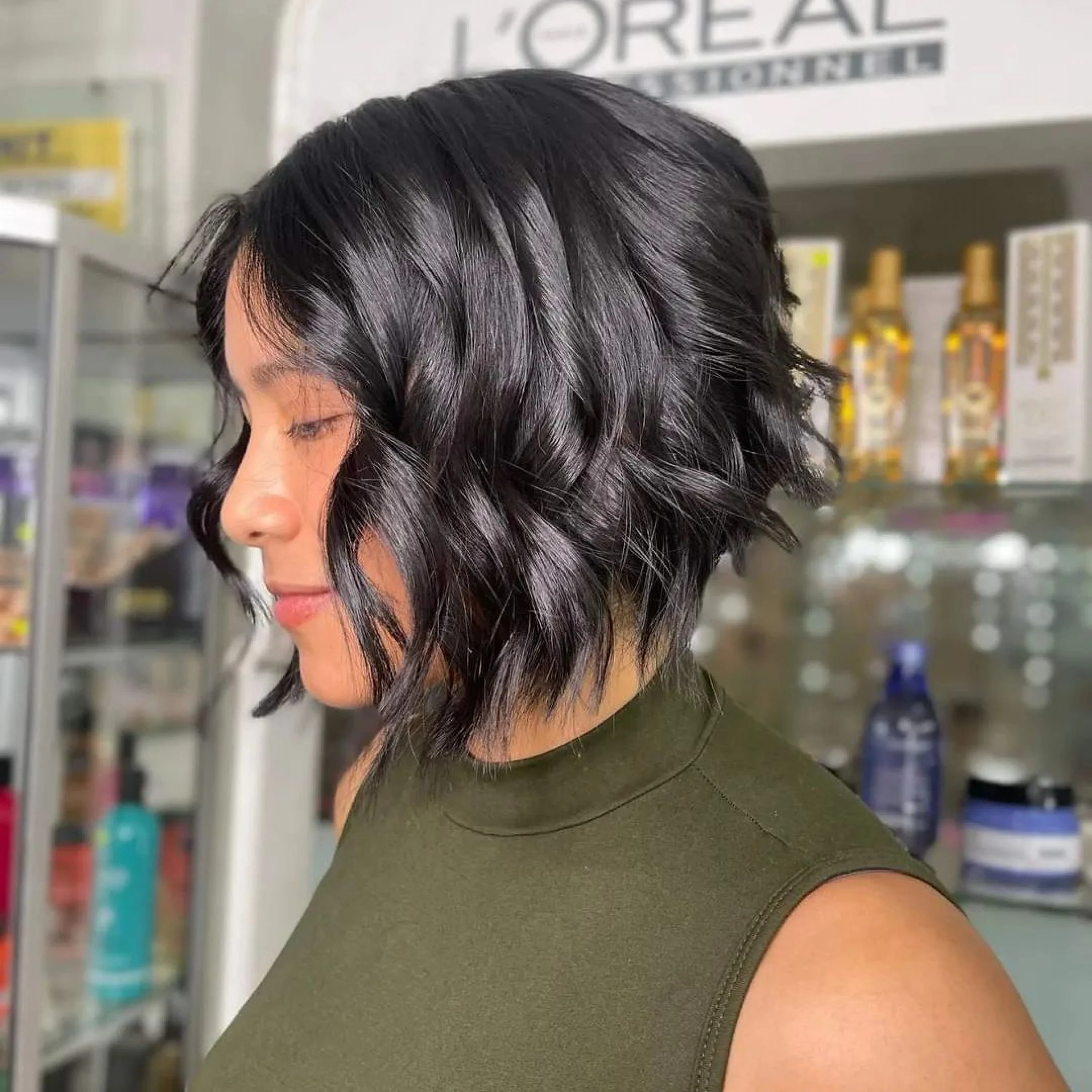 Curling an A-line bob can make your hair appear considerably thicker, and the wavy layers around the face are always a winner!
65. Straight Angled Lob Haircut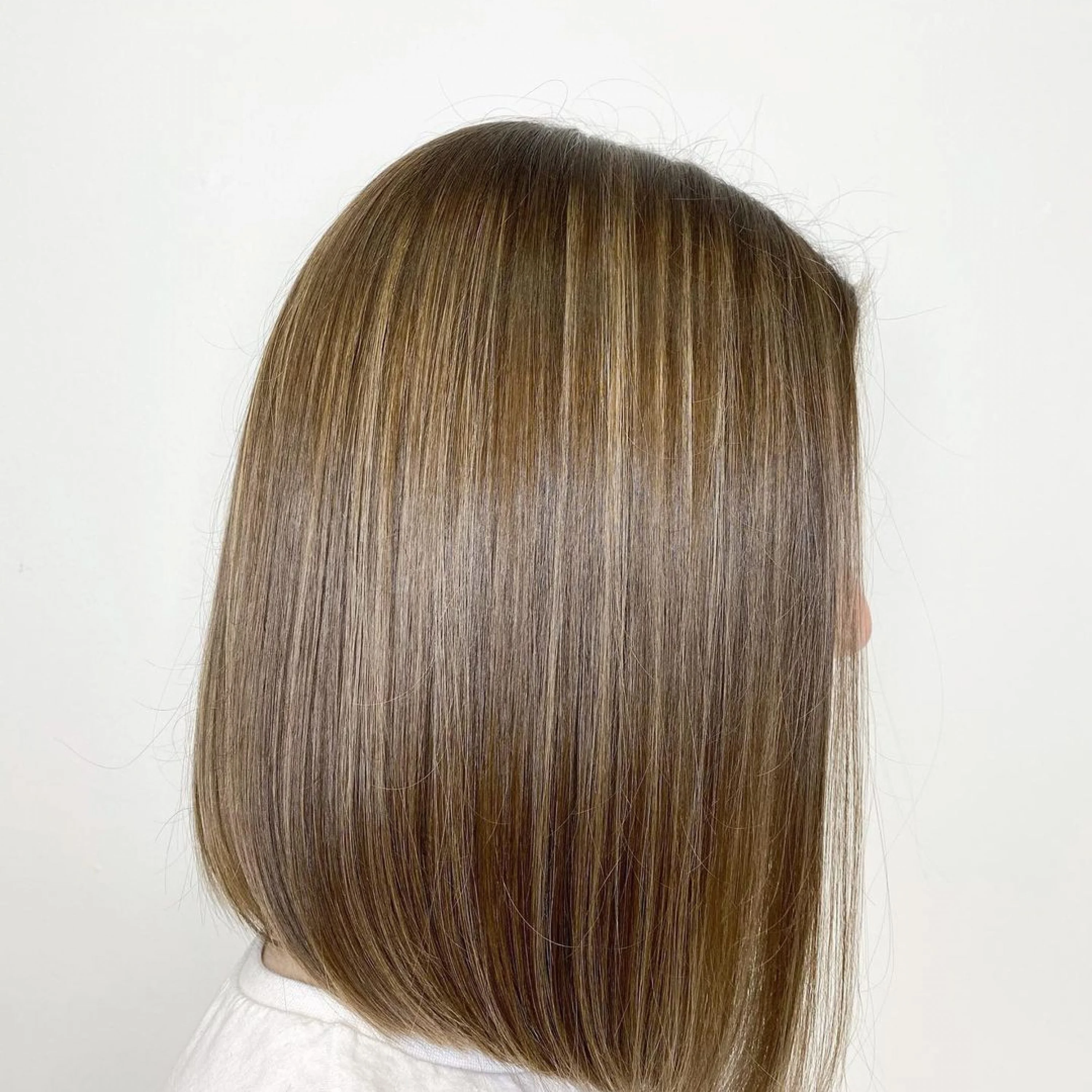 If you want to wear your hair in a razor-sharp lob like this one, you must keep it completely healthy and impeccably moisturized. Otherwise, achieving this look will be near impossible because your hair won't look as sleek as it could.
What's Your Angle?
Not many hairstyles can make you feel as cool as an angled bob. It's short enough to feel fresh yet long enough to have movement and brush your face in an alluring way.
The best par: with such a wide variety of angled bob haircuts available, everyone can choose one that's just right for them.