Before you get the chop, you should know one thing: even if you love your long tresses, once you go neck-length or shorter, you'll always want to go back.
The reason? Versatility and ease of styling, along with a crisp frame and flattering structure.
A short layered bob embodies all of these qualities, so if you're tempted, here are lots of examples that make it clear why it should be your first choice.
1. Short Middle Part Bob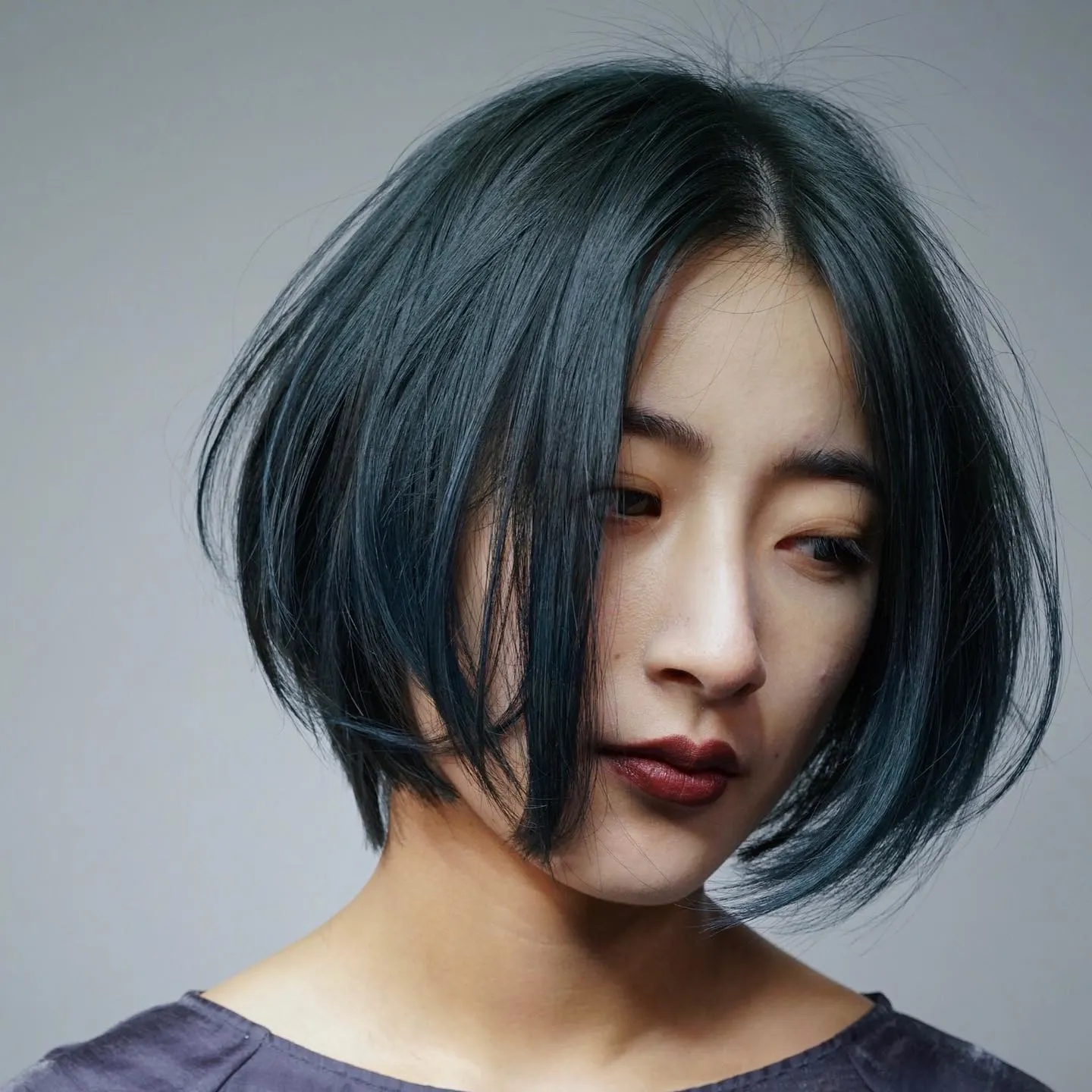 Airy layered styles like this one need lots of movement, so skip any products that make the hair stiff—look for flexible hairsprays that give hold while keeping your hair touchable.
2. Blunt Short Layered Bob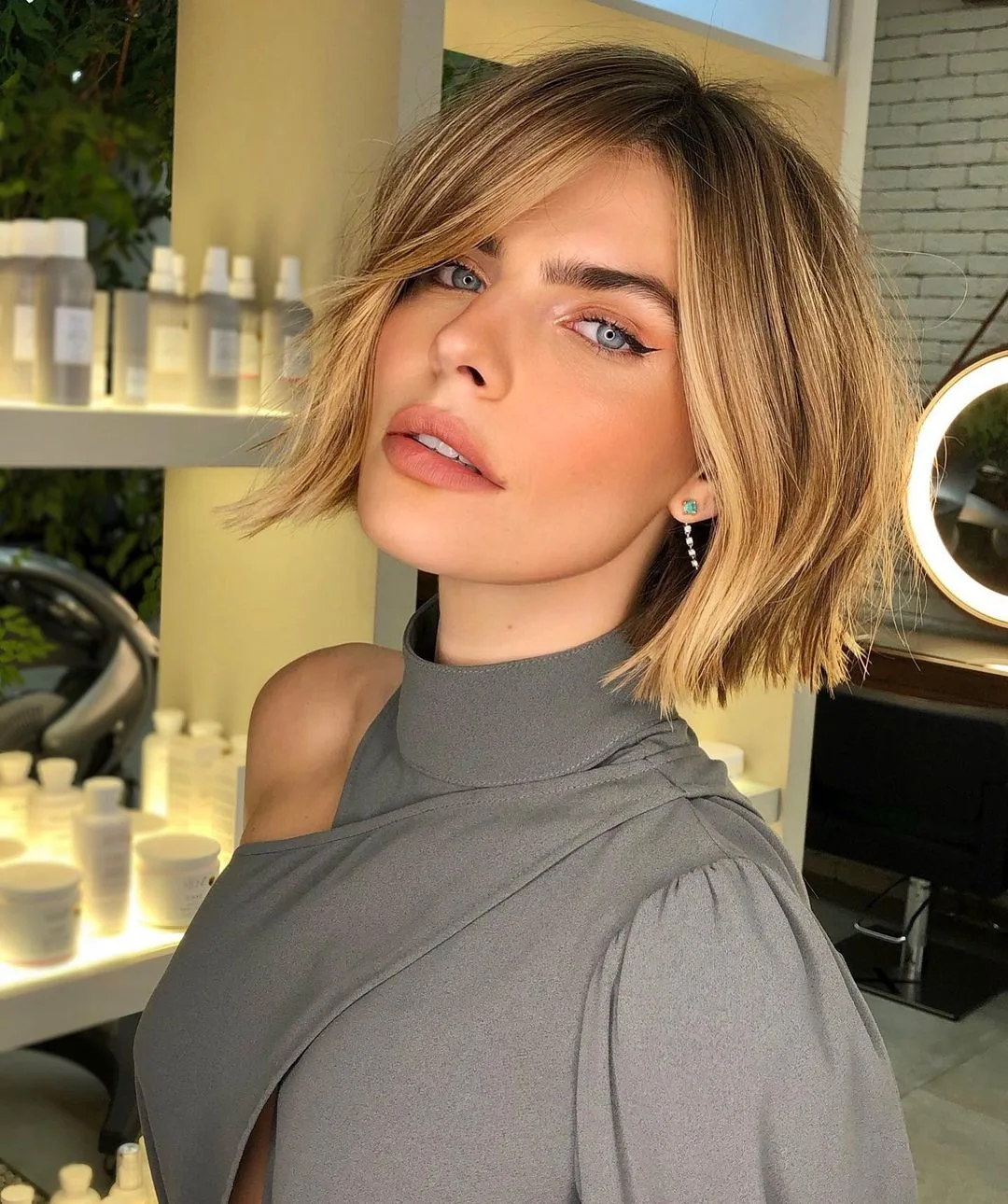 One-length blunt bobs can get bulky at the bottom and flat at the top, so they needs layers to give them lift and shape. You can pick invisible texturizing layers if you don't like layers to be noticeable or go for something that puts them in the spotlight if you like the layered look.
3. Curly Layered Bob Haircut With Bangs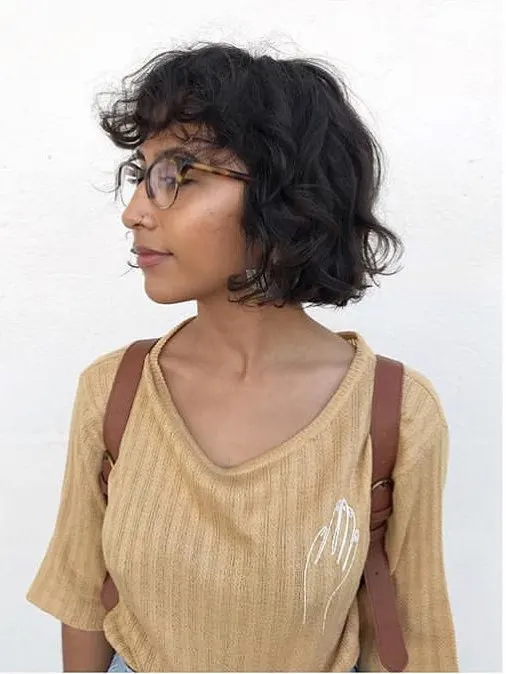 Layers are less obvious in curly hair even though they're necessary. More than anything, they're used to create shape and enhance texture, and they also make the curls bouncier and more manageable.
4. Side Part Short Layered Bob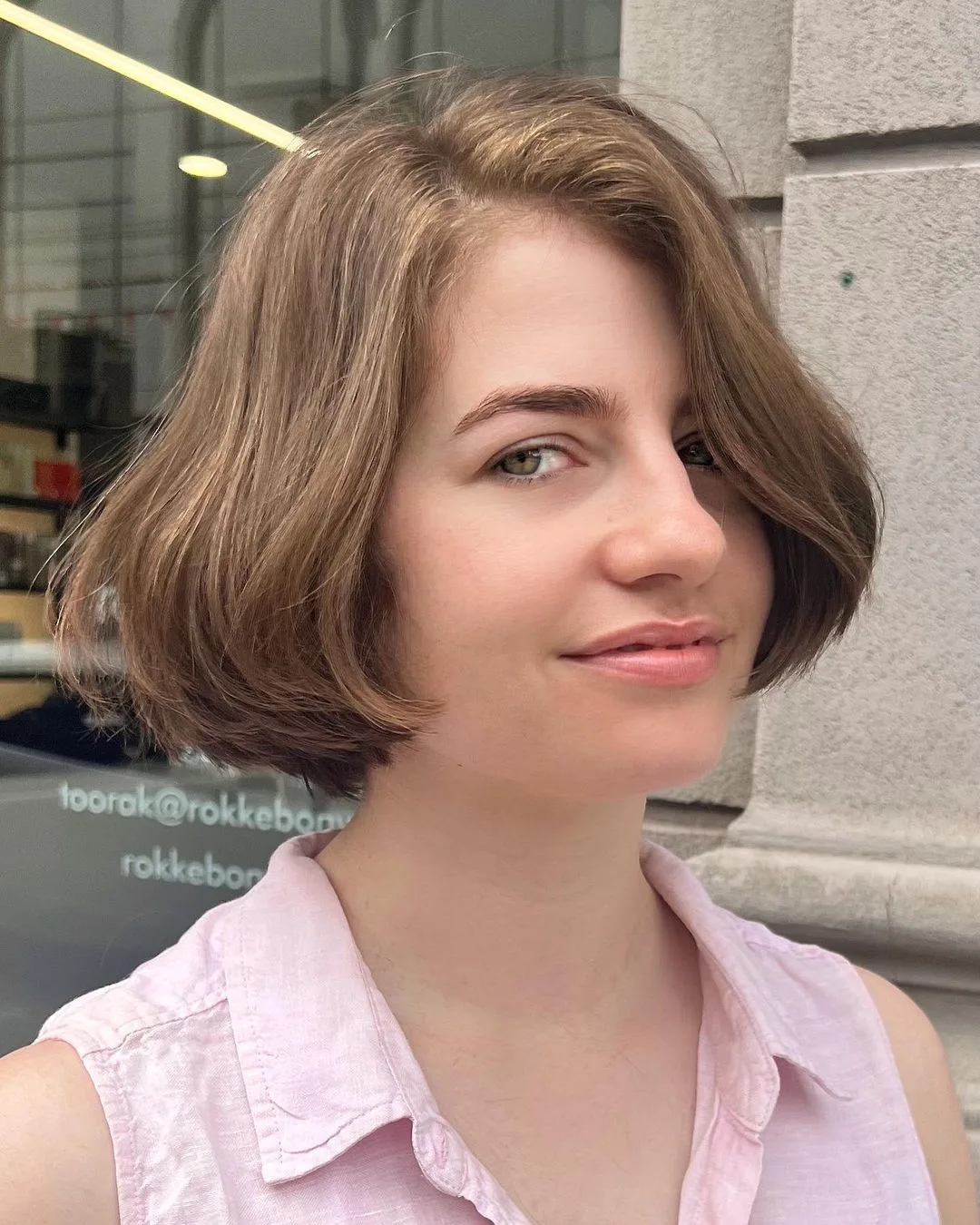 The length makes this bob with side bangs crisp and fresh, and the strong outline paired with invisible layers makes it effortless—shaping your hair with your fingers as it dries is all it takes to make it look fabulous.
5. Chin-Length Layered Bob Cut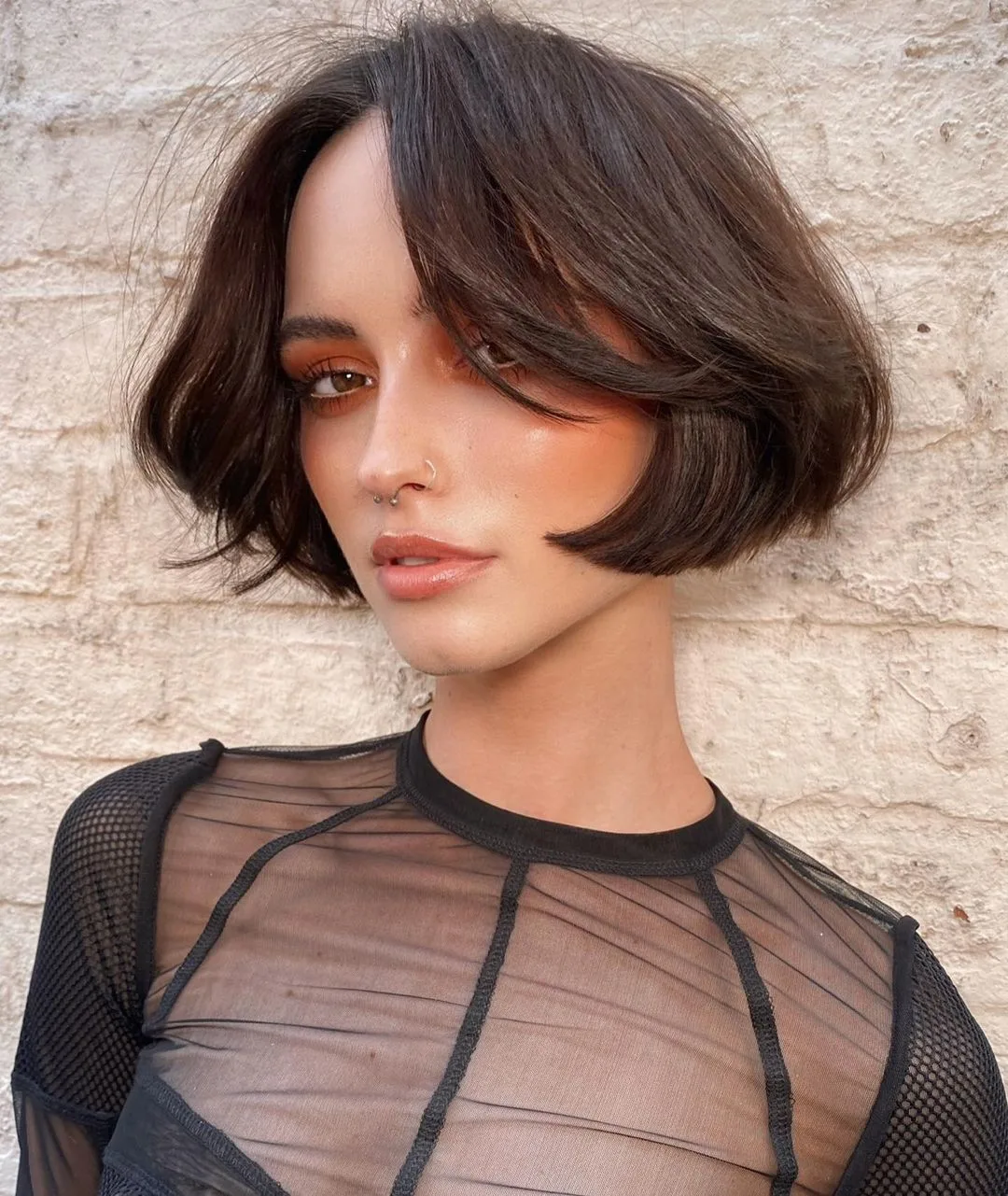 A chin-length bob is usually paired with a straight full fringe, but here it's combined with long center-parted bangs. If you like a haircut even though doesn't work for your face, it's okay—you can adjust it to make it fit you and still get your desired style.
6. Layered Short Bob Hairstyle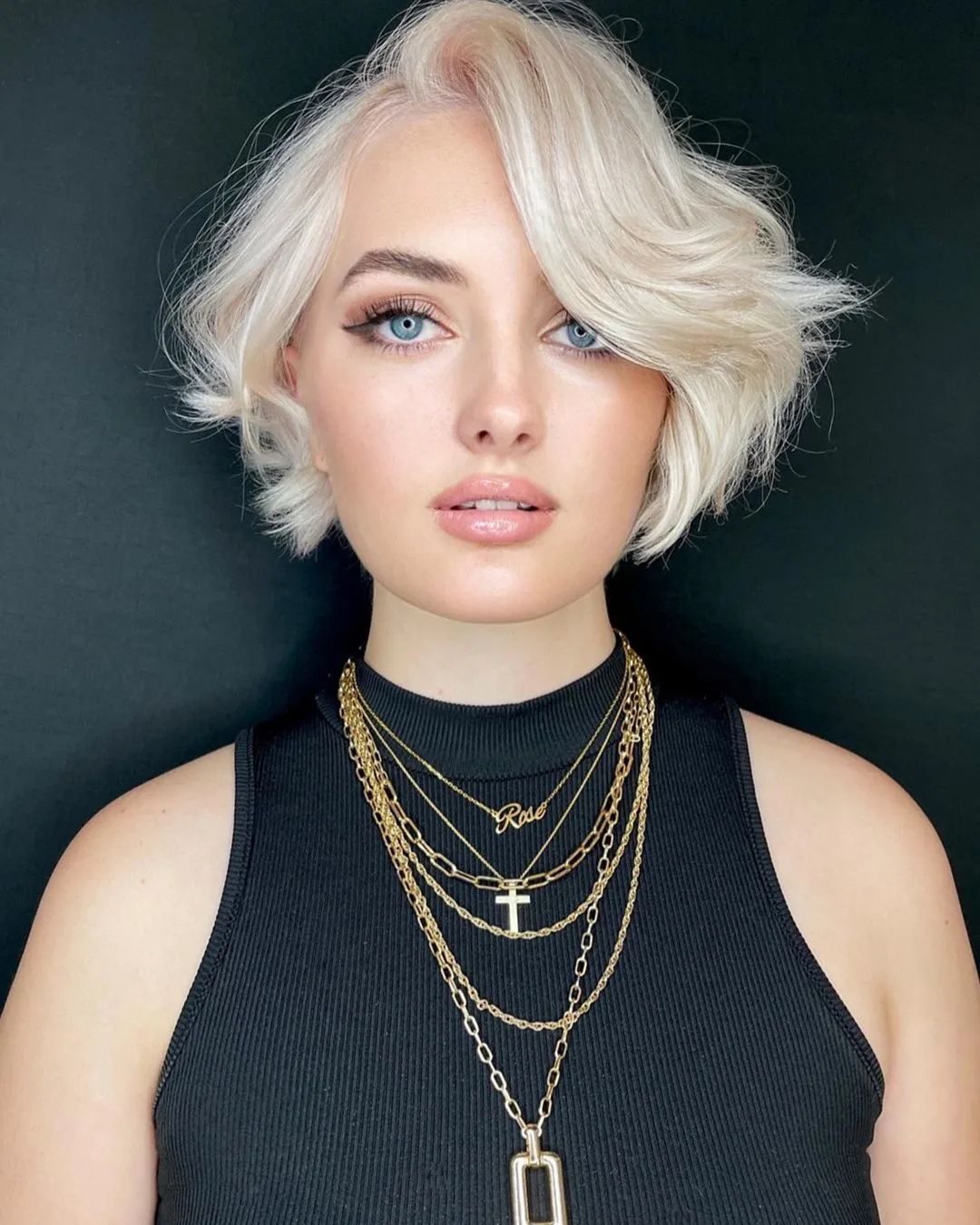 You're not limited to one single way of wearing your hair just because it's short—thank to the styling, this short blonde bob looks classic and glamorous, but it can also be worn in a several casual or edgy ways.
7. Short Bob With Curtain Bangs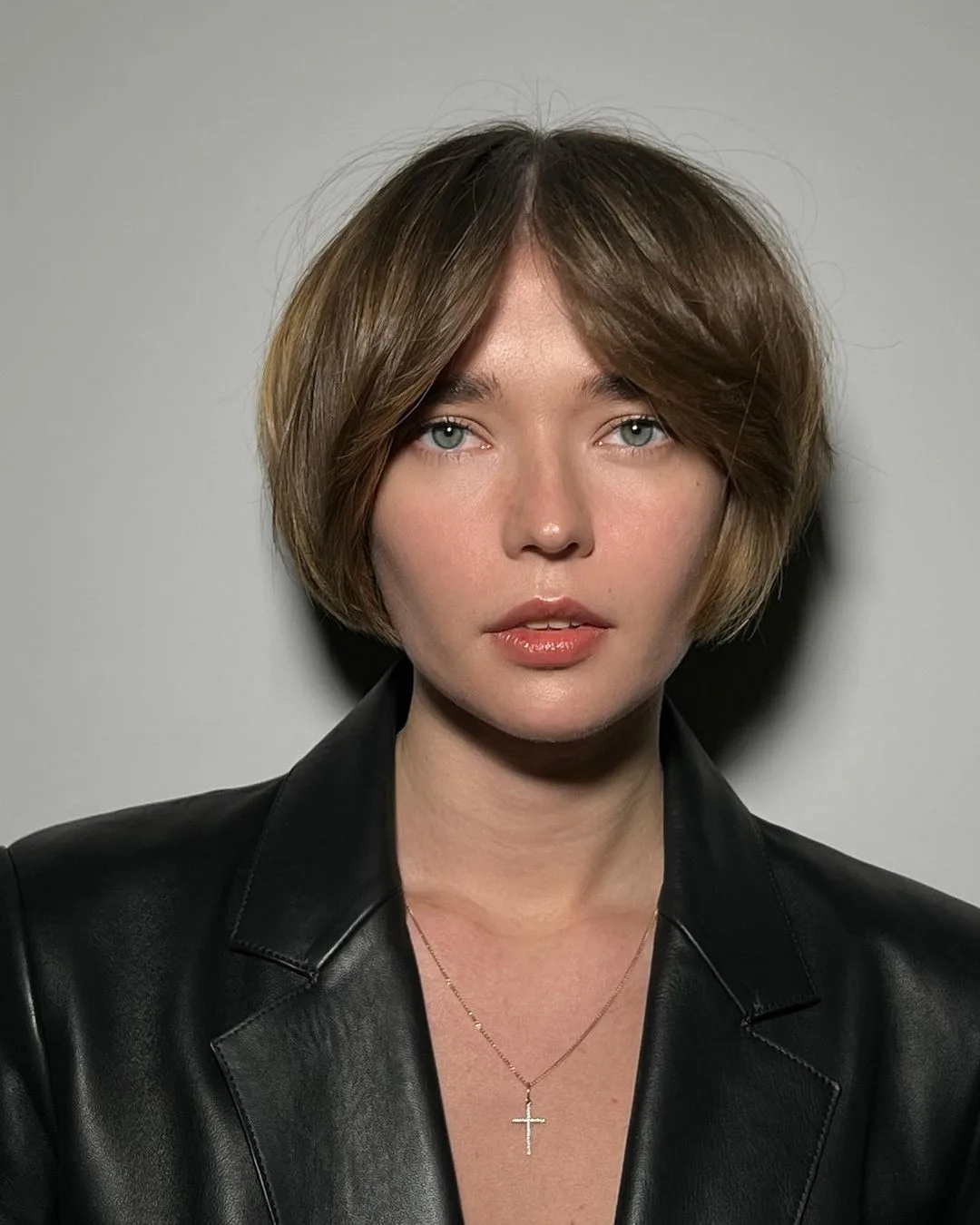 Balance is key if you want a haircut to flatter your face. A common approach is to pick a rounded style if your face is angular and a more geometric one if you have a soft face shape. Here, a diamond face is framed by a round bob with curtain bangs, both of which soften the features.
8. Choppy Short Bob For Fine Hair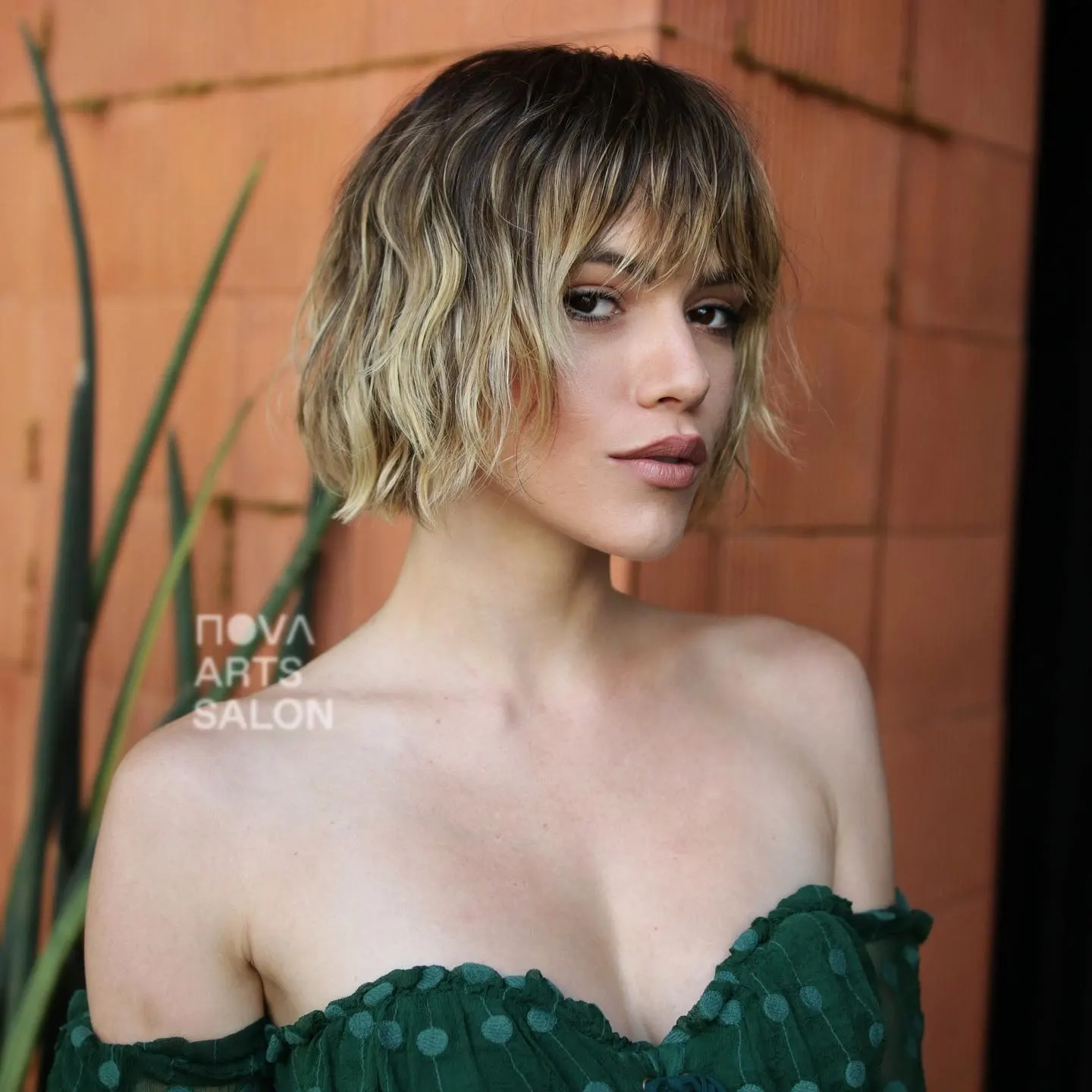 Razored ends and undone styling make this chic shaggy look a go-to style for any hair type: it looks best with natural texture, so all you have to do is pick the perfect length and style of bangs for you.
9. Short Layered Bob With Bangs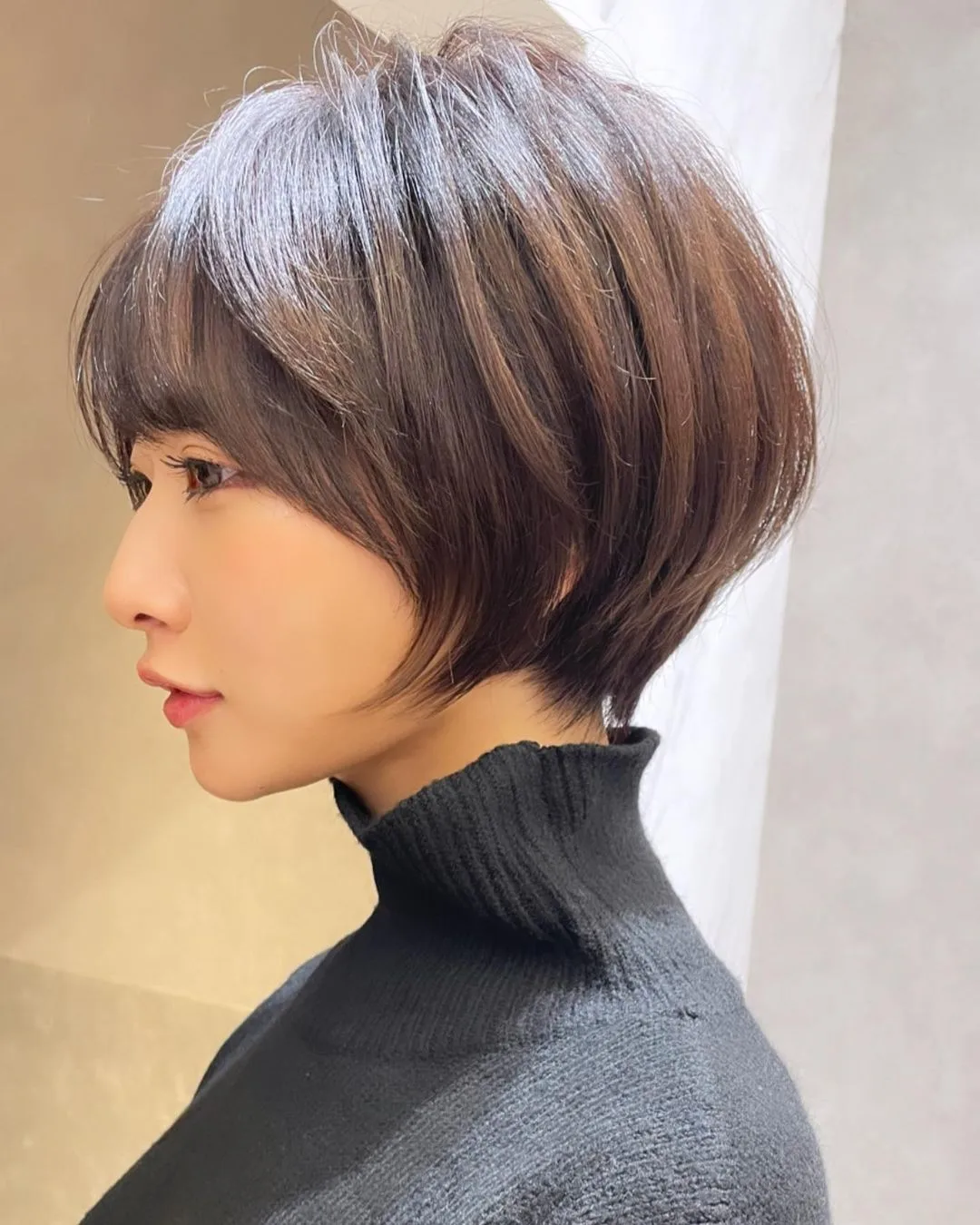 This subtle stacked bob with face-framing bangs looks soft and cozy, and it best suits angular face shapes, like diamond or square.
10. Fine Hair Short Bob Haircut
You're not limited to just one look even if your hair is fine and short. A short straight hairstyle can be worn slicked back like this, or styled naturally to get a tousled finish.
11. Choppy Short Bob With Curtain Bangs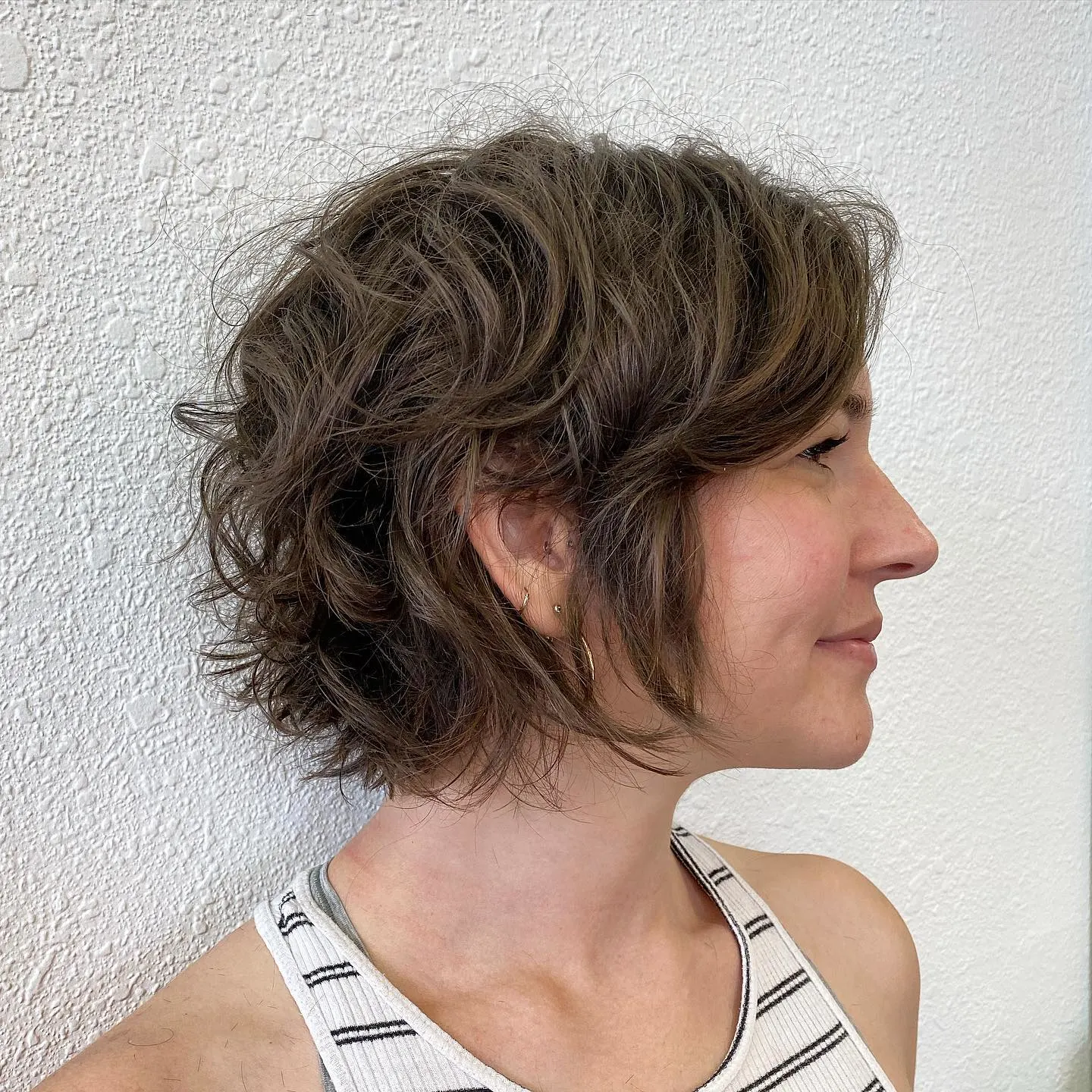 This short shaggy bob combines several of the biggest hair trends at the moment and results in a style that's cute and manageable. The more texture the better, so you can leave your styling tools at the back of the shelf.
12. Flippy Short Bob Haircut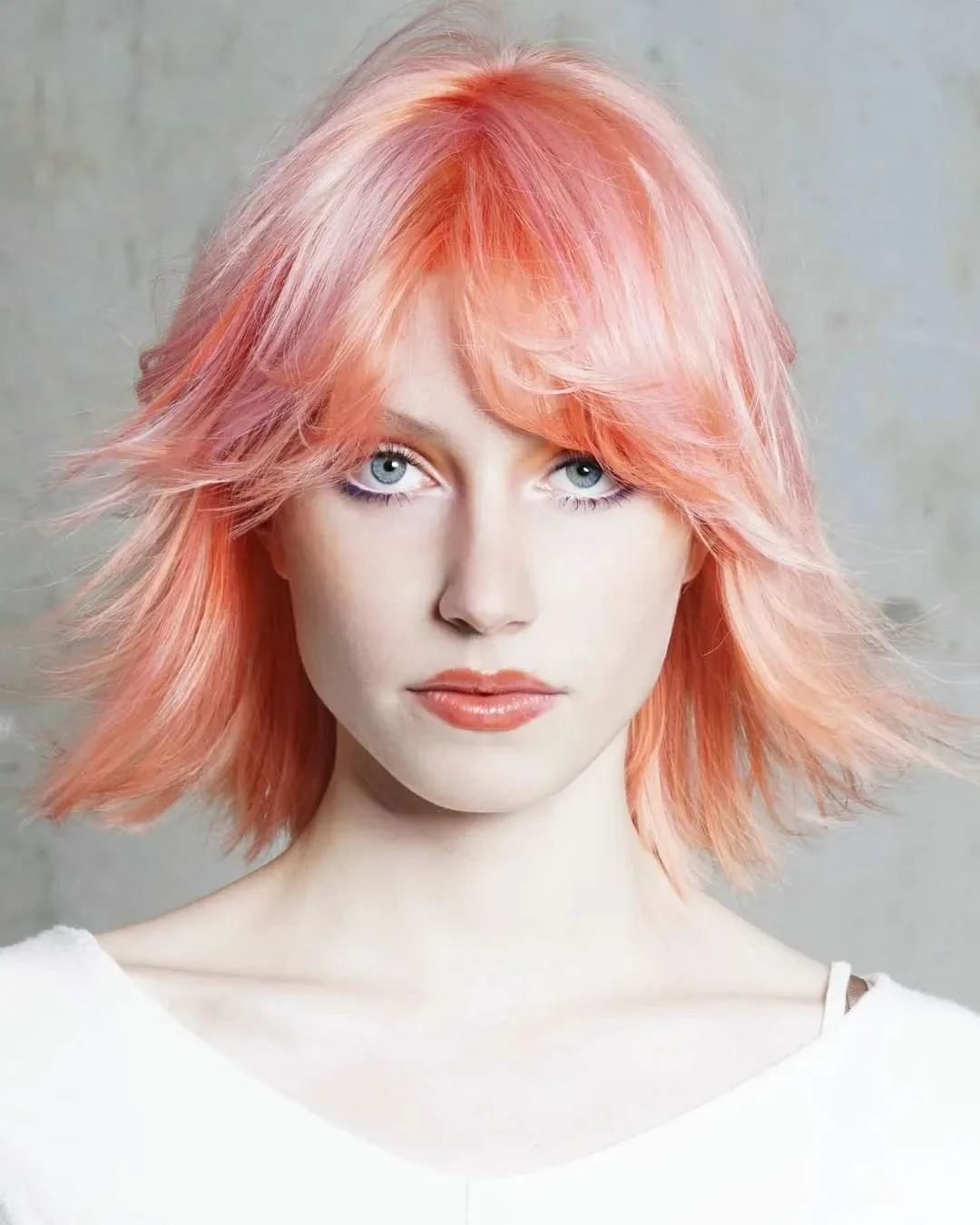 Retro flicked-out bangs and ends will give your style lots of energy and movement, and it's all in the layers.
13. French Bob With Bangs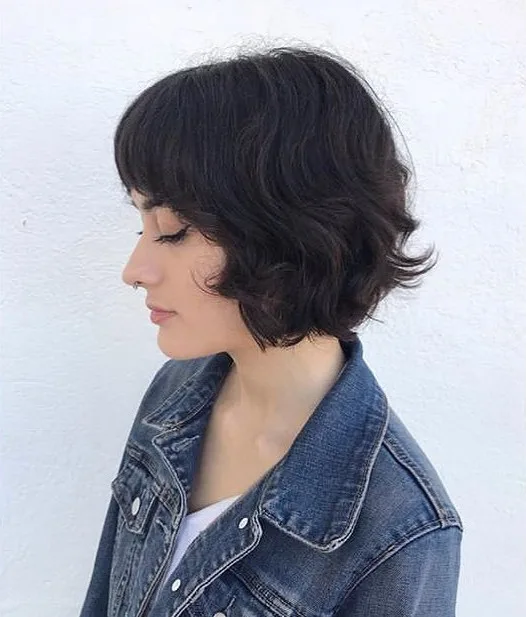 The French bob is gorgeous with any hair type, as long as it's cut with your natural texture in mind. This is best achieve with dry cutting, especially if your hair is curly.
14. Fine Hair Short Bob Haircut With Bangs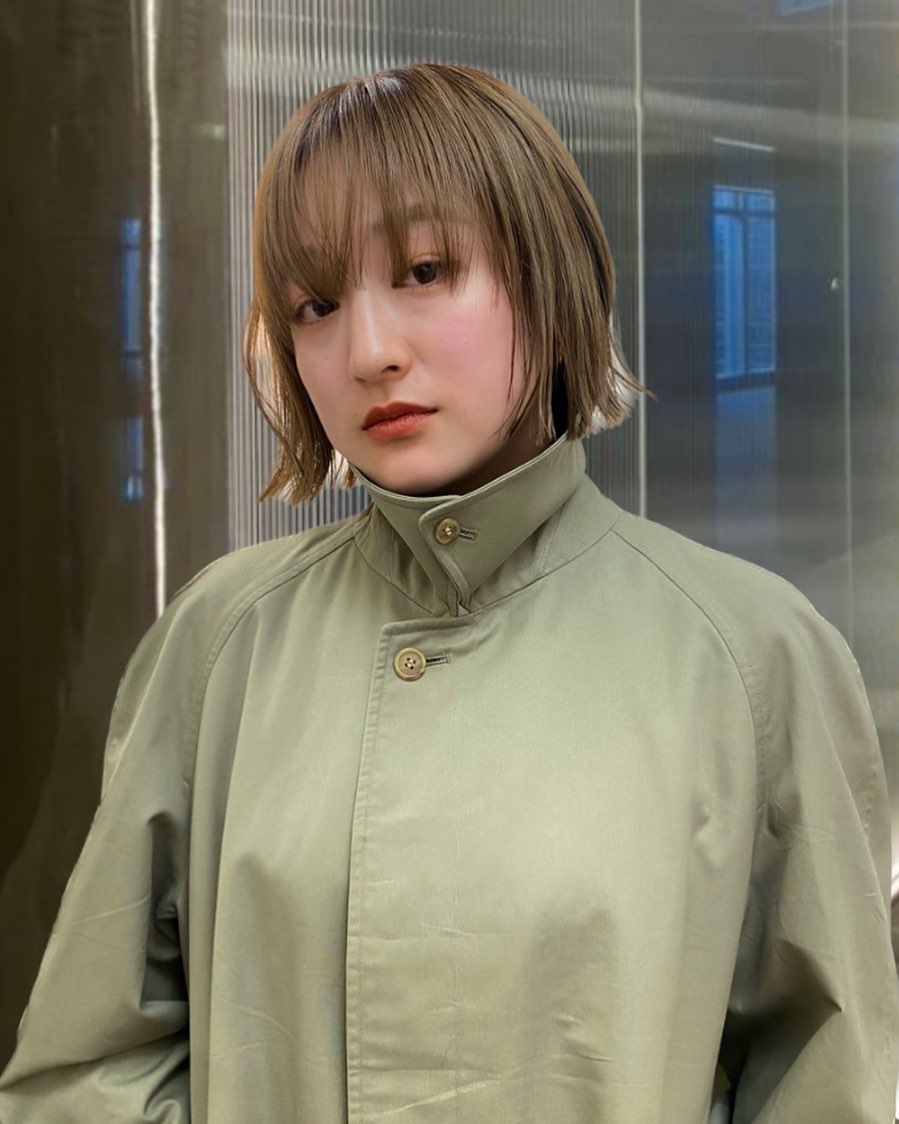 This soft style relies on layers that are just slightly shorter than the outline to naturally create a flick at the ends, adding volume while keeping it blunt.
15. Short Bob With Bangs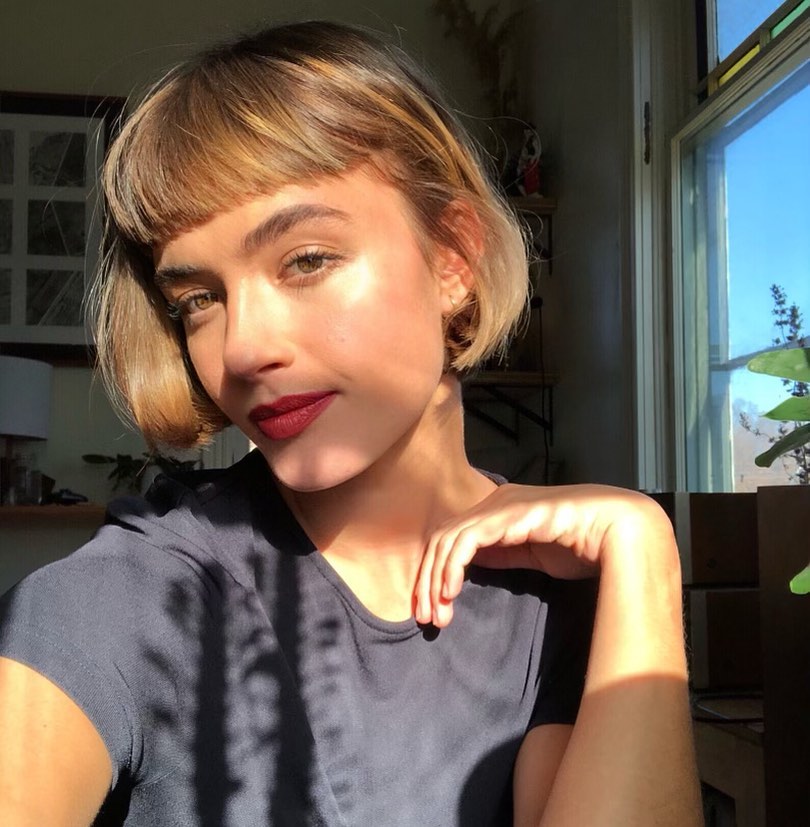 A French bob is timeless and pretty, but is it for you? With small adjustments, it fits all face shapes. If your face is round, you'll get the most flattering results if don't wear it at chin level, but instead a little longer or shorter.
16. Choppy Short Layered Bob With Bangs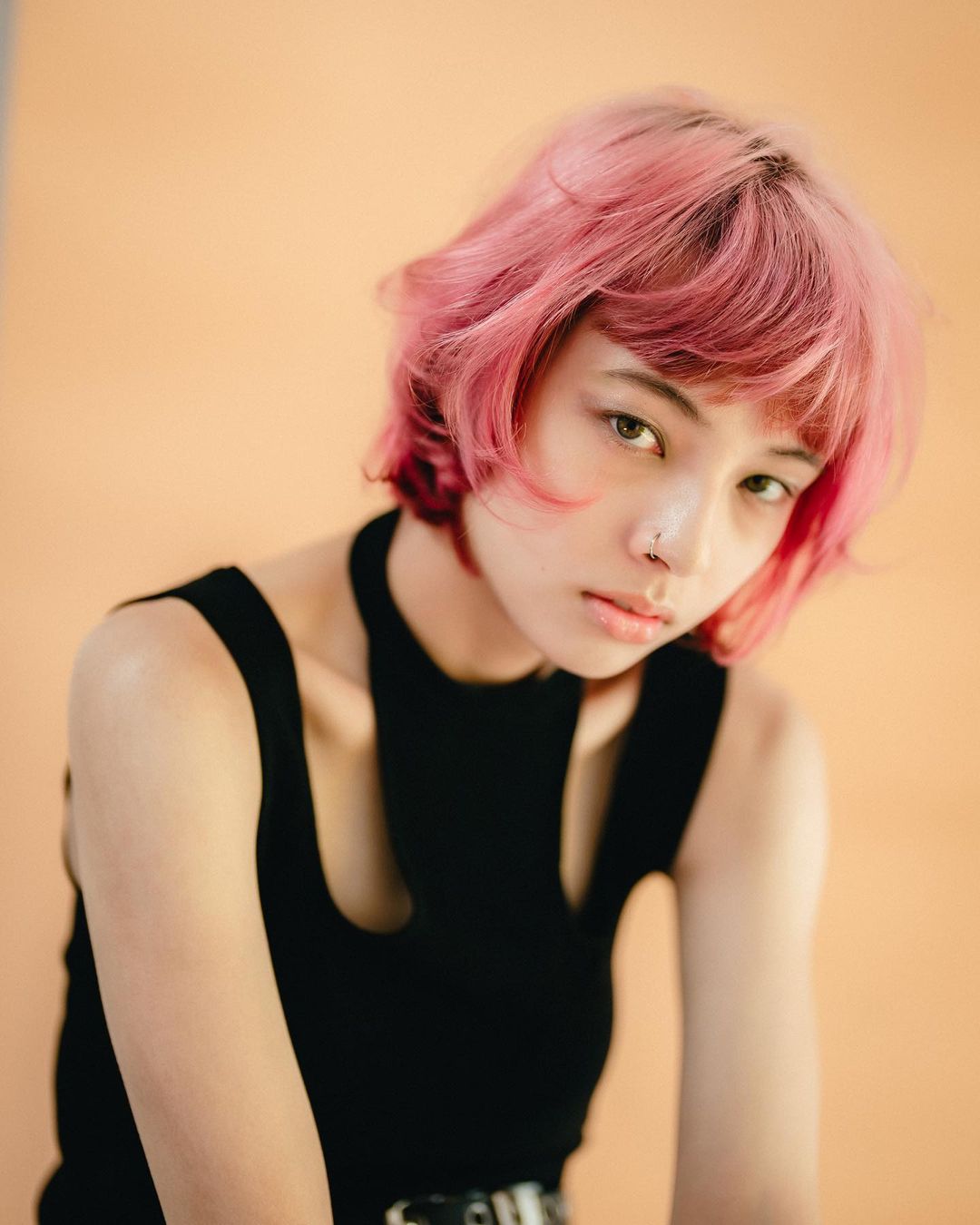 Cheekbone-grazing edgy choppy bob has that cool factor, and it's actually effortless. Add texture cream and air dry, or if you're in a hurry, have a quick run through with a blowdryer to speed things up while setting it in place with your fingers.
17. Fine Hair Layered Bob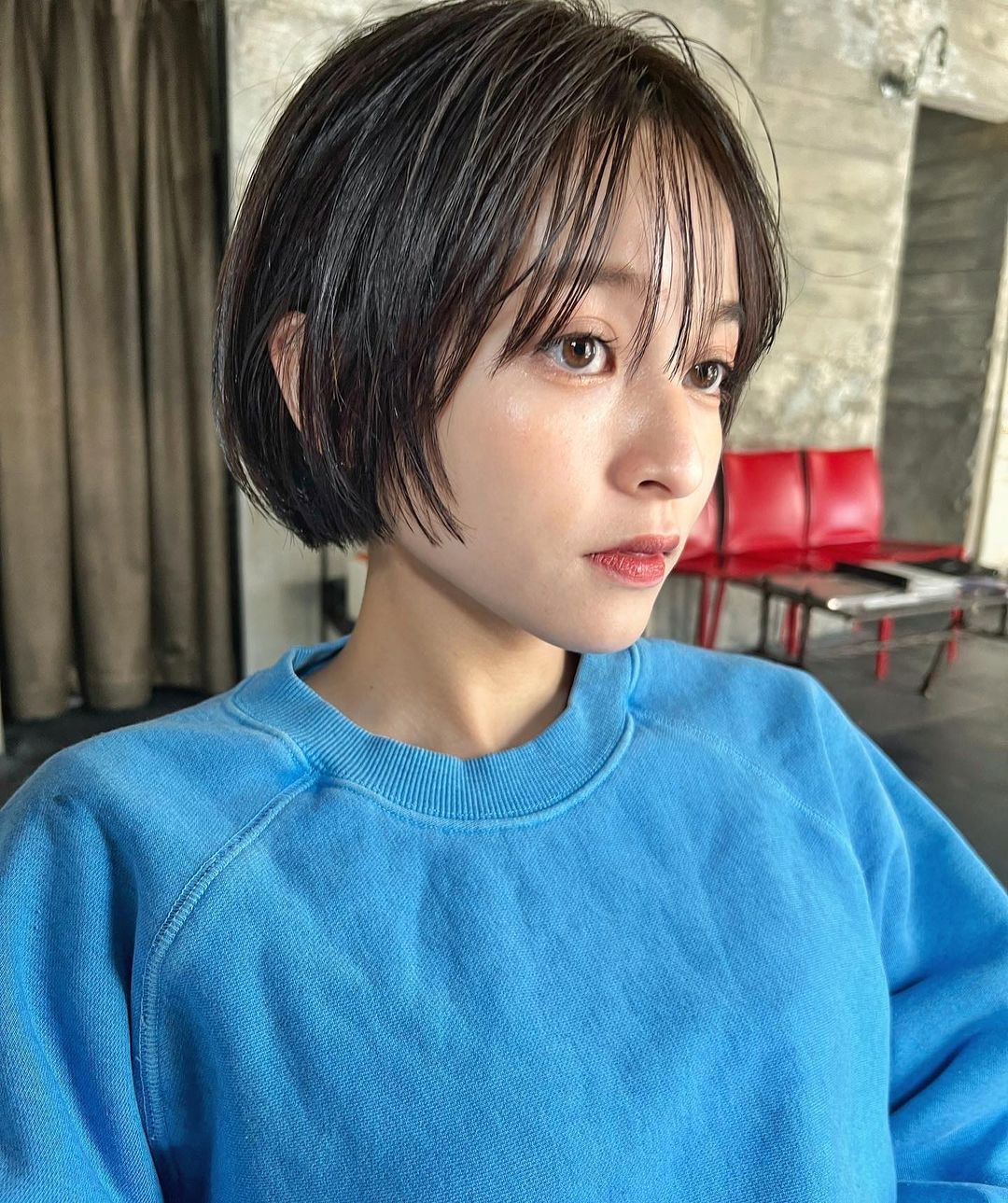 Using long layers to create a rounded shape boosts volume of fine hair. Soft, wispy bangs add a lovely frame without taking too much from the rest of the hair.
18. Short Angled Bob Haircut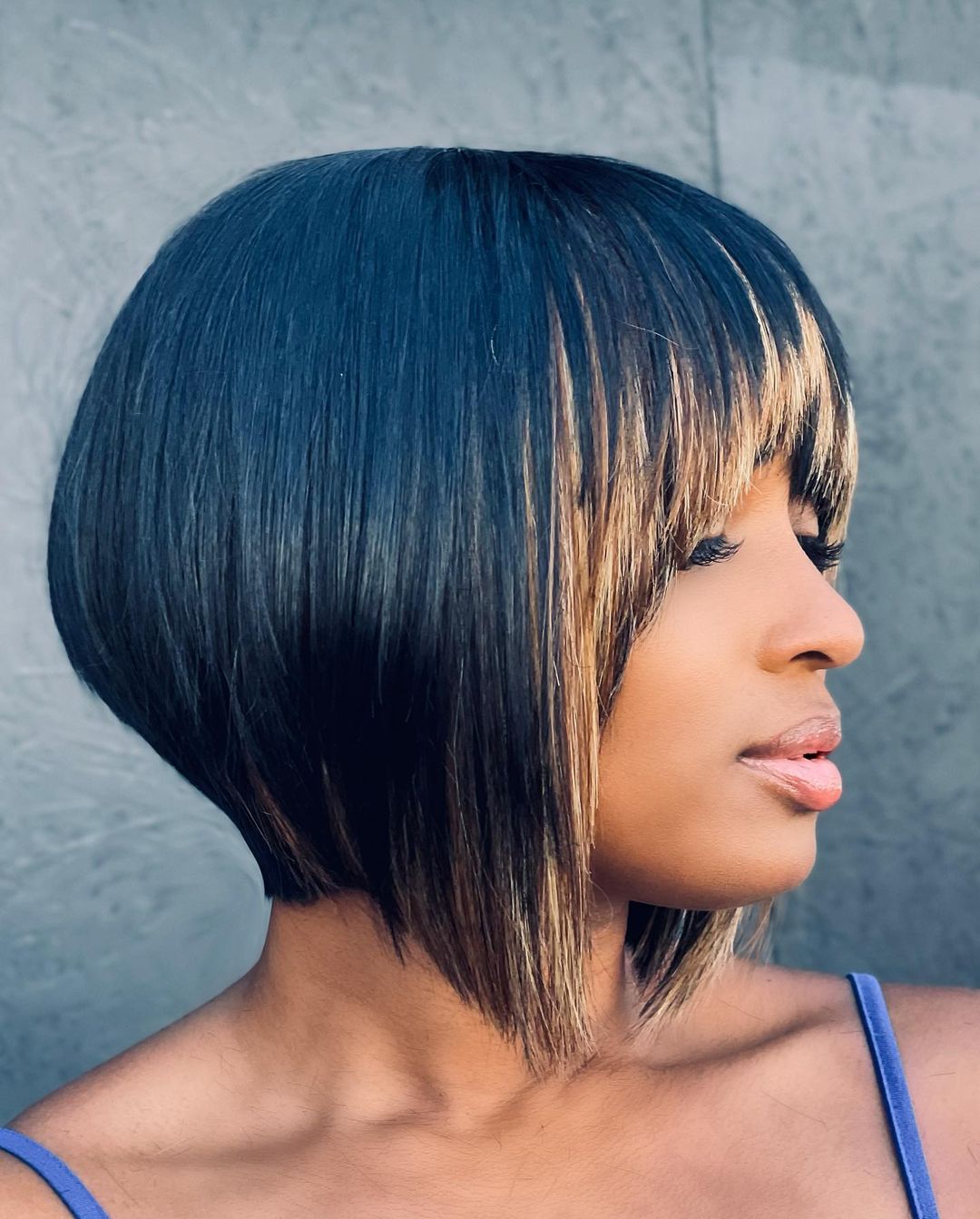 Sculptural styles are the opposite of low maintenance—they need frequent salon visits and careful styling, so before you decide to go for something very structured, make sure you can keep up with it.
19. Short Layered A-Line Bob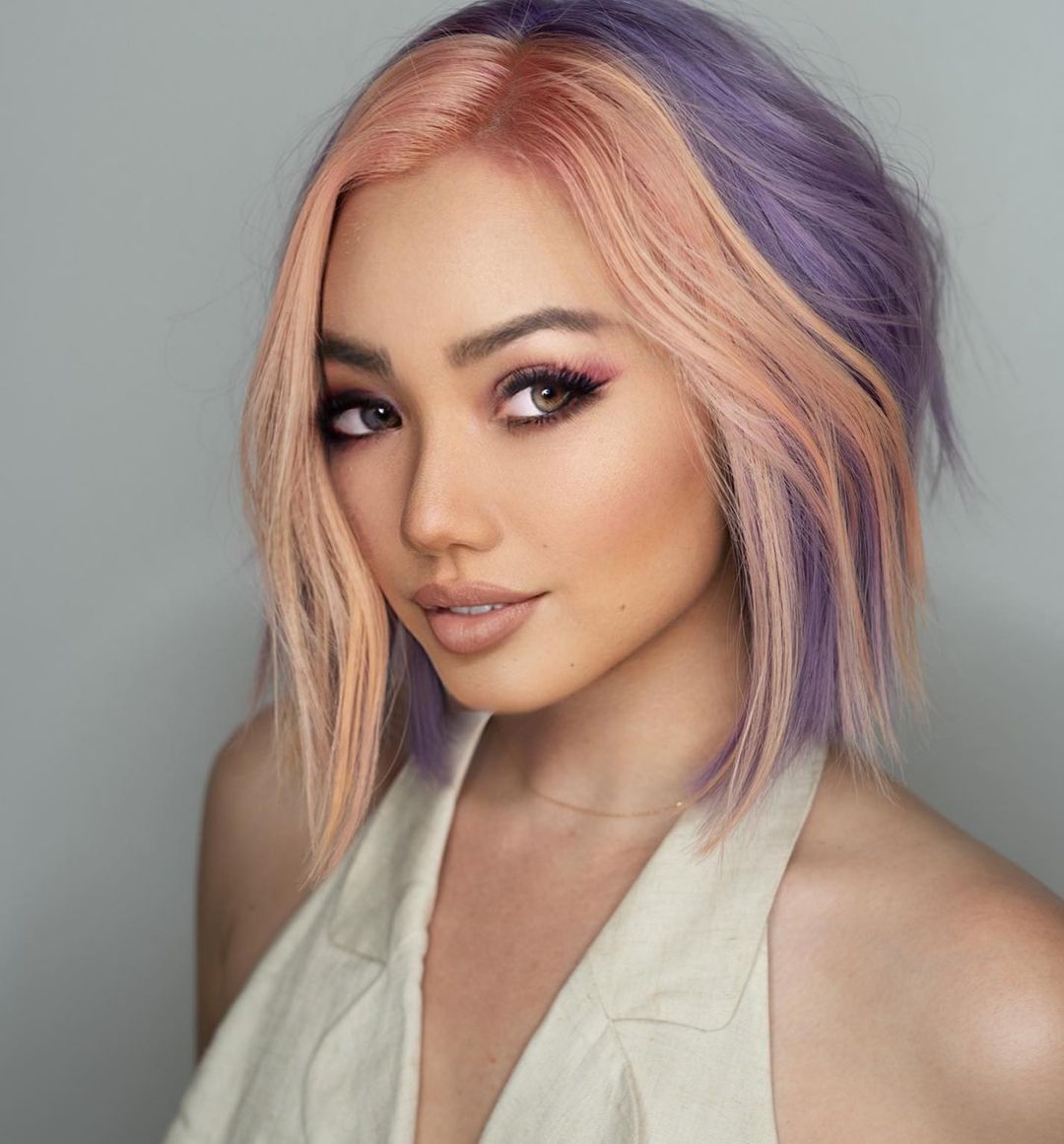 If you have a round face and want to achieve more balanced proportions, go for an angled bob to create contrast. Angled front parts will elongate the face, and the short layers in the back will add lots of volume.
20. Side Part Layered Short Bob Haircut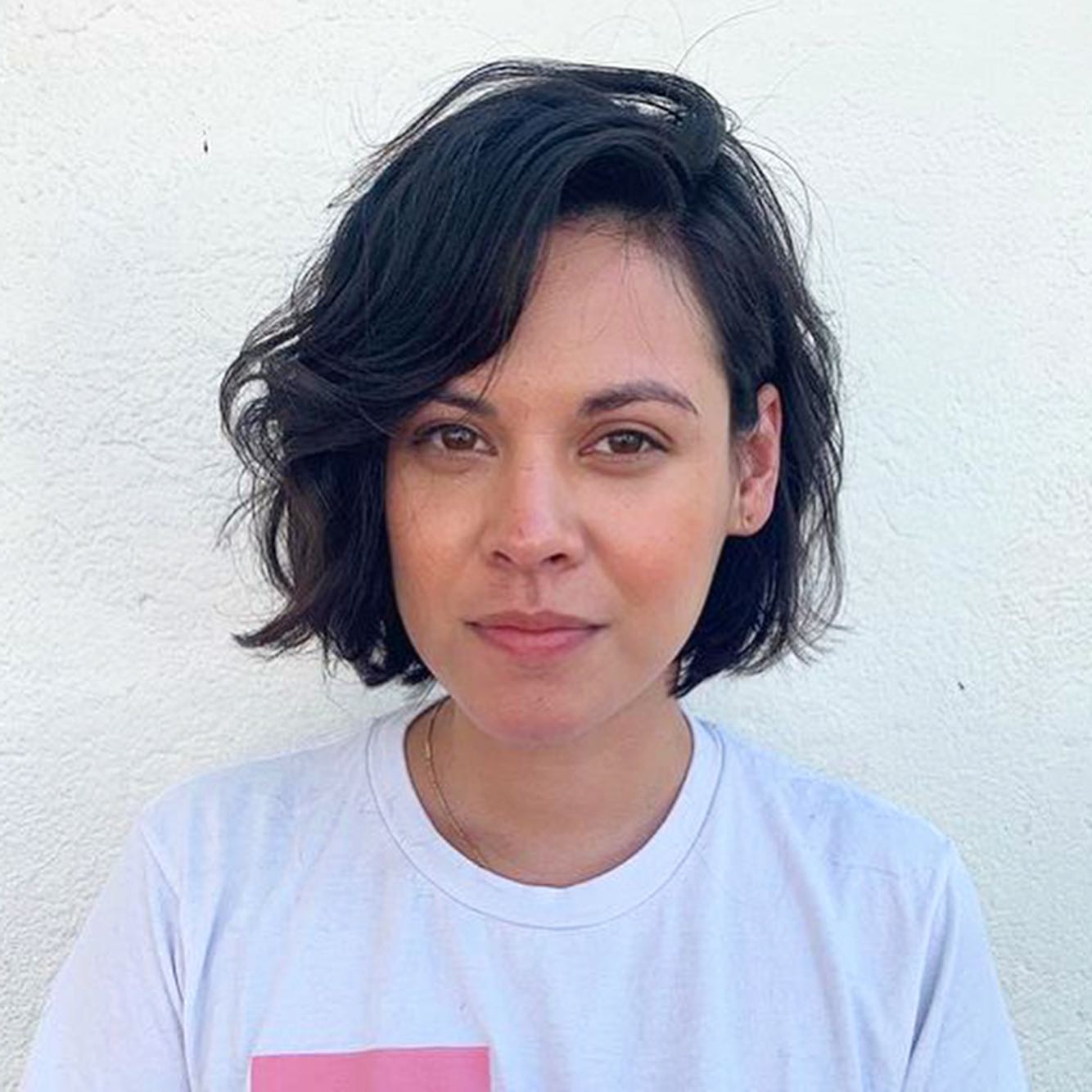 The blunt, chopped bob is low maintenance and versatile, and it will make you feel like an it-girl. It's all about the texture and needs almost no styling—apply some pomade or cream and you're done.
21. Stacked Short Bob Haircut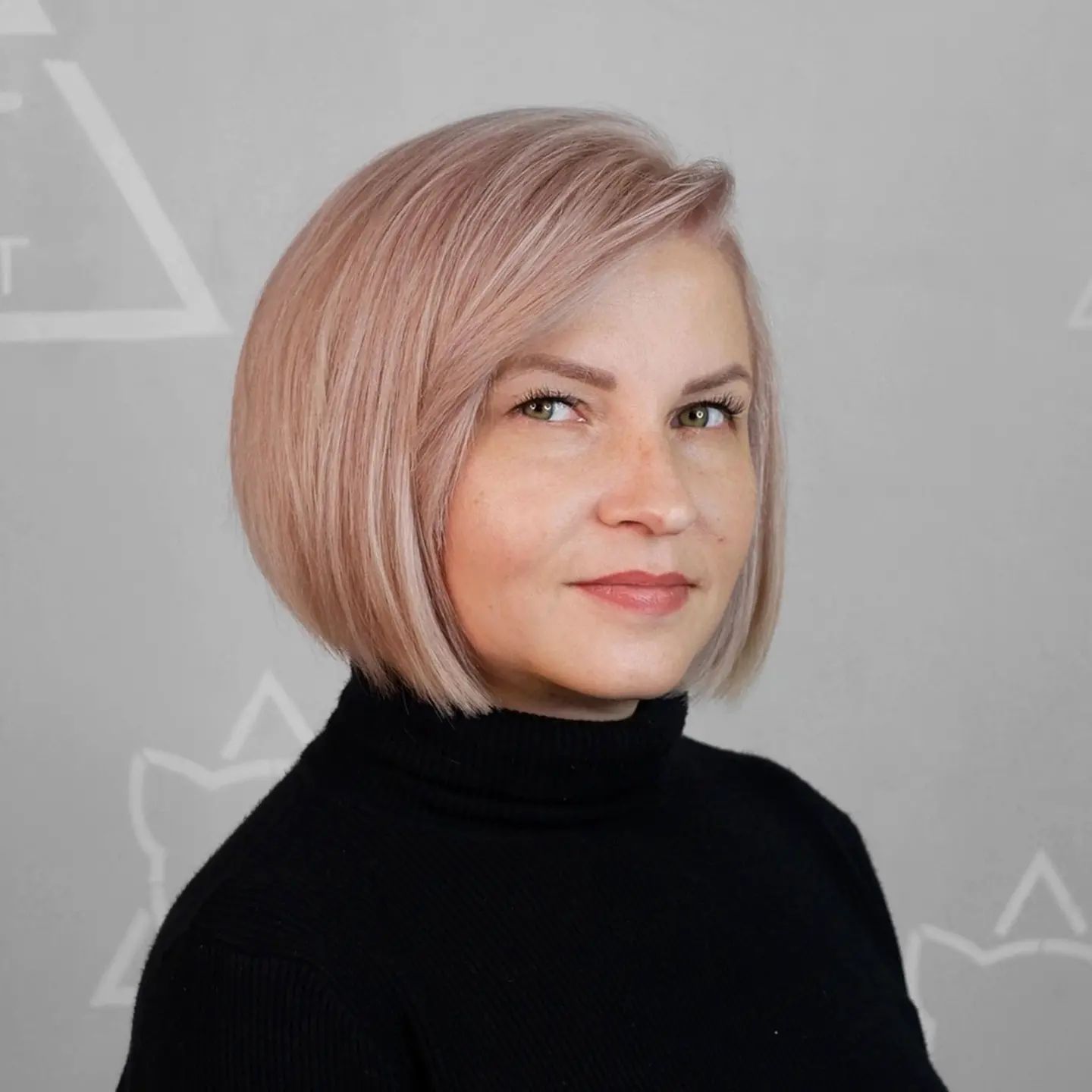 This short stacked inverted bob uses layers to help the hair appear fuller. The layers are seamlessly arranged and the whole style has an air of sophistication.
22. Short Choppy Bob With Bangs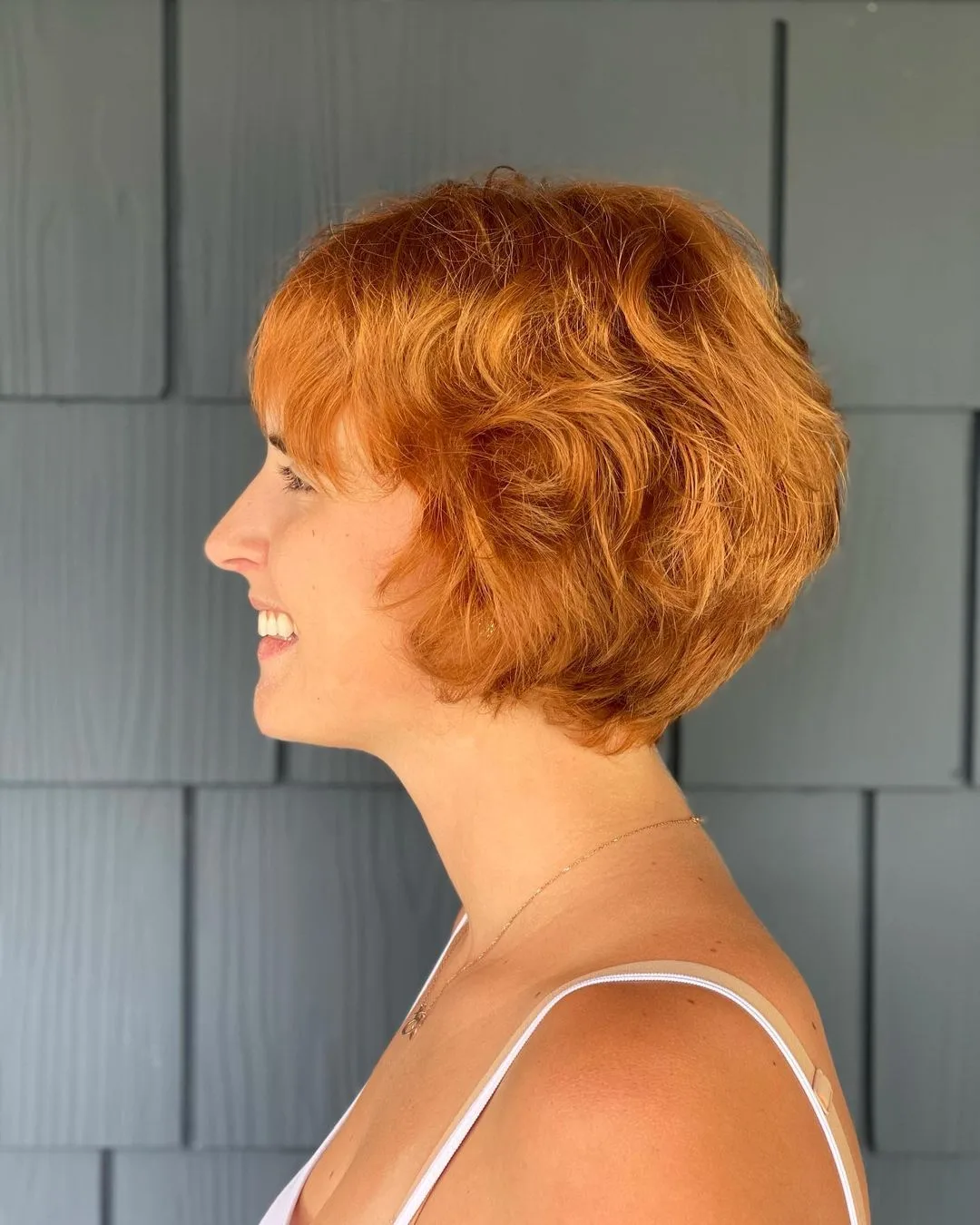 Short curly haircuts depend on layers to give them shape. This soft choppy bob has been cut in a way that works with the curl pattern and flatters the features.
23. Short Layered Bob Hairstyle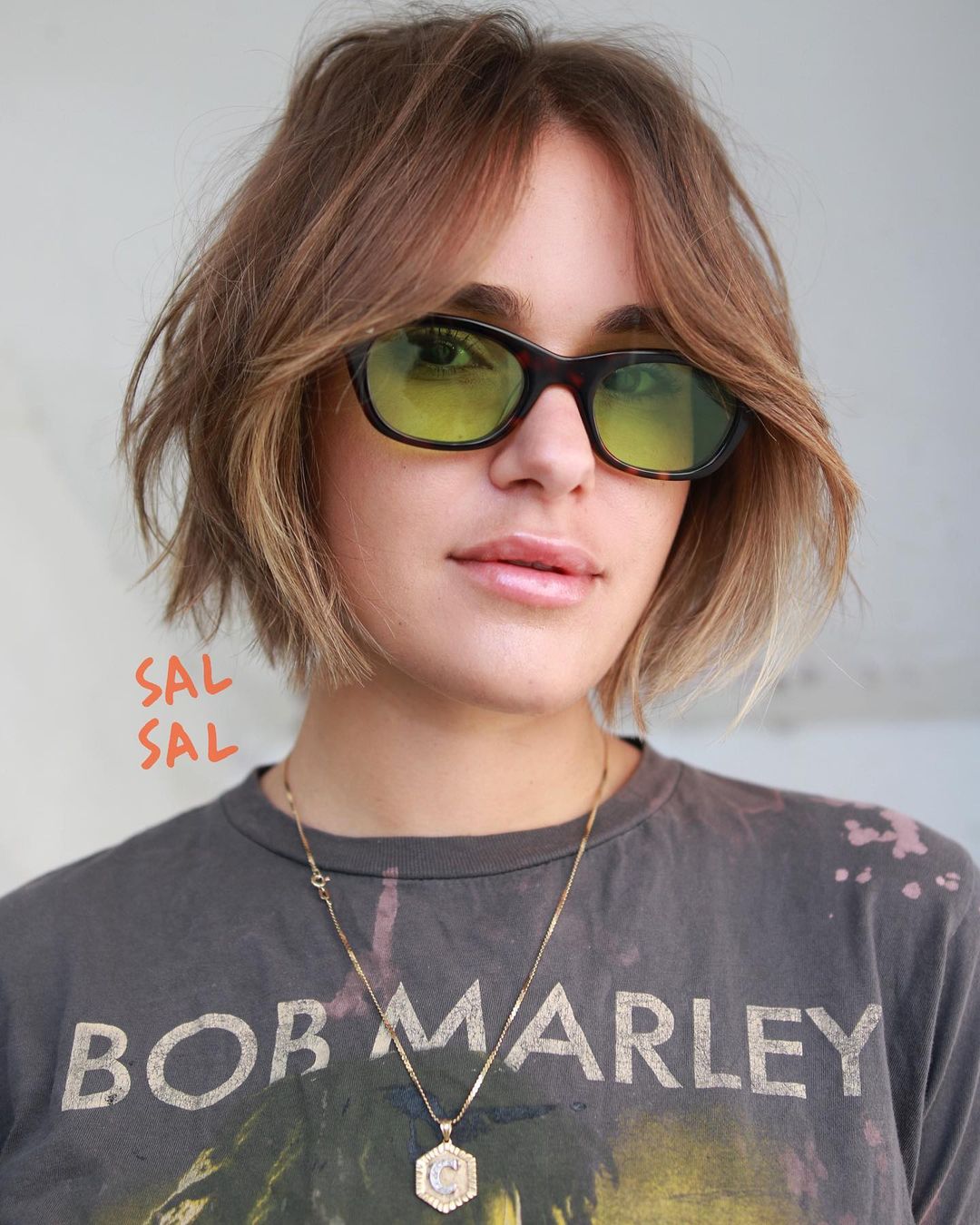 A chin-length textured bob is an effortless haircut that's as chic as it's laid-back. It's a style that's usually accompanied by a fringe, but it works just as well without.
24. Short Bob With Layers And Wispy Bangs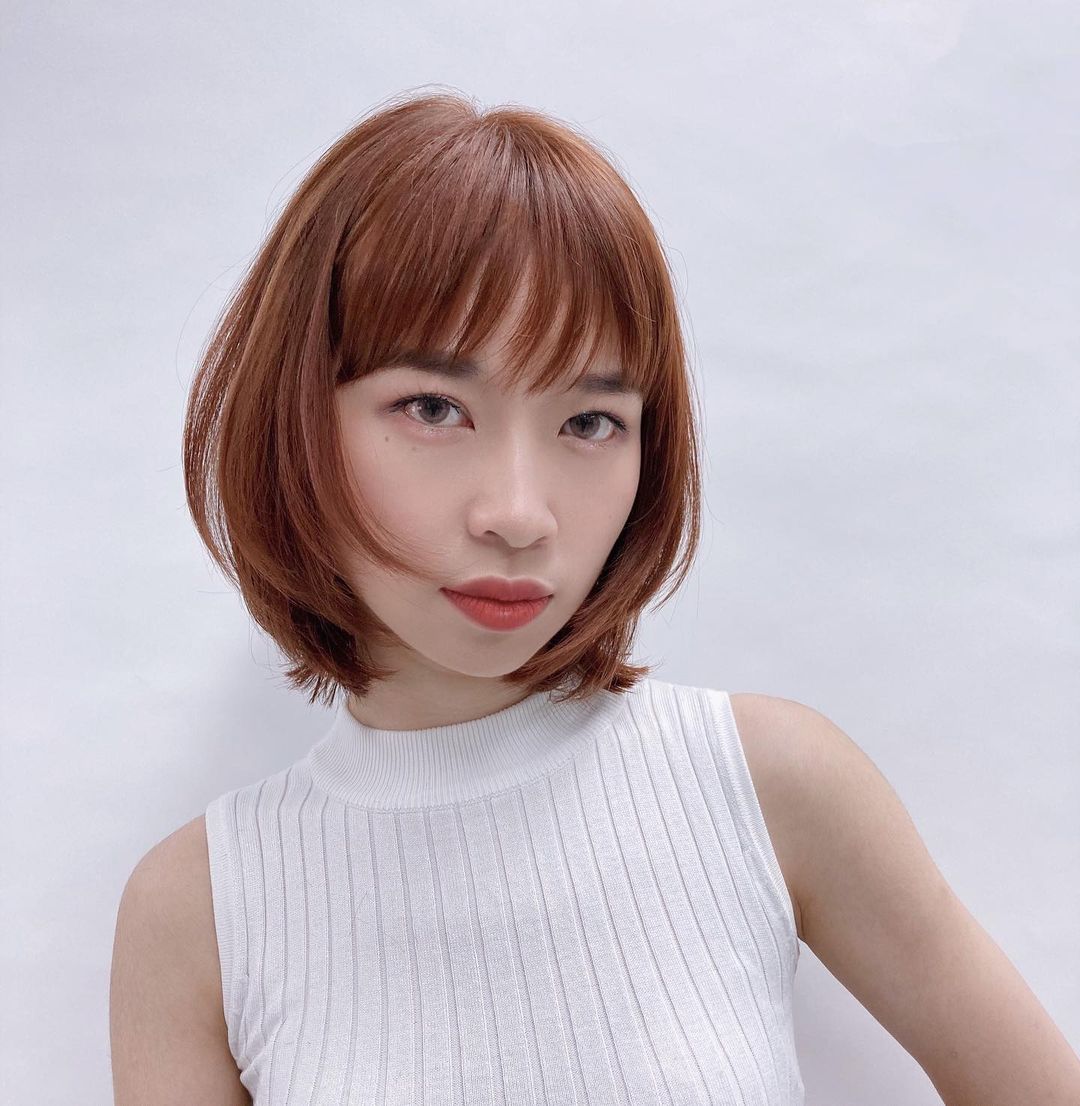 This classic layered shape is as versatile as a blunt cut—it works with different fringe styles and at different lengths, so it can be worn by nearly anyone.
25. Edgy Short Bob With Bangs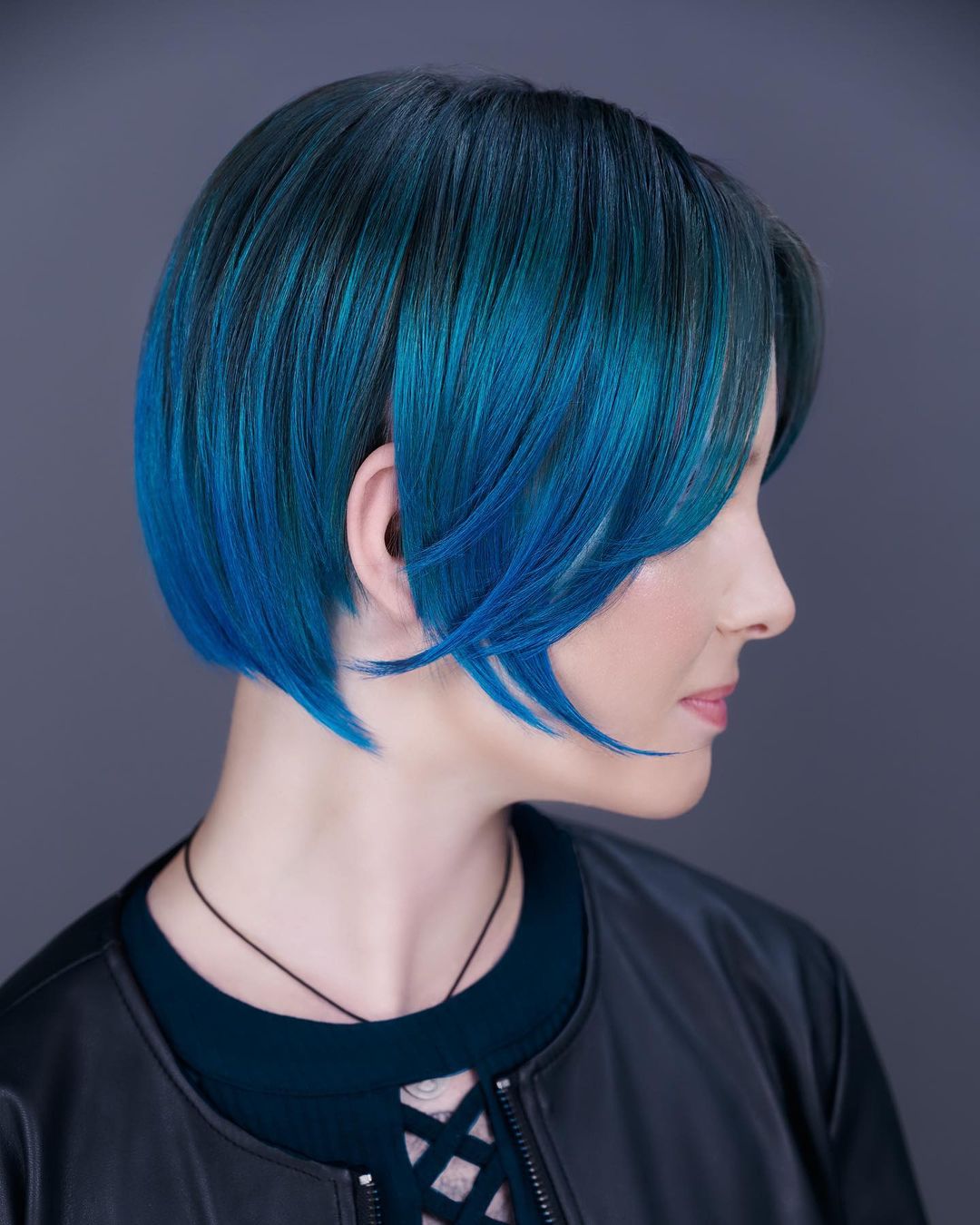 A short layered bob with bangs can be a great transitional style if you're growing out a pixie. Slightly adjusting the shape or adding more layers can transform an overgrown cut into a cute hairstyle that you might want to keep.
26. Face-Framing Layered Choppy Short Bob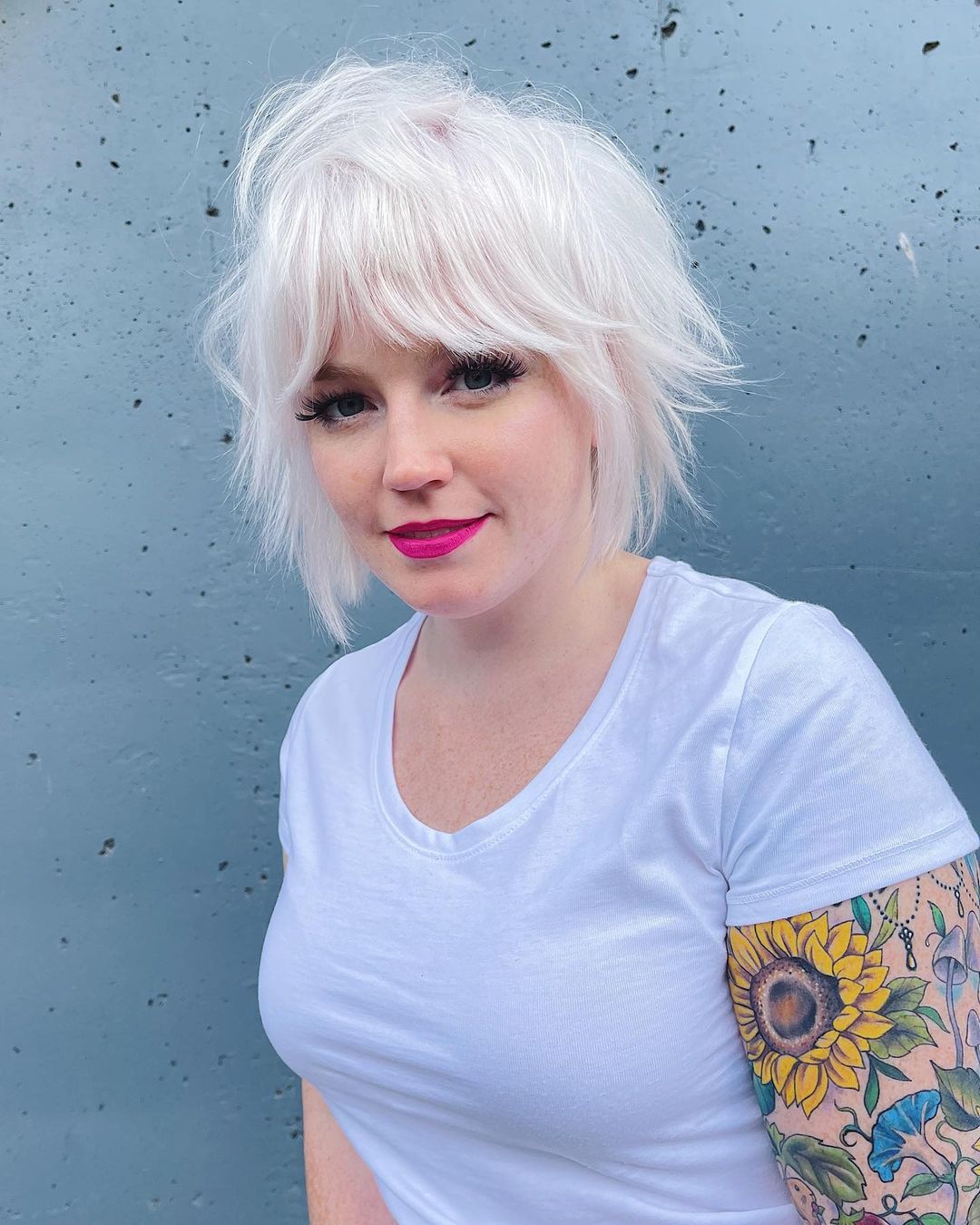 Choppy, short and playful, this bob takes no effort at all and it's super cute and flattering to boot. To easily amp up the texture, spray some dry shampoo to the roots and shape with your fingers.
27. Shaggy Layered Bob With Bangs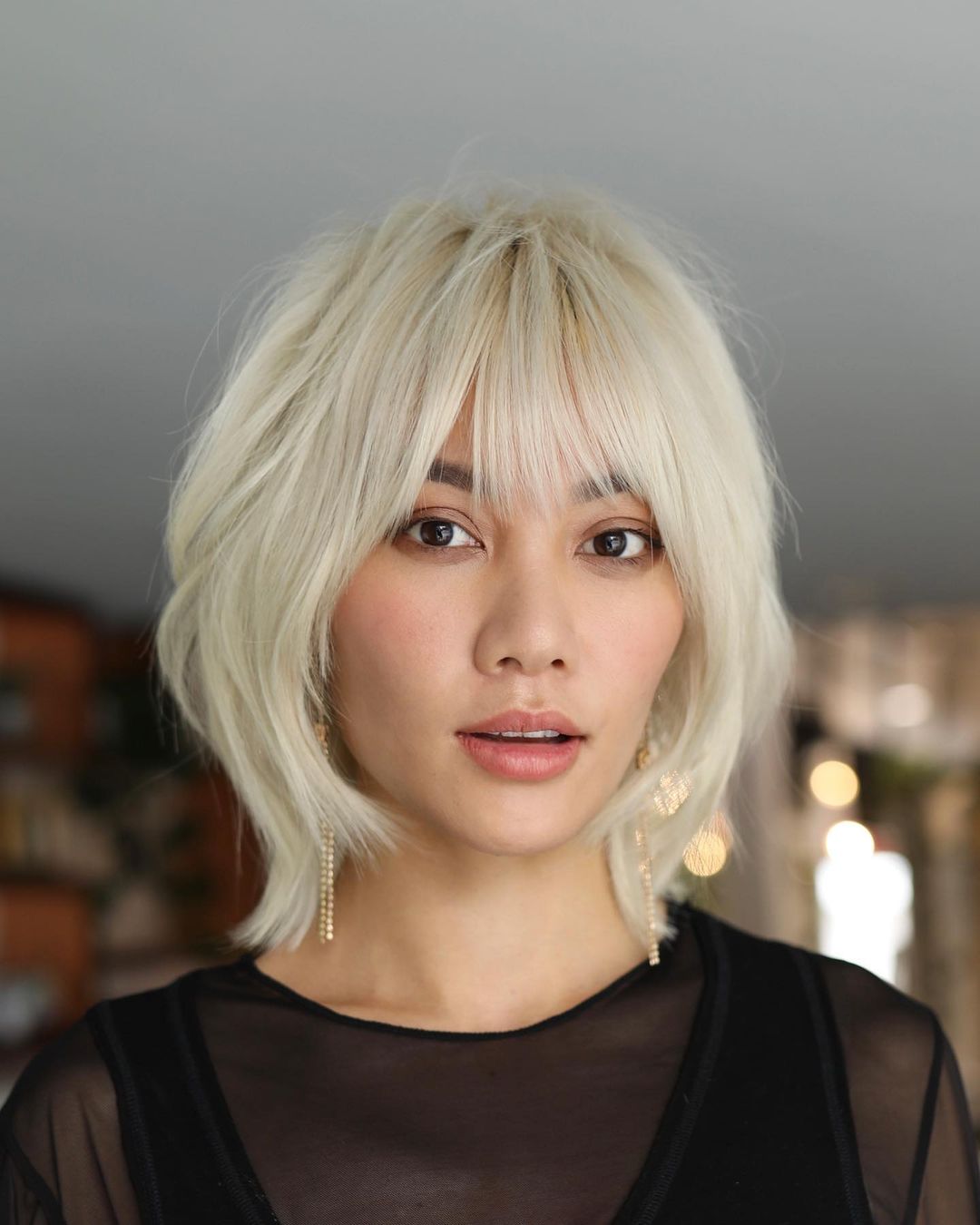 The shaggy bob is one of the most searched styles of the year, along with similar trending styles like the wolf cut and the mullet. What all of these styles have in common is length in the back and detail around the face, which makes them versatile and interesting.
28. Fine Hair Short Bob With Bangs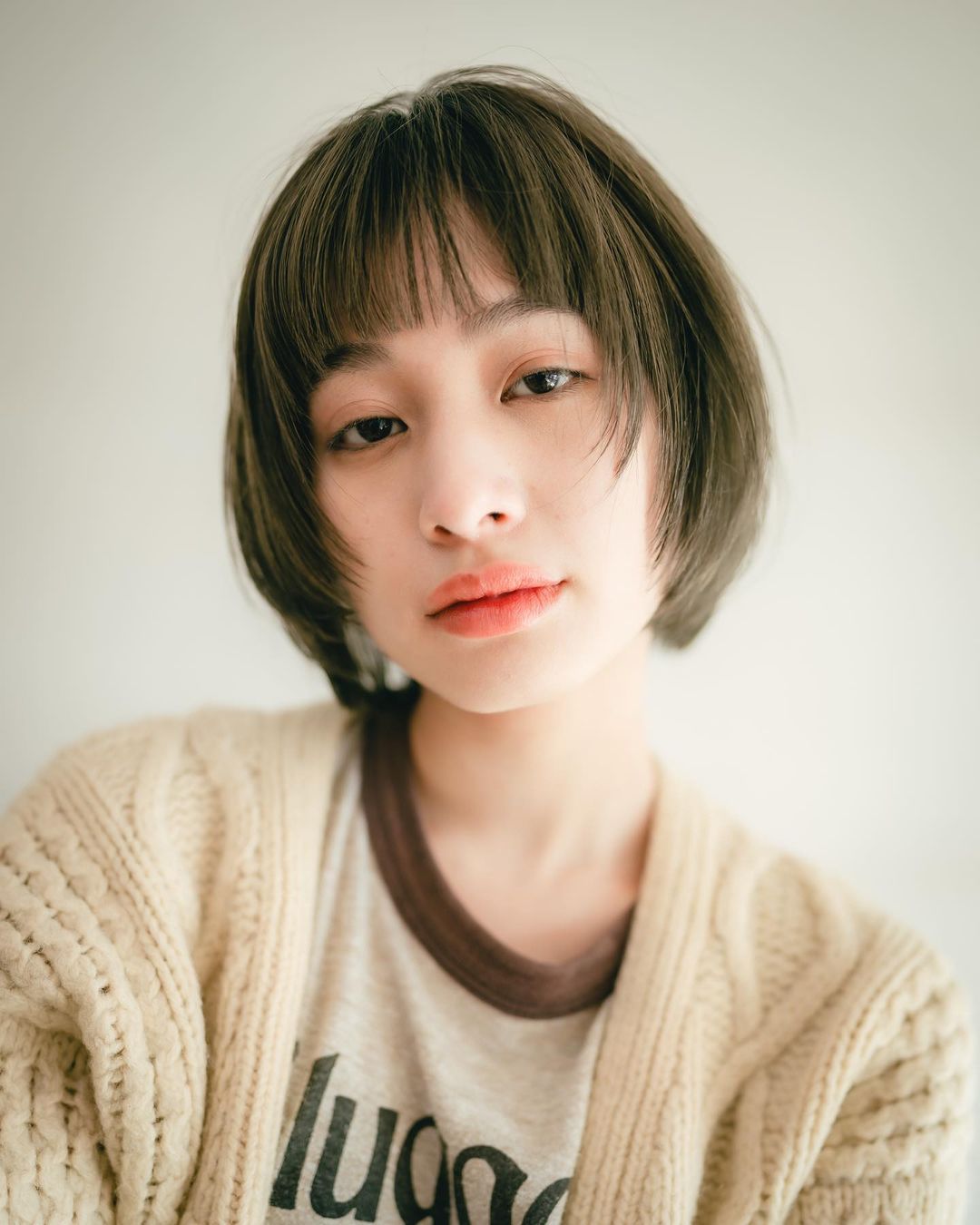 Long pieces around the face and lift at the crown make this hairstyle a great choice if you have a round face shape and you'd like to visually elongate it.
29. Inverted Layered Short Bob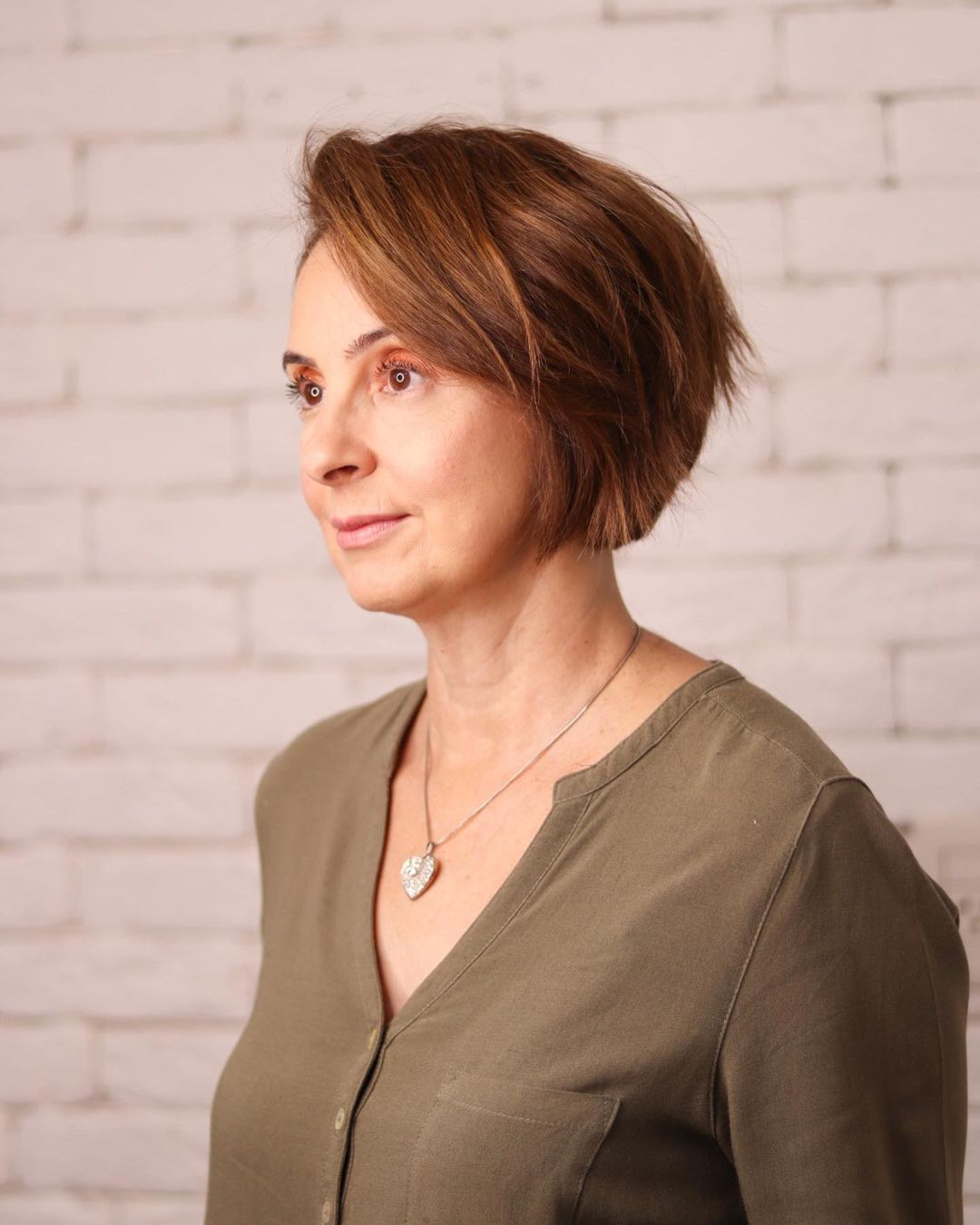 This easygoing haircut will add a chill vibe of to your appearance, thanks to the casual styling that makes movement a part of the whole look.
30. Short Bob Layered Haircut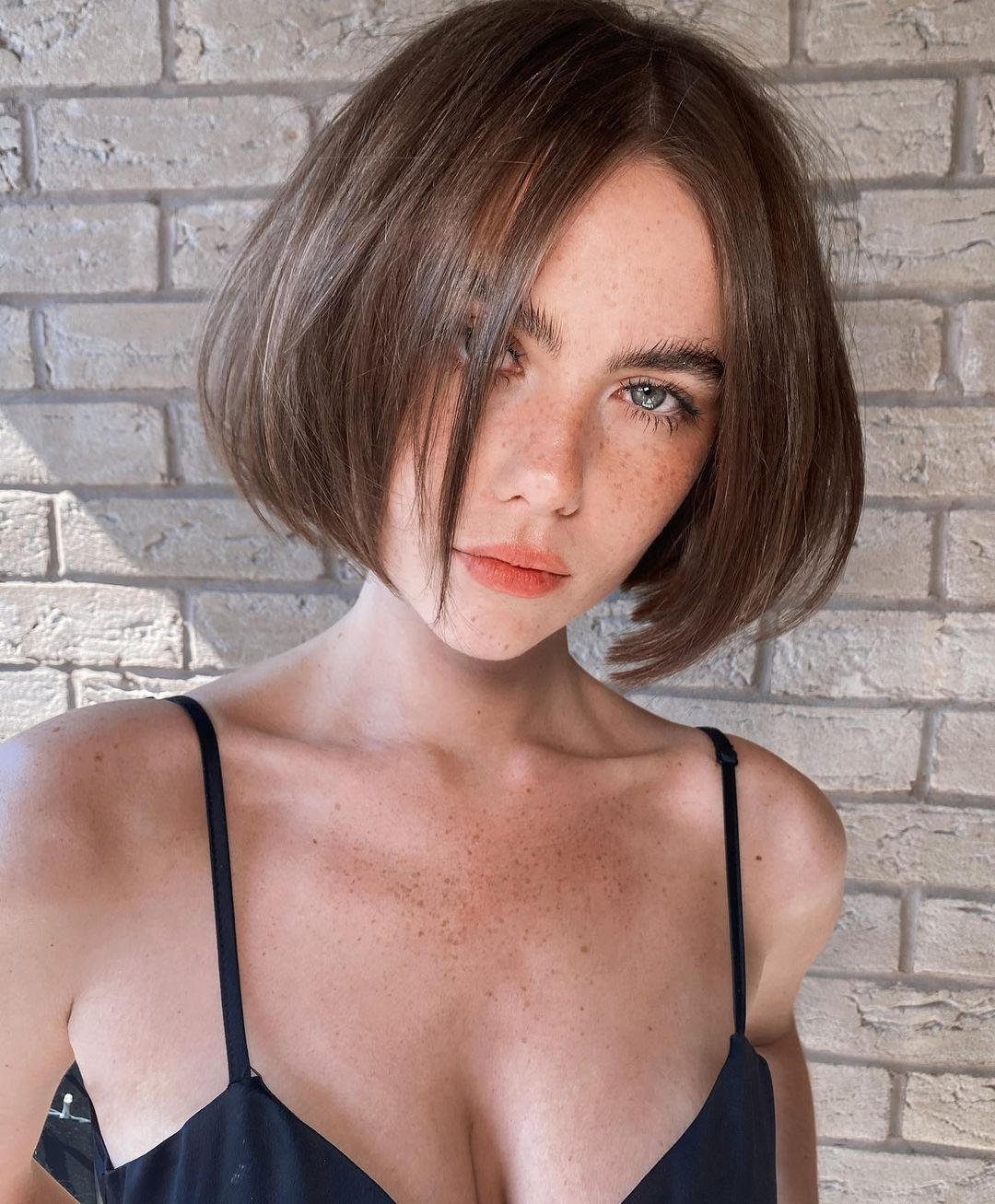 This bob is short, sweet and sophisticated. Ends flipped inward tend to look stuffy unless the rest of the styling is kept easygoing, so keep it relaxed and not too perfect.
31. Jaw Length Edgy Choppy Bob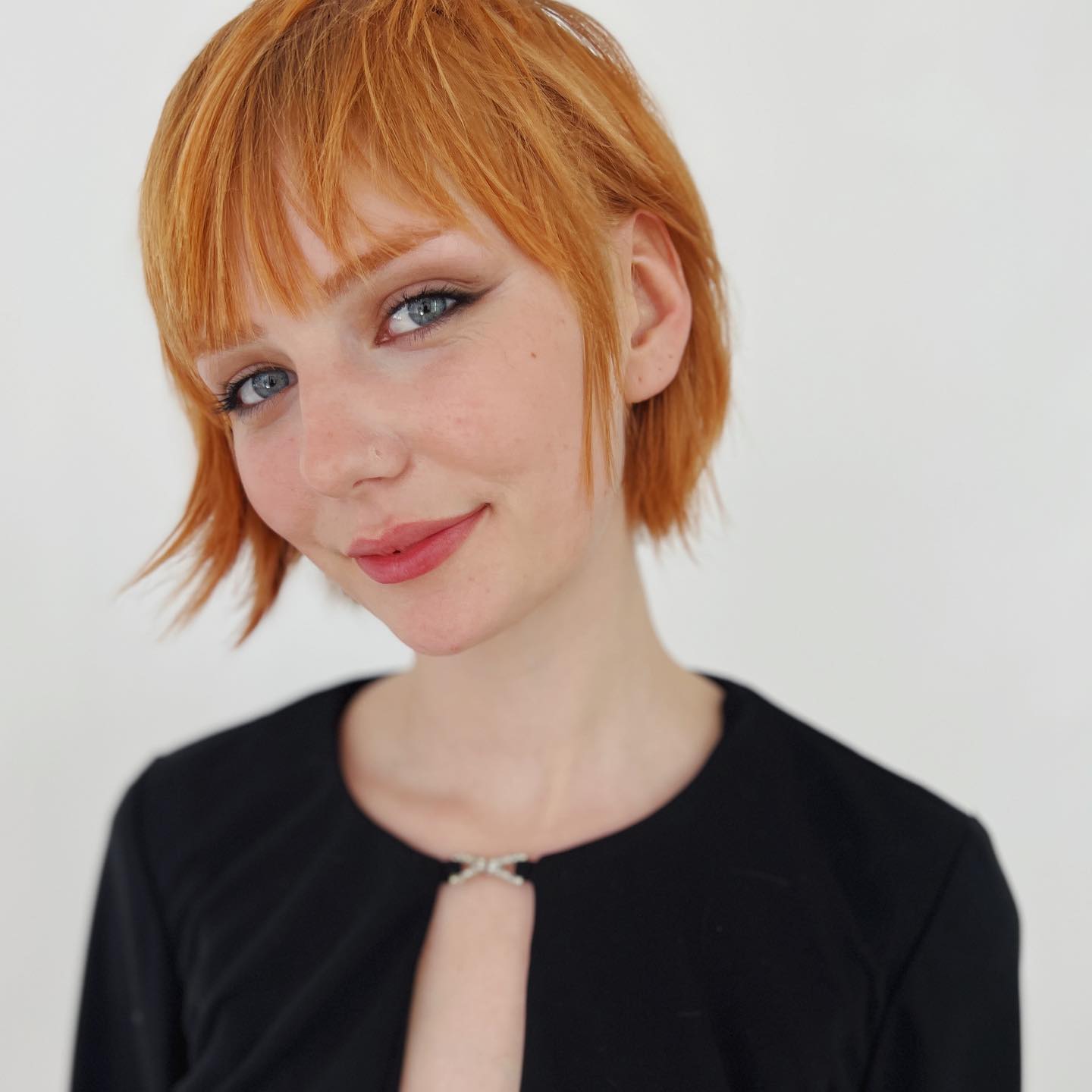 Upgrade your French bob with choppy layers if you want an edgier look. Visible layers add texture, which instantly translates into body, so they look amazing even if you have fine hair.
32. Layered Chin Length Bob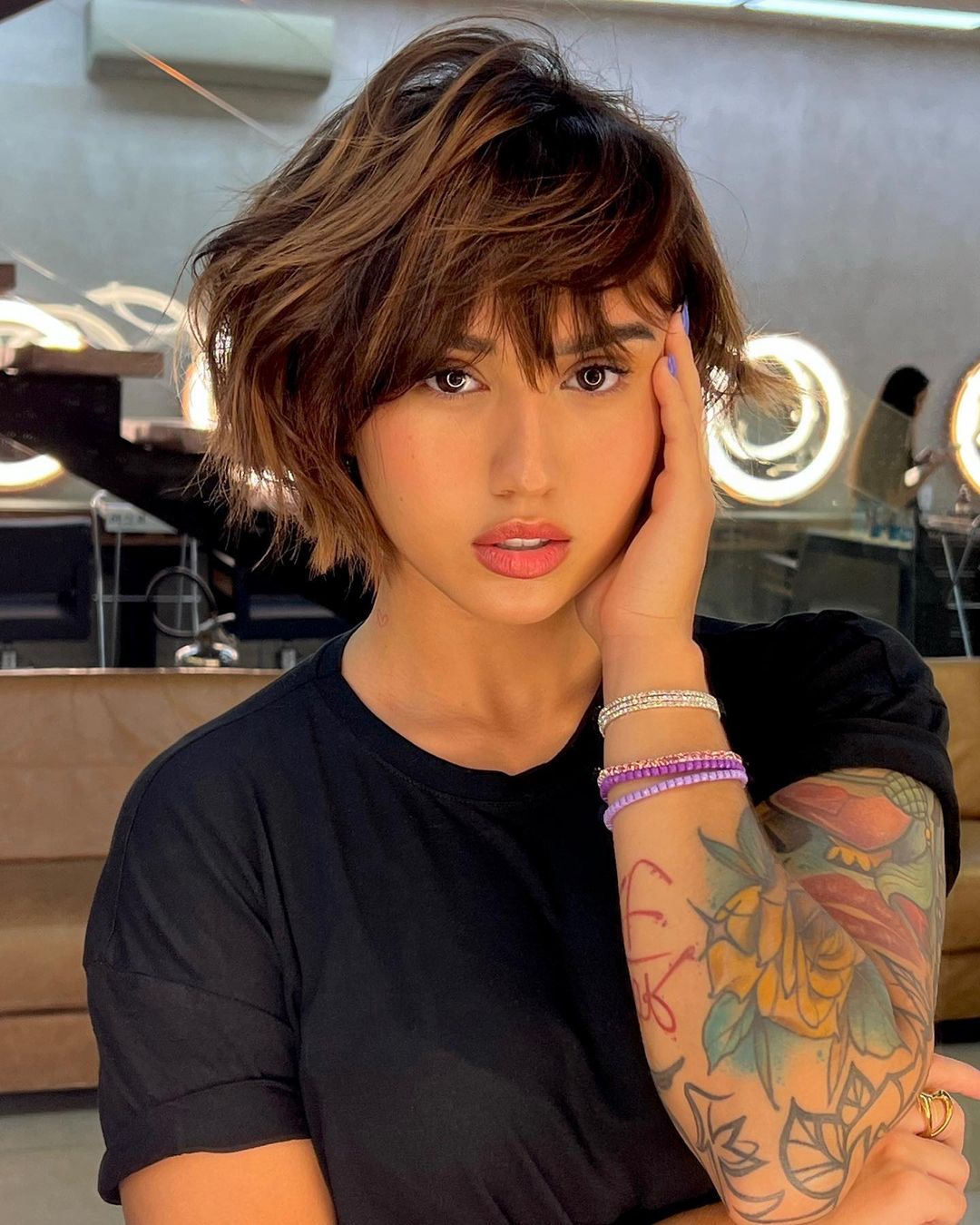 A short layered bob can be blow-dried sleek and full; scrunched, texturized and air-dried; or—somewhere in between—styled to look natural and effortless. Each of these options looks amazing, and gives you a chance to enjoy your short style no matter the occasion.
33. Edgy Short Layered Bob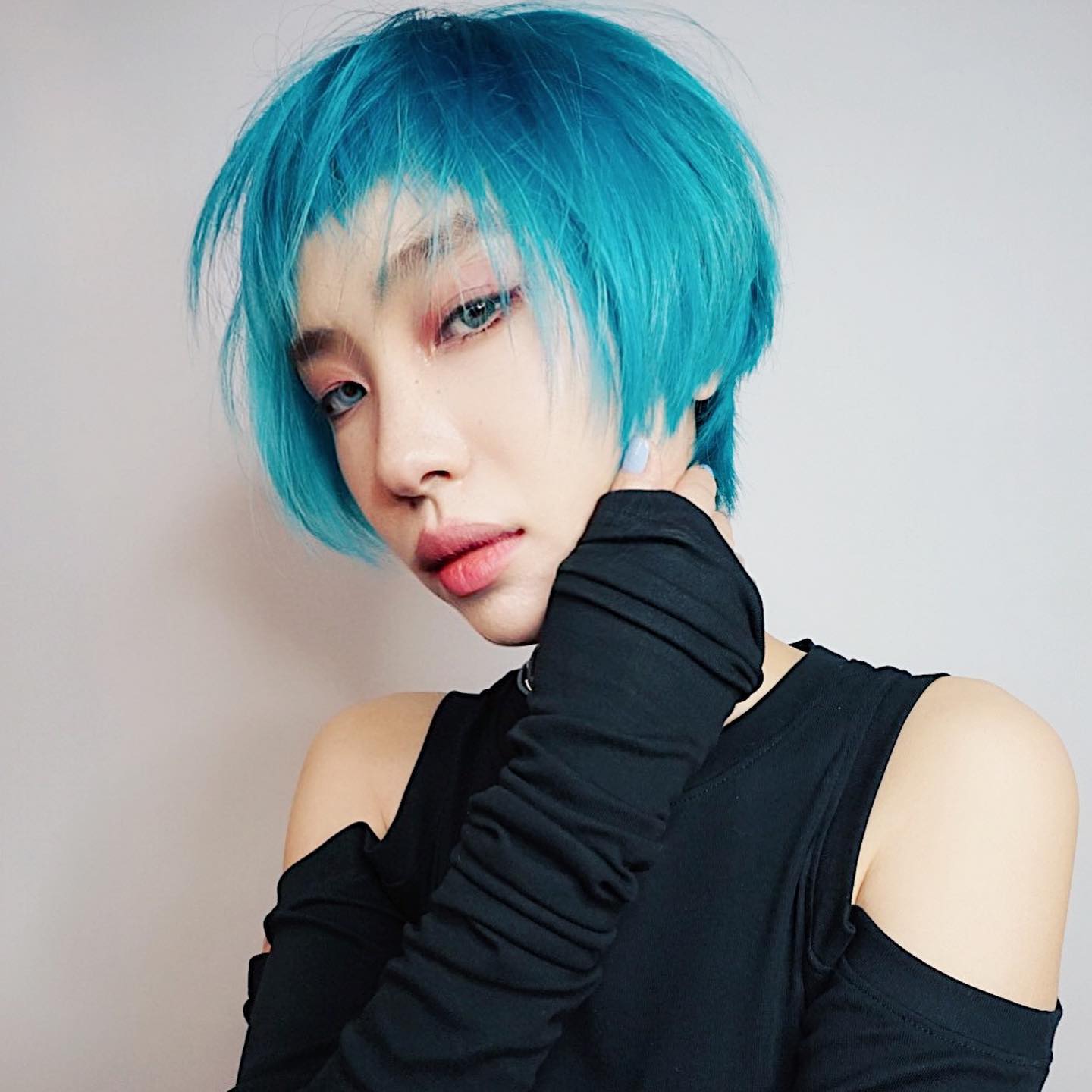 Sharp differences in the length of the fringe, the sides and the nape create an appearance of levels and make this haircut look structural and dramatic. Vivid colors make hairstyles like this look extra edgy and cool.
34. Short Textured Bob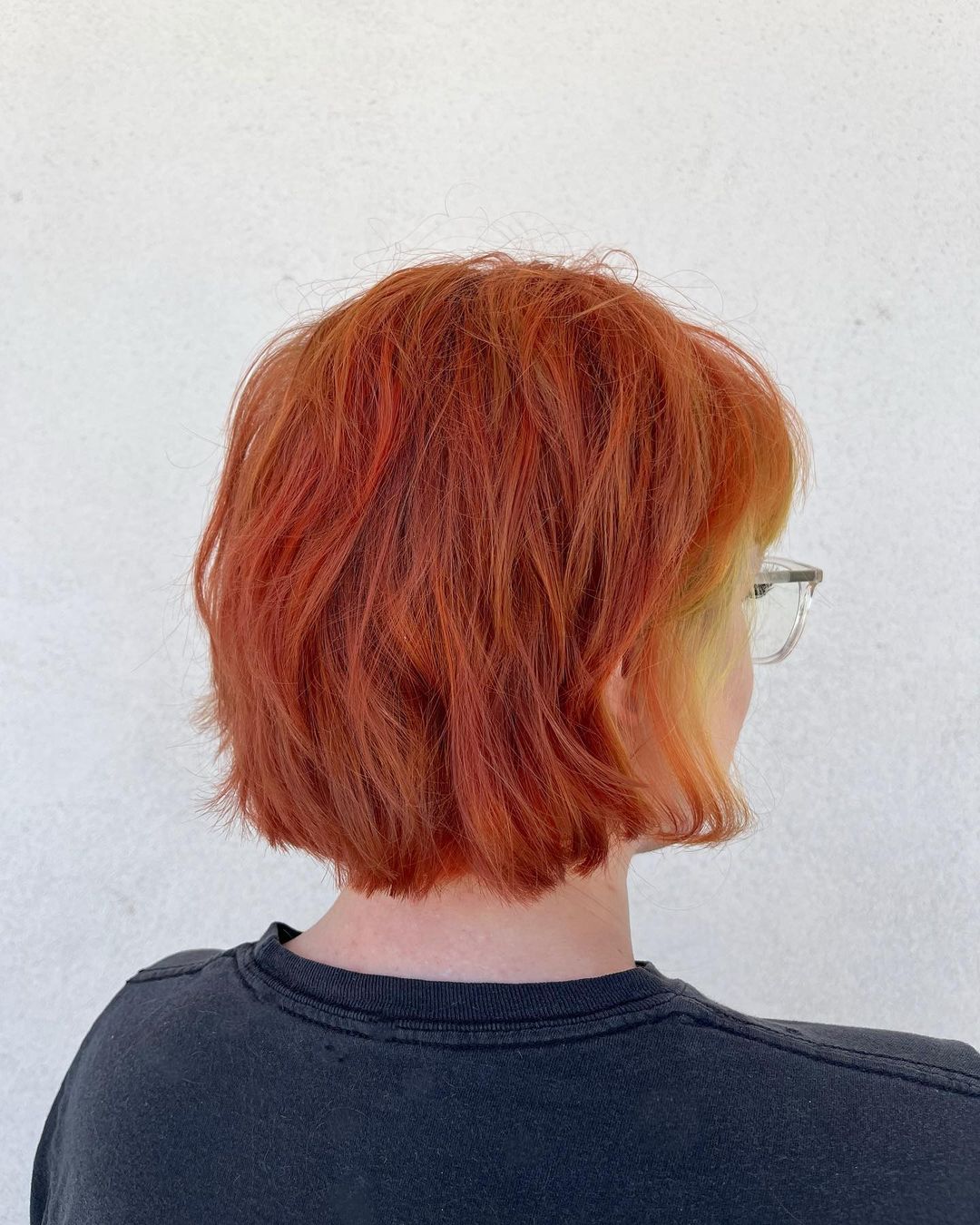 Even just a few layers help a bob hairstyle look better and easier to manage, whether you want to wear it naturally or precisely styled.
35. Layered Short Bob Cut With Bangs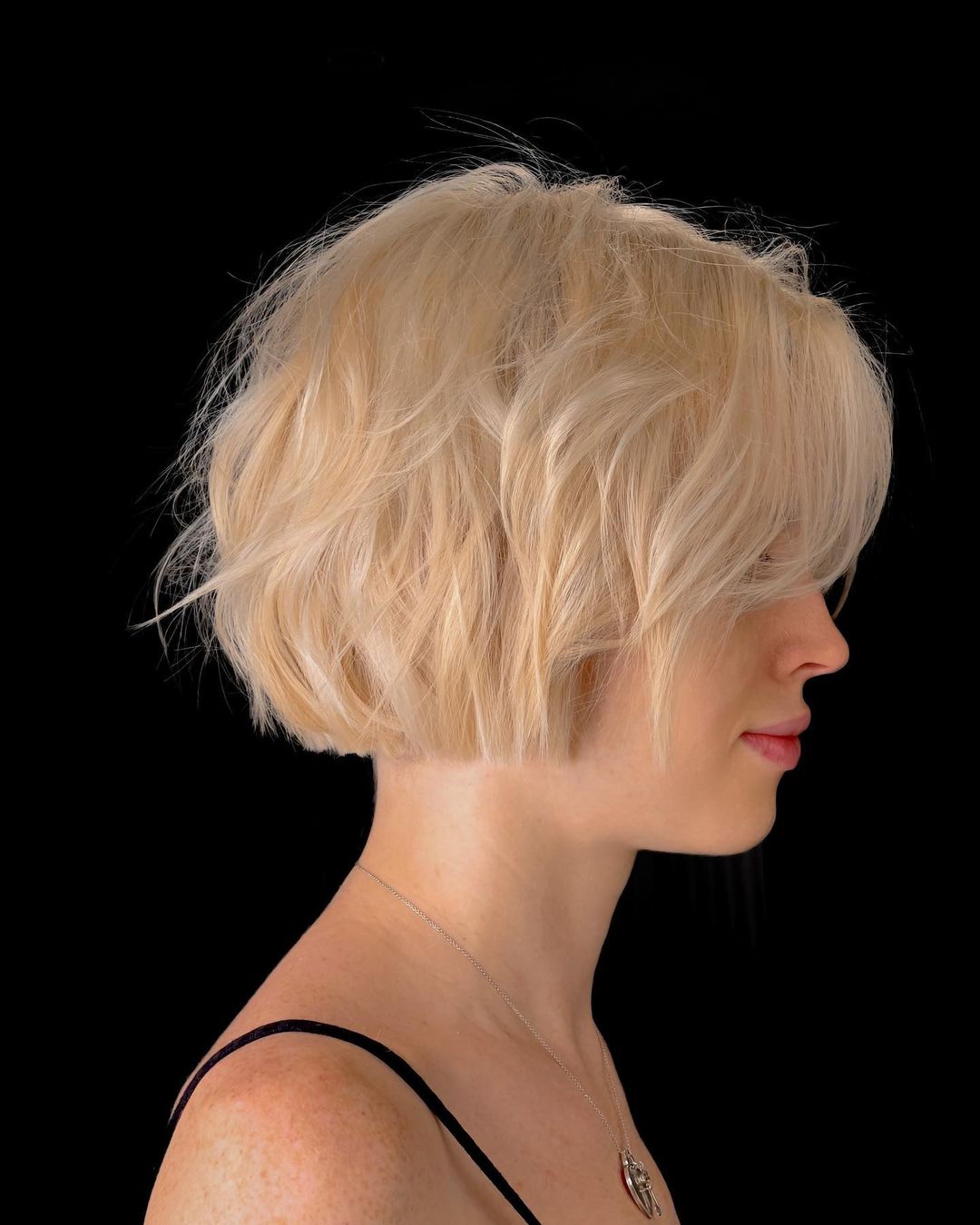 Fluffy layers contrast the blunt ends, resulting in a carefree yet structured look. Both of these features make the hair seem thicker, so this is a winning combo if you have thin hair.
36. Face-Framing Short Bob With Layers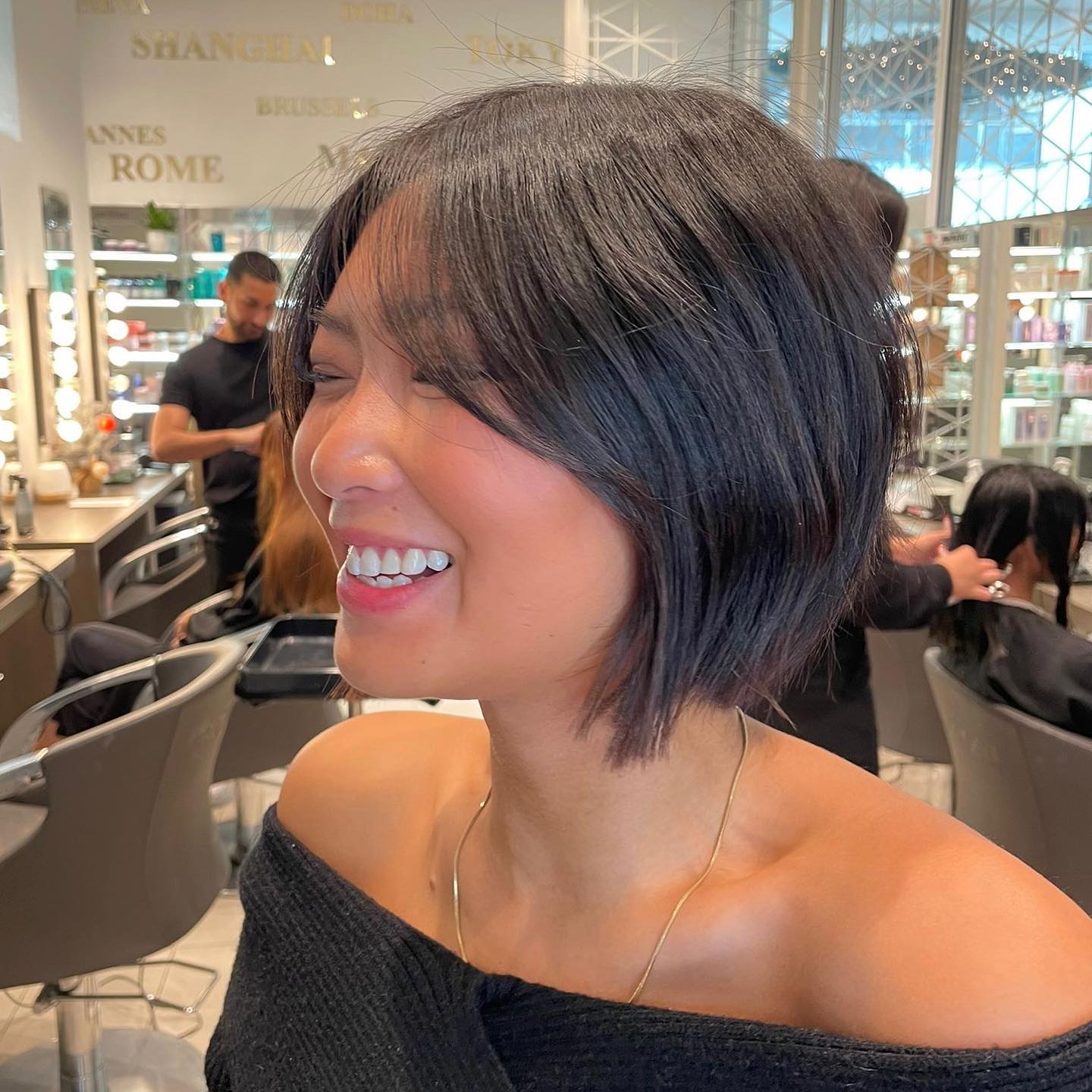 This barely-stacked bob is bouncy and cute, and the long wispy bangs provide subtle but flattering face framing.
37. Middle Part Layered Bob Short Haircut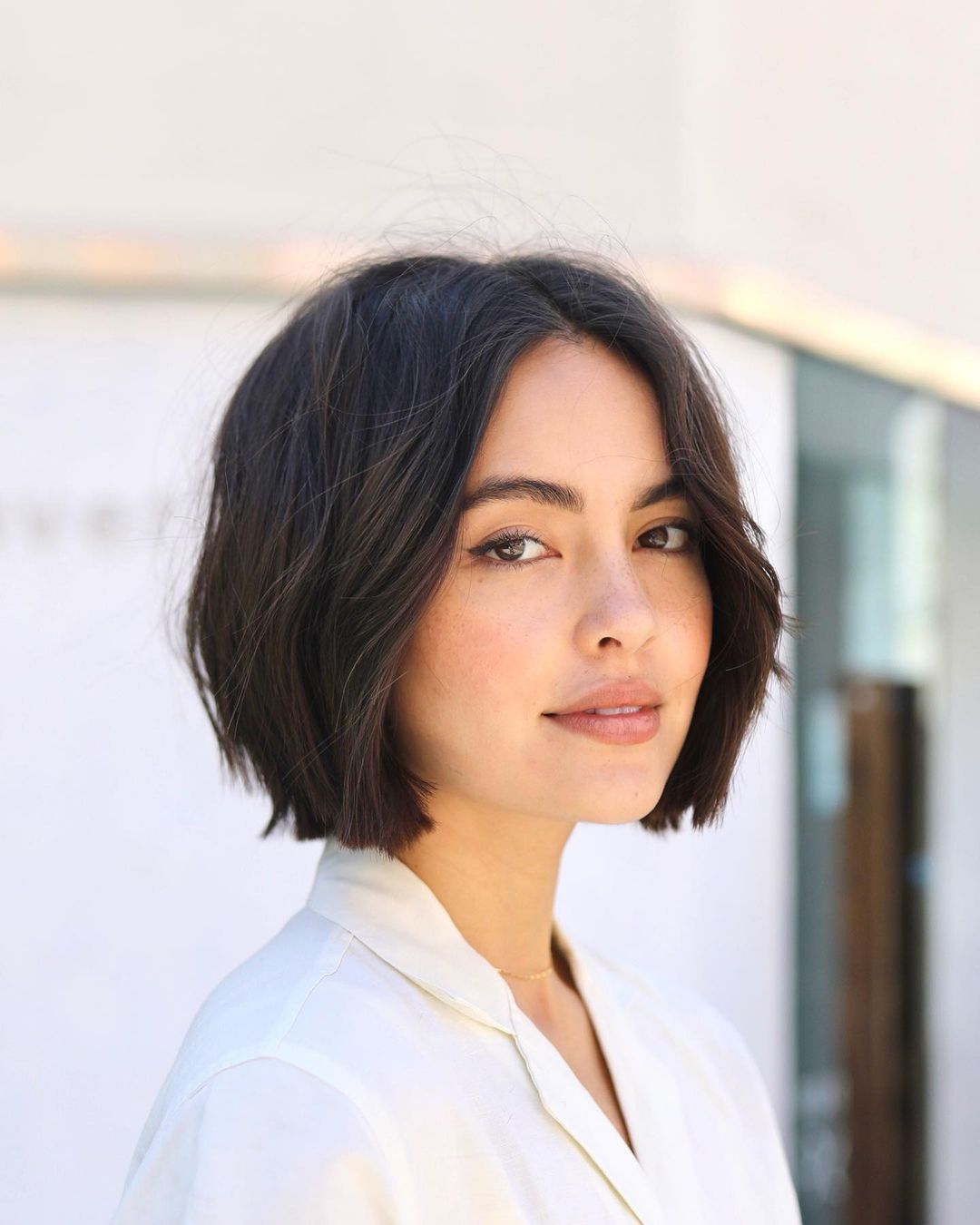 This chic one-length bob is among the rare styles that looks great on everyone. Razored layers take the weight off, making it lightweight and easy.
38. Curly Bob Haircut With Bangs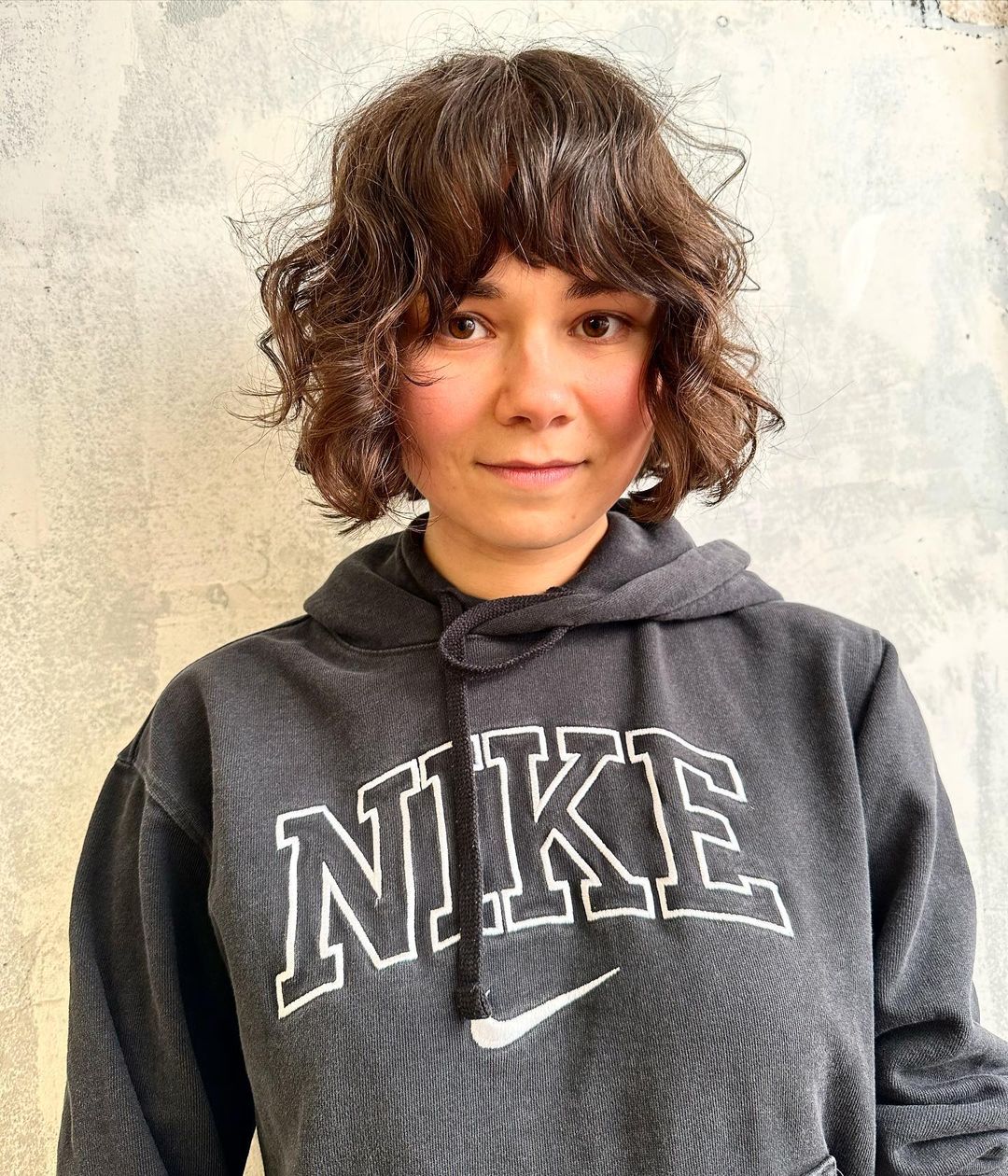 Short curly hair with bangs is fun and cute. Layers are a must when you want to create shape and give curly hair volume—they set the curls free, letting them breathe.
39. Layered Short Bob Haircut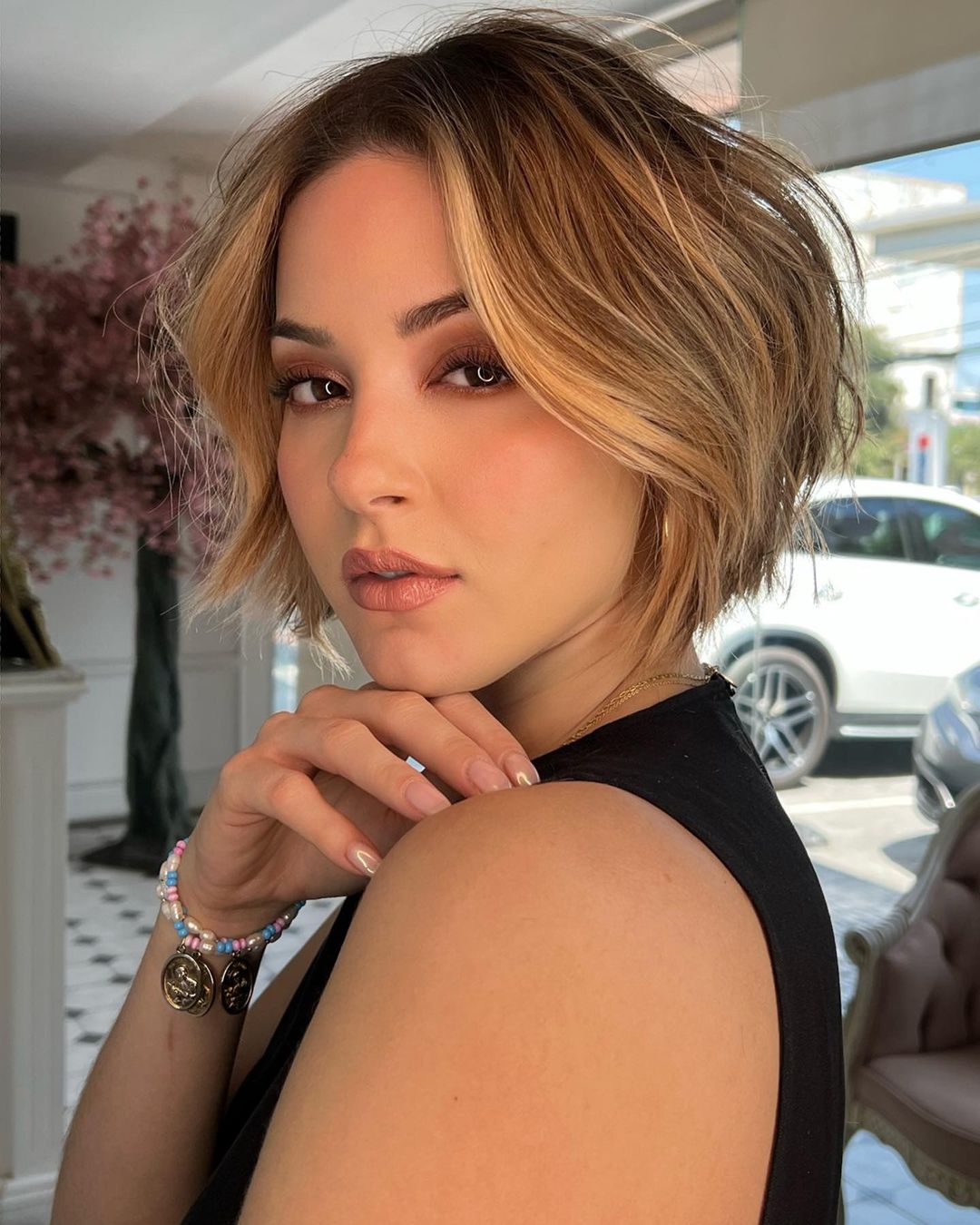 If you're trying to avoid heat styling, a bob with long layers is easy to work with. Tousling your hair and tucking it behind the ears will create natural waves, and well placed layers will help everything fall into place.
40. Thick Hair Short Bob Haircut With Bangs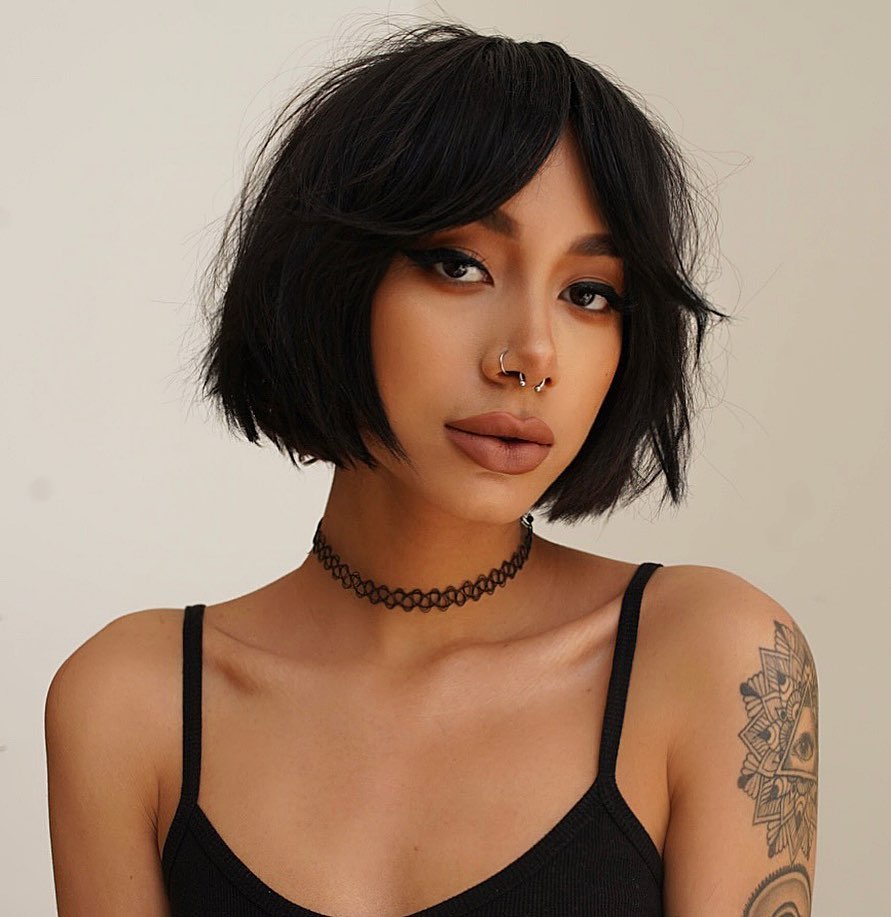 Layers are used to make thick hair more manageable and to create a pleasing shape. Thick hair can be difficult to handle if it's not cut properly, so finding a stylist who knows how to thin out your tresses without making it look unbalanced is super important.
41. Fine Hair Textured Bob
Dynamic layers give this bob movement and keep it from looking stuffy. Avoid using too much styling product to keep your hair touchable and soft.
42. Short French Bob Hairstyle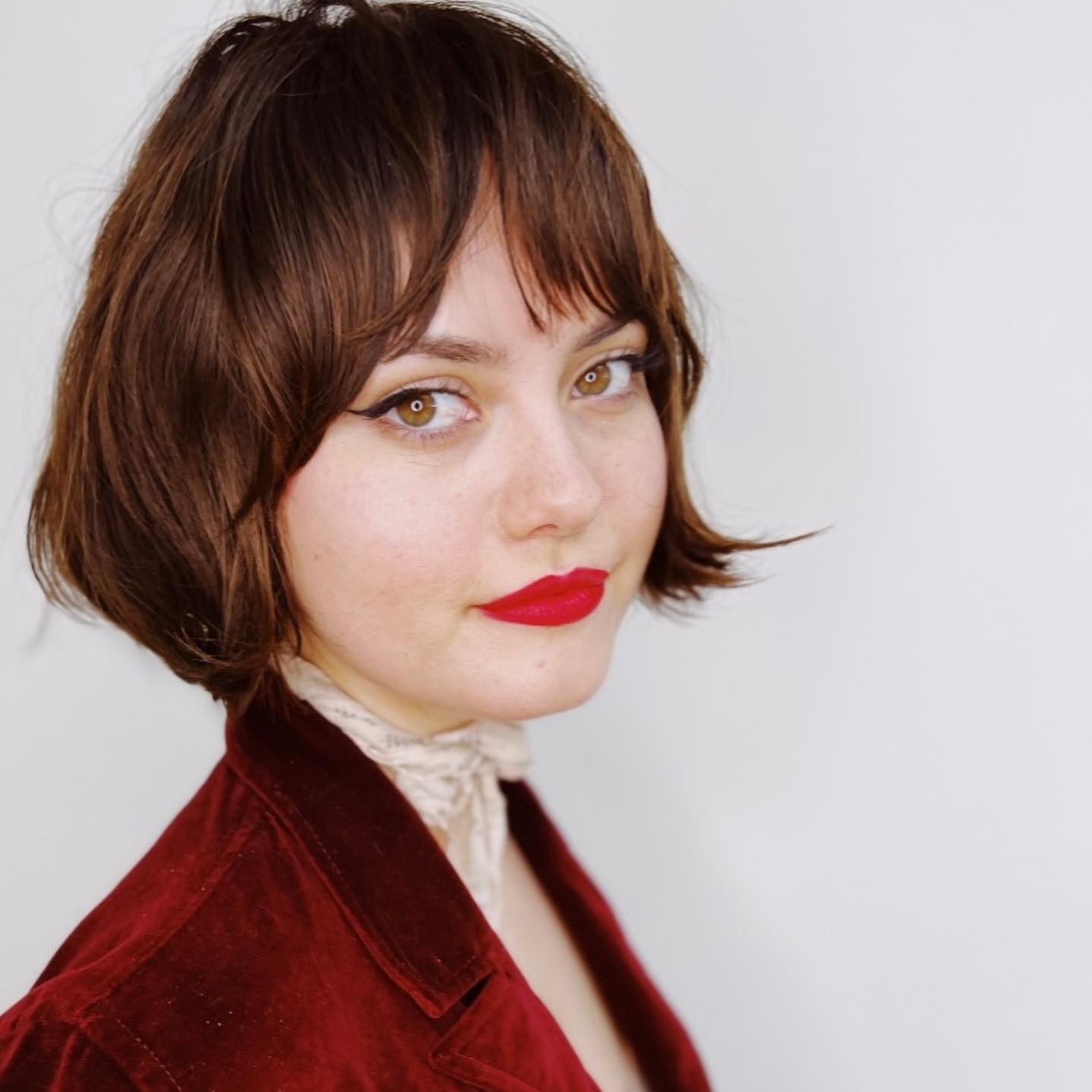 This style is tailor-made if you want to elongate a round face: it combines volume on top and fringe that starts deep, even adding face-framing pieces that make it look narrower.
43. Layered Blunt Bob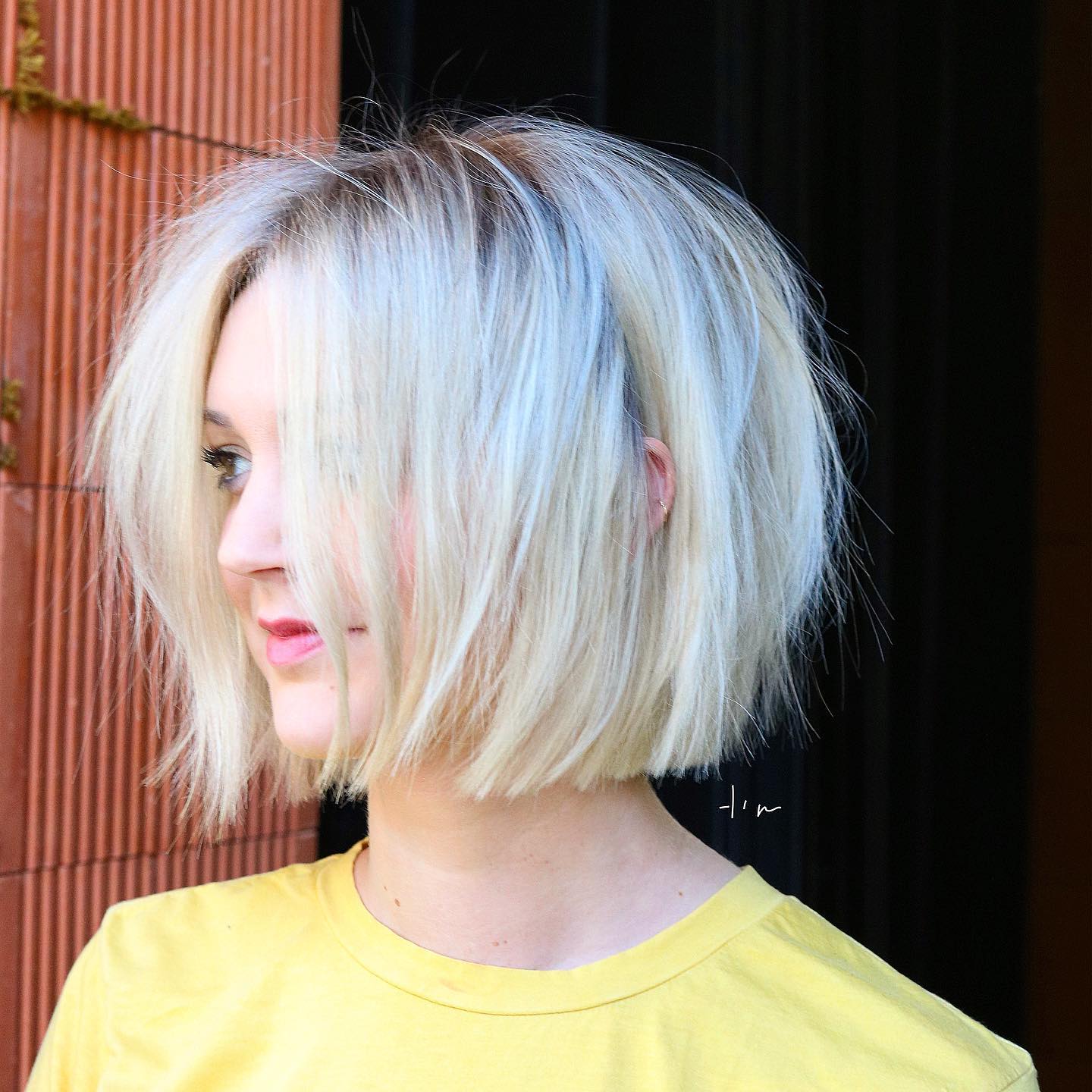 The classic textured blunt bob is sharp, yet casual. There's a lot of ways to style it, and if you keep your hair healthy, you don't have to style it at all and it will still look good.
44. Fringe Layered Bob For Fine Hair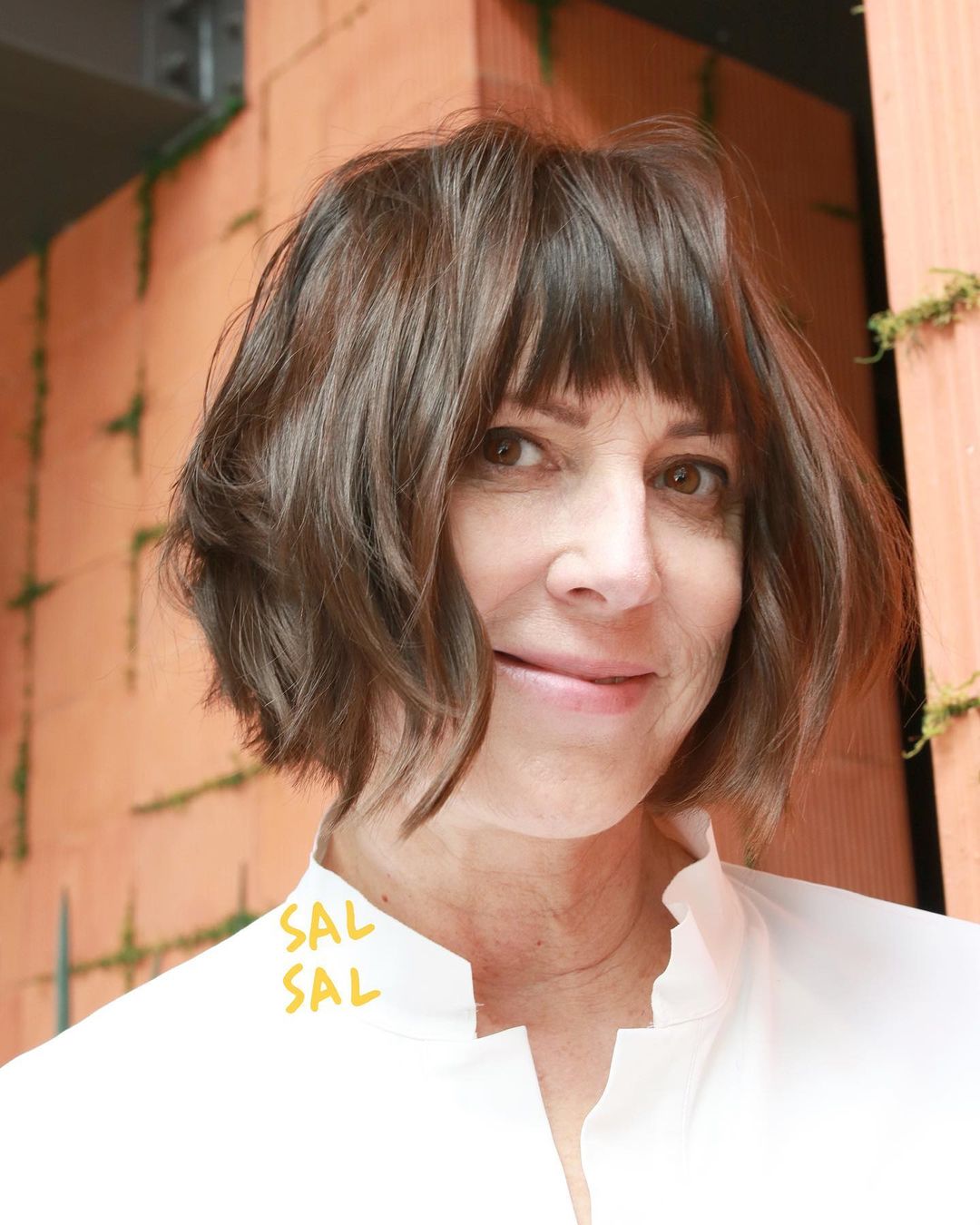 You already know that layers pump up the volume, and bangs do the same: by creating an illusion of your hairline starting where you want it, they give your hair a boost.
45. Short Stacked Bob Haircut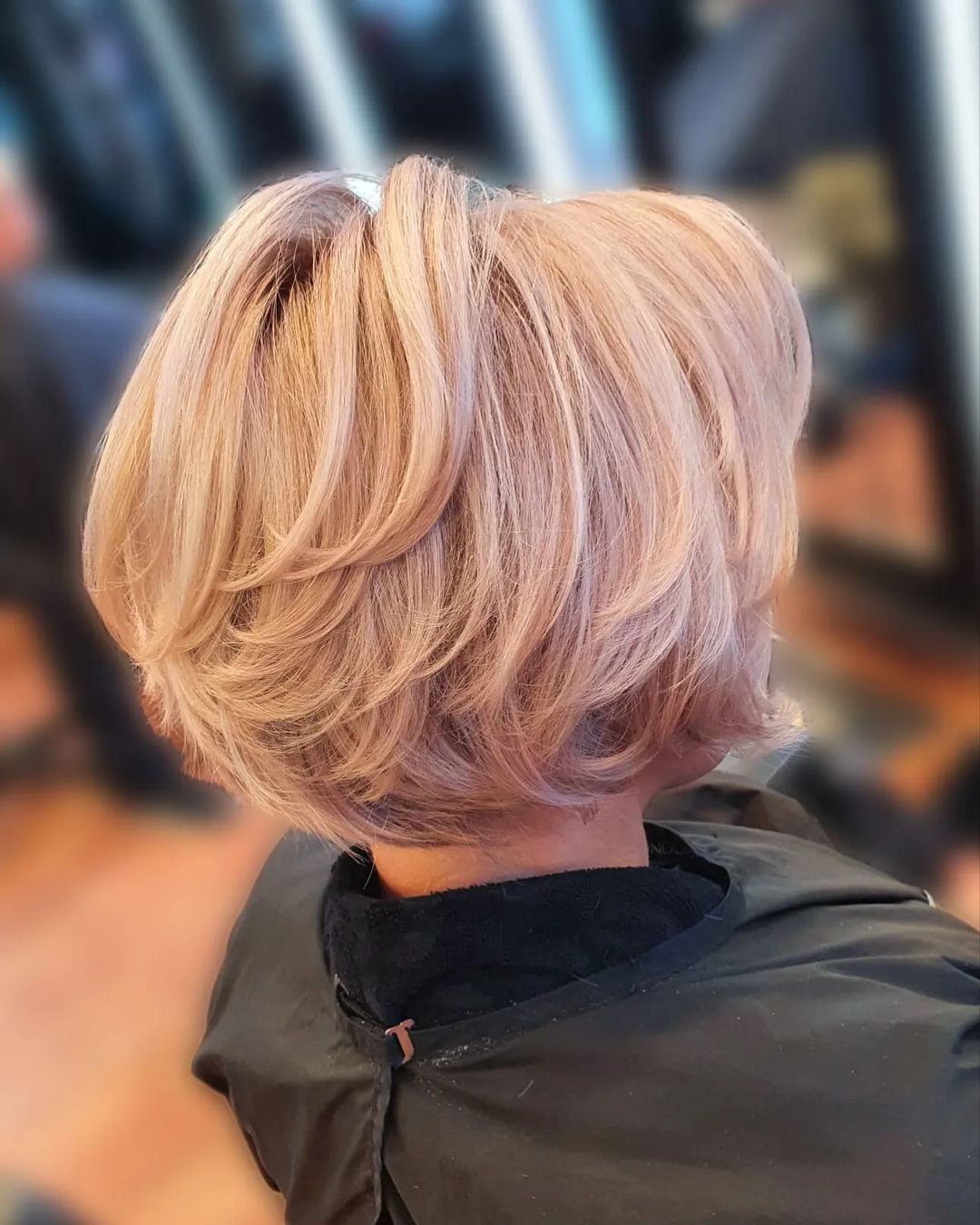 Layers can be used to shape a bob and create certain effects, or they can be the main feature, like these thick, gorgeous strands that draw the eye.
46. Thick Hair Short Haircut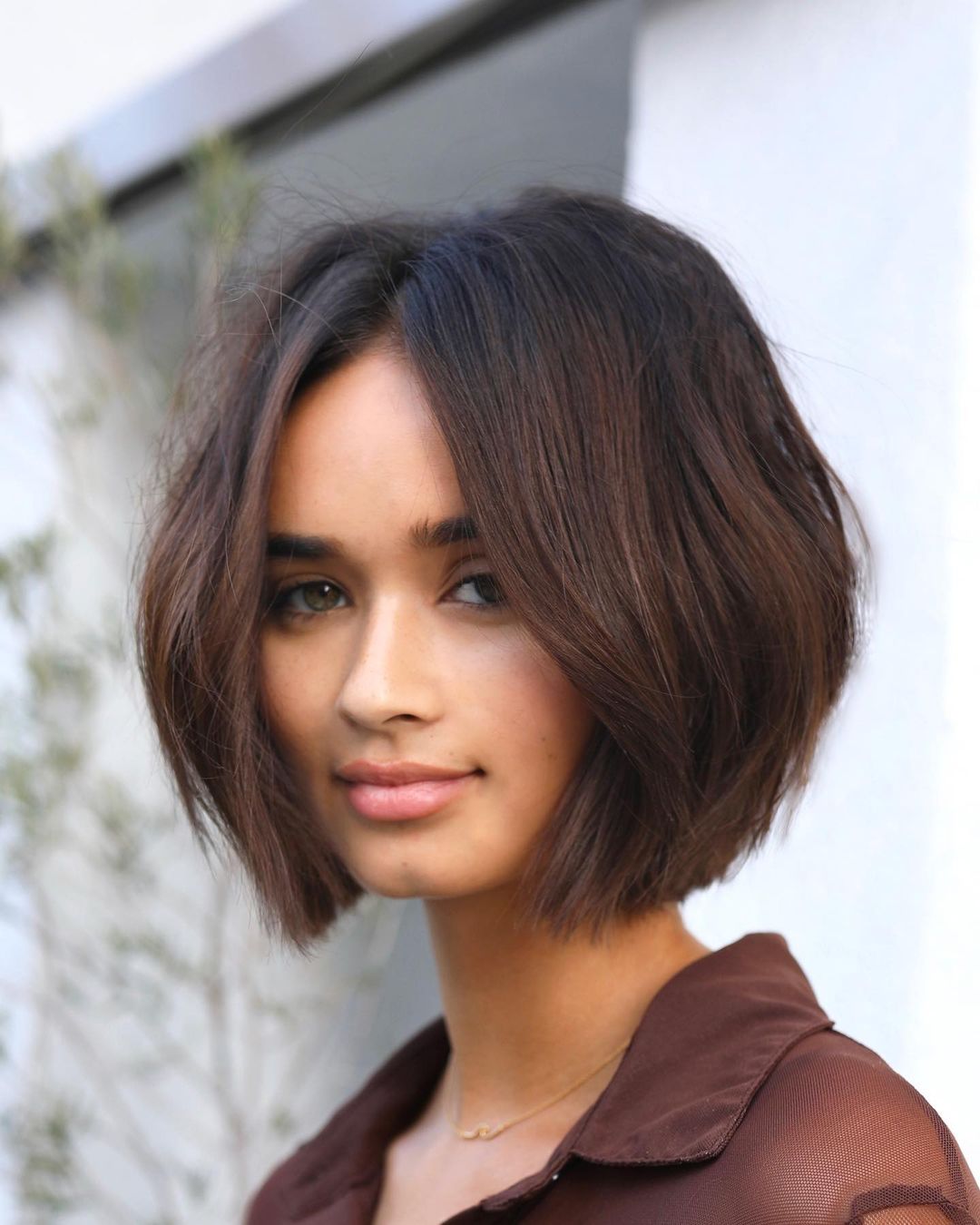 If you have a diamond-shaped face, hairstyles that frame the cheekbones work best, especially if they also draw attention the the forehead and the jawline, like in this chic bob.
47. Choppy Blunt Bob With Bangs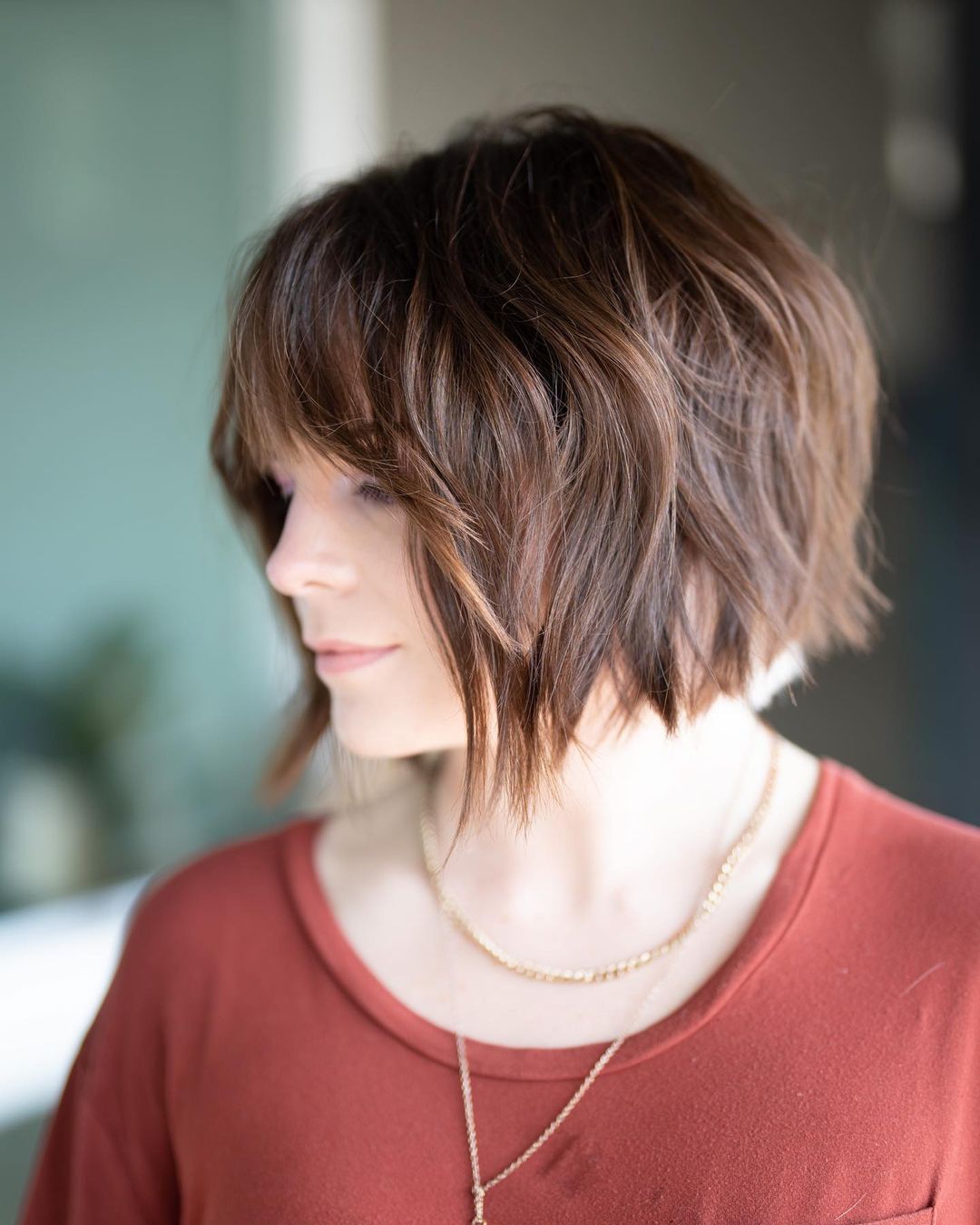 A-line bobs tend to be very dramatic, but thanks to the soft waves and keeping the longest pieces only slightly longer than the rest makes this one romantic and delicate.
48. Short Layered Blunt Cut Bob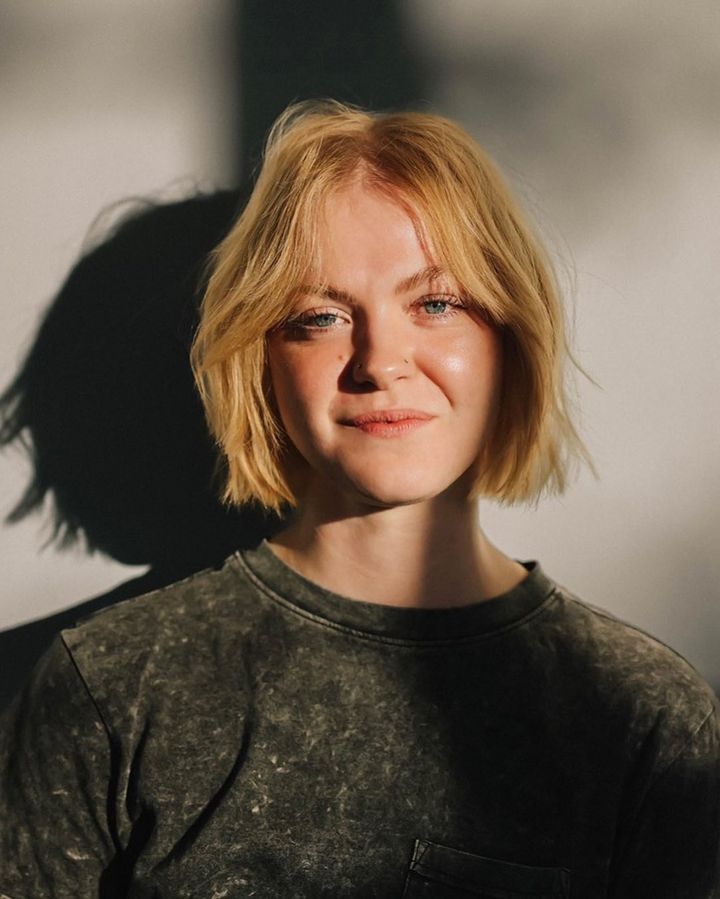 If there's something missing from your bob, why not try curtain bangs? They suit everyone because they're so customizable, so they're the perfect companion to any hairstyle.
49. Bob Haircut For Curly Hair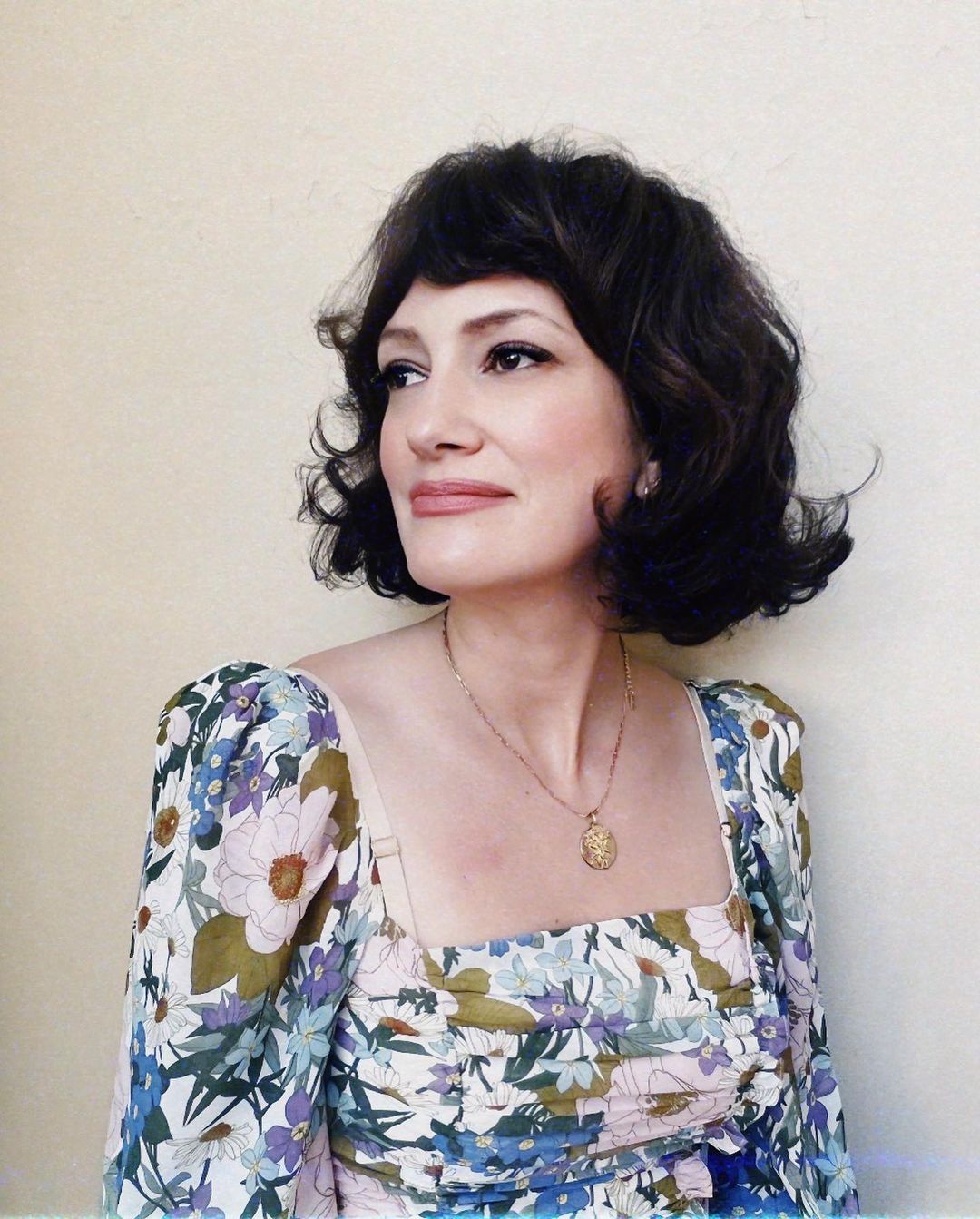 Whichever style you go for, to get the best shape out of curly hair, it needs to be cut in a way that respects the curl pattern. This is best achieved by dry-cutting, once the curls have taken their final form.
50. Short Layered Bob Haircut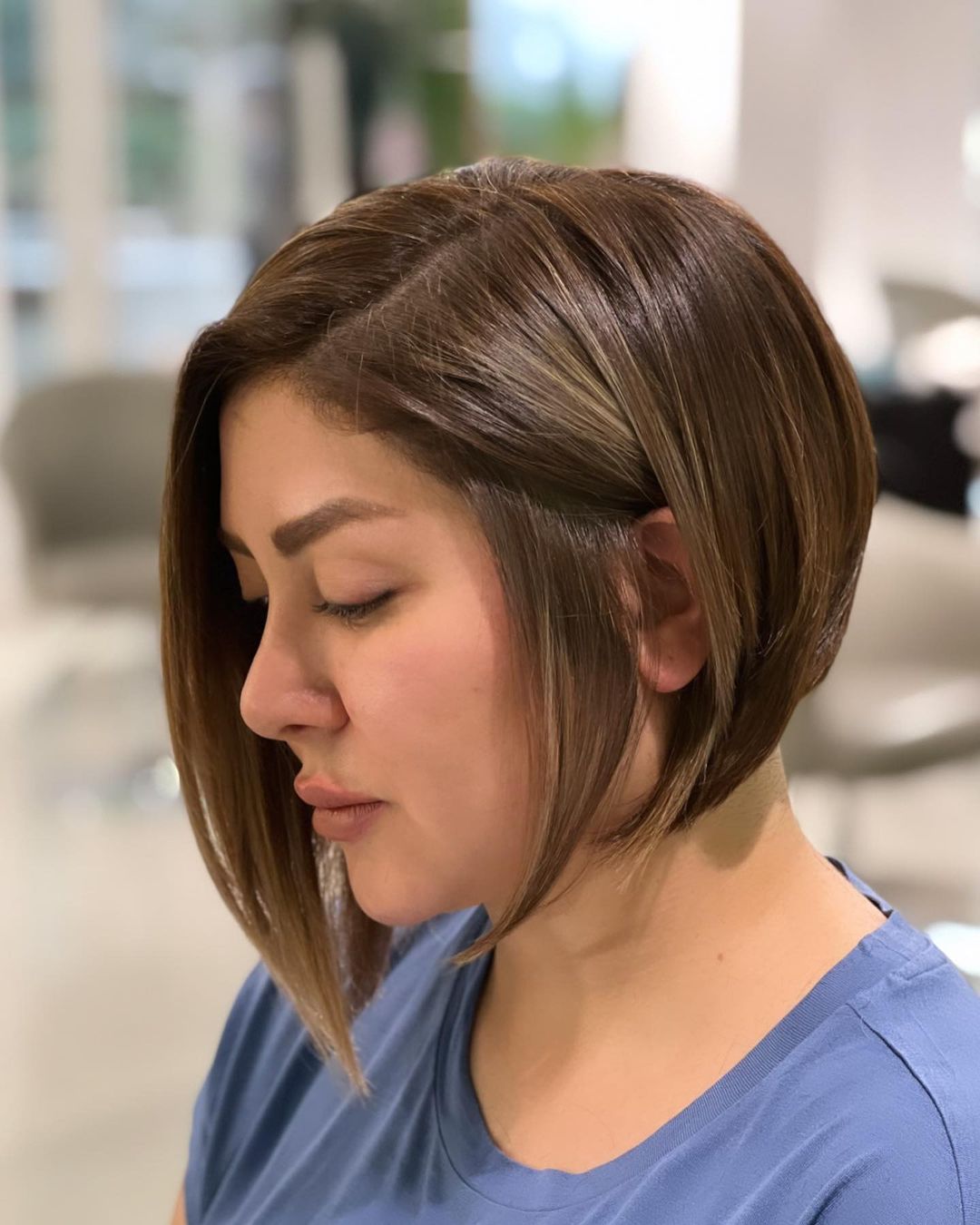 If you don't mind spending some times styling it, this hairstyle will make your features stand out and give your hair volume—stacked layers add lots of dimension without bulk in the back, and the longest strands in the front create a frame around the face.