Updos for curly hair are one of the best things since sliced bread! With curly updo hairstyles, you can achieve an expressive, elegant, or casual look without much effort. Besides that, these trendsetting upstyles for your curly wurly mane are real head-turners!
1. Curly Hair Updo With Side Fringe
This elegant updo features a sleek messy bun with side fringe for an impressionable look with a dash of mystery. It is a classic curly updo suitable for all occasions where the addition of the right makeup and jewelry can level up your entire look.
2. Effortless High Messy Bun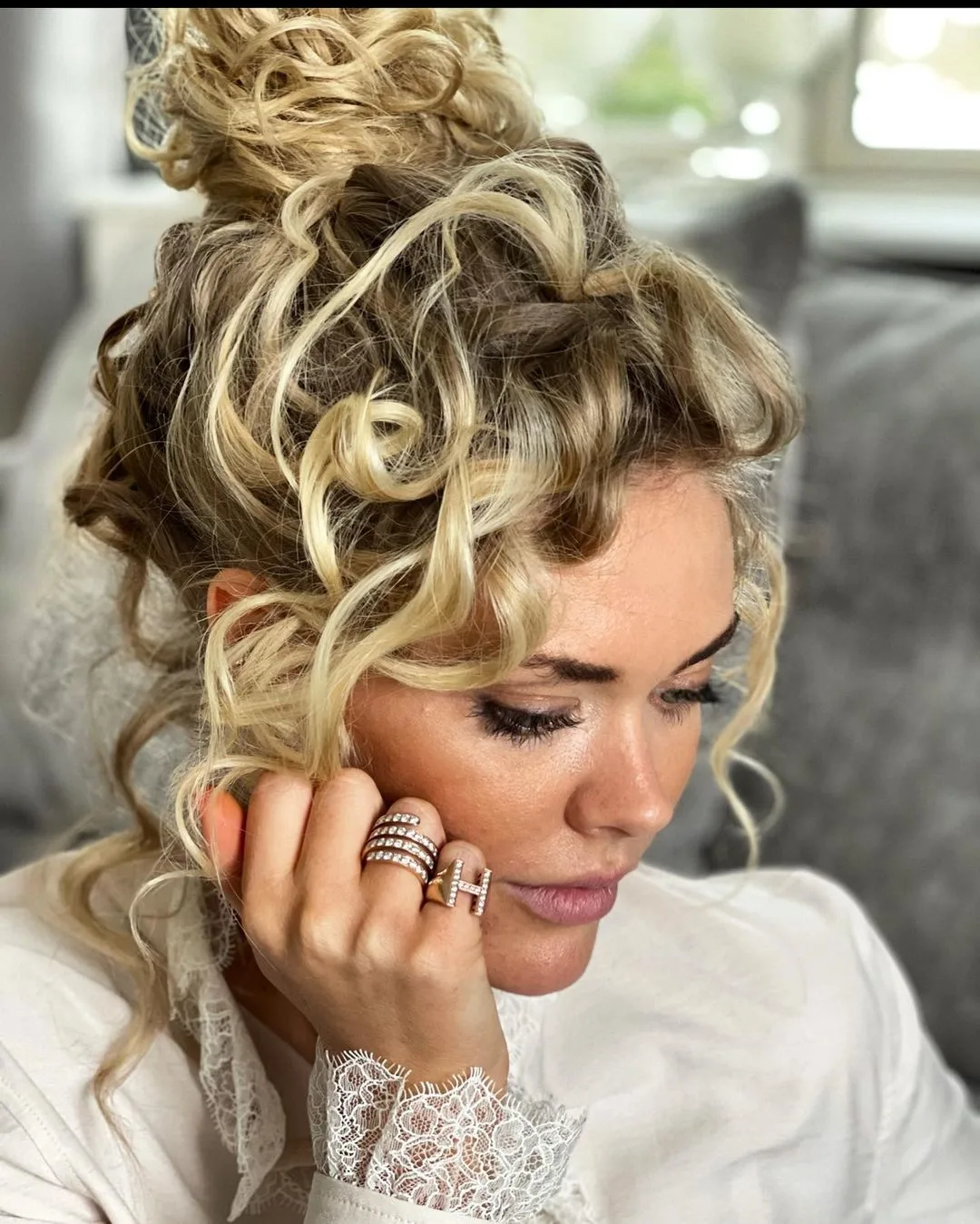 If you want to achieve that off-duty model look or you're looking forward to festivities, an effortless messy bun will do the job. With blonde balayage, this curly updo looks even more attractive!
3. Low Curly Bun For Thick Hair
Those with thick curly manes know how hard it is to find the right updo for their type of hair. A low curly bun is the safest bet because it will make sure that your thick strands are perfectly secured in the most elegant way.
4. Slicked Back Curly Bun
How to achieve this look: after applying styling cream, smooth and gather your hair with a bristle brush. Tie your hair with an elastic, forming a ponytail, and then use bobby pins to form a curly bun. Don't forget to pull down some front pieces for a face-framing effect.
5. Textured Updos With Buns And Braids
The best way to spice up your curly messy bun is by adding Dutch braids, fishtail braids, or other types of braids to this textured updo. This stylish updo brings out the best in light-colored hair. For more inspo, check out these hair color trends for curly hair.
6. Baddie Curly Pineapple Updo
Awaken your inner baddie with one of the hottest baddie curly hairstyles! A classic pineapple updo combined with two "baddie braids" is a perfect, casual updo for curly tresses.
7. Romantic Updo For Naturally Curly Hair
This romantic updo features twists that wrap around a low messy bun. What I love about this updo is that it looks so natural and effortless on curly hair. Wow!
8. Pin Up Updo Hairstyle
A high messy bun with a pin up headband is a brilliant way to secure your locks while remaining stylish. Headbands with plaid, floral, or dot patterns are a perfect addition to your pin up look.
9. Elegant Curly Updo With Pearls
Excuse me while I pick up my jaw from the floor! If you want to leave everyone speechless, opt for a voluminous bun decorated with pearls. This amazing updo brings justice to dark curly hair.
10. Beach Waves Updo With Face-Framing Bangs
To achieve that effortless, beach wave effect, twist sections of your hair and secure them with bobby pins. Also, face-framing bangs are a must for this inspiring curly updo.
11. Curly Updo Hairstyle With A Sleek Middle Part
A sleek middle part creates the illusion of more volume on your curly updo. This upstyle is a godsend for those with thin hair, and it stands for one of the most popular curly hairstyles.
12. Natural Waves Updo For Curly Hair
Natural waves feature strands of curly hair wrapped into a loose bun that looks almost invisible. This type of curly updo looks best on highlighted hair and is perfect for all occasions.
13. Low Curly Bun With Cornrows
If you're looking for a distinct, more personalized updo, then opt for a low curly bun with cornrows. Additionally, cornrows will protect your hair from dryness, breakage, and heat.
14. Chic Updo With Braids And A Decorative Pin
We love braids because they are stylish and can take any curly updo to the next level.
Here's how to do a simple 3-strand braid: separate your hair into 3 sections. Hold one section in your left hand and the right section in your right hand. Cross the right section over the middle section and then do the same for the left section. Continue alternating right and left sides until you have a few inches of hair left.
15. Elegant Updo For Long Hair
Combining sleek and curly elements will boost the volume and texture of your curly updo. I always suggest this type of updo to those with extra long curly hair.
16. Curly Hair Updo With Pulled Down Locks
Pulling down a few locks from your curly bun is a great way to make your updo look more effortless and casual. However, if you want to achieve a more serious and polished look, then consider skipping pulling down locks.
17. Cute Updo Hairstyle With An Extra Large Scrunchie
I'm sure you already know that there are so many easy and stunning ways to style your hair with an extra large scrunchie. A high messy bun is one of them and I daresay that this curly updo is and will be forever on-trend.
18. Mega Volume Artsy Updo
If you have long thick hair, then you can achieve this artsy updo without much effort. Those with thin hair should consider teasing their hair with a fine-tooth comb to create more volume.
19. Sweet Curly Updo With Flower Pins
This sweet curly updo looks best on mid-length curls, short curly hair, and 3C curly hair. A high bun with flower pins will make your updo appear more voluminous, while pulled down locks will give more expression to your curly updo.
20. Whimsical Silver-Purple Curly Updo
Natural silver and pastel purple hair colors create one of the most whimsical updos for curly mane. If pastel purple is not your color of choice, you can choose another pastel color that will match your preference and styling.