Gemini hair is the split-tone hair color trend that lets you have your cake and eat it too. If you can't decide between two colors or you're looking for a creative way to add some zing to your style, look no further.
This split dye job features two different colors on either side of the hair part, and the way you combine them is only limited by your imagination.
Here are 25 pics to draw inspiration from—and some of them might surprise you.
1. Auburn And Almond Gemini Hair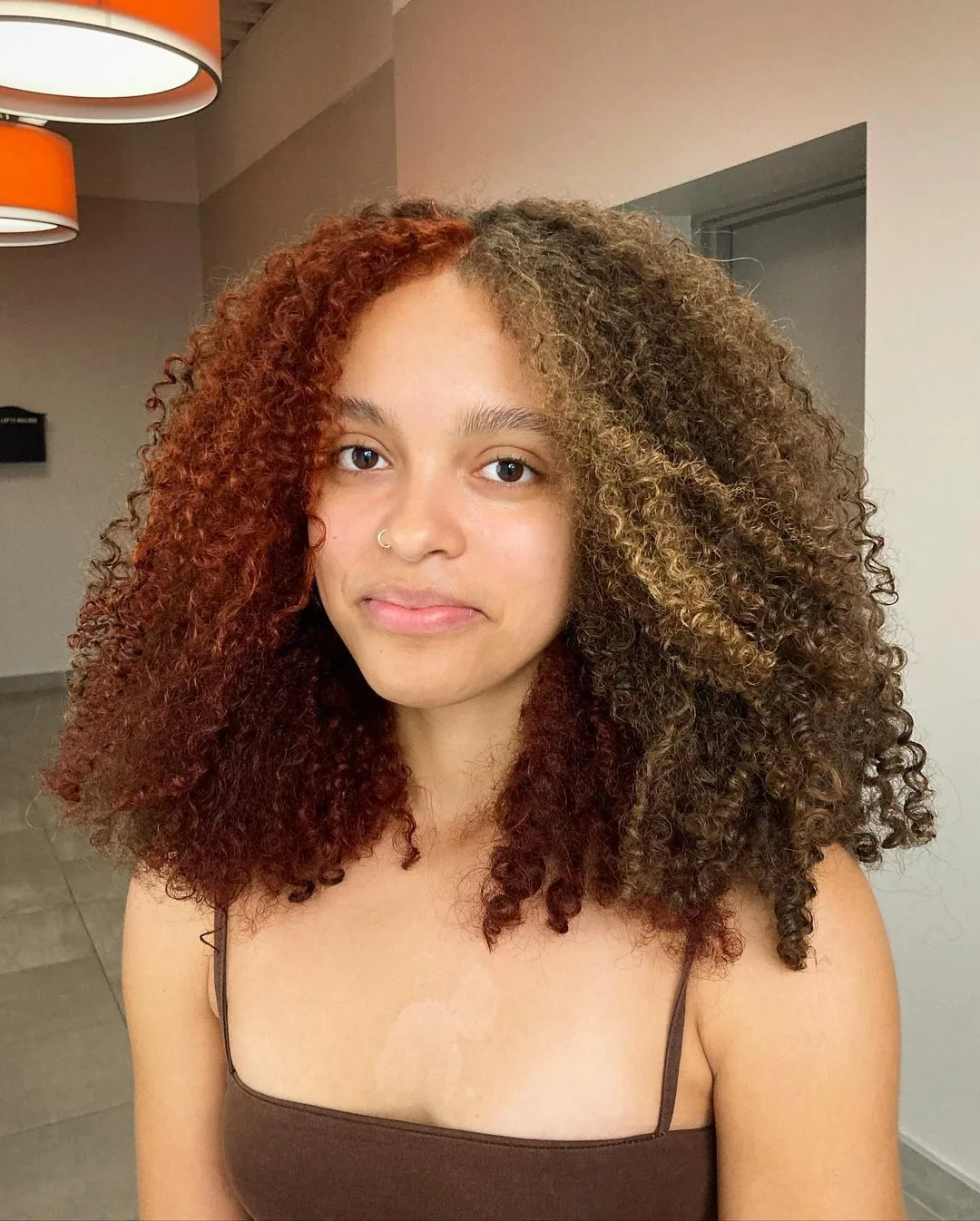 Compared to some more dramatic color combos, this auburn and almond gemini hair is subtle, but it still packs a punch. The face is framed by the rich, warm auburn tones and the soft, cool almond shades accented with the golden streaks that highlight the delicate curls.
2. Pink And Purple Gemini Hair
Pink and purple gemini hair has a whimsical and creative aesthetic that looks otherworldly. This playful combination can be styled in various ways—it would look especially striking with edgy braids that let the colors mix together.
3. Warm Brown And Platinum Gemini Hair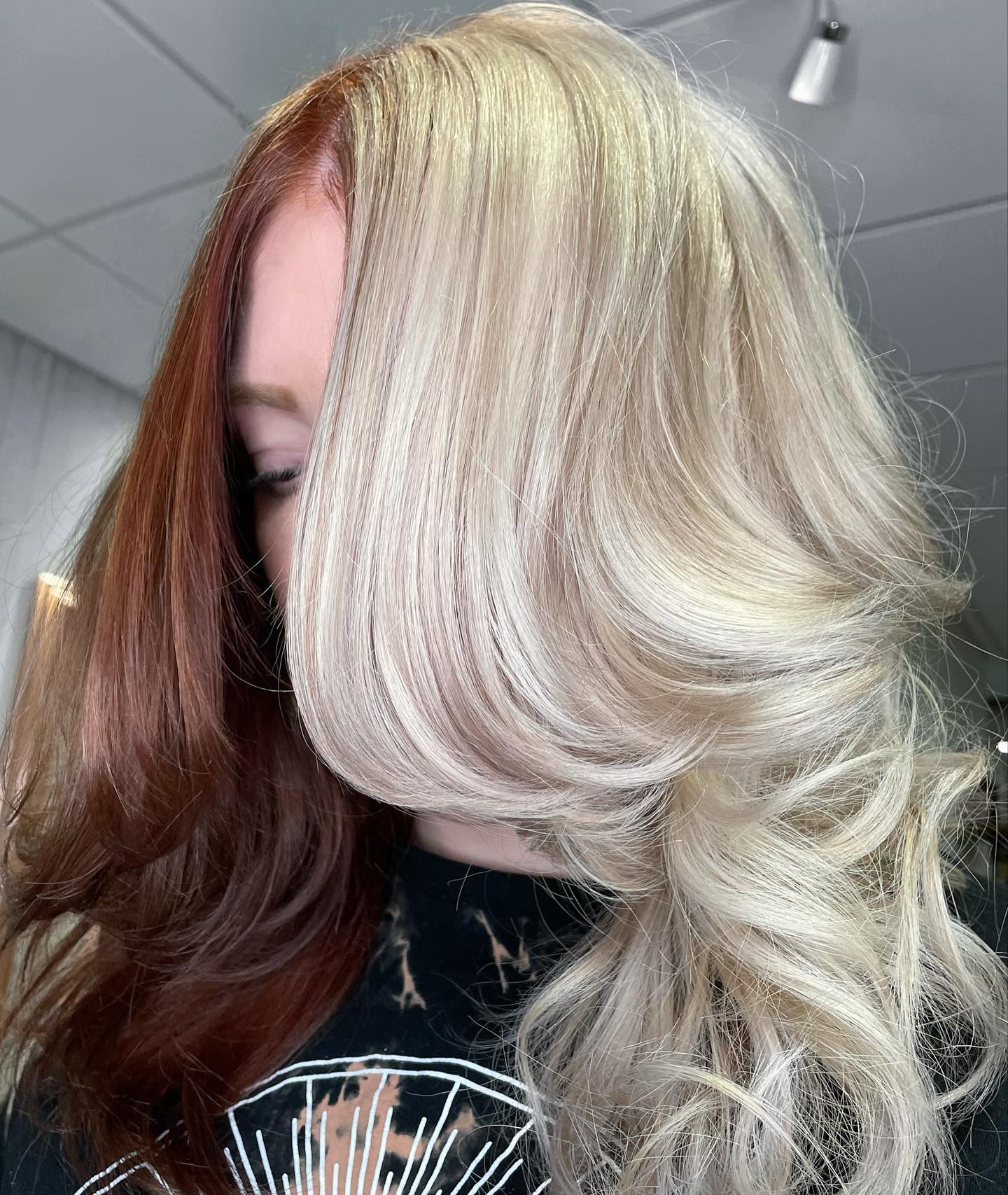 You're gemini hair curious but you're not really into unicorn hair? This warm brown and platinum split dye combines the richness of brown with the icy coolness of platinum. Combining natural shades is a way to sample this trend without going too far out of your comfort zone.
4. Lime And Coffee Gemini Hair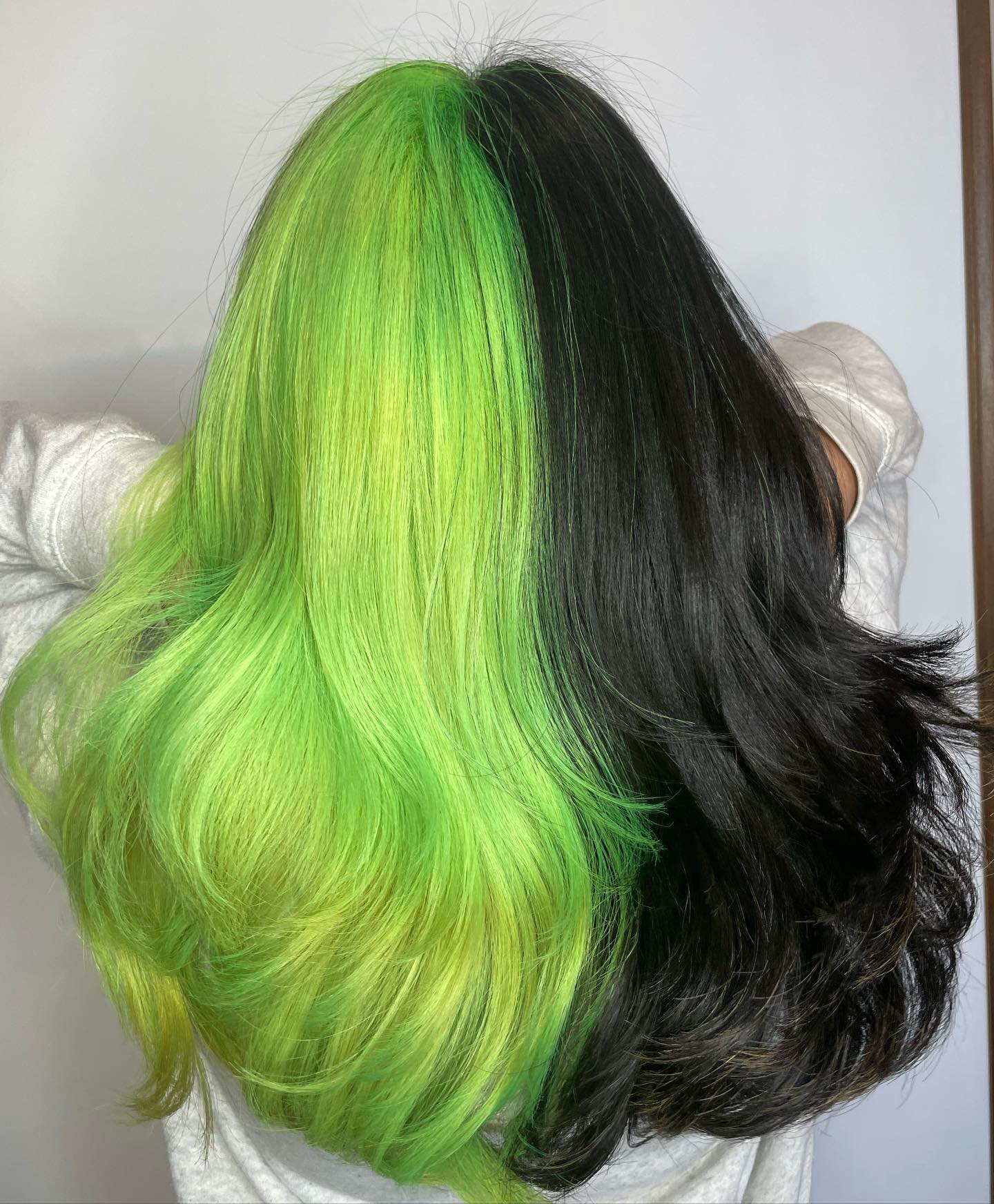 The ultra vibrant lime green is grounded by the natural dark brown shade, but the overall look is still bursting with energy. Wouldn't it look amazing styled in space buns?
5. Mermaid Gemini Hair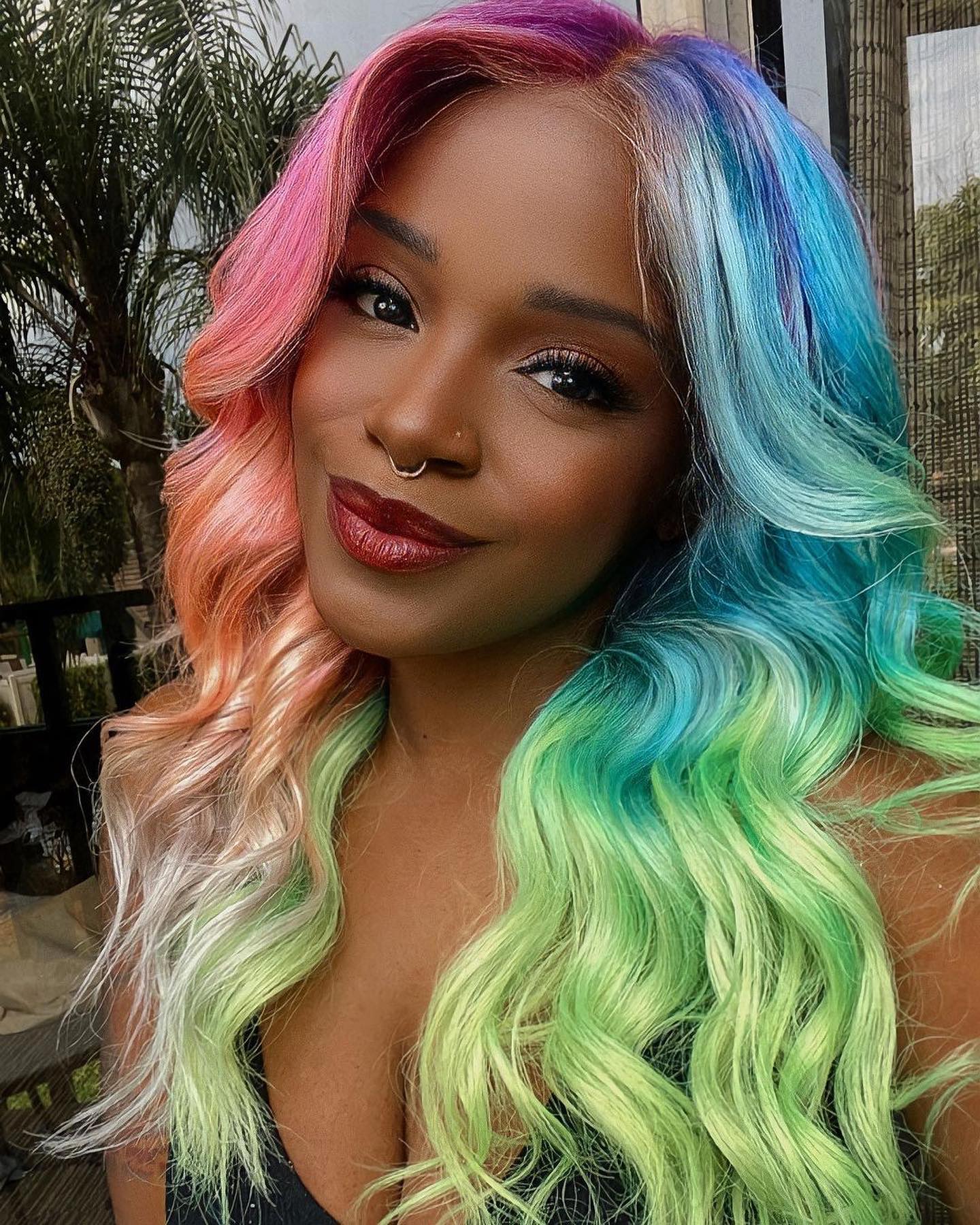 The pretty tones blended through both sides of this glorious dye job create a mystical and enchanting look. Combined with waves, the mermaid vibe is in full effect. Ready to go under the sea?
6. Black And Candy Floss Gemini Hair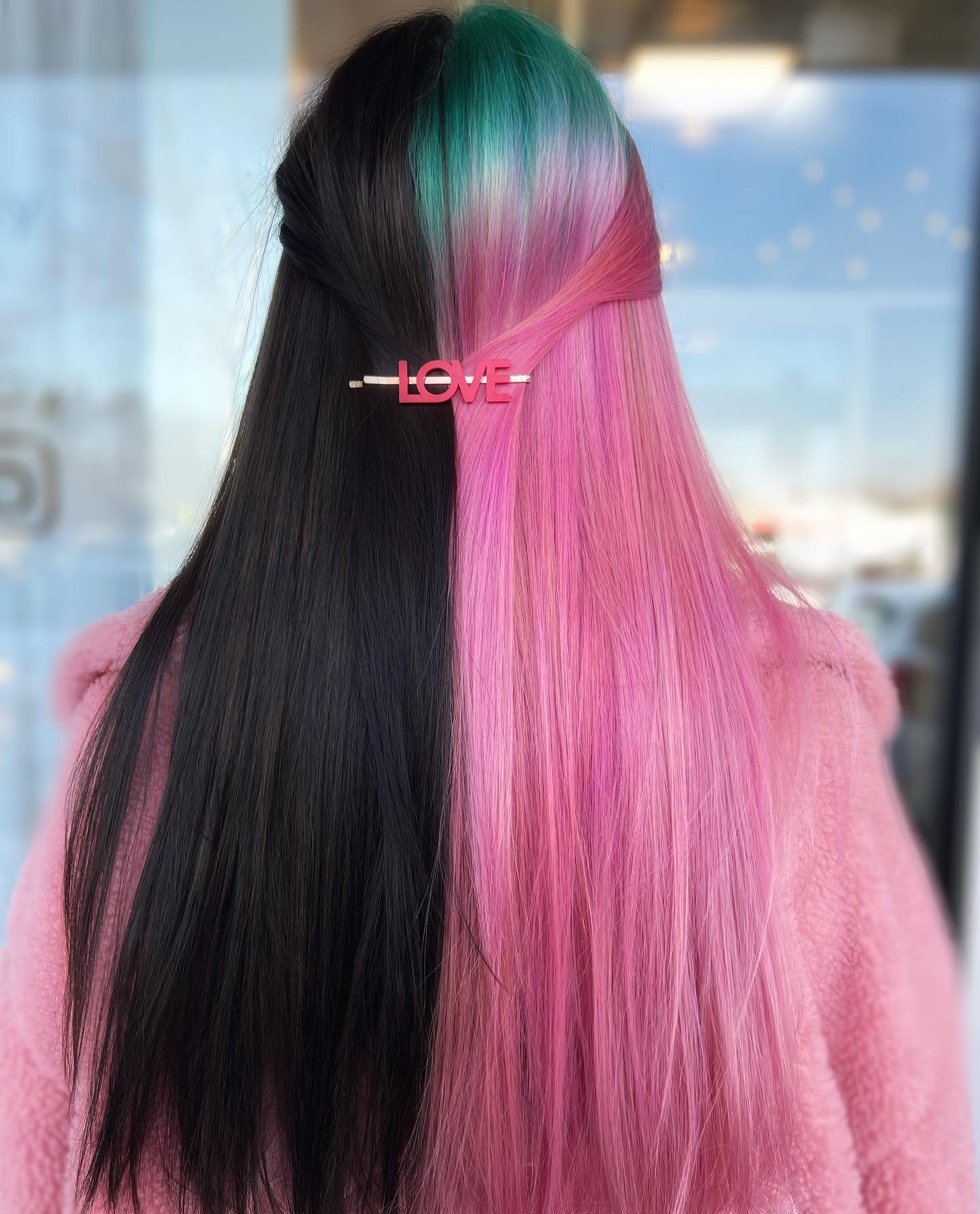 This split dye job contrasts the depth of black with the sweetness of candy floss pink. The cool-toned green roots and the pink-peach strands on one side look even more dramatic when offset by the natural black on the other.
7. Magenta And Ultramarine Gemini Hair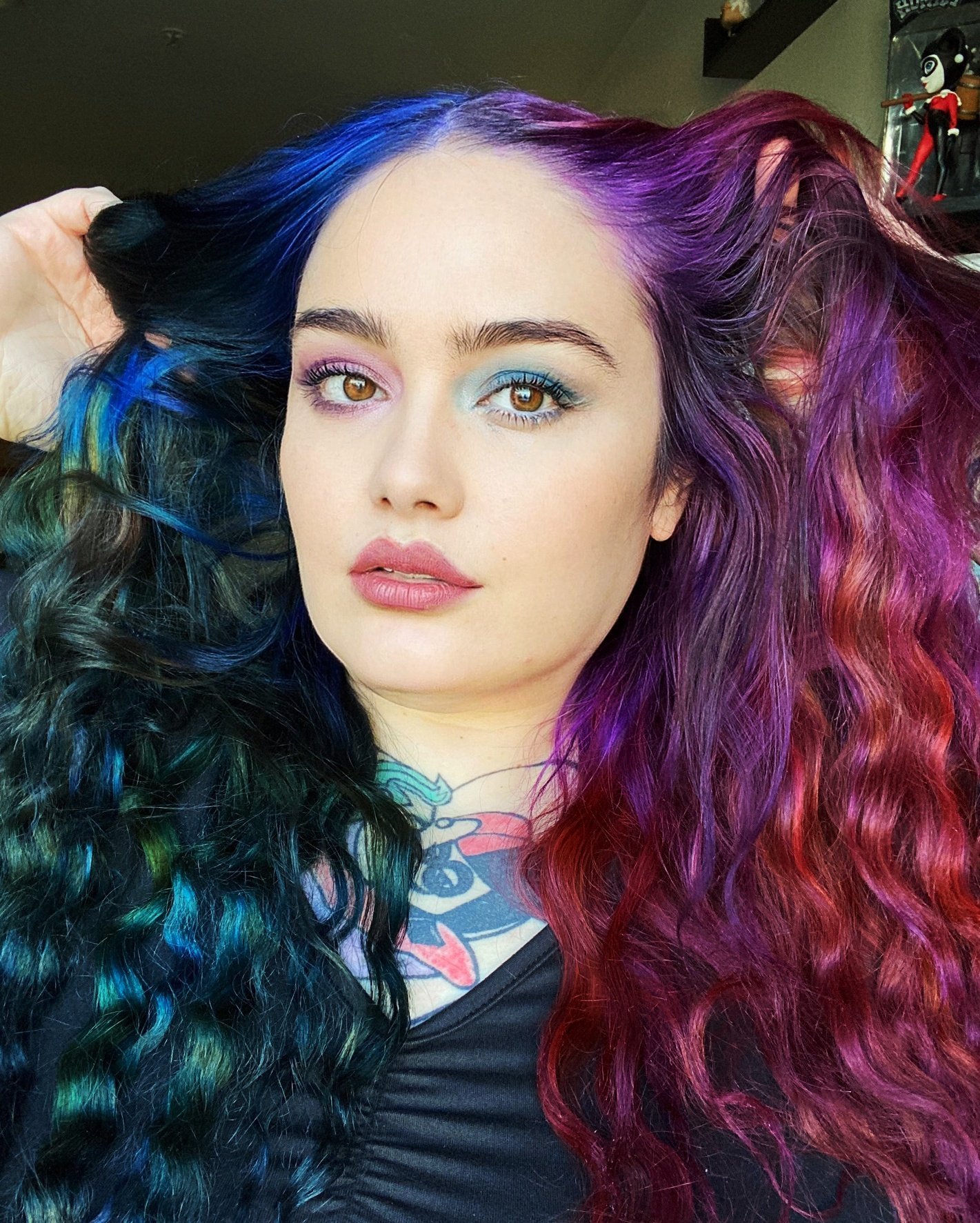 This high-impact dye job is a testament to the skill of the colorist. Achieving a clean and crisp split-tone effect is difficult enough when there are only two colors, so a blend like this is truly masterful.
8. Black And Indigo Gemini Hair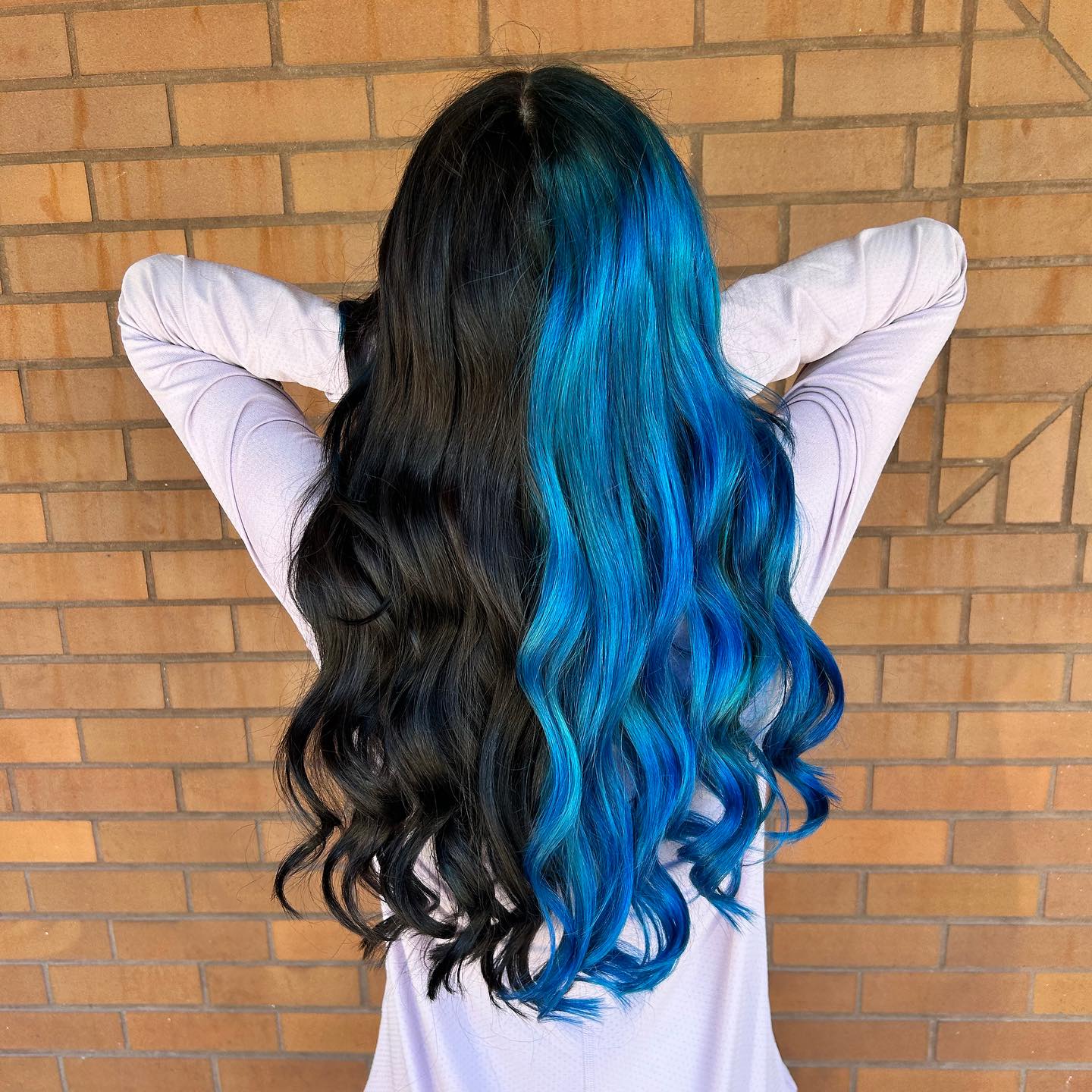 The most common way to wear gemini hair is to dye one half of your hair and leave the other side natural. If you have black hair, deeper intense tones like indigo will look especially harmonious.
9. Neon Yellow And Pine Gemini Hair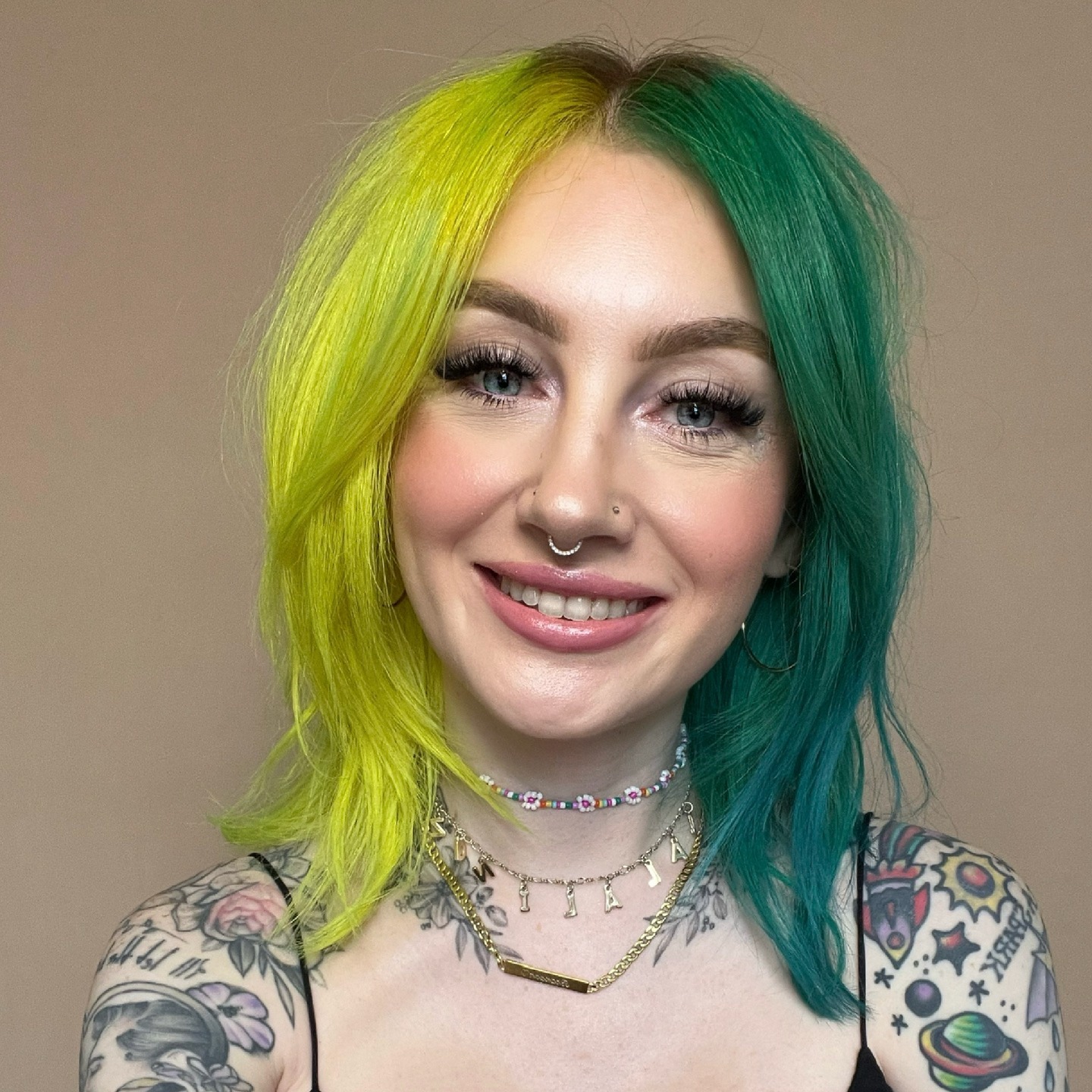 Neon yellow and pine green gemini hair split dye is a high-energy and adventurous choice, but it's far from low-maintenance. When you choose intense unnatural colors, the main concern is color fading. Using color-safe shampoos and minimizing hot tools and exposure to direct sunlight can help maintain the vibrancy of the colors.
10. Fire And Water Gemini Hair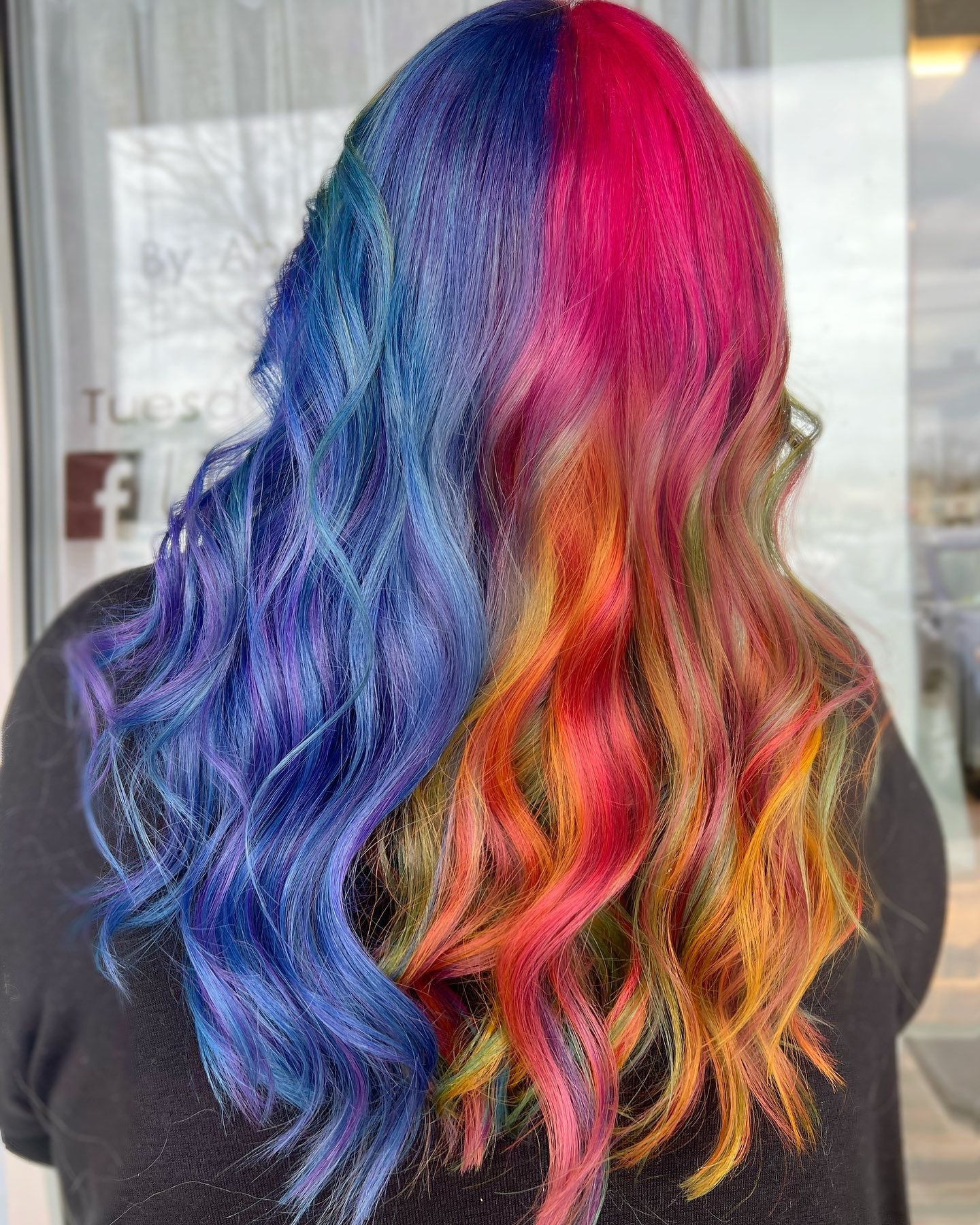 Fire and water split dye that combines fiery red to orange blend with with cool blue, purple and turquoise combo is a work of art. This dynamic, elemental look will have people stopping you in the street to talk about your hair.
11. Blonde And Brunette Gemini Hair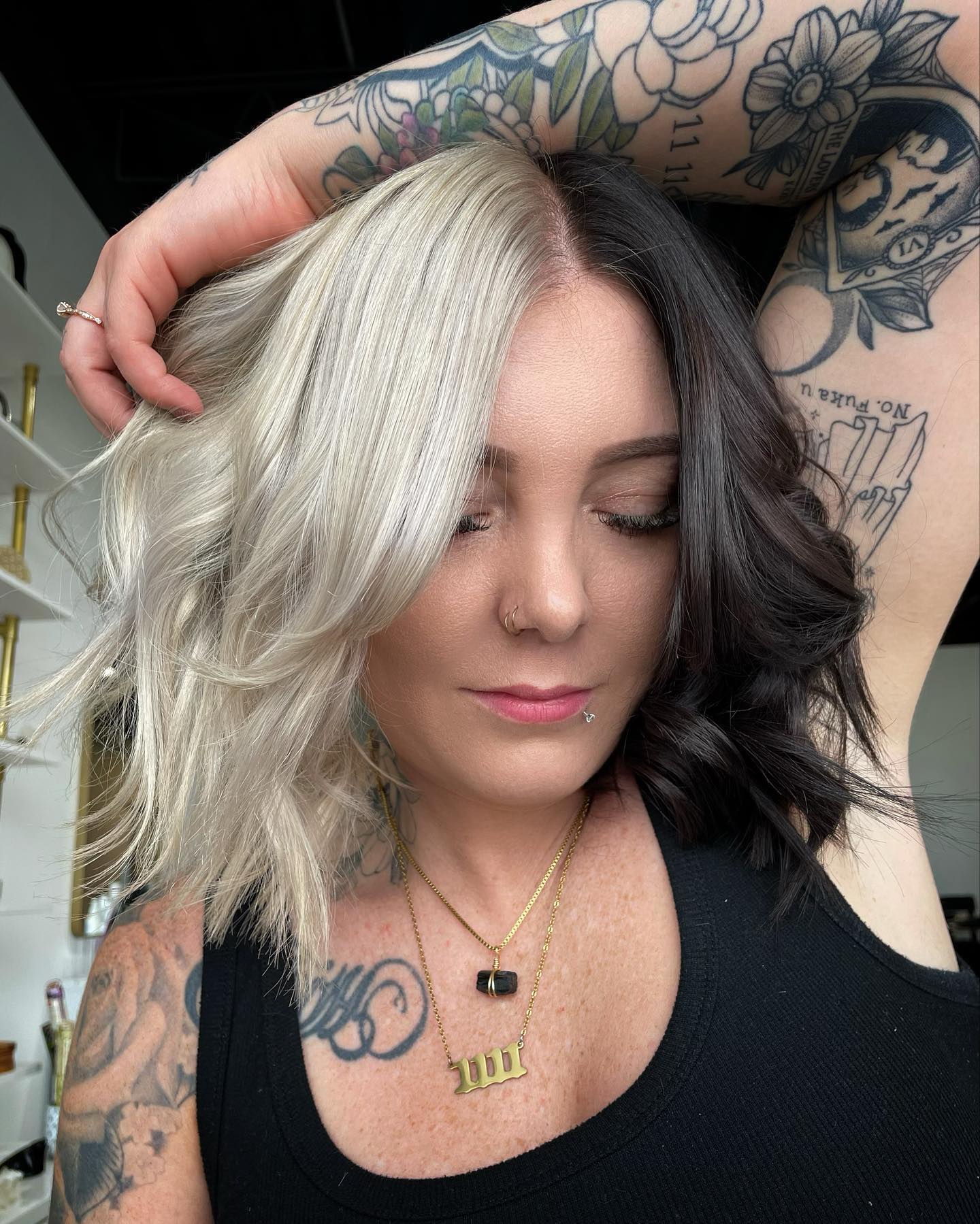 Blonde and brunette hair color combo is at the same time classic and edgy—the colors are timeless, but the way they're worn is very right now. Wear it sleek and straight or in loose curls, highlighting the transition between the two shades.
12. Bats And Pumpkins Gemini Hair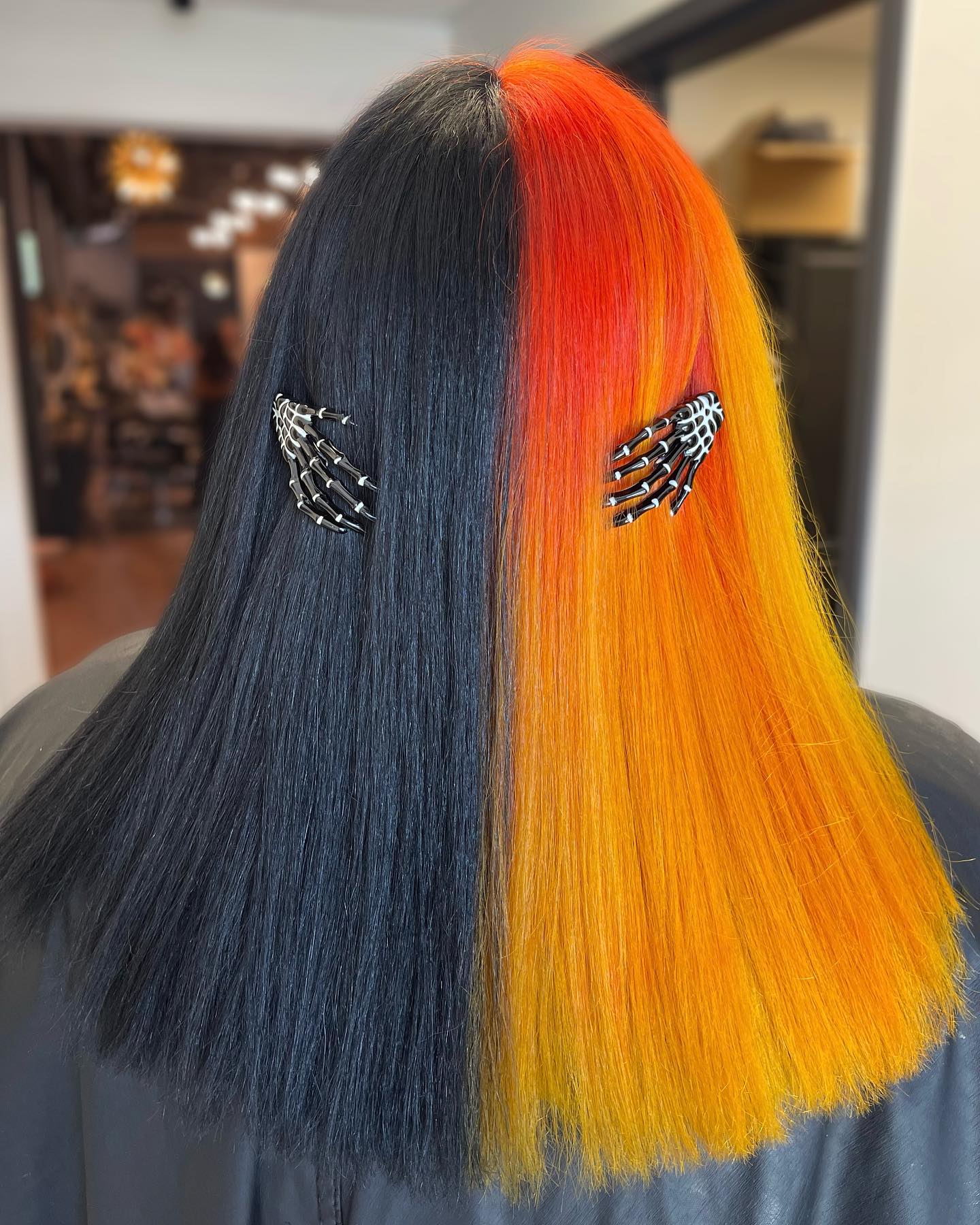 The color combo and the spooky accessories both scream Halloween, but this playful color combo doesn't only have to be seasonal. Style it in different ways to create various effects—try loose curls, pigtails, or a sleek ponytail.
13. Ginger And Almond Gemini Hair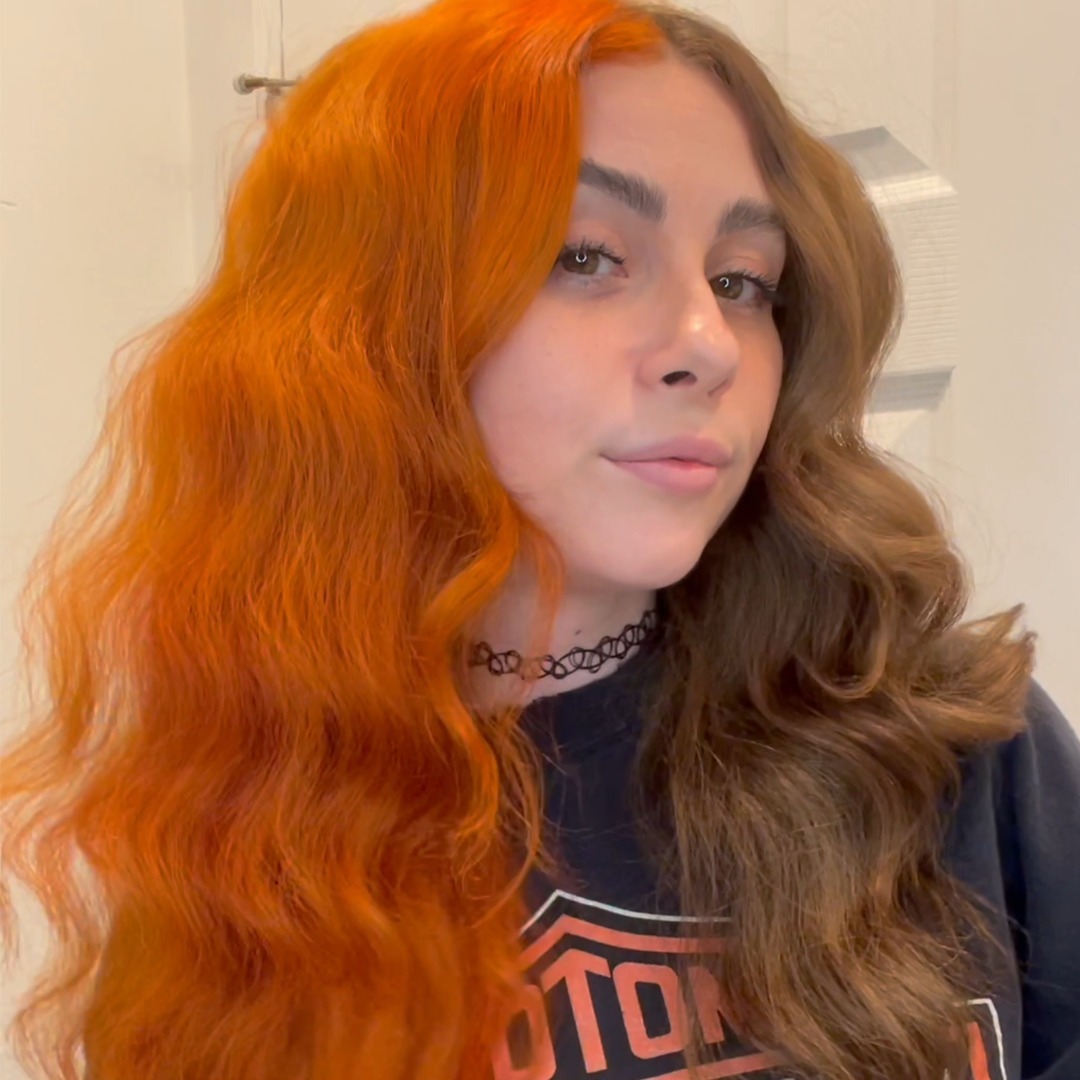 Can't decide between two of your favorite fall hair trends? You don't have to. Ginger and almond gemini combines the warmth of ginger with the softness of almond to create a dreamy autumn look.
14. Cobalt And Cyan Gemini Hair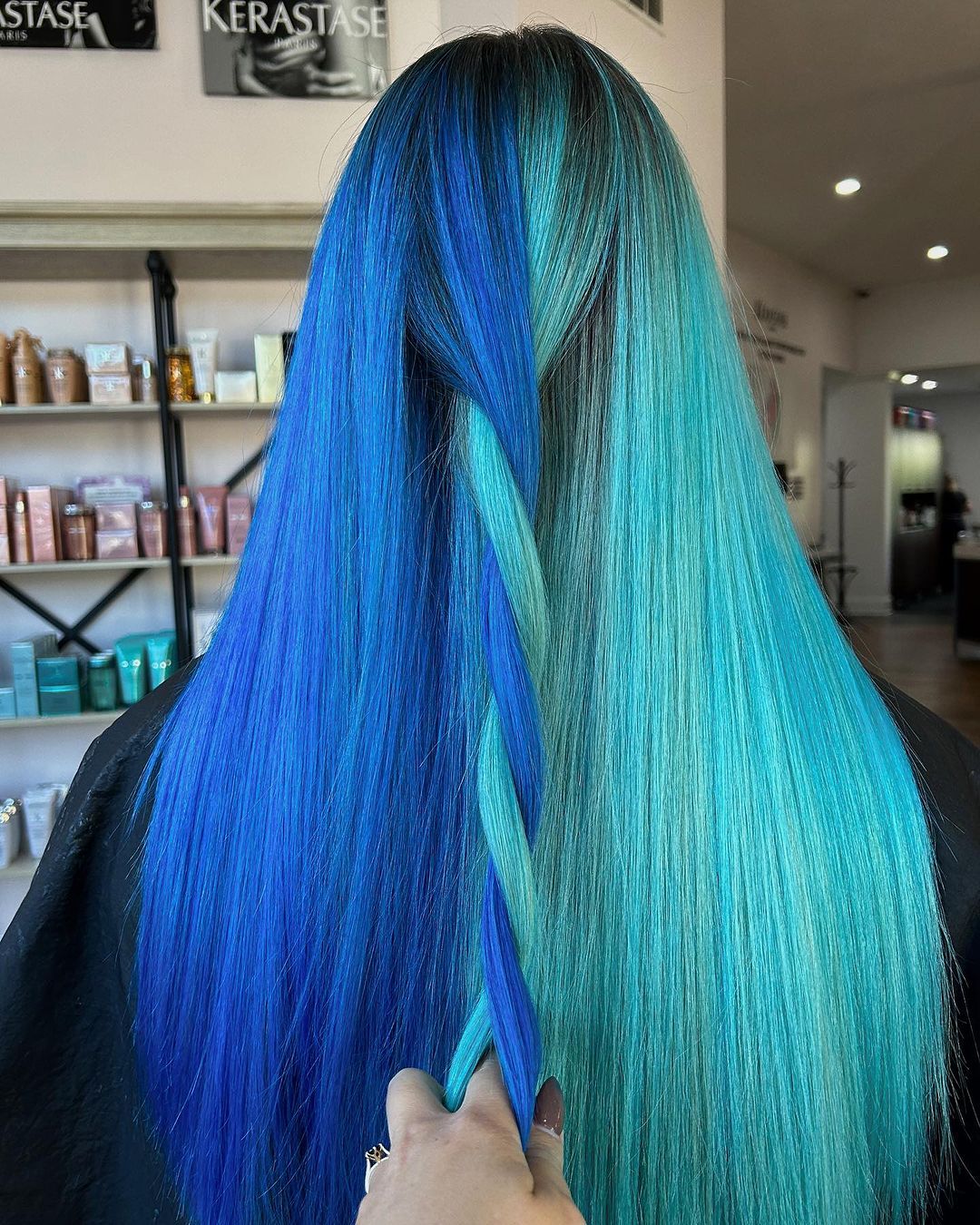 Combining bold, contrasting shades of the same color is super sleek and modern. Cobalt and cyan gemini hair is elegant yet edgy and makes a strong fashion statement.
15. Pink And Lavender Gemini Hair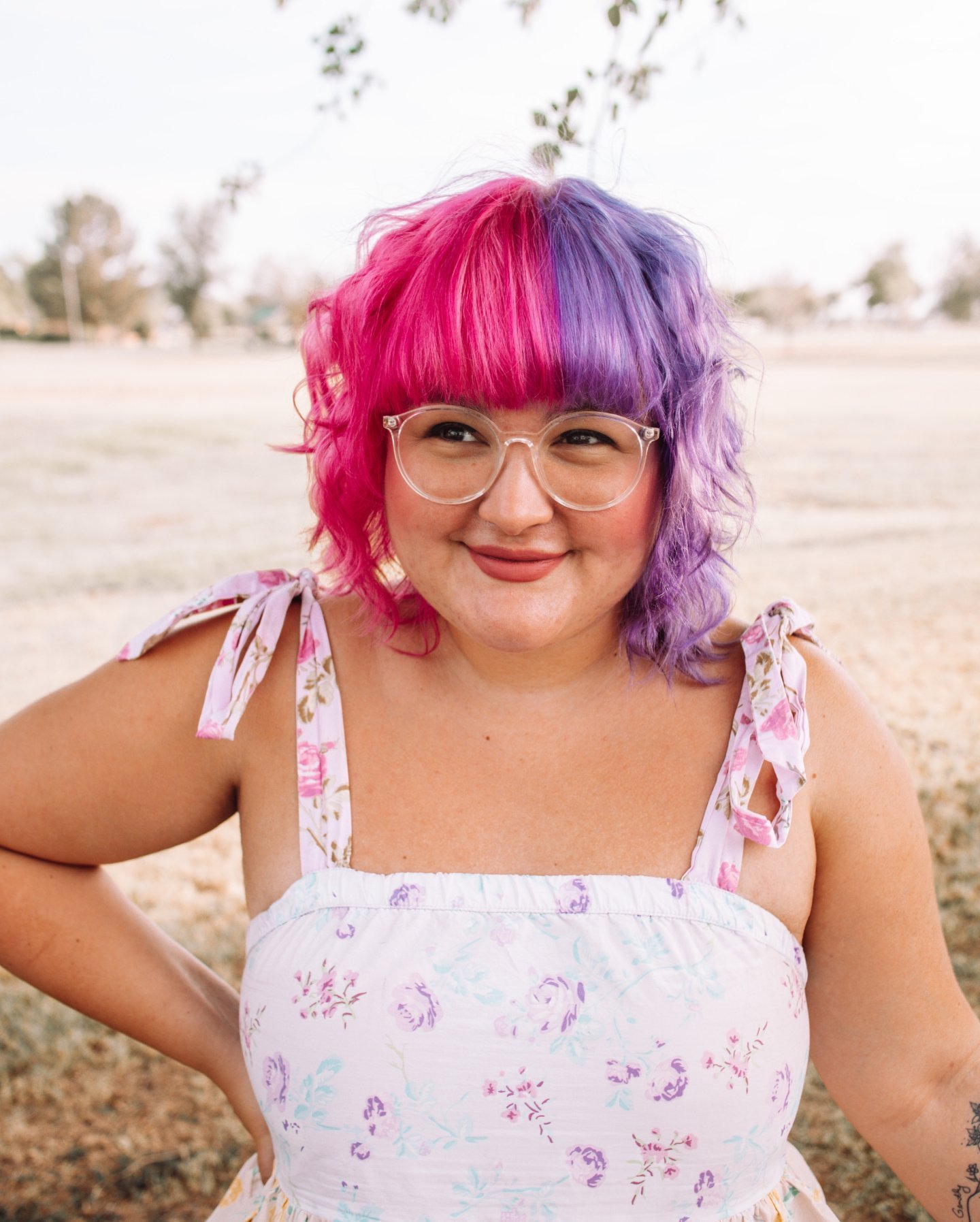 This delicate pink and lavender gemini hair color combo is as spellbinding as it's ephemeral—in other words, it's pretty but it fades in the blink of an eye. Pastels and lighter unnatural colors require more frequent touch-ups to maintain the vibrancy and prevent color bleeding between the two shades.
16. Hot Pink And Hot Purple Gemini Hair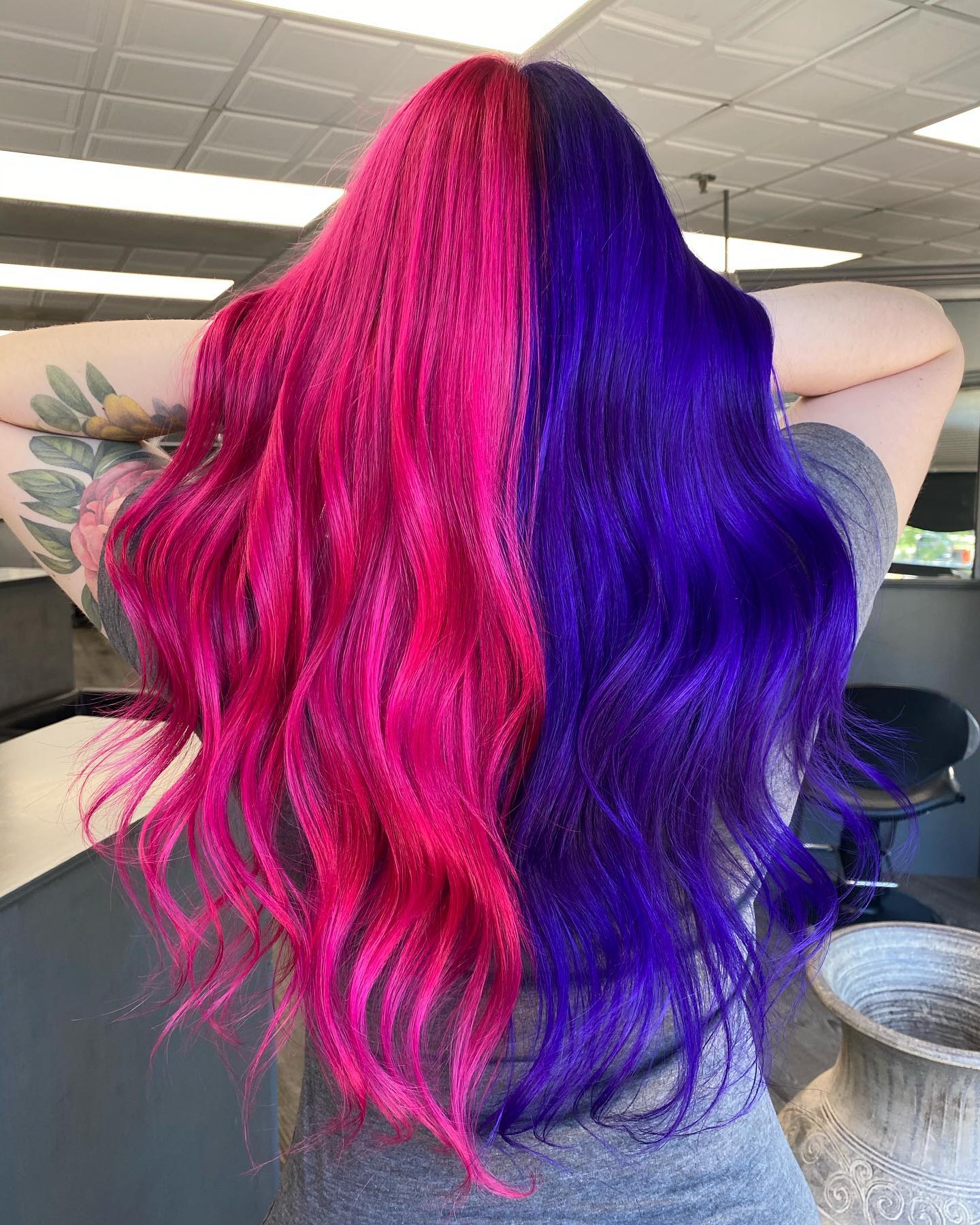 If you want all eyes on you, this look is perfect—hot pink and hot purple split dye is a bold and attention-grabbing choice. Style it with loose waves or colorful braids, showcasing the transition between the two shades.
17. Caramel And Ochre Gemini Hair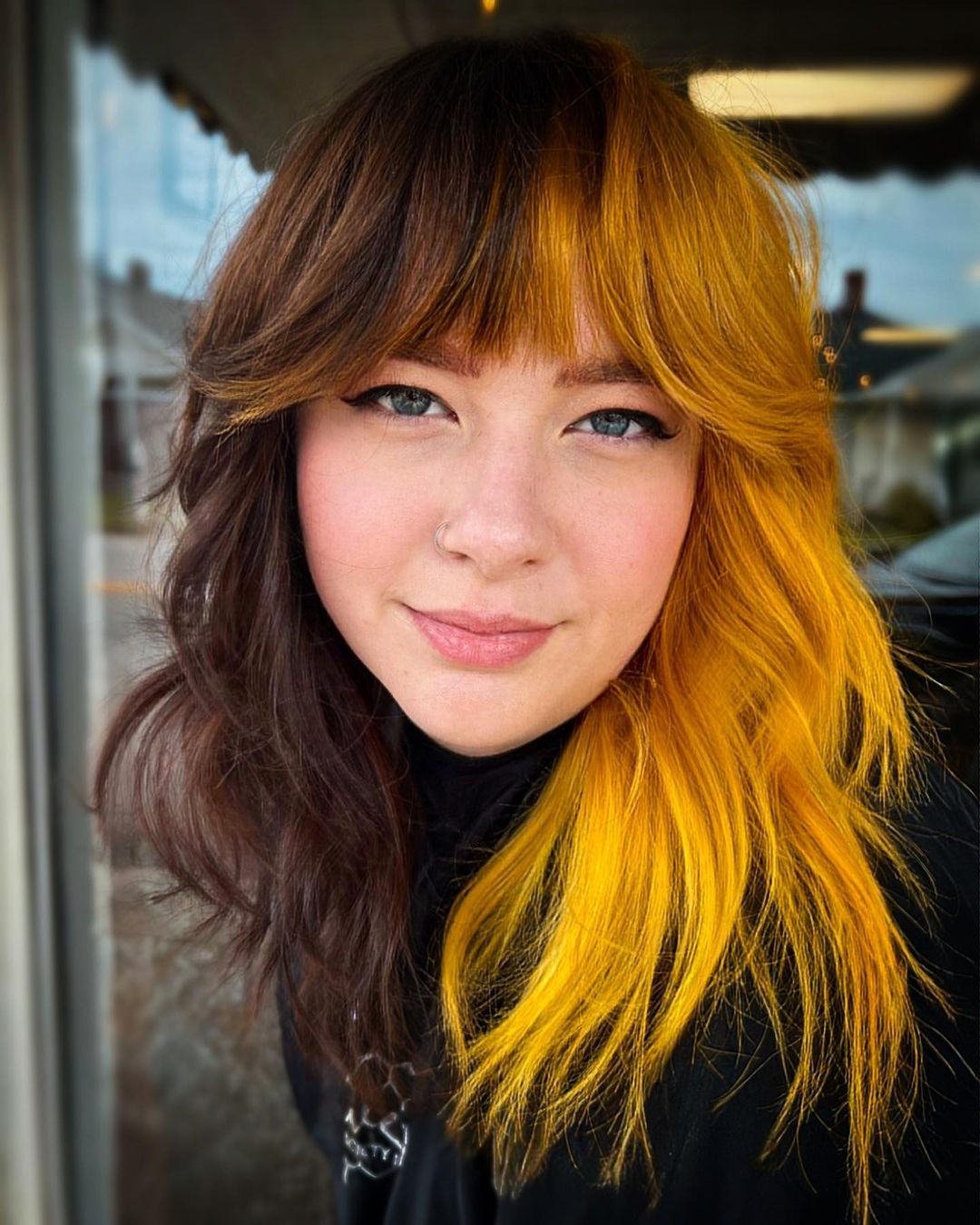 Caramel and ochre gemini hair combines warm and earthy tones with a twist. On one side is a chic and natural-looking color while the super-intense yellow ochre on the other side ramps up the vibrancy of the look.
18. Pink And Blue Gemini Hair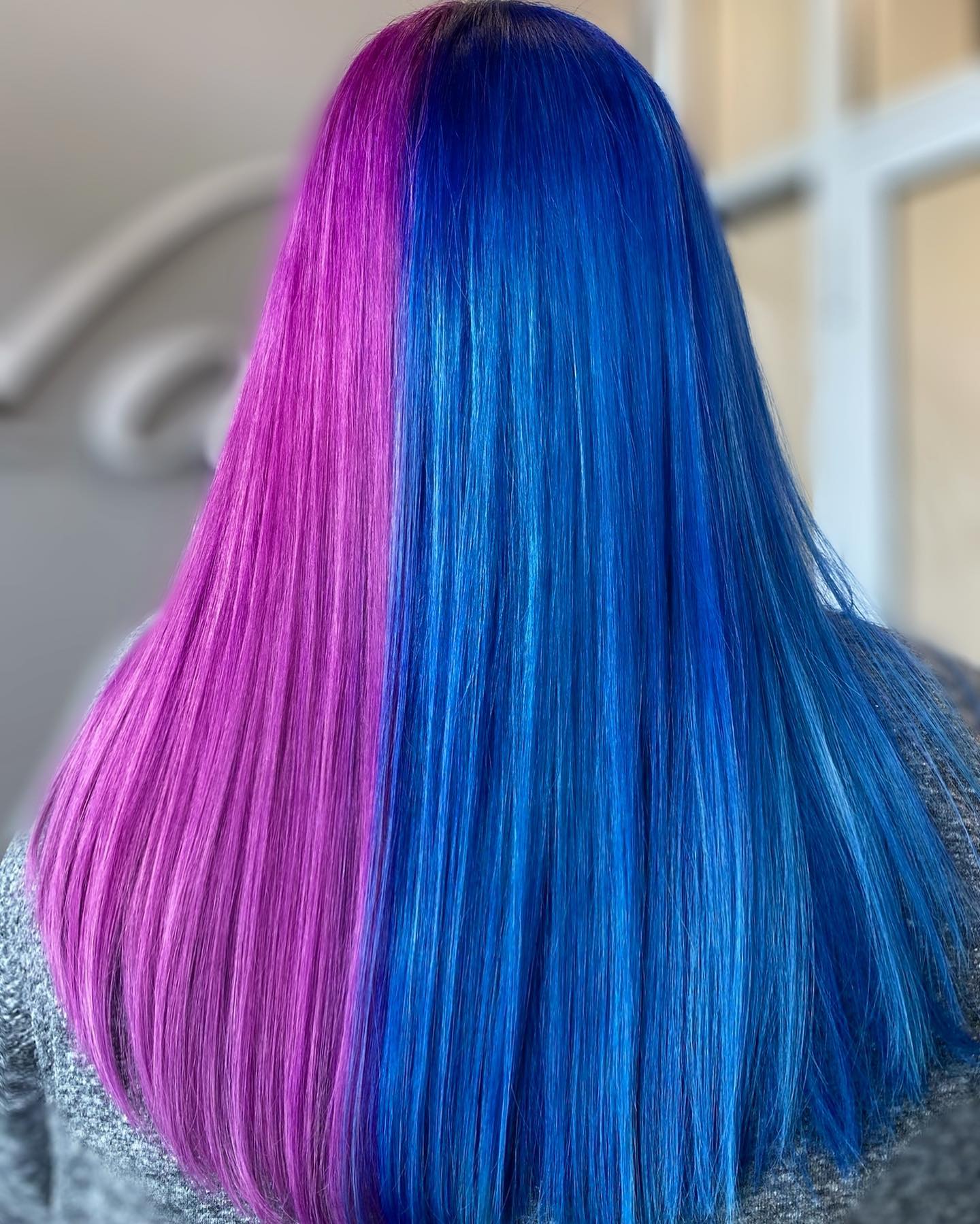 Gemini hair doesn't always have to be split right down the middle. Moving the line to the side can create a dynamic, experimental look that suits your personality. This is also a good idea if you often wear a side parting.
19. Mango And Chocolate Gemini Hair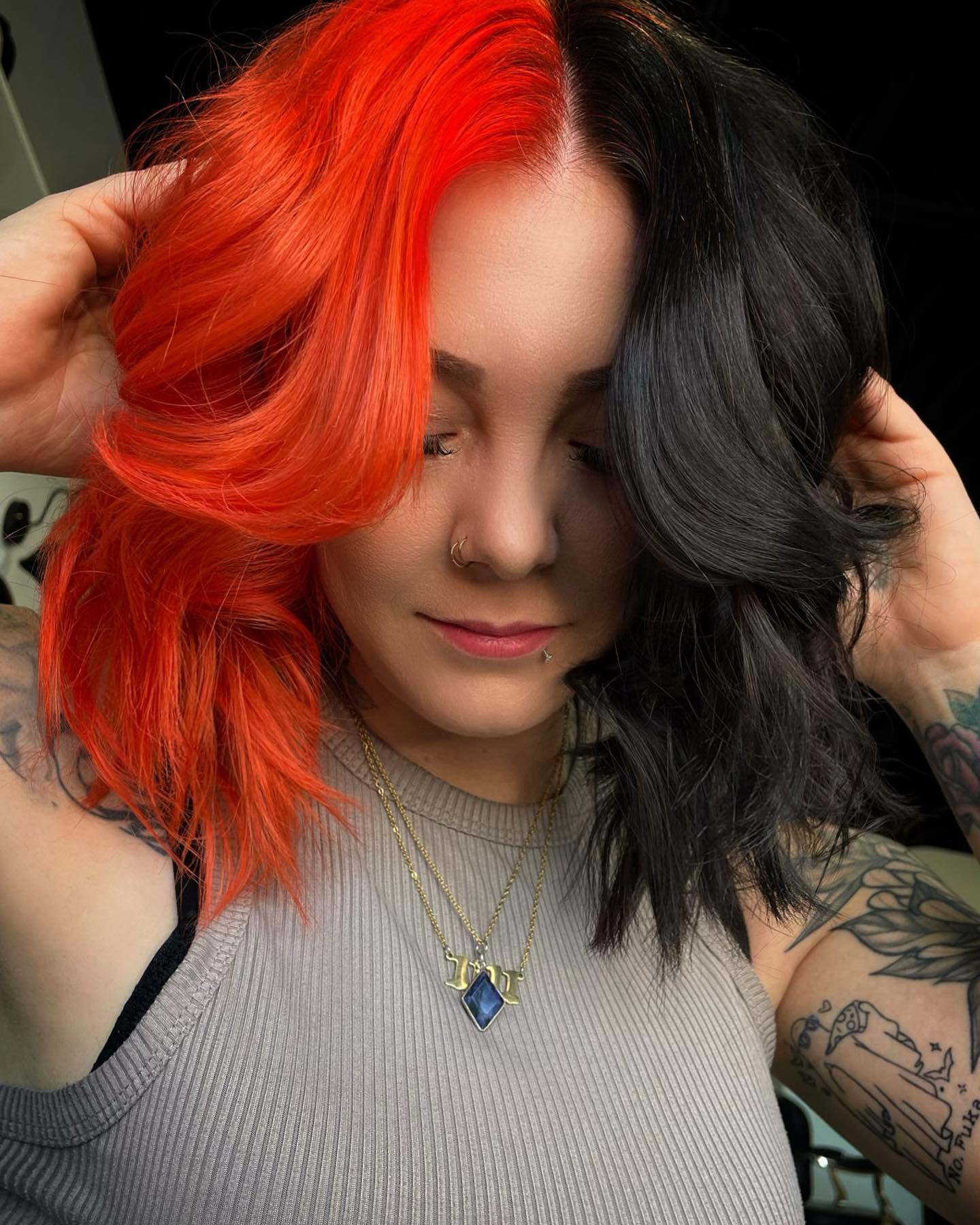 The stylish combination of super bright mango and rich natural chocolate is fun and playful. The contrast creates a depth that might have been lost if both the colors were very vibrant.
20. Strawberry And Eggplant Gemini Hair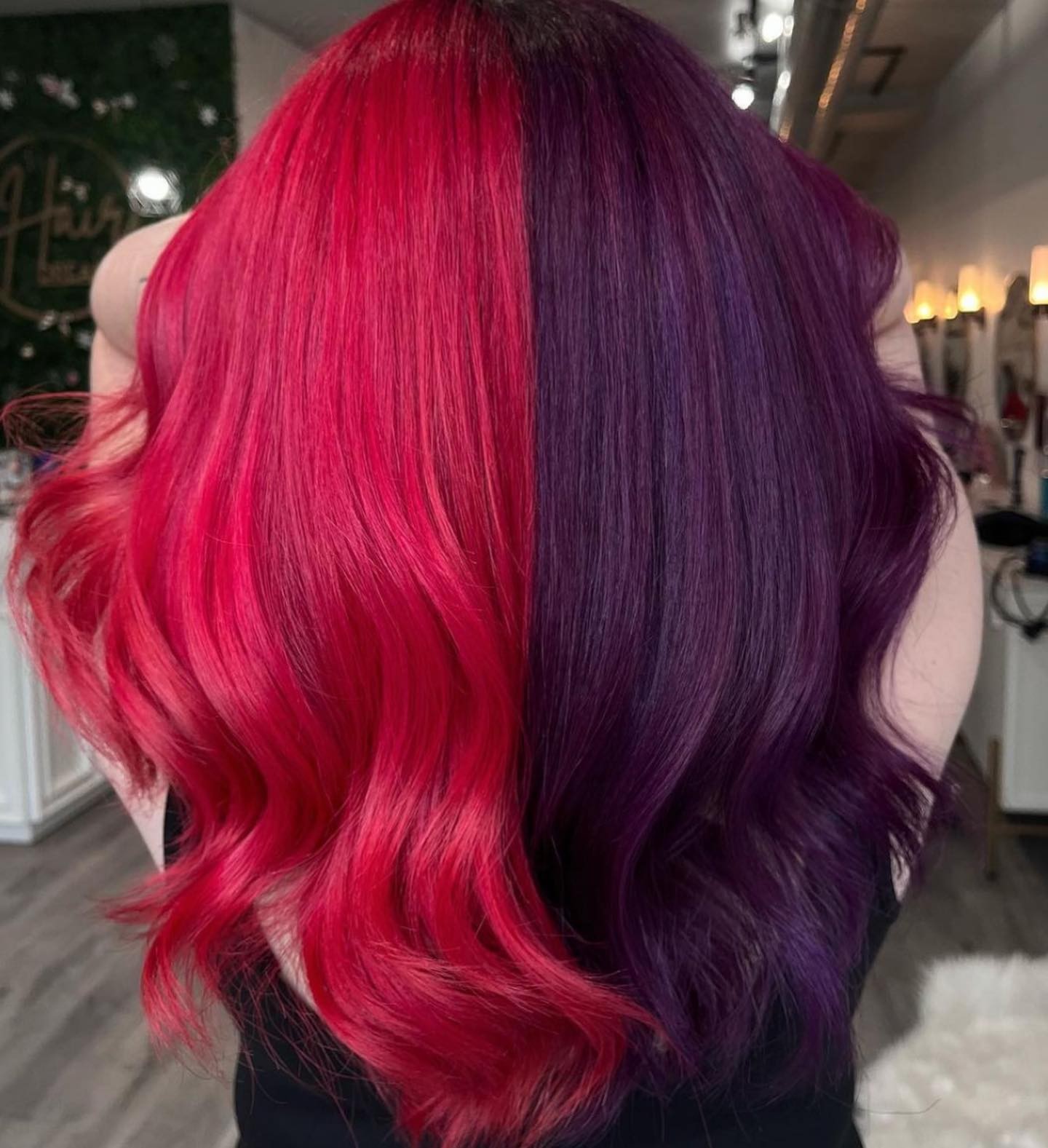 Strawberry and eggplant? Tomato and grape? Rose and violet? Whatever you call it, this red and purple split dye has a bold and chic vibe that takes some daring.
21. Bubblegum And Mocha Gemini Hair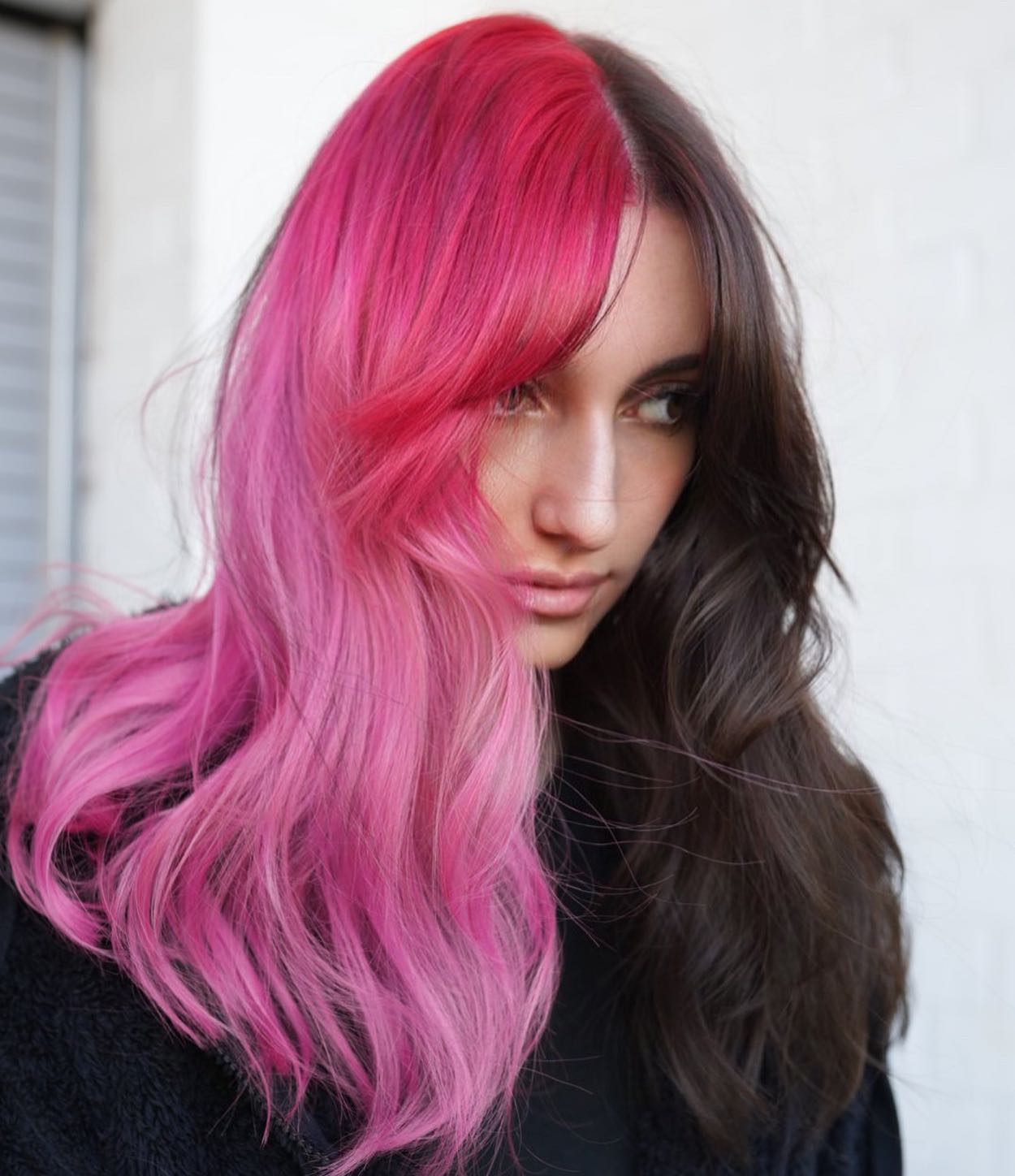 So you've taken your first step into gemini hair and bleached half of your head, but now you're ready to take things up a notch. Pastel + natural is the next level, and bubblegum pink and and mocha brown is a particularly pretty combo.
22. Cobalt And Chestnut Gemini Hair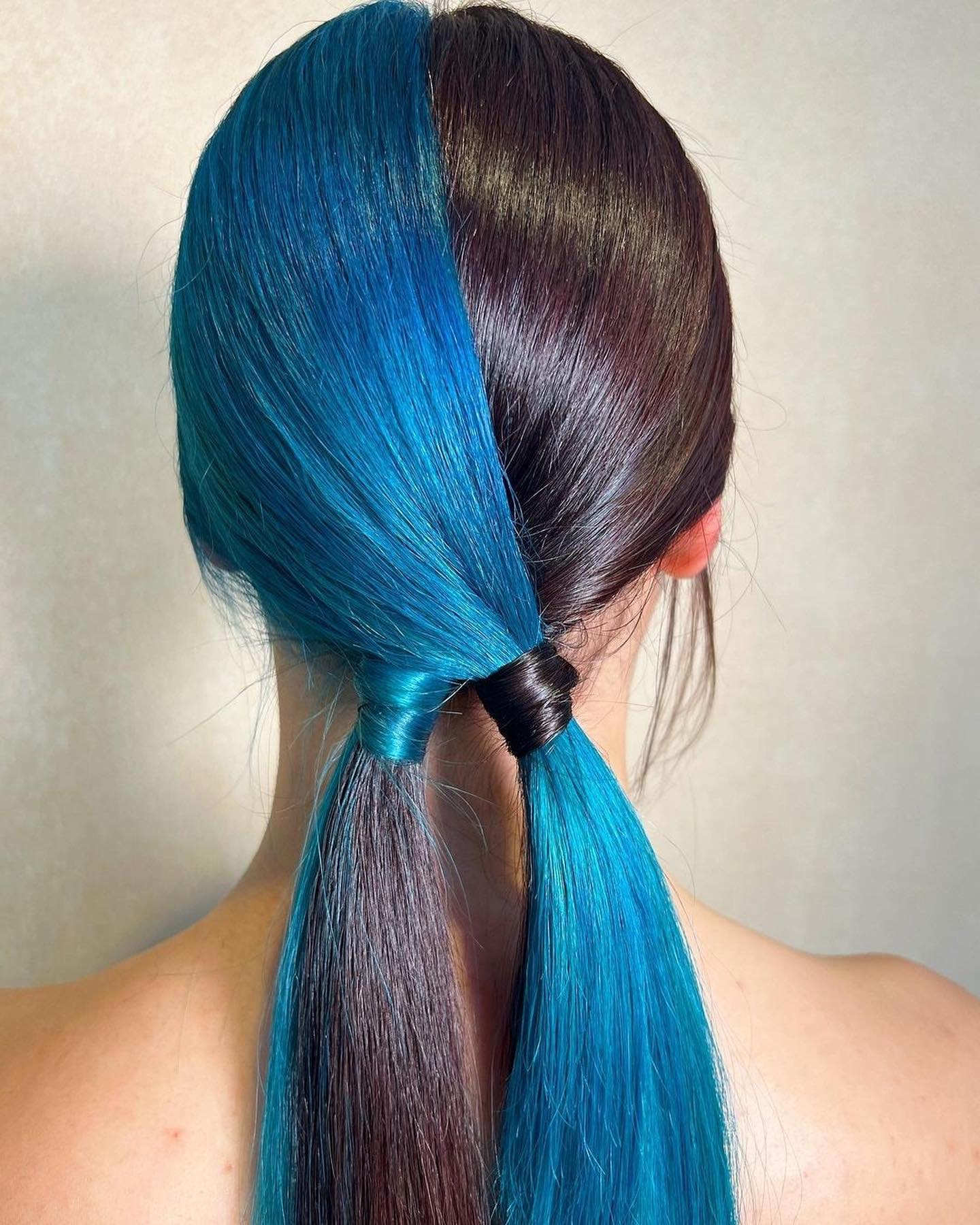 Gemini hair can be styled sleek and straight, with loose waves, or curled, but the most impactful looks will be those that mix the two colors and create entirely new configurations, highlighting the vibrant contrast.
23. Carrot And Vanilla Gemini Hair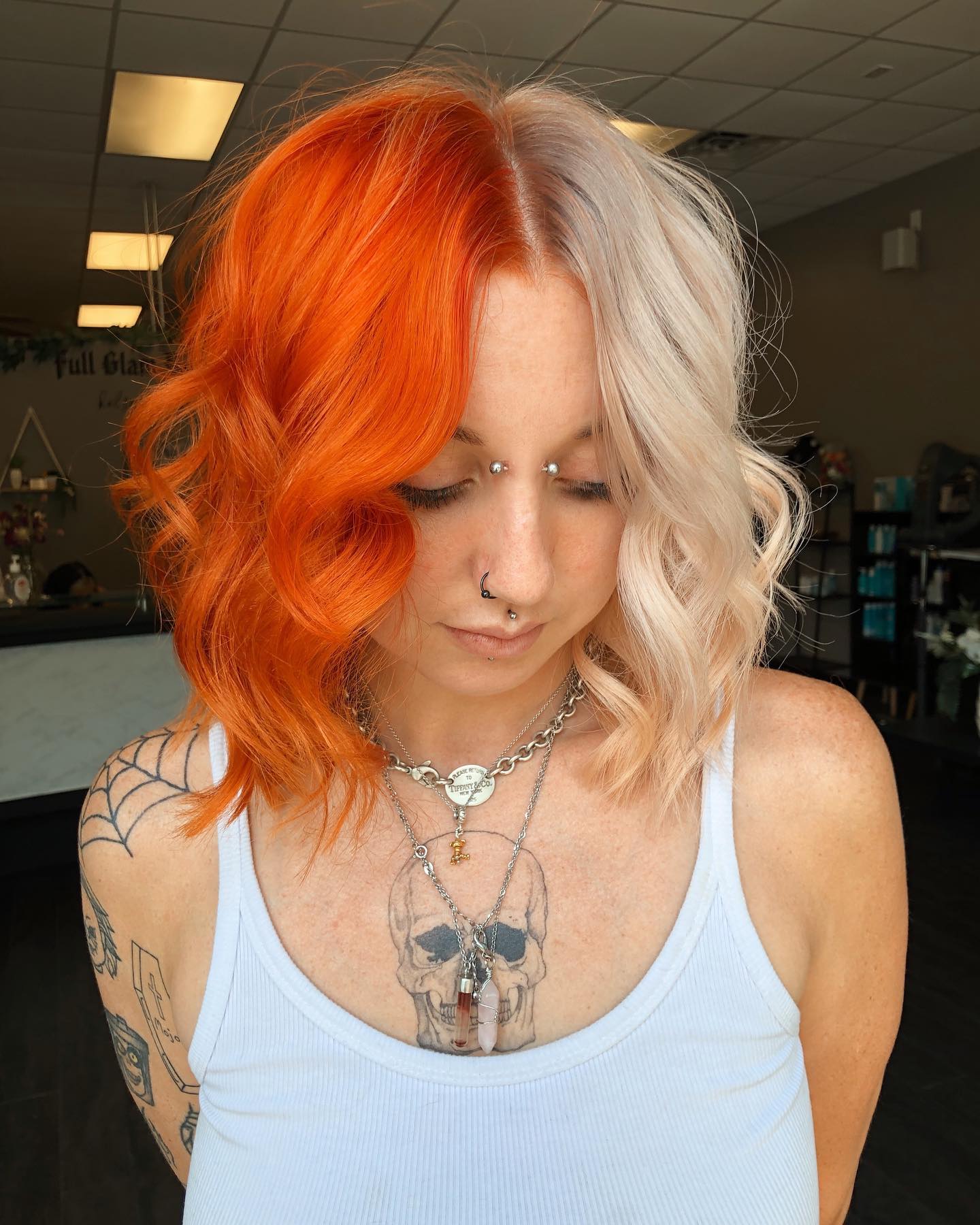 Even though gemini hair is essentially an edgy look, different combinations can look more delicate—orange and warm blonde split dye combos look particularly harmonious and soft.
24. Eggplant And Emerald Gemini Hair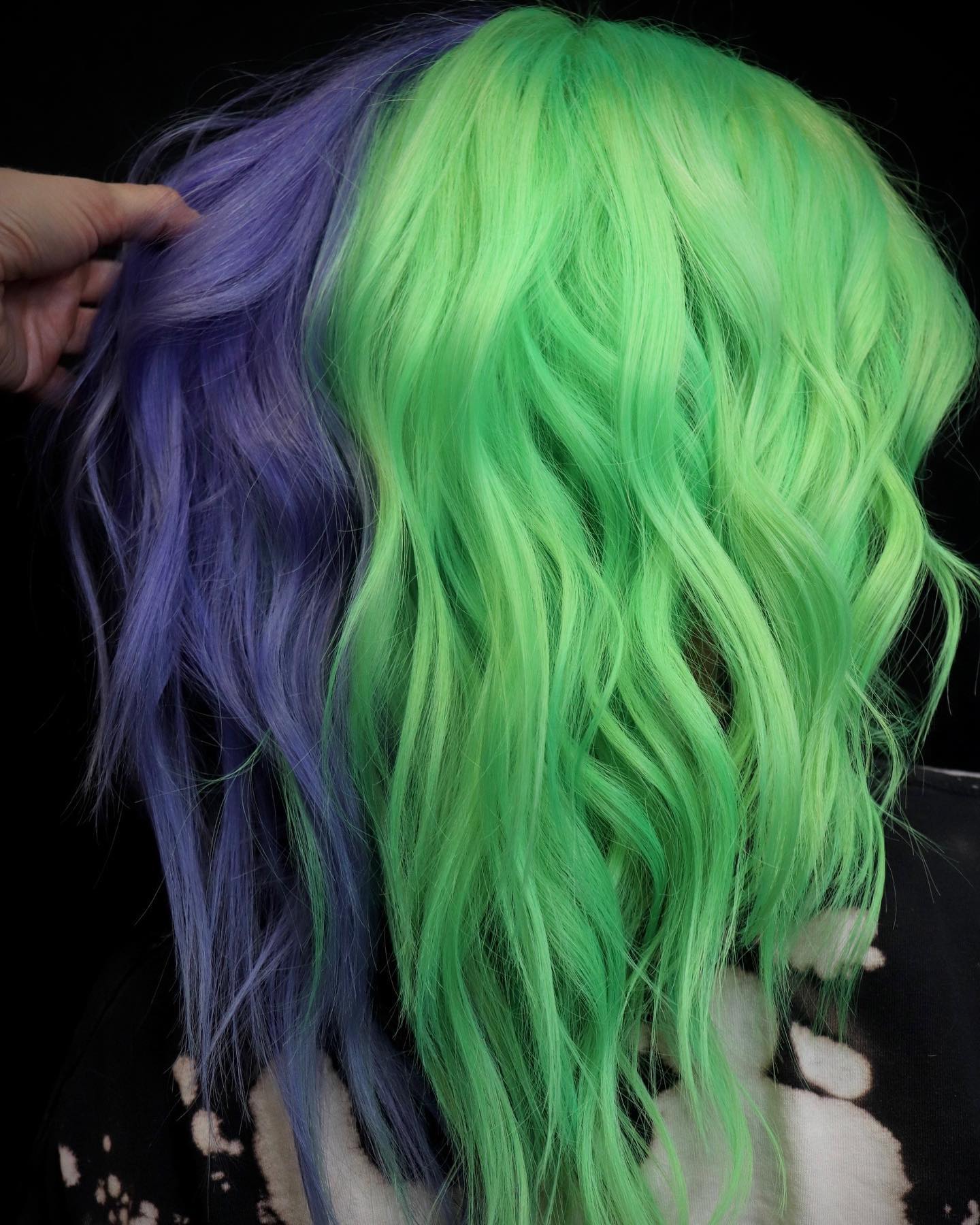 Eggplant and emerald gemini hair offers a combination of muted deep purple and vibrant cool-toned green. This split dye job is unique and eye-catching, and has a distinctly artistic look.
25. Cocoa And Lemon Gemini Hair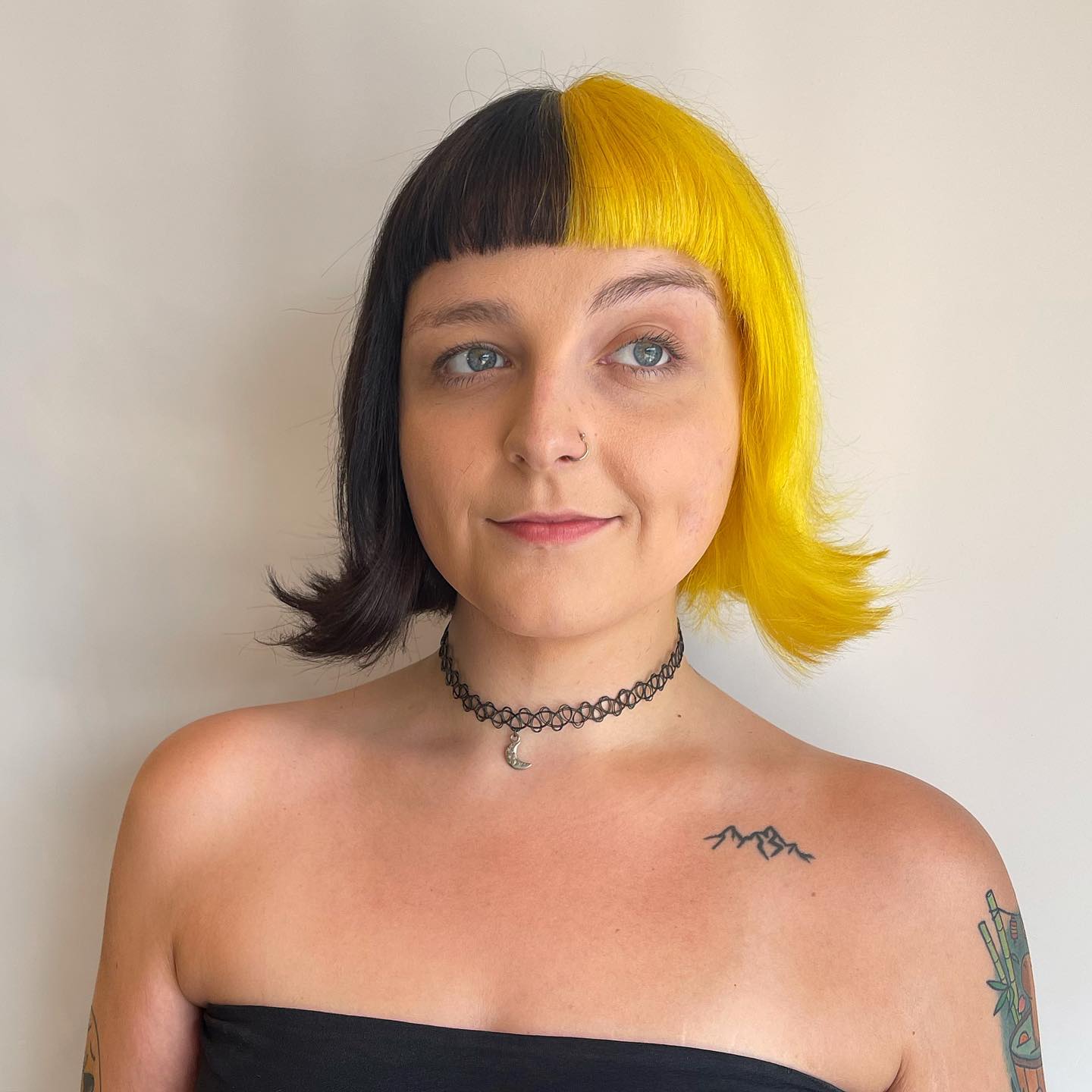 The striking contrast between the vibrant yellow and natural deep brown shades is sure to turn heads. This look is perfect for those who want to express their playful and unconventional side.