Dark brown hair is common, but not ordinary. Rich, luxurious, elegant; it's a timeless and sophisticated color that can be personalized to suit everyone.
Whether you're giving your hair a break from lightening, going deeper as the seasons change or simply want something different, here's a selection of stunning dark brown hair ideas to inspire your next salon visit.
1. Cocoa Brown Hair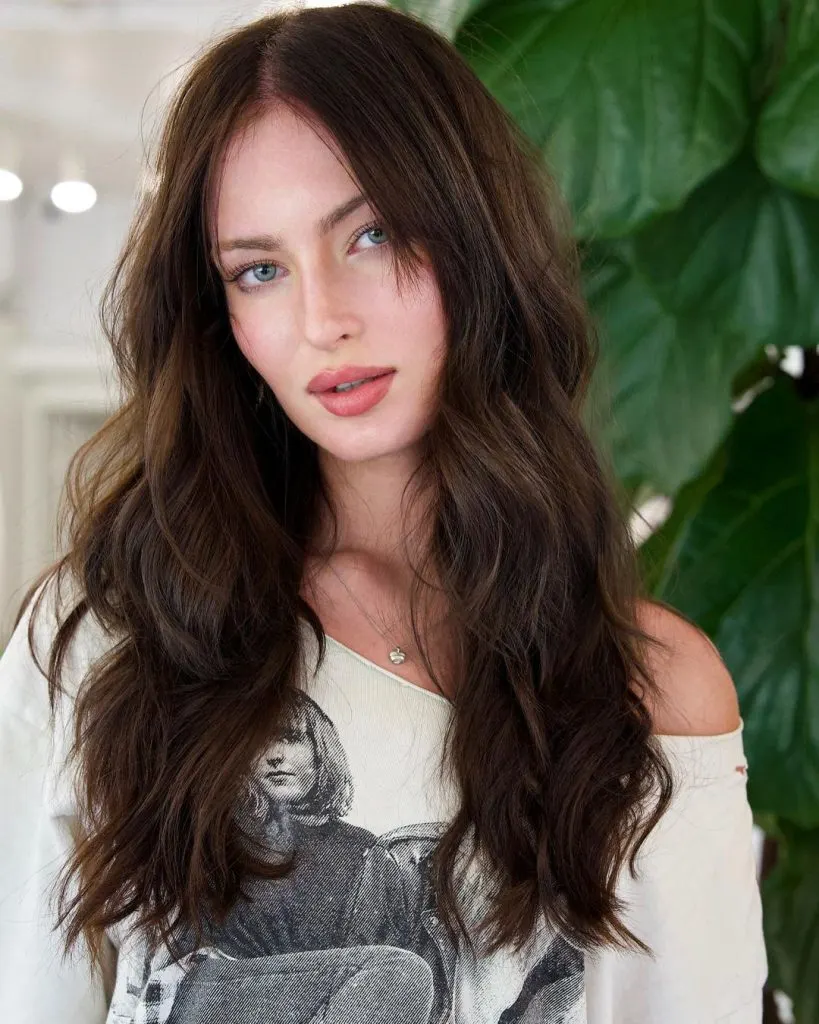 Dark brown hair suits a variety of complexions, including very light skin tones. To figure out how dark you can go, examine how much contrast you can handle.
Are all your most flattering clothes bright, intense or black? Then you can go quite dark, like this cocoa brown hair. Do you look your best in muted or pastel colors? If so, dark brown would look too harsh on you so choose something a little lighter.
2. Chocolate Brown With Caramel Highlights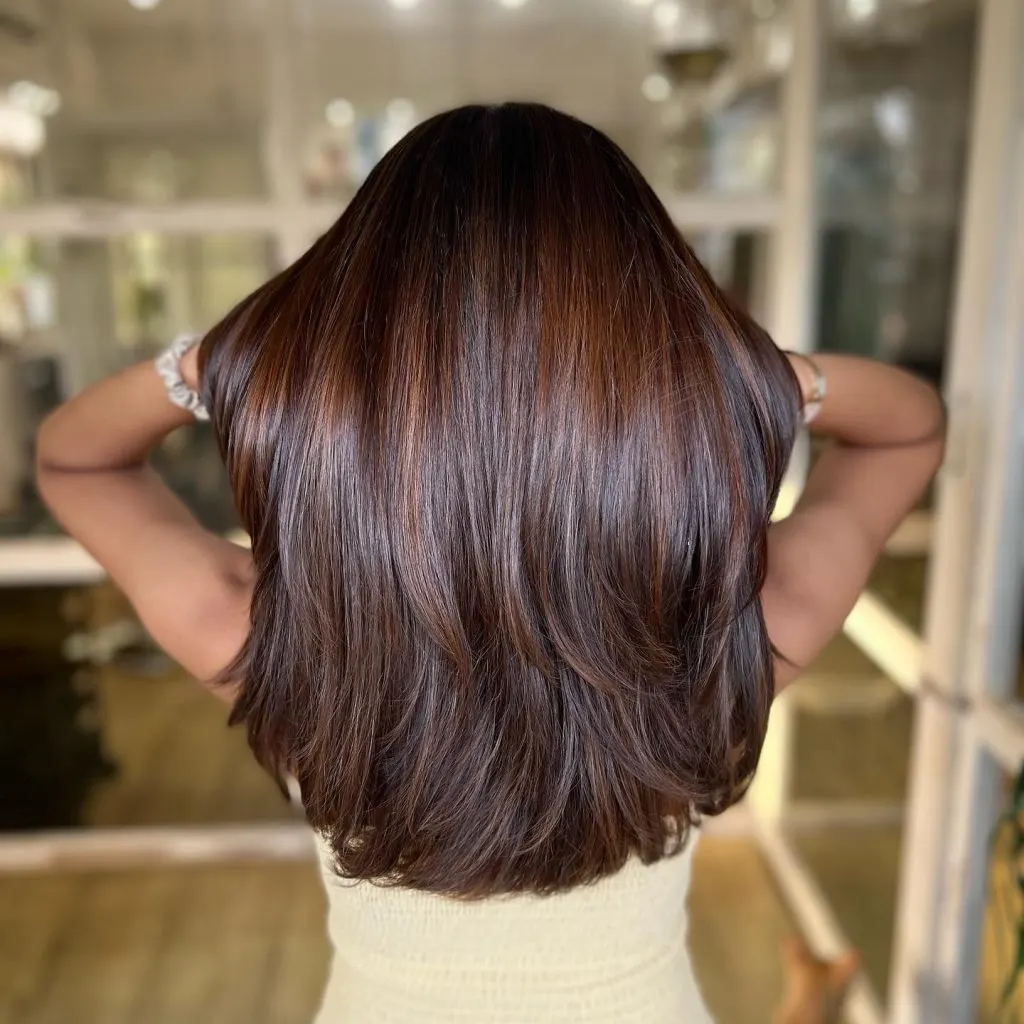 Caramel highlights add warmth to dark brown hair, making it more vibrant and giving it a sense of movement. If they're placed near the face, they also warm up the skin and brighten the eyes.
3. Dark Brown Hair With Golden Highlights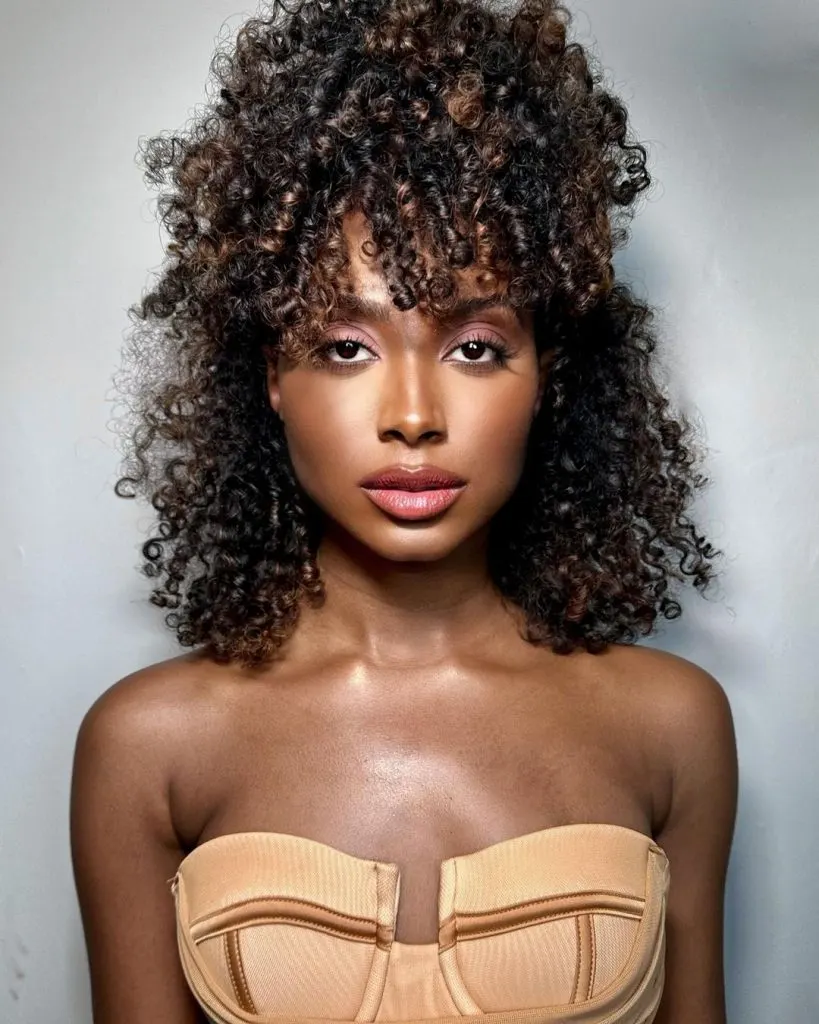 When you're going for a natural look, the color of the highlights is key. Here, dark brown hair with golden highlights looks sun-kissed and dynamic, thanks to the harmonious pairing of the base and the highlight colors.
4. Espresso With Chocolate Highlights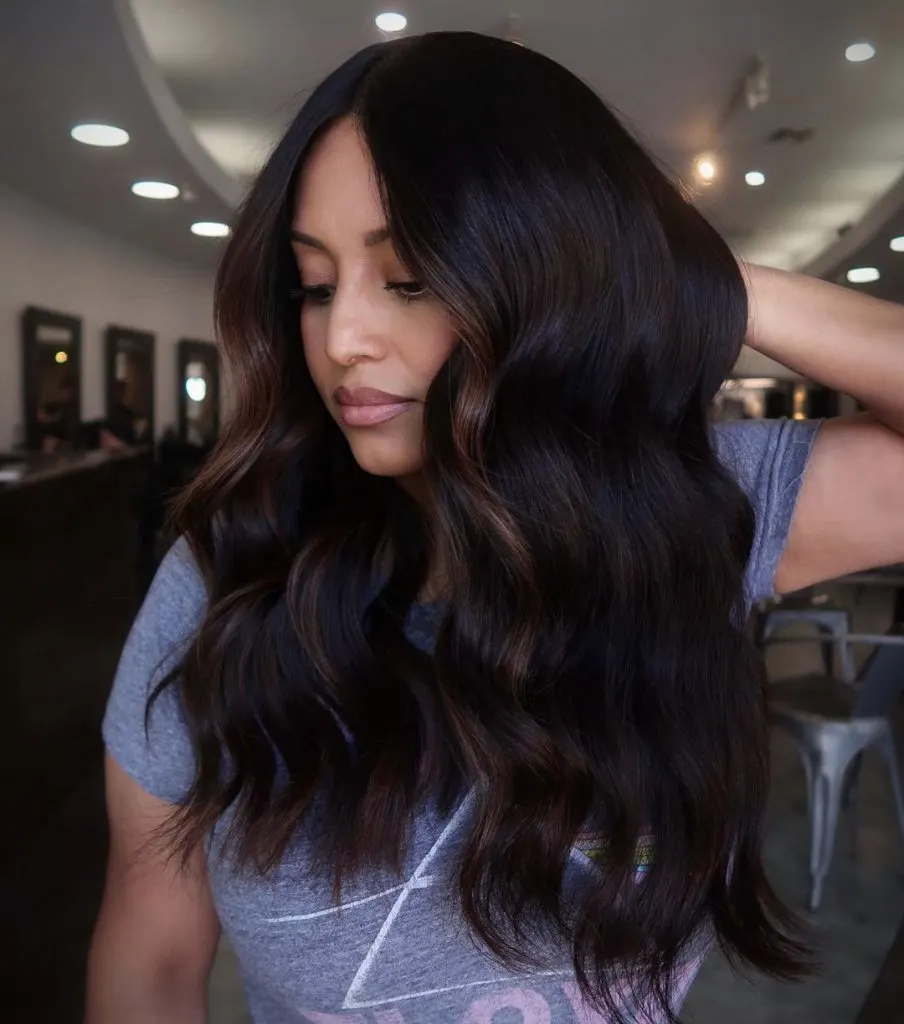 If you have dark hair and don't want to go lighter, face-framing money pieces can give you a brand new look without any major lightening. This dark espresso with chocolate highlights is a subtle combo that makes quite a difference.
5. Expensive Dark Brunette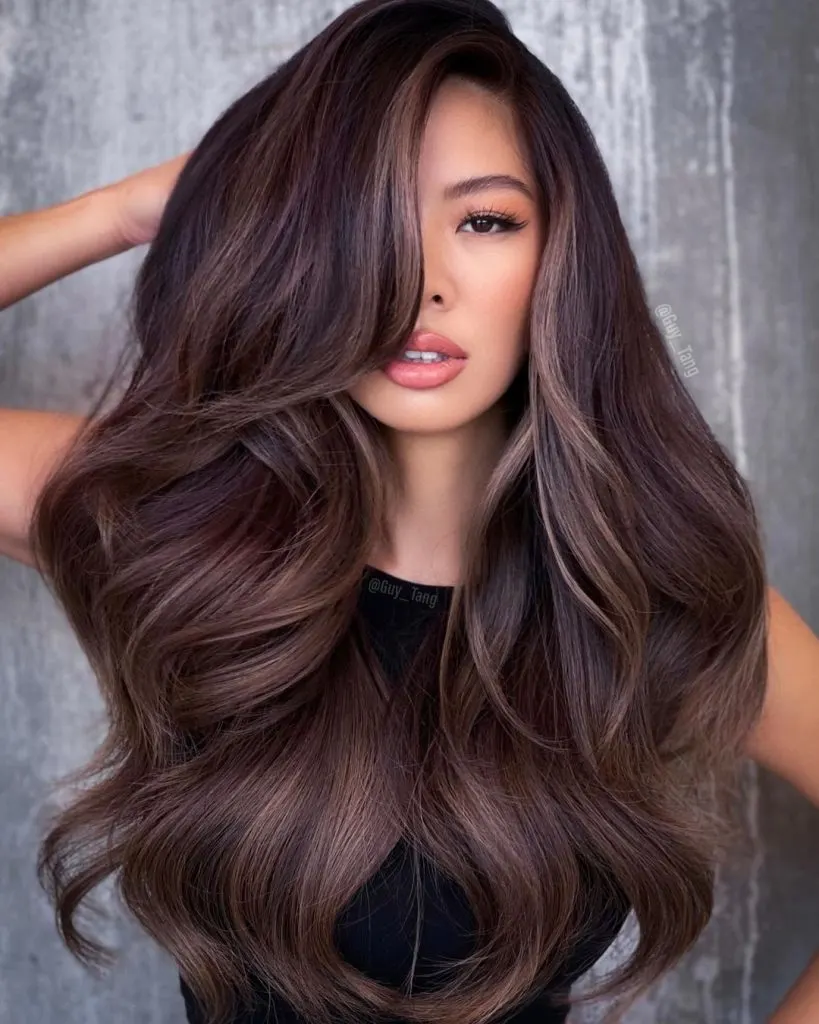 Expensive brunette is like a no-makeup makeup look for your hair: understated, but flattering. It's been popular for a couple of years now, and it's here to stay as long as aesthetics like clean girl and quiet luxury keep trending.
6. Natural Dark Brunette With Long Curtain Bangs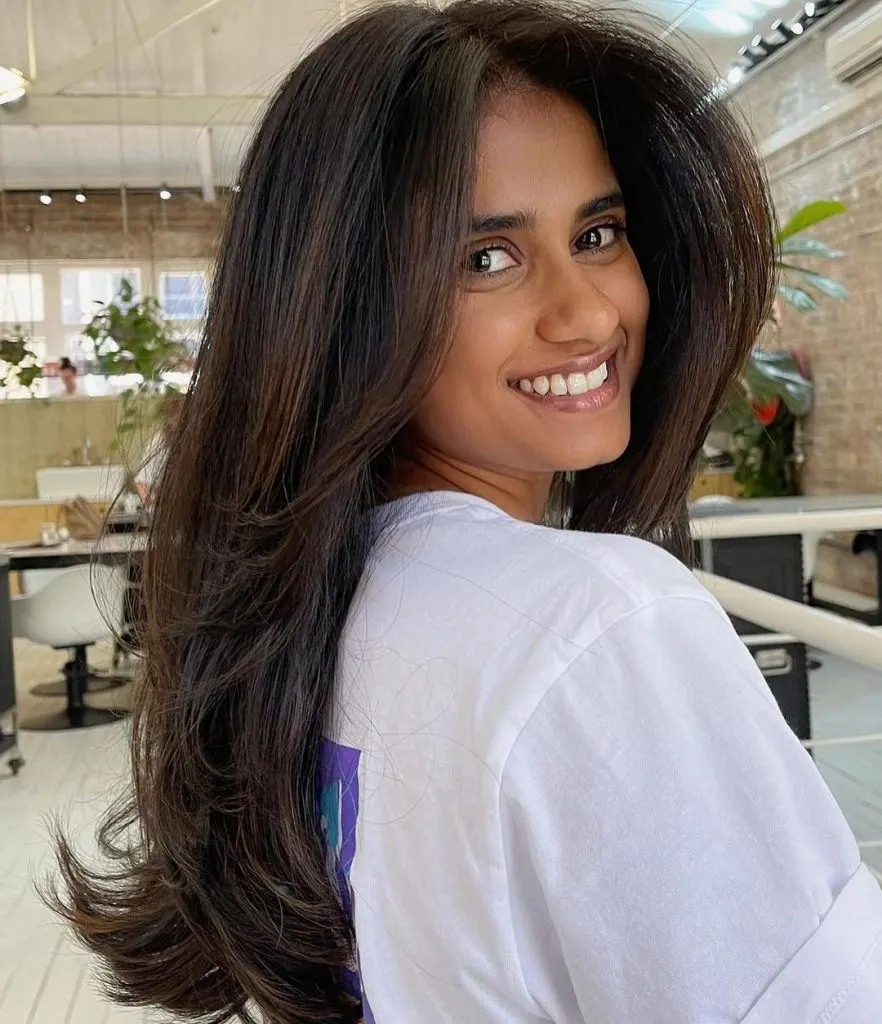 A natural (or natural-looking) dark brunette with long curtain bangs can never go out of style—but it's far from basic. Everything about this style is effortlessly chic: the layers, the face-framing and the color that perfectly suits the skin tone.
7. Long Dark Brown Hair With Auburn Highlights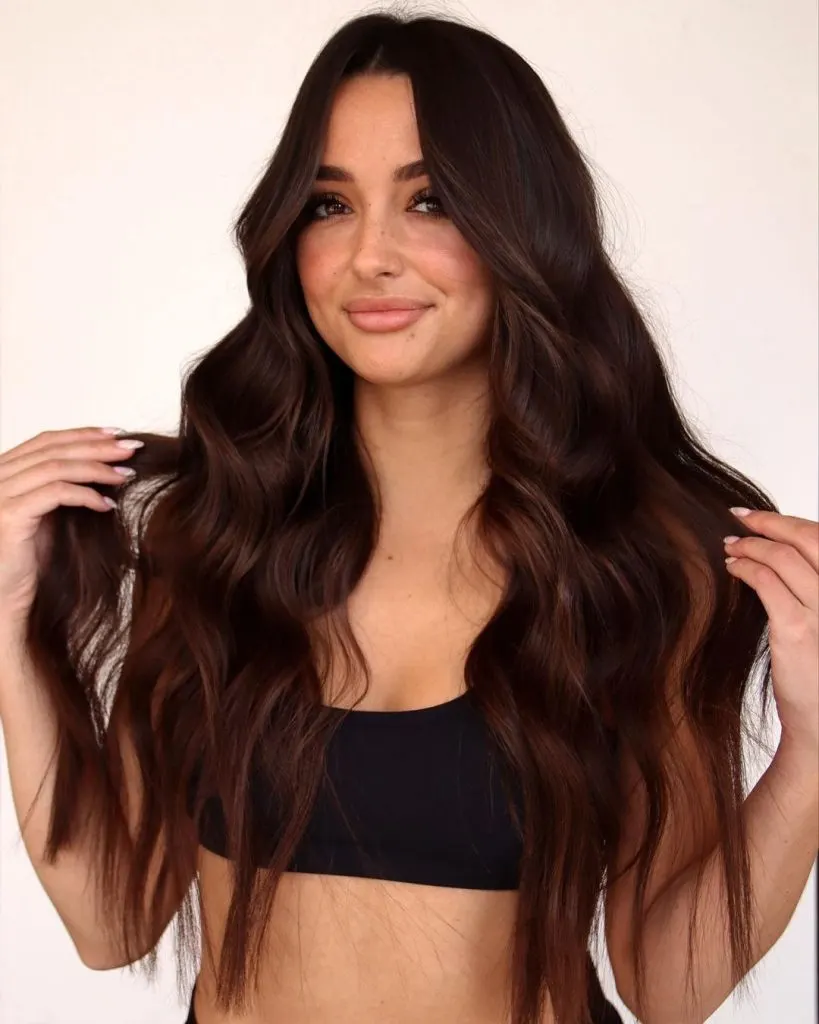 Auburn highlights add warmth to dark brown hair, but that's not all: even a hint of red in your brunette locks can completely transform your vibe from earthy to fiery.
8. Chestnut Balayage On Dark Brown Hair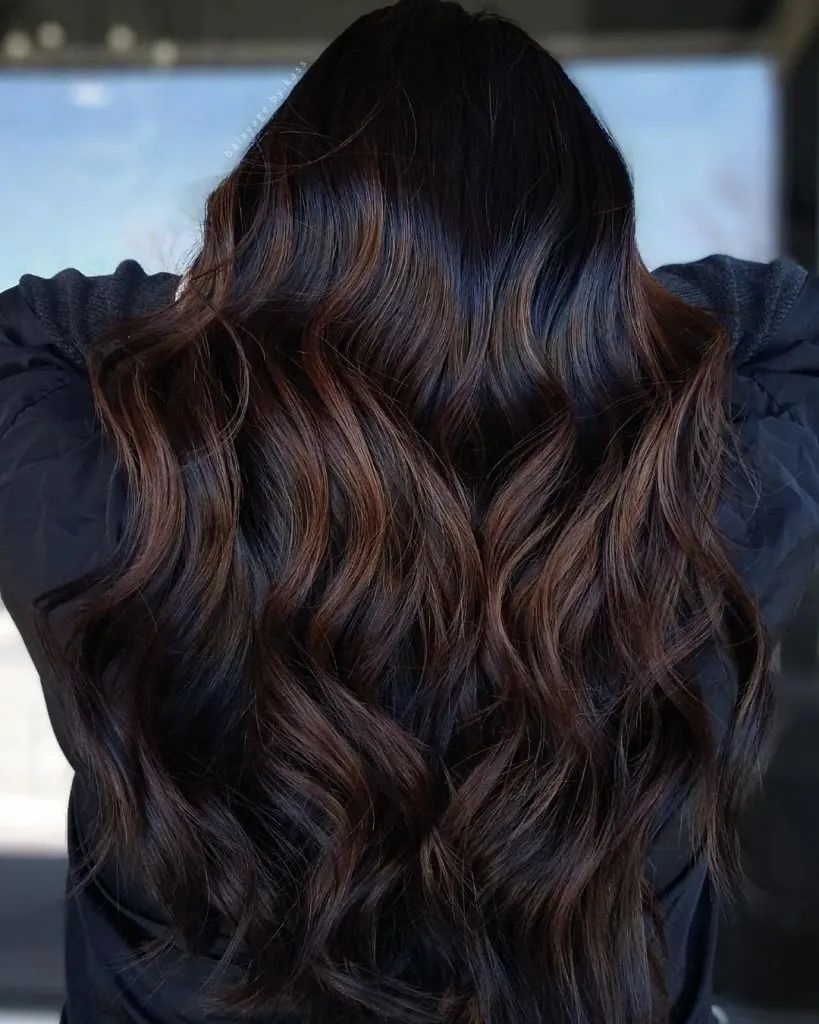 Highlights create dimension, even when they're not the focal point of your hair color. Chestnut balayage on dark brown hair takes one-dimensional base and gives it life and movement without taking away from the depth of the shade.
9. Dark Chocolate Brown With Cinnamon Highlights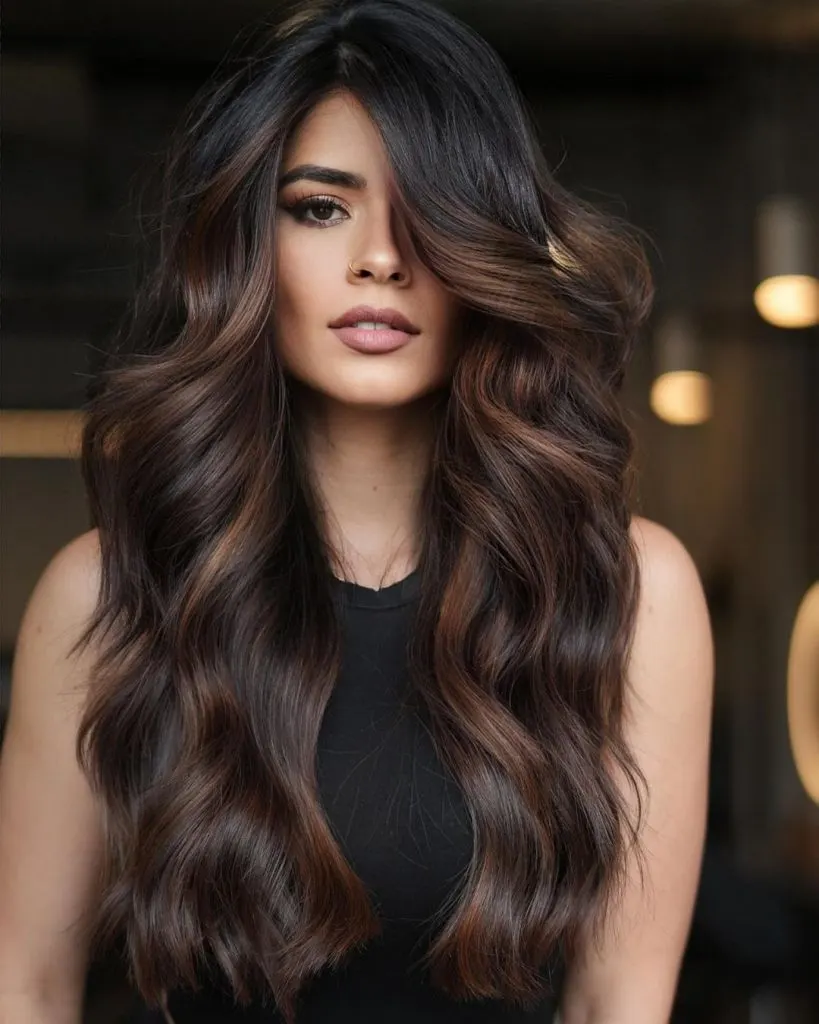 Dark chocolate brown with cinnamon highlights? Sounds like a delicious dessert and looks just as rich and warm. Get sweet and spicy—and gorgeous!
10. Onyx Brunette Mixie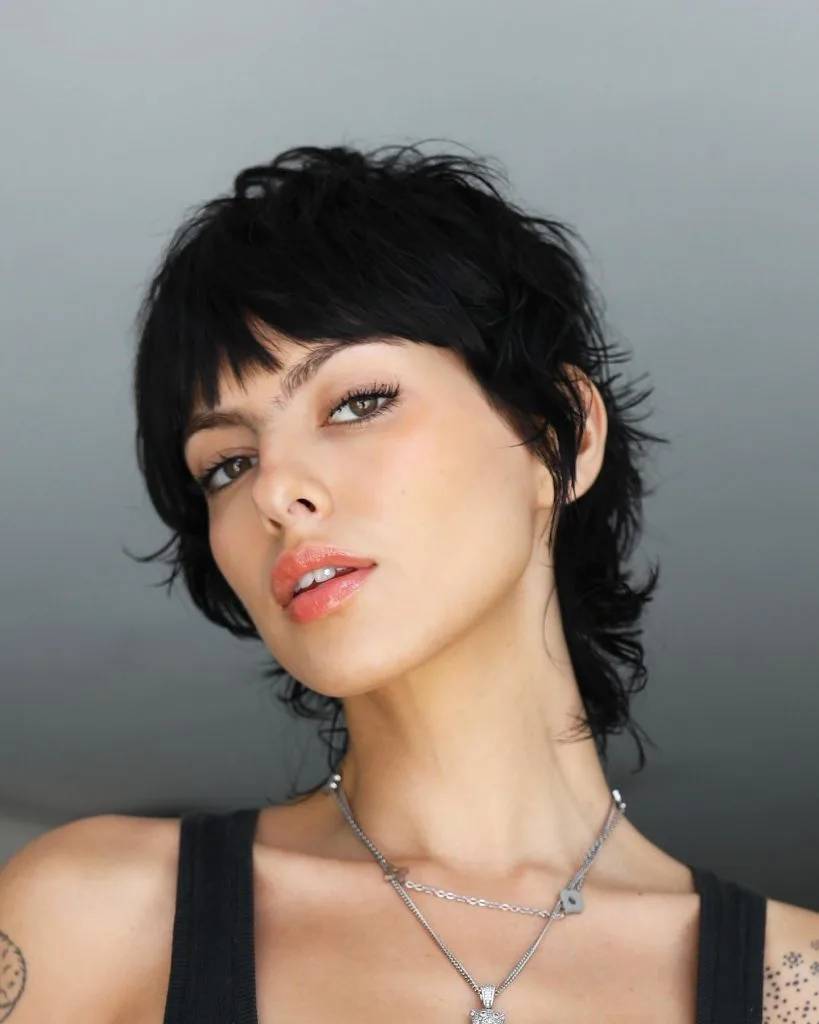 This onyx brunette mixie is perfect for those who love a look that's bold but also versatile: depending on how you style it, it can look elegant and sophisticated or wild and edgy.
11. Spicy Chestnut Brown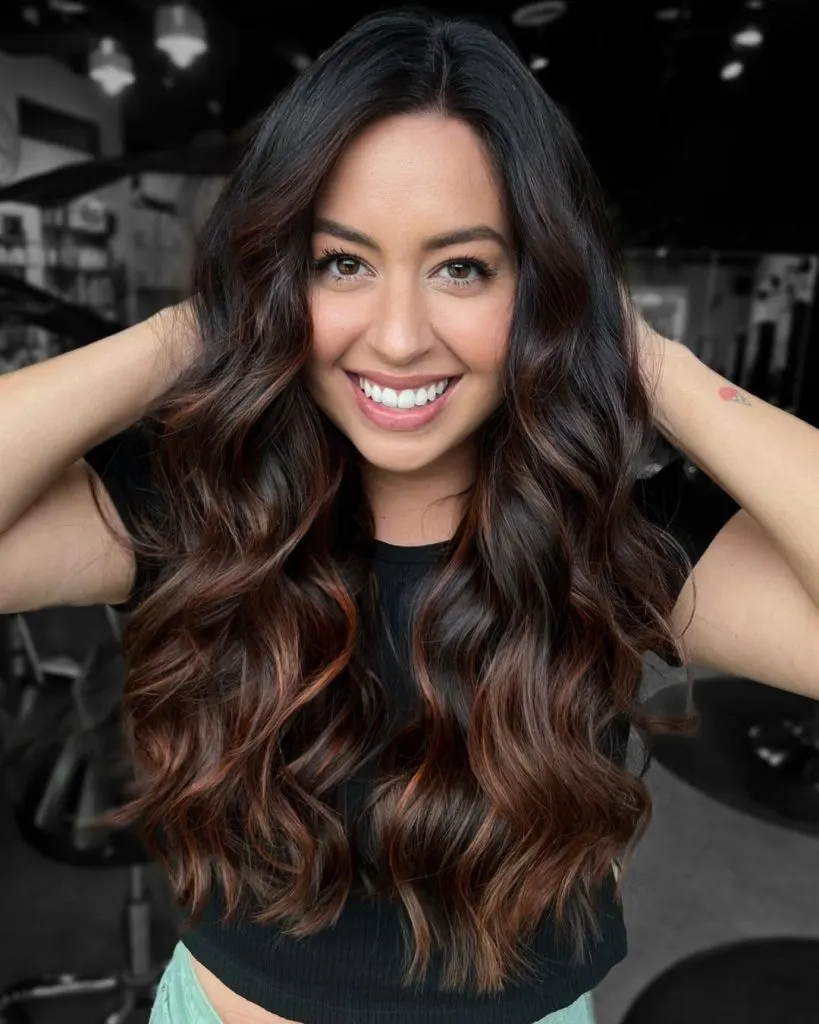 Spicy chestnut brown is warm and vibrant—just the right choice for your next fall hair color if you're looking for something cozy and soft with a little twist.
12. Chocolate Brown With Cappuccino Highlights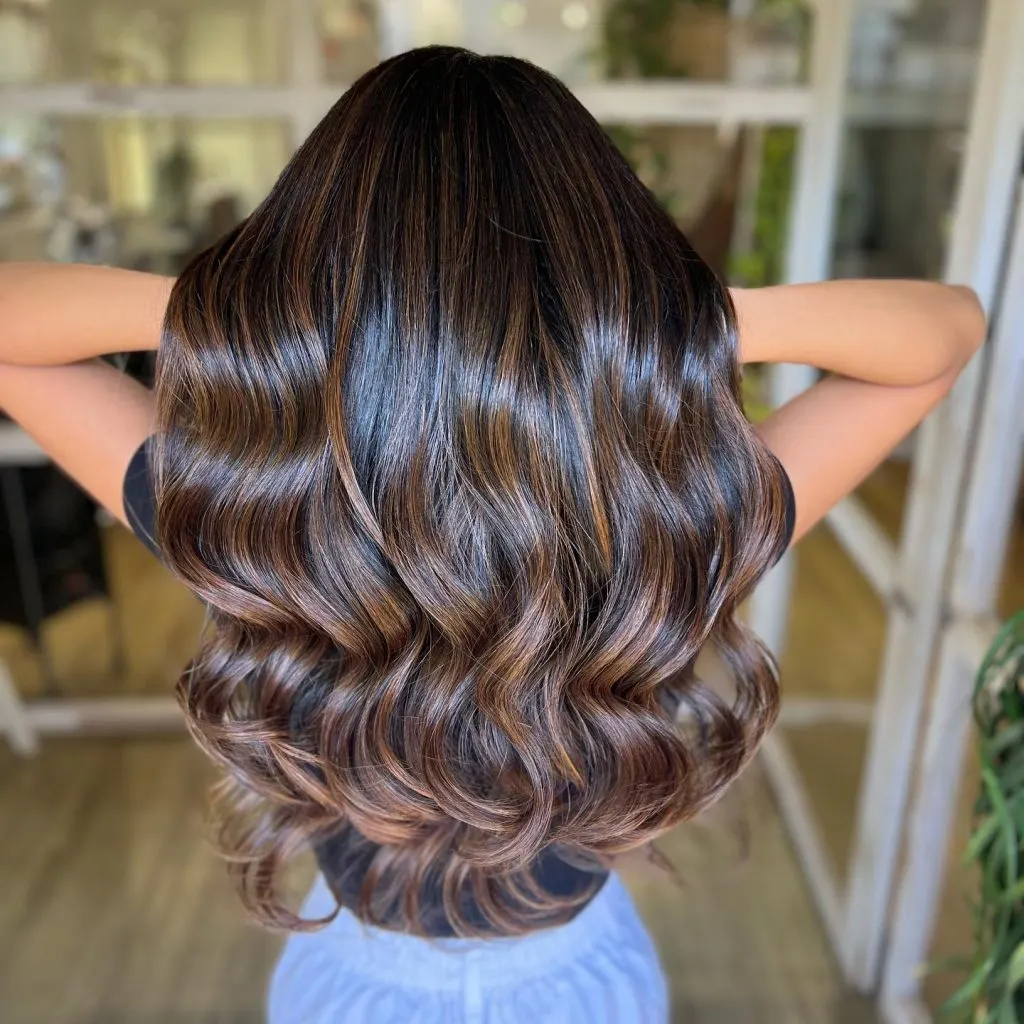 How luxurious is this dye job? One look at these vibrant, glossy locks tells you all you need to know about the power of highlights: when done right, they make your hair appear more voluminous and rich.
13. Dimensional Natural Brunette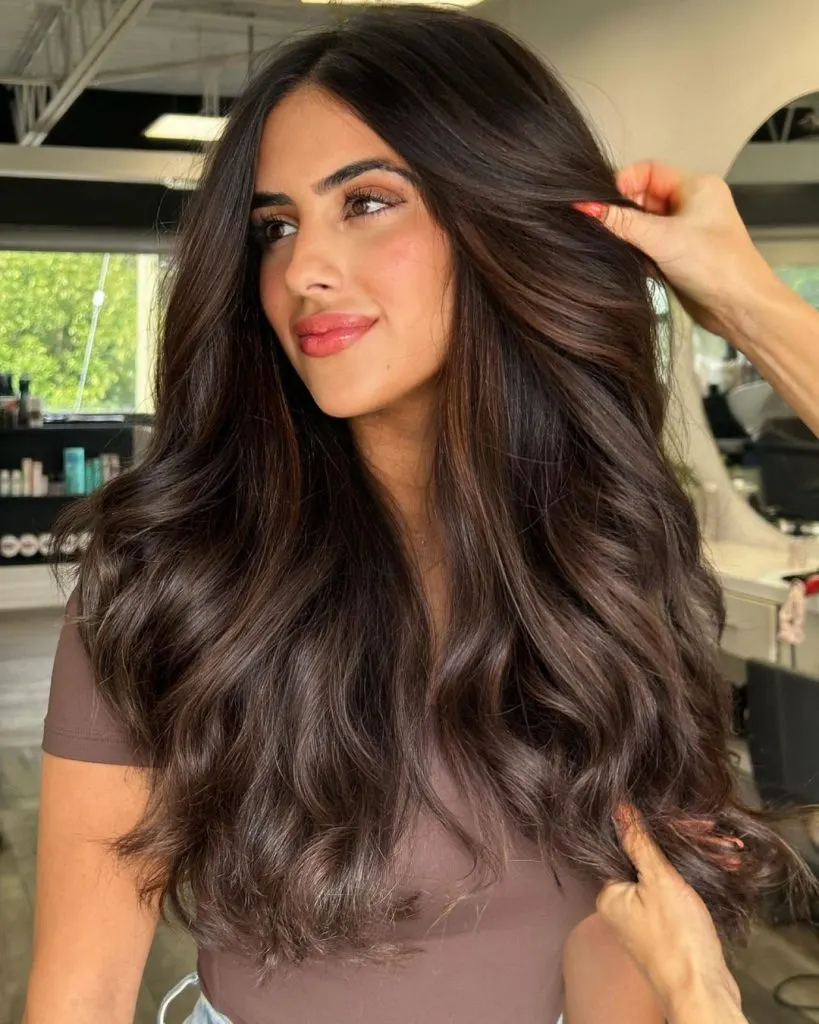 Using ultra-subtle variations of color you get a look that has depth and understated dimension—it looks natural, but it's still elevated and special. And it goes without saying that this look is also super low-maintenance.
14. Dark Ash Brown With Mushroom Highlights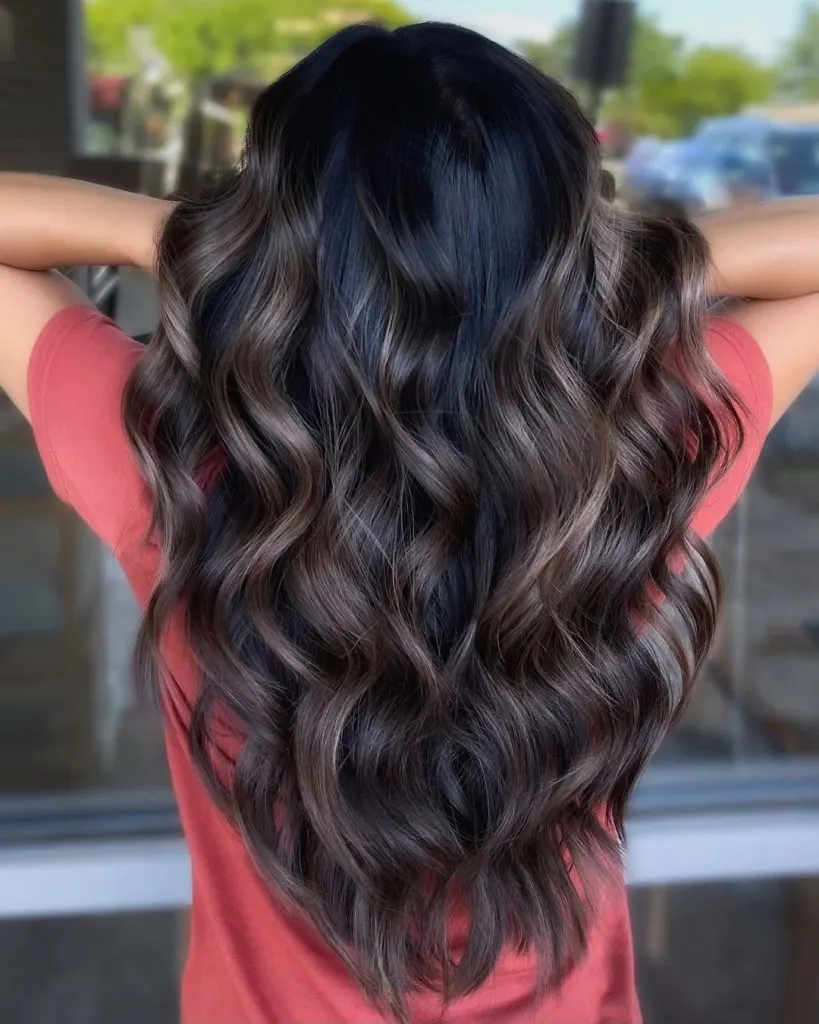 Dark ash brown with mushroom highlights results a bold, dark look with a modern twist. Without straying far from the dark natural base, this cool-toned combo looks dynamic and fresh.
15. Dark Brown Hair With Caramel Balayage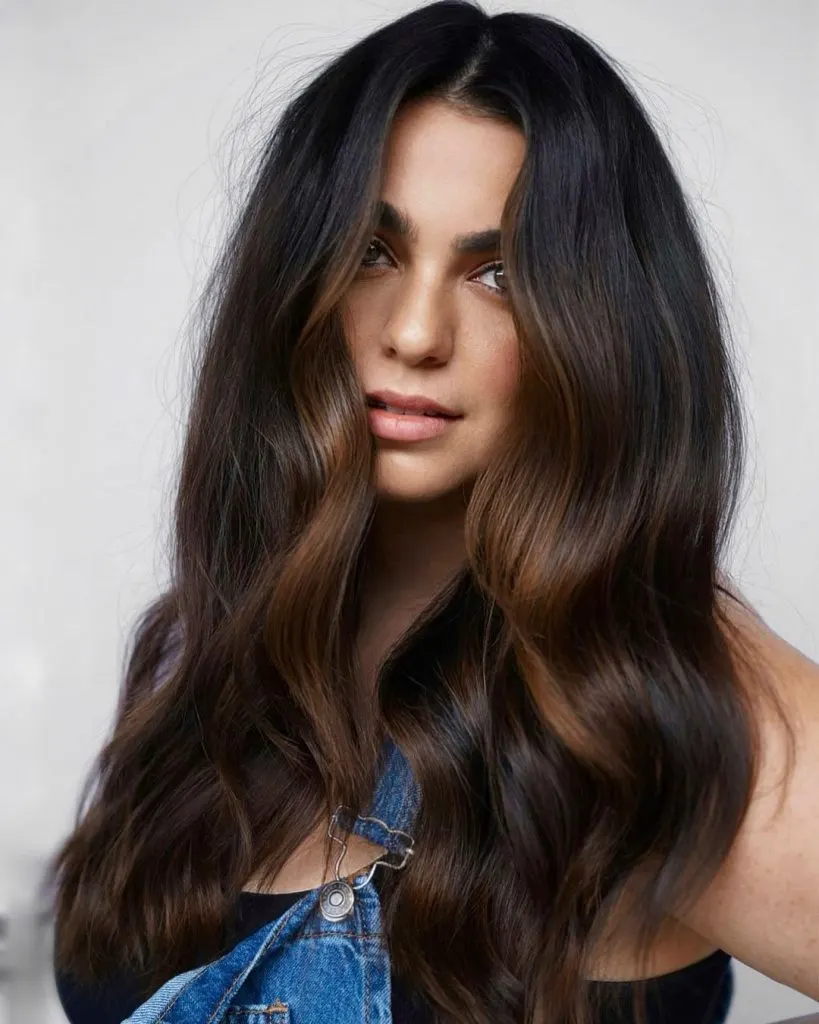 To bring some warmth to your tresses for that sun-kissed look, going two shades lighter near the face will do the trick. The secret behind the organic look of this dark brown hair with caramel balayage is blending: the face-framing strands seamlessly melt into the base.
16. Chocolate Brown Curls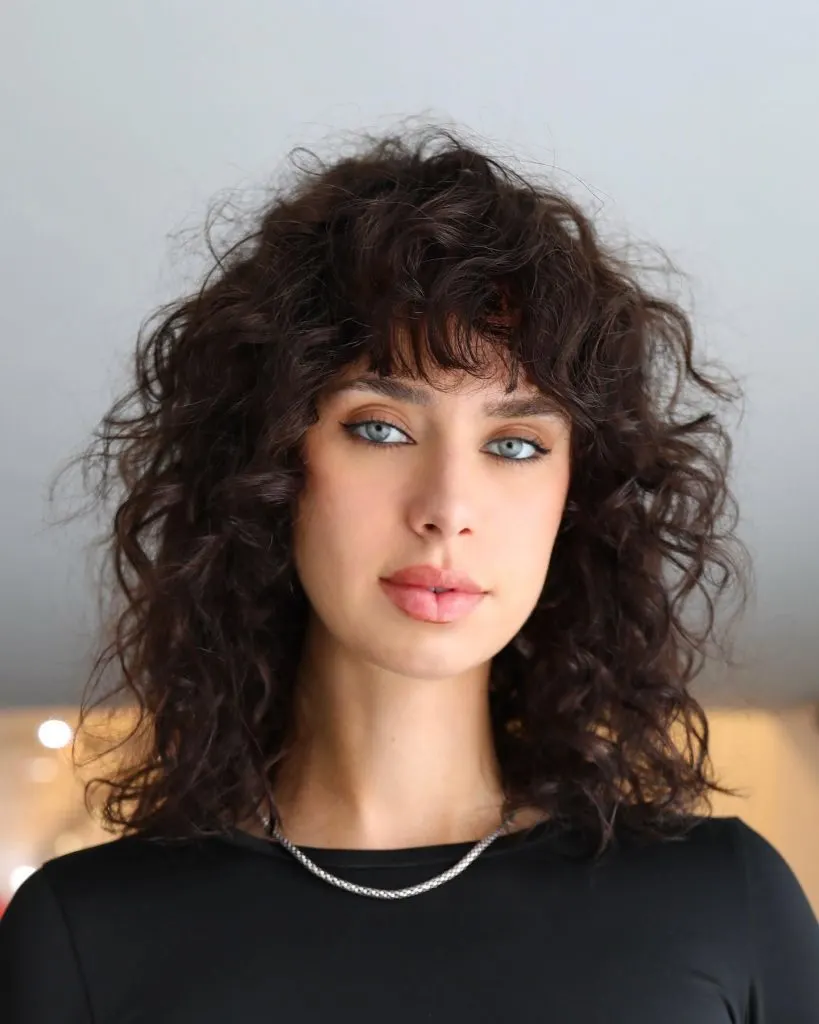 Highlights have an ability to make your hair look multidimensional, but don't cast aside one-tone hair color just yet. If you want a uniform shade and you're not going lighter, you can skip the foils and go for all-over color. These chocolate brown curls are proof enough how fabulous this kind of look can be—timeless and stylish.
17. Cool-Toned Brown-Black Hair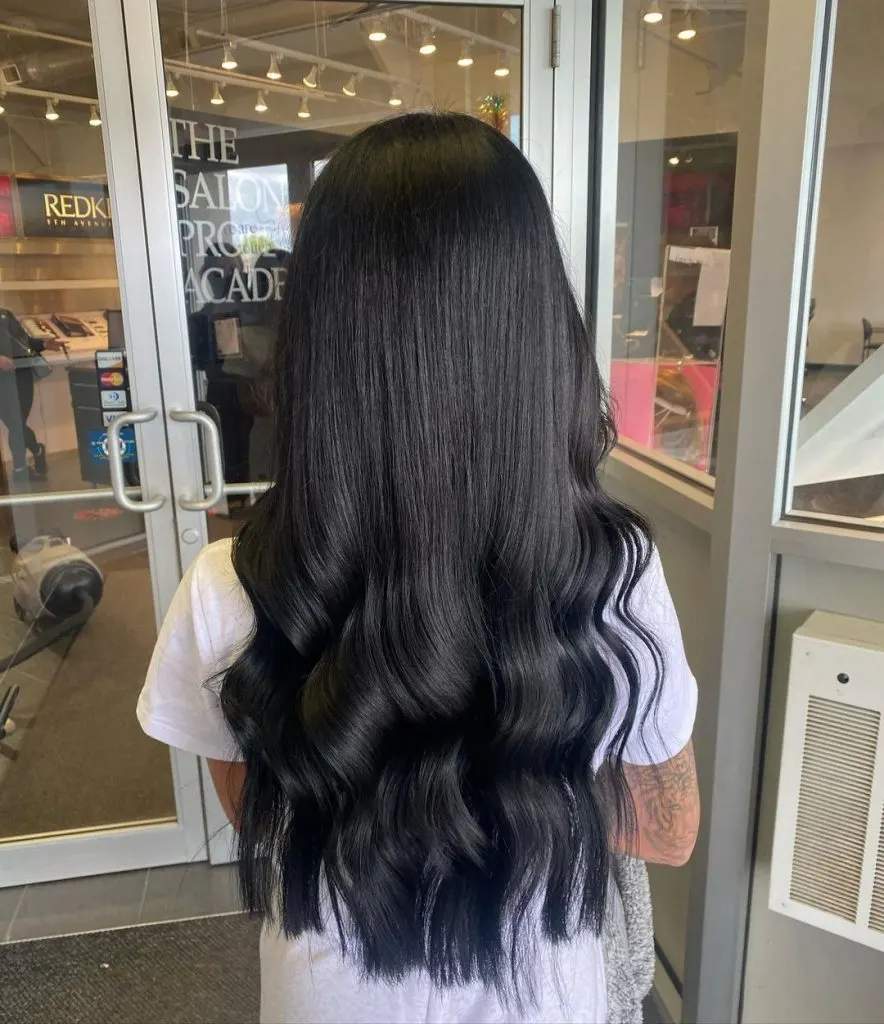 Mysterious, sophisticated, edgy, bold—cool-toned brown-black hair is just that color. Always on trend and always ready to turn heads.
18. Dark Roast Coffee Brown Hair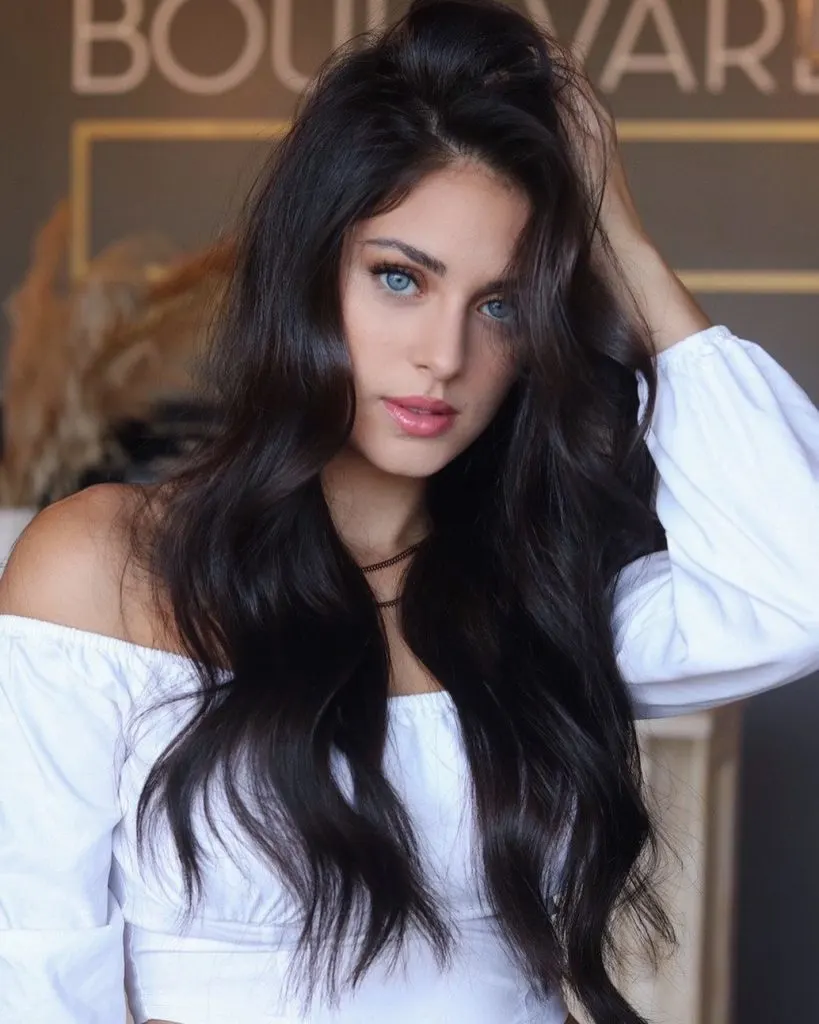 Deep but soft, dark roast coffee brown hair is rich and sultry, as luxurious as your favorite strong cup of espresso.
19. Deep Brown With Blonde Money Pieces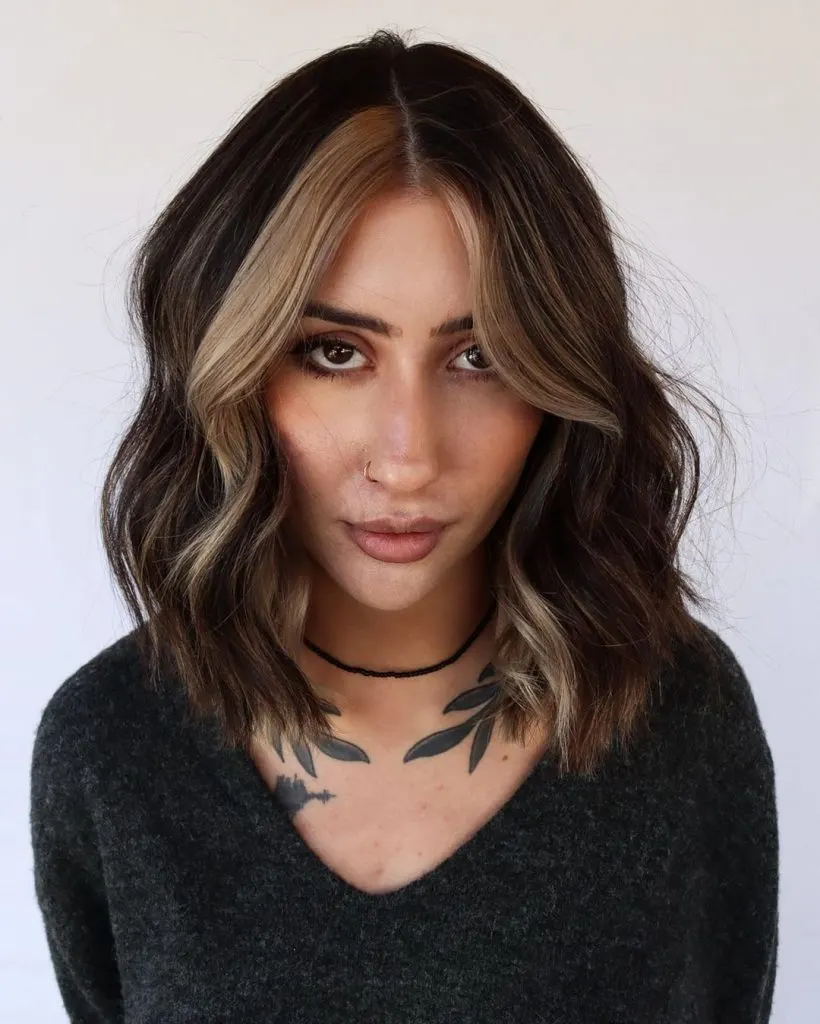 Freshen up deep brown with blonde money pieces and add a trendy, high-contrast pop of color that requires minimal effort to achieve and maintain.
20. Glossy Dark Brown Coils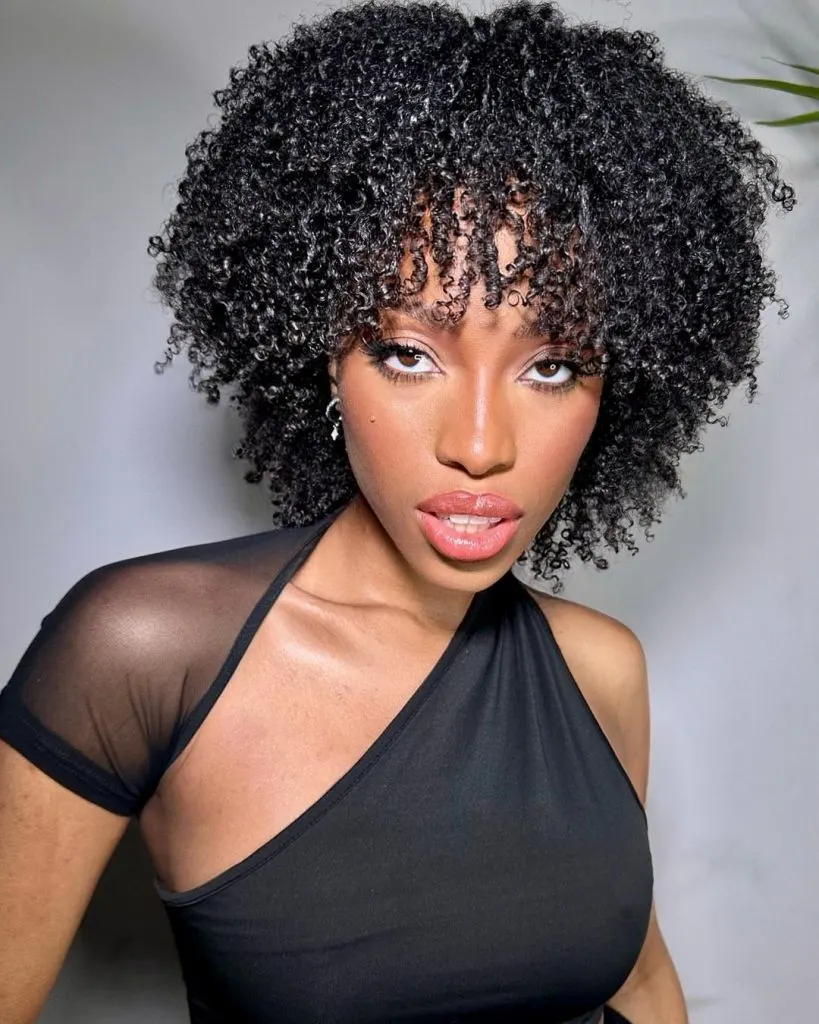 Coily hair needs a gentle touch. When you find your own magical combo of products and routine, it will repay you with lustrous shine and defined texture. These glossy dark brown coils are well taken care of and they look it: radiant and sophisticated.
21. Dark Brunette With Milk Chocolate Balayage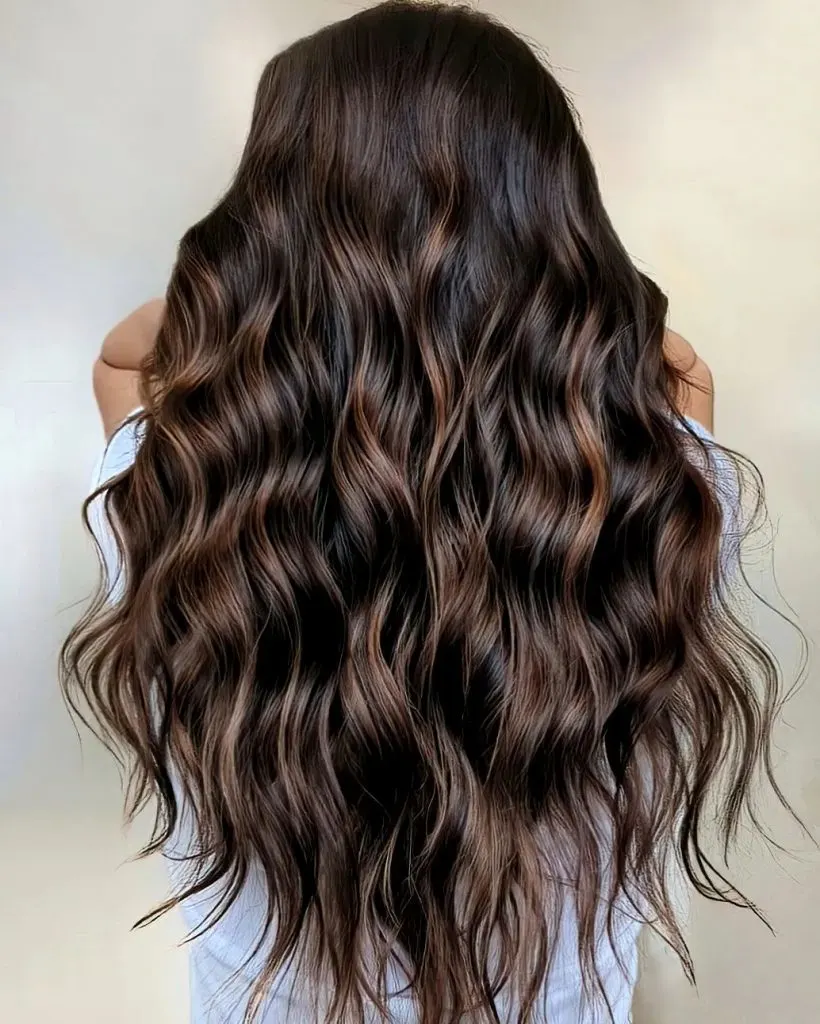 The harmonious blending of dark brunette with milk chocolate balayage results in natural-looking tresses with a healthy shine.
22. Deepest Brown-Black Hair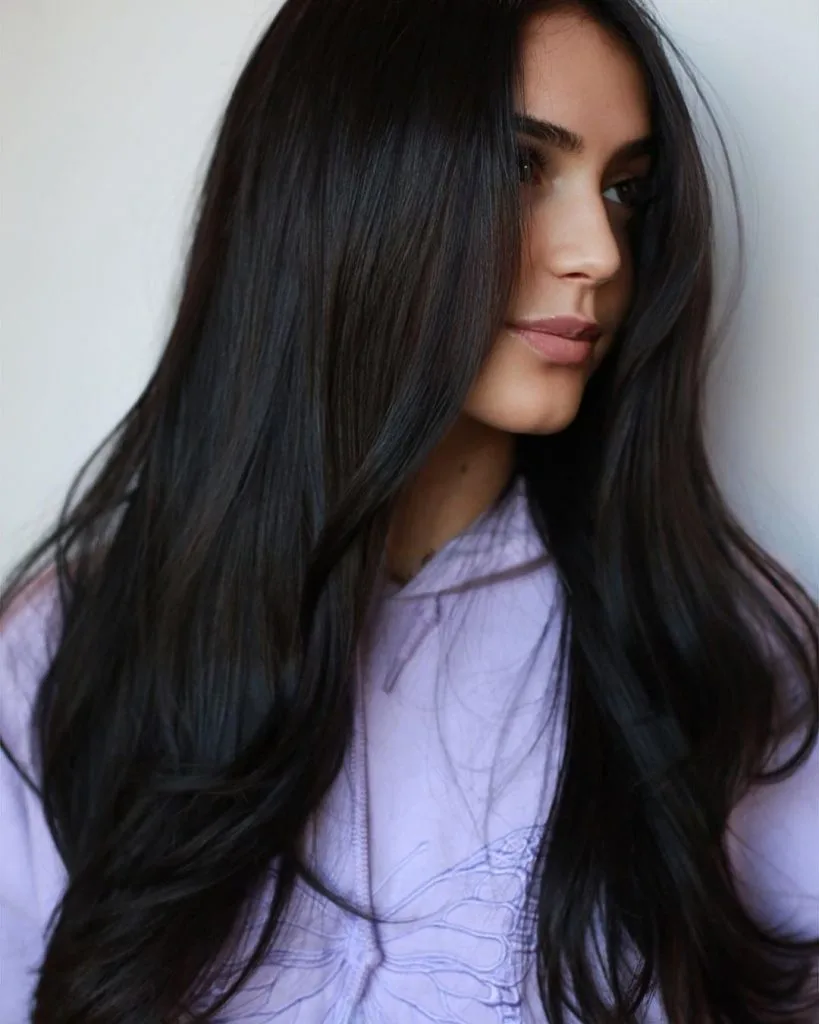 While black is the most common hair color, dying your hair black can look more severe than when it's natural. If pitch-black is just a touch too harsh for you but you still want its timeless allure, deepest brown-black is much easier to handle and just as elegant and chic.
23. Face-Framing Caramel Balayage On Dark Brown Hair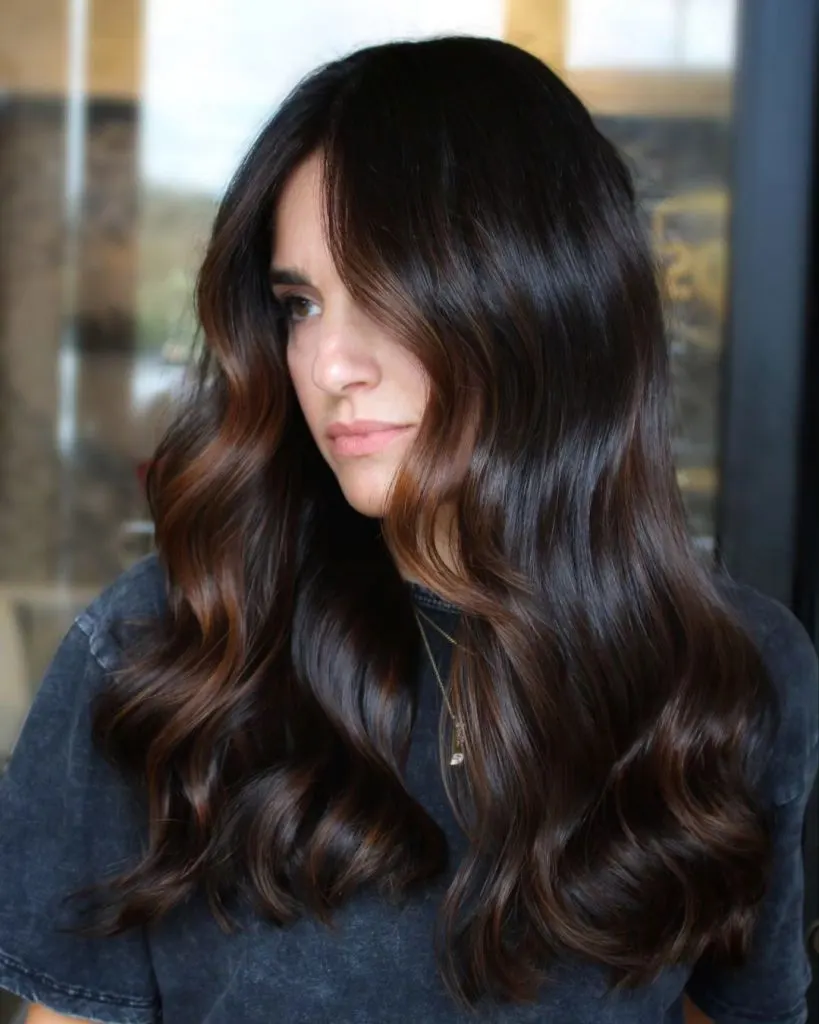 Face-framing caramel balayage on dark brown hair is a low-effort way to brighten your complexion. Lightening only the strands near the face and lifting your color only a couple of levels will get you all the glow with none of the hassle.
24. Dark Coffee With Brown Sugar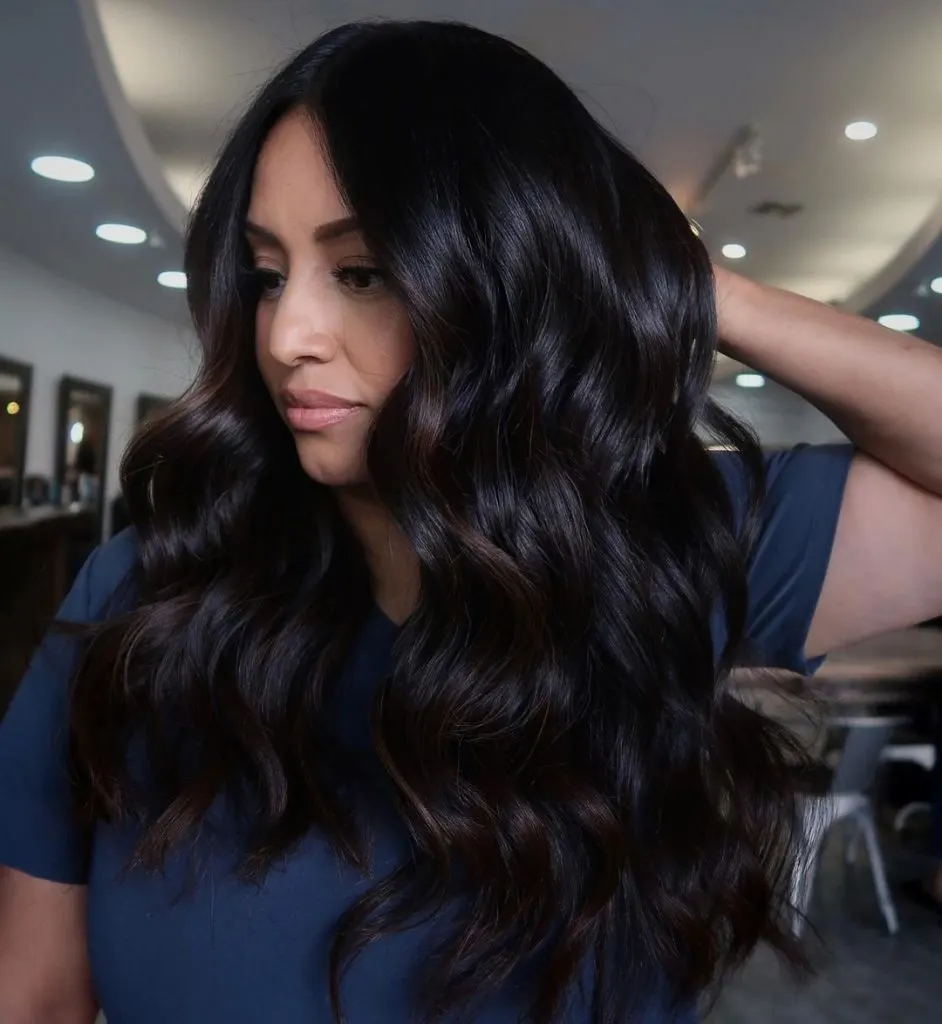 Sweetened with barely-there highlights, dark coffee with brown sugar has a rich and layered look.
25. Dark Ash Brown Hair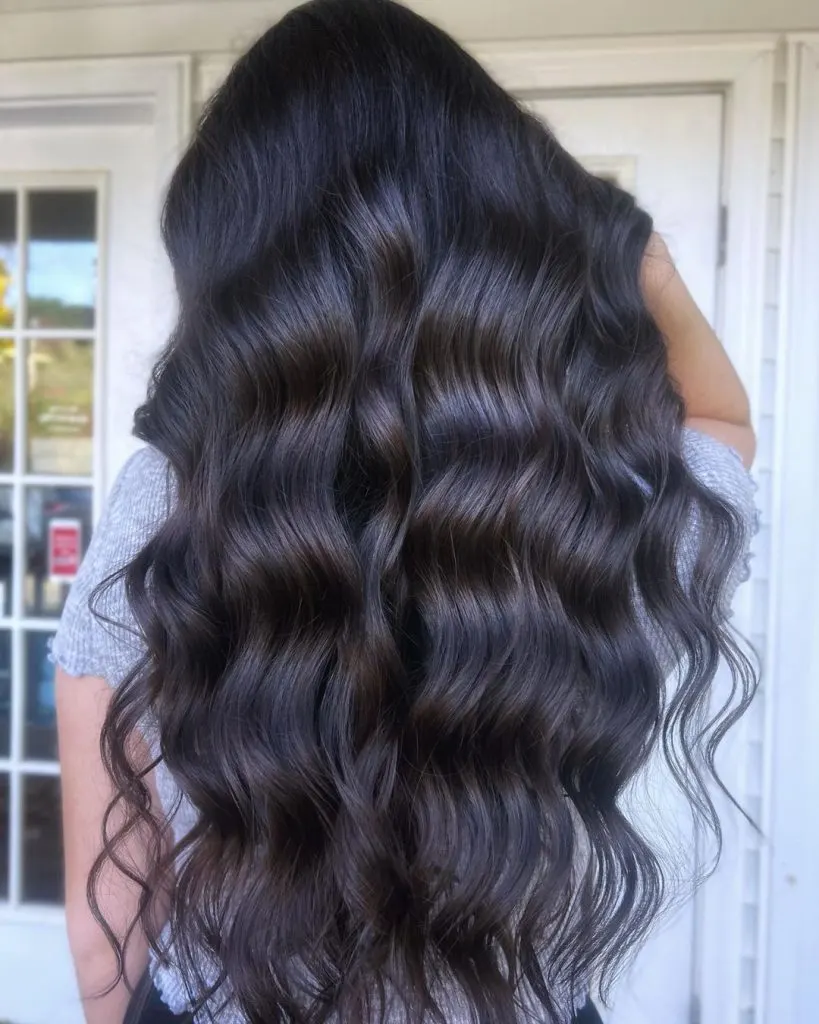 Cool-toned brunettes like this dark ash brown hair have a modern, minimalist aesthetic about them that will give you a cool-girl vibe.
26. Dark Auburn Brunette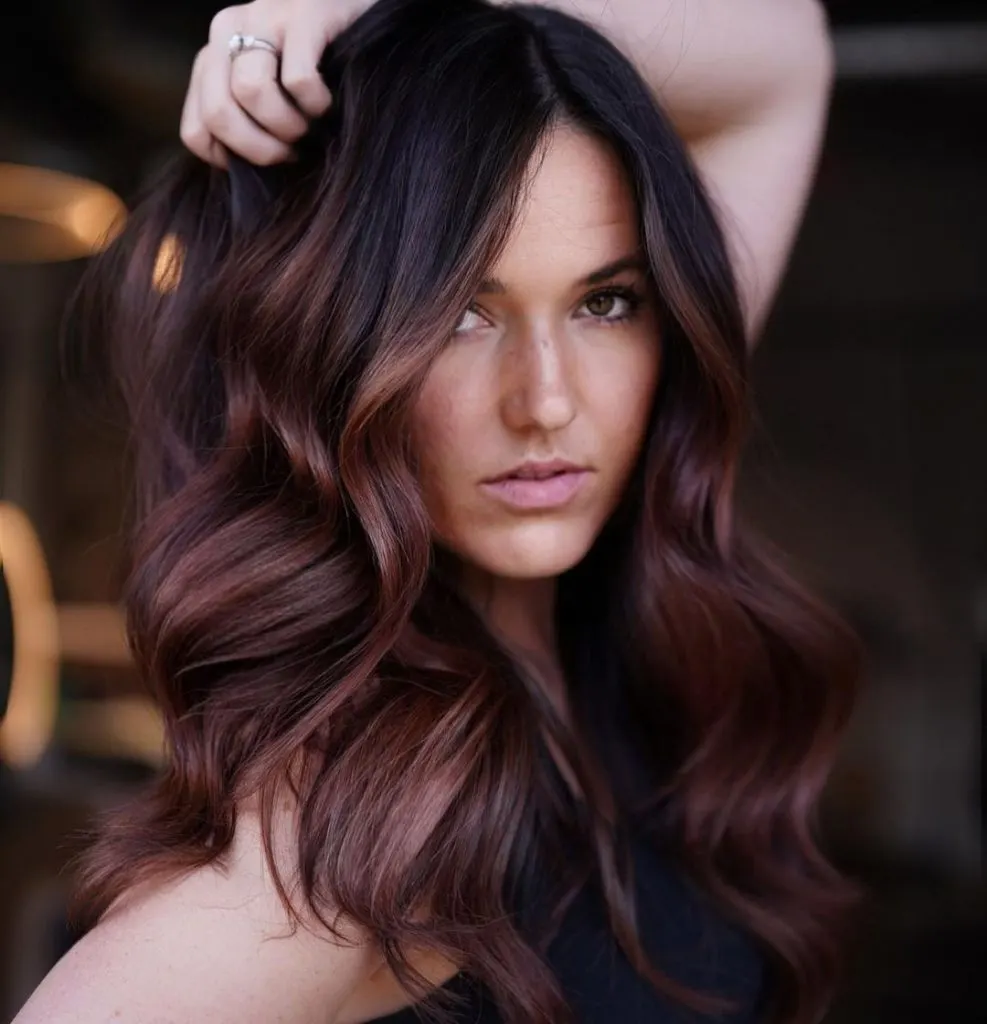 Heat things up for the fall with this dark auburn brunette that has just the right amount of warmth and passion to elevate your look.
27. Dark Cherry Cola Balayage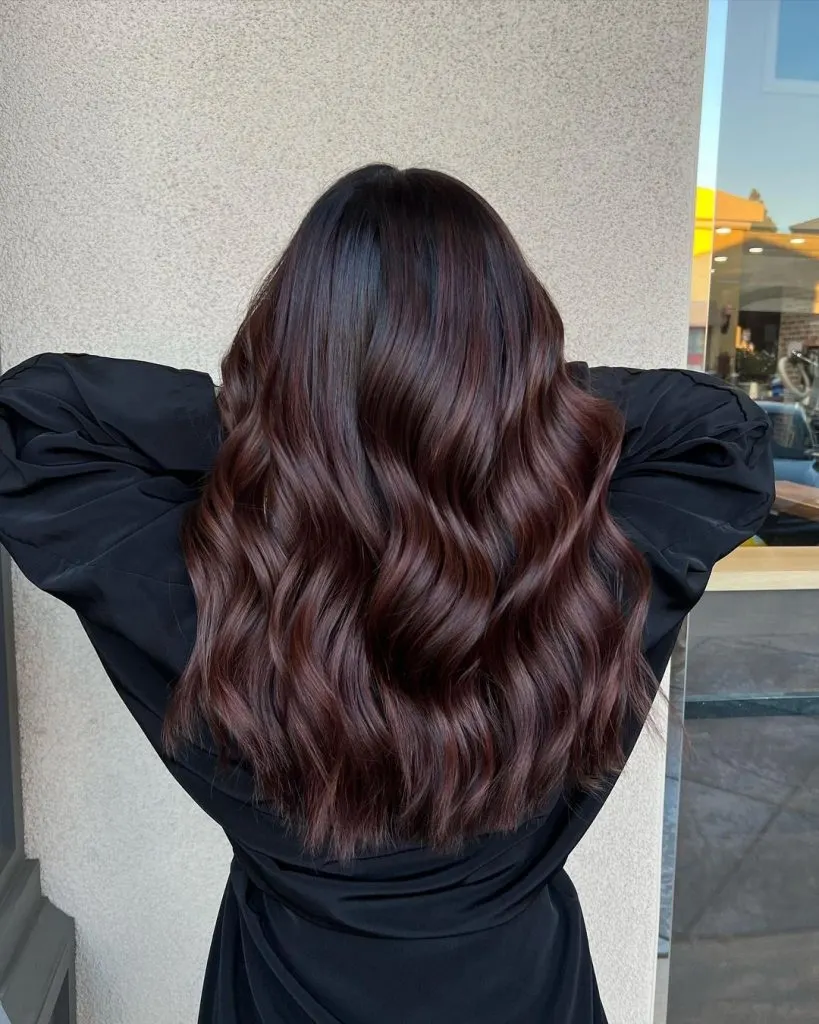 There isn't much you can do with dark brown hair without going lighter, but don't underestimate the versatility of subtle highlights and fun toners. Just look at this dark cherry cola balayage: it's lively and vibrant and still fully in the dark brunette category.
28. Brown Sugar Balayage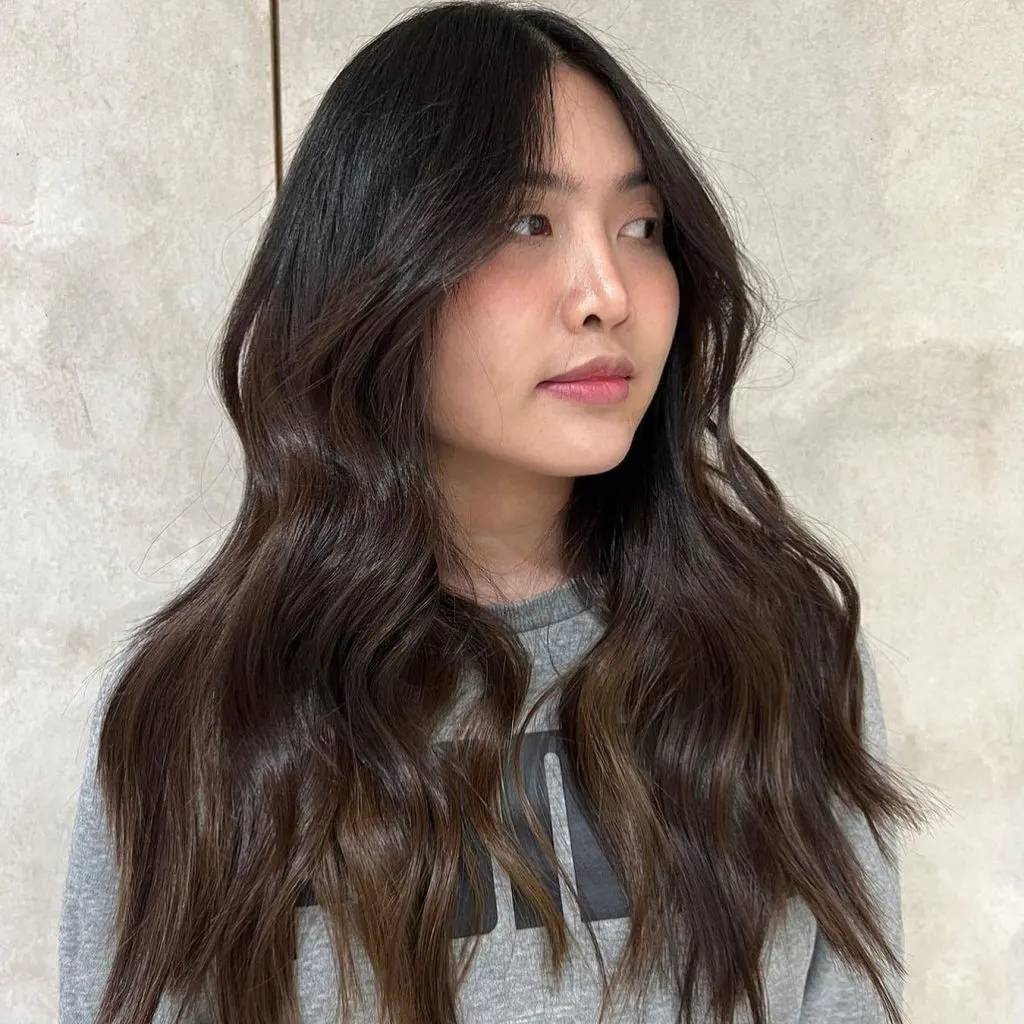 Keeping your base natural and lightening the strands near your face (no matter how slightly) is an instant brightness boost. This brown sugar balayage is super subtle, but it still gives dark brown hair a kick of warmth and makes it more vibrant.
29. Black Tea Balayage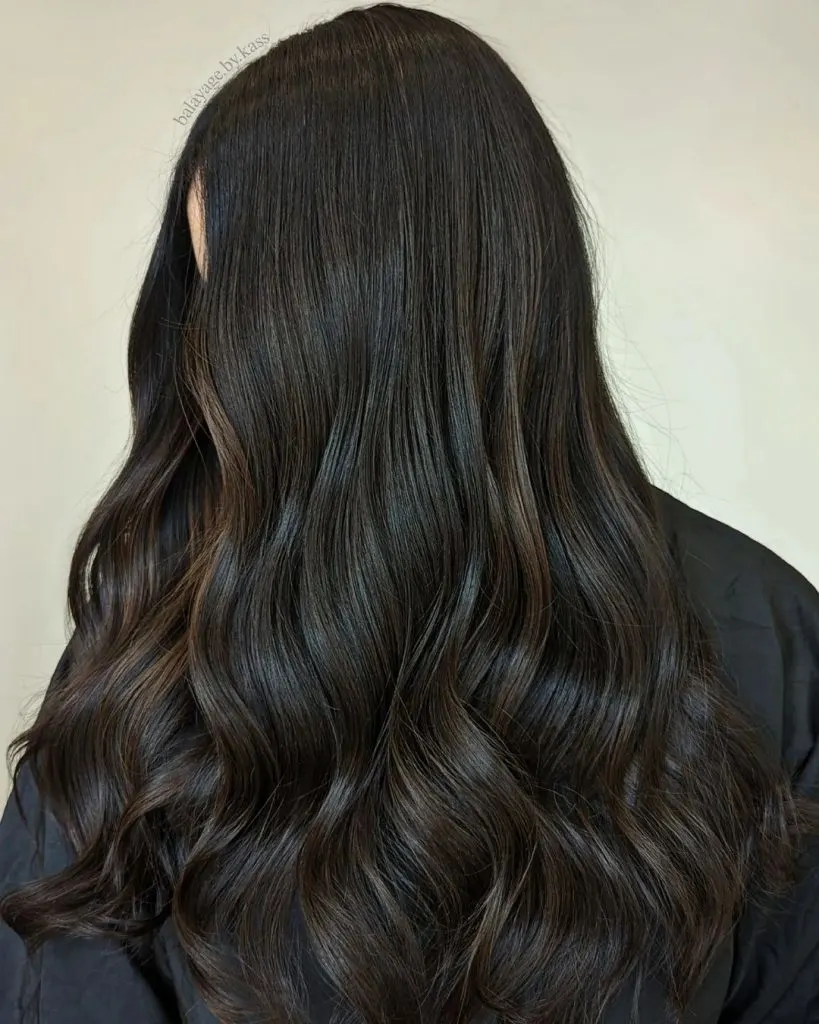 If medium brunettes are all named after yummy desserts, shades of dark brown are better suited to rich, sometimes bitter drinks. Black tea balayage is like a sophisticated and refined infusion of color—understated, with a hint of mystery.
30. Glossy Espresso Brown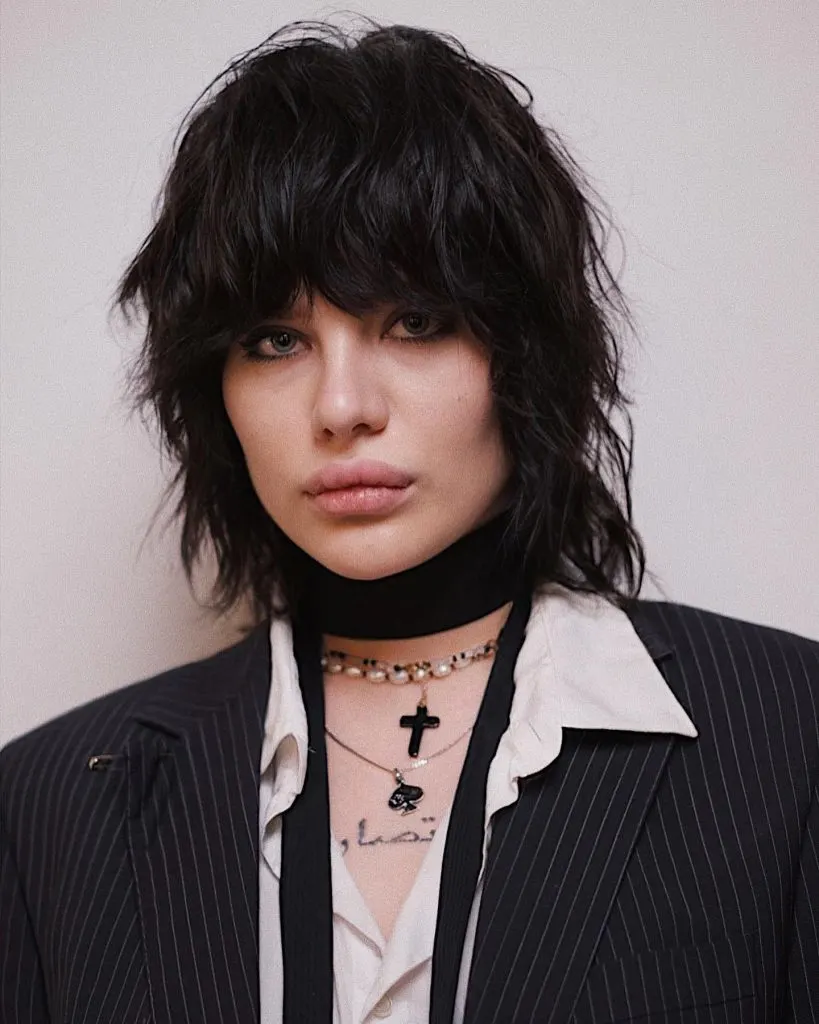 This glossy espresso brown is the perfect shot of rich, bold and edgy elegance.
31. Mocha Coffee Brunette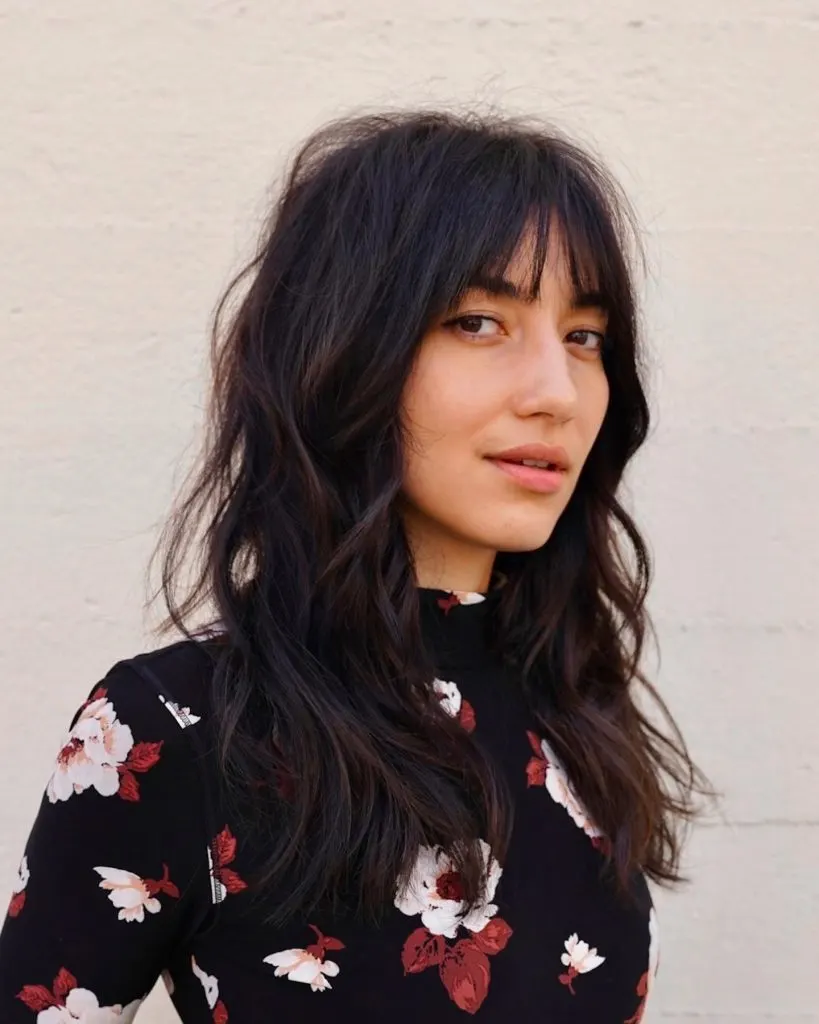 Mocha coffee brunette is a flawless blend of deep coffee brown and warm mocha accents, full of warmth and comfort. Just as smooth and inviting as the drink.
32. Rich Dark Brown Hair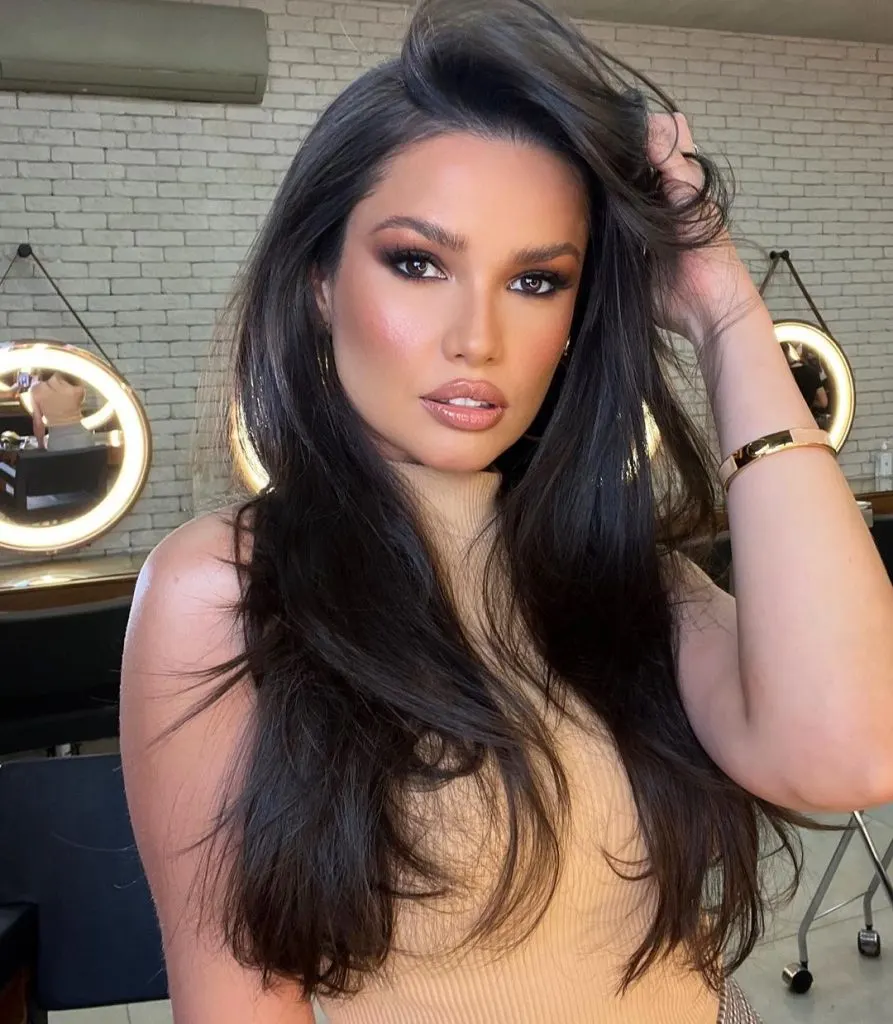 Silky smooth rich dark brown hair screams opulence and luxury in addition to being a classic that never goes out of style.
33. Deep Chestnut Brunette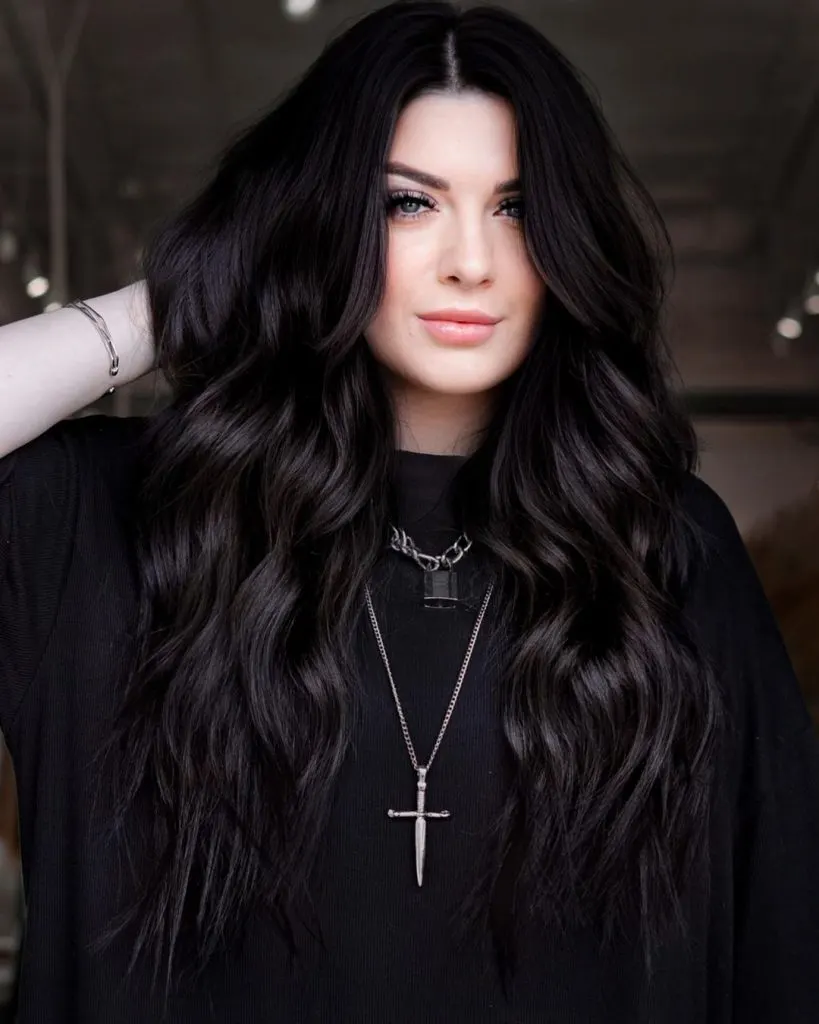 Make a bold statement with an edgy yet natural deep chestnut brunette. Keeping your hair hydrated and healthy will go a long way towards making it look shiny, but for an extra boost, mist it with a shine spray as the final step in your styling routine.
34. Dark Chocolate With Hazelnut Highlights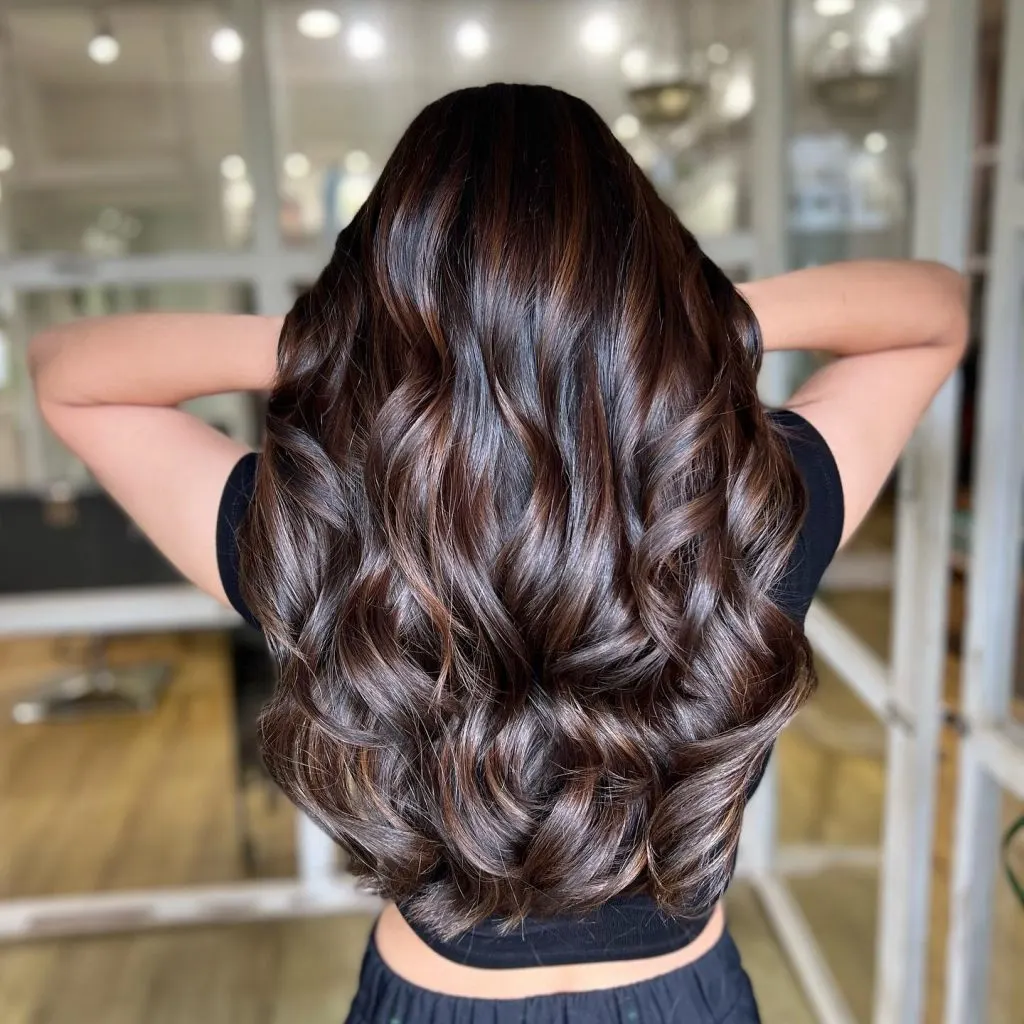 Highlights add complexity and vibrance to your hair color, especially when they're more obvious. This dark chocolate with hazelnut highlights is rich in depth and texture, and incredibly beautiful.
35. Dark Brown Hair With Warm Caramel Highlights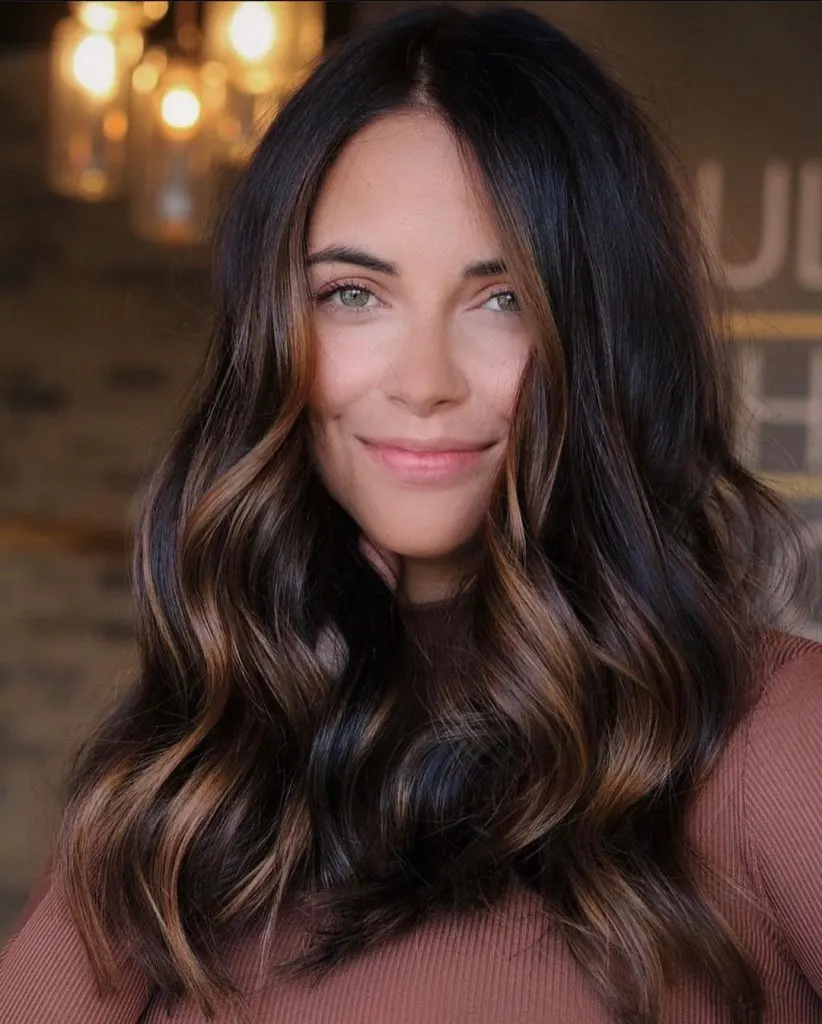 When is a look both beach ready and fall ready? When it has a warm and natural appearance. This dark brown hair with warm caramel highlights adds sunshine to your style, giving you a look that's both cozy and fresh.
36. Deep Cocoa Brown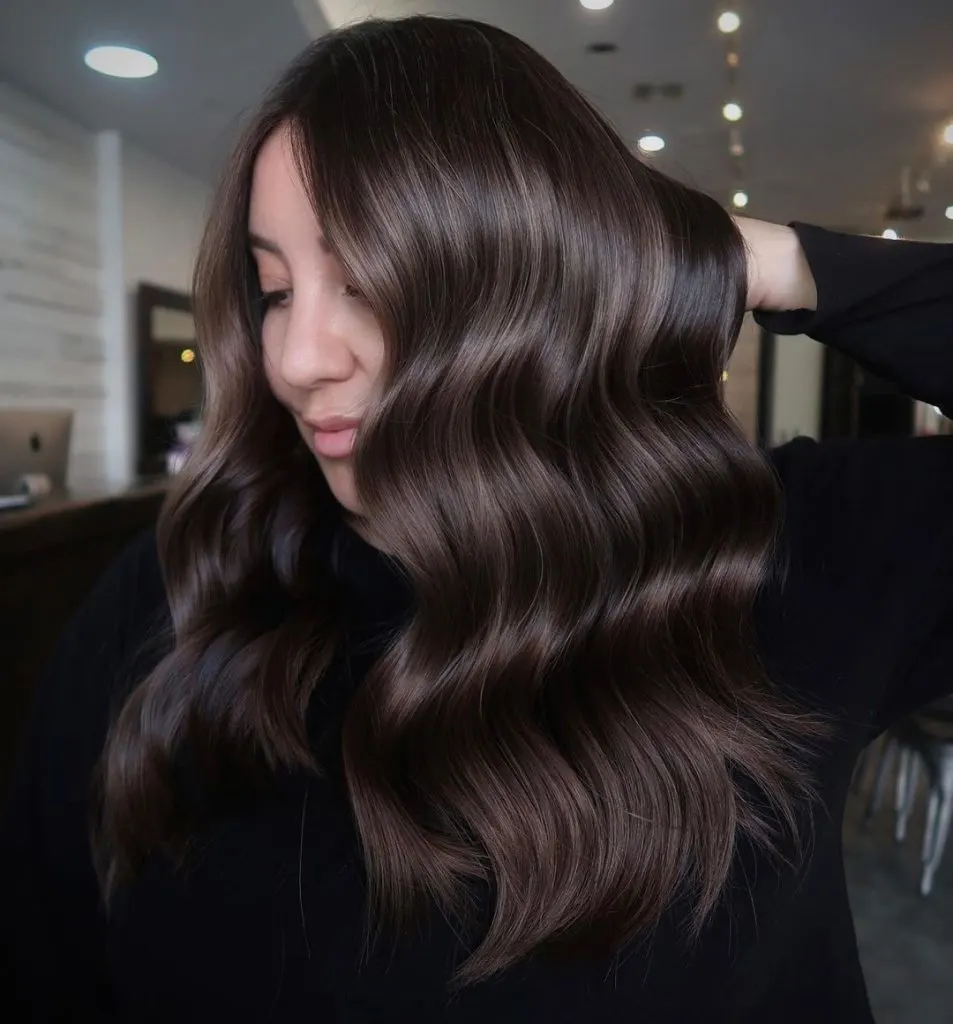 Sometimes nothing needs to be said about a hair color except that it's beautiful, and this deep cocoa brown is just that.
37. Dark Brunette And Copper Balayage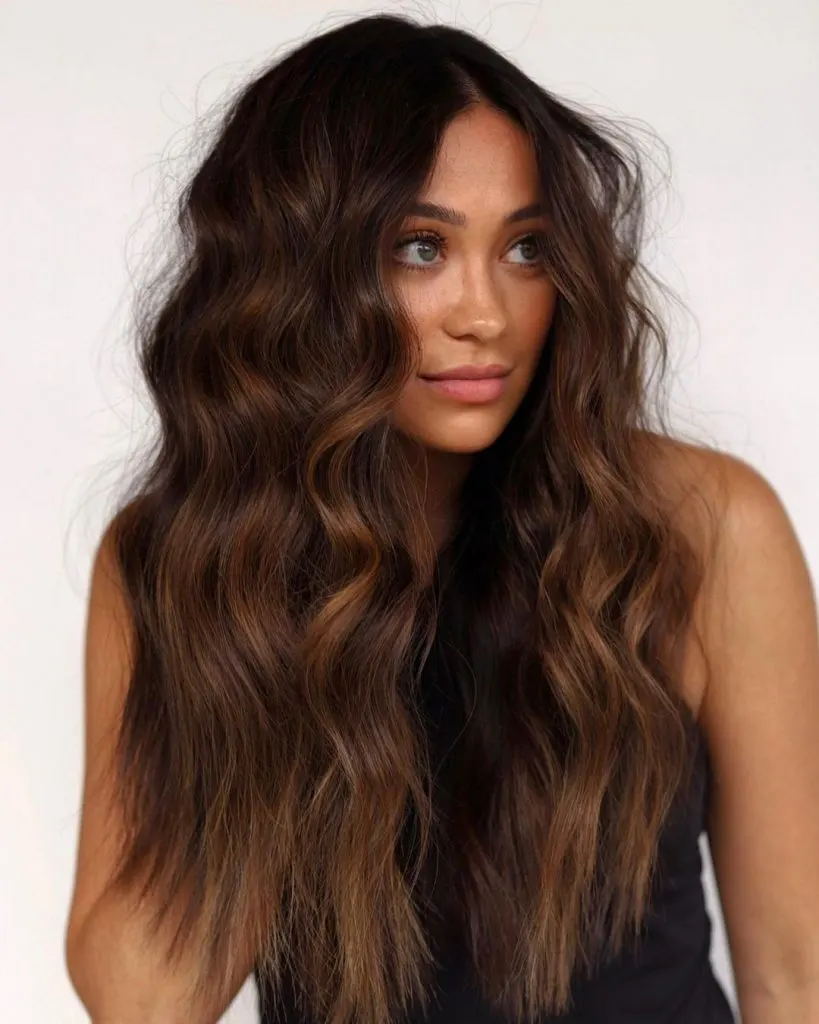 Copper shades are always trending in the fall, but they can be tricky to blend with dark brown hair. This dark brunette and copper balayage gets brighter and more vibrant from the mid-lengths to the ends while keeping the roots deep.
38. Chestnut Mahogany Balayage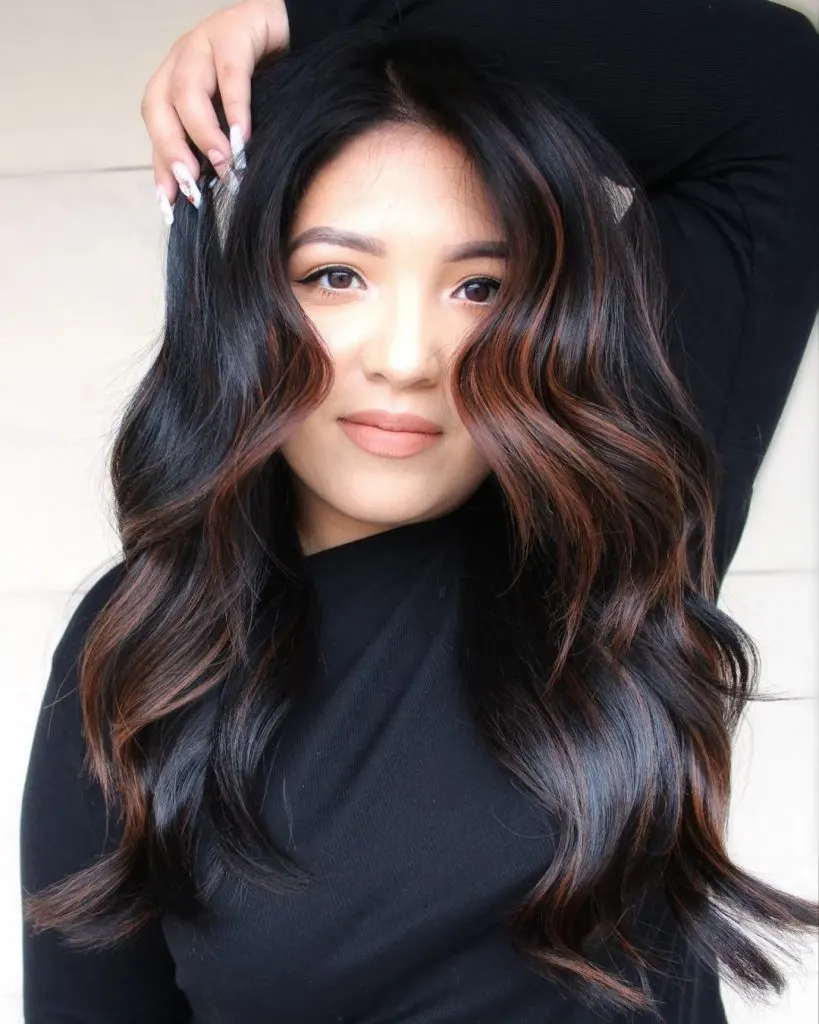 This subtle but expressive chestnut mahogany balayage is the perfect choice if you want to add a fiery touch to your color but you're not ready to commit to anything that requires a regular maintenance schedule.
39. Dark Ash Brown With Gray Money Pieces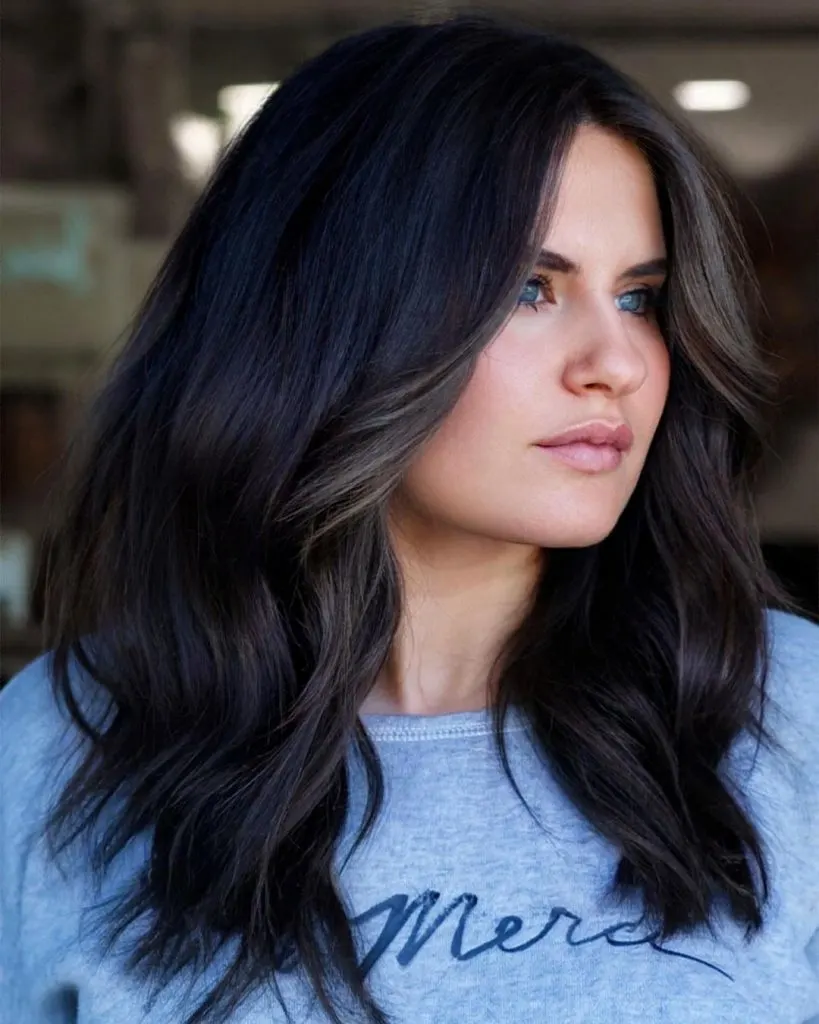 Dark ash brown with gray money pieces is both elegant and edgy. It can be created from scratch, or achieved by incorporating your natural gray hairs.
40. Dark Brunette With Honey Highlights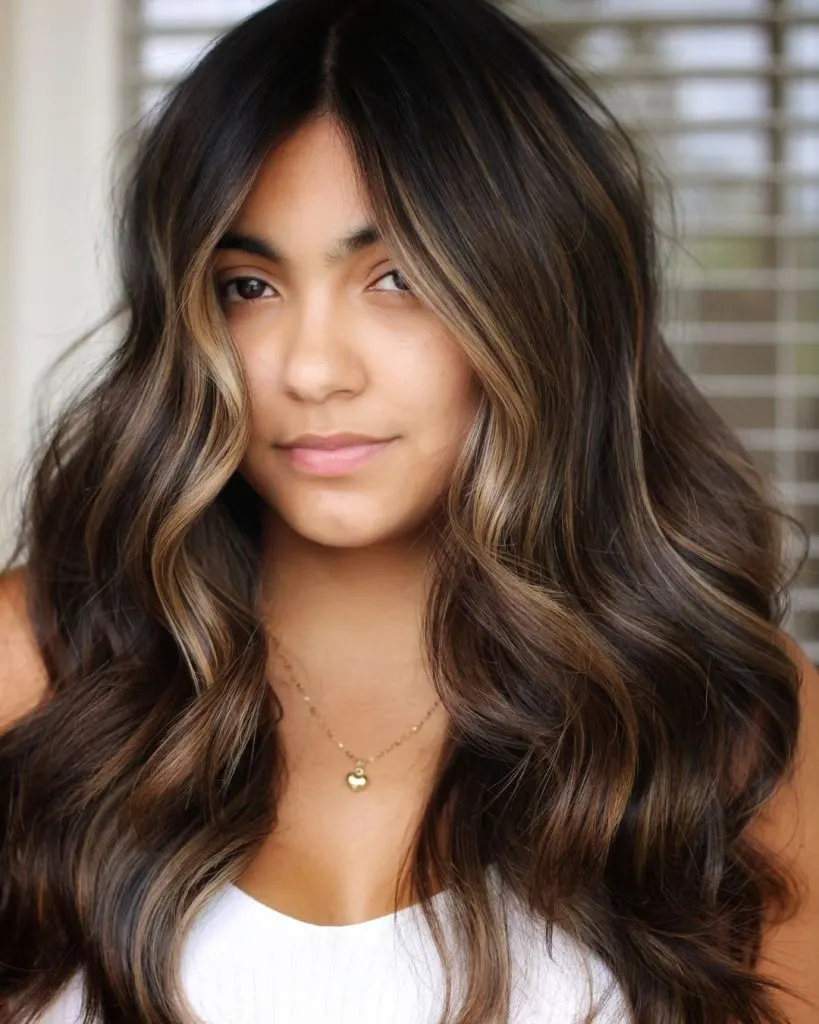 Sun-kissed hair color isn't just for blondes: dark brunette with honey highlights has a sunny warmth that makes your locks shine and your face glow.
41. Brunette Hair With Caramel Balayage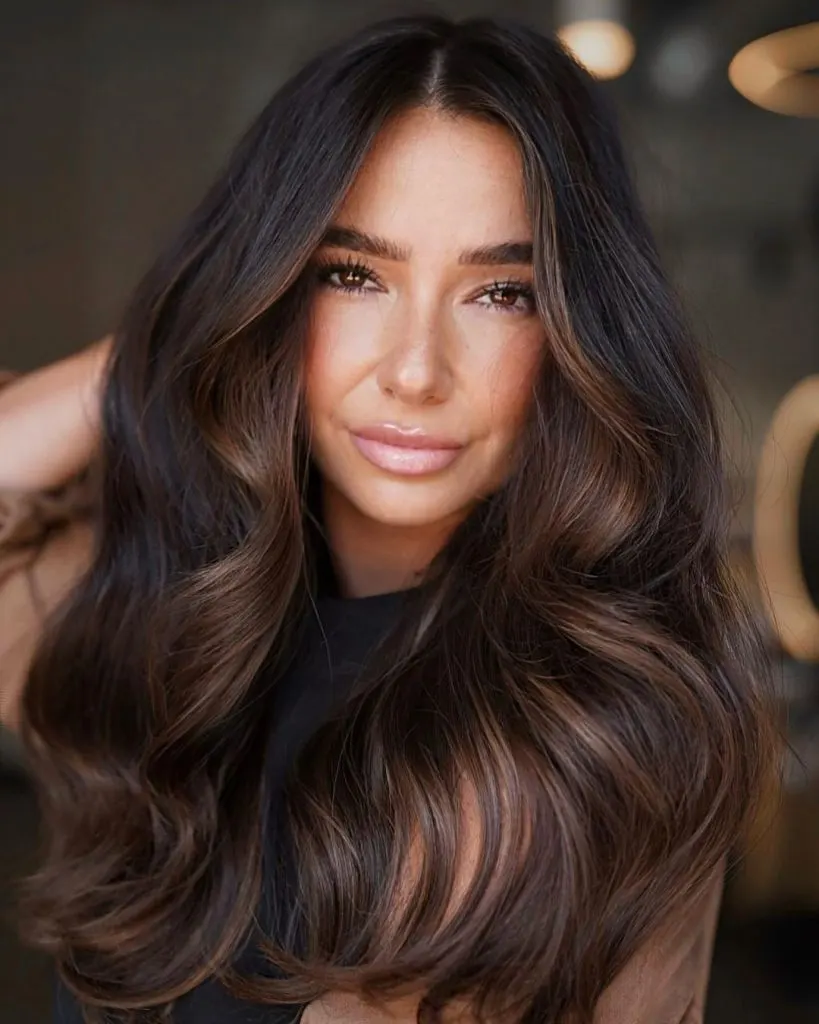 Brunette hair with caramel balayage is a classic. It looks natural but polished and it's the perfect versatile color for everyone who prefers warm tones of brown hair.
42. Chocolate Chip Cookie Brown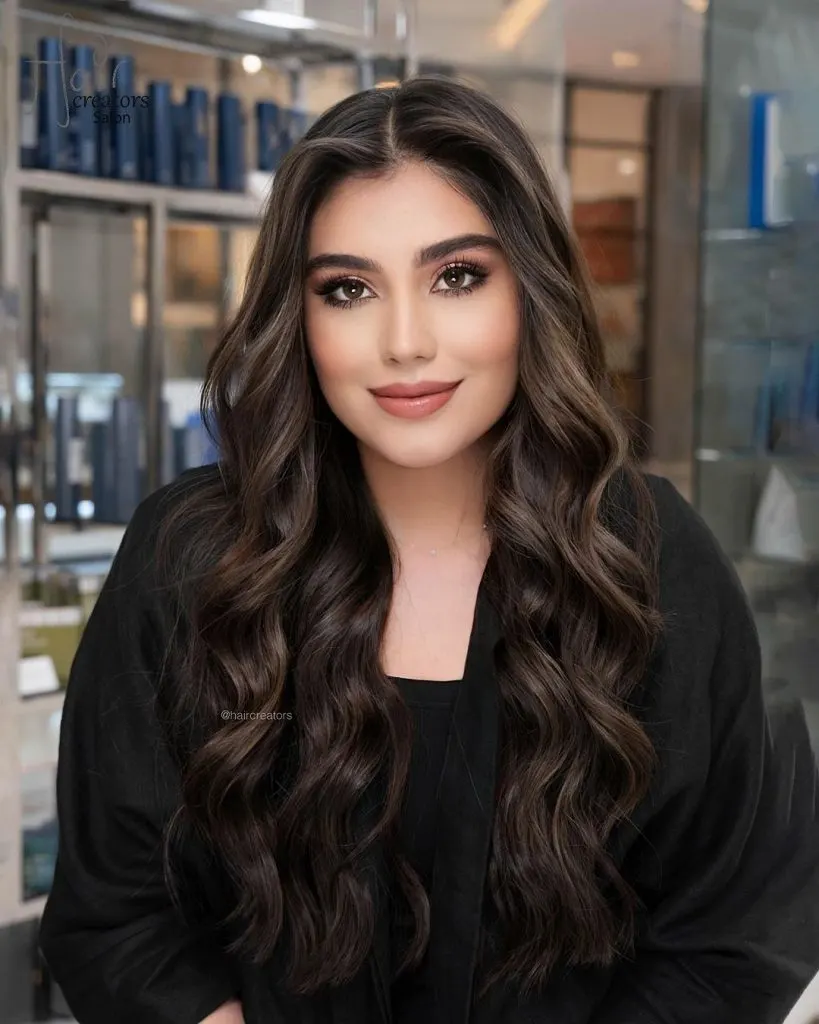 This chocolate chip cookie brown is pure sweetness—rich, indulgent, and simply delicious.
43. Multi-Dimensional Neutral Brown
This sophisticated look is textured and voluminous thanks to the subtle interaction of dark and light shades.
44. Ashy Brunette Balayage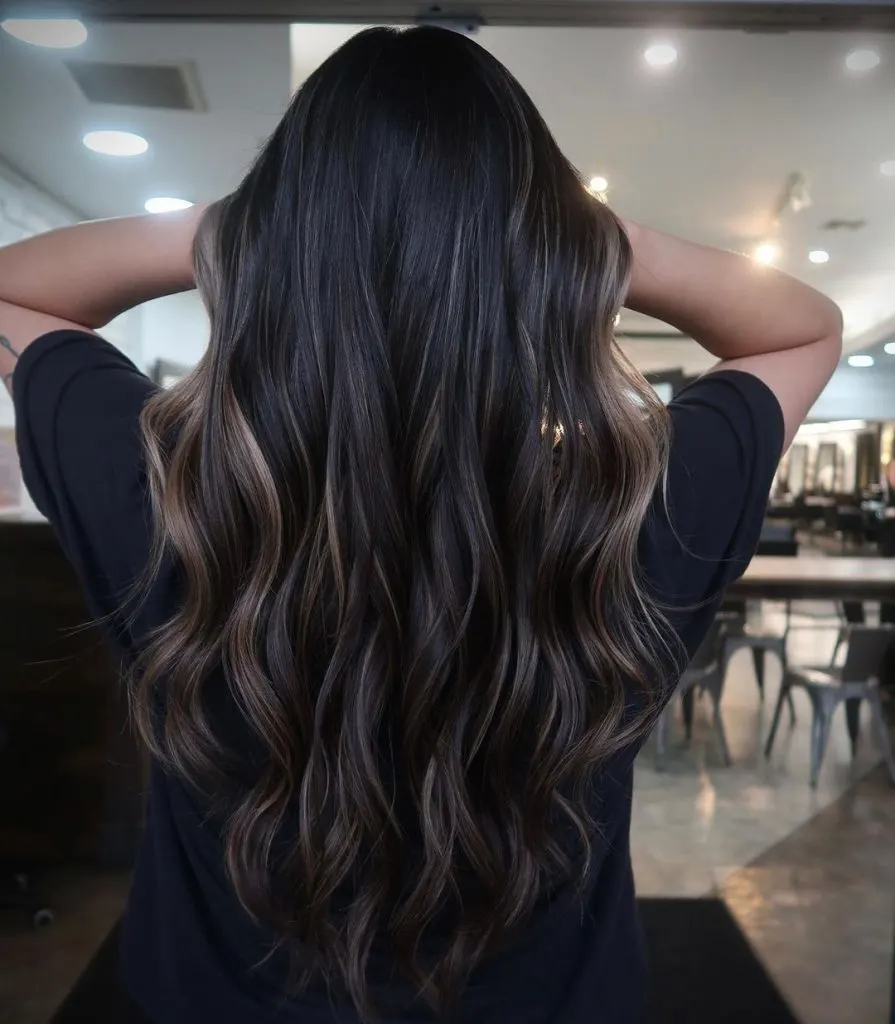 Here's a low-maintenance look that has plenty of visual interest and flatters the face. The contrast between the naturally dark base and the blonde highlights adds dimension throughout the hair, but the highlights are the most intense near the face—exactly where you want them.
45. Soft Mocha Brown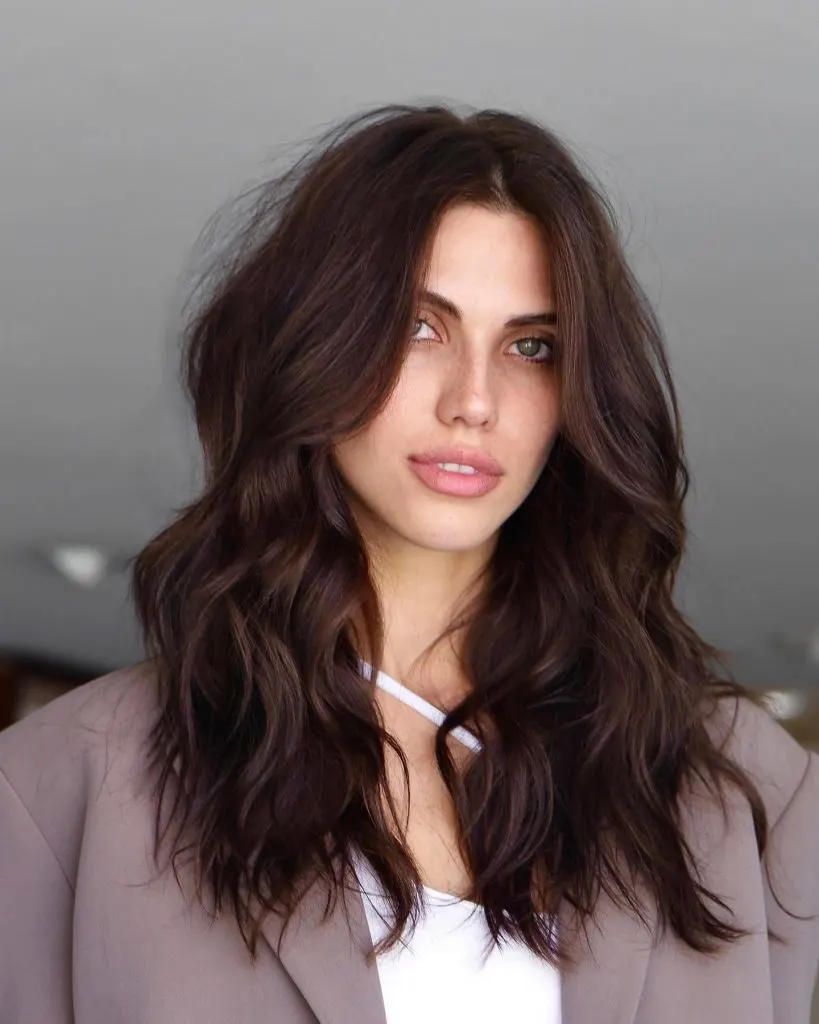 This soft mocha brown is the perfect girl-next-door shade—natural, earthy and cozy, but far from ordinary.
46. Warm Espresso Brown Hair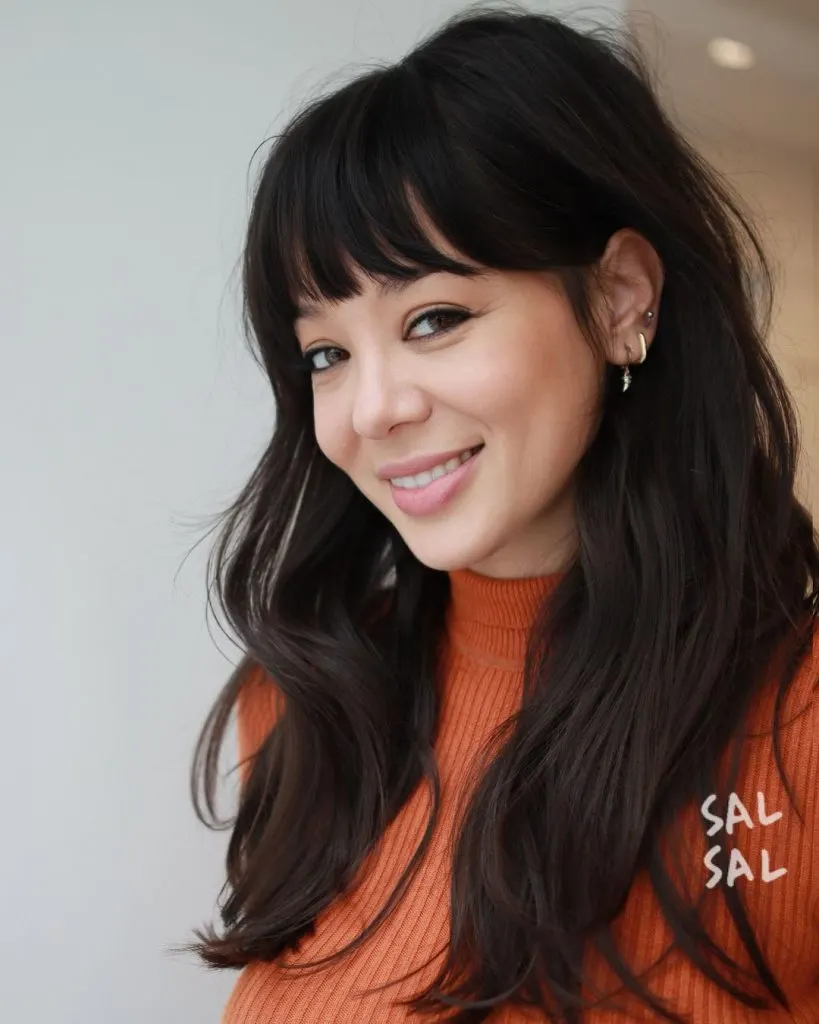 Like a shot of strong coffee, this warm espresso brown is inviting and intense—and completely irresistible.
47. Deep Mushroom Brunette Balayage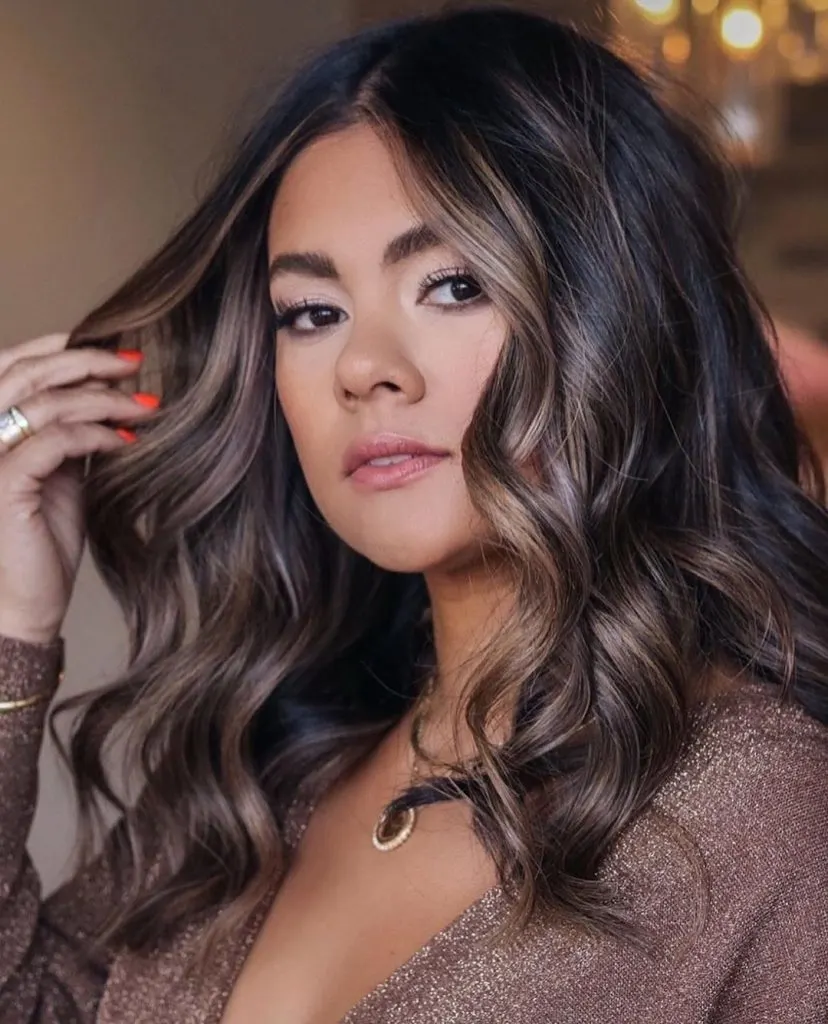 This multidimensional deep mushroom brunette balayage is a seamless blend of light brunette highlights on dark hair that will make your hair look dynamic and vibrant and your complexion bright.
48. Dark Golden Brown Hair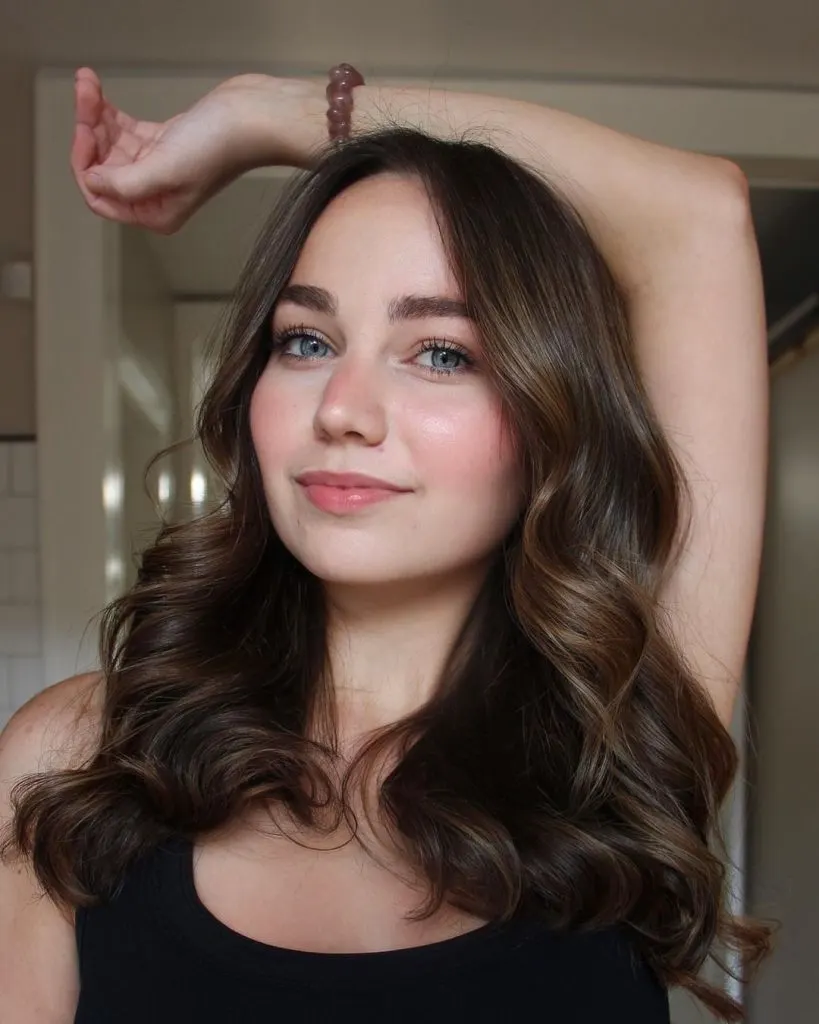 Dark golden brown is a warm and vibrant shade that captures the light and brings out the brightness already present in your skin giving you that healthy glow.
49. Dark Brunette With Sable Highlights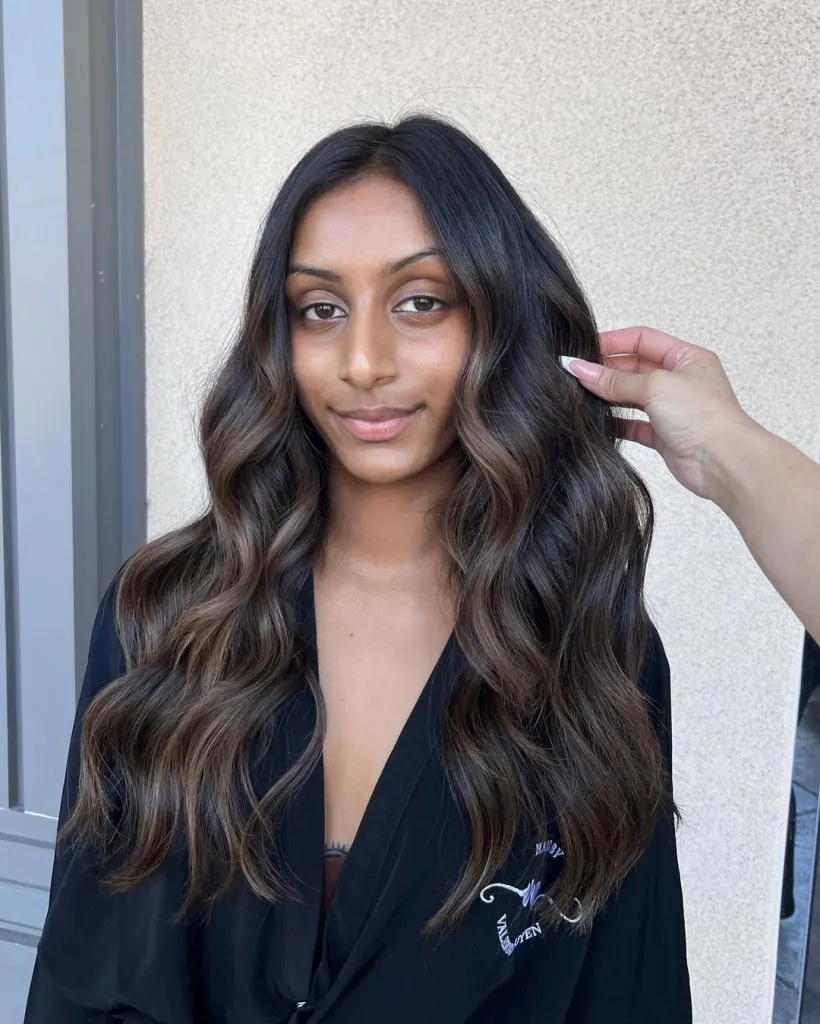 Mysterious and oh-so-stylish, dark brunette with sable highlights is a sophisticated color that will make you look put together and elegant.
50. Warm Golden Dark Brown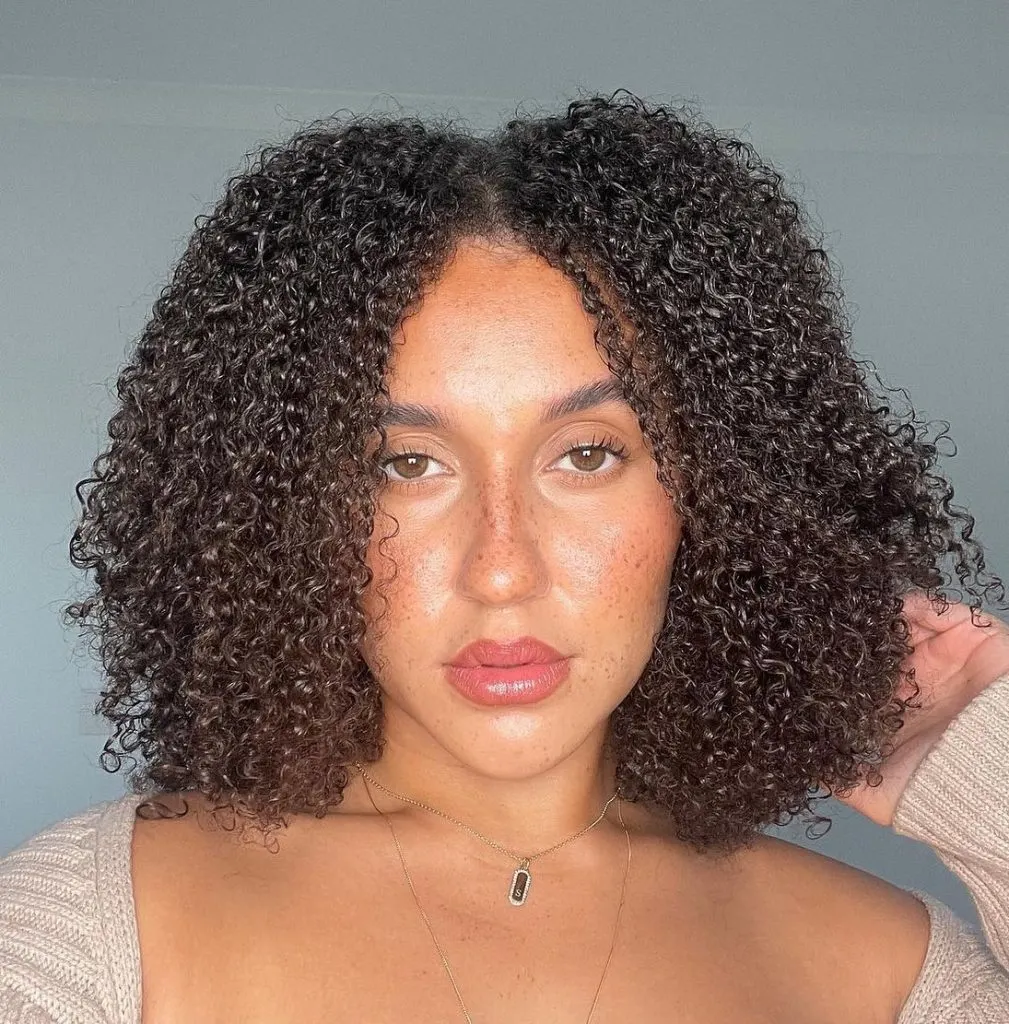 Very dark brunette tones can still have a noticeable hue. Even when the exact color of your hair is only really visible in bright light, it still affects how it suits you. This golden dark brown is gentle and muted, and perfect for warm, soft skin tones.
51. Walnut Brown Balayage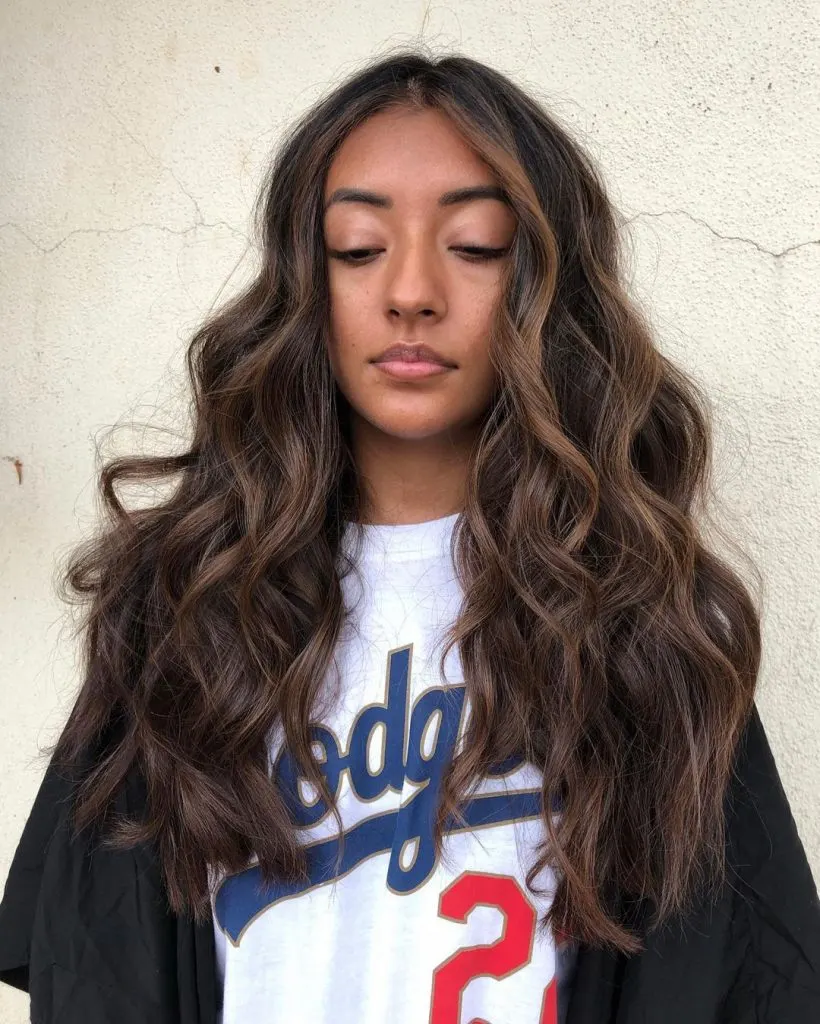 Walnut brown balayage is the neutral brunette shade: it's both trendy and timeless.
52. Rich Dark Brunette With Face-Framing Highlights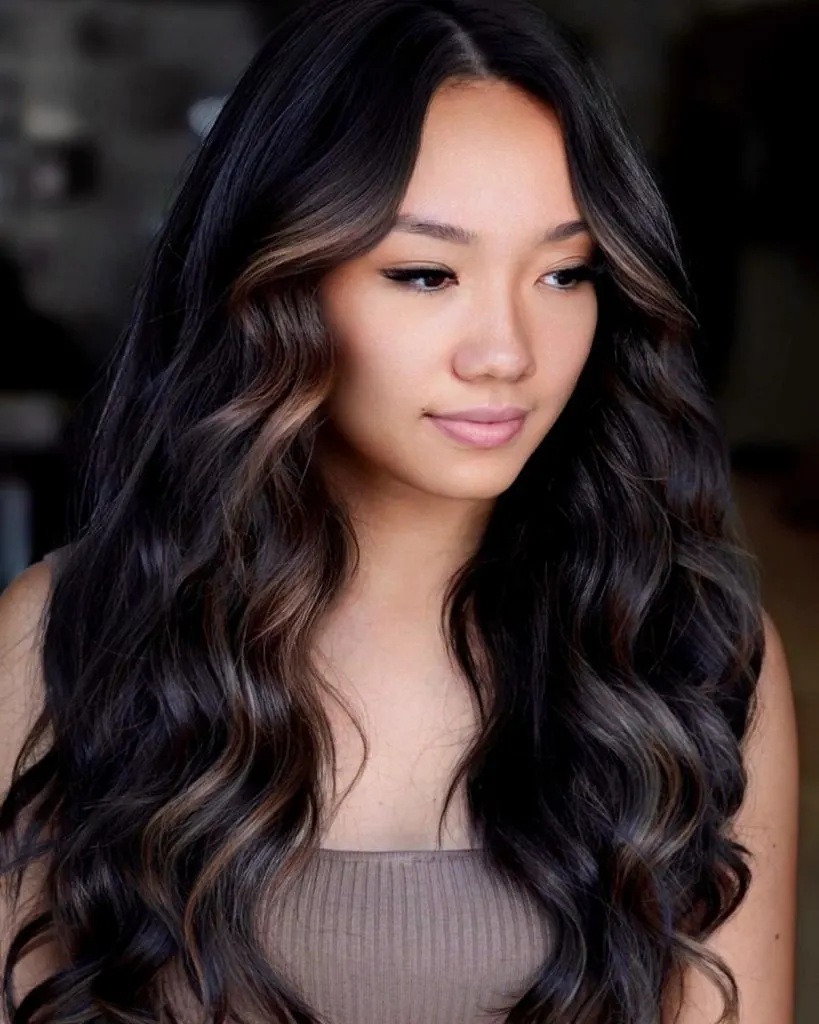 Rich dark brunette with face-framing highlights has two unbeatable pros: ii's low-maintenance and highlights your best features. As for cons, there are none.
53. Chestnut Mahogany Ombre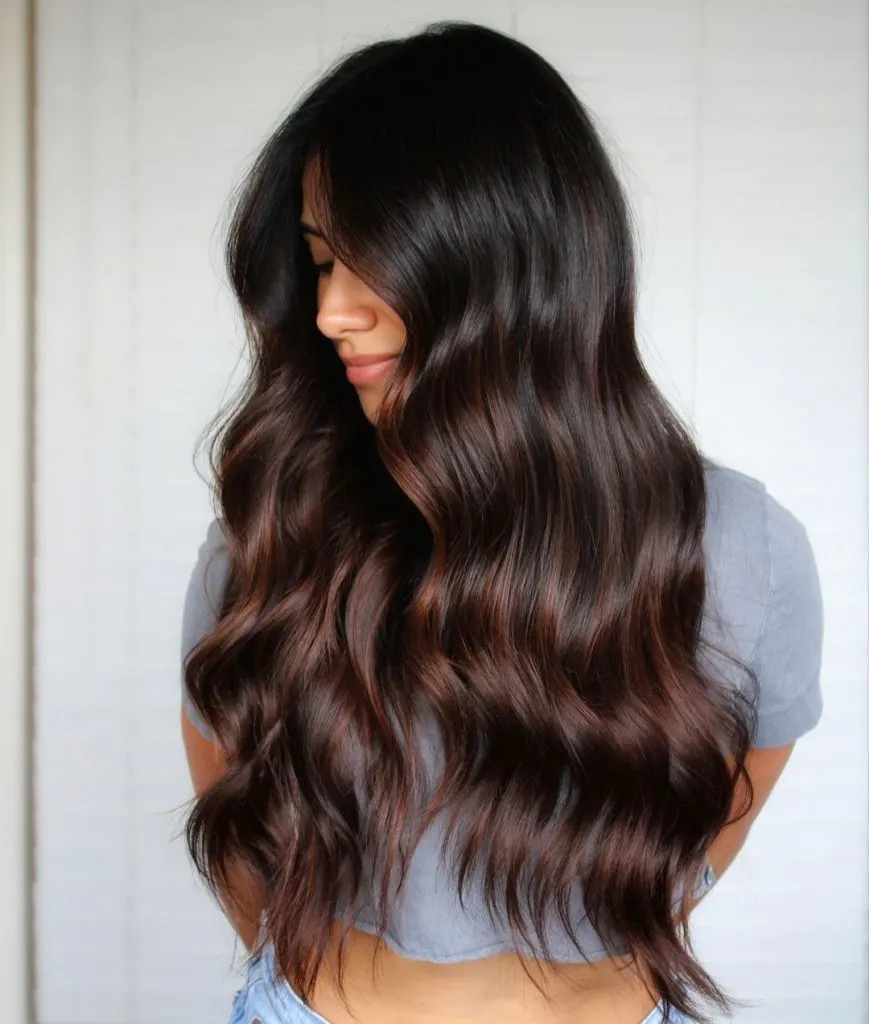 If your hair looked like this, you'd always be the center of attention. If you love to stand out, chestnut mahogany ombre is a fiery statement that will put you in the spotlight.
54. Darker Caramel Brown Highlights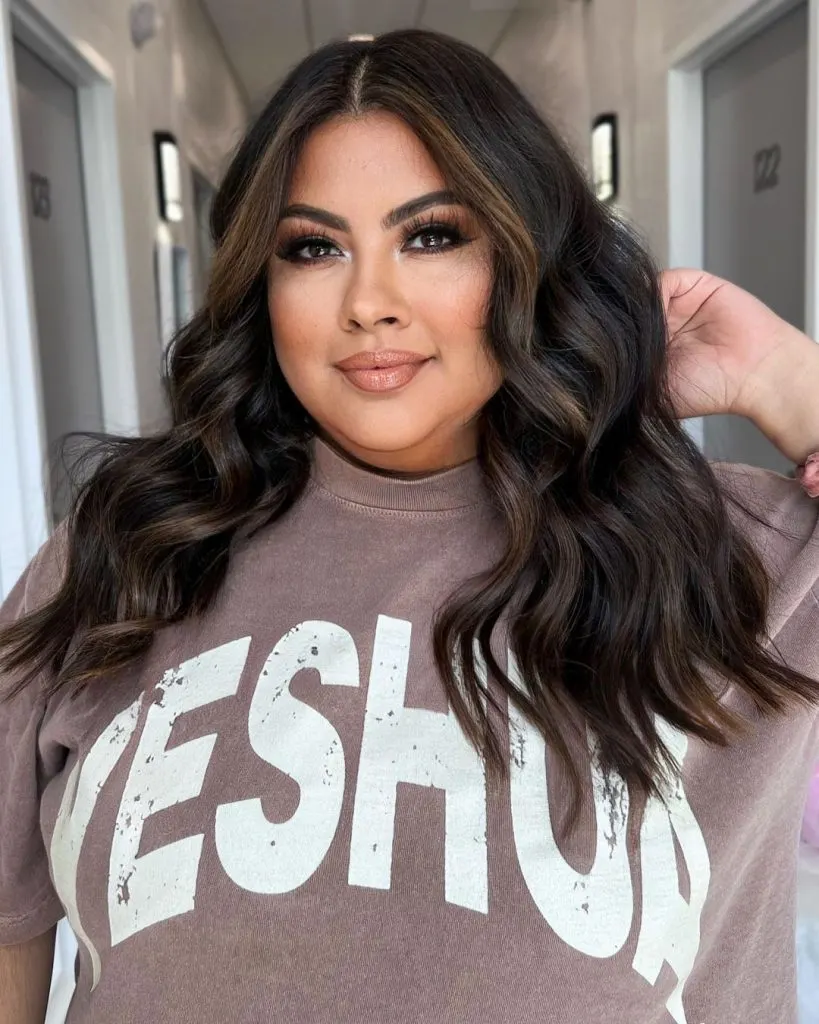 A drop of caramel is all it takes to make your features glow. Sweet and stunning!
55. Deep Brunette Curls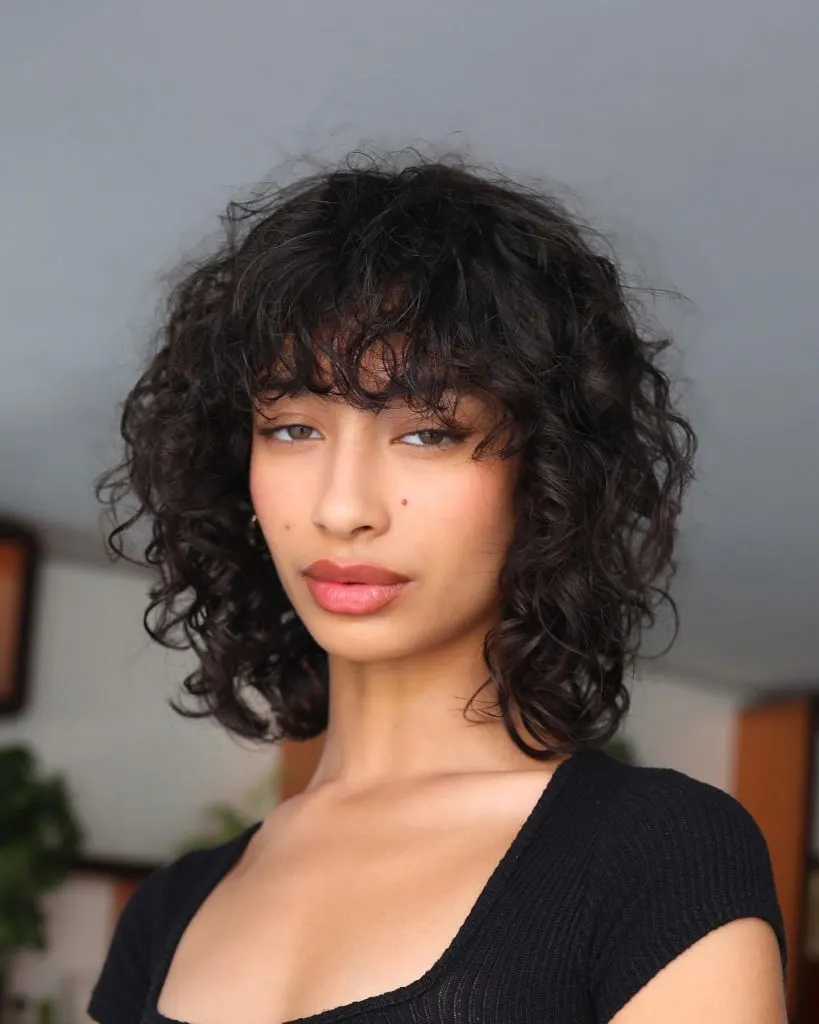 Deep brunette curls have a sense of refinement and elegance that never goes out of style. They can be classic or modern, depending on the rest of your aesthetic.
56. Cappuccino Brown Balayage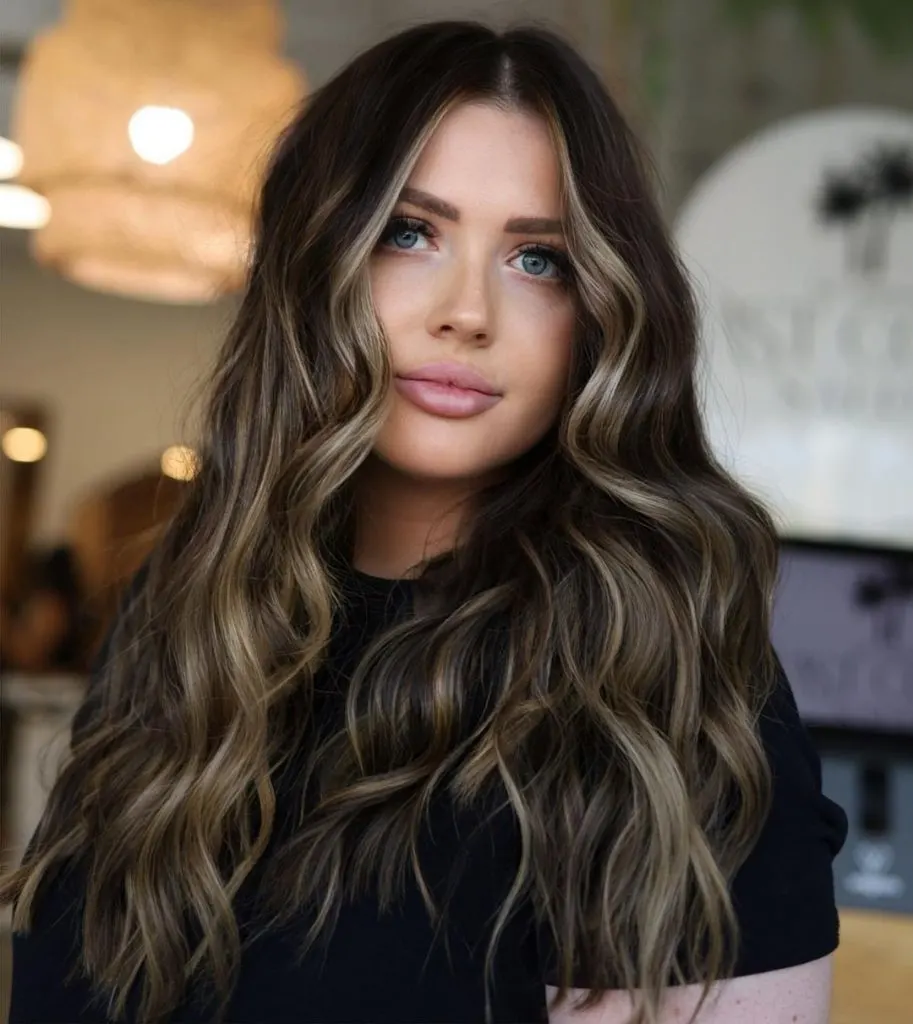 The seamless transition between the dark base and highlights makes this cappuccino brown balayage look natural and inviting, while the brighter front pieces create a spotlight for your features.
57. Dark Brunette With Rainbow Face Frame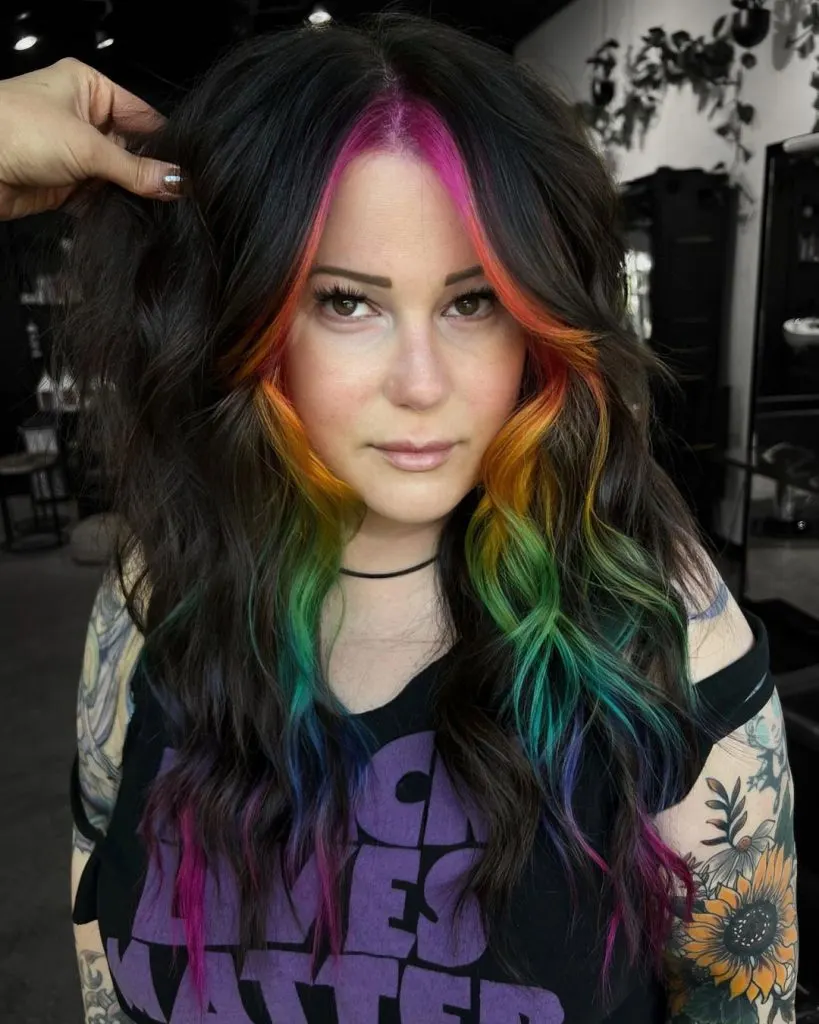 Unleash your artistic spirit! Dark brunette with a rainbow face frame is all about bold self-expression and creativity. The base serves as a background to offset the vivid tones, which makes them even more impactful and eye-catching.
58. Warm Dark Brown With Cinnamon Money Pieces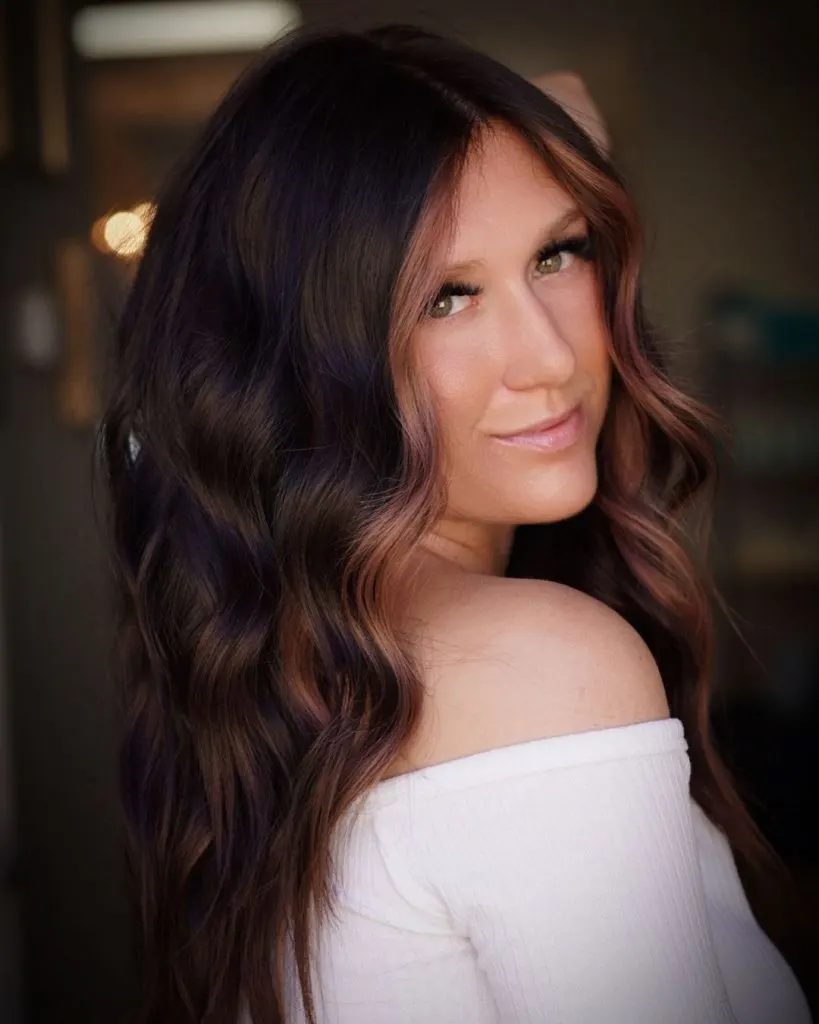 Leave behind minimalist looks and get spicy: cinnamon money pieces will give a hard-to-miss vibe to your warm dark brown tresses.
59. Dark Pastel Brown Hair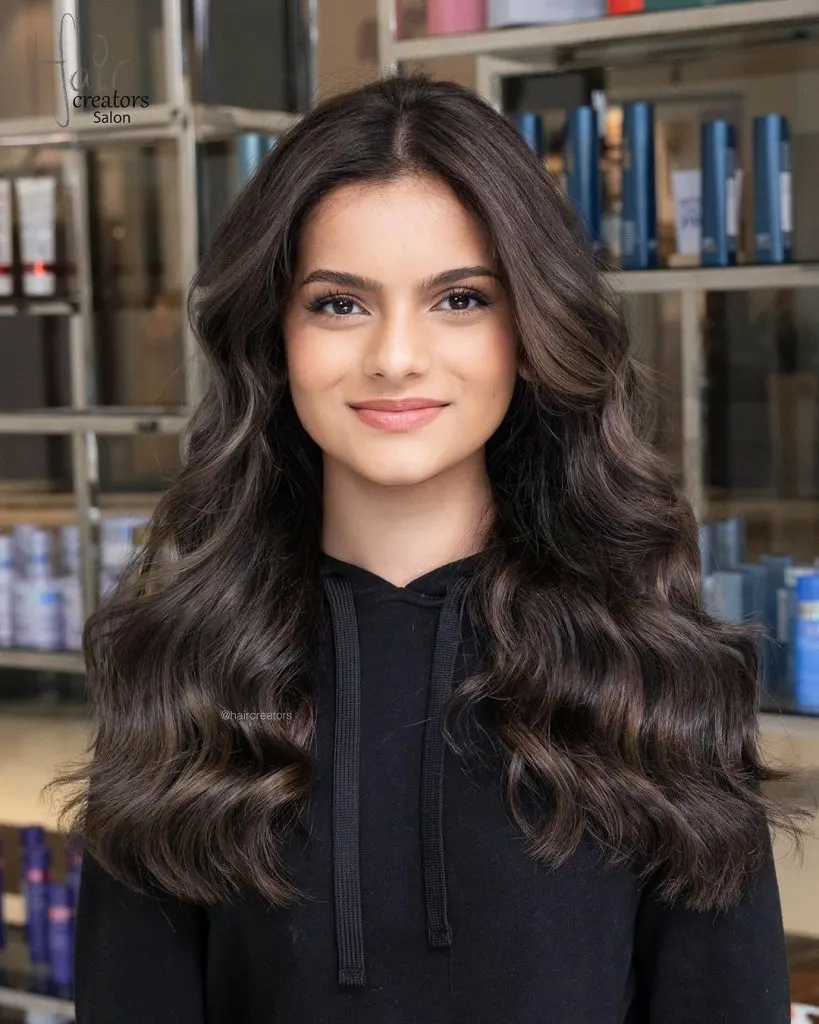 Dark pastel brown hair is a delicate and soft approach to dark brunette, with a dreamy and sweet charm.
60. Dimensional Dark Brunette Hair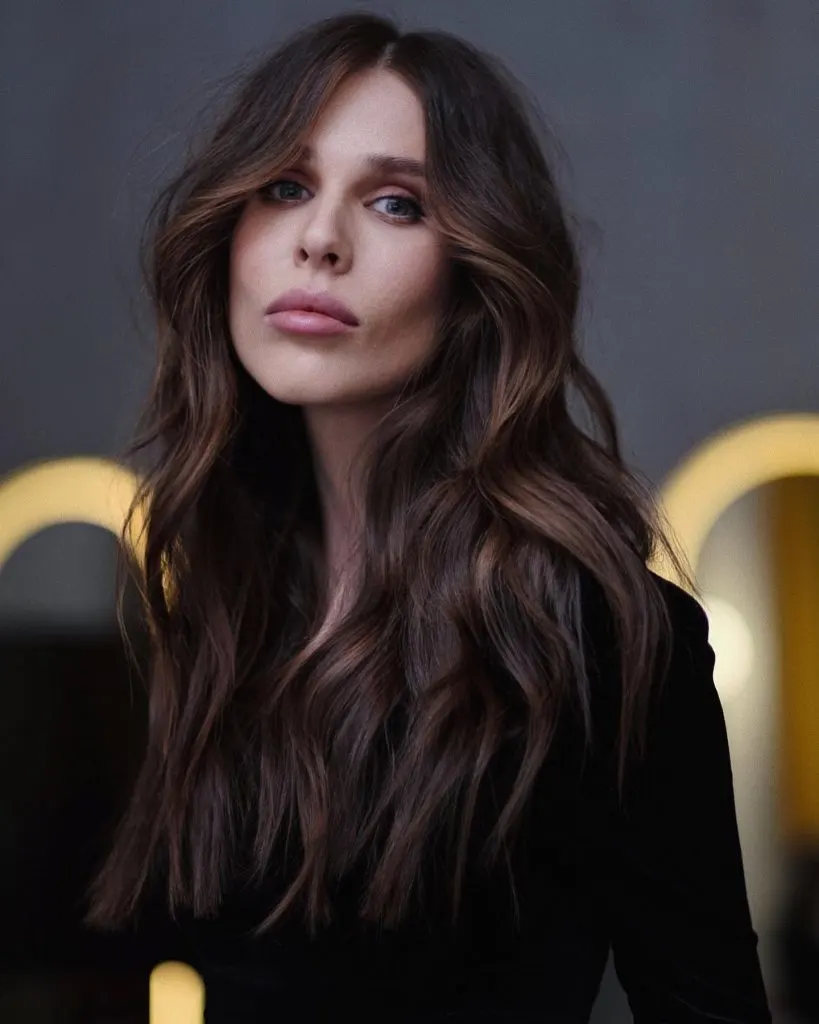 Simple, yet powerful: this dimensional dark brunette hair is all about creating depth and complexity.
61. Dark Brown Hair With High-Contrast Highlights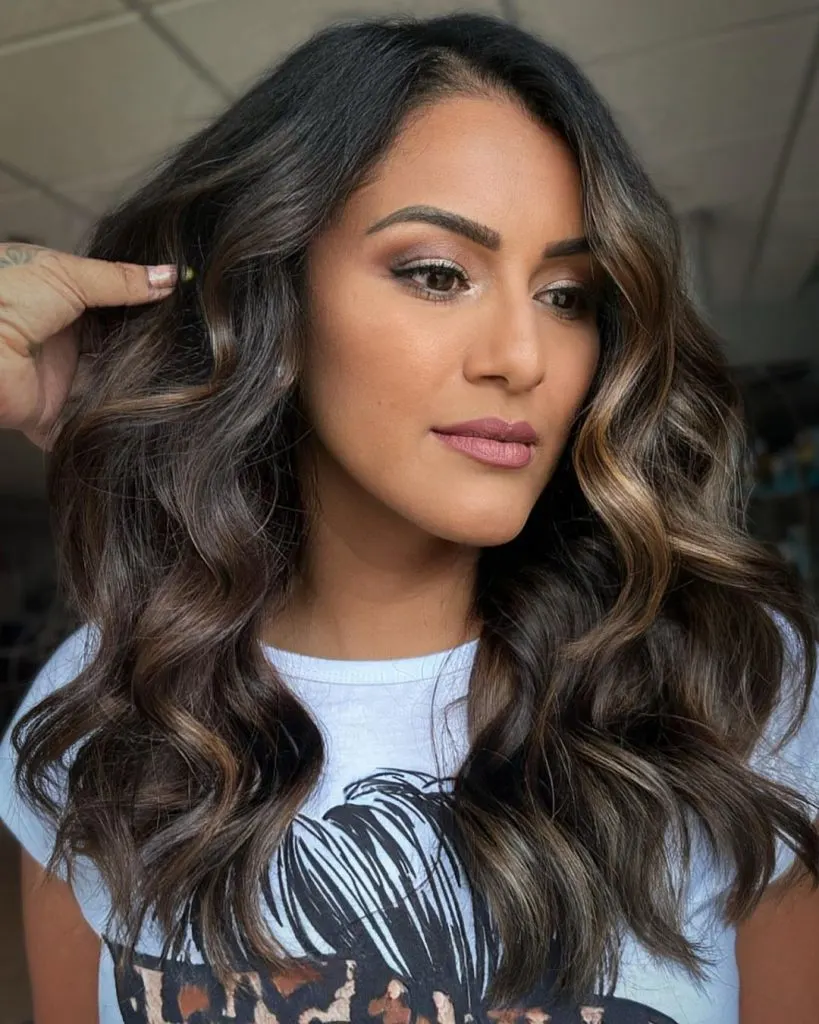 Dark brown hair with high-contrast highlights is a bold and stylish look, but it's not as low-maintenance as more blended dye jobs. It's necessary to pay attention to the tone of the highlights, as they might get brassy and look unflattering against dark hair.
62. Dark Brunette With Walnut Balayage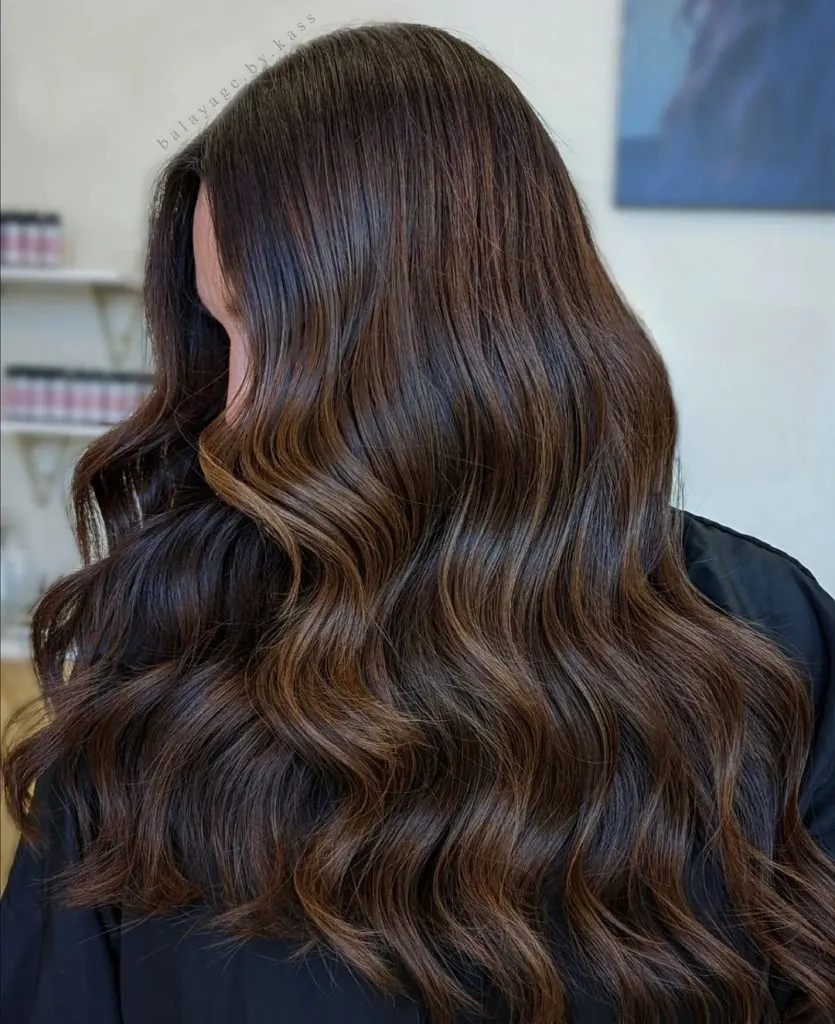 Dark brunette with walnut balayage has warmth, but it's not overwhelmingly warm. It's a good choice if your skin tone is cool or neutral and you want to add some depth to your locks.
63. Glossy Milk Chocolate Brunette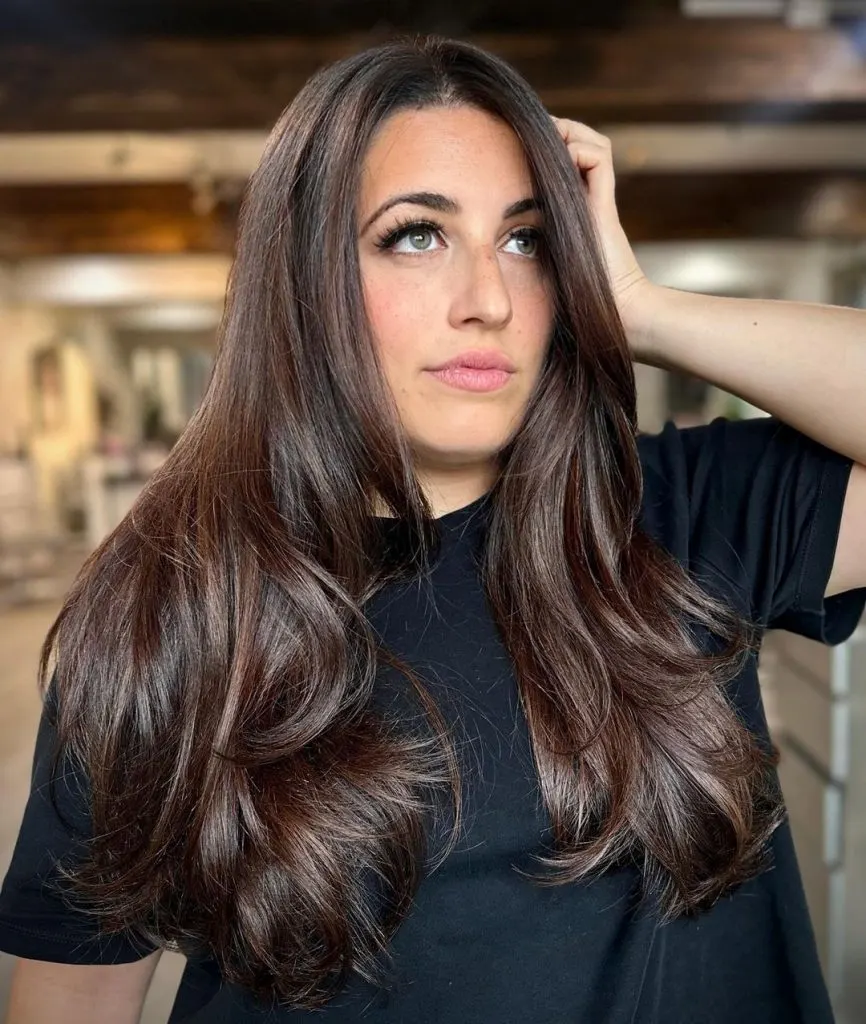 Give your hair a treat: this glossy milk chocolate brunette is as yummy as the most delicious candy bar.
64. Chili Chocolate Brunette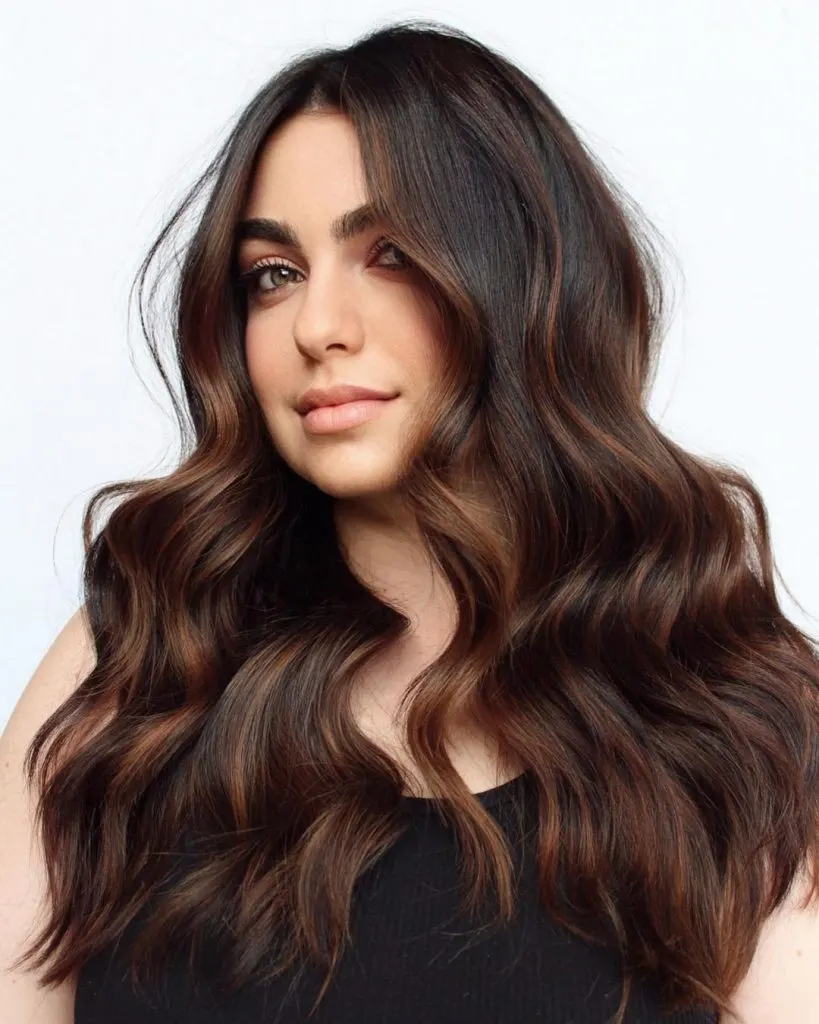 Here's proof that brown hair is anything but plain: this spicy chili chocolate brunette is vibrant, bold and stunning!
65. Dark Brown Hair With Brandy Highlights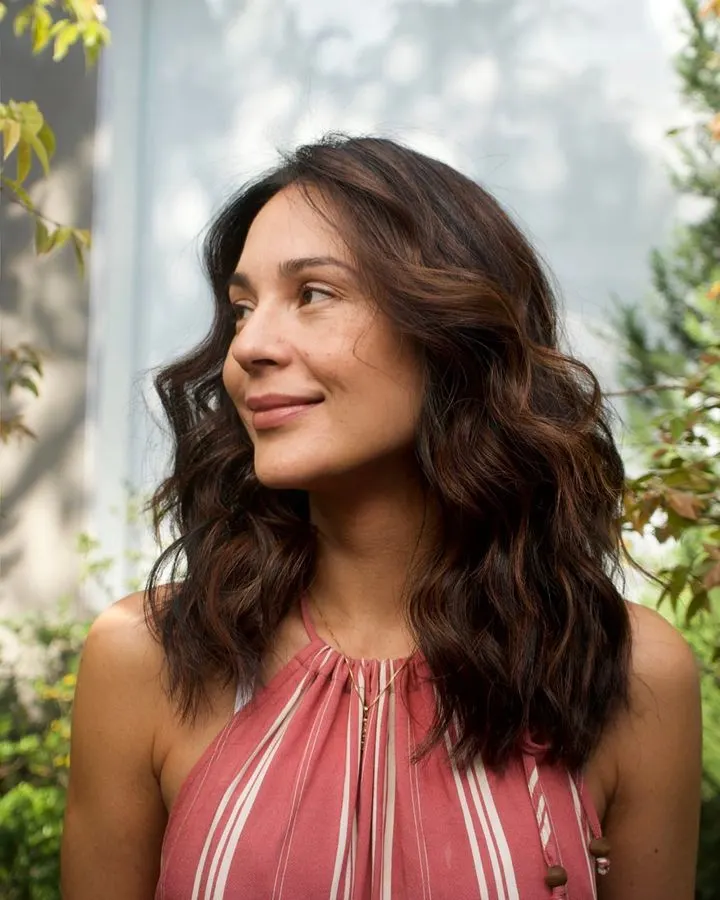 Dark brown hair with brandy highlights is elegant and it will bring out the healthiest glow in warm skin tones.