Brunette hues range from soft caramel to rich espresso; they can be warm or cool, glossy or matte, bright or deep—and the best part? Achieving your perfect brown shade takes far less work than lots of other colors.
Short brown hair can be as dramatic or as girl-next-door as you want, and here's all the inspo you'll need to pick your new short brunette style.
1. Layered Short Brown Hair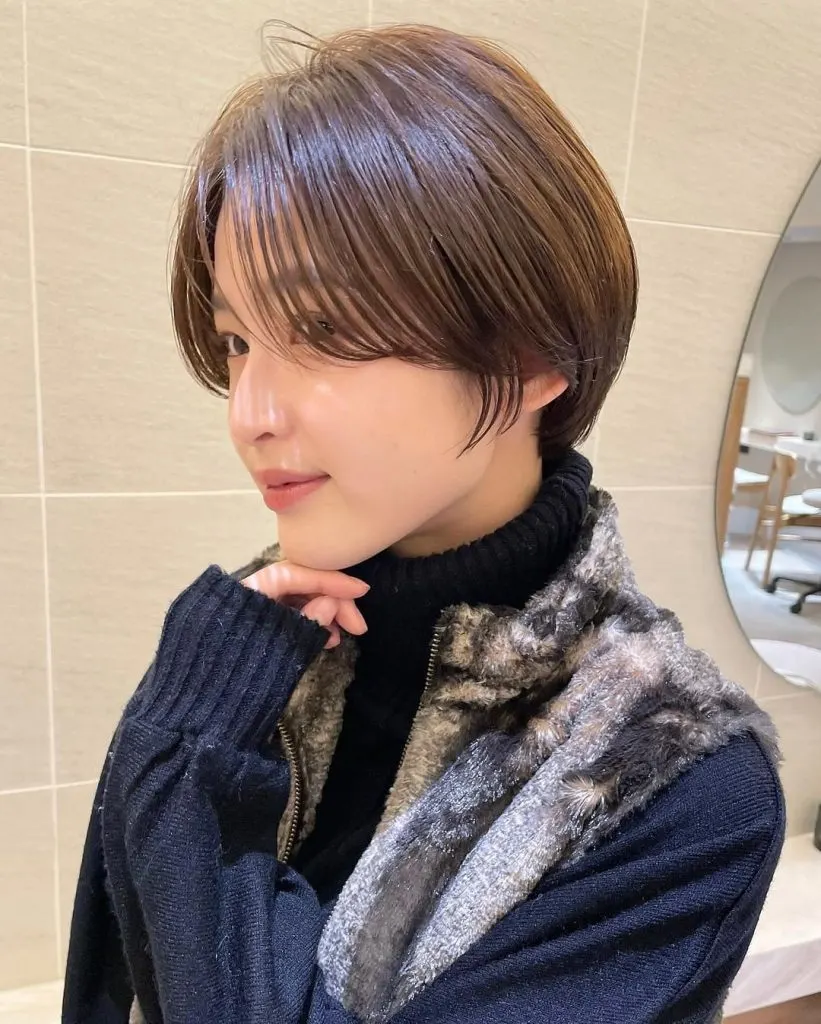 The sophisticated medium brown and this lovely bixie cut were made for each other. The wispy strands tie the look together, creating a delicate and natural vibe.
2. Curly Brown Hairstyle With Bangs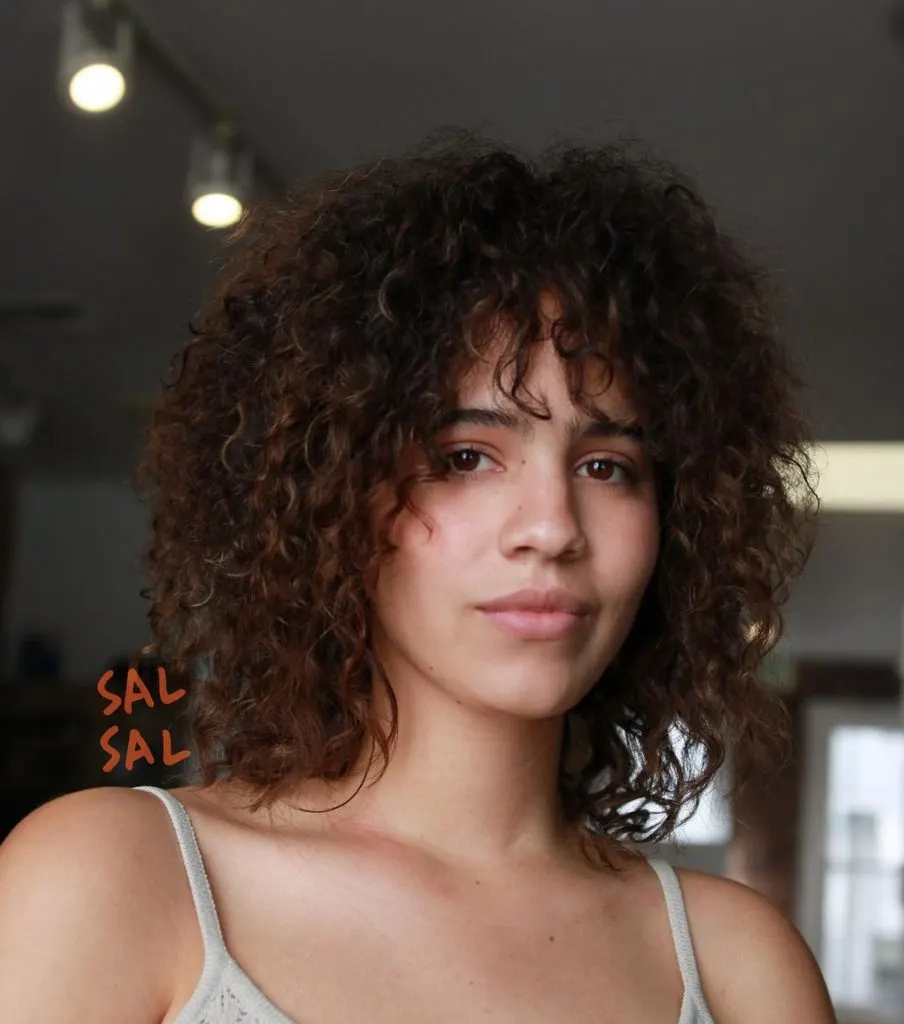 How fluffy and soft are these warm chestnut curls? They've been shaped into a gorgeous rounded long curly bob with bangs and thanks to the well-placed layers, they're full of bounce and dimension.
3. Choppy Short Brown Hair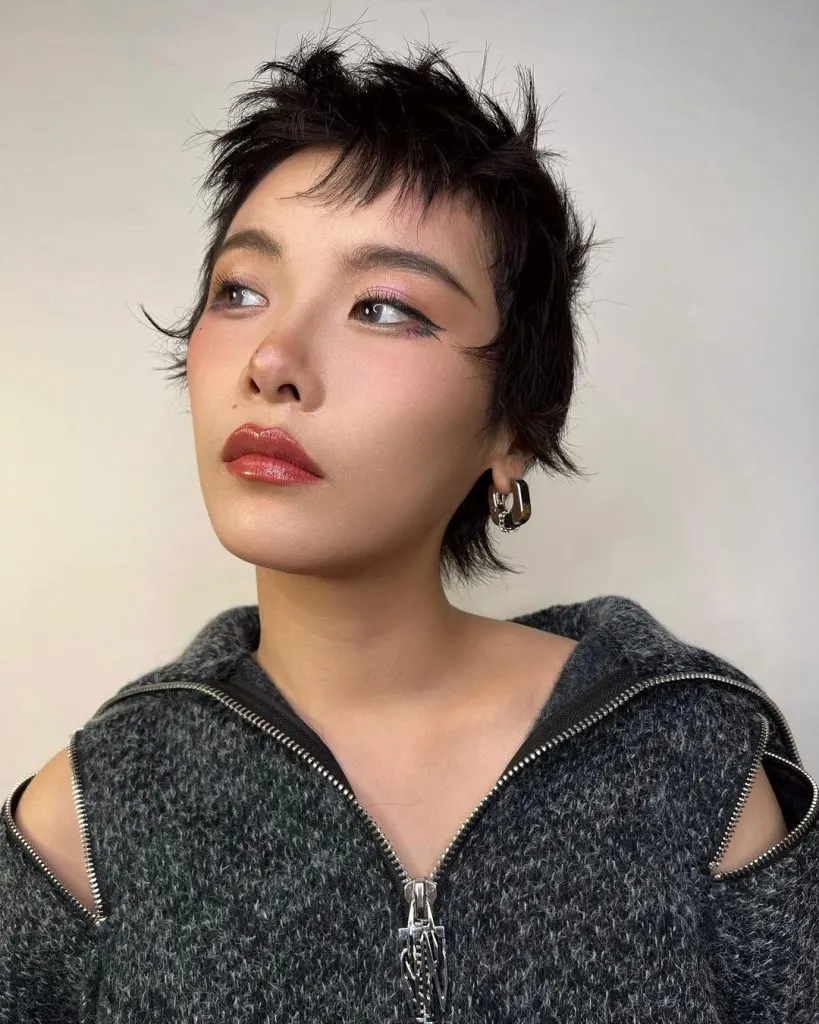 Darkest brown shades can be overwhelming if your natural hair color is much lighter, but if you can pull it off, try combining it with a short choppy cut for maximum drama.
4. Layered Bob For Fine Hair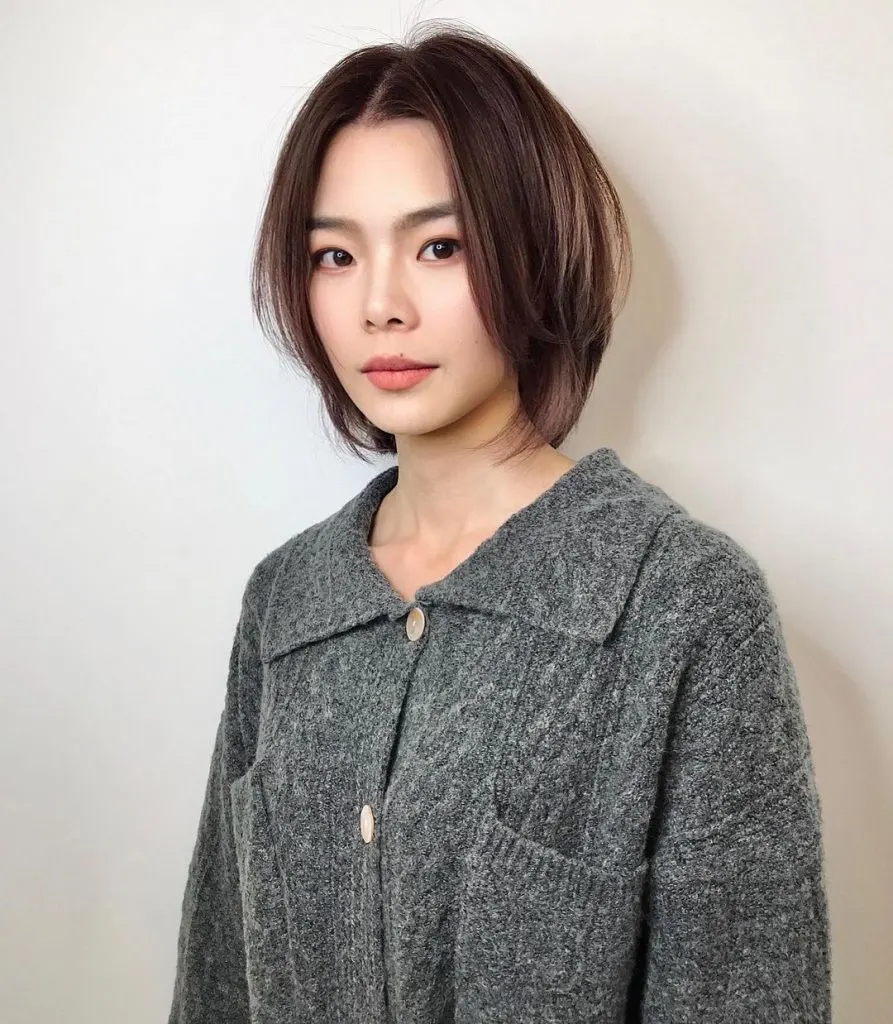 Medium cocoa brown is the perfect medium shade for neutral-toned complexions. An easy way to tell whether your skin has warm, cool or neutral undertone is to consider whether you look better in silver or gold jewelry. If you look equally good with both, you have a neutral skin tone and you'll look your best with neutral hair shades, like this one. This method isn't always accurate, but it's a start.
5. Curly Brown Short Hair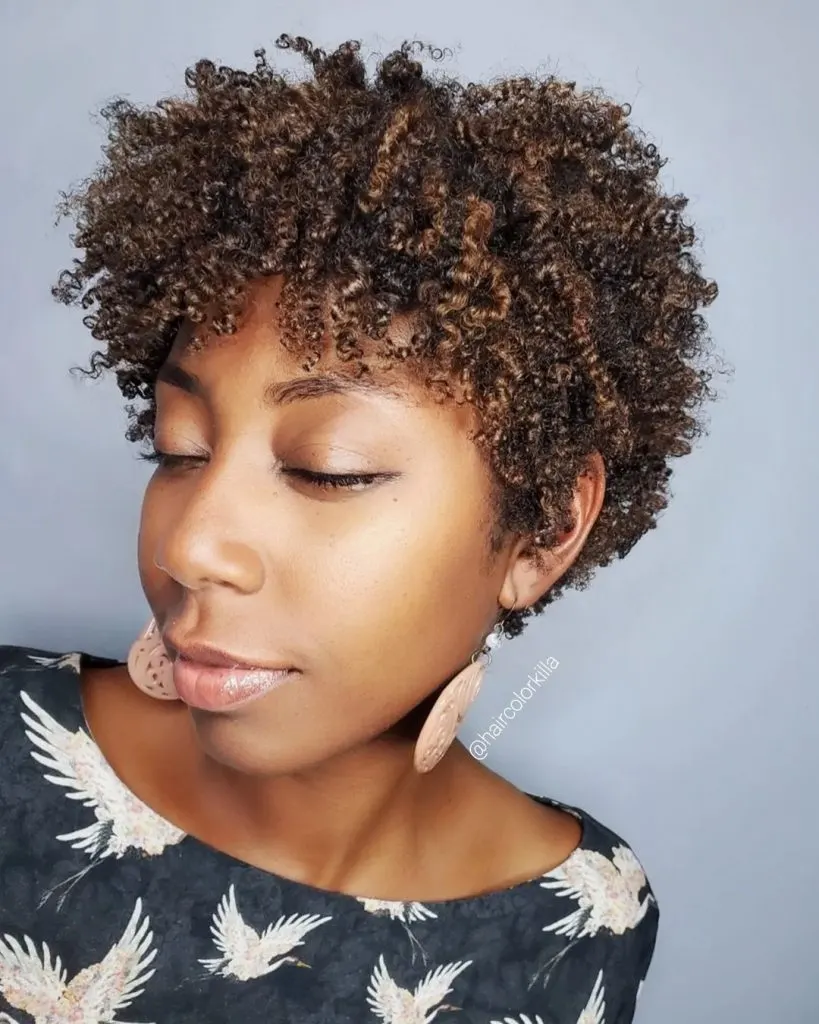 If you want to make your curls pop, go for highlights, like these warm caramel strands that give brightness to the chestnut brown base and make the natural curls the center of attention.
6. Brown Blunt Bob Haircut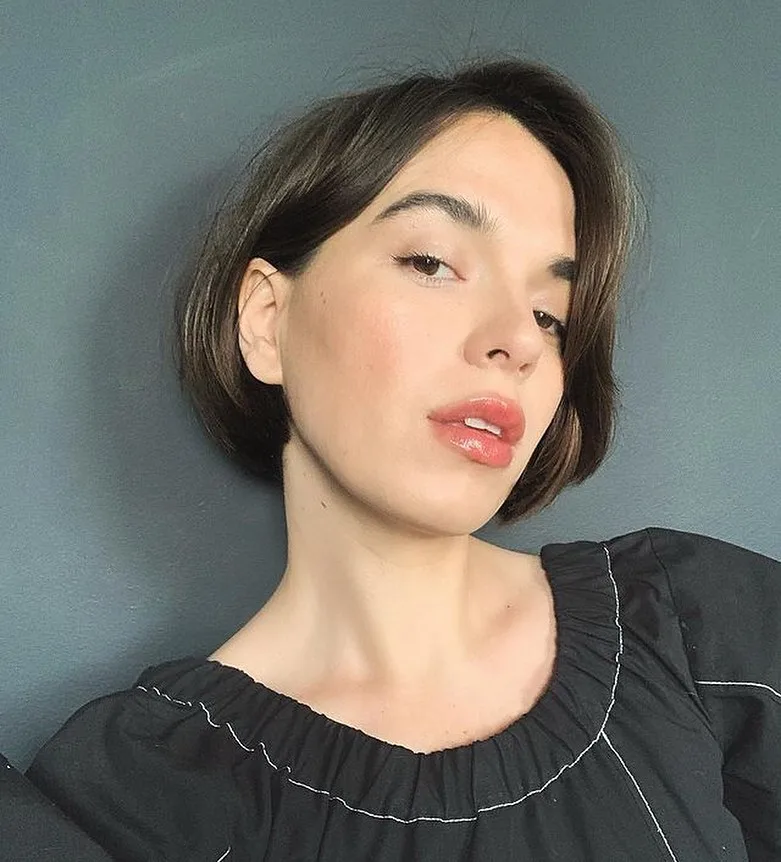 The classic chin-length bob without any extras—layers, bangs, texturizing—is one of the most effortless, laid-back styles you can get. It's at its coolest when it's natural, without much styling.
7. Soft Brown French Bob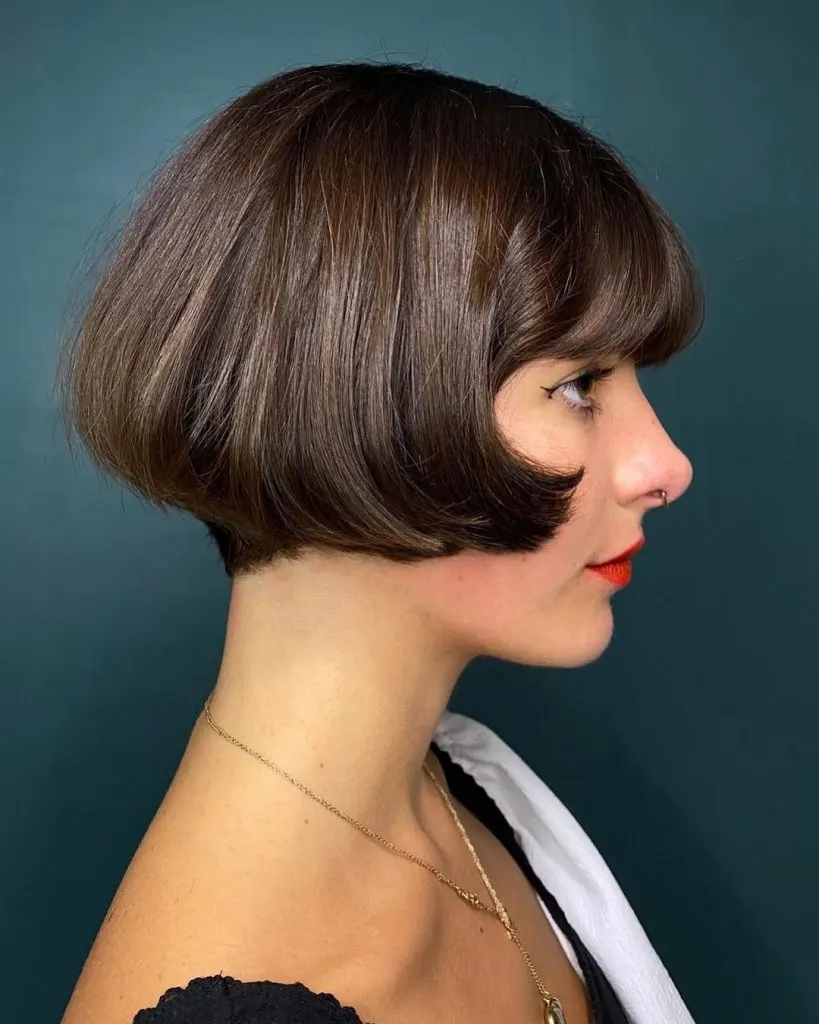 Chocolate brown hair pairs perfectly with a French bob—both are simple and pretty, and always evoke as sense of romance.
8. Very Short Brown Pixie Haircut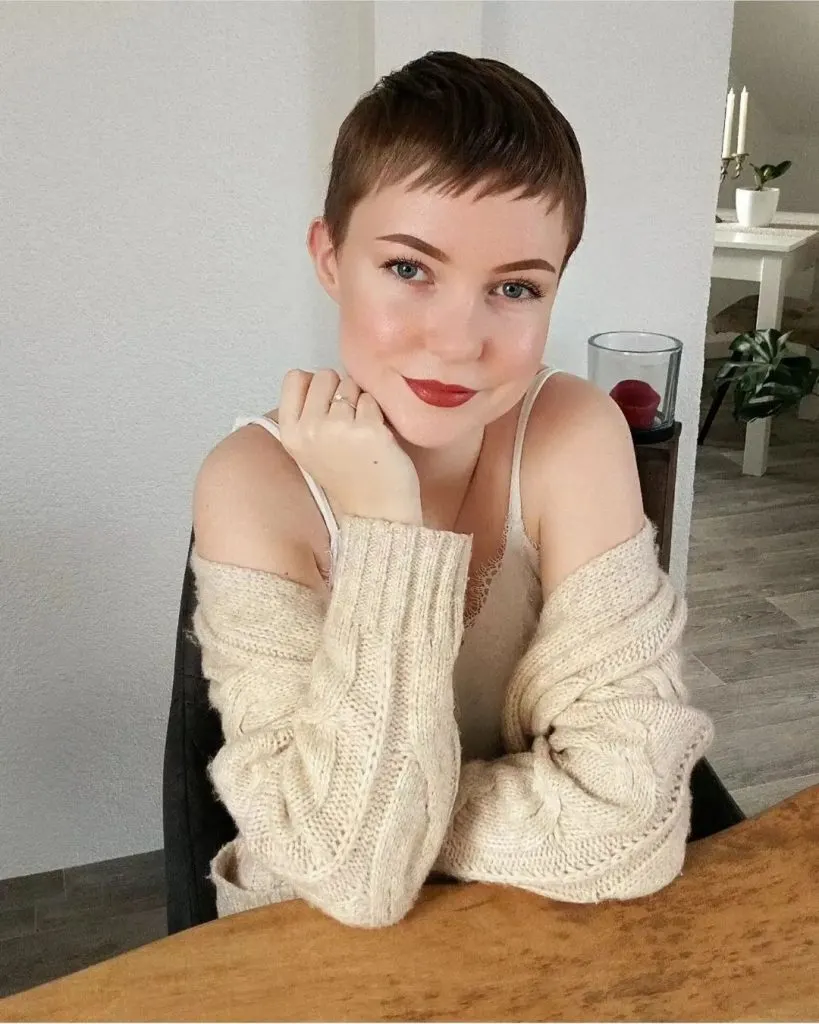 How cute is this light hazelnut brown pixie cut? The color doesn't overwhelm the cut but instead makes it the focal point of the hairstyle.
9. Choppy Short Dark Hair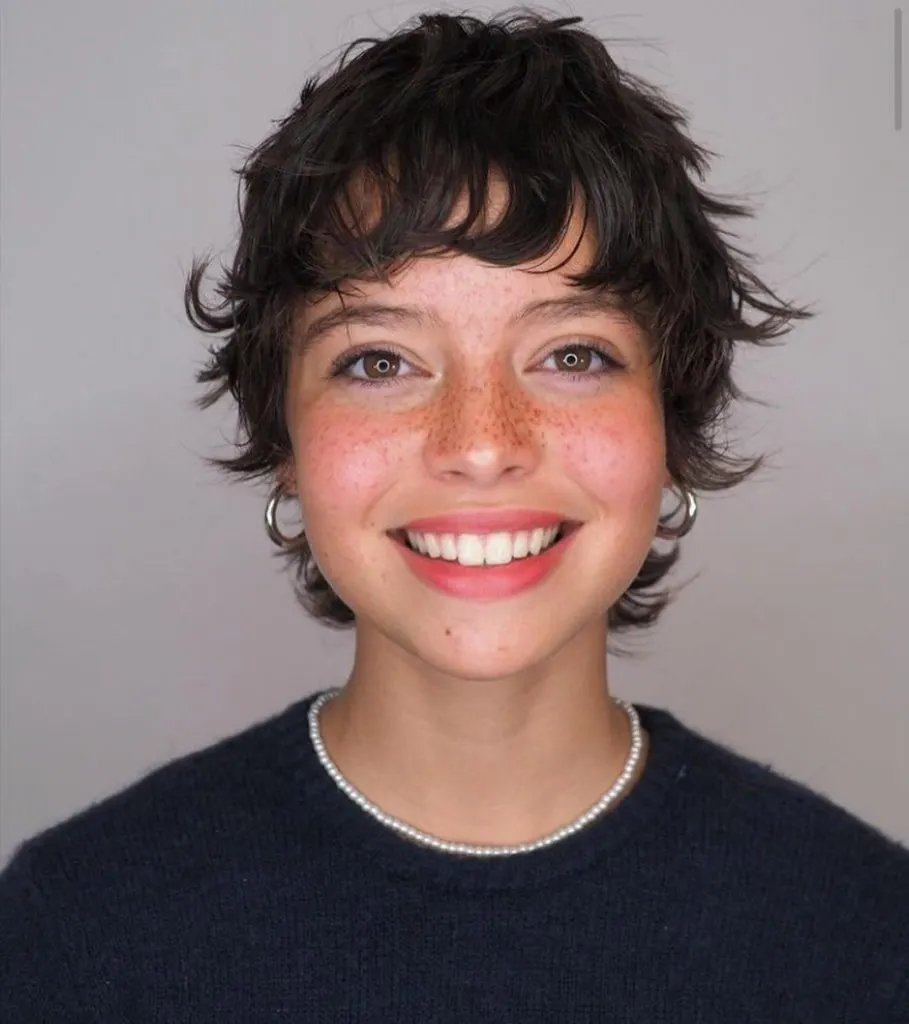 If you want face-framing, you don't need long hair. This short choppy hairstyle has it all—from the exceptionally flattering color to the shaggy layers and the fringe.
10. Short Layered Brown Hair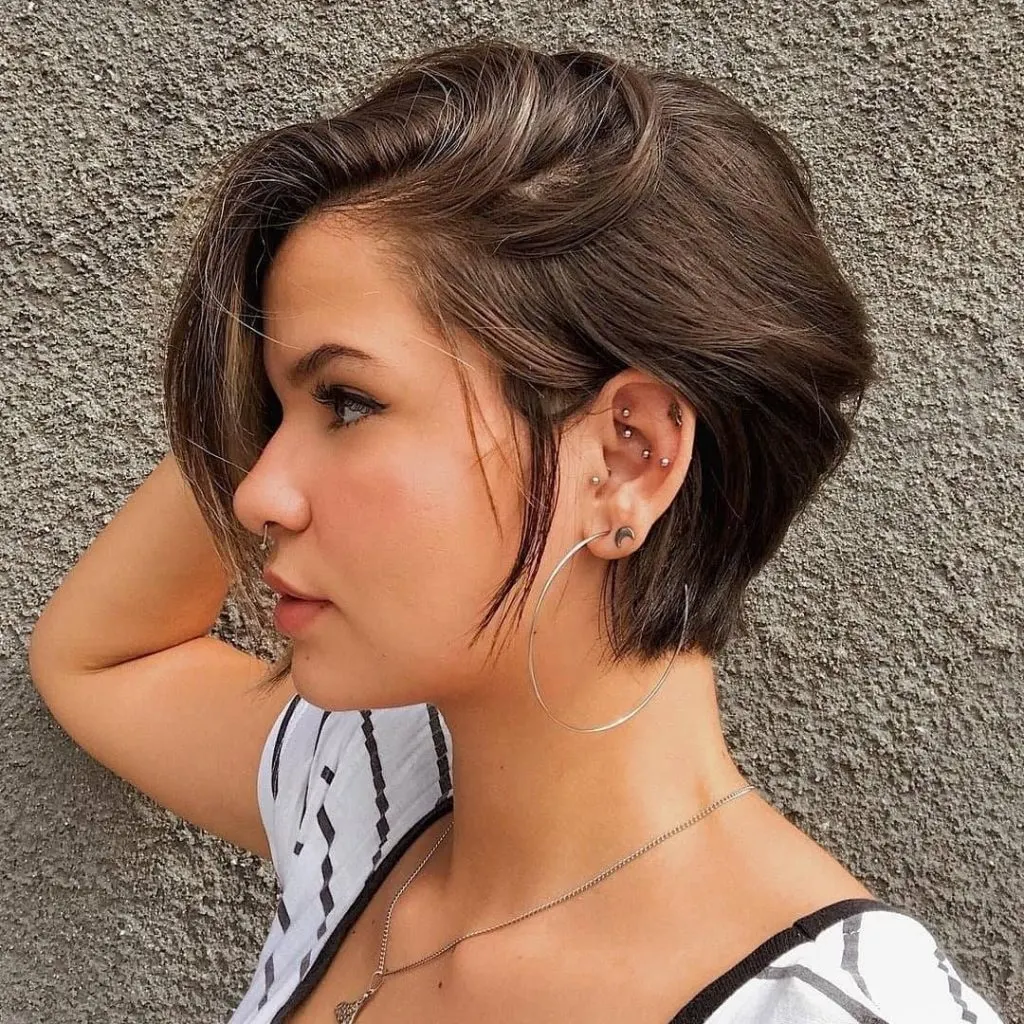 Subtle highlights can be used to bring dimension and movement to a haircut, and it works especially well with shades of brown because the effect created is very natural.
11. Brown Hair Choppy Lob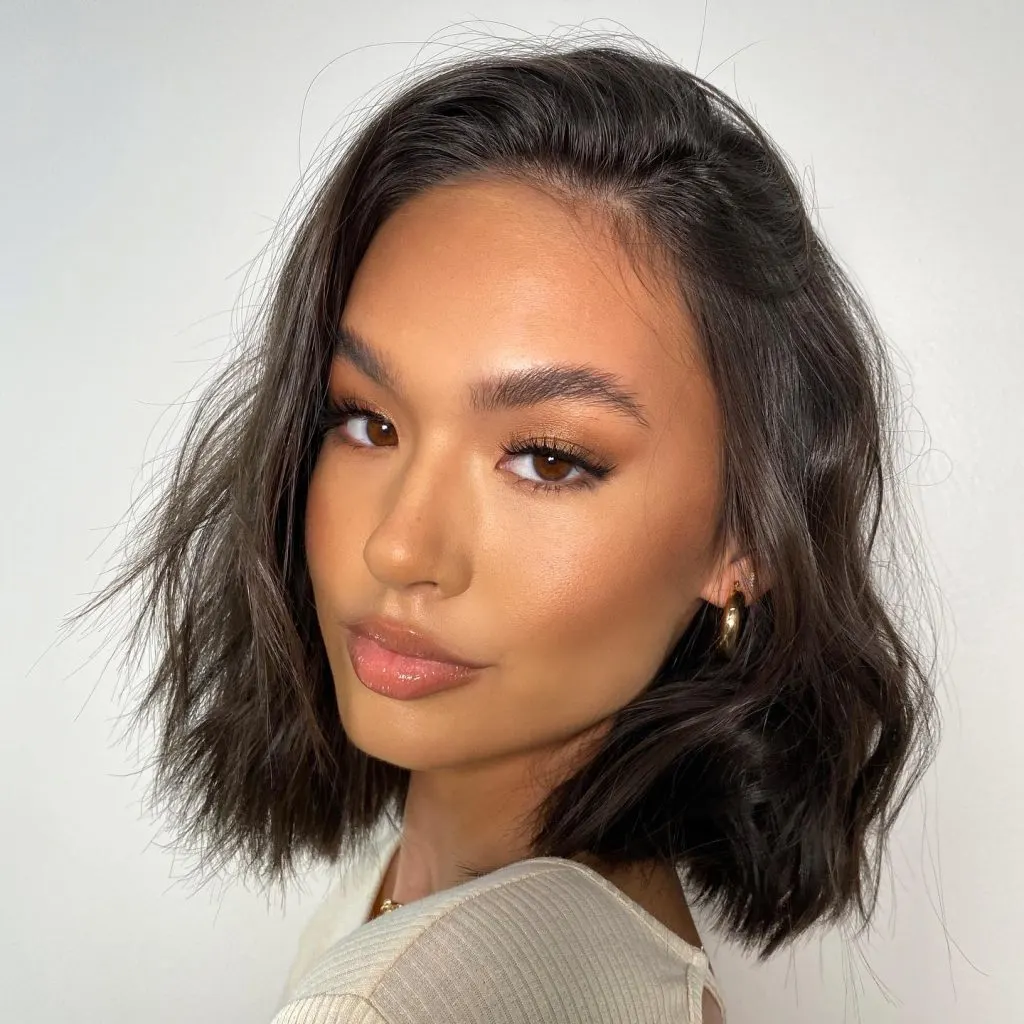 Embracing your natural hair color is easy when it's such a gorgeous chocolate brown. Dark brown tones don't need much work to look elegant and eye-catching.
12. Fluffy Rounded Lob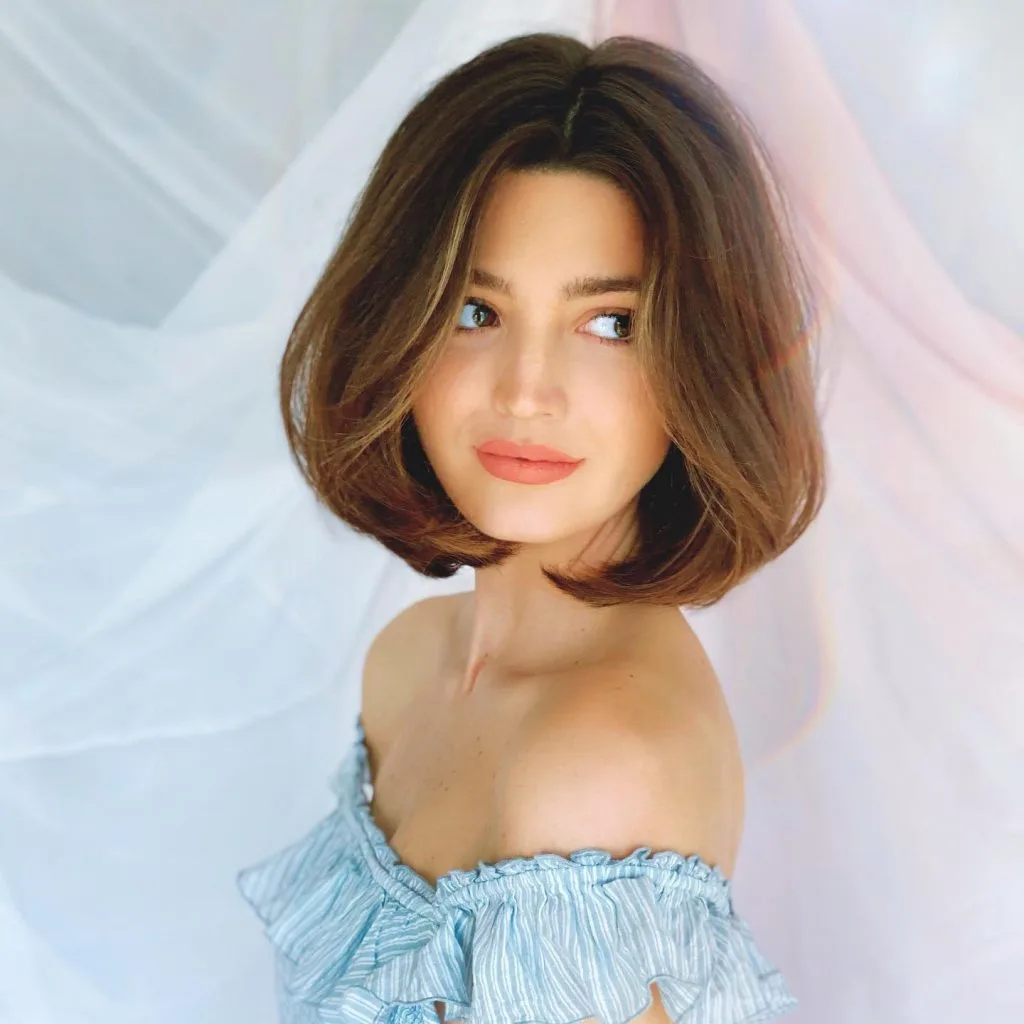 Cinnamon babylights brighten this retro rounded bob, making it airy and soft. An even lighter shade around the face is added to illuminate the features.
13. Short Brown Hair With Highlights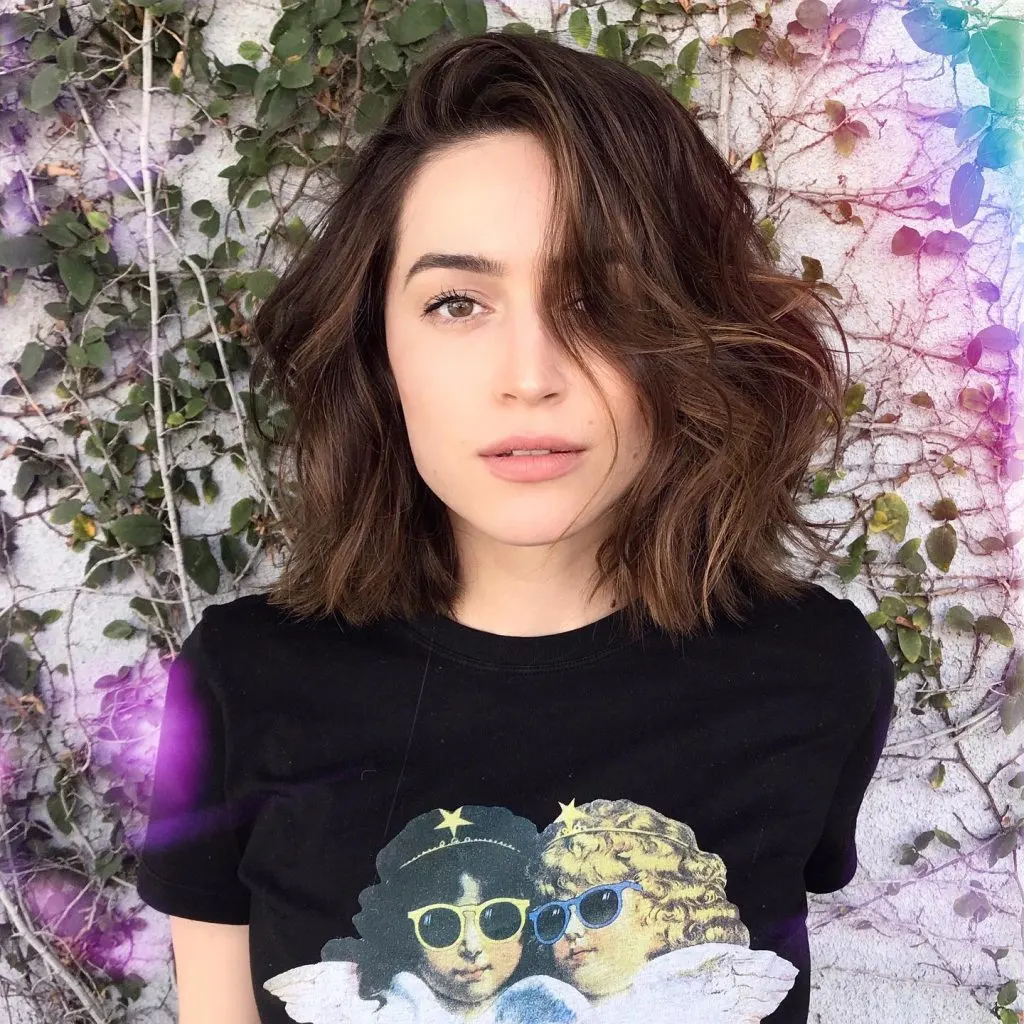 If you want some dimension without making your color centered around highlights, don't go lighter than a shade or two—and ask for babylights. The color blends more seamlessly than with more prominent coloring techniques and because the lightened strands are finer, the final effect is more natural.
14. Layered Short Brown Haircut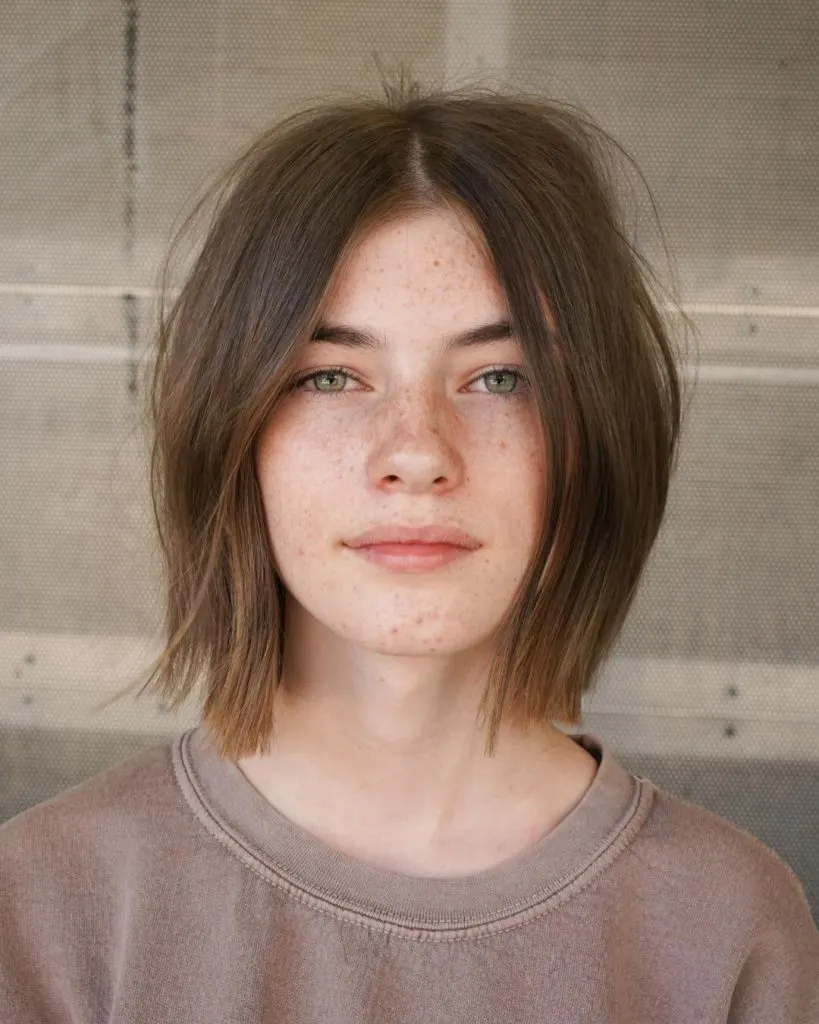 A few hand-painted layers around the face can transform your look completely. If you like wearing your hair straight, subtle highlights are a good way to avoid a static look.
15. Brown Hair One Length Bob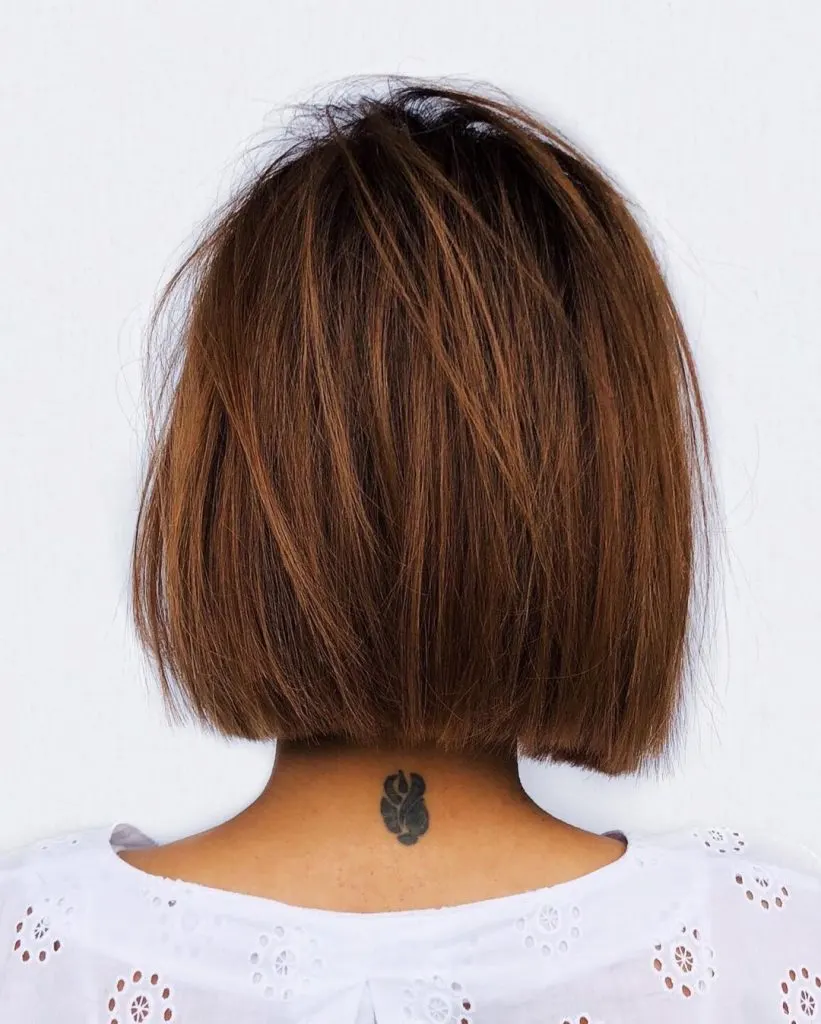 This copper-brown blunt bob is shiny, modern and just all-over gorgeous. Thanks to texturizing layers, it's also full of movement and bounce.
16. Short Dark Brown Hair With Long Bangs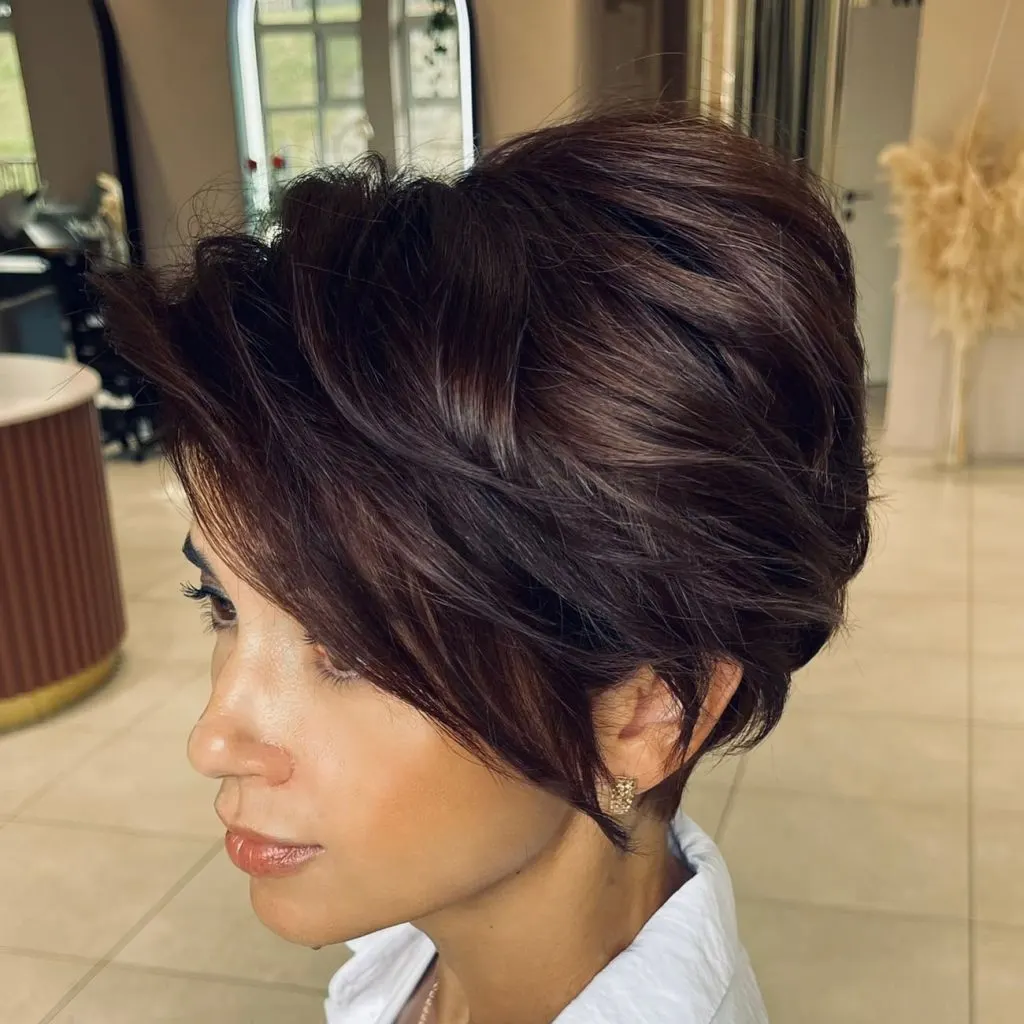 The glossy dark mocha color boosts the glam factor of this voluminous bixie. For similar results, try a shine serum.
17. Curly Short Brunette Hairstyle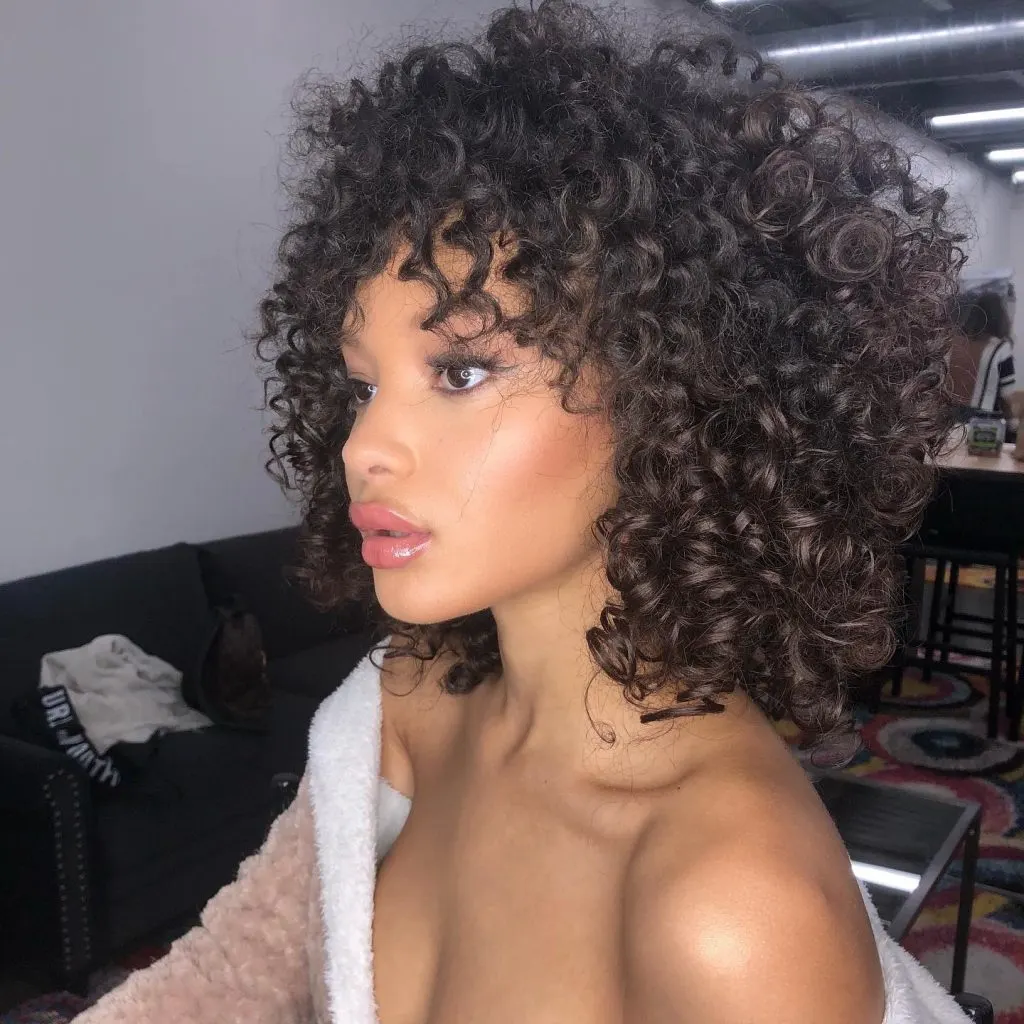 Hair toners enhance color and increase luster of your hair, and they're not just for blondes. Refresh your dark brown shade with a brunette toning product.
18. Long Pixie For Thick Hair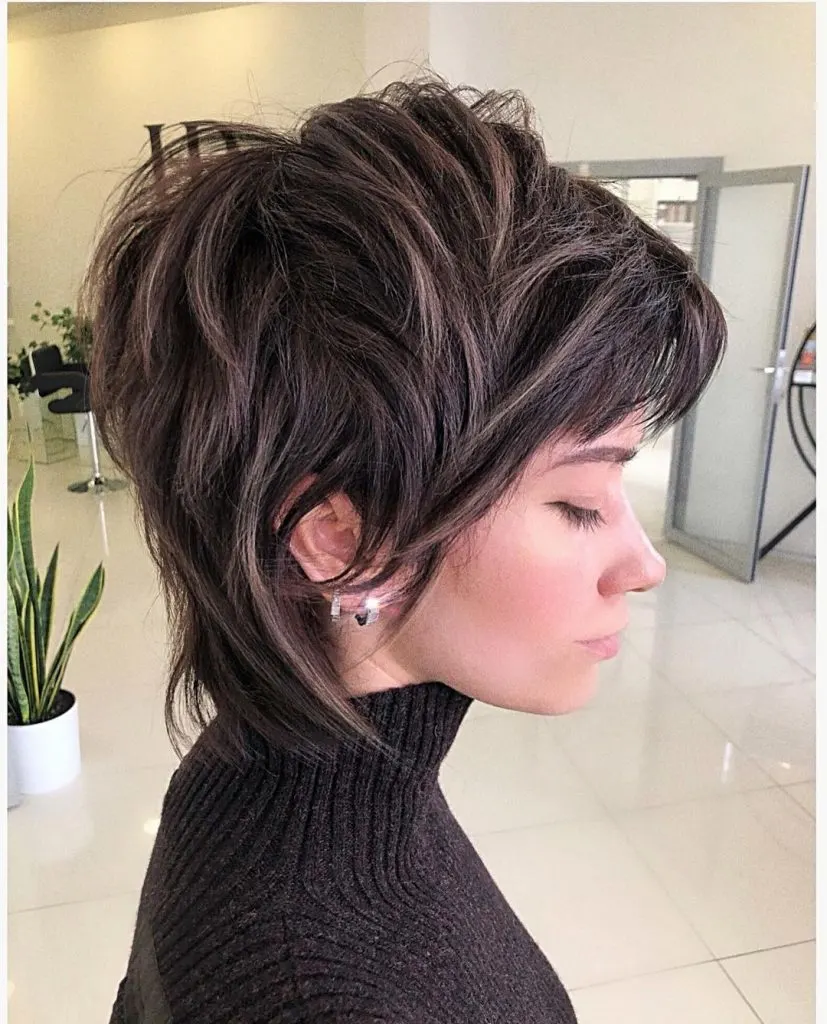 There was a point when everyone wanted a cool, ashy brunette hue, but those only suit you if you have a cool skin undertone. If your skin is warm, honeys and caramels will be much more flattering.
19. Rounded Asymmetrical Short Bob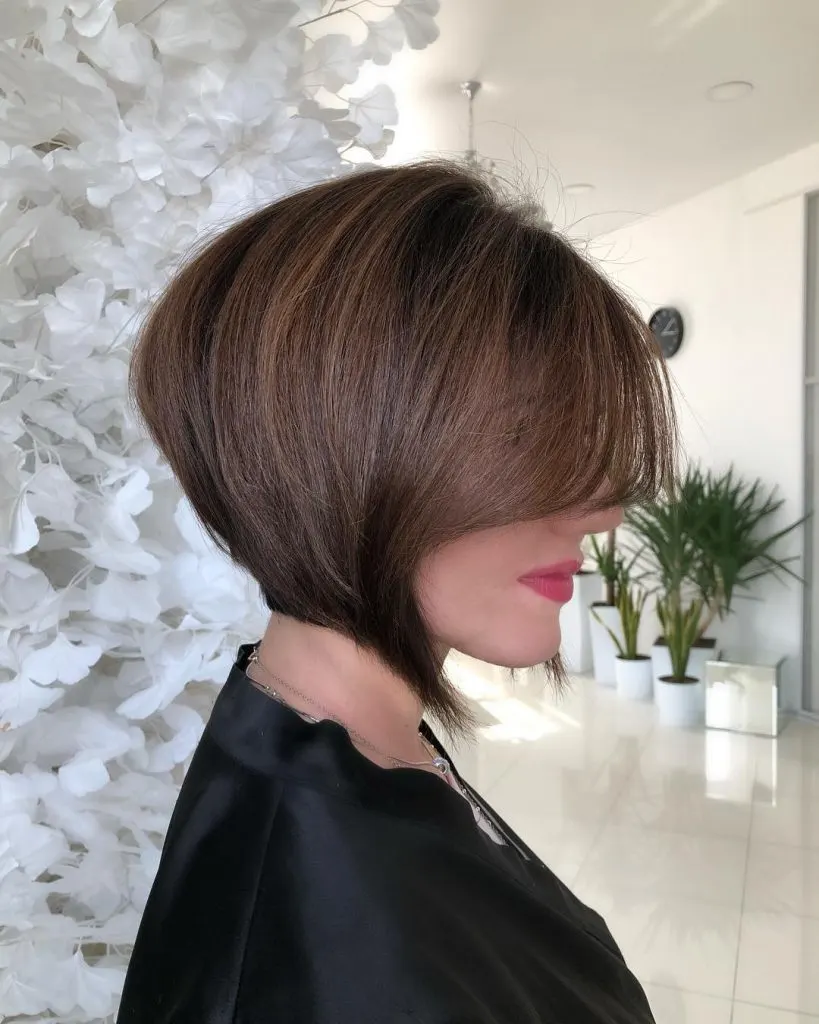 Keep your natural hair color looking good by maintaining the health of your hair, starting with a heat protectant product every time you use hot tools to style it.
20. Short Brown Hair With Baby Curtain Bangs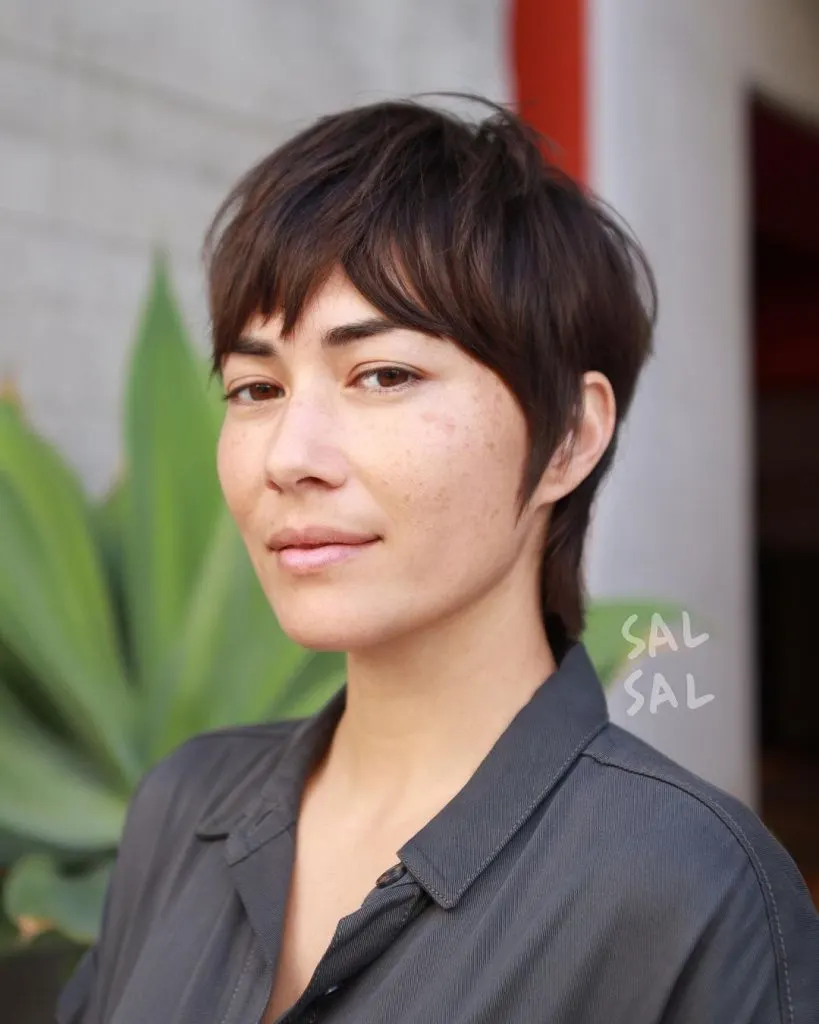 When your hair color suits your skintone, there's a sense of harmony in your look. Otherwise, something will always seem out of place—especially if you're rocking a face-framing haircut.
21. Short Brown French Bob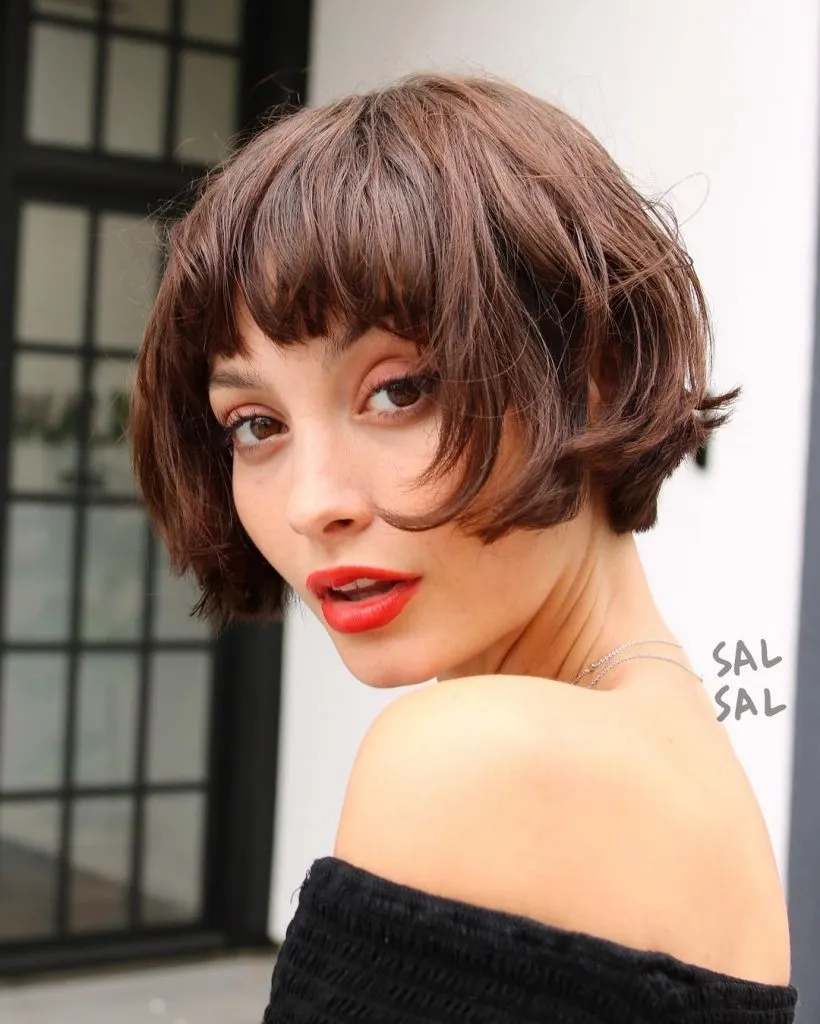 Frequent trims needed to maintain a short bob have an added benefit of keeping your hair in top shape, so your color stays how it should be, root to tip.
22. Low-Maintenance Short Brown Hair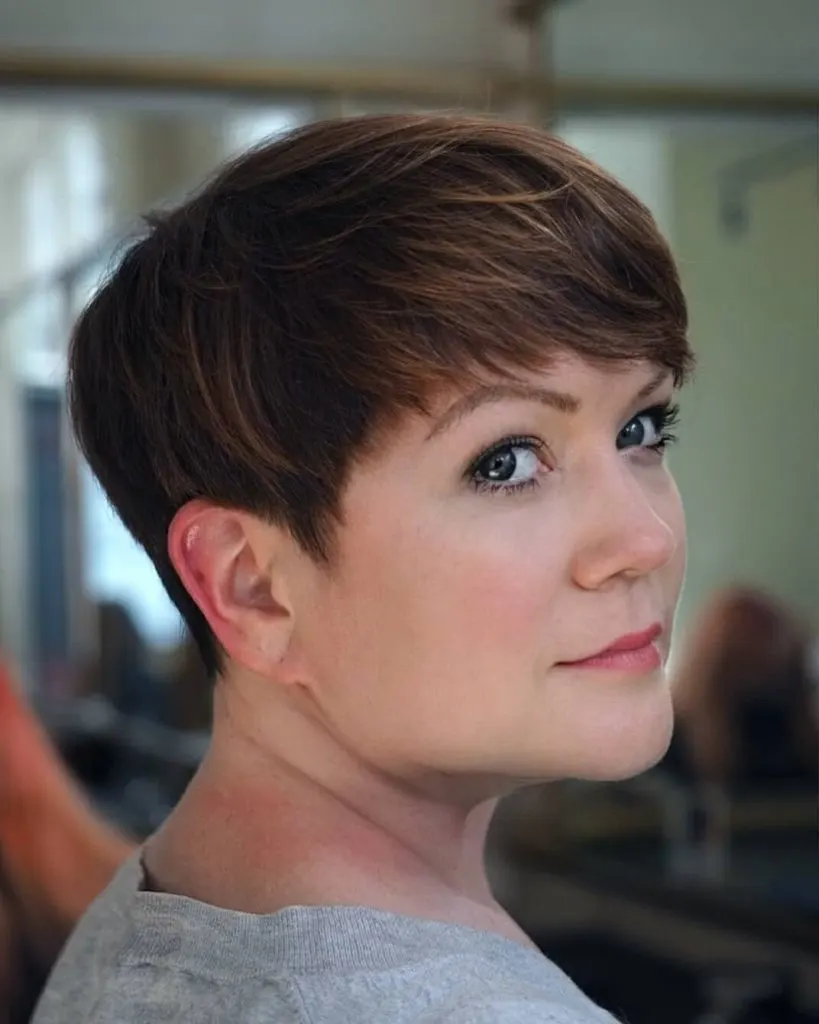 Use highlights to instantly brighten your face without changing your hair color. They're easy to maintain too, so you won't have to always pay attention to the state of your roots.
23. Short Blunt Bob With Straight Fangs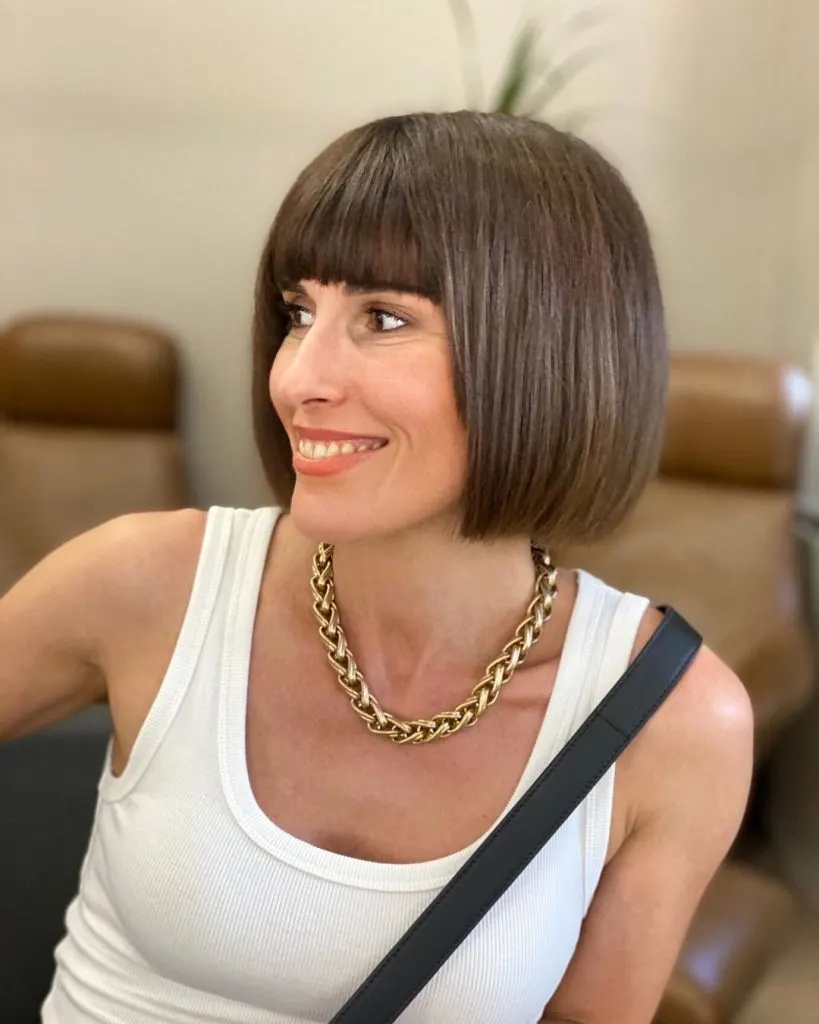 Get classic with a blunt bob with straight-across bangs paired with a medium brunette shade.
24. Pixie With Short Side Bangs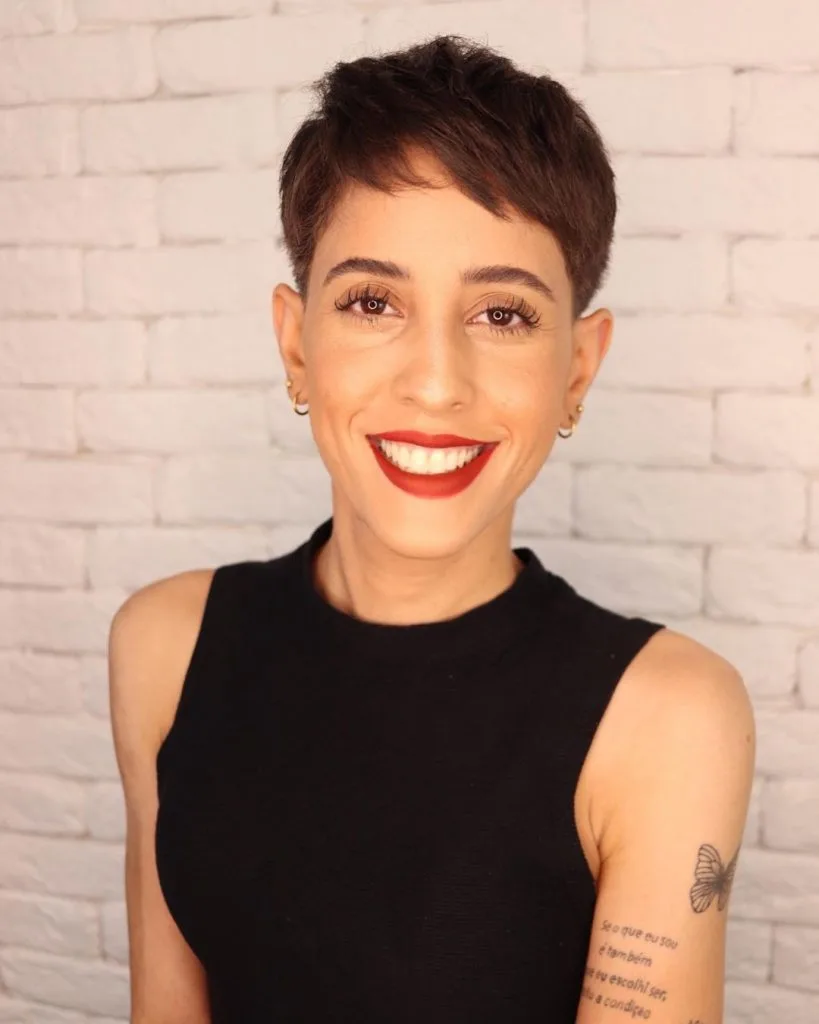 When both your hair color and haircut draw attention to your eyes, you know you've made the right choice.
25. Short Brown Hair With Long Side Bangs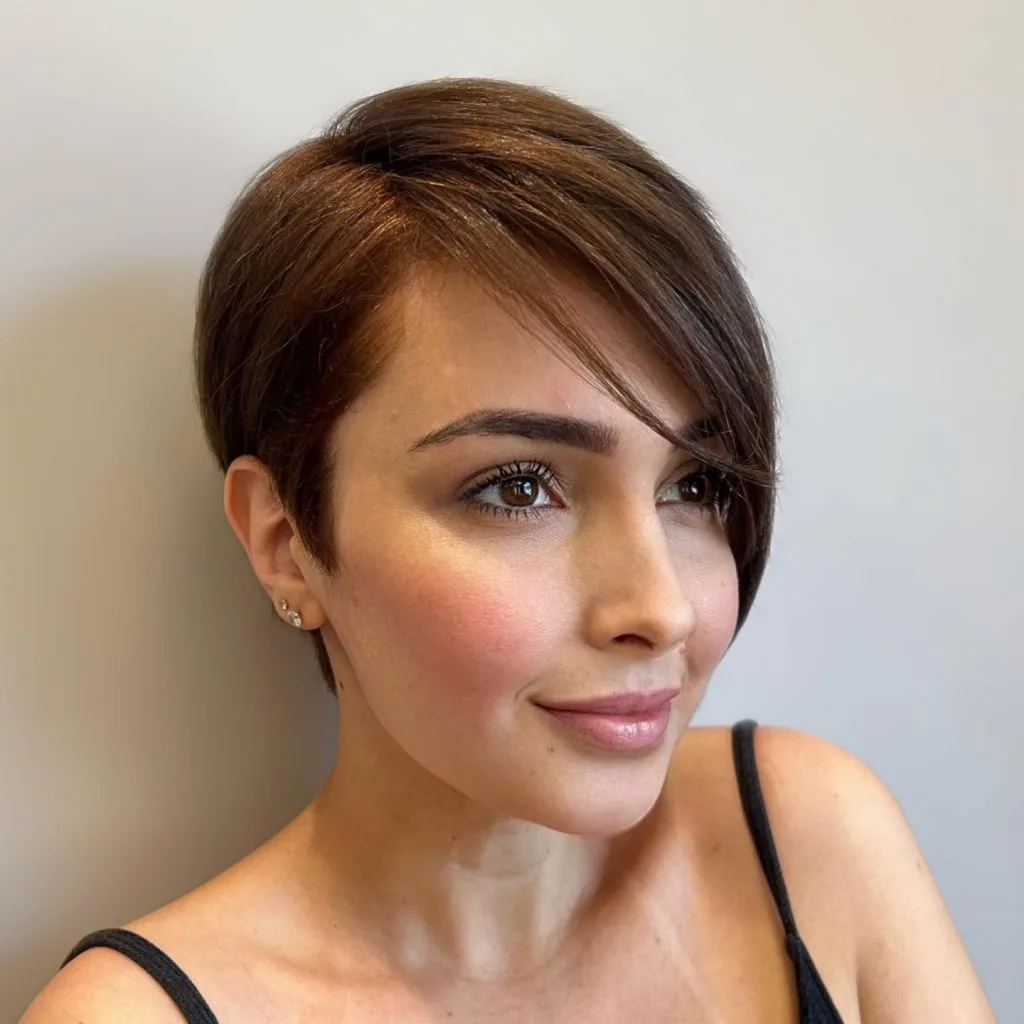 Even a short straight hairstyle can be worn in multiple ways: for example, tuck one side behind the ear to spotlight the asymmetric long bangs, or go for a more balanced, face-framing style.
26. Choppy Short Brown Hairstyle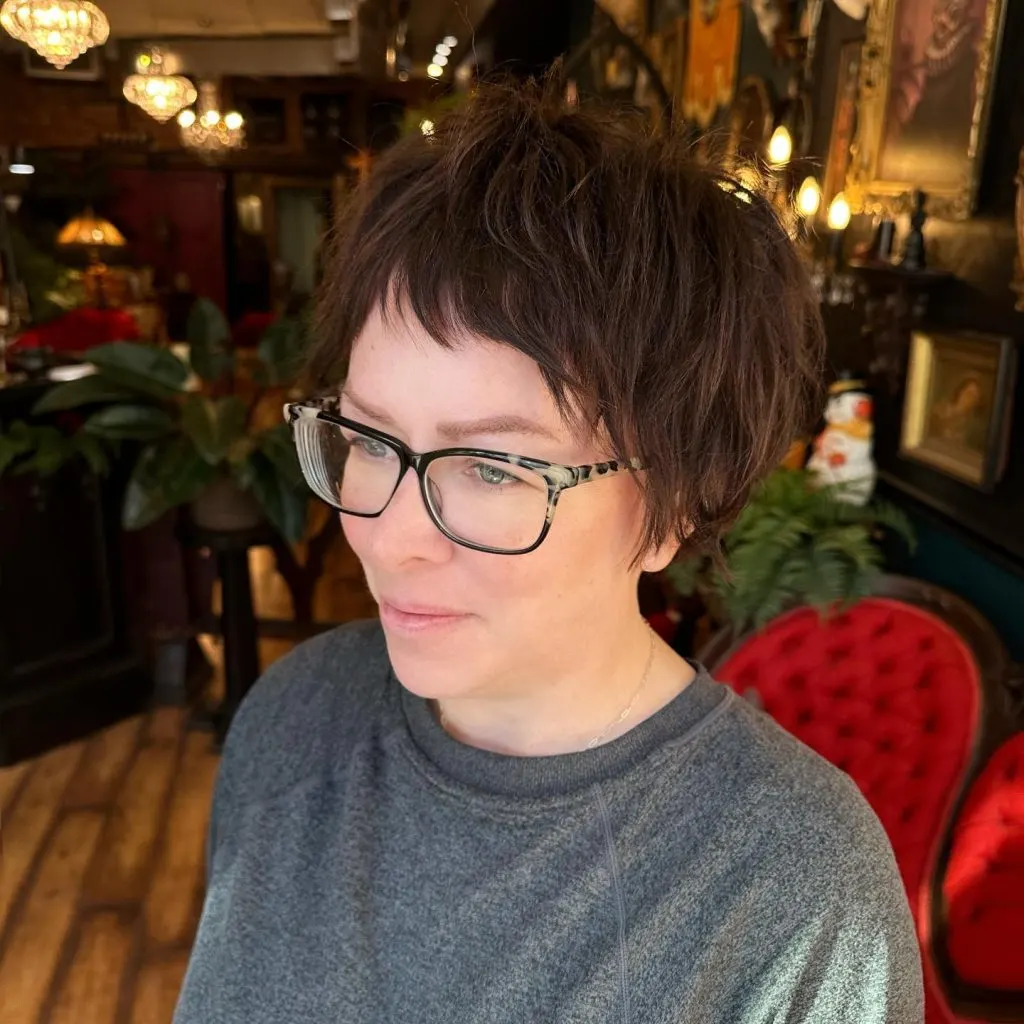 You don't really need any product to style a haircut which already has plenty of texture, but you can make it even better with a bit of styling cream .
27. Fluffy Brown Hair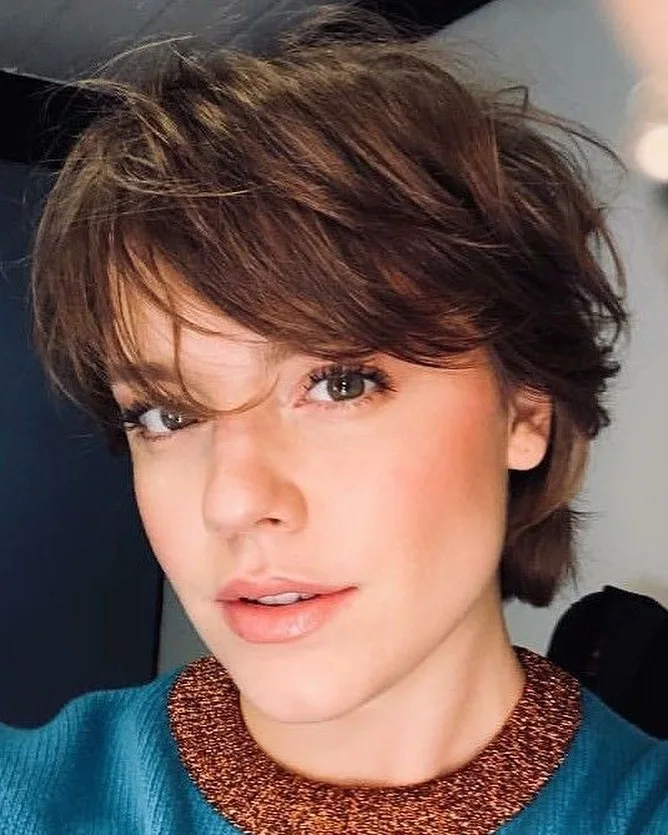 Fluffy mocha is what it's all about—warm medium brown shades look best with styles that play up their softness.
28. Chin-Length Textured Brown Bob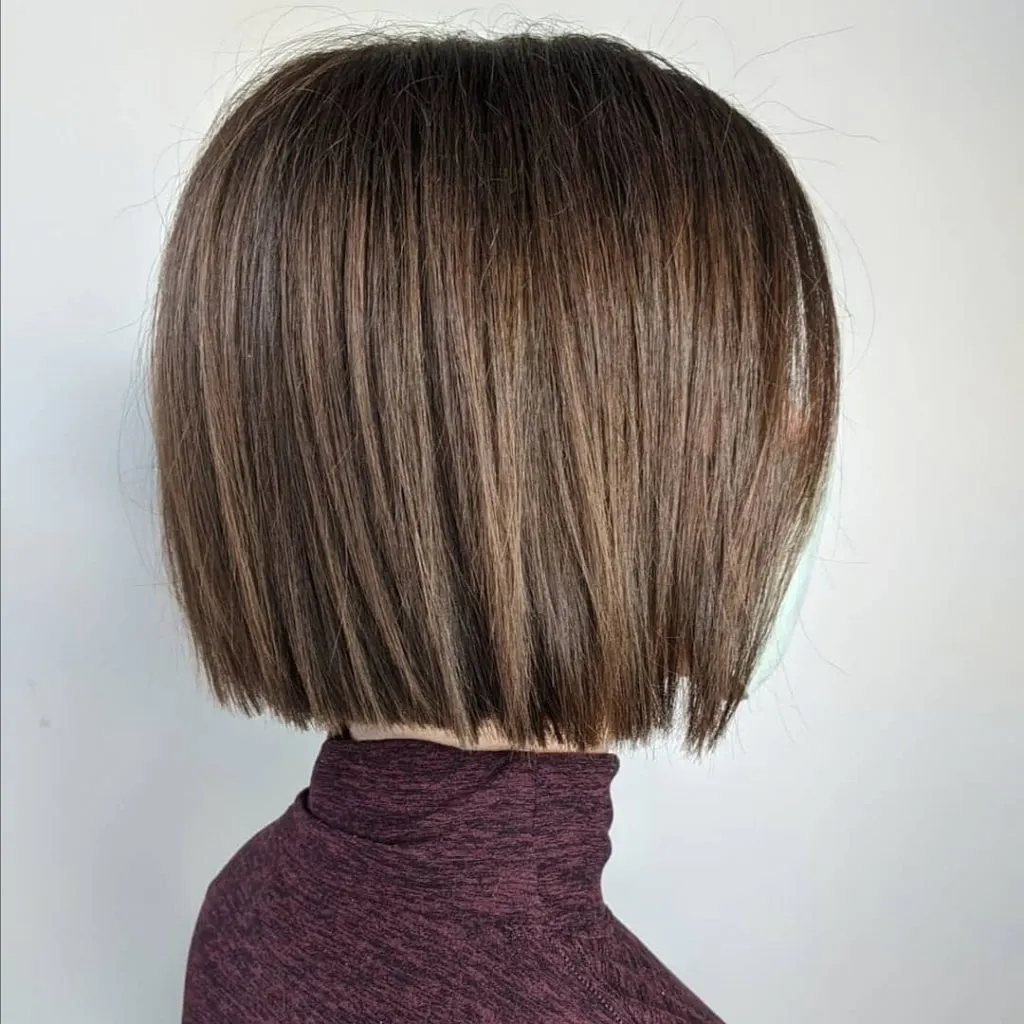 If your natural hair color is a lighter shade of brown and you're tempted to lighten it even further and go blonde, you have lots of options: balayage, highlights, full color and more, but leaving it as-is is just as pretty.
29. Short Brown Fluffy Hair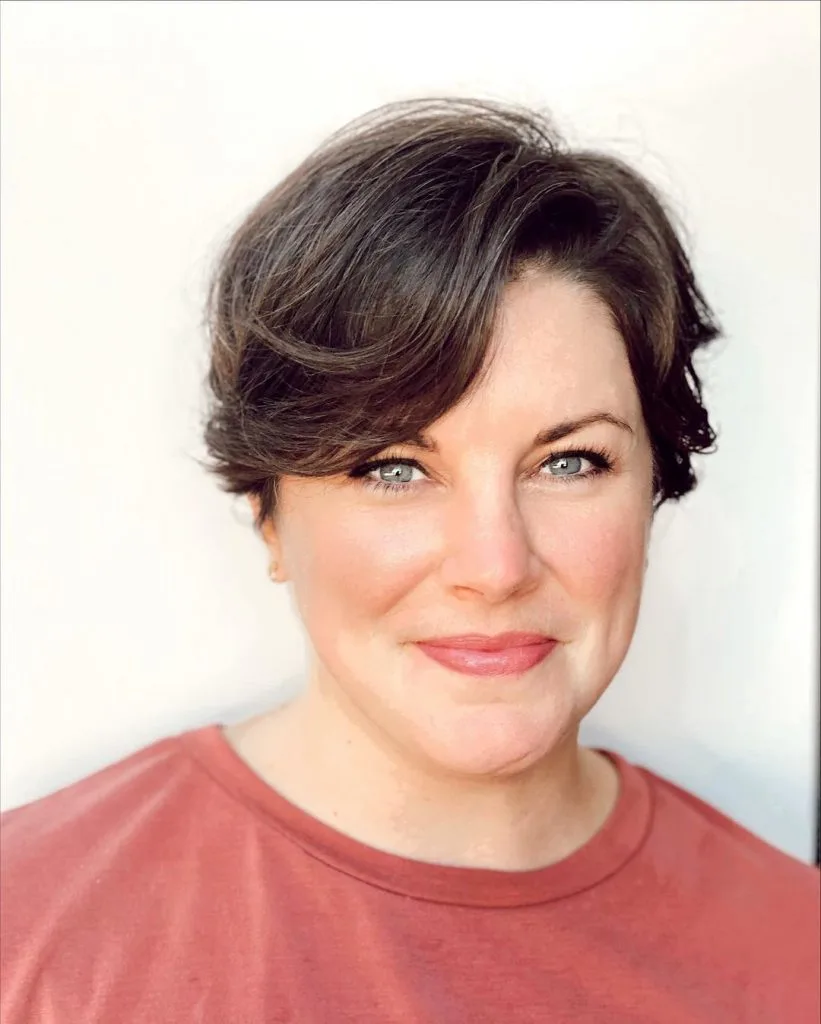 If you're growing out a pixie or simply prefer short back and length around the face, make sure that your cut plays along with your texture to minimize the amount of styling needed and to keep your hair healthy.
30. Short Bob With Bangs For Fine Hair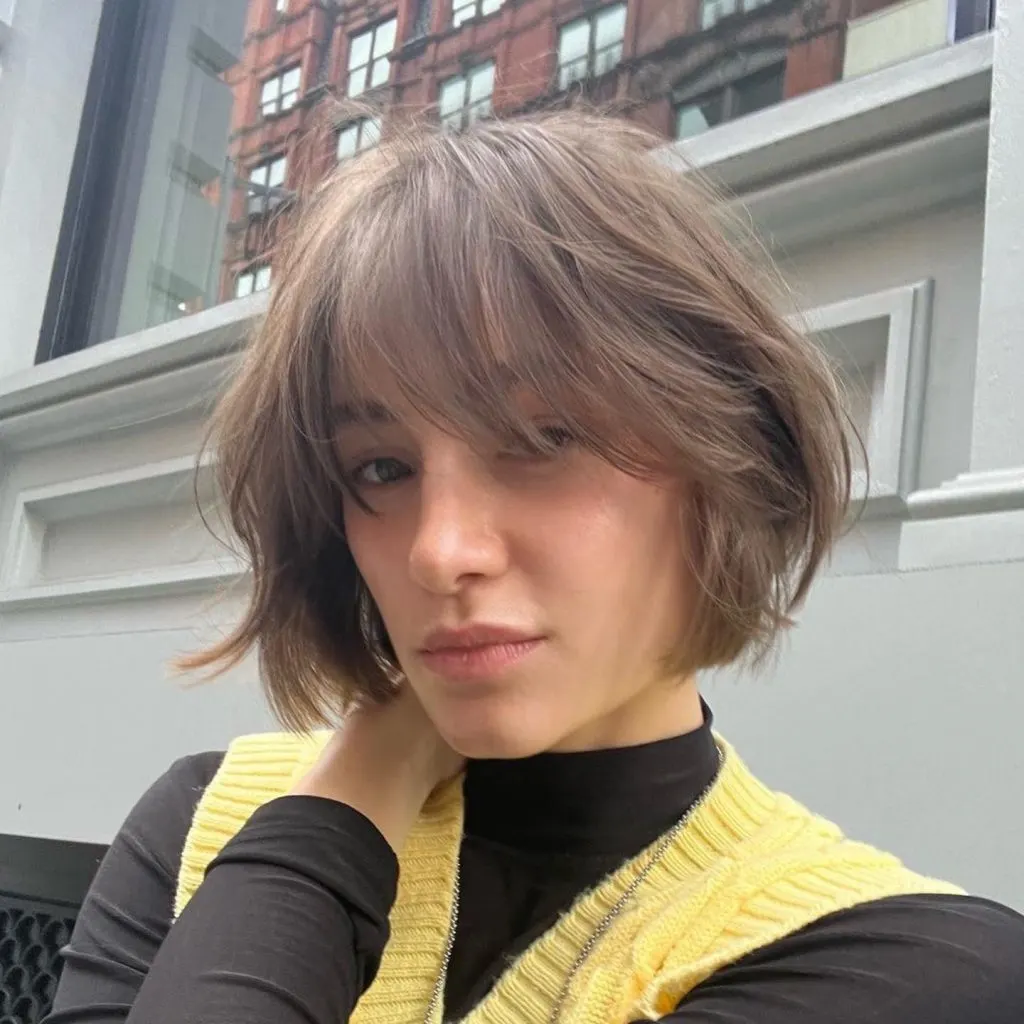 Curtain bangs are never going out of style, and here's why: nothing is quite as flattering as face-framing strands that melt into the length.
31. Trendy Choppy Short Brown Hair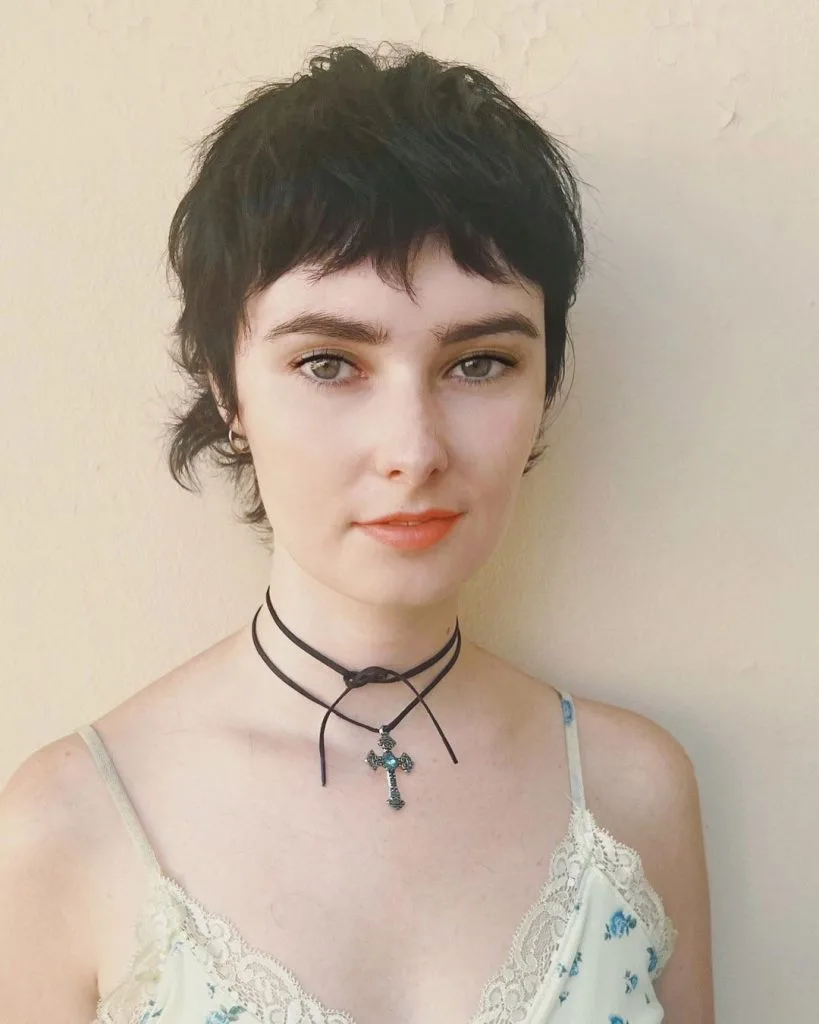 If you dye your hair some of the darkest brown shades, you know that your hair can happen to lose its shine. The solution: a hair glaze that instantly refreshes color and brings back luster.
32. Straight Blunt Bob With Wispy Bangs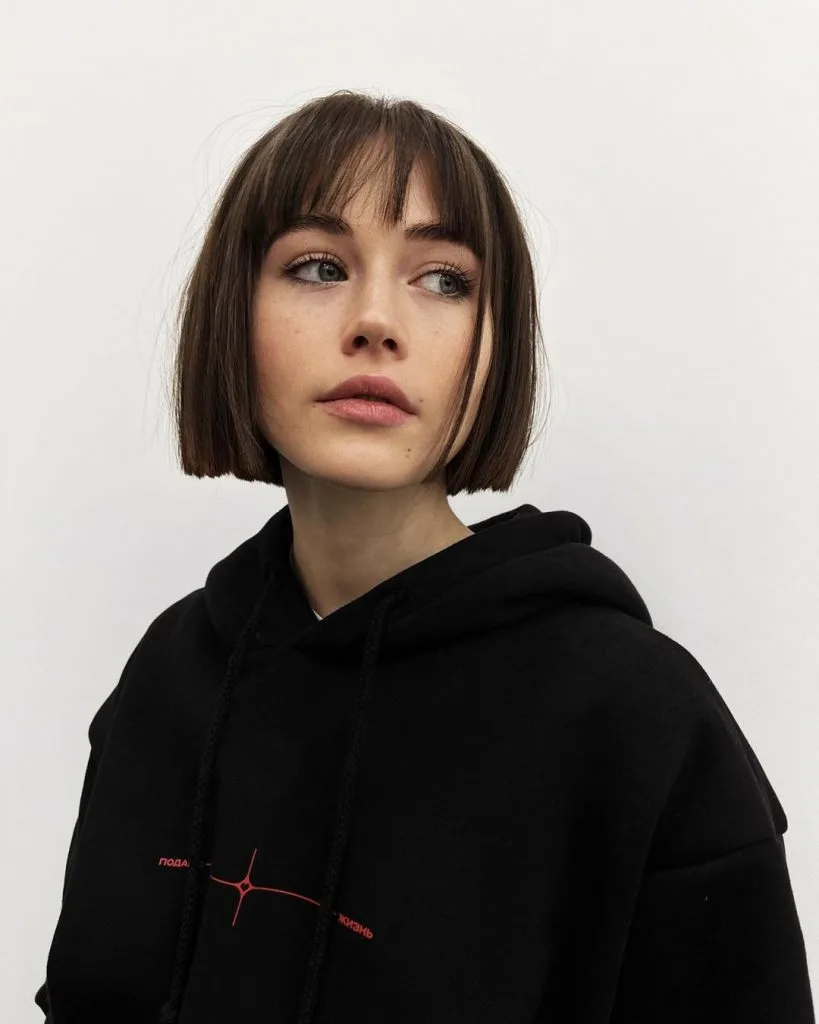 Wearing a blunt bob wavy is still on trend, but nothing beats a straight classic bob with bangs.
33. Stacked Short Brown Hair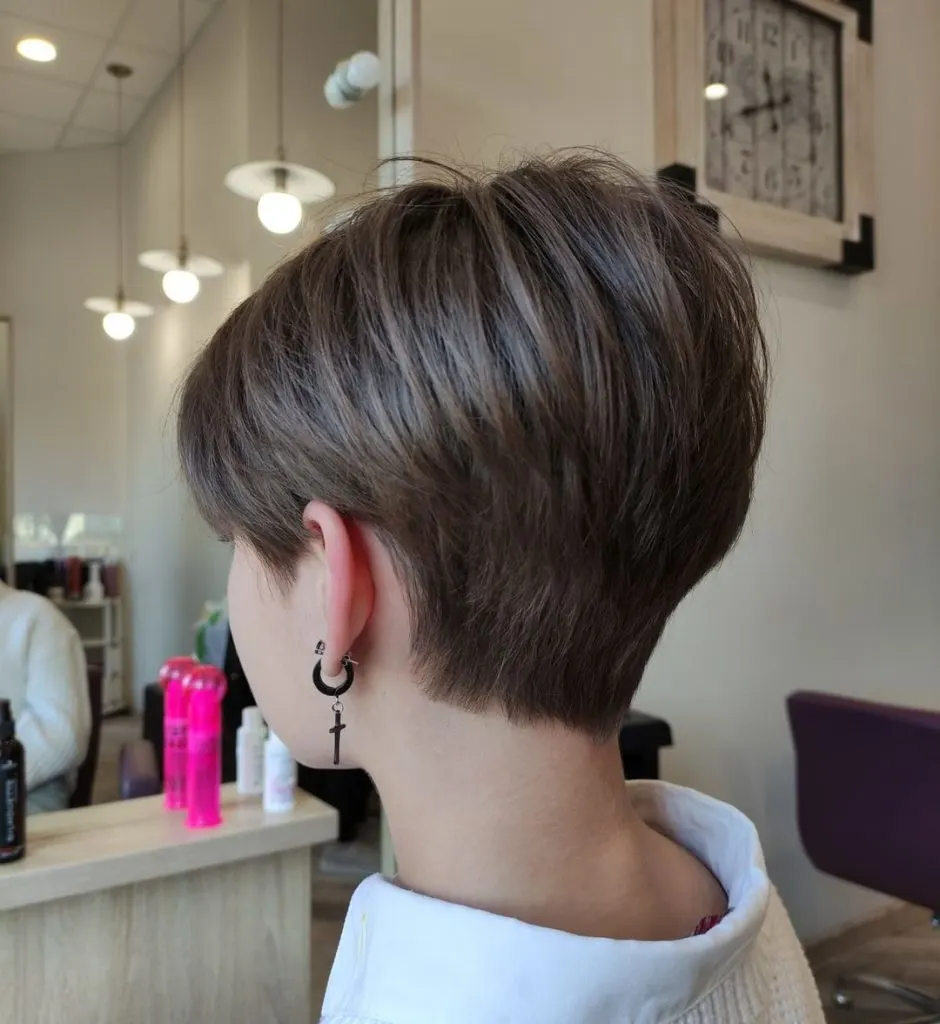 This style has volume without any bulk, and enough length to play with but you won't waste an hour styling it. A winner.
34. Very Short Brown Hair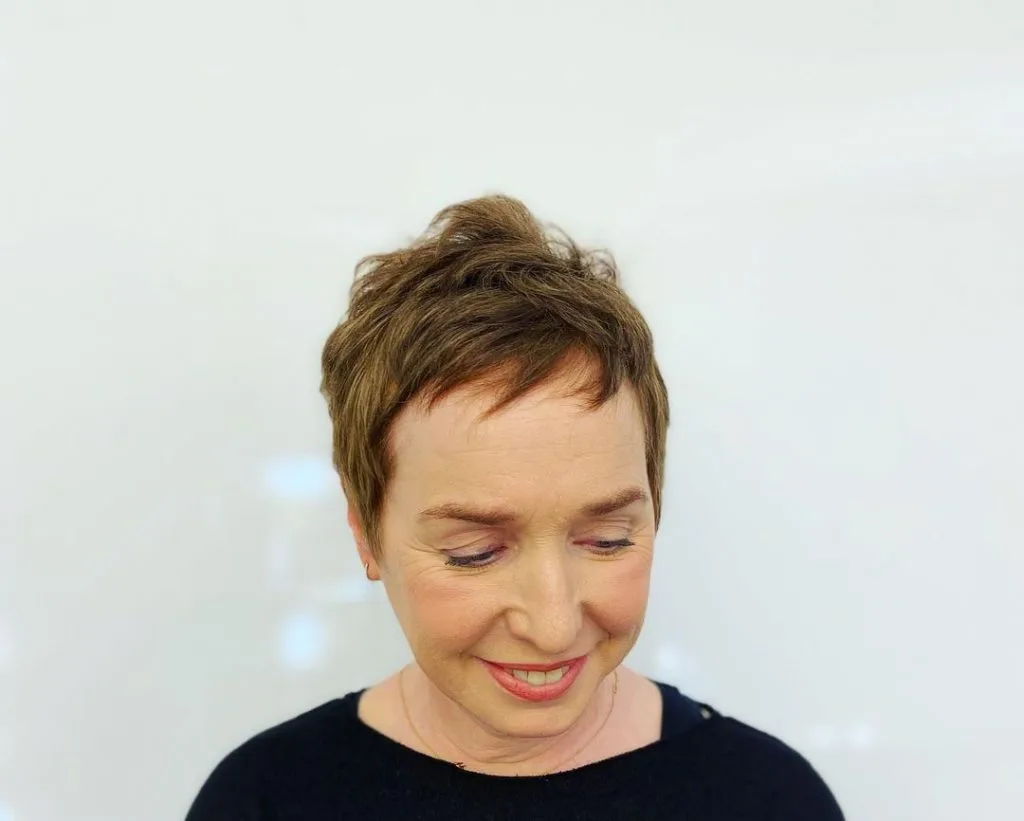 Wispy Hepburn fringe makes any style look that much cuter, and particularly an already adorable pixie cut.
35. Brown Hair Chin-Length Bob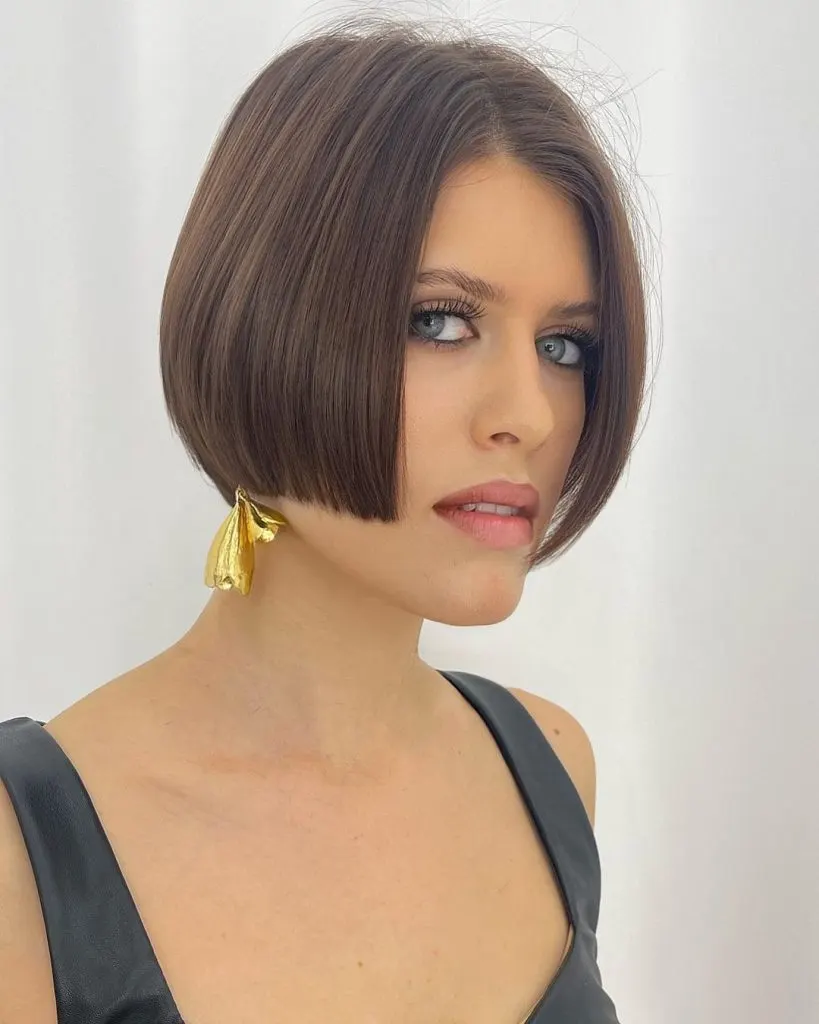 A short rounded bob is glam enough not to need a loud color to accompany it—it looks no less sophisticated in a natural medium brown than it would in a carefully curated color.
36. Short Brown Mullet With Baby Bangs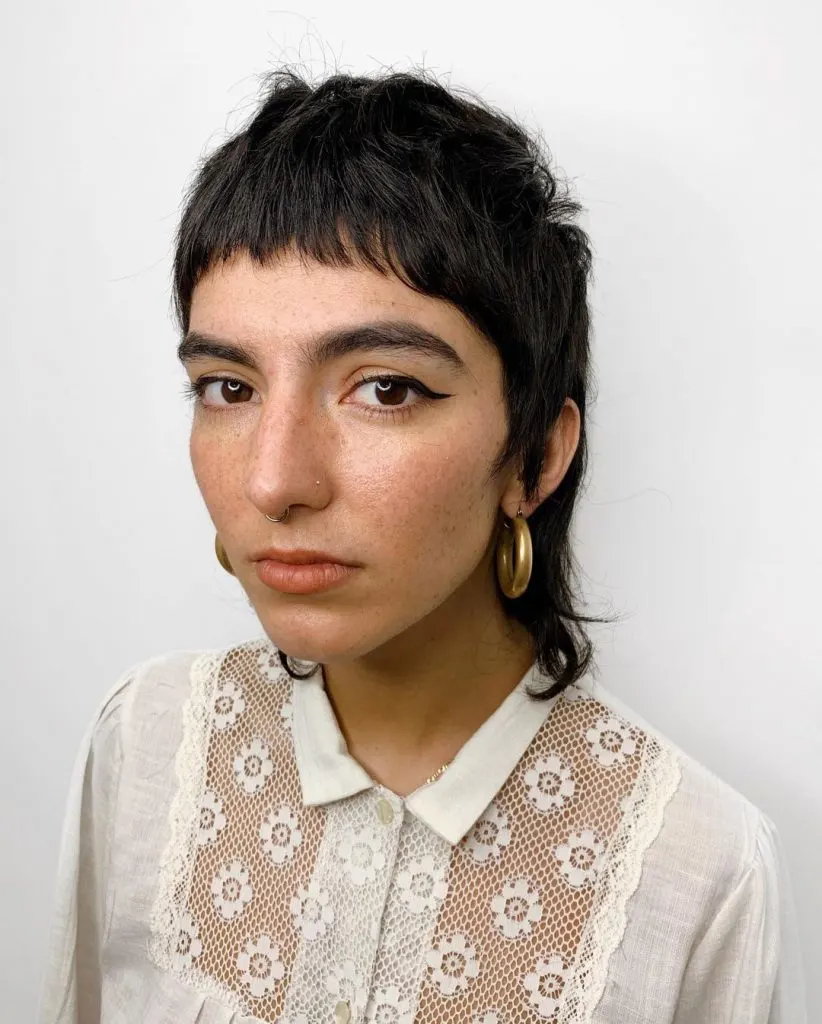 Mullets and shags are everywhere these days, and you'll see them in either vivid, electric colors, or combined with natural, untouched hair.
37. Spiky Short Brown Hair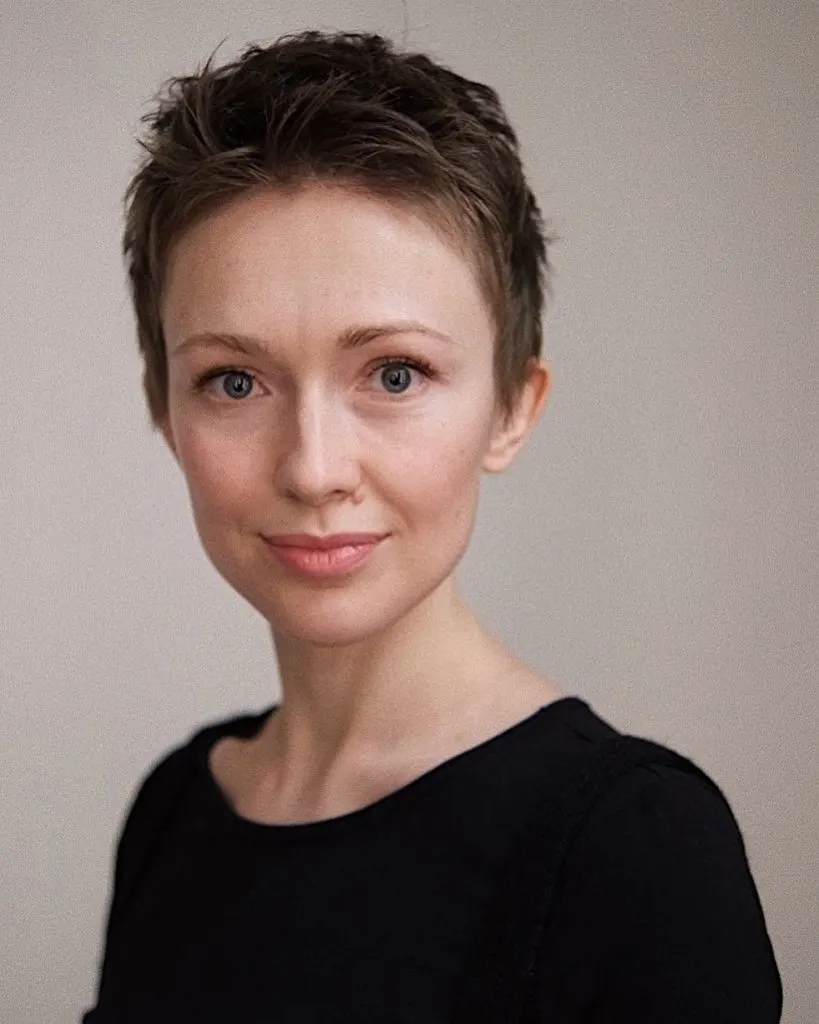 Some styles look effortless, others are actually effortless, like this textured pixie that looks best natural.
38. Layered Short Haircut With Bangs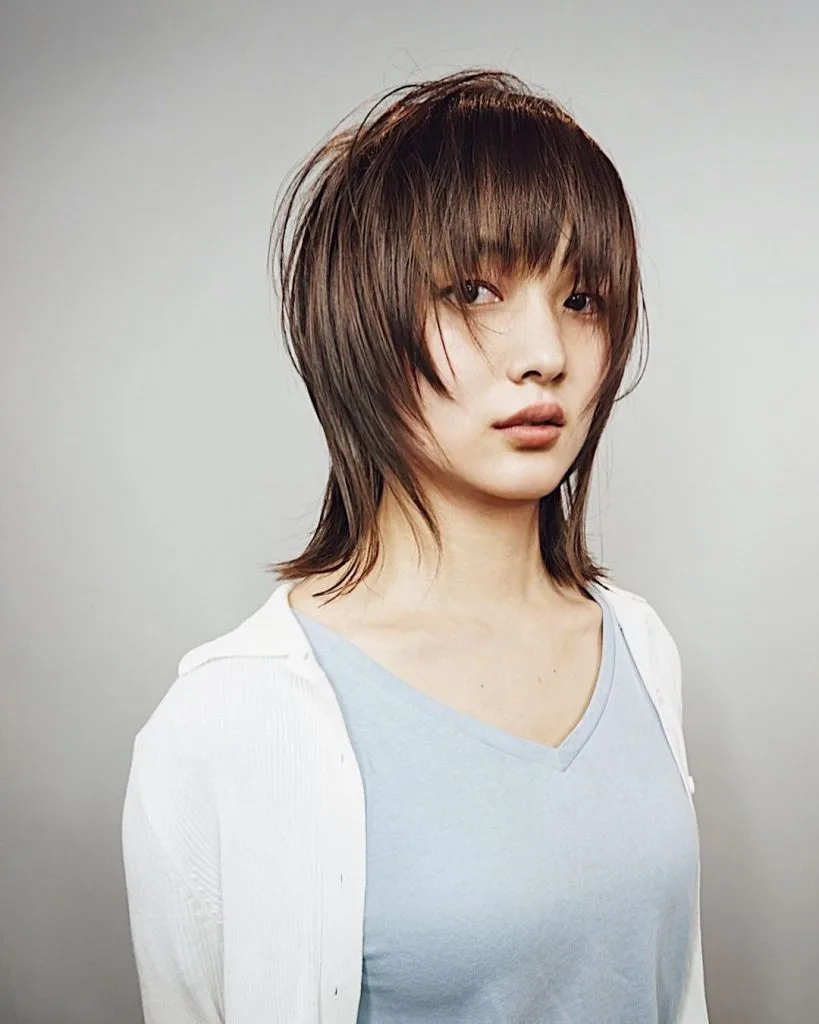 A short, straight wolf-cut can be styled in a more shaggy, rocker-chic way, or you can go the other way and do the unexpected and wear it sleek.
39. Curly Short Brown Hair With Bangs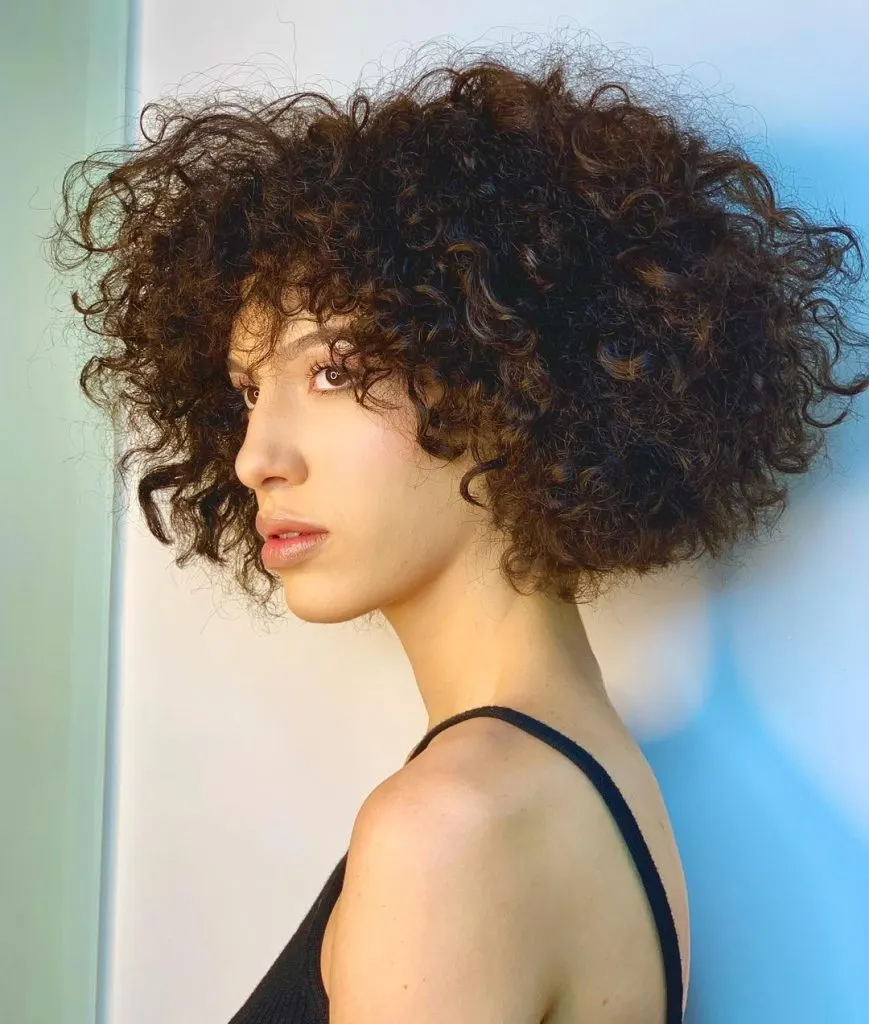 To get a lovely shape in a curly bob, make sure your hairdressers knows how to work with curly hair. Before you let anyone with scissors near your curls, ask them everything you want to know about their process and technique.
40. Short Wavy Bob With Long Bangs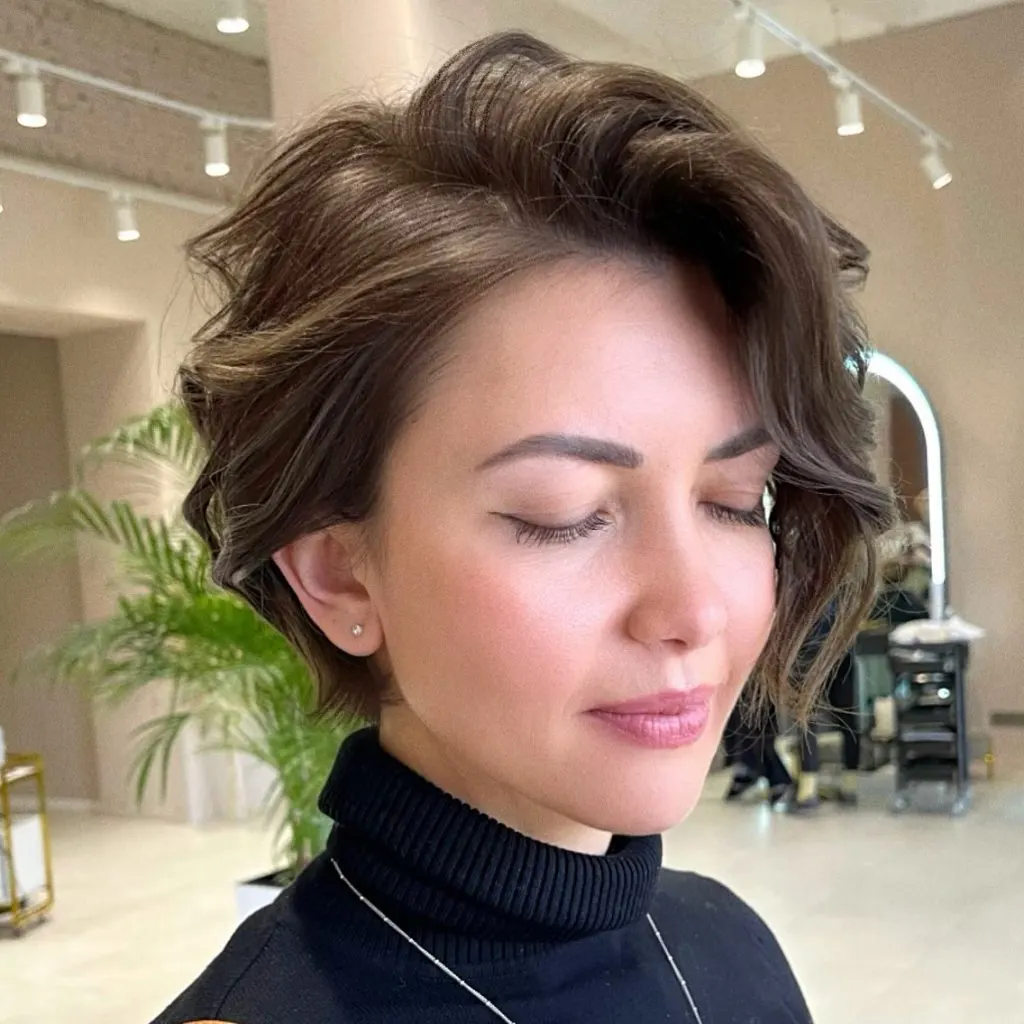 Soft mermaid waves aren't just for long, balayaged hair—here's a long pixie in a natural brown color.
41. Short Brown Hair French Bob With Bangs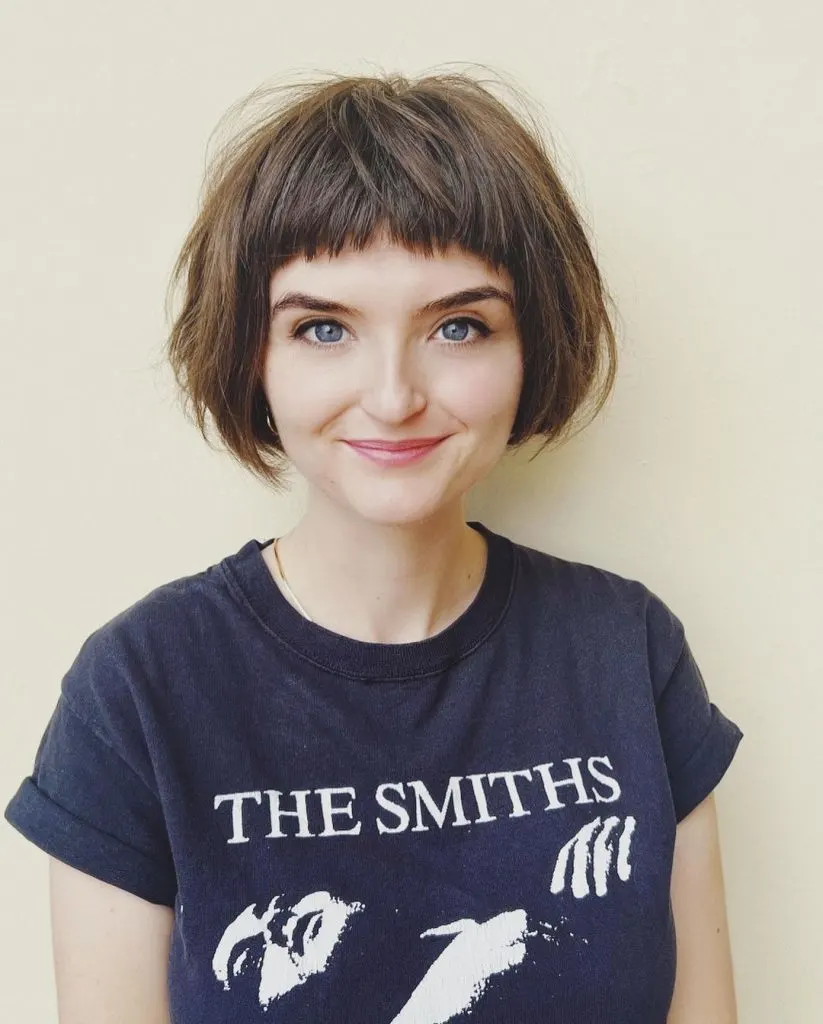 Short razored bangs will draw attention to your eyes and they look so good paired with a short bob.
42. Short Haircut With Layers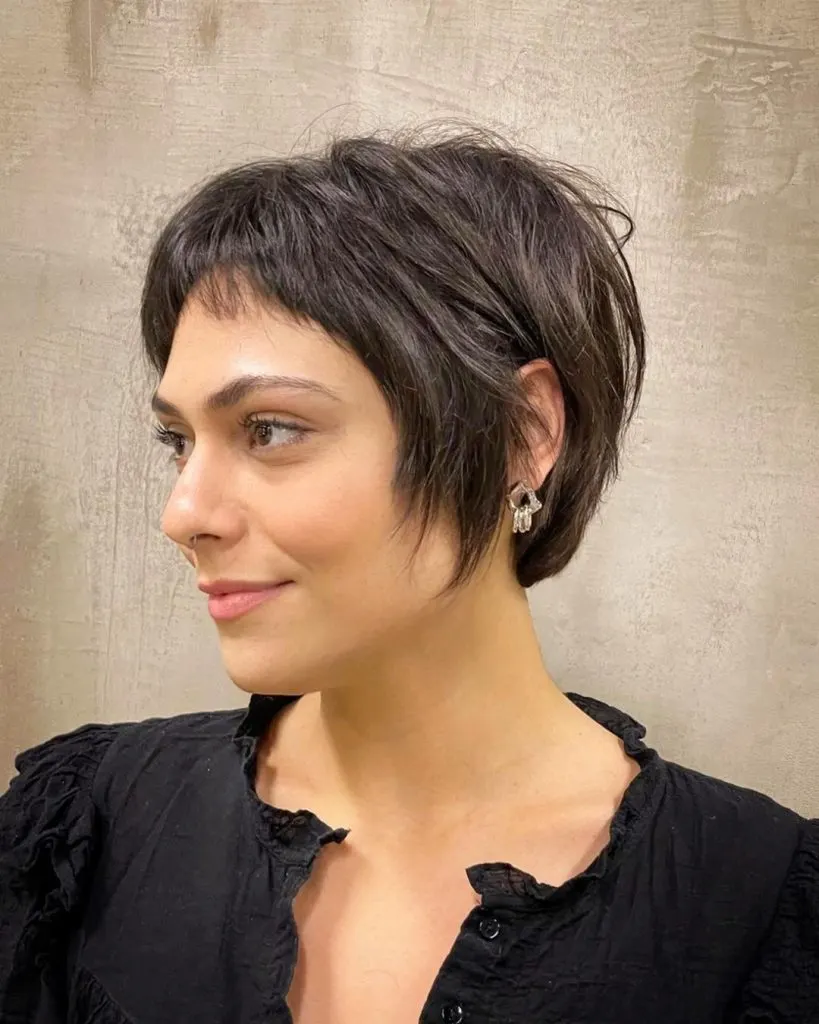 If you have thick hair, a short haircut can either look wild or just right—it's all up to the way it's cut, so make sure you tell your hairdresser everything they might need to know about your hair.
43. Short Bob With Side Part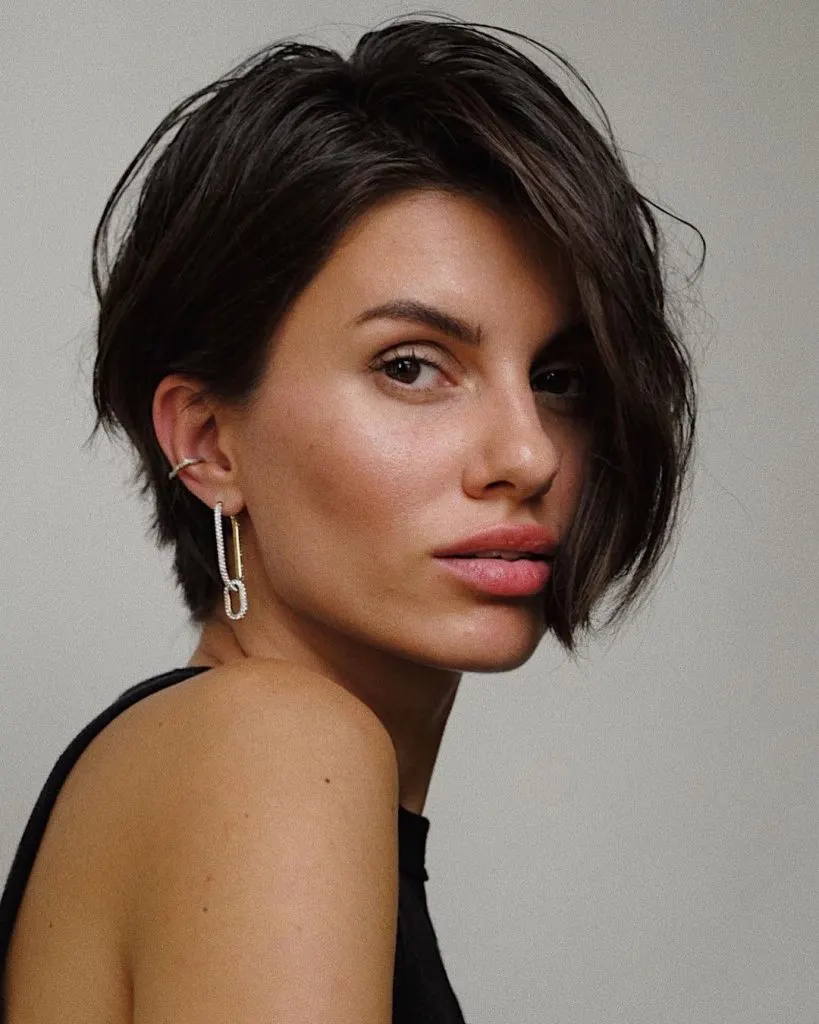 Hair over one eye is always dramatic and flirty. Your side-part doesn't even have to be that deep—just tuck one side behind the ear.