Short choppy haircuts are everywhere you look these days—from celebrities bringing back bold vintage styles to fashionistas rocking trendy and cute short haircuts.
They're easy to wear and look effortlessly cool, so if you're ready to ditch the long hair, come take a look at all the pixies, bobs, mullets, shags, and everything in between.
1. Wavy Choppy Modern Mullet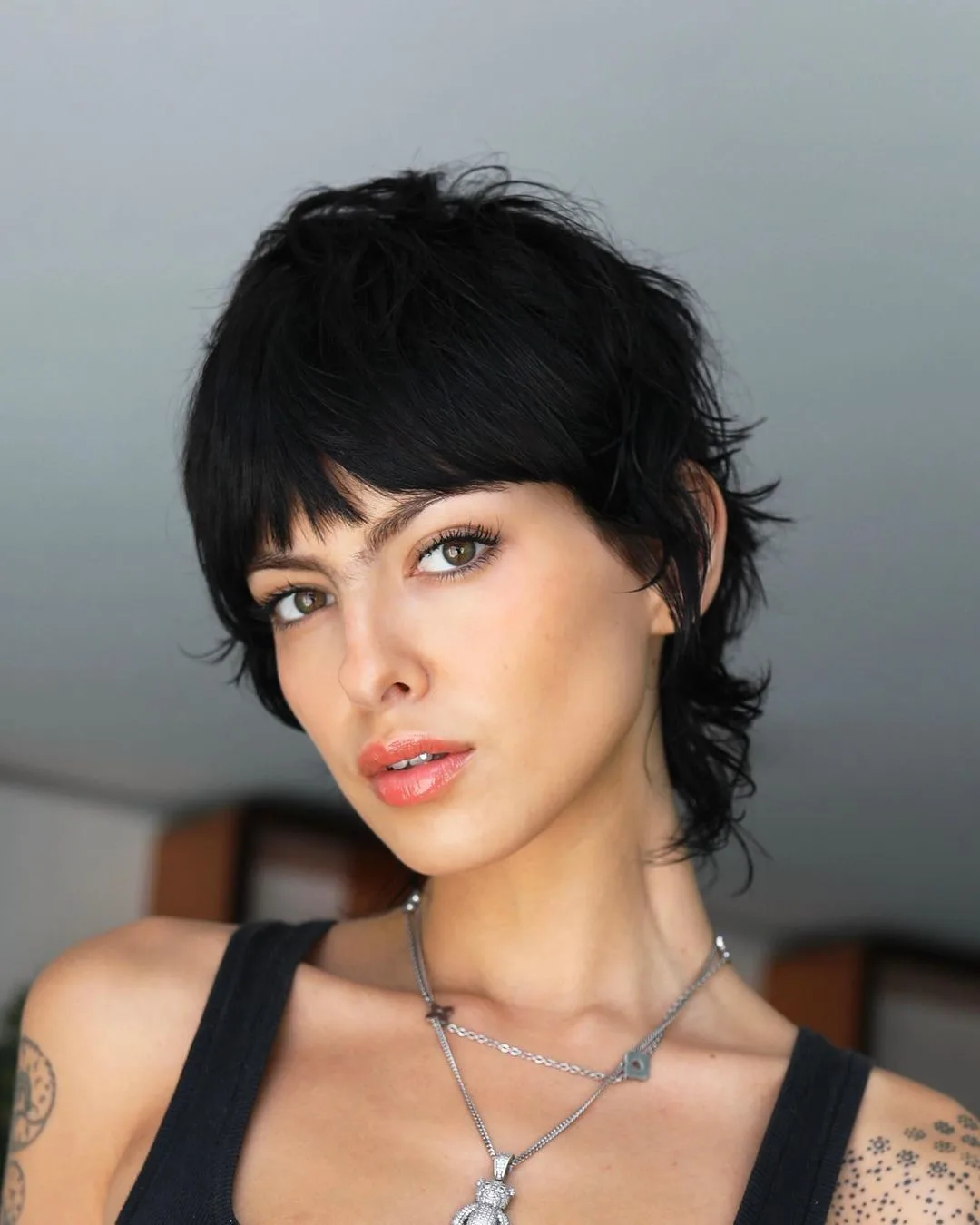 All the face framing with minimum fuss—try a shaggy, choppy mullet with your preferred style of bangs if you want a low-maintenance edgy style.
2. Edgy Short Choppy Bob With Bangs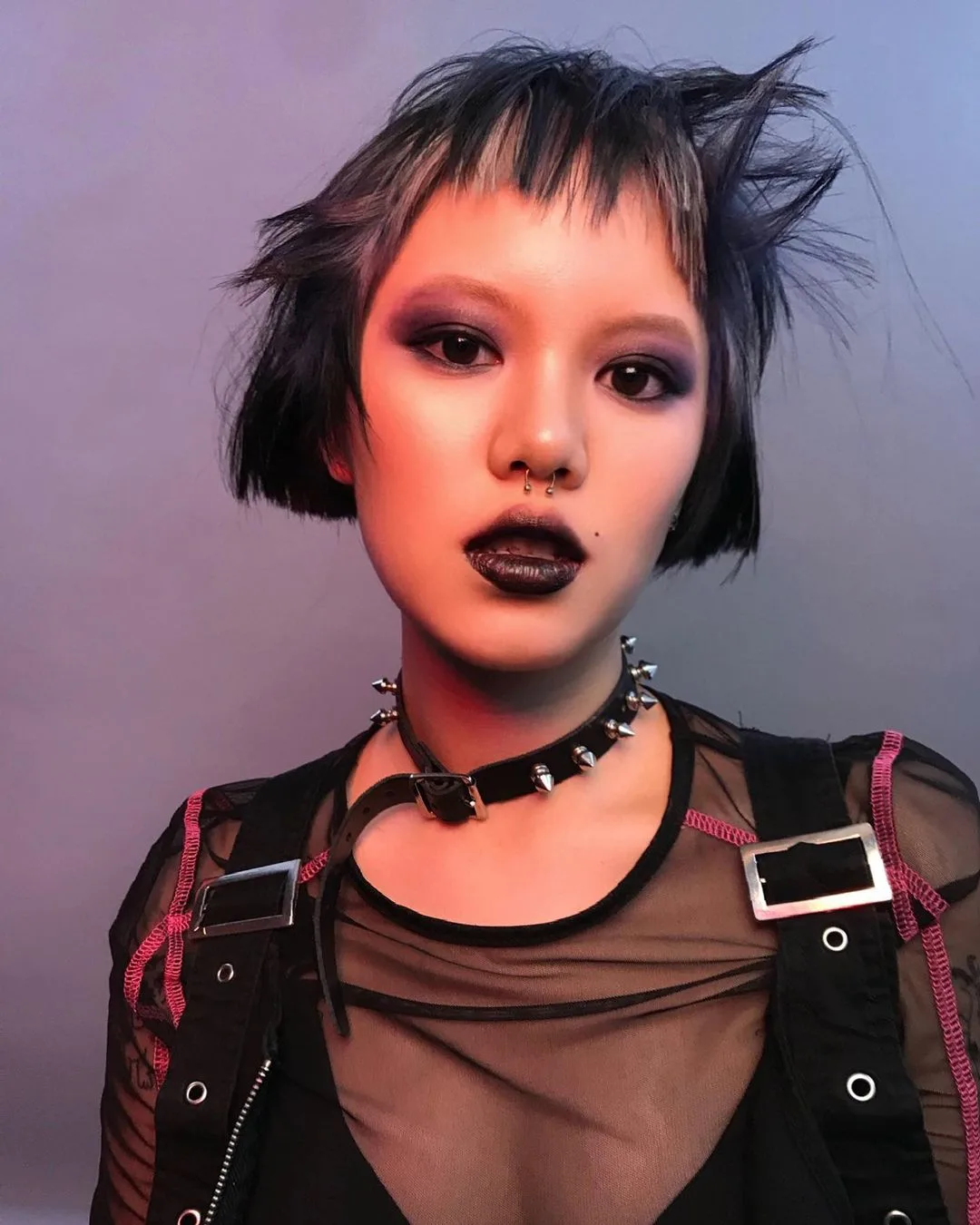 Razor-cut short choppy bangs add another level of cool to a blunt, textured bob. Play with how you style your edgy choppy bob to achieve various effects; here, the effortless impression is created through intentionally messy styling.
3. Choppy Short Layered Bob With Bangs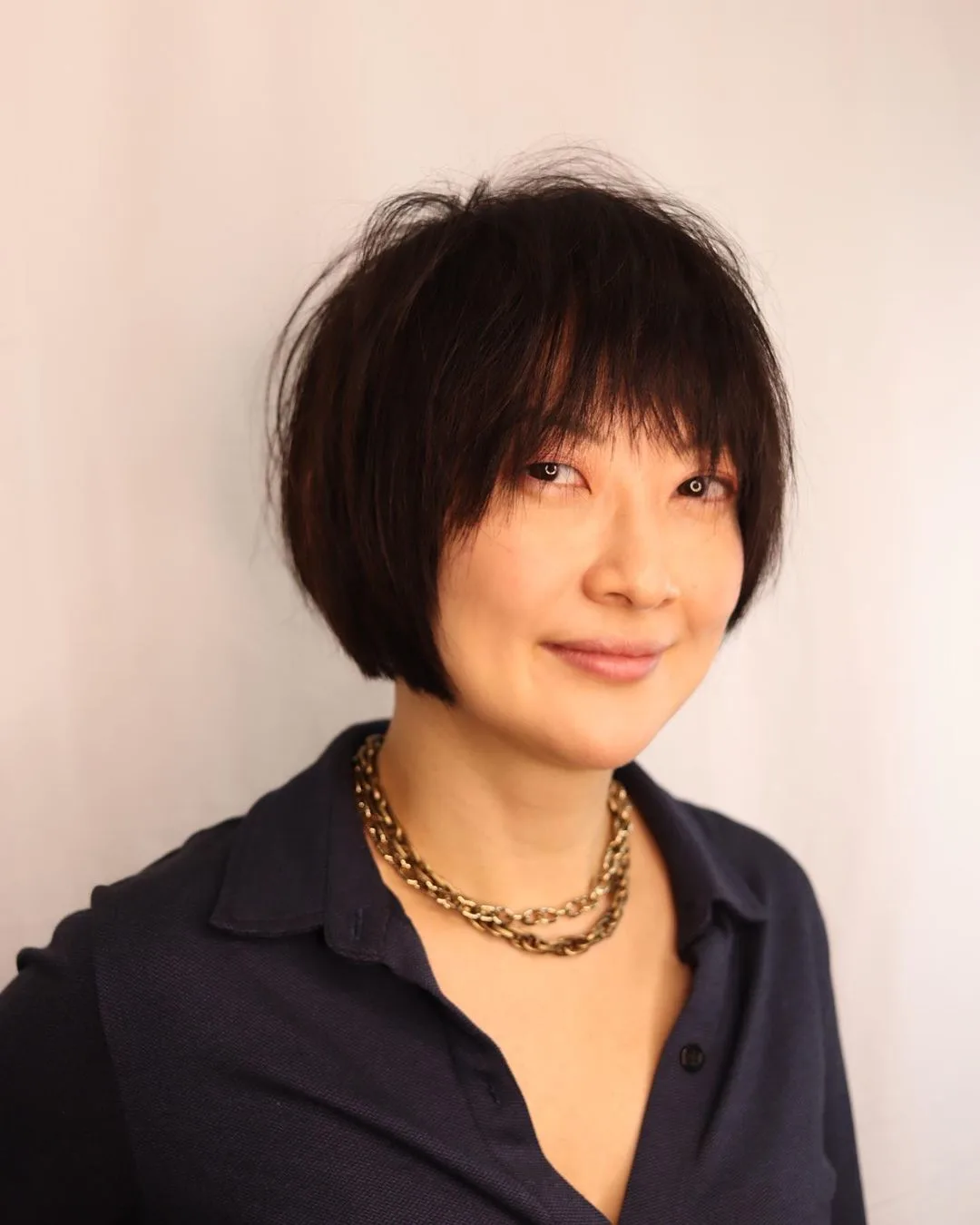 You can go choppy without going edgy—the choppy trend is all about lived-in, relaxed style instead of a polished and sleek look. This soft bob has been transformed with texturizing layers and razored fringe.
4. Choppy Short Hairstyle For Thick Hair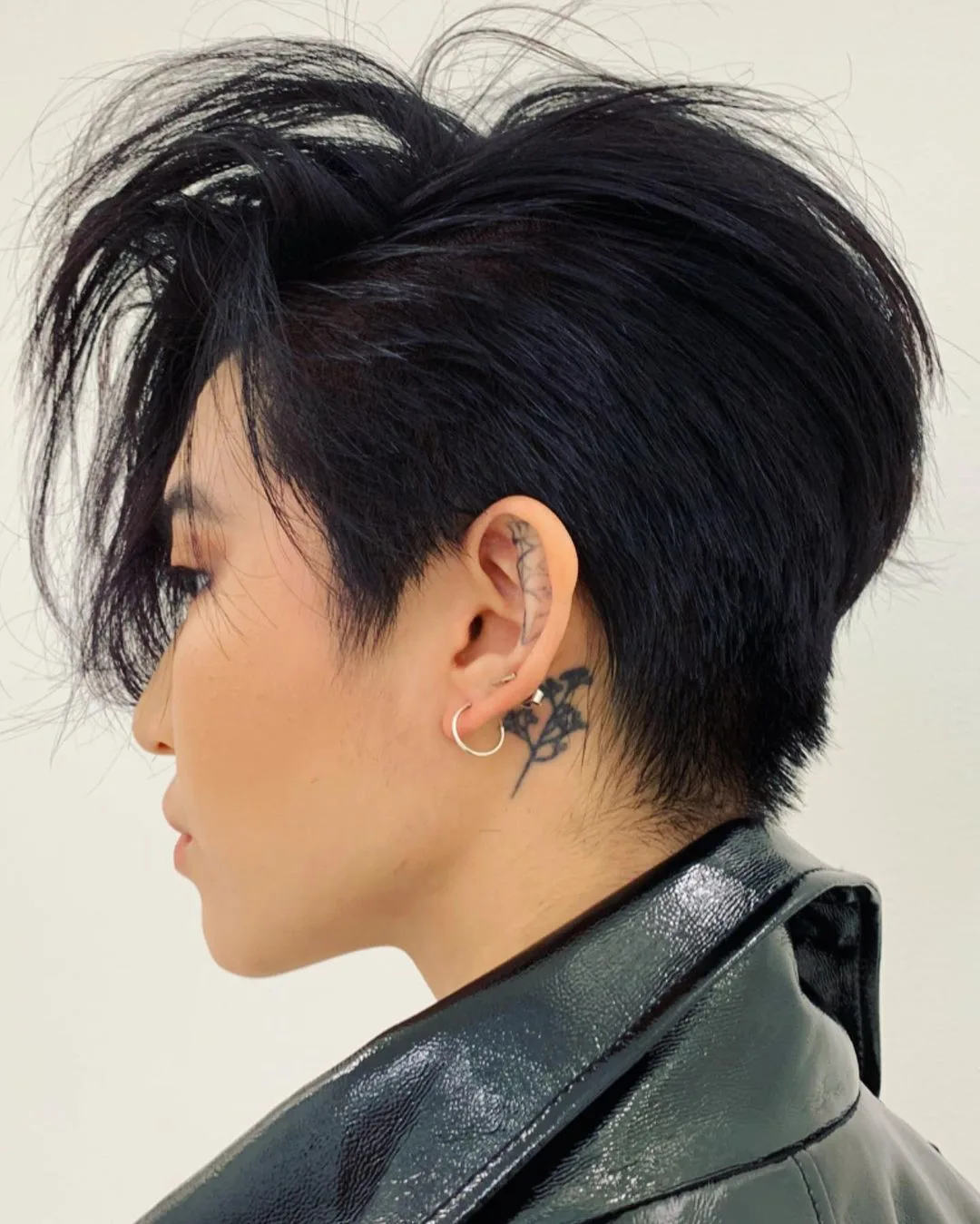 This asymmetrical pixie with long bangs is it if you're looking for a low-maintenance choppy short hairstyle for thick hair that still has some movement. Short sides and back take care of a lot of bulk typical for thick hair, but the bangs leave a lot of room for playing.
5. Short Bob With Choppy Bangs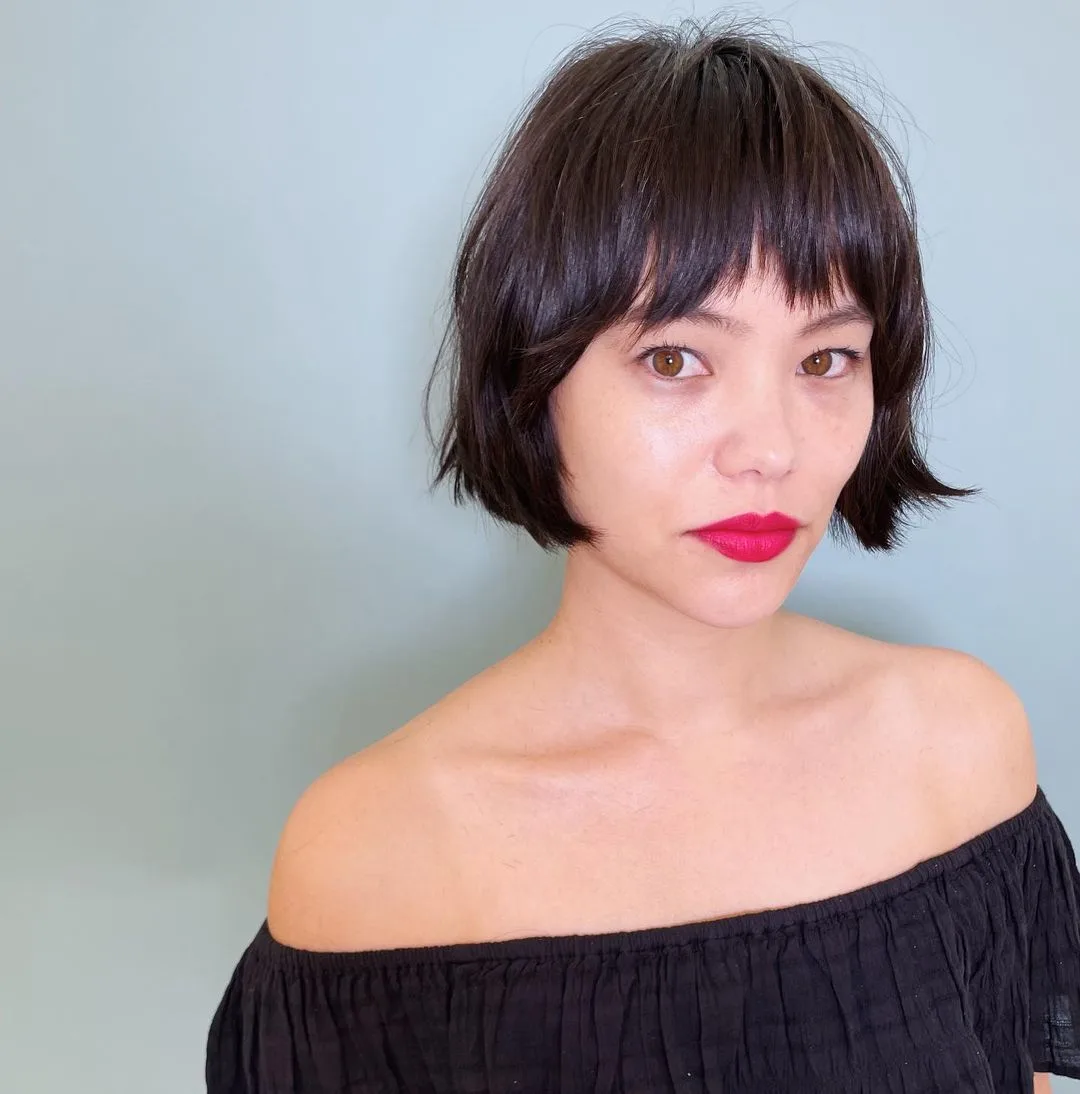 Chin-length choppy French bob with even choppier fringe is modern, cute, and super easy—texturizing layers create enough movement that it never falls flat, and it looks best with the natural texture so you don't have to spend too much time styling it.
6. Shaggy Choppy Haircut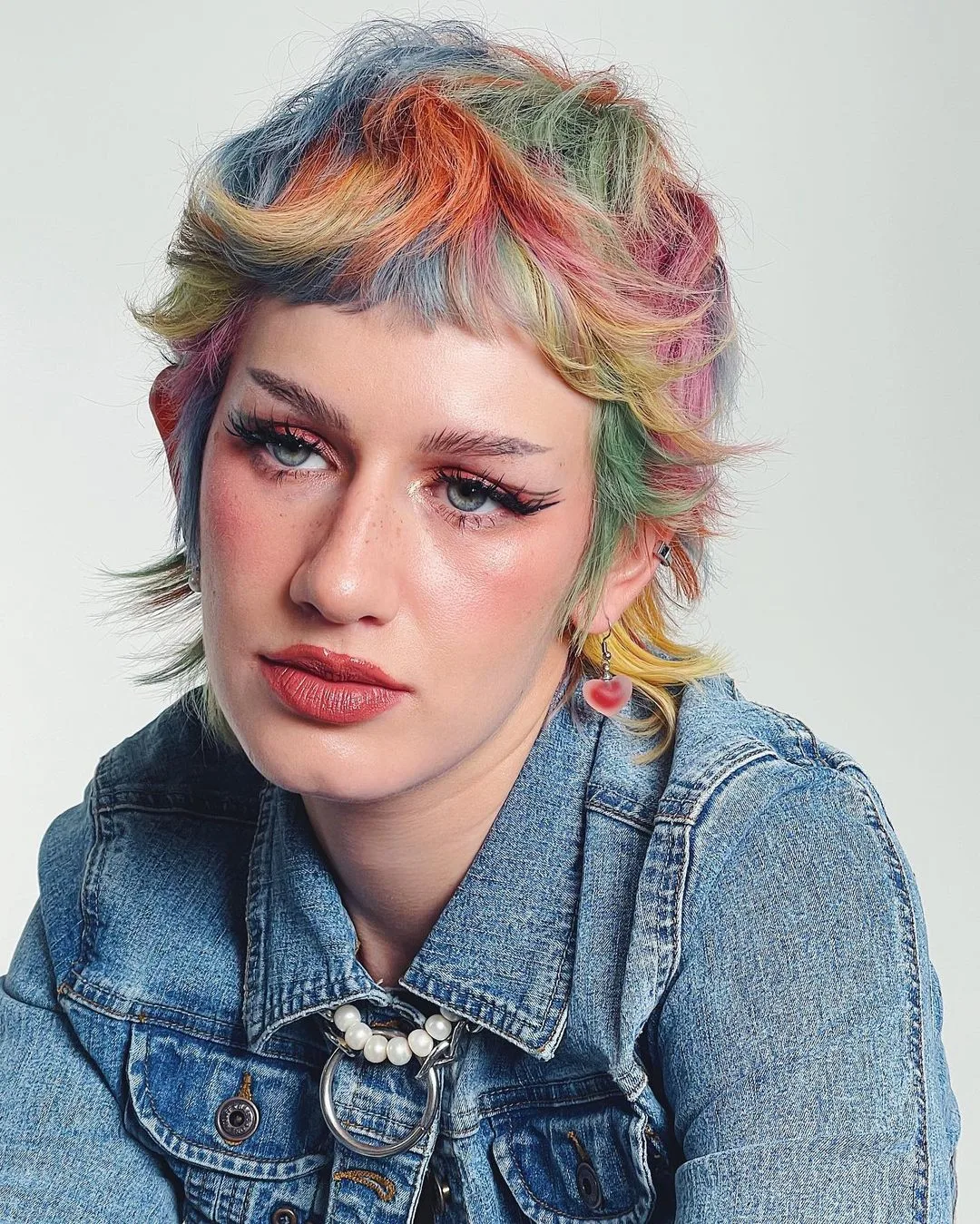 Shaggy hair is the trend of the year, and choppy, shaggy mullets are the short hair variant everyone wants. Play with the length of bangs and layers to find the perfect combination for you!
7. Fluffy Choppy Pixie Cut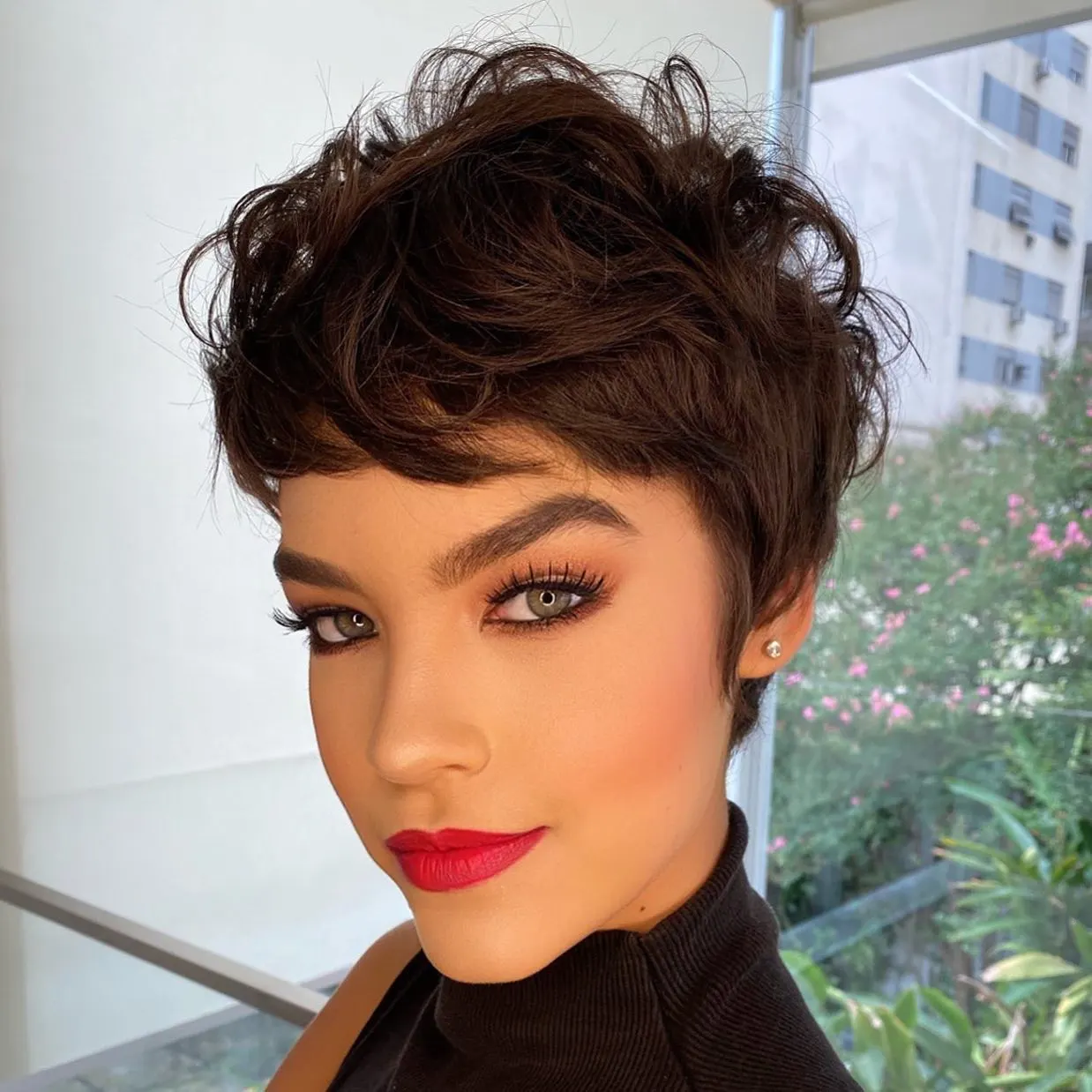 This cute messy pixie cut can be styled straight to emphasize the choppy layers, or you can curl the strands for a softer, more romantic look.
8. Edgy Choppy Bixie Cut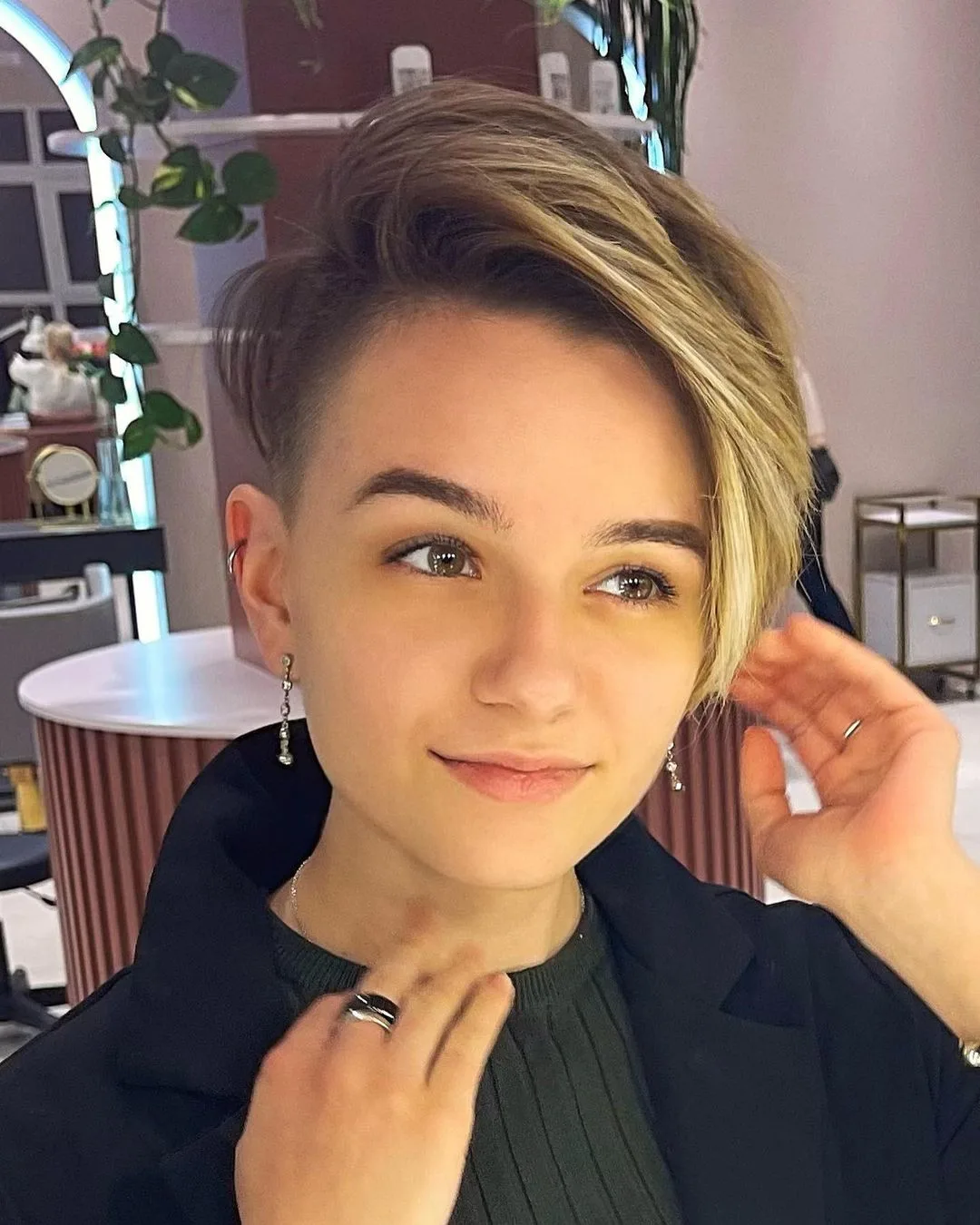 Going short can be intimidating and a way to ease yourself into it is by leaving your bangs longer. This asymmetric look has choppy ends and an undercut, but the long bangs still give you the comfort of face-framing.
9. Short Curly Messy Haircut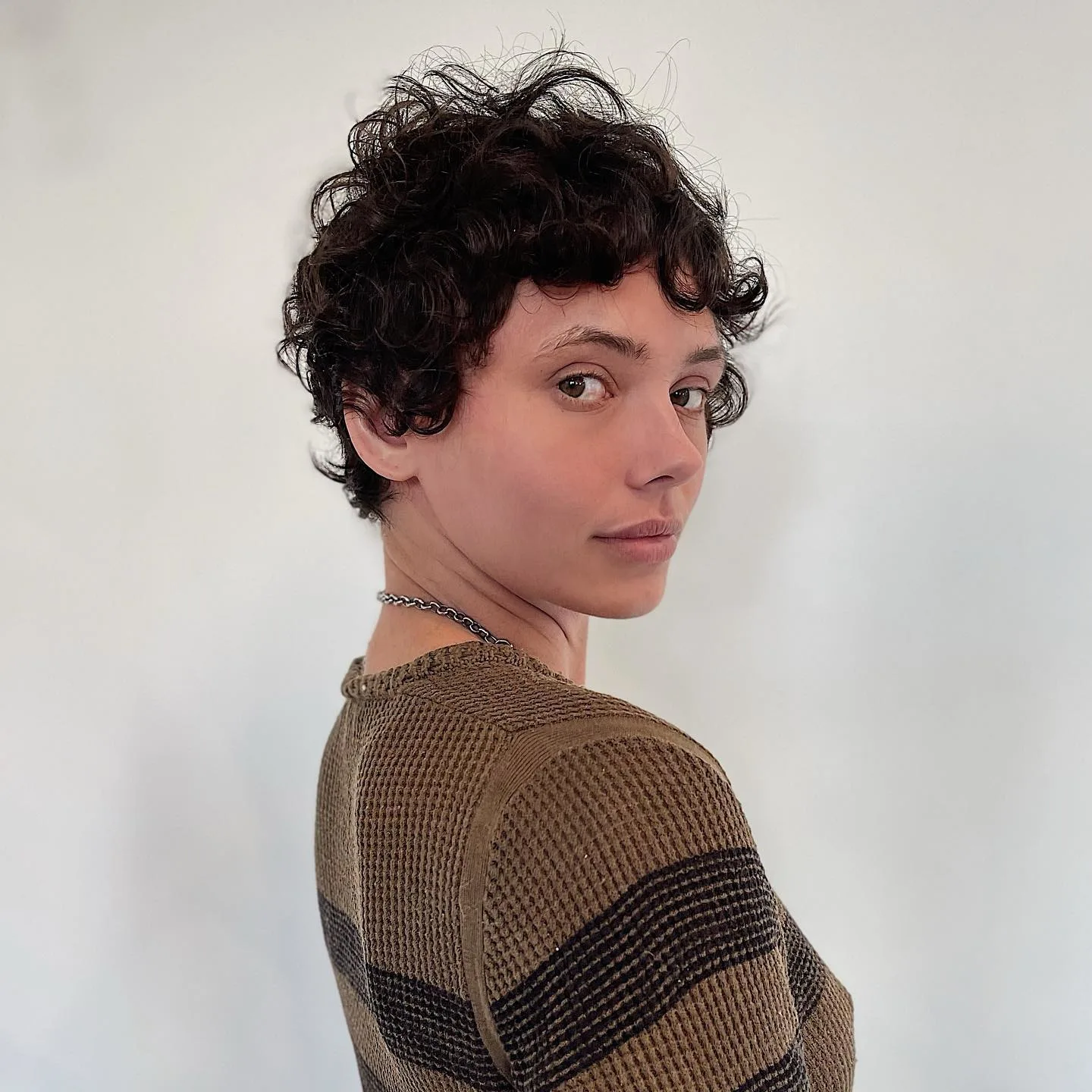 Short choppy haircuts are not for straight hair only—short layers that work with your texture can create a messy, lived-in look.
10. Choppy Bob With Bangs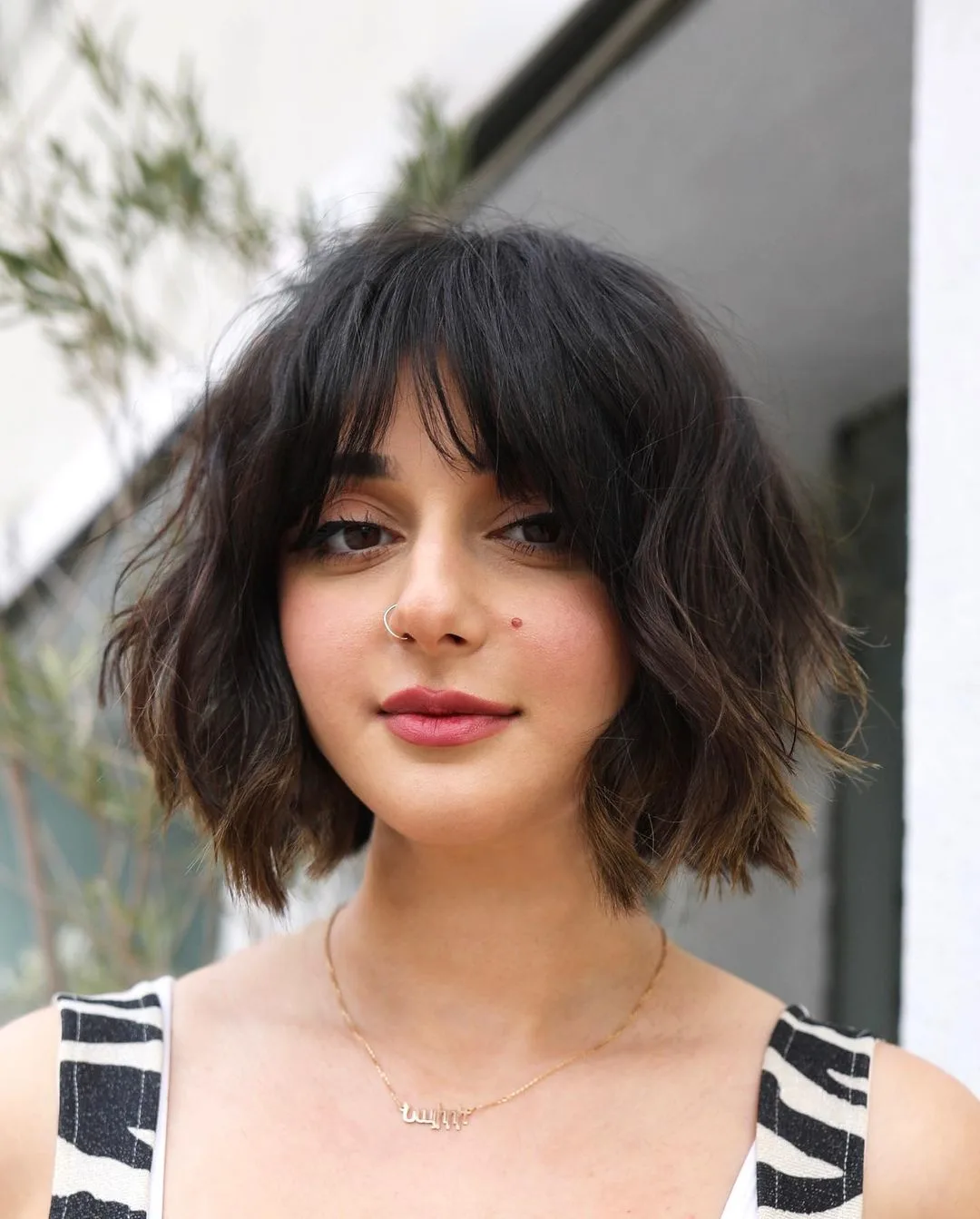 The beauty of a choppy bob is that it's short yet versatile—it's the obvious choice when you want something that can be worn in multiple ways and doesn't take ages to style.
11. Choppy Edgy Modern Mullet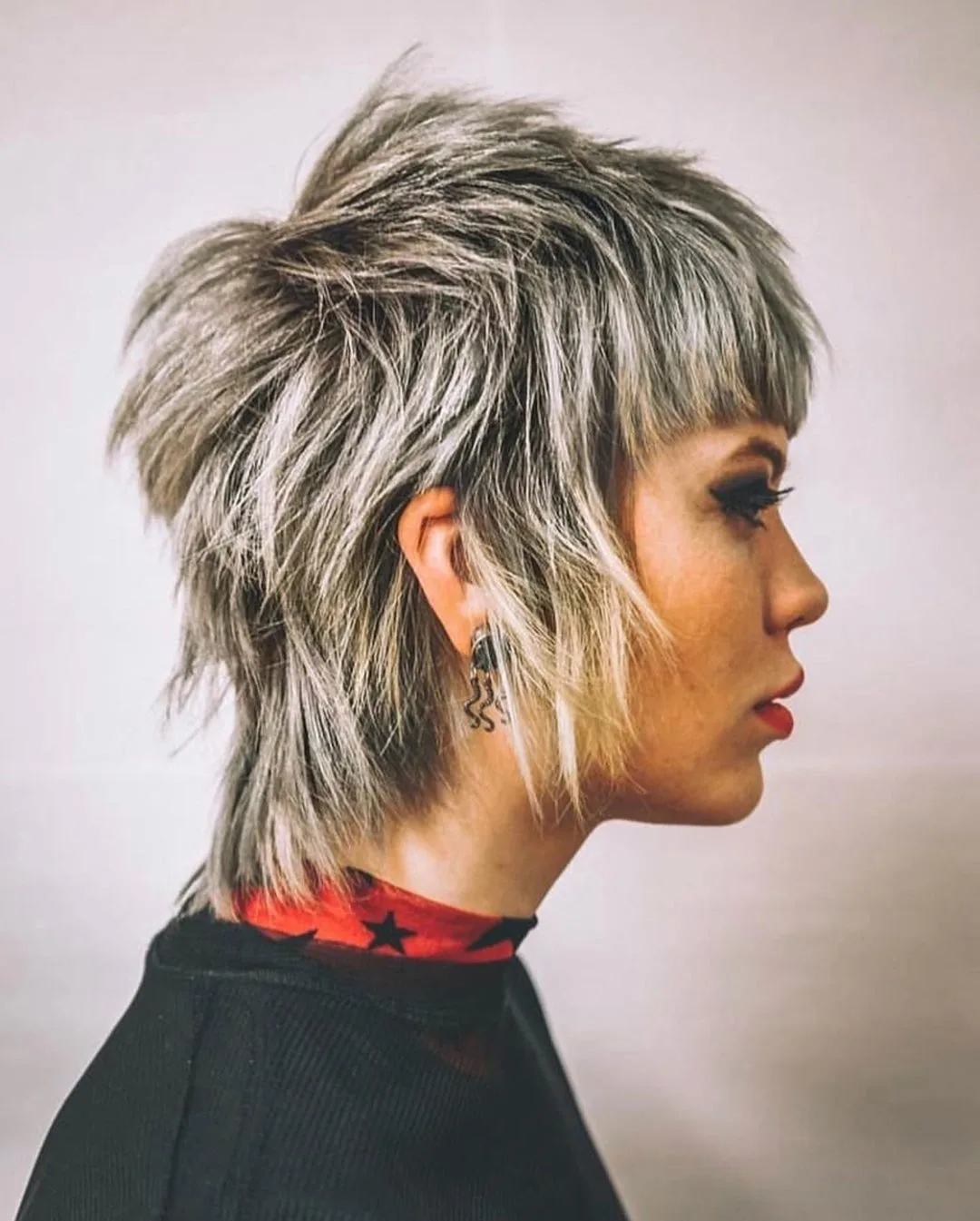 If someone had told you a few years ago that choppy mullets were coming back, would you have believed them? Well, here we are—this edgy cut is one of the biggest trends of the year.
12. Edgy Short Choppy Haircut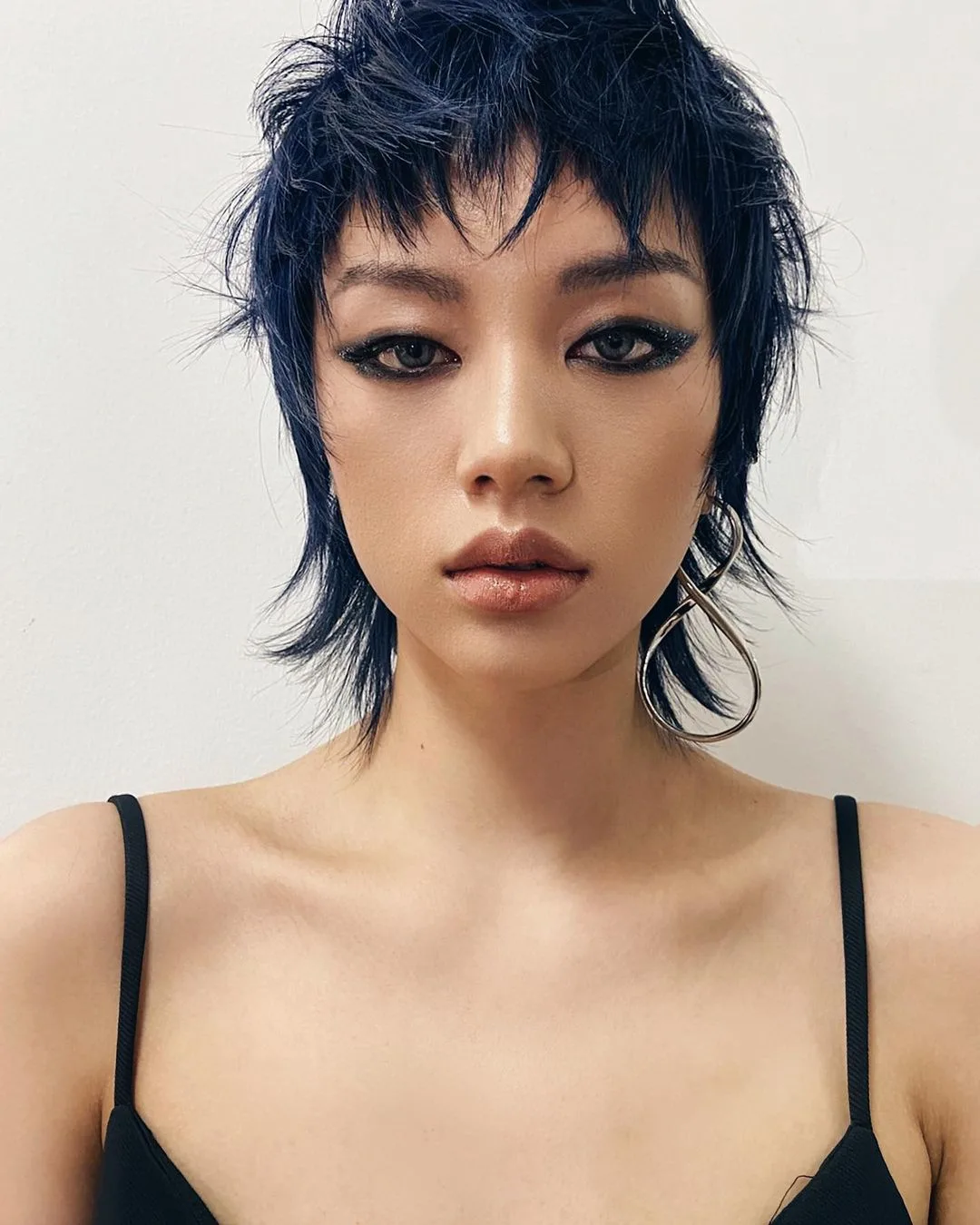 Is it an overgrown pixie, a short shag or a baby mullet? No matter what you call it, this edgy yet cute haircut won't fail to leave an impression.
13. Short Haircut With Choppy Bangs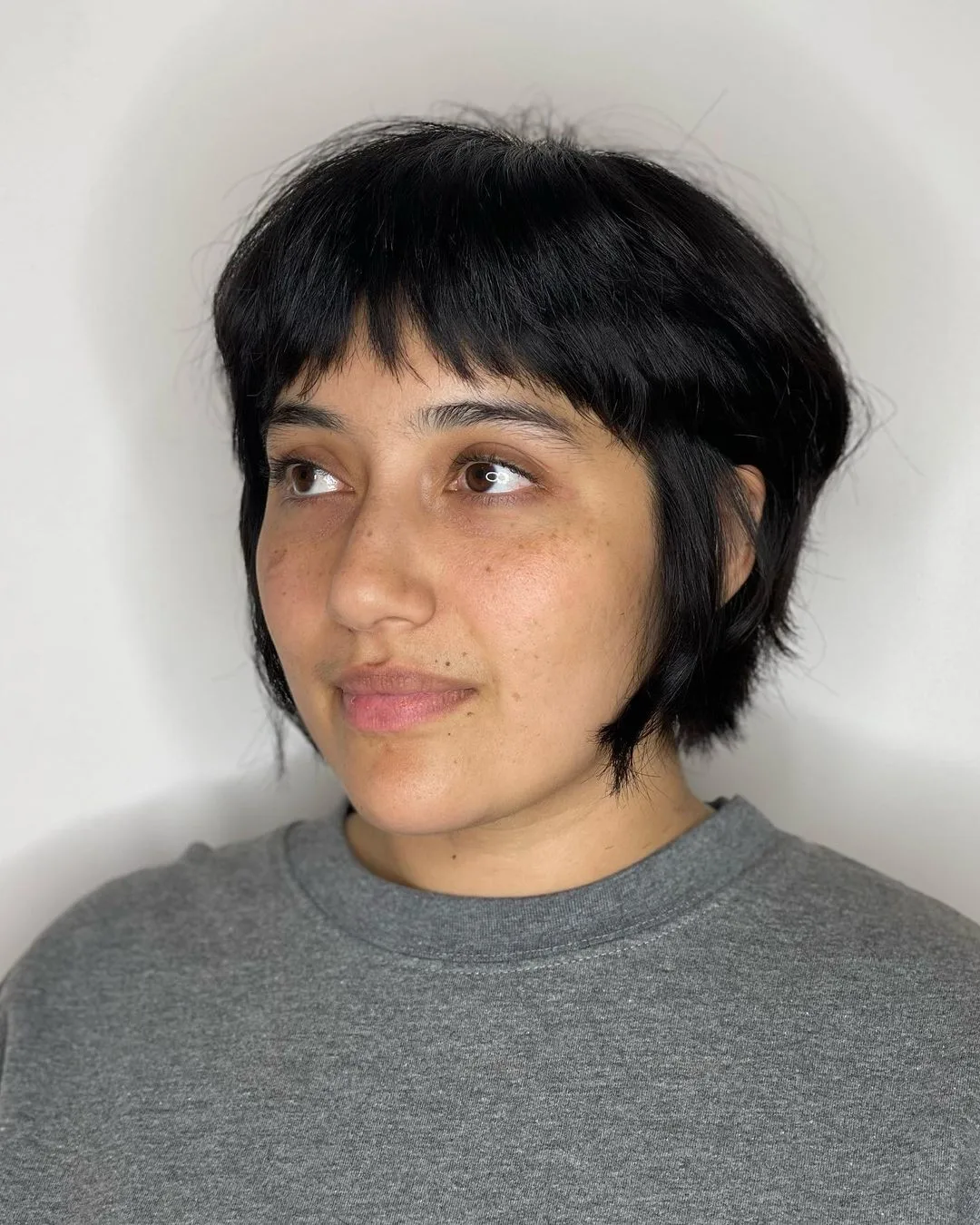 Choppy layers can look chunky on thick hair, so before cutting your hair shorter than above the ear, make sure you let your stylist know how it behaves. This hairstyle shows how a bit of tapering on the bottom creates a flattering shape.
14. Short Textured Haircut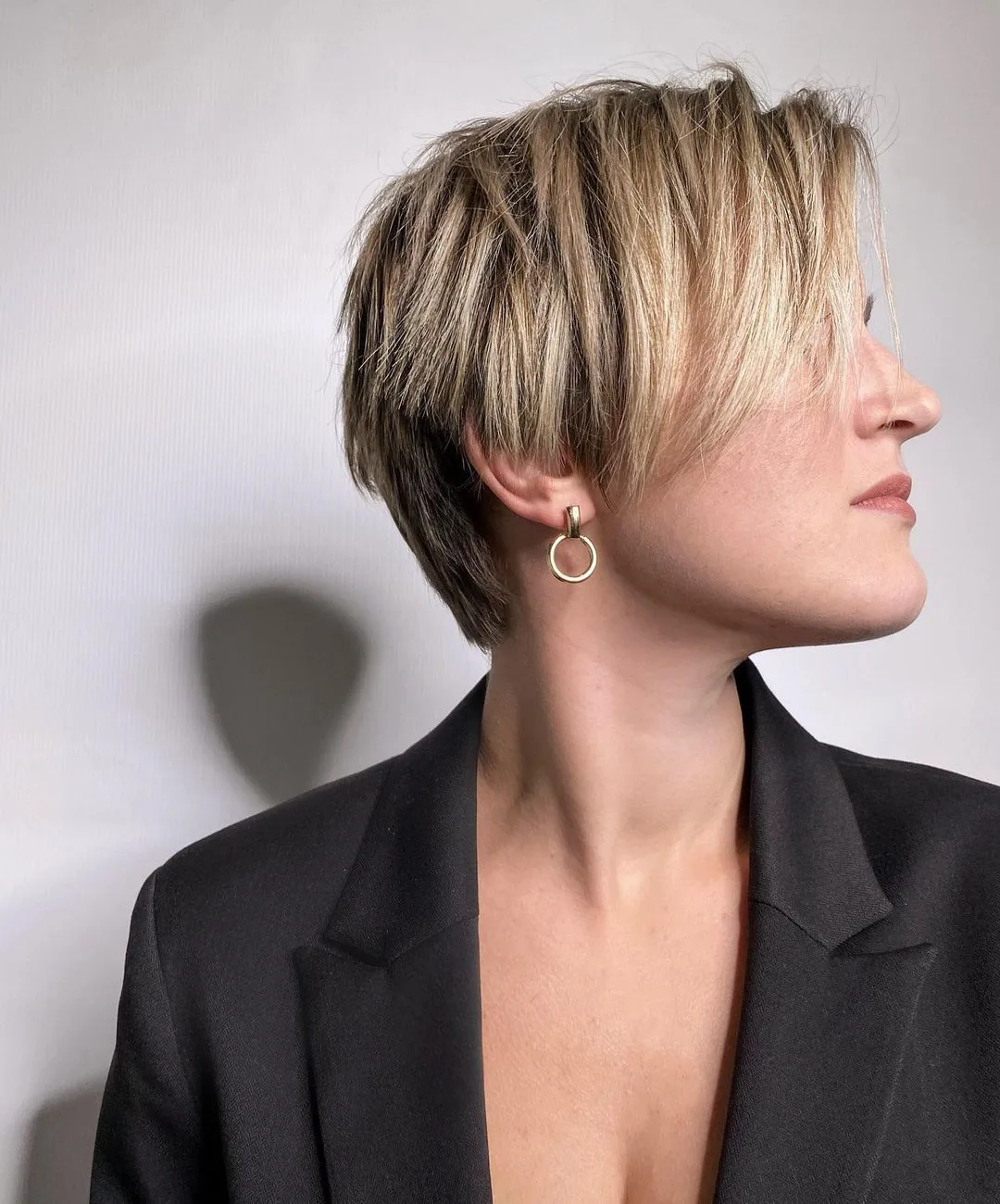 This is a cool, retro style that has a lot of movement despite the short length. A haircut this short might seem risky, but it can work on all face shapes if the front part is adjusted to suit you. For instance, long, tapered bangs will flatter a round face, whereas a shorter fringe will look amazing if your face is longer.
15. Layered Choppy Short Bob For Fine Hair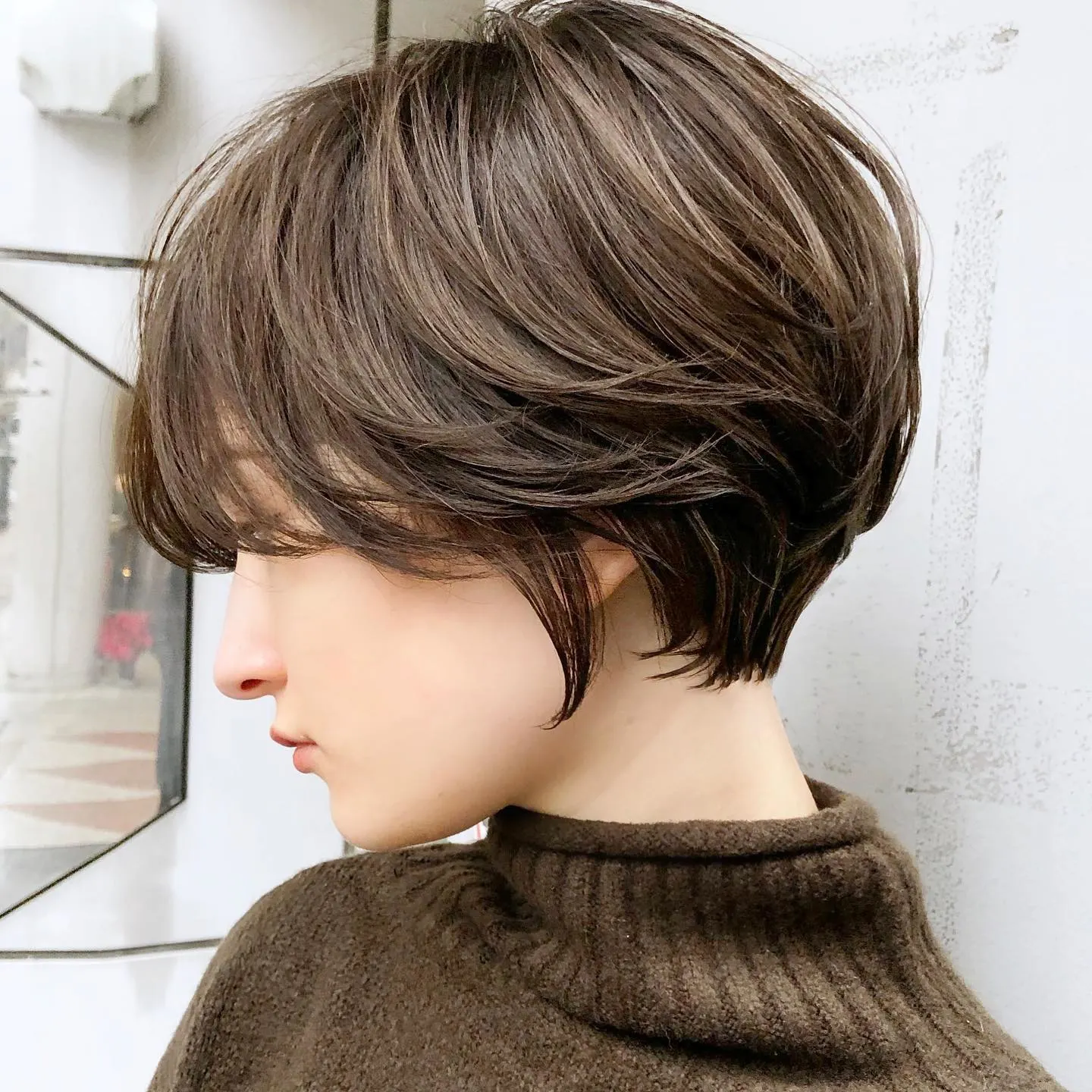 A short bob with bangs the same length as the shortest layer in the back creates a rounded shape, but because the layers are choppy, it doesn't become a stacked bob. To keep it looking piece-y, use a texturizing product, such as pomade or cream.
16. Short Edgy Shaggy Hair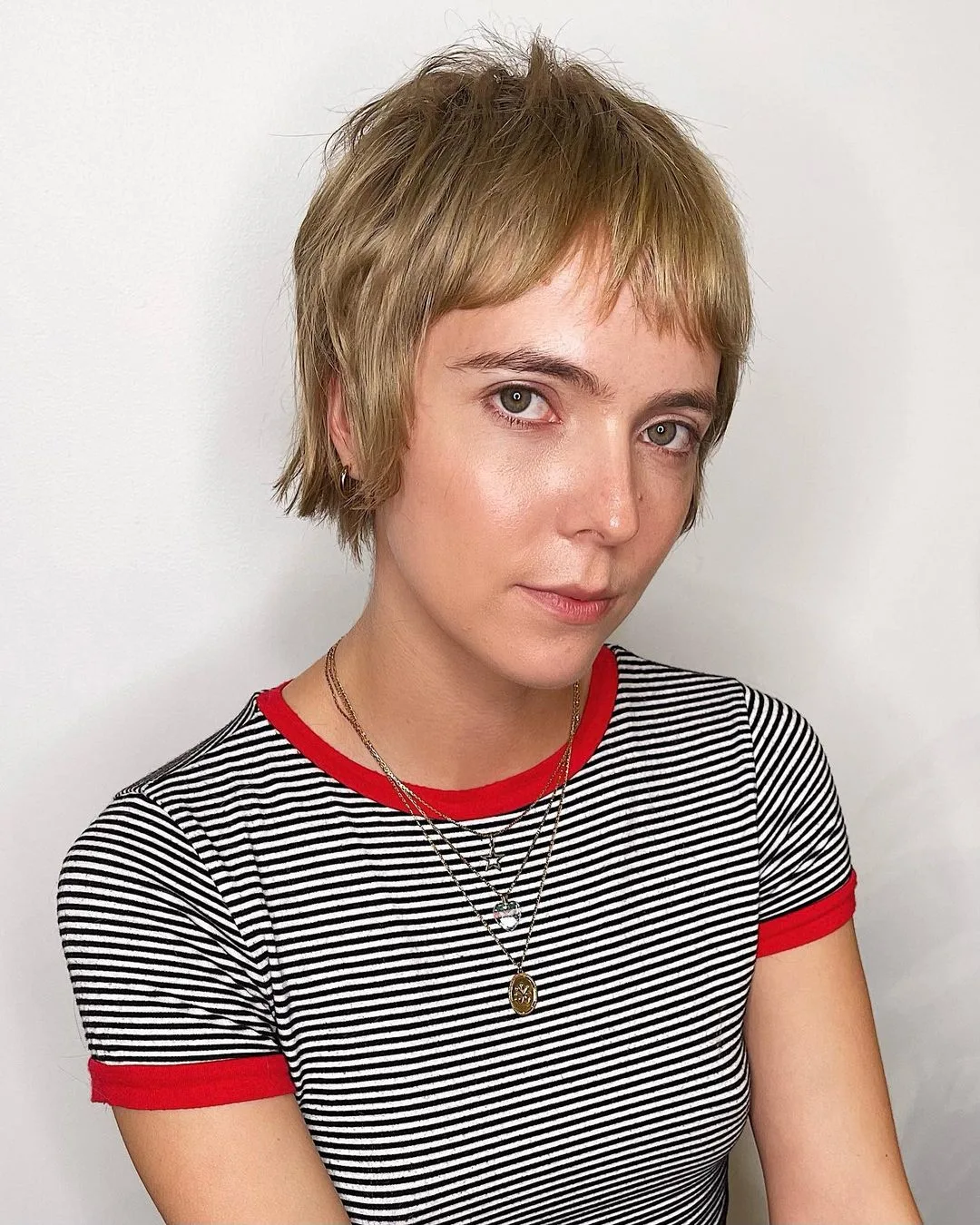 A shaggy style can be used to make your hair look fuller—very short layers on the top of the head not only give this style a bit of spice, but they also create volume.
17. Choppy Bob Haircut With Bangs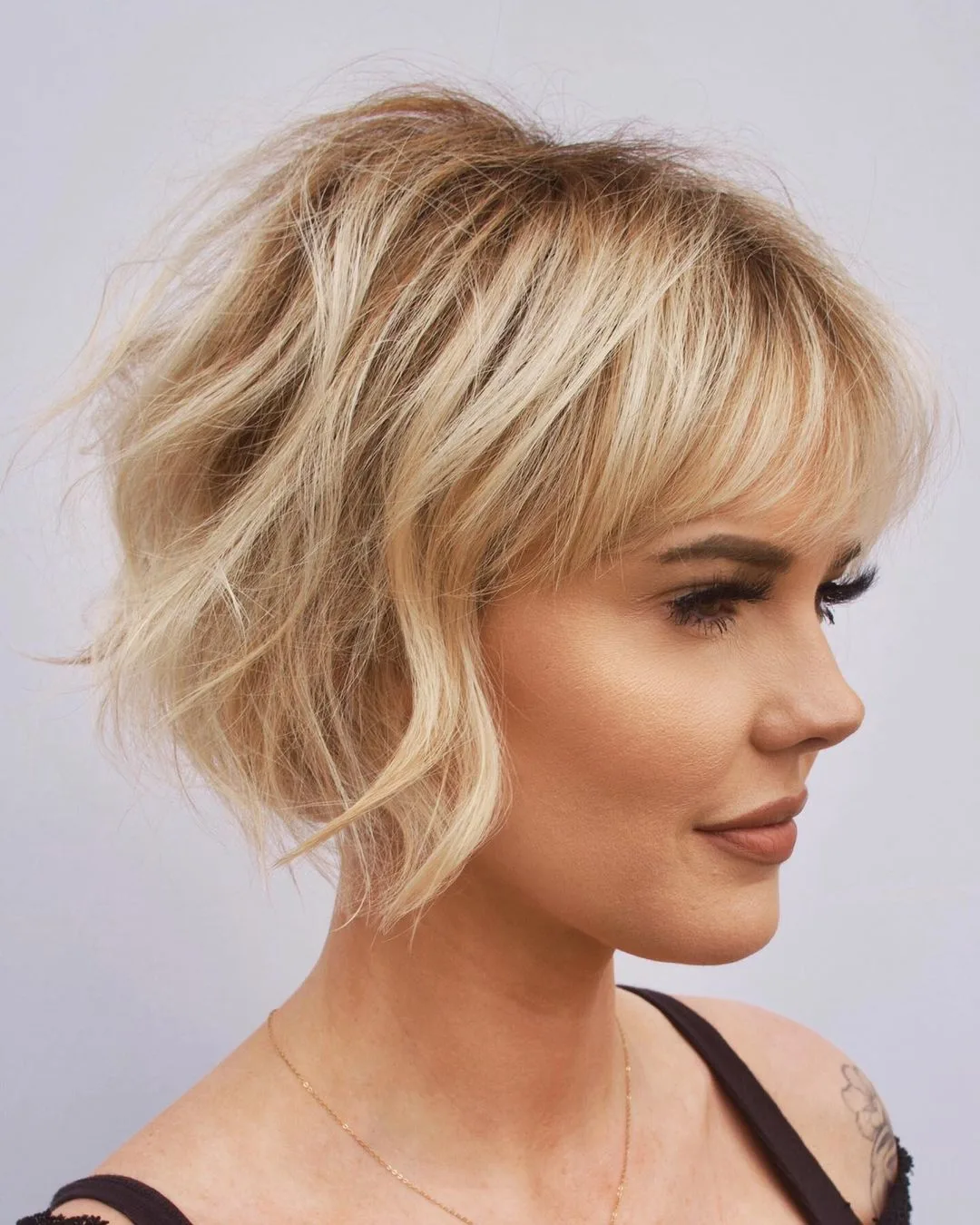 A bob with bangs is a classic, so when you're bored with a polished look, add some choppy layers to create a cool bedhead style.
18. Short Choppy Bob With Blunt Bangs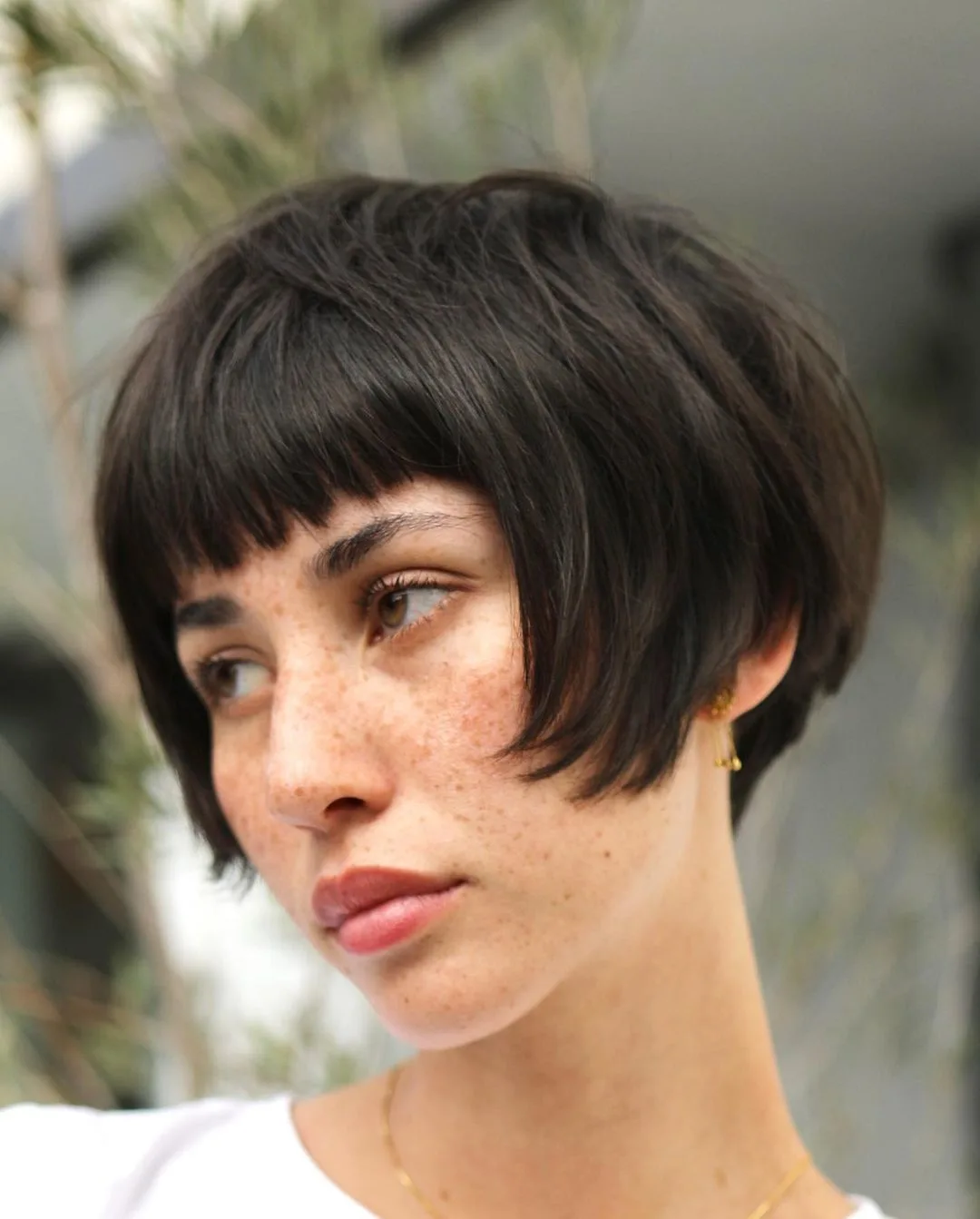 The French bob with a twist—the choppy layers and the shorter length change the shape of the overall style, giving it a playful vibe.
19. Choppy Layered Curly Hair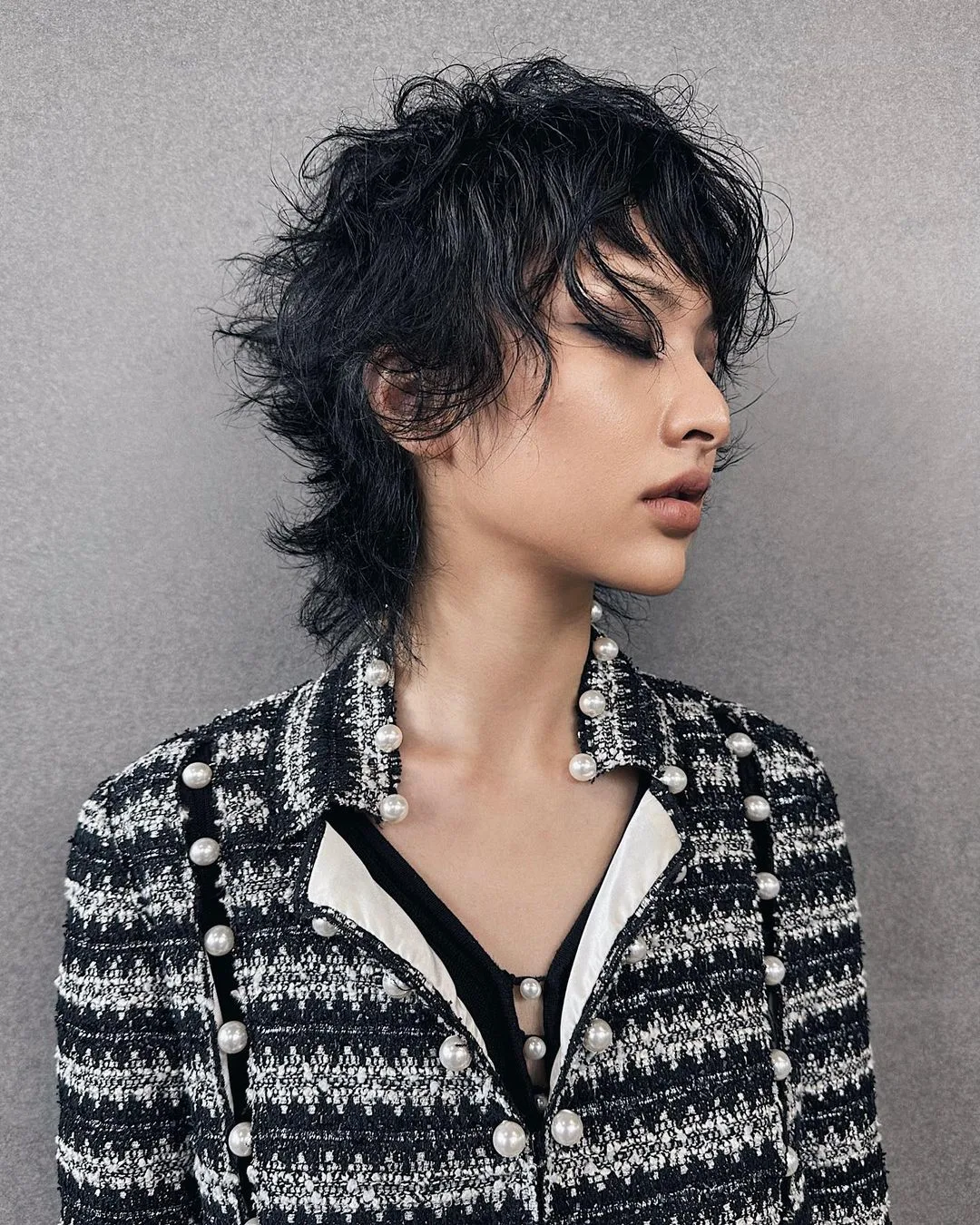 A choppy, modern shag is perfect for wavy hair because short layers work well with this type of hair texture. When it's longer, 2b/2c hair type easily loses curl unless you're careful while styling it, but when it's shorter, keeping it wavy requires minimum effort.
20. Choppy Bob For Thin Hair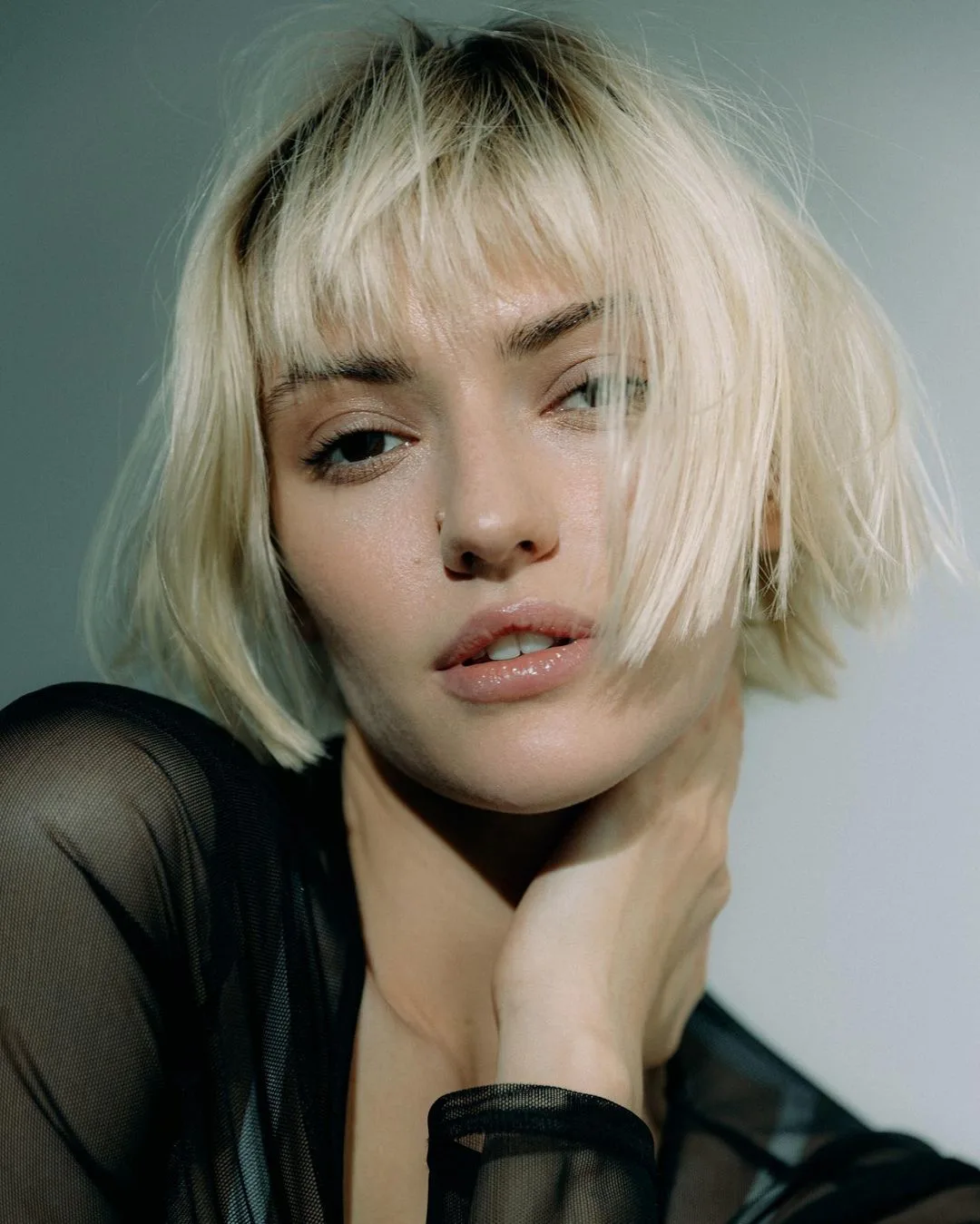 Give your thin hair a boost with choppy layers! Any choppy style you pick is sure to create volume, but if you also want to keep a bit of length, you can't go wrong with a textured blunt choppy bob.
21. Messy Short Choppy Haircut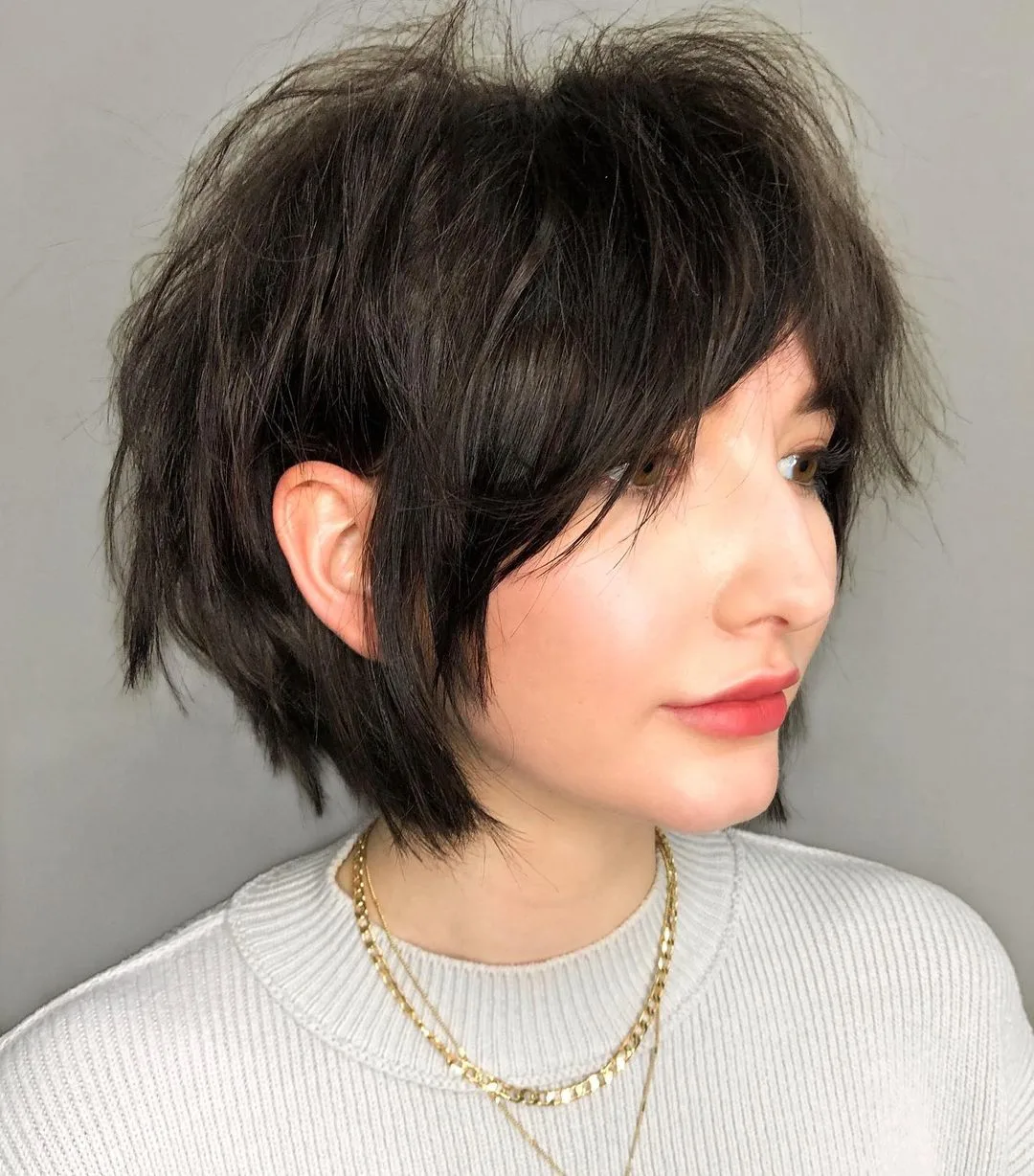 When styling haircuts that have a lot of choppy layers, blow-drying them inward can result in an old-fashioned look that looks stuffy or dowdy. Instead, keep the layers straight and separated, like it was done for this cute and playful look.
22. Long Choppy Messy Pixie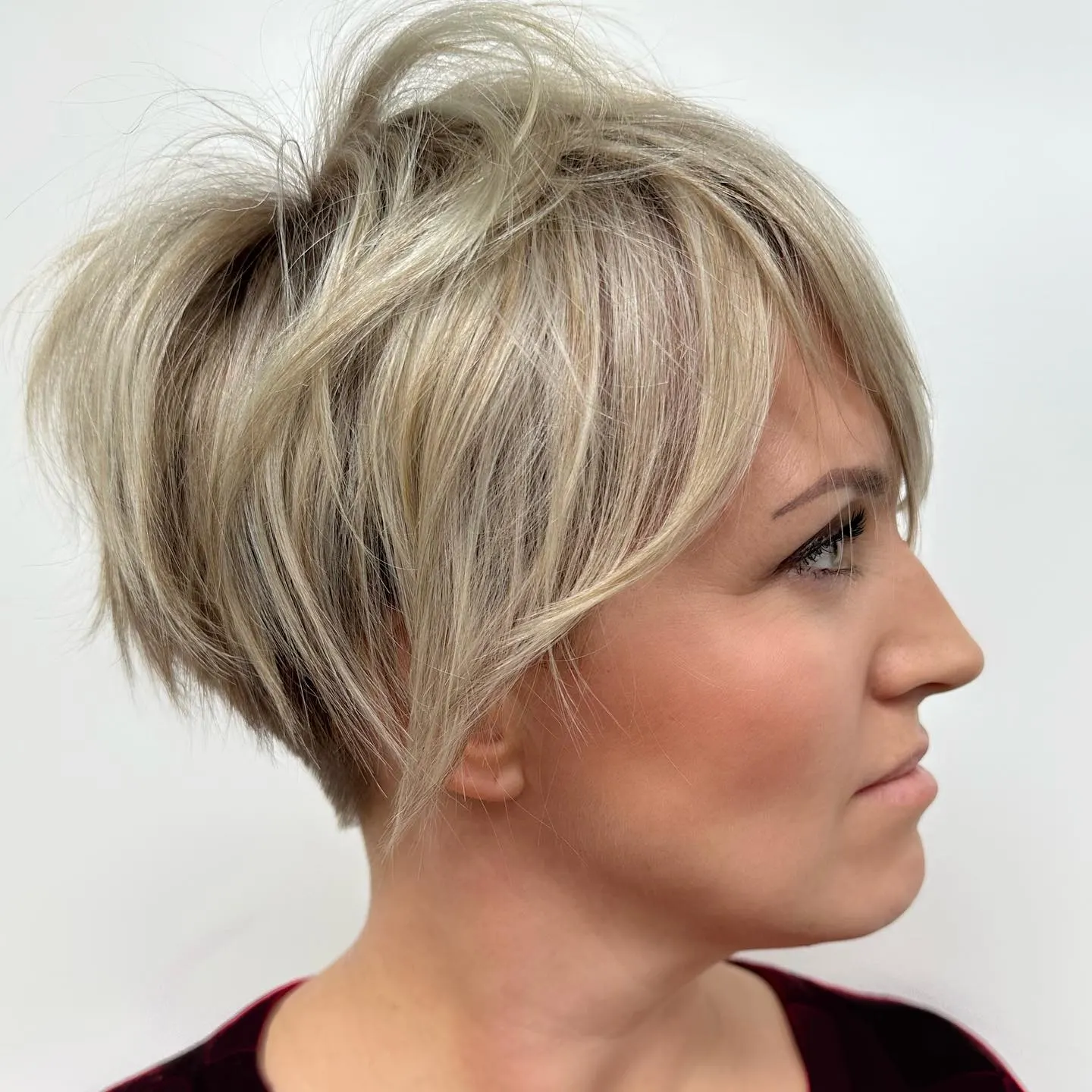 Short layers at the crown create lift, so paired with a longer type of bangs that create a face-framing look, this style gives an appearance of thicker hair.
23. Messy Short Choppy Hairstyle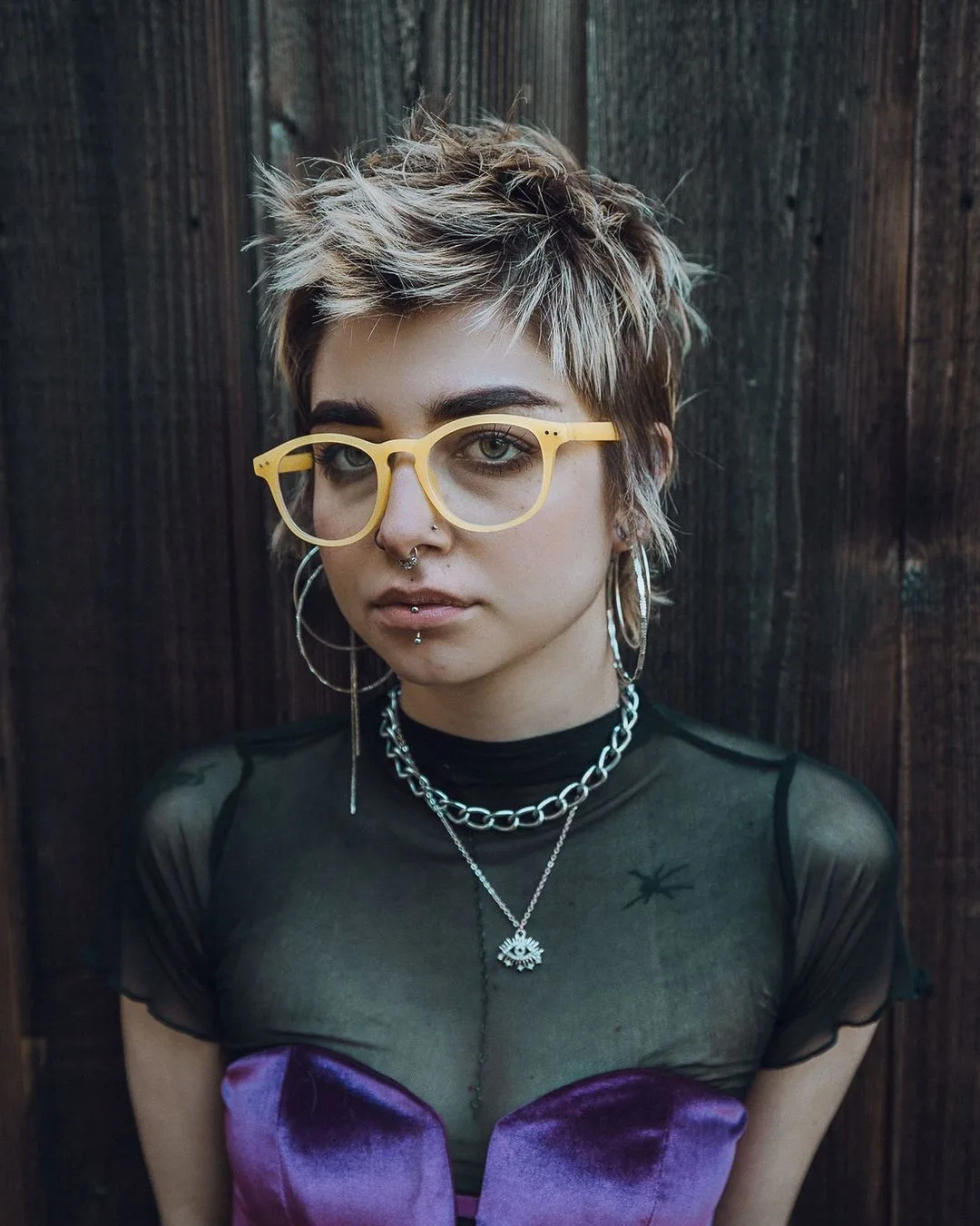 A mullet looks great on all genders, and it's one of the most popular short non-binary haircuts. Create definition with a product that has hold, yet doesn't weight the hair down. To avoid crunchy short hair, instead of hair gel, go for wax or cream and keep your choppy layers looking soft.
24. Choppy Lob With Curtain Bangs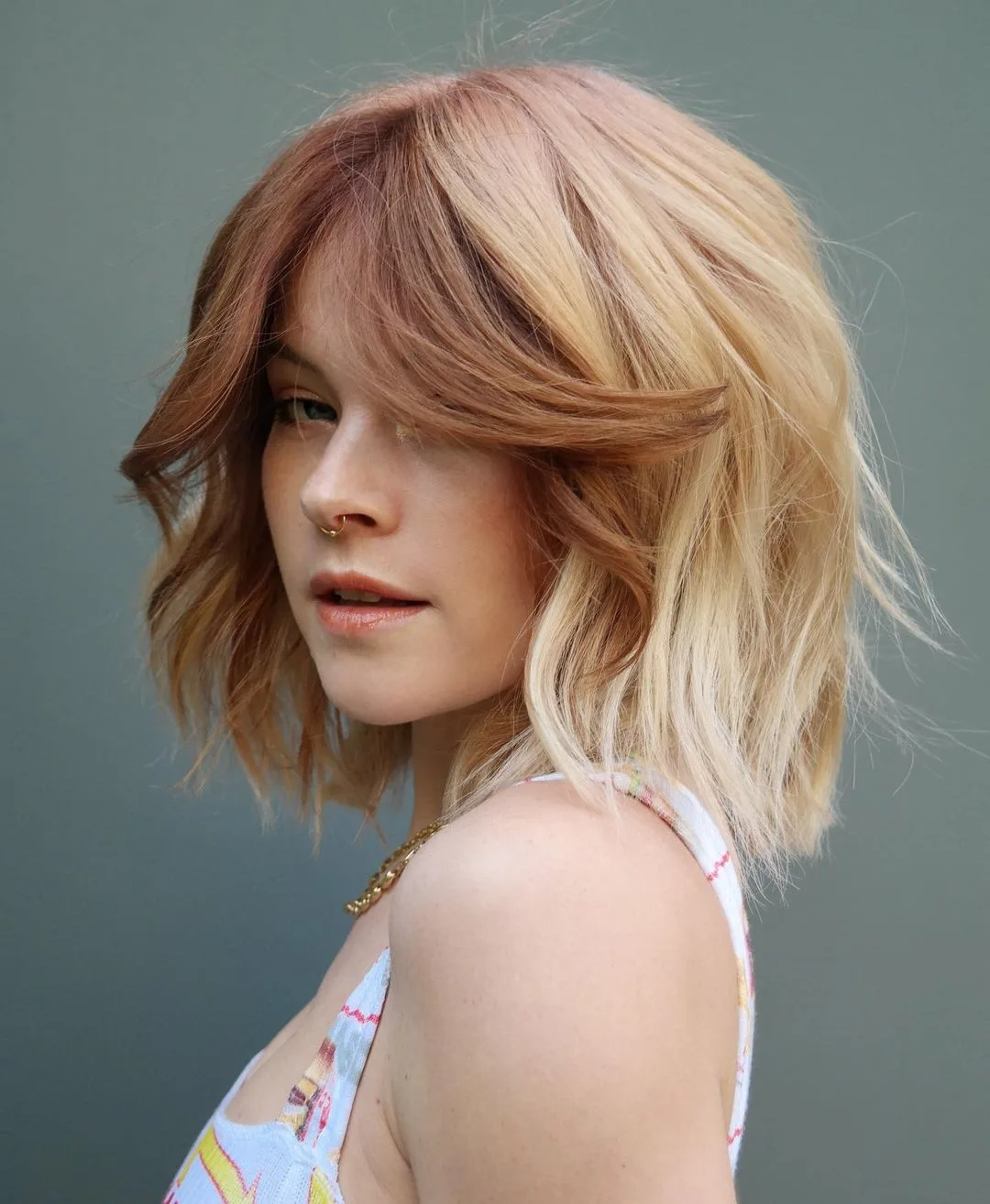 If you're still not ready to go really short, a textured lob is there for you. Blunt ends and choppy layers, along with a shorter fringe will give you that crispy short hair vibe while still leaving plenty of length to play around with.
25. Choppy Shaggy Messy Short Hair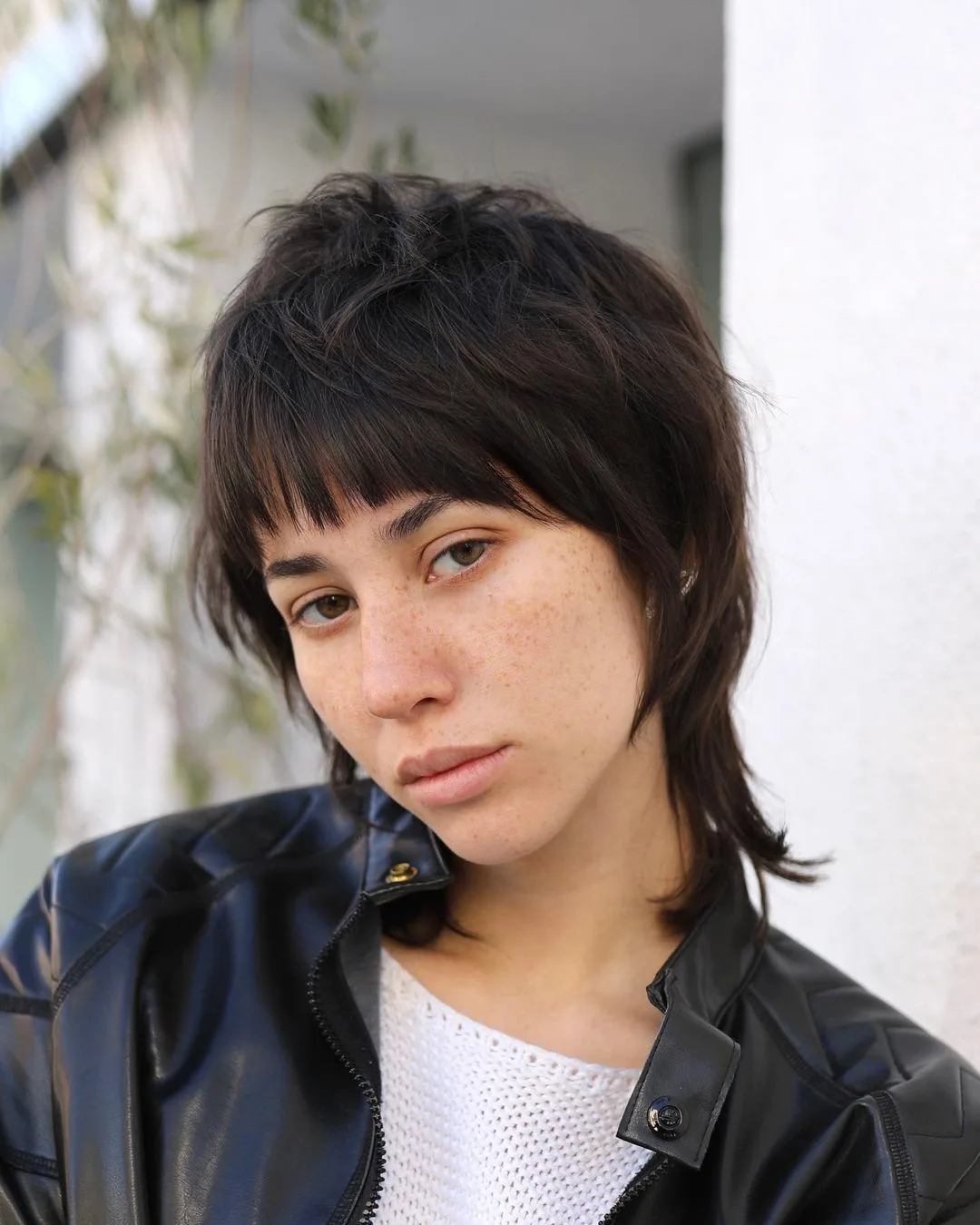 Mullets are on-trend, but not the old, scruffy style that might come to mind. Flattering baby bangs, choppy volume throughout and length in the back to bring together the entire style—that's what today's mullets are all about.
26. Choppy Angled Bob With Bangs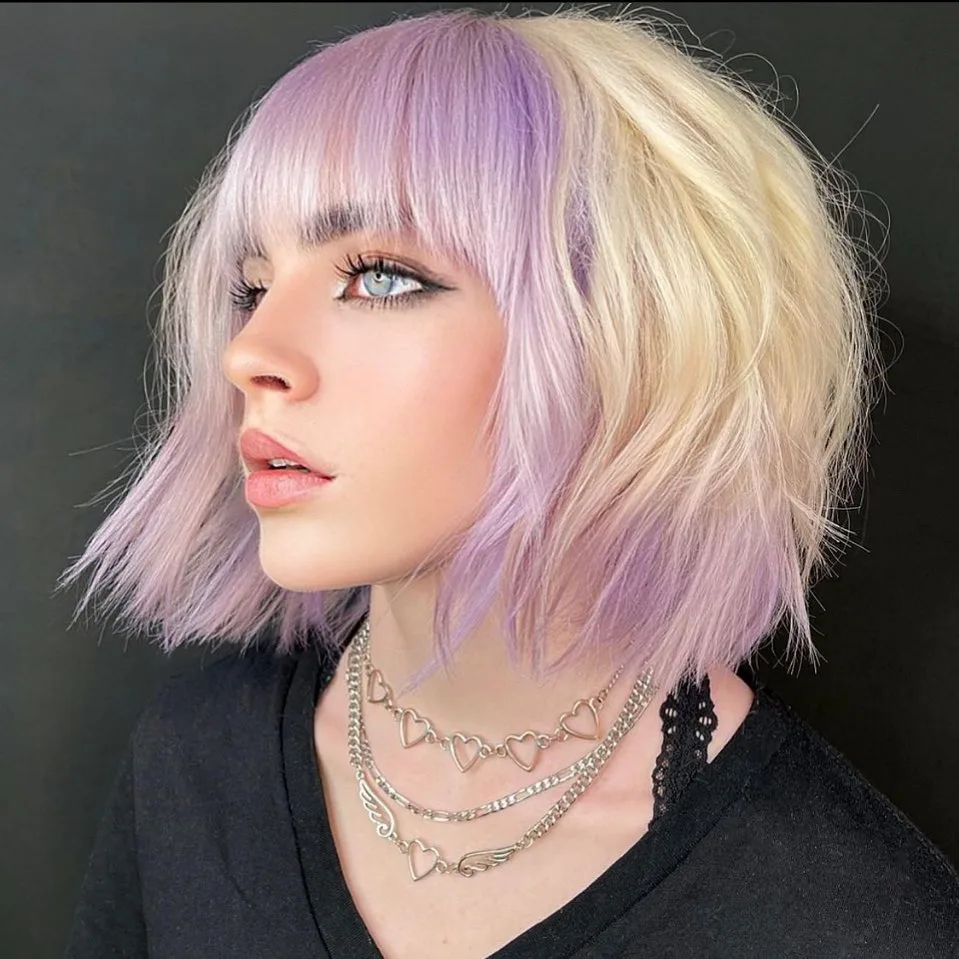 If you prefer textured to sleek hair, angled bob haircuts look effortless and stylish with choppy layers. The longer strands in the front make this style more angular; it would look rounded if they were the same length as the back.
27. Pixie With Choppy Baby Bangs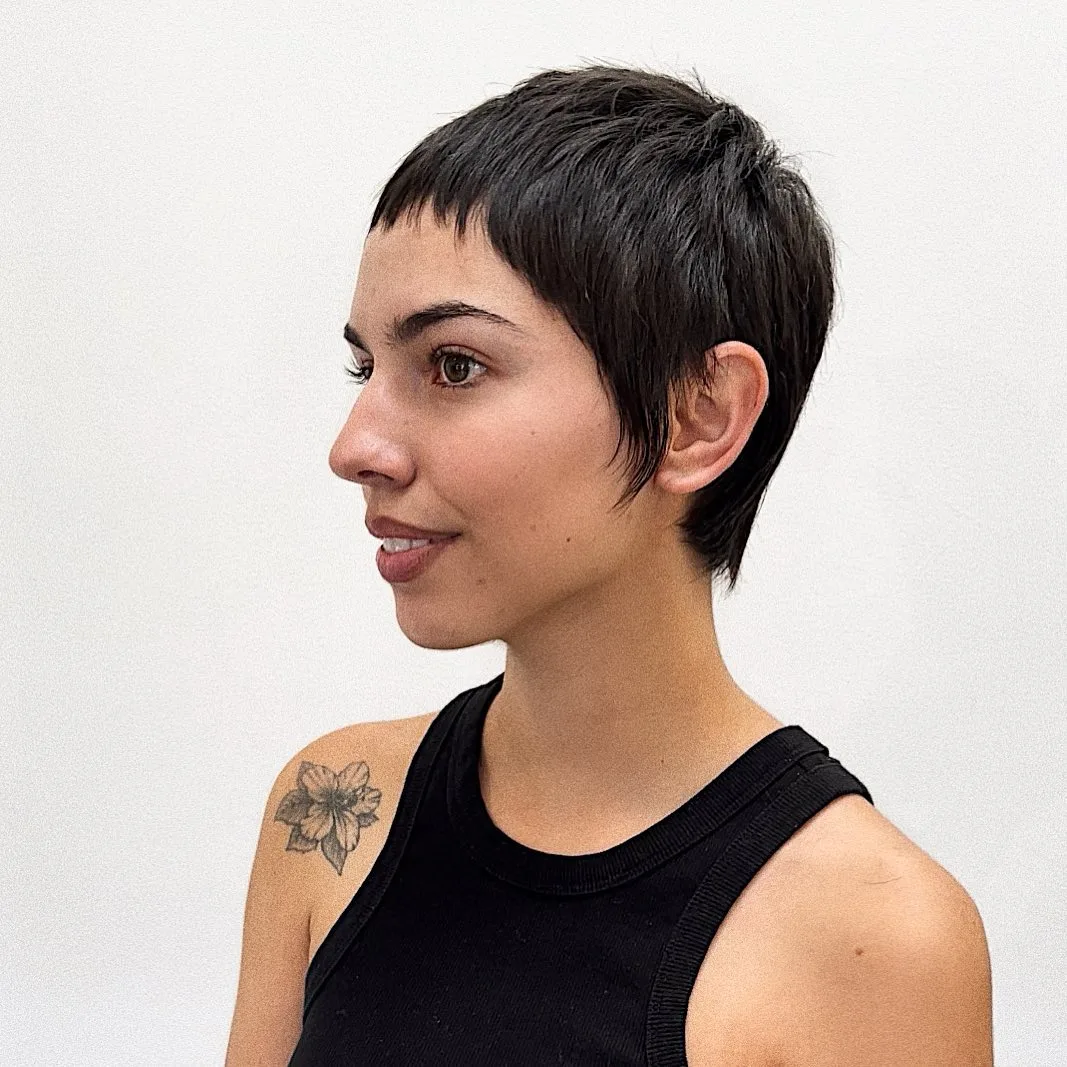 A well-cut short pixie with super-short bangs will really make you look like a magical creature! However, this style will draw attention to your features and make them look larger, so it's most flattering on those with smaller heads and faces.
28. Messy Bob With Choppy Bangs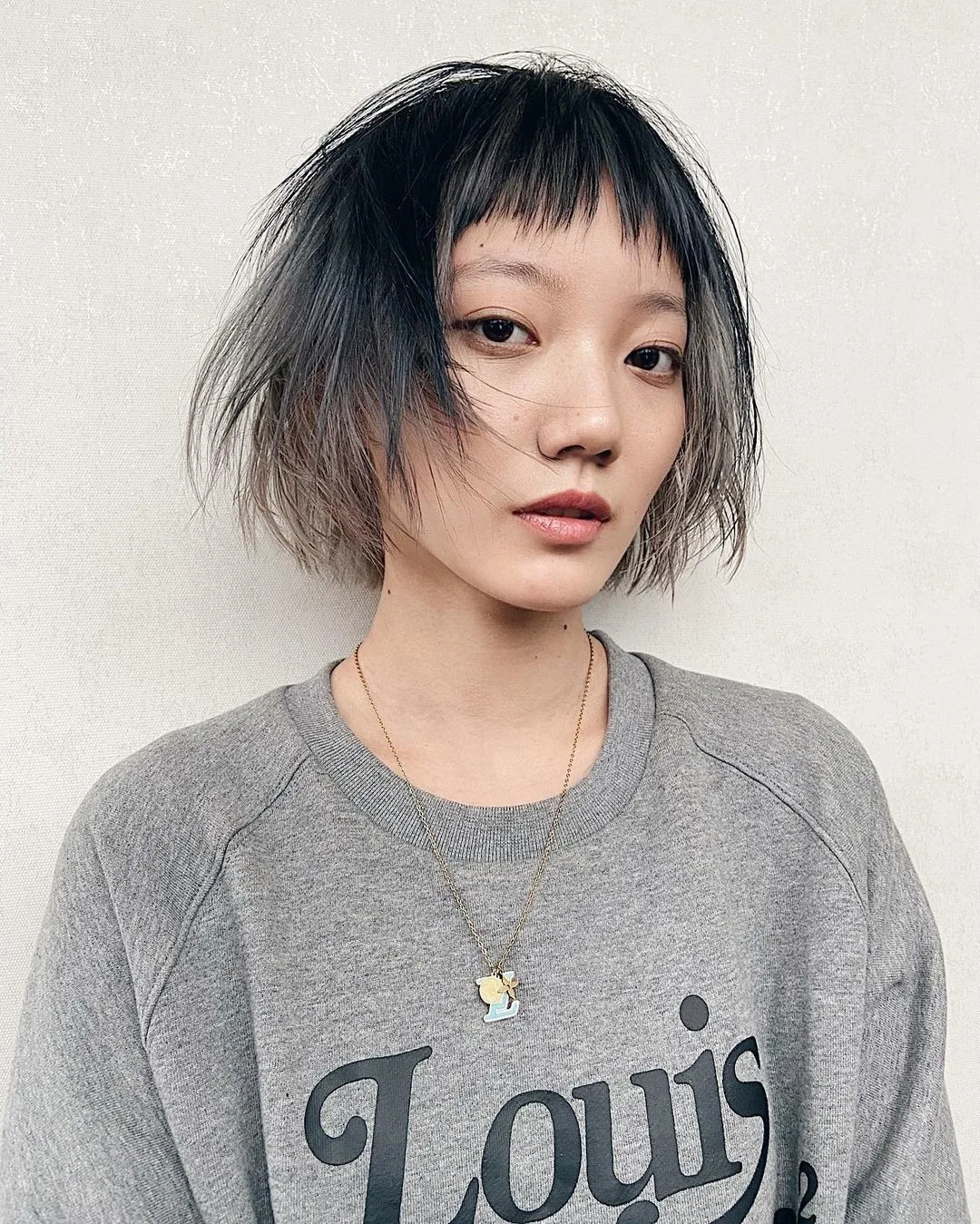 Razored ends and razored bangs will result in a choppy, disheveled hairstyle even in a one-length bob. Style it messy for an even more laid-back look.
29. Choppy Bob With Long Side Bangs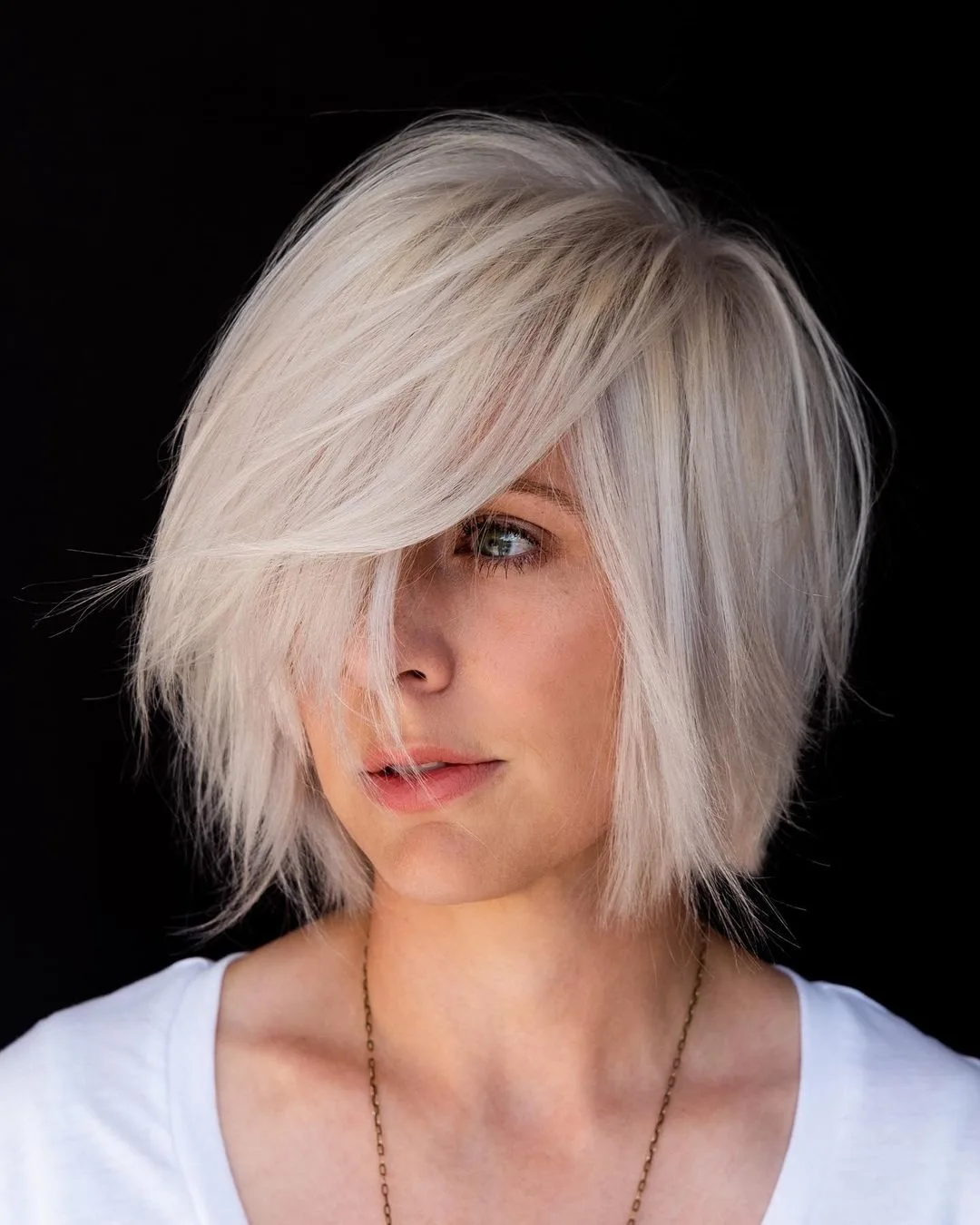 Long side bangs soften any hairstyle, but the choppy layers keep this look from looking too soft. Play with the way you wear the bangs for a variety of looks.
30. Shaggy Short Choppy Haircut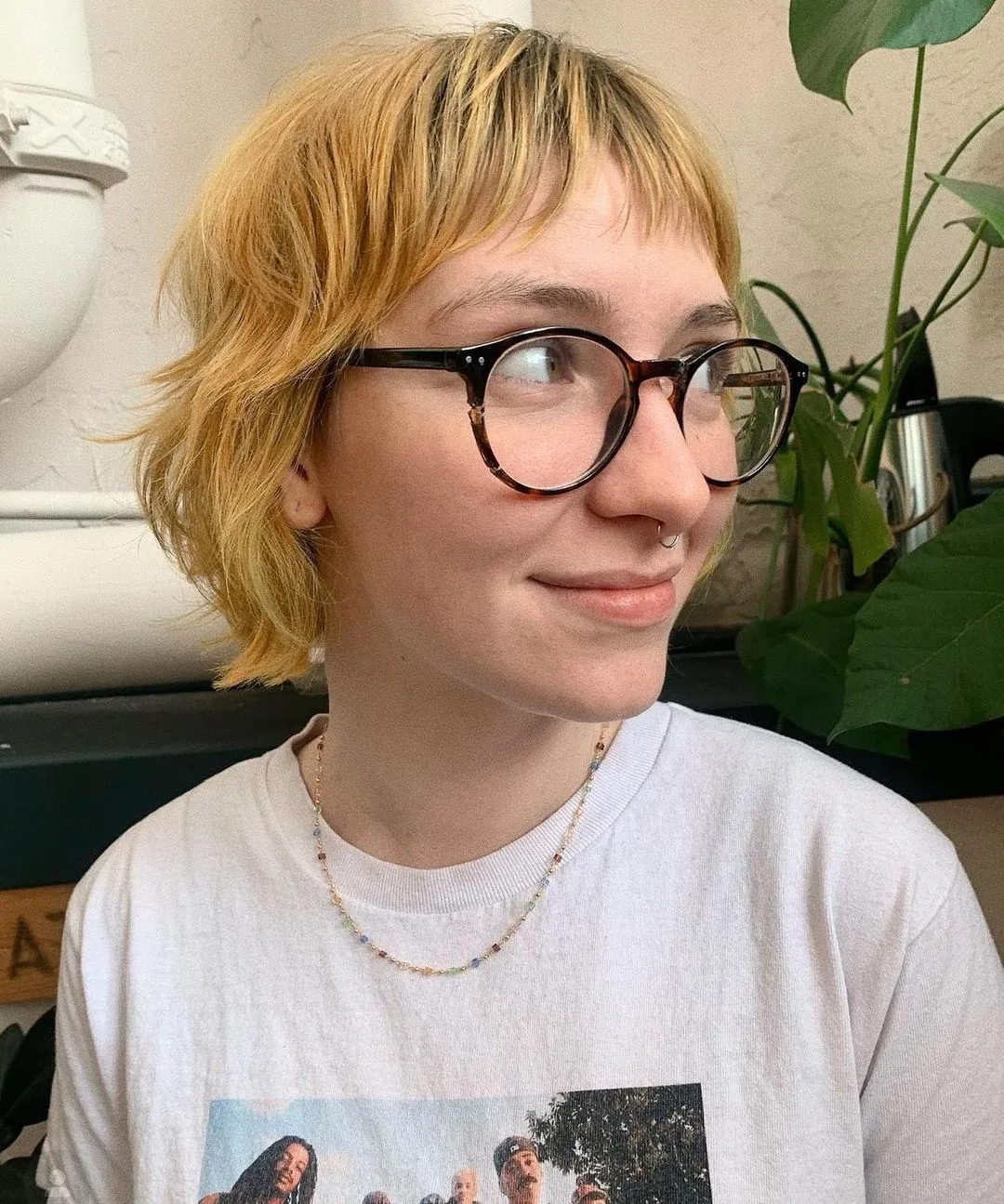 This cute, heavily layered cut is modern and playful. When styling, flip all the ends out except those at the crown, which should be facing inward for maximum volume.
31. Angled Choppy Lob Haircut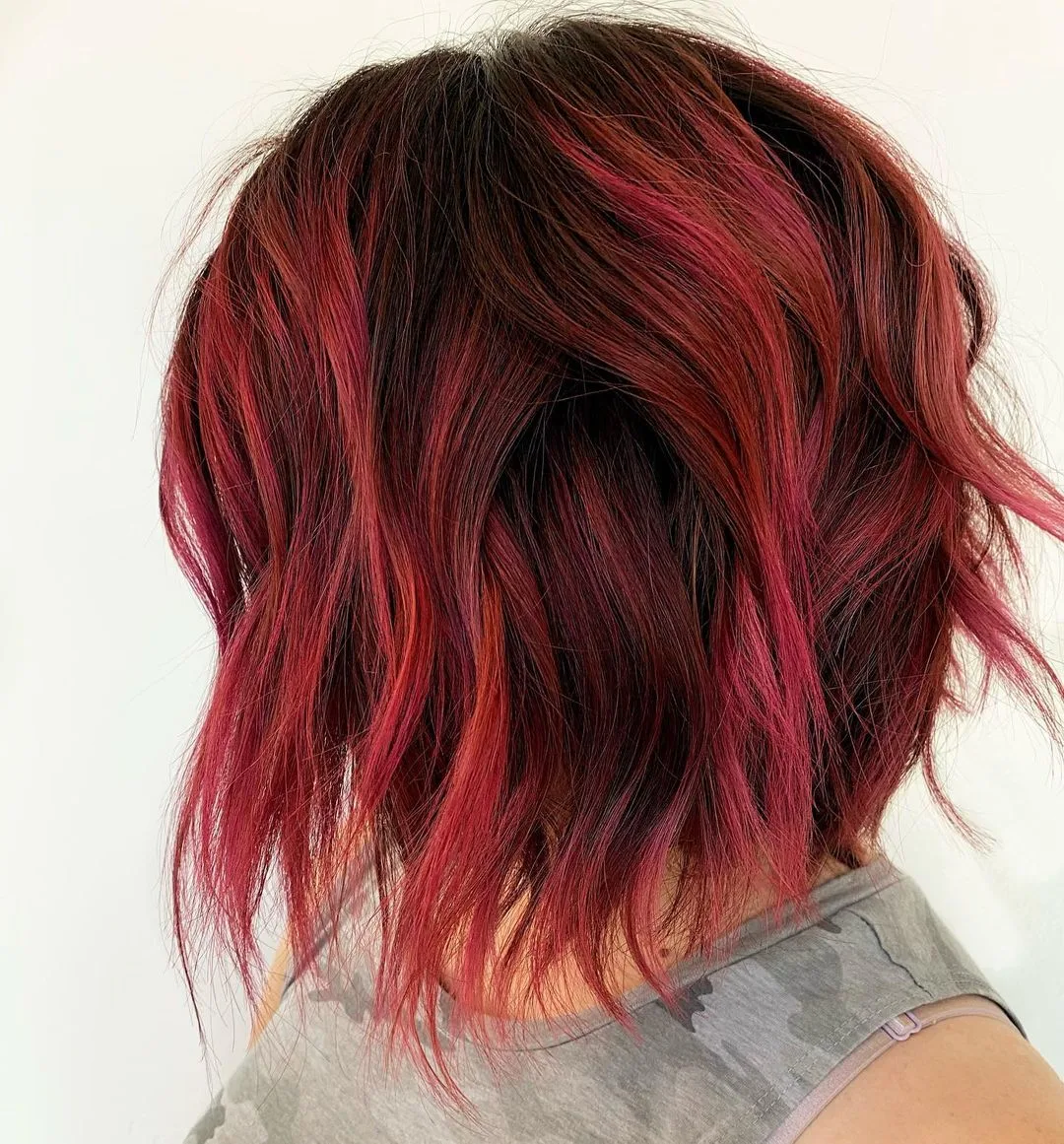 A long layered bob is the longest among the short choppy haircuts, so if everything else is too short for you, you can still get that fresh look by going for one of these.
32. Curly Short Messy Hair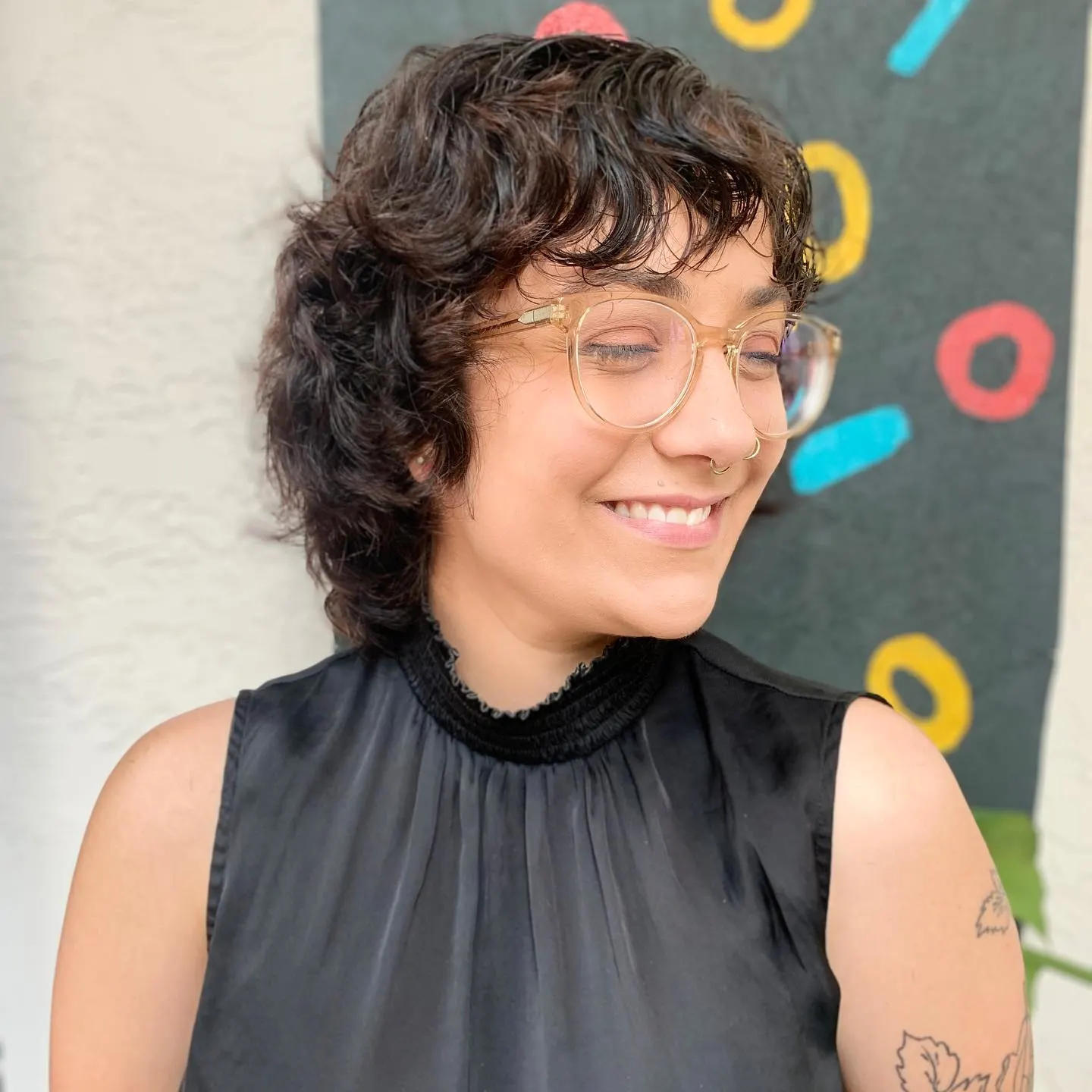 A shag can look frumpy if it's over-styled, so go for natural texture whenever you can. Easy and flattering—a win-win!
33. Choppy Short Layered Bob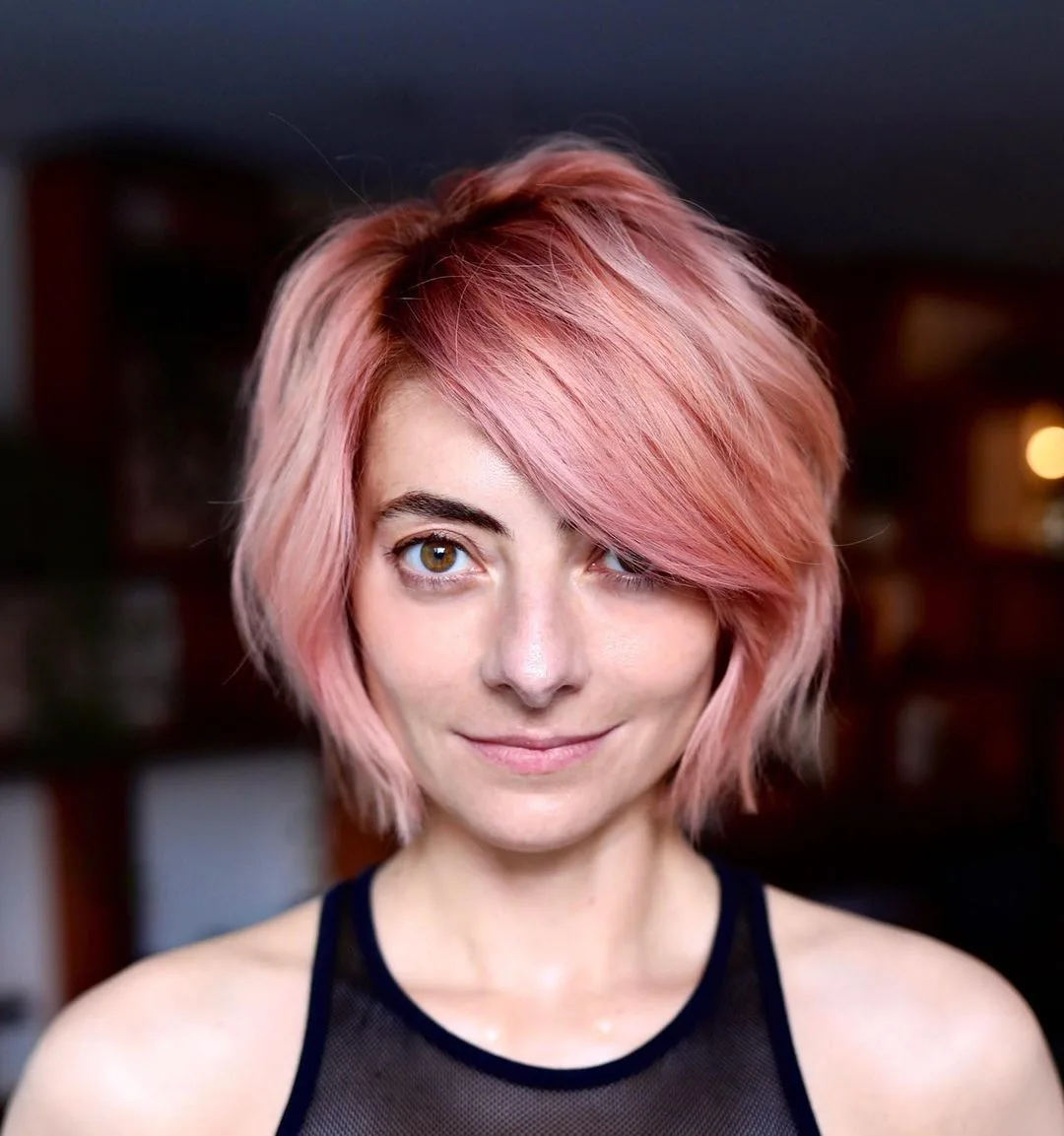 A short, layered bob always looks good, so it's no surprise that it's one of the most popular haircuts there are. It has volume, face-framing strands in the front and you can style it in minutes. The perfect go-to when you need a change and don't know what to choose.
34. Short Messy Haircut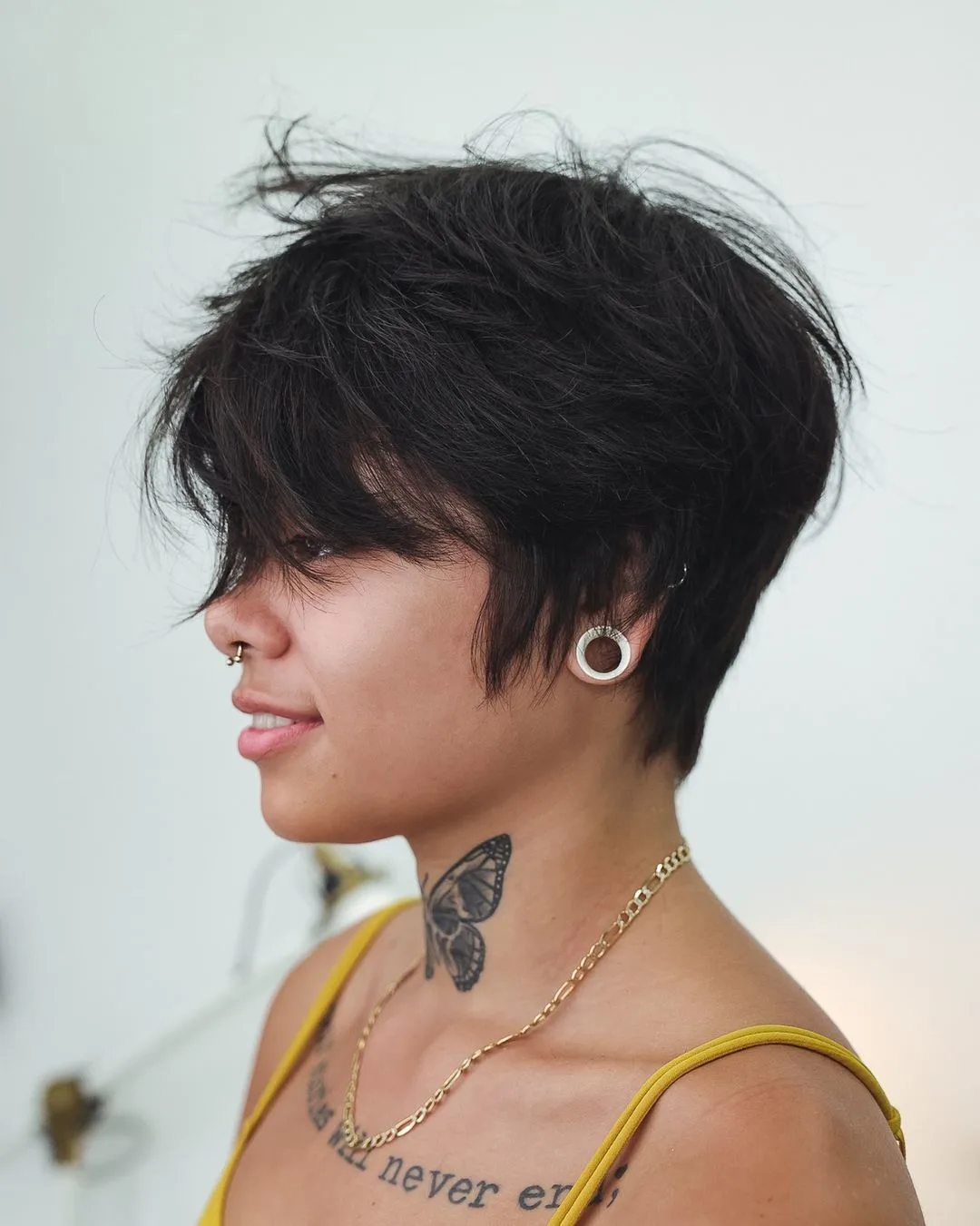 The soft taper in the back and a long fringe create a contrast and dimension. The rounding in the back creates a lovely, flattering shape.
35. Choppy Modern Mullet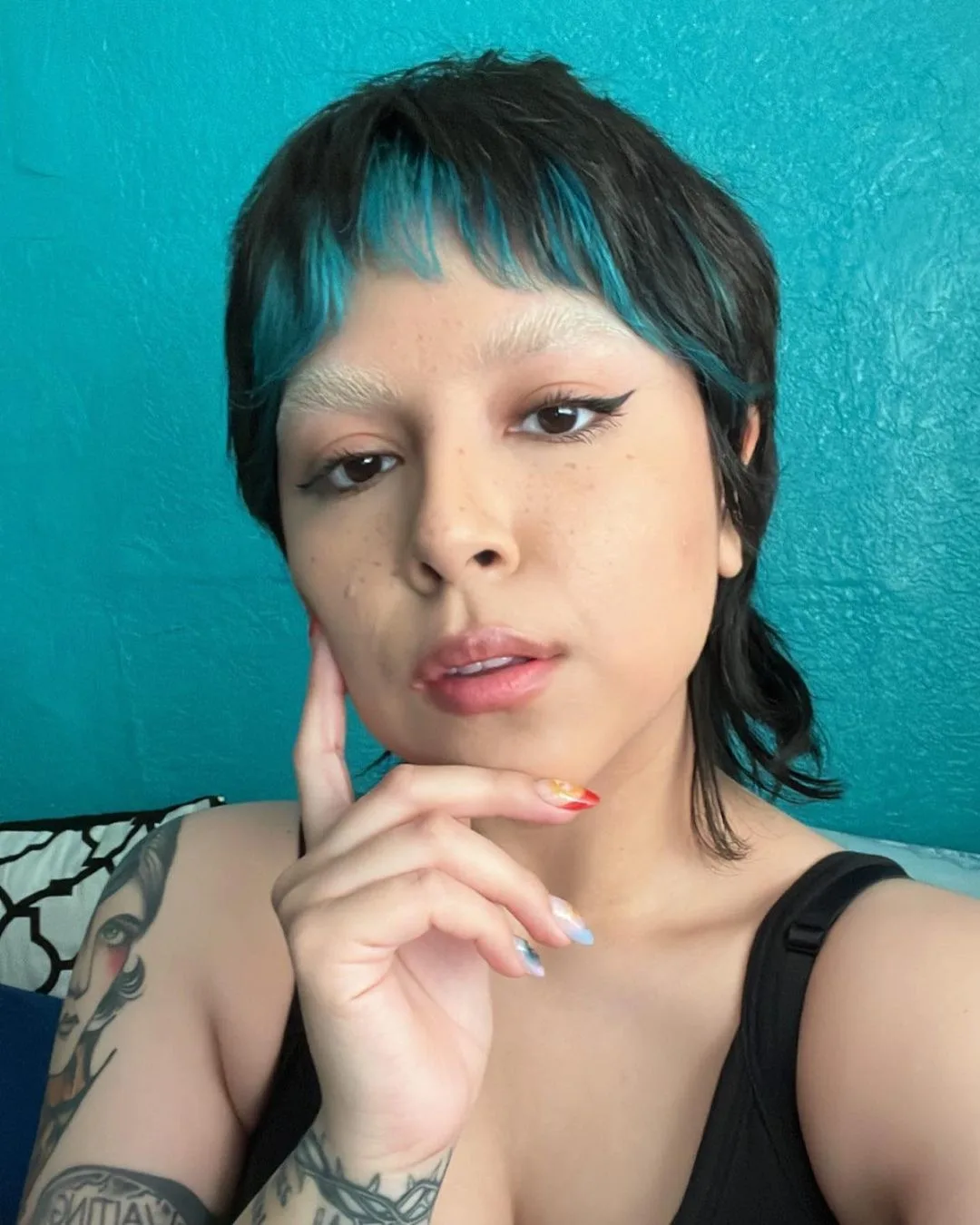 Deciding to go for this edgy haircut takes courage. While it's definitely not going to be as flattering as your best hairstyle might, it's dramatic, eye-catching and guaranteed to draw attention.
36. Short Choppy Wolf Cut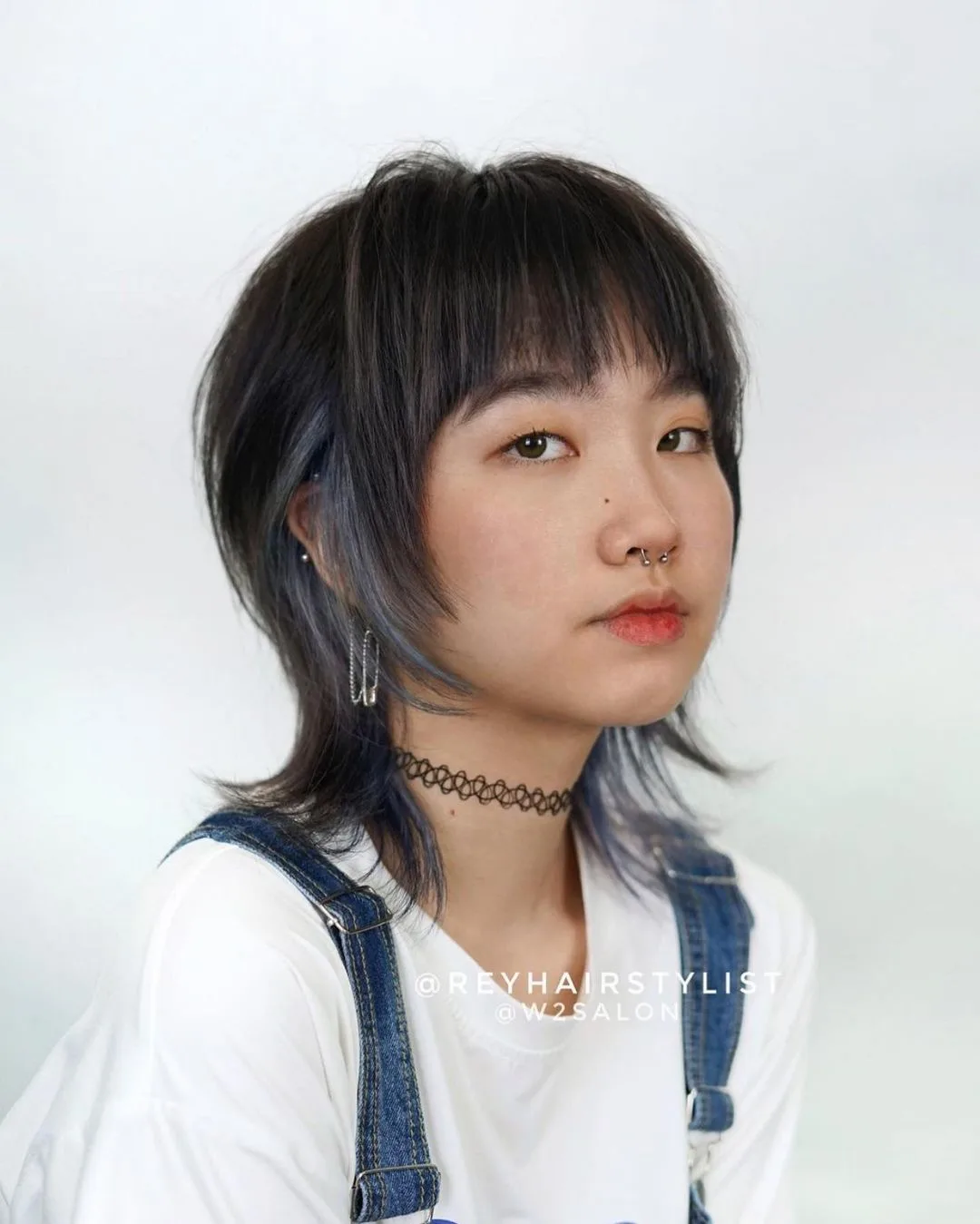 A baby wolf cut is cute and cool, which is a rare combination for a hairstyle. It's easily adjusted to your face shape with bangs—leave them longer or go as short as you'd like to personalize it. For extra flair, hidden colorful strands give some oomph to short brown hair.
37. Choppy Pixie Cut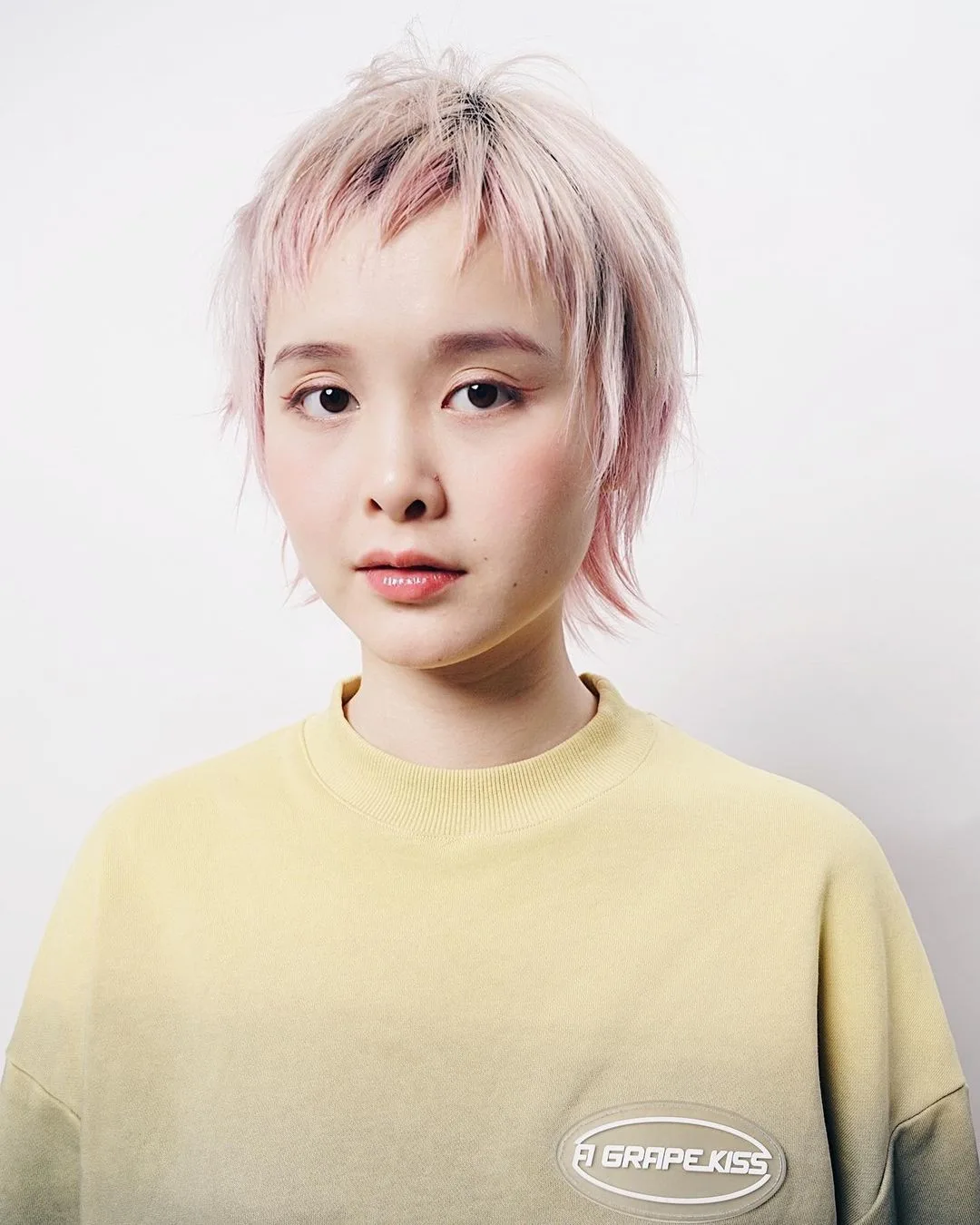 This long pixie with short, choppy bangs is a little longer in the back, which makes it very of-the-moment. Pair it with your favorite vivid or pastel color for an even more modern vibe.
38. Mullet Hairstyle With Curtain Bangs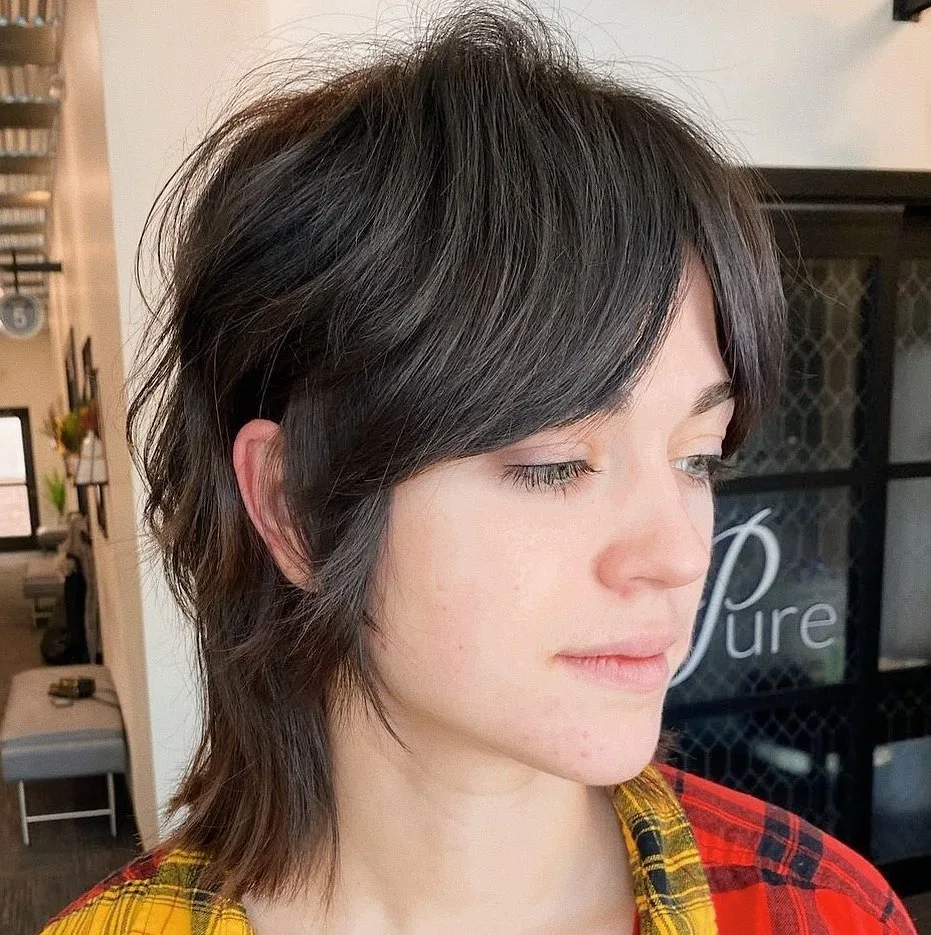 This mullet is as long in the back as a lob, and it even includes curtain bangs which often accompany it. The short, choppy layers throughout give this hairstyle a completely different vibe, though—and make it much less time-consuming to style.
39. Spiky Short Hairstyle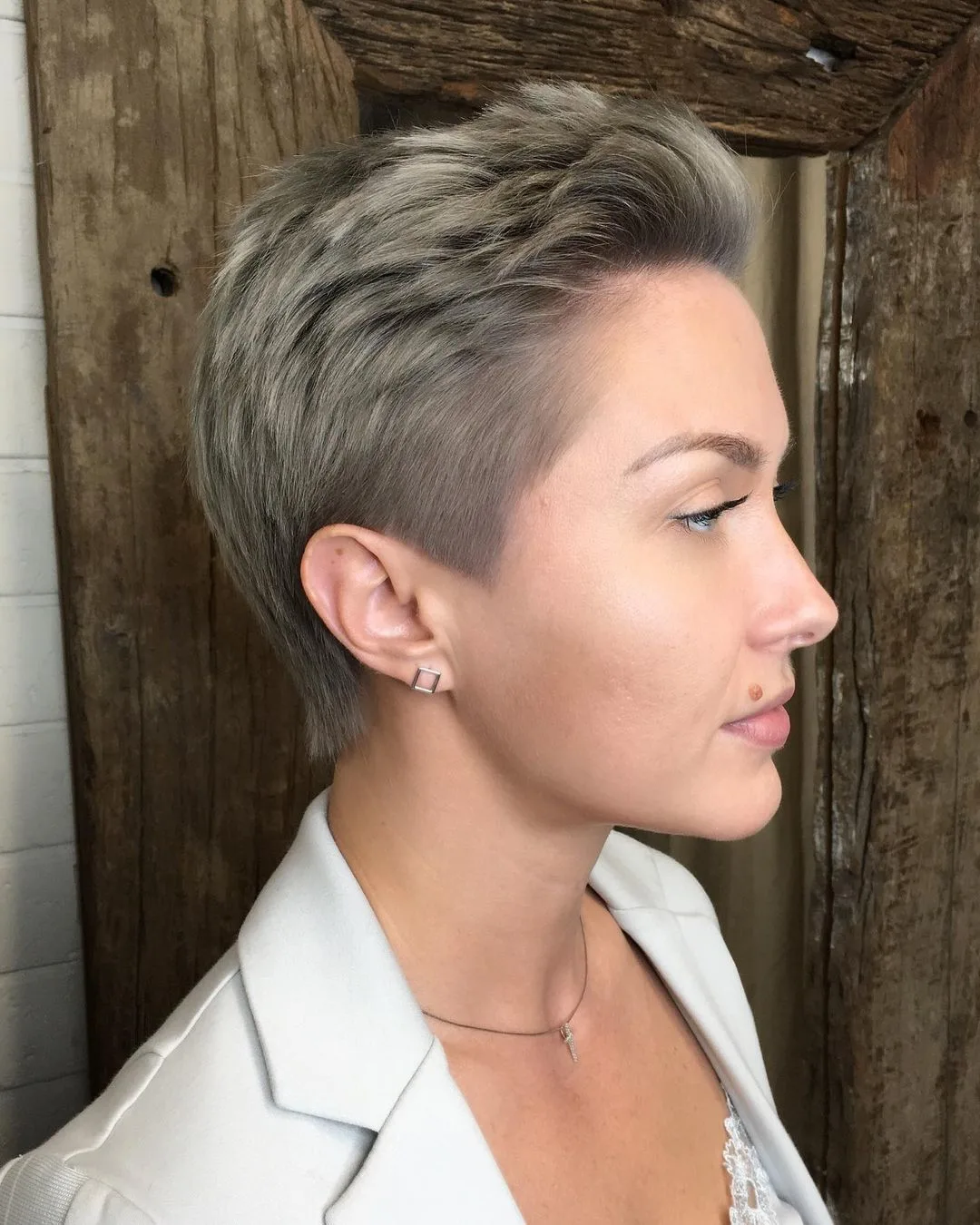 A super-short spiky hairstyle like this one works well with sharp features and angular faces. On a softer face it would look too harsh, so always pay attention to keep your hair in harmony with your face.
40. Very Short Choppy Pixie Cut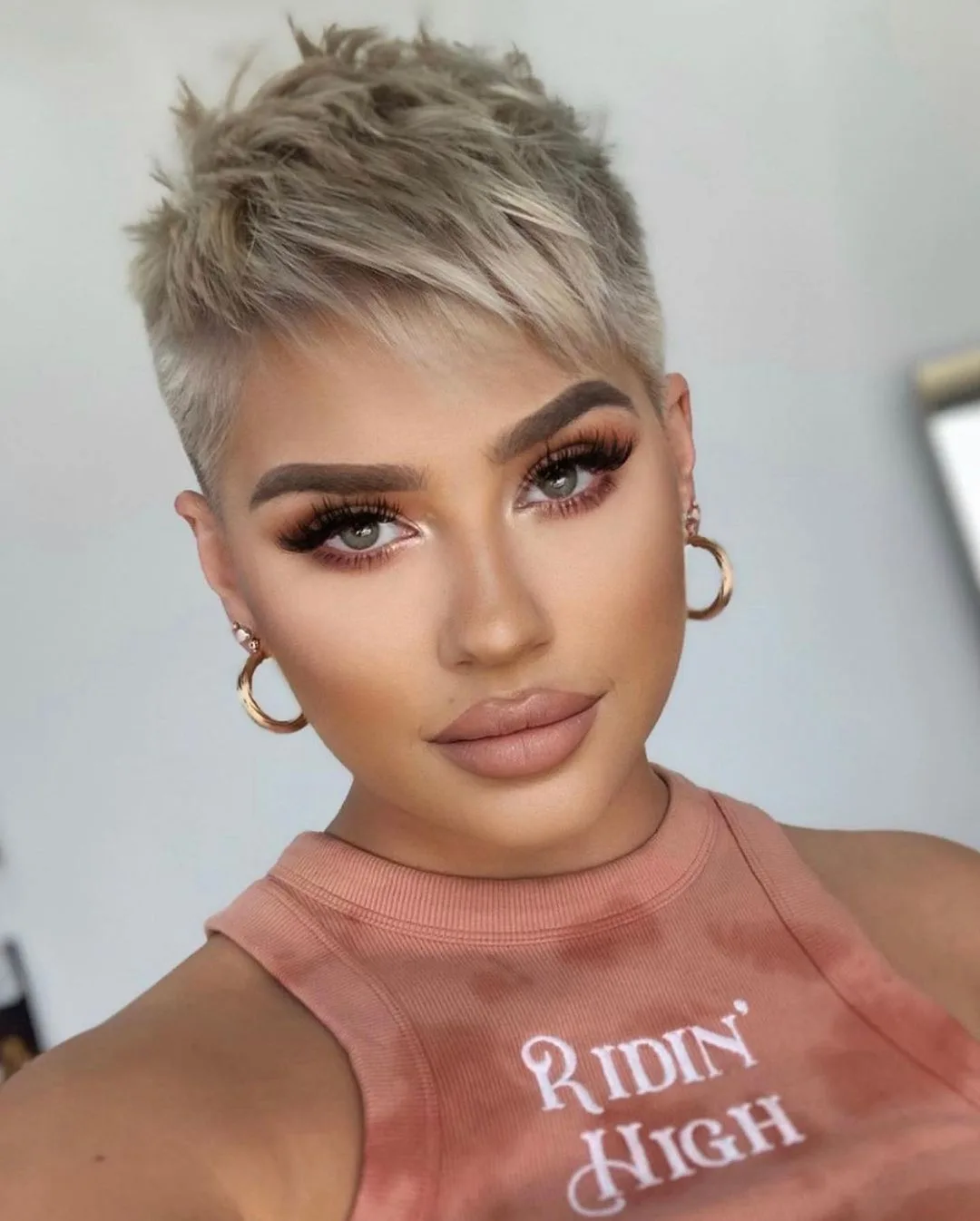 With the length at the top of the head and the shaved sides, this style almost looks like an overgrown crew-cut, but the side bangs and the choppy layers give it the pixie look.
41. Curly Choppy Layered Hair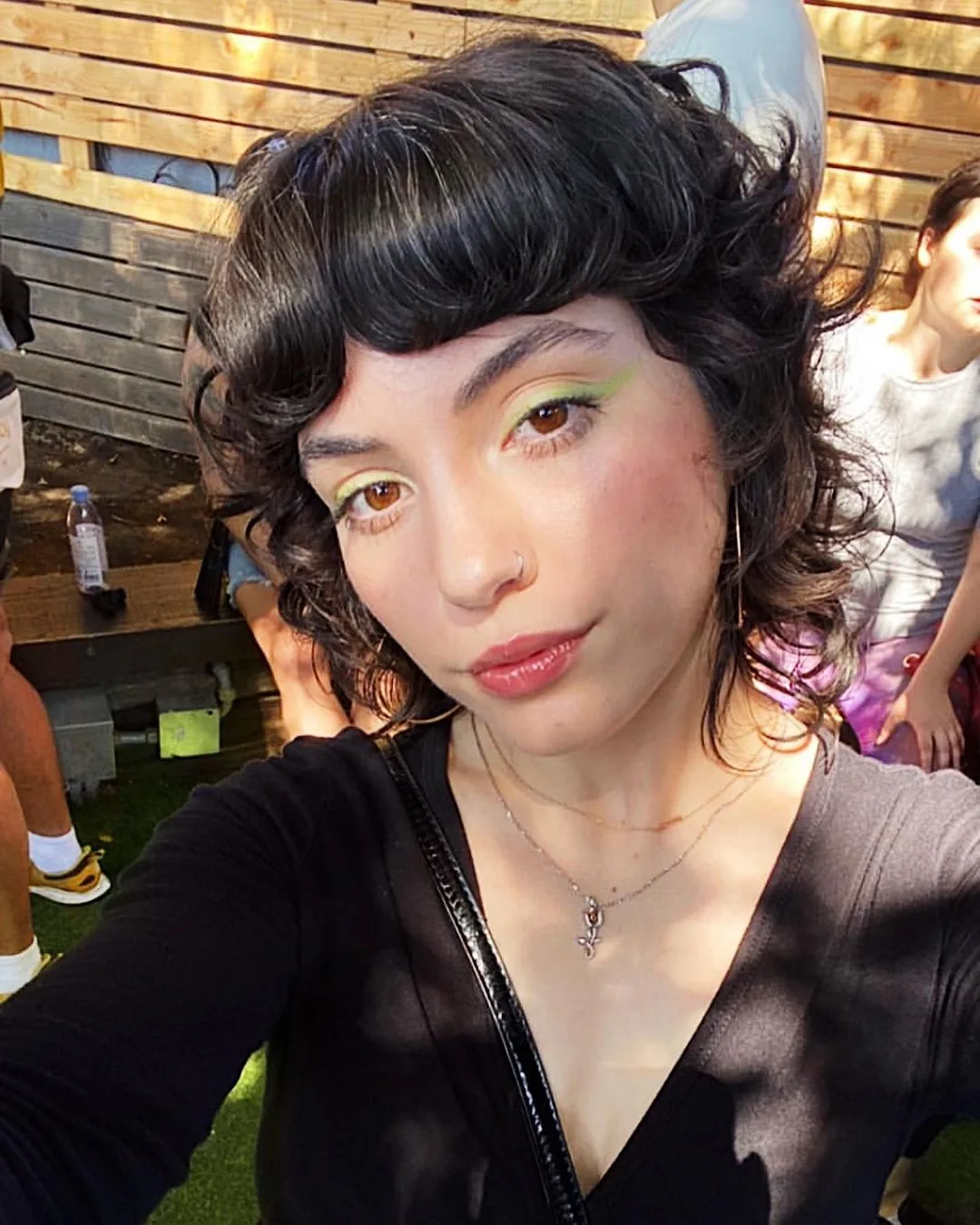 When your haircut works with and not against your hair texture, you won't have to struggle when you style it. This soft cut shows how to wear your curls short and make them look defined and full.
42. Choppy Pixie With Undercut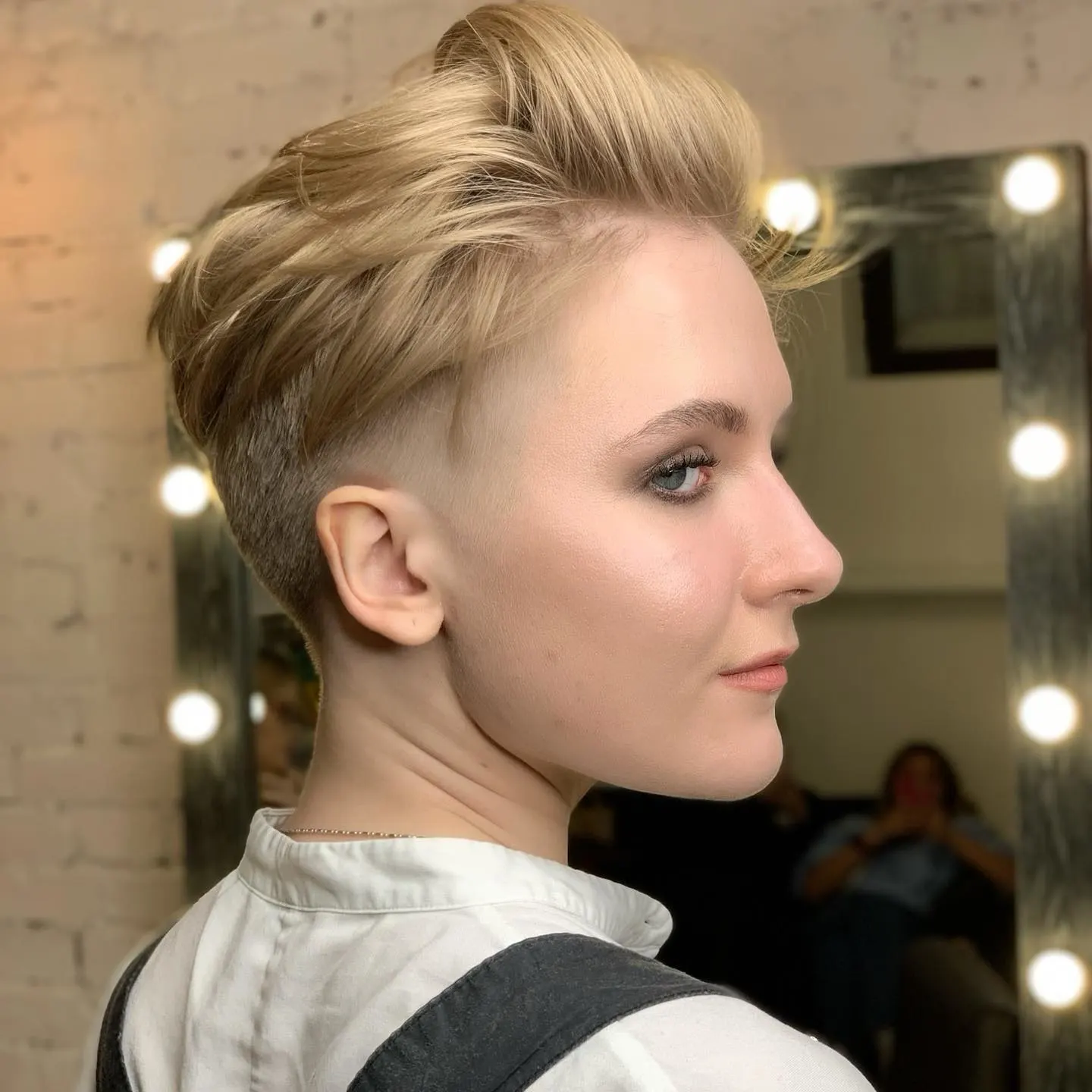 An undercut makes any style edgier, and it applies to this short choppy haircut—the undercut takes it to the next level of cool!
43. Edgy Choppy Bob With Baby Curtain Bangs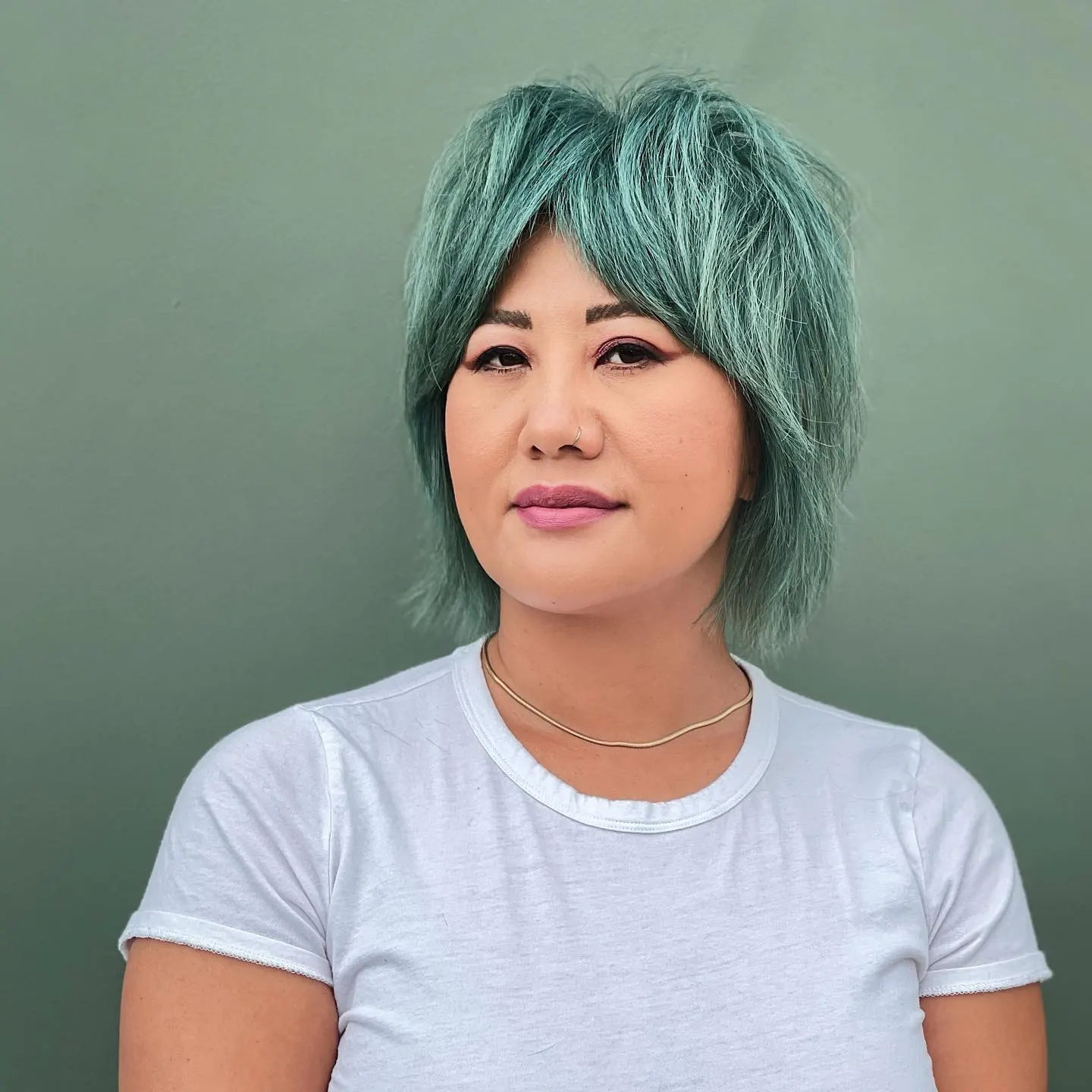 Choppy outside layers take off the bulk from the bottom, while creating lift at the top, so a style like this is great at achieving balance if your face is round.
44. Choppy Layered Shaggy Hairstyle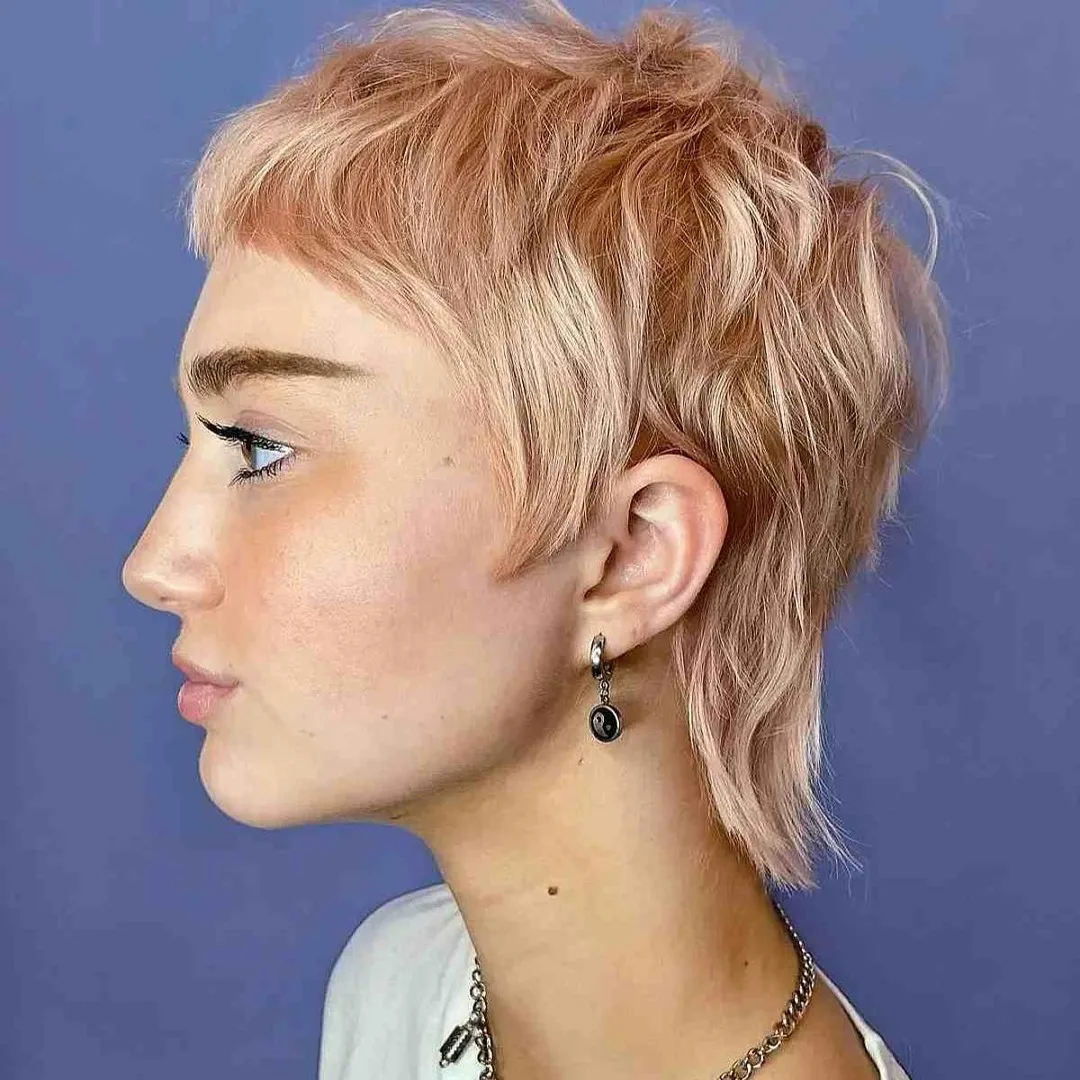 If baby bangs aren't your thing and you like short shaggy cuts like this one, you can take your fringe length down to the eyebrows without losing any of the impact.
45. Choppy Short Layered Hair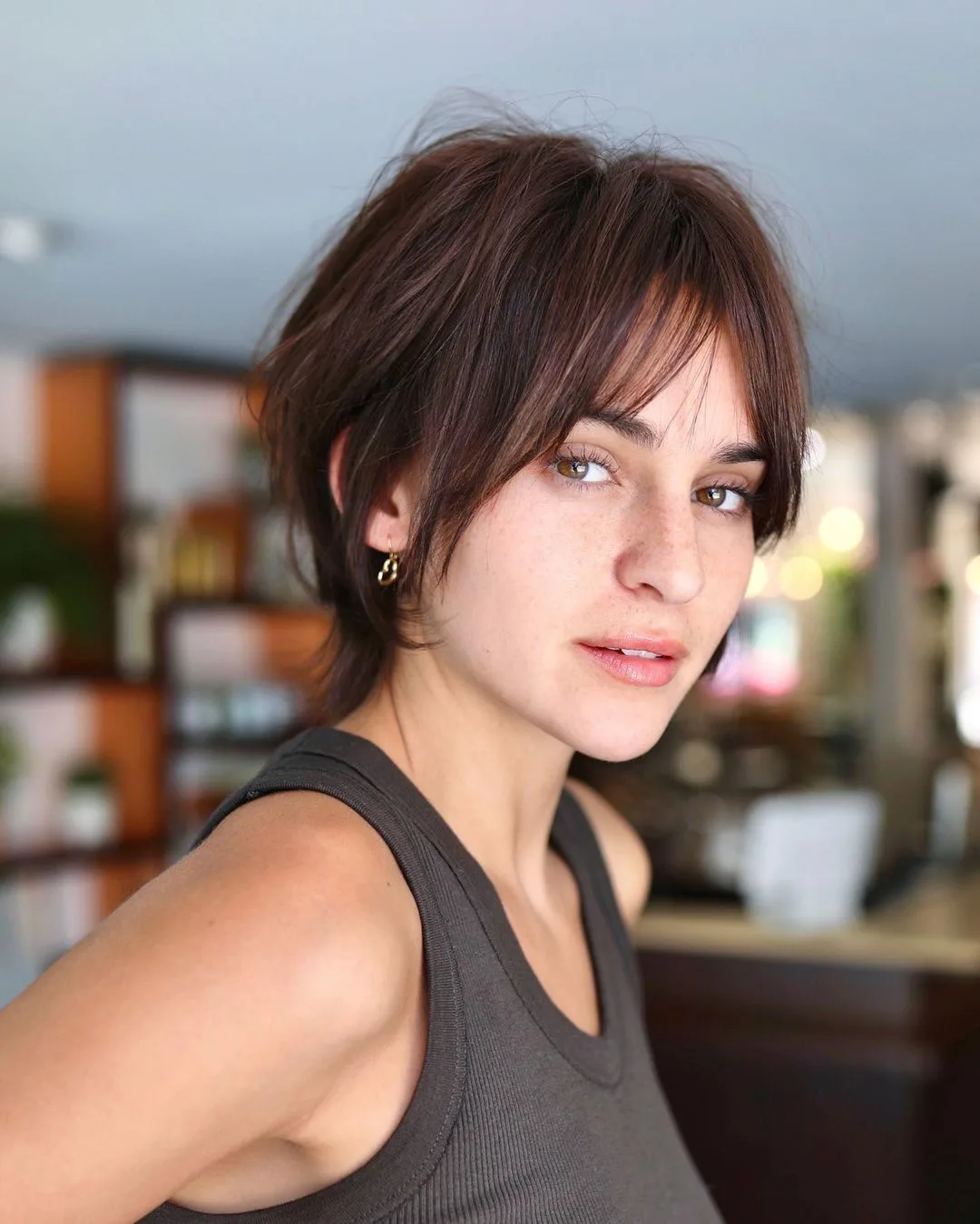 Long layers give this hairstyle a relaxed vibe without making it too obvious. It's best worn a little messy and playful, but when you want to look polished, it's as simple as taming the flyaways.
46. Layered Messy Short Choppy Haircut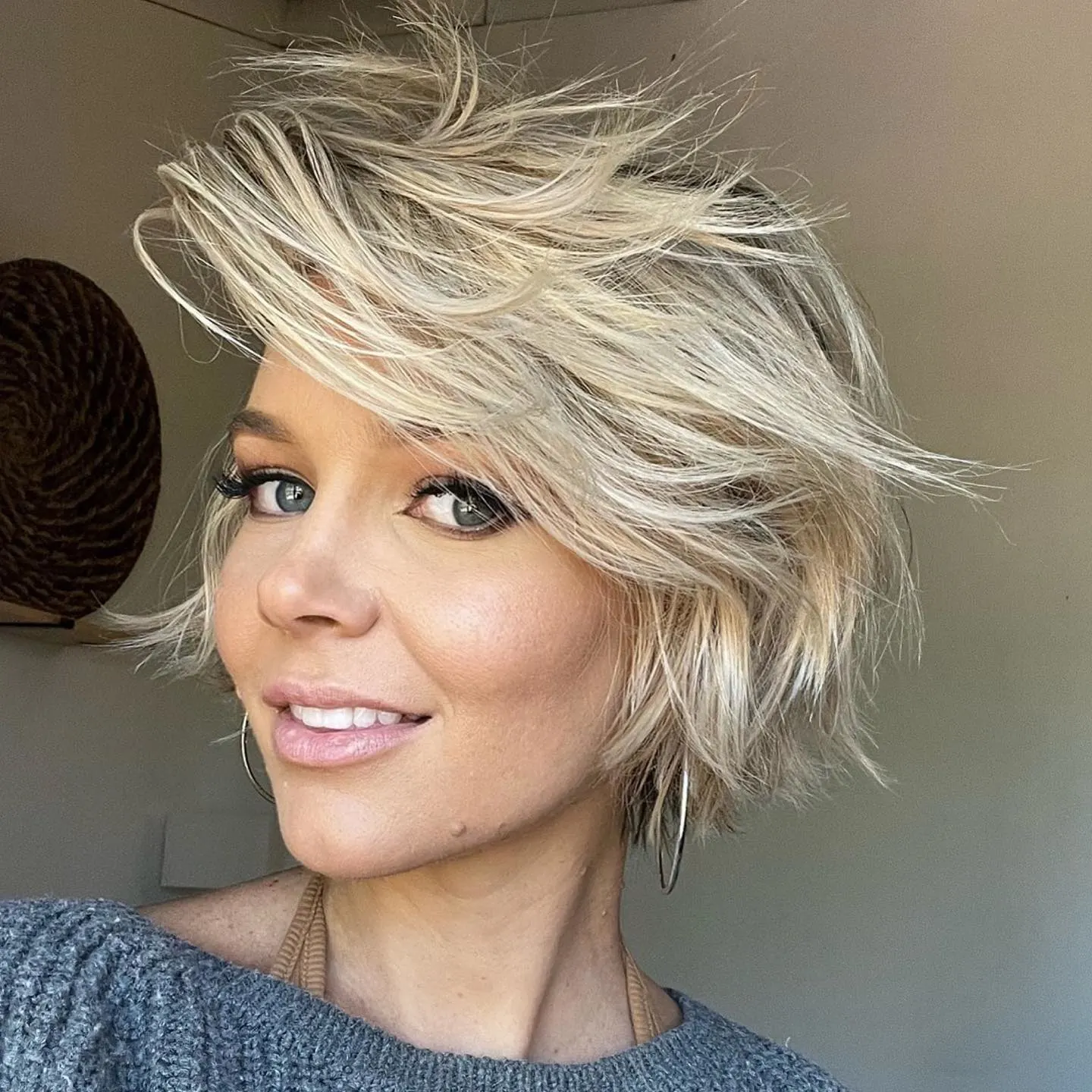 Don't get stuck parting your hair one way: wear it middle parted for a casual look, or in a deep side part for a ton of volume.
47. Choppy Bob With Short Bangs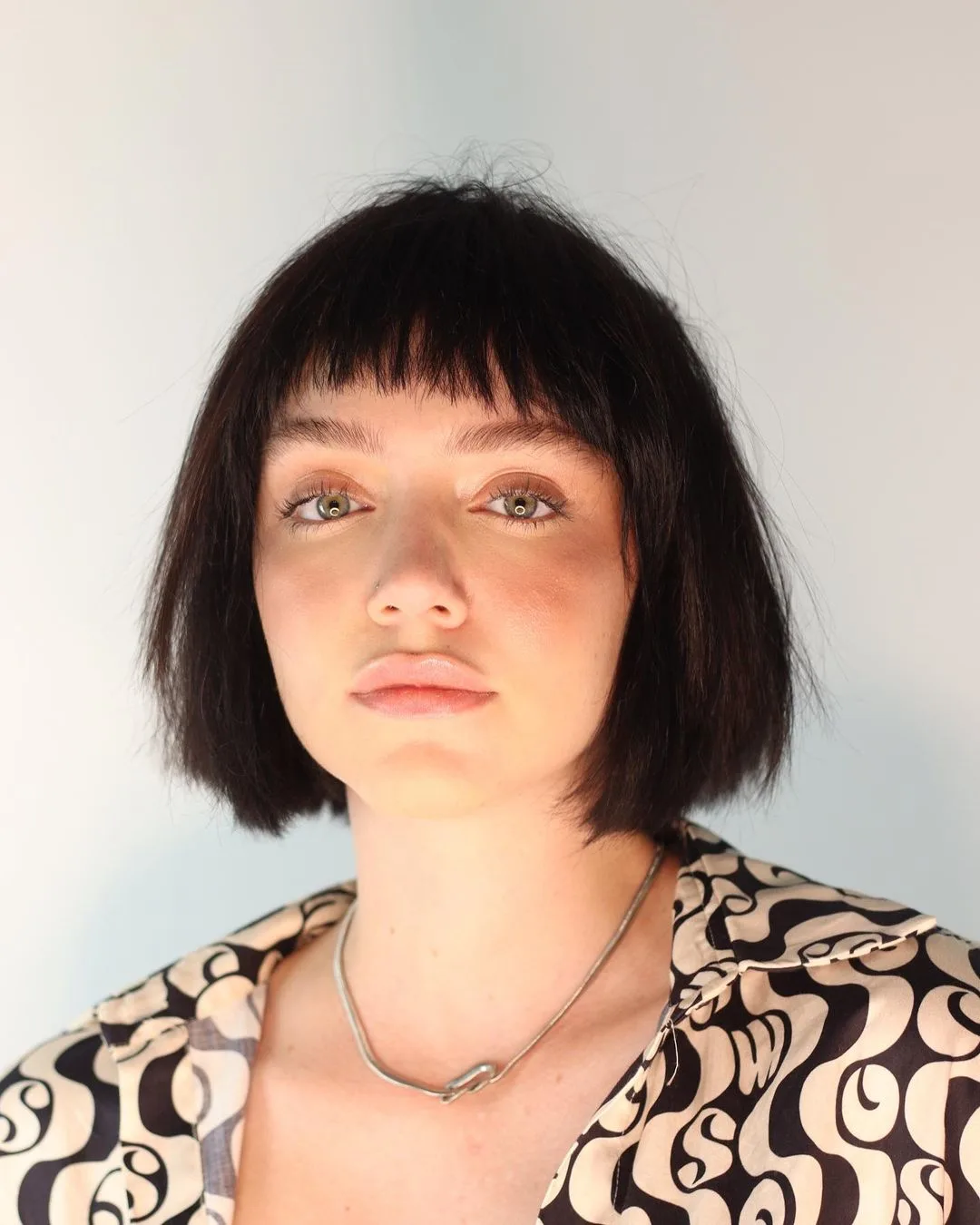 If you like wearing your blunt bob straight, consider adding bangs. They create visual interest and break the uniform line for a more interesting look.
48. Wavy Choppy Bixie Hairstyle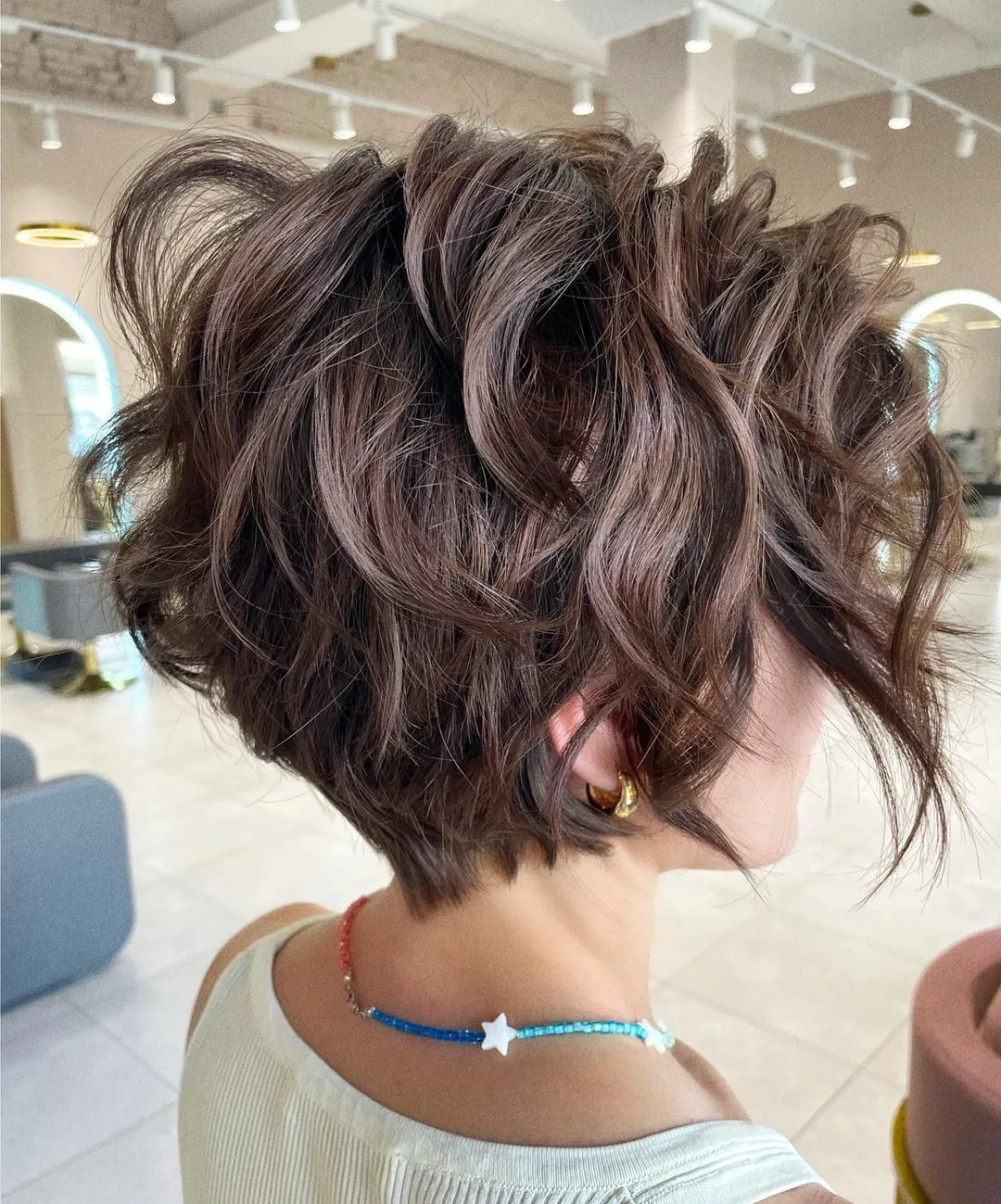 The bixie is something between a long pixie and a short bob, and it has the best of both worlds: it's playful like a pixie, and has length like a bob. If you're indecisive, you can't go wrong with this cute style.
49. Fluffy Short Choppy Haircut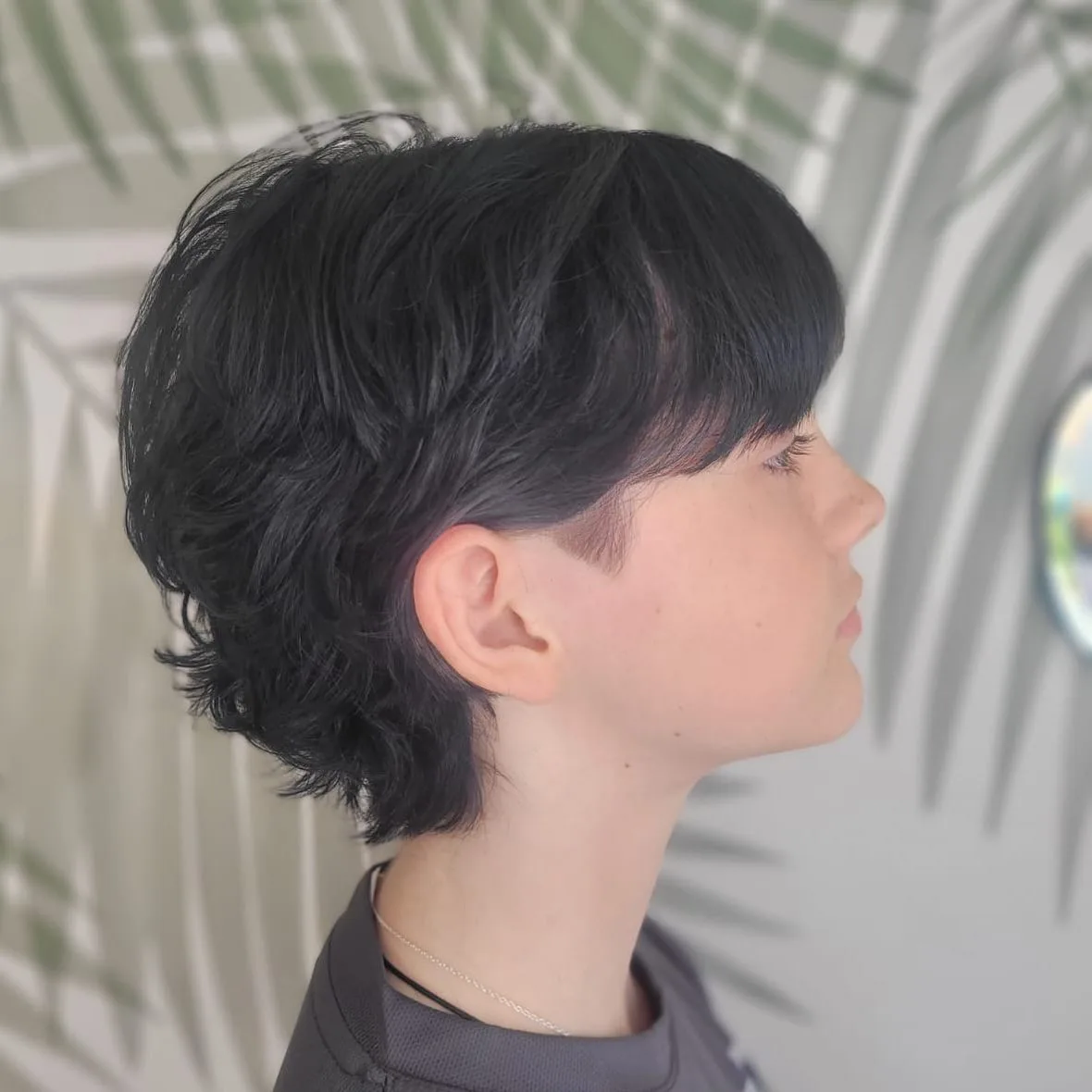 This soft mullet is edgy in an understated way, but it can also be worn in a more polished style, so it's both versatile and easy.
50. Short Wavy Bob With Choppy Bangs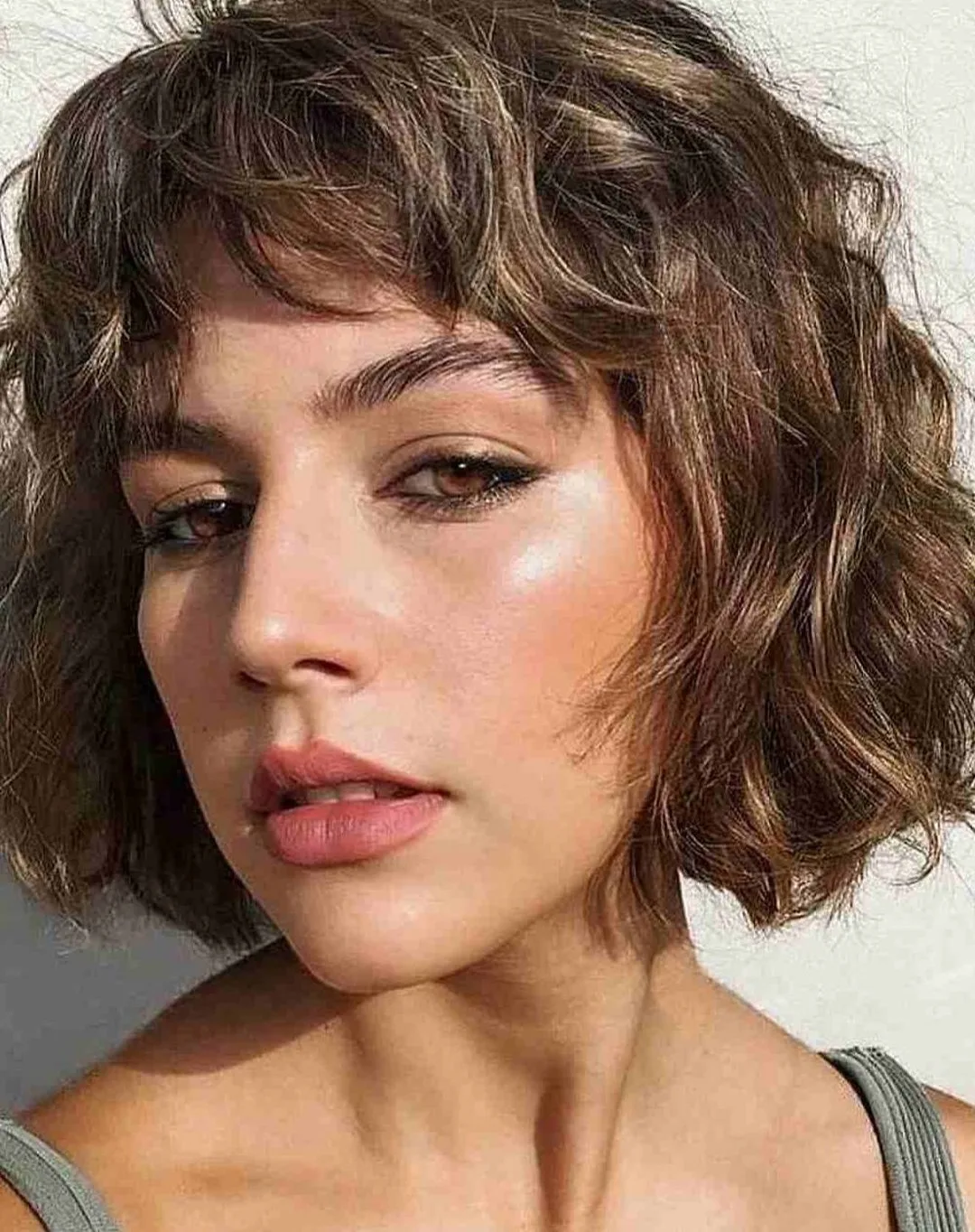 Texturizing layers give movement to all hair types, but they're particularly flattering for wavy hair. Because the hair is not weighed down, the curls stay defined.
51. Choppy Messy Short Spiky Hairstyle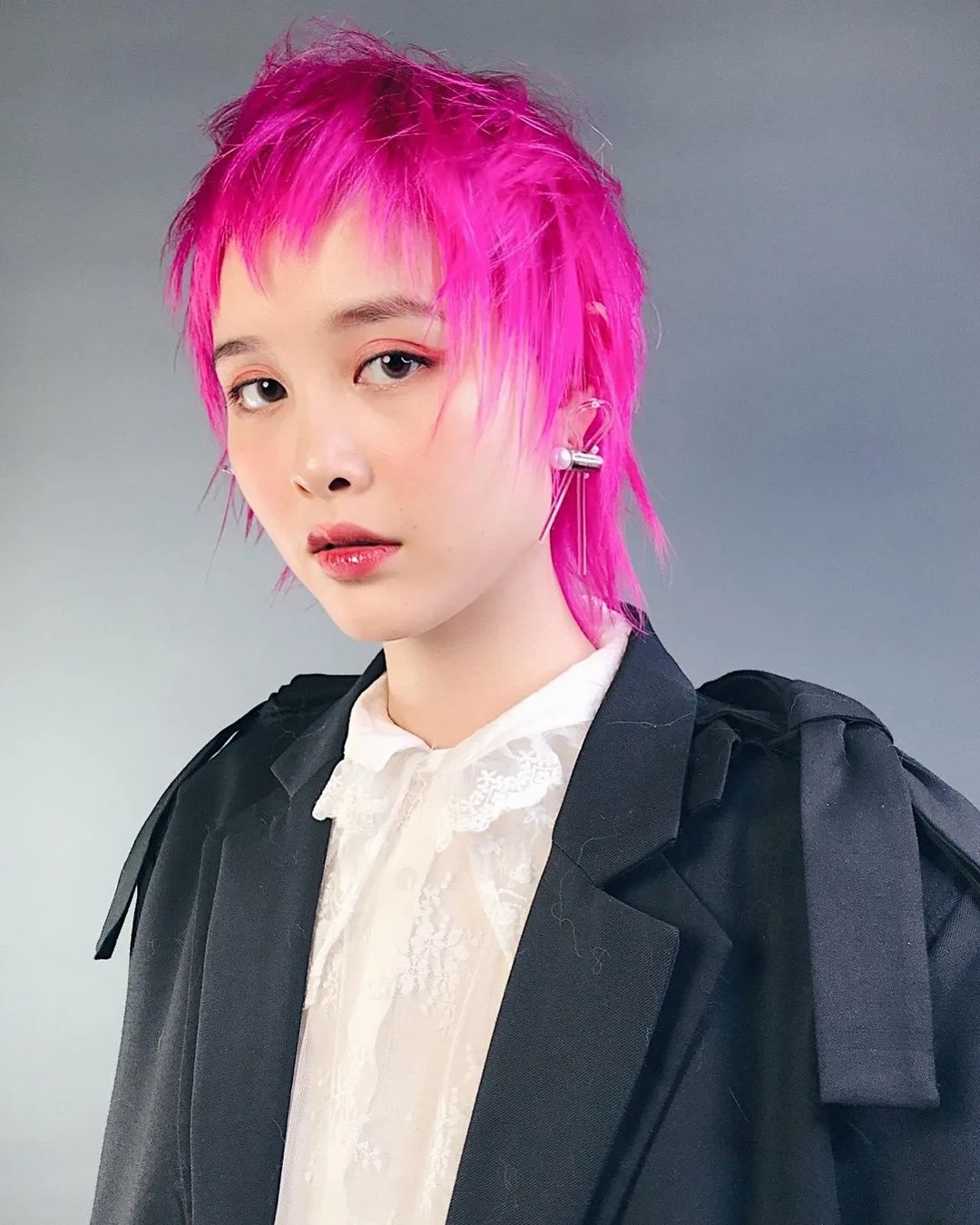 Experimenting with the length of individual layers to create different looks is easy with short hair—if you don't like it, simply change things up at your next appointment.
52. Short Curly Choppy Pixie Haircut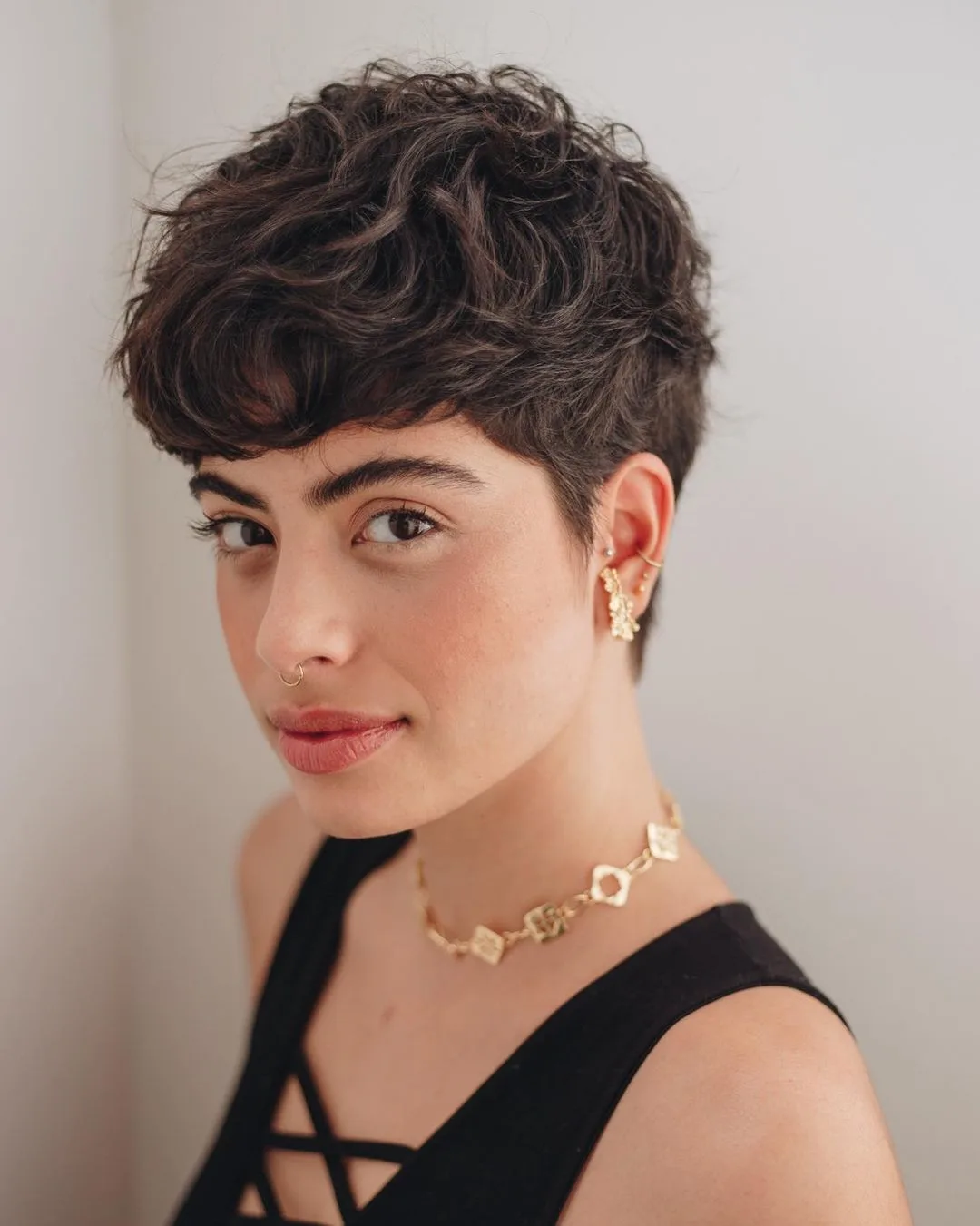 To keep your curly pixie looking soft and touchable, don't skip on the moisturizing product. Curl cream is a must to maintain defined curls!
53. Messy Choppy Mullet With Bangs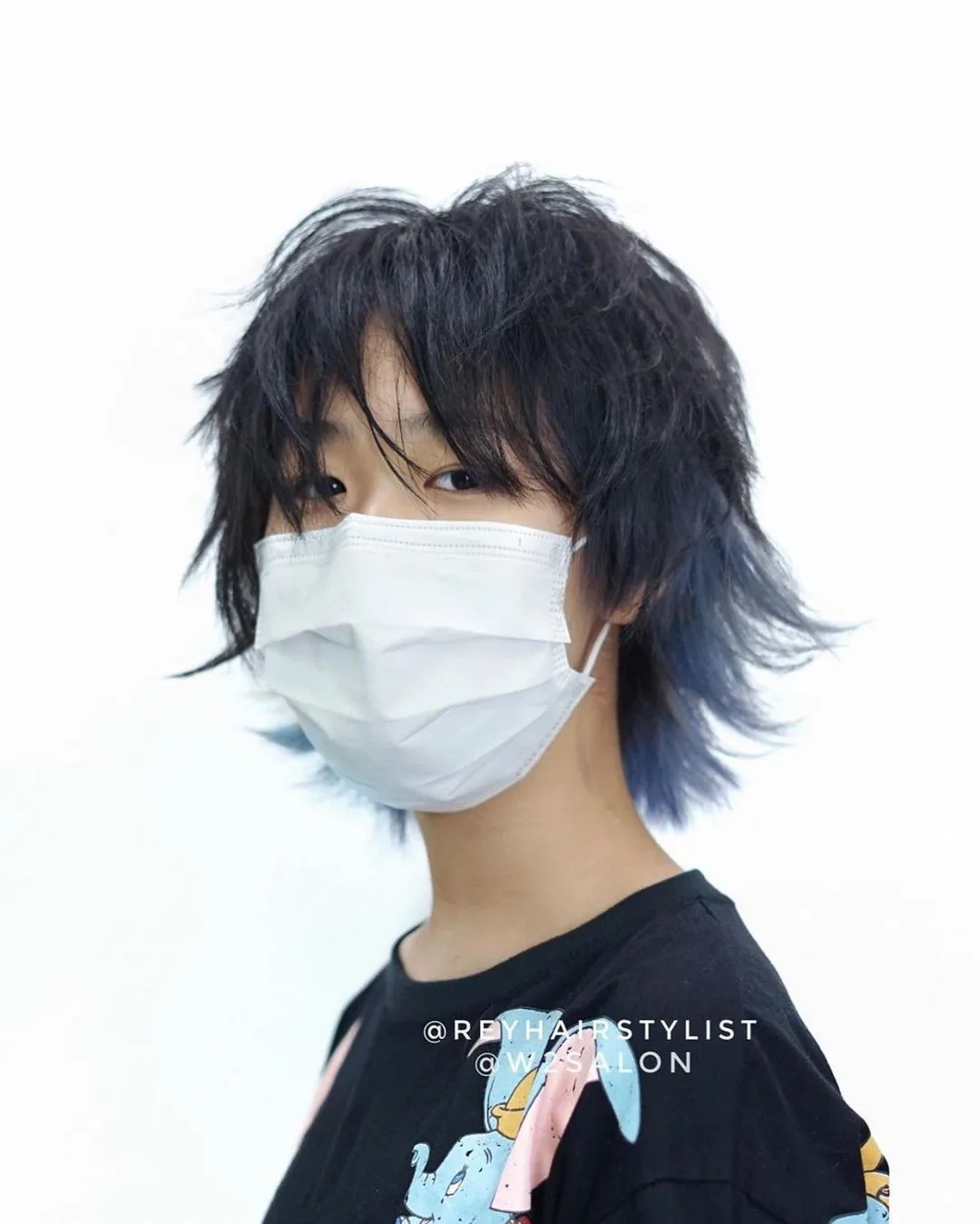 If you want a short straight hairstyle that has a lot of body and texture, try something shaggy. Choppy short haircuts look good on straight hair because the layers give it volume and dimension.
54. Short Fluffy Choppy Hairstyle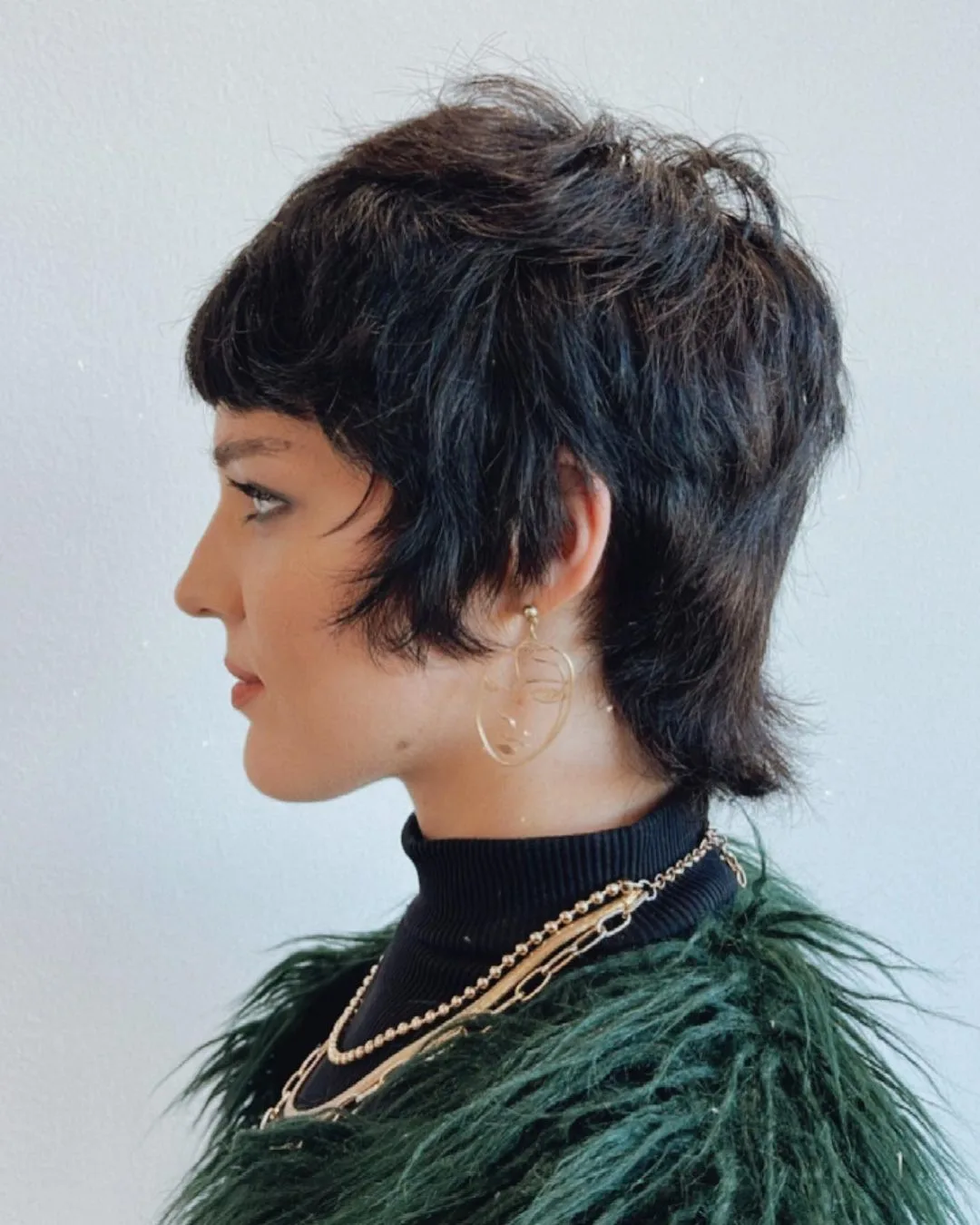 If you have thick hair and want to wear it short, layers are vital to give your style shape, so choppy cuts are a great choice.
55. Choppy Pixie With Side Bangs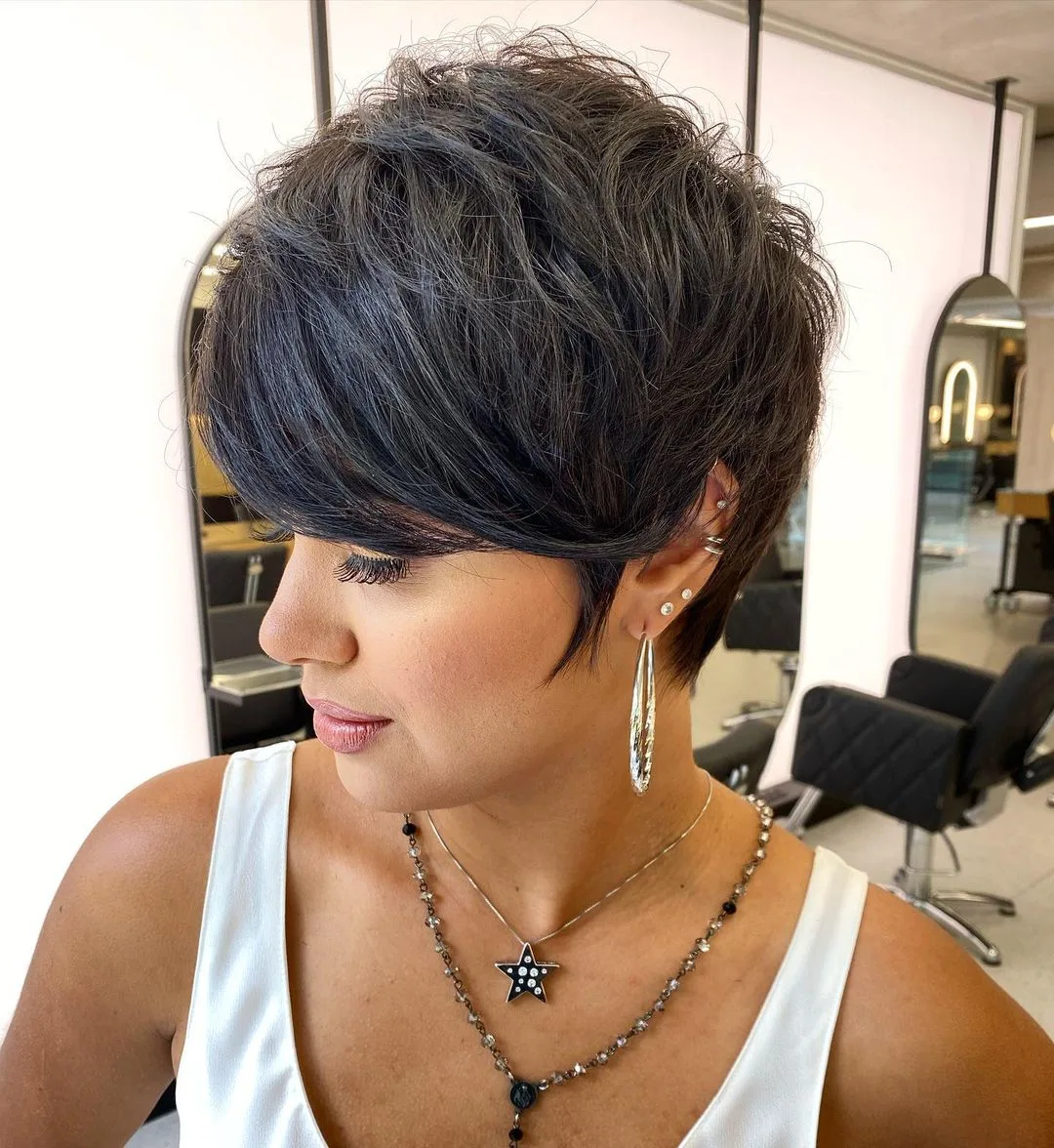 Unlike close-cropped haircuts which emphasize the features, short but fluffy hairstyles can make your face appear smaller, so pick whichever one of those options would suit you best.
56. Short Choppy Haircut For Fine Hair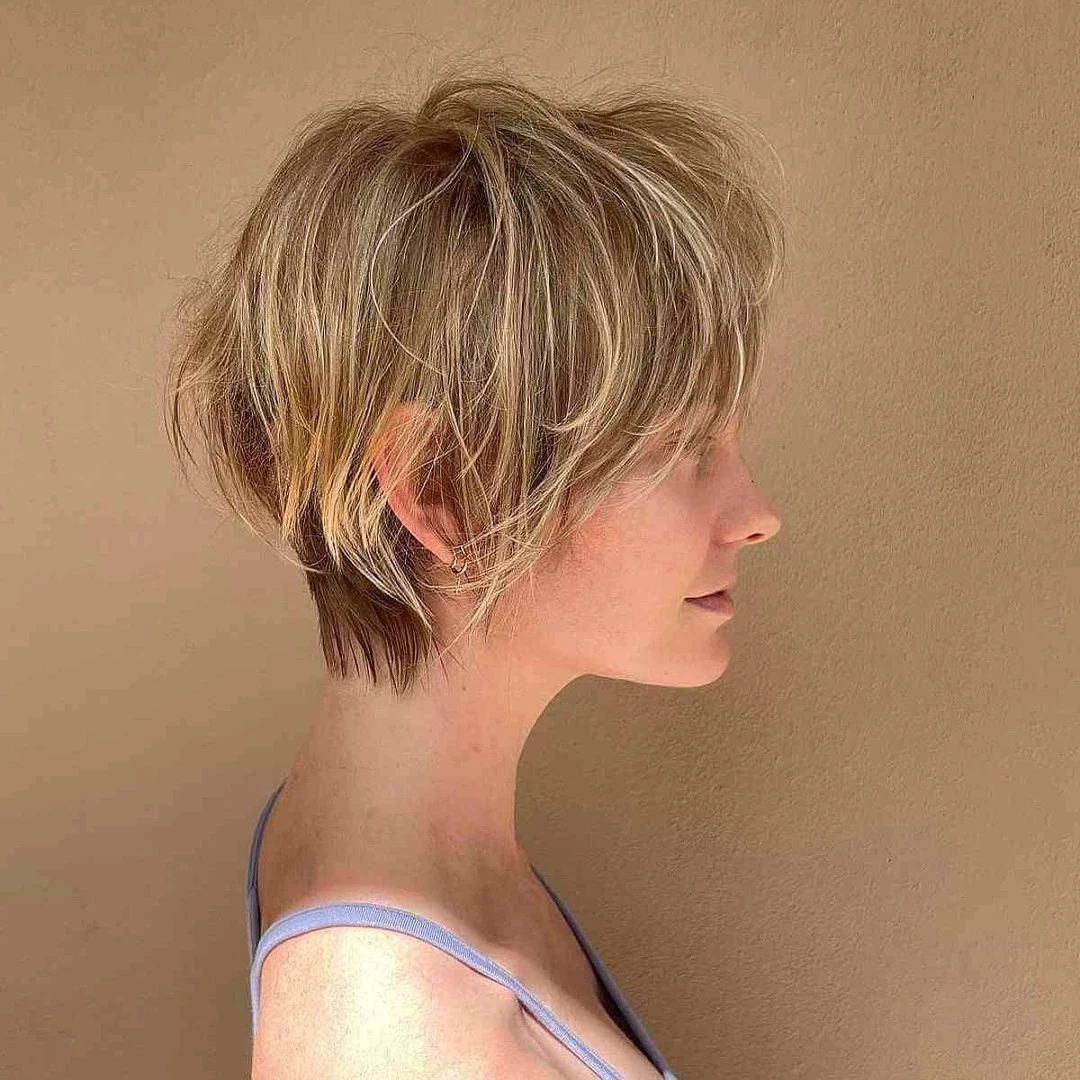 Boost the volume of fine hair with choppy visible layers that give the hair an appearance of weight and body.
57. Short Colorful Faux-Hawk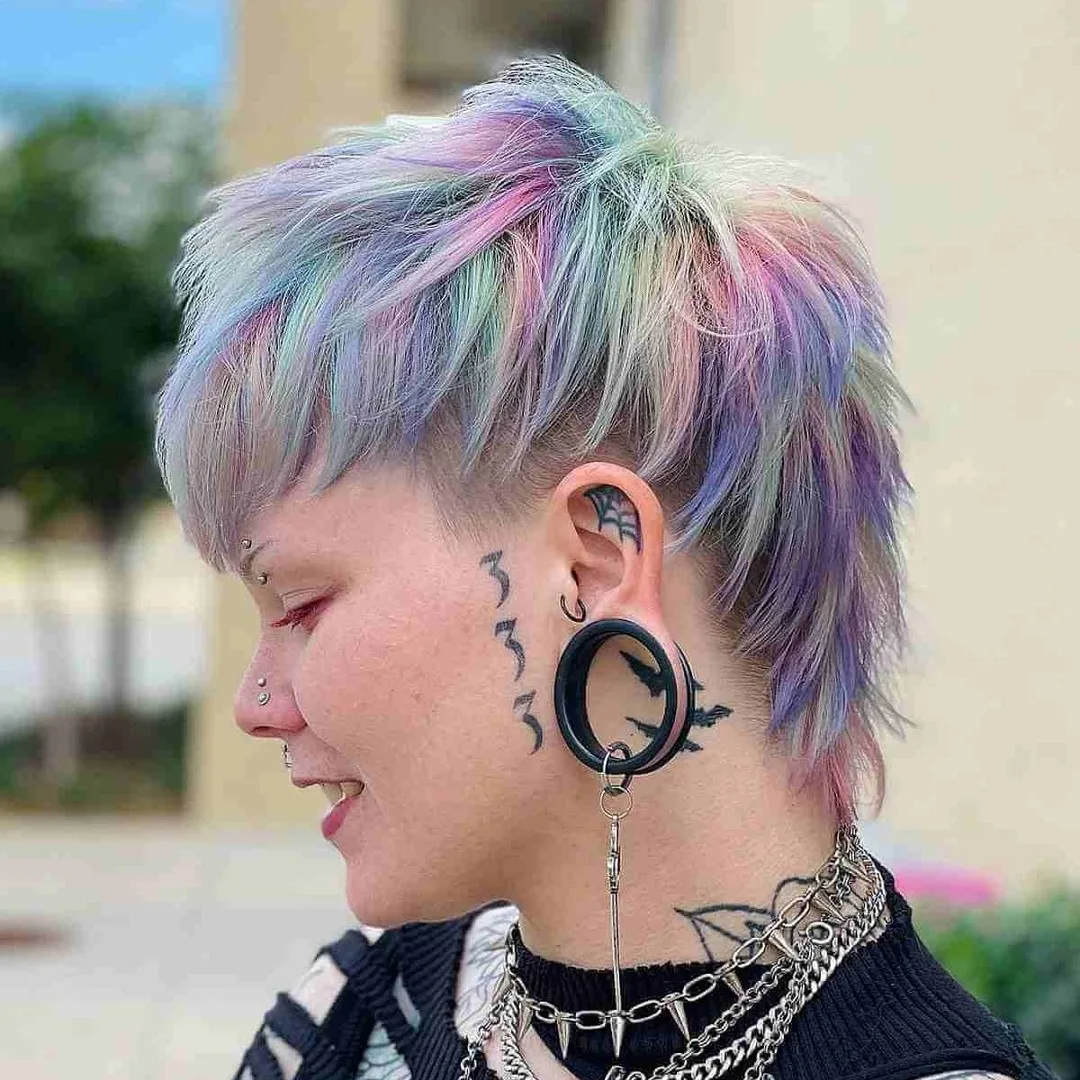 A style as edgy as a faux-hawk is the perfect match for any unnatural color that might tickle your fancy, if you're feeling daring.
58. Wavy Choppy Edgy Modern Mullet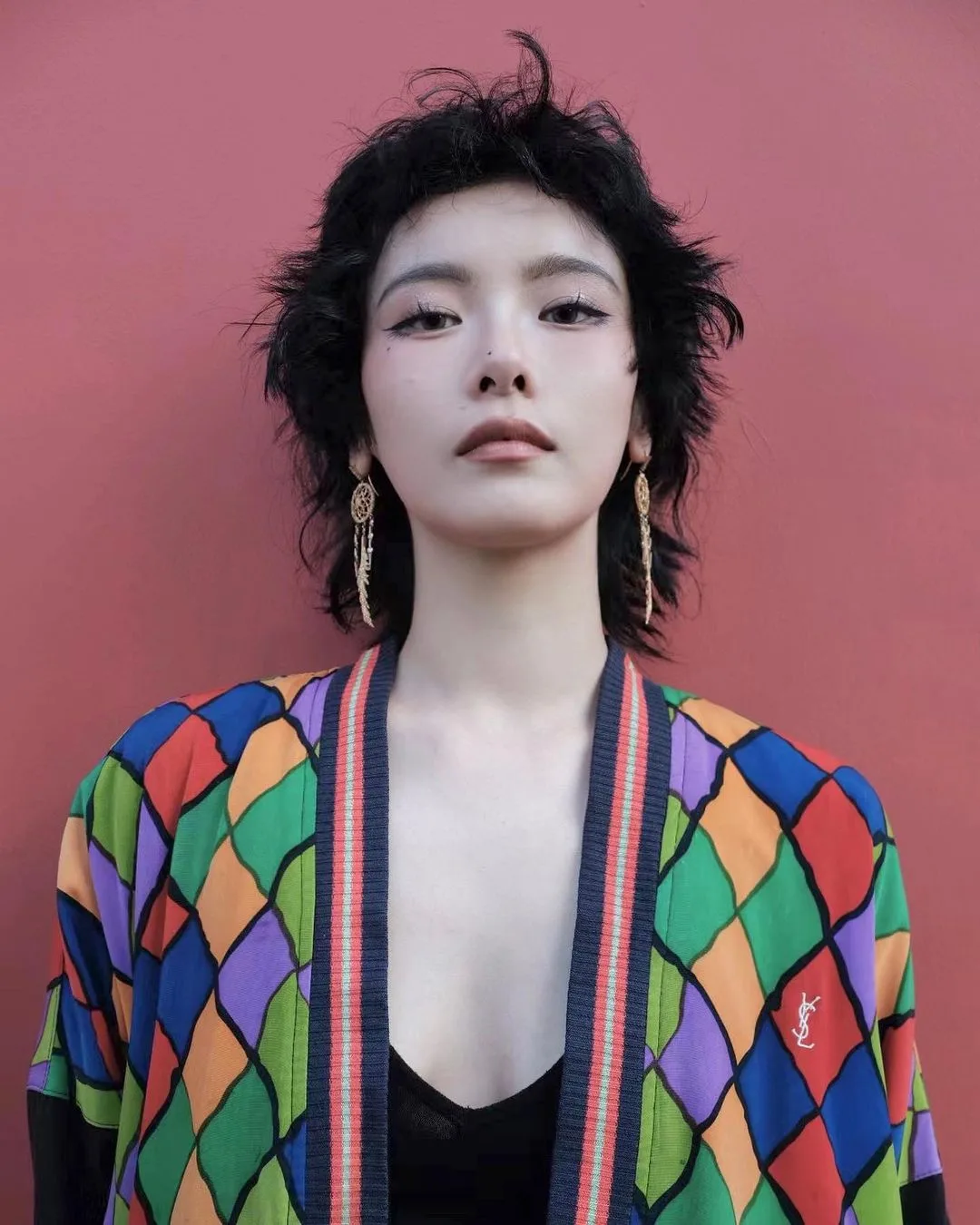 The mullet is a statement haircut, but it also makes thick hair manageable—it gets rid of all the bulk at the bottom while keeping a lot of length.
59. Short Shaggy Curly Bob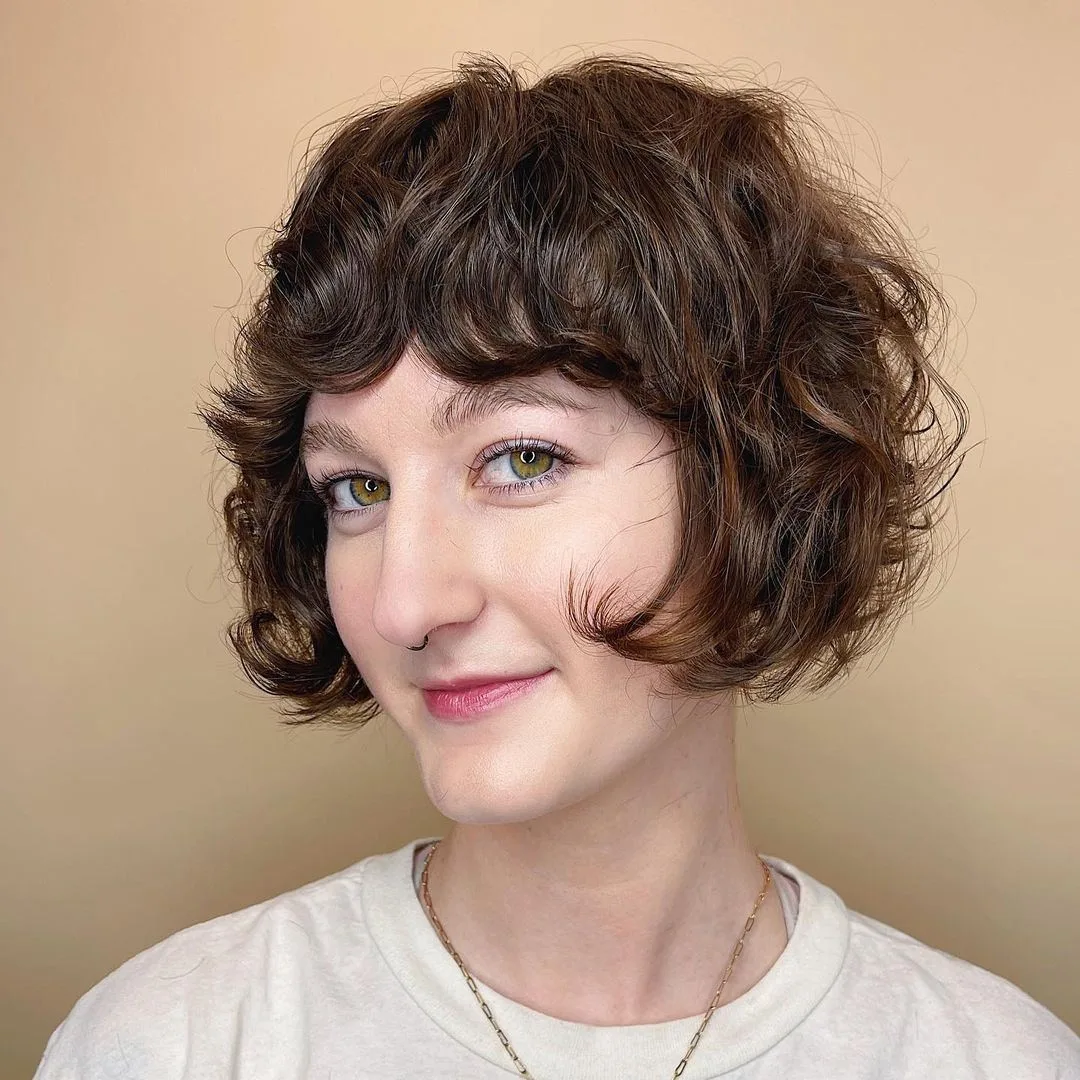 Even if your hair is naturally curly, it might still need a bit of assistance to really pop. For short hair with bangs, adding or enhancing curls is much easier with a hair straightener than with a curling iron.
60. Pixie Cut With Choppy Layers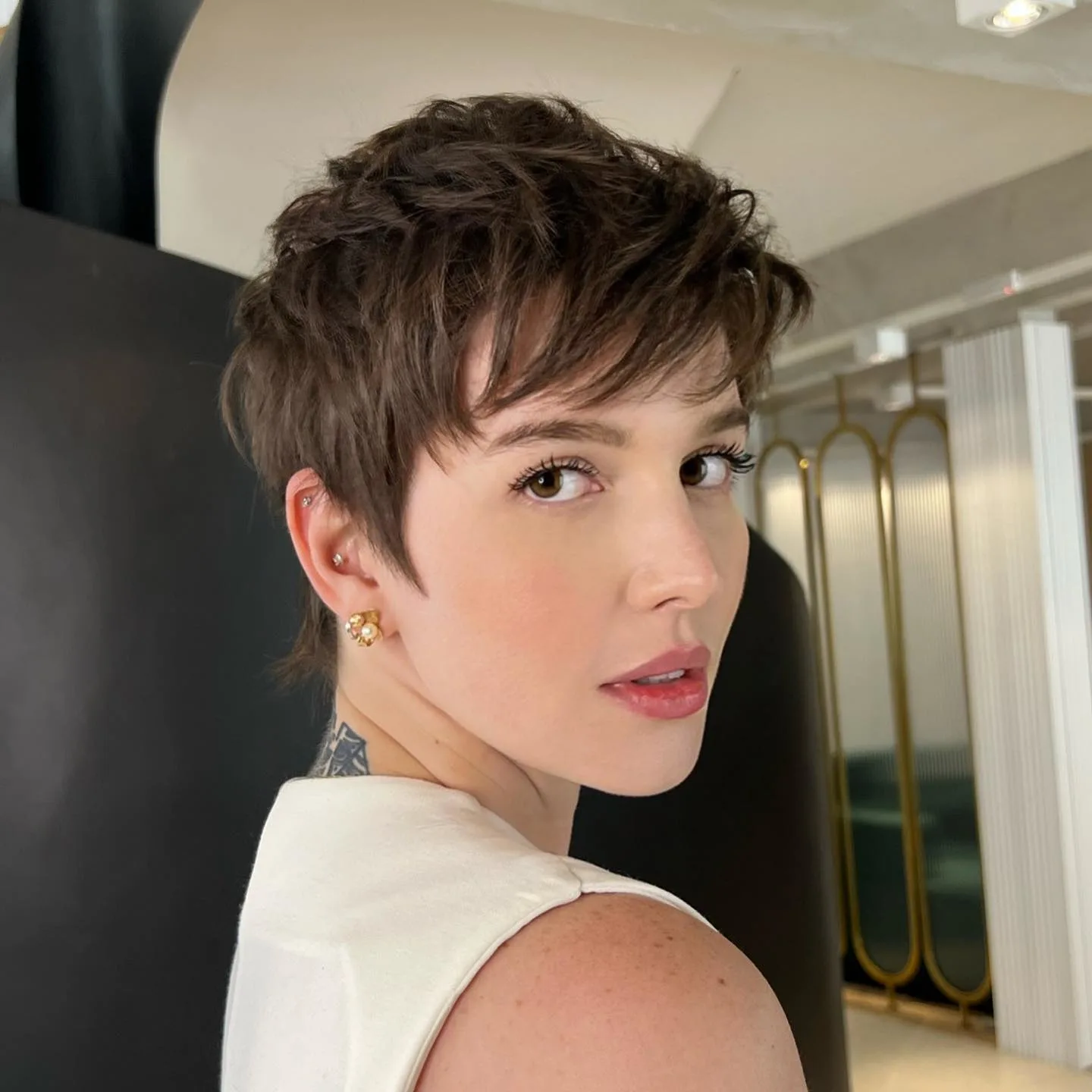 Choosing the length of your pixie cut will make all the difference. It might take some trial and error to find the perfect length and volume that flatter your features, but once you get there, you'll know right away that you've found what works for you.
61. Short Choppy Haircut With Bangs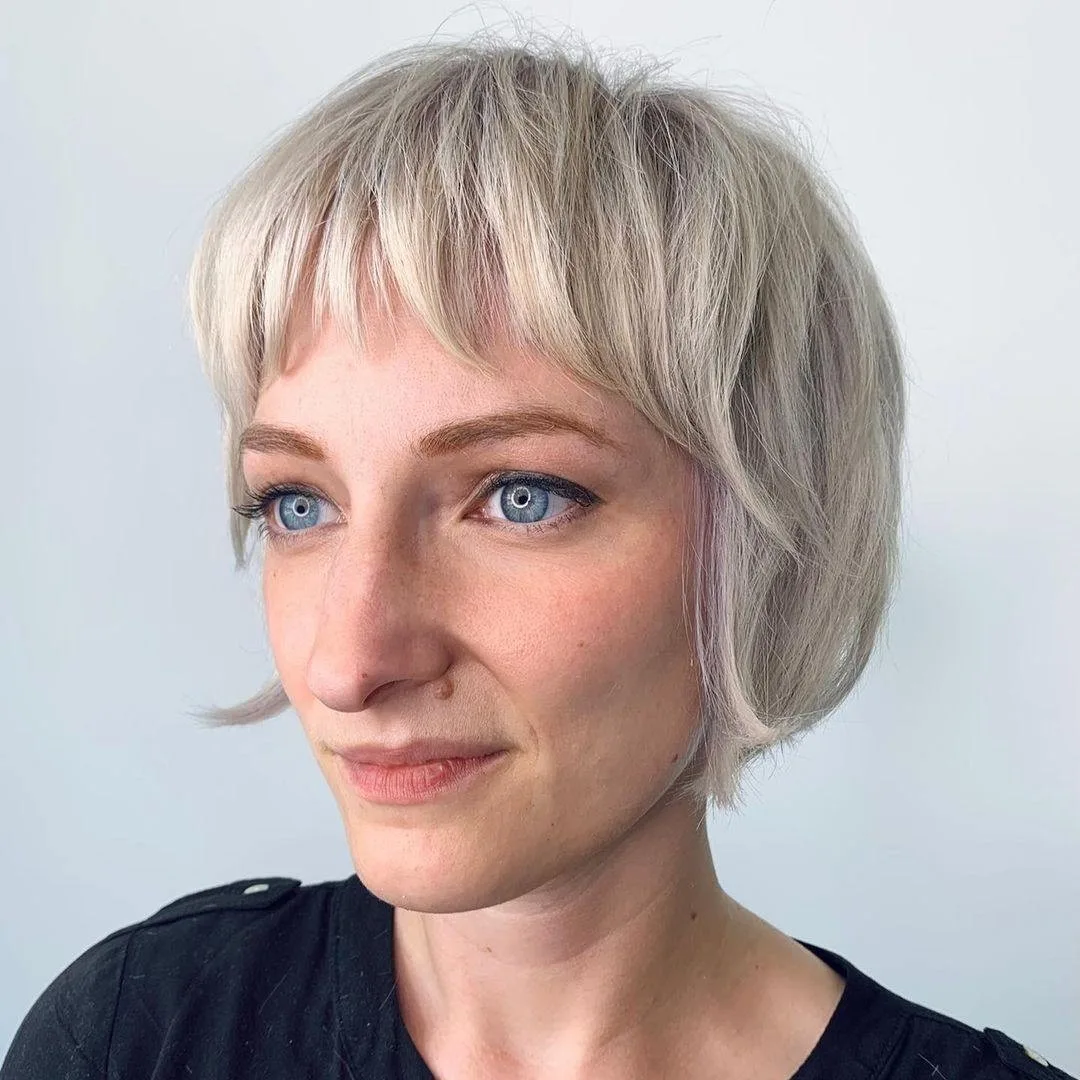 It's well known that you can shorten a high forehead with bangs, but they work best in tandem with volume to divert attention and transform your look.
62. Short Choppy Bob With Bangs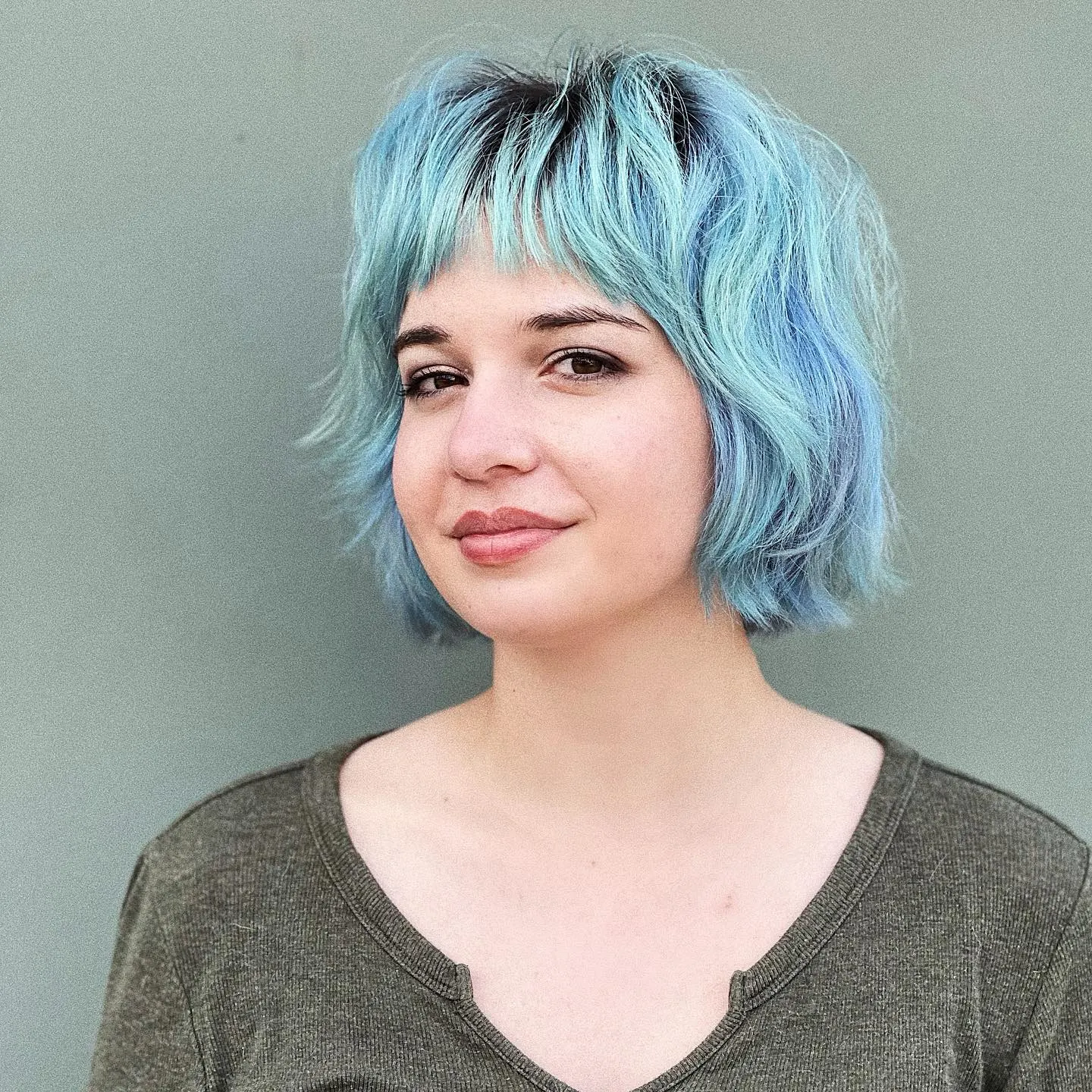 Separation is key to tousled hair, and it's all about the product—if you like this kind of look, a texturizing spray or a cream is a must!
63. Messy Short Hair With Choppy Layers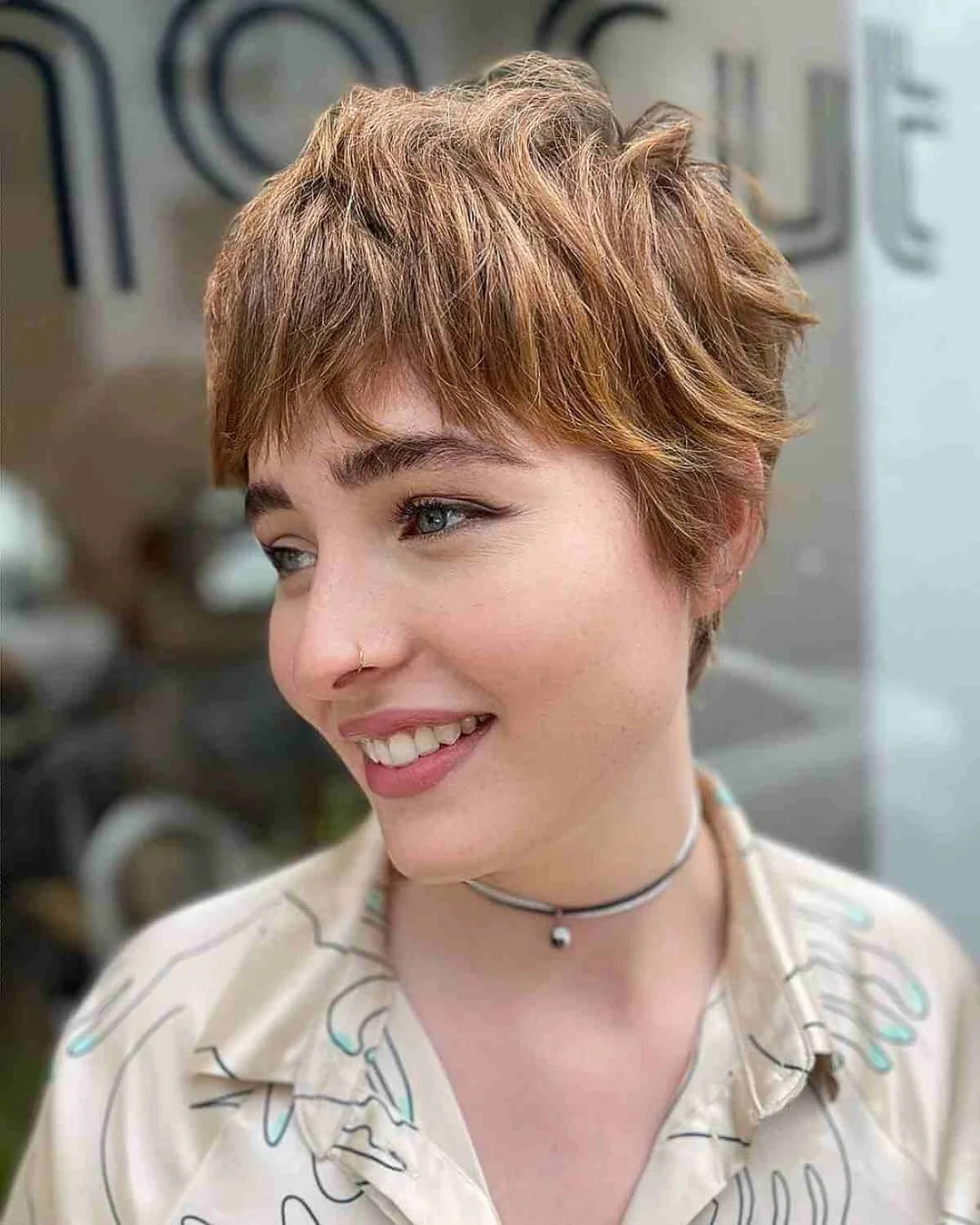 You don't need long hair to have fun. This cute style is romantic, playful—and short!
64. Fluffy Choppy Bob With Side Bangs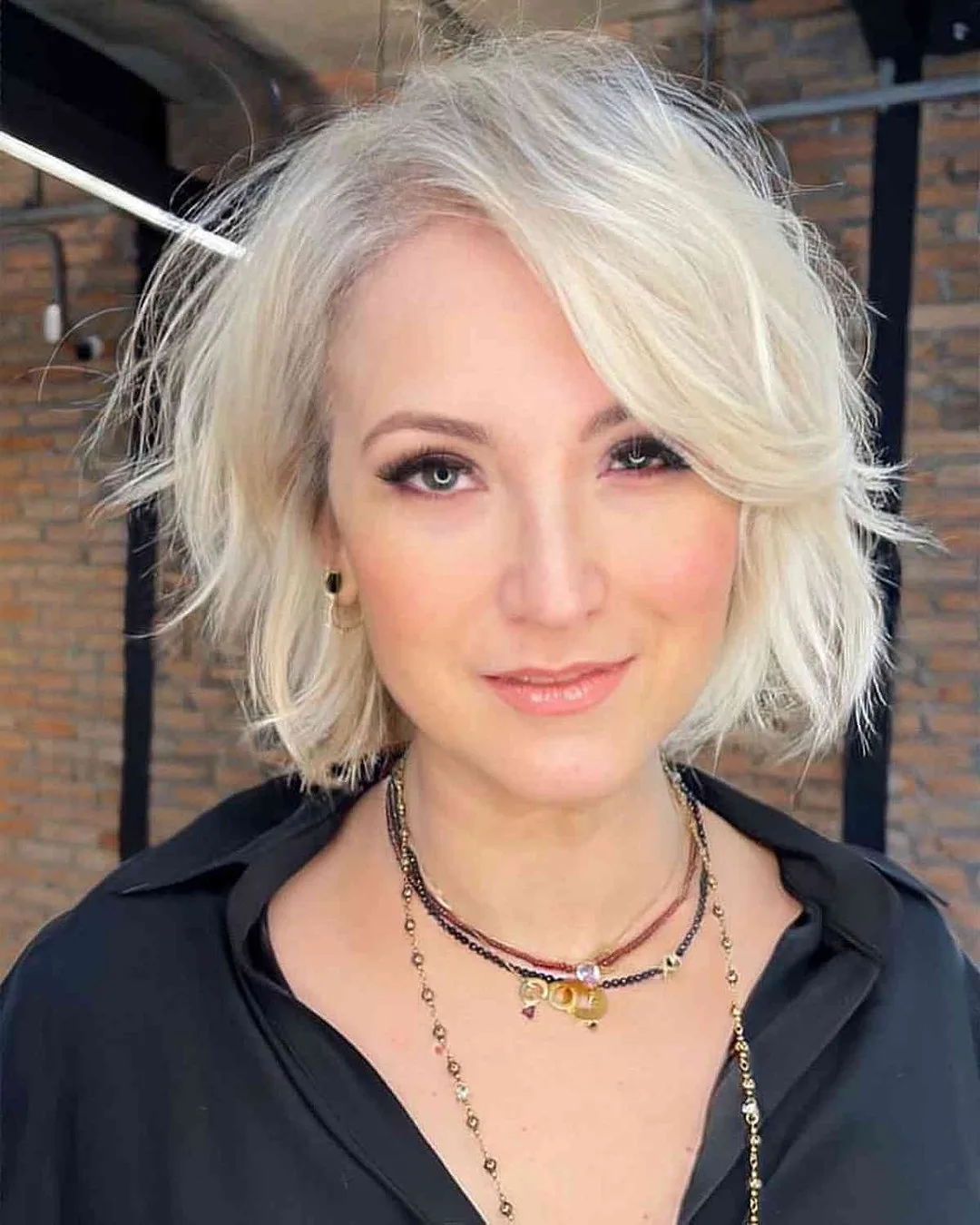 Side bangs go in and out of fashion every few years, and if you're a fan, you'll be glad to hear they're back. Freshen up your choppy bob with a few carefully arranged face-framing strands.
65. Edgy Shaggy Mullet For Thick Hair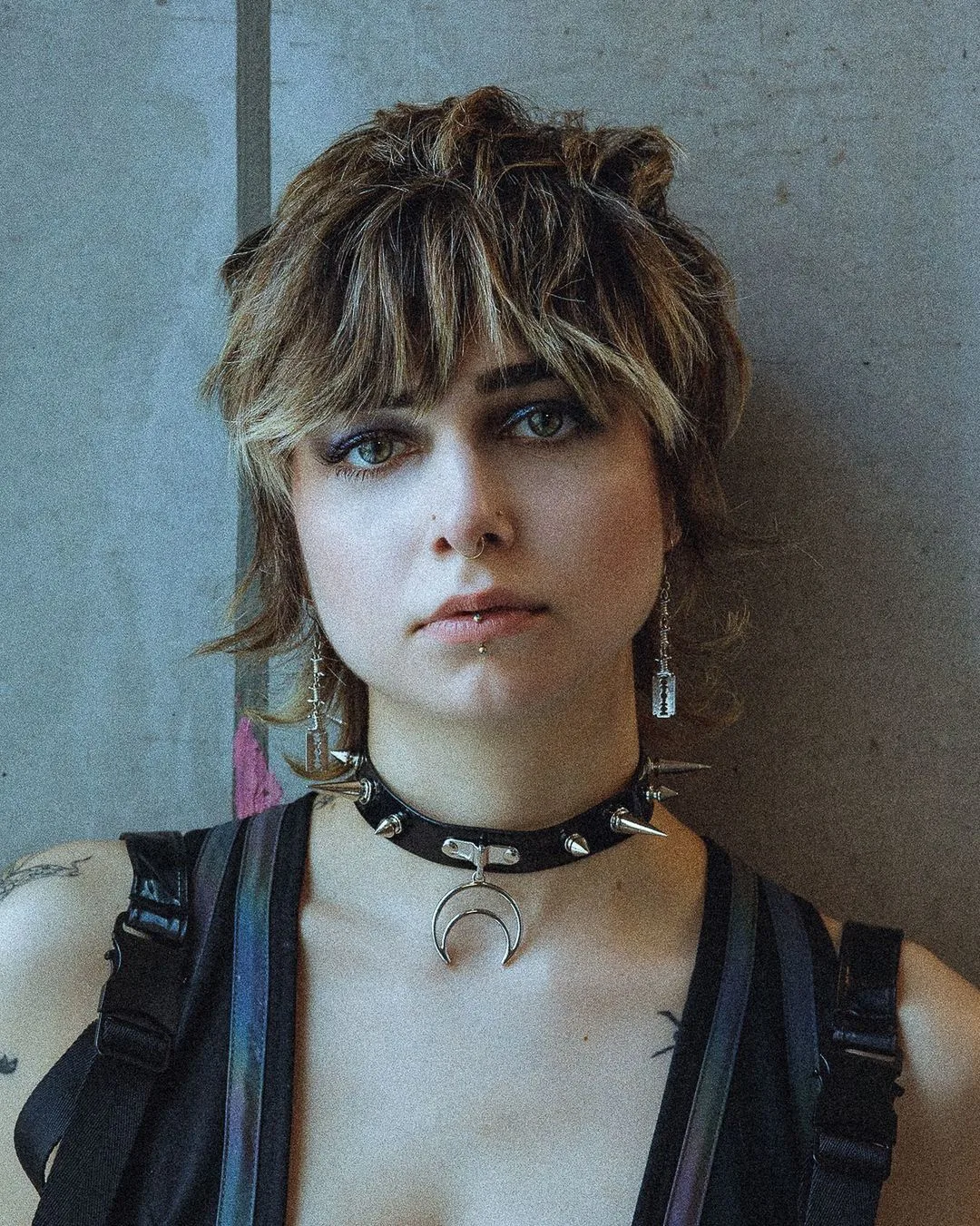 Even though mullets have been popular among celebrities and the fashion-forward types, they remain a love-it-or-leave-it haircut that not everyone would decide on. If you've been meaning to try it, however, shorter varieties of a shag such as this one are an easy change for everyone who already rocks hair above the shoulders.
66. Choppy Fluffy Short Hairstyle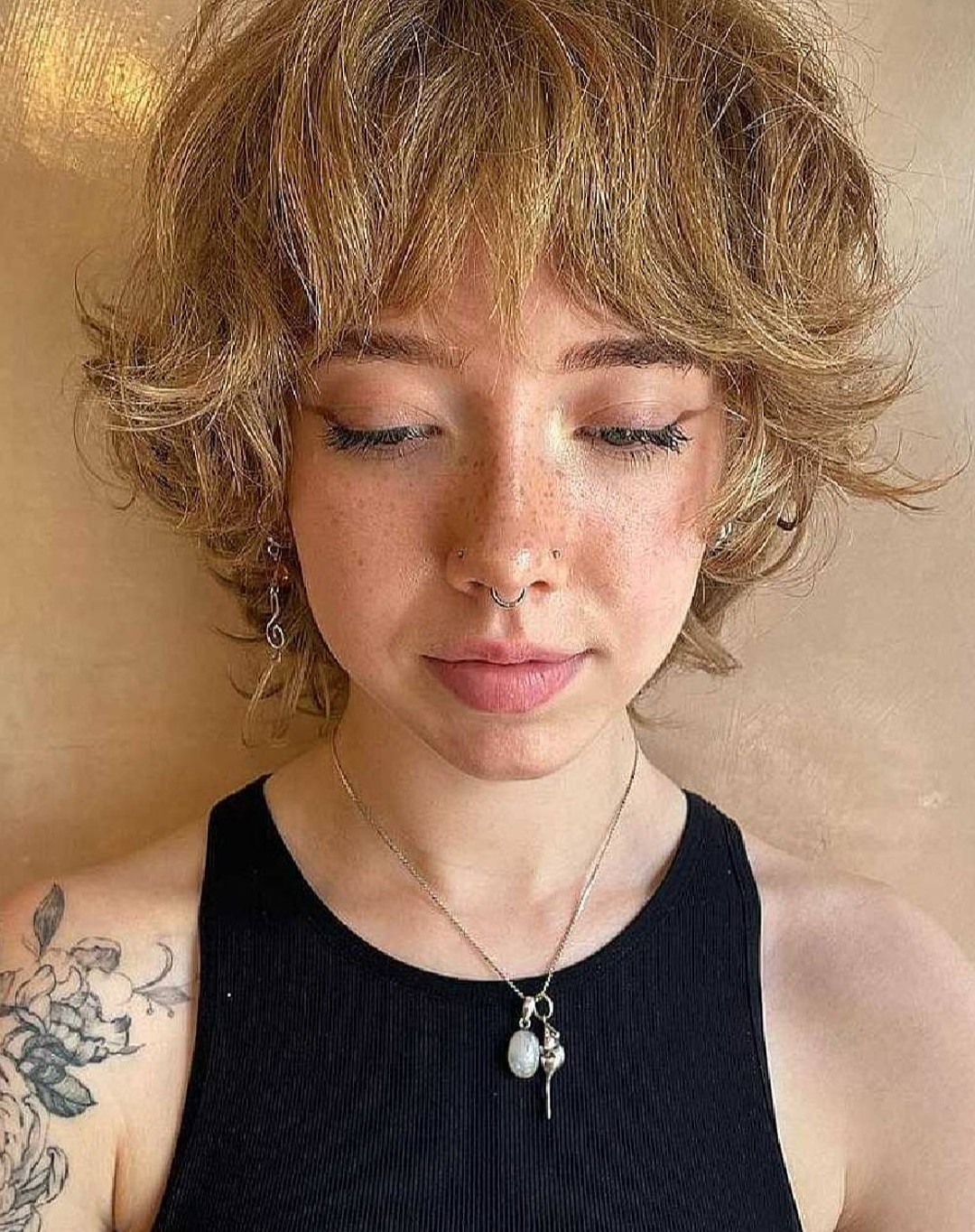 Hair as fluffy and voluminous as this will make your face look smaller—the exact opposite of a cropped pixie.
67. Choppy Short Bob For Fine Hair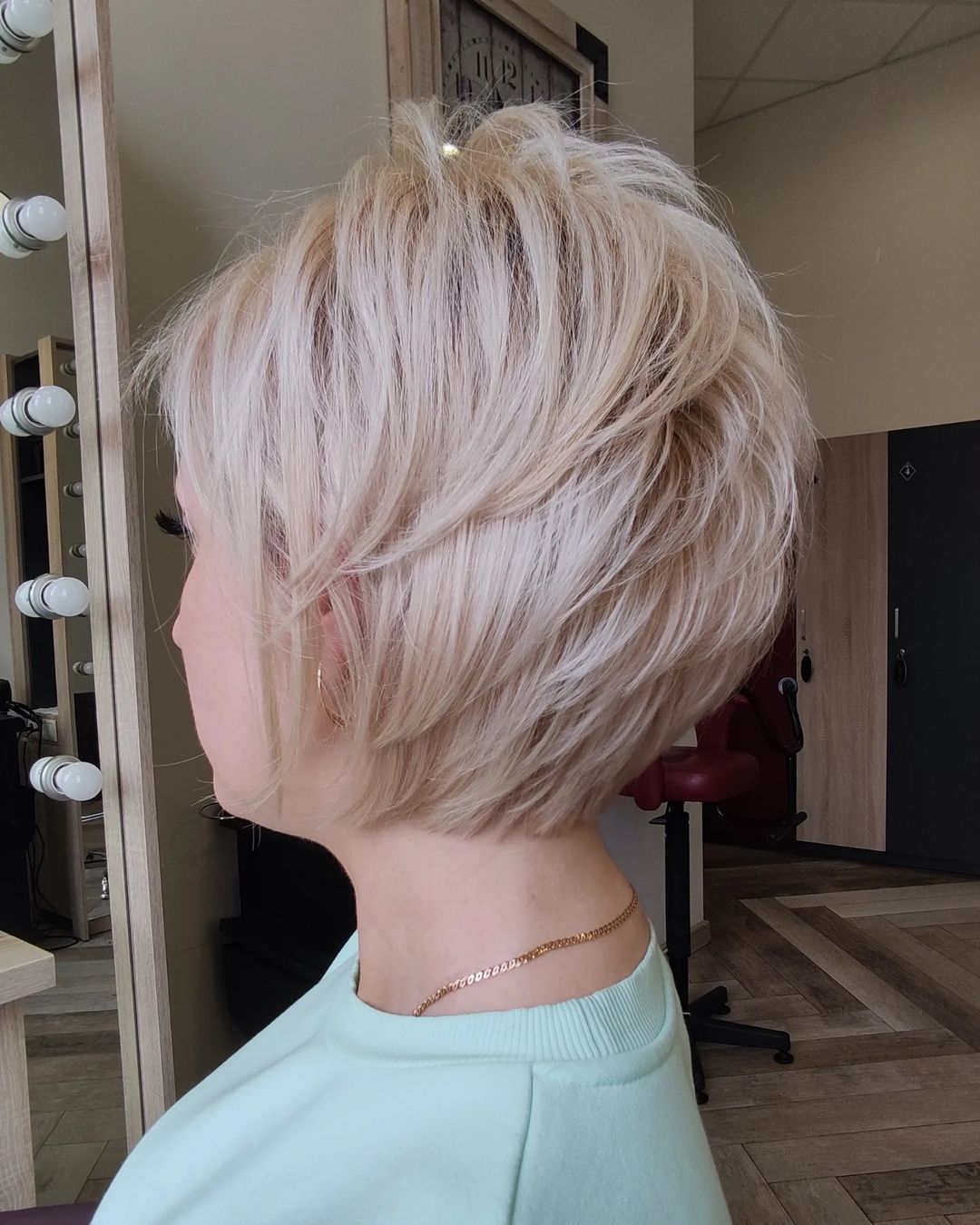 If you want lift and volume in the back but a stacked bob isn't your style, go for choppy instead of tapered layers—they will give you exactly what you want.
68. Choppy Layered Haircut With Razored Bangs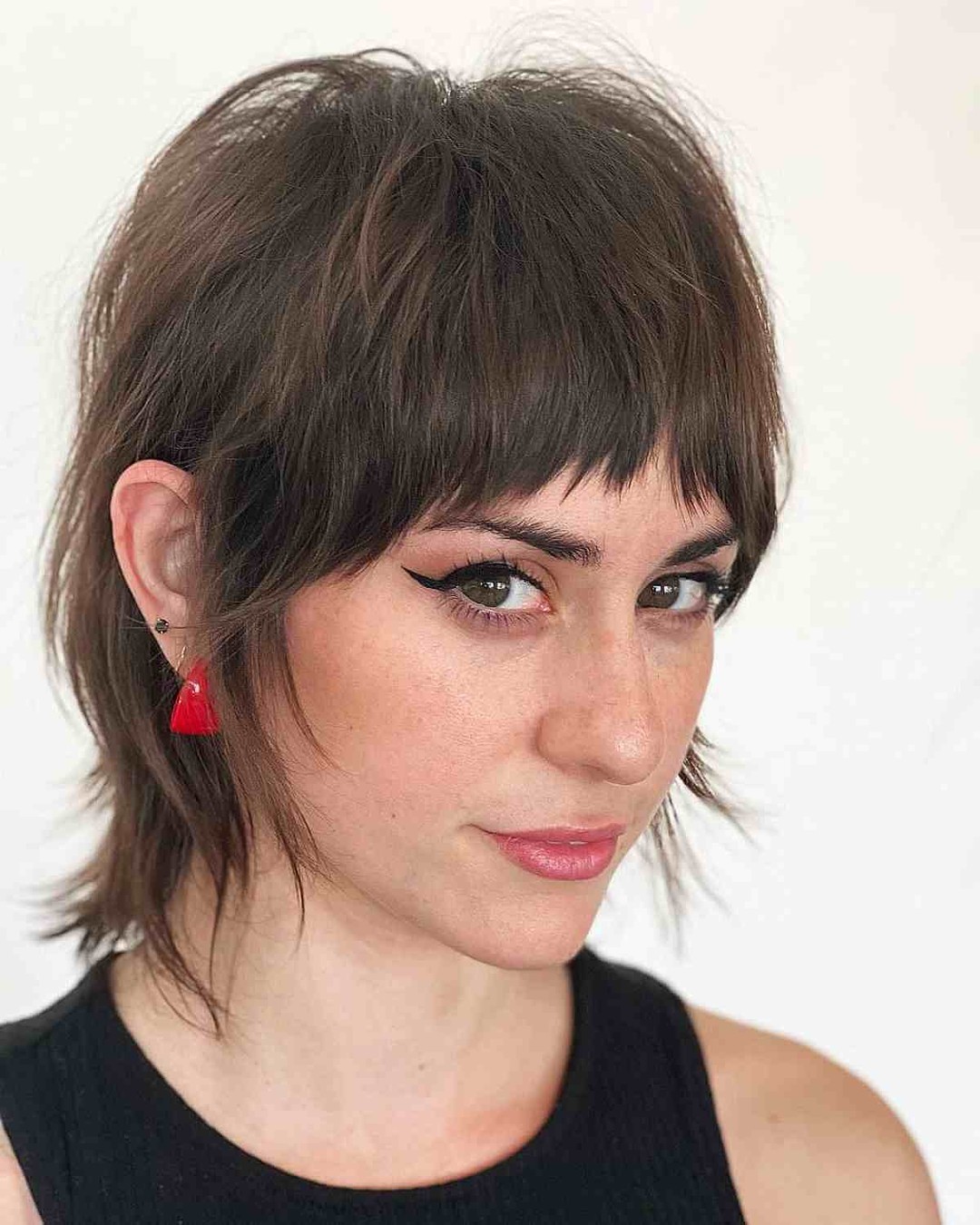 This shaggy cut is the ultimate laid-back style, but before you go for anything with wispy ends, be aware that you'll need regular trims because such haircuts start looking unkempt very quickly.
69. Curly Short Choppy Haircut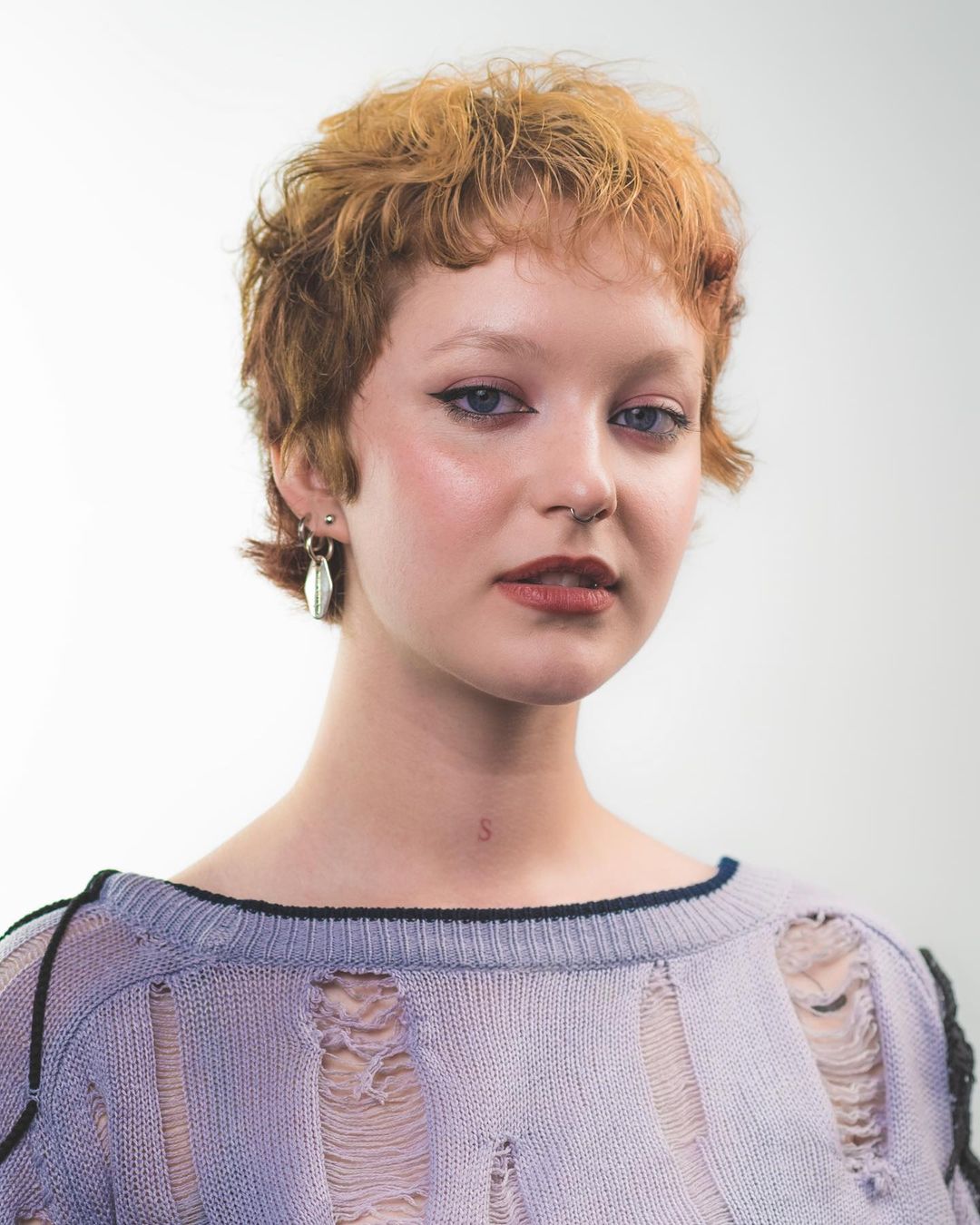 Short and sweet! This haircut plays along with the texture of the hair, making it a breeze to style.
70. Asymmetric Short Choppy Haircut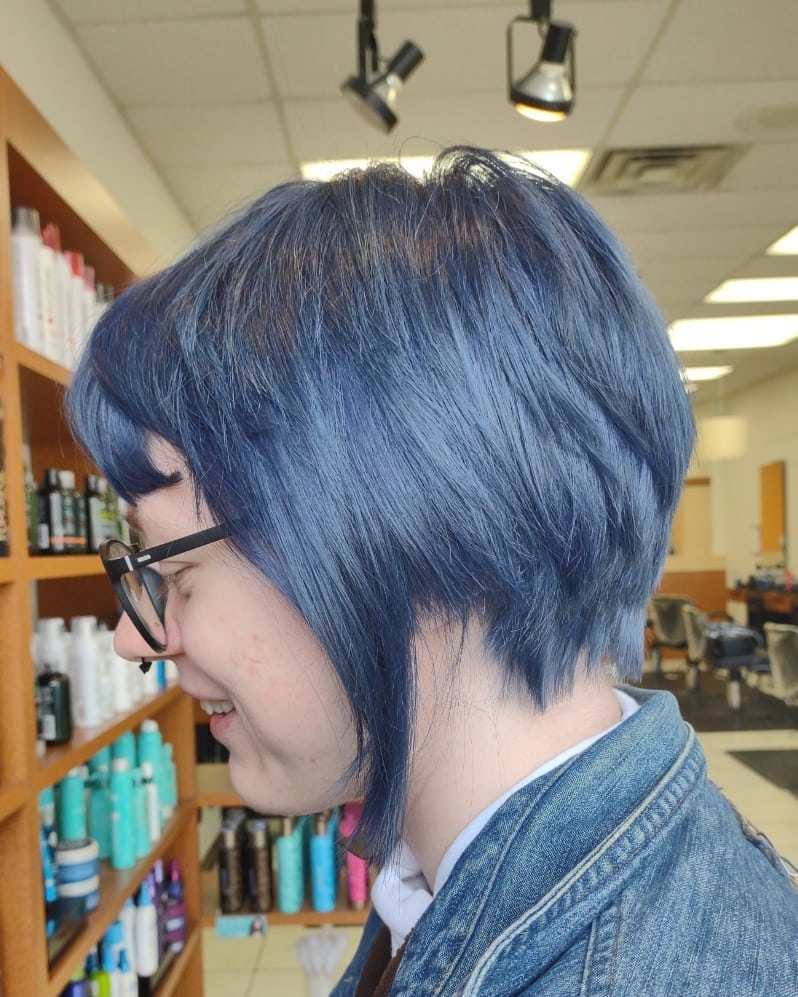 Short choppy haircuts come in many forms and can be adjusted to many personal styles. For example, this cut that combines several lengths is great for those who prefer something unusual that stands out.
71. Short Fluffy Alt Hair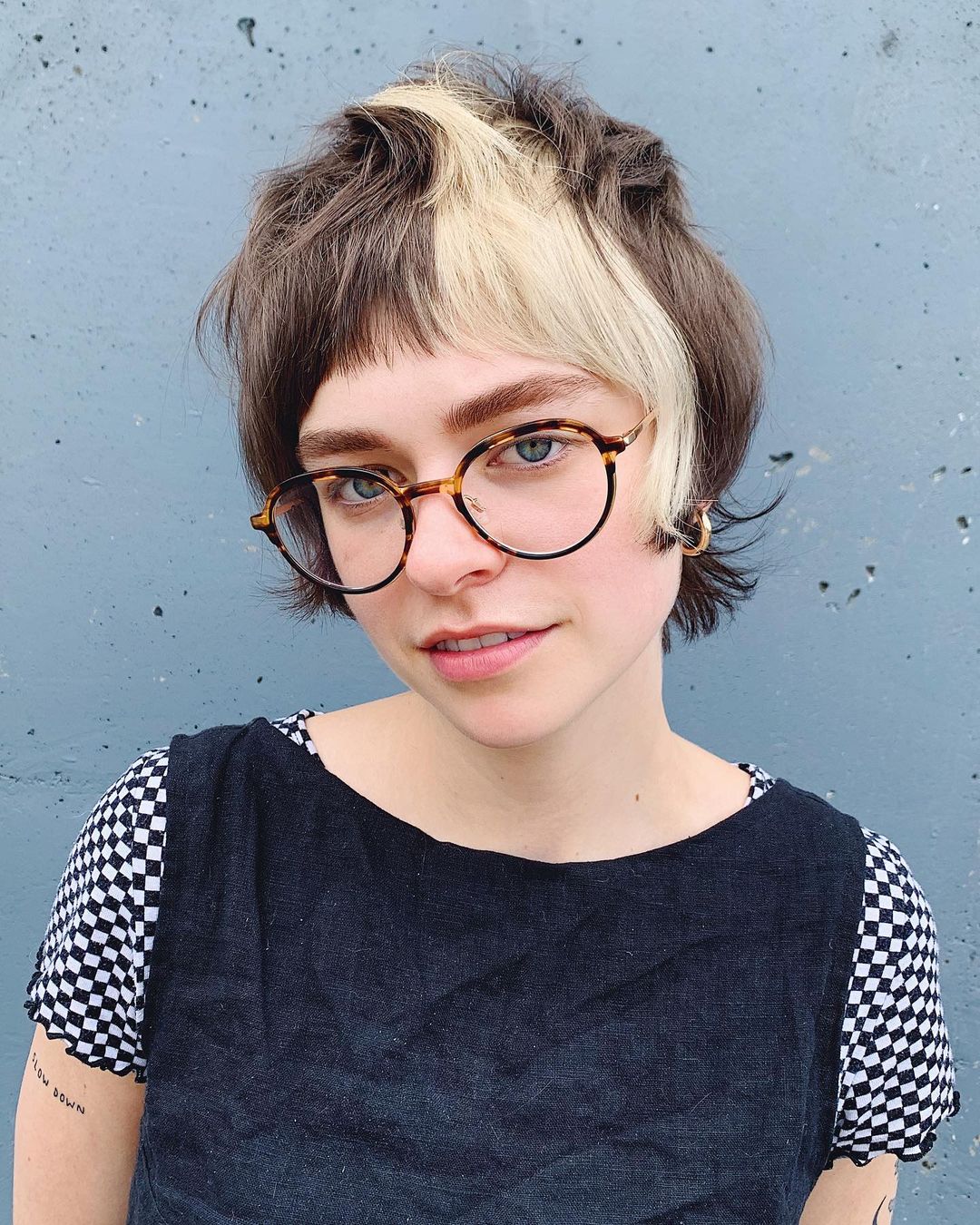 Experimental hairstyles can be right for you, as long as your stylist makes the one you choose fit your face shape and hair texture. This alt style is creative, unusual and flattering at the same time.
72. Modern Curly Shaggy Haircut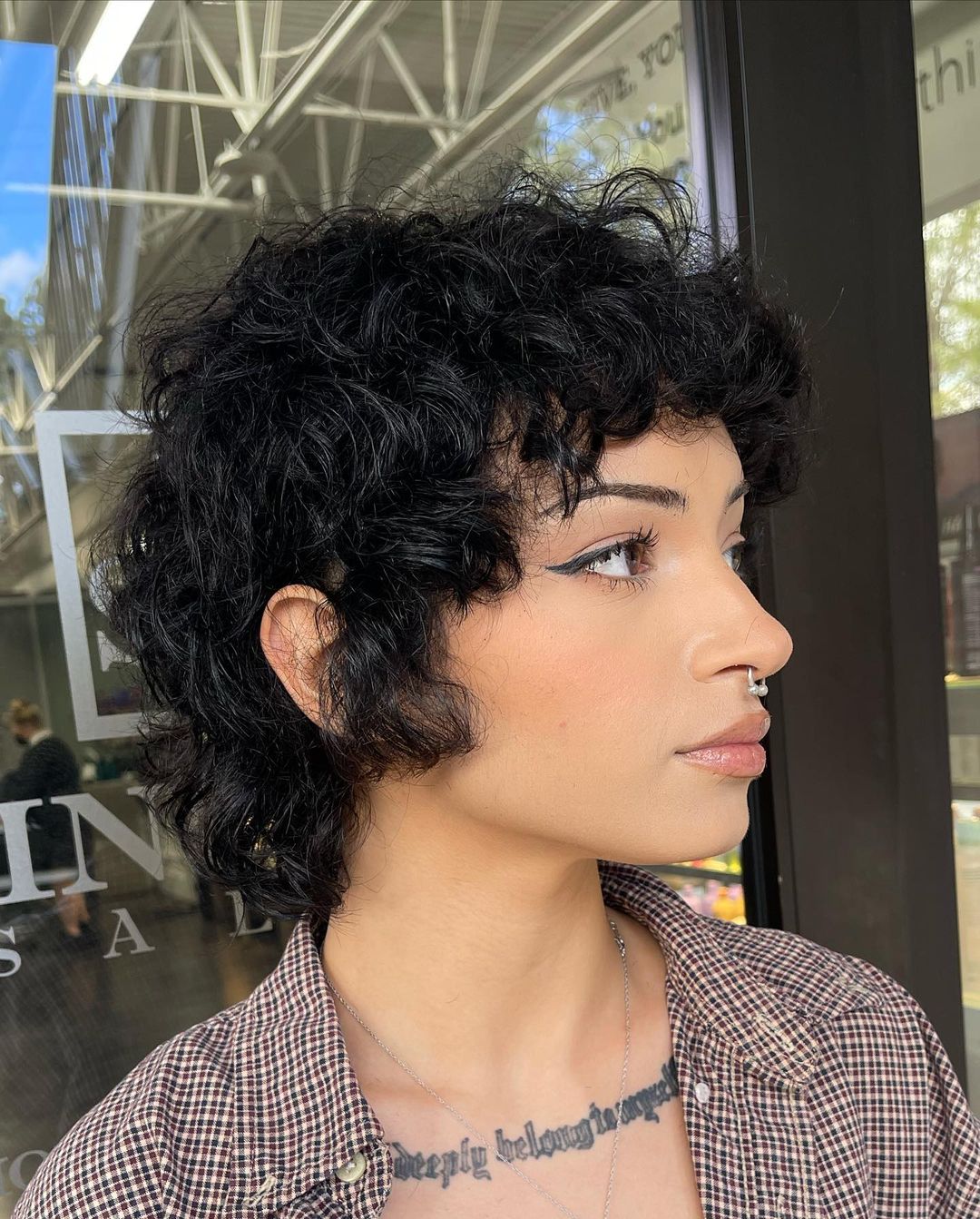 If you have curly hair and want to make a drastic change, such as going short, picking a stylist who knows how to work with your hair type is essential. Do your research before letting anyone get near you with scissors.
73. Short Choppy Haircut With Blunt Bangs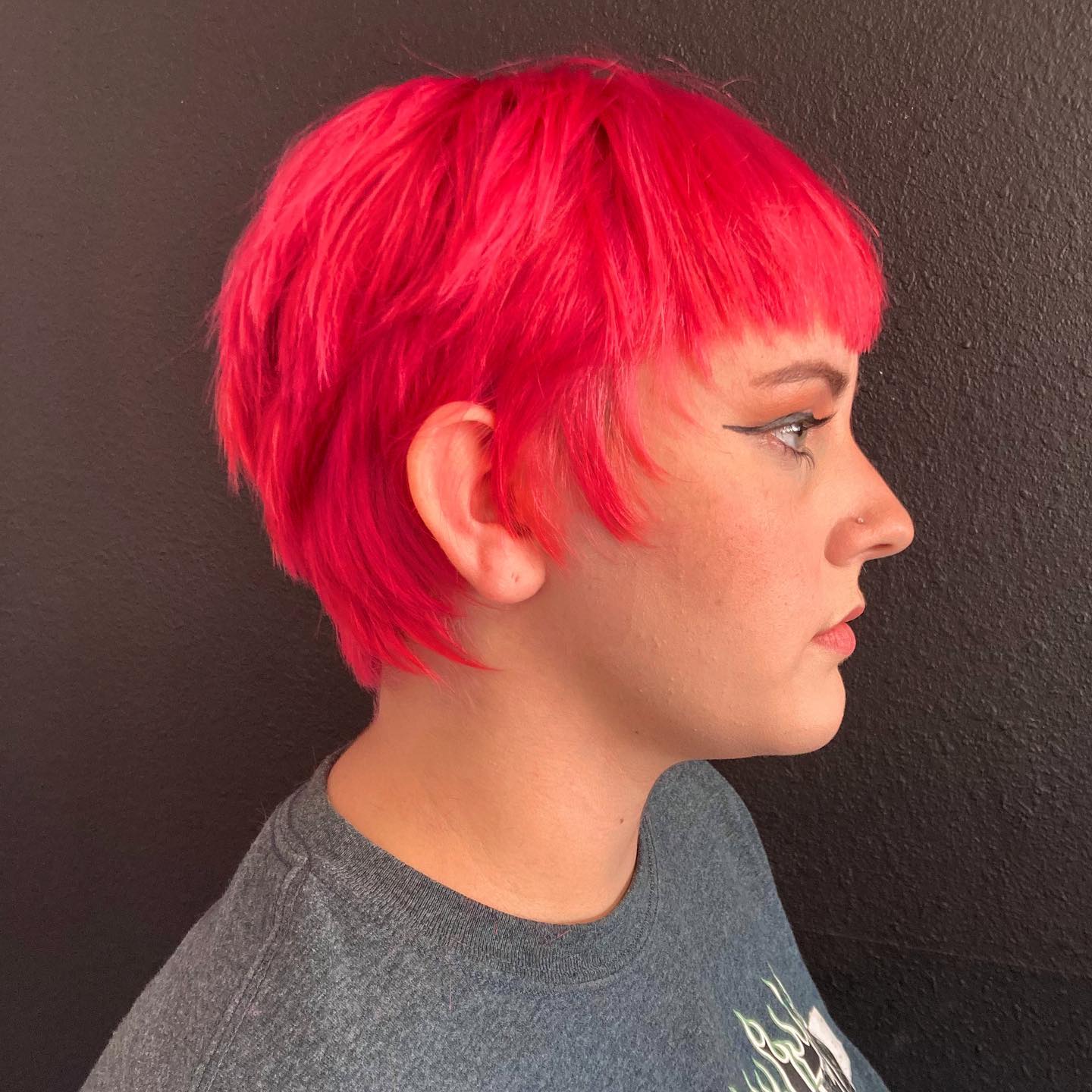 Blunt bangs and blunt layers are a great match that gives you consistency in style even if it's intentionally disheveled.
74. Choppy Short Hair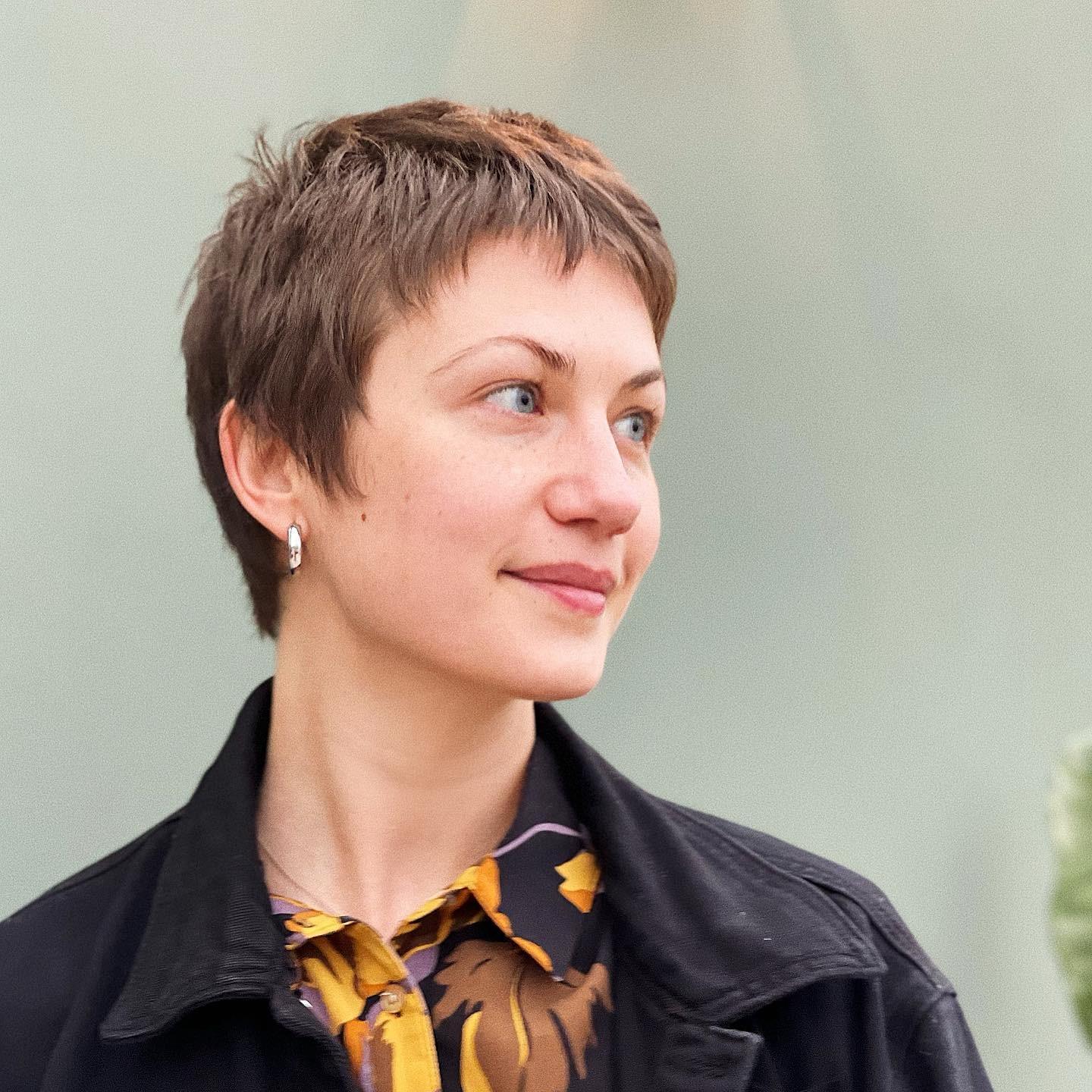 Tiny bangs on a short pixie is an elegant yet cute haircut that, even though it's so short, has several styling options: spiky, sleek, parted or combed back—this simple style really packs a punch.
75. Short Choppy Haircut With Shaved Sides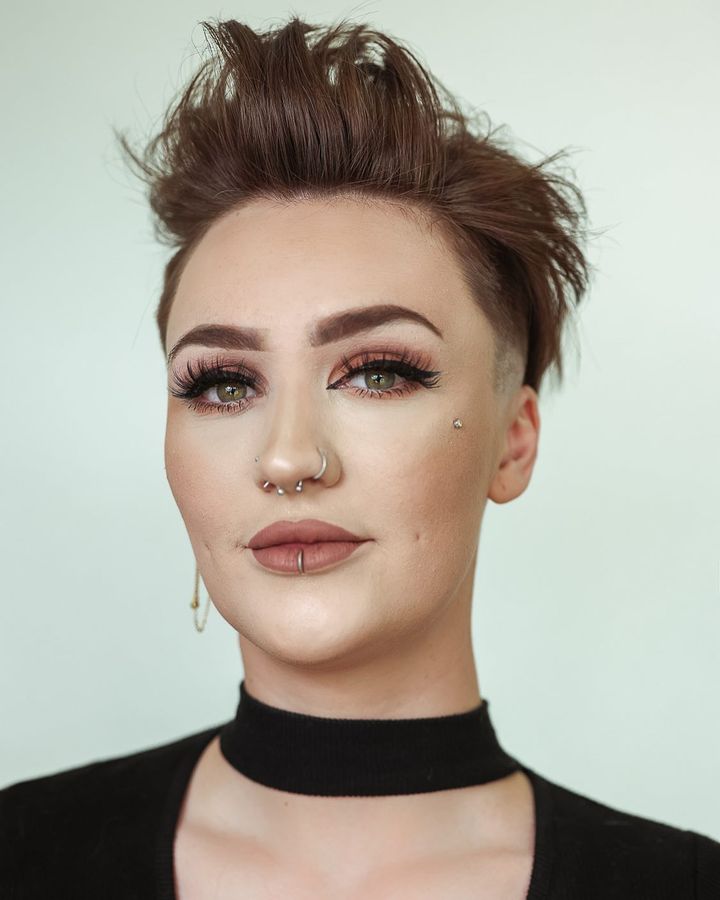 Even though shaved sides immediately turn a haircut into something edgy, when your hair is a bit longer on top it can still look glam, if that's what you're going for.
76. Long Layered Choppy Pixie Cut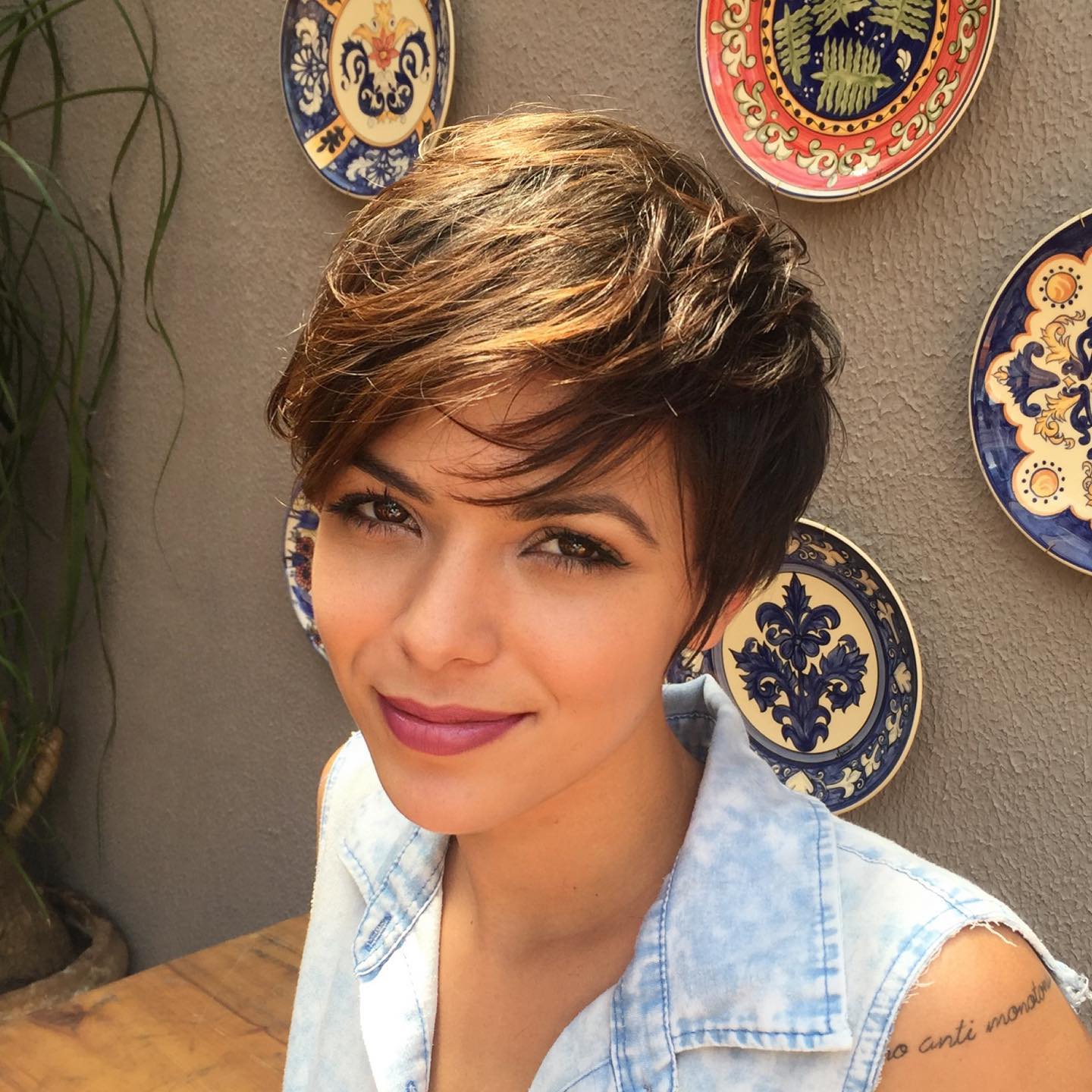 You could say that a pixie with long bangs is a safe style, but what's wrong with that? If you want short straight hair with bangs that's pretty and guaranteed to look good, this haircut is the one to go for.
77. Short Choppy Haircut With Side Bangs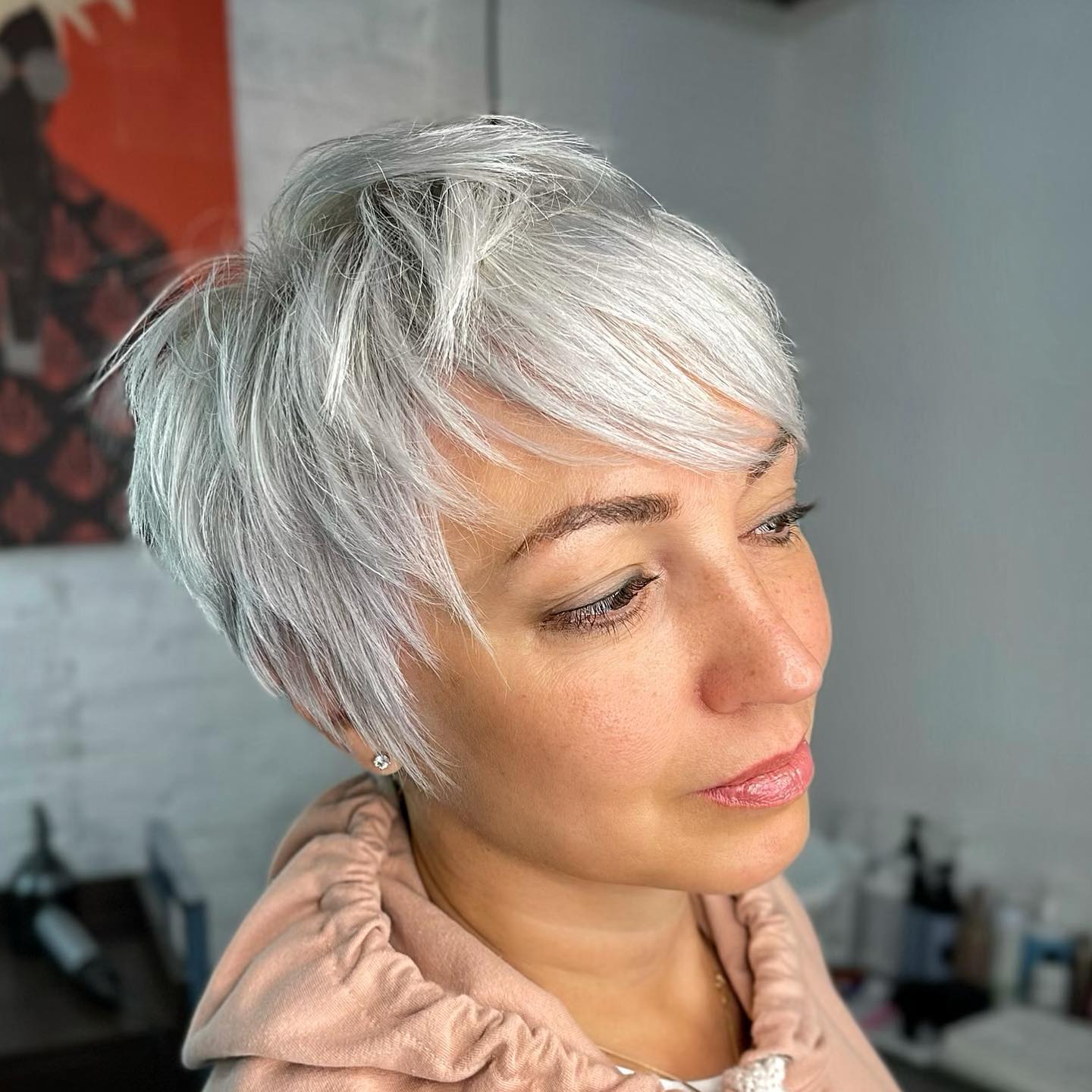 Go for a slightly longer pixie cut with side-swept bangs if you want to emphasize your cheekbones.
78. Choppy Bixie With Undercut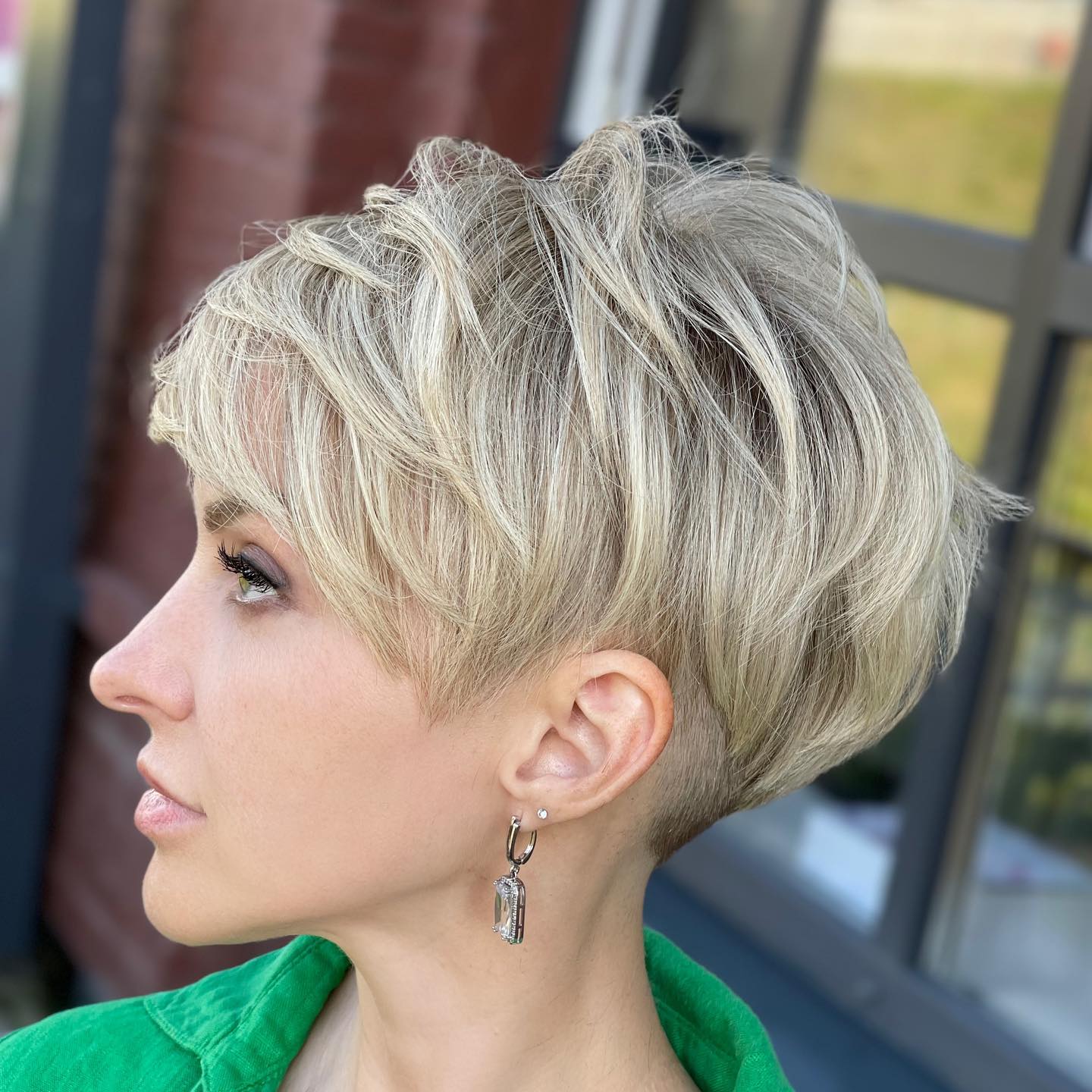 Buy yourself some time between appointments with a hidden undercut in the back—the rest of your hair will still be cute by the time the shaved part becomes uncomfortably long.
79. Shaggy Cut With Baby Curtain Bangs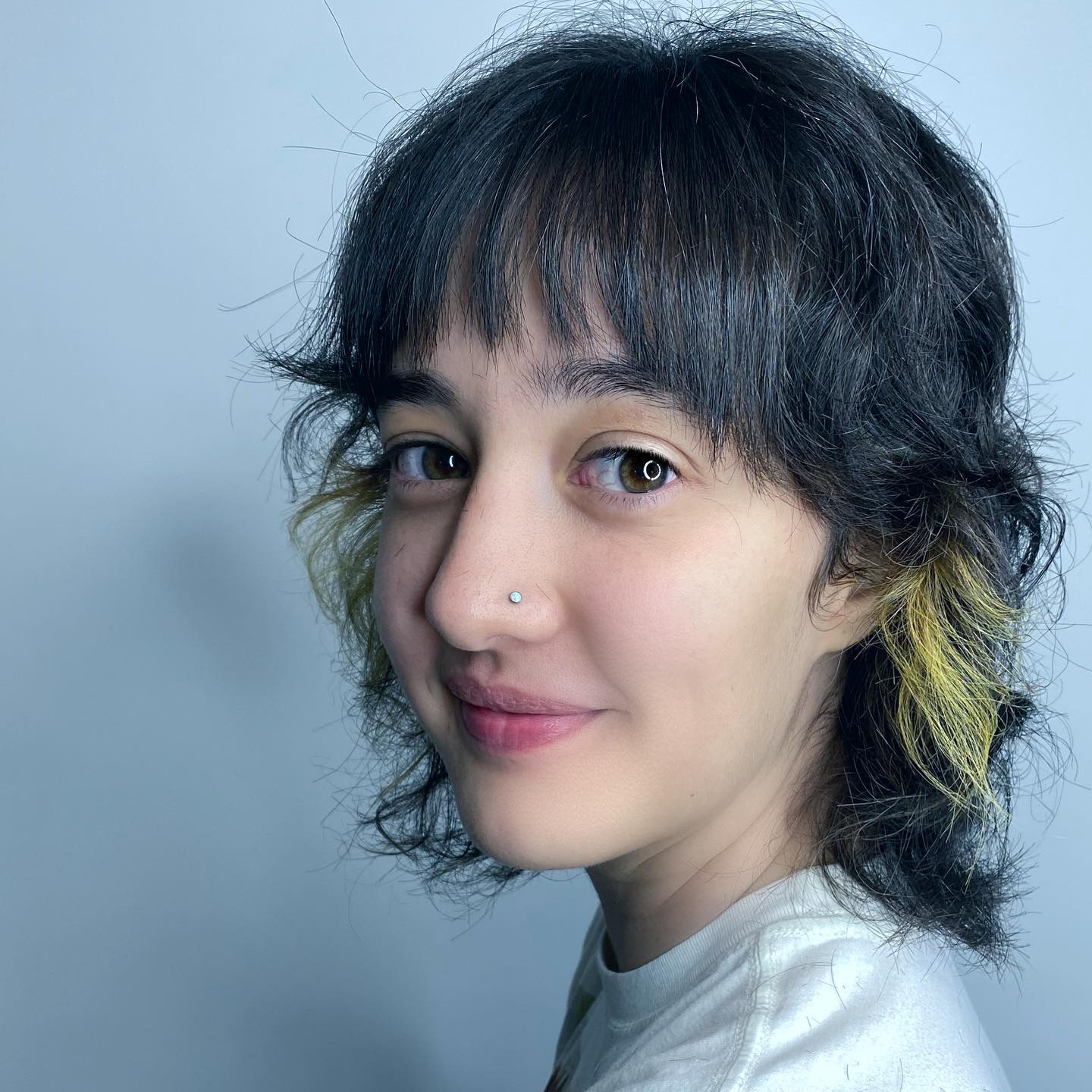 A little bit of frizz and flyaways makes this cut look even more effortless and cute.
80. Asymmetric Short Choppy Haircut With Undercut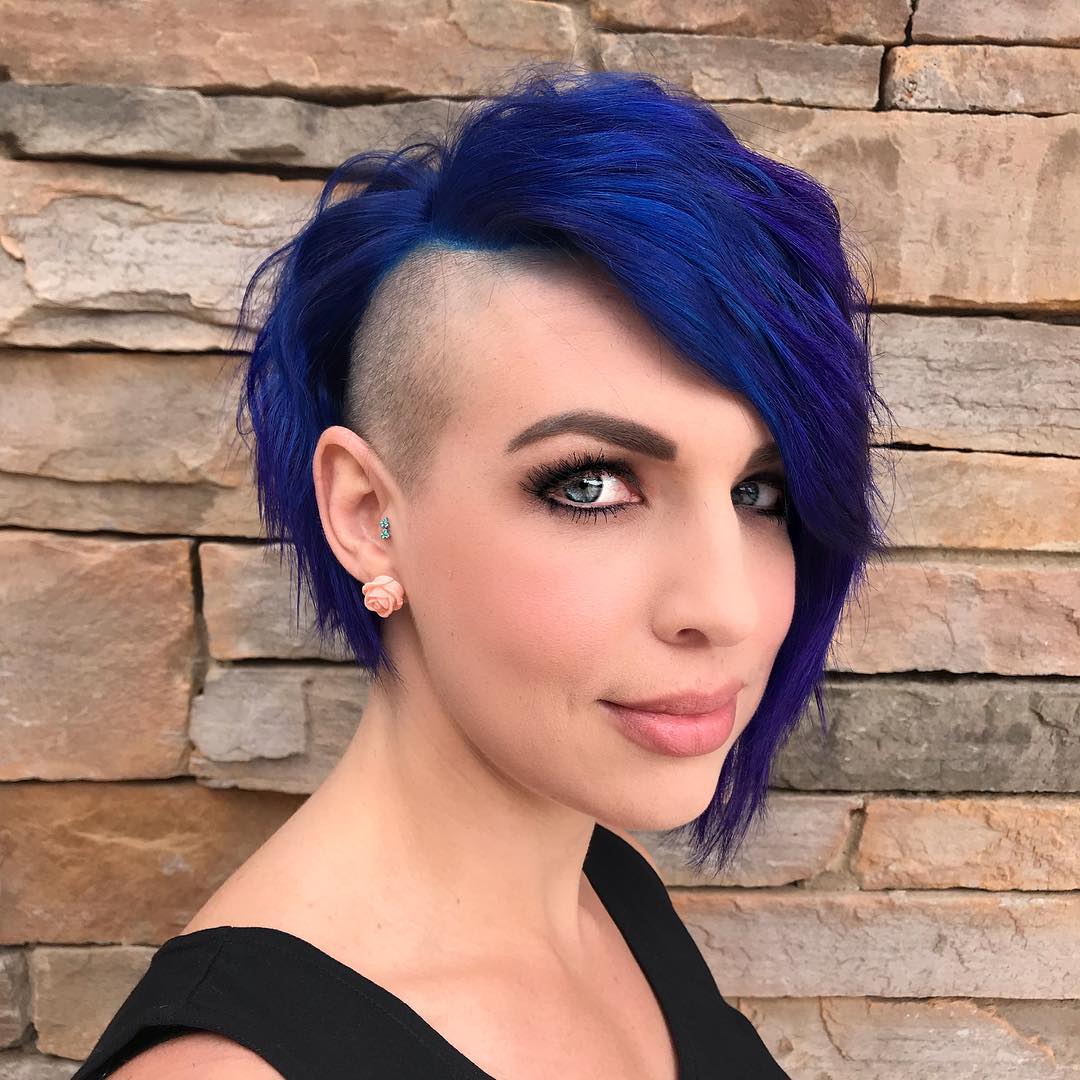 Most short choppy haircuts are not for the faint-hearted, but this cool asymmetrical bob/pixie hybrid is for the truly bold.