Do you know the true definition of natural beauty? Well, curly hair with bangs is most definitely the right way to describe it. Let's be real, is there a guy who can resist a girl with curly hair? Um, I don't think so.
The curls simply make a girl look gentle, kind, and friendly, while fringes can take years off a woman's face. Pairing curly hair with bangs will give your curls a whole new dimension and, more importantly, boost your self-confidence.
1. Long Curly Hair With Bangs
Do you get it already? This look screams natural beauty! Even though it is perm, it still looks so natural.
However, the best part is that it's so easy to manage. Even Camila said in one of her interviews that she never had to worry less about her hair. More importantly, she also added that she feels more confident than ever and that's all thanks to her hair.
2. Curly Hair With Bangs And Layers
If you have wavy or curly hair and want to add volume, this layered haircut will work for you. Your curly hair will get the definition it needs, the layers will highlight your best features and the bangs will soften the entire look.
3. Wavy Curly Hair With Bangs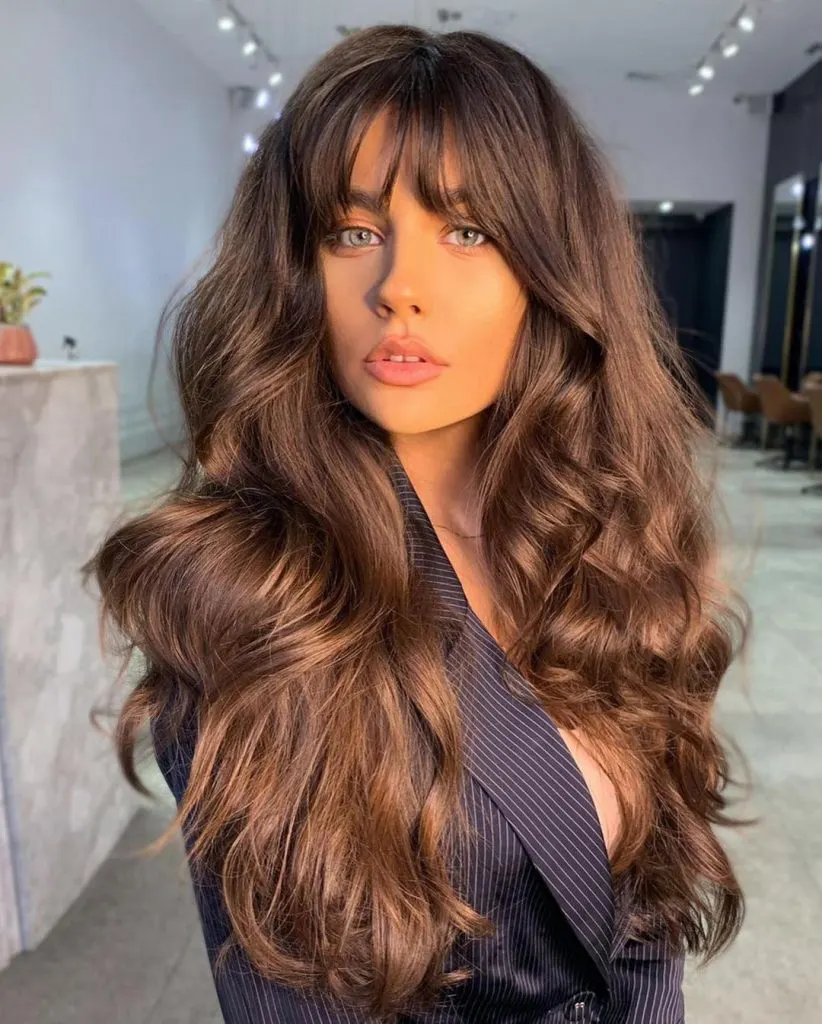 I call this one the magical curls. I'm sure this is the only hairstyle where you can look like you're relaxing on the beach, reading your favorite book while, on the other hand, you can also wear it on the red carpet and still be the star of the night.
4. Short Curly Hair With Curtain Bangs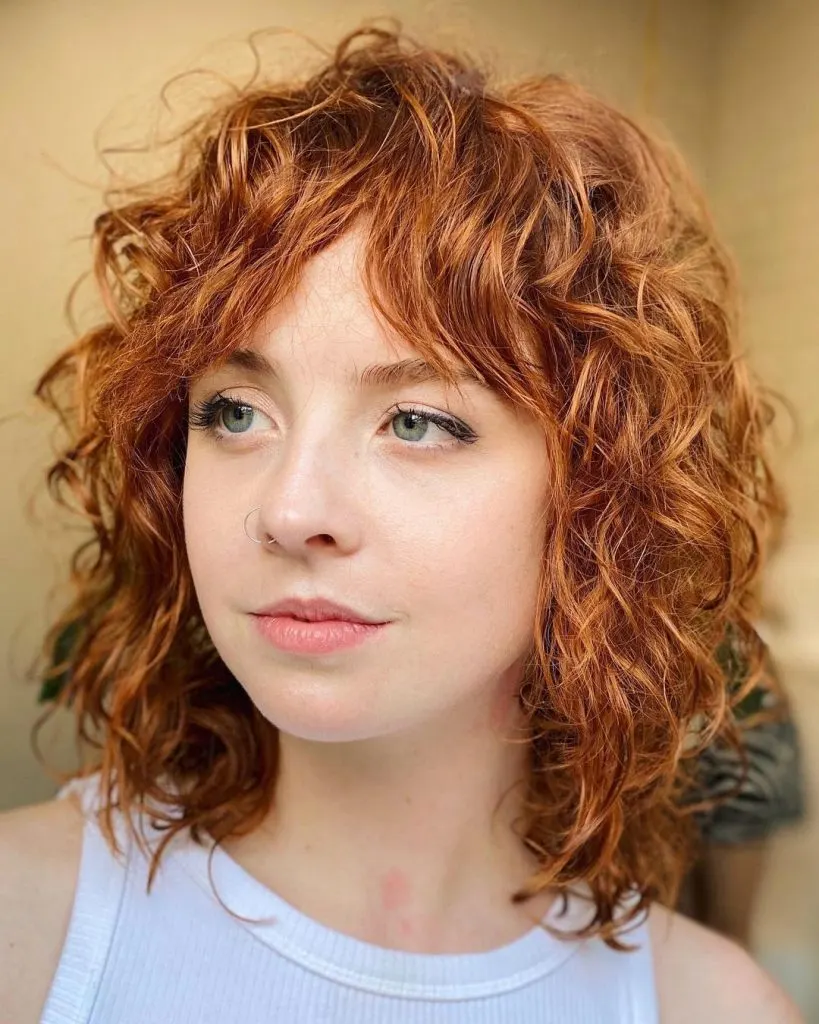 I always recommend curtain bangs to my clients who have voluminous curly hair. You want to know why? Because curtain bangs help control and tame all that volume. The best part about them is that they look good on everyone.
5. Blonde Curly Hair With Bangs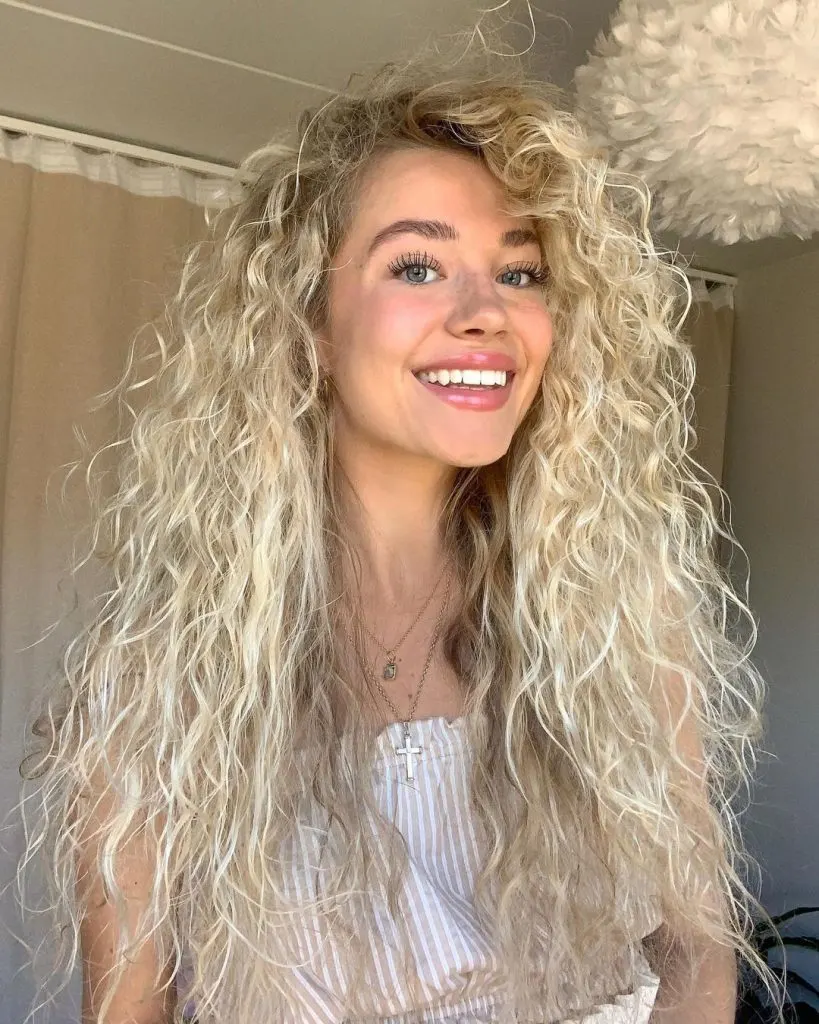 Interesting fact alert; only 2% of the population has natural blonde curly hair. So, if you're a natural blonde and have curly hair, you should consider yourself unique.
6. Curly Hair Ponytail With Bangs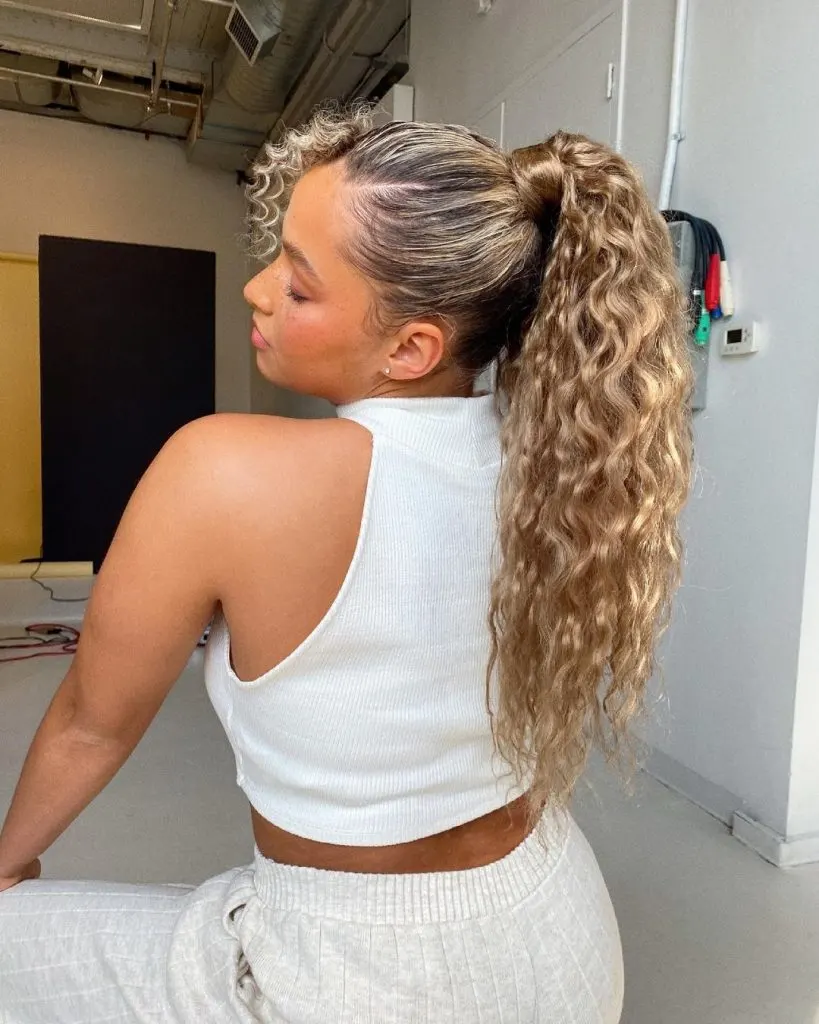 Trust me, this curly ponytail with bangs is a bad hair day hero. It's both stylish and classic. The ponytail will make your face look thinner and these side bangs will draw attention to your eyes.
7. Curly Pixie Cut With Bangs
If you don't have time to style your curly hair every day and believe me, I'm well aware that curls require daily styling, you should consider getting a curly pixie haircut.
You won't even need to blow dry it because you can simply use a towel or air-dry it. Of course, if you choose to do it with a towel, make sure you use one of those soft microfiber towels.
8. Curly Red Hair With Bangs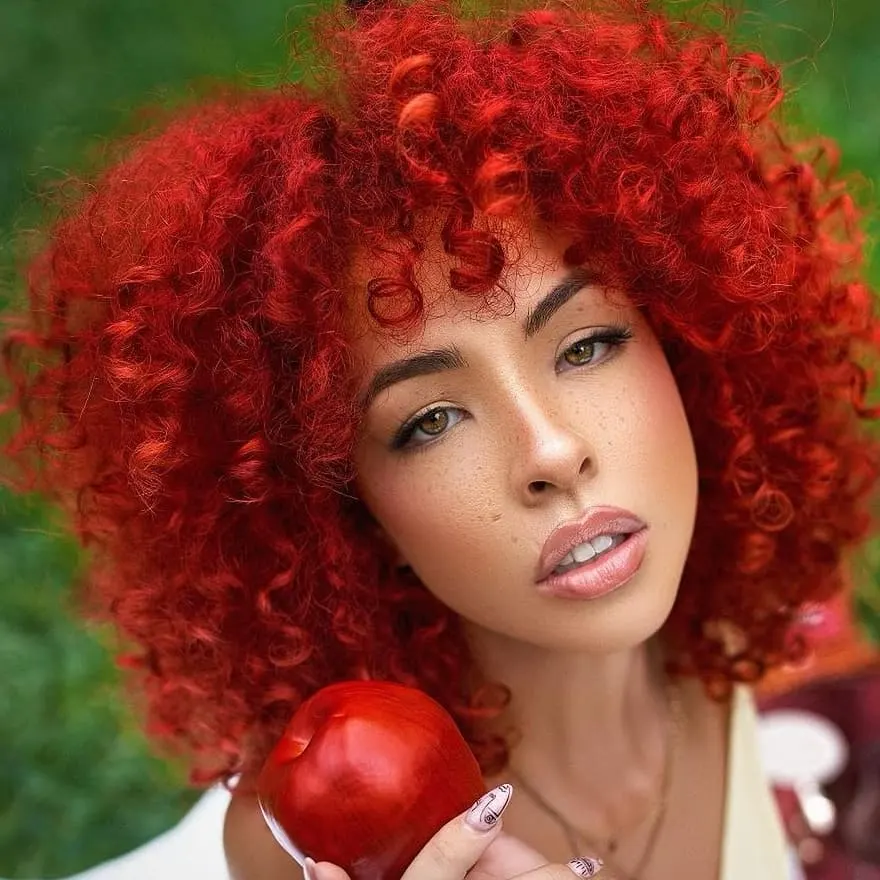 Red curly hair paired with any type of bangs suits darker-skinned women because it makes their faces look brighter and highlights their most attractive facial features.
9. Wispy Bangs With Curly Hair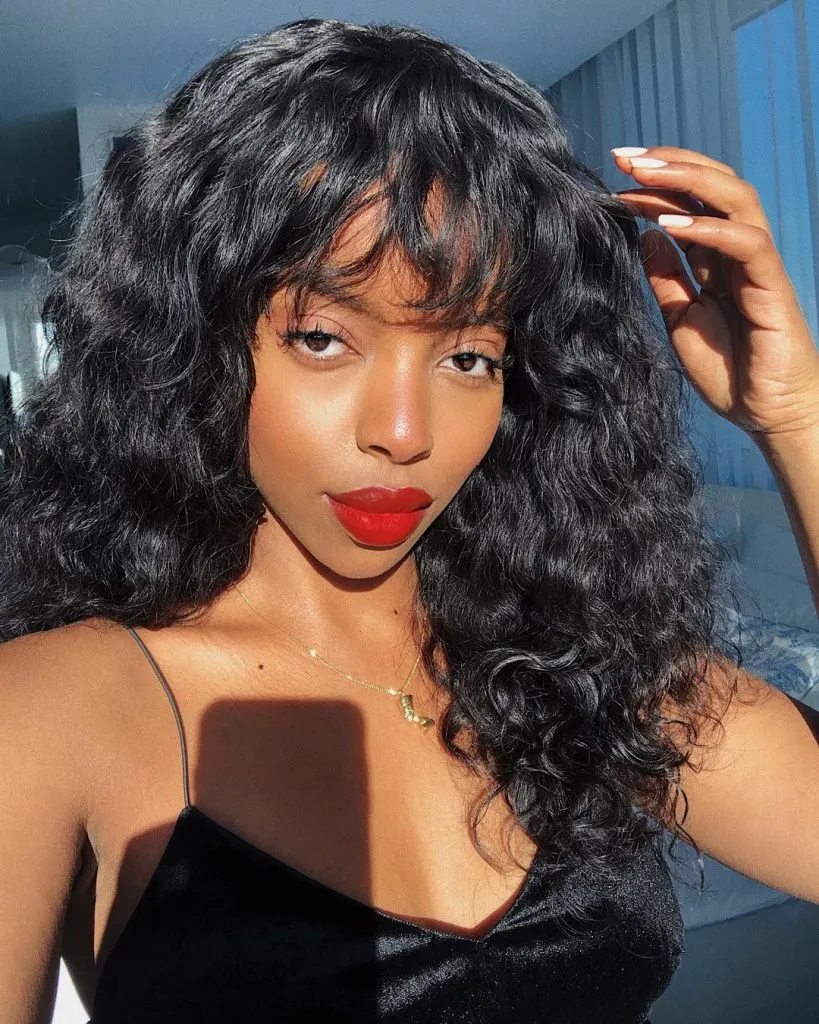 Say goodbye to your boring hair with wispy bangs. Paired with curly hair, this type of bangs has the power to revive and make your hair look fuller. Obviously, wispy fringes suit best women with heart-shaped faces.
10. Straight Bangs With Curly Hair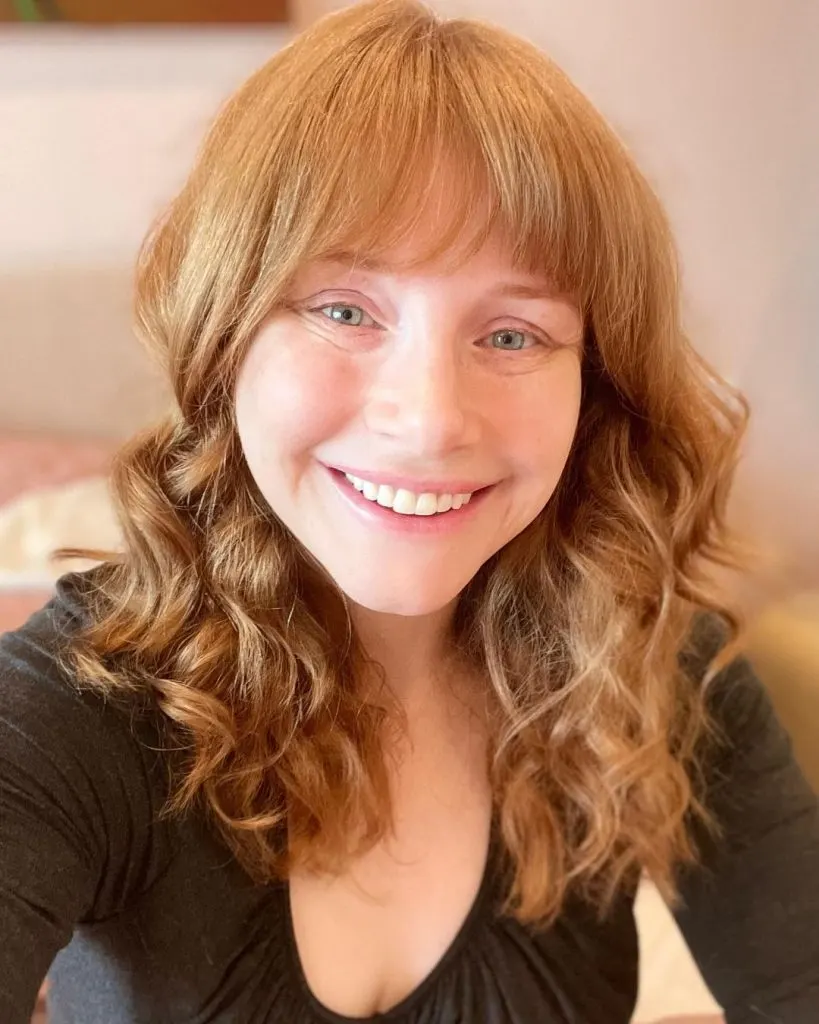 You have an oval face shape? Scroll no more because you've found the perfect hairstyle!
Lucky you, you already have the most attractive face shape and the curls make it shine even more. Straight bangs also work in your favor because they go with your face shape best, too.
11. Curly Hair Bob With Bangs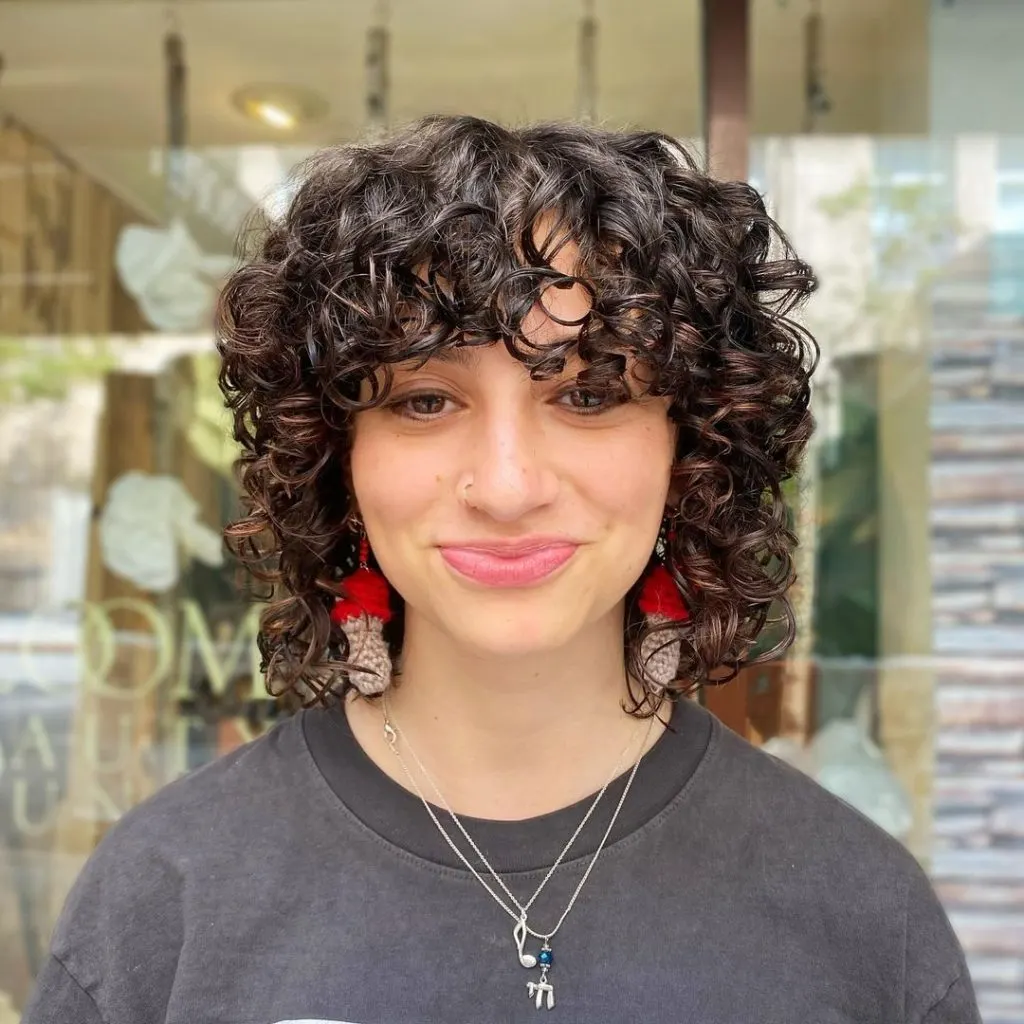 Most hairstyles look pretty much the same on different kinds of women but that's not the story when it comes to curly bob hairstyles. It always looks different, even when it's being done on the same person over and over again and I think that's beautiful.
12. Thick Curly Hair With Bangs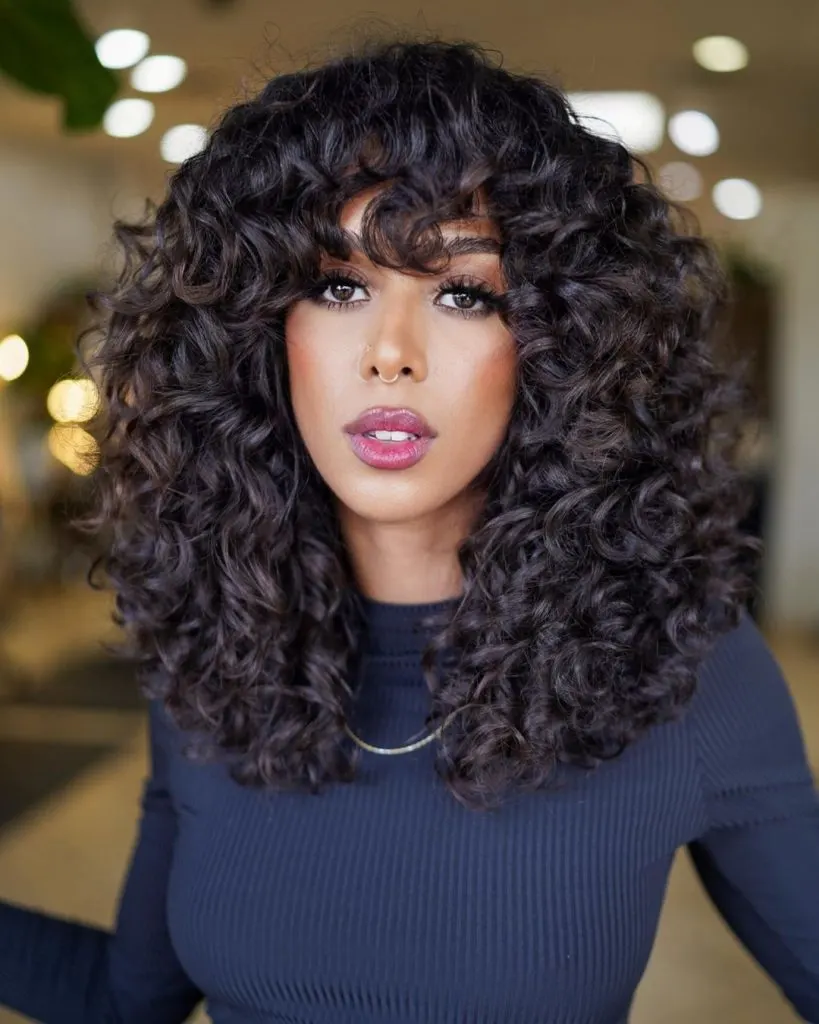 One thing is for sure, bangs will never look dull on a woman with coarse curly hair. However, this kind of hair texture is more prone to dryness which means it shouldn't be washed too often and needs to be conditioned carefully.
13. Side Bangs With Curly Hair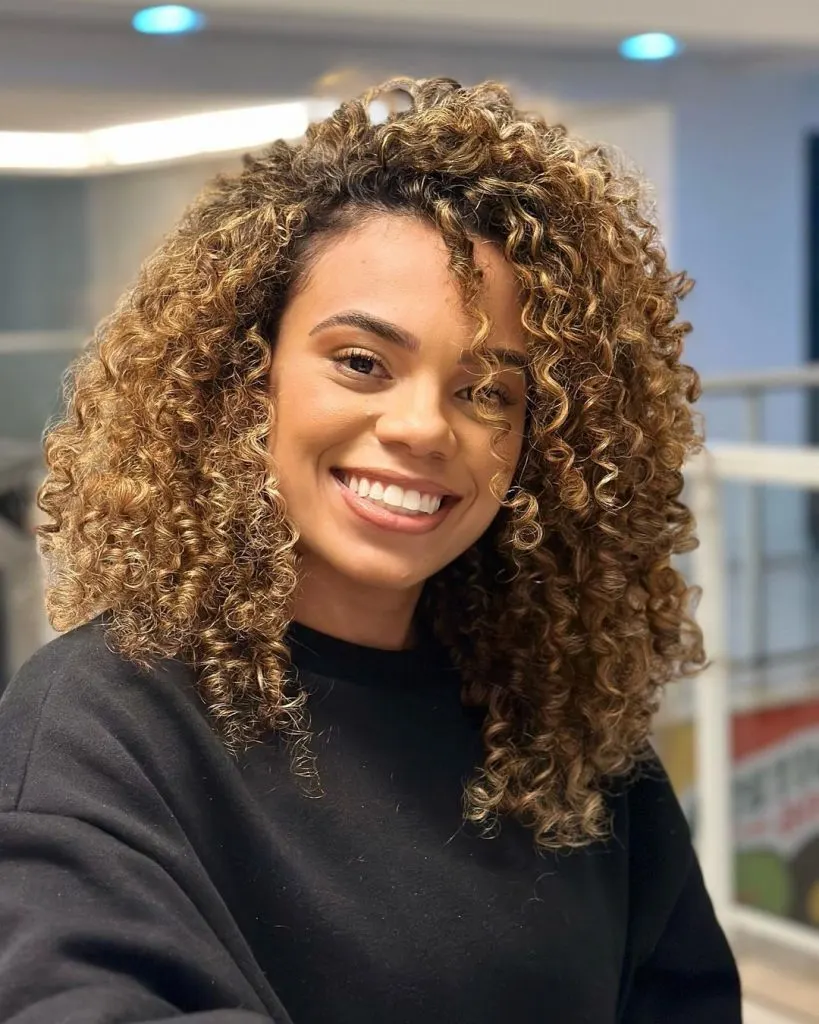 This kind of look is known as the universal anti-aging hack.
It's a perfect fit for those women who don't like their side profile. The side bangs will instantly hide those little imperfections they don't like and highlight the other facial profile.
14. Shaggy Curly Hair With Bangs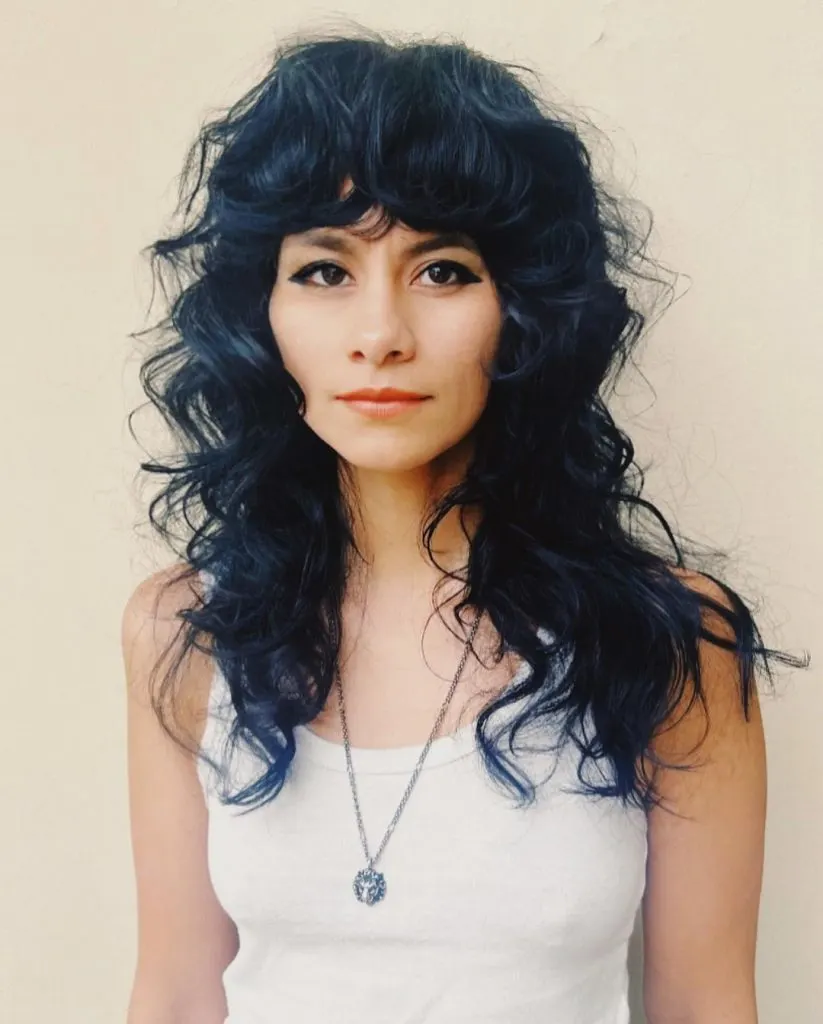 Shaggy curly with bangs is a great low-maintenance hairstyle for all women who don't like to spend too much time doing their hair but still want to look stunning and stylish every single day.
15. Wolf Cut With Curtain Bangs Curly Hair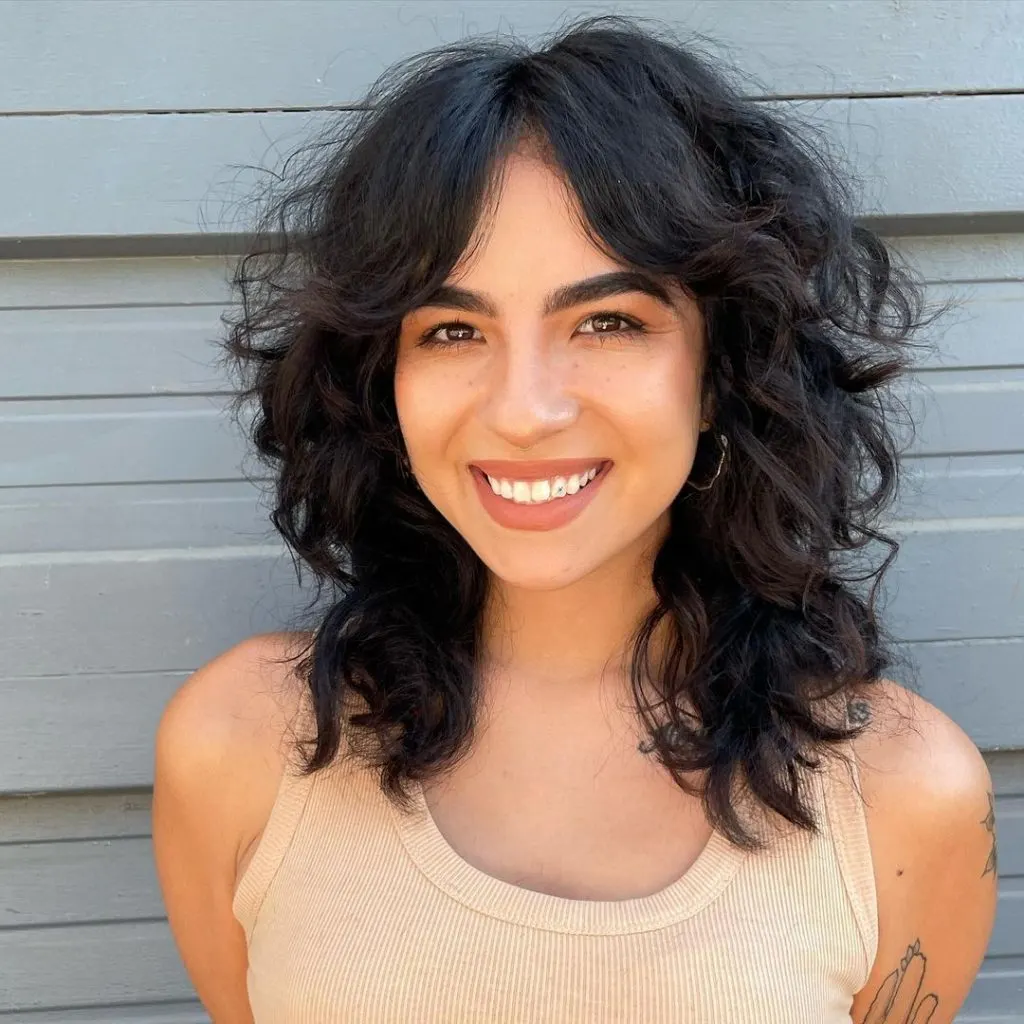 Wolf haircut simply lies effortlessly on curly hair and adding bangs to it brings the whole look to a new dimension. You get a perfect hairstyle that requires a minimum effort but works great for all opportunities.
16. Crochet Curly Hair With Bangs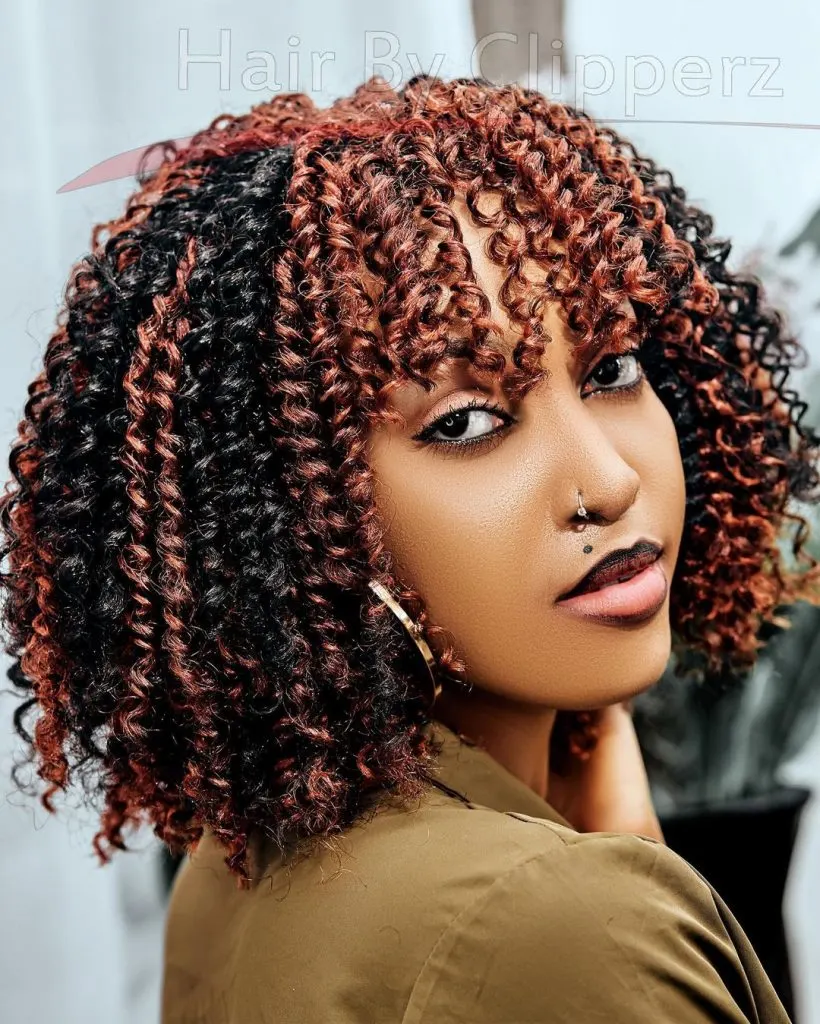 Amazing volume, thick texture, luxurious curls, and spiral bangs… Is there anything else a woman needs? Oh, and with these beautiful auburn highlights your hair will look perfect for every opportunity.
17. Short Layered Curly Hair With Bangs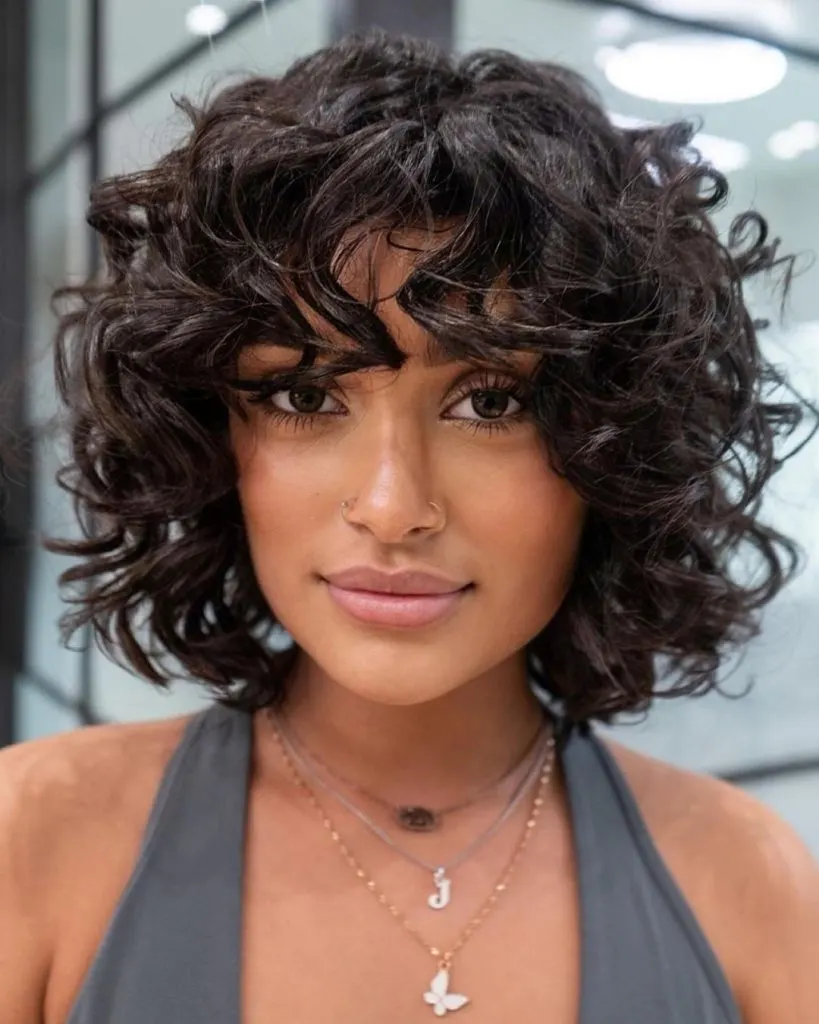 Some people say layers don't look good on curly hair, but this picture proves otherwise! The way this hairstyle accentuates key facial features is magical.
18. Curly Bowl Cut With Bangs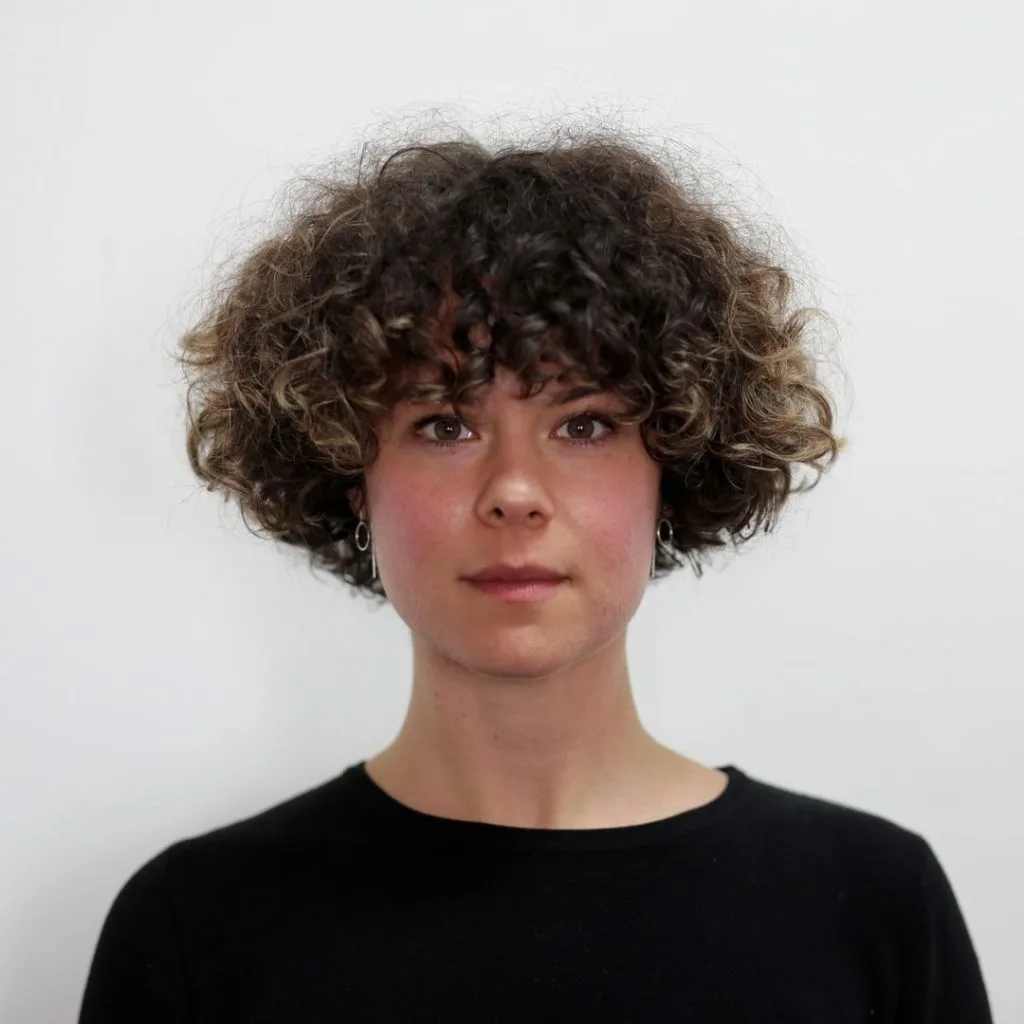 The voluminous roundness of the curly bowl cut suits most face shapes. Just pay attention you don't cut it too short because that way your curls will lose their bounce and become kinky.
19. RëZOcut Curly Hair With Bangs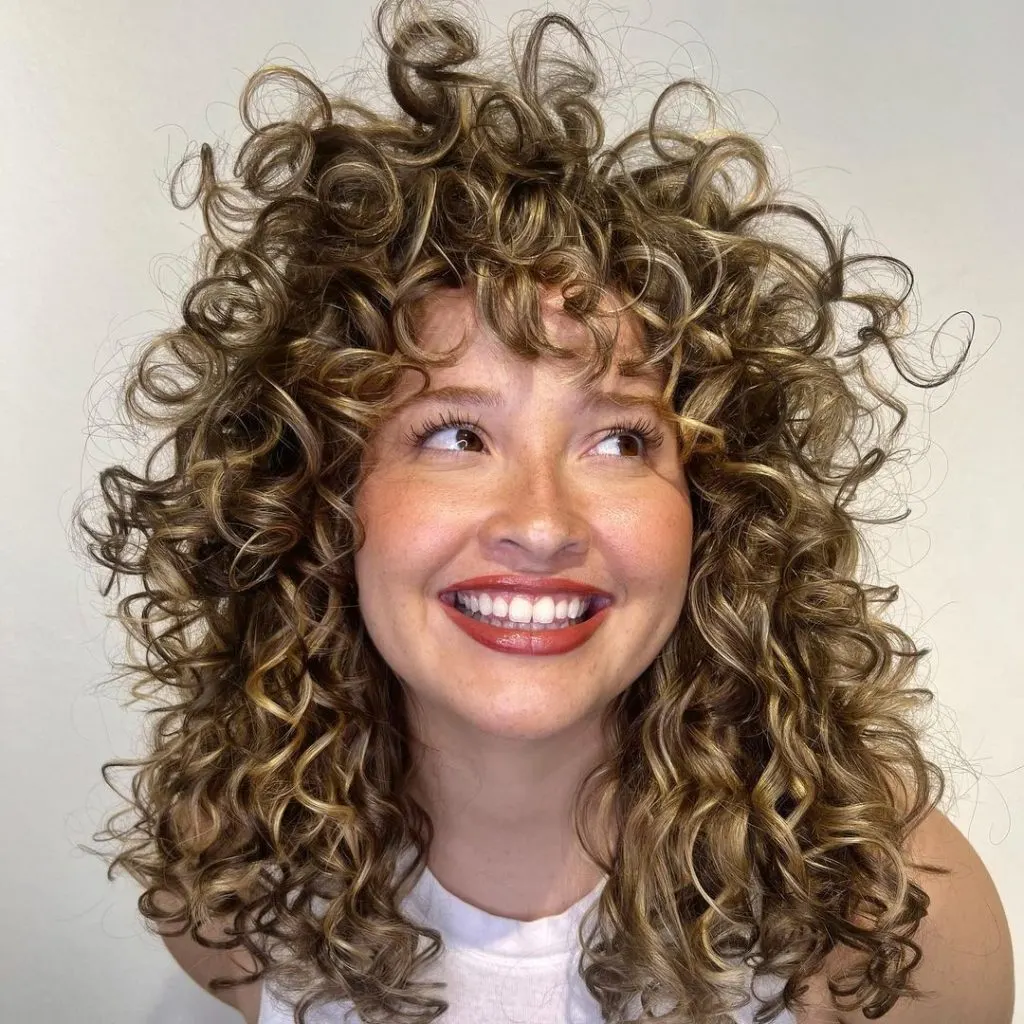 For women who want to retain the length of their hair, just do this RëZO cut. Another plus side is that it'll add mega volume to your curls.
20. Curly Hair With Colored Bangs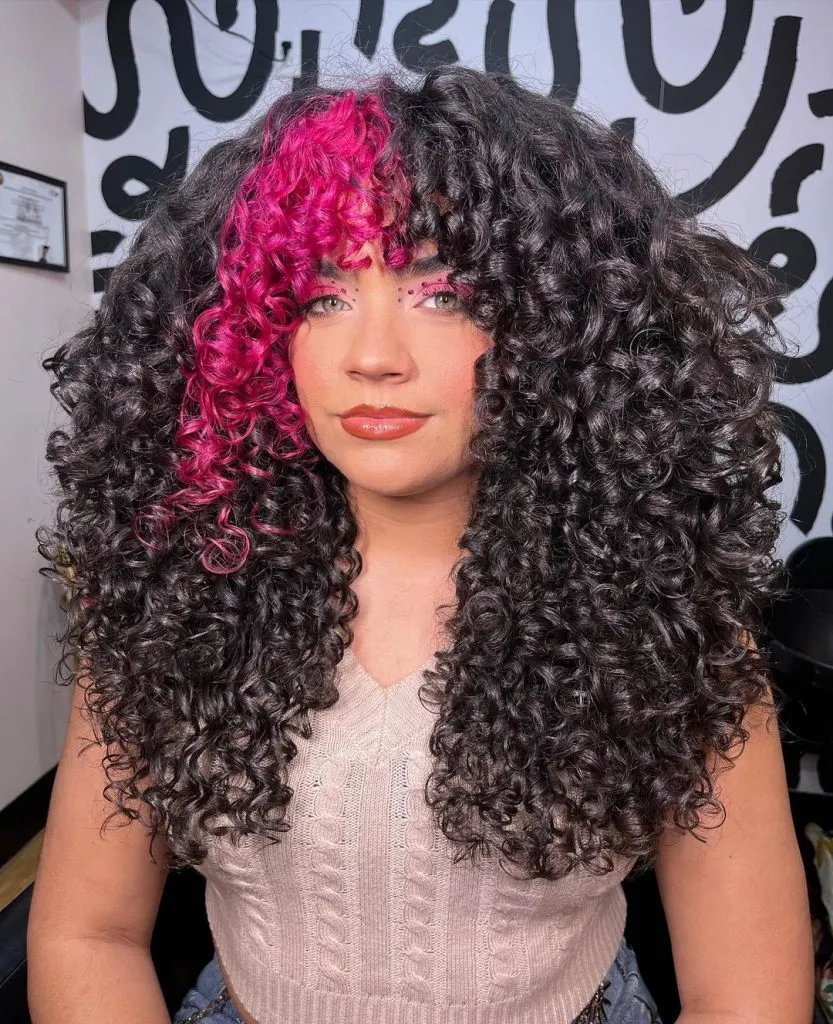 Don't ever be afraid to play with different colors and coloring techniques. Just look how amazing these pink split-dyed bangs look.
21. Baby Bangs On Curly Hair
These baby bangs paired with curly hair will make every woman look bold and confident. They're so easy to manage yet they look very elegant.
22. Vampire Bangs On Curly Hair
If you're a Gothic woman, I'm sure you'll adore these V-shaped bangs. They aren't that usual but that's what makes this look so unique.
23. Razor Cut Curly Shag With Baby Bangs
Thank God razor-cut curly shag is back in the trending game. Pairing this haircut with baby bangs won't only refresh your look, but it'll also enhance your curls and make your hair look healthier.
24. Silver Curly Hair With Fringes
When it comes to this hairstyle, it's all about embracing your natural hair. Embrace your grey hair and your curls and let it be your signature!
Grey is the new black when it comes to hair!
25. Faux Bangs With Curly Hair
You can buy faux clip-in bangs or you can simply make them using your hair.
Make a high ponytail then decide how thick you want your bangs to be and section them at the front of your hairline. Tight it up with a few bobby pins and flip the rest of the hair back down. You'll get fresh bangs without cutting your hair.
26. Curly Afro With Bangs
Rounded and curtain bangs always pair the best afro hair because they frame the face perfectly and make the eyes stand out.
27. Curly Hair With Choppy Bangs
You want to get bangs but you also don't want them to hide your forehead completely? Just go with choppy bangs then because they can grant you those wishes.
28. 80's Curly Hairstyle With Bangs
A perfect 80s look for all those women who are huge lovers of curls, big waves, and high bangs.
29. Half-Up Half-Down Curly Hair With Fringes
You want a hairstyle that says I didn't put too much effort into it but it still looks amazing? This half-up half-down look will do that job perfectly. If you wrap it up with fine faux bangs, it'll turn out better than amazing.
30. Blonde Highlights On Curly Hair With Bangs
Blonde highlights with bangs are the thing you didn't know your hair needs. It'll make your curls look shiner and the entire hair will look healthier.
31. Curly French Bob With Bangs
A curly French bob with bangs is timeless and will never go out of style. It's feminine, playful and adorable. When it comes to maintaining, the most important thing is to use a good curl creme.
32. Asymmetrical Baby Bangs On Curly Layered Hair
Asymmetrical baby bangs with curly layered hair is always a win-win, no matter the face shape or the hair texture a woman has.
33. Blonde Money Piece Bangs On Dark Curly Hair
Money piece bangs are one of the latest trends and they are made for those women who aren't afraid to play with different hairstyles. Dark hair combined with blonde bangs make an amazing contrast that will spice up your dull curly hair.
34. Bottleneck Bangs On Curly Hair
These are the types of bangs I always recommend to my curly-haired clients who want to cut their bangs for the first time. The truth is, bottleneck bangs are so low maintenance and they suit perfectly on every hair and face type.
35. Thin Fringes With Curly Hair
Whoever said that thin bangs don't go with curly hair, I have to disappoint you because this picture is proof that it's a lie. On the contrary, thin bangs open up the face from all those curls around it and highlight your best features.
36. Bouncy Curly Bangs On Curly Hair
Amazing bouncy curls that will draw everyone's attention!
PRO tip; always sleep with a satin scarf. That way you'll keep your curls smooth and frizz-free.
37. Modern Curly Mullet With Bangs
Why mullet on curly hair? Simply because it suits almost everyone. No matter the face shape you have, your age, or your hair color, you'll be able to pull this haircut off like a real rock star.
38. Curly Undercut With Bangs
If you want to make a real statement with your haircut, I know you instantly fell in love with this look.
There are so many different designs you can choose or you can make a personalized undercut. It's up to you but the important thing is that you'll get the coolest look ever.
39. Wet Curls With Shaggy Bangs
This beachy look always was and still is one of the most attractive looks. It's so easy to make these wet curls and if you do it the right way and use the right products, they will last for an entire day.
Apply hair gel on washed hair and brush it the way you want. It will make your curls look wet and add some volume to your hair. The next step is applying some hairspray that will make your curls stay wet longer and also add some shine to your curly hair.
40. Curly Ginger Hair With Parted Bangs
Because of its dryness, curly ginger hair demands daily care and dedicated effort. Shampooing only the scalp area, using leave-in conditioners, and treating it with the creamiest moisturizers is the safest path to having these wonderful bouncy curls.