Any undercut hairstyle—the nape and sides buzzed short while the hair on the top of the head is worn longer—is certain to be edgy and daring.
The undercut bob is no different: it's bold and makes a statement, but it can also be cute and feminine, sometimes at the same time.
Check out the various ways to wear this popular haircut.
1. Sleek Undercut Bob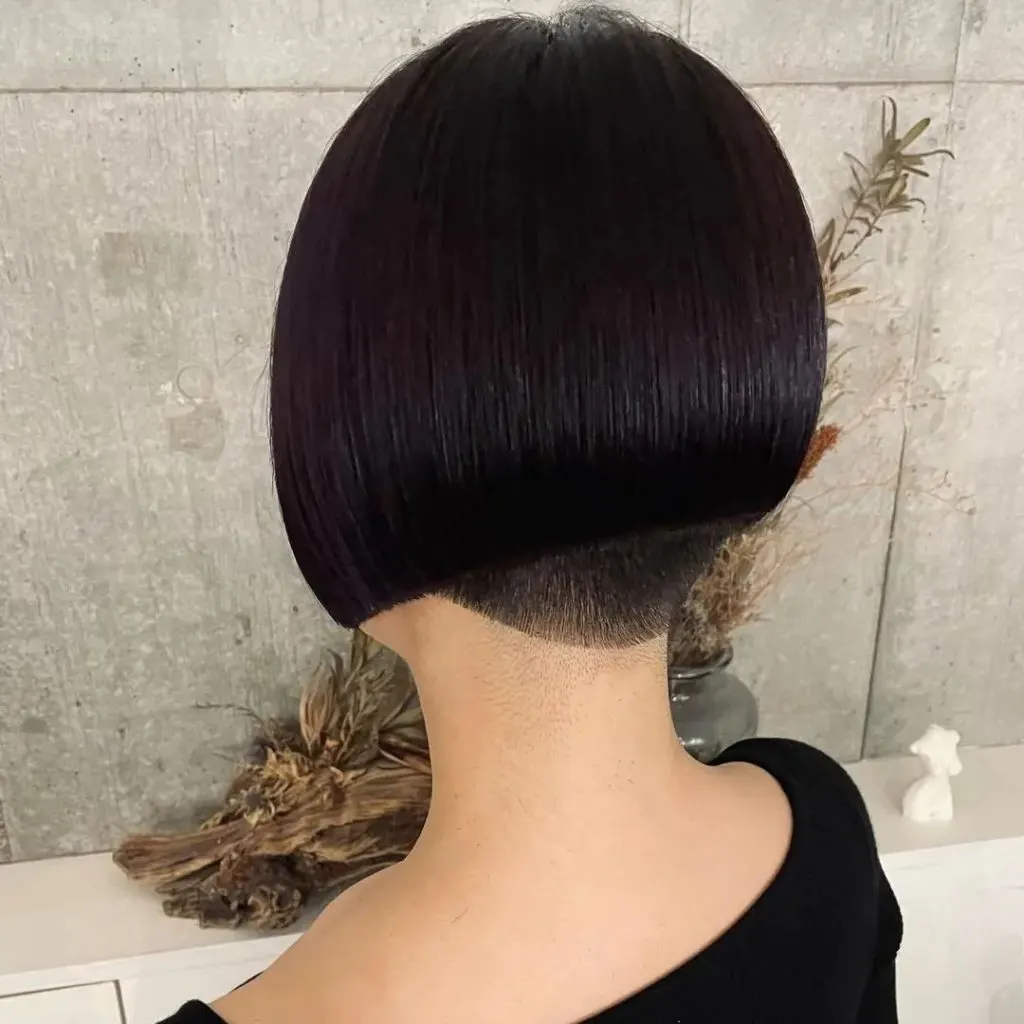 Super neat and sleek, with a surprise in the back: this cool undercut bob hairstyle is for those who want to play nice but still show a hint of rebelliousness.
2. Long Bob With Undercut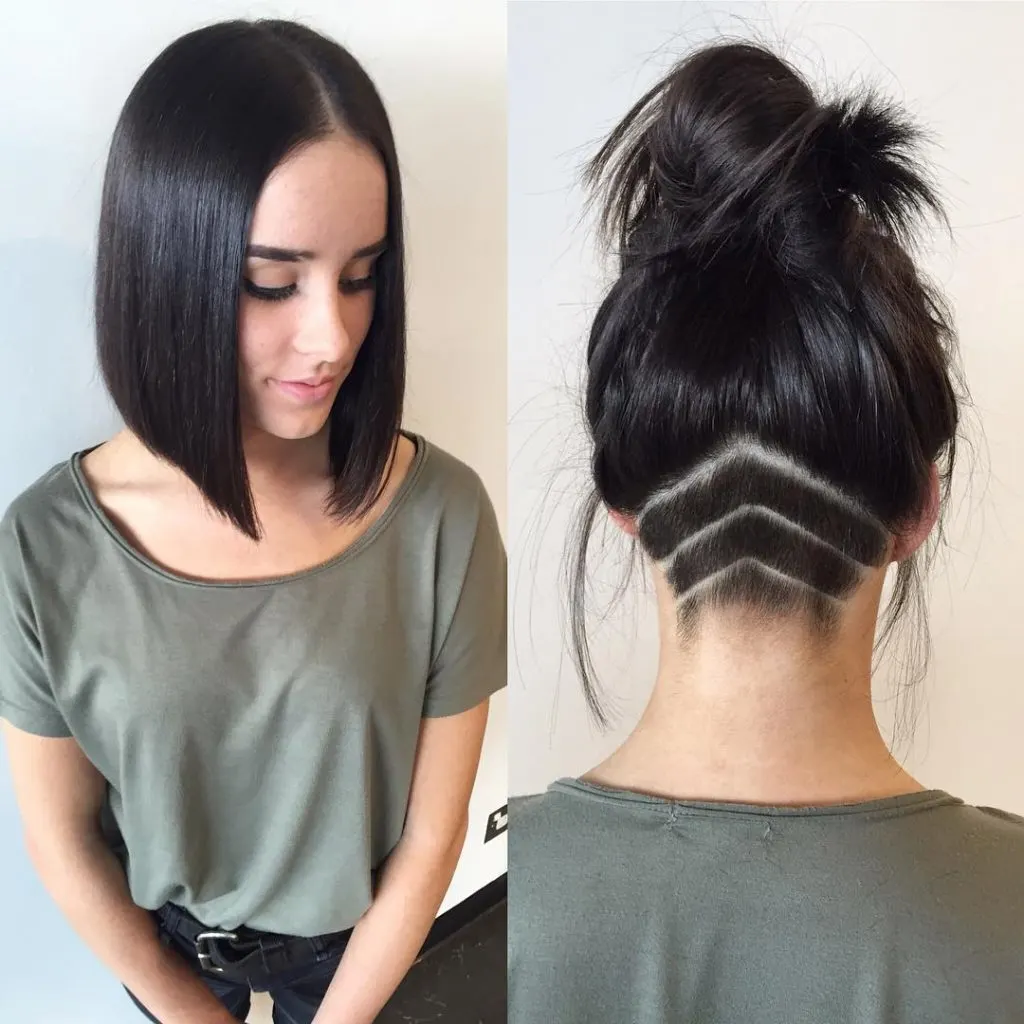 An undercut hiding beneath a long bob gives you the option to conceal it when you wear your hair loose, or show it off when you wear it up. And it looks adorable both ways!
3. Edgy Undercut Bob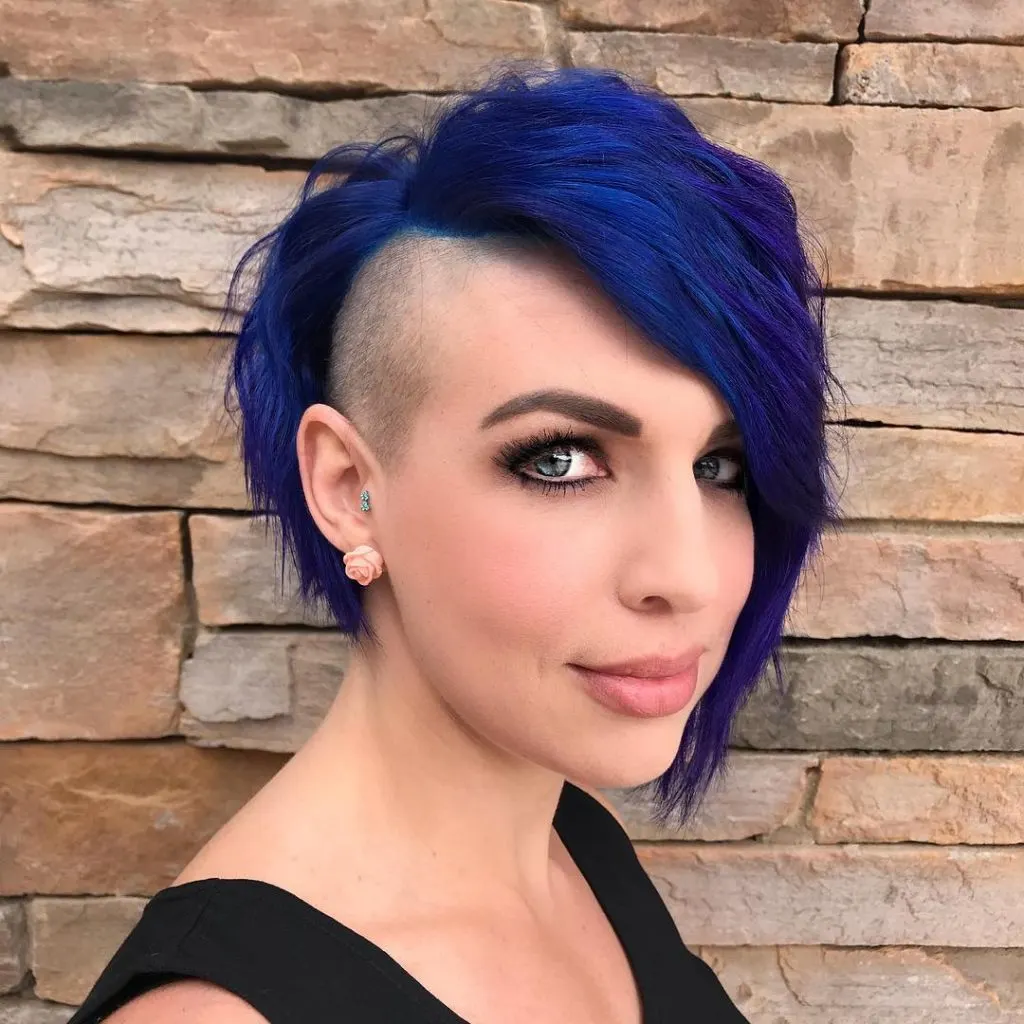 By buzzing off more hair on one side, you'll achieve an edgy asymmetric look that works well with any style of bob, depending on the shape you like. Here, a layered bob creates a lot of volume which complements the undercut.
4. Undercut Pixie Bob Haircut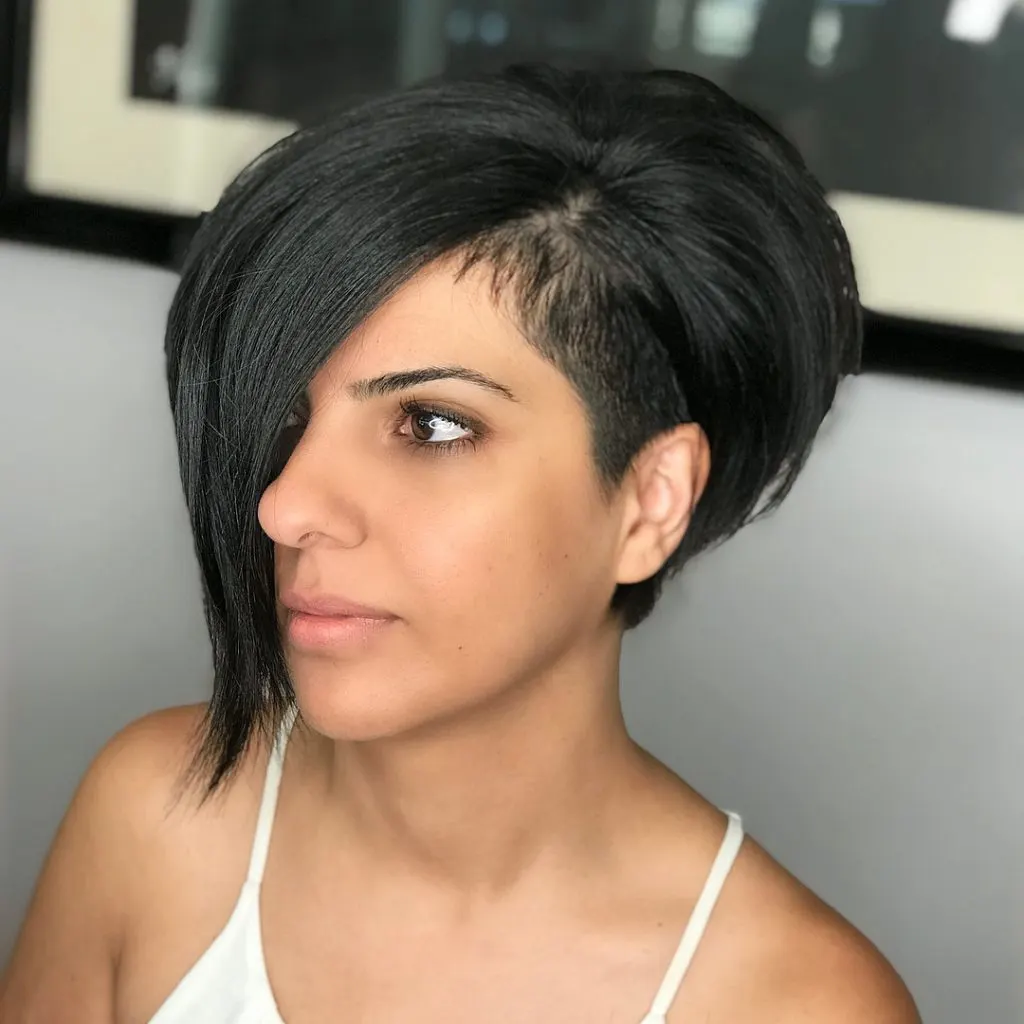 The dramatic angle and the stacking in the back create exciting contrast to the undercut, making this look simultaneously bold and cute.
5. Undercut Stacked Bob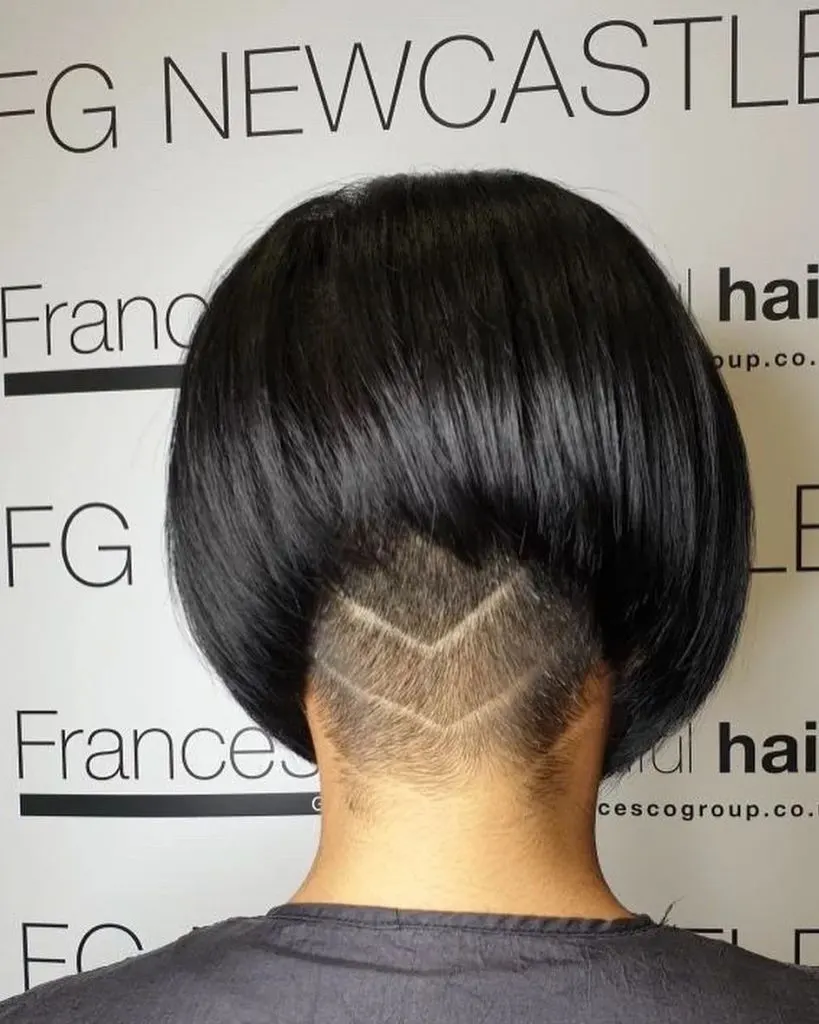 Decorating your undercut with lines or shapes is a great way to personalize it. The best part—it grows out so quickly that you can get a new one almost weekly!
6. Undercut Short Curly Stacked Bob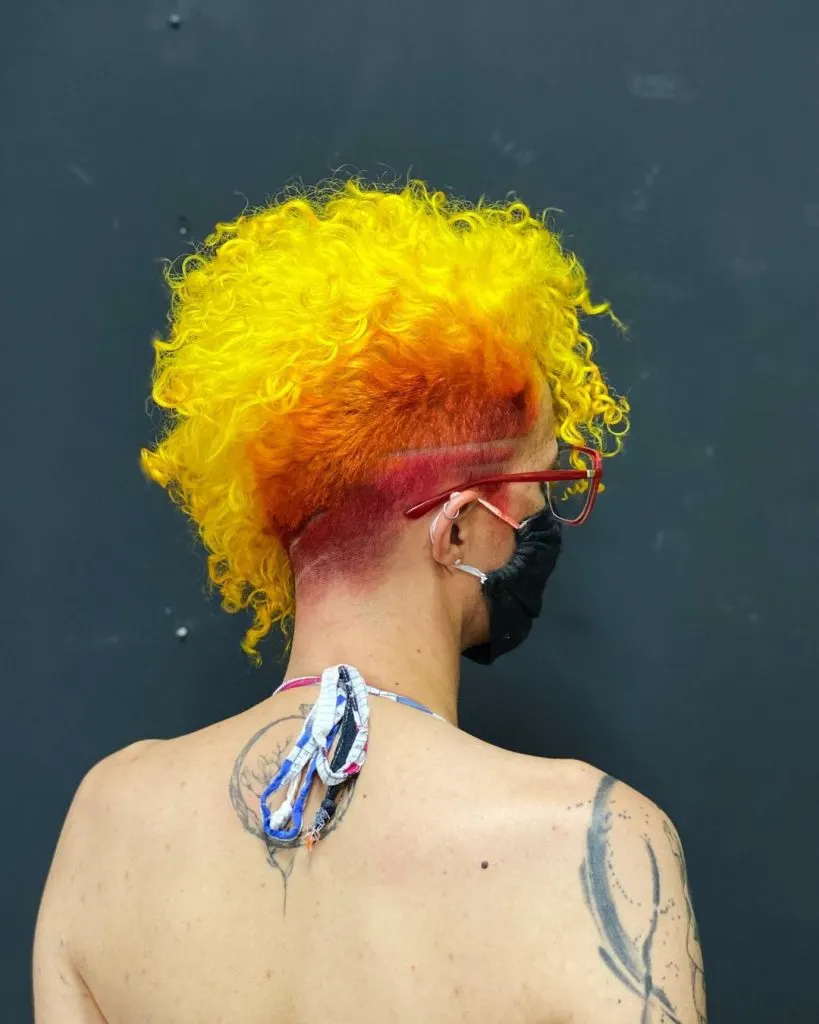 Layers are used to give curly hair the desired shape, and this also applies when you combine it with an undercut. This short stacked bob is using varying colors and lengths to achieve a truly unique effect.
7. Hidden Undercut Bob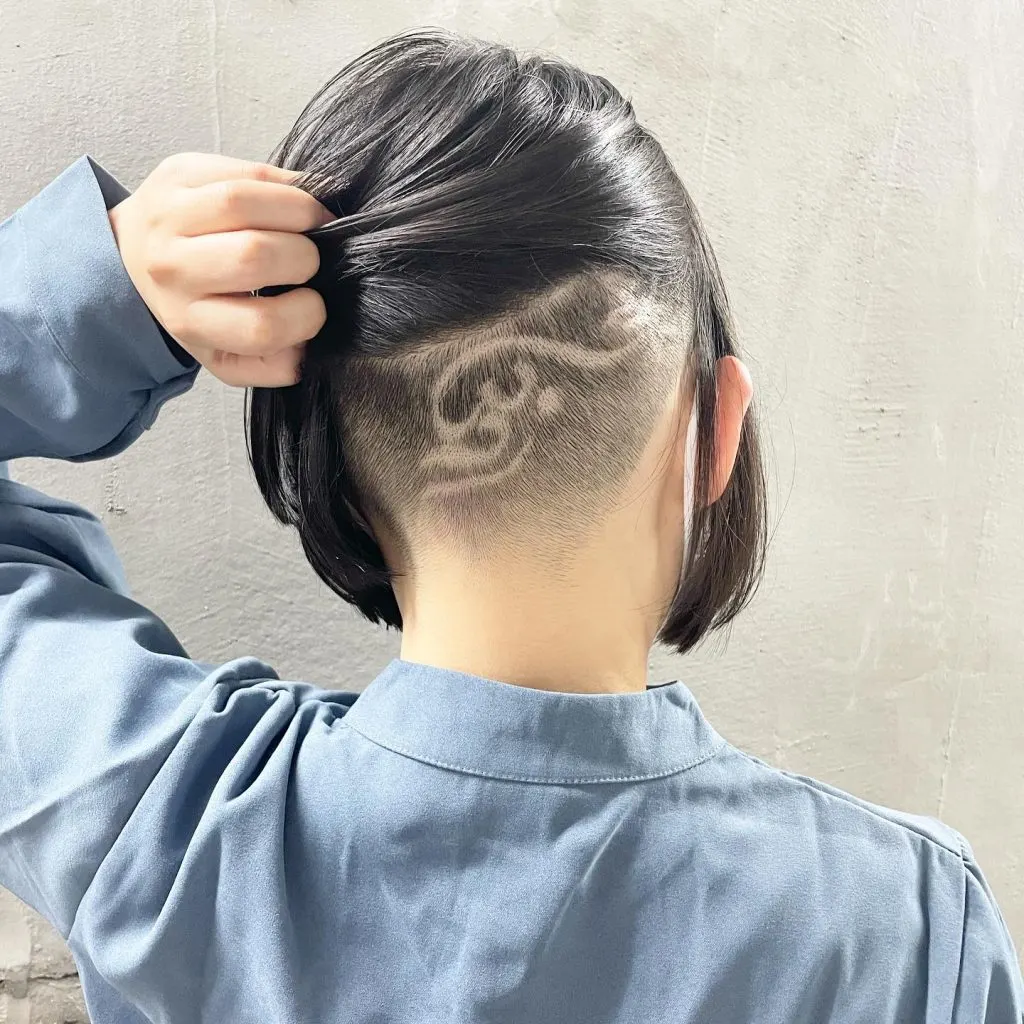 At first glance, it's an ordinary medium-length bob—until you reveal what's hiding underneath. You can show a meaningful part of your personality or pick a design you find appealing when you choose a pattern for your hidden undercut.
8. Undercut Inverted Bob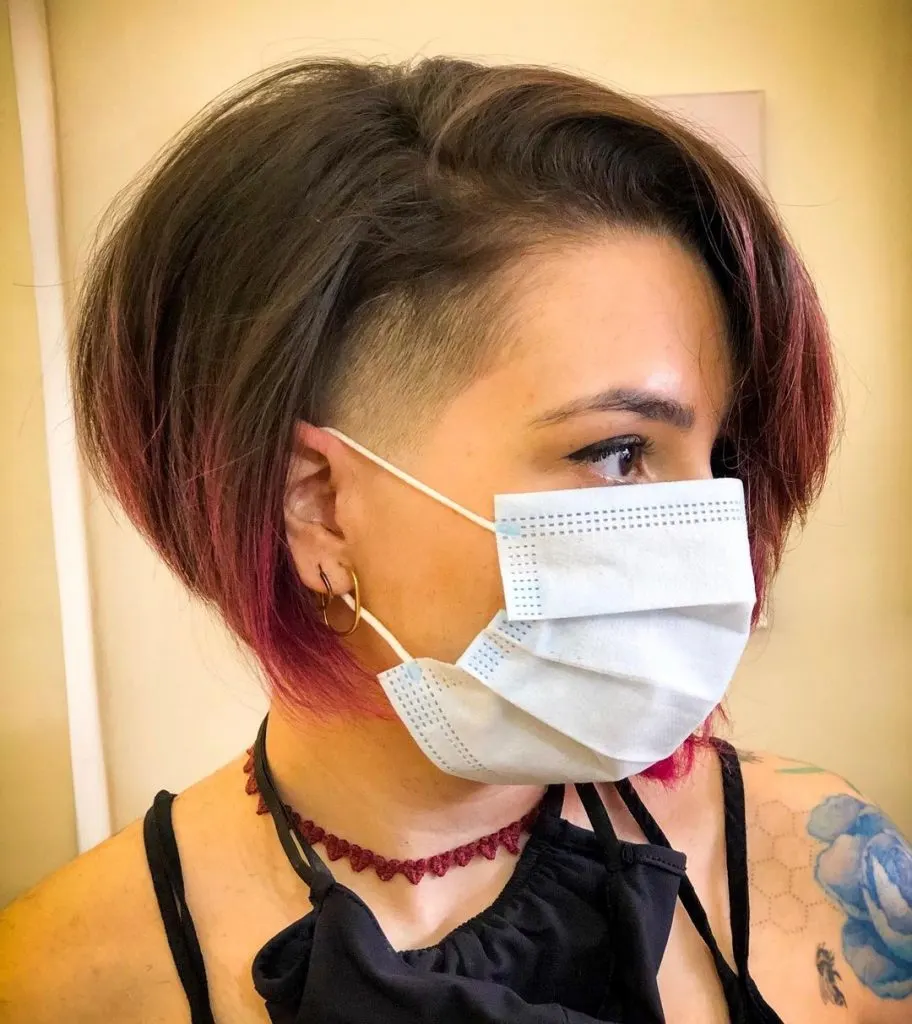 Undercut hairstyles like this inverted bob are always undeniably bold, but when combined with pretty colors and soft tresses, they can also paint a lovely and delicate picture.
9. Medium-Length Undercut Bob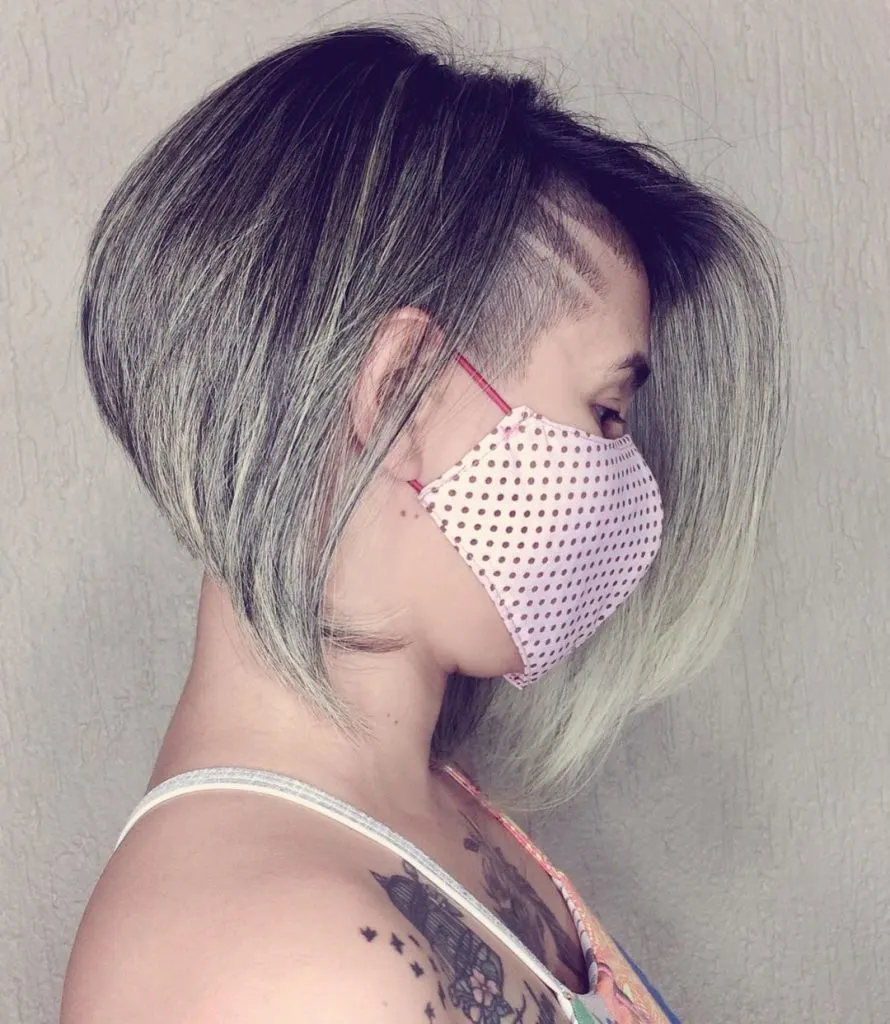 Keeping roots natural is a great idea if you want to rock an undercut. Because it grows out so quickly, shadowed roots or balayage will keep it looking intentional even when it isn't completely fresh.
10. Wavy Undercut Bob Haircut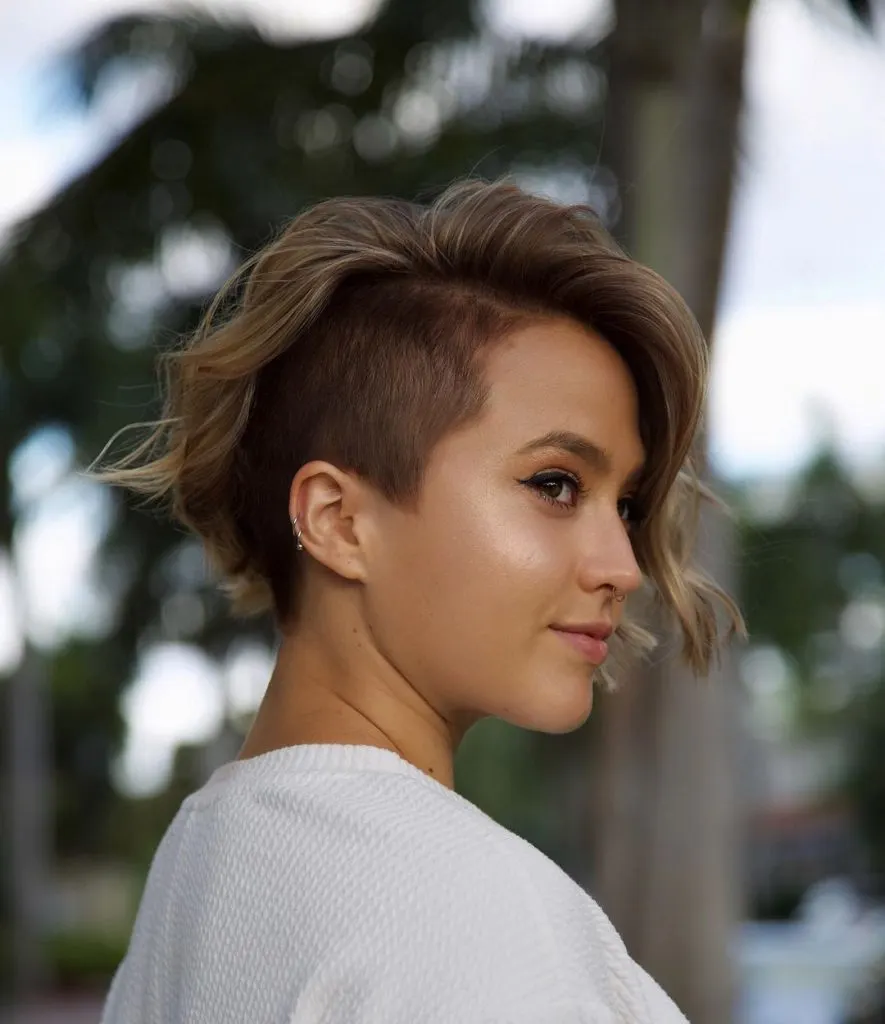 This wavy bob is even cuter thanks to the undercut—the contrast between the flowy waves enhanced by highlights and the buzzed side in natural color is enchanting!
11. Long Styled Undercut Bob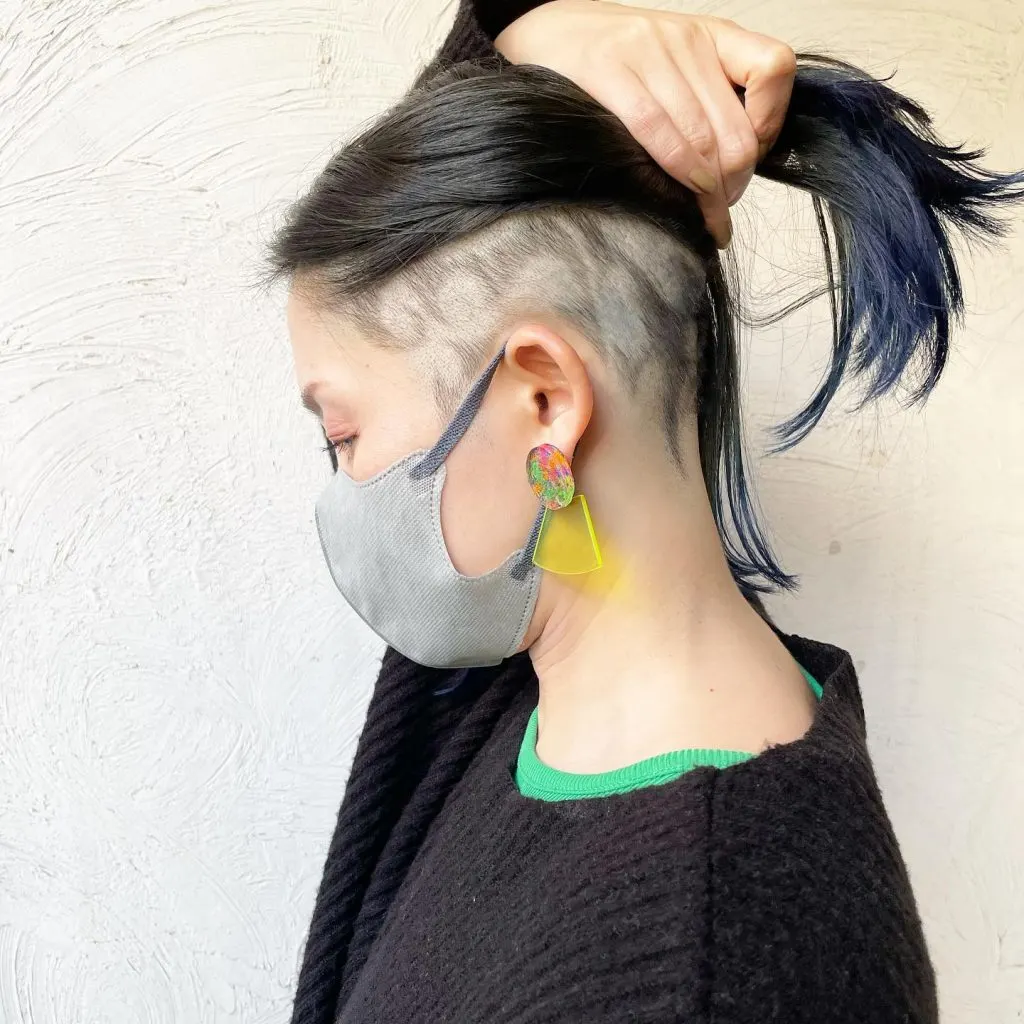 The cool-toned dark blue tips and natural roots combined with the intricate undercut art evoke a futuristic and ultra-modern image.
12. Undercut Bob For Fine Hair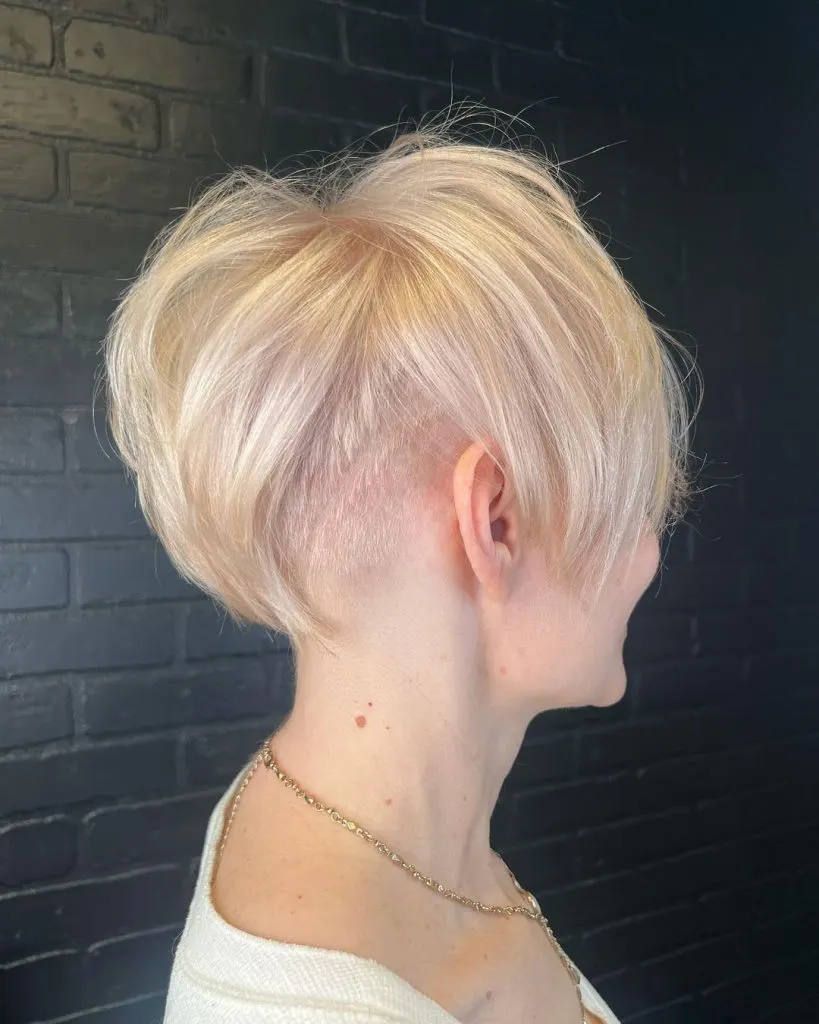 It's not necessary to have more hair than you know what to do with to get an undercut hairstyle. If you like it, go for it, even if you have fine or thin hair. Enjoying your look is all that matters.
13. Long Undercut Bob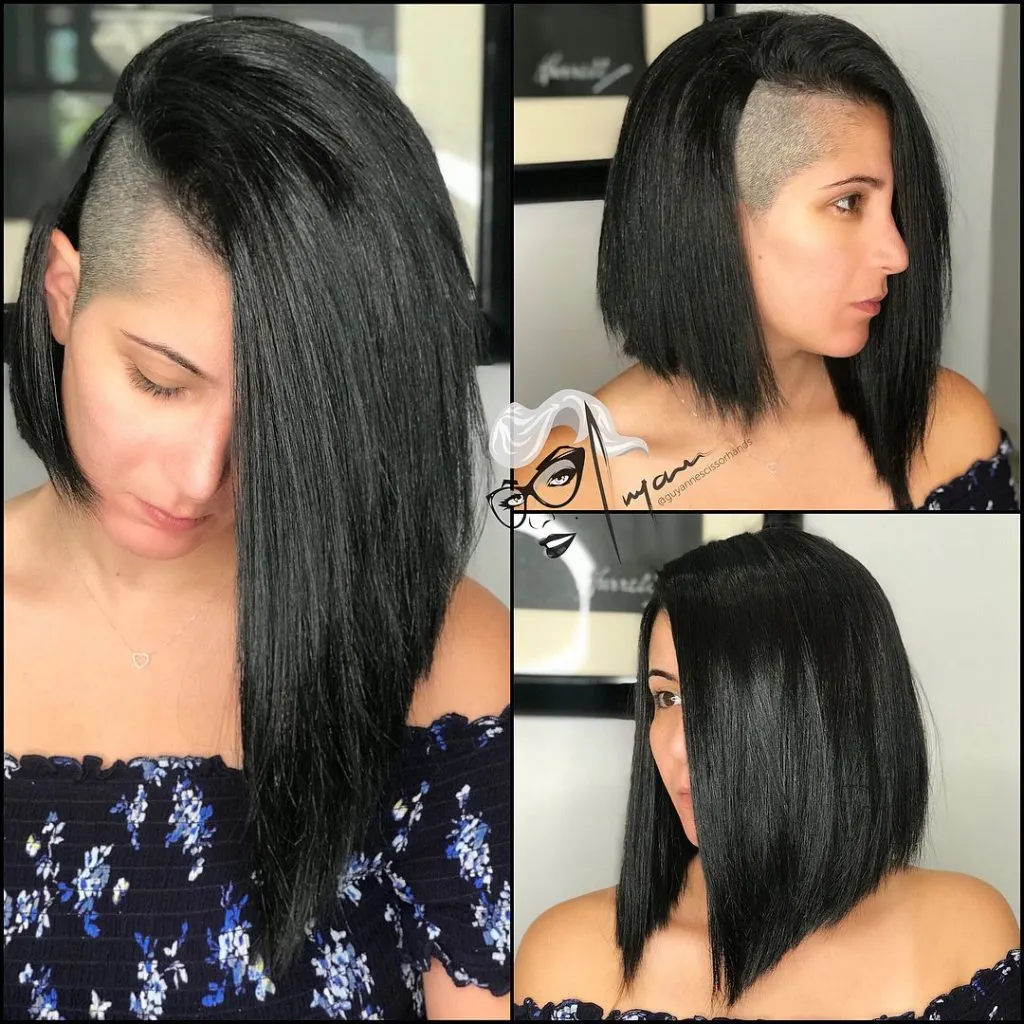 This glossy angled lob would be eye-catching even without the undercut, but with it, it's even more striking. Furthermore, it can be worn in two ways, depending on what you want to emphasize.
14. Sleek Undercut Bob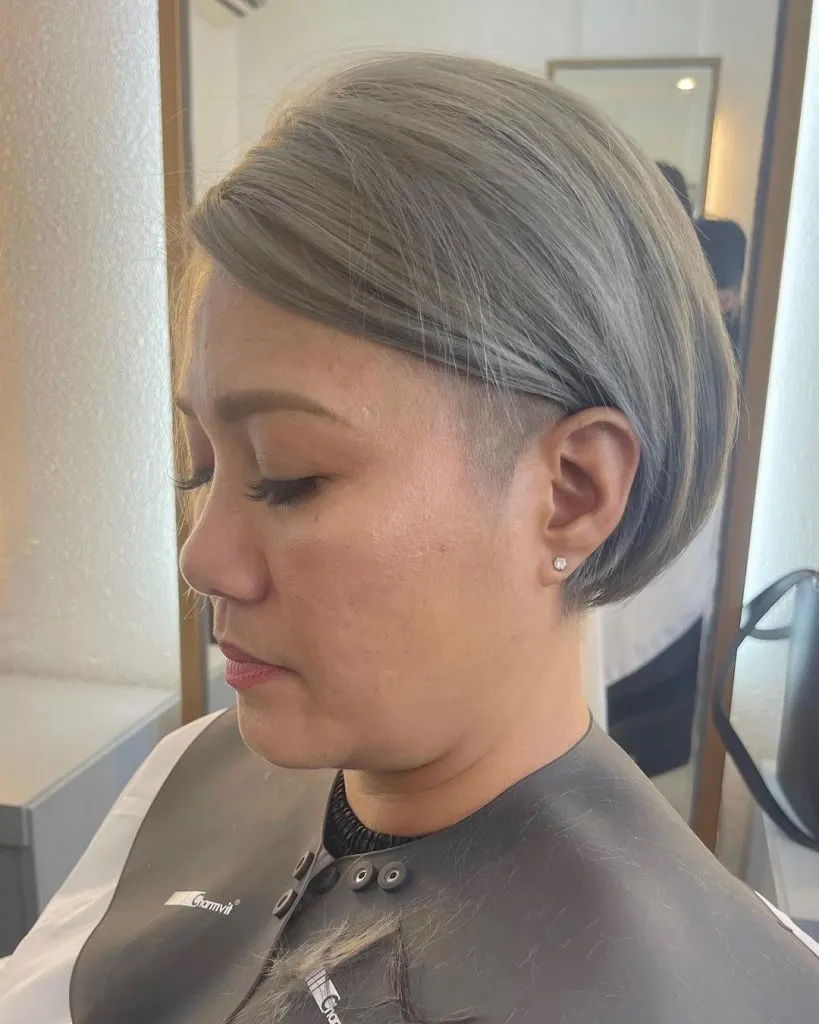 Classic bob? Not so much. The undercut gives this prim and proper style some brazen courage and spices up what could be an ordinary style.
15. Undercut Bob With Side Part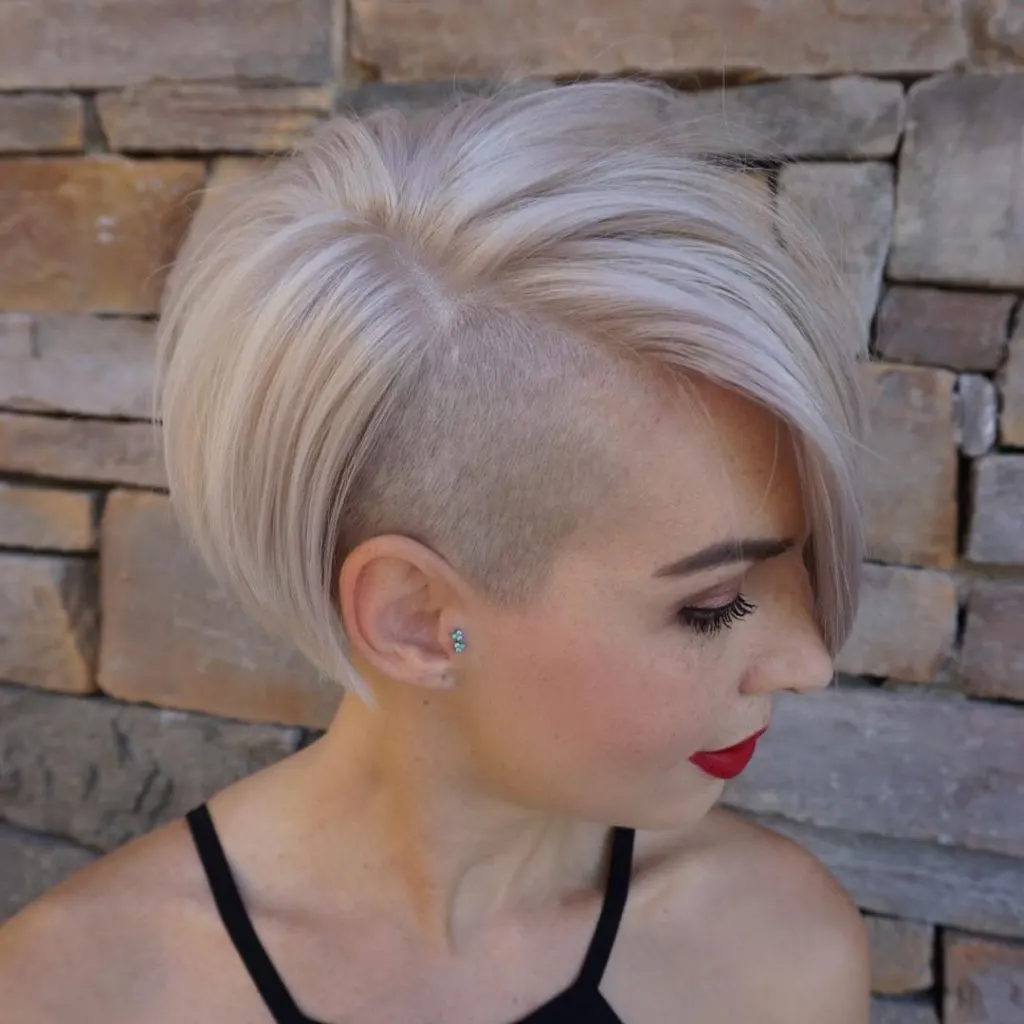 This short bob with a deep undercut and an even deeper side part in icy blonde color is chic yet easy to style. It looks awesome with a sleek blowout or intentionally (or not so intentionally) messy.
16. Asymmetric Undercut Bob
The sculptural shape of this asymmetric bob incorporates the undercut into the design to create something extraordinary. Perhaps it's not an everyday style, but you're guaranteed to turn heads if you choose a style like this.
17. Short Undercut Bob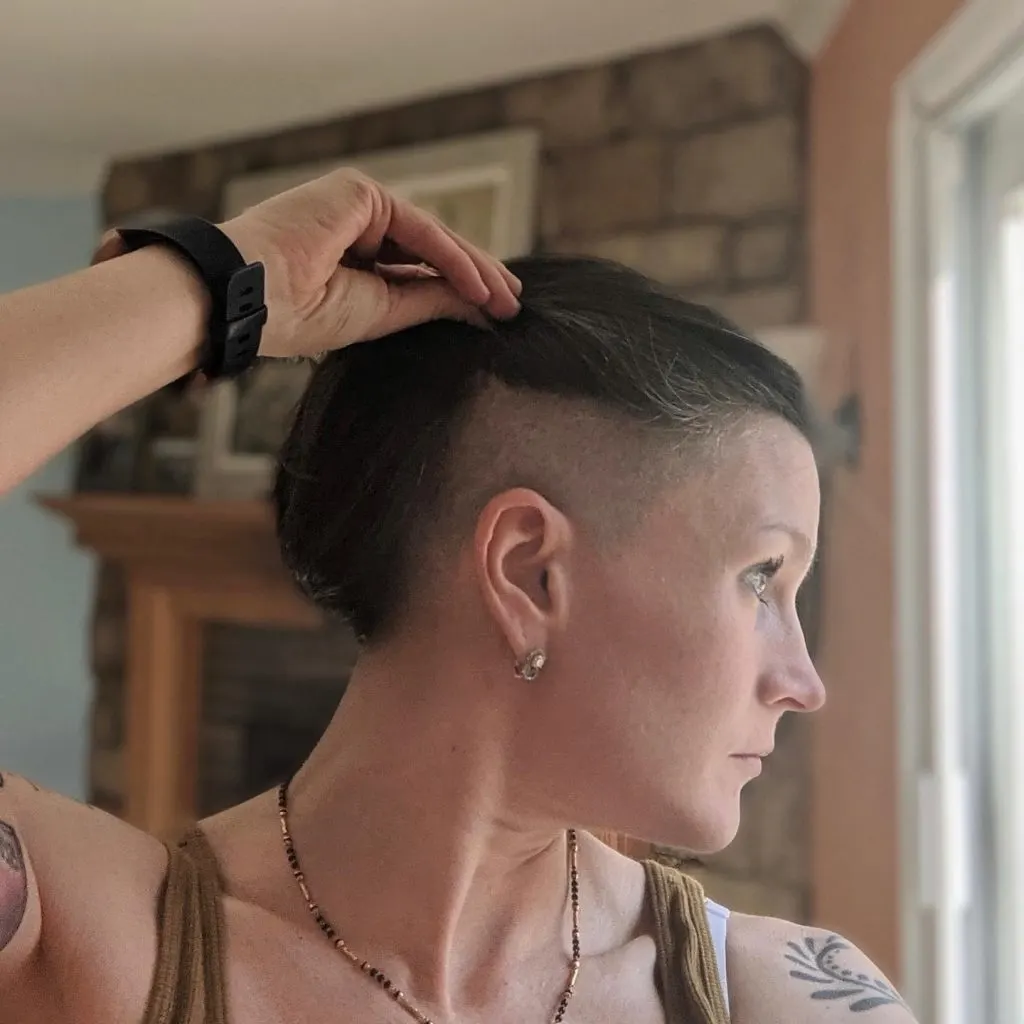 A slicked-back undercut bob is a sure way to make an impact. It shows a no-nonsense attitude, but above all, it looks totally cool.
18. Angled Undercut Bob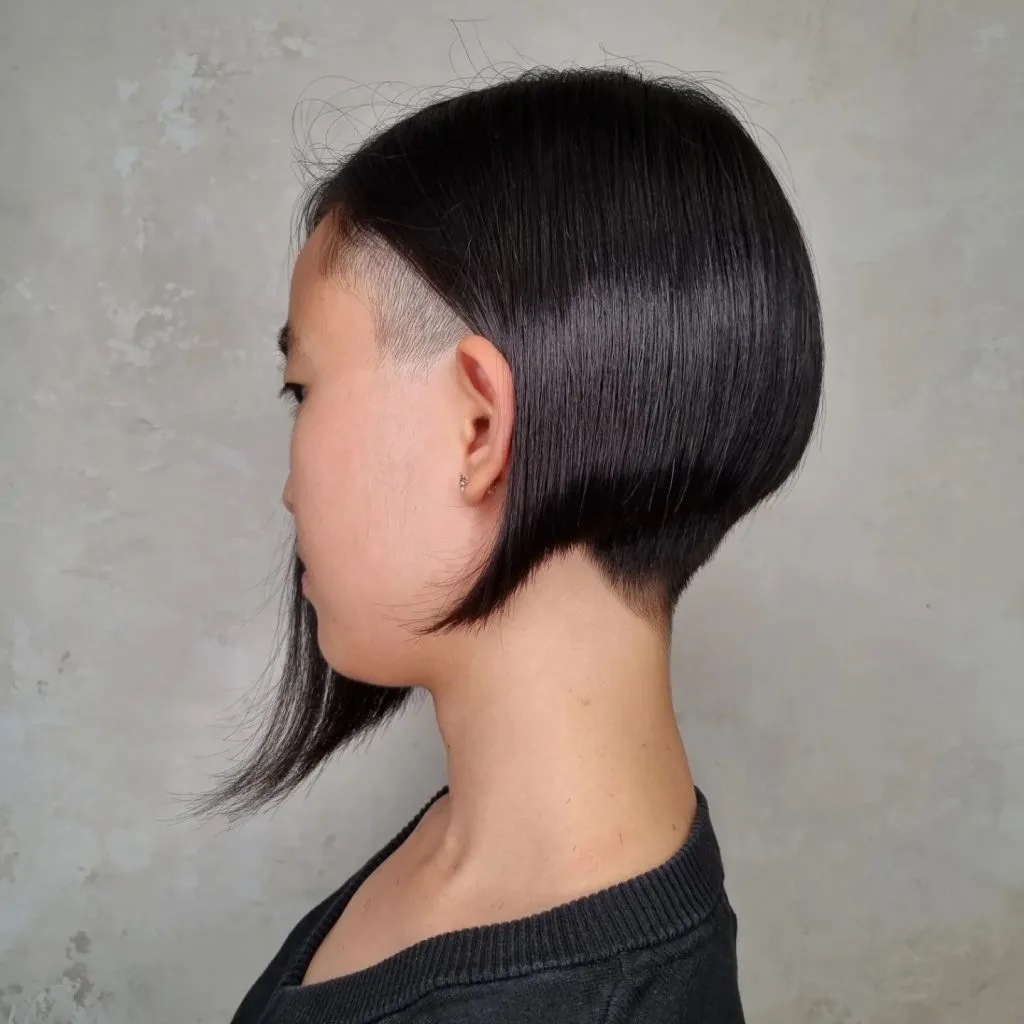 A-line bobs are always cool, but adding an undercut to one makes it even cooler. Often, only the back part is shaved, but here the sides have also been buzzed to create a laid-back, casual style.
19. Textured Undercut Bob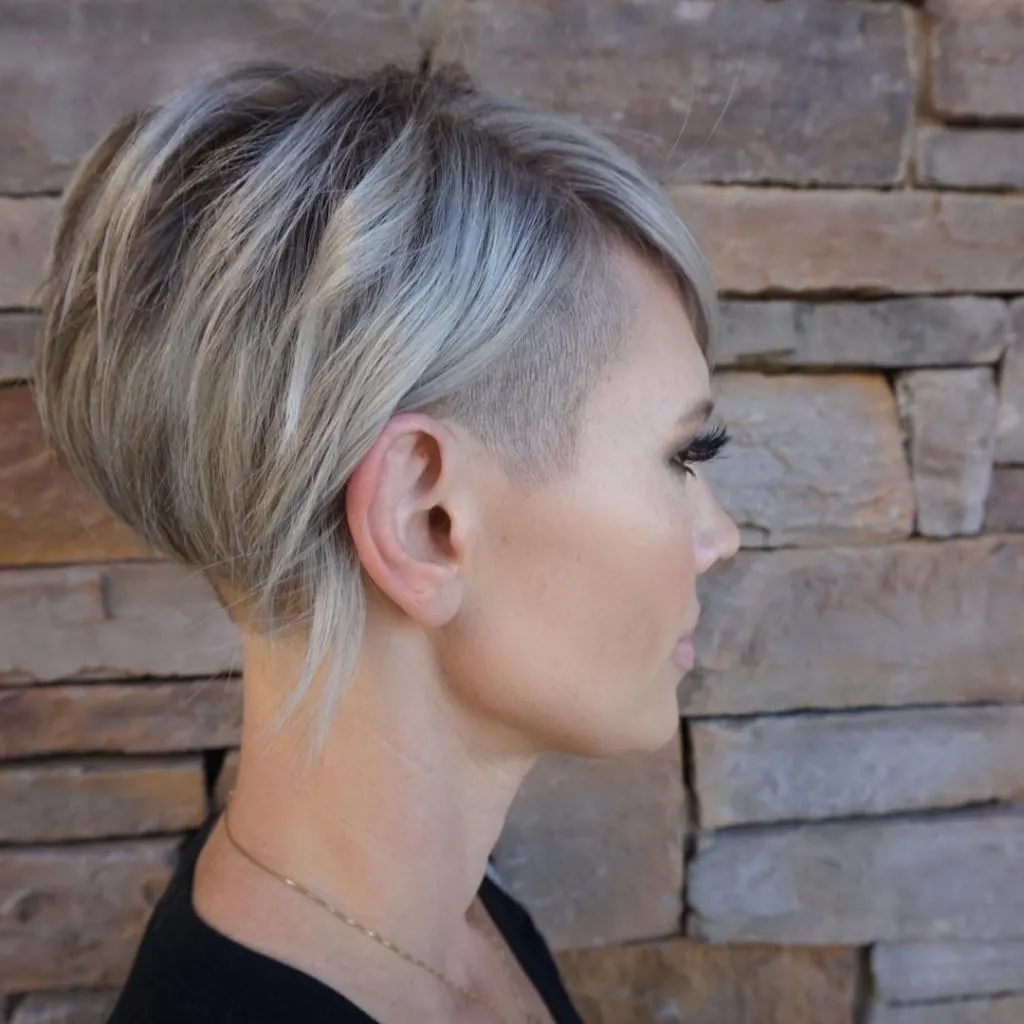 A short undercut stacked bob is an easy style that looks interesting yet stylish. A great choice if you prefer regular visits to the salon to styling your own hair every day.
20. Faux-Hawk Undercut Bob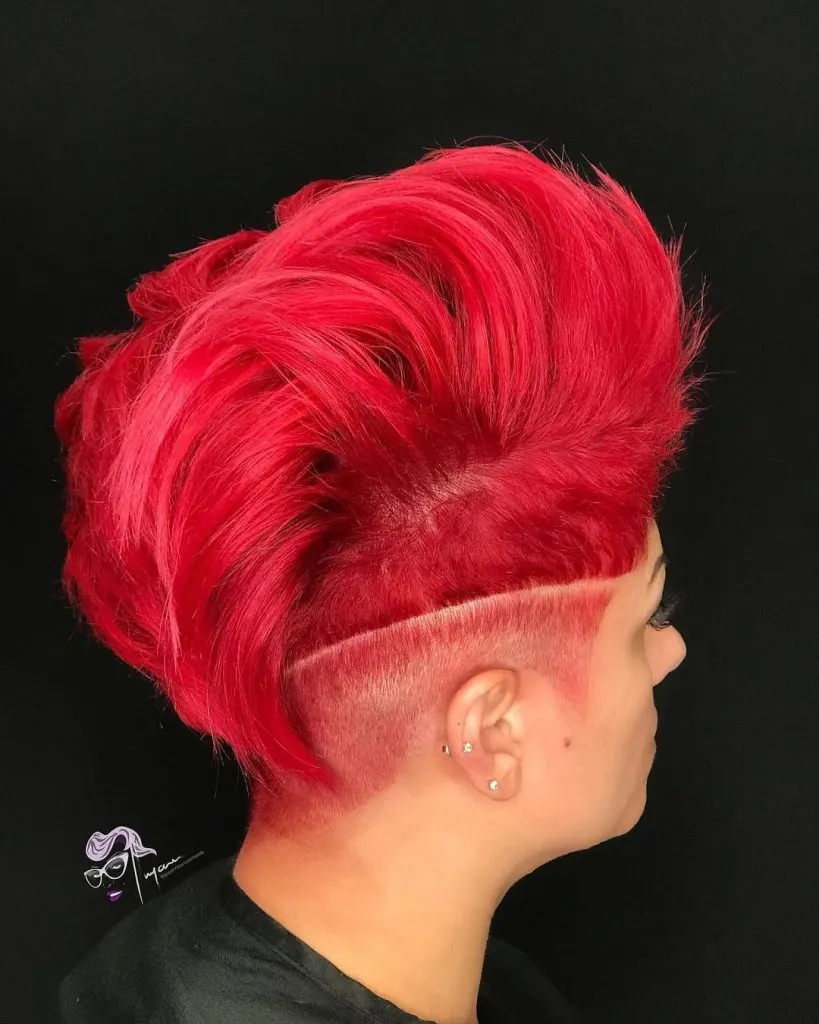 This is a great example of what's possible to do with an undercut bob. With the help of a lot of product, it can be turned into an exciting faux-hawk style you don't see often!
21. Wavy Hidden Undercut Bob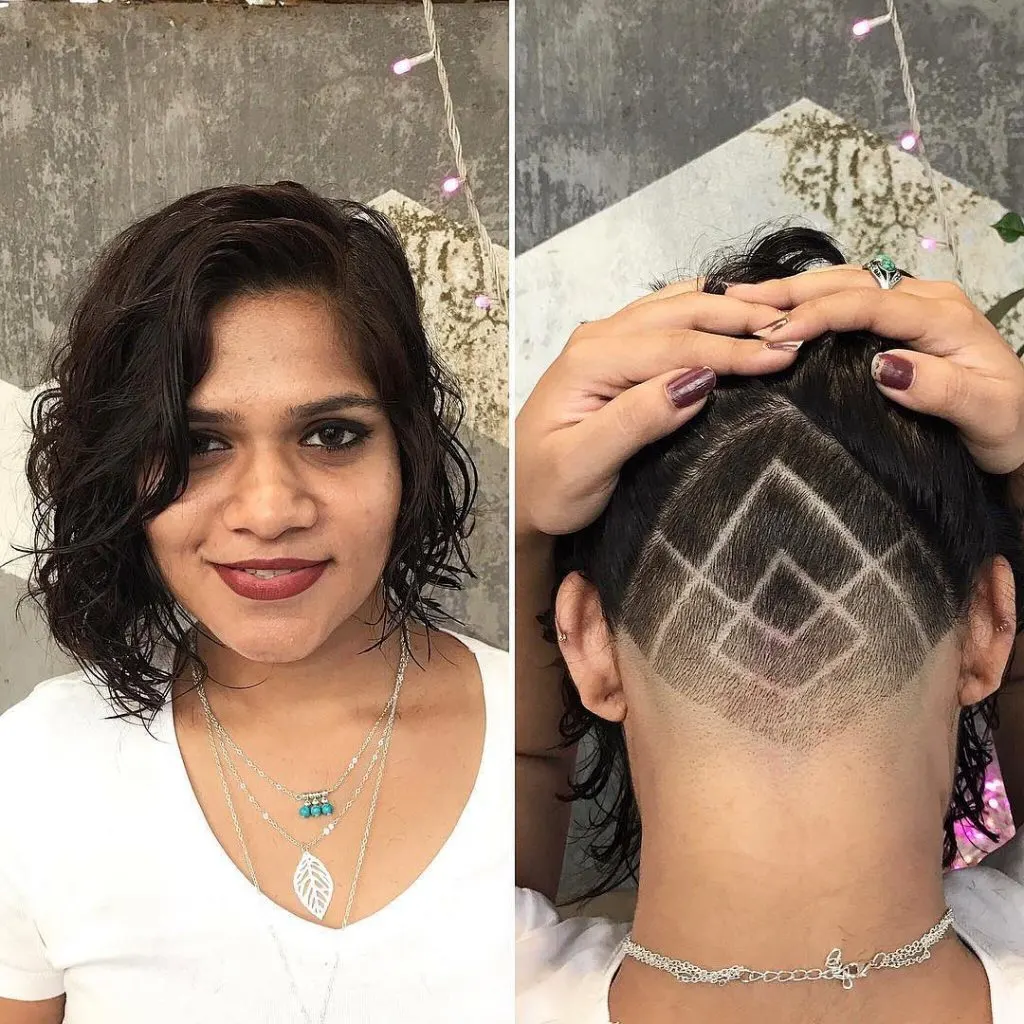 Lovely soft waves are hiding a secret—a decorative undercut that takes a lot of the weight off and creates a cool style when displayed.
22. Patterned Undercut Bob
Pro tip: show off your amazing styled undercut by tying your hair up as soon as you get it done because it grows out quickly!
23. Classic Undercut Bob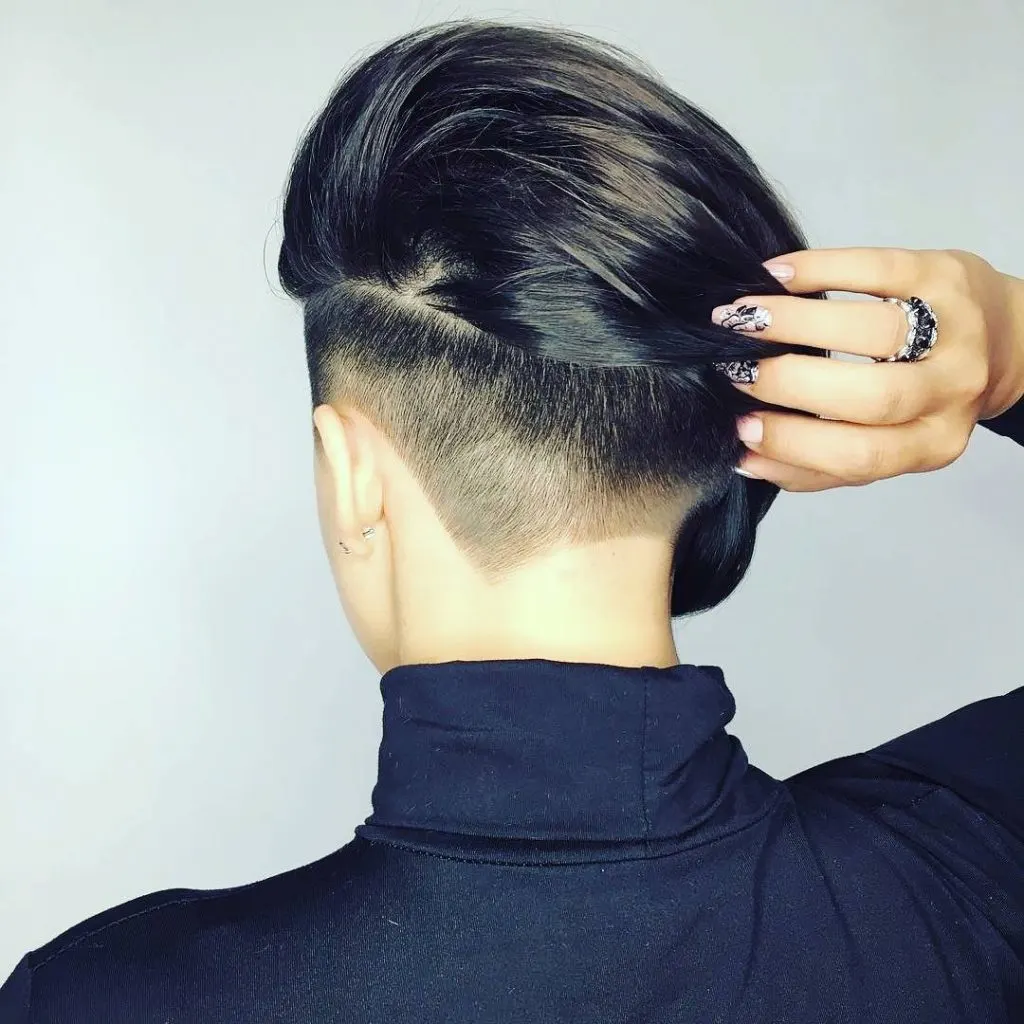 Both the style of the bob and the style of the undercut are classic, and together they're representative for the style. When you're not sure what kind of undercut bob to get, this is the one to go for.
24. Undercut Bob With Stripes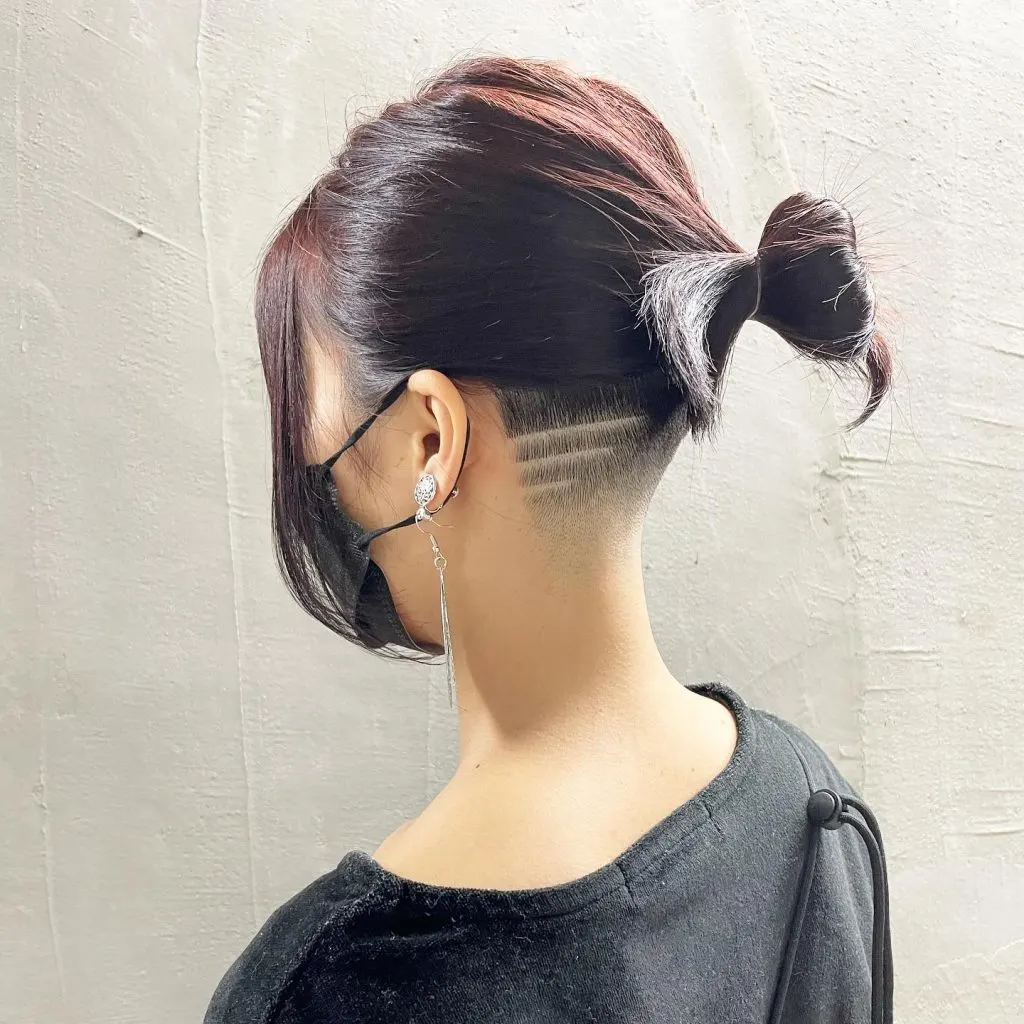 A long bob can be worn curly, wavy, straight; up and down; neat and messy—and each of these options works with an undercut just as well.
25. Layered Undercut Bob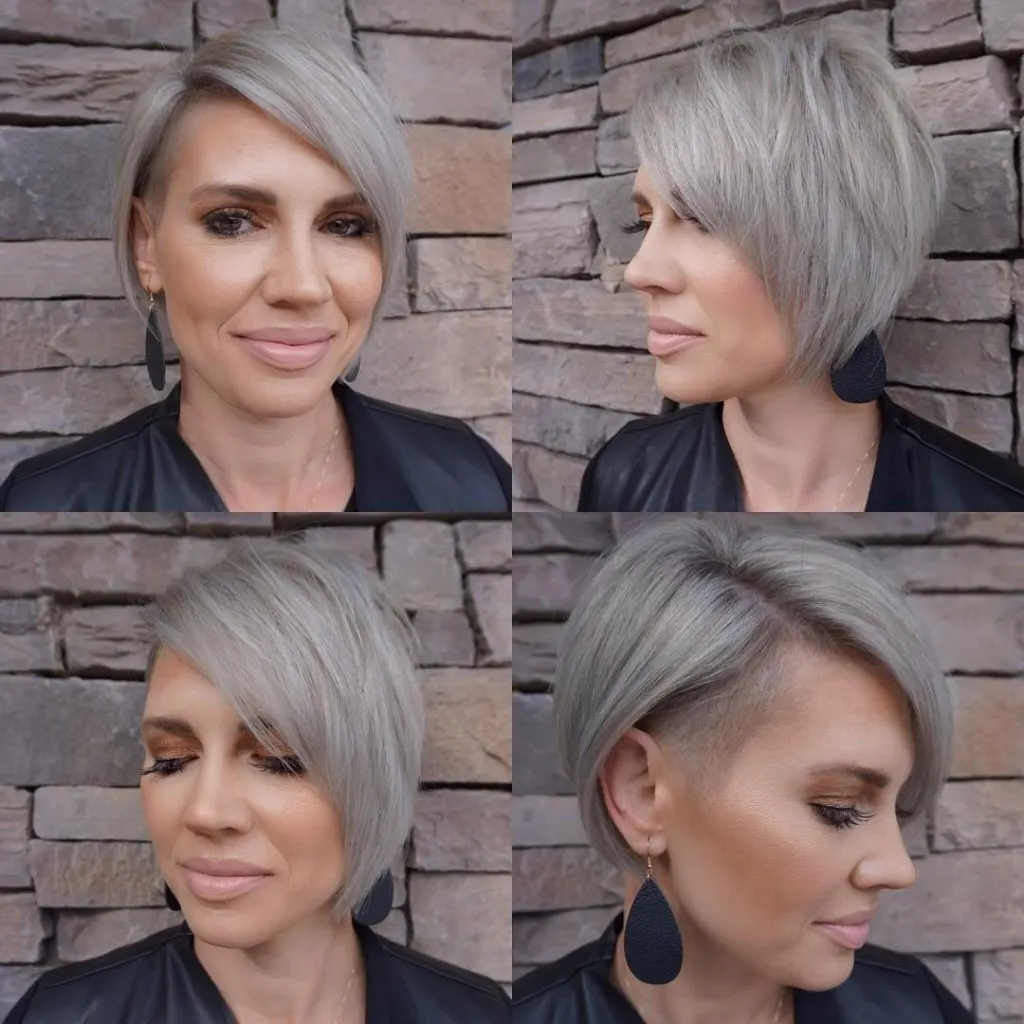 Going for an inverted bob with side bangs is a safe choice: it looks good on almost everyone and works with nearly all hair types, but if you want to spice it up, why not try adding an undercut? It's a sure way to give it that extra oomph.
26. Medium Undercut Bob With Long Bangs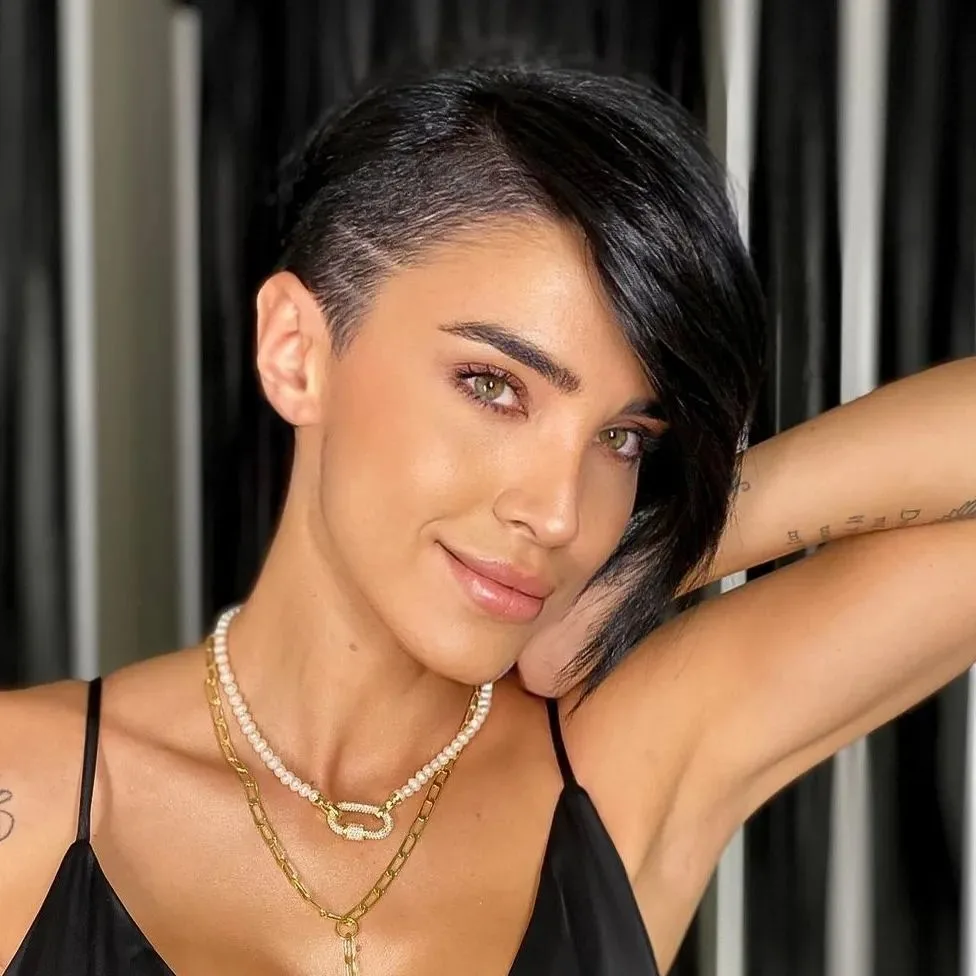 A classic short pixie bob looks adorable, but it's just as attractive with an undercut. So if you're looking for a style that's both edgy and cute, this is the one to try.
27. Half-And-Half Undercut Bob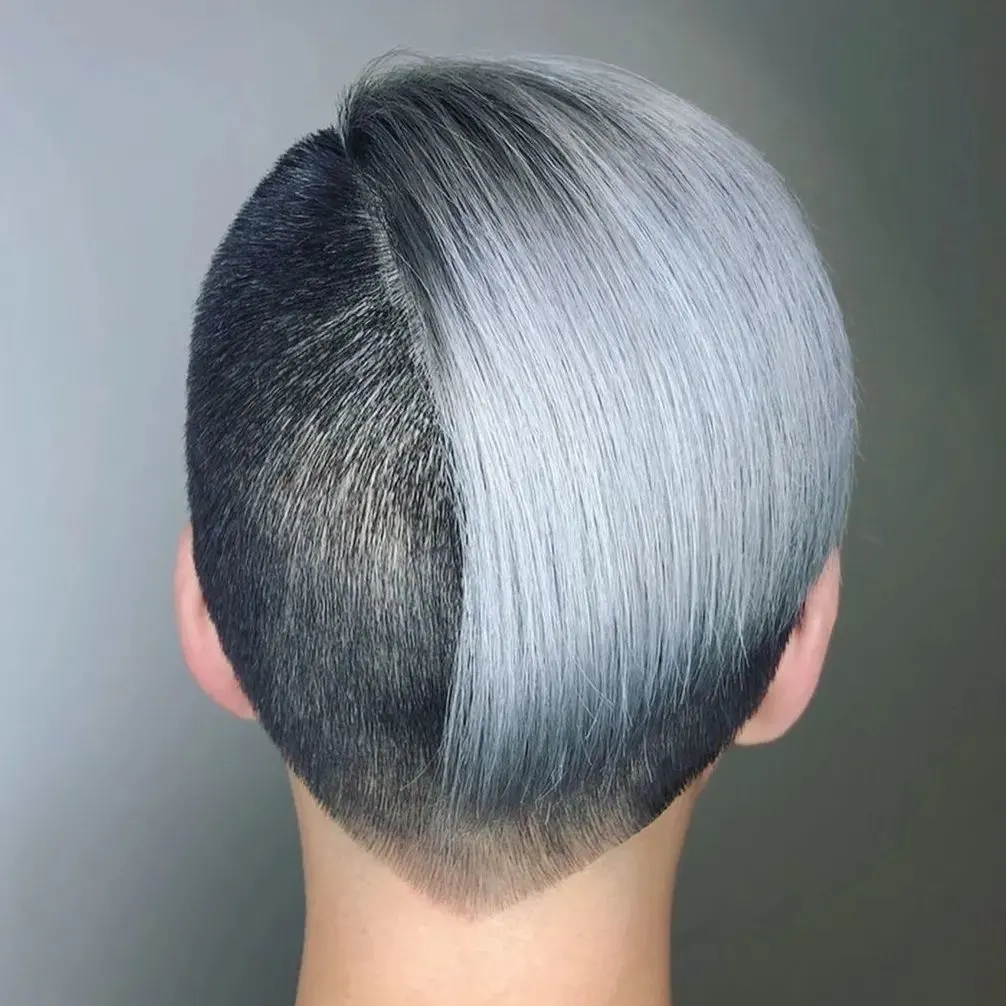 This is a truly daring style that won't appeal to everyone, but if you like your hair short and striking, a super-short bob with half of your head shaved is sure to grab attention.
28. Wavy Shaved Bob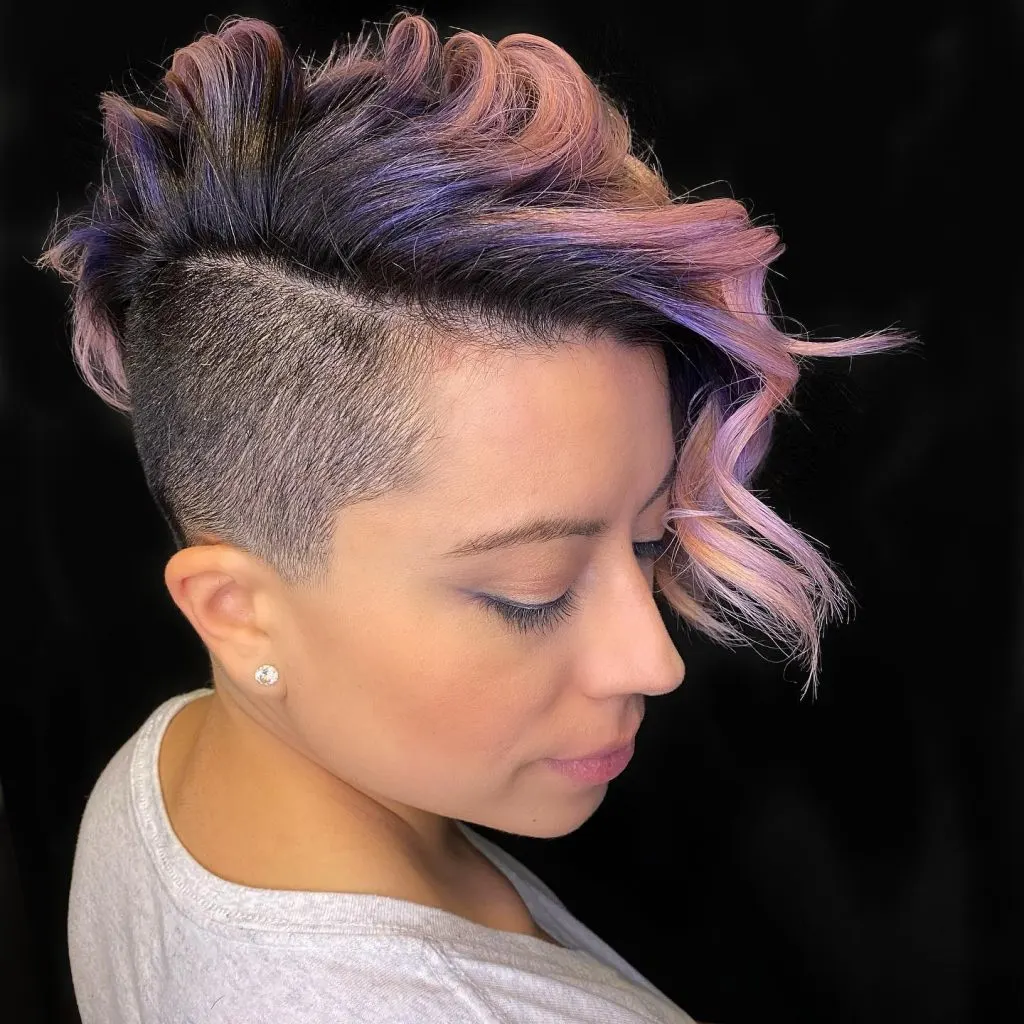 This rooted pink wavy short bob has been completely transformed by a dramatic undercut. It would have been much different if less hair had been buzzed off, but like this, it's a whole new hairstyle.
29. Angled Bob With Undercut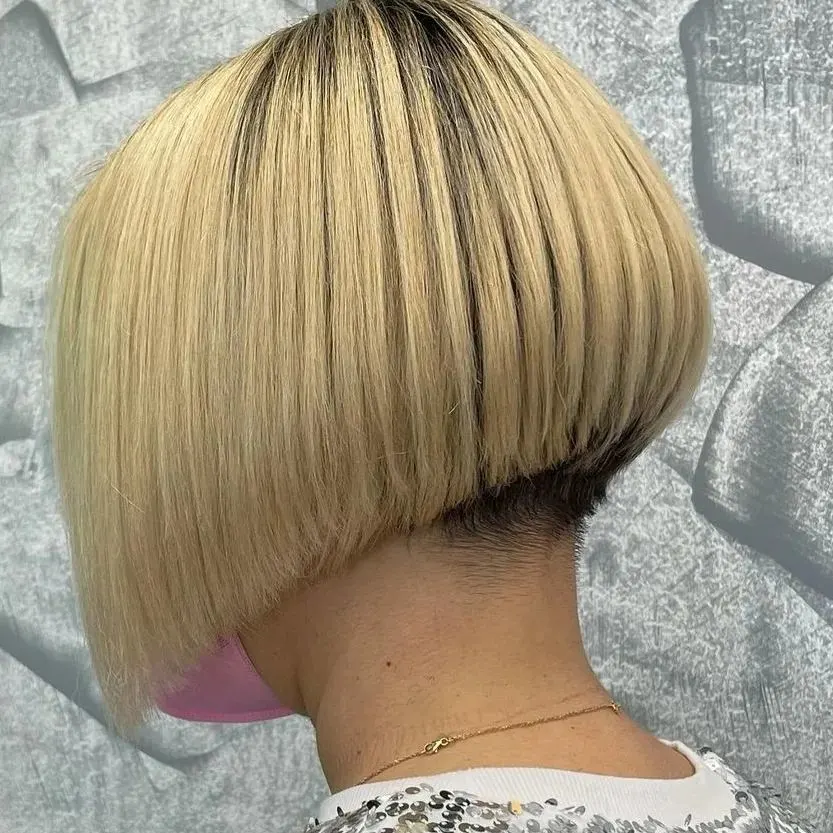 Nice and blonde on top, with dark roots showing on top and a dark undercut peeking through. A deceptively simple style that's actually quite intense.
30. Braided Undercut Bob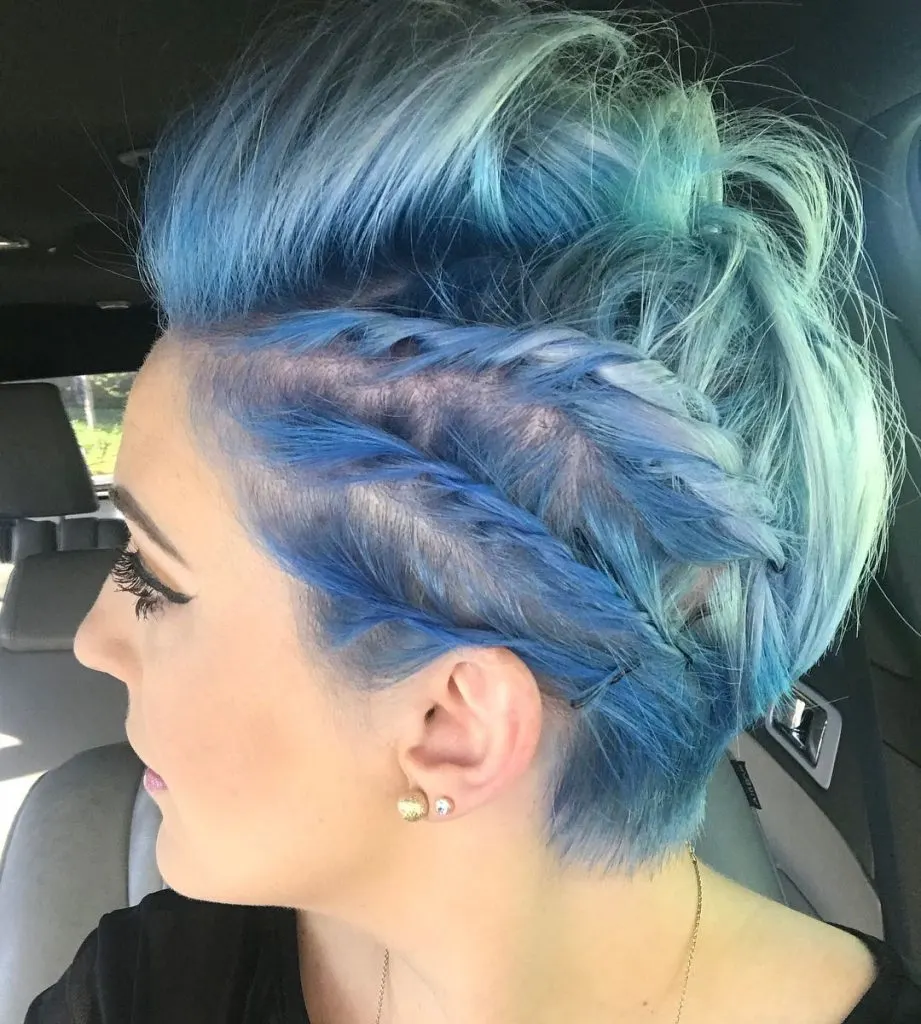 Growing out an undercut can create an awkward neither-here-nor-there hairstyle that's everyone who's tried to go from a short hairstyle to a longer one is familiar with. Using braids is a clever way to get through this transitional stage.
31. Straight Undercut Bob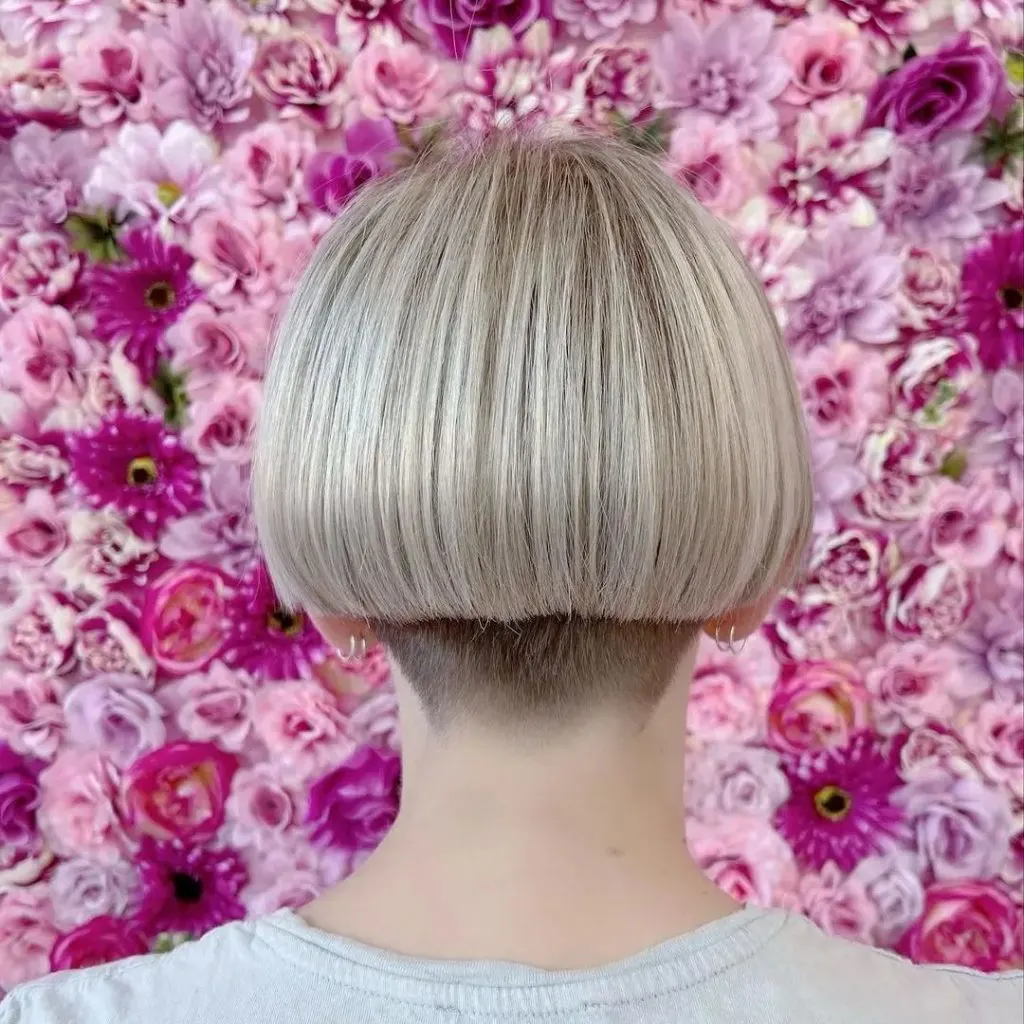 Very short, above-the-ear bobs look natural and clean with a shaved nape, so if you like a put-together modern look, it's something to consider.
32. Long Undercut Bob With Wispy Bangs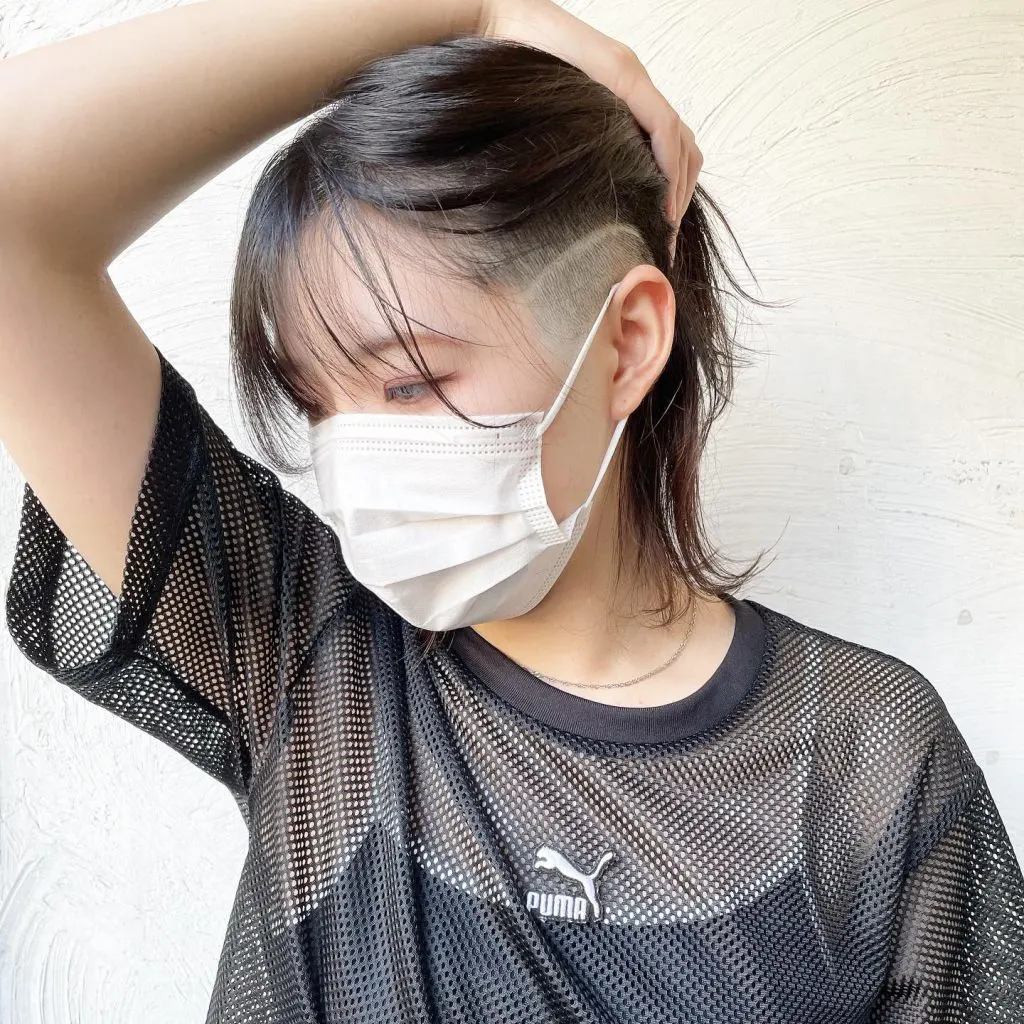 Wispy bangs add a romantic vibe to this long layered bob, but a sharp undercut adds the opposite flavor. Together, they create a modern and unique look worthy of checking out.
33. Undercut Bob With Braid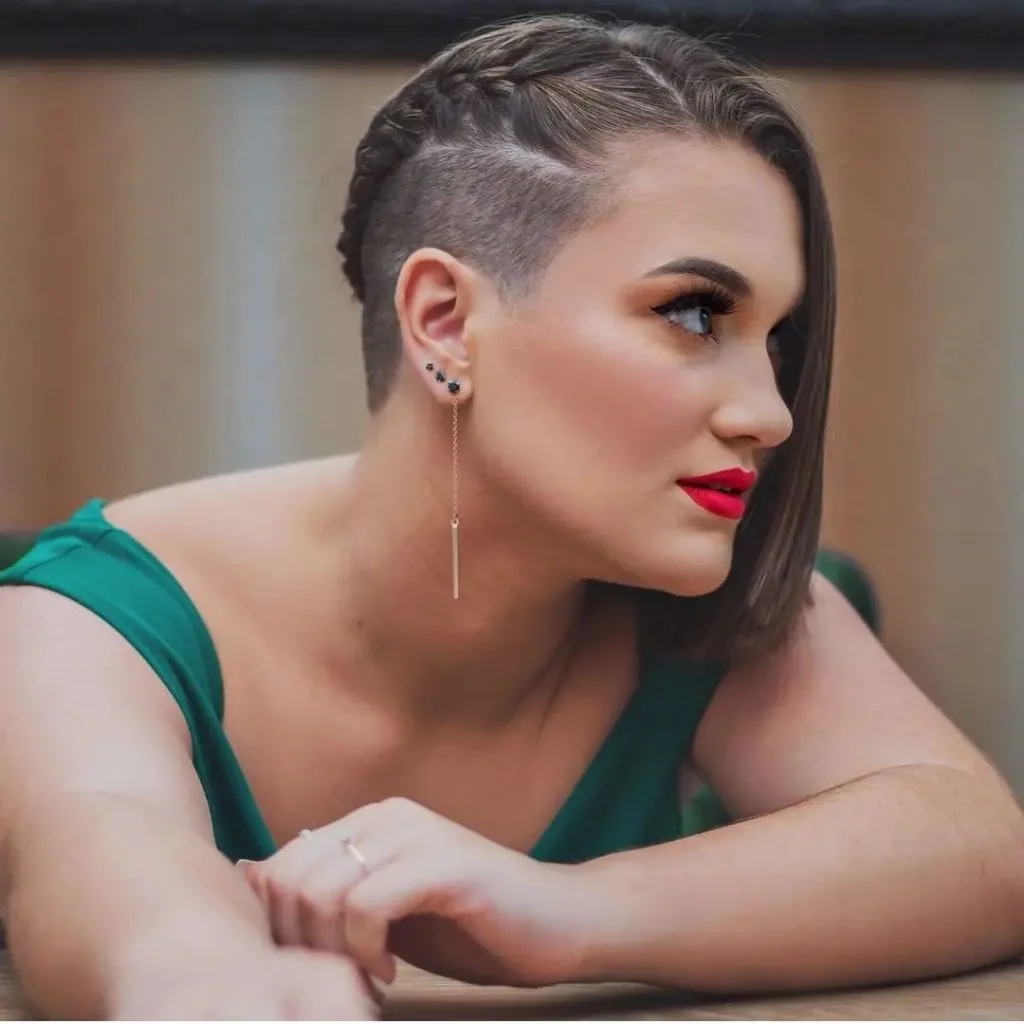 It might seem that a French braid and an undercut wouldn't go together, but this style proves the opposite. Experiment with your style by pairing things that might not sound compatible at first to create unique outcomes like this fabulous hairdo.
34. Wavy Chin-Length Undercut Bob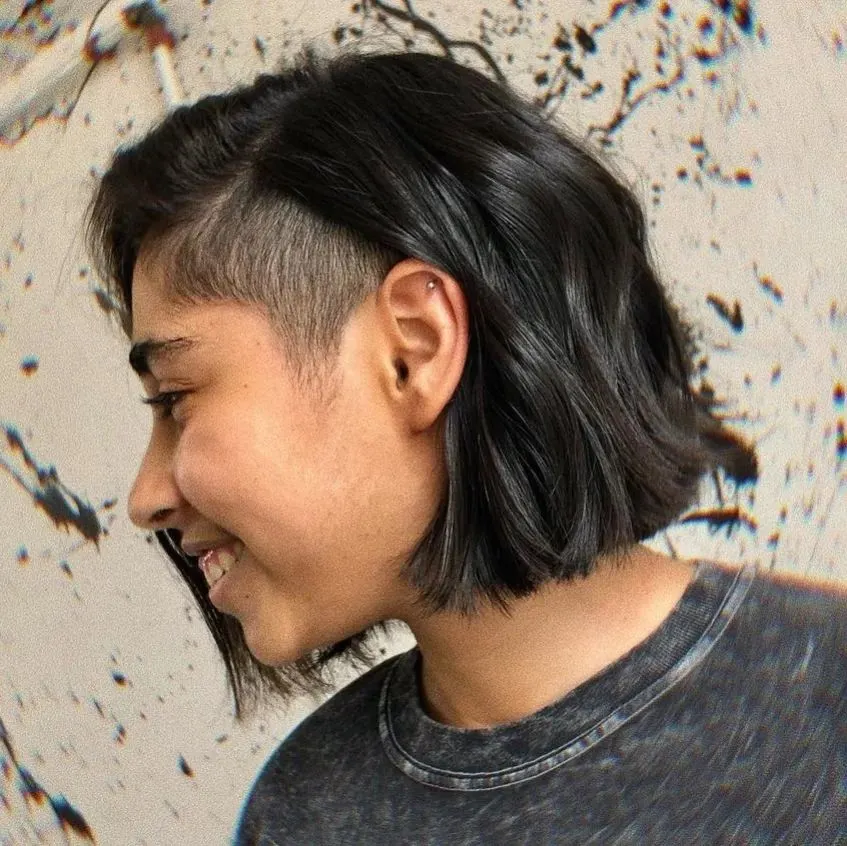 A slight undercut fits amazingly well with a casual, medium-length blunt bob. Both styles are laid-back and eye-catching at the same time, so they're a natural pairing.
35. Short Angled Undercut Bob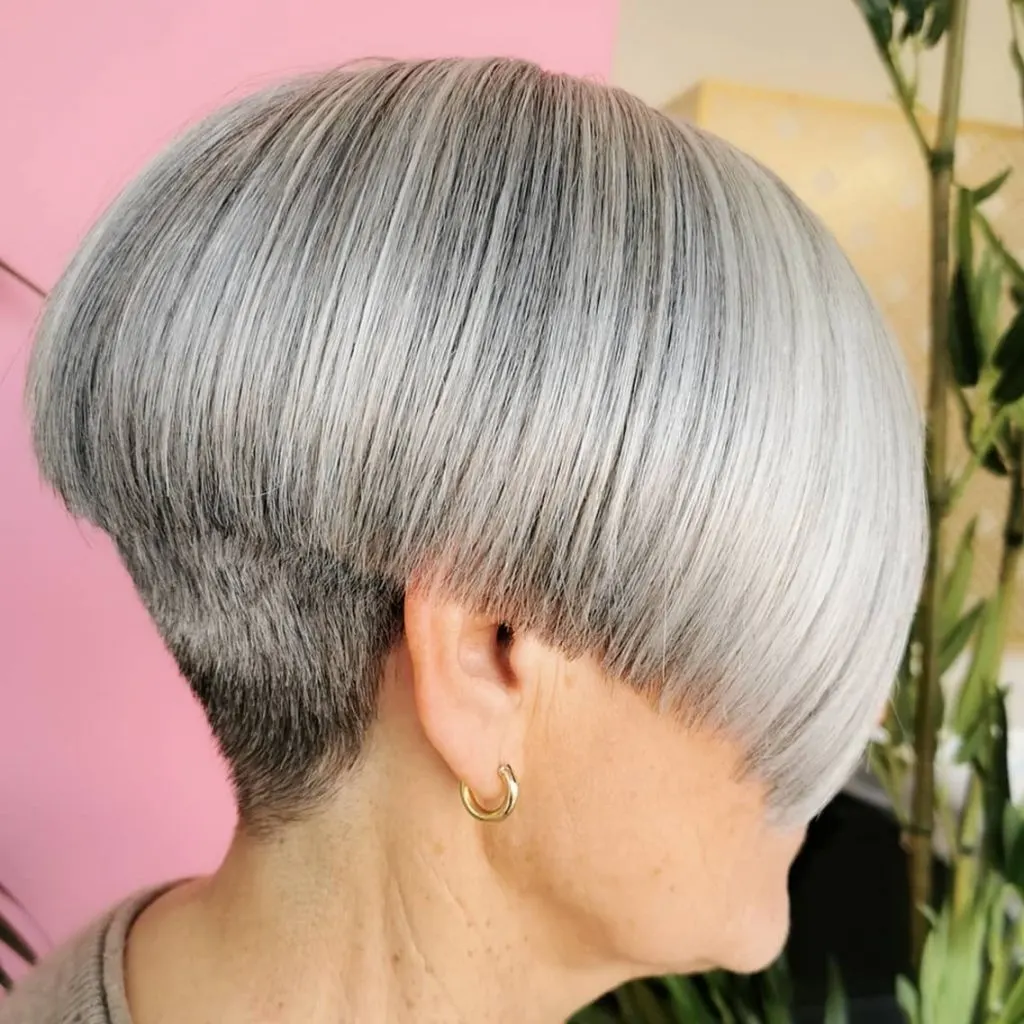 If you want an ultra-short bob, an undercut is the best approach to shortening the hair on the nape while still maintaining a bob shape.
36. Vibrant Asymmetric Undercut Bob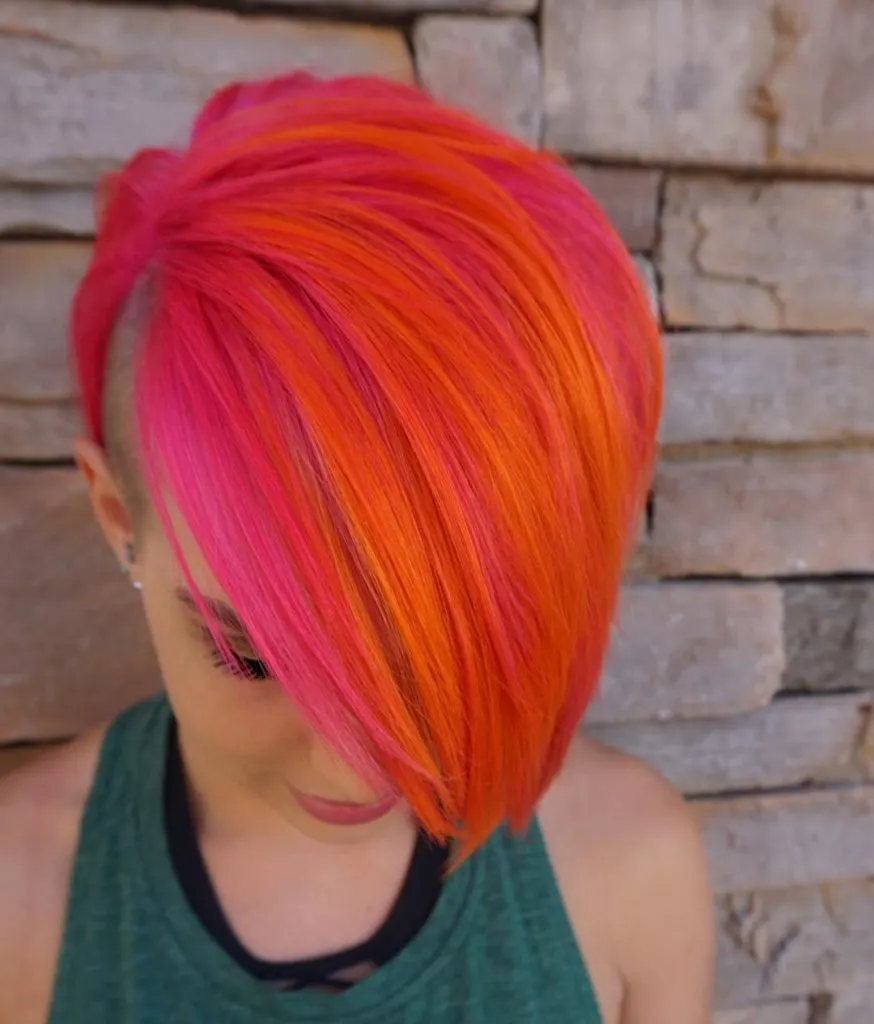 Shaved sides and vibrant color are a great fit. An undercut works amazingly well with unnatural colors, so if you like to make an impact, combining the two is a no-brainer.
37. Long Wavy Bob With Undercut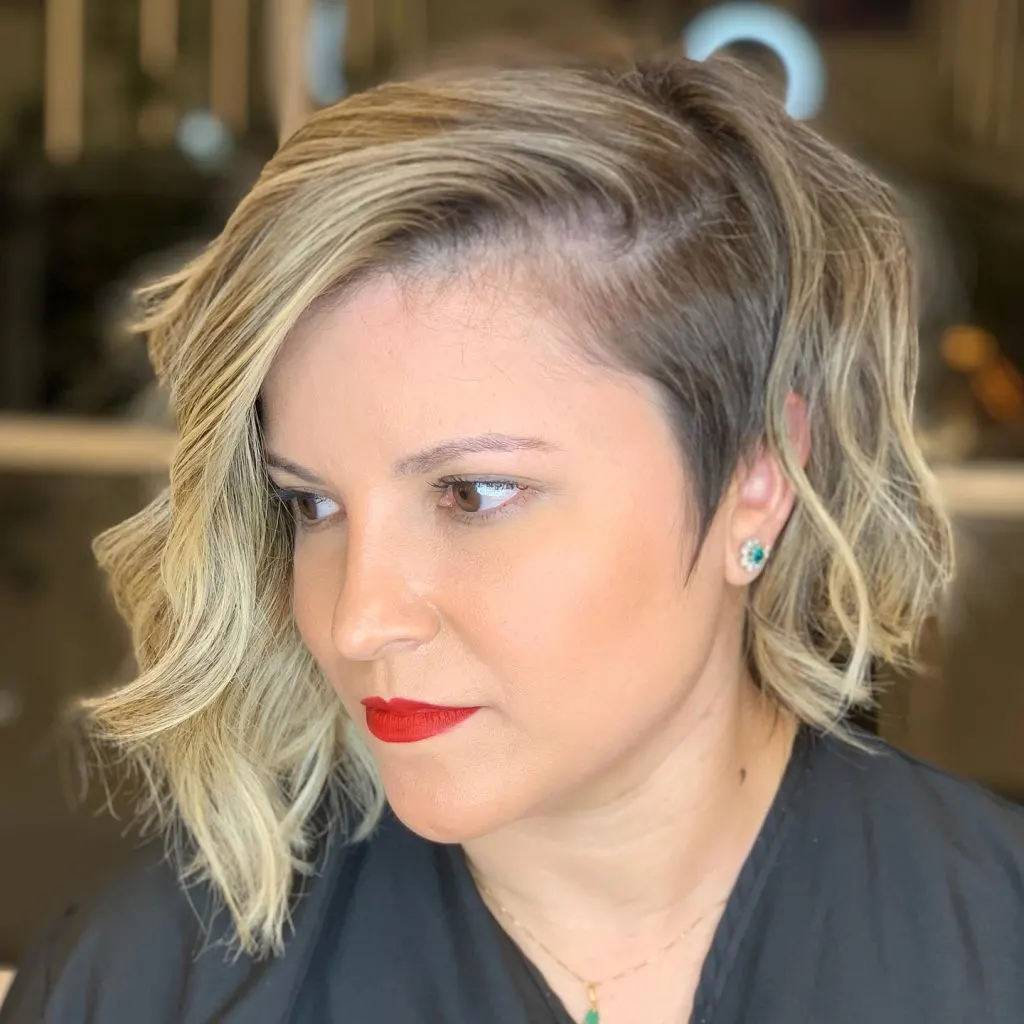 A long, wavy bob looks great with a fresh undercut, but even when it grows out a bit, it's not any less attractive. With a relaxed style like this, an undercut doesn't have to be kept as sharp as with some more polished bob styles.
38. A-Line Undercut Bob With Bangs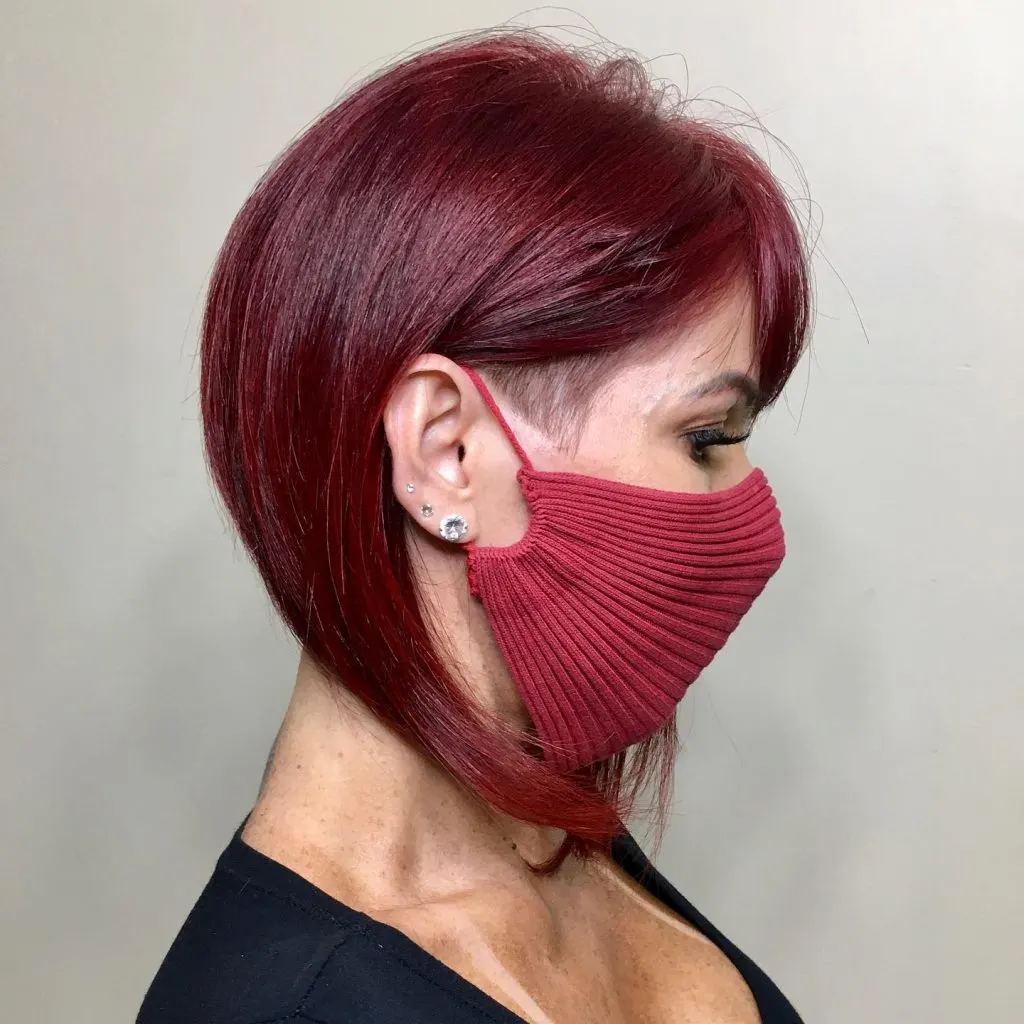 The undercut adds a bit of an edge to this burgundy A-line bob, making it extra-fashionable and more relaxed.
39. Soft Undercut Bob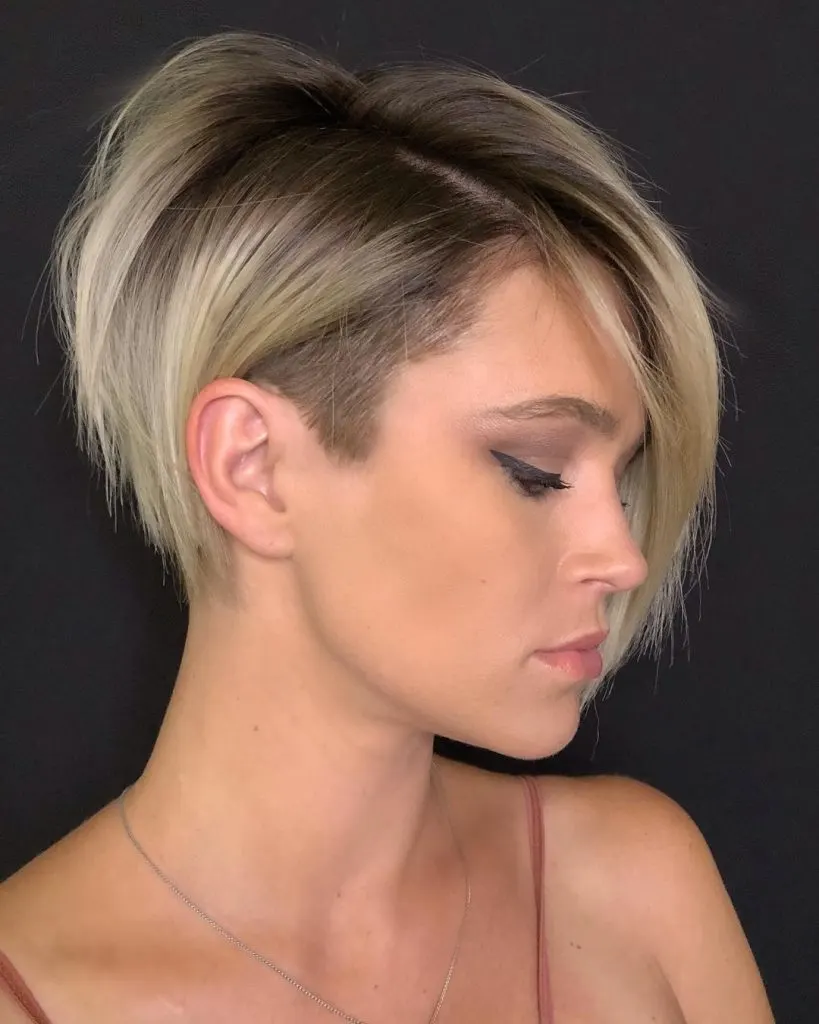 Buzzed sides create a fresh, youthful look while at the same time making this cute bob more manageable.
40. Decorated Undercut Bob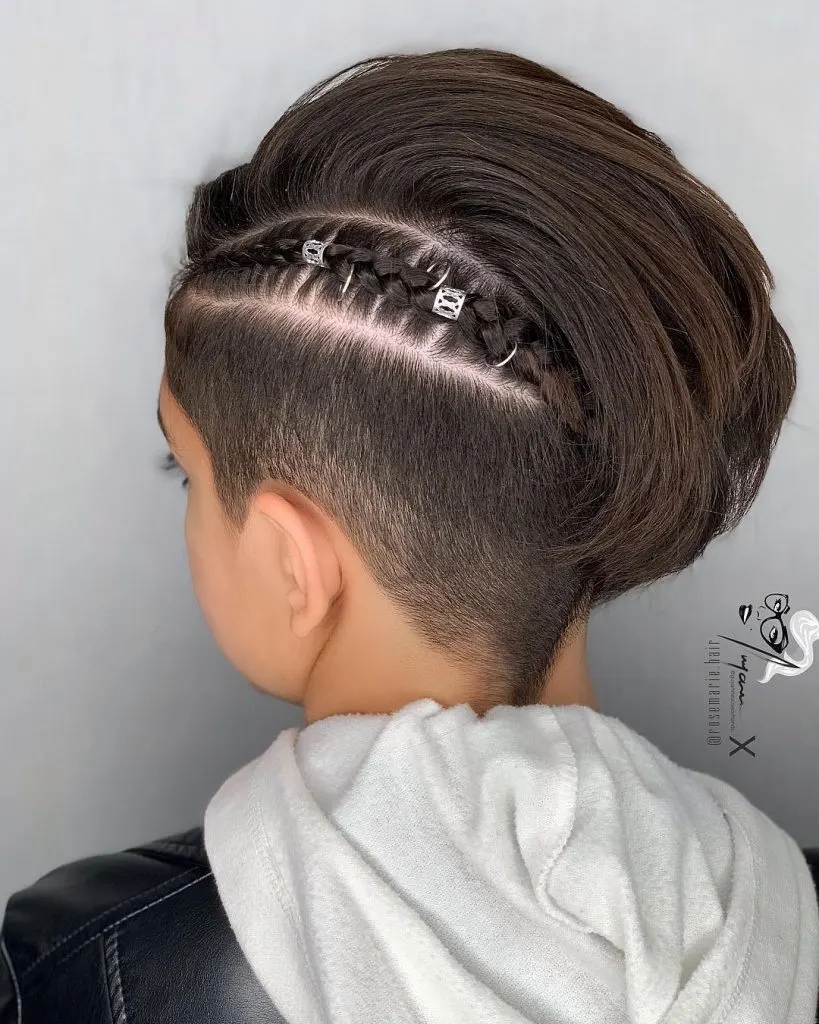 This short bob proves that you don't need long hair to have fun with it. An undercut, a braid, and hair jewelry are used to create an interesting and playful style.
41. Curly Undercut Bob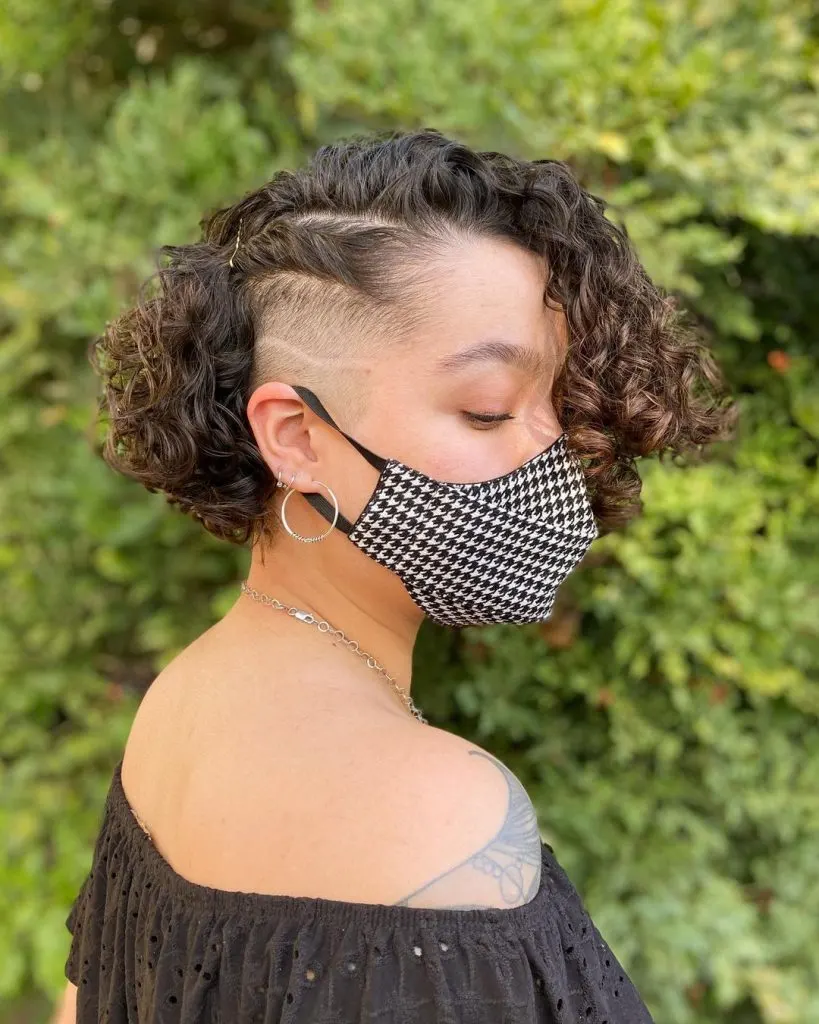 Here's a fun way to show off your undercut: pin away the strands nearest to the buzz, creating a romantic style to offset the sharpness of the shaved part.
42. Short Pixie Bob With Undercut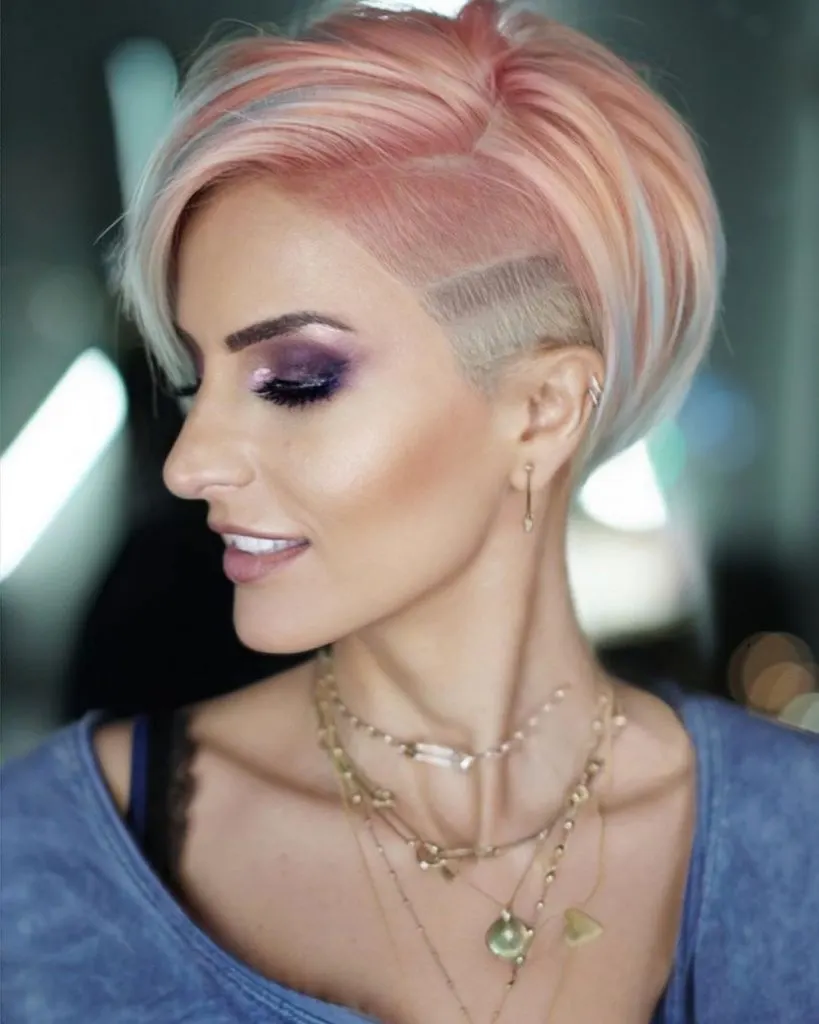 Delicate pastel mermaid colors and an edgy undercut don't sound like they would go well together, but combining the two actually results in an attention-grabbing style that works.
43. Subtle Undercut Bob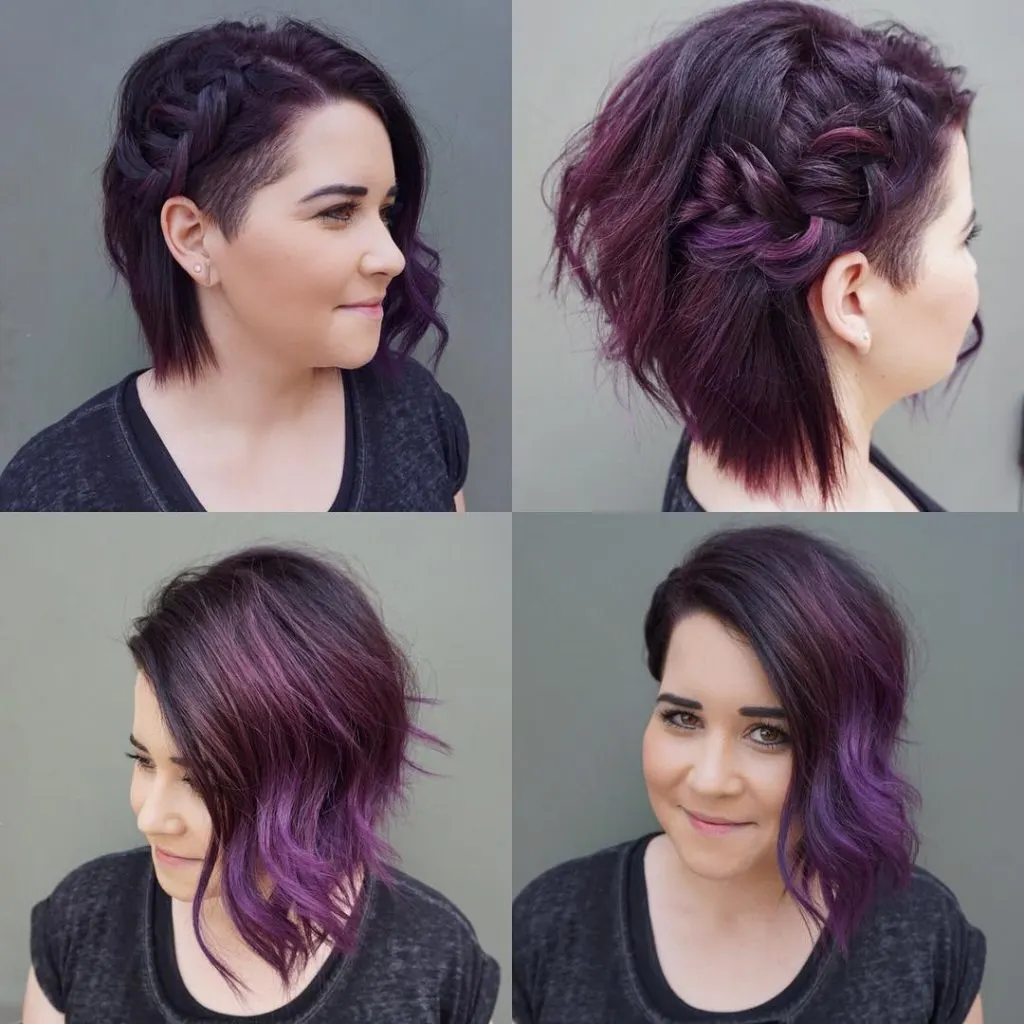 Thanks to the color and cut, this style is already special, but the cute, tiny undercut peeking underneath the thick braid takes it to the next level.
44. Undercut Bob With Straight Bangs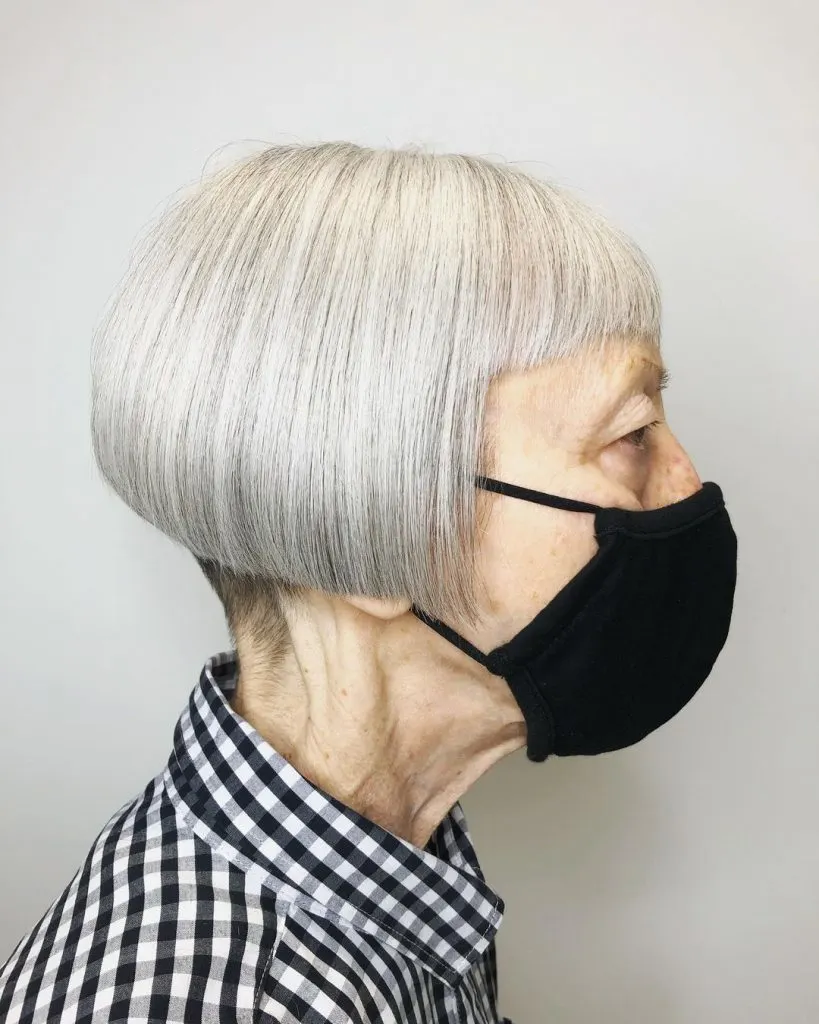 Give a bit of flavor to a straight French bob by buzzing the nape—it becomes even more polished but also, at the same time, relaxed.
45. Short Bob With Braid And Undercut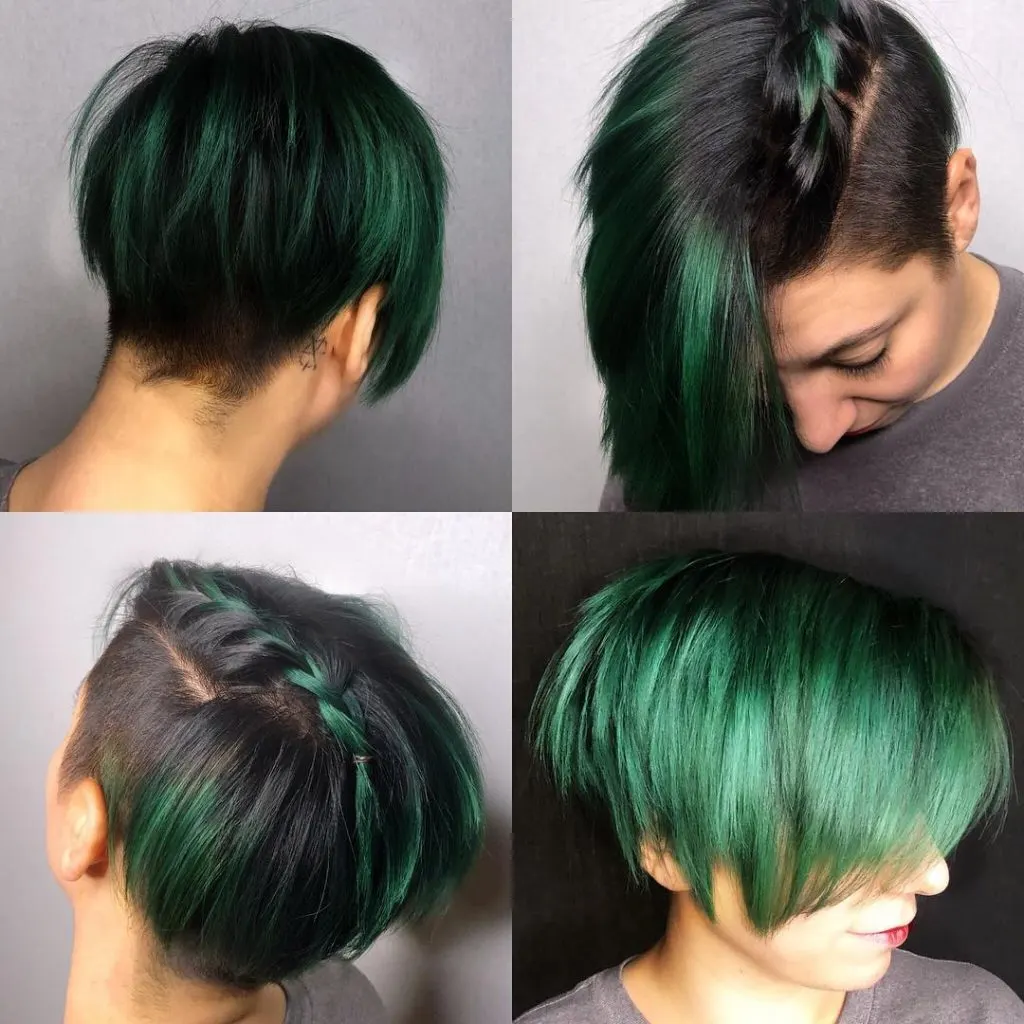 Bright unique color, exciting undercut, dramatic braid—this style is youthful, playful and fun!
46. Curly Stacked Bob With Undercut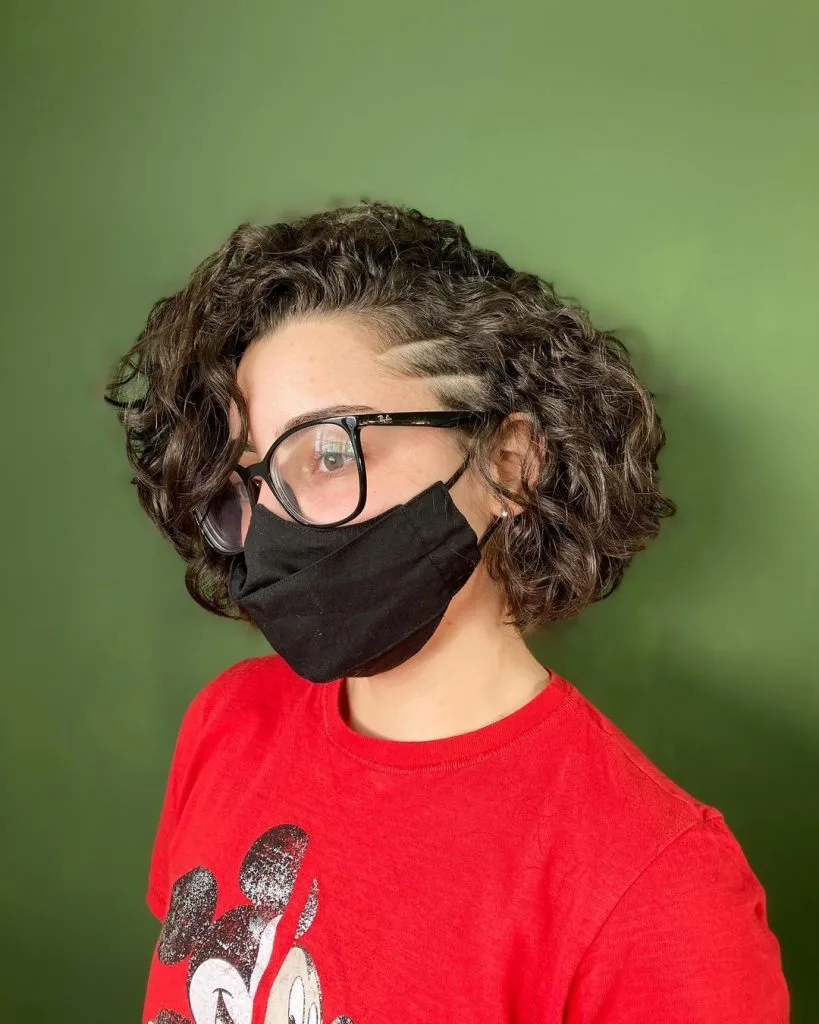 Interesting buzzed sides provide an attractive contrast to the luscious short curly hair with bangs in this flattering bob hairstyle.
47. Elegant Undercut Bob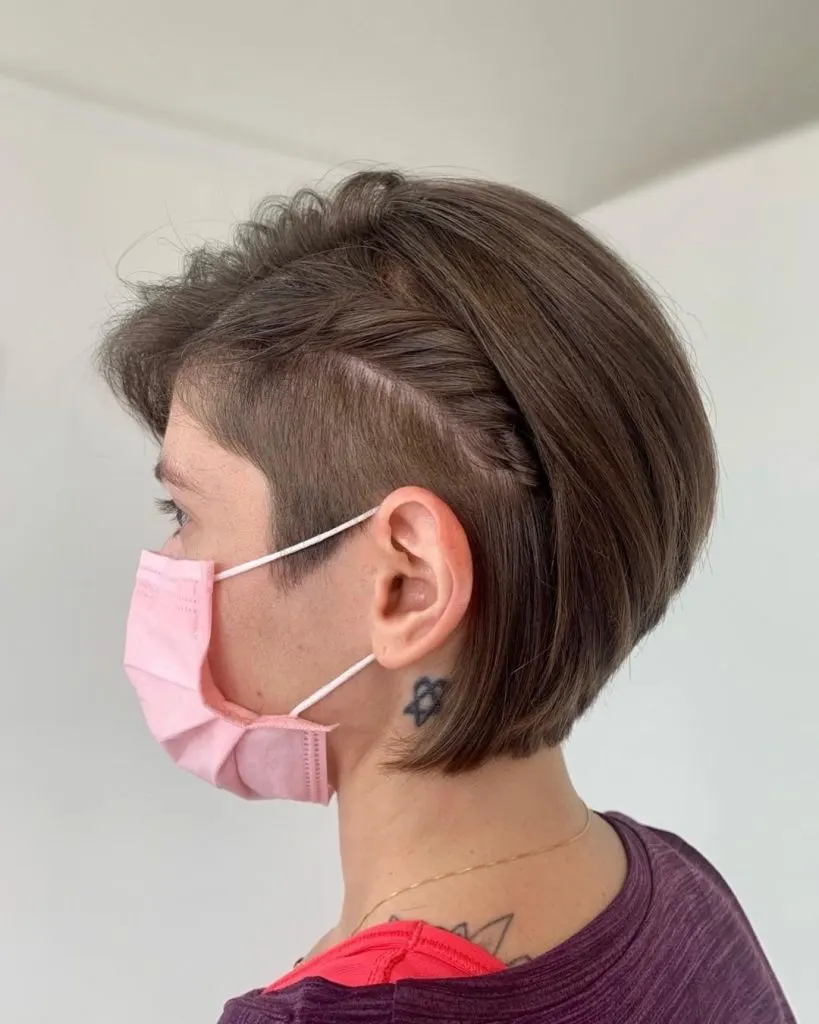 A twisted braid and side-swept bangs are some of the ways you can spice up your undercut bob. The softer, more feminine touches combined with buzzed sides create a balanced style.
48. Undercut Bob With Full Bangs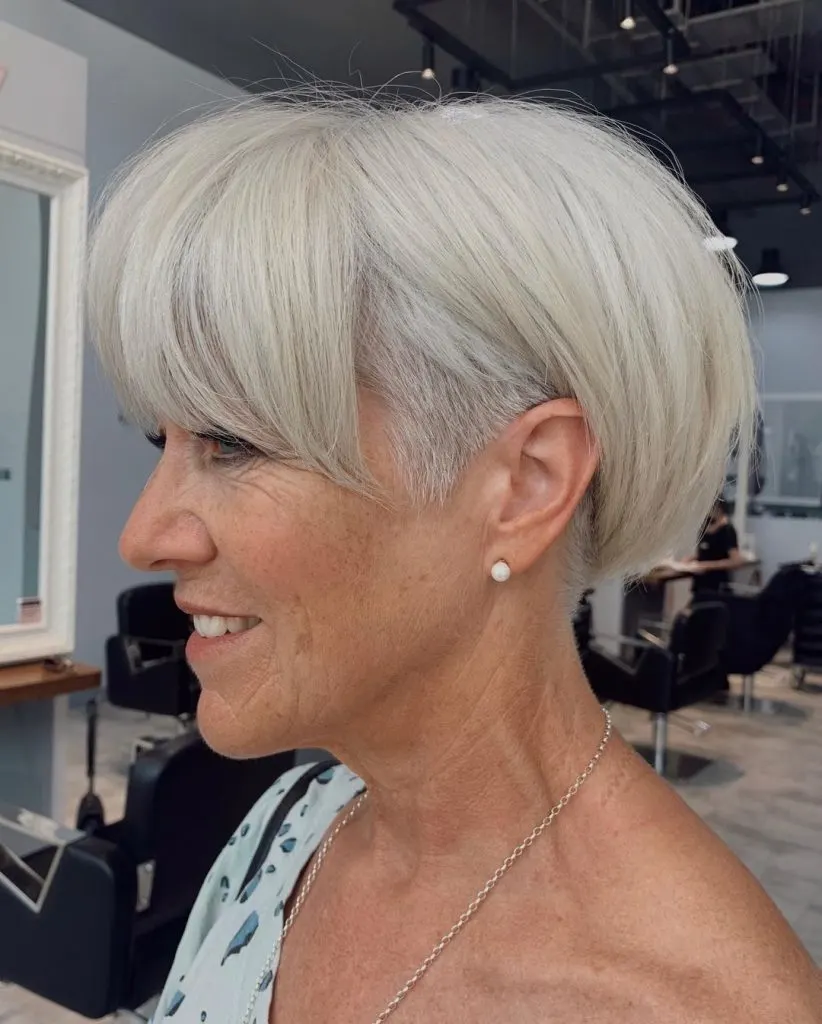 This style is full of volume; it's flattering and easy, and you'd think there's nothing you could do to make it even better—and then you see the undercut, which adds some zest and keeps it interesting.
49. Undercut Stacked Bob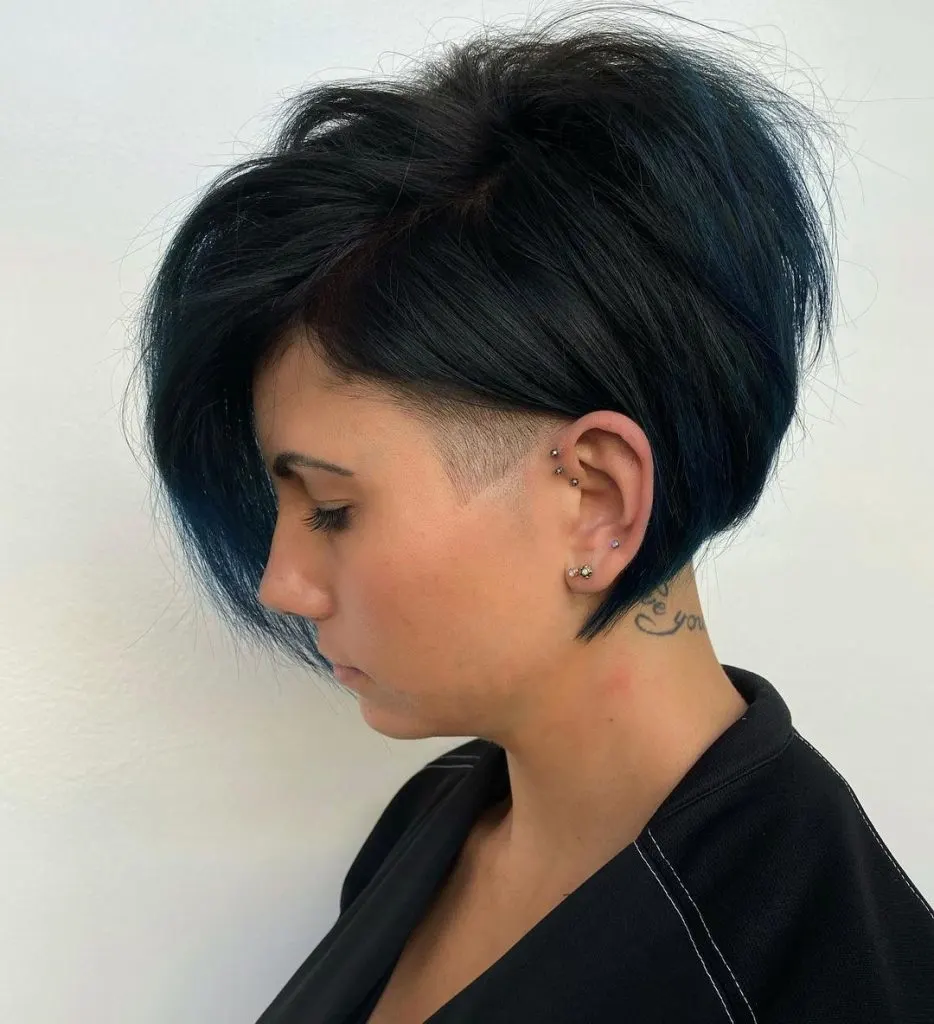 This fluffy stacked bob makes thick hair manageable, thanks to the undercut which takes off the weight from the bottom and sides.
50. Undercut Layered Bob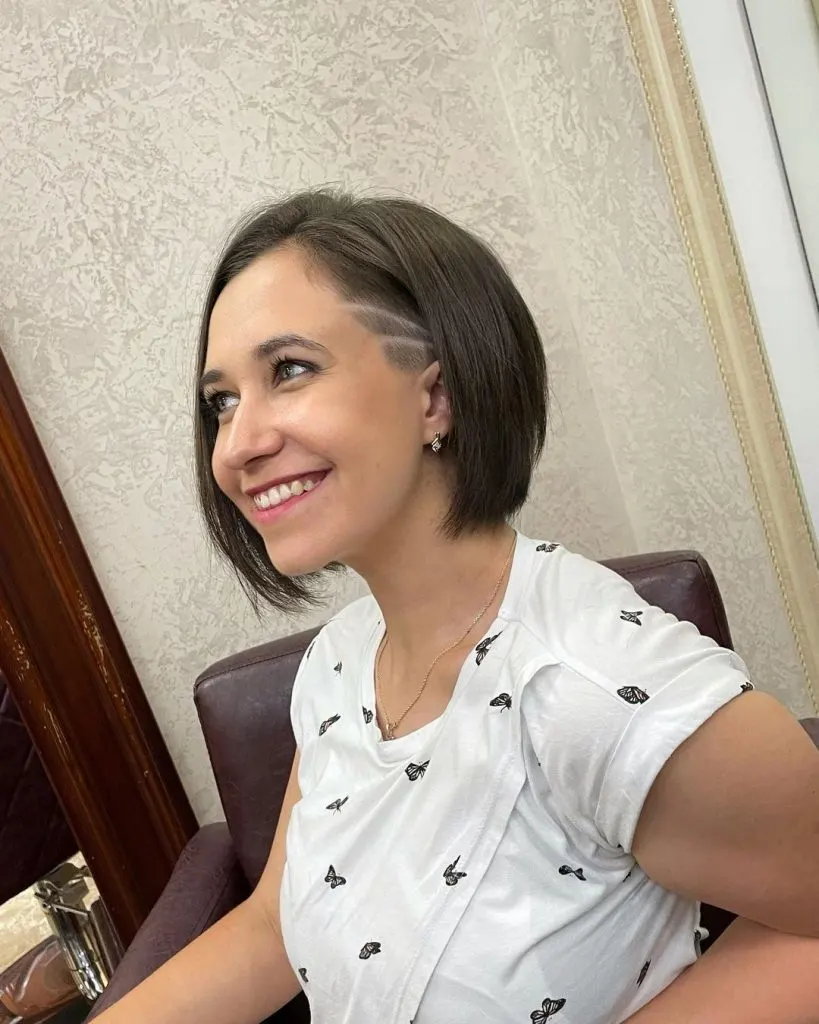 This subtle undercut can be easily concealed if you feel like it, and it looks cute either way.
51. Undercut Classic Bob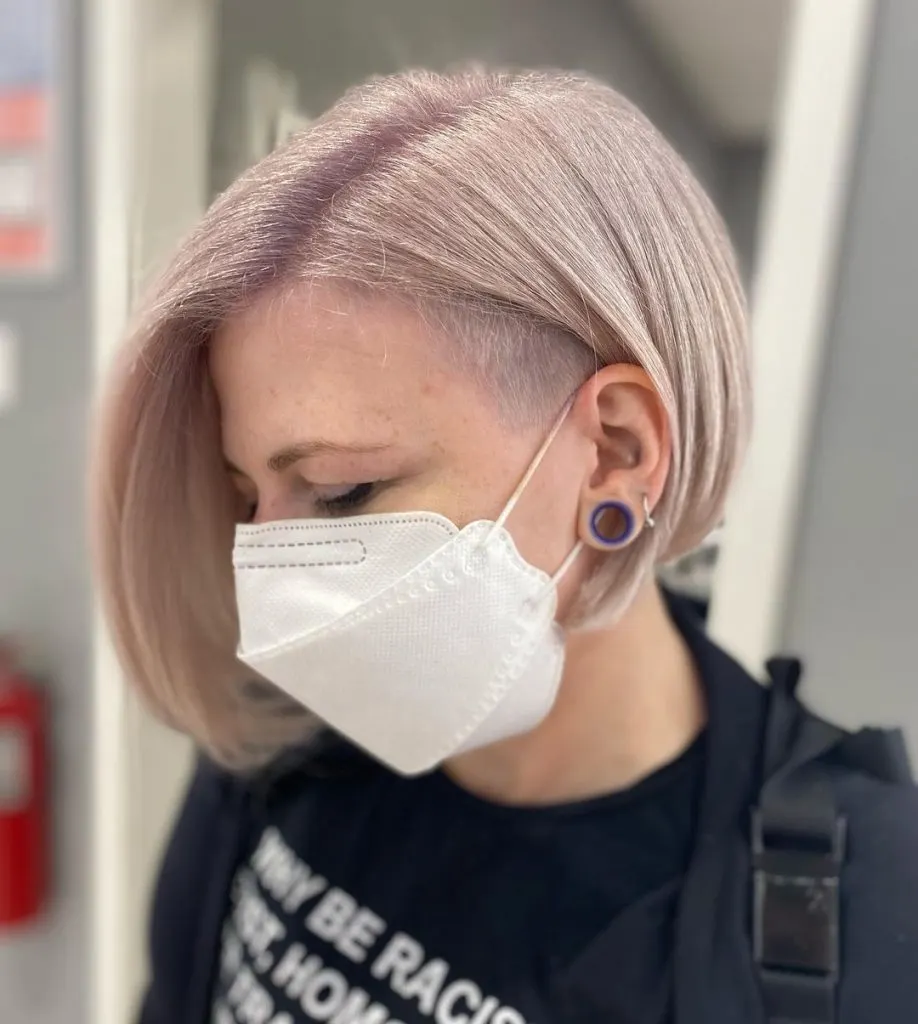 Super classic angled bob hairstyle with a twist—the pearl-pink color and the undercut serve to make it special and unexpected.
52. Curly Layered Undercut Bob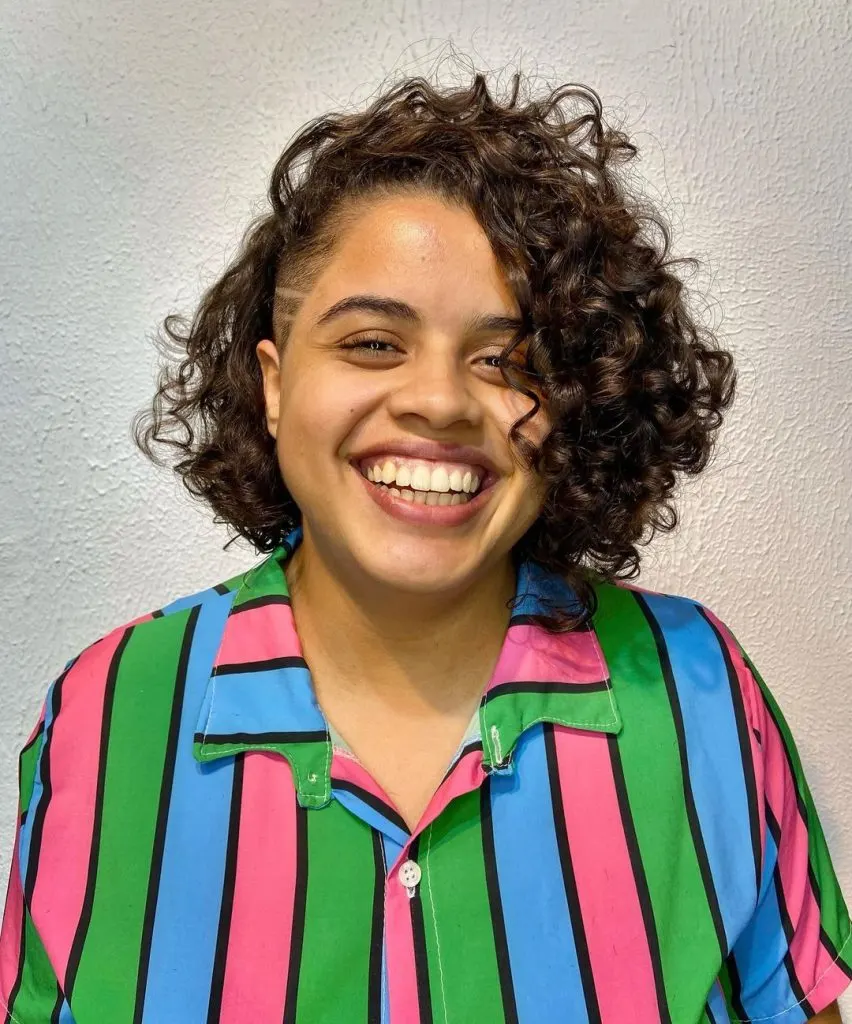 If you have a curly bob and need a change, what are you waiting for? An undercut is an easy way to make your style pop and to have fun with your hair.
Cutting Edge
The undercut bob is an effortlessly cool hairstyle that works with all hair types and textures. Adding an undercut to your style will refresh it and give it a new dimension, but keep in mind that you'll need regular salon visits to keep it tidy.