Ready for an easy haircut that's anything but ordinary? The asymmetrical bob is making a comeback, in shapes ranging from sophisticated to cheeky.
The asymmetrical bob is defined by an uneven, diagonal outline—it's longer on one side of the head than the other. Depending on the angle and style you choose, it can be as simple or as dramatic as you please.
Here are the most stylish ways to wear this chic and edgy haircut.
1. Medium Blunt Asymmetrical Bob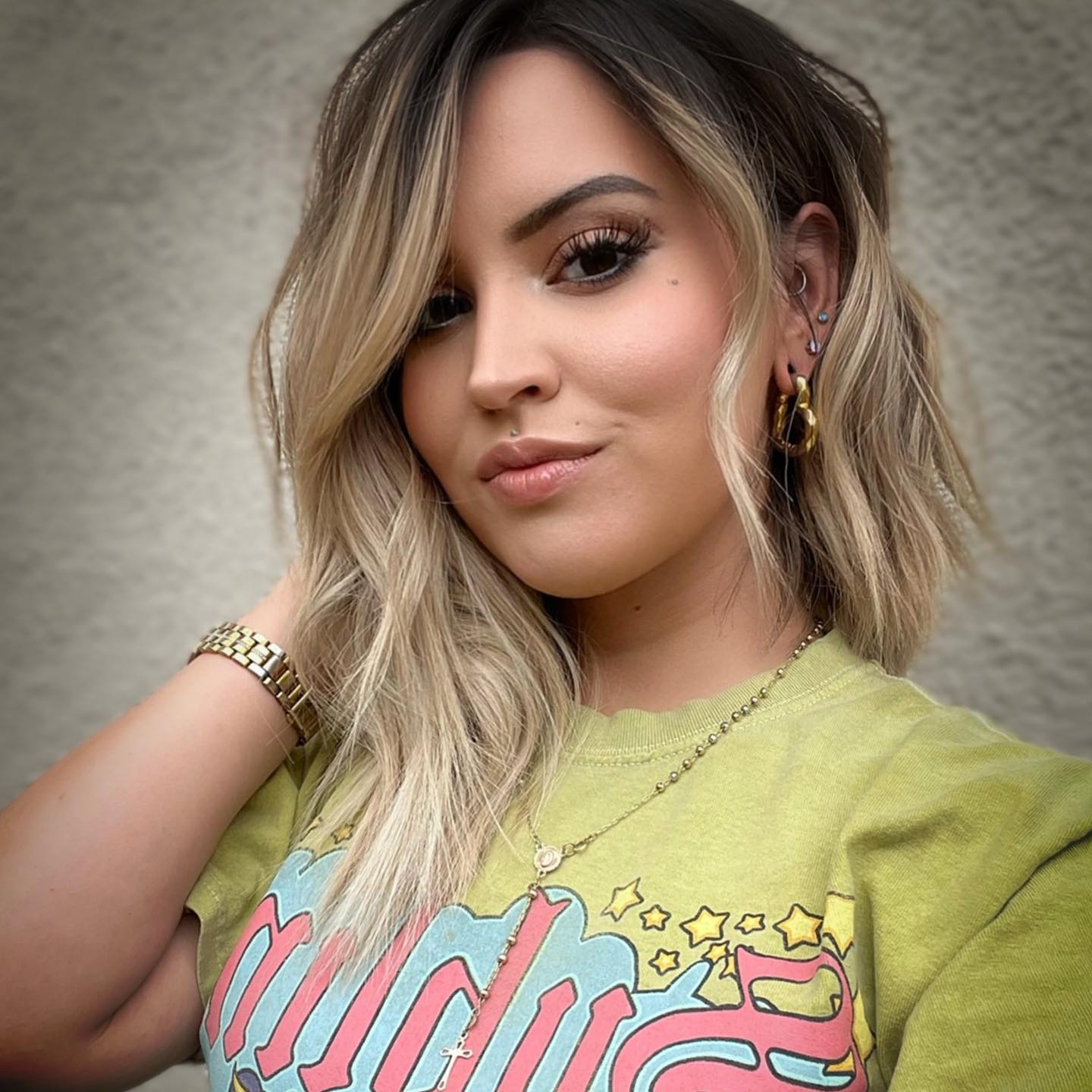 This is a sexy and sensual way to rock the asymmetrical bob. The hair cascading over one eye is flirty and the longer side falls well past the shoulder, giving the impression of long hair. Luscious but still light!
2. Sleek Asymmetrical Bob Haircut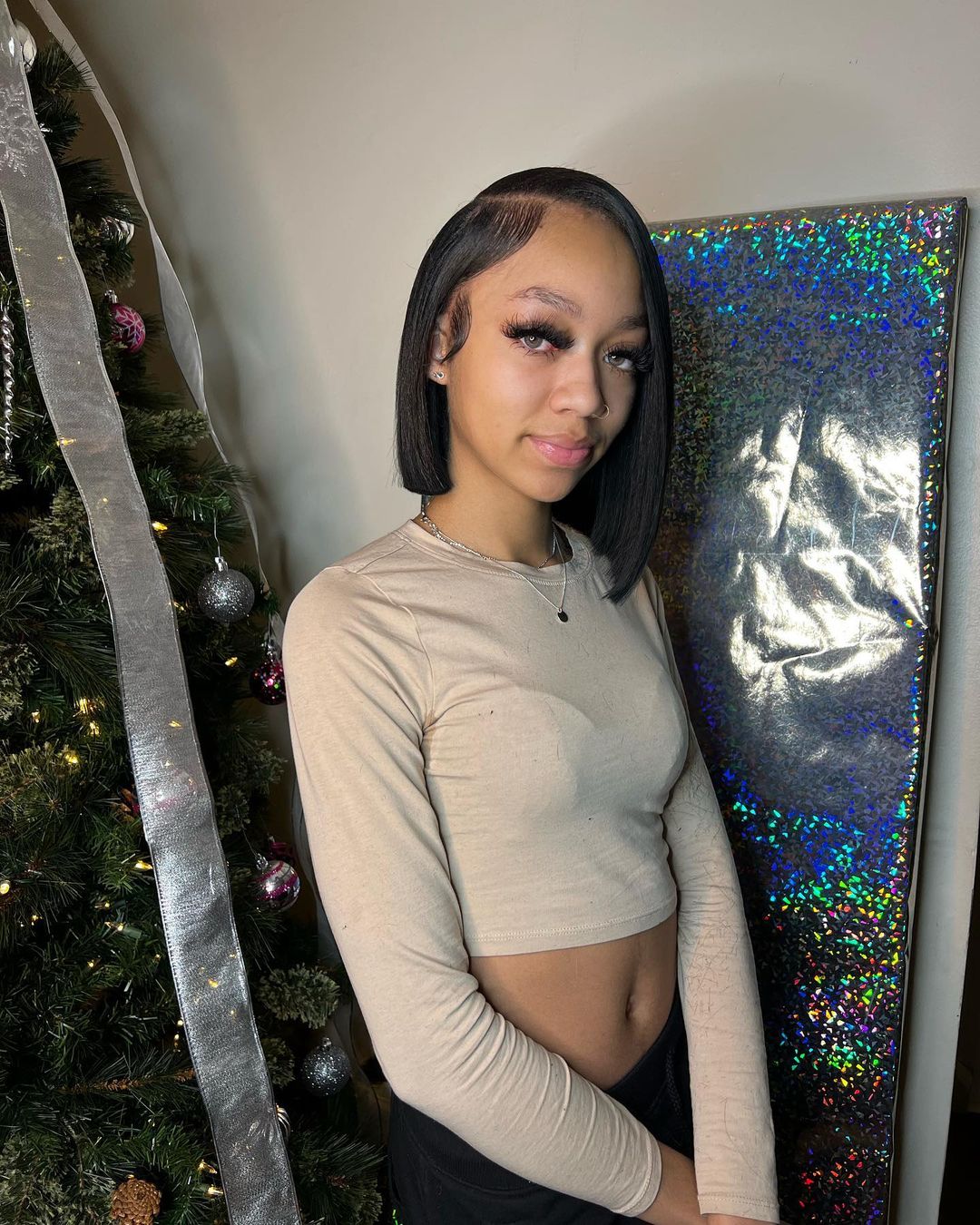 While an asymmetrical bob can be impactful in a dramatic, in-your-face way, a sleek and sophisticated version of this versatile cut is just as stunning.
3. Medium Asymmetrical Bob With Bangs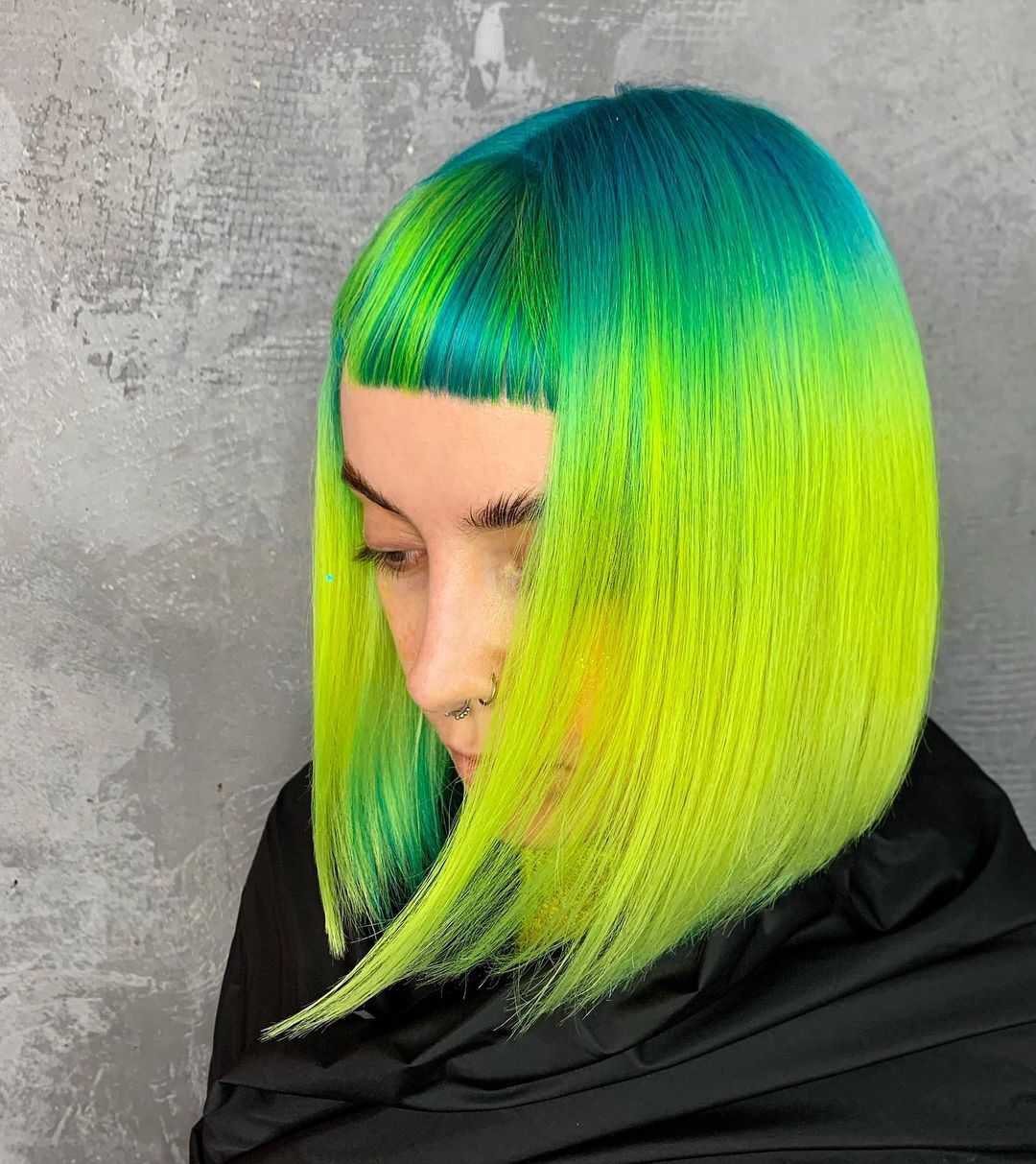 If you want to make color the focus of your hairstyle, you need a haircut that doesn't overwhelm it. This green and neon-yellow combination is very eye-catching, so the straight asymmetrical bob with blunt baby bangs is simple yet interesting enough to balance it.
4. Undercut Short Asymmetrical Bob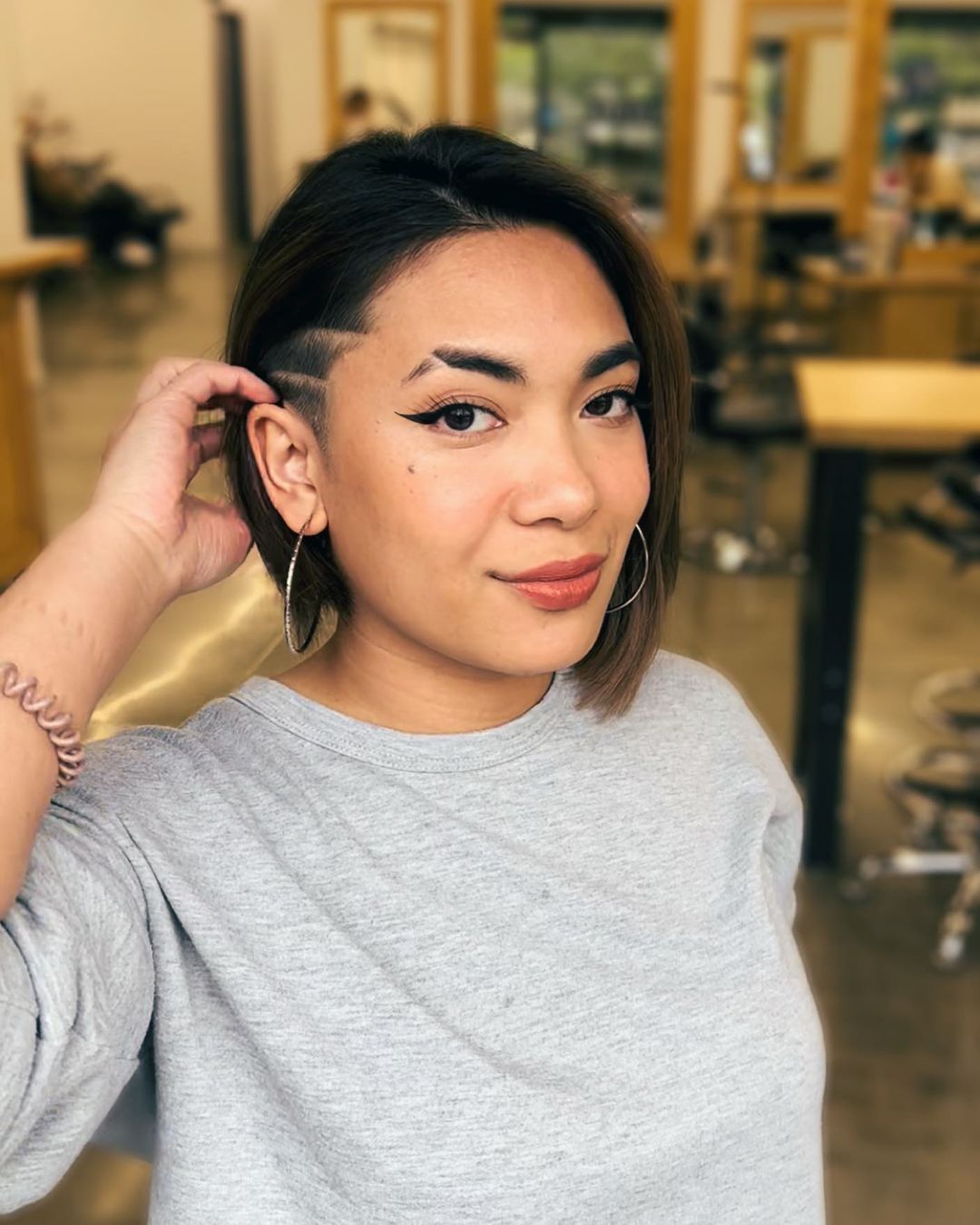 This would be a very subtle asymmetrical bob if the shorter side wasn't shaved. Instead, this is a cool undercut bob with lots of edge.
5. Blunt Asymmetrical Short Bob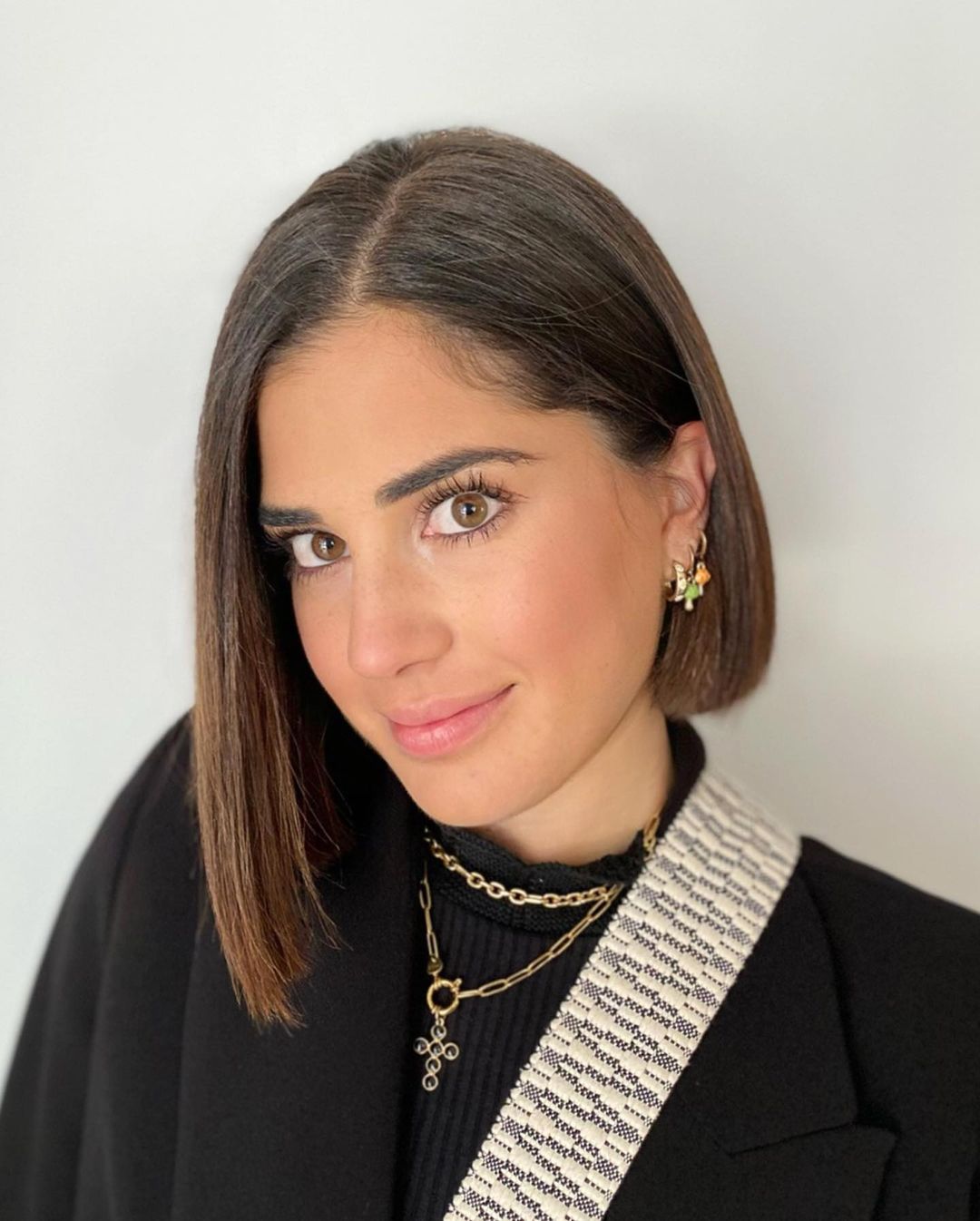 A blunt one-length bob is one of the most elegant haircuts which never goes out of style. Slight asymmetry elevates it and makes it more interesting without changing the overall classic impression.
6. Blunt Asymmetrical Lob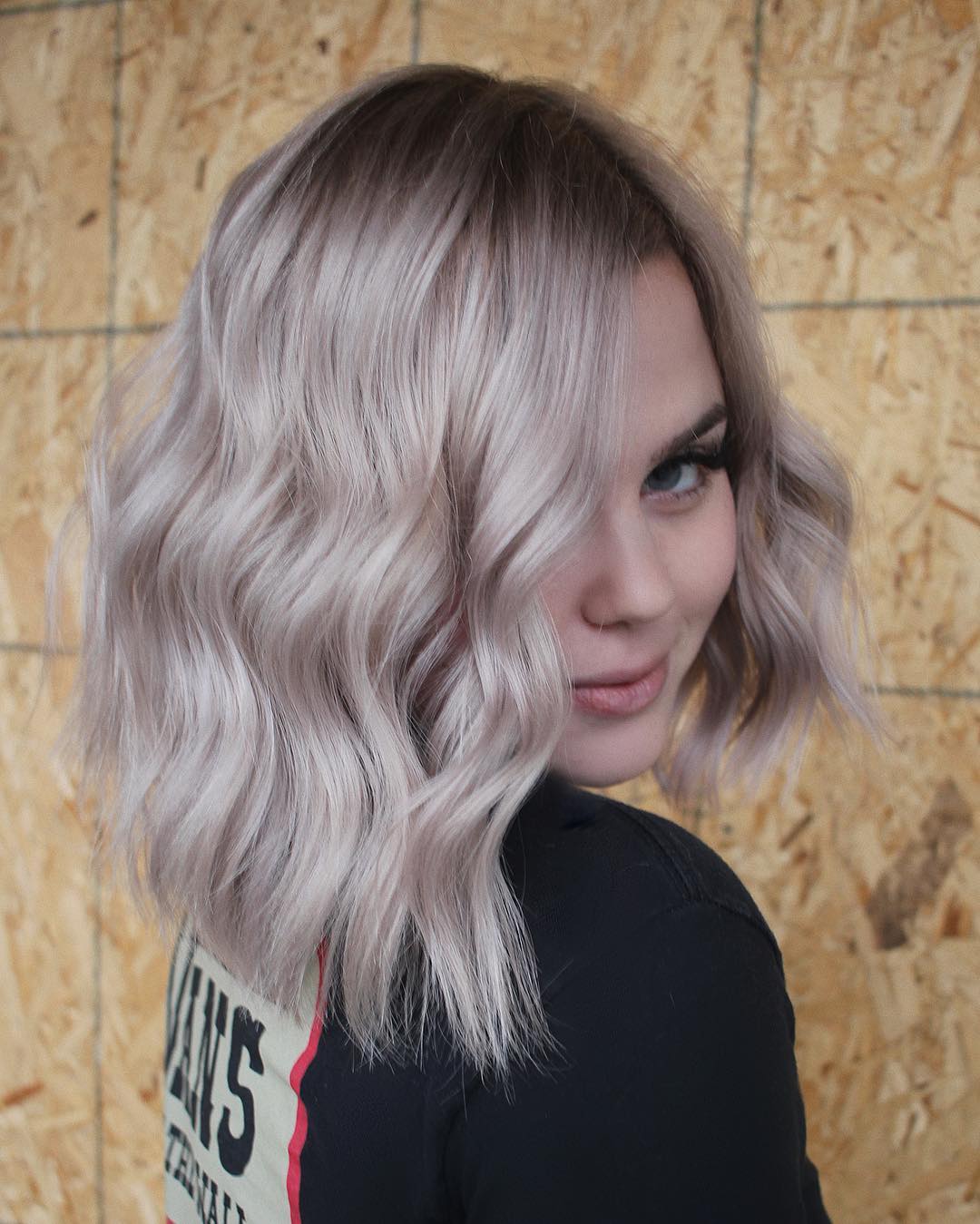 Let's be real: the wavy lob has been everyone's go-to haircut for a while now, and even if you like it, it can get kind of repetitive. The uneven outline makes it more interesting and personal.
7. Choppy Long Inverted Bob
Long strands on one side of the face are just what this choppy bob decorated with soft waves needed to give it flair. Dark roots and caramel highlights are super pretty and easy to maintain.
8. Asymmetrical Long Bob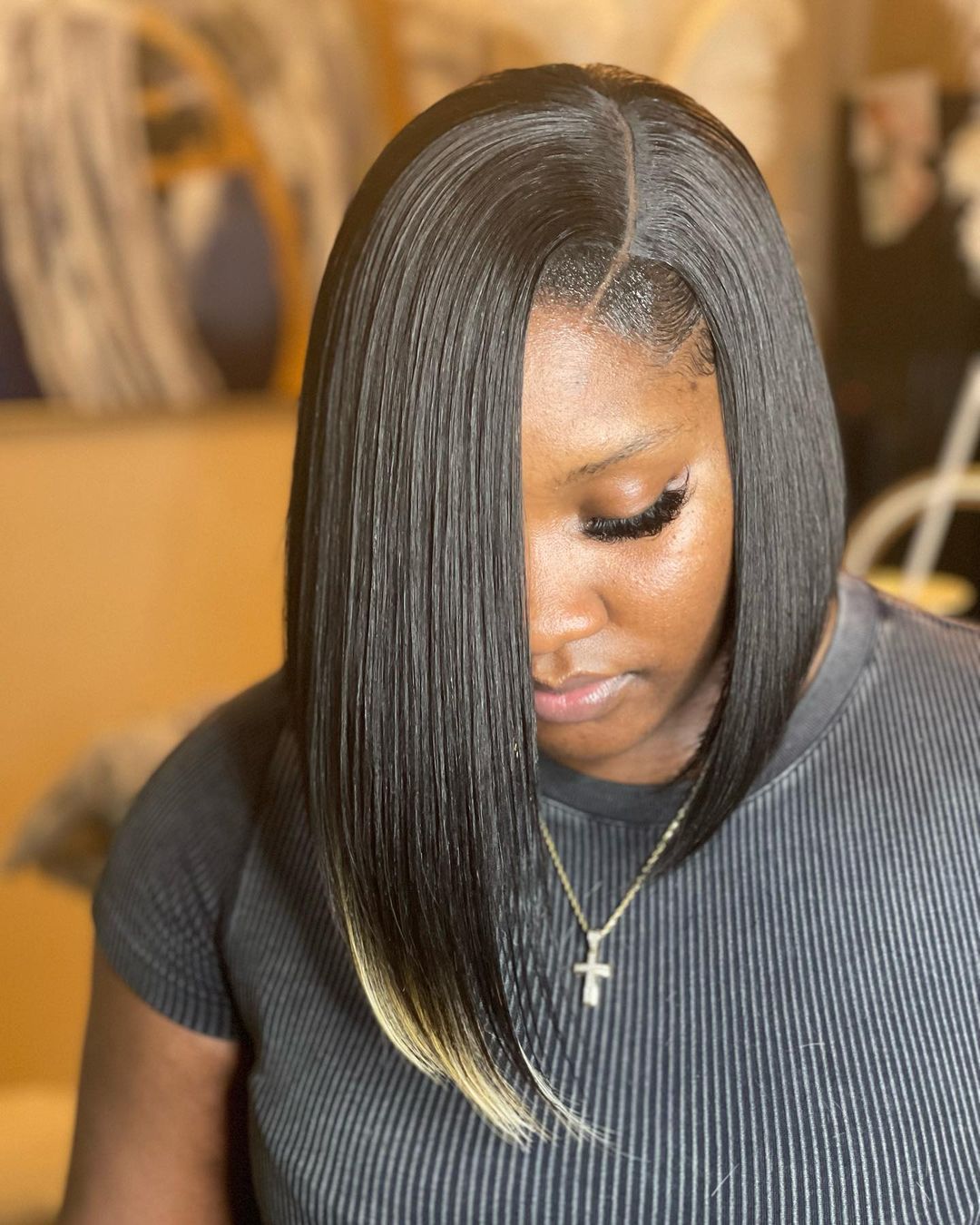 Bleaching the very tips of the longest pieces of this asymmetrical bob is a brilliant choice: the high contrast calls attention to the shape and makes the whole style pop.
9. Medium Asymmetrical Bob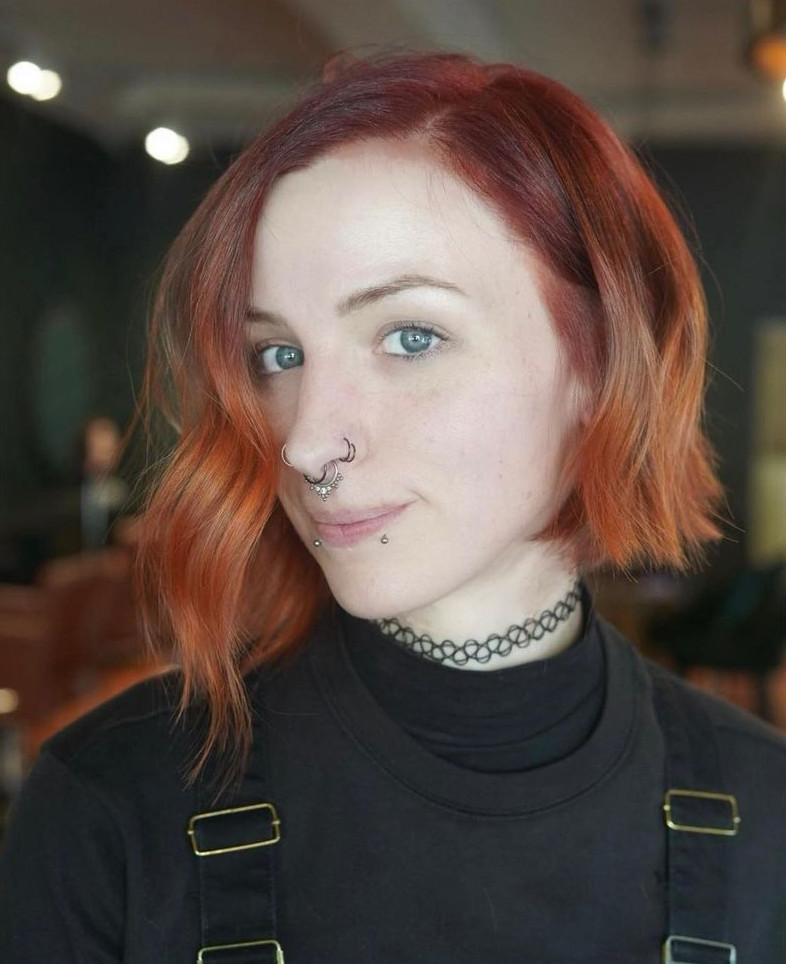 The slight bend at the cheekbone level keeps this asymmetrical bob from being completely straight and too serious, while tucking the shorter side behind the ear is a charming way to open the face.
10. Asymmetrical Bob With Side Part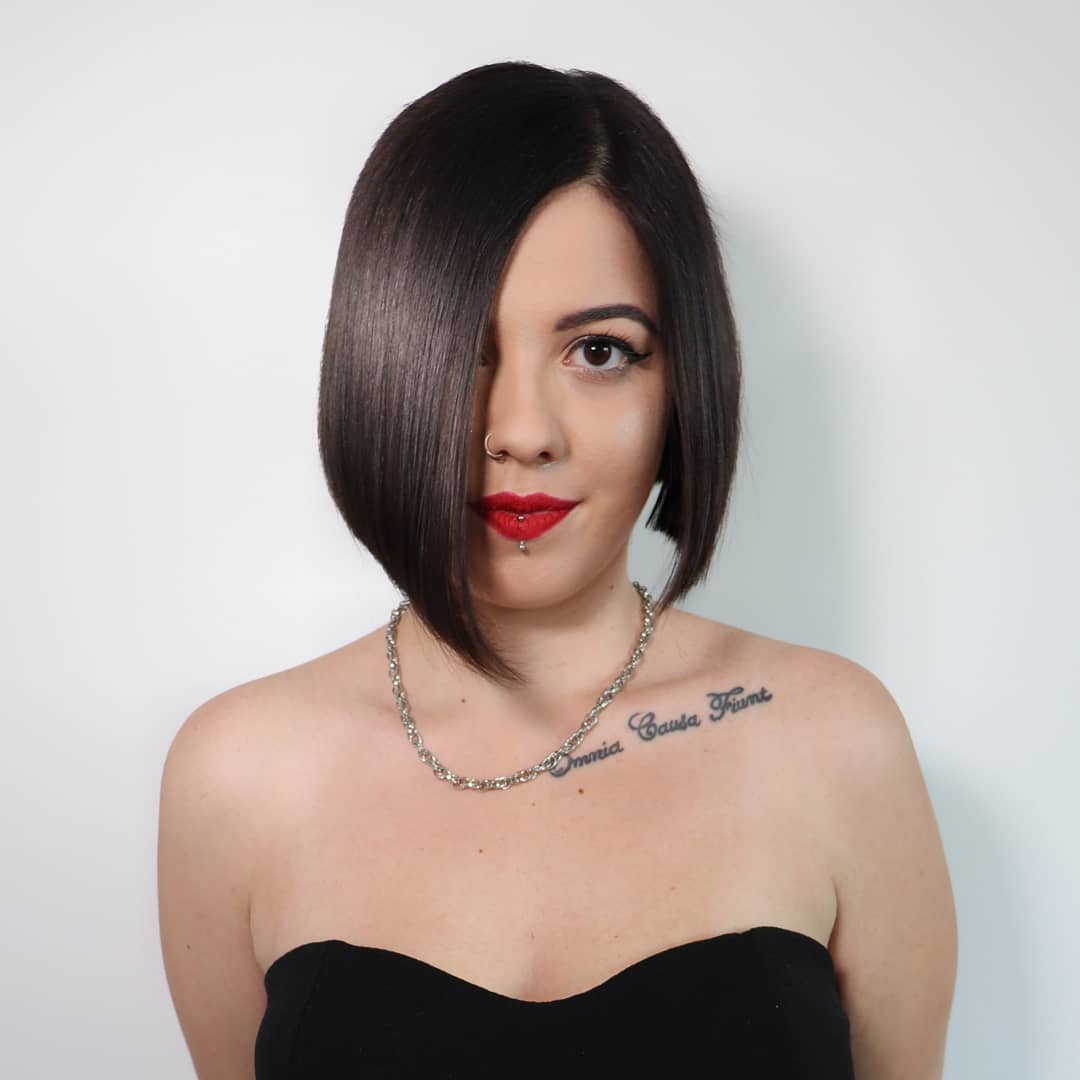 What's the secret to keeping a simple style like this sleek asymmetrical bob looking good? Nourishing your hair so it stays healthy and hydrated. Regular trims and using heat protectant when curling or straightening your hair should do the trick.
11. Pink Asymmetrical Bob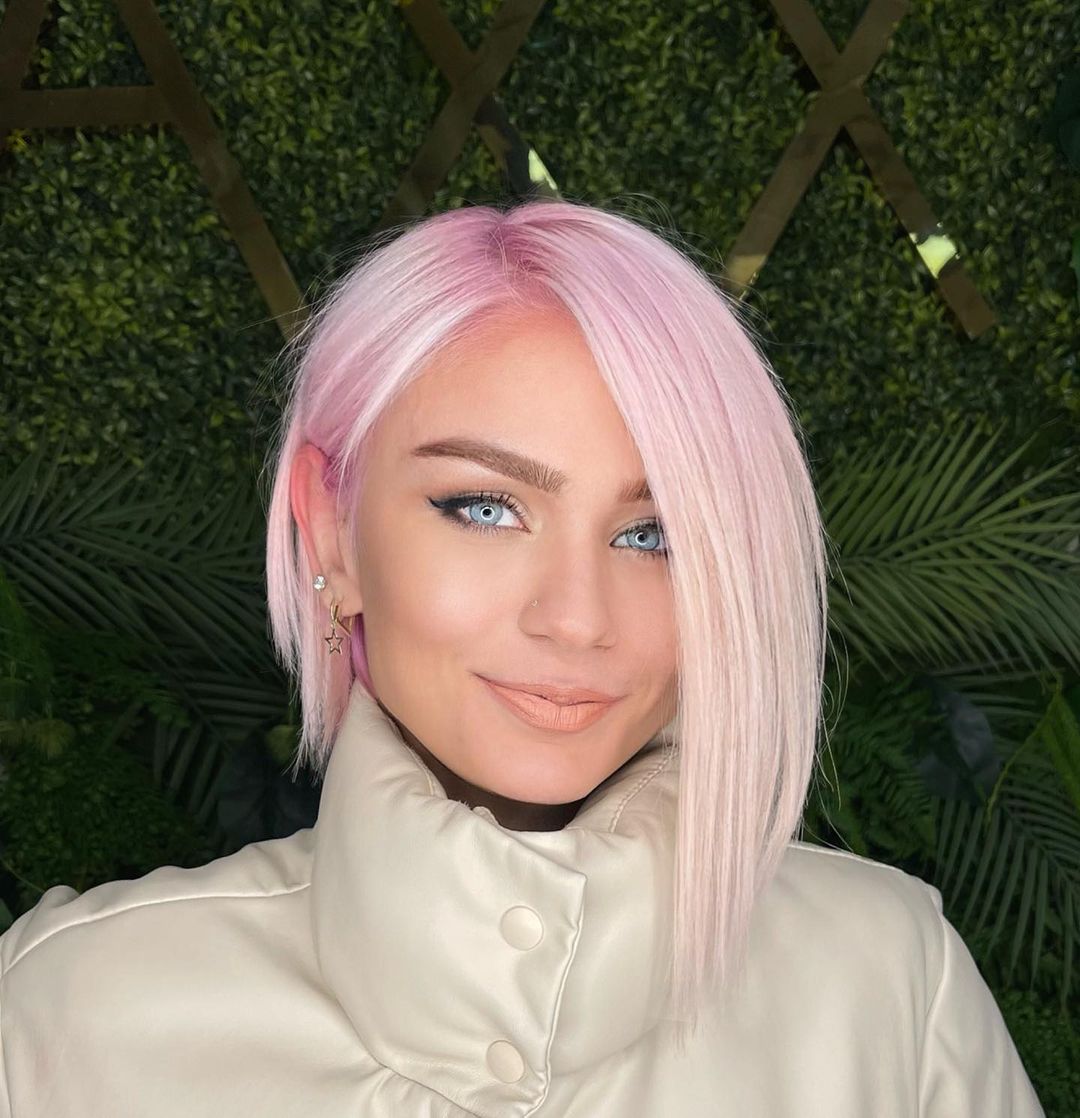 The longest pieces of this asymmetrical bob not only add a bit of pizazz, they also create a flattering frame for the face.
12. Wavy Asymmetrical Bob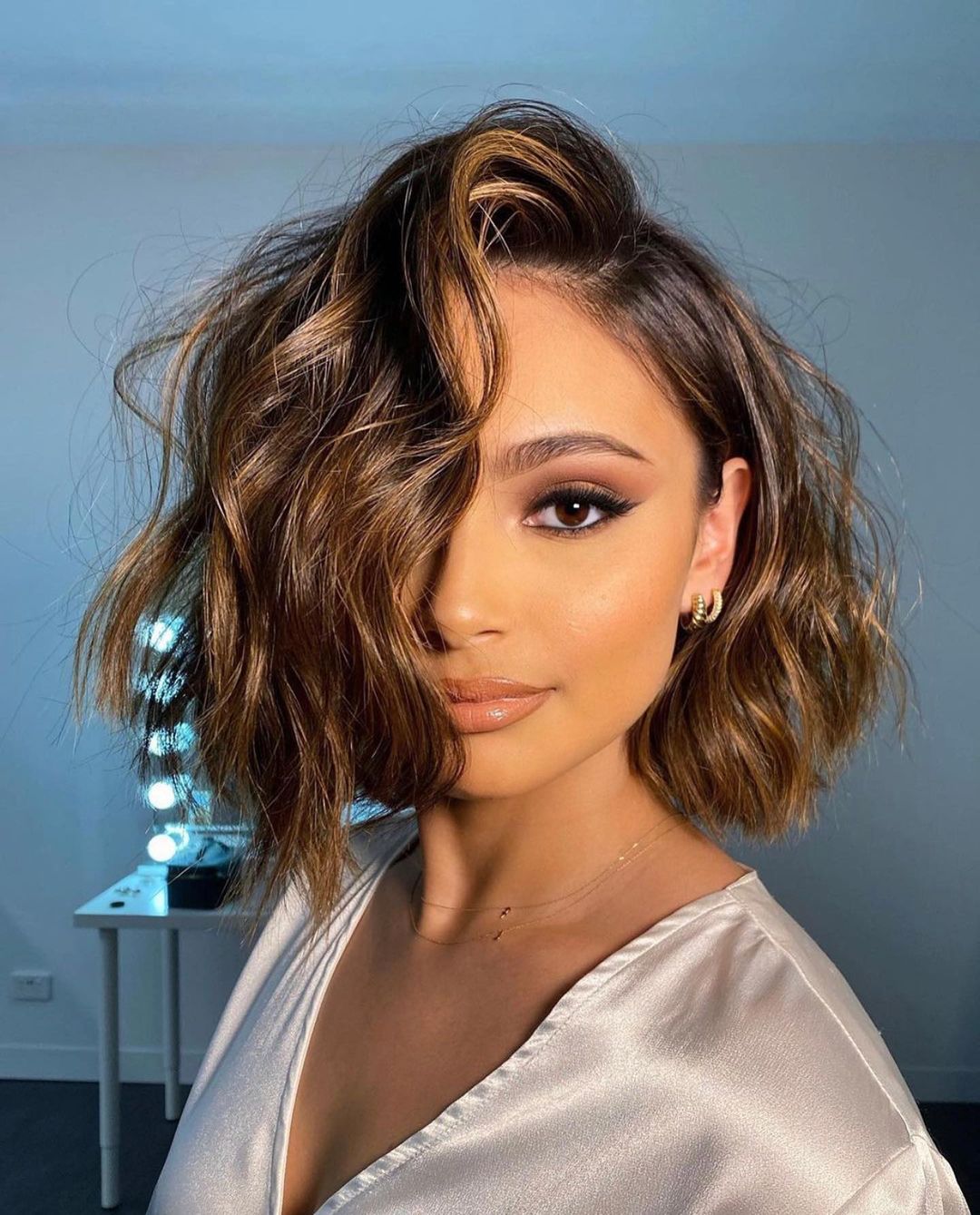 Thick, voluminous waves cut in an uneven shape with blunt ends look glamorous and modern. The super shiny hazelnut brown upgrades it from gorgeous to striking.
13. Edgy Asymmetrical Bob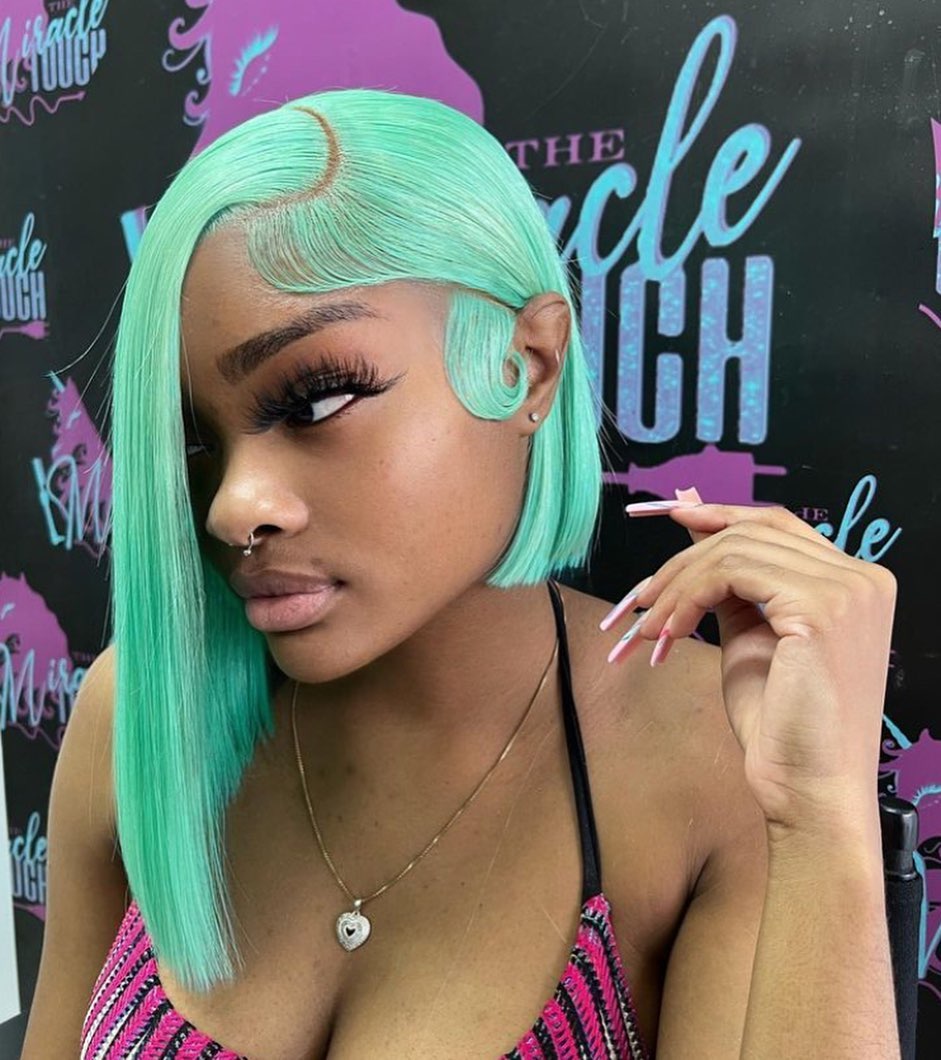 This amazing hairstyle has it all: an asymmetrical outline, a creative parting, a vivid, unusual color and it's as sleek as it gets. A true showstopper.
14. Fluffy Long Asymmetrical Bob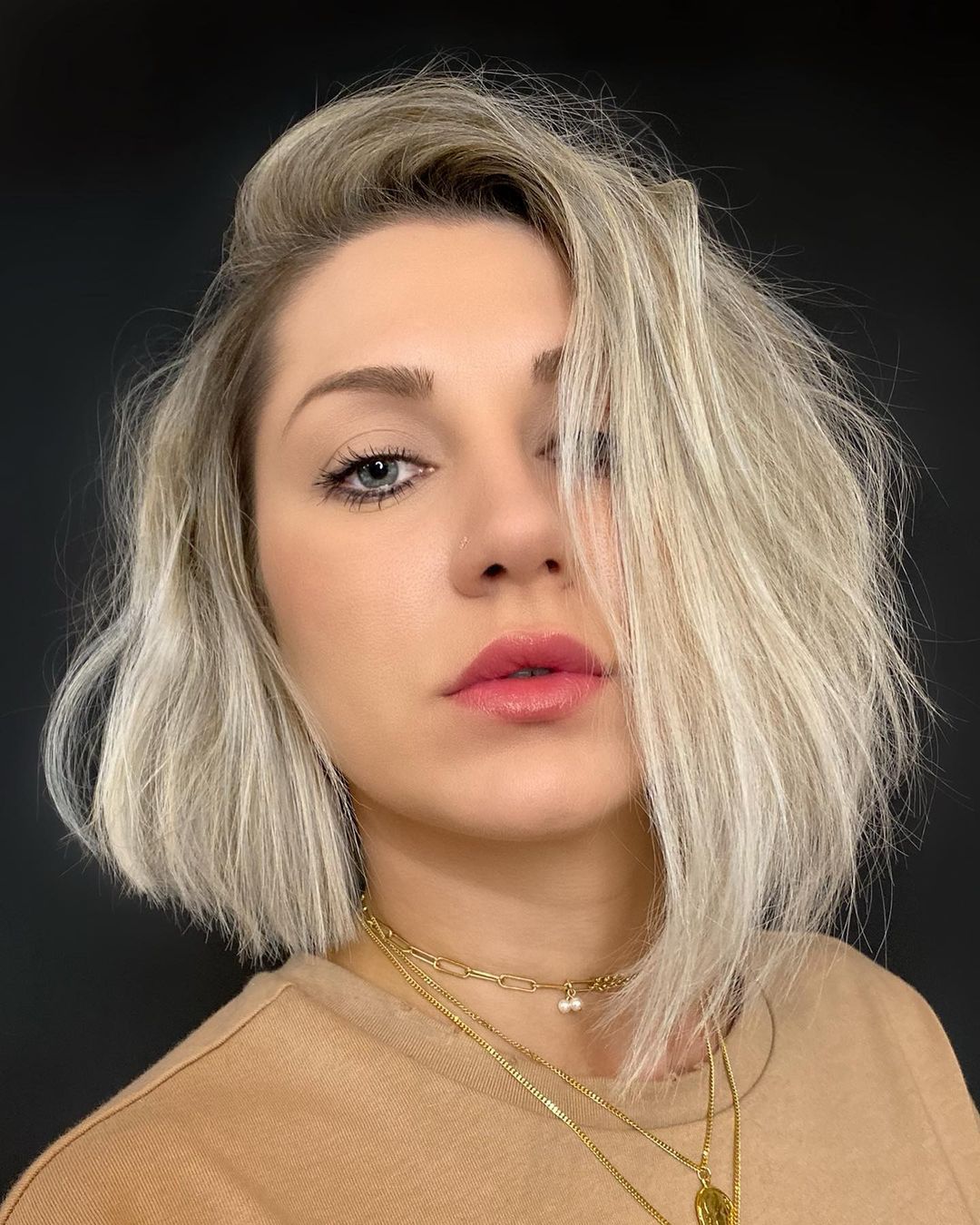 This bob hairstyle is very clever and can be worn in multiple ways. The whole fringe area is much longer than the sides and back, which means that when it's parted on either side, it creates an asymmetrical look, and when it's parted in the middle, it becomes an A-line bob.
15. Asymmetrical Long Bob Haircut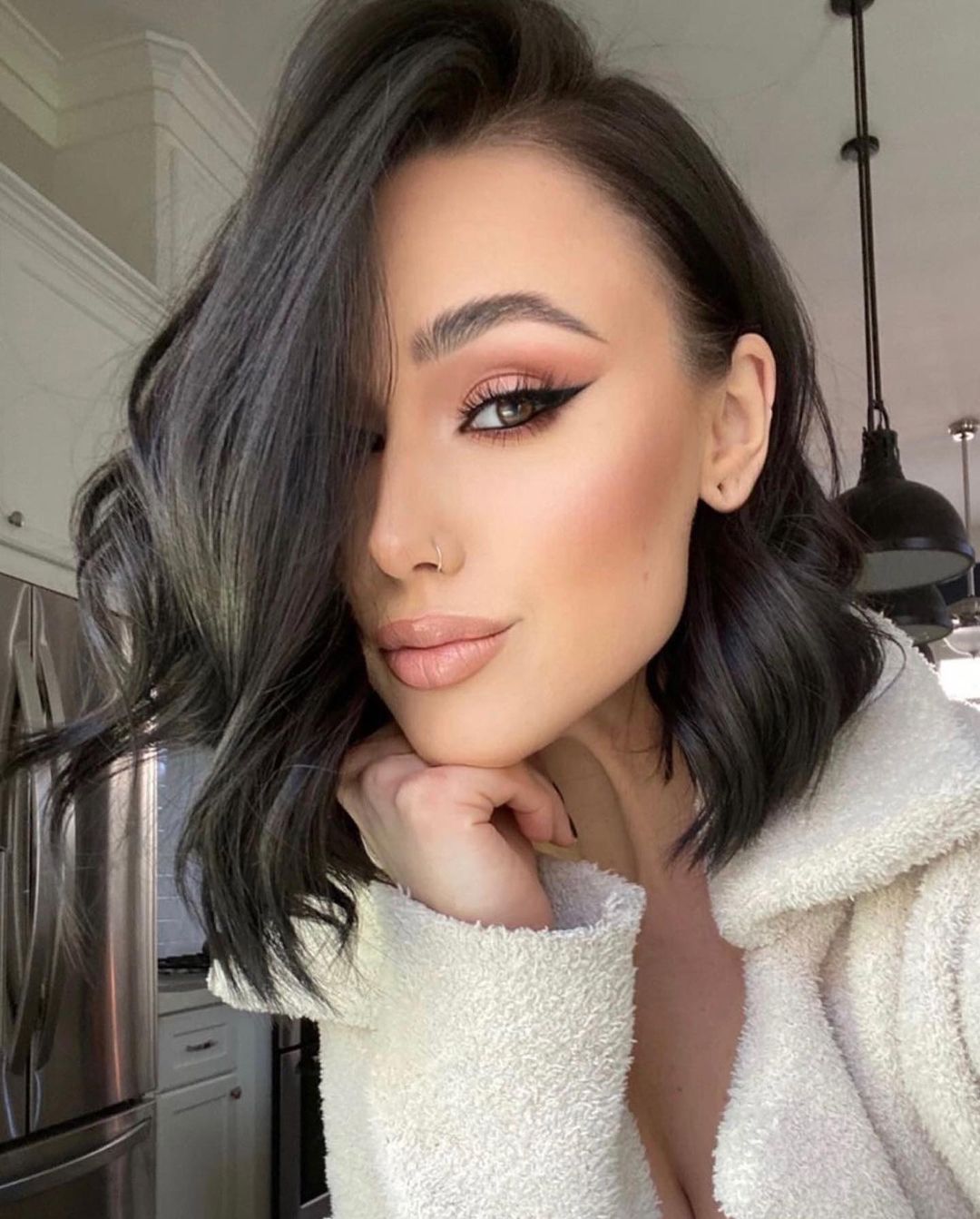 Thanks to the long waves and the rich color, this lob is simultaneously glam and casual. The vibe you want to show will be influenced by the rest of your styling.
16. Subtle Asymmetrical Bob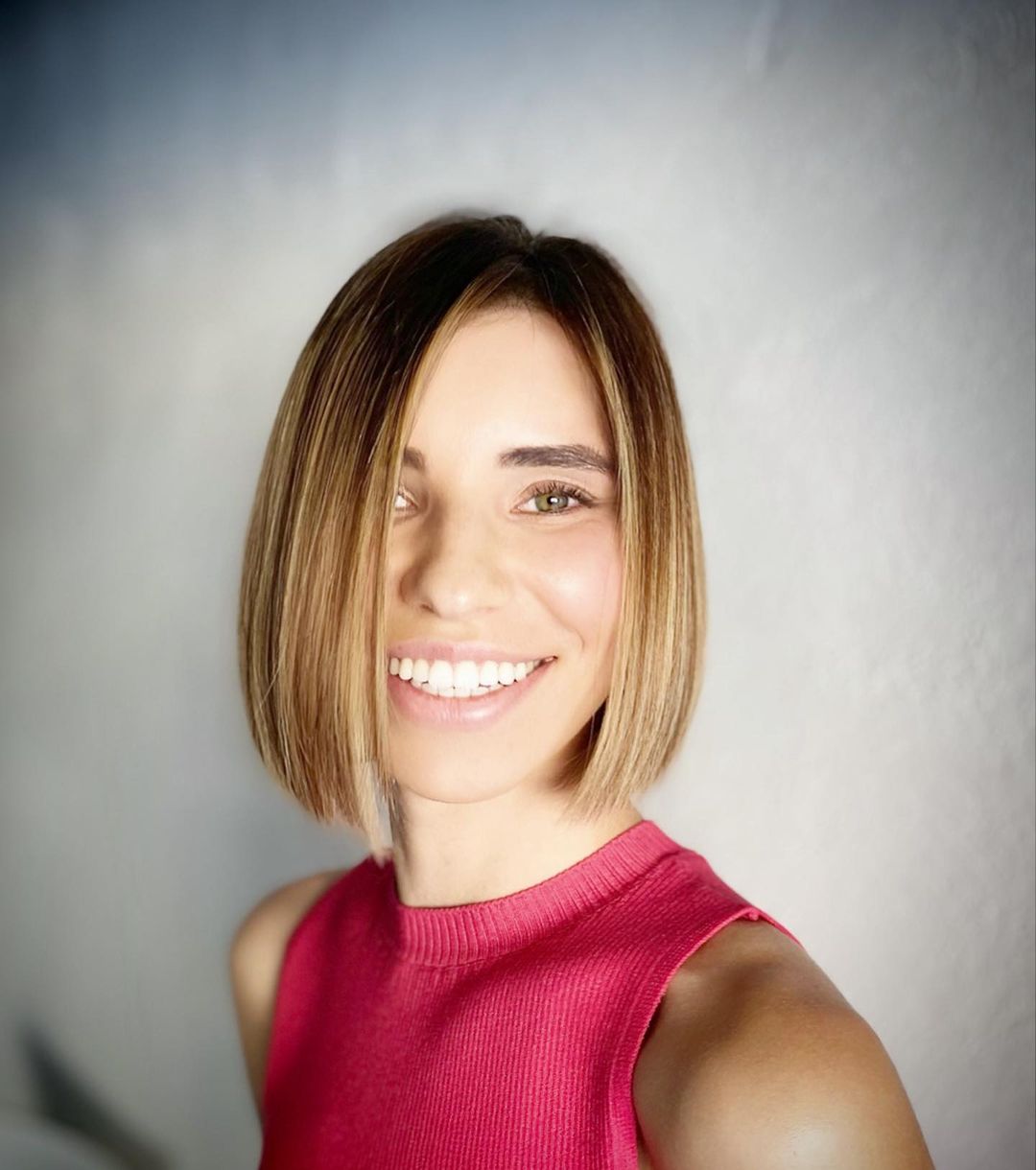 If you're not sure if the uneven look is for you, start small. Here, subtle asymmetry is added to a classic bob to make it more appealing around the face.
17. Choppy Asymmetrical Bob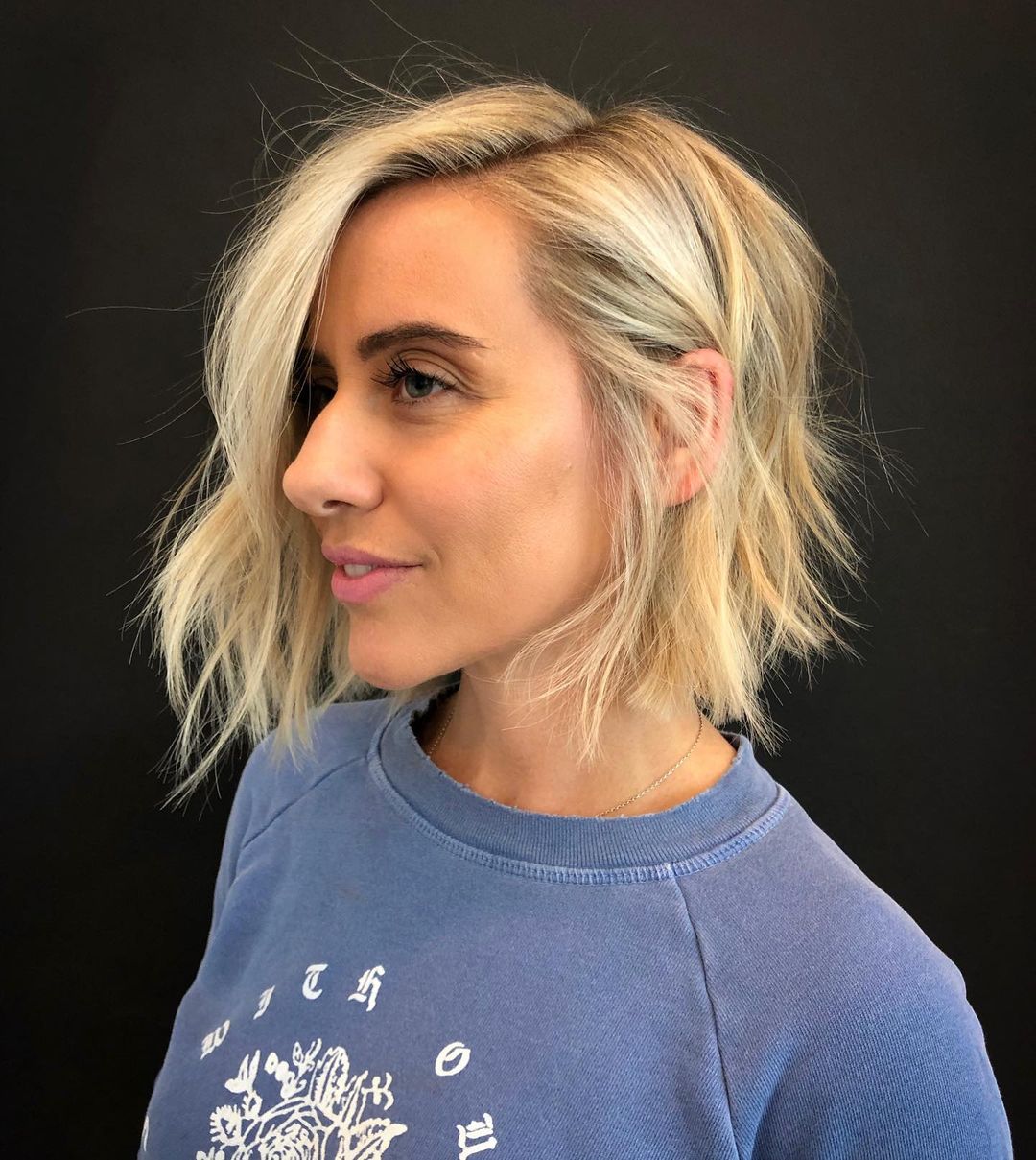 Short choppy haircuts are always a great choice if you want to make thin hair appear fuller. Additionally, they combine so well with an asymmetrical cut, creating more dimension.
18. Short Rounded Asymmetrical Bob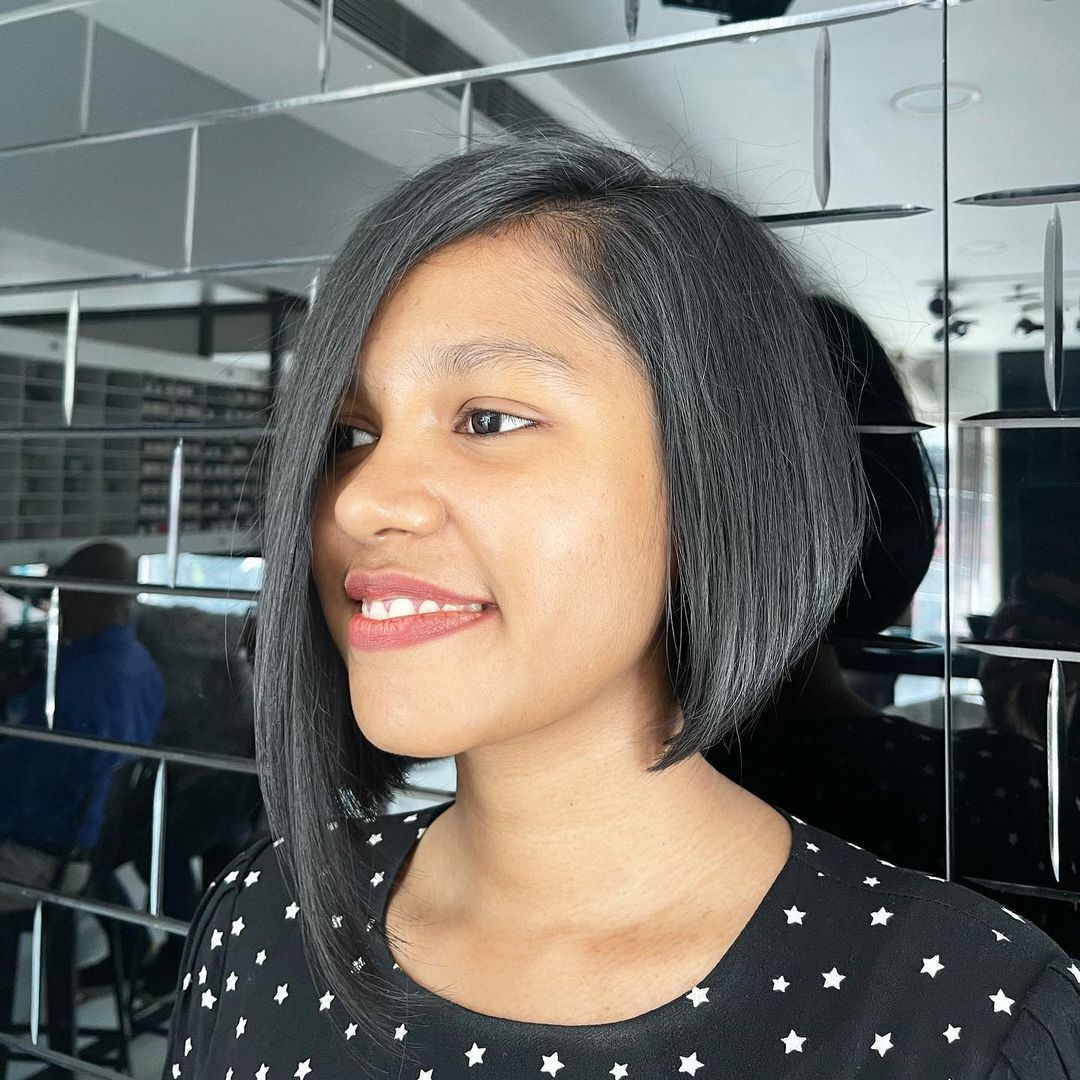 Skimming the collarbone on one side and jaw-length on the other, this graduated bob is elegant and fun at the same time. To top it off, the deep side part gives it a flirty vibe.
19. Rainbow Short Asymmetrical Bob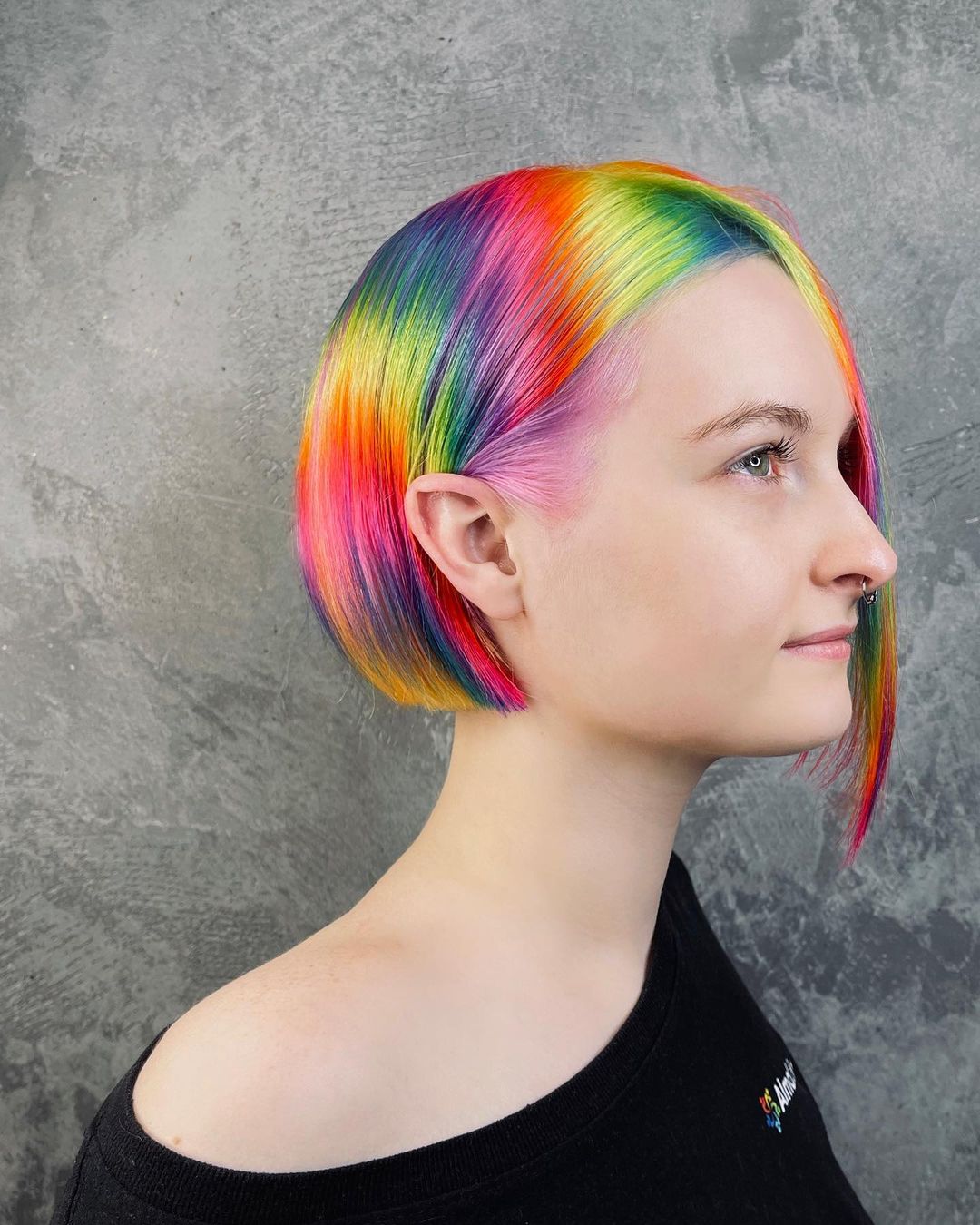 This coloring job is too extraordinary to be anything less than the focal point of the style, and a sleek bob is always a foolproof choice when you need something neutral. The asymmetrical shape means more space to play with!
20. Medium Length Layered Asymmetrical Bob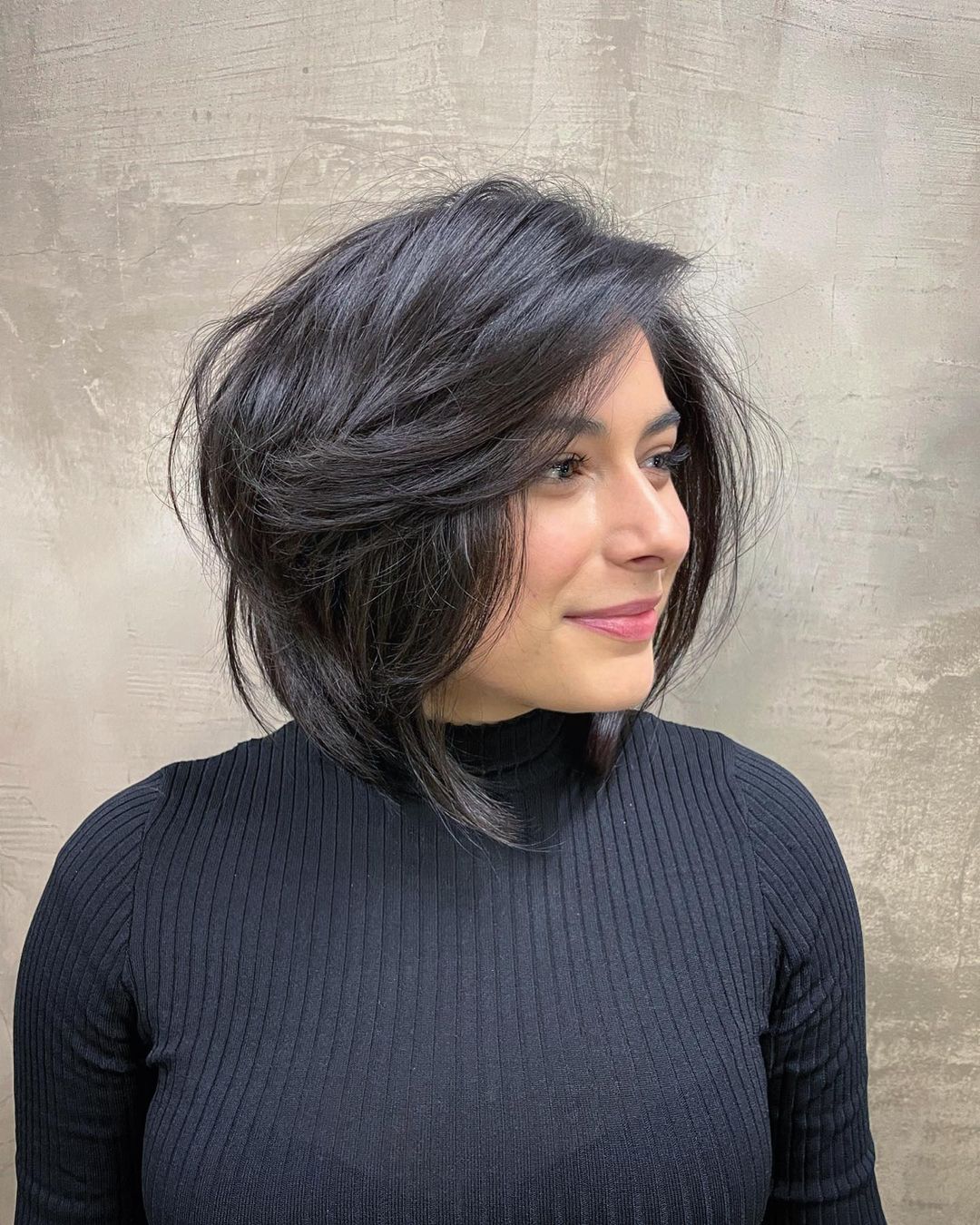 This layered bob with bangs is full of movement and bounce, and thanks to the asymmetrical outline, it has a fun and flirty shape.
21. Long Asymmetrical Bob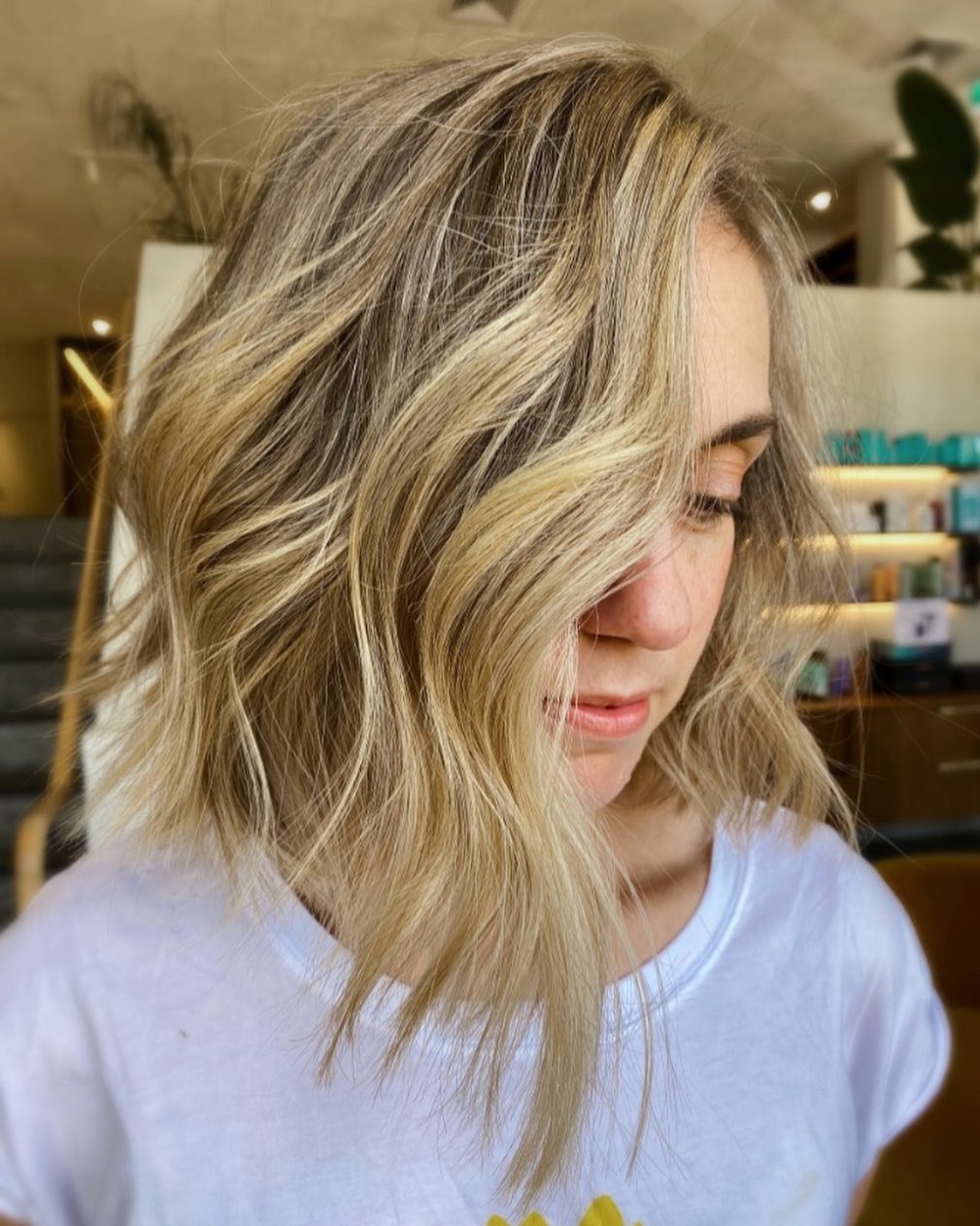 Everyone knows that lighter pieces in the front brighten the face and make the features pop—the longest strands of an asymmetrical bob provide a whole frame to cast a light around the face.
22. Asymmetrical Wavy Bob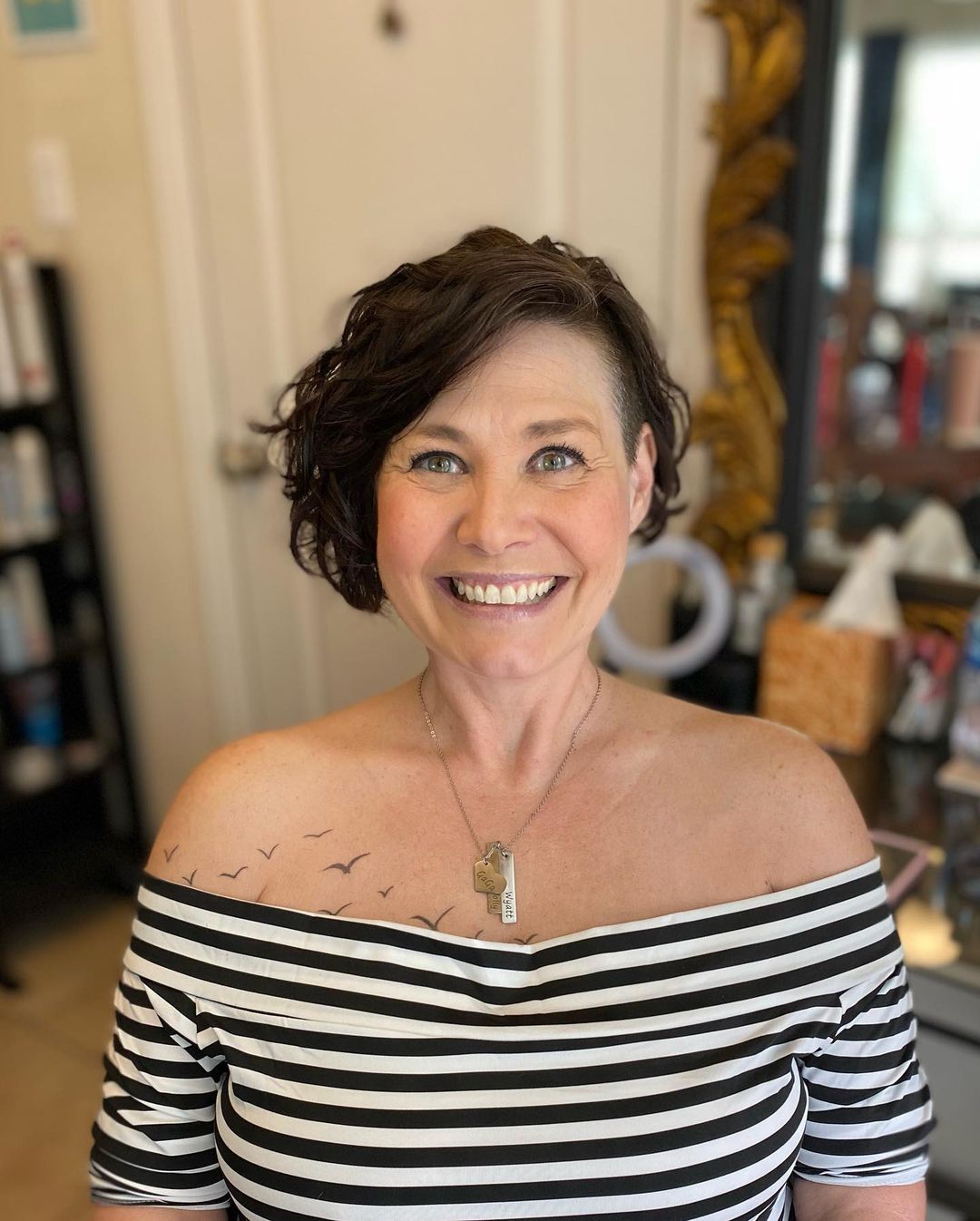 This jawline-length wavy asymmetrical bob would be cool enough as it is, but the hidden undercut on the short side makes it super edgy.
23. Asymmetrical Medium Length Undercut Bob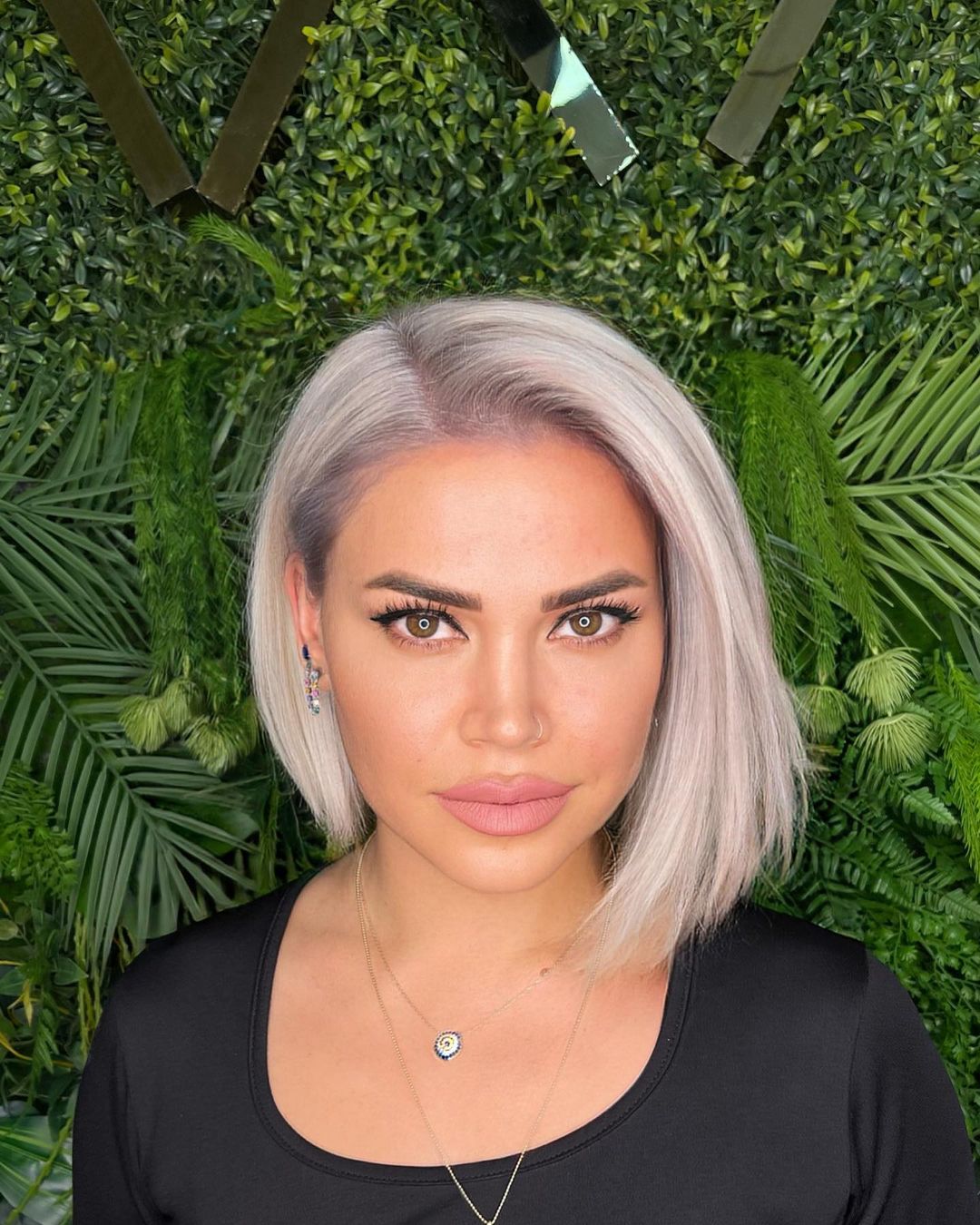 Fine hair tends to fall flat, so a texturizing product is a must, even if you wear it straight. If you're not sure where to start, try dry shampoo at the roots to instantly lift and tame flyaways.
24. Undercut Asymmetrical Long Bob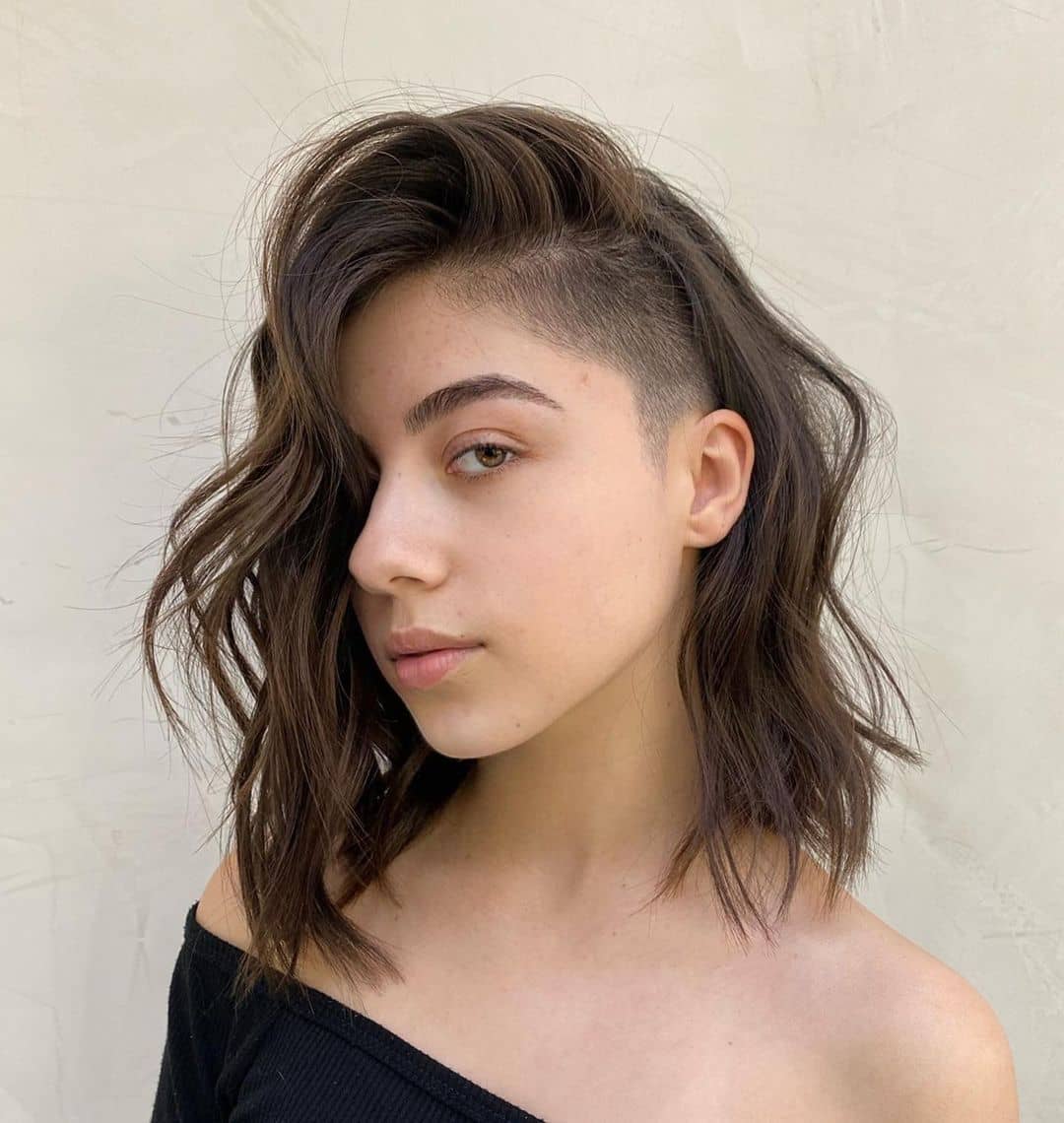 This asymmetrical lob with an undercut that can be hidden with a center part is pretty and edgy at the same time.
25. Straight Blunt Asymmetrical Bob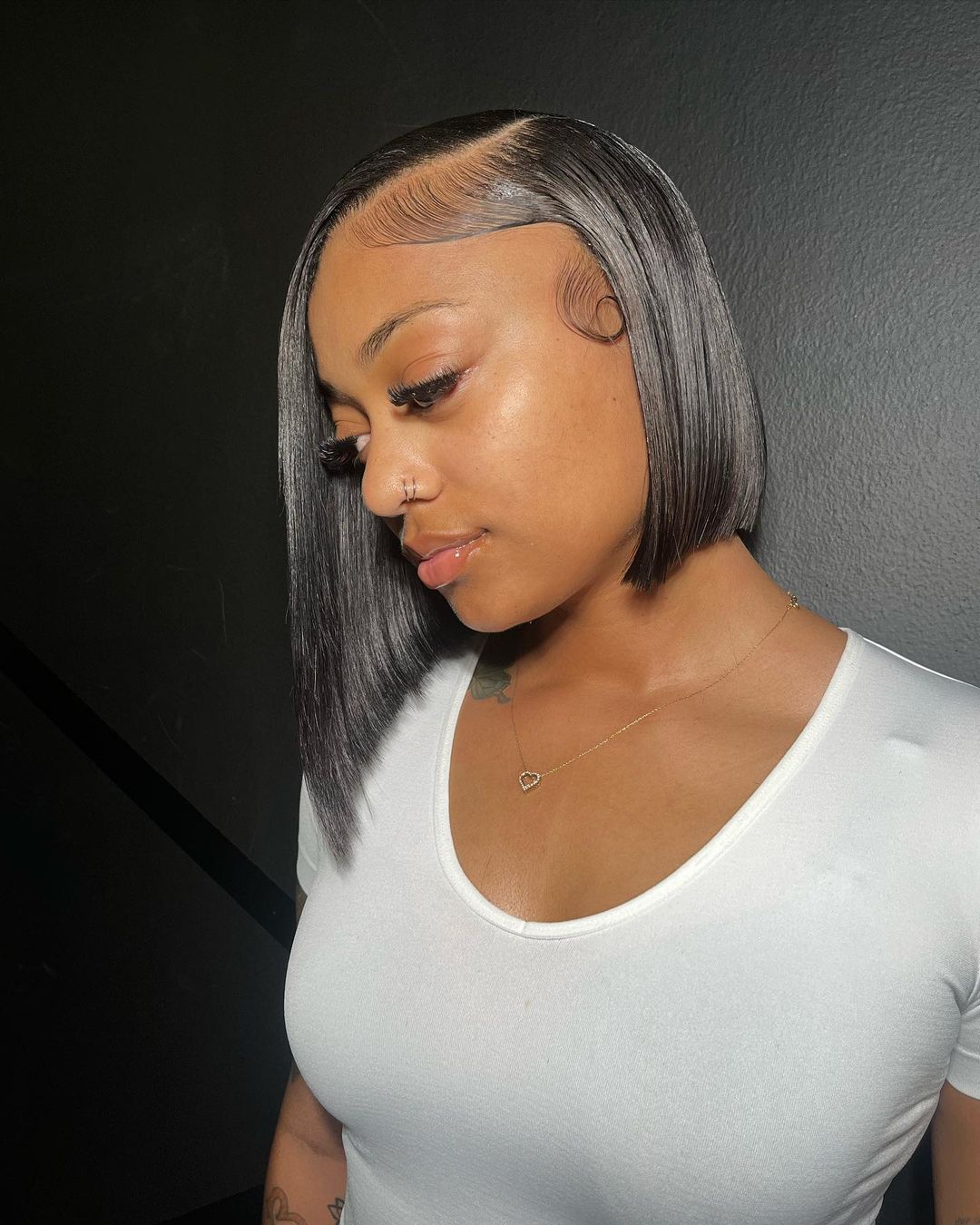 Sleek and shiny scream glam, while the pretty edge styling adds a romantic flavor. The asymmetrical outline completes the look.
26. Blunt Uneven Bob Haircut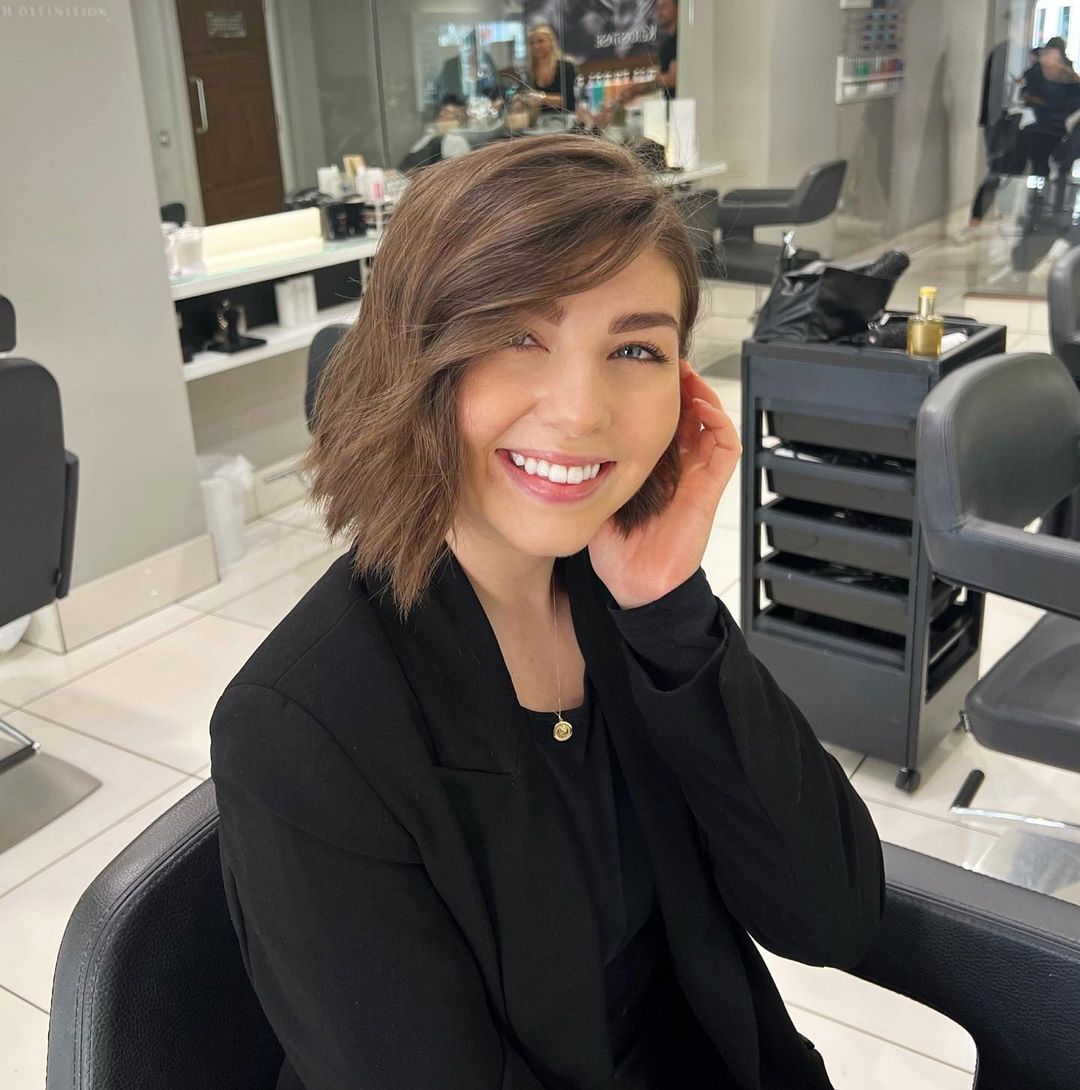 This low-key asymmetrical bob with side bangs swept to the side is casual, but not ordinary. A look that's both stylish and easy.
27. Asymmetrical Pixie Bob With Undercut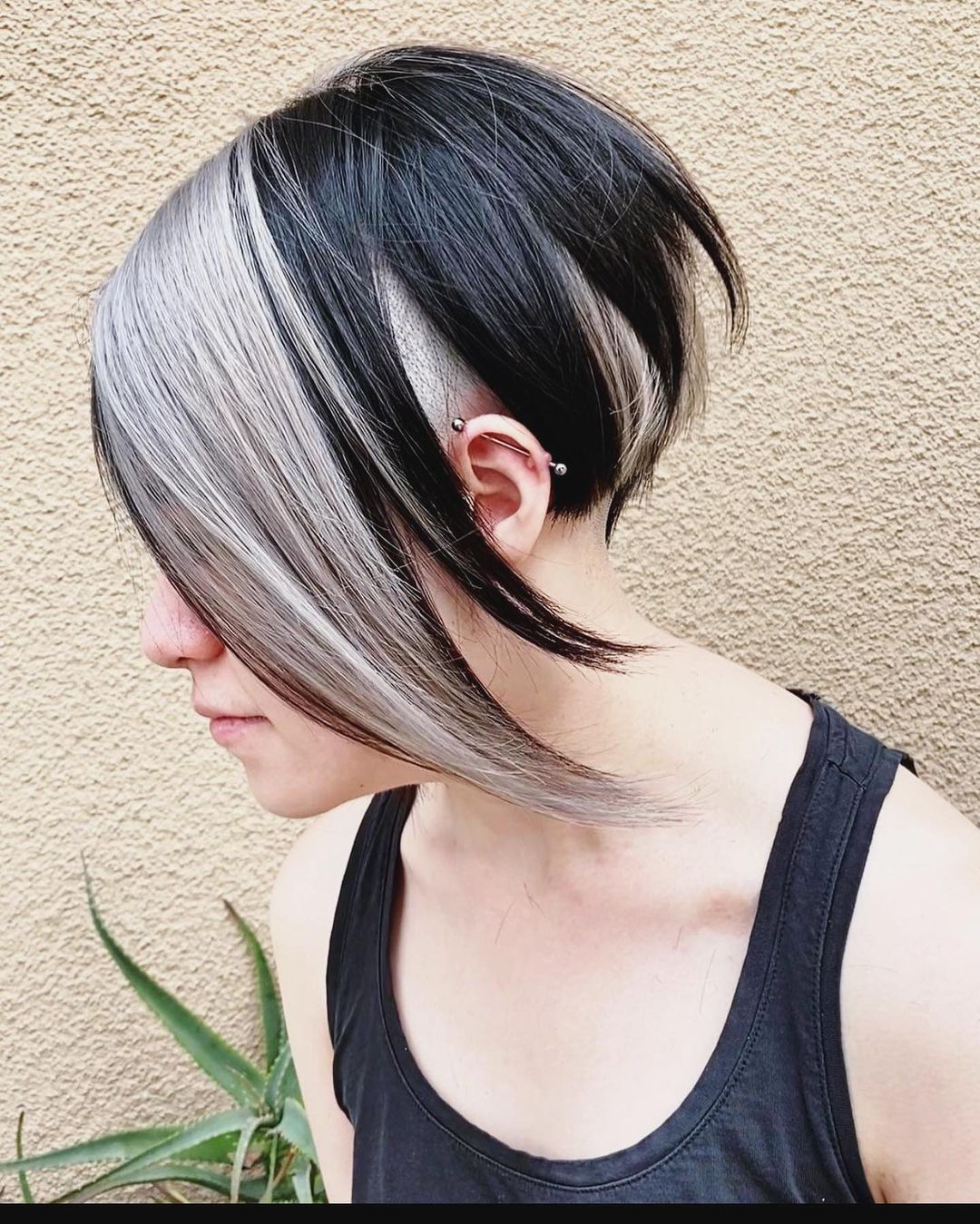 Undercut, chunky bleached streaks and an extreme asymmetrical shape: each of these features is edgy enough on its own, but combined in one hairstyle, the end result is something only for the bold.
28. Inverted Asymmetrical Lob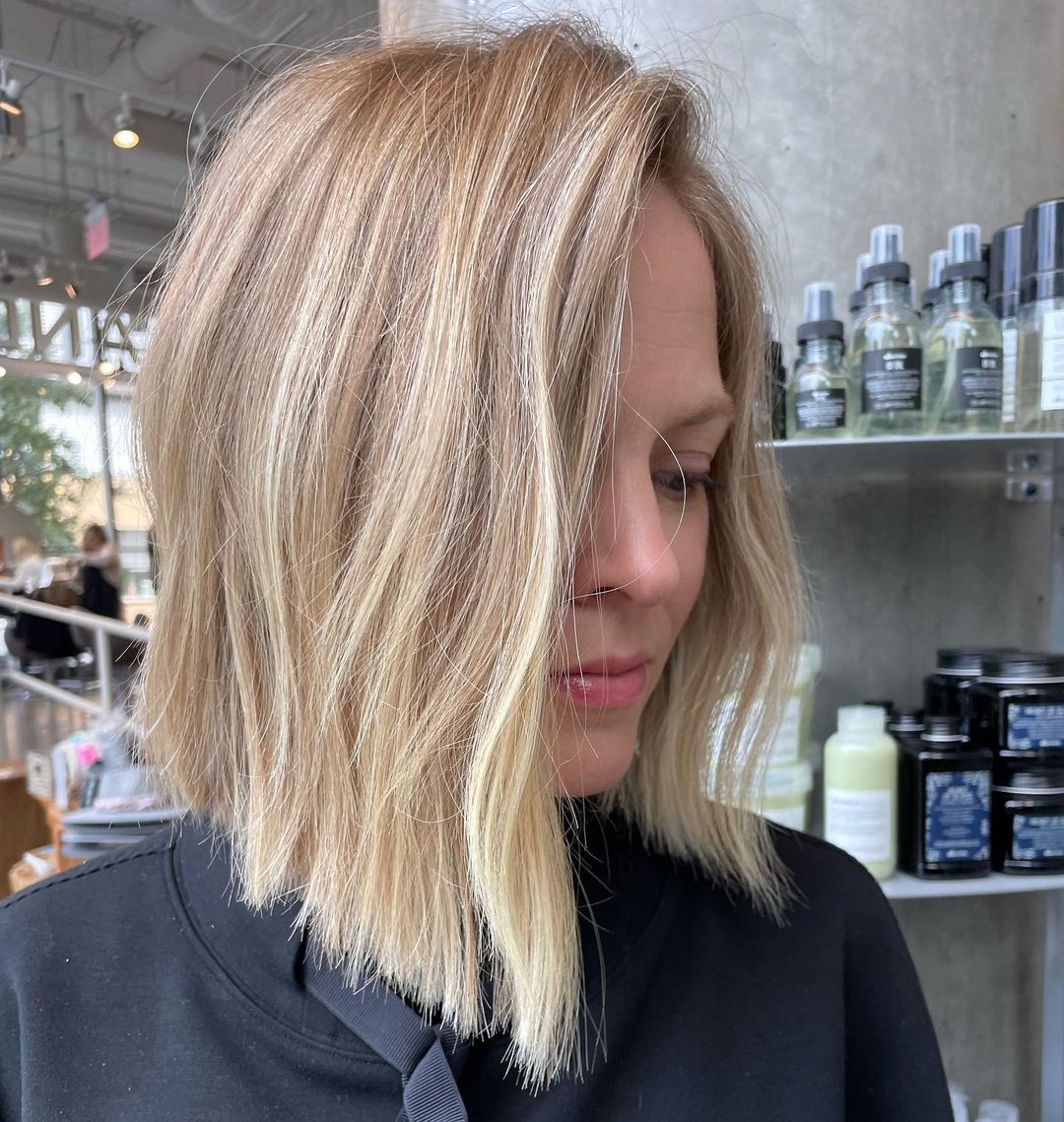 Subtle asymmetry and subtle waves create a natural style that's nearly universally flattering.
29. Stacked Asymmetrical Bob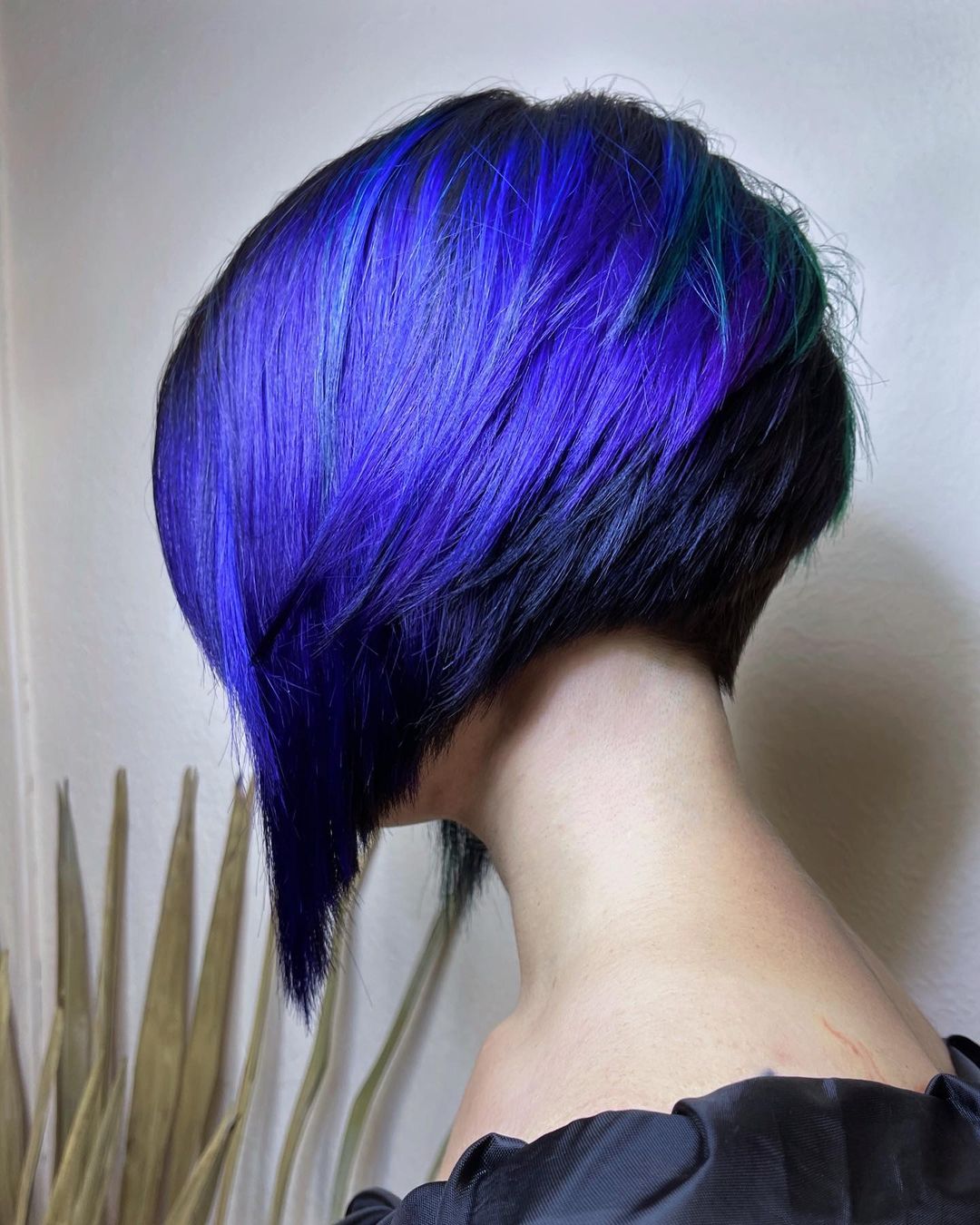 Multiple colors in short hair can be tricky, but when you find the right combination of cut and color, it's magic. Stacked bob haircuts are made for showcasing split dye hair color and make it possible to really get creative.
30. Wavy Asymmetrical Lob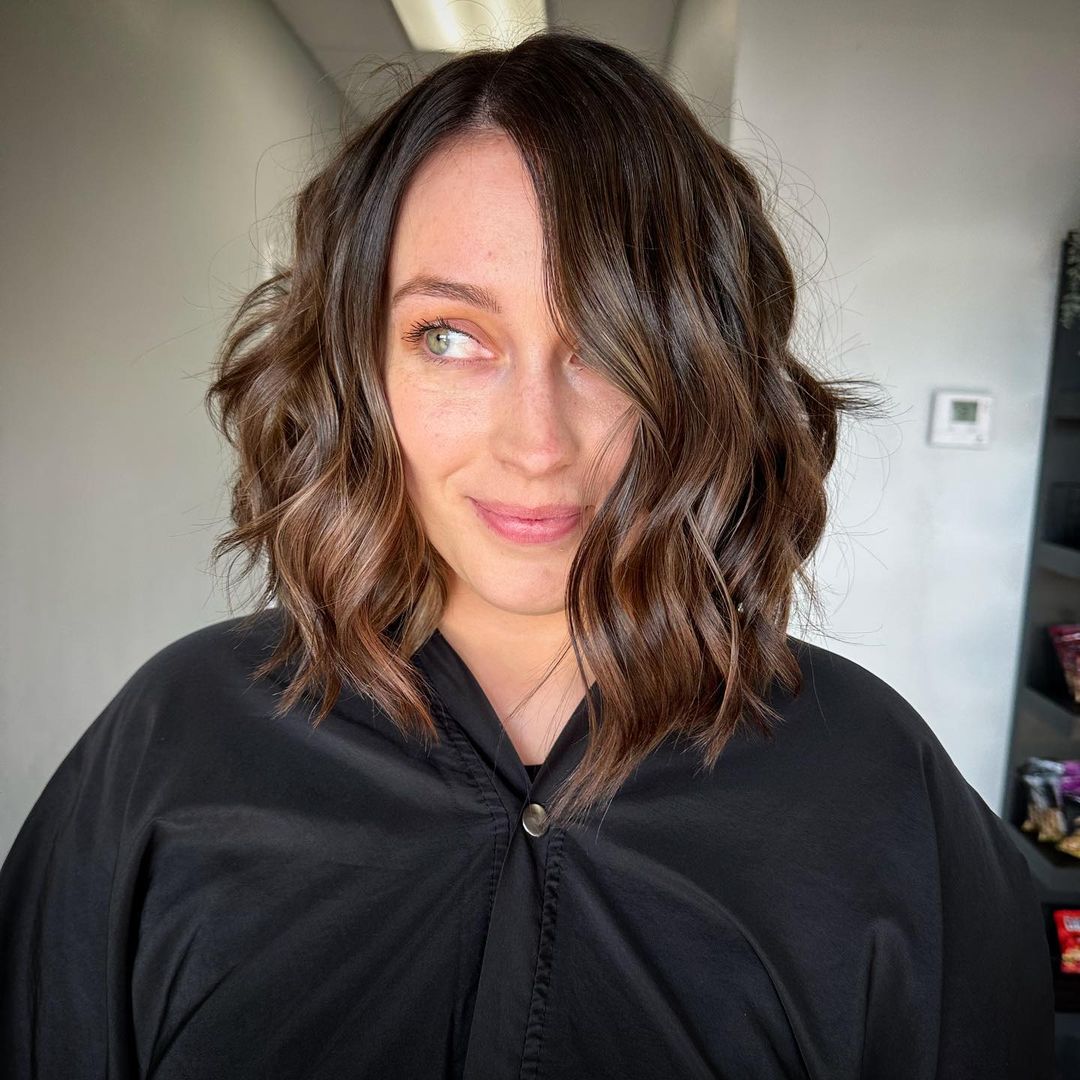 Simple and casual hairstyles are as demanding as more complex ones because unless they're perfect, they can look plain and dowdy. This long layered bob is anything but, thanks to the flawless cut, color and styling.
31. Short Asymmetrical Bob Haircut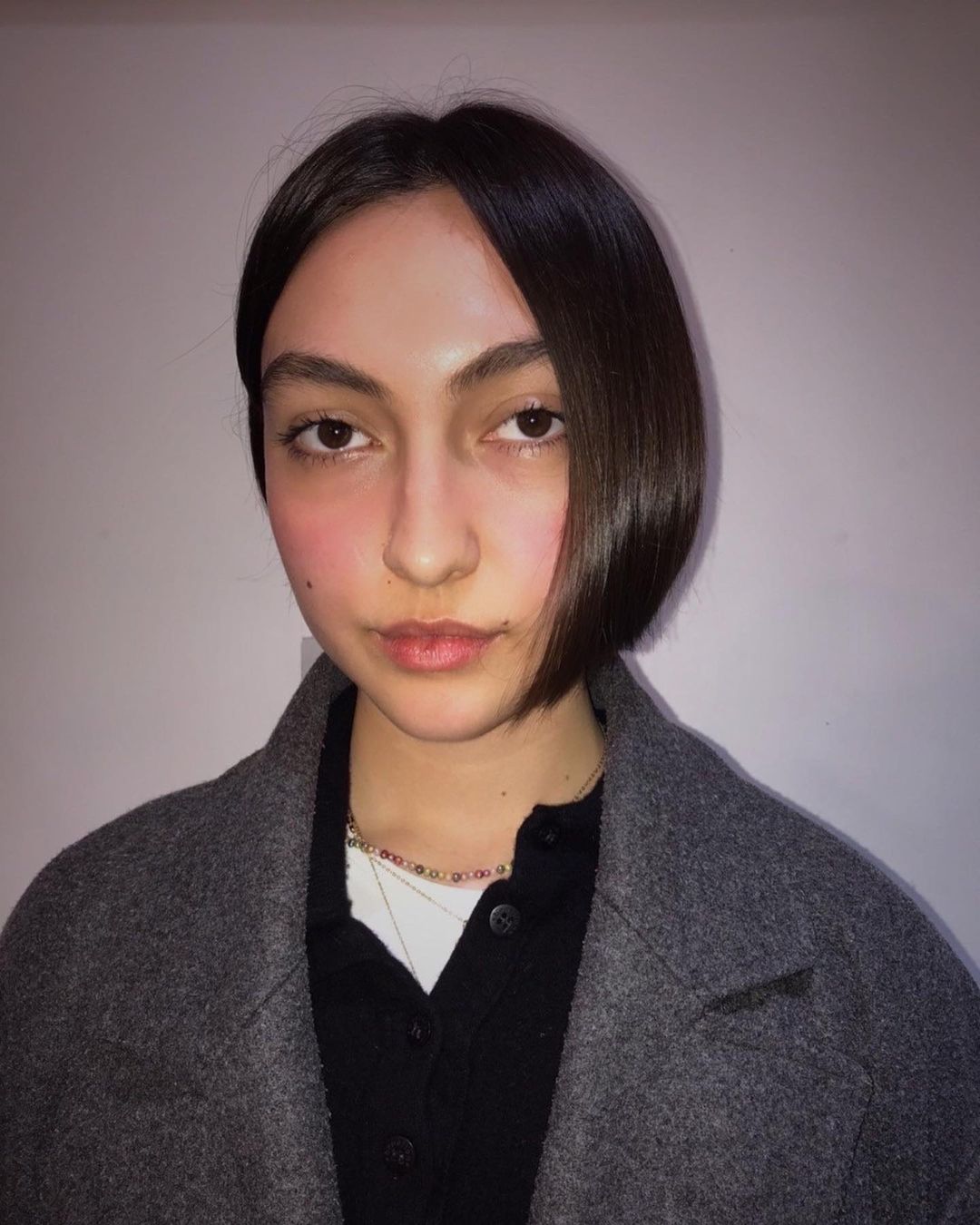 Short, sharp and sleek—this minimalist asymmetrical bob is the definition of effortlessly cool.
32. Wavy Asymmetrical Bob With Bangs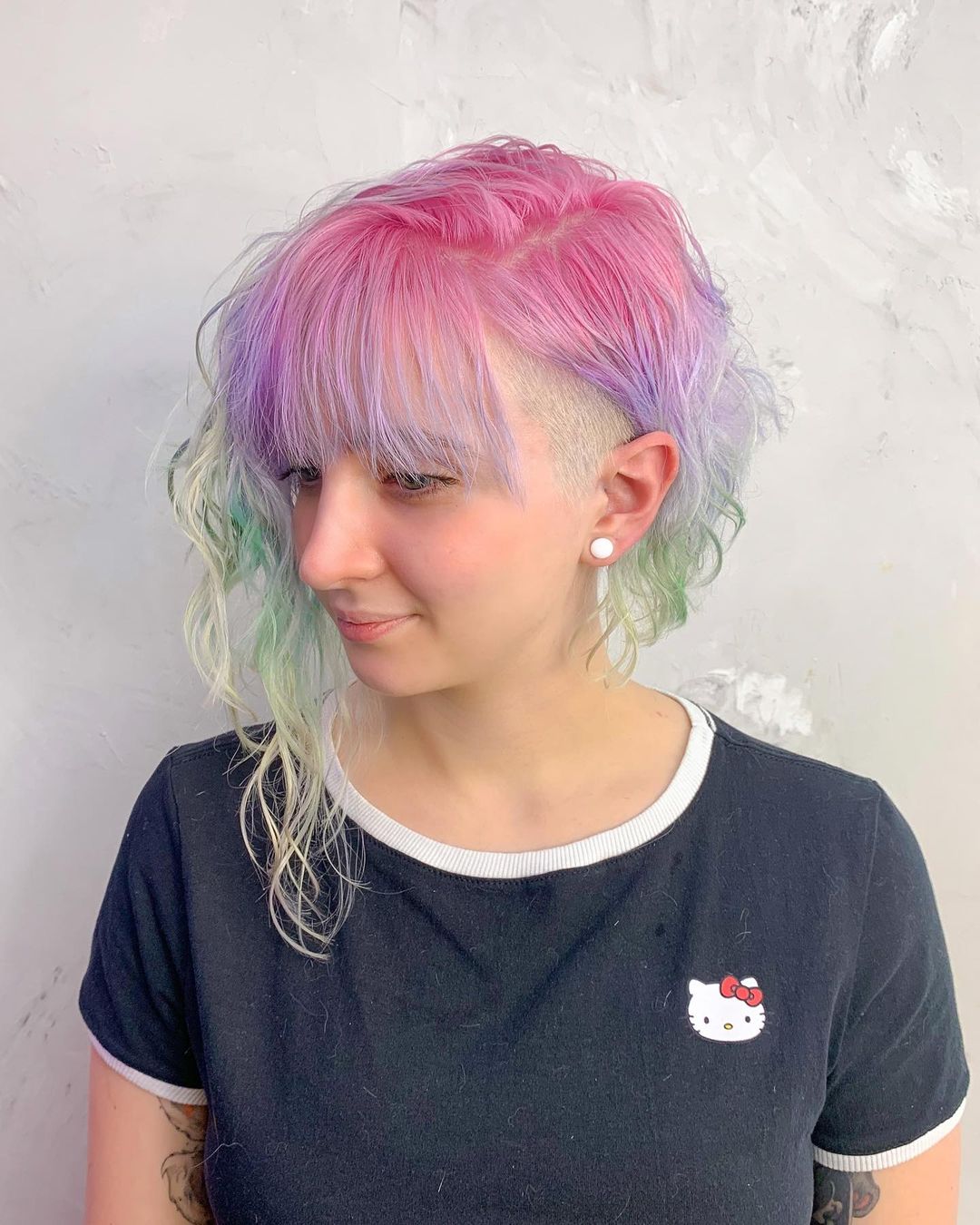 This asymmetrical bob strikes the perfect balance between playful and edgy. Cotton-candy colors and wispy bangs contrast the undercut and the extra-long piece on one side.
33. Asymmetrical Bob For Curly Hair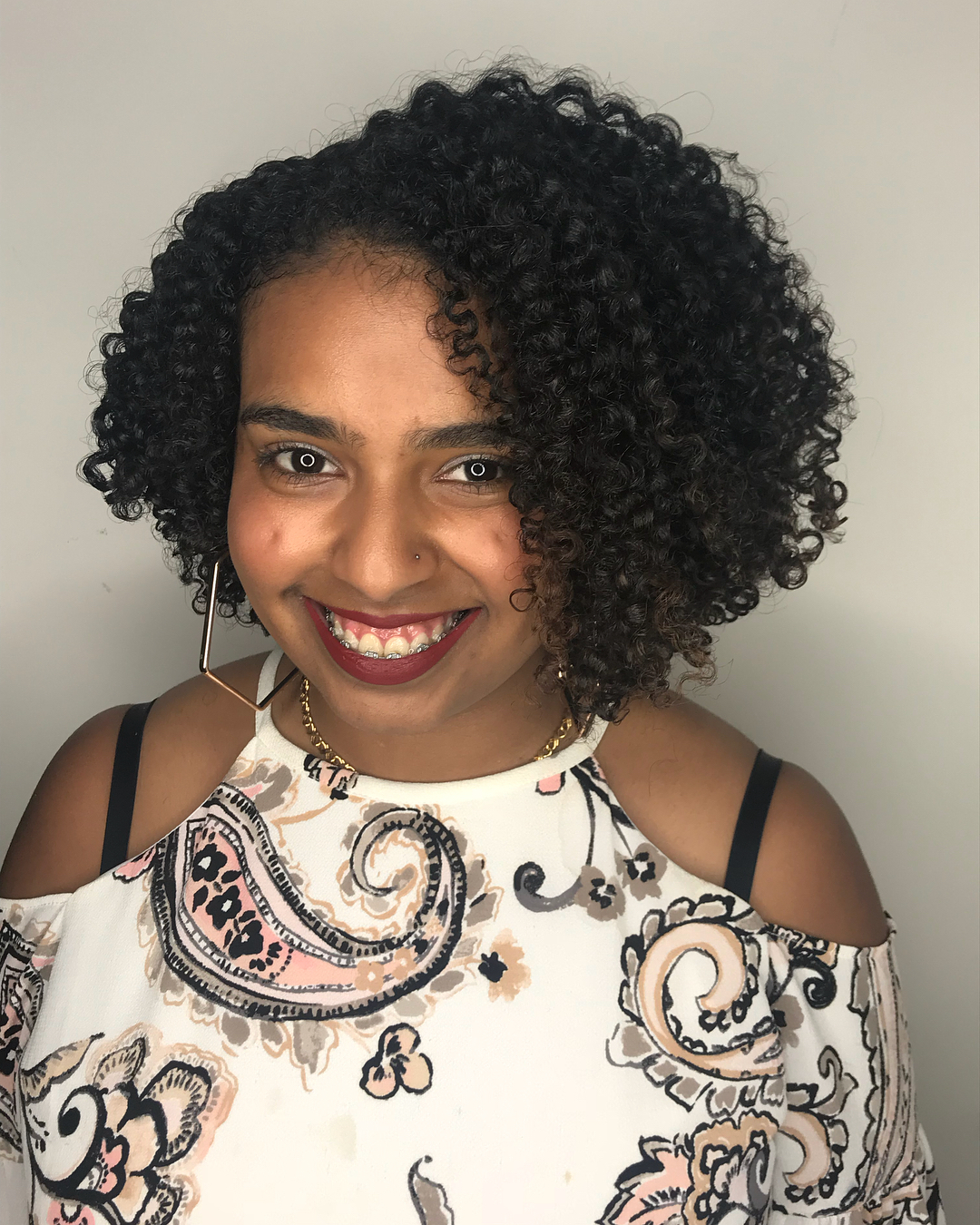 This asymmetrical bob is cut in a flattering shape that perfectly complements the curls, making them bouncy and soft.
34. Medium Fine Hair Asymmetrical Bob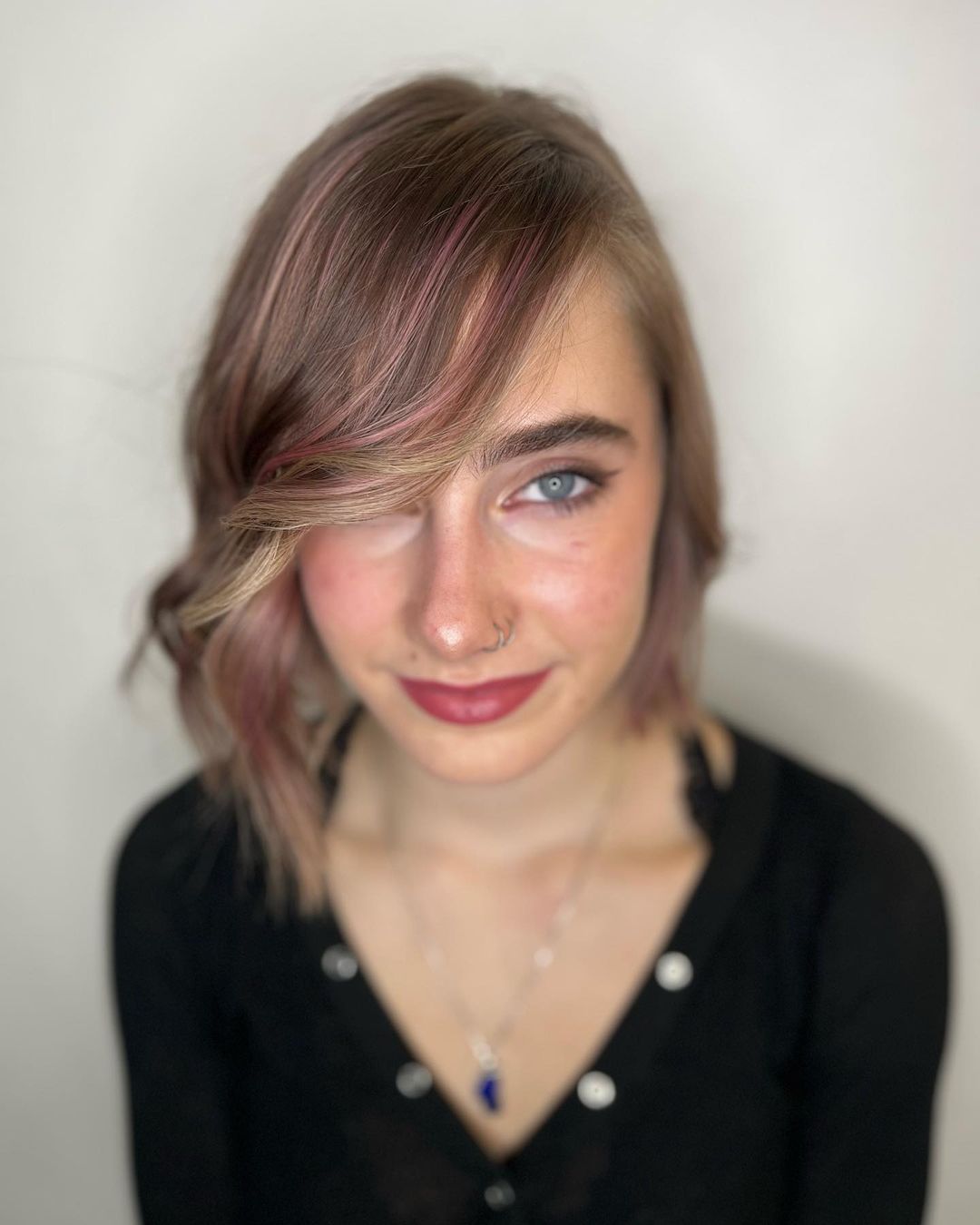 The ultra-deep side part creates faux-long bangs, which is an easy way to switch things up without making any lasting decisions.
35. Asymmetrical Shoulder Length Bob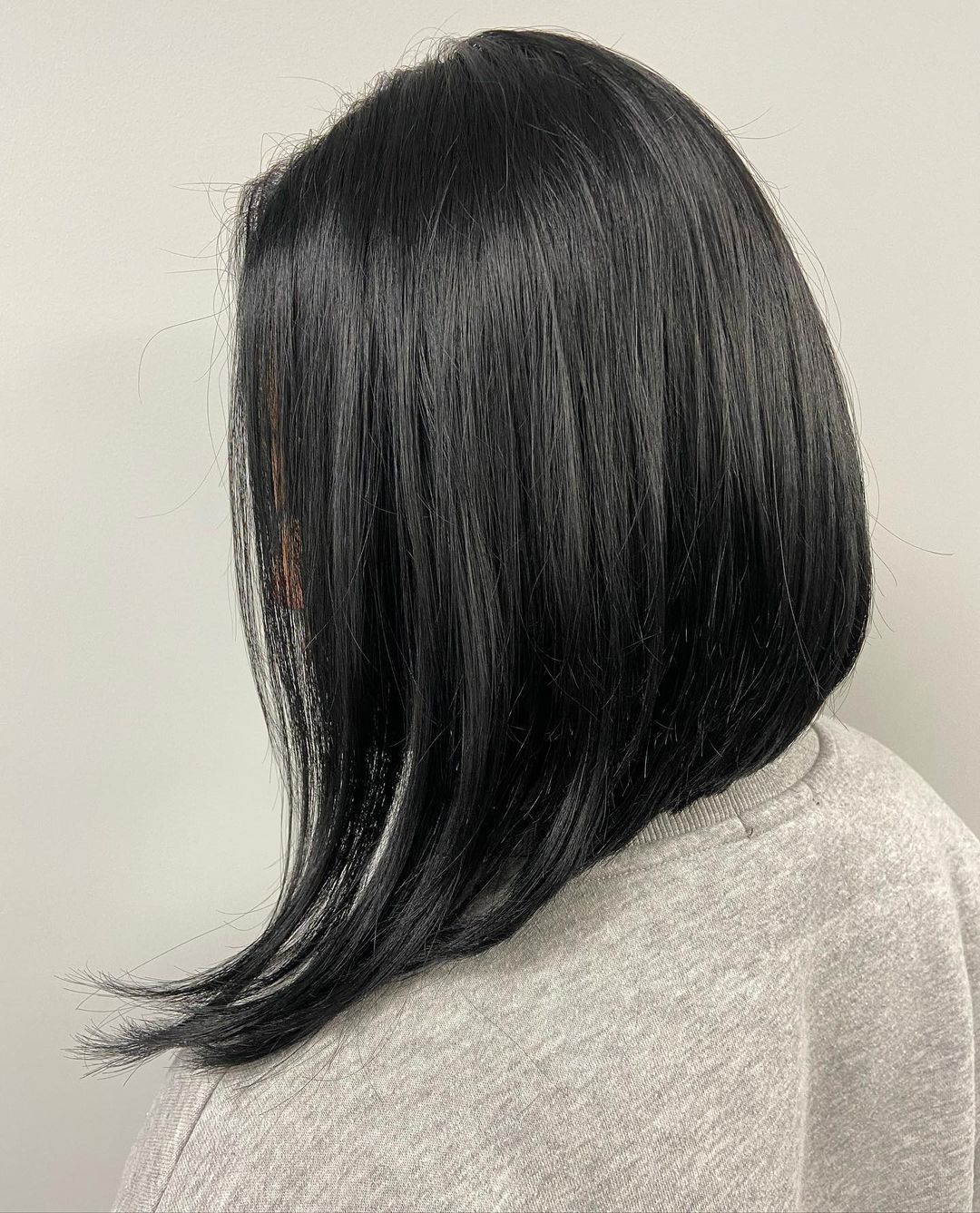 This soft straight lob skims the shoulder on the long side, yet it's still fresh and easy like shorter bobs.
36. Fine Hair Asymmetrical Bob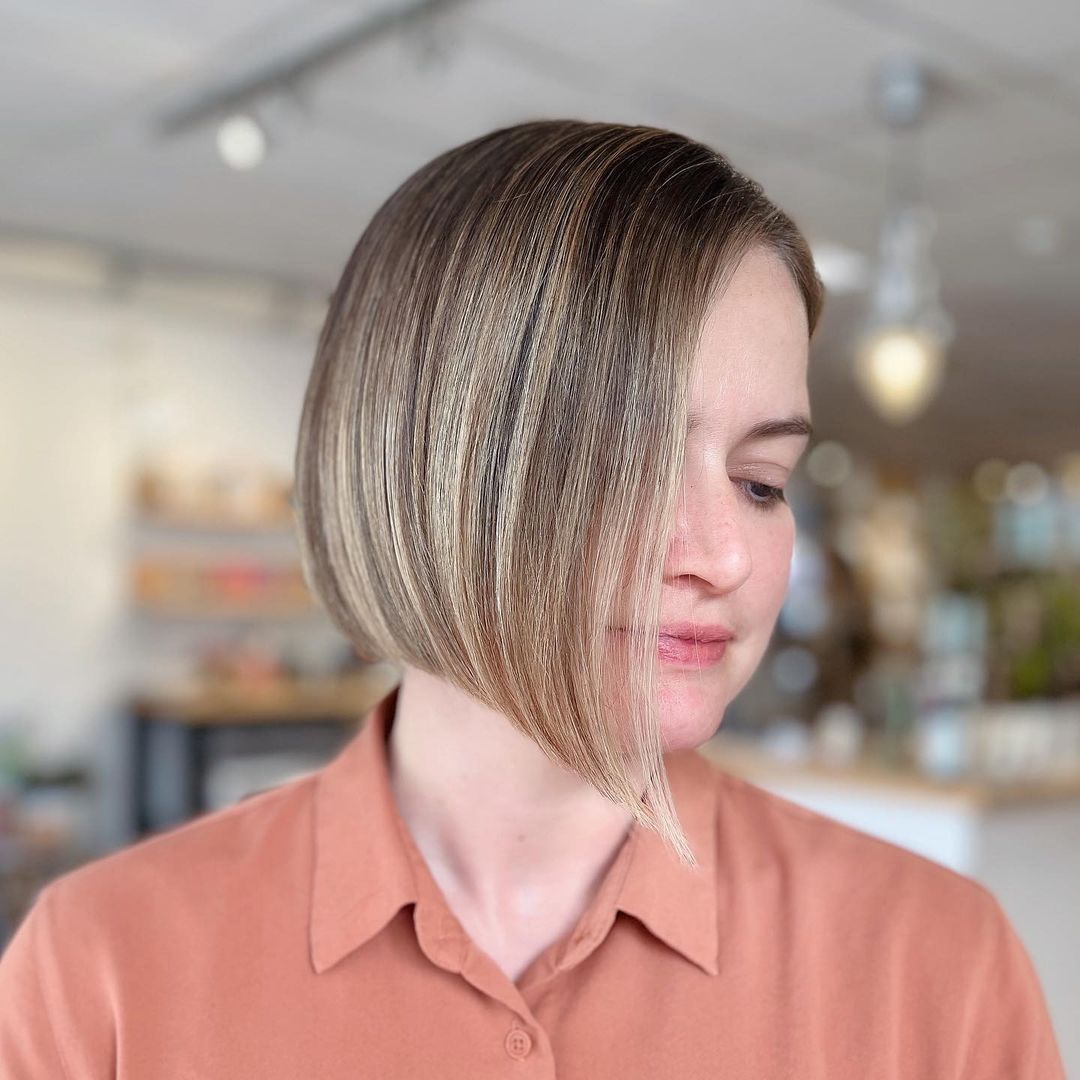 If you have thin hair, but dislike layers, an asymmetrical cut can add a bit of oomph and movement without taking off length. This short blonde bob is flattering and low-maintenance.
37. Subtle Medium Asymmetrical Bob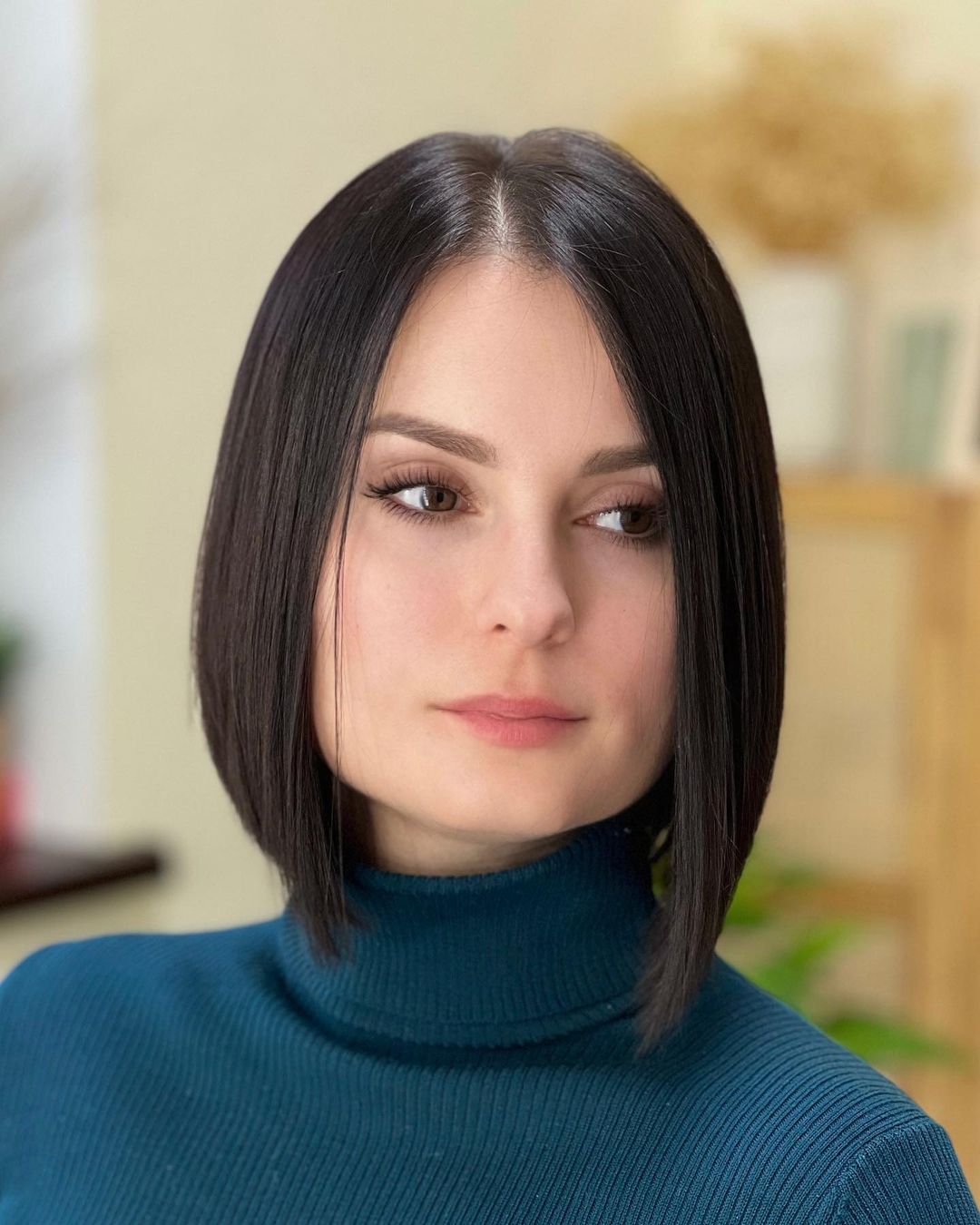 The subtle asymmetry combined with the sleek styling and the deep, rich color is proof that a simple haircut done well can be just as impactful as something much more complicated.
38. Shoulder Length Long Asymmetrical Bob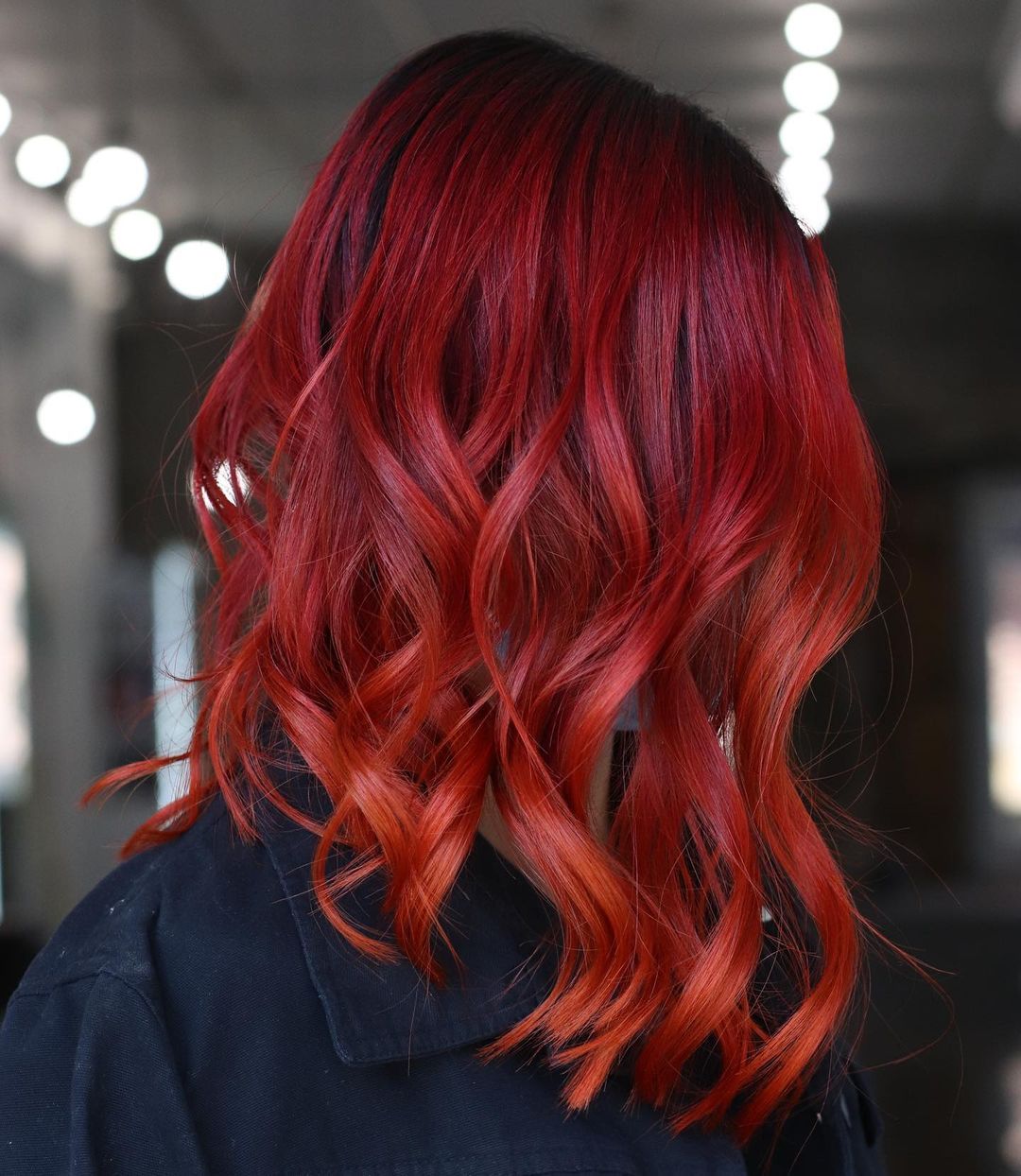 With an ultra-long longer side, this lob has all the advantages of long hair, but it's still as dramatic as only a bob can be.
39. Asymmetrical Inverted Bob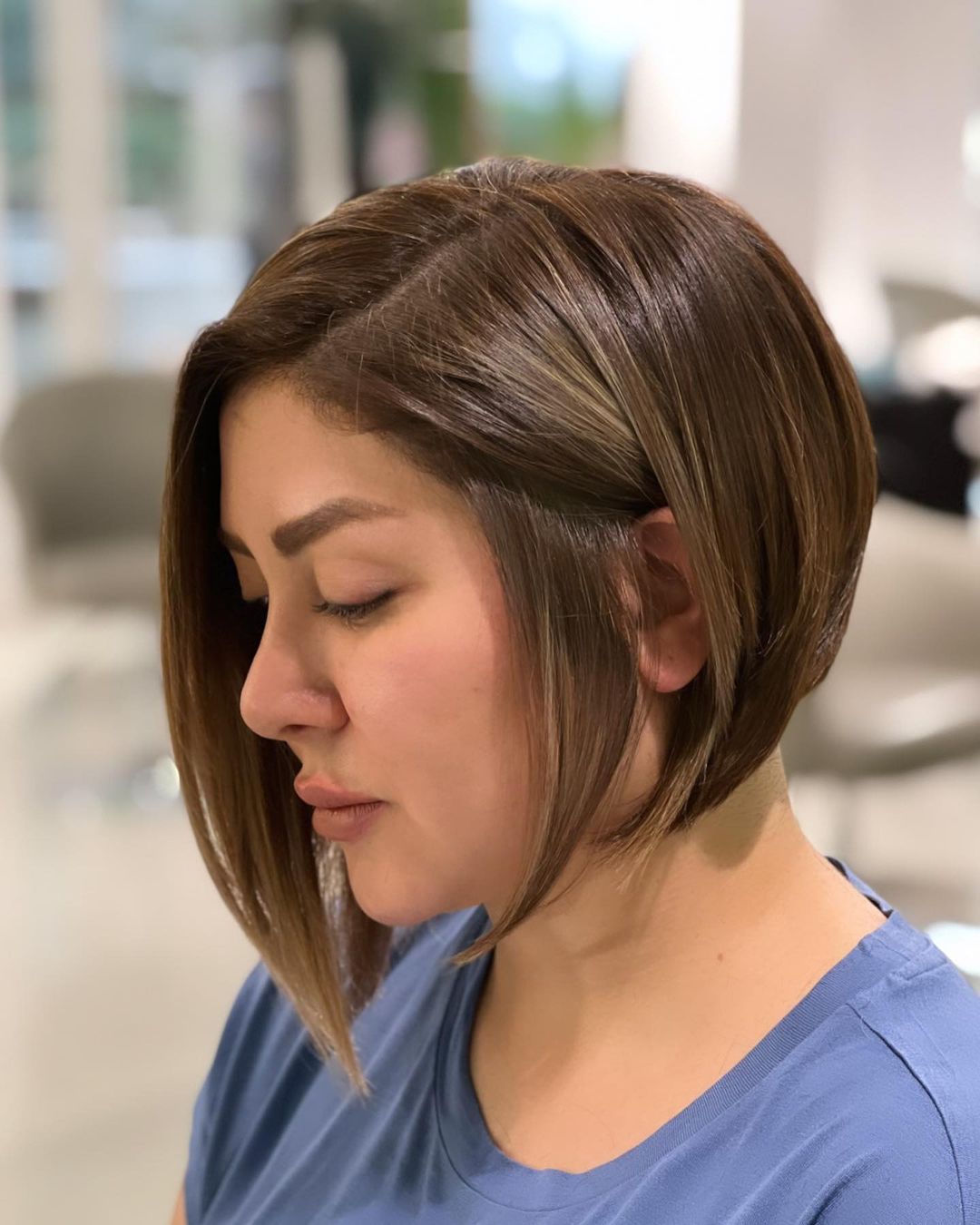 The subtle stacking in the back gives easy volume and the sharp pieces in the front provide a pretty face frame on short brown hair.
40. Wavy Layered Asymmetrical Bob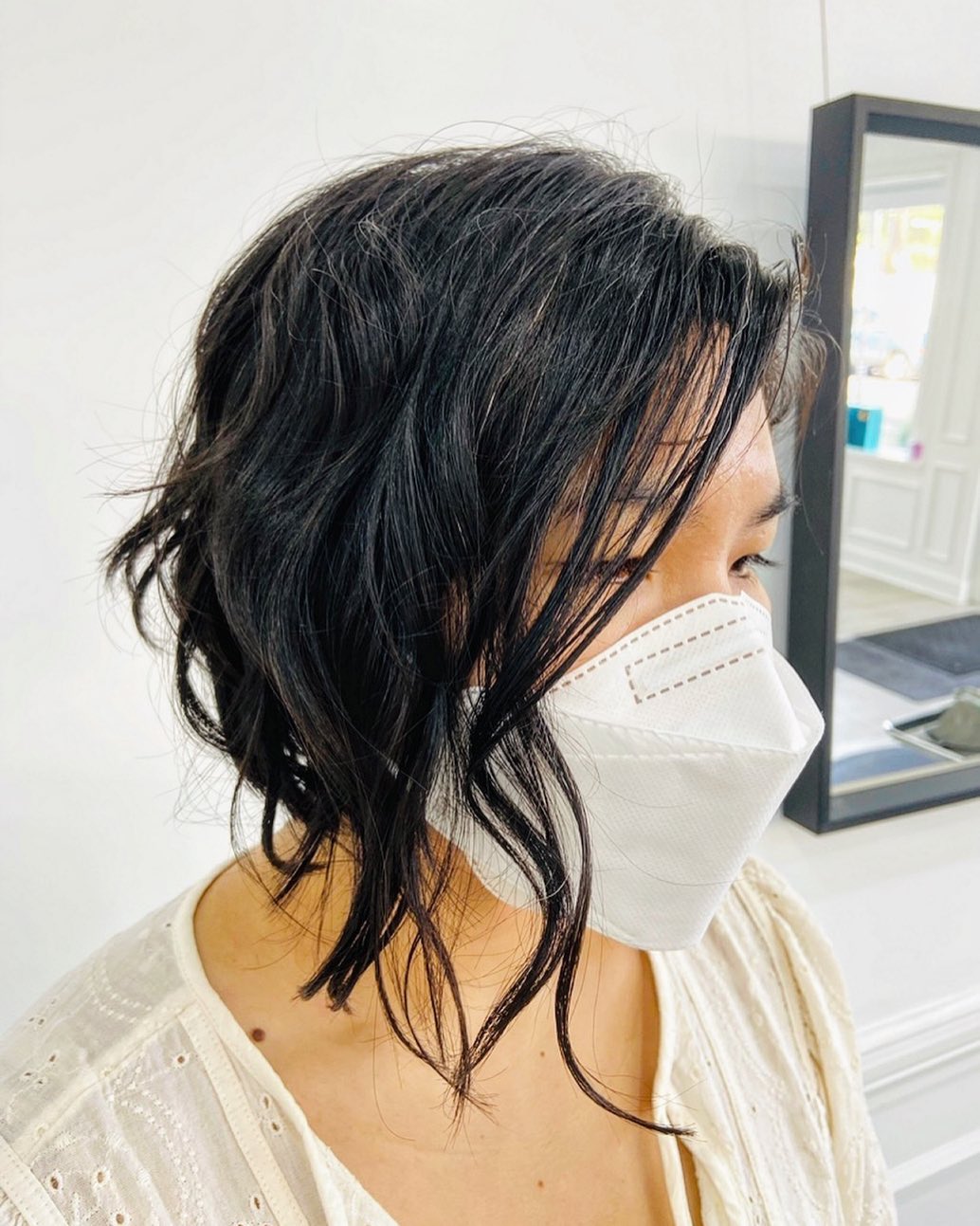 This choppy asymmetrical bob is modern and edgy, but just classic enough to be appropriate for any occasion.
41. Short Wavy Asymmetrical Bob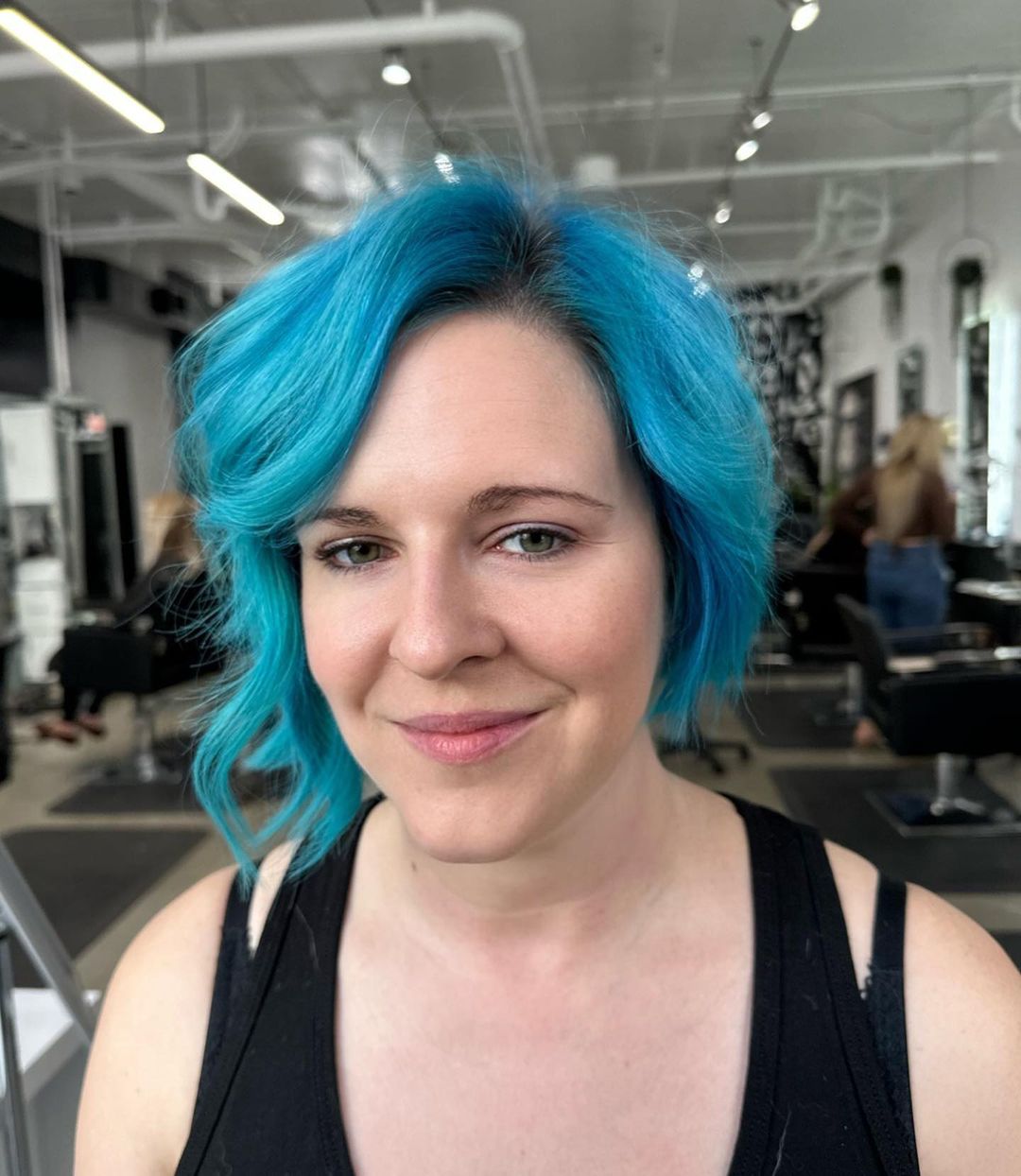 The effortless, natural cut contrasts the vivid, unnatural color creating a wearable style with lots of visual interest.
42. Asymmetrical Pixie Bob Haircut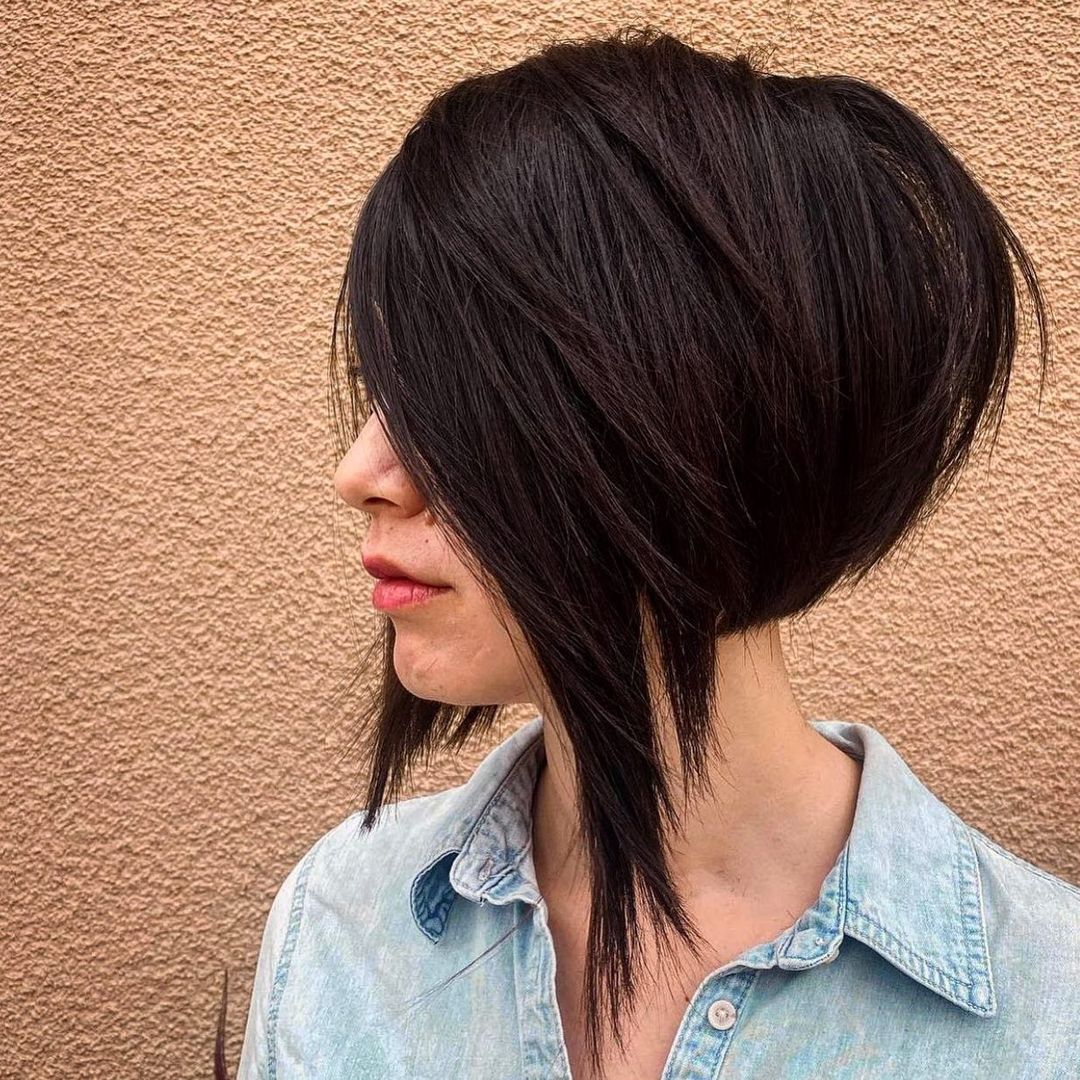 While this haircut that combines a full pixie in the back and super-long pieces in the front isn't easy to maintain or style, it's effective enough to make you want to make an effort.
43. Stacked Asymmetrical Pixie Bob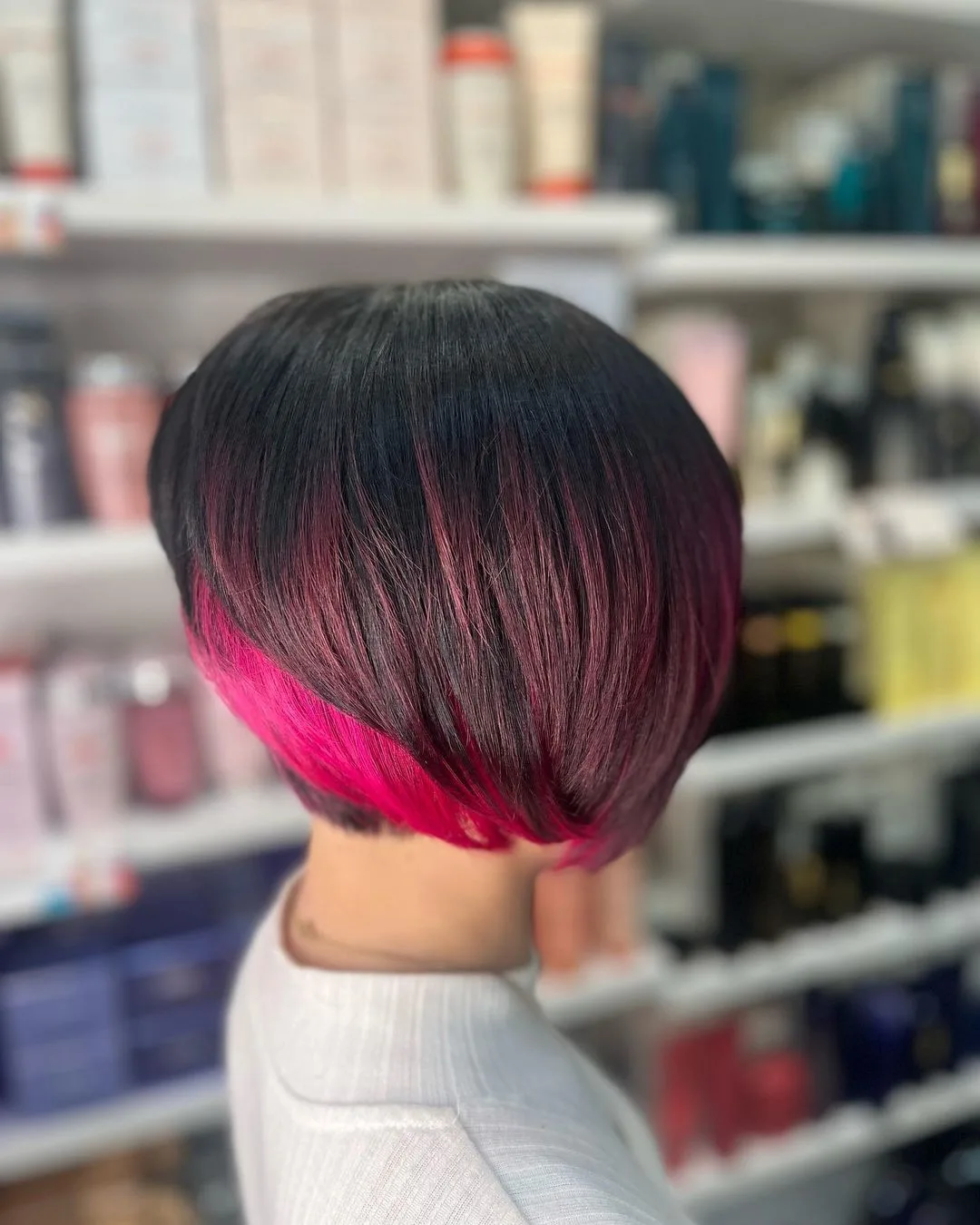 Seen from the front, this style looks tame, with its subtle dusky rose-tinted highlights, but the bright fuchsia in the back proves it's much edgier than it seems.
44. Shoulder Length Asymmetrical Bob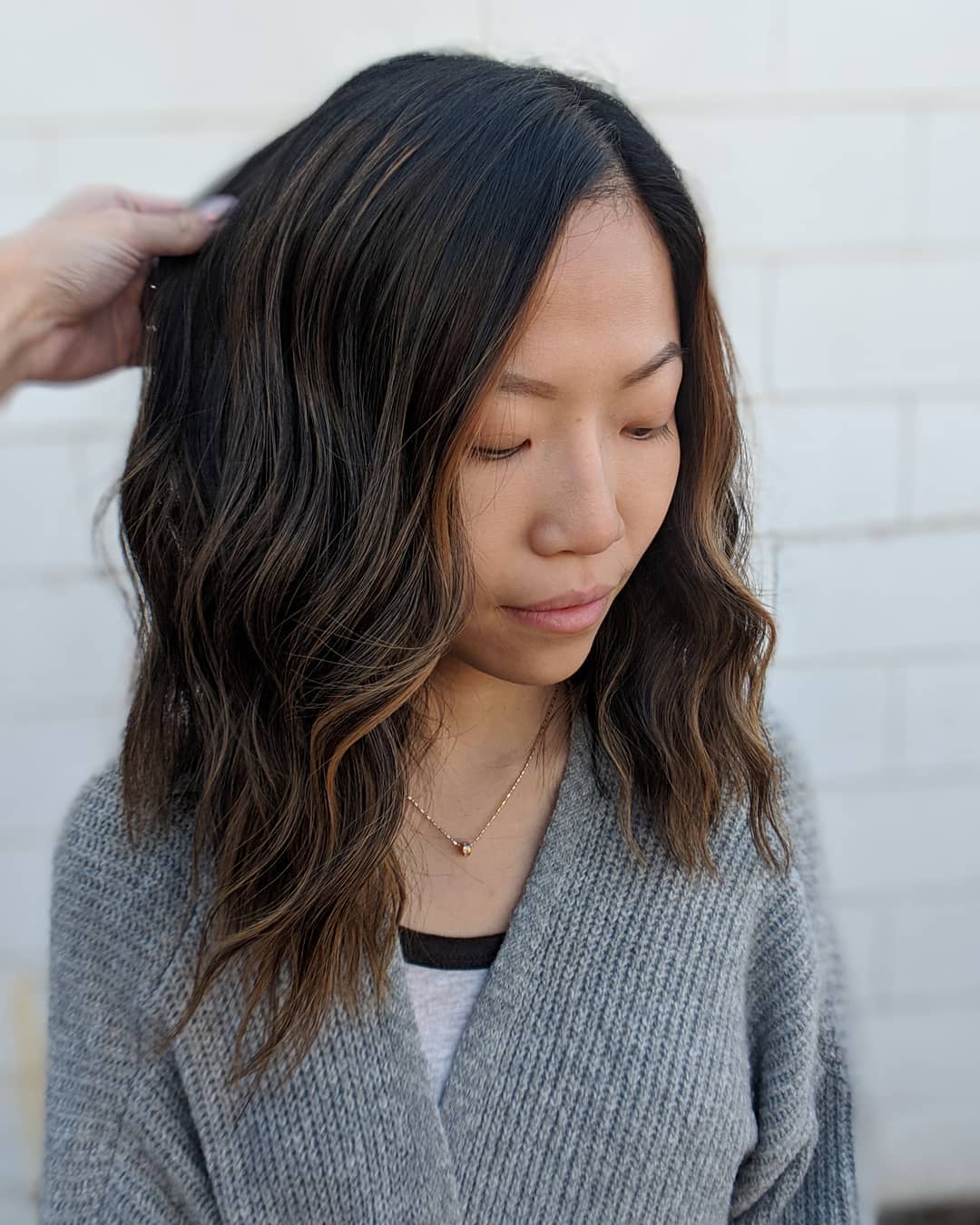 This extra-long lob is full of delicate highlights that give the hair a sun-kissed look, without touching the roots. This means that you can have a flattering color even if you skip an appointment at the salon.
45. Inverted Asymmetrical Bob
An asymmetrical inverted bob with long bangs pumps up the volume in the back and frames the face in the front. A win-win!
46. Asymmetrical Curly Bob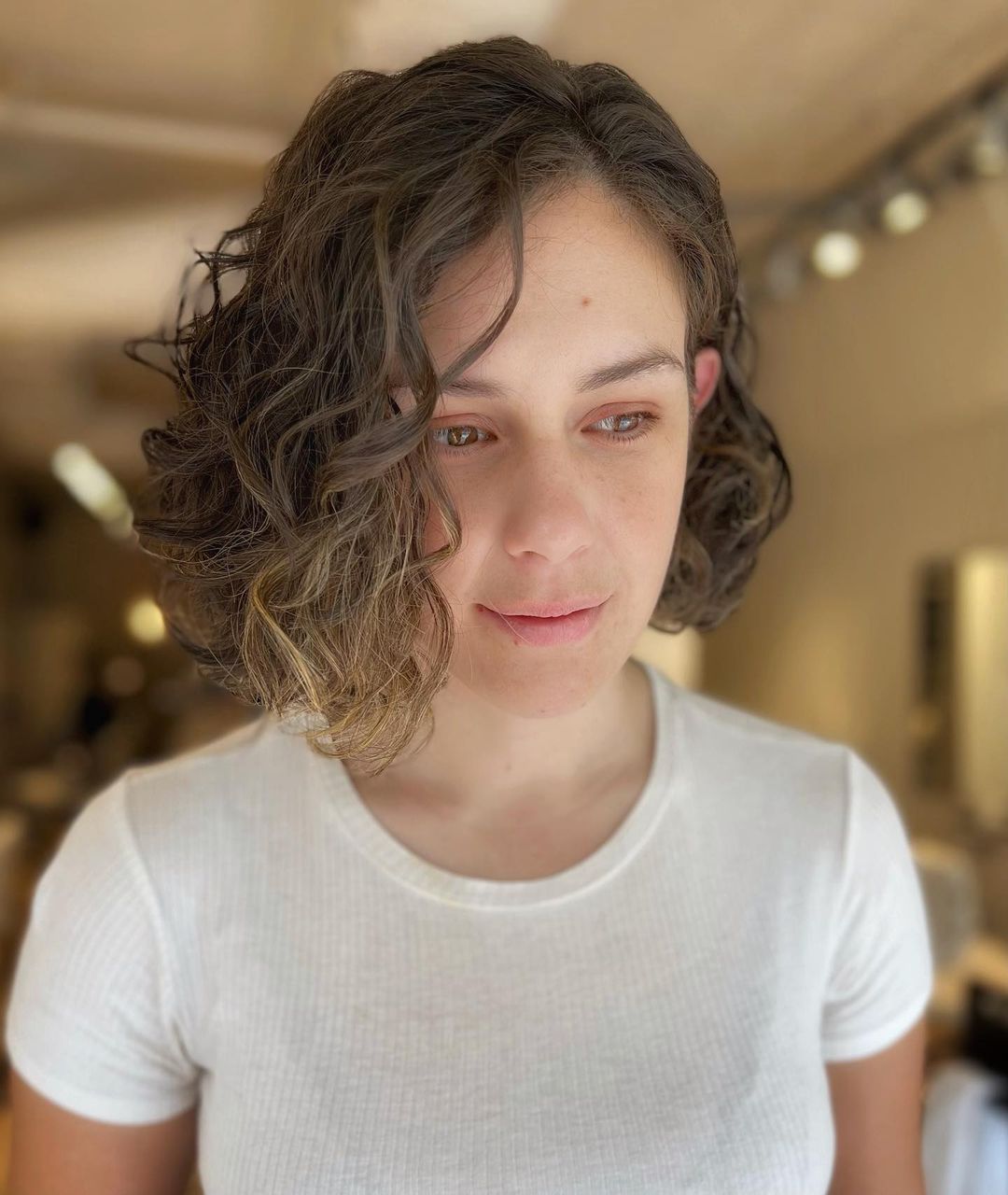 If you have wavy hair, styling it is a bit different than curly hair—if you're following a curly hair tutorial, skip on a couple of styling products and stick to only one. Unlike curly hair, wavy hair is easily weighed down and layering products will flatten your waves.
47. Asymmetrical Deep Side Part Bob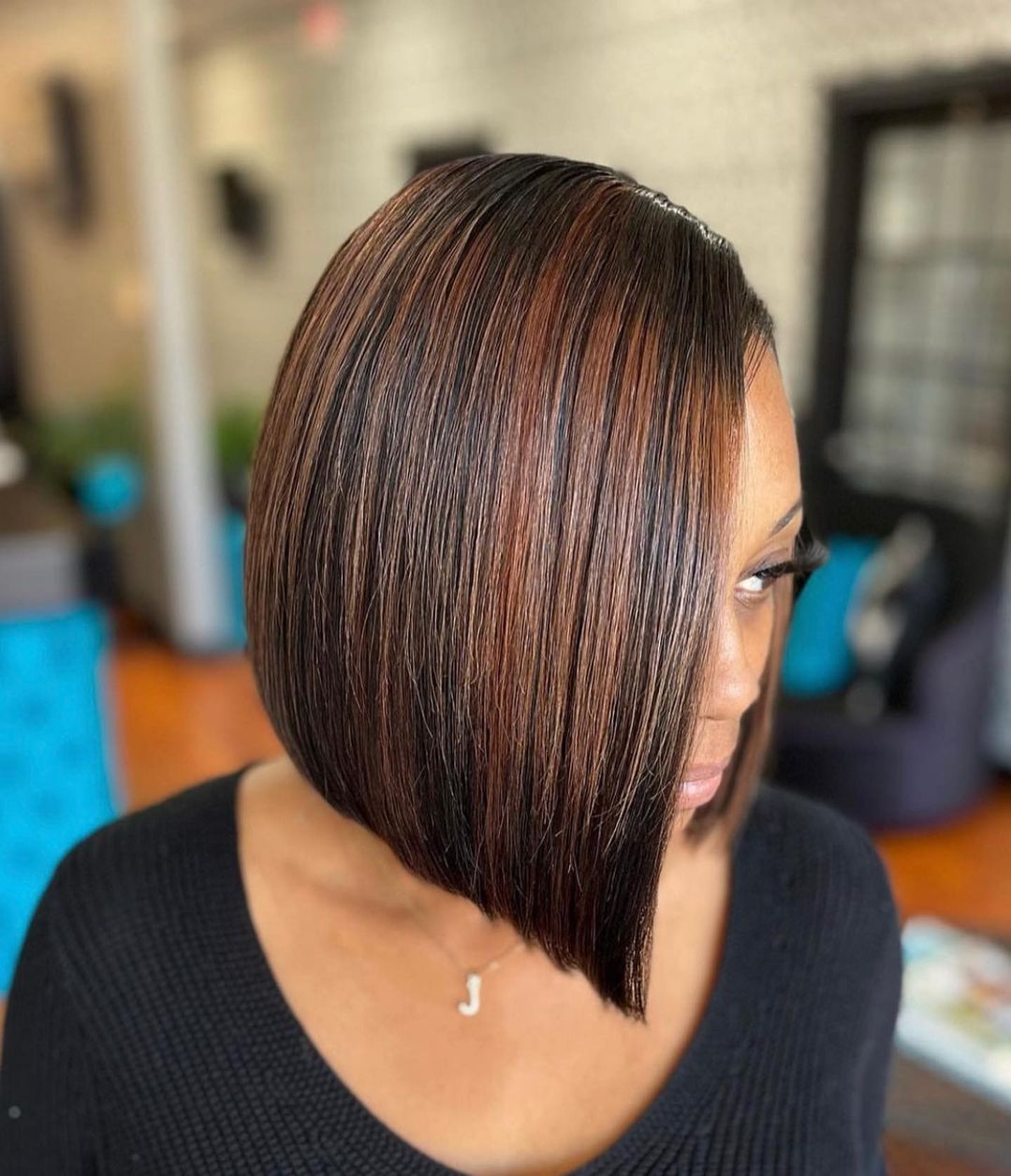 Both the caramel strands and the asymmetrical cut give dimension to otherwise static straight hair.
48. Wavy Asymmetrical Bob Haircut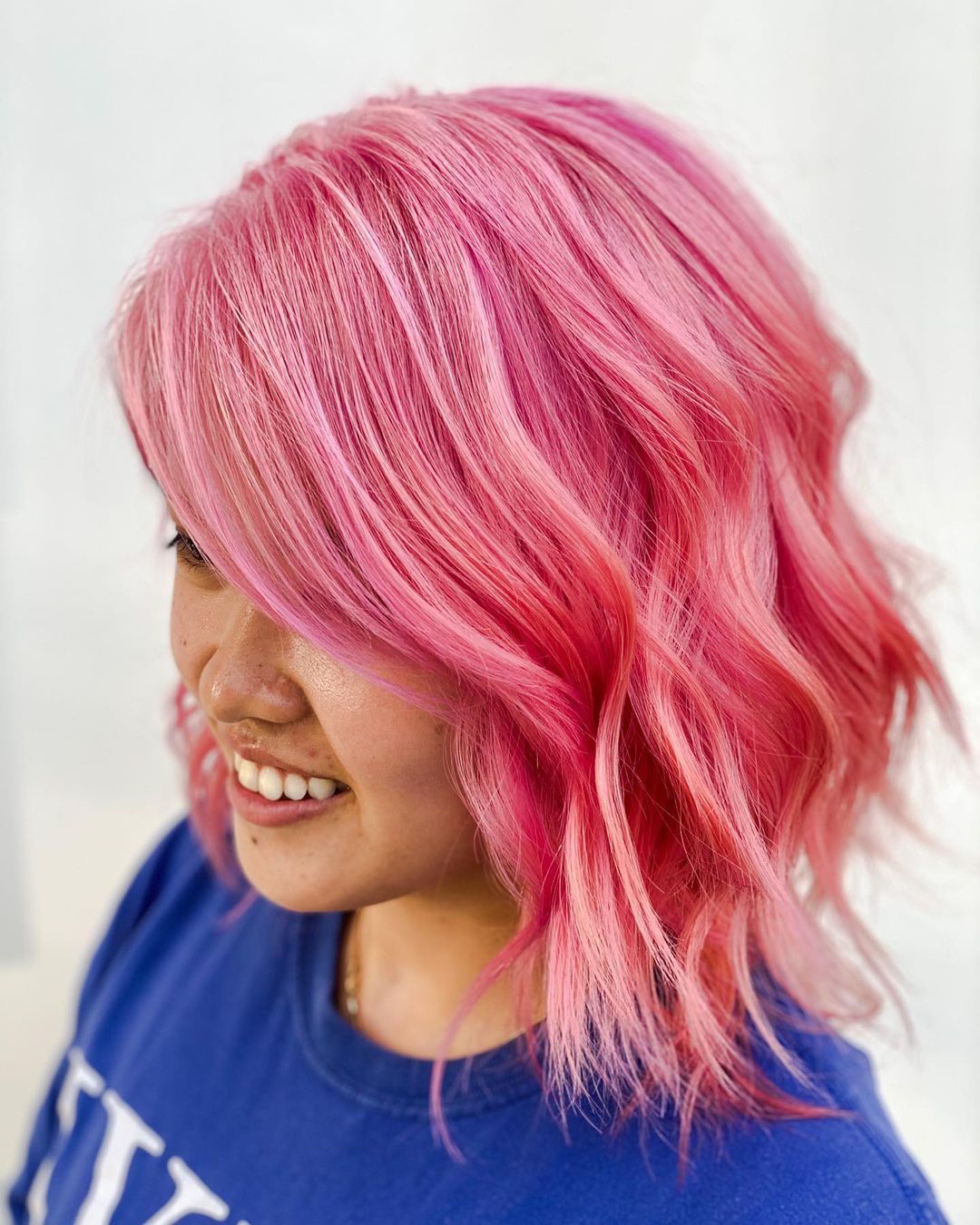 Tousled pink waves will look gorgeous no matter the kind of haircut—this edgy choppy bob makes them look fresh and pretty.
49. Gemini Asymmetrical Bob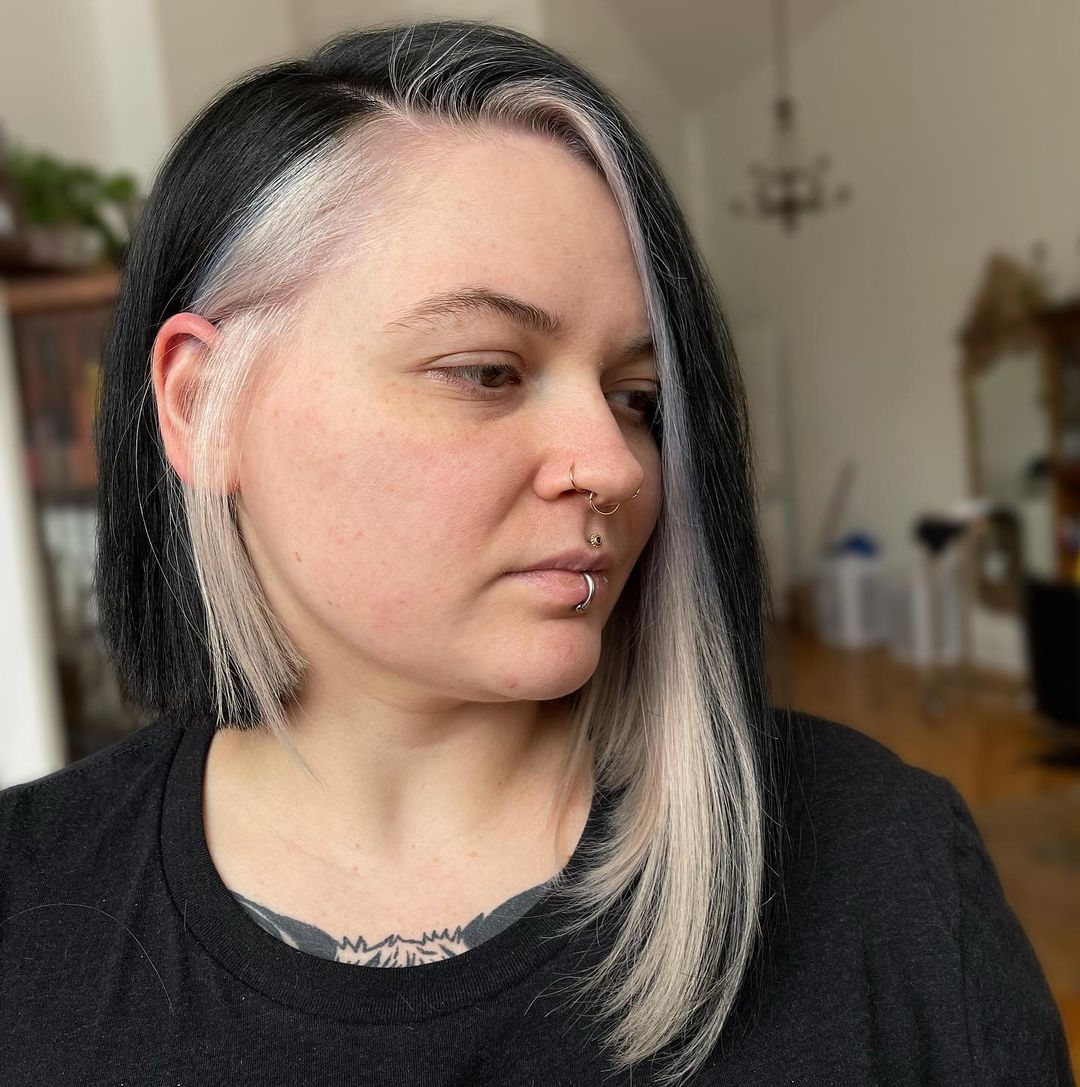 Skunk stripe hair evokes a cool movie villain vibe, so it's going to look cool however you wear it—the asymmetrical cut just makes it extra edgy.
50. Choppy Asymmetrical Bob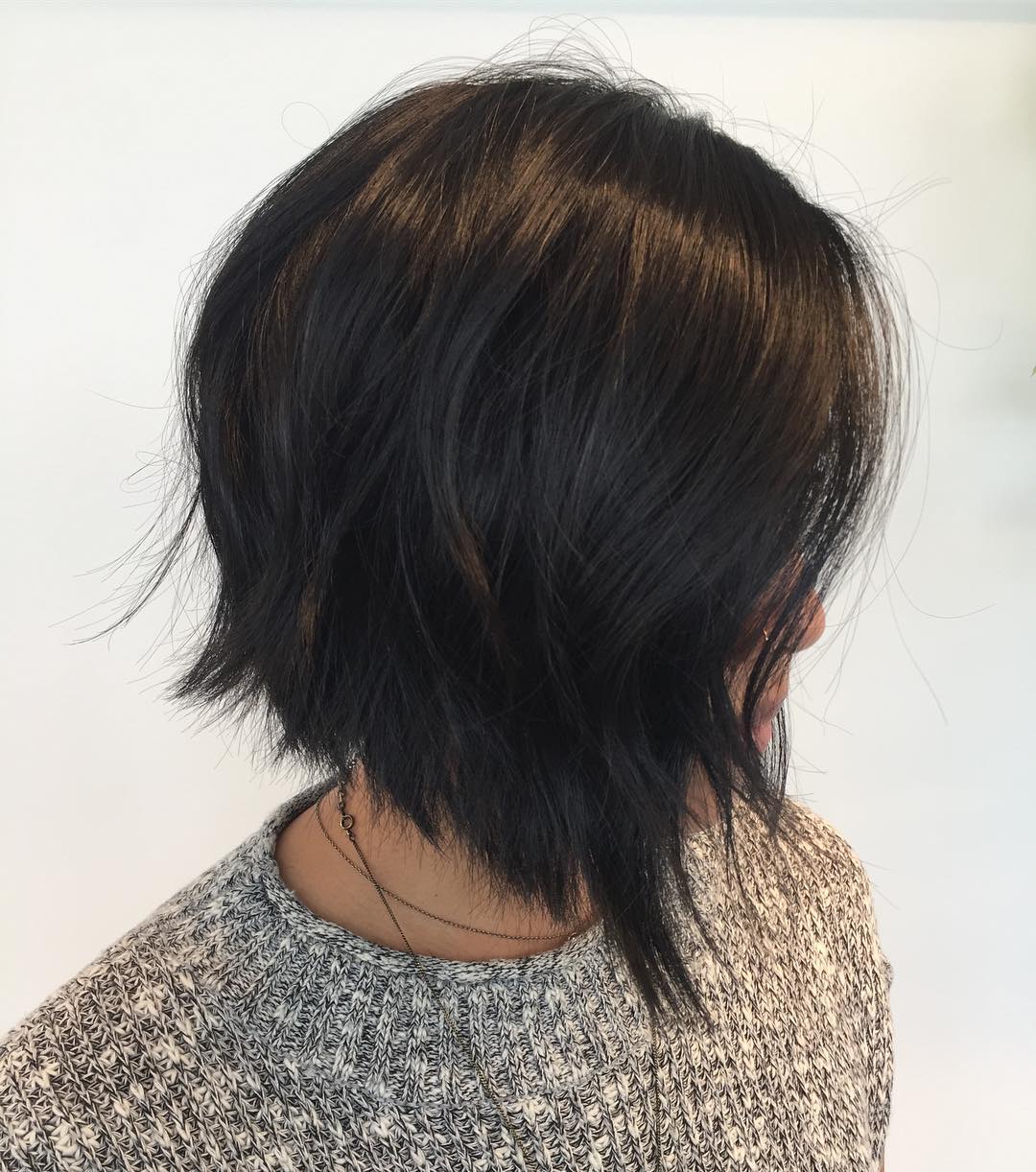 Choppy layers are inviting you to move them around and let your hair flow the way it wants.
51. Undercut Asymmetrical Pixie Bob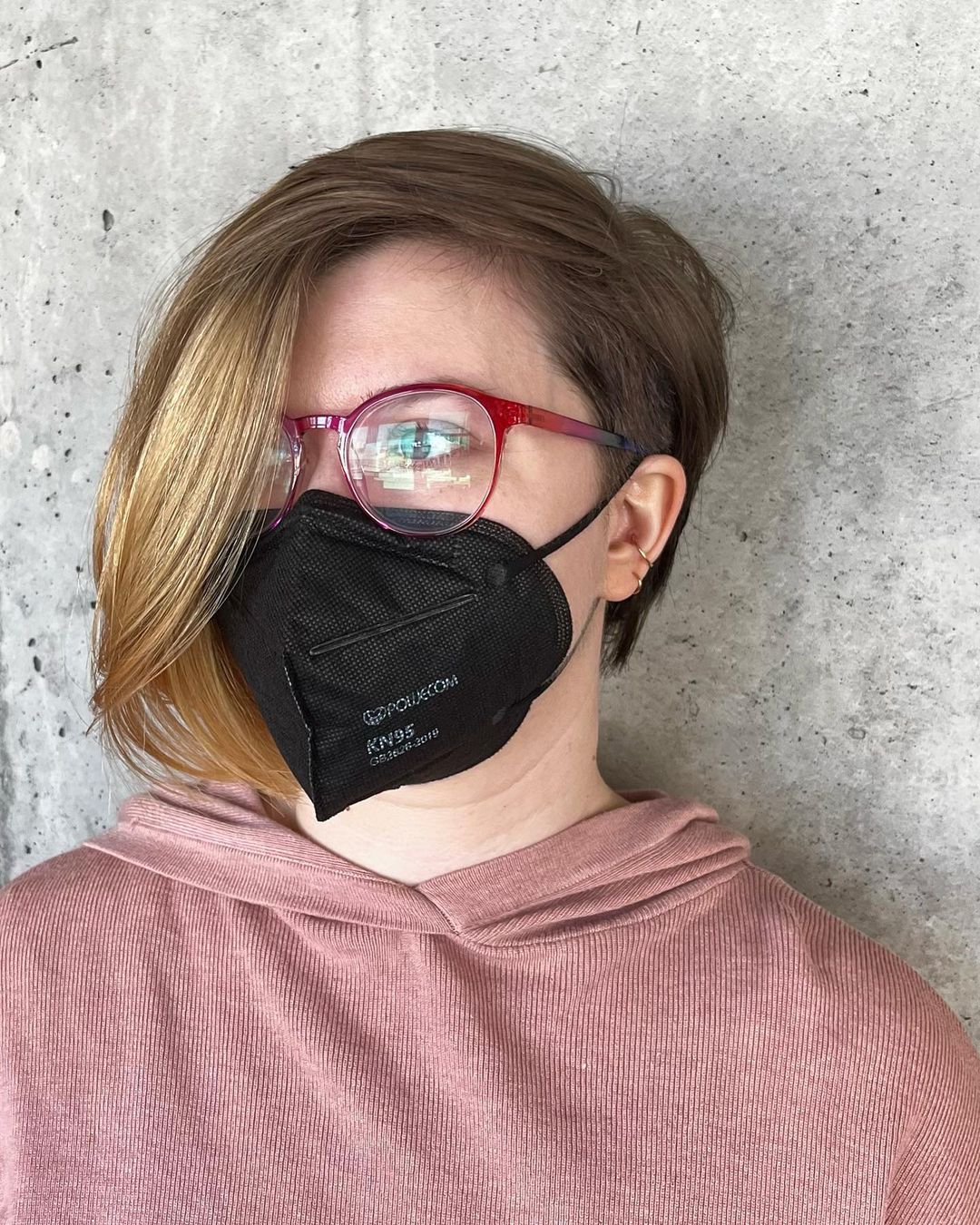 Undercut is already an element of asymmetry, and the longer you go on the other side, the more dramatic your look, demonstrating how exciting a short straight hairstyle can be.
52. Medium Length Asymmetrical Bob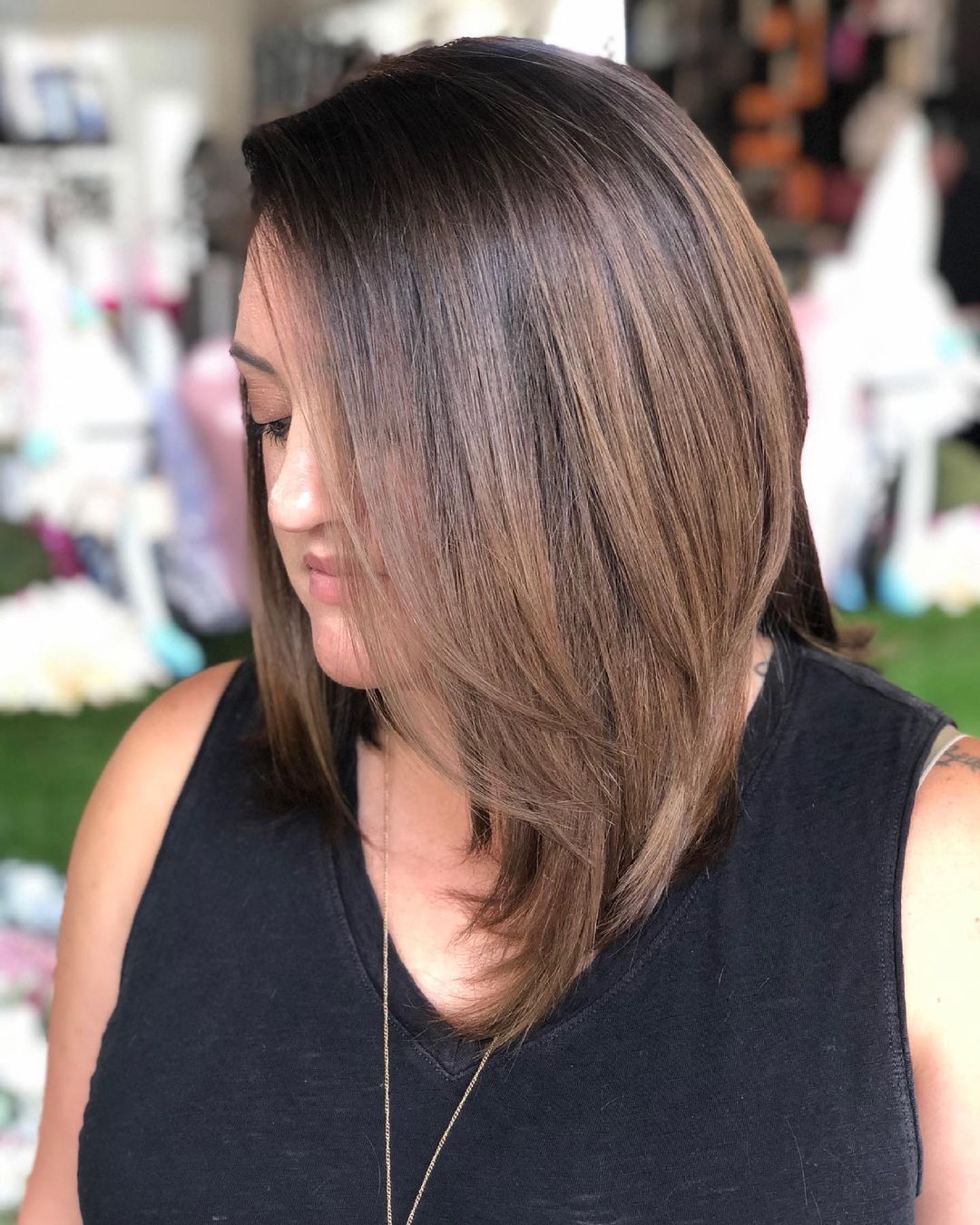 Spice up your lob and give it movement by going asymmetrical—just a slight difference in length on either side of the face can drastically transform your look.
53. Deep Side Part Blunt Bob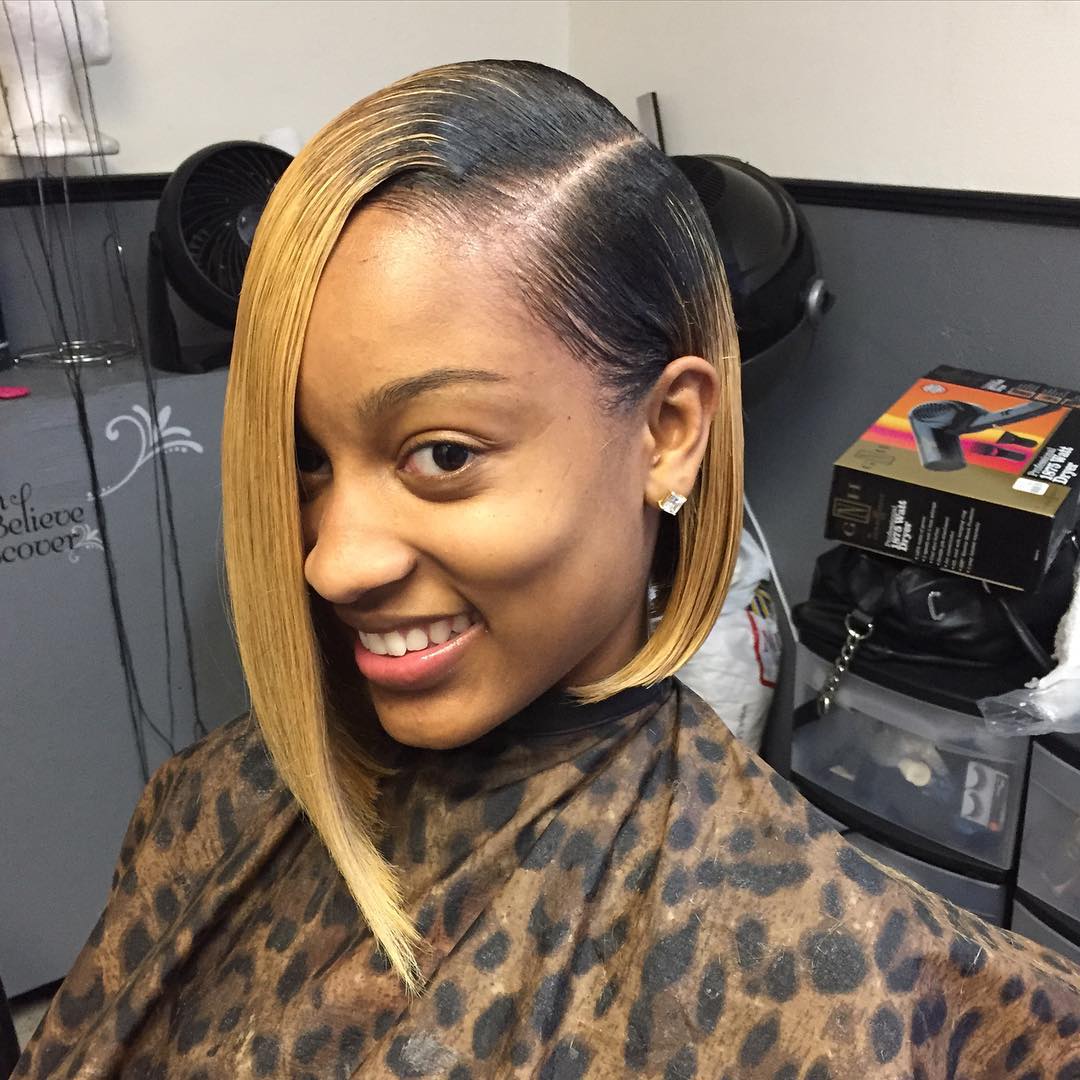 The color emphasizes the shape, making this angled bob haircut a complete story. And thanks to the root smudge, the period between salon visits can be a bit longer.
54. Asymmetrical Medium Bob
No matter how casual your asymmetrical bob, it will always be at least a little bold—this deceptively simple cut is easy, but definitely stylish.
55. Blunt Asymmetrical Bob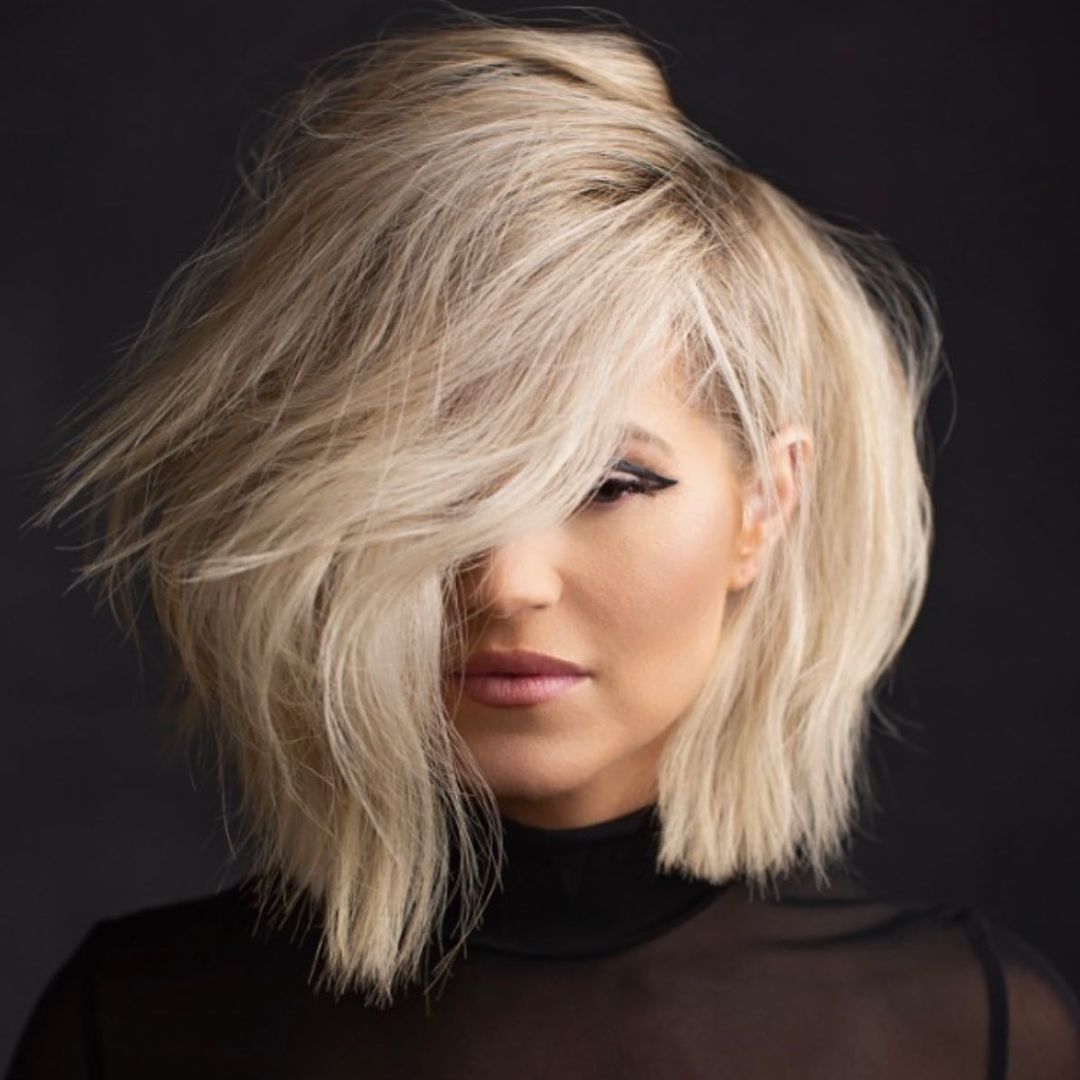 Choppy, voluminous and rich with piece-y texture, this blunt cut bob is the definition of effortless. You can wear it natural or go heavy on the styling—it's going to look good either way.
56. Asymmetrical Stacked Bob With Side Bangs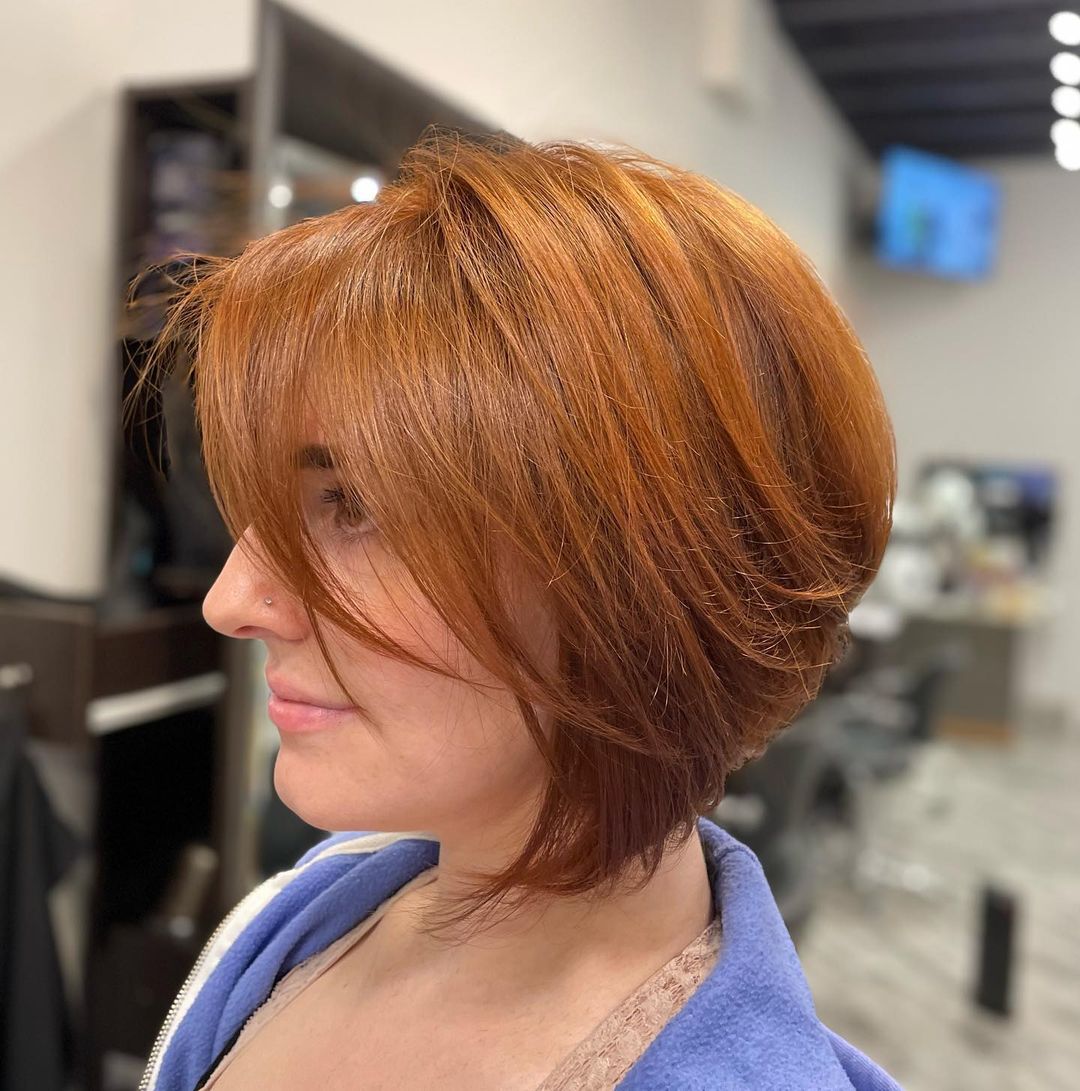 The asymmetrical bob can be super edgy and super classic, but these touchable tresses and a lovely, soft color show it can also be super soft.
57. Undercut Asymmetrical Bob With Bangs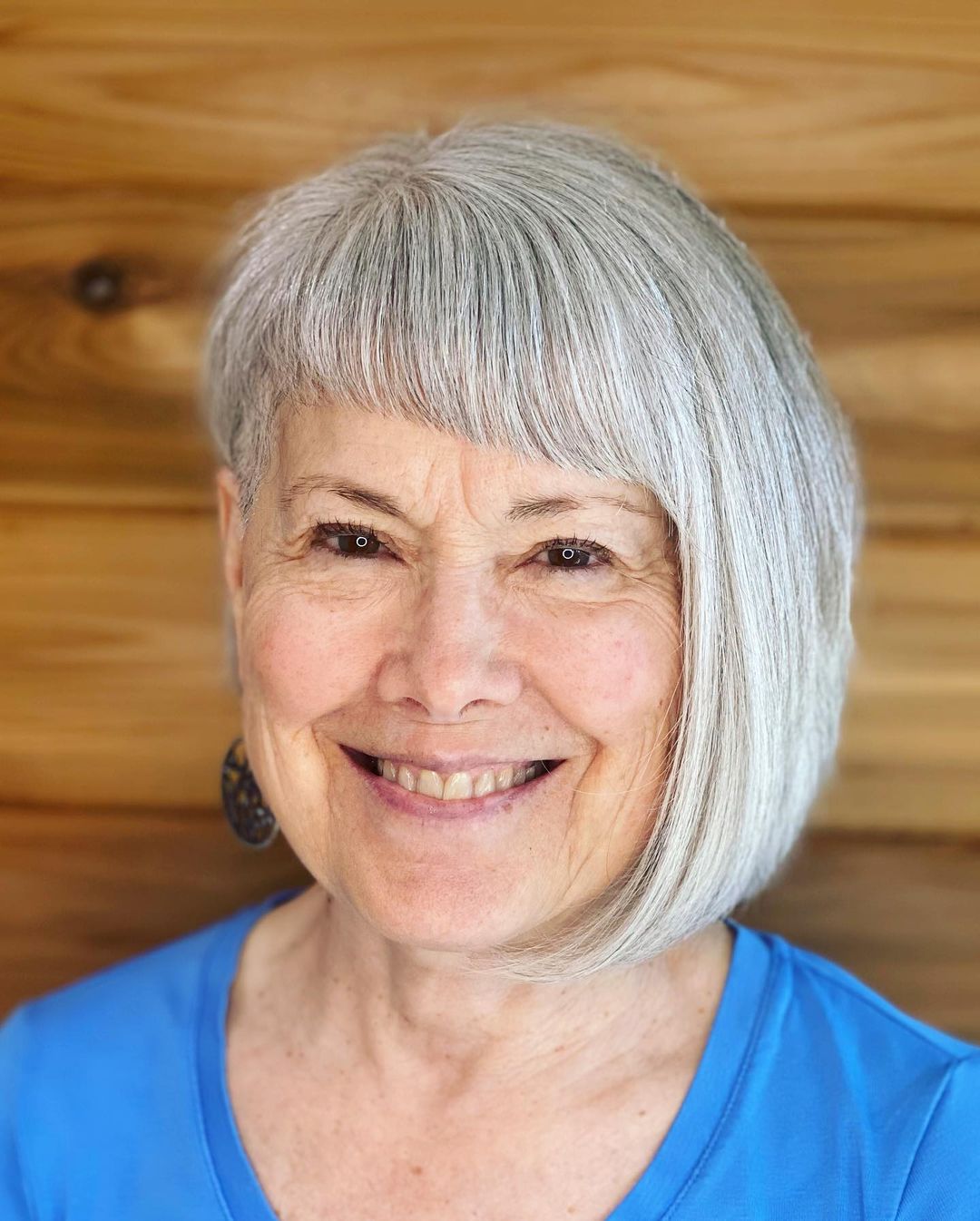 The outline of the bob is not the only asymmetrical part of this short bob with bangs: the slanted fringe brings another level of visual interest.
58. Medium Length Edgy Asymmetrical Haircut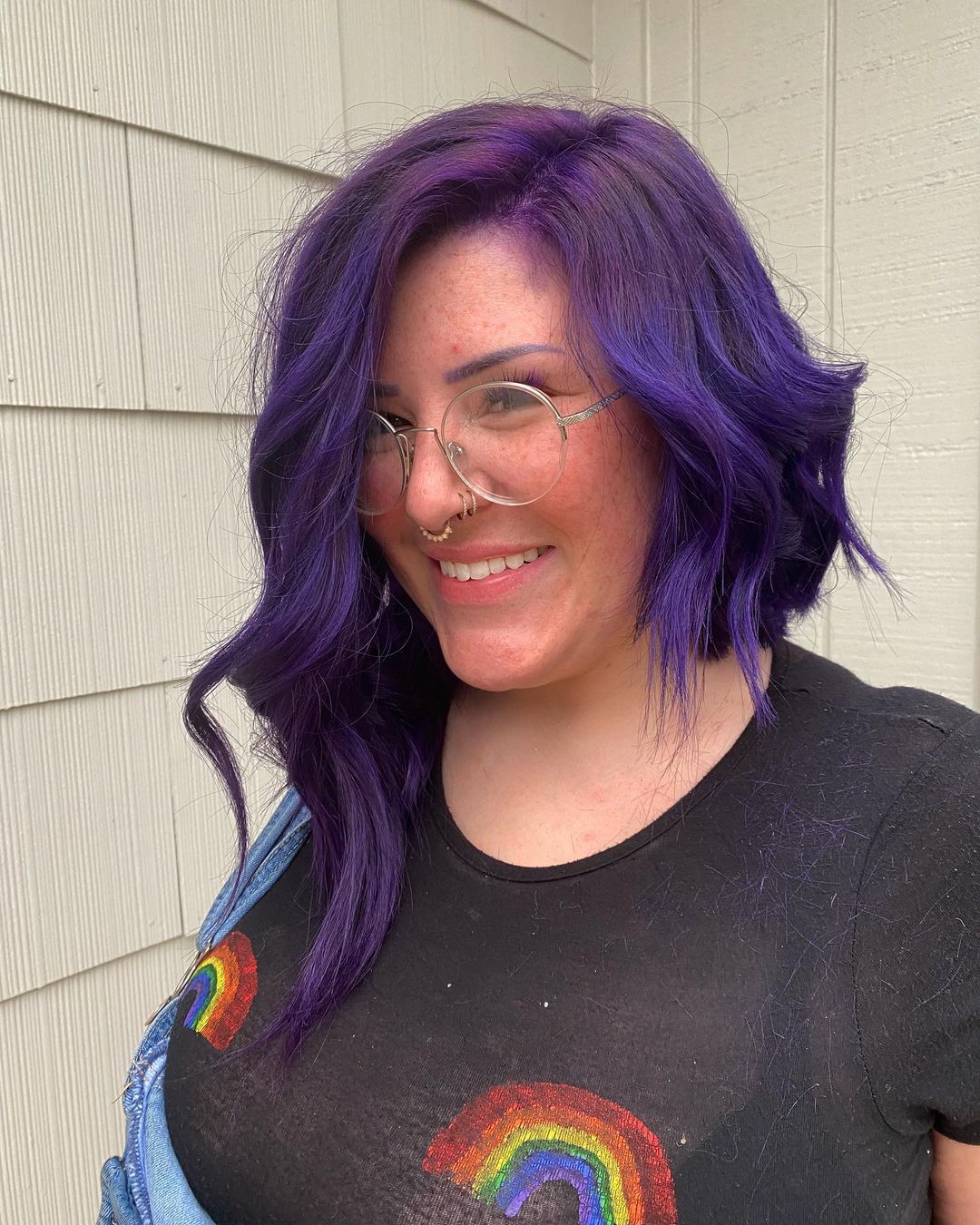 The combo of dramatic asymmetry and a deep violet shade looks less edgy than it sounds, thanks to the styling: soft beachy waves make everything more romantic.
59. Asymmetrical Stacked Bob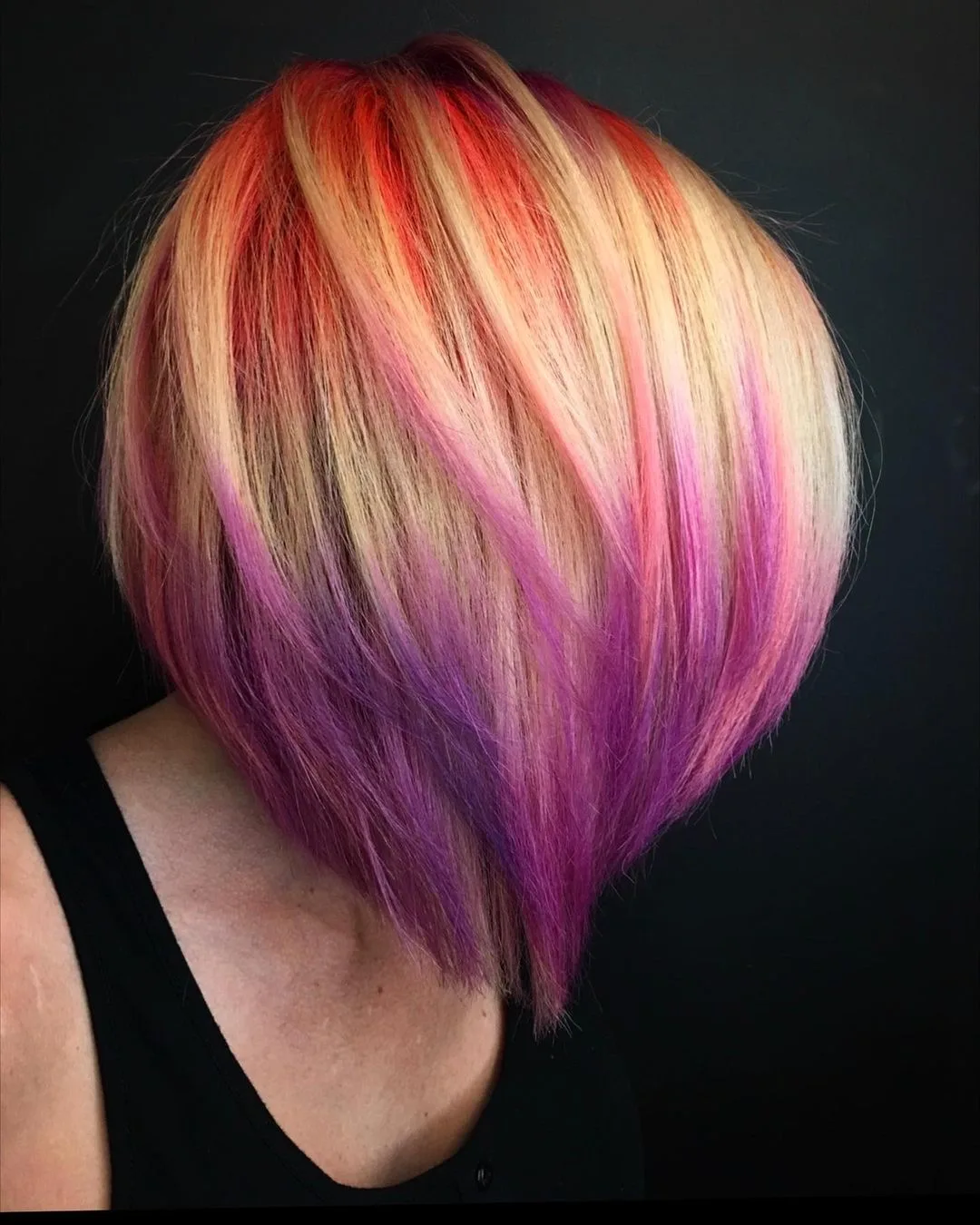 Complex coloring always tells a story that's only complete when the cut complements it—this intriguing bob is no different.
60. Asymmetrical Side Part Bob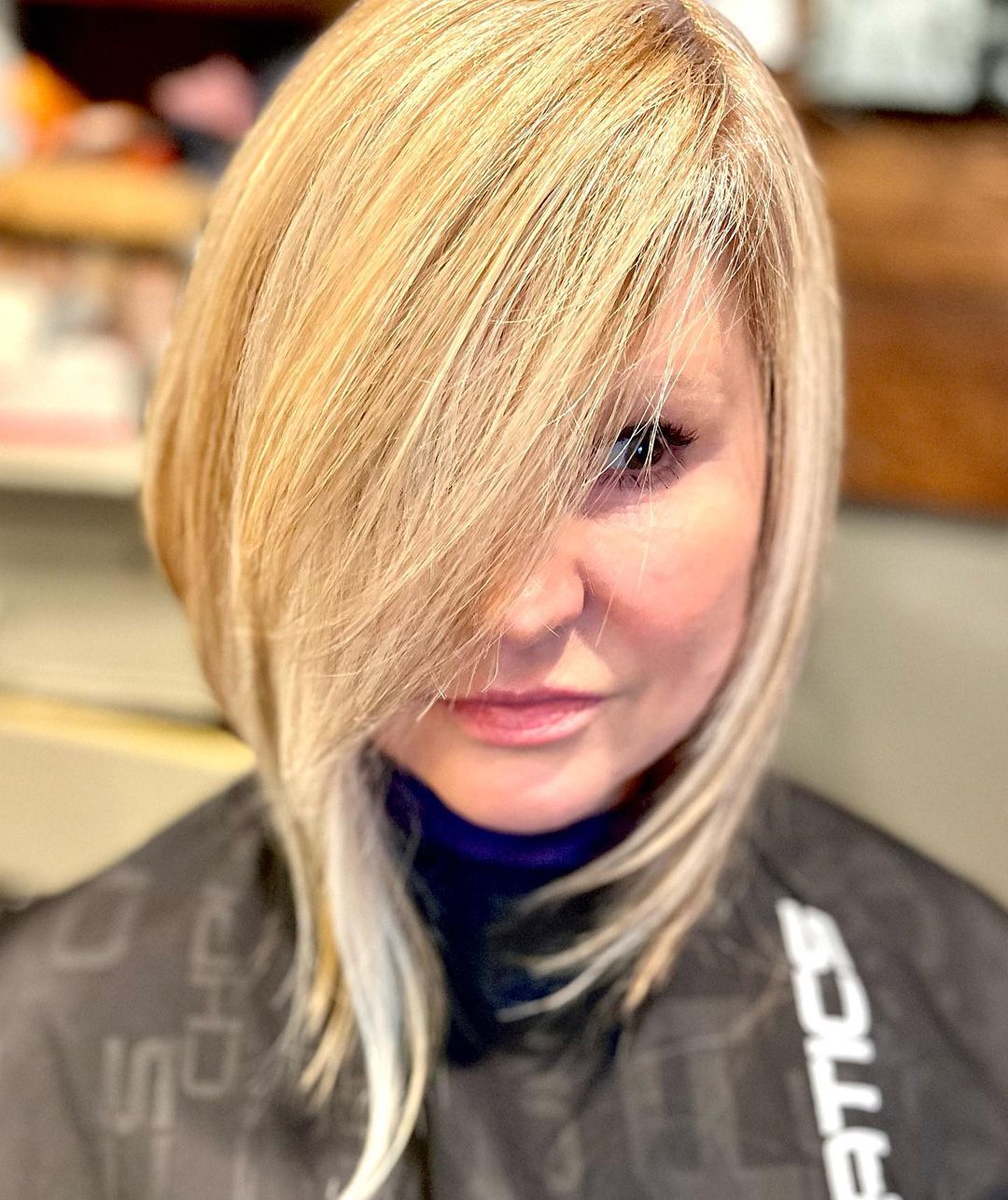 The long bangs steal focus from the uneven outline and asymmetry—push them back or tuck them behind the ear to turn things around.