Stacked bob haircuts uses graduated layers to create a rounded shape in the back of the head. This results in phenomenal volume, so this style is suitable even for very fine or thin hair.
If you want fullness and body for your hair, try out one of these amazing stacked bobs we've prepared for you.
1. Stacked Layered Bob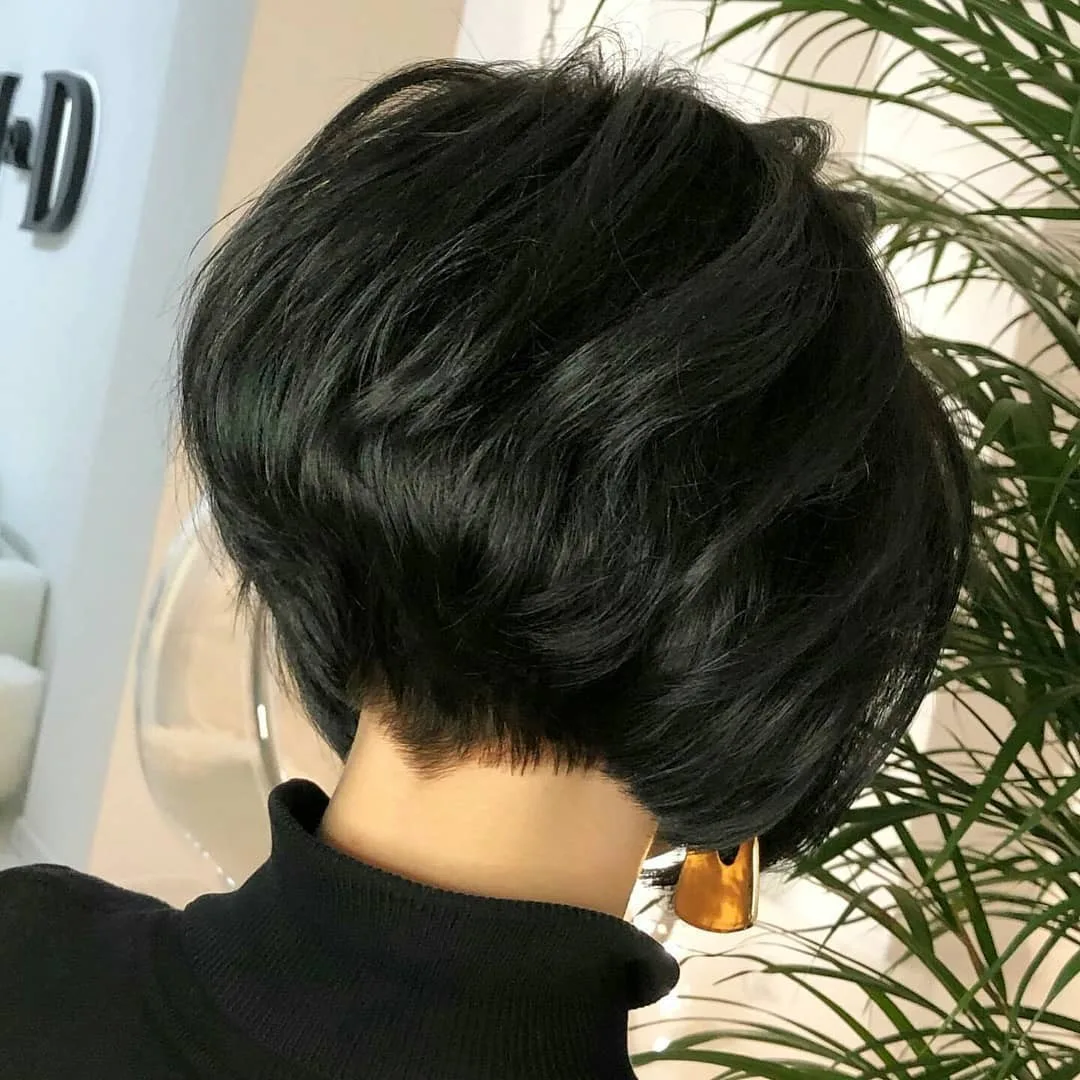 Stacked bobs add tons of volume, but that doesn't mean they're not also meant for thick tresses. By taking off the bulk at the bottom, a stacked bob keeps your hair luscious without any of the weight!
2. Asymmetrical Stacked Bob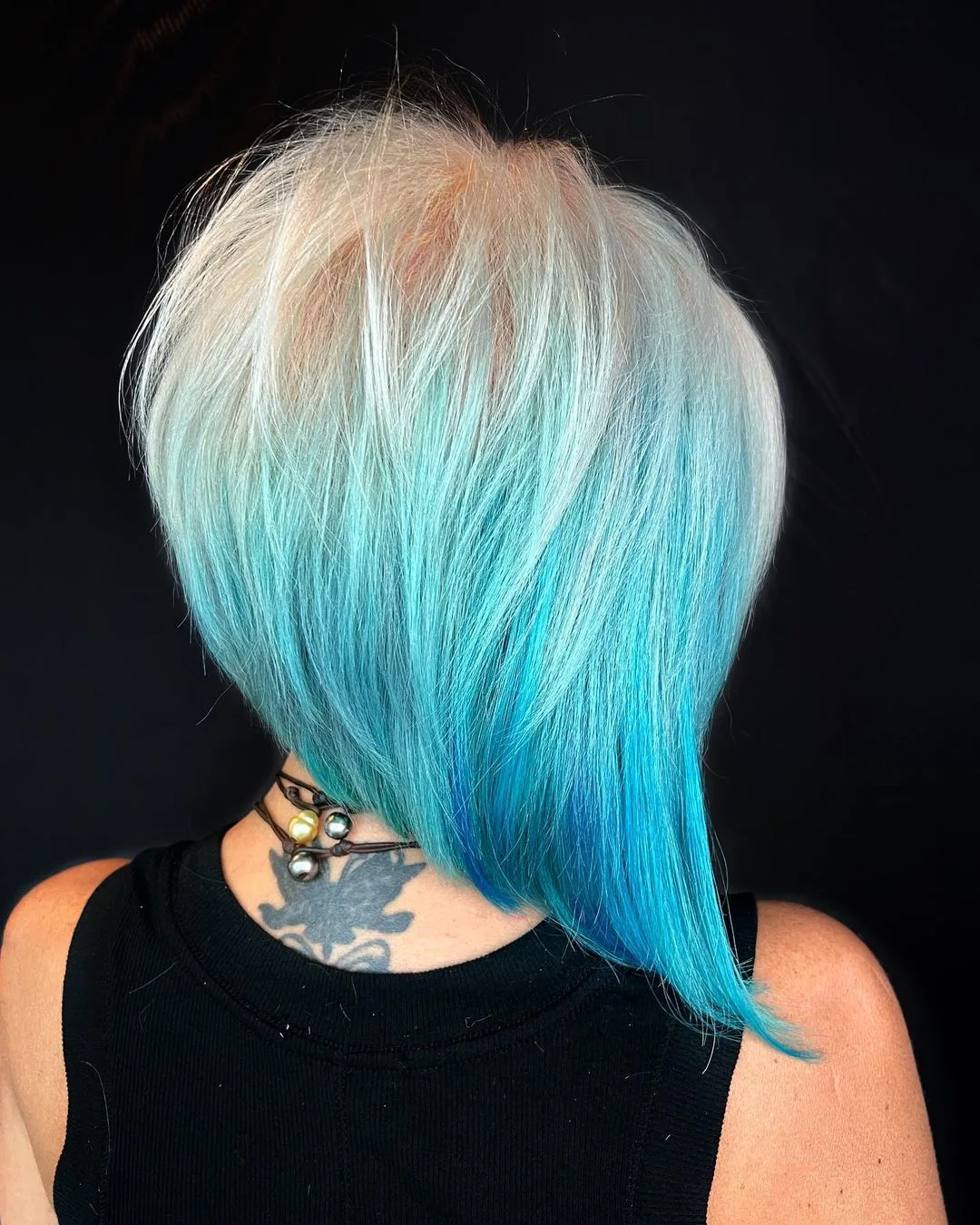 If you want to play with multiple colors in your hair, a stacked asymmetrical bob opens up many possibilities to experiment—thanks to the varying lengths of stacked layers which don't cover up one another.
3. Pixie Short Stacked Bob
A long pixie or a super short stacked bob? Who cares! What's important is that this disheveled style is totally adorable and has all the volume you'll ever want.
4. Rounded Stacked Bob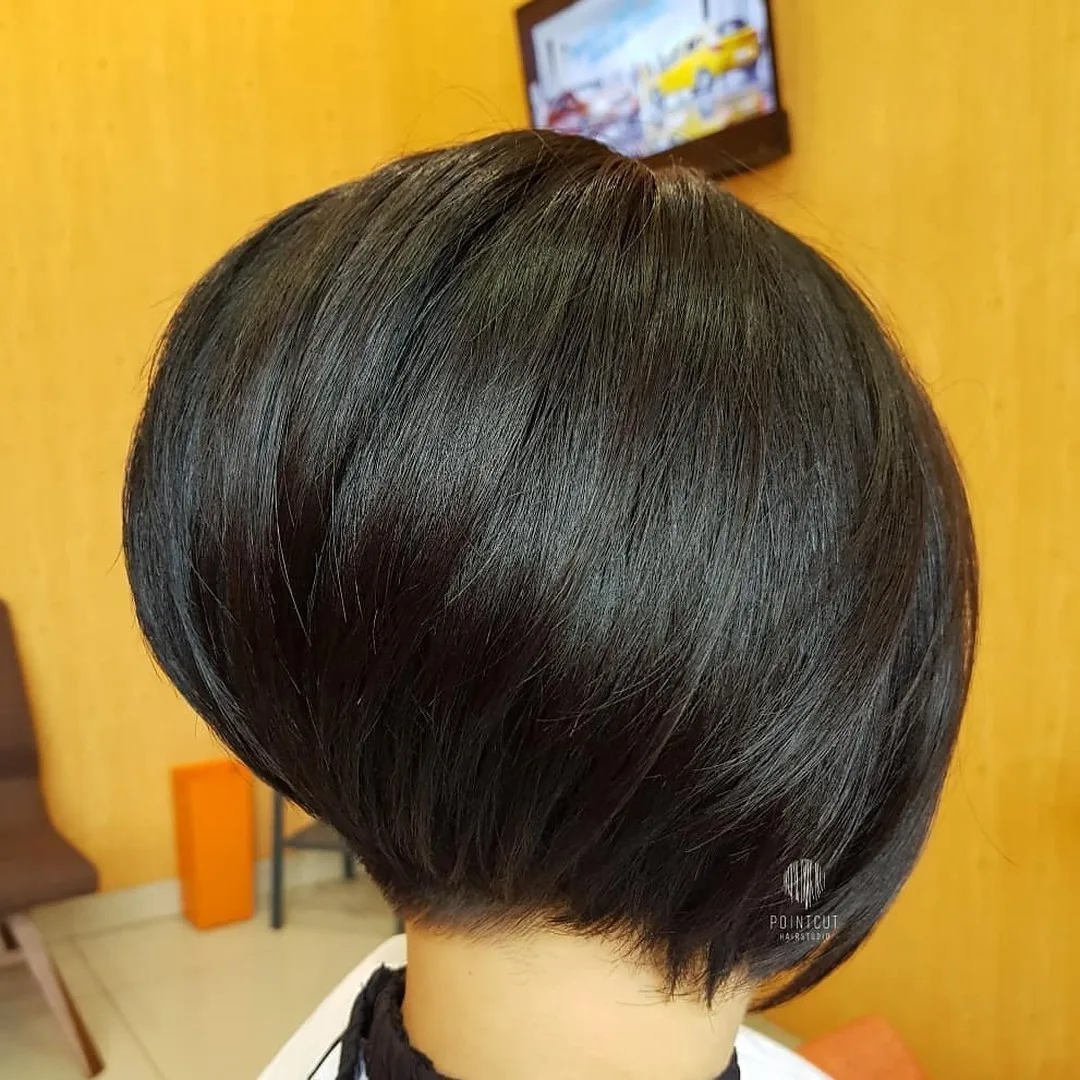 Stacked bobs work well messy or neat, and you'll look fabulous however you decide to wear yours. This perfectly stacked bob showcases what expert cutting can achieve.
5. Choppy Stacked Bob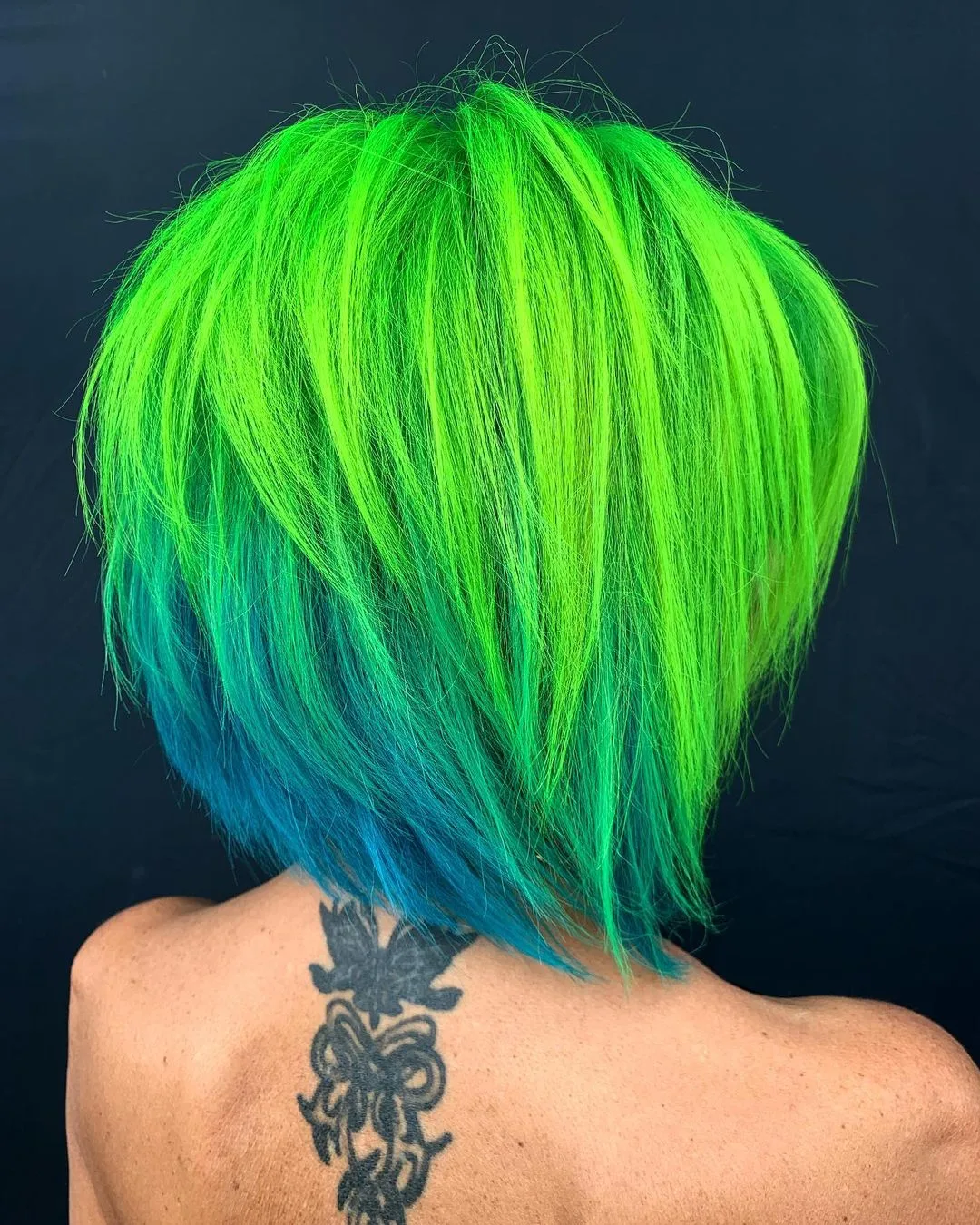 Gradient color is, of course, possible with haircuts other than a stacked bob, but they're rarely as fun. Every layer of this edgy choppy bob is a different color, so you can create multiple looks just by pinning your hair up.
6. Stacked A-Line Haircut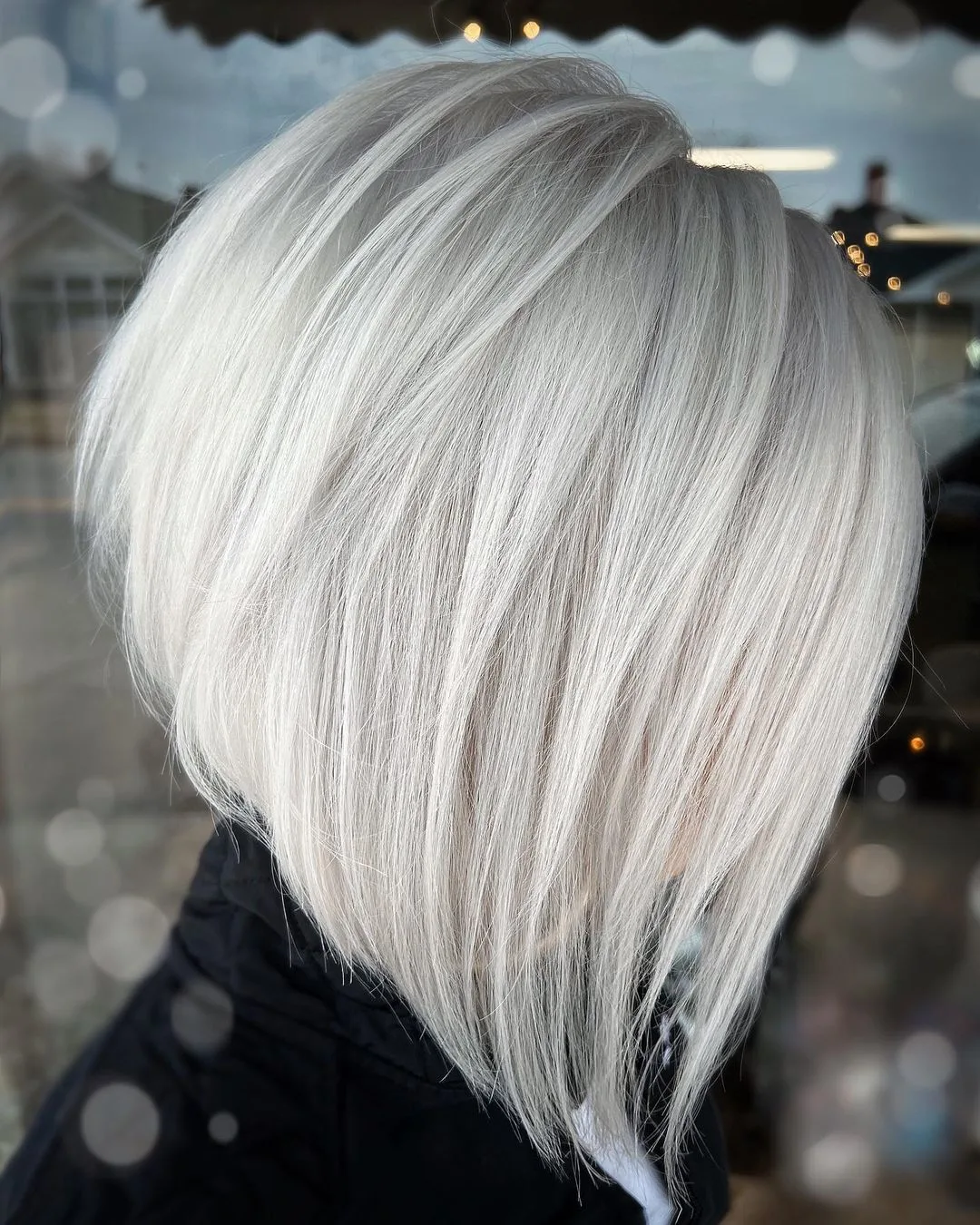 This seamless stacked angled bob is deceptively simple—it has to be cut perfectly to fall as naturally as this. The nearly white color adds to the effect, making this hairstyle seem ethereal.
7. Short Stacked Inverted Bob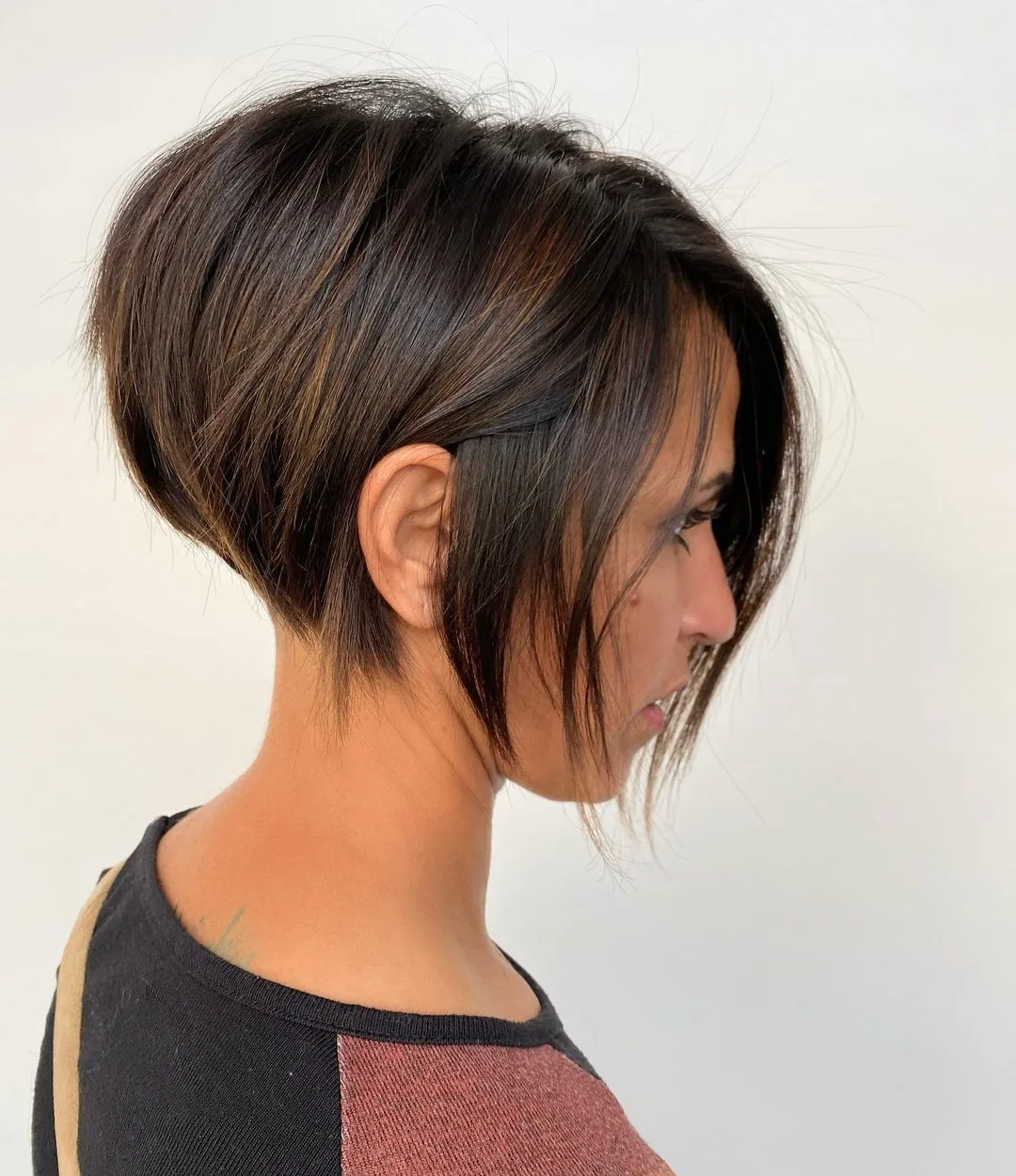 The free-falling strands in the front contrast with the rounded stack in the back to create a modern look made even more appealing by the warm caramel streaks.
8. Stacked Bob With Bangs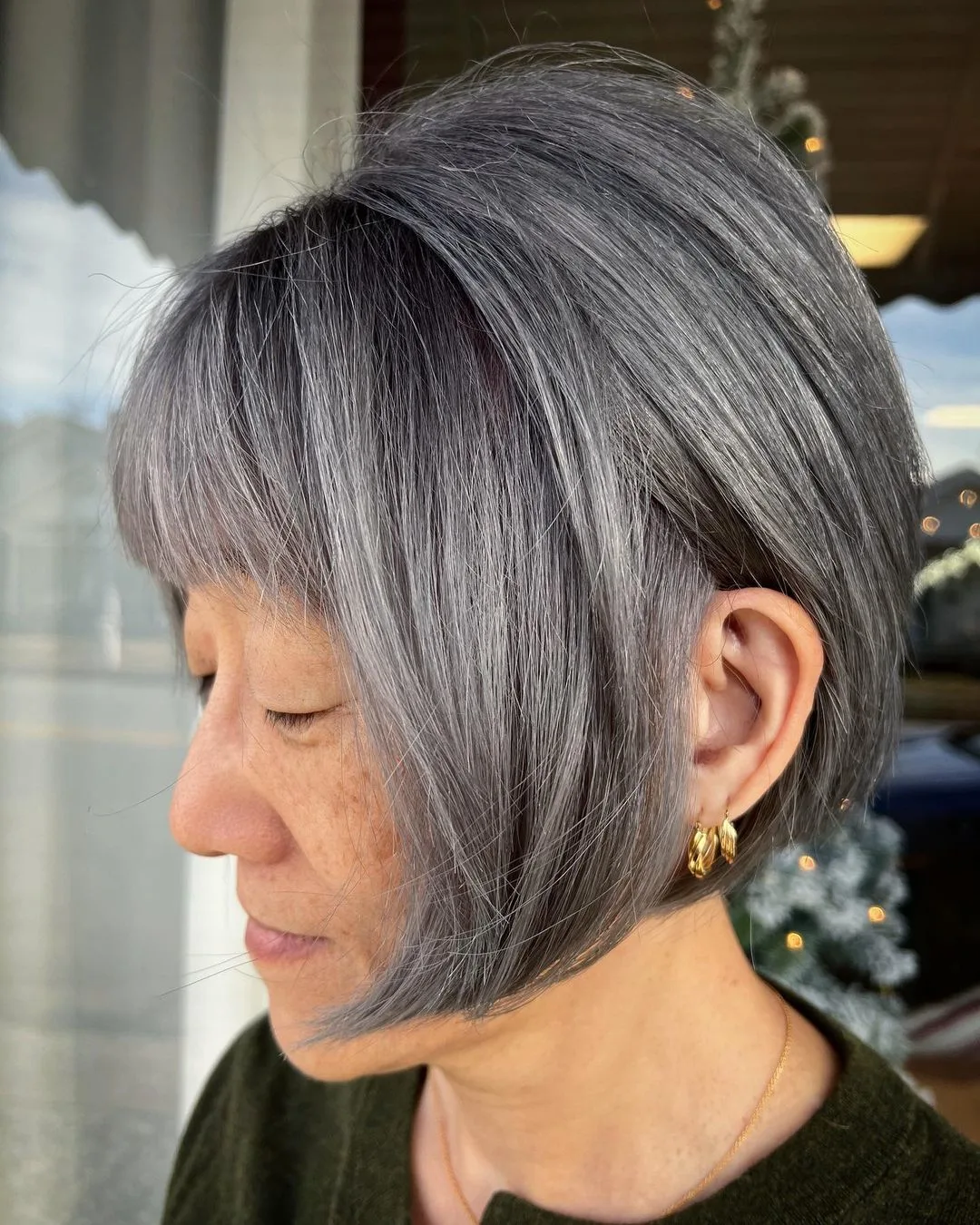 All kinds of bangs can work with a stacked bob, including straight-across bangs like these. They'll make your style look extra neat yet laid-back.
9. Wavy Stacked Bob With Bangs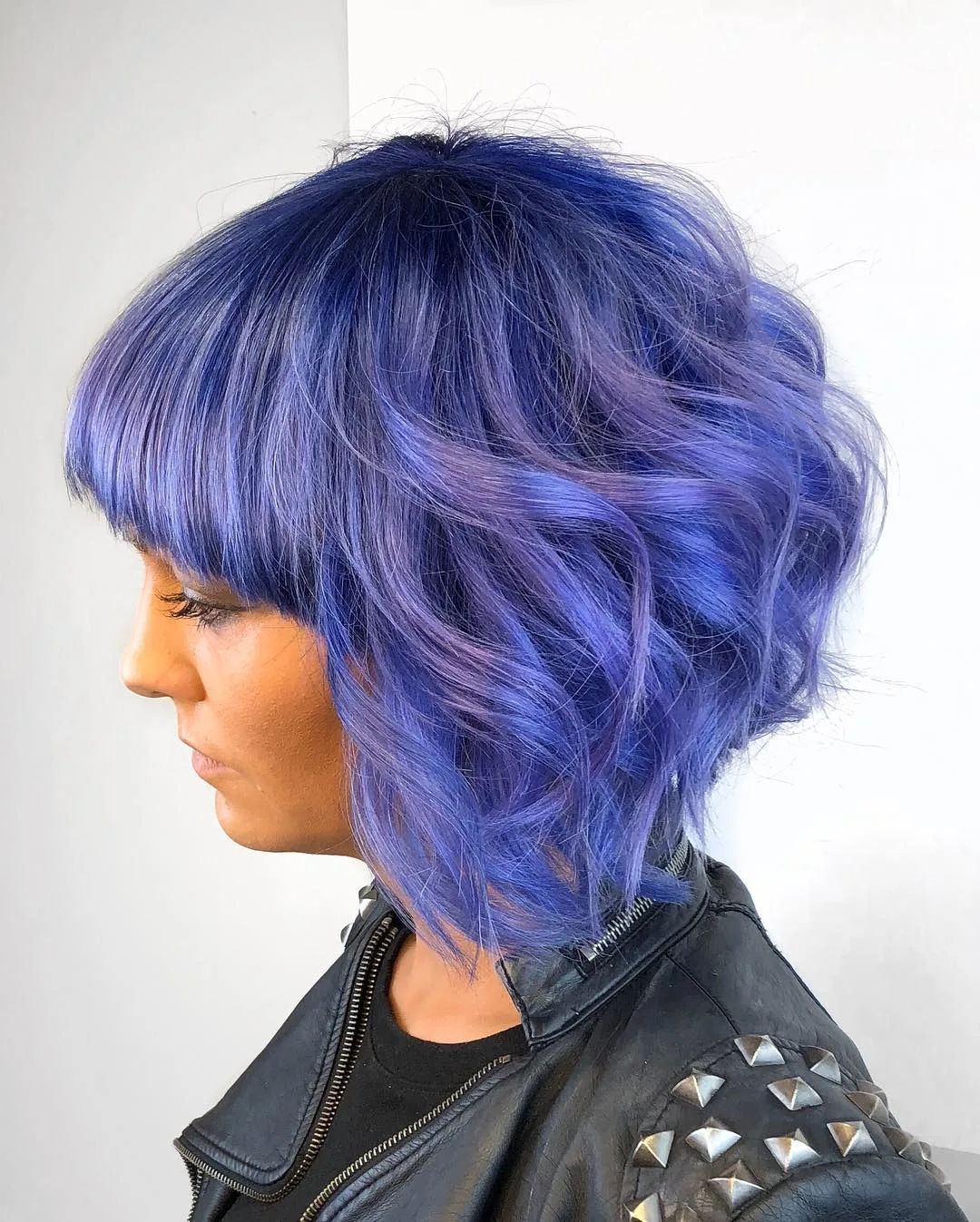 Waves add even more oomph to an already full-bodied inverted bob with bangs, so get your hot tools out if you want to pump up the volume.
10. Chin-Length Stacked Bob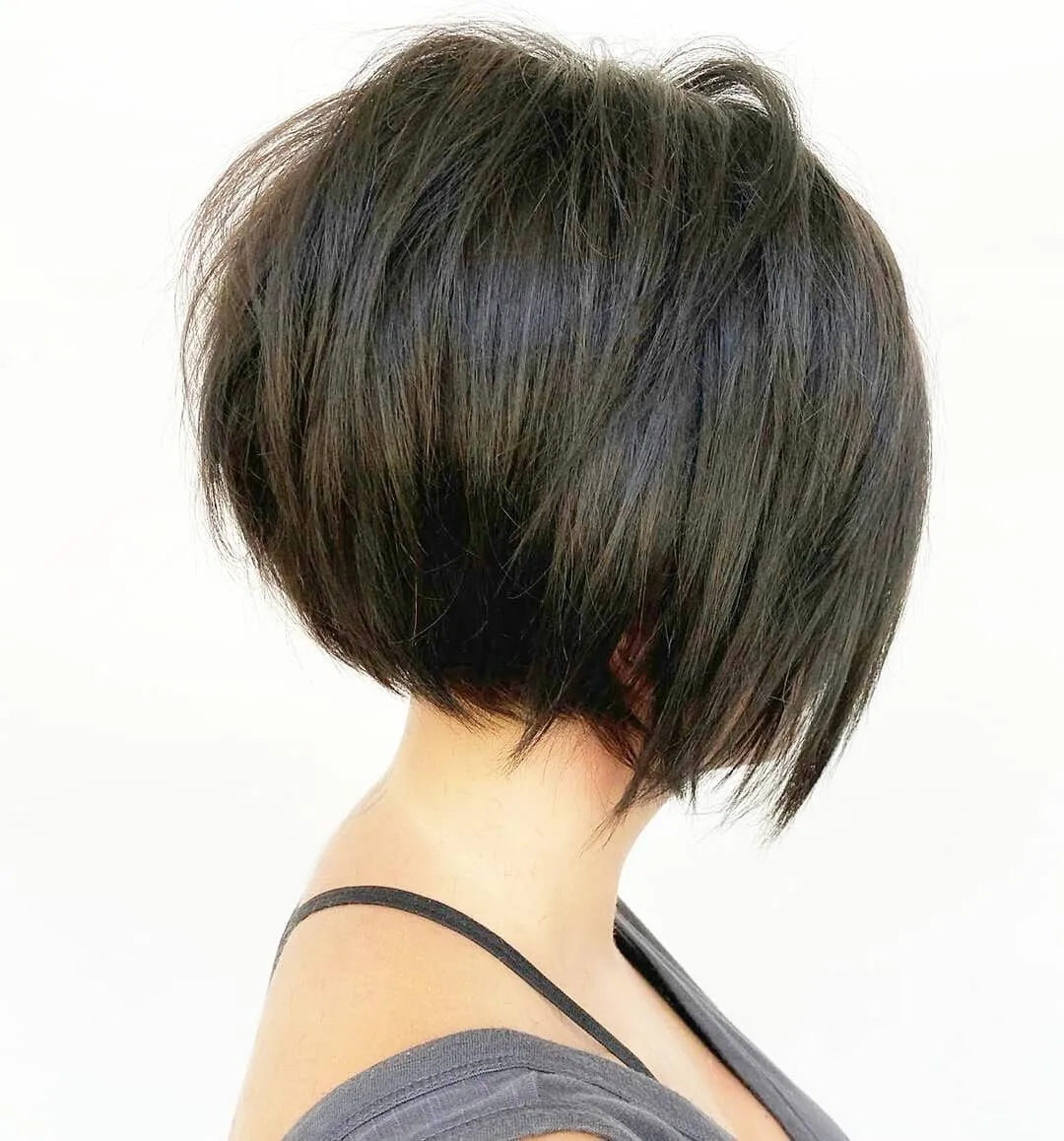 Point-cutting the layers with a light hand creates a tousled, chic style that can make thin hair look thicker and keep thick hair under control.
11. Blunt Stacked Bob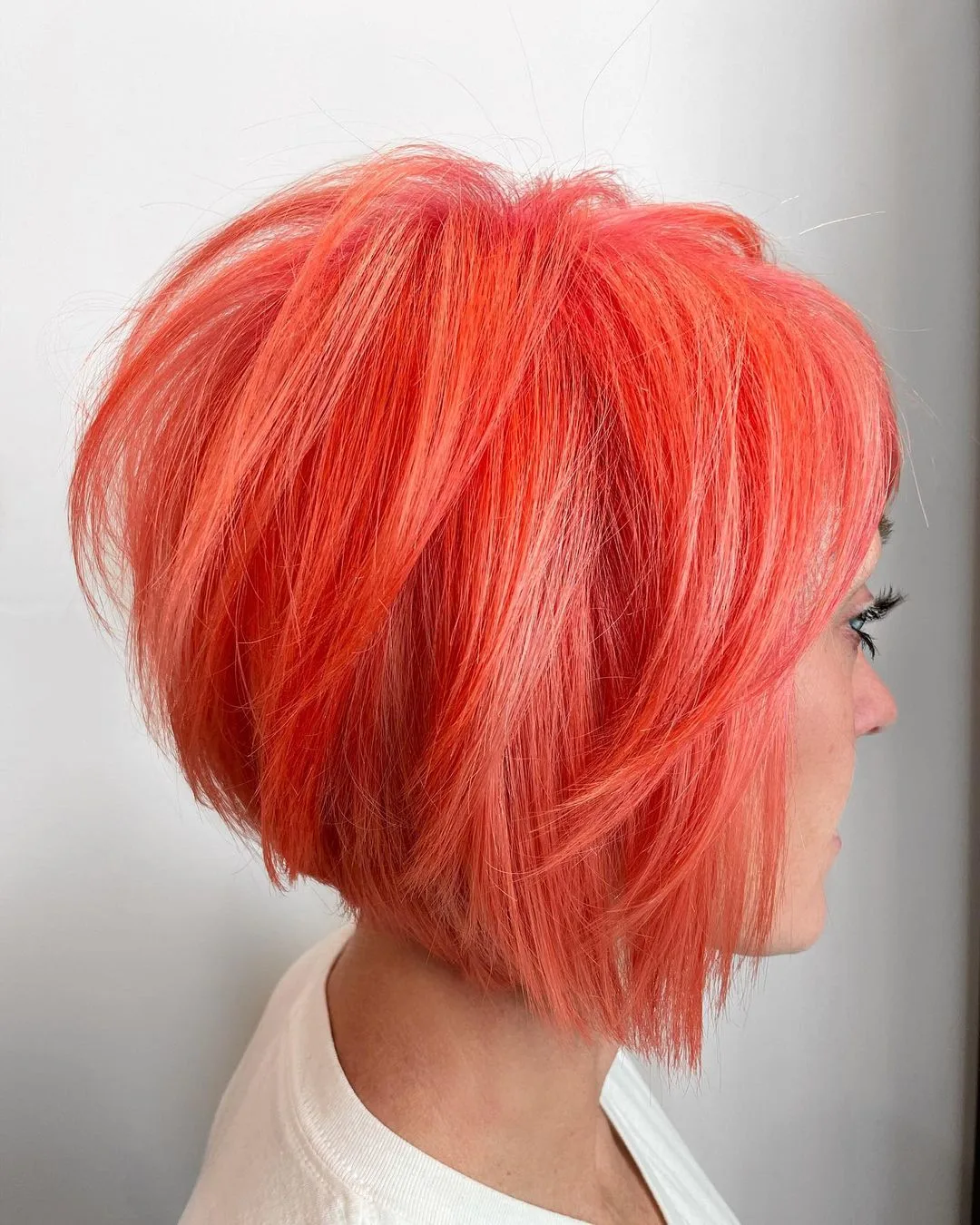 Blunt bottom layer will give a contemporary flavor to your bob, and you can take it even further with a vivid, modern color.
12. A-Line Wavy Stacked Bob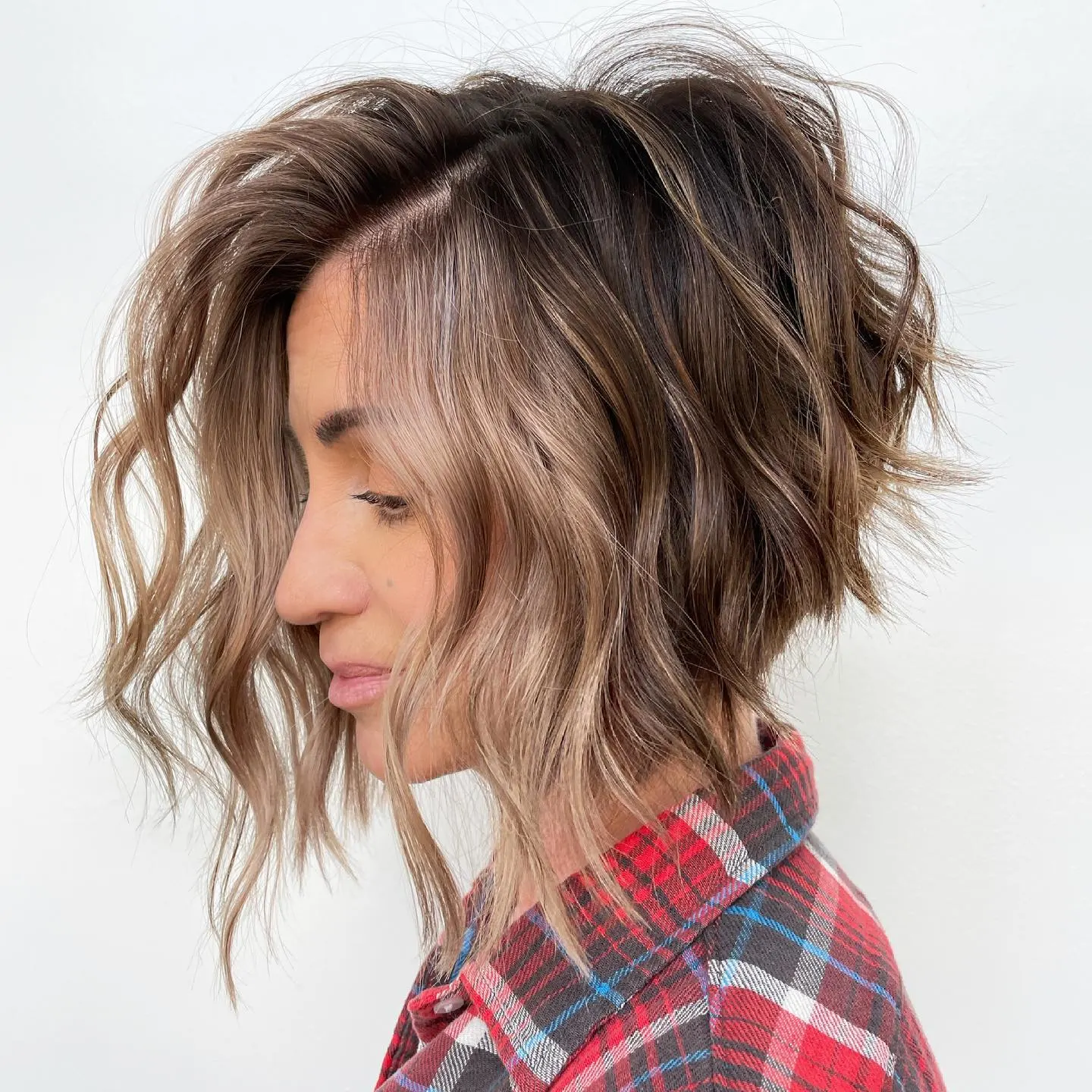 This gorgeous jaw-length blunt bob is all about the texture! The angled cut, the waves, and the color all work together to bring out maximum dimension.
13. Rooted Blonde Stacked Bob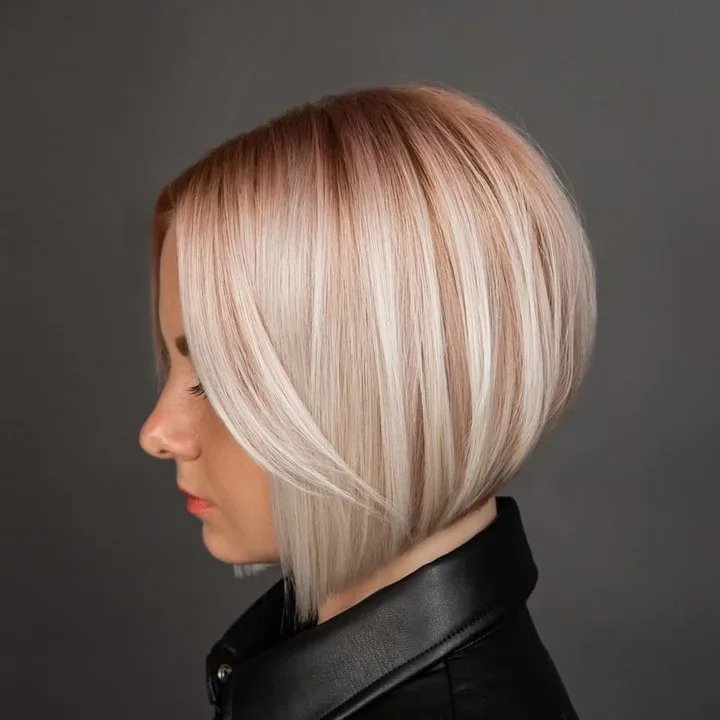 Straight, sleek and sharp aptly describe this style, but the rounded shape in the back and shadow roots still give it softness and delicacy, creating a lovely balanced look.
14. Medium Stacked Bob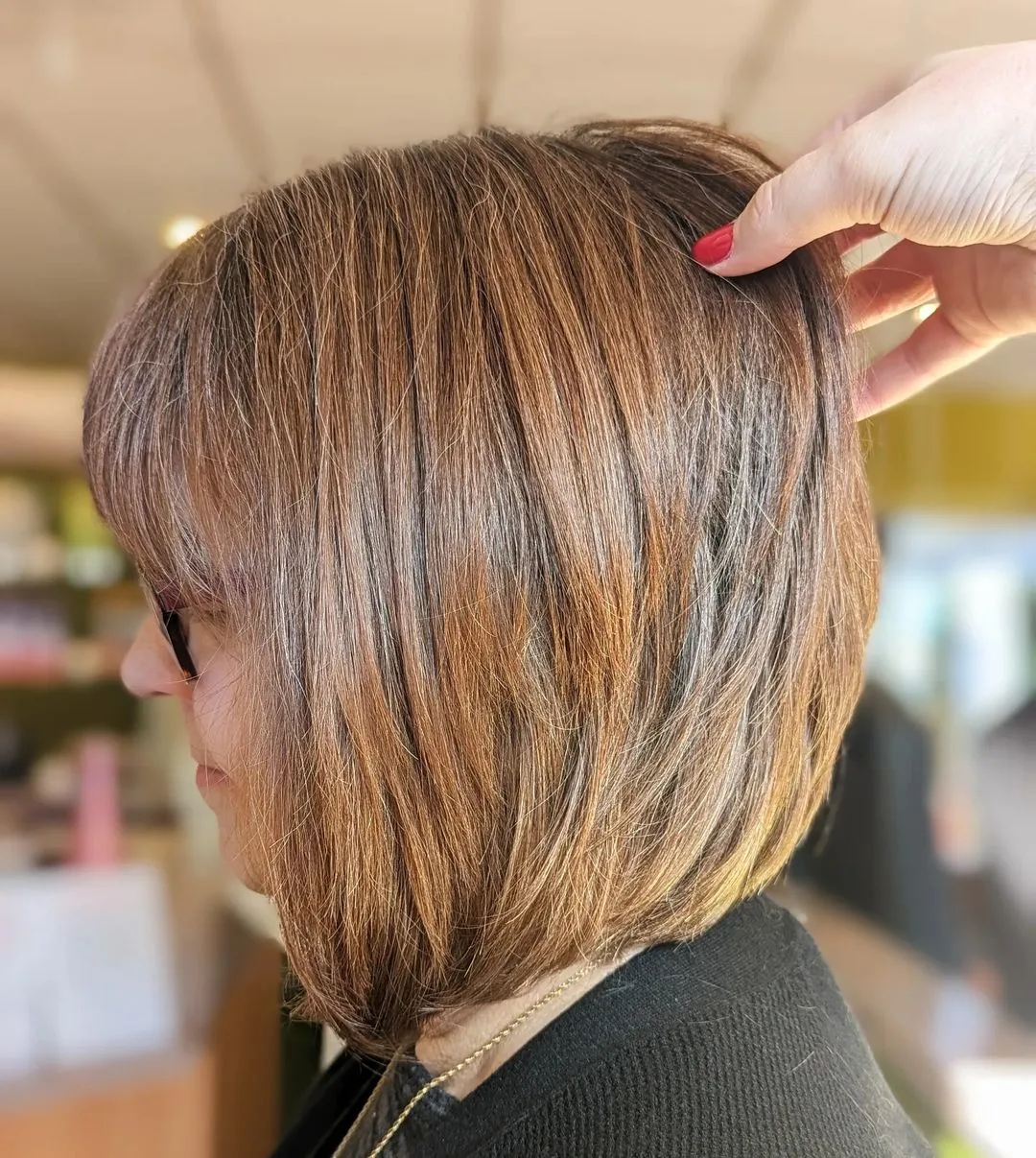 A stacked bob can be used to make thick hair lighter, but the layers don't always have to be short and create lift—here, they have been kept longer, creating a neutral shape that still makes your hair feel much more lightweight.
15. Funky Short Stacked Bob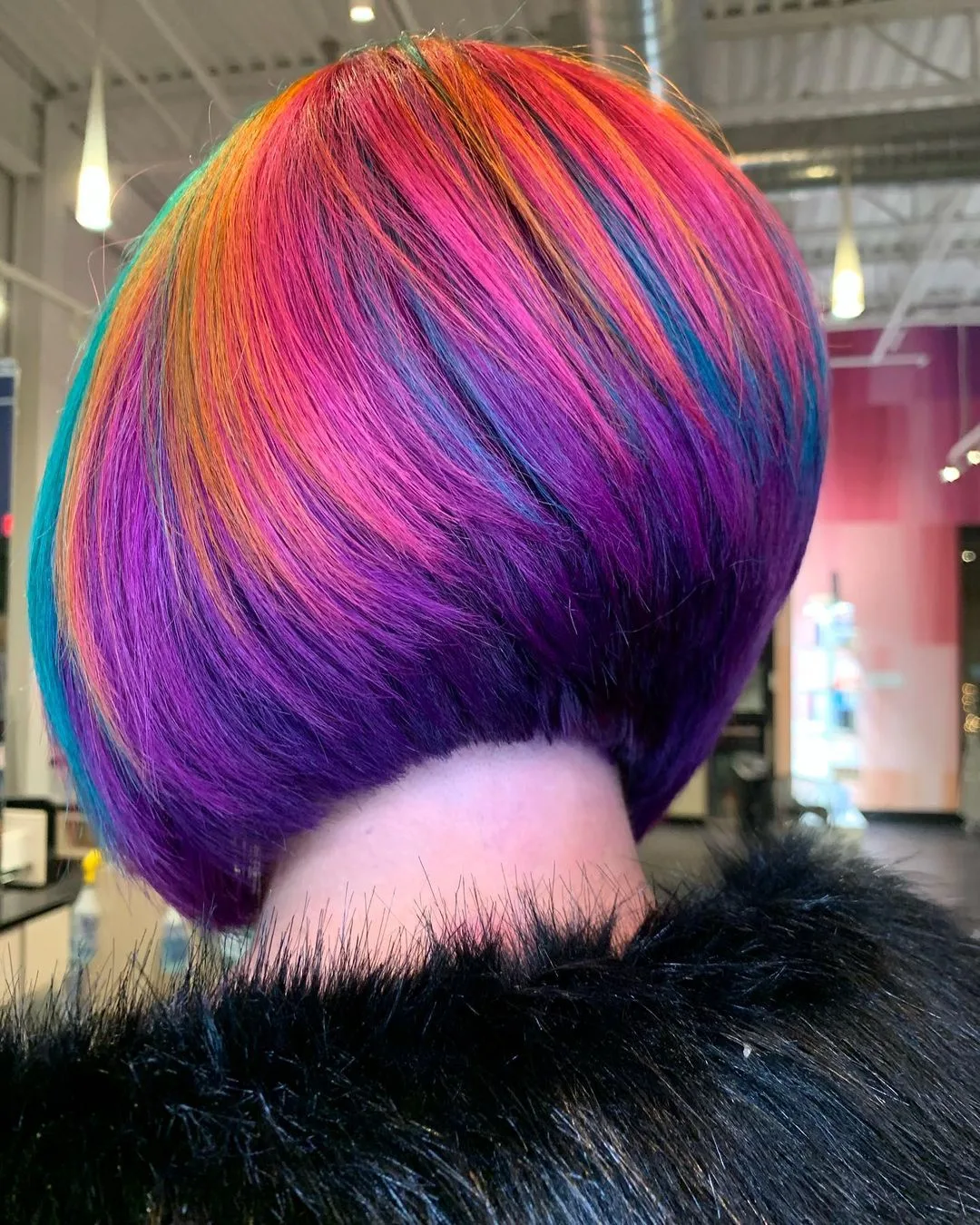 Long, wavy hair in mermaid colors is gorgeous, but this incredible stacked bob is just as pretty. Brighter shades on top blending into the deeper ones underneath create a magical multi-dimensional effect.
16. Curly Stacked Bob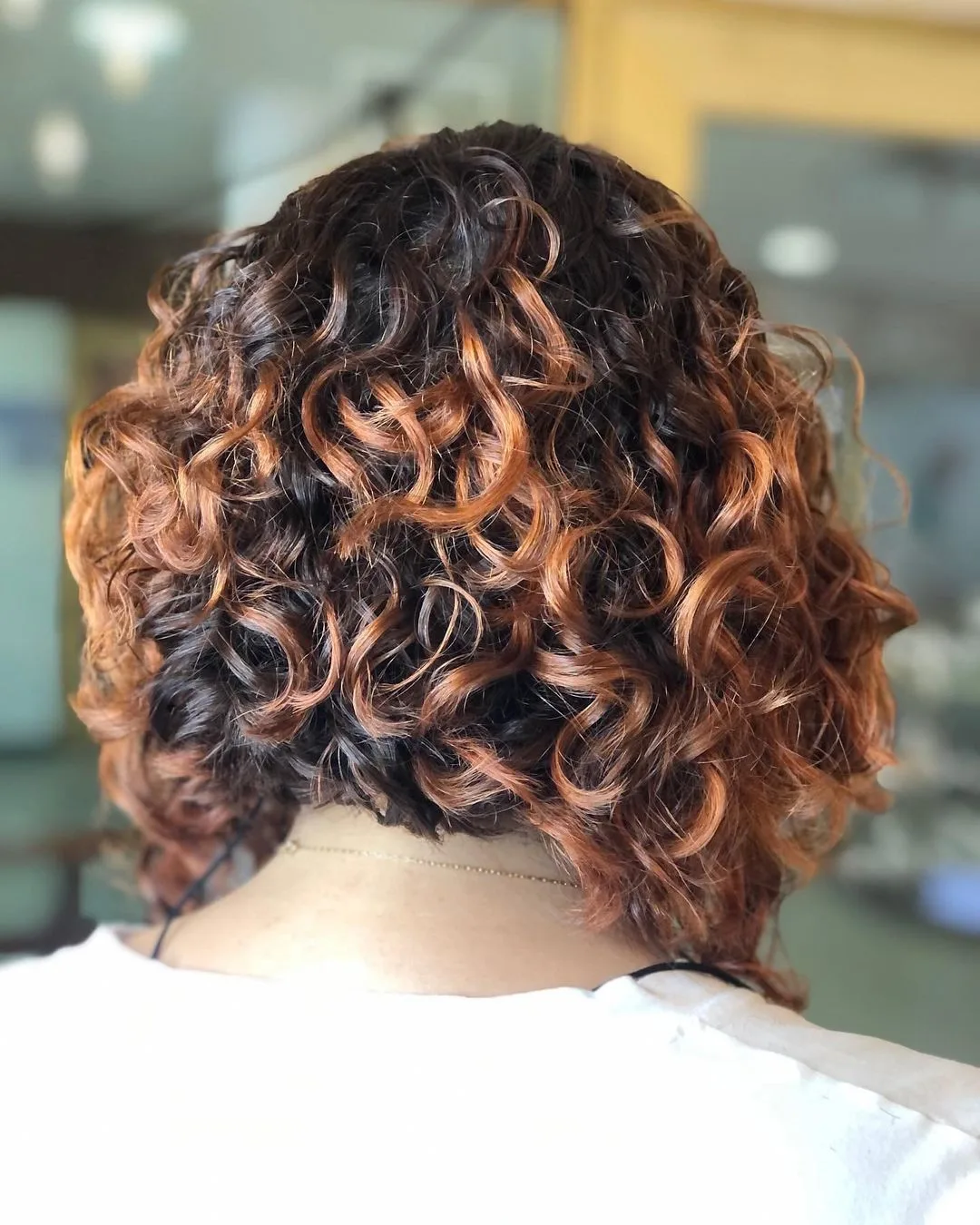 Layering is a must when it comes to curly hair if you want a cute shape. You can play with the length of stacked layers to achieve your desired structure. This long curly bob goes a step further by taking the use color in a way that supports it.
17. High Stacked Inverted Bob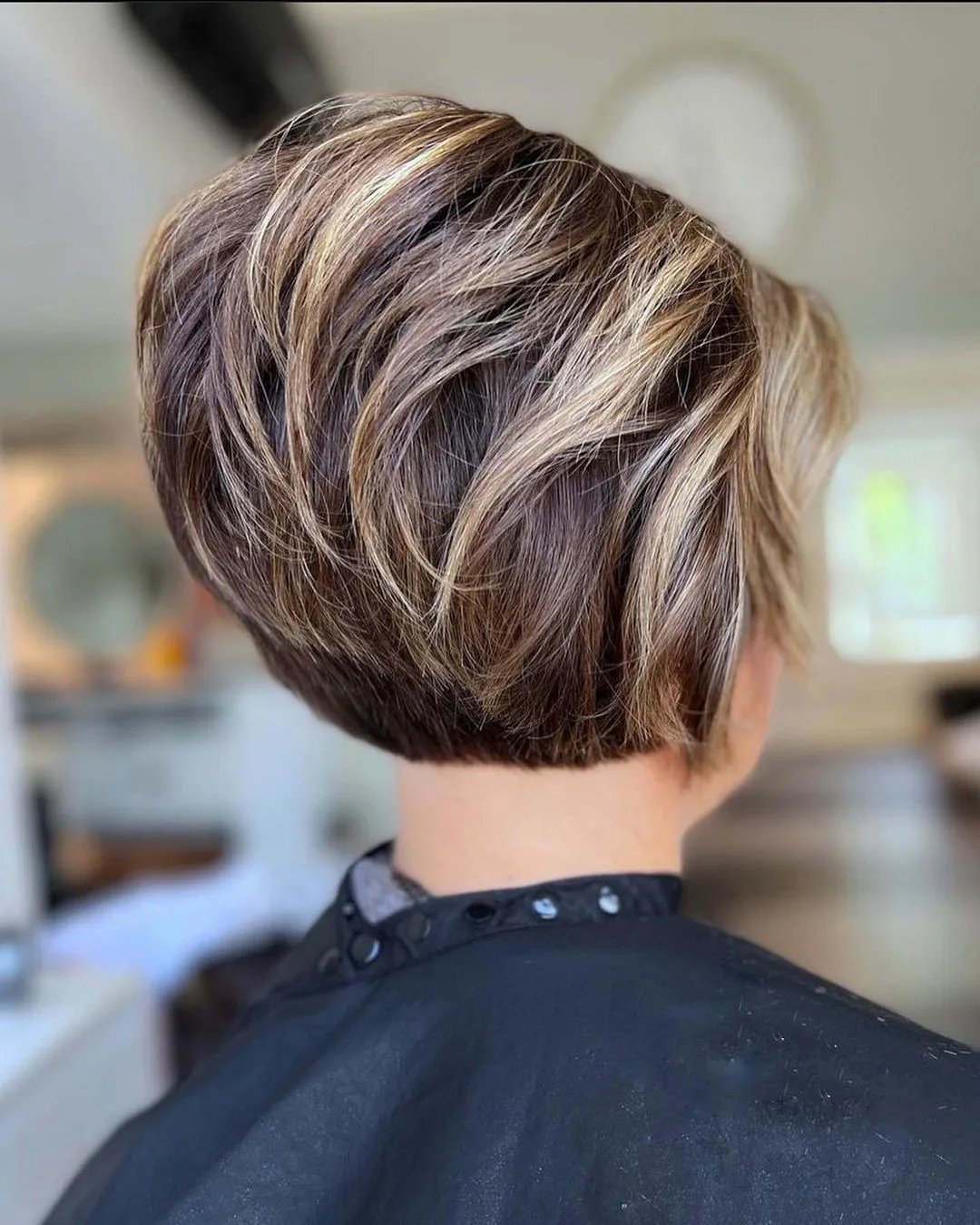 Thick blonde streaks add even more lift in the back and on top, and the long bangs in the front brighten the face in this inverted bob.
18. Undercut Stacked Bob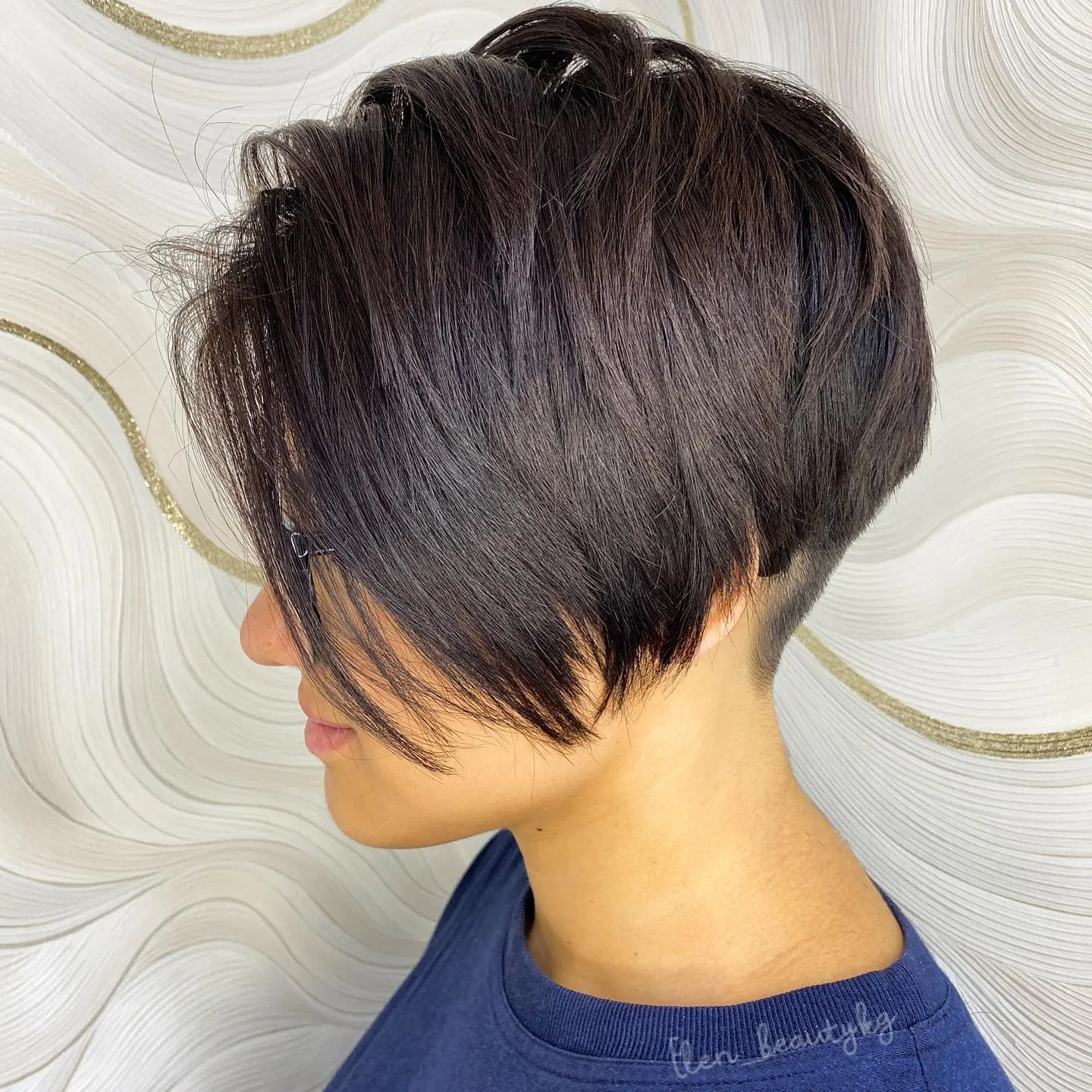 If you want to take your style to the next level, why not go for an undercut? Shaving the nape to create an undercut bob will instantly make it pop.
19. Stacked Pixie Bob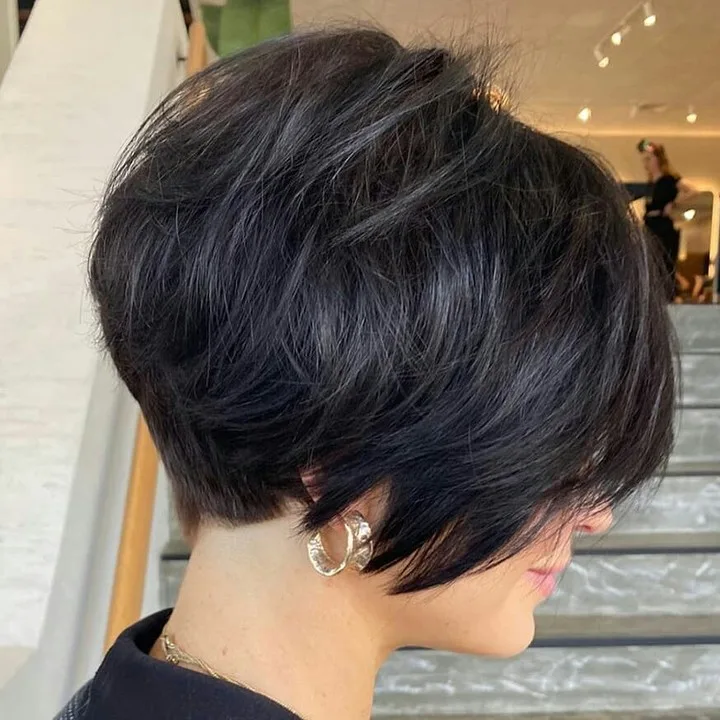 If you want the ease of short hair but would still like to keep your hair full of volume and bounce, a stacked pixie bob is for you.
20. Short Stacked Bob With Bangs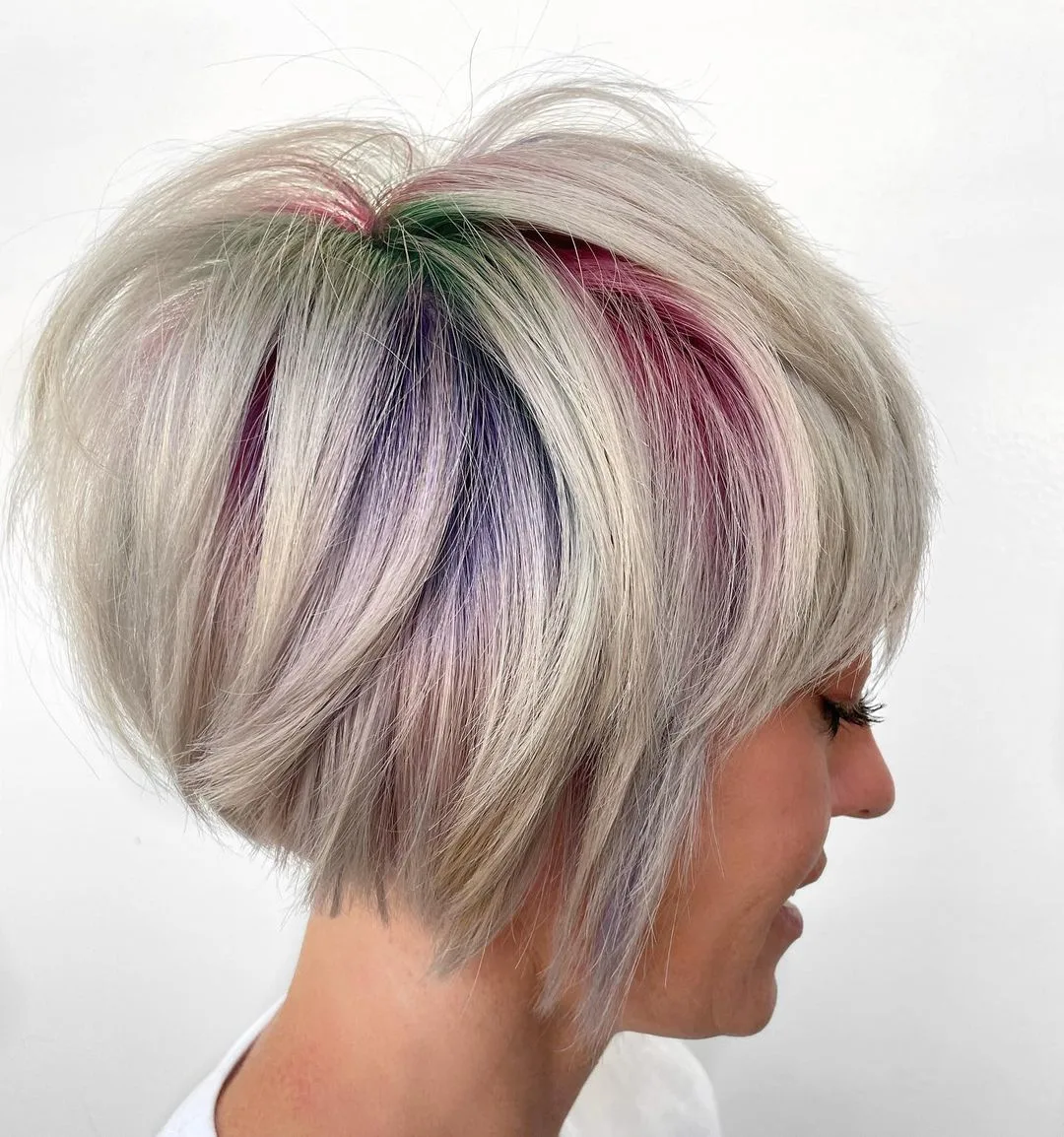 Angled, stacked, with side-bangs and colorful strands—this style has it all. Pick and choose your favorite elements to create a custom-made hairstyle like this one.
21. Wavy Long Stacked Bob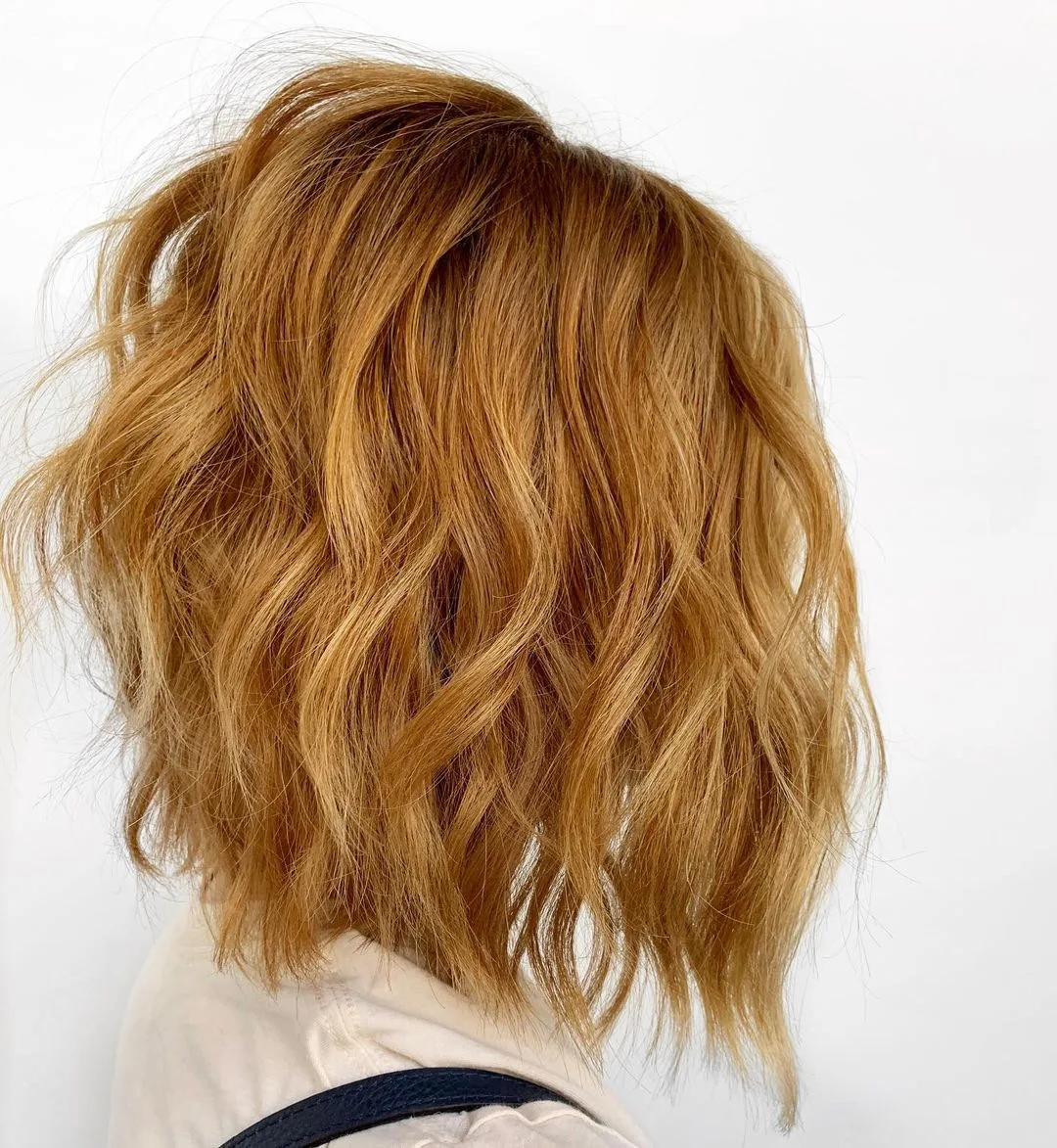 This long bob looks alive thanks to stacking. Keeping longer hair the same length can easily make it fall flat, especially in the back, and adding layers is the way to prevent it.
22. Stacked Inverted Bob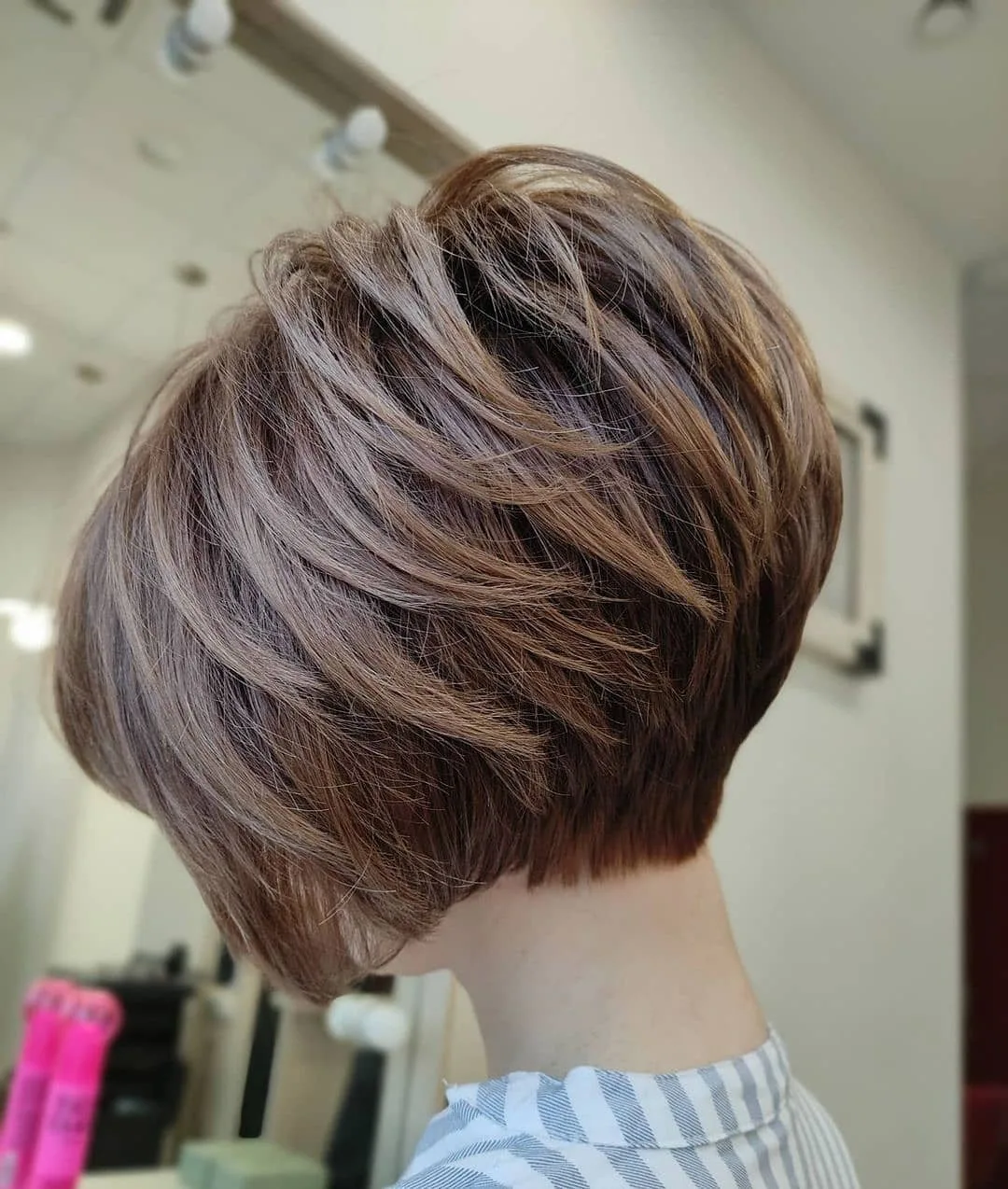 Short stacked bobs can have structure or be bouncy, but why pick just one? This adorable short brown hair has both shape and movement, and it's flattering to boot!
23. Stacked Curly Bob
Loose curls turn any hairstyle dreamy and romantic, and a stacked bob is no exception. It doesn't even have to be a long bob, as you can see here.
24. Angled Curly Stacked Bob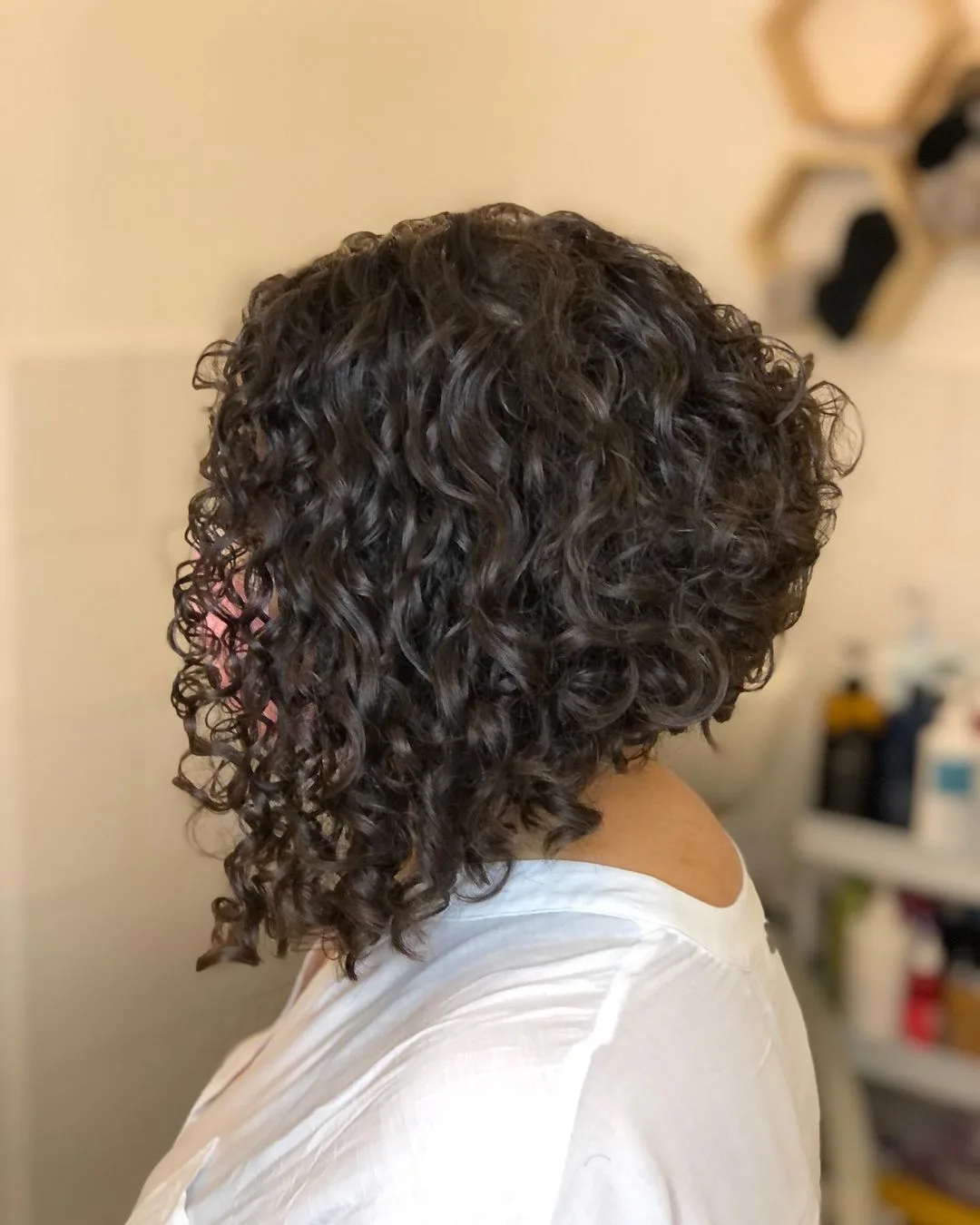 This angled bob is a great example of how well stacked layers work with curly hair. The shape is neat, the curls are defined, and the overall effect is a put-together style.
25. Stacked A-line Bob Haircut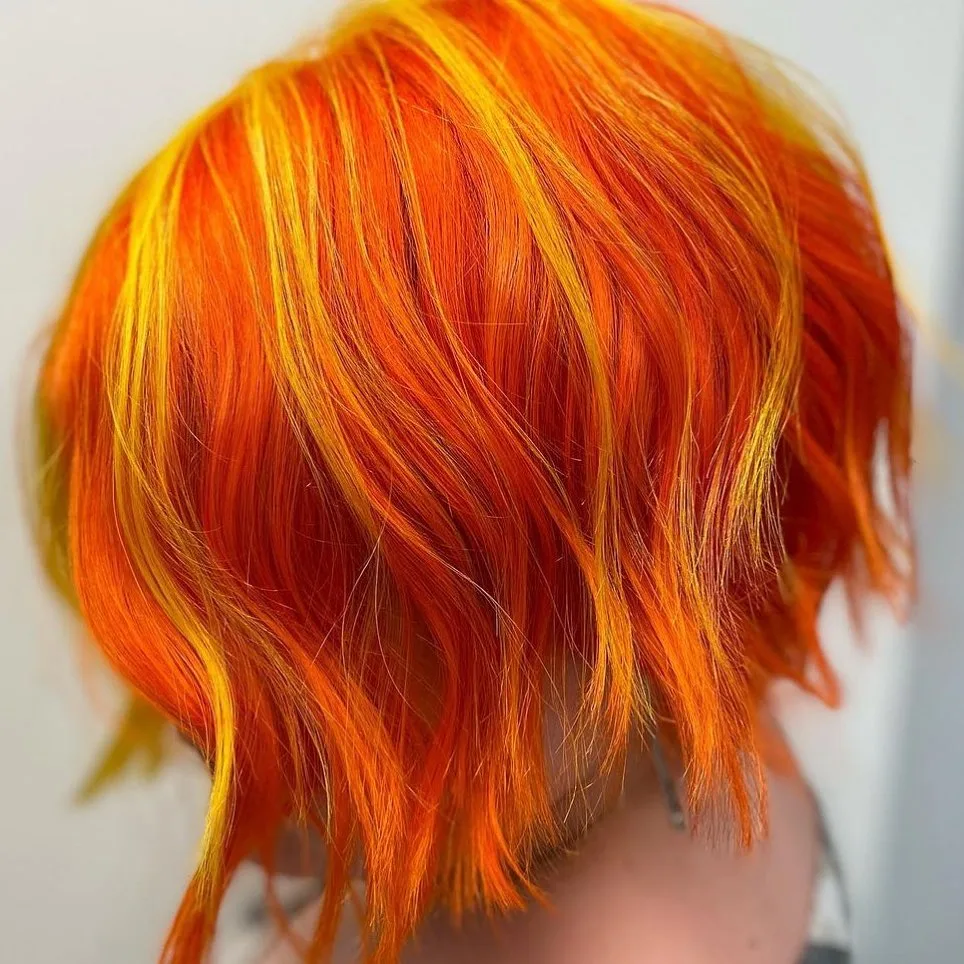 Vivid colors are the focus of this style and everything else is there as support—the shape creates movement and the slight wave makes this bright bob look like burning fire.
26. Layered Stacked Bob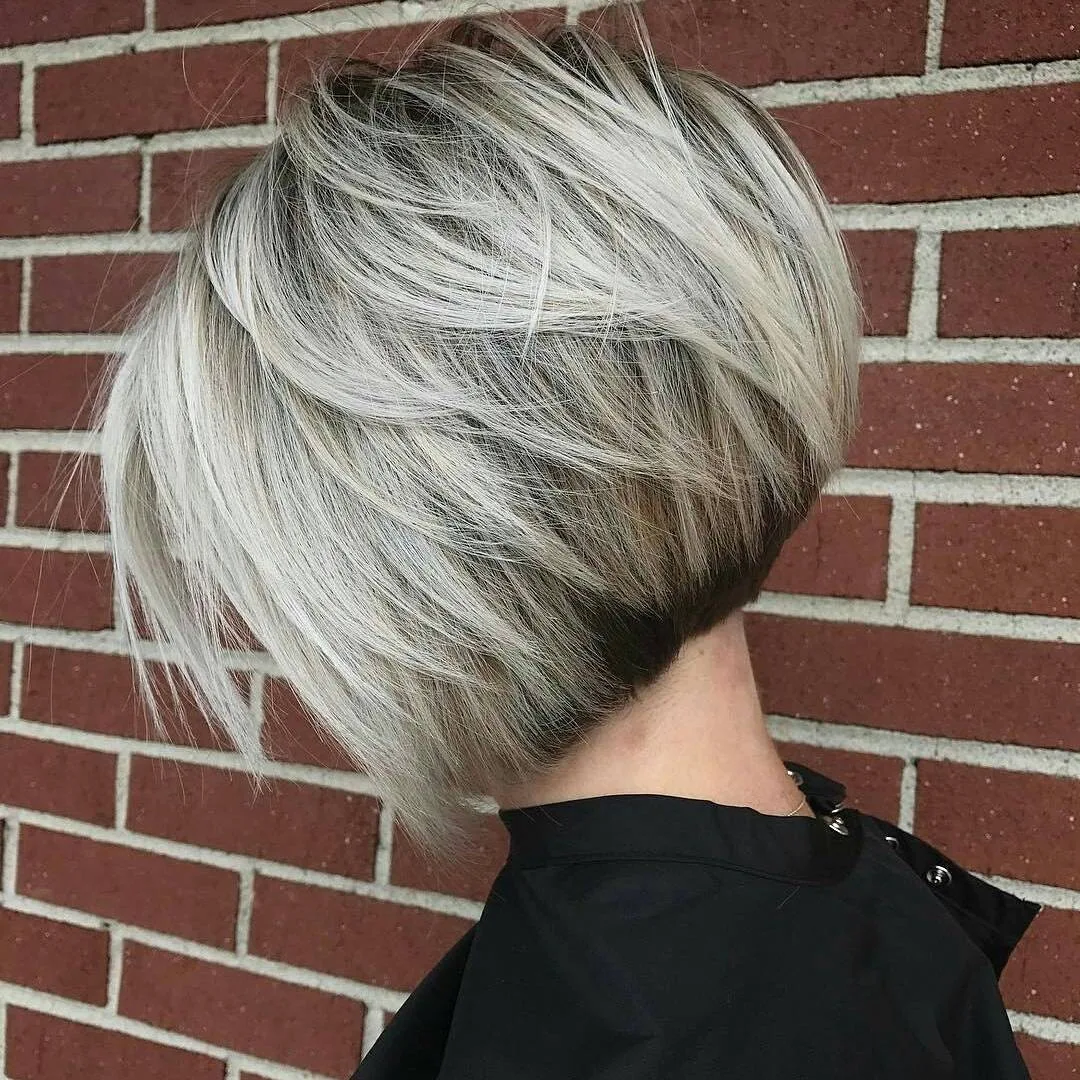 Ashy rooted blonde combined with this relaxed yet stylish short layered bob is the perfect combo if you want to look chic but still casual.
27. Stacked Bob With Layers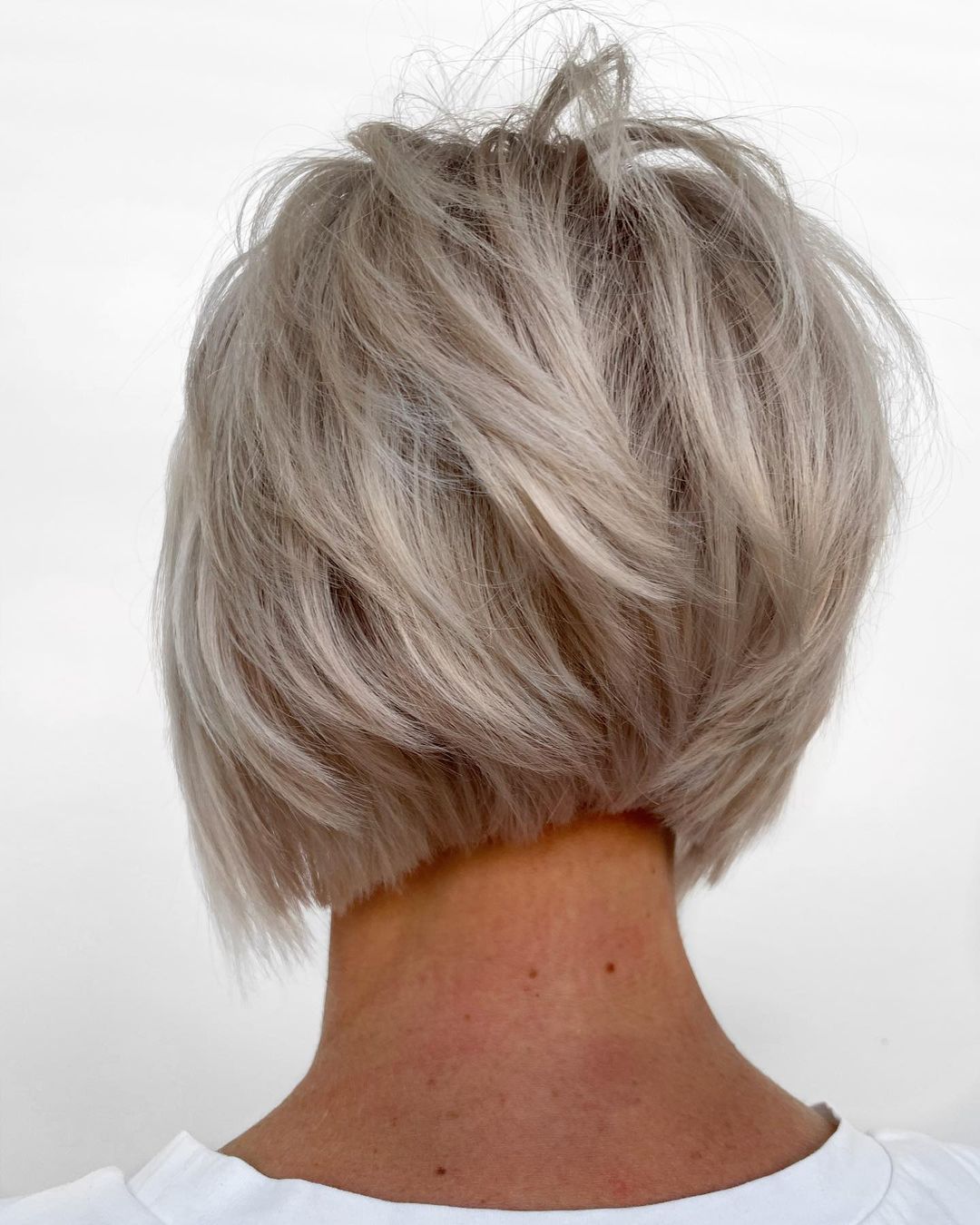 Choppy layers add texture and the blunt bottom part makes this short bob look trendy. This cut will look great even when it grows out a little.
28. Rounded Stacked Haircut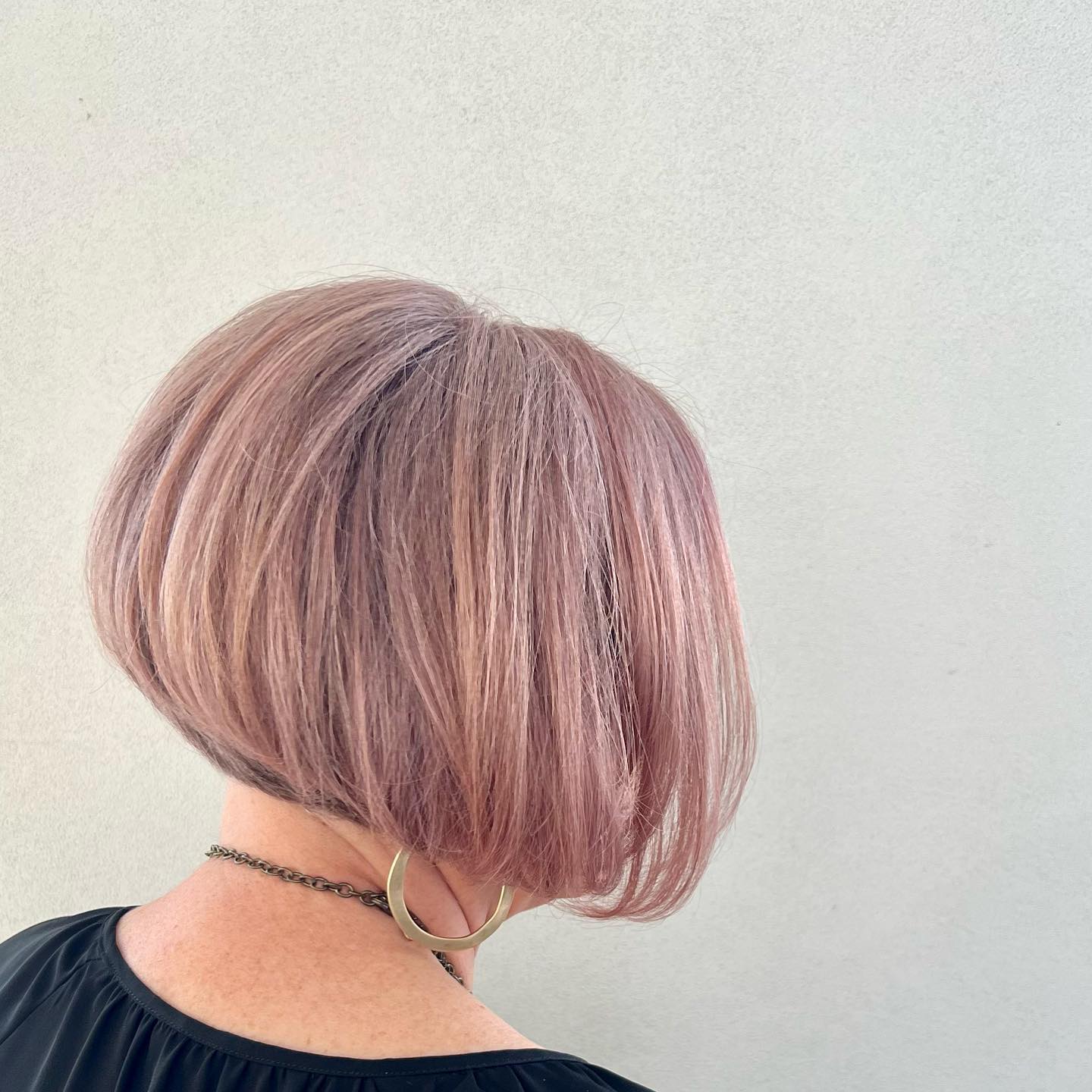 The classic shape of this bob has been offset with a contemporary coloring choice, creating a surprising yet irresistible style.
29. Stacked Short A-line Bob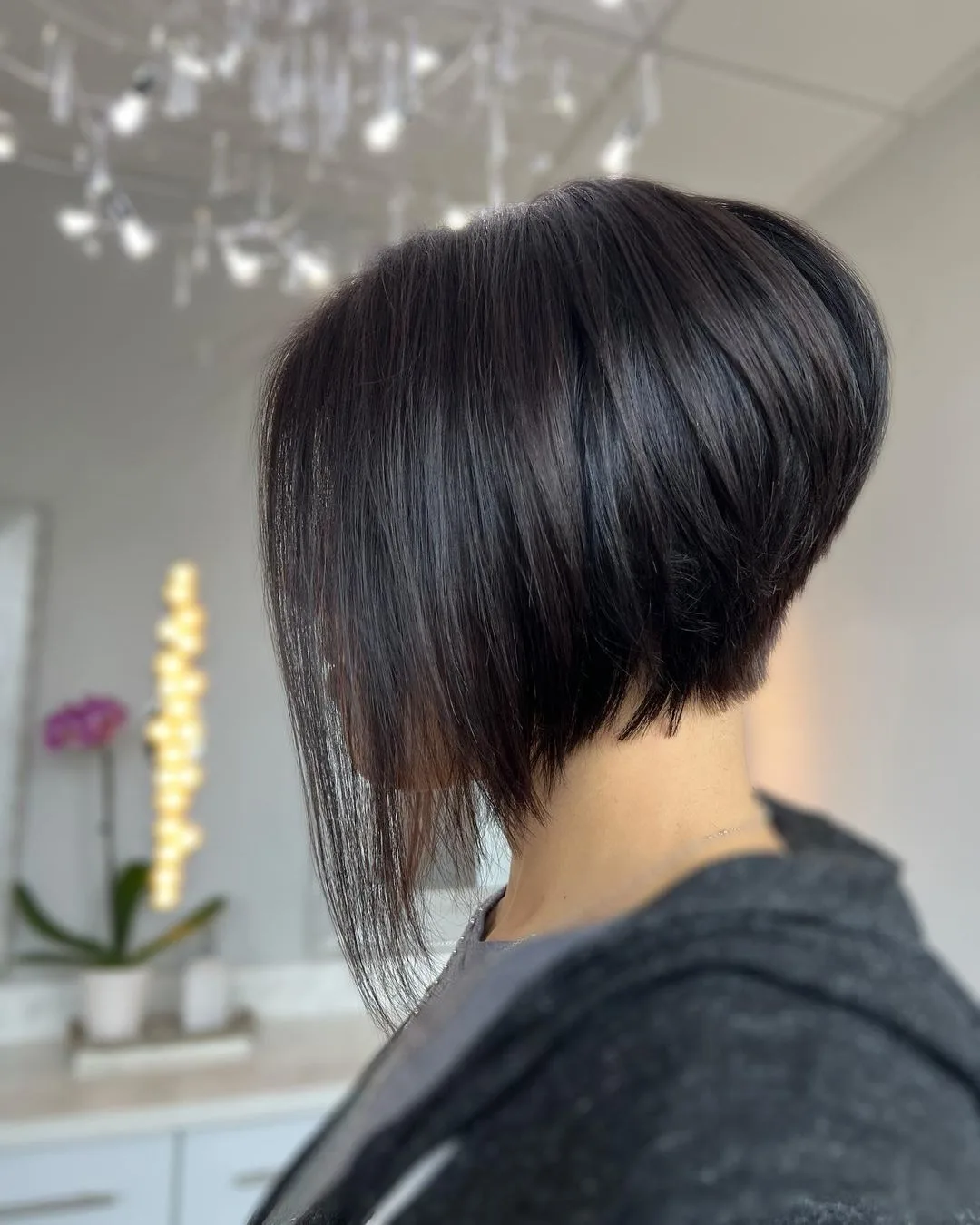 From the back, this stacked bob is nice and neatly groomed, but the super-long front part gives it an unexpected twist.
30. Short Curly Stacked Bob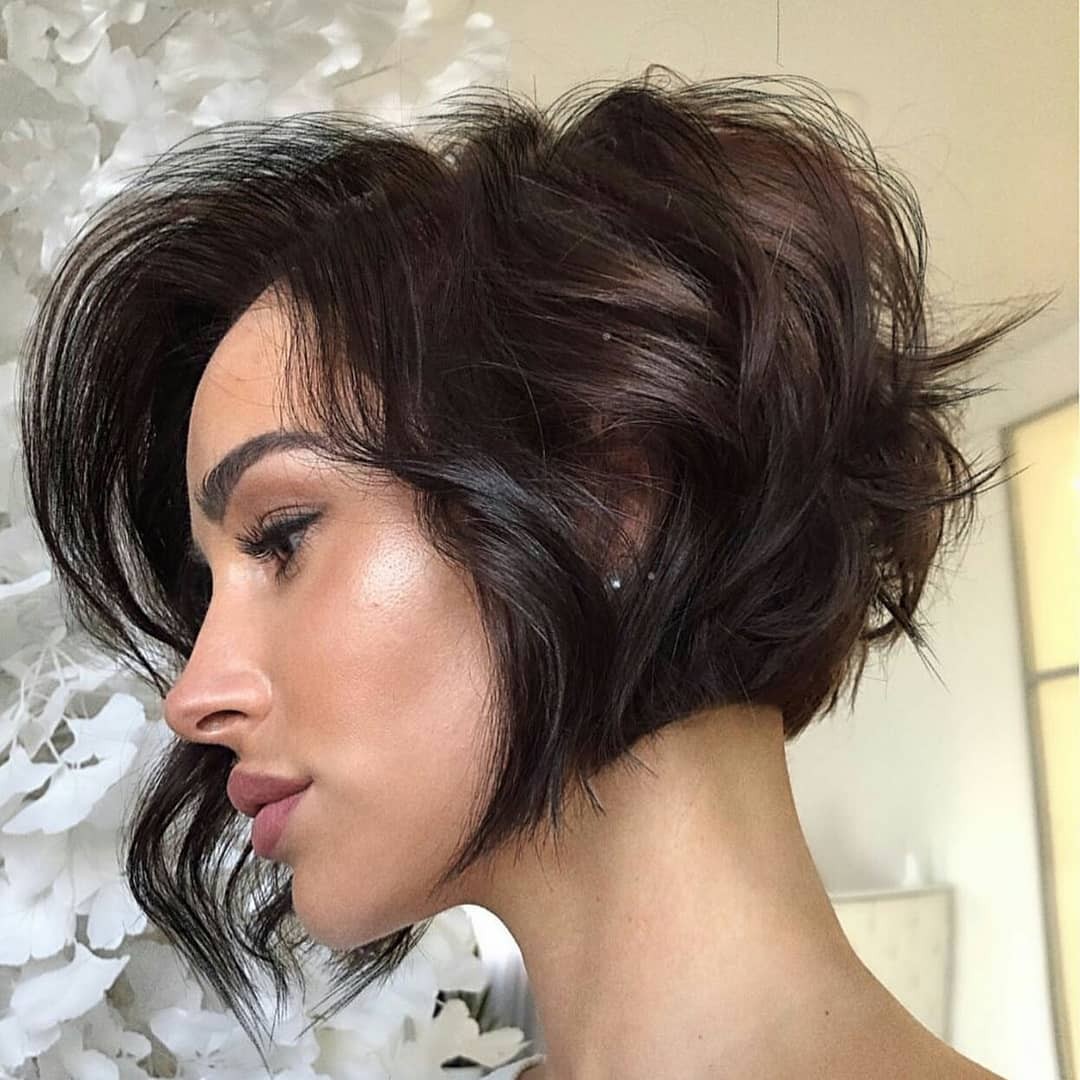 Gorgeous loose curls and subtle stacking create a classic look full of bounce and charm!
31. Stacked Choppy Inverted Bob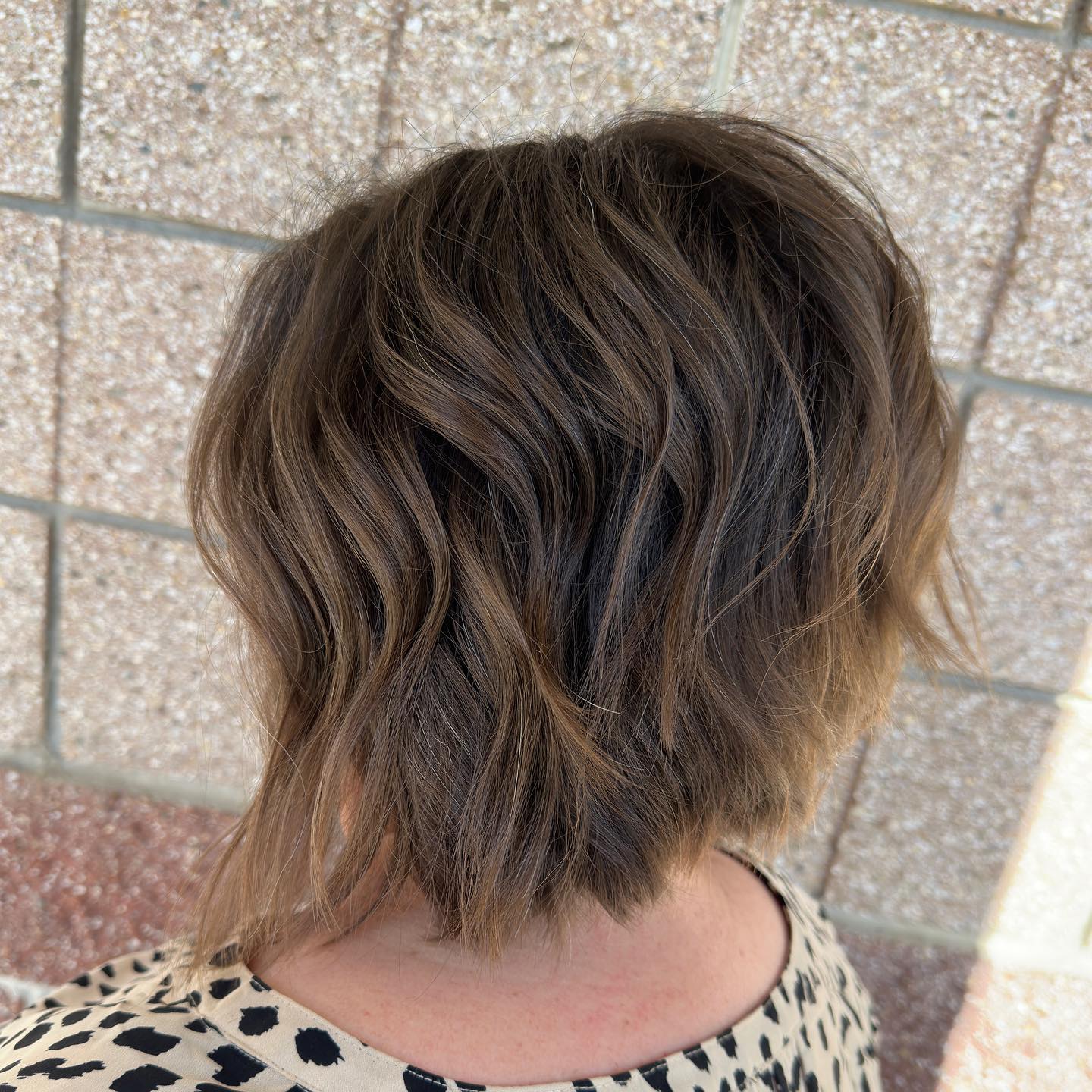 Even though the layers in the back are graduated, they don't go as high as in some stacked bobs. This creates an impression of more length while at the same time keeping the hair from losing volume.
32. Stacked Angled Bob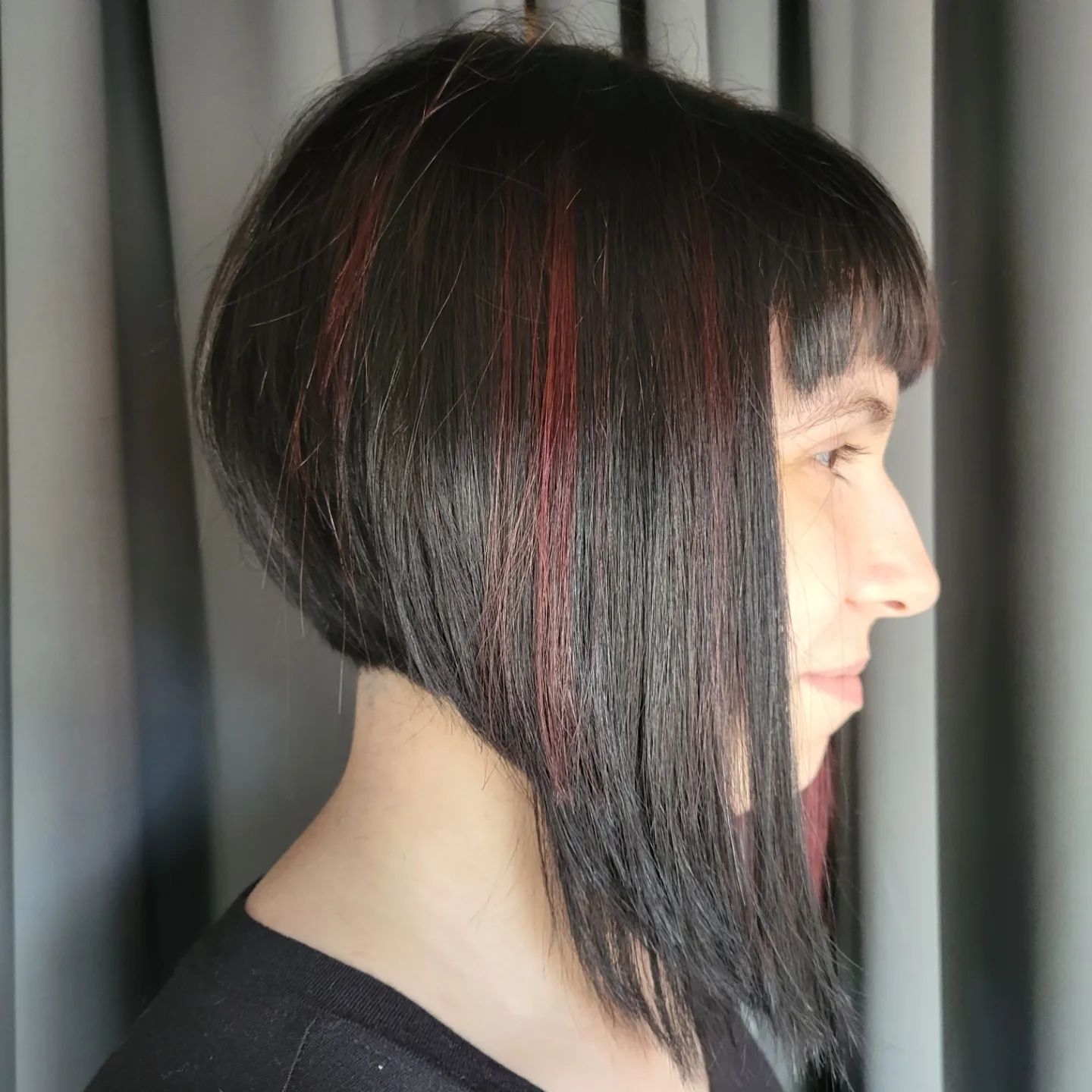 Opt for an extra-long front part in your stacked bob with bangs if you want an edgy, alternative style or make them shorter for a more classic look.
33. Fine Hair Short Stacked Bob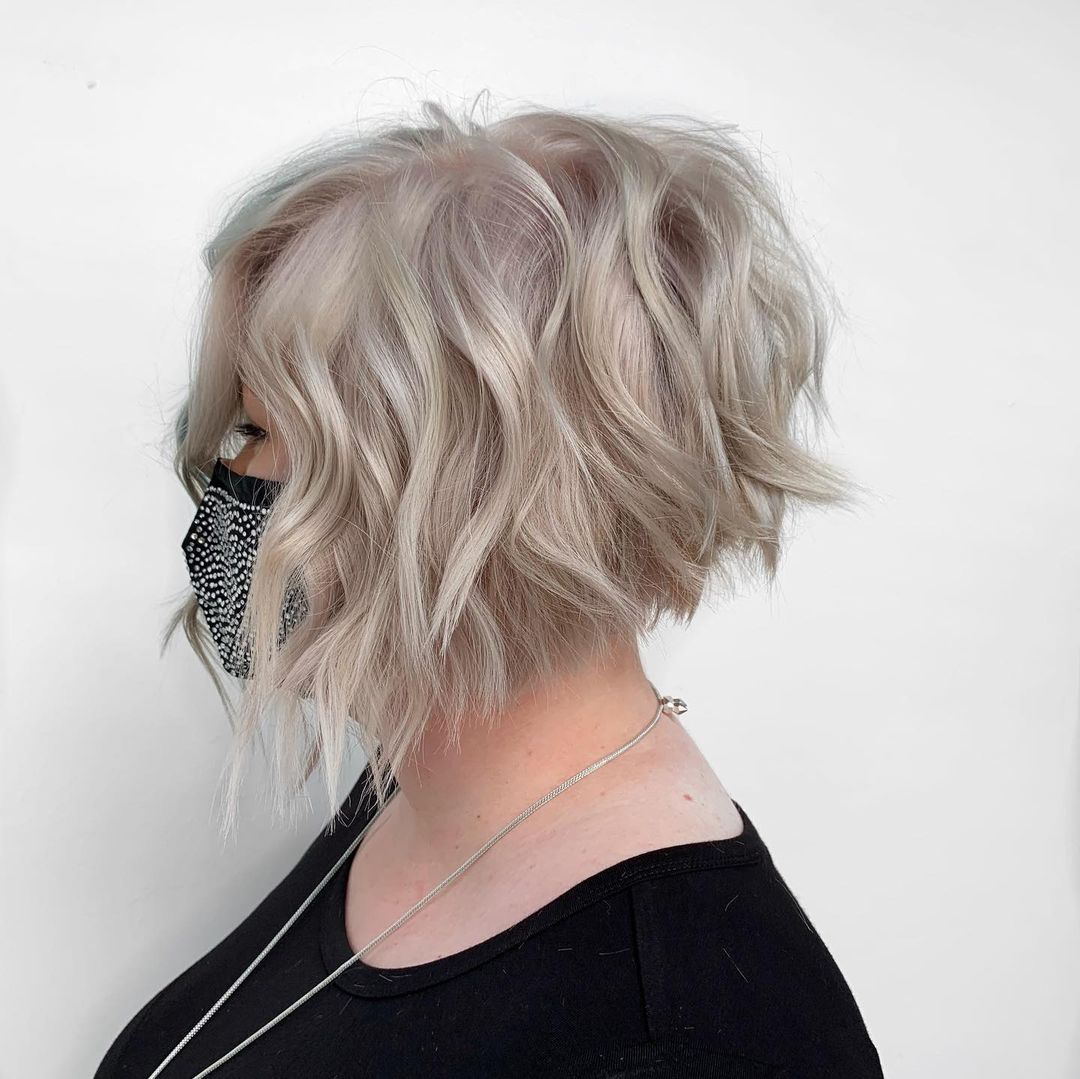 Layers and waves make fine hair seem much thicker—layers lift the hair from the scalp, while textured waves create volume through movement.
34. A-Line Medium Stacked Hairstyle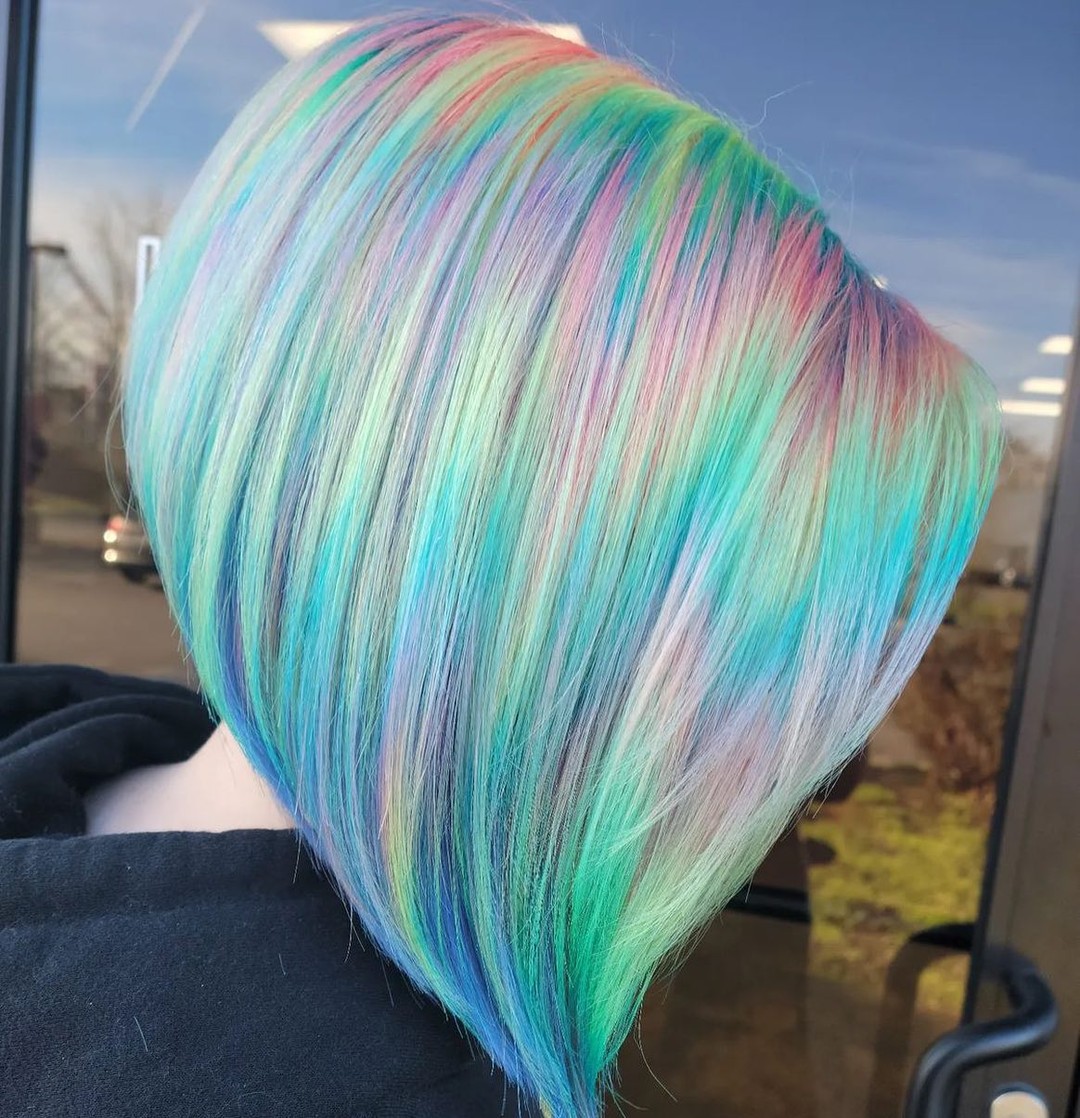 The spectacular coloring job and the cut complement each other flawlessly—they're literally made for each other.
35. Inverted Stacked Bob Haircut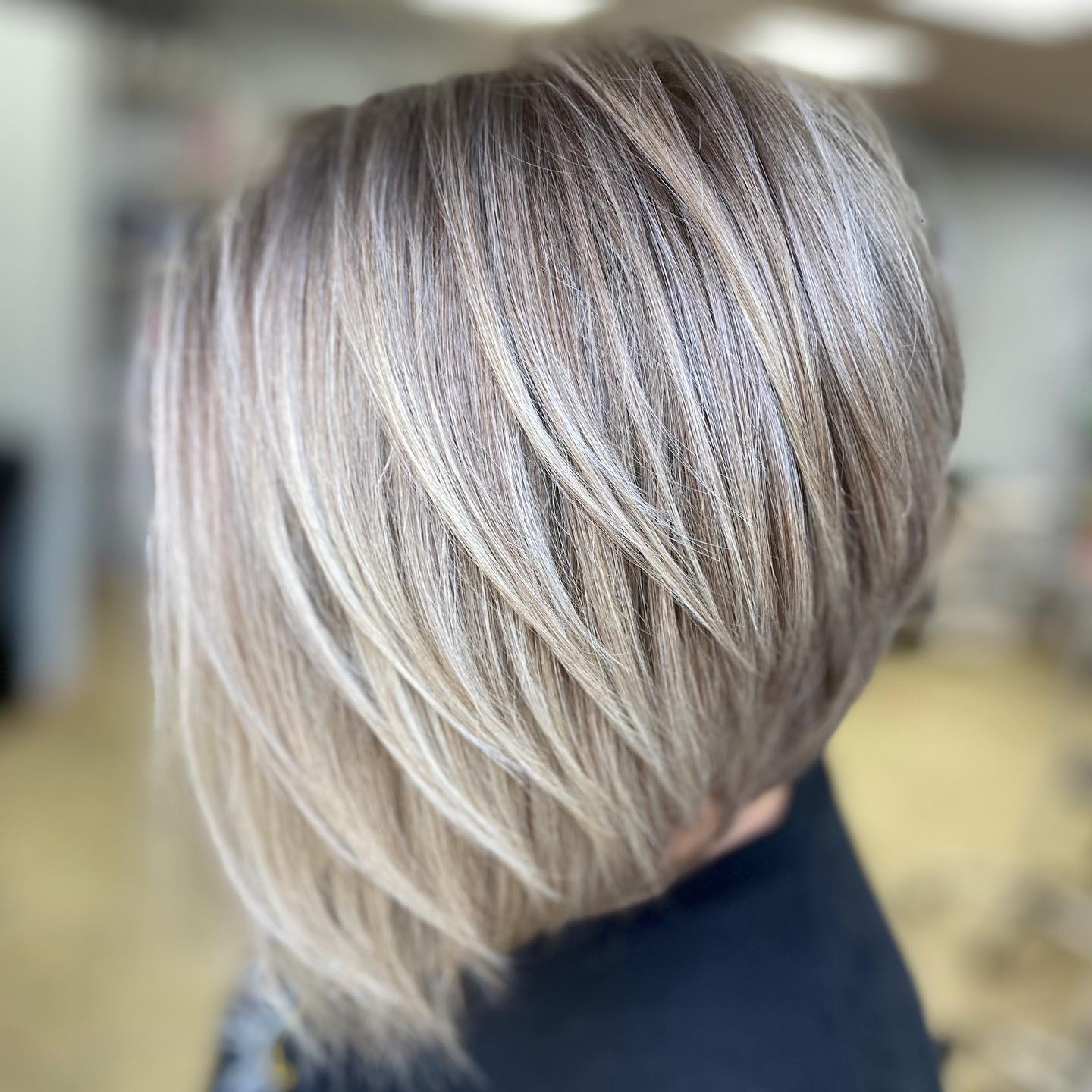 The impeccable cut and neat styling result in an exceptionally polished style that would be appropriate for any formal occasion.
36. Classic Short Stacked Bob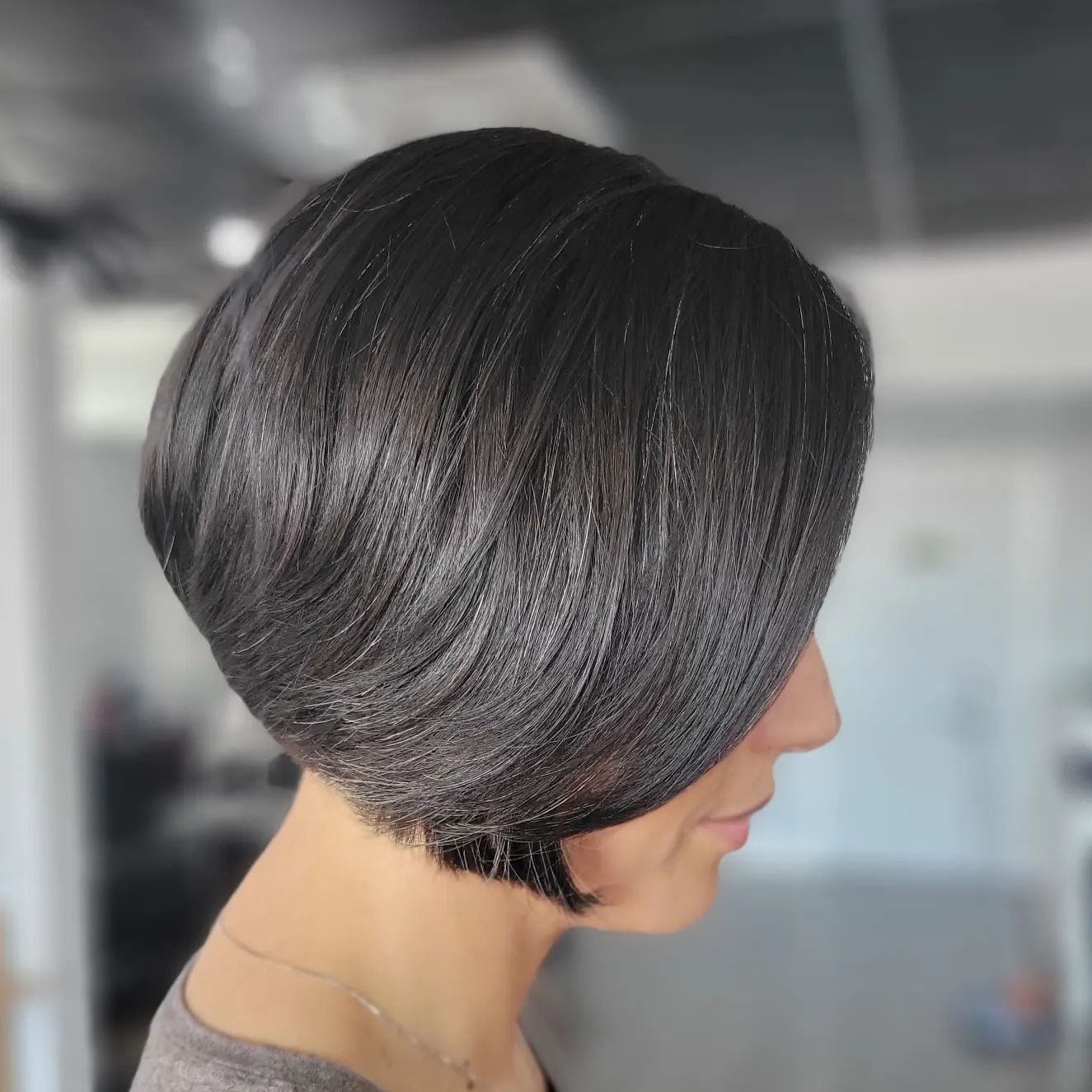 Casual and delicate, this bob hairstyle is the definitive girl-next-door haircut. Make it extra pretty by tucking one side behind the ear or even securing it with a cute barrette.
37. Vivid Inverted Stacked Bob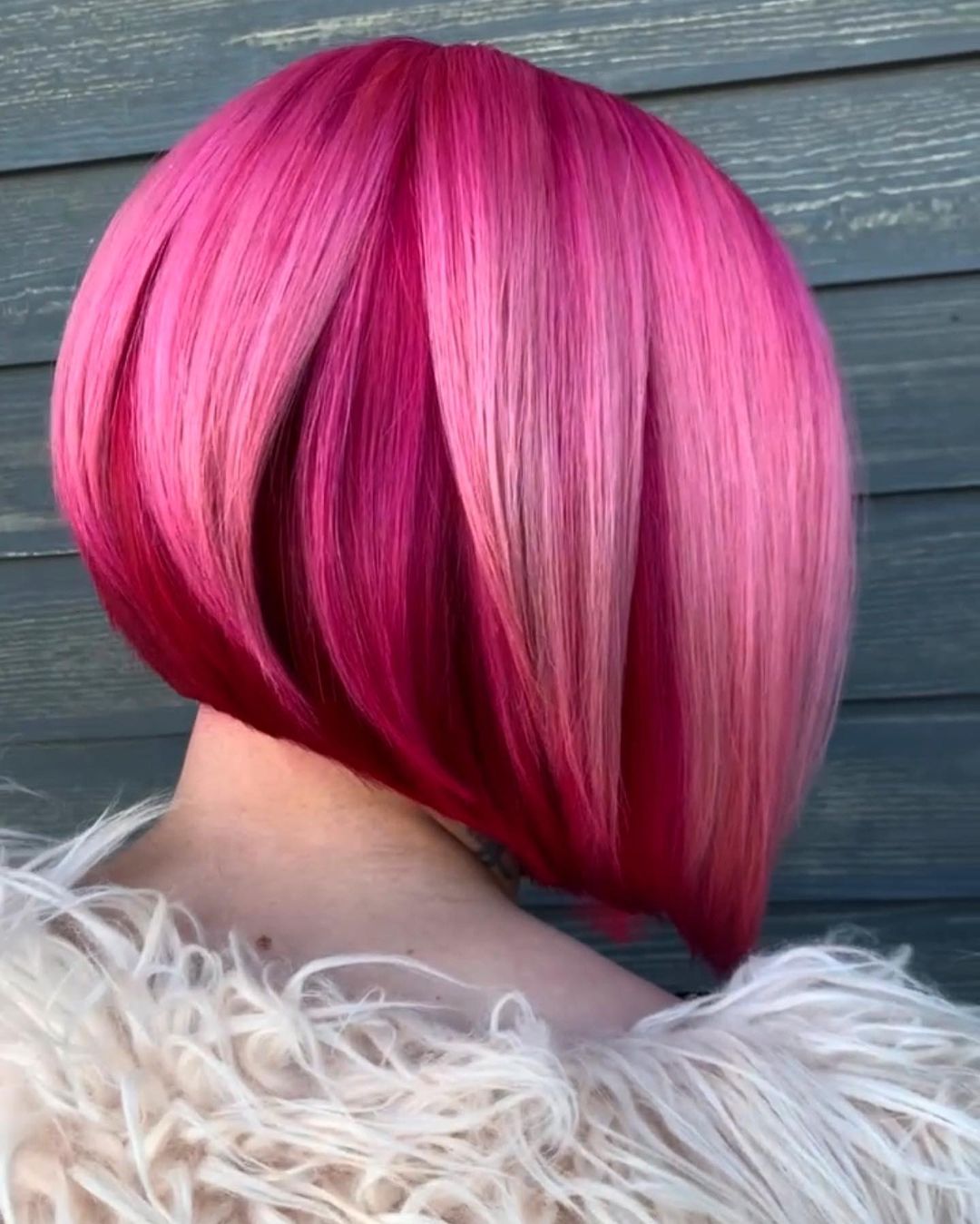 Playing with color is super easy if you go for a stacked bob. This style uses different tones of the same color to create an unusual monochrome look by having the darker shade peaking underneath the lighter one.
38. Stacked Asymmetrical Bob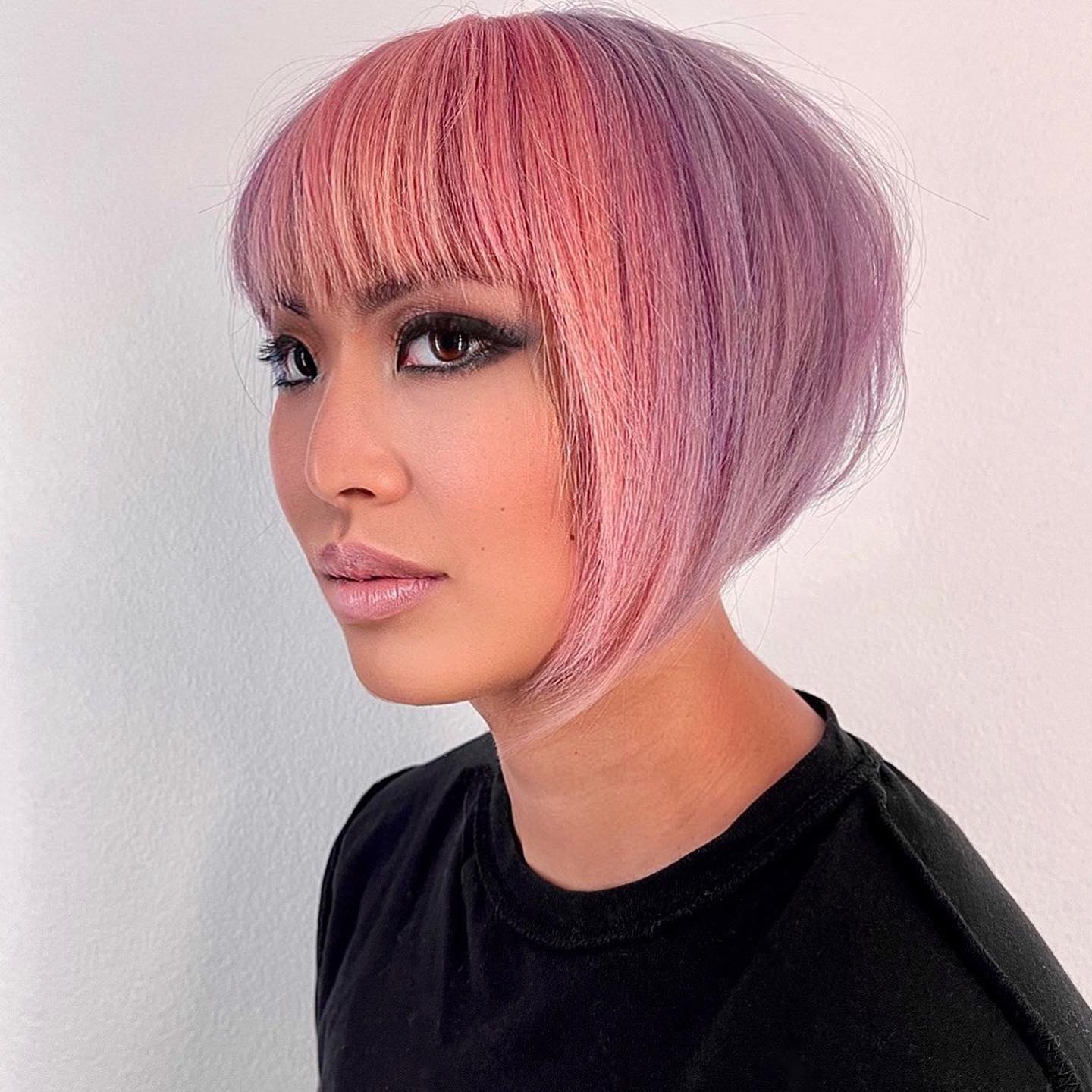 Both the cut and the color are edgy and cool, and, needless to say, take courage to pull off. Let this short straight hair with bangs inspire you if you're looking for a way to express your daring side.
39. Stacked Bob Hairstyle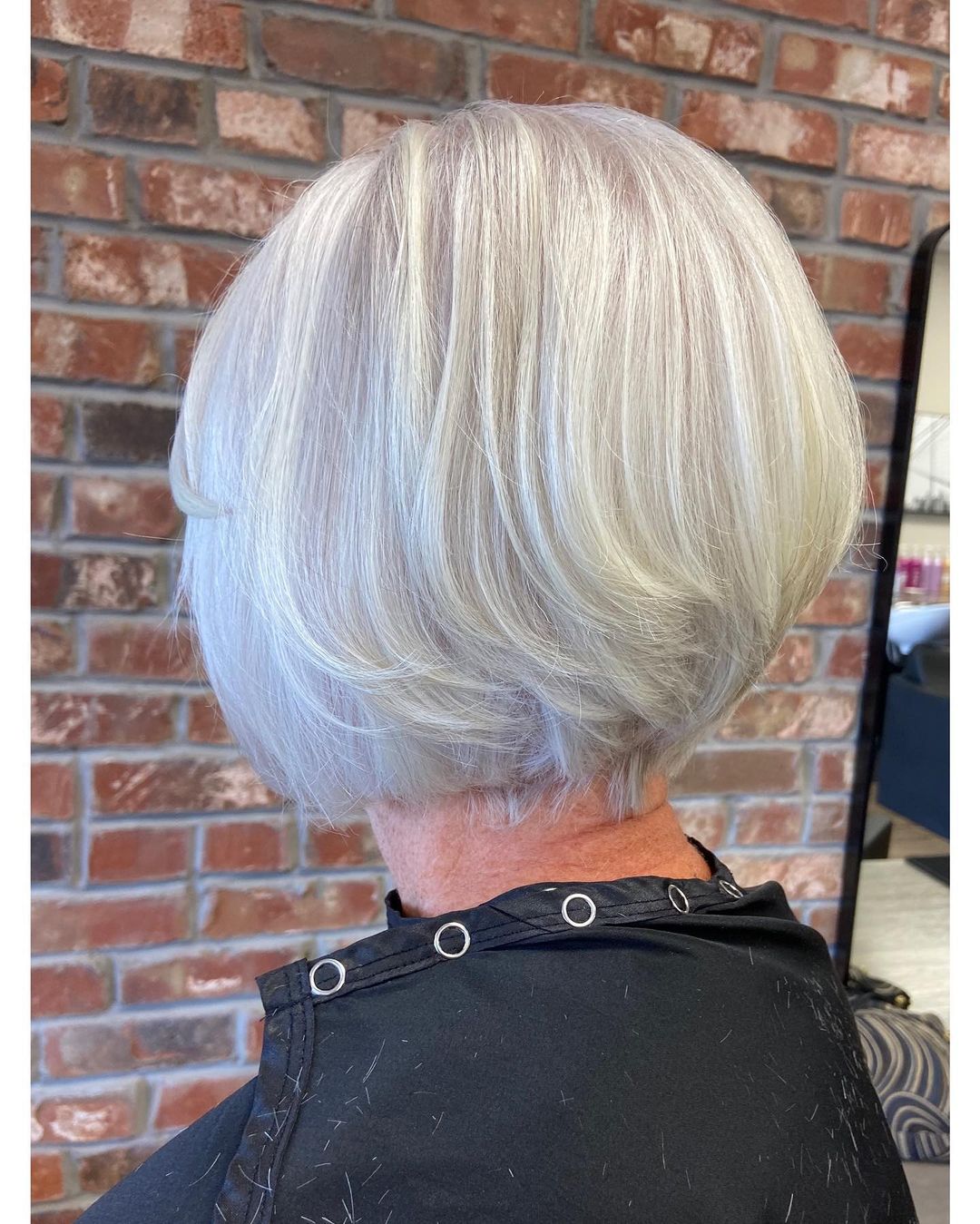 Subtle stacking and delicate texture bring the best out of thin hair and achieve an elegant look.
40. Medium-Length Stacked Bob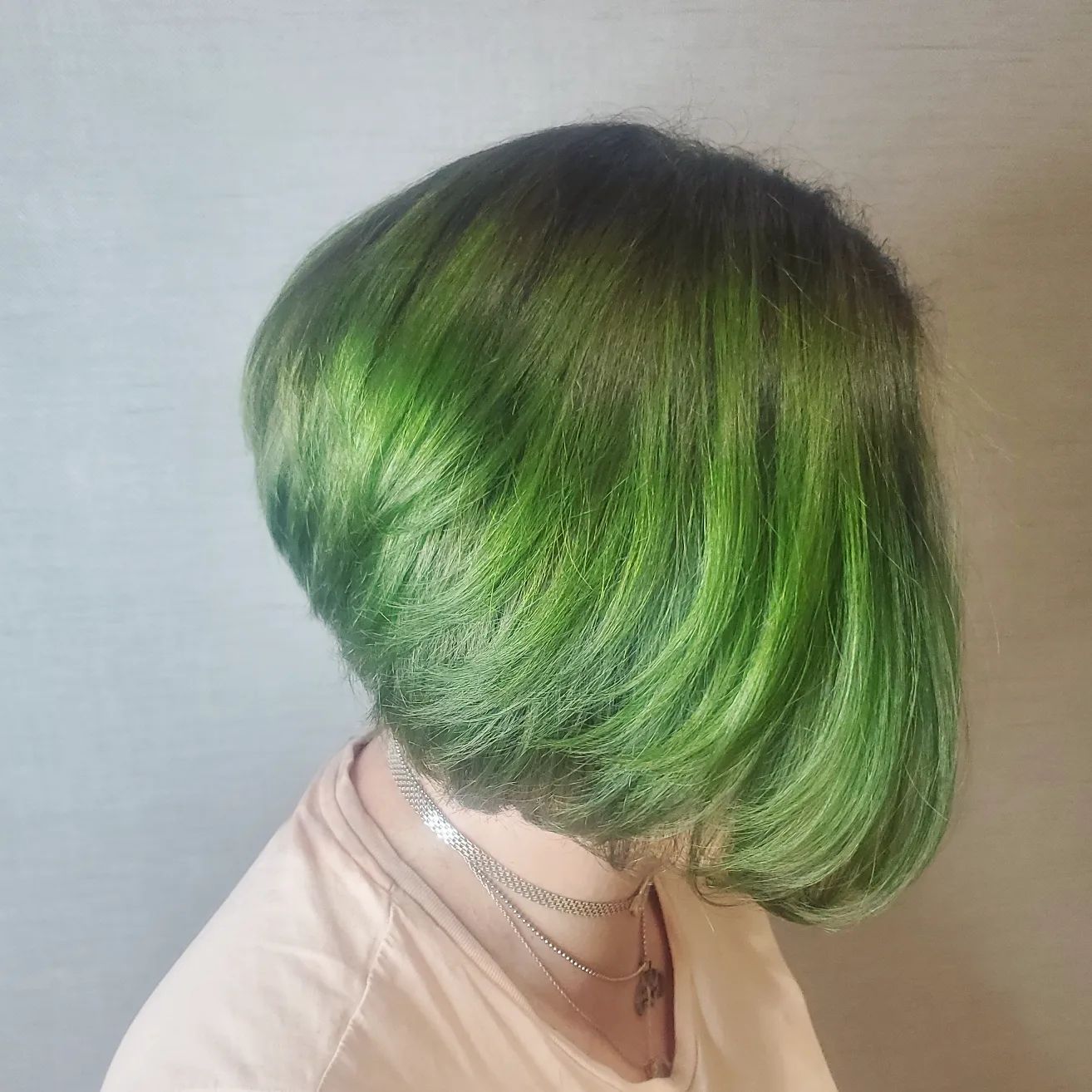 The unexpected color and the plump ends come together to create a fun and adorable style.
41. Stacked Wedge Haircut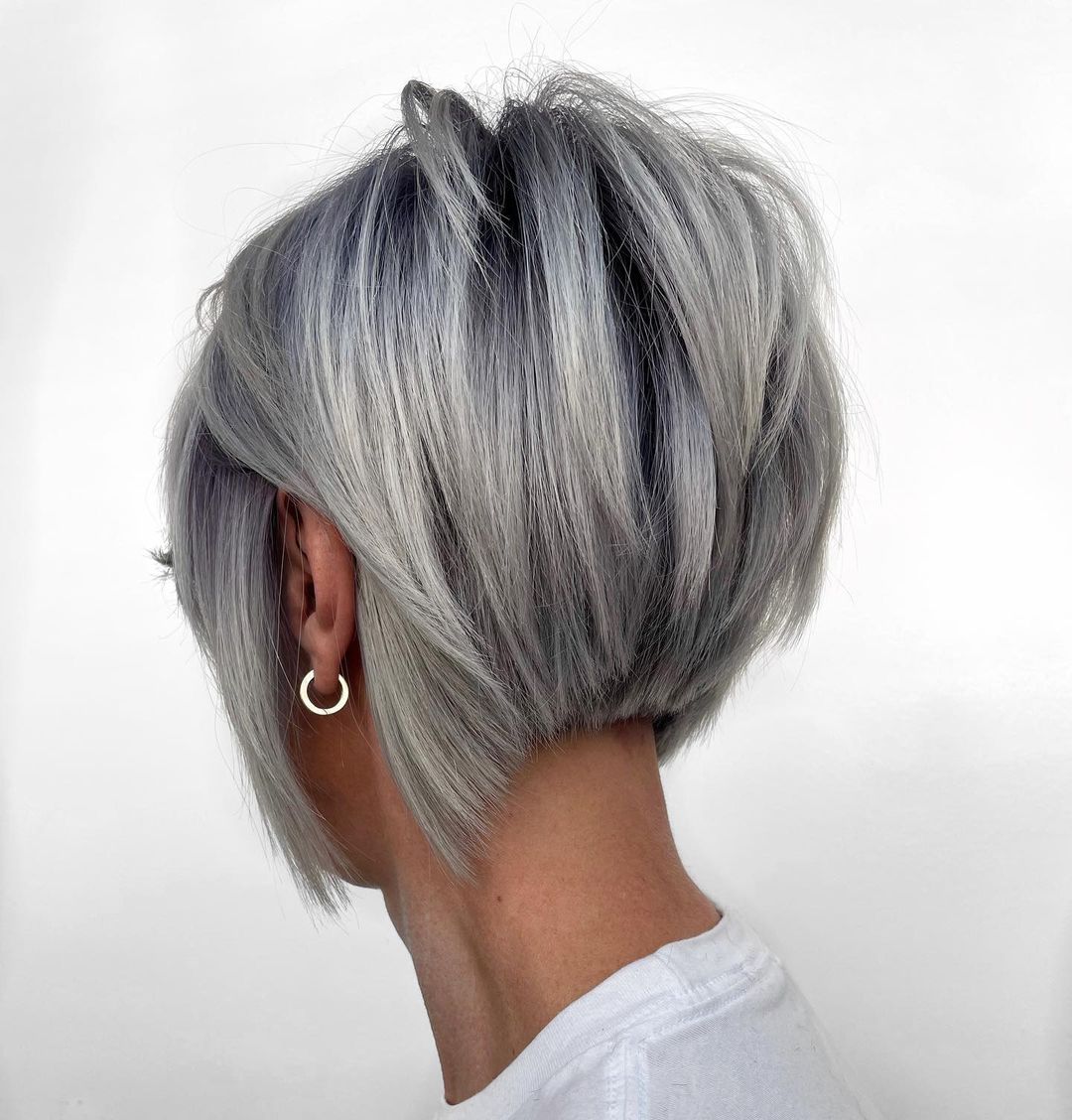 Layered haircuts aren't always soft—this style is sharp and blunt, thanks to the texture, color and the placement of the layers.
42. Long Stacked Bob With Bangs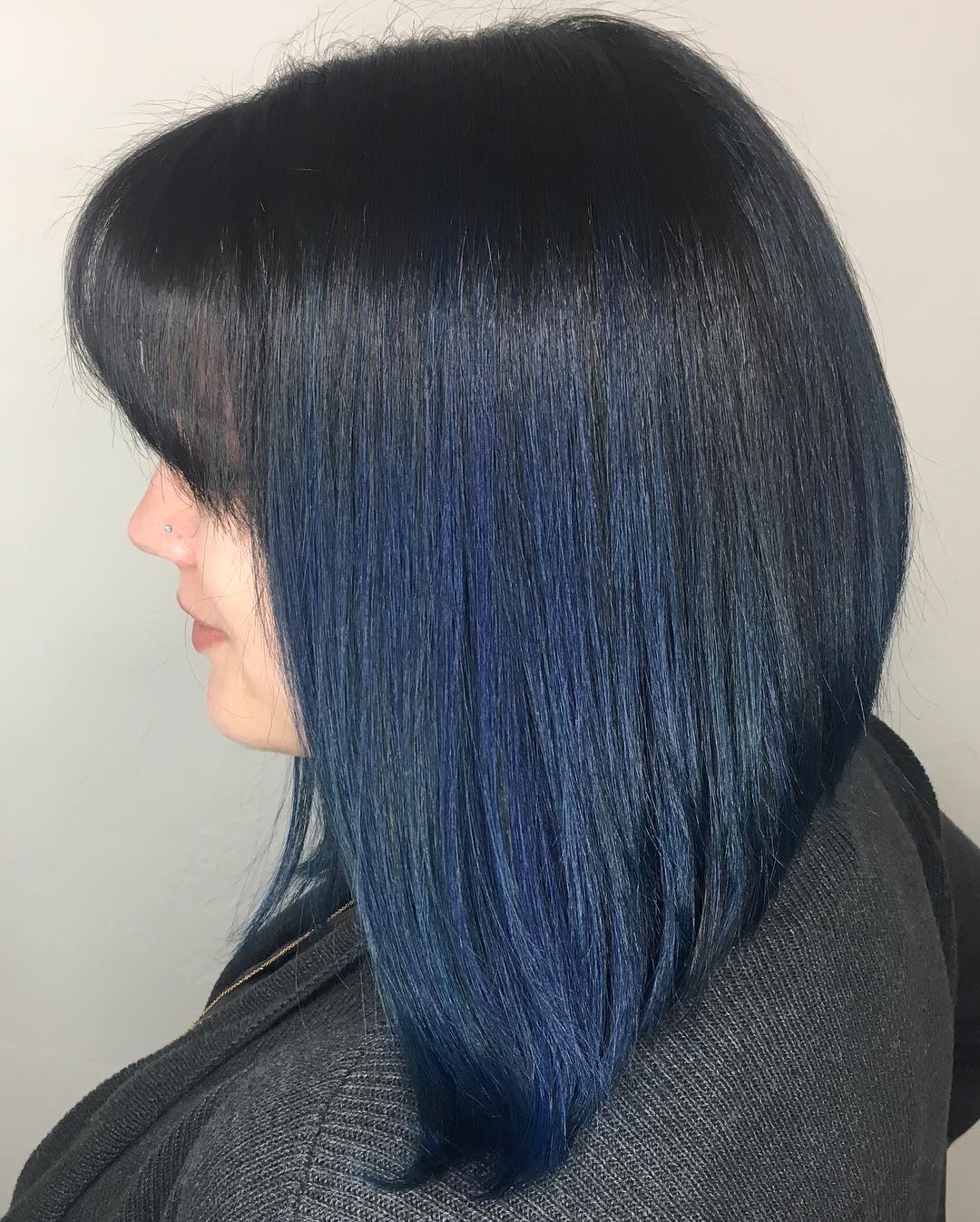 Sleek, long layered bob combined with full bangs is a cool style on its own. Paired with dark blue strands, however—it's supercool.
43. Short Stacked Haircut
Brown and purple go together surprisingly well, and the combination complements this laid-back, disheveled stacked bob.
44. Short Stacked Bob With Side Bangs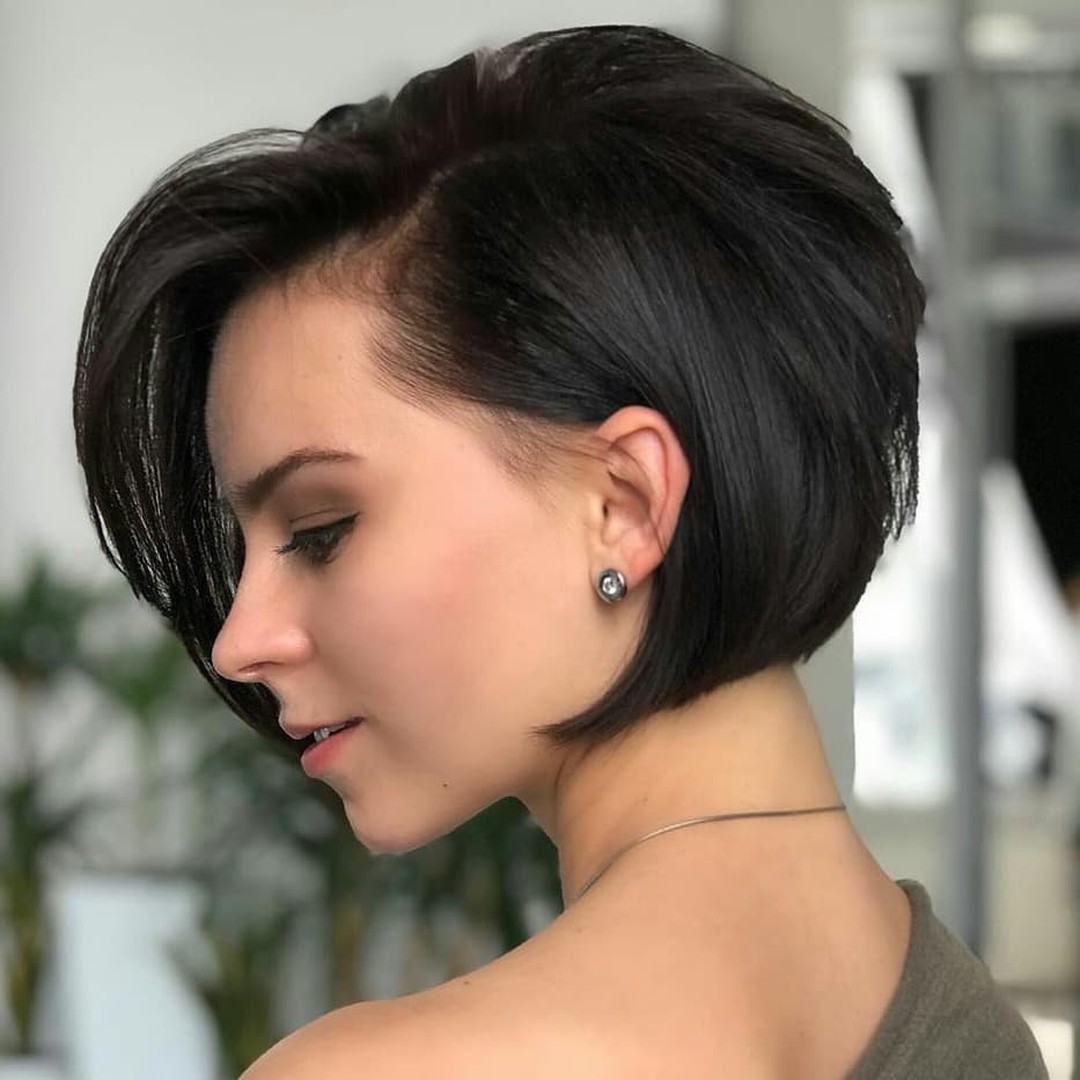 The deep side part and lifted bangs are used in the front in the same way the shortest layers are used in the back—to add volume to this chin-length length bob.
45. Wispy Angled Stacked Bob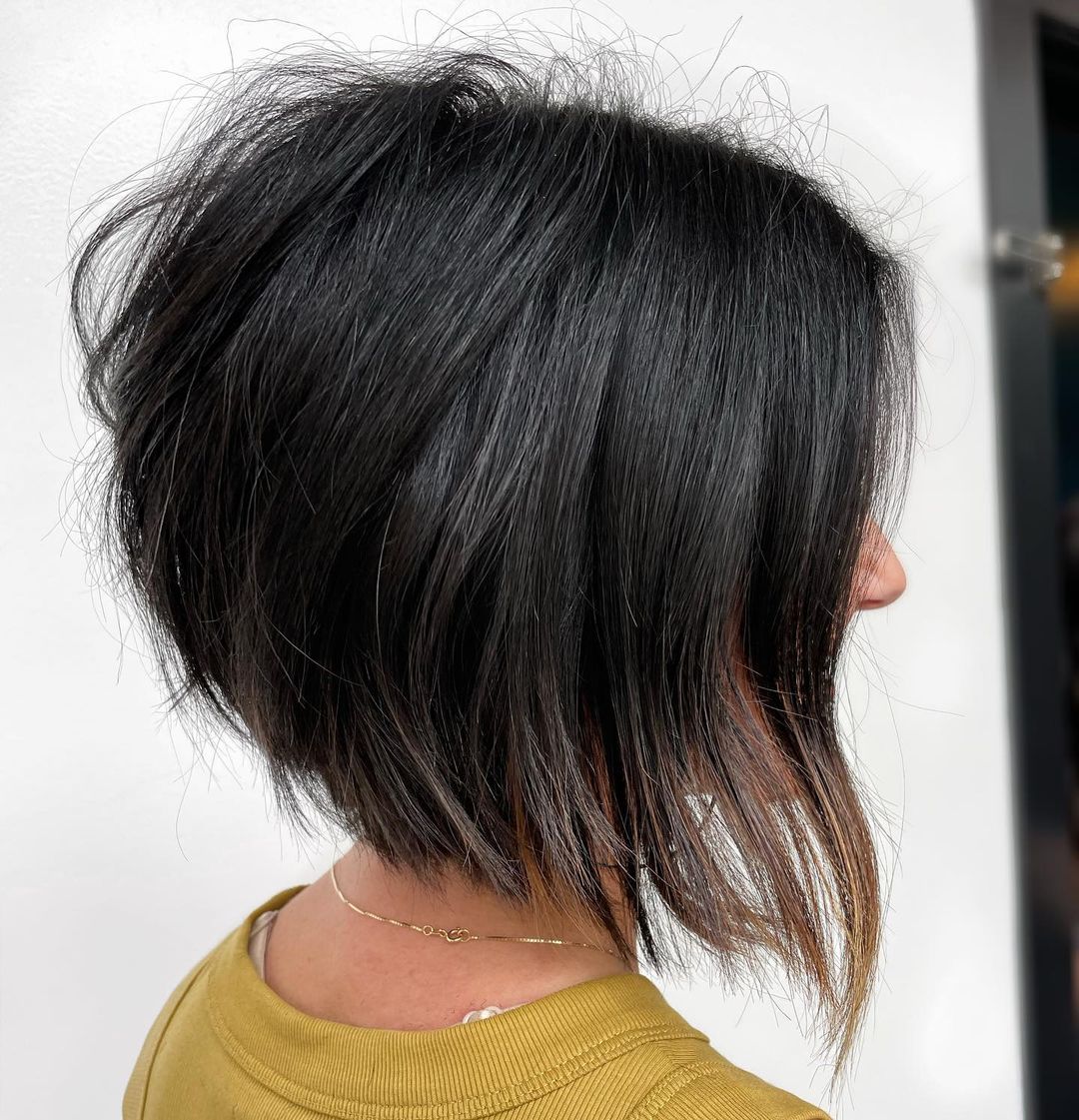 The wispy texture makes this angled bob seem weightless, and the slight frizz adds another layer of softness.
46. Inverted Stacked Bob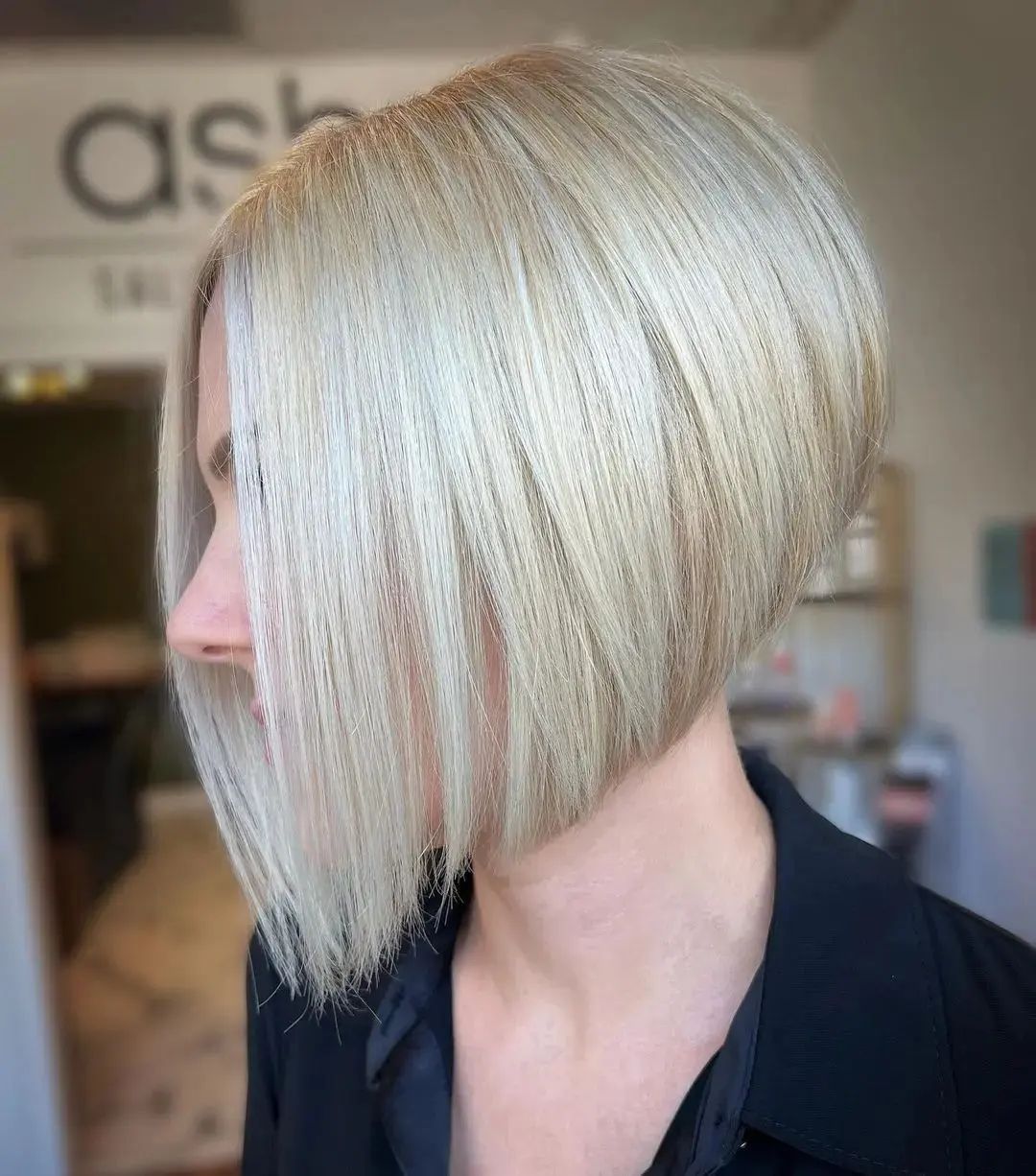 Sleek, stacked angled platinum bob leaves a sophisticated and elegant impression.
47. Copper Stacked Bob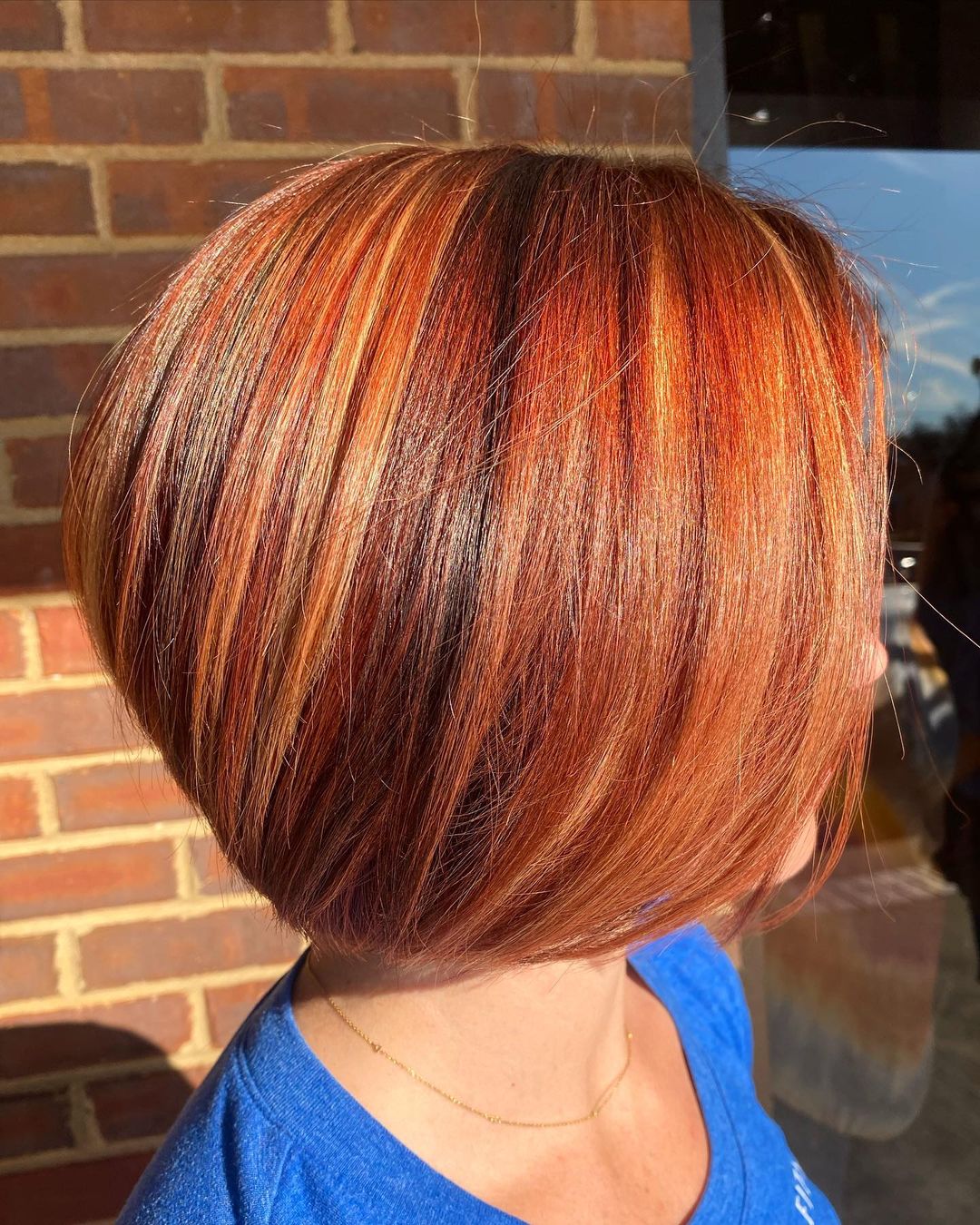 A copper base with highlights and lowlights creates a color reminiscent of flames, and the layers of the cut make it come alive.
48. Short Layered Stacked Bob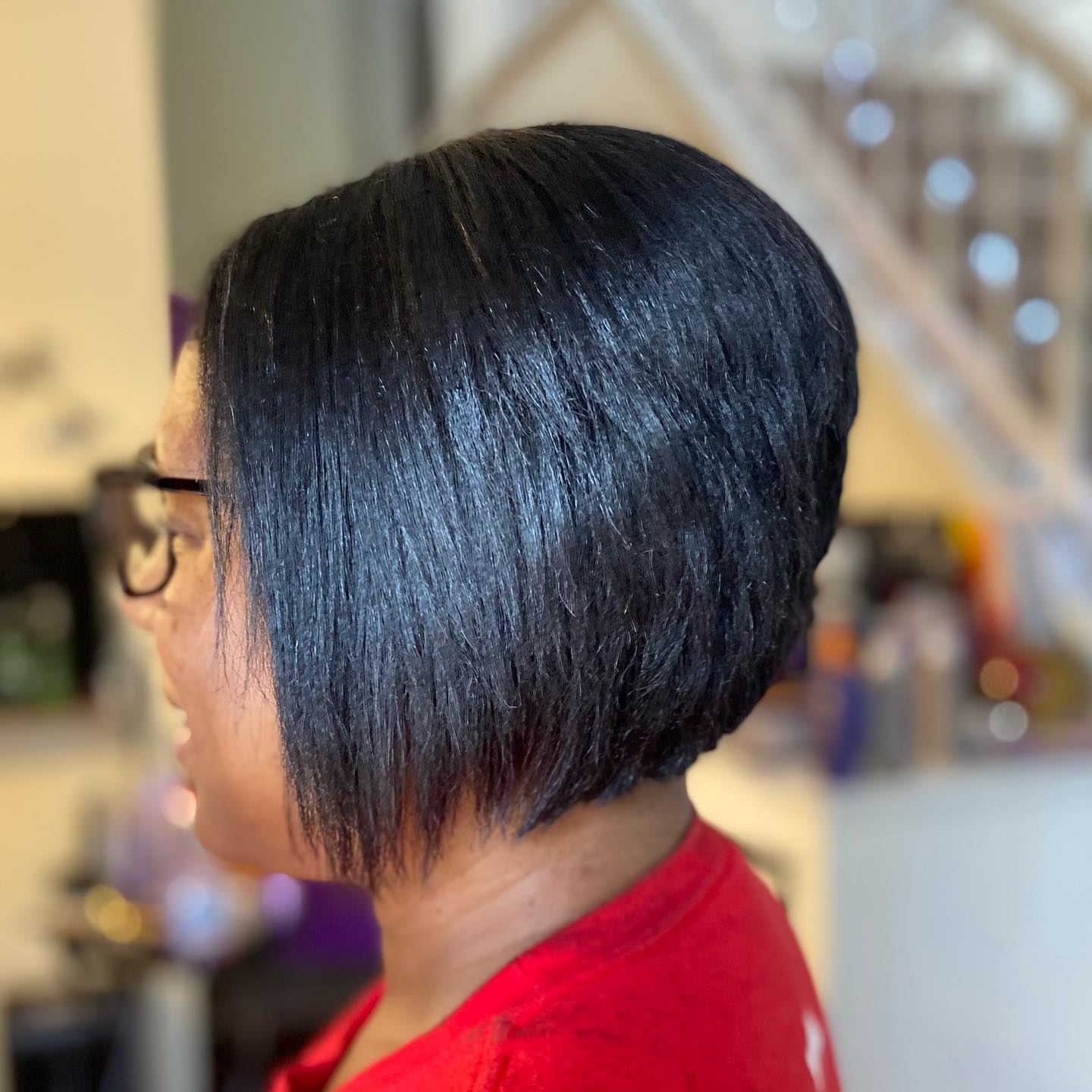 Graduated layers create a flattering angle that makes the hair seem fuller and give it a bit of a lift!
49. Subtle Straight Stacked Bob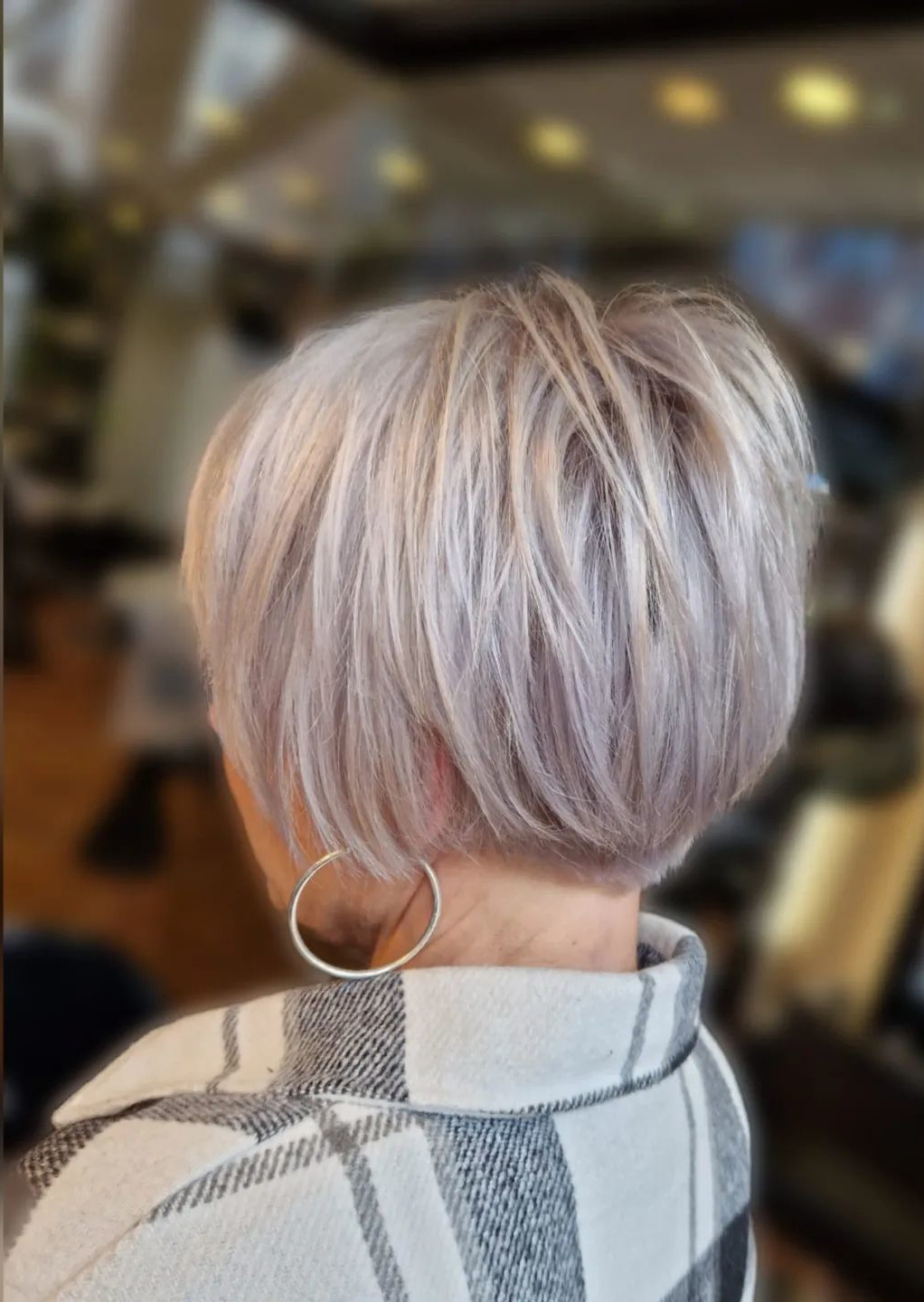 Making the layers on top very short creates a playful and cute style that's easy to maintain.
50. Stacked Bob For Fine Hair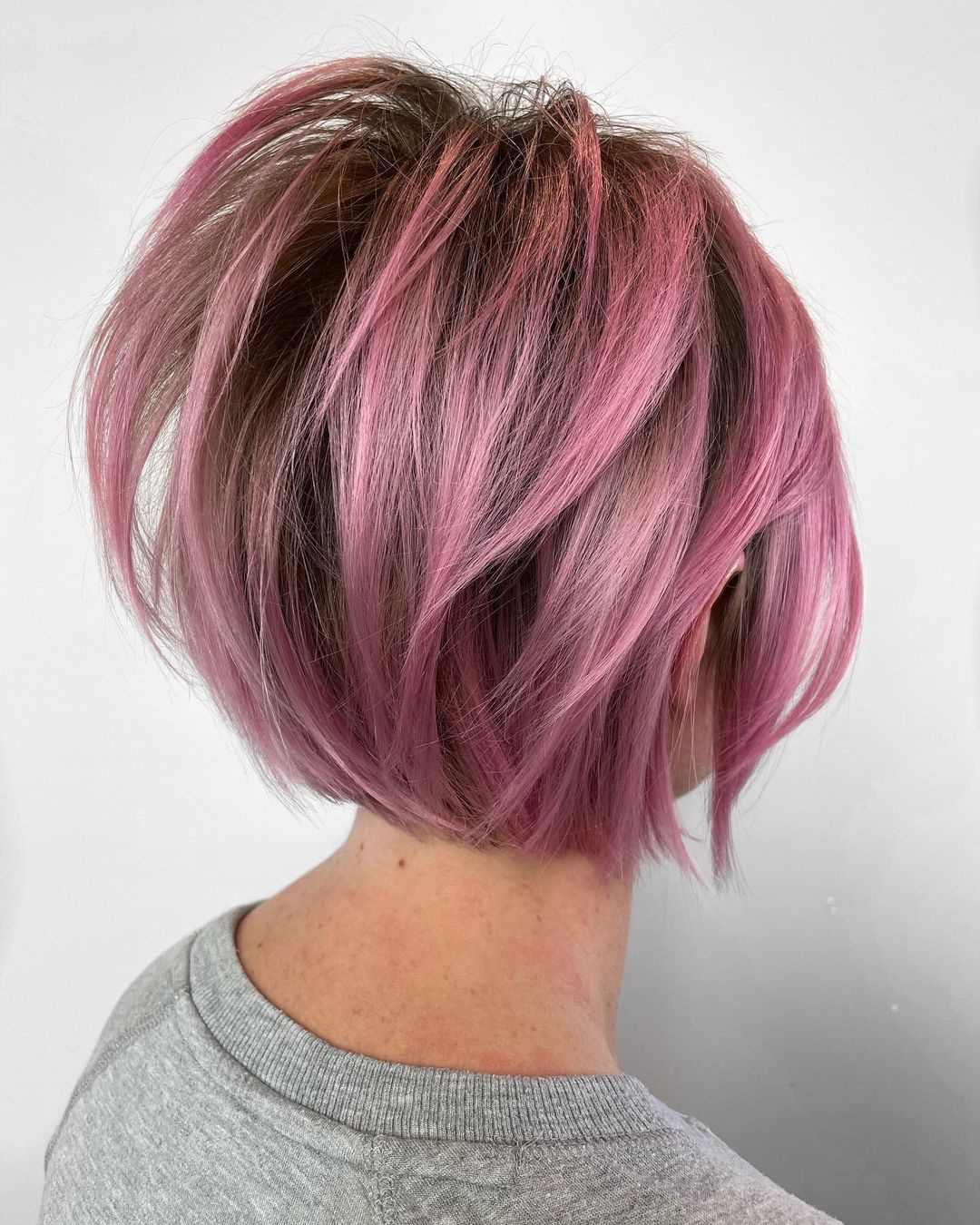 The coveted lived-in look of this short straight hairstyle has been achieved through rooted color and piecey, textured layers.
51. Wavy Textured Stacked Bob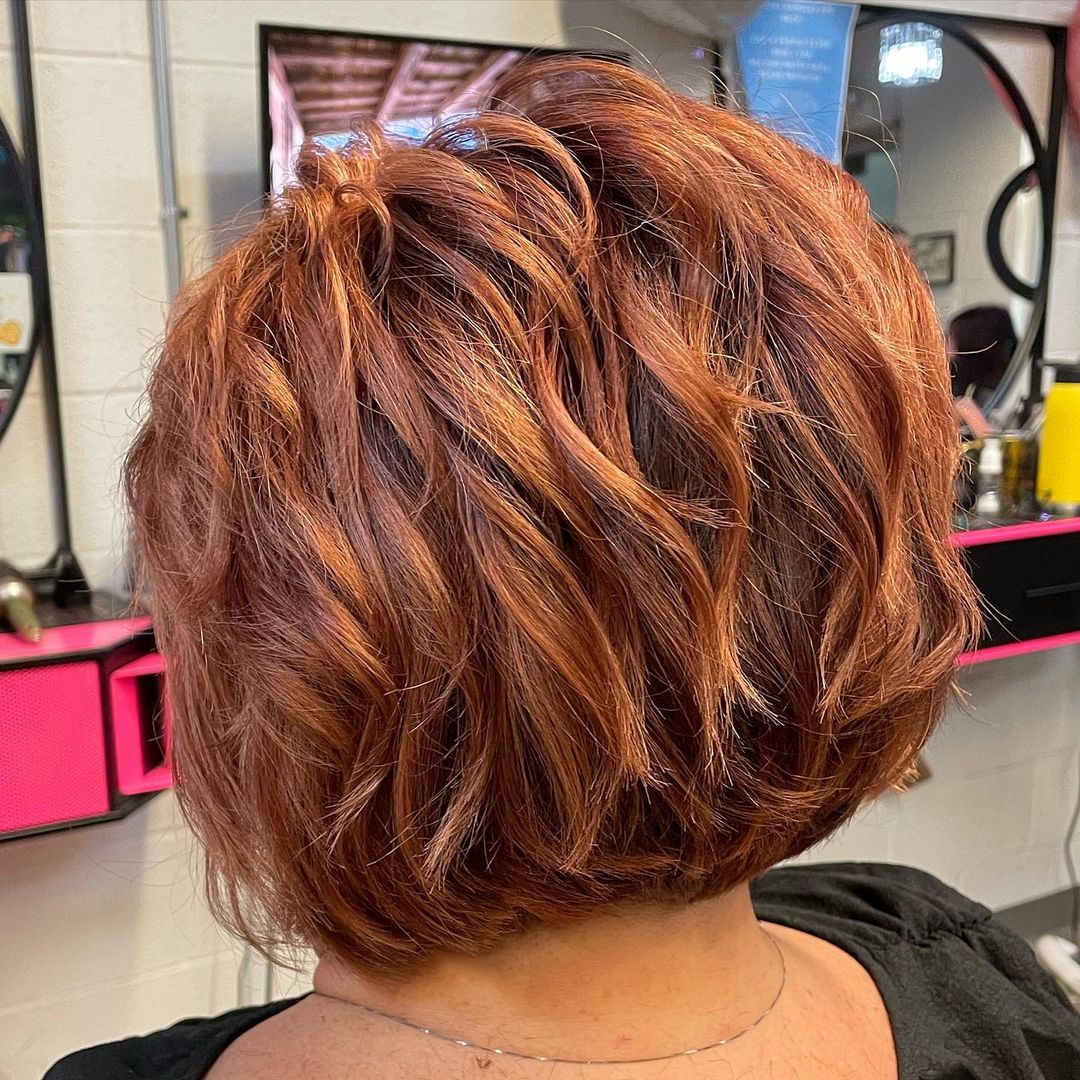 Thick hair has been made more manageable using graduated layers, and the subtle wave gives it bounce!
52. Angled Stacked Bob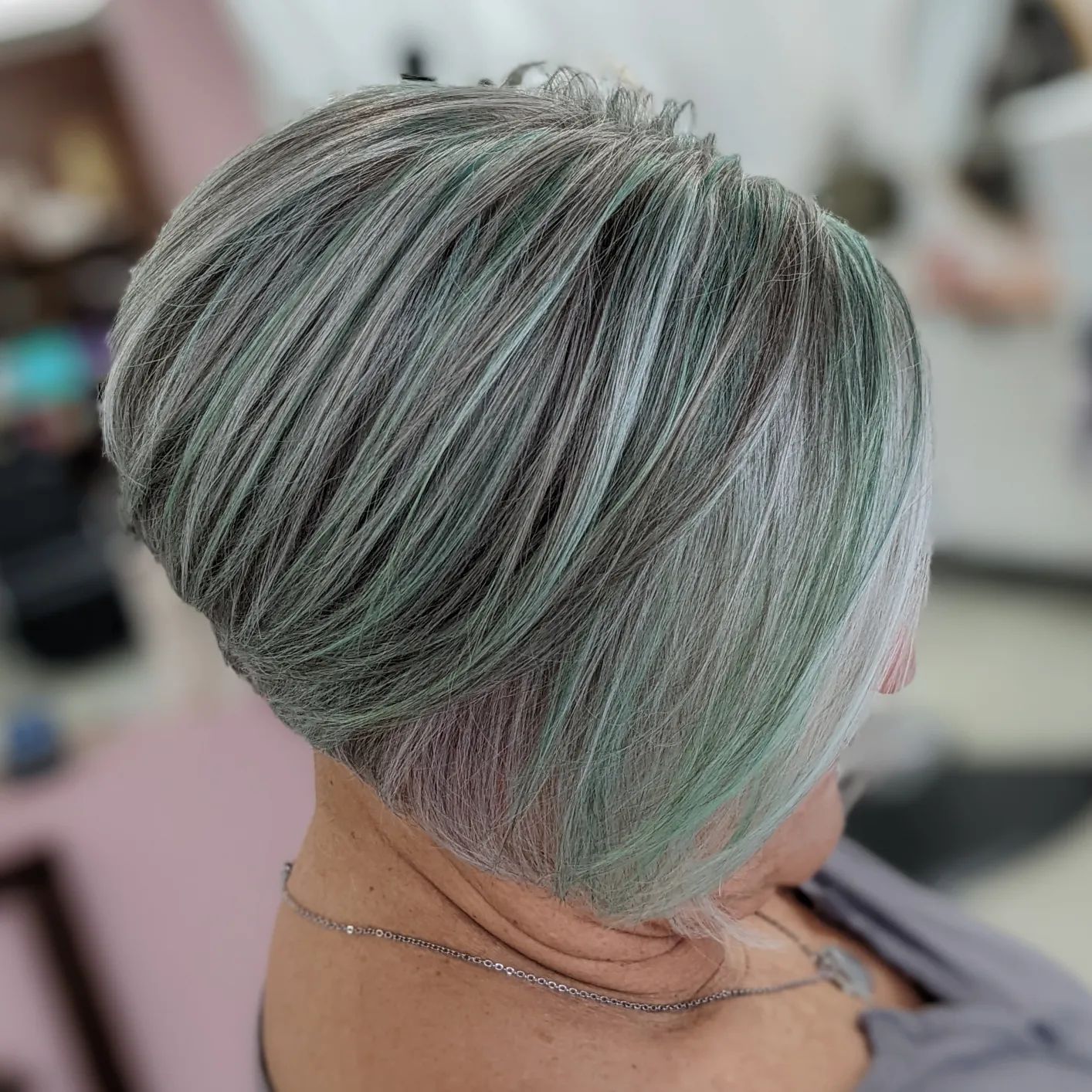 Gray hair makes it easy to experiment with color. How amazing is the combination of the green strands in an inverted bob?
53. Stacked Bob With Highlights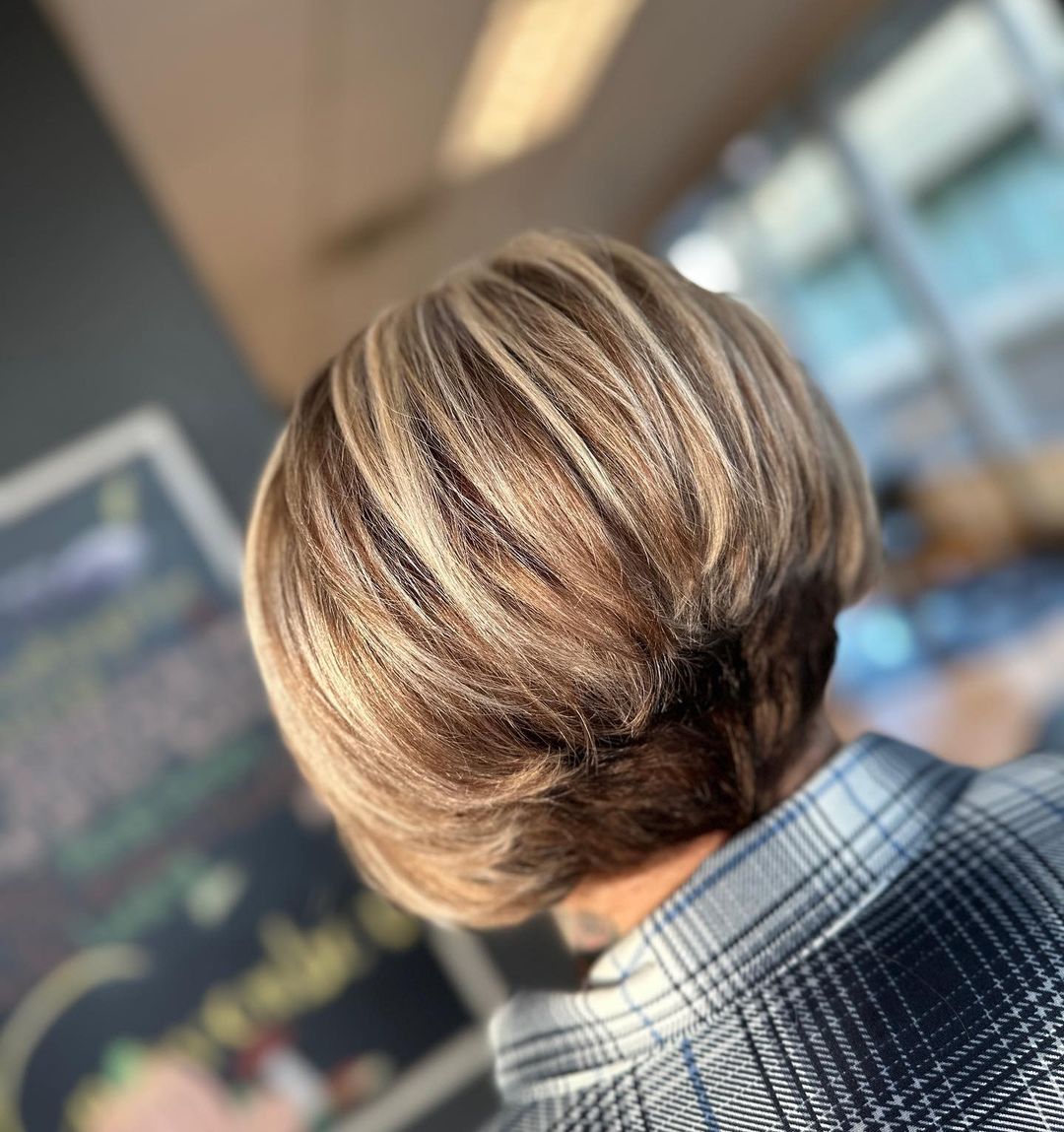 This cut focuses on making the bottom part dramatically shorter while the layering is much more subtle on top.
54. Voluminous Stacked Bob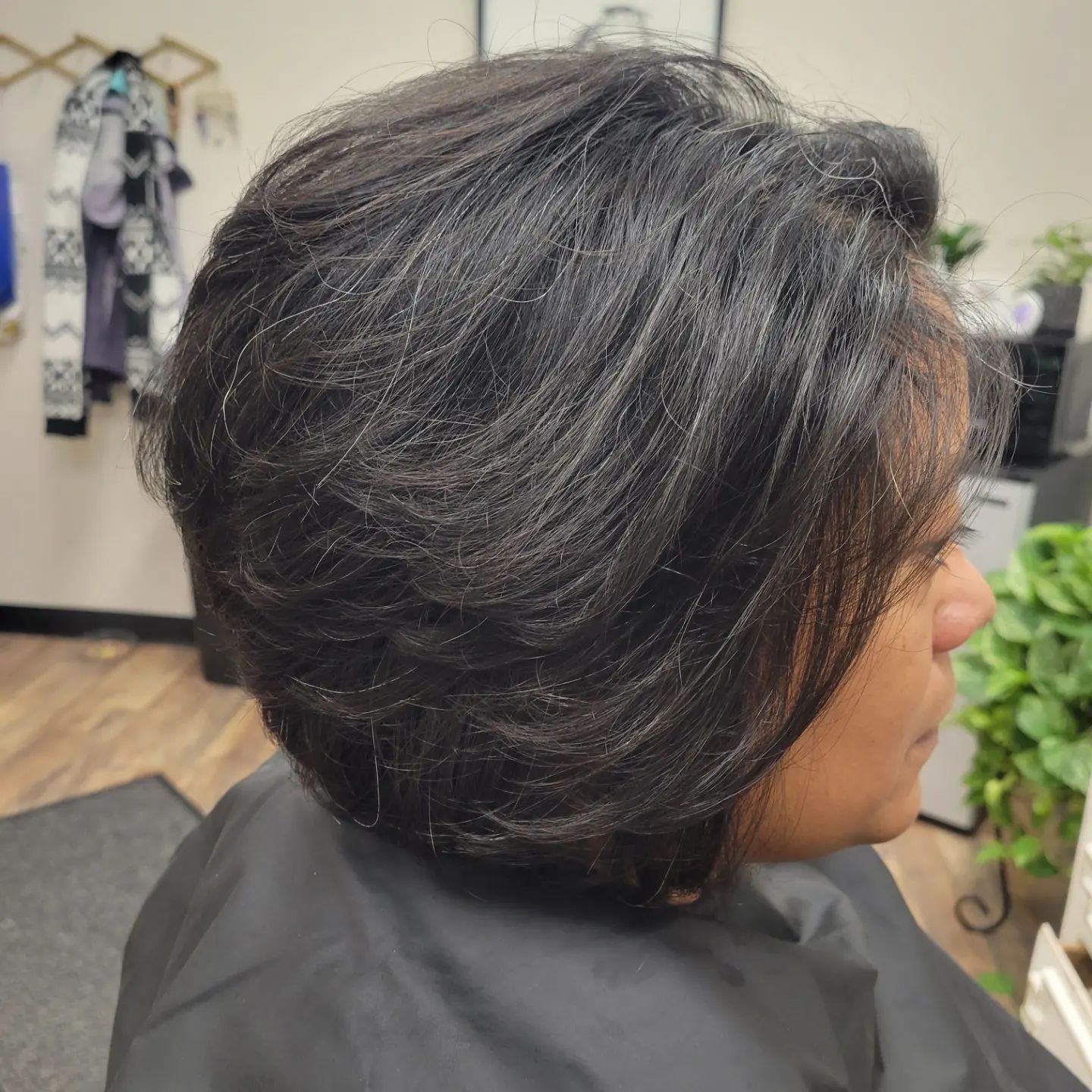 Flowy long layers have been swept away from the face to create a super flattering medium-length bob look.
55. Colorful Stacked Bob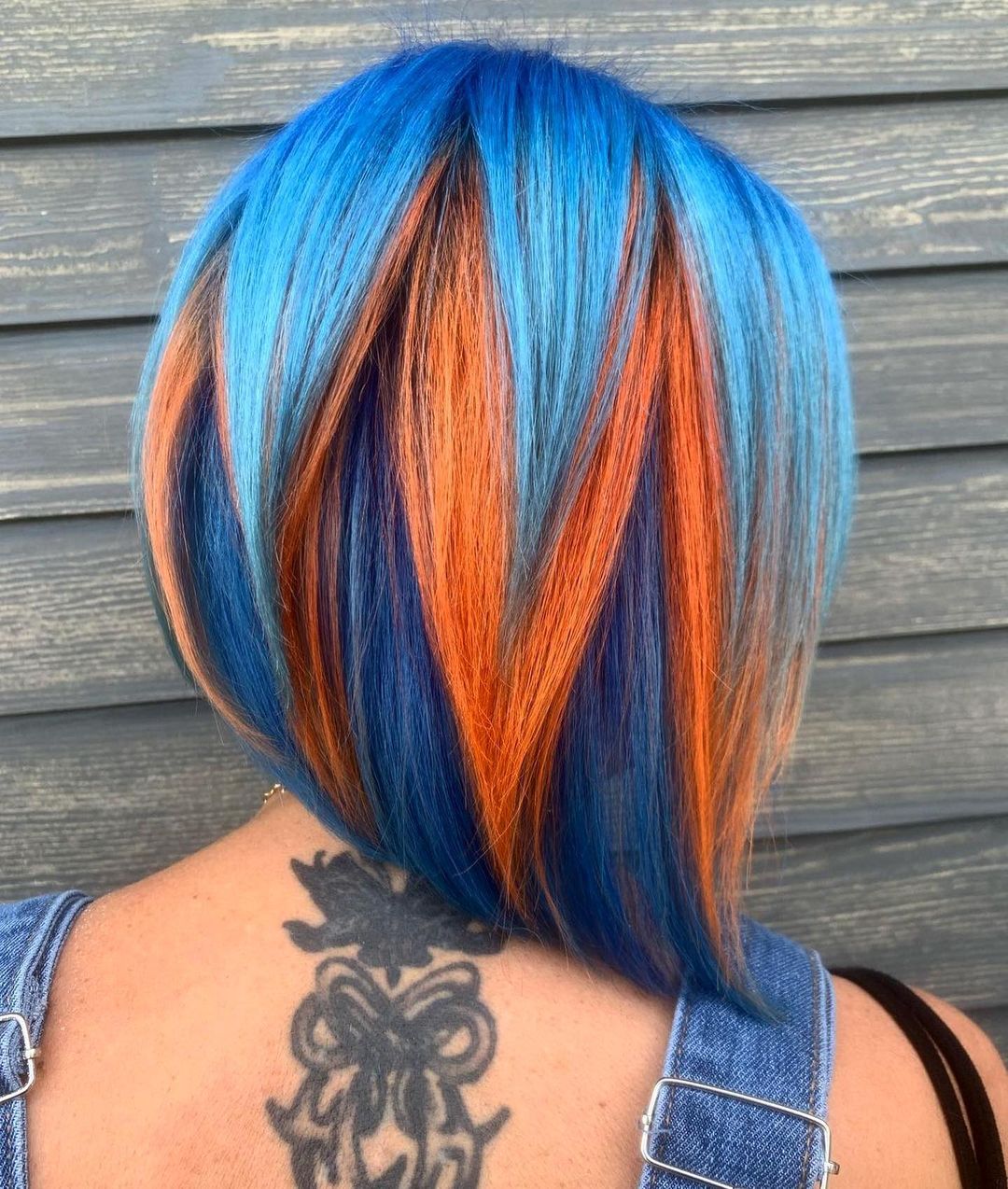 If you want to show daring by going for something out of the box, complementary colors are another fun way to spice up your stacked bob.
56. Feathered Stacked Bob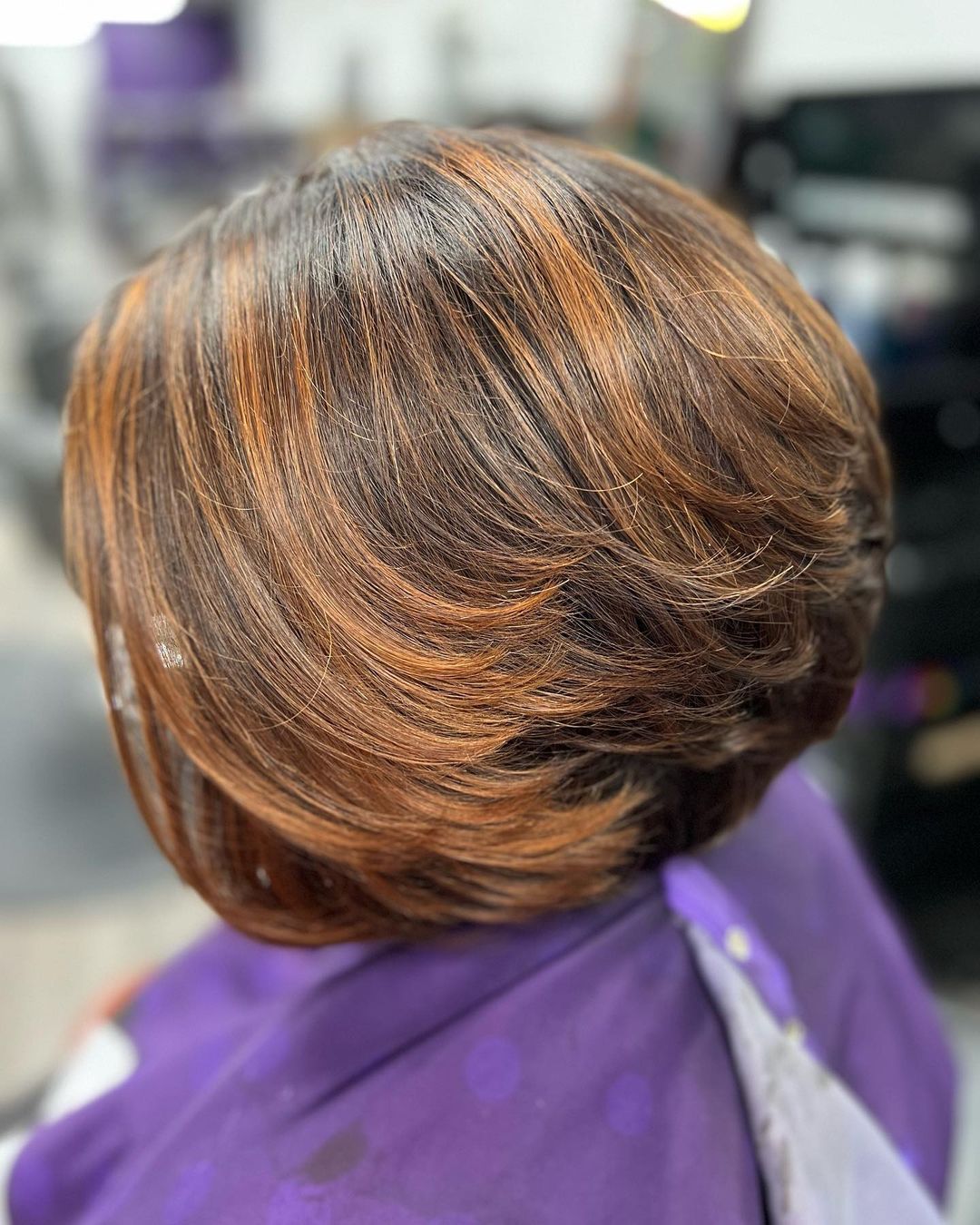 Stacking plus feathering equals soft, naturally flowing shape that's lush and full-bodied.
57. Short Choppy Stacked Bob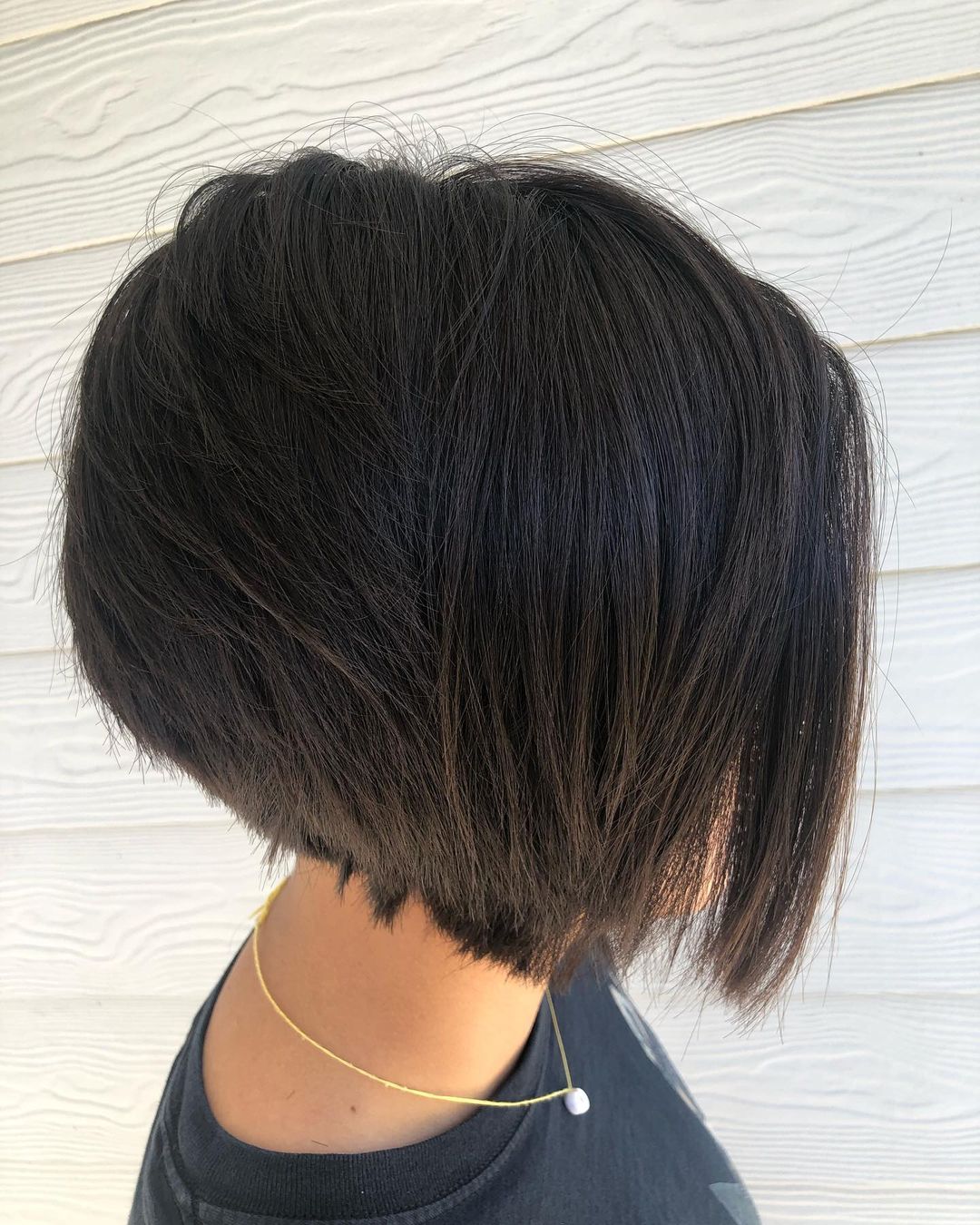 Choppy layers take a stacked bob from classic to modern, giving you that laid-back, effortless look.
58. Layered Stacked Bob With Long Bangs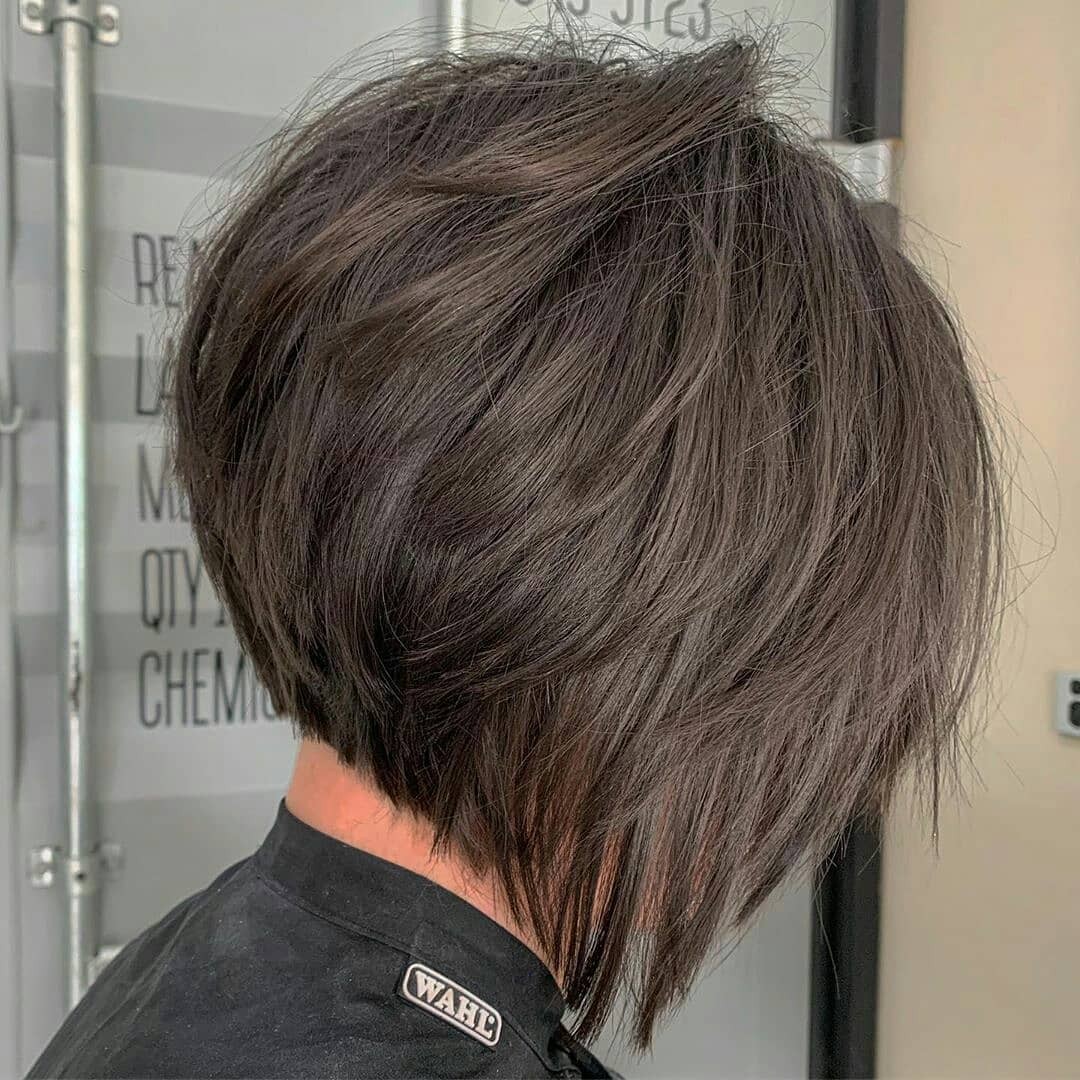 Long bangs and a stacked cut bring out the playful side of your style, even if you opt for a natural color.
59. Blunt Inverted Stacked Bob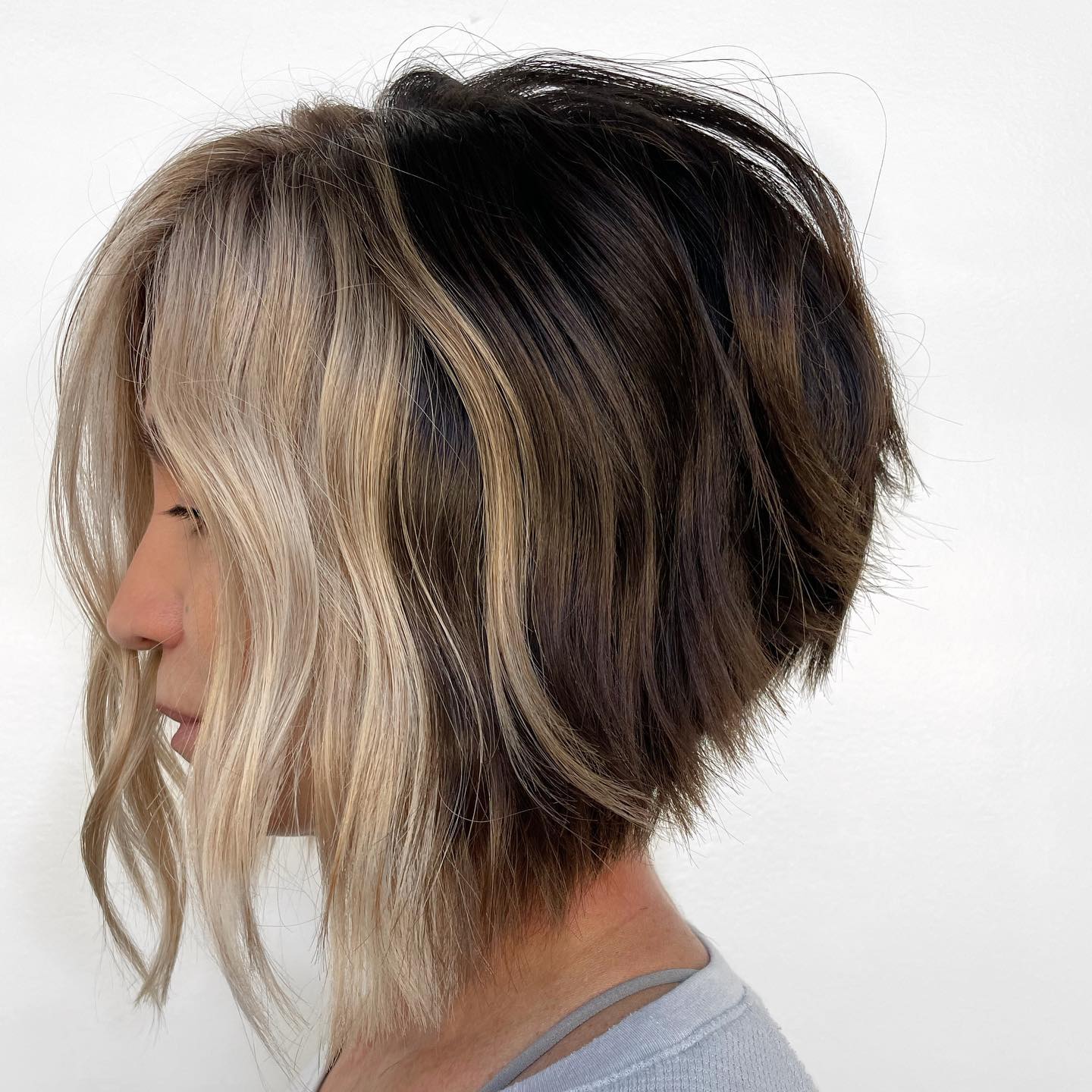 Long, blonde strands around the face and short brown stacked layers create a cut that's party in the front, business in the back, contrary to the popular saying.
60. Stacked Bob For Thick Hair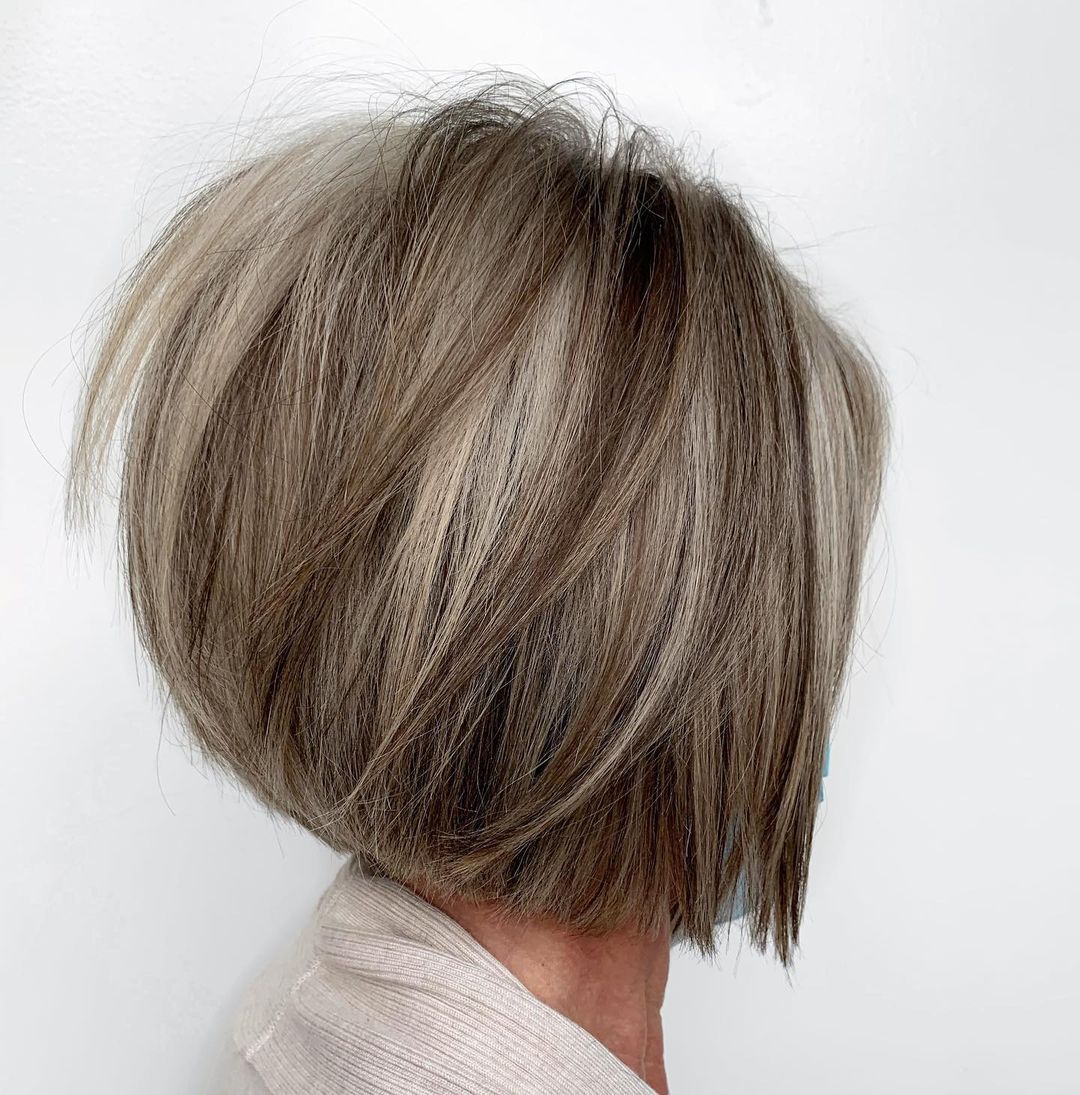 This precise cut with highlights is a great choice if you want to present an elegant appearance.
61. A-Line Stacked Bob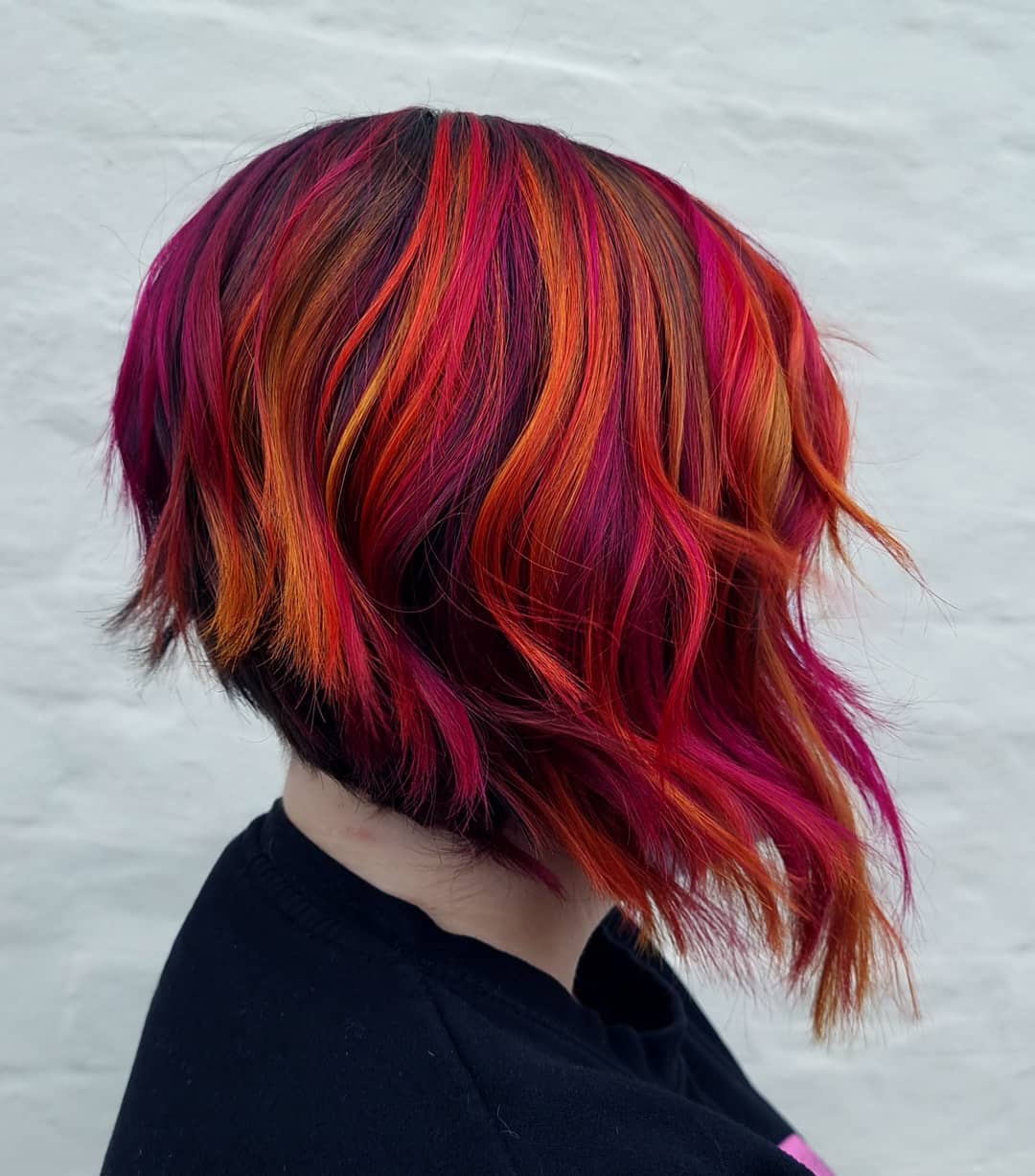 Orange, purple and red on top of brown create an impactful look that goes well with the angled, asymmetric cut.
62. Stacked Bob With Soft Layers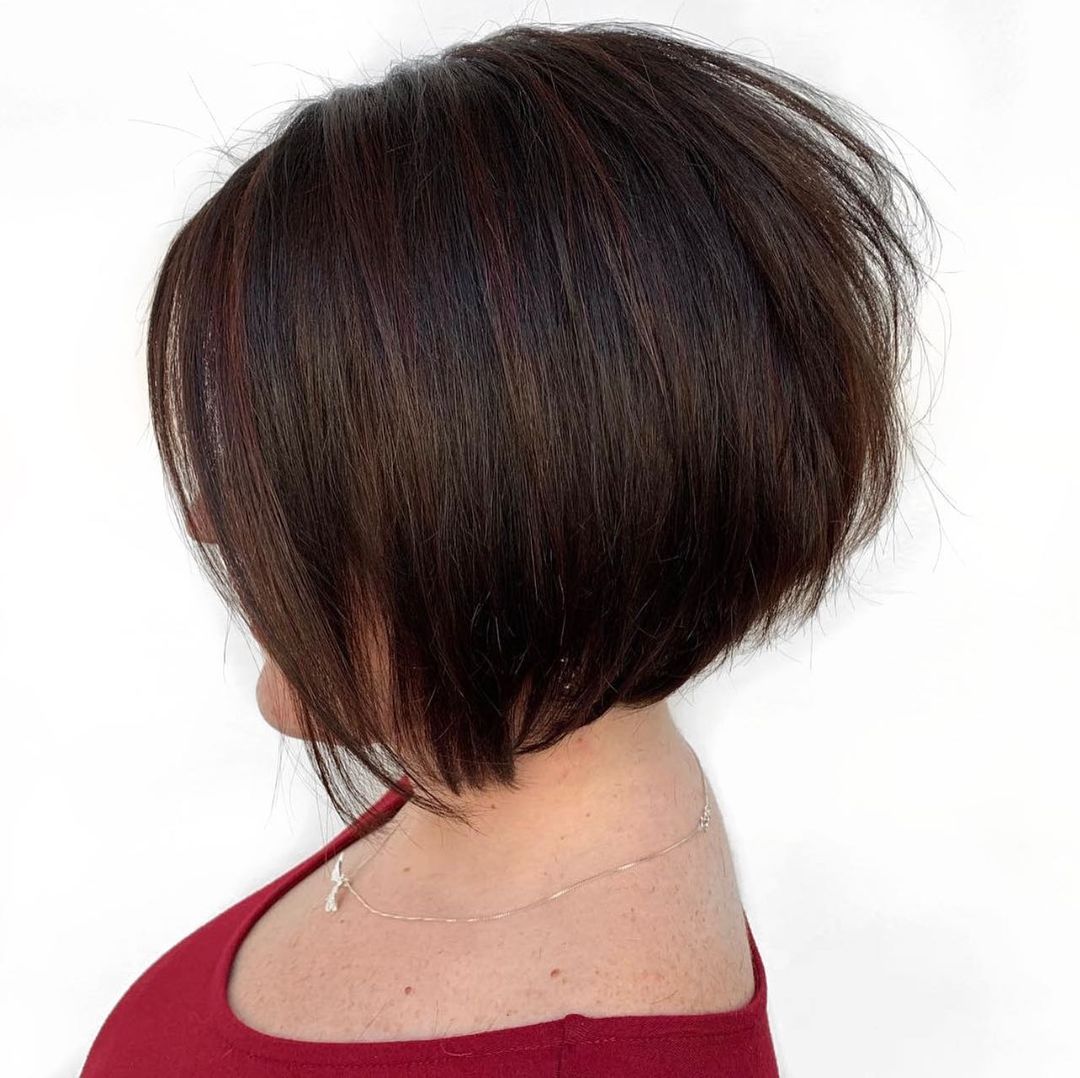 Fluffy and soft, this style is a romantic way to wear a stacked bob while making your hair appear thicker and fuller.
Turn Up The Volume
With so many varieties of stacked bobs to choose from, it can be difficult to make a decision. You can be practical and pick the one that seems the easiest to maintain, or go for the one you liked instantly. If you're lucky, they'll be one and the same.