If you have an oval face and you like changing up your look, you're lucky because you can pull off any style of bangs. While other face shapes might need to pay more attention to proportion, oval faces are naturally balanced. This allows you to experiment without having to worry if a particular style will suit you.
Here are 50 examples of gorgeous hairstyles that showcase fun ways to play with bangs if you have an oval face.
How To Tell You Have An Oval Face?
An oval face has balanced proportions, so the overall impression of it is harmonious—you wouldn't describe it as neither angular nor rounded.
An oval face is about one and a half times longer than it's wide and doesn't look either wide or long.
The forehead and the jawline are balanced in width, with the forehead being slightly wider and the jawline rounded.
The cheekbones are somewhat high but not too prominent.
The chin is rounded or slightly pointed.
There can be slight variations in all of these features, but an oval face will still look balanced.
1. Shag With Long Bangs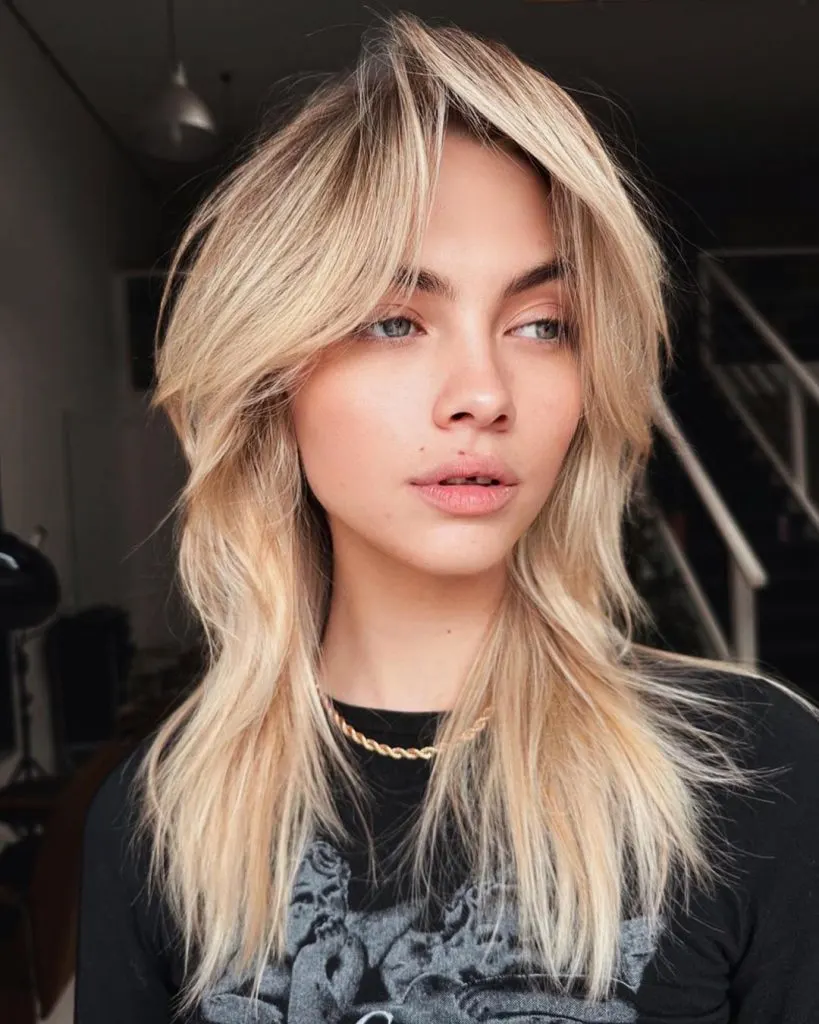 Trendy layered cuts like shags and wolf cuts always include some type bangs—among them, long choppy bangs are the most low-maintenance option. They work for nearly all face shapes and hair types, and they're very easy to wear if you have an oval face.
2. Wolf Cut With Blunt Fringe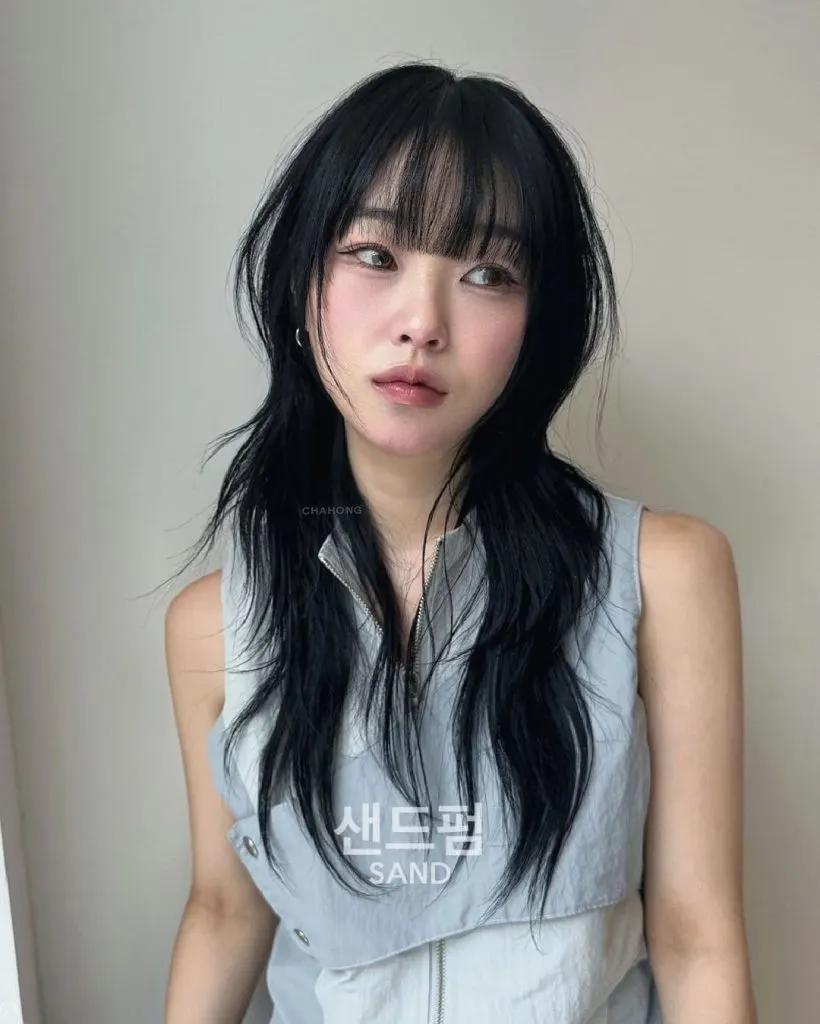 An unexpected addition to a wolf cut are wispy blunt bangs. With the rest of the haircut featuring soft, tapered ends, straight-across bangs provide contrast and an unexpected twist.
3. Medium Curly Hair With Side-Swept Bangs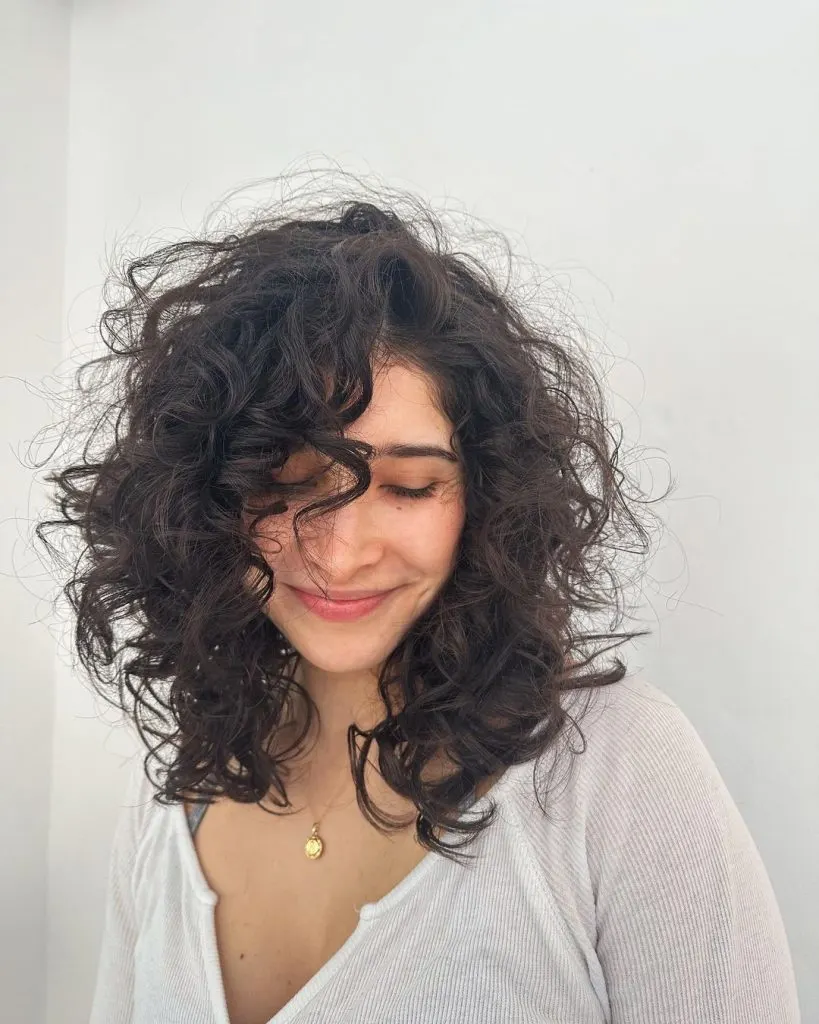 Long, side-swept bangs will soften the features and frame the face. If you have curly hair, consider your curl pattern and how your hair behaves before you decide on the exact shape and length.
4. Short Coily Hair With Wispy Bangs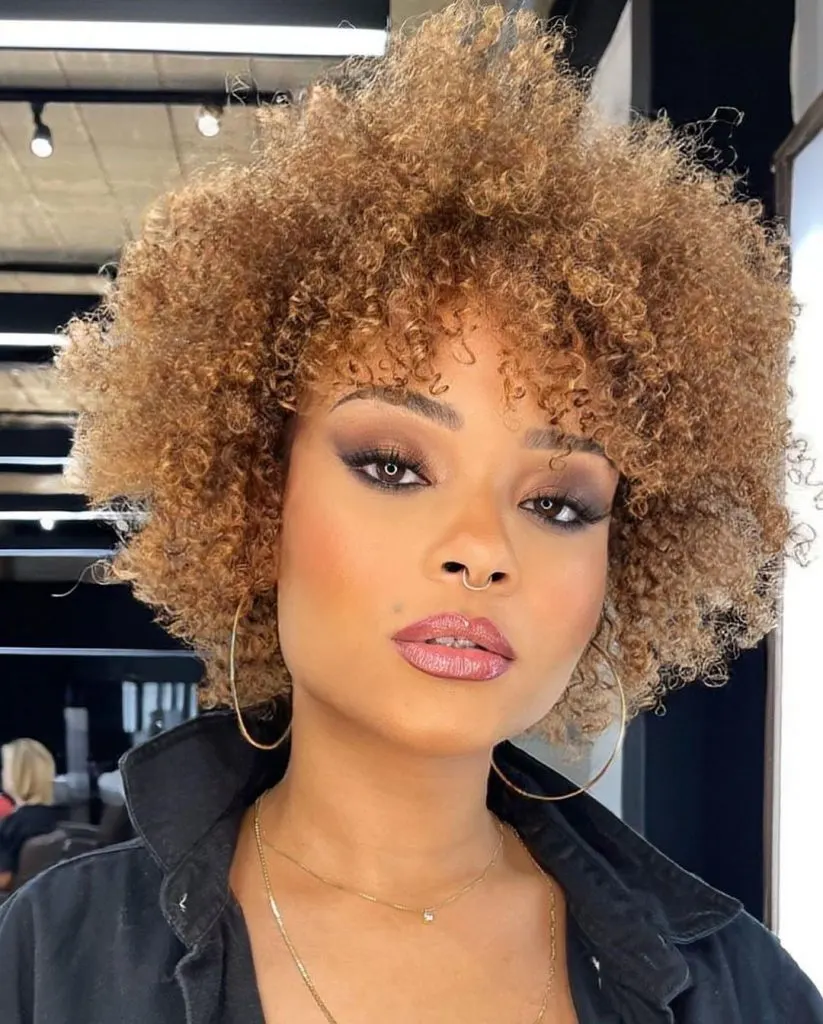 Shorter bangs can create awkward lines so they're not recommended for many face shapes, but the oval face can pull them off. These delicate coily bangs that graze the eyebrows are a playful and relaxed touch.
5. Medium Hair With Bardot Bangs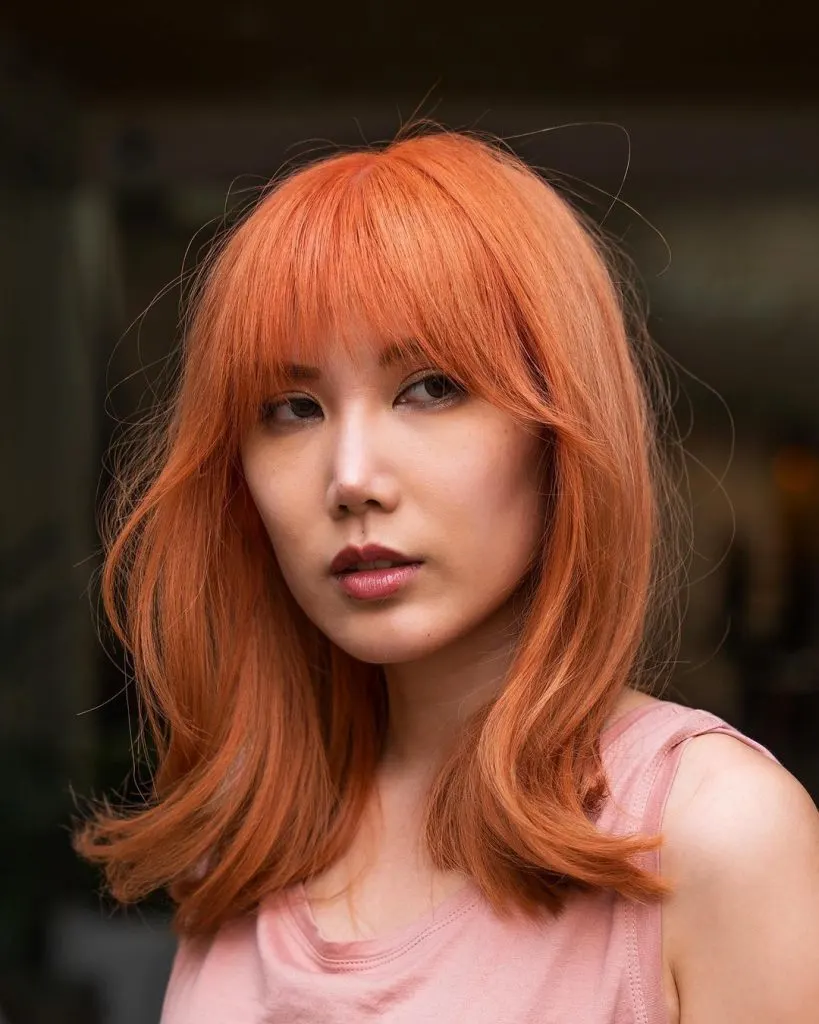 Curtain bangs with a shorter center section are called Bardot bangs, and they've been popping up everywhere. They're universally flattering, so you don't have to wonder if they'll suit your oval face.
6. Curly Bob With Bangs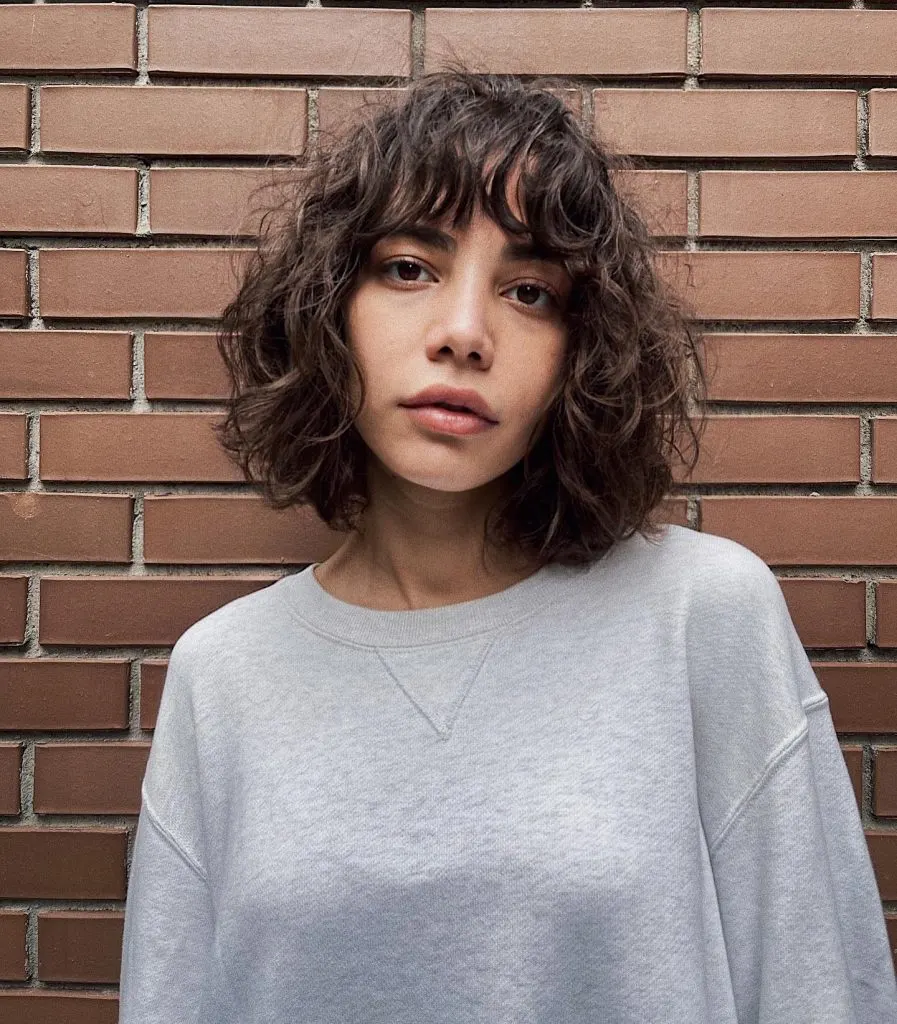 If your hair texture is somewhere between defined waves and large curls, long hair isn't your only option. This hair type looks especially sharp when cropped into a curly bob, and shorter forehead pieces complete the look.
7. Long Straight Hair With Wispy Bangs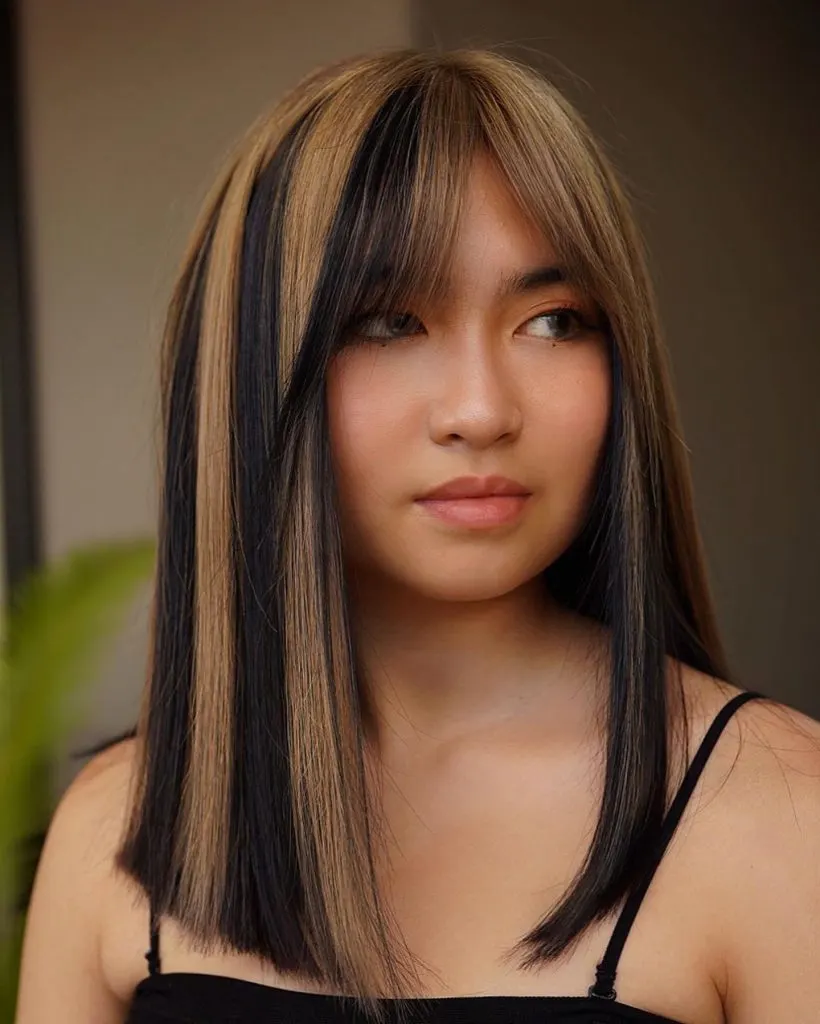 Straight hair with no layers can drag the face down and look flat at the crown. Narrow wispy bangs break up the long lines and completely transform the look.
8. Choppy Layers And Long Fringe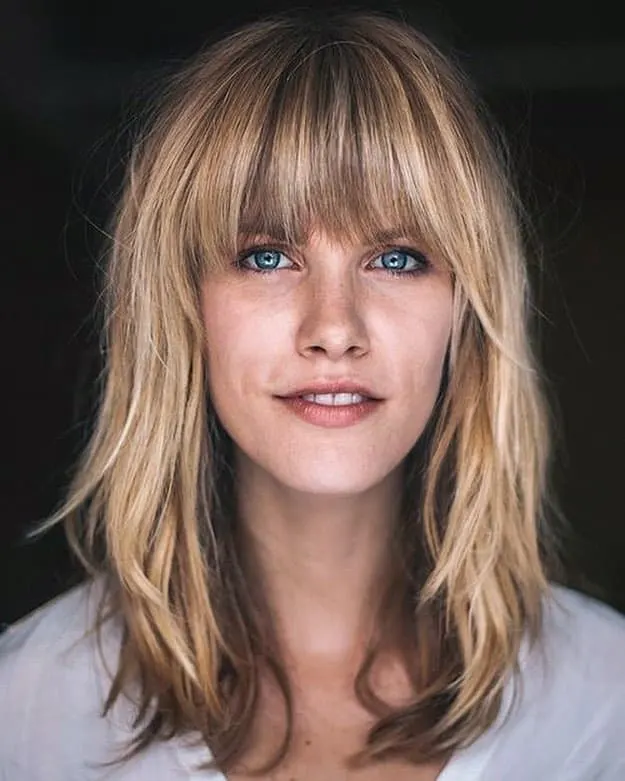 Full fringe is a style of bangs that an oval face can pull of much easier than others. You can opt for a blunt line or soften the look with a choppier finish.
9. Long Shag With Wispy Bangs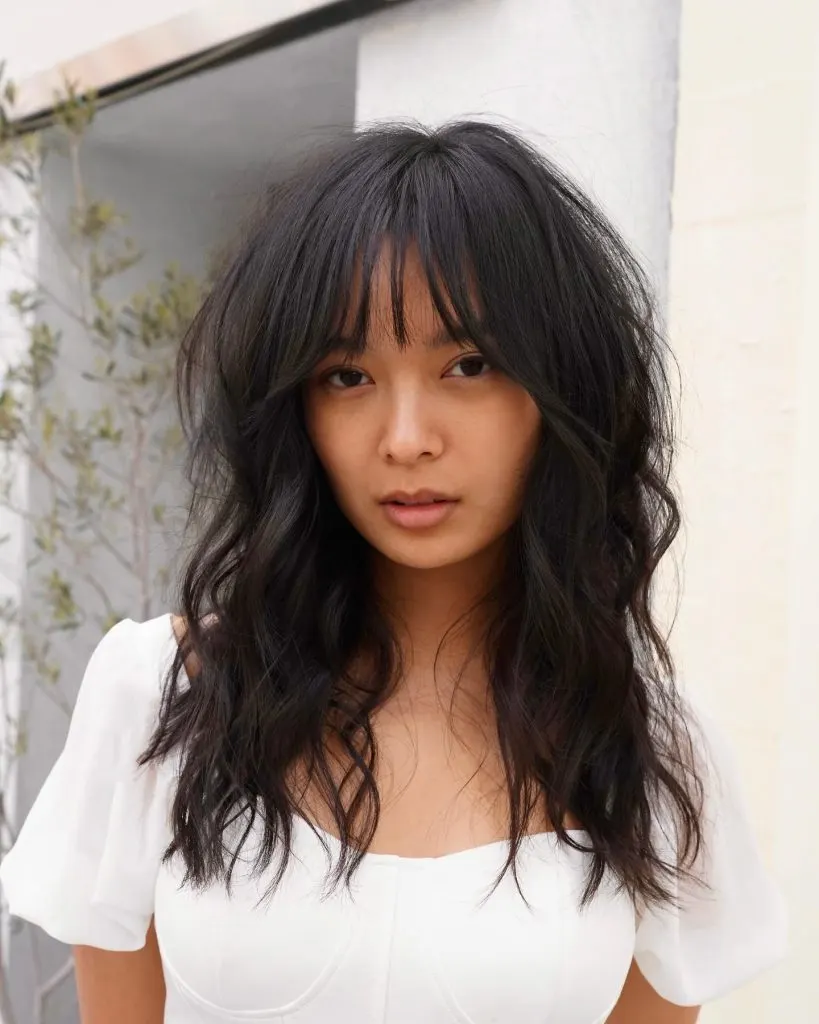 Wispy short center pieces are a trend in bangs that's easy to try out because if you change your mind, you can blend them into the sides with no fuss.
10. Choppy Bob With Bangs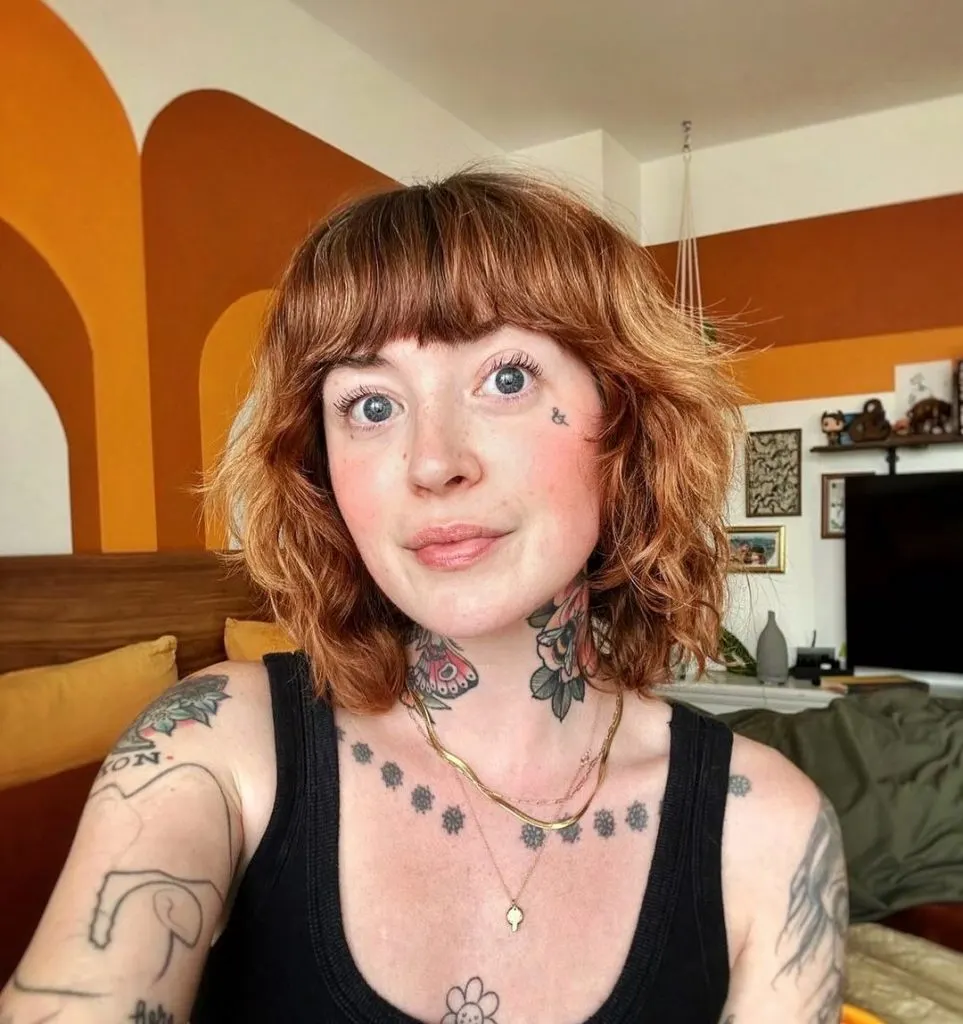 Choppy layers add a modern flair to the classic French bob, while also making it easier to style, since it looks best when it's simply air-dried.
11. Medium Choppy Hair With Soft Fringe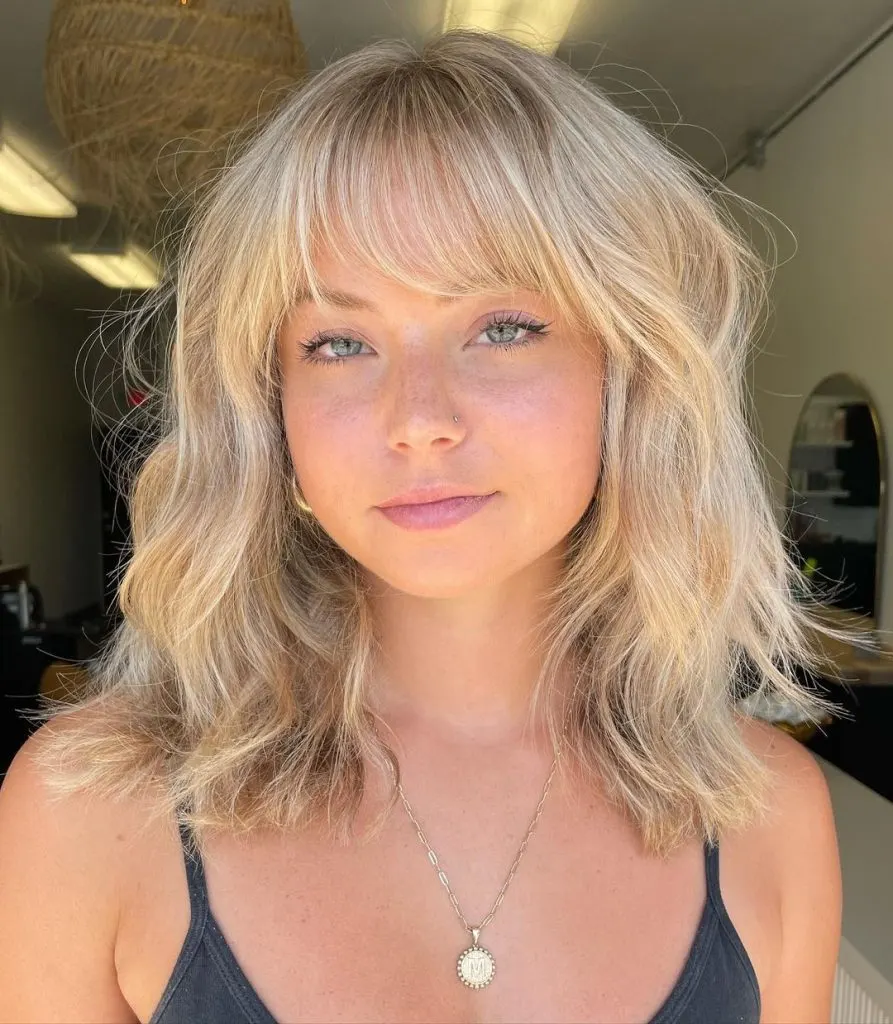 Wispy fringe softens your hairstyle, making it look more delicate and romantic. If you're unsure, start small and make sure you don't go too short.
12. Blunt Bob With Short Fringe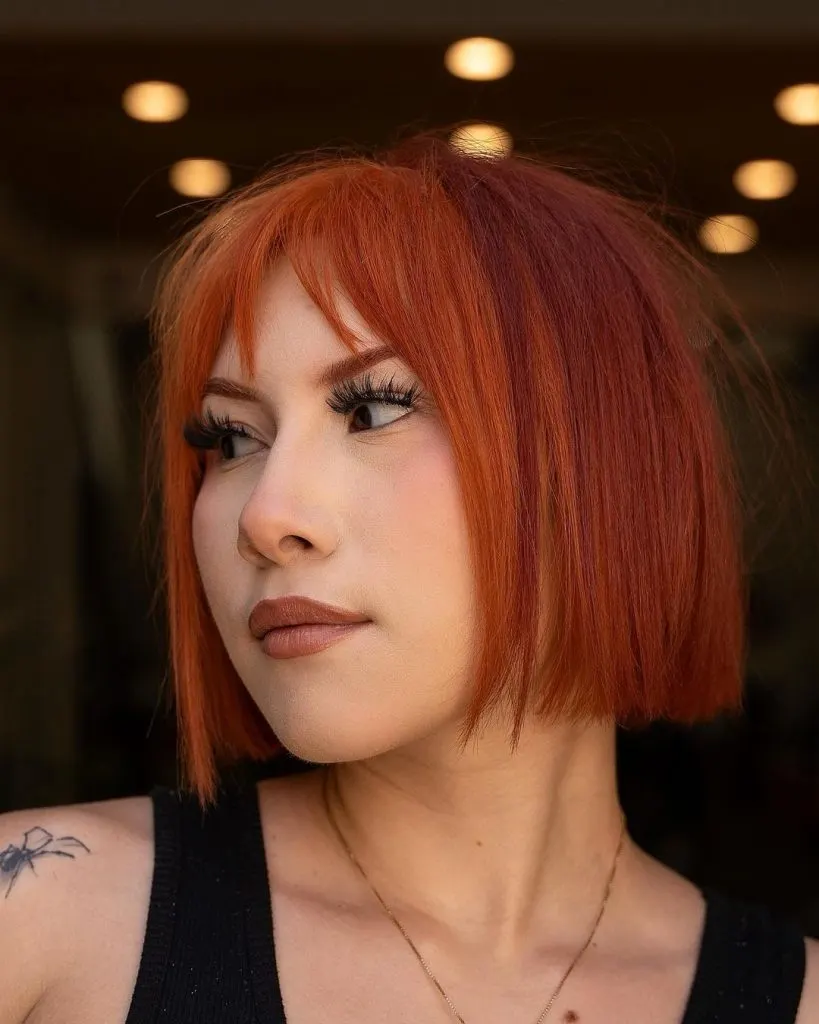 The impact of these tiny pieces is incredible—they give a completely different vibe to this blunt bob. And when you want to switch things up, you can just push them into the longer strands.
13. Short Wolf Cut With Parted Bangs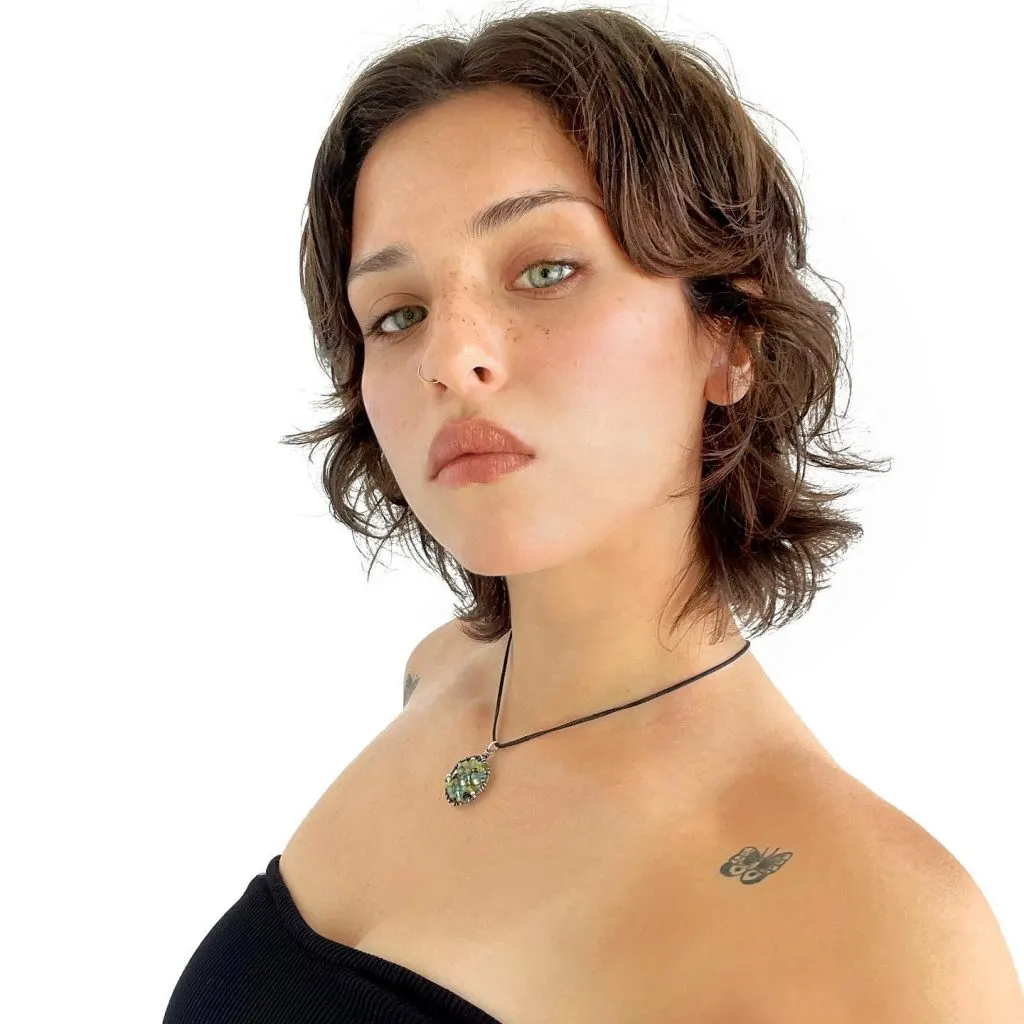 This super choppy haircut is far more versatile than you might think and can be worn in many different ways. It's long enough in the back and the sides to wear up, the bangs look amazing parted or worn forward, and it looks great air dried or styled.
14. Choppy Medium Hair With A-Shaped Bangs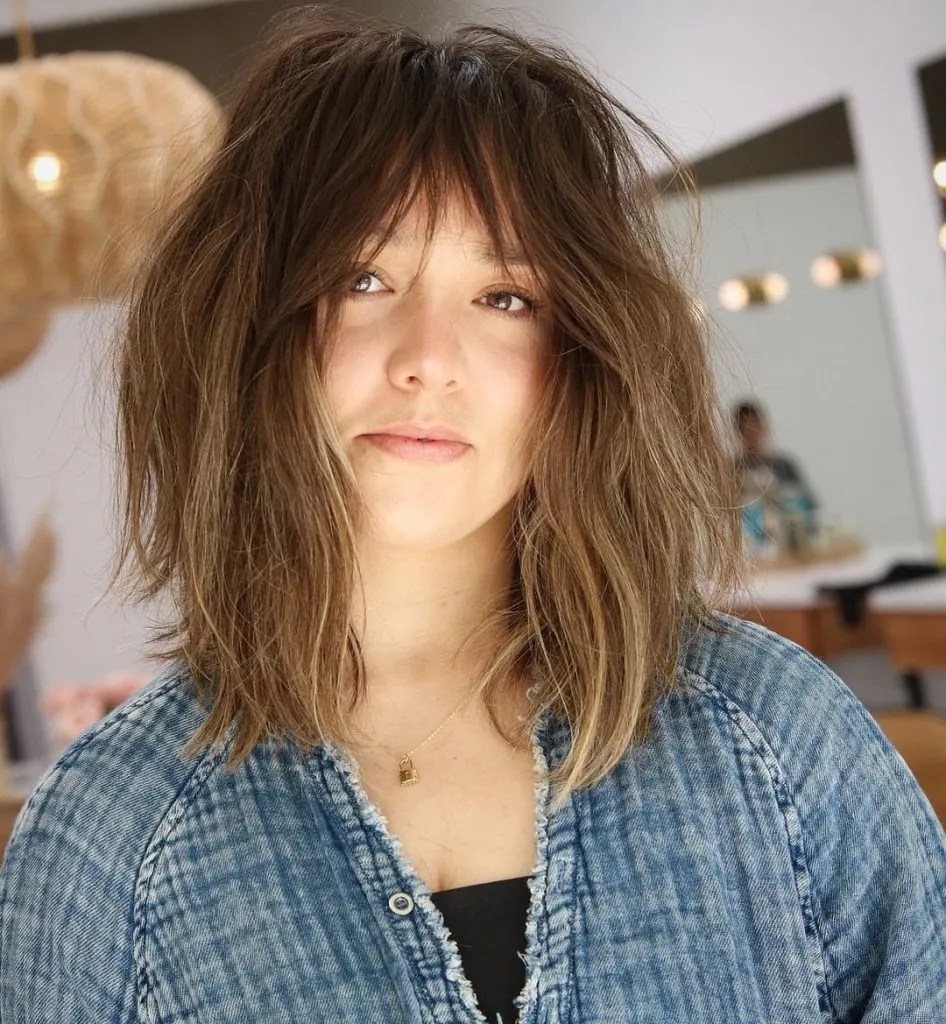 This haircut will make it seem like you have lots of hair even if you don't, thanks to the well placed layers and the gritty texture, while the bangs play up this effect even more.
15. Mullet With Crescent Bangs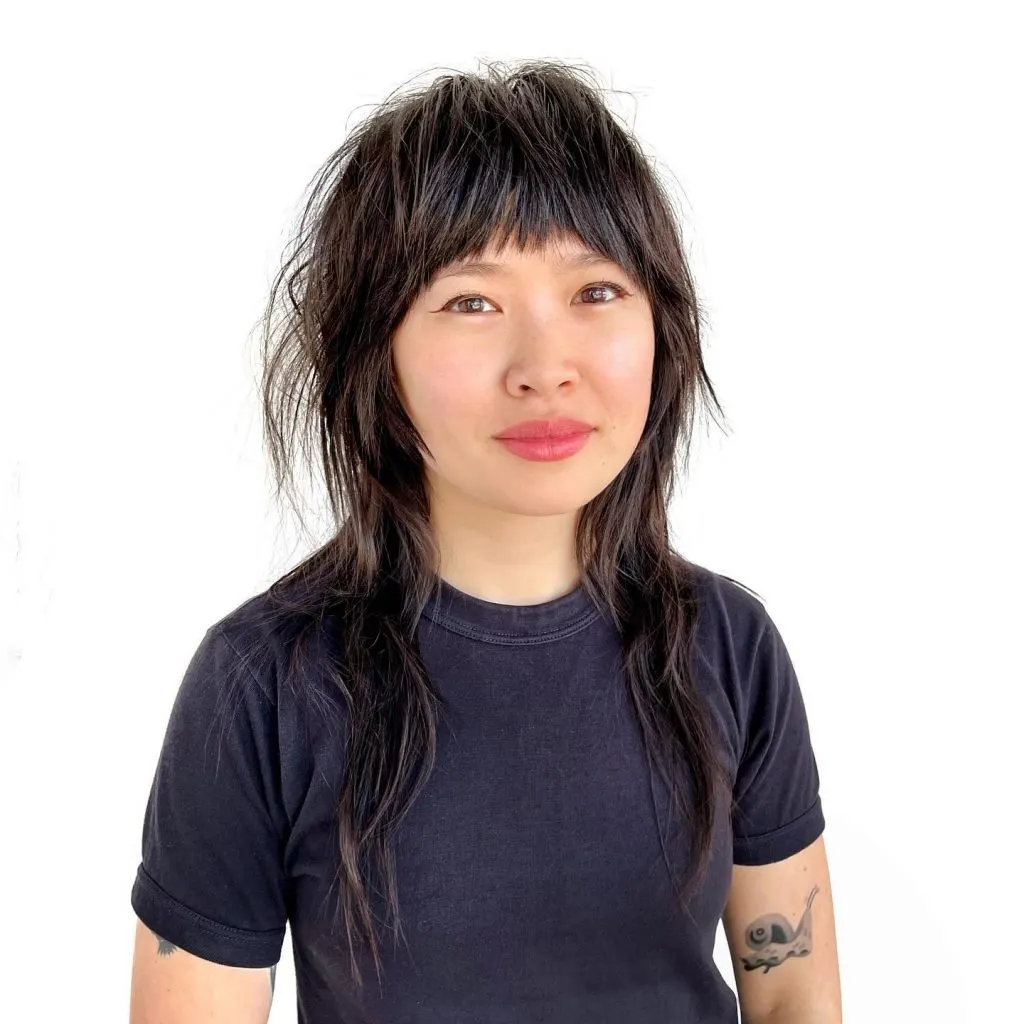 Who knew that mullets would return with such a vengeance? This cool, trendy haircut can suit any face shape, thanks to the face framing layers and because it matches different types of bangs. With an oval face, you have the greatest number of options because most work for you.
16. Medium Shag With Choppy Bangs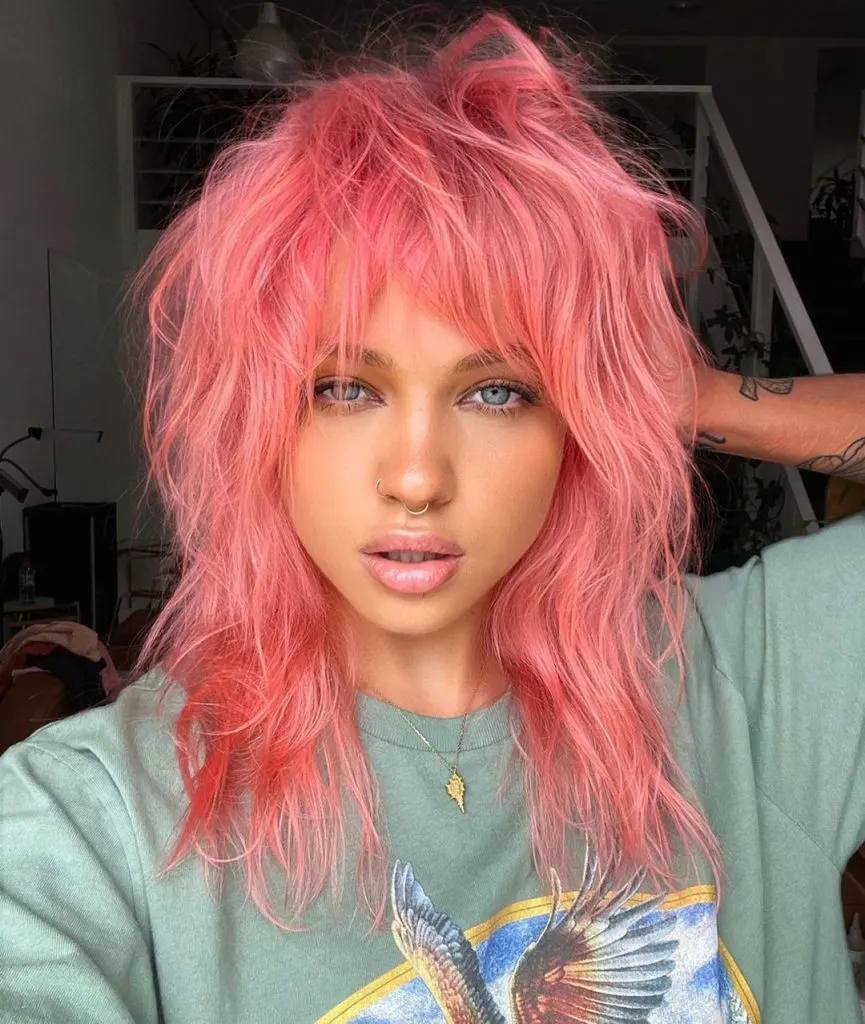 The cool, messy styling of this shag works so well with choppy bangs that look like an afterthought, but are actually an important feature of the hairstyle.
17. Long Hair With Curtain Bangs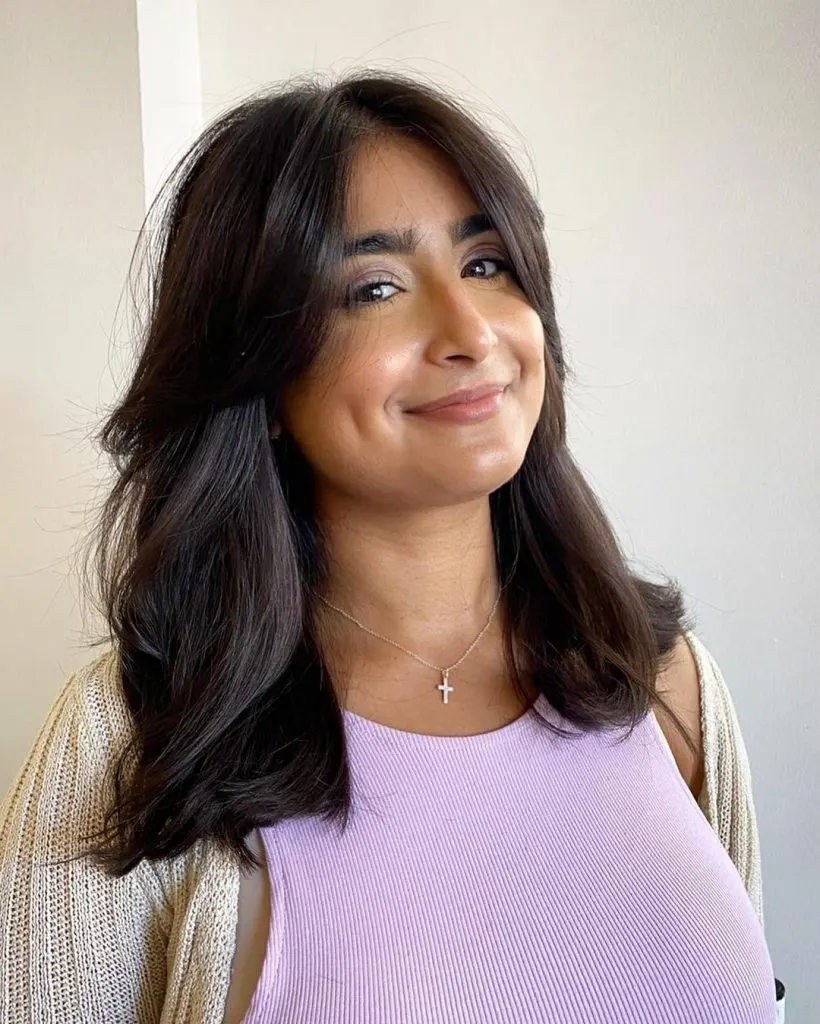 You can't go wrong with long curtain bangs, especially when paired with shoulder-length hair. This combo is the one of the most wearable, versatile and easy hairstyles available.
18. Medium Wolf Cut With Curtain Bangs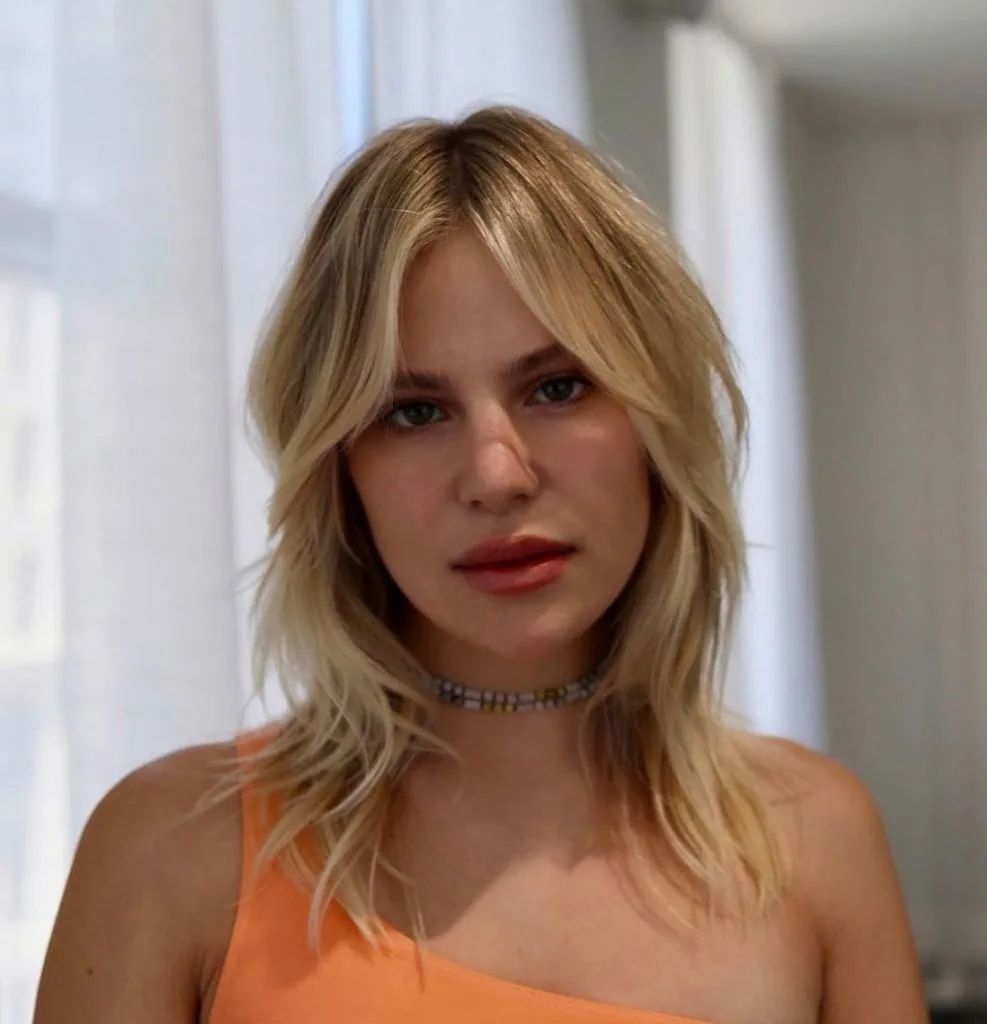 Wispy layers will make your hair light and manageable, and the curtain bangs elevate the whole look.
19. Medium Layered Hair With Wispy Fringe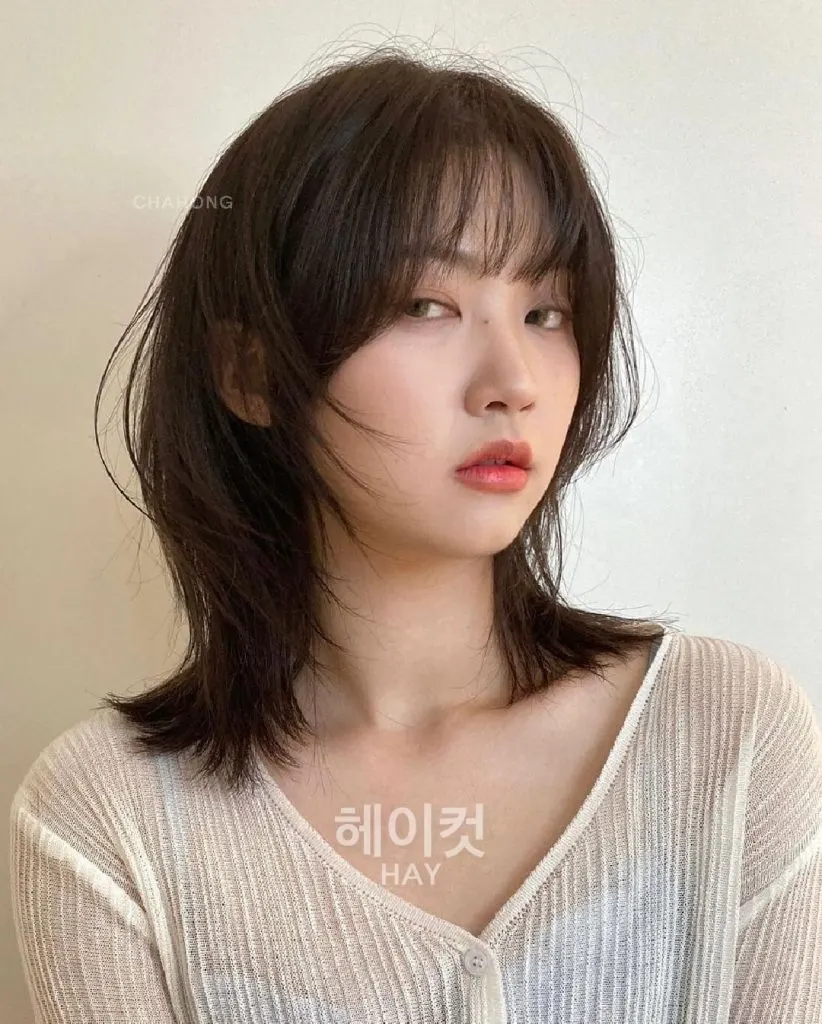 Wispy fringe is pretty and delicate, but because it's so fine, it tends to get greasy quickly. If you don't wash your hair every day, the solution to fresh fringe is to wash and style just them, or to use dry shampoo.
20. Choppy Layers With Long Bangs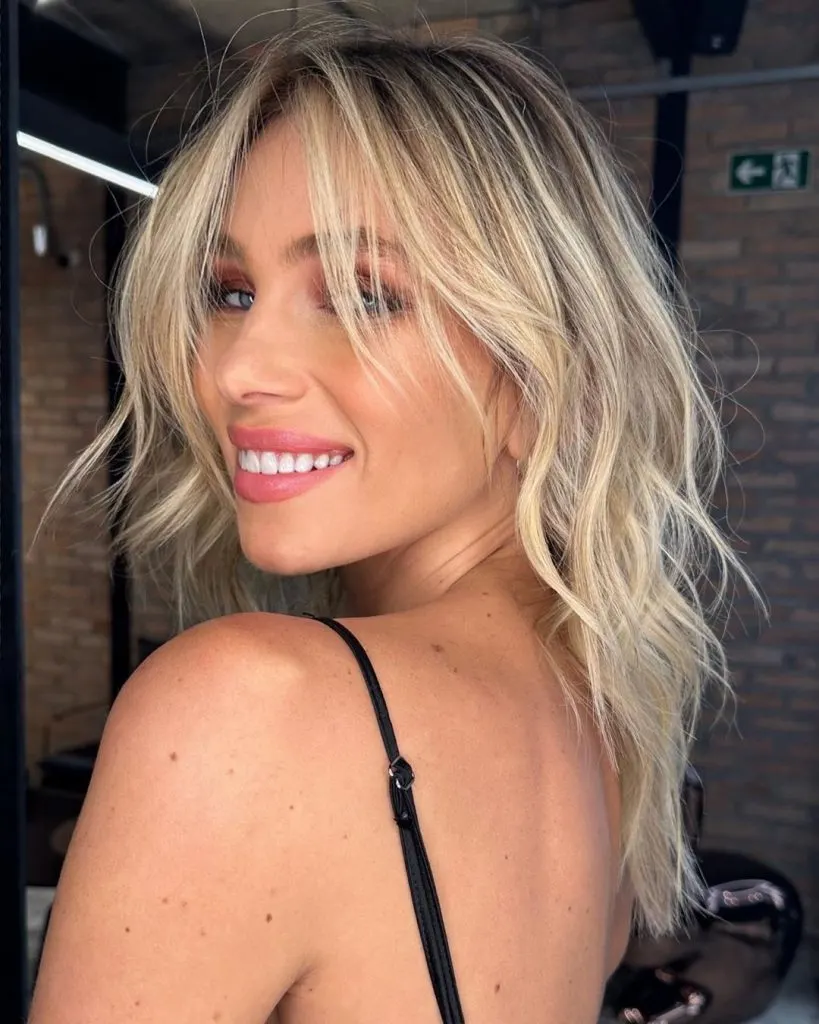 Long wispy pieces soften up this already breezy haircut, making it perfect for the summer.
21. Long Bob With Curtain Bangs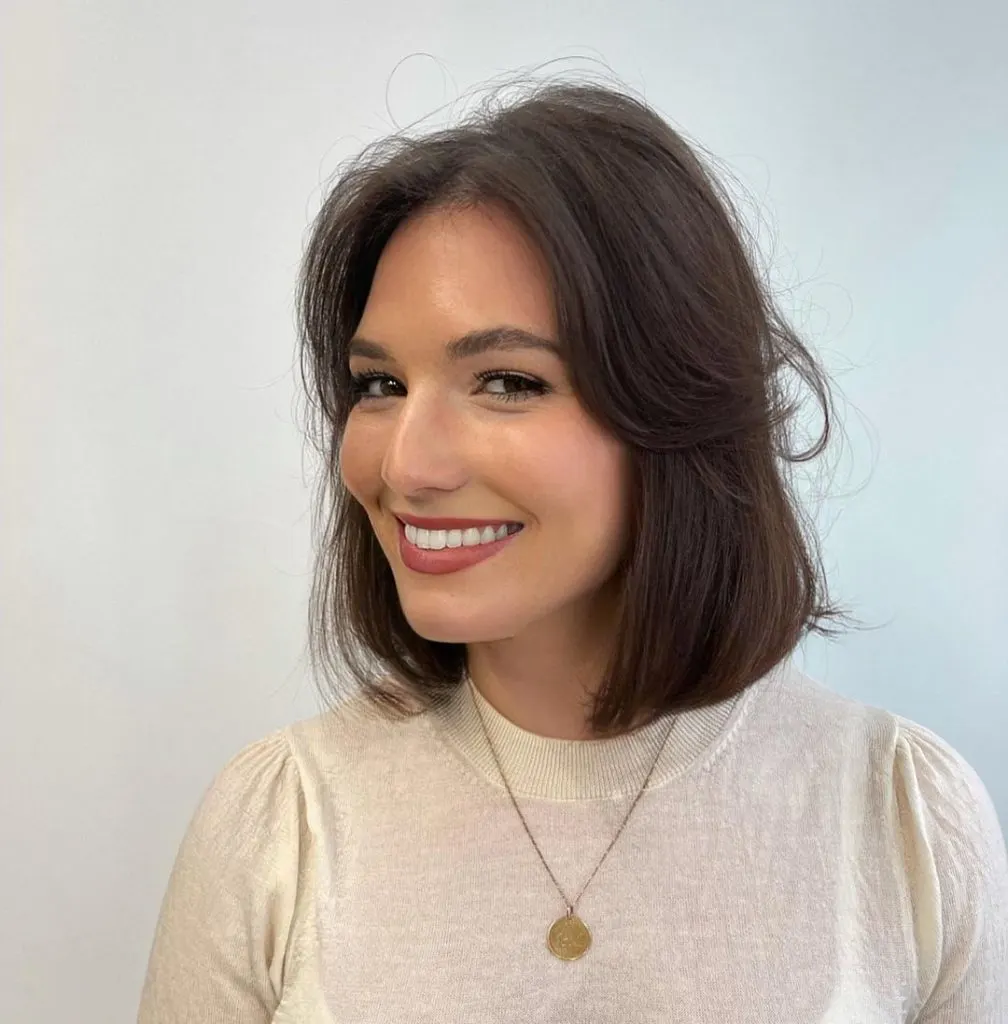 One-length haircuts can be a bit boring, but an oval face can handle it. Still, you can take your lob up a notch with curtain bangs that frame your face and call attention to your features.
22. Feathered Medium Hair With Curtain Bangs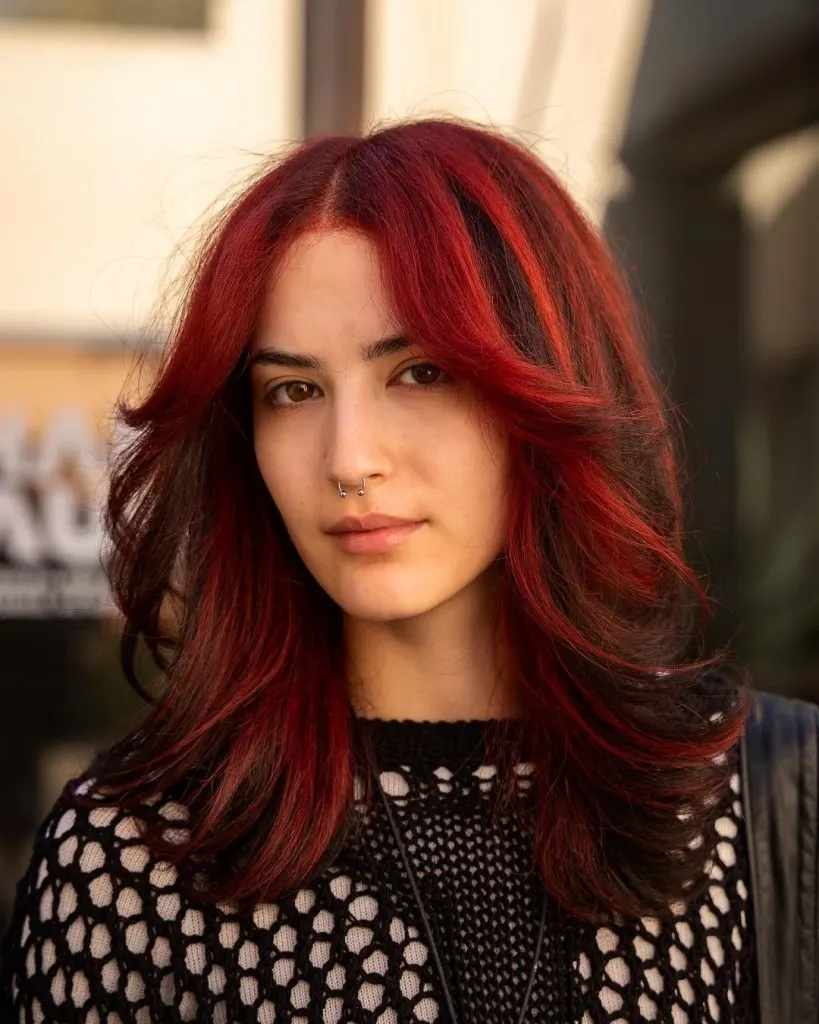 This hairstyle evokes '70s glam with its retro flippy ends, but if you style it differently, you can create a whole different vibe.
23. Medium Shag With Middle Part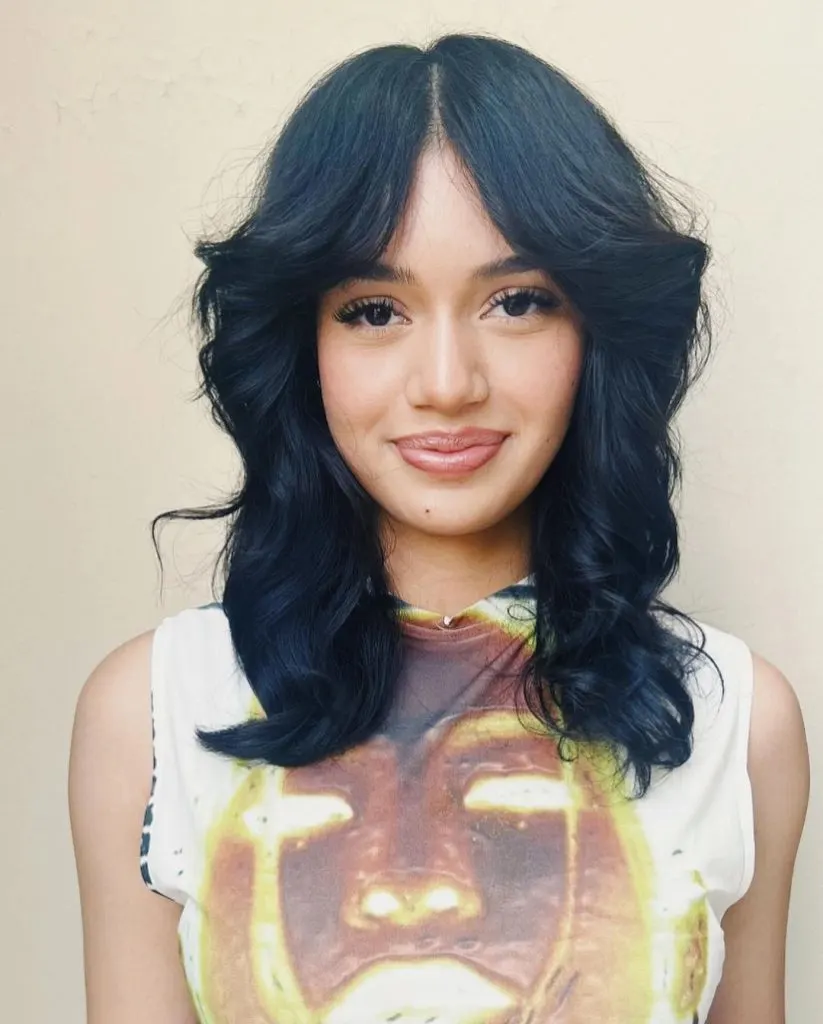 An oval face shape is balanced so it can handle haircuts and bangs that disrupt balance. This cut is heavy on top, which could be overwhelming on some other faces, but if yours is oval, you can pull it off.
24. Curly Shag With Long Bangs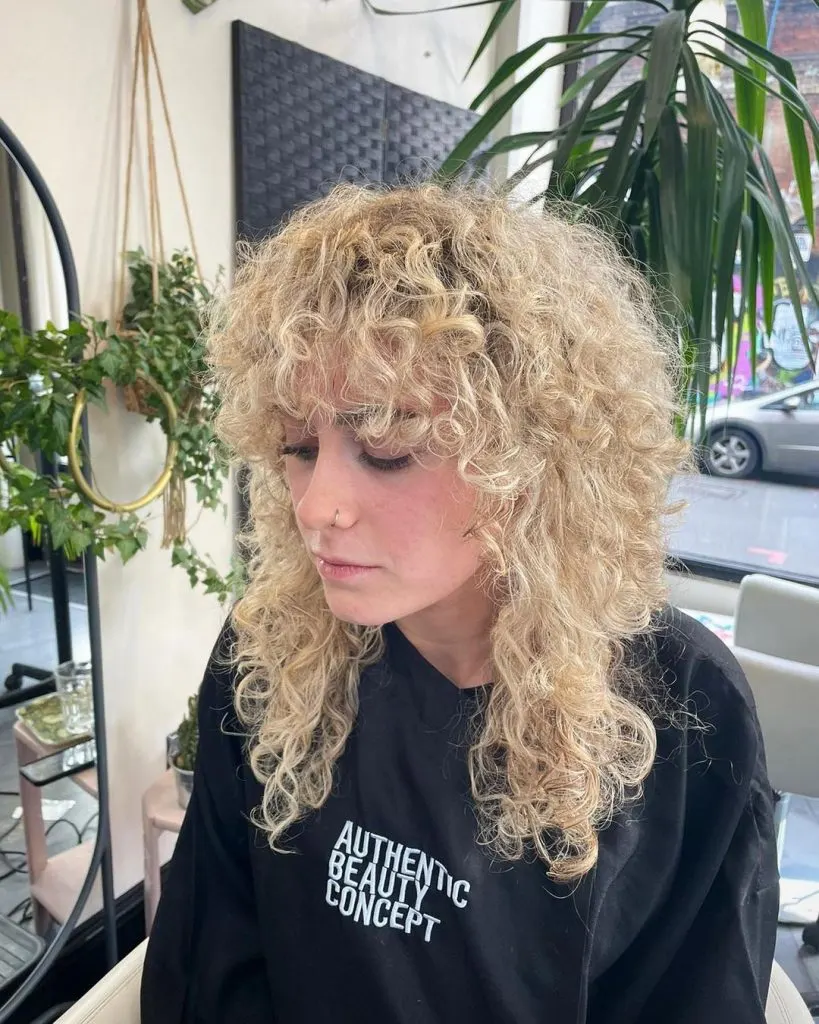 Curly bangs can be tricky, regardless of your face shape—it's important that your stylist cuts them dry to avoid going too short.
25. Long Blunt Bob With Curtain Bangs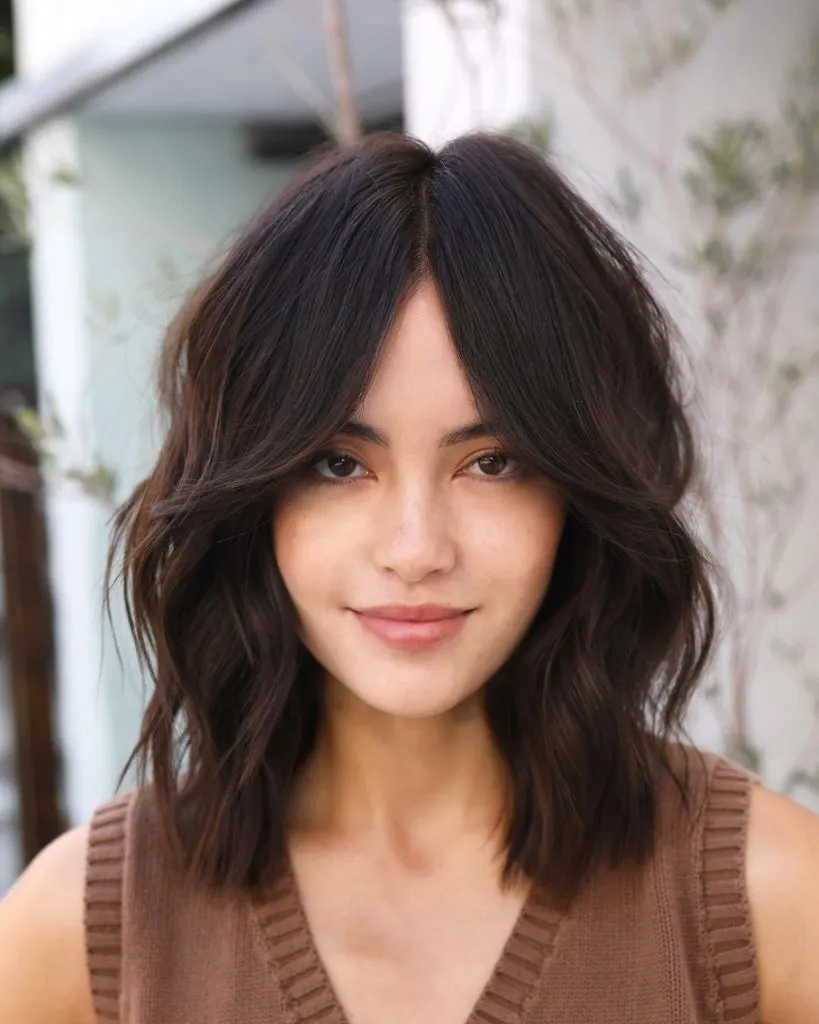 These curtain bangs soften the blunt bob and add volume on top, making the face seem smaller and softer.
26. Long Shullet With Straight Fringe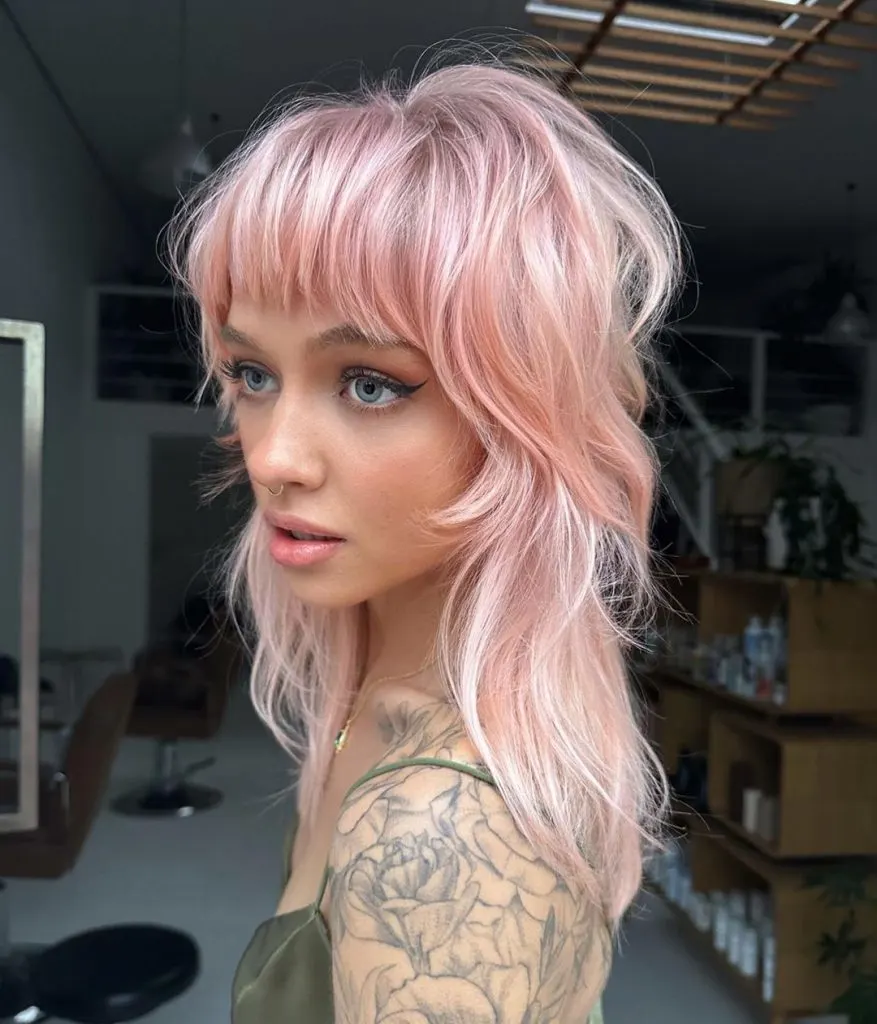 Is it a shag? Is it a mullet? Whatever you call it, it's a cute yet edgy style that works on a variety of face shapes, but this particular style of fringe is best left to oval faces.
27. Long Hair With Side-Swept Bangs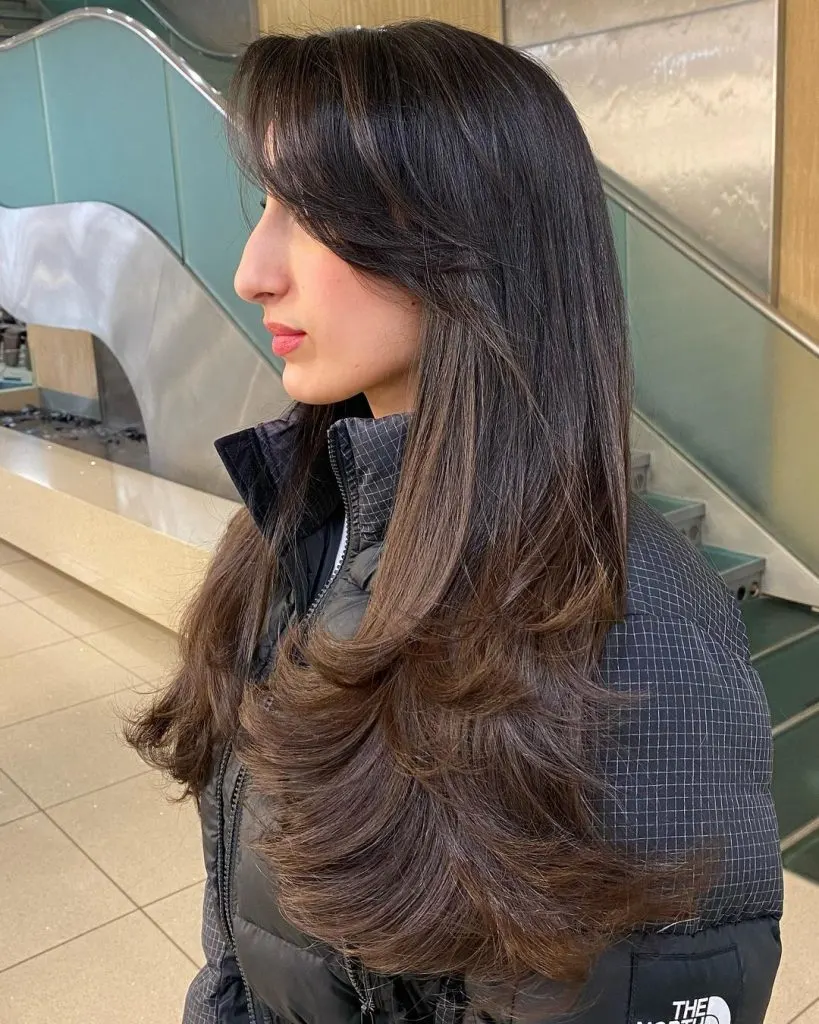 If you have fine or very long hair that tends to fall flat, layers can help out a lot, and the same principle applies near the face. Even long bangs will boost volume and make your hair look much more flattering.
28. Long Choppy Bob With Curtain Bangs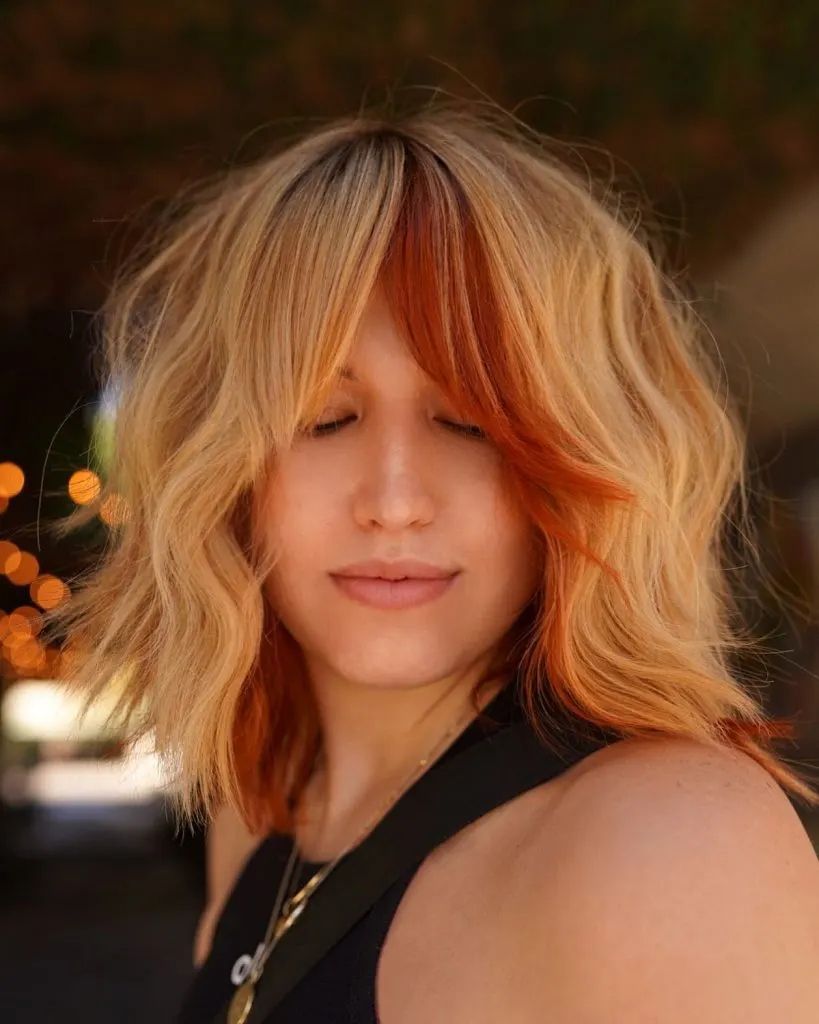 The essential product you need if you want your choppy bob to look like this is a texturizing product. It adds grit and volume and creates the modern piece-y look.
29. Layered Hair With Face Framing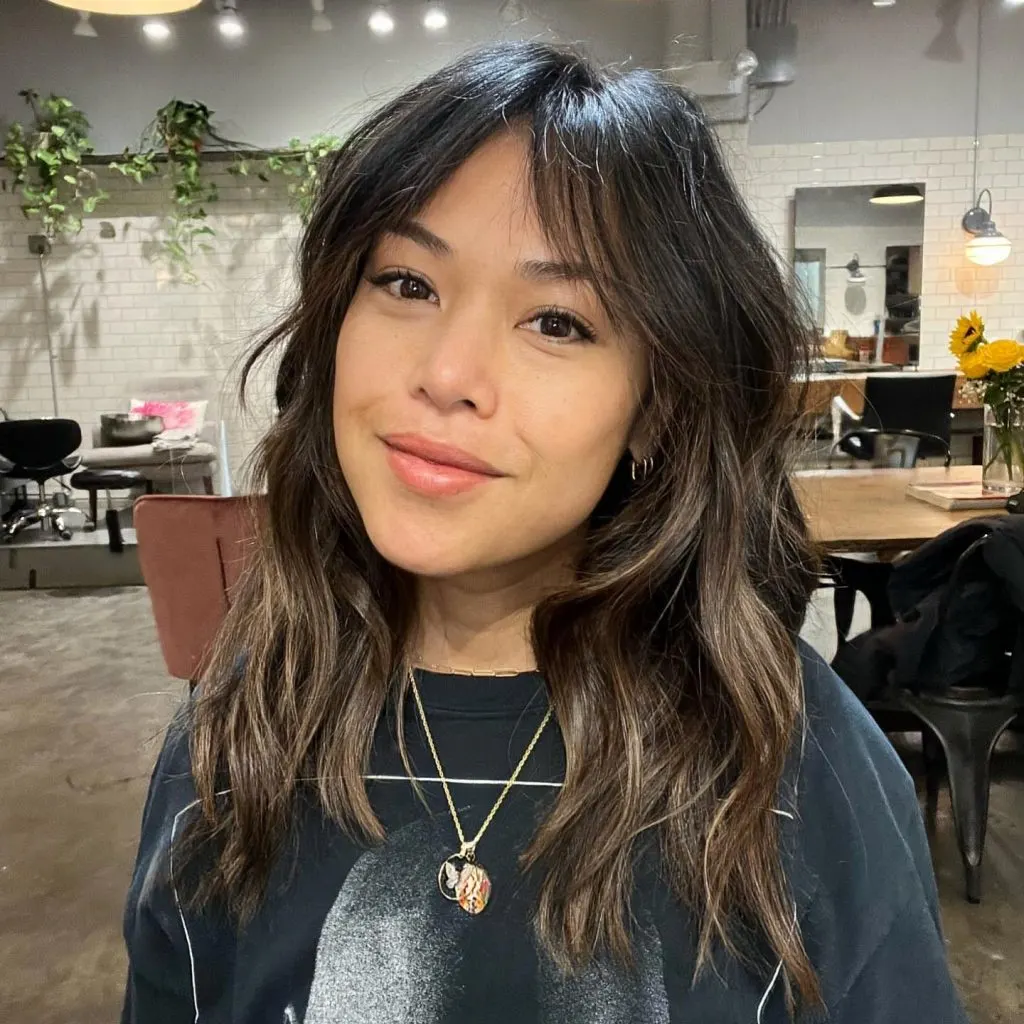 Wispy tapered bangs are a low-effort way to cover a tall forehead if you're not a fan of thick fringe.
30. Choppy Lob With Bangs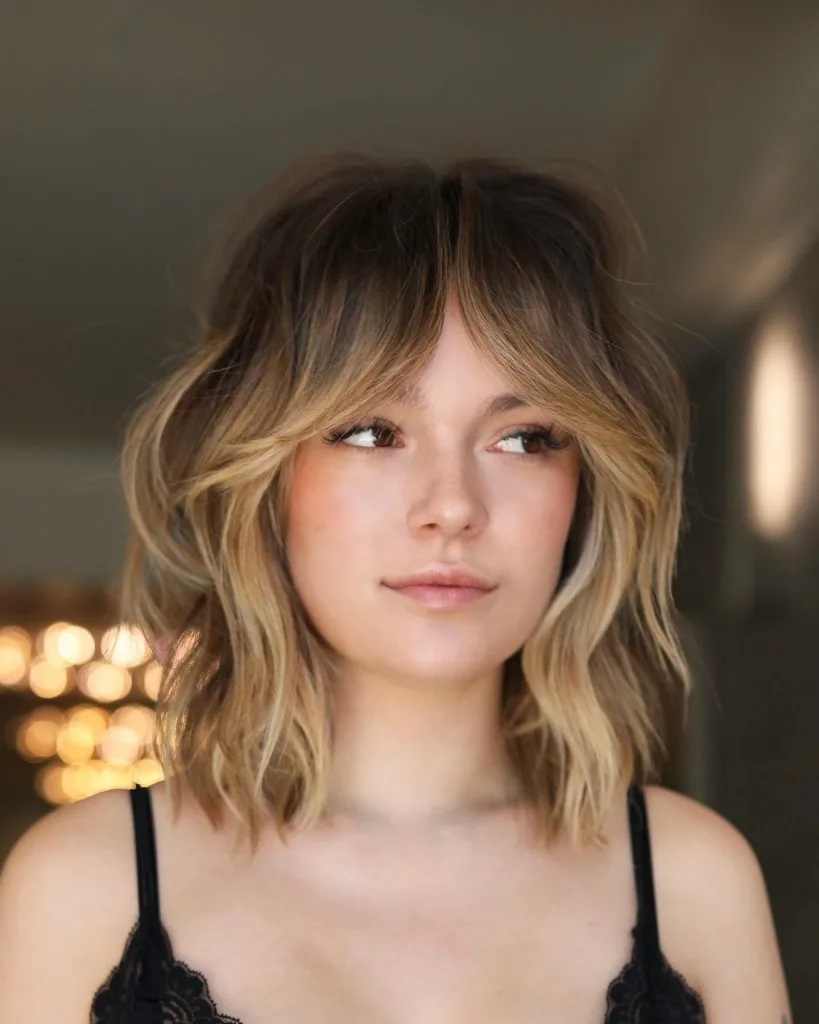 An oval face has balanced proportions, but you can use your hair to enhance or conceal a feature. For example, you can make your face look sharper or rounder, or draw attention to your eyes or cheekbones.
31. Long Straight Hair With Long Crescent Bangs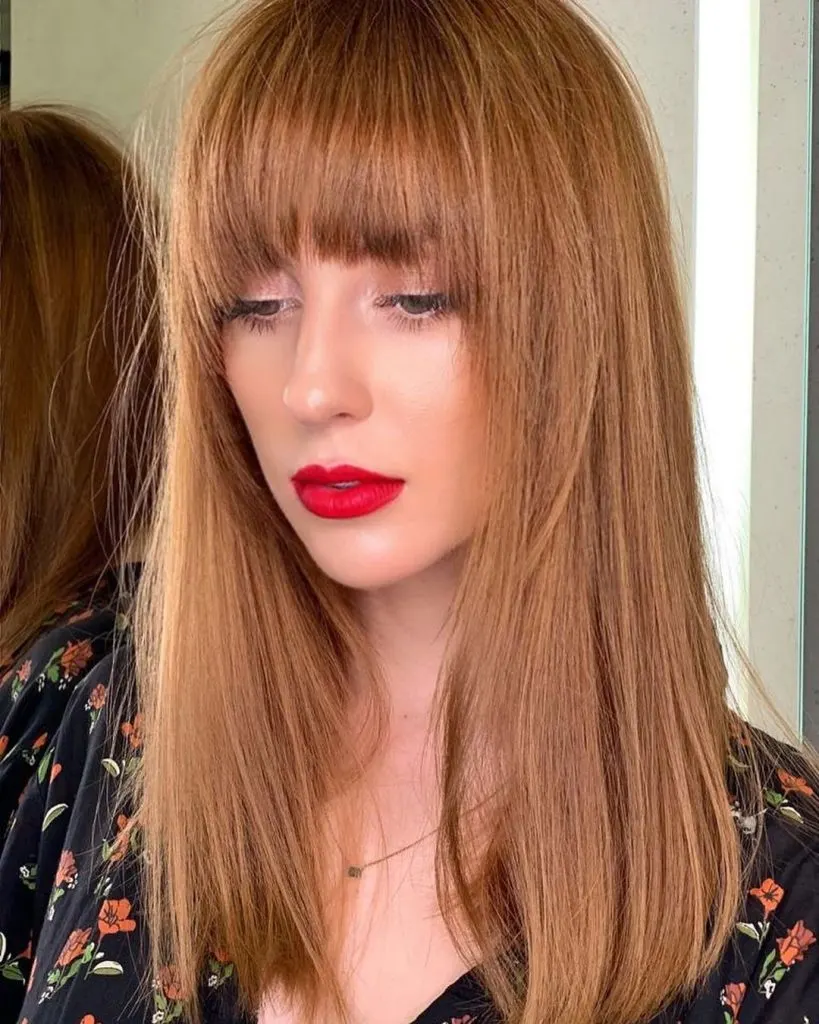 Thick bangs tend to overwhelm most face shapes, but not an oval face. Because the proportions of your face are balanced, you can wear them without care.
32. Long Curly Hair With Full Fringe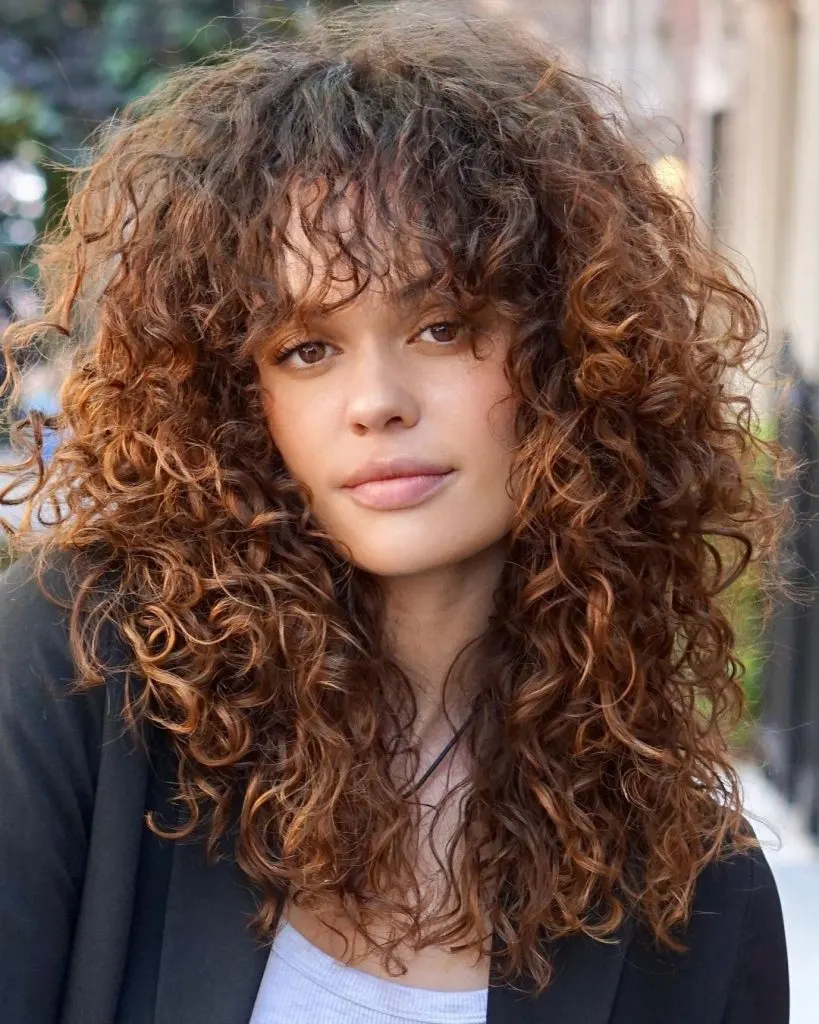 Long wispy bangs aren't just for straight hair—these lovely curly tendrils pair well with the seamless layers and provide contrast to the highlights throughout the hair.
33. Long Layers With Curtain Bangs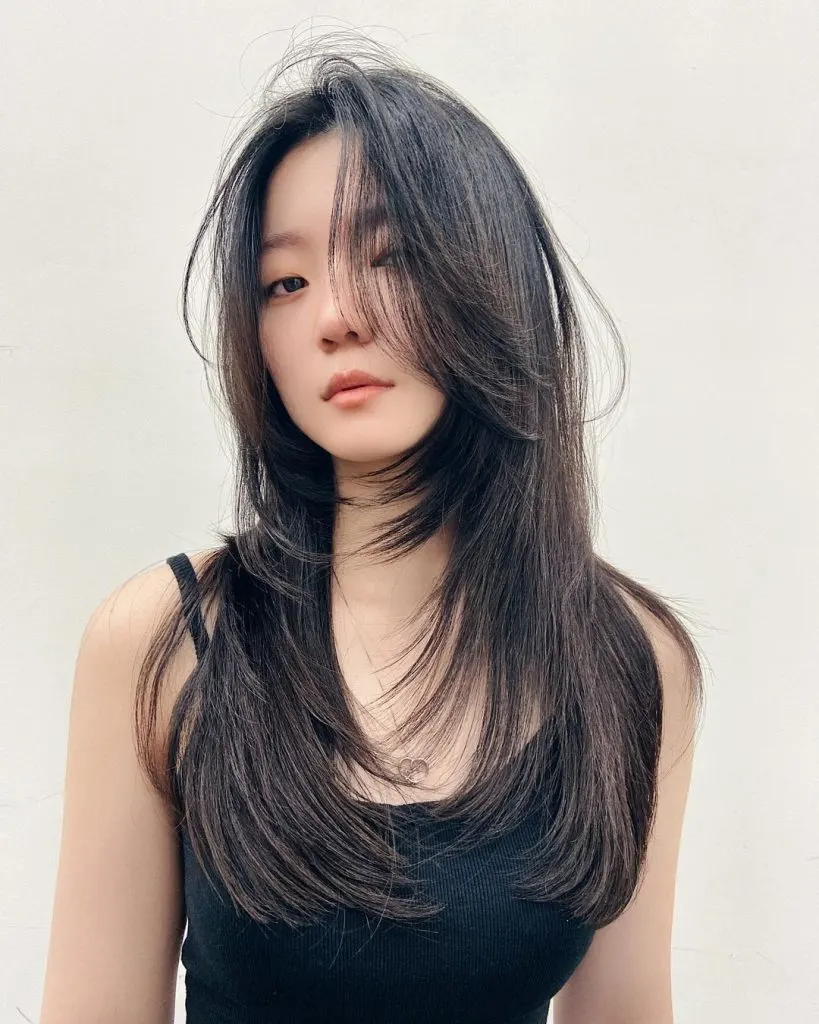 Flowy layers and long curtain bangs that fall across the face freely will make you feel gorgeous, but this hairstyle isn't effortless.
34. Long Hair With Choppy Ends And Long Bangs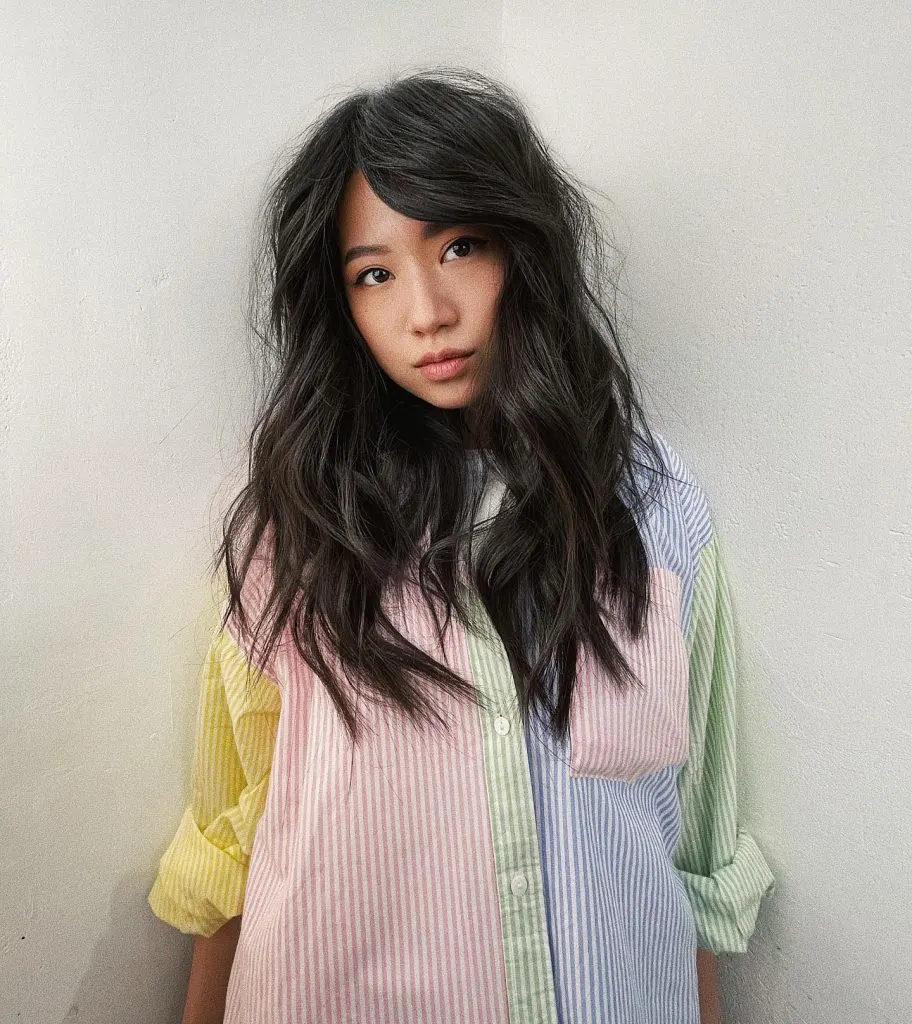 If you have thick hair and want to make it more lightweight without compromising that thick look, choppy layers that add texture are just what you need.
35. Choppy Bob With Blunt Bangs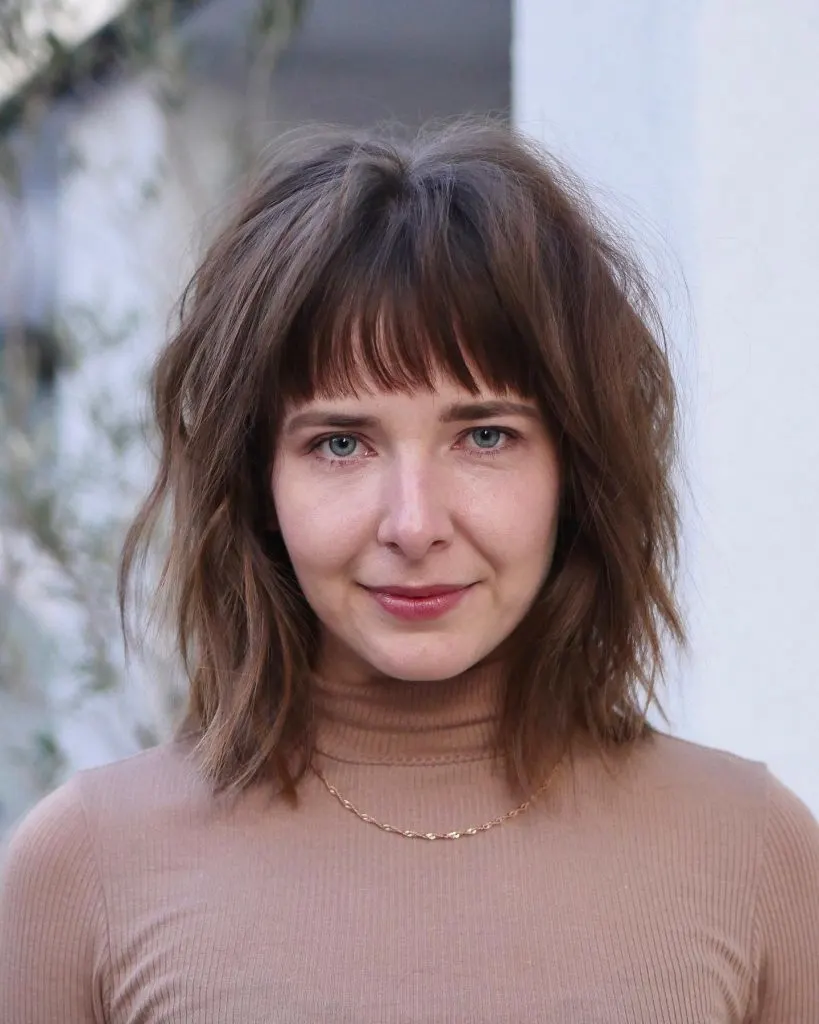 Only an oval face can effortlessly pull off short blunt bangs, so if that's your style you can wear them as you prefer.
36. Long Hair With Thin Blunt Bangs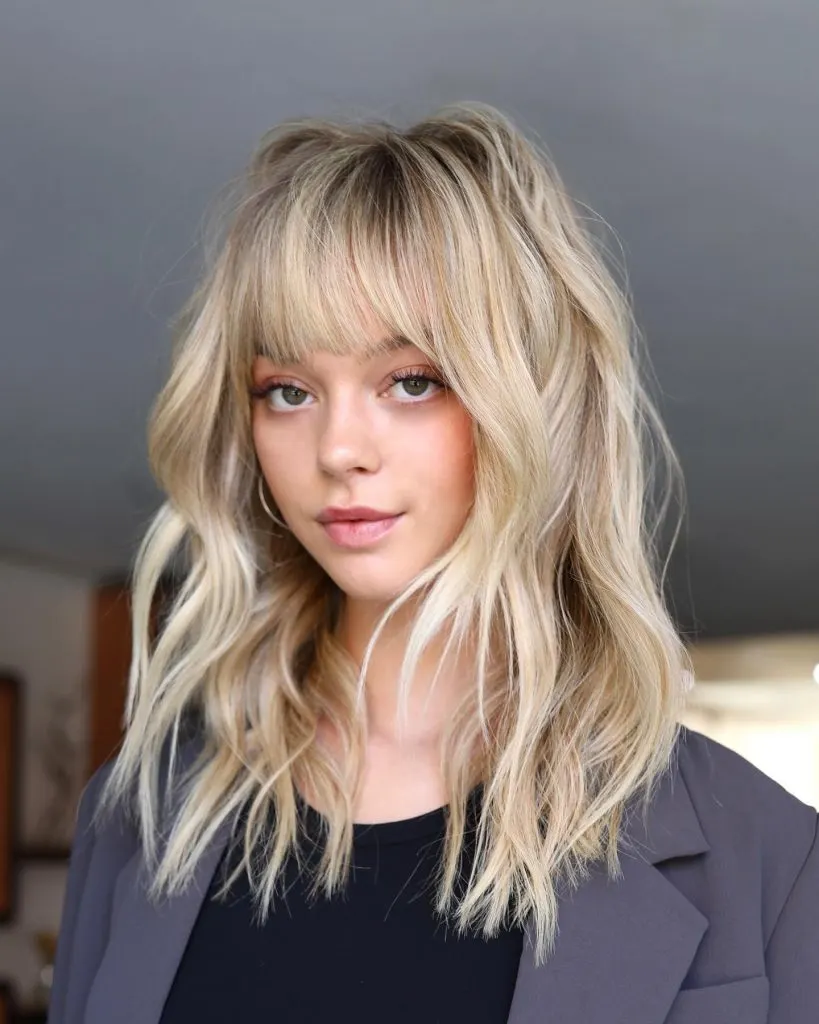 Choppy layers add texture and movement to long hair and give it an edge. When paired with classic fringe, uneven ends create contrast and visual interest.
37. Layered Hair With Bardot Bangs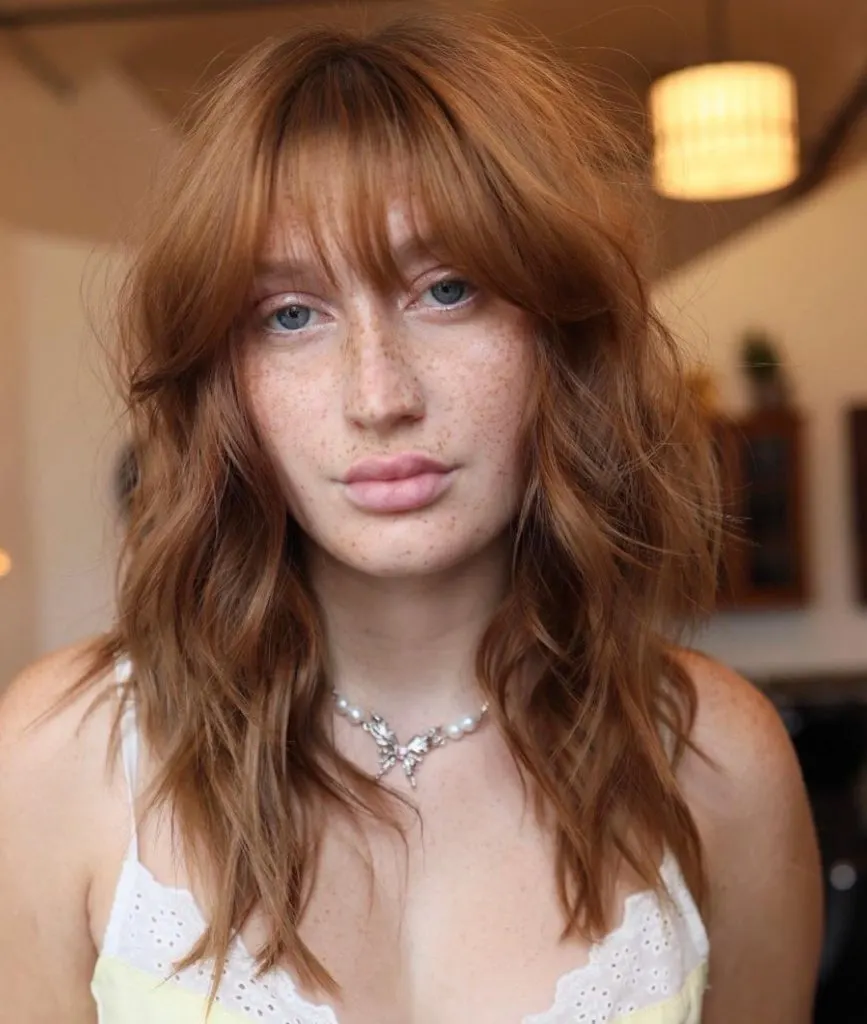 Layered long hair can be styled in any way you can imagine, but the most effortless way to wear it is to go along with your natural hair texture.
38. Choppy Medium Hair With Piecey Bangs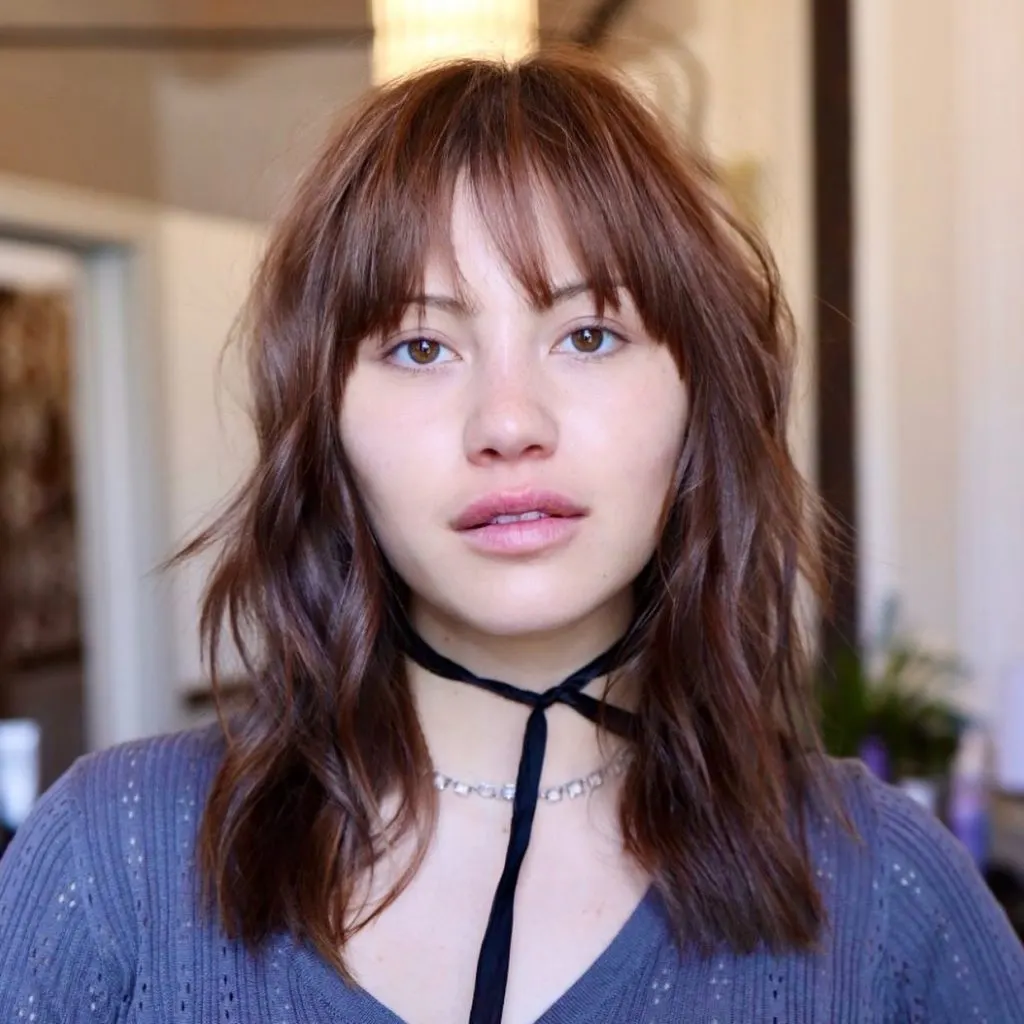 These cute bangs grazing the eyebrows provide contrast to the blunt ends and make the whole look charming and fun.
39. Long Voluminous Hair With Side Bangs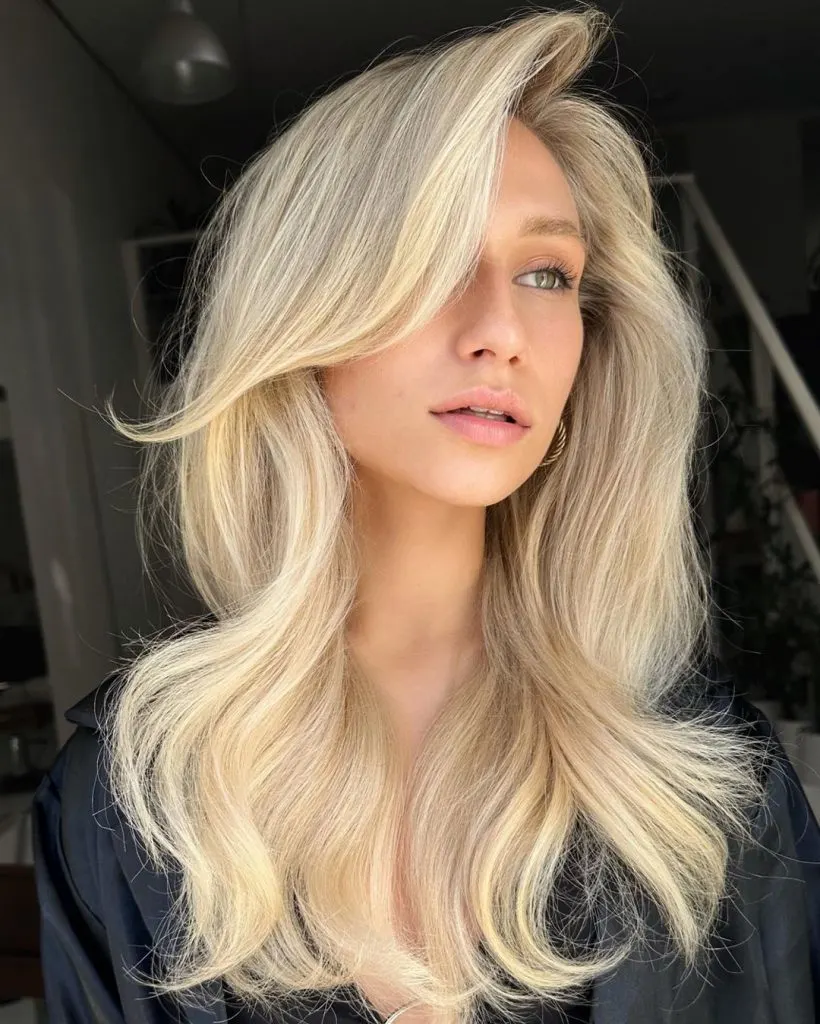 This hairstyle is red carpet ready! The voluminous blowout and the dramatic long side bangs are super glam and fashion-forward.
40. Classic Bob With Fringe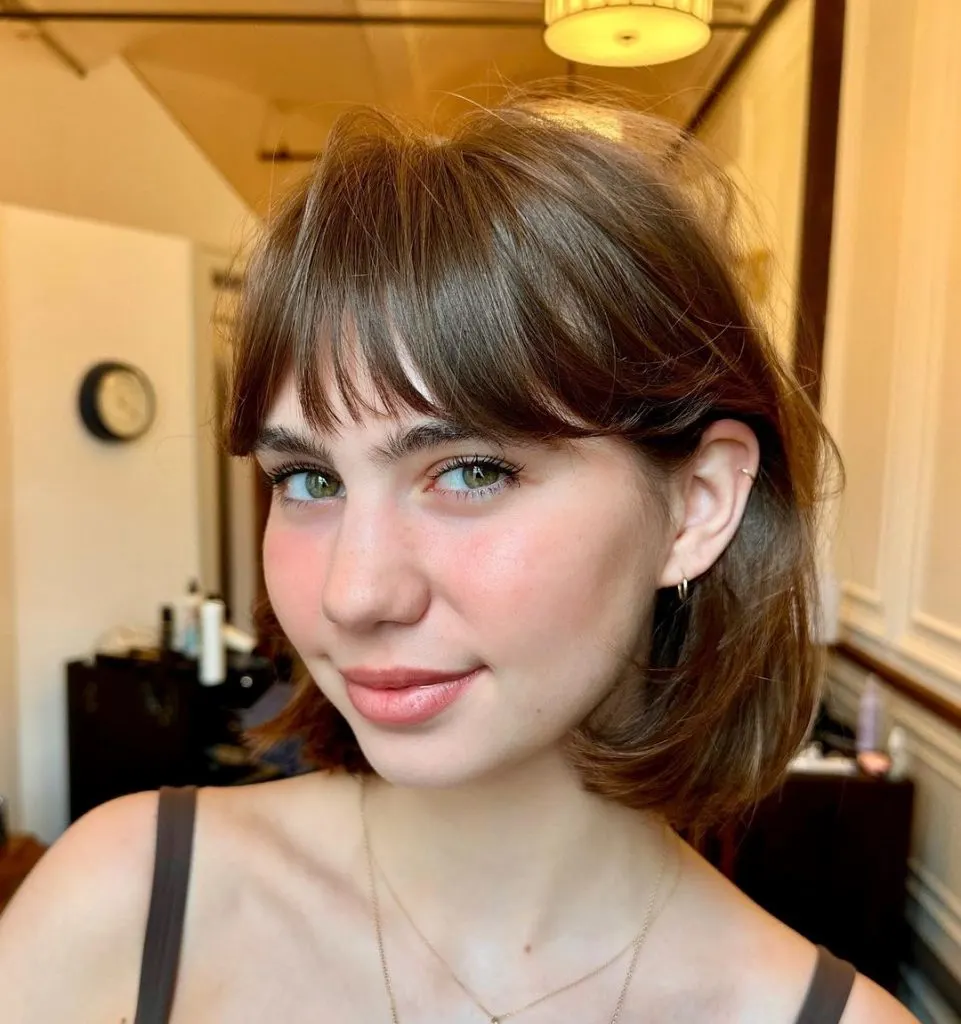 There's no style as timeless as the French bob, and it works especially well if you have an oval face.
41. Curly Blunt Bob With Bangs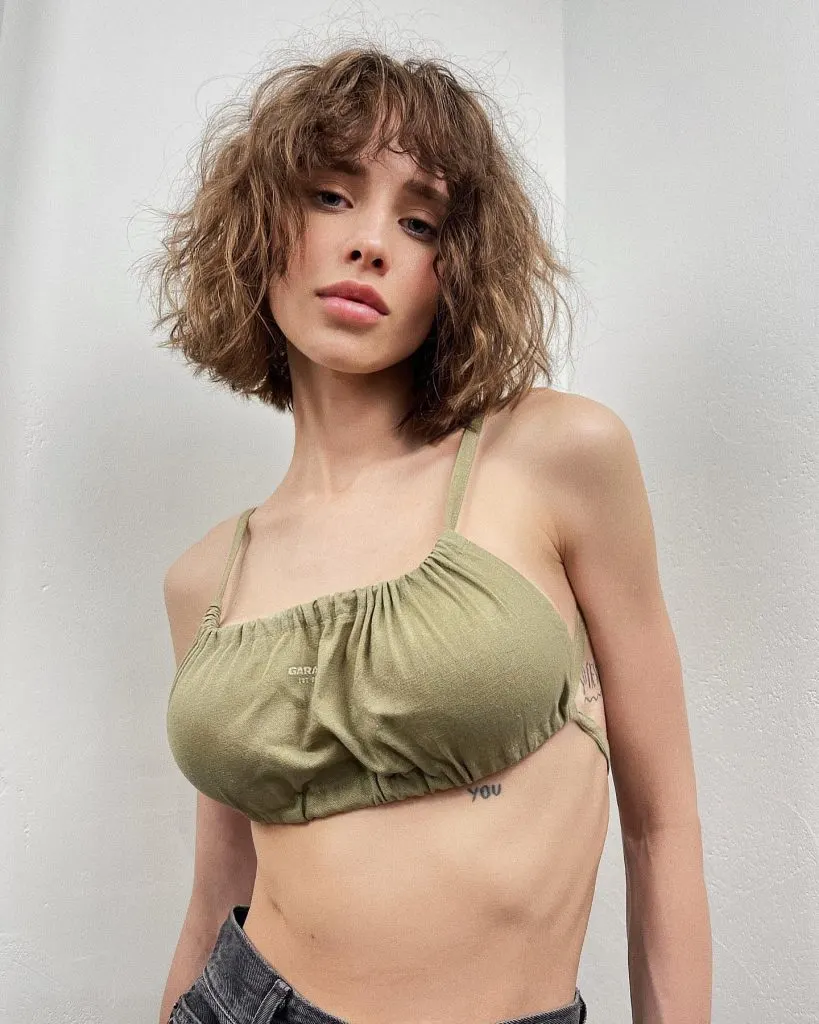 Thick curly hair can be difficult to manage but with the help of seamless layers that take off the bulk, you can even wear it in a blunt bob.
42. Medium Hair With Bangs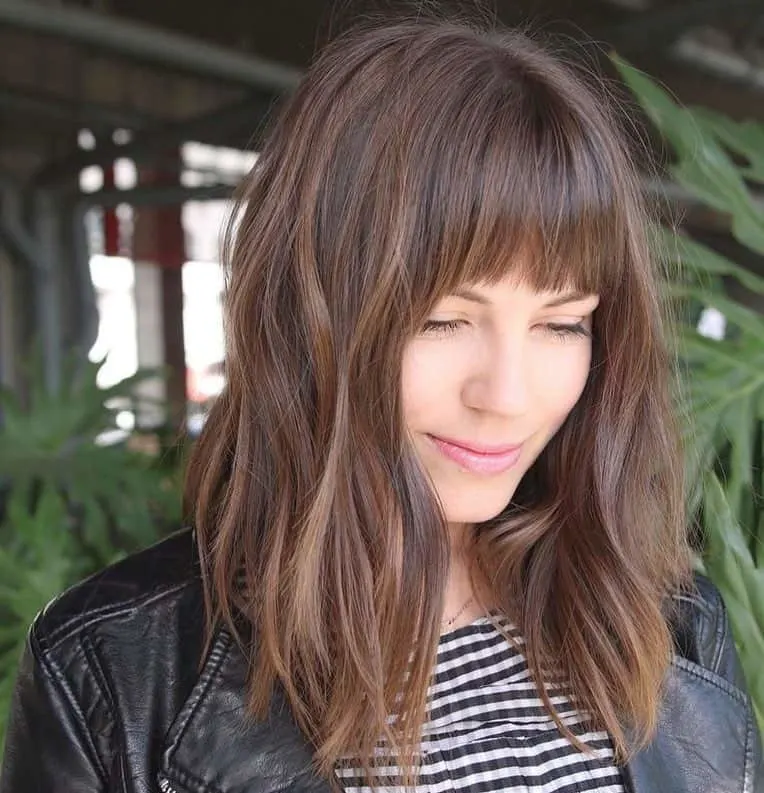 These short bangs accentuate the eyes and the cheekbones, complementing the oval face shape.
43. Long Wavy Hair With Side-Swept Bangs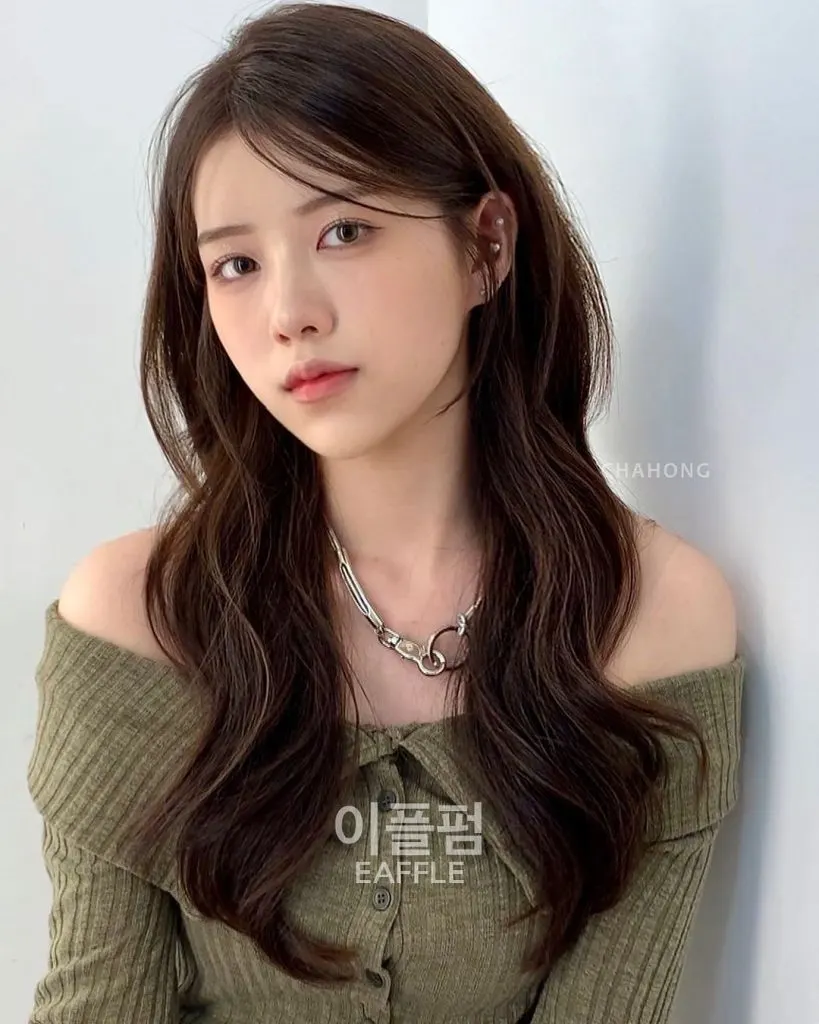 Long and wispy, these bangs are a low-commitment way to add some face framing to long hair.
44. Wolf Cut With Curtain Bangs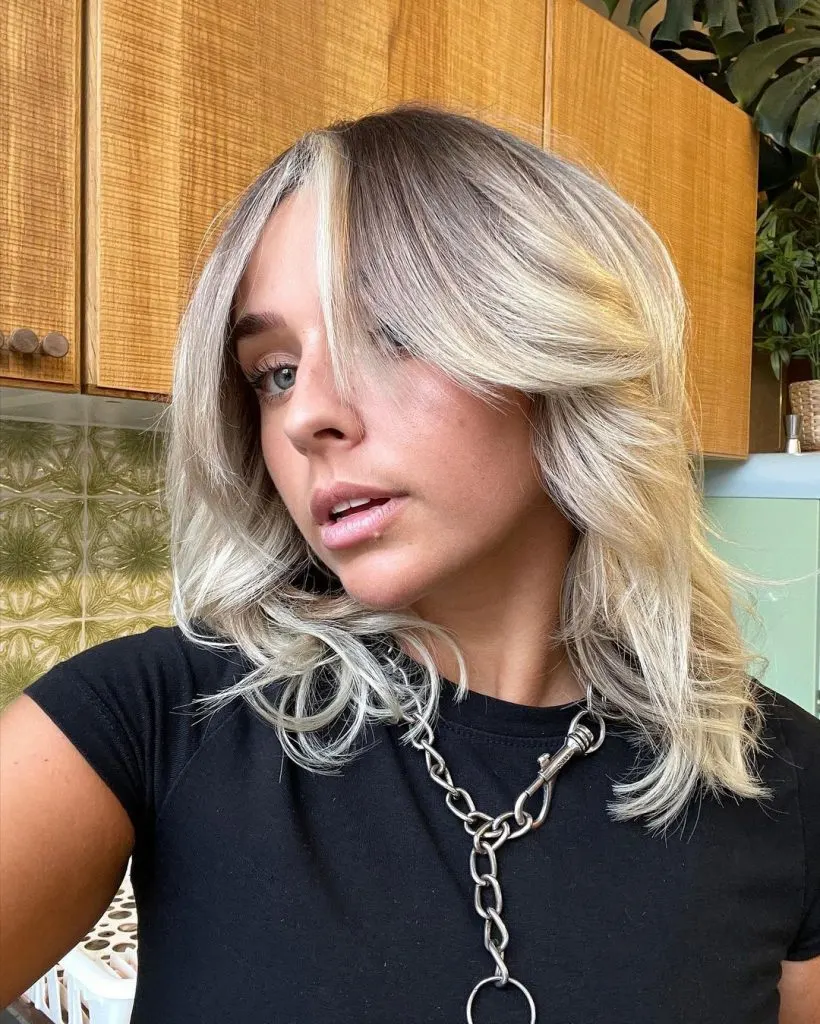 Medium-length curtain bangs are versatile and fit a variety of haircuts. This styling with a flatter top is old-school, but with more volume on top they would look completely different.
45. Choppy Long Hair With Flippy Bangs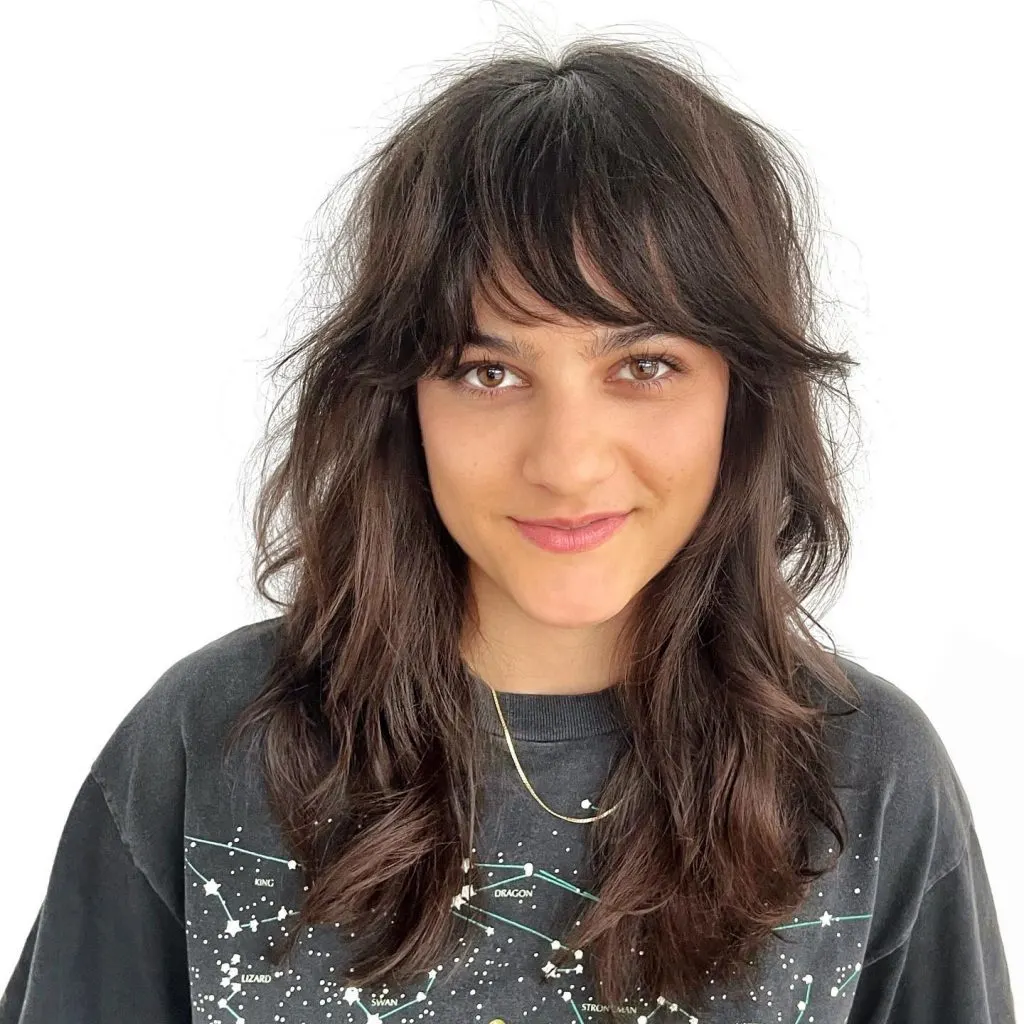 These trendy bangs aren't just cool, they can also be used to make your forehead seem larger or smaller, depending on how thick you make them.
46. Straight Lob With Fringe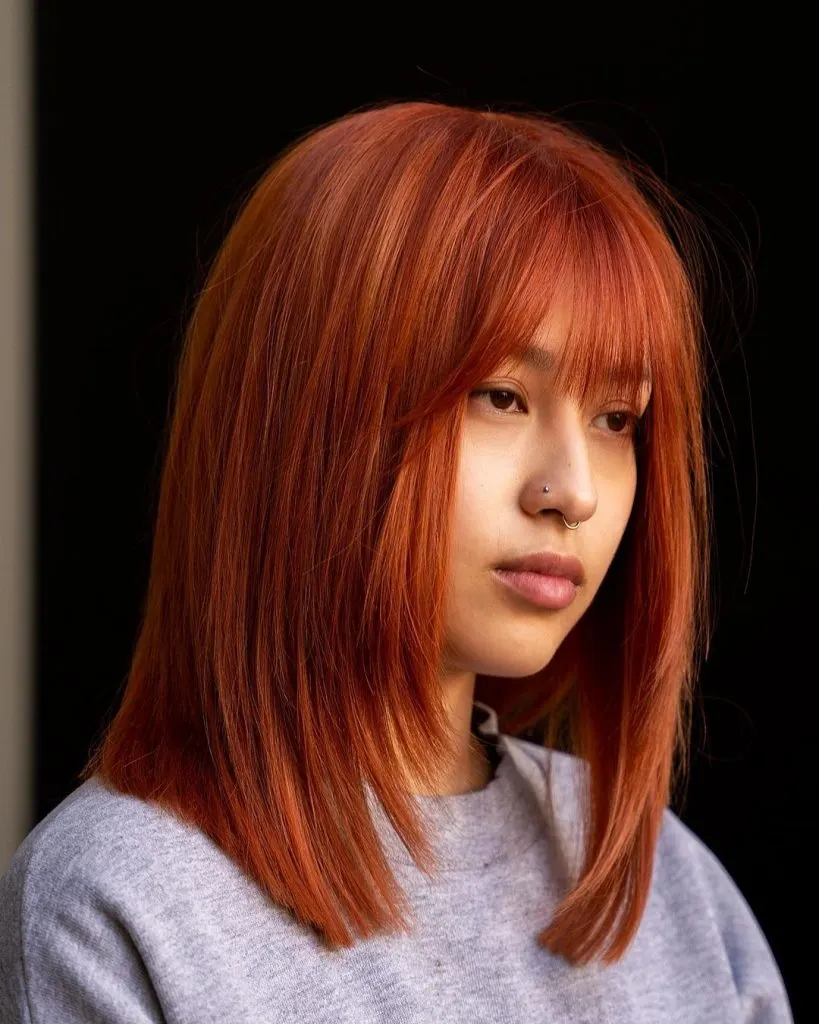 Lobs are super versatile, but they have been everywhere and might get a little repetitive. If you want to switch things up, bangs other than curtain are a fun twist on this classic look.
47. Medium Layered Hair With Baby Bangs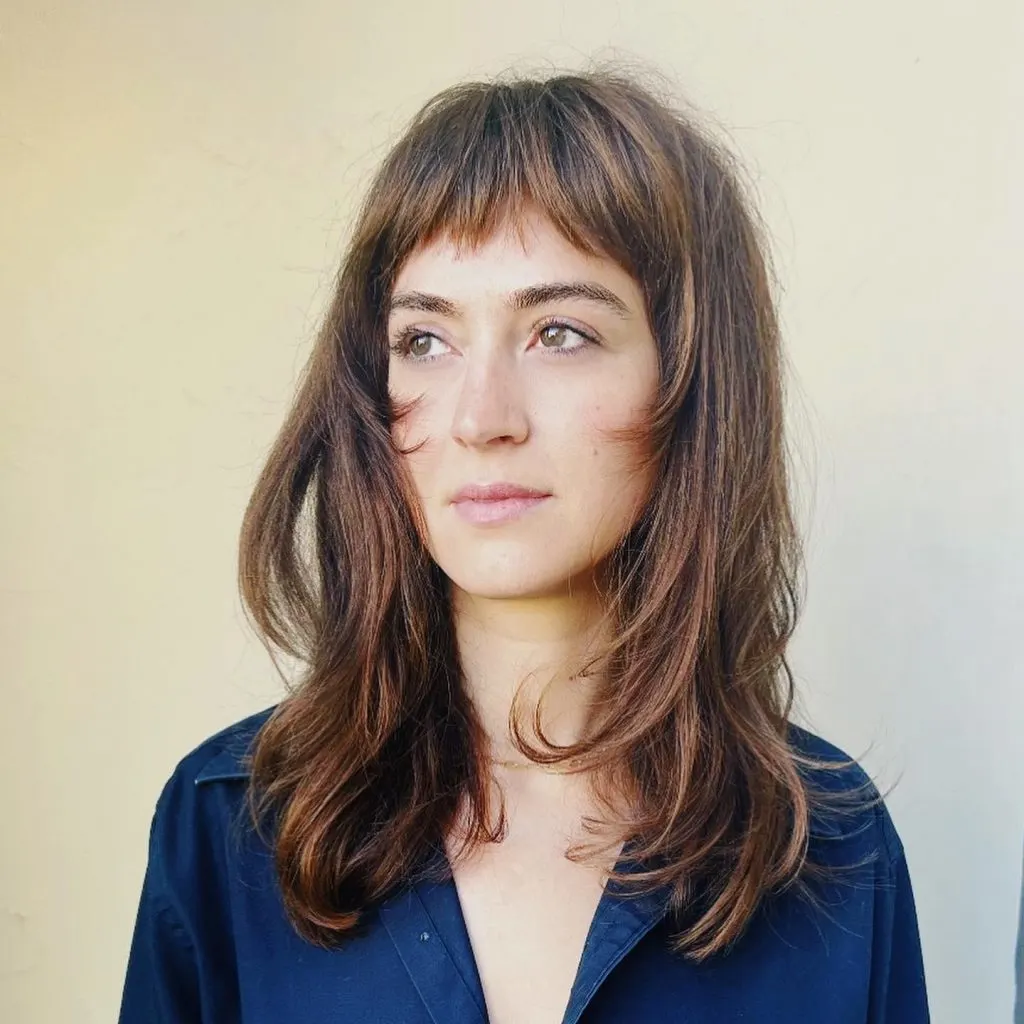 This cute and creative look suits an oval face shape perfectly, and even highlights its symmetry and balance.
48. Blunt Medium Hair With Fringe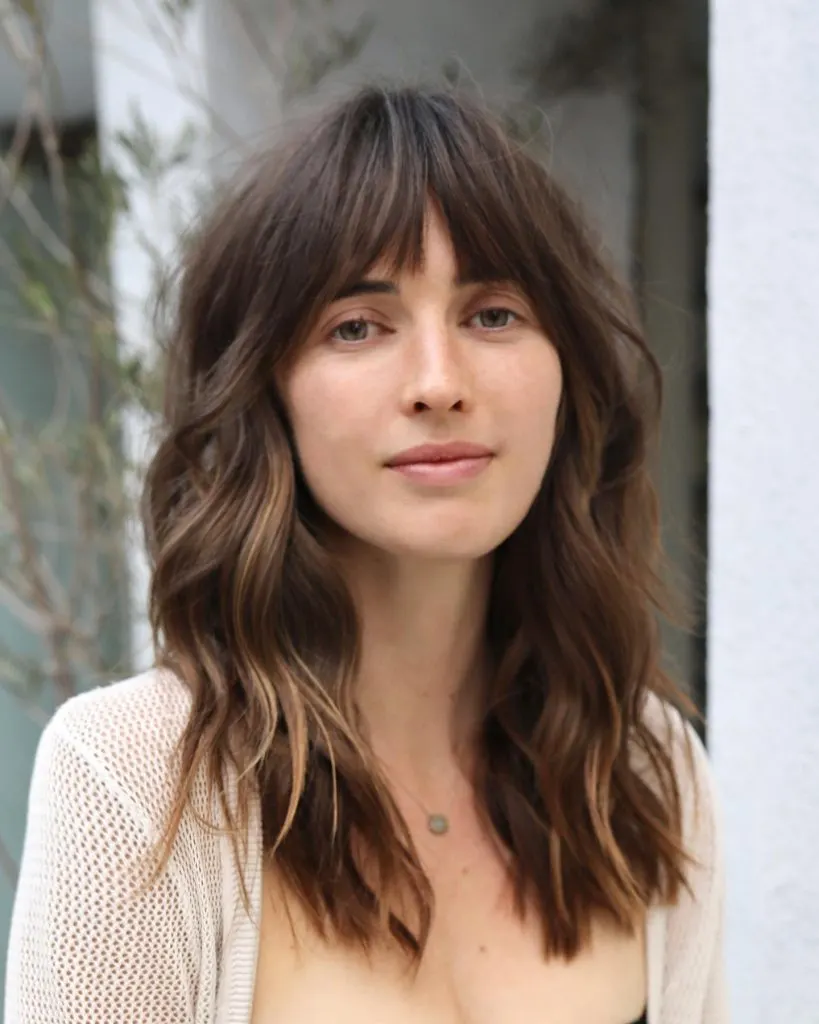 If you have a cowlick in the front and want to wear bangs, it can be challenging, but it's not impossible. Solutions include using a flat iron to keep them in place or blow drying them straight with a small brush.
49. Curly Lob With Short Straight Bangs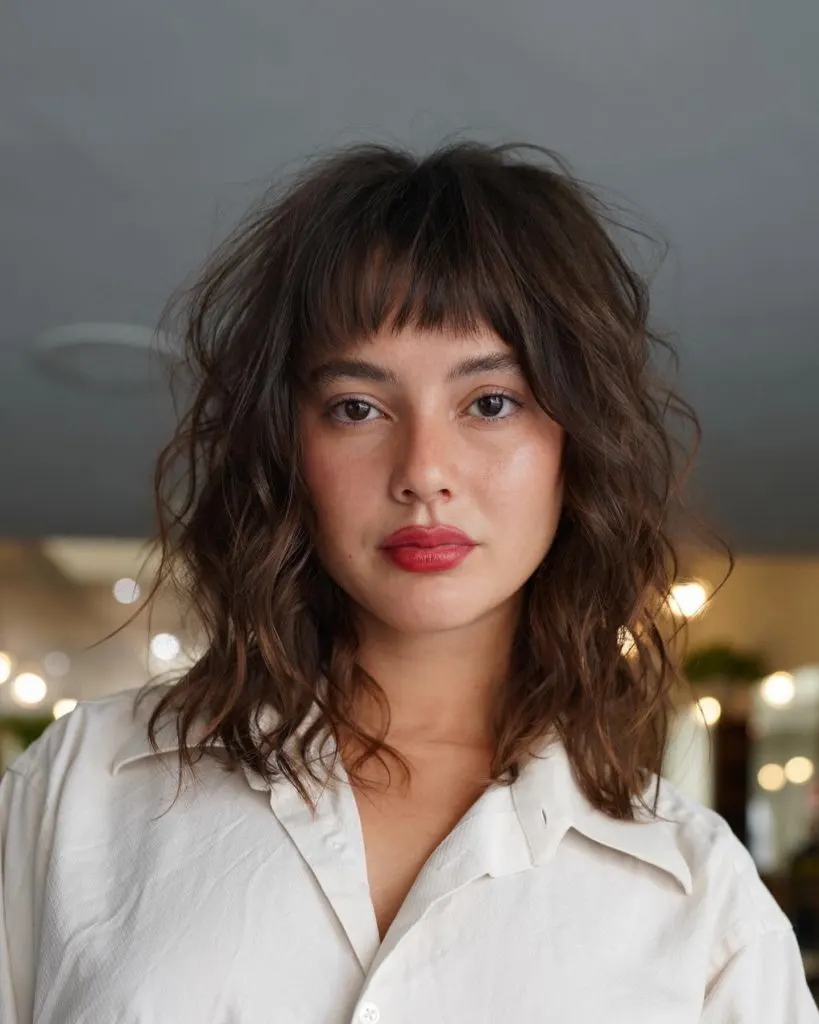 Short full bangs won't look out of place if you have an oval face shape, so you can rock this cute look without worry.
50. Long Hair With See-Through Fringe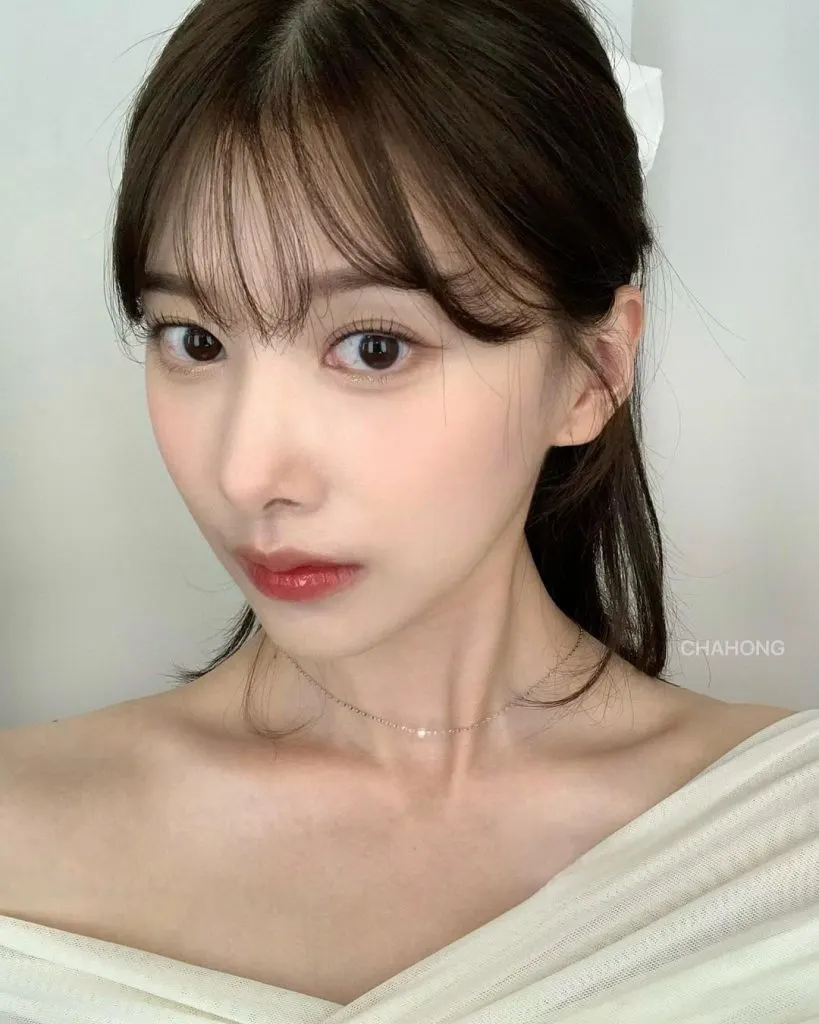 Soft wispy bangs are a great addition to any haircut if you like wearing your hair up and don't like a slicked back look.