Everyone wants a choppy bob. It's no accident that this haircut has been hugely popular for the past few years: it's nearly universally flattering.
If your hair is thin or fine, it adds texture and volume. If your hair is thick, the subtle layers are used to remove weight and create lift and movement.
Look through the different varieties of choppy bobs to find the one perfect for you.
1. Medium Choppy Haircut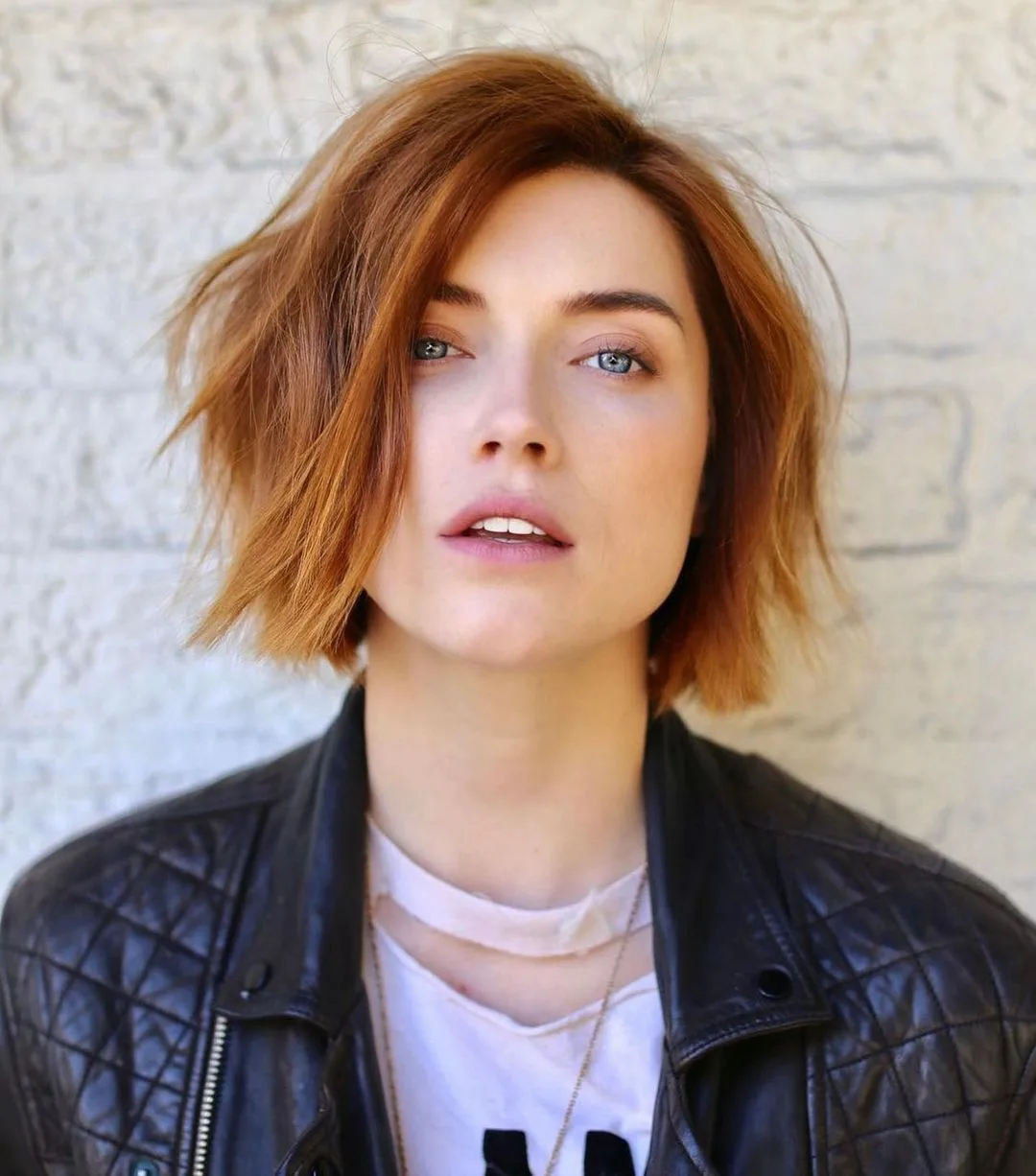 This bob embodies the coveted model-off-duty vibe, effortless and cool. The choppy layers have been styled to create dimension and volume, and the copper color is warm and appealing.
2. Long Choppy Bob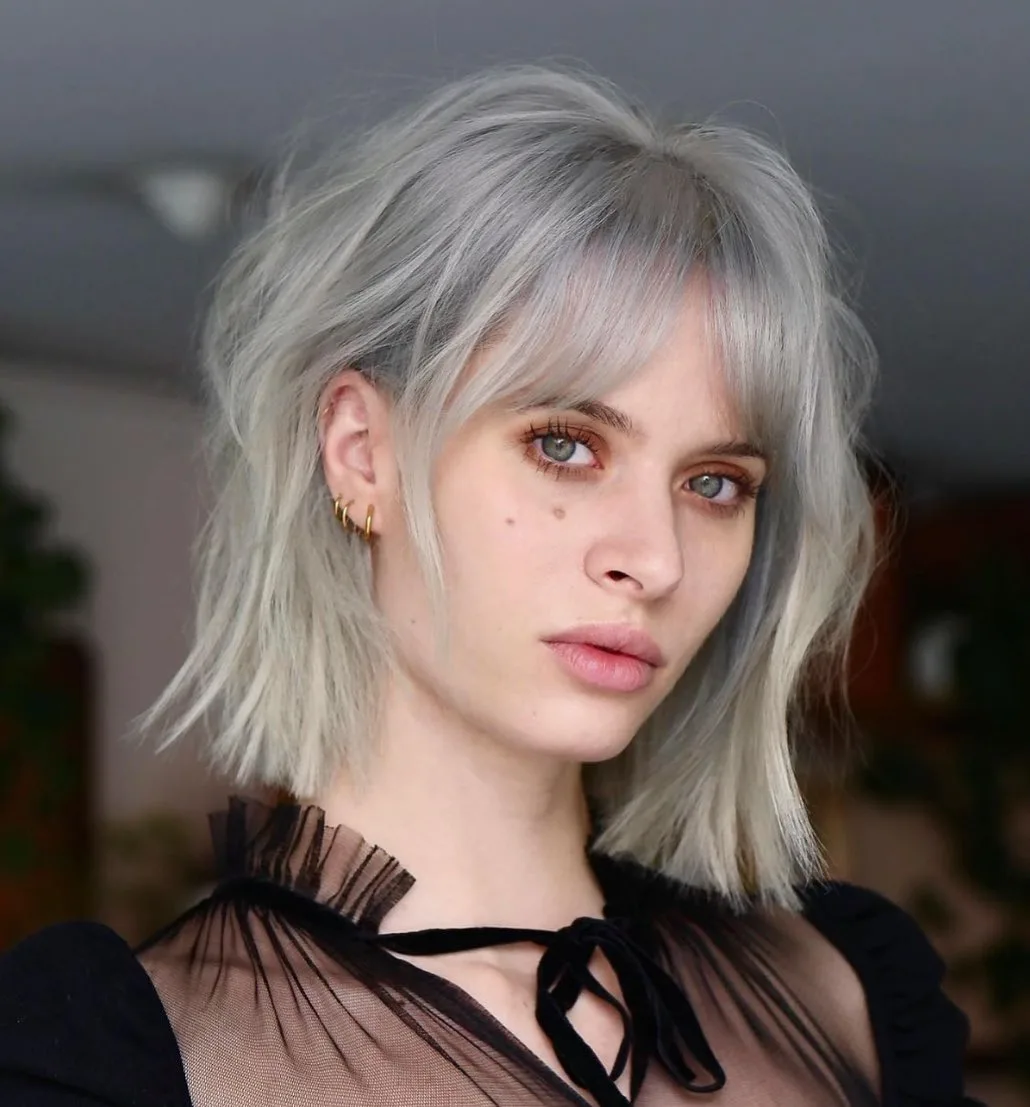 A textured bob can make your hair look much thicker than it is without making it obvious. Here, layers on top have been cleverly cut and styled to lift the hair at the crown, while the blunt ends create an illusion of everything being the same length.
3. Wavy Choppy Bob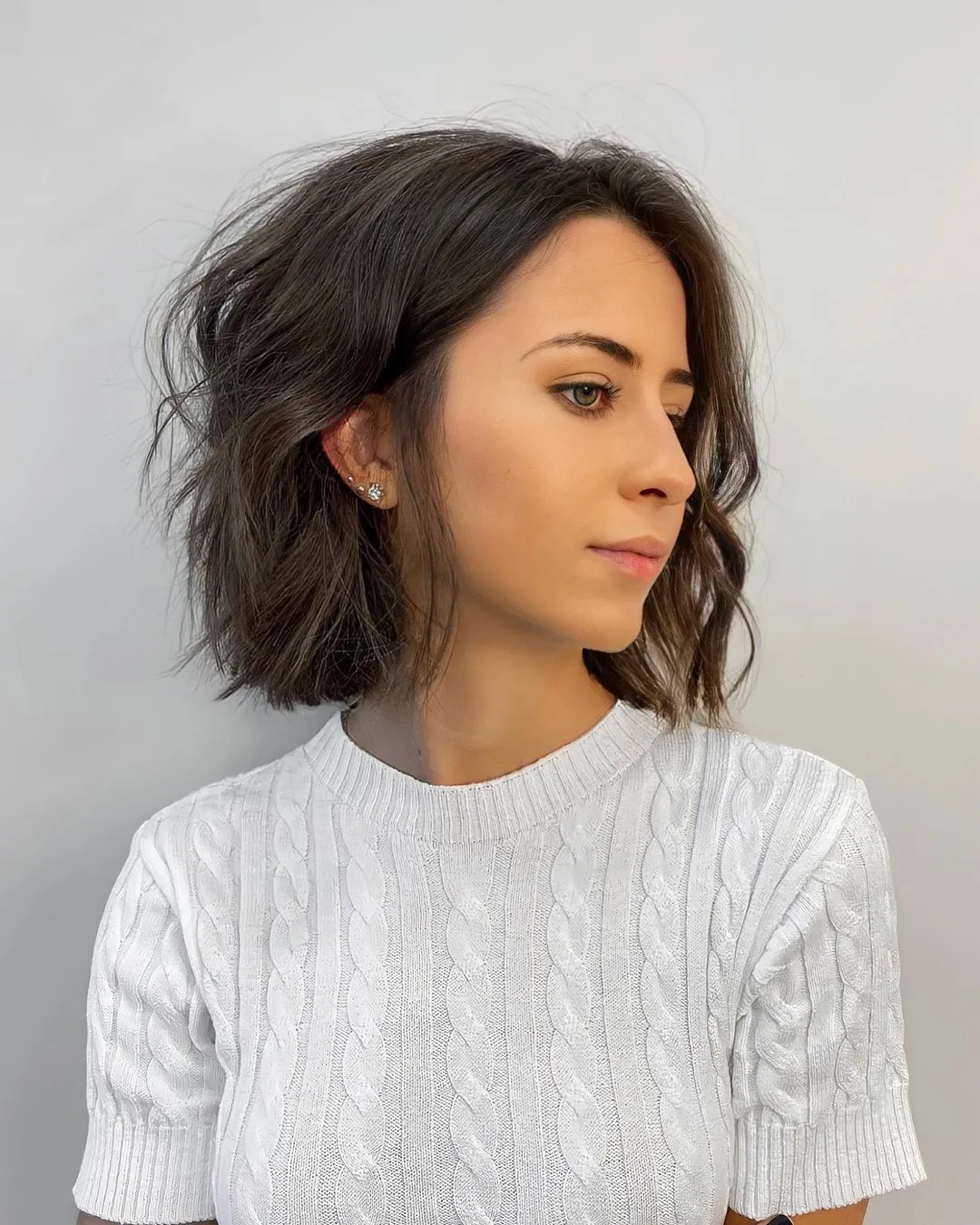 For the past few years, blunt choppy lob has been everywhere. Its popularity isn't going down, and the haircut in this picture makes it clear why: it's easy to style, flattering and looks good—or to sum up, because it's the perfect hairstyle!
4. Textured Bob Haircut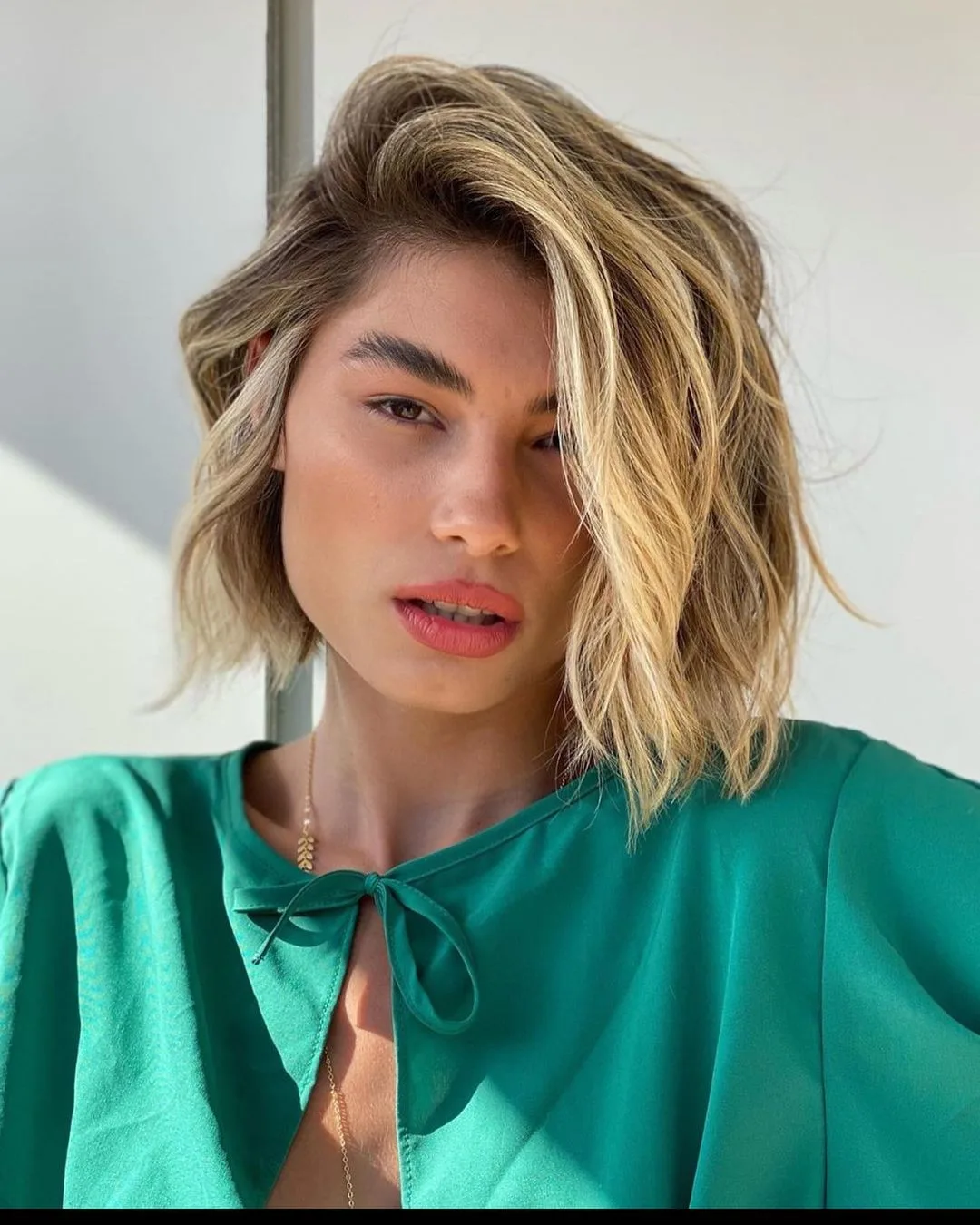 You don't need long hair for the blonde bombshell look: the deep side part and the peek-a-boo bangs swooping across one eye give this sensual short blonde bob a femme fatale vibe.
5. Choppy Bob With Bangs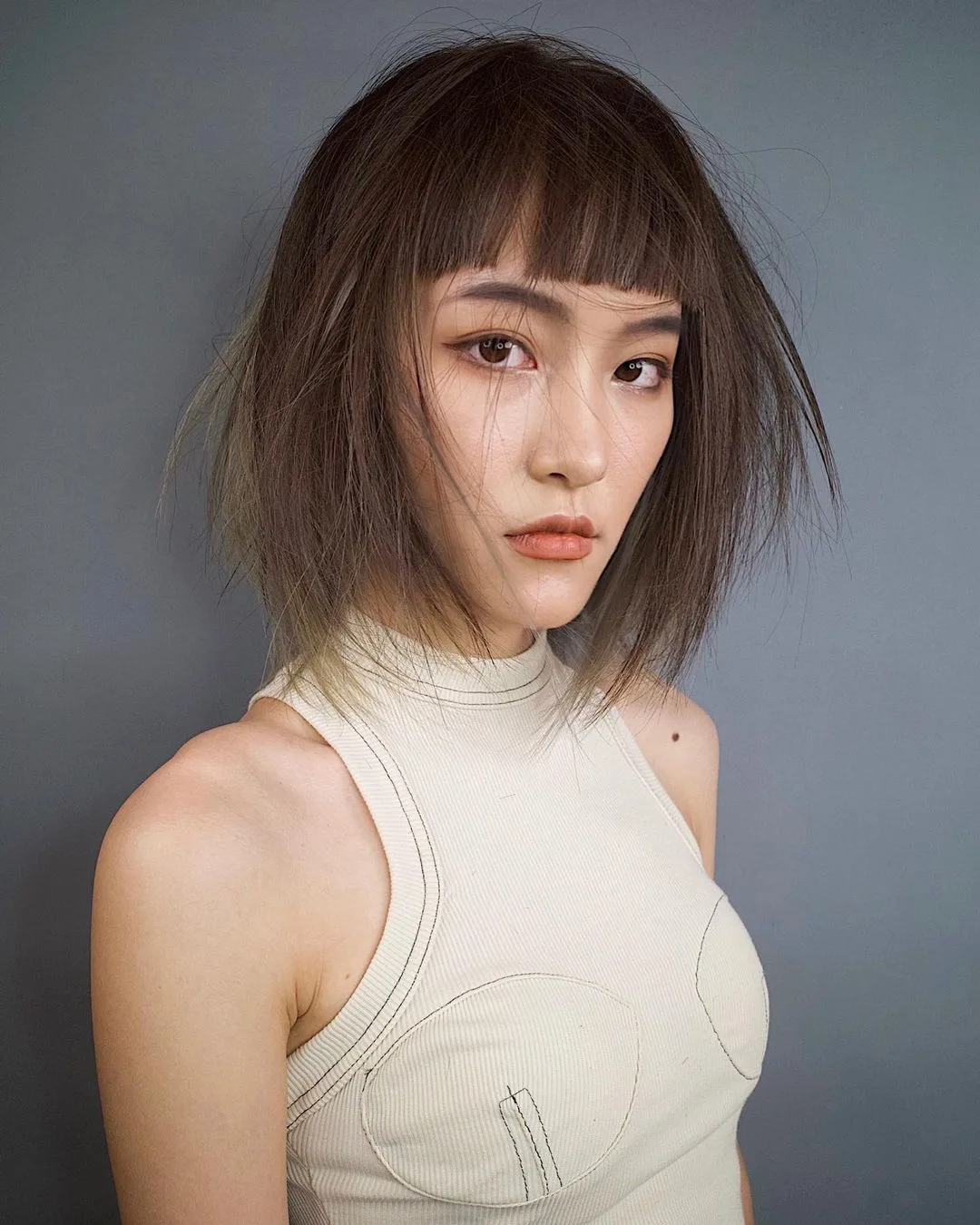 Usually, straight-across bangs are worn with a sleek look and wispy ends are paired with tapered bangs. But here, the combination of choppy layers and cropped bangs results in a unique and interesting look.
6. Long Choppy Bob With Curtain Bangs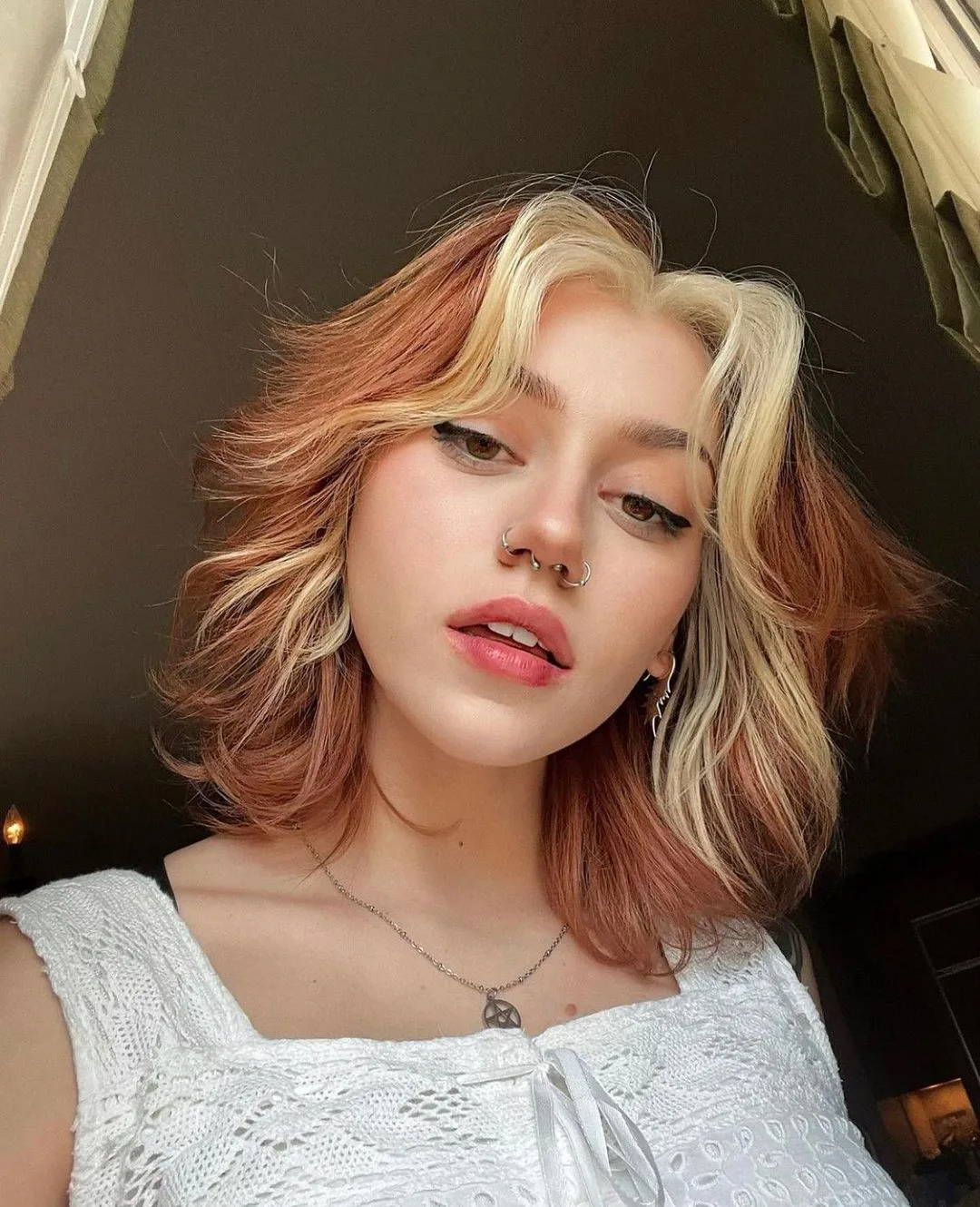 A choppy bob isn't limited to beachy waves, even though that's the most popular way to style it. There are lots of ways to wear one, including this retro 1970s-inspired style.
7. Curly Choppy Bob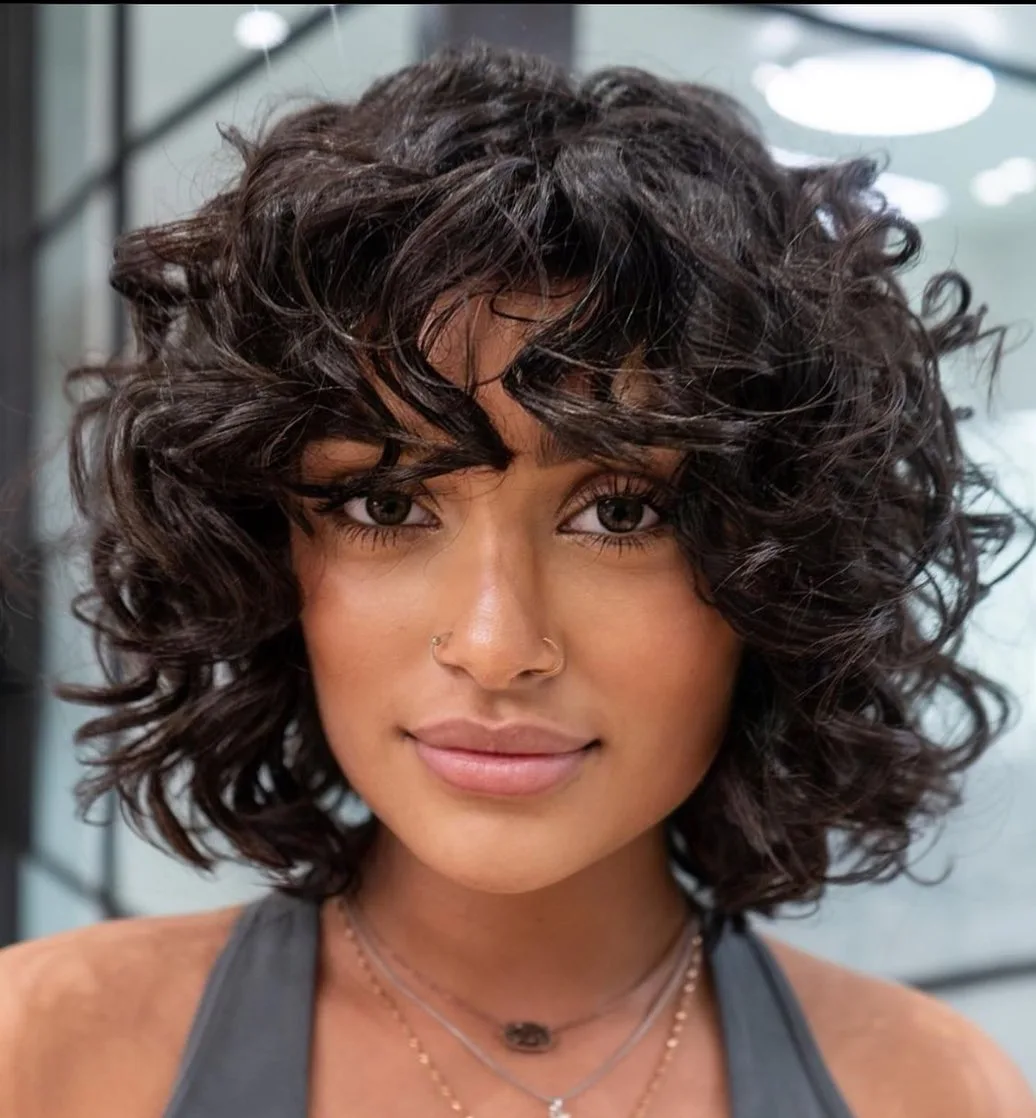 Layers aren't as noticeable in curly hair as in straight hair, but they still create shape and texture. Short curly hair with bangs and choppy layers looks fuller, and the curls are lighter, bouncier and more manageable.
8. Messy Short Choppy Hairstyle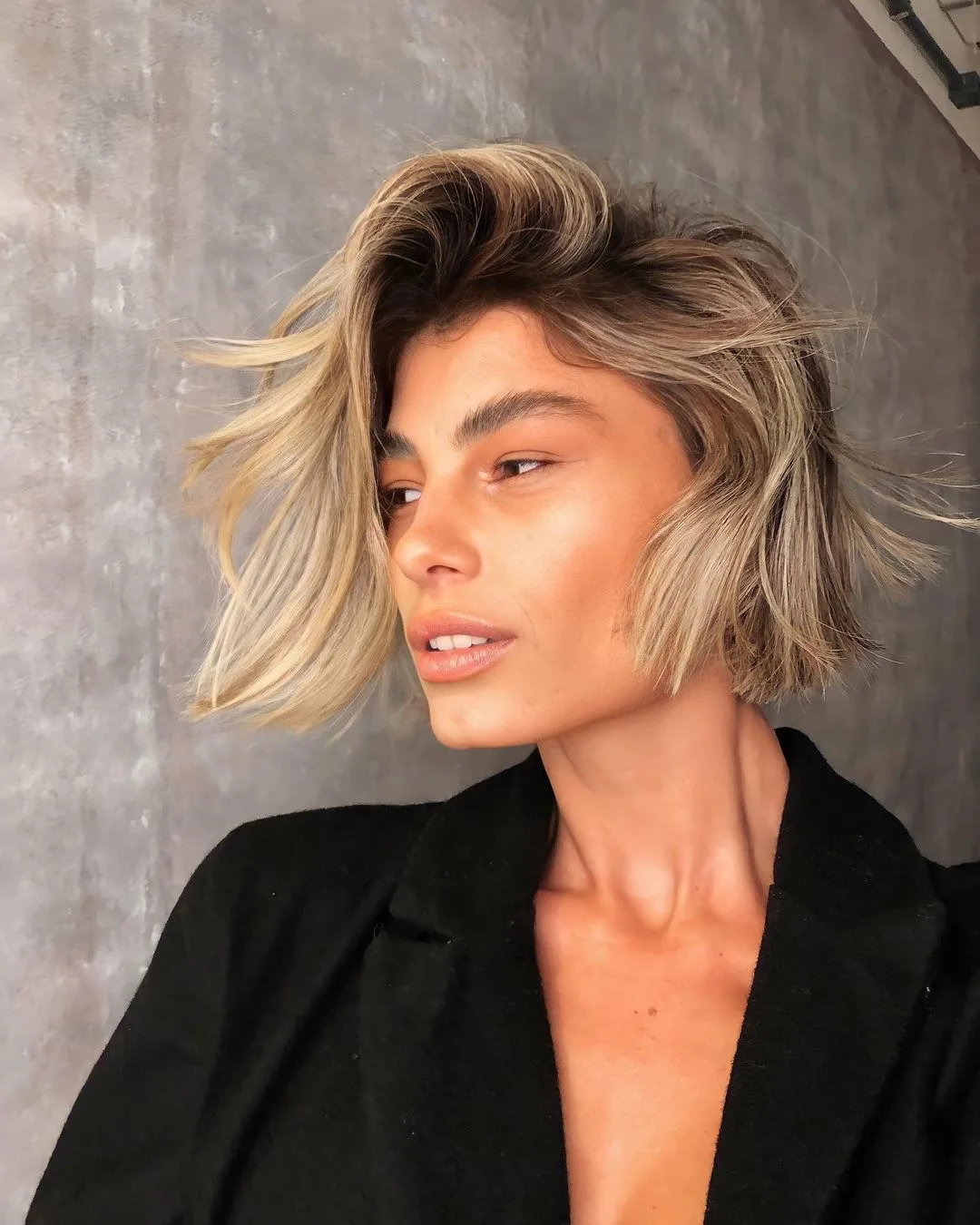 Everything about this hairstyle looks laid-back even though it's all intentional: the shadow roots, the easy length, and the way it's been parted have all been carefully styled to create a particular look.
9. Long Choppy Bob For Thick Hair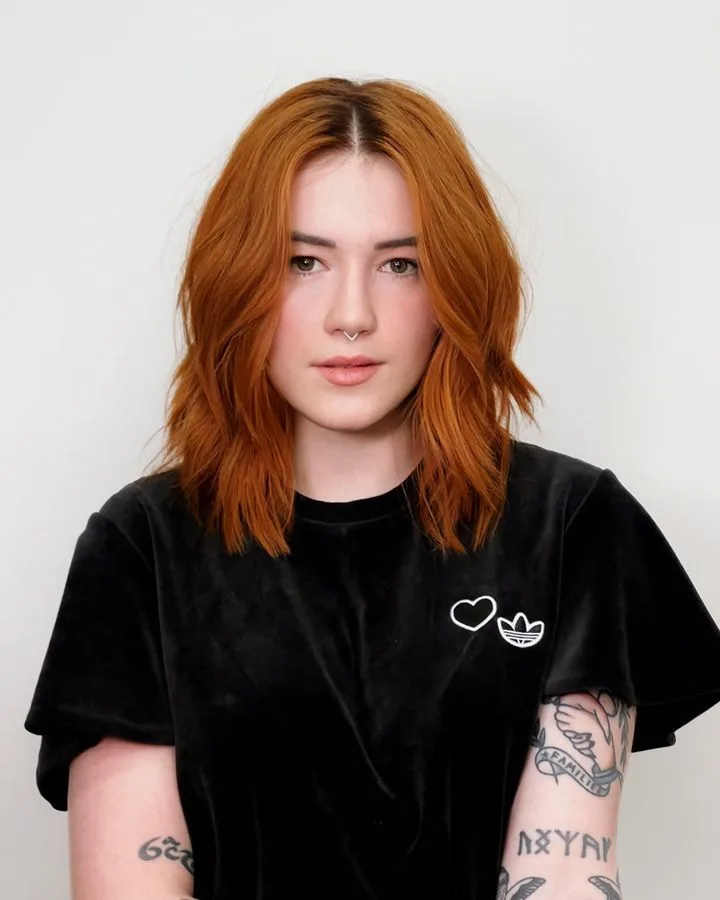 If you have thick hair and want to get rid of the bulk at the bottom without making your hair look rounded, go for choppy layers, as their different length keeps the hair from getting weighed down.
10. Lob With Textured Layers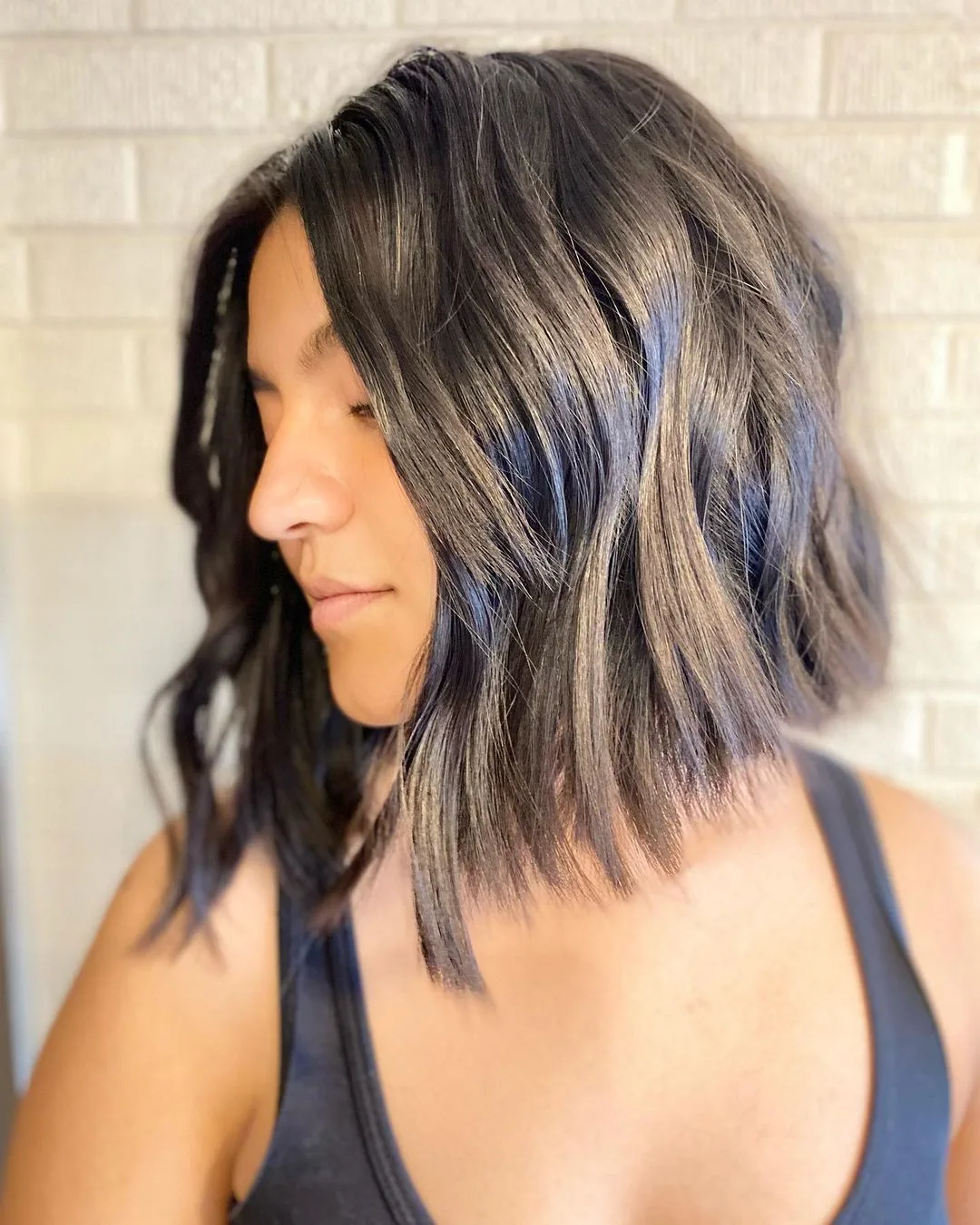 Subtle layering in the back and point-cutting the ends results in bouncier tresses. This angled bob haircut with the long bangs frame the face and make this look extra modern!
11. Edgy Choppy Bob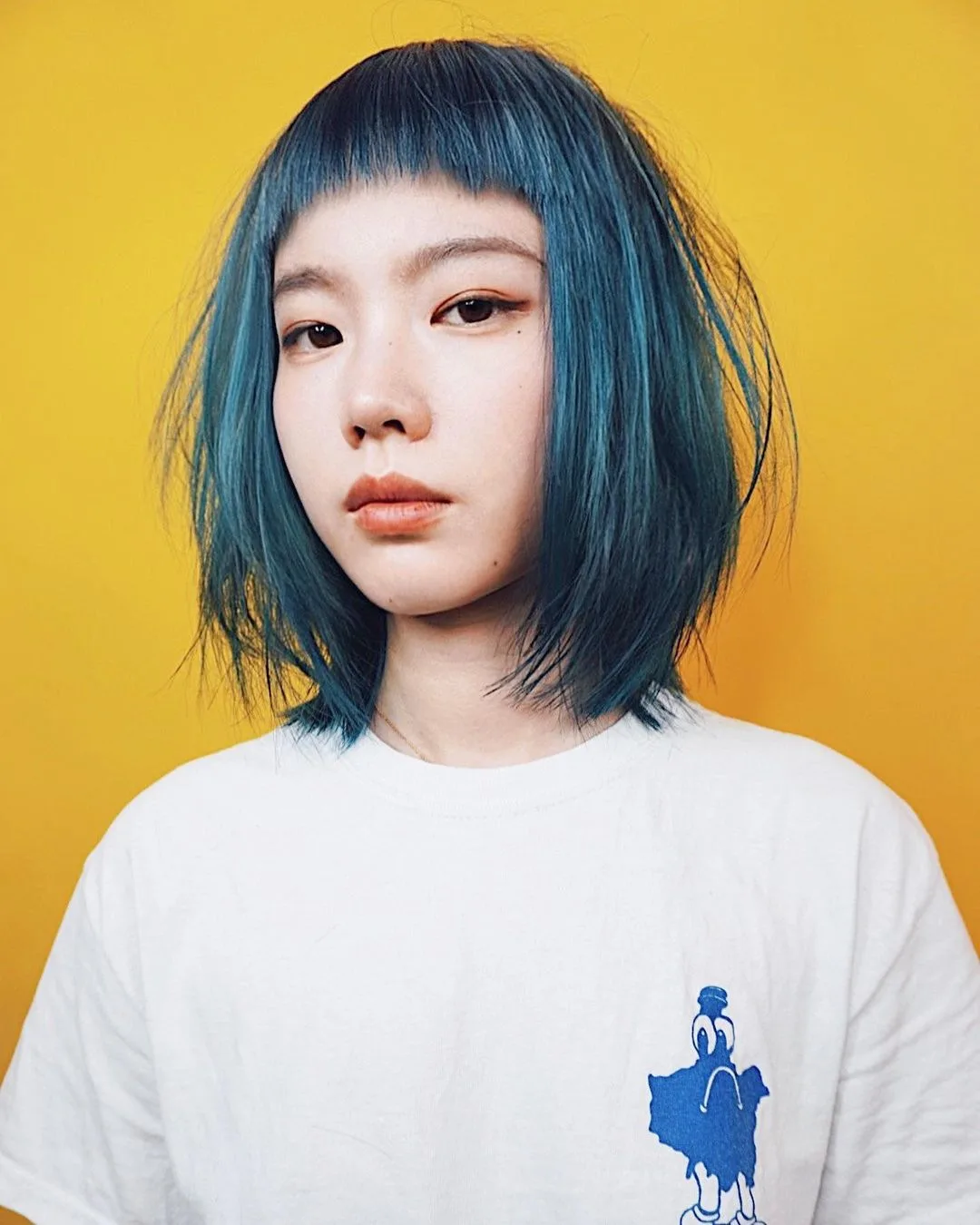 Baby bangs might be trendy at the moment, but they're also bold and unusual. If they're your cup of tea, these jagged short bangs look deliberate and perfectly complement a choppy bob.
12. Low Maintenance Messy Bob Hairstyle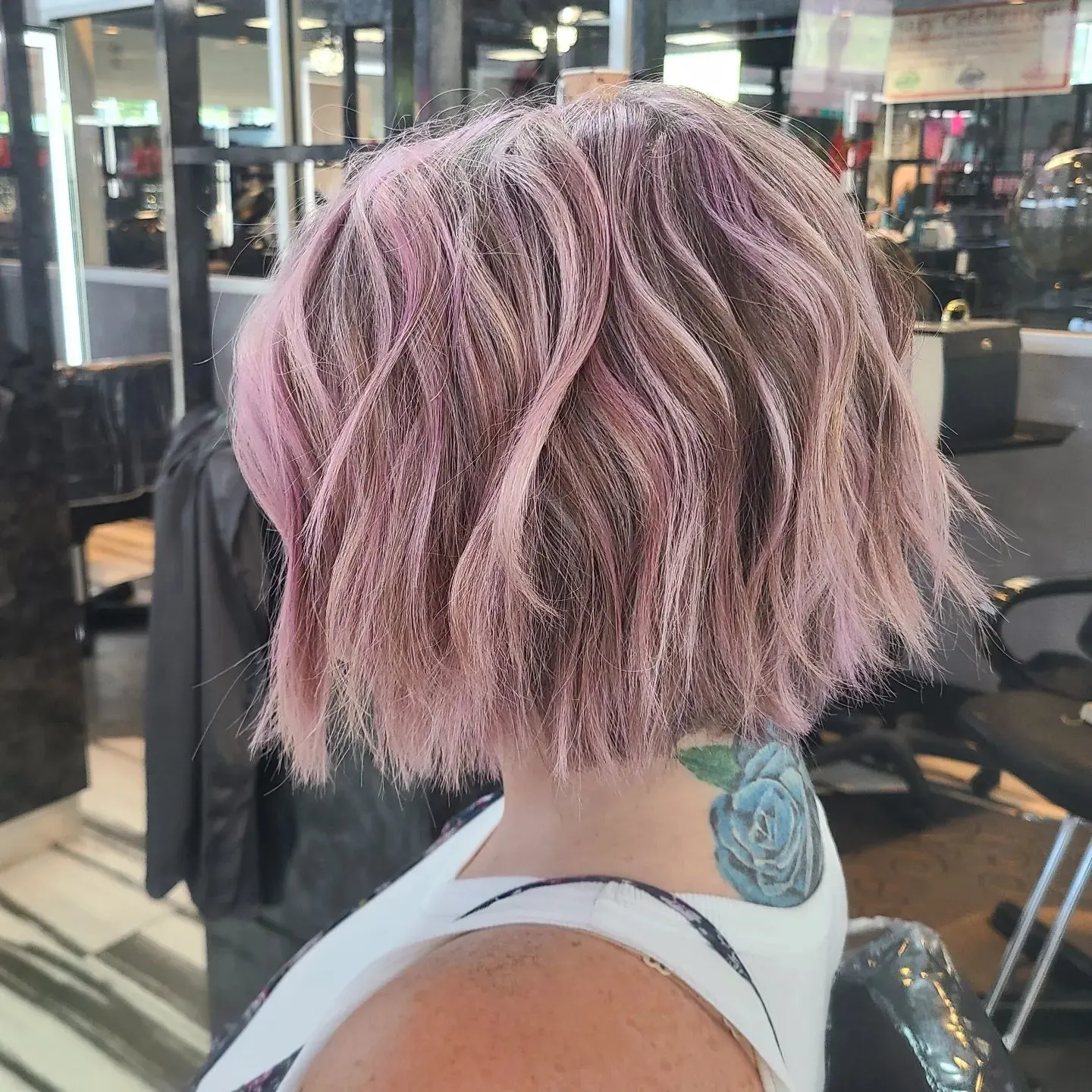 A choppy bob is easy to wear and easy to style. The layers take care of the volume, so you don't have to blow-dry it unless you want a sleek look.
13. Choppy Lob With Curtain Bangs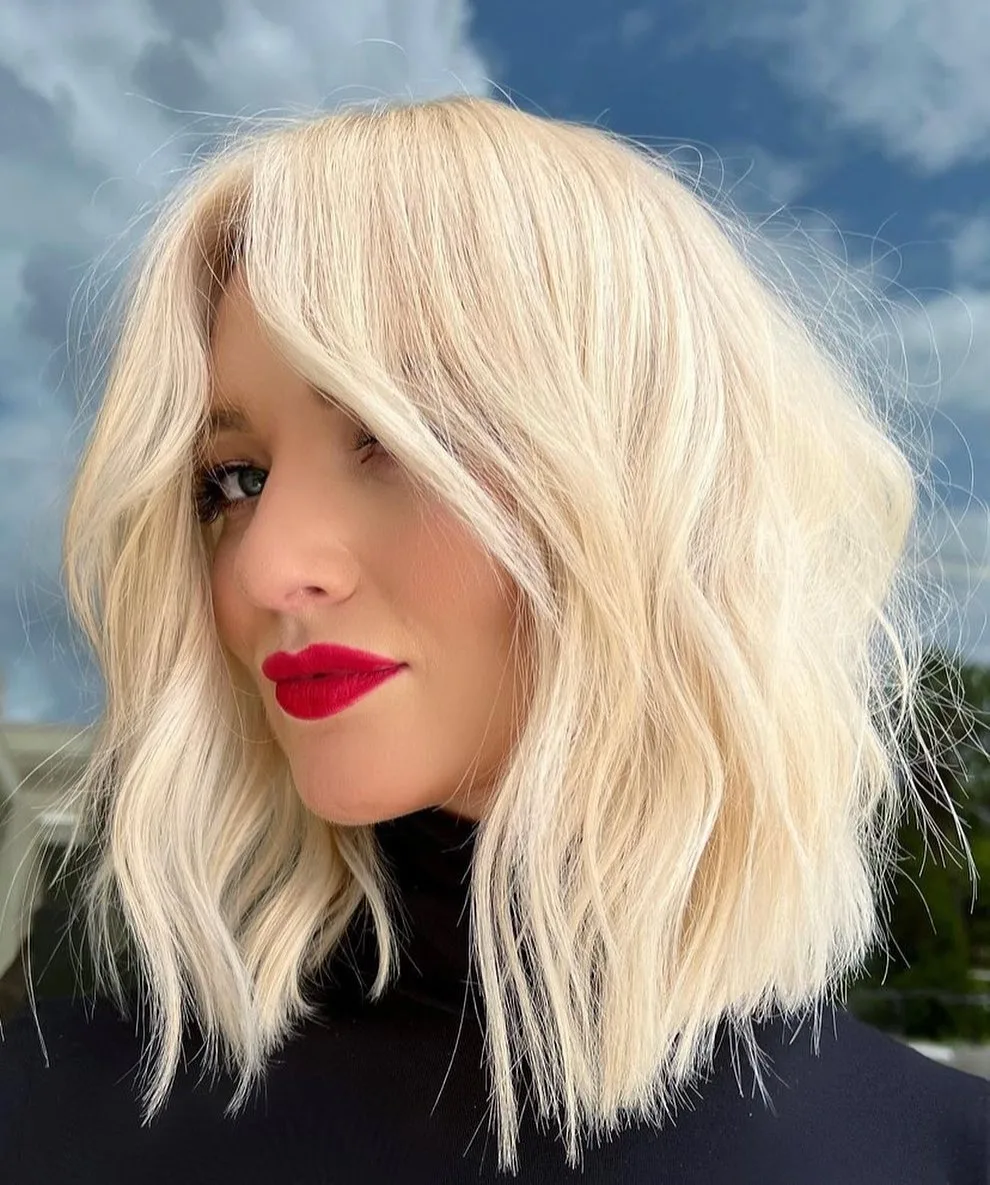 Long curtain bangs, choppy layers and pretty waves work together to create a luxurious style, and the platinum blonde color takes it to an even higher level.
14. Edgy Short Choppy Haircut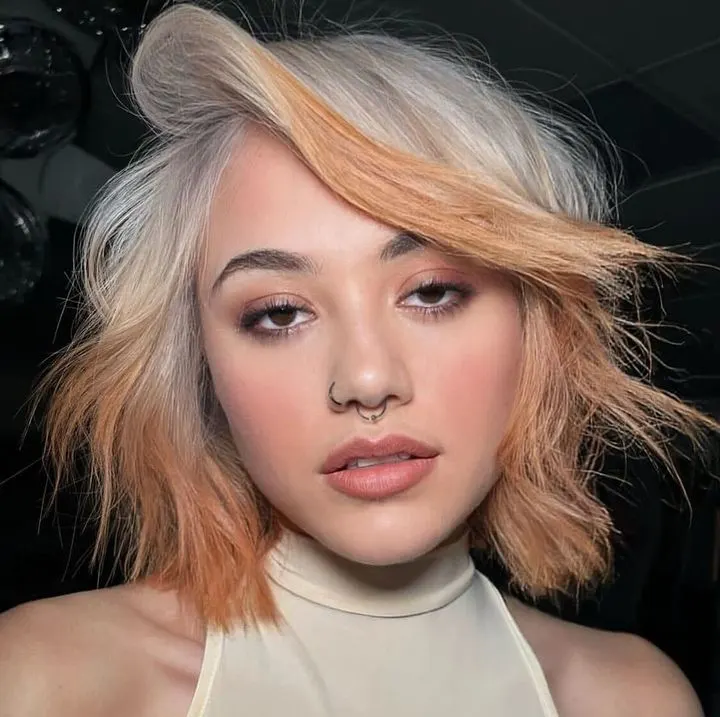 This versatile edgy choppy bob is a great fit for highly-customized, unique colors. Because a dramatic color is so eye-catching, a cut that can be worn in many ways makes your hair easier to style for different occasions.
15. Choppy Bob Haircut For Curly Hair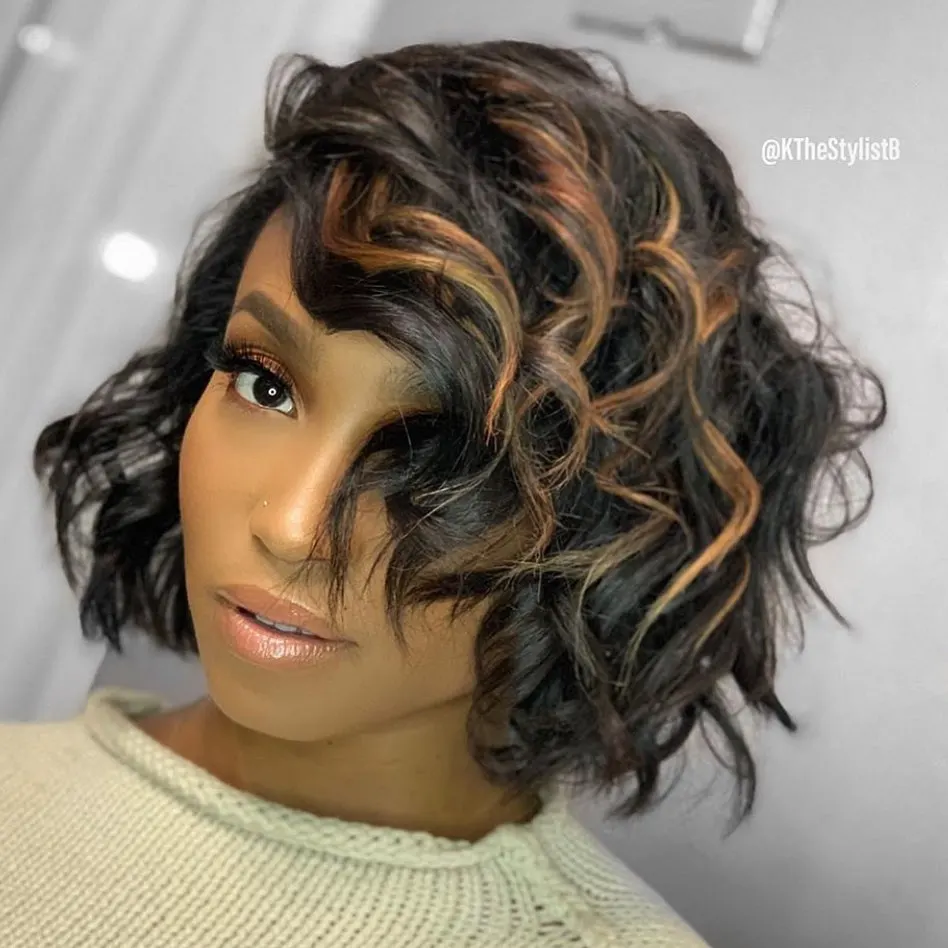 Choppy bobs are usually styled to achieve an edgy and trendy look, but that's not the only way to wear them: loose curls and warm light-brown highlights work together to create a romantic and soft style.
16. Choppy Layered Bob For Thick Hair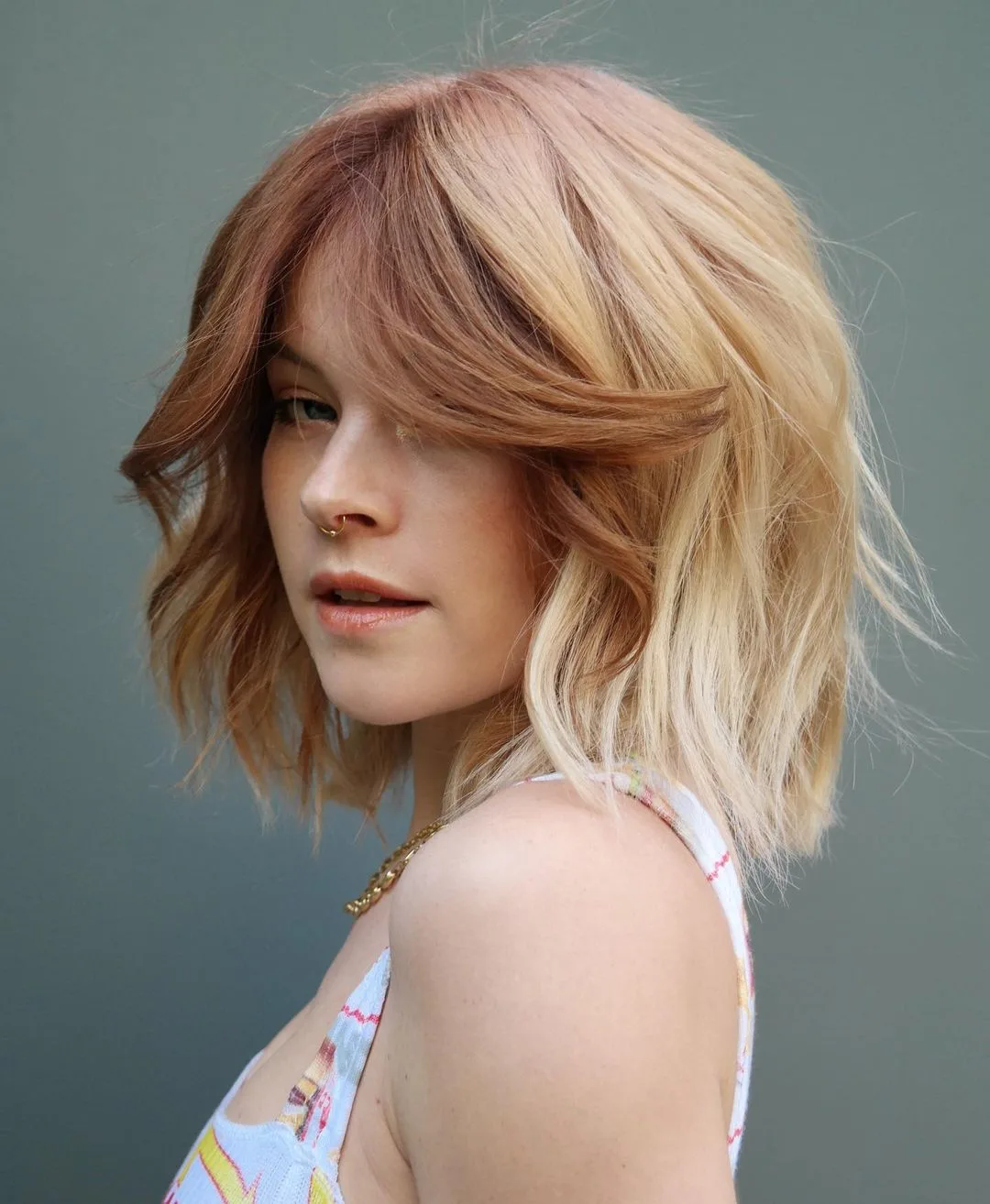 Most of the time, colorists use lighter colors around the face to brighten it, but this long layered bob combines the lighter base with darker face-framing curtain bangs to create depth and interest.
17. Jaw Length Choppy Bob With Bangs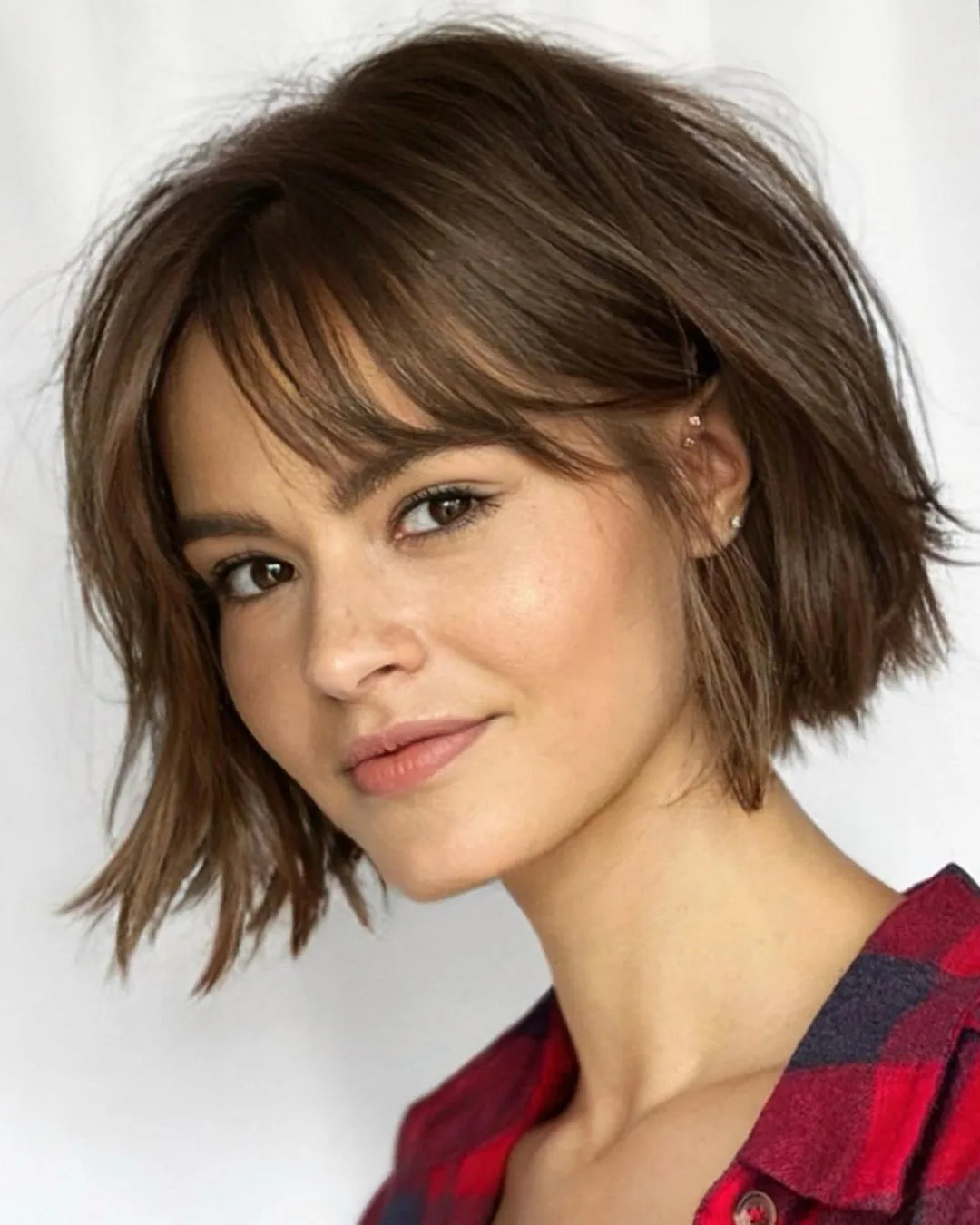 Short choppy bob with just enough fringe to create interest around the face looks charming and casual, and it's especially cute tucked behind the ear.
18. Choppy Shoulder Length Layered Bob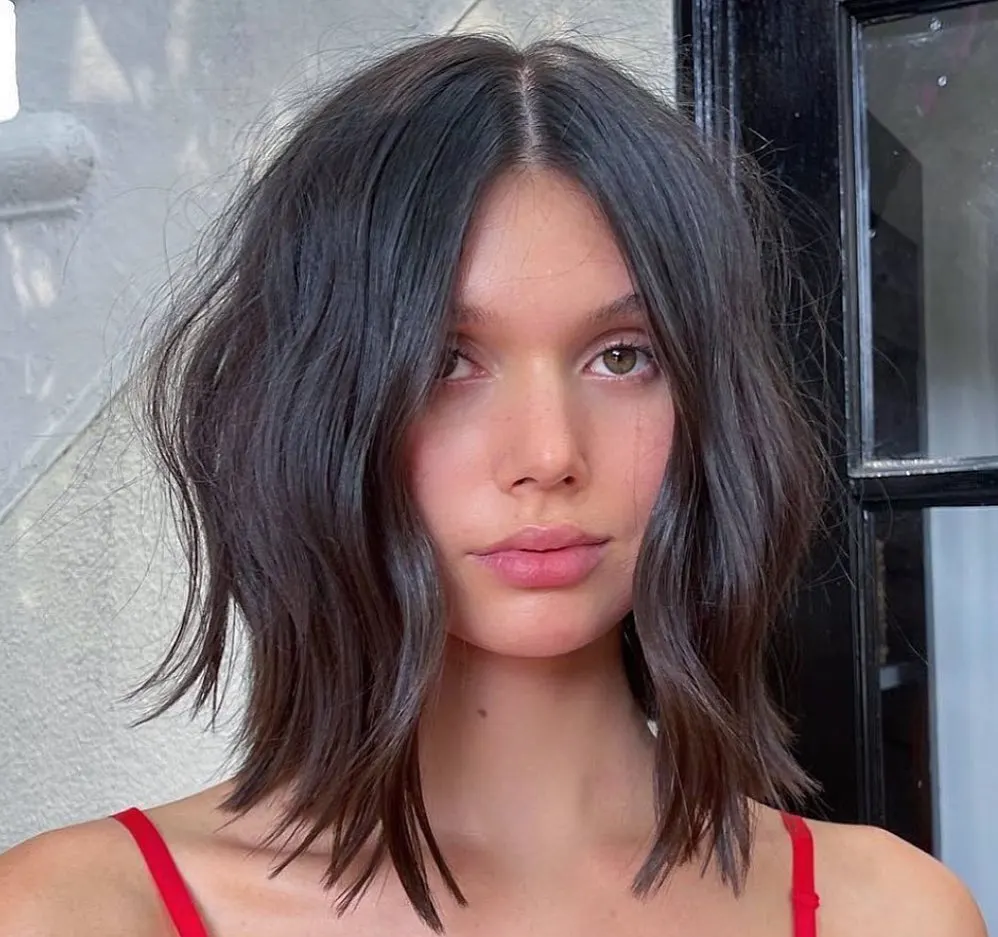 If you want barely-there beachy waves, use a straightener after your hair is completely dry. While holding it horizontally, clamp a small section of hair between the plates and turn your hand about 90 degrees. Pull down gently to create a soft bend in the hair.
19. Choppy Bob Haircut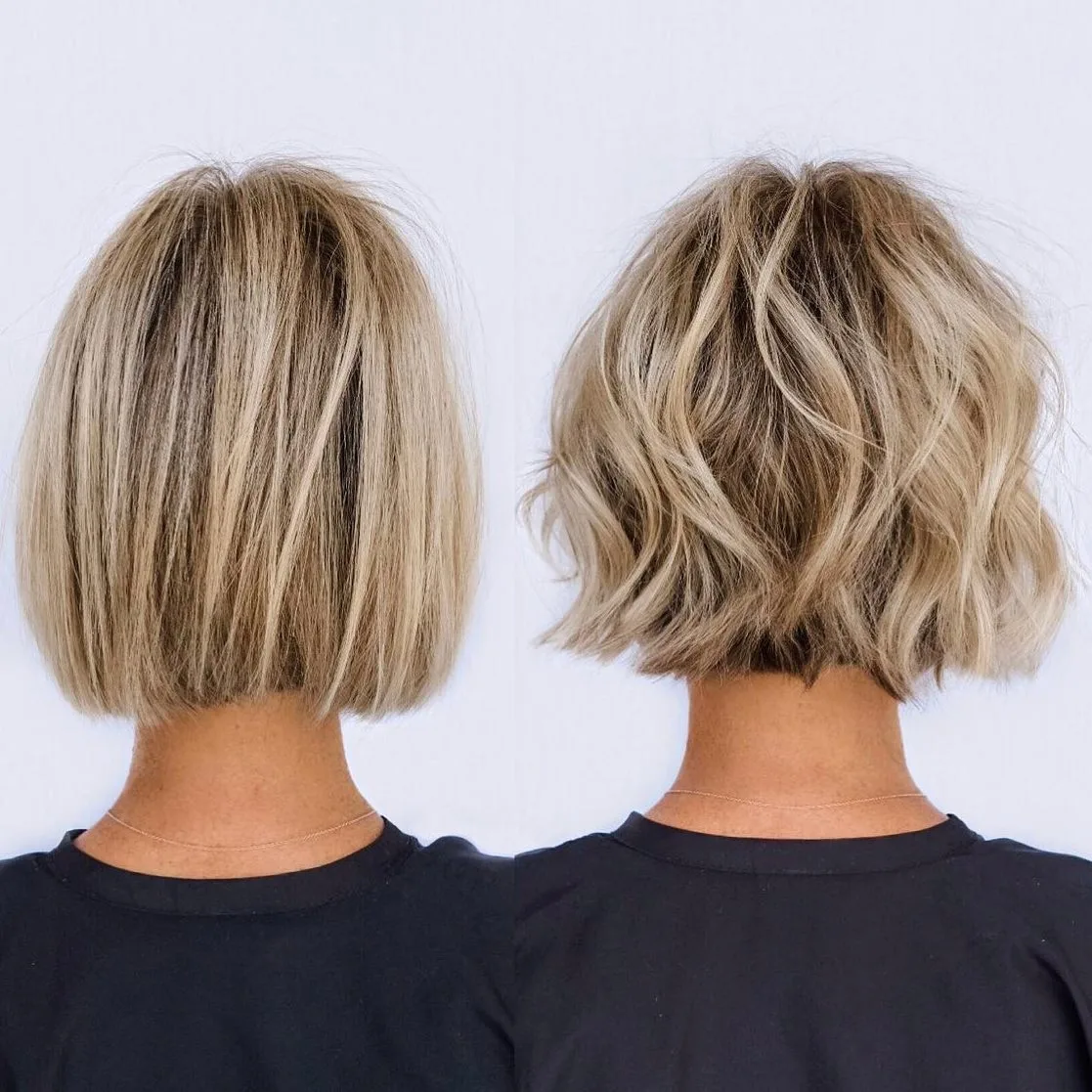 Same haircut, two hairstyles. The difference between straight, wavy and curly hair is quite dramatic with a choppy bob, so take your time to experiment with different textures.
20. Choppy Layered Hair With Bangs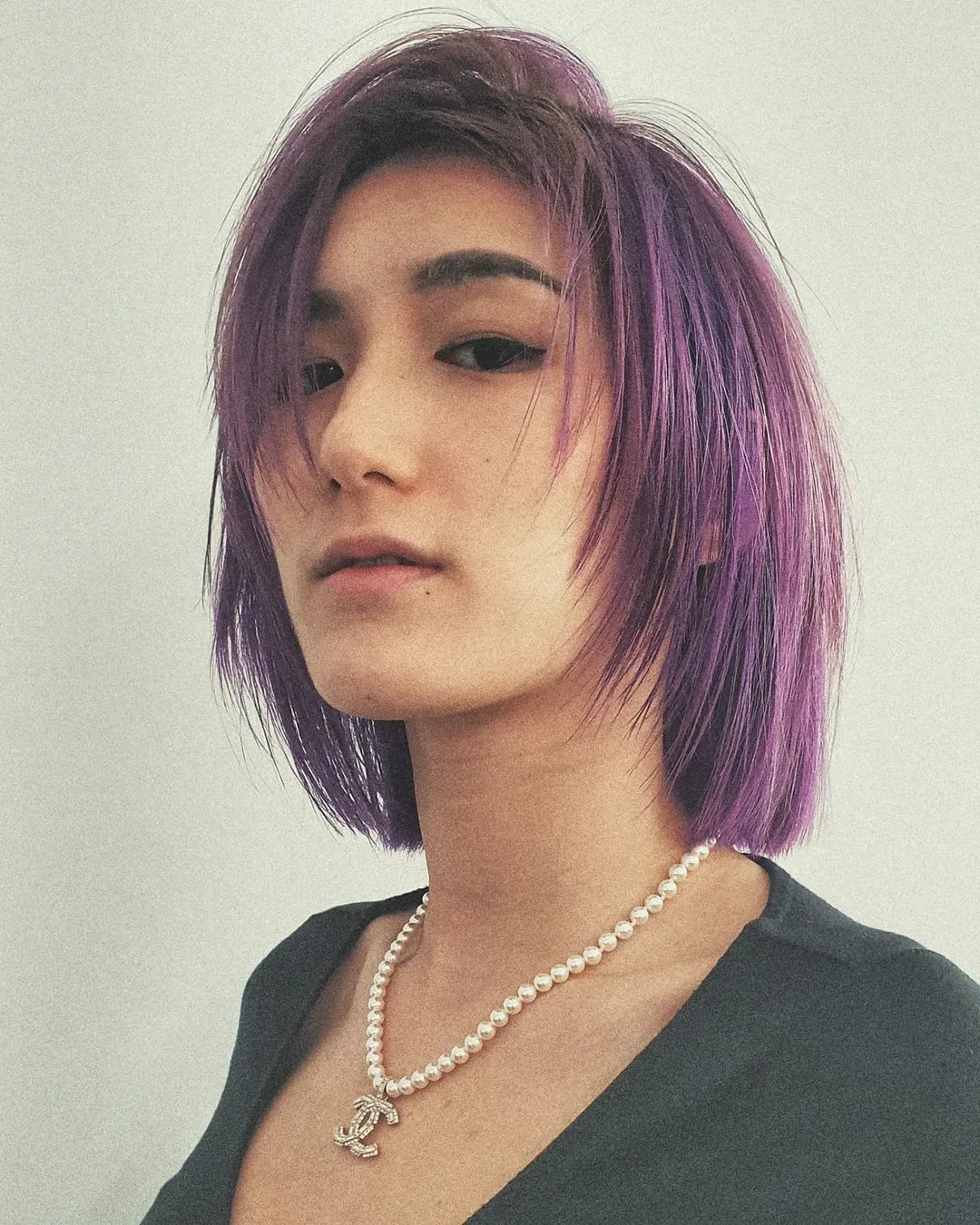 The color and the texture achieved by the choppy layers turn what could be an ordinary haircut into a contemporary and cool style.
21. Wavy Long Bob Haircut With Fringe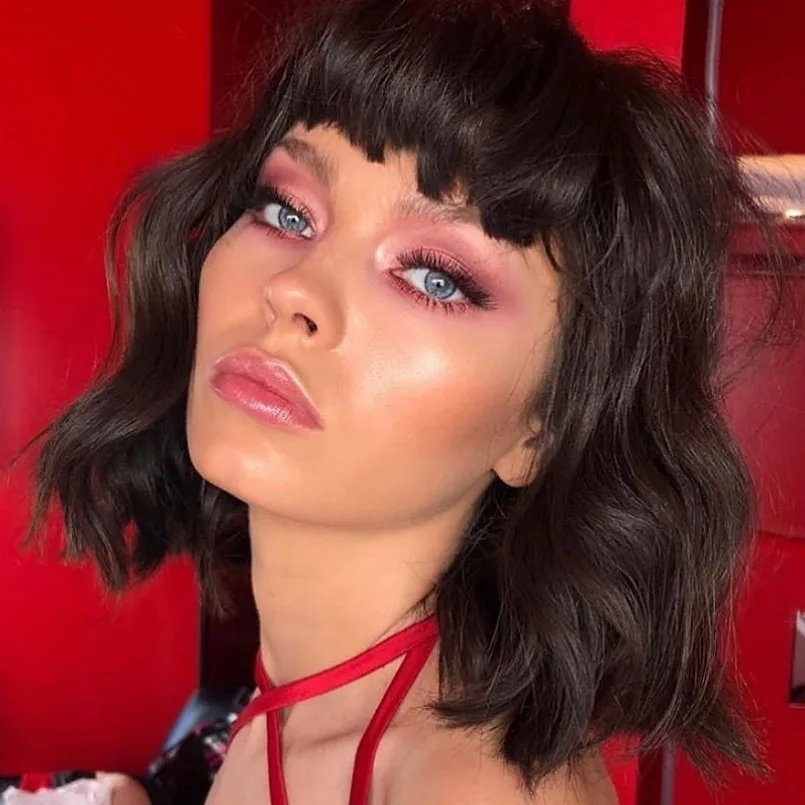 Long layers give this wavy long bob with bangs movement without making it look layered, while the short, full bangs create a flirty, pin-up image.
22. Choppy Short Bob Hairstyle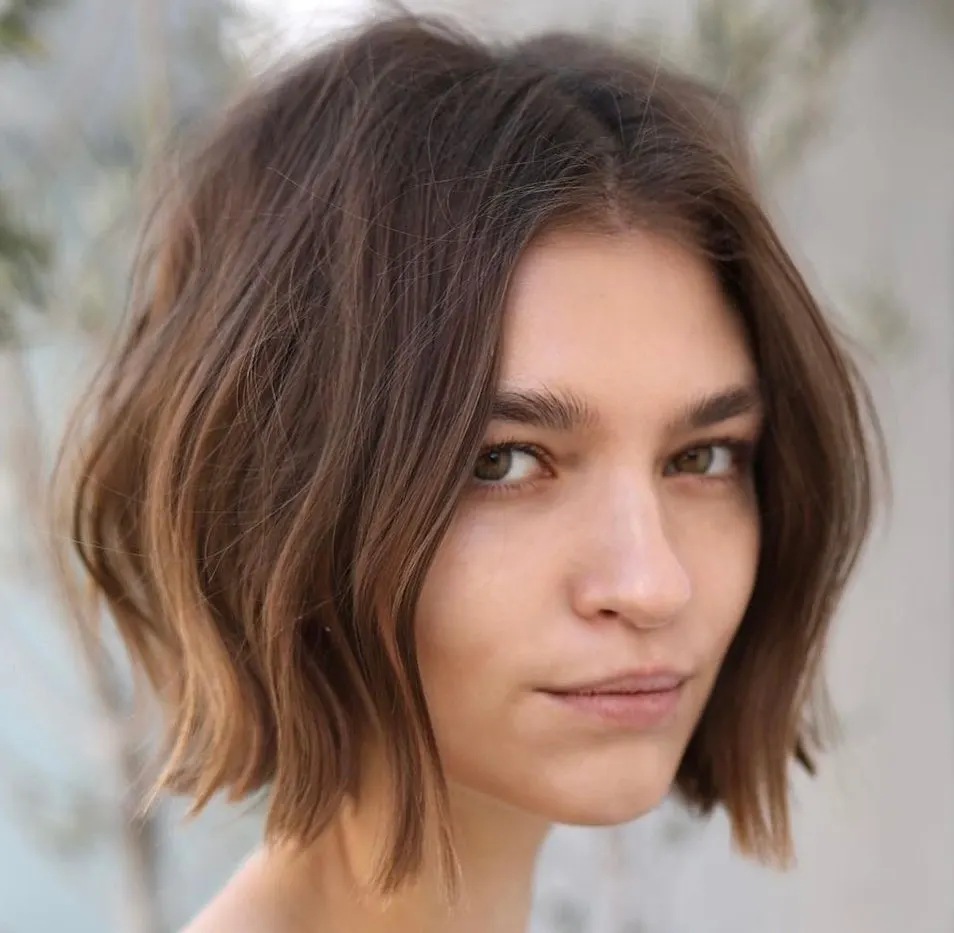 When styling this kind of bob, you might be tempted to only bend the hair around ear level, but here's a tip: add a bit of lift on top to create a more balanced style.
23. Messy Bob With Bangs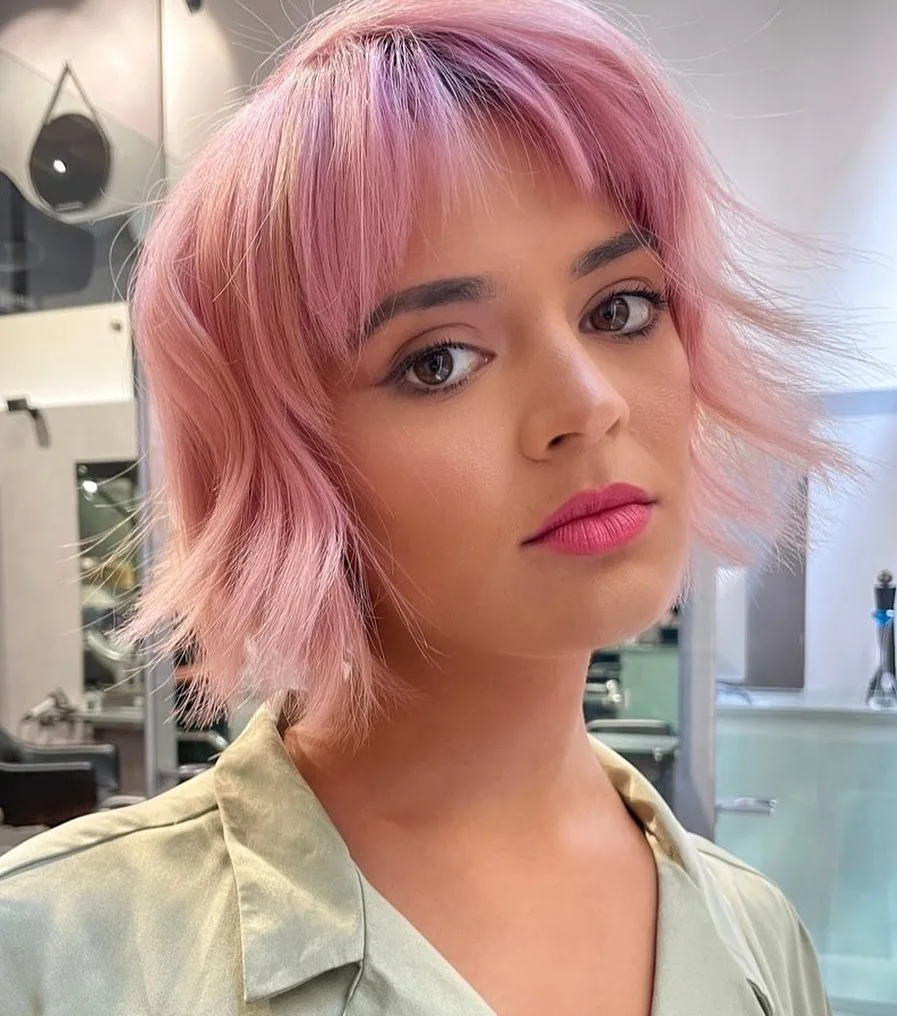 This casual and cute short choppy haircut is fun and youthful, thanks to the flippy layers and the pink color with root shadow.
24. Choppy Ear Length Bob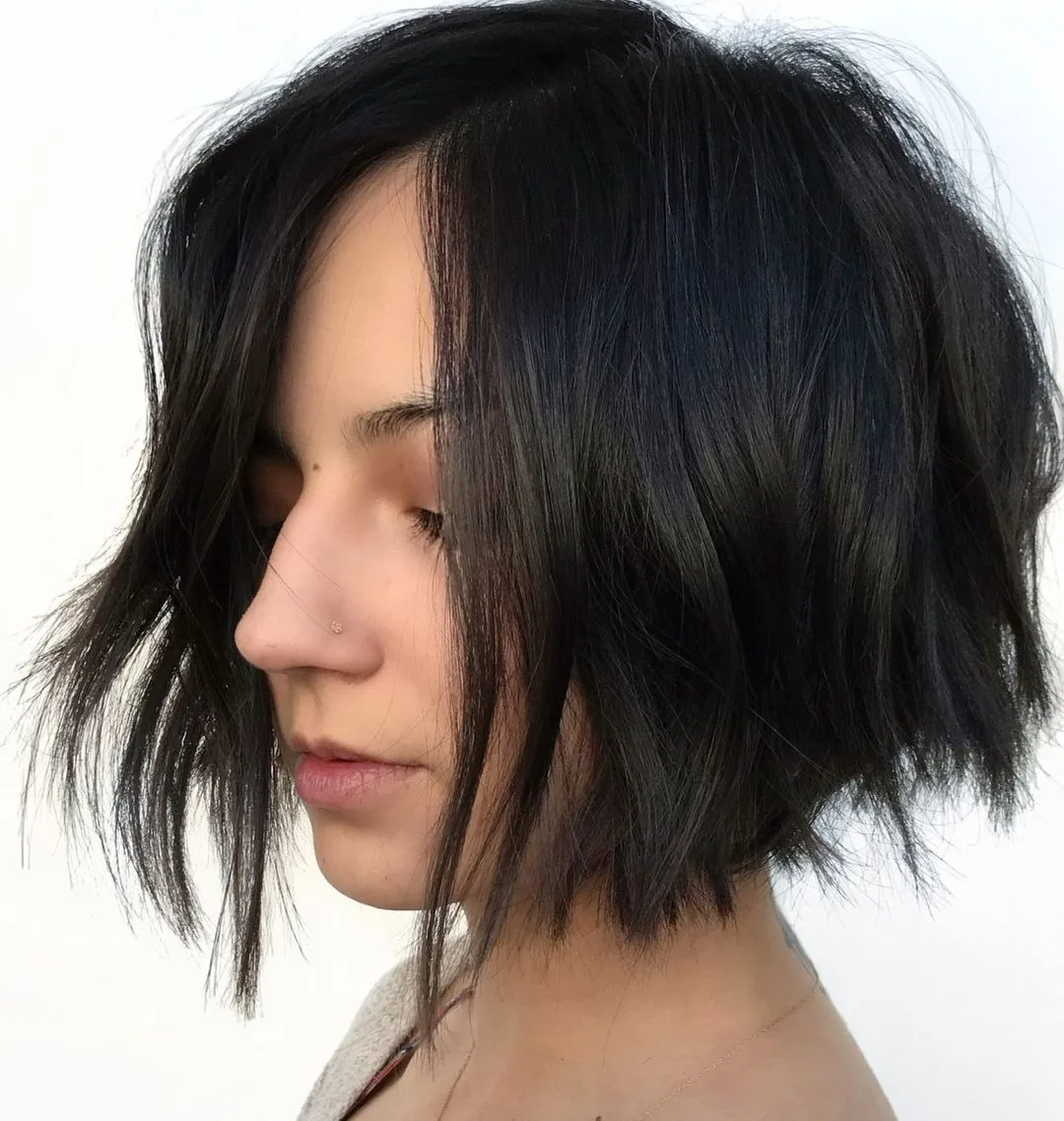 When cut straight at the bottom, a bob can actually look like the hair at the nape is longer, so a slight angle is used to offset this. Longer layers near the face will make your choppy bob appear completely straight!
25. Long Edgy Bob Haircut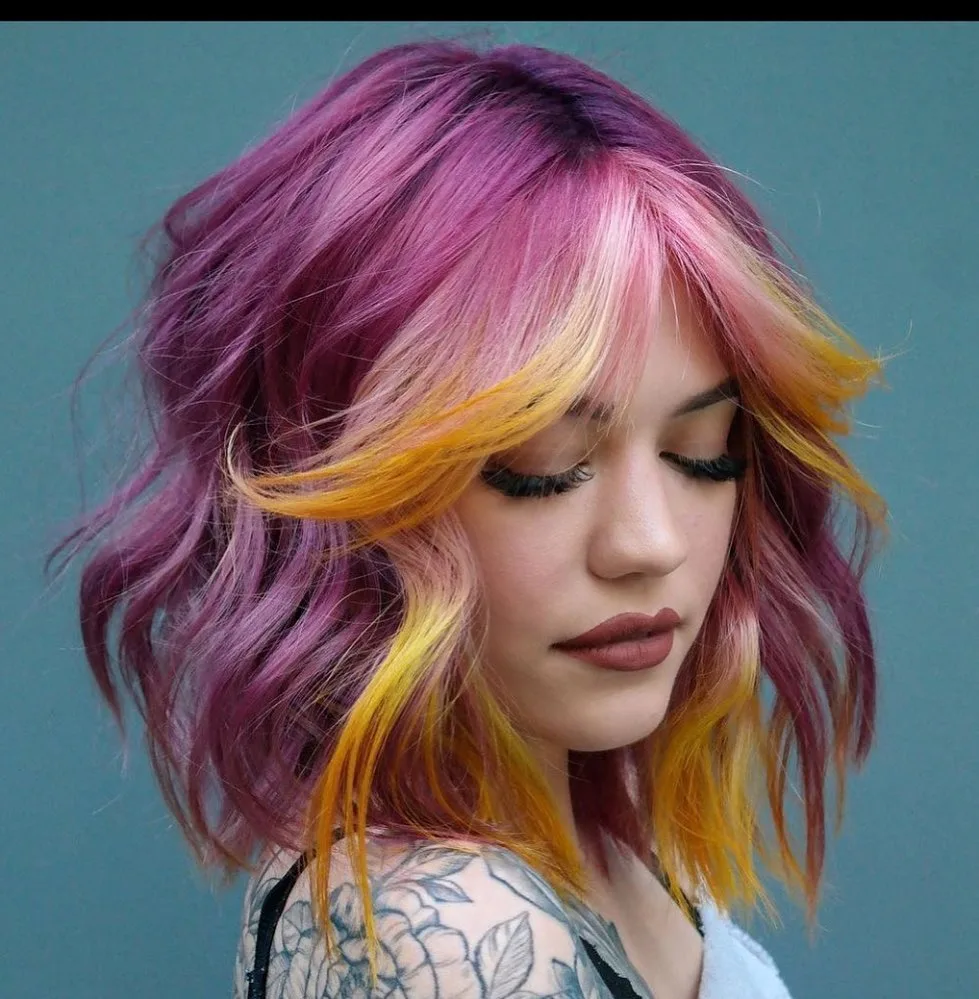 This unusual combination of colors is fresh and fun, and it's coordinated with the cut so that the individual colors and layers work together.
26. Blunt Choppy Haircut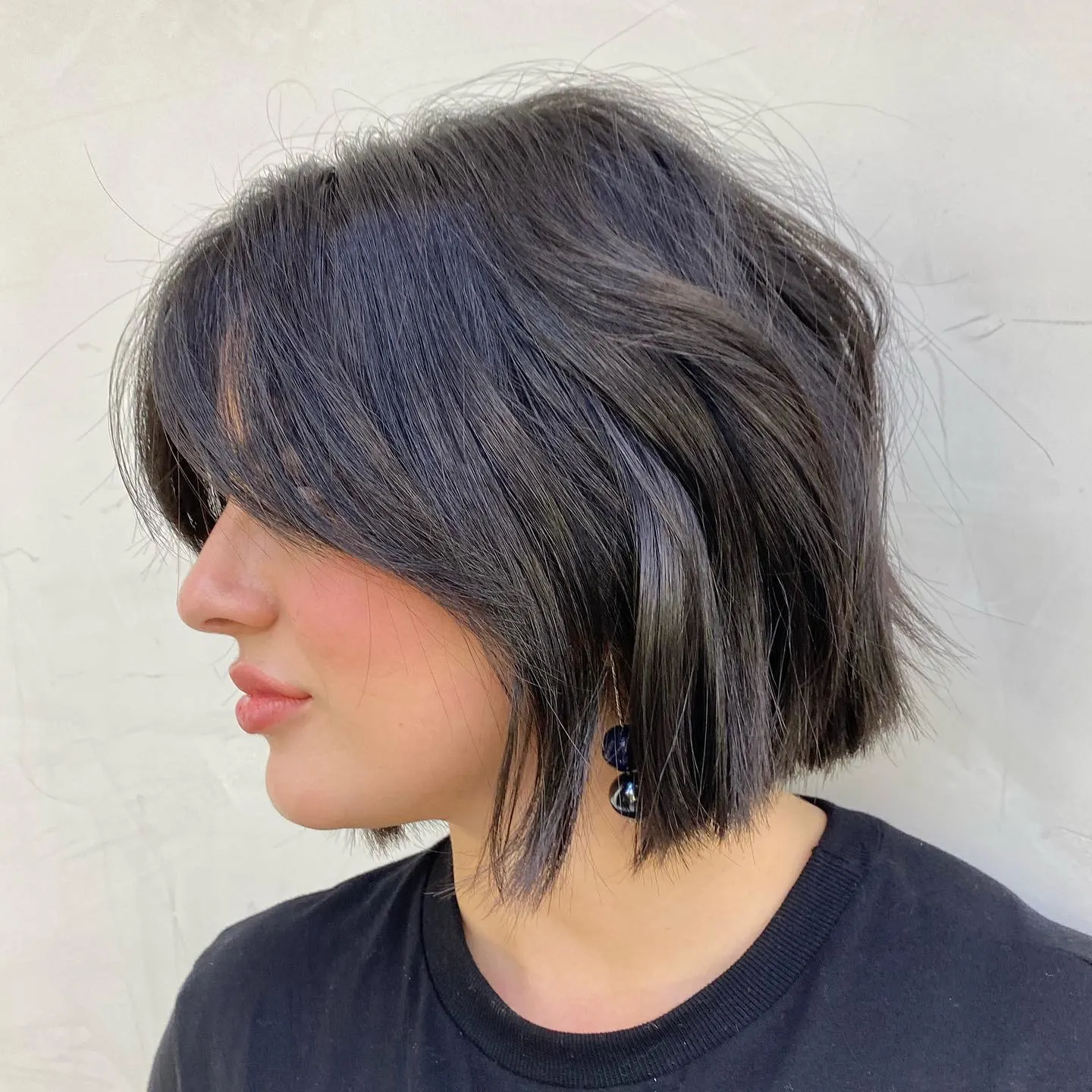 If you want bangs and can't commit to a full chop, bottleneck bangs look amazing with short straight hairstyles. With soft graduation in the back and face-framing strands in the front, this haircut is flattering and super modern.
27. Choppy Layers For Curly Hair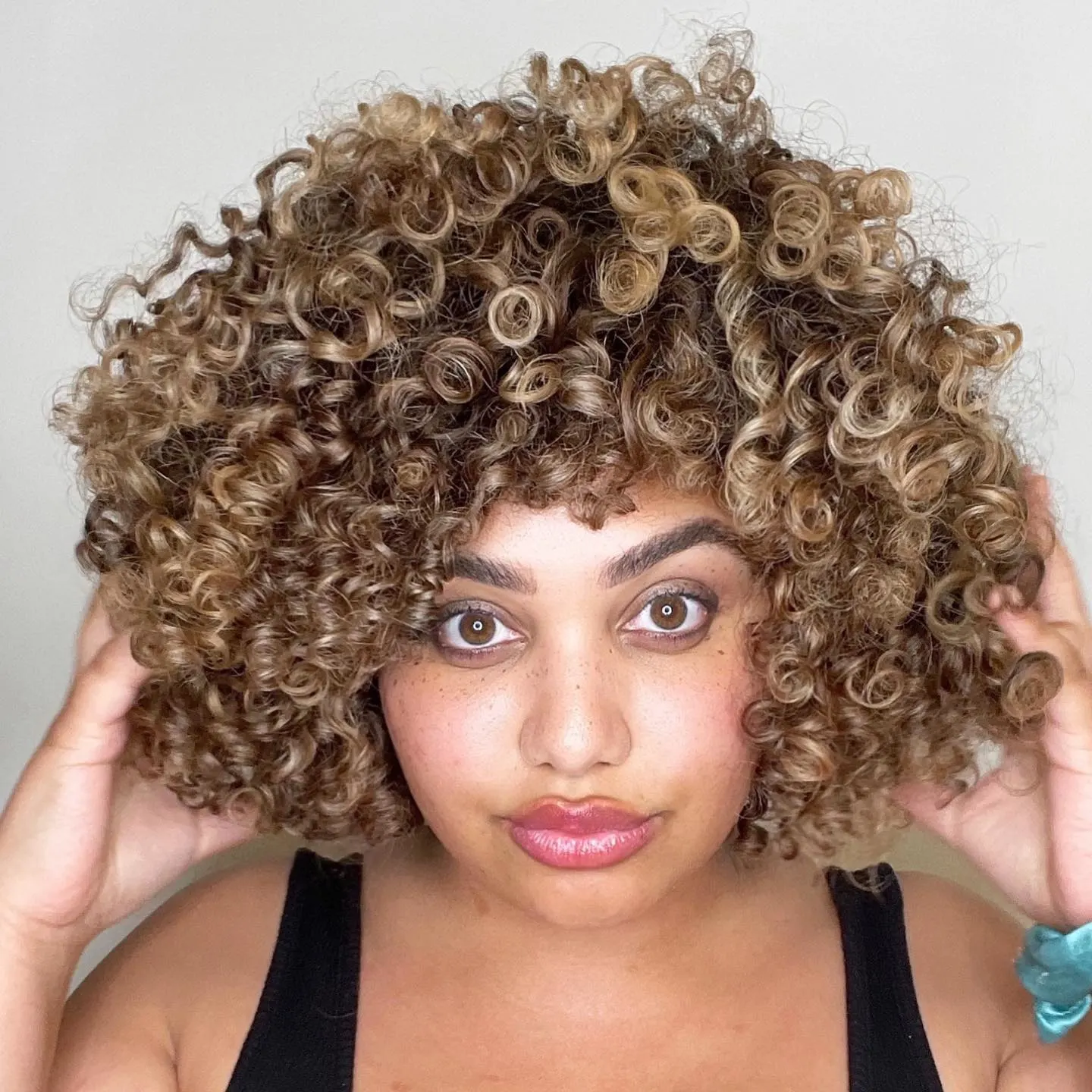 For curly hair, using layers to carefully create shape opens up endless possibilities. With a skilled hand, it's possible to achieve many styles, like this gorgeous halo of curls.
28. Choppy Layered Inverted Bob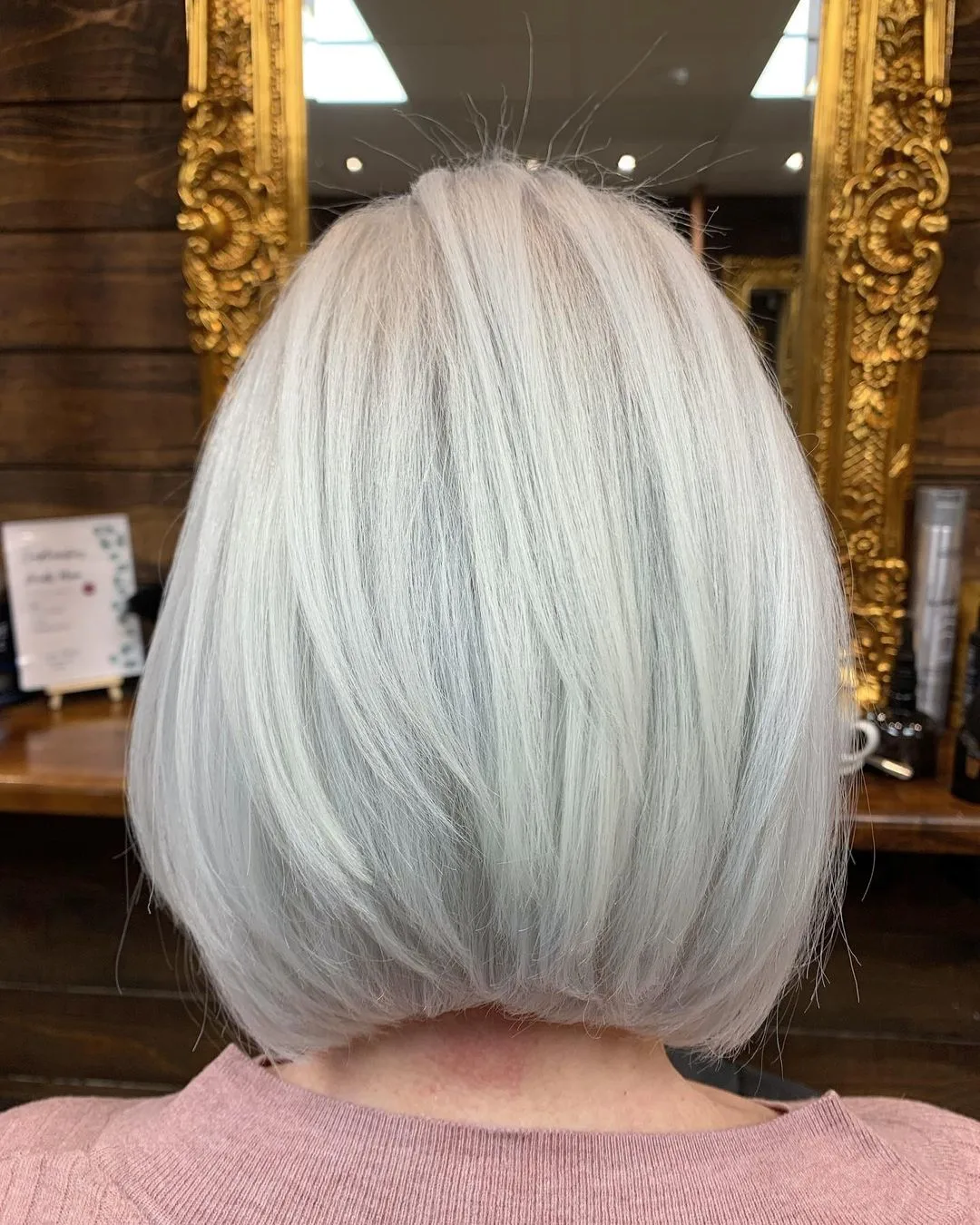 The layers in this bob are long enough to create texture but avoid stacking. This kind of haircut can be elegant or trendy, depending on how you style it.
29. Shoulder Length Textured Bob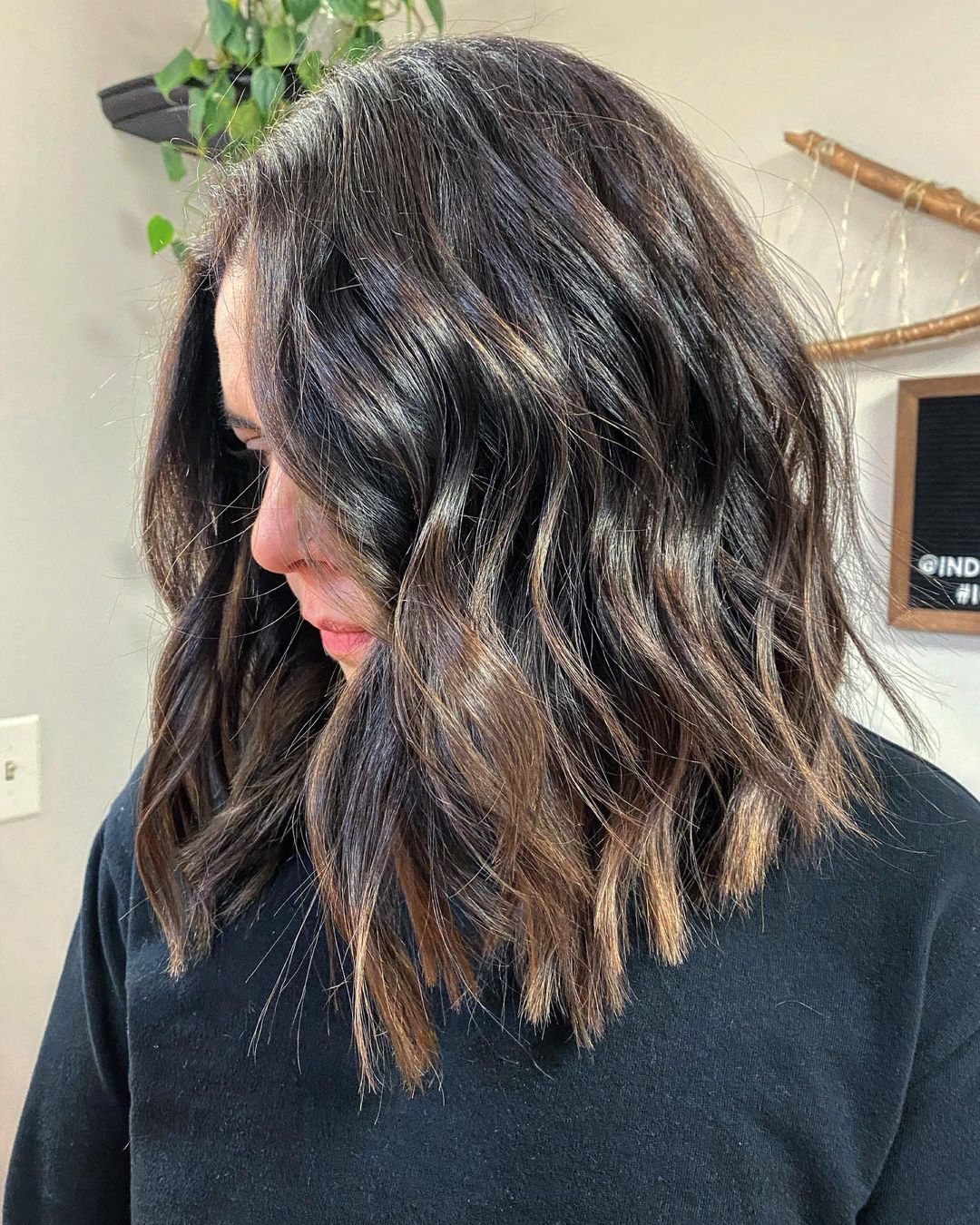 The length of this haircut takes it a bit out of the bob category, but the shape is still there. The layers and the highlights work together and bring movement and dimension to the style.
30. Short Choppy Bob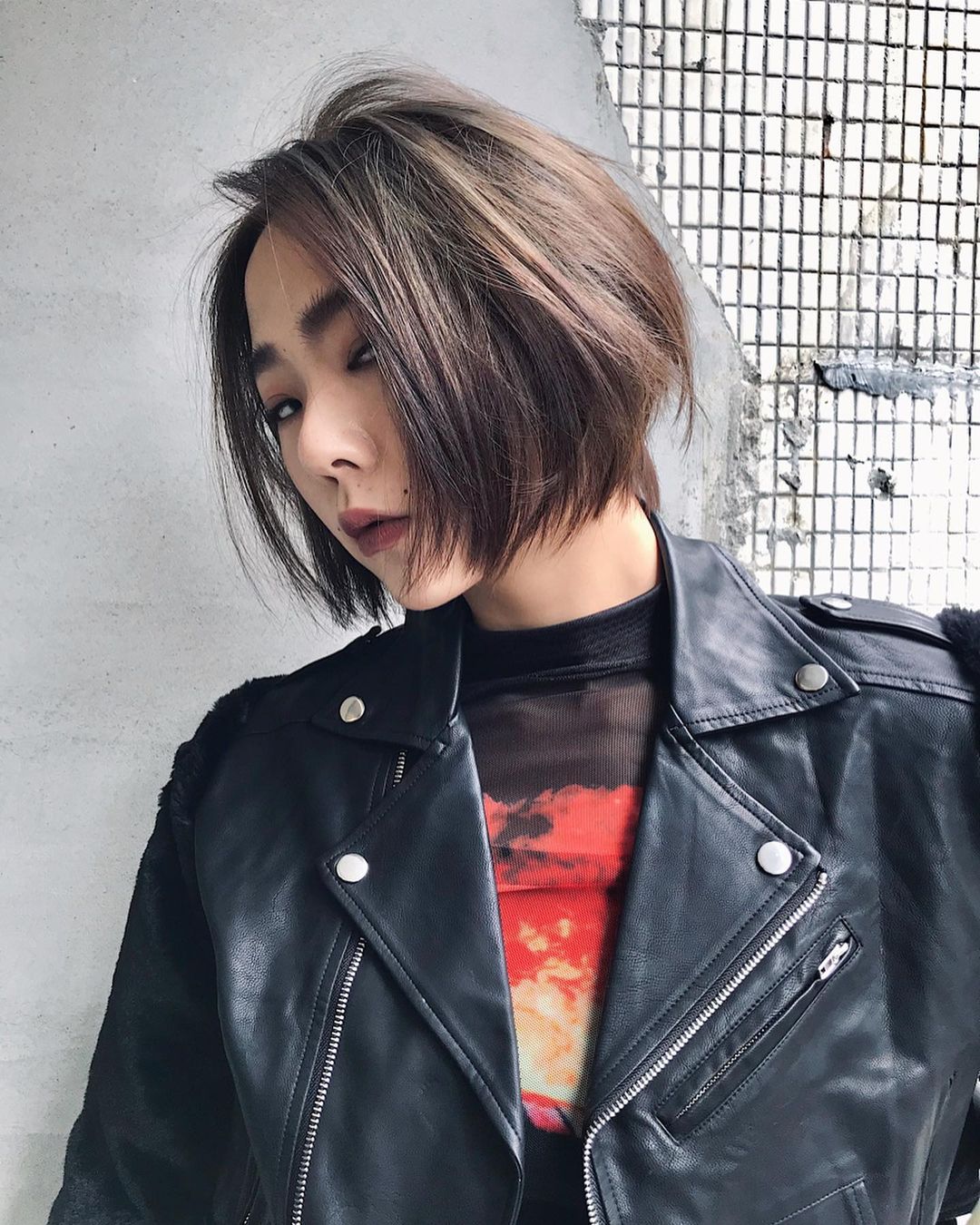 A short choppy bob is a go-to haircut for those who want minimum styling and maximum impact. Run your fingers through your hair to keep it artfully disheveled, and you're good to go.
31. Blunt Medium Choppy Bob
This blunt bob looks simple and effortless, but it's actually complex and thought-out. The soft waves contrast the blunt ends to create visual interest, while the warm caramel highlights and soft layers keep it from looking one-dimensional.
32. Textured Medium Choppy Bob
Pink balayage, anyone? This fun color is only possible on bleached hair, so to keep your hair healthy, a shorter haircut like this bob is useful if you need regular trims.
33. Short Choppy Bob With Curtain Bangs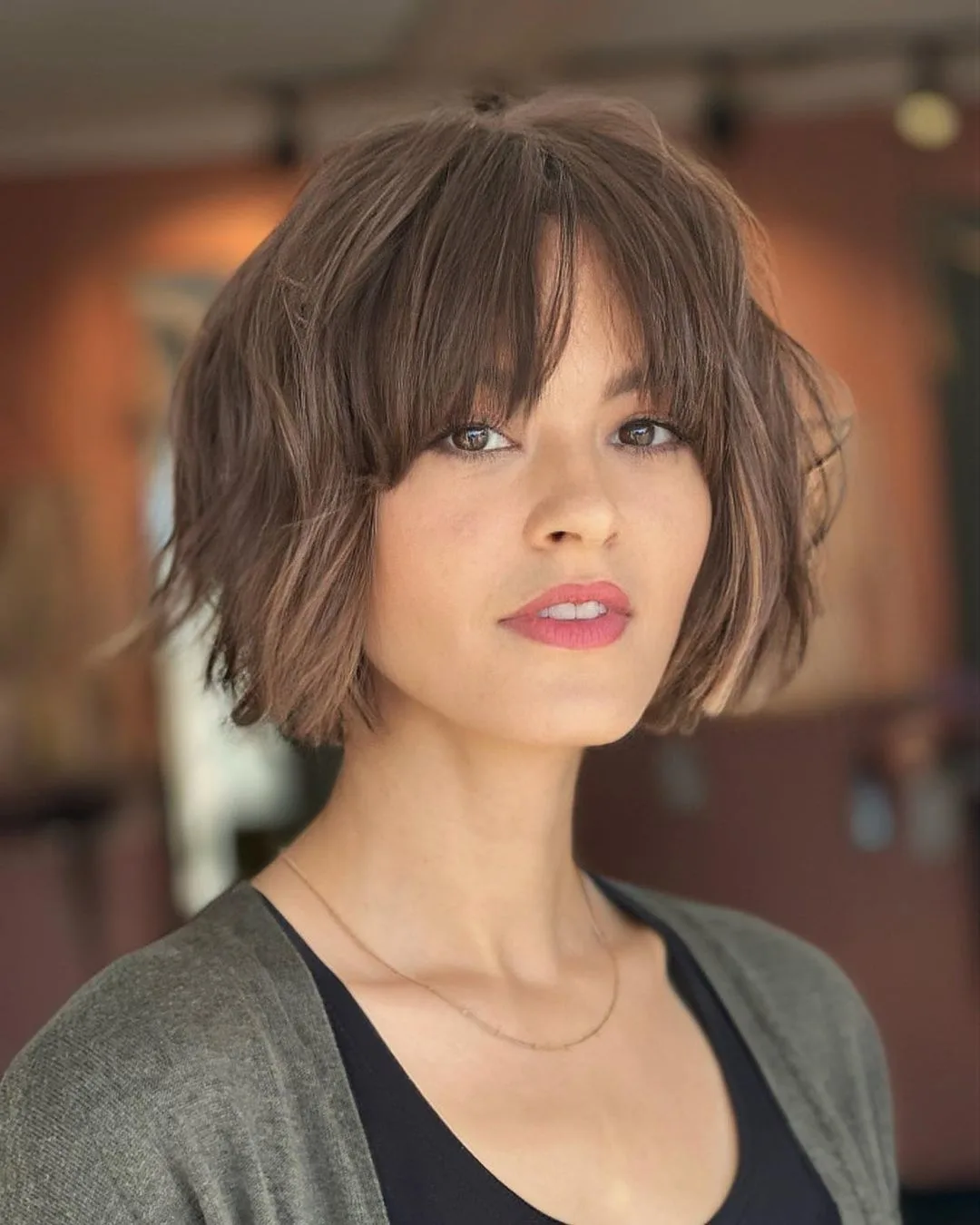 The kind of lift achieved using the layers and the bangs in this haircut elongates the face, so it's very flattering if your face is round.
34. Jaw Length Edgy Choppy Bob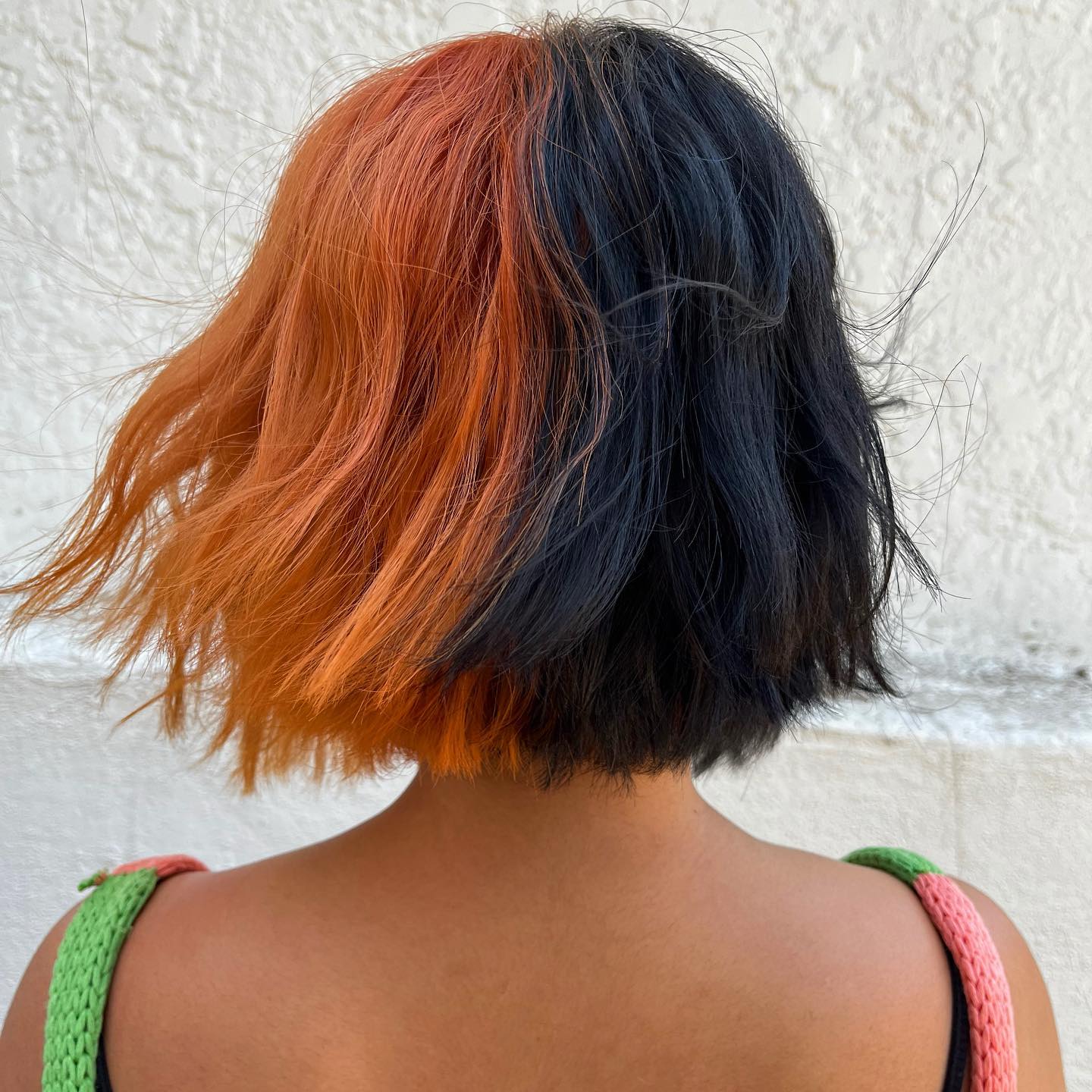 Split-tone color isn't only for the indecisive but also for the bold. Pairing it with a choppy jaw-length blunt bob works so well because such an eye-catching color needs a simple cut to balance it.
35. Choppy Bob For Fine Hair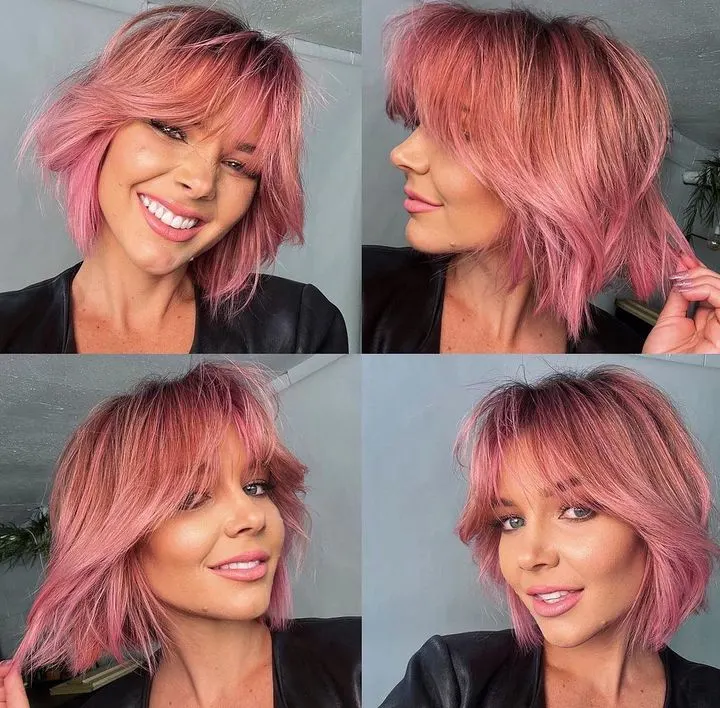 Fine hair gets volume and dimension both from layers and shadowed roots, plus a shaggy bob haircut like this one is a great choice if your hair needs a boost.
36. Wavy Medium Textured Bob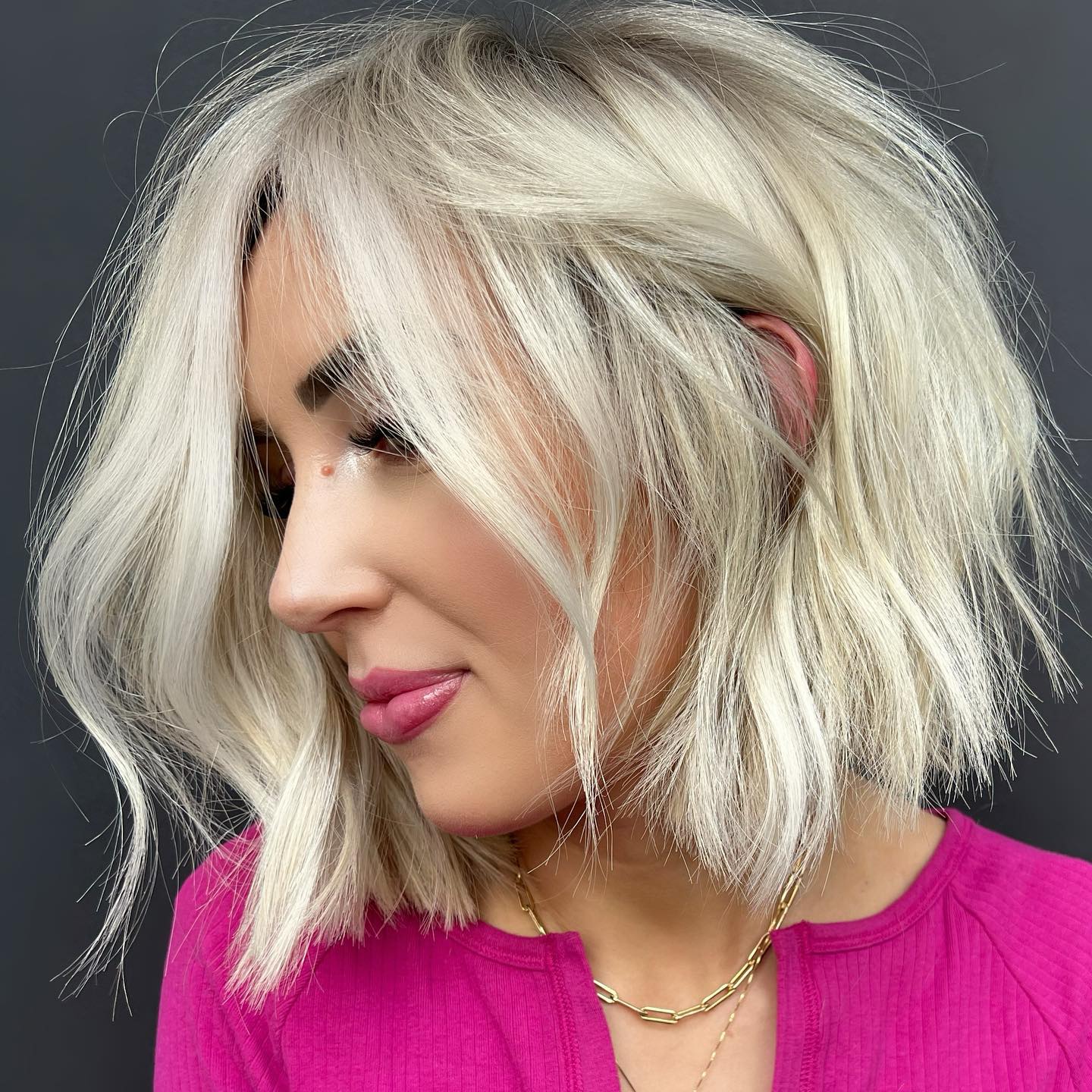 By just adding the long layers, this haircut gets lift and movement. Otherwise, it would fall flat and lack texture.
37. Choppy Layered Bob For Curly Hair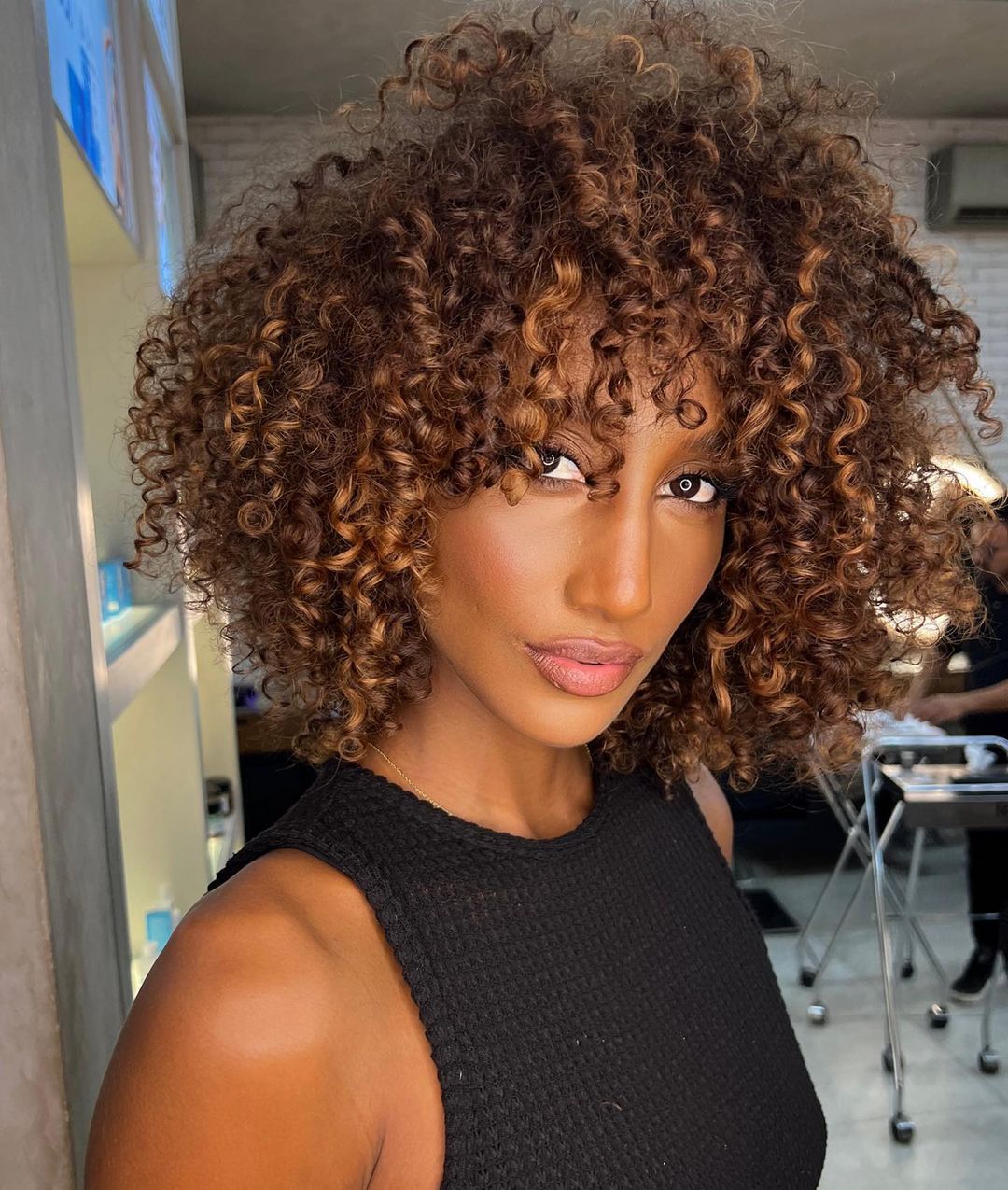 This dramatic cut is enhanced by the highlights, which have been used to draw the eye and create bounce.
38. Choppy Short Hair With Bangs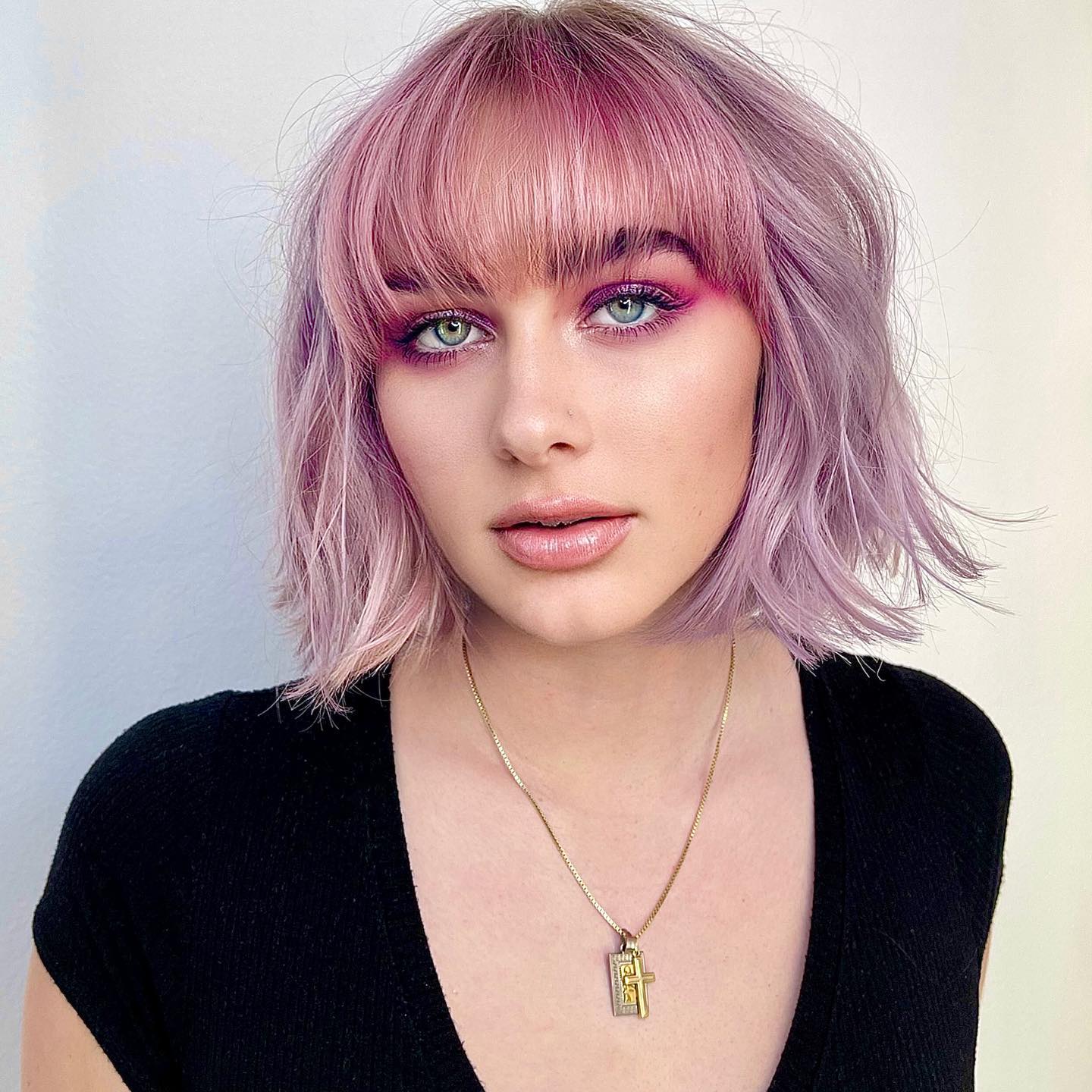 Wispy fringes work with both short and high foreheads—you only have to find the most flattering point where they should start.
39. Textured Medium Blunt Bob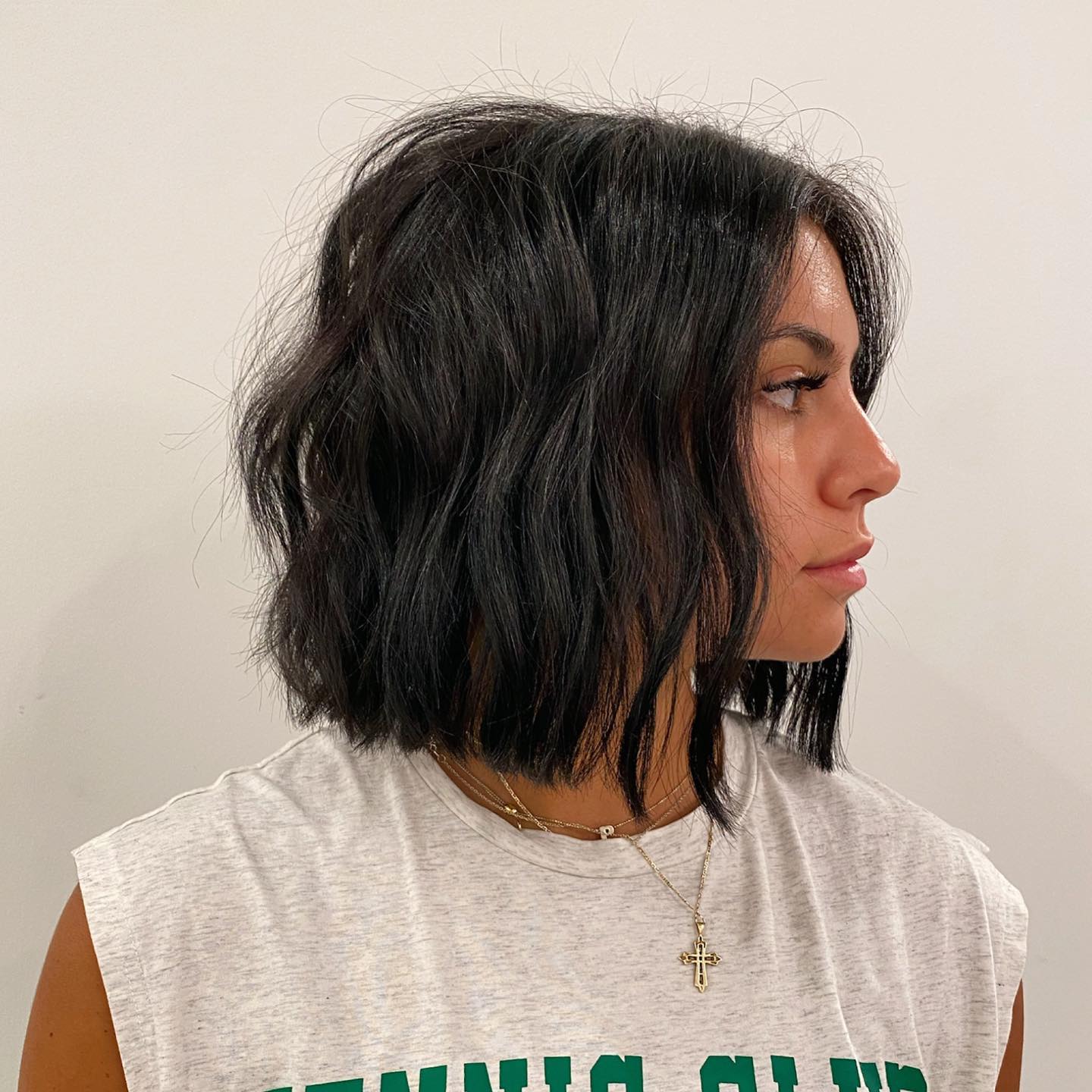 Add a few waves to enhance the texture of your blunt, choppy bob if you want this effortless, contemporary look.
40. Edgy Short Bob With Bangs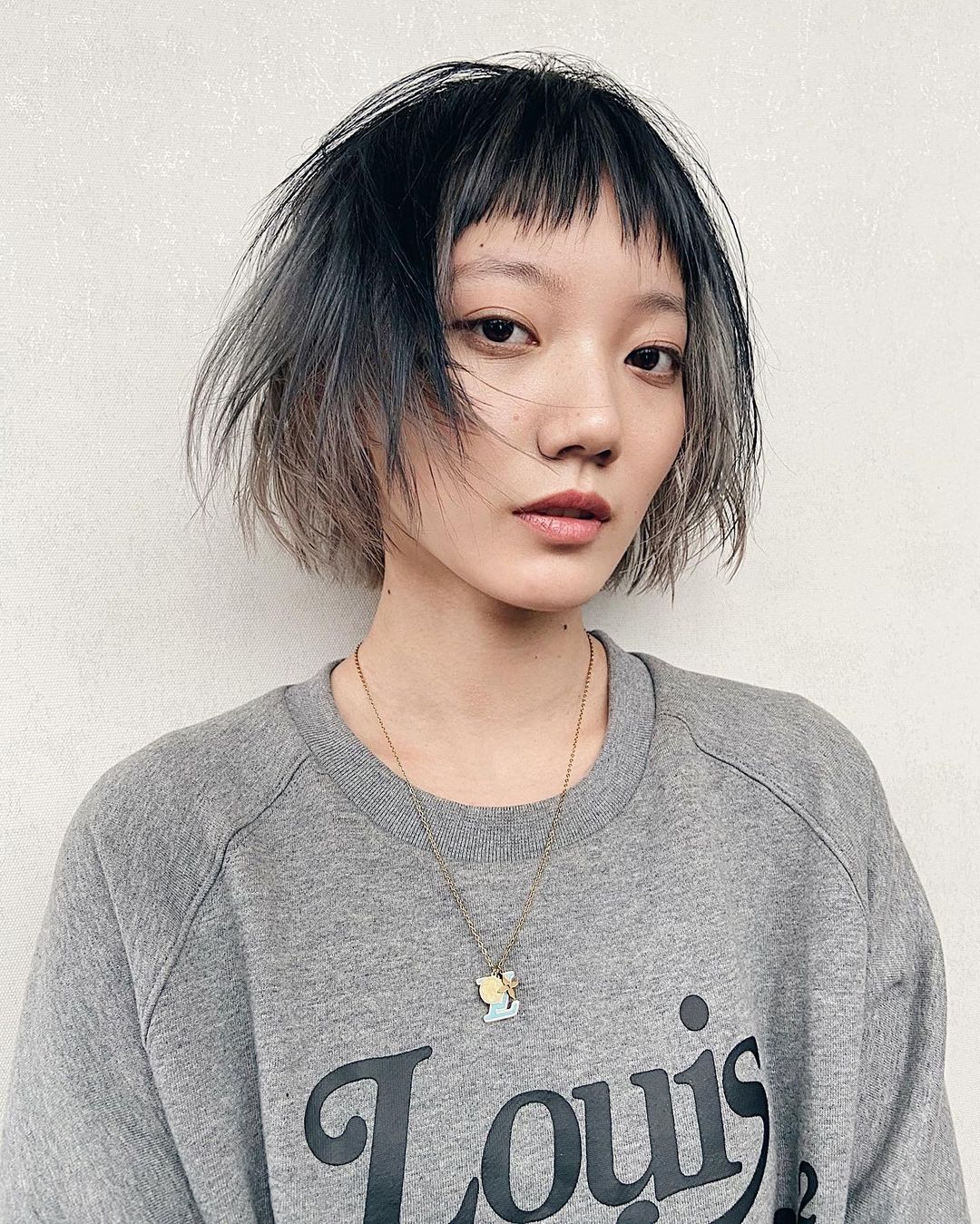 Choppy ends and choppy layers already create a cool messy look, but razored pixie bangs bring this bob hairstyle up a notch. Keep in mind that this cut needs frequent trims to stay fresh.
41. Short Choppy Haircut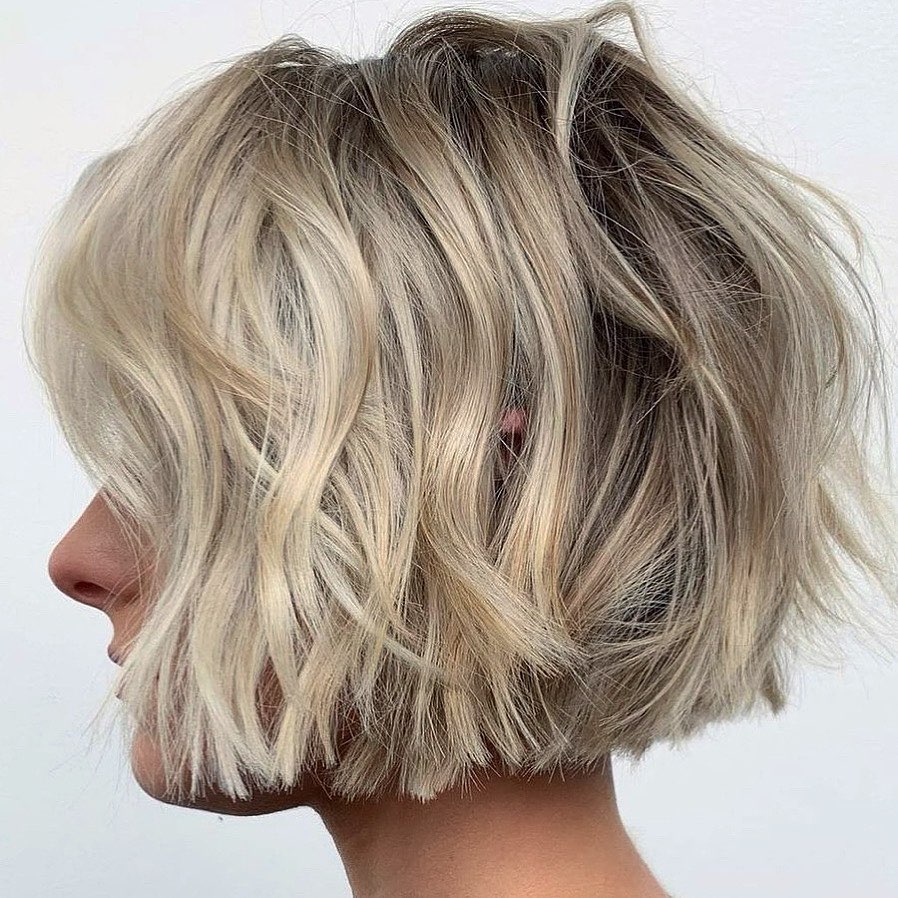 A tousled bob and lived-in color that uses root smudge and a combination of highlights and lowlights is the ultimate casual but cool hairstyle.
42. Fine Hair Medium Choppy Bob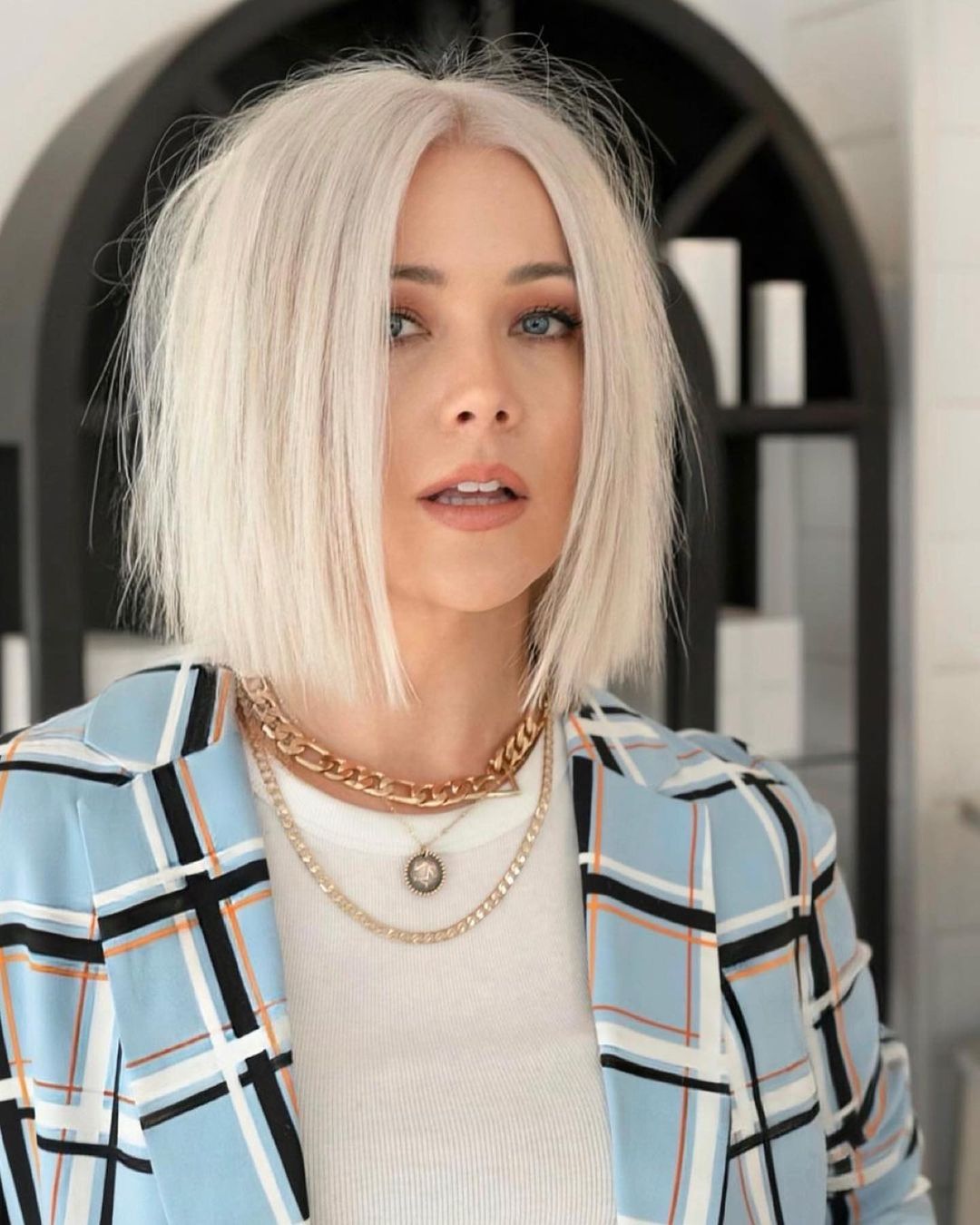 A neck-length bob with only slightly shorter layers is the perfect choice for fine hair if you want to preserve length. The well-placed layers add volume without thinning it out even further.
43. Long Choppy Haircut With Bangs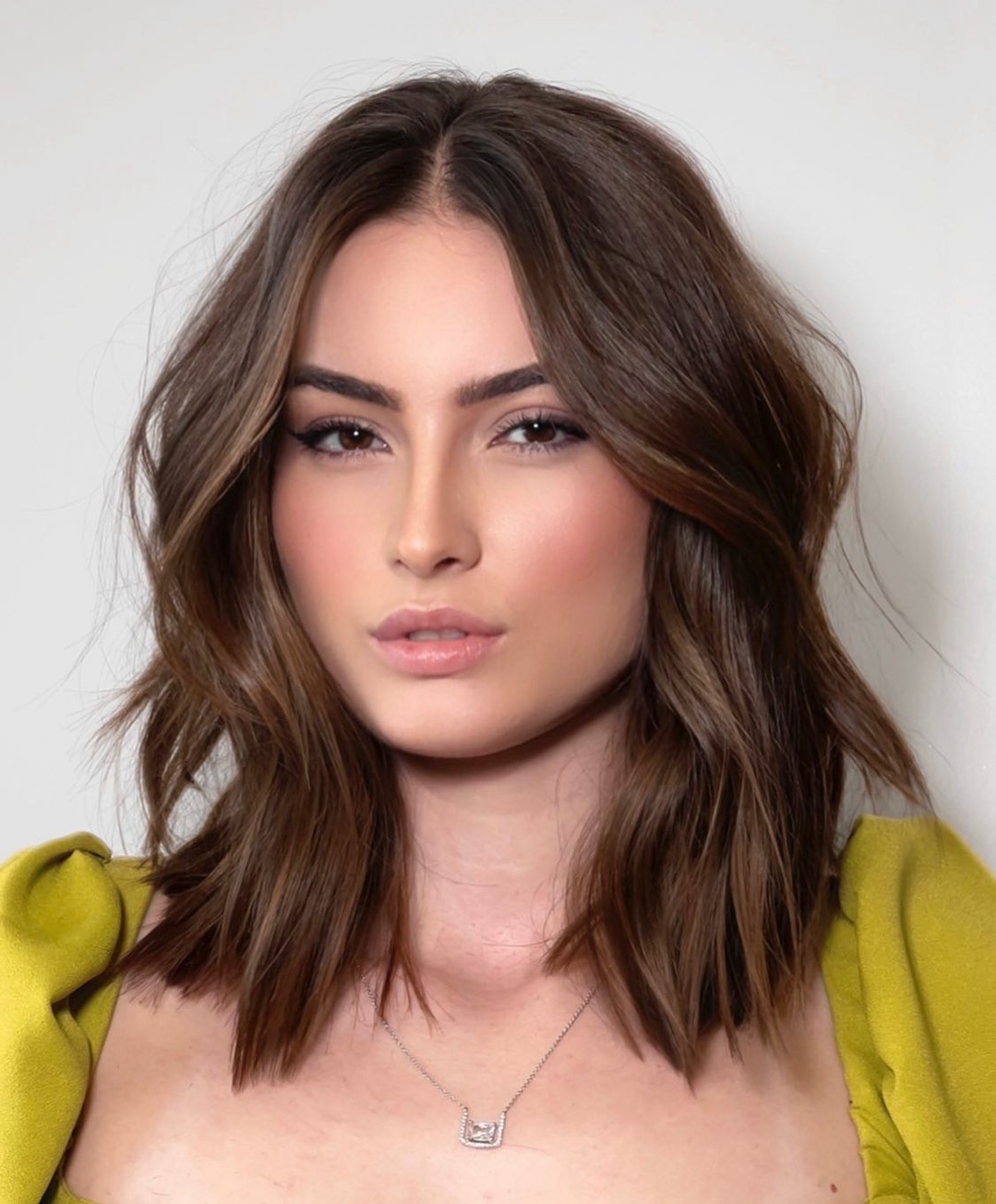 When growing out a bob, a choppy lob is an attractive transitional choice. This kind of style works when it's shorter but also when you skip a trim or two to gain some length.
44. Blunt Choppy Angled Bob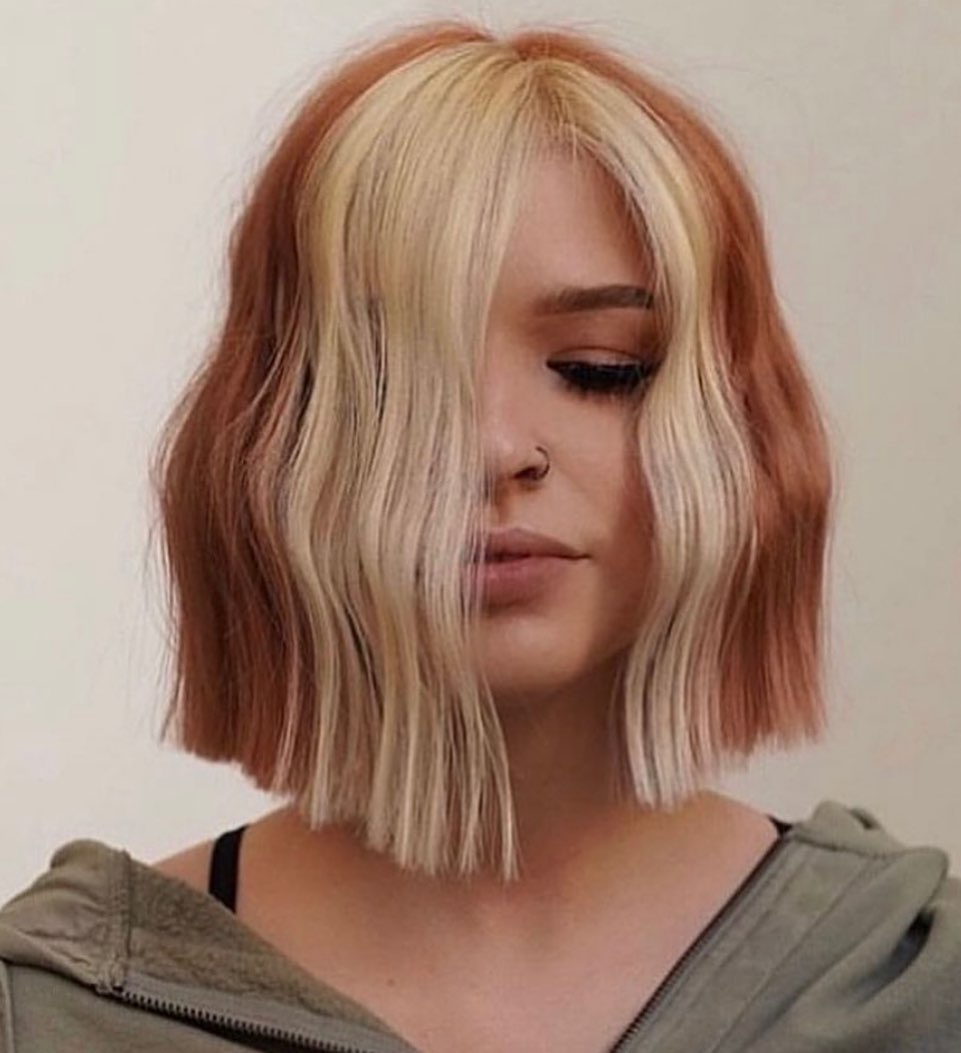 Bobs are long enough to let you change up your styling and short enough to keep your hair healthy while you experiment with color, so don't be afraid to play. This fun asymmetrical bob is stylish and fun.
45. Choppy Short Layered Hair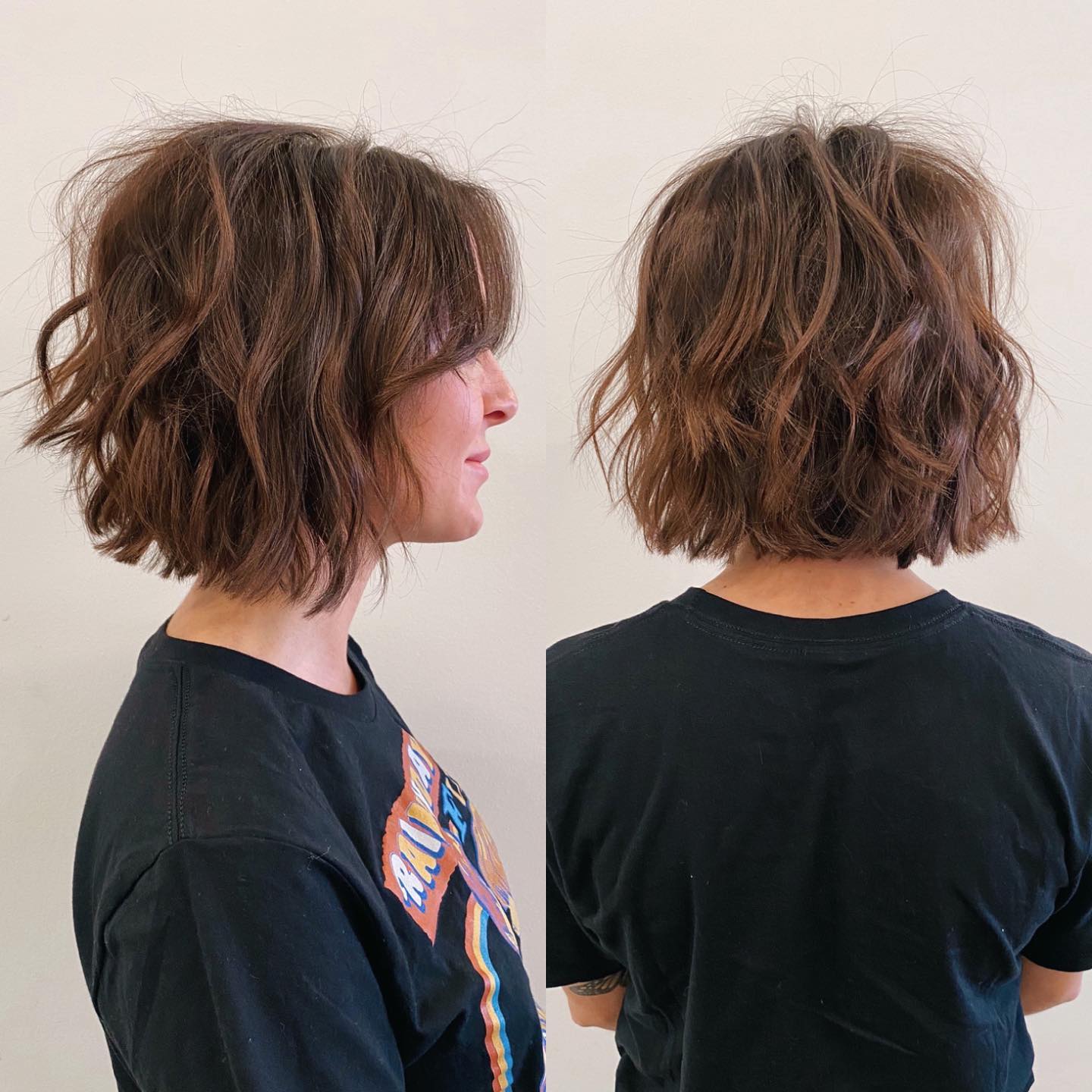 Choppy layers are enhanced by the incredibly subtle highlights to give the whole hairstyle dimension, and the soft layers in the bangs soften the face.
46. Shaggy Bob Haircut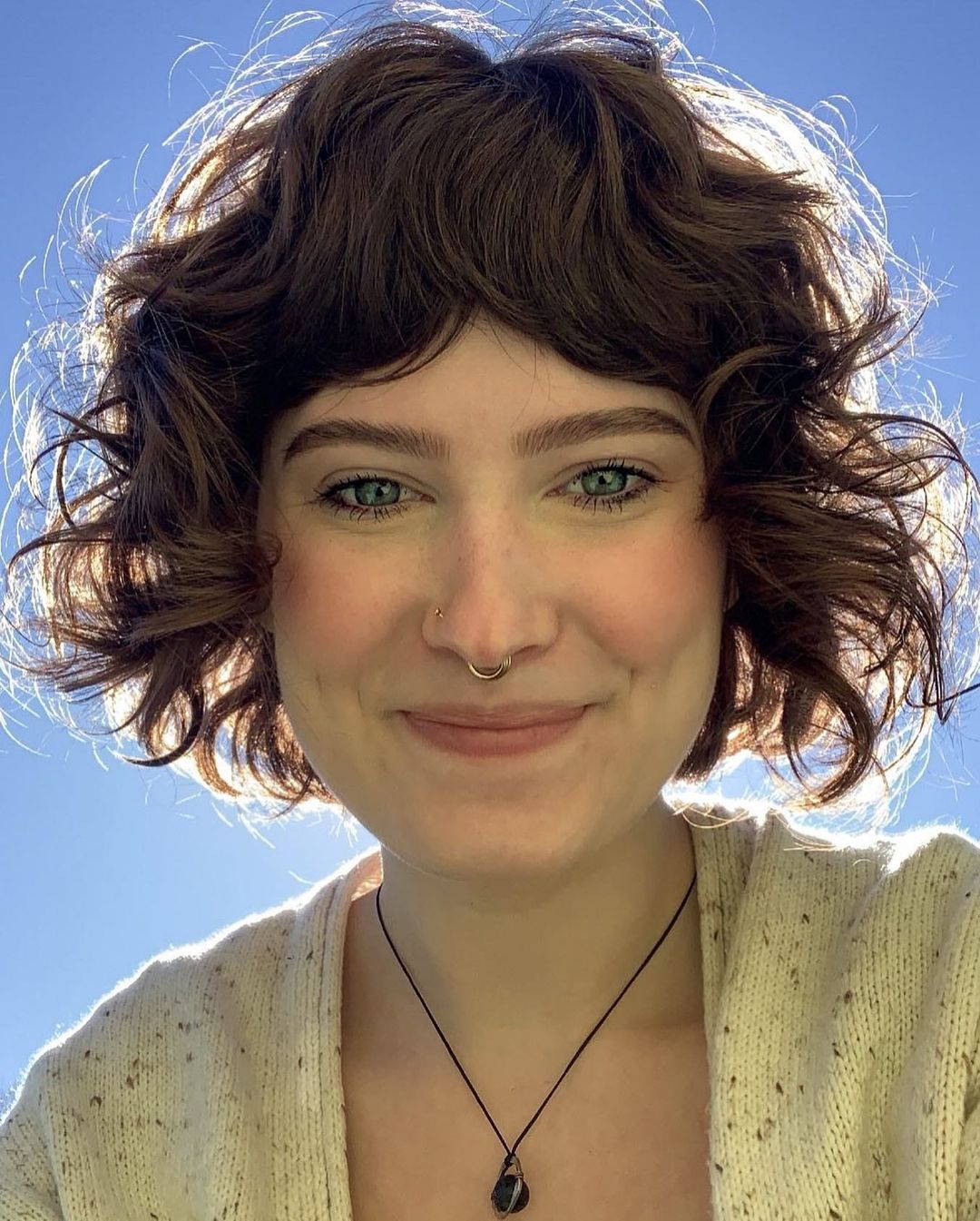 This shaggy bob wouldn't be complete without the adorable baby curtain bangs, which complement the curls and flatter the face.
47. Angled Choppy Chin-Length Bob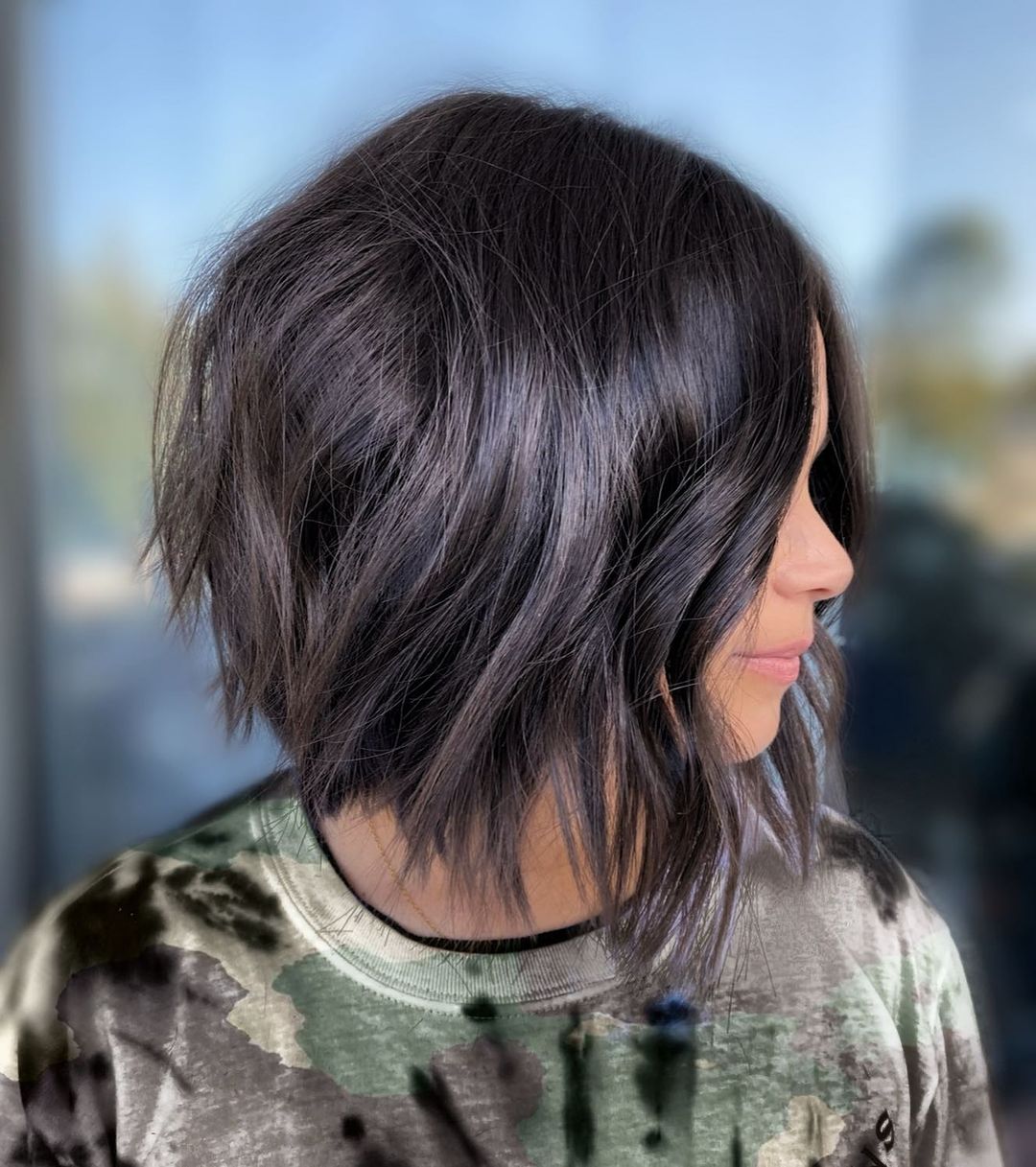 Adding just a bit of bend to the strands can enhance the texture of the choppy layers and awaken the whole style, like in this glossy inverted bob.
48. Textured Short Choppy Bob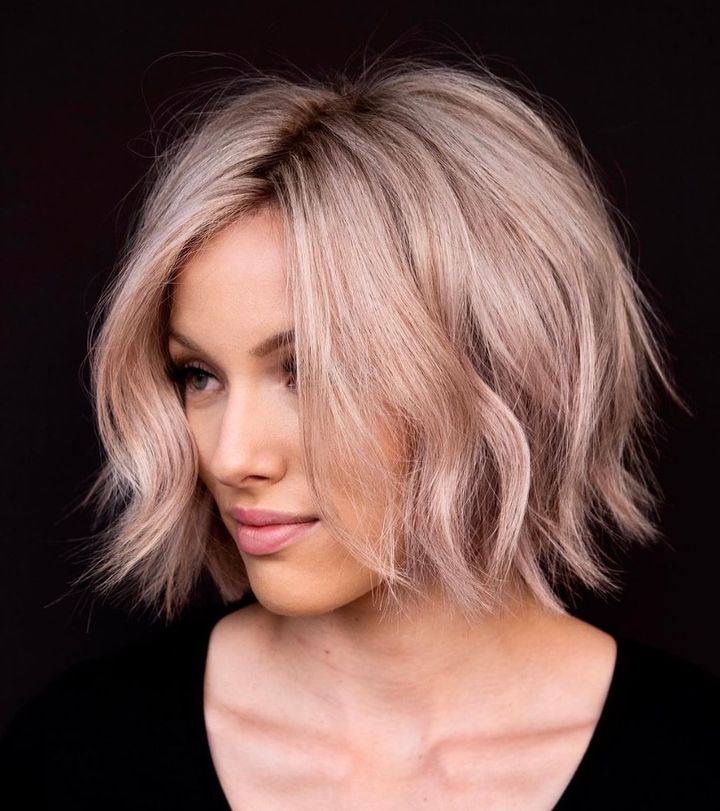 Root smudge brings dimension to this textured champagne pink choppy chin-length bob and also makes it easier to maintain.
49. Choppy Bob With Full Bangs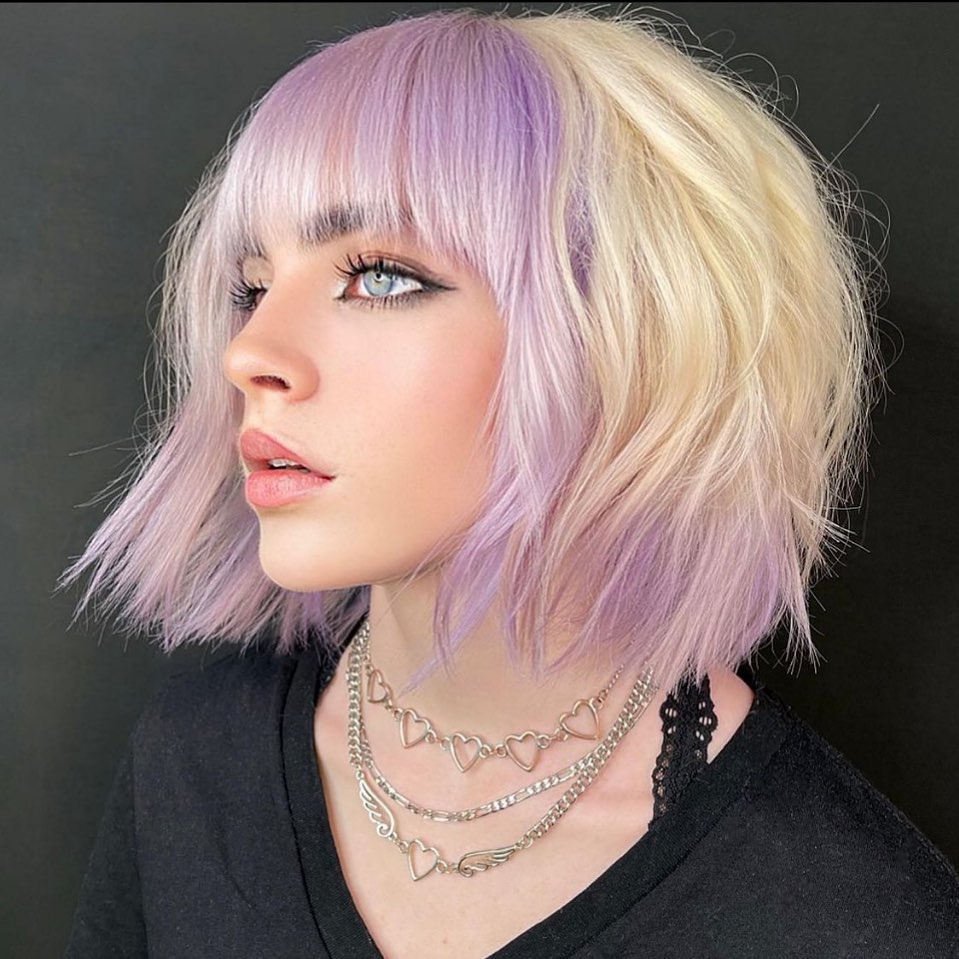 Keeping the fringe and the layers around the face the same color makes this short bob with bangs more cohesive, while it's at the same time experimental and interesting.
50. Fine Hair Choppy Bob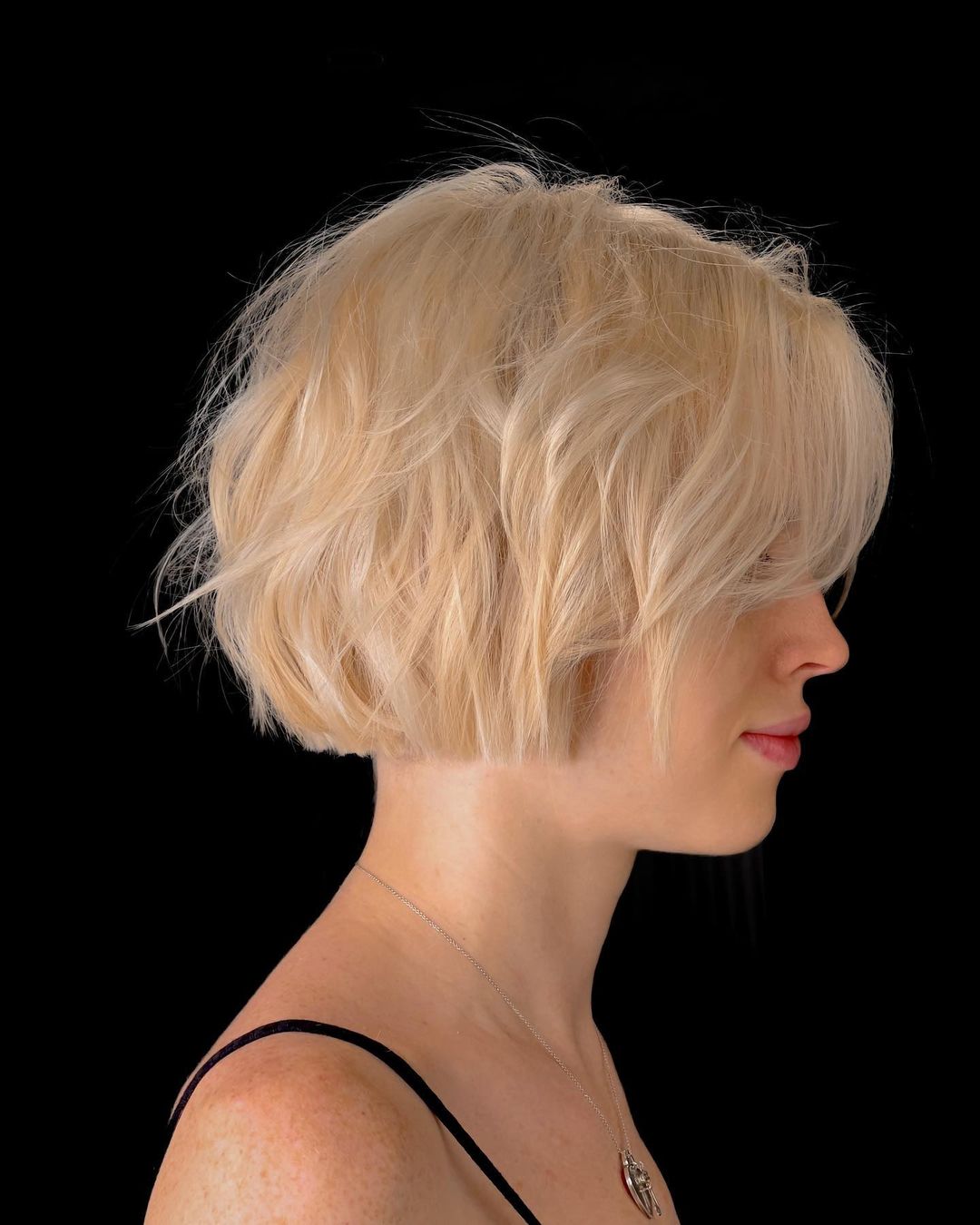 Choppy bobs of all lengths can transform thin hair, but the shorter you go, the more lift and volume you can achieve, like in this gorgeous textured haircut.
51. Angled Textured Bob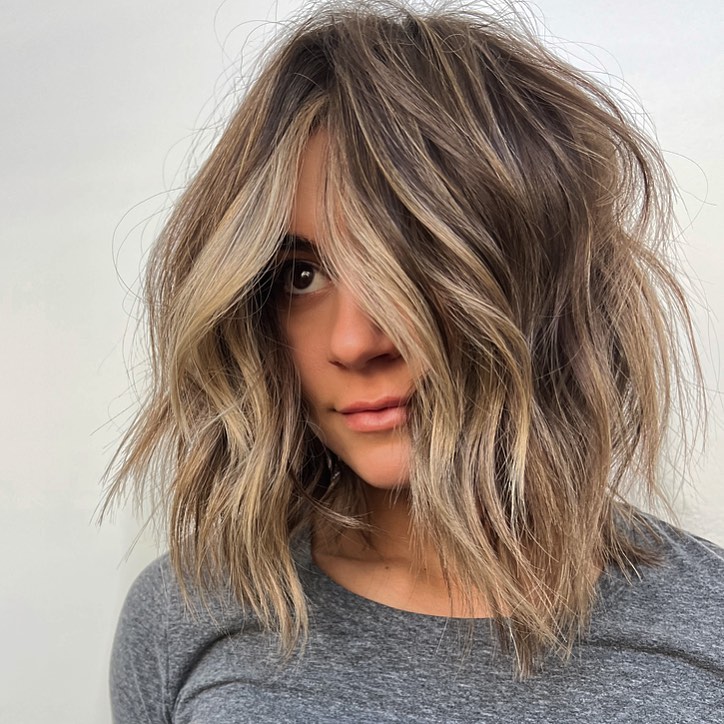 The bedhead styling compliments the hand-painted highlights—together, they create the ultimate in laid-back styles.
52. Choppy Sleek Bob With Fringe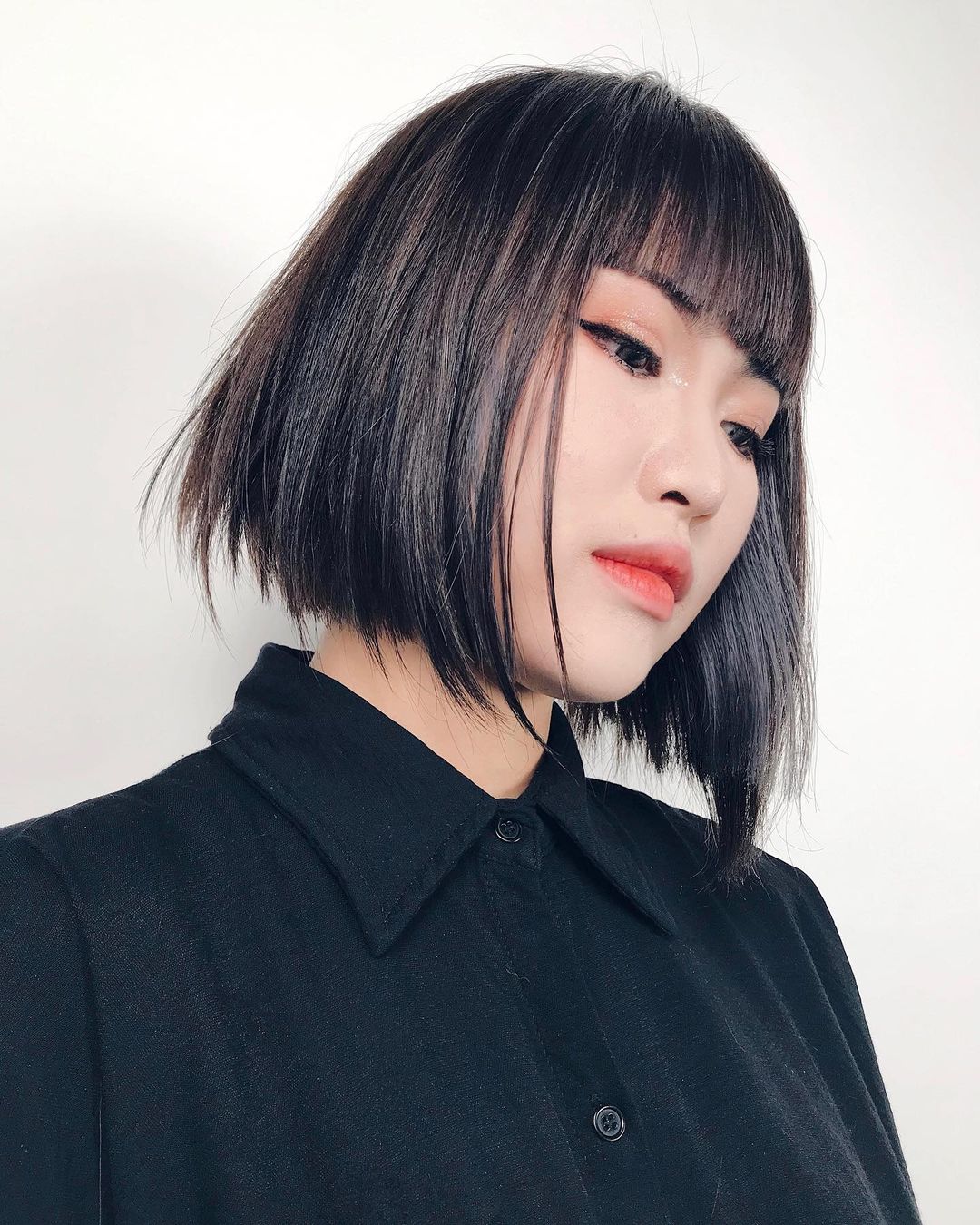 Choppy, textured ends are contrasted by the thin straight-across fringe and combined with the dimensional color. The end result is a cool, unique look.
53. Shaggy Bob With Bangs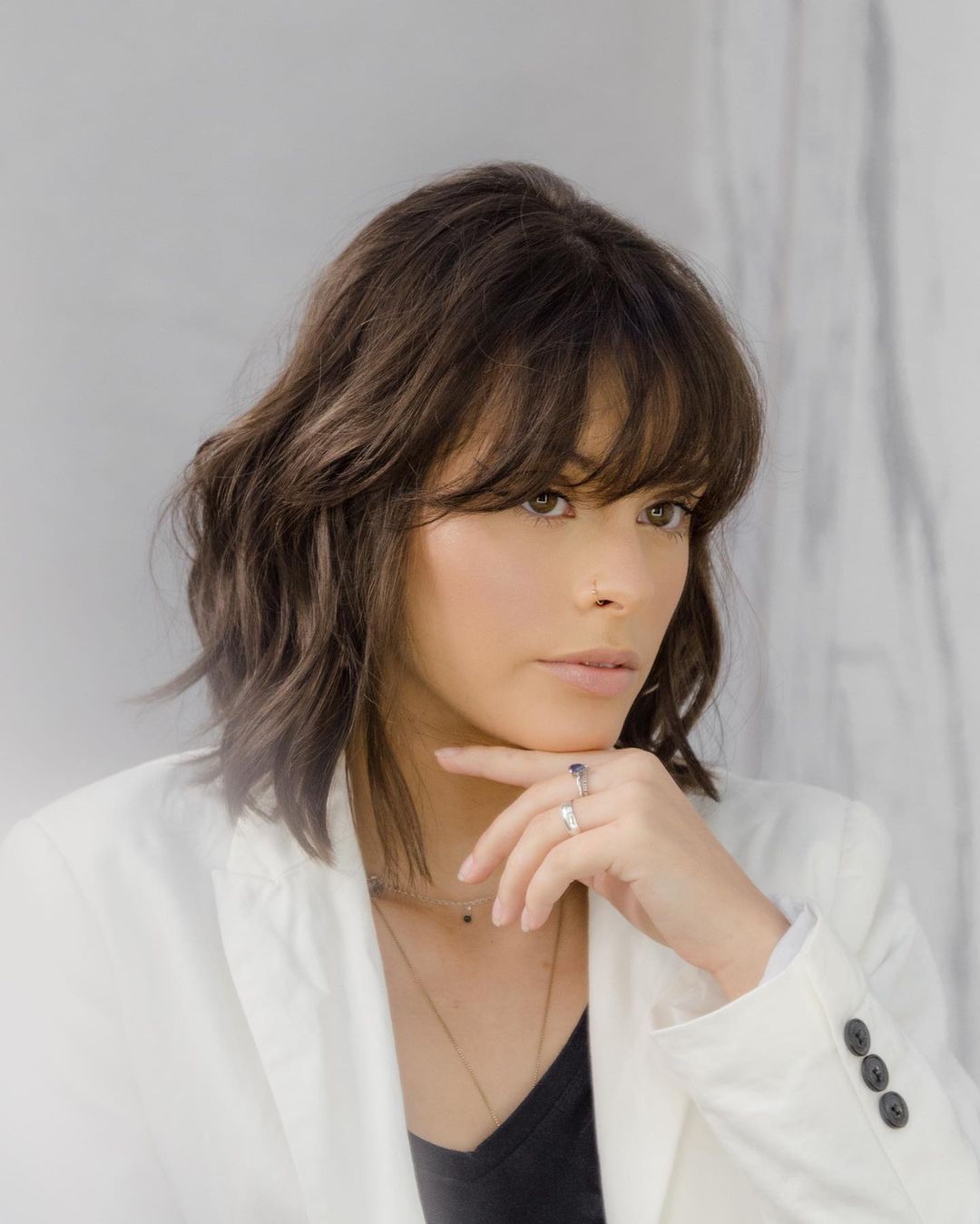 This long bob can be elegant and mature or playful and flirty, depending on how you style it, so it's a great choice if you need a hairstyle appropriate for various occasions.
54. Textured Bob For Thick Hair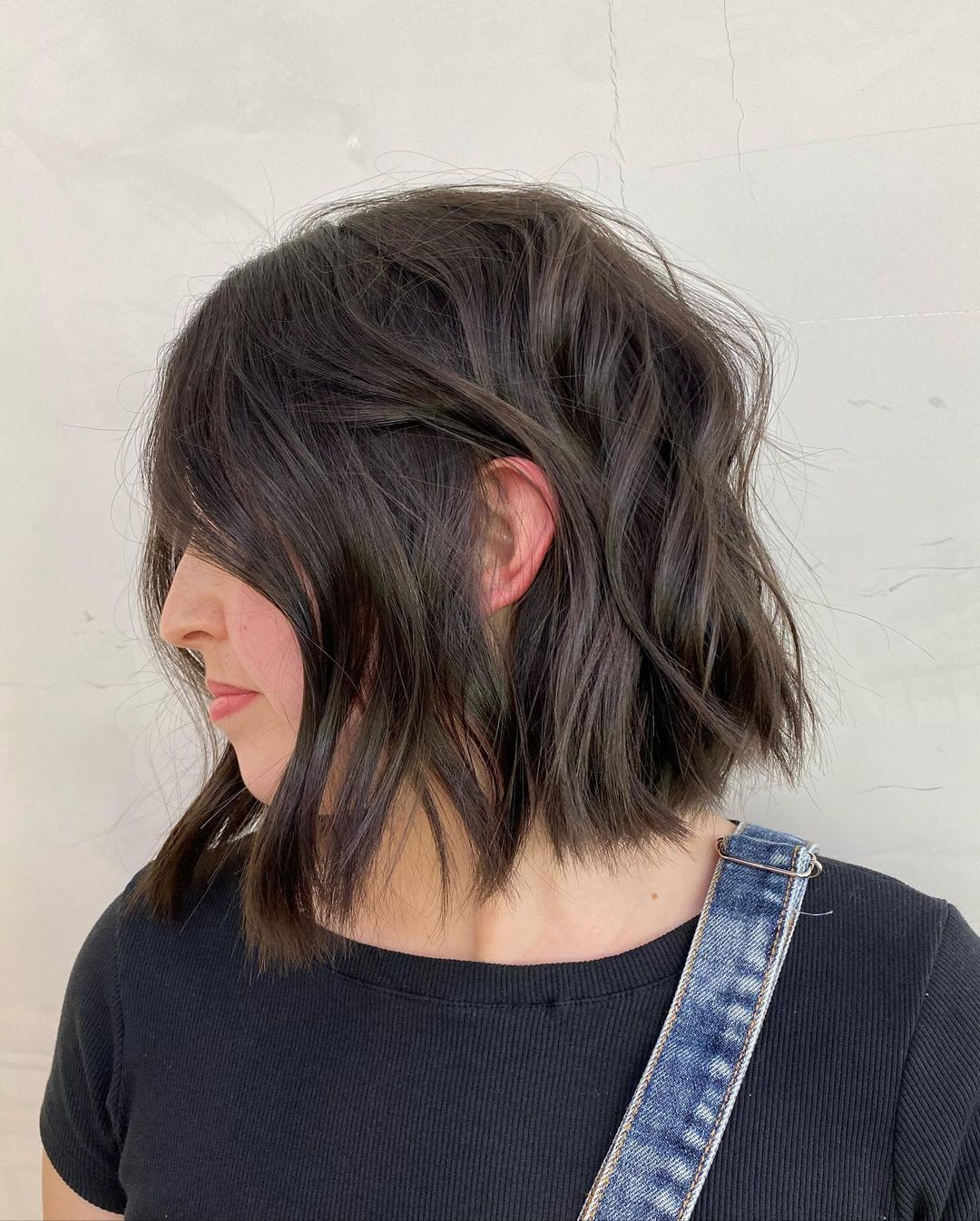 These tousled waves look incredibly natural and match the soft brown color beautifully.
55. Edgy Long Choppy Bob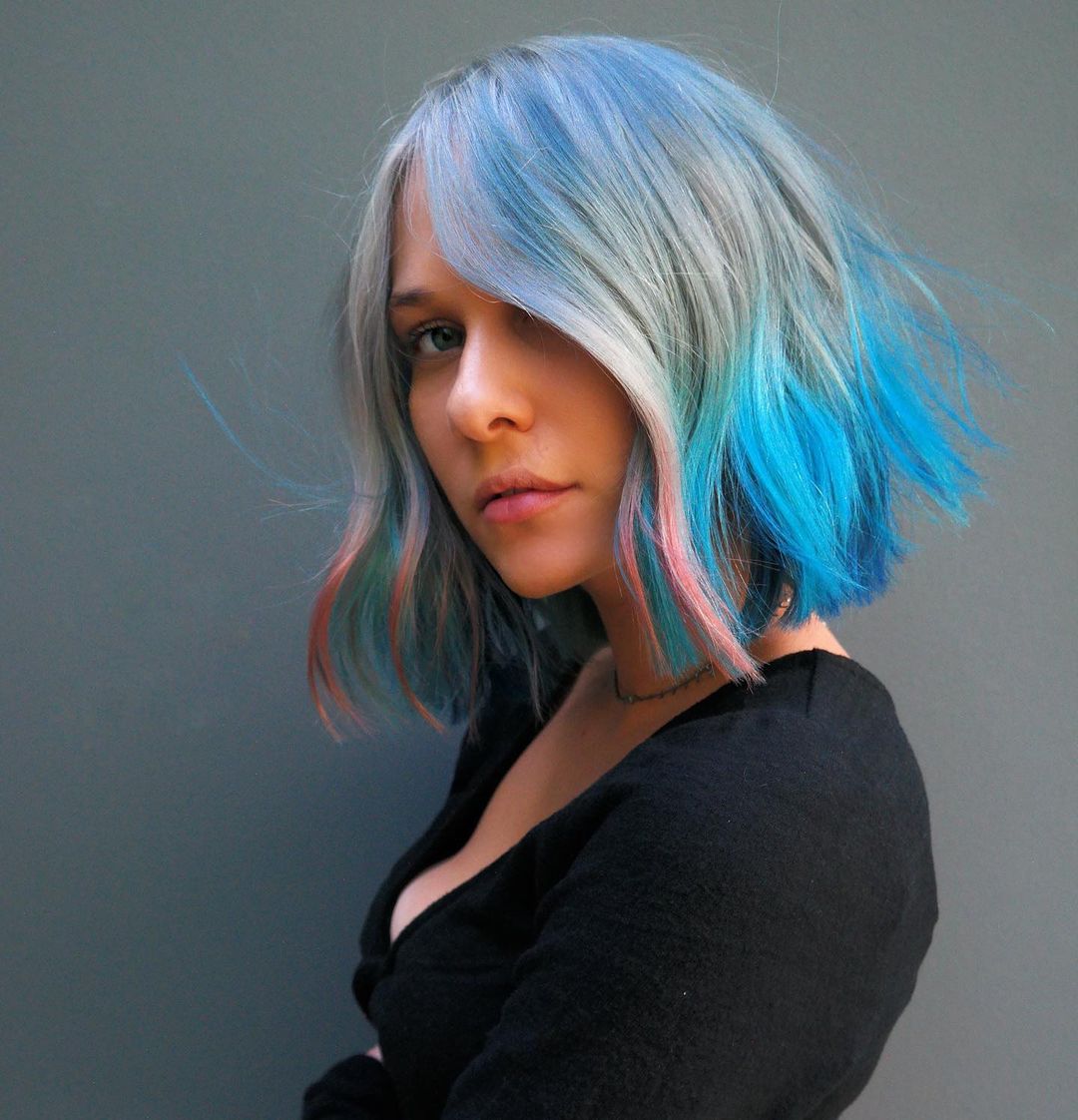 This style cleverly combines color and styling: the single-colored top part is kept straight and flat, while the multi-colored bottom part is textured. Together they result in a dynamic and visually appealing style.
56. Layered Choppy Medium Bob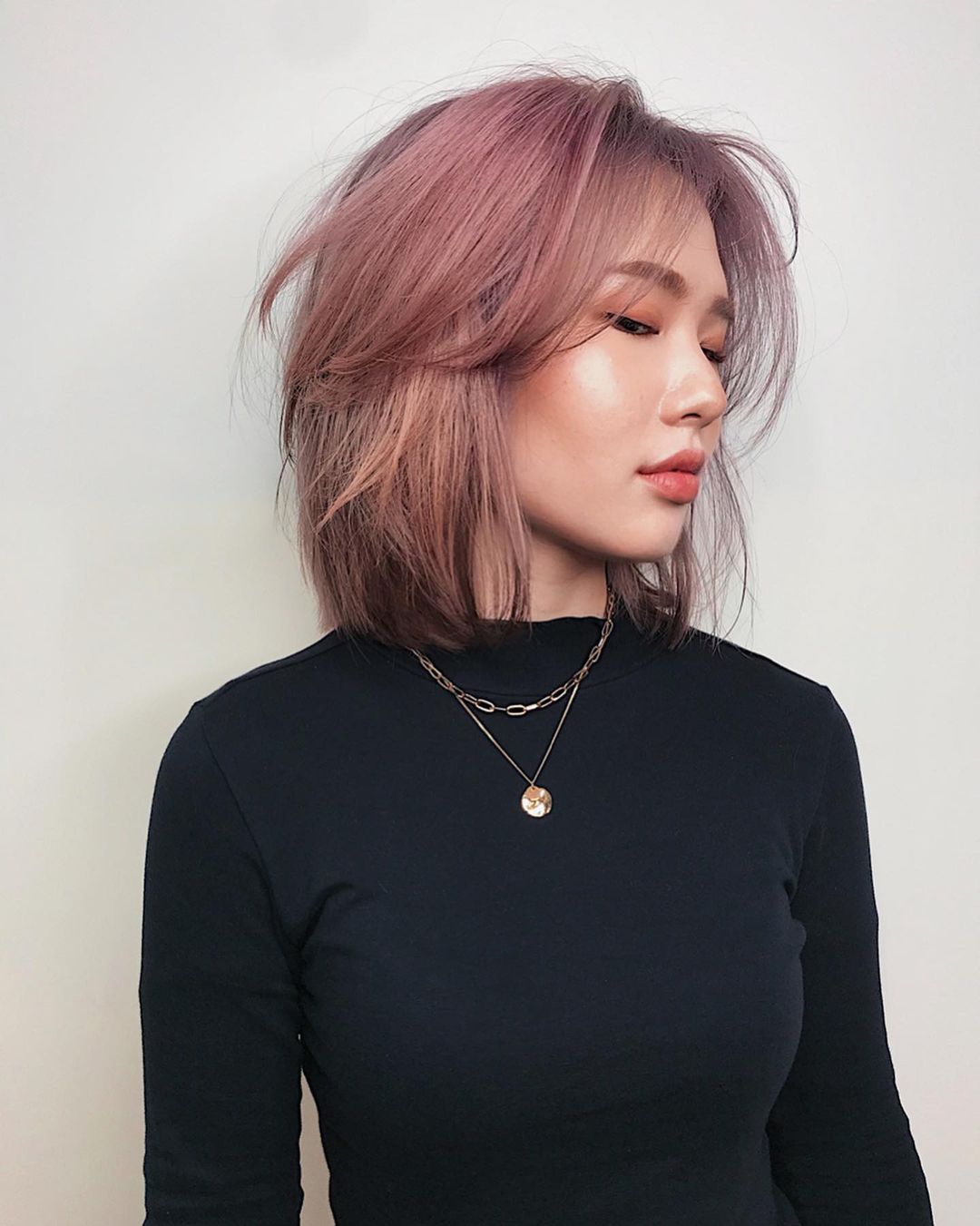 The long bangs are the focus of this hairstyle, but the subtle choppy layers are used to create balance and complement them.
57. Shaggy Layered Bob With Bangs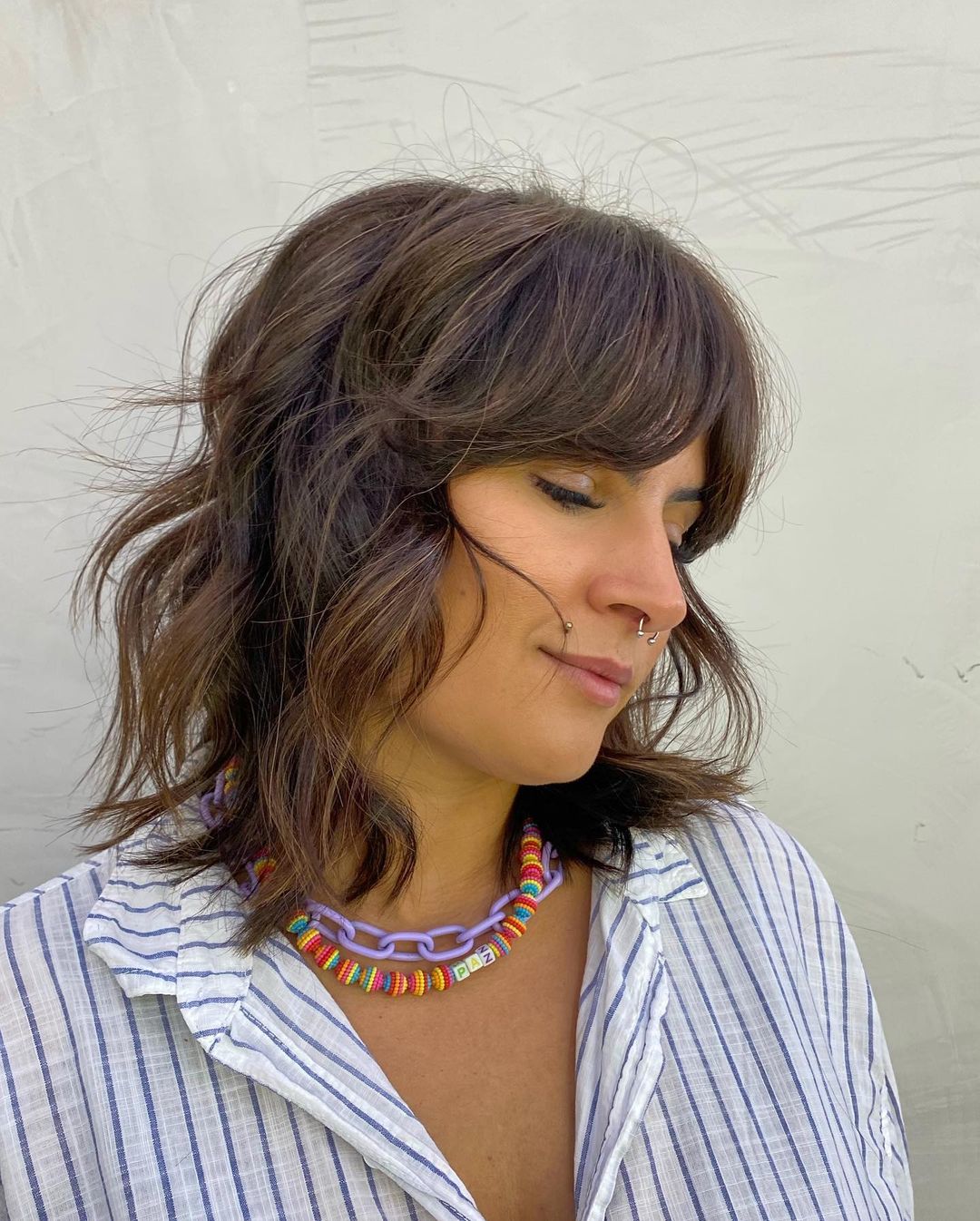 If you want a softer, more rounded shape, go a bit shaggier than the usual choppy bob. This lovely layered bob with bangs is romantic, relaxed and of course, looks amazing!
58. Thick Hair Choppy Medium Bob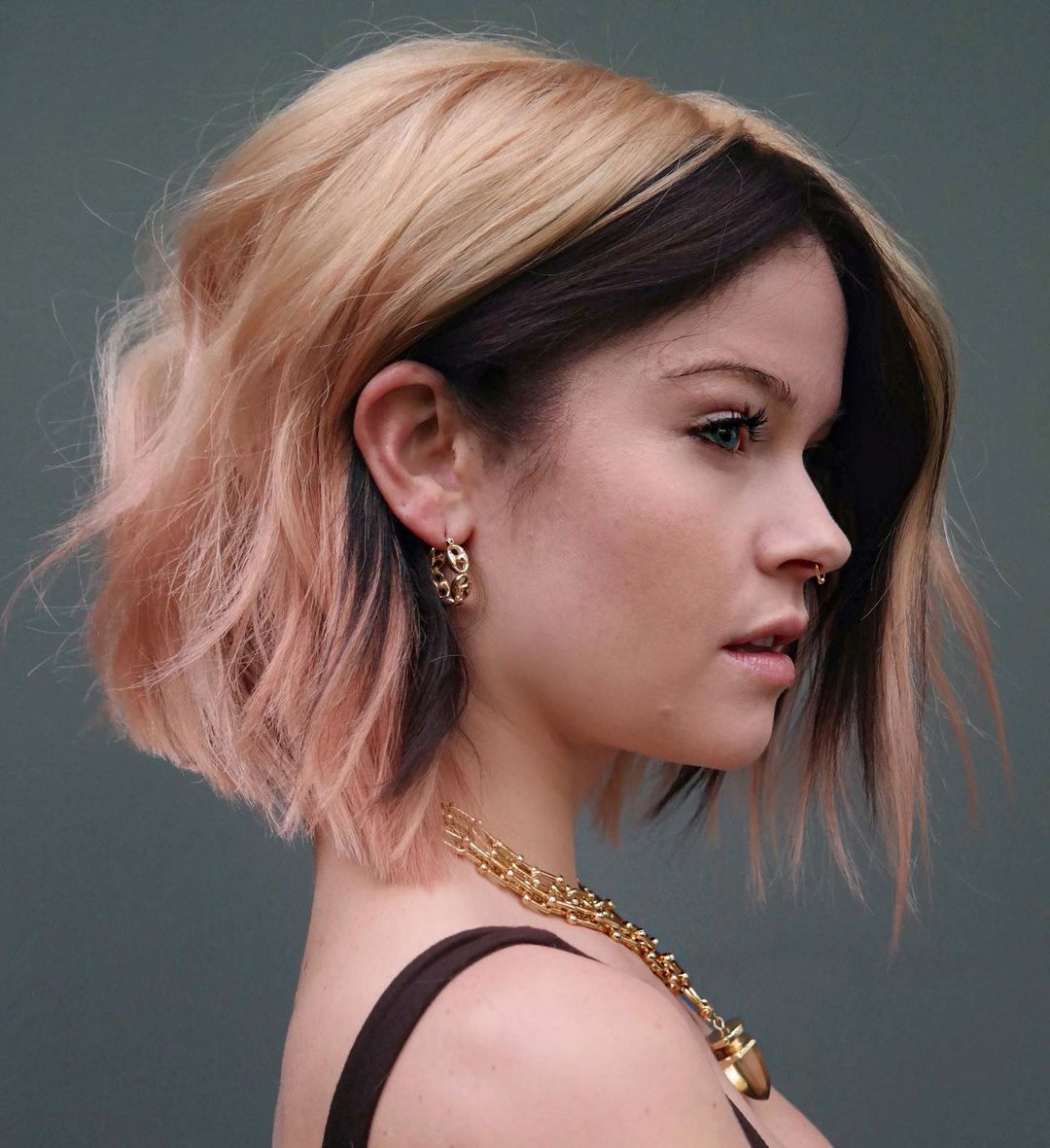 This bold style uses cut and color to achieve a dramatic effect and results in a cool, unique hairstyle.
59. Shaggy Choppy Bob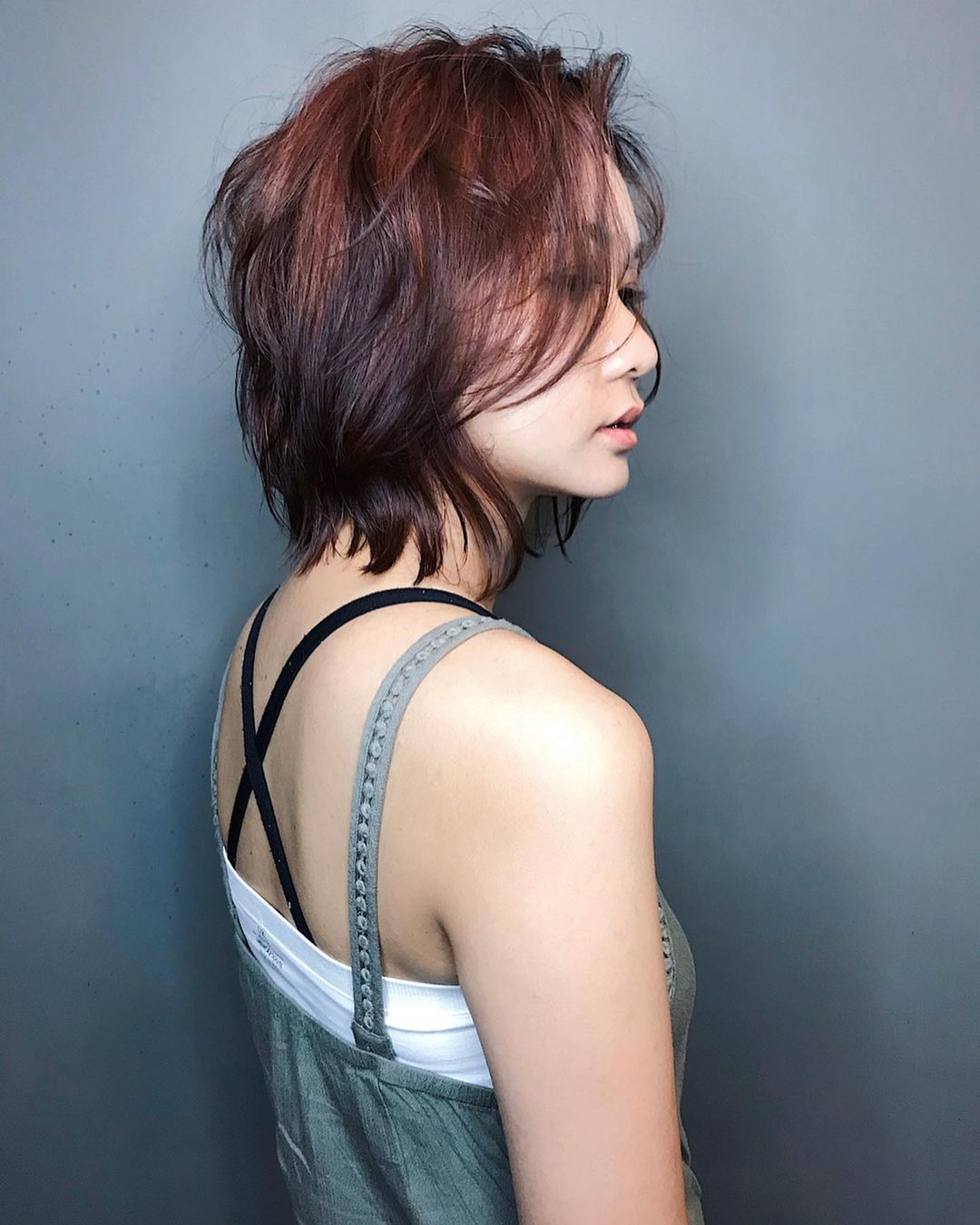 This style is somewhere between a choppy bob and a wolf cut—the shaggy layers and the long bangs make this style super effortless and very trendy.
60. Choppy Short Bob For Fine Hair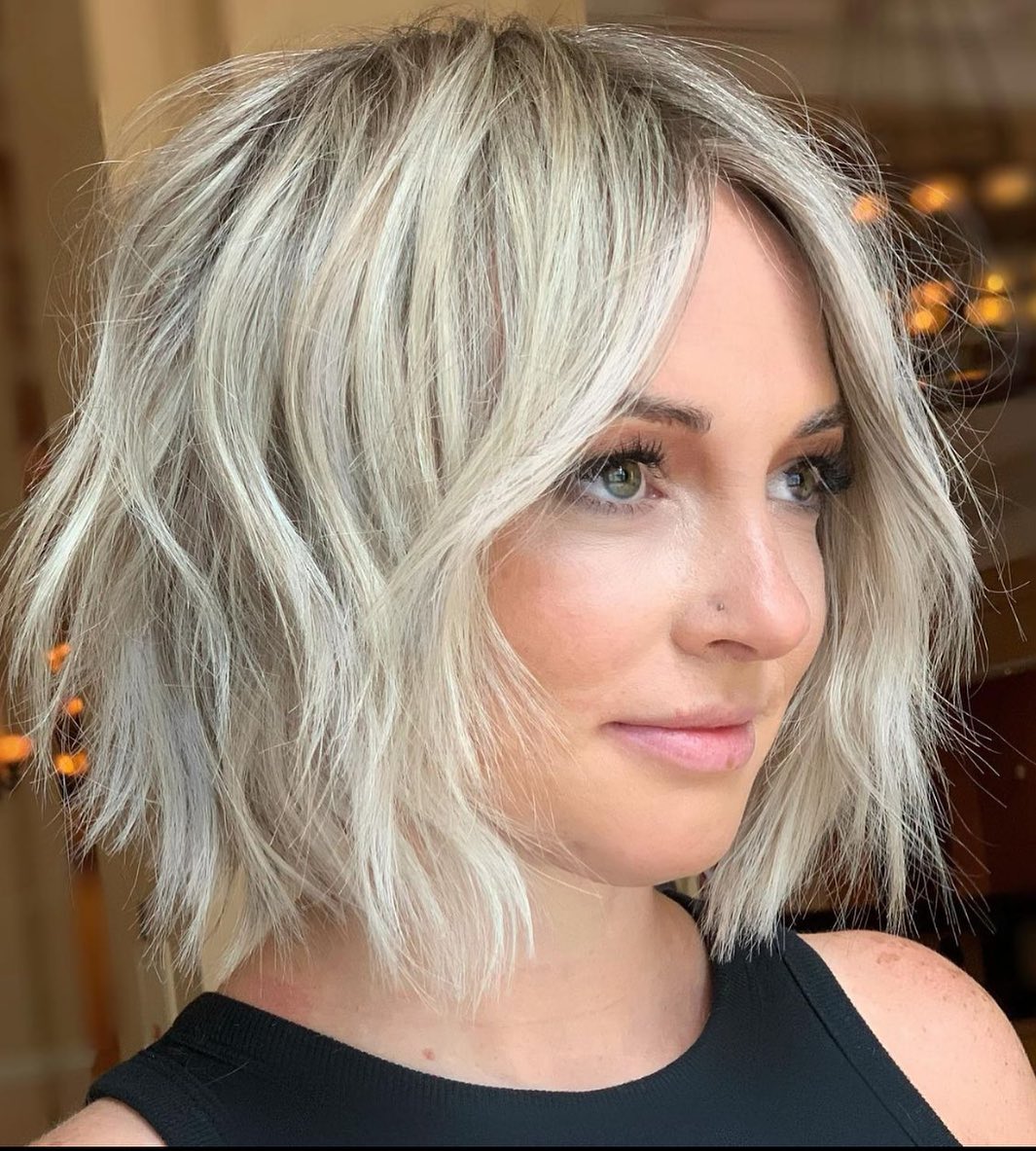 Some choppy bobs are choppier than others, so if you want a wilder look, you can choose one of the more textured options.
61. Choppy Short Layered Bob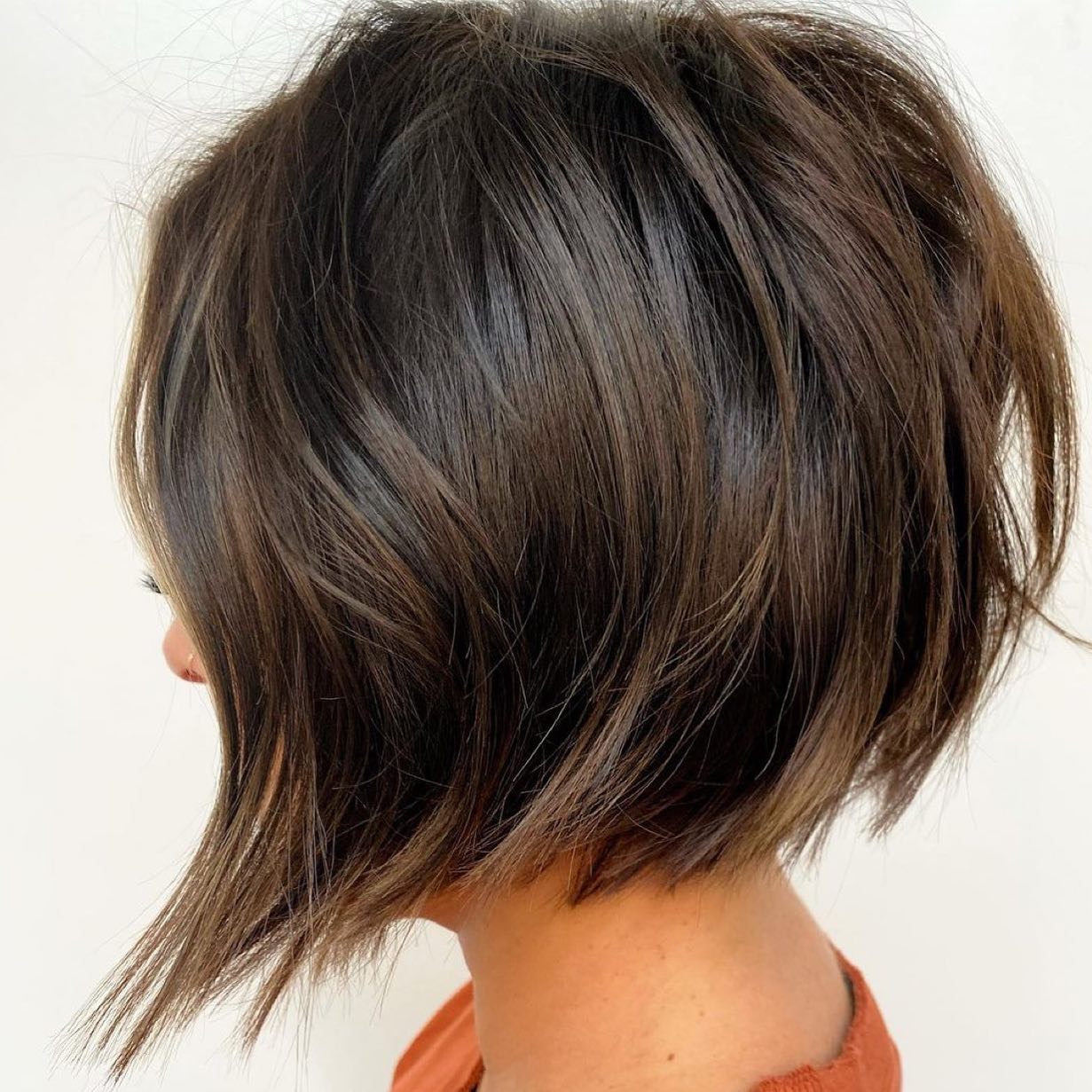 If you're not into the bedhead look and want straight but not too straight hair, you don't need to struggle with a round brush and a blow-dryer: there are plenty of styling brushes on the market to choose from that make blowouts a breeze.
62. Layered Wavy Bob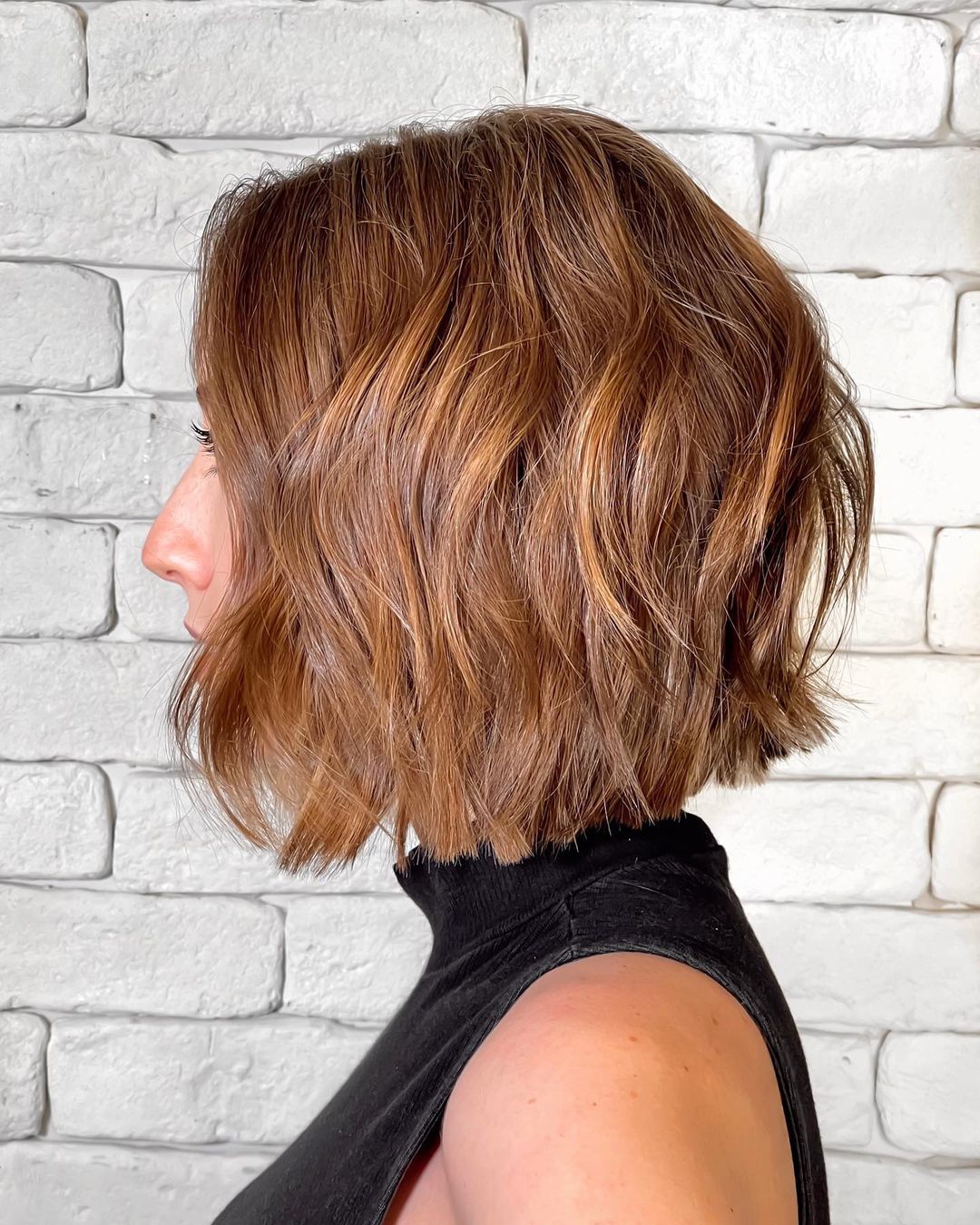 These glossy copper highlights do exactly what they're meant to do: they draw the eye to the floating layers to give the hairstyle dimension.
63. Chin-Length Textured Bob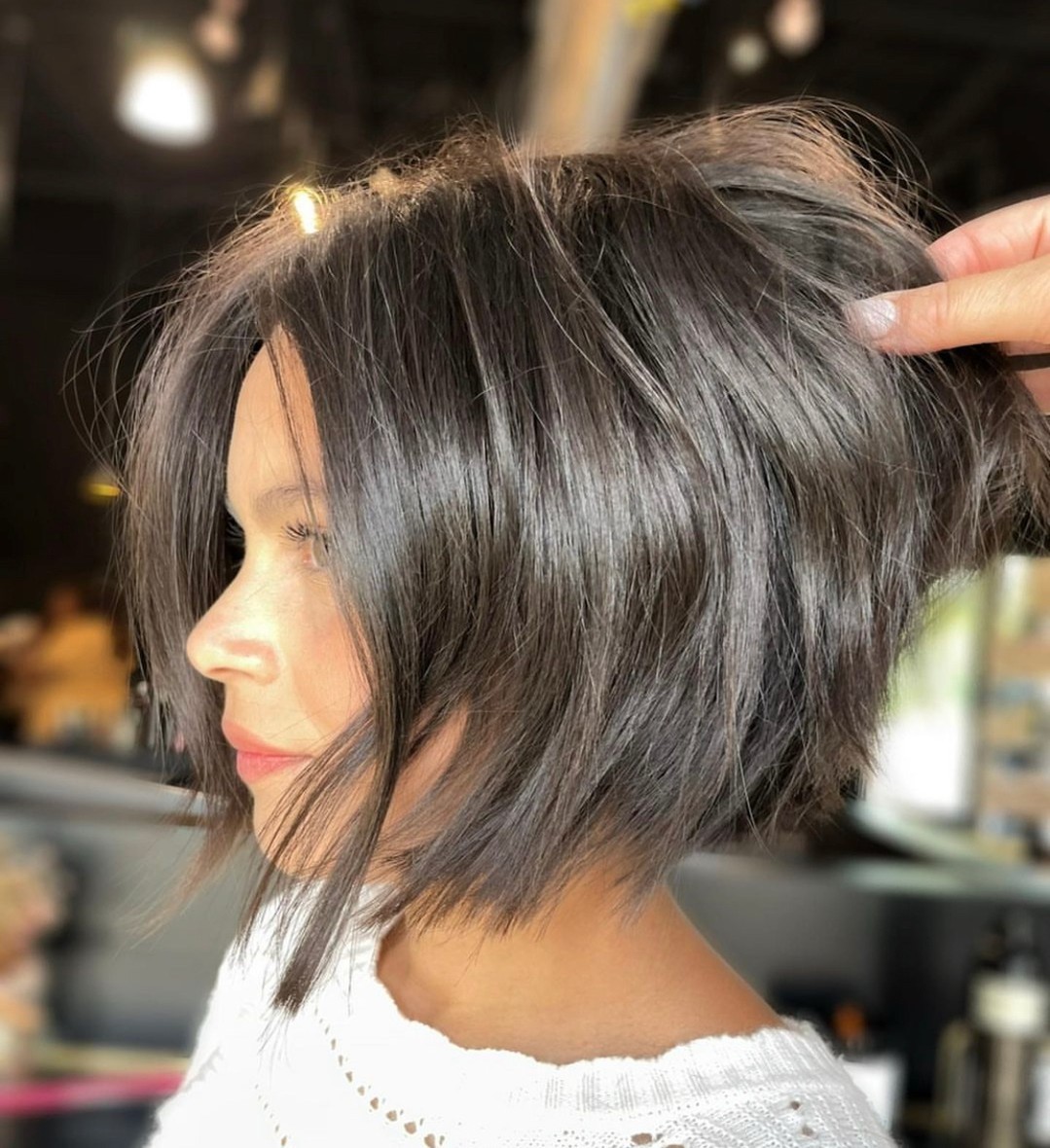 If your hair is thick, don't be afraid that going shorter with your bob might make your hair appear less full. On the contrary, it will look even more lush, but you'll be rid of all the weight at the bottom.