Adding fringe to curly hair might seem intimidating, but choosing the right style of bangs can dramatically improve your look. A few thought-out pieces around your face will add interest to your style, flatter your features and complement your curls.
Take a look at these examples of short curly hair with bangs hairstyles to get an idea of the variety of options available.
1. Curly Hair With Bangs And Layers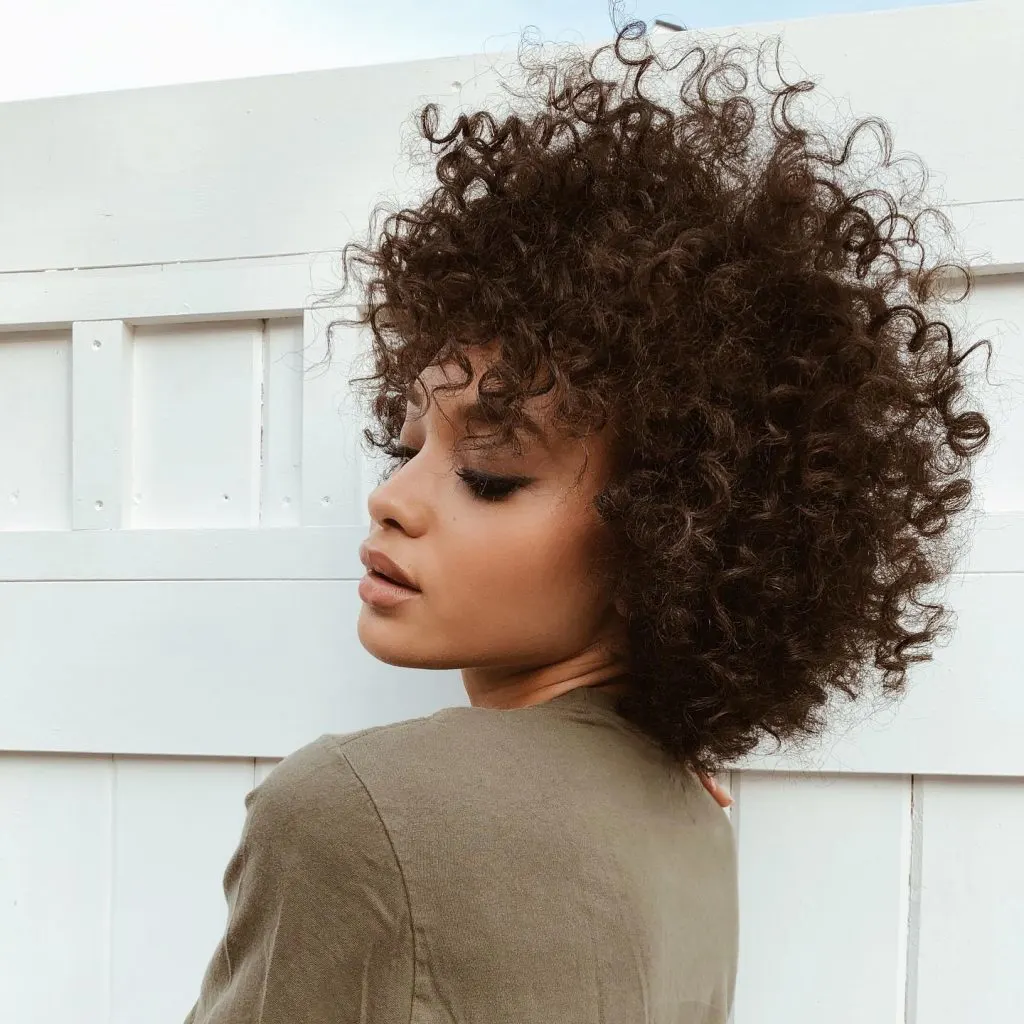 This haircut is balanced thanks to the slightly longer bangs: they naturally follow the shape from the crown, then frame the face.
2. Vivid Blue Curly Taper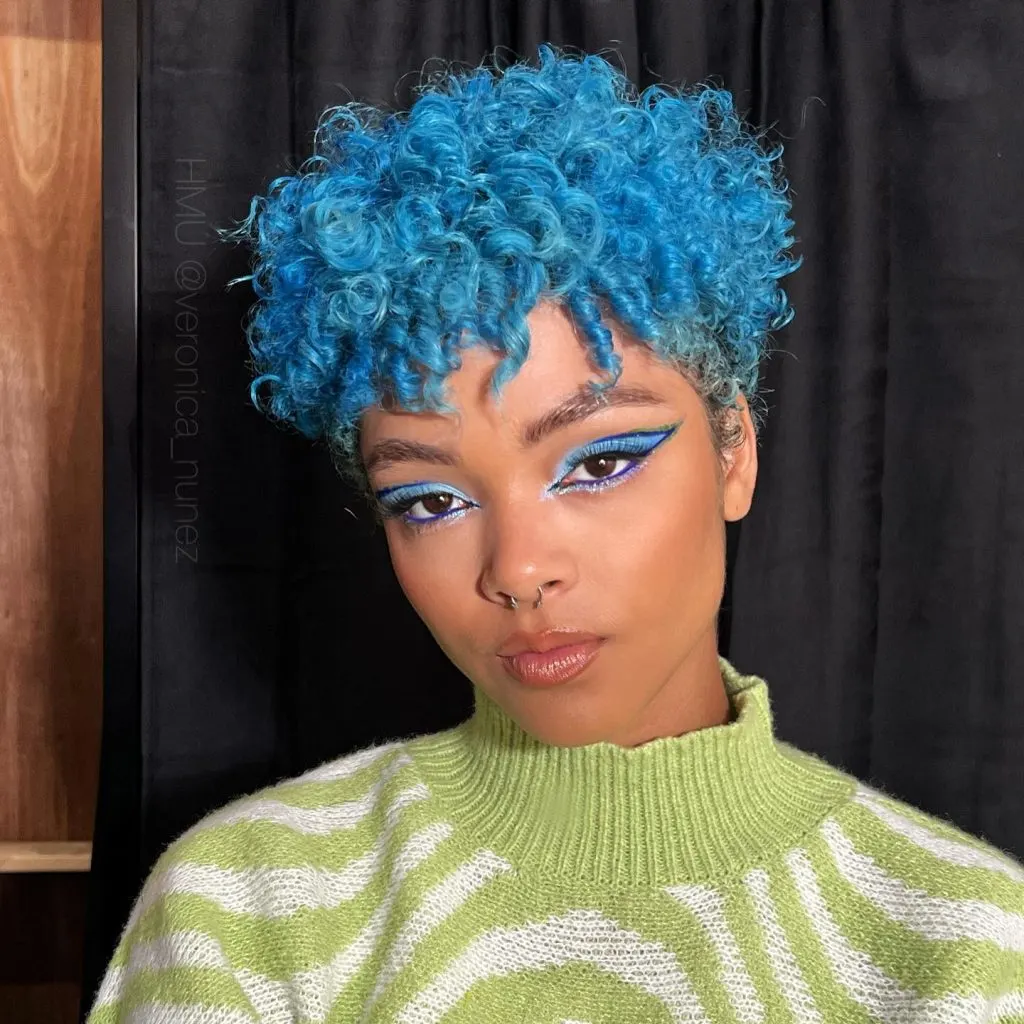 Bright blue ringlets cut above the eyebrows are guaranteed to draw attention. To get the perfect length when cutting curly bangs and avoid going too short, cut them while your hair is dry and your curls already look the way you wear them.
3. Cute Hairstyle For Curly Hair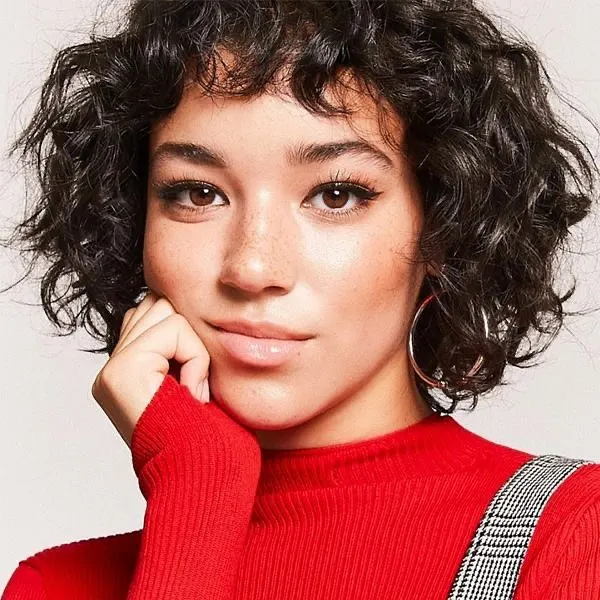 Micro curtain bangs are a cute addition to your style, but they still have the same purpose as their more substantial cousin—they frame the face and flatter your features.
4. Layered Hairstyle For Curly Hair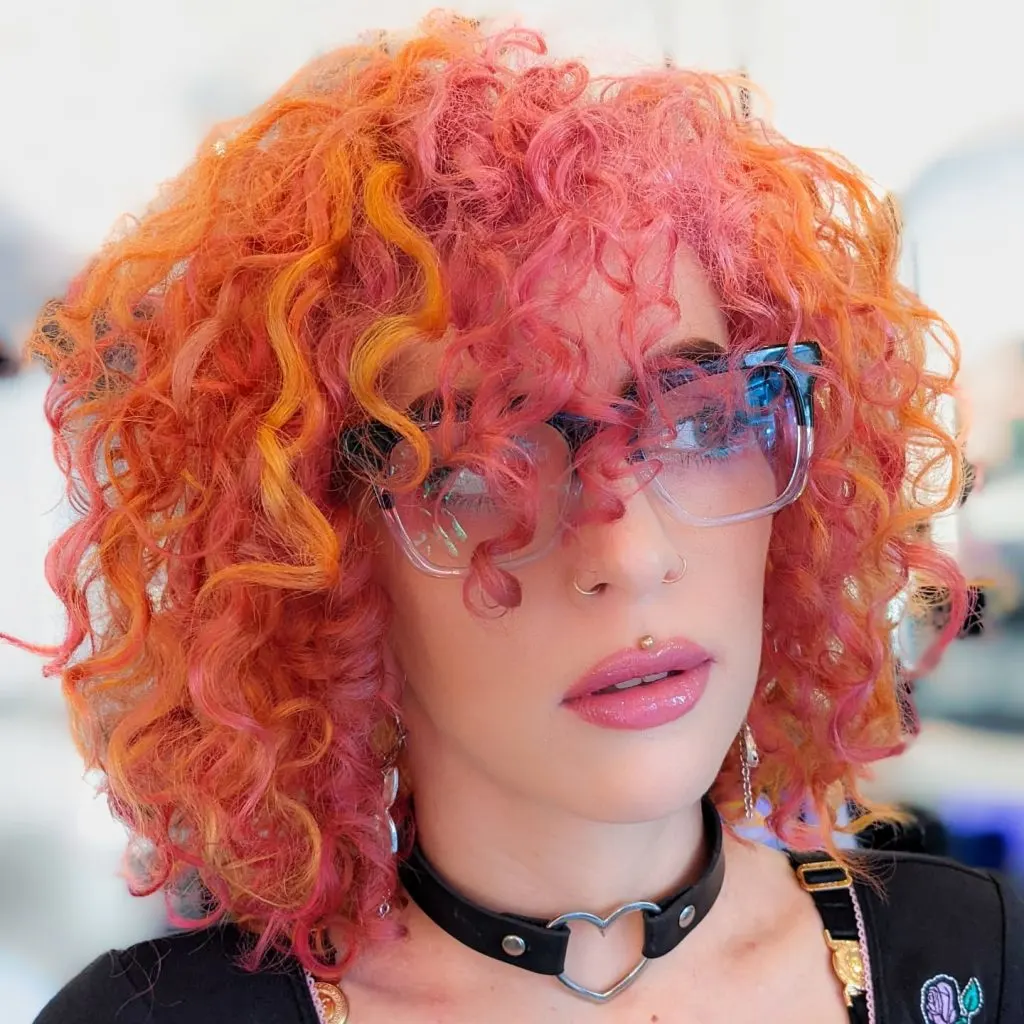 Healthy curls are beautiful curls, and hydration is key, especially when you dye your hair. Use moisture-rich products in every step of your routine, especially products containing natural oils to nourish your hair.
5. Blunt Curly Bob With Bangs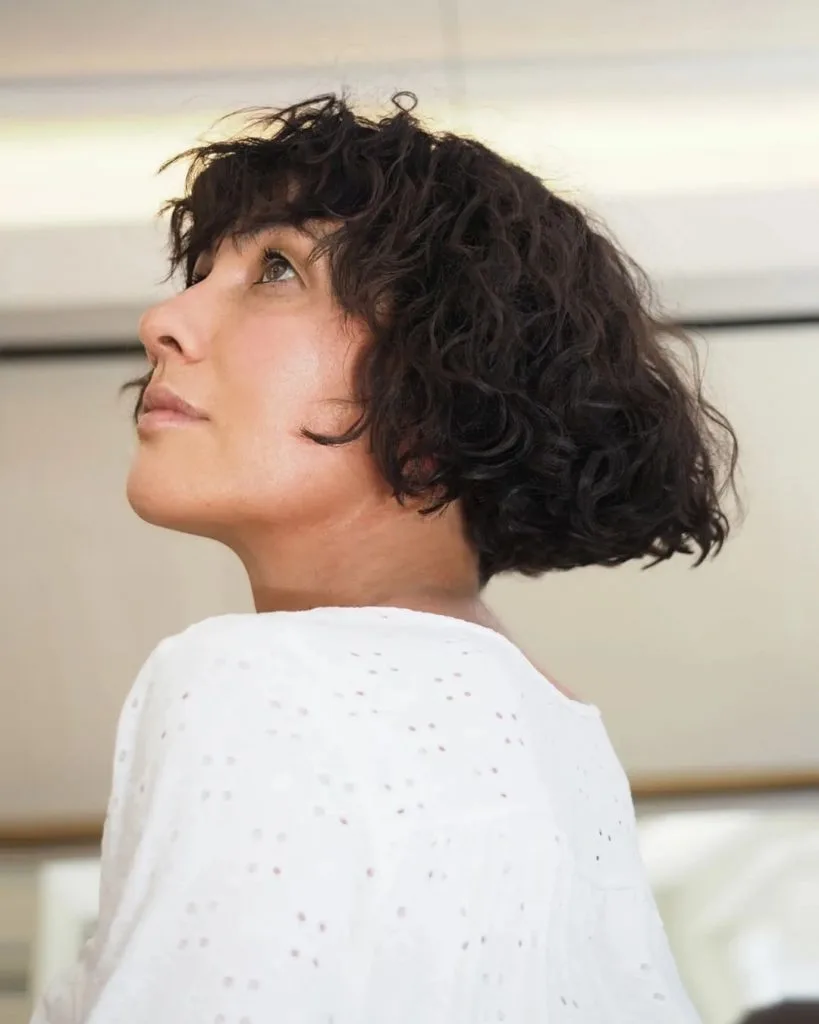 Triangle hair used to be something you definitely did not want for your curls, but times have changed. When your hair is cut deliberately, a triangle shape looks structural instead of accidental.
6. Curly Hairstyle With Side Part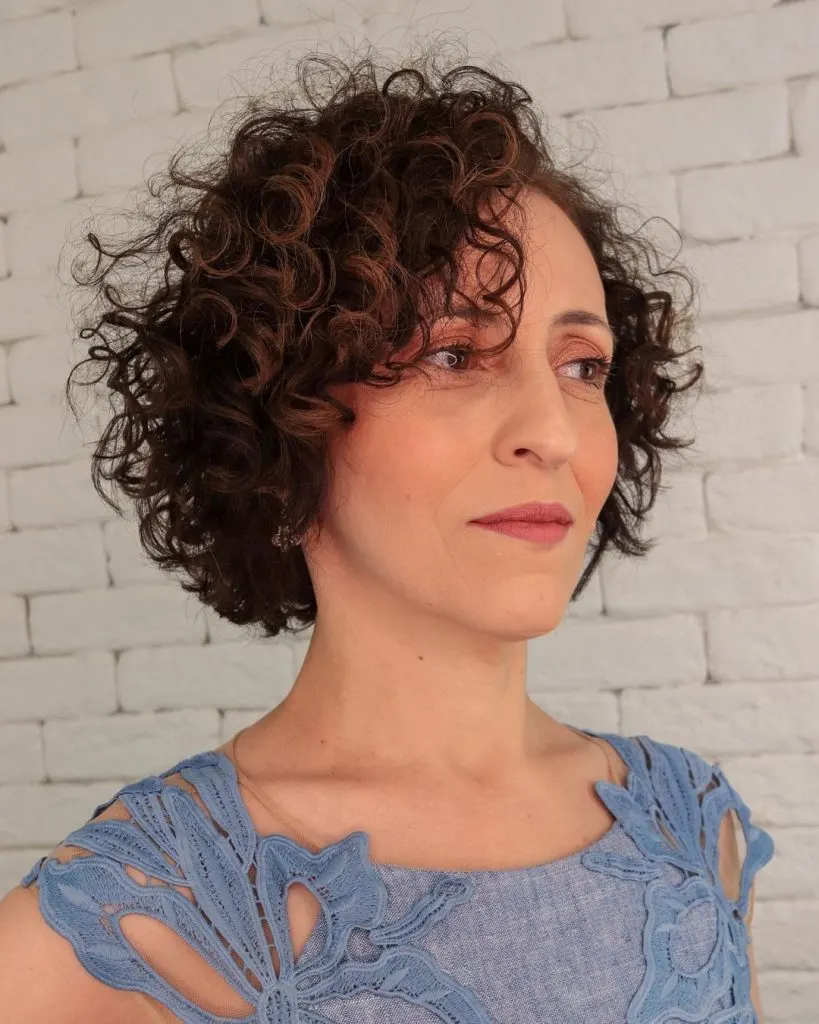 A long bob with side-bangs is a great choice for diamond and heart-shaped faces, whatever your hair texture. It softens the cheekbones—the most prominent feature on those two face shapes—and shortens the face.
7. Curly Hair Bangs Haircut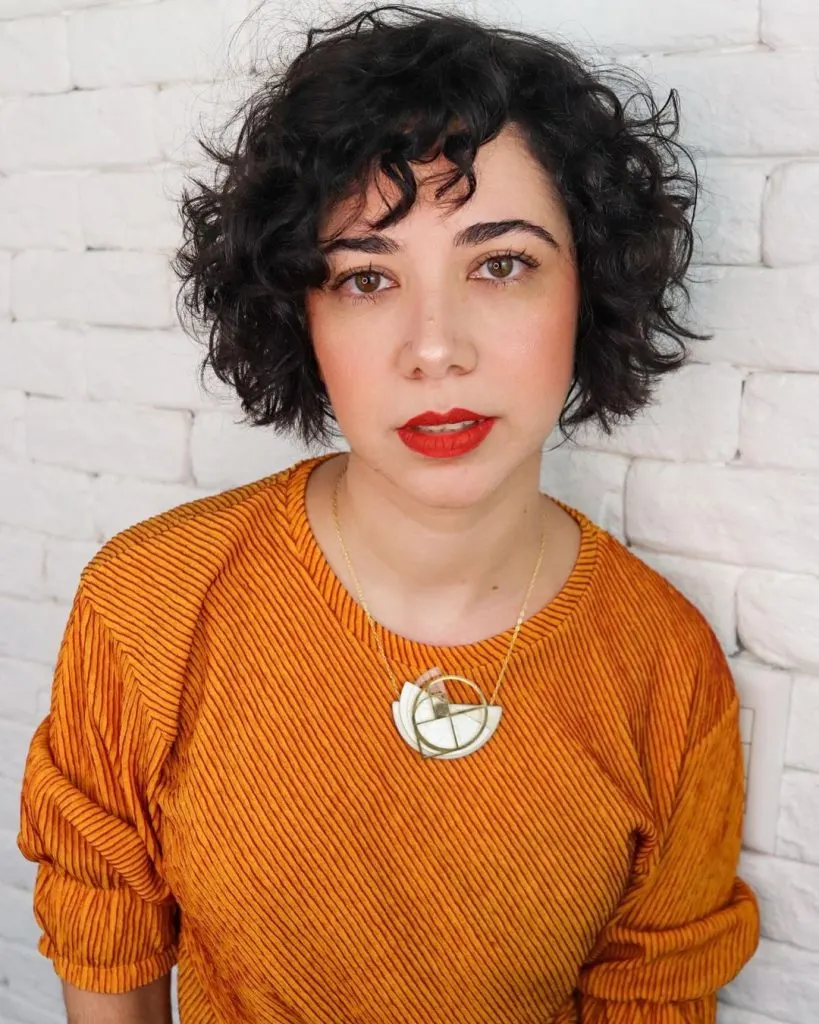 If you have a cowlick, it can be irritating to get your hair to sit just right, and it gets even more annoying if the hair is short. So how can you still rock bangs if you have a cowlick? Avoid cutting the piece of hair that tends to stick up too short, then have bangs that start above it to weigh it down.
8. Fade With Curly Hair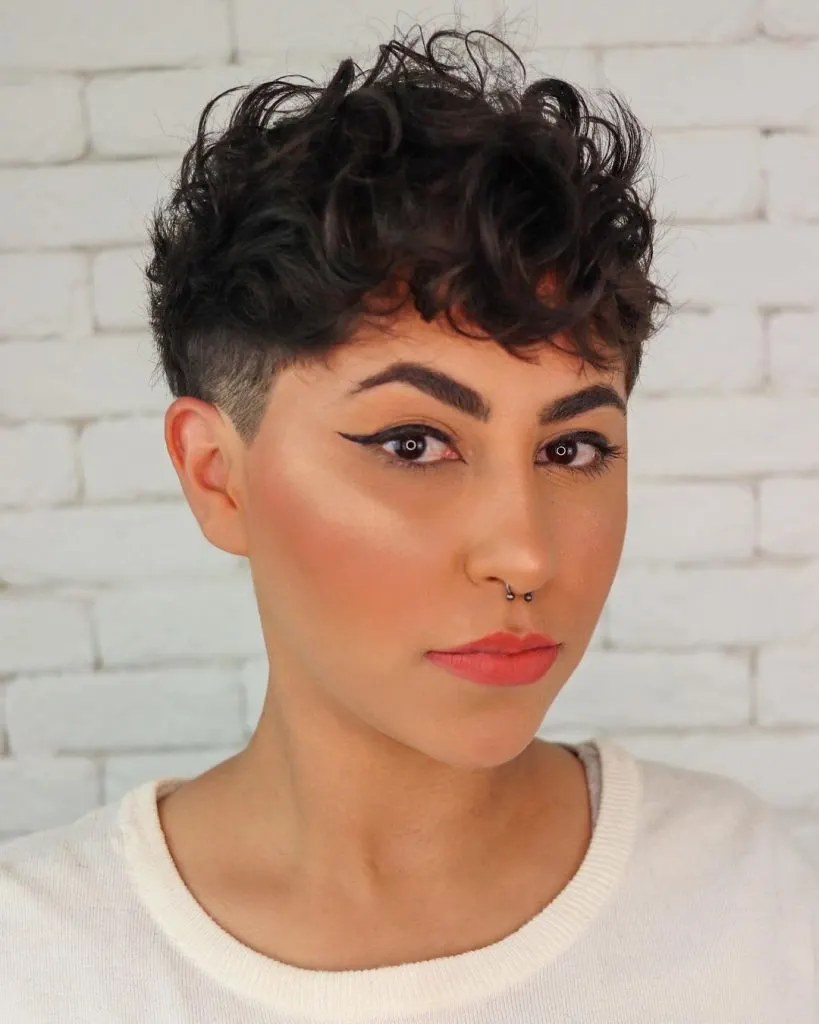 Super-short curly styles are popular with all genders because you still have the option to showcase your gorgeous curls if you keep your hair longer on top. By varying the length of your bangs you can change the vibe of your style completely—a pixie or a fade can be masculine, feminine or a fun non-binary haircut.
9. Natural Curly Hairstyle With Bangs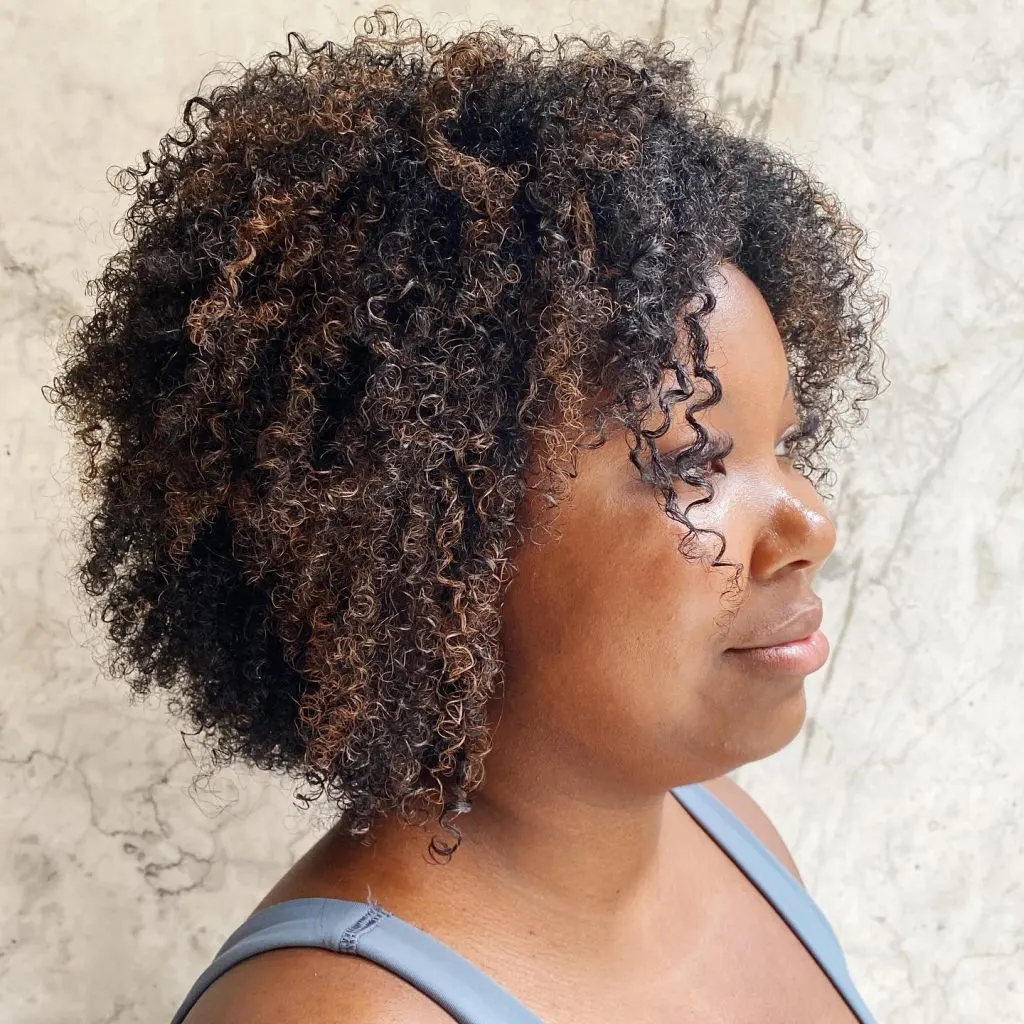 There are no rules about the length or style of bangs you can pull off if you have curly hair—these tiny spiral 4c curls look amazing with longer bangs worn away from the face. The caramel highlights add extra dimension to the whole style.
10. Short Curly Hair With Bangs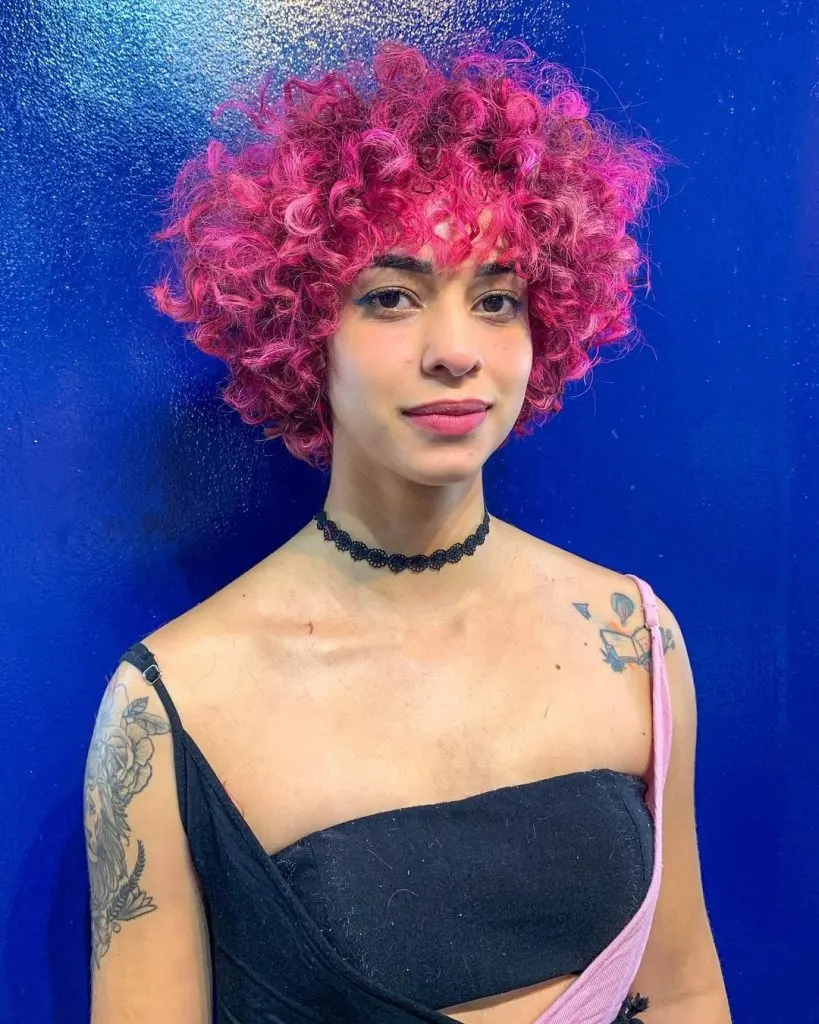 When playing with the shape of your curly hair, using bangs to complement the silhouette will create a flattering frame for your face.
11. Curly Pixie With Bangs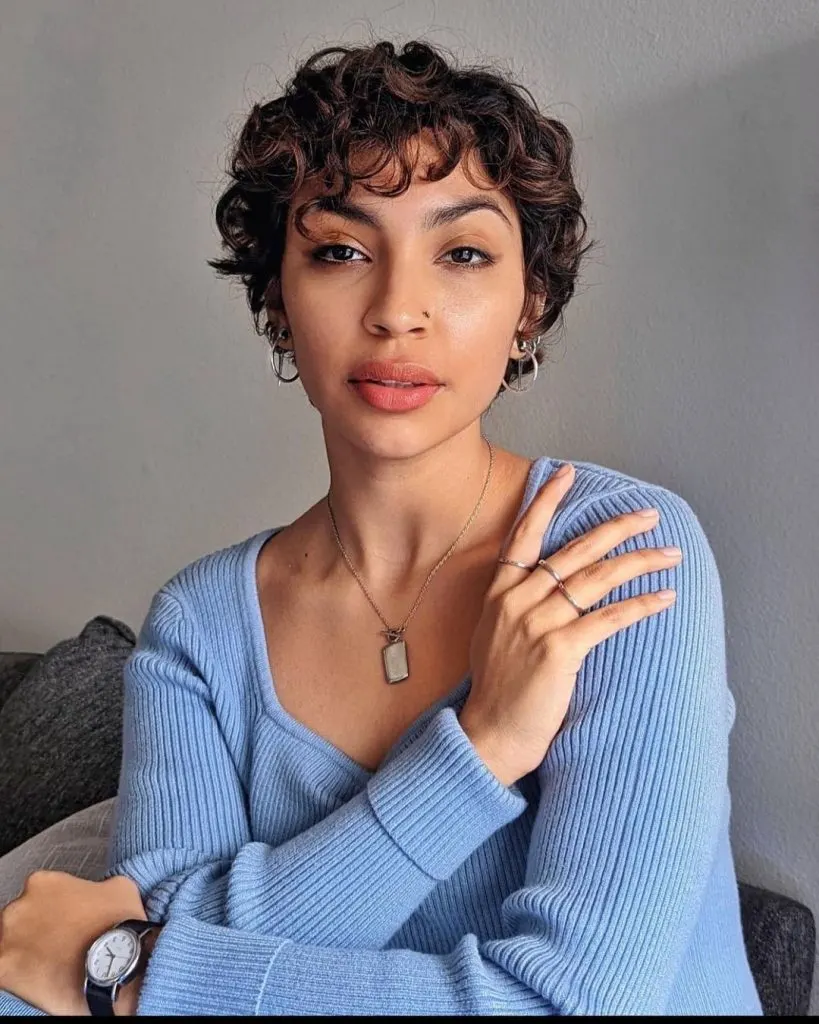 This short curly pixie is a cute haircut easy to style if you have voluminous 3B hair. Apply curl cream and air dry to achieve soft, romantic curls.
12. Natural Short Curly Hair With Bangs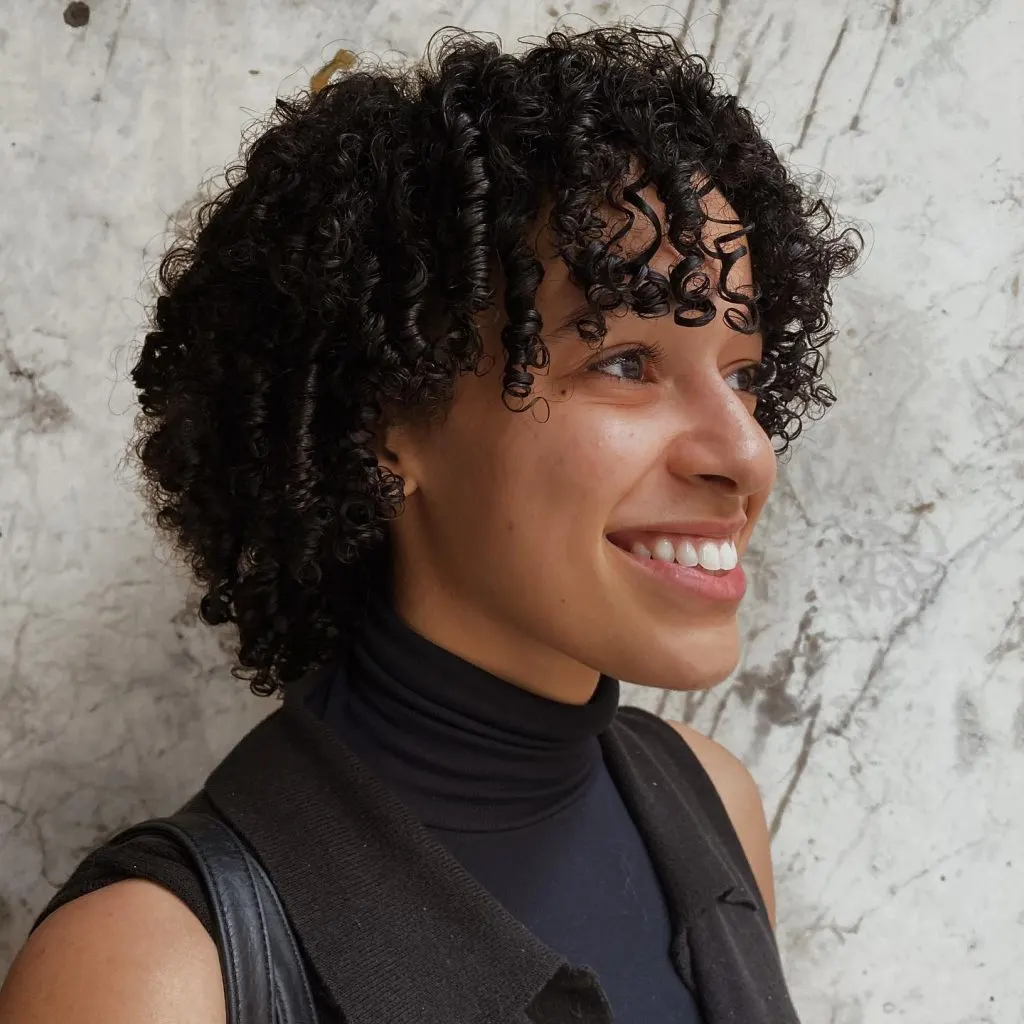 Make your spiral curls the star of your look; wearing your fringe a bit longer is a great way to draw attention to your eyes and highlight your hair texture.
13. Curly Undercut Hairstyle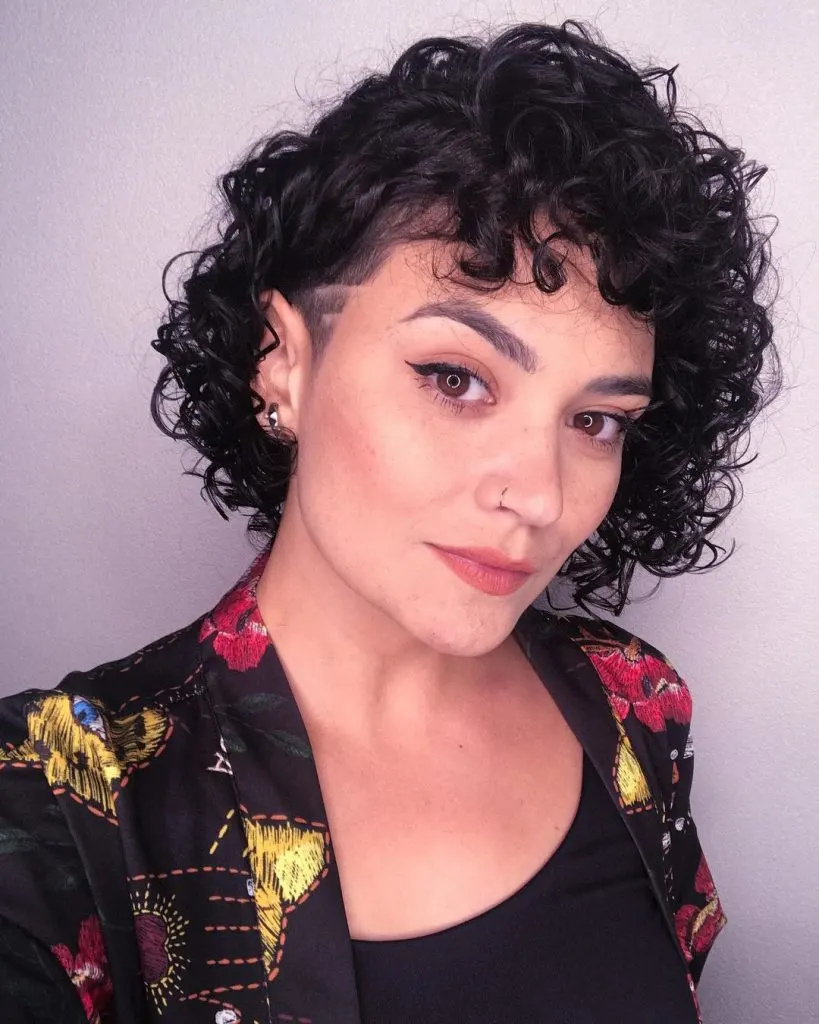 This look is both romantic and edgy—the hidden undercut creates a contrast to the softness of the voluminous bob with baby bangs.
14. Curly Hair Layered Bob With Bangs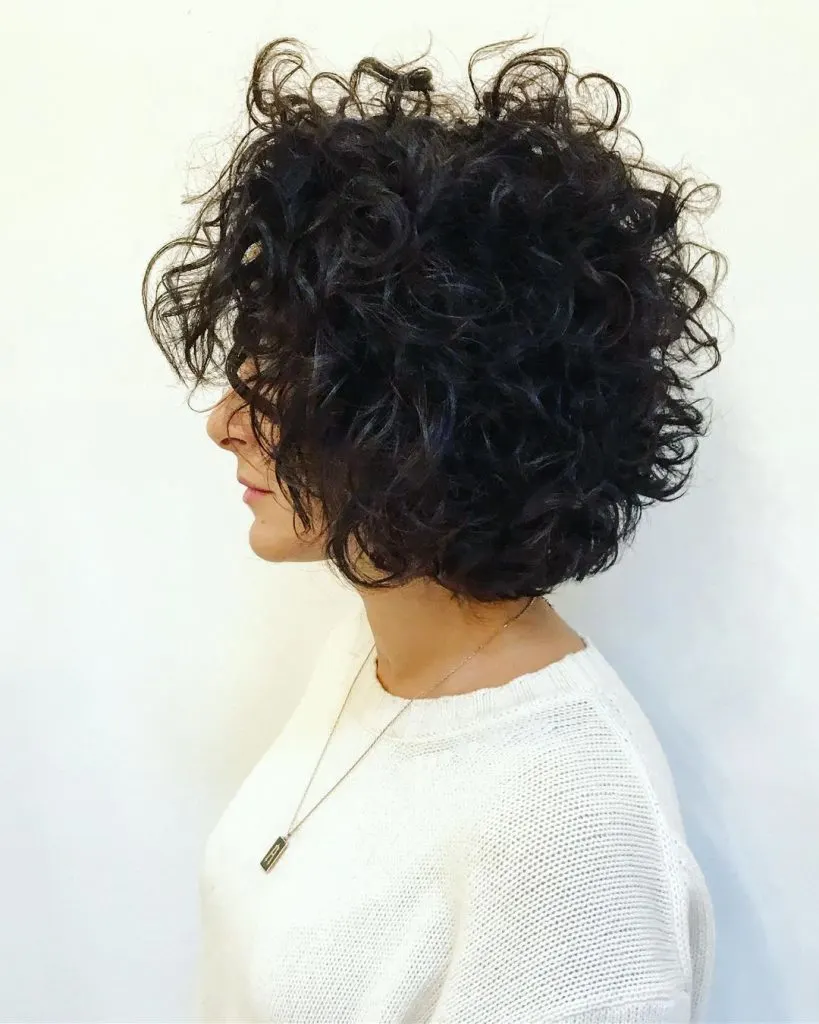 To avoid bulkiness while retaining volume, add long bangs and texturizing layers throughout your hair. A long-layered bob is also quite easy to style.
15. Curly Short Hair With Bangs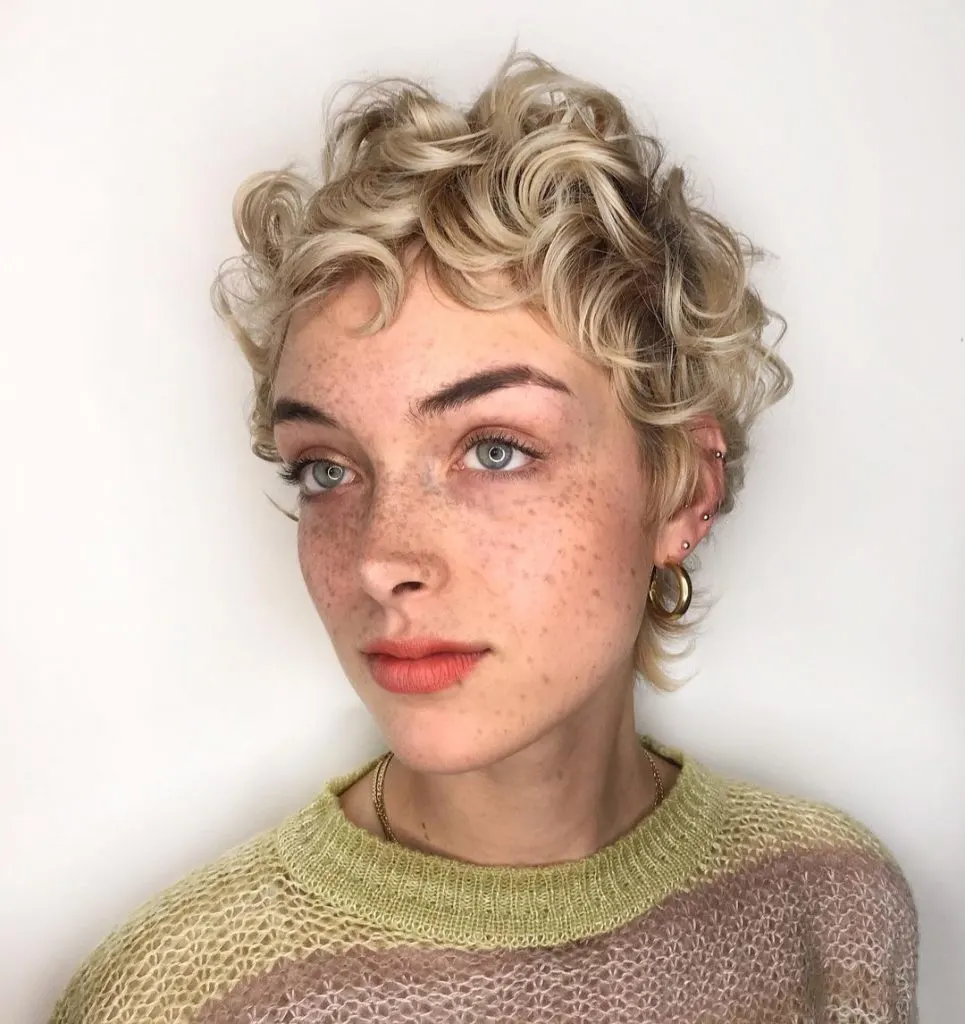 This cherubic pixie is all about the curls. Keep them in top shape and control frizz by applying a leave-in conditioner after you cleanse, then follow with a curl cream to retain moisture and curl shape.
16. Haircut For Thick Curly Hair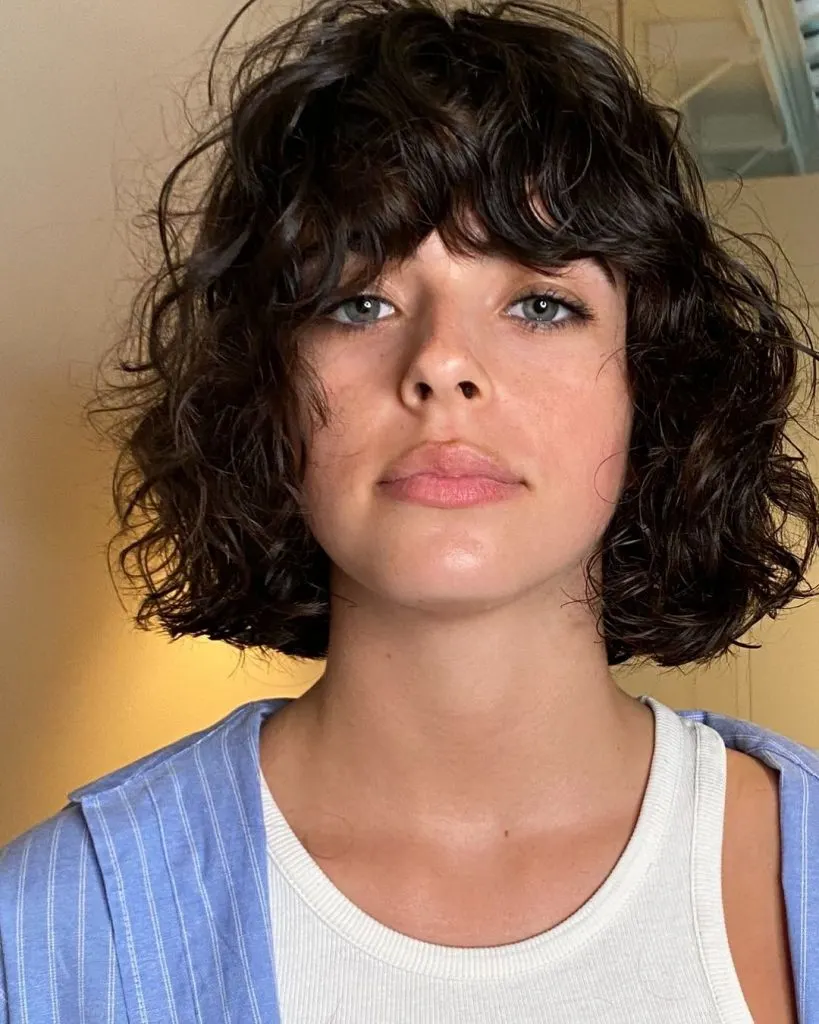 You can't go wrong with a blunt bob with bangs if you have thick, curly hair. A good choice is a cut with a strong outline, in harmony with your hair texture—instead of trying to achieve perfectly straight lines, your bob will look the best when it accommodates your hair as it is.
17. Curtain Bangs With Curly Hair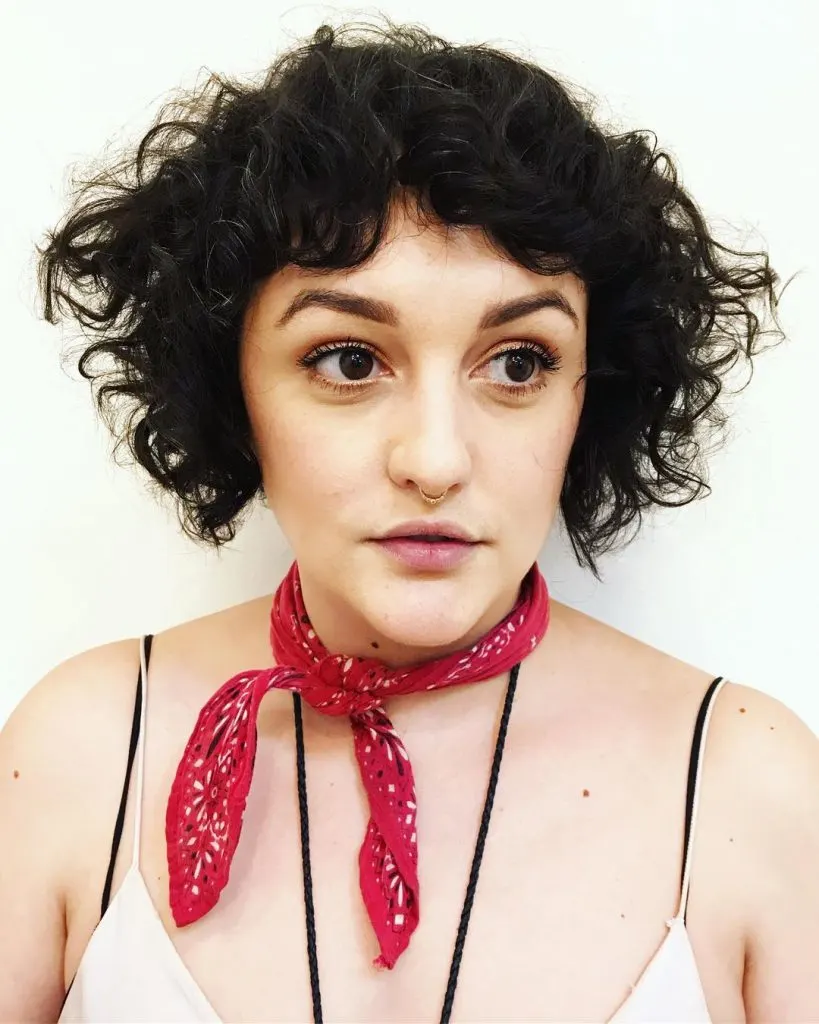 A French bob with bangs is timeless, but who's to say you can't have fun with it? By playing with the shape and placement of layers, add a touch of whimsy to your haircut and make it unique.
18. Cute Curly Hairstyle With Fringe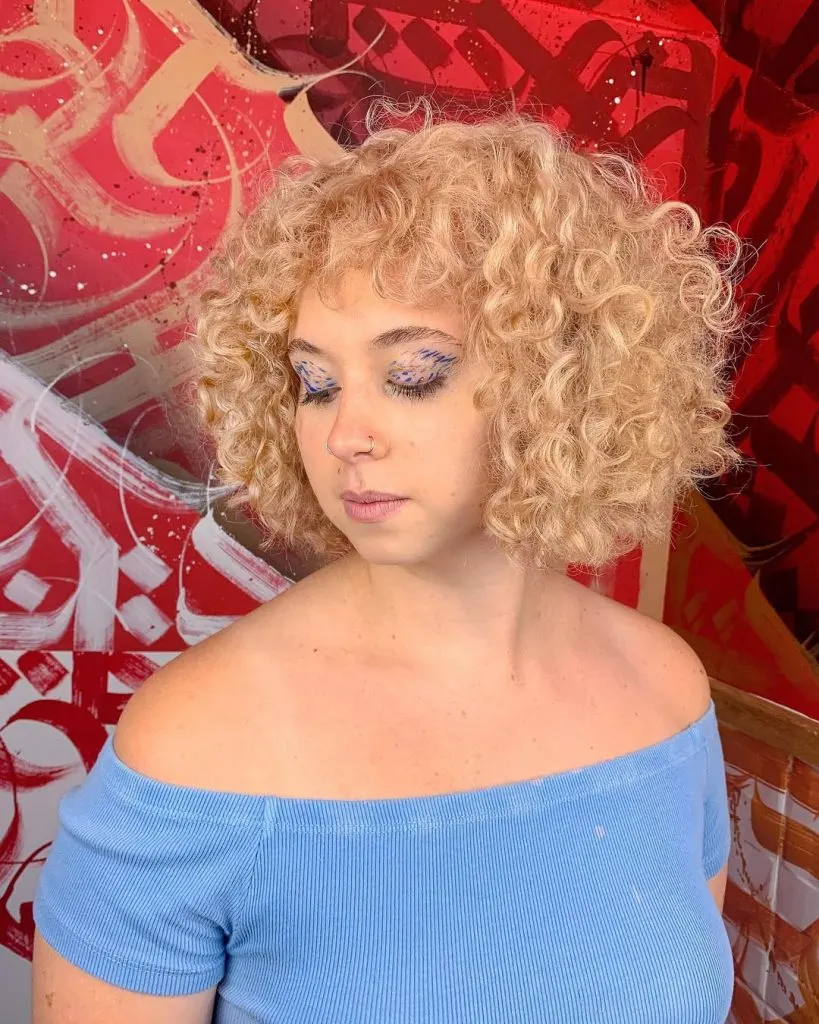 A long, curly bob looks especially adorable with fringe, and shorter, fuller bangs will appear especially attractive if you have a long or square face shape.
19. Layered Curly Haircut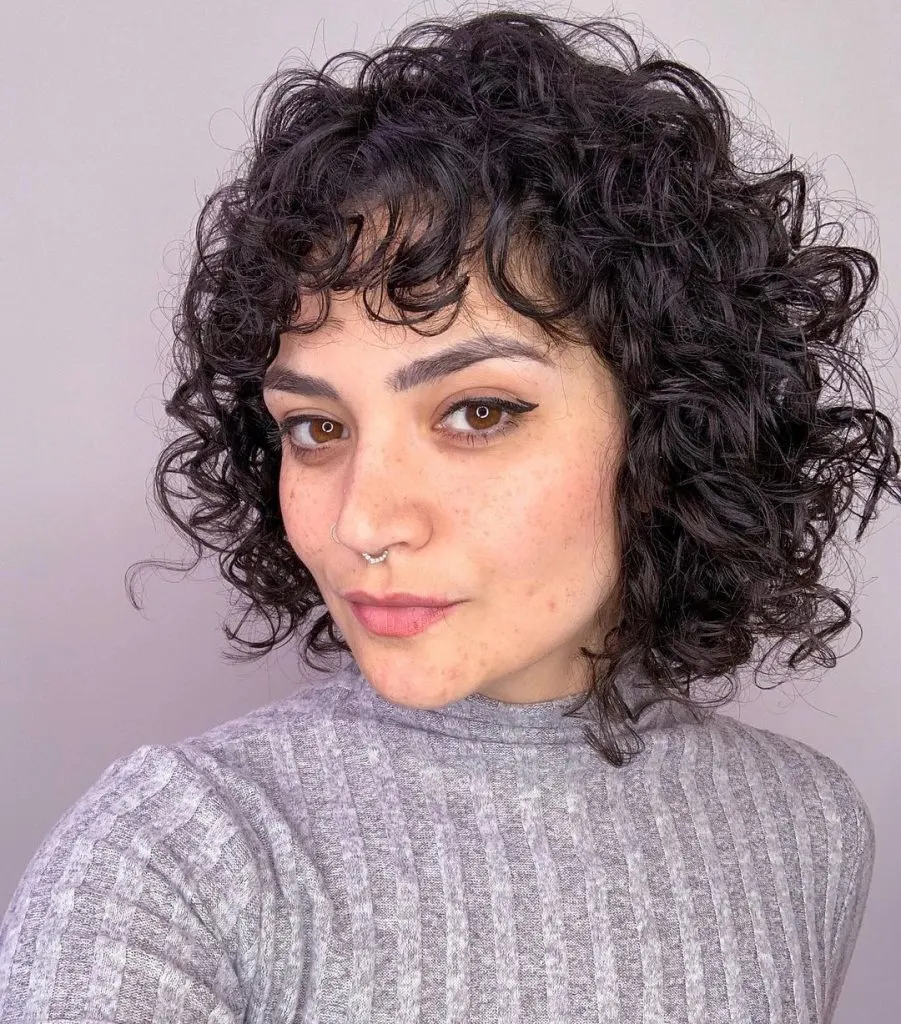 If the shape of your face is sharp—long, diamond or square-shaped—and you want to soften your look, hair around the face is helpful, especially if you go for short and full fringe.
20. Curly Short Haircut With Bangs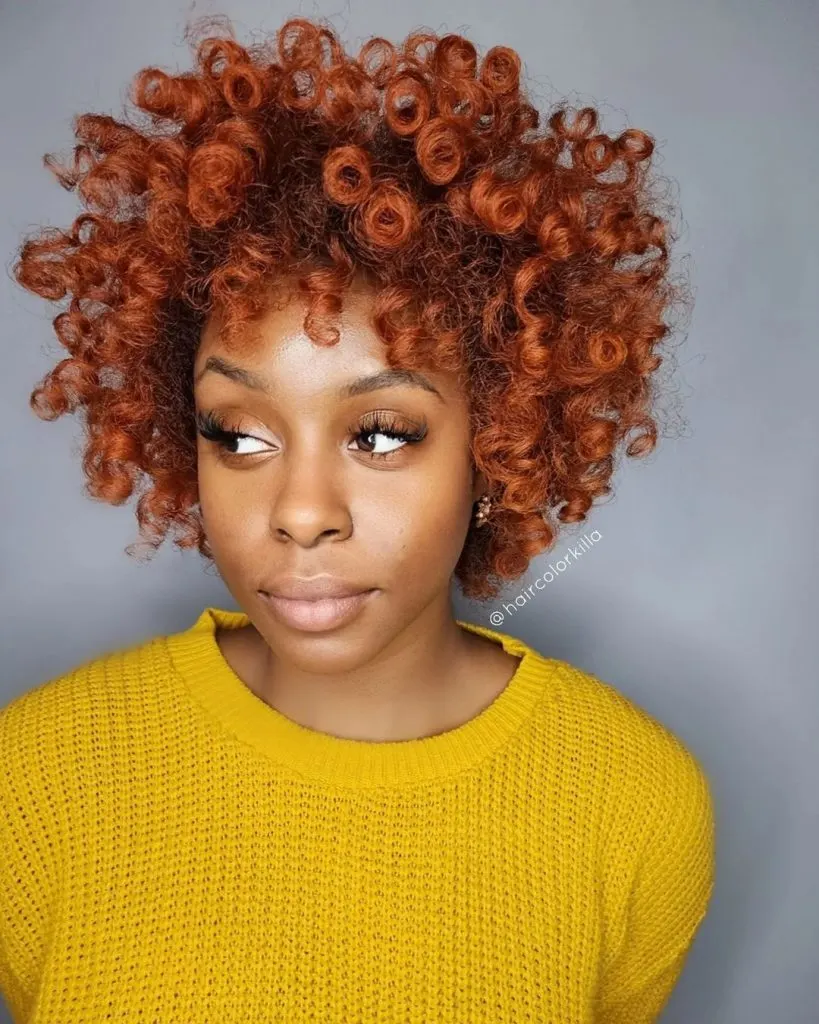 Adding the short fringe to these rich, defined curls made the whole style more cohesive and flattering—not to mention the instant cuteness upgrade!
21. Wavy Hair With Bangs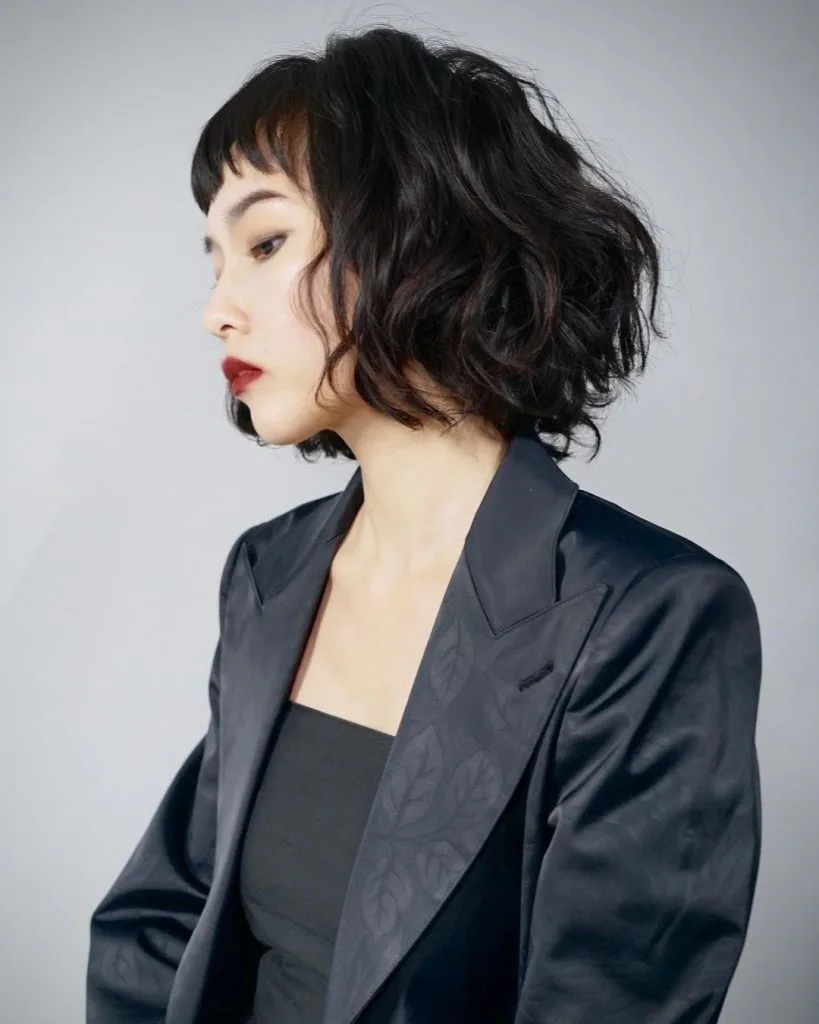 Tiny, slightly curled inwards fringe looks unexpected but cute in this beachy waves bob hairstyle. The easiest way to add volume to short bangs is by using a velcro roller and blasting with hot air. Wait for it to cool, remove the roller, and done!
22. Bob And Bangs For Wavy Hair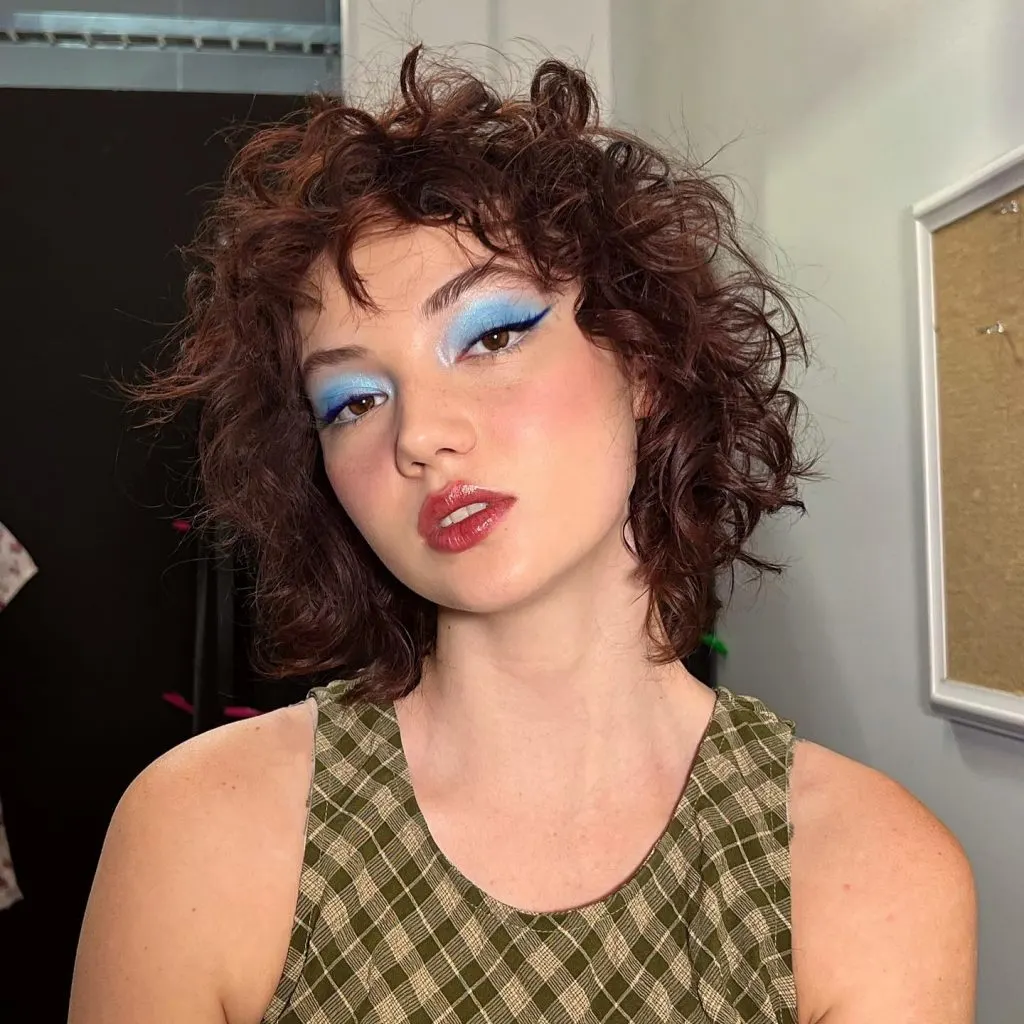 If you have 2c hair, you're lucky—you can enhance your rich waves or easily straighten your hair, but you need to be mindful of the most important point when it comes to wavy and curly hair: keeping it moisturized.
23. Short Curly Curly Bob With Side Bangs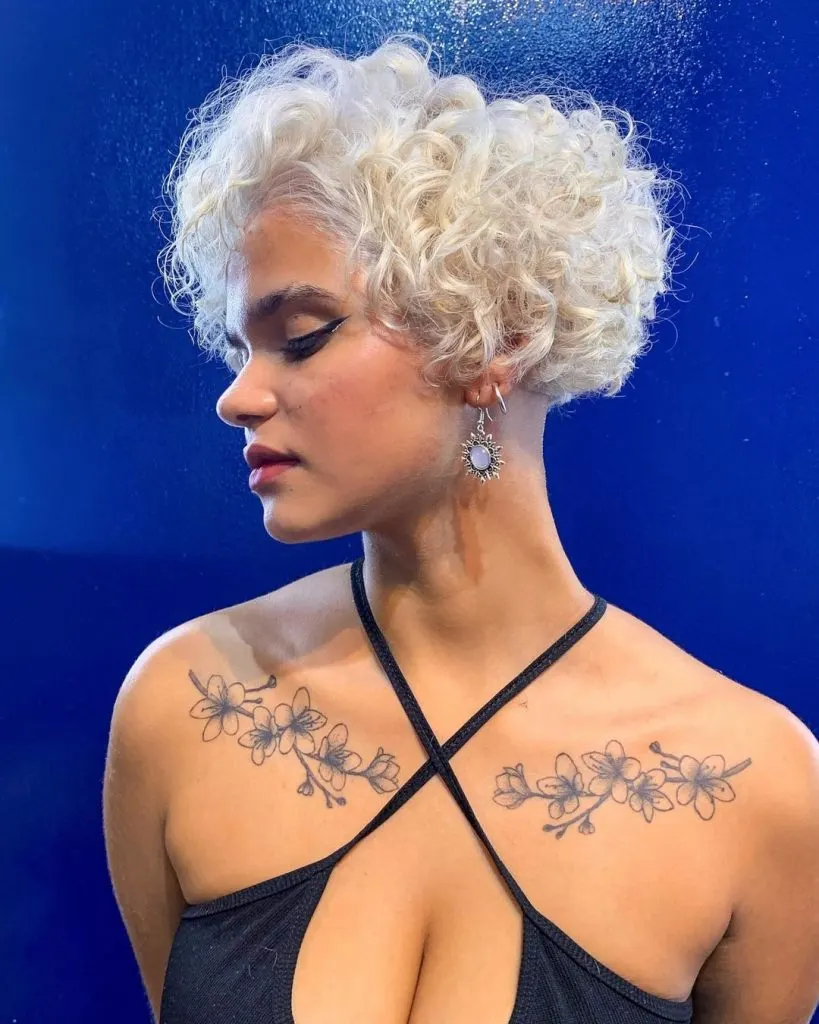 Ultra-short platinum curly bob is reminiscent of the movie stars from the silent movie era a hundred years ago, and it's no less stunning that it was back then—classic and edgy at the same time.
24. Gemini Hair Curly Bob With Bangs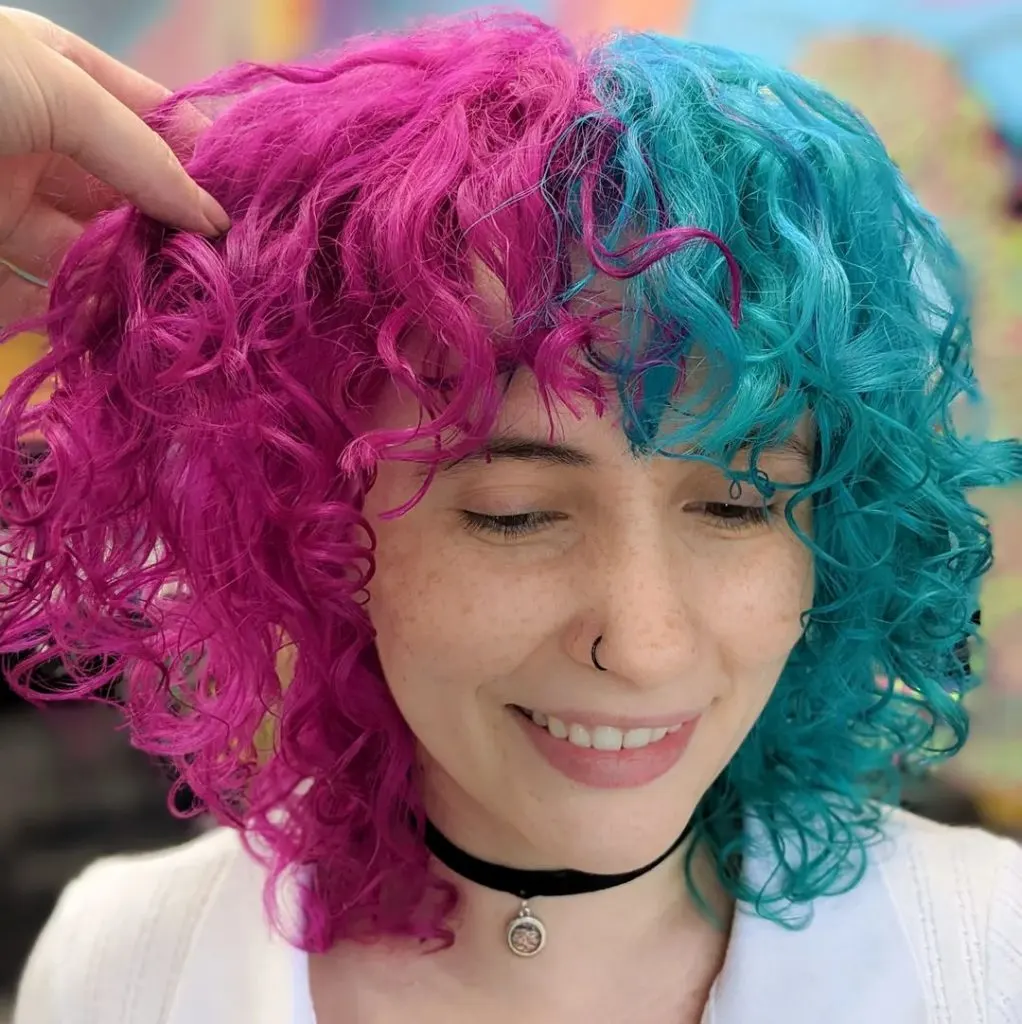 Gemini hair is the trend of the year, so if you need a change and don't know what to pick, choose your two favorite colors and talk to your colorist about the best way to achieve them.
25. Layered Haircut For Curly Hair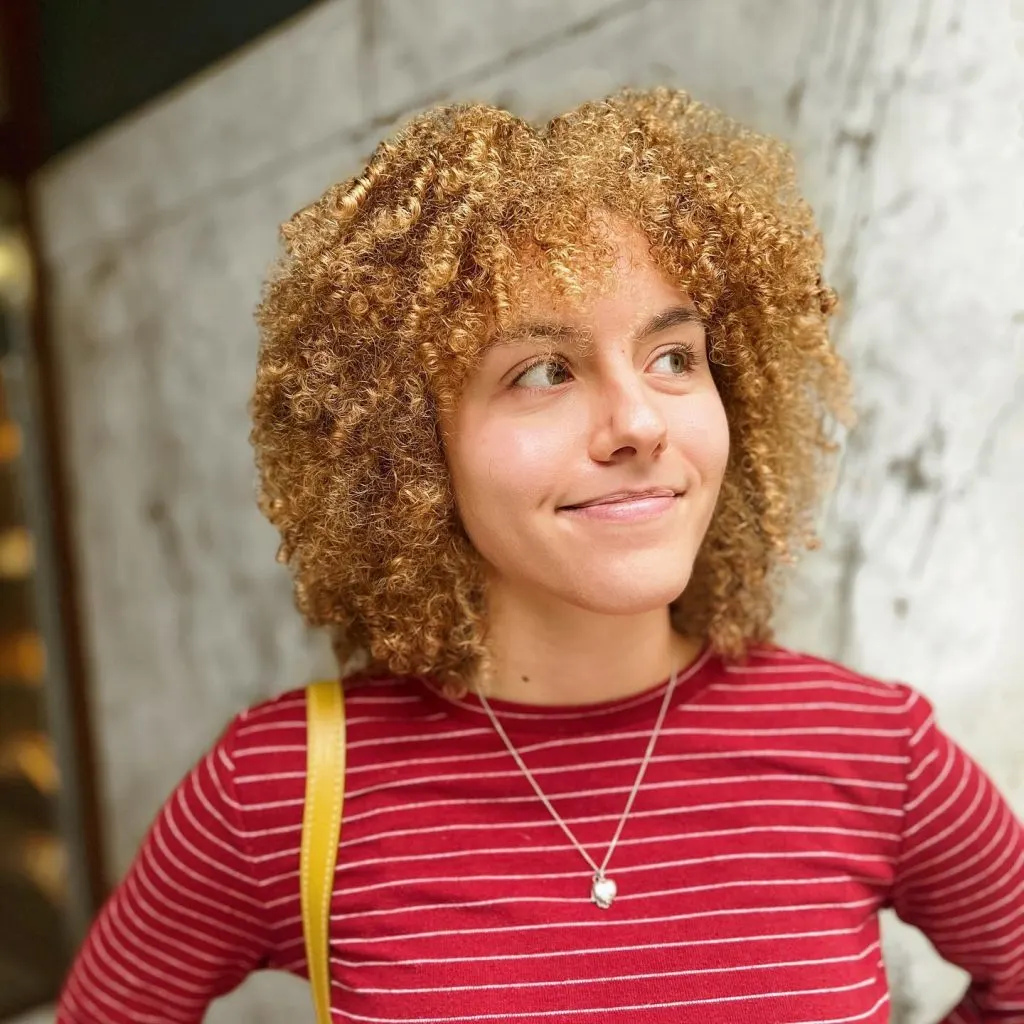 Delicate coils need tons of moisture, so try to fit in a deep-conditioning treatment as soon as you notice dryness.
26. Taper With Curly Hair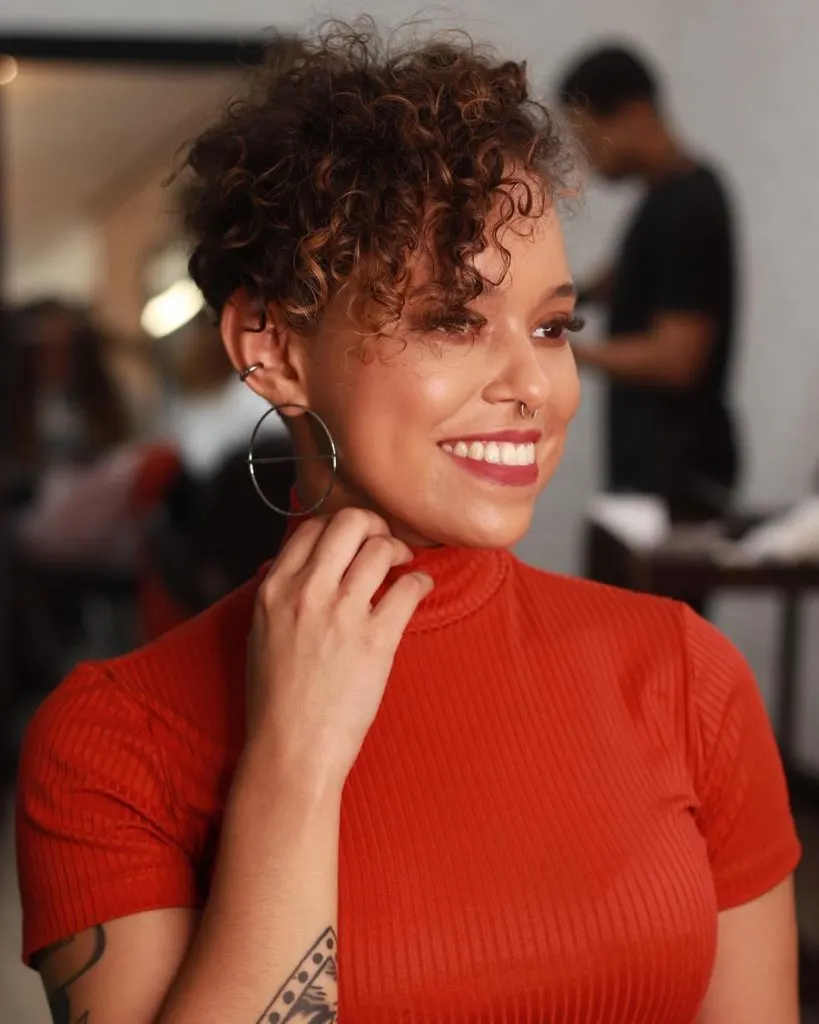 You won't go unnoticed with an asymmetric taper with long bangs—it's a style that shows a confident, direct attitude, and looks good at the same time.
27. Curly Bob Haircut With Bangs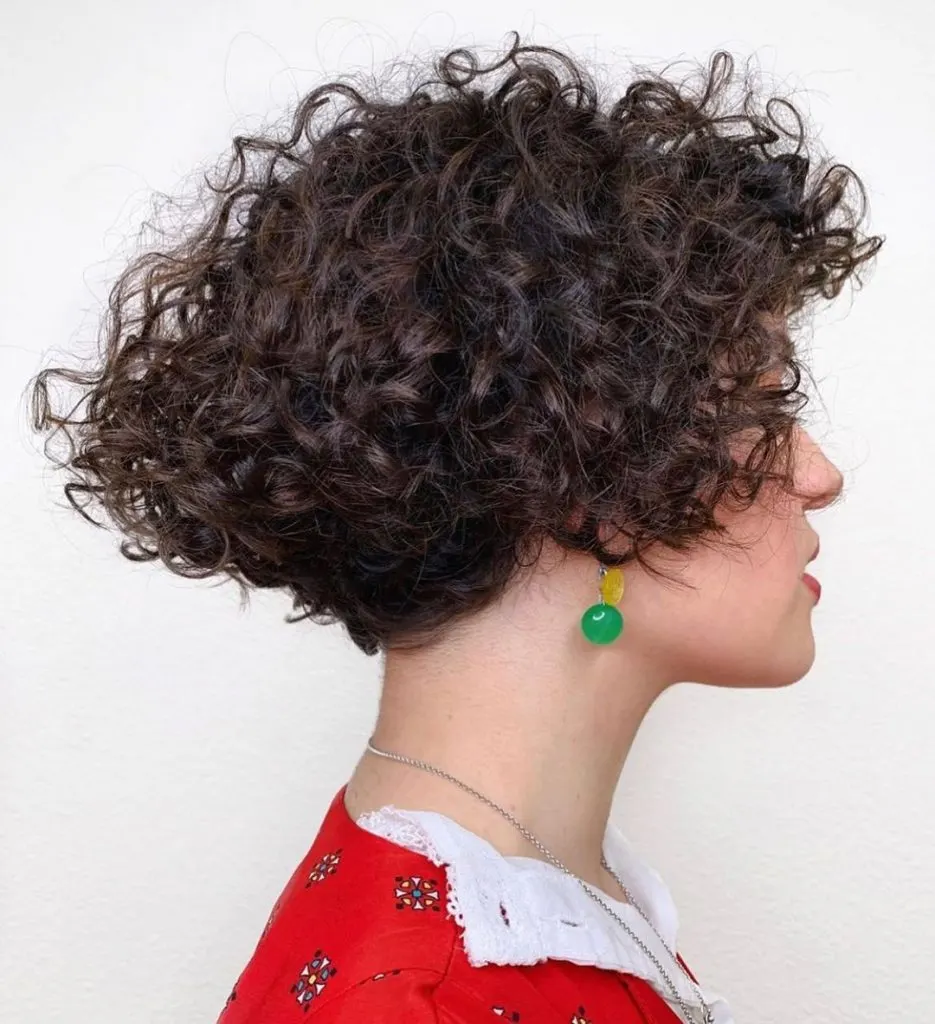 Typically, short curly hair is cut in a way that avoids a triangular shape, but this retro style is becoming more and more popular. Despite the soft curls, it gives an impression of sharpness, but the bangs framing the face prevent it from becoming too sharp.
28. Curtain Bangs On Curly Hair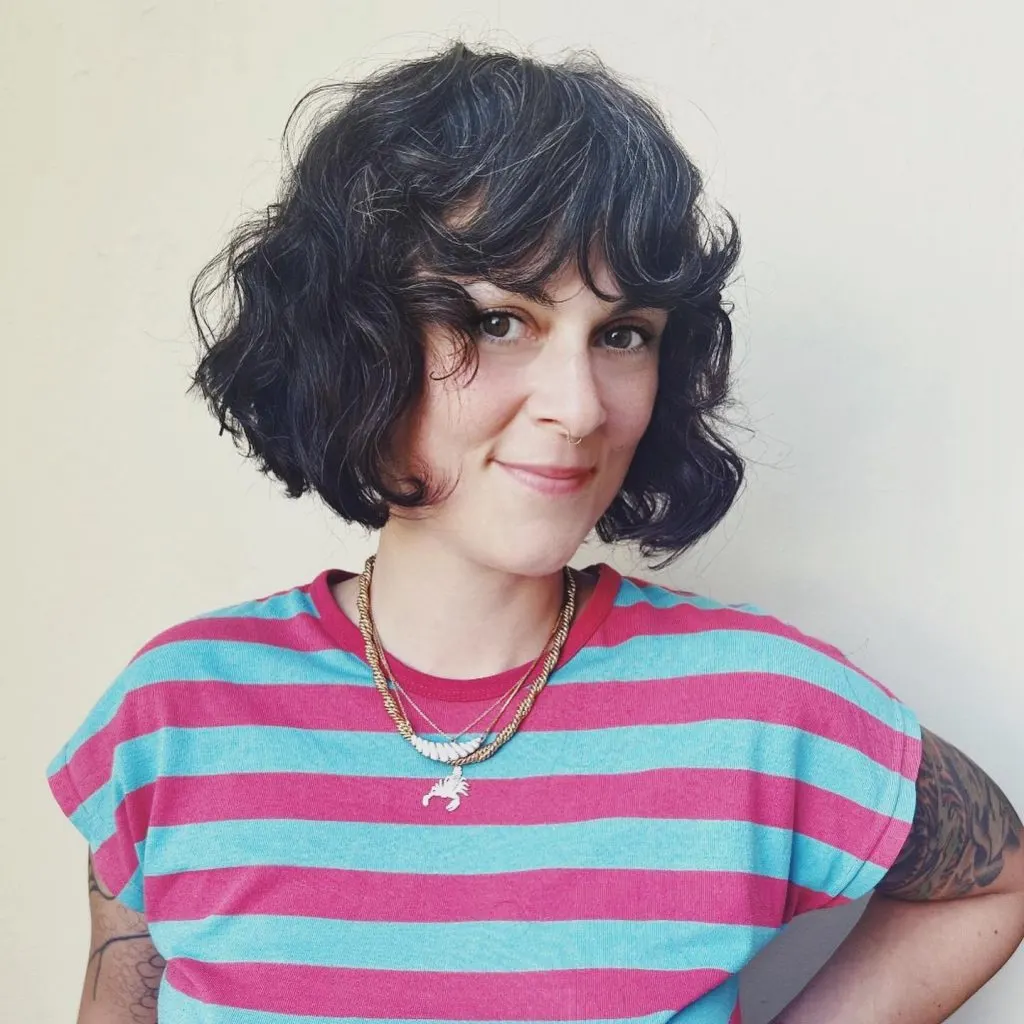 Short curtain bangs blend with the wavy texture and complete this laid-back look. Even though this bob with curtain bangs seems effortless, the bangs will take a little bit of care to stay where you want them to be.
29. Short Haircut For Curly Hair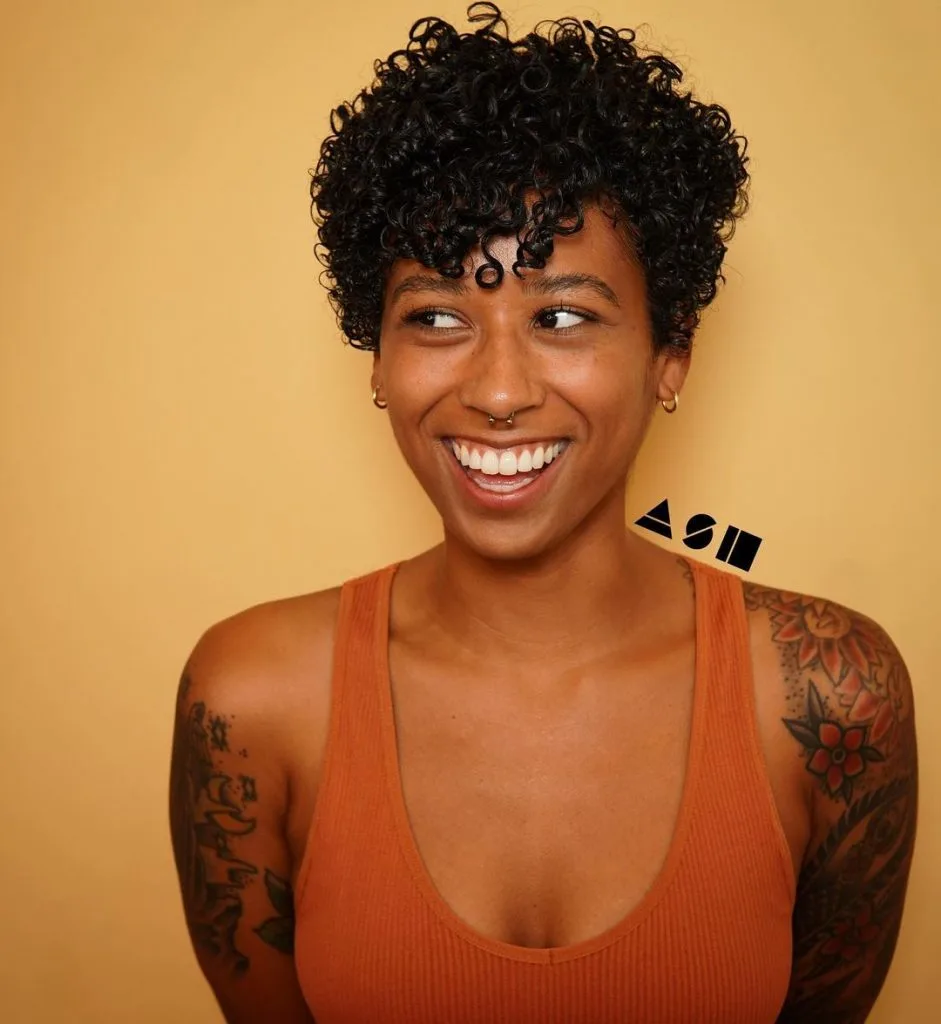 A long pixie is not complete without some face-framing pieces, like these youthful and flirty curly bangs.
30. Short Curly Hair With Bangs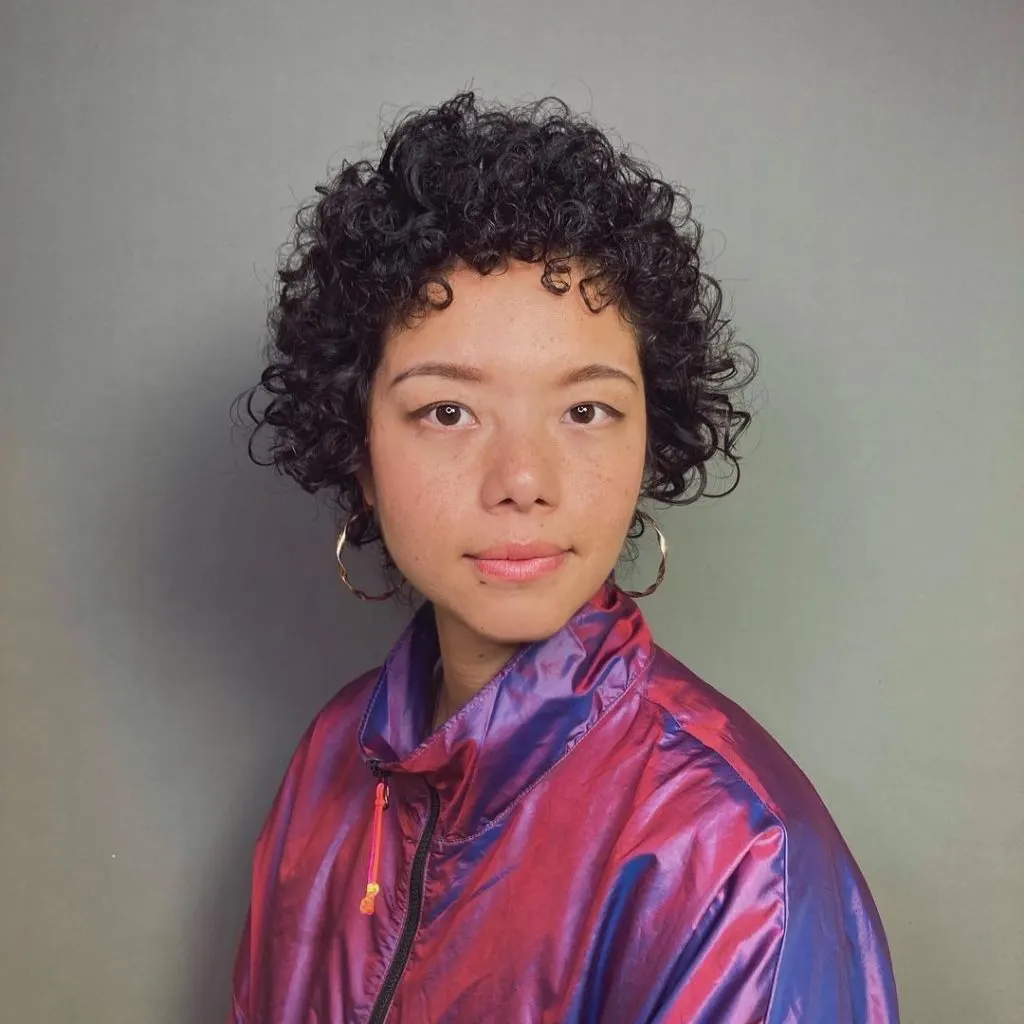 Closely cropped micro bangs are edgy and cute, and suit round faces especially well. Are you daring enough to go for the barely-there fringe?
31. Curly Haircut With Side Bangs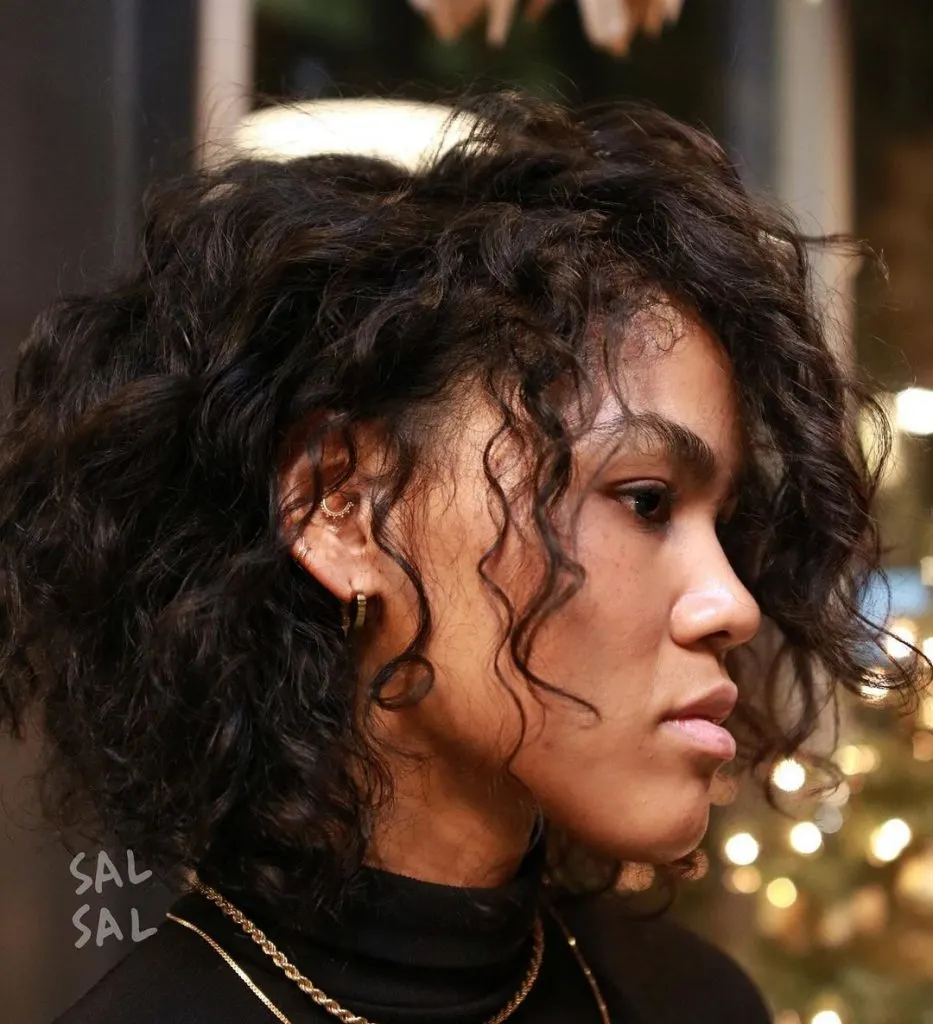 Long bangs skimming the face paired with loose curls are the ultimate effortlessly chic look. Go for a haphazard side part for an extra relaxed vibe.
32. Curly Fringe Hairstyle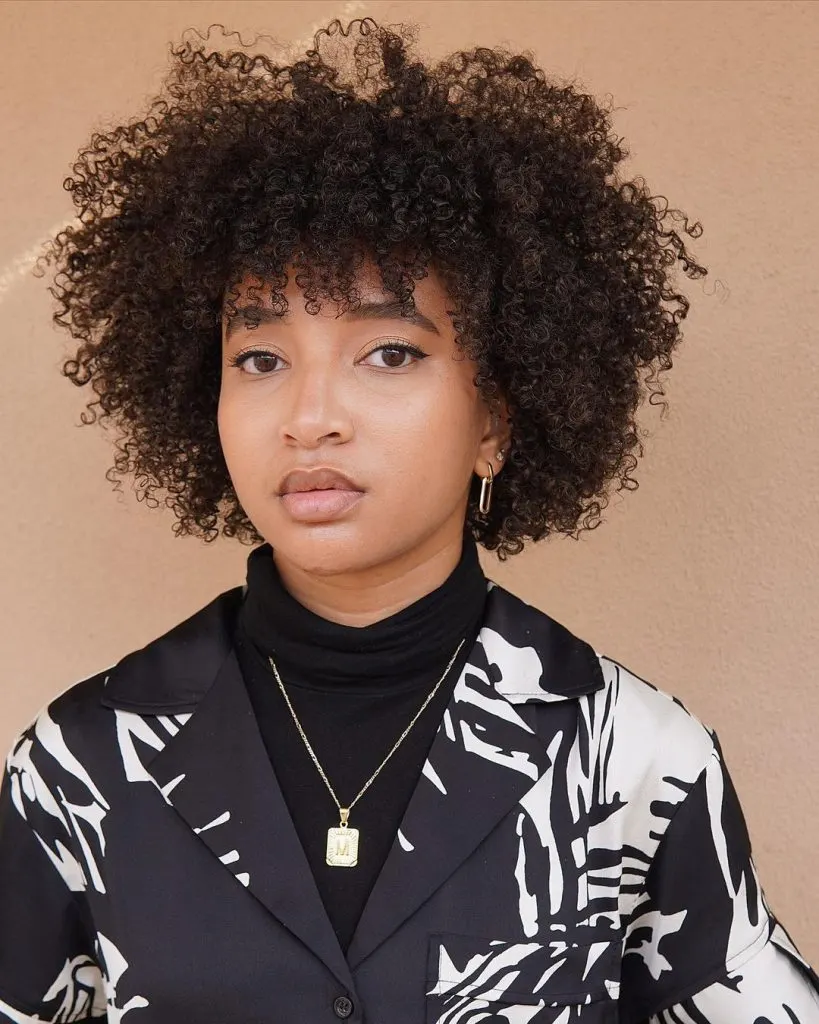 Coily hair needs a lot of care, but if you're gentle and indulgent with your curls they can look mesmerizing. If your natural hair has trouble holding moisture, try the LOC hair care technique: use several products in a certain order: leave-in conditioner, oil then cream.
33. Short Curly Hair With V-shaped Fringe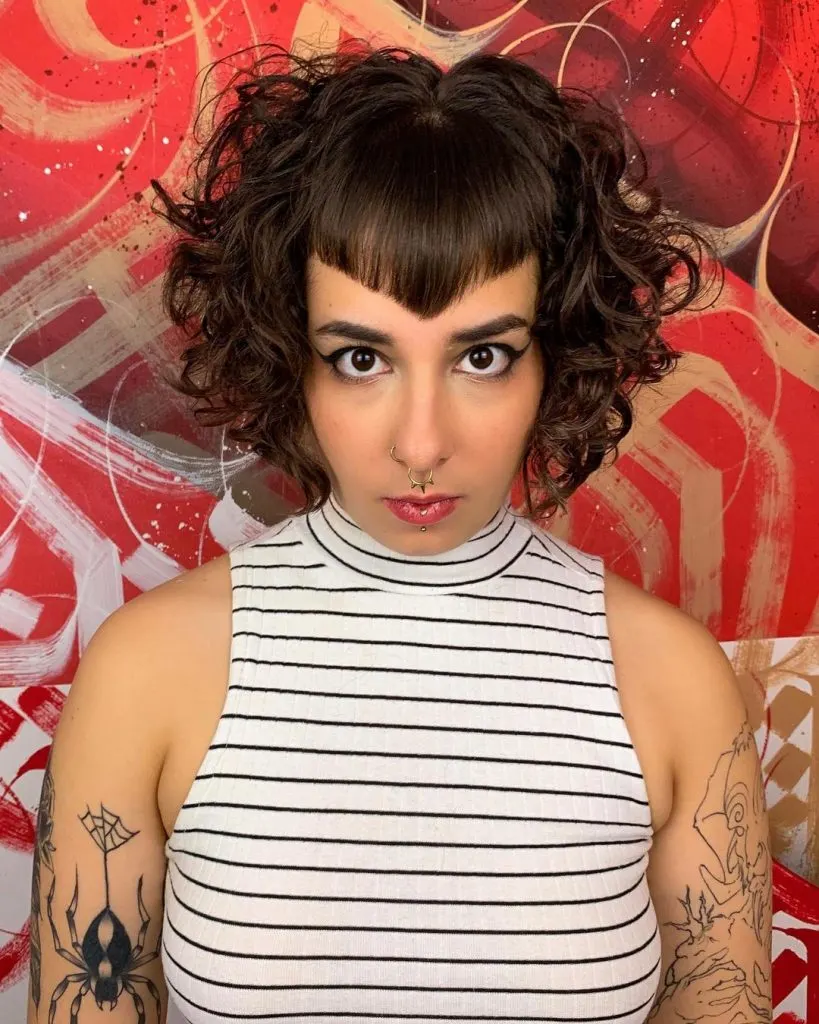 Straight V-shaped fringe give a pin-up vixen vibe to any haircut—they contrast these soft curls and transform the haircut in an unexpected way.
34. Curly Curtain Bangs Style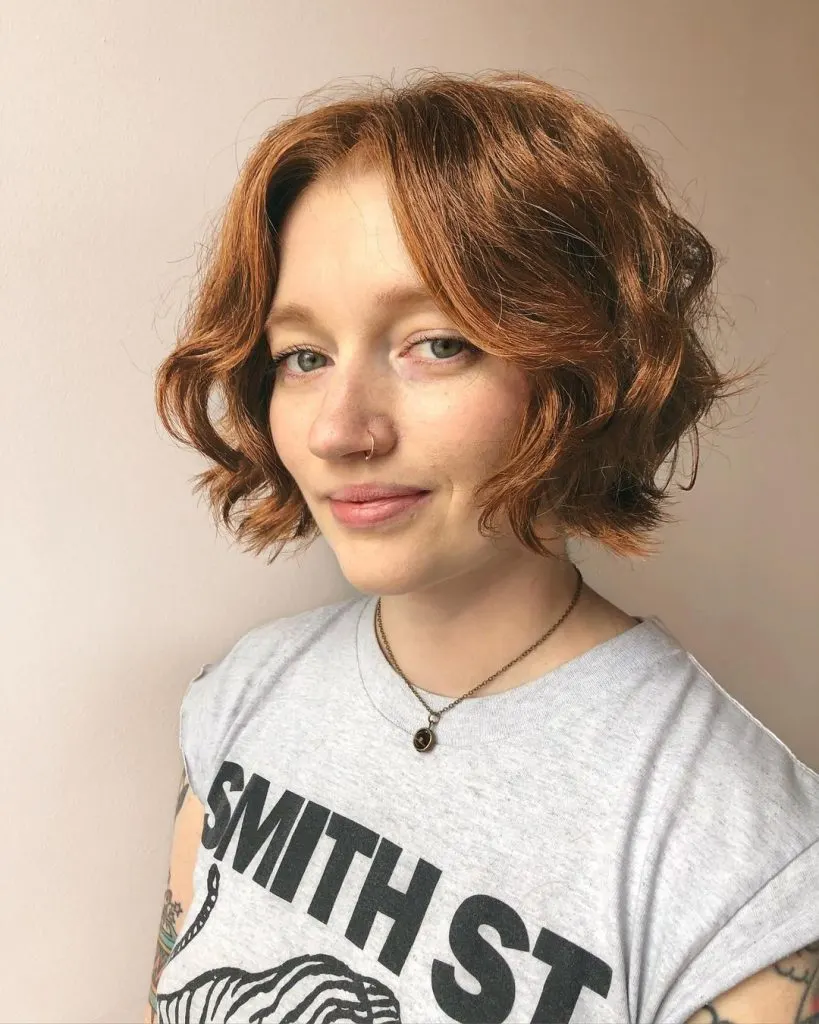 By following the shape of the curl curtain bangs complement this short bob with round, soft curls—making the hairstyle incredibly flattering.
35. Cute Short Haircut For Curly Hair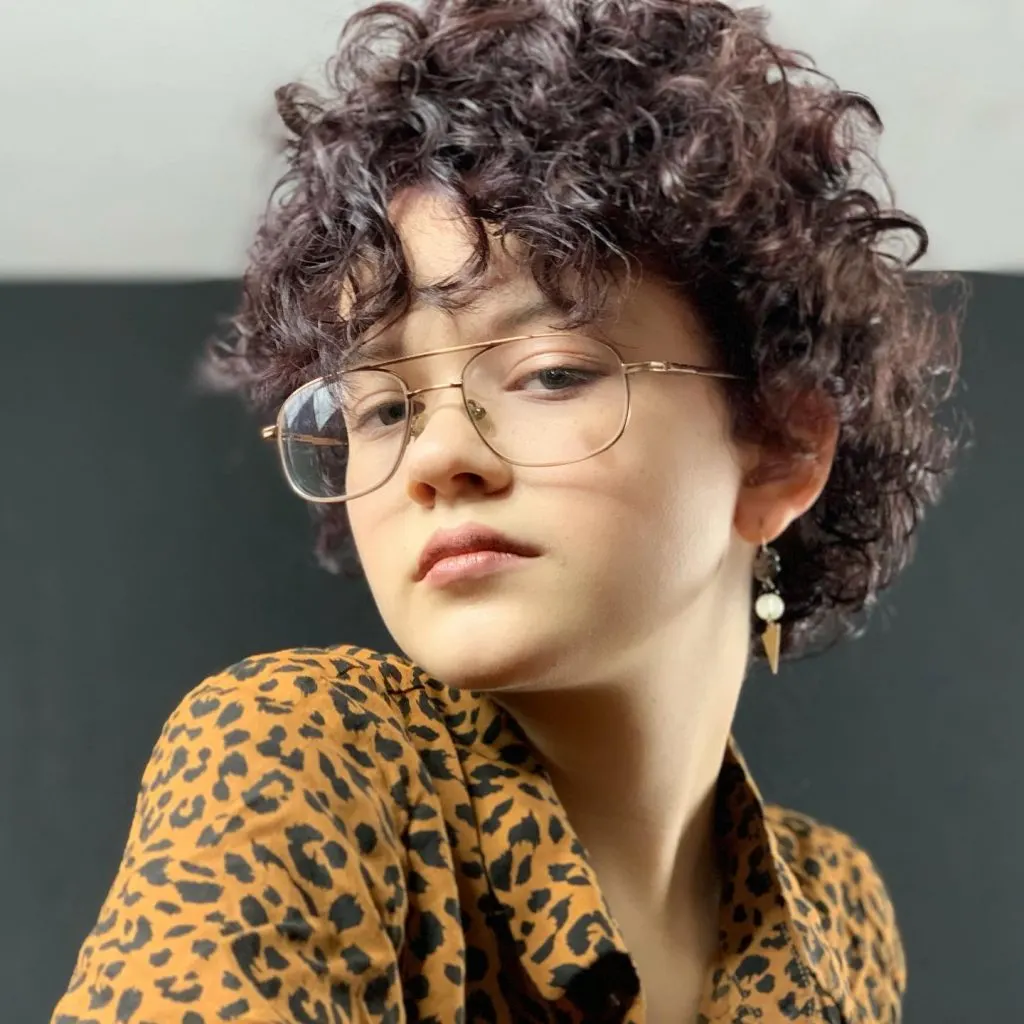 Shaggy haircuts are made for curly hair—they always look best when cut following the natural texture and styled to allow it to shine.
36. Curly Hair With Straight Bangs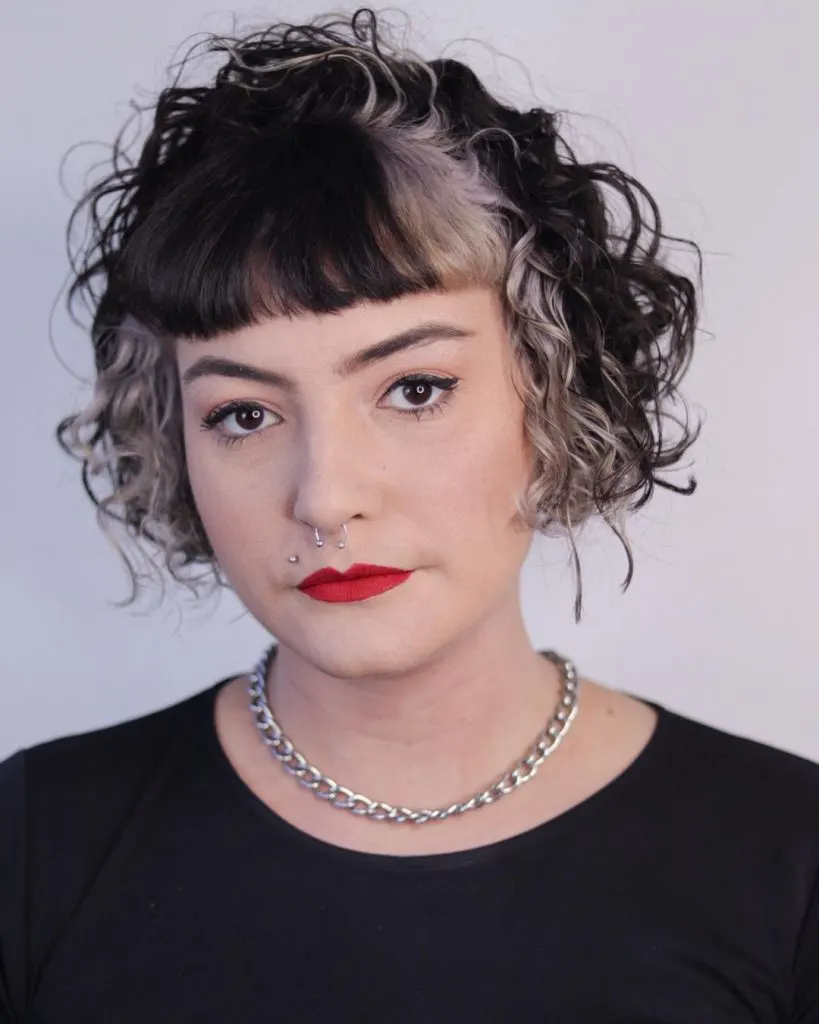 Straightening the bangs creates an interesting contrast with curly hair, and it works particularly well with this style of short, straight-across bangs. The end result is a cool, eye-catching alt vibe.
37. Edgy Short Curly Haircut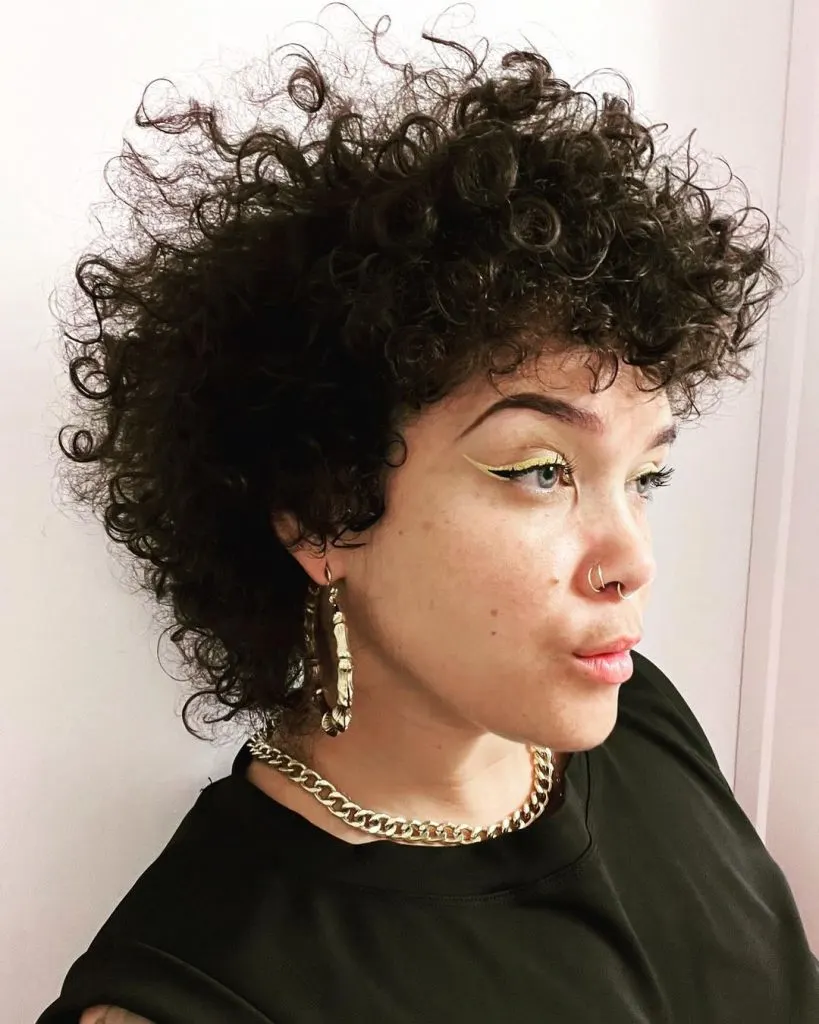 This attention-grabbing style with wispy, layered ends and short, full bangs looks amazing when you style it fluffy, so use a diffuser to get lots of volume while drying your hair.
38. Choppy Layered Curly Hair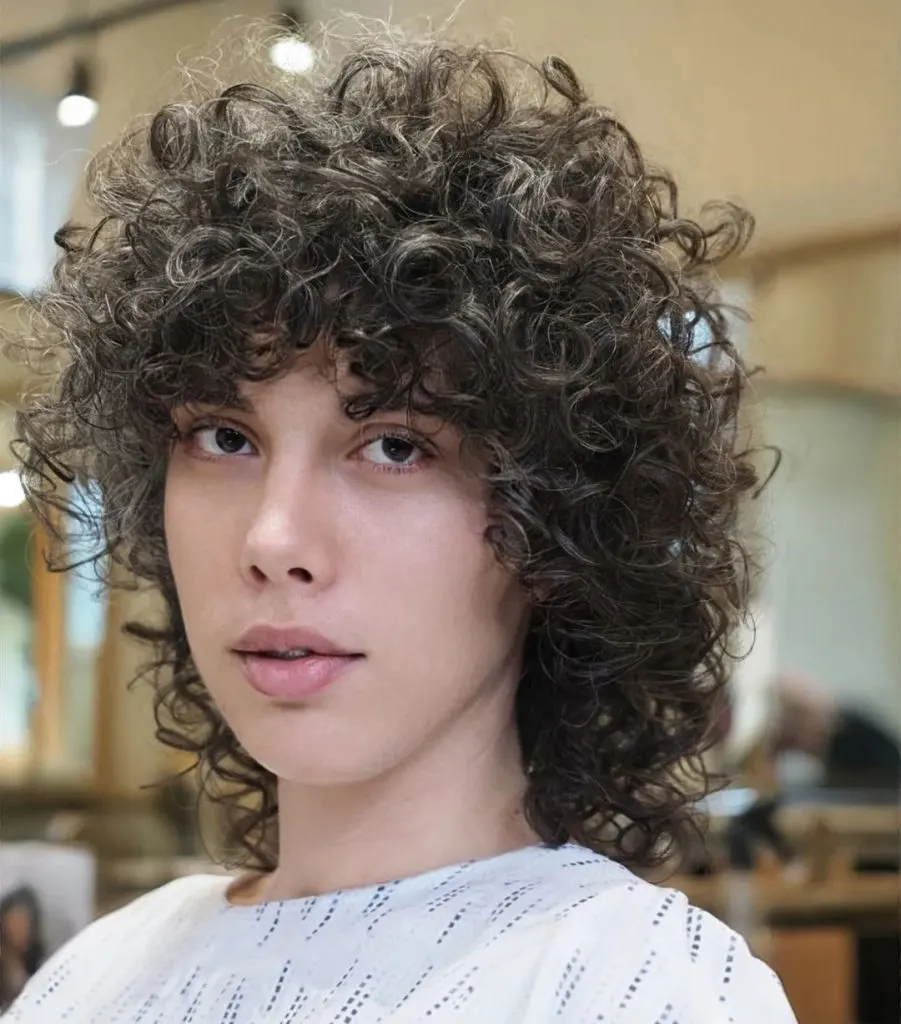 Styling a shaggy cut is easier than styling a one-length cut, but curly hair always needs effort—use lightweight products that lock in moisture and define your curls.
39. Pixie Haircut For Curly Hair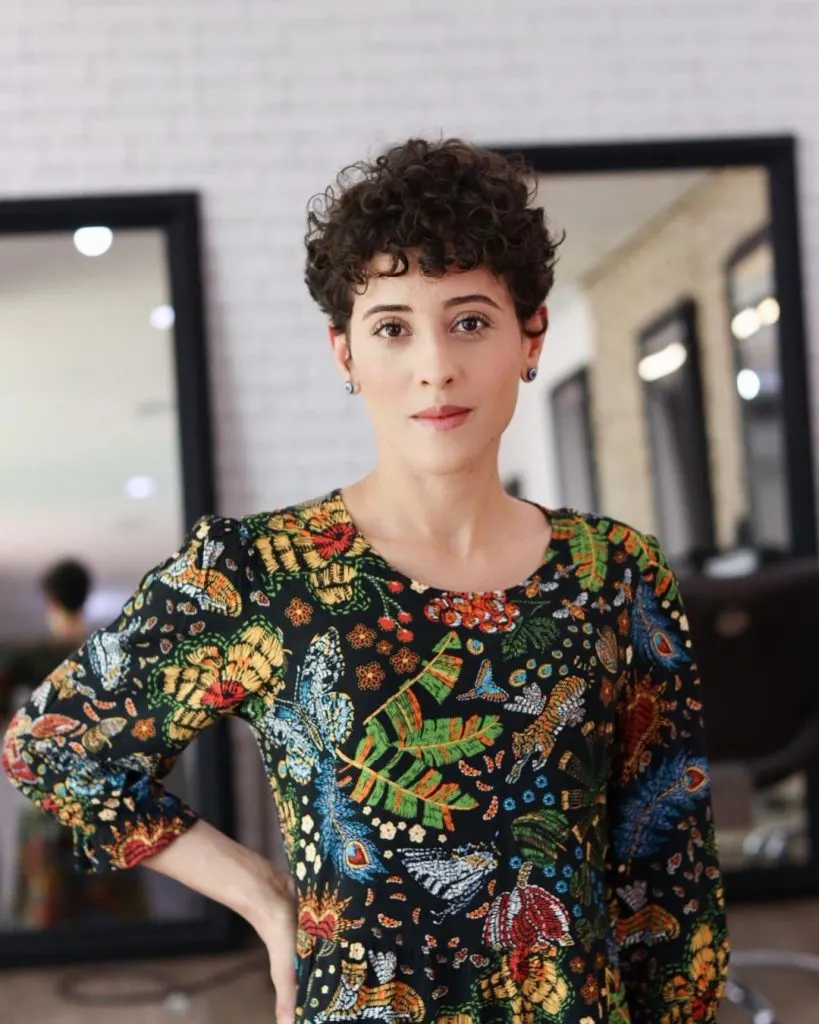 A flattering hairstyle is all about creating balance—these cute short bangs highlight the eyes and bring a romantic vibe to the whole look.
40. Choppy Haircut For Curly Hair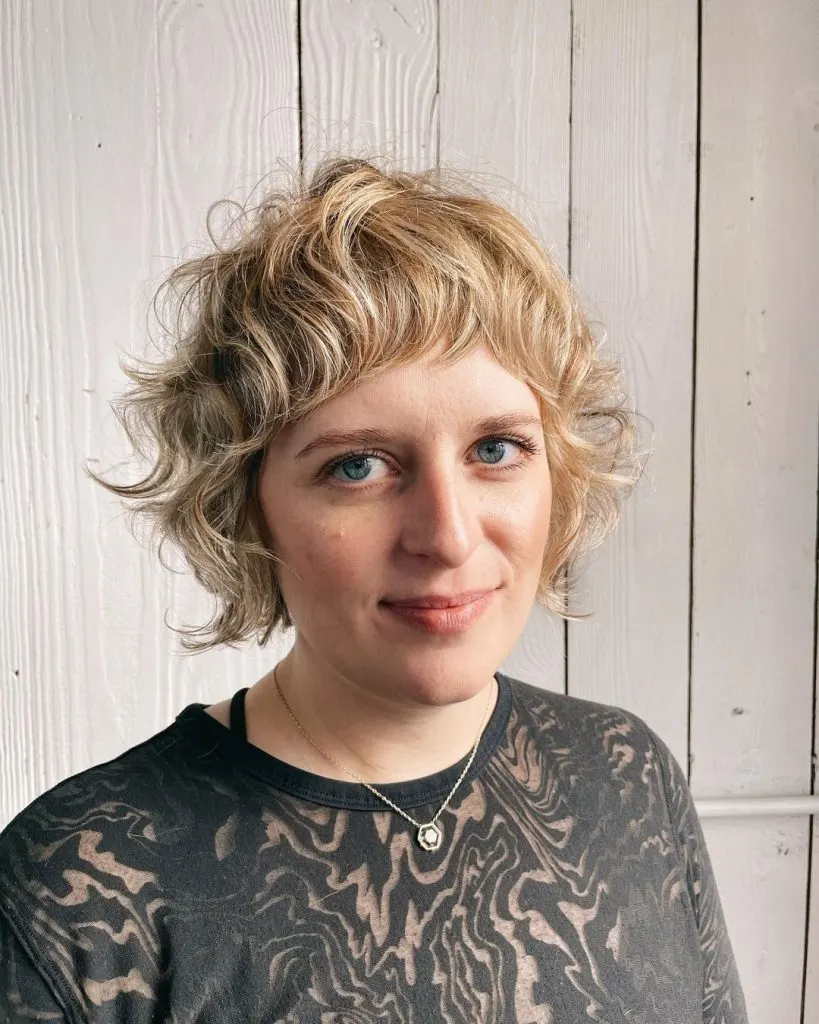 To arrange your short bangs, you don't need any tools, but simply help them take shape as you're drying your hair by moving them in the direction you want them to stay in using your fingers.
41. Layered Curly Hair With Bangs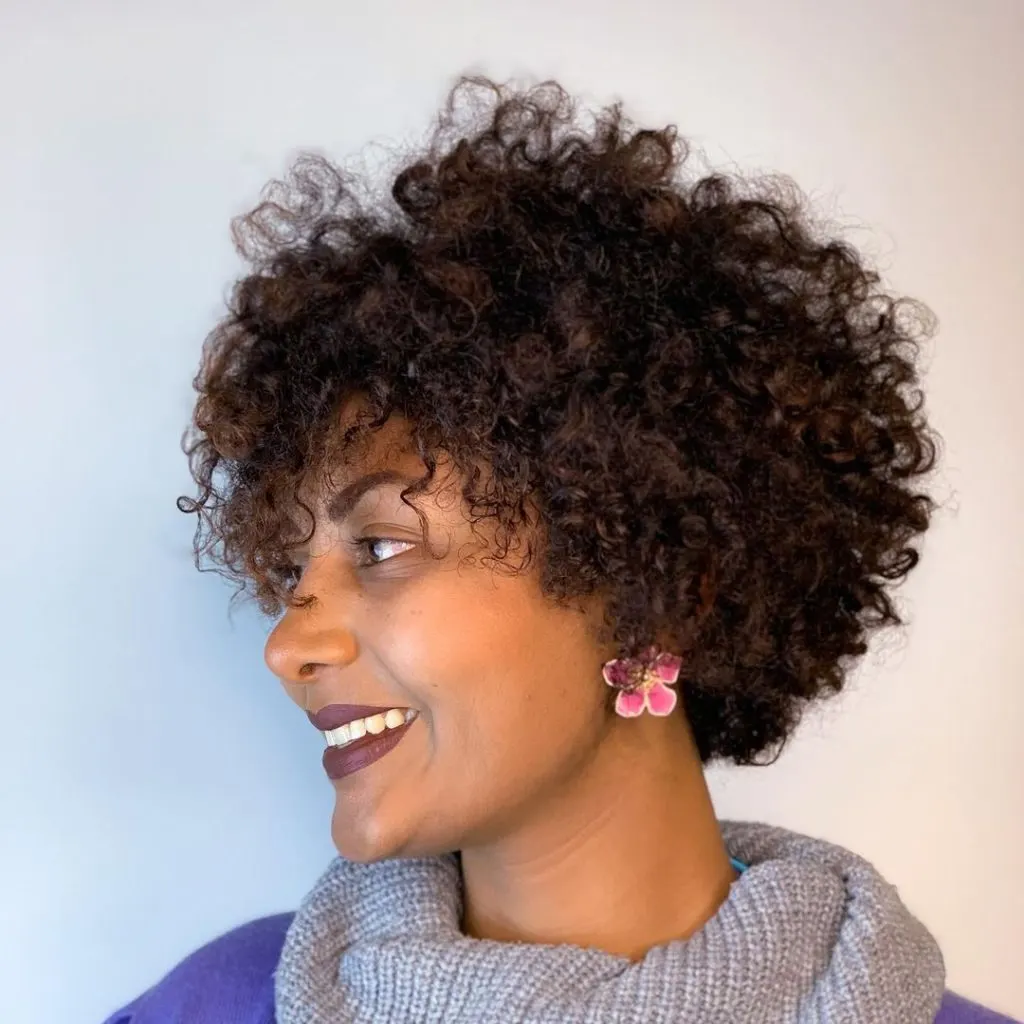 Long bangs that fall over one eye look flirty and playful—make sure your stylist cuts them dry, curl-by-curl to avoid making them too short to do so.
42. Layered Curly Haircut With Bangs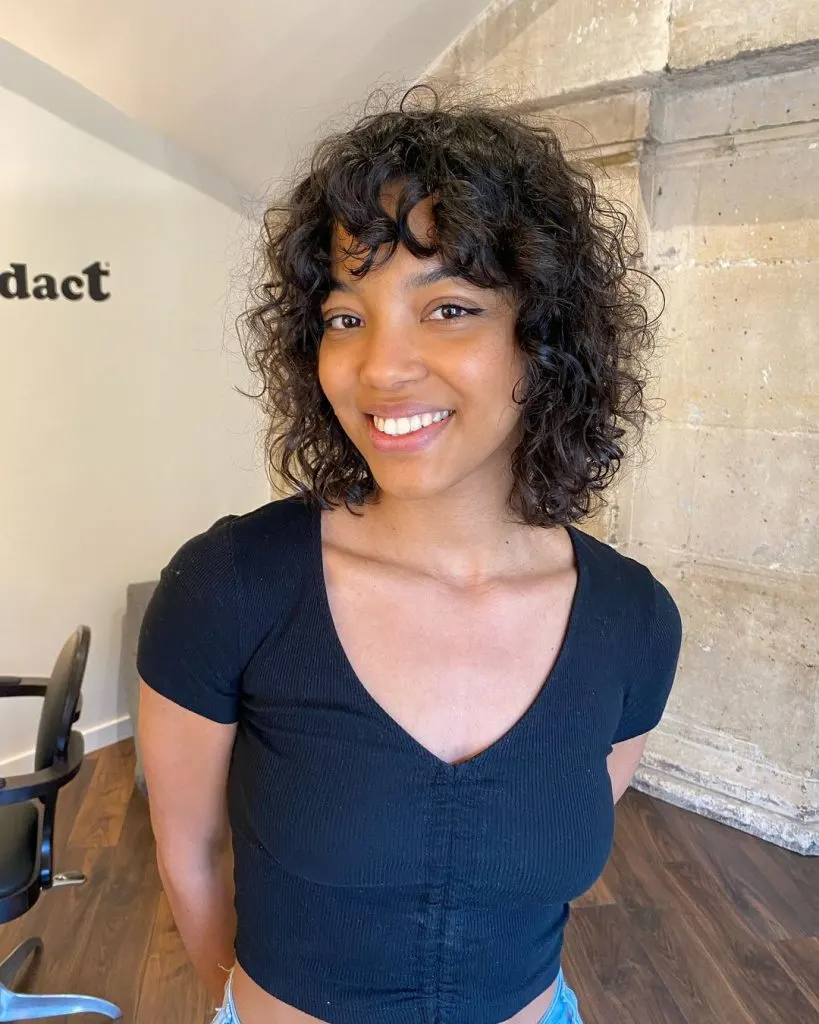 If your curls tend to lose definition, try to air dry them as often as possible. Scrunch in some curl cream and wrap in a microfiber towel until it dries for best results.
43. Cute Short Hairstyle For Curly Hair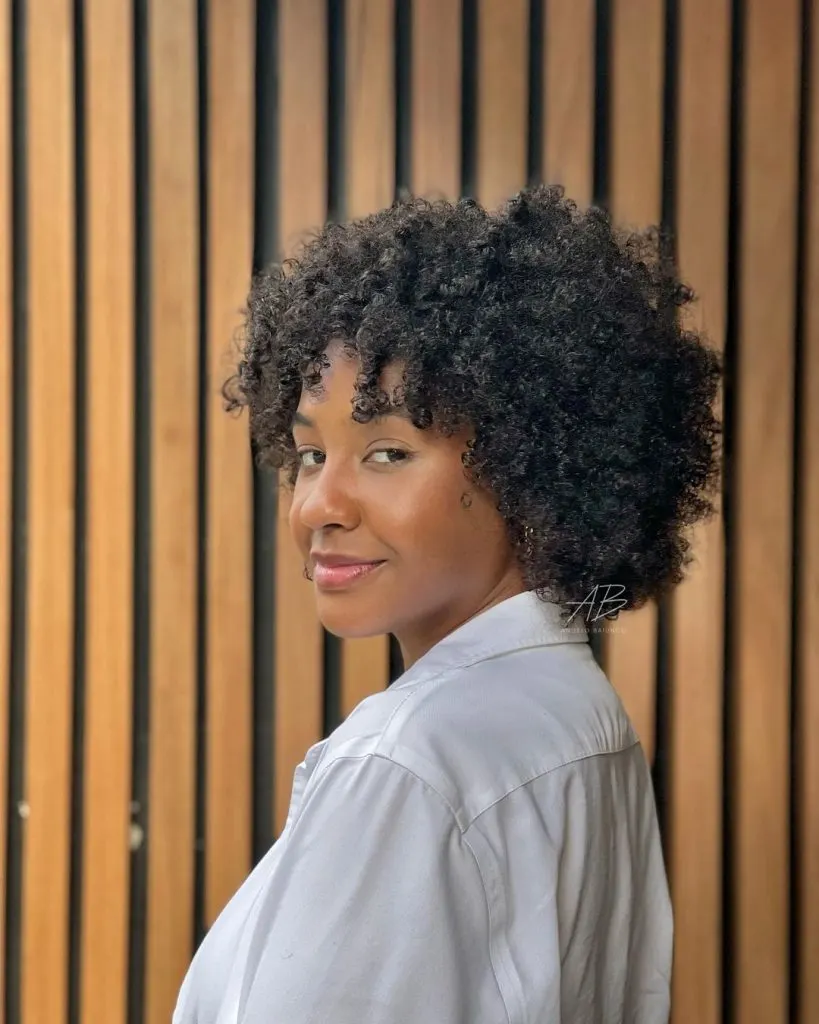 To keep your curls looking amazing all day long, spray them with a conditioning mist throughout the day.
44. Curly Hair With Curtain Bangs Hairstyle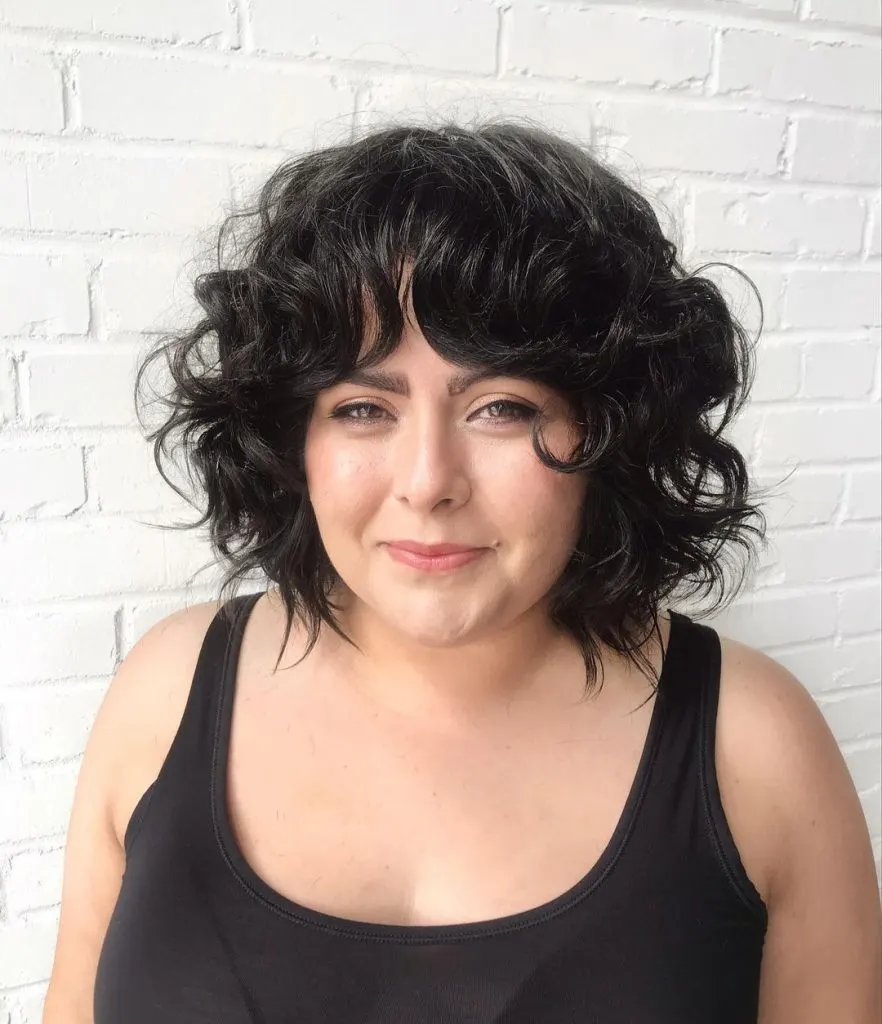 Loose curls and curtain bangs are a perfect match, as this gorgeous choppy bob can prove—the bangs blend in seamlessly with the rest of the hair.
45. Curly Hair With Curtain Bangs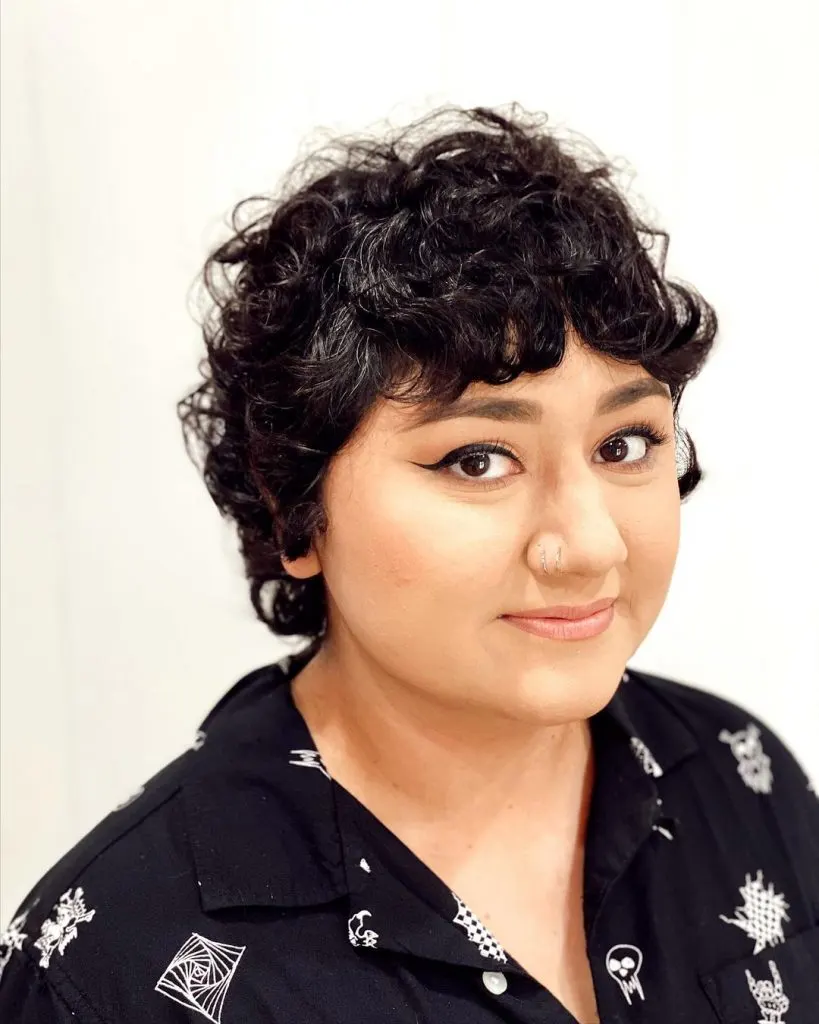 Fringe is the best way to draw attention to the parts of your face you want to emphasize—here, the whole look is about the eyes.
46. Curly Bangs Short Haircut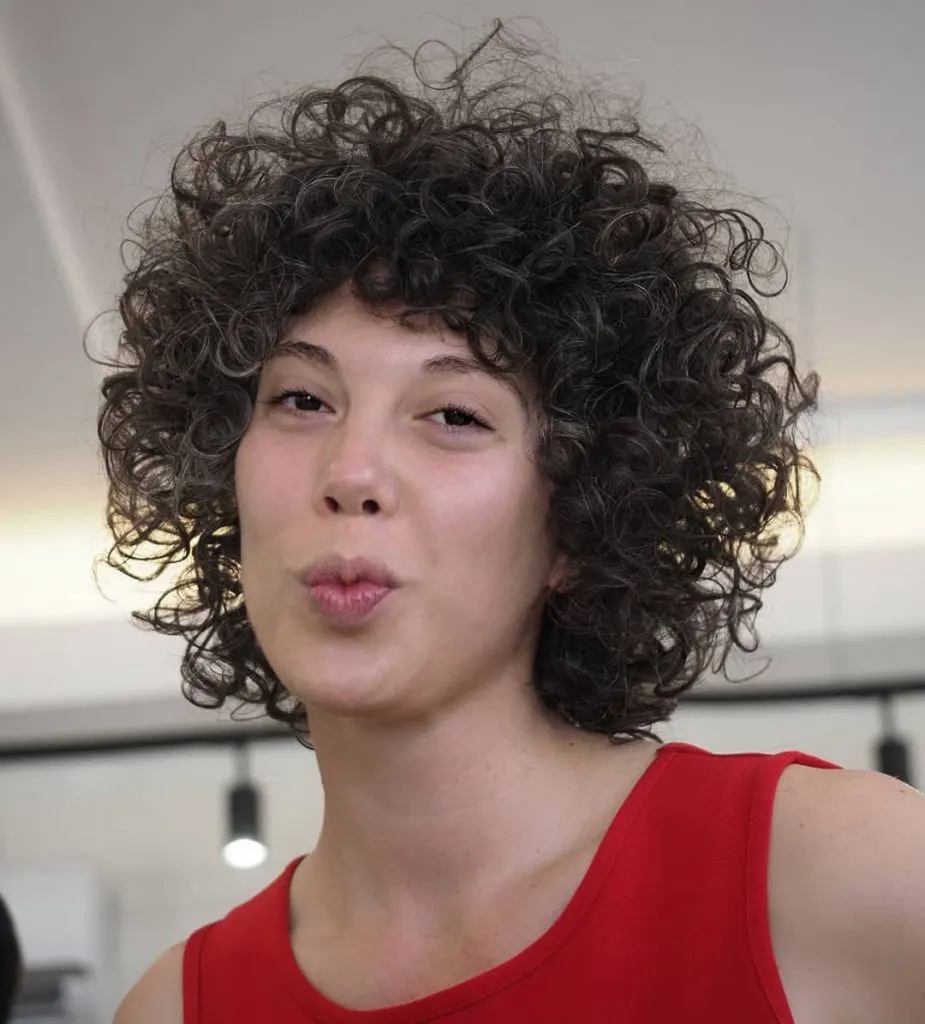 Shape and soften your hair by layering to get a halo of soft curls, but don't forget the bangs: they frame the face and create balance.
47. Haircut With Bangs For Curly Hair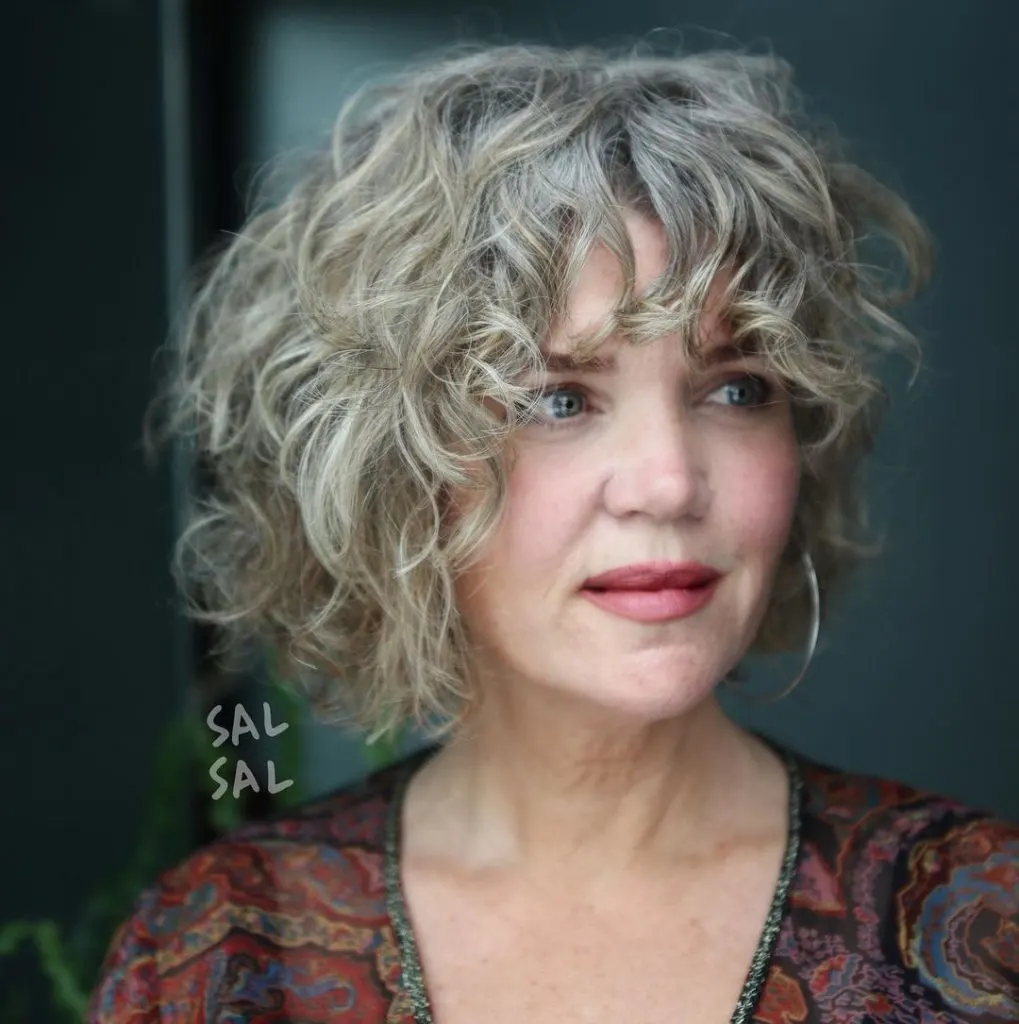 To give some oomph to wavy hair and pump up the volume, try a salt spray. Apply on damp hair after washing, or the next day to freshen up the texture.
48. Layered Curly Short Hair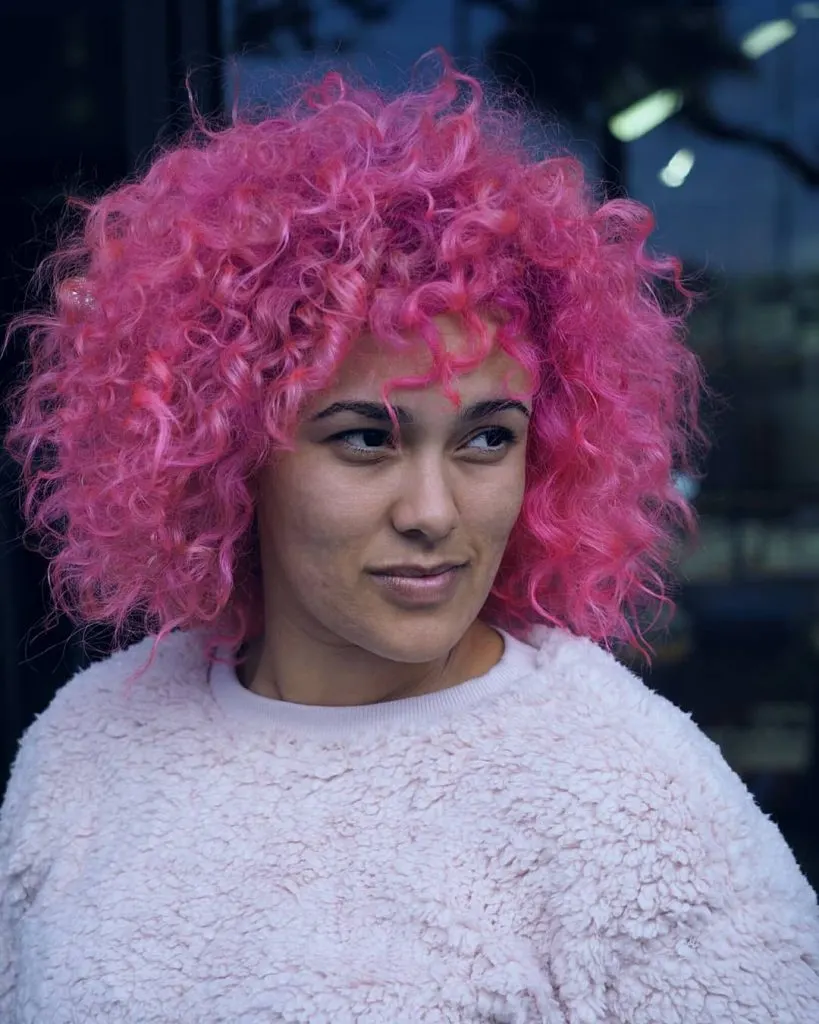 Even a couple of strands around the face can completely change your look, so it's not that difficult to experiment with bangs before you make a commitment to take things further.
49. Hairstyle For Short Curly Hair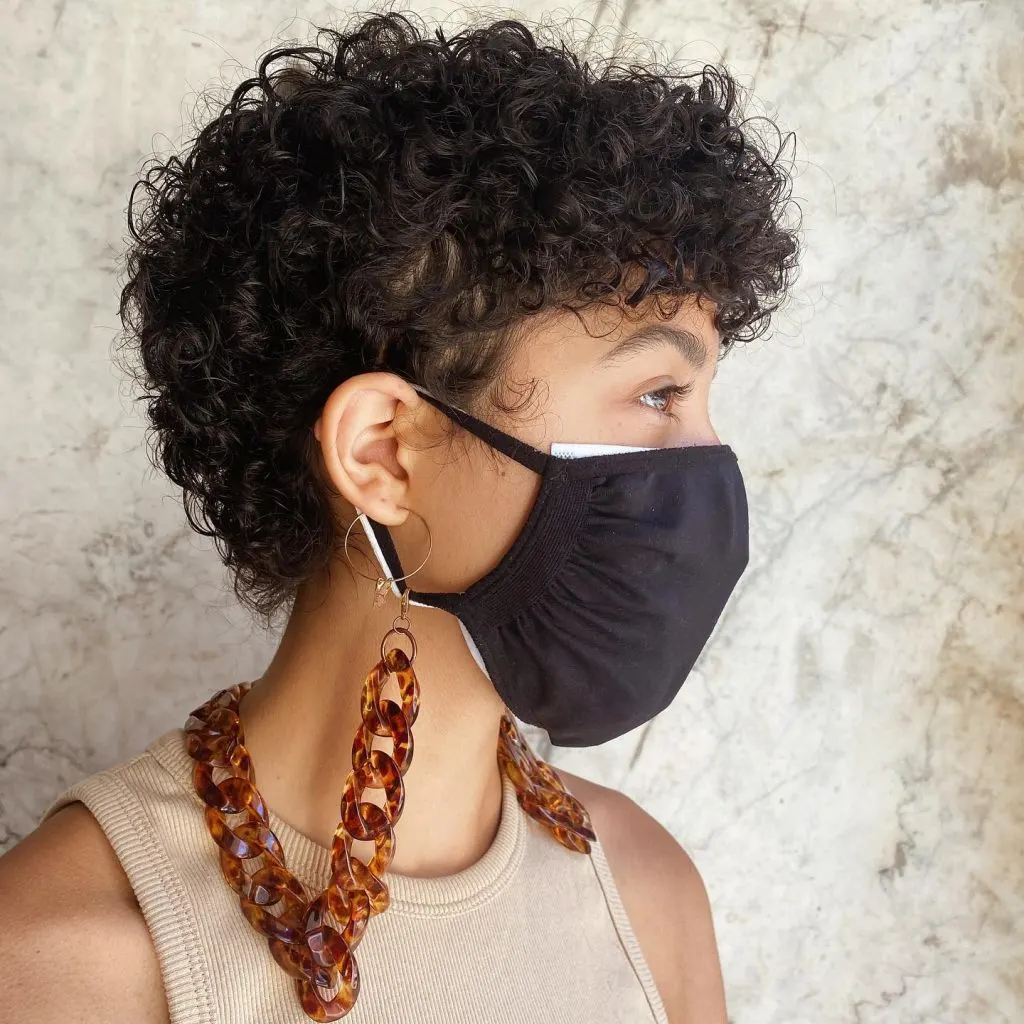 Don't skimp on the product even if you keep your hair short: leave-in conditioner and curl cream are a must if you want to achieve defined curls.
50. Curly Hair With Cute Bangs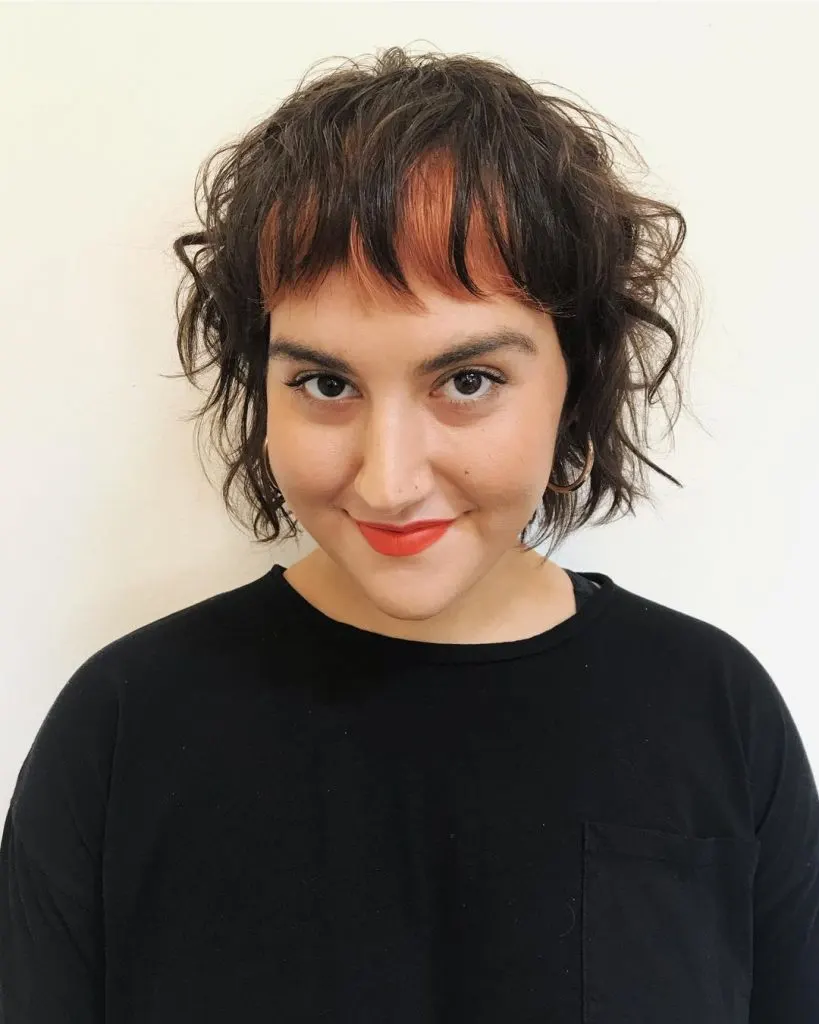 If you have a long face and want to make it appear more balanced, full bangs are a great choice, like in this short choppy haircut. You can keep them curly or straighten them, either option works!