The shorter the bob, the more fresh and fierce it is—it's no surprise that a chin-length bob is the haircut of choice for everyone who wants a chic and stylish look. A short bob will look good even if you skip an appointment, but regular trips will keep it looking sharp.
Check out these 40 looks that show off the cool vibe of a chin-length bob.
1. Wavy French Bob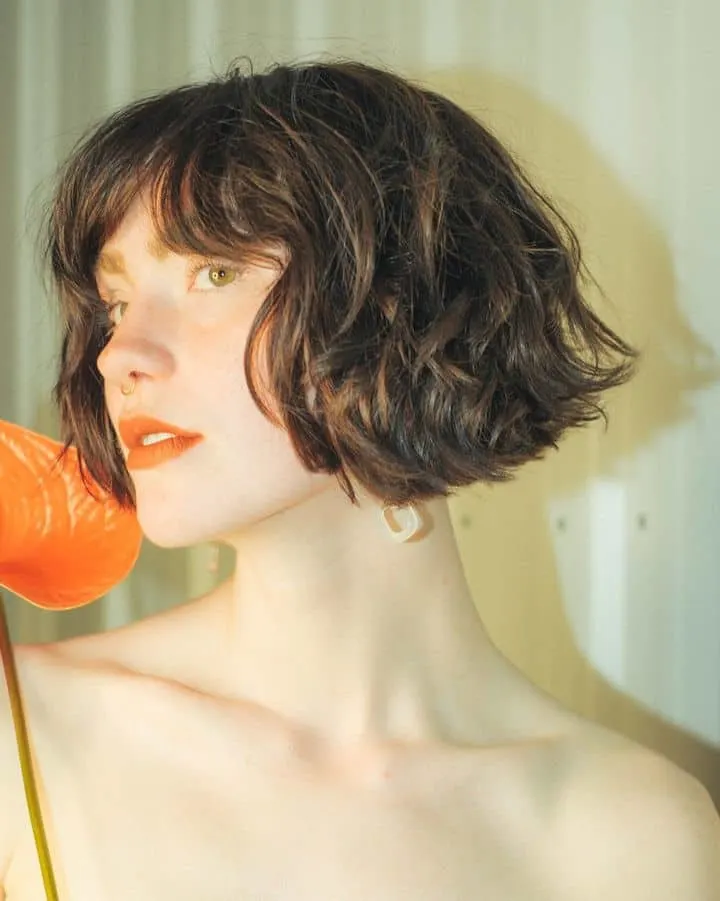 A chin-length French bob highlights the cheekbones, softens the jawline and elongates the neck. It's a great choice for angular face shapes, like diamond and square, especially when it's wavy.
2. Blonde '90s Bob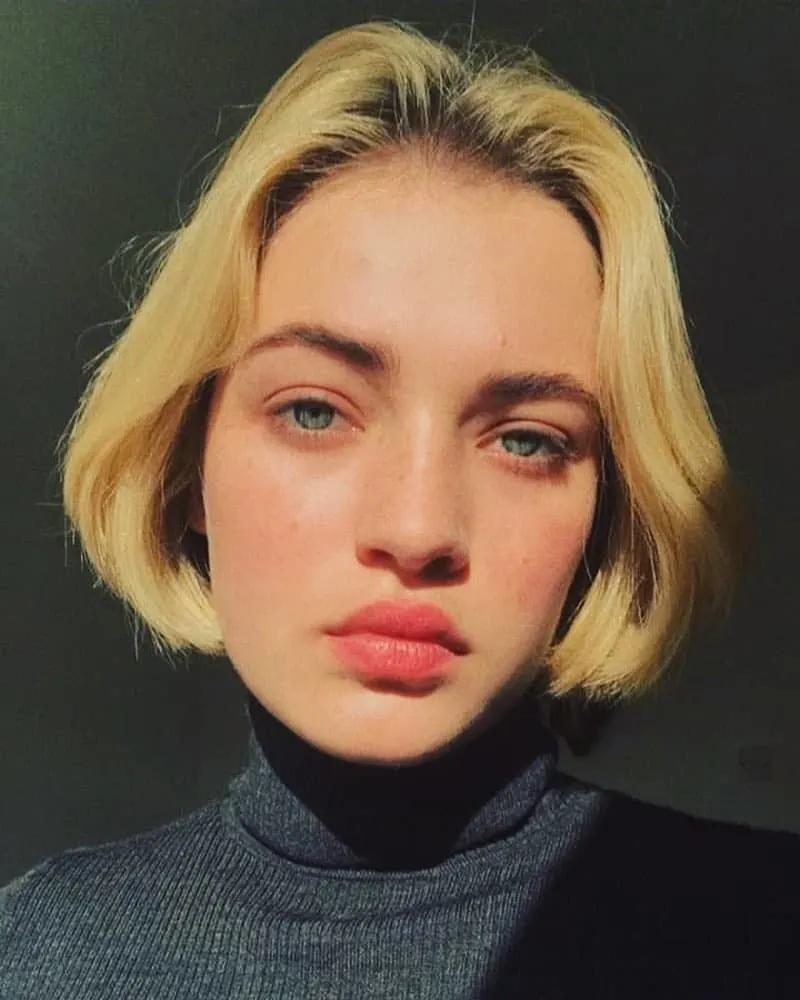 Back in the day, the bob was a no-fuss haircut that needed no heat styling, hold products or special care. This cut embodies that attitude, with its uncomplicated cut and finger-swept shape.
3. Pink Chin-Length Bob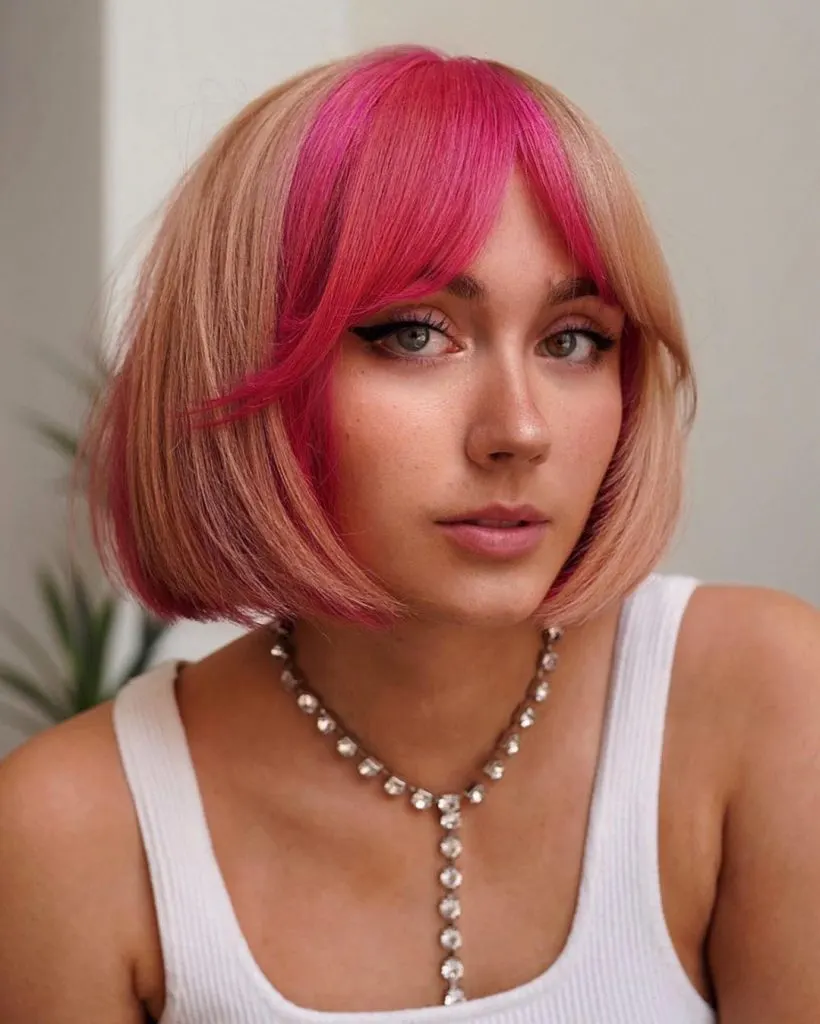 The unique color combination of strawberry blonde and hot pink is fun and playful, taking this casual bob to the next level.
4. Chin-Length Bob With Bangs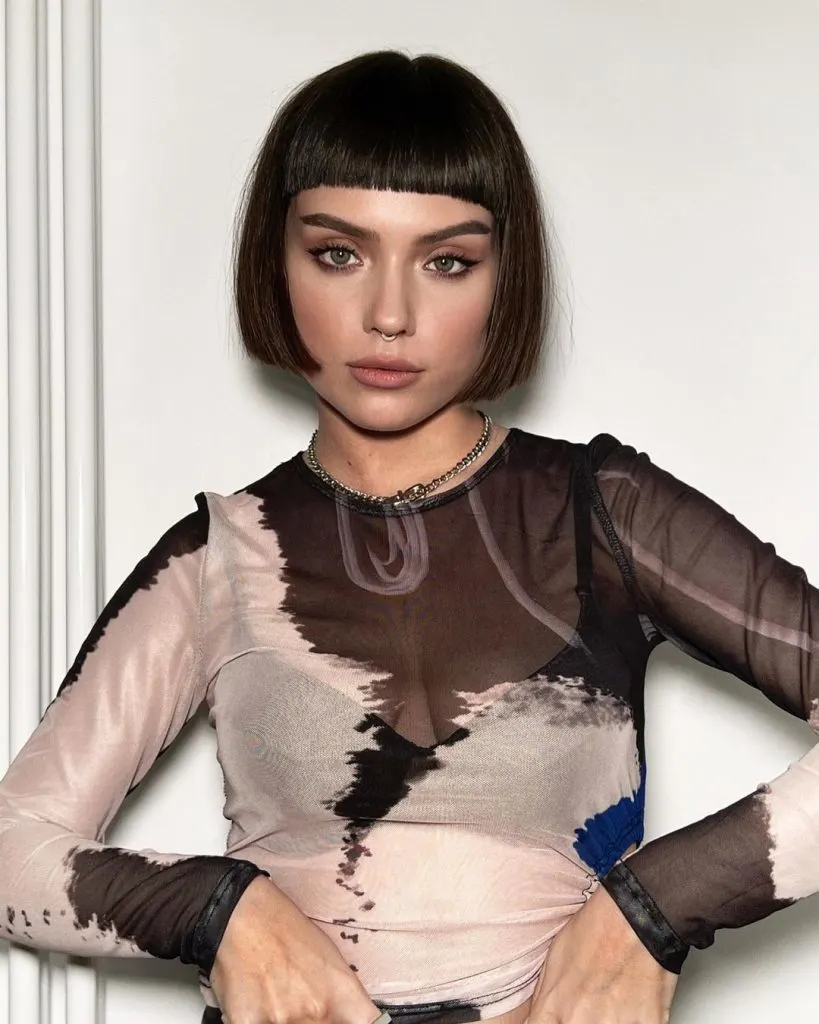 The classic straight bob with bangs can work with various face shapes with a few tweaks—changing up the length and the style of bangs can make all the difference. These straight-across bangs work on oval faces, but most other face shapes will look better with something less sharp.
5. Curly Chin-Length Bob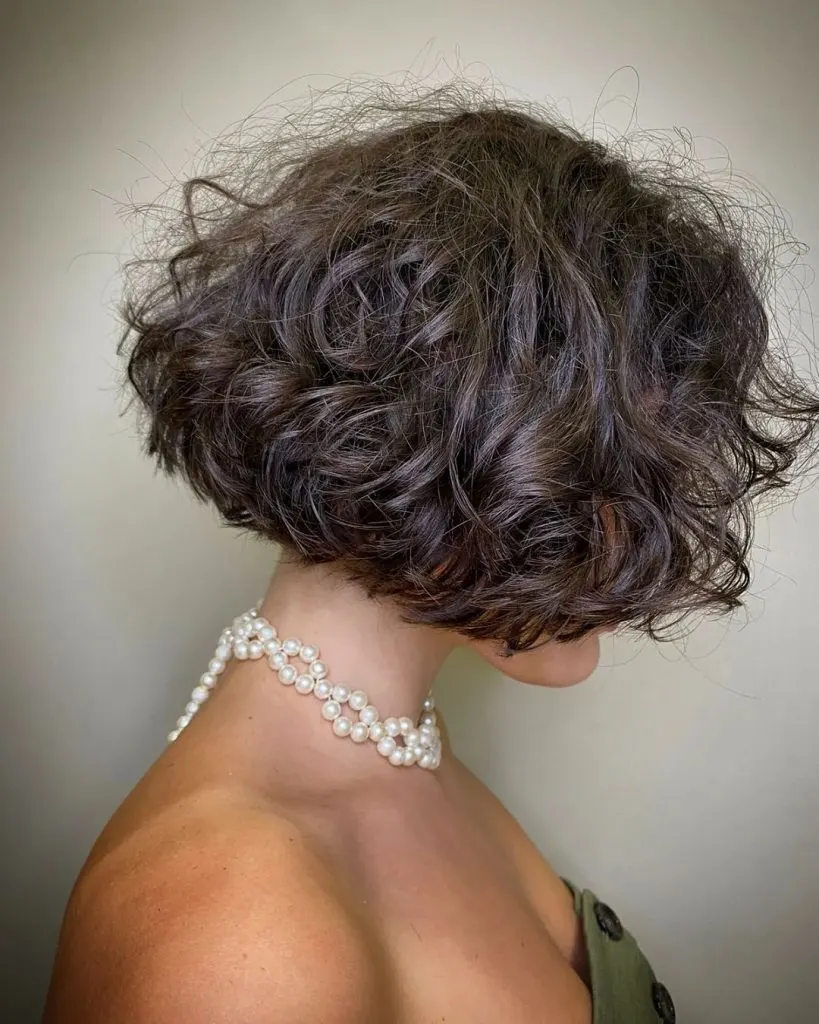 Shine the spotlight on your curls with this gorgeous classic bob. The ends and the shape are blunt, but some slight layers have been added to help define the curls.
6. Chin-Length Bob With Side Part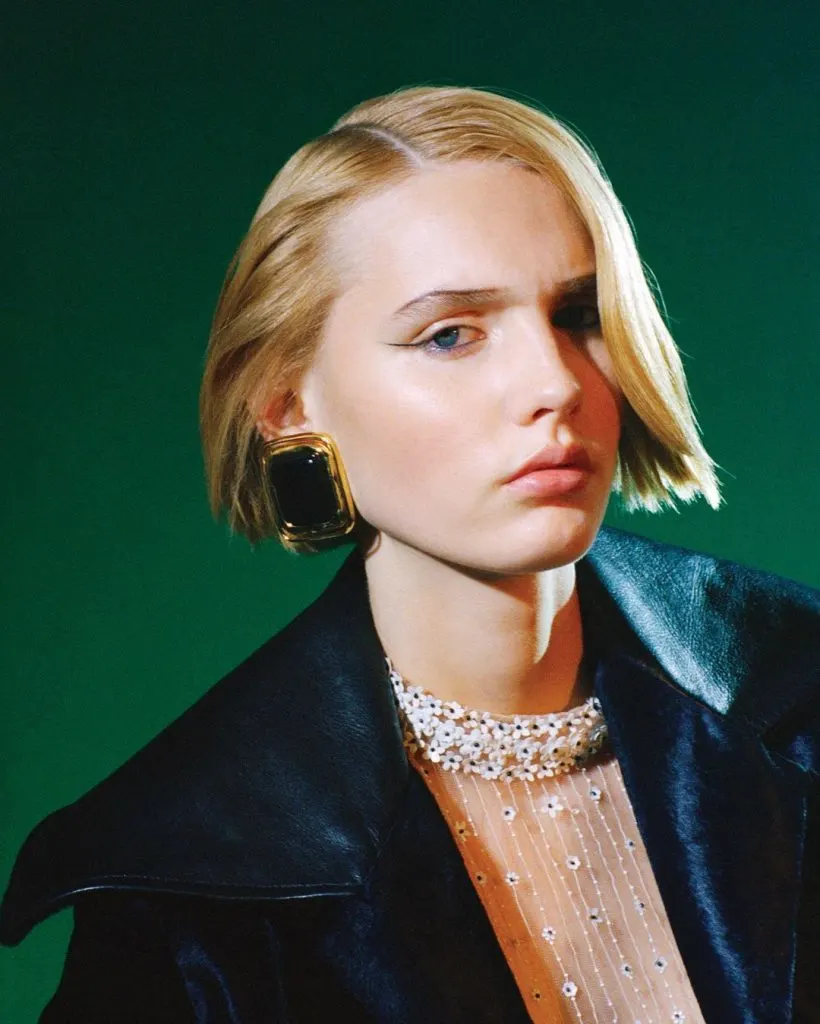 A short bob can easily look dramatic because it already has a sharp and dynamic vibe—here, letting the hair fall over one eye and smoothing back the other side is red-carpet worthy.
7. Blunt Chin-Length Bob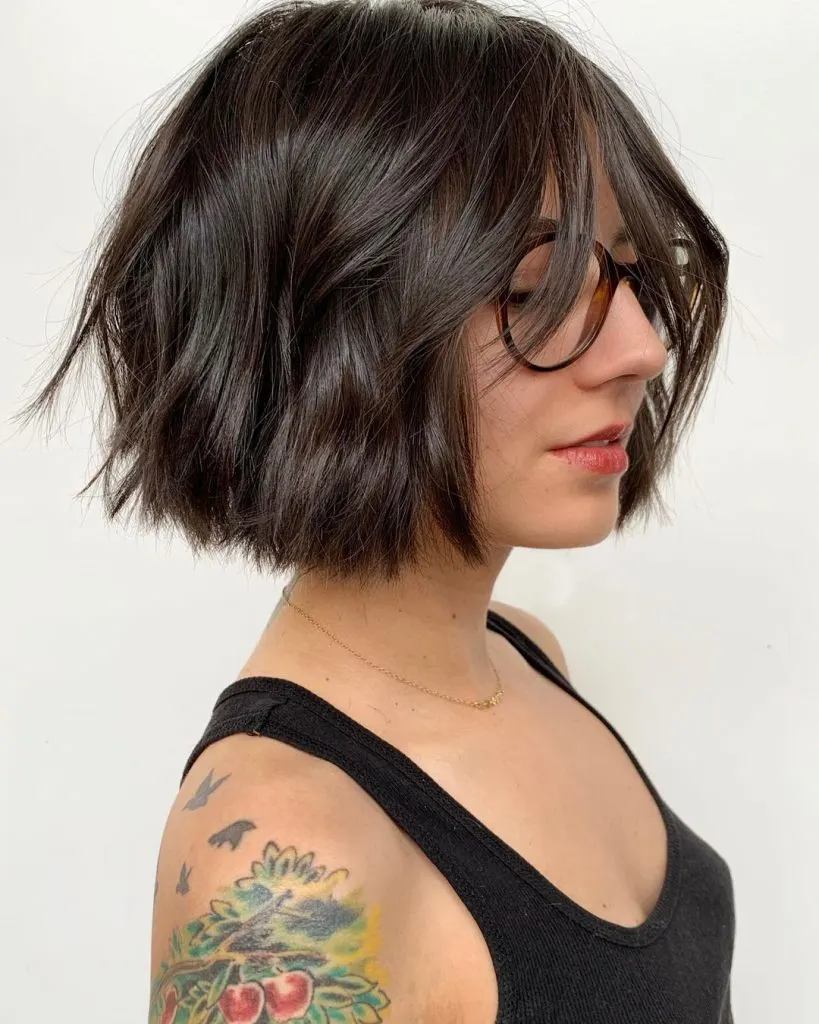 Blunt and wavy is a popular styling for a collarbone-length lob, but this short bob might be even more charming.
8. Pink Angled Bob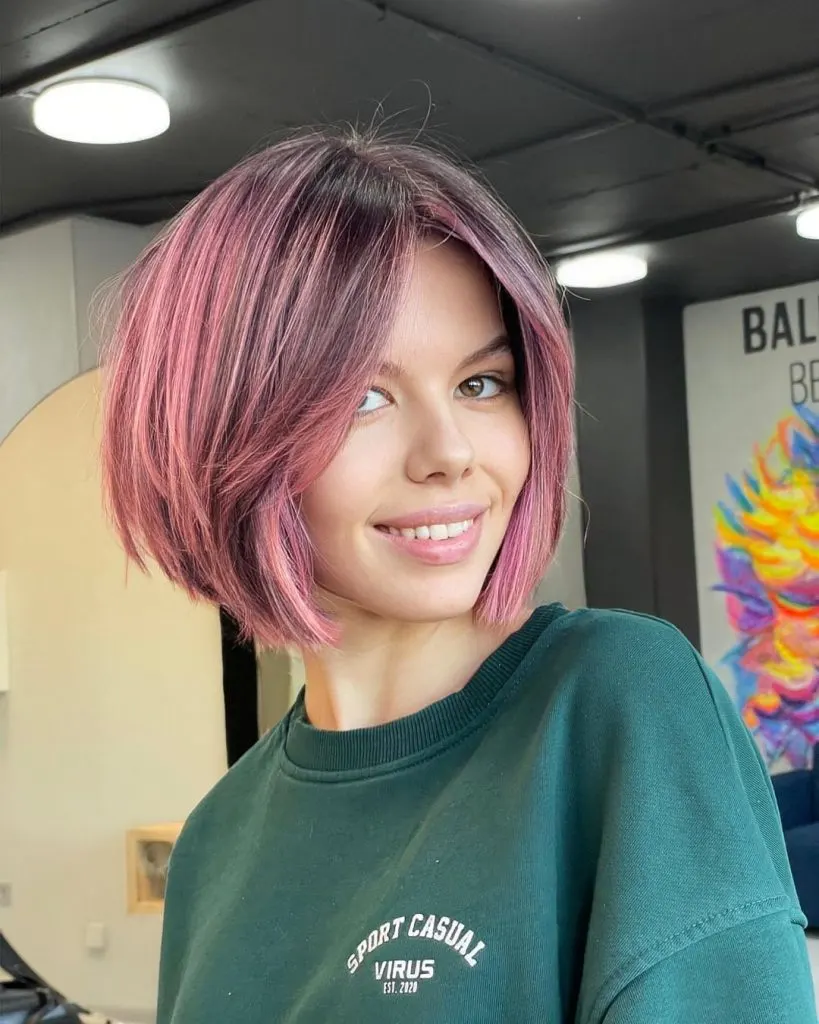 Pink color and dark roots, a slight A-line and fun long bangs—all these elements come together to create a fun, easy going hairstyle.
9. Chin-Length Bob With Fringe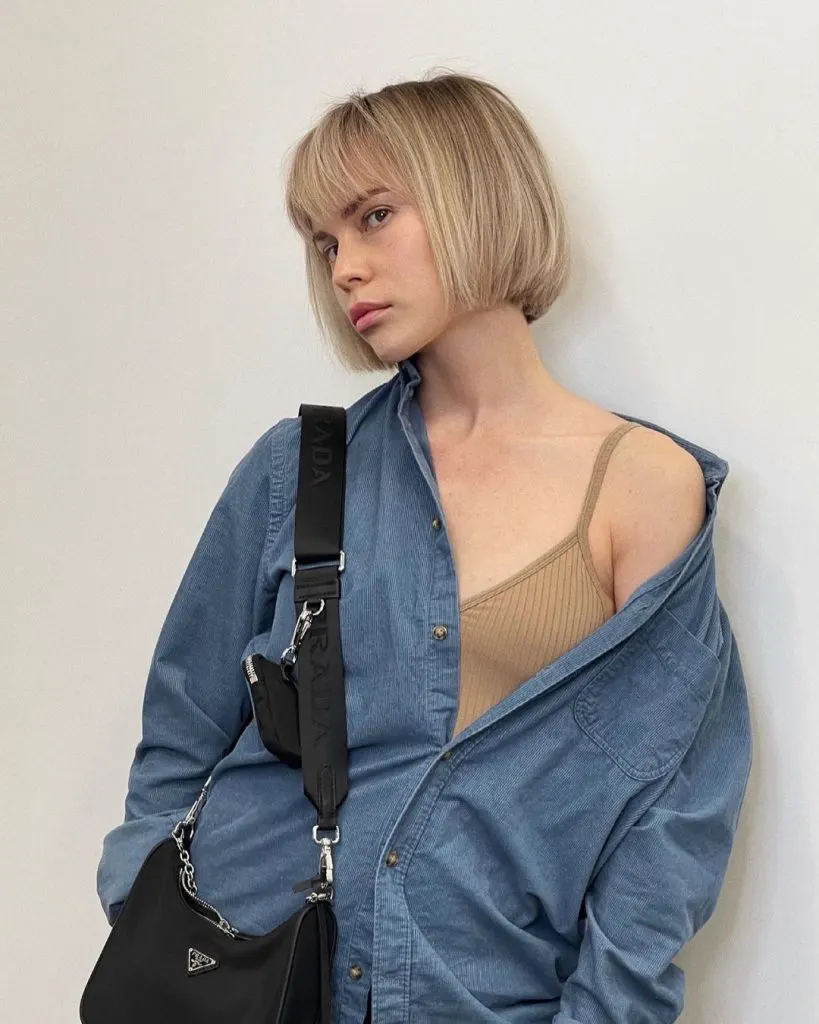 A wispy fringe and long layers can be used to give movement to thin hair and keep it from falling flat.
10. Bob With Choppy Bangs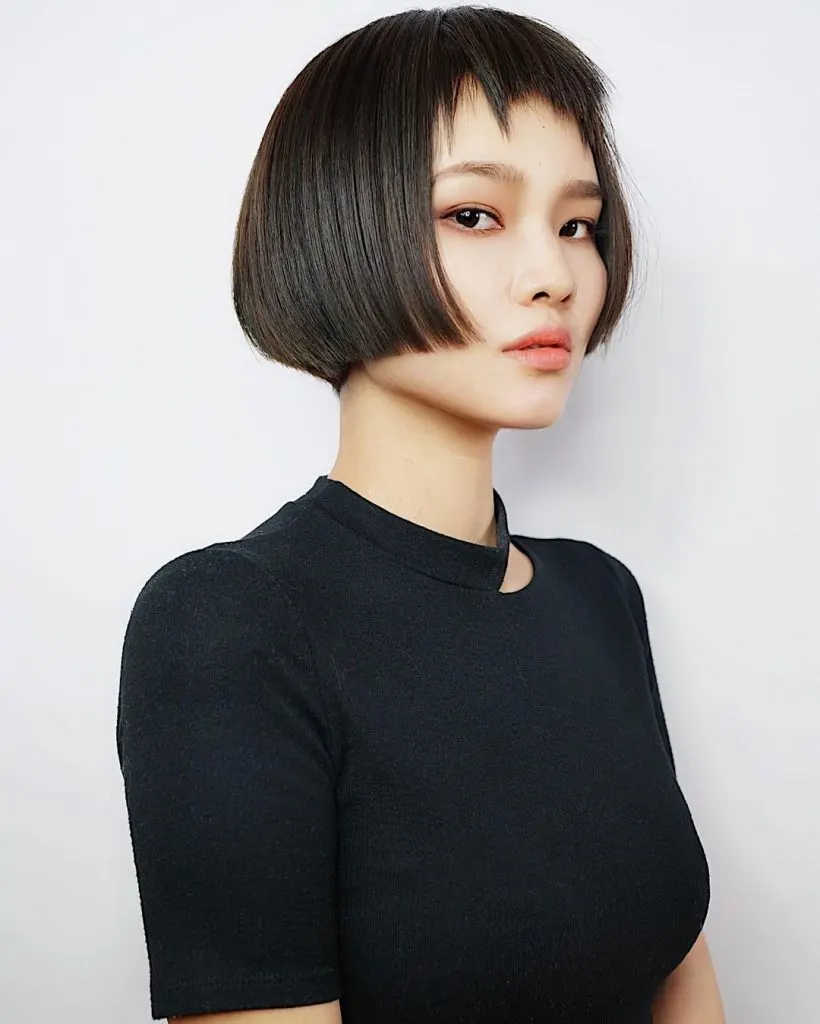 Don't be afraid to experiment—a smooth and sleek bob looks classic and conventional, but these extremely choppy bangs give it a daring, edgy vibe.
11. Brown Chin-Length Bob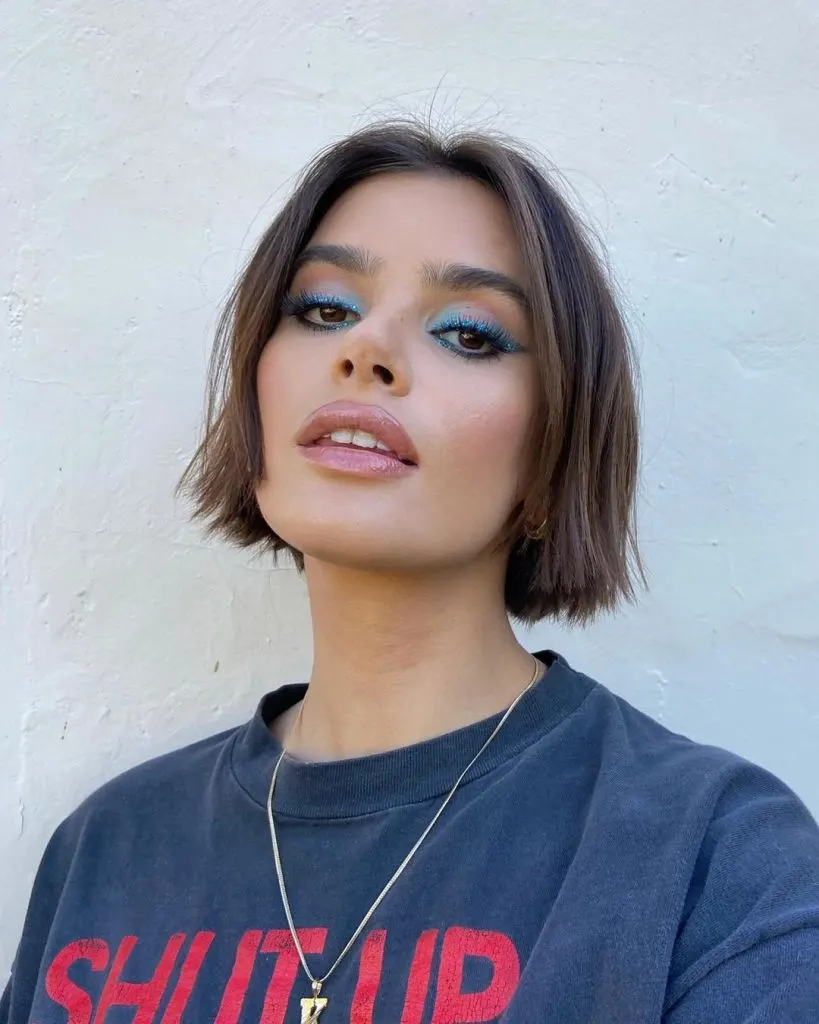 A short bob without visible layers is one of the most wearable hairstyles, especially if the ends have been a little thinned out to let the hair fall neatly without much styling.
12. Face-Framing Bob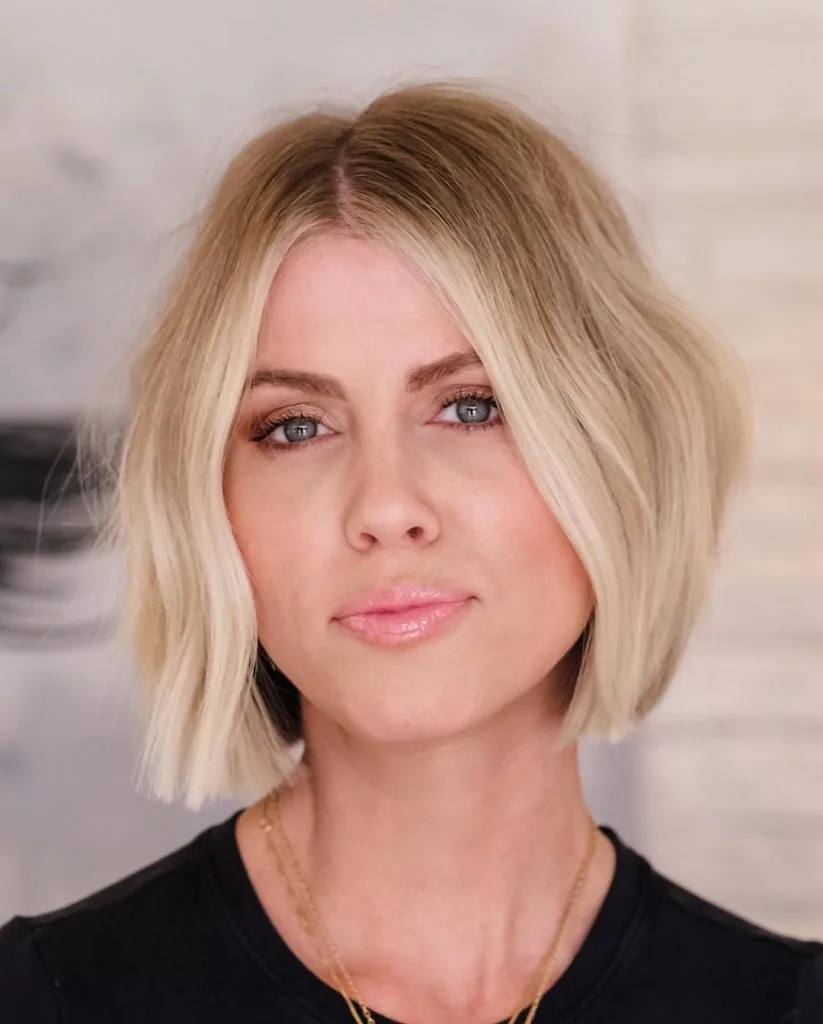 Create a bend in your bob around ear-level to create an impression of thick hair without bulk. You can do it only on the outer layer using a flat iron to make a simple wave.
13. Chin-Length Bob With Highlights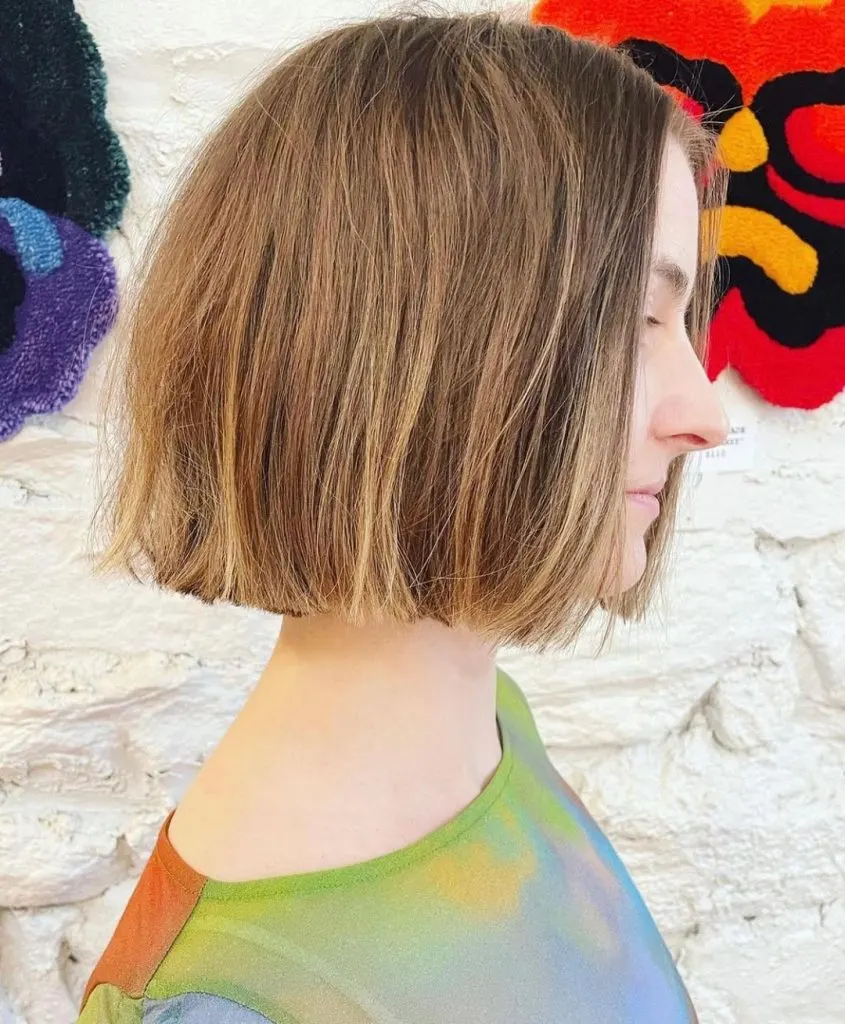 Spice up your simple blunt bob with some delicate highlights that create a natural sun-kissed look and add dimension.
14. Blonde Curly Bob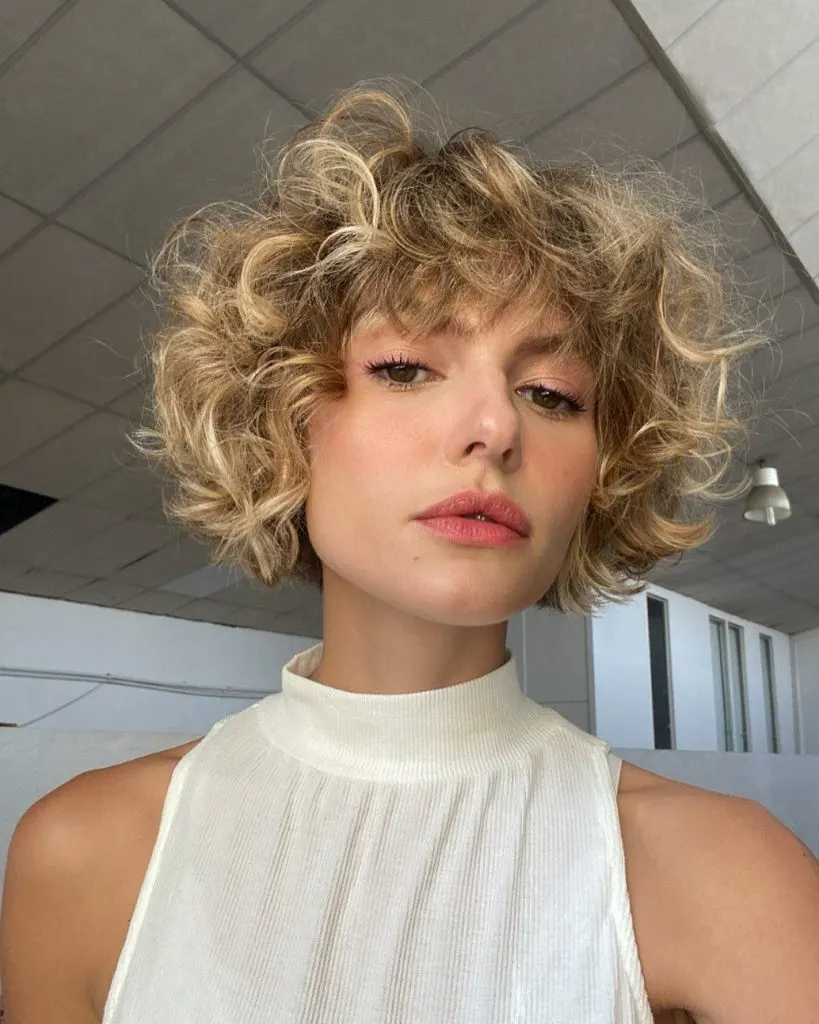 You don't need long hair to show off your curls. This style focuses on the curls, and it's been cut to make them more defined and soft.
15. Side-Parted Brown Bob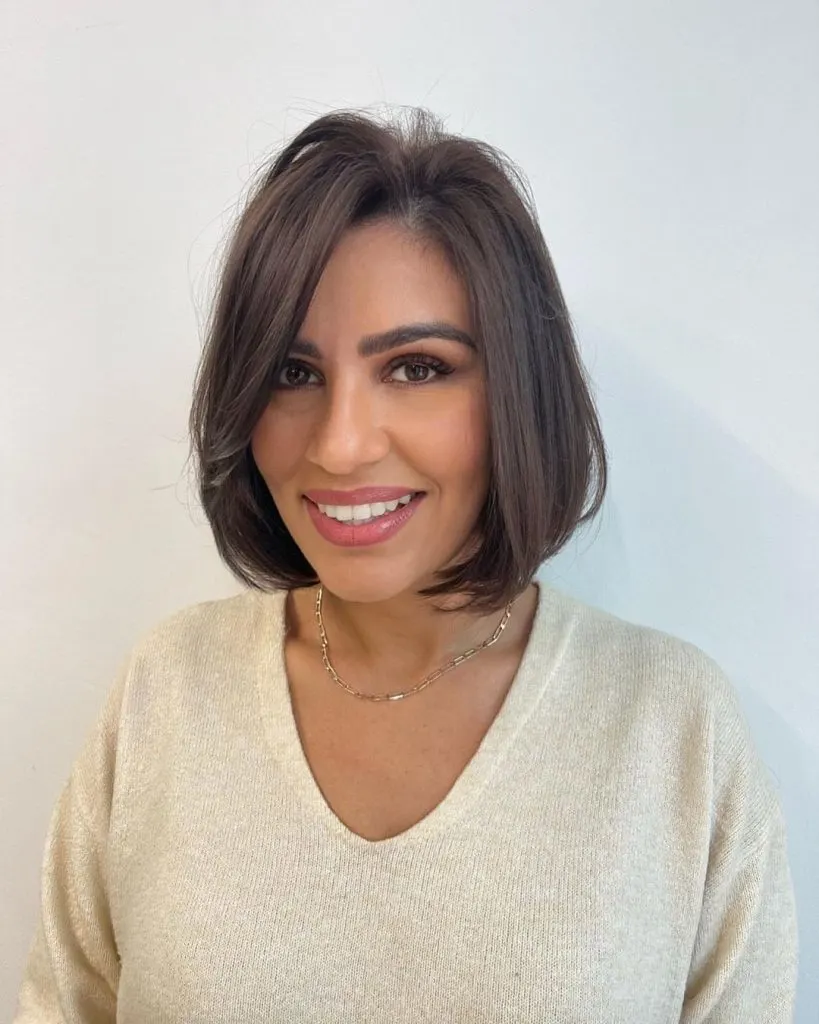 This bob without frills evokes a business casual look—it's relaxed, but still professional and stylish.
16. Blunt Bob With Bangs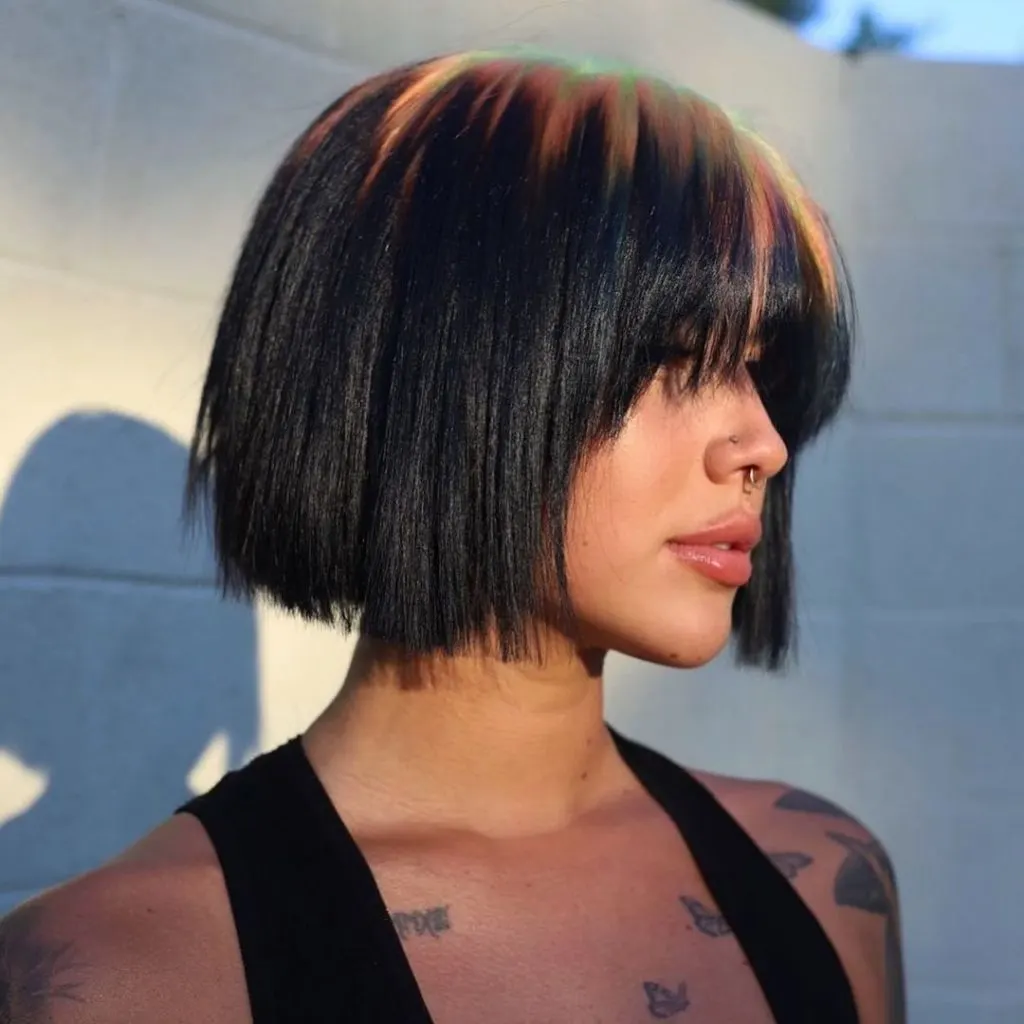 The unusual dye job makes this blunt cut bob with thick bangs and blunt ends unique and interesting.
17. Choppy Bob With Bangs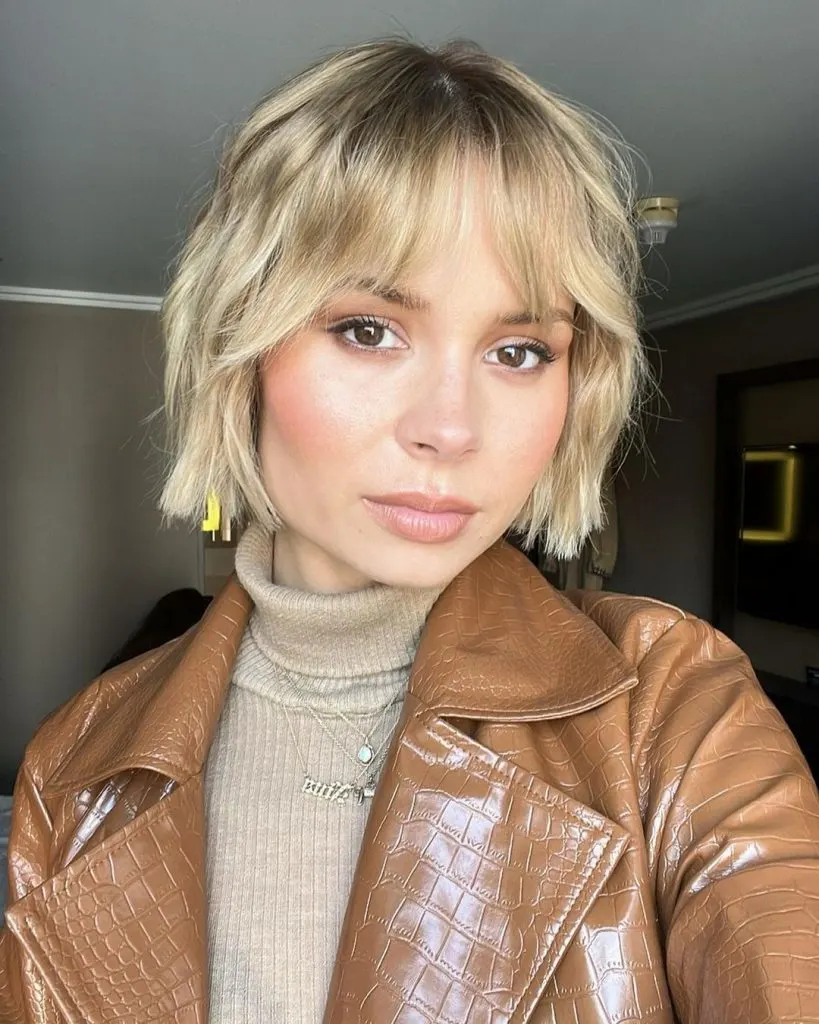 Choppy layers give texture to the hair and they can be used to emphasize the waves in 2b or 2c hair—air-dry or use a diffuser to avoid straightening your hair.
18. Curly French Bob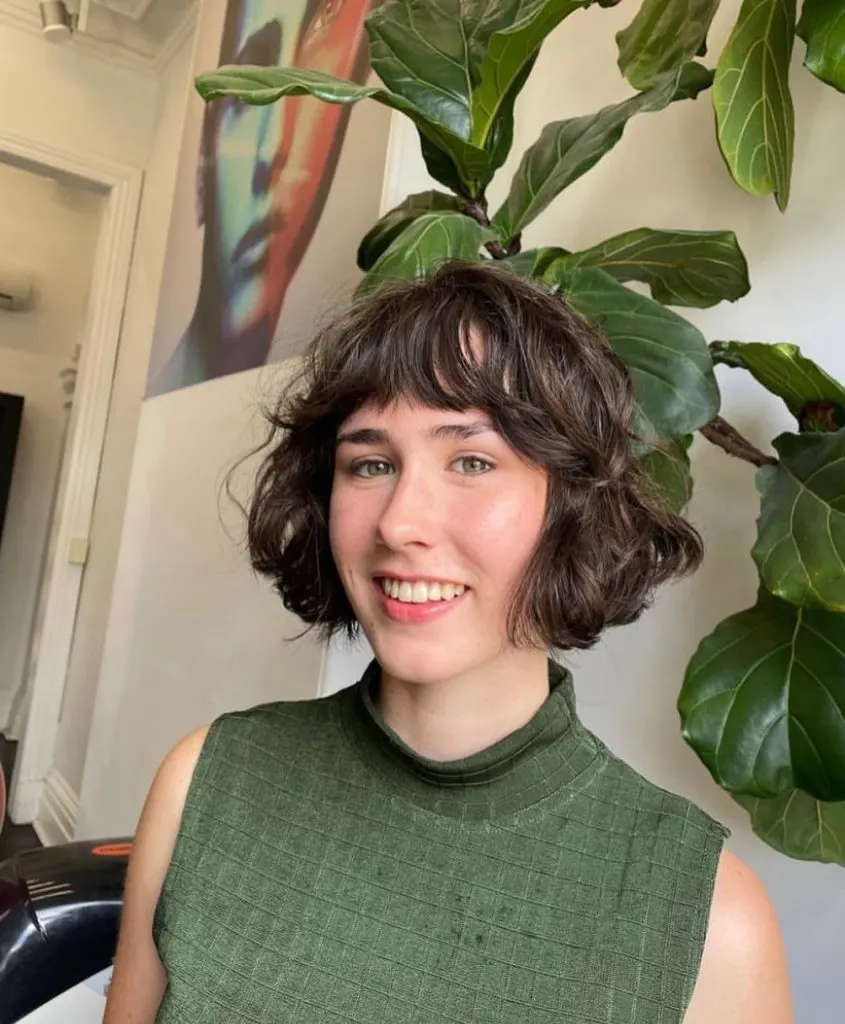 This short bob is cute and flattering—it features a style of short bangs that isn't only trendy but also works to conceal a tall forehead.
19. Bob With Bangs For Fine Hair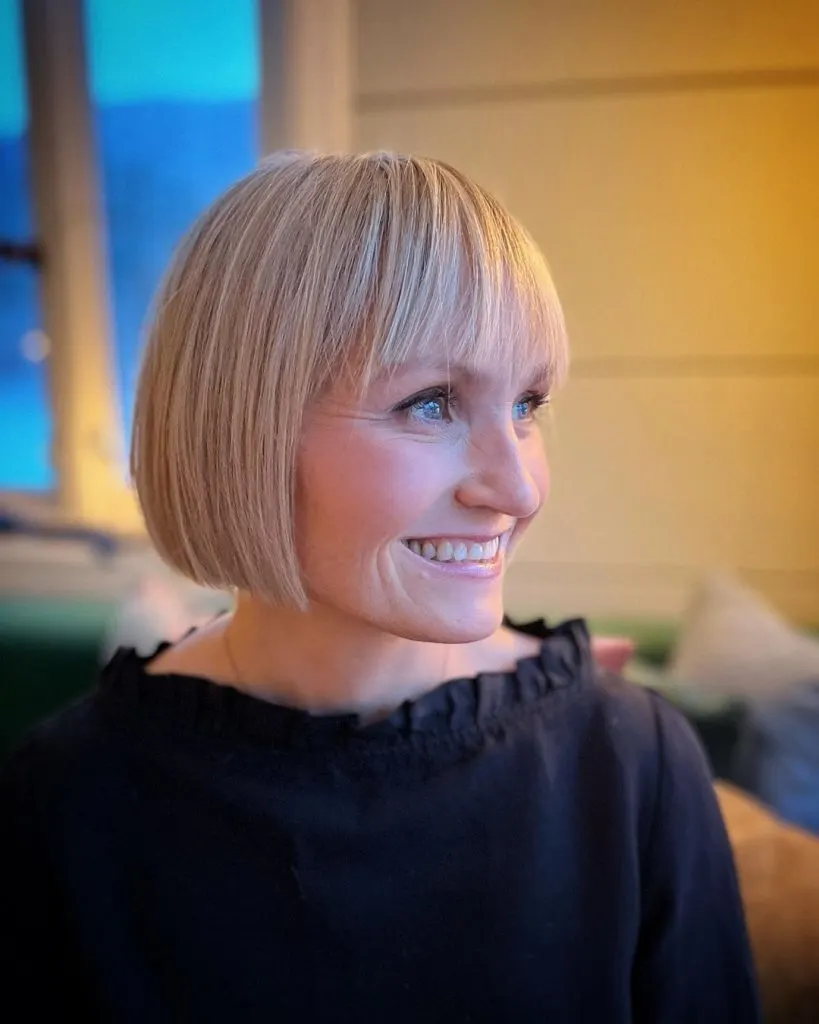 This sleek, elegant bob doesn't add volume to fine hair, but it creates a shape that looks good even without lots of volume—the long layers stop the hair from falling even more flat.
20. Straight Chin-Length Bob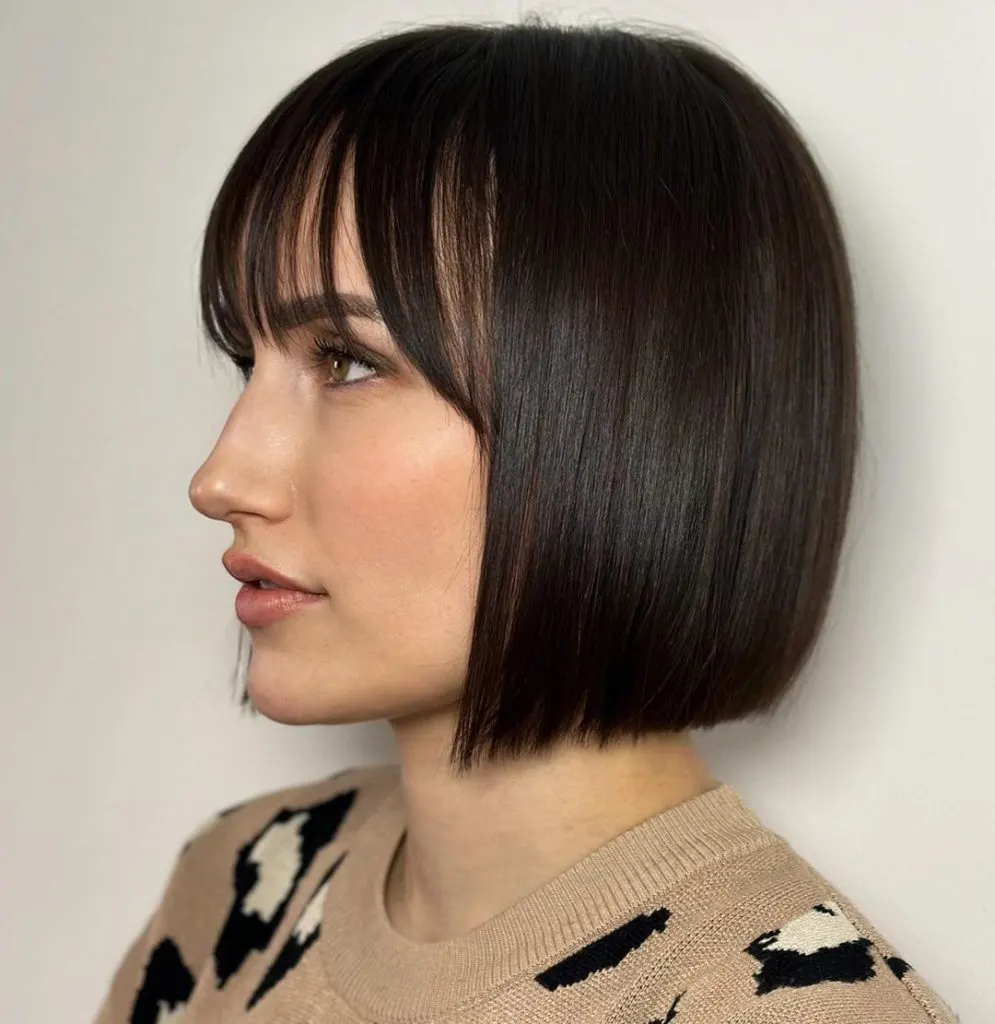 Bangs that are short in the middle and gradually get longer will flatter most face shapes—they're not so thick that they look harsh, and they frame the face in a pleasing way.
21. Middle-Parted Short Bob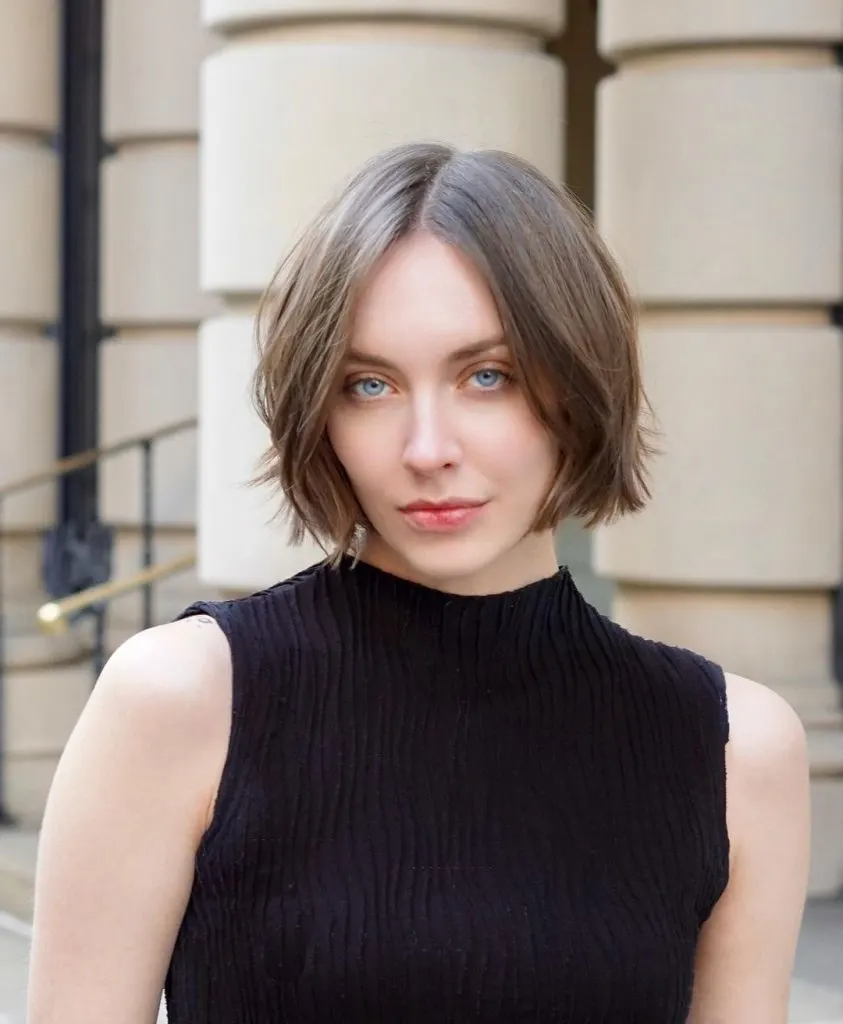 This tousled short bob is truly effortless and doesn't only look like it is. Apply some moisturizing cream after washing, air-dry or quickly dry using a hair dryer with a nozzle—and you're done. If you want more volume on top, flip your parting side to side as it dries.
22. Gemini Color Bob With Bangs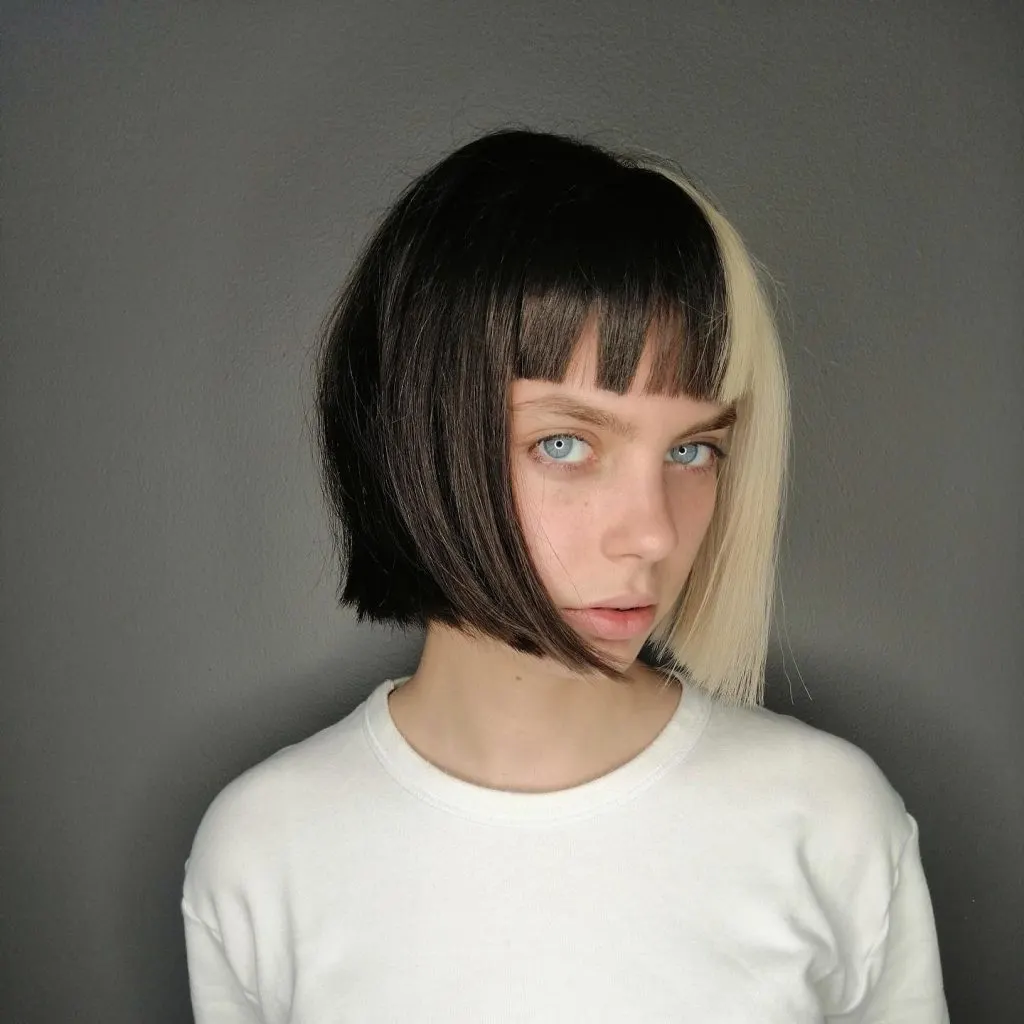 This timeless bob is far from ordinary. The fun bangs and the modern two-toned color scheme elevates it into a trendy and sophisticated hairstyle with a cool and contemporary vibe.
23. Bob With Face-Framing Bangs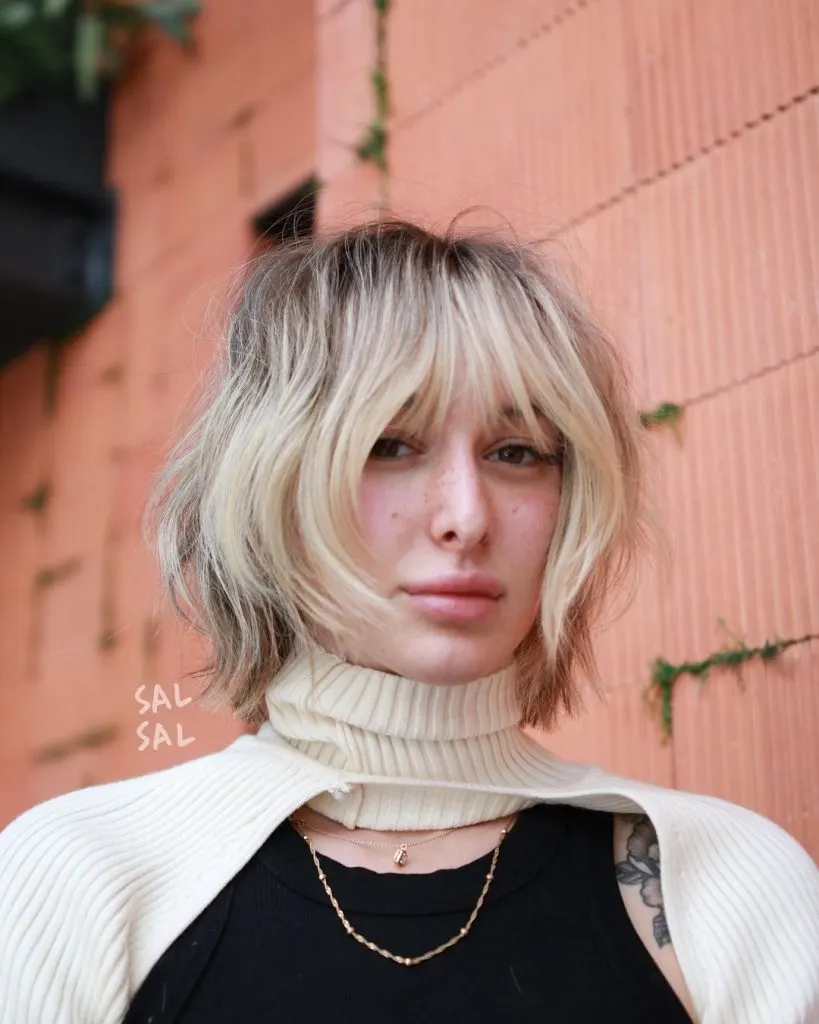 Choppy bobs are super trendy because they look fun, but they're also really flattering—you get volume, texture and face-framing in one simple edgy haircut.
24. Short Middle-Part Bob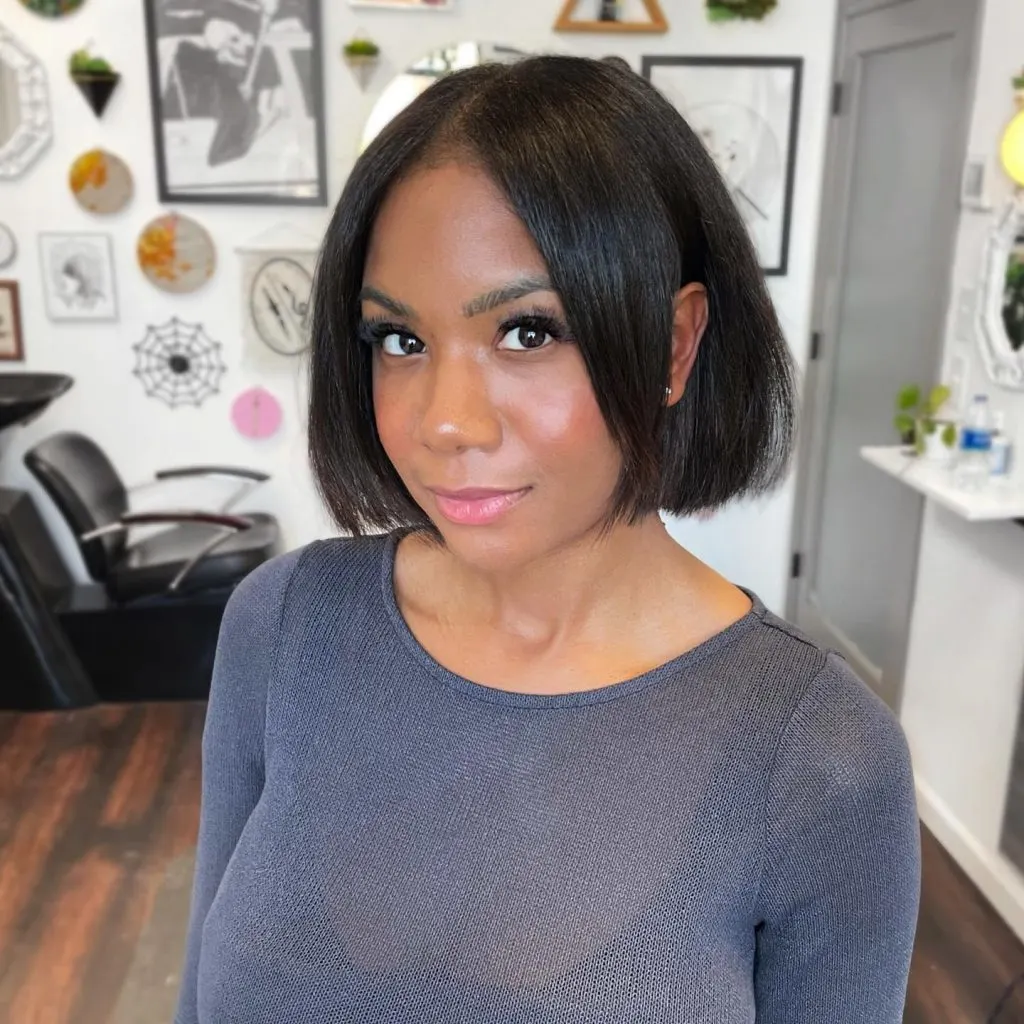 Long bangs create a contrast with the blunt ends and the middle part looks refined and classic—a chic and flattering look.
25. Copper Choppy Bob With Bangs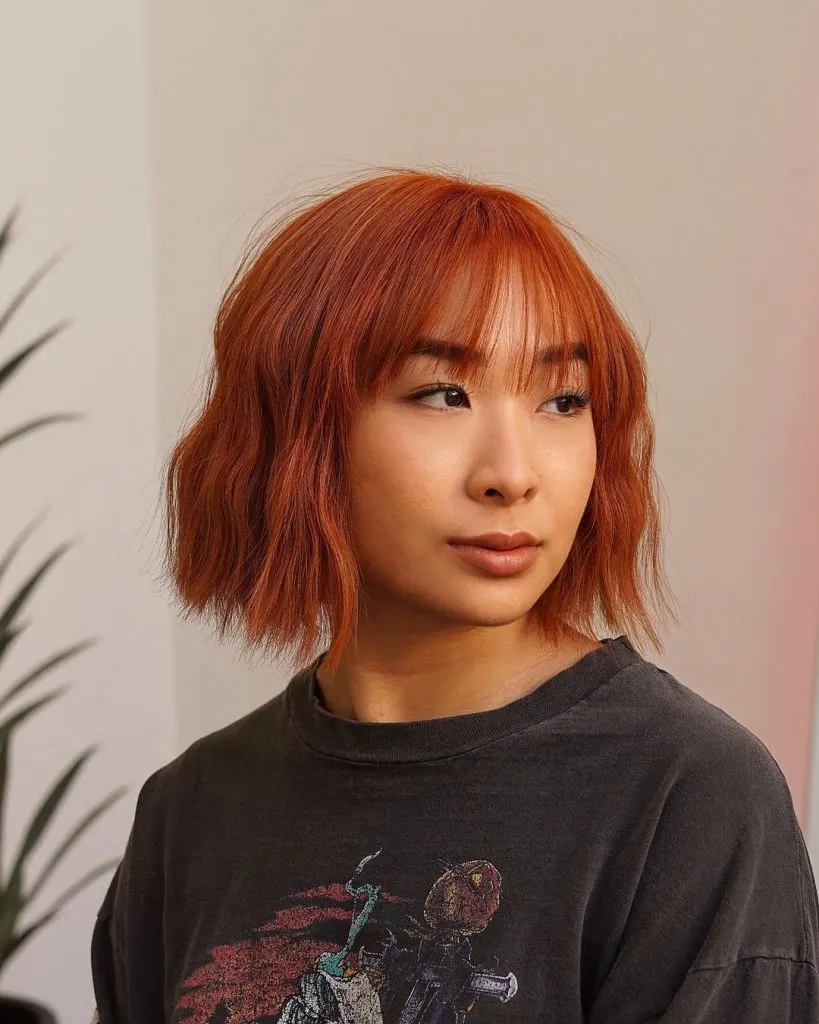 Even the wispiest bangs will make your hairstyle look totally different. The great thing about bangs this thin is that you can easily hide them when you want to switch up your look.
26. Blue Bob With Bangs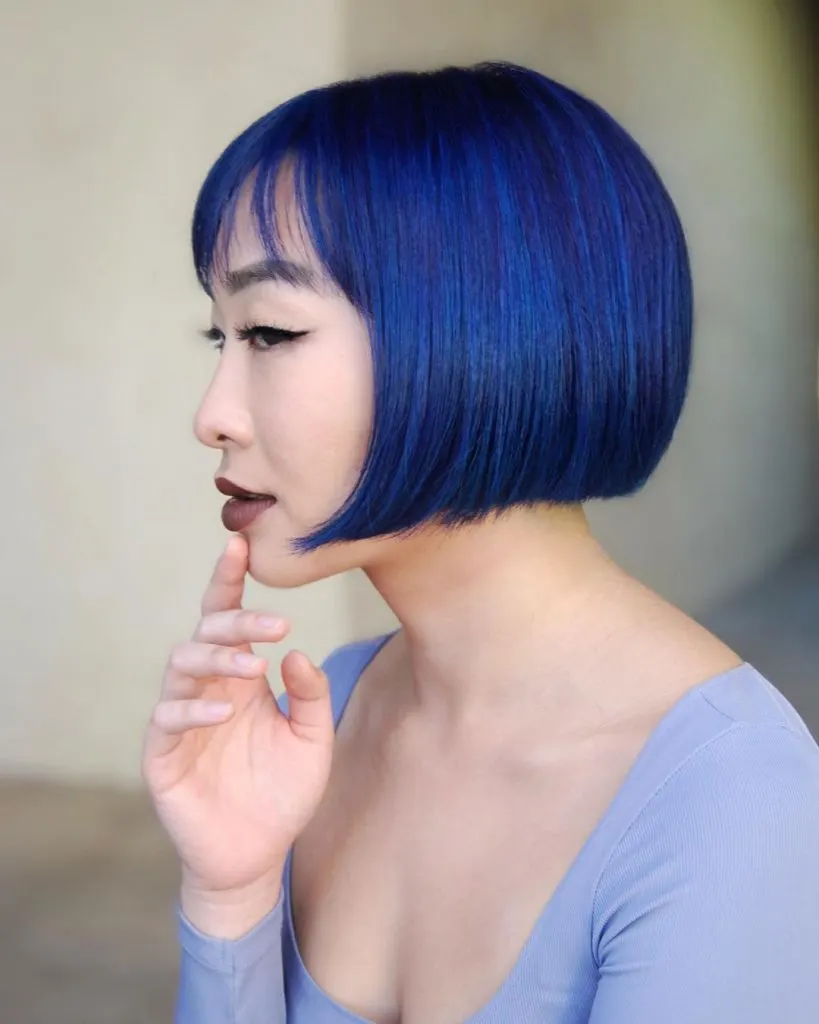 A short bob with straight bangs is timeless, but if you want to elevate your look, choose a vibrant and intense hair color—it can add a dash of excitement and make your look truly stand out.
27. Bob With Blunt Bangs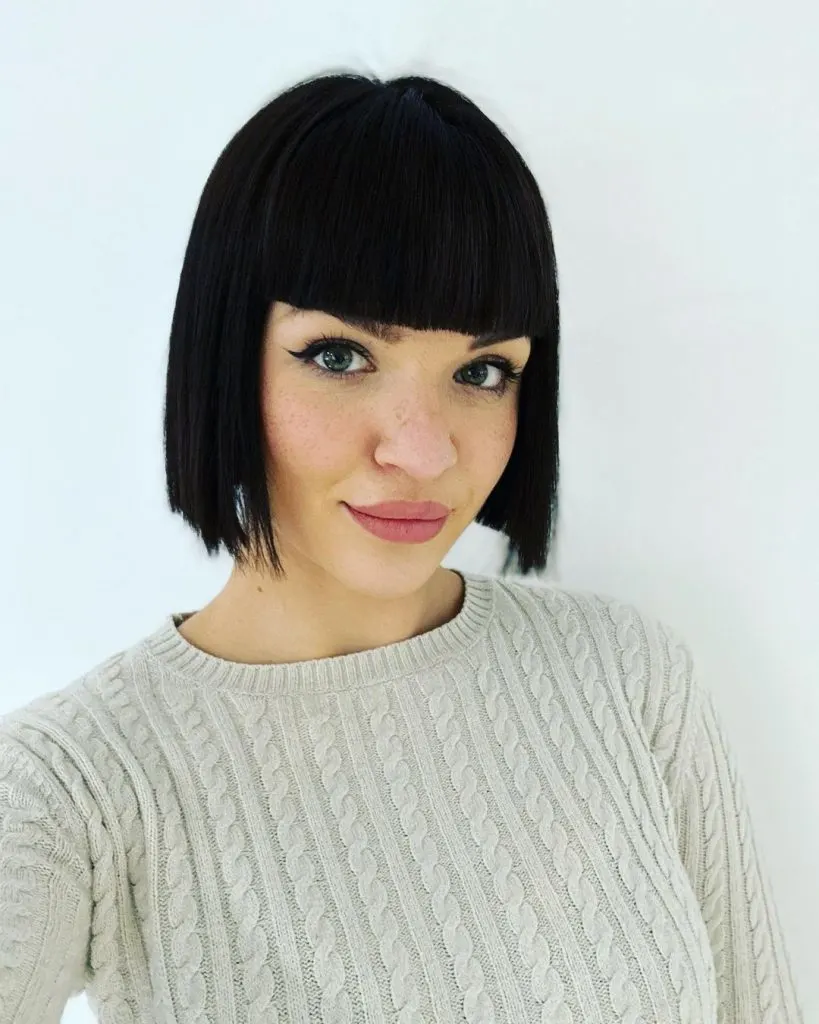 Slightly rounded blunt bangs widen and shorten the face, so this look is a good choice for long face-shapes.
28. Curtain Bangs Bob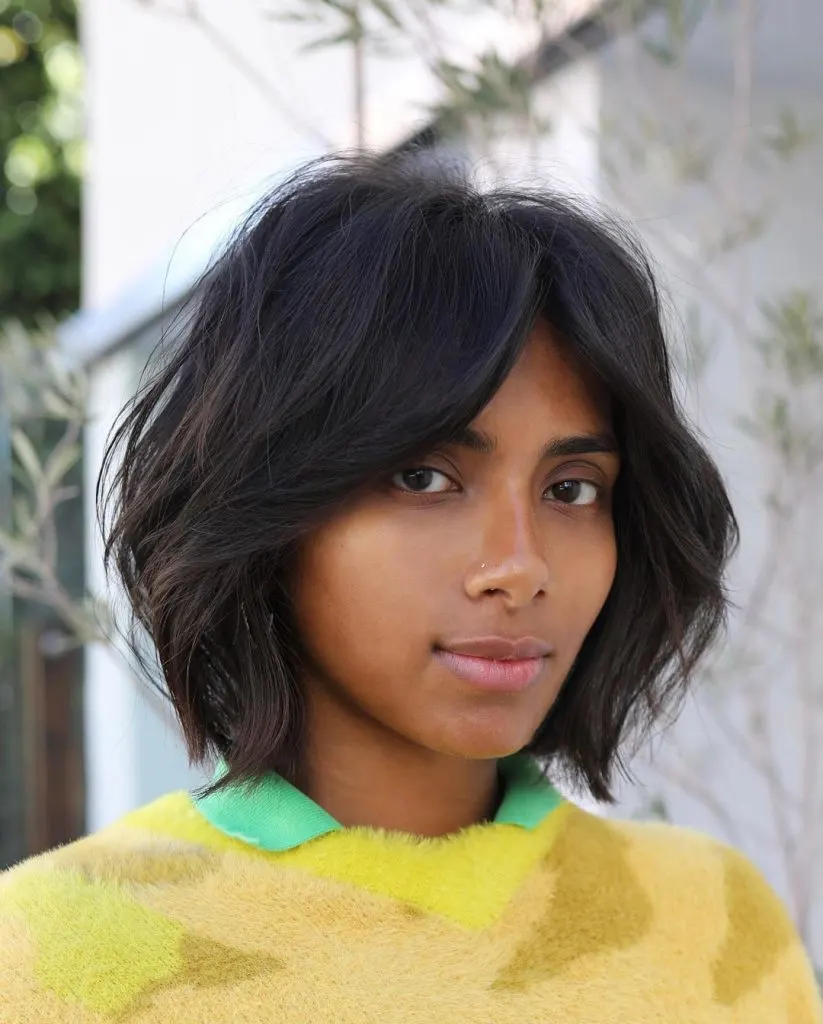 This light and trendy bob with curtain bangs has been tailor-made to create a gorgeous frame for the face.
29. Chin-Length Bob With Baby Bangs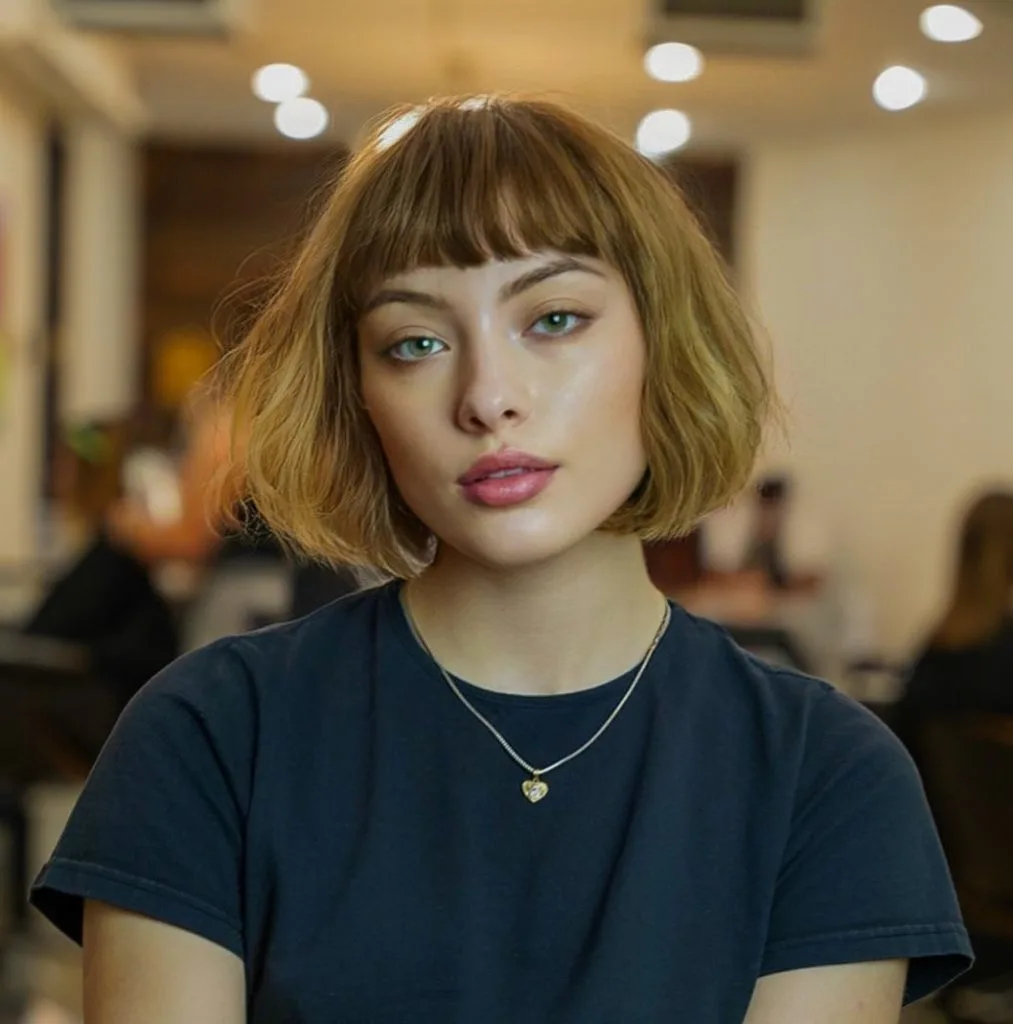 At one point, bulky ends were a big no-no, but recently rounded, chunky ends have become trendy. This look flatters face shapes with narrow chins—heart and diamond shaped faces.
30. Curly Bob With Bangs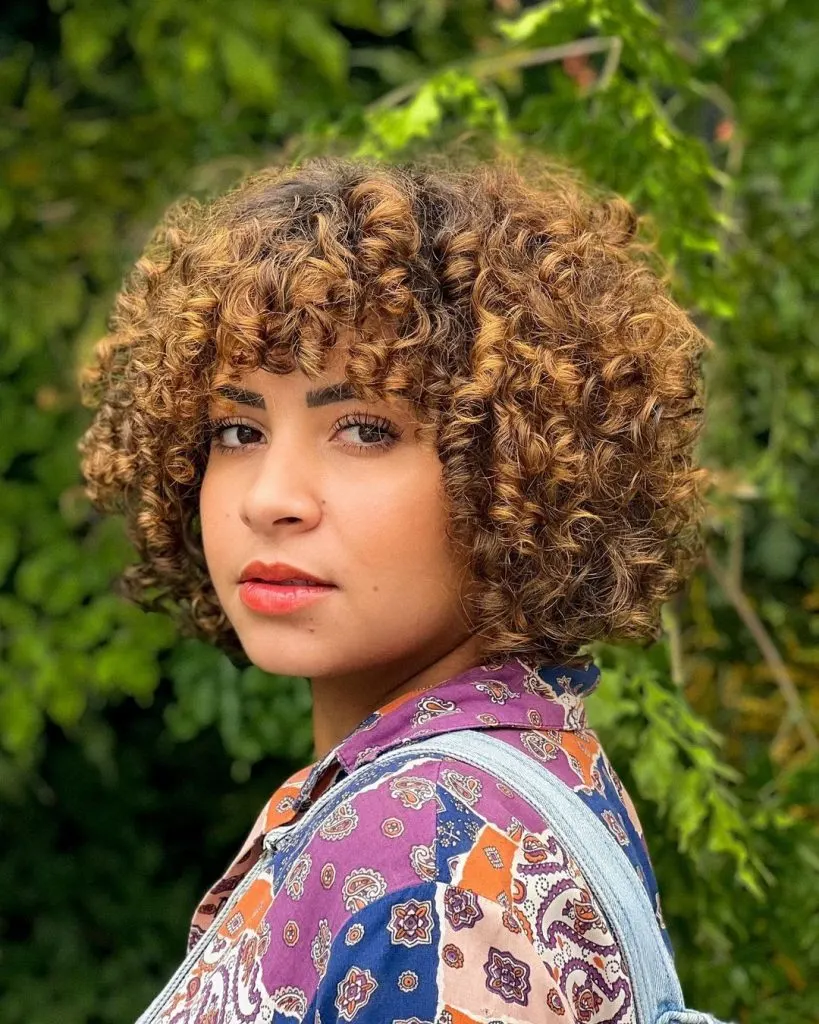 Defined, bouncy curls are hair goals for everyone who has curly hair. To achieve this, it's essential to keep your curls well-hydrated and moisturized.
31. Two-Tone Bob With Bangs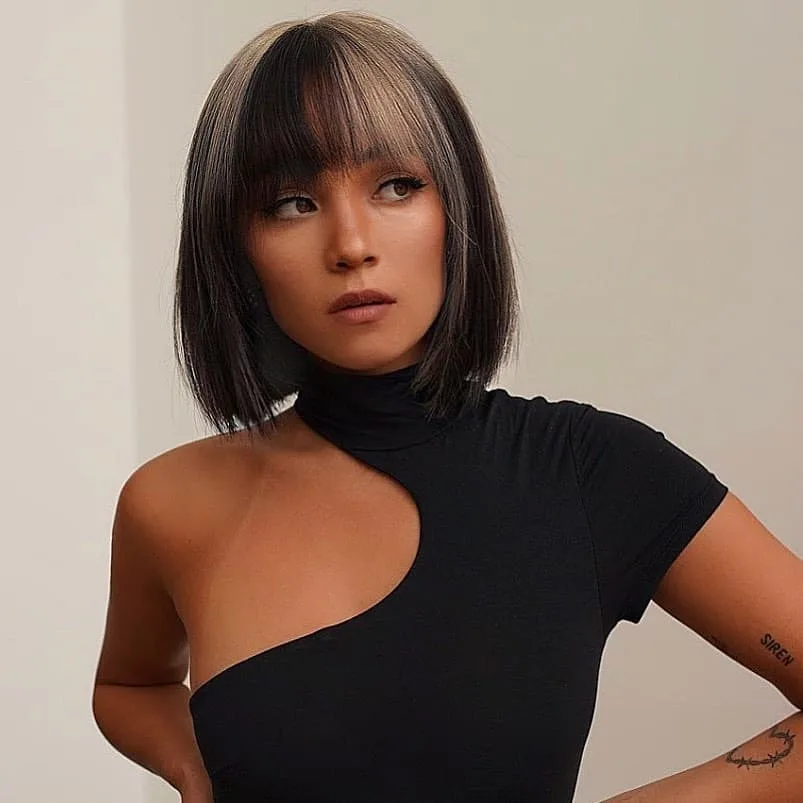 A classic with a twist: the sleek, chic short bob with bangs has been elevated with an eye-catching color.
32. Pink Chin-Length Bob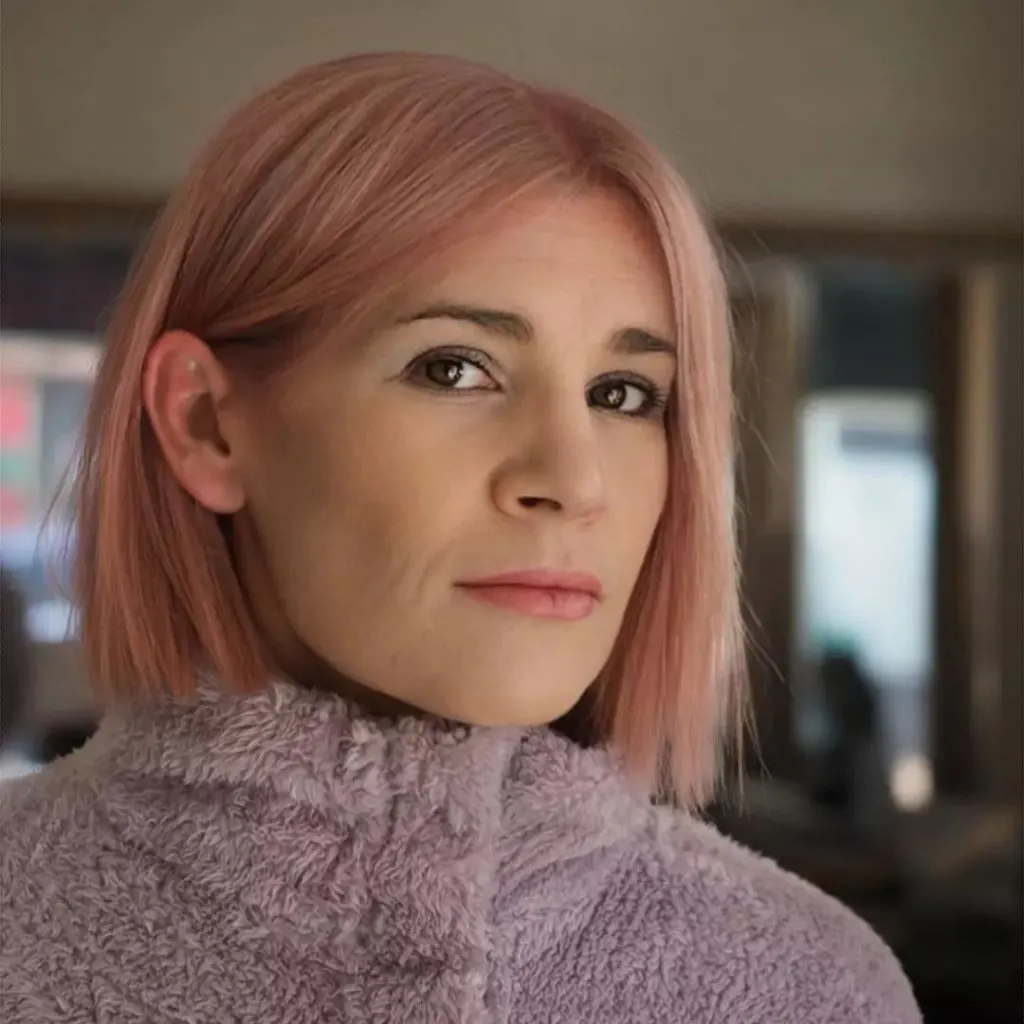 A short, straight bob with a center part looks refined and chic, and you can make it more exciting if you choose a vibrant and bold hair color.
33. Side Part Bob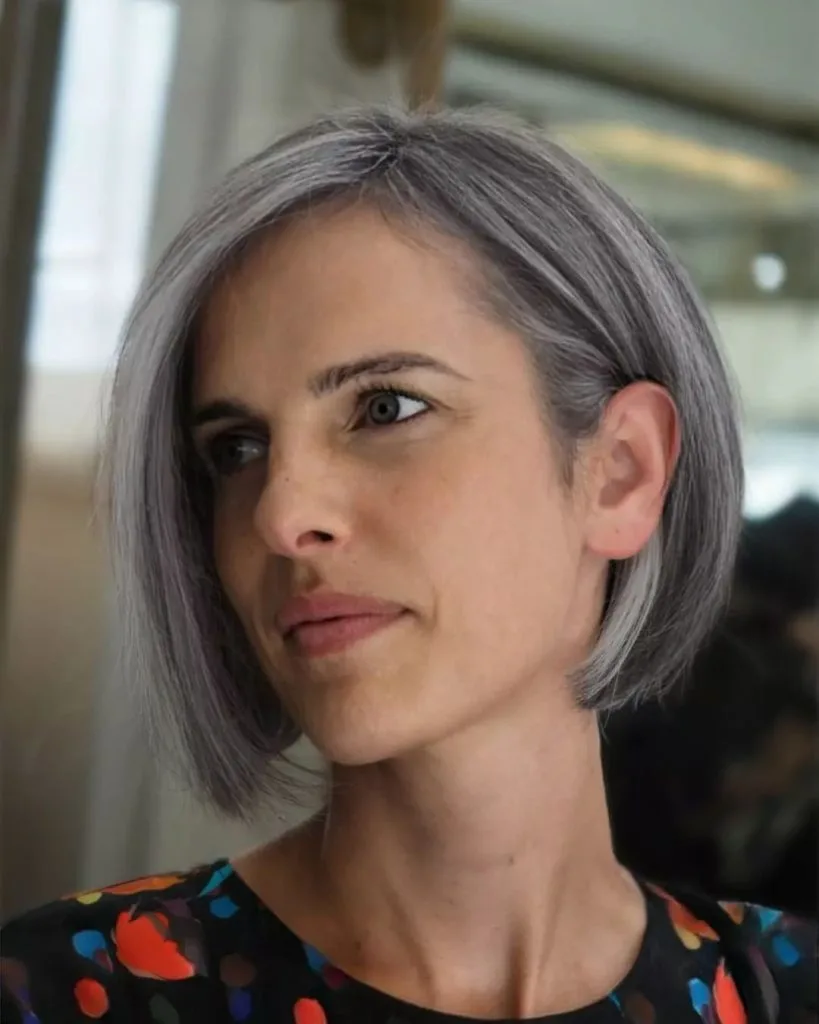 A chin-length bob is a versatile, low-maintenance hairstyle. Wear it with a middle part for an elegant vibe, or a side part if you want to look more playful.
34. Middle Part Chin-Length Bob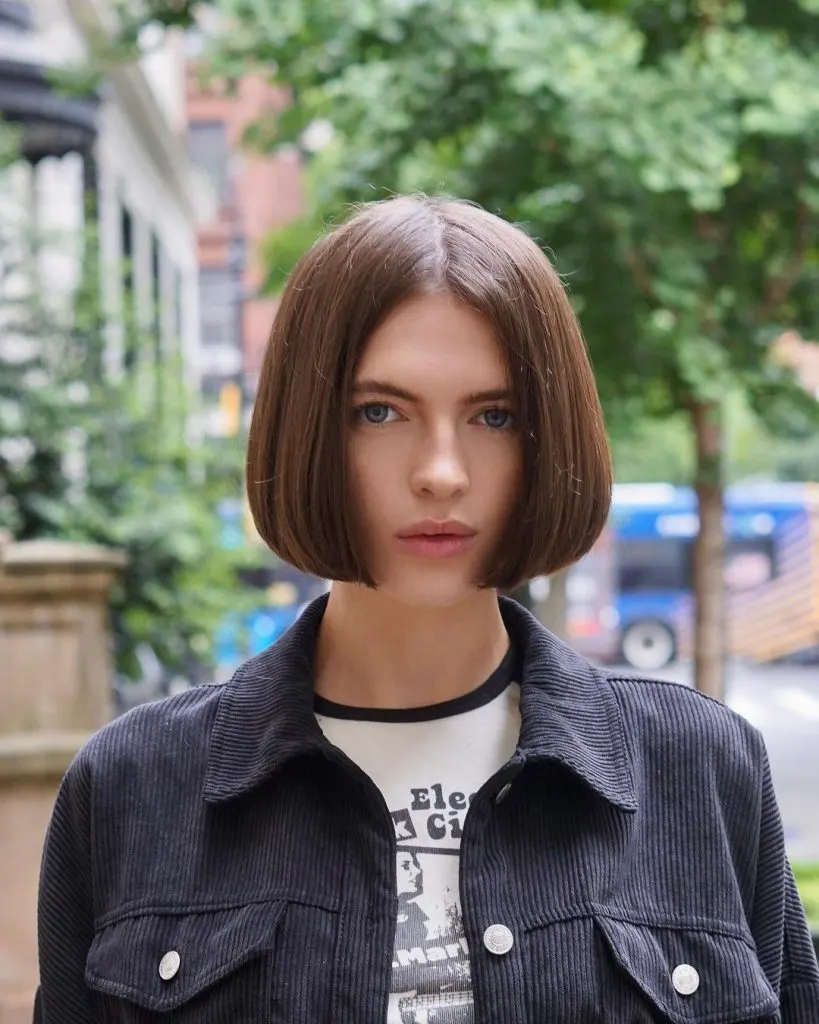 The rounded bob with a middle part is a timeless classic that keeps coming back. This hairstyle is consistently popular because it suits many face shapes and never looks dated.
35. Angled Middle Part Bob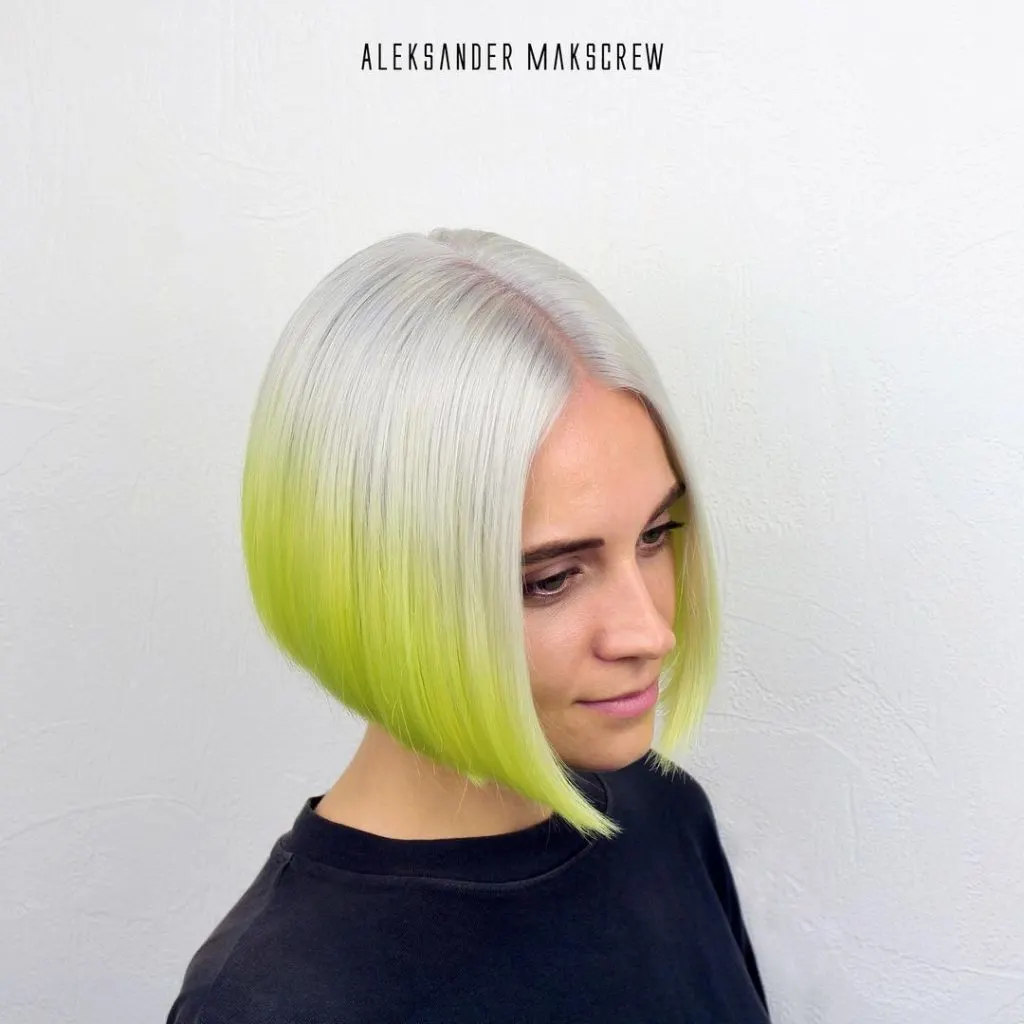 This angled bob is all about the play of white and neon green. Such an unusual color combination is sure to turn heads.
36. Chin-Length Bob With Fringe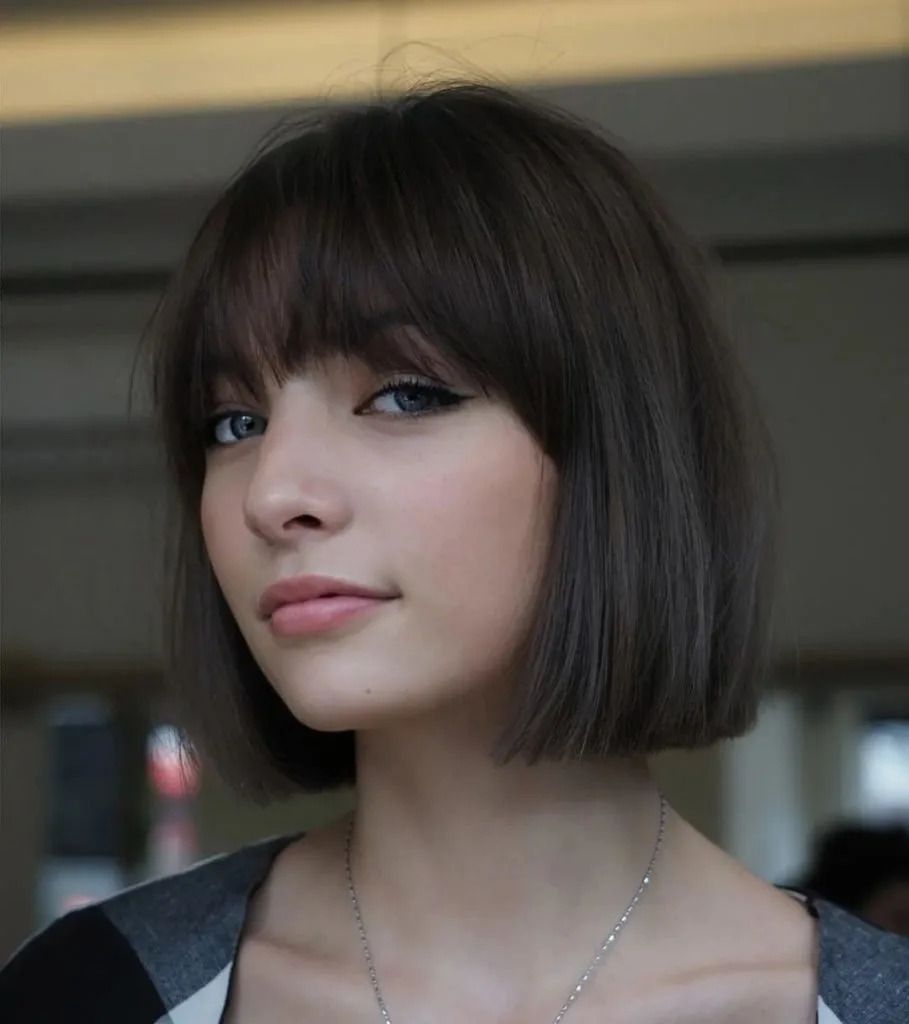 A blunt bob looks best when it's not styled to perfection, but when it looks carefree and laid-back.
37. Tousled Bob With Bangs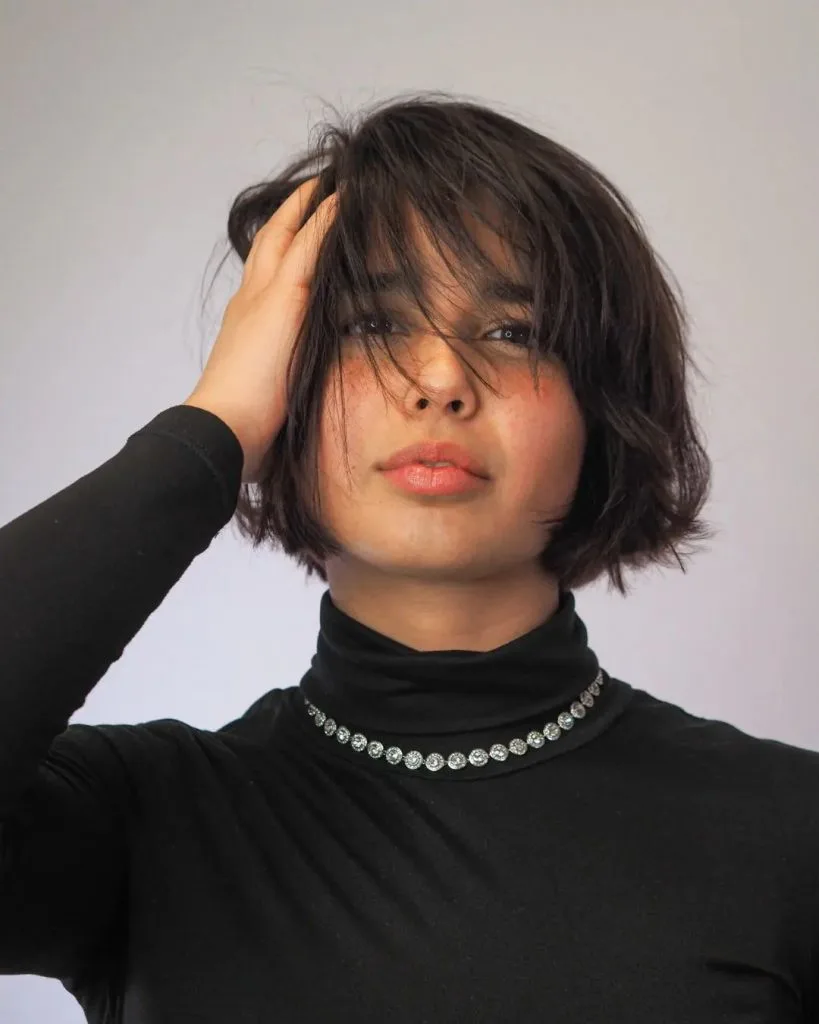 If you like your hair to have a more effortless appearance instead of looking like you just came back from a hair salon, go for a tousled look.
38. Choppy Wavy Bob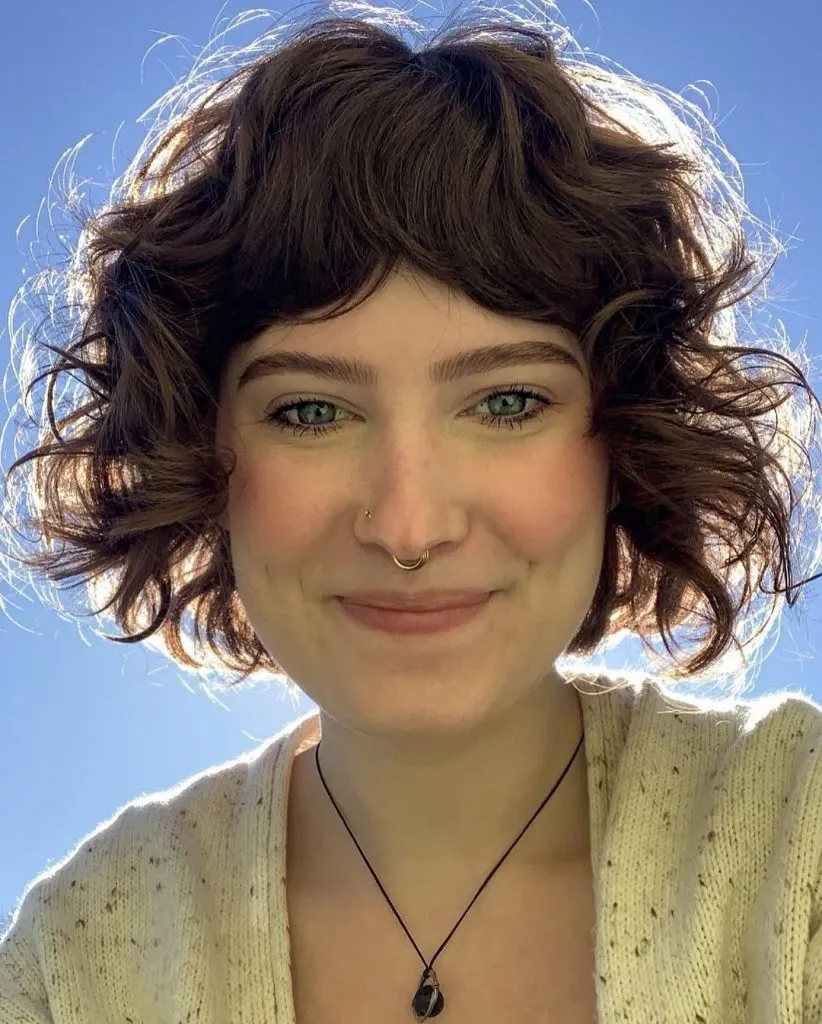 The choppy layers create a cool messy look, and the cute bangs take this bob up a notch.
39. Short Bob With Bangs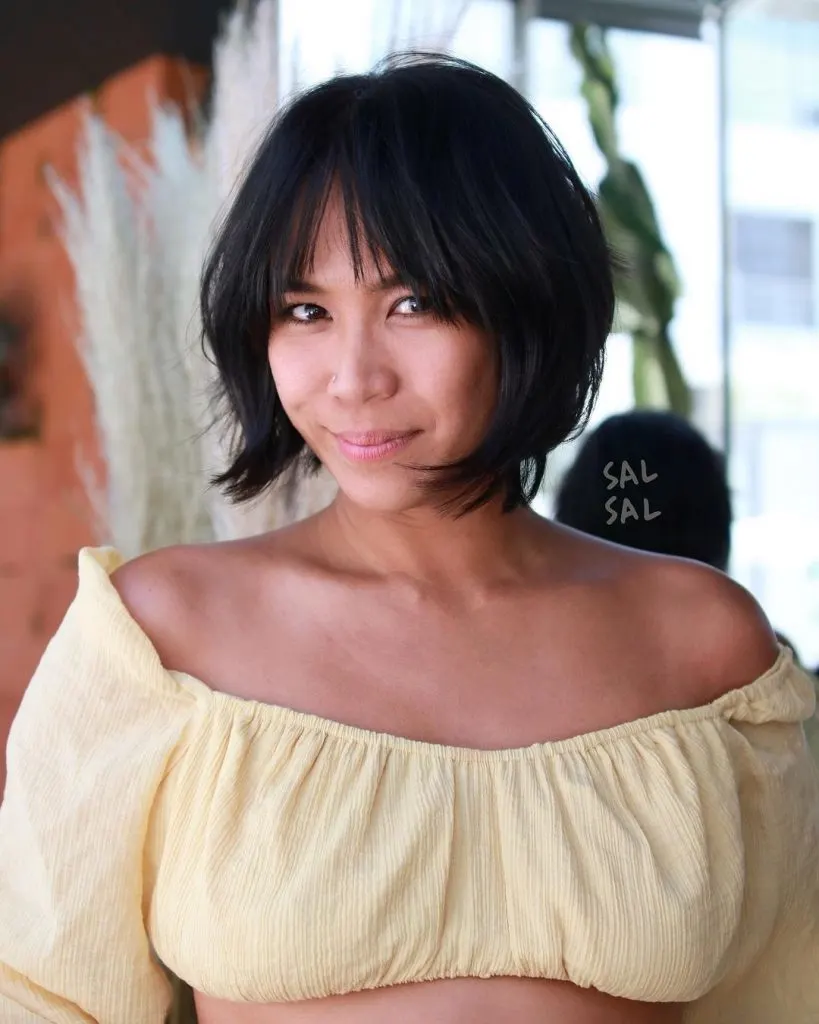 The slightly longer front pieces and the low-key bangs create a beautiful frame for the face.
40. Curly Middle-Part Bob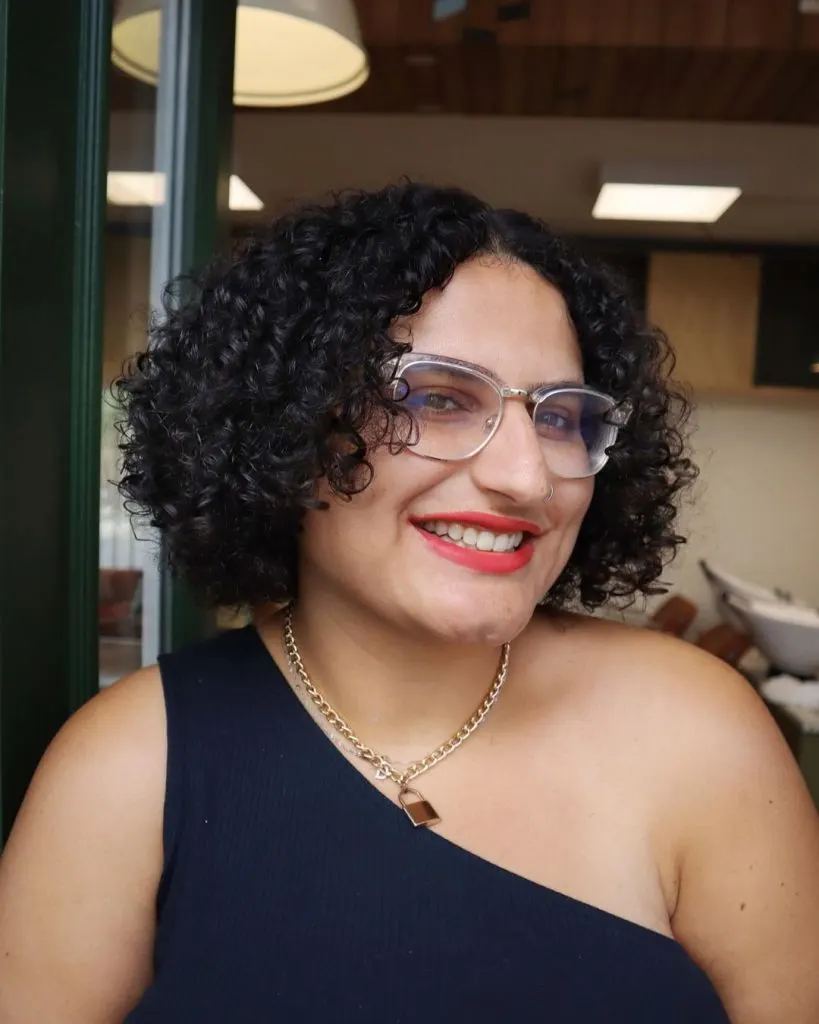 Shaping a curly bob takes some skill, so make sure your hair stylist is experienced in handling curls.