Going short is going to refresh your look, especially if you've been wearing your hair long for a while. A short bob is easy and versatile, and becomes even more exciting when combined with bangs.
There are lots of different ways to wear a short bob with bangs, so let's dive in and take a look at the many options you can choose from.
1. Short Bob With Bangs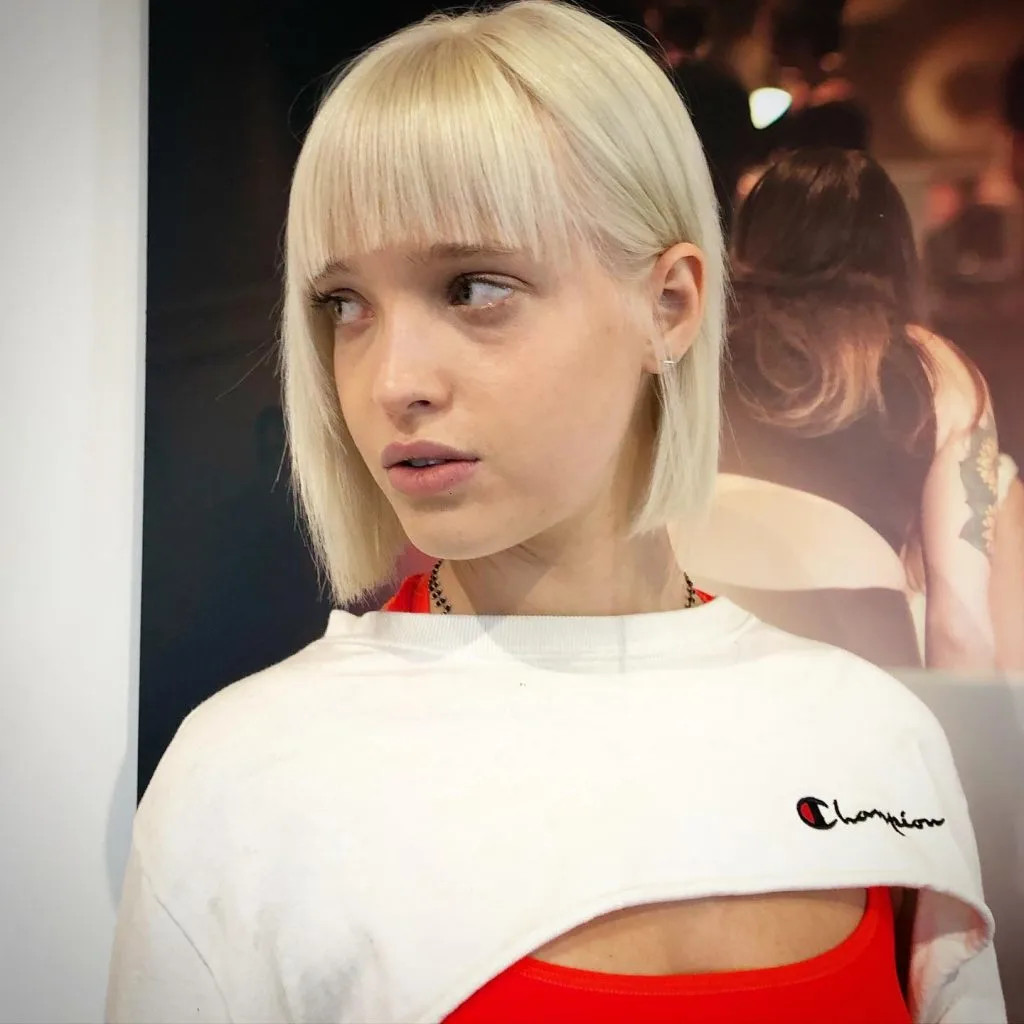 You don't have to have a certain face shape to rock the classic straight bob + straight bangs cut; with tiny tweaks, it can work on anyone. In this short blonde bob, softly rounded bangs and the texturizing layers used to take off the bulk at the bottom flatter the face while maintaining the style.
2. Short Curly Bob With Bangs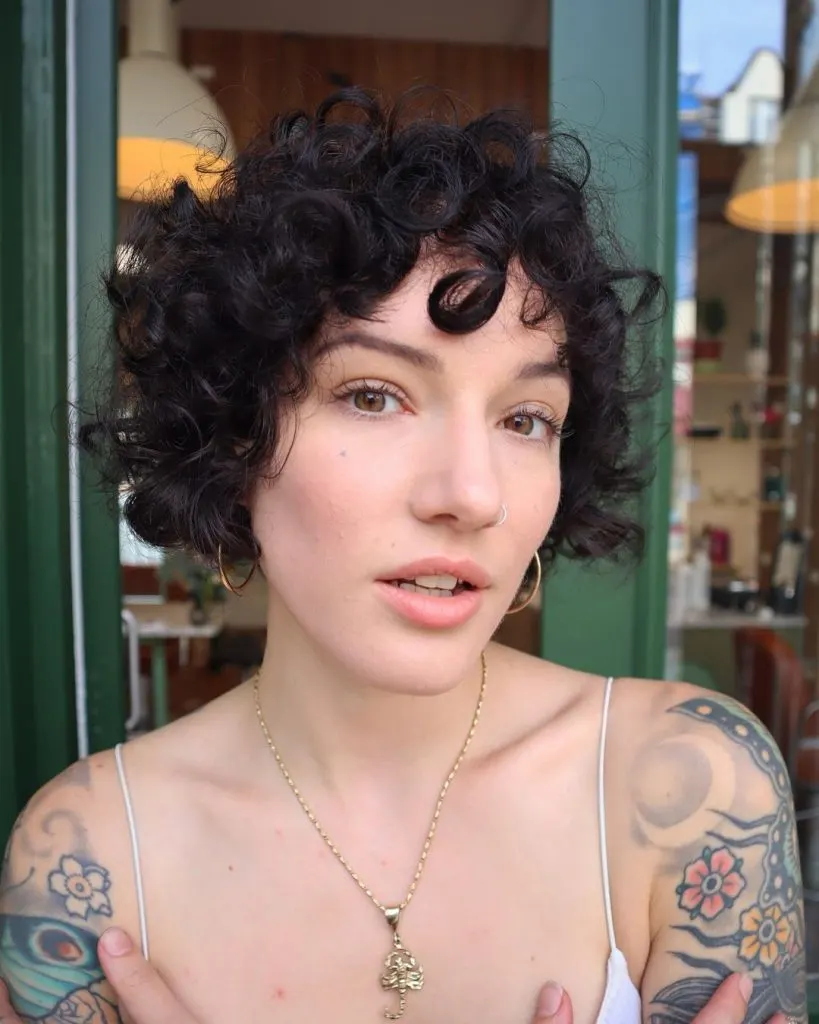 A short bob with bangs and curly hair are a perfect match. It's an adorable look that's also low-maintenance: keeping your curls shorter means easier styling.
3. Short French Bob With Bangs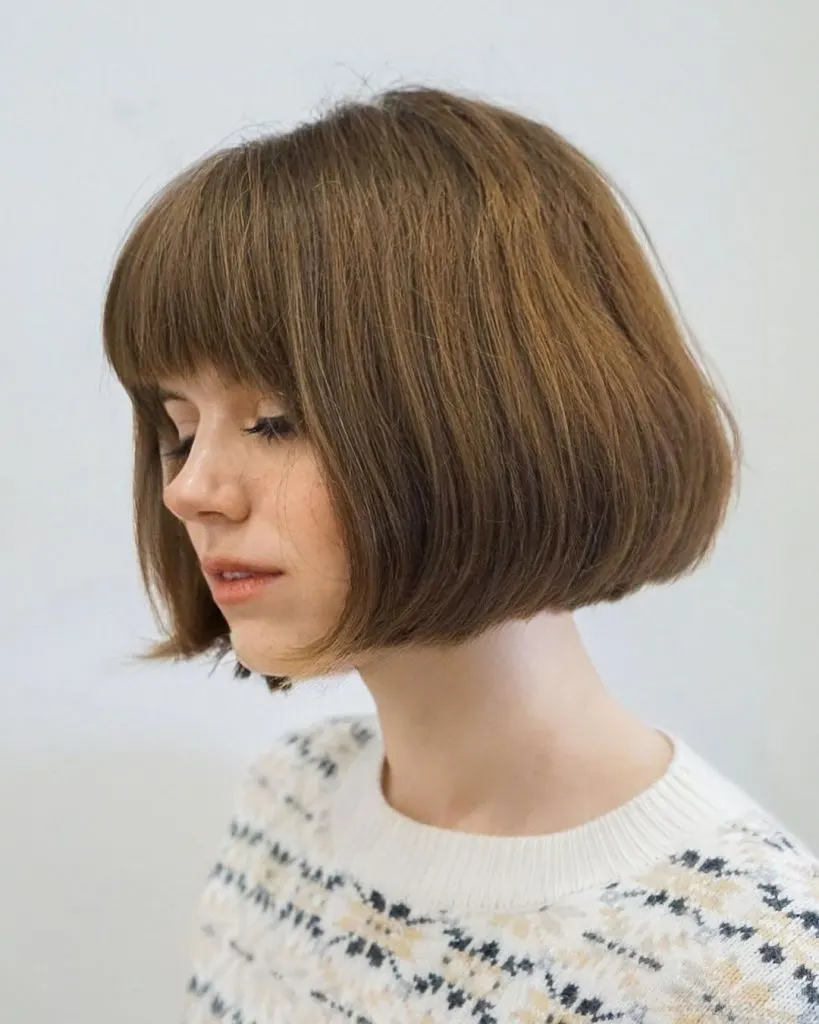 The original short bob with bangs—the French bob—is usually cut around lip length, but if you have a square or heart-shaped face, keeping it a little bit longer creates a more balanced look. A chin-length bob is still short, but it flatters your face shape more.
4. Wavy Short Bob With Bangs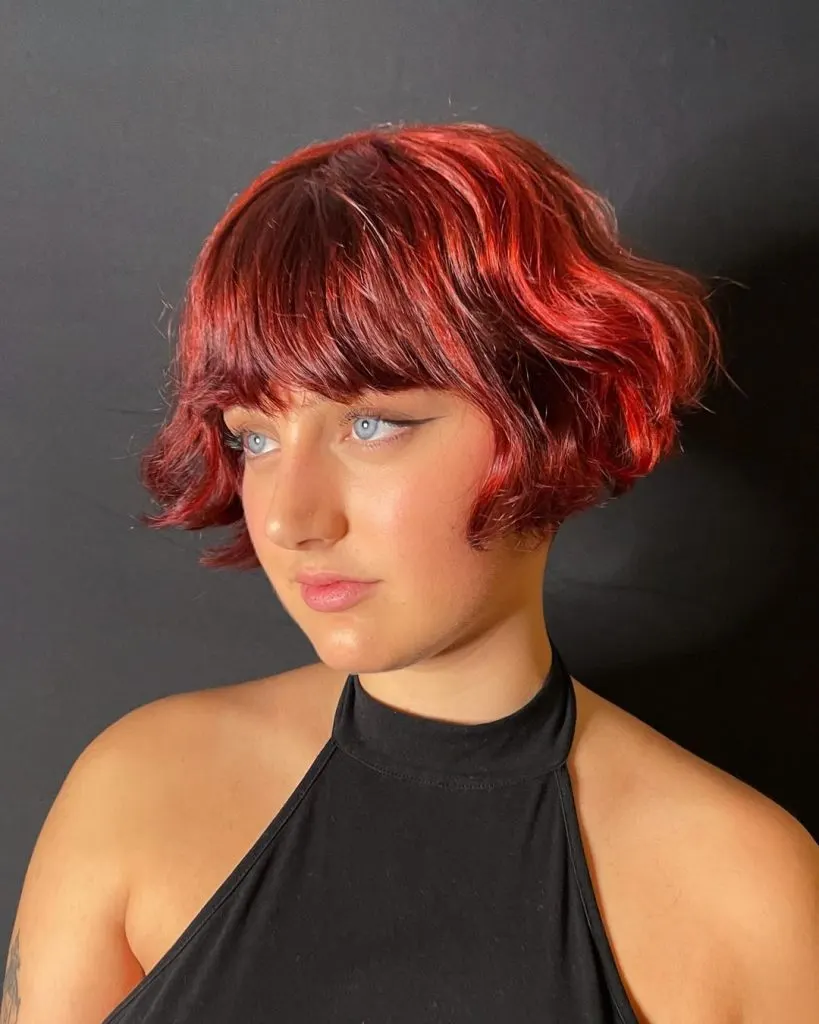 A super-short bob is fresh and dramatic, and it never fails to leave an impression. It's not a low-maintenance style, however: keeping the crisp length requires regular salon visits.
5. Straight Bob With Short Bangs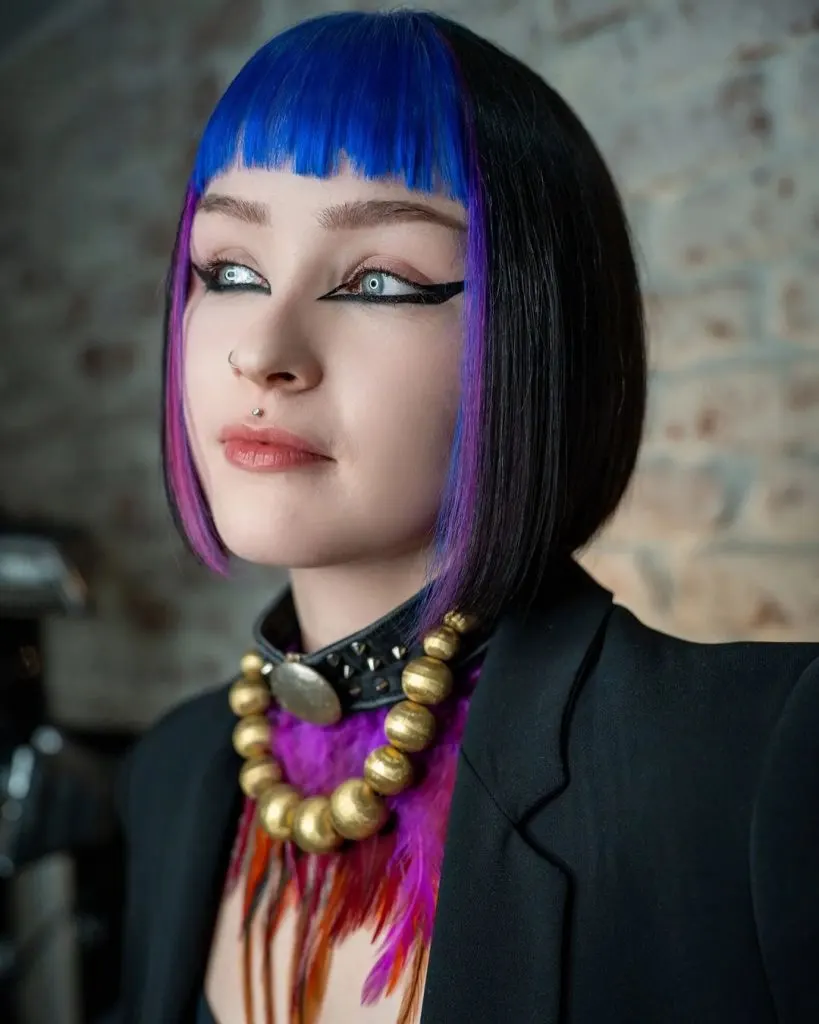 One of the advantages of short straight hairstyles is simplicity, which makes this haircut the perfect canvas if you want to play with colors.
6. Lip-Length Bob Haircut With Bangs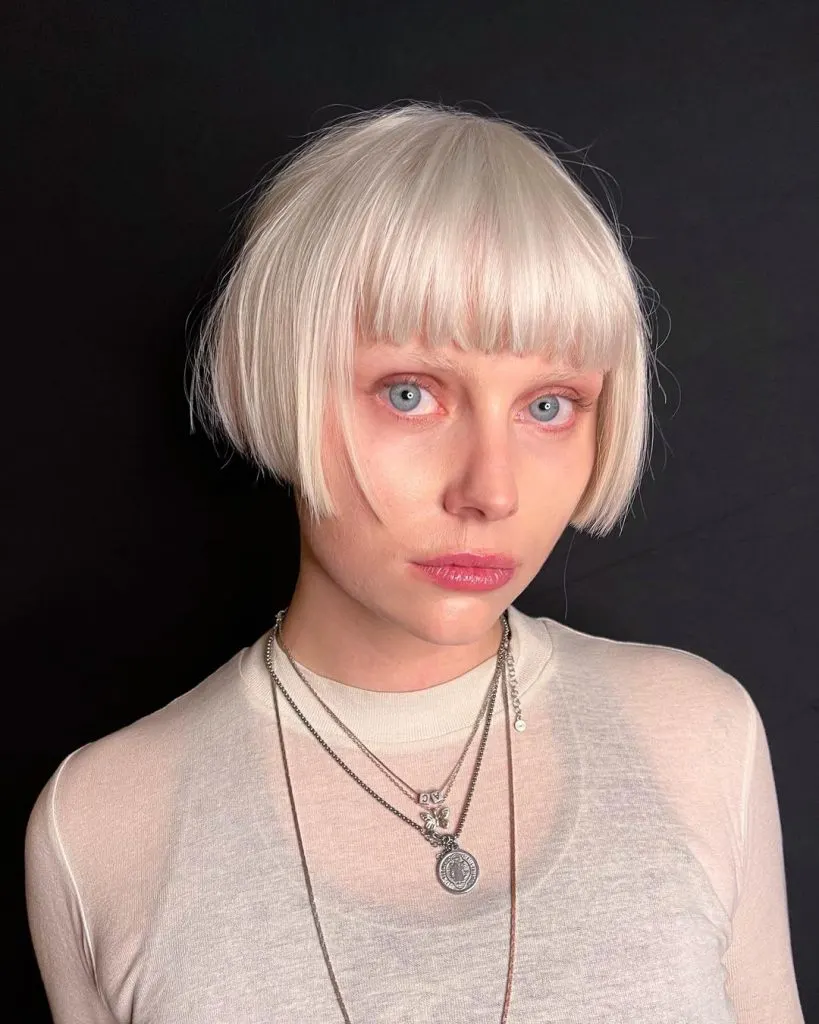 Boos the vitality of fine hair by getting the chop. Long strands tend to become weighed down and end up looking limp, so if you prefer minimum styling, short hair will give it lots of pep.
7. Fluffy Bob Cut With Bangs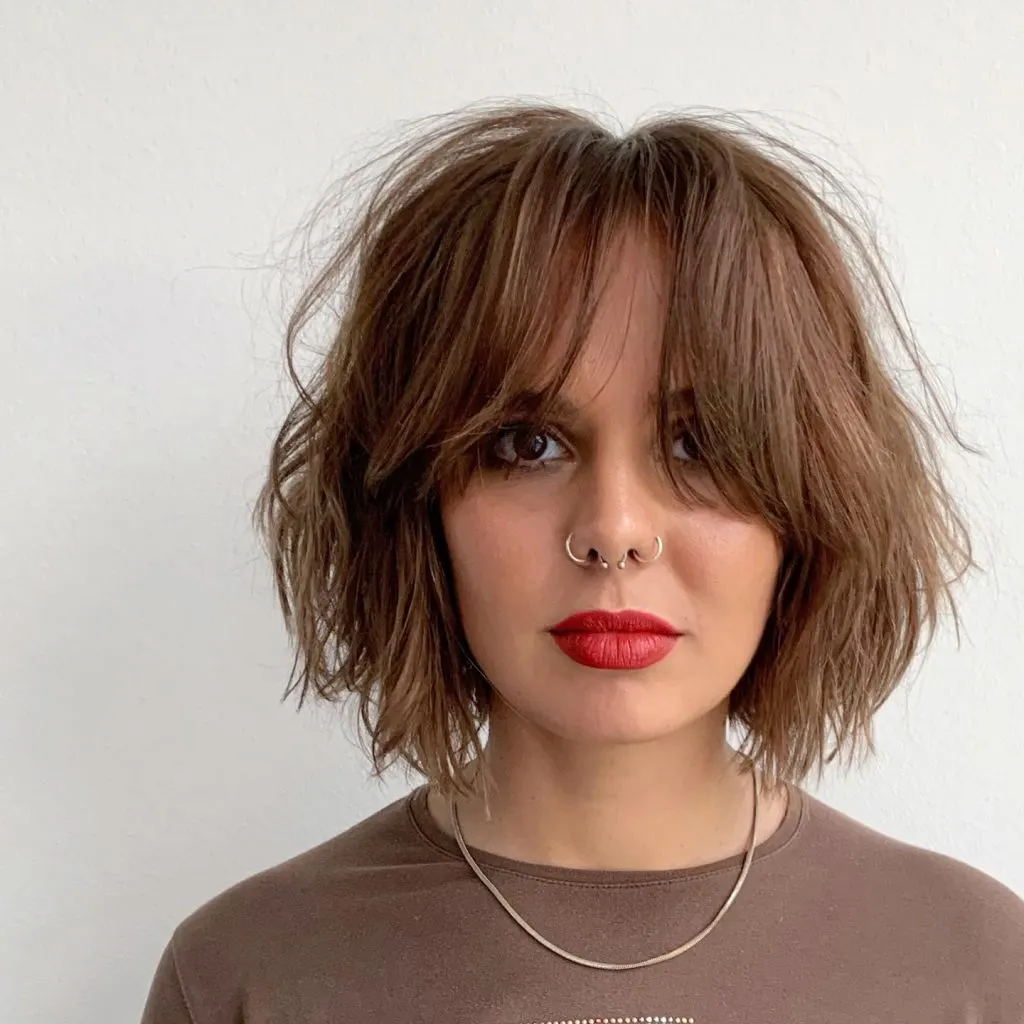 To rock a natural look and give your hair a break from heat, consider air-drying it. The procedure changes a bit depending on you texture, but most hair types need to at least apply moisturizing cream or leave-in conditioned to prevent frizz.
8. Short Bob With Curtain Bangs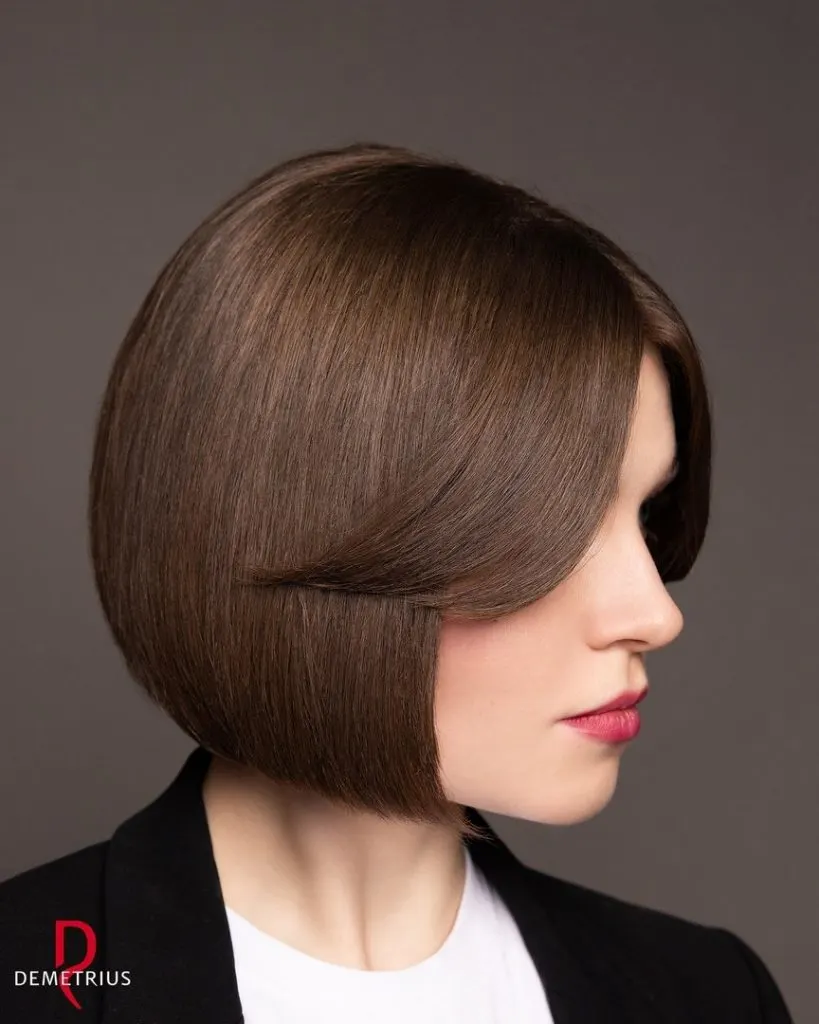 Thanks to the endless possibilities of combining a bob with bangs, you can opt for a more casual or a more sophisticated cut. But you don't have to choose just one: you can straighten your bob and wear it sleek like this short straight hair with bangs, or go for a tousled styling for a more relaxed look.
9. Sleek Short Bob With Bangs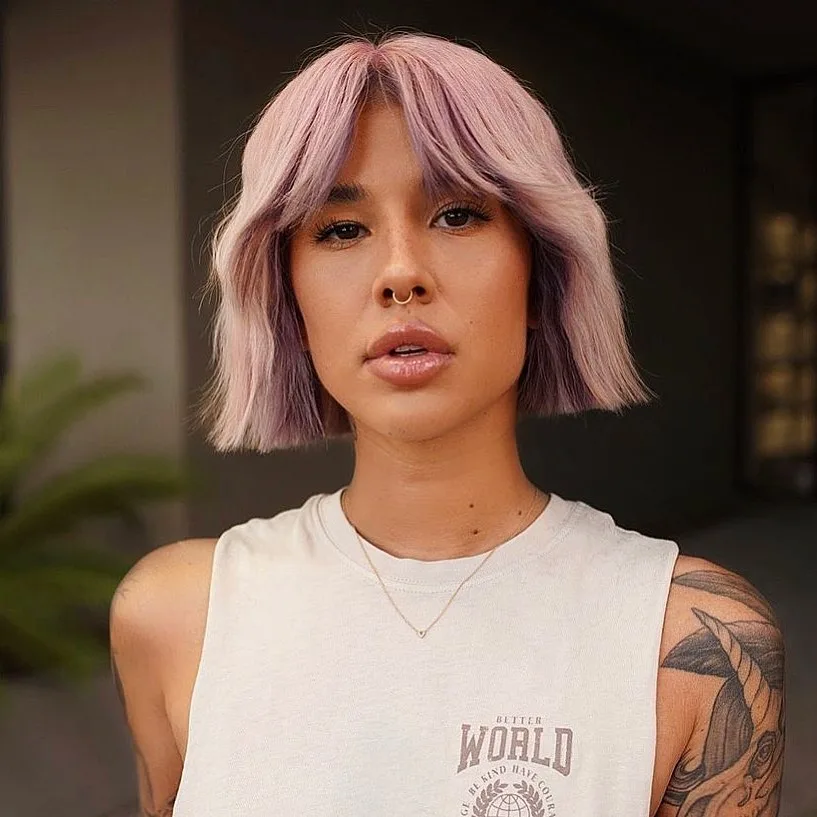 Curtain bangs provide a contrast to the blunt bob, which will transform your style for the better if you have thick and coarse hair. Otherwise, the haircut might look too heavy and not very flattering.
10. Curly Short Hair Bob Cut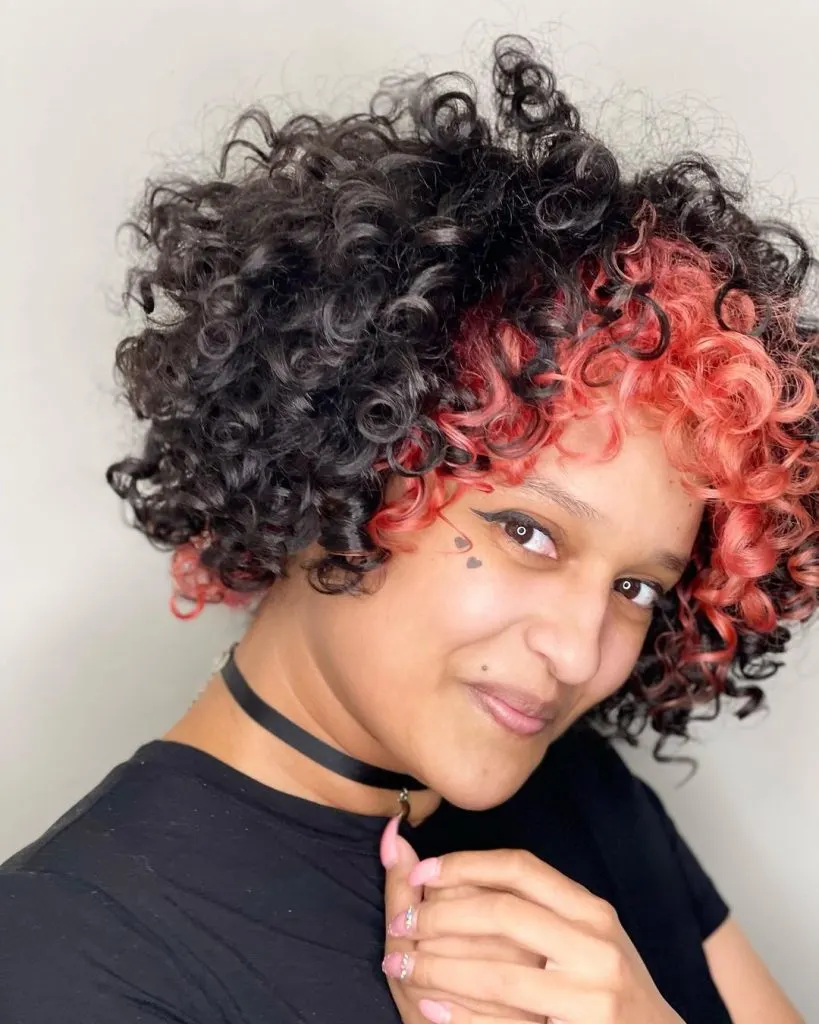 Curls can really get the spotlight when cut short, so embrace your natural texture and rock that bob. Dry cutting is the way to get your bangs to look exactly how you you want.
11. Short Bob With Fringe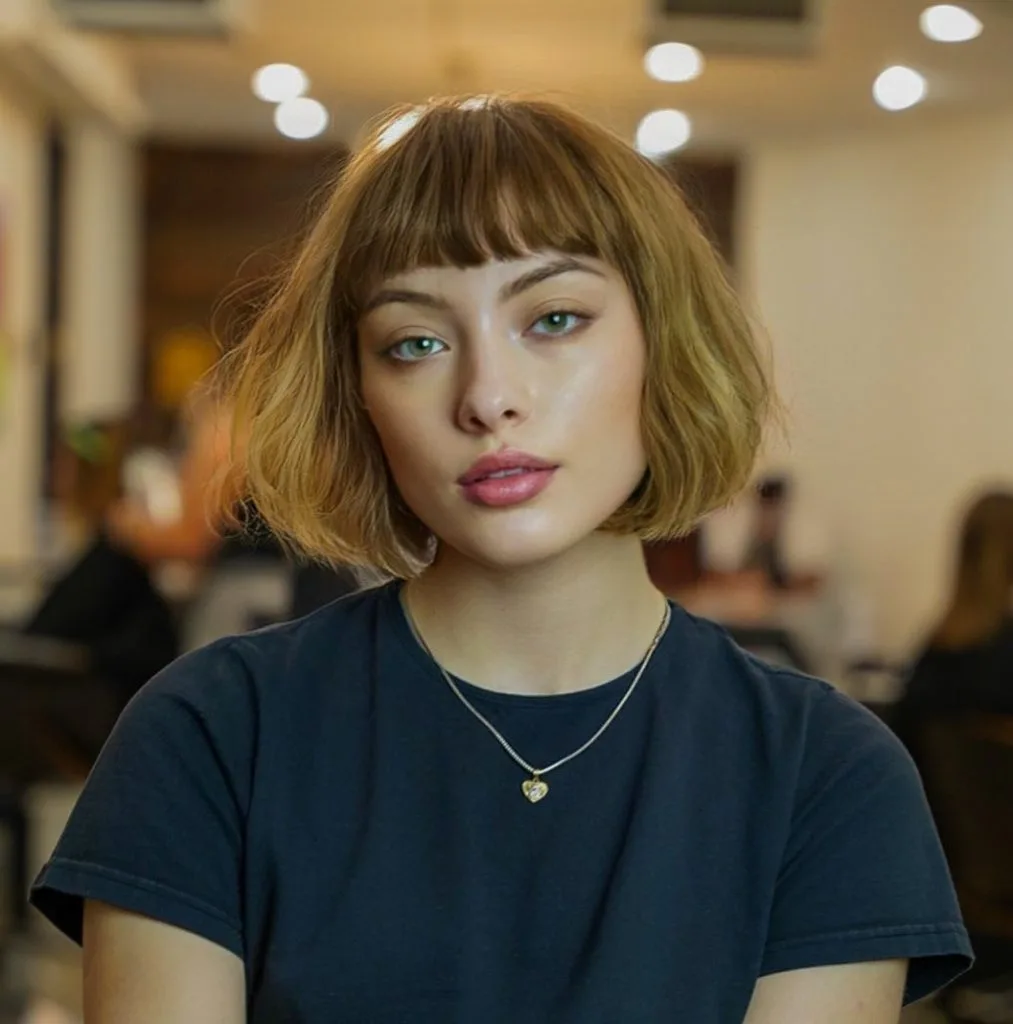 Call attention to your eyes with bangs cut mid-forehead. Keep them blunt if you have one of the angular face shapes, such as square and diamond, but if you have a round face, ask your stylist to soften them.
12. Short Bob Cut With Straight Fringe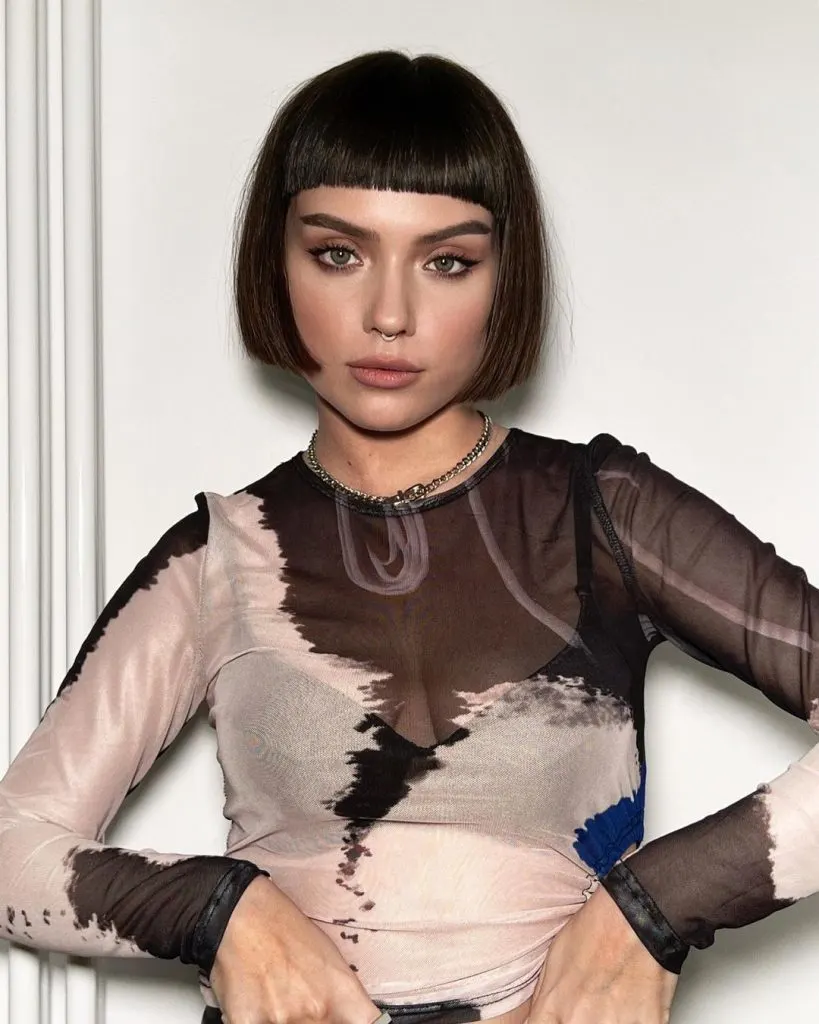 A sleek chin-length bob with straight-across bangs is one of the simplest haircuts there is, yet it's always edgy and cool.
13. Short Wavy Bob With Bangs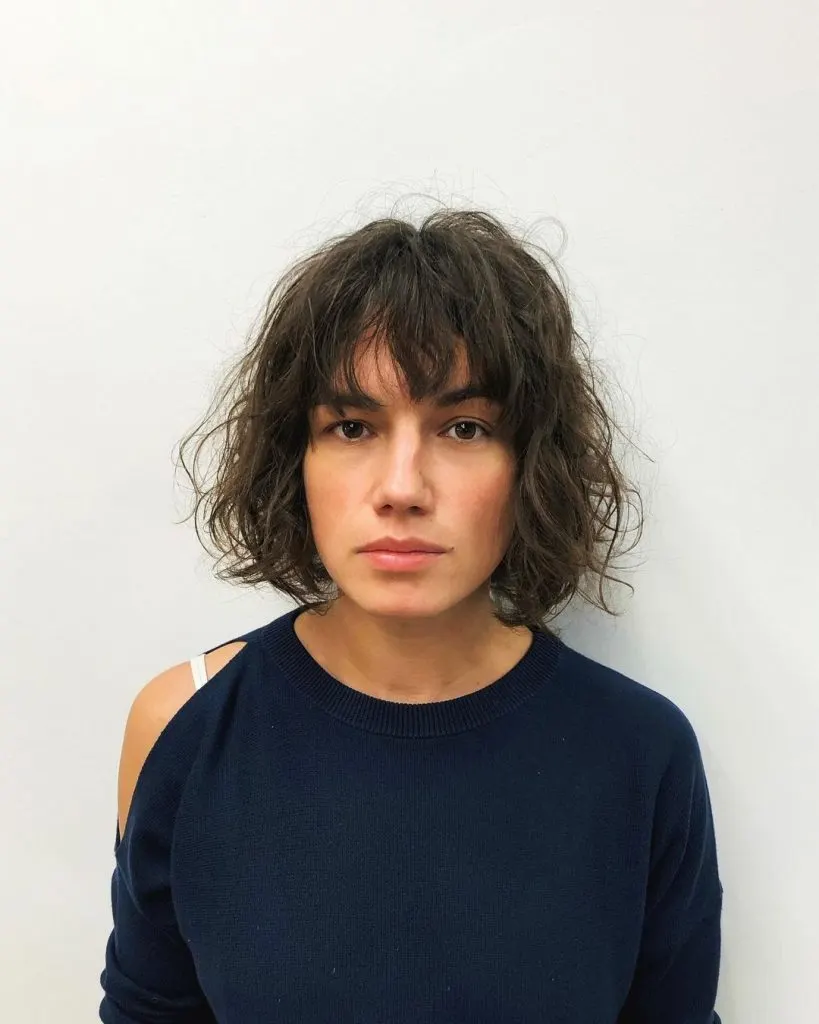 Short and full fringe frames the face, emphasizes the eyes and adds cute charm to a haircut—and it's not just for straight hair.
14. Short Bob With Side Bangs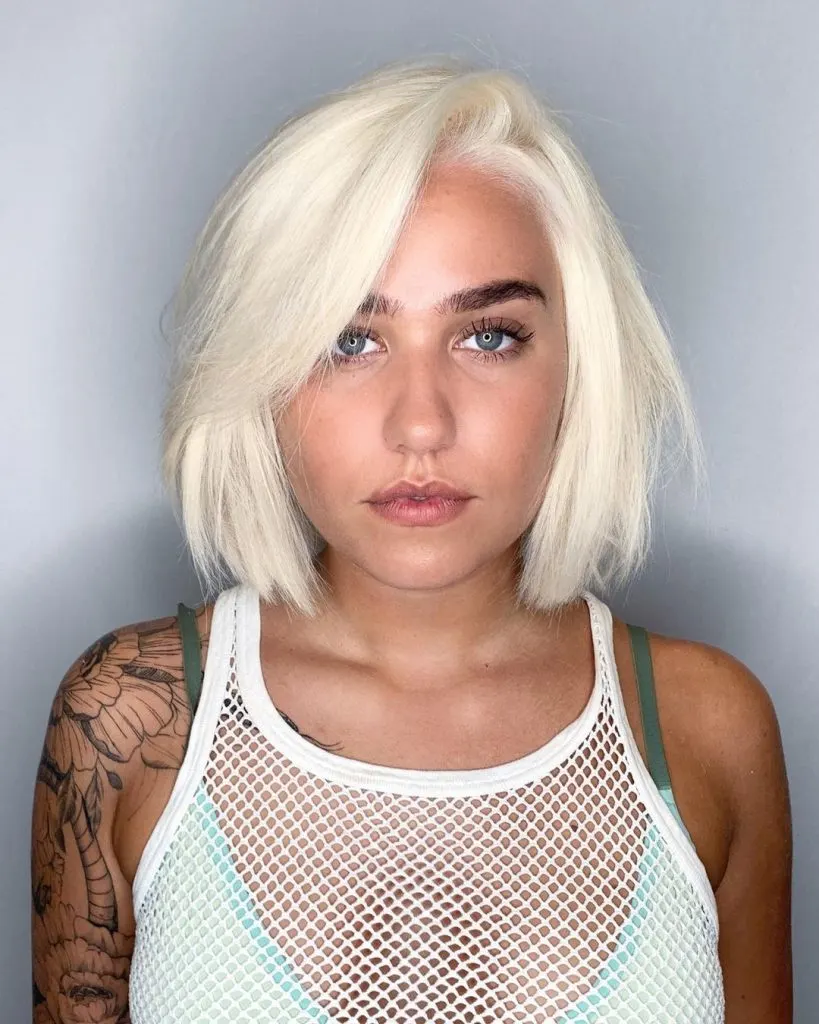 A bob with side bangs is the perfect choice for round faces: it visually elongates the jawline and creates angles. Additionally, it create balance on a diamond-shaped face by taking the focus away from the cheekbones.
15. Layered Bob With Curtain Bangs
This slightly shaggy bob is both fashionable and flattering, demonstrating how you can incorporate the latest trends and make them fit your face by making small adjustments, such as changing the style of bangs.
16. Bob Haircut With Bangs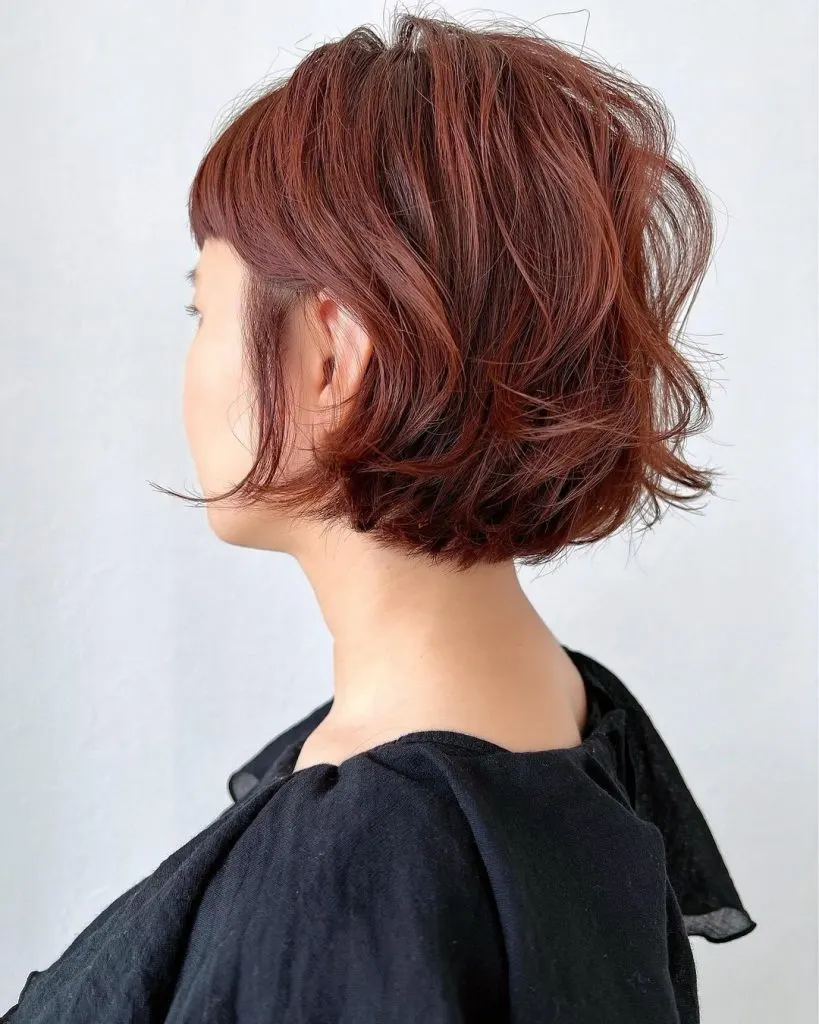 A short layered bob with a strong outline is one of the easiest bob variations when it comes to styling. While drying your hair, keep flipping and and shaping it with your fingers to make it look tousled and natural. Optional: curl a few strands on the outside to polish the look.
17. Short Curly Bob With Long Bangs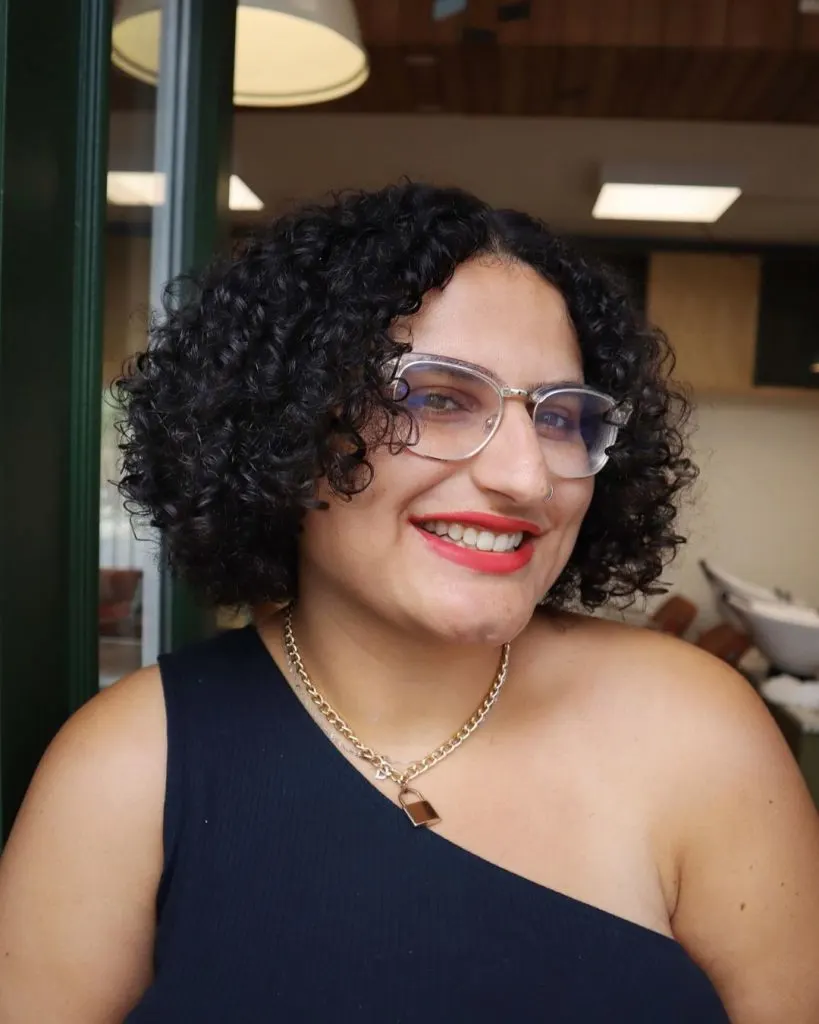 If you're not a fan of bangs but want the face-framing effect they create, long bangs will give your haircut movement and interest without turning it into a bangs style.
18. Blunt Bob With Wispy Bangs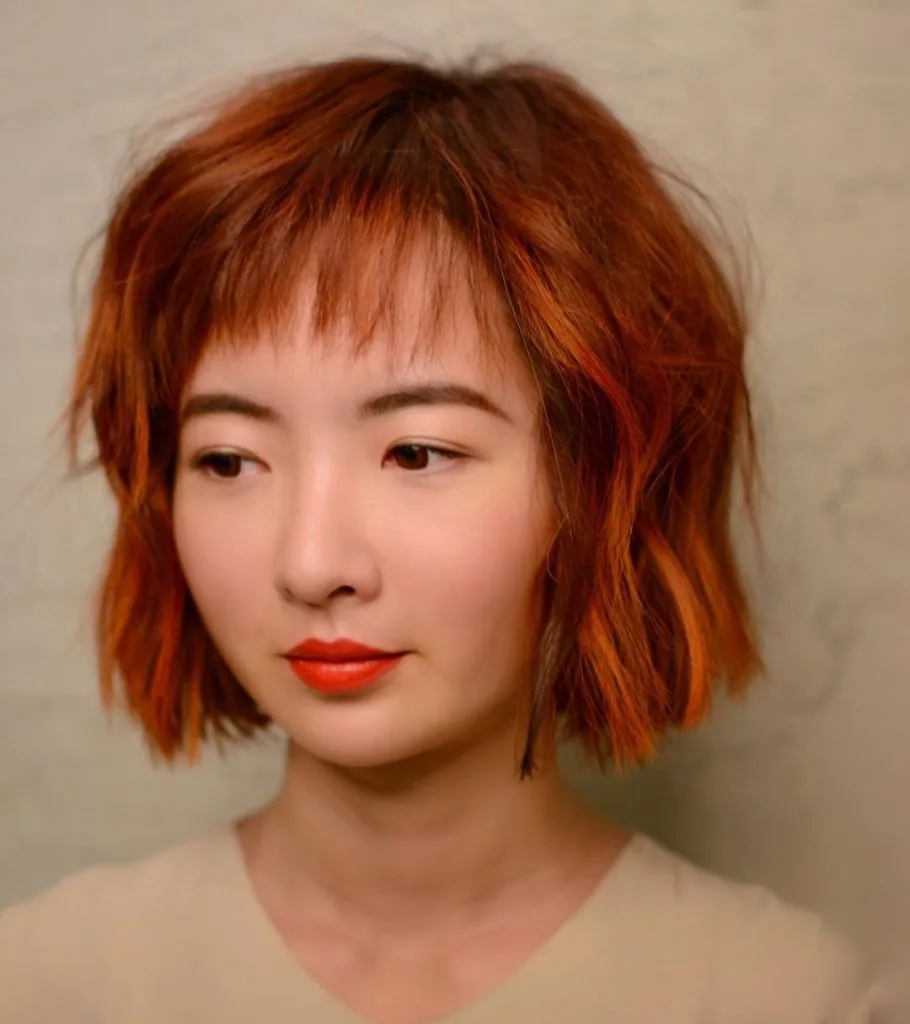 Square thick bangs can be overpowering if you have delicate features—wispy baby bangs will give you the same bangs effect with with none of the heaviness.
19. Edgy Short Bob With Bangs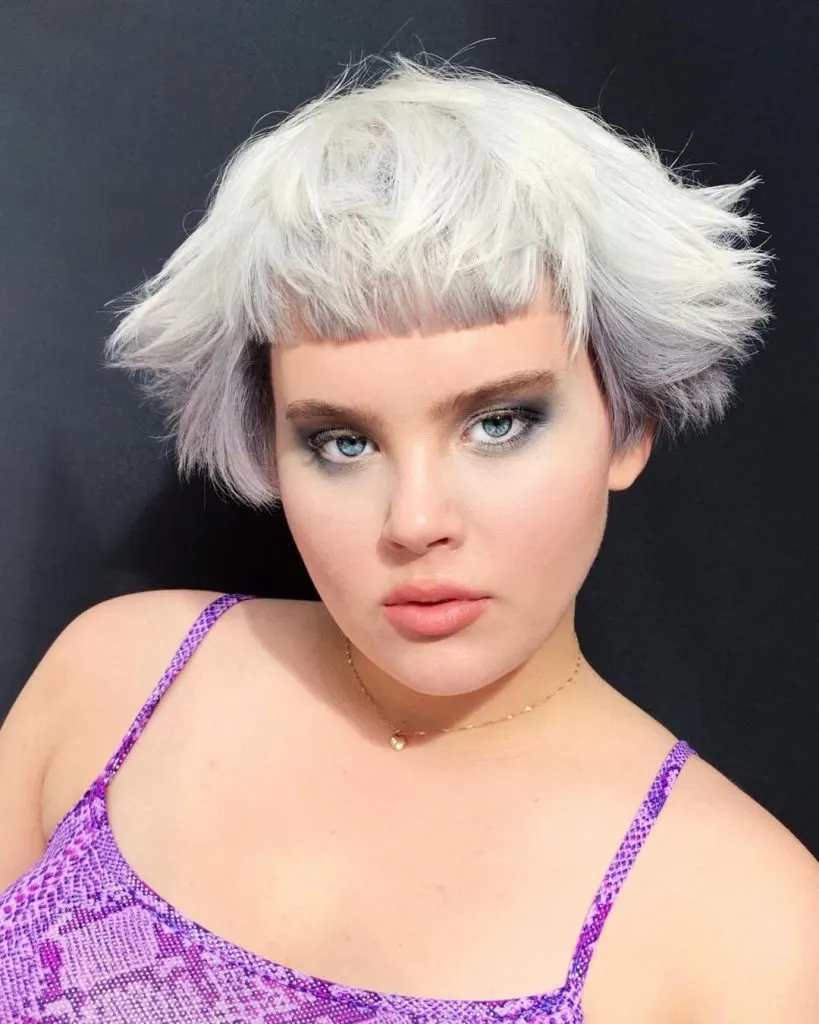 An ultra-short edgy choppy bob with equally short fringe is for the daring. You can make it even edgier with unusual styling, or downplay it to change up your look.
20. Two-Tone Curly Short Hair Bob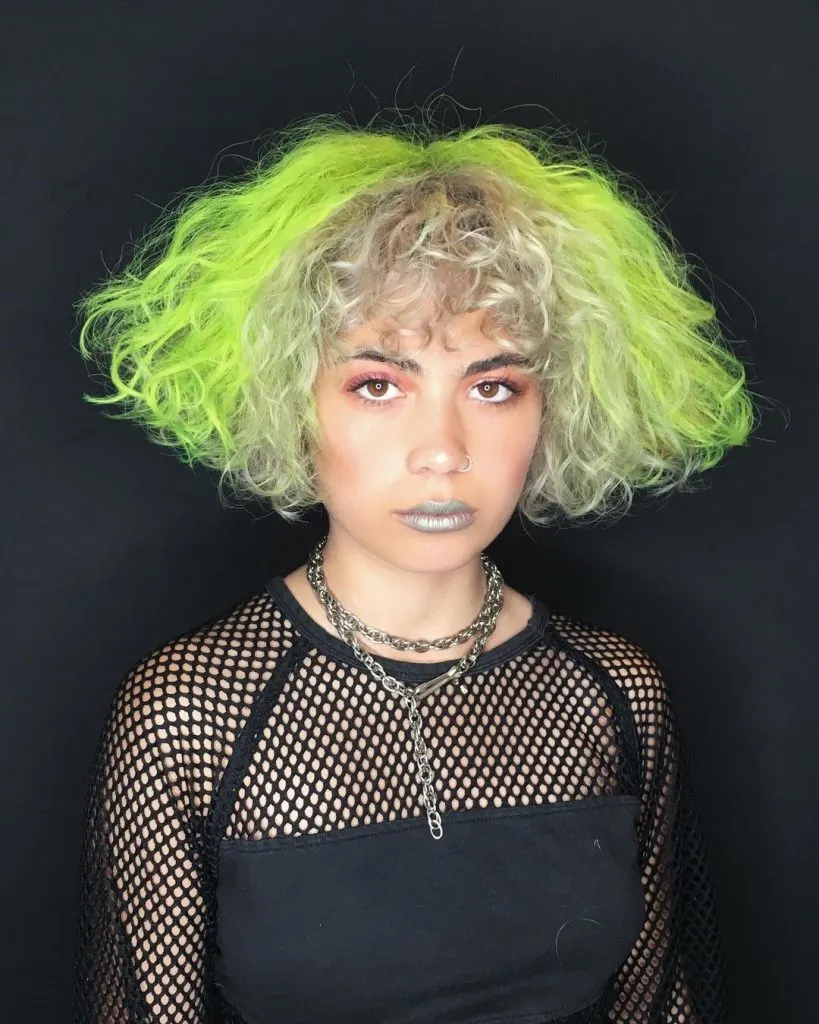 One-length curly bob naturally takes a dramatic triangular shape which was something to avoid in the past, but has since become incredibly trendy. With good reason, too—it looks super edgy and cool.
21. Curly Short Bob With Bangs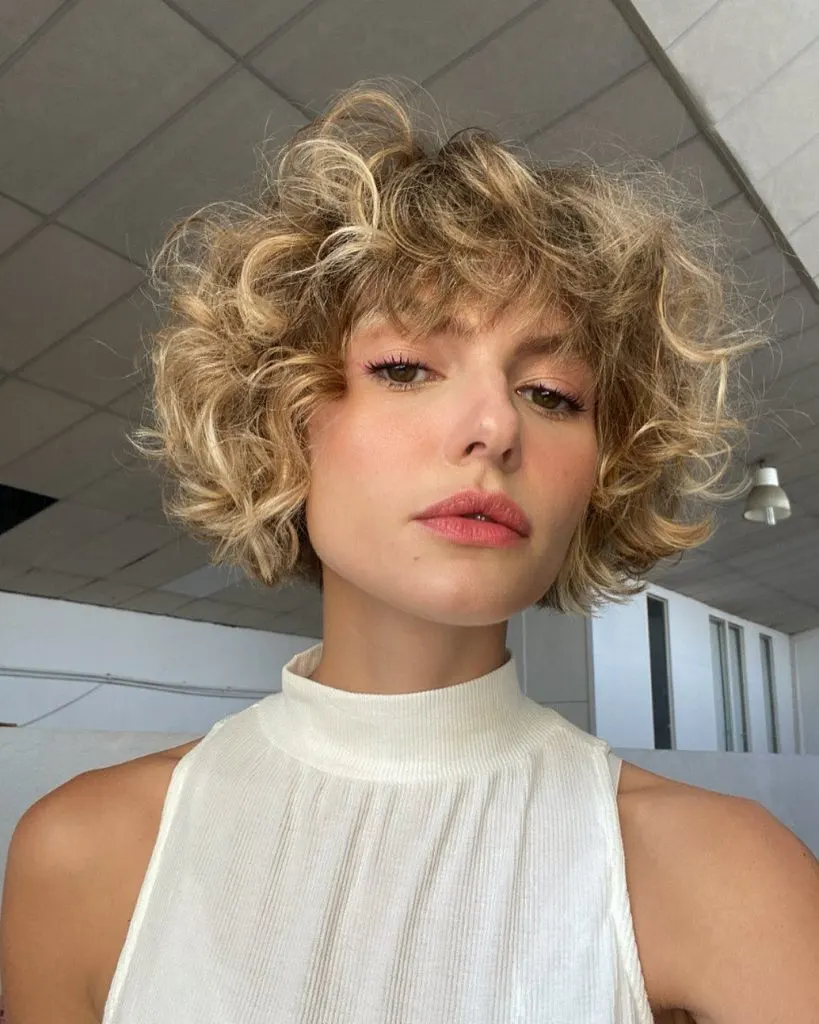 To easily style your curly bob and get the most from your texture, focus on keeping your hair moisturized. Avoid using terrycloth towels and choose one made from microfiber instead. After shampoo and conditioner, apply leave-in conditioner and curl cream if you feel like you need even more moisture.
22. Fine Hair Bob With Side Bangs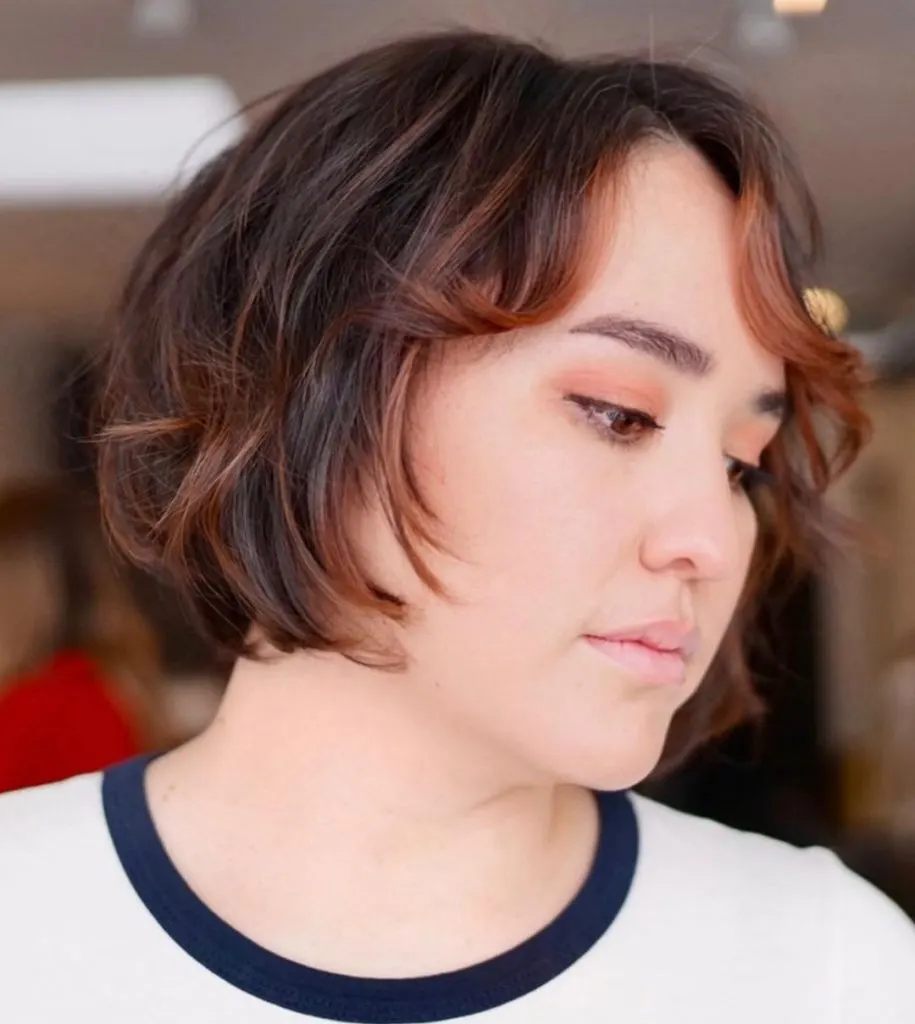 Bob haircuts are suitable for all hair types, but if you have fine hair, a couple of layers can add body and volume—or at least create an illusion that they're there.
23. Curtain Bangs And Bob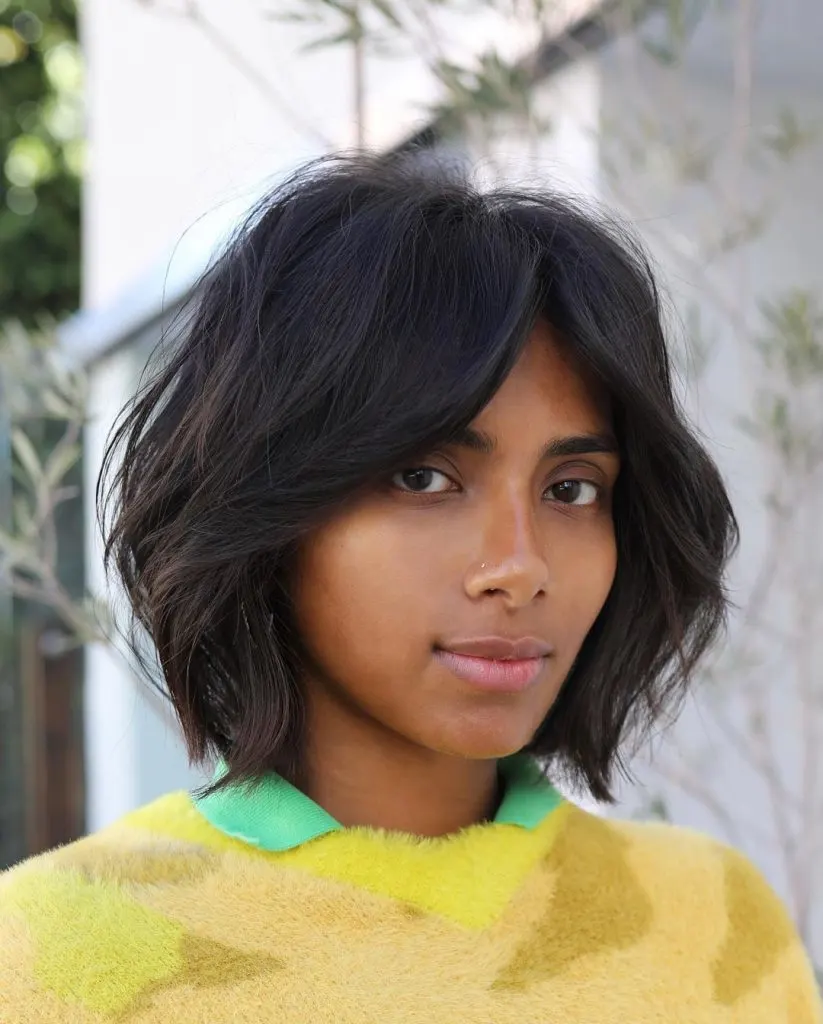 A short bob with curtain bangs is a face-framing dream. It fits and flatters all face shapes because it's so highly adjustable—the length of the bangs and how they're parted will make all the difference.
24. Curly Bang Bob Hairstyle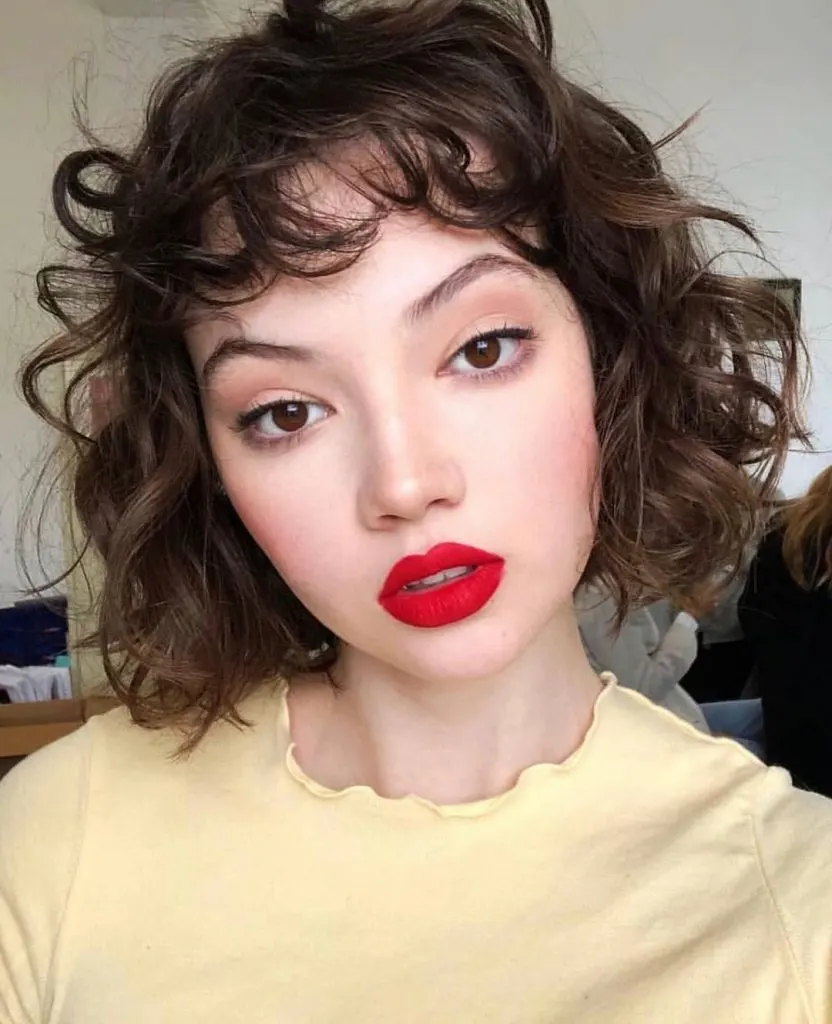 If you want to achieve a romantic vibe, short curly hair with bangs will soften your face. Add a few subtle layers for an even more delicate look.
25. Jaw Length Choppy Bob With Bangs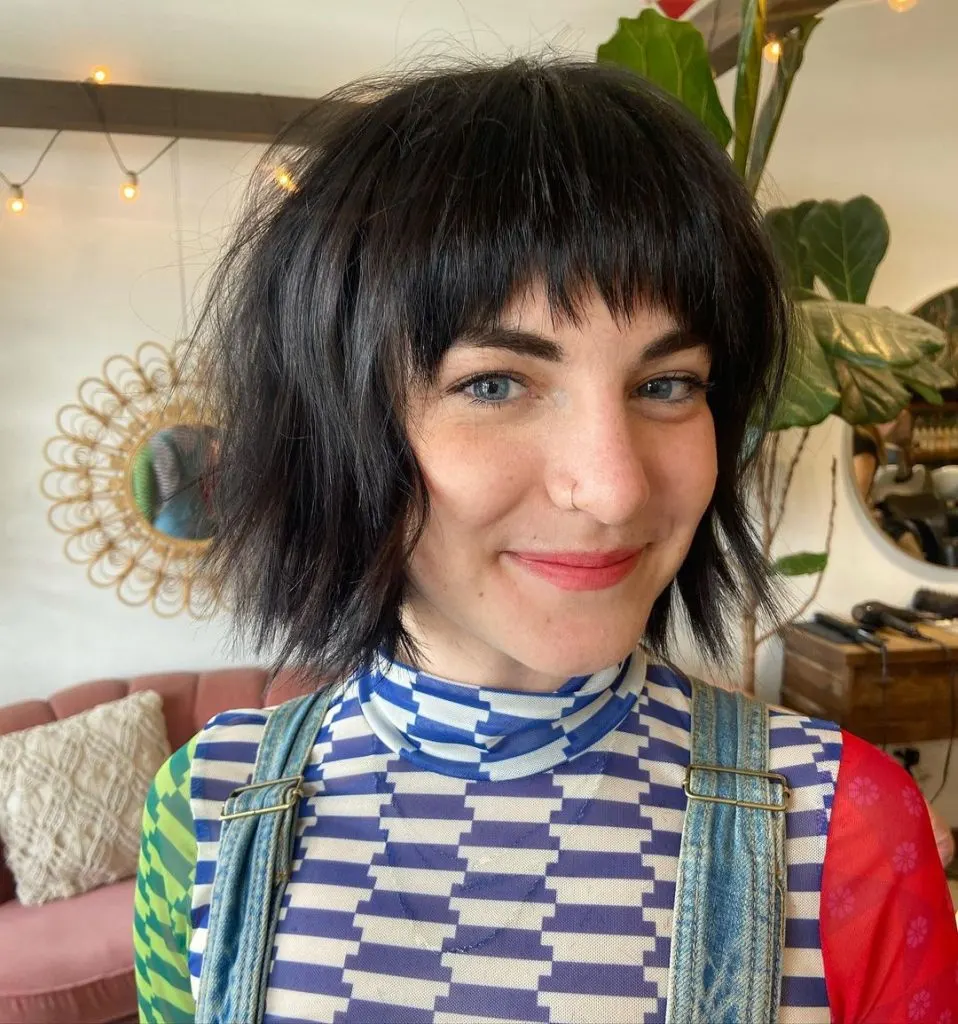 Choppy layers with a little razored fringe are it—cool and low-maintenance. Style your haircut by air drying, and if you need a bit more oomph, just add some texture spray.
26. Bob Haircut With Long Bangs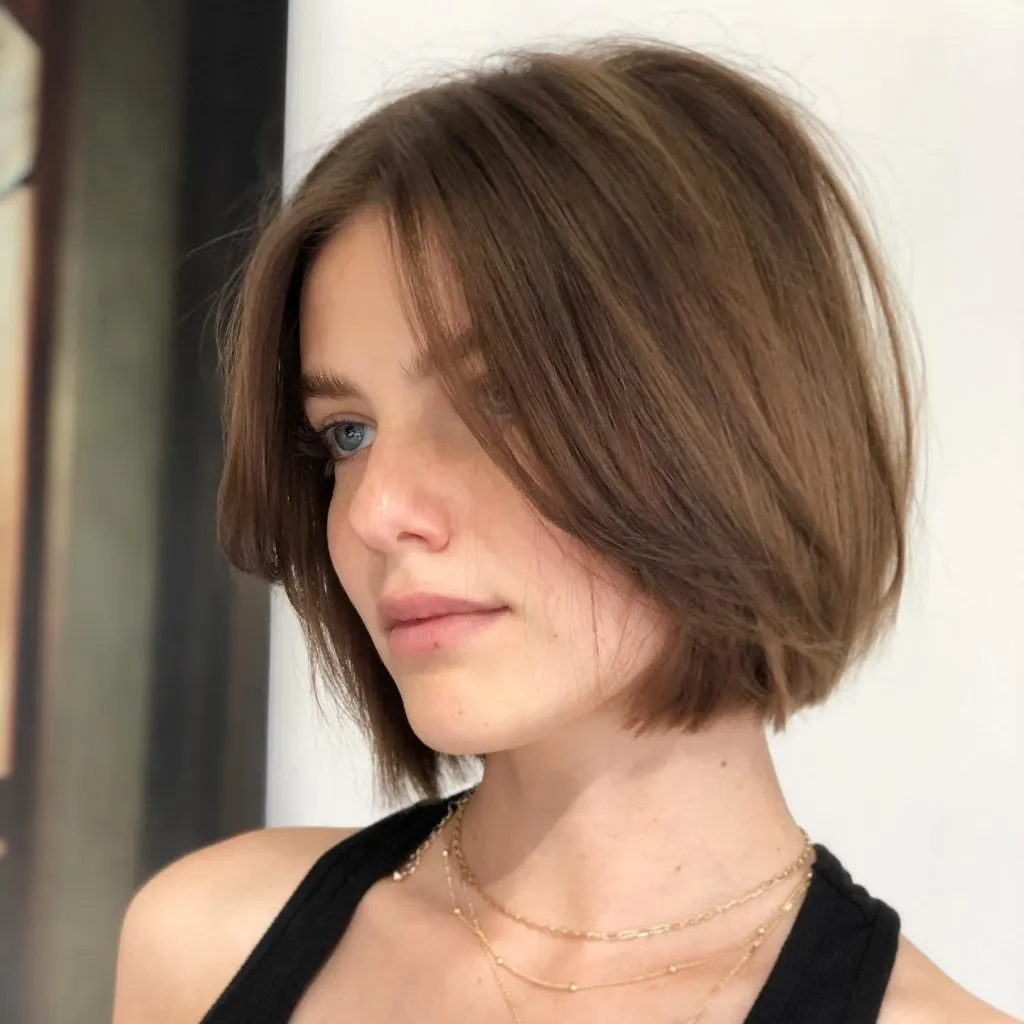 A soft bob with long bangs is elegant and timeless. The shape created by subtly tapered ends and texturizing layers also means that all the strands will fall into place even if you don't blow dry it.
27. French Bob With Curtain Bangs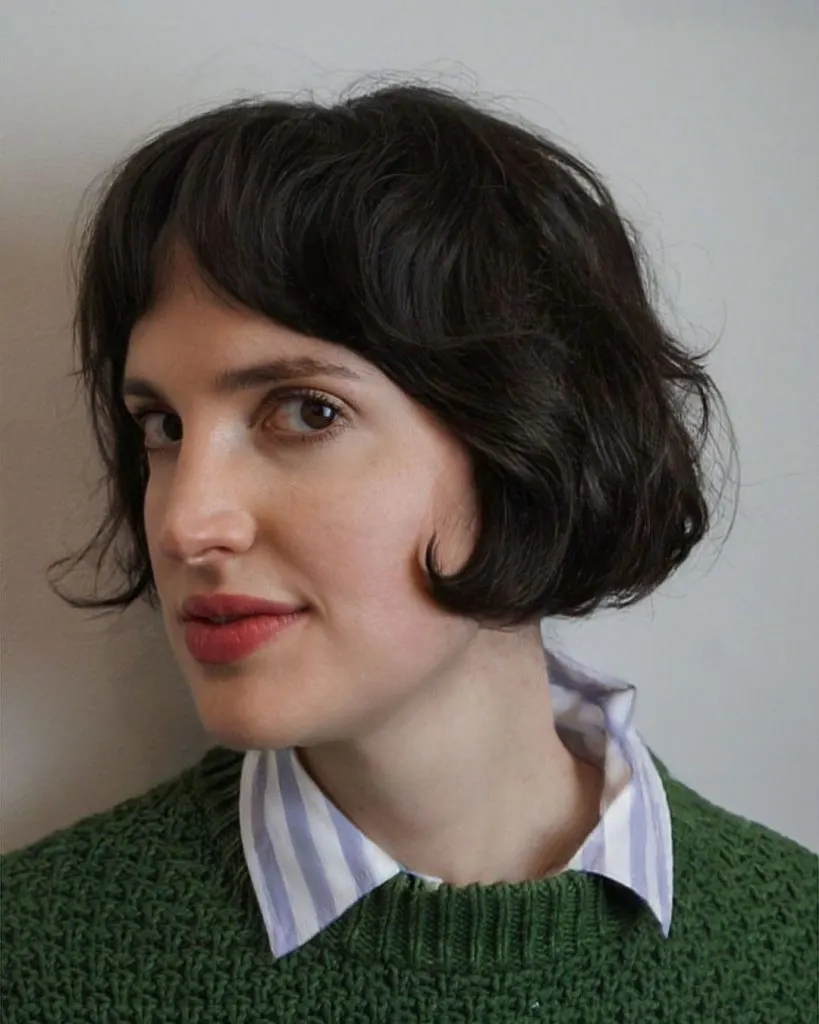 Baby curtain bangs make this a modern take on the French bob—a little whimsical and very cute.
28. Fine Hair Straight Bob Haircut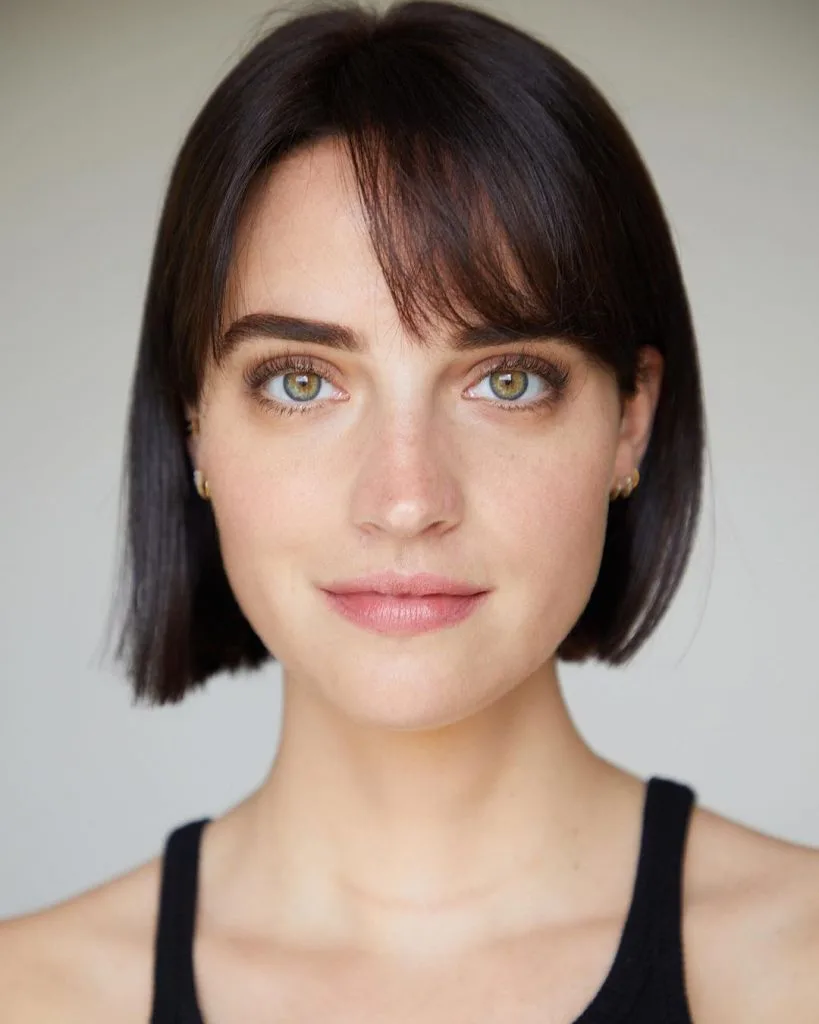 You can't go wrong with side bangs, but they look best on diamond and heart-shaped faces—simply adjust the length and the shape, depending on what you want to highlight.
29. Textured Short Bob With Bangs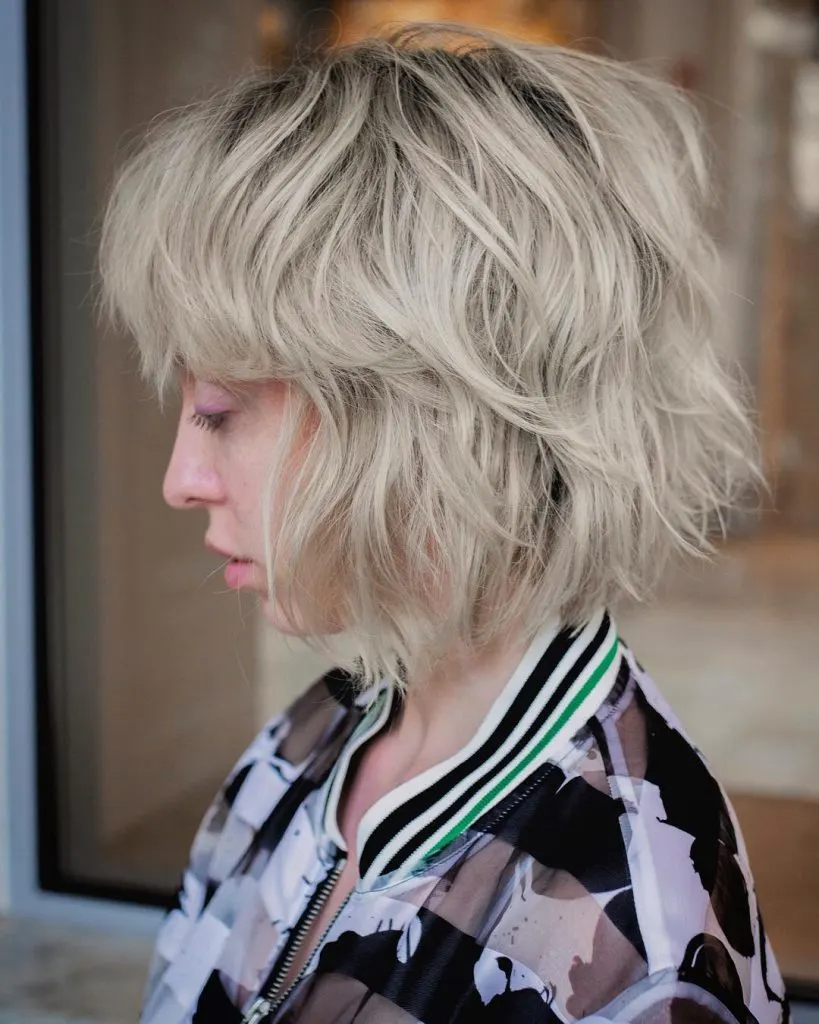 Shaggy bob haircuts are a great choice if you have fine hair but lots of it. This type of hair tends to easily fall flat, but layers and salt spray should take care of that.
30. Very Short Bob Haircut With Fringe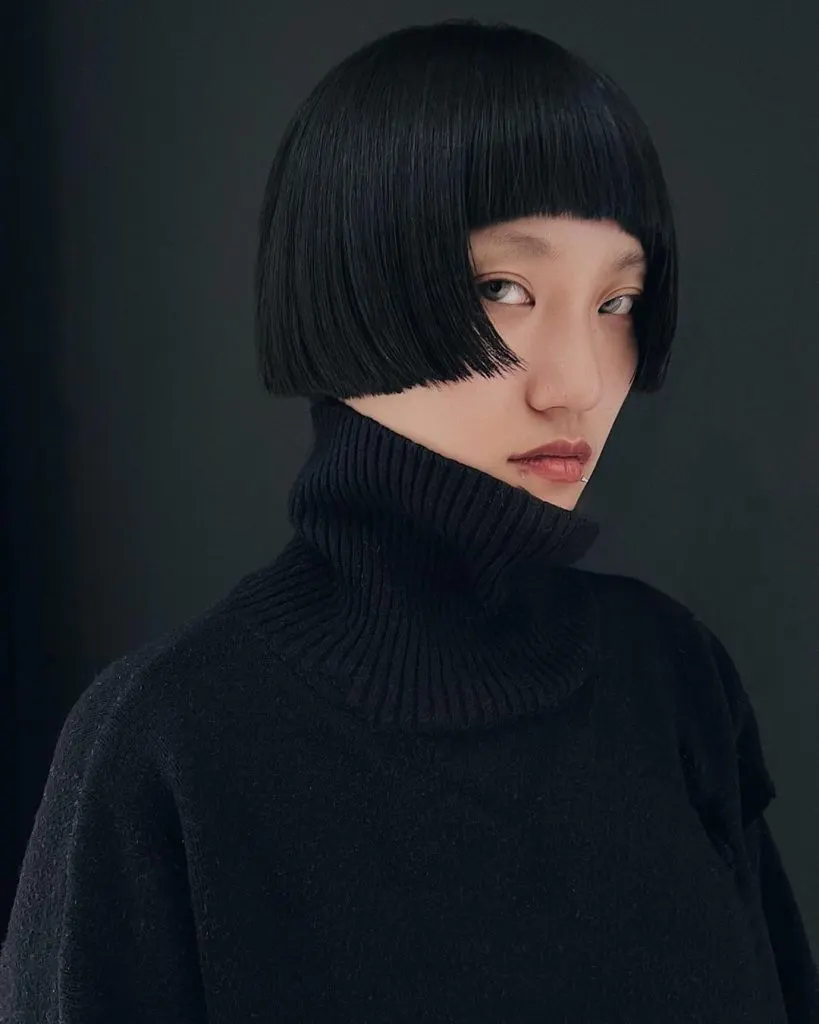 Structural haircuts look best on oval faces which can pull off any hairstyle, but that doesn't mean you can't wear something similar if your face is of a different shape. Leave your hair a little longer or make the bangs different, and you'll be able to adjust any haircut to your own features.
31. Blunt Bob With Curtain Bangs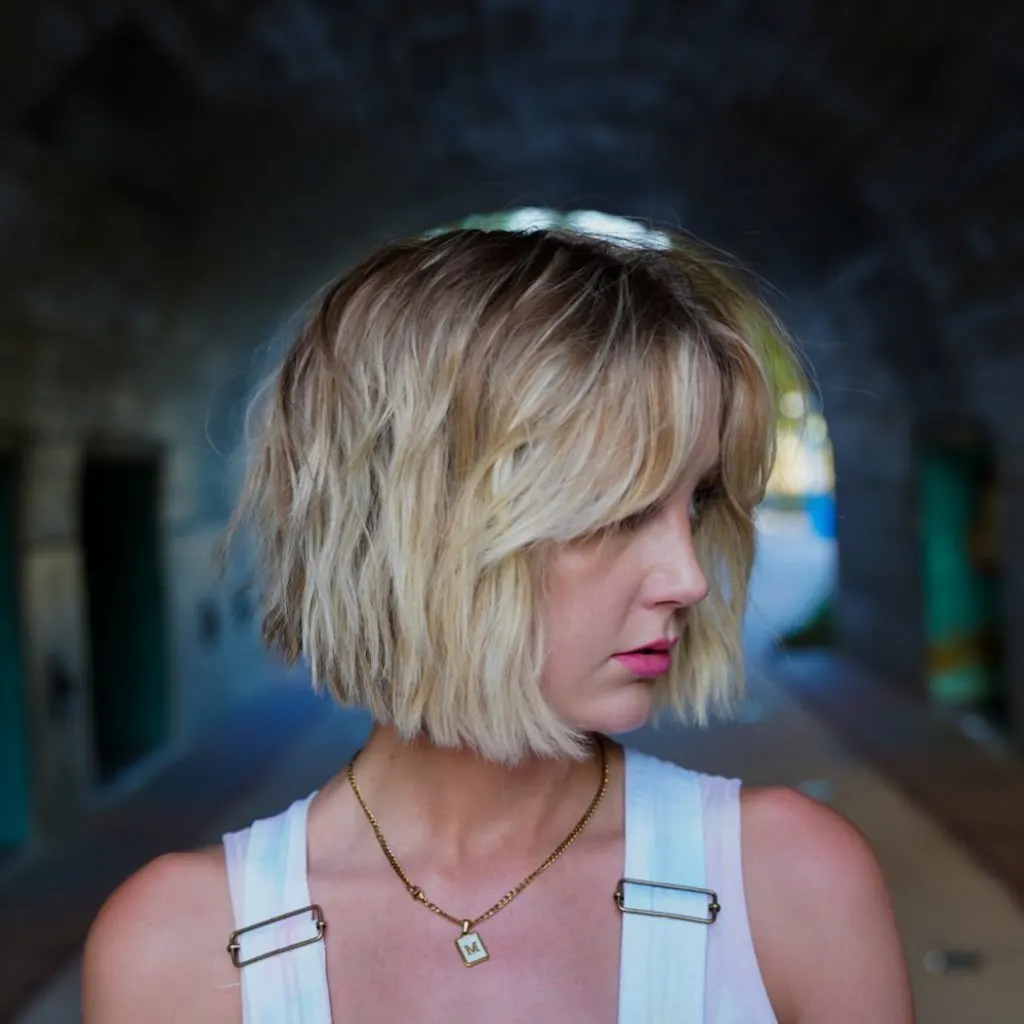 A wavy blunt bob with curtain bangs used to be the essential Insta girl hair, and it took a lot of styling to achieve that seemingly effortless look. Now it's all about your natural texture, so update your look by forgoing the flat iron.
32. Curly French Bob With Fringe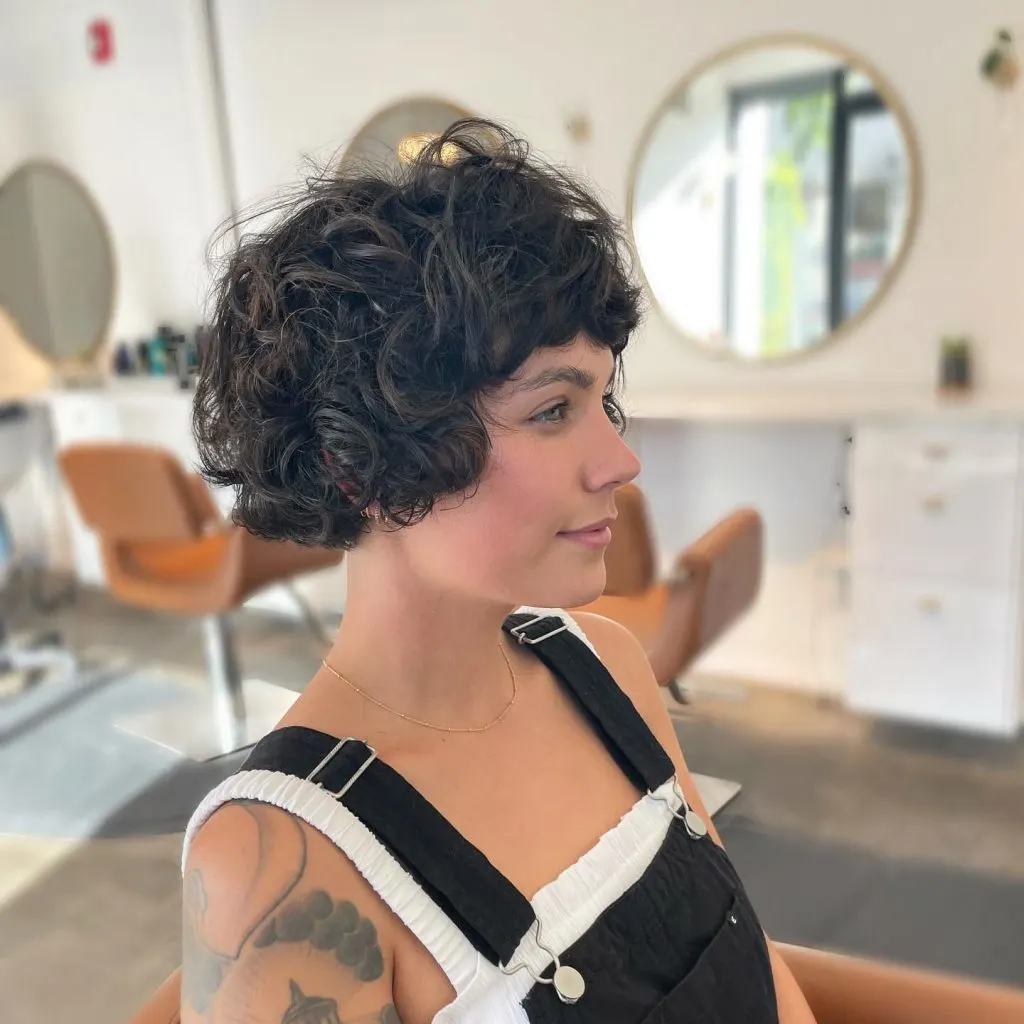 What could be cuter than soft curls cropped into a playful French bob? In addition to being adorable, this haircut has something else working for it: it takes virtually no effort to style.
33. Straight Cute Bob With Bangs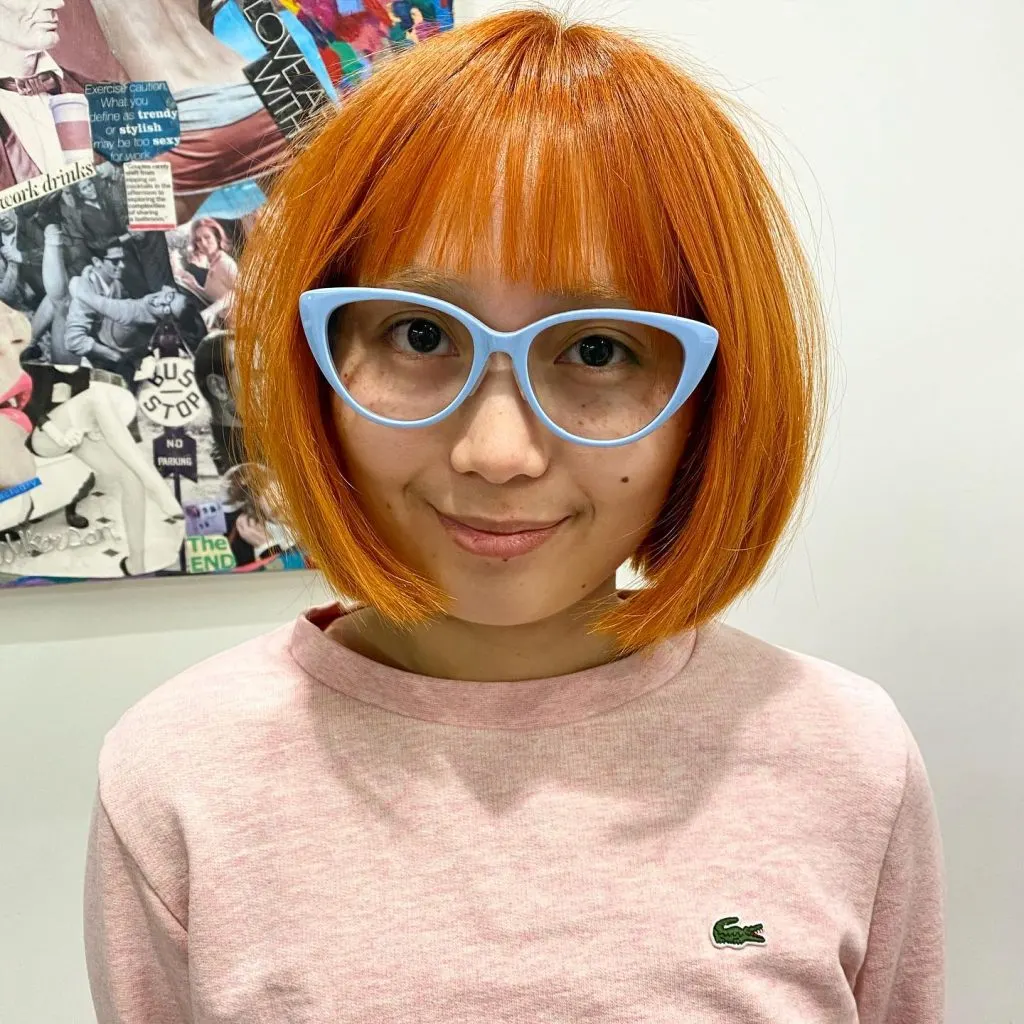 A bob haircut is versatile because depending on how you style it, you can get a completely different look. For example, adding texture to this sleek rounded bob would create an entirely different vibe.
34. Chin-Length Bob With Curtain Bangs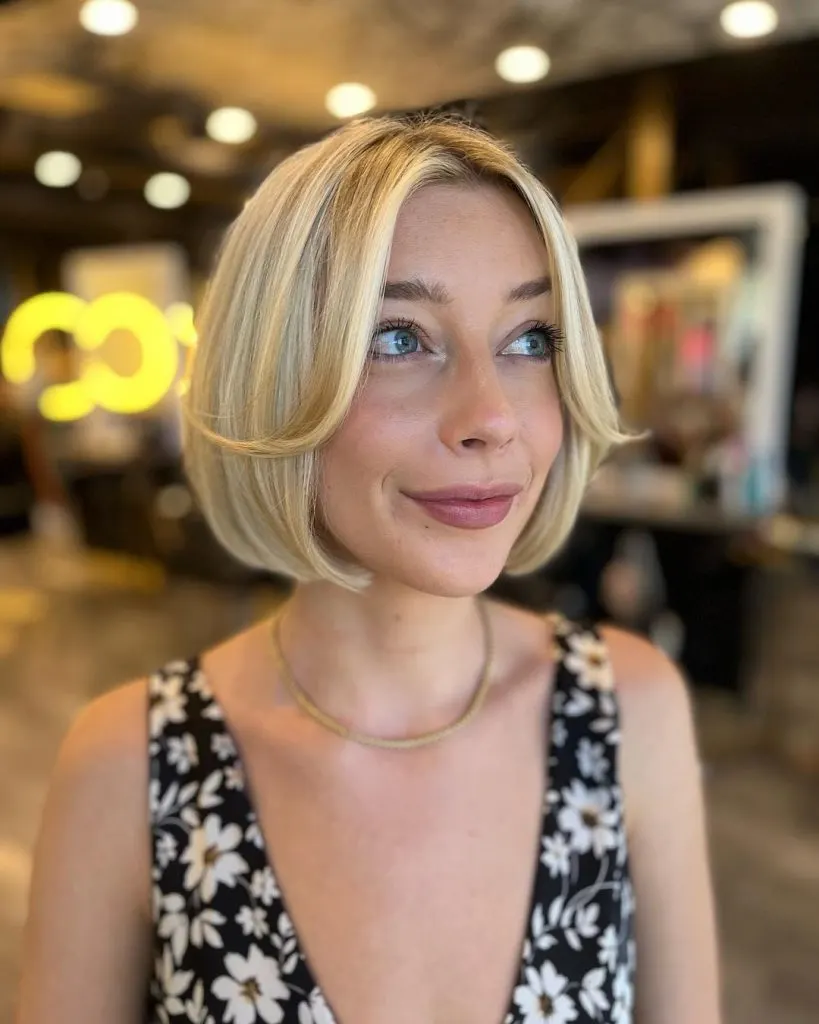 Experimenting with styling to come up with refreshing ideas: flipping the bangs outwards adds a youthful tone to this otherwise classic cut.
35. Short Bob Hairstyle With Fringe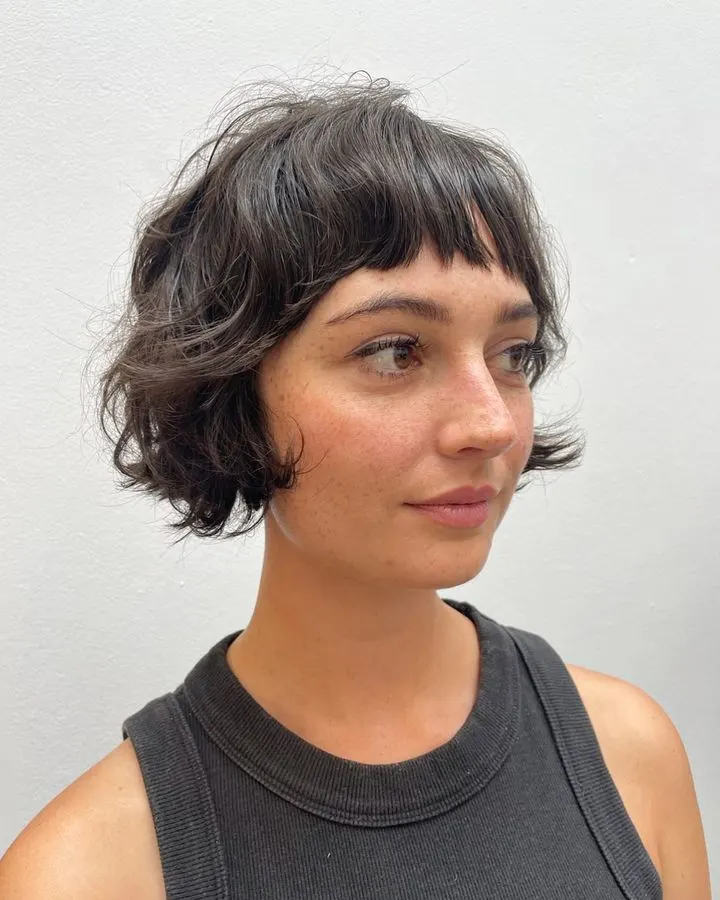 To draw attention to your cheekbones, go for a classic French bob. It's usually cropped very short, but if a different length fits your face better, it can be easily adjusted.
36. Short Bob With Baby Curtain Bangs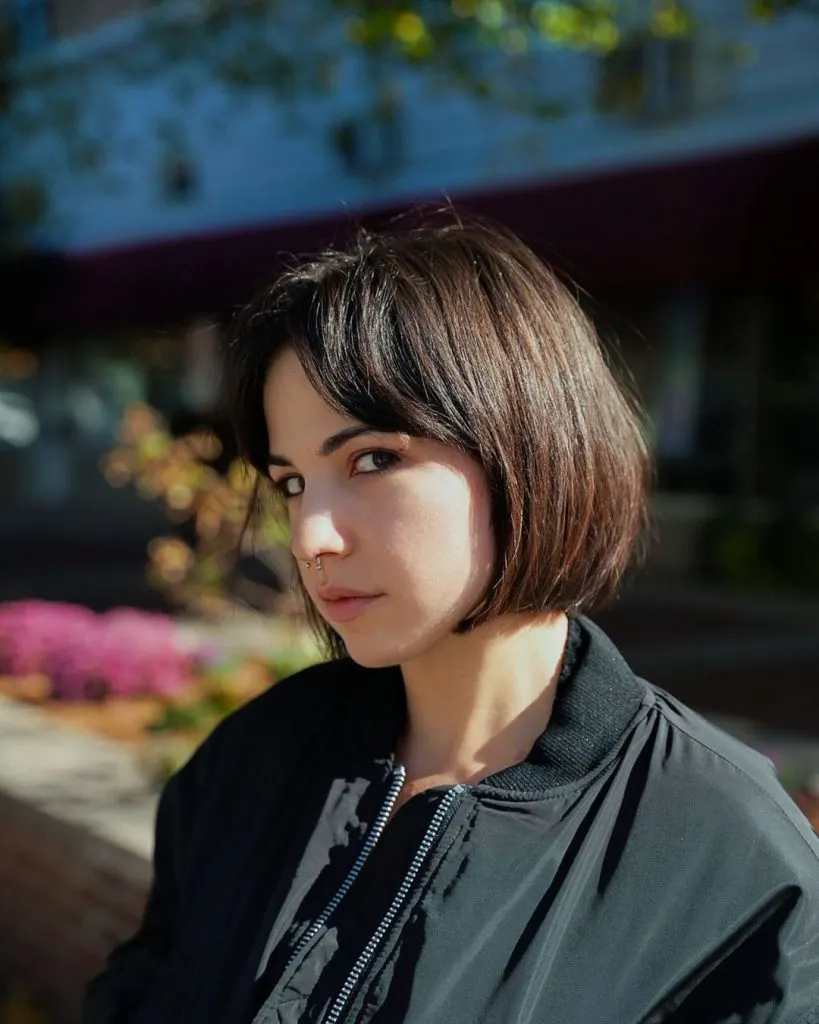 If you want a blunt bob with bangs, your stylist might need to thin out the bottom to avoid a triangular look. This will also make styling easier because you won't have to struggle to achieve a shape.
37. Short Layered Bob With Bangs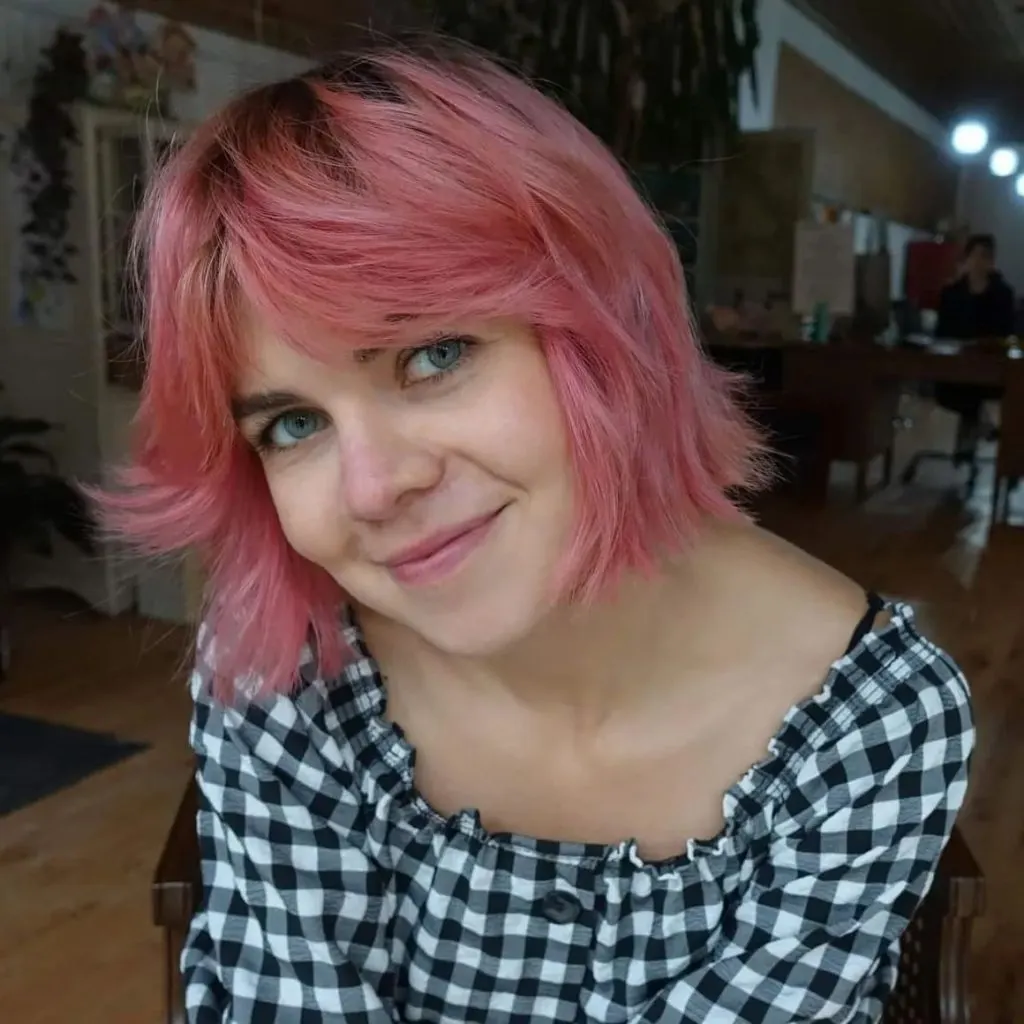 When your hairstyle is too done, it can be restrictive and force you to wear it one way only. A bit of contrast can help avoid this: feathered bangs and soft layers offset the blunt ends, making this style interesting and versatile.
38. Short Bob Hairstyle With Bangs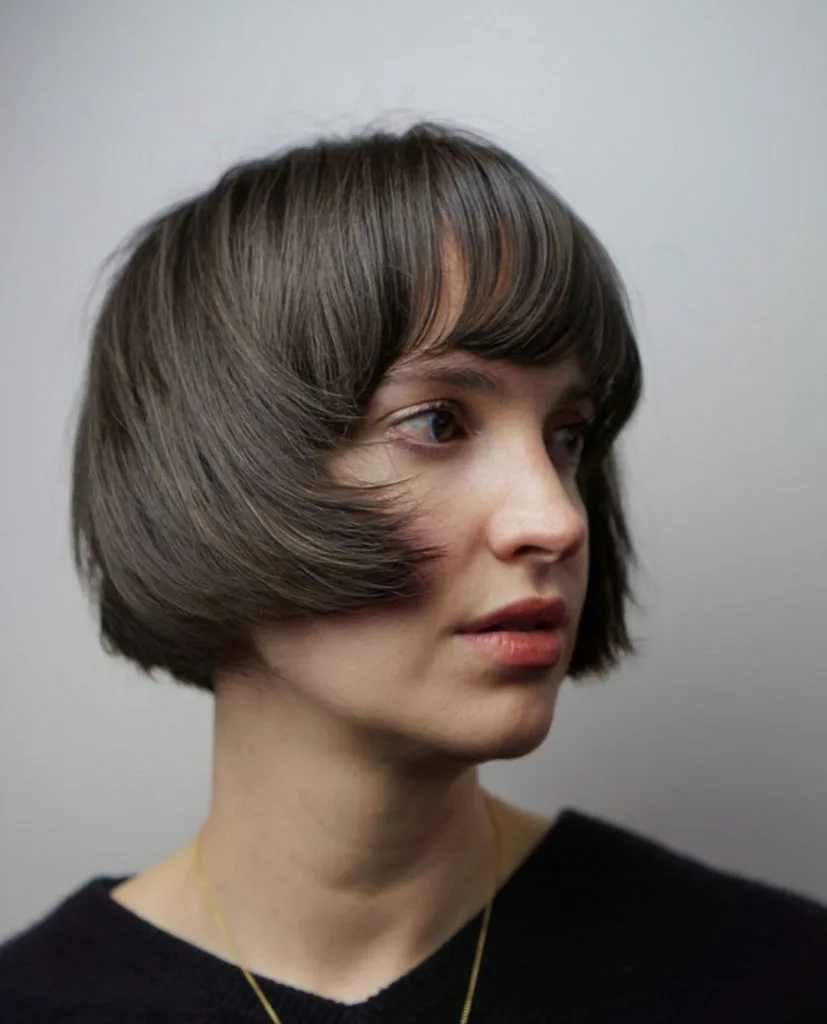 Depending on how you style your bob, you can create more looks than it seems possible for a short haircut. Simply changing the direction you blow your hair in can make a huge difference.
39. Wavy Short Bob With Fringe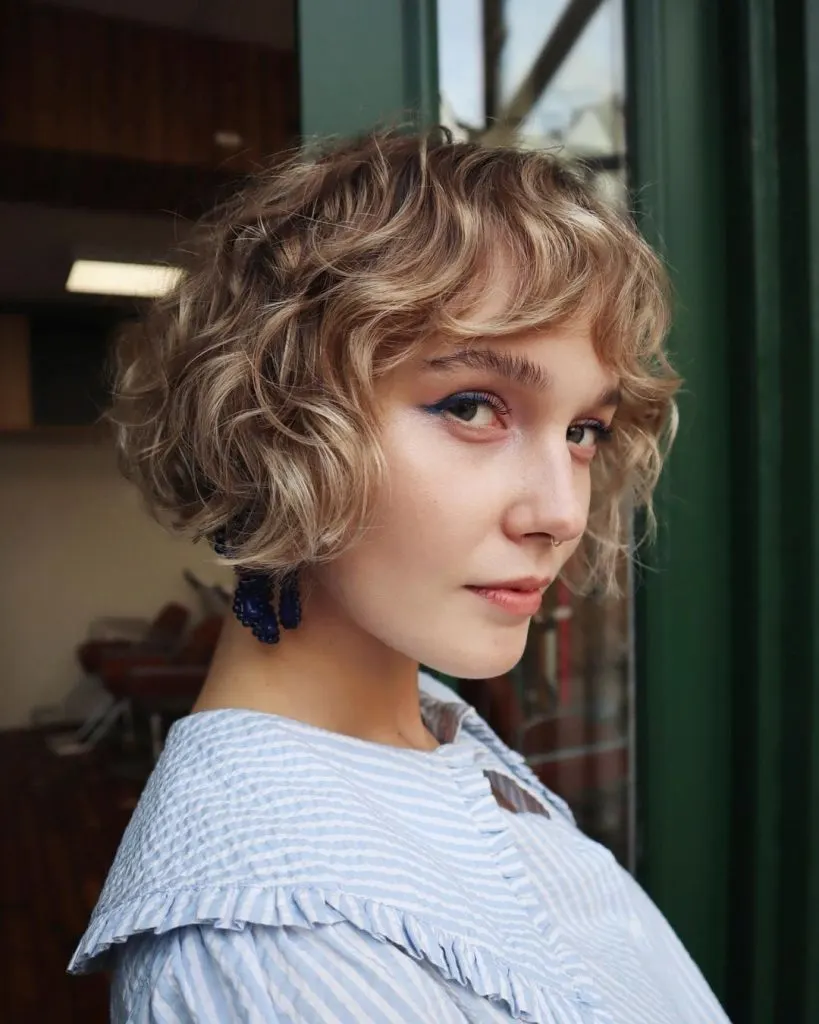 Tiny curtain bangs might be understated, but they're as powerful as their big sister: they frame the face and soften the features.
40. Classic Short Bob With Bangs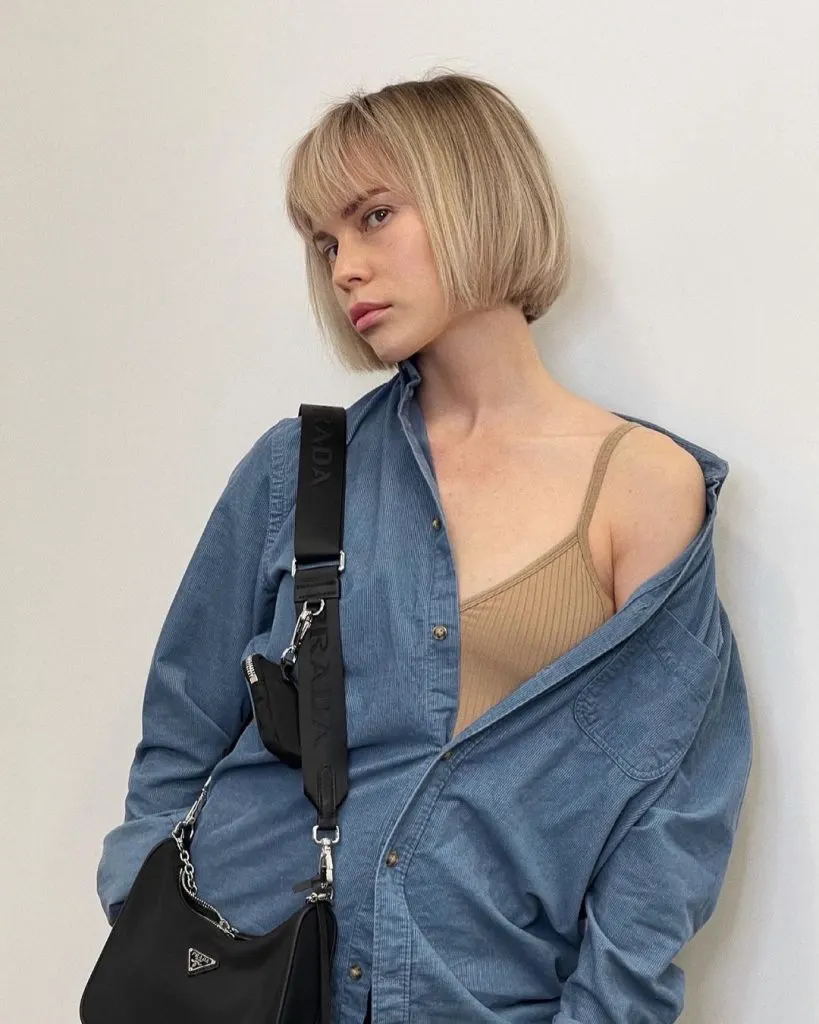 Texturizing layers are not supposed to create a layered look, but to give the haircut movement. This can also be applied to bangs to create a cohesive look.
41. Straight Bob With Bangs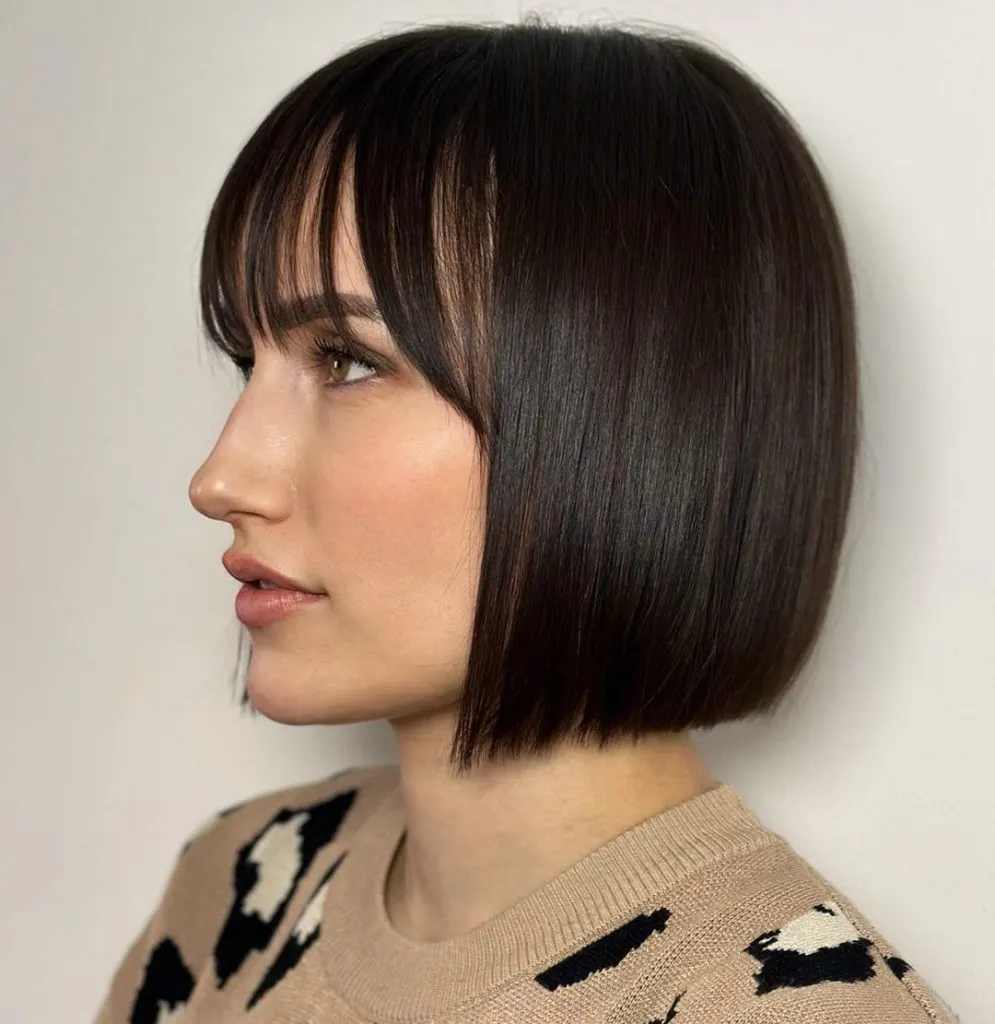 Blunt fringe tends to fall flat, so if your hair lacks volume anyway, they're not the best choice. Bring movement to your fine, straight hair with wispy tapered bangs.
42. Chin-Length Bob With Baby Bangs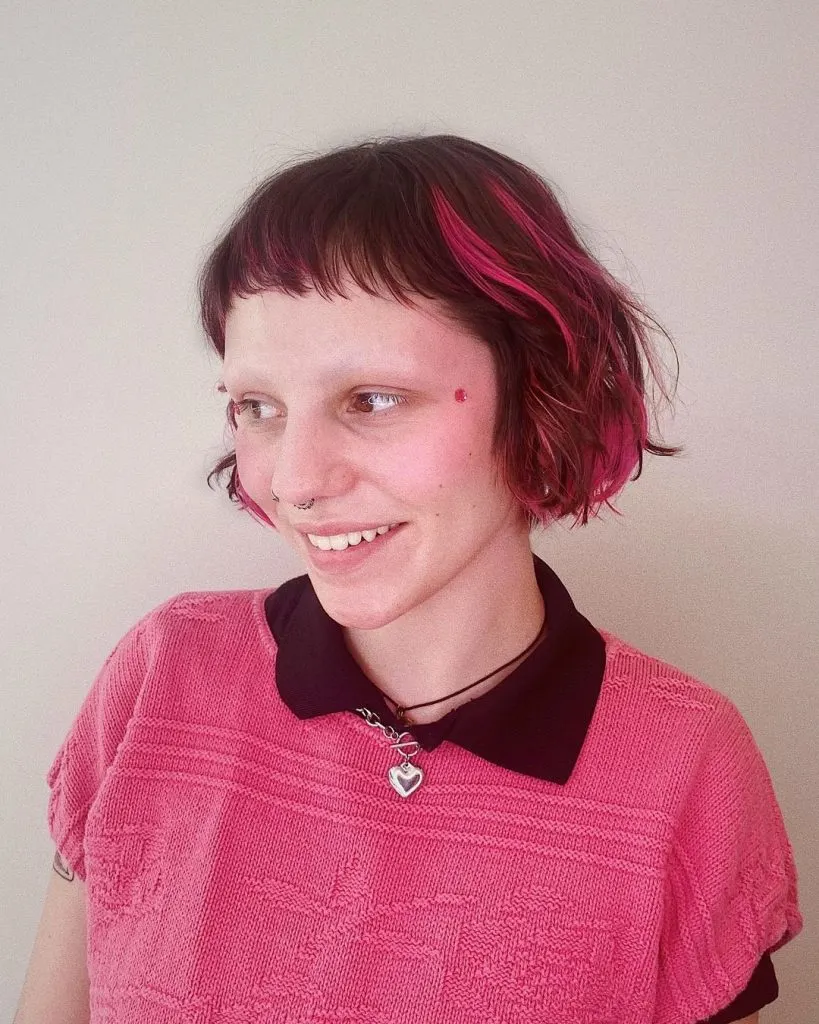 A jaw-length blunt bob with bangs has many variations, you just have to find the one that suits your style.
43. French Bob With Short Fringe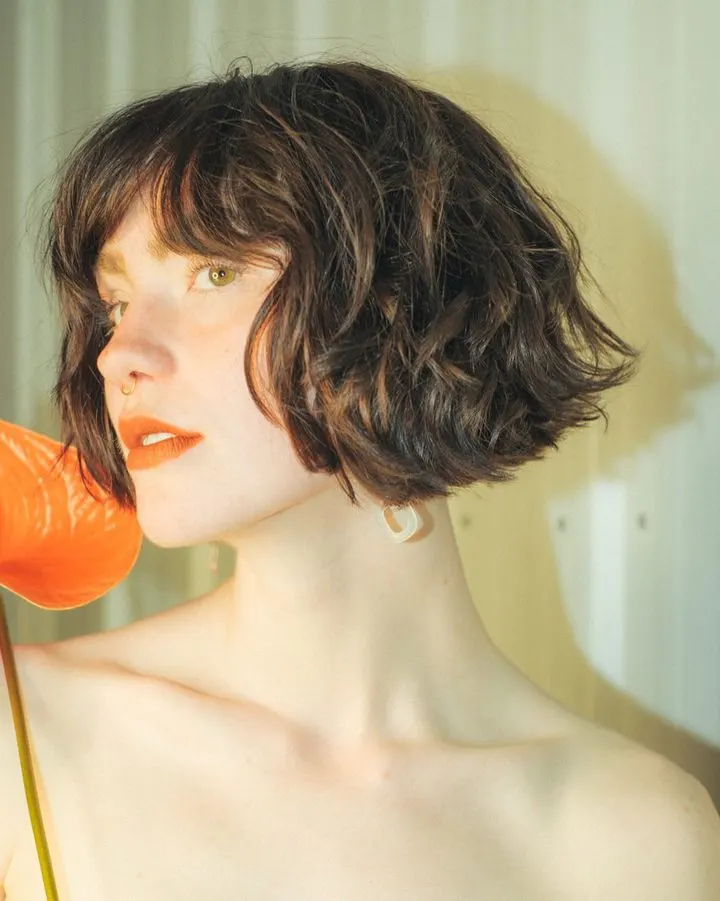 Throw away your hot tools and let your natural texture show—this is the key to achieving an actually effortless look.
44. Straight Bob With Choppy Short Fringe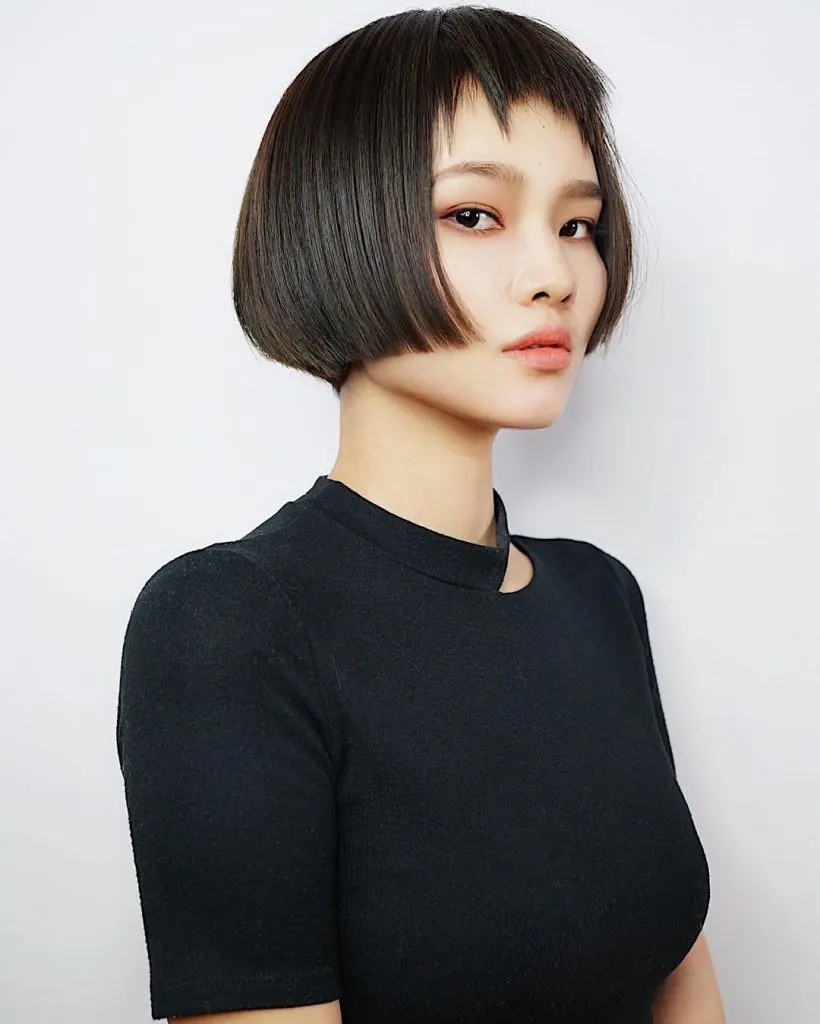 Irregular, choppy fringe is a surprising twist on a classic French bob—there are truly no limits to how you can wear any haircut if you make it fit your personality as much as your face.
45. Classic Bob Haircut With Bangs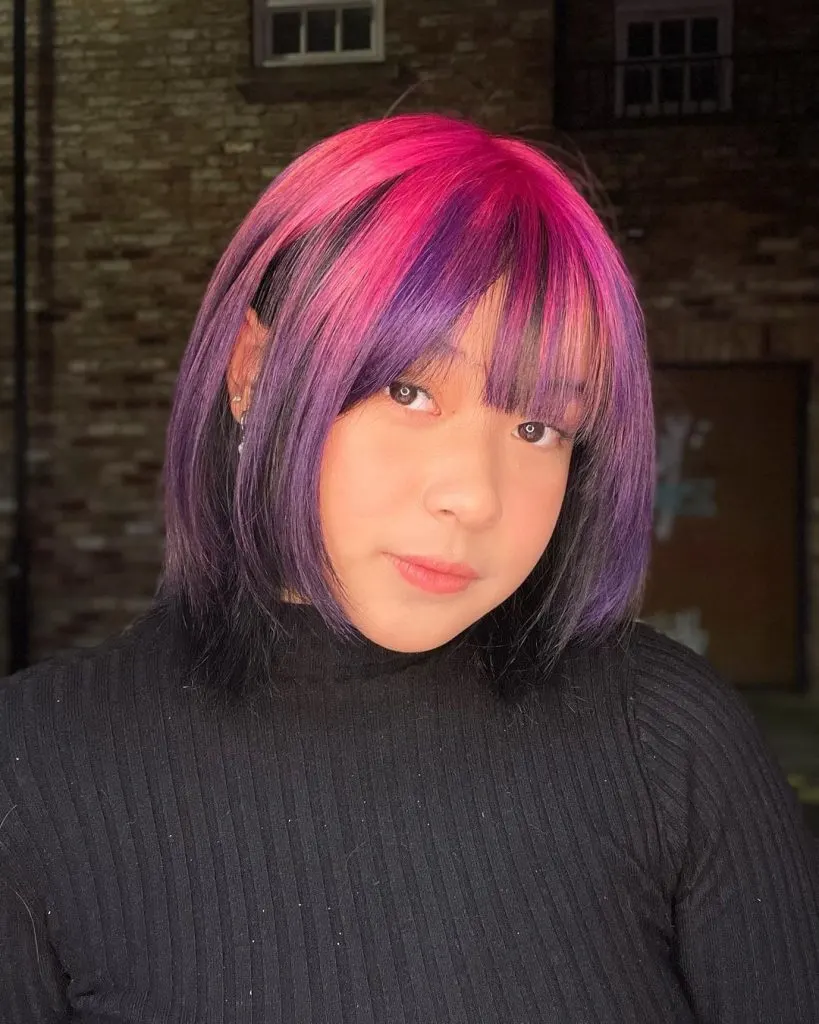 Paired with a natural color, this bob hairstyle would look simple and sophisticated, but like this it looks fashion-forward and unique.
46. Short Bob With Straight Bangs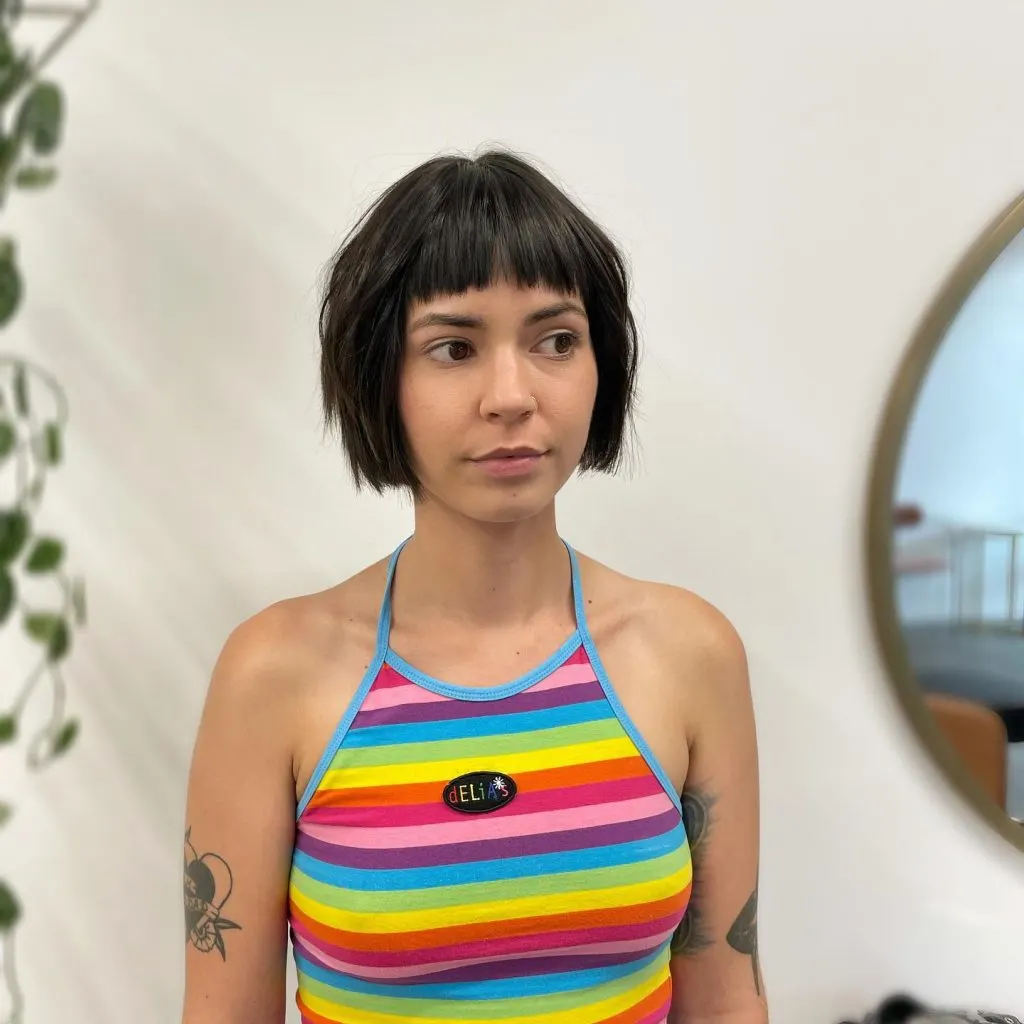 This bob looks perfectly flattering because it's in harmony with the hair texture and the face shape. If you want a low-maintenance style, look for something that's similarly easy.
47. Layered Bob Haircut With Bangs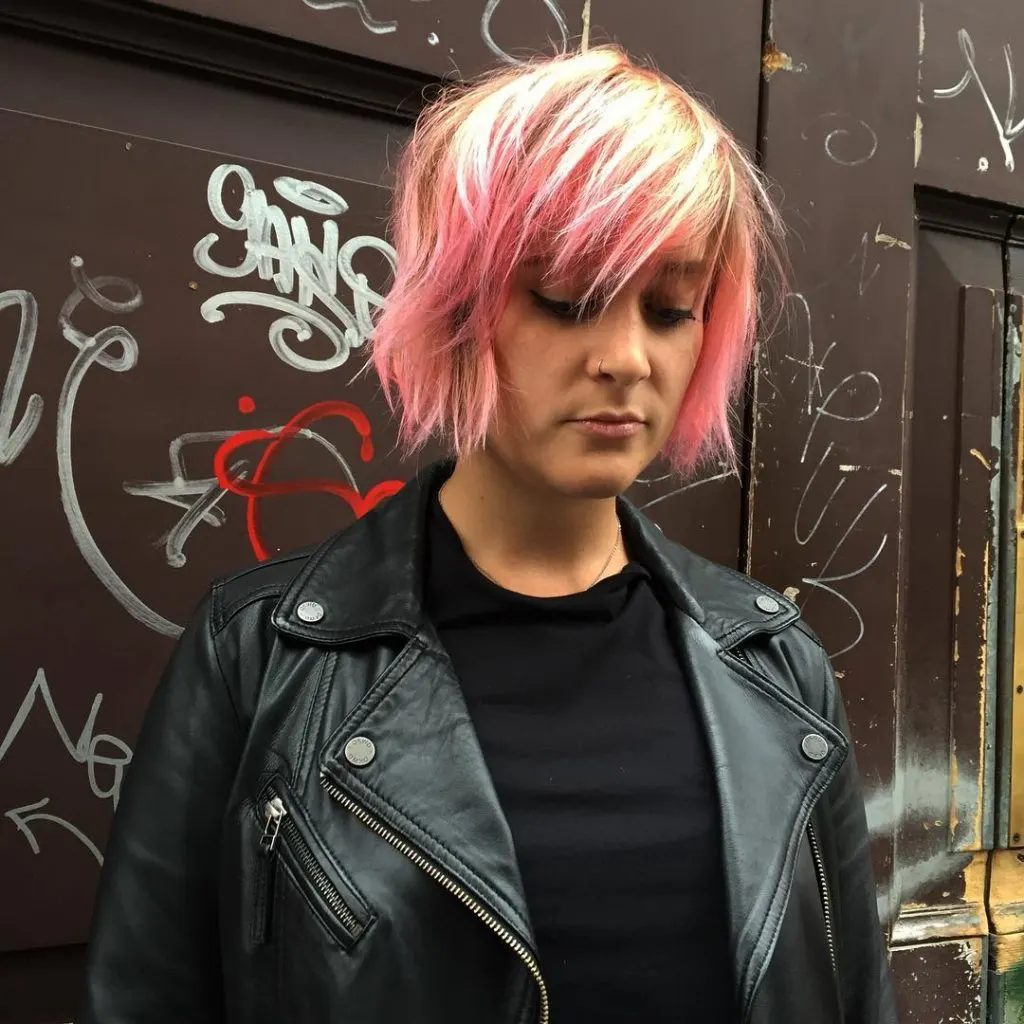 A short choppy haircut isn't just about a cool, effortless look—it also adds tons of volume to your hair. Combine with choppy bangs for an even bigger boost.
48. Curly Short Bob Haircut With Fringe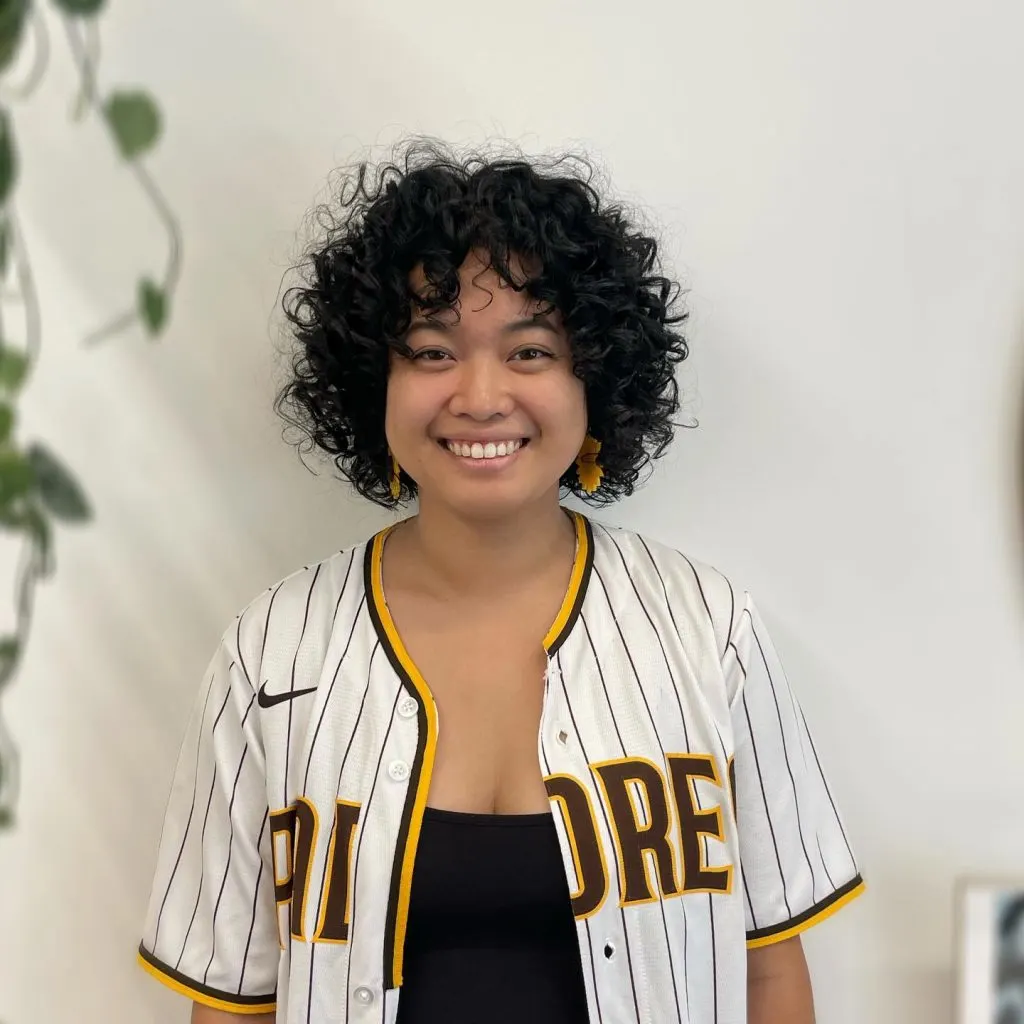 Bangs create dimension and add shape to a curly bob, and do what bangs do best: frame the face. Even a couple of strands make a huge difference!
49. Short Bob With Edgy Bangs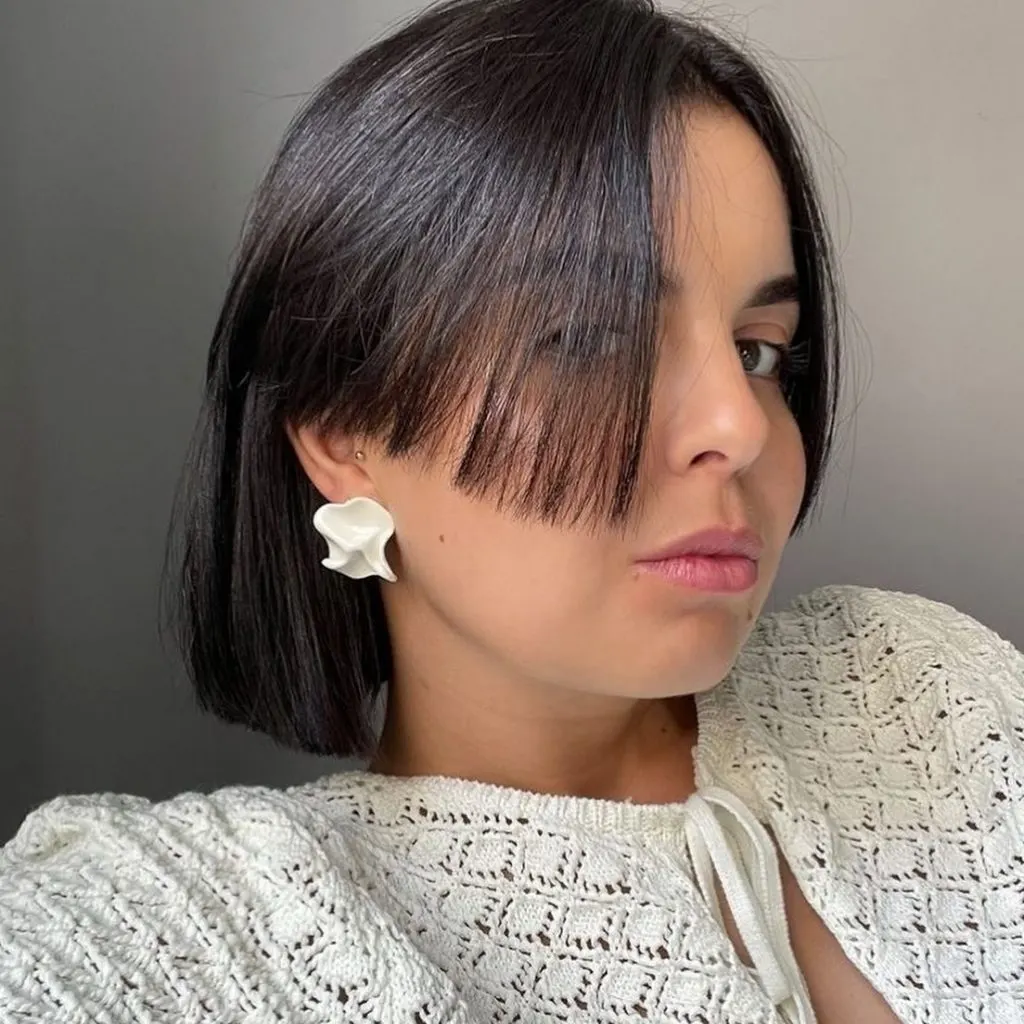 If you want a style that's both classic and edgy, don't be afraid to experiment. For example, play around with the style of bangs you wear with your bob.
50. Choppy Short Bob With Full Bangs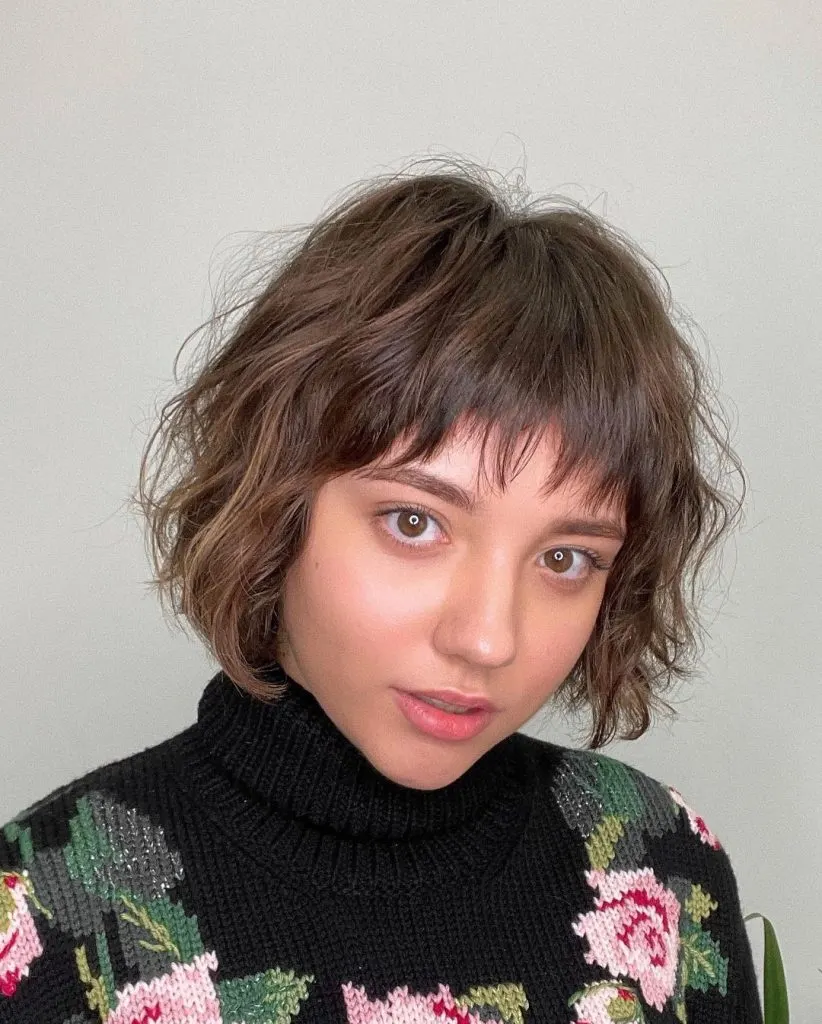 Blunt baby bangs cut straight across can look too defined, so for a more relaxed look ask your stylist to make them choppy. This style of bangs is particularly flattering if you have a heart-shaped face.
51. Short Bob Cut With Wispy Bangs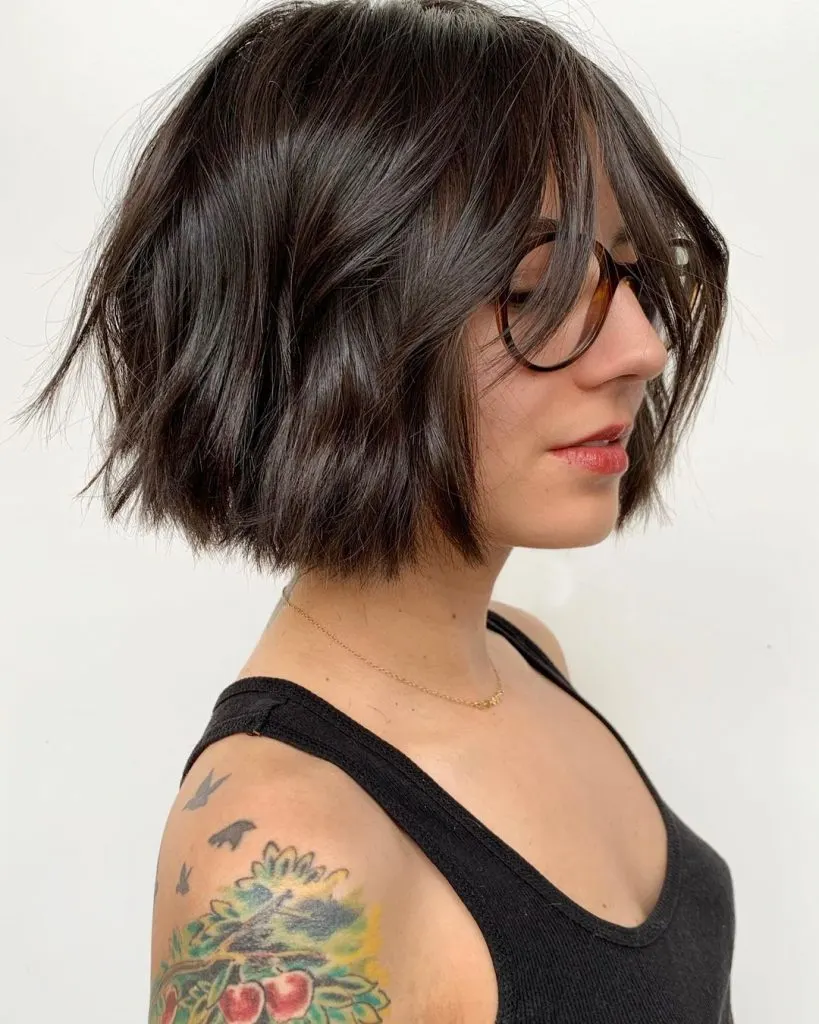 Grown out wispy bangs give you the best of both worlds: a couple of shorter pieces around the face soften the face, but you can easily put them away and make it seem like your hair is all the same length.
52. Neck-Length Bob With Long Bangs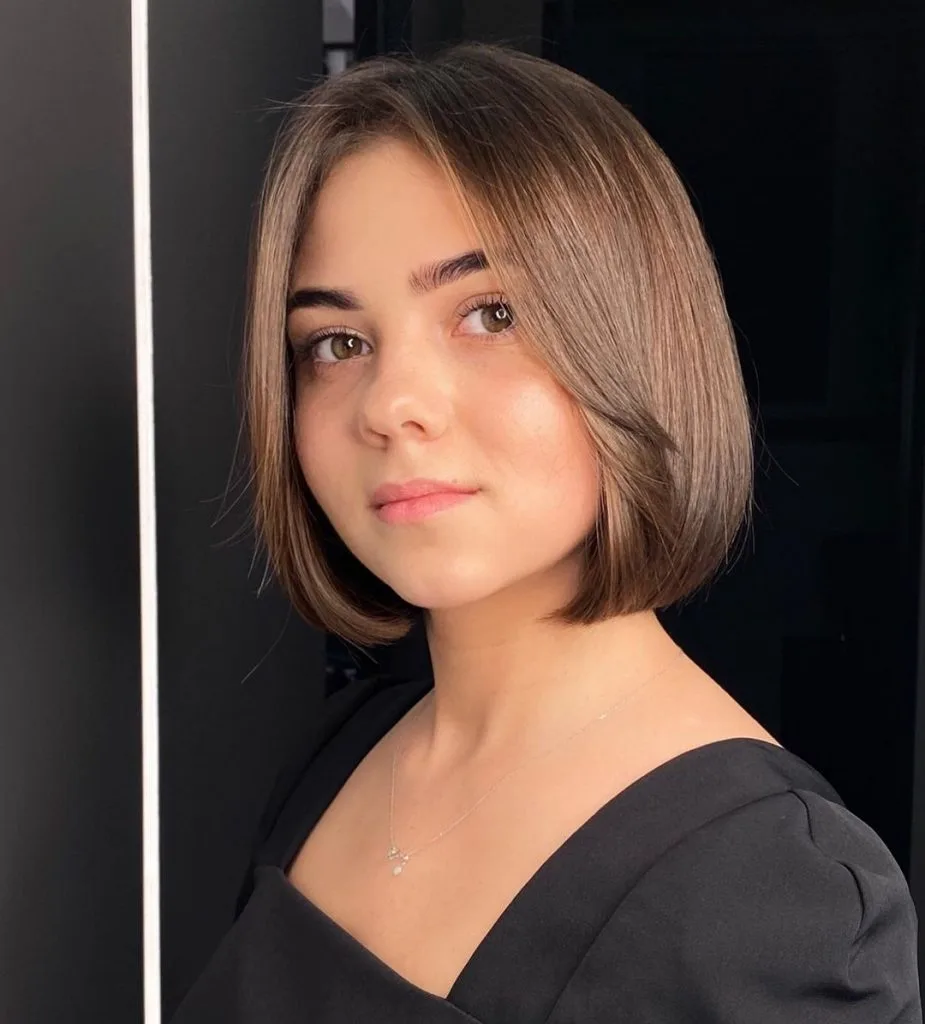 An elegant rounded bob looks great on all face shapes, but you can make it suit you even better if you add the right style of fringe.
53. Two-Tone Straight Bob With Bangs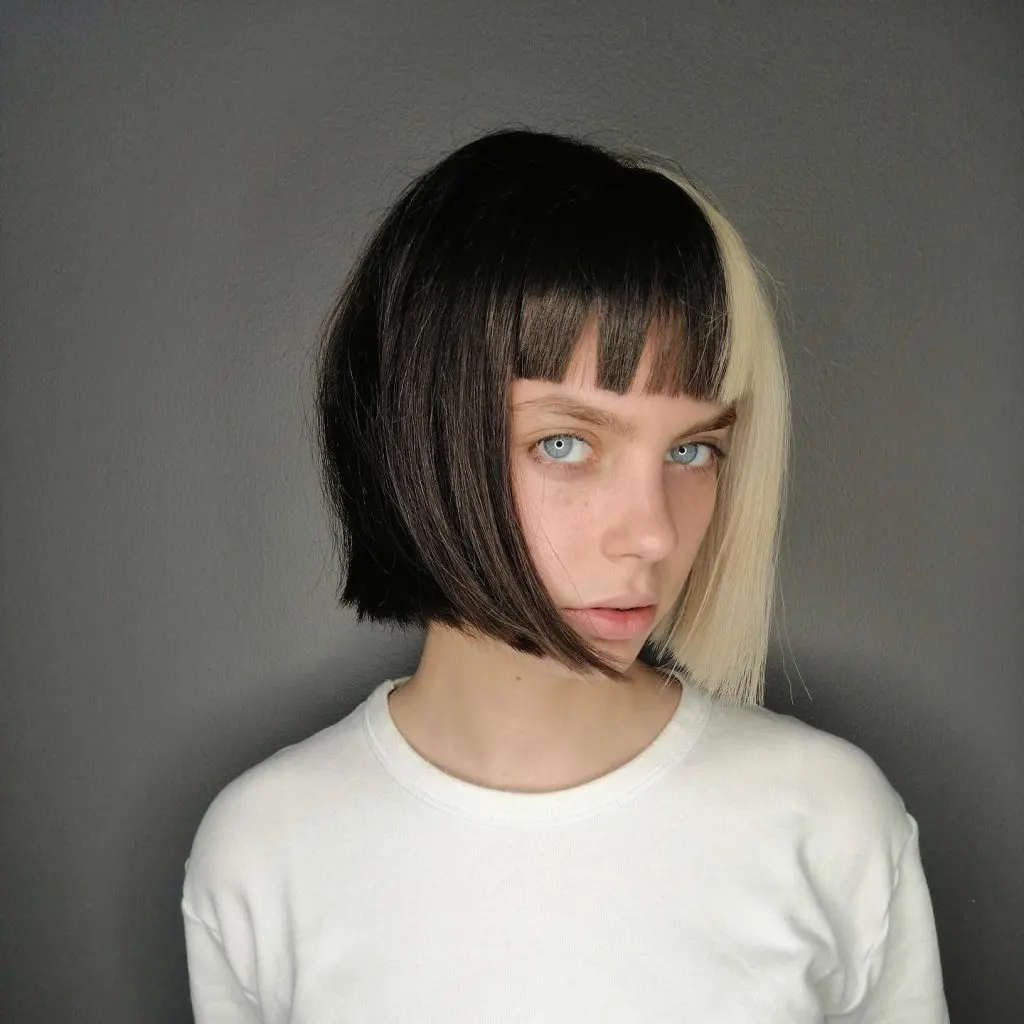 Gemini hair on a blunt bob with bangs will make you look like a movie villain—in a good way. It evokes an edgy and cool atmosphere and won't fail to draw attention.
54. Chin-Length Bob With Full Fringe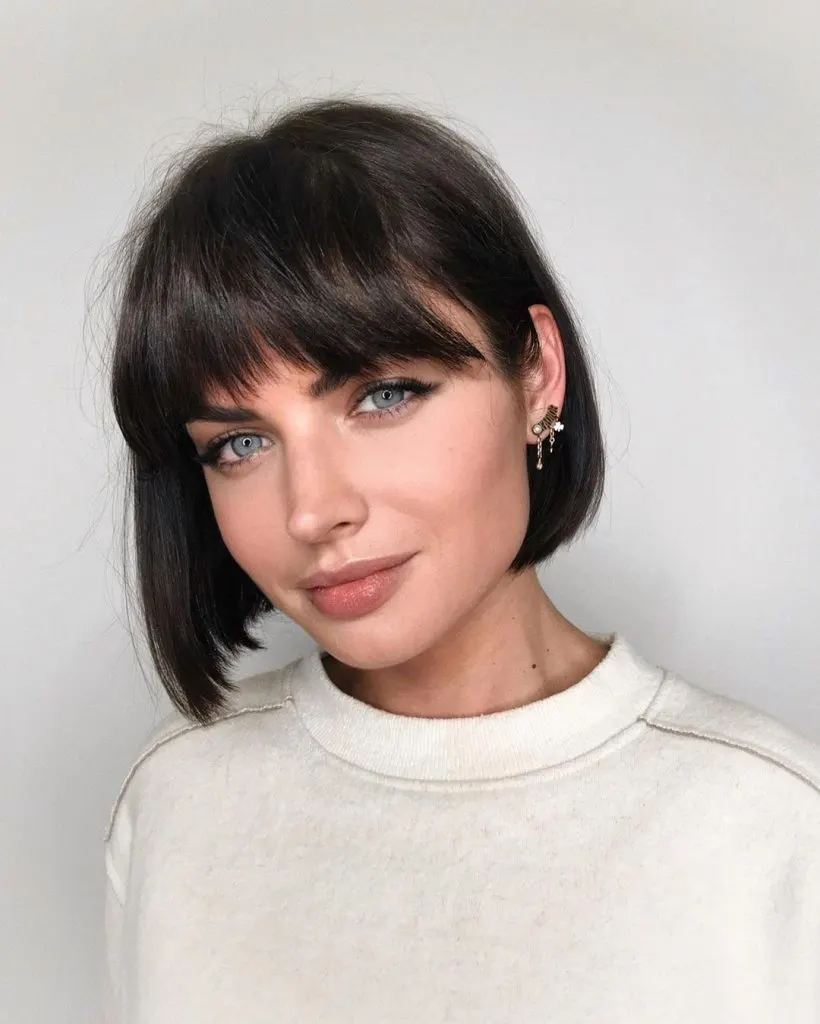 Full bangs with feathery ends look much softer than when they're cut bluntly. This also means that you can style them to look more voluminous, so they're a great option if your hair is thin or fine.
55. Short Layerd Bob With Bangs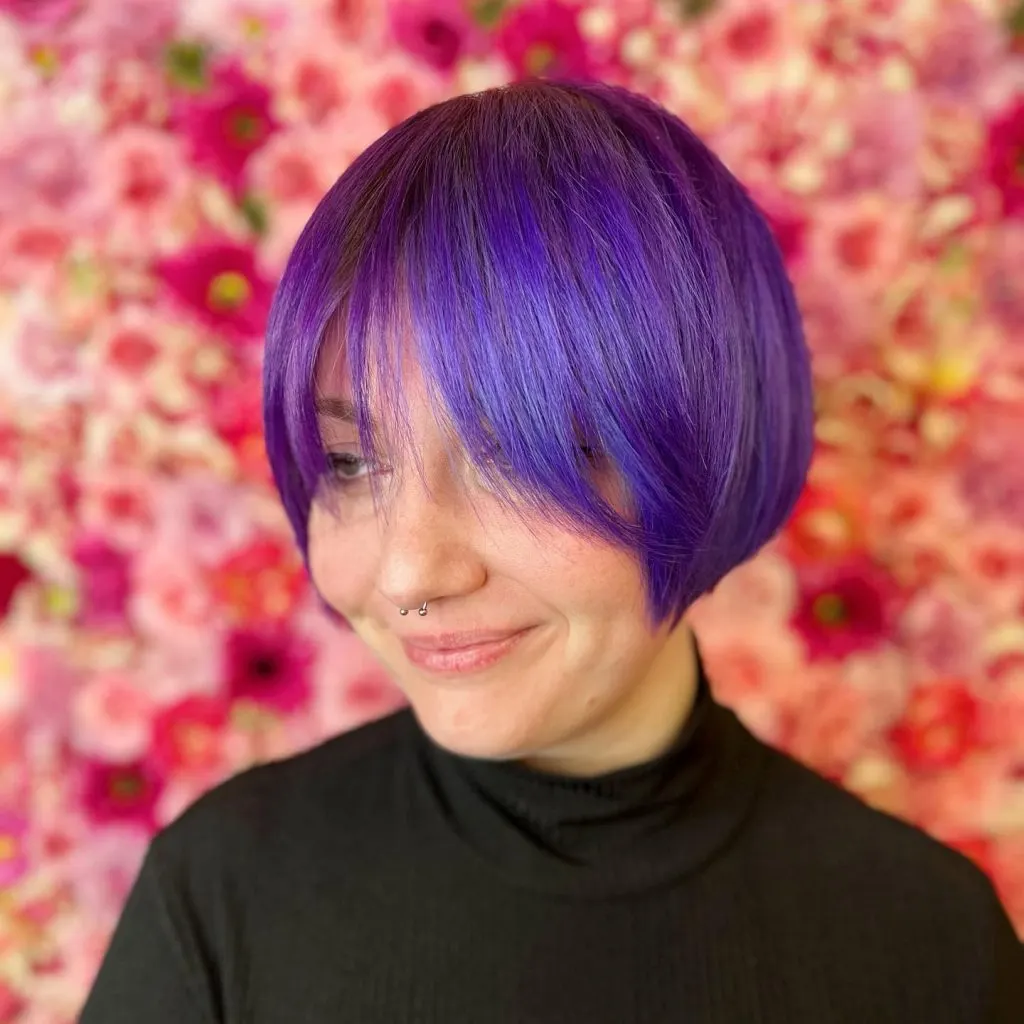 You want bangs, but you also don't? When you're unsure, start with a few strands around the face that are only slightly shorter than the rest of your hair. If you don't like it, growing them out will be easy.
56. Bob With Feathered Bangs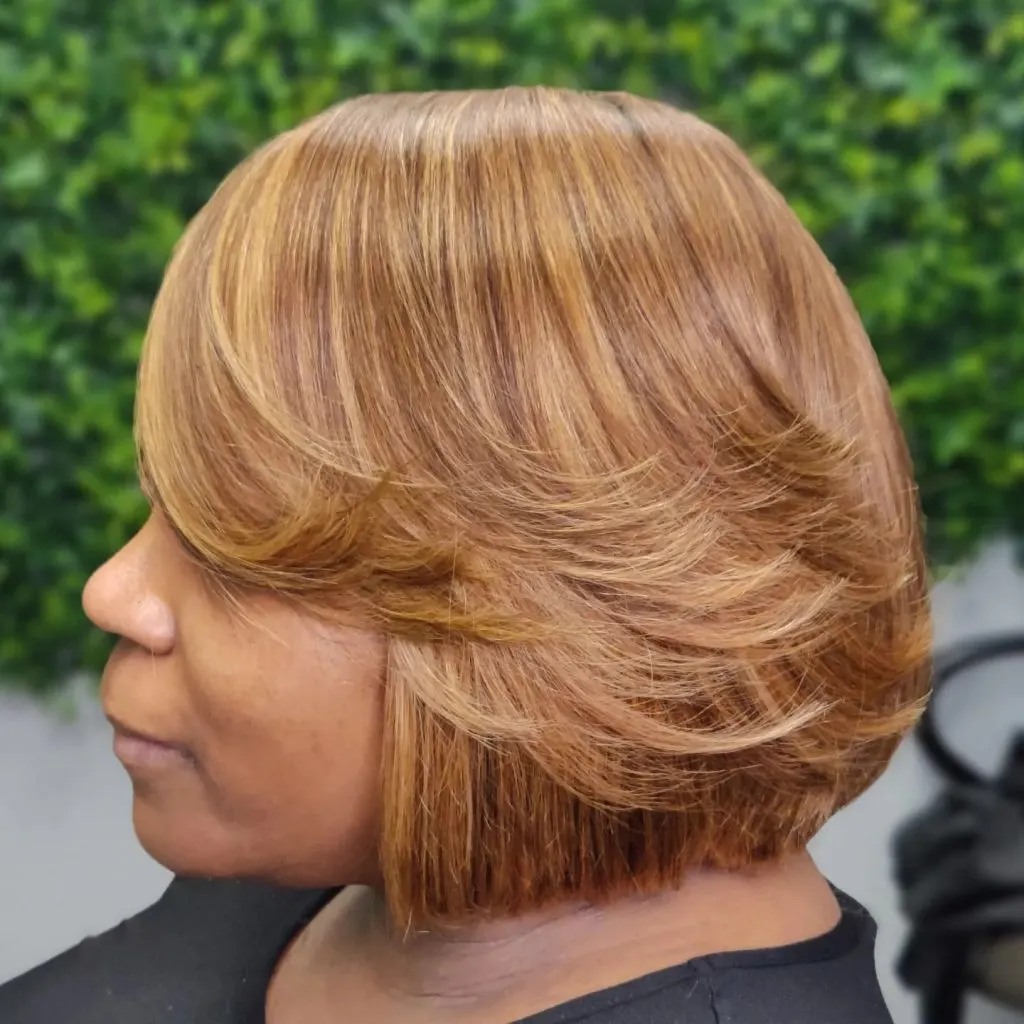 Feathered side bangs create a halo around the face and soften the features—the perfect length for you will depend on what you want to highlight.
57. Choppy Layered Bob With Curtain Bangs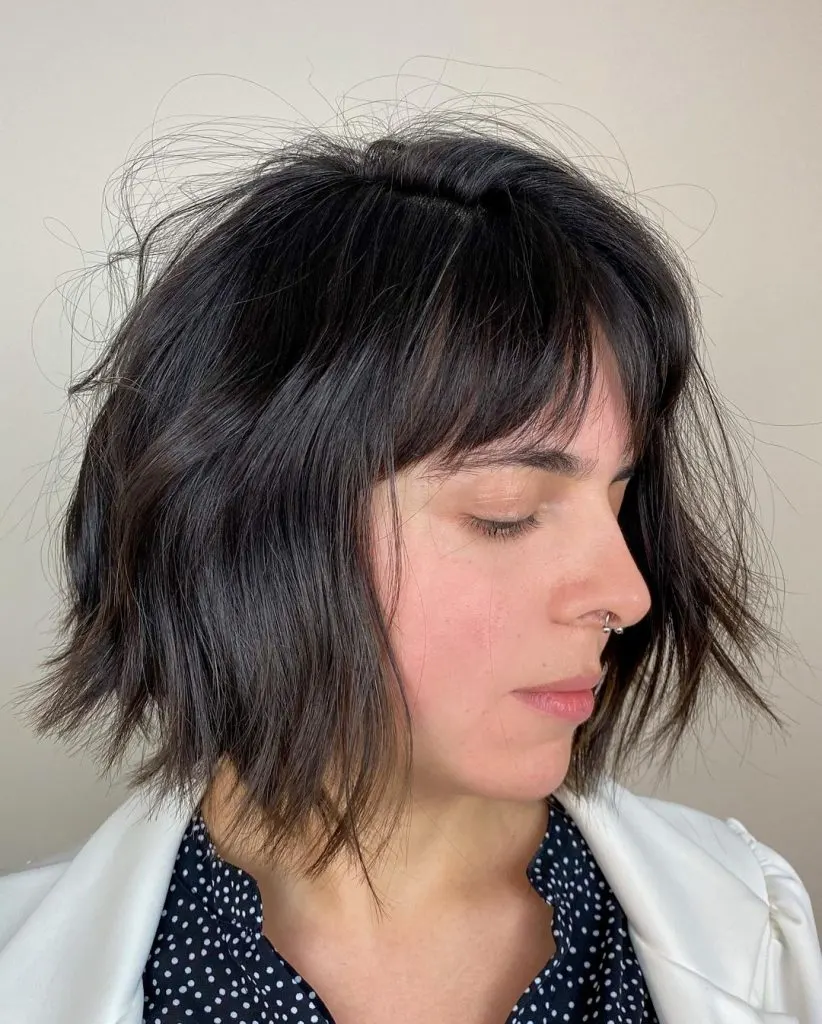 Short curtain bangs are the perfect complement to a tousled choppy bob: they look cute without making it seem like you've tried too hard.
58. Curly Short Bob Haircut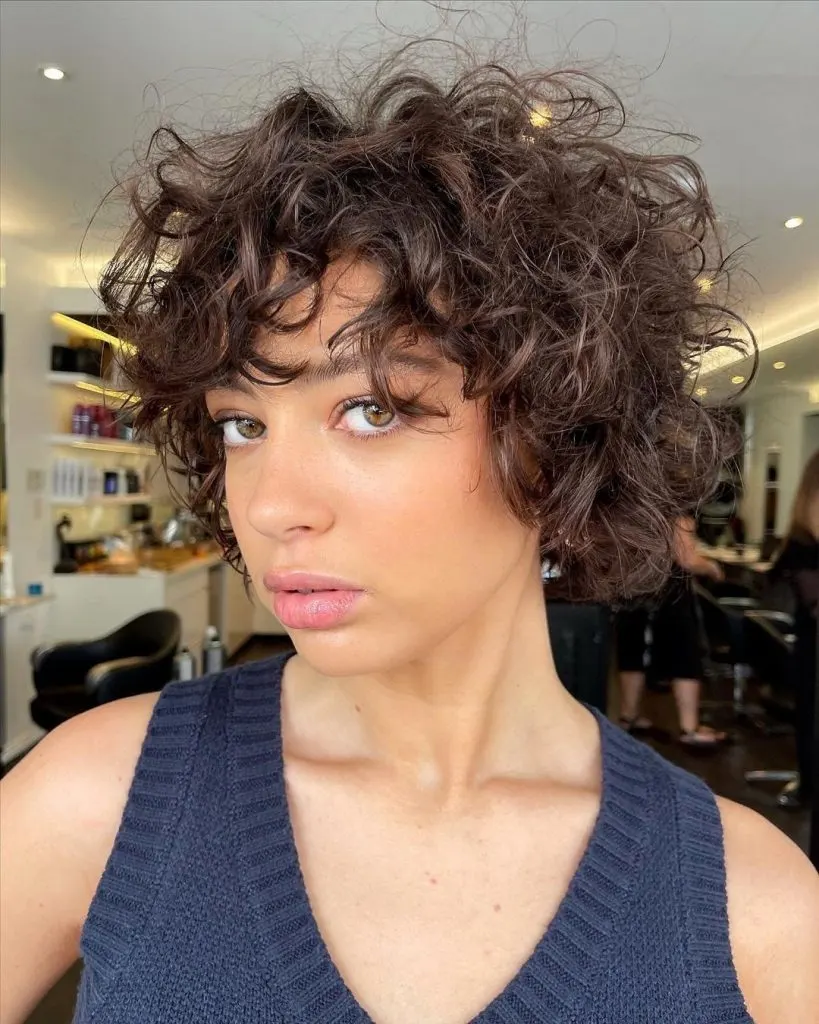 To freshen up your bob, add a few shorter strands and instantly change your look. Bouncy bangs make a layered curly bob look playful and carefree.
59. Shaggy Bob With Baby Bangs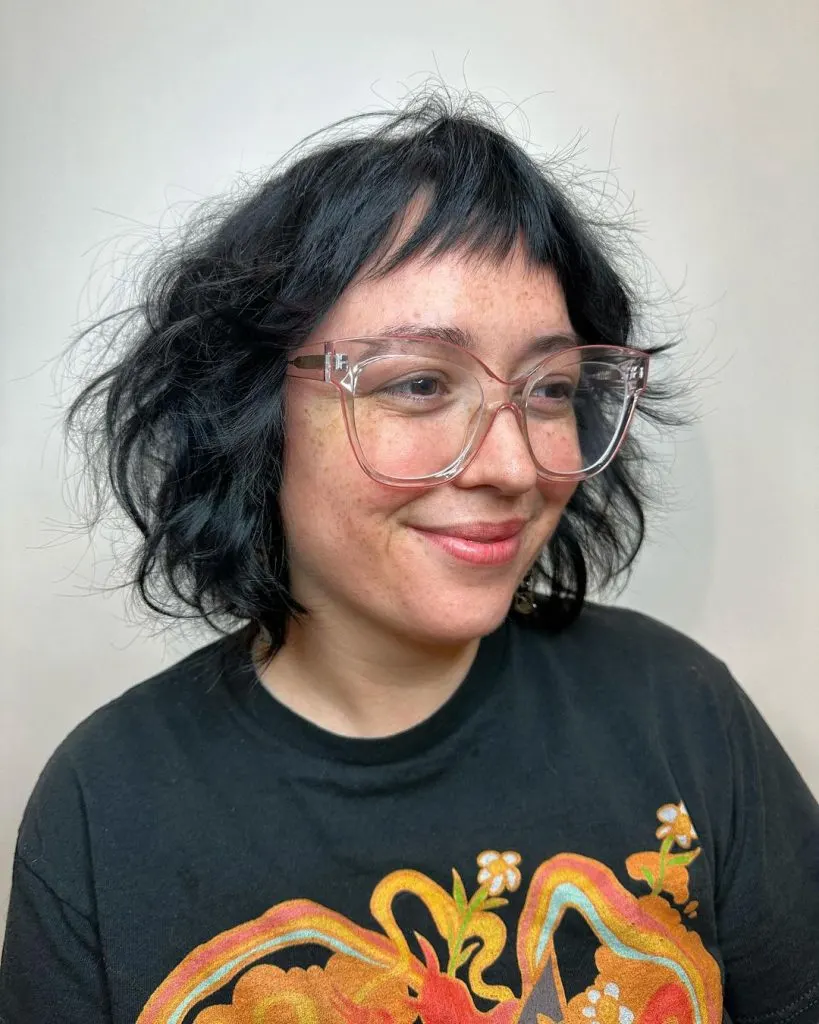 The best advice when it comes to bangs is that trends don't matter, only what suits you—but in this case, baby bangs are super trendy and super flattering at the same time.
60. Layered Bob With Wispy Curtain Bangs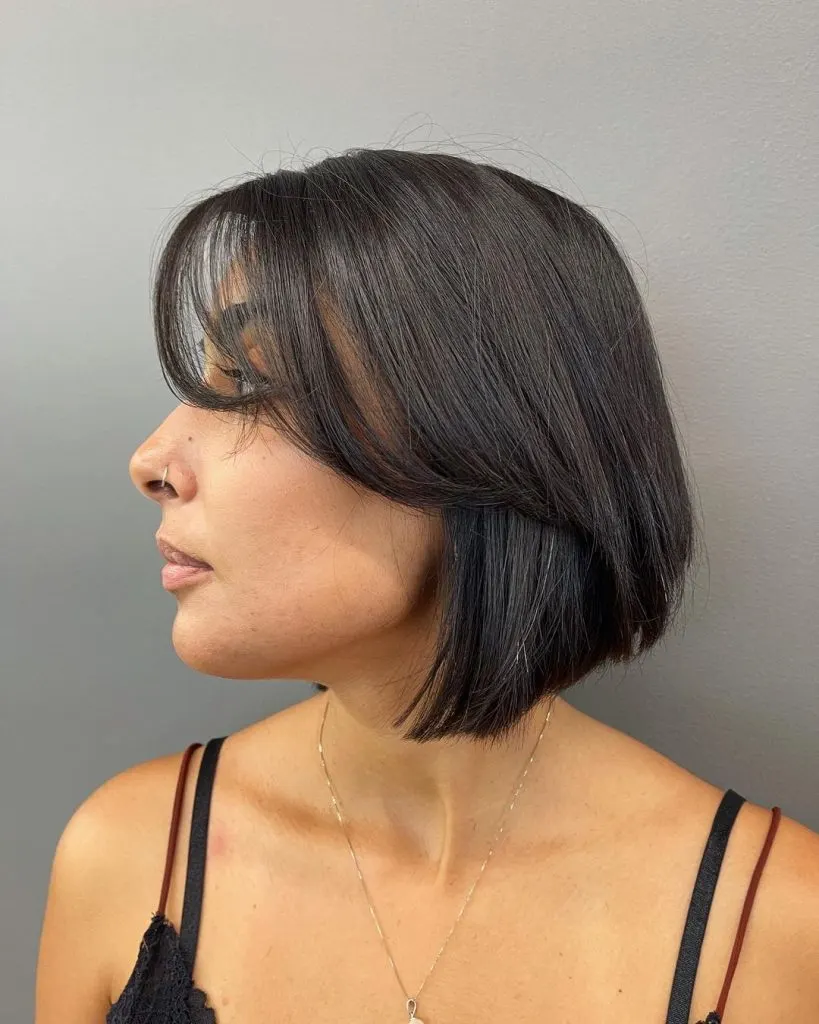 Tapered side bangs are lightweight and pretty—you can't go wrong with this style of bangs no matter your face shape.