The thing about curtain bangs is that they look good on everyone, as long as they're done right. They flatter, highlight and conceal what you want, refine your haircut and elevate your style.
Combine tailor-made bangs with a type of bob that works for you, and you get a fresh, flattering hairstyle that's uniquely yours. Get started by taking a look at all the ways you can pair a bob with curtain bangs.
1. Rounded Bob With Curtain Bangs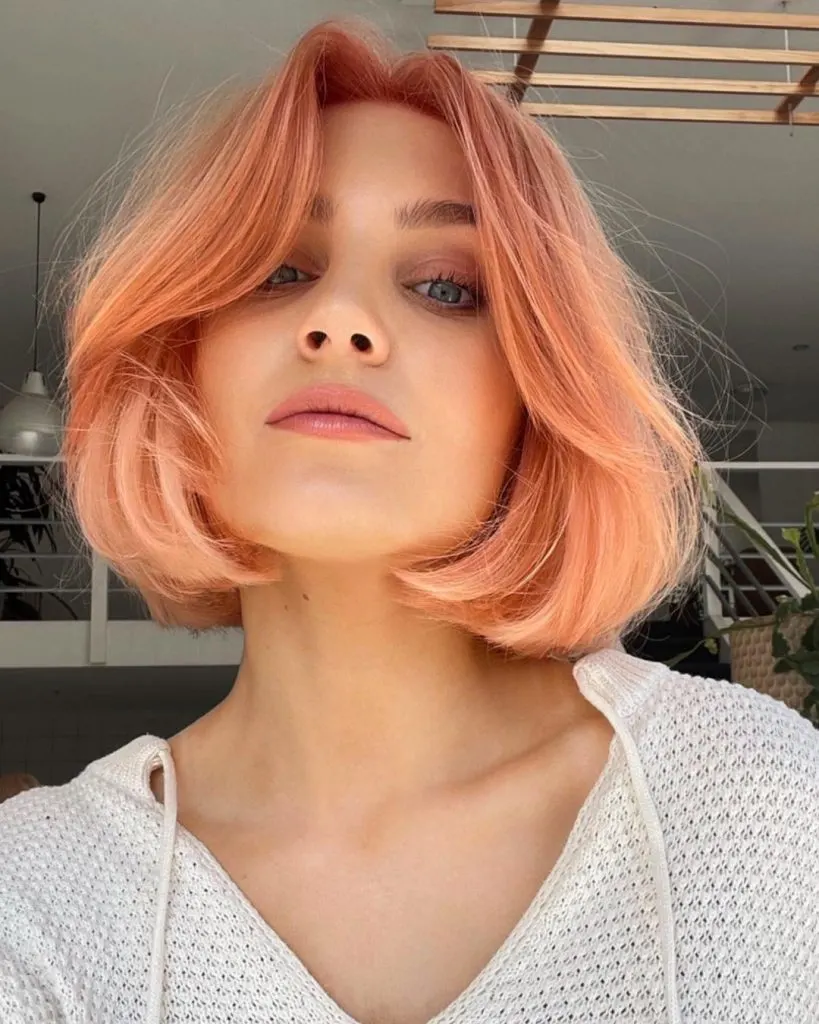 Soft ends curled inwards and curtain bangs styled away from the face work together to create a flowy, alluring retro look. The gorgeous peach color makes it even more eye-catching.
2. Long Bob With Curtain Bangs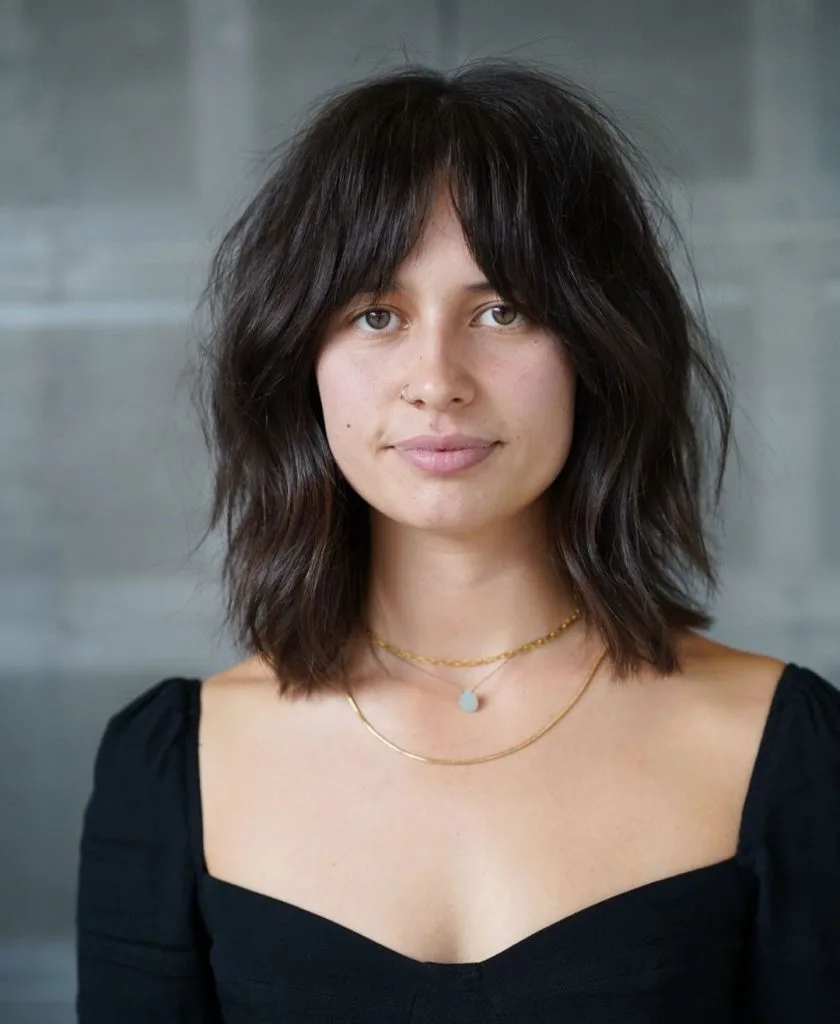 A blunt-cut bob and curtain bangs are somewhat of an established pair: they go so well together that it's almost a given you'll get one if you're getting the other.
3. Lob With Curtain Bangs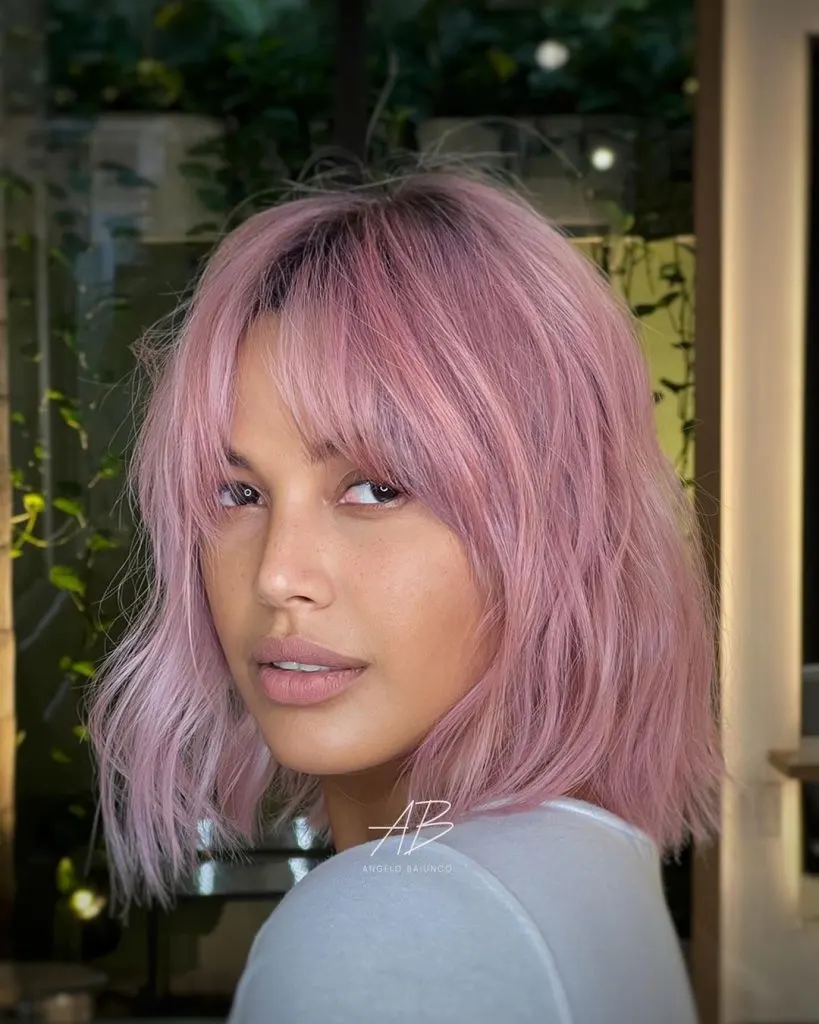 Curtain bangs can be worn fuller or wispier, depending on what works for you—if your hair is thin, you can create an illusion of fullness by adding just a few strands around the face.
4. Short Bob With Curtain Bangs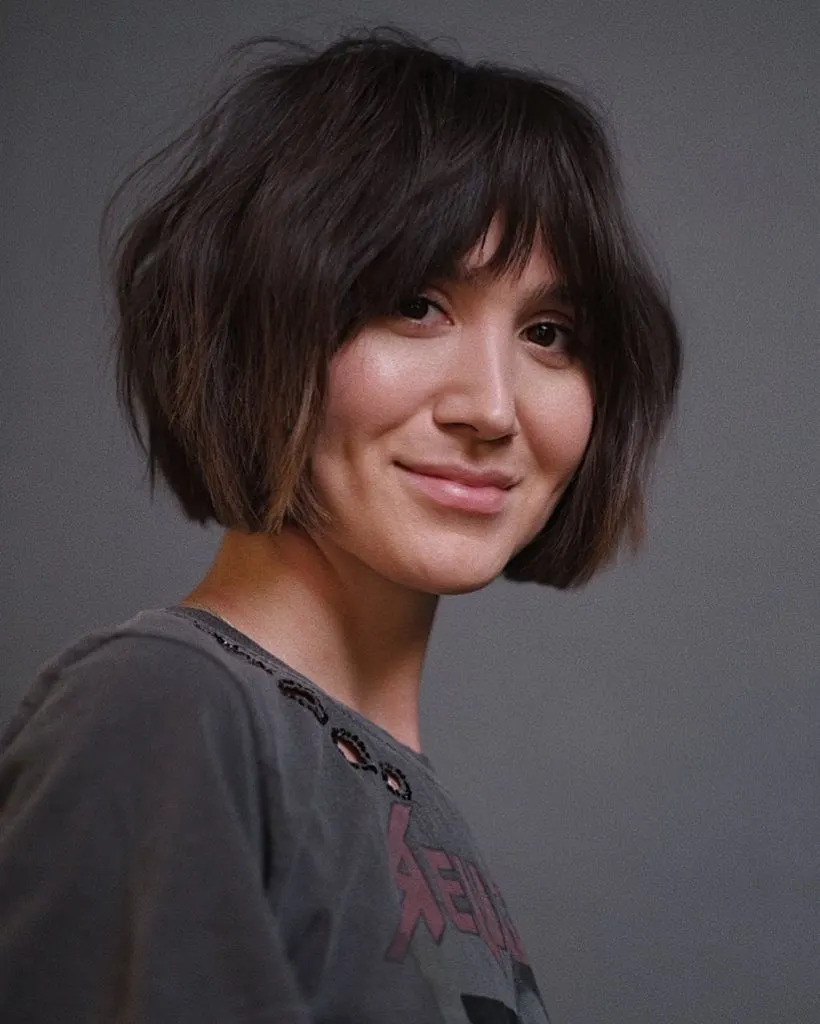 A contemporary take on the French bob: a short blunt cut and short curtain bangs with texturizing layers, styled with a lot of volume. Easy and chic!
5. Textured Bob With Curtain Bangs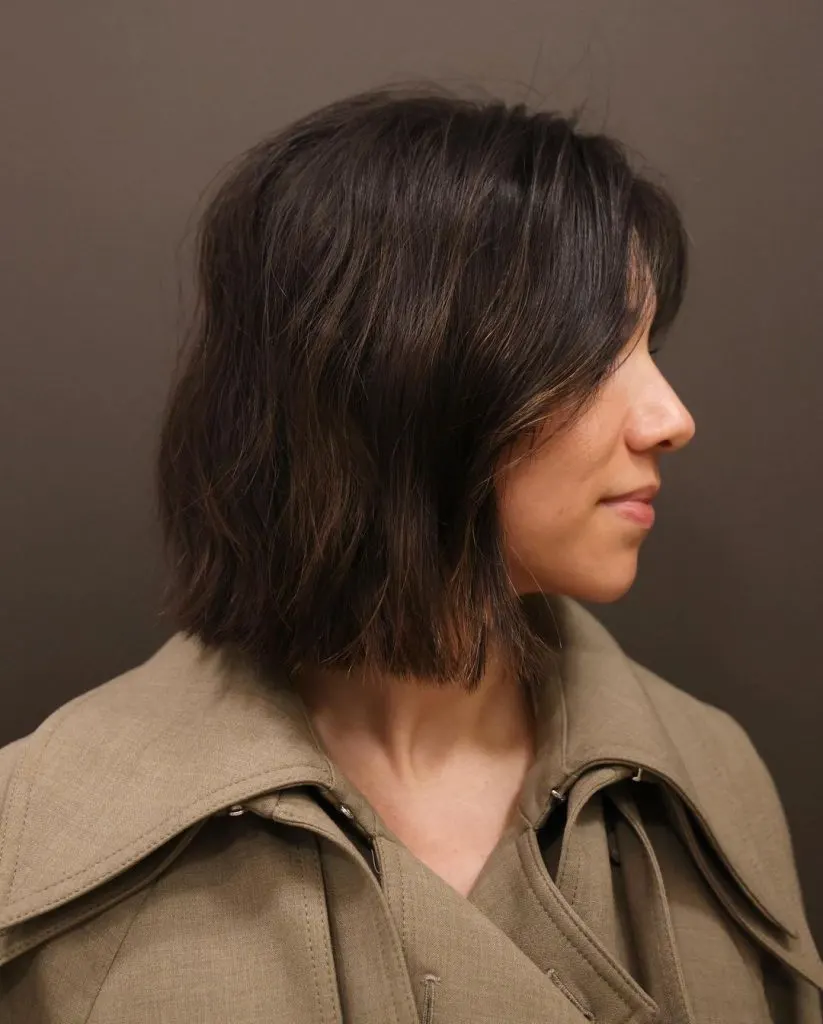 There's no need to blow-dry then curl your hair if you already have some texture—with a hair dryer set on low speed, diffuse using your fingertips to softly scrunch and shape until your hair is completely dry.
6. Layered Bob With Curtain Bangs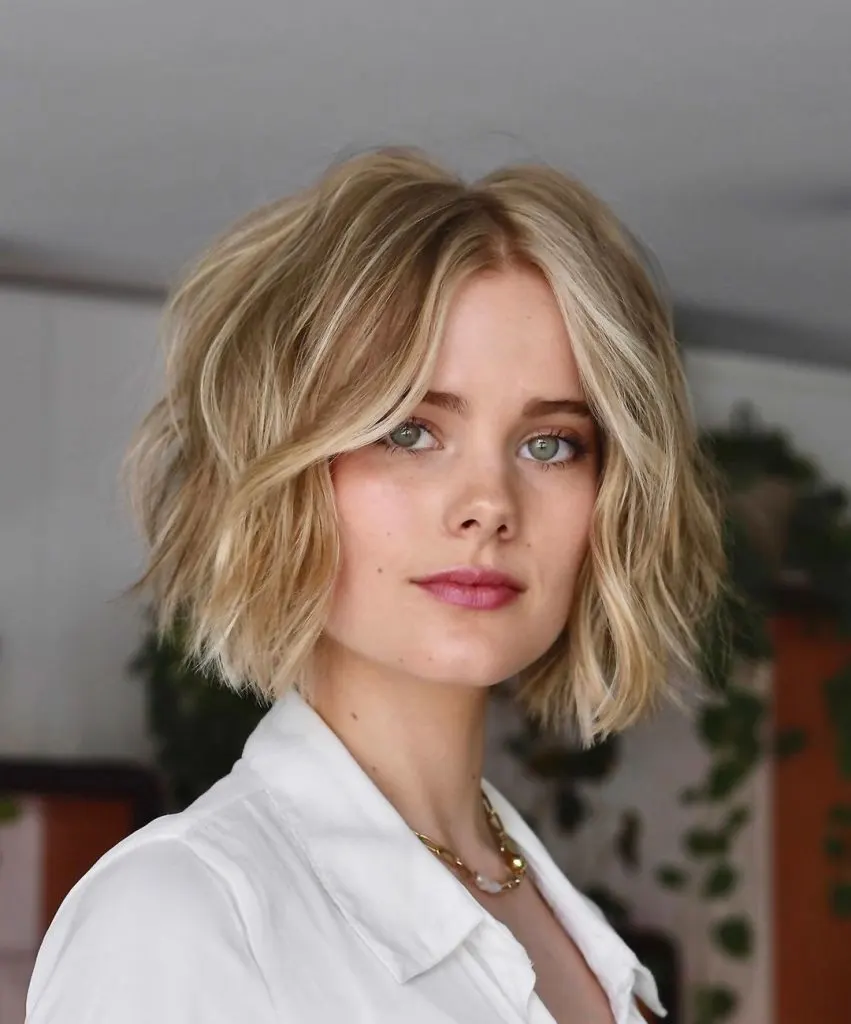 For easy extra volume, ask for fine layers in the back and at the crown. If you want to avoid a stacked look for your short layered bob, ends should be blunt and choppy.
7. Long Bob With Bangs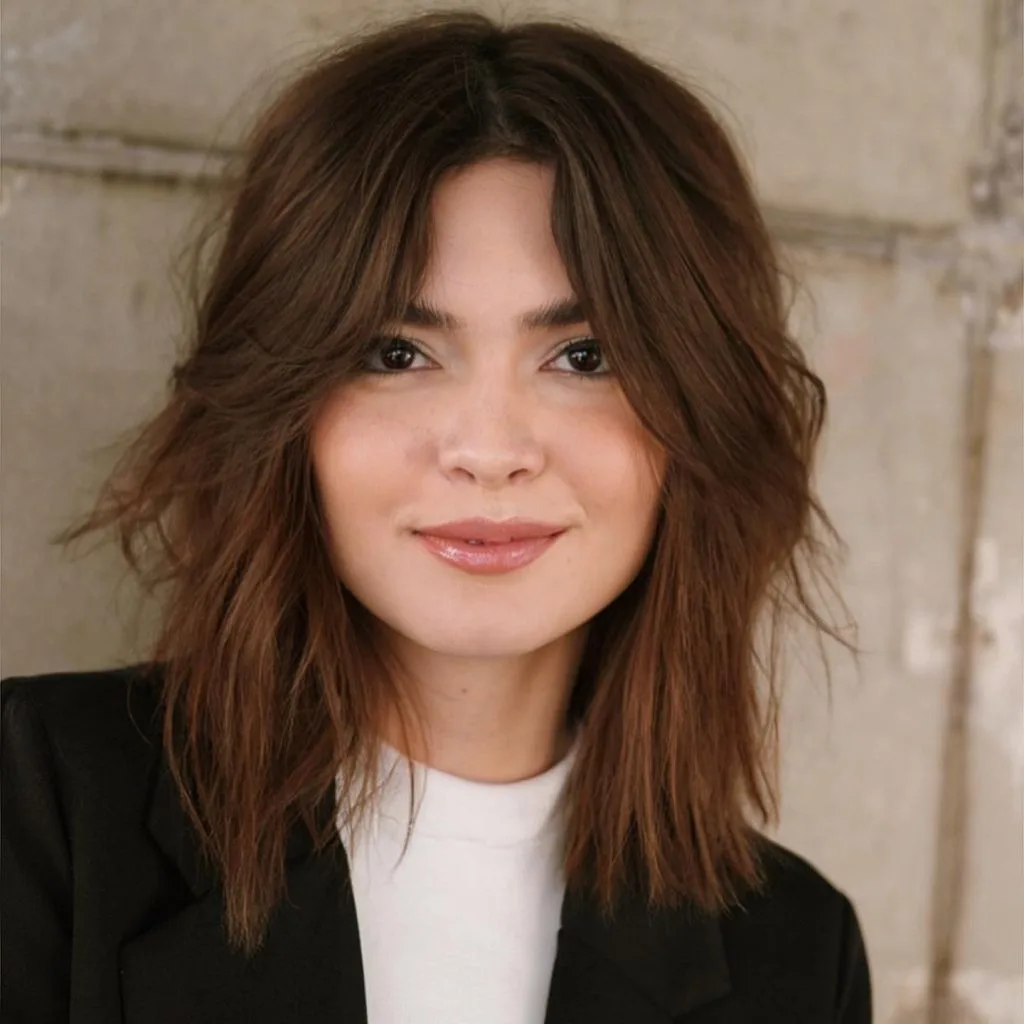 A shoulder-length lob is a low-risk step between long hair and a bob that you can try if you're not sure that short hair is for you.
8. Bottleneck Bob Haircut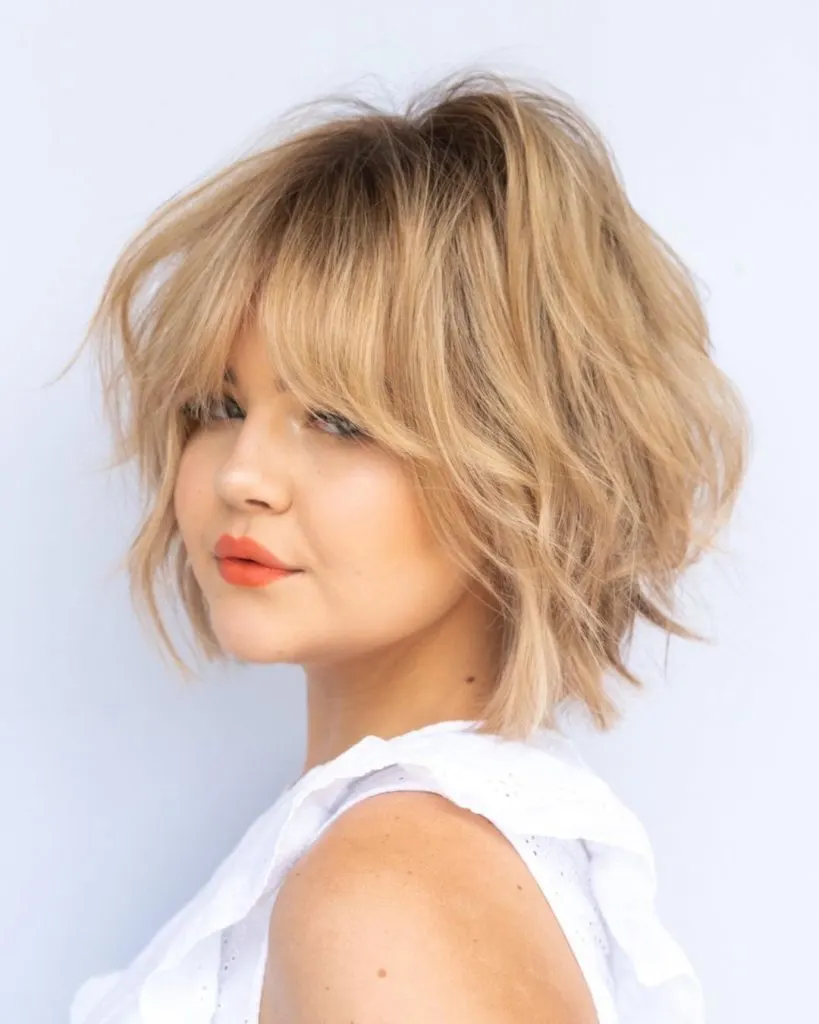 This short blonde bob incorporates bangs seamlessly to create a super voluminous cute look that's incredibly flattering.
9. Wavy Long Bob With Curtain Bangs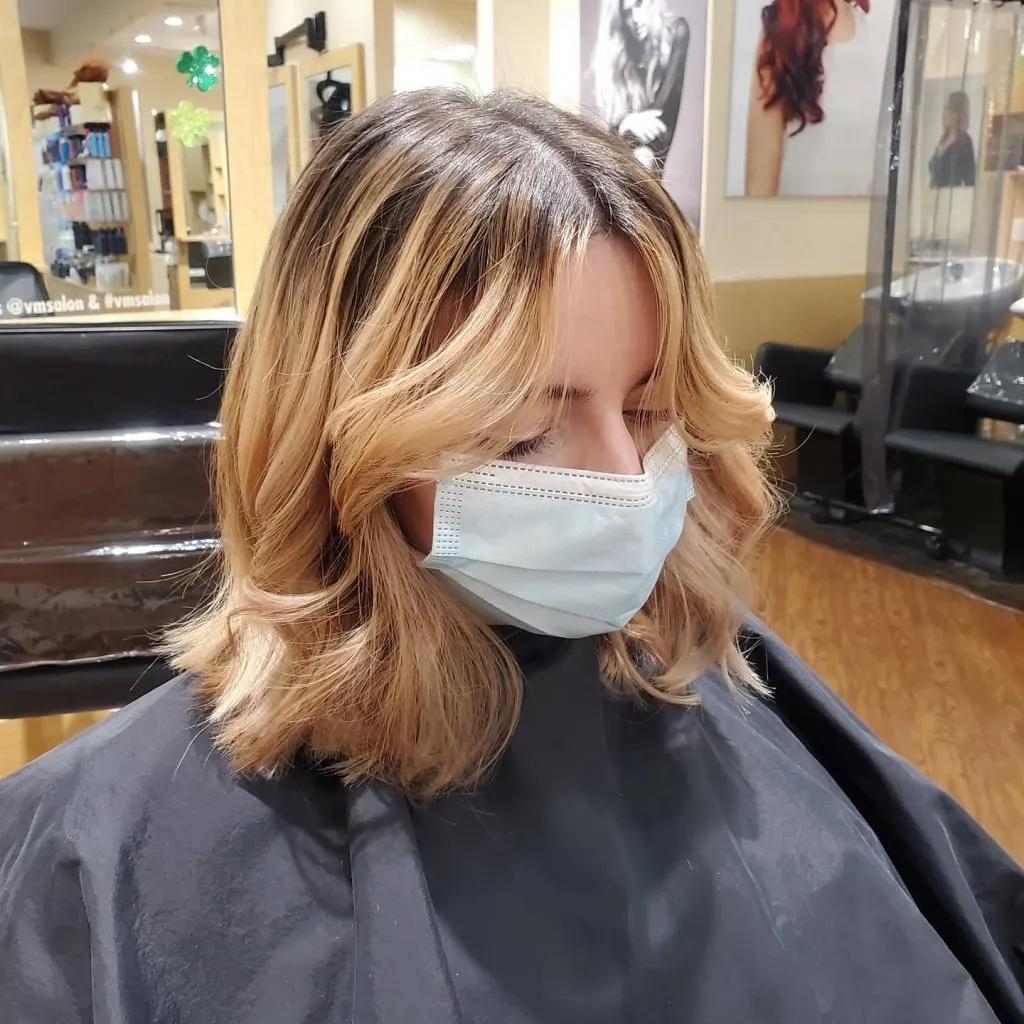 You don't always have to wear your curtain bangs styled the same: go for retro styling by flipping the bangs outward and curling the strands near the face.
10. Long Layered Bob With Bangs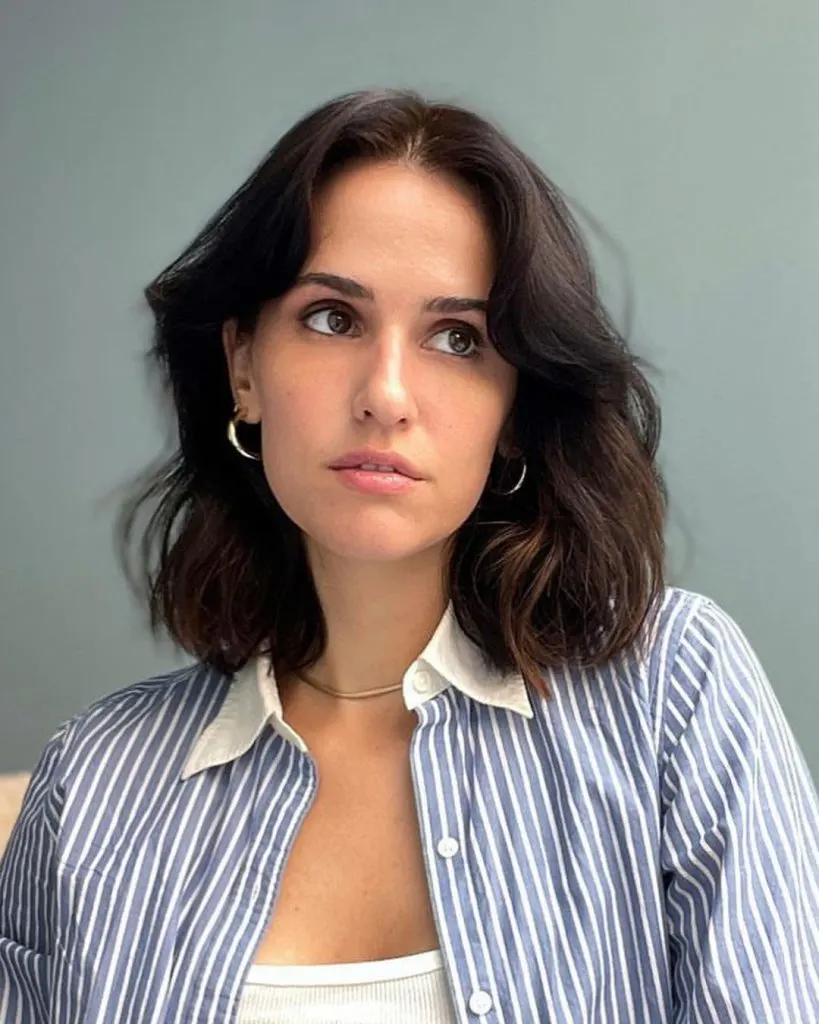 To create flow and volume, use a large round brush and blow dry everything in front of the crown forward, curling as much as the length allows. Let it cool, then flip back, et voilà—a long layered bob full of sexy, romantic curls.
11. Blunt Bob With Curtain Bangs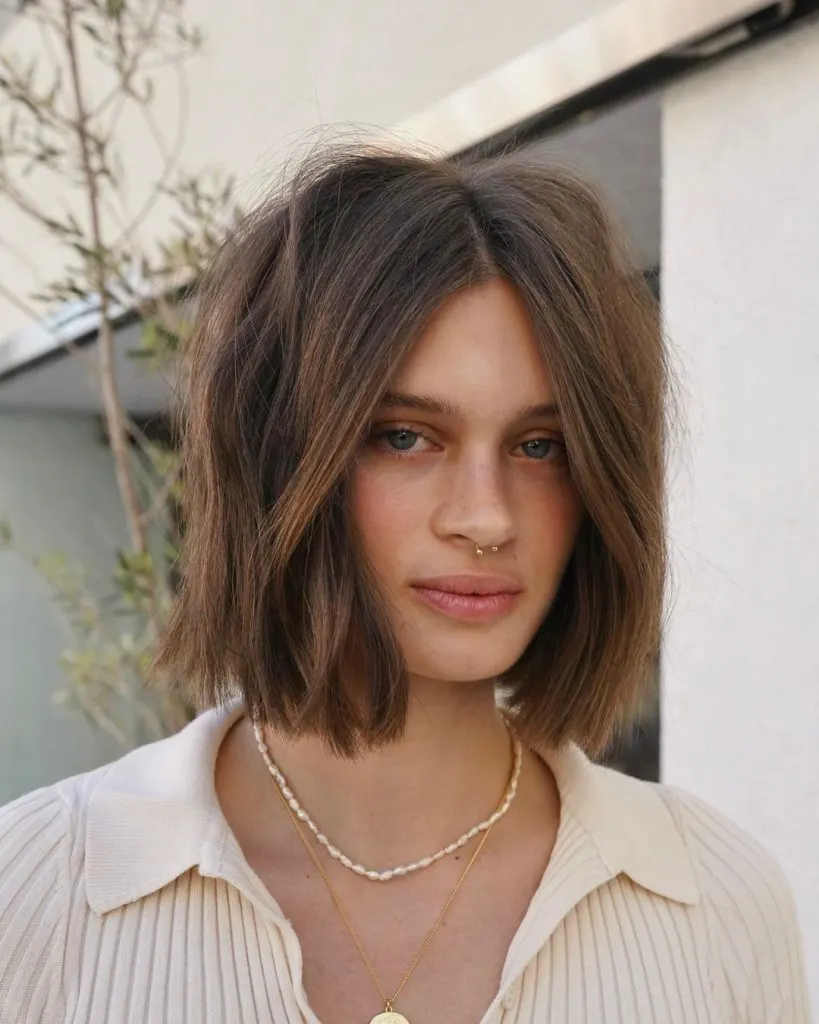 Sometimes blunt cuts tend to look too heavy, and just a few shorter strands around the face make a huge difference.
12. Long Layered Bob With Curtain Bangs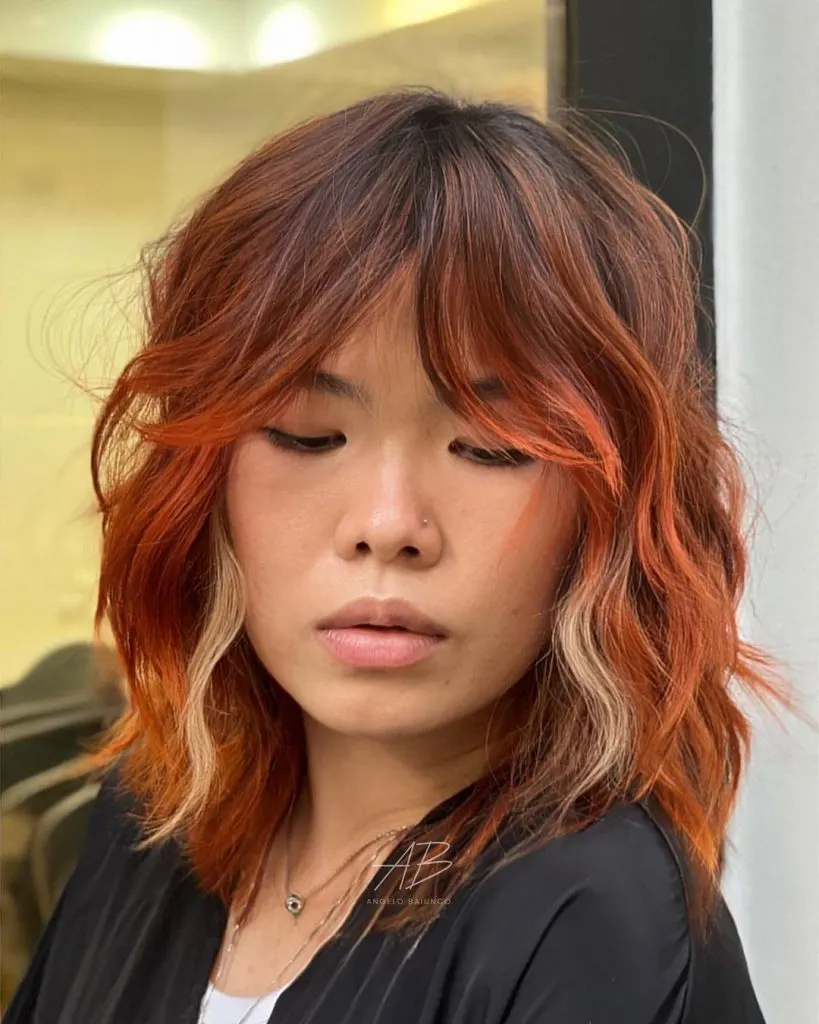 If you have a cowlick, parting your curtain bangs in the middle might prove a challenge. Tame the cowlick by blow drying it in the opposite direction than the one it goes, using a comb or a small brush as support to push it down with your thumb.
13. Chin Length Bob With Curtain Bangs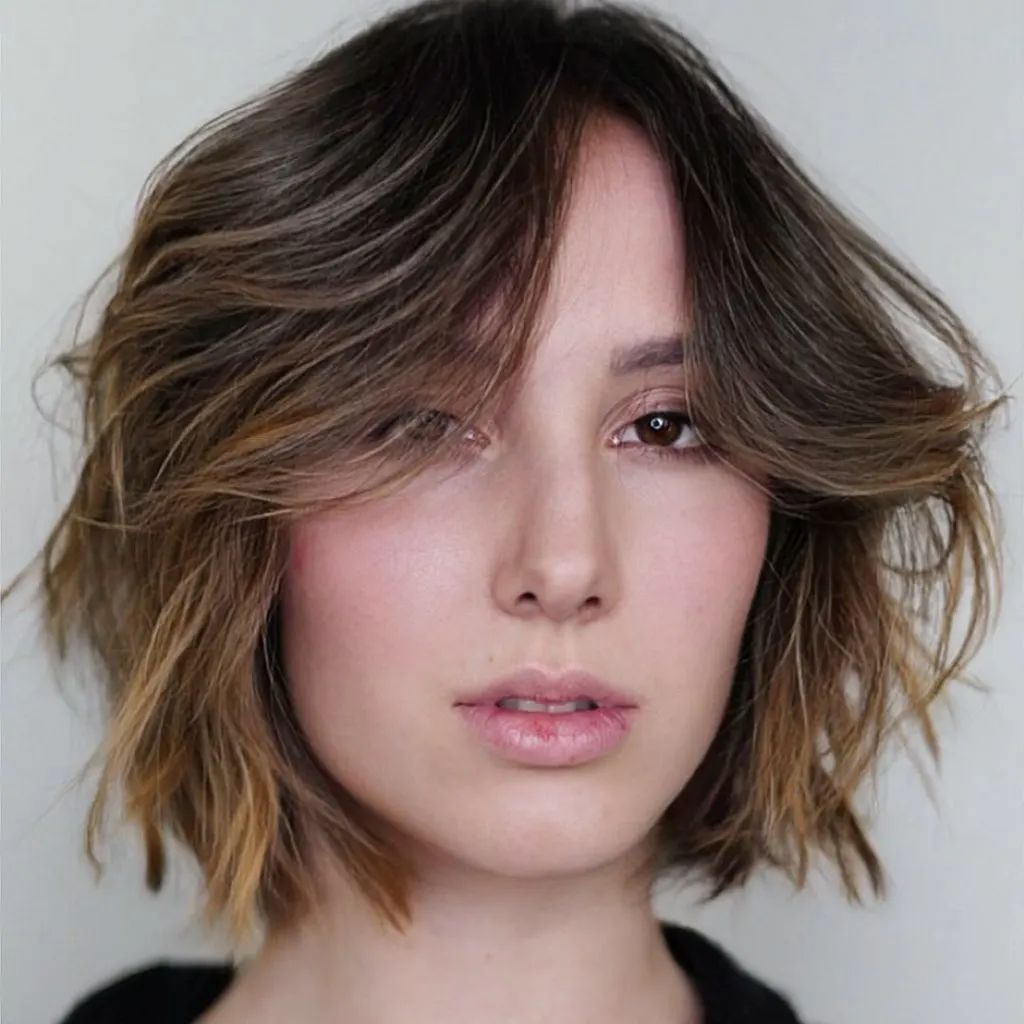 Using curtain bangs and golden highlights you can make short brown hair look luscious and enchanting: it all comes down to how you style it.
14. Long Bob Haircut With Bangs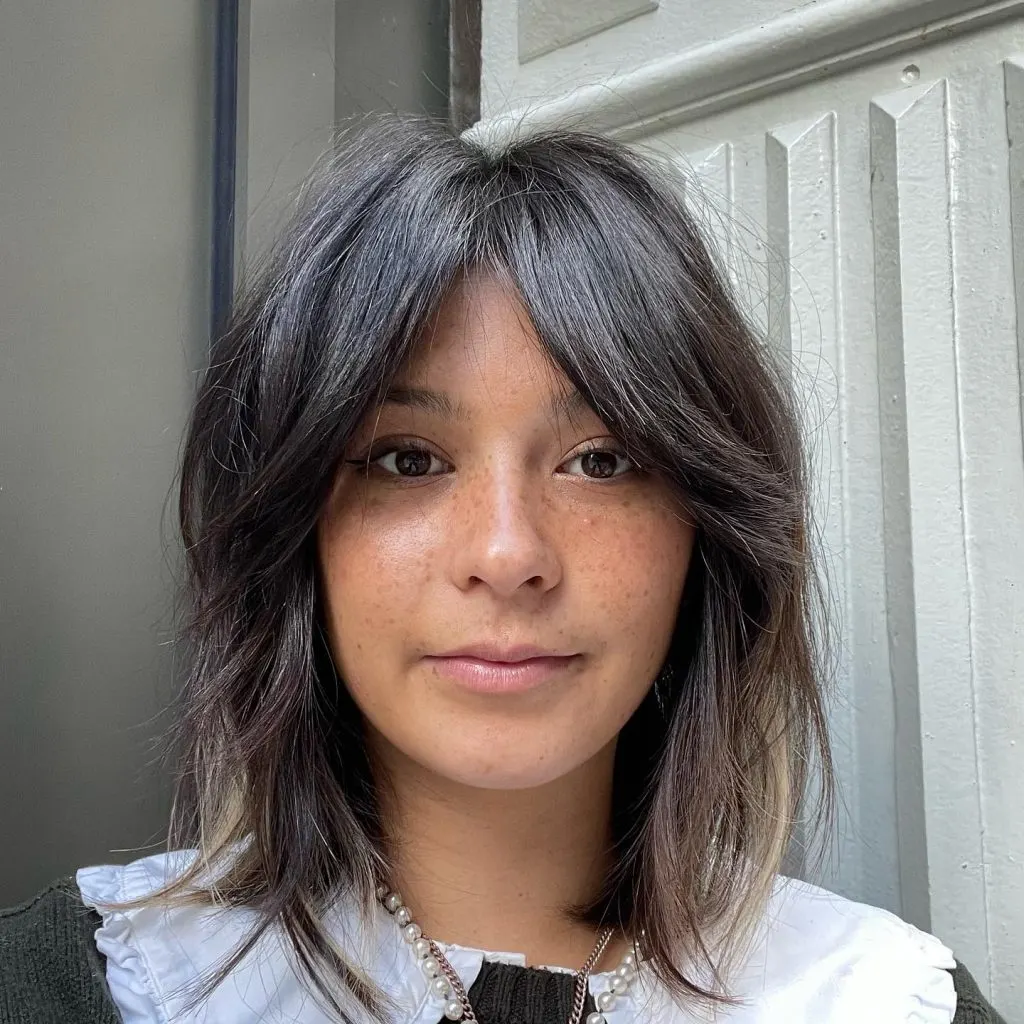 If your hair has difficulty staying voluminous, adding some subtle layers at the crown the same length as your curtain bangs will stop it from falling flat.
15. Shoulder Length Bob With Bangs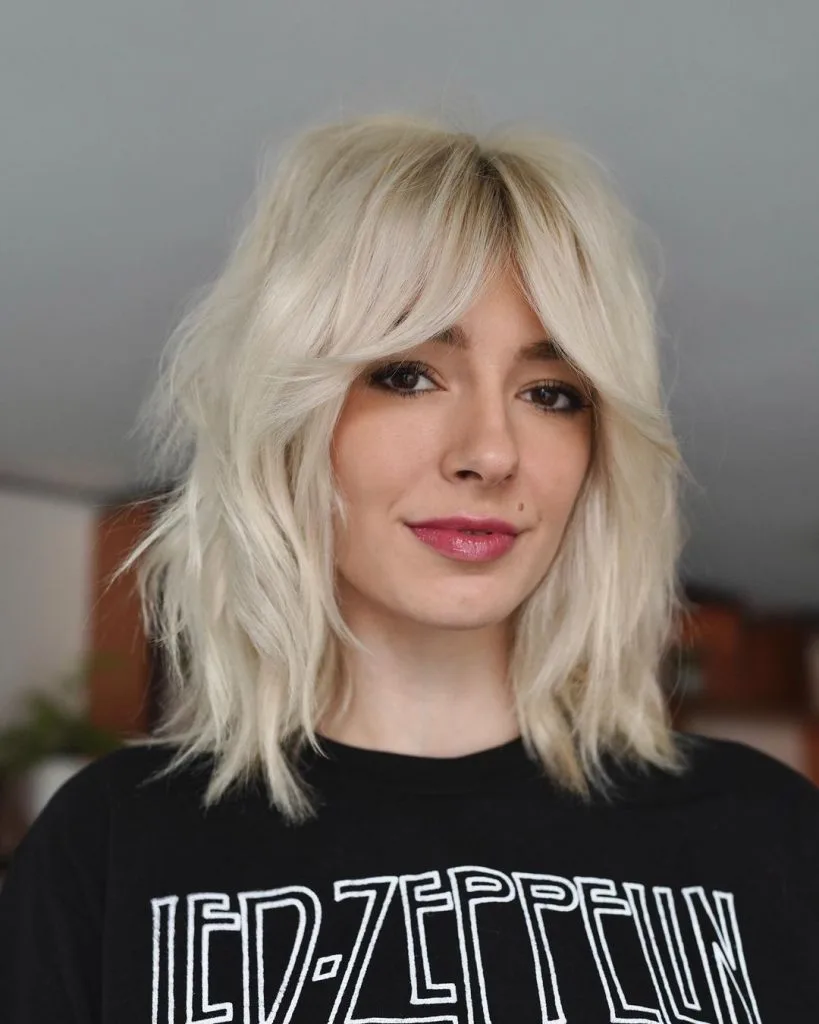 A choppy bob almost demands bangs, and it's up to you to pick your favorite style. If you're not sure what to go with, you can never go wrong with curtain bangs.
16. Side Part Curtain Bangs Bob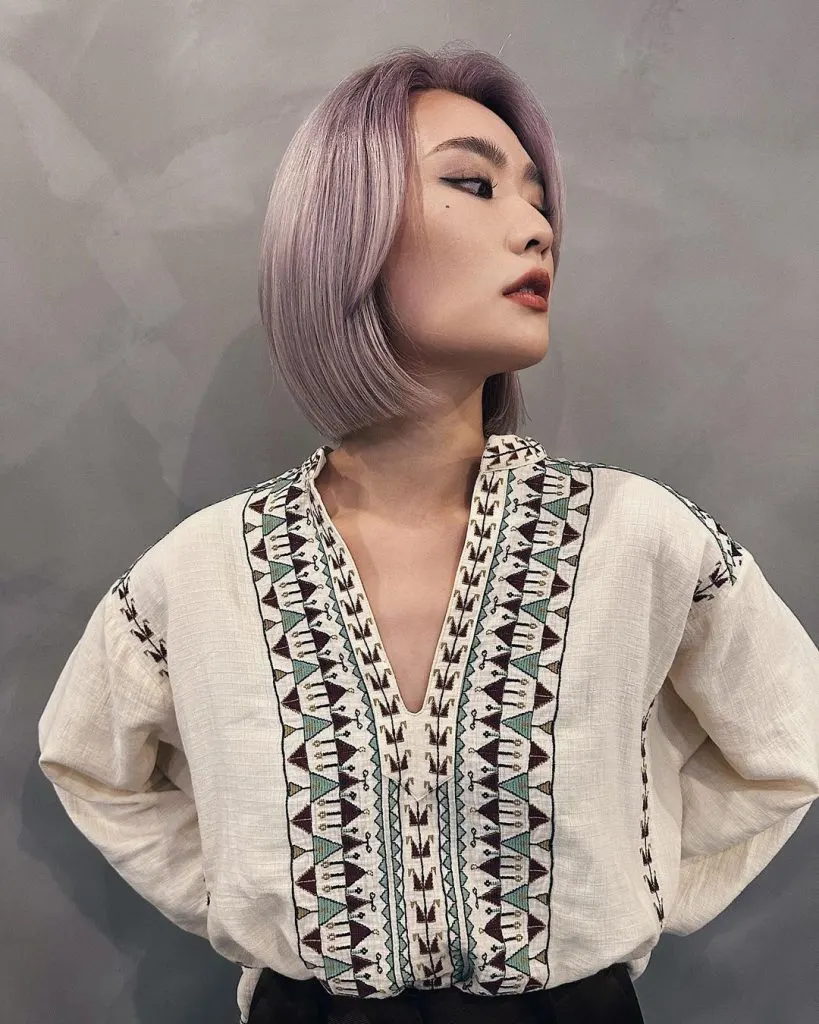 There's lots of ways to wear a bob with curtain bangs, and here's some styling inspiration. Neat, sleek and side-parted is an elegant and sophisticated option.
17. Short Layered Bob With Bangs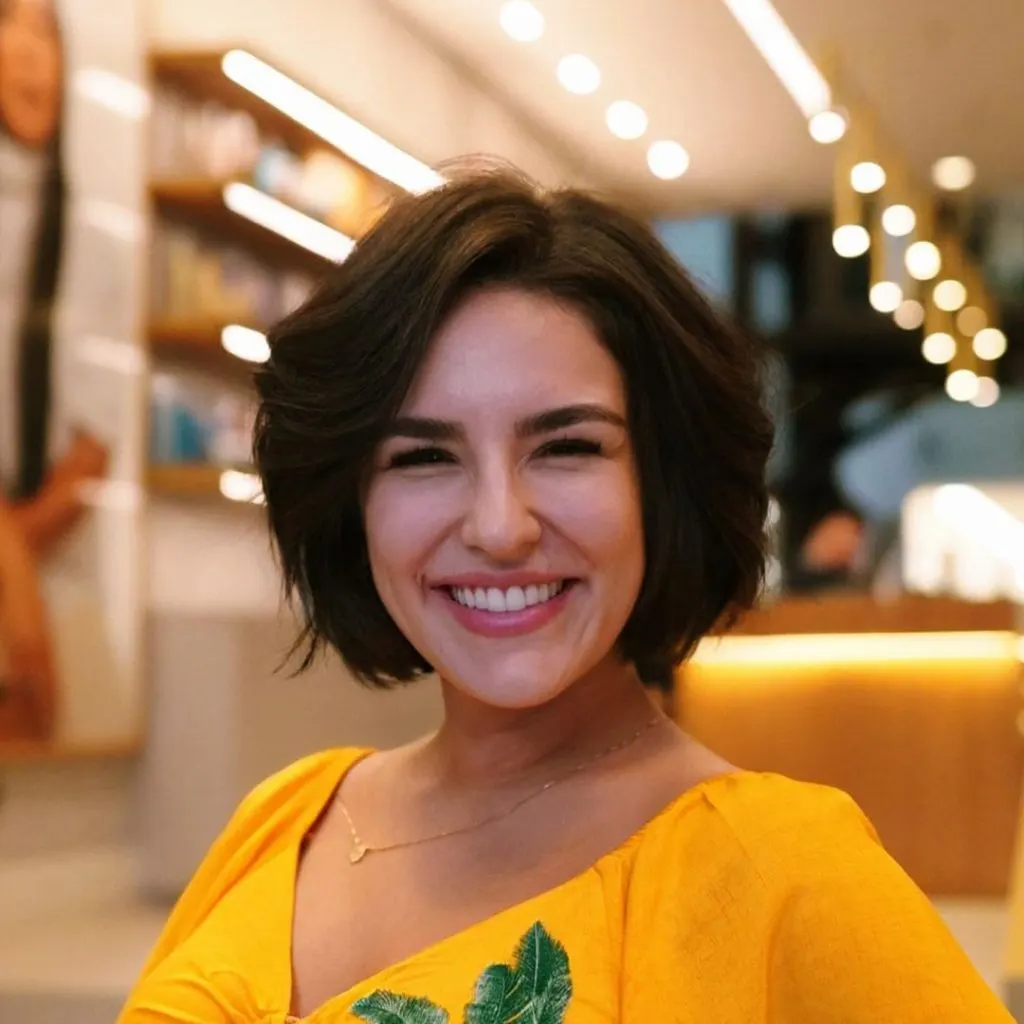 If you have a round face, make sure that your shortest layers don't go above the ears to avoid a puffy look. This doesn't apply to your curtain bangs—wear them as short as you like.
18. Short Bob Haircut With Bangs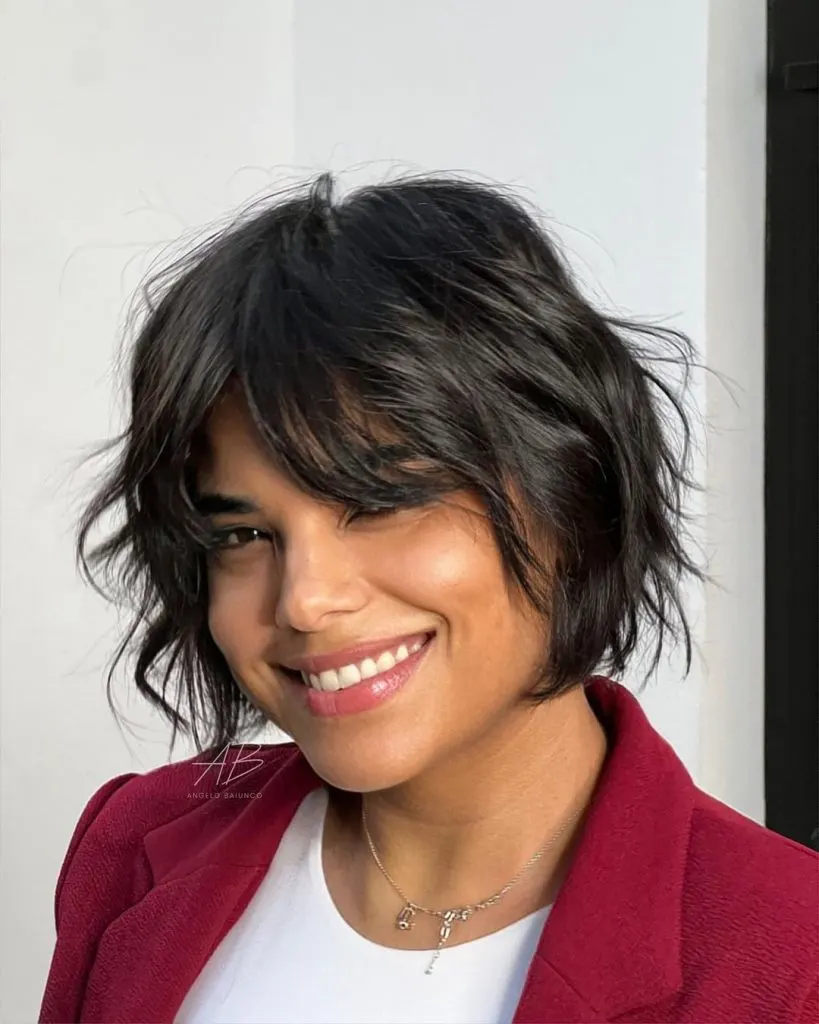 Layers flatter thin hair by creating an illusion that there's much more hair than it seems, and long strands around the face contribute to this.
19. Wavy Bob With Curtain Bangs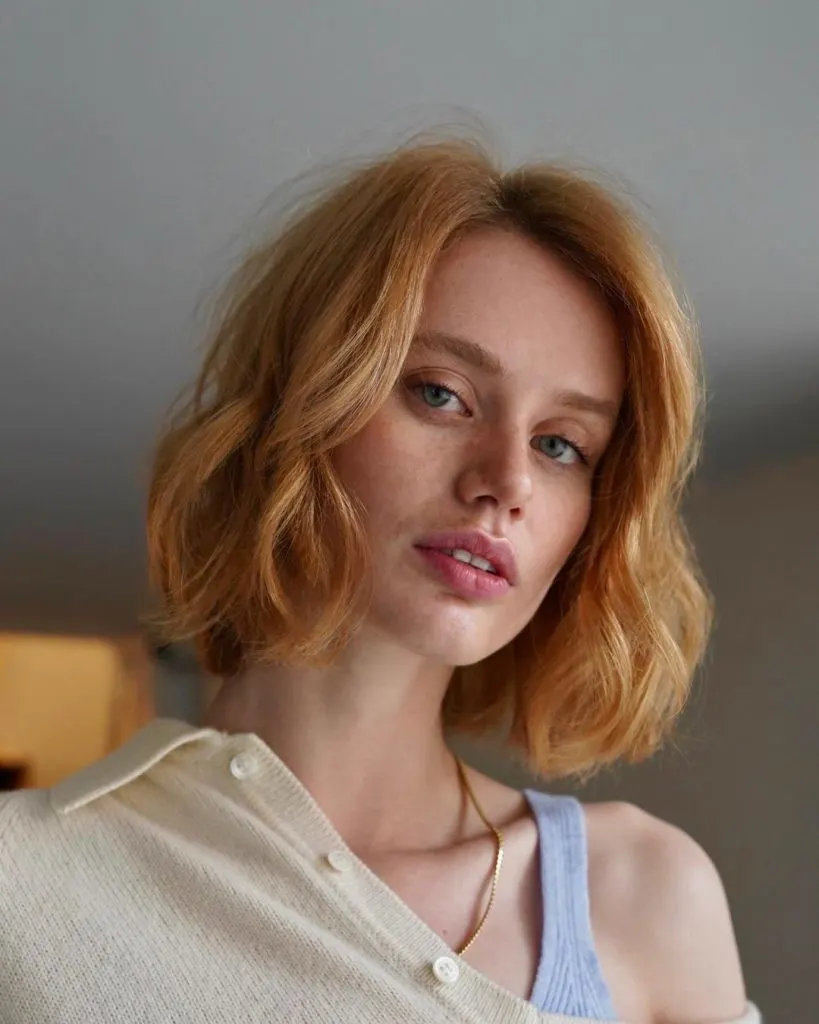 Most of the time you'll see curtain bangs worn middle-parted, but if you prefer a side part, they can work just as well. If you like to change up your look, cut them so that the center is in the middle, but if you always wear them to the side, then it's more flattering to center them at the spot you always part them.
20. Medium Bob With Bangs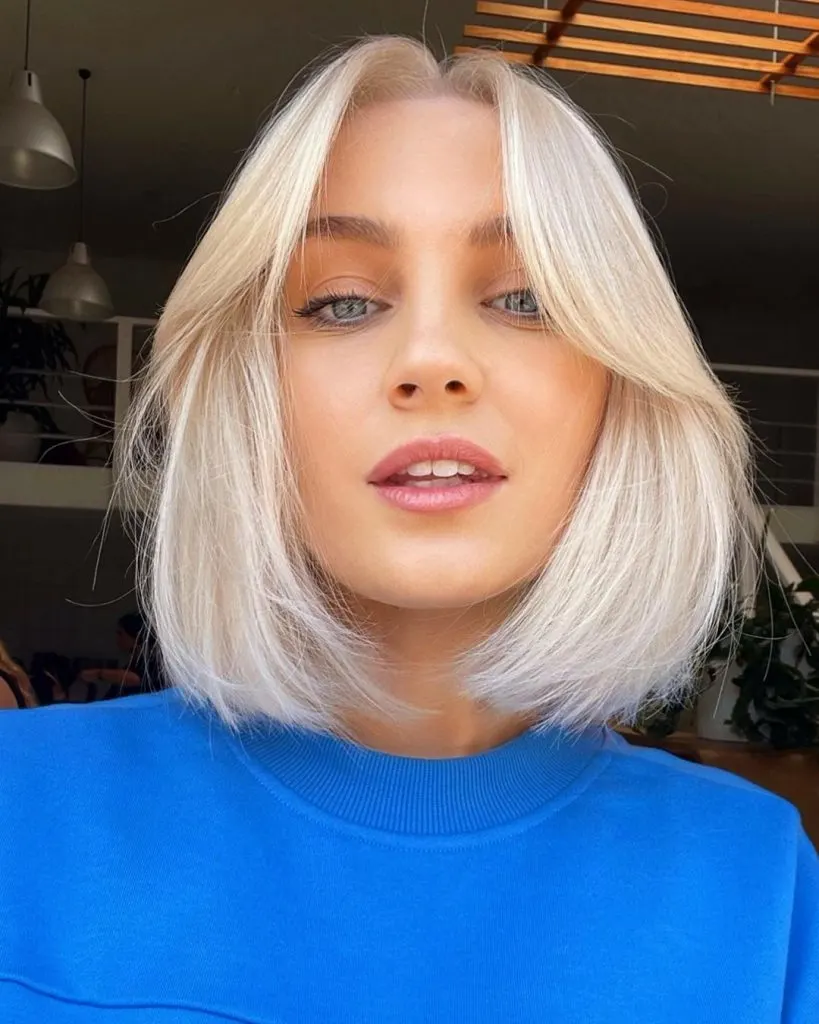 The great thing about bobs is that they're easy to style in several ways just by changing the direction of the ends: curl them inwards for an elegant retro look.
21. Shaggy Bob With Curtain Bangs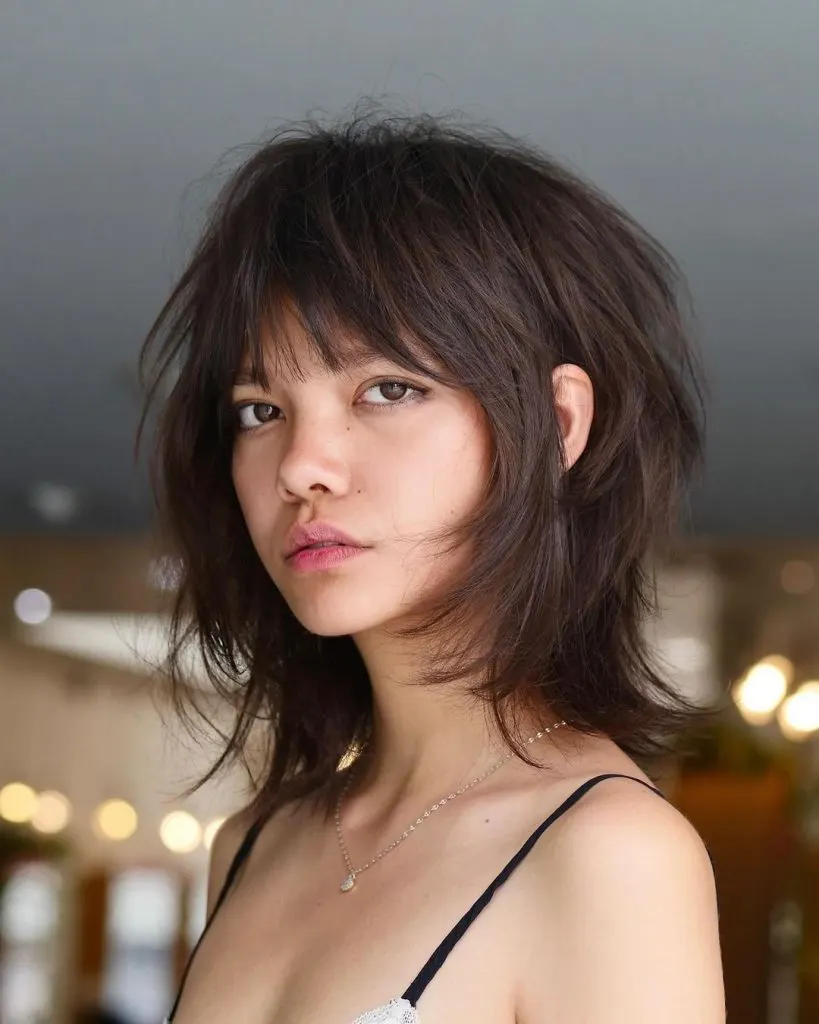 Edgy choppy bob haircuts are all the rage, and it's hard to imagine one without curtain bangs. Make sure you have plenty of salt spray at hand, because this cut looks best with a lot of texture.
22. French Bob With Curtain Bangs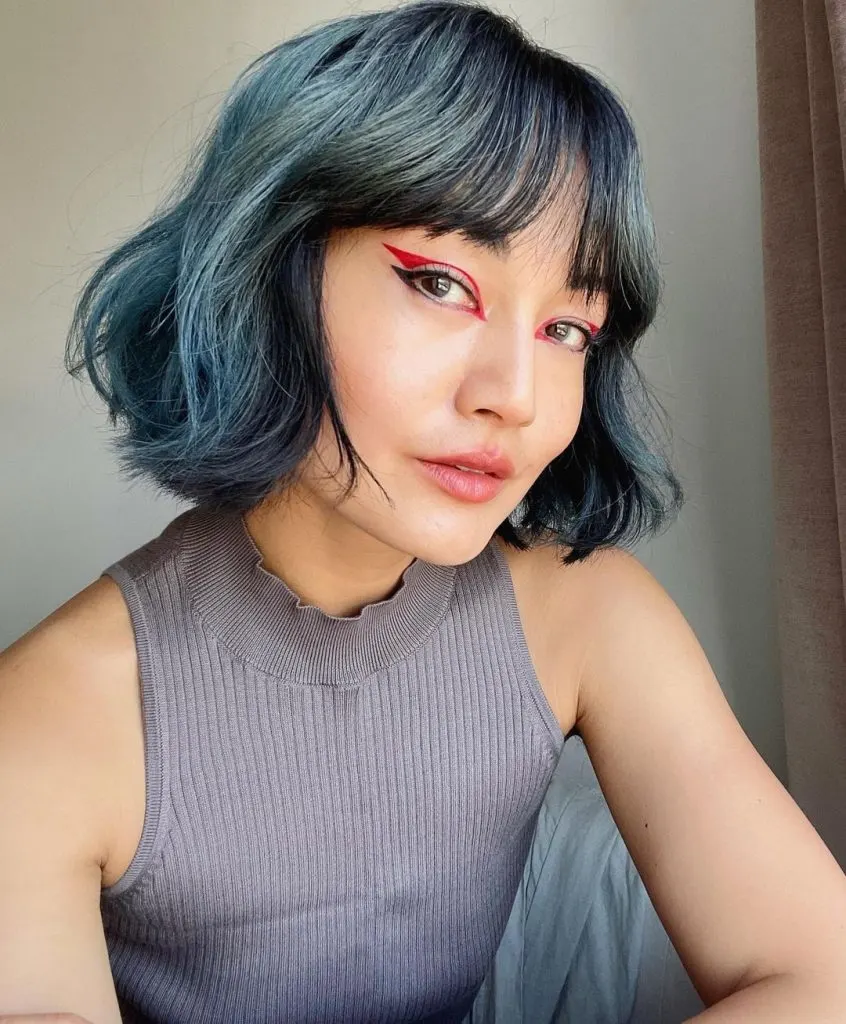 To style a short bob, using a straightener is much easier than using a curling iron—you don't need to wrap your hair like you would with longer hair, simply clasp and pull in the direction you want it to bend in.
23. A-Line Bob With Bangs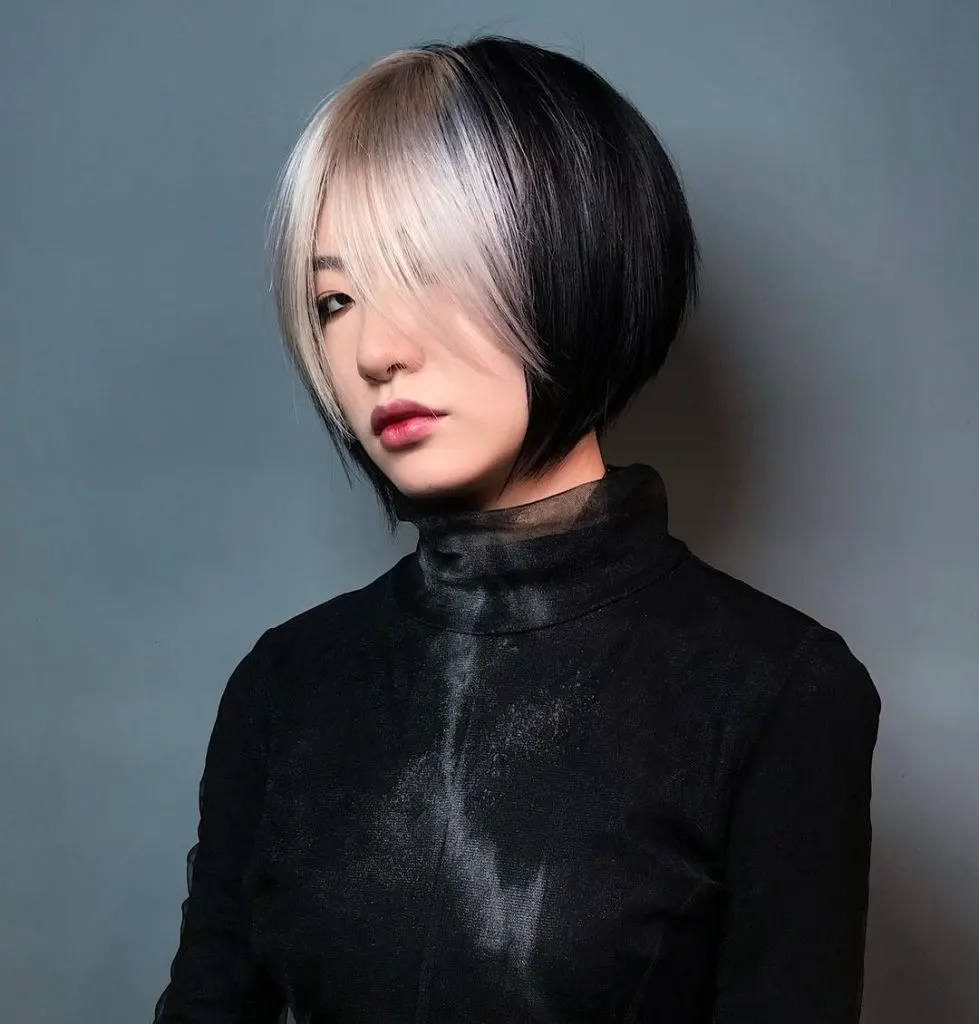 Transform your A-line bob by adding bangs. Shorter strands around the face make this precise style much more relaxed.
24. Bob Cut With Curtain Bangs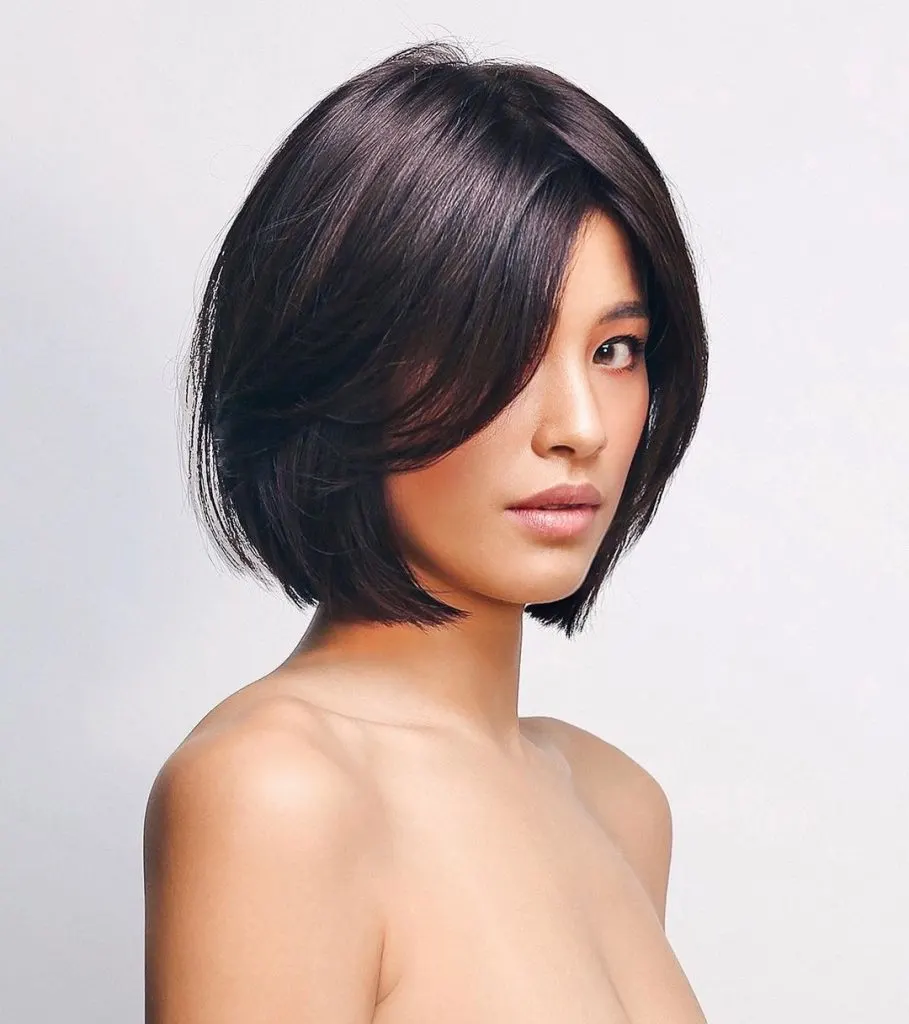 Despite its short length, a bob is one of the most versatile haircuts you can get. Play around with how you dry and part your bangs to create several different looks.
25. Short Haircut With Curtain Bangs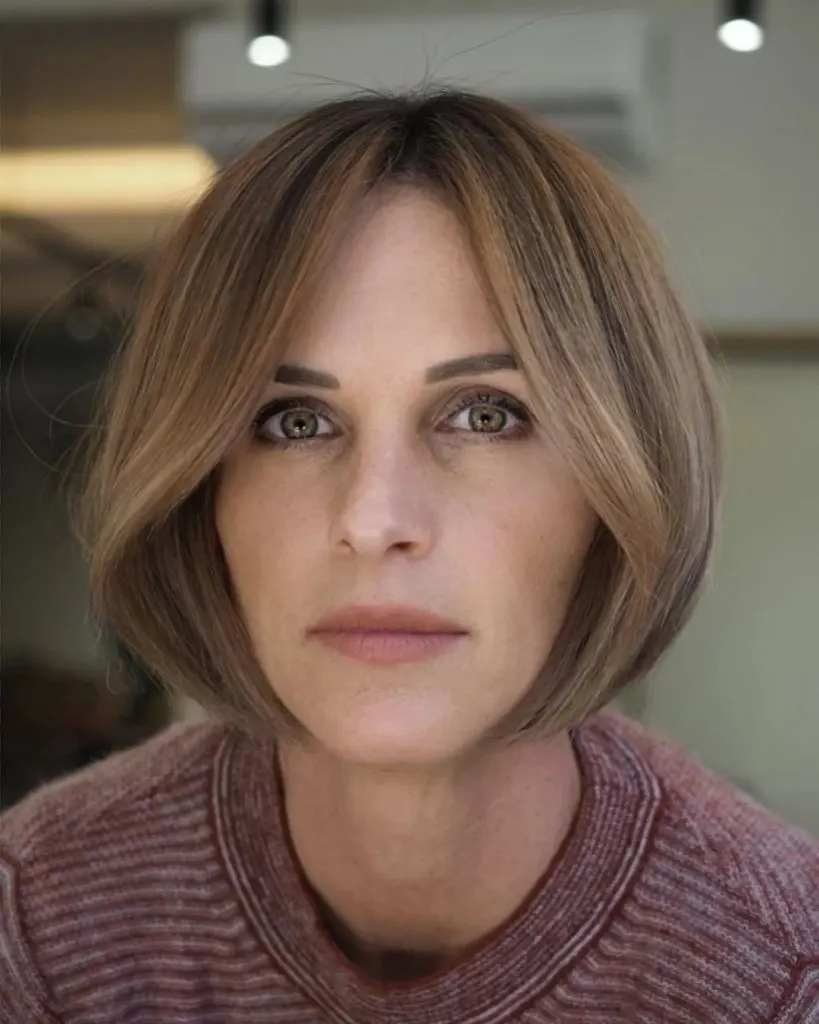 Long curtain bangs are perfect for diamond and heart-shaped faces: they tone down the cheekbones and highlight the eyes.
26. Thin Fine Hair Bob With Bangs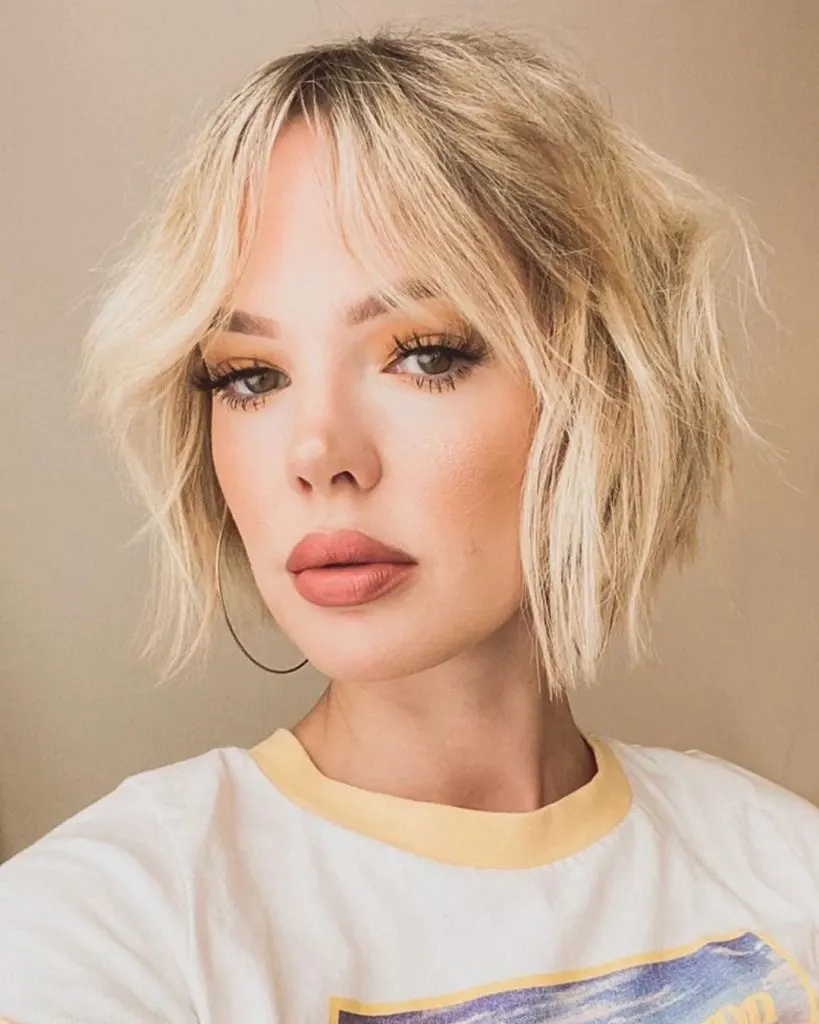 Choppy layers are perfect if you have fine hair—they add texture and lift, which fine hair lacks, and also make it easier to add volume.
27. Wavy Lob With Curtain Bangs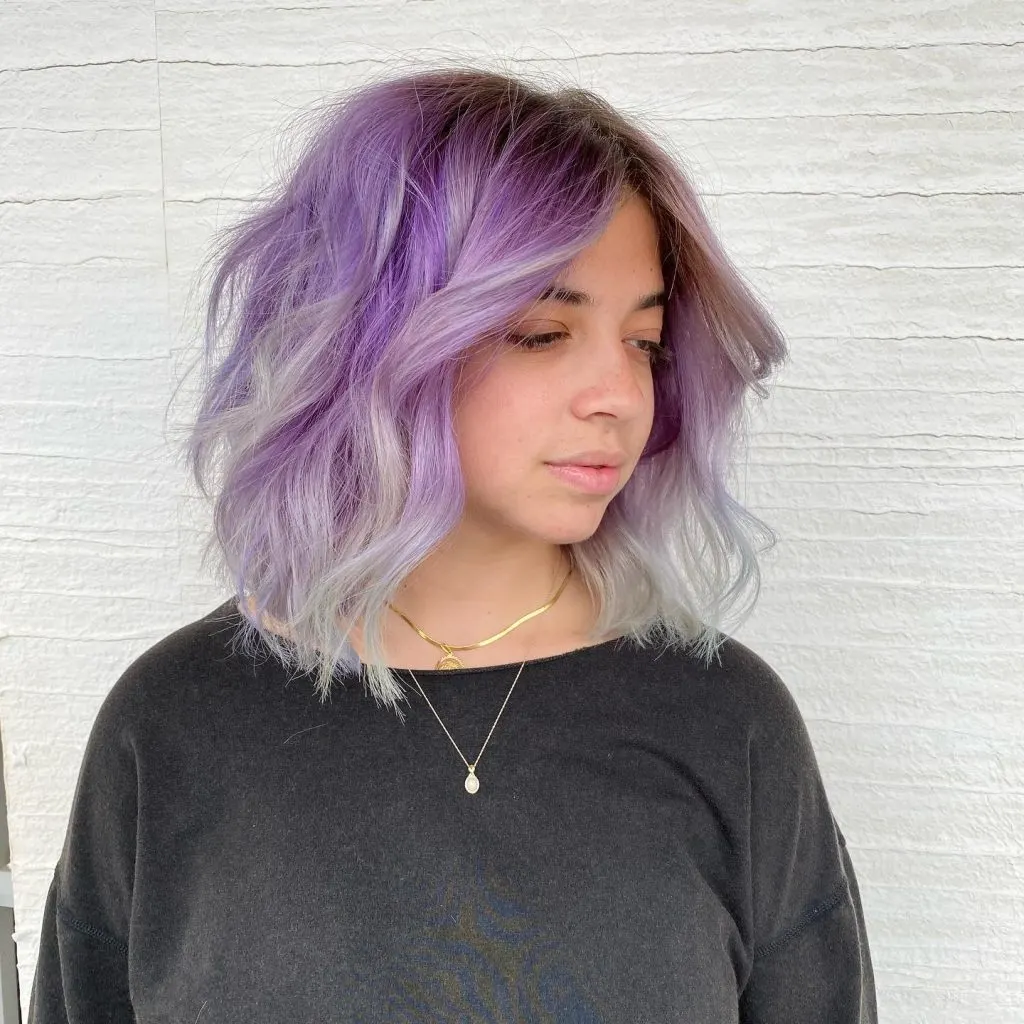 Curtain bangs only slightly shorter than the rest of the hair still have a function: they soften the look around the face and make it easier to create a flattering frame.
28. Curtain Bangs Lob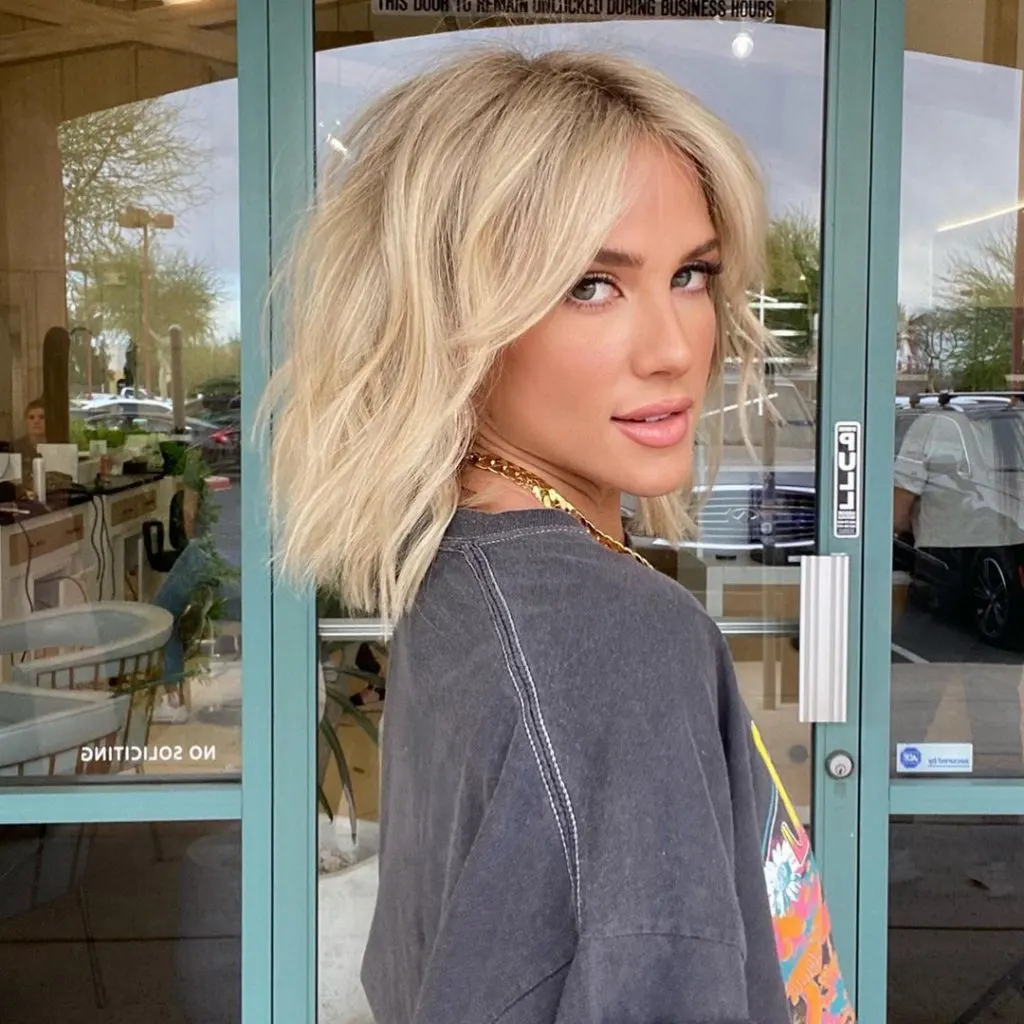 Texturizing layers add volume and dimension to your lob. You can still style it sleek, but a lived-in, relaxed vibe looks best with a textured lob.
29. Inverted Bob With Curtain Bangs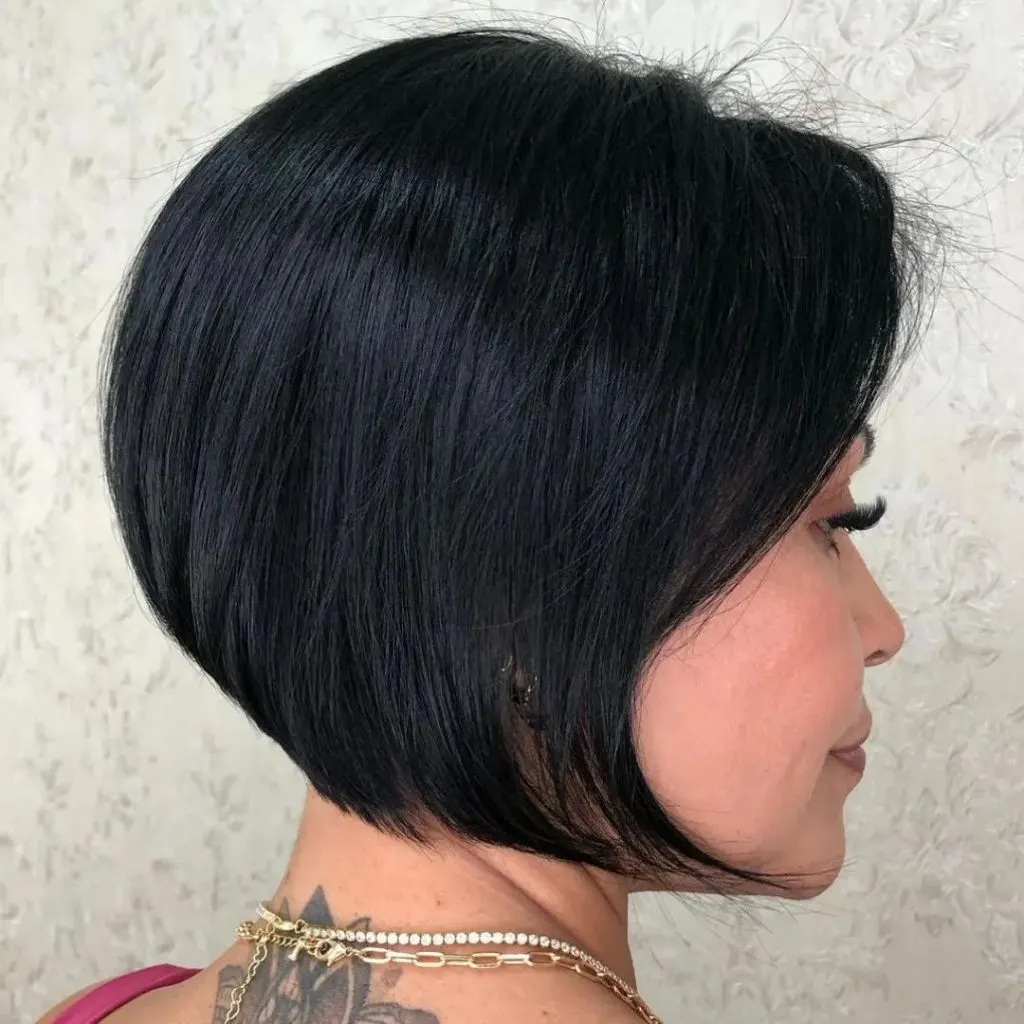 Layers in the back create tons of volume, while the curtain bangs flawlessly frame the face. An inverted bob with bangs needs regular trims and takes time to style, but it's incredibly flattering.
30. Short Layered Bob With Bangs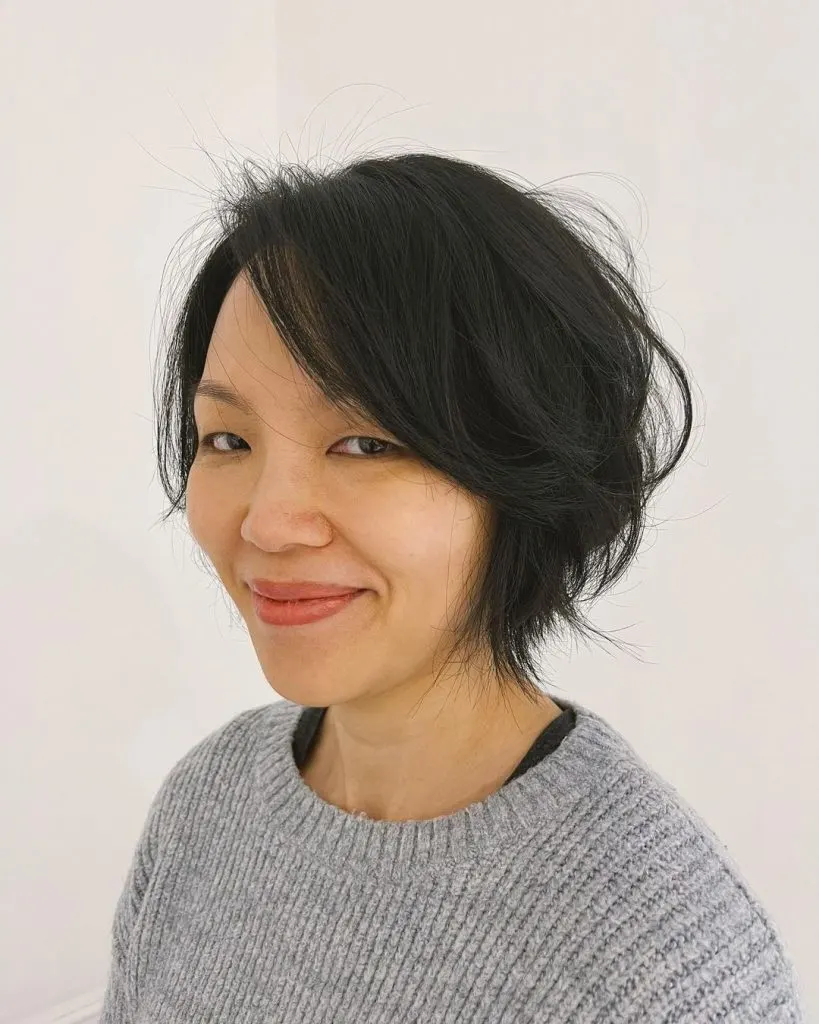 Long, side-parted curtain bangs look natural on a tousled short bob. To get a lived-in, easy look ask for razored layers.
31. Choppy Bob With Curtain Bangs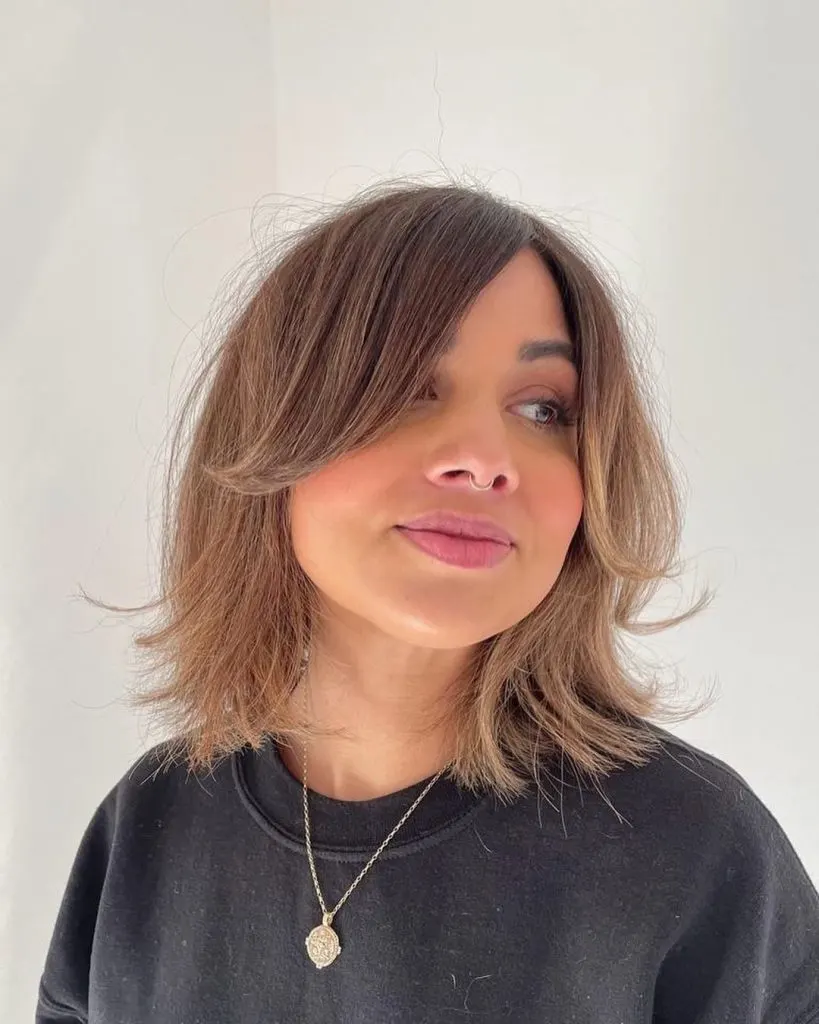 Flip your bangs outwards for a playful style that's still very flattering. Soft bangs and choppy ends create a contrasting, interesting look.
32. Baby Curtain Bangs With A Bob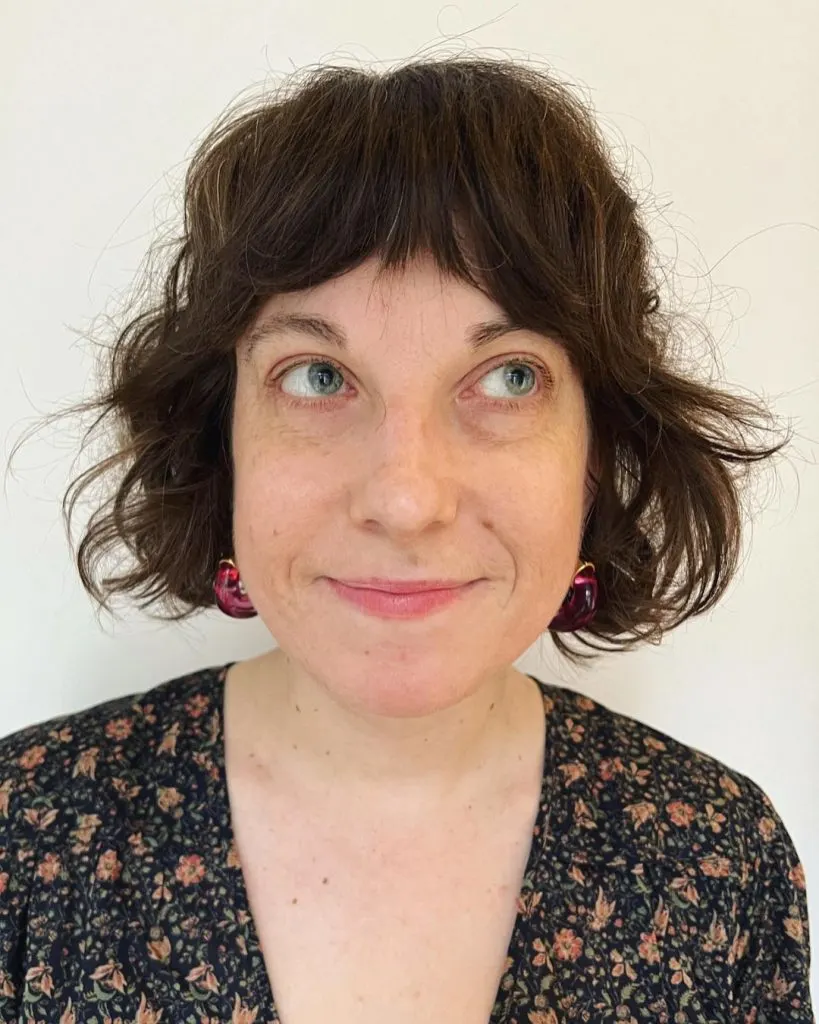 If your face is round, tiny bangs can be used to create an illusion of a longer face, and adding volume on top takes it even further.
33. Stacked Bob Haircut With Curtain Bangs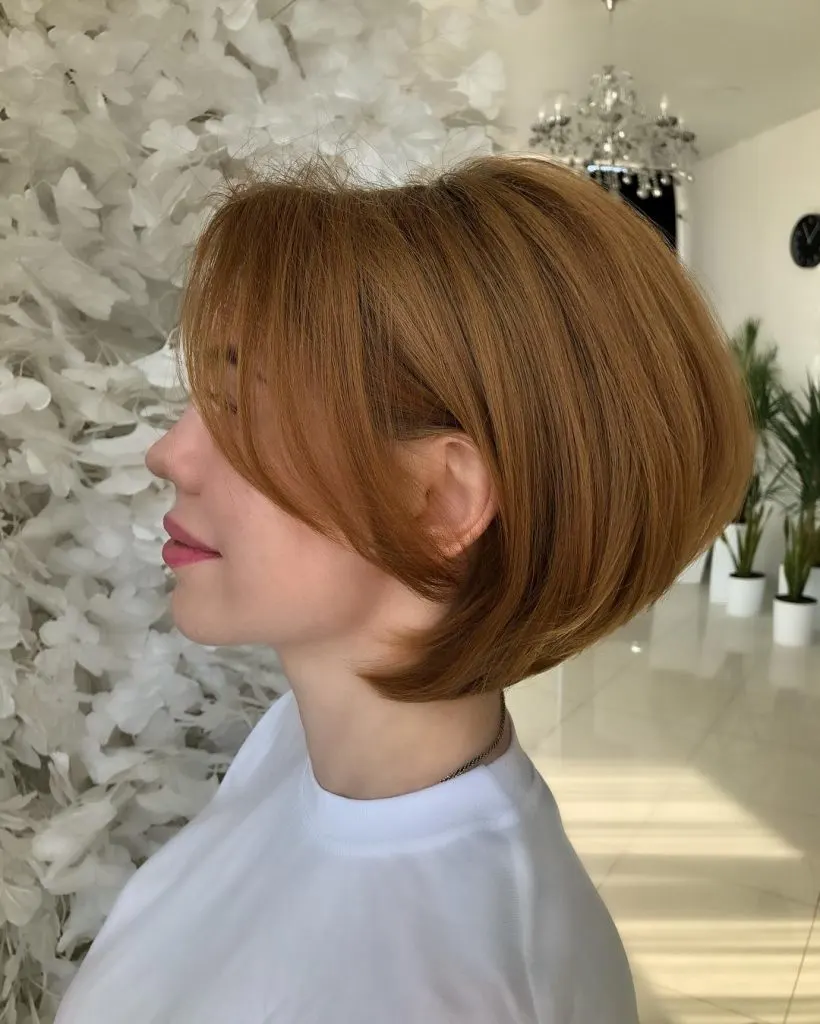 If you like a put-together look, you'll need to spend time styling it, but a good cut can save you time by making it easier. The shape of this stacked bob haircut has been shaped
34. Medium Bob With Curtain Bangs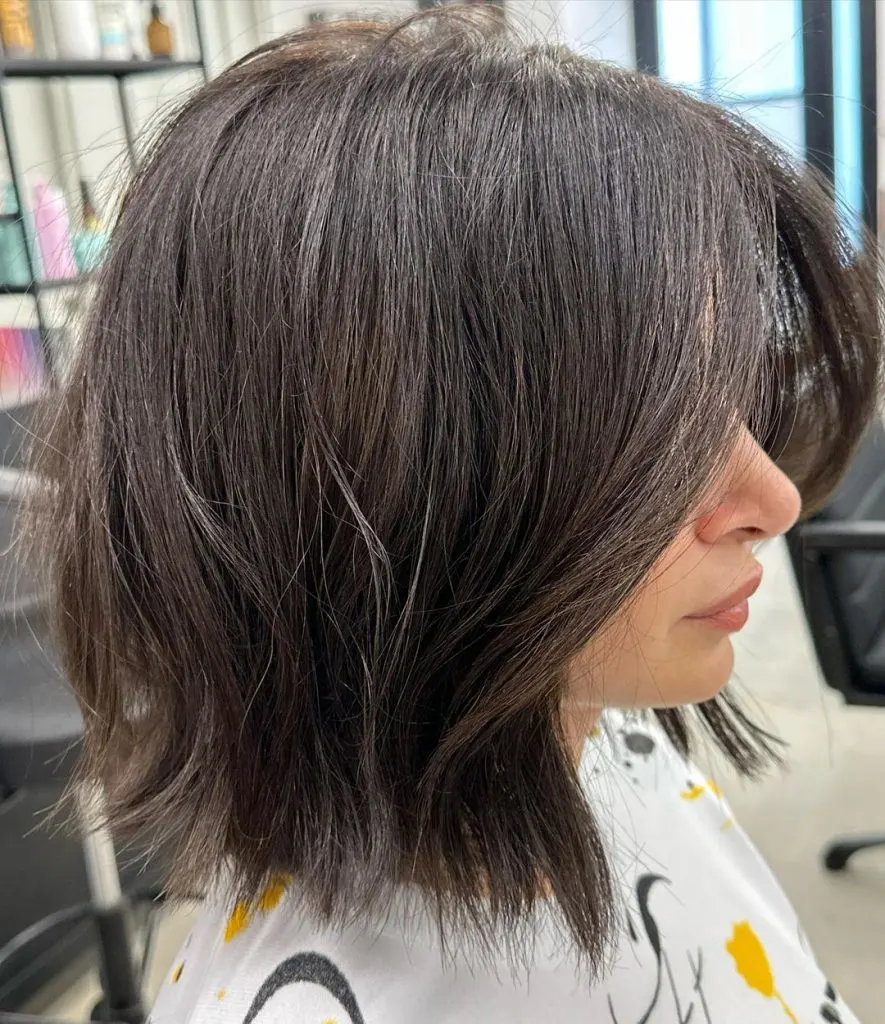 Curtain bangs soften a blunt cut, but don't take away from the choppy effect—their role is to flatter the face.
35. Lob Haircut With Bangs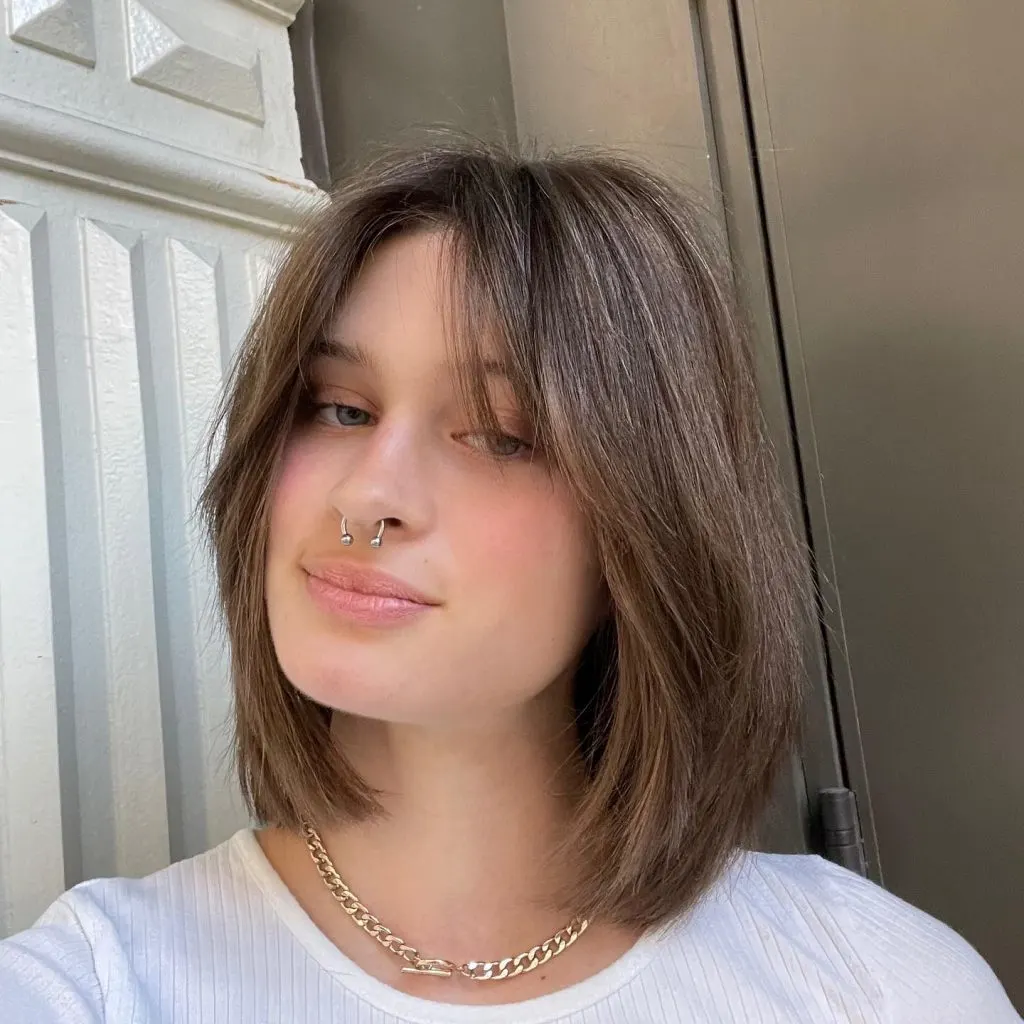 A layered bob with bangs is a great transitional style if you want to grow your hair long without having awkward, bulky ends and flat crown.
36. Long Bob With Bangs For Thin Hair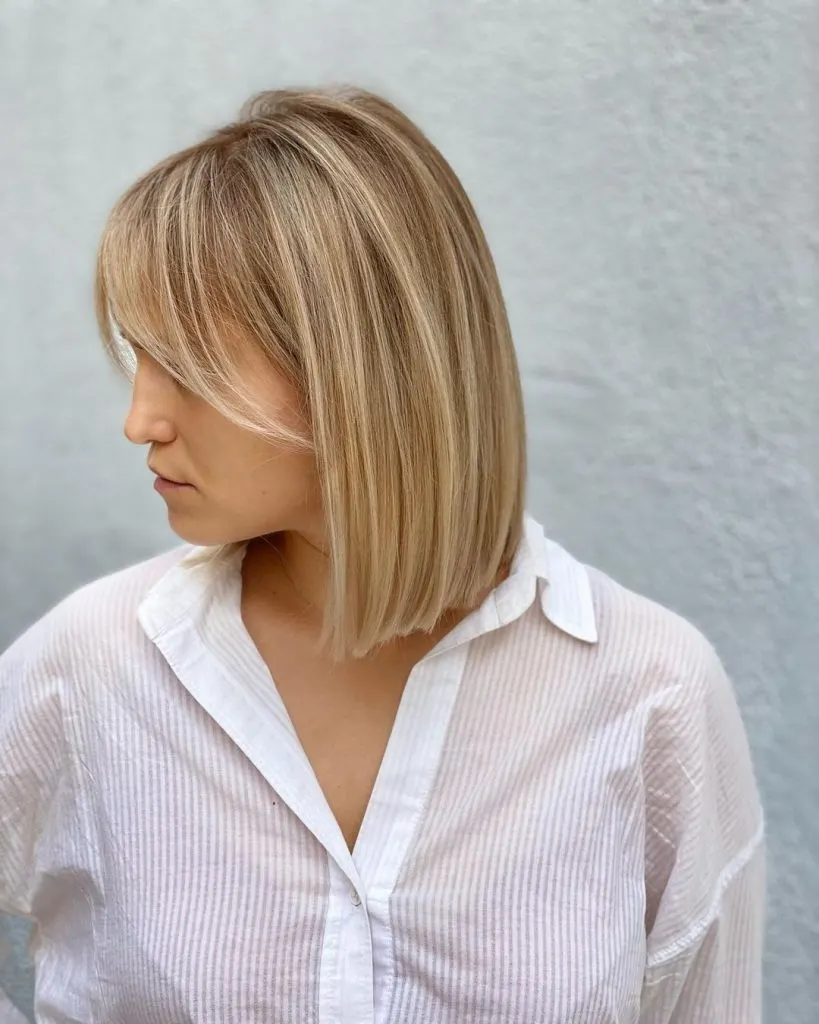 If you have thin hair but don't like choppy layers, add wispy curtain bangs to your hairstyle—a long, sleek bob looks much fuller if you just by create some interest around the face.
37. Shoulder Length Bob With Curtain Bangs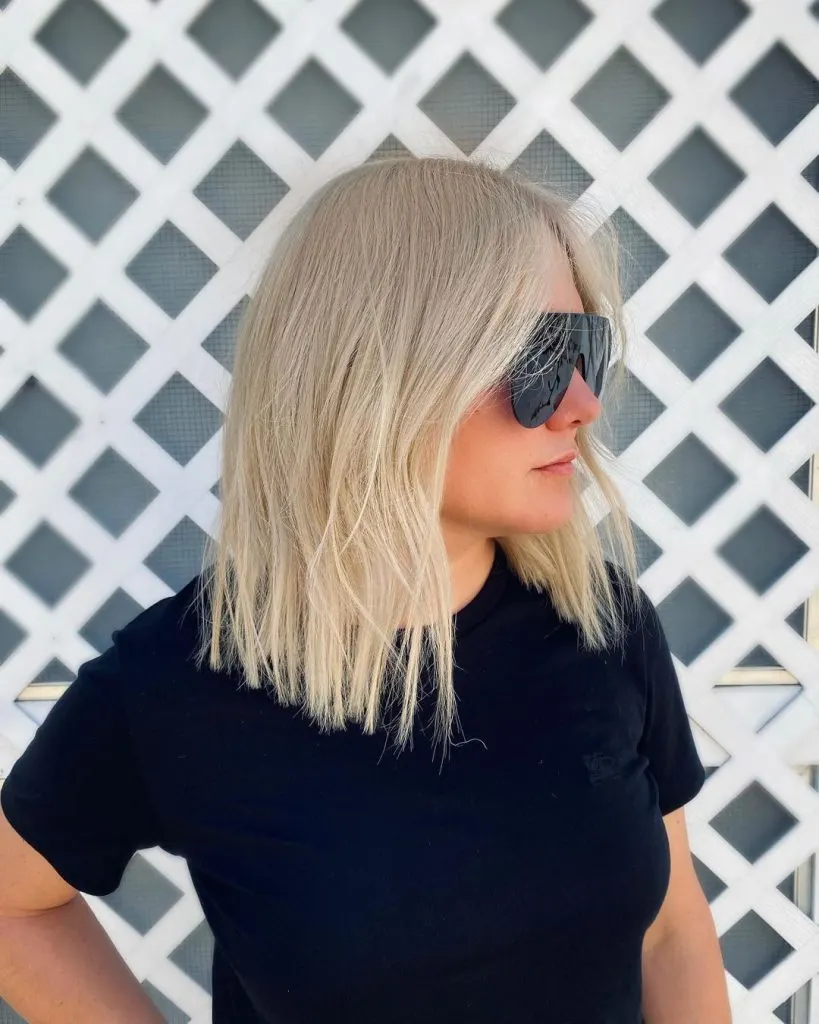 Shoulder-length hair is tricky, because it tends to fall flat if it's all the same length—by adding some texturizing layers and curtain bangs, you can create dimension and movement.
38. Shaggy Bob With Bangs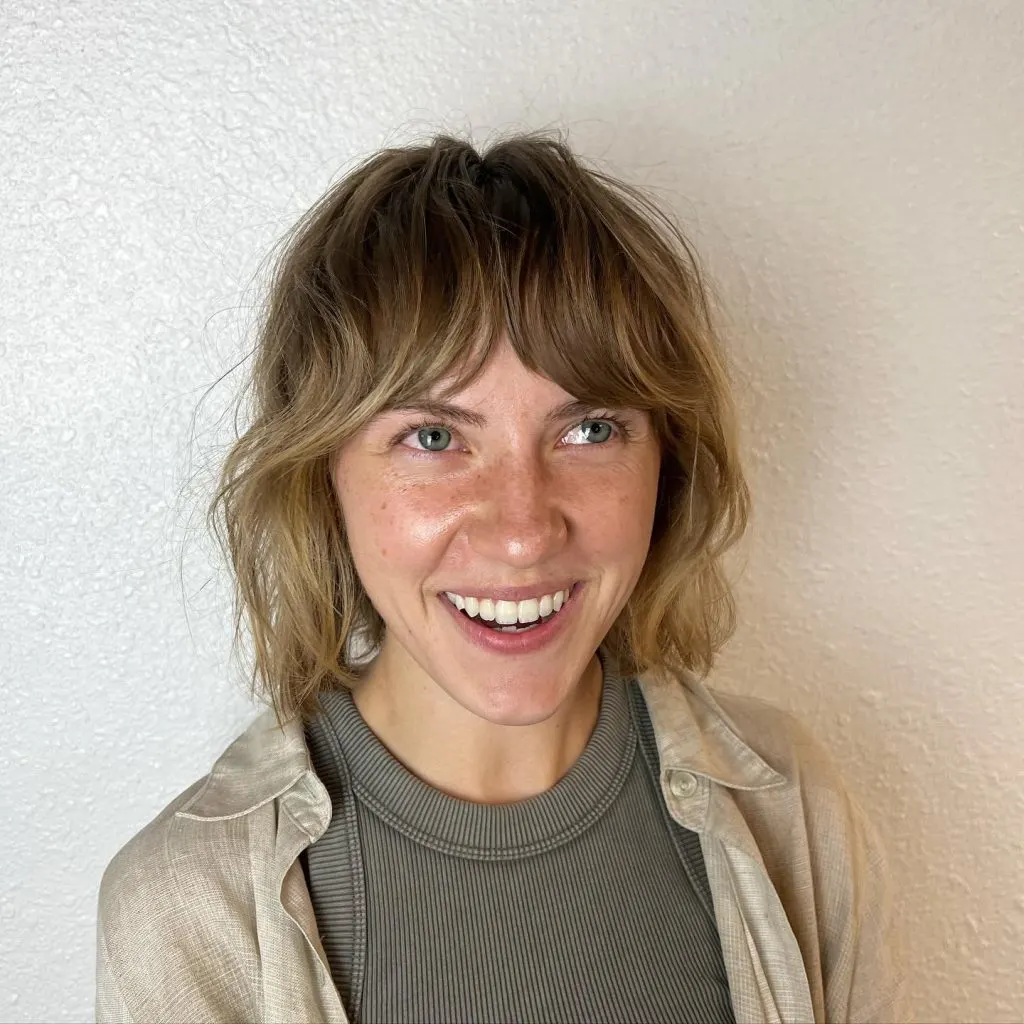 Get instant volume with a shaggy bob and cute, short curtain bangs. To get your bangs to stay in place, train them by flipping them outwards as you dry your hair.
39. Layered Bob Haircut With Bangs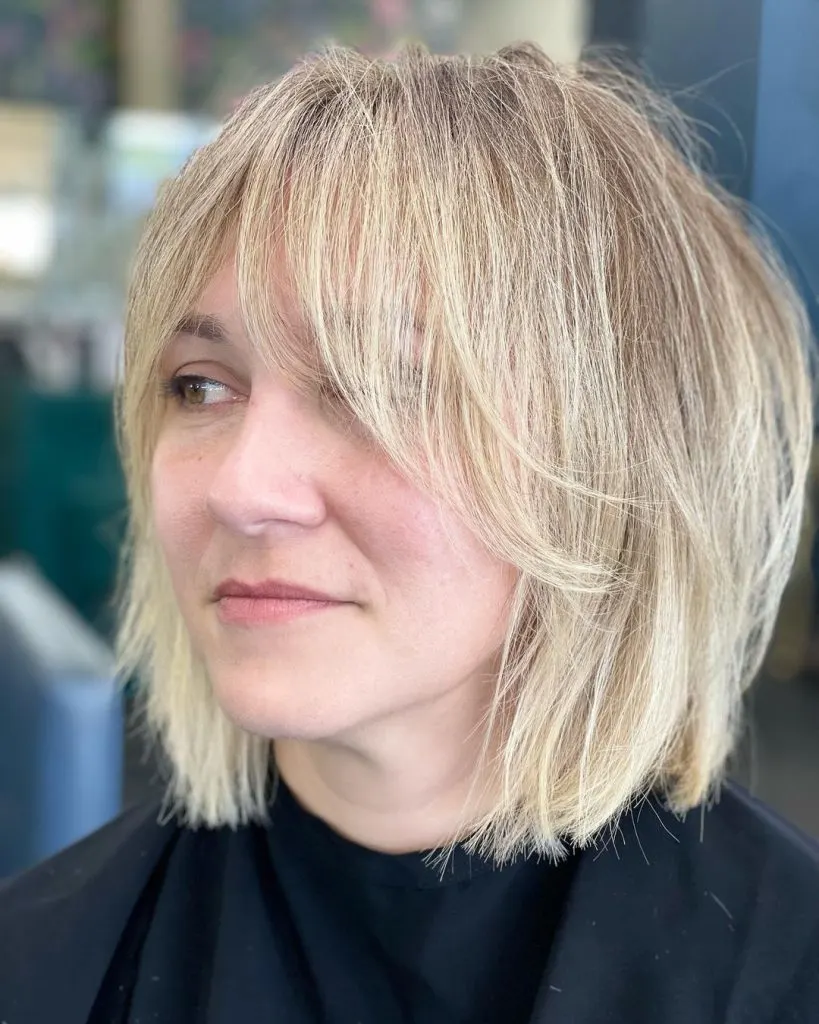 The blunt ends are offset by plenty of layers and wispy bangs—this is a great style if you have thin hair that tends to lose volume.
40. Jaw Length Choppy Bob With Bangs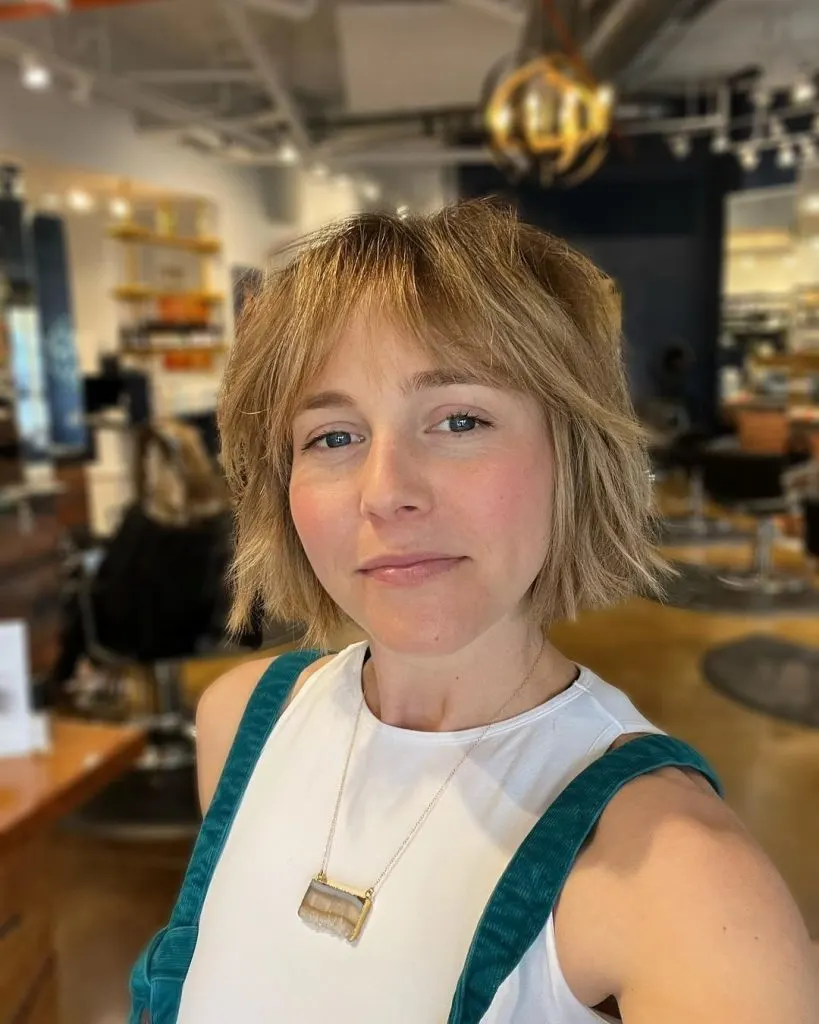 The best way to style a short, choppy bob is to air-dry it while flipping the bangs outward to help them find their shape.