A new haircut can be the symbol of leaving the past behind and embracing the new you, or simply a change you need when you're bored with your current hairstyle.
Going for a big chop is one of the easiest ways to reinvent yourself. One of the sharpest, most dramatic haircuts you can get is a jaw-length blunt bob: it's a fresh and effortless style that lifts the face and highlights the features.
Here's some inspiration to help you pick the version that's perfect for you.
1. Side Part Blunt Bob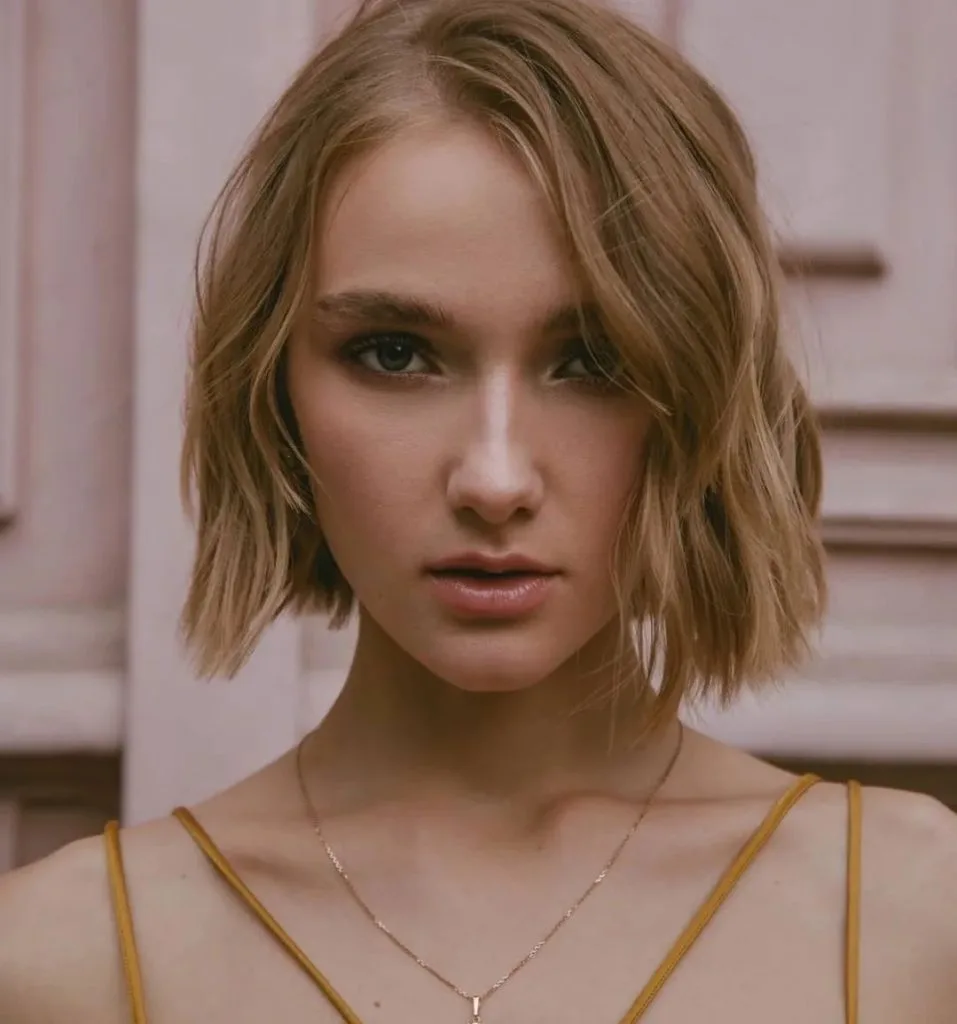 This tousled bob with side bangs is at the same time both flirty and laid back. Hair sweeping across one eye looks mysterious and matches the overall carefree vibe of the hairstyle.
2. Blunt Chin-Length Bob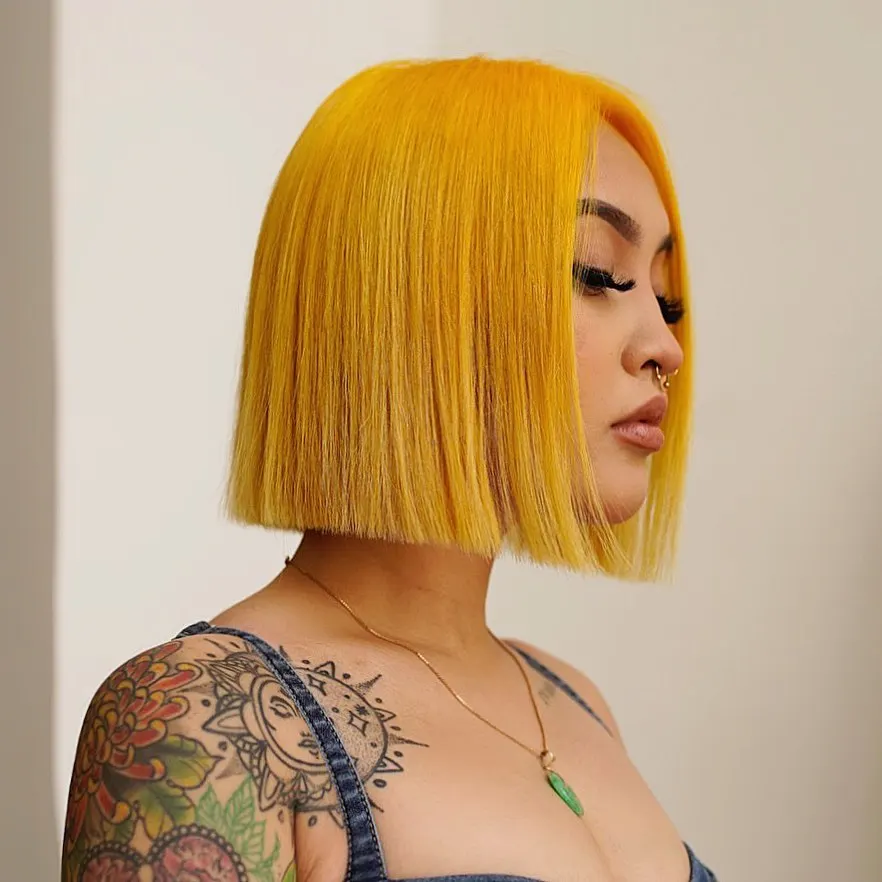 The classic chin-length bob never goes out of fashion. Depending on how you style it, it can be edgy, elegant or chill. Pairing it with a bright, unnatural color takes it to the next level.
3. Blunt Bob With Bangs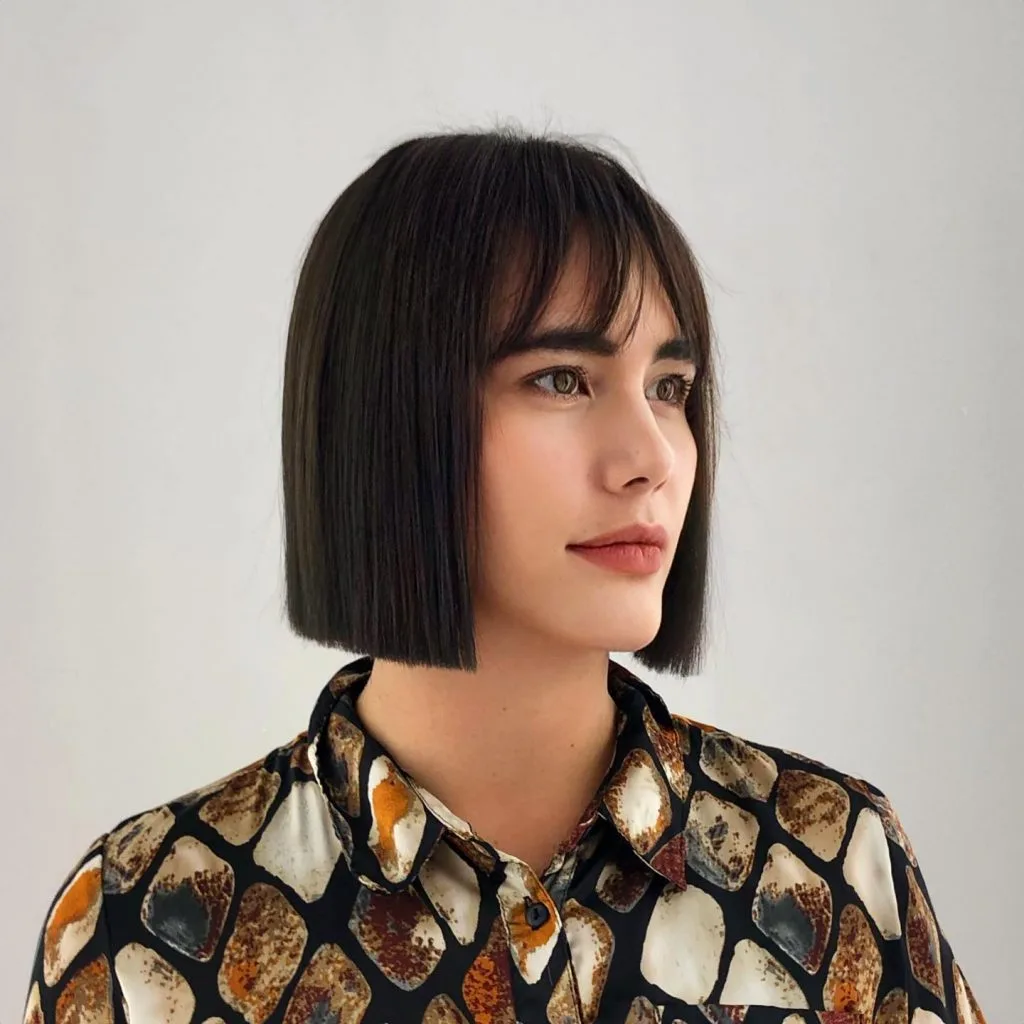 Short, sleek, blunt—as simple as it gets, but the beauty of a short straight hairstyle like this one lies in its simplicity. To keep it healthy and vibrant and in top shape, don't skip the regular trims and and heat protectant when using hot tools.
4. Blunt Cut Bob With Bangs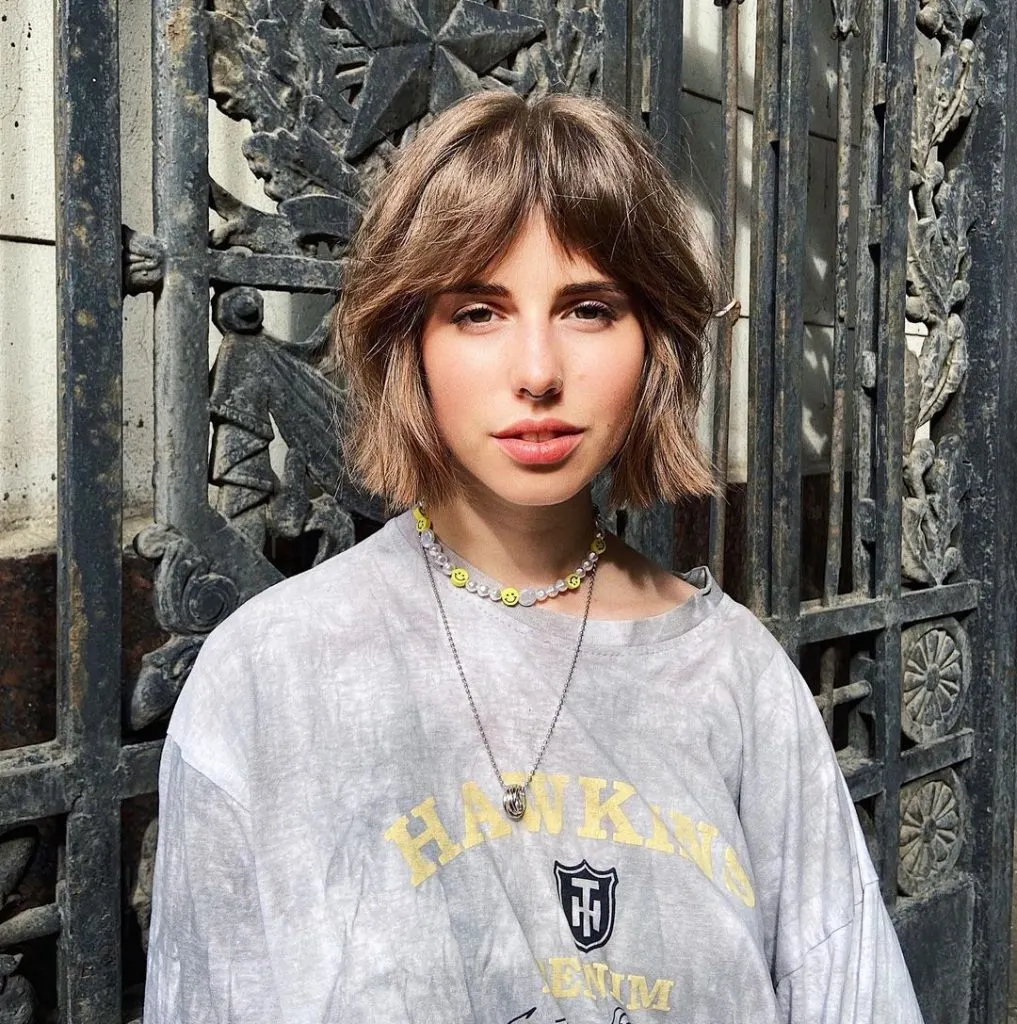 This bob marries elements from opposite cuts—while still looking harmonious. Thick curtain bangs go deep to the side, almost making it similar to a choppy bob, but the ends are too blunt and sharp. Still, the overall effect is pleasing and balanced.
5. Jaw-Length Blunt Cut Bob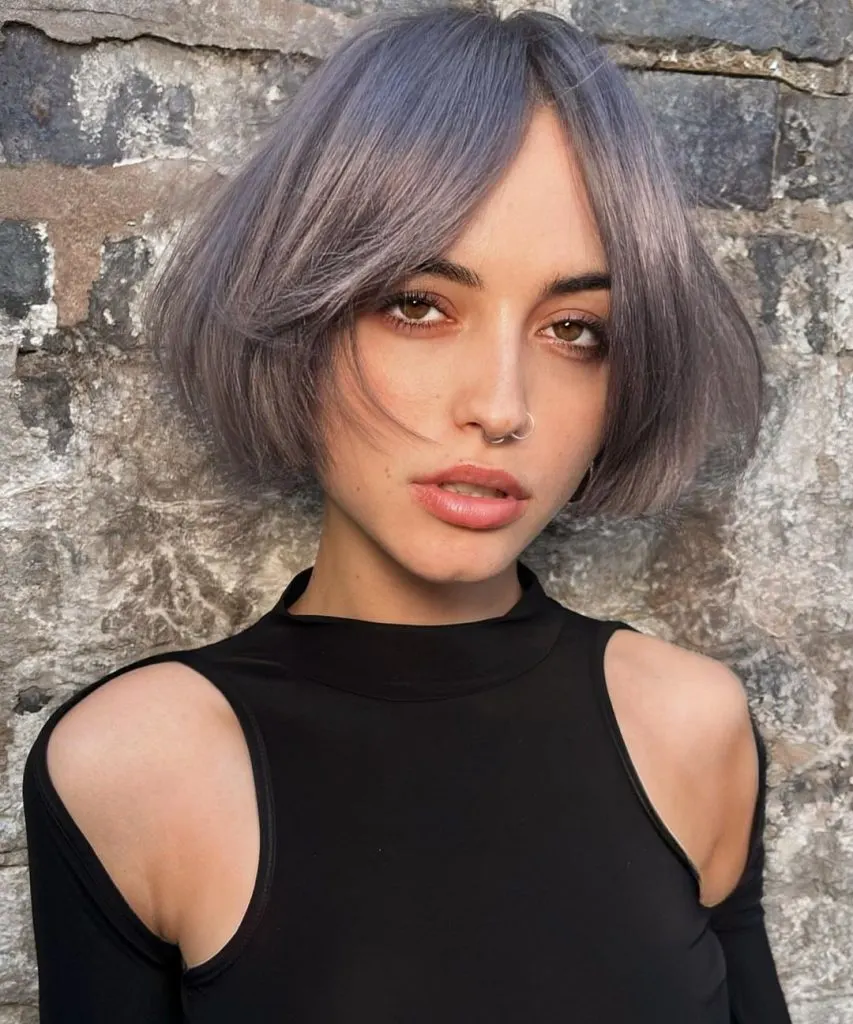 Blunt ends combined with long layers give lots of styling opportunities: for example, this cut can be styled straight and blunt, or with the ends flipped inward, which changes the mood completely.
6. Side Part Blunt Cut Bob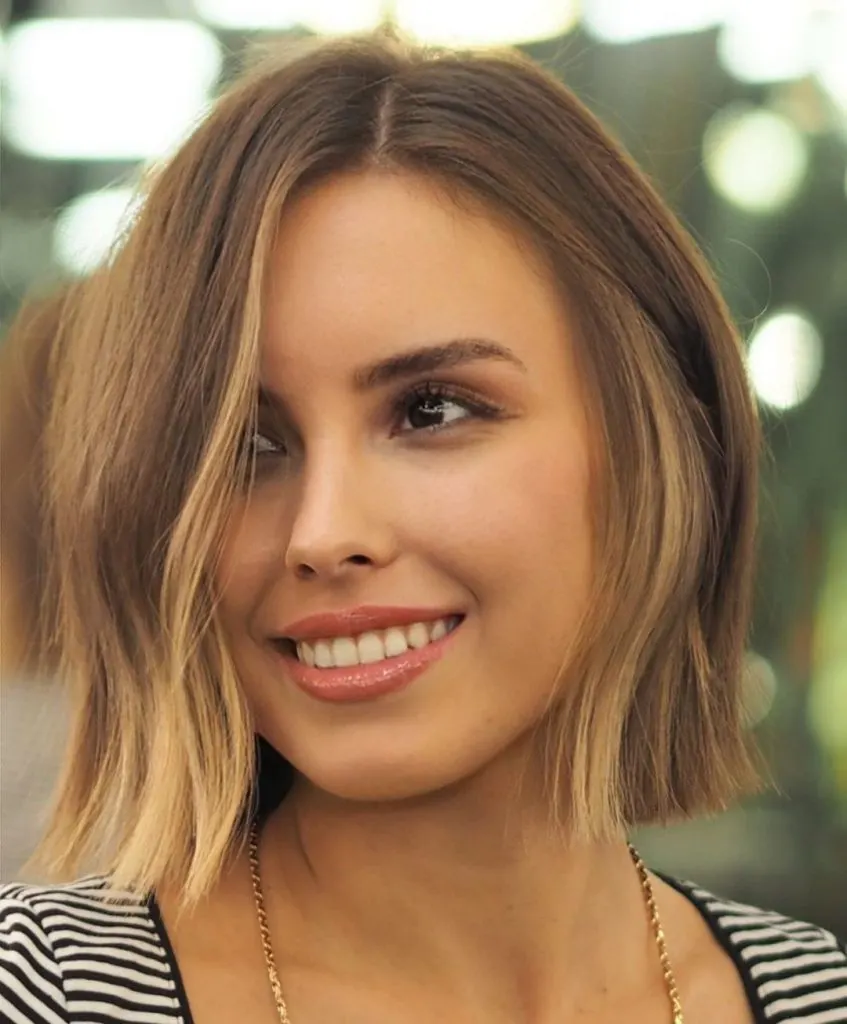 Highlights take short brown hair to the next level—the lighter strands in the front brighten the face and create dimension.
7. Short Blunt Cut With Fringe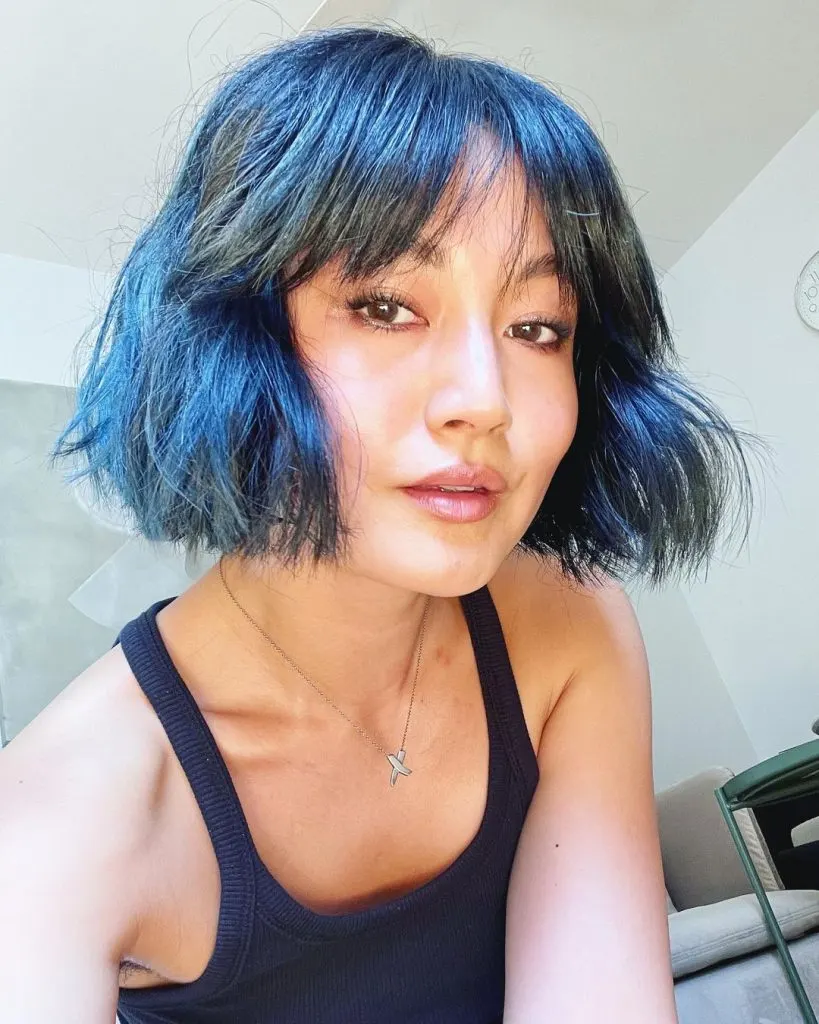 If you want to make color the focal point of your hairstyle, your favorite blunt bob is the perfect choice. It's a neutral look that doesn't take attention away from the color and keeps your entire style from being overwhelming.
8. Blunt French Bob With Bangs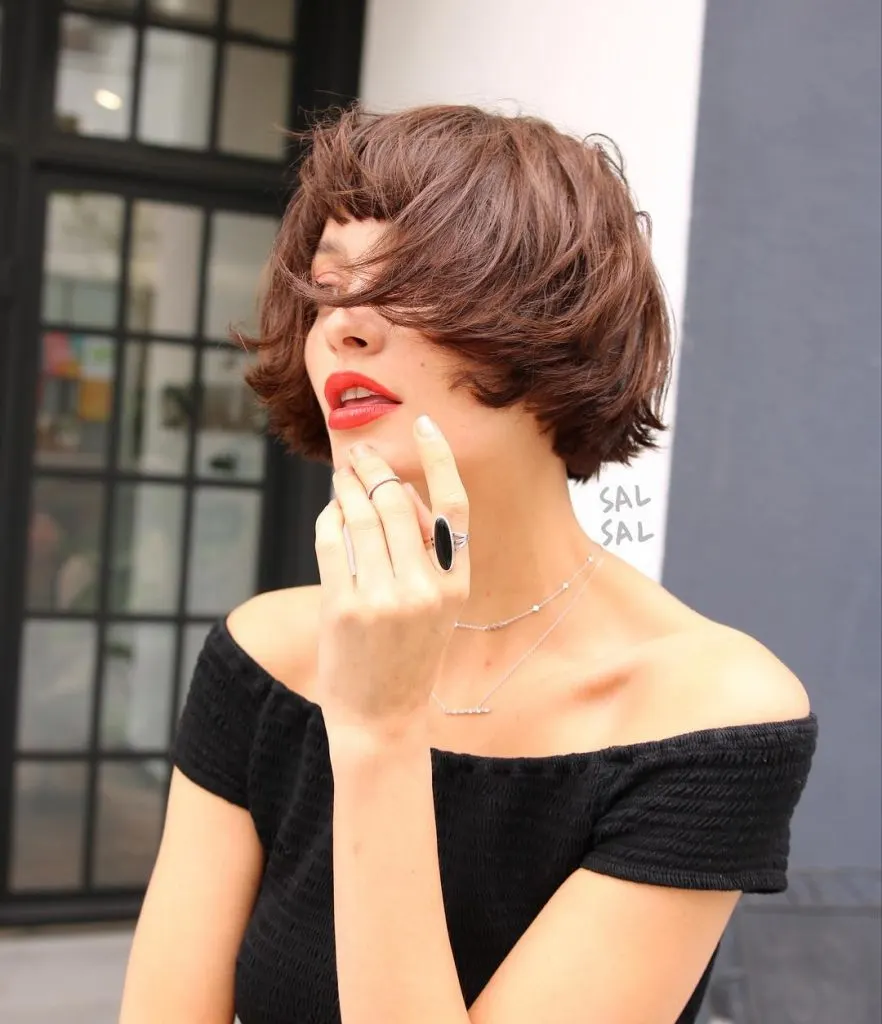 The French bob is as classic as it gets, but classic doesn't mean boring—this chop will accentuate your eyes and your cheekbones and make you look chic and sophisticated.
9. Chin-Length Blunt Bob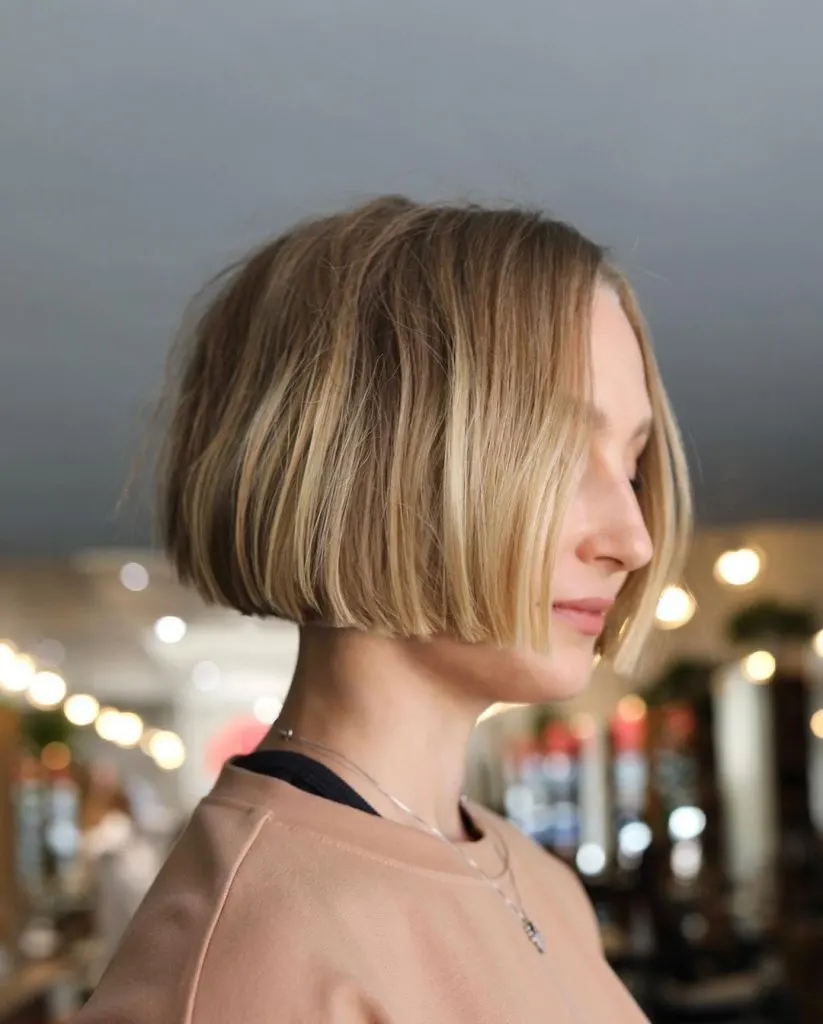 Fine layers keep this straight blunt bob from falling flat at the roots, so even if you prefer the one-length look, you should still consider adding a few texturizing layers.
10. Jaw-Length Blunt Bob With Bangs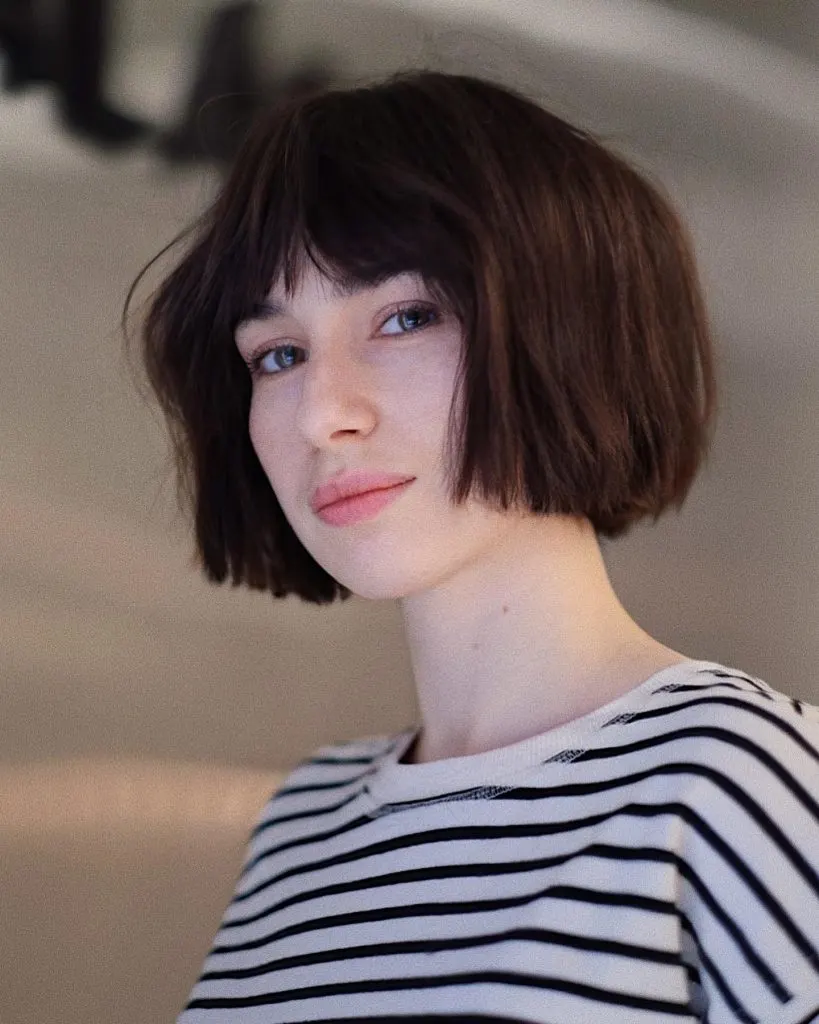 Every part of this haircut is there to frame the face, making this fluffy jaw-length blunt bob with short curtain bangs ultra-flattering.
11. Blunt Cut Choppy Bob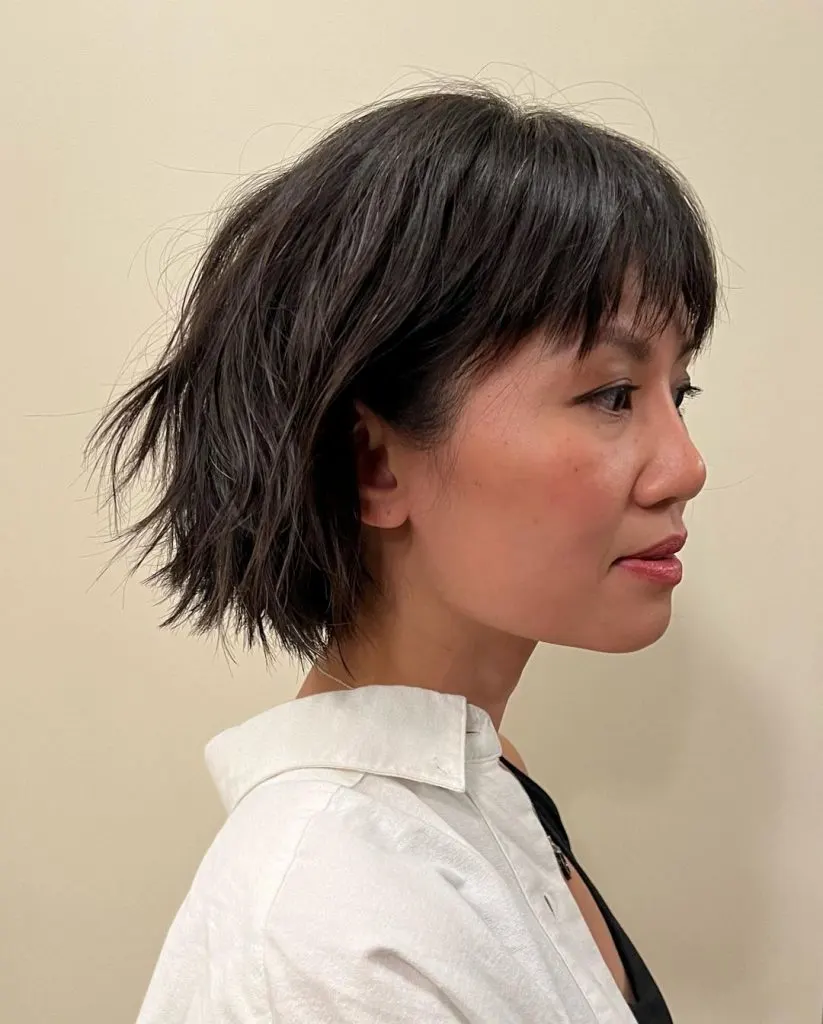 Choppy finish means texture, and you can really play it up if you want more volume—texturizing spray should be a staple in your hair product arsenal.
12. Blunt Cut Middle Part Bob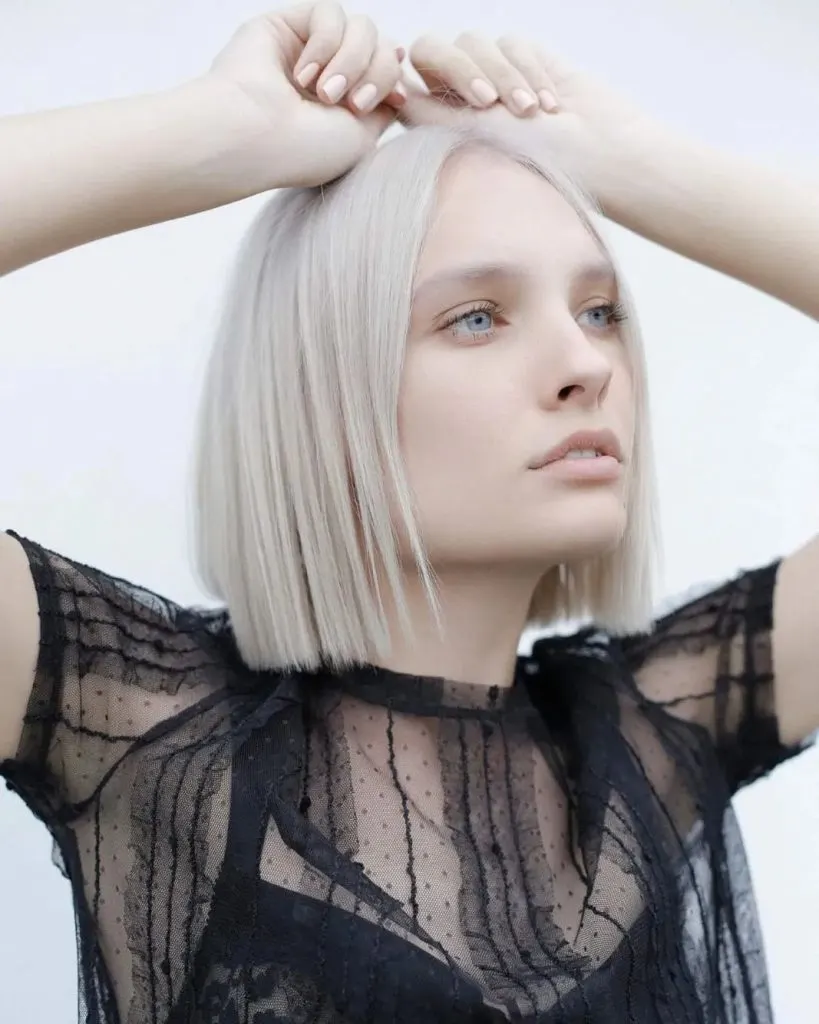 Adding just a few shorter thin strands around the face can soften your look and make it more dynamic. On the other hand, if you want to keep your hairstyle completely structural, avoid wispy ends.
13. Short Blunt Bob With Bangs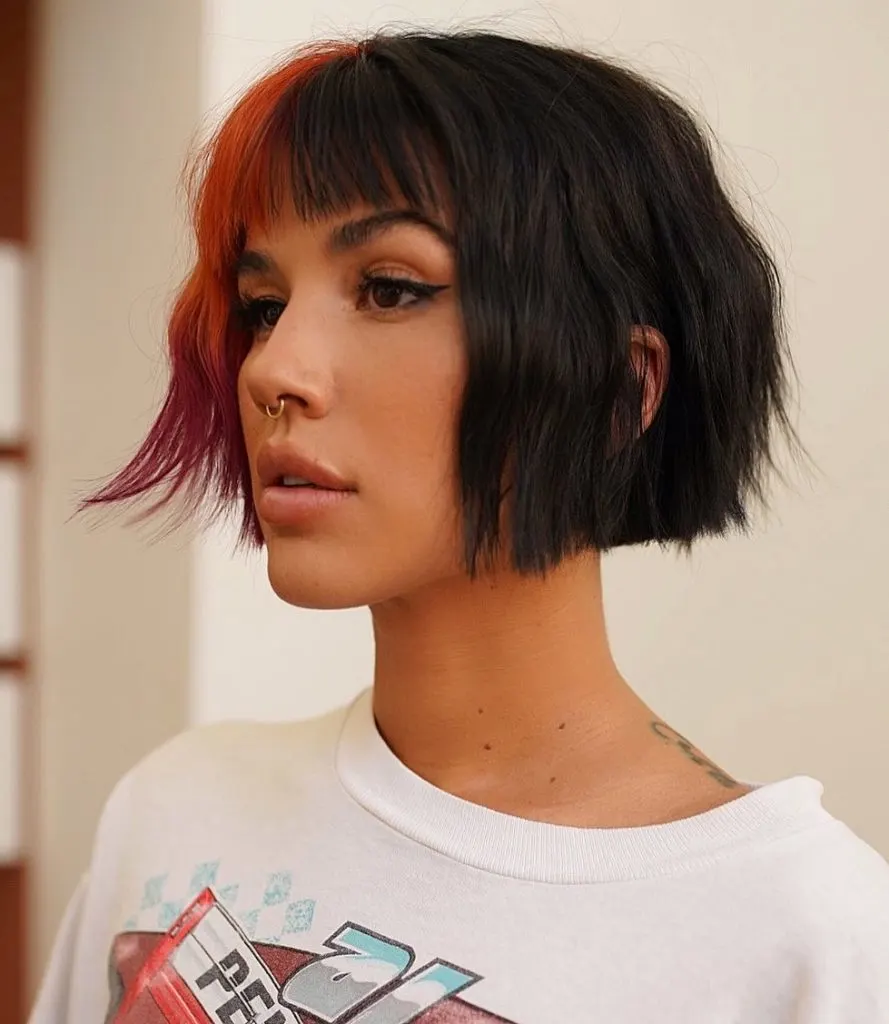 Fringe cut above the eyebrows can look edgy, adorable or both. The final result depends on the rest of the styling. Dramatic gemini dye job takes this blunt bob haircut into the edgy territory, but the soft texture keeps it cute.
14. Straight Blunt Bob Cut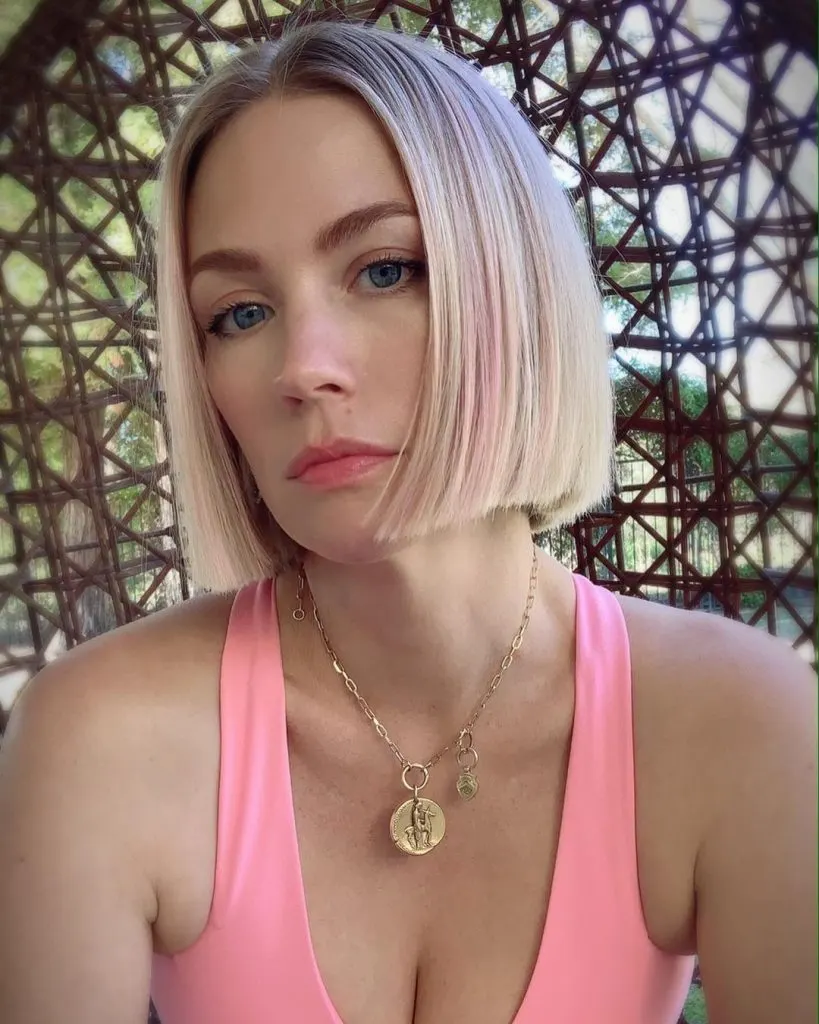 A short, straight bob with a middle part looks sharp and sleek, and gives you a great canvas to play with color because it's so understated.
15. Textured Blunt Bob Haircut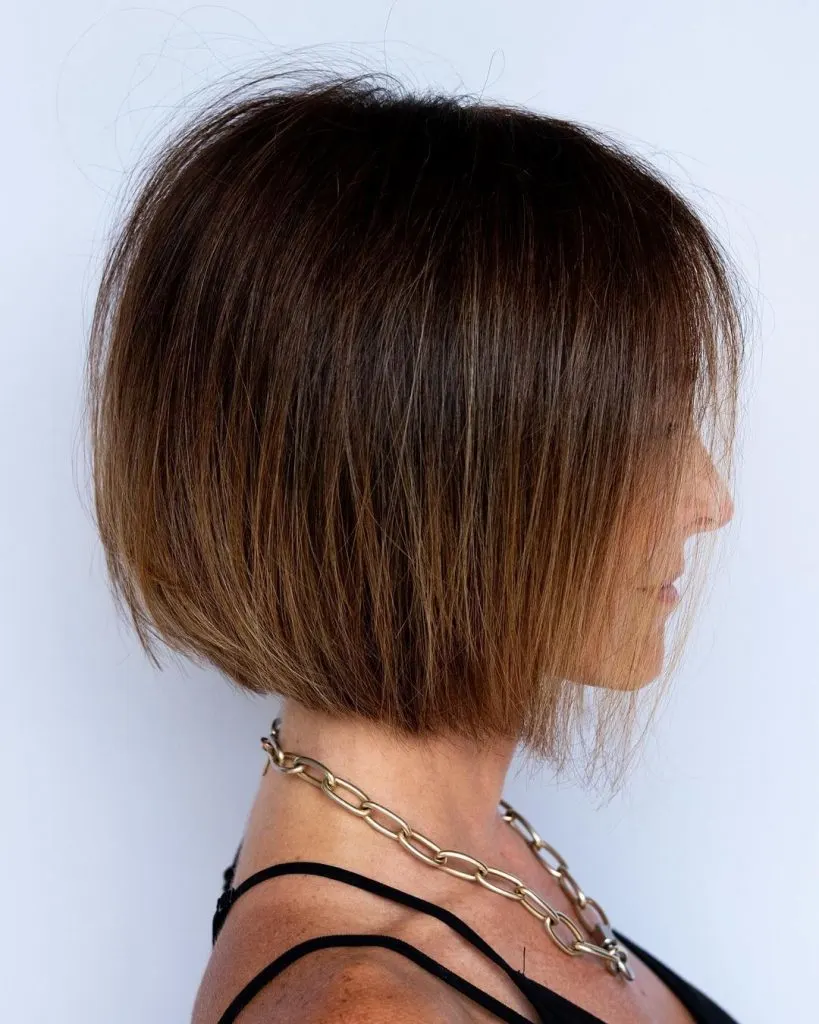 This blunt bob looks touchable and soft, and has amazing volume—all thanks to texturizing layers. The wording can be a little confusing, so ask your stylist for texture instead of layers if you want this kind of look.
16. Jaw-Length Blunt Bob For Fine Hair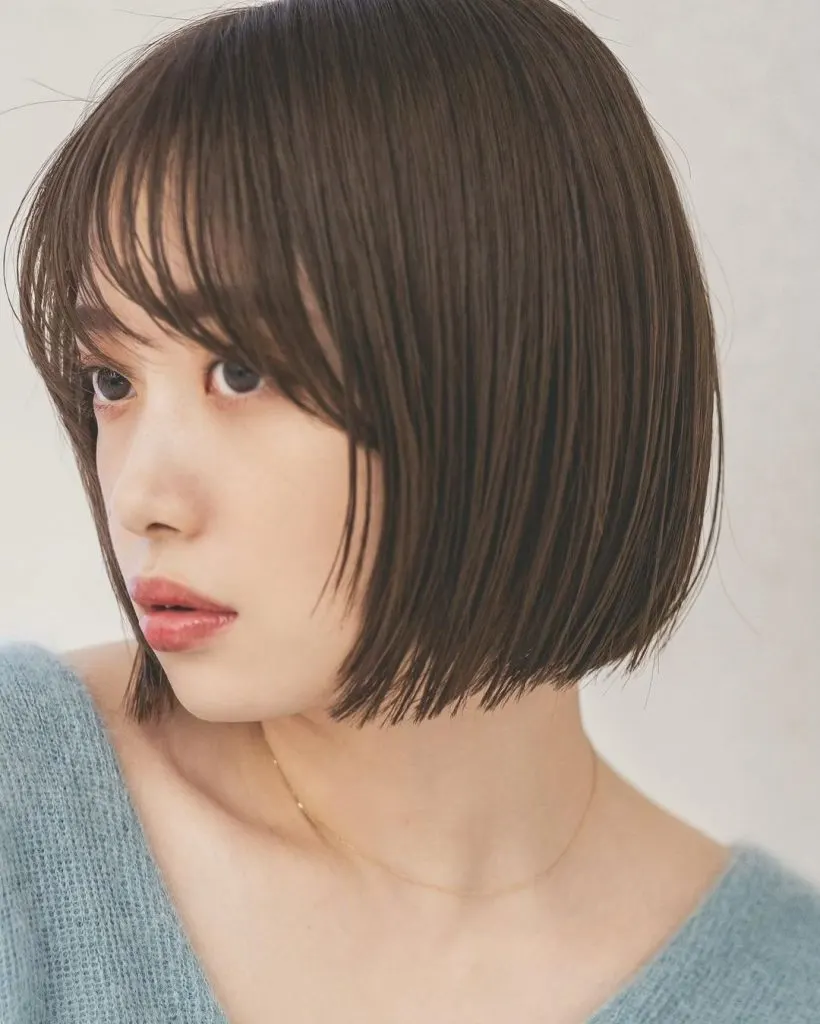 Hair can be used to create balance in your look and highlight your favorite features. Jaw-length is perfect if you have a pointy chin and you'd like to draw attention to the center of your face.
17. Inverted Blunt Cut Bob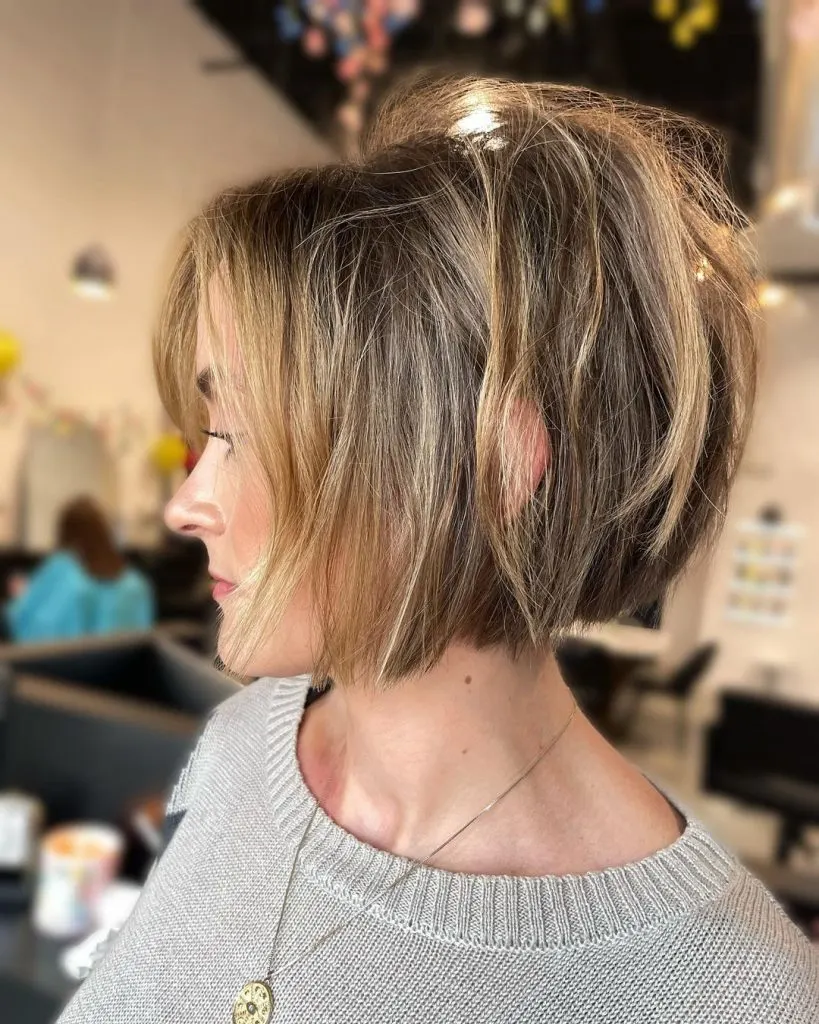 Tousled texture looks great with a blunt inverted bob because it provides contrast, but it also makes the hair look much more voluminous than with each hair is in its place.
18. Jaw-Length Wavy Blunt Bob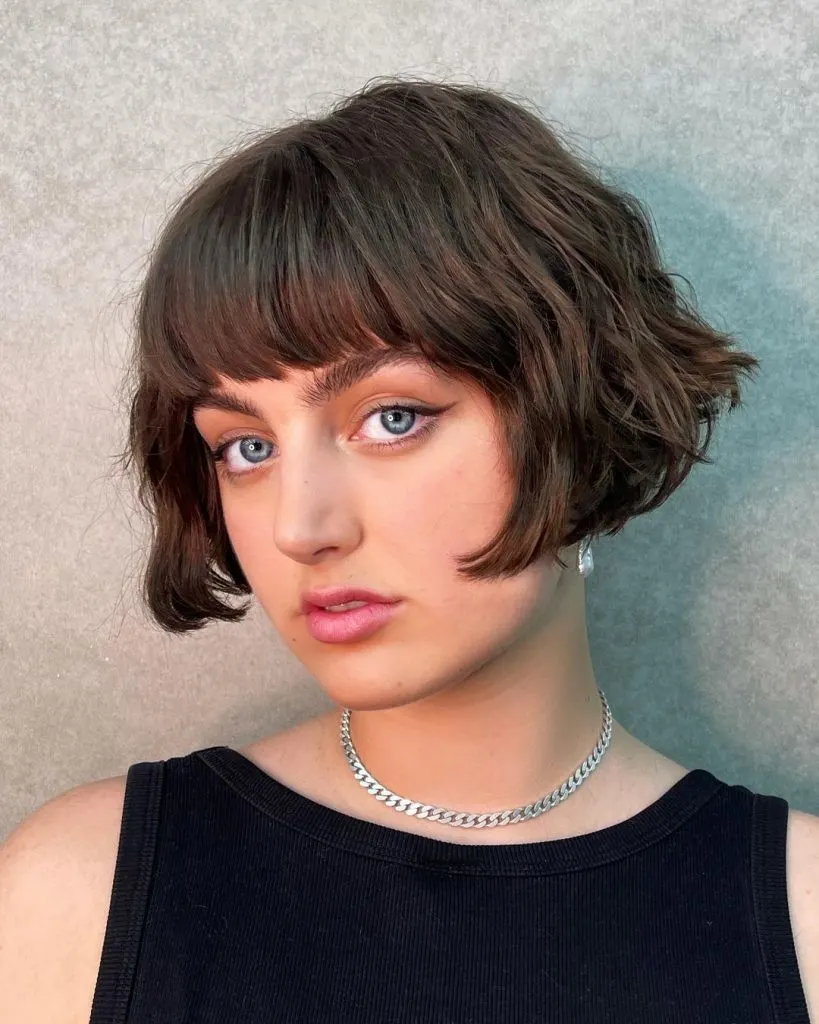 If you want a timeless style, look no further than the French bob. Blunt ends make the hair look thicker, the fringe accentuates the eyes and the cheekbones, and it will look as stylish next year as it does today.
19. Blunt Cut Side Part Bob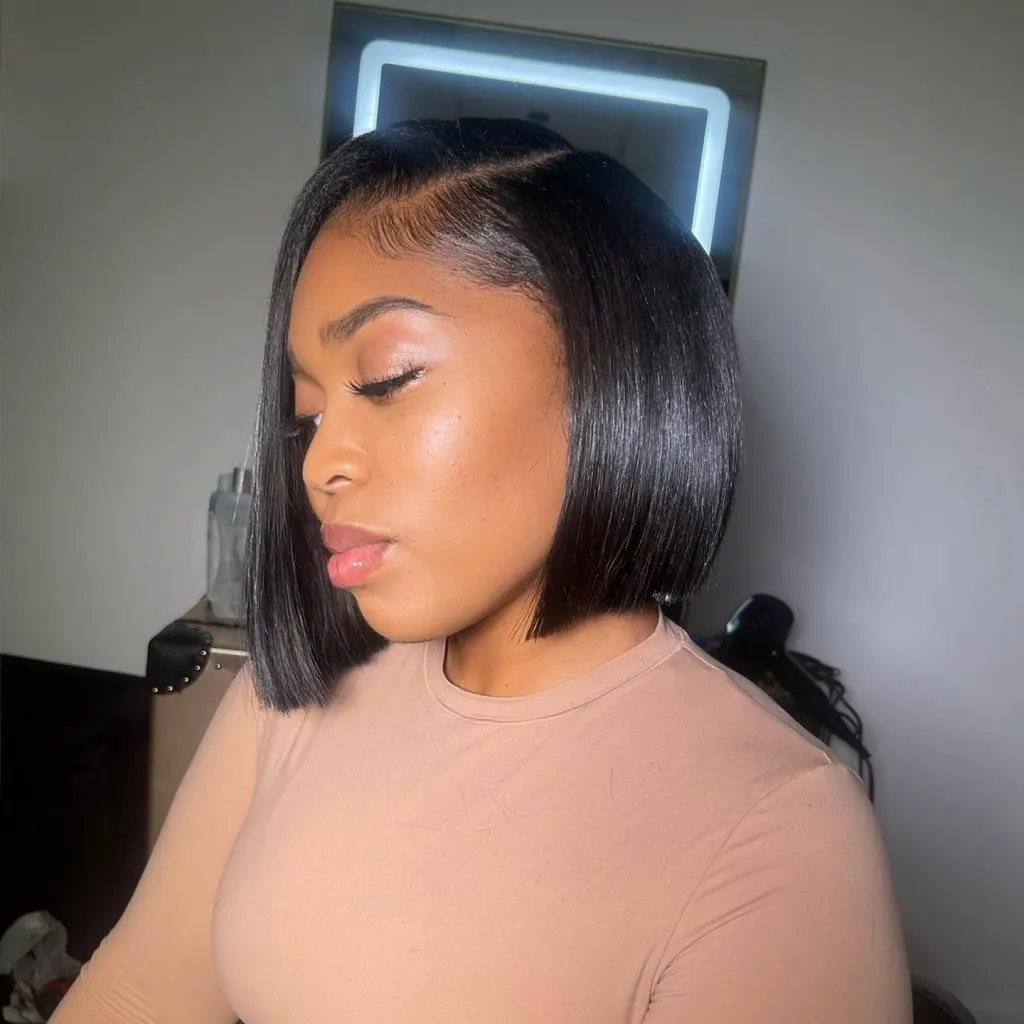 Everyone is obsessed with the box bob, and you can see why. This chic haircut looks as amazing pin-straight and tousled, and makes your hair look fuller.
20. Blunt Cut 90'S Bob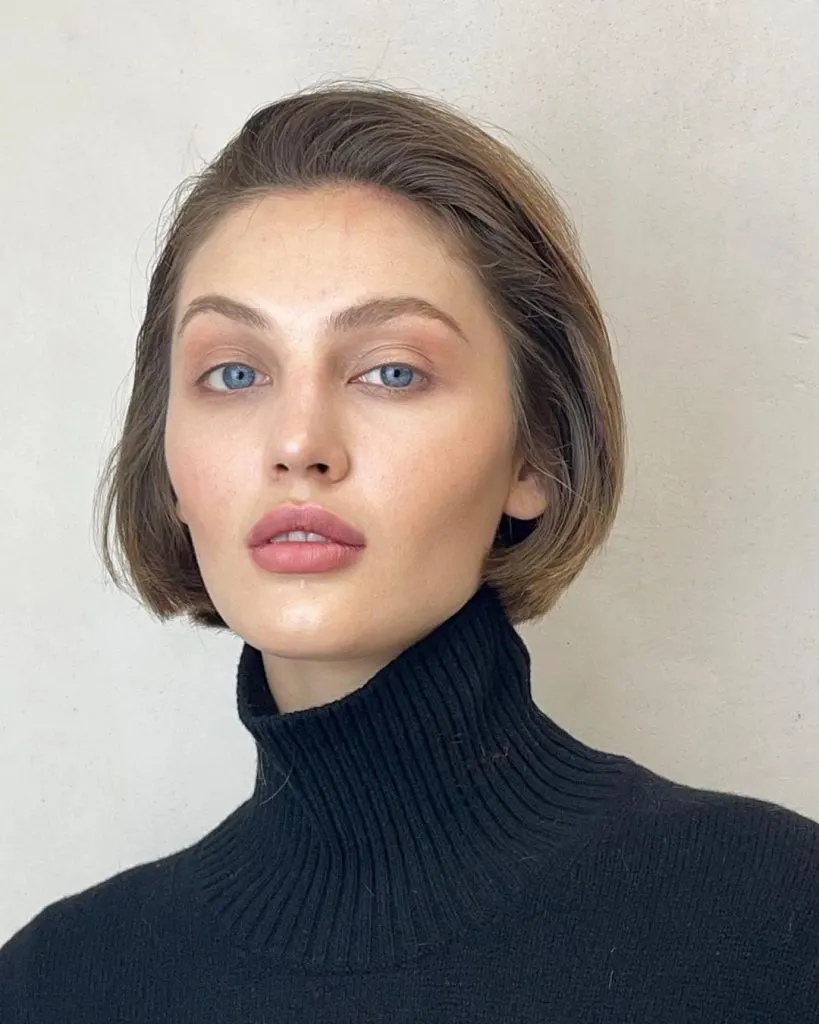 When it comes to jaw-length blunt cuts, the 90s bob is as low-maintenance as you can get. The strong outline and subtle layering make it the easiest haircut to style because it looks best with your natural texture.
21. Low Maintenance Chin-Length Haircut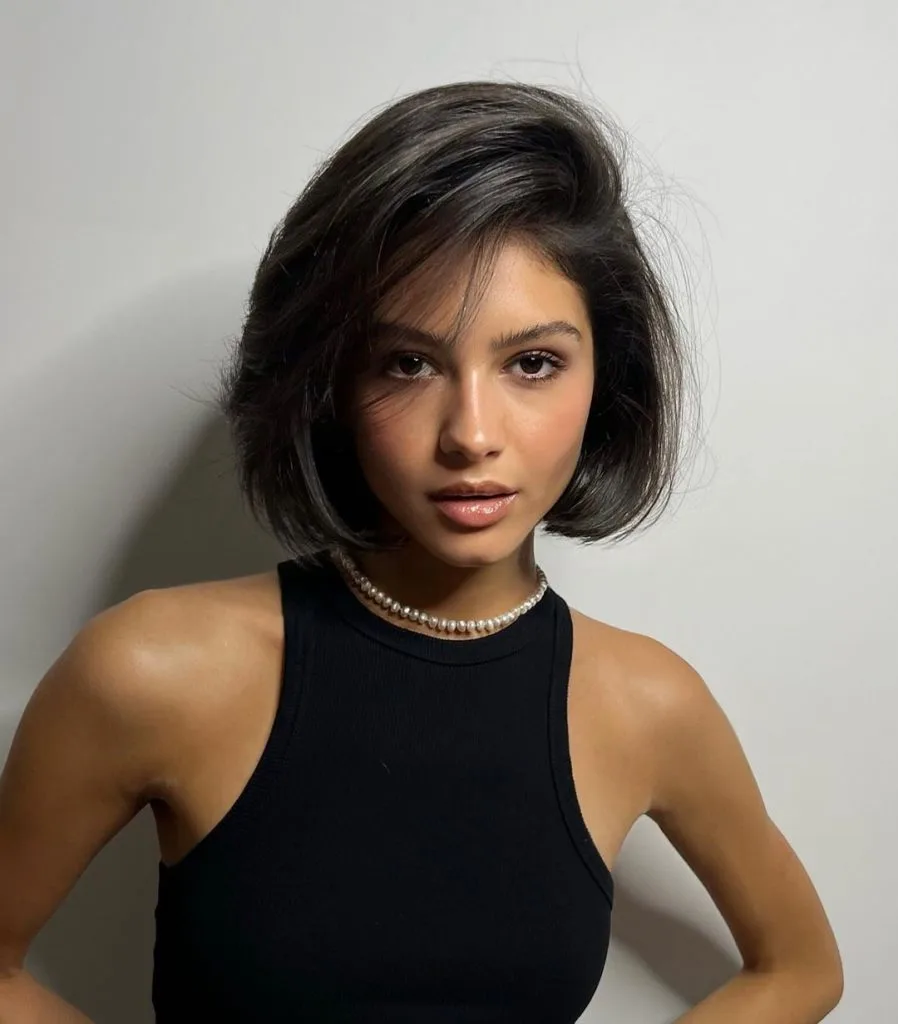 No matter which version of a jaw-length blunt bob you prefer, they're all incredibly wearable. For example, you can achieve a completely different look if you style the ends straight or turn the them inwards or if you create a sharp parting or keep it loose.
22. Short Blunt Cut Bob With Curtain Bangs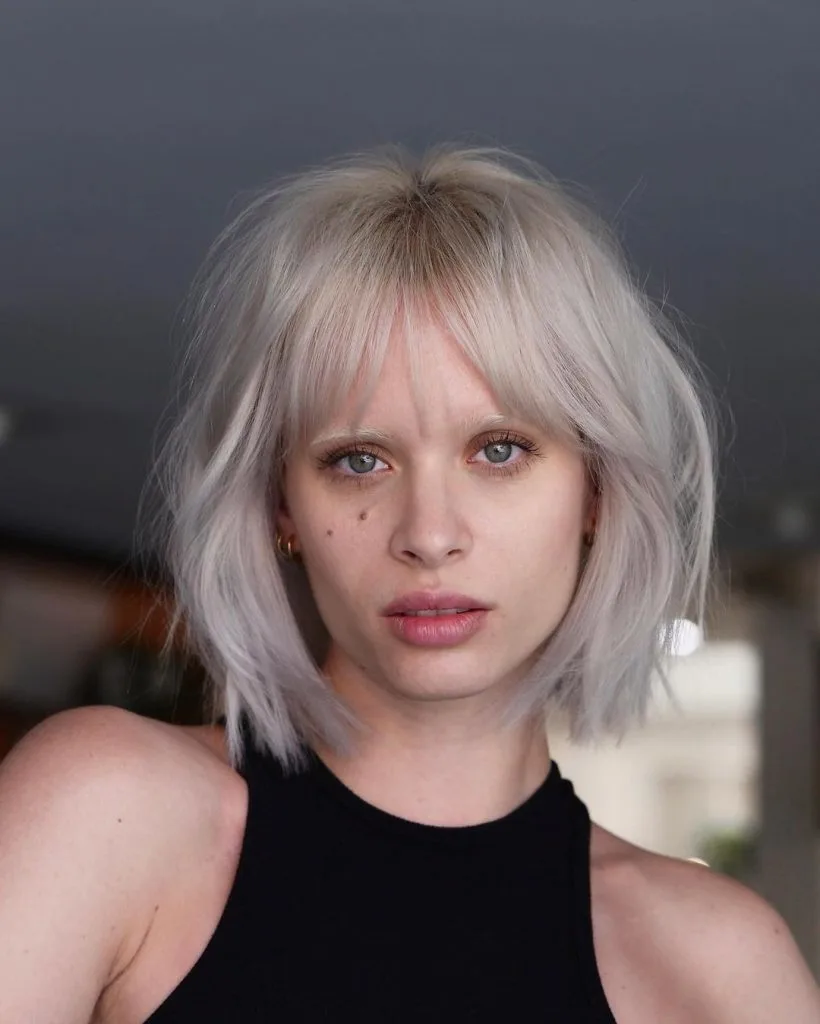 Layers plus blunt ends equal texture, so when it comes to thin hair, it's the best way to give your hair a boost. Throw in curtain bangs, and you get volume, face-framing and a super-flattering style.
23. Blunt Bob Haircut With Fringe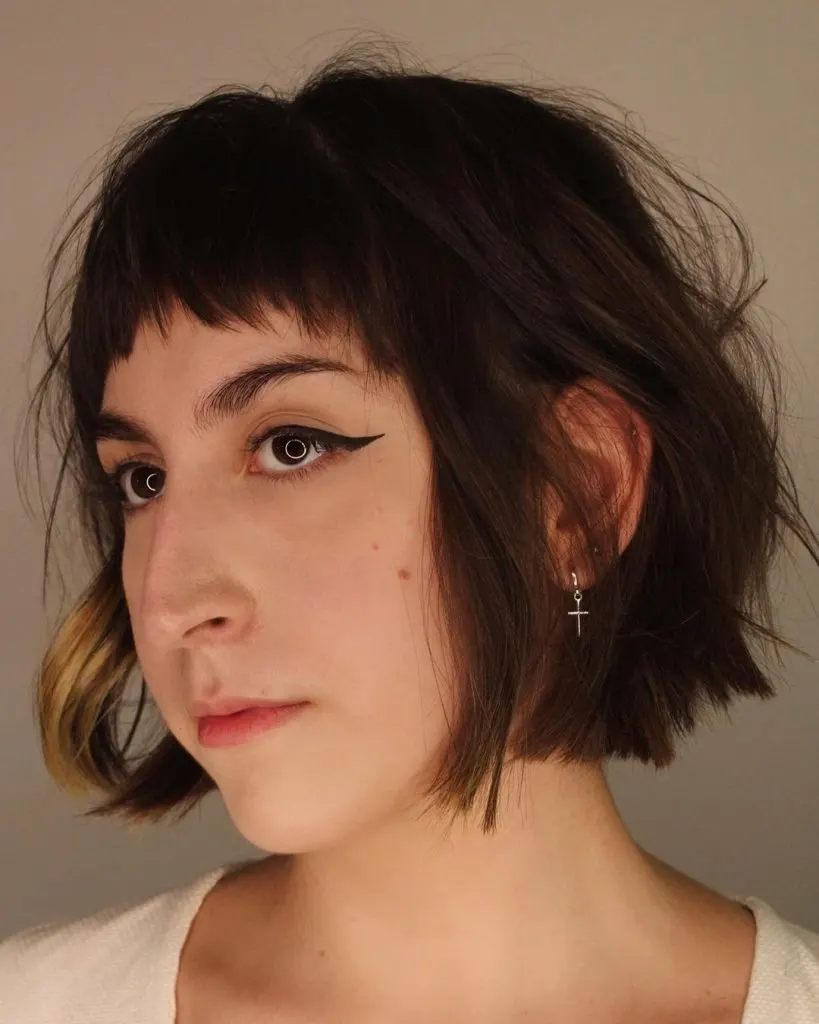 Baby bangs need a bit of styling, but the cute result is worth it. Choppy ends make them much more easygoing than keeping them blunt, so that's a great option if you prefer a tousled finish.
24. Middle Part Jaw-Length Bob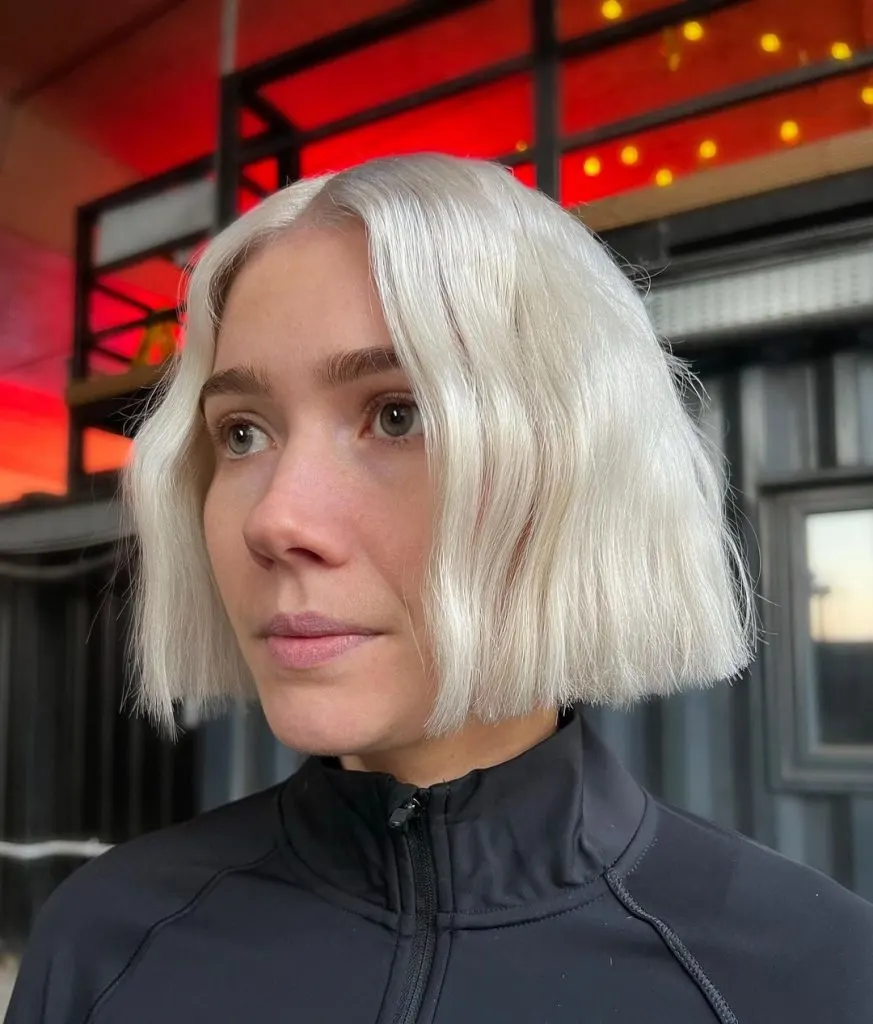 With no layers, a blunt bob can end up looking bulky, giving your hair a triangular shape. To avoid this, you can style it in a way that breaks the straight line around the face, like the wavy face-framing pieces here, or consider adding bangs.
25. Blunt Haircut With Bangs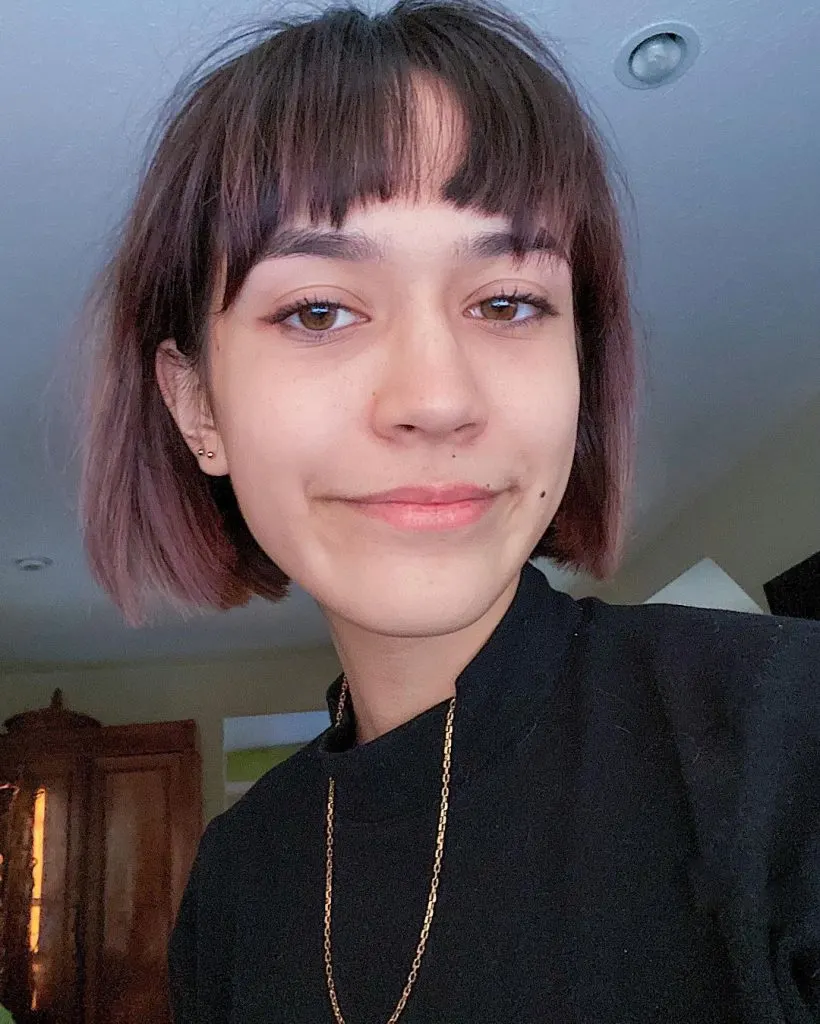 This jaw-length blunt bob with bangs is casual but cool, and looks extra cute thanks to the short choppy fringe. If you have cowlicks at your hairline, you can still pull this off: instead of waiting for your hair to dry on its own, blow dry the fringe straight as soon as you're out of the shower.
26. Face-Framing Jaw-Length Bob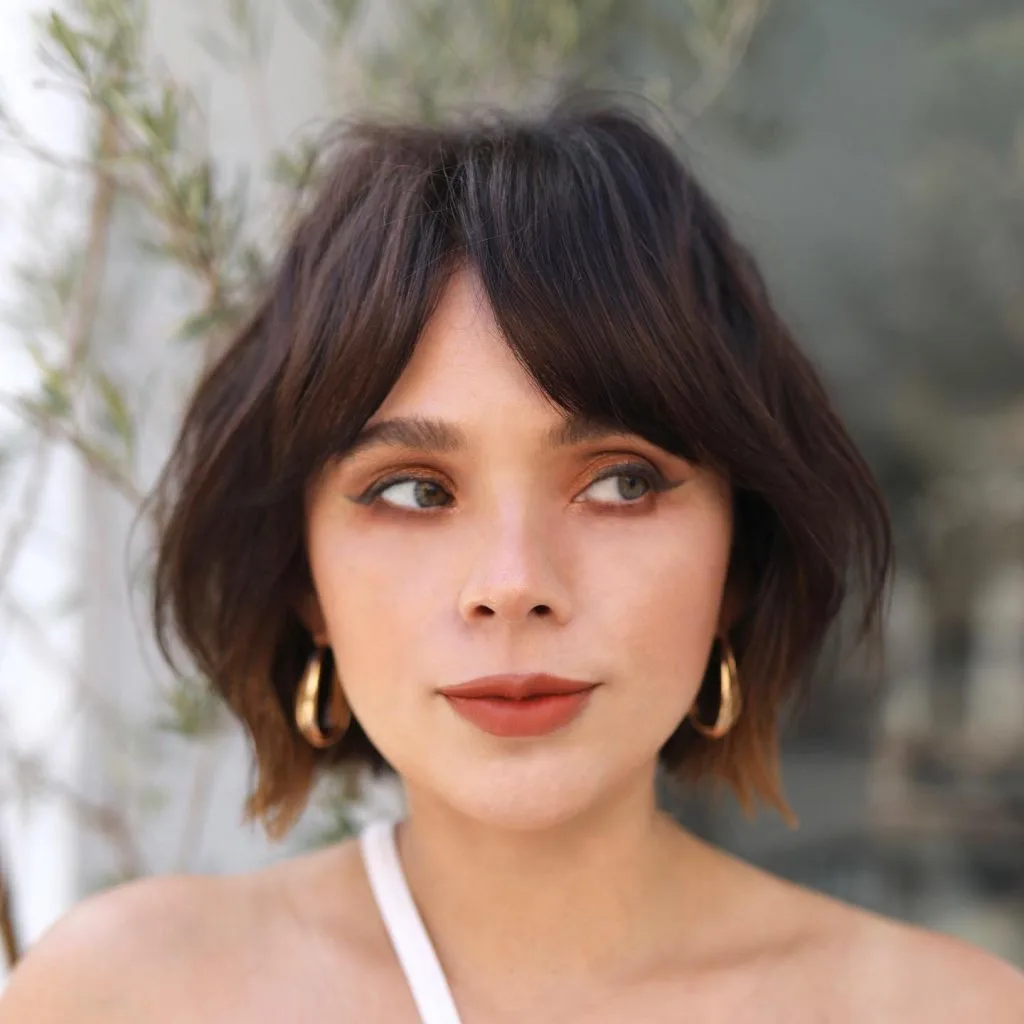 Blunt ends and texturizing layers create a modern and attractive shape that can work on practically anyone with a few small tweaks. Here, side-parted curtain bangs look gorgeous on a heart-shaped face.
27. Fine Hair Chin-Length Bob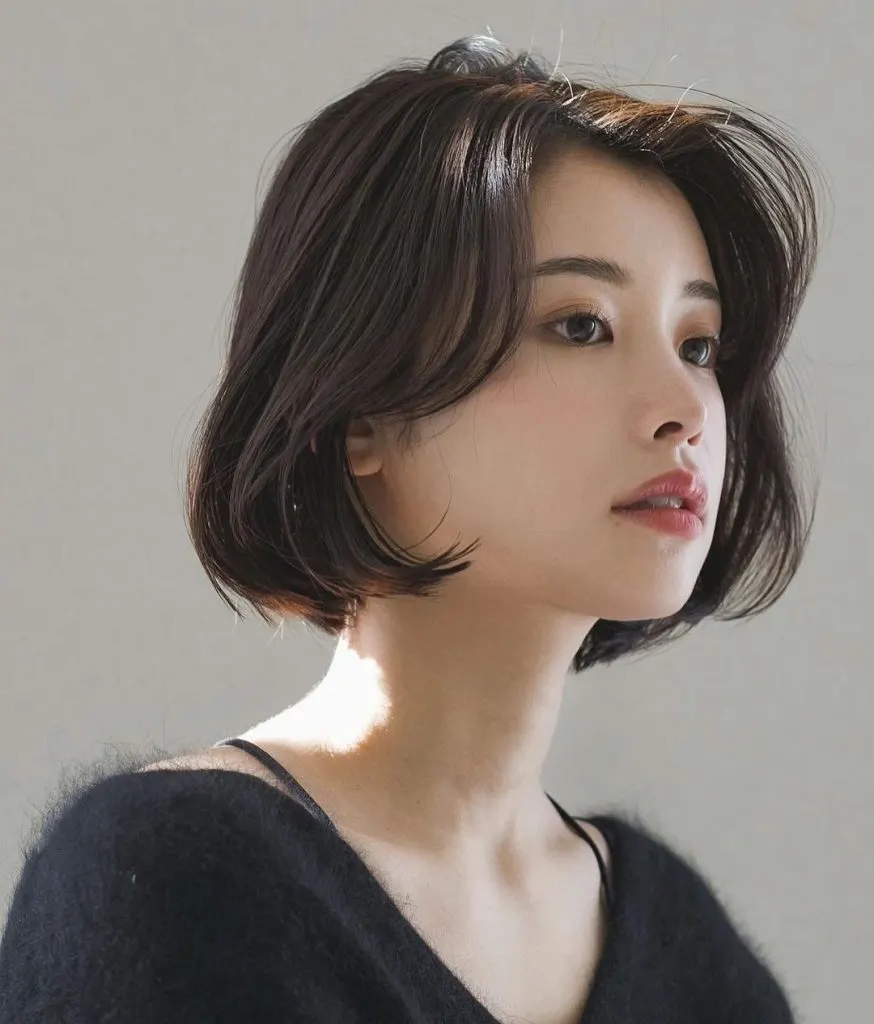 Flicking the ends inwards and adding a bend at the ear level transforms a blunt cut from edgy to romantic. Fine wispy bangs add even more softness—they're a cute and easy way to add a playful touch to any haircut, regardless of your face shape.
28. Chin-Length Bob With Bangs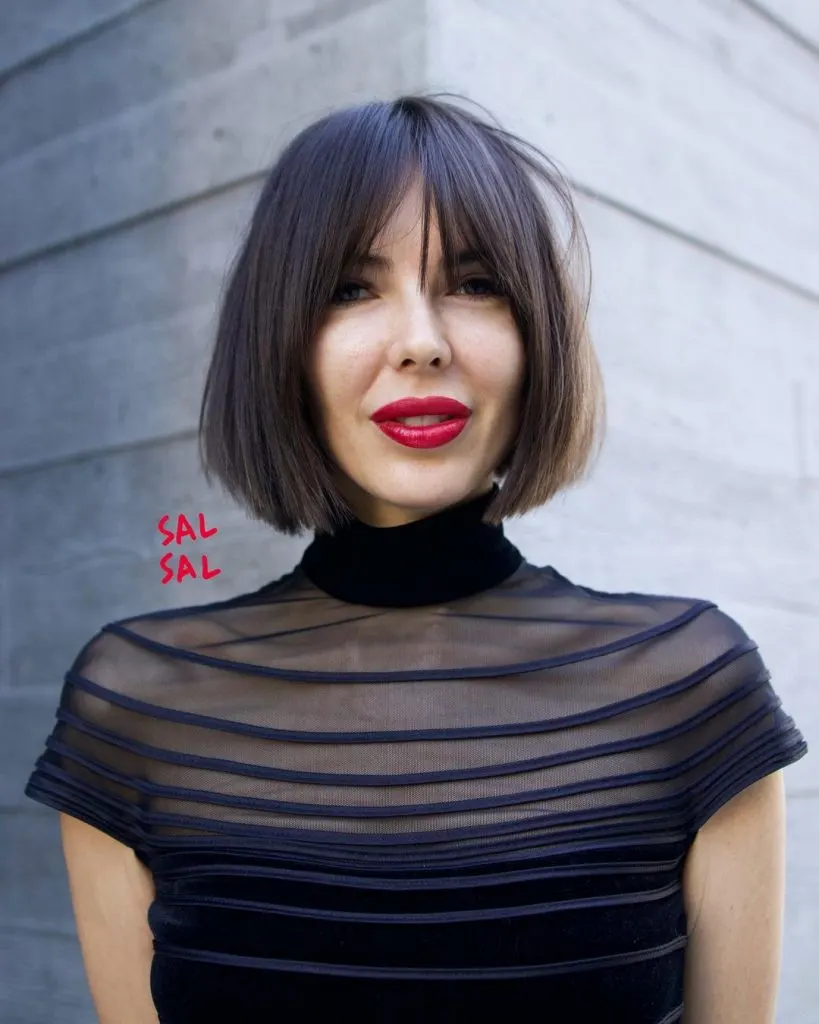 Where there's a blunt bob, there's a good chance you'll see curtain bangs because they look so good together. You can go wavy, straight, or tuck your hair behind the ears—curtain bangs frame the face and make any styling much more flattering.
29. Middle Part Blunt Cut Bob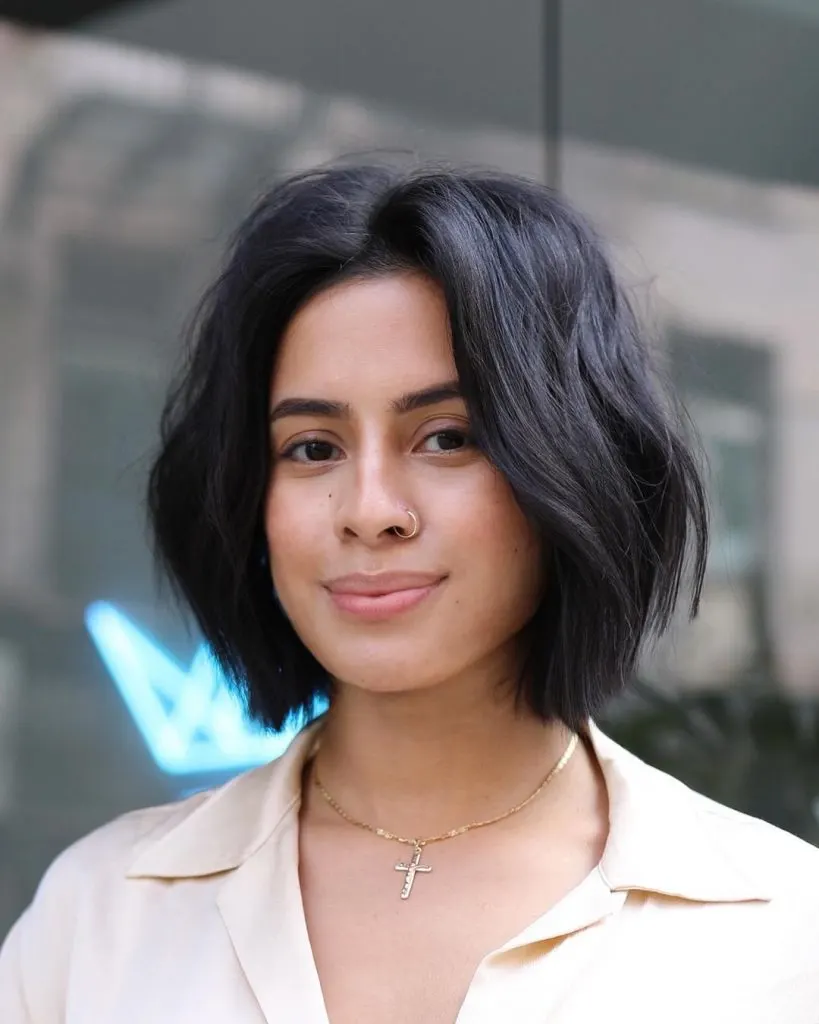 The best thing about a textured blunt bob is that it works for all hair types. If your hair is thick, the main benefit of layers is that they take off the weight, and if it's thin, they help create lift and volume. Combined with the blunt ends, the hair looks fuller, but not bulky or flat.
30. Chin-Length Textured Bob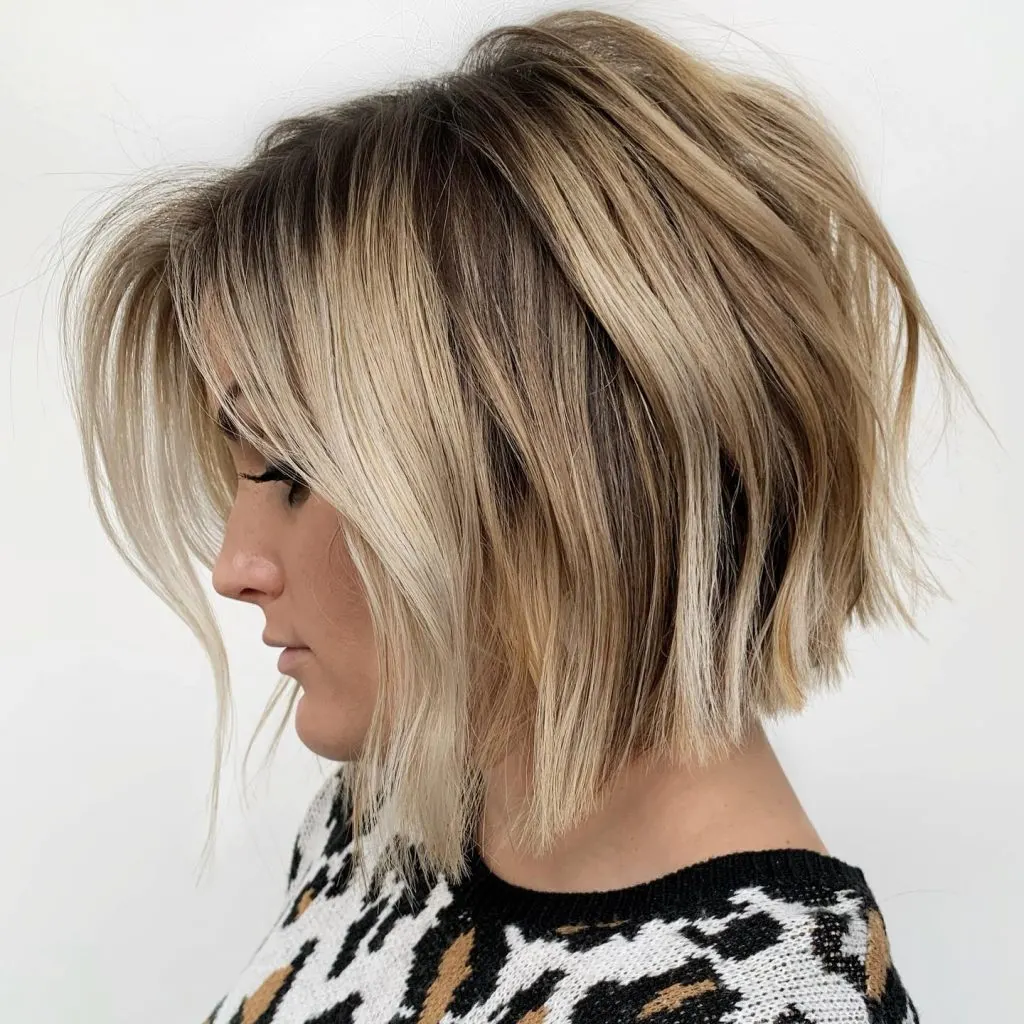 To give the hair dimension, the strands around the face are lighter. Along with the wispy long bangs, they soften the sharp look of this short blonde bob.