No hairstyle is more iconic than the bob. Movie stars in the 1920s made it chic, and it's been the go-to statement haircut ever since.
This versatile style is striking in every color, but there's something alluring about a short blonde bob.
If you're blonde bob-curious, we've gathered 50 modern short blonde bobs to inspire you before your next appointment.
1. Blunt Platinum Bob With Subtle Lowlights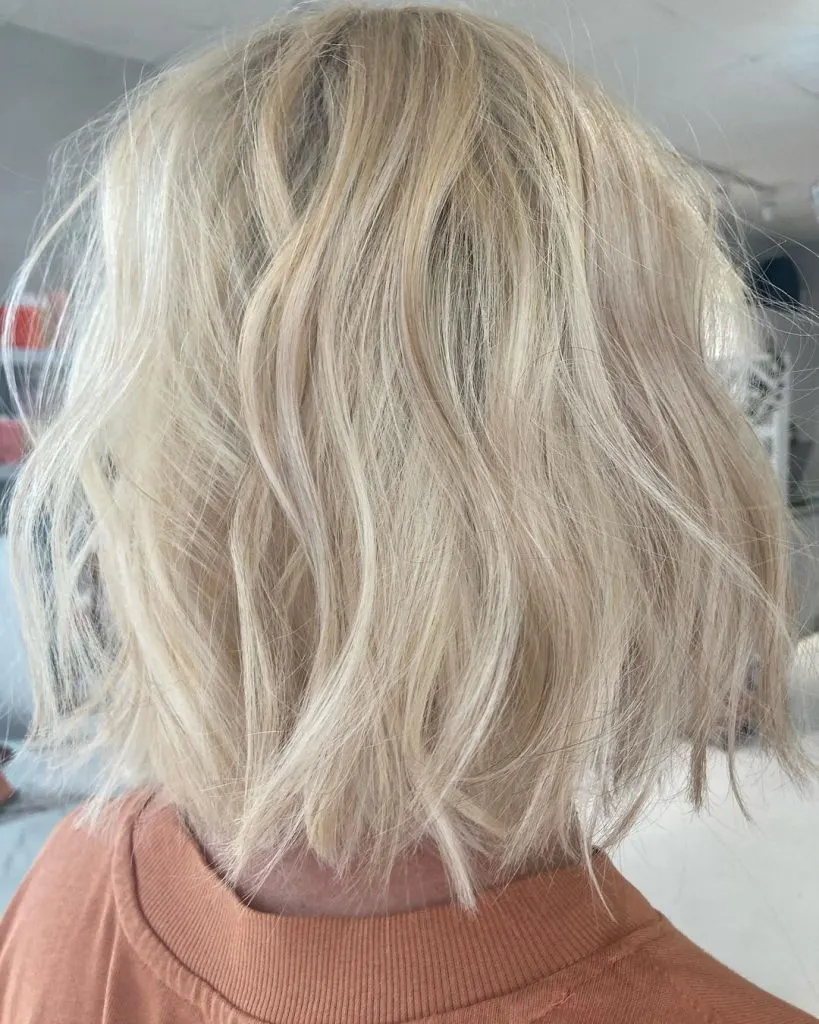 Blunt-cut tousled wavy bob is a modern and effortless everyday style. The platinum blonde color with subtle lowlights gives it a romantic vibe.
2. Wavy Short Blond Bob With Root Tap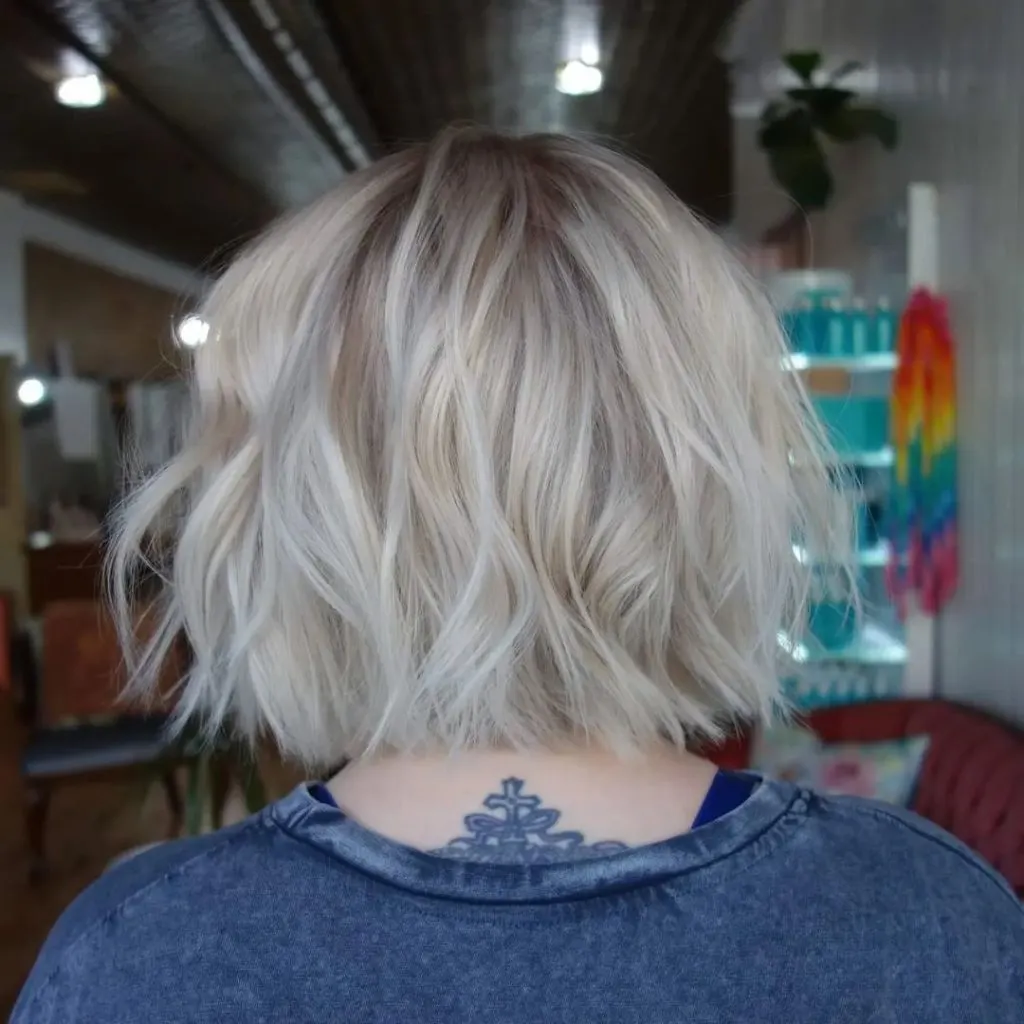 A touch of natural color applied at the roots makes this chin-grazing blunt bob look natural and soft. You can wear it straight or add a couple of beachy waves to the outer layers.
3. Short Medium Blond Bob With Curtain Bangs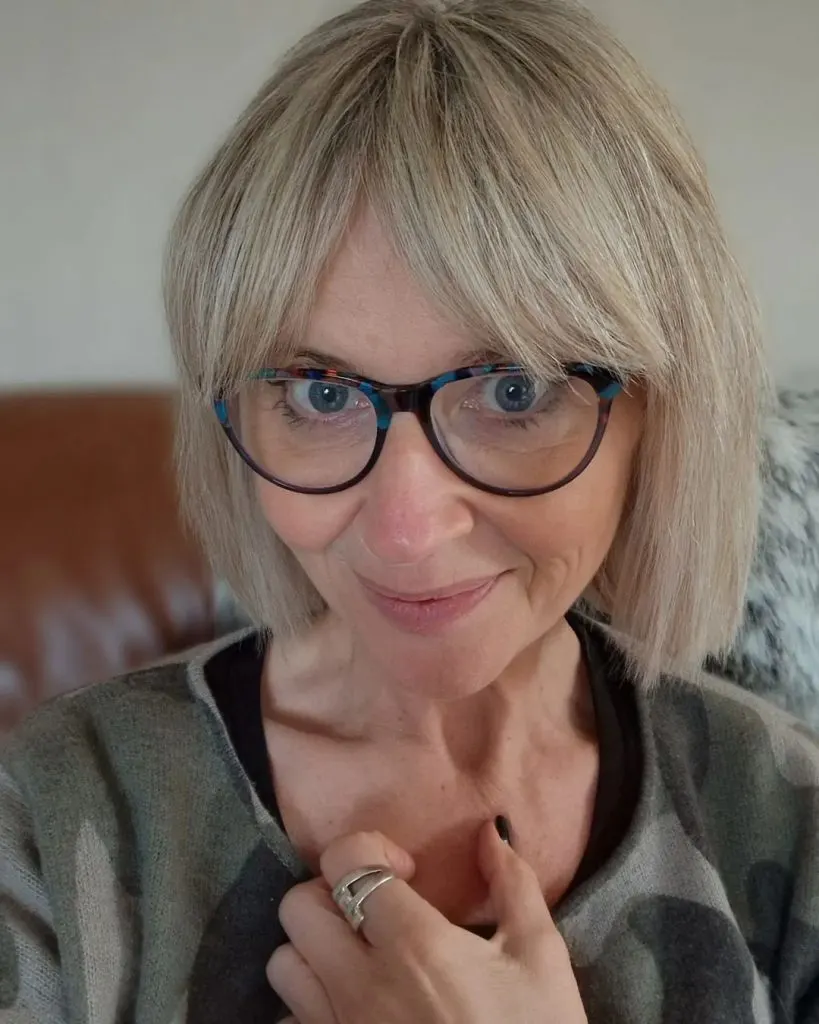 For a casual yet chic look, add curtain bangs to a bob hairstyle. It's also a great way to wear bangs when you decide to grow out a classic French bob.
4. Angled Bob Haircut With Bangs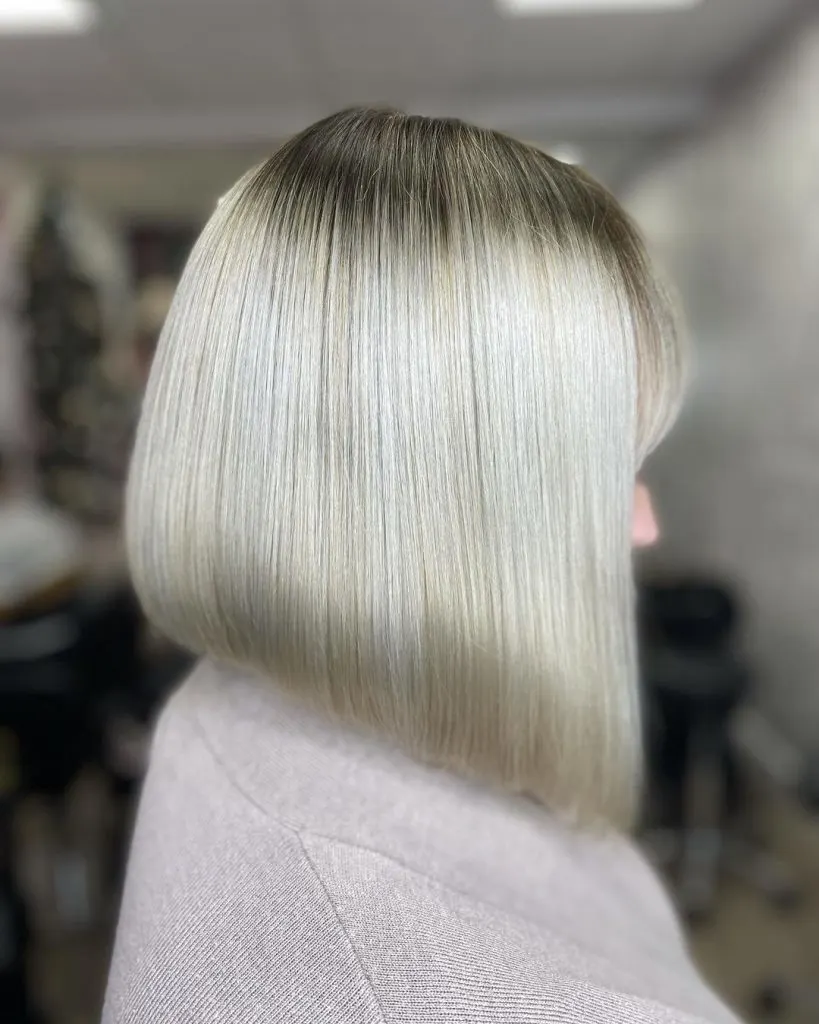 The platinum blonde color makes this dramatic angled bob with full fringe even more eye-catching.
5. Blonde Stacked Bob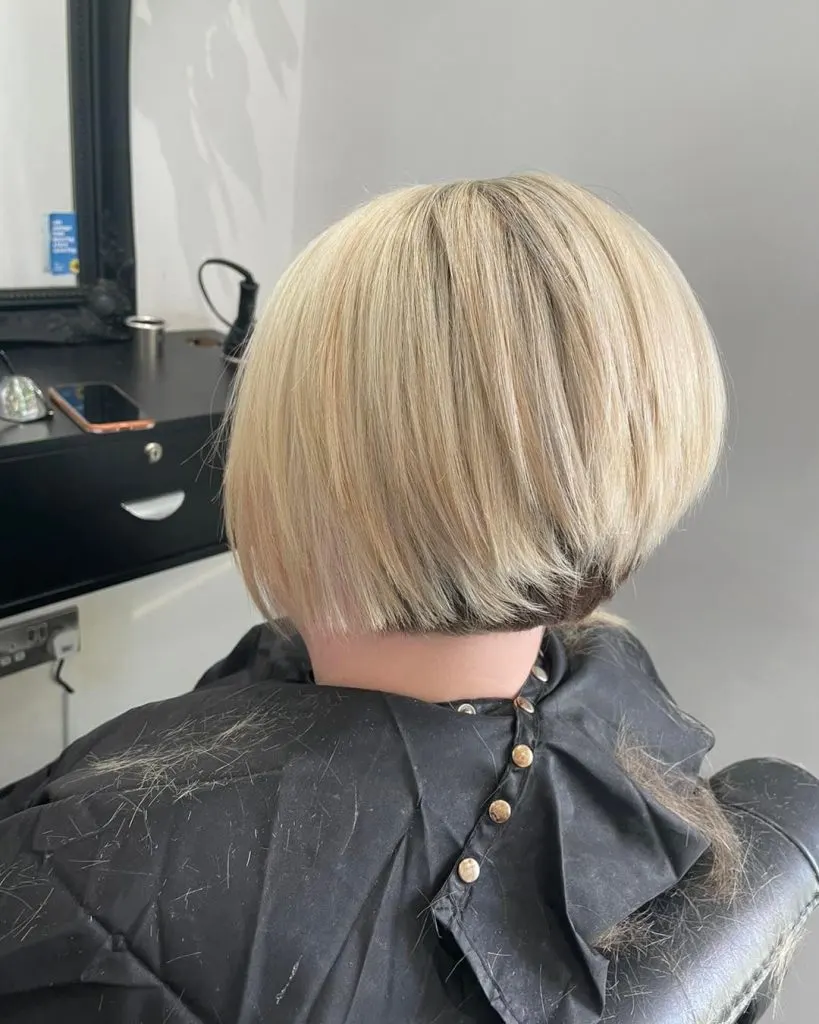 If you've always wanted to get an underdye—applying different hair color to the bottom part of the hair than the top part—a stacked bob is an unexpected way to showcase it. Here, the main part of the hair is blonde and the bottom part has been dyed a chocolate brown color.
6. Blond Choppy Bob With Hair Pins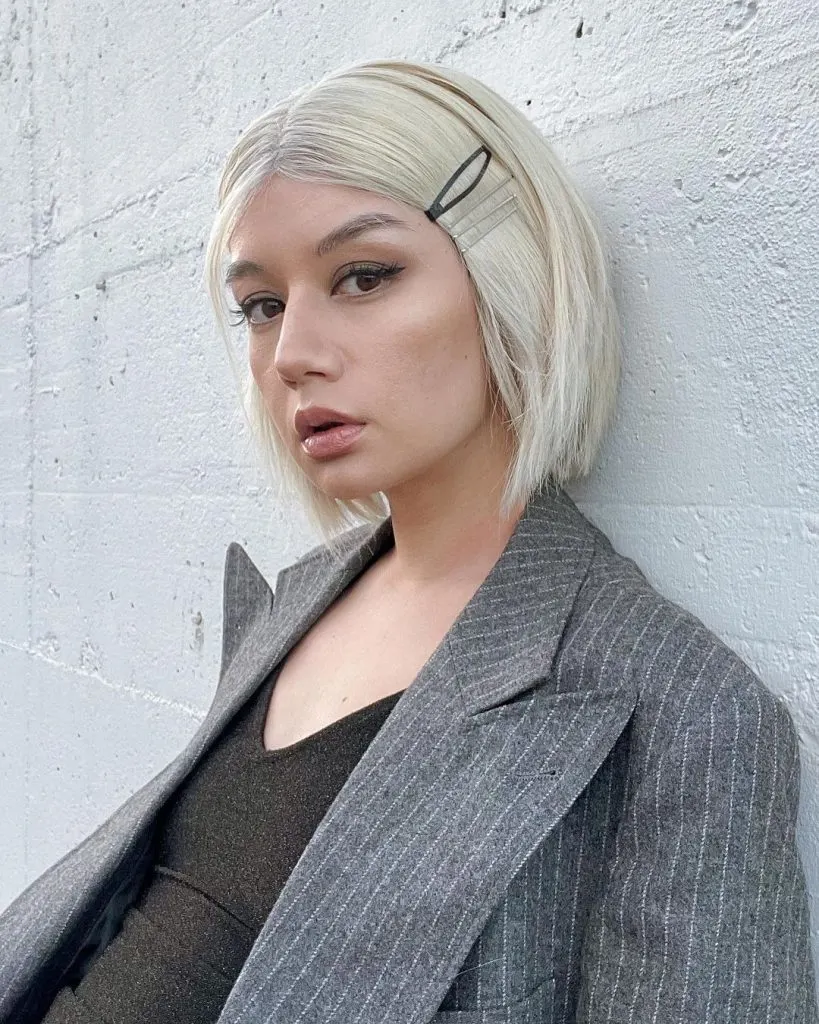 A casual short bob can be easily styled in multiple ways. Here, using bobby pins to secure the front part of the hair has created a youthful and contemporary look. The effect has been made more intense by choosing the pins of contrasting color to the ashy blonde shade.
7. Sleek Bob With Blonde Highlights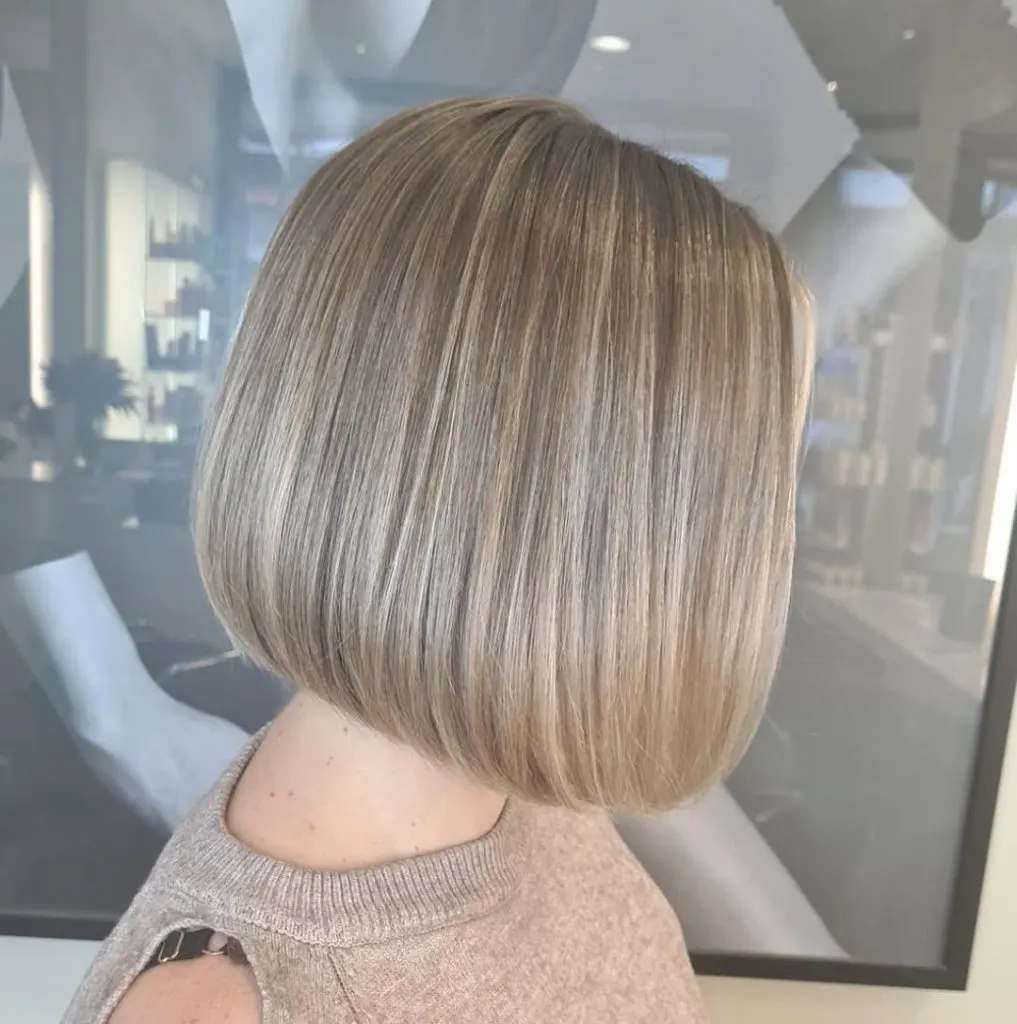 Lovely highlights in this subtly rounded sleek blonde bob create a refined and elegant look.
8. Tousled Waves Blonde Bob Hairstyle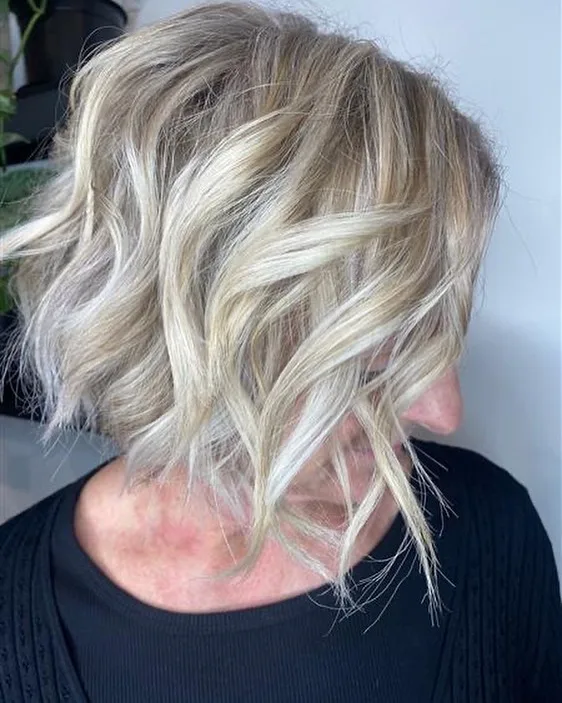 Beachy waves aren't just for long hair—the color and styling of this tousled bob artfully create an impression of a whole summer spent enjoying the sea and the sun.
9. Wavy Short Bob Haircut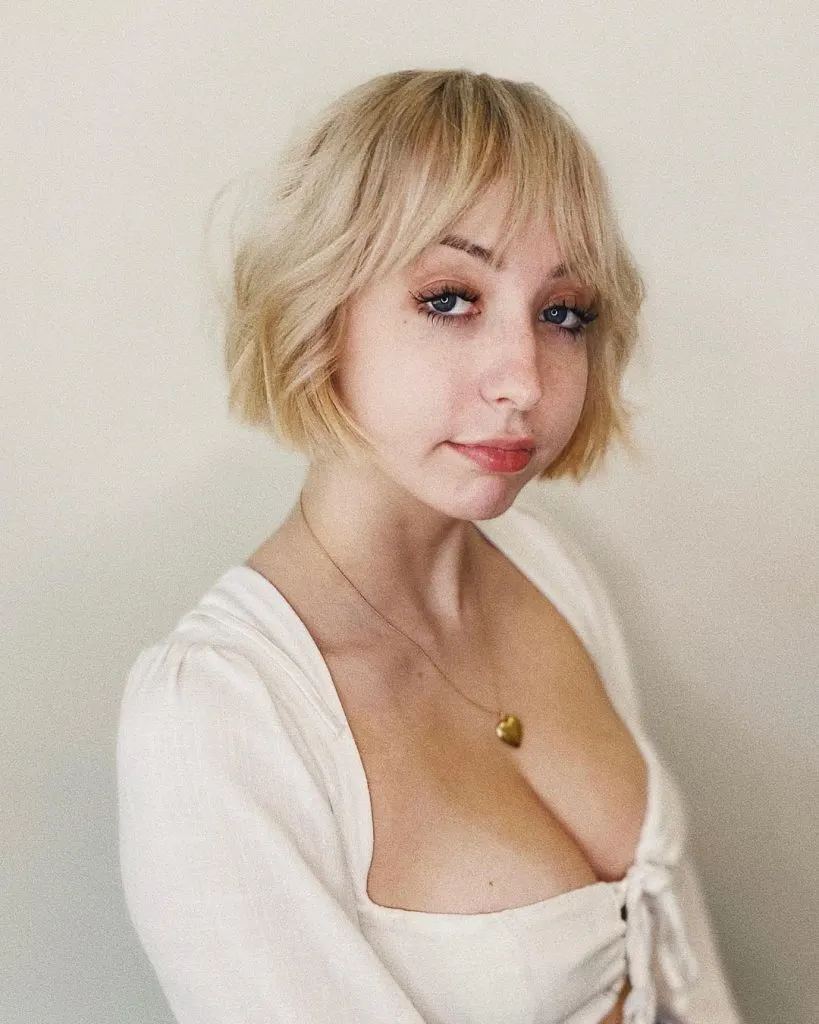 A French girl bob looks fresh and cute, even more so in blonde. To achieve a tousled look, use a flat iron or a curling iron, then run your fingers through your hair to loosen up the curls.
10. Fine Hair Short Bob Haircut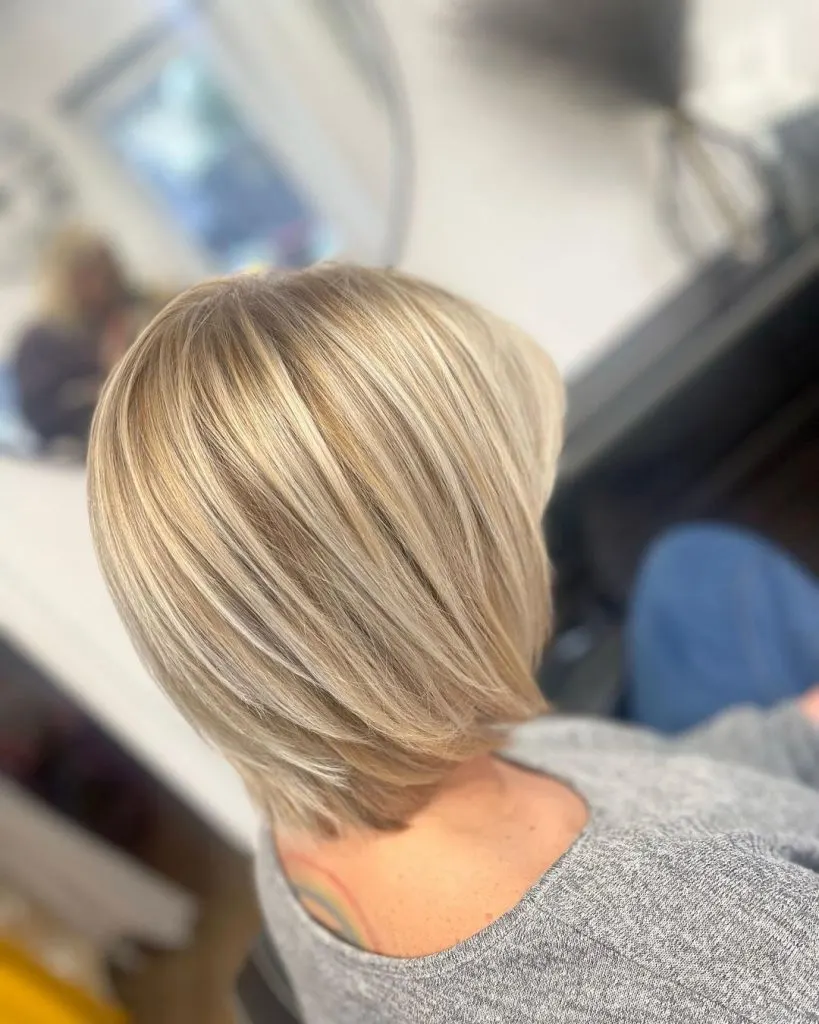 If done correctly, a layered bob can add volume to fine hair, but too many layers can make the hair appear thin. Ask your hairdresser to only remove weight from the bottom part to make your hair bouncy.
11. Edgy Short Blonde Bob With Neon Tips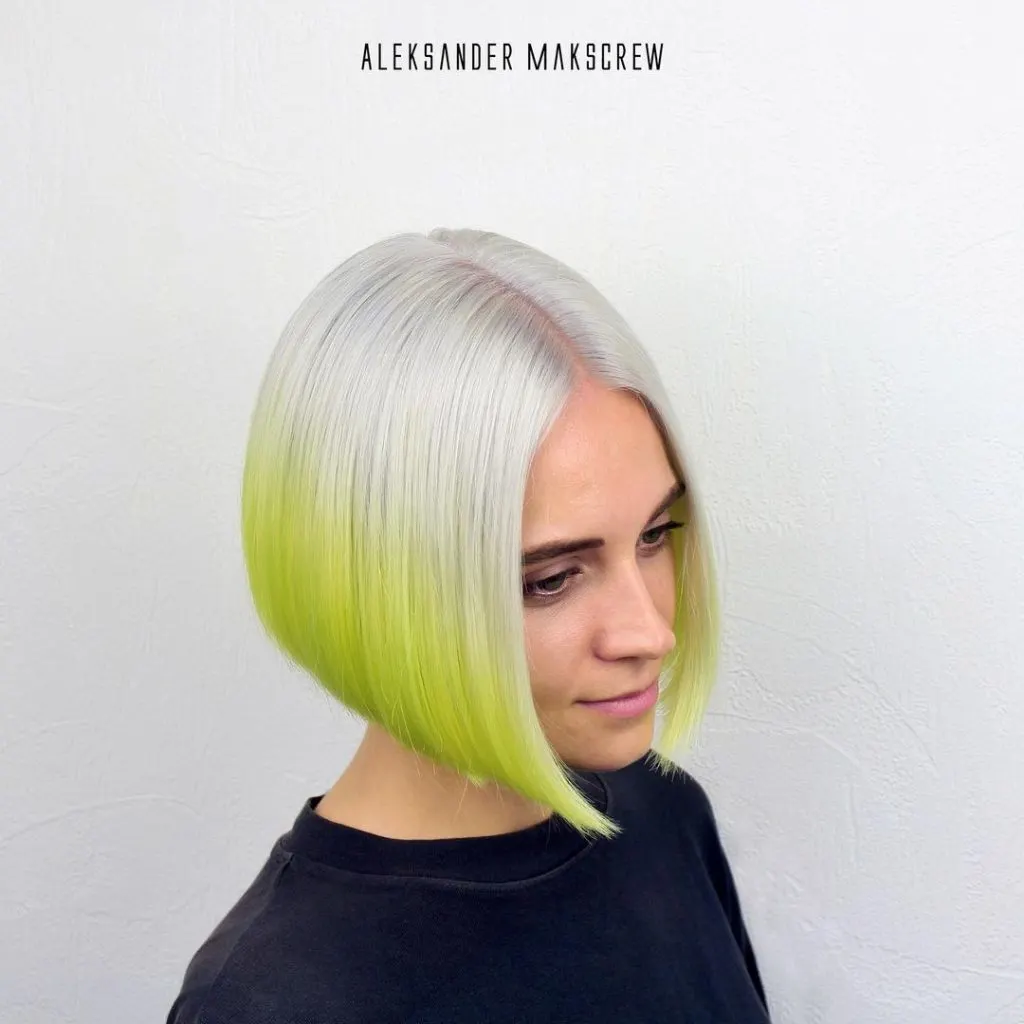 Bleached blonde bob with a twist! Neon-green tips are a bold choice, but one sure to get you noticed.
12. Blonde Bob Hairstyle With Cute Babyhairs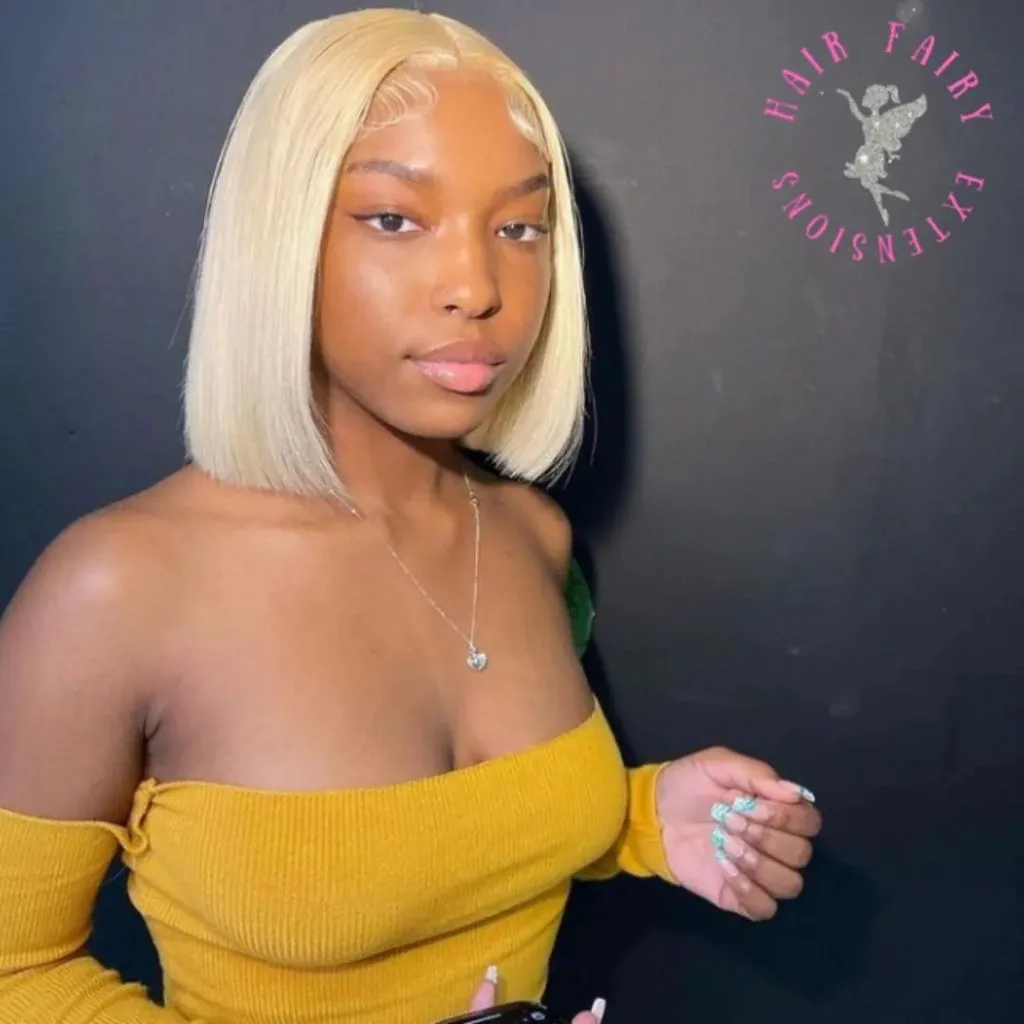 A sleek platinum blonde bob with center part is a classic look, but that doesn't mean that it can't be modern and eye-catching.
13. Honey Blonde Inverted Bob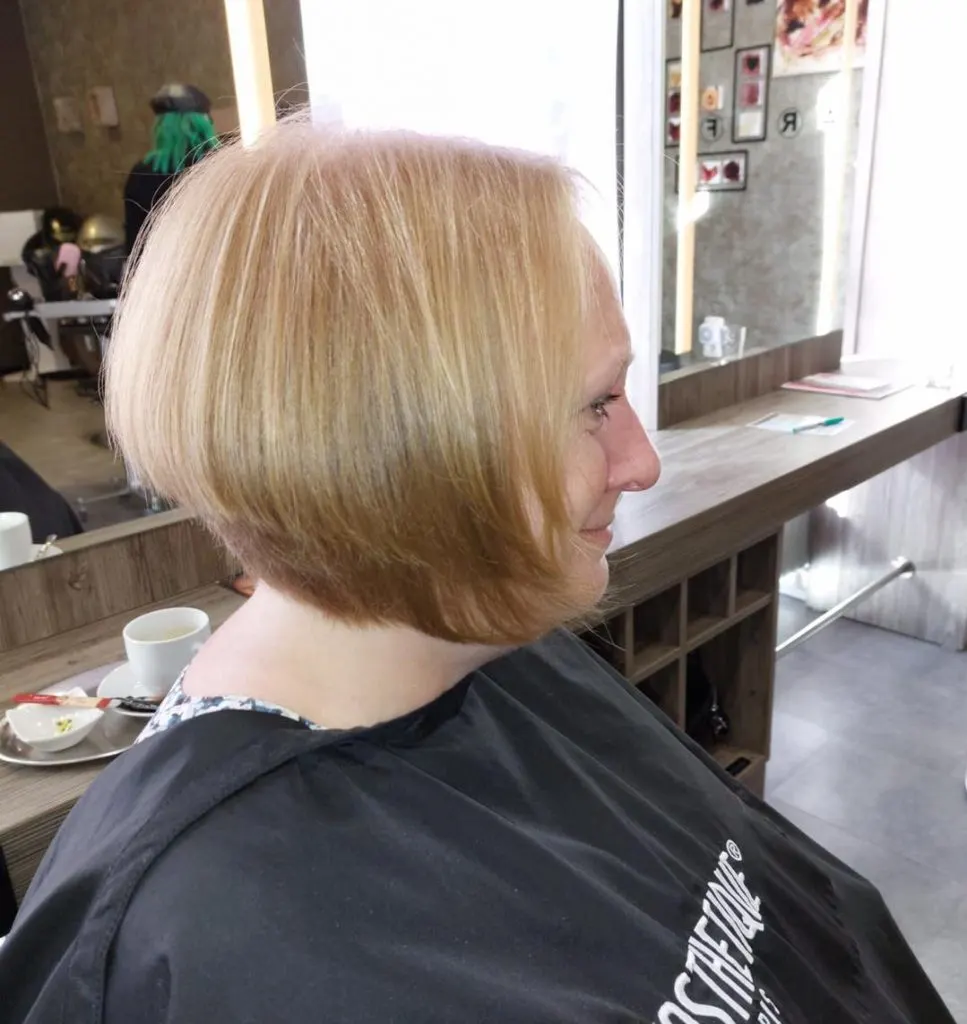 This warm blonde inverted bob is a flattering style easy to keep on point at home—as long as you don't skip regular maintenance visits to the salon.
14. Sleek Short Blonde Bob Hairstyle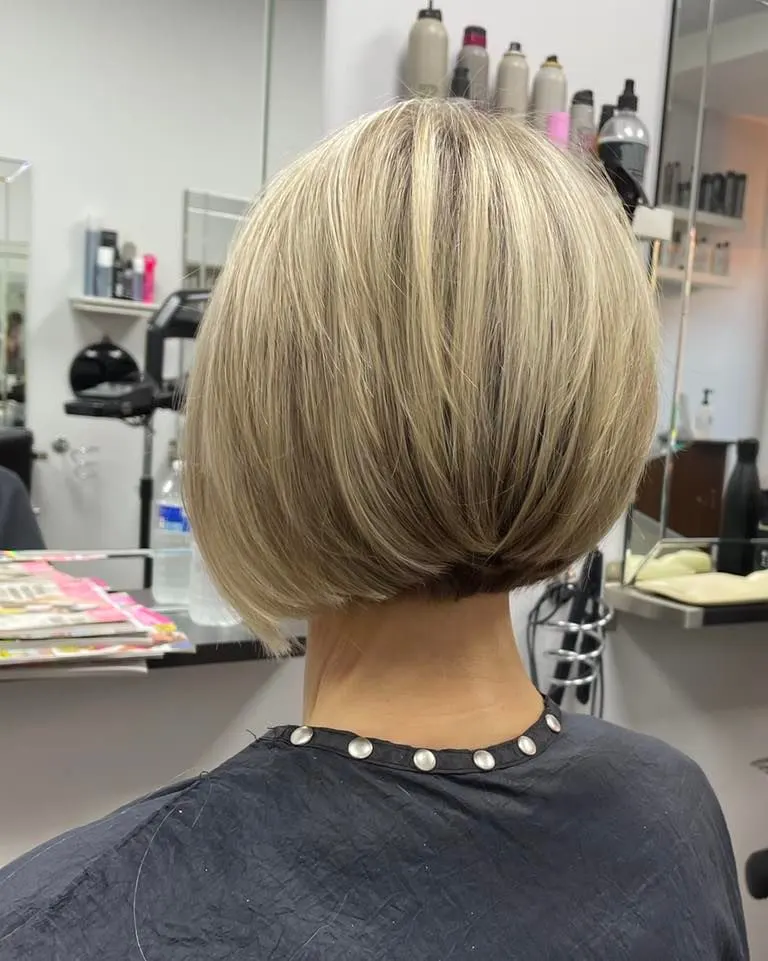 The opposite of a blunt bob, the shape of a rounded bob with stacked nape gives the impression of incredible volume. It can be worn sleek or tousled to achieve two completely different looks.
15. Layered Stacked Bob With Highlights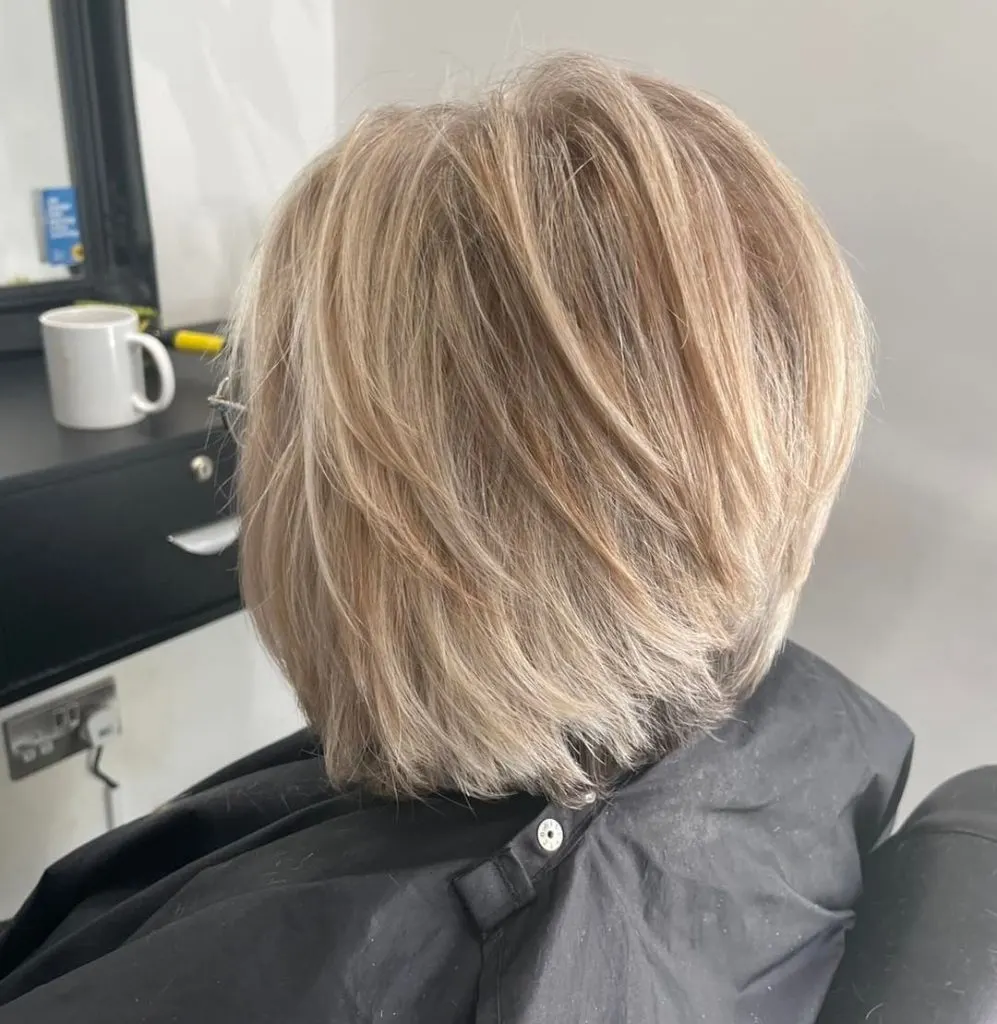 A subtly stacked bob is bouncy yet neat. It's a flattering choice for thin hair—the soft layers on top create volume at the crown and give the hair movement. With the addition of carefully placed highlights, the hair looks even thicker.
16. Blonde Bob Haircut With Curls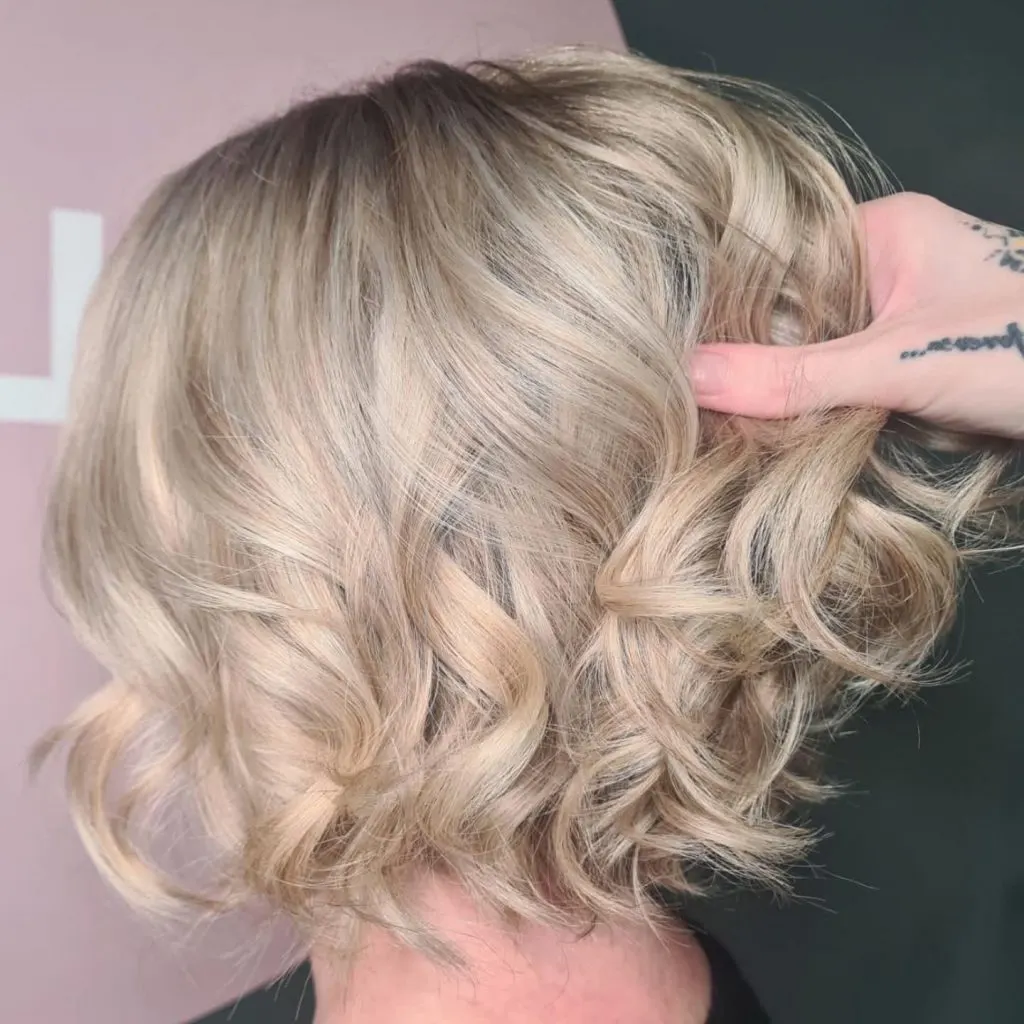 A bob isn't always sleek and straight—sometimes it's all about soft curls. This blonde bob with classic curls is reminiscent of classic Hollywood divas, but the shadow-root effect keeps it modern.
17. Platinum Bob With Center Part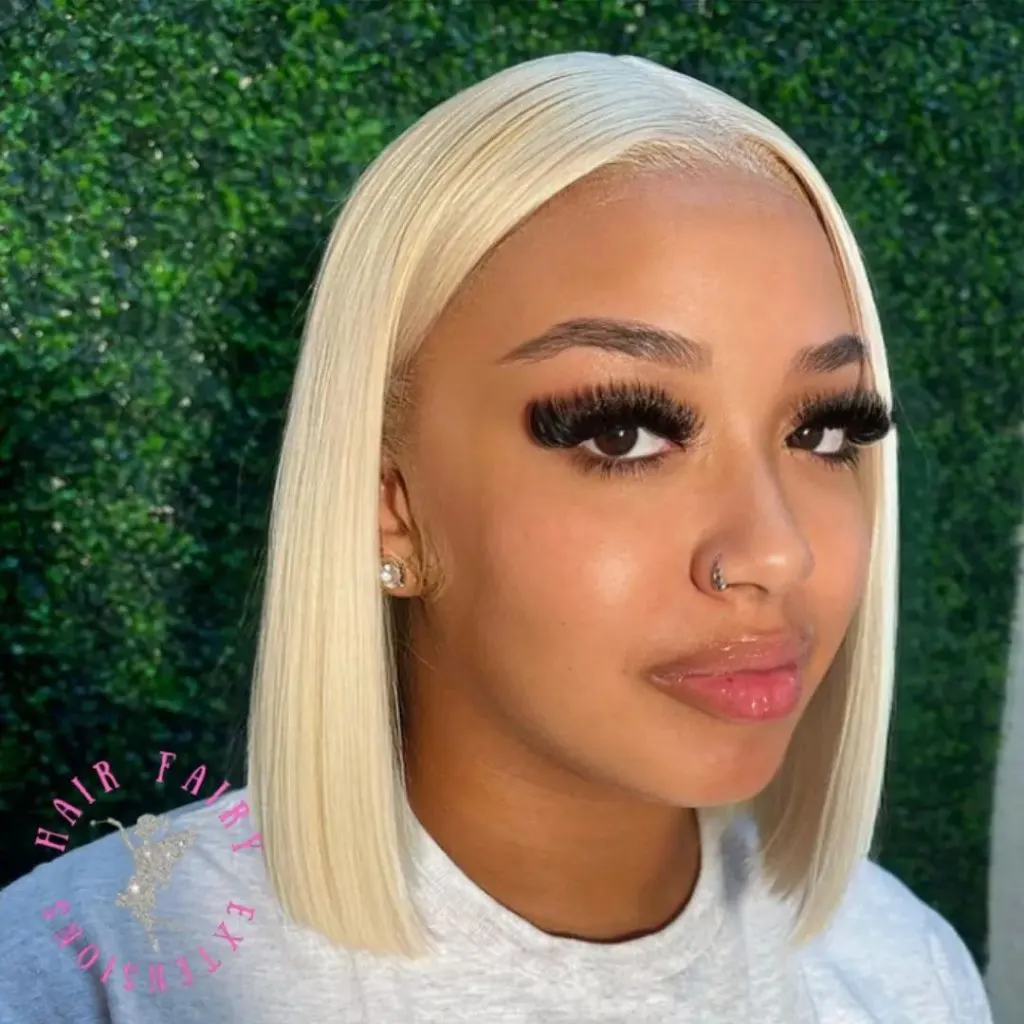 A center-parted short blonde bob looks polished and elegant. This kind of sleek bob looks best with intense hair colors, like glossy black, vibrant red or in this case, perfect platinum.
18. Messy Wavy Blunt Bob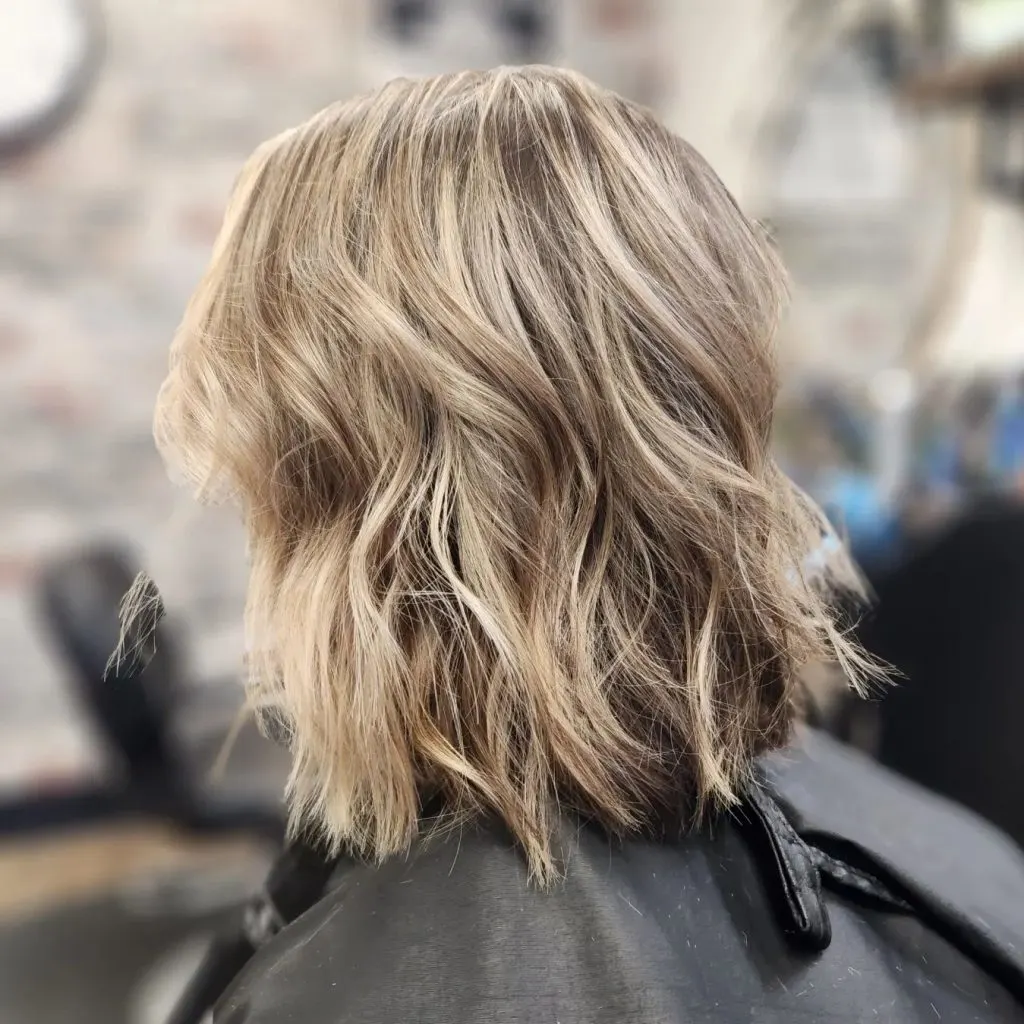 The combination of highlights and lowlights gives this hairstyle dimension. The final effect of the color and the blunt chop is messy—in a good way.
19. Blonde Bob Haircut With Razored Ends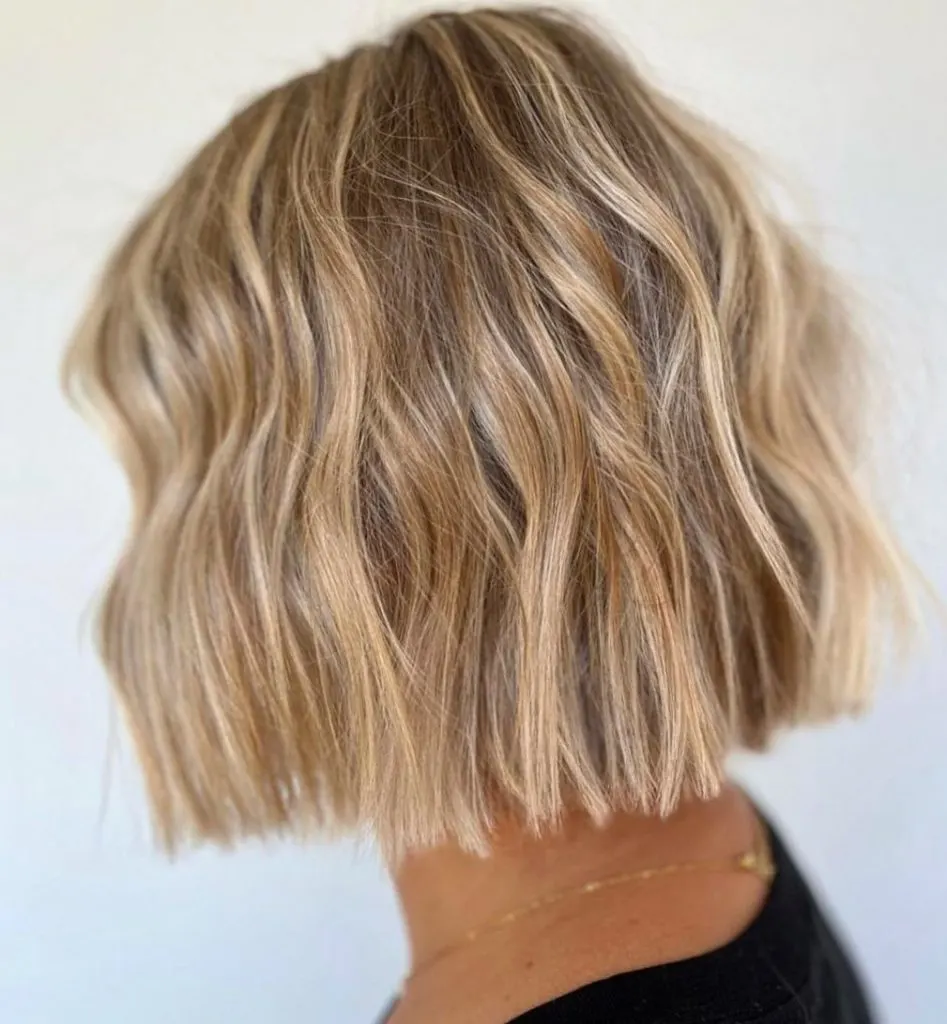 This blunt textured bob seems effortless, but it's only because of the flawless execution. The highlights are done seamlessly and the cut flatters the type and texture of the hair.
20. Ash Blonde A-Line Bob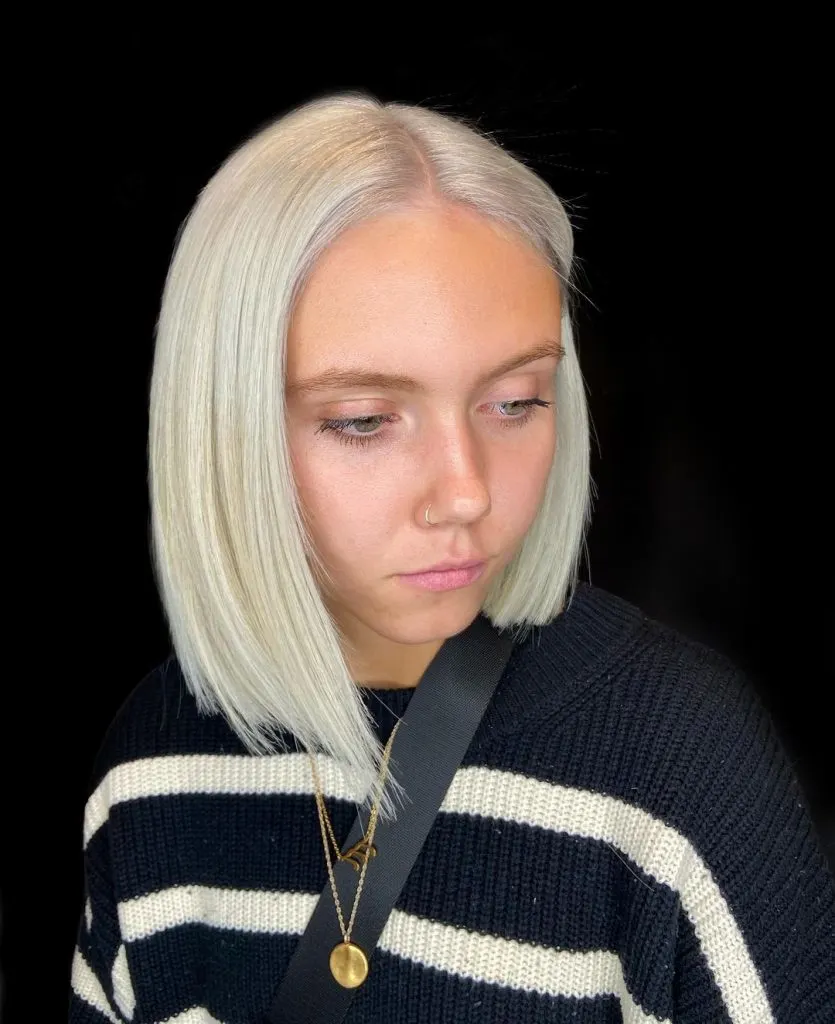 At first sight, this looks like an asymmetrical bob, but it's actually an A-line bob cut at an angle to fall longer in the front. Tucking one side of the hair behind the ear transforms this style into something equally as jaw-dropping, which shows the flexibility of a bob haircut.
21. Beige Blonde Bob With Long Bangs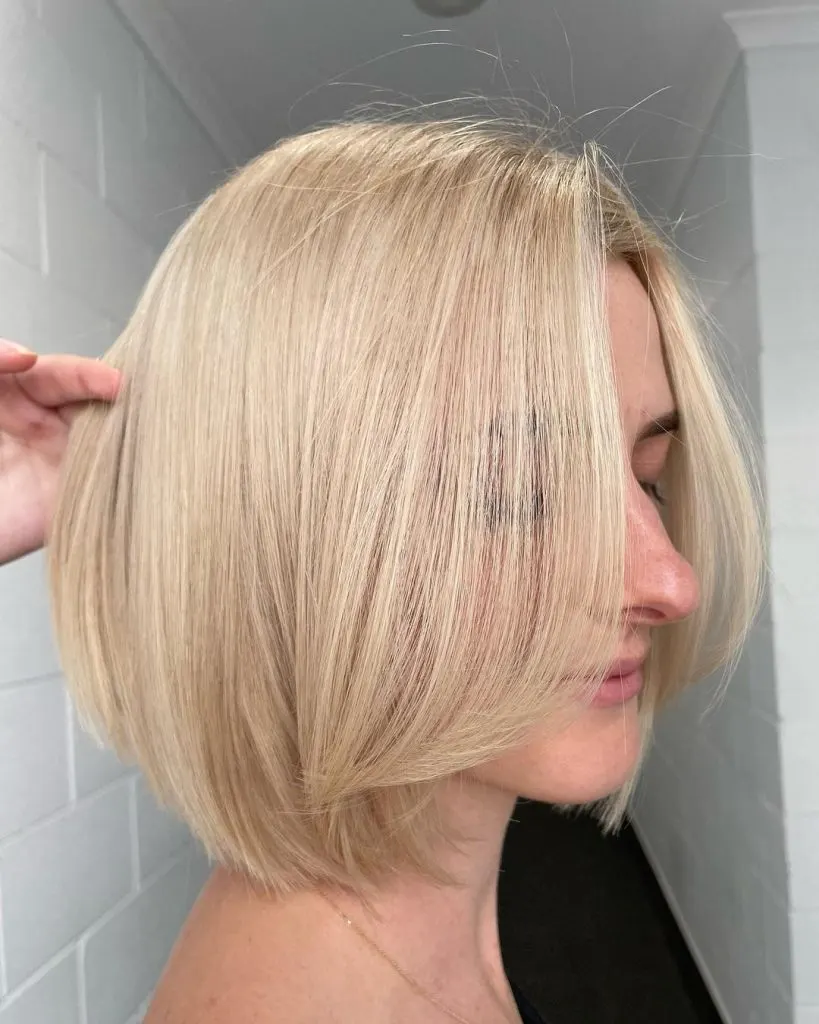 This ethereal blonde bob is flattering for all hair types, including thin hair. The soft long bangs give the impression of layering and give the hair volume and movement. The neutral-toned beige blonde color is flattering to those with a neutral skin undertone, but choosing a slightly different shade it can fit anyone.
22. Short Blonde Bob With Purple Underdye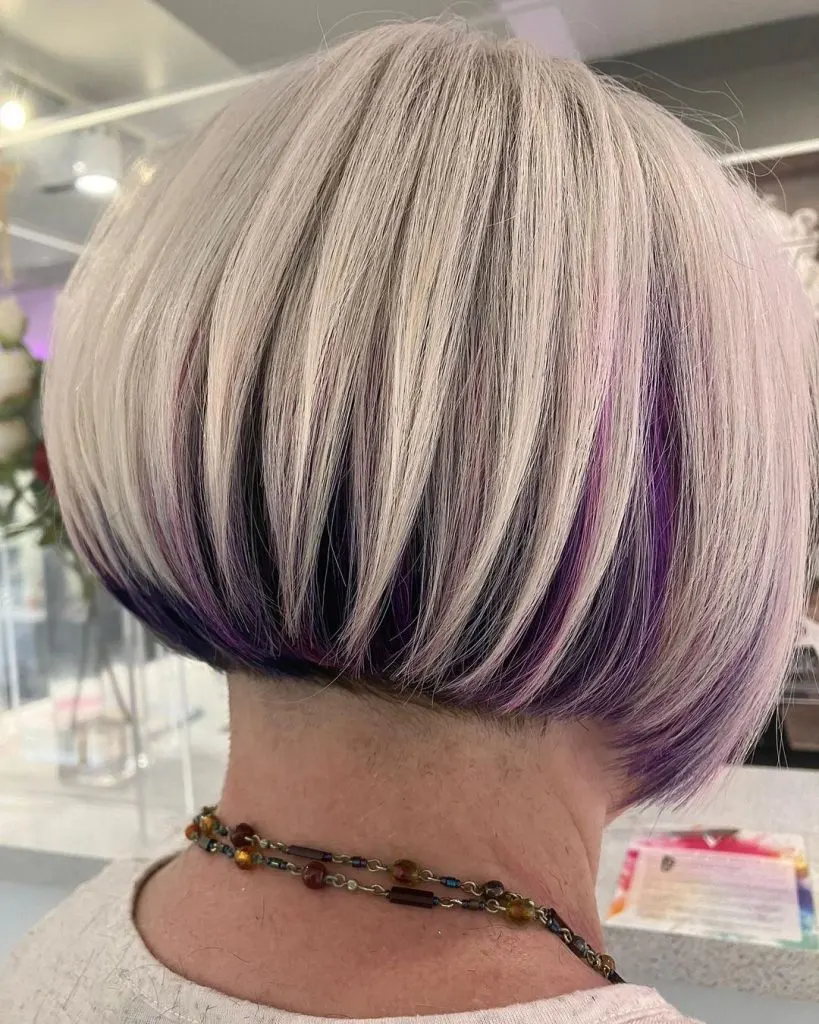 Subtle stacking in the back is in perfect harmony with peekaboo purple layers hiding underneath in this innovative and unique bob hairstyle.
23. Angled Blonde Bob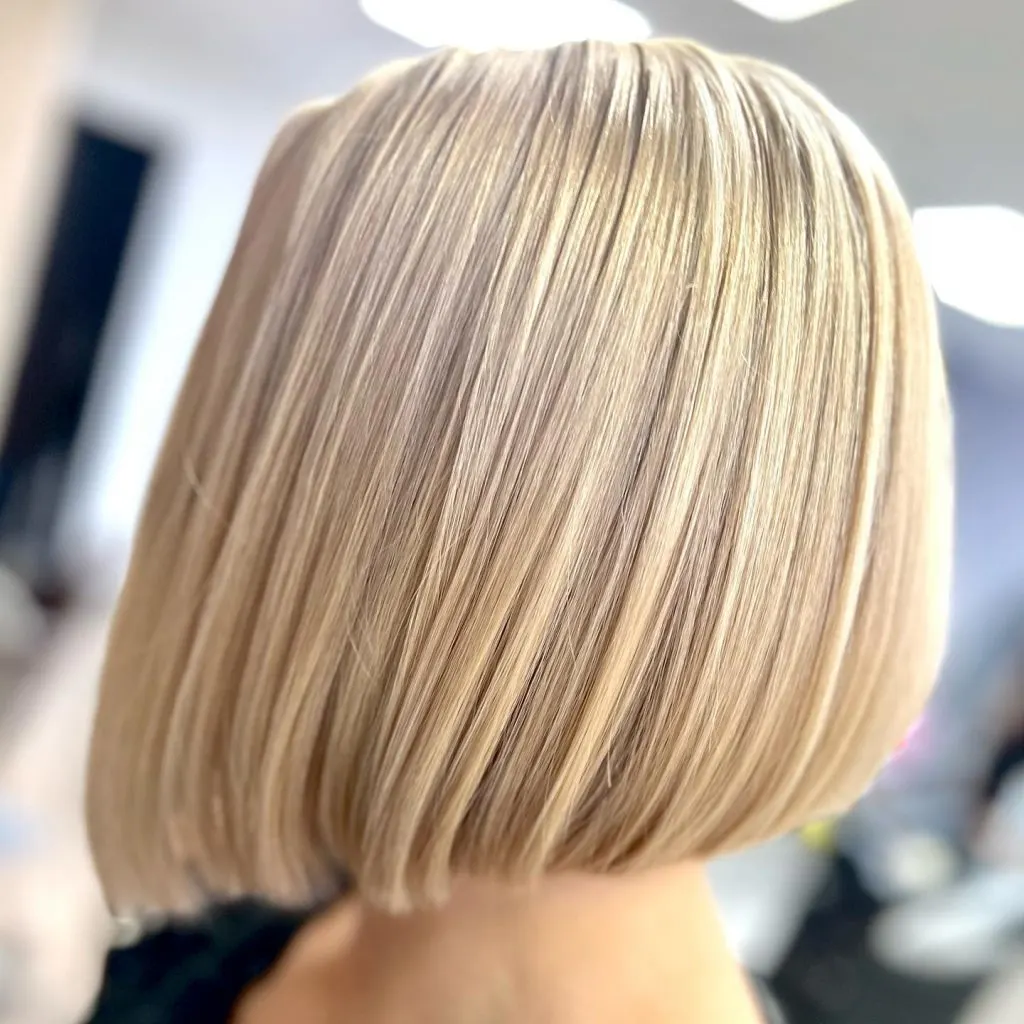 This sleek angled bob looks sophisticated, and the refined color accentuates its elegance. And even though this style isn't tousled, it doesn't lack movement—just make sure to go easy on the product.
24. Blonde One Length Bob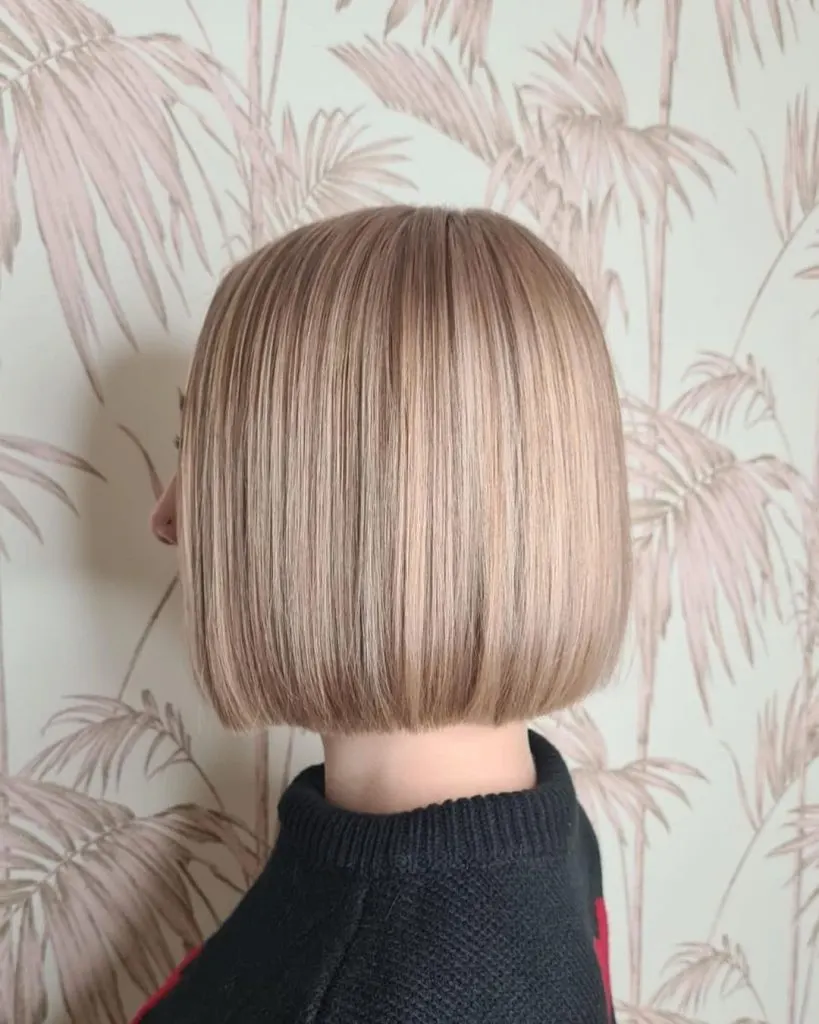 Balayage and waves are a popular way to style a bob, but don't write off one-dimensional color and straight hair just yet. Both choices give this short blonde bob a put-together, timeless vibe.
25. Platinum Short Bob With Bangs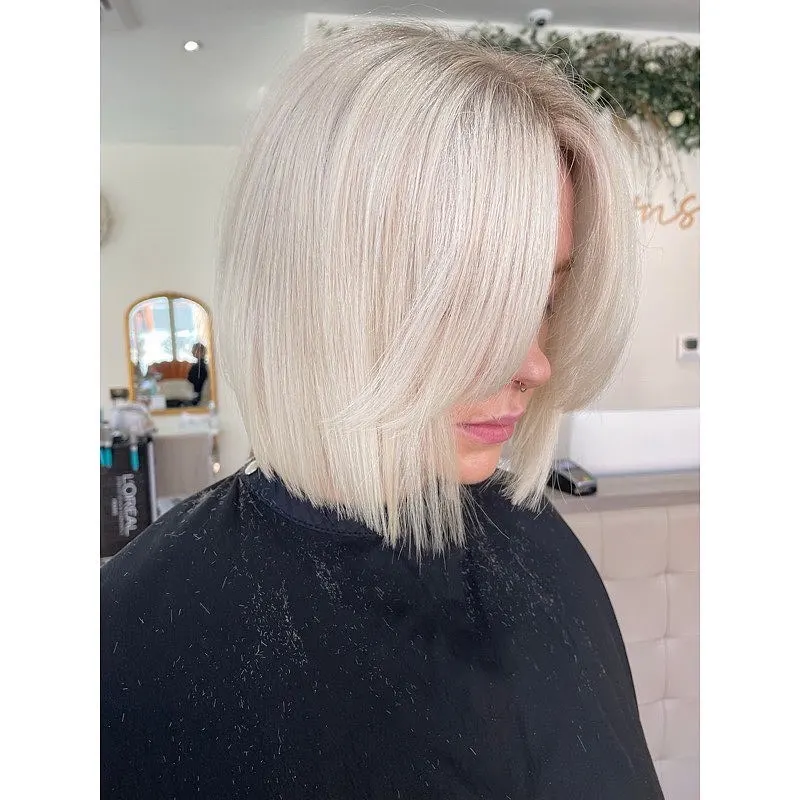 Going a step beyond blonde and deciding on platinum hair color is a bold choice—and the right one if you want to turn heads. If you want to make the time between appointments last longer, go for a rooted platinum blonde that looks good when your own roots start showing.
26. Undone Short Blonde Bob With Curls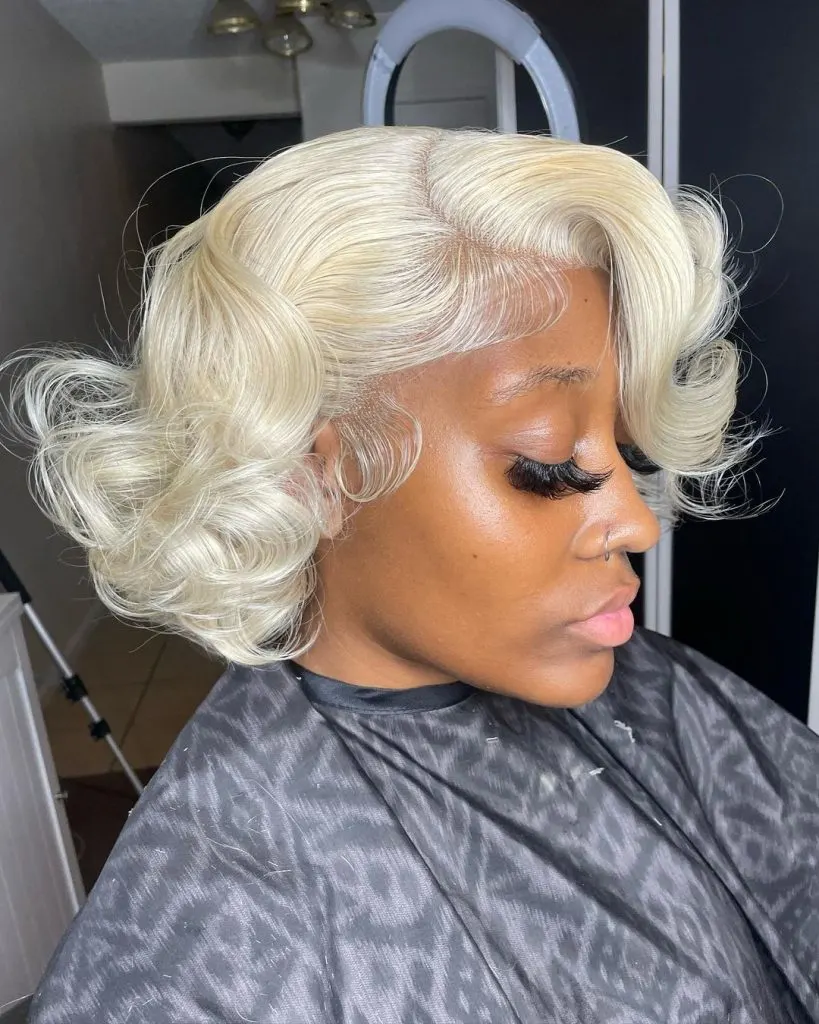 Voluminous classic old Hollywood siren curls are flattering and a blonde undone bob inevitably invokes that Marilyn appeal. Who says you need long hair to be glamorous?
27. Short Blonde Bob With Side Part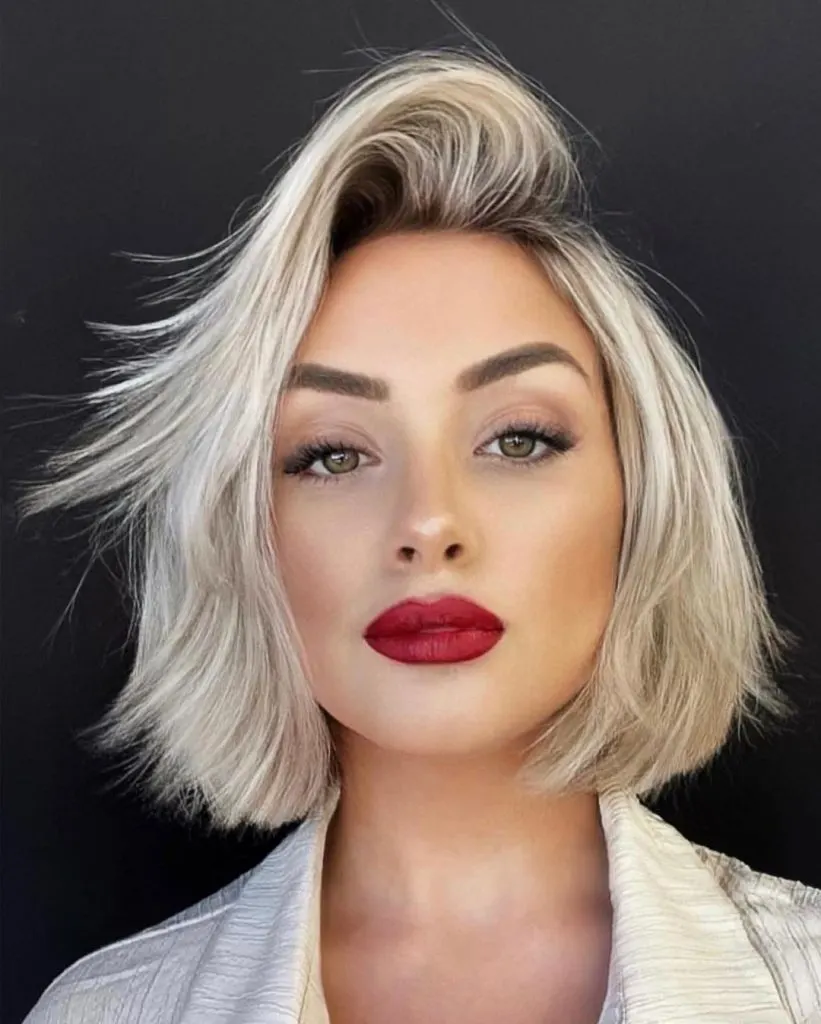 The extra-high side part is what makes this style pop. You can create this effect with any version of the bob, and the secret to extreme volume is blow-drying your hair in the opposite direction to lift the roots off the scalp.
28. Inverted Blonde Bob With Lowlights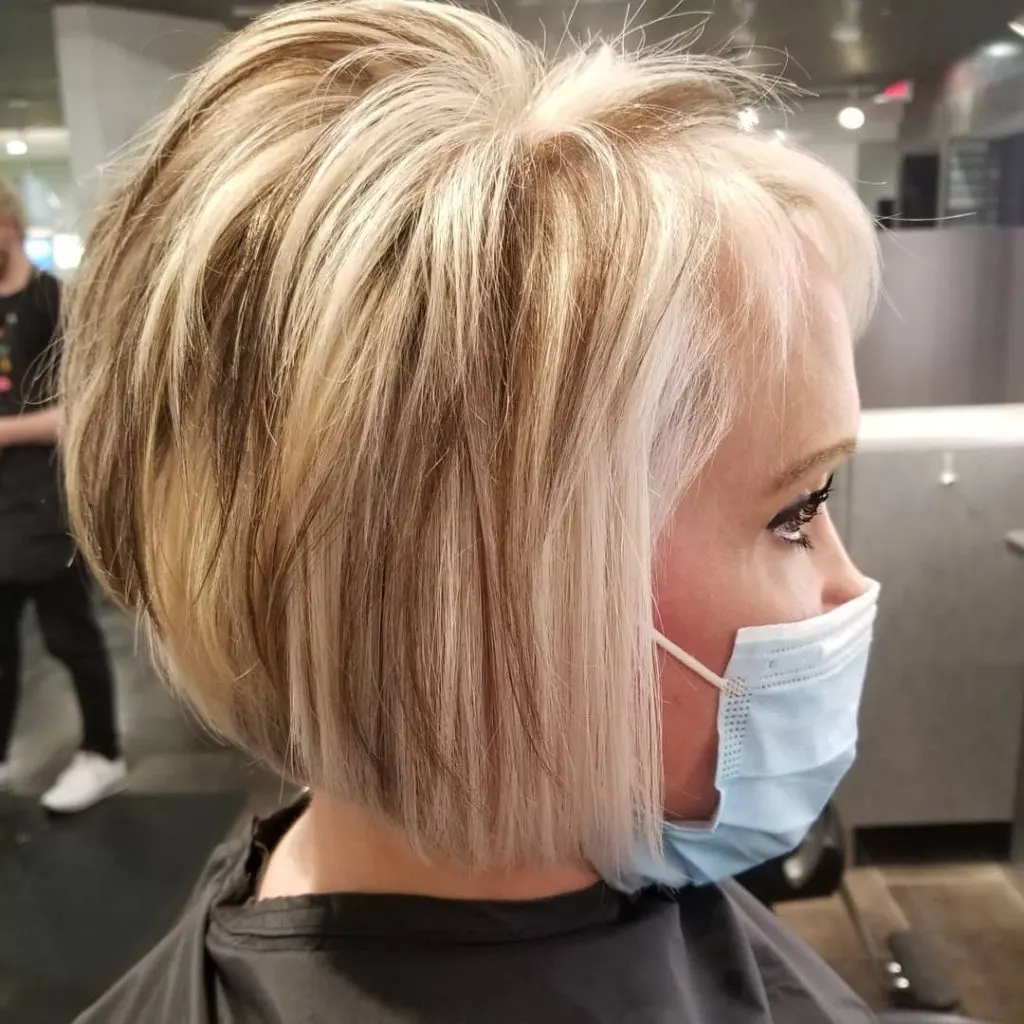 An inverted bob with layers is great if you appreciate height in your hair. Shorter layers at the crown can be worn down for a more understated look or used to add volume—the sky's the limit to how high you can go.
29. Stacked Golden Blonde Bob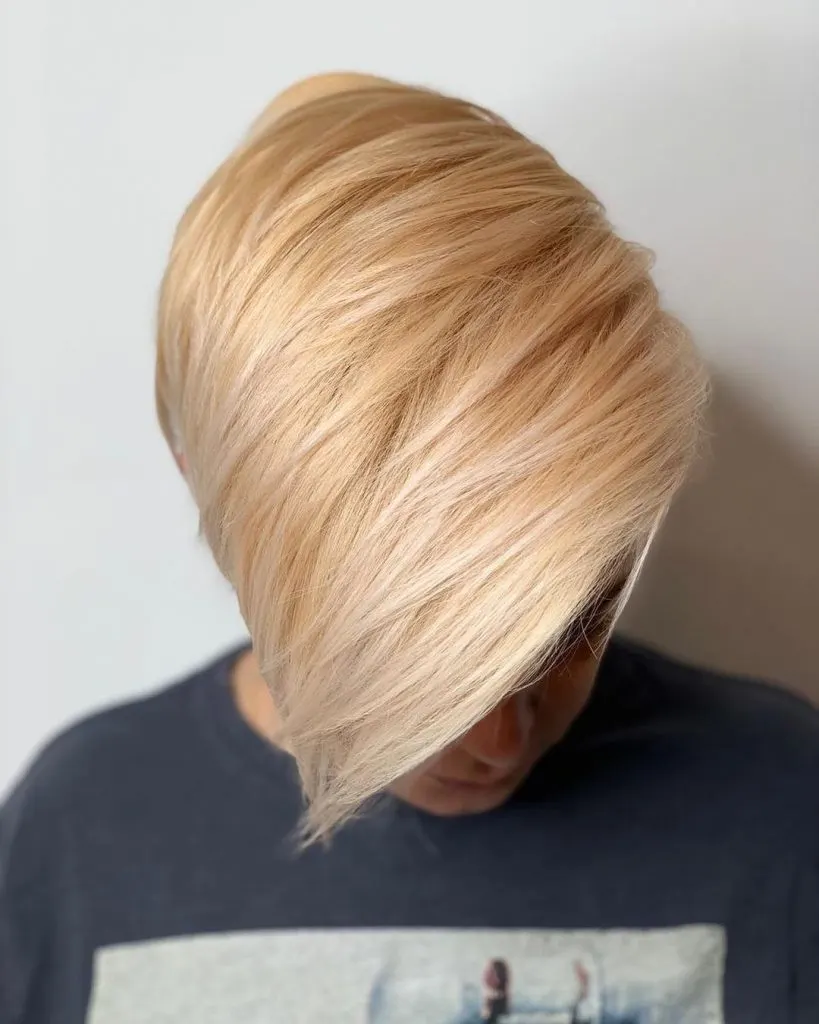 A stacked bob can be used to tame thick hair without making it fall flat, but it can also add volume to fine hair with carefully added layers. This style suits all hair types and face shapes.
30. Blonde Blunt Cut Bob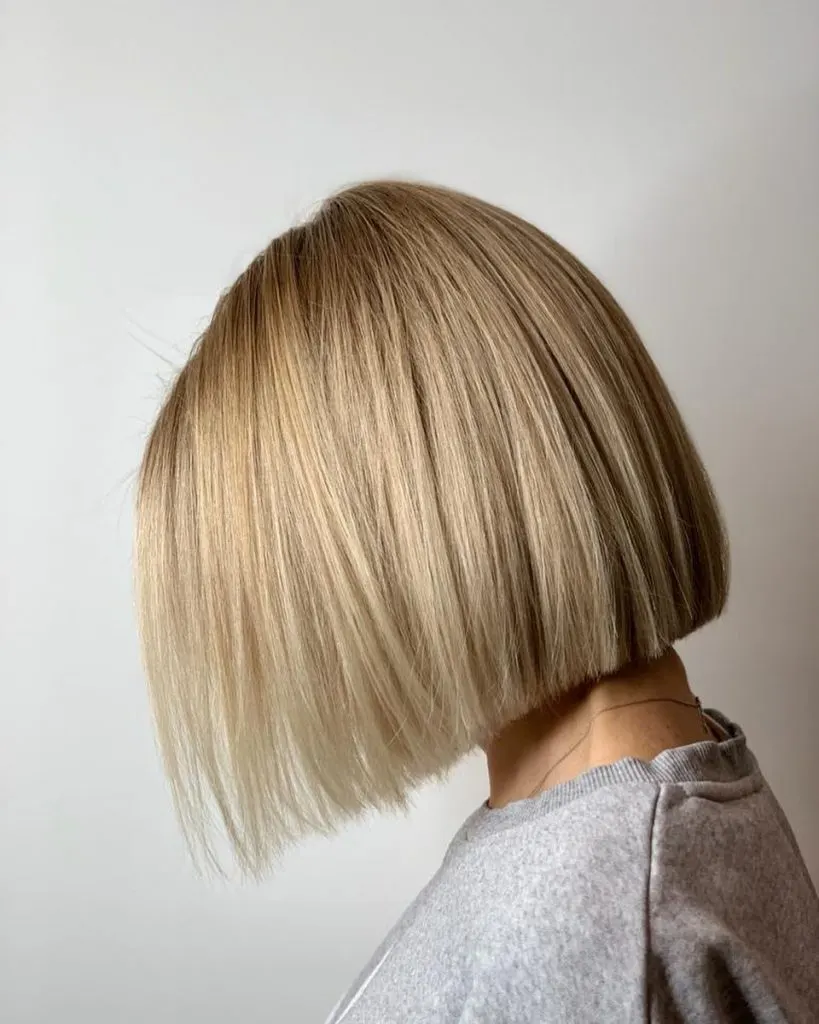 This modern short straight hairstyle is deceptively simple—it takes a skilled hand to create a perfect straight line that looks good regardless of how the hair moves. Regular trims are a must!
31. Short Blonde Bob Haircut With Root Tap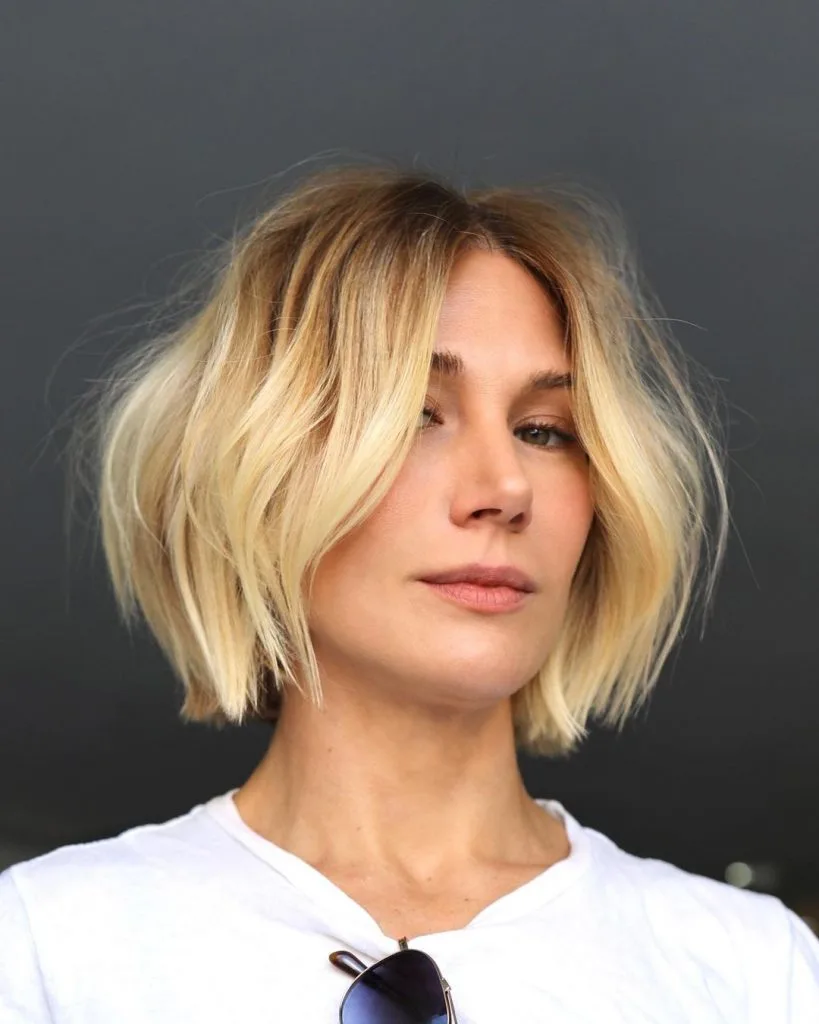 The shadow-root effect gives this golden-blonde bob a relaxed feel and a casual vibe. To get the same effect, instead of taming all flyaways, leave a bit of fluff when styling your hair.
32. Very Short Blonde Bob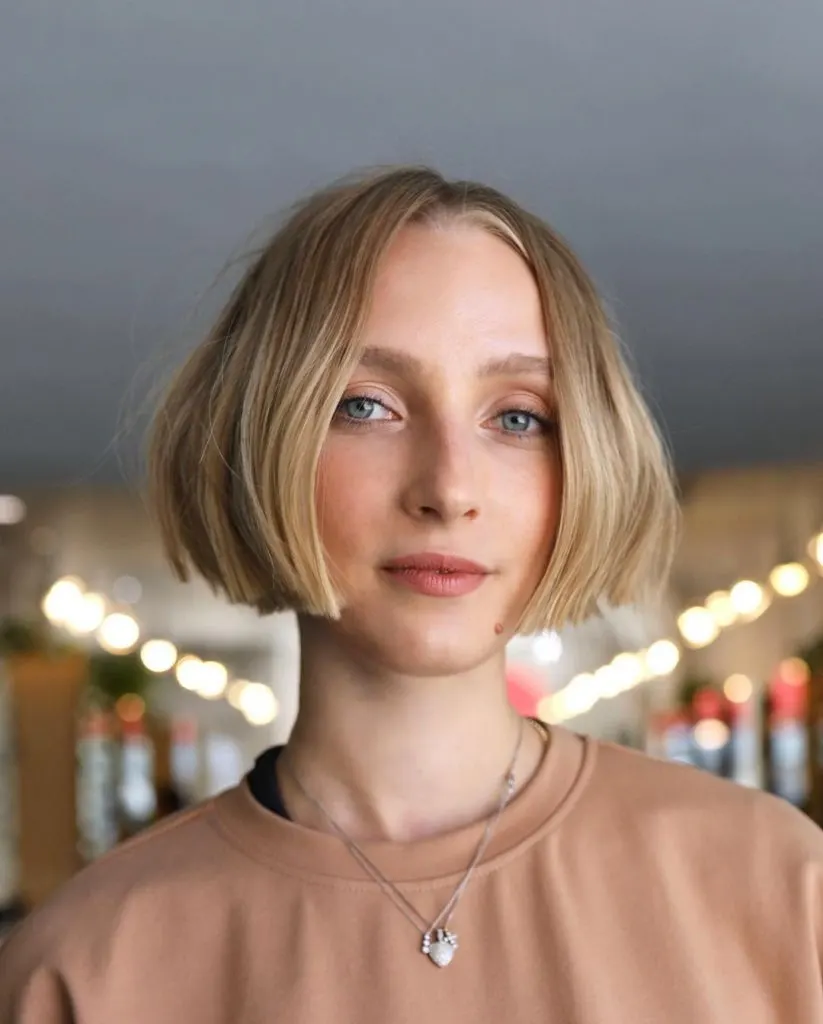 A jaw-grazing bob can be styled straight to achieve a cool look or softened with a slight wave. Because it's so short, it's easiest to do using a flat iron to add some volume on top and at cheekbone level.
33. Beige Blonde Bob With Dark Underdye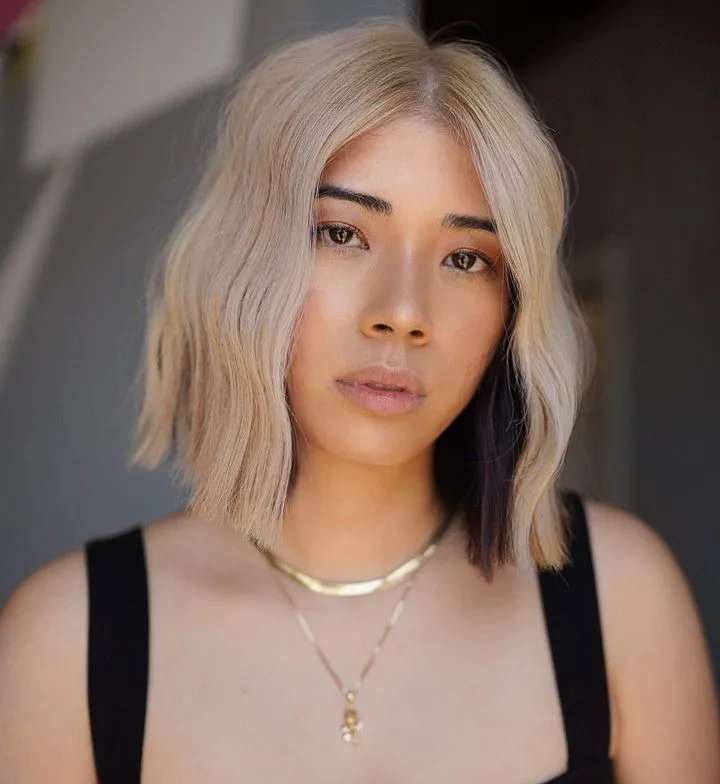 The muted beige-blonde color is hiding a striking brown with a purple undertone in this captivating style. Wearing it half up can uncover the color hiding beneath when you want a change.
34. Voluminous Short Blonde Bob With Bangs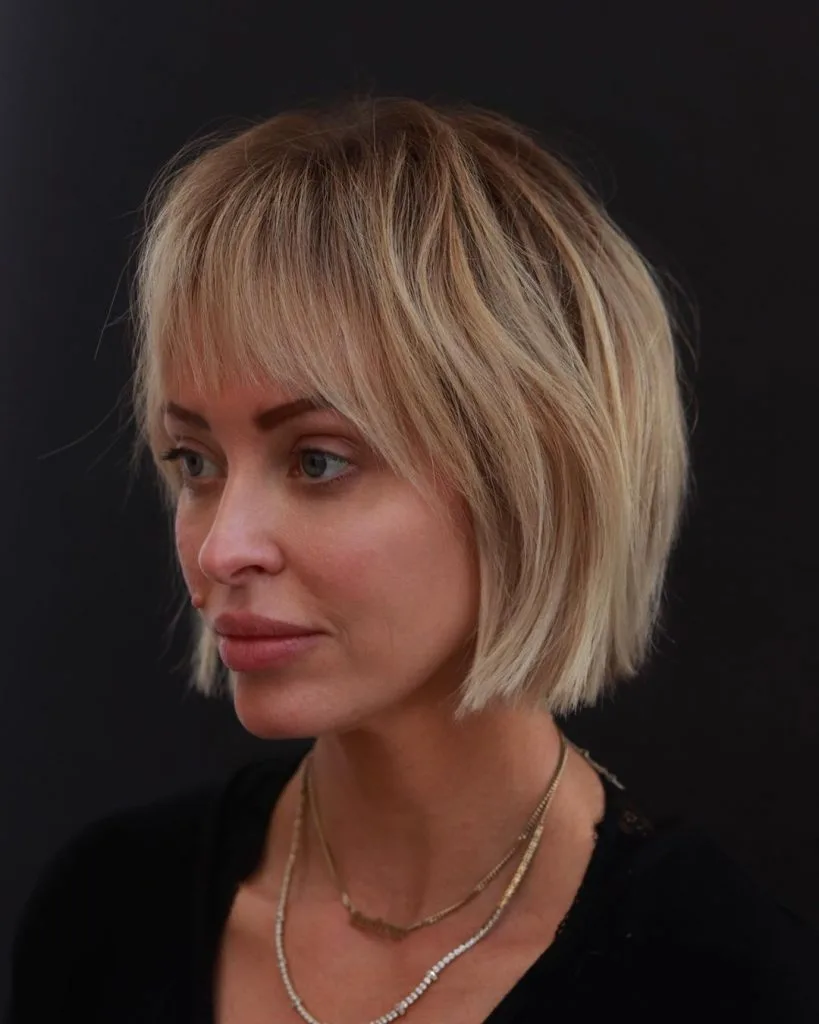 This bob is an example of what's possible if you want to create a certain effect. Cleverly done layers will give you volume and texture, and a well-chosen fringe will flatter the shape of your face.
35. Blunt Bob With Highlights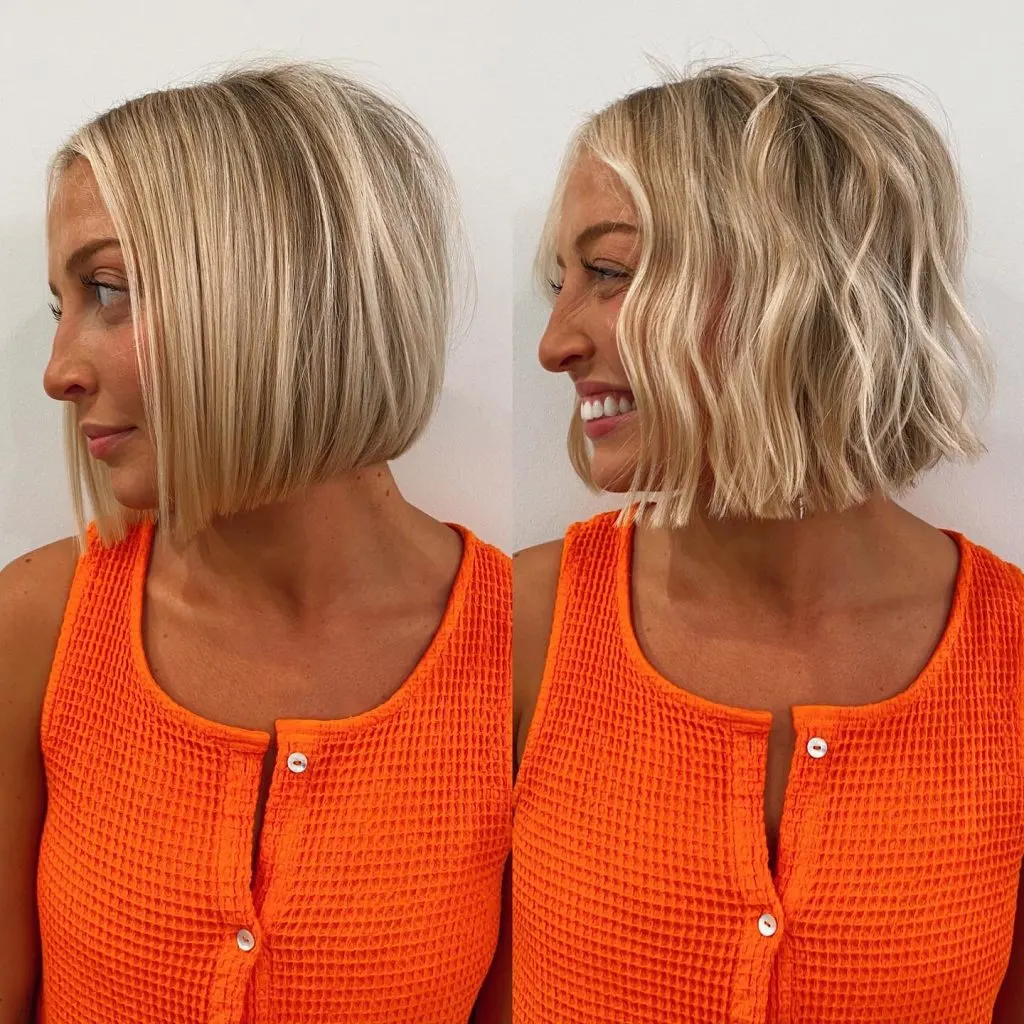 You don't need long hair to have a versatile hairstyle. A bob can be worn straight and sleek or wavy and tousled for two completely different looks.
36. Strawberry Blonde Wavy Bob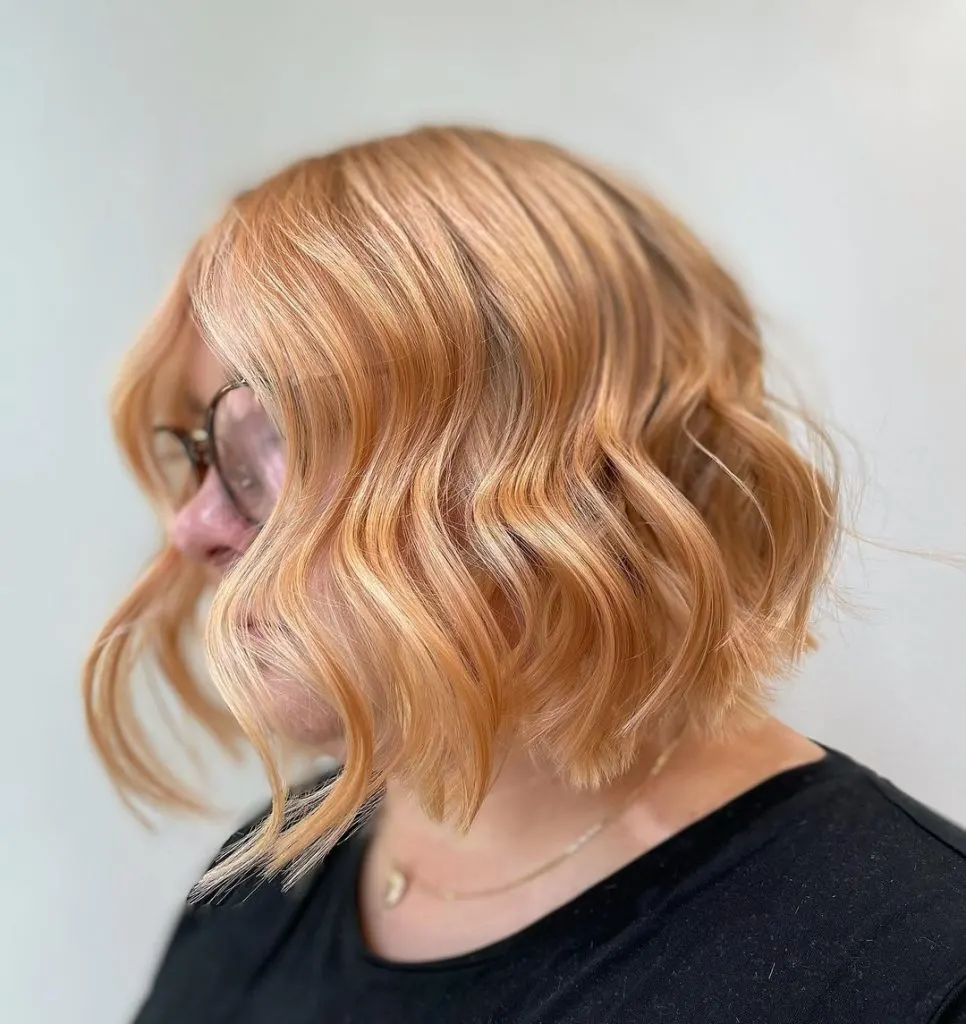 Gorgeous waves in this strawberry-blonde bob complement the color and give the style a charming quality.
37. Platinum Blunt Bob With Bangs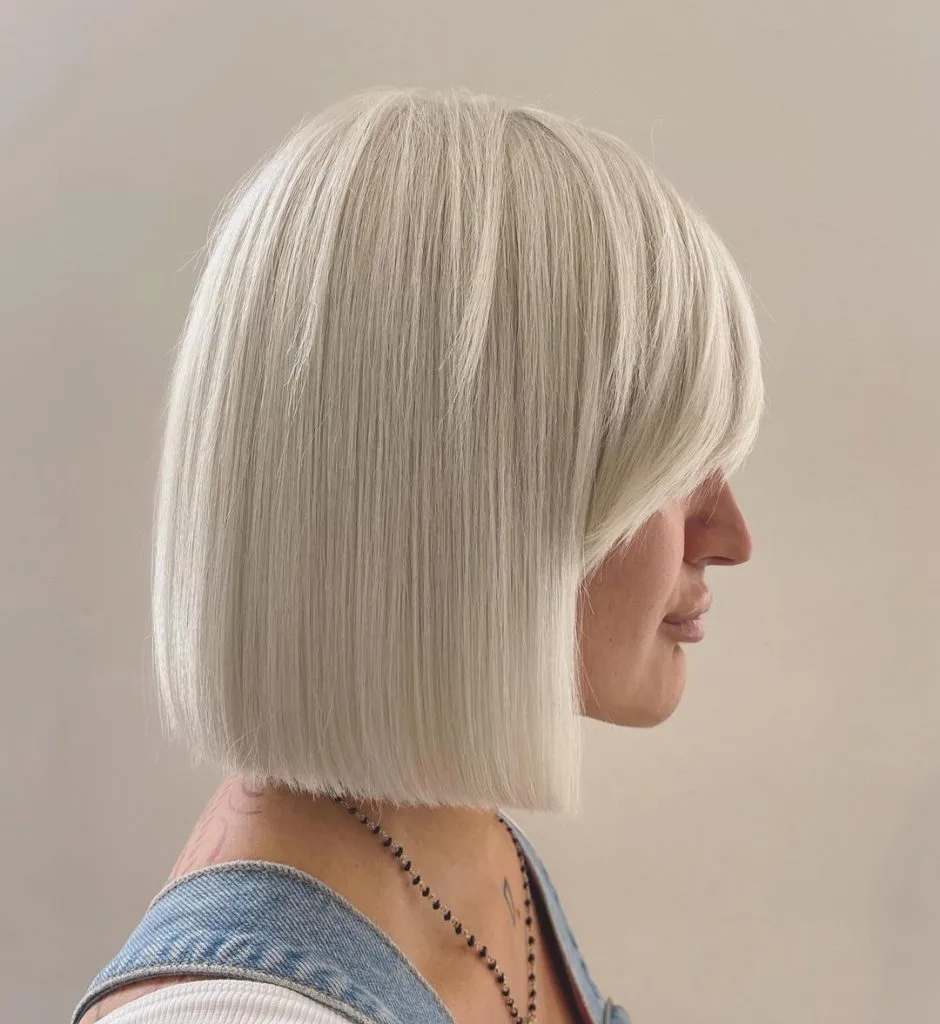 The platinum color makes this style dramatic and chic, and the fringe is what keeps it from looking too severe.
38. Edgy Short Bob With Bangs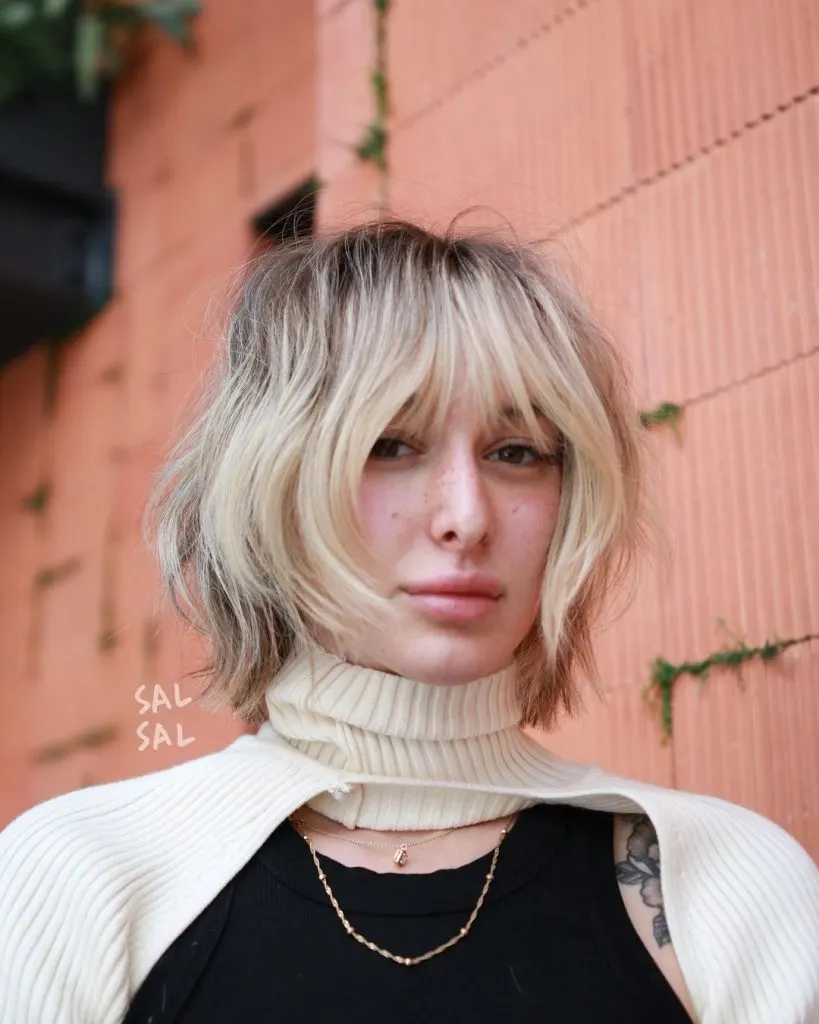 This edgy choppy bob is fun and trendy, and looks extra lived-in paired with a rooted blonde color.
39. Sleek Golden Blonde Bob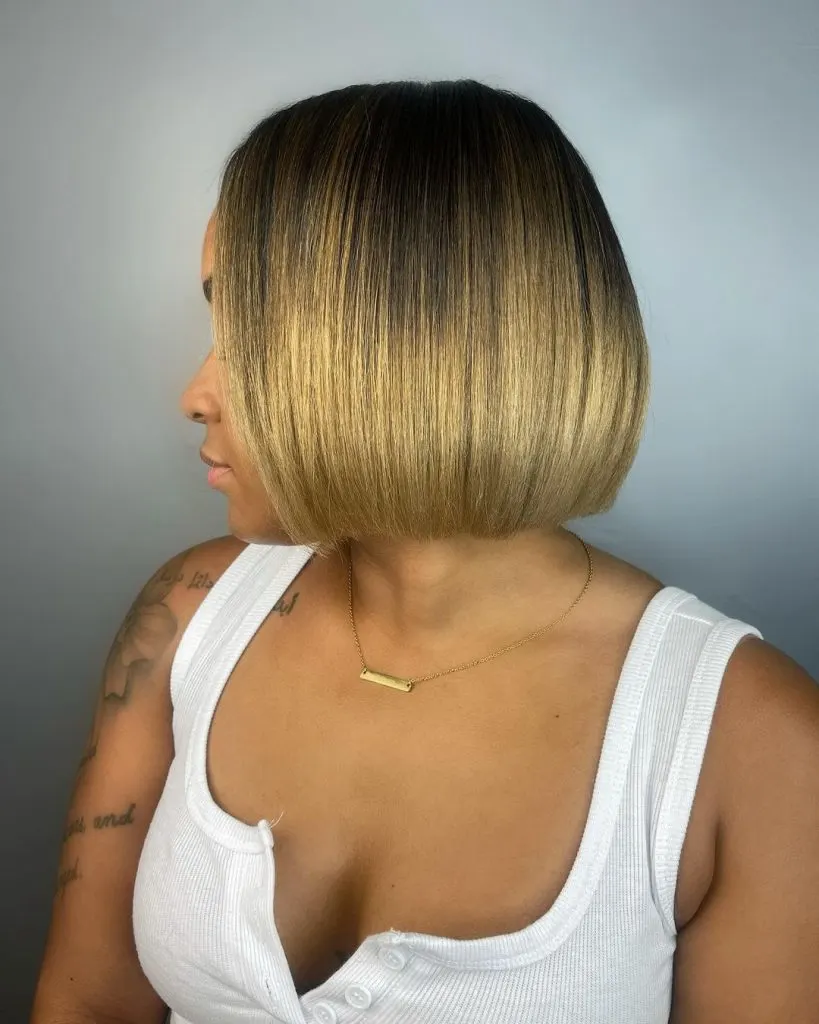 A sleek rounded bob is the ultimate elegant hairstyle, and finding the color that works for you will take it to the next level.
40. Blonde Bob With Bangs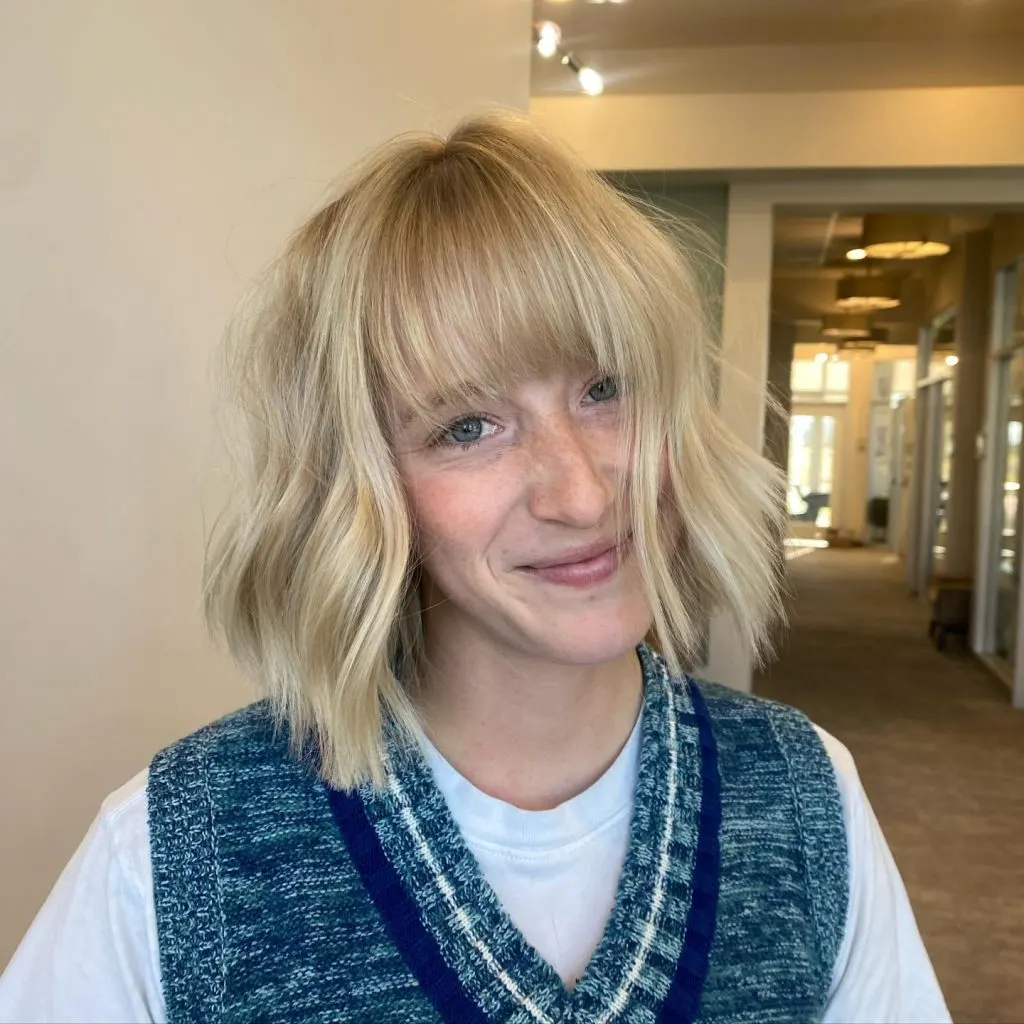 This admittedly not-so-short wavy bob works well with wispy bangs to create an adorable look.
41. A-Line Bob With Highlights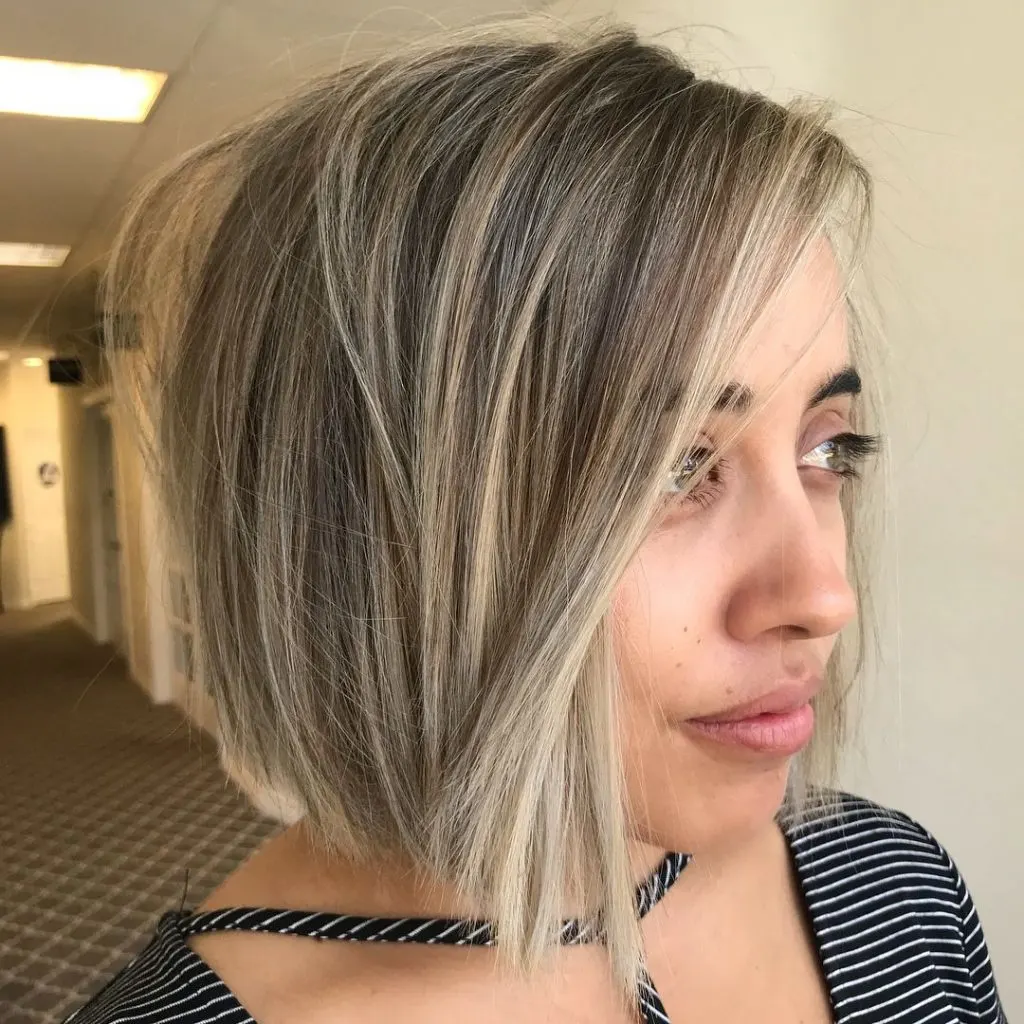 Cool-toned highlights bring dimension and sophistication to this edgy blunt A-line bob hairstyle.
42. Angled Short Blonde Bob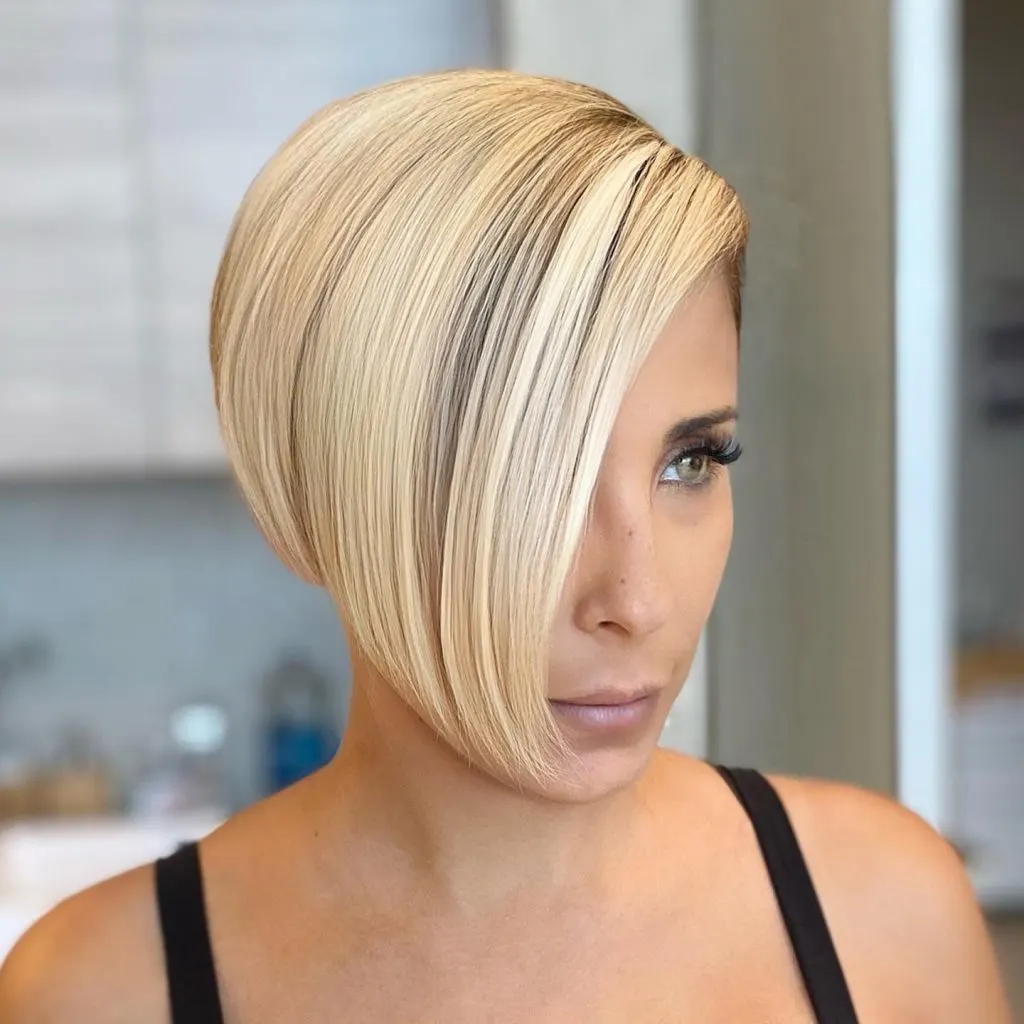 A very short asymmetrical bob is a bold style that requires a lot of maintenance to stay fresh, but if you commit to it, it's guaranteed to get you noticed.
43. Light Blonde Bob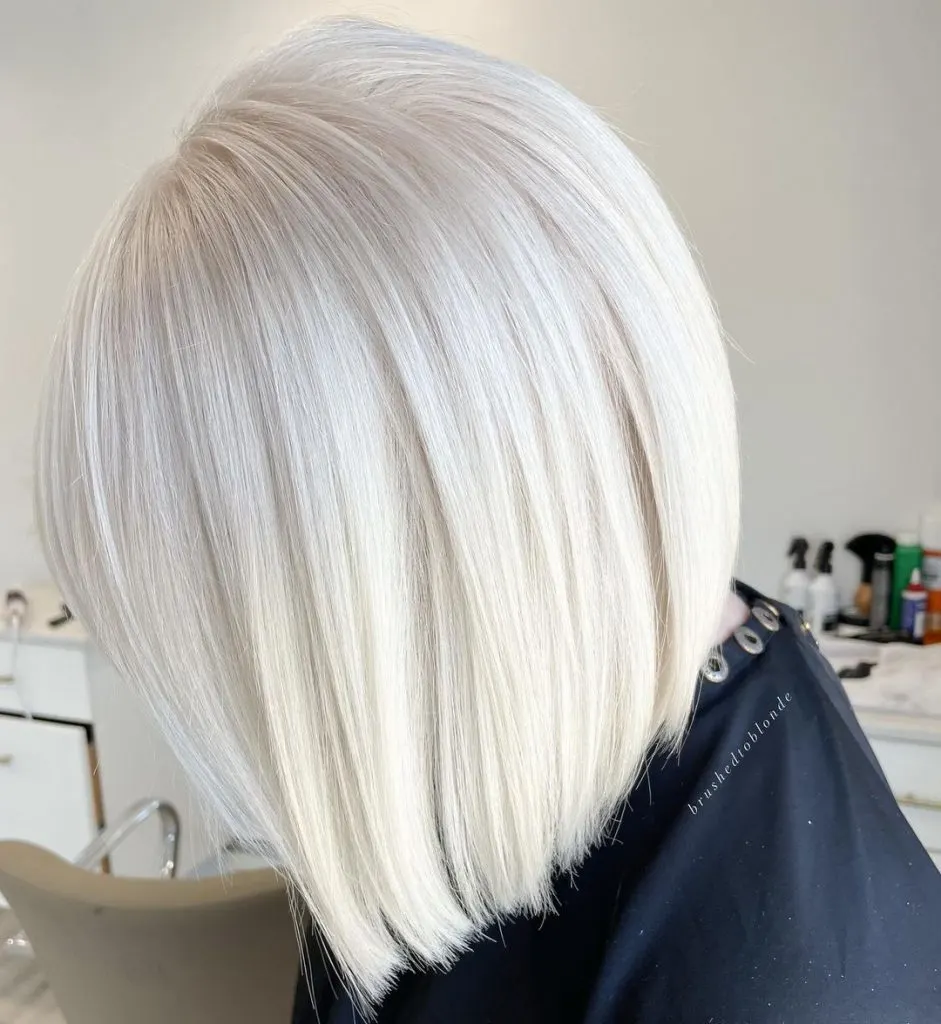 Choosing a nearly-white hair color will make any hairstyle captivating, but it will cause a sensation if you go for a straight bob.
44. Coiled Hair Blonde Balayage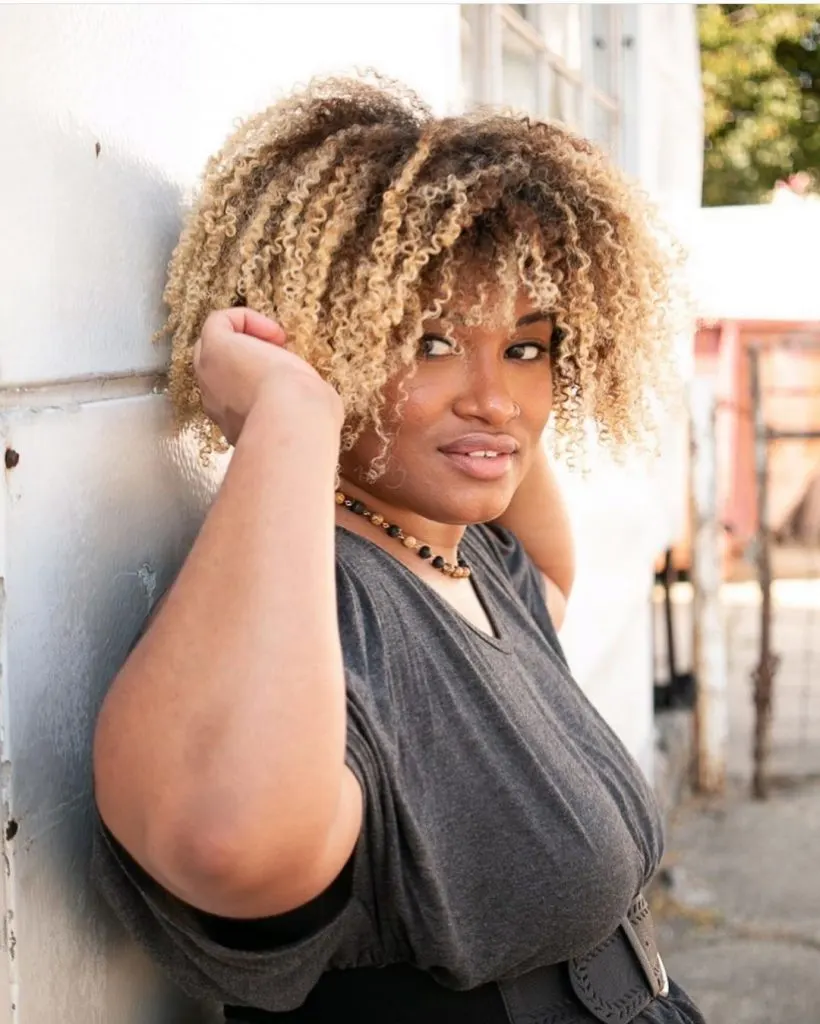 The softness of this hairstyle is emphasized with the choice of color: a gradual transition from soft brown to golden blonde creates a radiant look.
45. Voluminous Platinum Blonde Bob With Long Bangs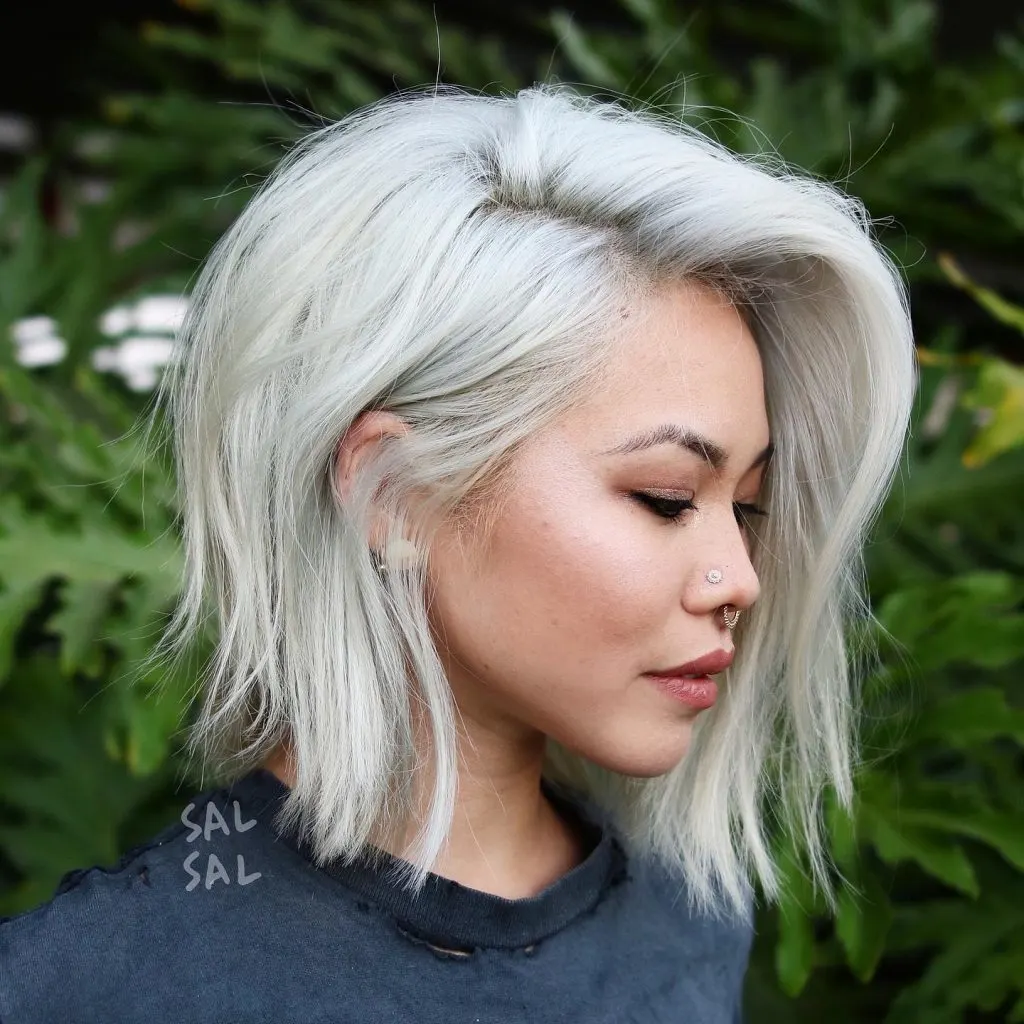 Big hair doesn't have to be old-fashioned or dated—nowadays, it's all about volume. This choppy bob is modern and chic, but it also creates an illusion of a smaller face, if that's something you'd like to achieve.
46. Golden Blonde Bob With Layers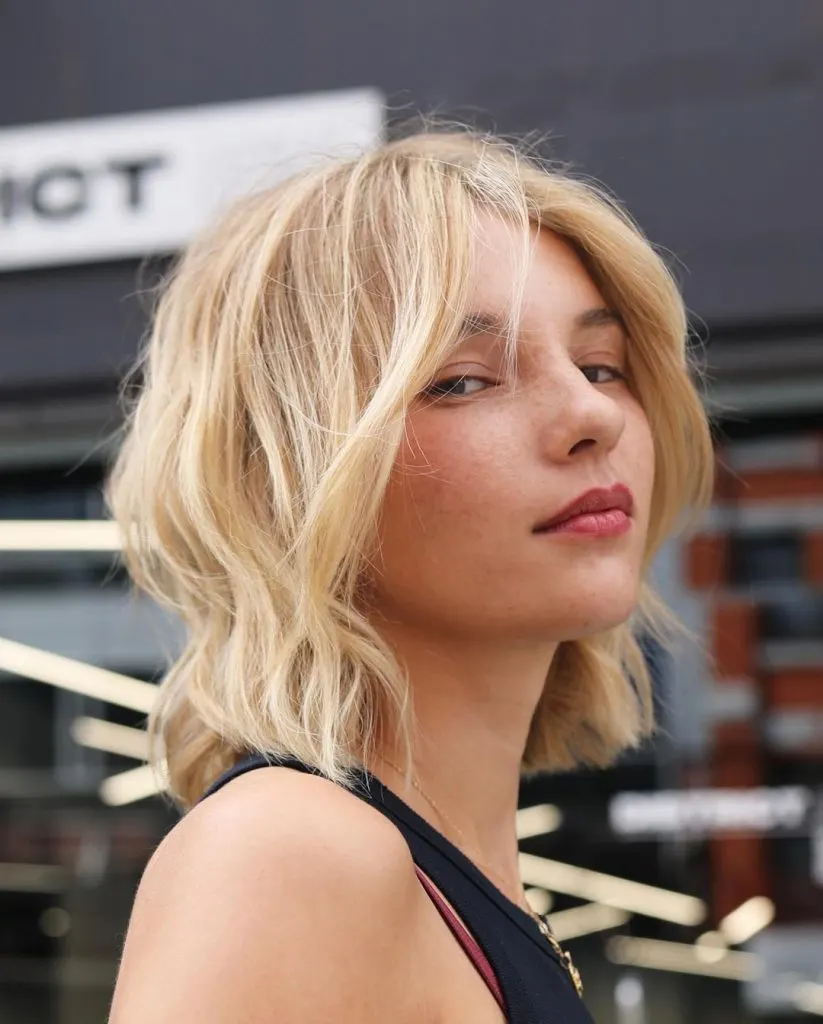 Face-framing layers can be used to accentuate your favorite features and draw the attention away from those you're not as fond of. This soft haircut creates a romantic vibe, and it's even more enchanting combined with a golden blonde color.
47. Blonde Undercut Bob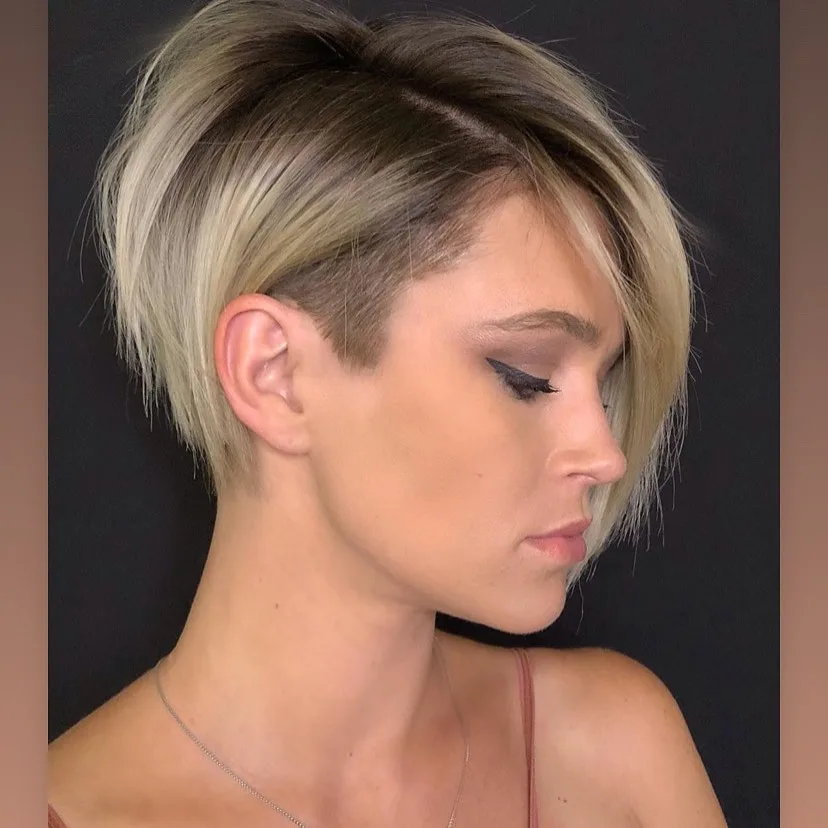 Opting for an undercut will give a classic A-line bob an edgy flavor. Balayage, highlights or natural color at the roots are recommended to avoid harsh lines when it starts growing out.
48. Layered Blonde Bob With Curtain Bangs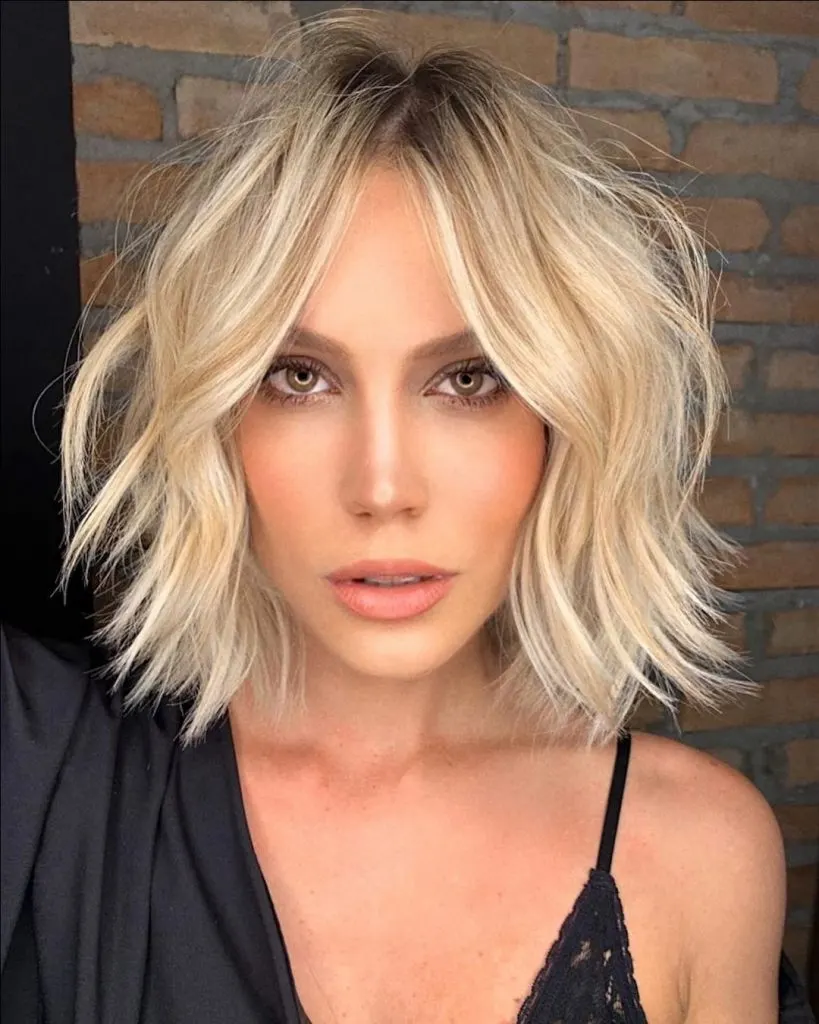 Create root lift through styling and carefully placed waves to enhance the soft layers in this flattering blonde bob.
49. Sleek Gray Blonde Bob Haircut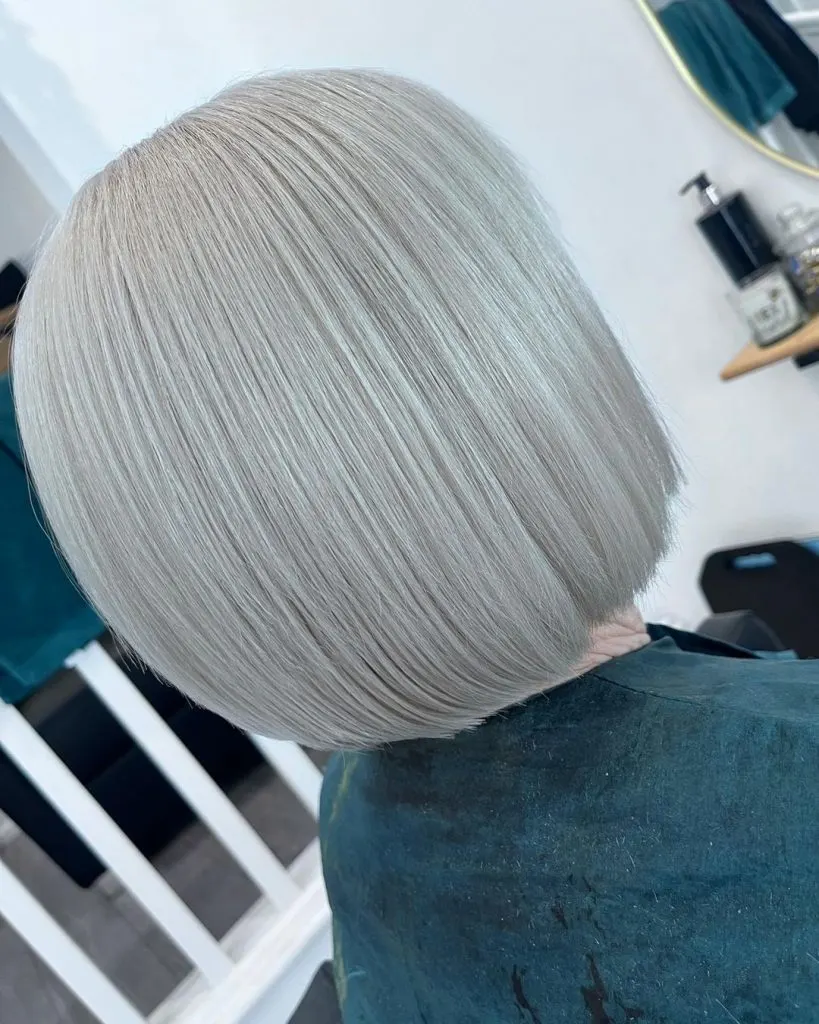 You can't go wrong with a super-sleek bob. It's a style that compliments natural gray hair— together they create a stunning look.
50. Wavy Choppy Short Blond Bob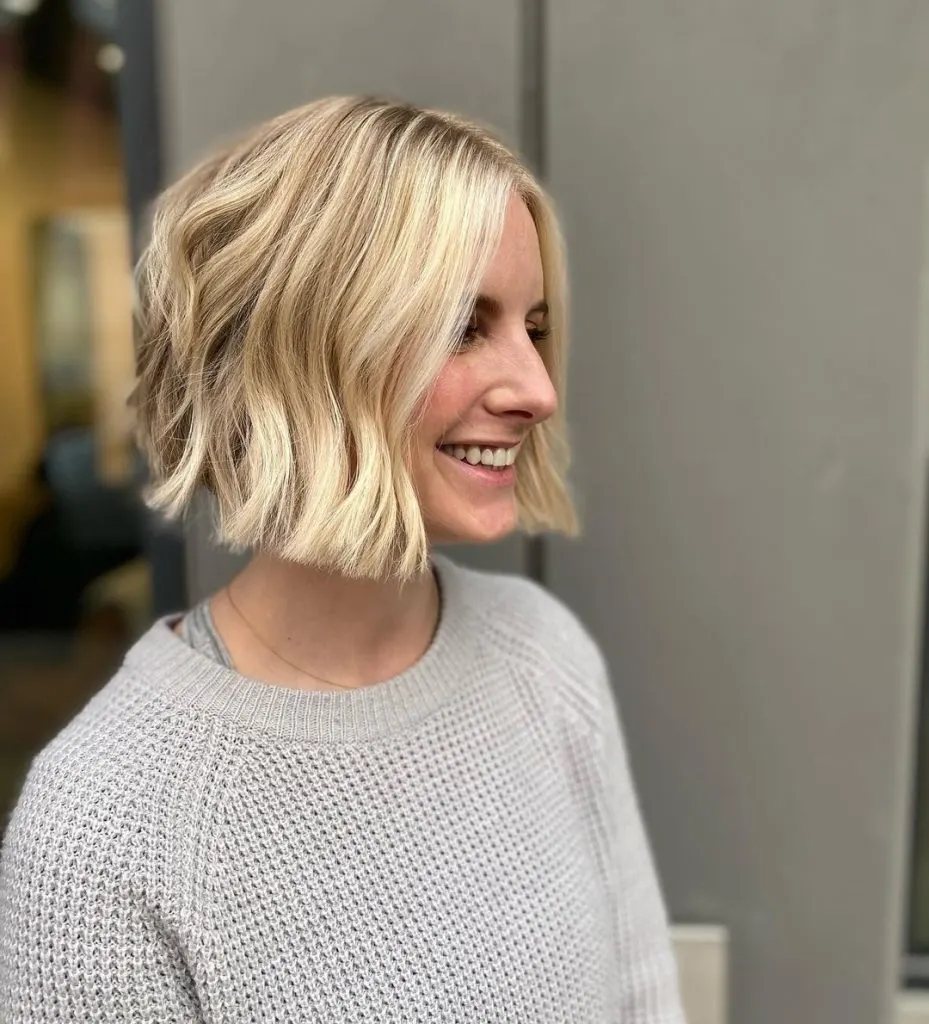 Blunt-cut wavy bob has been a staple hairstyle many women have been returning to for the past few years because it's almost universally flattering.
Get The Chop
Wearing a short blonde bob is much easier than it seems—it's only a matter of picking the best shade of blonde for your complexion and the best style of bob for your face shape. Both the color and cut require regular maintenance, but the effect is more than worth the effort.