Adding bangs to a bob is an easy way to transform your haircut and achieve a new look. While classic short bangs might not be to everyone's taste, it's much easier to tweak side bangs to fit your current hairstyle.
We have plenty of haircut ideas and tips on styling a bob with side bangs, so if you want a change, check them out!
1. Side Bang Bob Hairstyle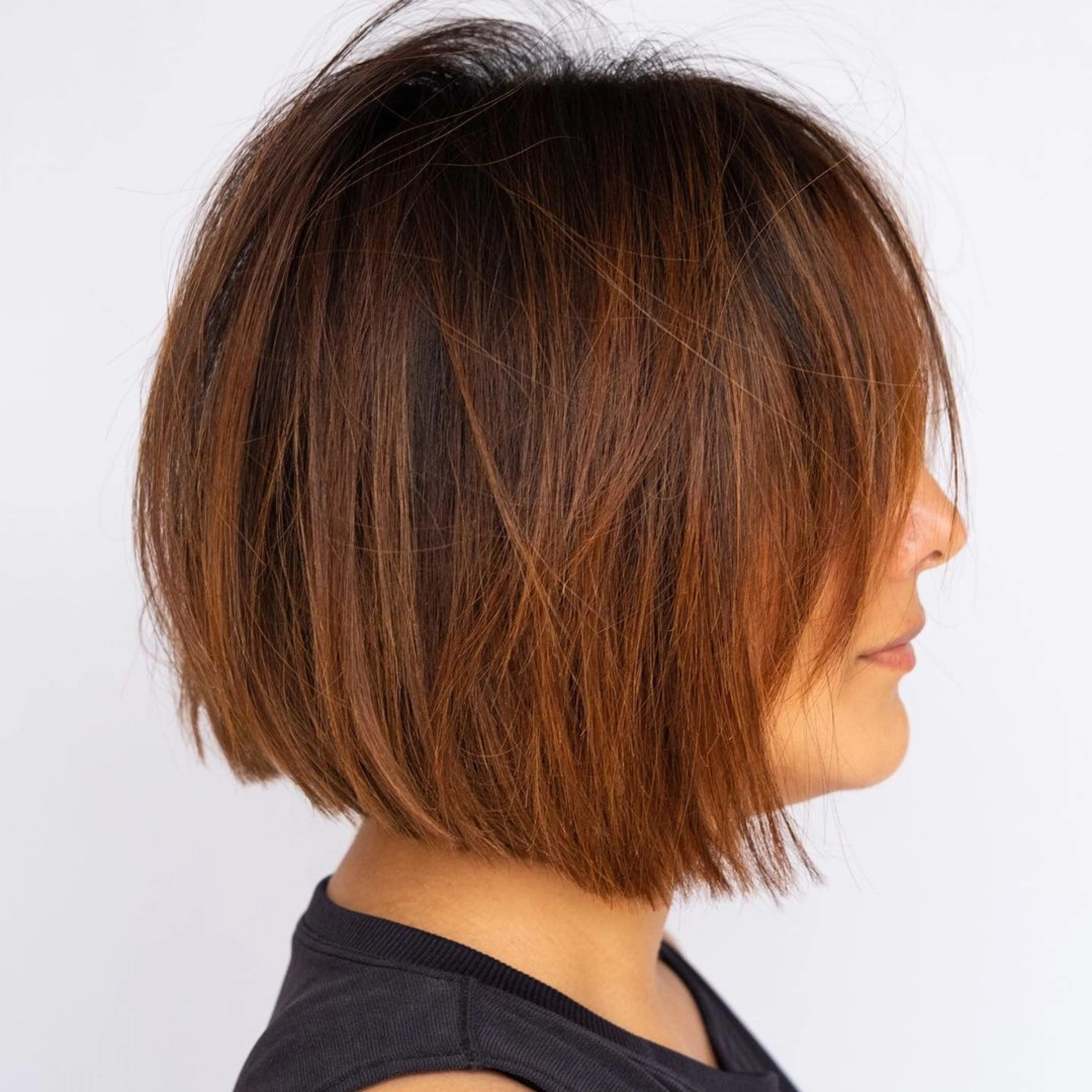 The foundation of this haircut is the cutting technique. Subtle layers are added to a slightly angled bob to create volume at the crown, and the side bangs give it that coveted intentionally disheveled look.
2. Side Part Bob For Curly Hair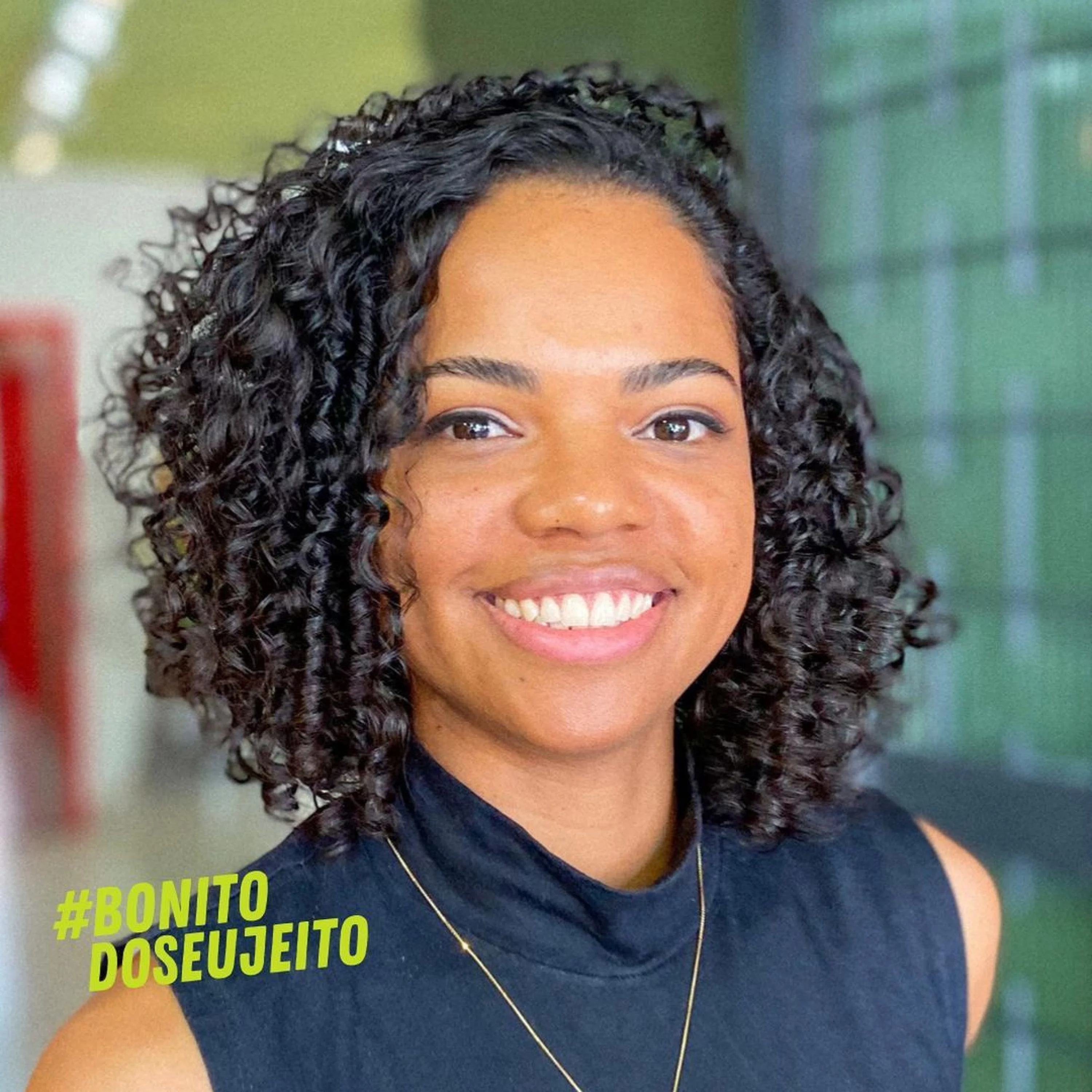 Creating a shape for curly hair depends on the type of curl, but layers are a must if you want to retain volume and bounce. Short bangs look cute if you have ringlets, while long bangs give you a choice to frame your face if you keep them down or sweep them away.
3. Lob Haircut With Side Bangs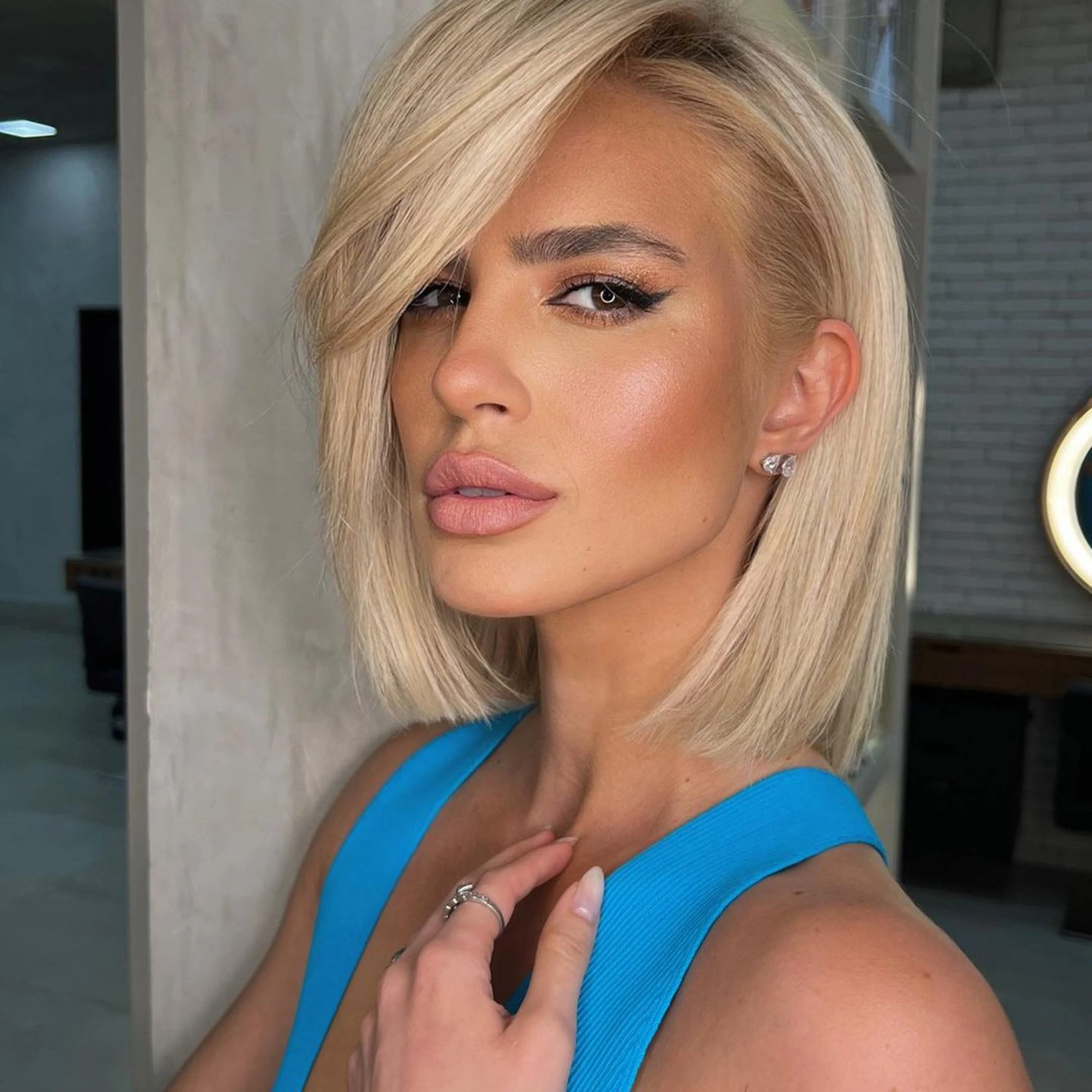 Use your hair to your advantage if you want to balance your face shape. Long side bangs allow you to flip them however you want to achieve a look you're happy with.
4. Short Bob Haircut With Side Bangs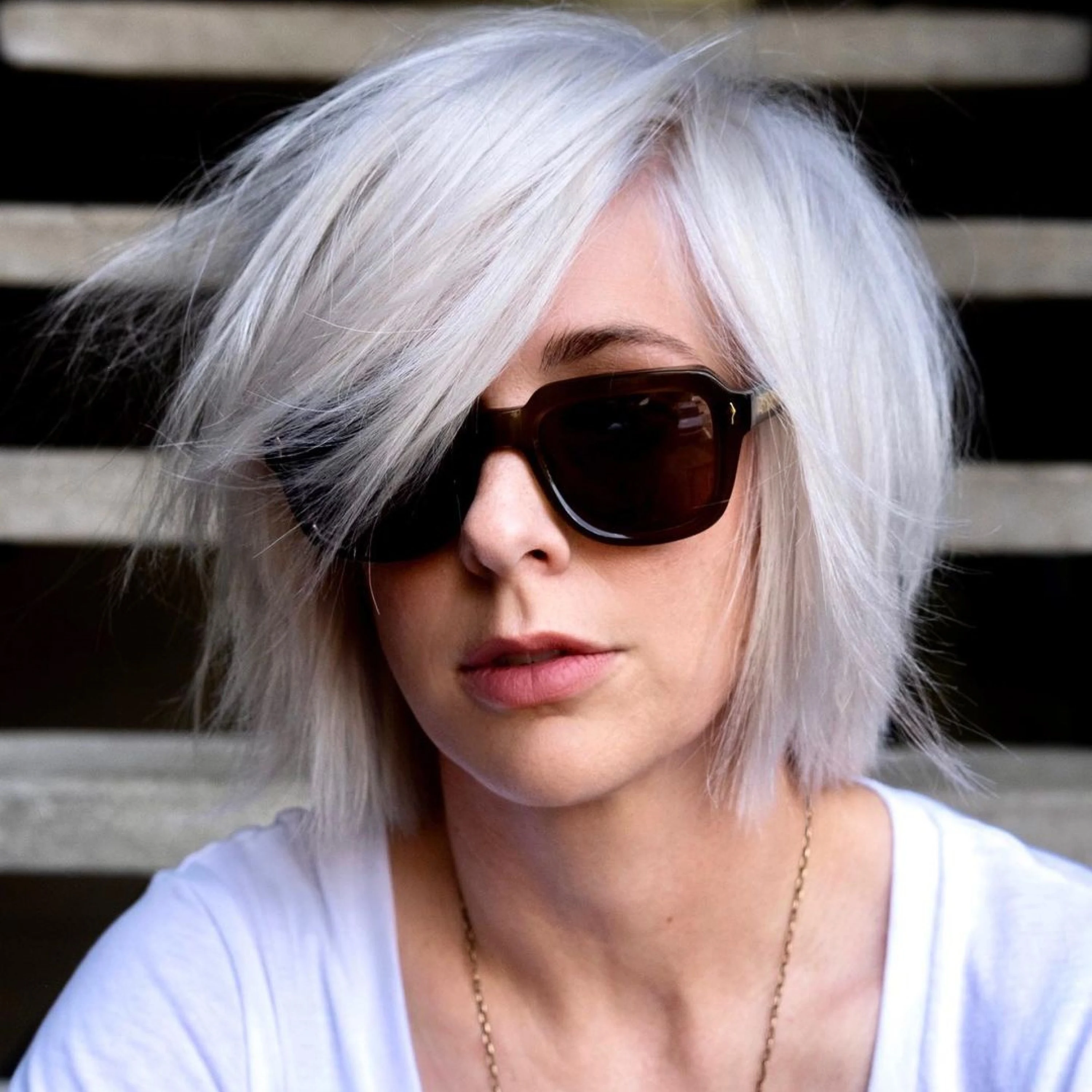 Bangs and layers transform an ordinary bob into a cool-girl signature hairstyle. Experiment with the length of the bangs to find out what works best for you.
5. French Bob With Bangs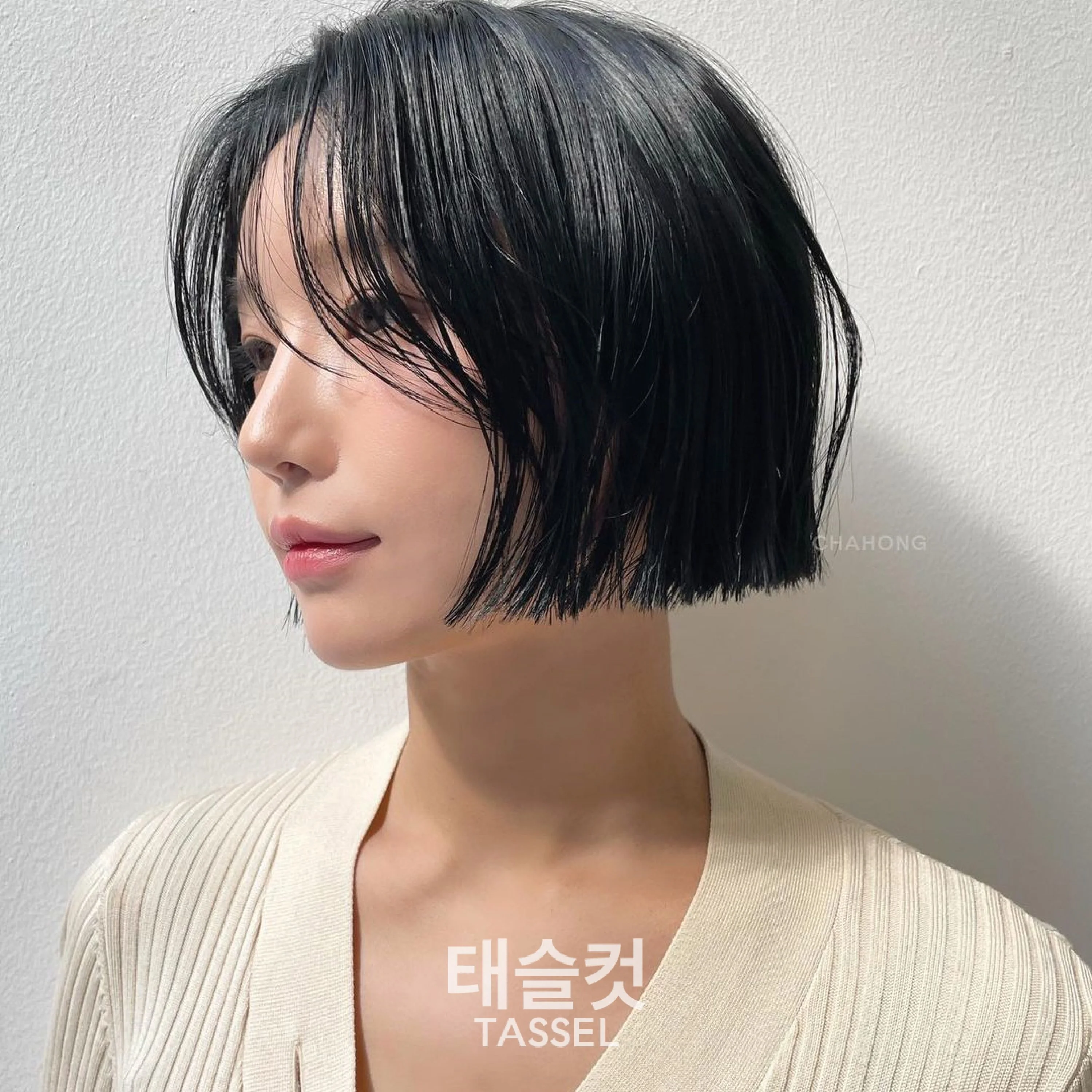 A classic French bob with a twist: instead of thick, straight bangs, go for a wispy, longer side-parted fringe that still looks romantic but is much more casual.
6. Stacked Bob With Bangs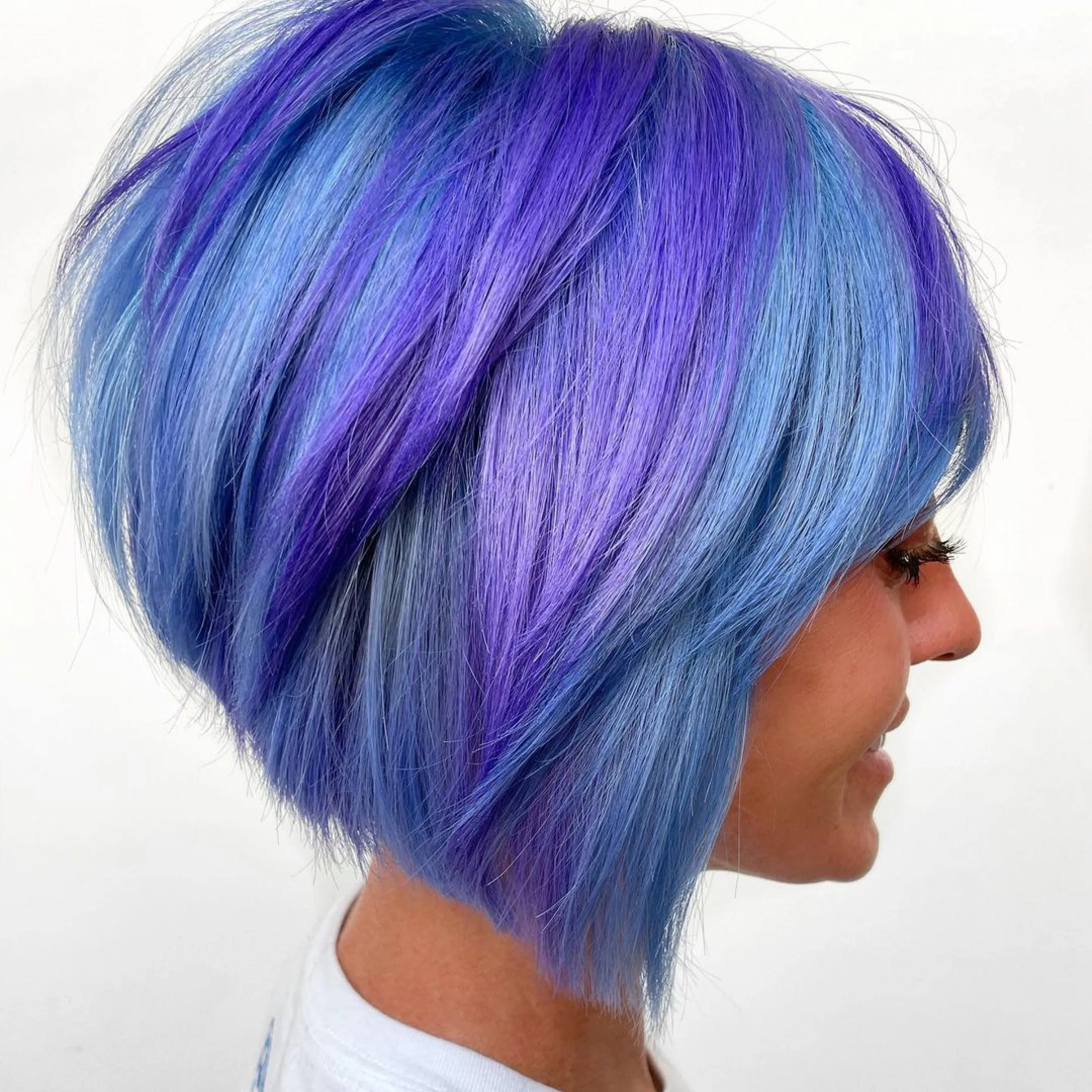 Use a texturizing product to really work the amazing volume of this edgy stacked bob. Side bangs the same length as the layers at the crown will give you extra bounce!
7. Blunt Bob With Bangs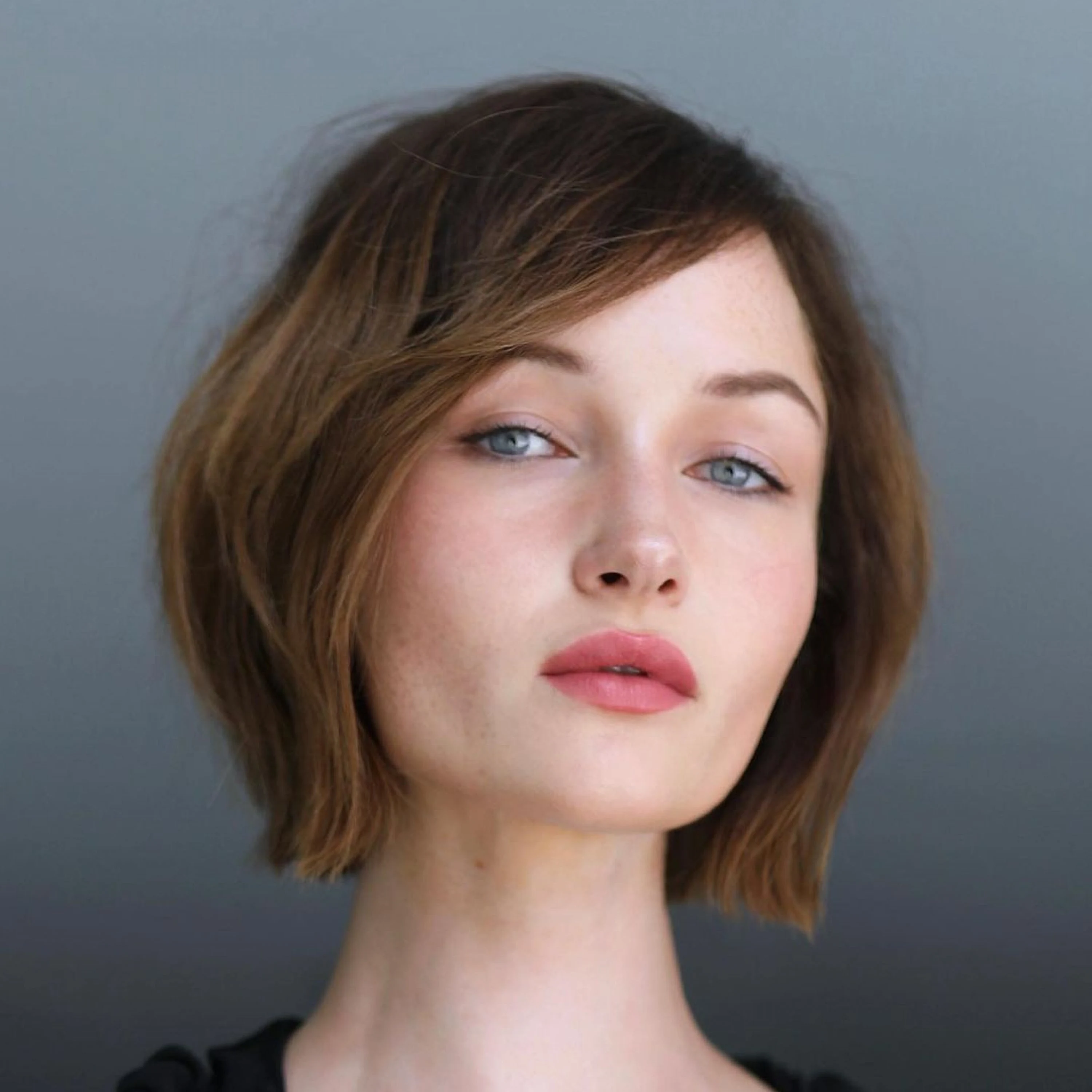 This short bob with side bangs frames the face flawlessly. Because it's not a style that needs a lot of volume, texturizing spray and your fingers are all you need when blow-drying it to achieve a cool everyday look.
8. Long Bob With Bangs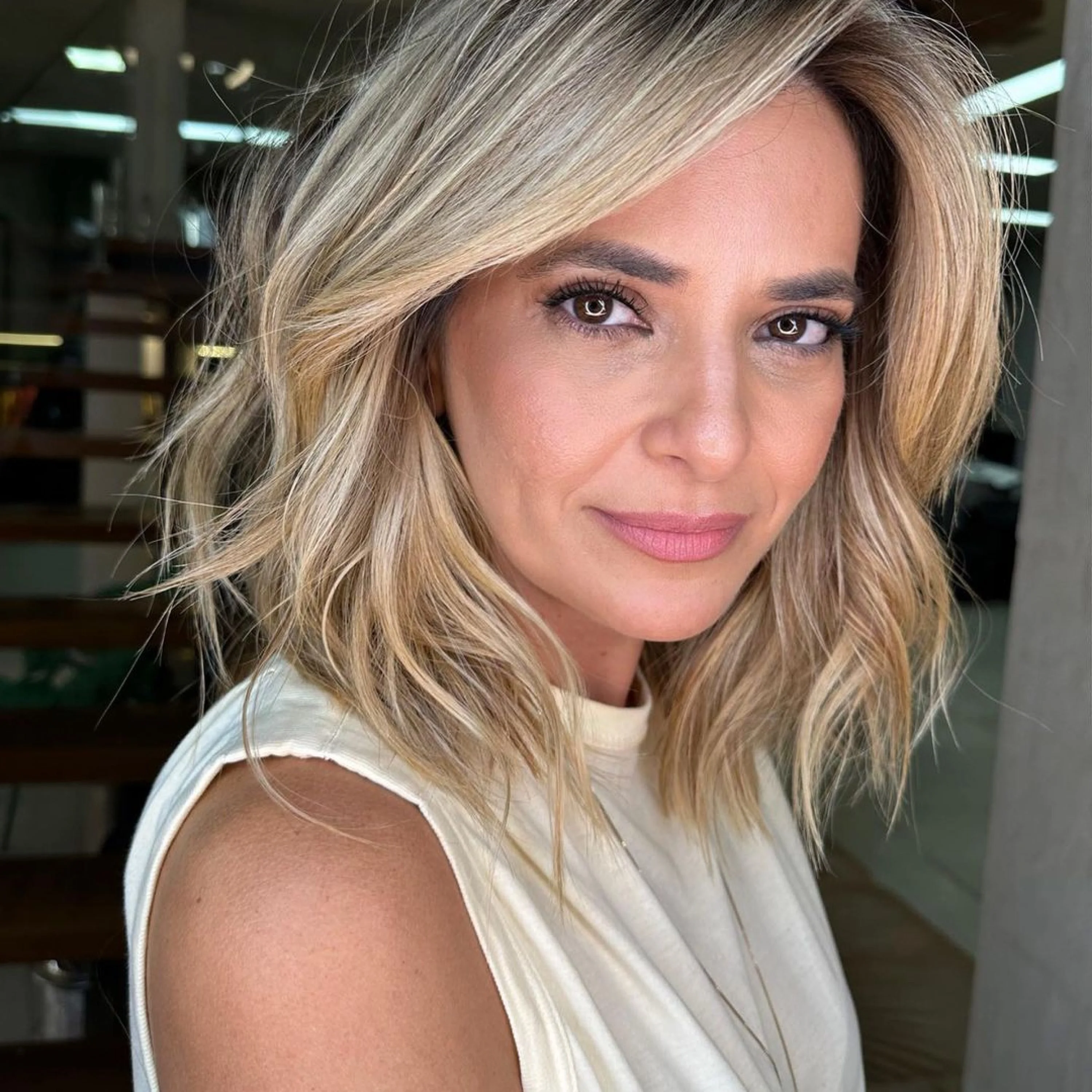 A choppy lob with soft point-cut layers suits most hair types. If your hair is fine, the layers can be used to lift it, and if it's thick, to take away unnecessary weight.
9. Curly Bob With Bangs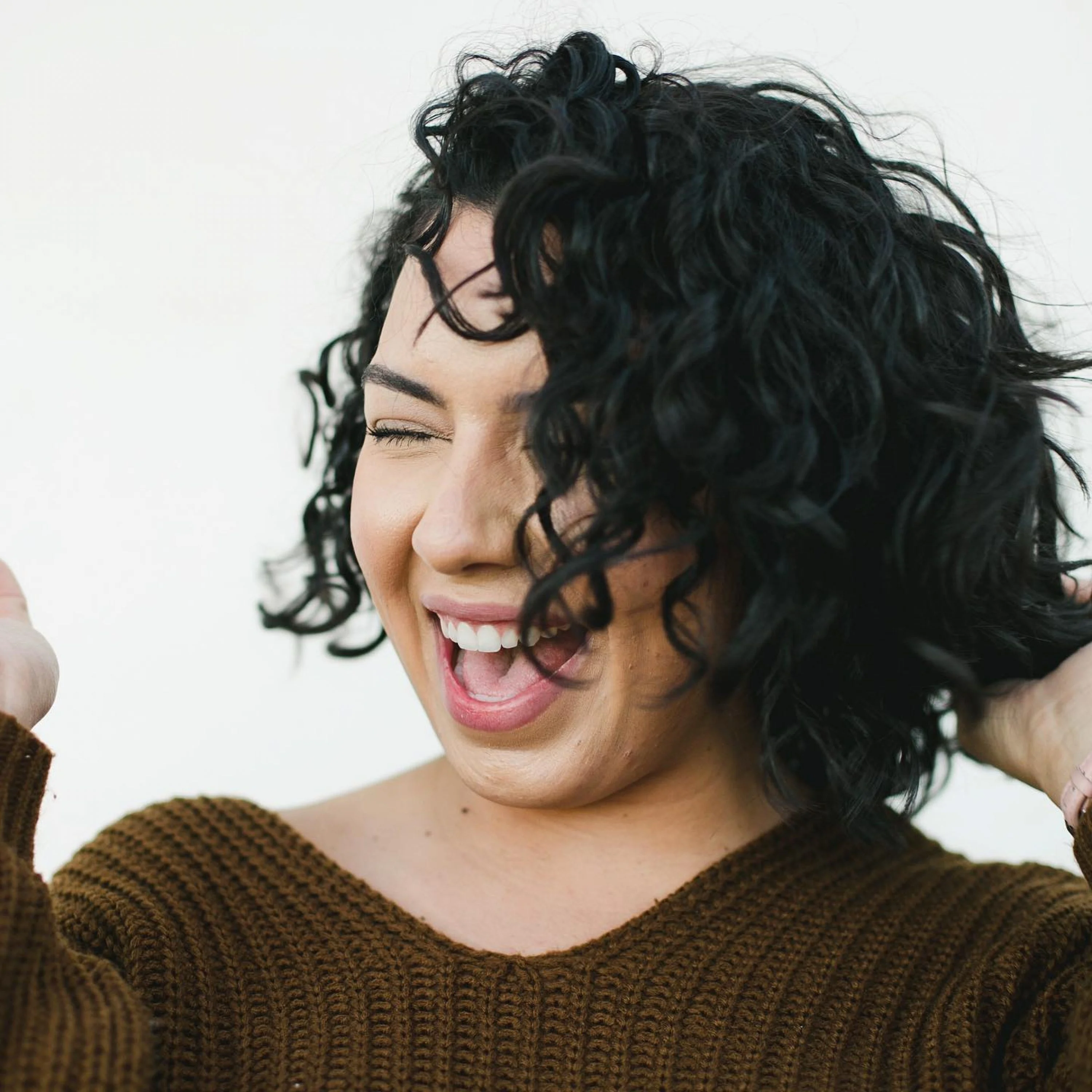 Getting the perfect cut is just the first step; how you take care of your short curly hair at home is just as important. Familiarize yourself with the right products and procedures for your hair type that will get the most out of your style.
10. Long Bob With Curtain Bangs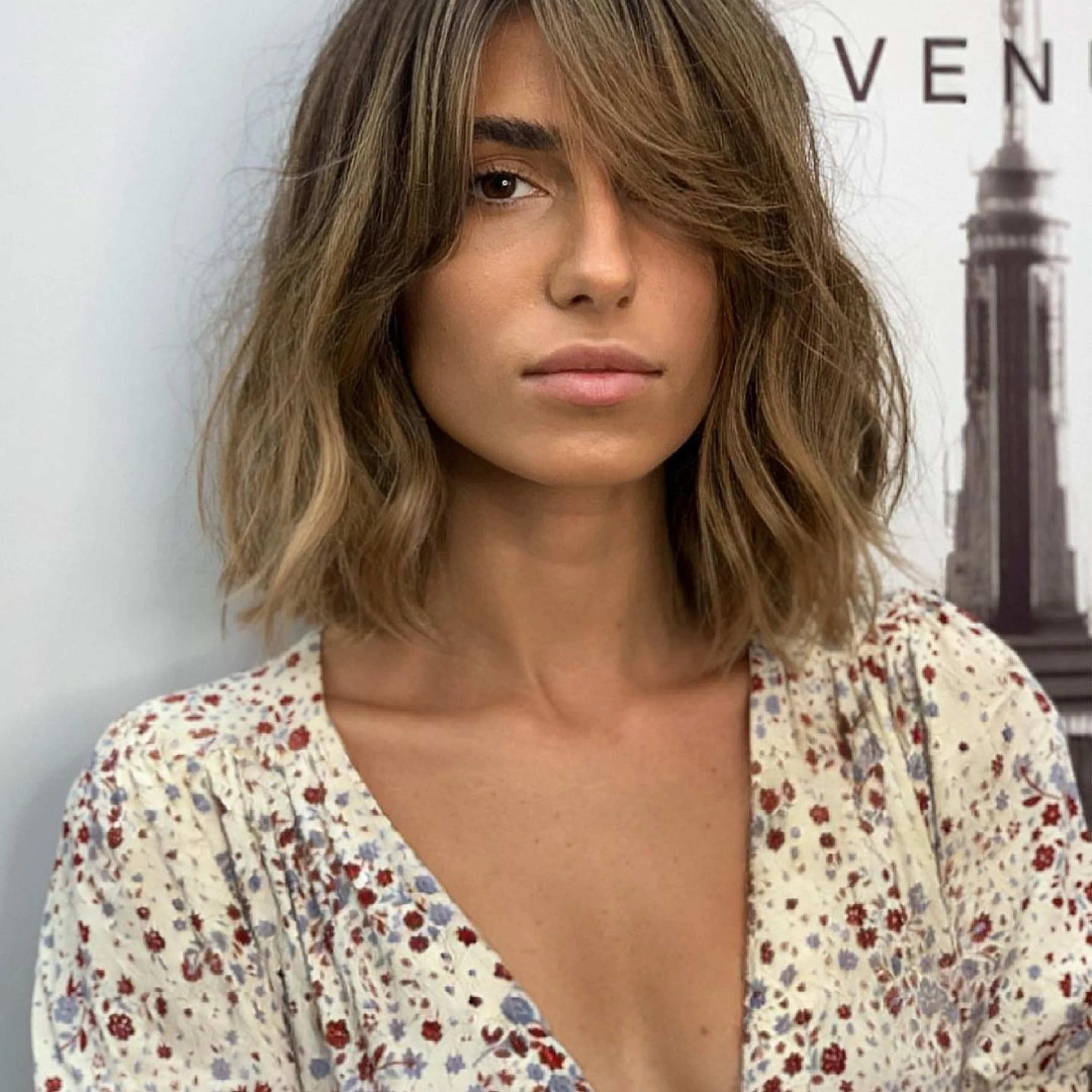 A long layered bob with side-parted curtain bangs looks amazing straightened, but because it's such a relaxed style, the most stunning option is to wear it tousled or wavy.
11. Bob Haircut With Bangs For Thin Hair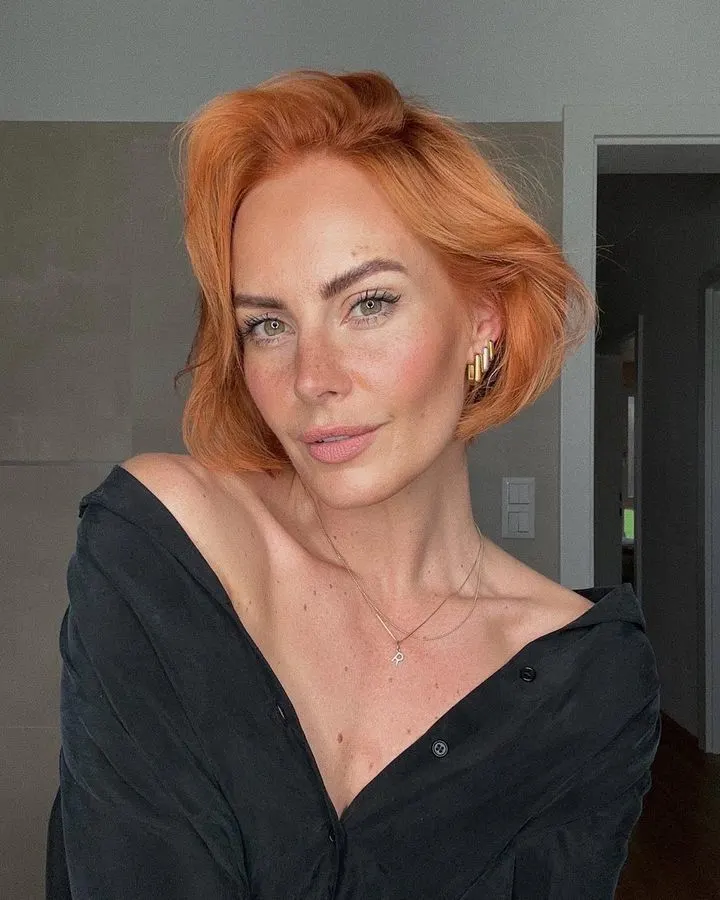 A French bob with long bangs worn swept to the side sounds like something that's exclusively for thick hair, but it can actually be used to give lots of volume to fine hair. Do it by strategically placing a curl or two and wearing the bangs as high as they'll go.
12. Rounded Bob With Side Bangs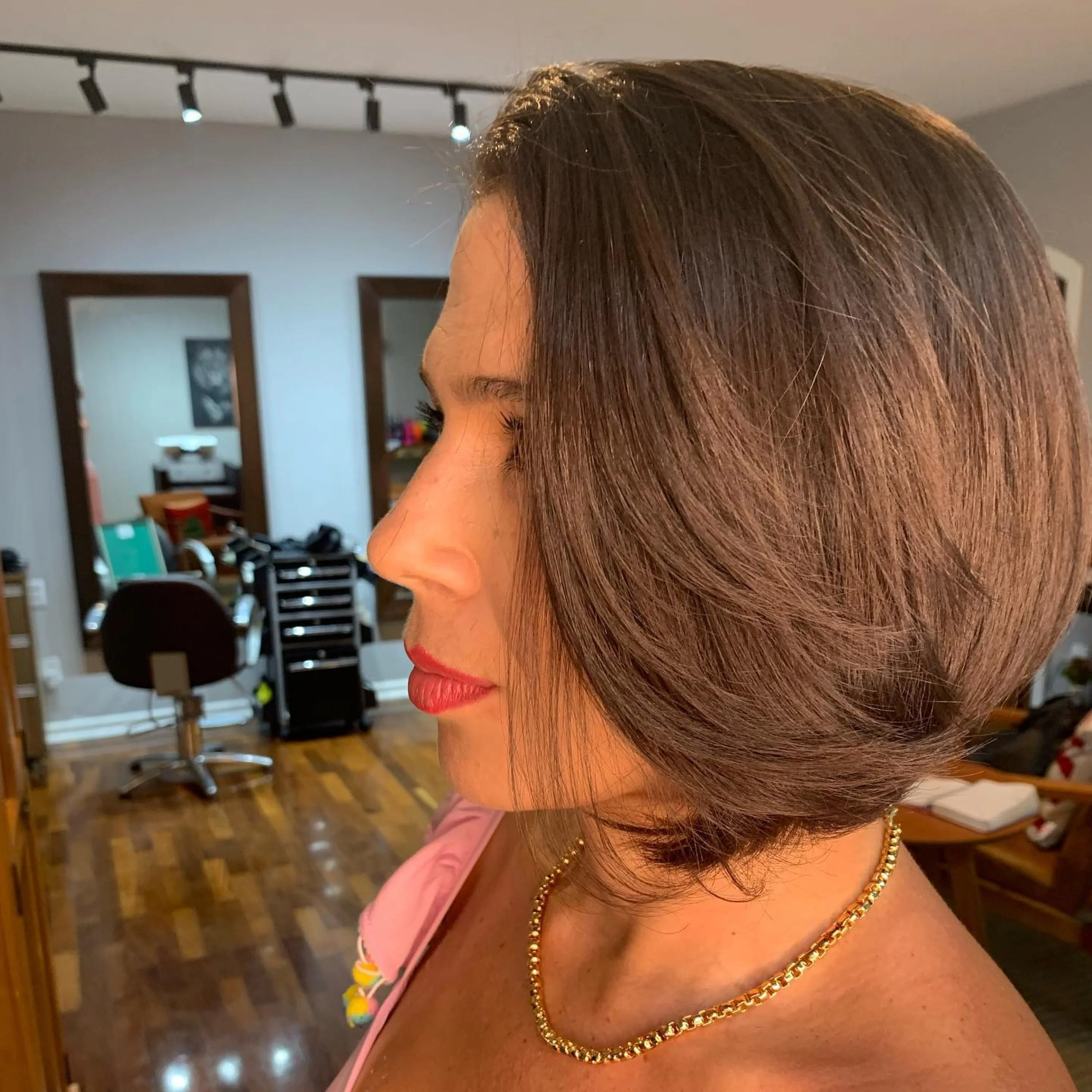 The elegant rounded bob is beautifully balanced and enhances the features. Blow-dry with a round brush for a sophisticated look, or air-dry for a more relaxed vibe.
13. Edgy Short Bob With Bangs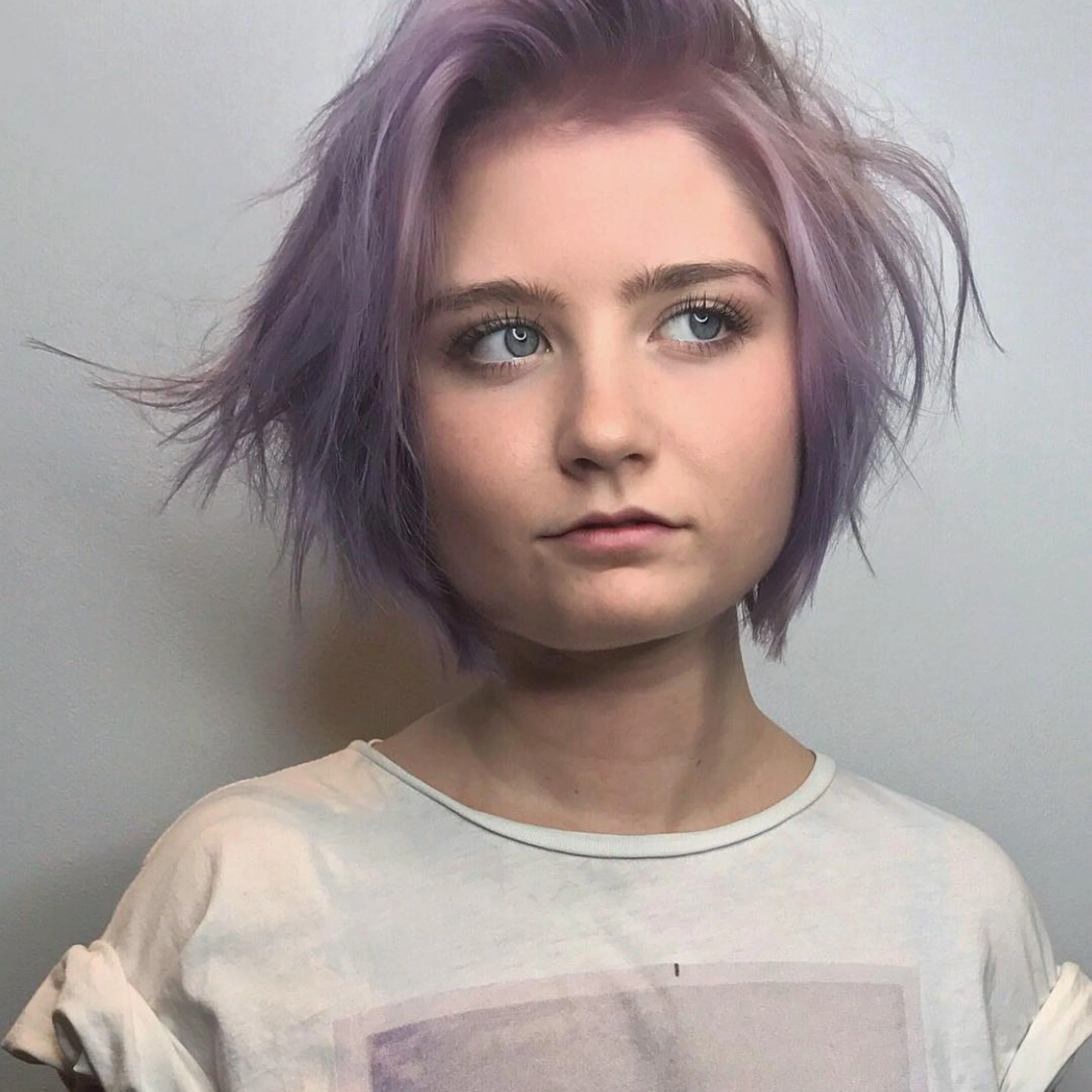 This edgy choppy bob is purposefully messy and wild to crank up the volume and emphasize the edgy vibe. Styles like this work best with unnatural hair colors.
14. Jaw Length Choppy Bob With Bangs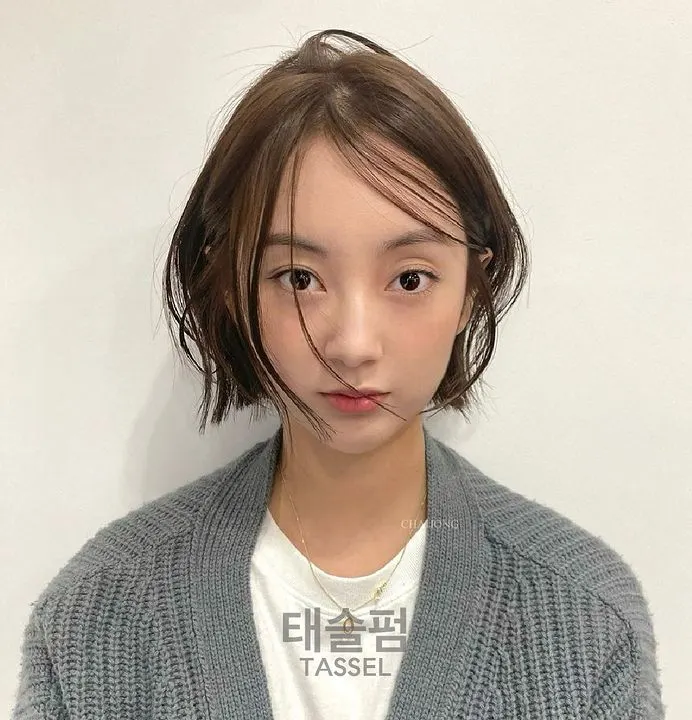 The seemingly flyaway strands are actually placed carefully to create an illusion of thicker hair. Fine hair tends to fall flat even if there's a lot of it, so it's best to avoid haircuts that are all the same length.
15. Medium Bob With Bangs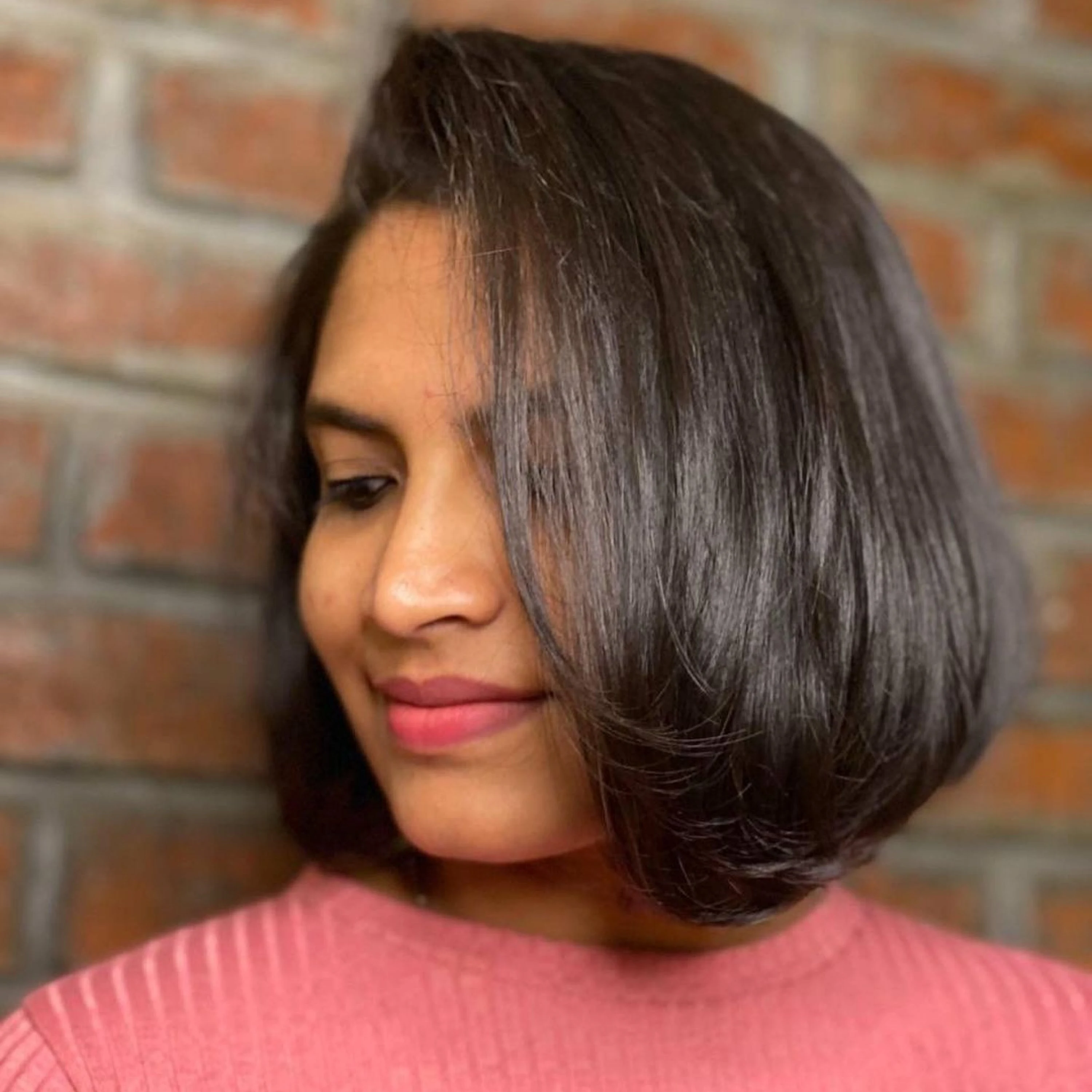 You can't go wrong with a classic bob. Inward-curling ends and long lifted side bangs flatter the face and create an approachable and warm look.
16. Choppy Lob With Bangs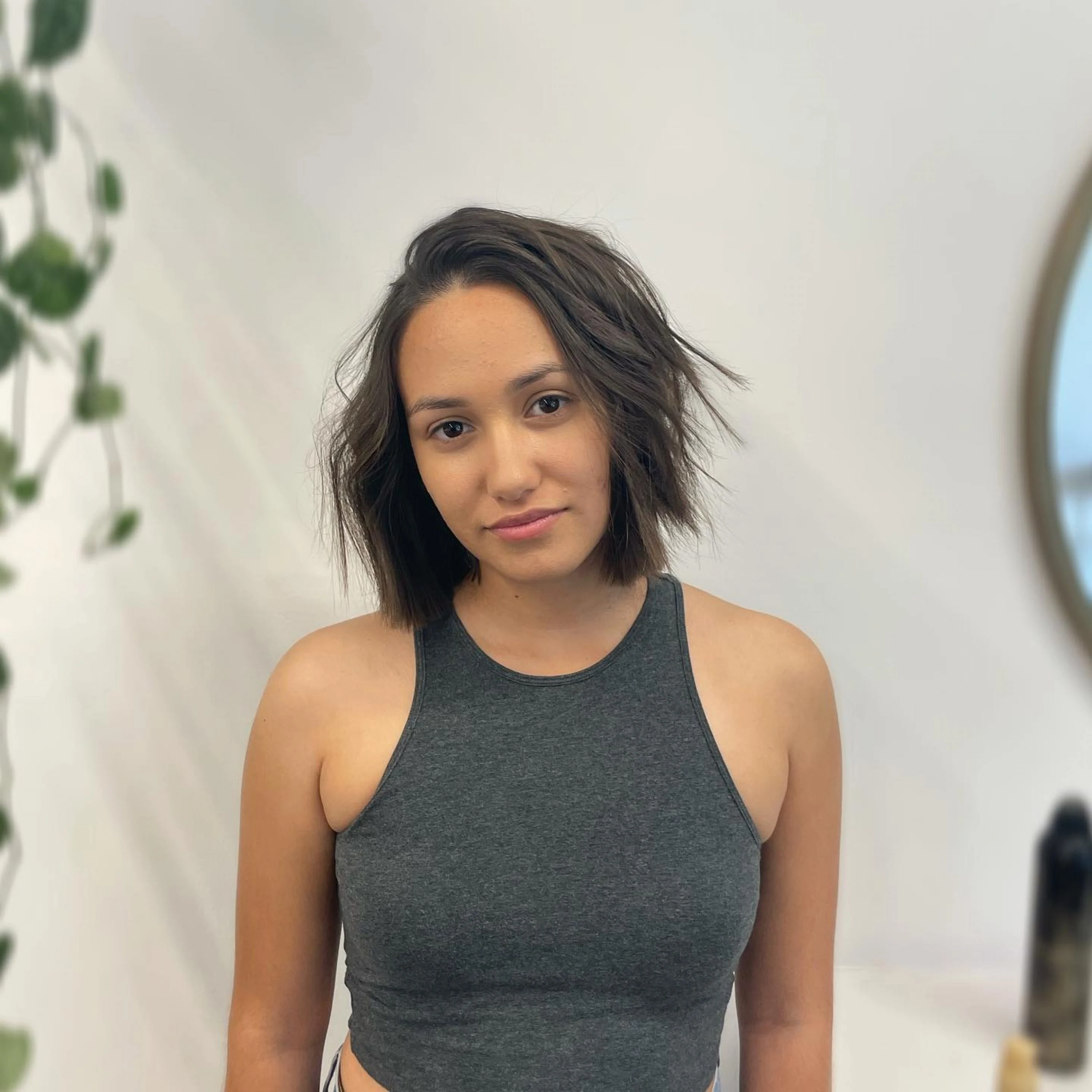 A choppy bob with side bangs is the modern version of a classic bob. Razored ends create a natural style that can be worn wavy or straight— it looks stunning either way.
17. Short Bob With Curtain Bangs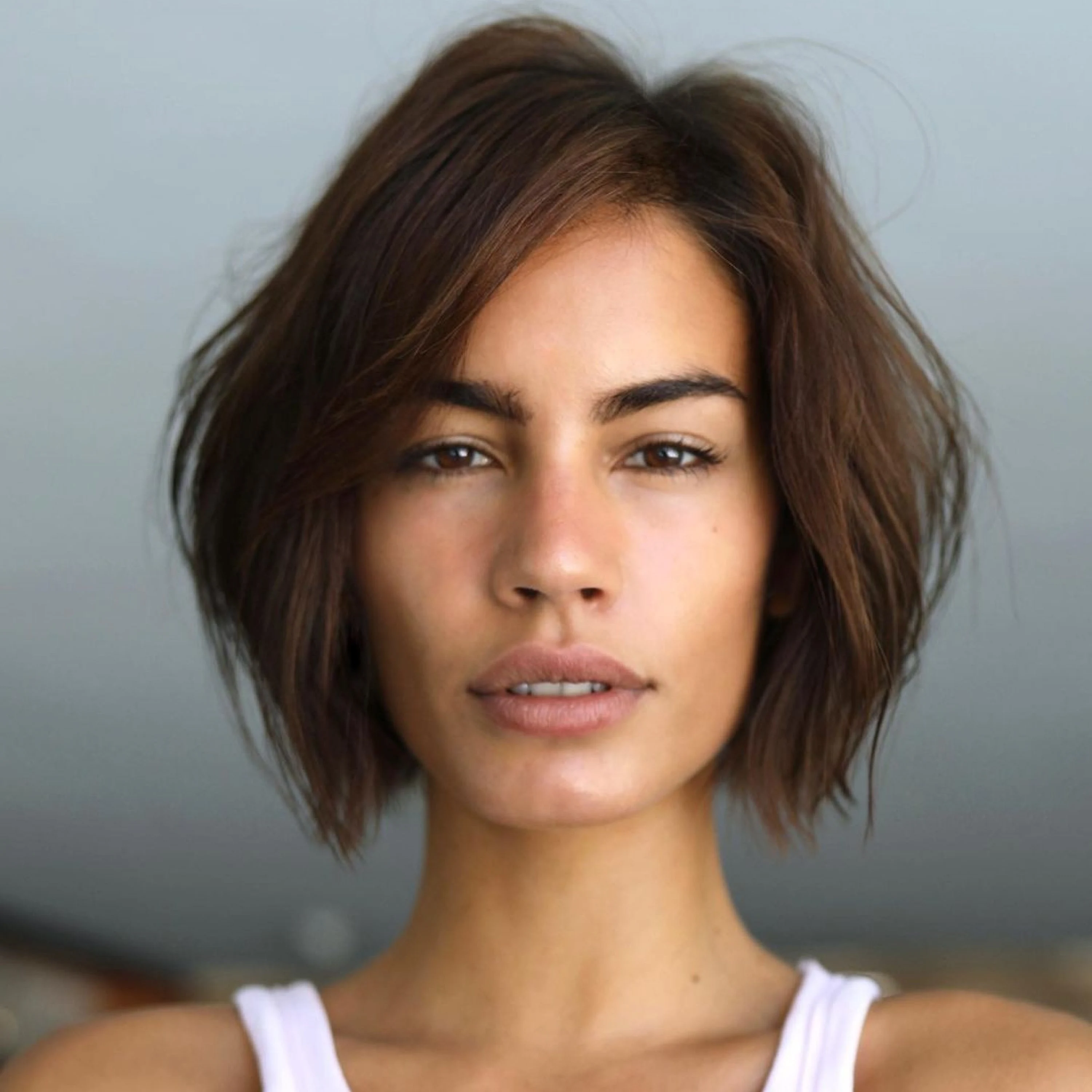 With plenty of lift at the crown and volume-enhancing layers, this short choppy haircut will suit nearly everyone. Curtain bangs cut only slightly shorter than the longest strands create dimension and interest.
18. Fine Hair French Bob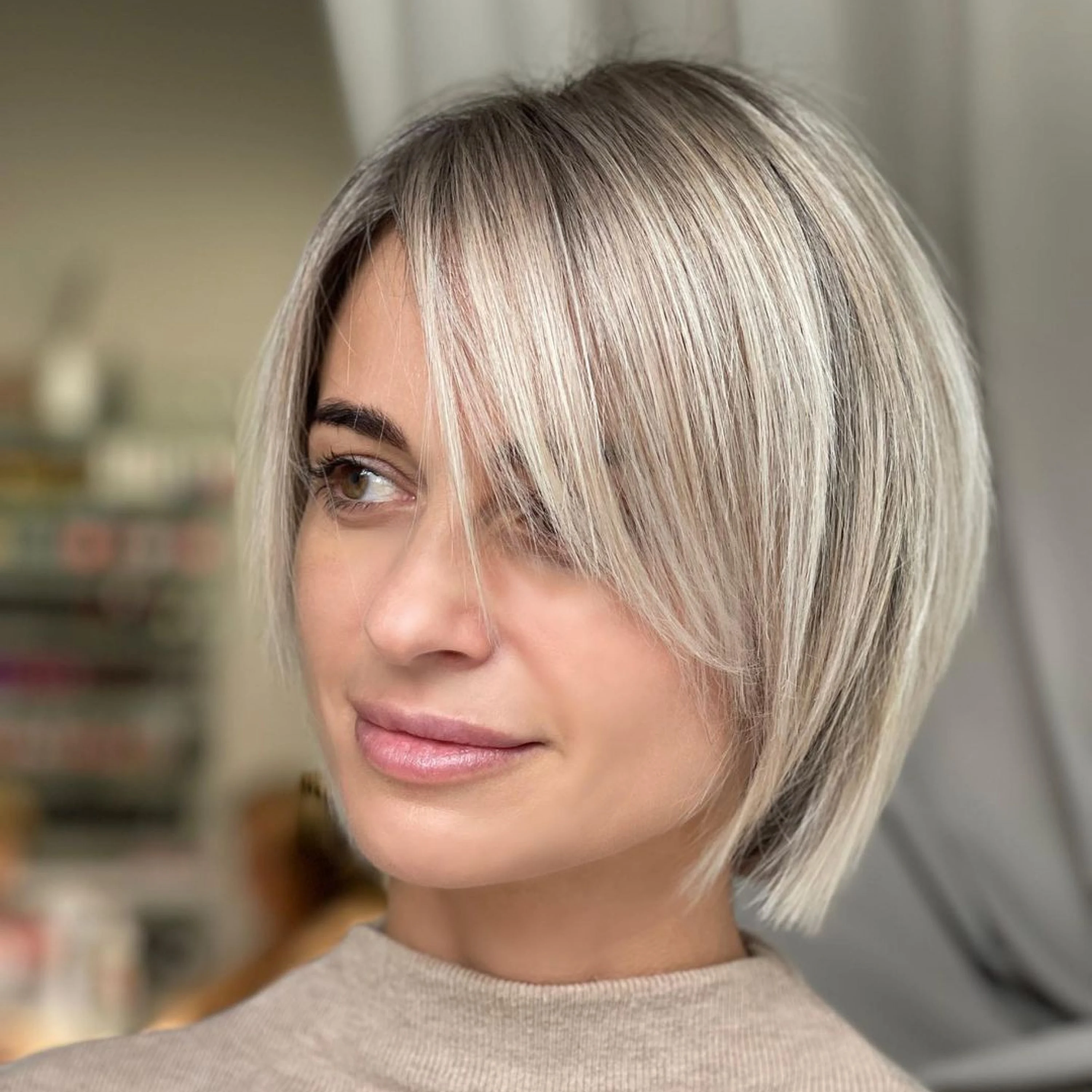 Bangs are the focus of this layered short bob. They're used to frame the face and give the style an airy look.
19. A-Line Bob With Bangs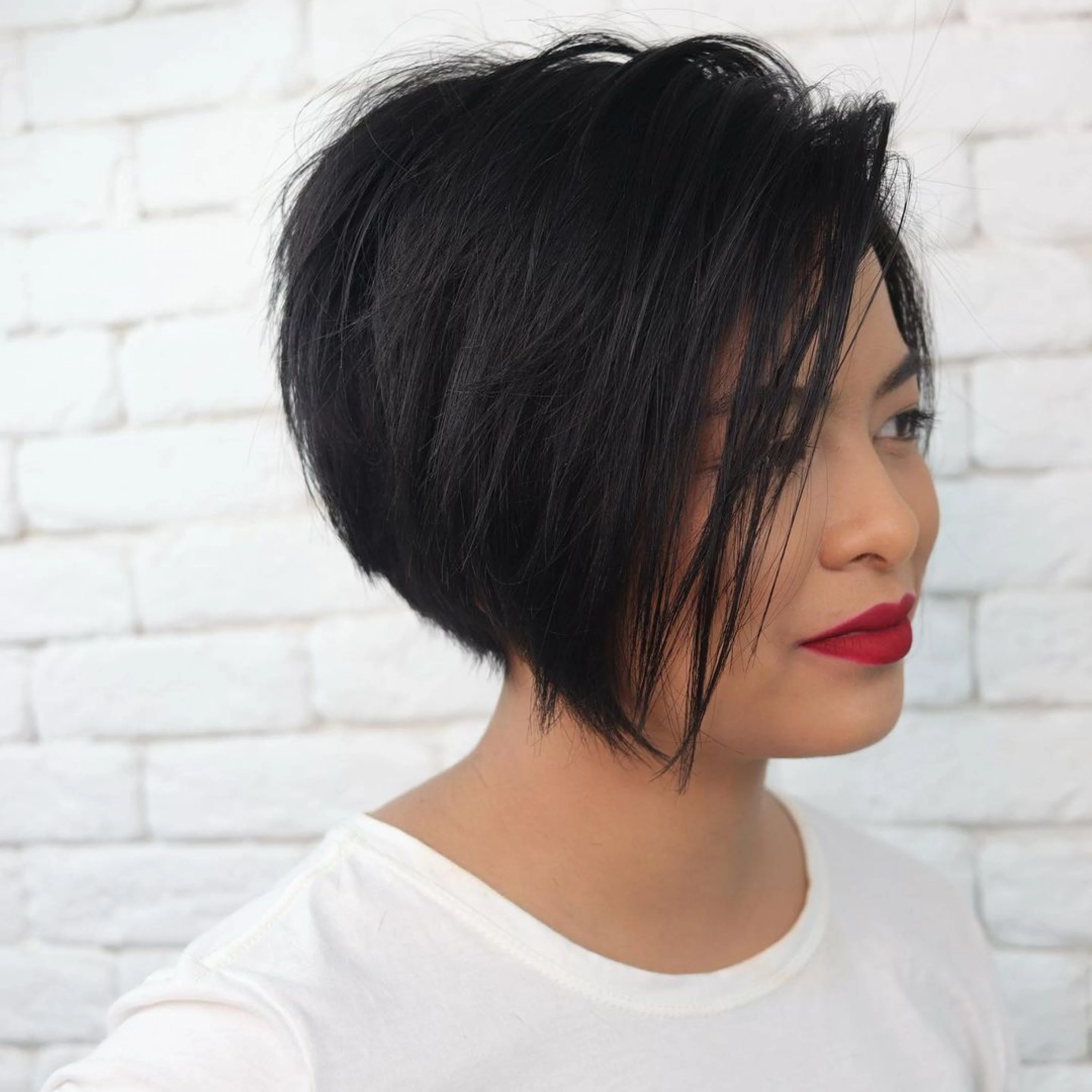 This cool asymmetrical bob is textured rather than sharp. Long bangs with a deep side part covering one eye create a sexy and mysterious mood.
20. Tousled Bob Hairstyle With Bangs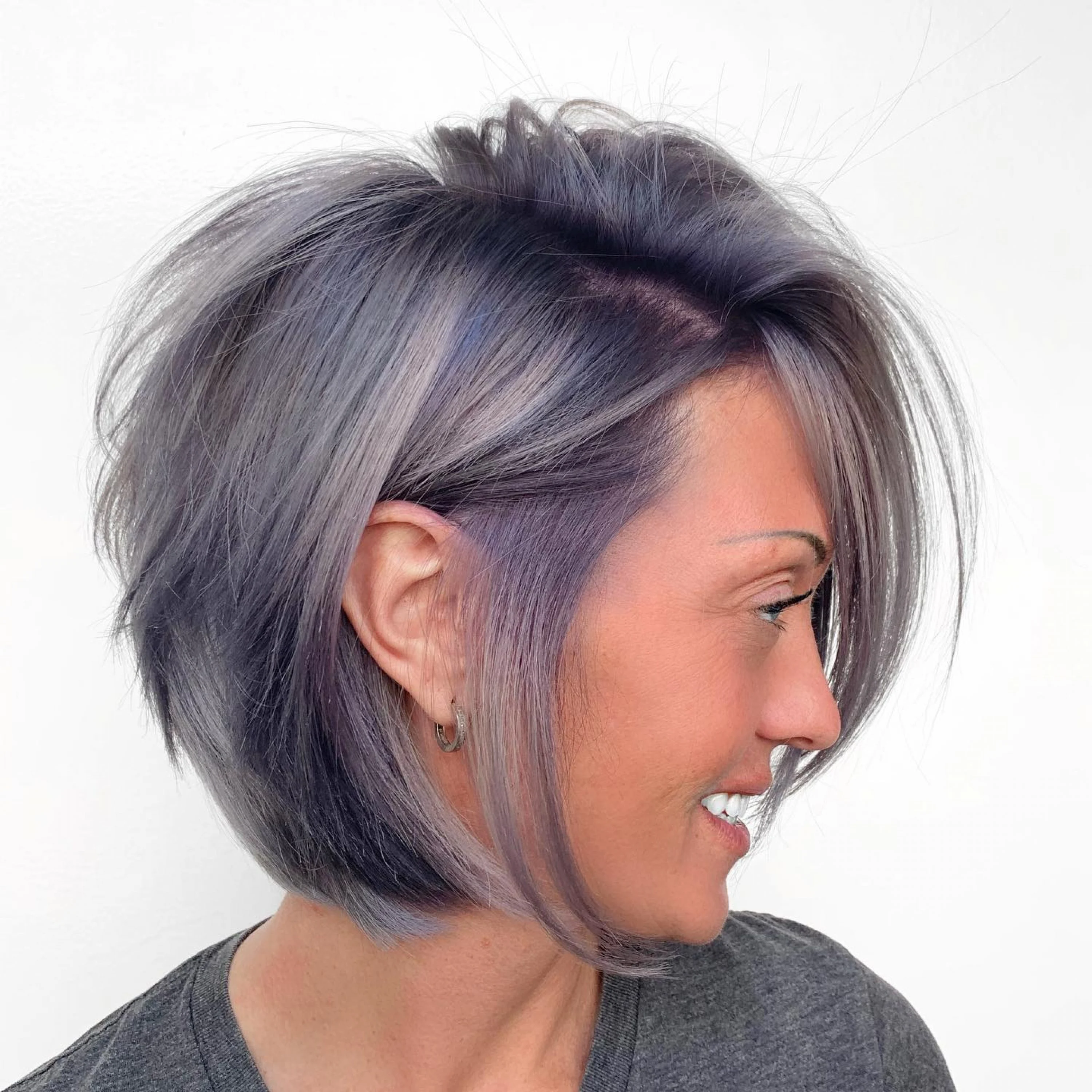 Add lots of layers to a bob to create a flirty hairstyle with plenty of movement and liveliness. Make it even more fun by dying it a new color.
21. Bob With Curtain Bangs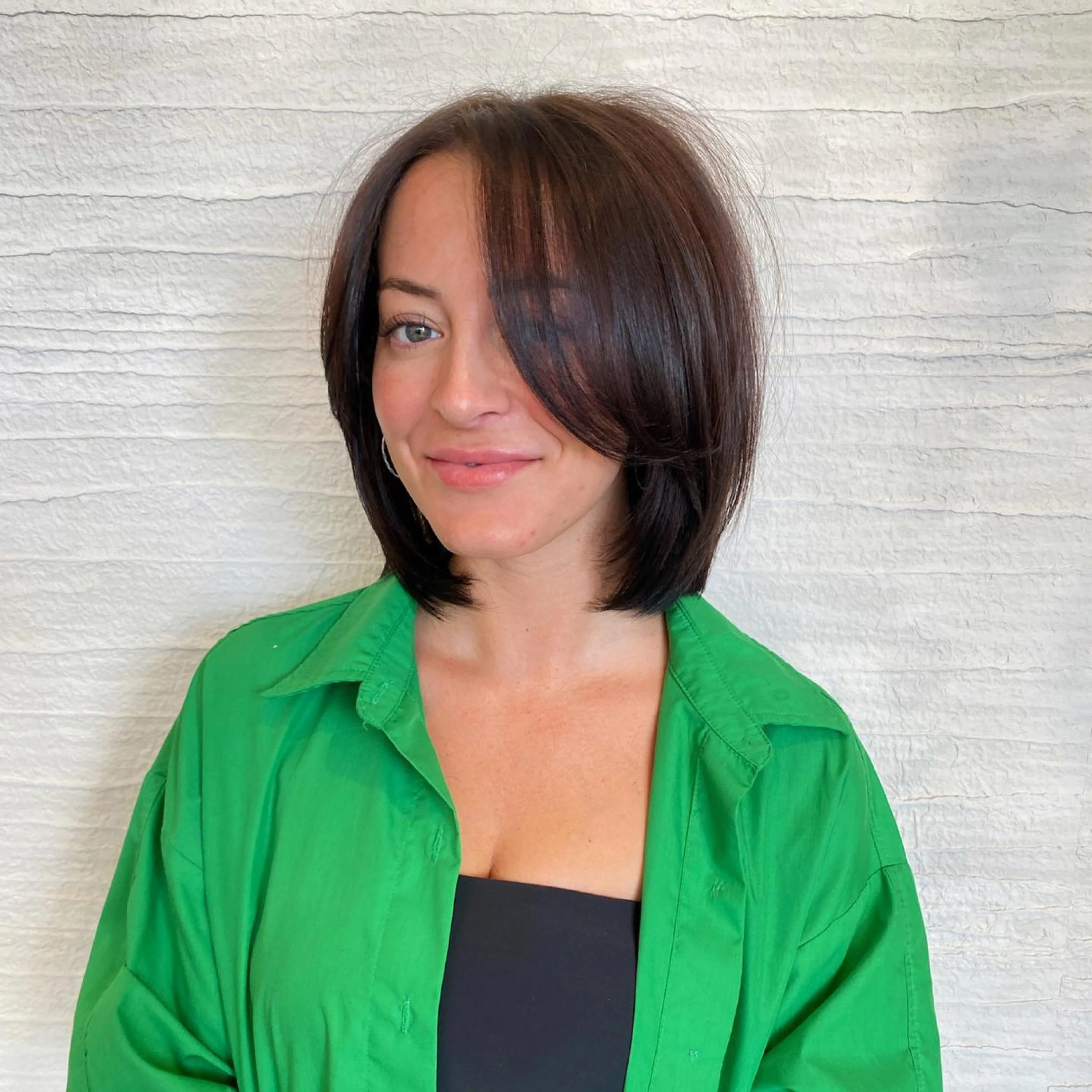 By adjusting the length and adding layers in the right places, a bob with bangs can be tailored to suit your face shape and hair type. Here, long curtain bangs with a side part frame the face to complete the style for an entirely customized layered bob with bangs.
22. Short Bob With Side Bangs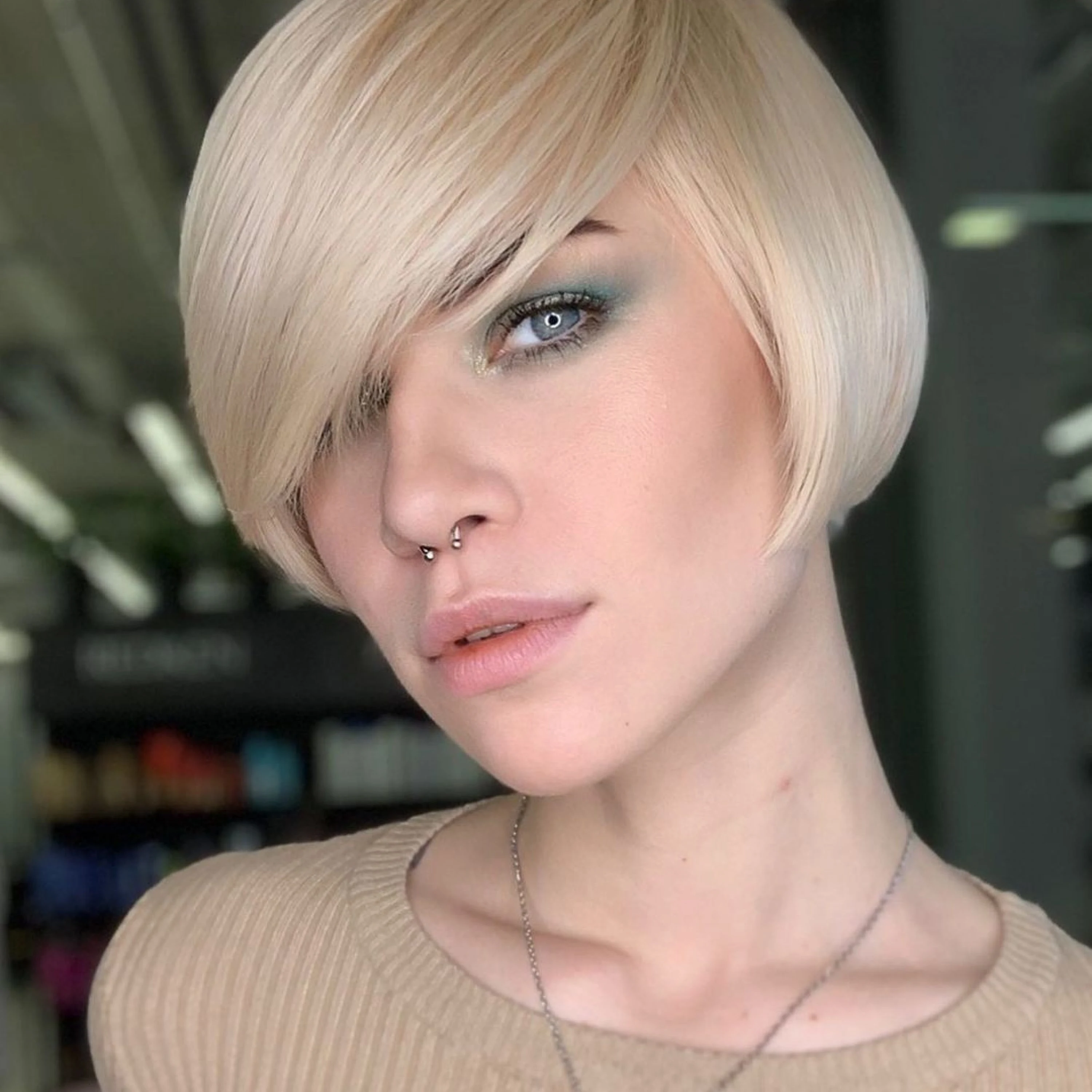 Even very short haircuts can be versatile. A bob cut just below the ears will look different depending on how you wear the bangs. It's a fun way to play with your style to draw attention to your features or change up your look.
23. Inverted Bob Haircut With Bangs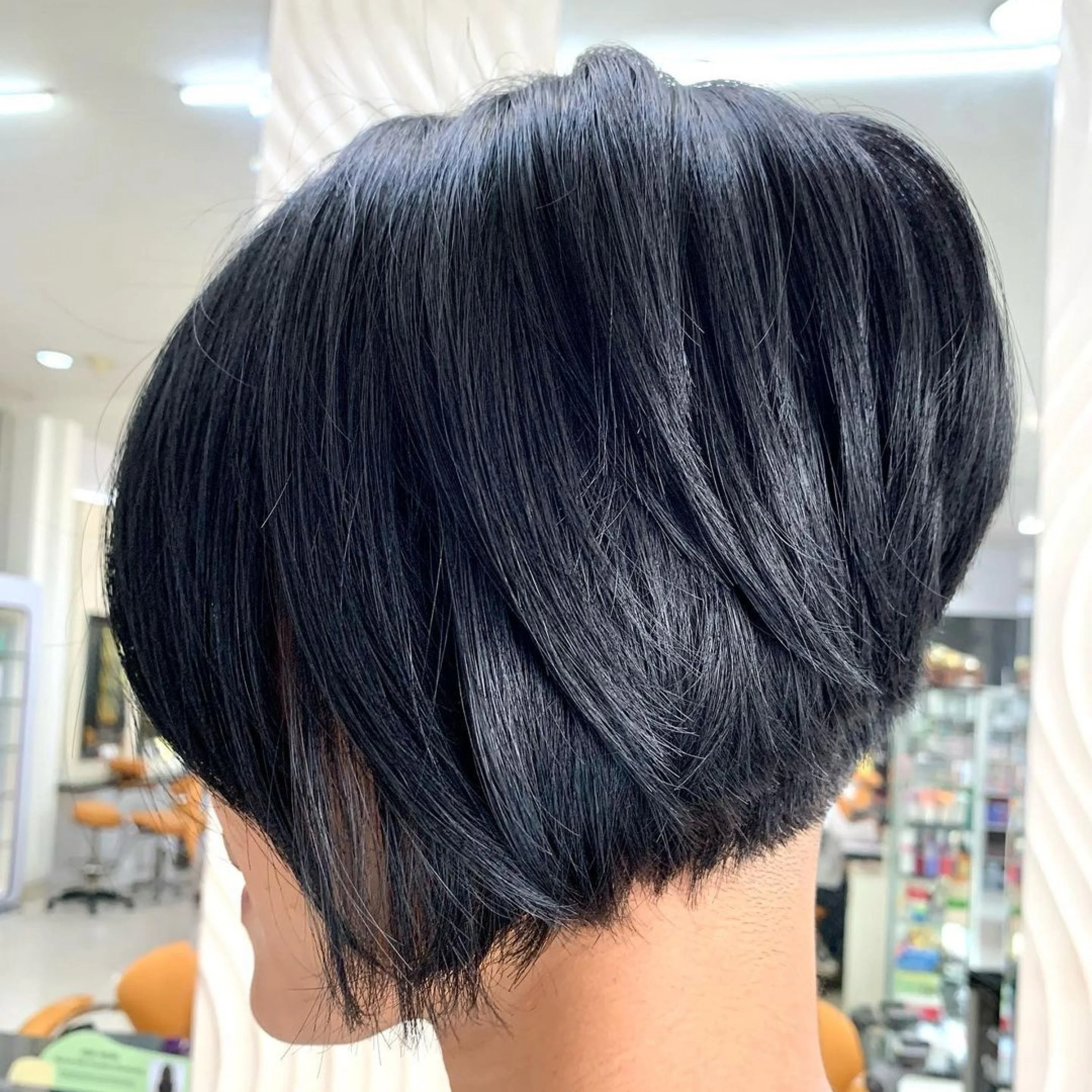 An inverted bob works with thin and thick hair—soft layers at the crown create volume and remove the weight from the bottom. Side bangs are used to make the style fit your face for a one-of-the-kind look.
24. Classic Bob With Side Part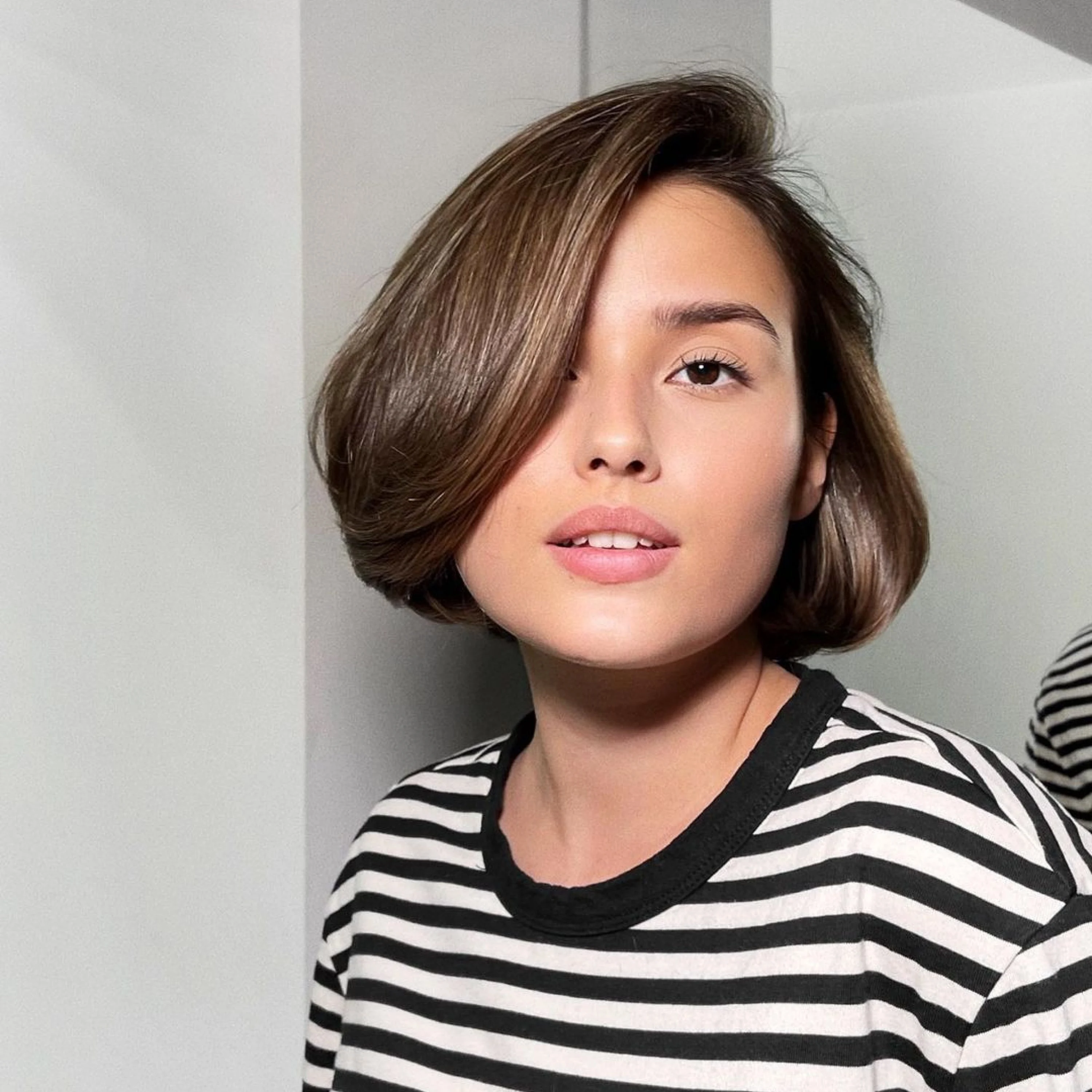 If you want a classic bob with a modern twist, long bangs worn in a deep side part are a great way to update this timeless style.
25. Curly Bob With Side Bangs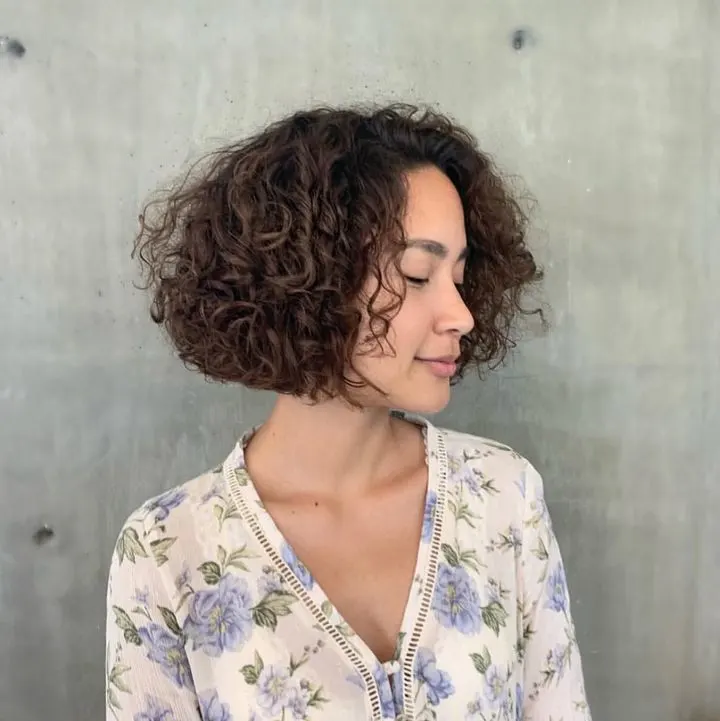 Curly hair bobs need layers to avoid a triangular shape at the bottom. A rounded shape and face-framing side bangs are a sure way to achieve a flattering look.
26. Short Rounded Bob With Side Bangs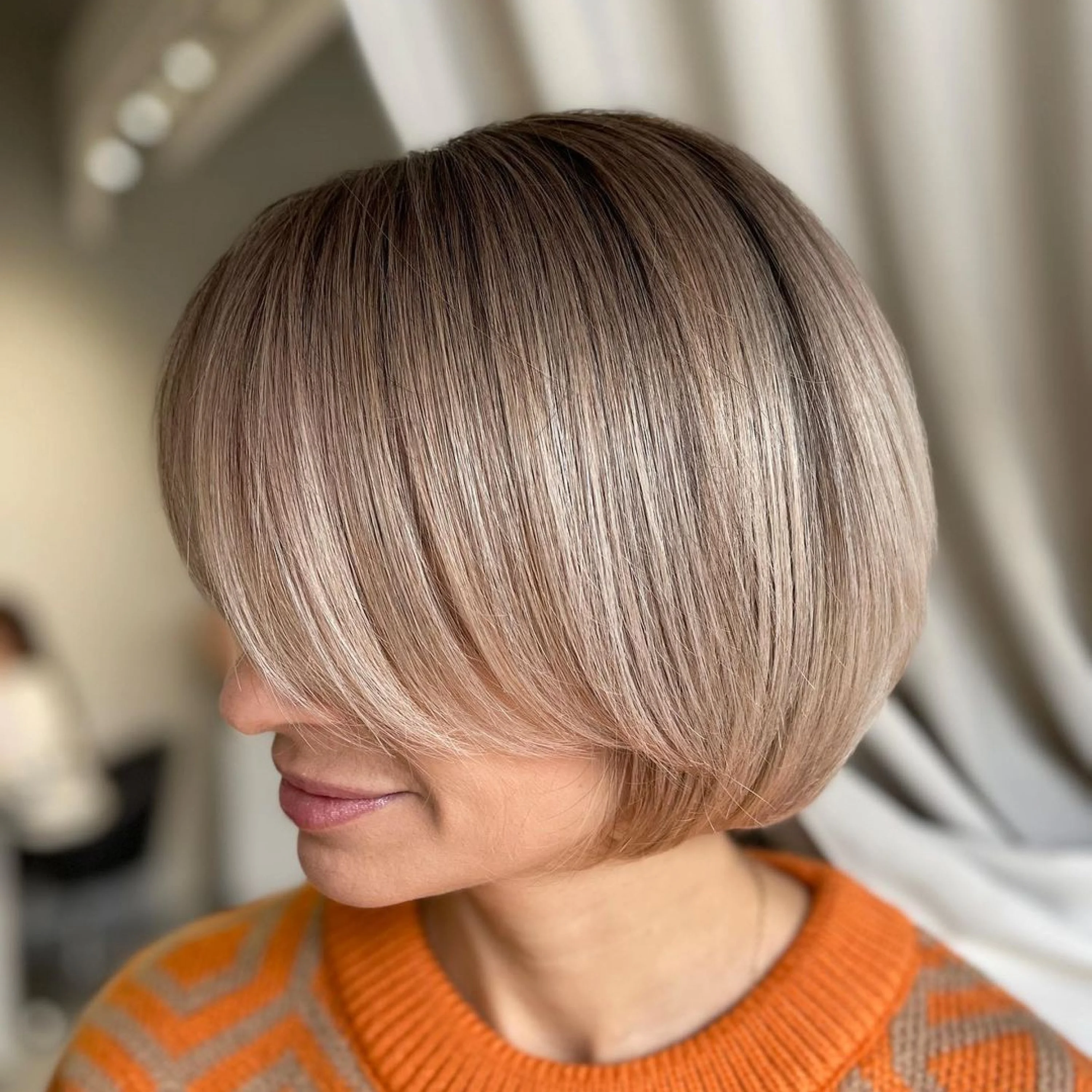 Keep your smooth rounded bob with side bangs looking sleek by applying a smoothing serum before blow-drying it straight, then finish off with a texturizing product when it's dry.
27. Lob With Curtain Bangs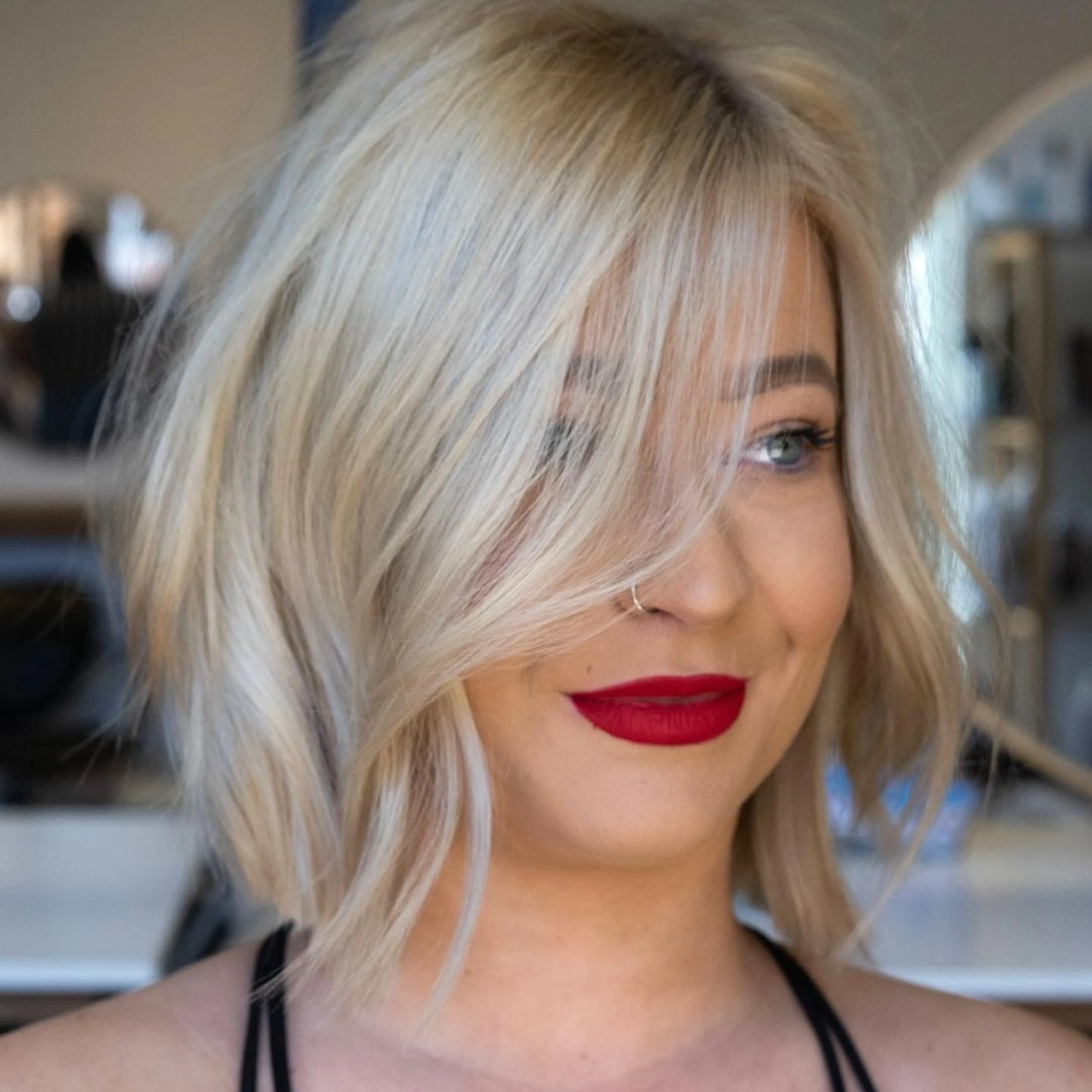 Long, wispy layers create a halo around your face, and tapered side bangs create a soft and fluffy look in this dreamy, romantic style.
28. Colorful Medium Bob With Bangs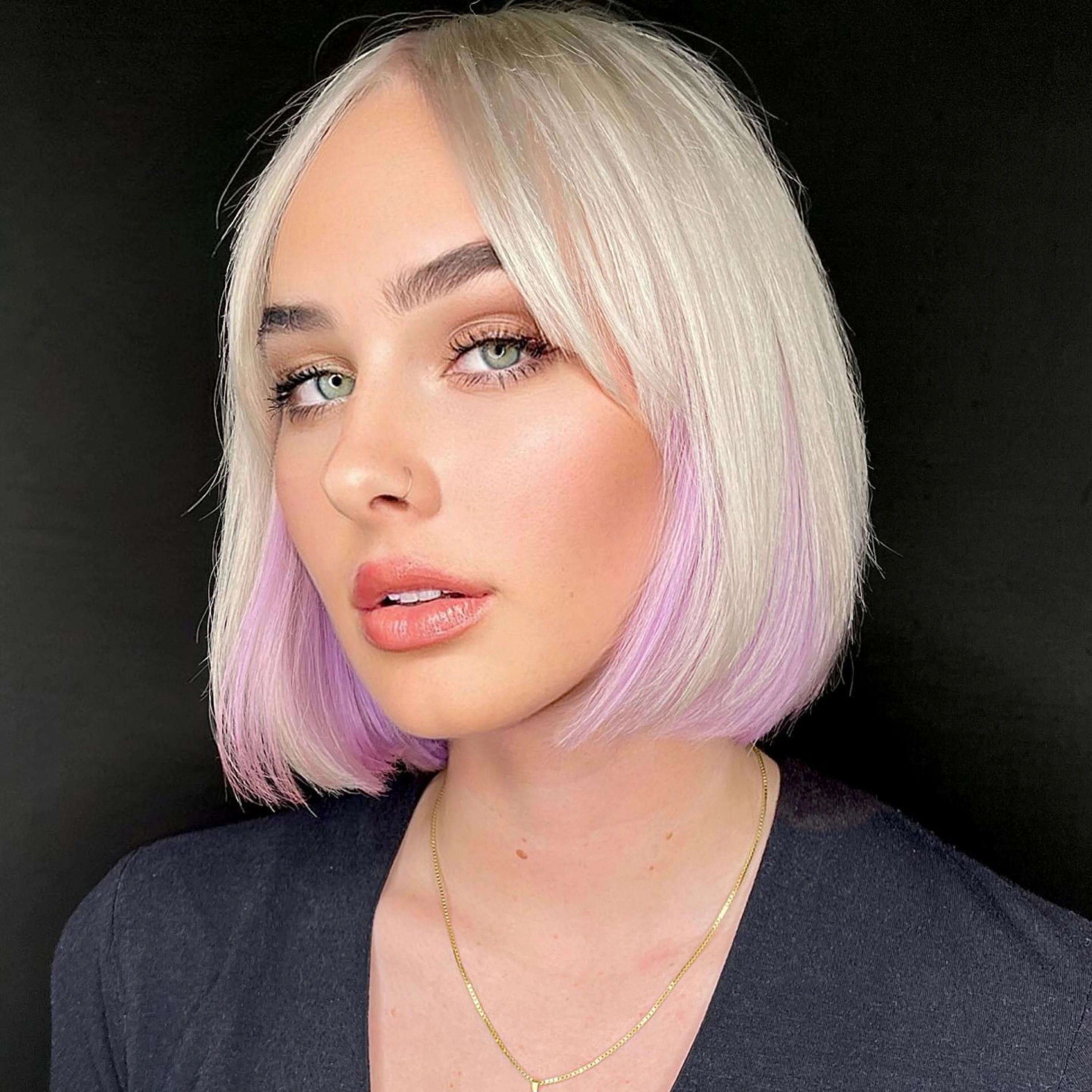 This classic bob is anything but basic. Sophisticated side bangs and modern two-toned color transform a regular bob into a cool, contemporary style.
29. Blunt Bob With Side Bangs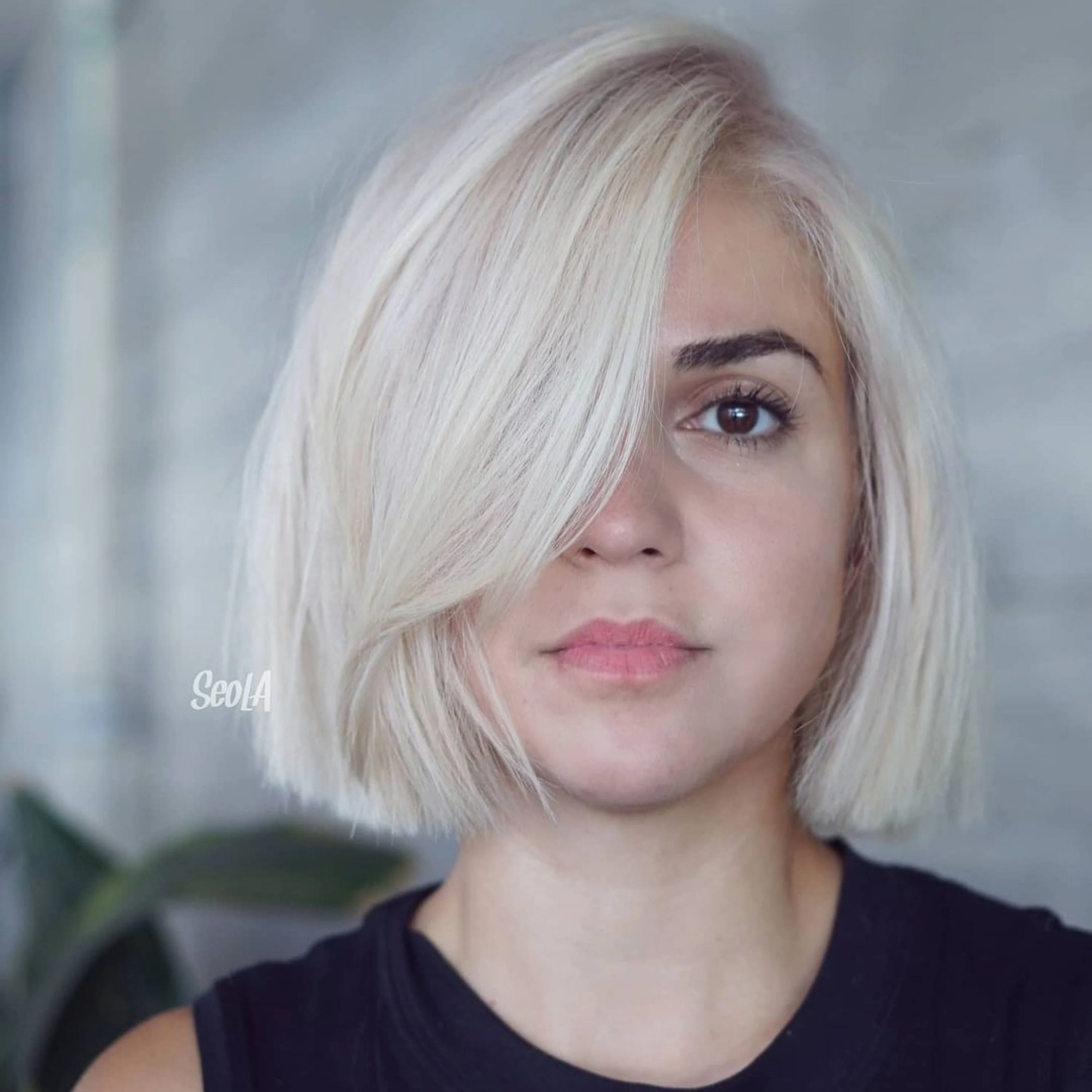 This blunt bob with bangs has an edgy and flirty vibe. Experimenting with bangs is an easy way to play with it—go with a short fringe or add side bangs to change up your look.
30. Wavy Lob With Side Bangs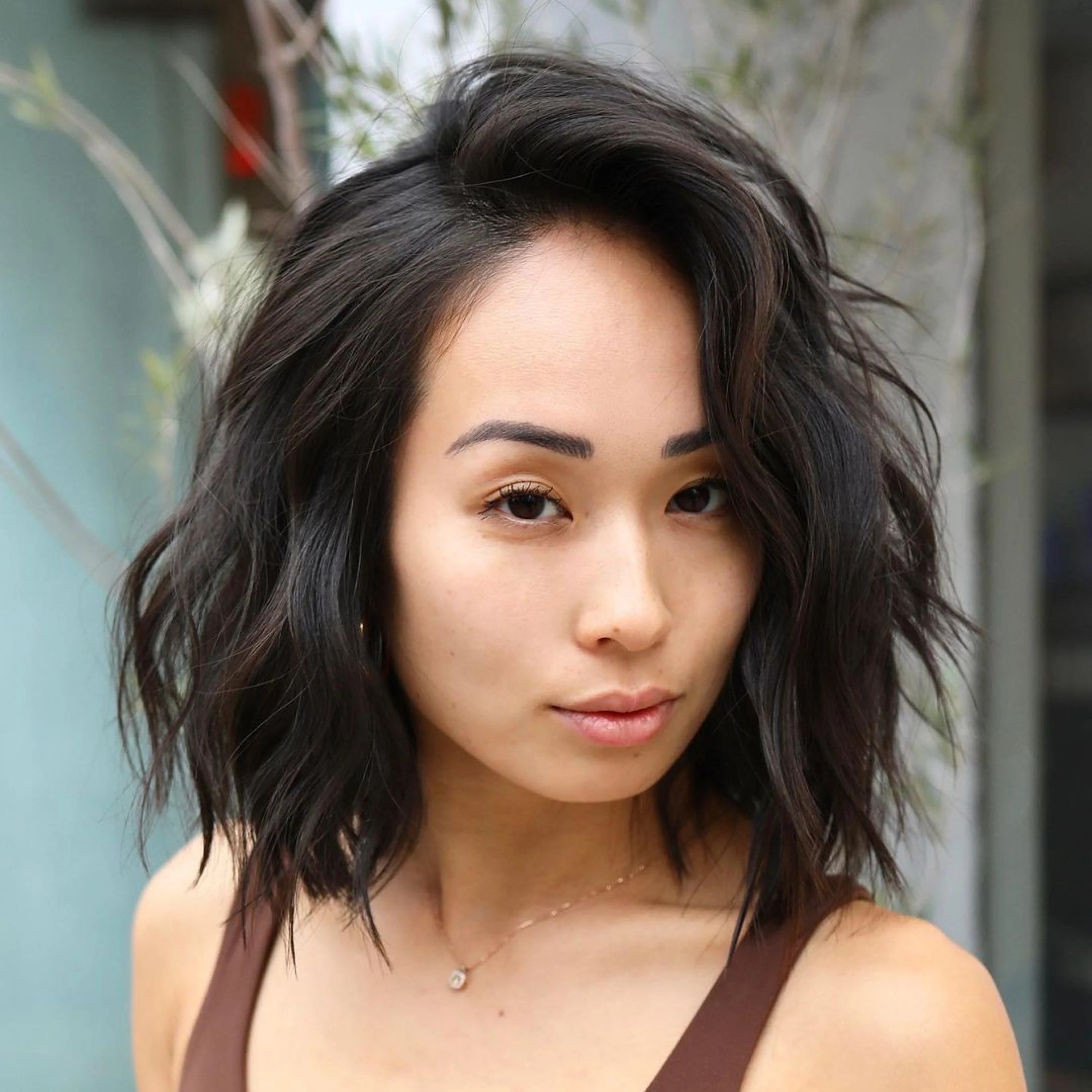 Textured beachy wave bobs have been popular for a few years now–and they're here to stay. Don't avoid this haircut just because it's all the rage if you like it. Instead, customize it and make it feel all yours by adding bangs that work for your features.
31. Long Bob With Side Bangs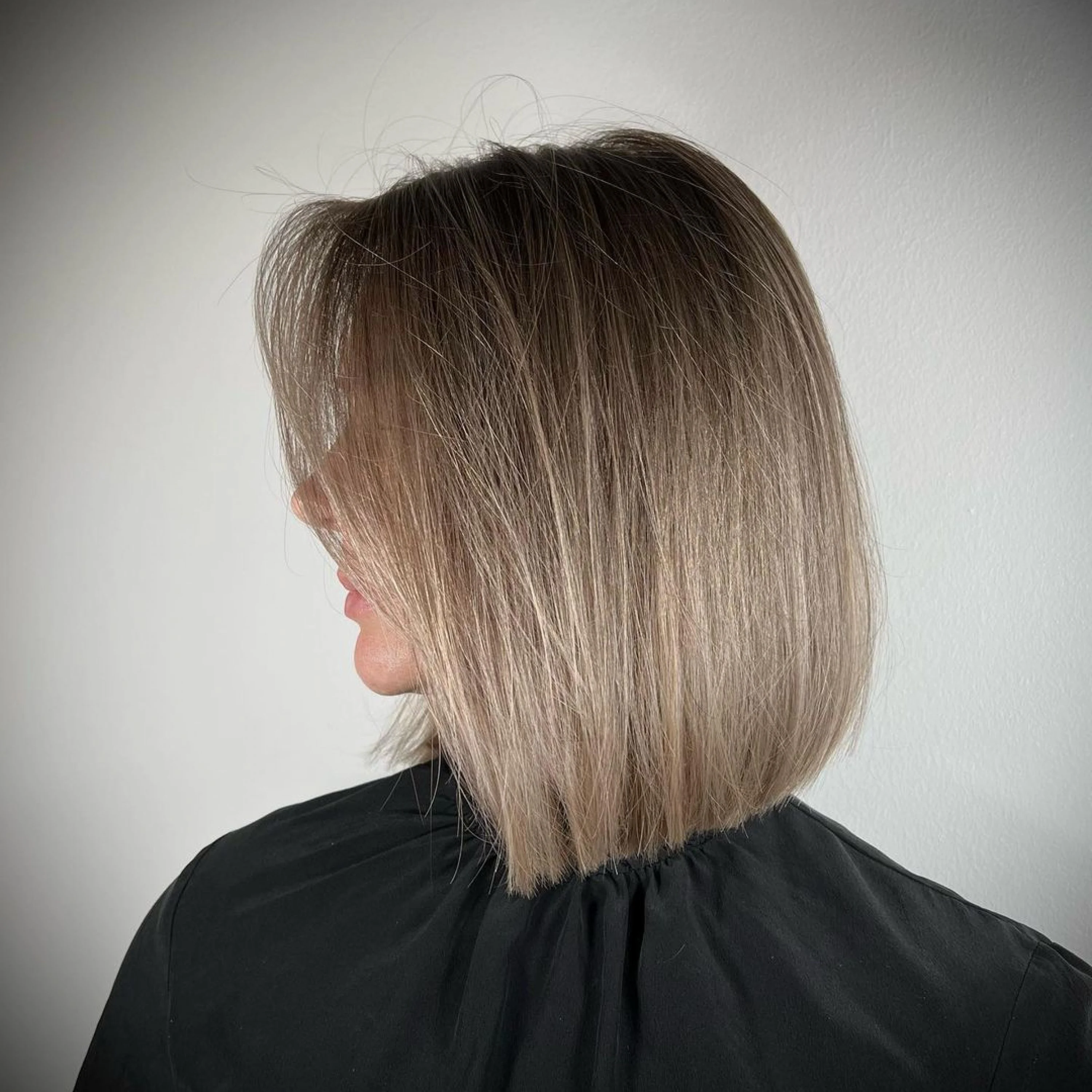 Long and delicate side bangs aren't a commitment—you can easily hide them if you tuck or sweep them just right—but they transform any style by giving it a chic touch.
32. Bob With Side Bangs For Fine Hair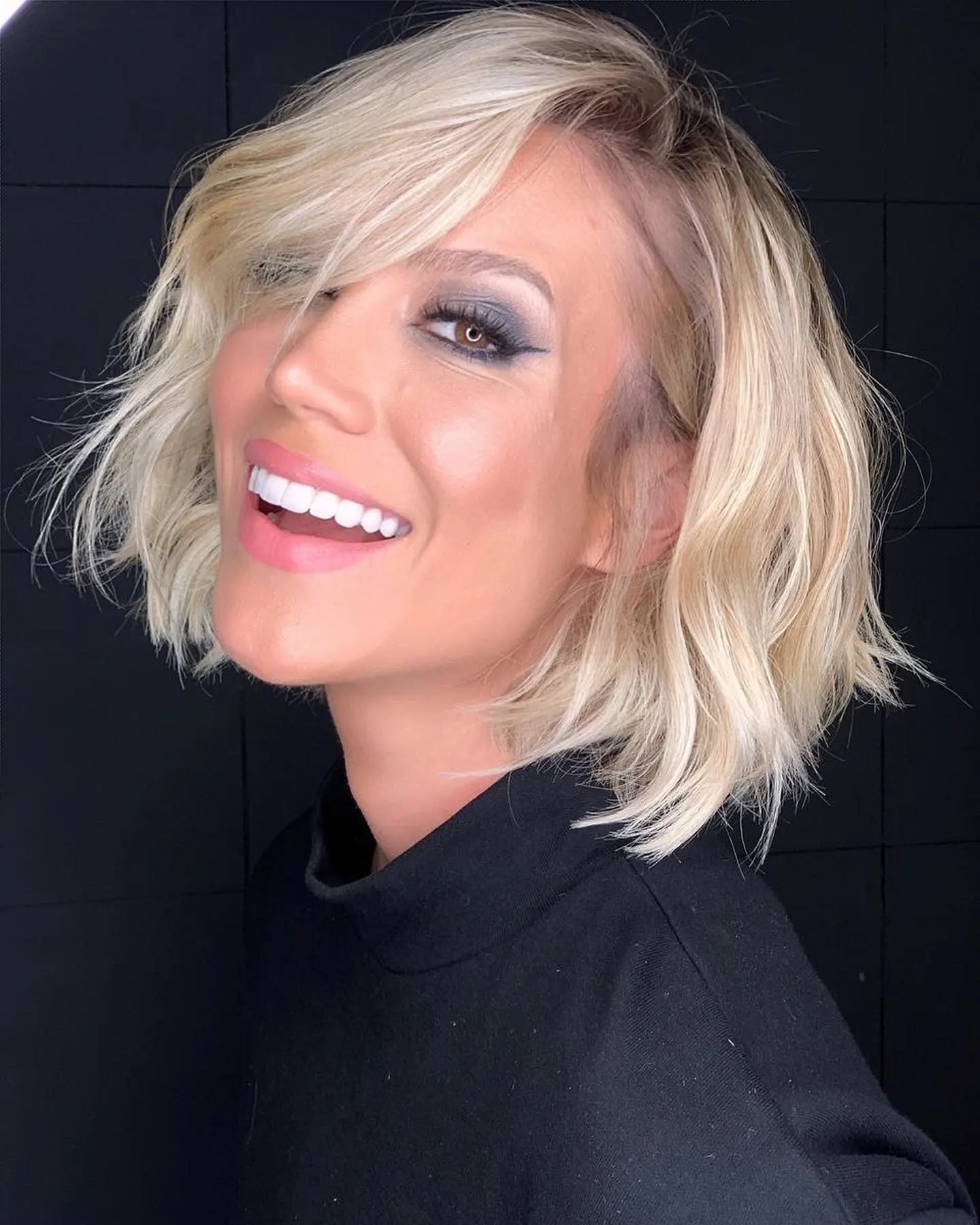 A bob with side bangs creates a fuller look, regardless of your hair type, but it also has a lot of movement, which keeps it from looking stuffy.
33. Choppy Layered Bob With Bangs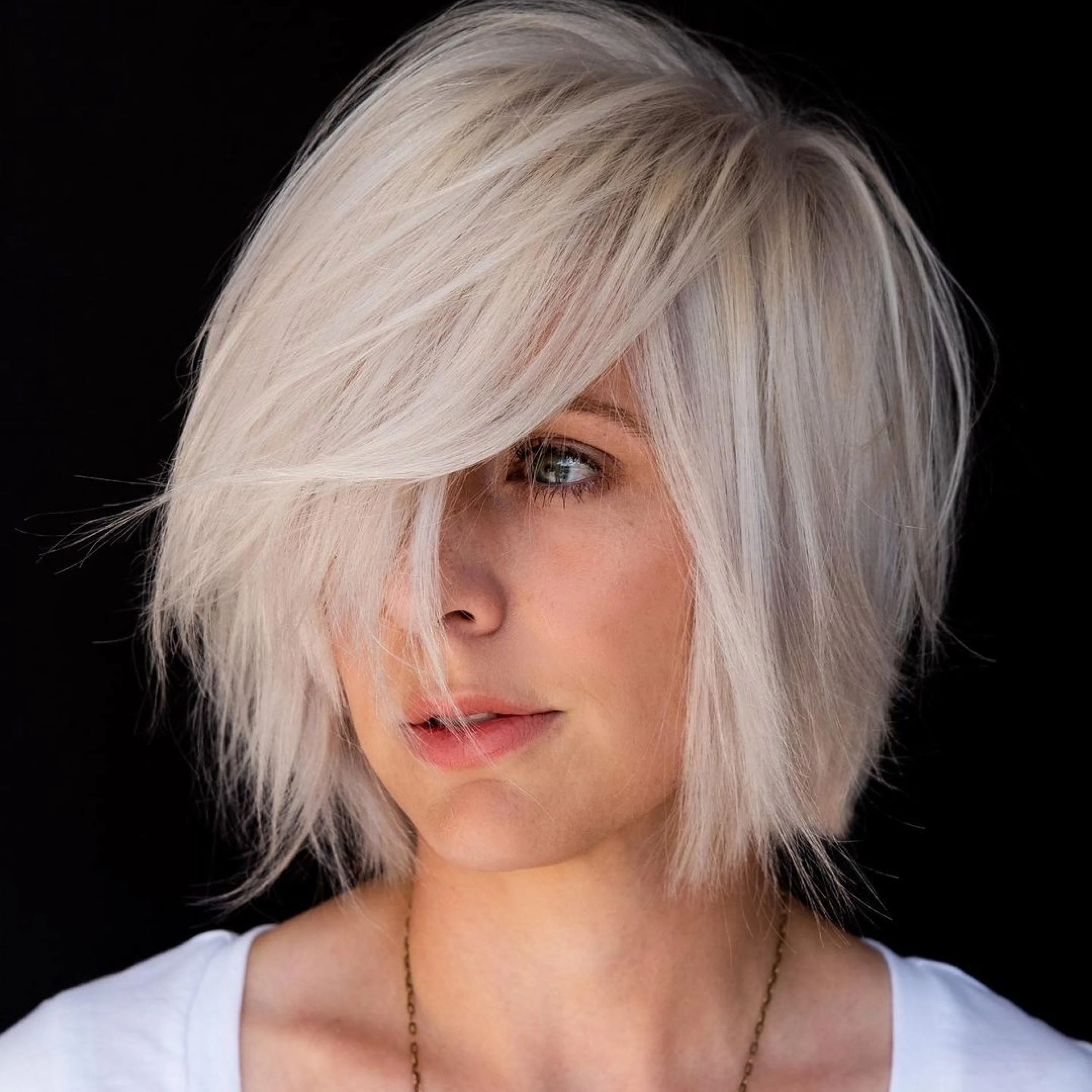 This medium-length bob has both texture and movement, thanks to the cleverly cut layers: while the ends are blunt, the bulk has been removed by point-cutting the layers.
34. Medium Bob With Curtain Bangs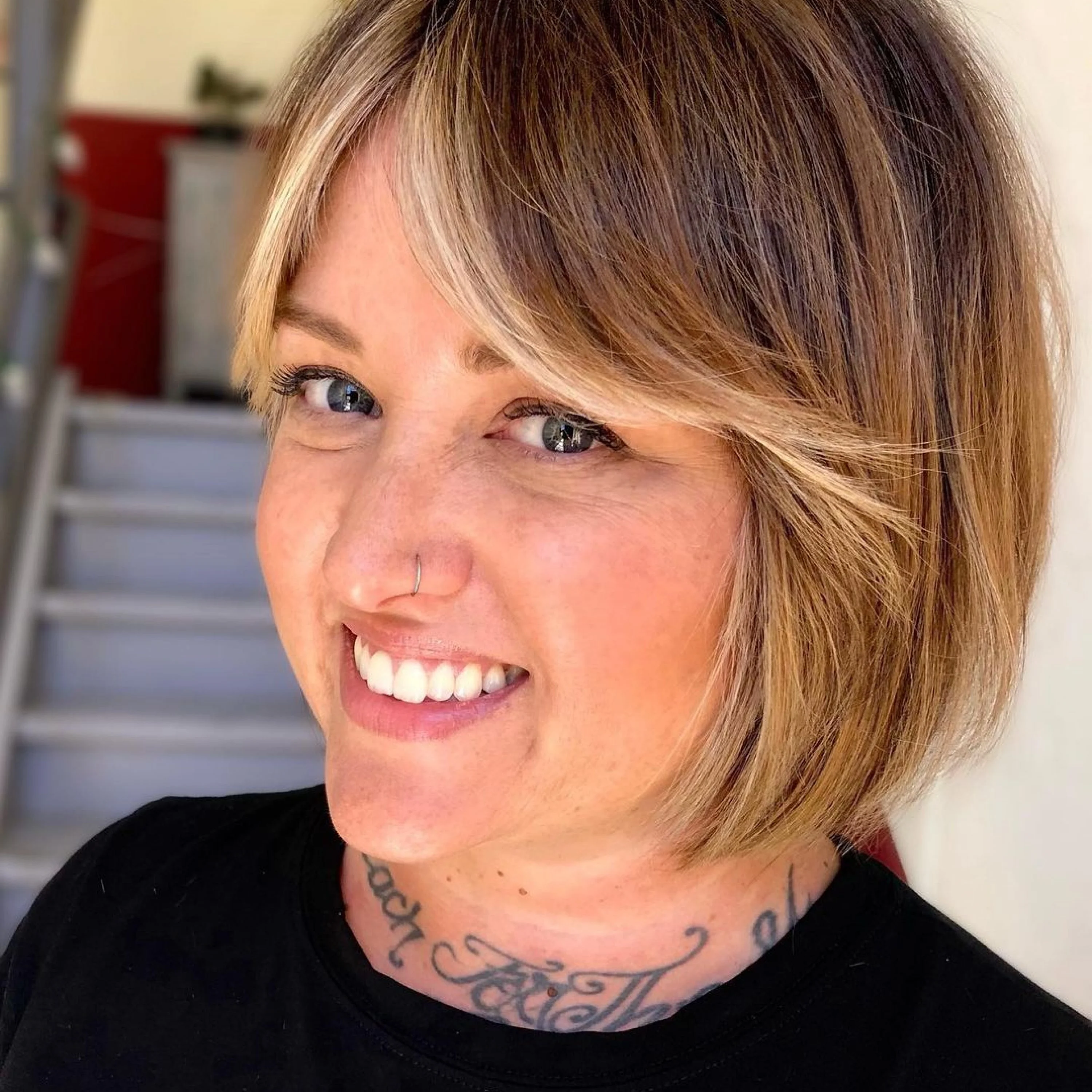 A chin-length bob with straight bangs usually needs regular trims, but if you replace them with curtain bangs, you can skip an appointment and still have a cute style.
35. Voluminous Bob With Side Bangs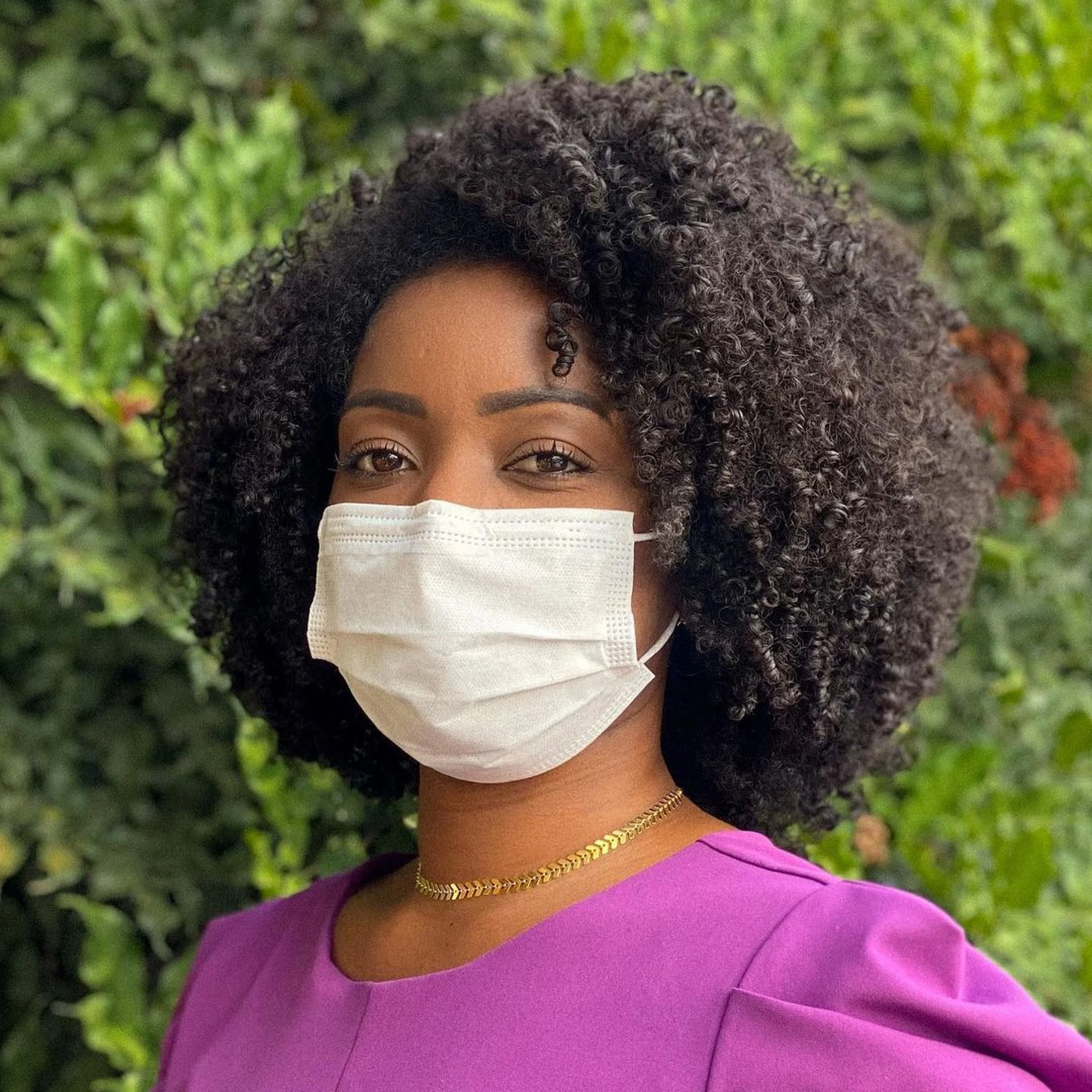 A bob with customized layers that create an attractive shape will create volume right where you want it and frame your face in the most flattering way.
36. Classic Bob Cut With Bangs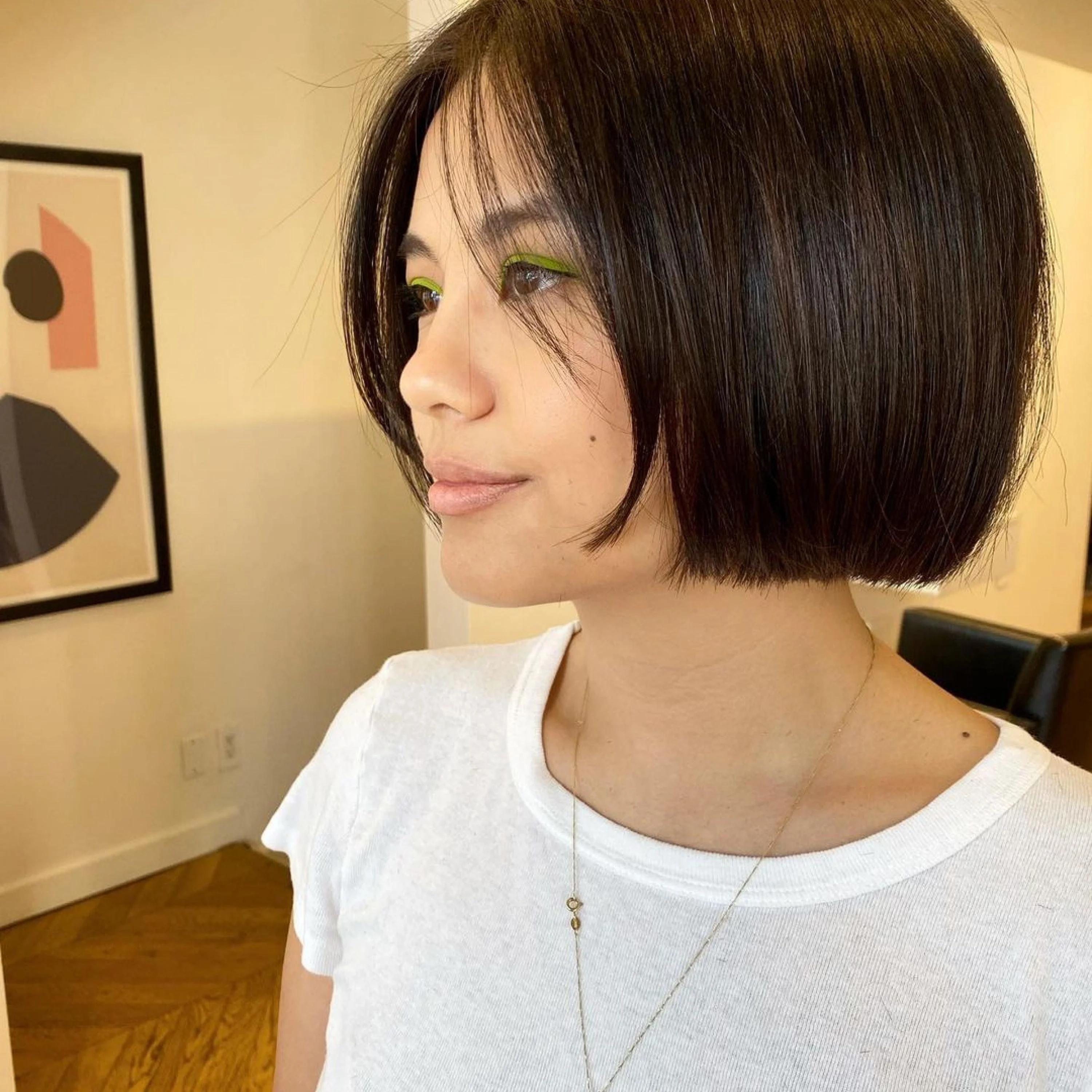 Sleek, short straight hair with bangs can sometimes result in a too-serious look, but not this bob. Thanks to the wispy bangs that soften the features, it's youthful and charming.
37. Layered Bob With Side Bangs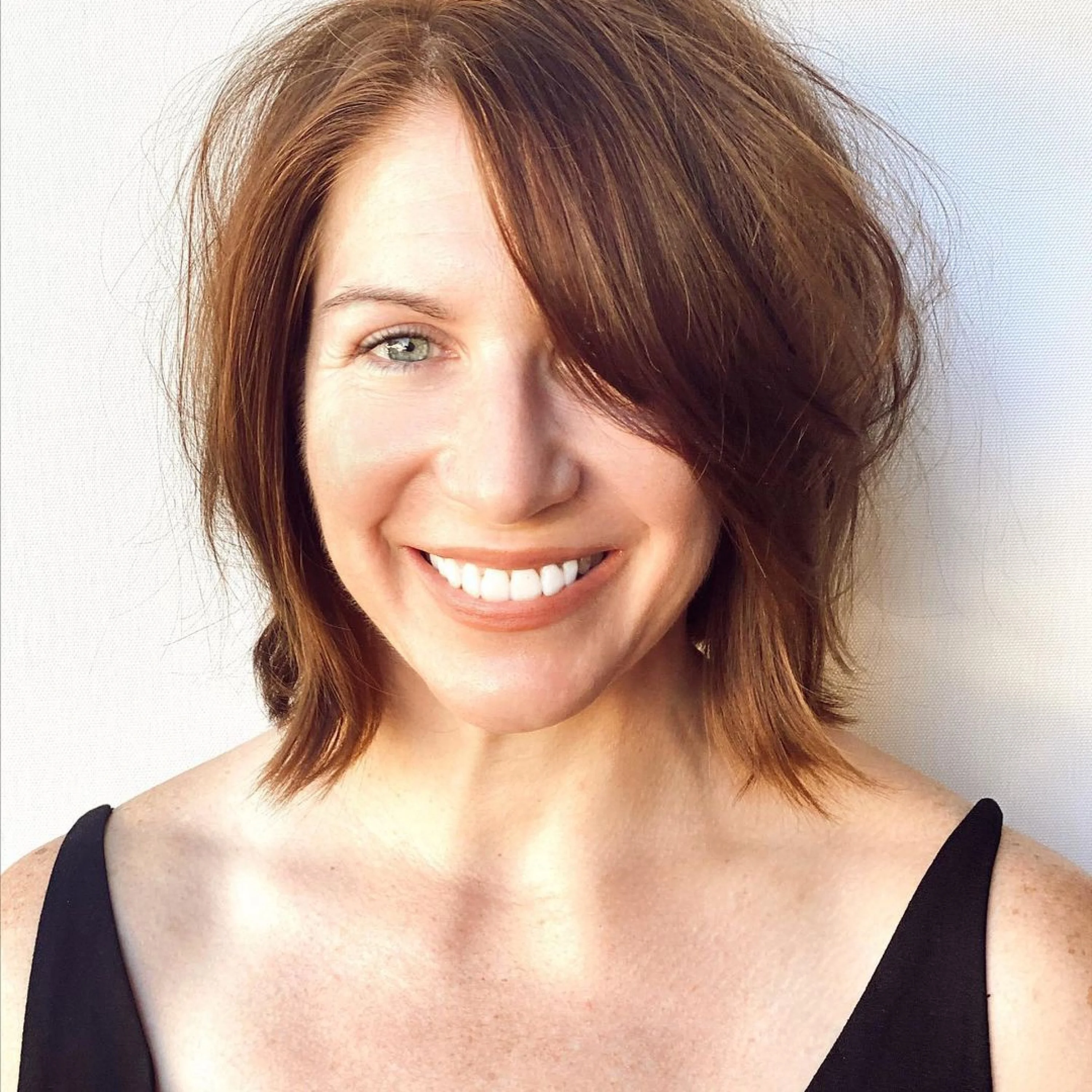 These aren't subtle, sophisticated layers that lie just right—this is a laid-back choppy bob you won't be afraid to run your fingers through. Even the small amount of frizz is intentional and gives it a sexy vibe.
38. Short Bob With Side Part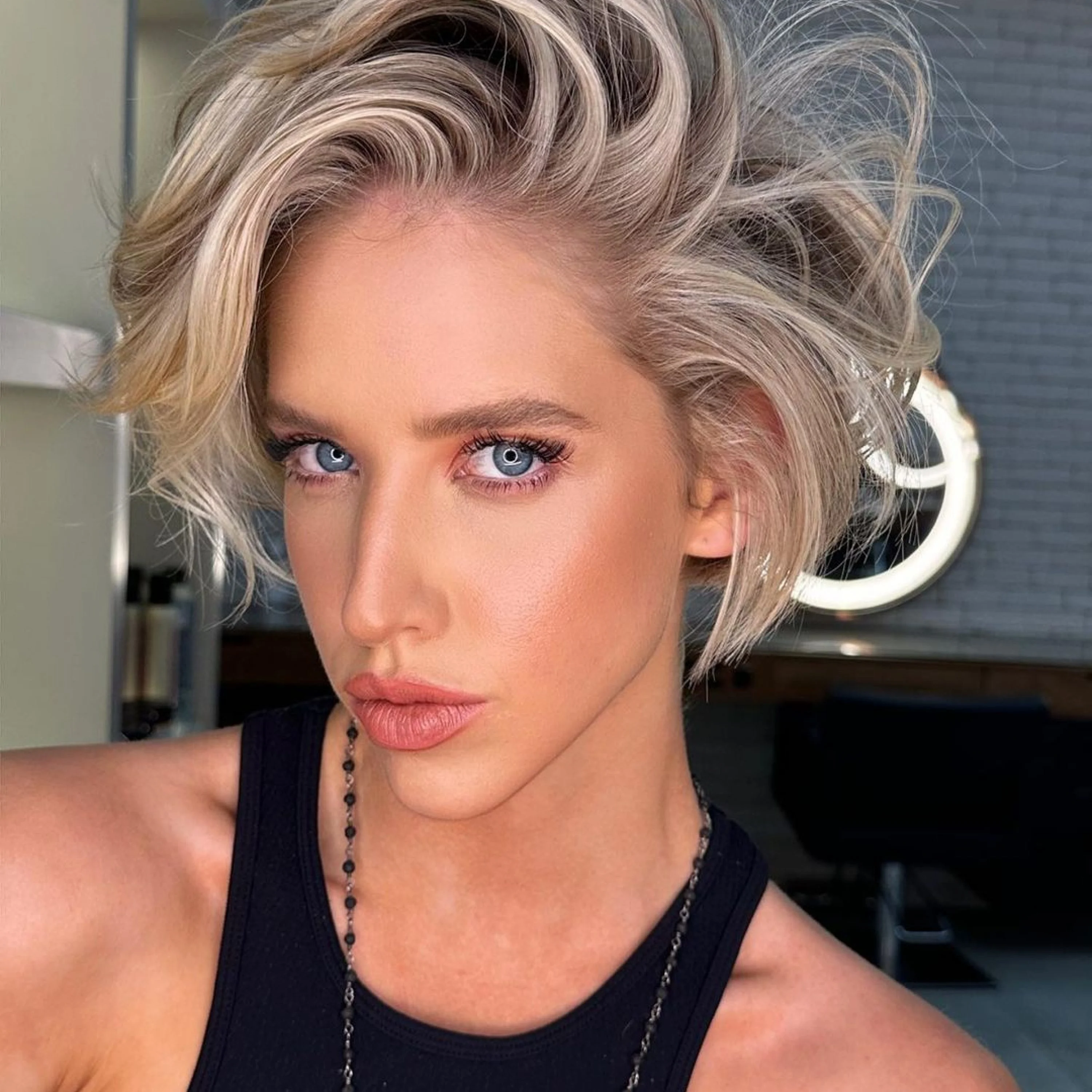 Volume, volume, volume! That's what this short blonde bob with side bangs is all about. Blow-dry your hair away from the scalp and in the opposite direction than you want it to lie in. Let each strand cool off before styling it further to achieve a lasting lift.
39. Lob With Long Bangs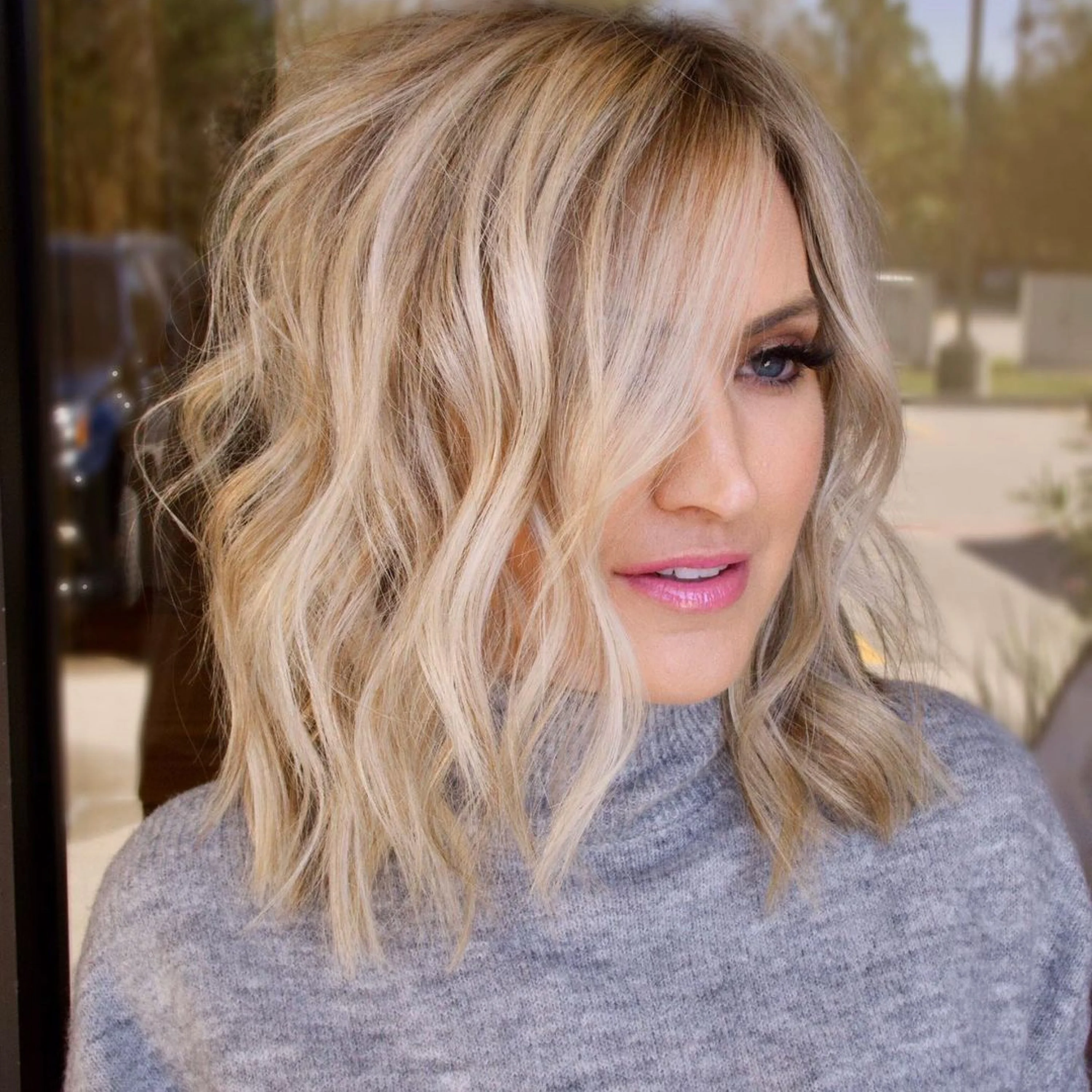 A long bob with long bangs has been trendy for a while now, but its popularity isn't waning. The easiest way to get the stylishly messy look is to use a curling wand with a large barrel. Wrap your hair around it once while holding the ends in your hand to keep them straight.
40. Medium Layered Bob With Curtain Bangs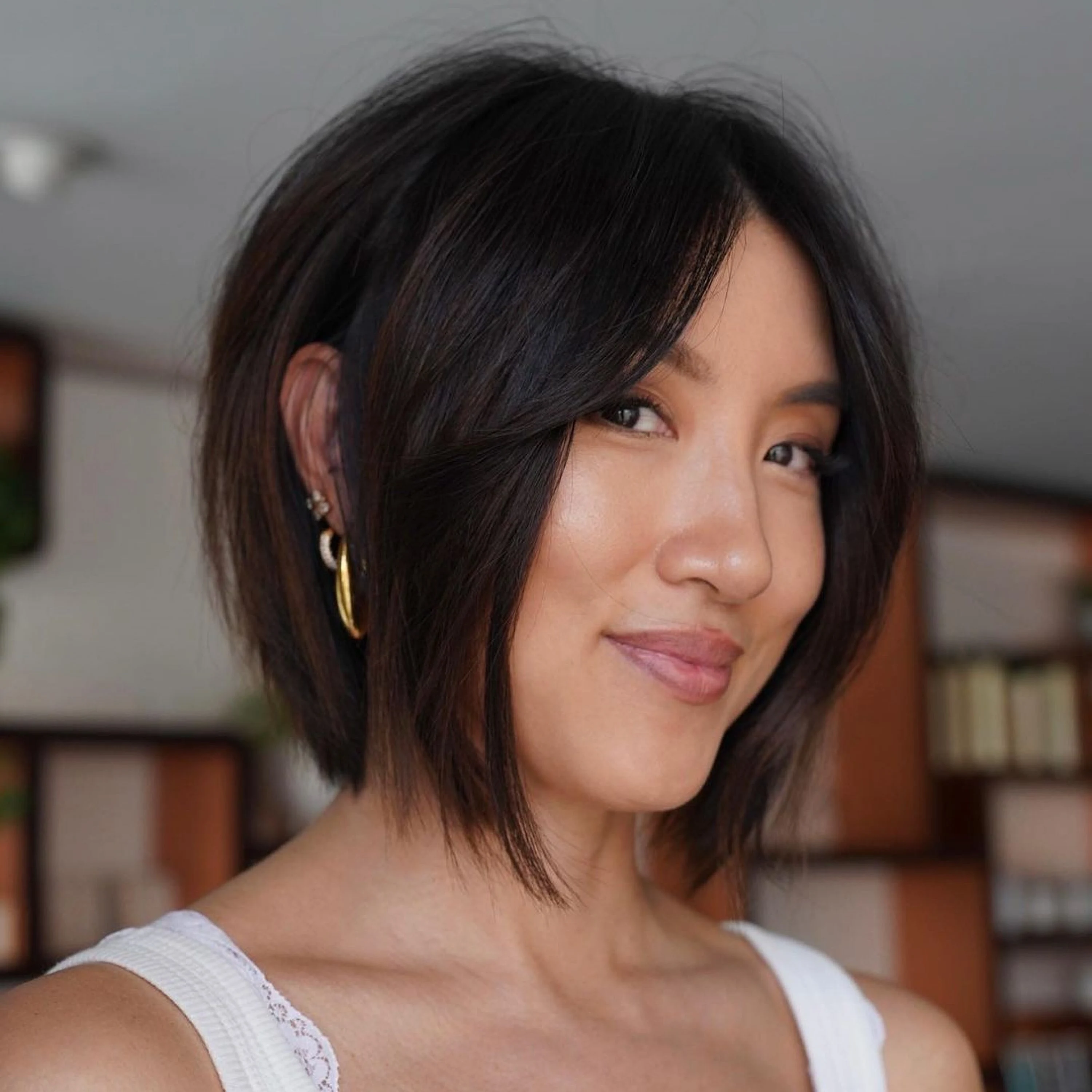 Curtain bangs are often worn with a center part, but they look just as attractive parted on the side if that's what you prefer. Side-parted curtain bangs fit particularly well with a layered cut.
41. Curly Medium Length Bob With Side Bangs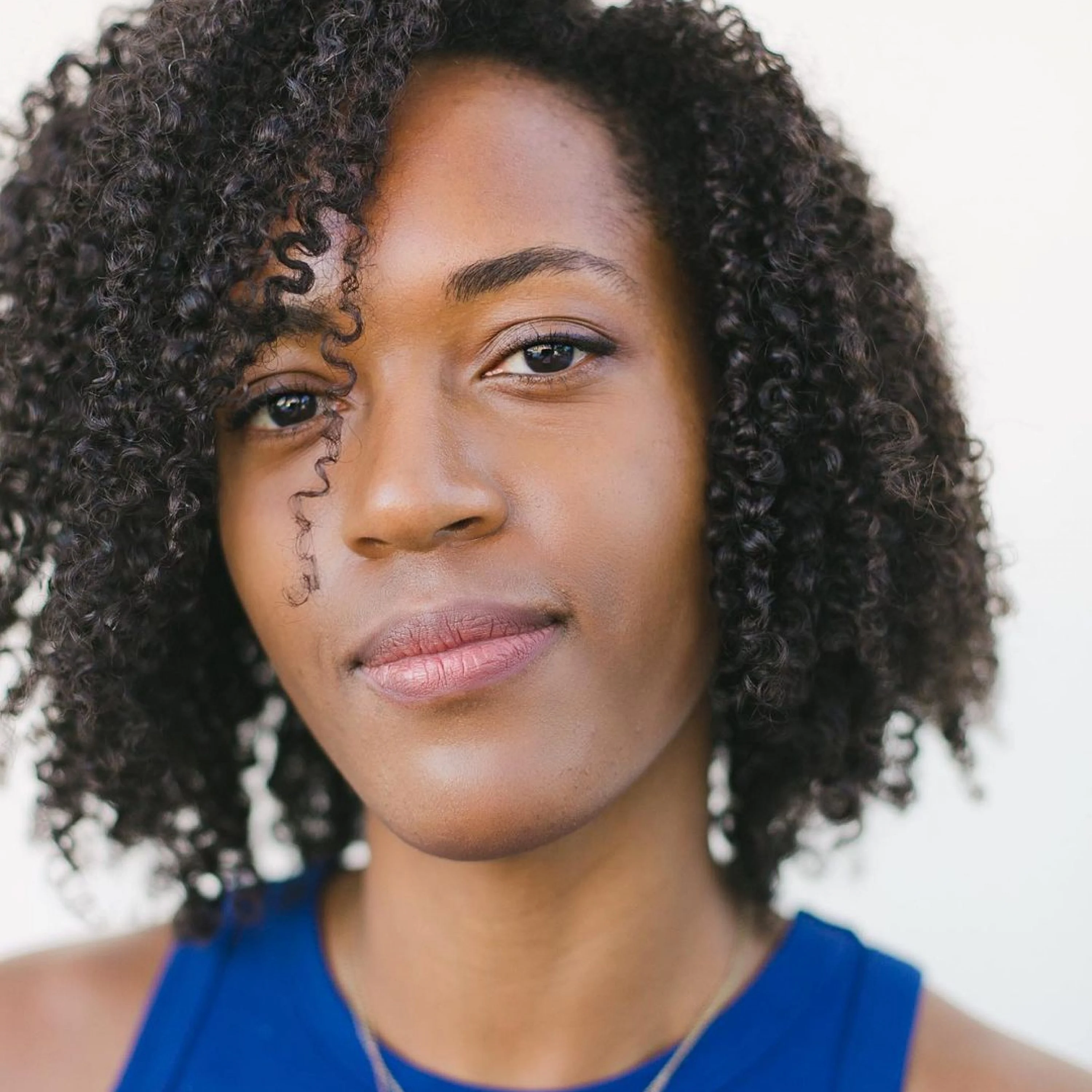 Coily hair needs to be shaped precisely to fall just right, but more importantly, you need to provide it with plenty of moisture to keep it healthy if you want a bouncy bob.
42. Straight Lob With Side Bangs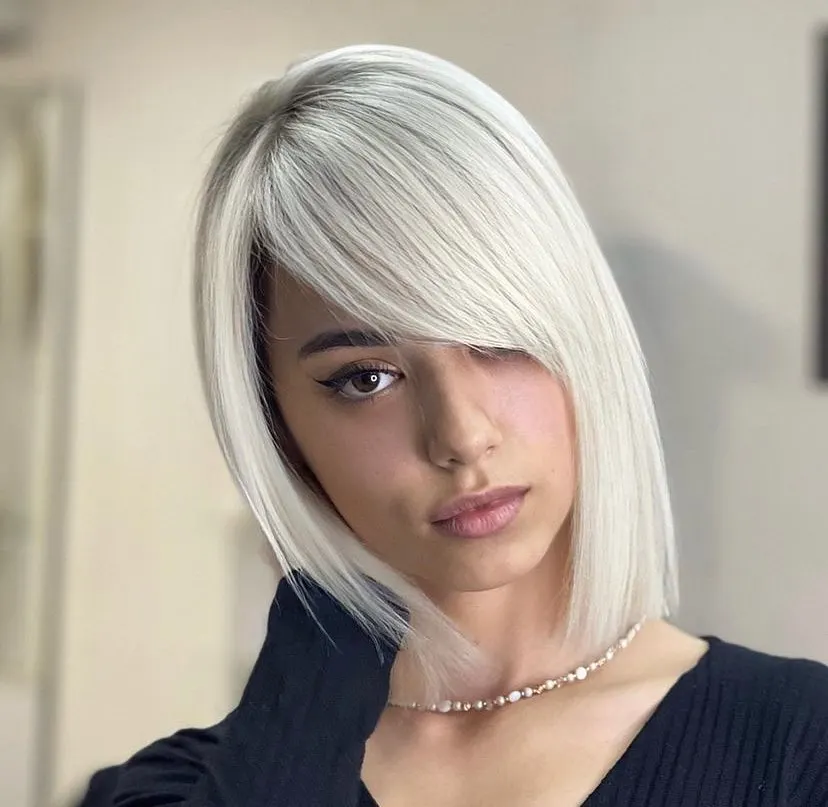 A straight lob can make your face look longer—which is great if that's what you're after and not so much if your face is already long—and adding straight full fringe can have the opposite effect. If you're looking for the middle ground, opt for long side-swept bangs.
43. Layered Short Bob With Side Bangs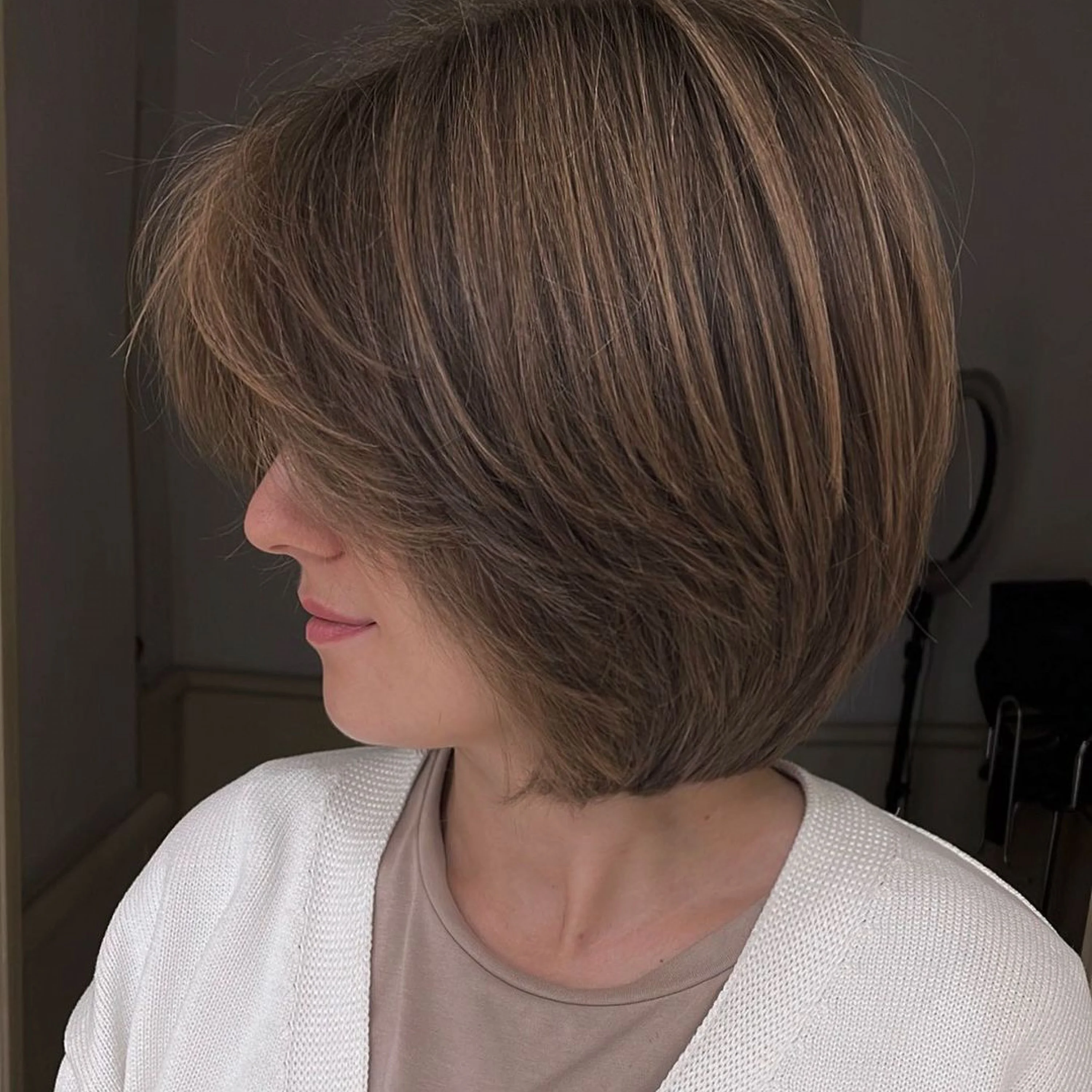 A short layered bob with feathered ends is a playful style that can suit all face shapes as long as it's cut to accommodate your features.
44. Sleek Rounded Bob With Side Bangs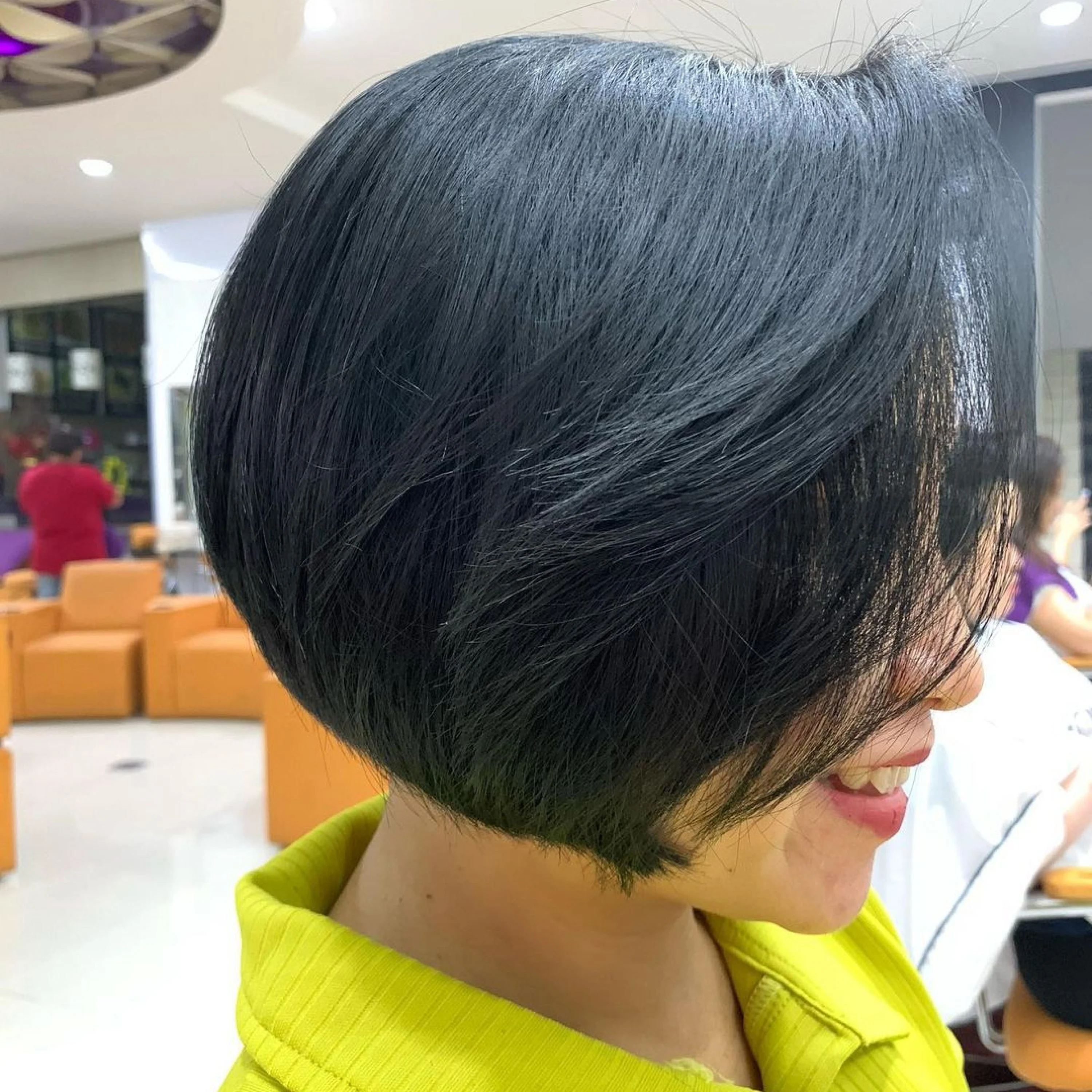 This sleek rounded bob is sophisticated, and the bangs give it a playful touch. Blow-dry your hair using a large round brush, and you're done—the skilfully created shape will fall into place on its own.
45. Blunt Bob With Long Side Bangs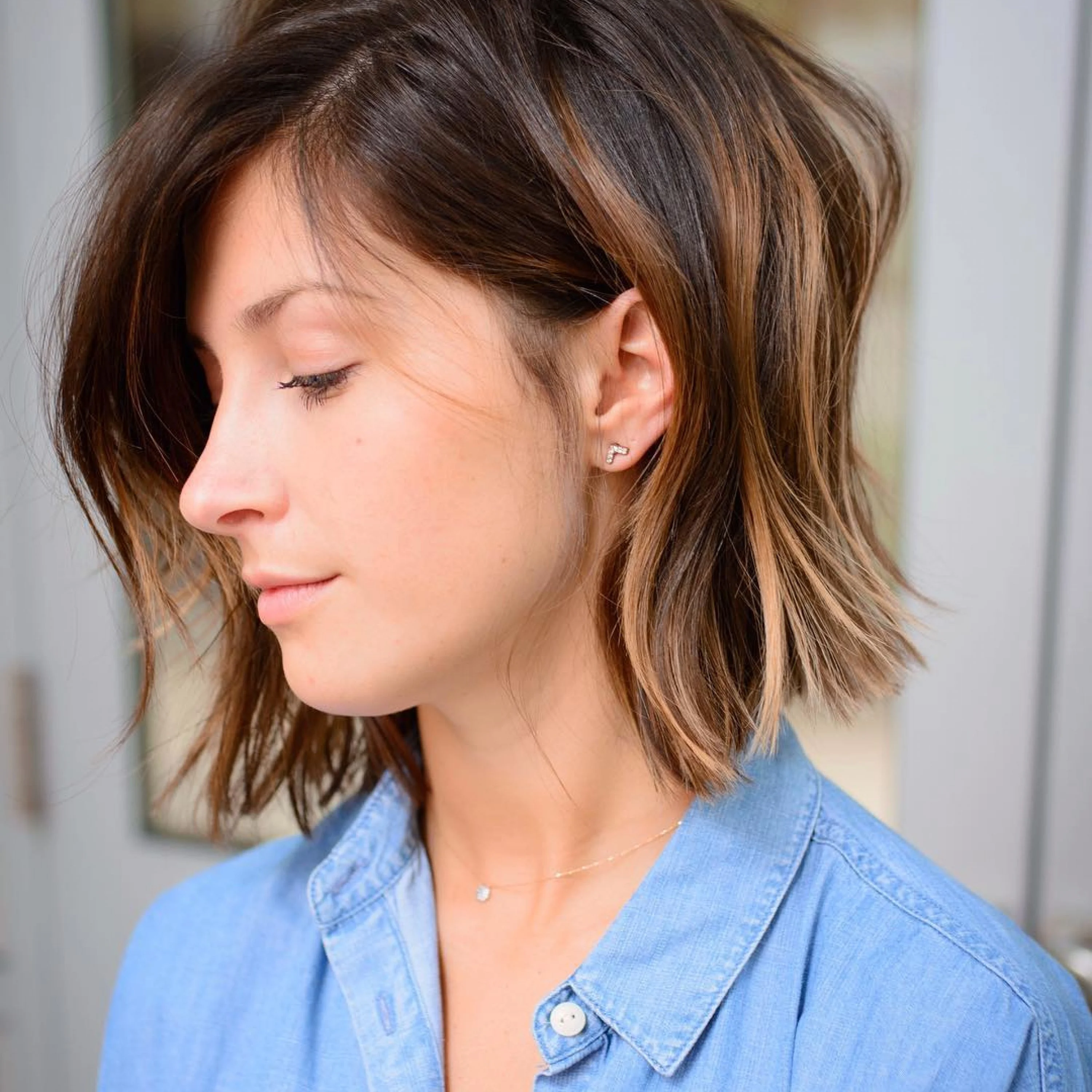 A blunt bob with lots of texture can sometimes look bulky, but a few layers will make it much less bottom-heavy and create volume on top. Side bangs are a must with this style!
46. A-Line Bob With Side Bangs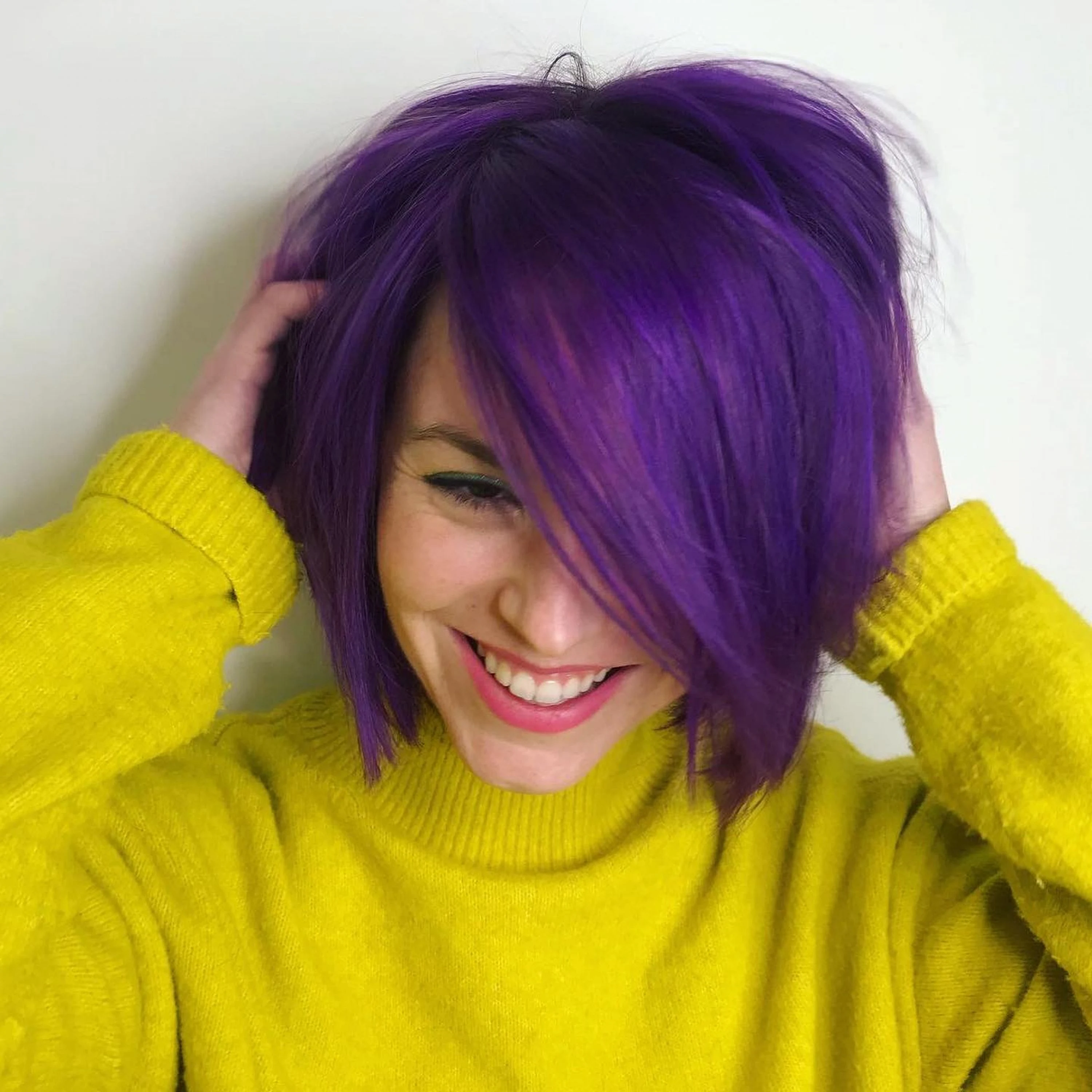 A-line bobs are usually more dramatic than those cut straight, but a side bang will tamper down the sharpness of the diagonal line and add a touch of whimsy to this style.
47. Medium Bob With Layered Side Bangs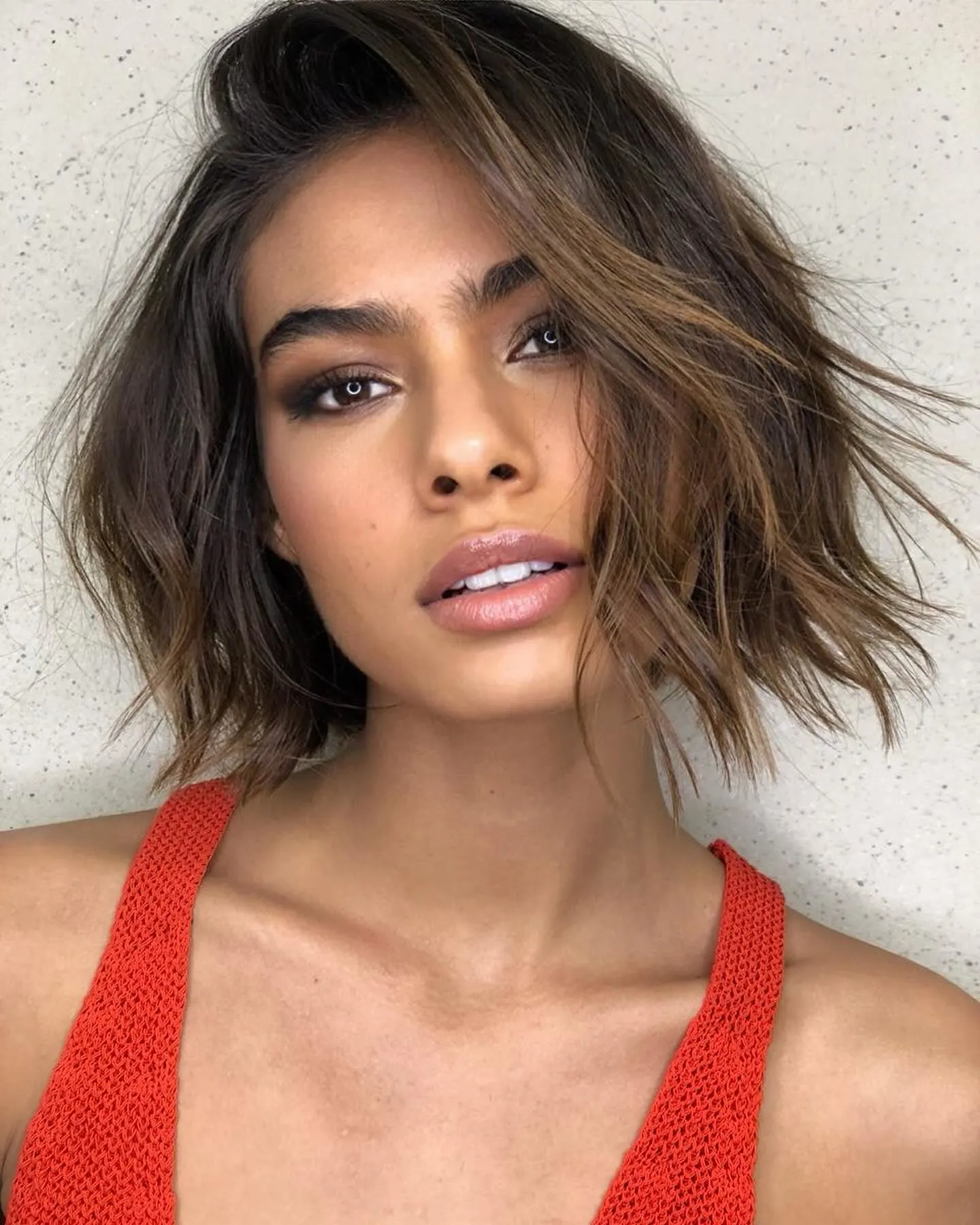 Add some wavess to your chin-length layered bob with a curling wand or a flat iron for an instant sexy tousled look. Subtle side bangs soften this style even further and give it a charming feel.
48. Curly Bob With Wispy Side Bangs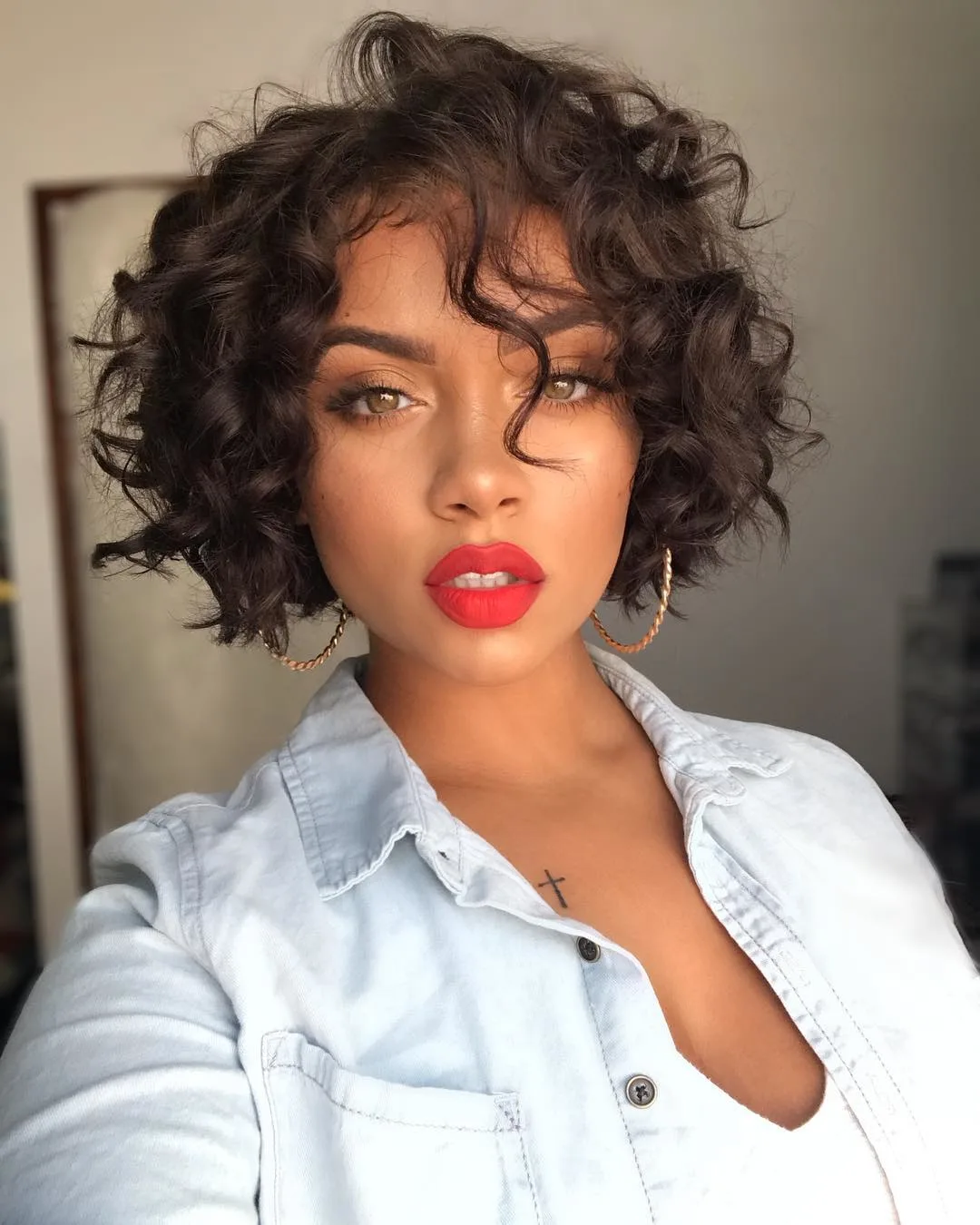 Adding bangs to a long curly bob can be tricky, but a hairdresser who knows how to handle this hair type should be able to find the perfect shape of curls for your face and hair.
49. Sleek Neon Bob With Side Bangs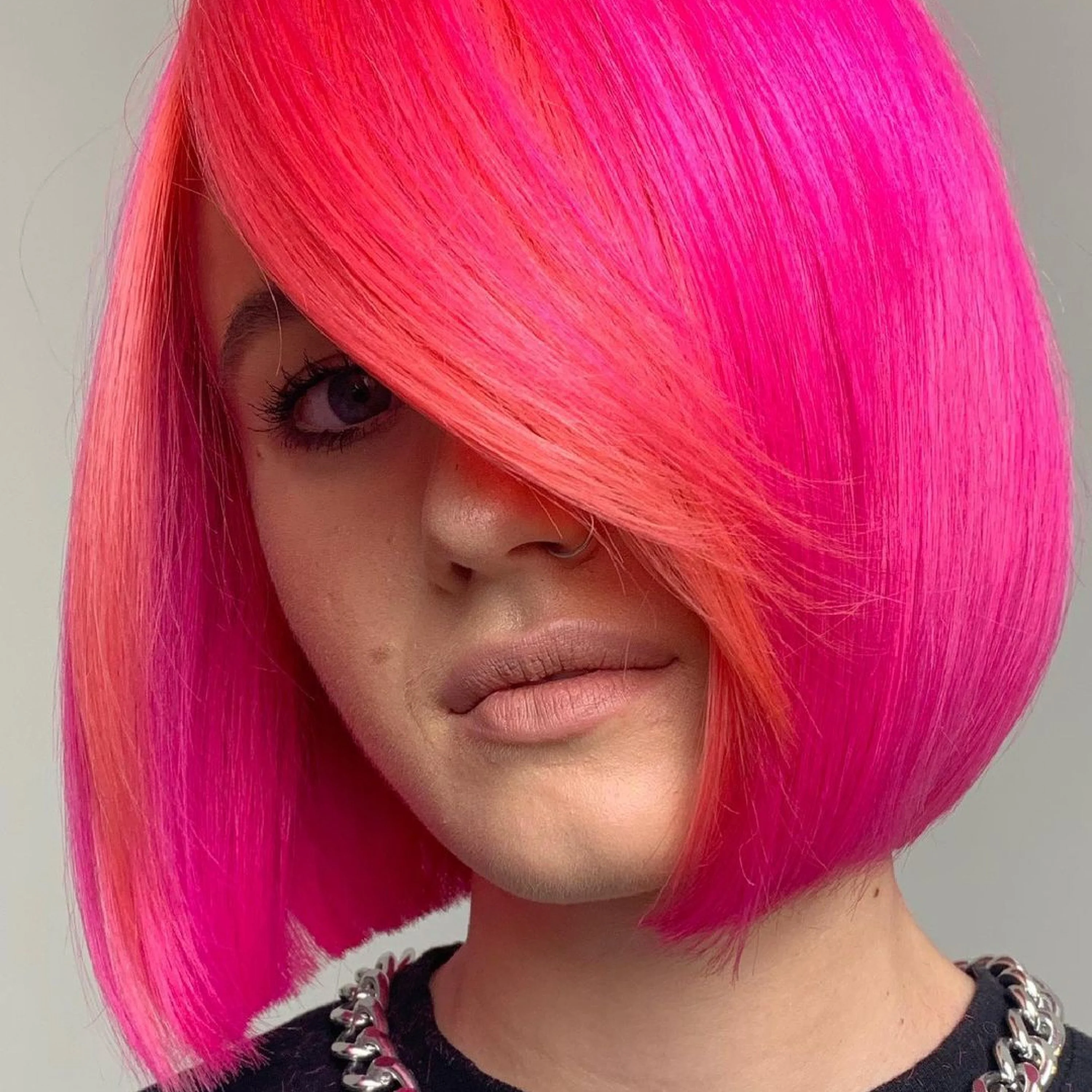 Medium-length bob hairstyle is a classic, but going for an unnatural color makes it current. Additionally, side bangs keep it from looking too straight and give it a zing.
50. Medium Bob With Feathered Side Bangs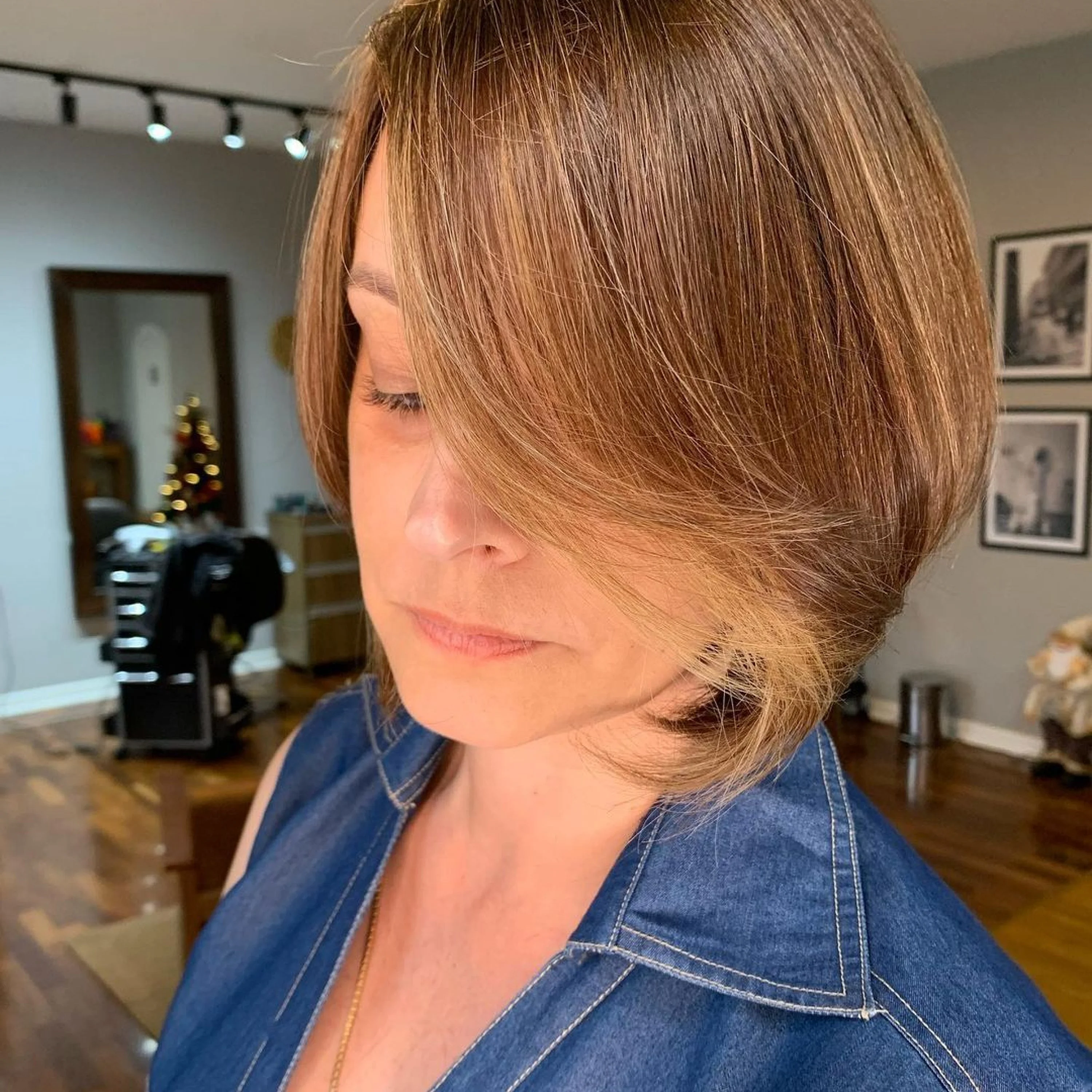 If you have fine hair, feathered bangs are an easy way to add volume. Wearing them to the side or tousled gives you lift at the crown and creates movement. Avoid using too much styling product to keep your hair flowy.
51. Short Tousled Bob With Side Bangs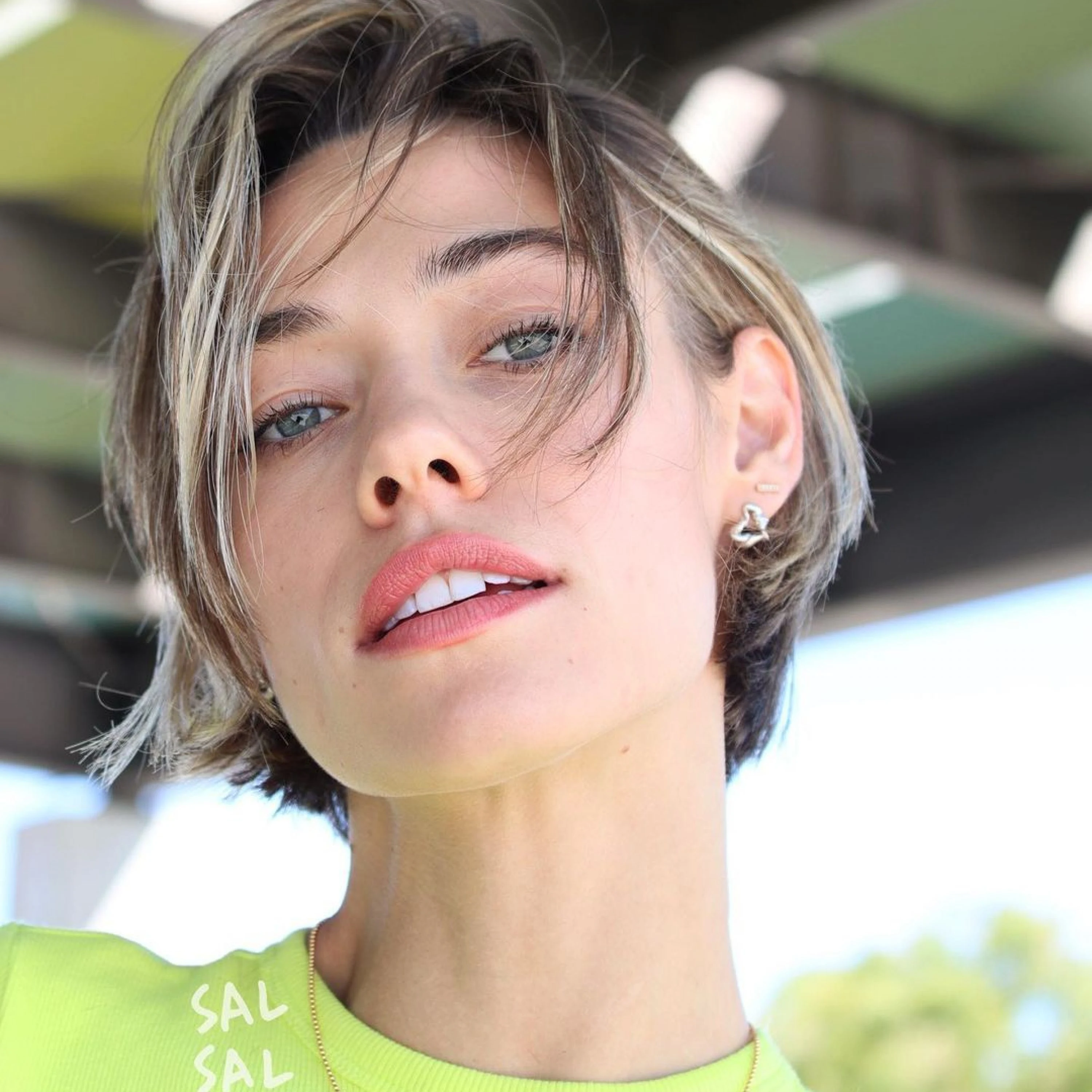 A short bob with side bangs is a breeze to style, especially if you prefer a tousled look. Add a bit of anti frizz product and let your hair air-dry or give it a bit more texture using mousse and a hairdryer.
Bang-On Bangs
Side bangs give a softer, more casual look to every haircut and the bob is no exception. A bob with side bangs is a great choice if you want an attractive cut that's easy to style—it's long enough to be universally flattering and not so long that it takes ages to create a look.