One length bob is the ultimate it girl haircut—it's always cool, sexy and never goes out of fashion.
This universal hairstyle can be cut to a variety of lengths and styled in many ways, so it suits all ages, face shapes and hair textures.
If you're looking for inspiration, here's our selection of the trendiest one length bob cuts.
1. Wispy Curtain Bangs Bob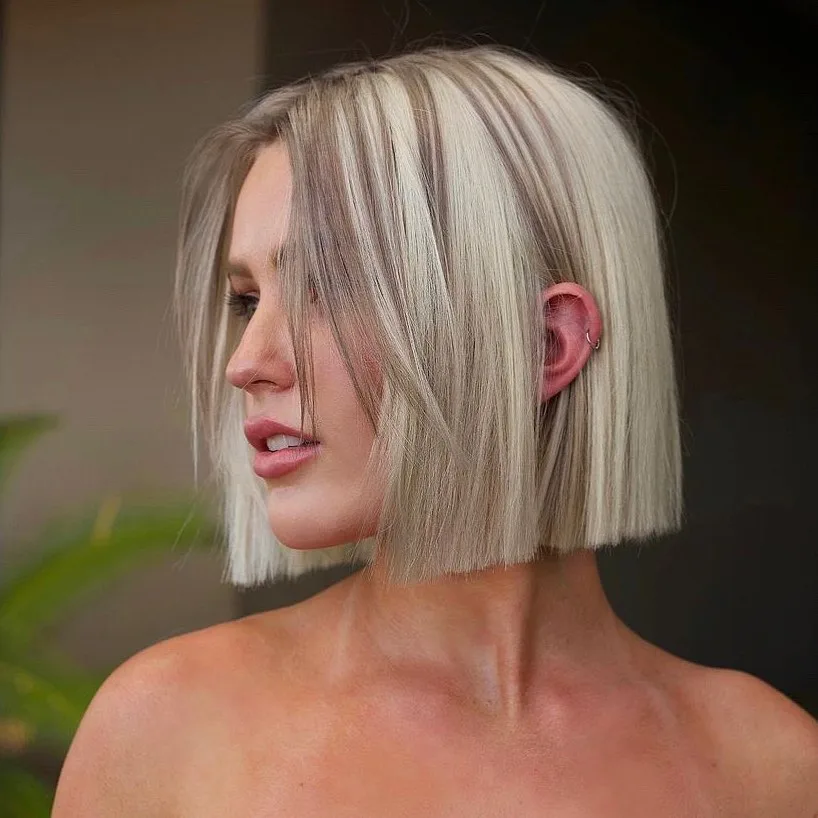 A blunt one length bob can sometimes appear too severe or lack movement; the easiest way to overcome this is to add a few shorter strands around the face. The delicate wispy long bangs completely transform this hairstyle.
2. Sleek Ear Length Bob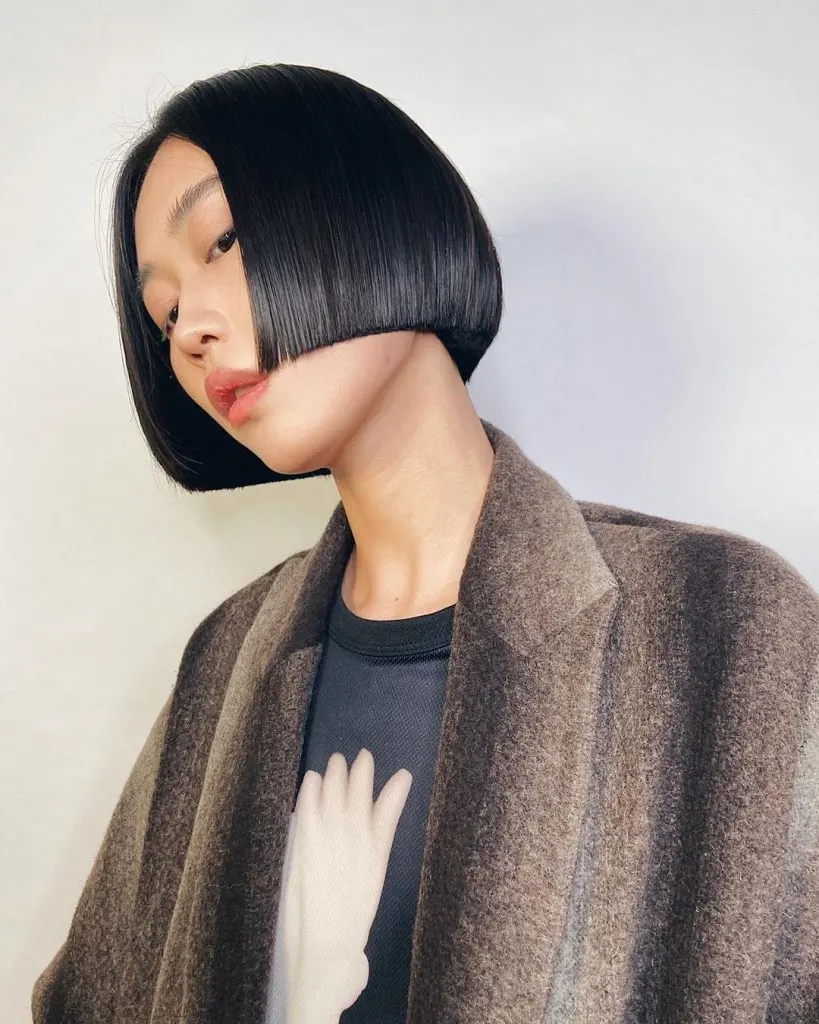 It's easier to style your hair super-sleek and avoid it looking flat when it's cut well: this one length bob has been subtly graduated to to avoid a triangle shape and stiff-looking hair.
3. Jaw Length Bob With Styled Baby Hairs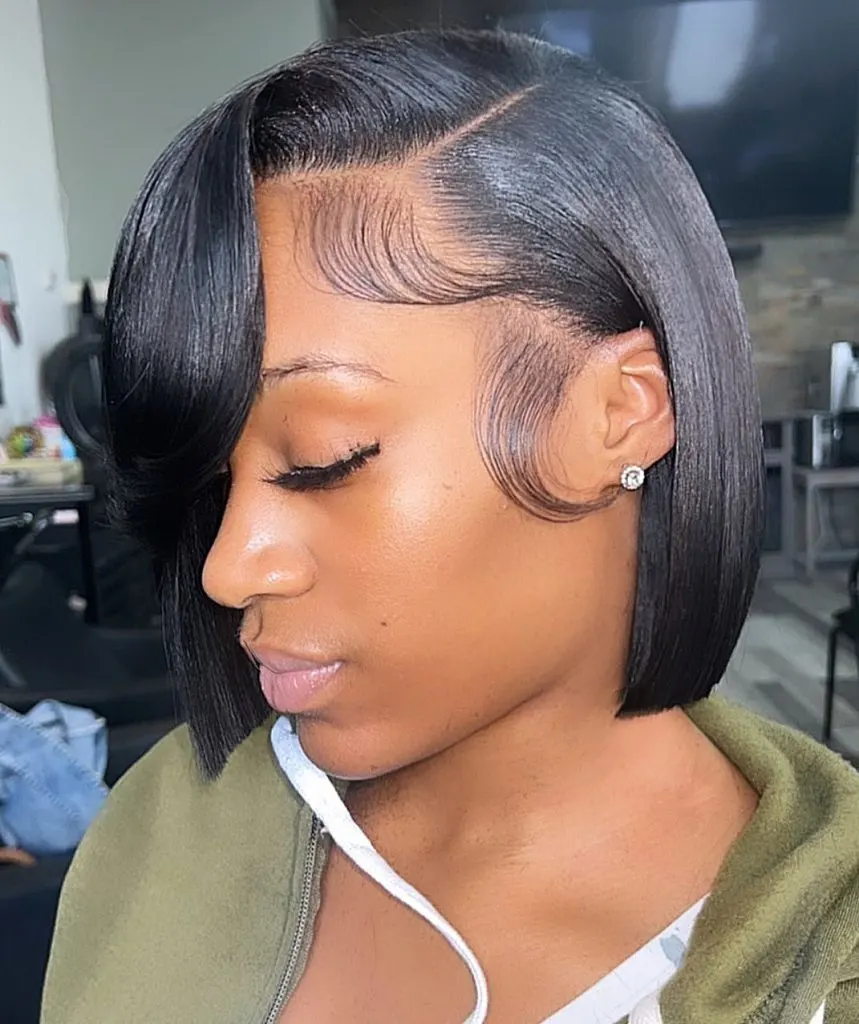 Silky-straight in the back and soft waves and flawless edges in the front—this look is at the same time polished and romantic.
4. Wavy Chin Length Bob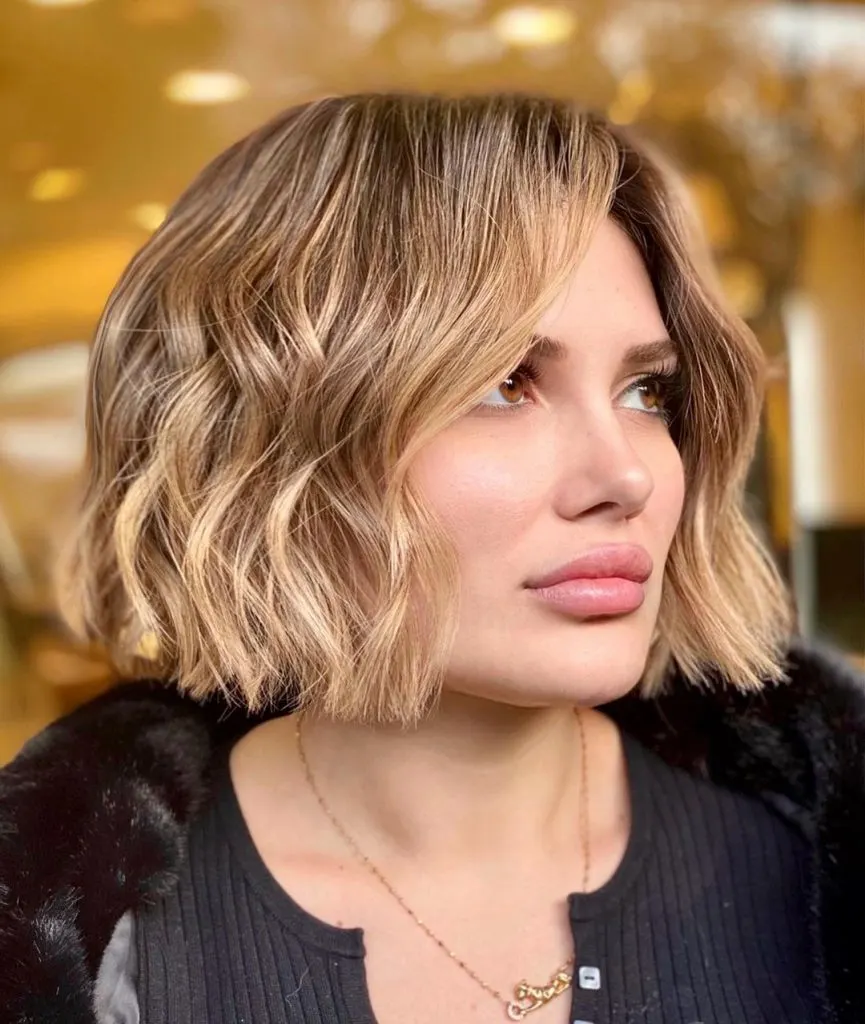 A blunt-cut bob will make your hair look thicker, so it's a great choice if you have thinner hair. If your hair is already thick, your stylist can still make it work by adding very subtle, nearly invisible layers while still keeping the one length bob look.
5. Fine Hair French Bob Without Bangs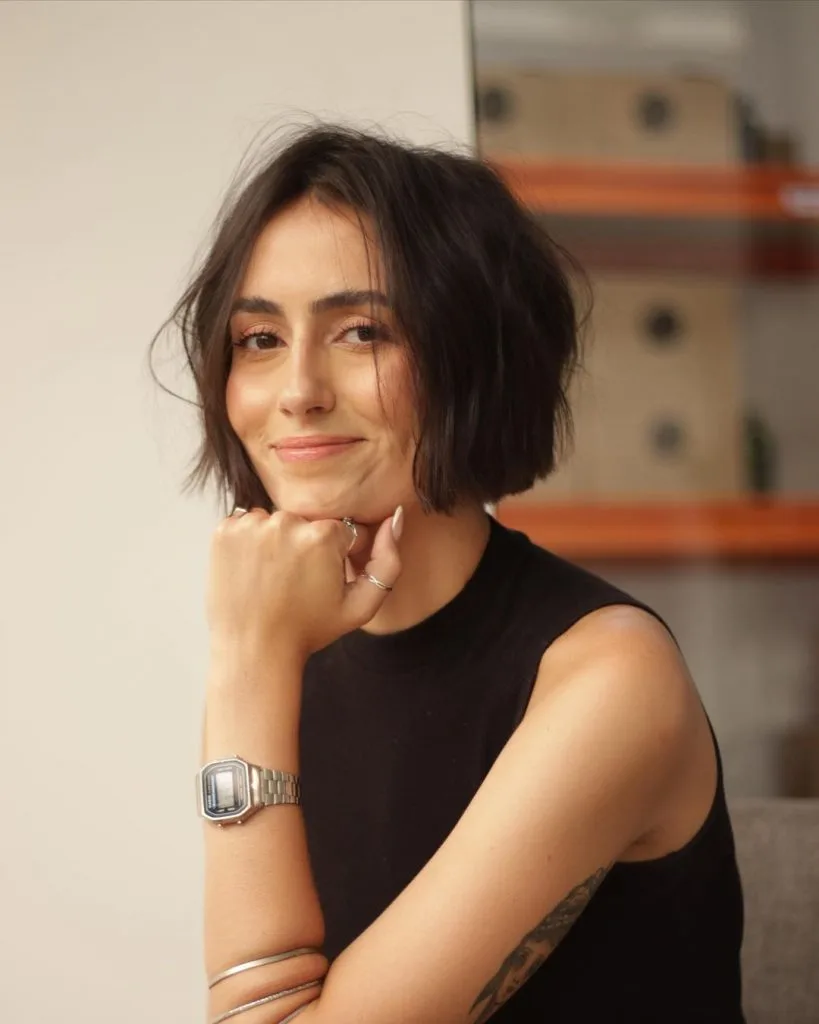 Fluffying up just the top layer of your bob will make it look extra laid-back and casual, and create soft, flattering volume.
6. Long Bob Haircut With Bangs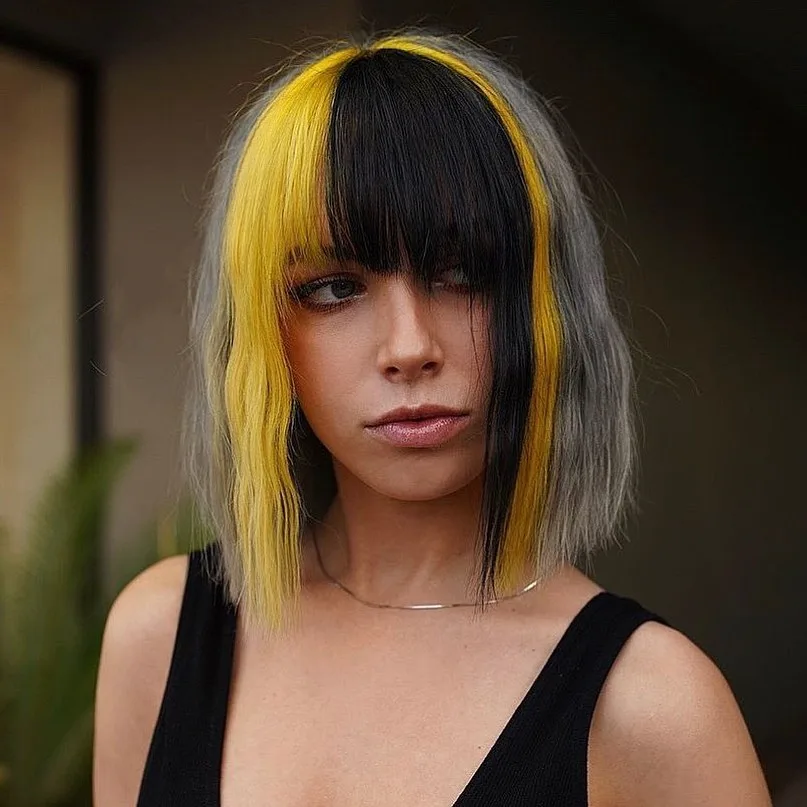 Long, straight bob and long, straight fringe is a simple, yet striking combination. Because a straight long bob with bangs is so understated, you can spice it up with your color choices.
7. Wavy Collarbone Haircut With Middle Part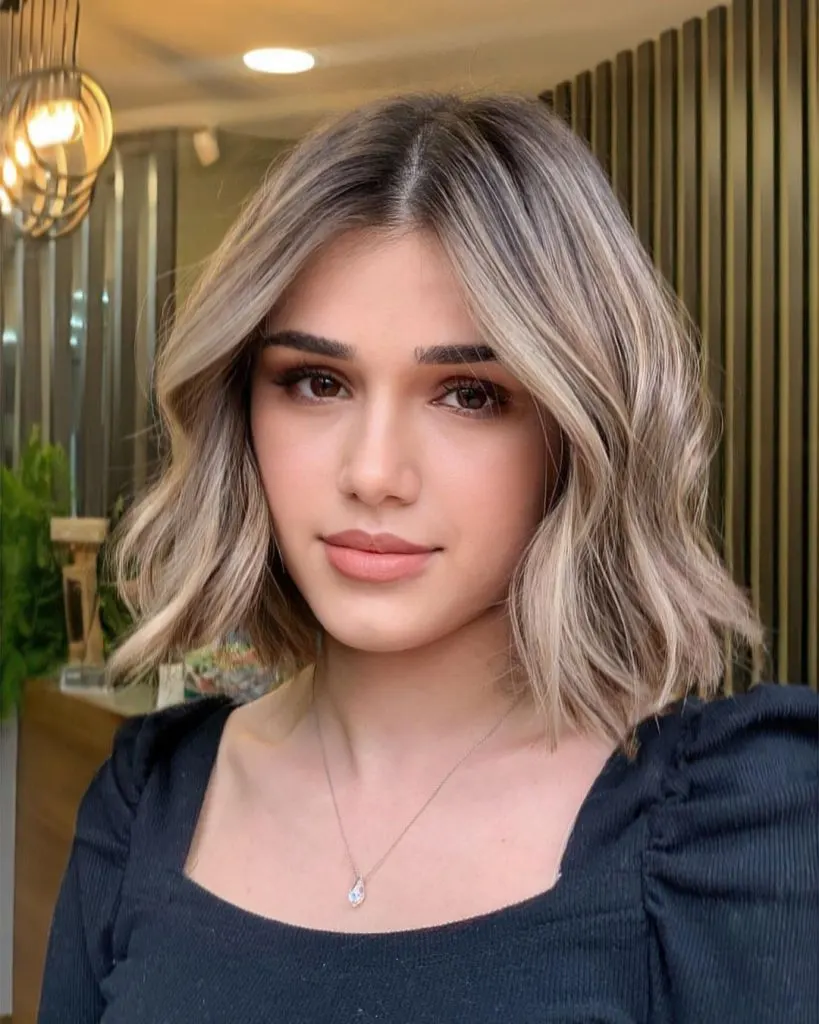 Soft waves and pretty highlights create the same romantic vibe like classic long hair with beachy waves, but the shorter length and blunt ends make it seem much more light and carefree.
8. Short Bob With Bangs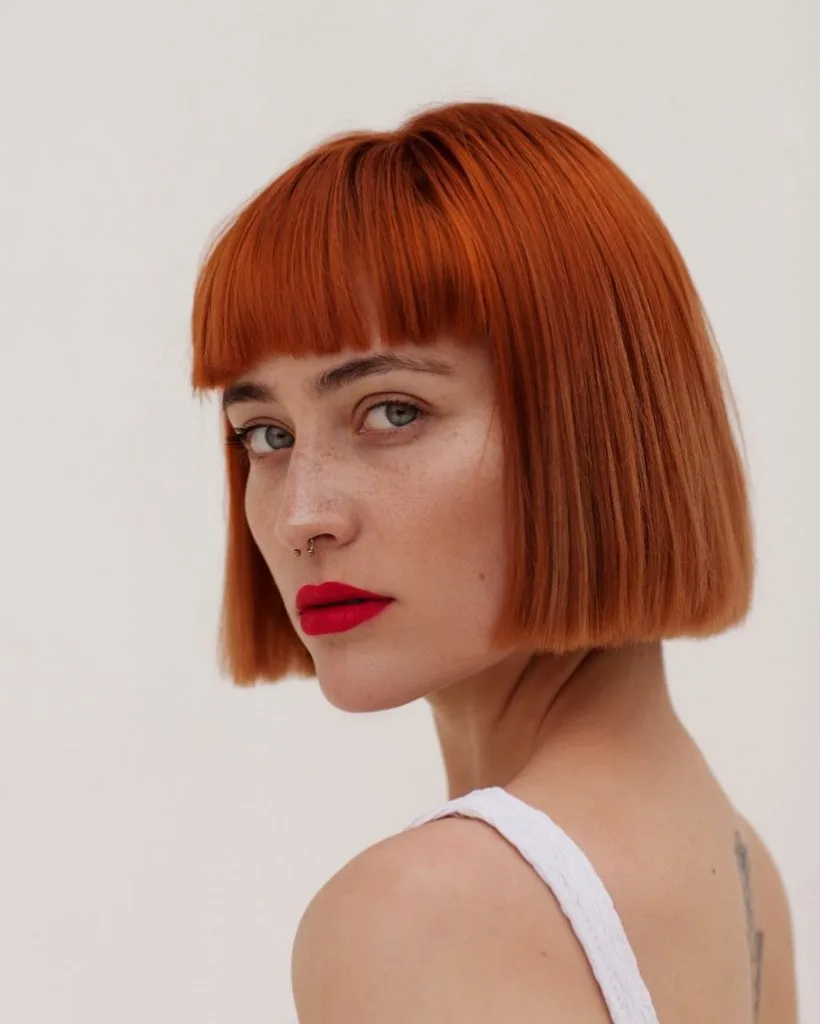 A jaw-length blunt bob with short straight fringe is as classic as it gets. The fun part? You can really let loose with colors because nothing will seem too much when combined with this simple style.
9. Textured One Length Bob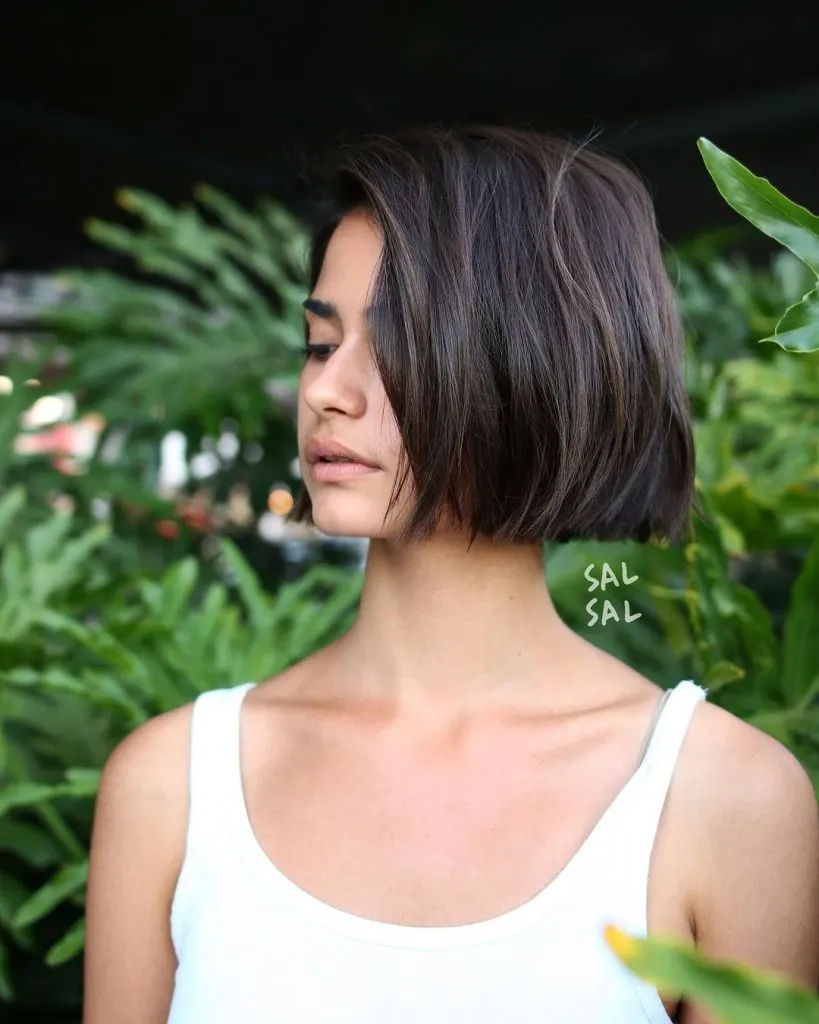 Chin-length textured bob is the perfect haircut if you want a chic and relaxed look without having to spend a lot of time styling it—it looks even better imperfect!
10. Wavy Sliced Bob With Short Bangs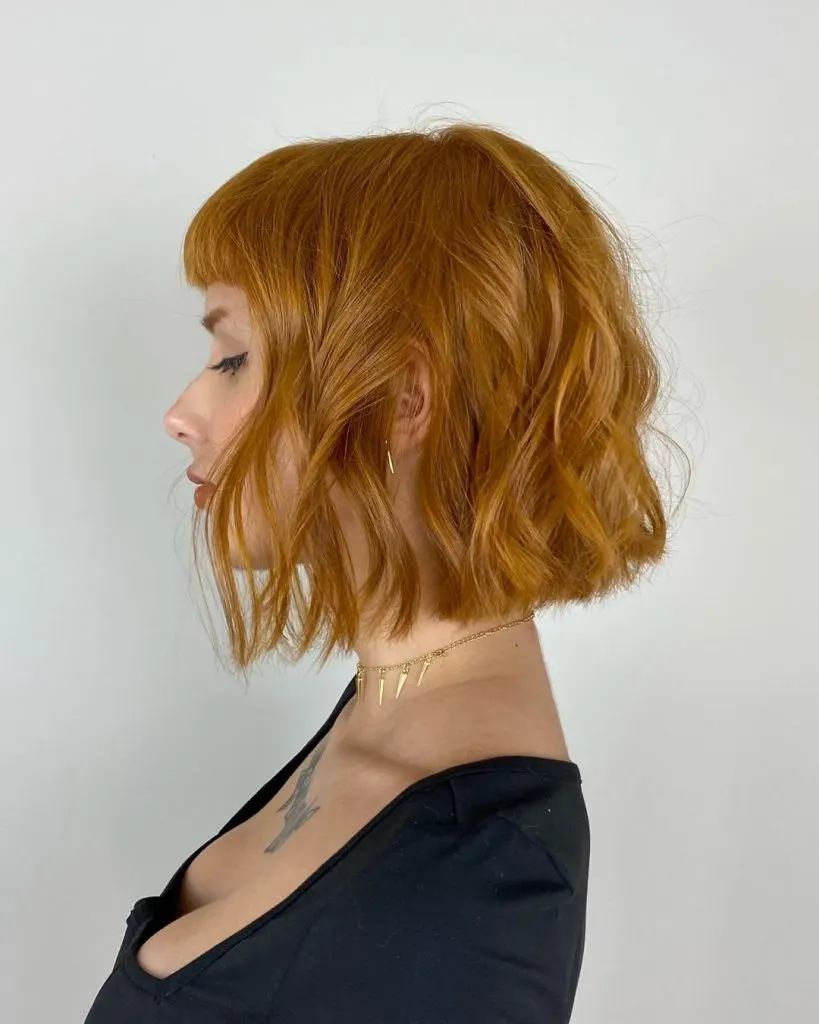 Straight-across baby bangs give a special charm to any haircut, and they'll look especially cute when you combine them with contrasting wavy texture.
11. Jaw Length Blunt Bob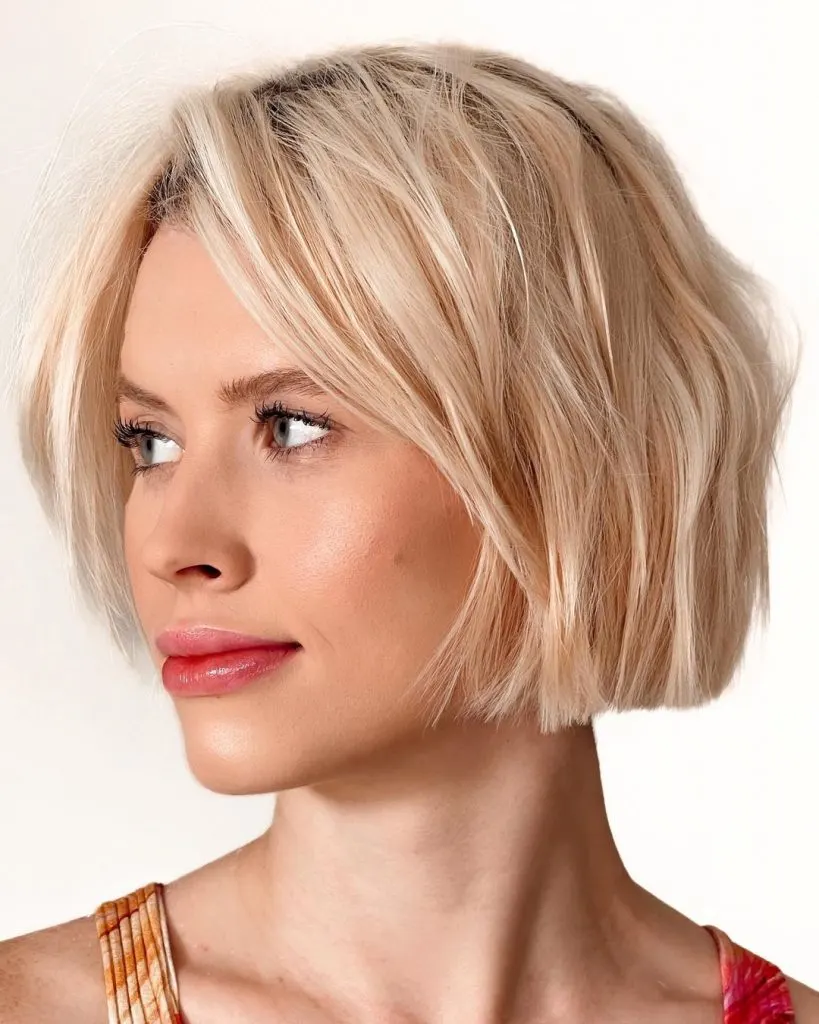 This short one length bob can be styled in minutes, giving you an attractive look with minimal effort. To keep it low-maintenance, however, you'll need to have it trimmed regularly to keep the shape.
12. Straight Bob With Highlights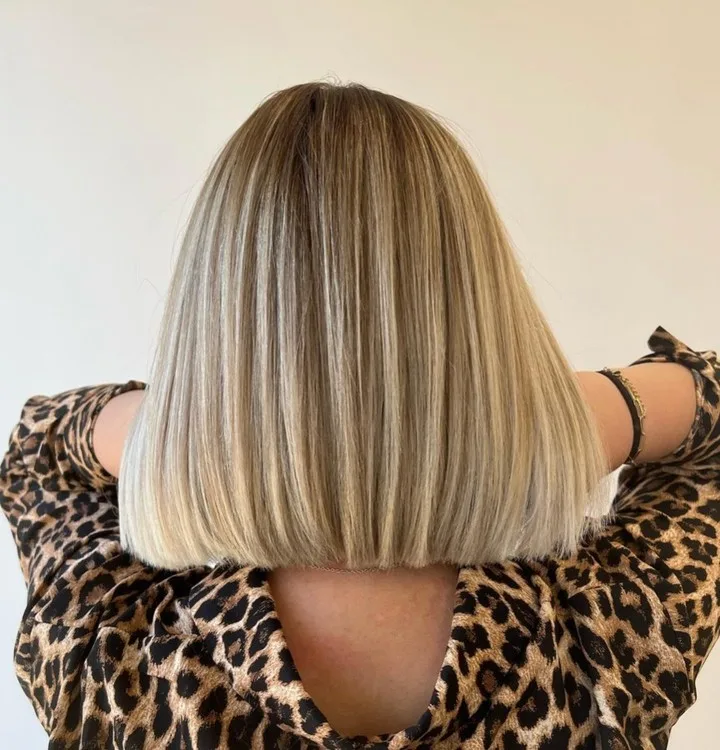 Straight, blunt bobs are the perfect canvas for showcasing color. The blonde highlights make this haircut vibrant and elegant, and it's hard to think of a color that wouldn't look spectacular with this cut.
13. Long Blunt Cut Bob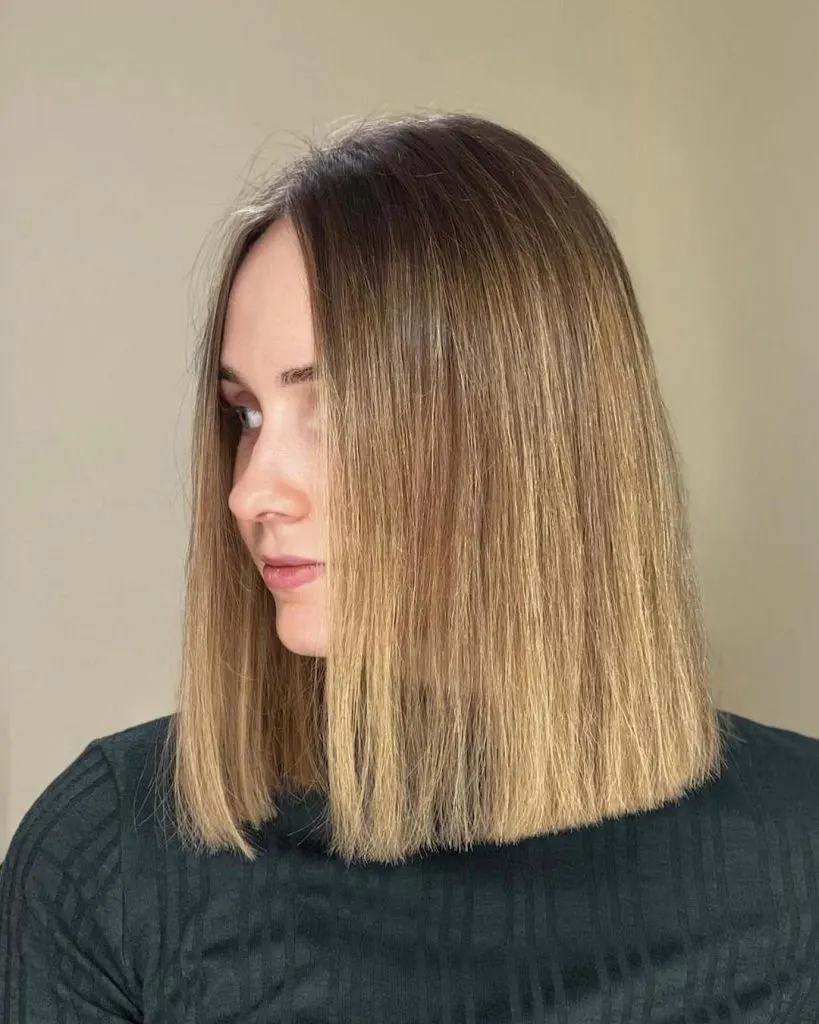 Blunt lobs have been everywhere for the past few years, and it's clear why: with a lob, you get the sharpness of a bob and the versatility of long hair in one. You can style it curly, wavy or straight, and each time it will look amazing.
14. Chin Length Bob With Bangs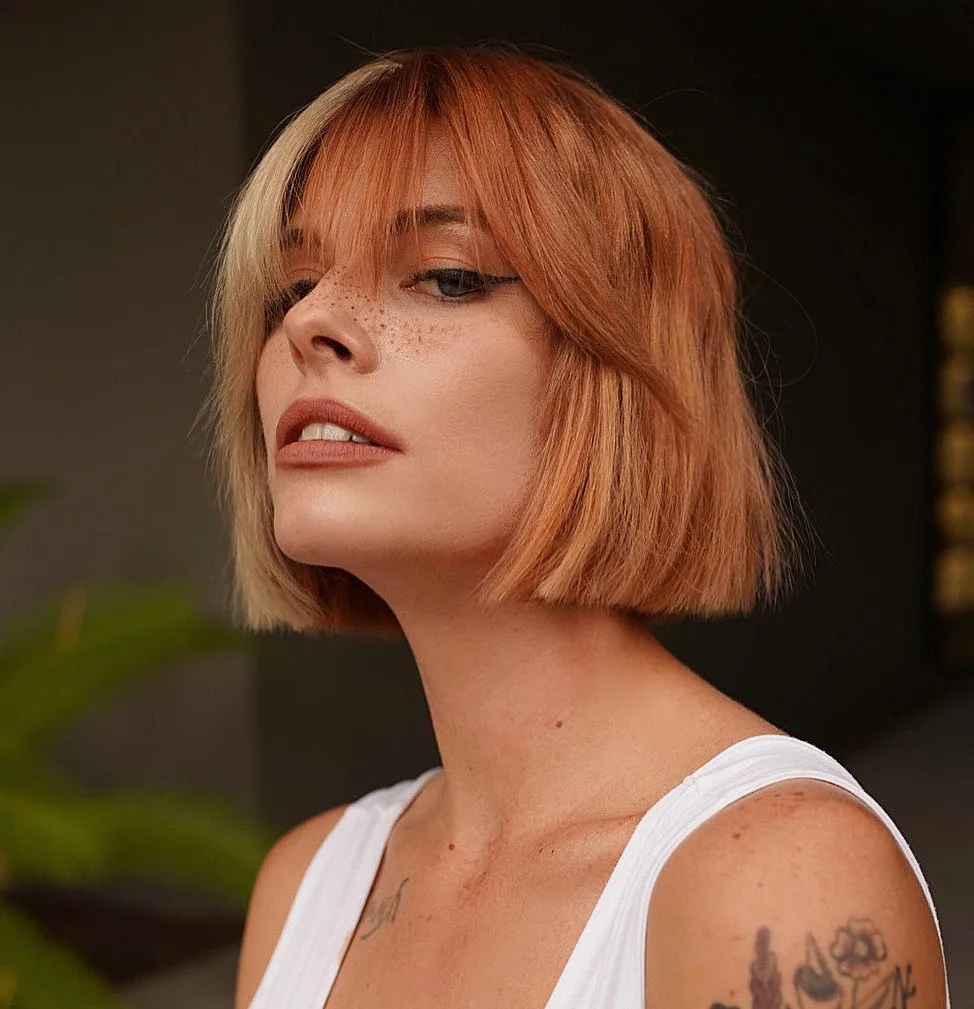 Tapered bangs contrast the blunt bob, creating a look that's no-nonsense and relaxed at the same time.
15. Chin Length Hair With Bangs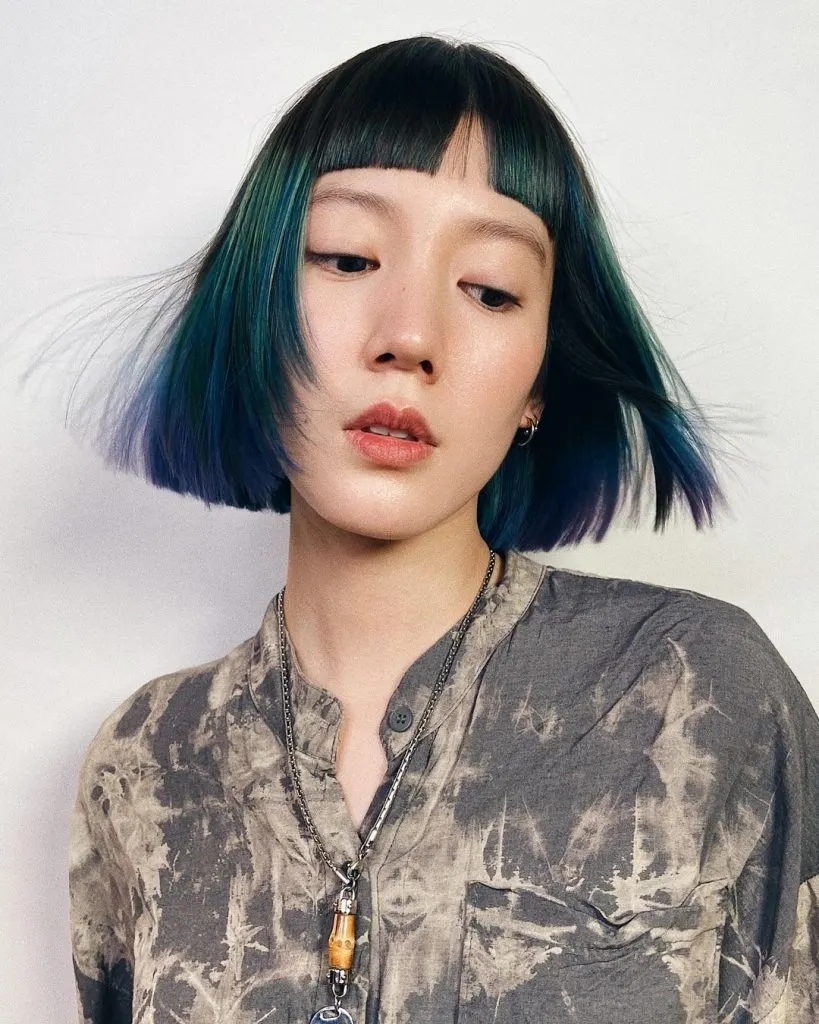 If you think that a bob with bangs isn't for you, think again. As long as you find the combination that works for you, you can wear one: the length, thickness and style of the bangs can all be customized to flatter your face.
16. Medium Length Bob Haircut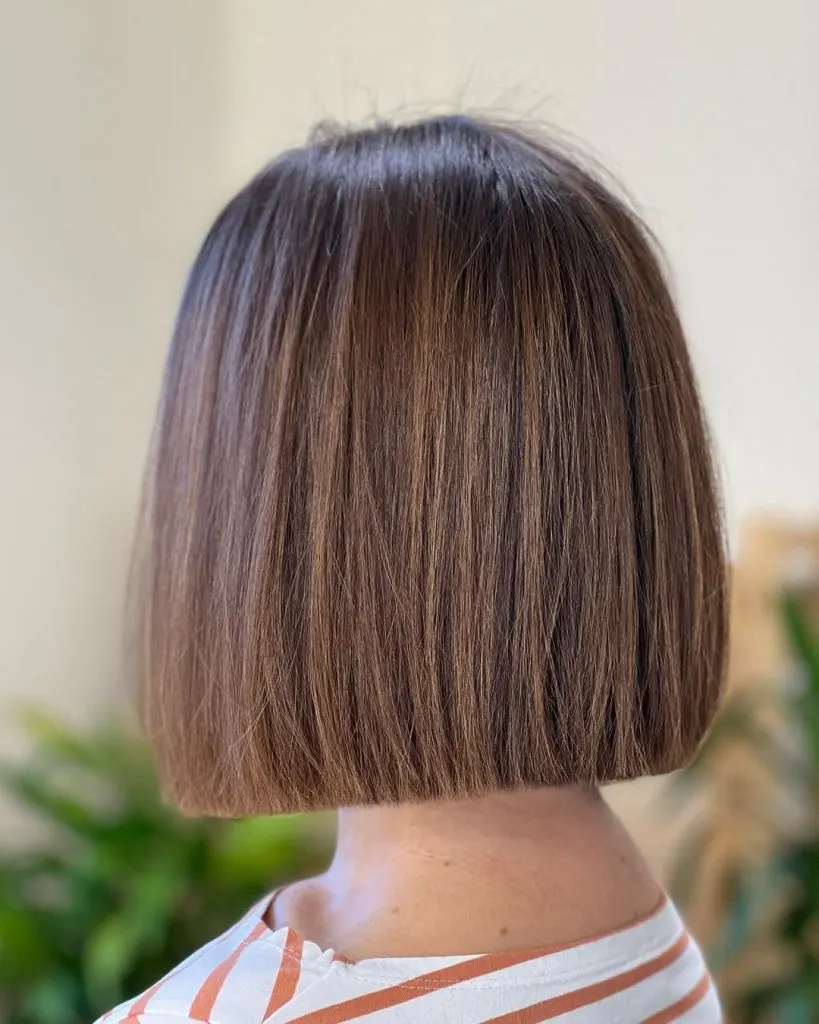 Brown, straight, neck-length bob: everything about this hairstyle seems neutral, but this doesn't mean that it's boring. On the contrary, this style is all about structure and exudes timeless elegance and charm.
17. One Length Bob With Wispy Long Bangs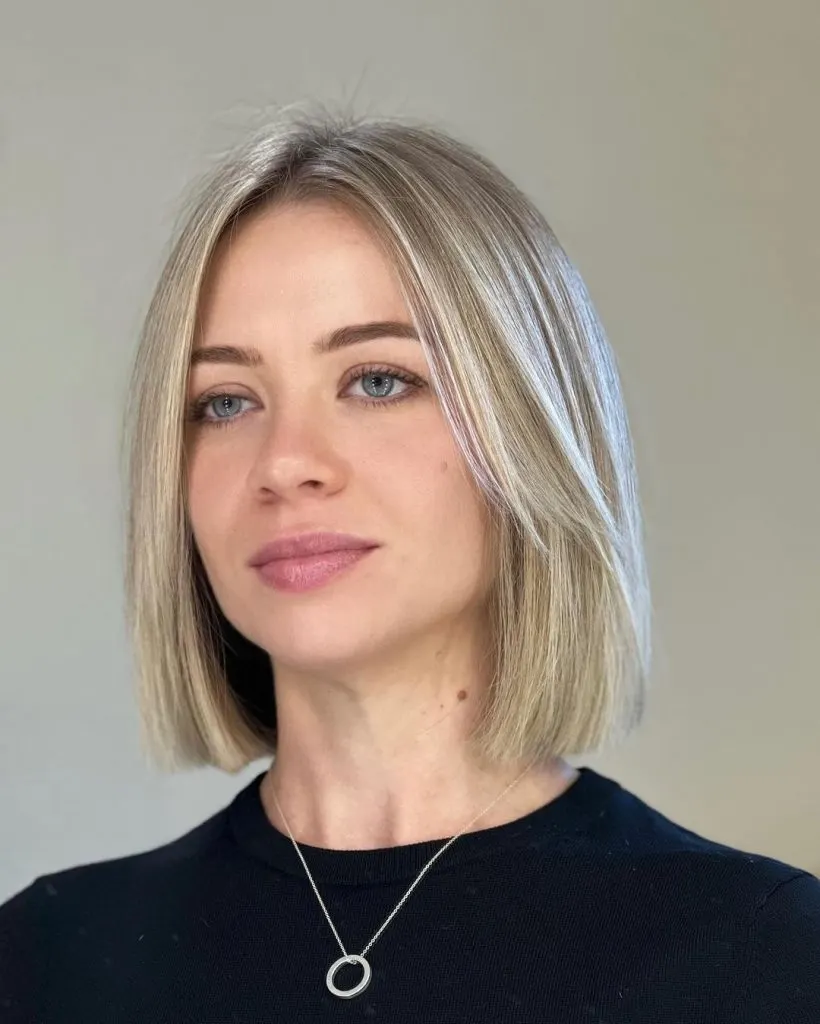 Face-framing bangs add softness to the otherwise sharp icy-blonde straight textured lob, creating movement.
18. Long Bob With Bangs For Thin Hair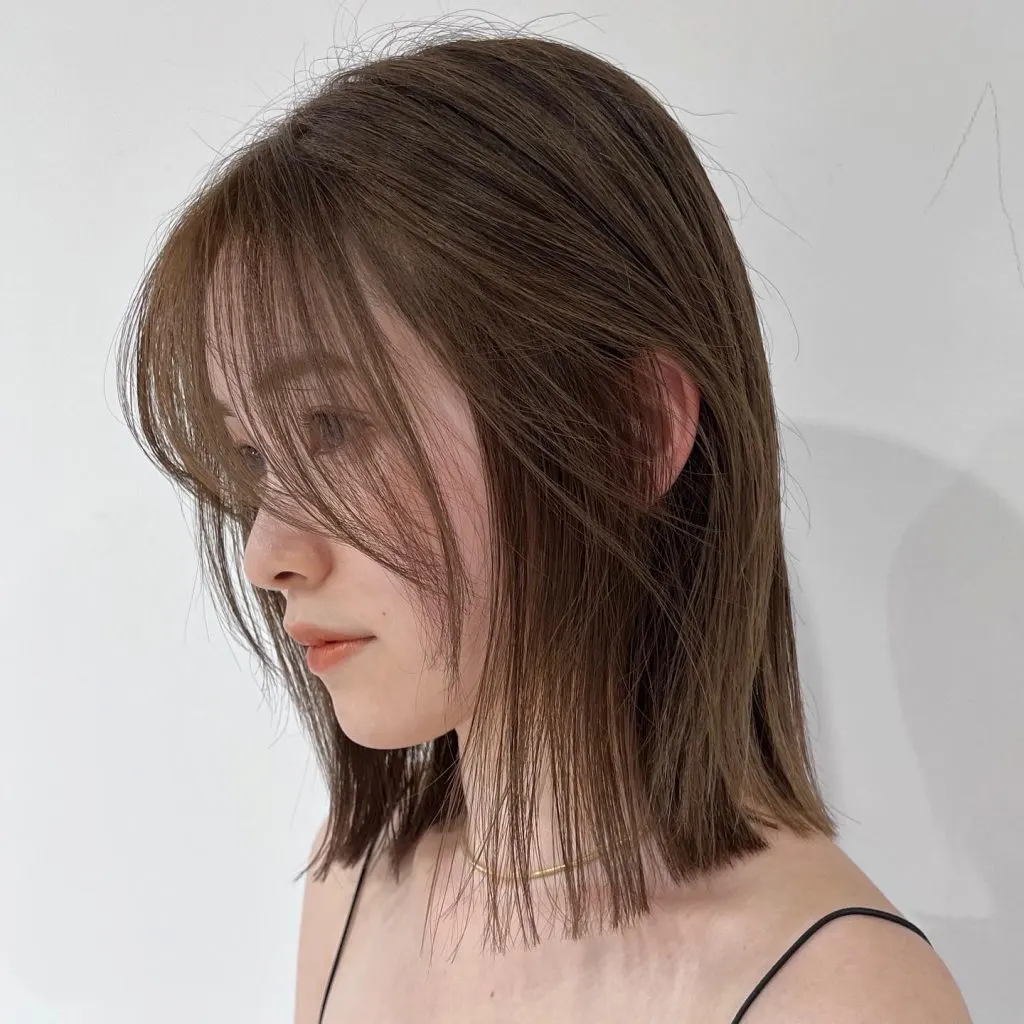 Thin curtain bags frame the face beautifully and blunt ends give an instant thickness boost to fine hair.
19. Short Blunt-Cut Bob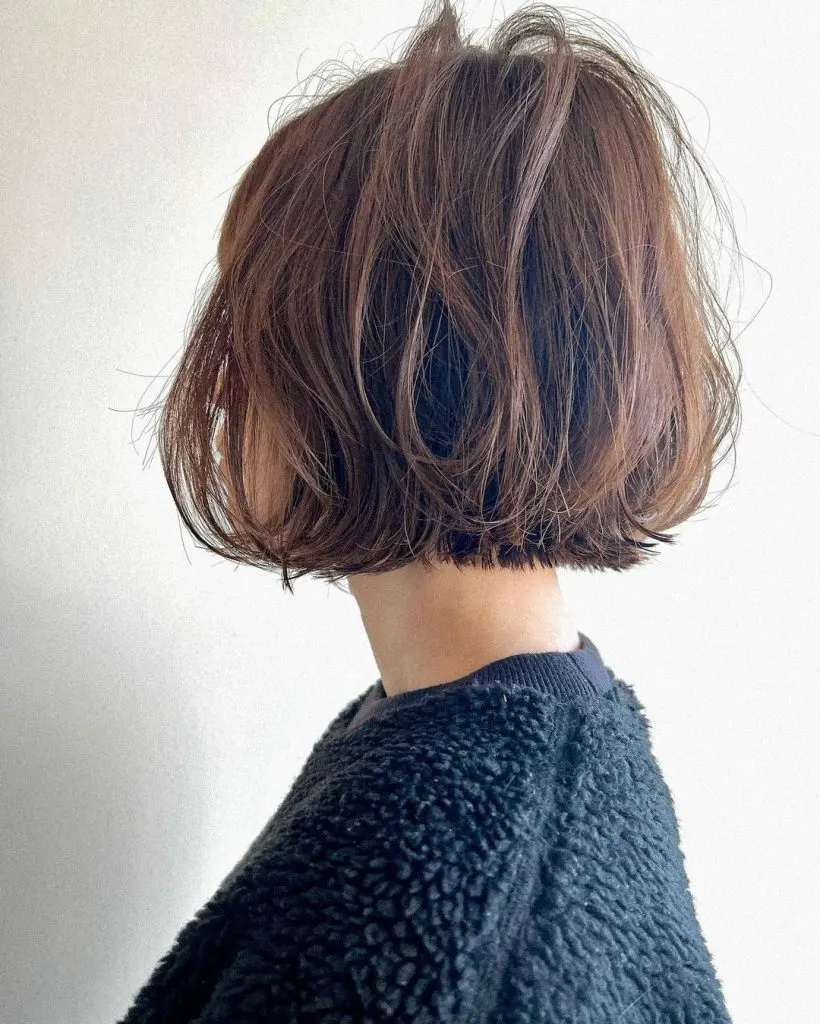 When you're deciding on how short you want to go with your bob, consider what you want to highlight. Jaw-length haircuts look fresh and youthful, but you should avoid them if your face is full unless your hair is very voluminous to balance it.
20. Textured Medium Bob Haircut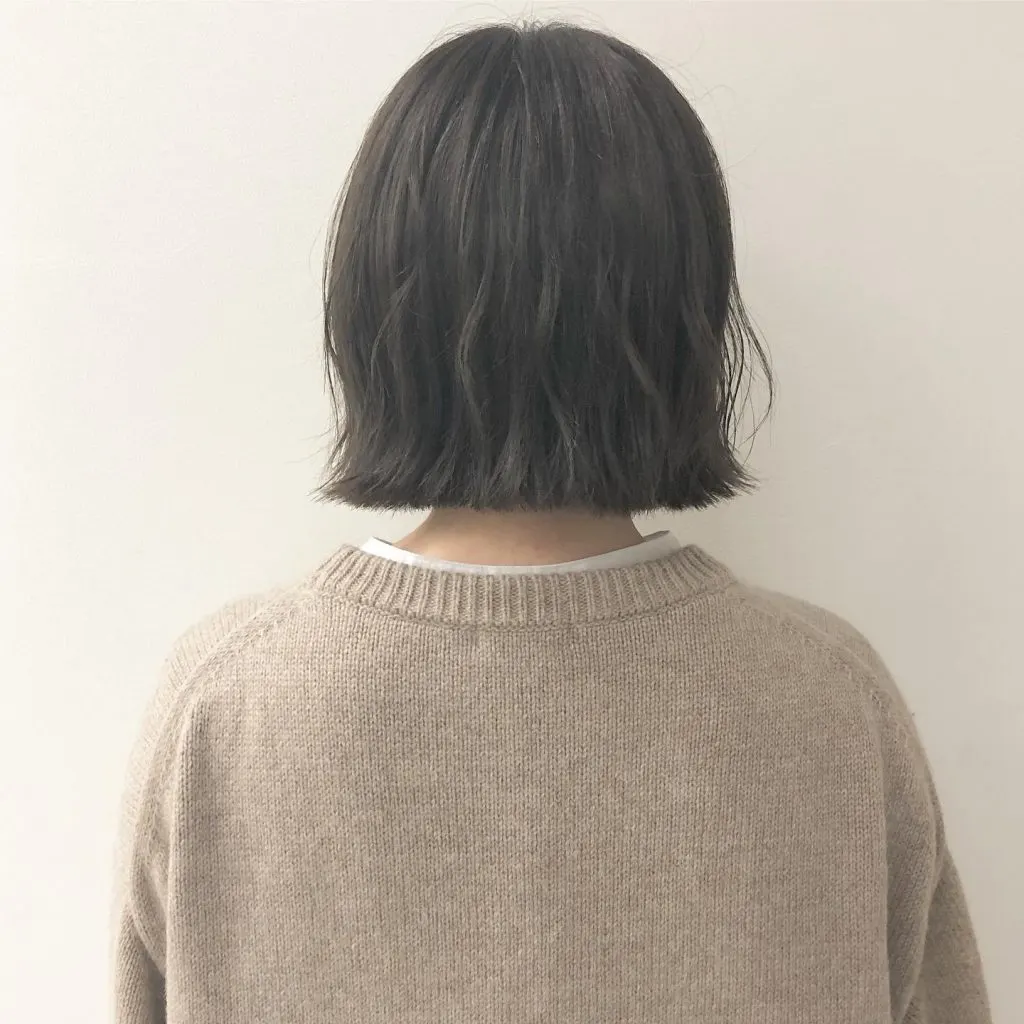 Thick hair can look weighty unless it's cut in a way to minimize it. Barely-there layers give a flattering shape to this blunt bob and make it easier to style.
21. Thick Hair Short Bob Haircut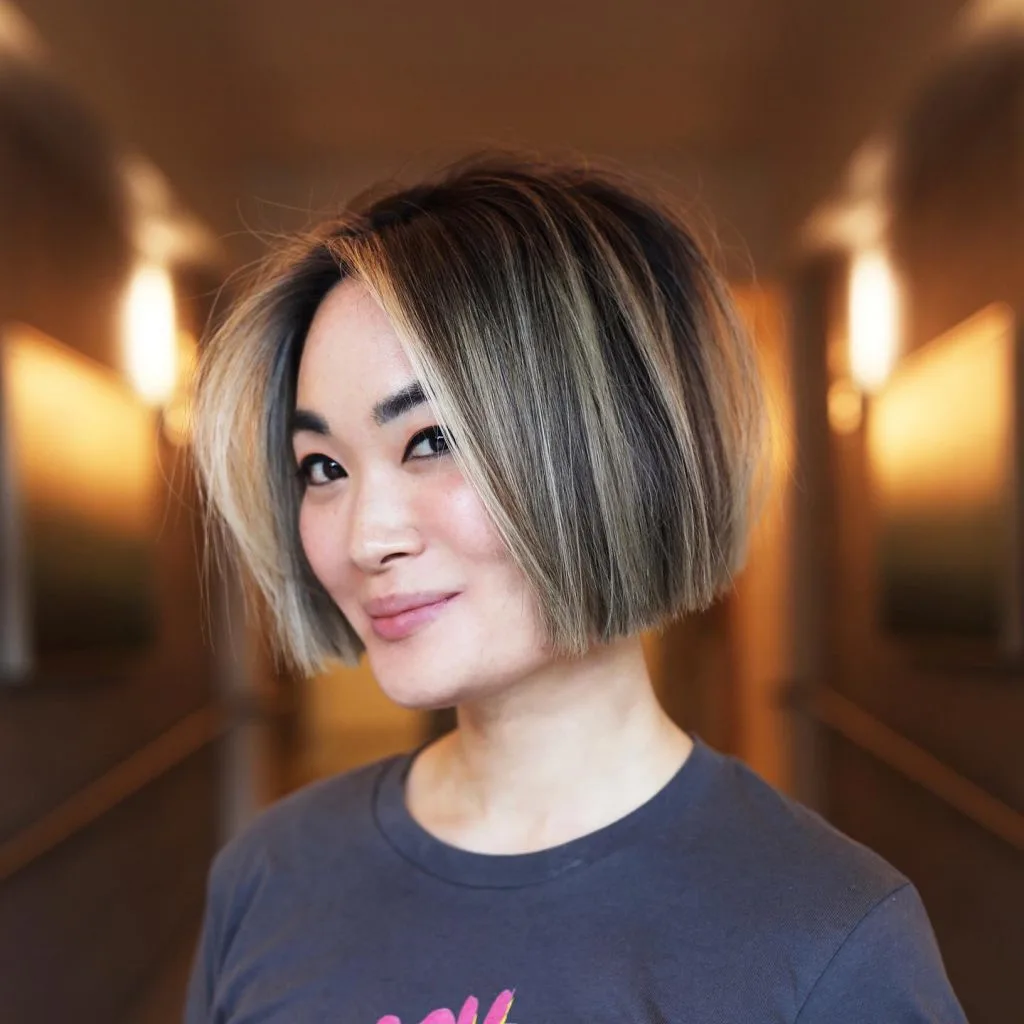 The ends have been very subtly textured to avoid bulk in the bottom while still keeping the blunt, one length look.
22. Classic One Length Bob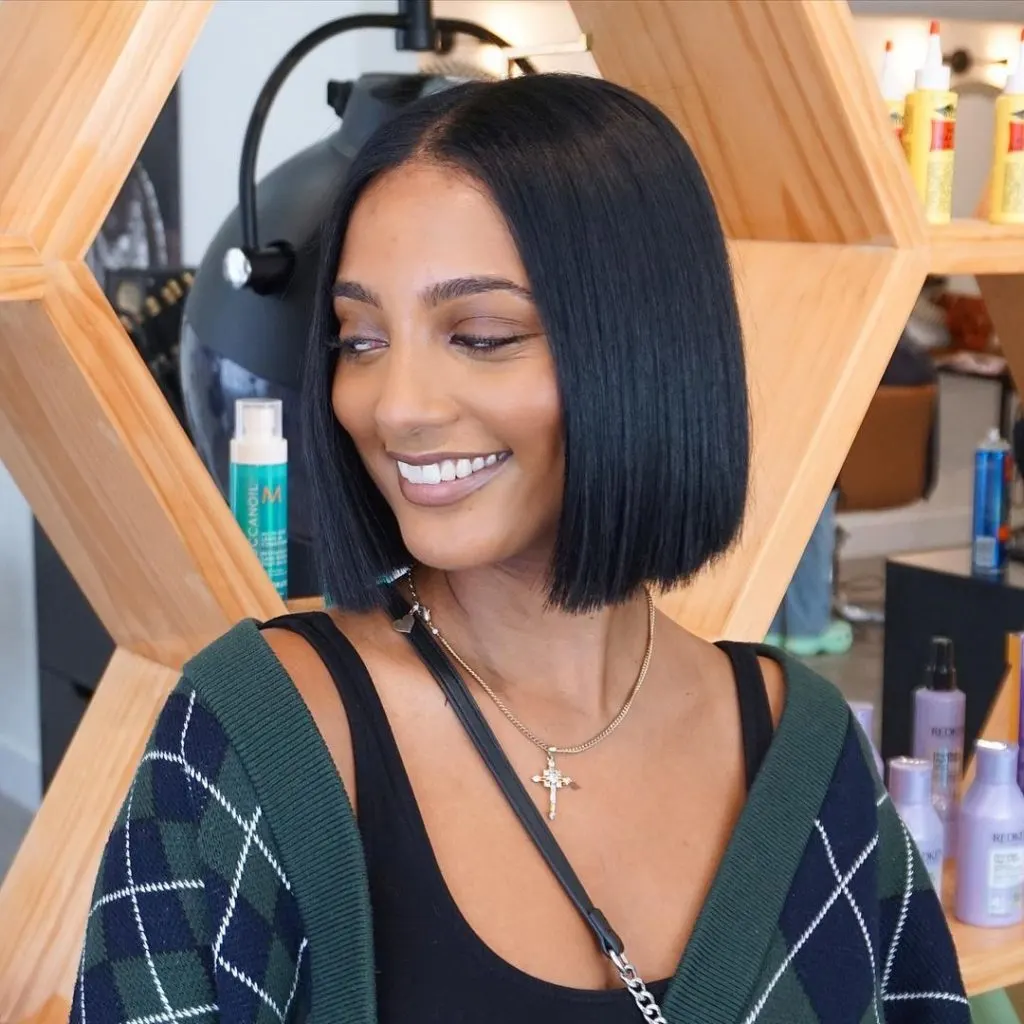 Rounded bob with a middle part is a classic, and it's not going anywhere anytime soon. This haircut keeps coming back in style because it flatters nearly everyone and never looks dated, only retro.
23. Balayage Side Part Bob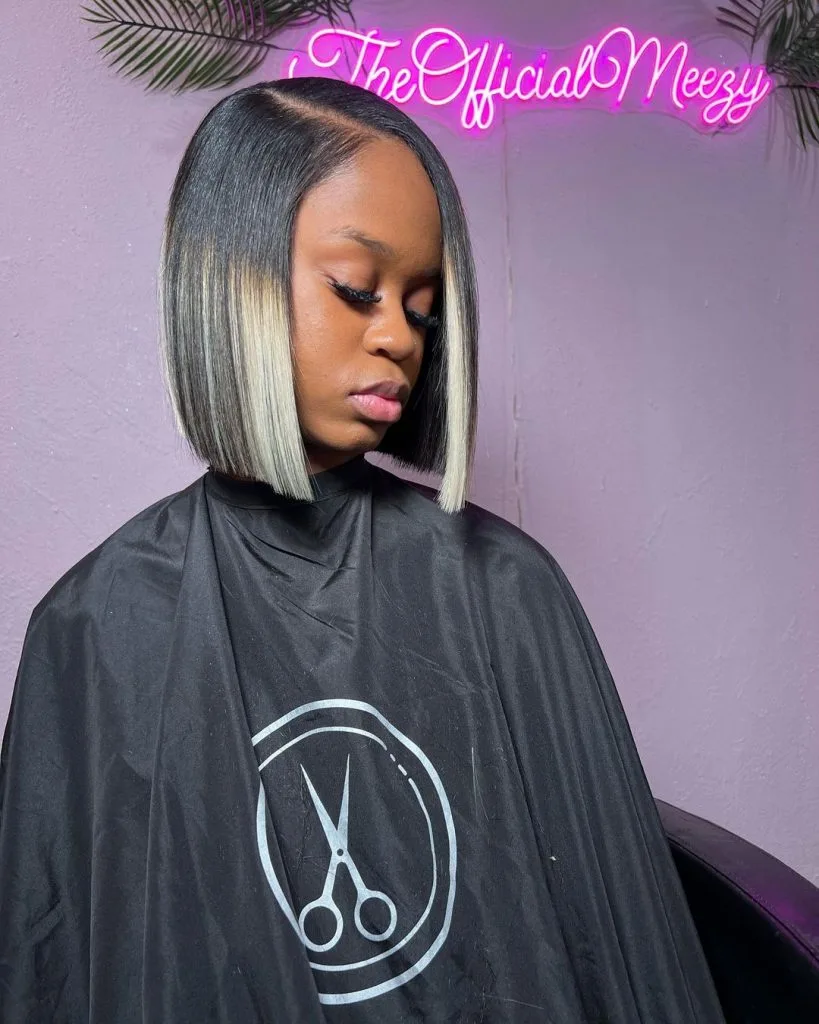 If you want a look that's modern and requires only occasional visits to your colorist, your best choices are either shadowed roots or balayage. Both look as good grown out as they look fresh and provide you with a style that's always just that tiny bit different.
24. Blunt Bob With Bangs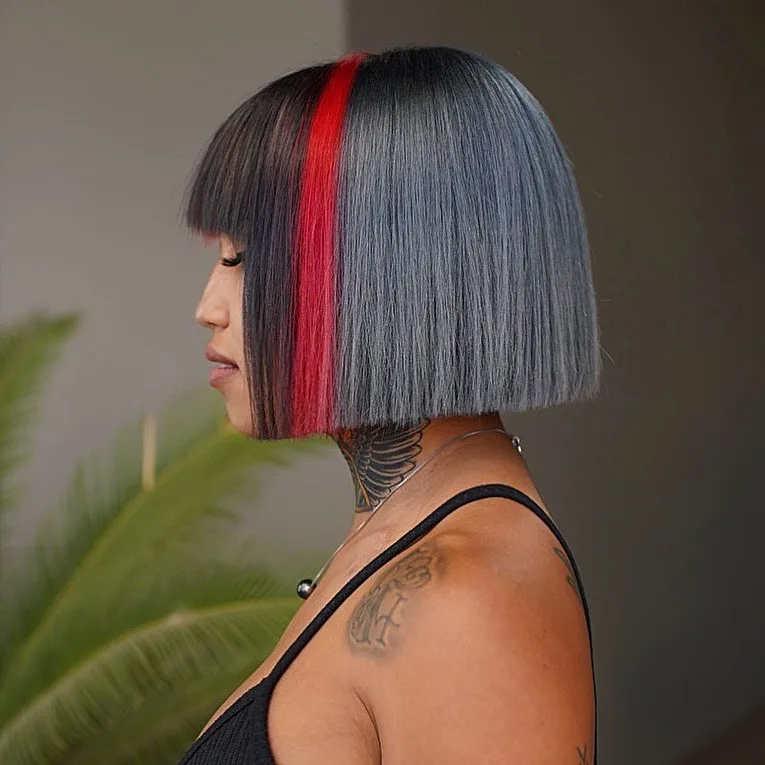 This sharp cut is the perfect choice if you want an edgy colorful look. It's short and has to be trimmed frequently so it stays healthy, and it's simple enough to keep all the attention of the color.
25. Curly One Length Bob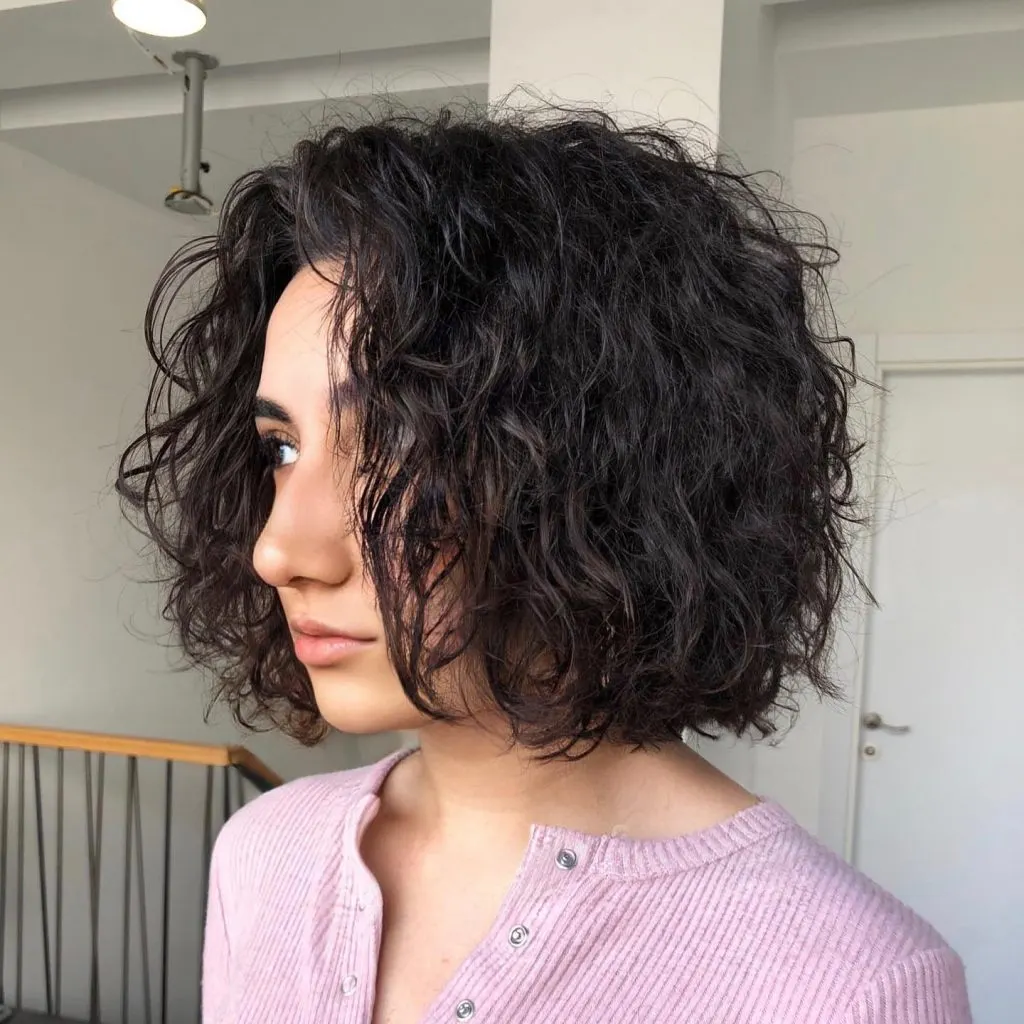 One length bobs work with naturally curly hair just as well as straight, and the shorter length makes the task of keeping your curls defined much easier.
26. Peek-A-Boo Color One Length Bob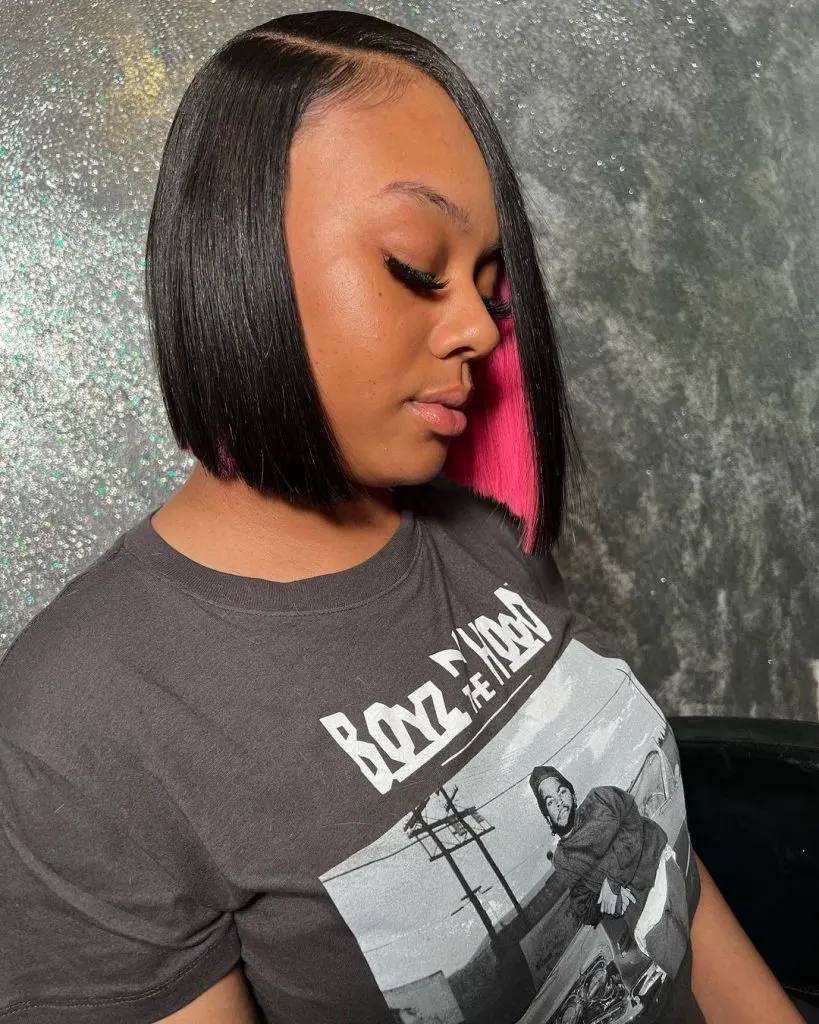 Short straight hairstyles are the perfect canvas for playing with color. This style is polished on the surface and edgy underneath—but glamorous all over!
27. Fine Hair Short Bob Haircut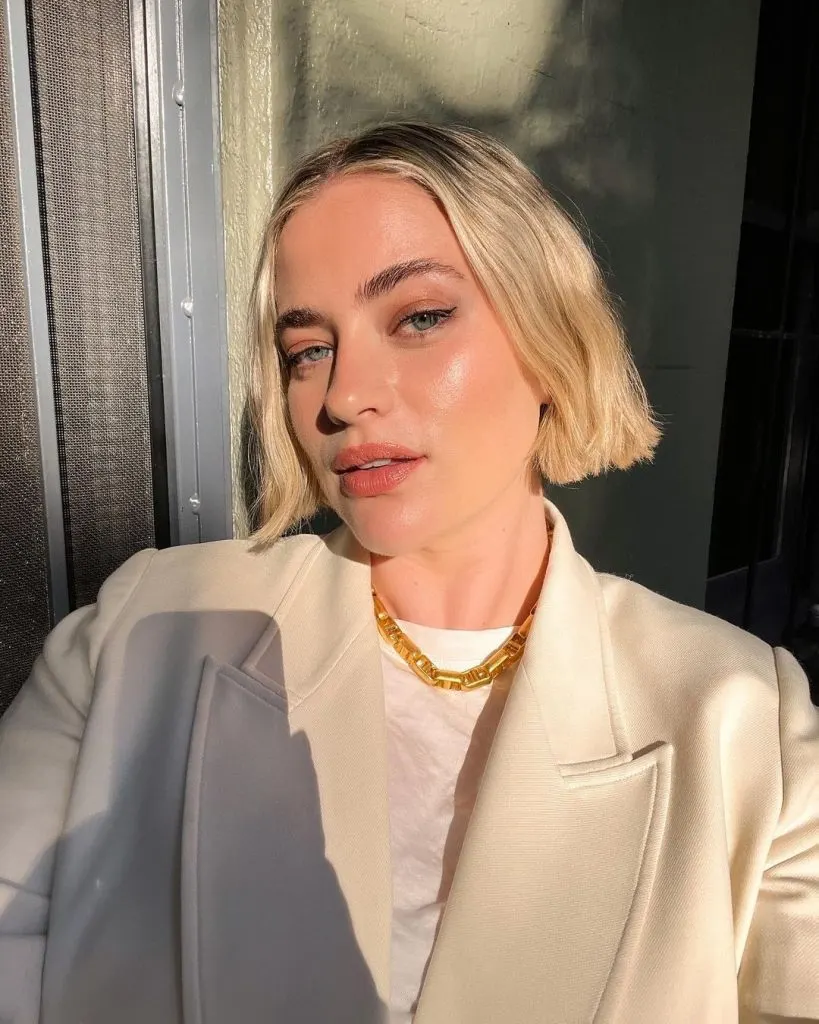 Fine hair chopped straight across looks thicker thanks to the boxy ends. Paired with a striking color, this short bob looks feminine and modern.
28. Middle Part Blunt Cut Bob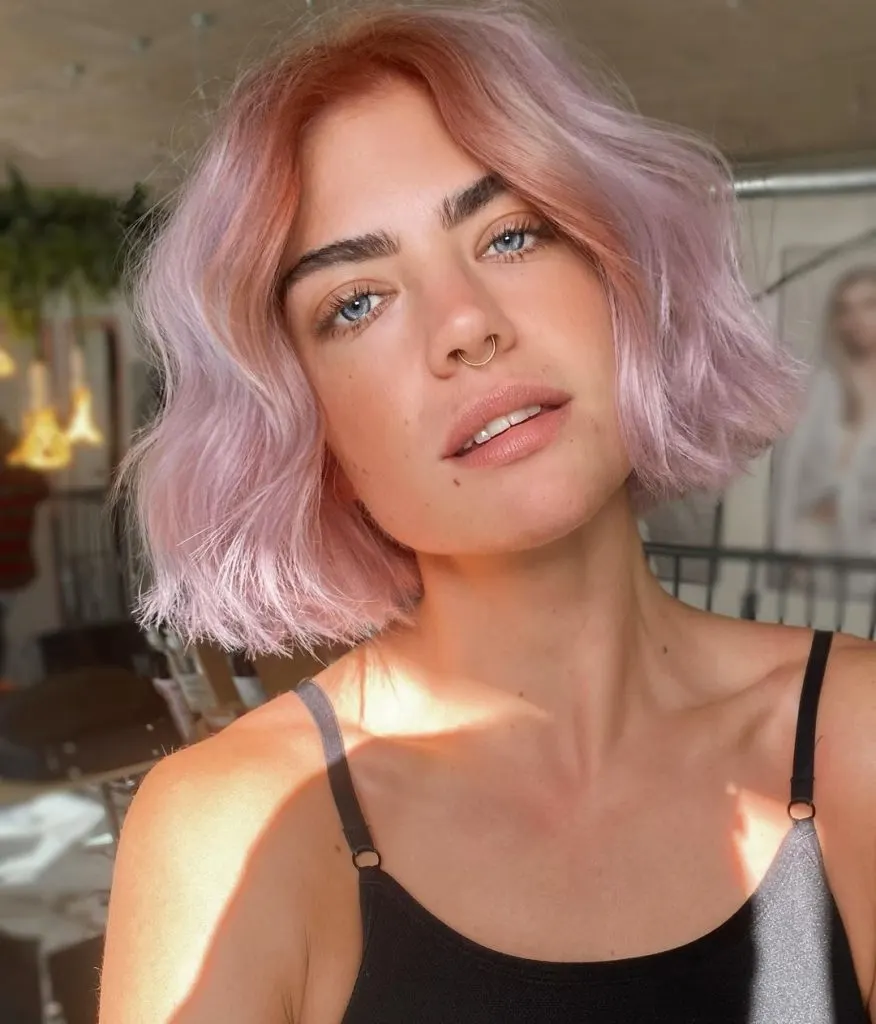 Soft waves and softer pink color contrast the blunt ends and create a balanced look.
29. Long Bob With Side Bangs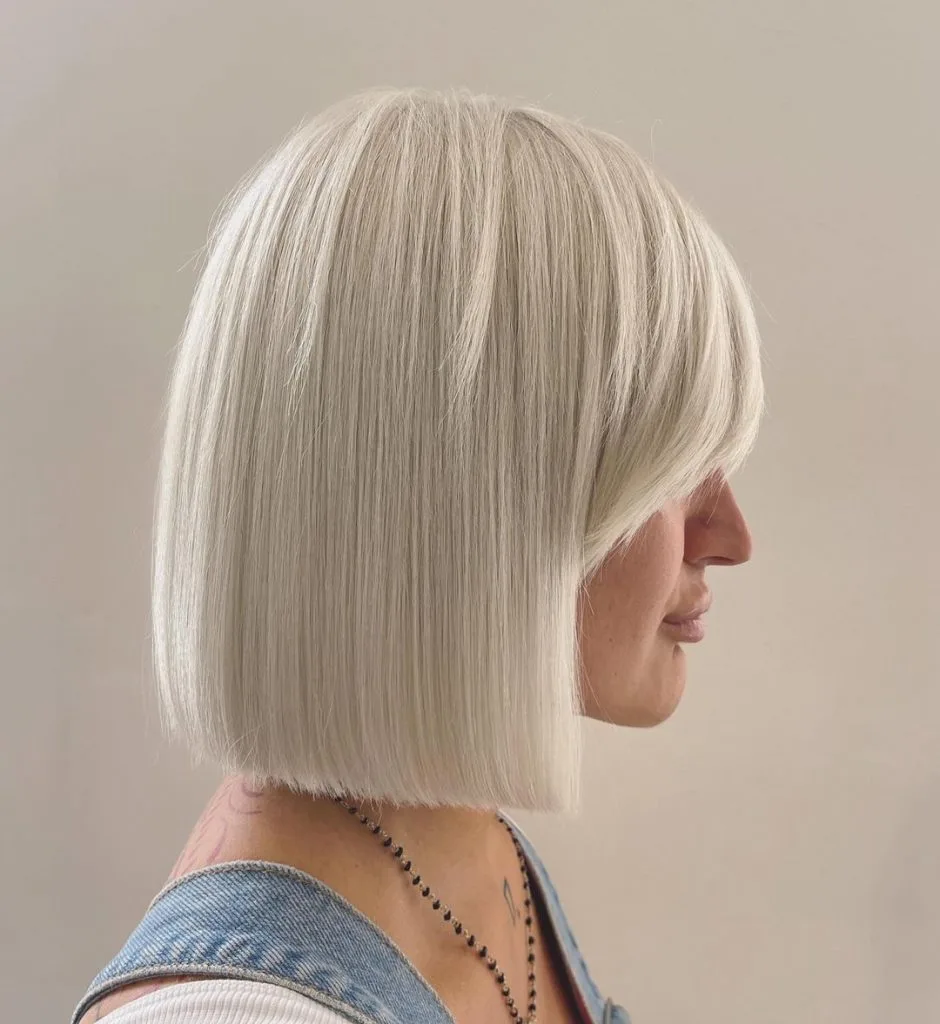 This long, sleek bob with blunt ends becomes playful and soft with the simple addition of side bangs.
30. Ear Length Short Curly Bob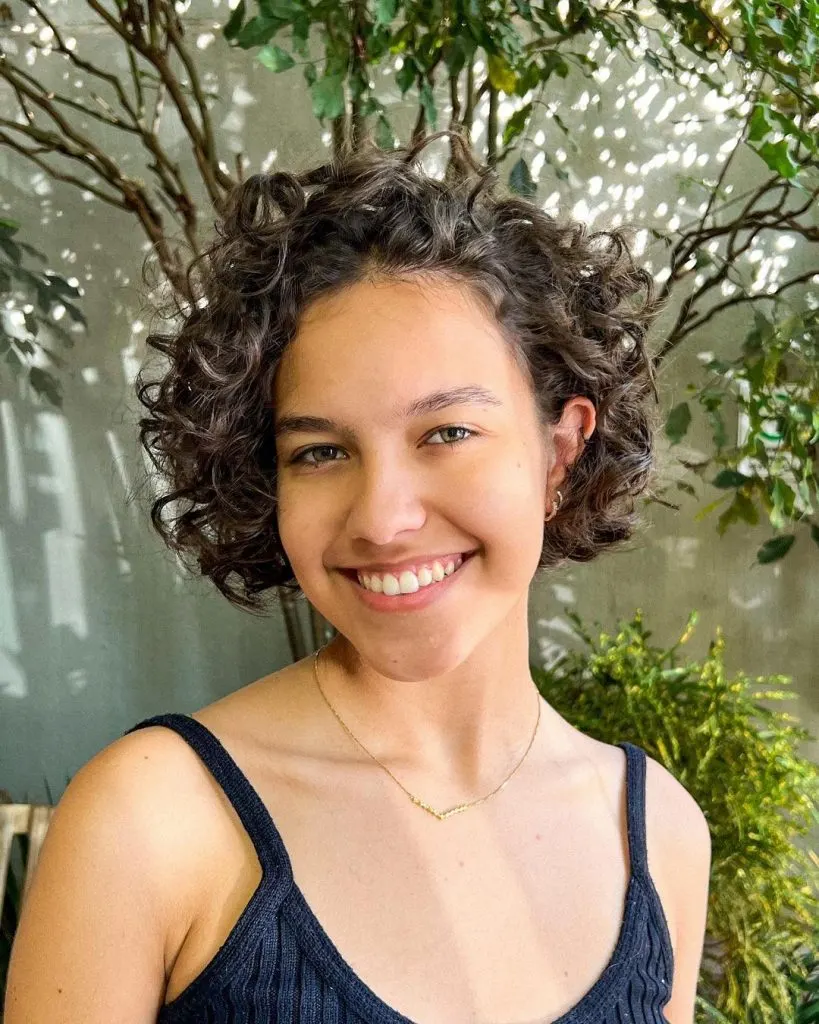 Short and curly bob works great with a messy, casual side-part that plays up the volume. The hidden layers enhance the curls without losing shape.
31. Fine Hair Chin Length Bob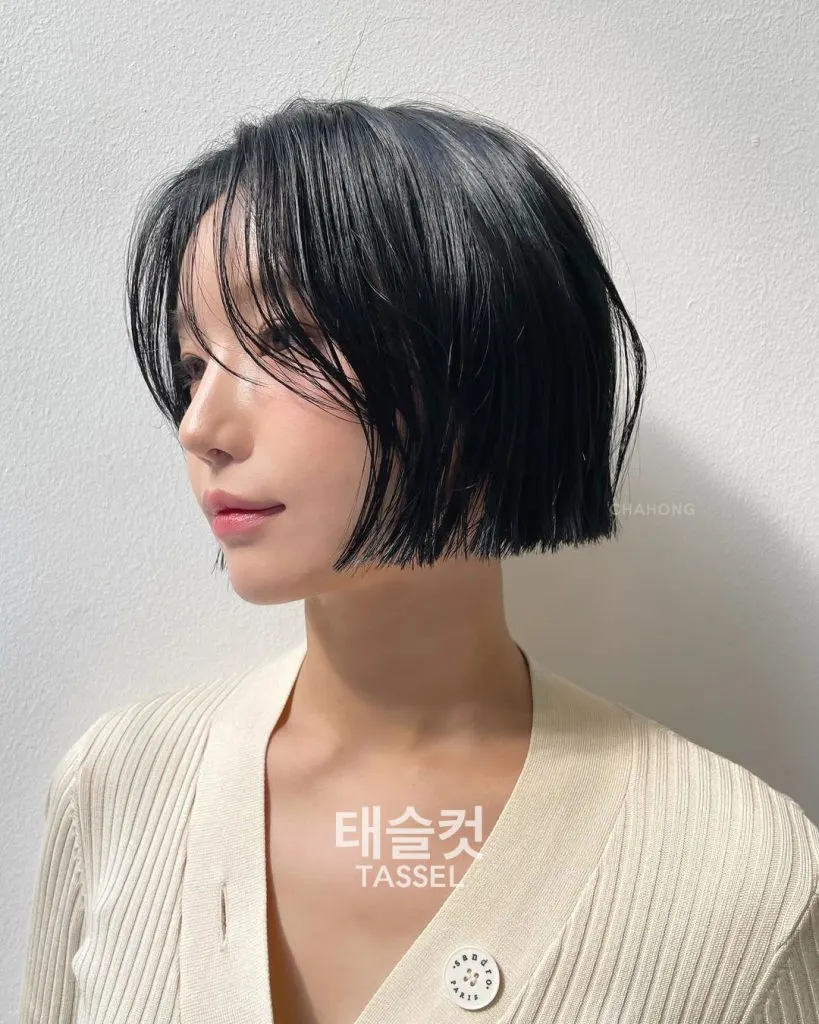 If your hair is thin, you can't go wrong with one length bob haircuts. The blunt ends make the hair seem much fuller, and if you prefer a softer look, wispy curtain bangs like these will frame your face beautifully.
32. Medium Bob With Bangs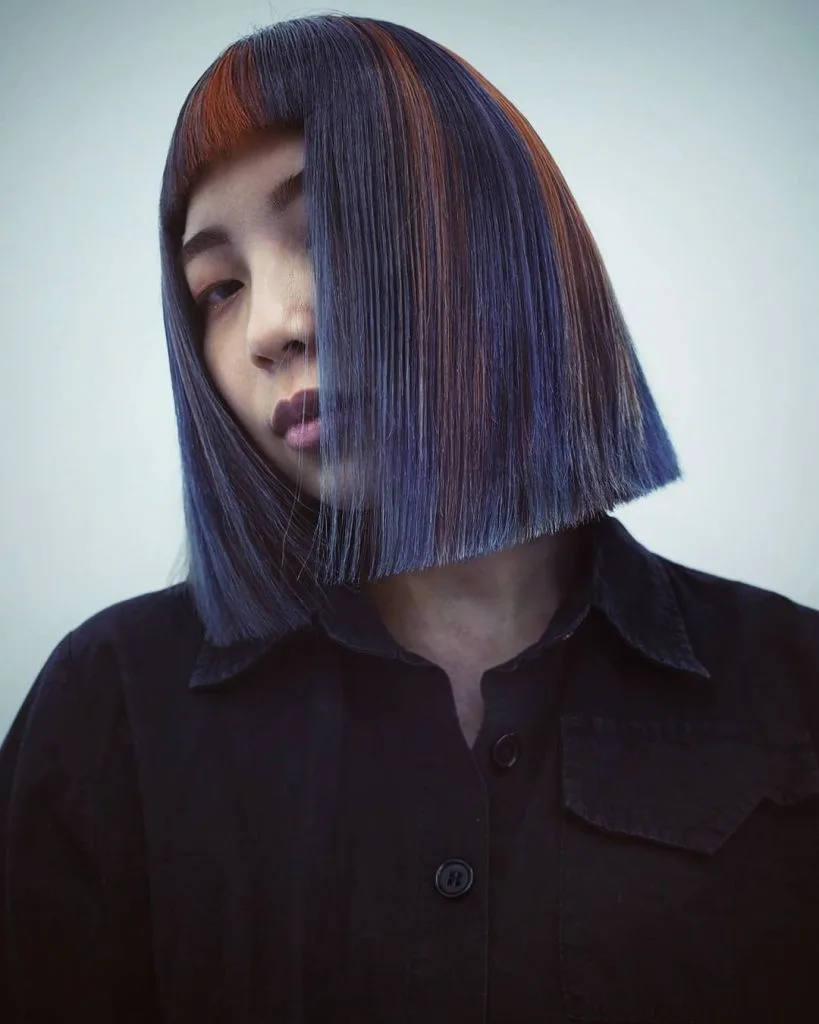 This short straight hairstyle with bangs is all about structure and impact, yet it's been tailor-made to suit the face. Don't be afraid to experiment with looks that intrigue you, but make sure your hairdresser knows how to make a style work for you.
33. Neck Length Blunt Bob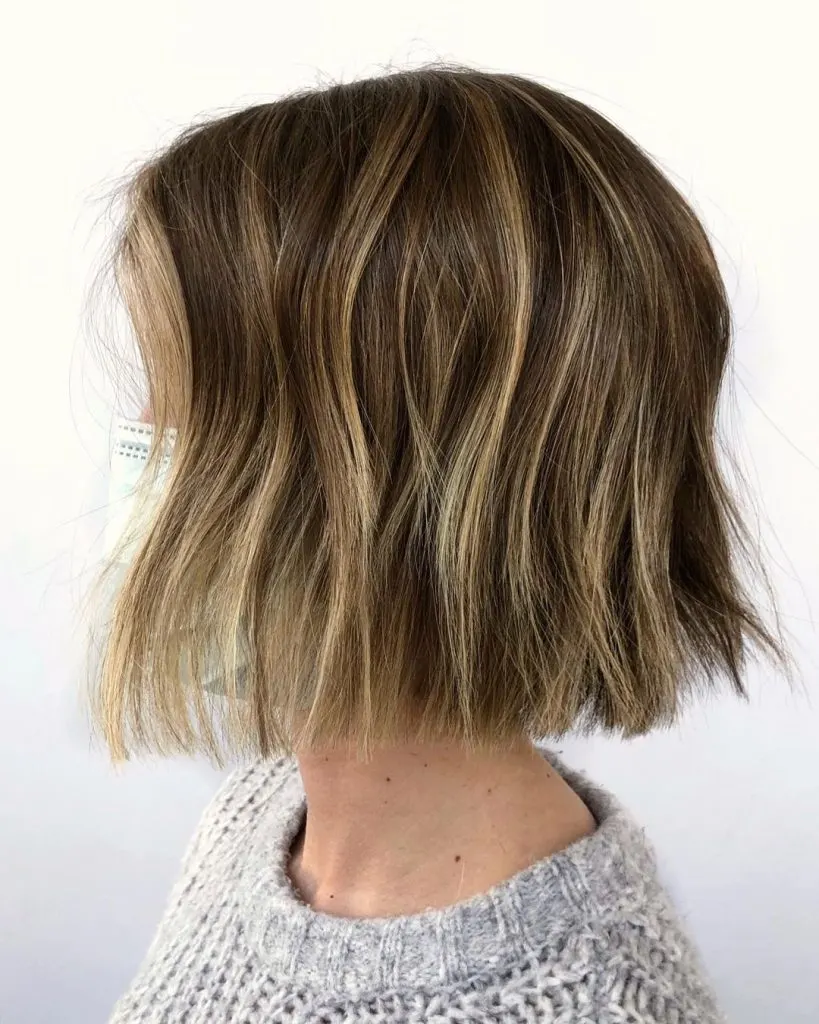 This is the exact cut, color and styling combination we've been seeing everywhere the past few years, but it's not going anywhere yet—it's flattering, easy and fun!
34. Edgy Short Bob With Bangs
Ultra sleek chin-length bob with equally sharp baby bangs is the cool girl hairstyle. It works with natural and unnatural colors, as long as they're eye-catching and intense.
35. Long Bob With Bangs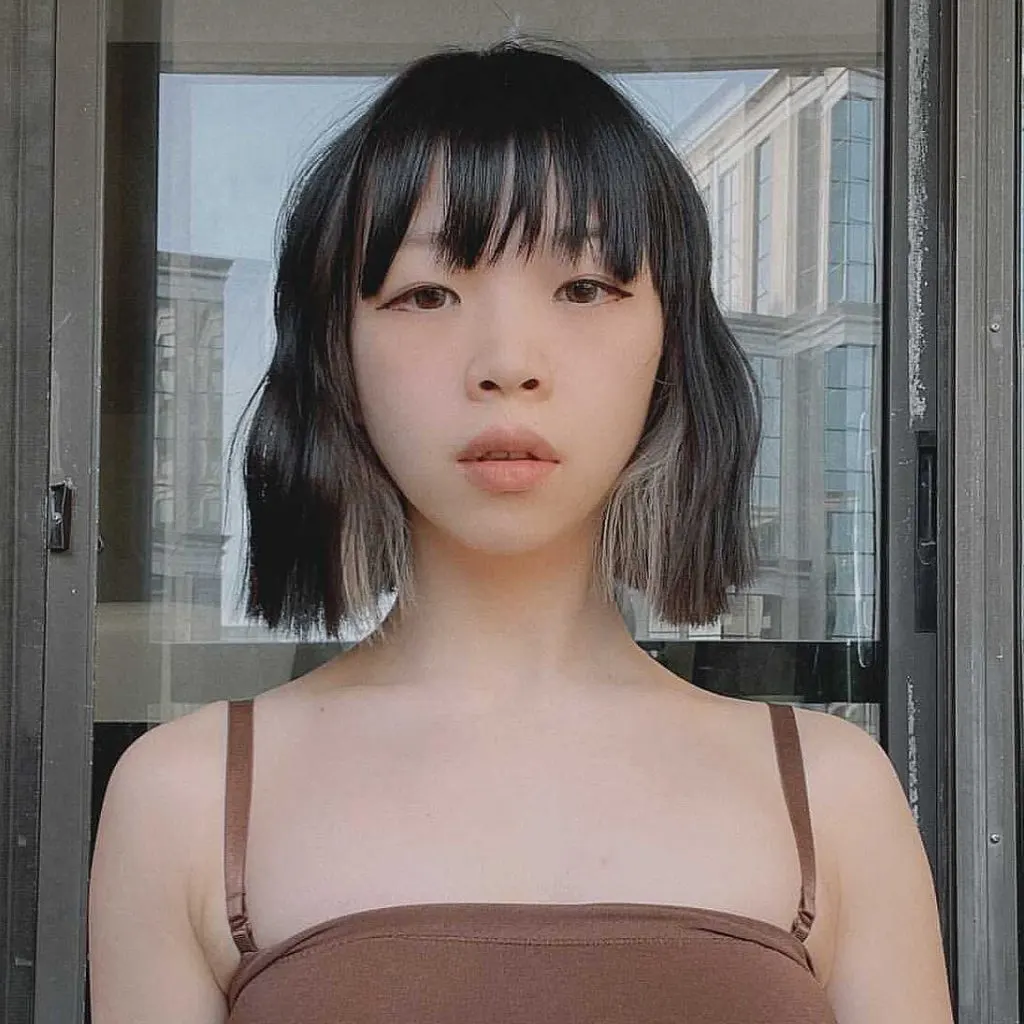 A blunt bob with bangs can look a little stiff, but these razored bangs look cute and playful, providing a contrast to the blunt ends.
36. Wavy Deep Side-Part Bob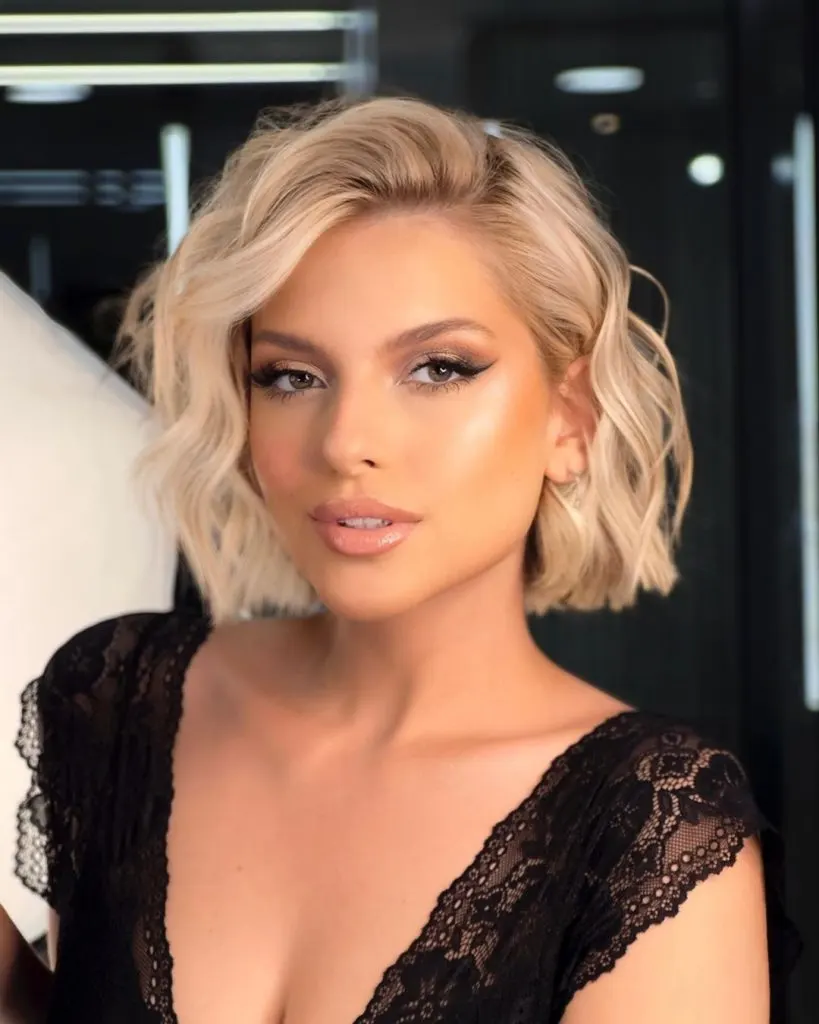 The length, the color, the waves and the deep, high side part all evoke sensual and dramatic looks of old-Hollywood movie stars.
37. Long Textured Bob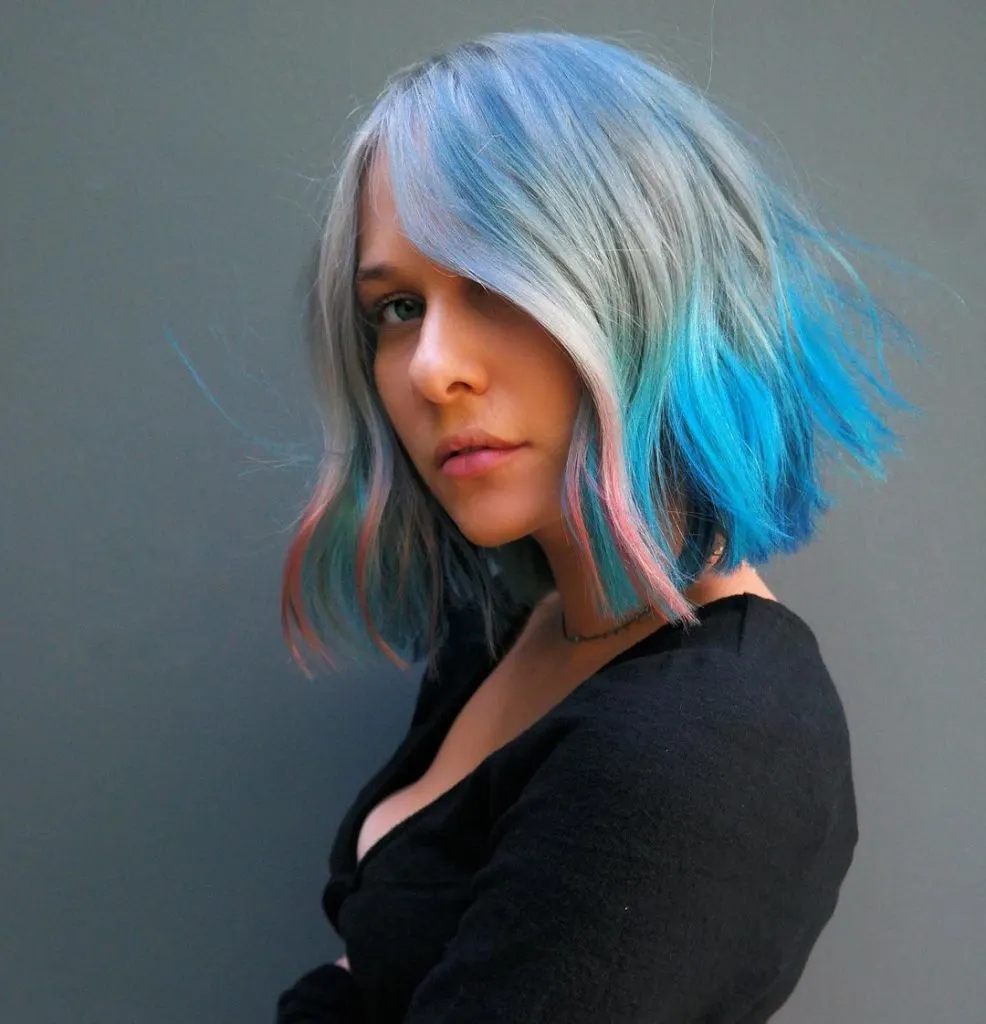 The vivid color and the piecey ends of this long tousled bob are decidedly current, but the long bangs falling seductively over one eye create a mysterious retro look.
38. Blunt Wavy Bob Haircut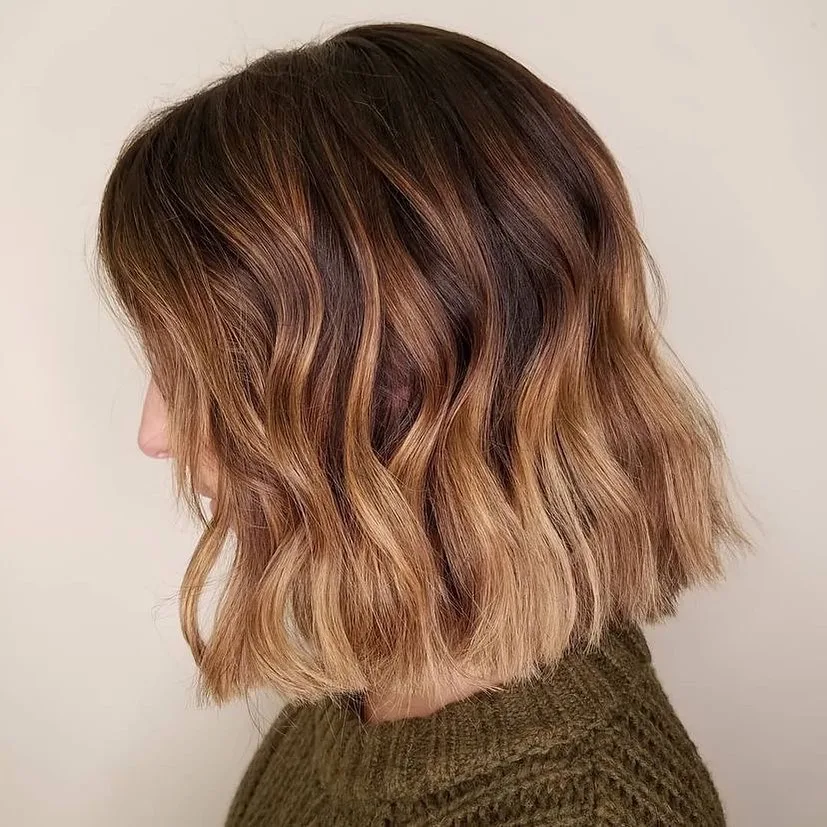 This entire style has been designed to be the perfect beachy bob, leaving the impression that you've really spent the day enjoying the sea and the sun. The warm honey-blonde looks natural thanks to the shadowed roots and the tousled waves look carefree and casual.
39. Blunt-Cut Middle-Part Bob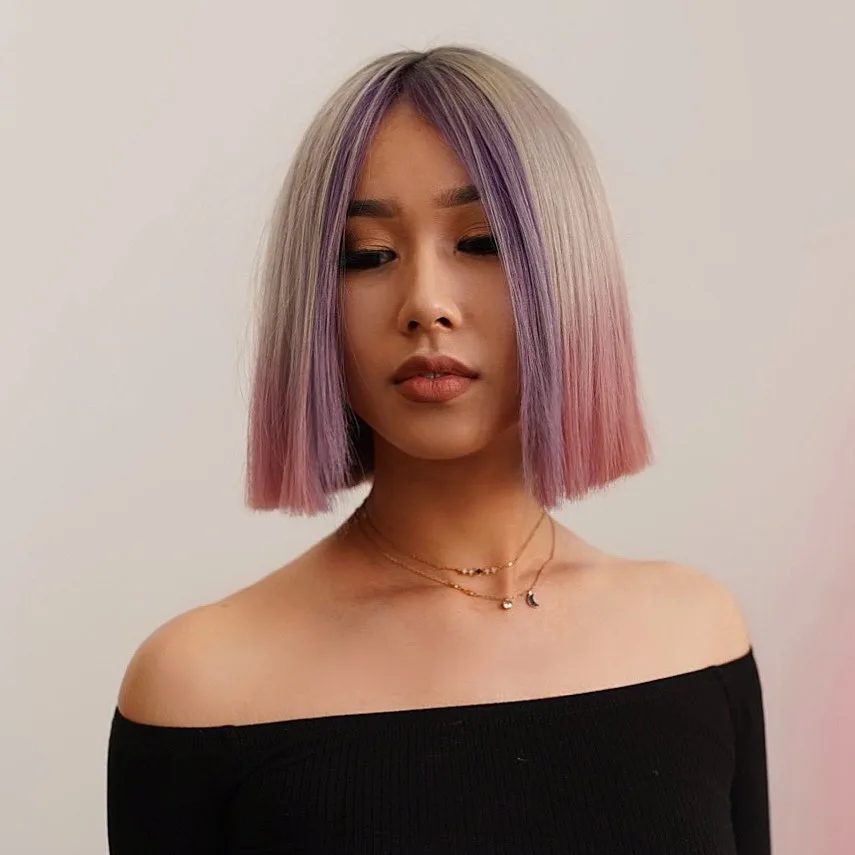 Bulk at the bottom isn't always unwanted—keeping it creates a lot of volume. This style can be very flattering on a round face if you want to make it seem narrower.
40. Neck-Length Straight Bob Haircut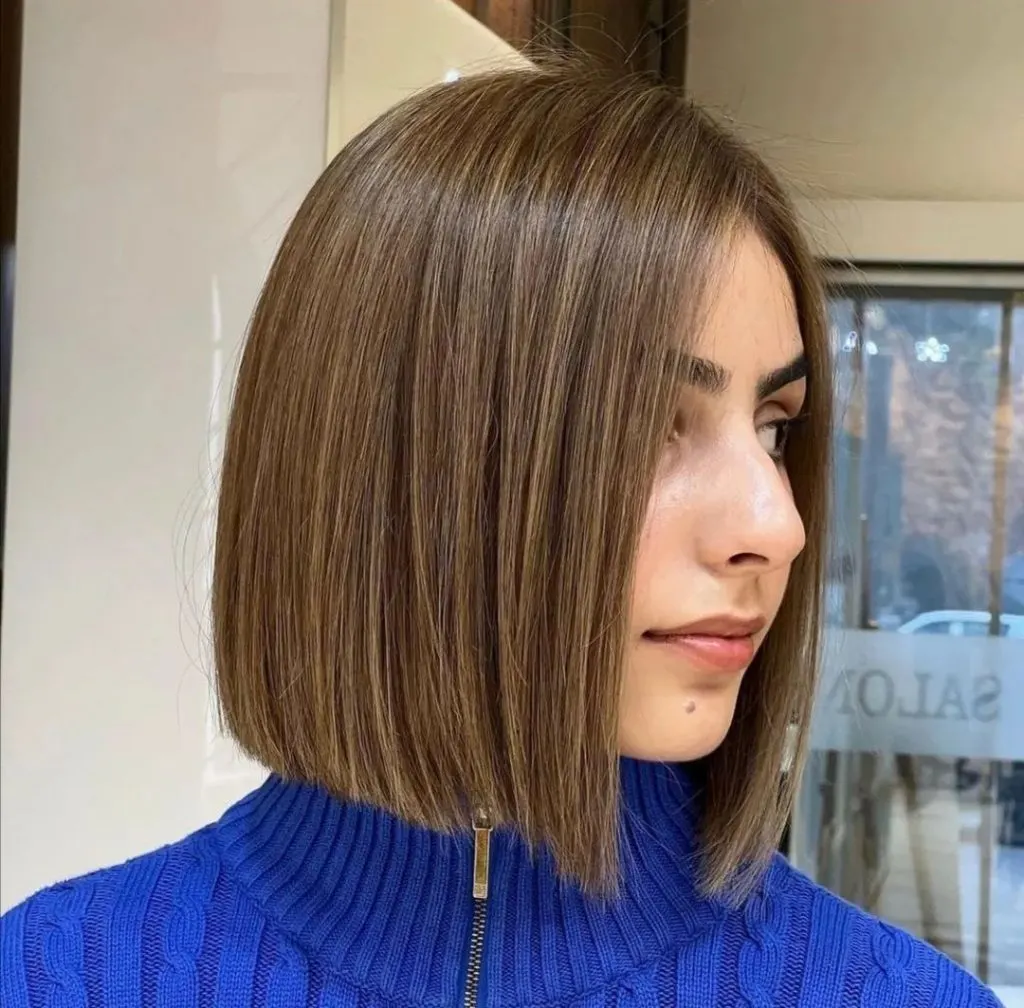 A straight bob can look elegant and put-together, but also soft and casual, depending on the rest of your styling. The perfect choice for those who like to change things up.
41. Medium-Length Sleek Hairstyle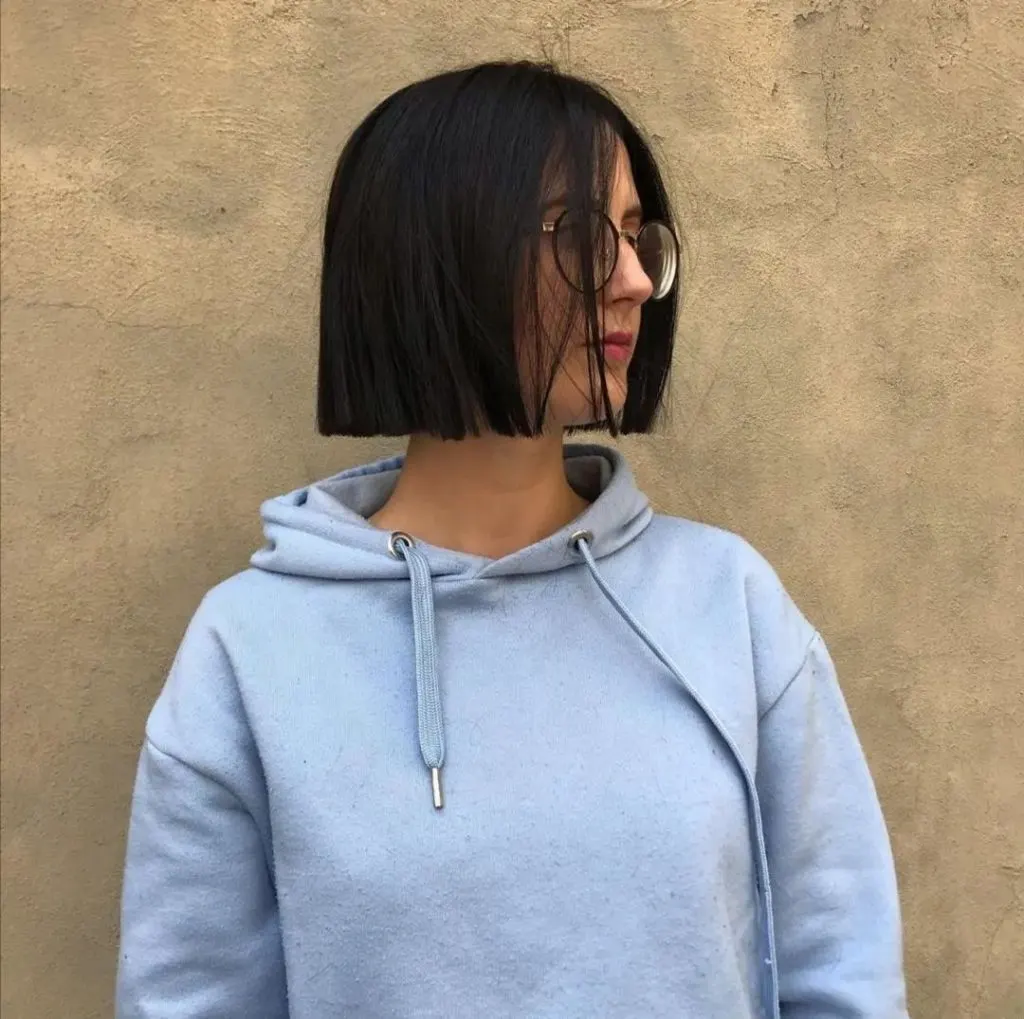 Add movement to a blunt, straight bob with a few face-framing flyaway pieces.
42. Short One Length Bob With Middle Part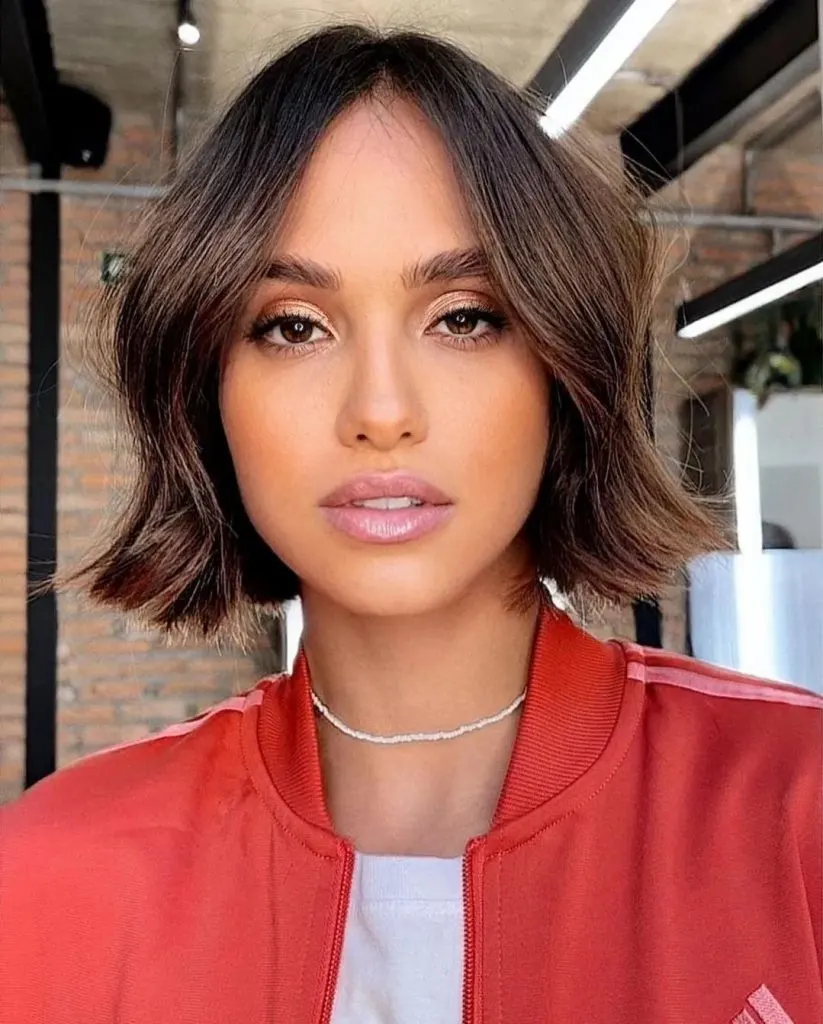 One length bob with a casual finish has an effortless vibe, and can be easily customized to fit any face shape by changing up the parting and adjusting the length.
43. One Length Bob With Long Wispy Bangs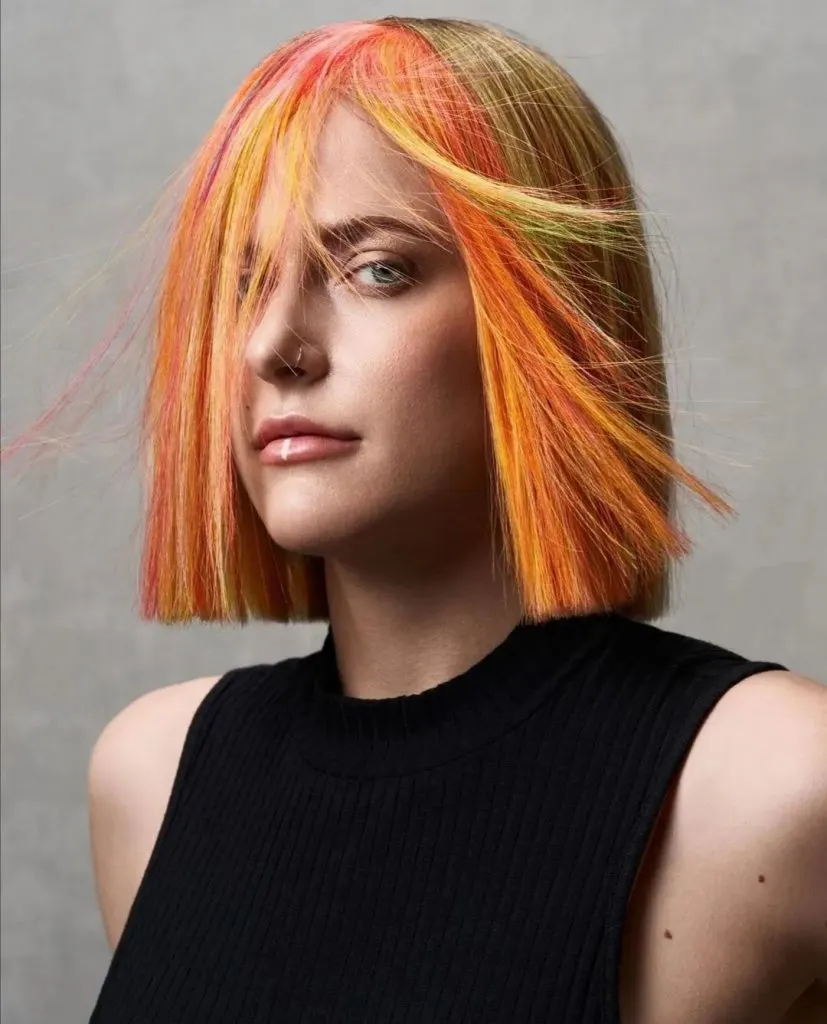 Straight and sleek doesn't mean stiff! When styling your one length bob hairstyle, look for products that create texture instead of making your hair crunchy.
44. Short French Bob Haircut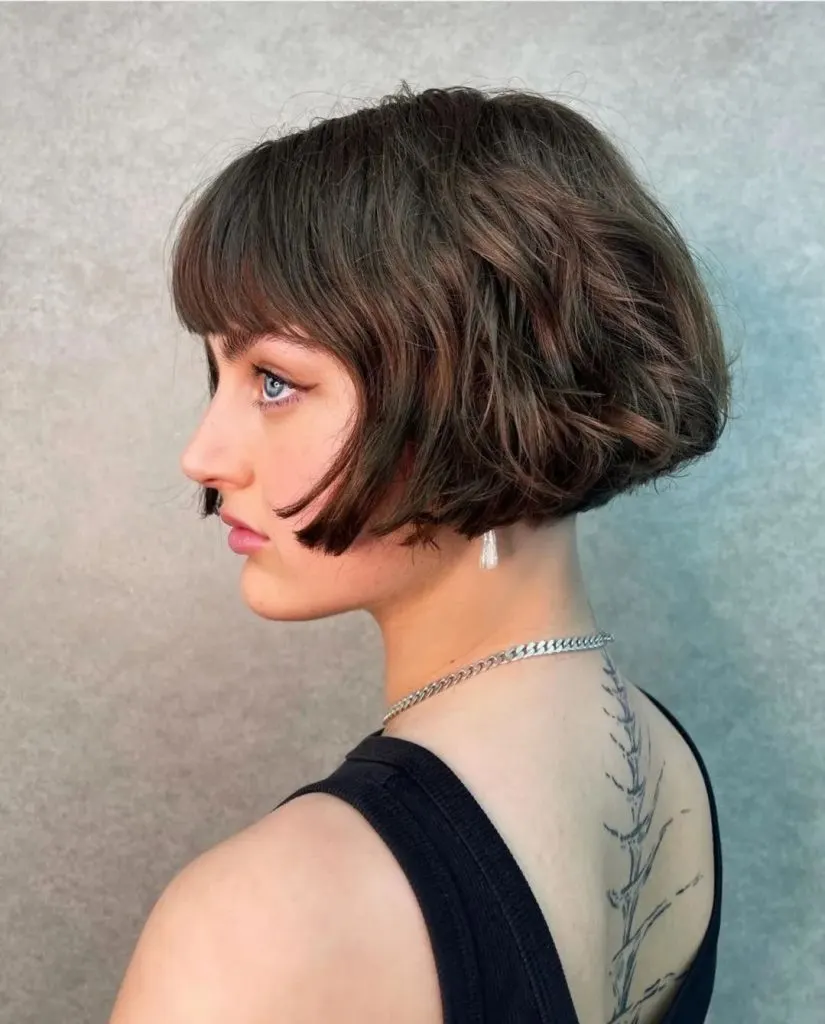 If you're looking for a cute and chic hairstyle, French bob highlights your cheekbones and elongates the neck.
45. Chin-Length 90s Bob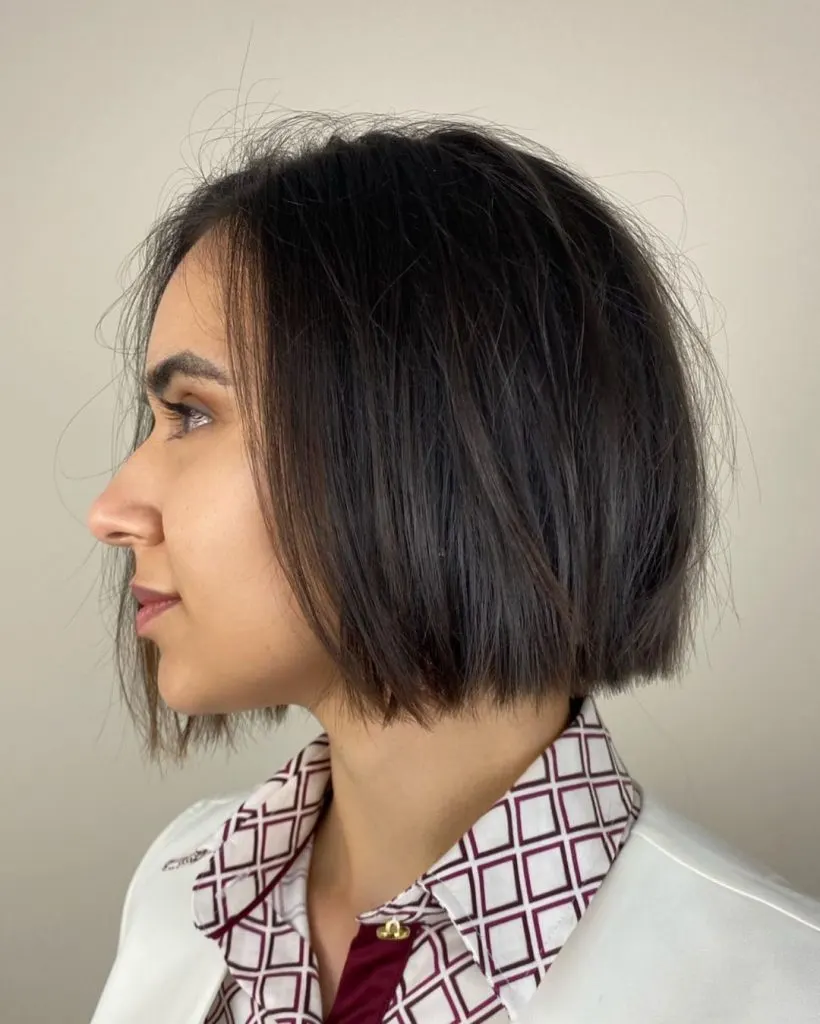 You don't want to tame all the frizz if you're rocking a 90s bob. This cropped, casual style looks best if it's not perfectly polished.