So you're done with long hair and ready to get the chop, but you're not sure where to go from here? Some of the easiest and most flattering hairstyles all fall under the short straight hair with bangs category, and if you want one, your options are limitless.
Fade, pixie, or bob; long side bangs, straight-across fringe or curtain bangs—choose a combination of cut and bangs to create your ideal hairstyle. Here's a varied selection to help you pick your perfect combo.
1. Short Hair With Bangs For Fine Hair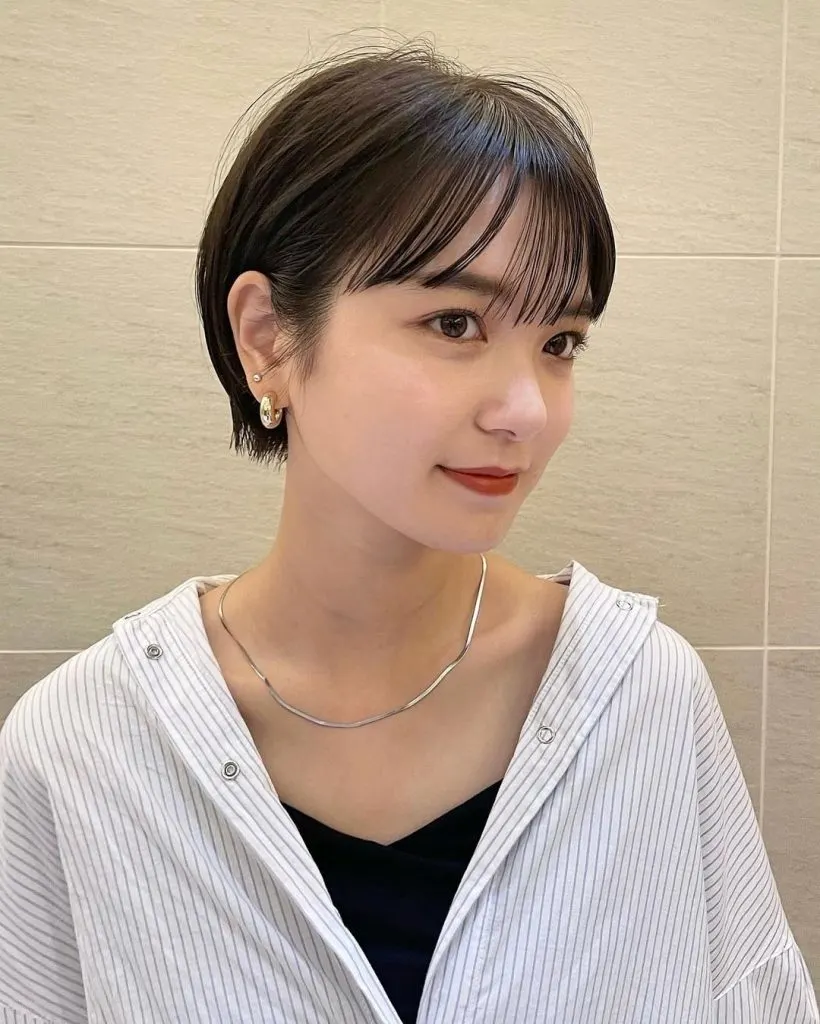 Short, sweet and pretty. This short-bob-slash-long-pixie can be worn tucked behind the ear when you want a neat look or loose when you're feeling more casual. Oh, and the see-through bangs make it a million times cuter.
2. Chin-Length Bob With Short Bangs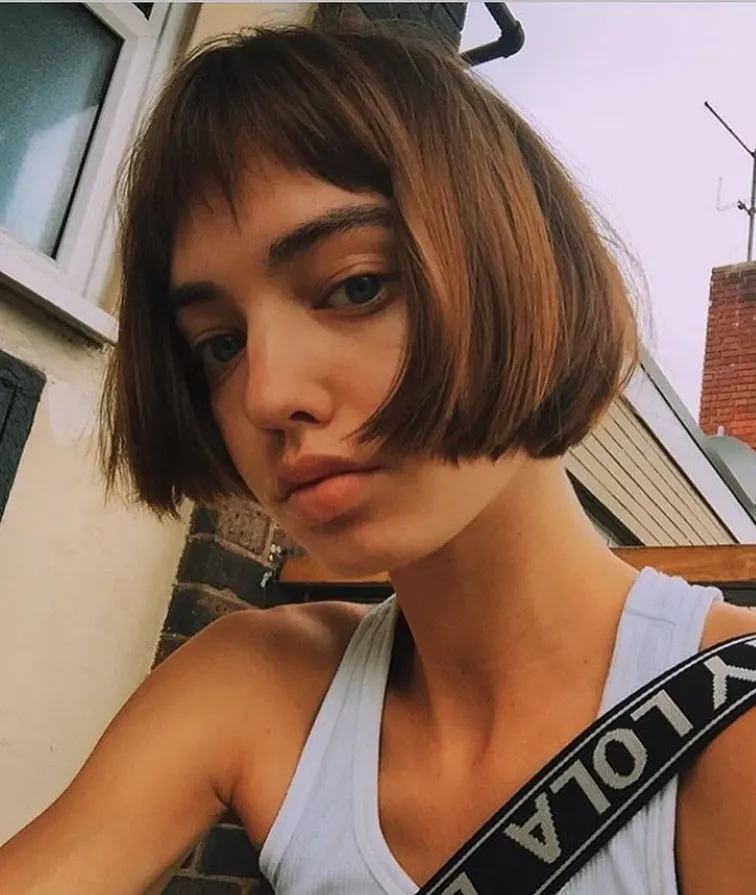 Jaw-length bob with bangs is a staple cool-girl haircut. It's a stylish, carefree look that exudes confidence and a no-nonsense attitude.
3. Choppy Short Hair Bangs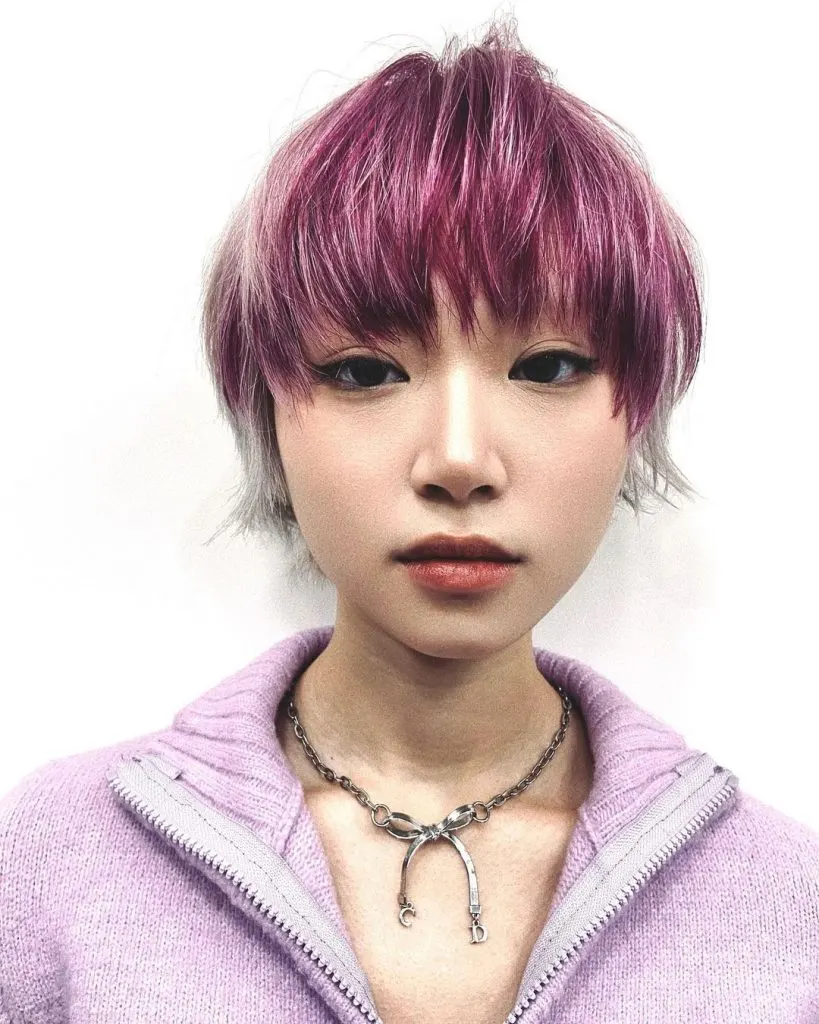 If you like messy and casual hairstyles that are still flattering and pretty, a short cut with choppy thick bangs and plenty of feathering will get you just that.
4. Short Fringe Haircut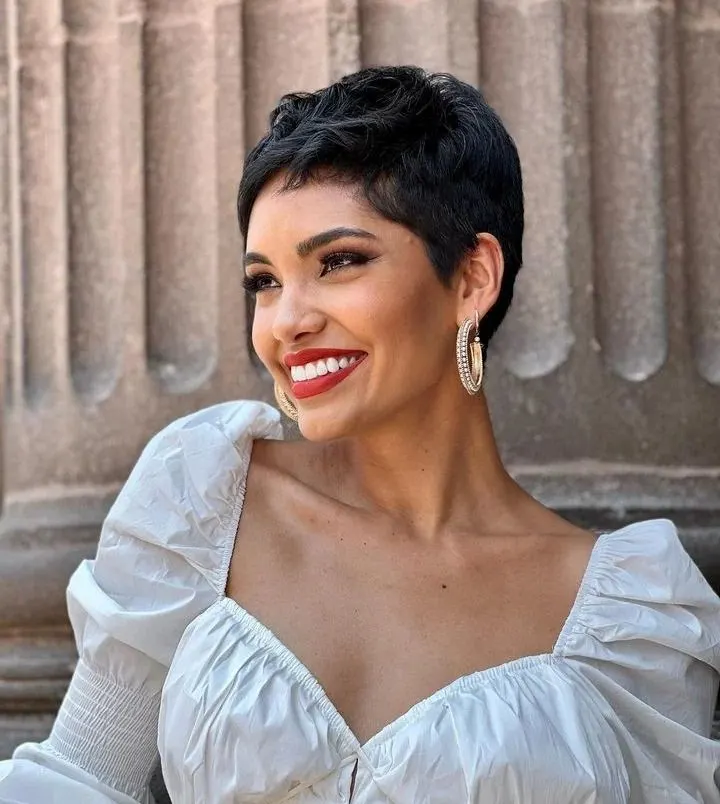 A cropped pixie is fresh and chic, bringing your face into the focus. Don't underestimate the micro bangs: they do more than look cute even thought they're so short by making the haircut suit the face better.
5. Layered Short Straight Hair With Bangs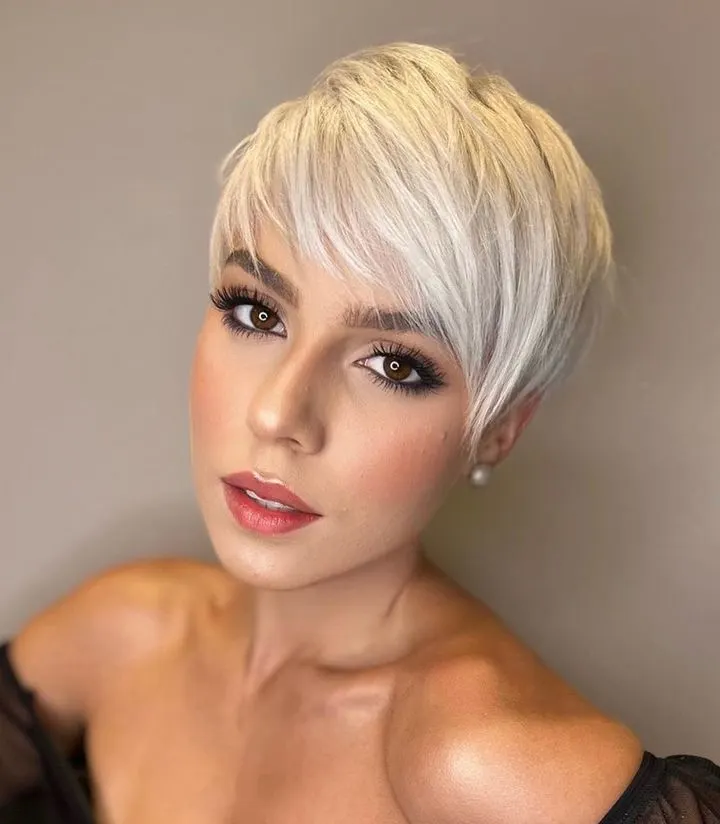 Wispy side bangs are a popular companion to a pixie cut because they frame the face. Also, they're the ideal style of bangs for heart-shaped faces, taking the attention away from the forehead and creating balance.
6. Bob Haircut With Side Bangs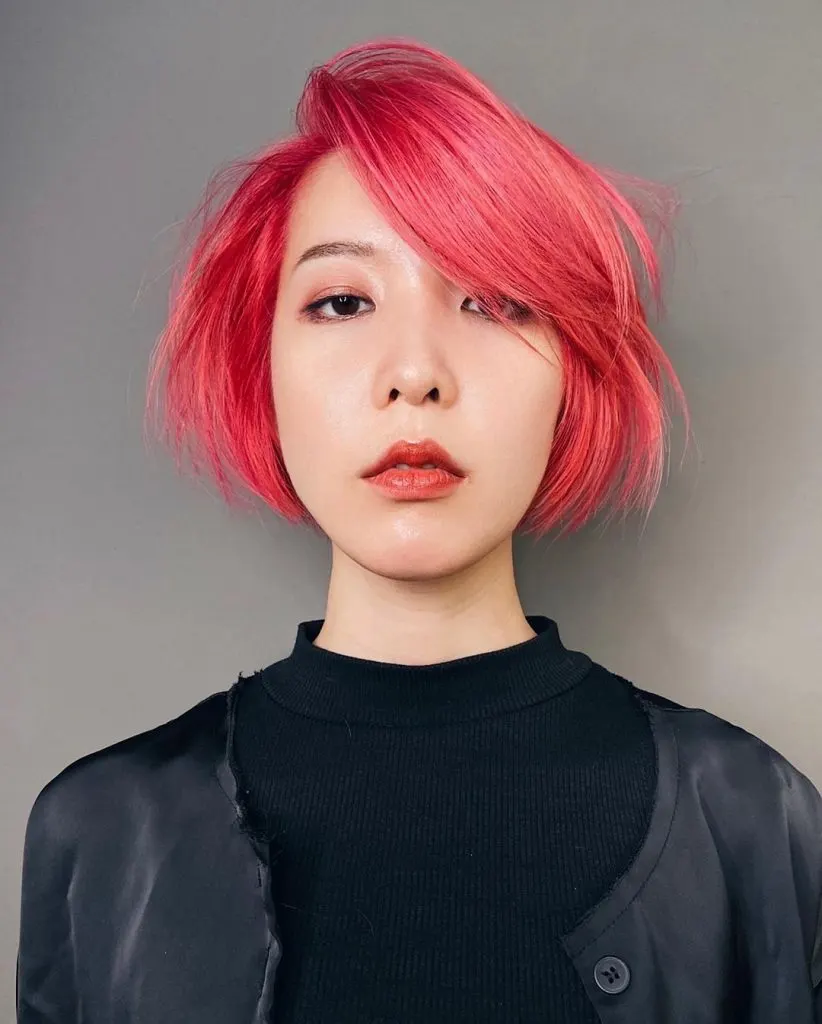 A dramatic bob with side bangs adds to the volume on top, which is what we all want. Higher hair makes the face look more delicate, so if you want to soften your features, get your parting deep and your bangs high.
7. Short Hair With Side Bangs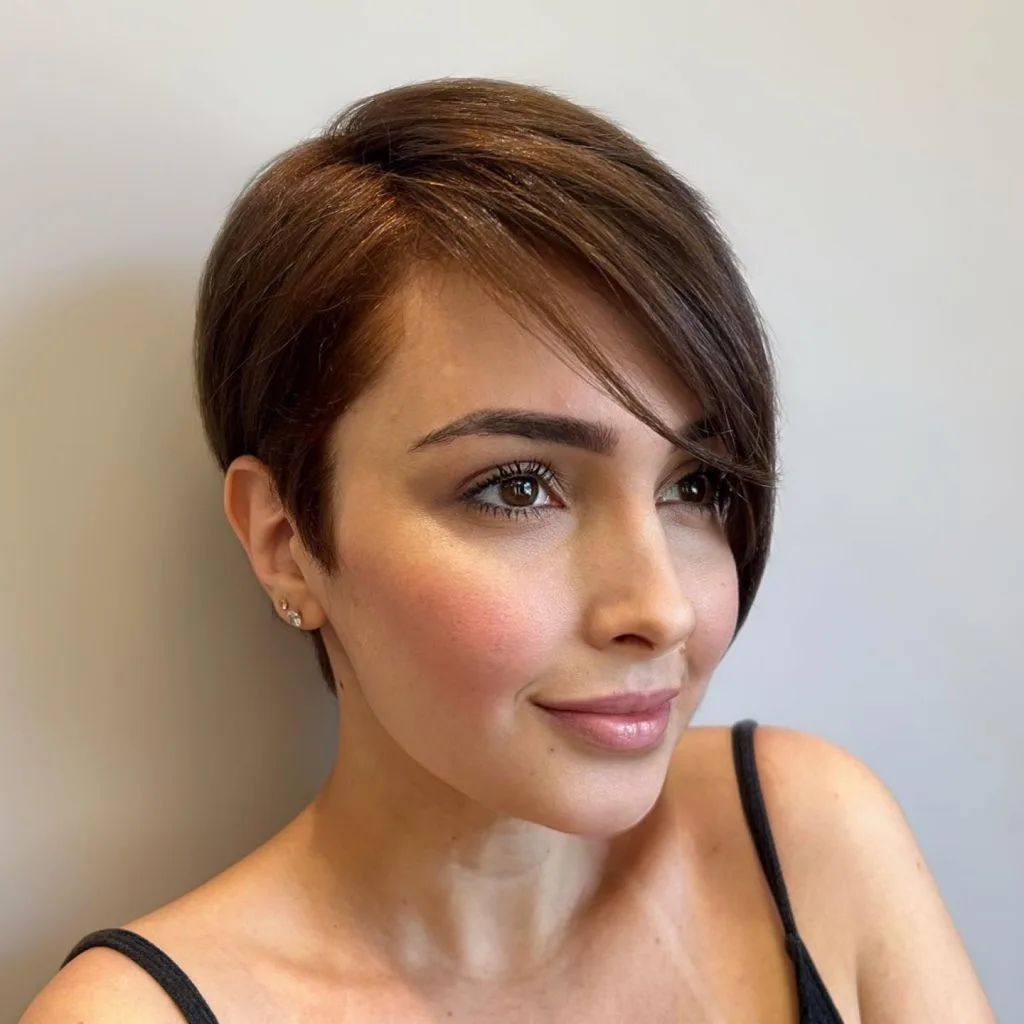 A short rounded bob with longer strands in the front can be styled in a girl-next-door look, but it's much more versatile than that: slick it back for an androgynous look or wear it loose and casual.
8. Short Haircut With Bangs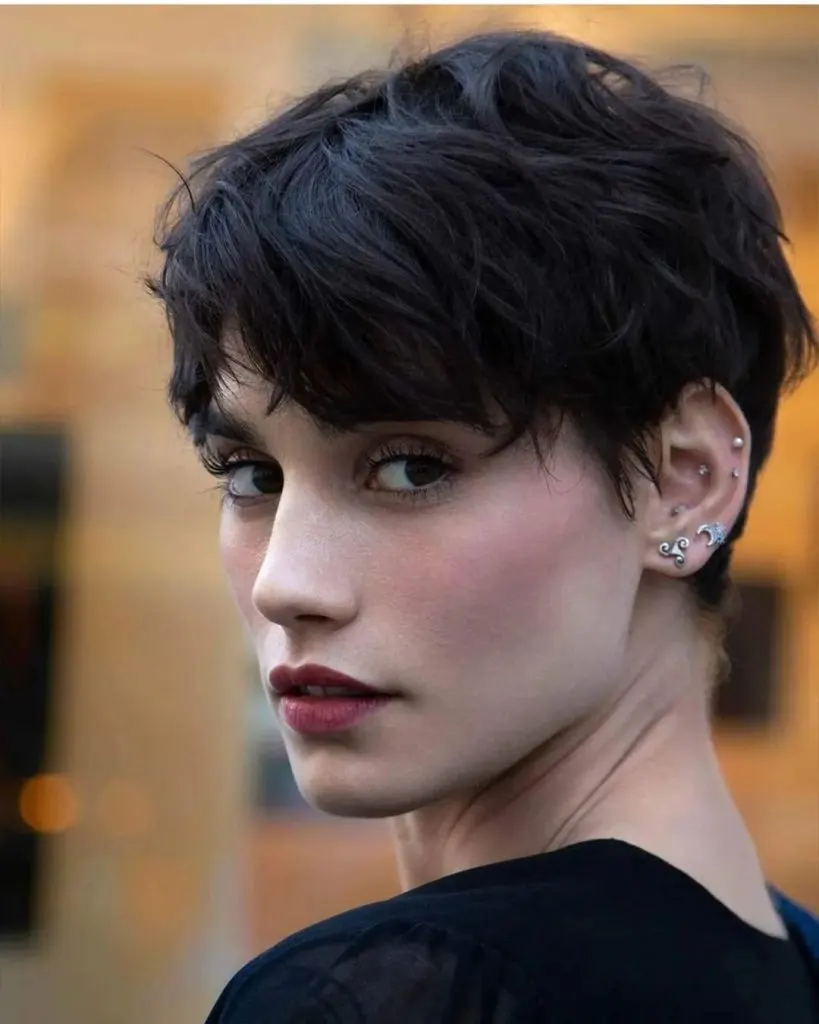 This clean and sharp look is a modern take on the classic 90's cut. It's short but with just enough length to play with—try adding some hair accessories, for example.
9. Shaggy Short Haircut With Bangs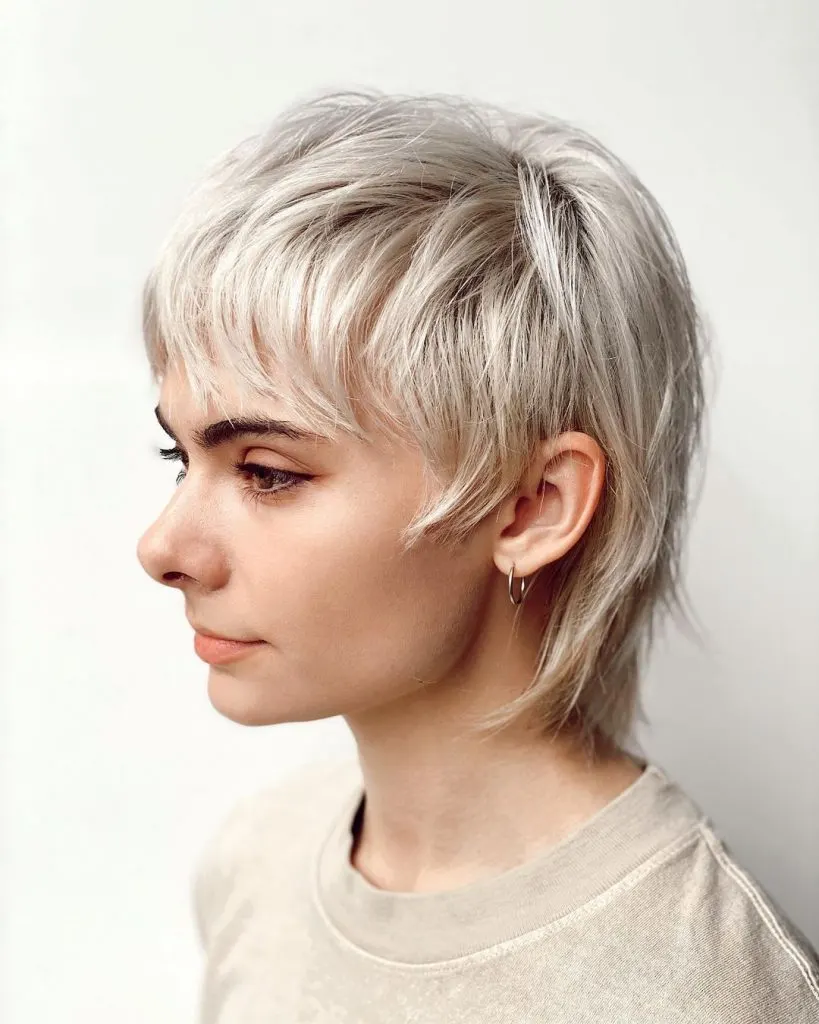 Mullets are edgy and cool, but it might take courage to go for this particular short choppy haircut. Make it easier by choosing the style of bangs that specifically fits your face.
10. Short Layered Hair With Bangs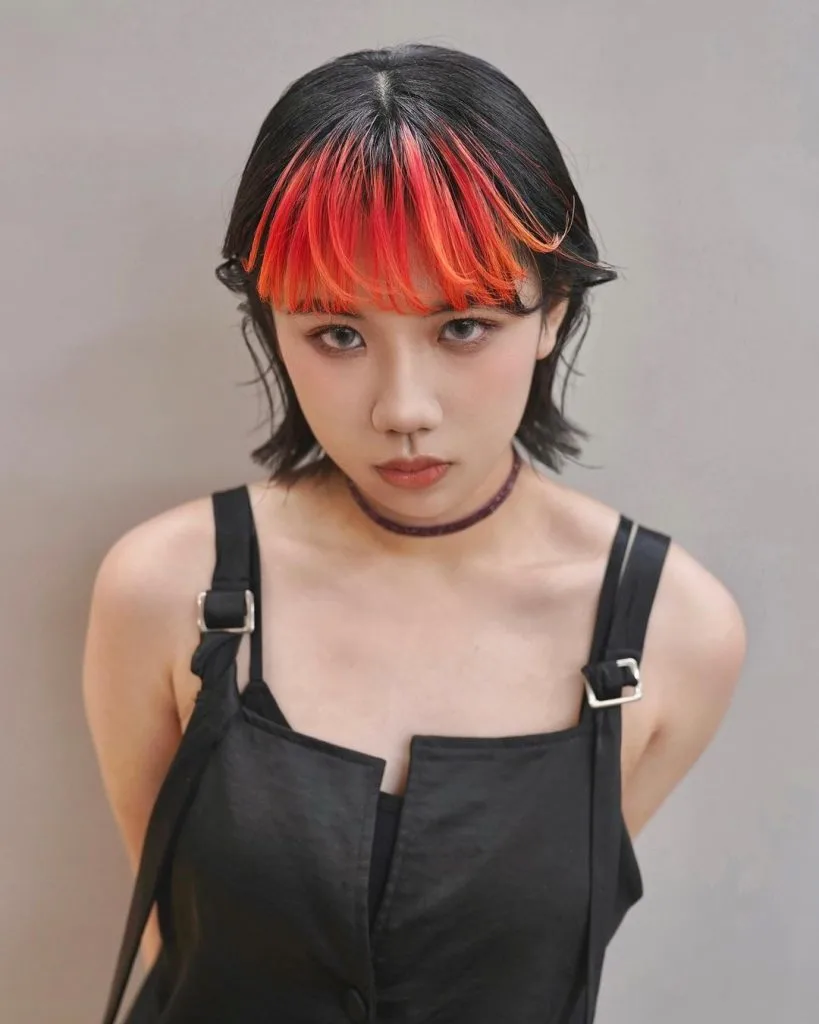 Bangs can be a flattering accessory for your haircut, or the central point, like this bright red textured fringe that takes the hairstyle from cute to outstanding.
11. Short Straight Hair With Bangs And Layers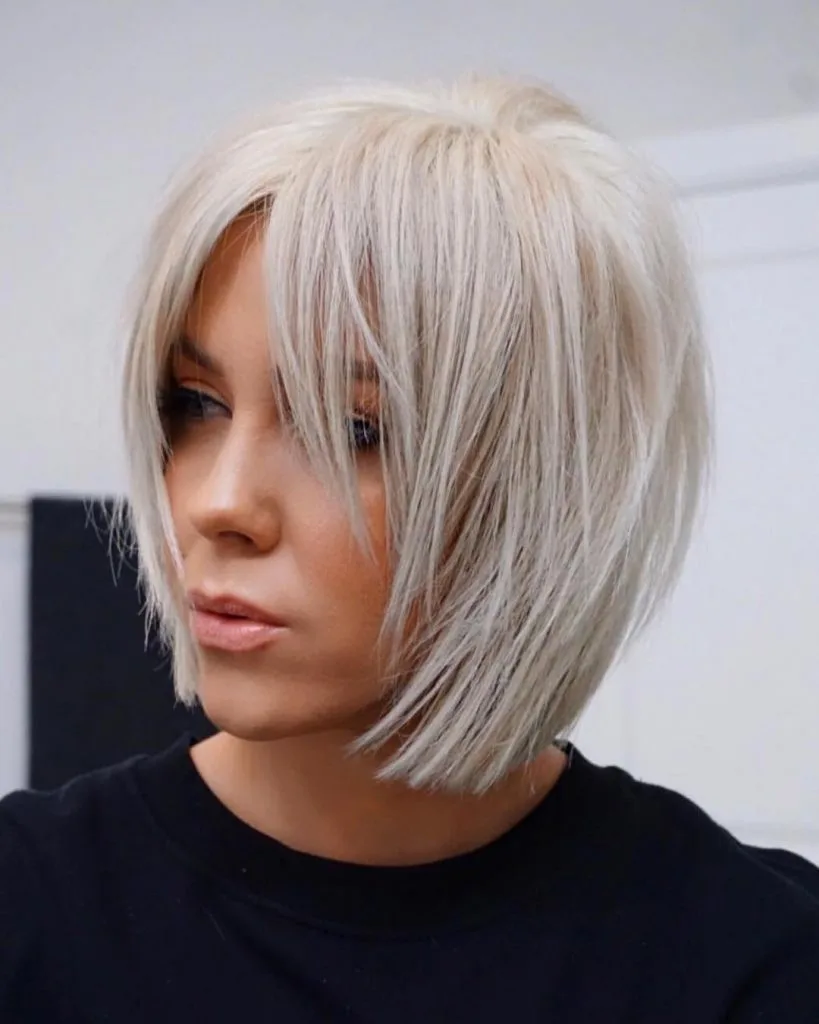 Heavily thinned out bottom takes care of all the bulk and the layers boost the volume. The long bangs are a bonus that makes the styling of this haircut easier because it already looks good around the face.
12. Sleek Bob With Short Fringe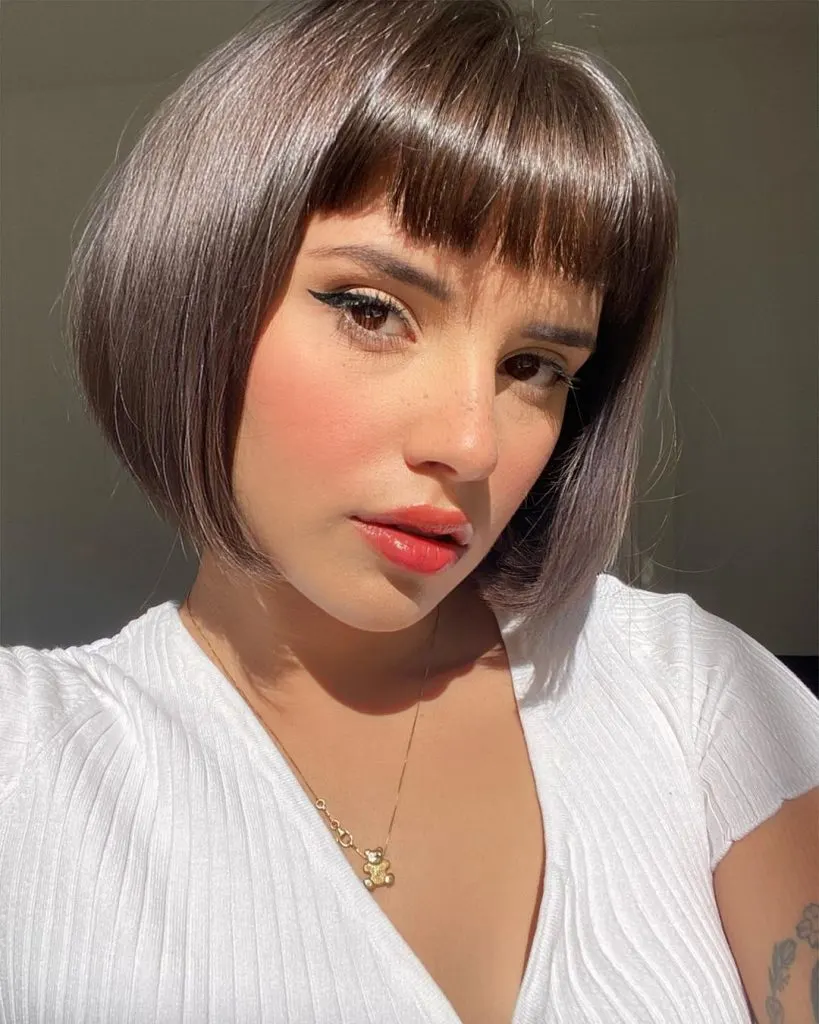 The polished rounded bob can work with all types of bangs, but its natural match is a short straight-across fringe. A classic look.
13. Short Hair With Bangs And Layers
Blunt-cut ends and texturizing layers result in cool, disheveled style that looks effortless. (You'll have to style this short bob with bangs a bit to look good, however.)
14. Choppy Short Straight Hair With Bangs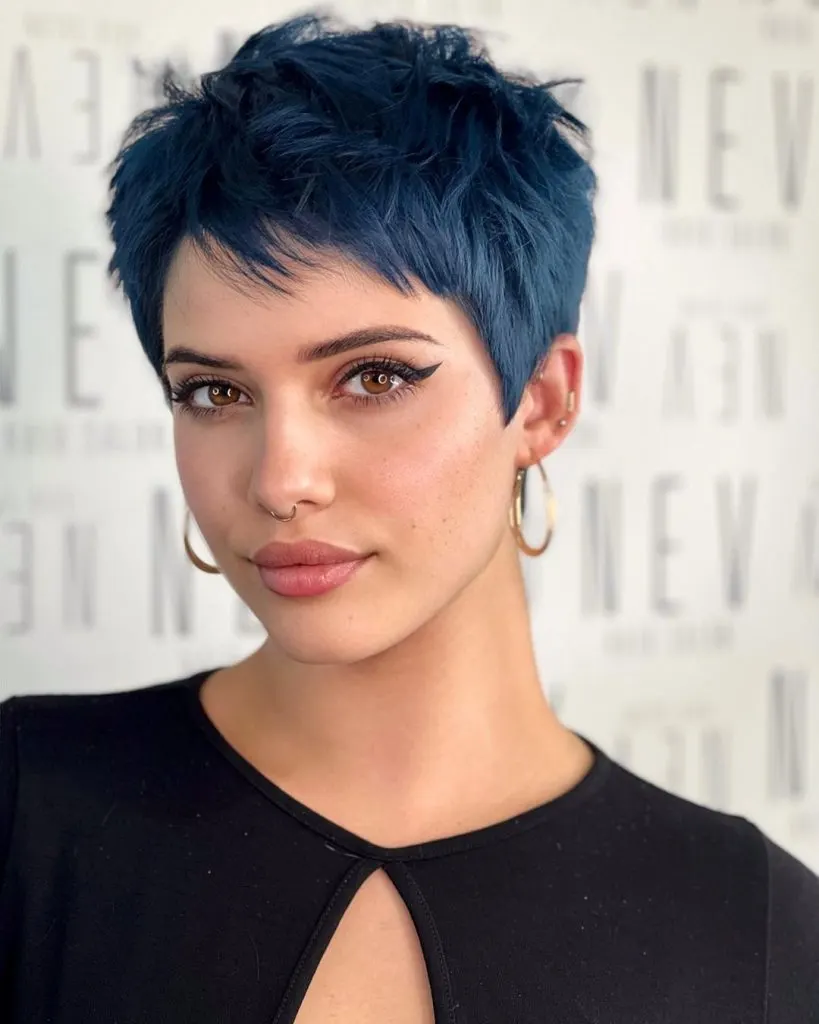 A longish pixie has a fuzzy and soft vibe when worn as-is, but add some product to get it sleek, and you'll have a chic style appropriate for any occasion.
15. Shaggy Short Hairstyle With Bangs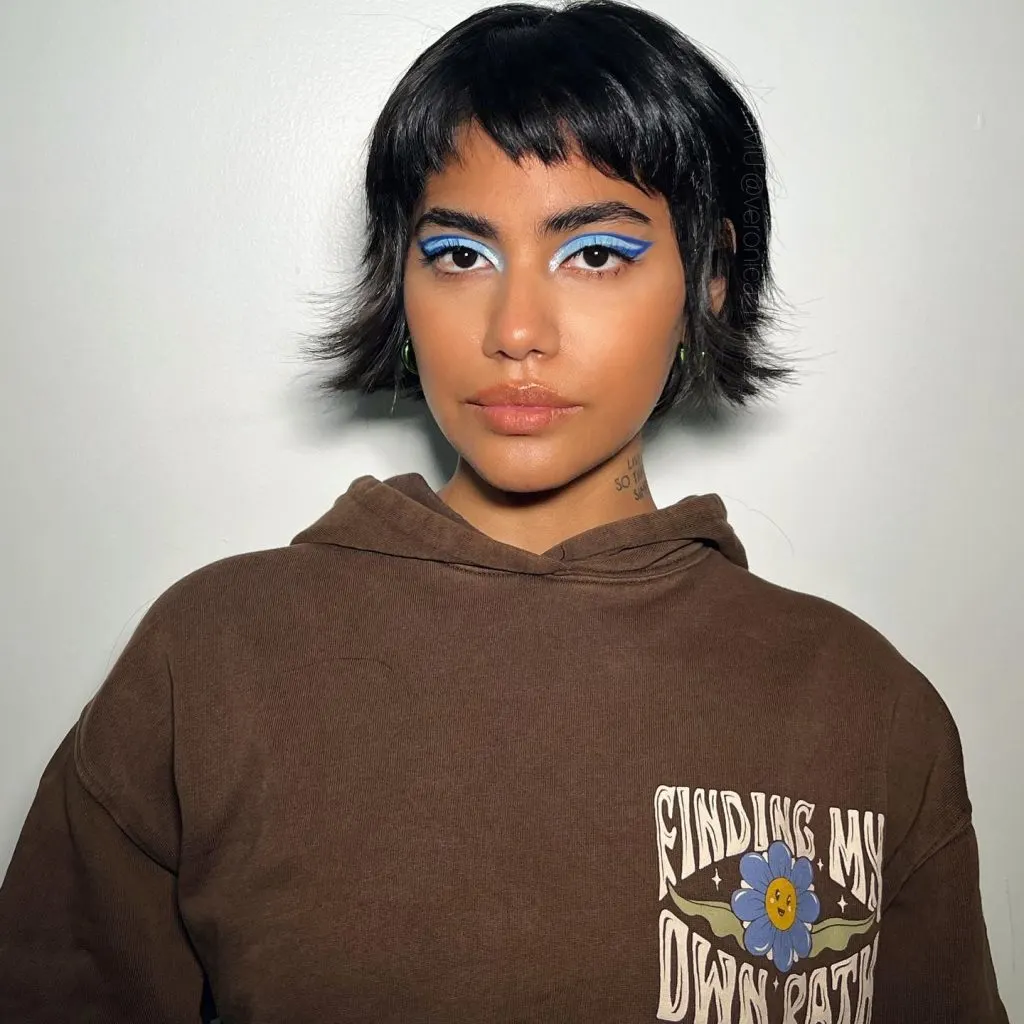 If you're growing out a pixie or just trying something new, a short shaggy bob is a cute style that takes moments to style. And if you already know how you like your bangs, they can stay as they are between haircuts.
16. Short Straight Choppy Bob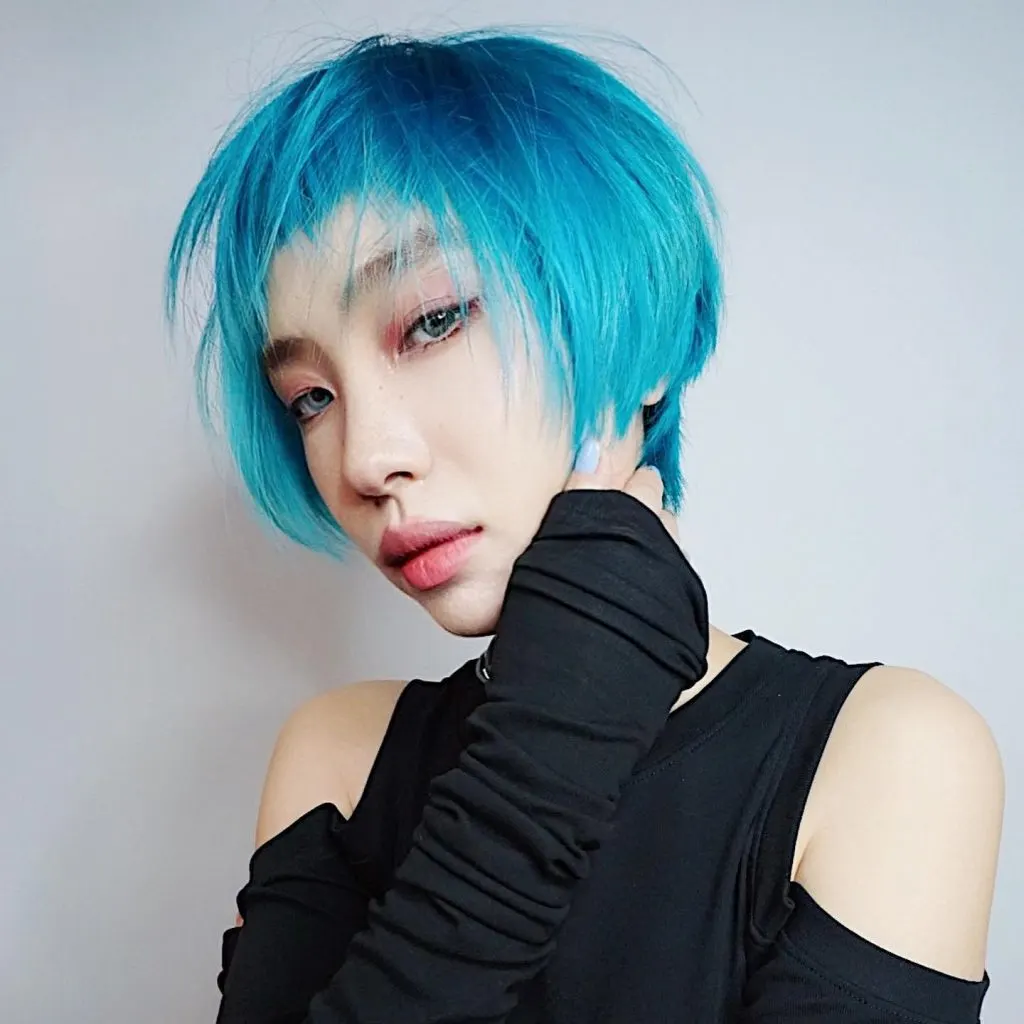 This nape-revealing short cut has the shape of a bob, but it's shorter than you might be used to—it's super modern and eye-catching.
17. Blunt Short Straight Hair With Bangs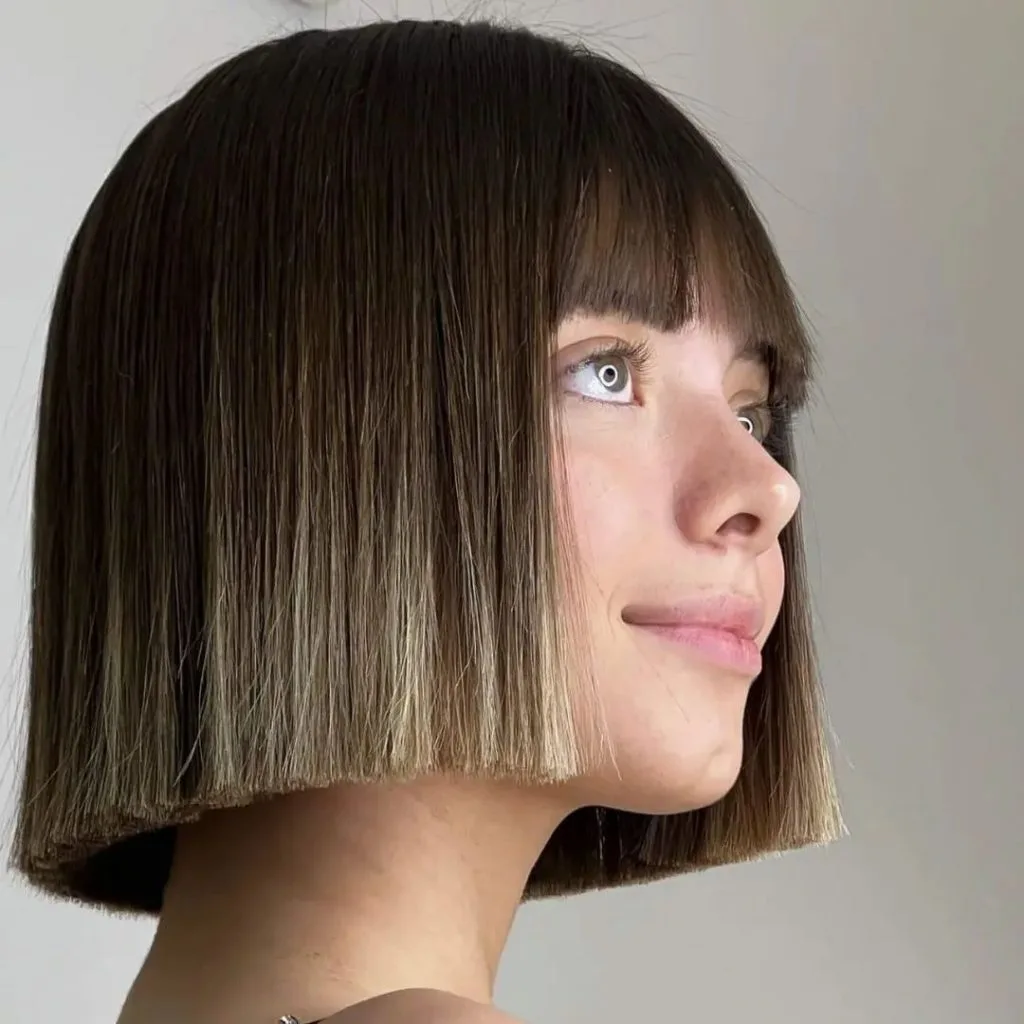 Super sharp ends might look artificial, but this blunt-cut bob certainly makes a statement. It looks best with bangs that are cut just as bluntly.
18. Bixie With Wispy Bangs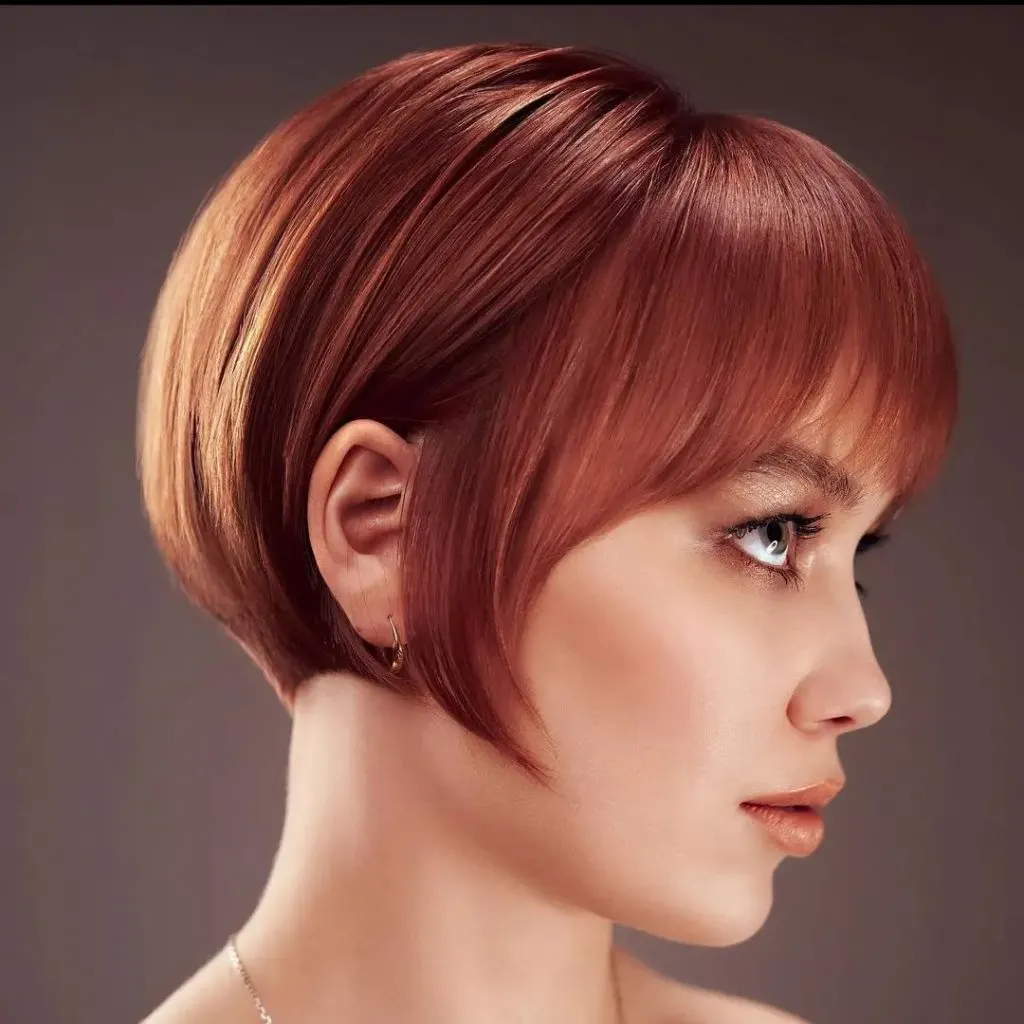 If you want easy yet put-together, a short rounded bob might be of interest. It works best with fine to medium hair and looks polished when you take some time to blow dry it.
19. Choppy Short Hairstyle With Bangs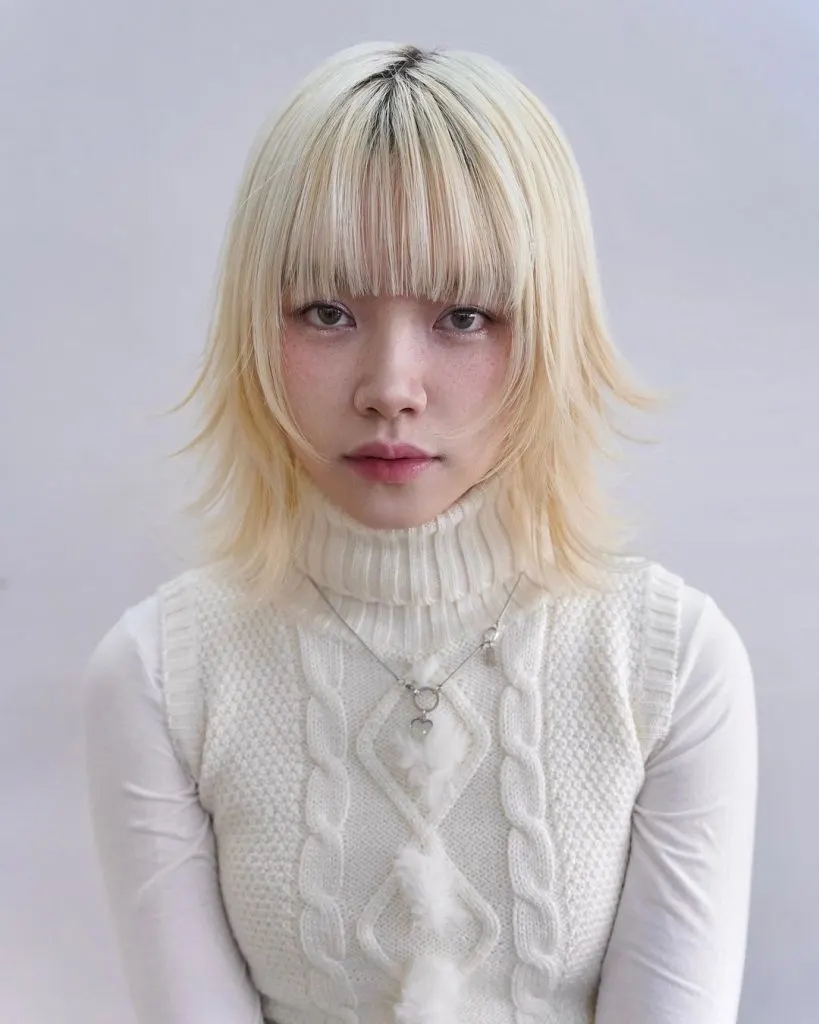 The wispy ends flipped outwards and the long straight-across bangs are an unusual combination, but they balance each other and look super pretty.
20. Textured Short Haircut With Bangs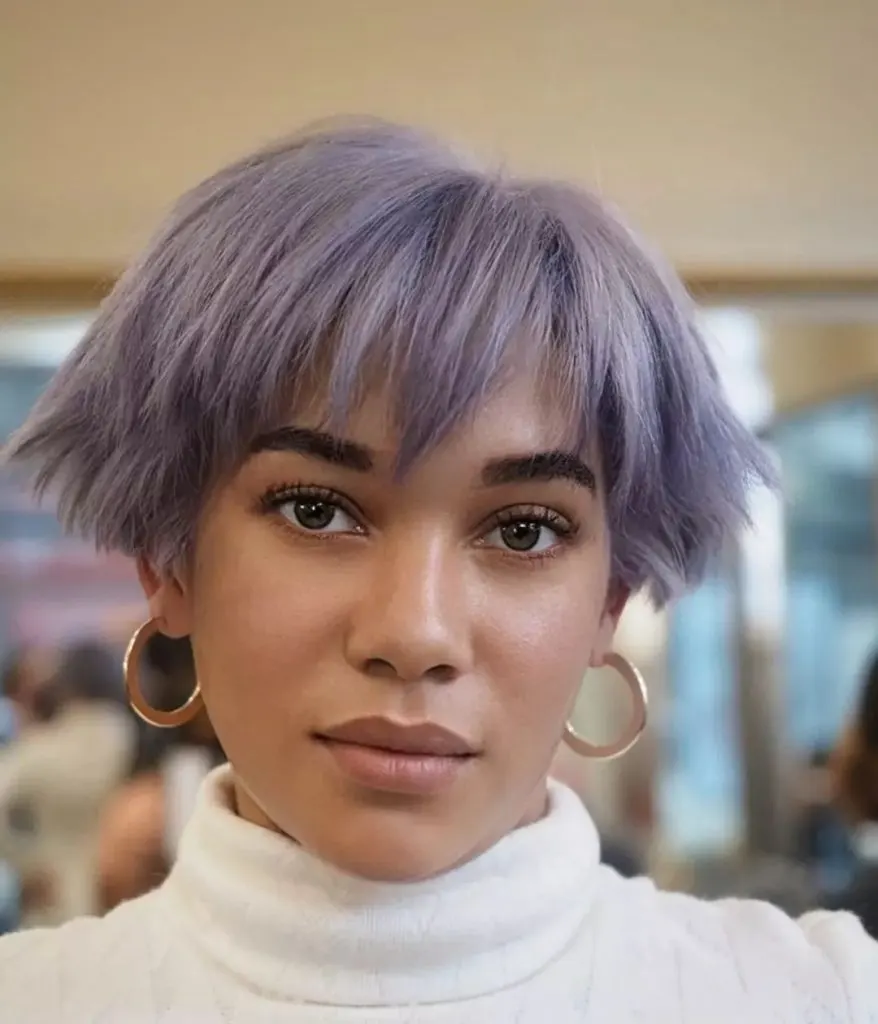 Length around ear-level with bangs of the same length? Sounds a lot like a bowl cut, but this is a modern, edgy version with texture and a soft lavender color.
21. Edgy Short Straight Hair With Bangs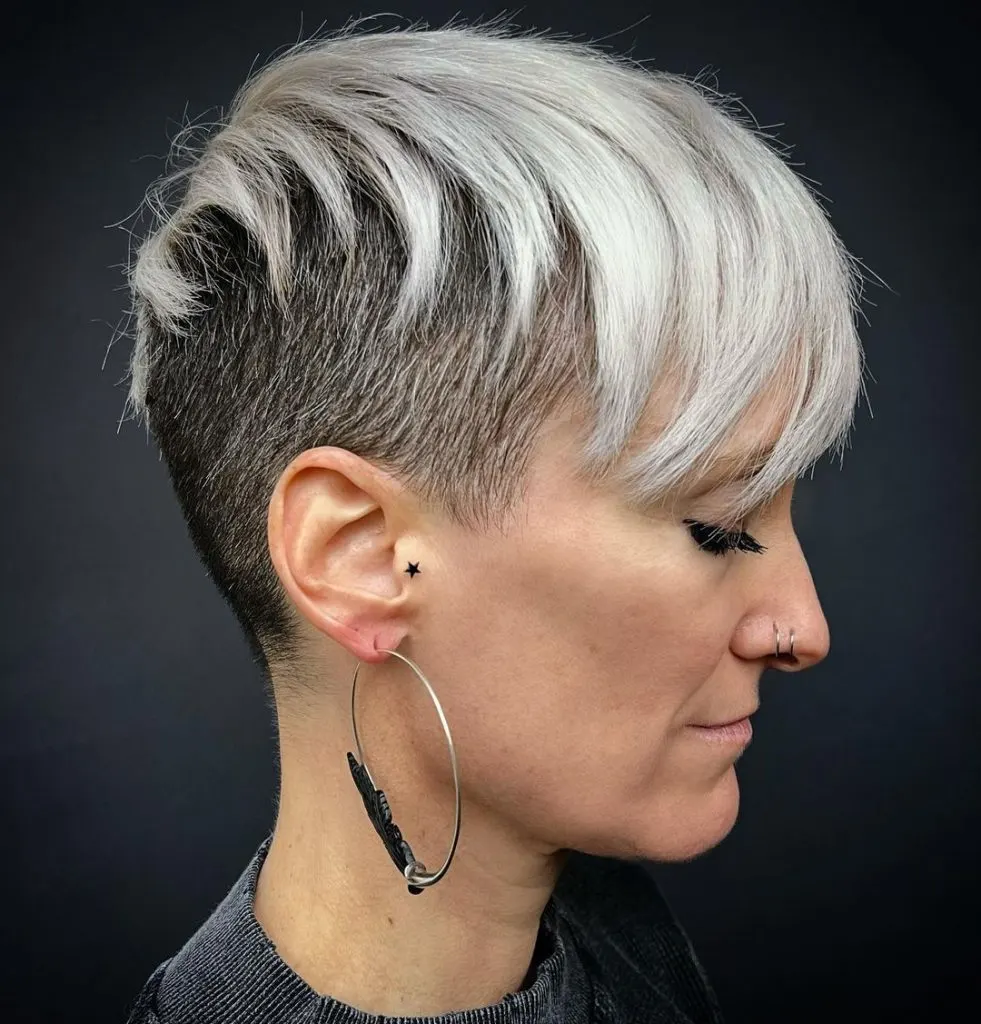 If you want an easy buzz cut but you also want some length, undercuts and fades are it: you only have to style half the head, and you get all the impact.
22. Sleek Short Bob With Bangs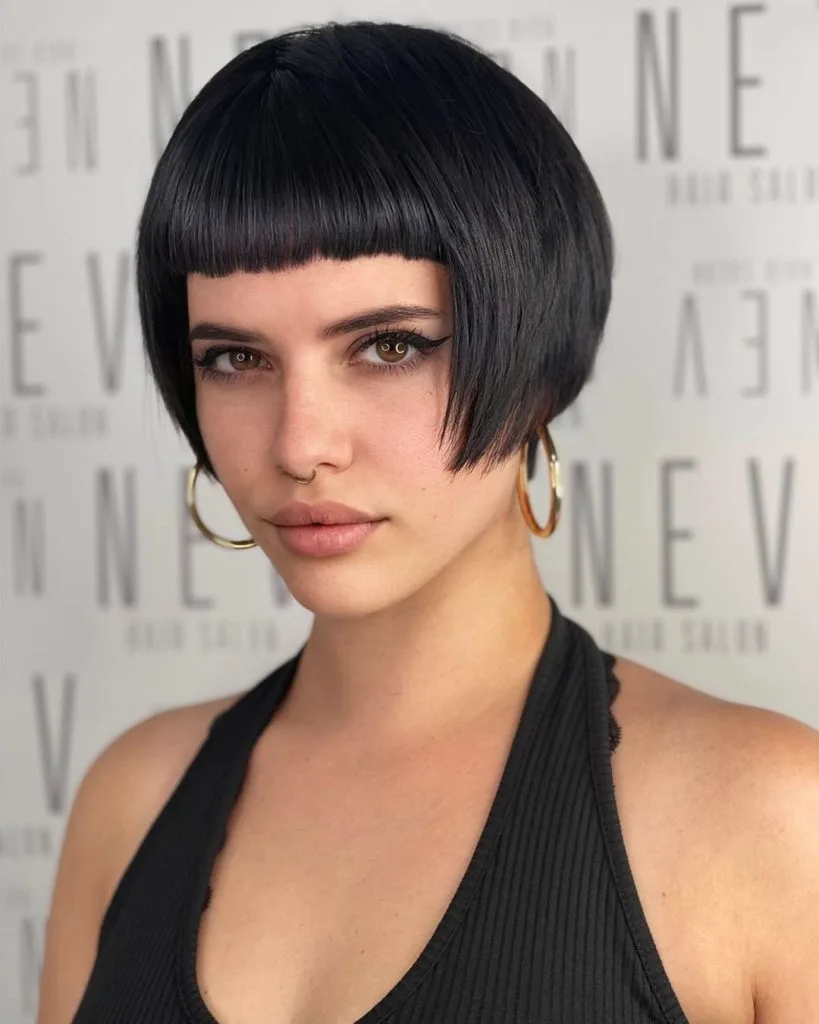 Pairing a super-short rounded bob with blunt bangs balances it while also creating an interesting visual. This combo also gives an illusion of a higher forehead and highlights the jawline, which makes it a good choice for diamond-shaped faces.
23. Chin-Length French Bob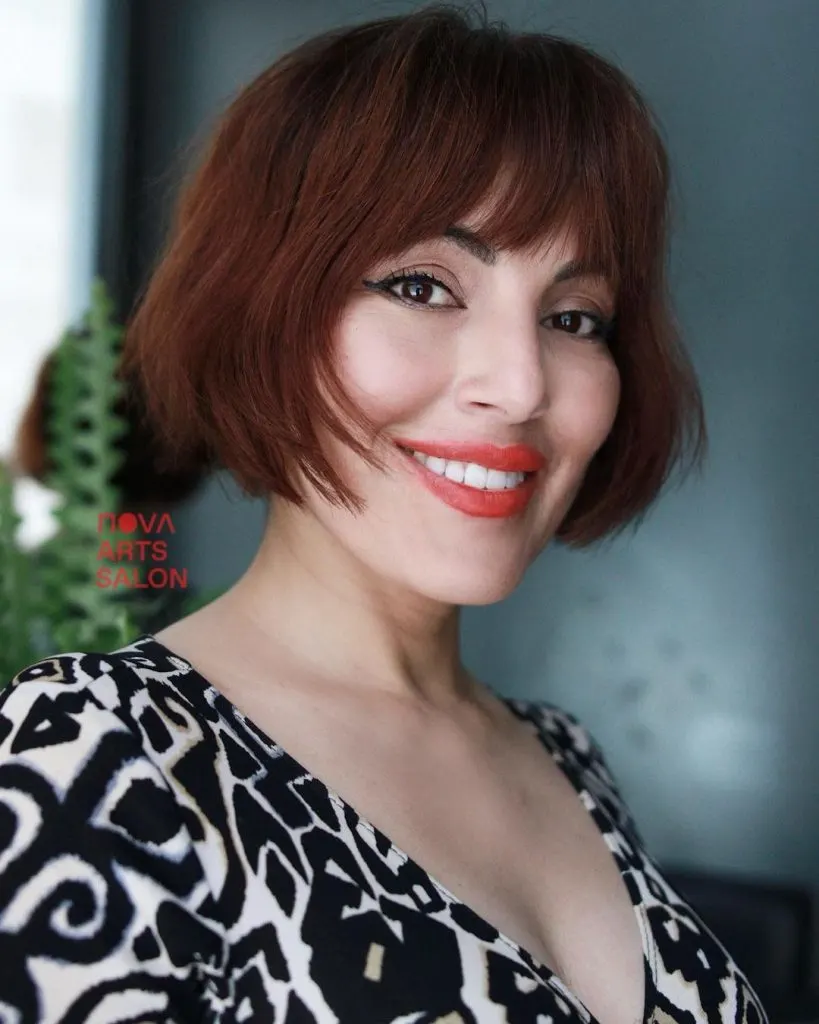 A little bit of feathering makes blunt bangs touchable and soft—the perfect pairing for a short French bob.
24. Short Layered Pixie For Fine Hair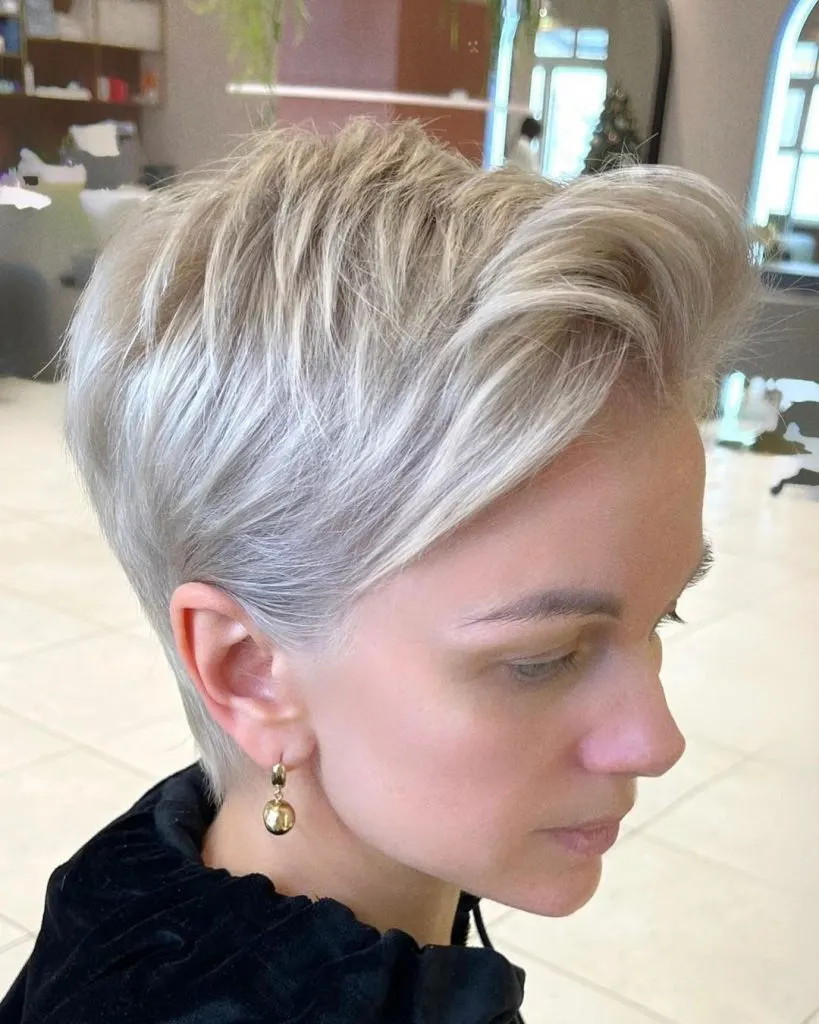 You don't have to wear your hair the same way all the time even if it's super short: there's plenty you can do with it if you want. Blow dry your fringe upward to transform the look of a pixie from cute to cool.
25. Layered Short Hair With Long Bangs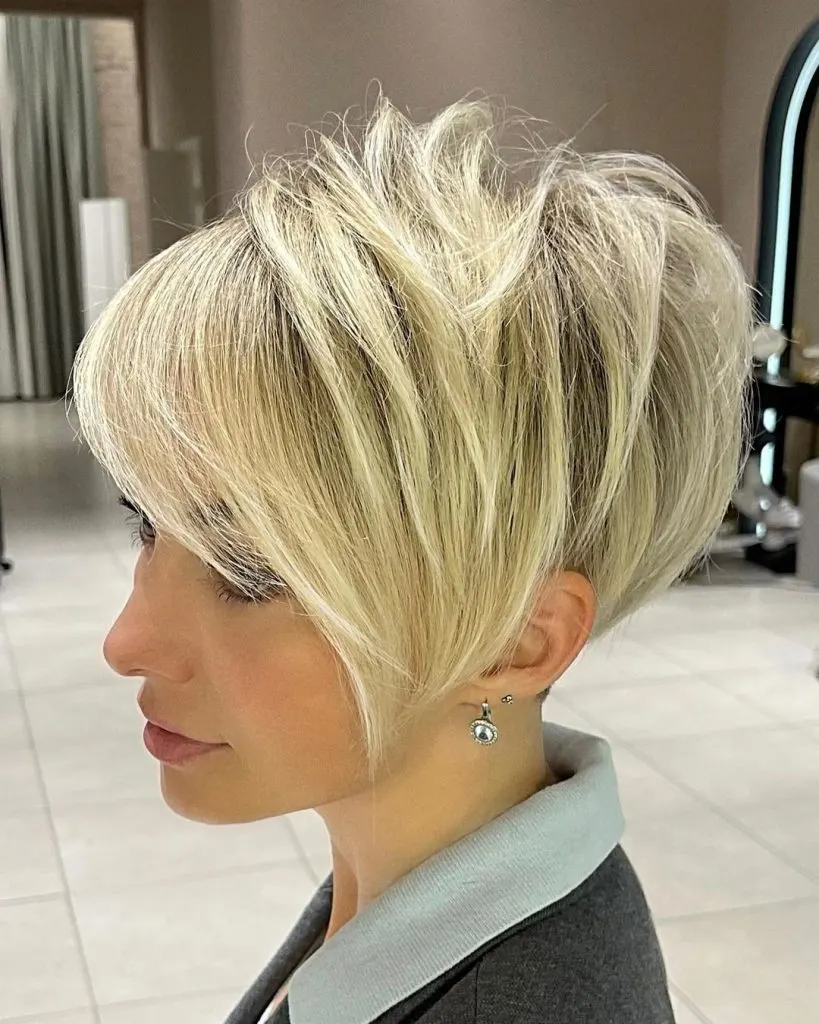 Avoid a too-rounded look with some layers on top—they create volume, interest and make your style playful.
26. Short Hair With Long Bangs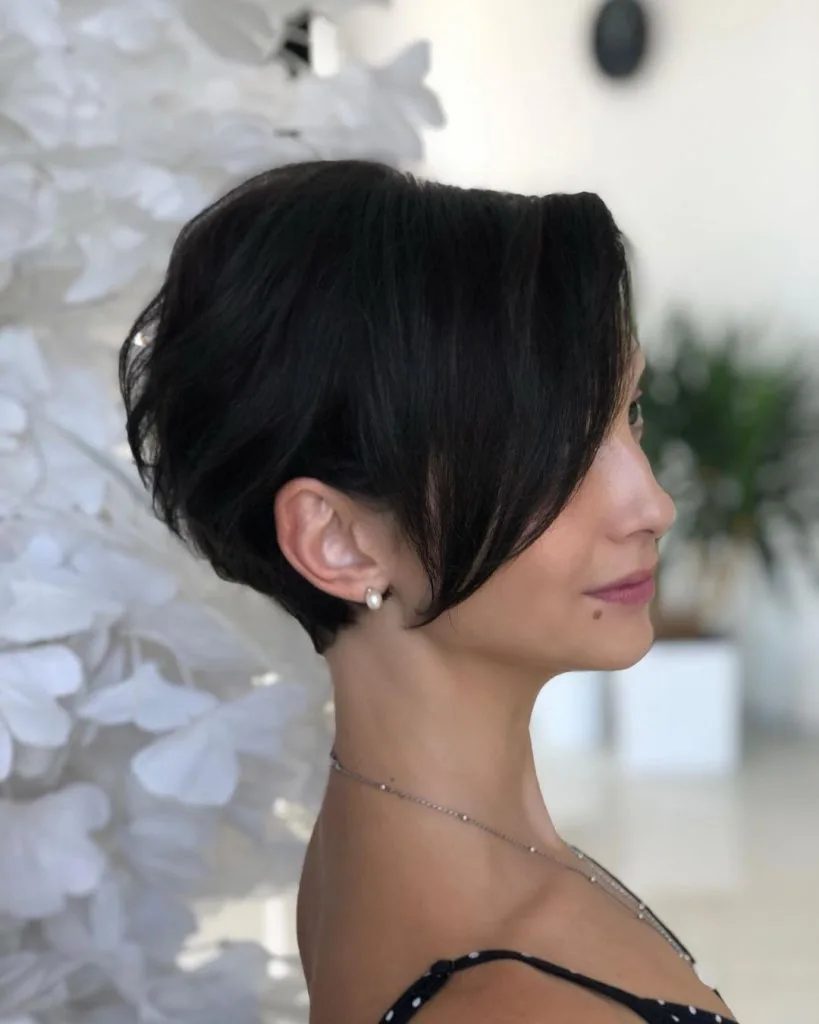 To really boost the volume of fine or thin hair, dry shampoo is your best friend. Use it as a styling product to add texture and lift immediately after you dry your hair or the next day, both as a shampoo and a texturizer.
27. Angled Short Hair With Bangs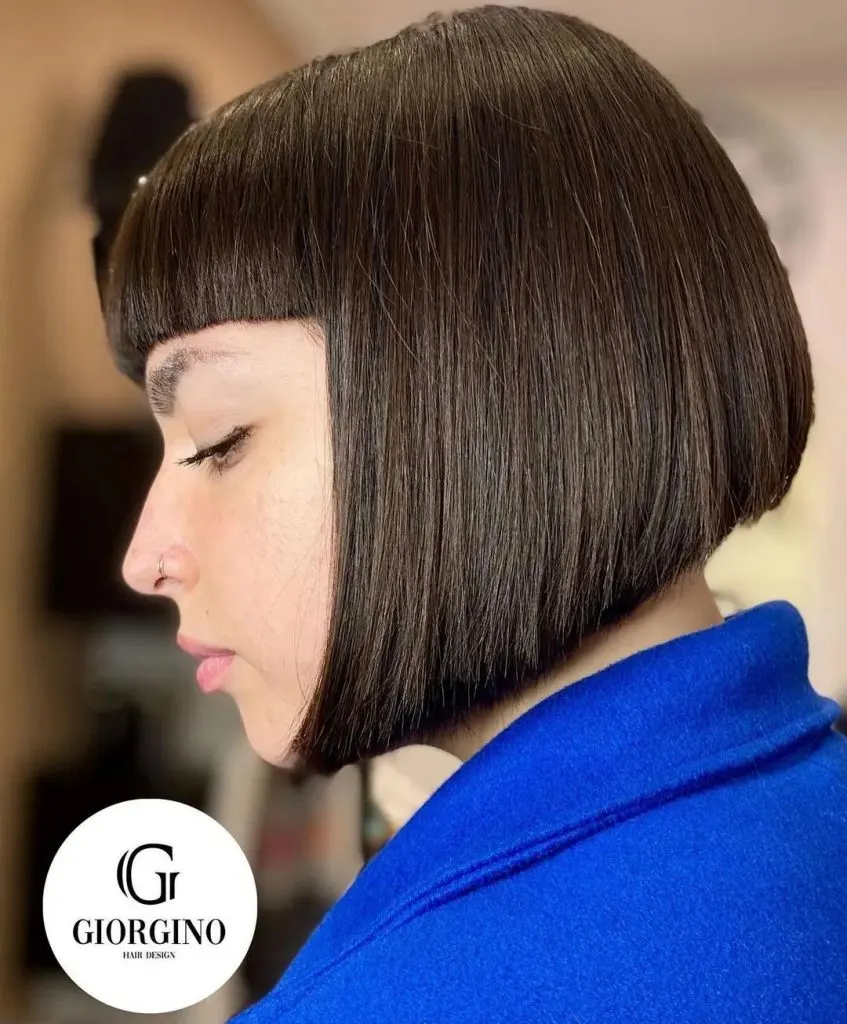 Balance out an angled bob with blunt bangs. To get your hair to this level of sleek, you'll need your flat iron, so don't skip the heat protectant.
28. Short Bob With Textured Fringe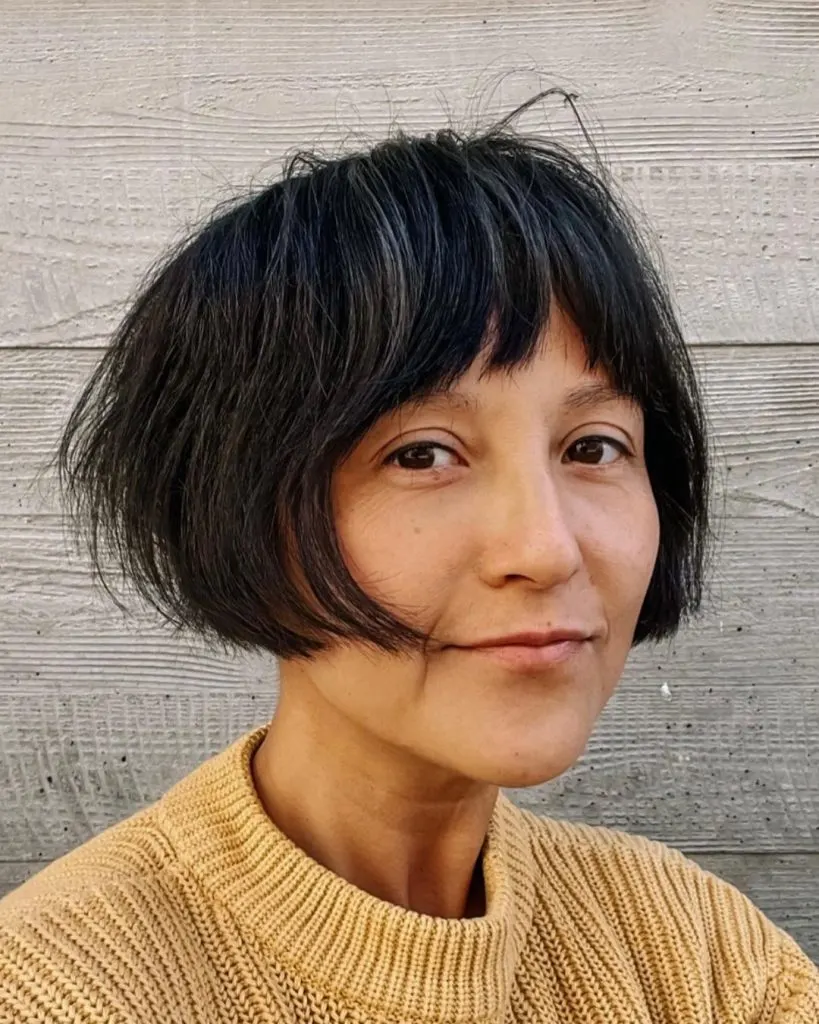 This fluffy style is actually effortless because it looks best natural. Just comb everything in the direction you want it to go and air dry.
29. Shaggy Short Straight Hair With Bangs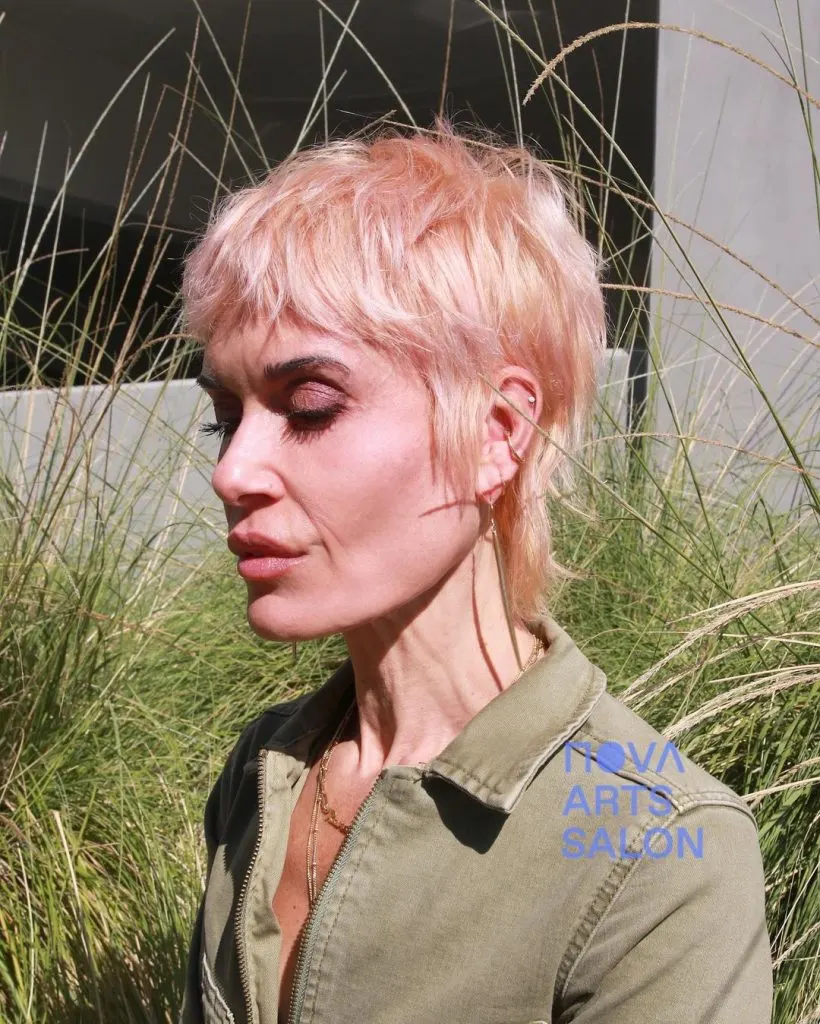 If you want to experiment with shaggy styles like the wolf cut, the mullet and everything in between, you can definitely find the right one for you—just make sure your stylist understands your hair type and texture.
30. Blunt Bob With Bangs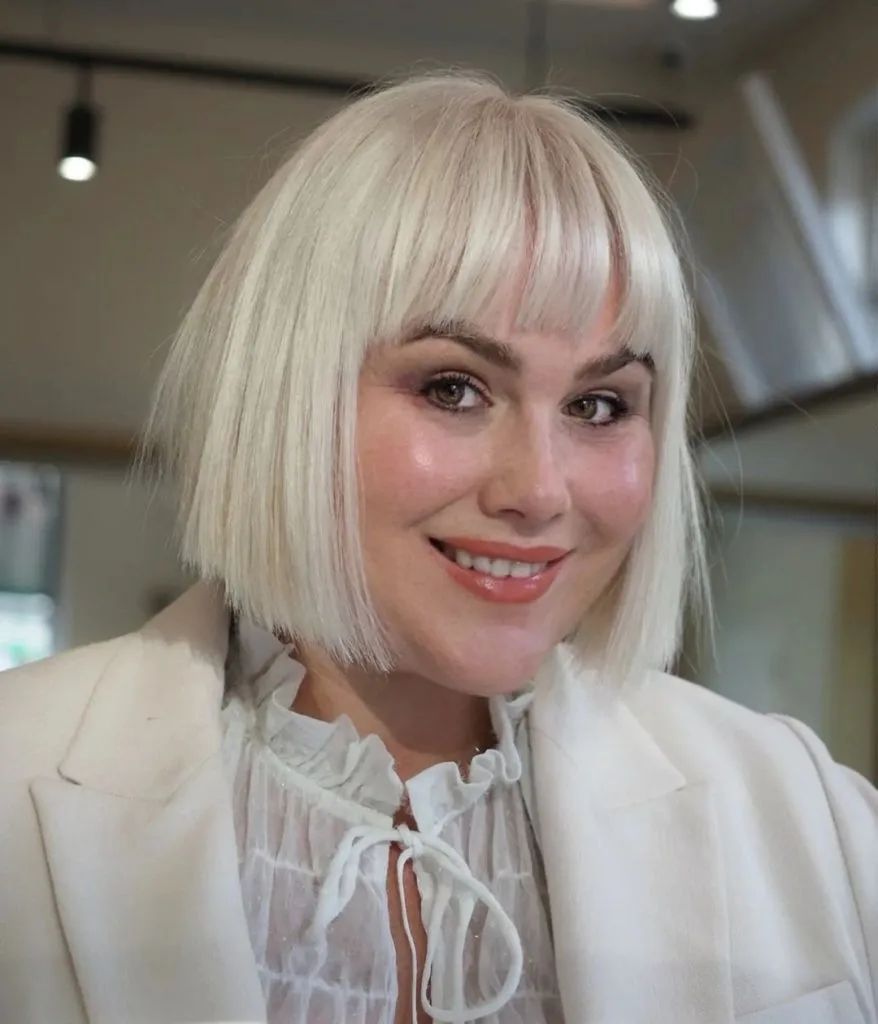 Blunt ends will create an illusion of fullness, and texturizing layers will give you a ton of movement—a textured bob works like a dream if your hair is thin and needs a boost.
31. Trendy Short Haircut For Fine Hair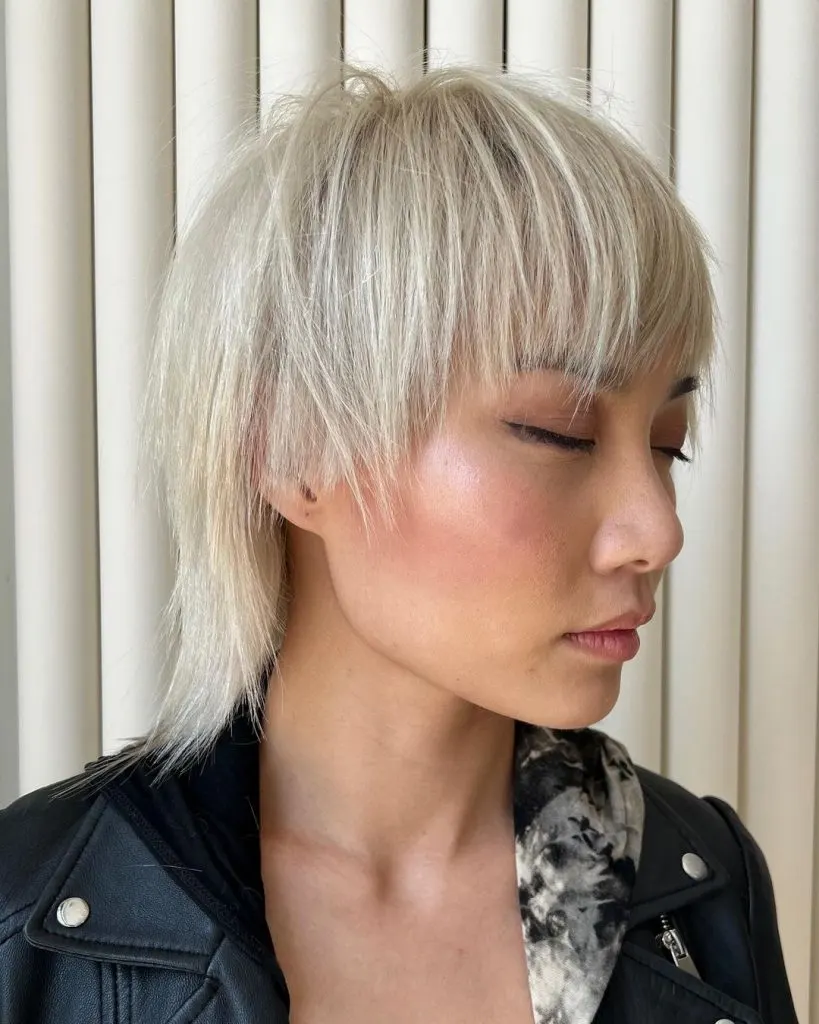 Fine hair can be thick or thin—the individual hairs are small in diameter, but there can be a lot of them. Create separation and texture with invisible layers.
32. Layered Short Hair And Bangs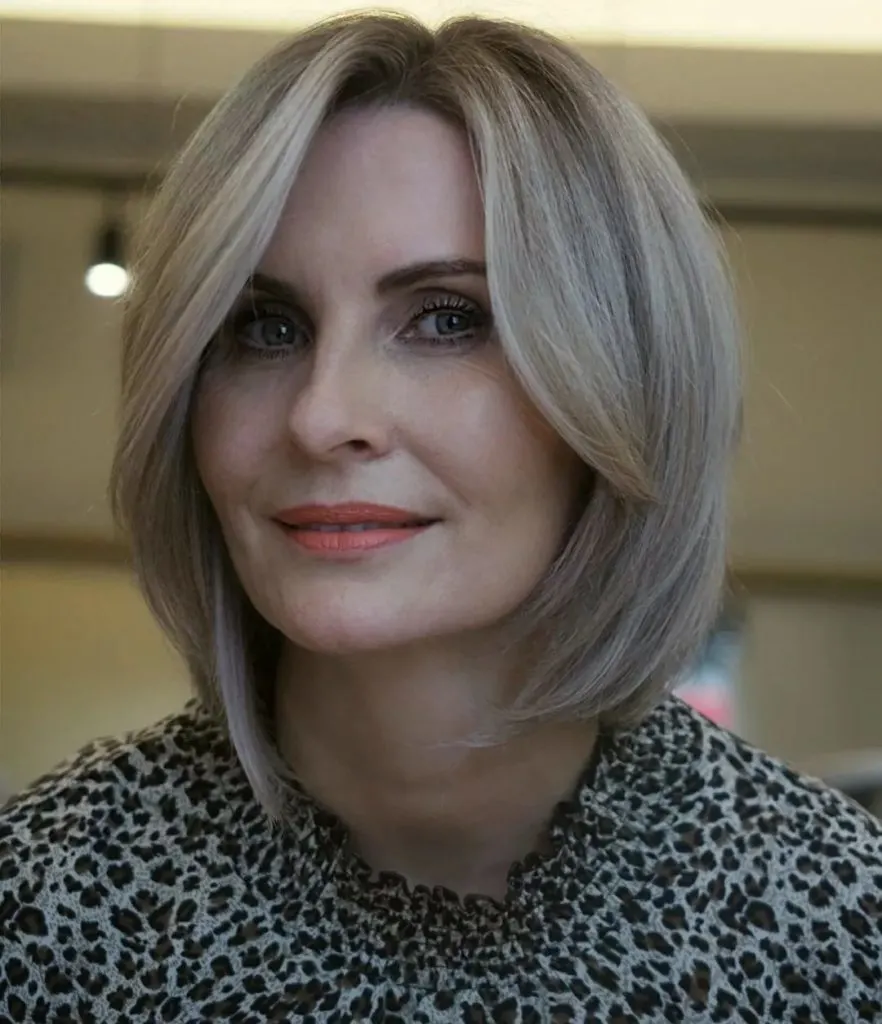 Long bangs that melt into the length will give you a harmonious and elegant look, like in this long layered bob. Experiment with the length to find what suits your features the best.
33. Short Hair With Curtain Bangs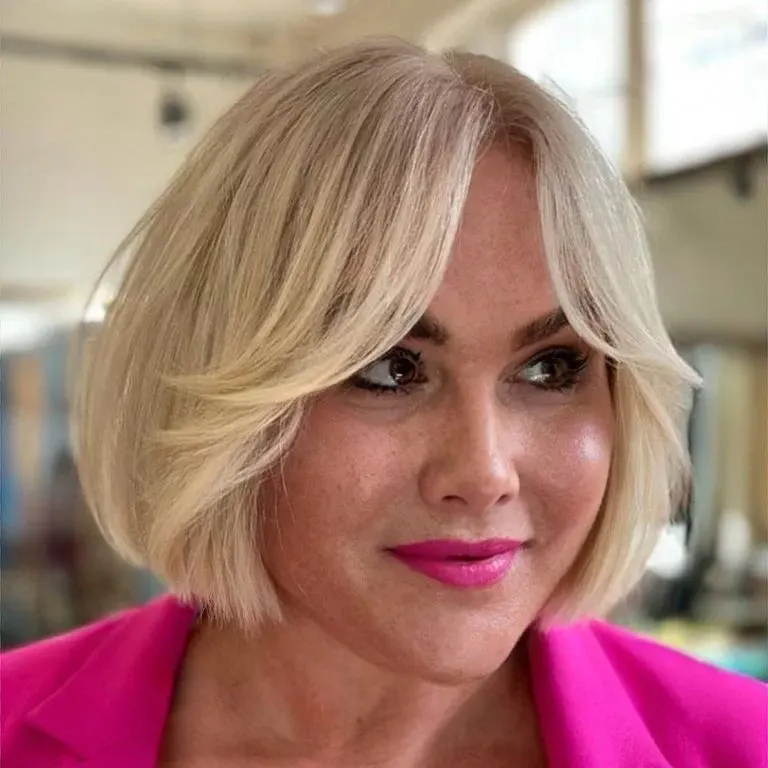 Curtain bangs are the the first step when you become fringe-curious: they're long enough to hide if you change your mind and super flattering.
34. Short Hairstyle For Thin Fine Hair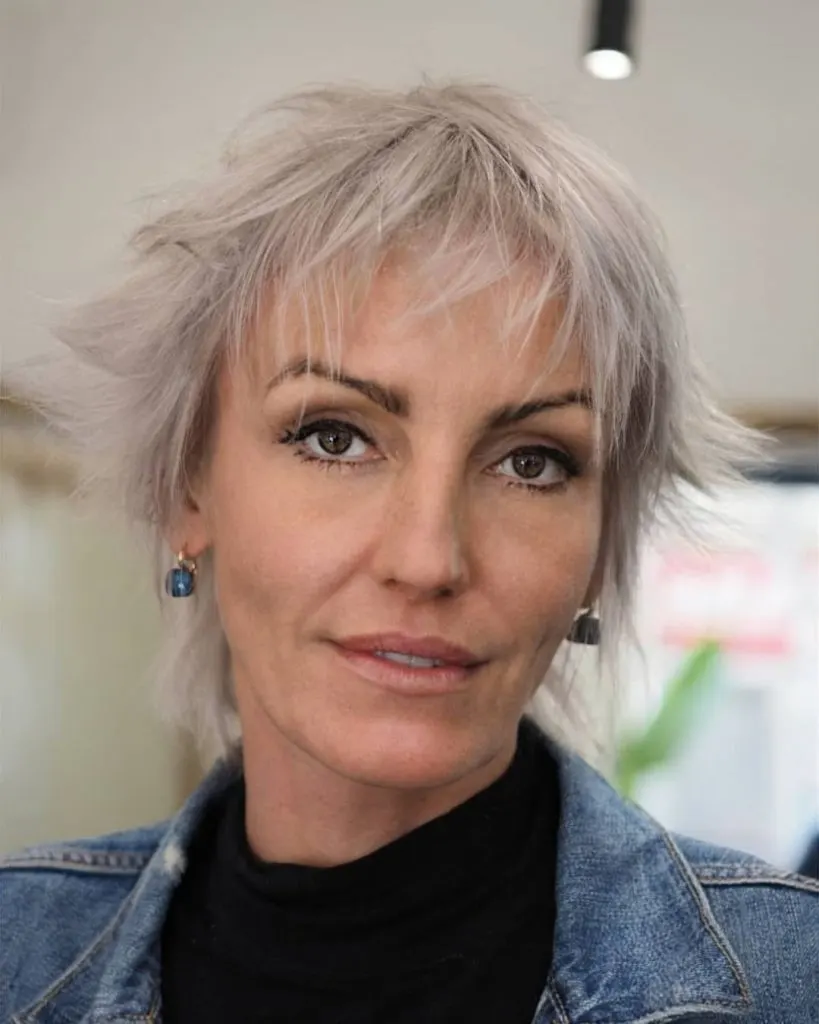 Choppy layered cuts look fit hair that's both fine and thin by giving it volume, body and movement.
35. Short Hair With Layers And Curtain Bangs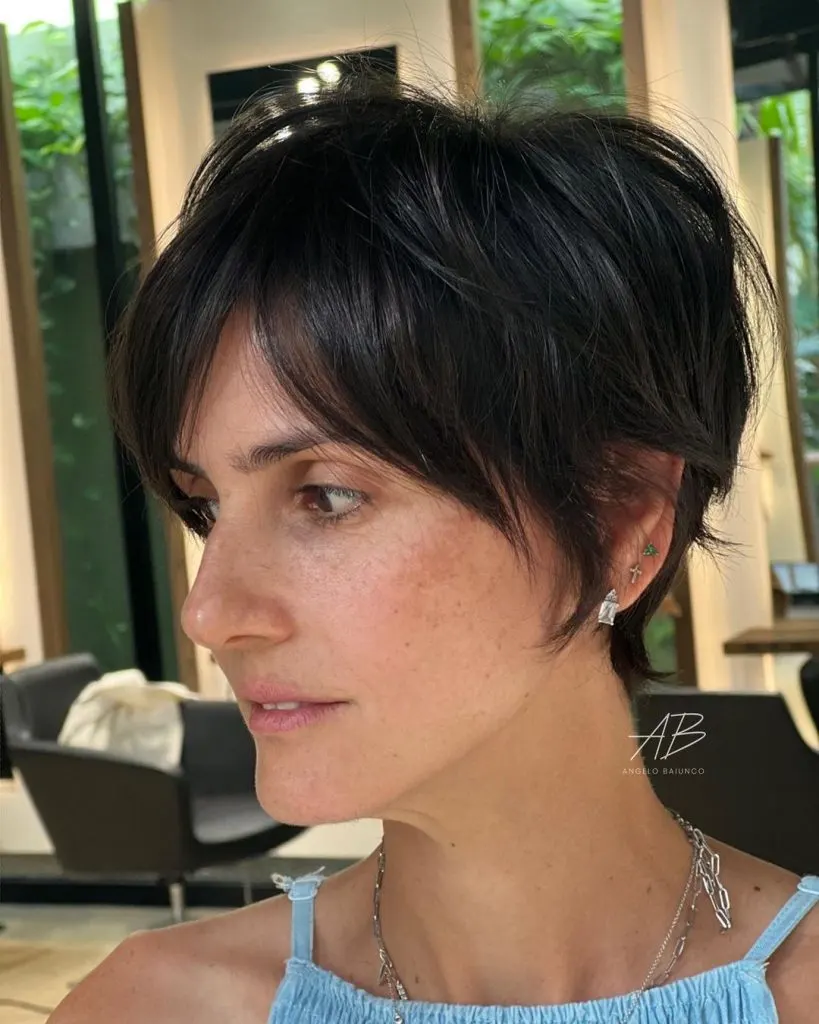 You'll have to make an effort to keep a fluffy, layered pixie with curtain bangs in shape, but isn't the super-stylish end result worth it?
36. Rounded Bob With Bangs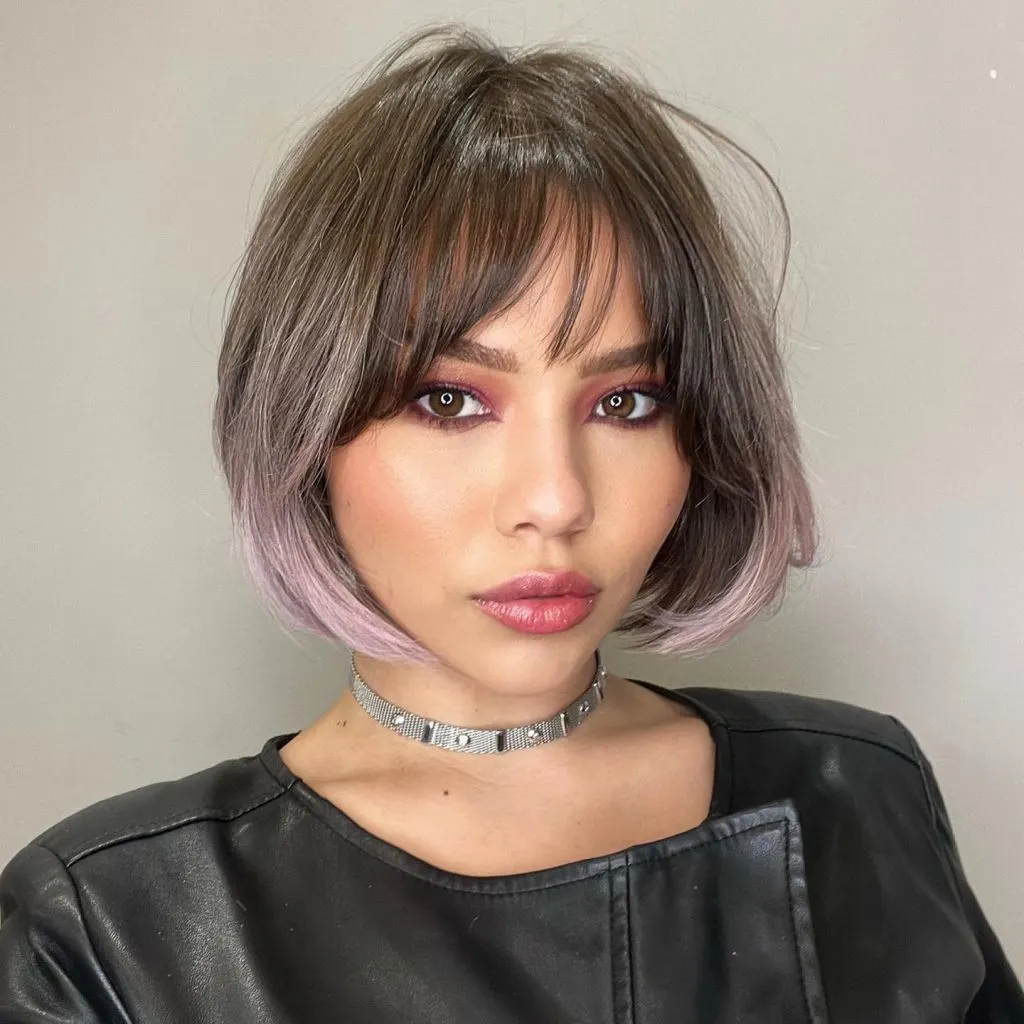 A rounded bob works on all face shapes, and to modernize this retro style, add your favorite bangs.
37. Short Haircut With Side Bangs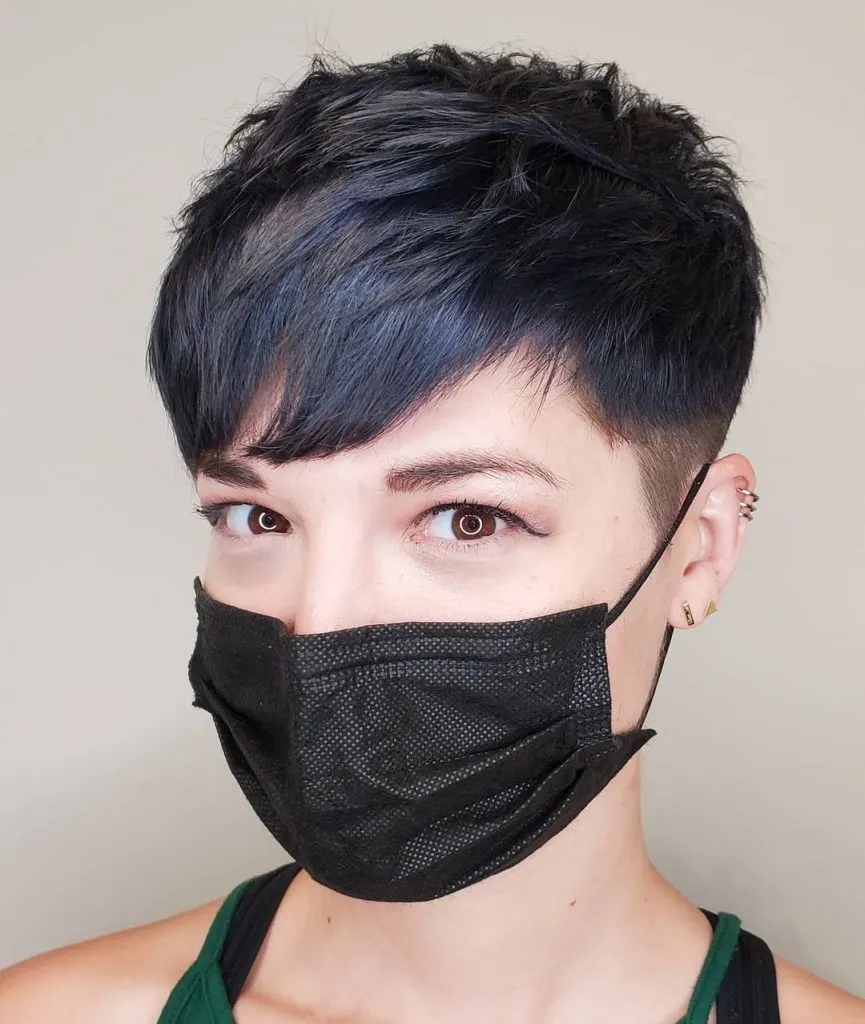 Let your eyes get all the attention by getting this choppy short cut. To get the most from this style, keep your fringe above eyebrow level.
38. Short Haircut For Fine Hair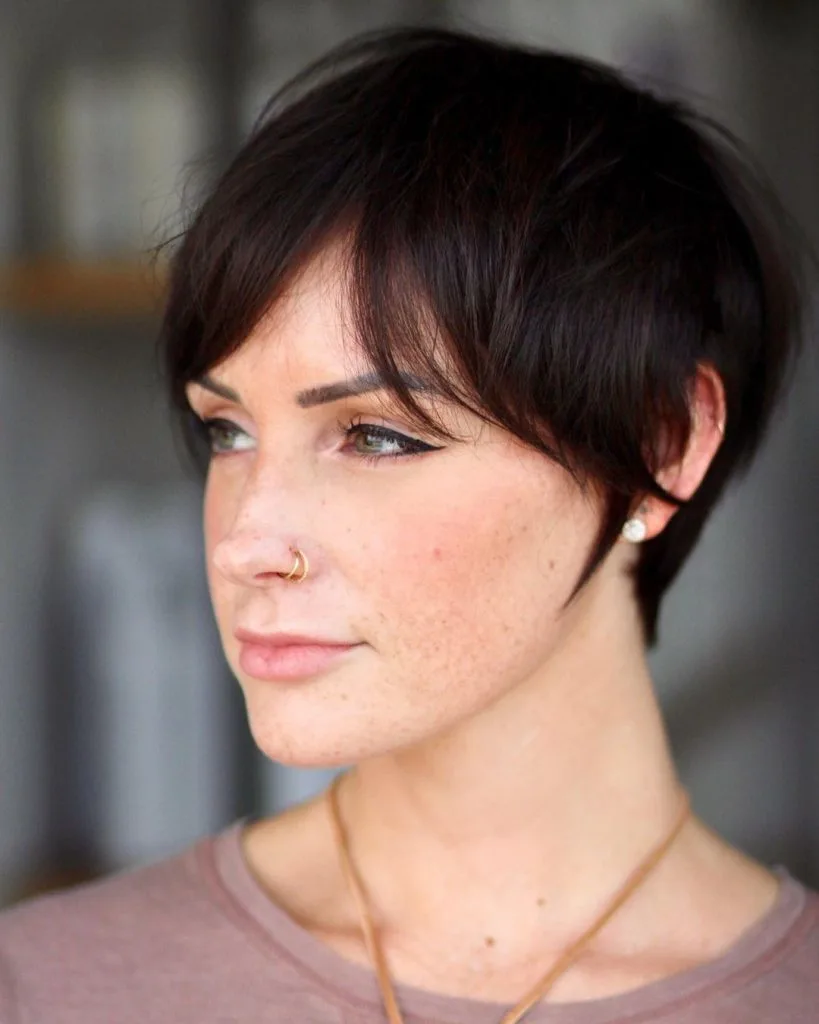 Get the popular bedhead look by applying styling cream to wet hair to minimize the frizz, then air dry. If your hair is coarse, some heat might be necessary, but fine and medium hair should be good to go.
39. Short Layered Hair With Curtain Bangs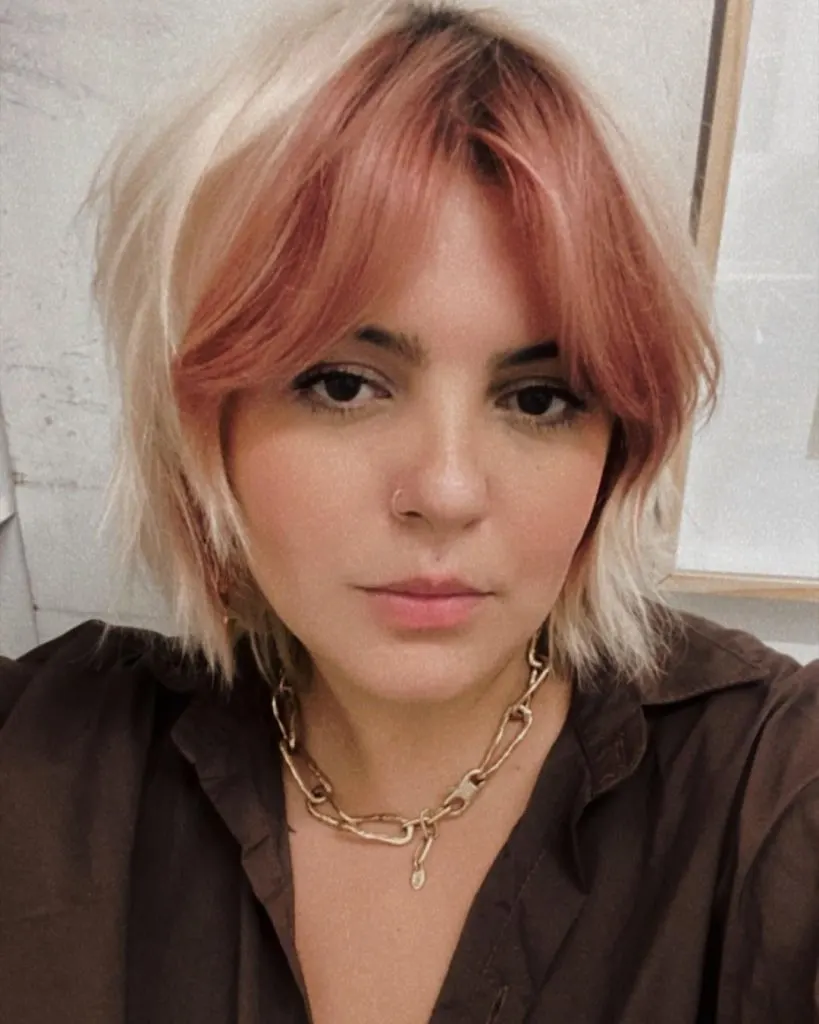 Short straight haircuts can get repetitive, and here's how to spice yours up: with texture. Even if your hair is stick-straight, if it has enough texturizing layers and you apply texture spray, you can get nice volume and body by scrunching while air-drying it.
40. Short Hair With Curtain Bangs And Layers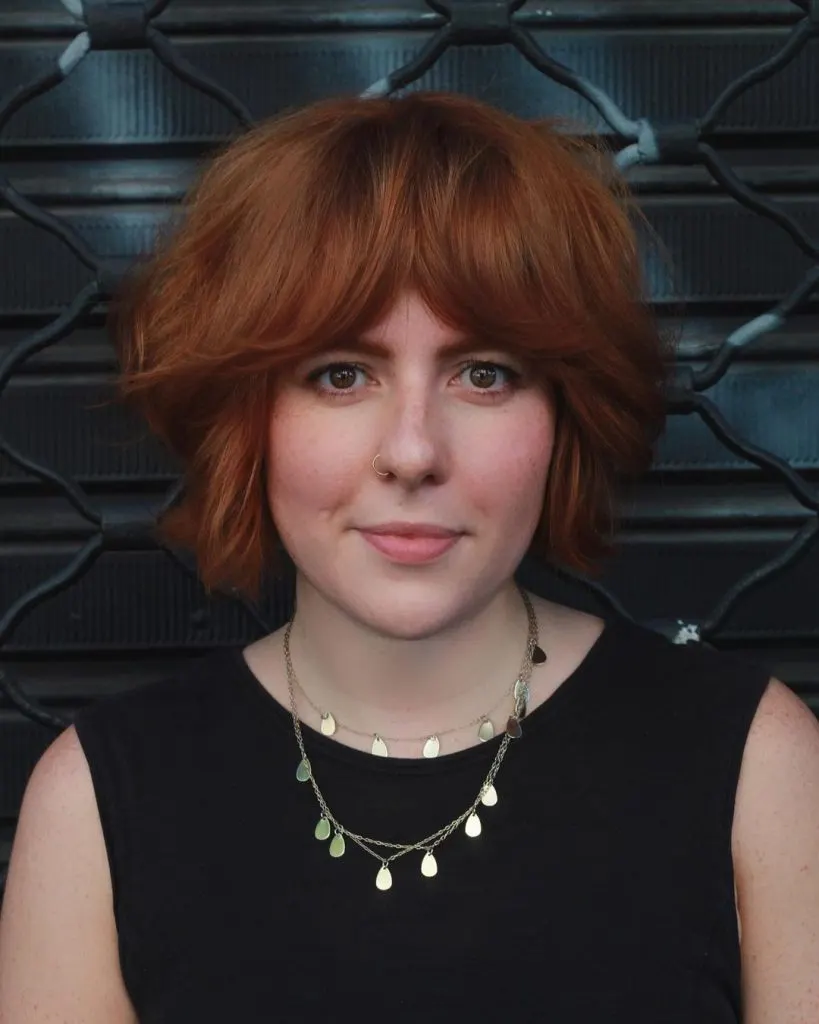 Extending your curtain bangs into the layers below will create mega volume and an extra fluffy texture.
41. Sleek Lob With Short Fringe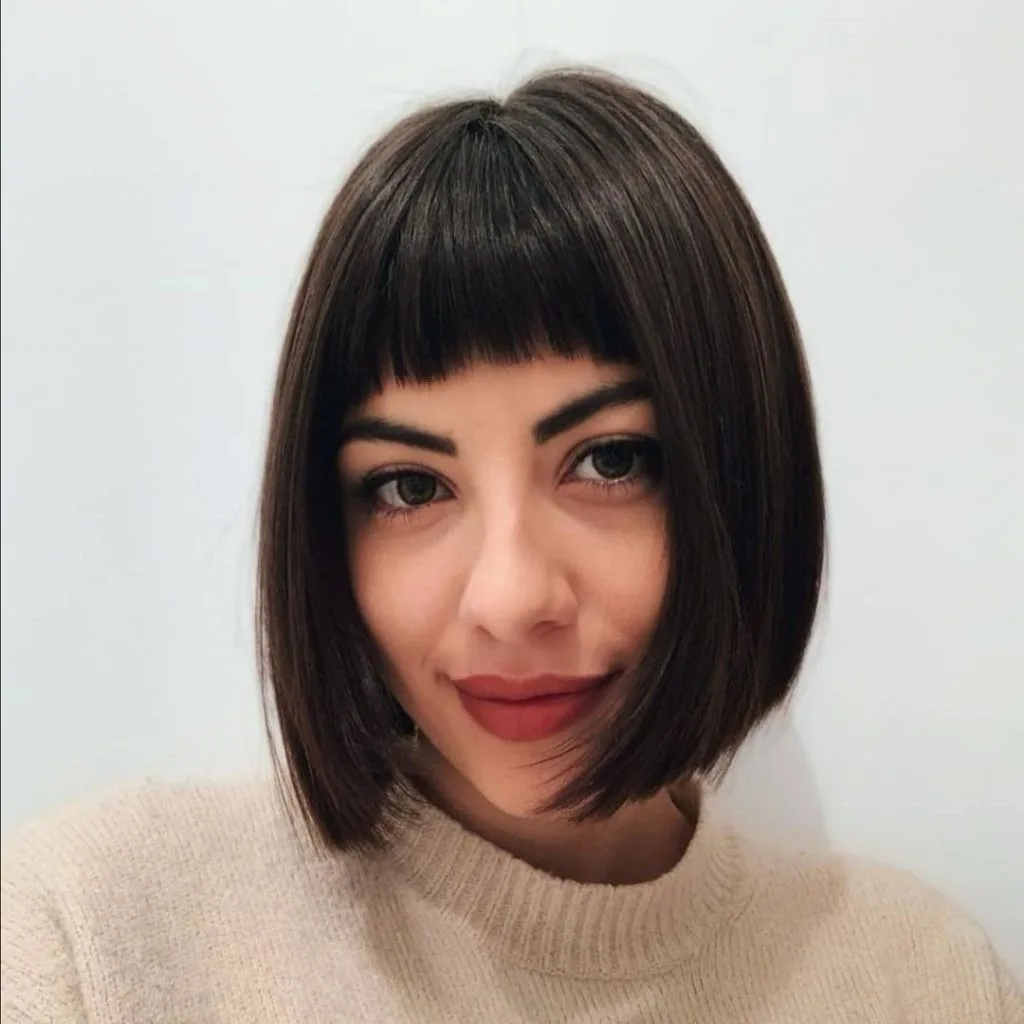 Deciding on the length of your fringe can be based on many factors: your face shape, hair texture, what you want to emphasize or conceal, but ultimately, you should choose what you like best because that will make you the happiest.
42. Layered Haircut With Straight-Across Bangs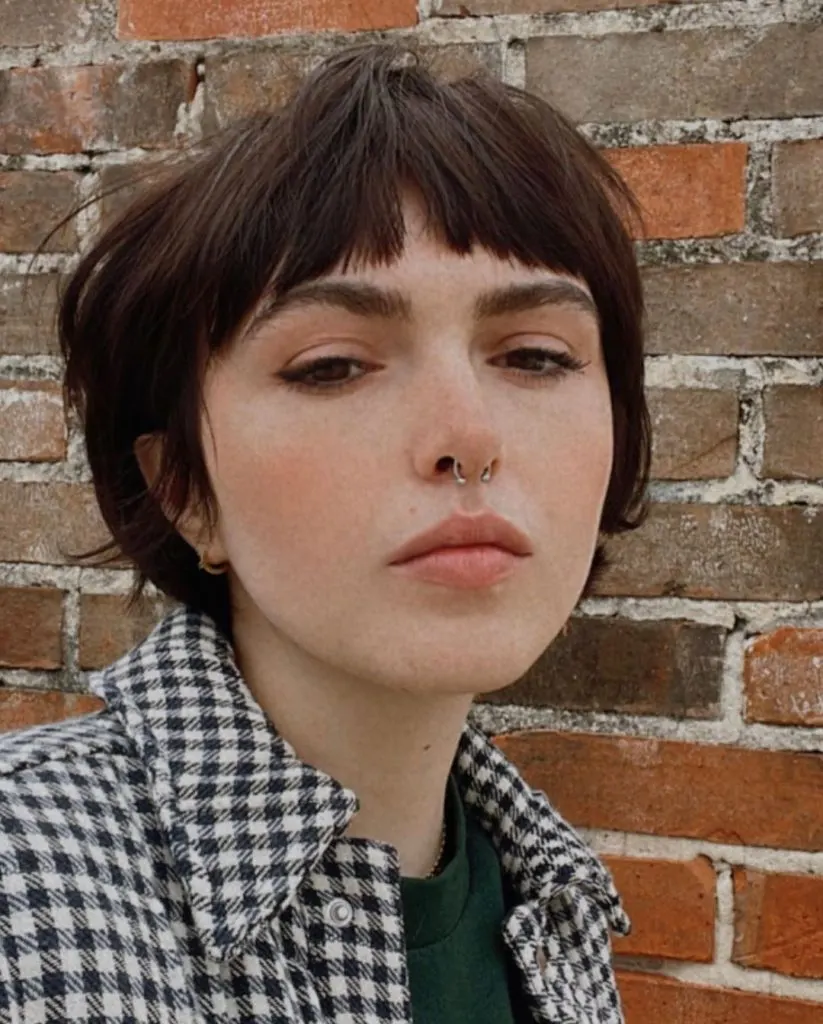 The only thing that isn't low-maintenance about this style is that you must get it trimmed regularly to keep it in shape.
43. Bob With Side Bangs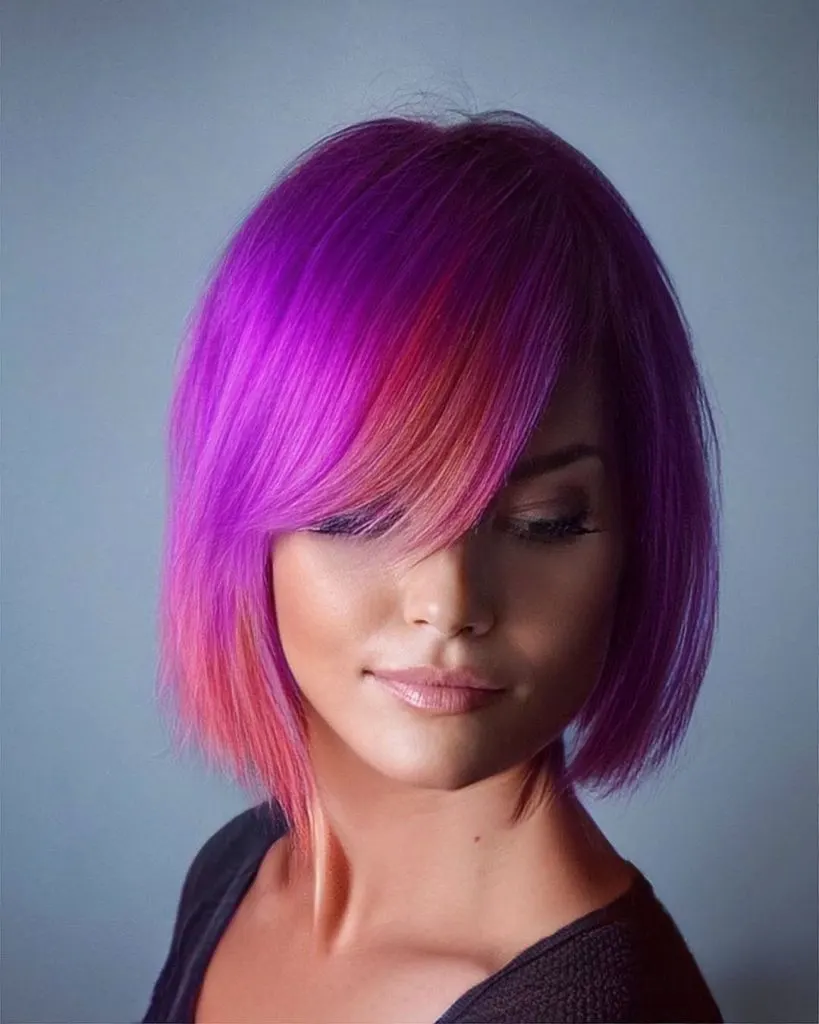 Sweeping the bangs across one eye creates a flirty look, regardless of the length of your hair.
44. Short Straight Hair With Bangs For Fine Hair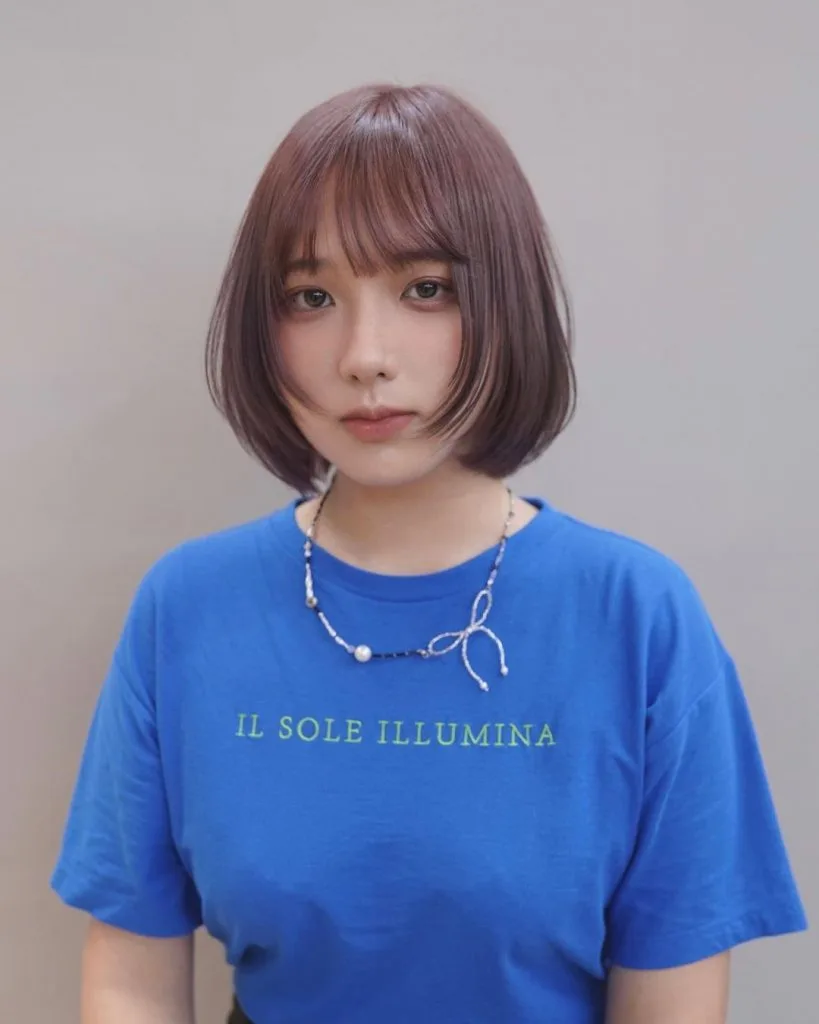 Creating a delicate, romantic look is as easy as adding see-through fringe and wispy face-framing layers.
45. Short Mullet With Choppy Bangs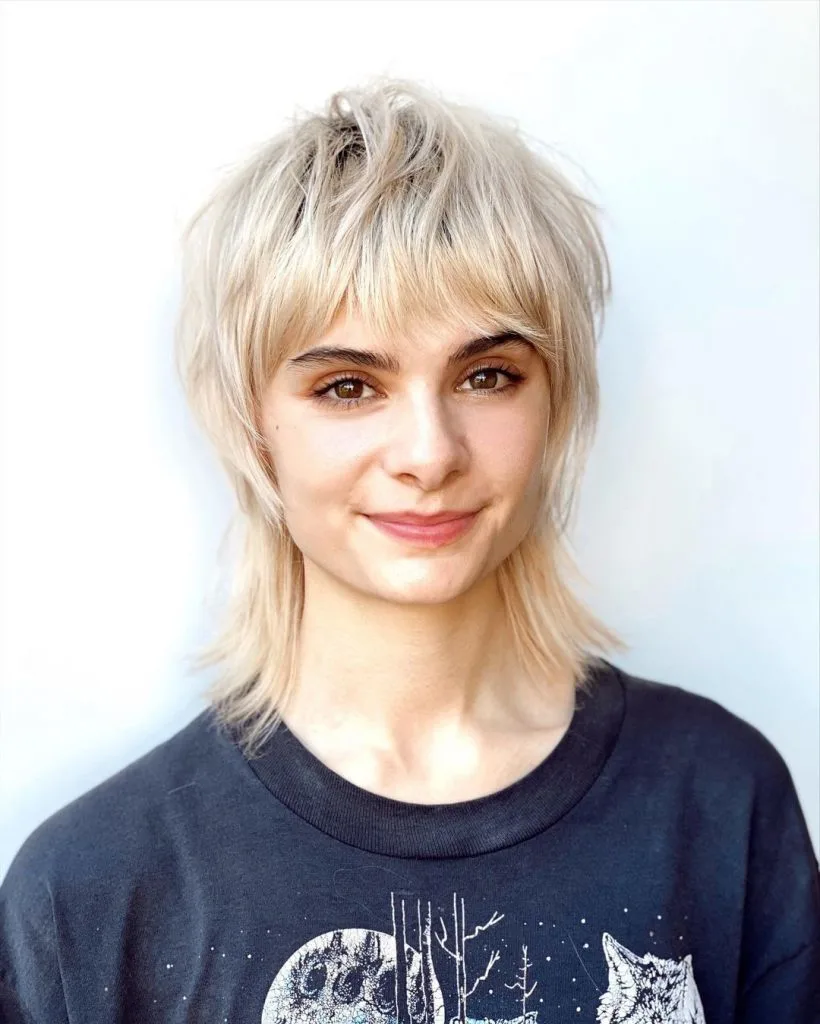 You can let the back of your mullet grow as long as you'd like if you prefer an edgy look, or keep it in harmony with the rest of your hair. There are no rules!
46. Haircut With Short Side Bangs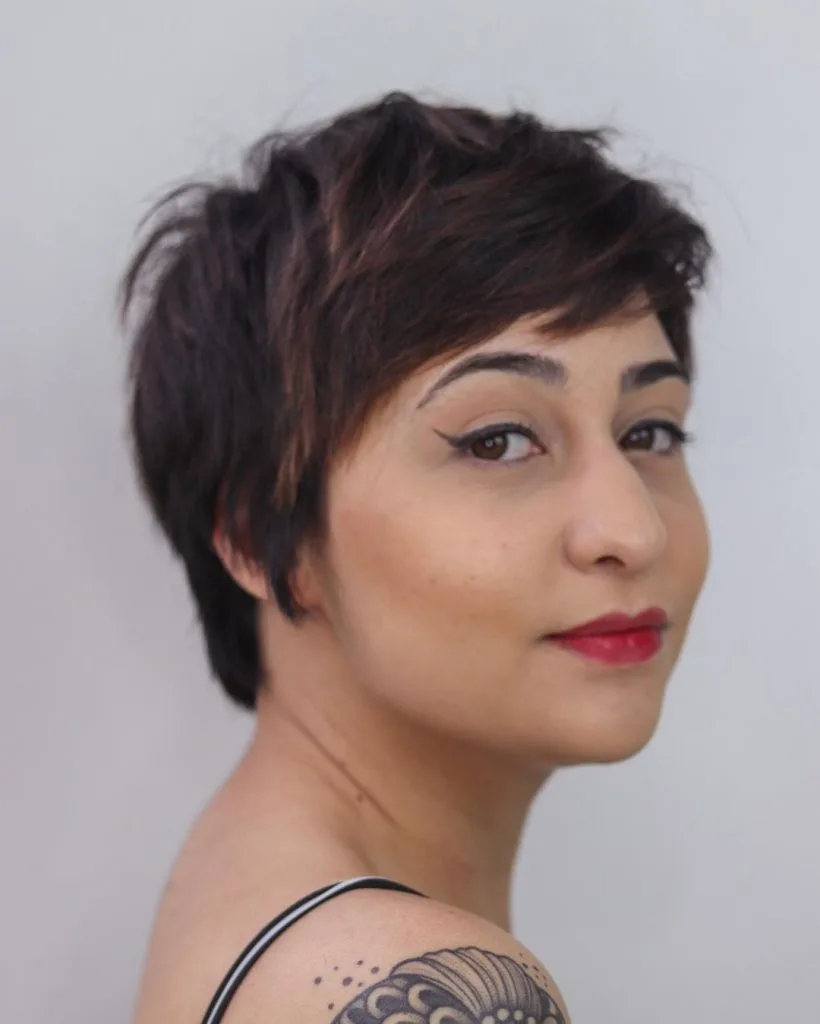 If your hair is frizzy, pomade or cream is a must unless you're okay with blow drying your hair.
47. Short Layered Bob With Bangs
This playful short layered bob is the definition of face-framing—it creates a lovely halo around the face that makes it even prettier.
48. Pixie With Long Side Bangs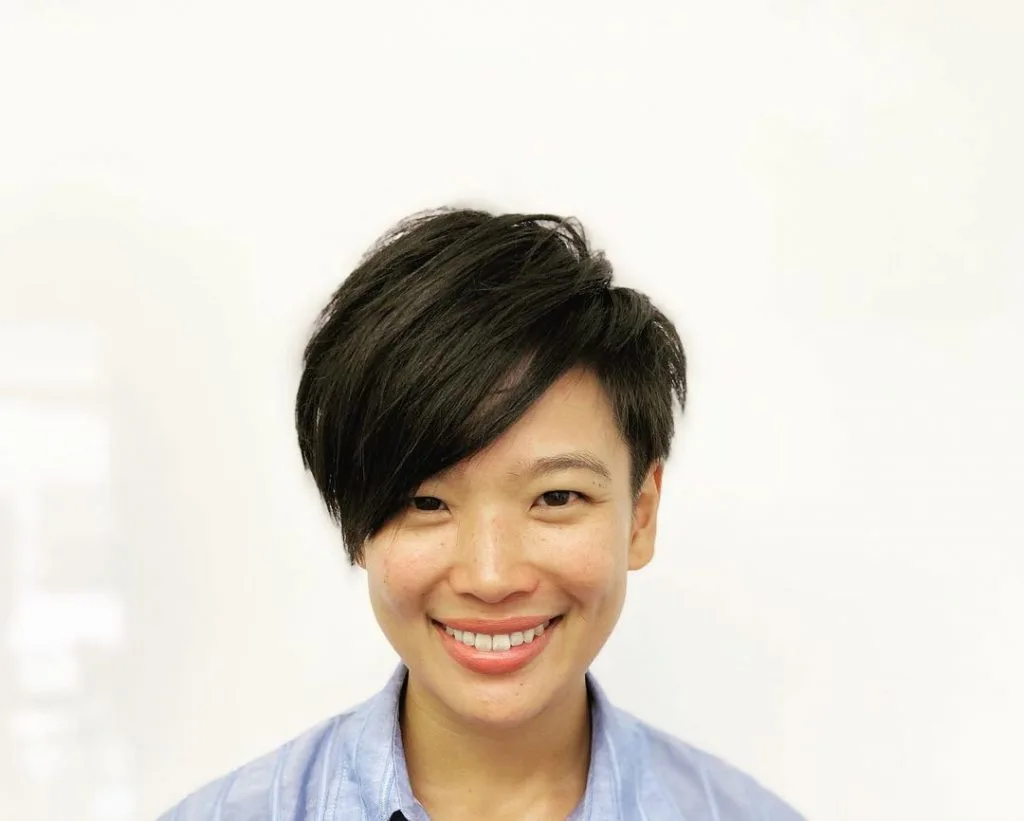 To have more styling variety you should get your long bangs cut the same length on both sides even if you always part your hair in the same spot.
49. Trendy Choppy Short Straight Hair With Bangs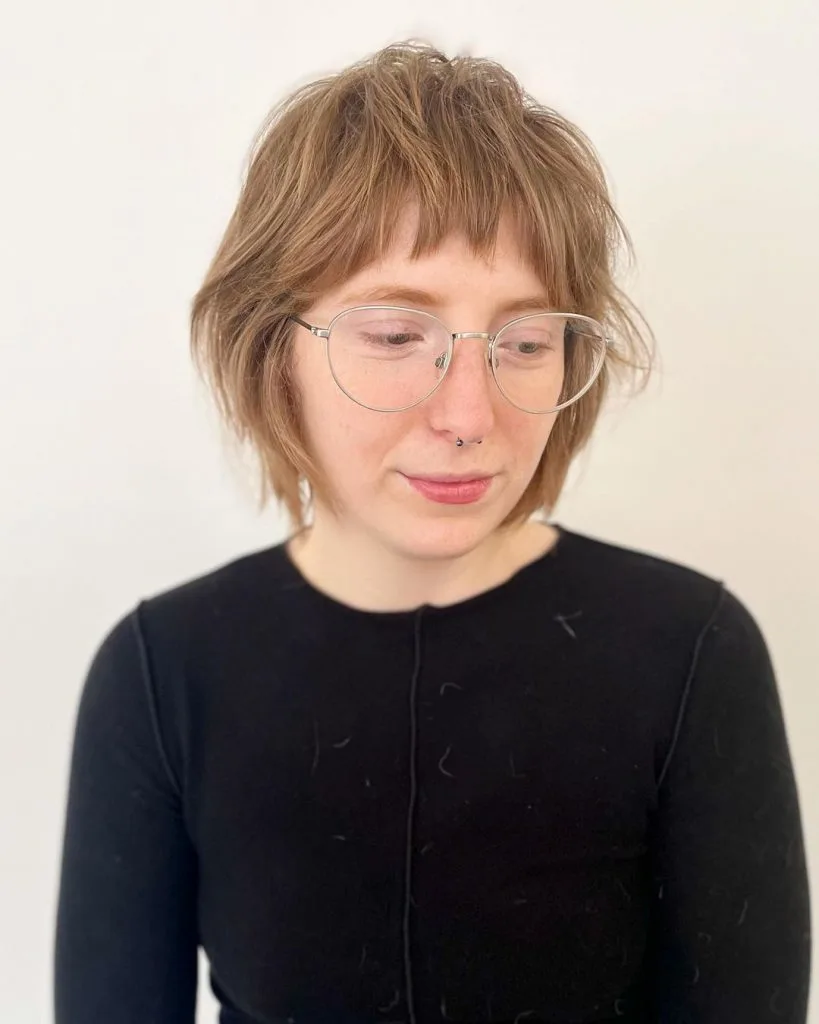 Styling short hair is usually easier than styling long hair, simply because there's less to work with. But when you don't know what to do with it, regretting a haircut is common. This is why it's crucial that you talk to your hairstylist beforehand about your hair, your styling habits and the amount of time you can invest in it every day.
50. Short Haircut With Baby Side Bangs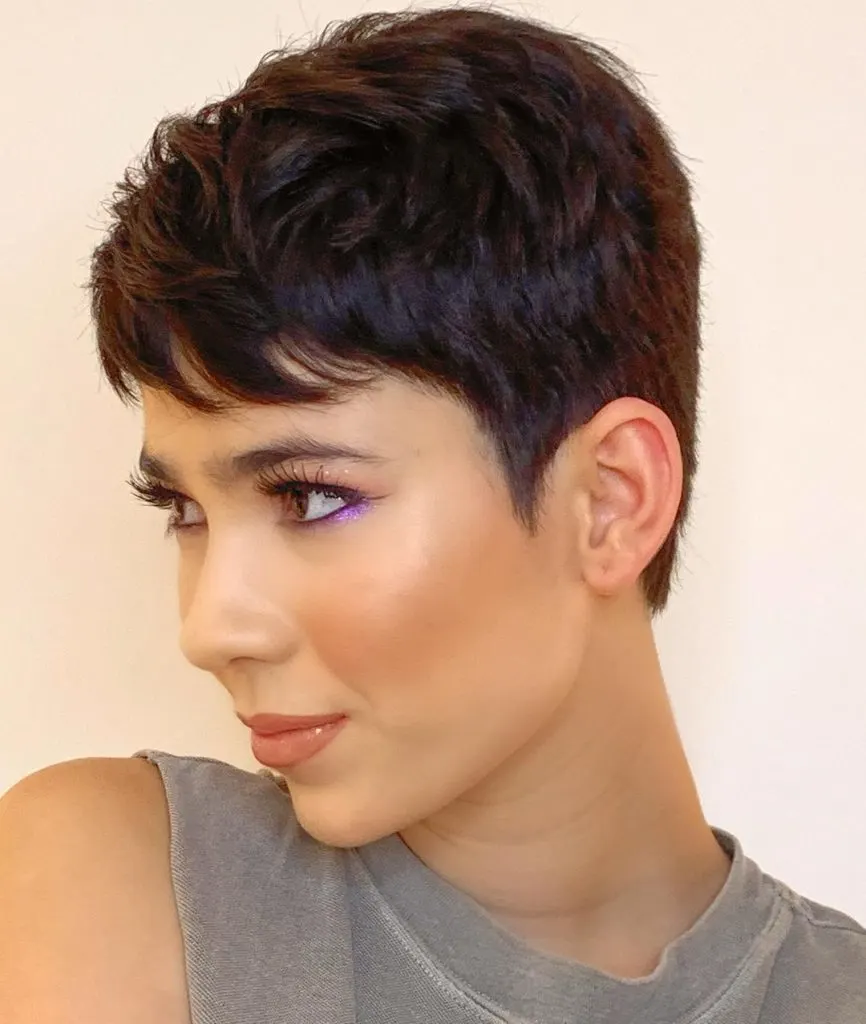 A fluffy fade/pixie combo is one of the best short haircuts for straight hair because it's cute and easy, and that's all you'd want from short hair.