Spice up your already cool lob and take it to the next level by adding some bangs. Bangs and bobs fit together like puzzle pieces—when you combine them, both become more interesting and flattering. A long bob with bangs is versatile and attractive, so what are you waiting for?
Get inspired by the rich selection of styles below.
1. Lob With Curtain Bangs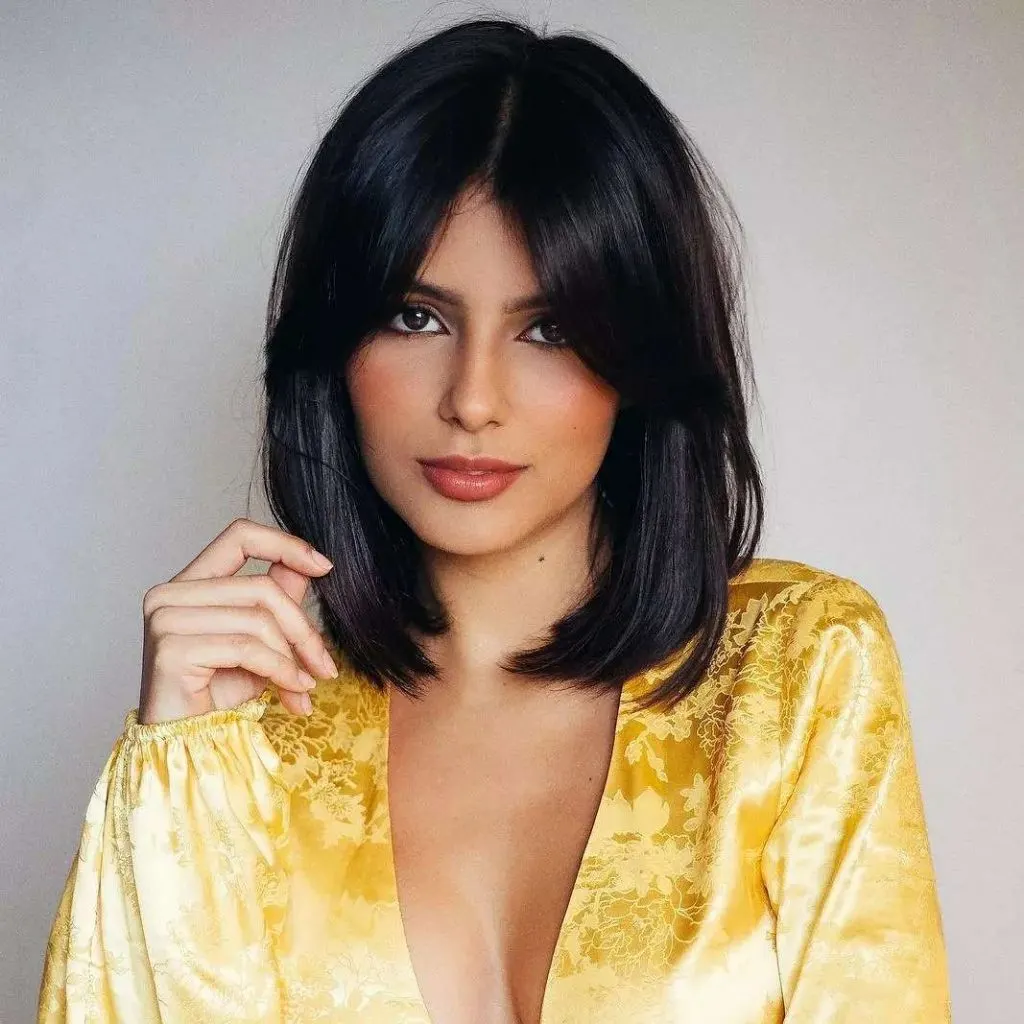 Medium-long hair gives you the best of both worlds: by wearing your tresses in a polished lob, you get to show off your beautiful healthy hair while still enjoying the crisp, easy bob haircut.
2. Long Bob Cut With Bangs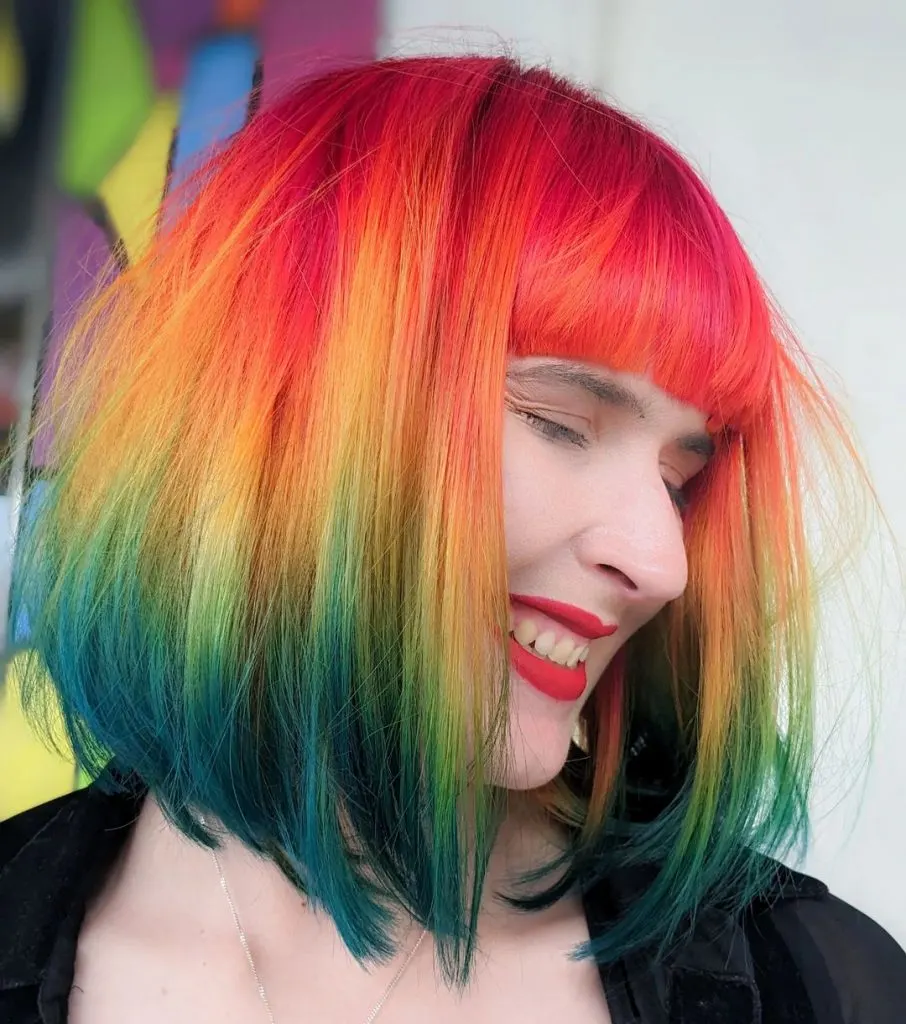 Gorgeous harmony of color and cut! The placement of the vivid colors is perfect: the vibrant red at the crown and the green at the tips are seamlessly connected through transitional yellow and orange, creating a flawless face-framing effect.
3. Curly Lob With Choppy Fringe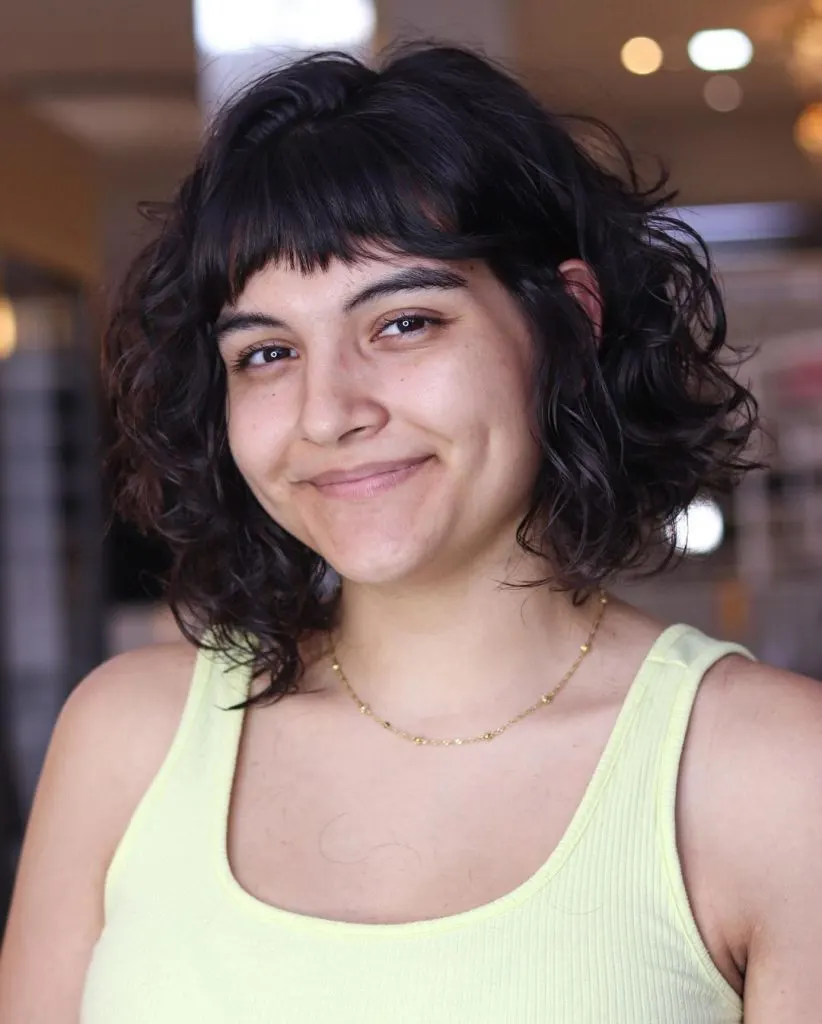 Thanks to the contrast between the choppy baby bangs and the thick, curly long bob, this hairstyle is eye-catching and appealing—and also super-flattering.
4. Long Bob With Bangs And Layers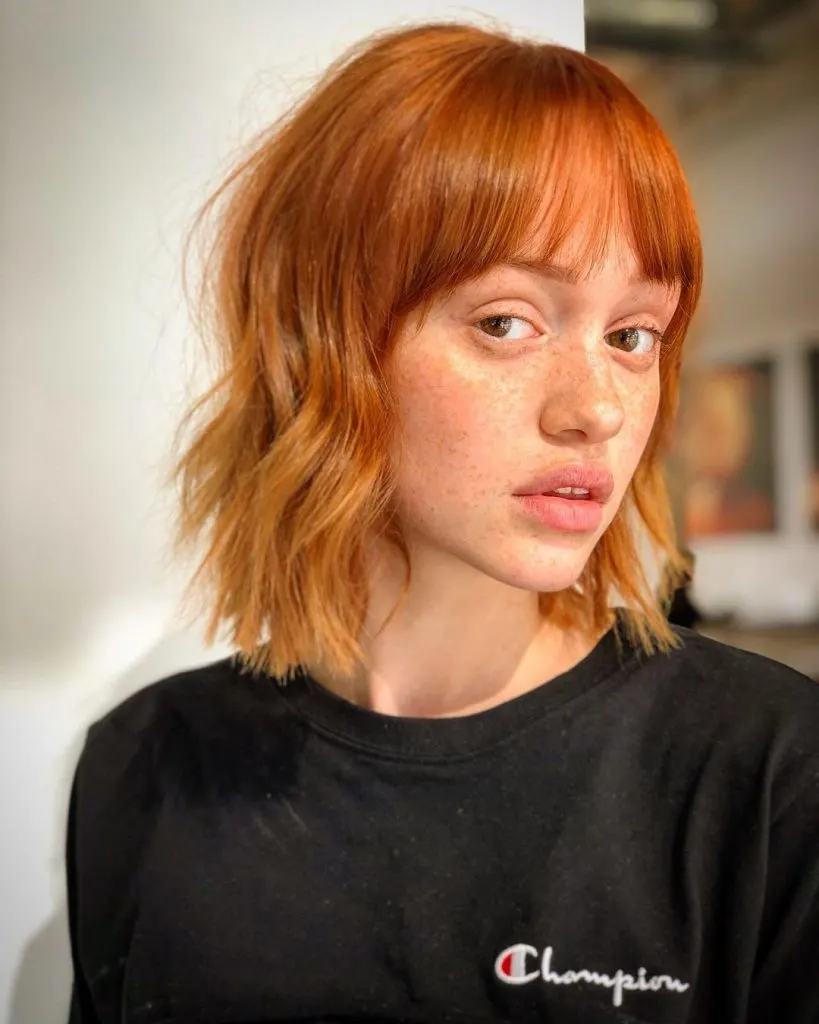 Don't avoid layers if you have thin hair, even if it might be tempting to leave as much hair on your head as you can. Keeping everything the same length weighs down the strands, making them look even thinner, but layers create movement and bounce, breathing life into your hair.
5. Lob With Bangs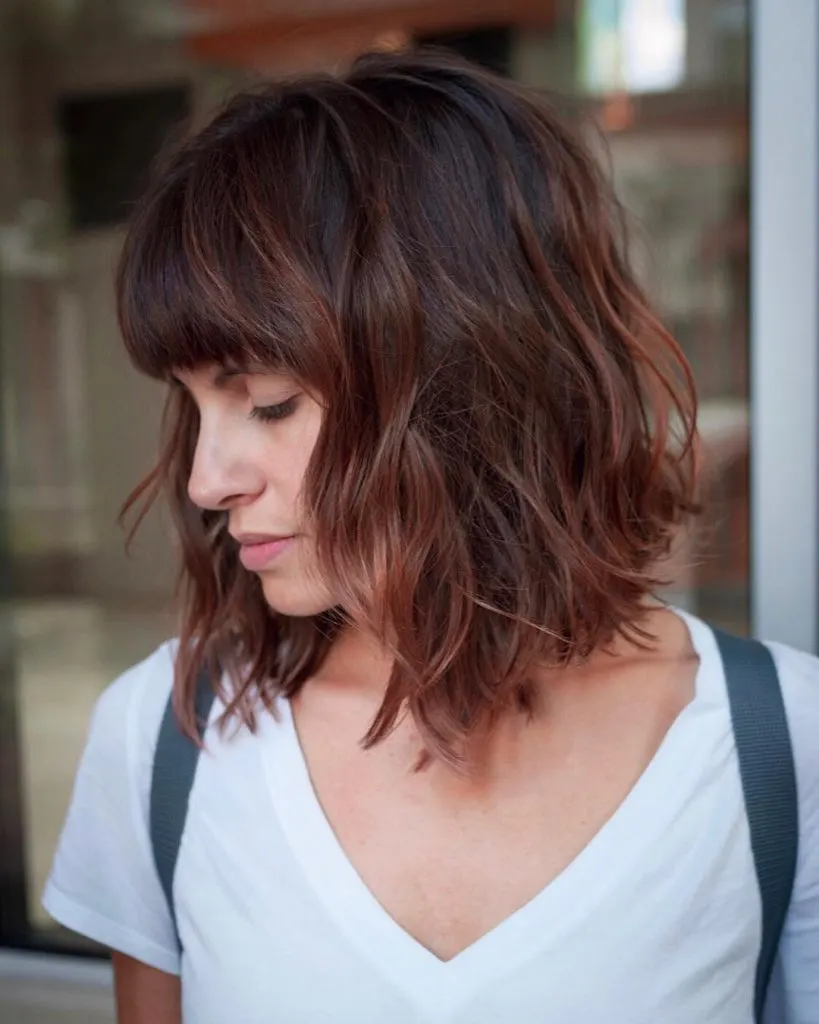 Full, straight-across bangs work best if you have an oval face, but with slight adjustments they can work on anyone: textured for a heart-shaped face, choppy on a round face and center-parted if your face is square.
6. Long Bob Haircut With Bangs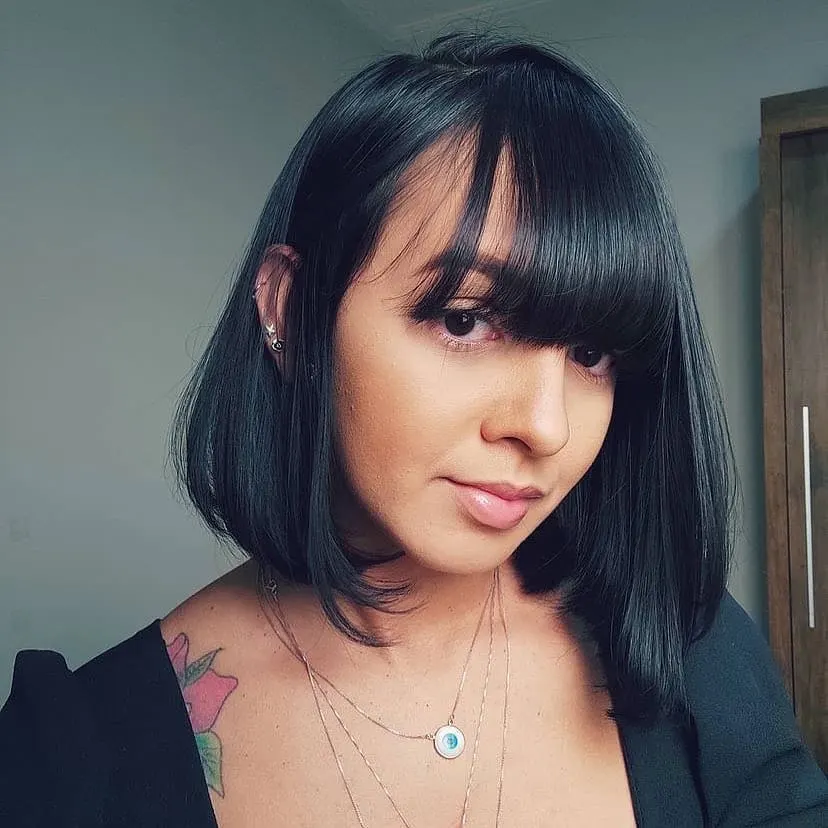 The classic rounded lob with bangs is timeless and never looks outdated. When worn sleek, with the ends turned inwards, it's elegant and sophisticated. To make it a bit more fashion-forward, you can wear the ends straight and scrunch in some salt spray for a bit of texture.
7. Long Bob With Straight Bangs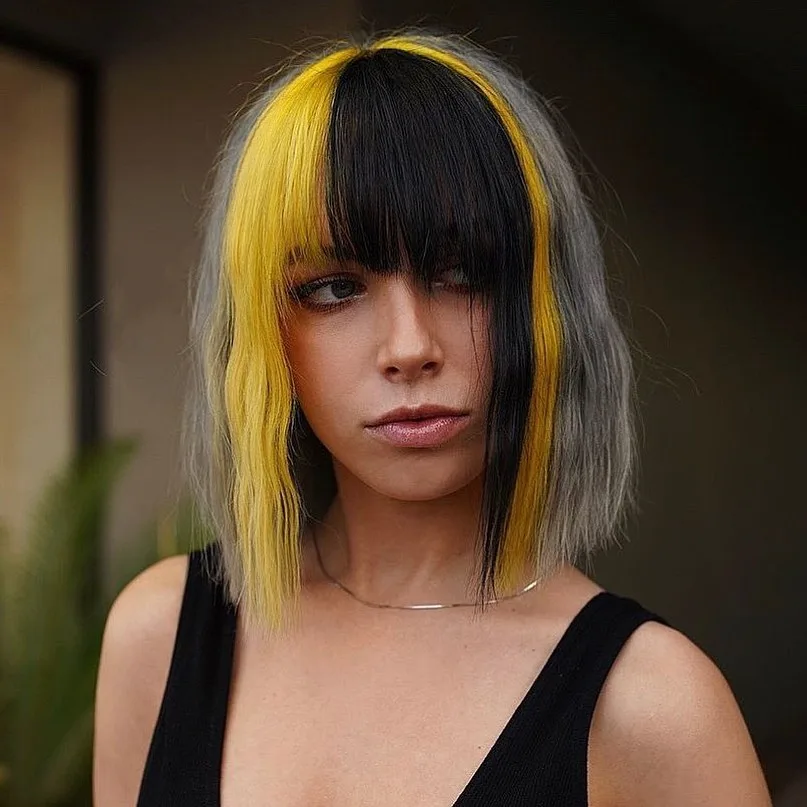 When the eyes are partially covered by bangs, it creates an air of mystery. Longer bangs also look great when worn to the side, so you get two looks in one.
8. Long Bob With Curtain Bangs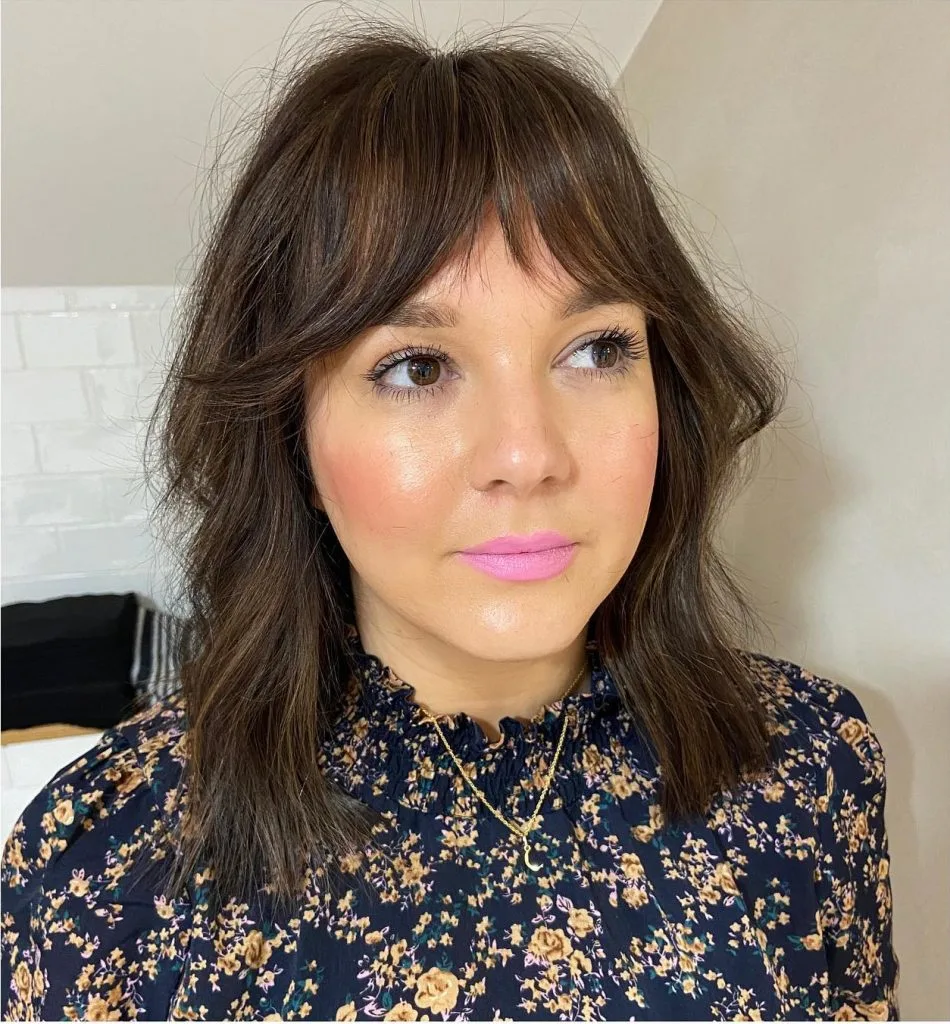 A long bob with curtain bangs is one of the hairstyles that suit virtually everyone. Curtain bangs are as flattering as blunt bangs are unforgiving—they work on nearly all face shapes and elevate your look.
9. Layered Long Bob With Curtain Bangs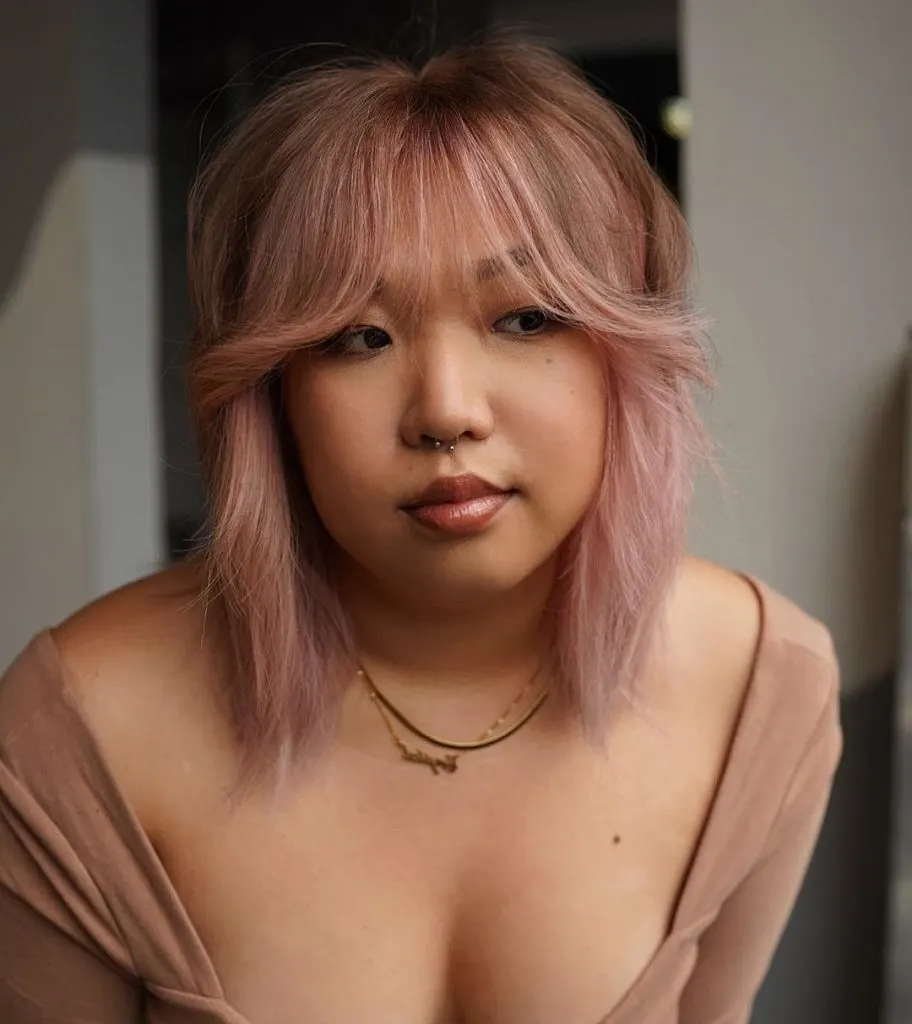 Layers and bangs can be used to make thin hair look thicker. The hair is lighter so it stays lifted easier, which flatters the face by creating an illusion of fullness.
10. Curly Lob With Bangs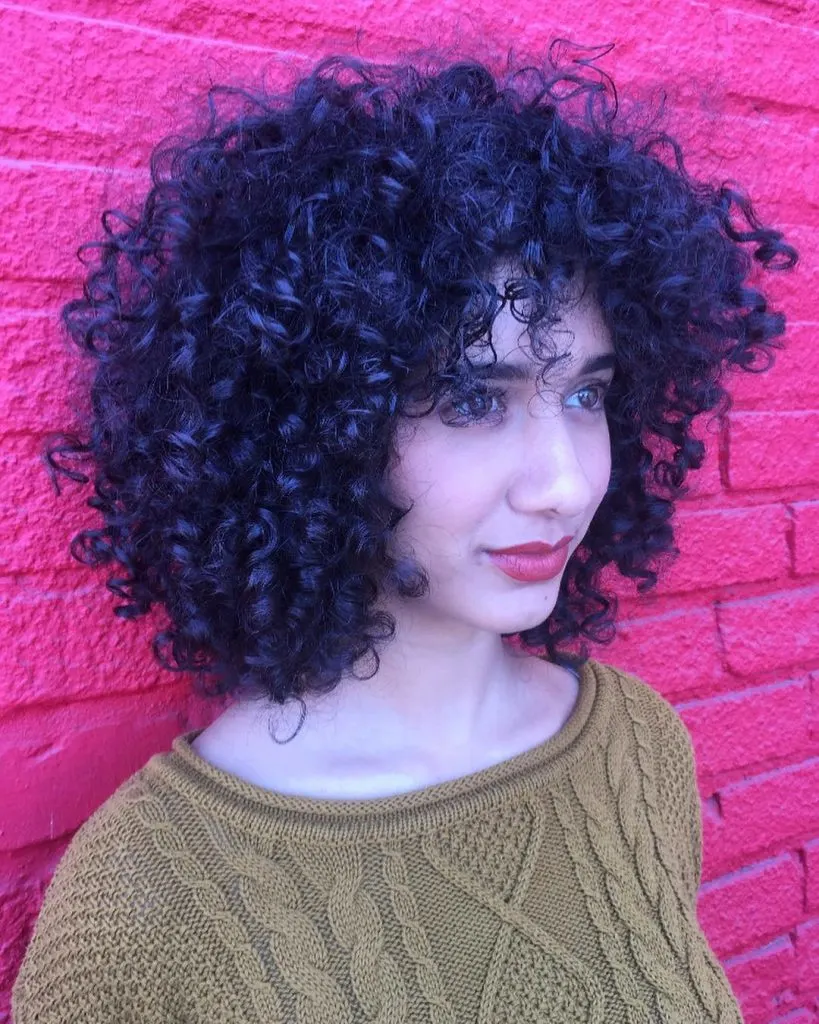 Let your curls shine with a layered long bob and wispy pieces around the face—both draw attention to the pattern and bounce of the curls.
11. Lob Haircut With Bangs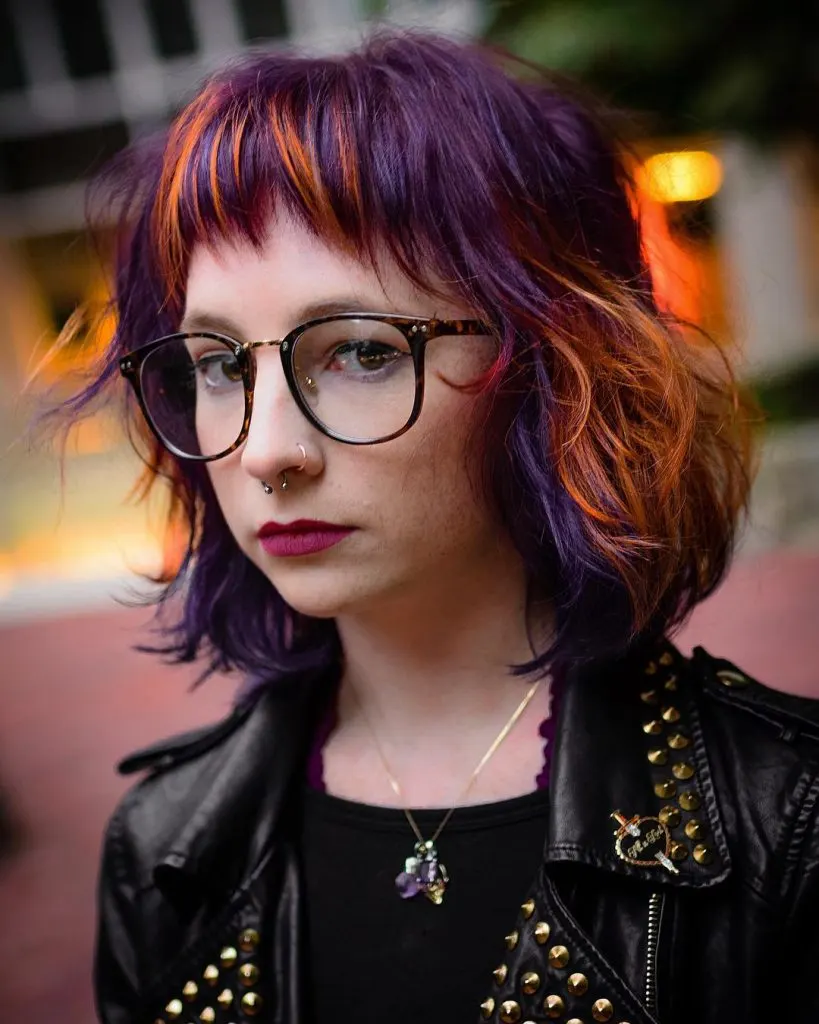 Choppy bangs and below-the-chin length flatter a round face, and the unusual color combination draws attention without being overwhelming. This kind of alt hairstyle looks best when it's not overdone, so scrunching it as it dries is the best way to style it.
12. Choppy Long Bob With Bangs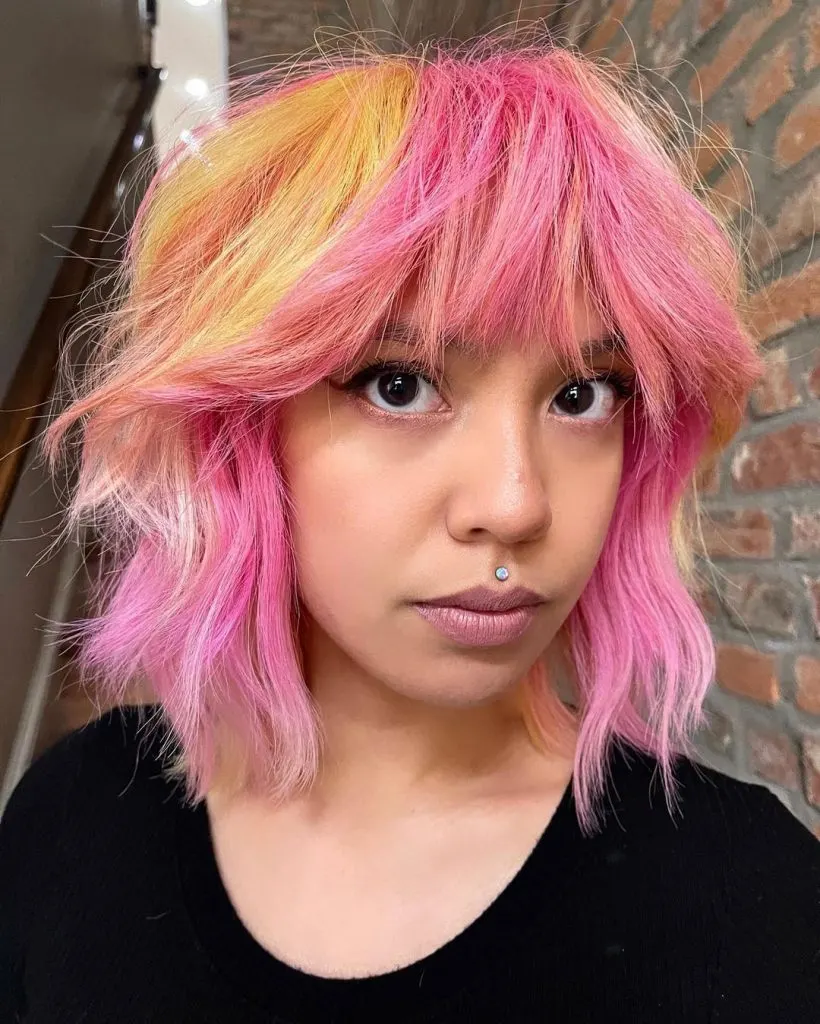 Wavy lobs with curtain bangs are still going strong, so a custom color is the way to go if you want to stand out. This cute strawberry-vanilla combo makes the whole style pop.
13. Shoulder Length Long Bob With Wispy Bangs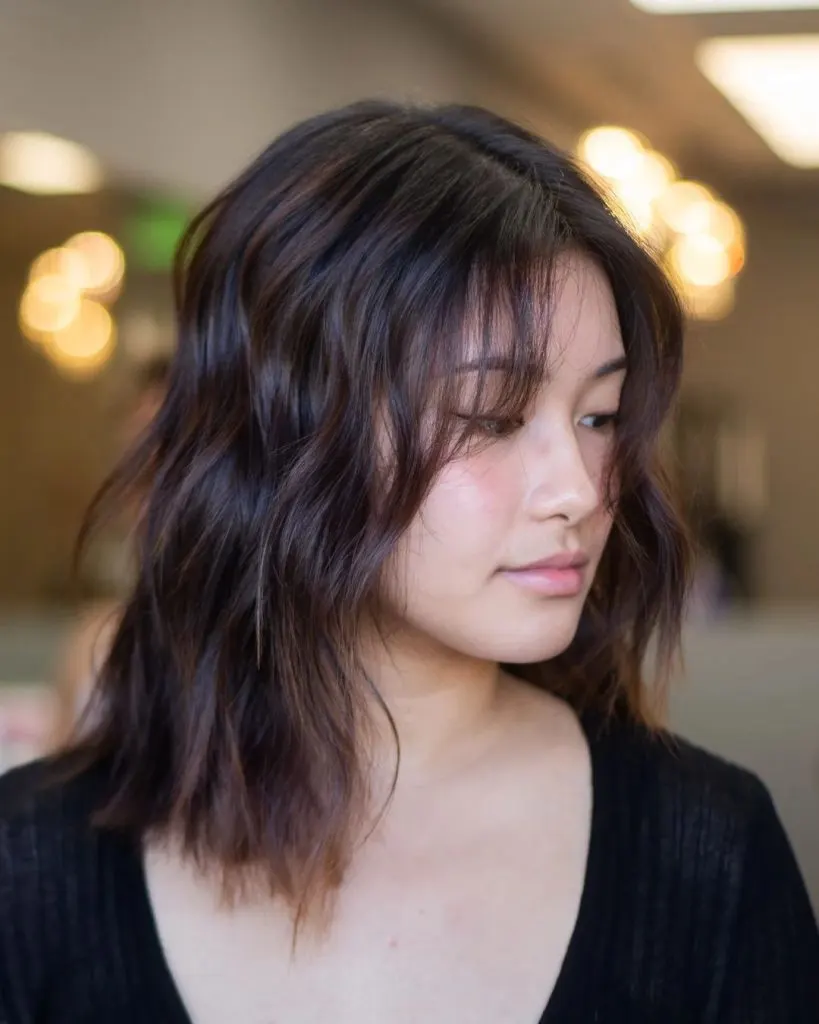 Ethereal wispy bangs give softness to any haircut and look especially dainty when paired with a longer wavy style, such as this long layered bob.
14. Straight Long Bob Haircut With Bangs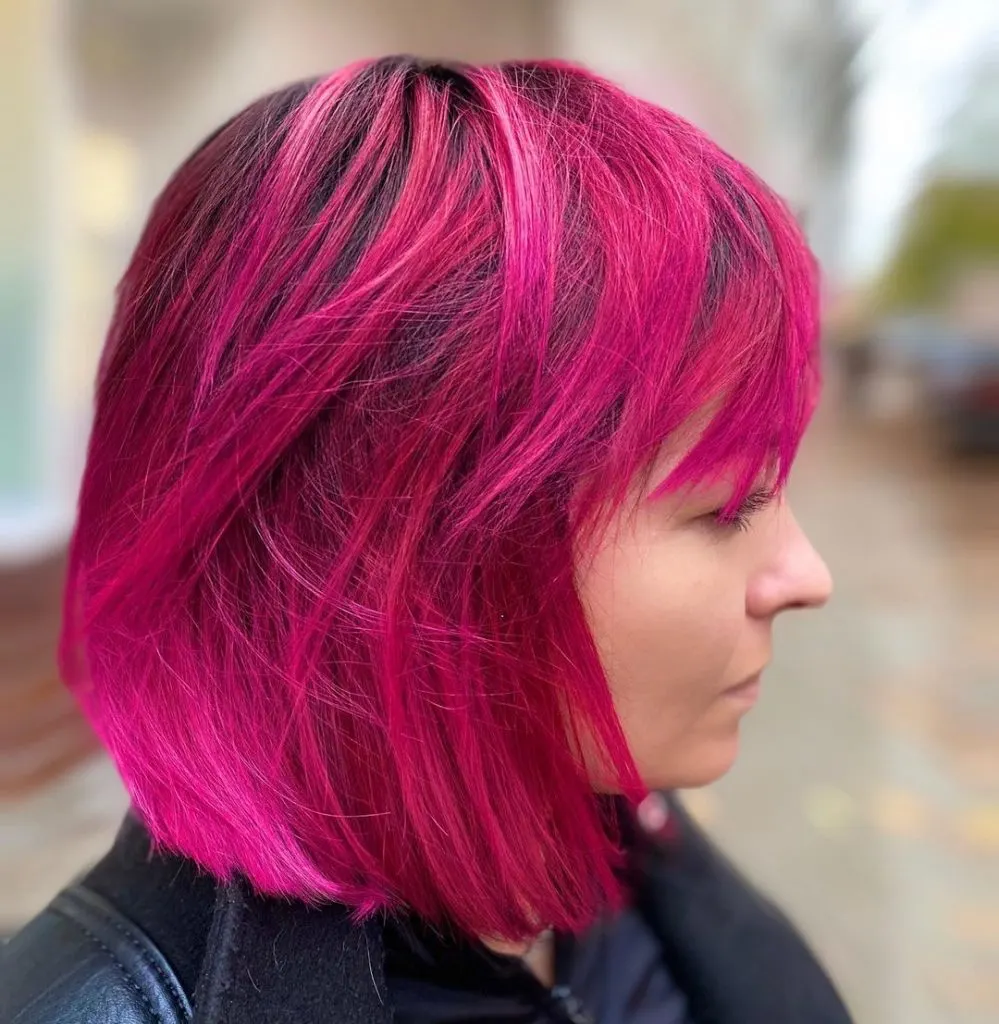 The ultra bright fuchsia color and a simple lob with bangs balance each other—the intense color is complemented by a simple cut.
15. Long Layered Bob With Bangs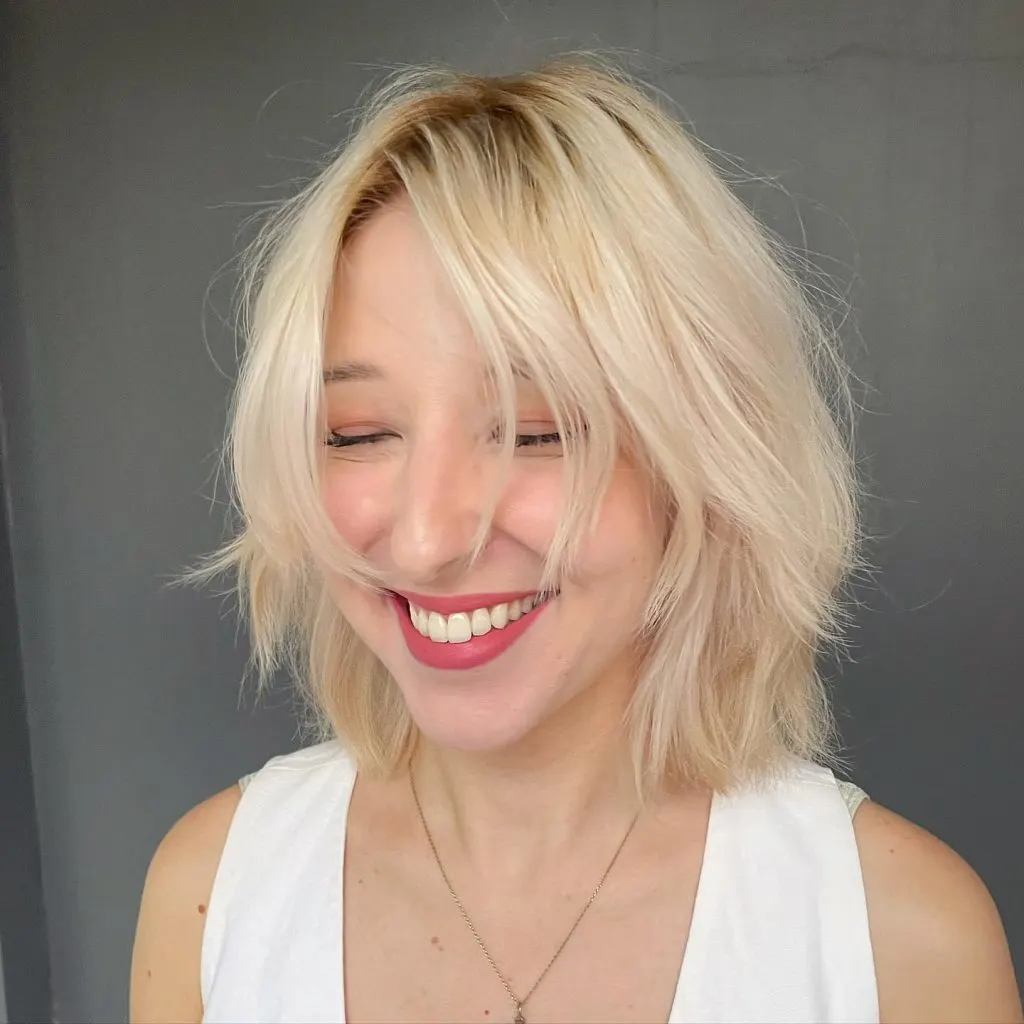 A couple of shorter strands around the face give something extra to a layered lob. With plenty of movement and bounce, this style would suit both thin and thick hair.
16. Long Bob With Side Fringe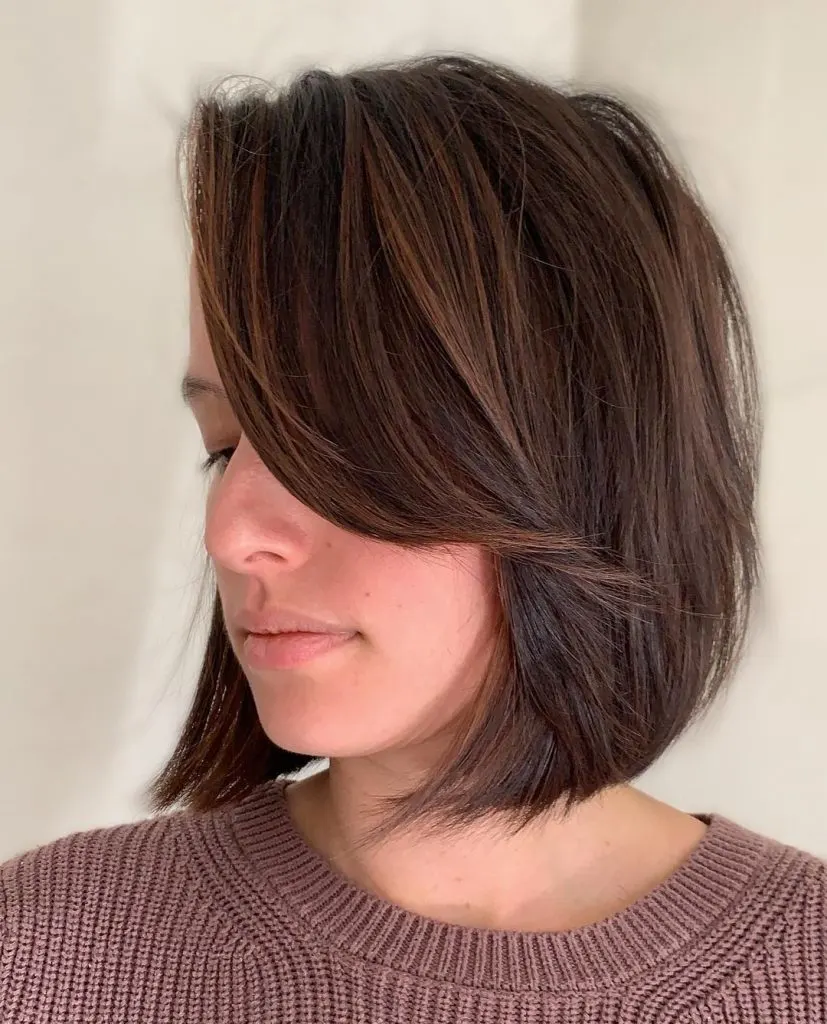 Create an effortless and flirty look with side-swept bangs going over one eye. Keep your hair tousled and voluminous by flipping your bangs with your hand a couple of times throughout the day.
17. Long Bob With Bangs For Thin Hair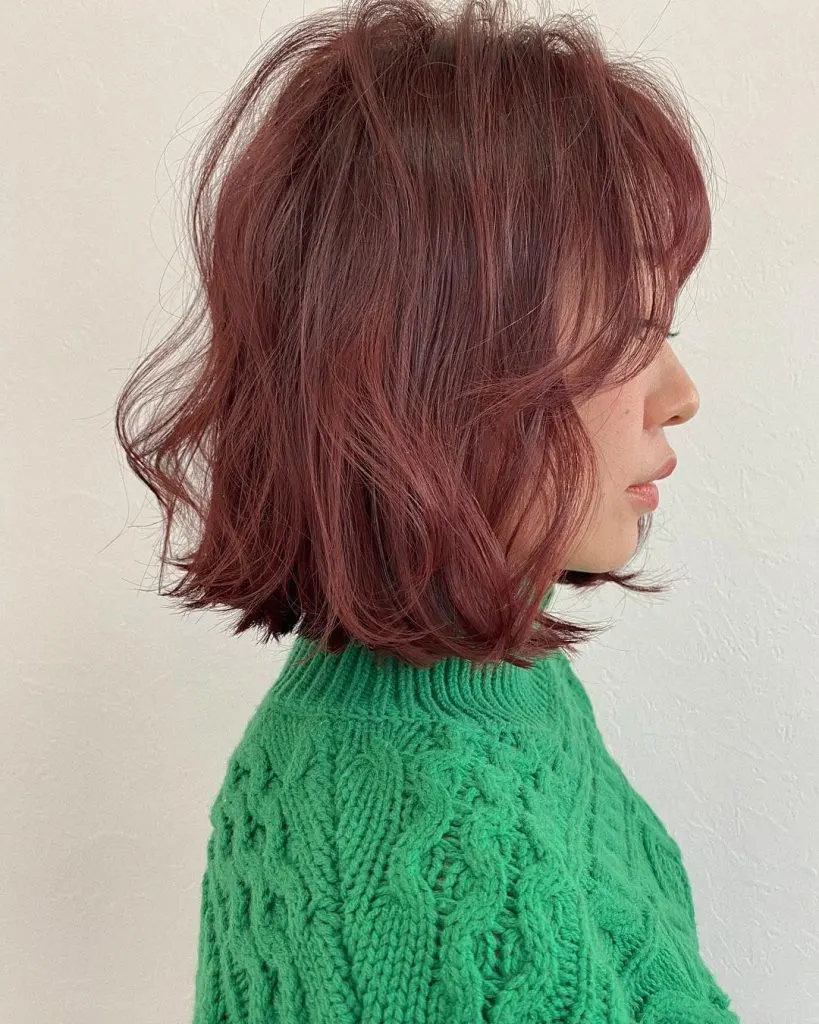 Solid ends combined with texturizing layers result in a wonderfully manageable bob that looks best natural. To style, apply serum or leave-in conditioner and air dry or use low heat, moving your hair around with your fingers.
18. Textured Lob Haircut With Bangs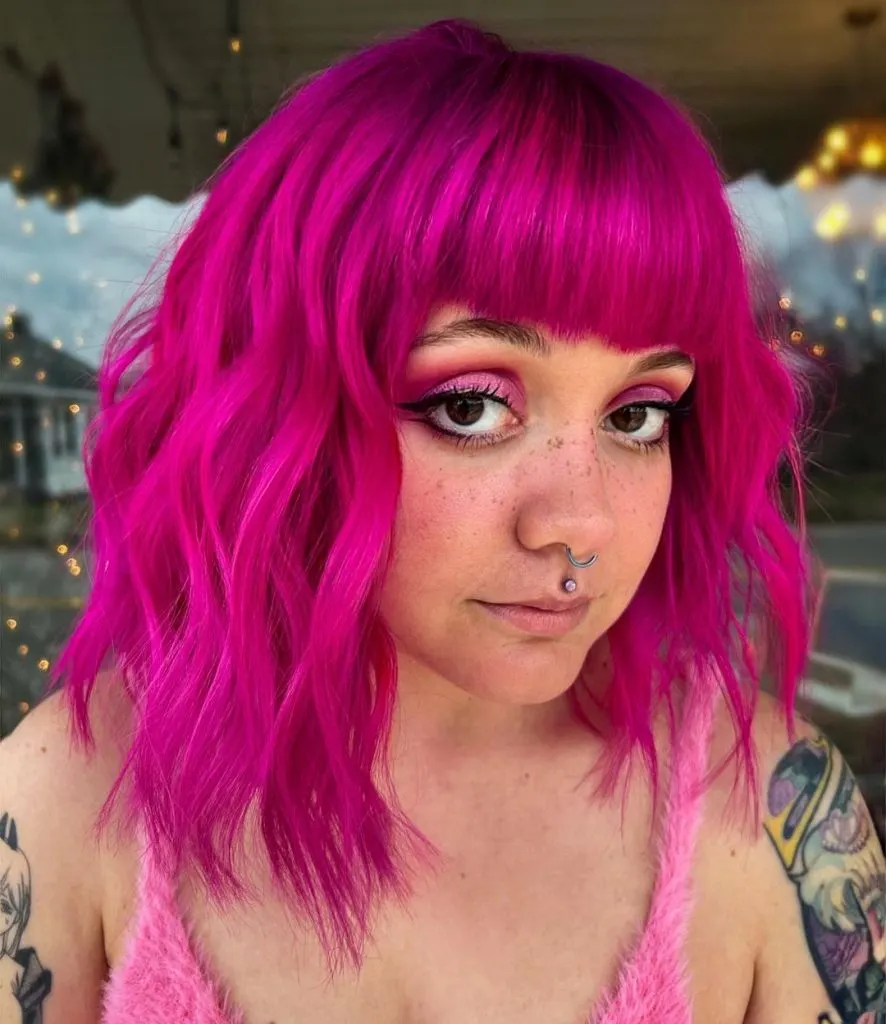 An angled lob that hits the collarbone elongates the face, offsetting the blunt bangs which shorten it. This combination is very flattering if you have a round face shape with a high forehead.
19. Straight Long Bob With Bangs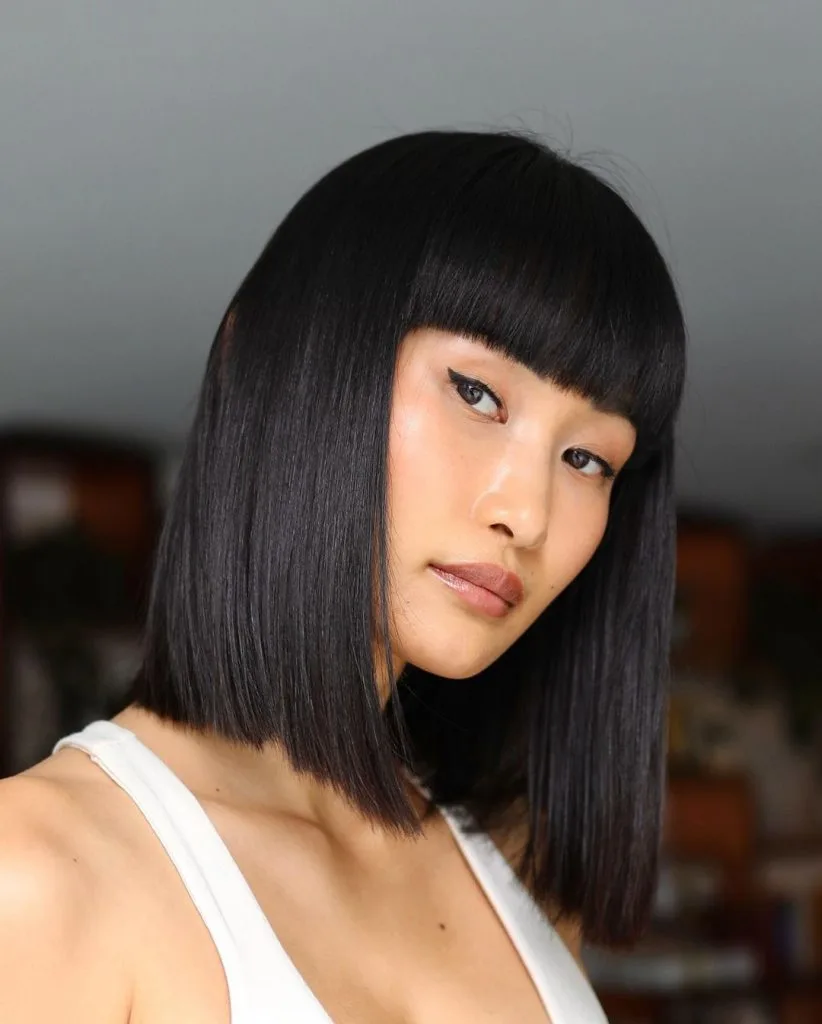 A sleek blunt bob with bangs is particularly stunning with dark hair. To make sure your hair stays healthy and glossy, never skip heat protectant before you reach for your hot tools.
20. Shoulder Length Bob Haircut With Bangs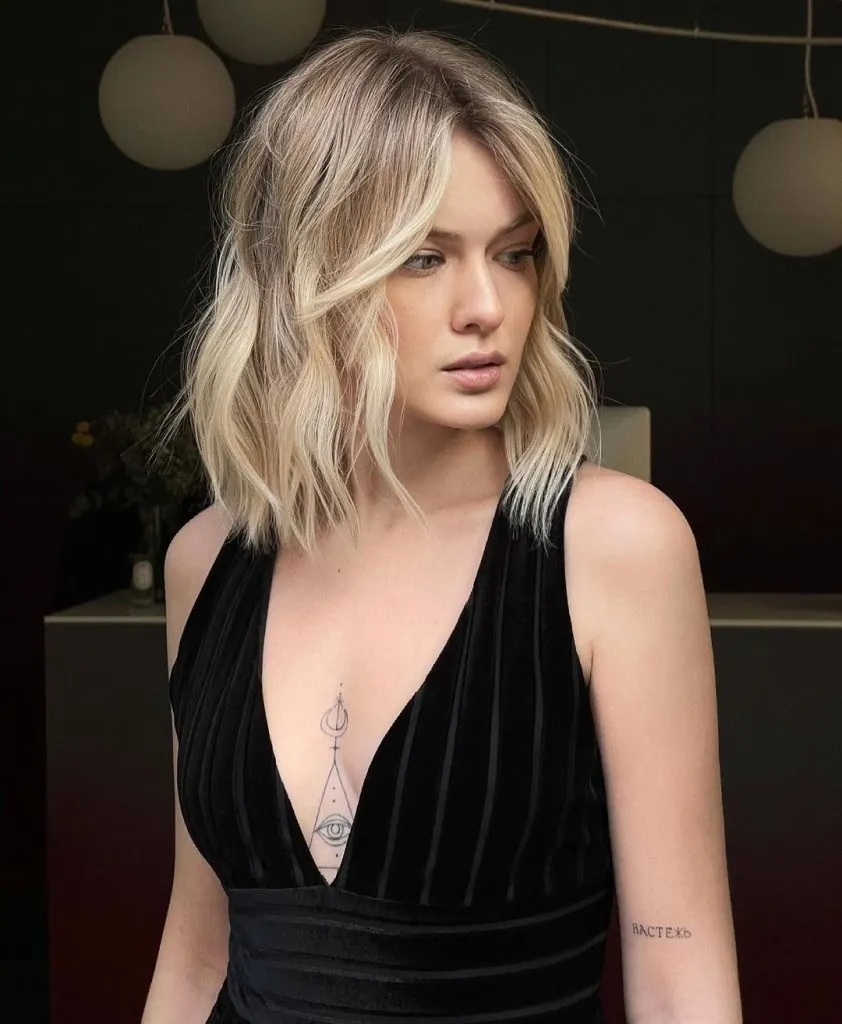 Tousled beach waves look effortless, although it takes a bit of effort to style them. Divide your hair into two-inch sections and using a large barrel curling iron, curl them away from the face.
21. Fine Hair Long Bob With Bangs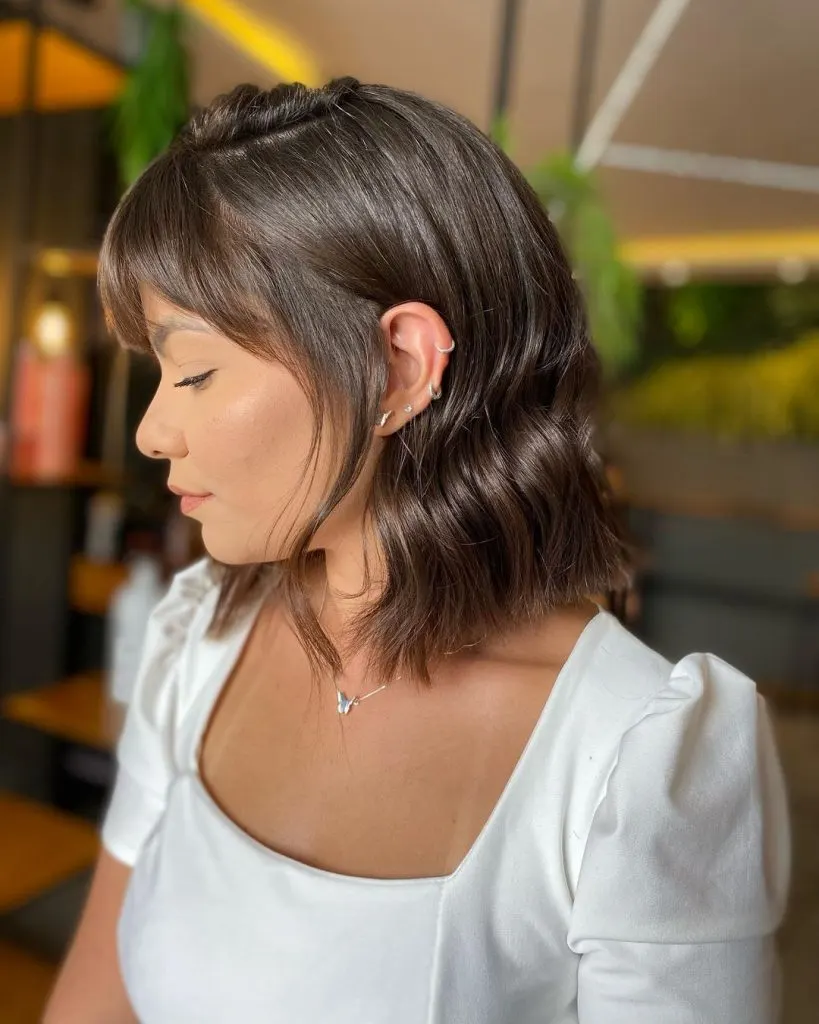 Bottleneck bangs are not quite curtain bangs and not quite full fringe, but something in between that's flattering and cute. They're manageable and easy to grow out, which makes them a great choice if you're undecided.
22. Curtain Bangs Lob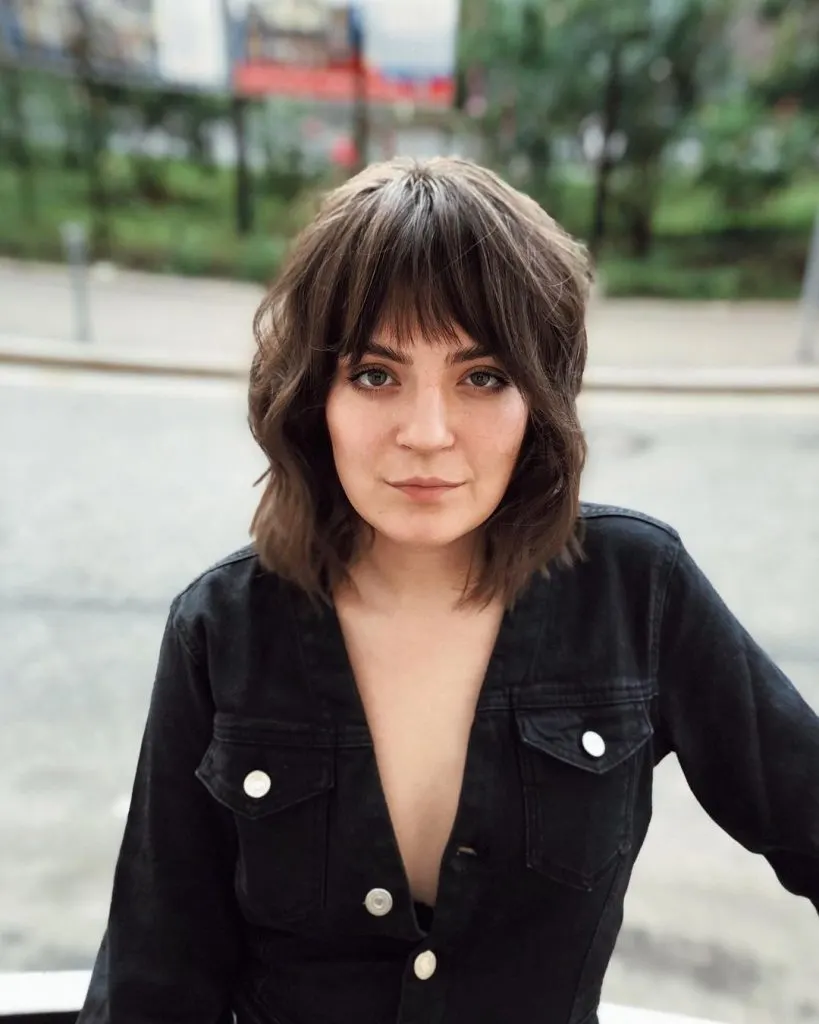 A shaggy bob looks even better air-dried and natural than it looks with a careful blowout, but it still needs some help—use a volumizing spray to add volume to the roots.
23. Layered Lob Haircut With Fringe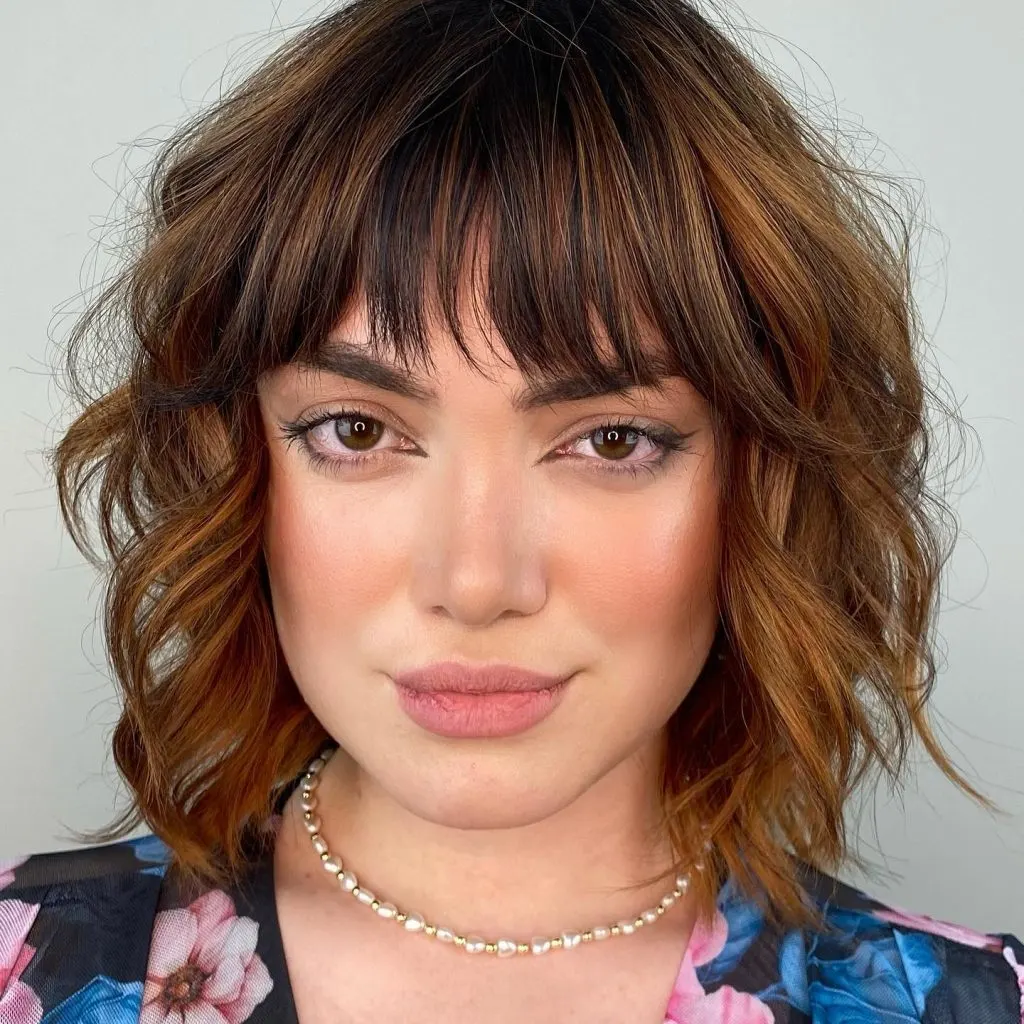 Textured bangs are full enough to be noticed, but they're not stuffy. Together with layers and loose waves, they make a gorgeous frame for the face.
24. Long Bob Haircut With Layers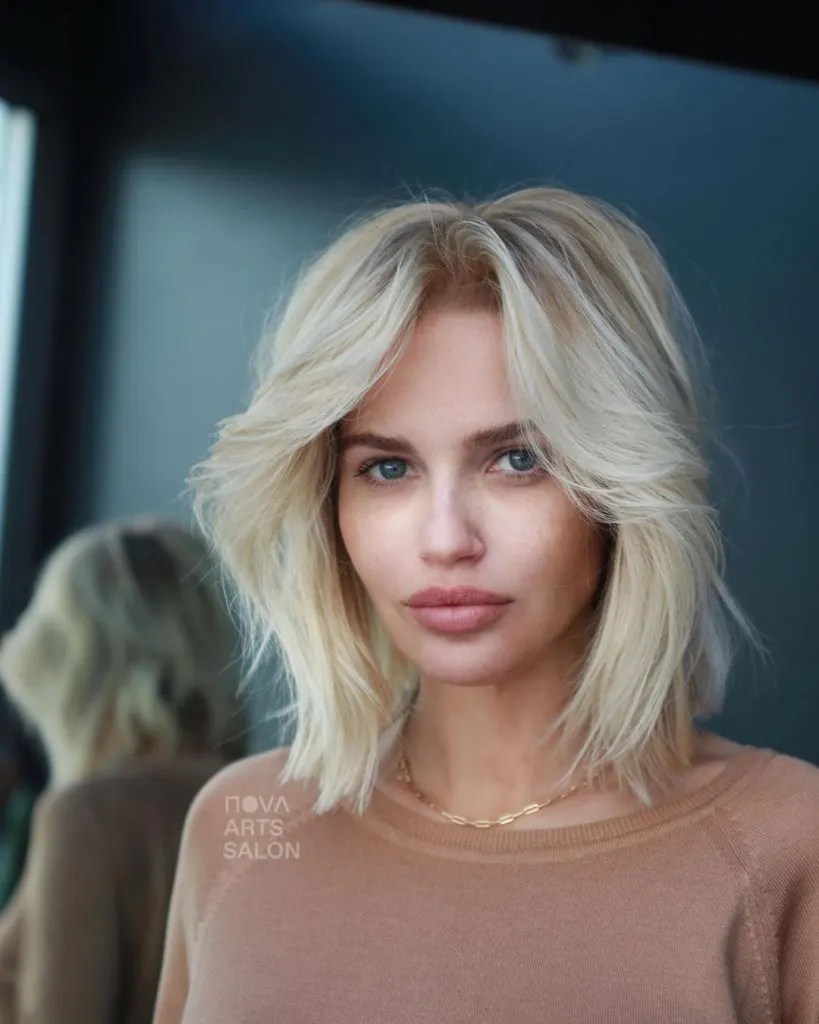 To style curtain bangs, starting with damp hair, blow dry backwards using a medium round brush. Wait for it to cool, then set in place with some pomade.
25. Layered Lob With Bangs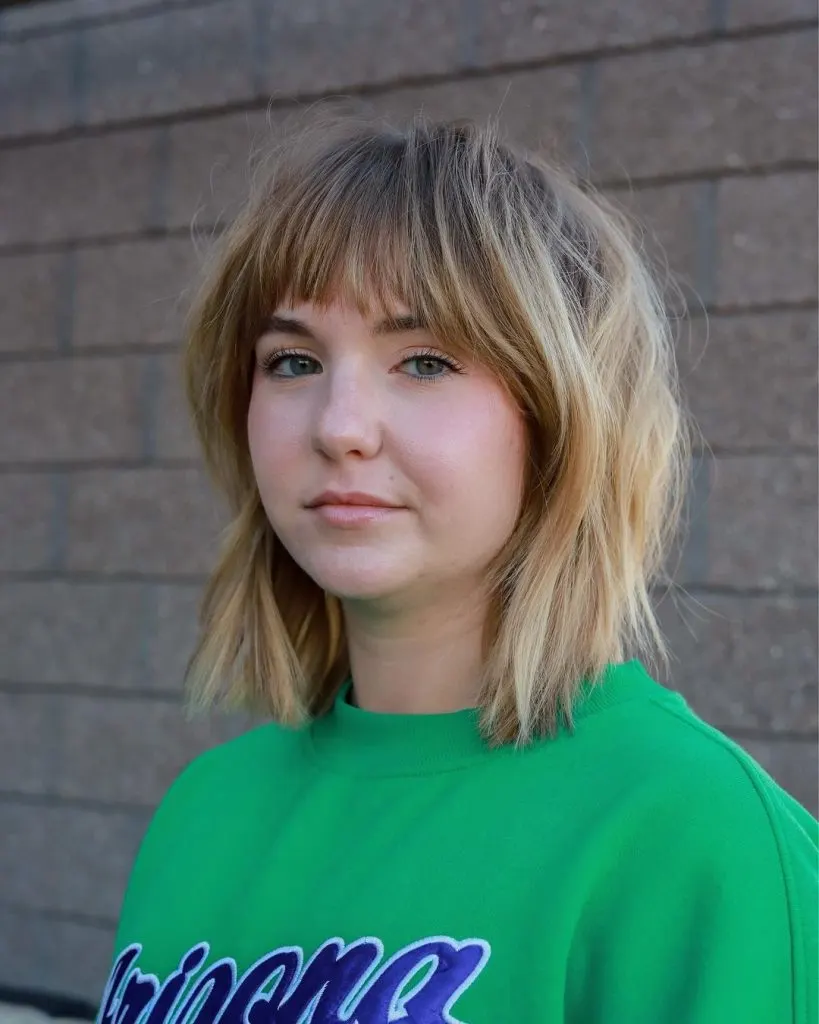 If you're still not ready to go for the increasingly popular shag or a mullet, a choppy bob is a trendy yet easy alternative. Style it as you would a shag, by keeping it as natural as possible.
26. Medium Length Bob With Bangs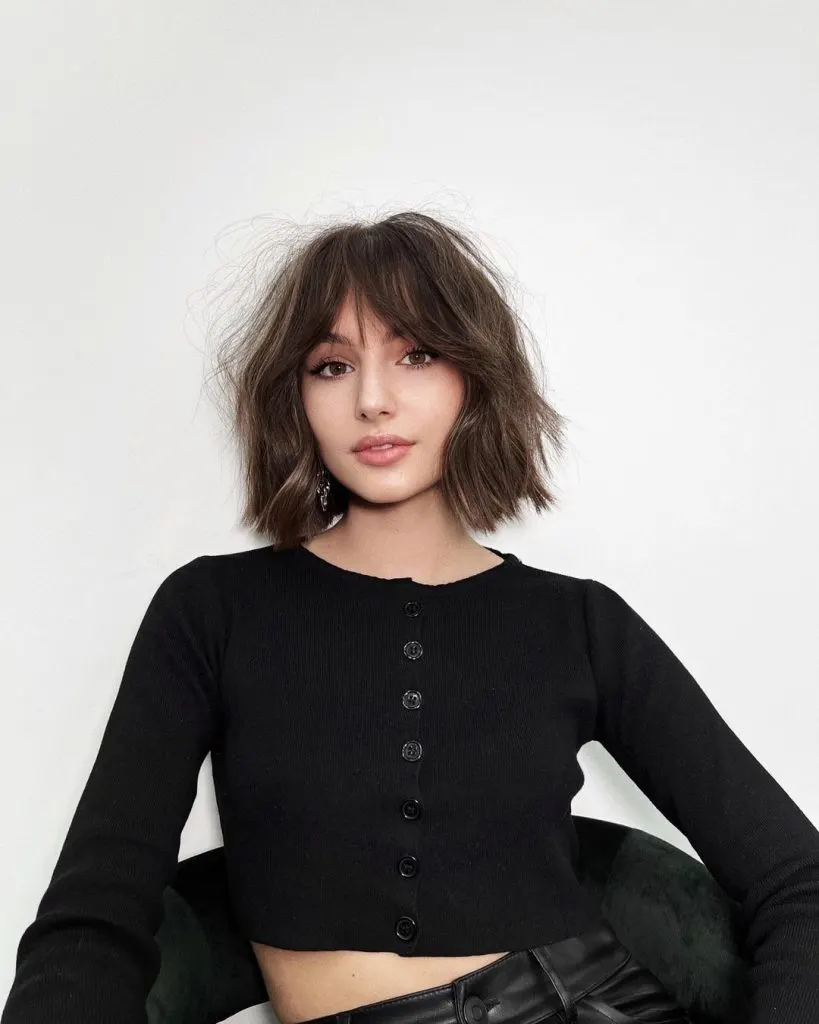 A tousled, choppy bob with curtain bangs is one of the best hairstyles for a diamond-shaped face. The bangs frame the cheekbones just right and create balance with the other features.
27. Shoulder Length Bob Haircut With Curtain Bangs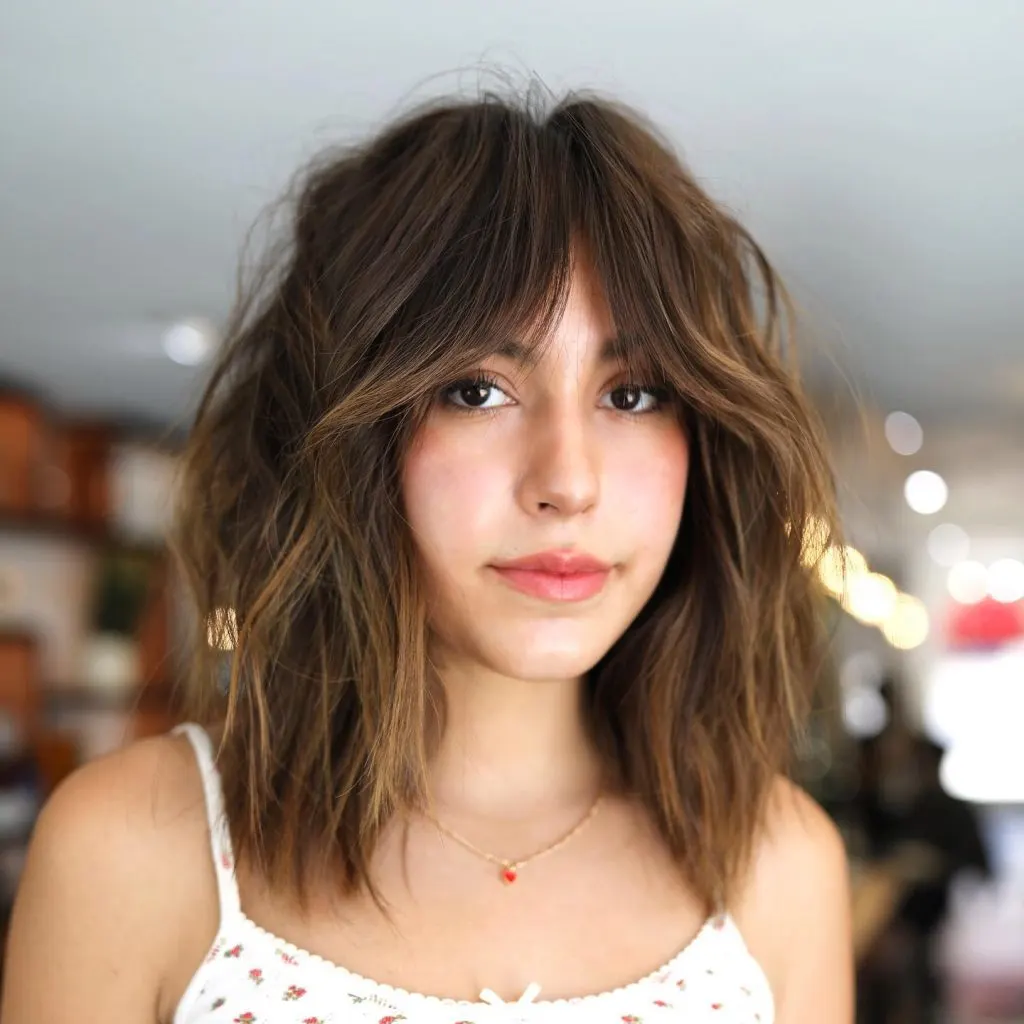 Even though this textured lob looks casual, it takes quite a bit of styling to achieve it. Blow-dry using a medium brush to create volume, paying special attention to the bangs. You can add a bend in the middle by wrapping the strands once around a curling iron.
28. Shoulder Length Bob Cut With Bangs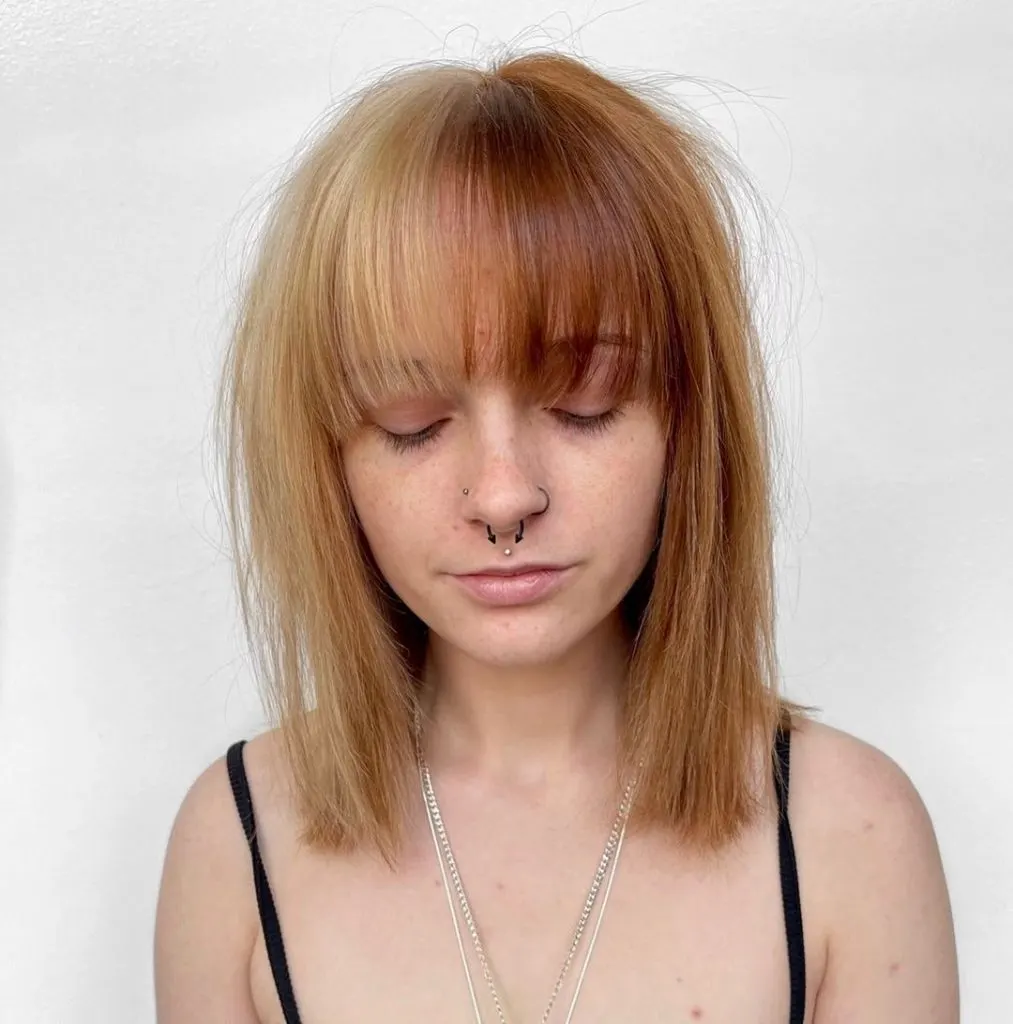 To give a boost to thin hair, ask your stylist for layers. They help by creating movement, and you can create even more body with clever styling. Starting off with volumizing mousse and use a large round brush to lift the roots, then follow up with texturizing spray.
29. Long Bob Haircut With Baby Bangs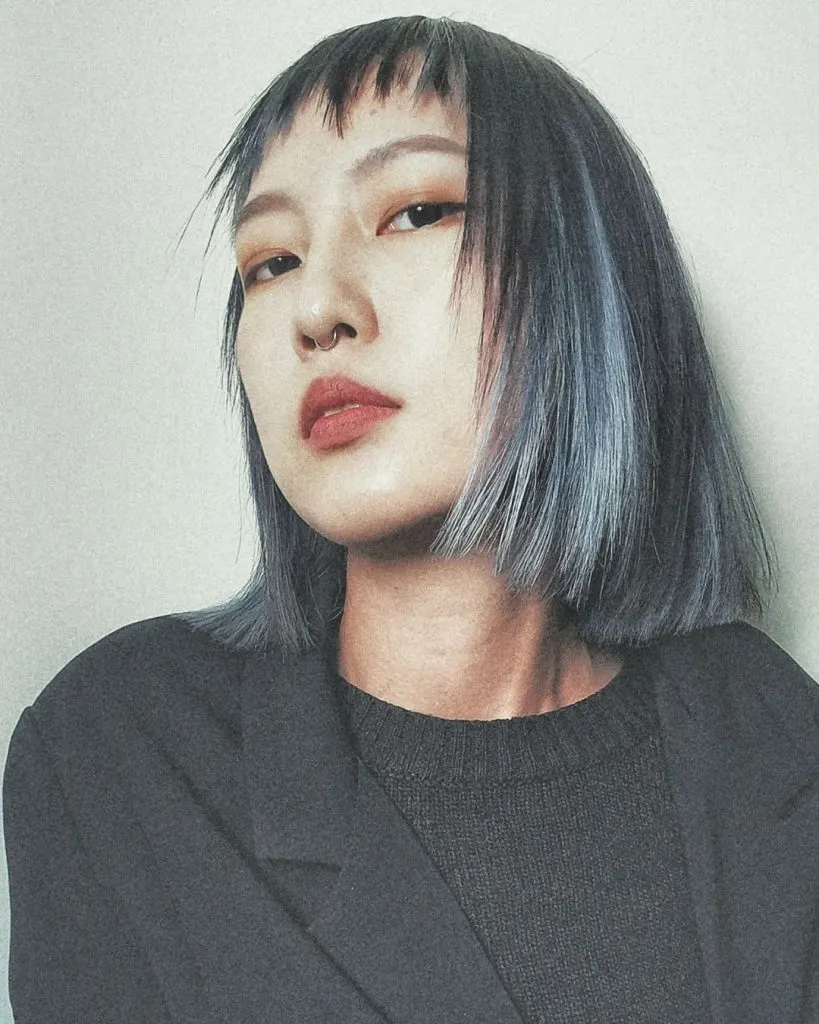 When it comes to pairing a bob and bangs, the options are endless. This unique combination of super-choppy bangs and face-framing layers is edgy and fun.
30. Long Messy French Bob Haircut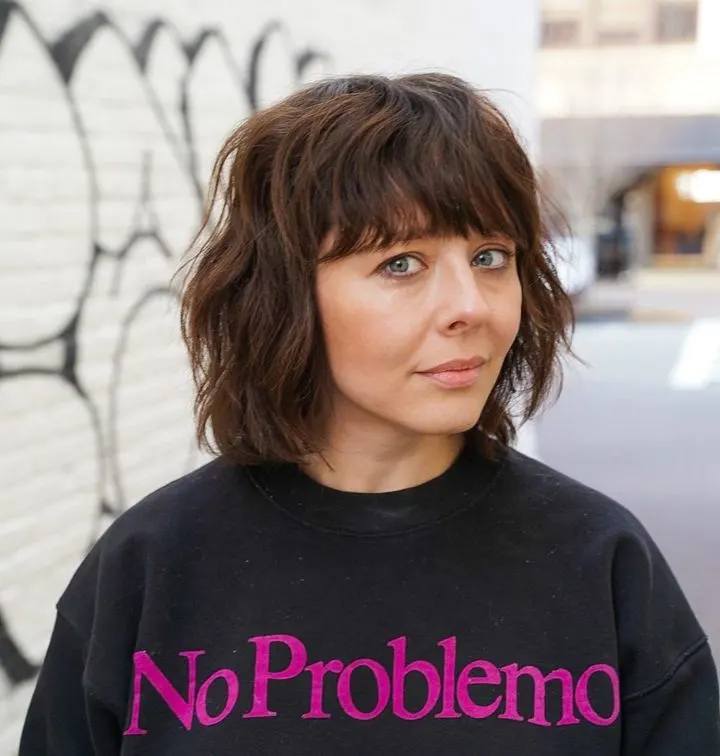 A choppy, grown-out French bob with airy texture is a step further from the classic version of the cut. Apply texturizing spray and air dry for a lived-in finish.
31. Long Messy Bob With Bangs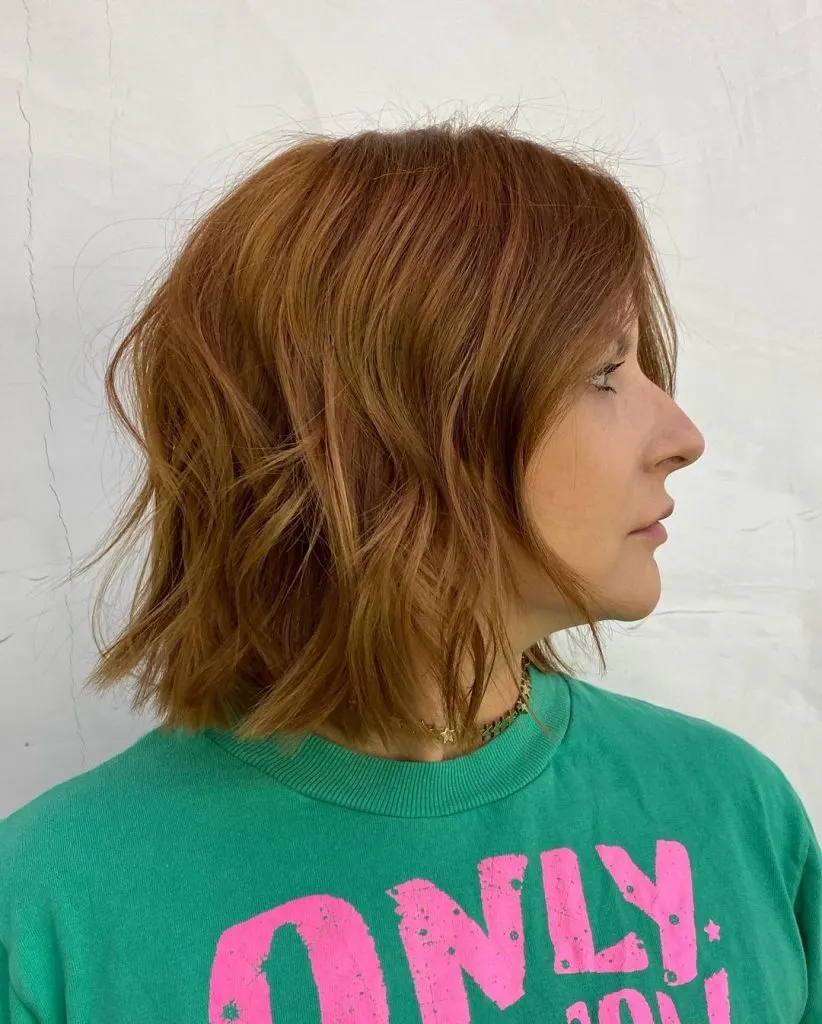 Thanks to the long bangs melting into tousled layers, this bob hairstyle looks breezy and casual—and works on all face shapes.
32. Long Choppy Bob With Bangs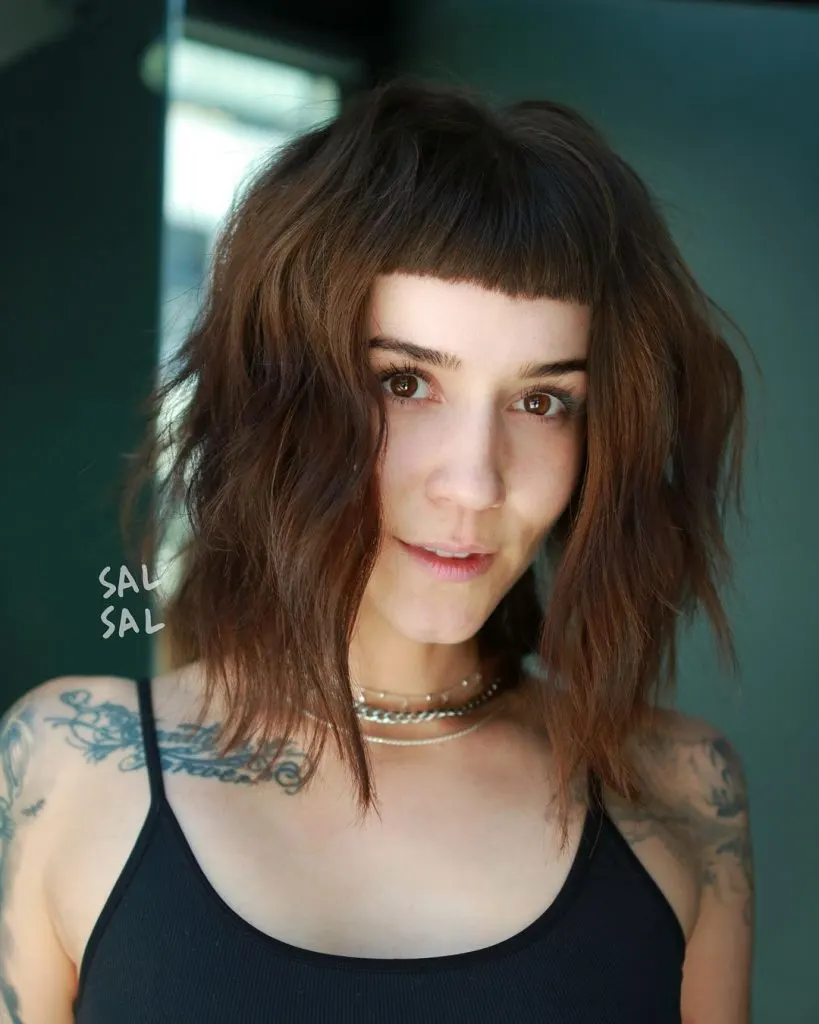 Micro bangs are a fun addition to any haircut, particularly if you have a larger forehead or a long face. Contrast with wispy ends to make your look more interesting.
33. Wispy Curtain Bangs Bob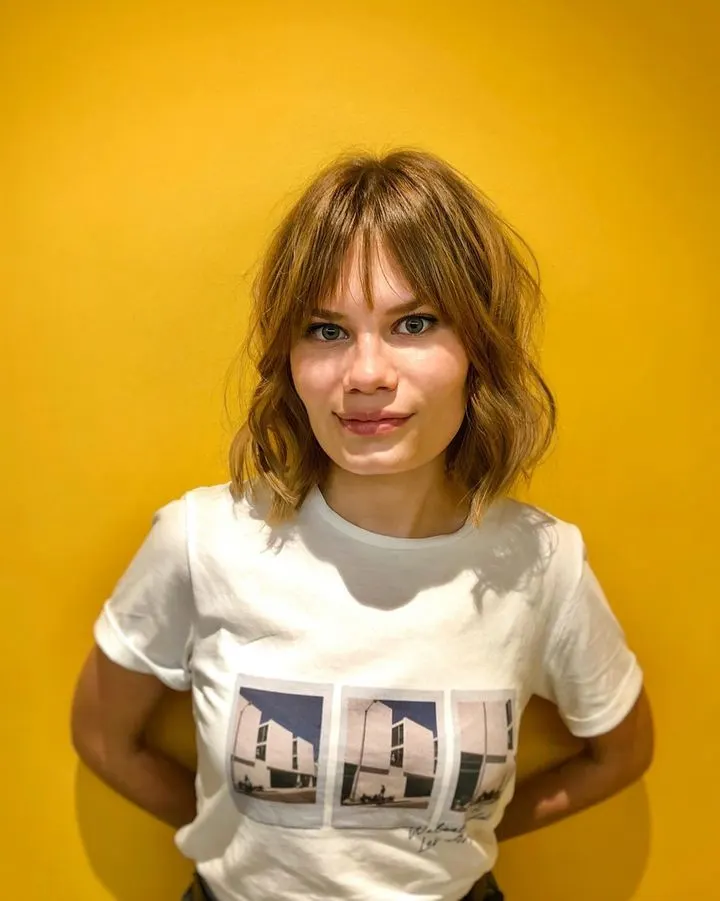 Both choppy and wispy tips flatter a square face, as long as you avoid anything blunt. This applies both to your bangs and the hair ends.
34. Long Layered Lob With Fringe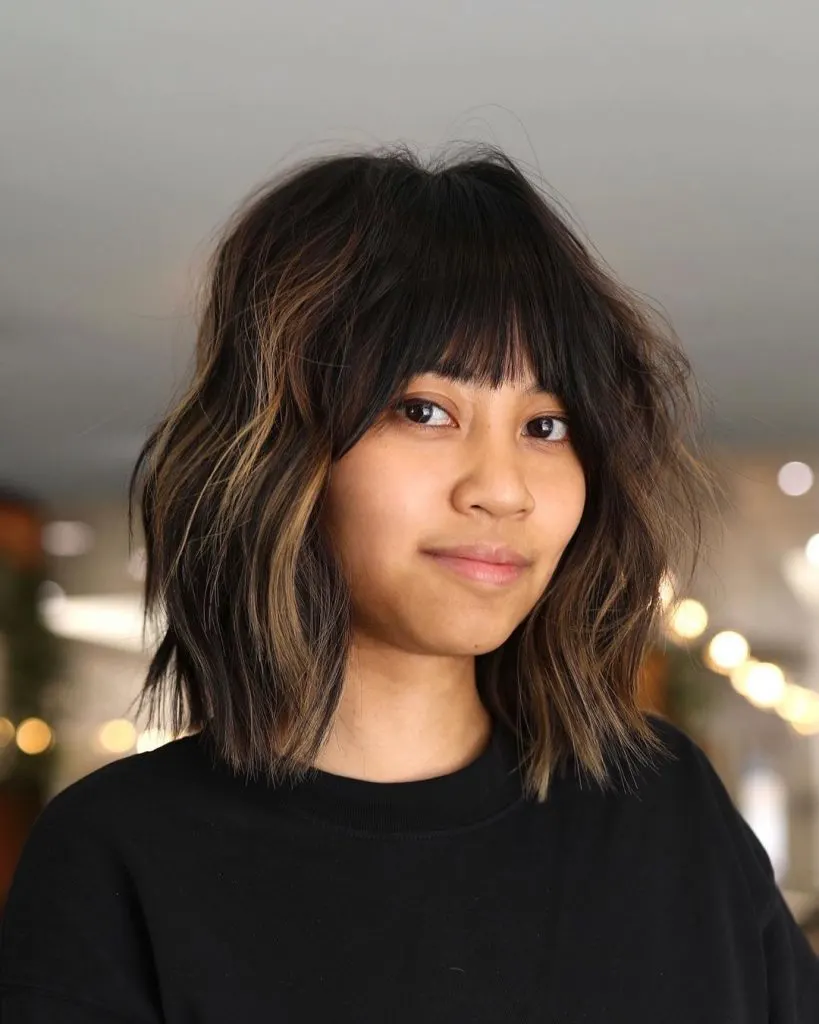 A-frame bangs—blunt bangs cut short only in the center of the forehead accompanied by longer pieces on the side—draw attention to the cheekbones, so they work best on softer face shapes, like round and oval.
35. Long Lob With Bangs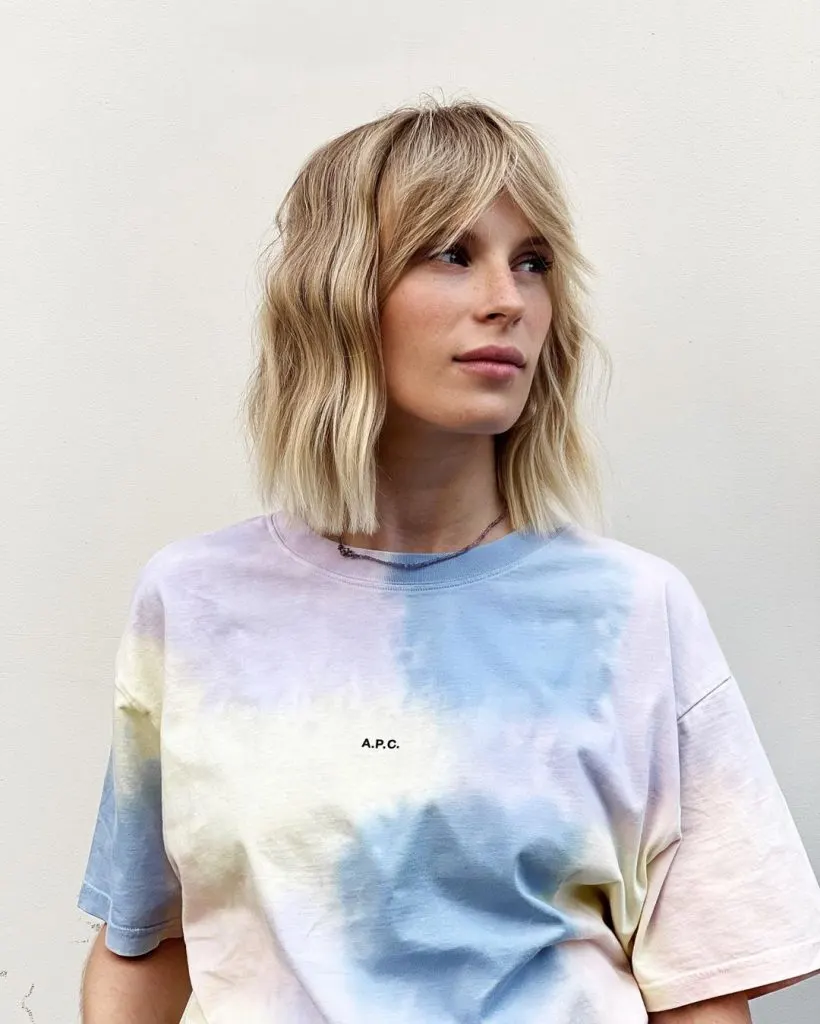 Balance a large forehead with long bangs that part just above the eyebrows. This makes it seem like your fringe starts higher than it does, creating an illusion of a shorter forehead.
36. Fine Hair Lob With Bangs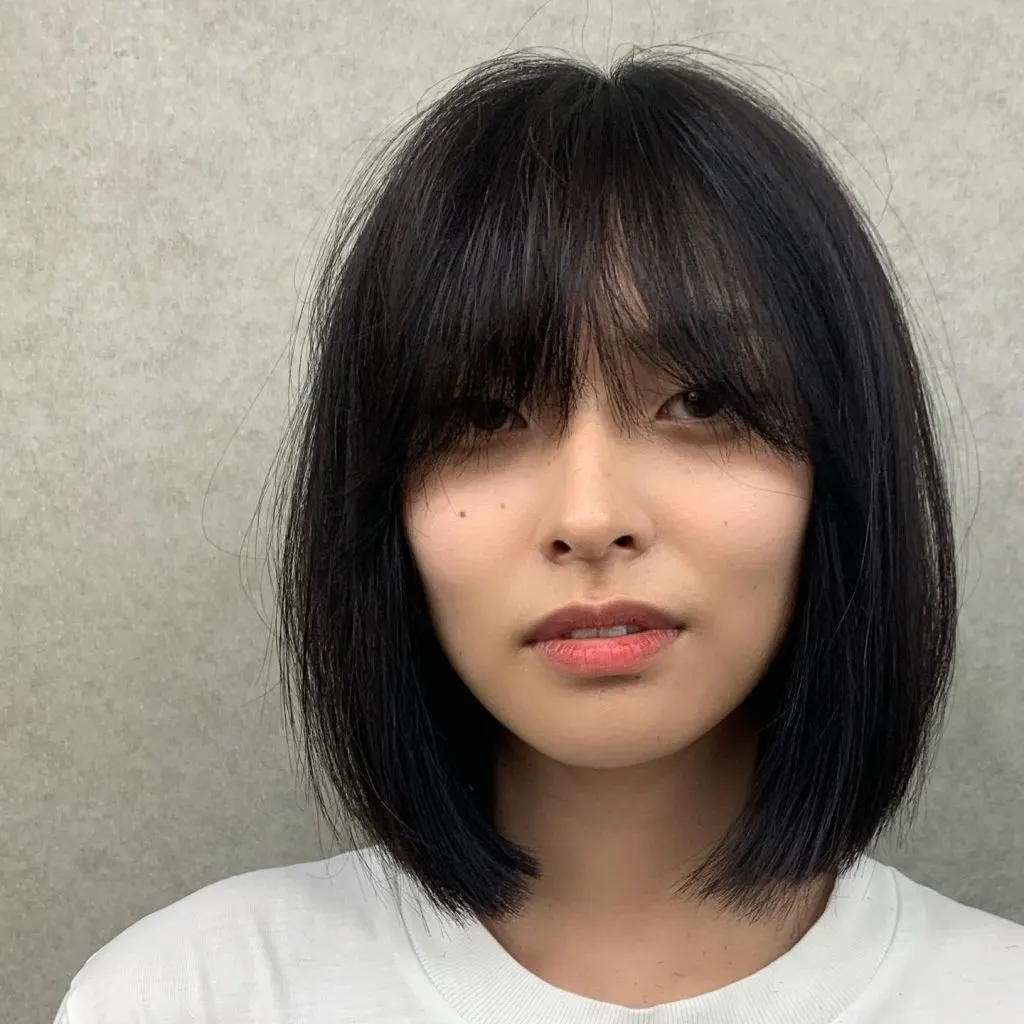 Thanks to small details, this classic cut is customized and flatters the face: the ends have been thinned out to avoid a bulky look and the fringe is fine and just the perfect length to accent the cheekbones.
37. Shoulder Length Bob With Bangs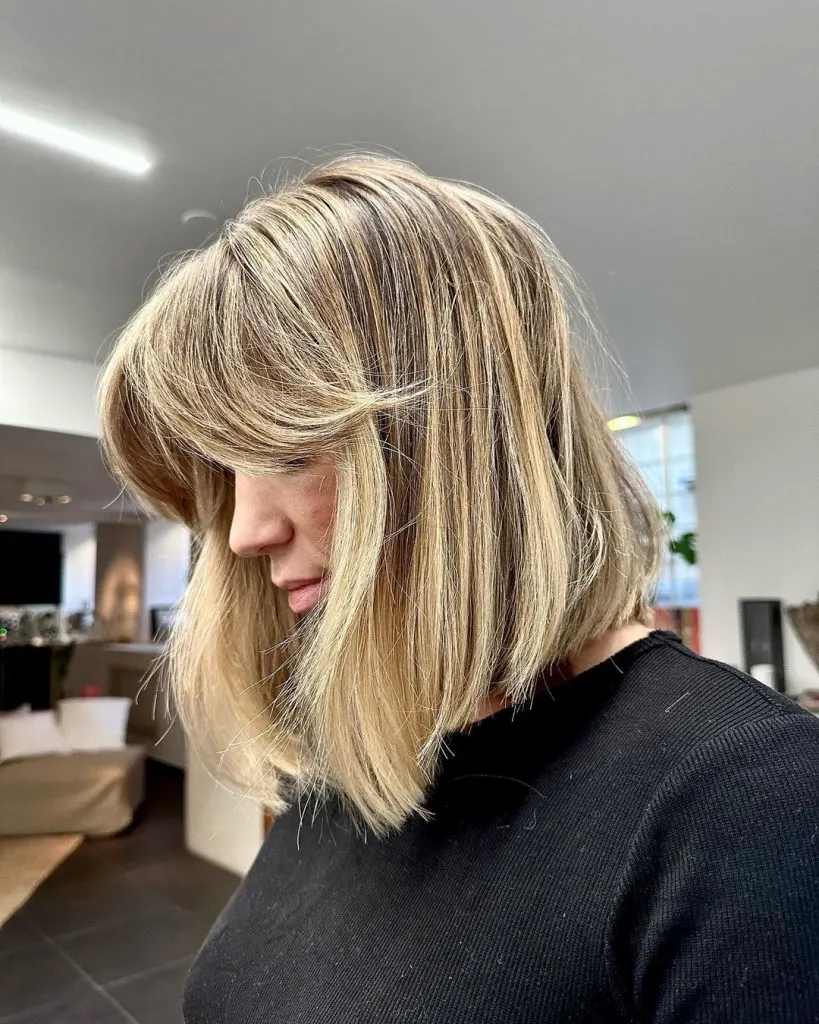 When the ends are kept one length, something else is needed to make a haircut more interesting—here, long, center-parted bangs and blonde highlights create dimension and brighten the face.
38. Sleek Layered Lob With Bangs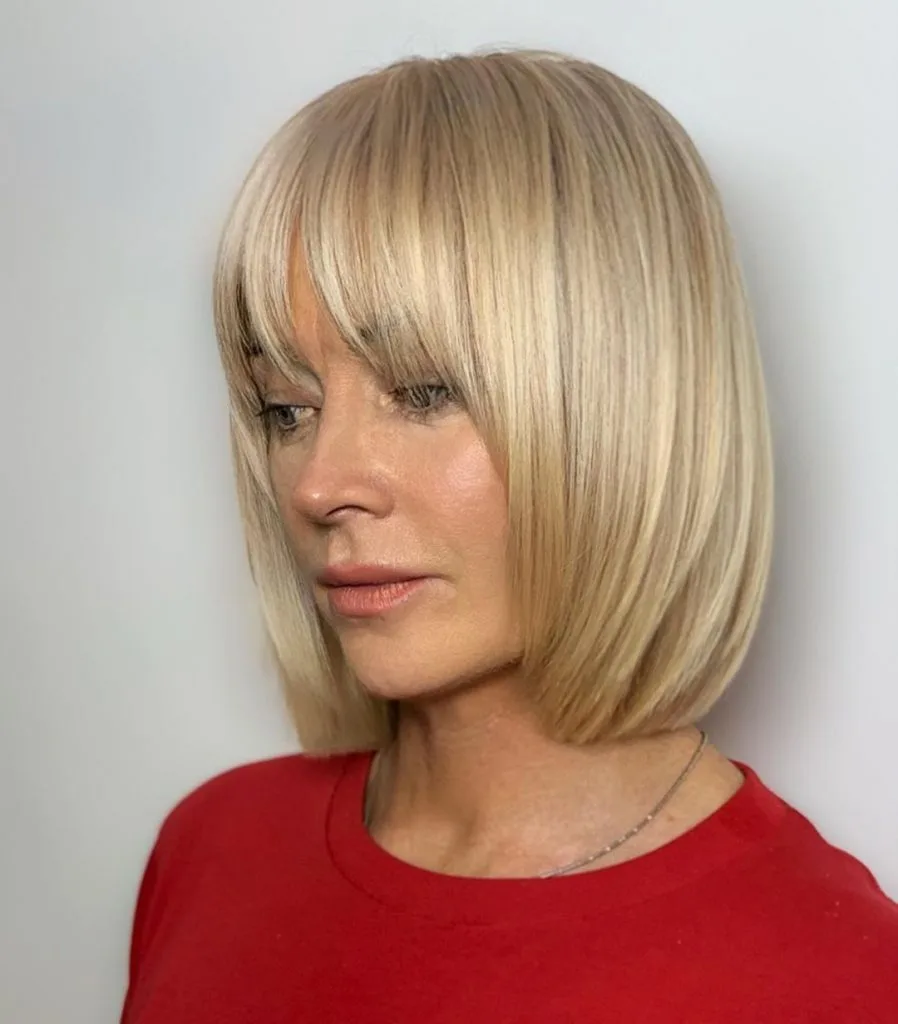 Wispy layers around the face and matching bangs create a hairstyle that combines a bob and a bowl cut that's flattering on sharp face shapes, like diamond and square.
39. Long Bob With Layers And Curtain Bangs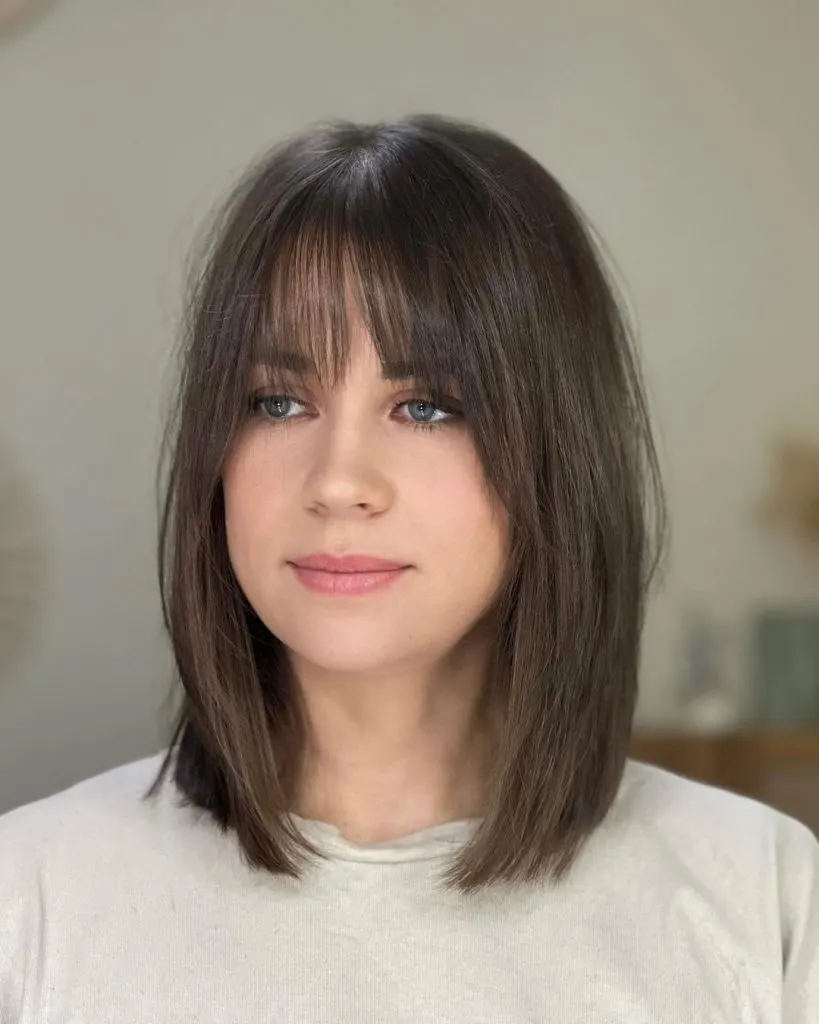 If you have a square face, avoid haircuts that sit right at the chin. Go a bit longer or shorter, and opt for choppy or wispy ends instead of blunt to further soften the face.
40. Straight Bob With Full Bangs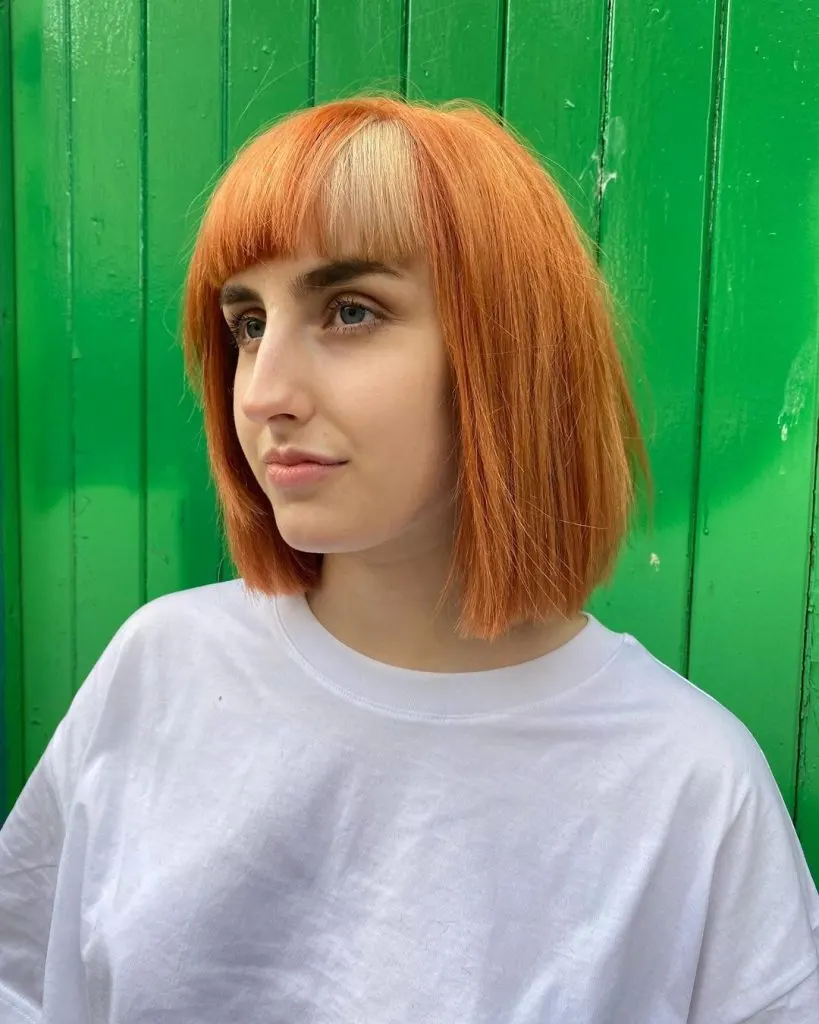 A lob makes a long face seem even longer, but it can still be flattering if you add a couple of framing layers. Blunt bangs draw attention to the eyes and further shorten a long face.
41. Long Bob With Side Bangs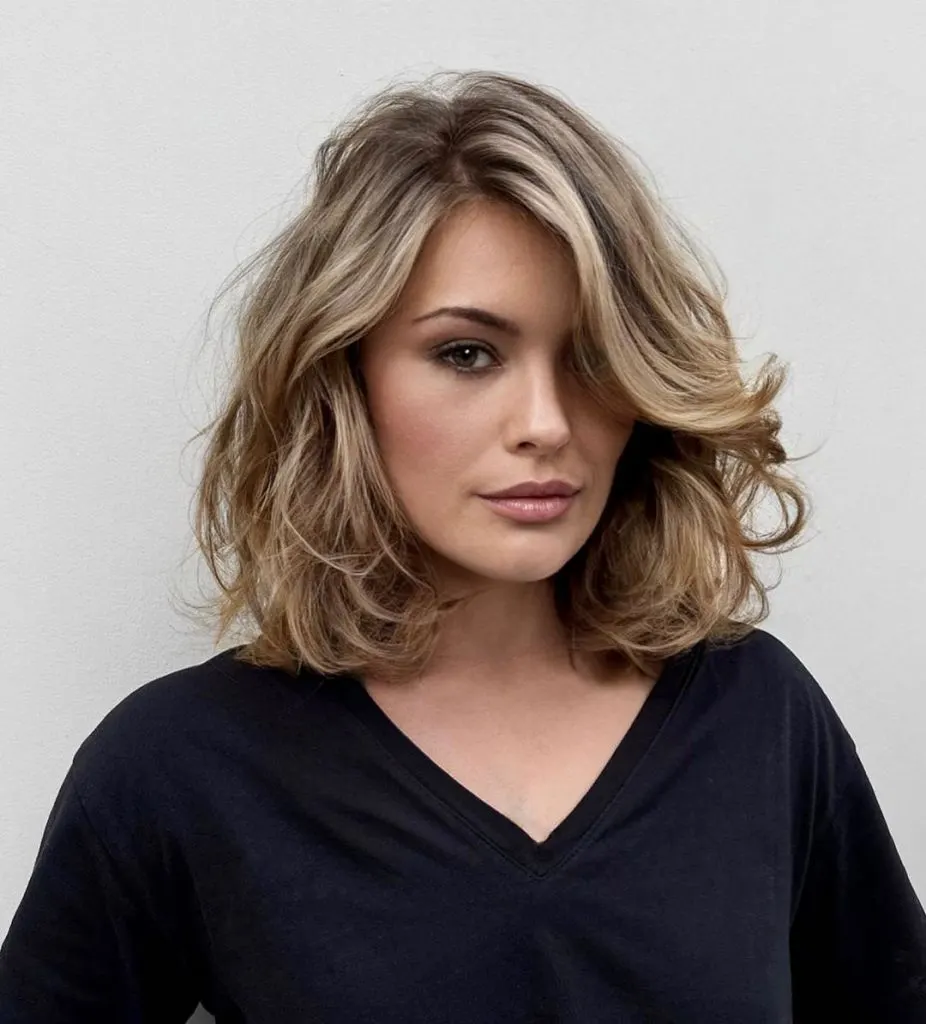 Channel your inner diva: a lob with a strong outline styled into large, voluminous waves and a side parting that covers one eye are sensual and flirty.
42. Long Wavy Bob With Bangs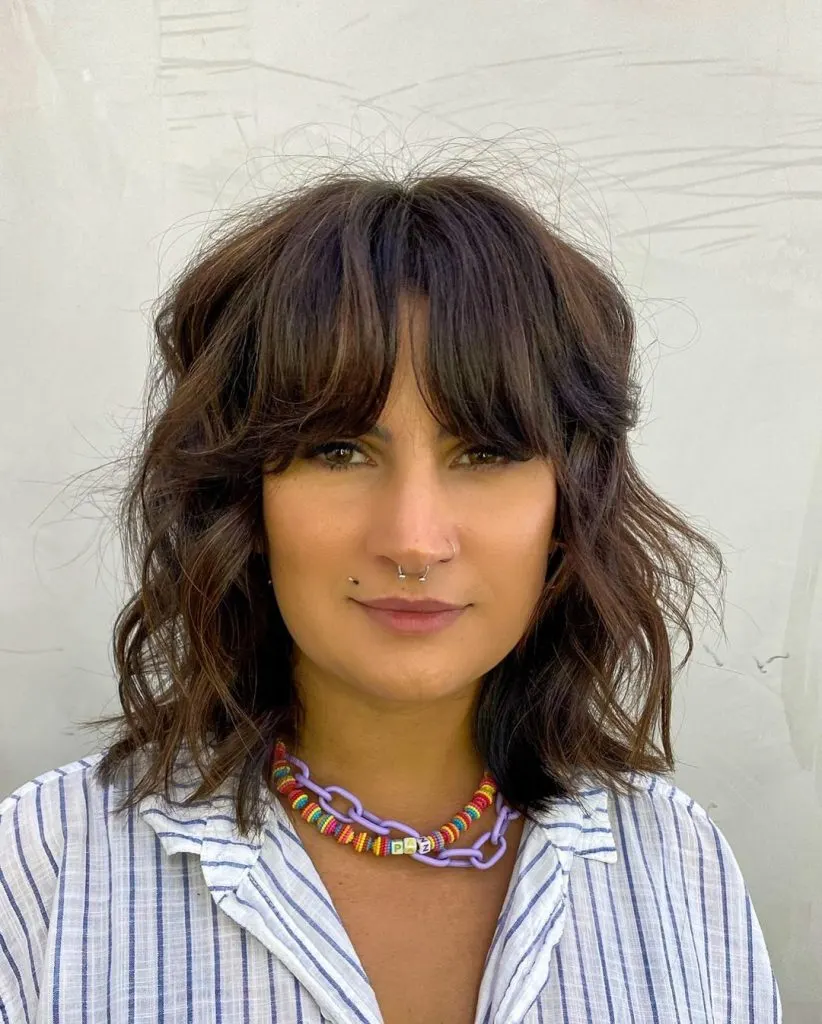 Shaggy layers lose their charm when they're overly styled, so play up your natural texture and ditch the blowout for best—and easiest!—results.
43. Straight Bob Haircut With Fringe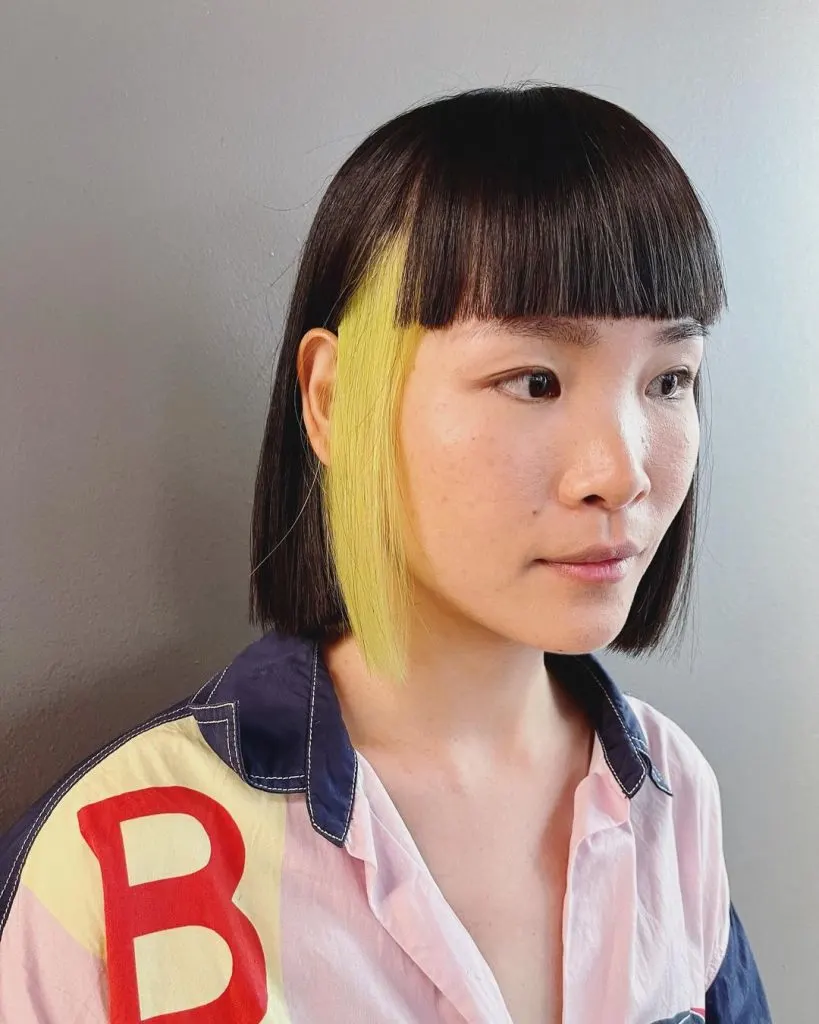 A peek-a-boo colorful strand adds some spice to otherwise simple haircut: it steals the focus and draws attention away from your features.
44. Long Blunt Bob With Bangs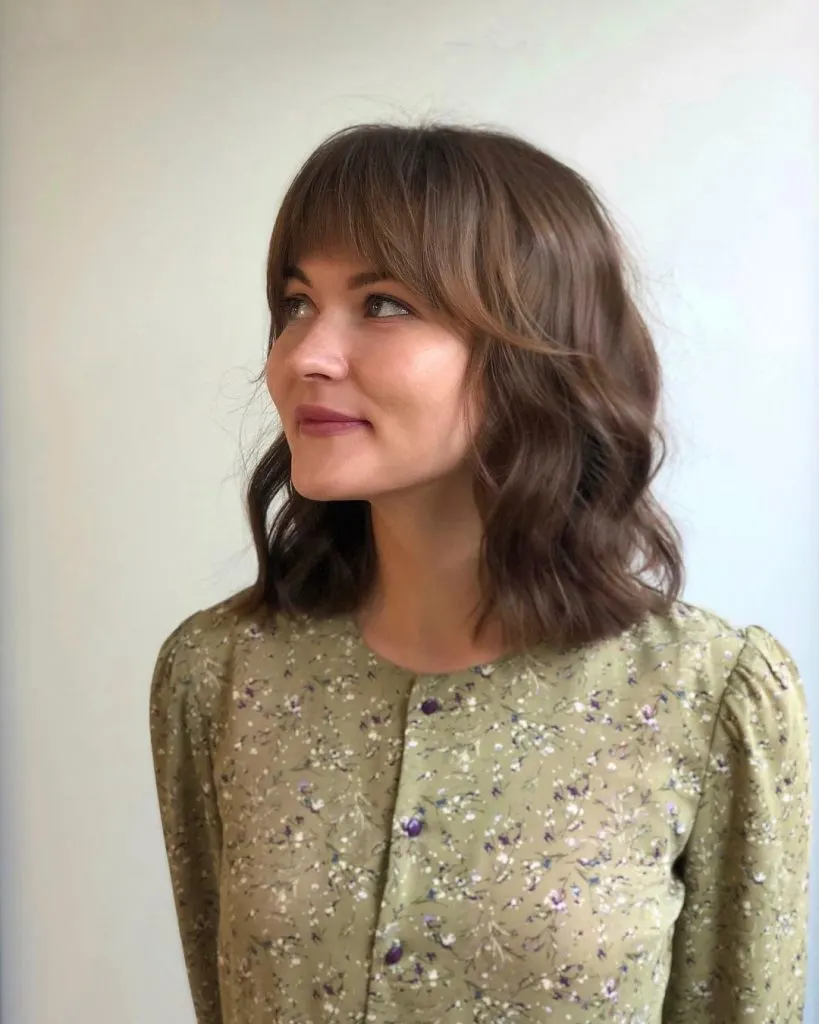 A blunt-cut bob with loose waves and curtain bangs is a staple style that can be worn in multiple ways, the most popular being neat and soft like here, or with plenty of texturizing spray.
45. Shoulder Length Lob With Curtain Bangs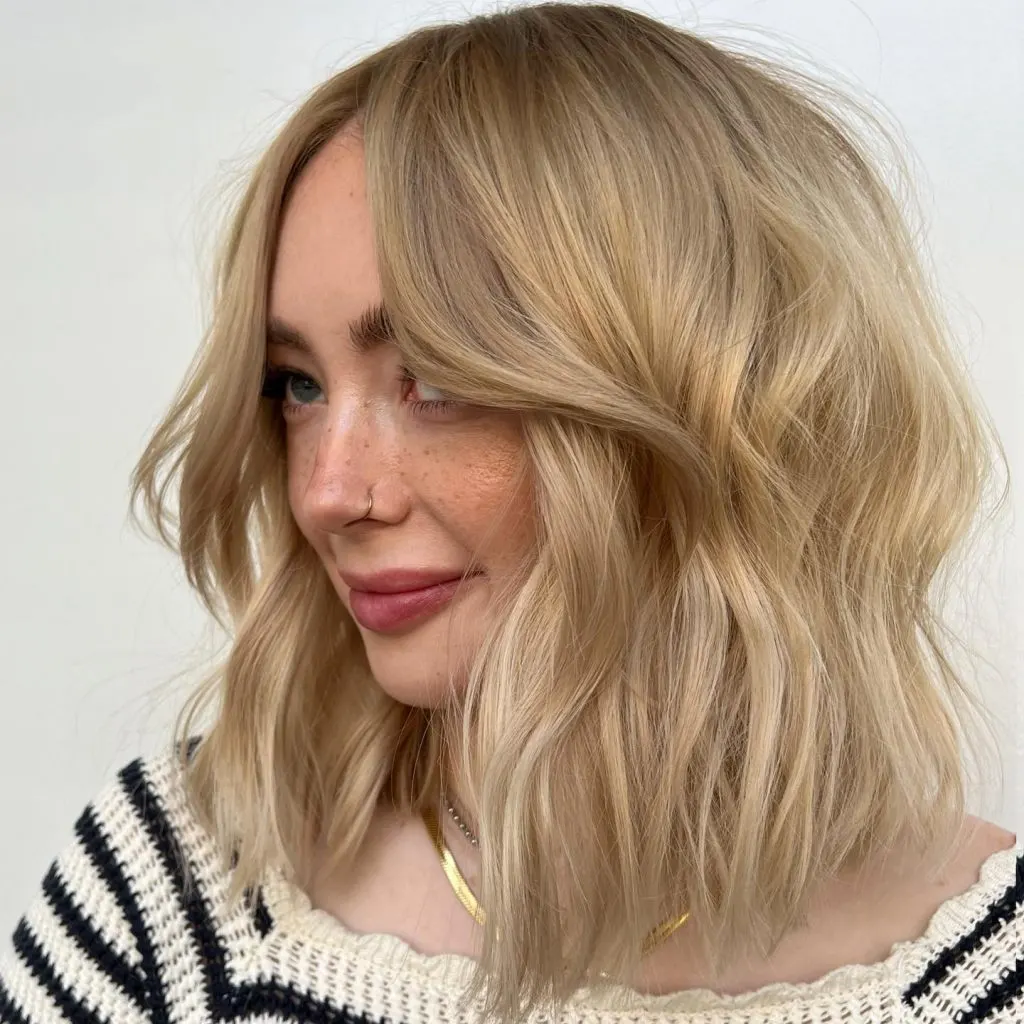 If you have naturally wavy hair and you don't know how to define your texture, it might seem intimidating. The key is adding enough moisture to your hair and leaving it alone after it's styled. The only time you should comb your hair is when it's dripping wet, as you apply conditioner.
46. Curly Layered Bob With Bangs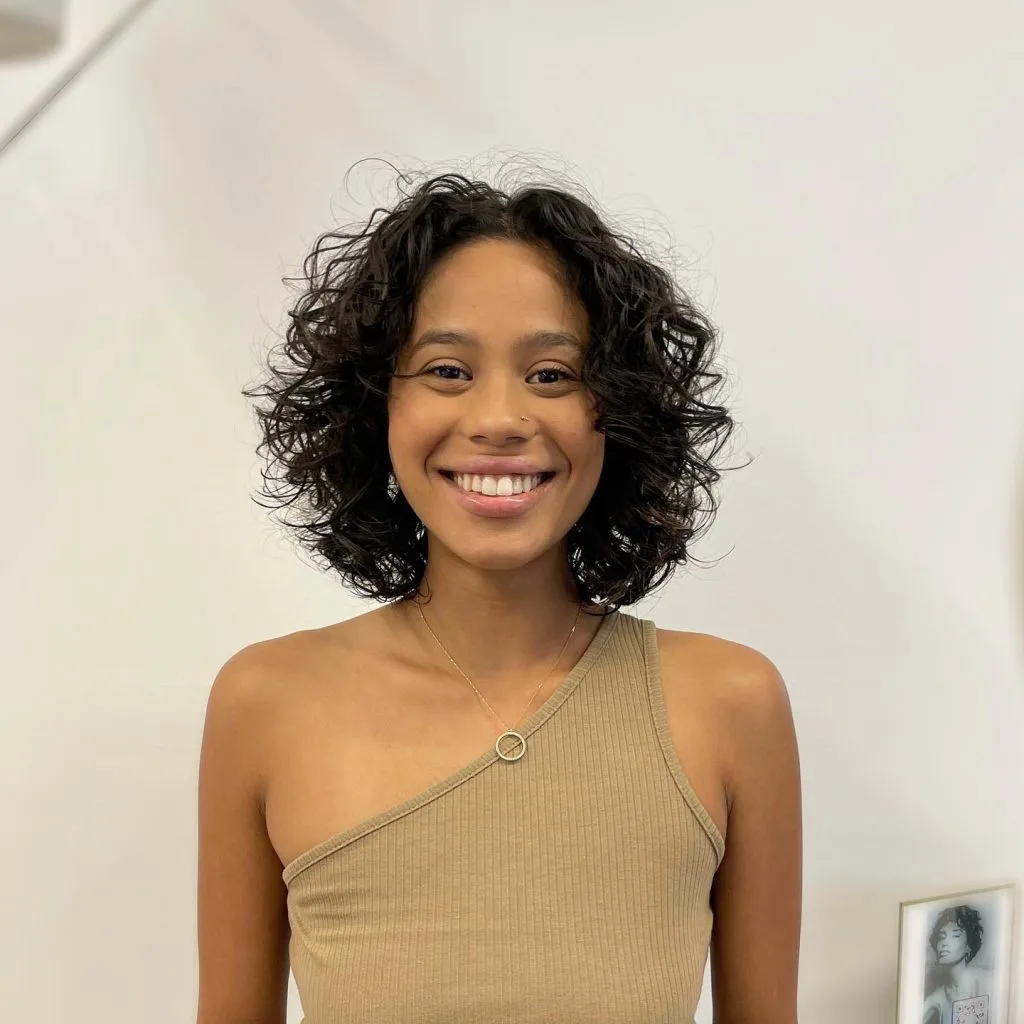 A layered bob and cheek-grazing curly bangs make it easier to style curls and stop your hair from falling flat at the crown.
47. Curly Long Bob With Bangs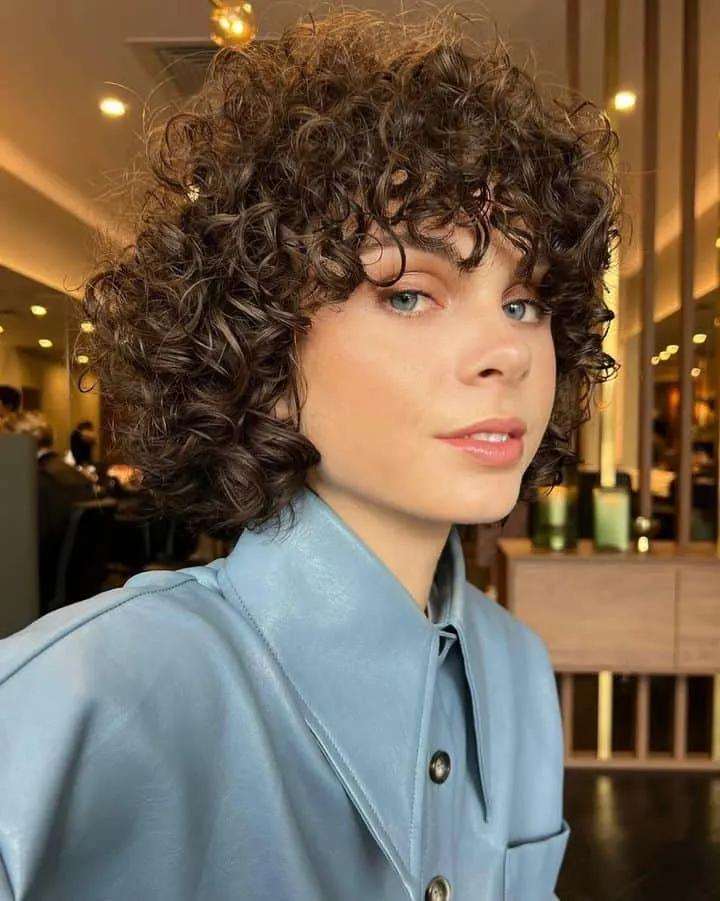 If you have curls, chances are that you want them to be bouncy and defined, and moisturizing products with natural oils that nourish and protect your hair will help you achieve this.
48. Edgy Long Bob With Bangs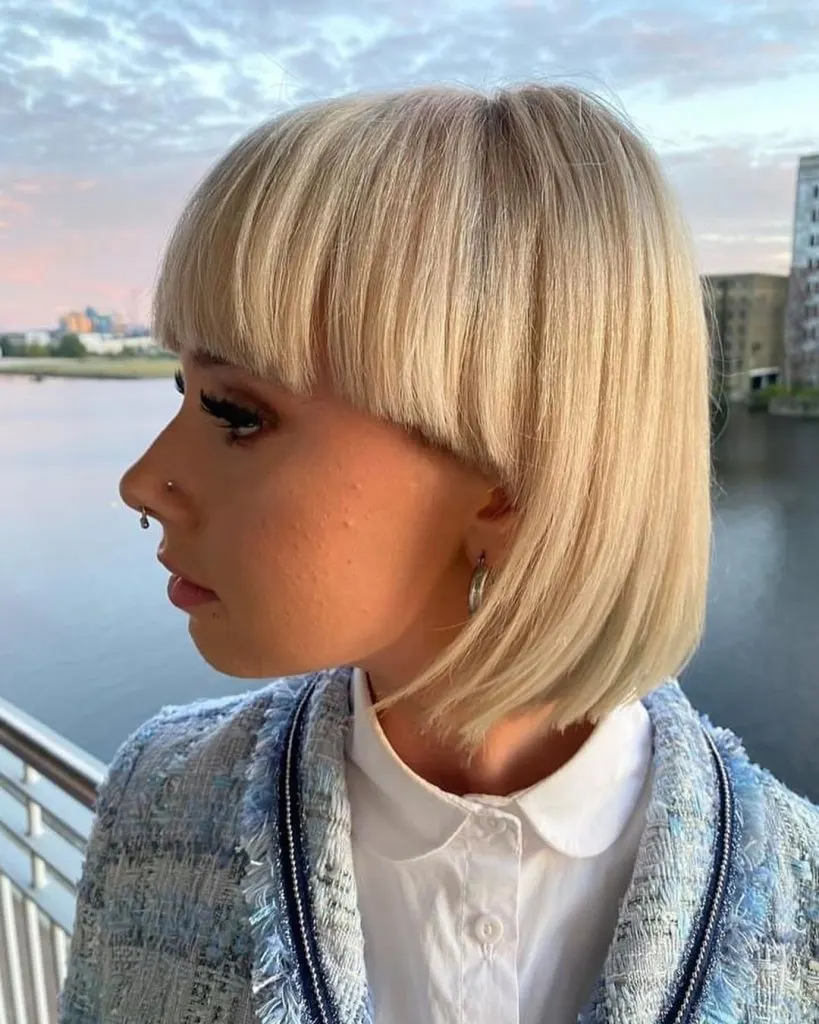 Fringe that goes deep on the sides is an edgy choice and takes daring, but this unusual haircut won't fail to draw attention.
49. Shoulder Length Curly Bob With Bangs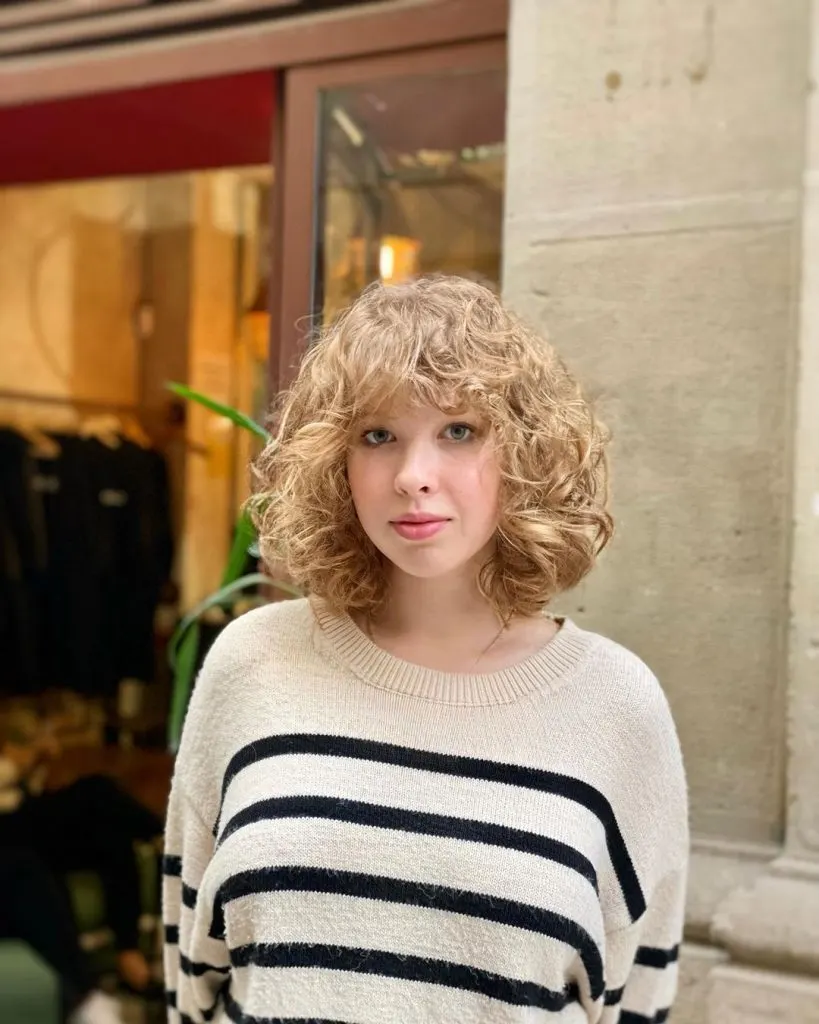 Thick, curly hair takes a bit of work and the one thing it never lacks is volume. This long bob was air-dried to create a casual style, but if you want more definition, use a blow dryer and diffuser.
50. Blunt Lob With Straight Bangs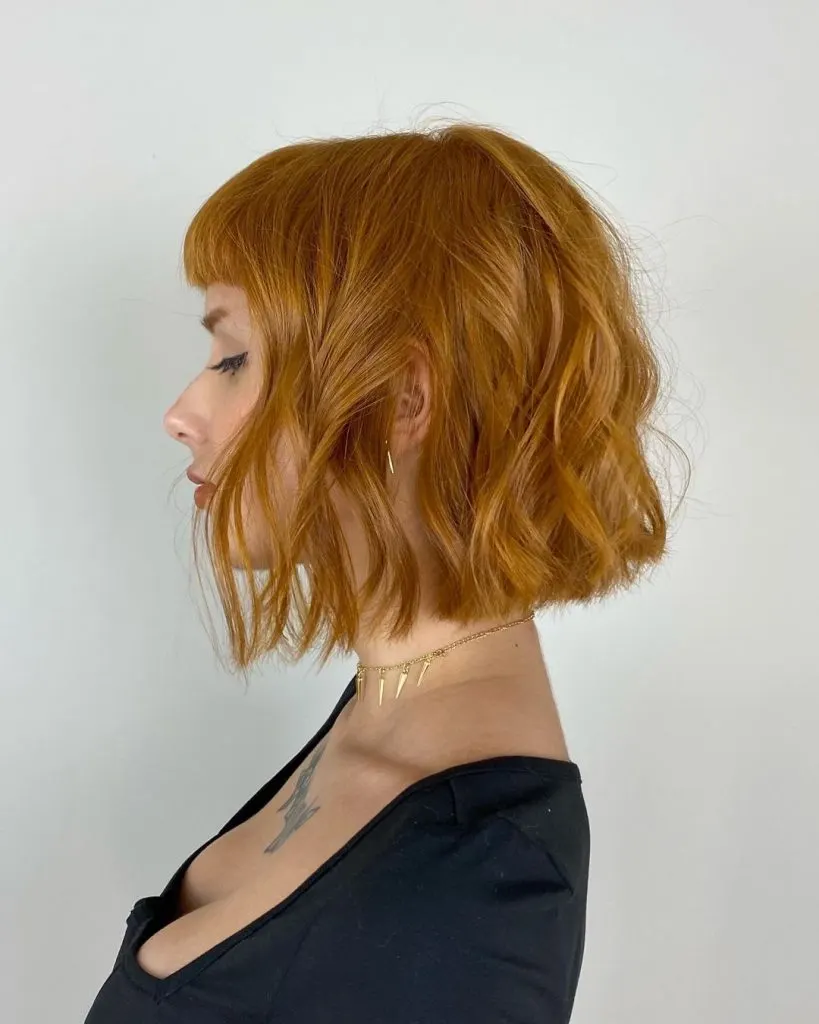 Short blunt bangs contrast the wavy lob and bring attention to the eyes and cheekbones. You can use a flat iron to bith straighten the bangs and create the waves.
51. Textured Long Bob With Curtain Bangs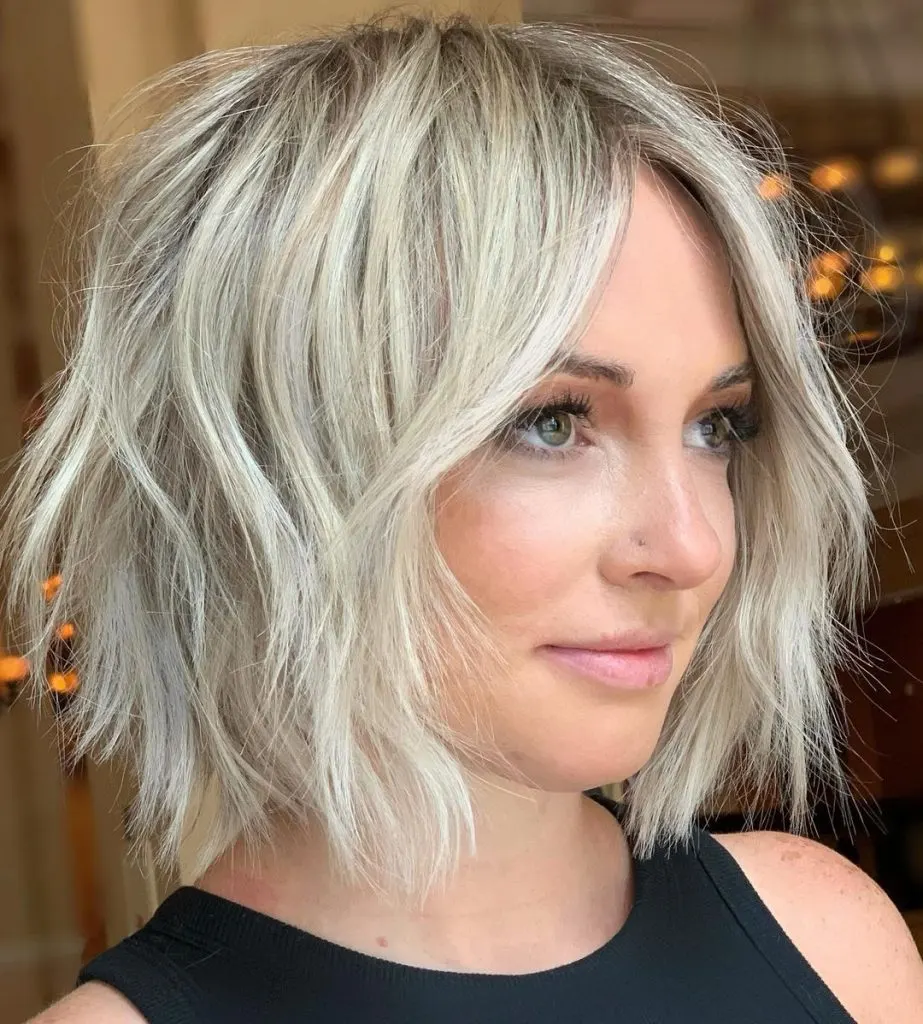 Long face-framing bangs make a huge difference even if they consist of only a few strands: they break up the one-length line which easily draws the face down.
52. Choppy Long Bob Haircut With Bangs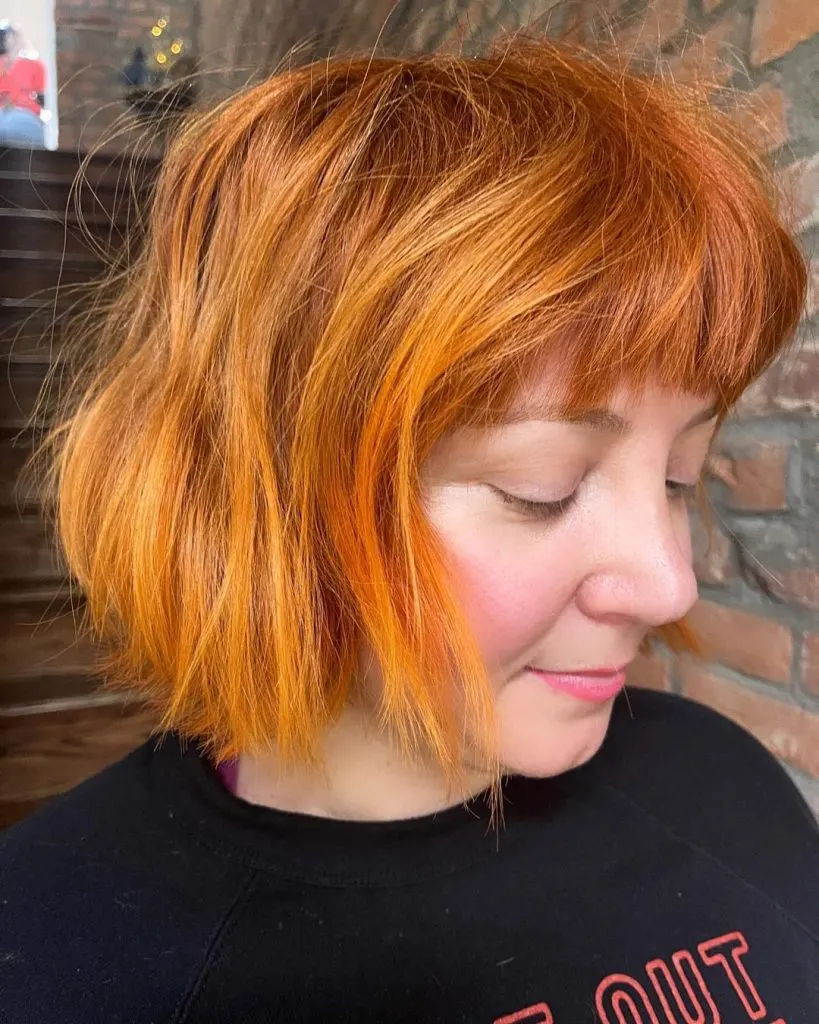 If you have pin-straight 1A hair, getting a bend in it can be a distant fantasy. So what to do if you'd like a bit of texture? Ask your stylist for choppy layers and ends to add movement and body.
53. Rounded Long Bob With Bangs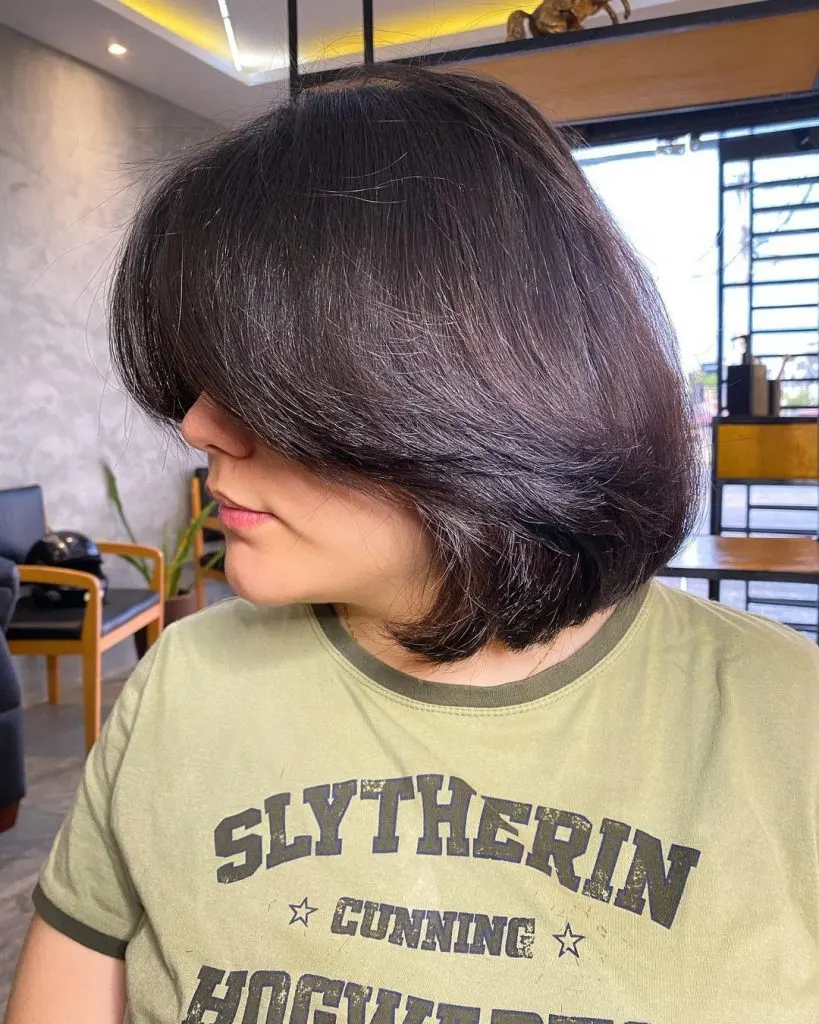 Retro feathered curtain bangs are having a moment, so don't be surprised if you start seeing them wherever you go. They're wonderfully versatile and suit practically everyone, so if they seem interesting, now is the time to be a trendsetter.